While it may no longer be considered one of Iceland's hidden gems, we still think Stuðlagil Canyon is worth a visit. In this article we'll go over everything you need to know about planning your visit from where it's located to how to get the best photos!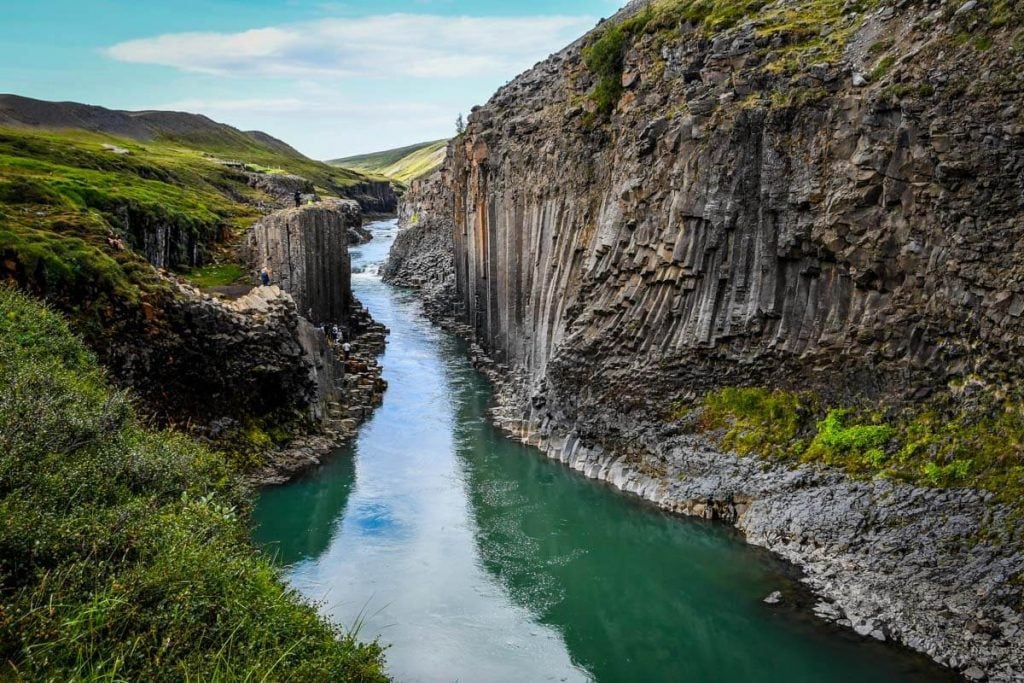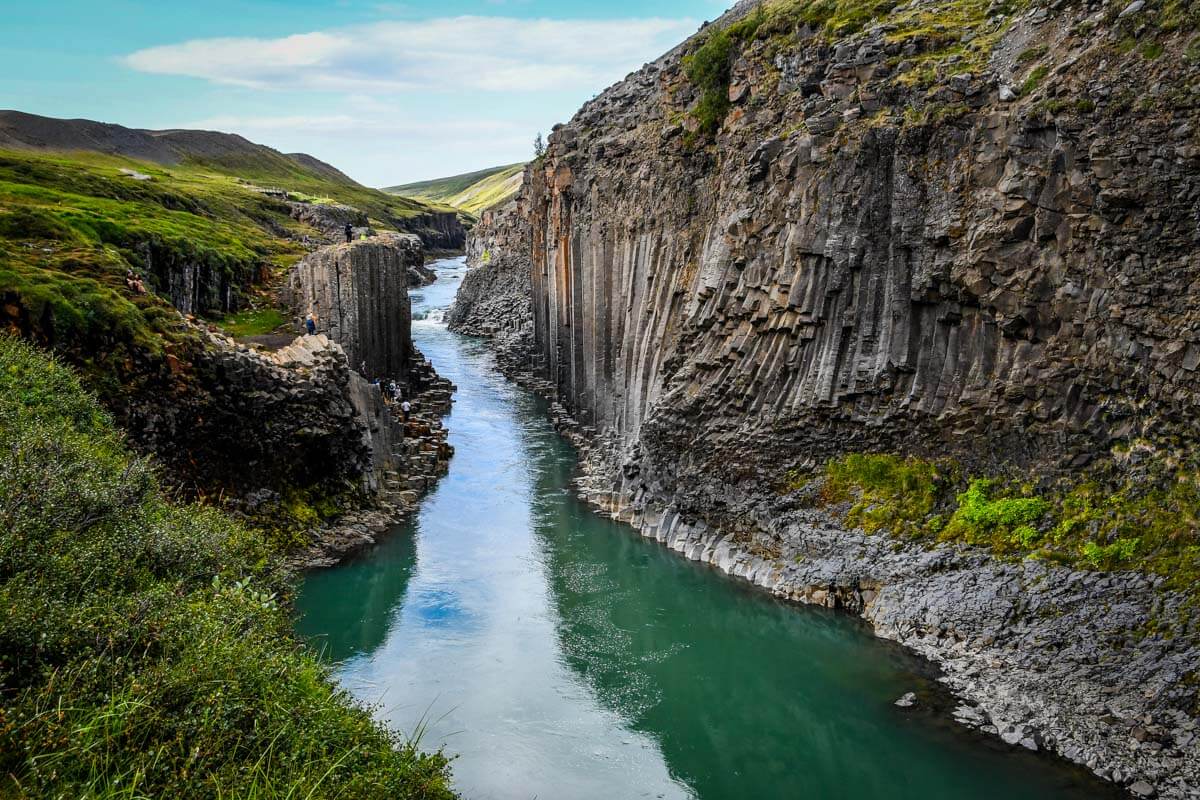 Nestled in a glacial valley in northeastern Iceland, Stuðlagil Canyon boasts the country's largest collection of basalt columns. These towering hexagonal rock formations almost look fake, but they are in fact very much a natural phenomenon and are pretty dang cool to see for yourself.
While Stuðlagil Canyon remained undiscovered until just over a decade ago, this spot has quickly blown up in popularity. In fact, you've likely seen it on your Instagram feed with someone striking the perfect pose in what looks like a completely empty canyon. (We're guilty of posting a photo like this!)
See Exhibit A above and B below…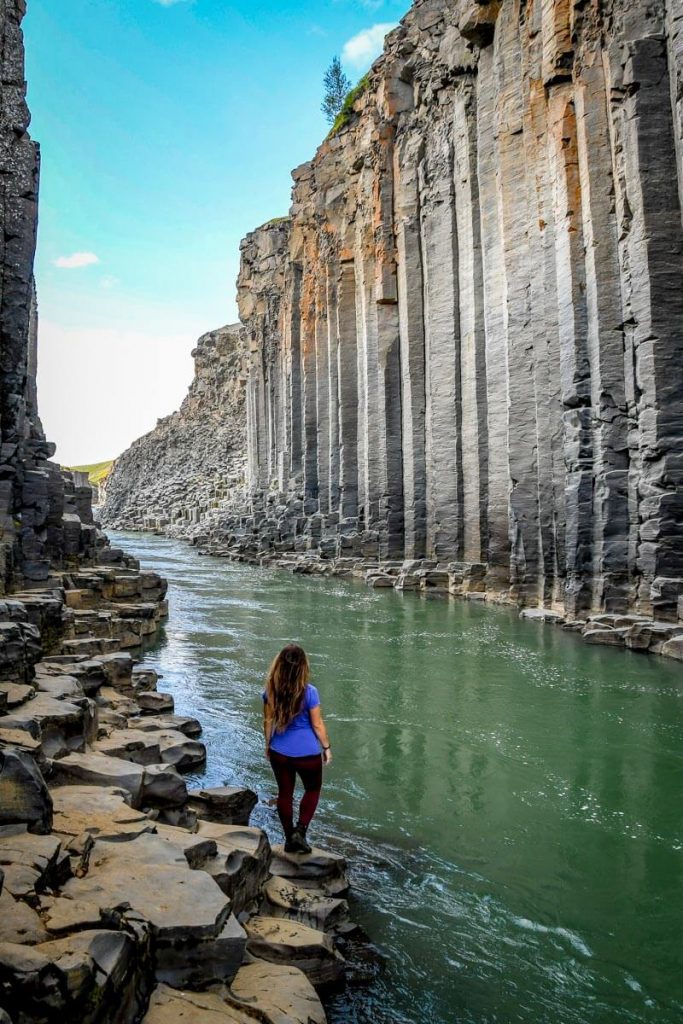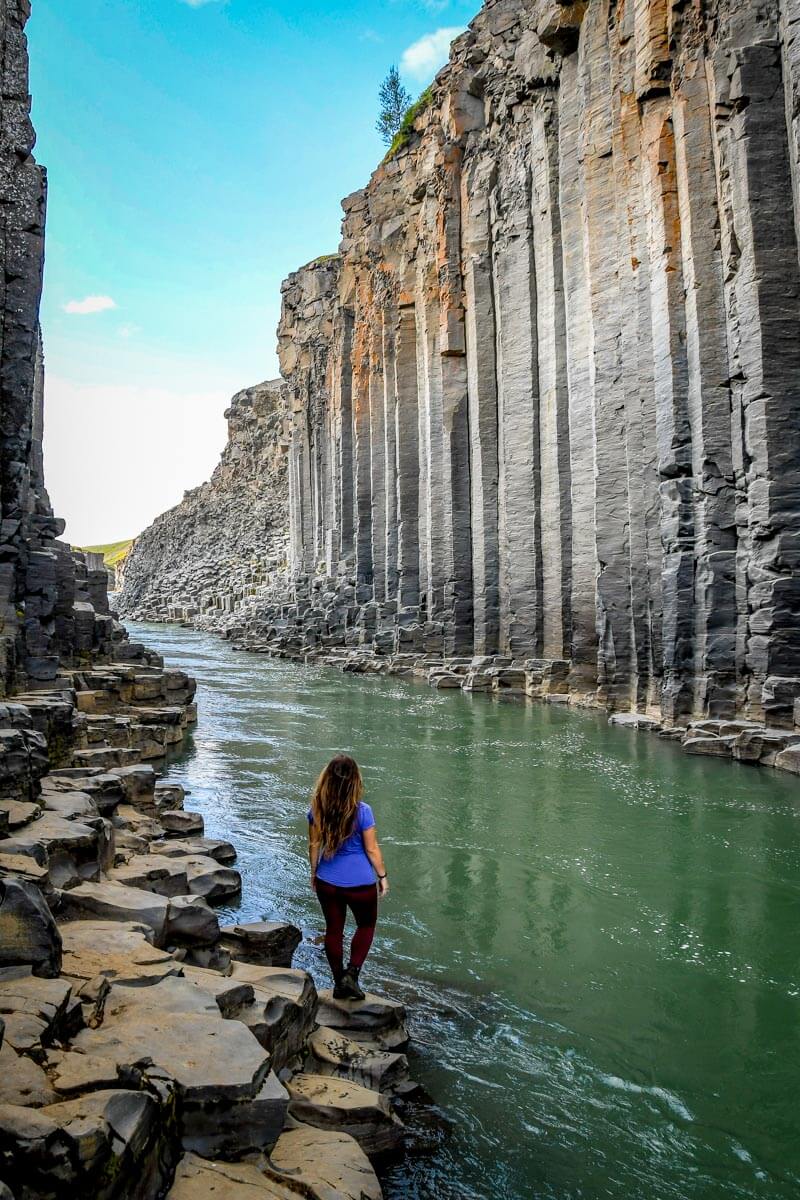 Despite how it may look, I'm going to burst your bubble just a bit and let you know that this Insta-famous spot is no longer one of Iceland's "hidden gems" (even though some websites still refer to it as such). It has become too popular to really be considered hidden any longer. That said, it is still very worthwhile adding to your Iceland itinerary.
I mean, just look at it.
There aren't many places in the world where you can see rock formations like this up close, and while photos on the 'Gram make it look damn near magical, it is pretty surreal in person too.
In this article we're going to cover everything you need to know about visiting Stuðlagil Canyon — from a bit of background information, to essential tips we wished we would have known before our visit. We'll also share exactly how to get there (Google Maps isn't quite right here), and we'll throw in some photo tips for good measure.
Let's jump right in!
Article contents
---
Stuðlagil Canyon Background & History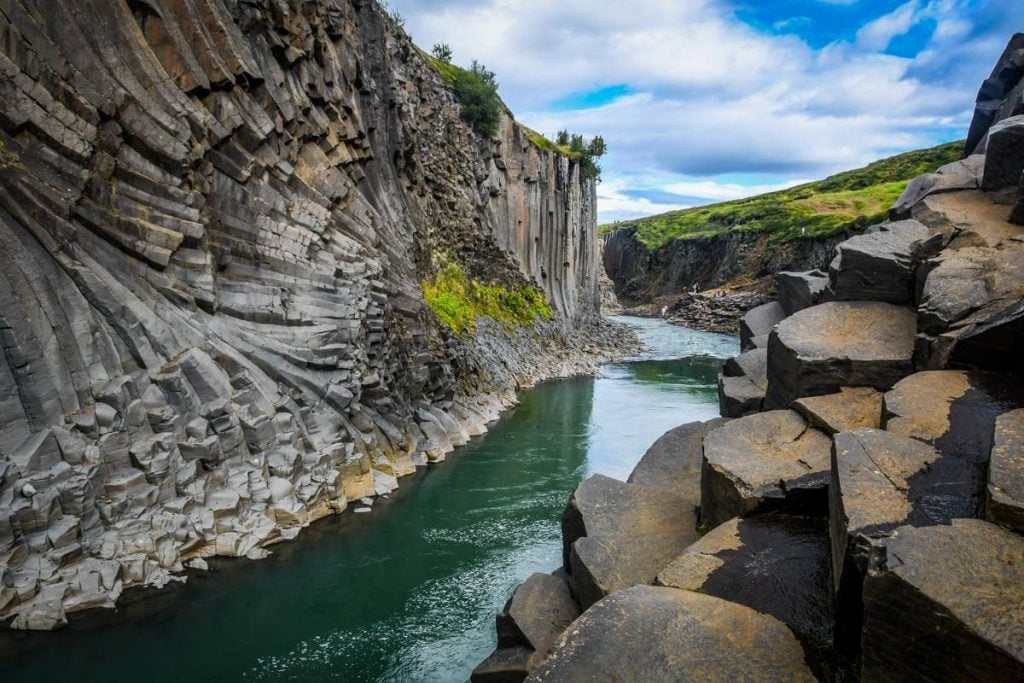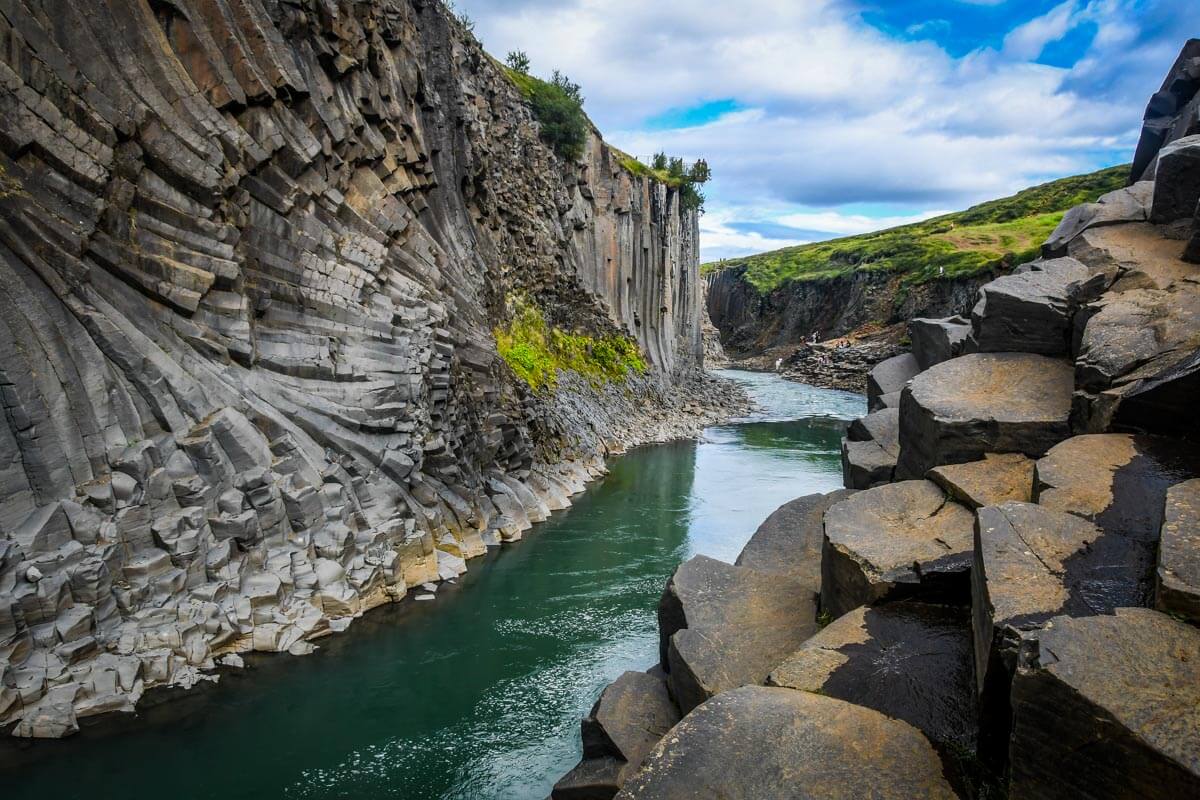 While the unique rock formations of Stuðlagil Canyon were formed long ago from a volcanic eruption, this area was actually undiscovered until recently.
Why? you ask. Allow us to explain…
A powerful glacial river called Jökulsá á Brú forged its way from the Highlands to northern Iceland, carving a 150 km (93 mile) path through these unique rock formations. This is how the canyon itself was formed. Until recently, this river was said to be extremely dangerous, so people stayed away for the most part. Plus, the waters were too high to see the iconic formations we see today.
However, that changed in 2007 when a hydroelectric plant was built nearby. This plant harvested the power of the rushing water and dams drastically reduced the level of the river. This revealed a stunning sight that had been submerged underwater for centuries!
Locals began visiting, then travelers from around the world. With the rise of social media, this place has boomed in the last decade.
How are the hexagonal columns formed?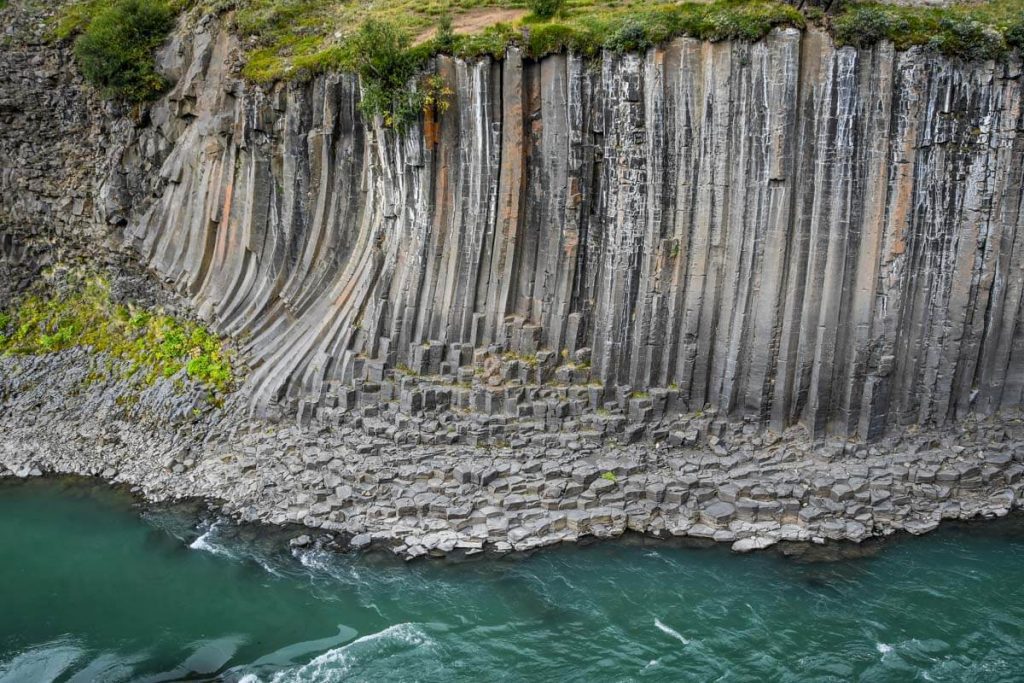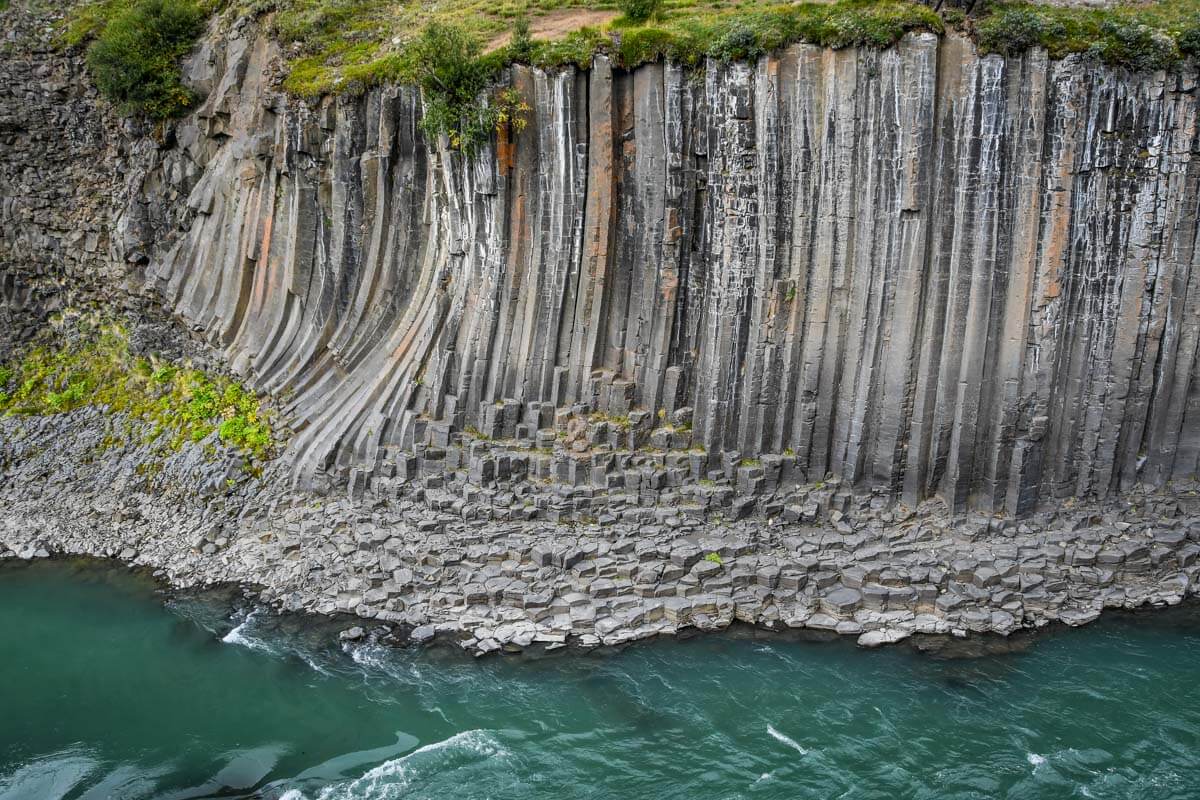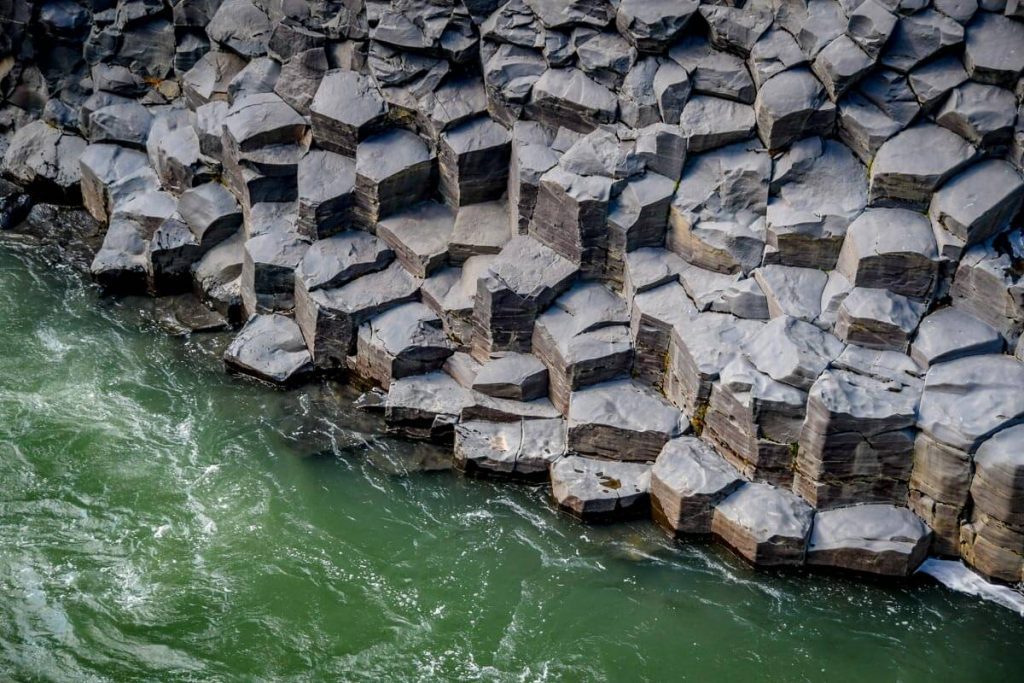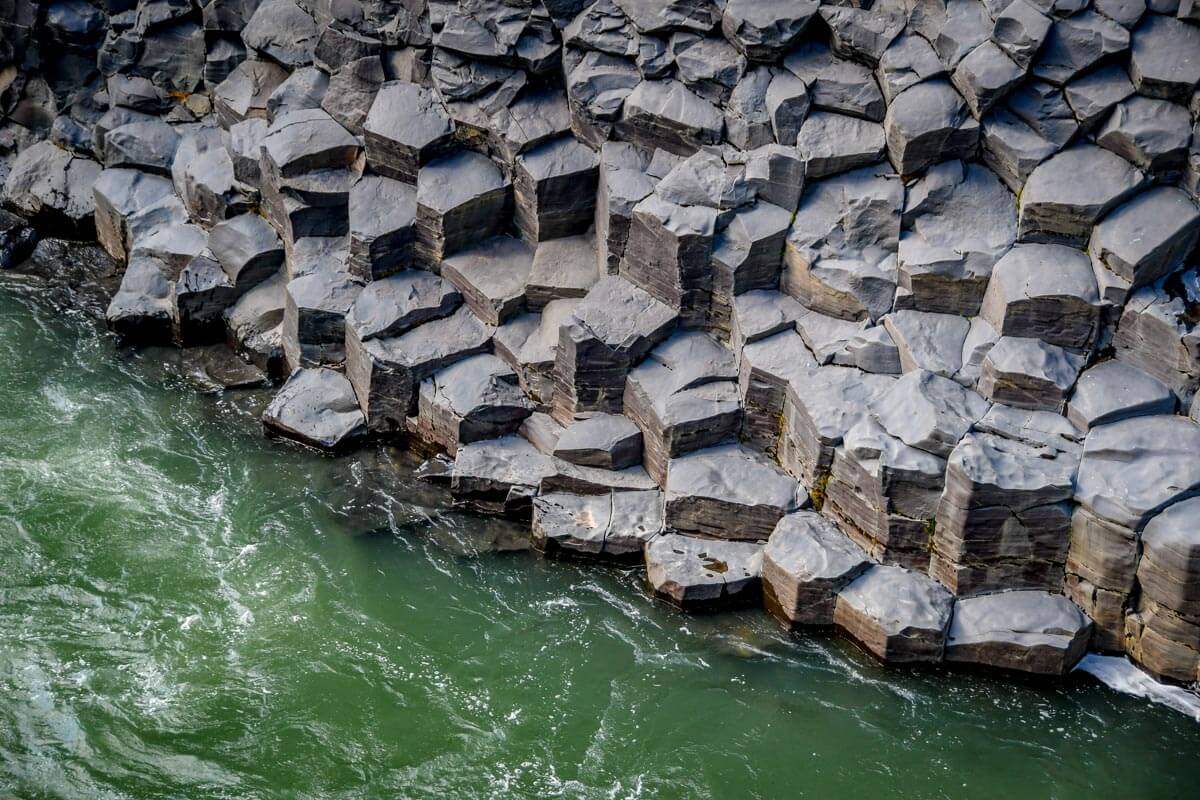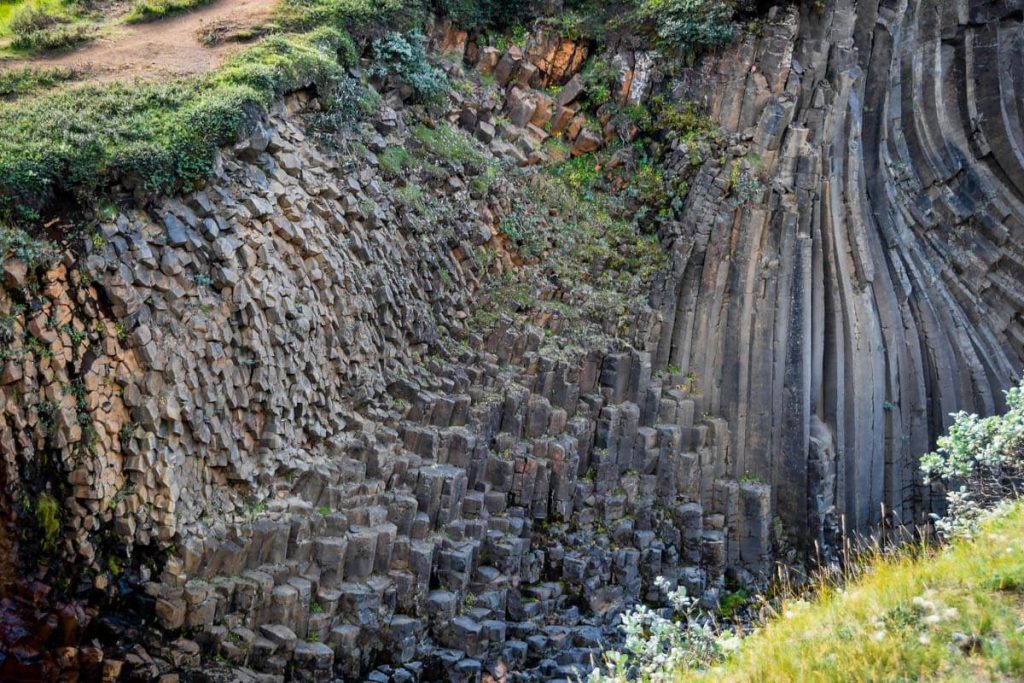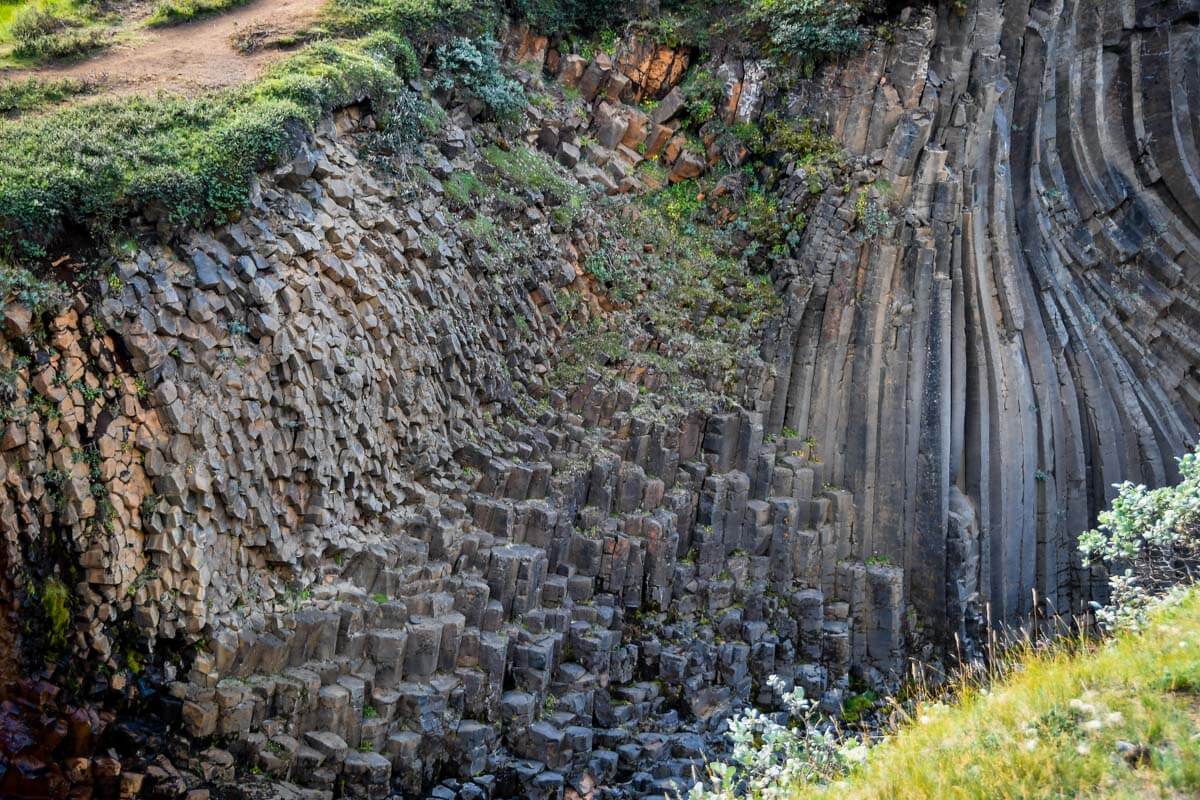 If you look at the pictures and wonder how the heck these rock formations were created, you're not alone. I had the exact same question. While on our Iceland road trip, we went to the Lava Show in Vik where my question was answered (in more detail than I can accurately relay here, but I'll try my best).
First things first, these columns are made of basalt, which is the most common type of lava rock in Iceland.
When a volcano erupts, this type of lava forms thick layers that cool from the top down. This means that the inner layers are still molten as the top forms a solid crust. The pressure of that top layer causes the middle layers to crack and contract as they cool, thus forming those otherworldly hexagonal shapes.
Nerdy Fact: This process is known as "columnar jointing". Use that phrase and you'll sound really smart to your travel companion.
There are other places in Iceland where you can see this same type of rock formation – Reynisfjara Black Sand Beach, for example – but Stuðlagil Canyon is said to have the highest concentration of these unique columns in the entire country.
Stuðlagil Canyon Locations
There are two main points of interest at Stuðlagil Canyon: one on the west side of the river and one on the east side of the river. We'll go over what to expect at each and where we'd recommend parking.
Psst! Once you've decided which locations you want to visit, you can jump to the next section where you can get directions.
West Side of the River: Stuðlagil Canyon Viewpoint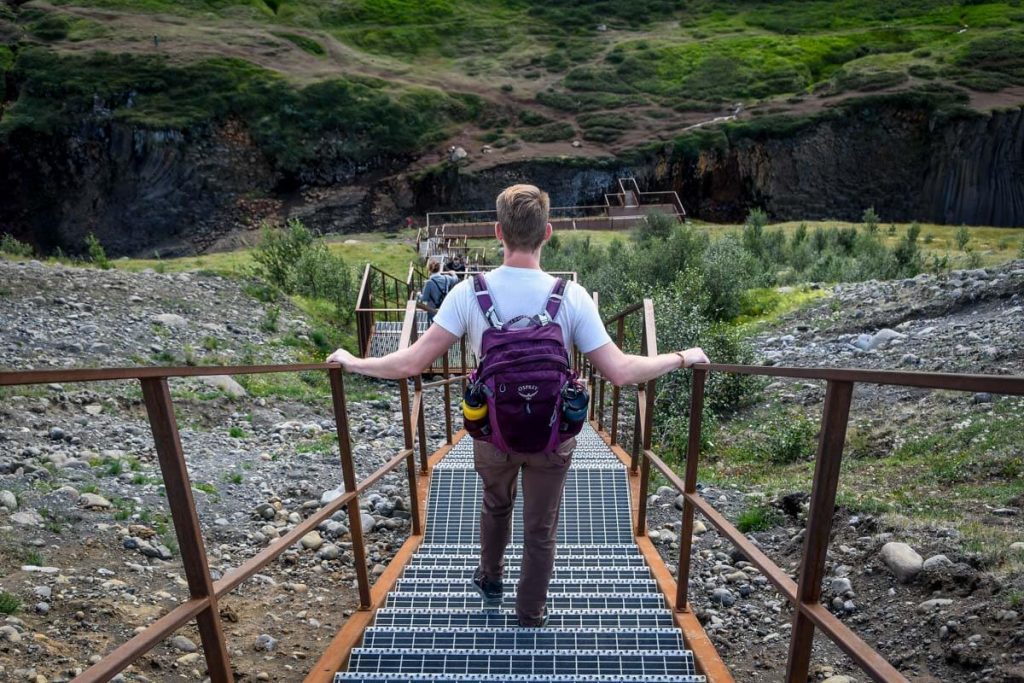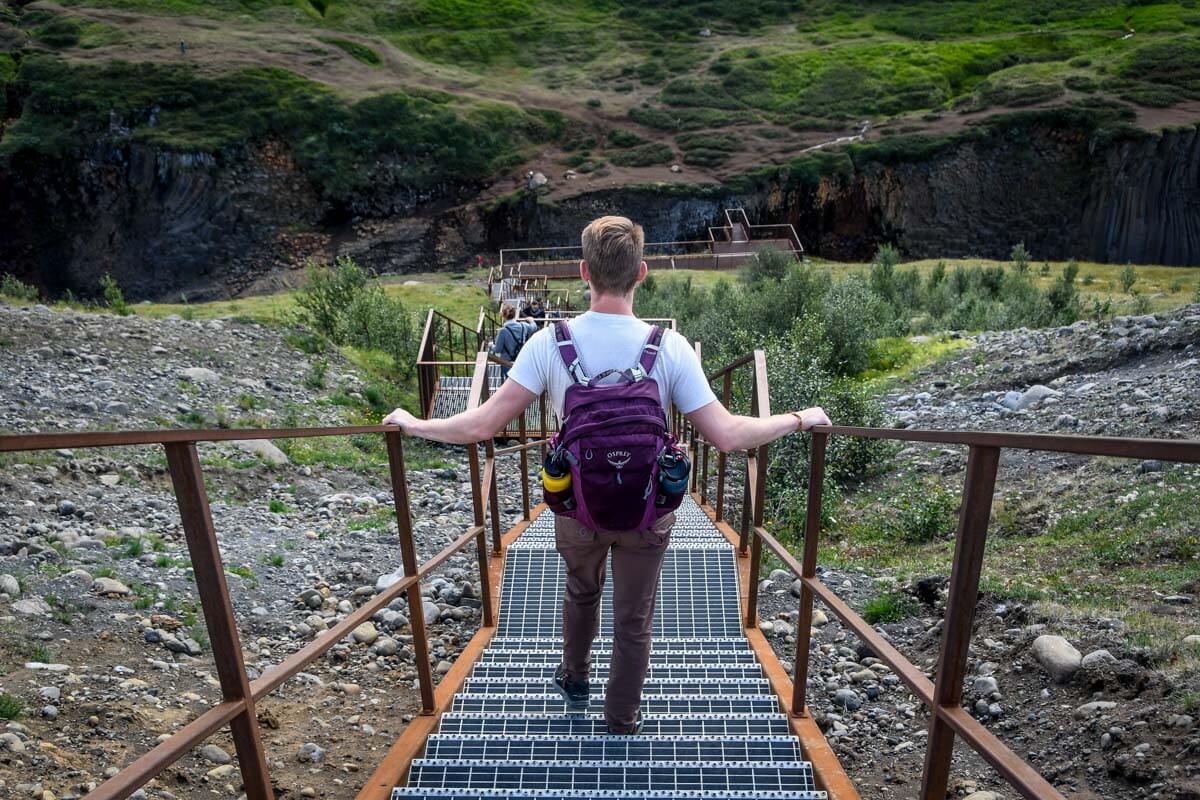 This is the official parking lot for the attraction, and it is where you will be directed if you type "Stuðlagil Canyon" into Google Maps. While it's not the view that you're likely thinking of, we still think it's worth seeing if you aren't too pressed for time.
At this viewpoint, there is a metal staircase (with 239 stairs – yep, we counted!) that'll bring you down toward the river. From here, you can get a nice view of the river and some columns. But the best view of this canyon will be from the opposite side of the river.
We'd recommend stopping here first, as it will be a bit disappointing if you come here after seeing the real view you're after.
Good to know: There is a small bathroom facility and camping at this parking lot. It costs 230 ISK to use the bathroom (the highest fee we saw in all of Iceland!). We'd recommend skipping it, and opting for the bathrooms in the next parking lot (keep reading for more info).
East Side of the River: Stuðlagil Canyon Hike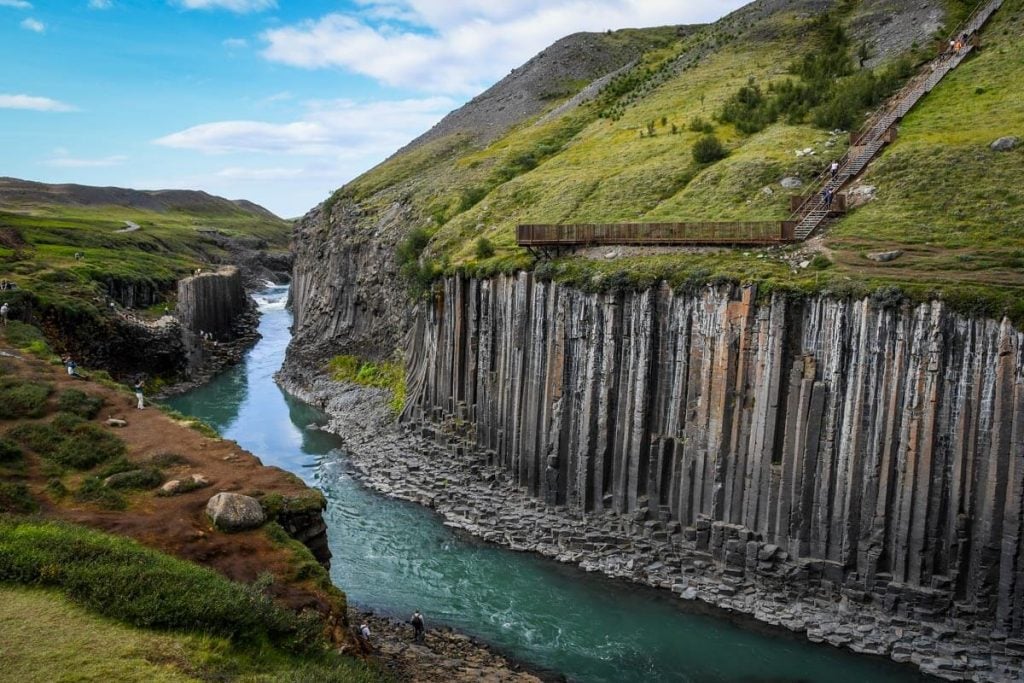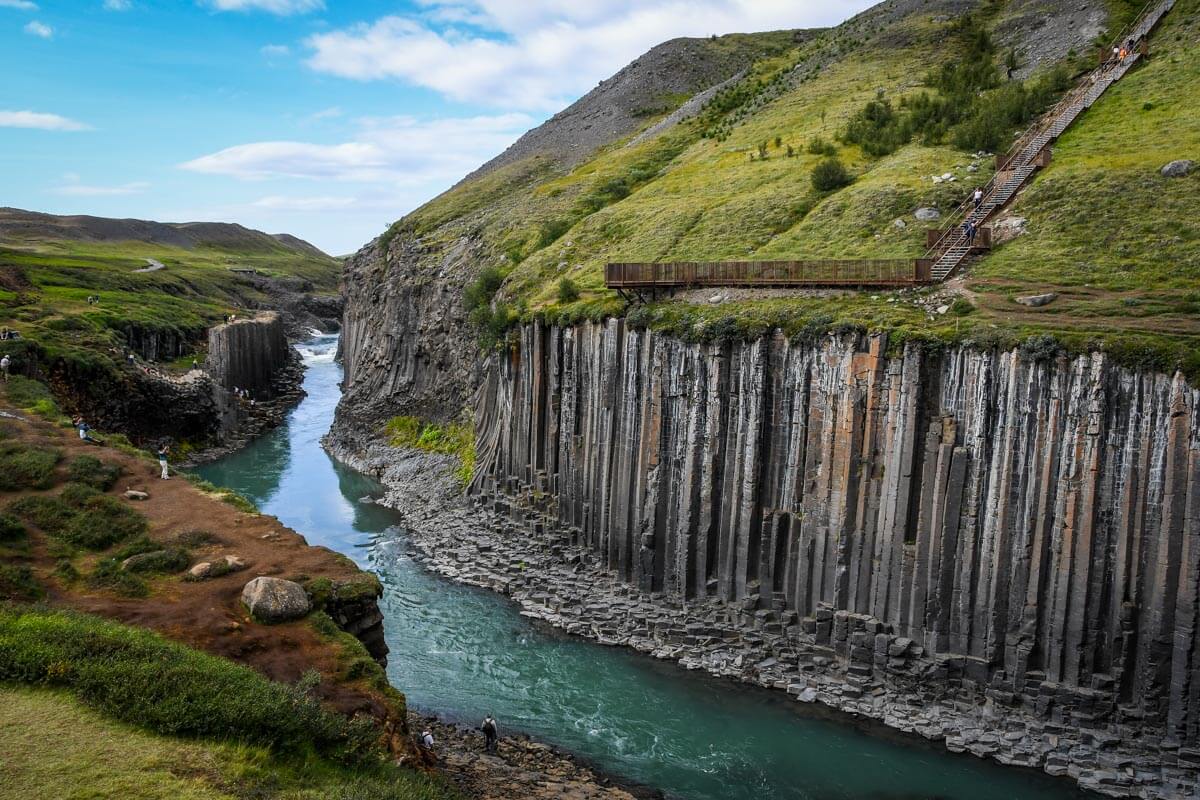 The most picturesque spot at Stuðlagil Canyon is from the east side of the river. (This is where most photos of this place are taken from.)
To get to the photo spot, you will need to walk on foot. The hike is easy with minimal elevation gain, but it is between 2.5 and 5 miles (4-8km), depending on where you park.
Option A: Main Parking Lot
Recommended for: People with a small car, not comfortable driving on bumpy roads, have extra time to hike
If you park here, you will have a roughly 5-mile (8km) hike in total.
On Google Maps, this is labeled as the "Eastside Parking Lot", even though it is actually on the west side of the river. There is a small bathroom here.
Option B: Secondary Parking Lot
Recommended for: People with a larger vehicle, those who don't mind driving on uneven roads, short on time
If you park here, you will have a roughly 2.5-mile (4km) hike in total.
After driving through the main parking lot, you will cross a small white bridge to the east side of the river. Follow the road to the right for a little over a mile. Drive slowly, as the road is not maintained and there will be many people walking on it. If there is oncoming traffic, be especially careful, as this is a one-lane road. Toward the end, you will see another parking lot. This is where you will stop.
Personal experience: This is where we personally parked, and we made it there without a 4×4. We saw several other non-4×4 vehicles in the parking lot.
Psst! Are you interested in more hiking?? We have a whole guide to the best hikes in Iceland with photos, details and insider tips to help you plan your trip.
How to get to Stuðlagil Canyon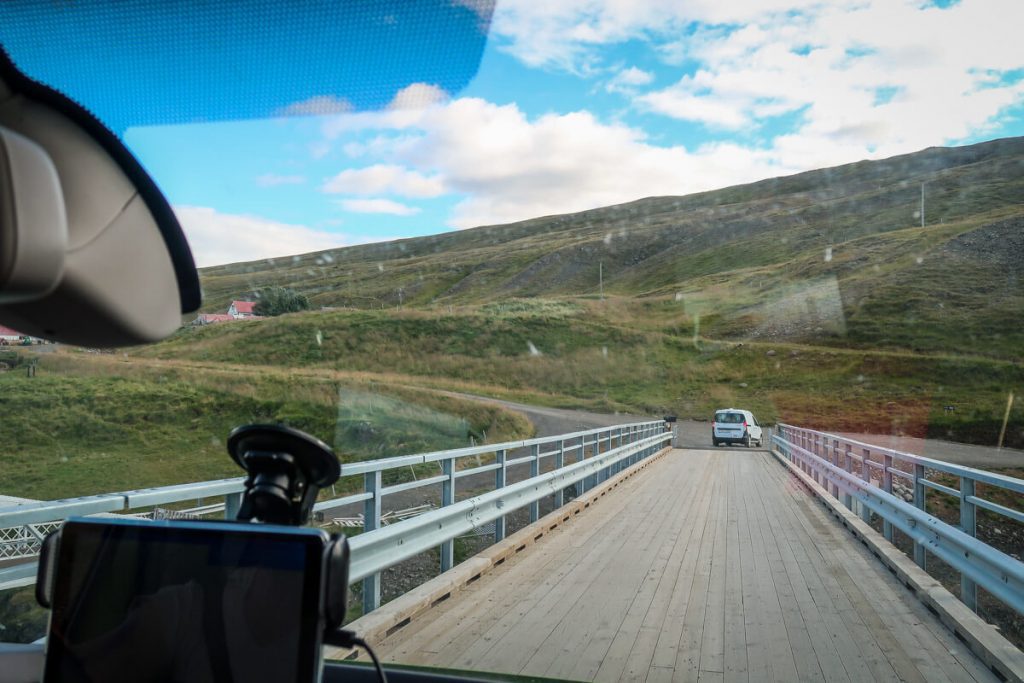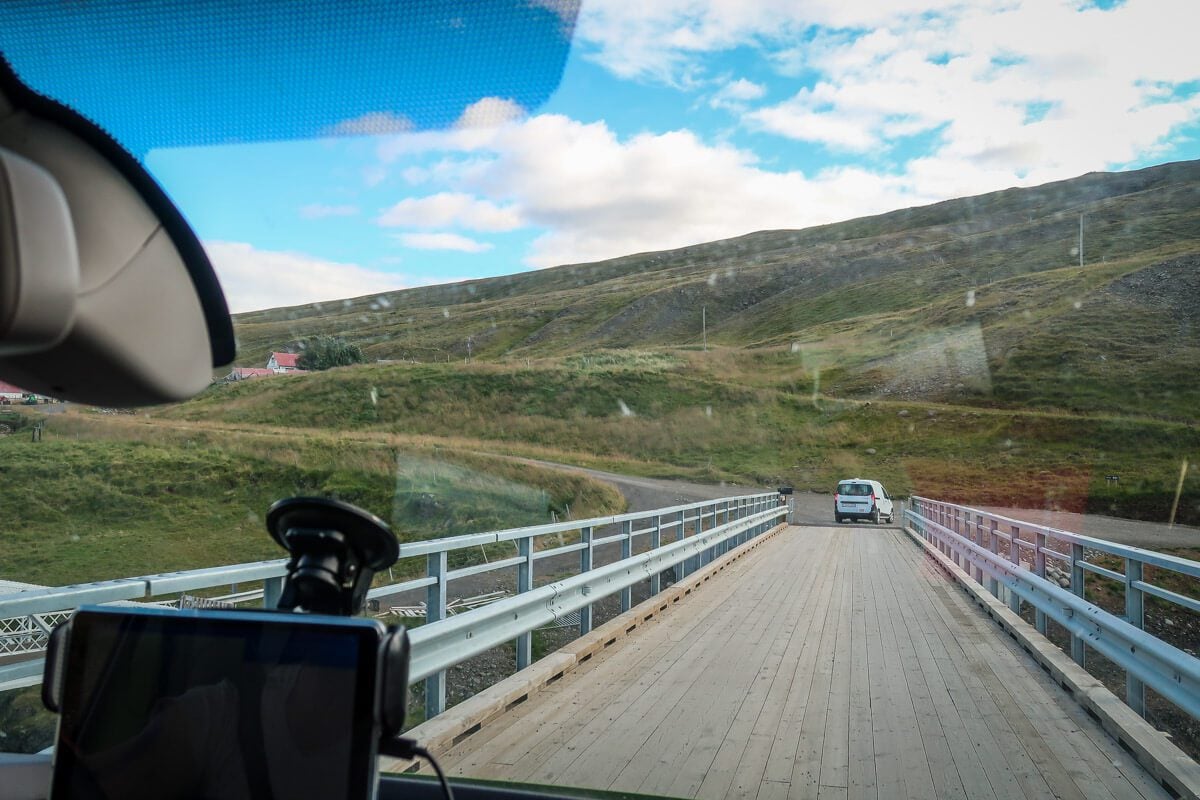 First things first, getting here can be a bit challenging. If you simply type "Stuðlagil Canyon" into Google Maps, you will be directed to the main parking lot, but not the best location.
Keep reading for exact directions to Stuðlagil Canyon that'll bring you to the photo spots you're envisioning.
Whether you're coming from Egilsstaðir in the east (driving the Ring Road counterclockwise) or from Húsavík (driving the Ring Road clockwise), the directions will be almost the same.
Step 1: From Ring Road (Highway 1), you will exit onto road 923. You will see signs for both road 923 as well as for "Stuðlagil" (see photo below).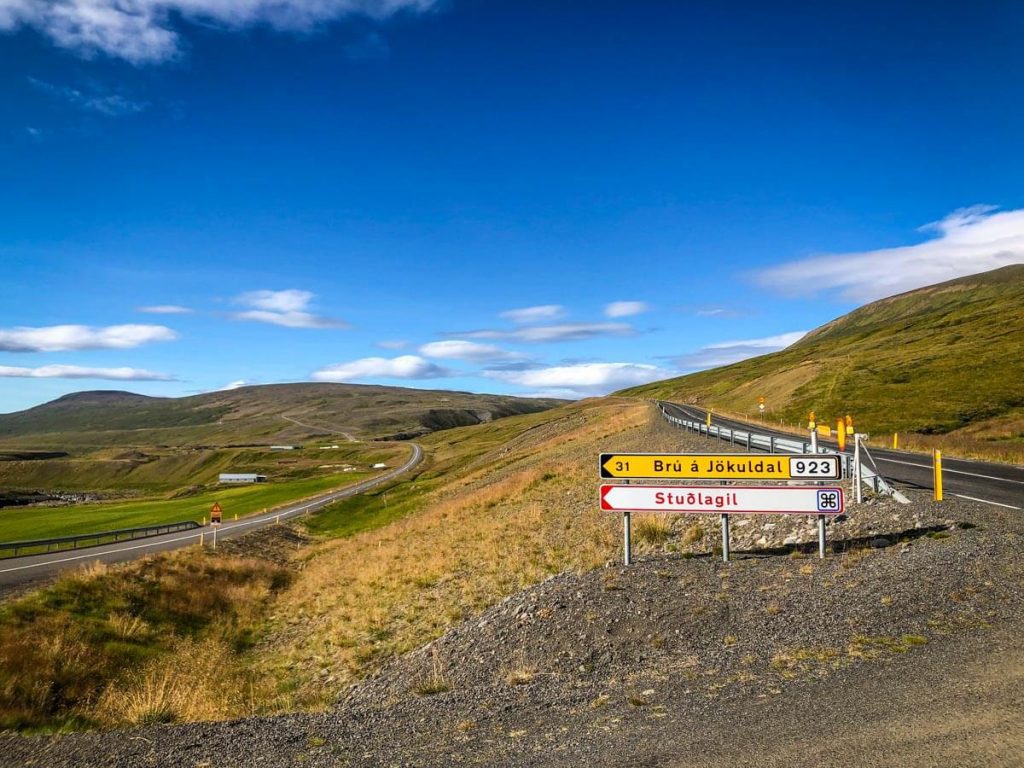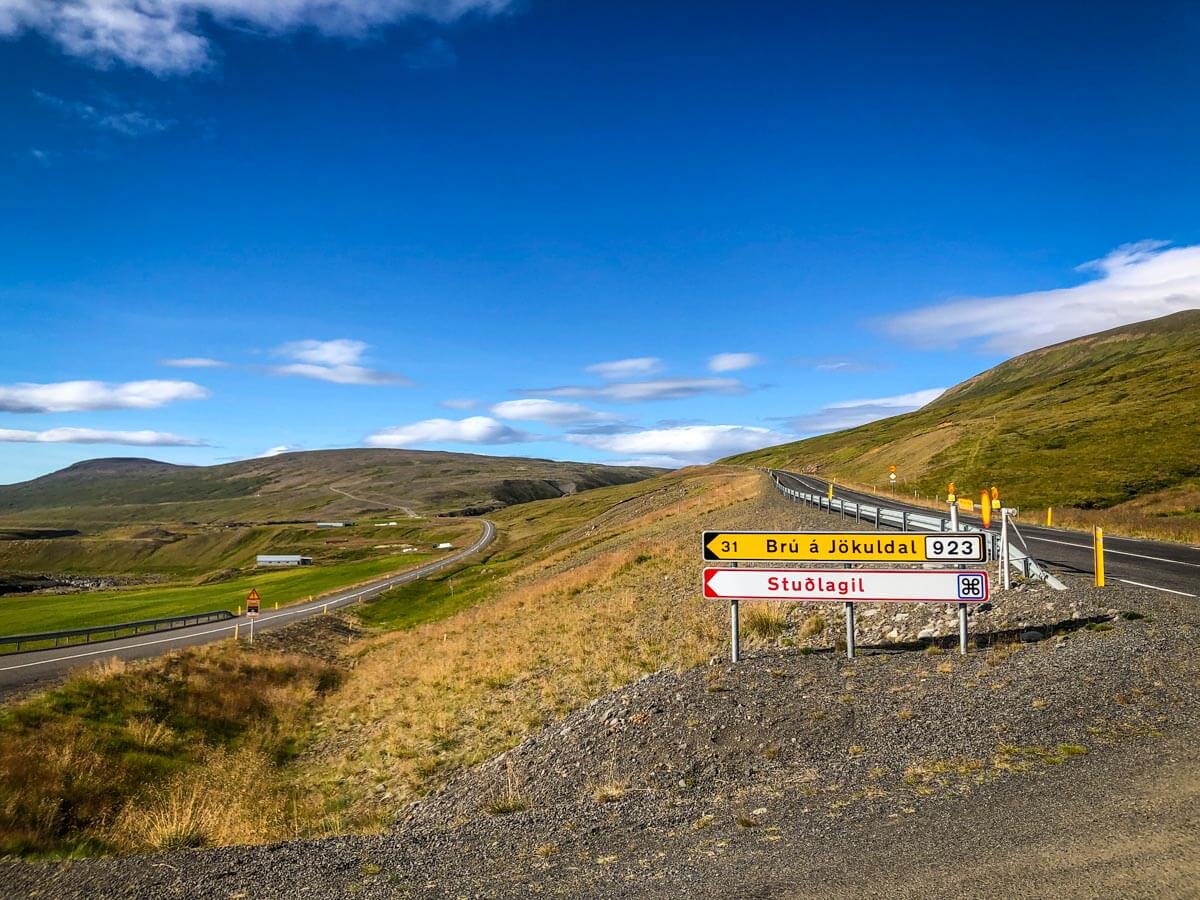 Step 2: From road 923, you will be turning south onto a dirt road called Jökuldalsvegur.
Good to know: If you're driving westbound, you will be on 923 for a very short time before turning off. If you're driving eastbound, you'll be on 923 a bit longer, but the turnoff is still the same.
West Side of Stuðlagil Canyon
After driving south on Jökuldalsvegur (dirt road) for about 16km (10 miles), you will come to a Y in the road. There is a sign for "Grund" farm to the left. Take this turn and it is just a short drive until you reach the viewpoint parking lot.
East Side of Stuðlagil Canyon
After driving south on Jökuldalsvegur (dirt road) for about 12 km (7.5 miles), you'll come to a sign for Klaustursel farm. Turn left here. It is just a short drive to the main parking lot from here.
If you plan to park at the secondary lot, cross the river via a small white bridge and continue on the gravel road for about 1.25 miles (2km).
Stuðlagil Basalt Canyon Map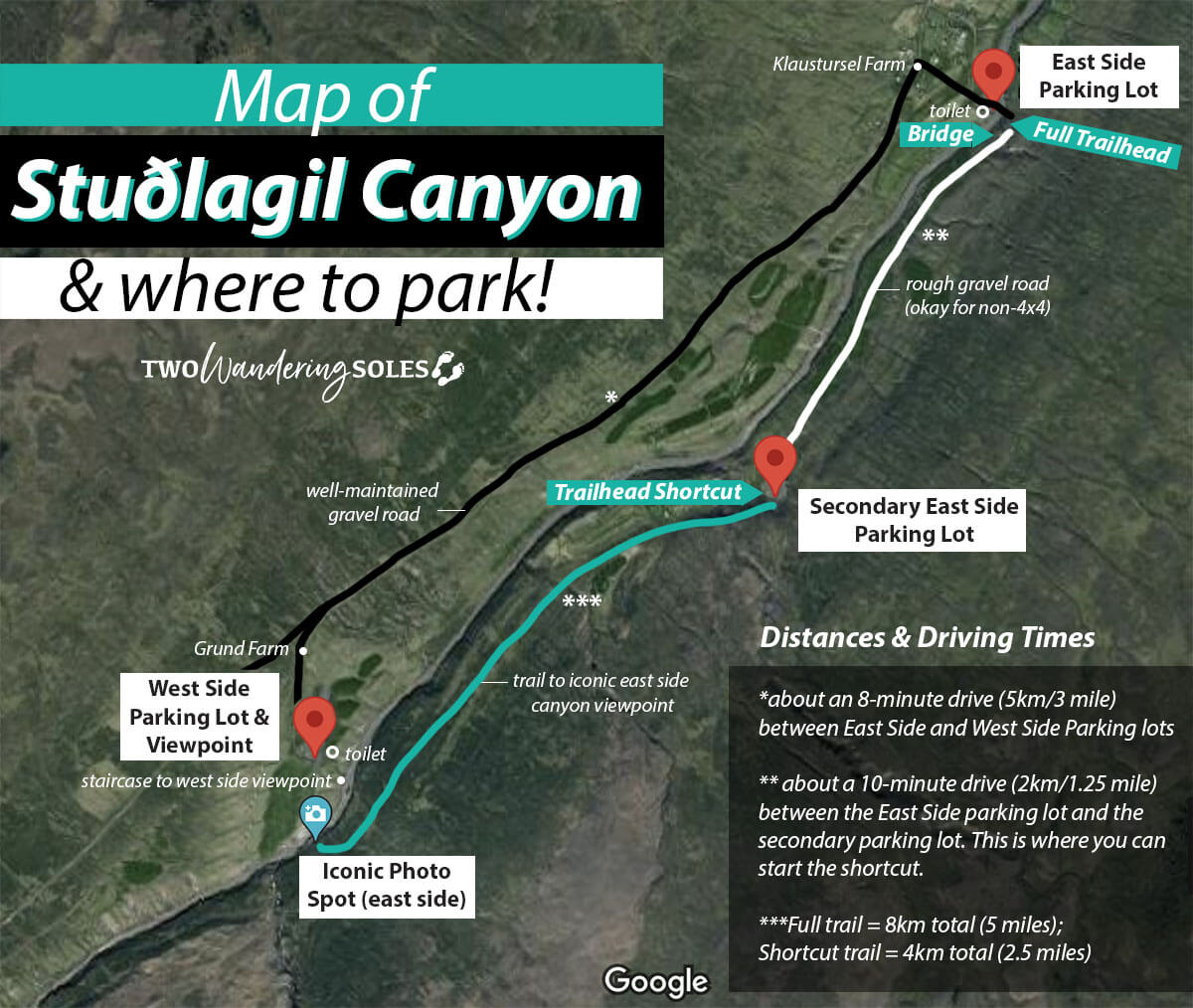 This map has all the locations pinpointed so you know exactly where to go.
Stuðlagil Canyon Hike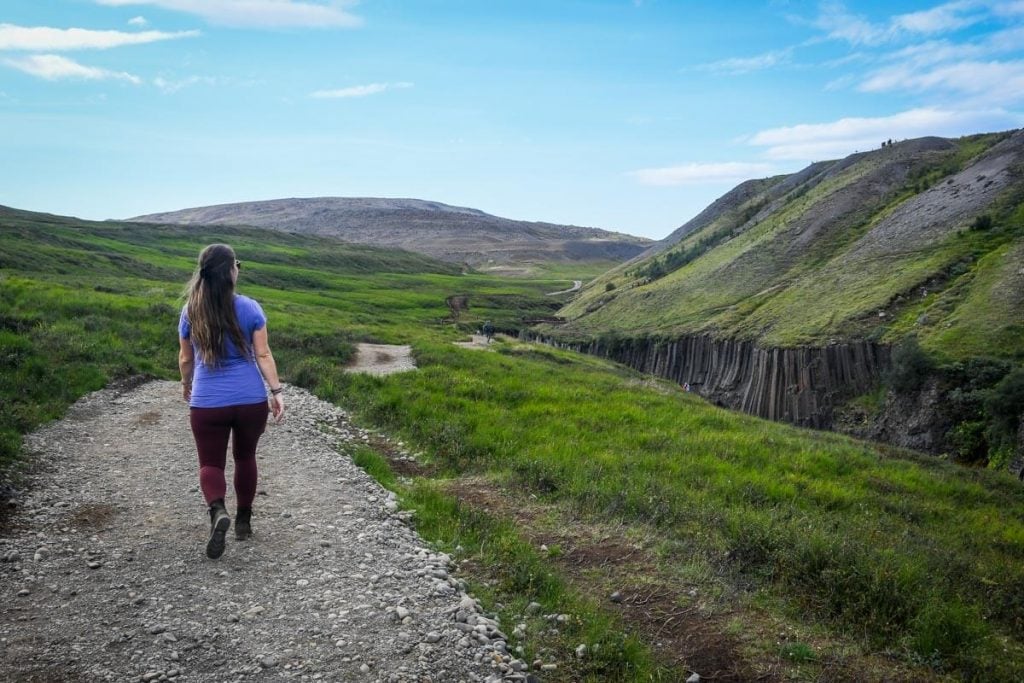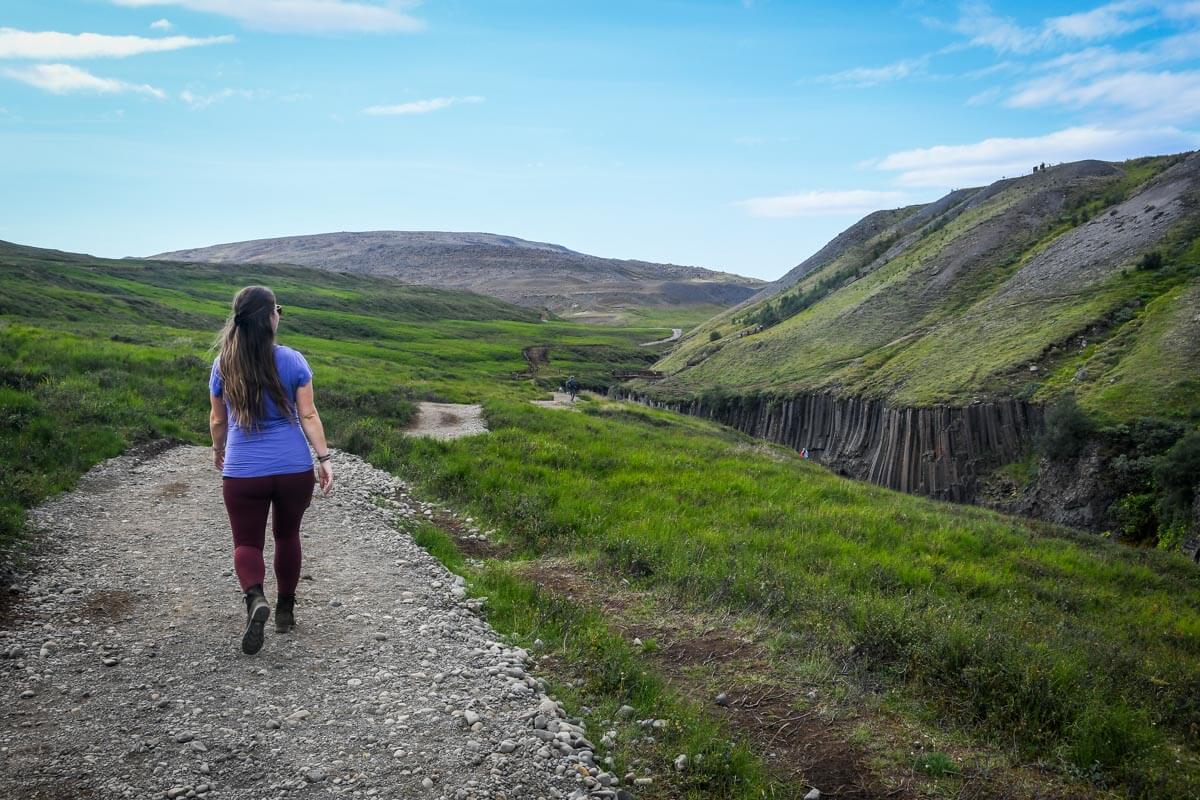 In truth, we'd consider this more of a walk than a proper hike. The path is gravel and mostly flat. The view is pretty much the same the entire way, so it's not the most exciting of hikes in Iceland.
This is one of those exceptions to the "it's not about the destination, it's about the journey" rule. This one is definitely about the destination!
Hike at a glance:
Distance: 4km each way
Elevation gain: 560 feet
Difficulty: easy
Psst: Read recent trail reports for this hike on AllTrails.
Stuðlagil Canyon Hike Shortcut
To save 2.5 miles (4km) in total, be sure to park at the furthest parking lot (we share exact directions in the section above).
You will simply drive to a closer starting point, and honestly, this section of the trail is boring so you won't miss much.
Our experience
We did this hike at an average pace (I was 6 months pregnant at the time), and it took us roughly 45 minutes each way.
The path itself was flat but quite rocky, so it's best to wear sturdy shoes. There is a grassy area next to the path that has been roped off so tourists don't trample it. Please respect this and stick to the designated path, as local farmers share this land.
Stuðlafoss (Stuðlagil Waterfall)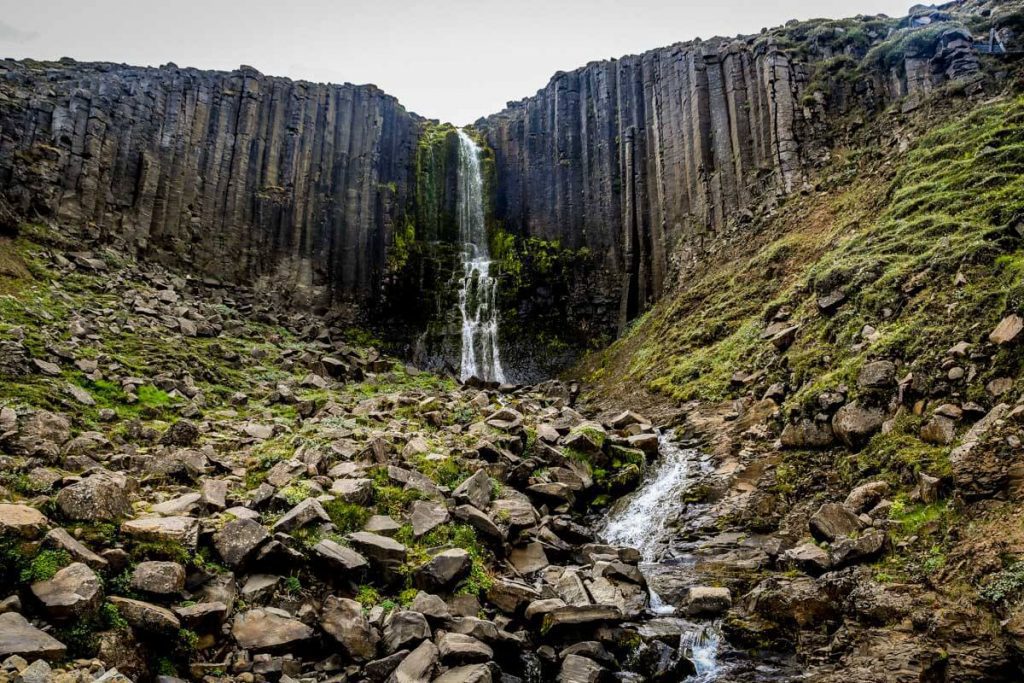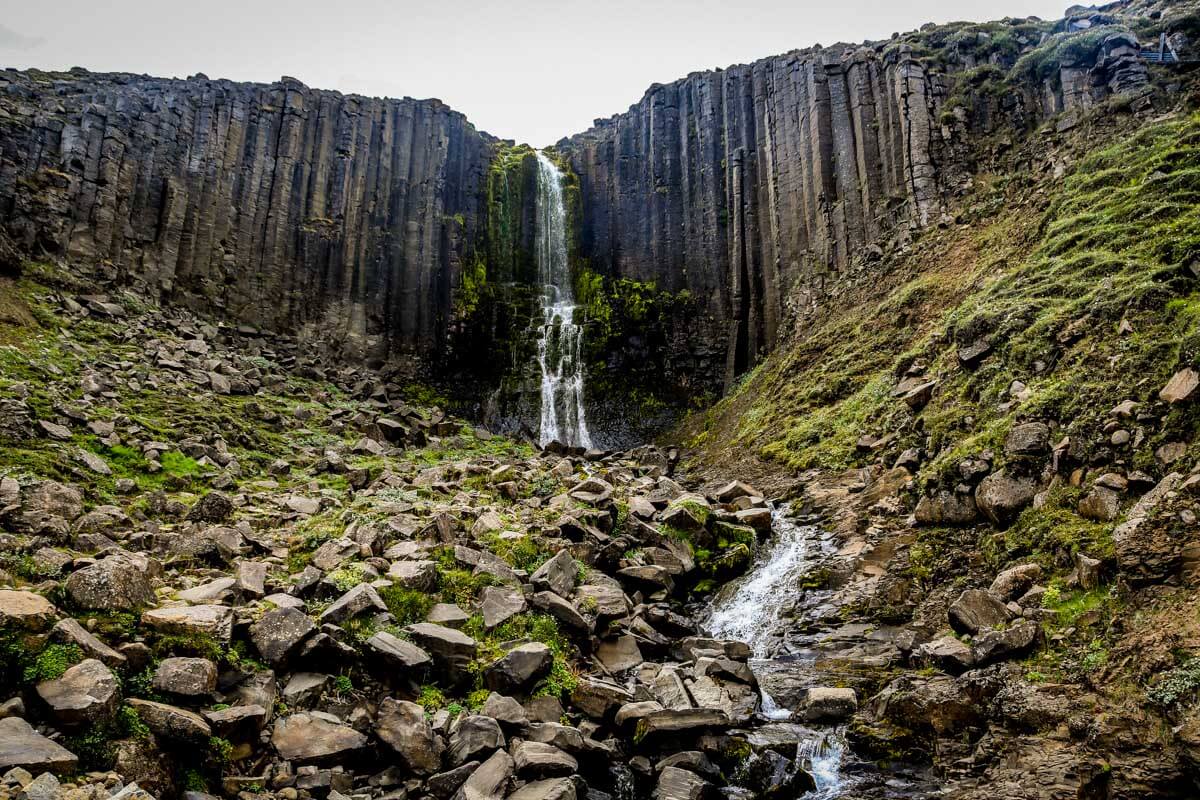 Not far from the furthest parking lot, you'll see Stuðlafoss, which translates as "basalt column waterfall". Creative name, I know.
It's certainly not one of the most impressive waterfalls in Iceland, but it's still quite pretty.
Stuðlagil Canyon Photo Spot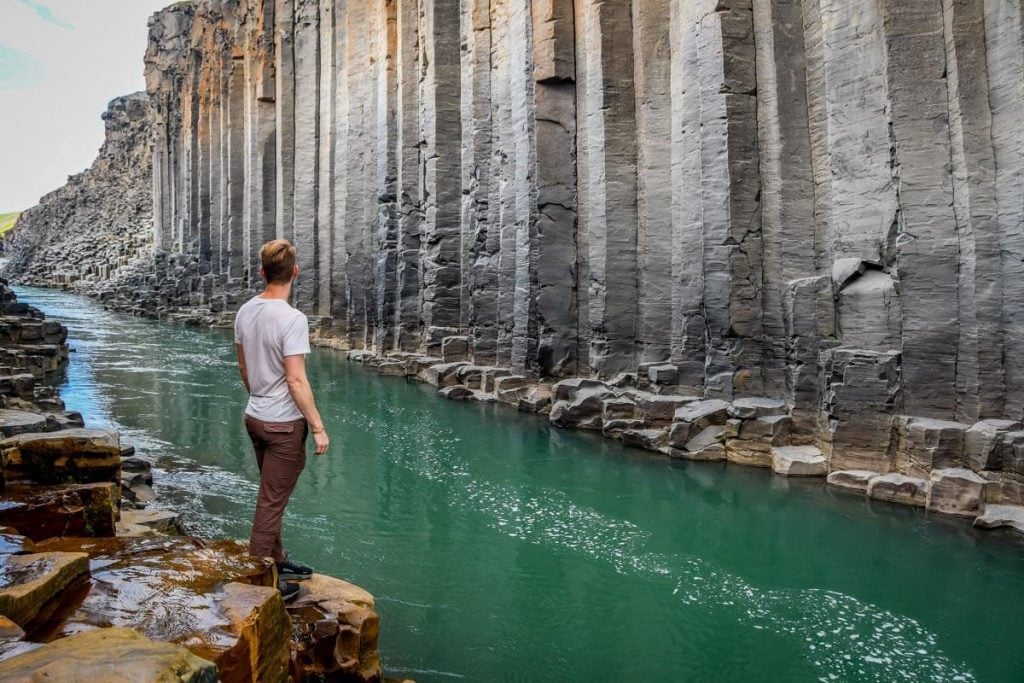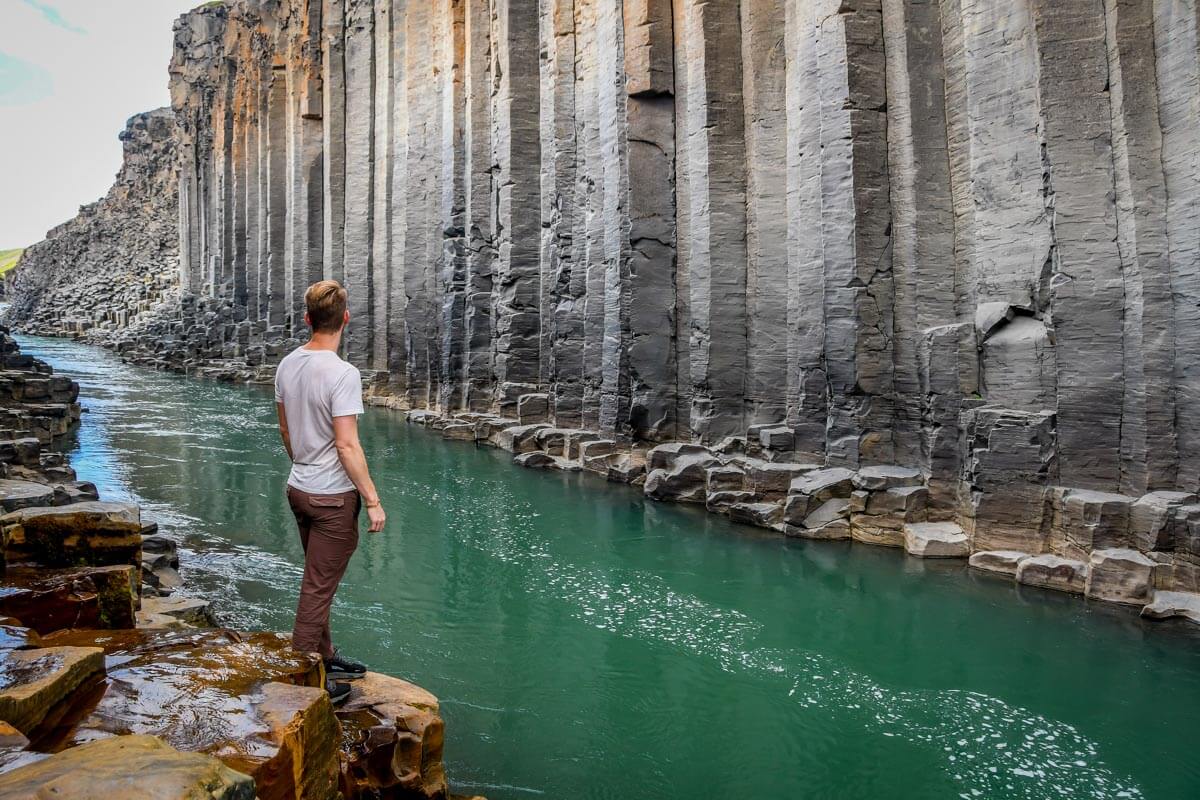 As you approach the viewpoint, you'll definitely know it. Looking toward the river, you'll see some columns that are a copper color. Walk down here toward the water, but be careful, as it can be wet and slippery. (There are even some ropes to hold onto as you descend.) This is where you'll get that classic Instagram shot.
Best time to visit Stuðlagil Canyon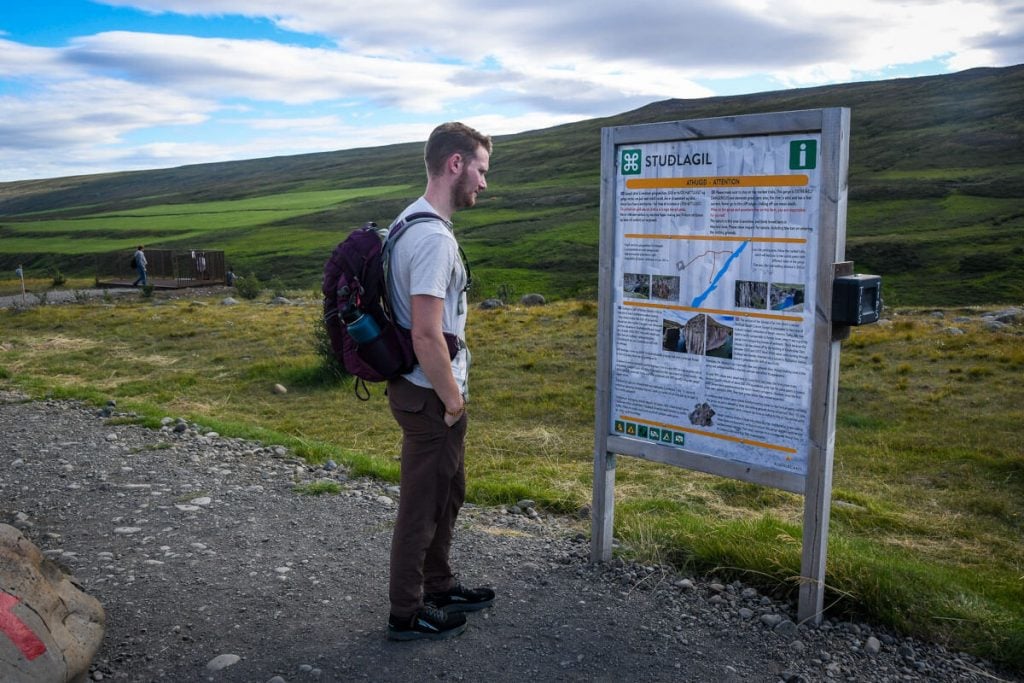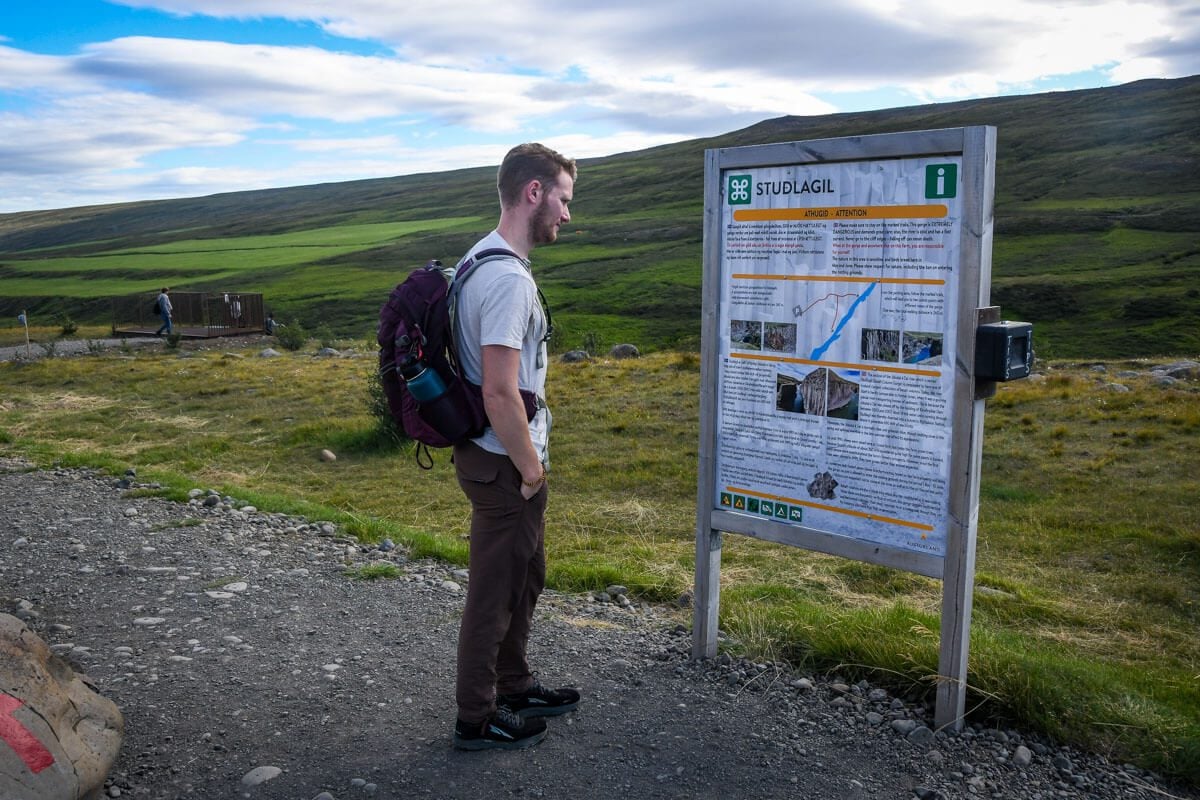 The best time to visit Stuðlagil Canyon is during the summer months because you'll have:
mild weather
good driving and hiking conditions
more daylight
the best chance of seeing the river a beautiful shade of blue
Let's talk about that last point… Back before the dams were built to divert some of this water, the river came from a glacier in the Icelandic Highlands. On that 150 km journey it picked up a large amount of sediment, meaning this river was a murky color for most of history.
Why is the river blue?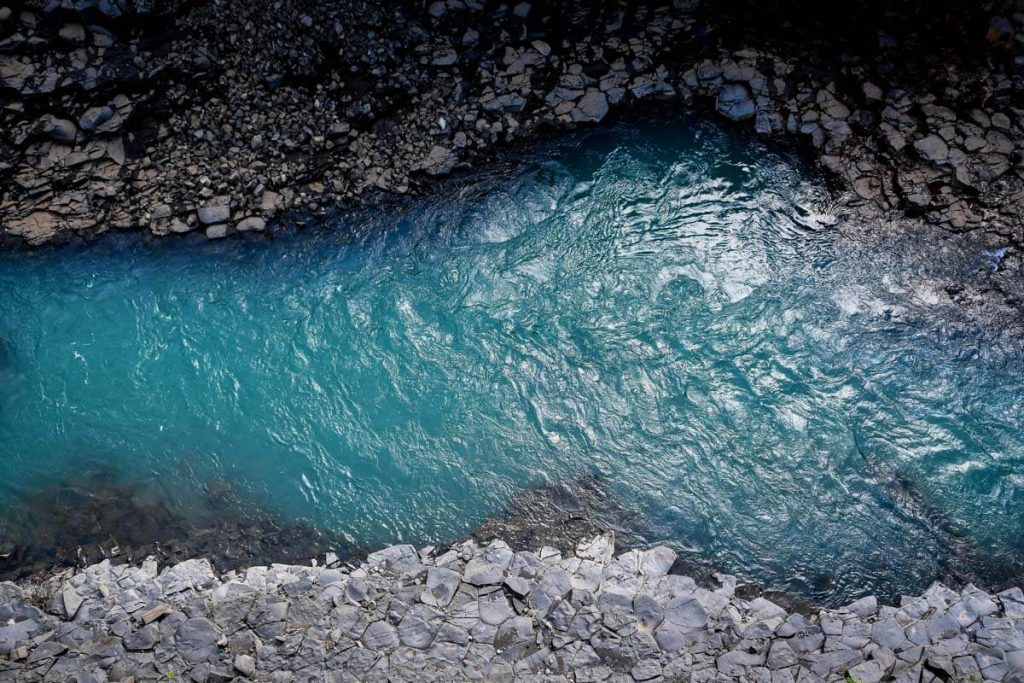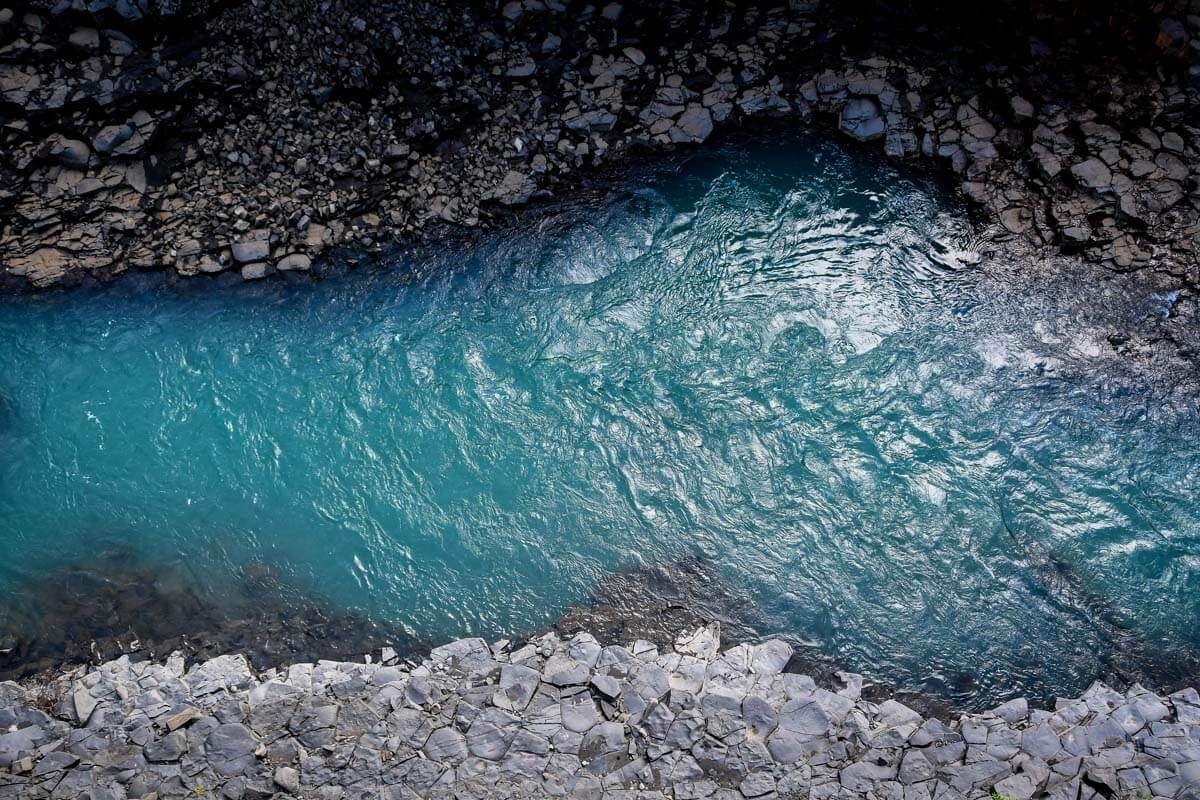 I'll be the first to tell you that it's not always blue (despite what it may look like on Instagram).
During the early spring months, the river tends to be brownish, as it is made up of snowmelt that has collected sediment. It can also be a murky shade in late August and September when the nearby reservoir overflow is released.
If you're traveling to Iceland in the summertime, you'll have the best shot at seeing the river in a stunning shade of turquoise.
It is said that the best window to visit Stuðlagil Canyon is between mid-June and mid-August. We were there in late August and were lucky enough to see the river a vibrant shade of blue, but that might not always be the case.
Related reading: Here's the best time to visit Iceland…
Tips for visiting Stuðlagil Canyon
Before you hit the road, read these tips as they will help you know how to prepare and what to expect. We sure wish we had known some of these things before our visit!
1. Come early to avoid crowds as much as possible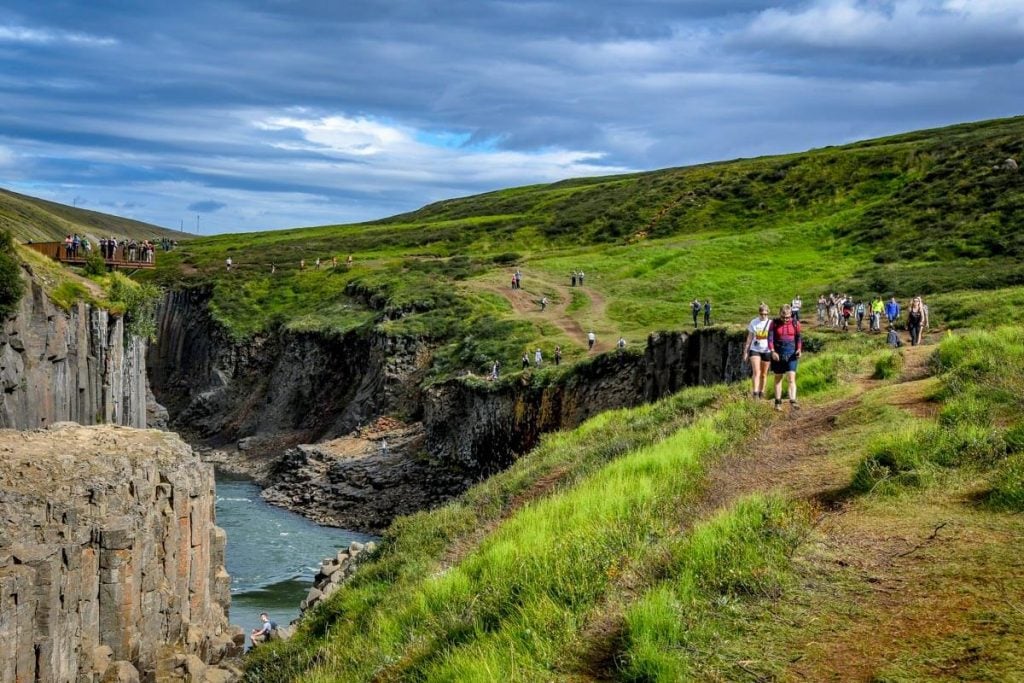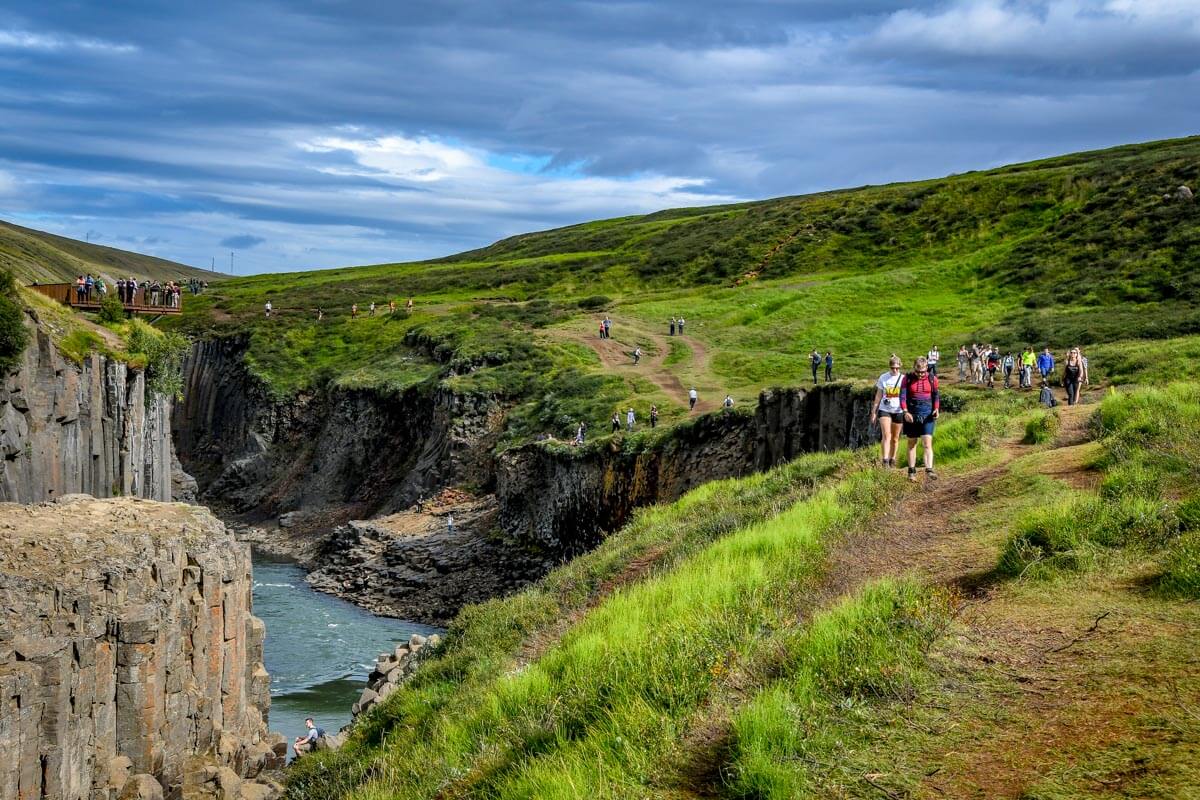 As we've already mentioned, Stuðlagil Canyon is no secret, and it is a popular stop for many visitors driving the Ring Road.
For the best chance of avoiding crowds, come as early as possible, or visit in the late afternoon. Bonus: These times of the day will also grant you the best lighting of the canyon.
How early is early? When it comes to avoiding crowds, the earlier the better. If you arrive before 10 am, you should have a really good chance of being part of just a handful of people. By noon, this place will start to become pretty crowded.
2. Know that the water isn't always bright blue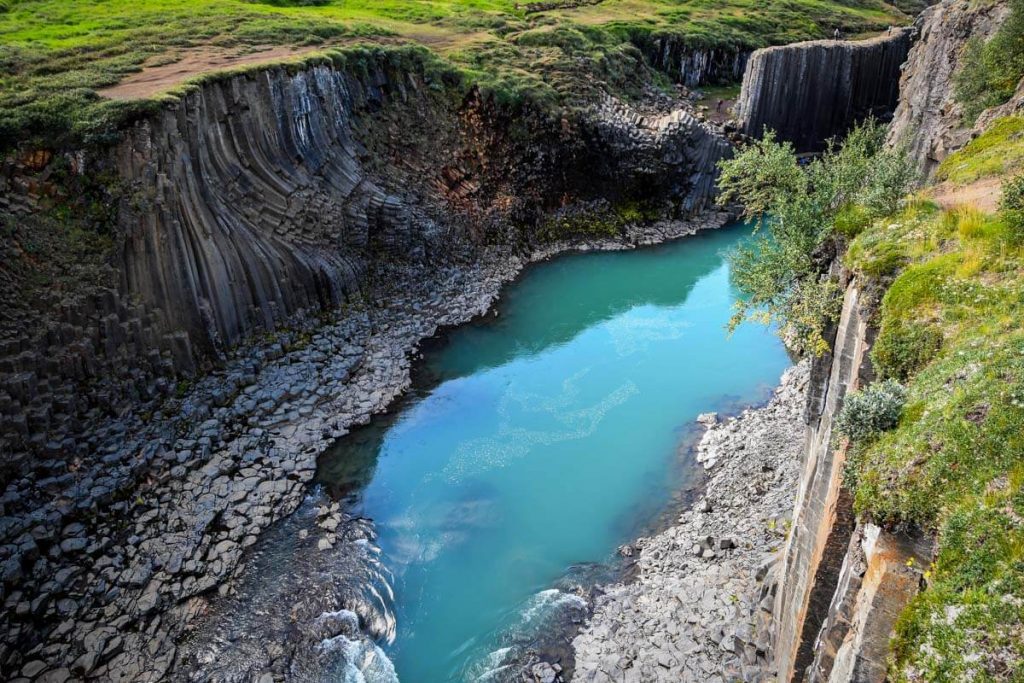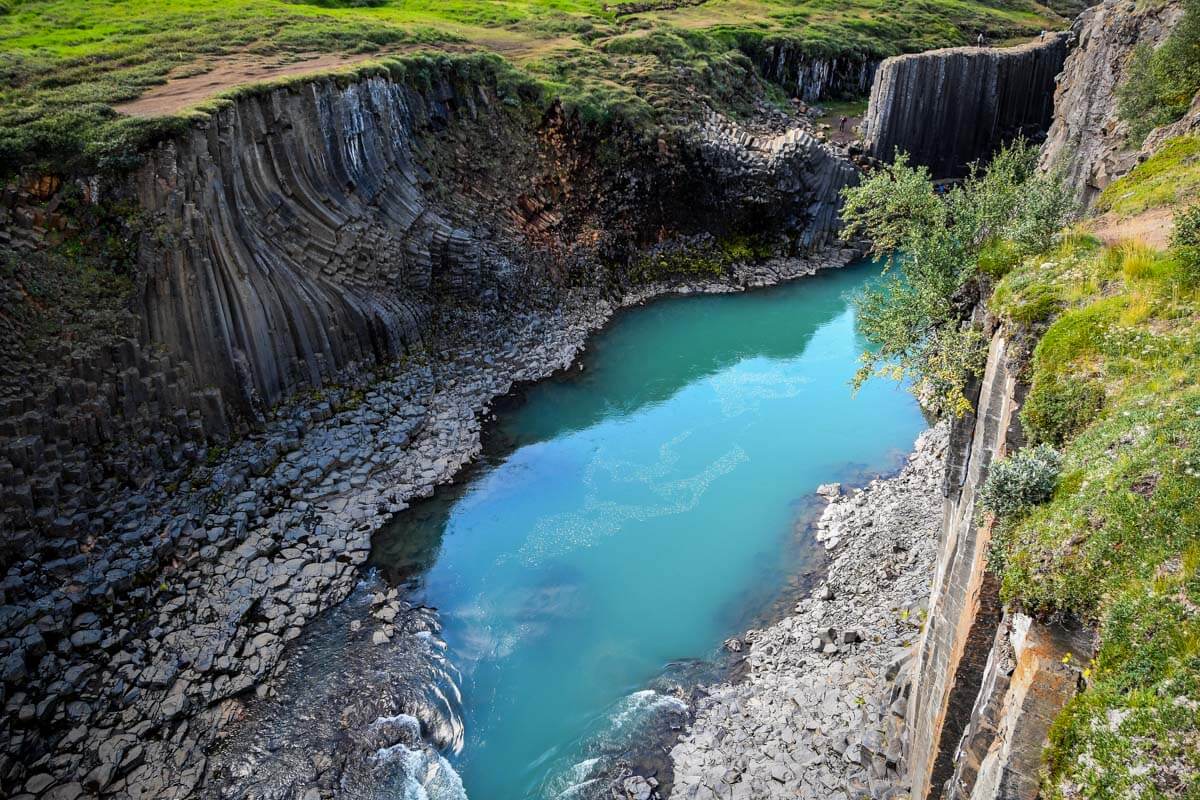 You may have seen some pictures of Stuðlagil Canyon where the water is a piercing shade of blue-green. Well, that may or may not be the case for you depending on when you visit.
We've done our best to explain in the section above when you'll have the best chance of seeing the river at its most brilliant, however, like anything having to do with weather in Iceland nothing is guaranteed.
Even if you visit in the middle of the summer, you may be greeted with brown, murky waters, as even something like a rainstorm the day before can stir up the sediment and make the water look dull and far from blue.
Our advice is to go in with realistic expectations, and know that you might not get the perfect conditions.
Insider Tip: If you really want to know what the recent conditions are, you can search "Stuðlagil Canyon" on Instagram, click "Places", then filter by "recent" photos (not "top" photos).
3. Visit the west side viewpoint first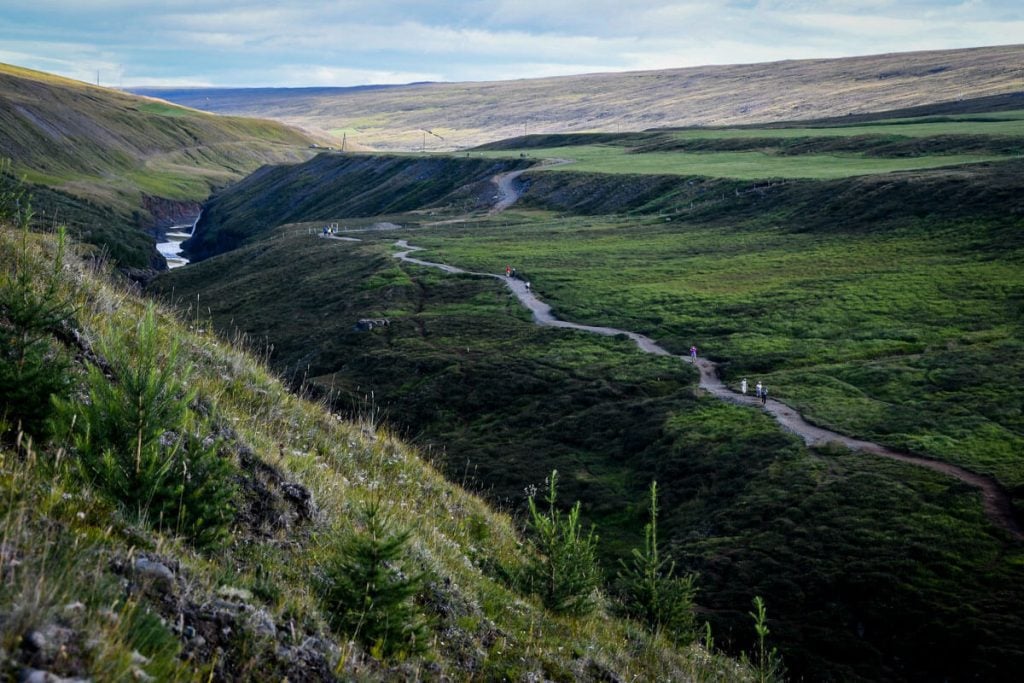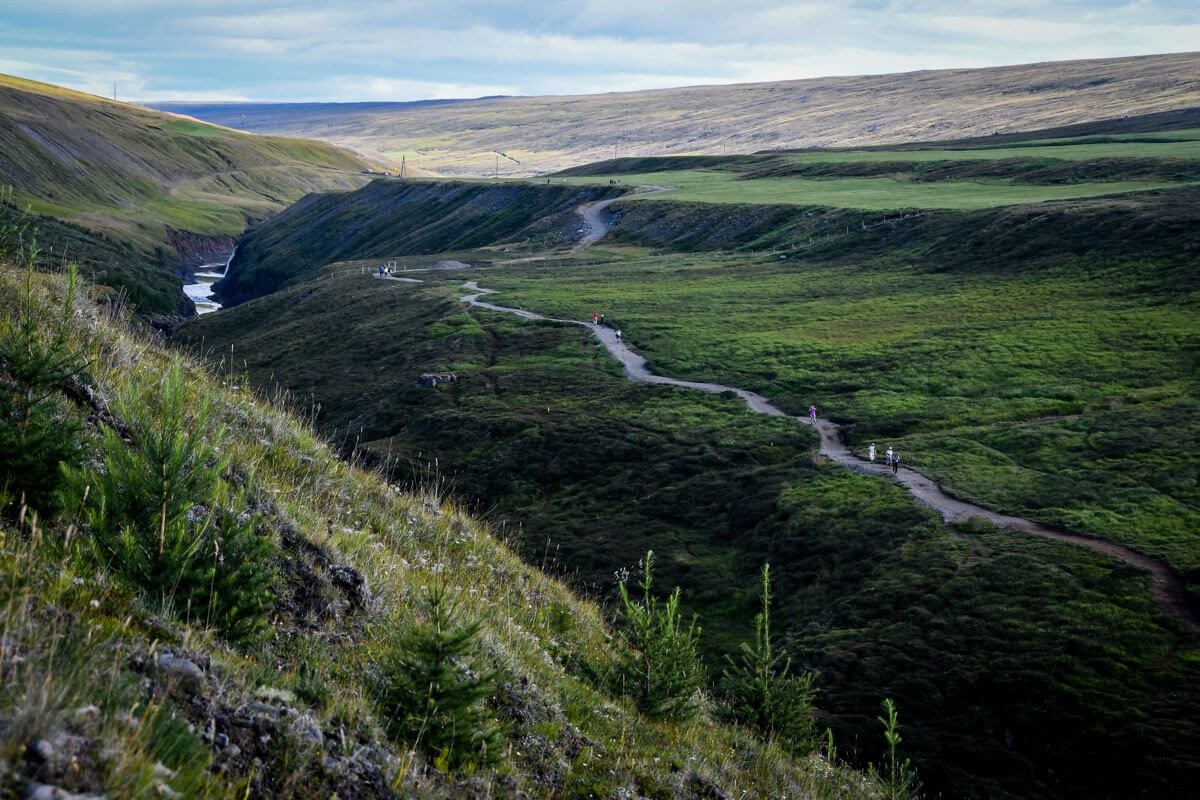 If you have the time, we'd recommend visiting both the east and west sides of the river. I mean, you're there, so you might as well and they are both worth seeing.
The westside viewpoint should only take about 20 minutes in total, including driving and walking down all the steps. Our recommendation is to visit this spot first because it is arguably way less epic than the views you'll get on the east side. If you visit this viewpoint after your hike, I almost guarantee you'll be disappointed. Starting with the less impressive of the two views will ensure you're not let down.
Alternatively: If you're really short on time and don't have an extra 20 minutes to spare, plan to only do the east side hike.
4. Park in the east side parking lot to save time hiking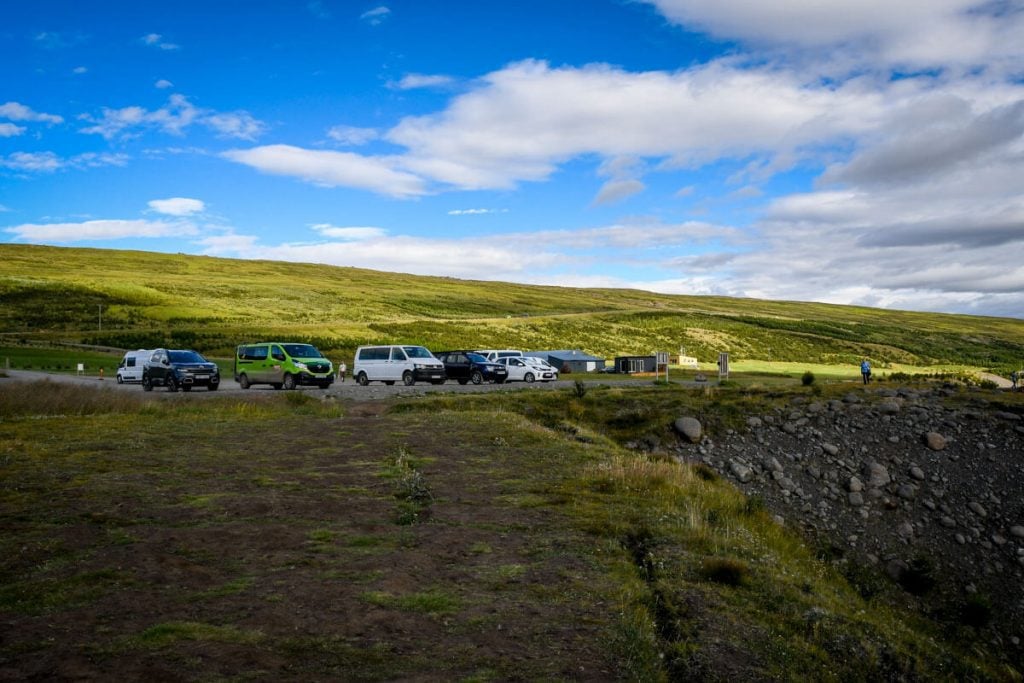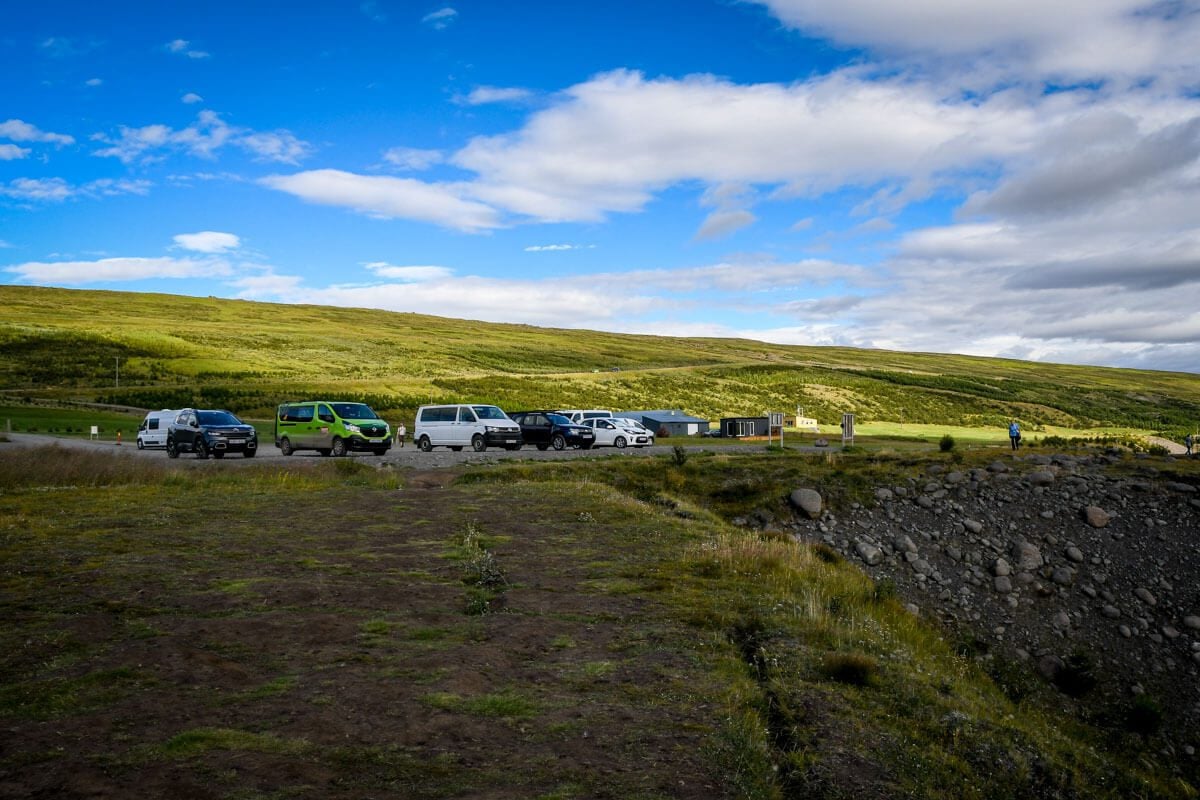 We've already explained that the best views of the canyon are from the hike on the east side of the river. To save yourself some time, we'd recommend crossing the bridge in your vehicle and parking in the east side lot. This will save you about 2.5 miles in total on your hike (about 1 hour, depending on your pace).
Good to know: Typically, we don't look for shortcuts with hikes, since part of the experience is the hike itself. However, we can assure you that you won't really miss anything by cutting
5. Wear sturdy shoes
The hike to get here isn't much of a hike at all… It's more or less a walk along a mostly flat and dusty path. That said, if you want to get close to the columns you will need to do some scrambling down rocks, some of which are wet and slippery. Wear shoes with some decent grip so you don't slip.
6. Be prepared with sun protection & layers
Like most hikes in Iceland, there is no protection from the elements. We were at Stuðlagil Canyon on a hot and sunny day (rare for Iceland!), so sunglasses, sunscreen and extra water were all a necessity.
That said, the weather in Iceland can change at a moment's notice, and this area can become windy and cold. Dress accordingly and bring a small backpack filled with layers, water and other essentials.
7. Be patient & respectful in the "photo zone"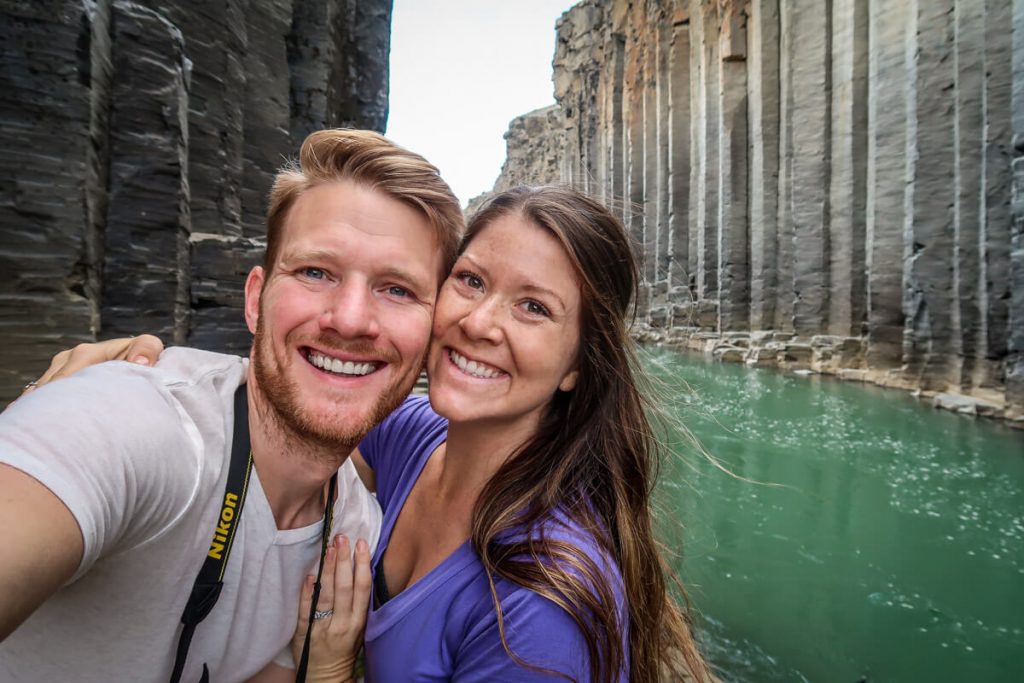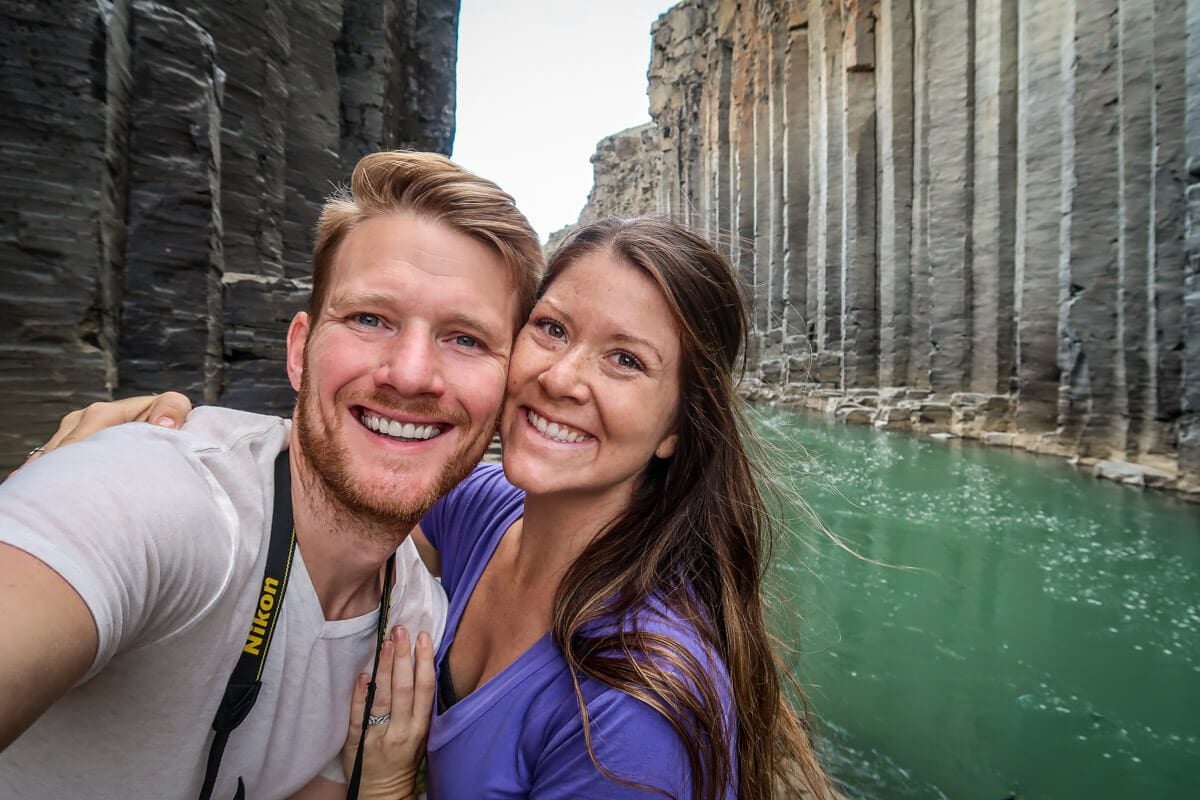 Stuðlagil Canyon is a popular place for Instagram photo shoots. While we were there, most people were very respectful and took just a few minutes to get their shots. However, there were a few people that took their sweet time while everyone else had to wait.
Here's our advice:
Be prepared to be patient. If getting a good photo is important to you, allot yourself enough time that you won't have to rush.
Be respectful. There are few things more annoying than someone who stands in the center of "the shot" for much longer than necessary while everyone else waits. If you have several poses you want or outfit changes, take some photos, then get back in line.
8. If you're visiting during the springtime, watch out for nesting birds
During the months of May and June, pink-footed geese make this canyon their nesting grounds. Be careful where you step and only walk on the designated paths.
9. Be mindful where you're walking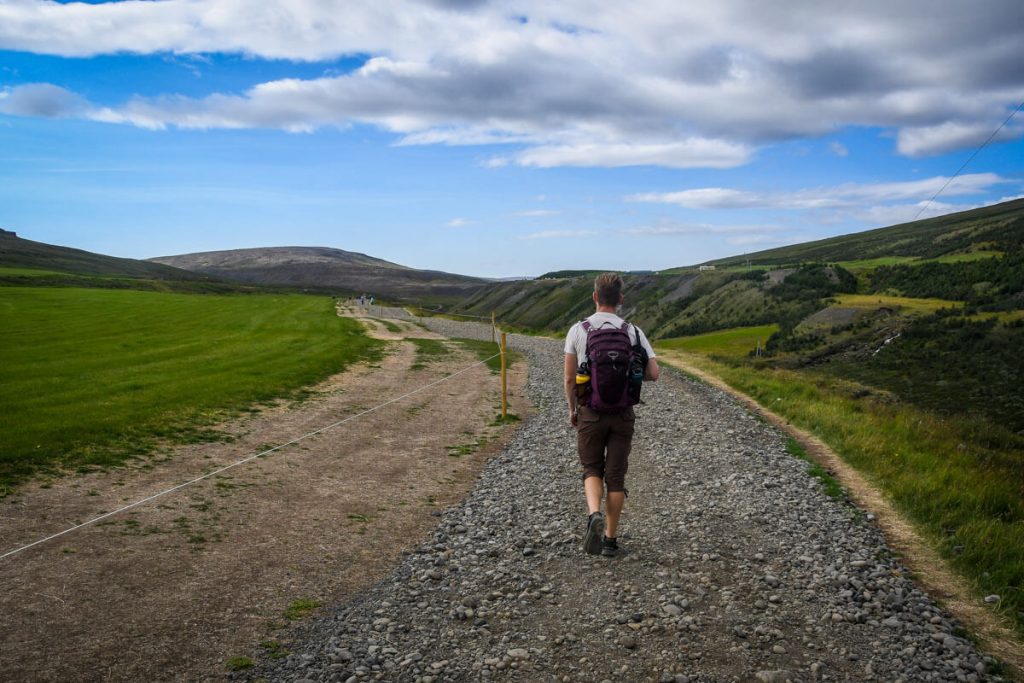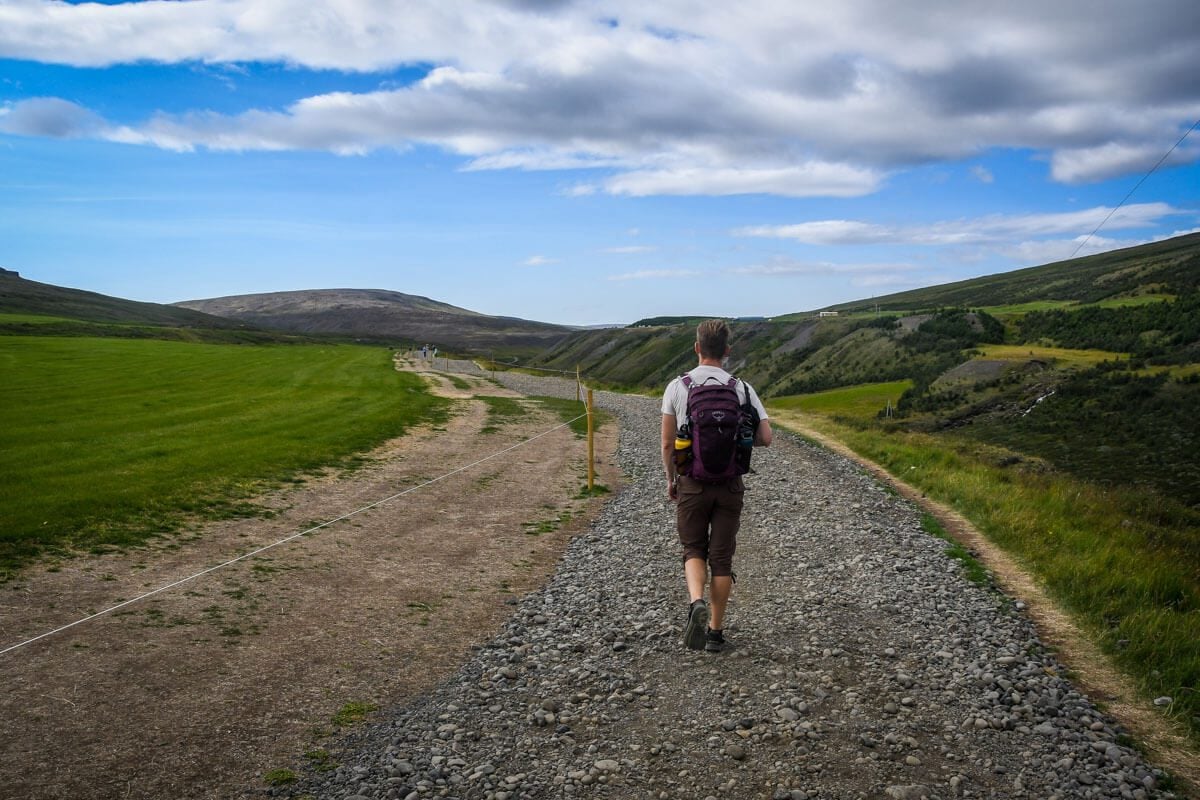 The path to get to the columns is pretty well-defined. Like many places in Iceland, the ecosystem is fragile and it's important that you stick to the designated path instead of forging your own trail (even if you think you can find a shortcut).
Not only can this be harmful to wildlife (just read the tip above!), but it can be disruptive to local farmers who also use this land. There are many places in Iceland that have been closed or drastically limited due to tourists not following the paths cleaning up after themselves. Help keep this place beautiful and open for years to come by following the marked paths.
Stuðlagil Canyon FAQs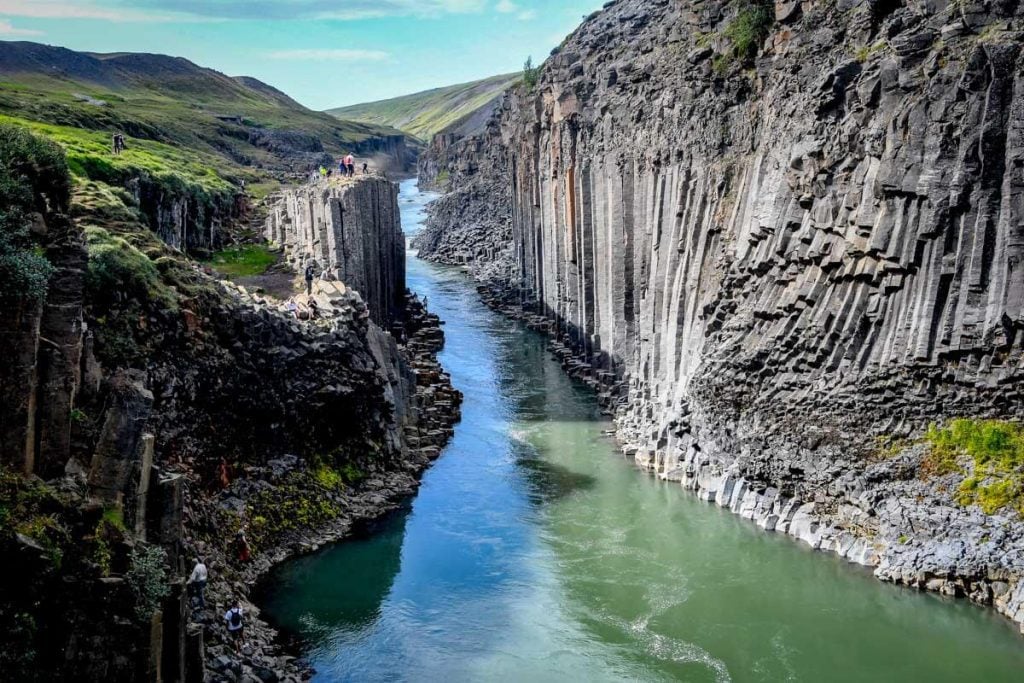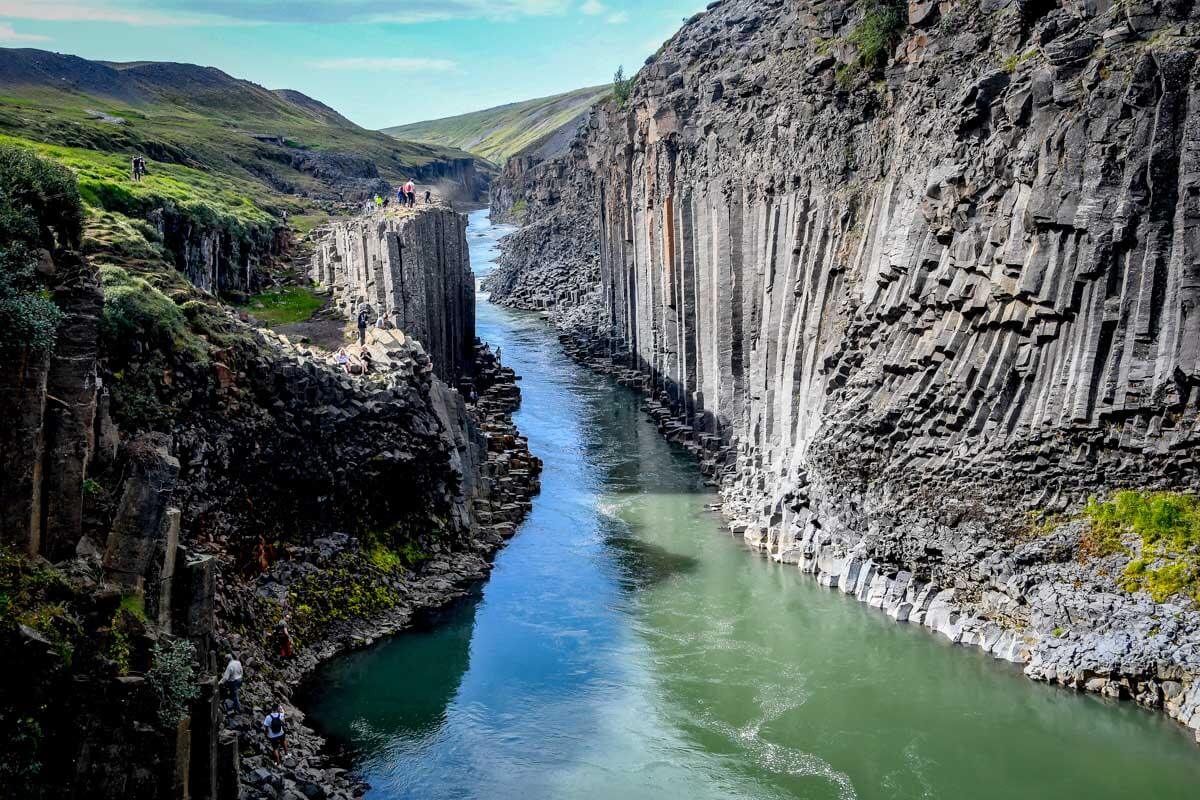 Still have questions about visiting this magnificent spot? We gotchu! Keep reading for some common questions about the Stuðlagil Canyon.
How do you pronounce Stuðlagil?
STOO-thluh-gil
Good to know: The "ð" symbol has a "th" sound.
How long do you need at Stuðlagil Canyon?
Give yourself 2-3 hours to explore this area. Even just getting there on the gravel roads can take longer than you'd think. The hike itself can take some time as will taking photos and soaking up the experience. If you're visiting at a crowded time of the day, it can take even longer. This isn't a place to rush, so be sure you have plenty of time in your schedule.
Our experience: We spent about 3 hours in total here. We did the "shortcut hike", but visited both sides of the river and spent lots of time taking photos.
Do you need a 4×4 to get to Stuðlagil Canyon?
No, it is not necessary to have a 4×4 vehicle to visit Stuðlagil Canyon.
It is worth mentioning that once you turn off of the Ring Road, you will be driving on gravel. And if you plan to drive to the furthest parking lot, the gravel road is quite bumpy and not well-maintained. Take it slow and watch out for potholes and you should be fine.
We drove this section in our campervan that was not a 4×4 vehicle. While not the most comfortable ride, we made it just fine (and saw many other non-4×4 cars in the parking lot).
How difficult is the hike to get to Stuðlagil Canyon?
The hike is easy and has little elevation gain. In fact, we'd consider it more of a "walk" than a proper hike.
We saw people of all ages doing this hike. That said, depending on where you start from (aka which lot you park at), it can be anywhere from 2.5 to 5 miles (4-8km) in total. As long as you are prepared for the distance, you should be fine.
Can you cross the river?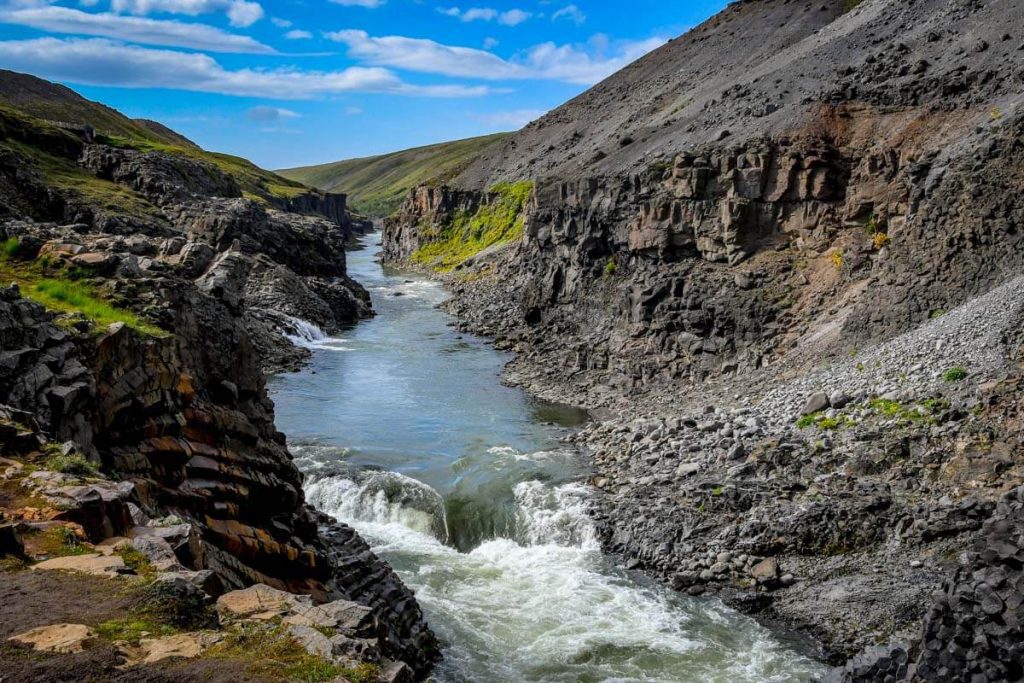 It is not possible to cross the river by foot, but there is a bridge that will bring you to the opposite side of the canyon.
Can you swim in the river?
Here is what the official website of Stuðlagil Canyon says on this matter: "No, there are heavy currents in the water and water is cold."
Can you visit Stuðlagil Canyon in the winter?
The main road to the viewpoint is open in the wintertime, however, you likely won't be able to cross the bridge.
While we have seen winter pictures of this area that are stunning, it's worth mentioning that the river can be murky and even partially covered with snow and ice during the winter months.
If you're traveling to Iceland in the winter, check out Road.is which has live webcams and up-to-date road conditions. Also, the Veður app is helpful for checking weather conditions.
Psst! Here's a more comprehensive list of Iceland travel apps to download before your trip.
Can you fly a drone at Stuðlagil Canyon?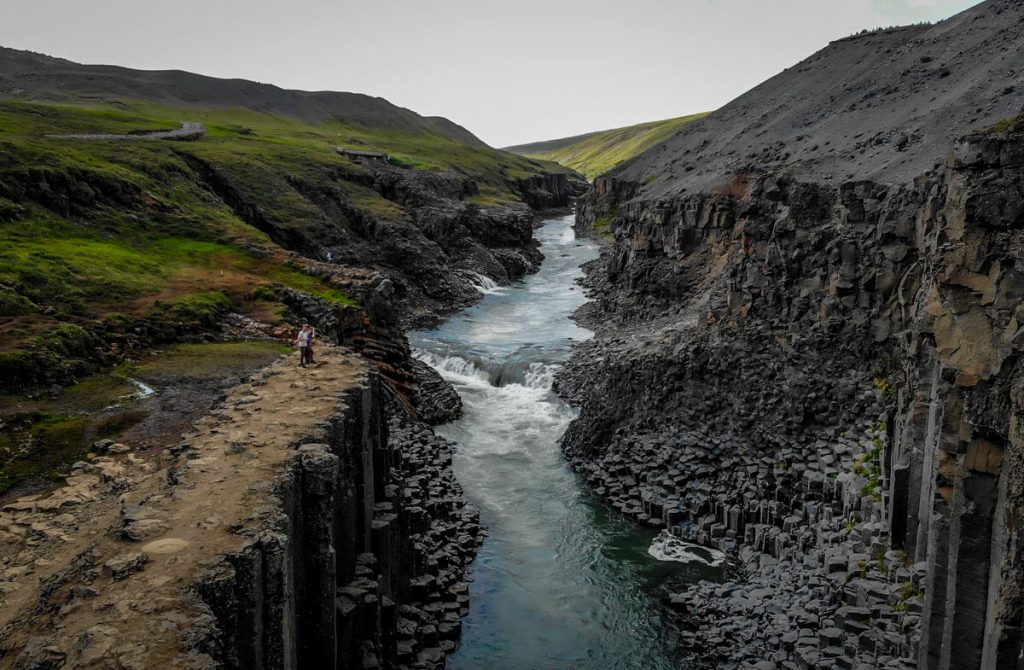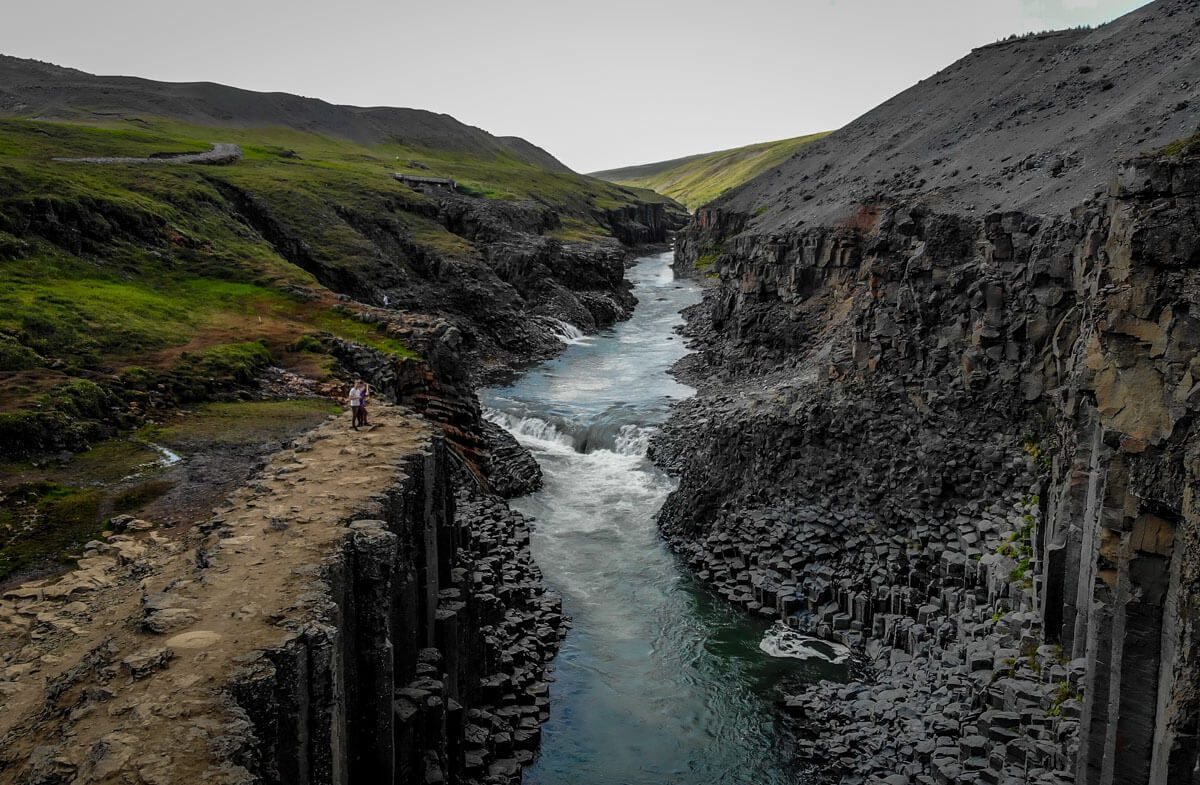 Yes, it is possible to fly your drone at Stuðlagil Canyon (as of the time this article was published). It's always a good idea to look up current regulations if you plan on flying a drone.
Plus, you should download either the Drone Buddy or DJI GO4 app so you can see in real-time if there are any restrictions.
Photo Tips for Stuðlagil Canyon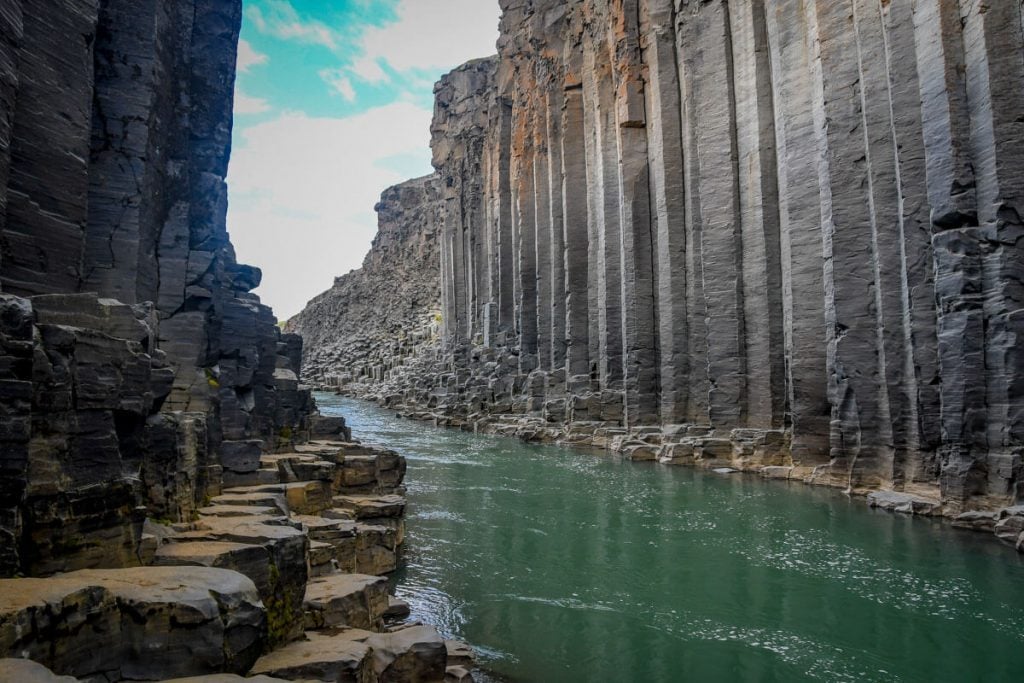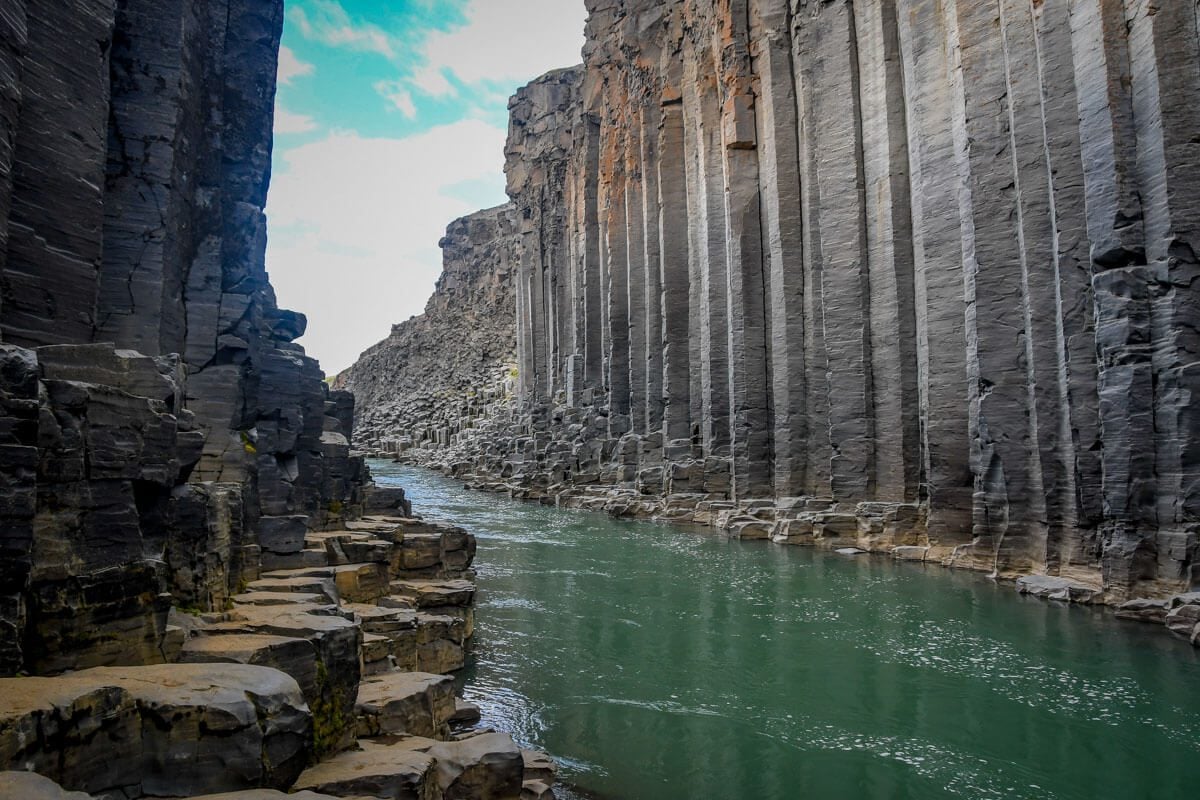 This canyon is a stunning place to shoot, whether you're using your iPhone and just sharing your shots with family and friends or whether you're a professional photographer. We're sharing a few things to keep in mind for taking pictures of this canyon.
Be patient
If you want to get some shots without other people in the frame, be patient. This spot is popular, but it's certainly not Disney World, so just wait a few minutes and you should be able to get the shot you're after.
Avoid midday
If possible, plan to come early in the morning or in the afternoon, as the harsh midday sun will cast shadows and result in unflattering lighting. Alternatively, if it's an overcast day (which isn't unusual in Iceland), you might be rewarded with nicer conditions no matter the time of day.
Plan your timing right
If you have flexibility in your travel plans, it is said that the last week of July through the first two weeks of August are the optimal times to visit the Stuðlagil Canyon, as you have the best chance of good weather and blue water. That said, nothing is guaranteed. We personally visited in late August and had great conditions, and we know people who visited during the "best window" and didn't luck out like we did.
If you come with realistic expectations and an open mind, you should really enjoy this special spot.
If you drone, be careful
If you plan to fly a drone, this is for you… Be mindful of other drones, as there can be a lot in the air at once. Also, if you plan to fly through the canyon, it is quite narrow and can be windy. Be cautious and aware of other pilots in the area. There are many areas in Iceland where you can no longer fly drones because people haven't been respectful. Don't be that person who ruins it for everyone.
Where to stay near Stuðlagil Canyon
The canyon is pretty remote, so if you want to stay close, you'll likely be camping. The nearest town with hotel accommodation options, restaurants and plenty of activities is Egilsstaðir, along the famous Ring Road.
Hotels nearby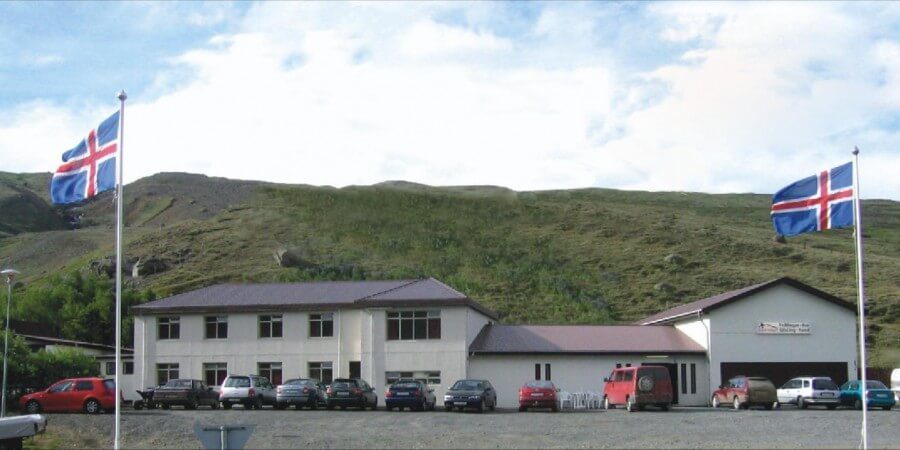 Guesthouse Skjöldólfsstaðir: Located on Ring Road, about 25 minutes from Stuðlagil Canyon. This charming lodge offers single, double, triple and even a quadruple room accommodation. Guests have access to shared bathroom facilities, a hot tub and outdoor swimming pool. The onsite restaurant offers dishes that include local specialties like reindeer burgers and meatballs.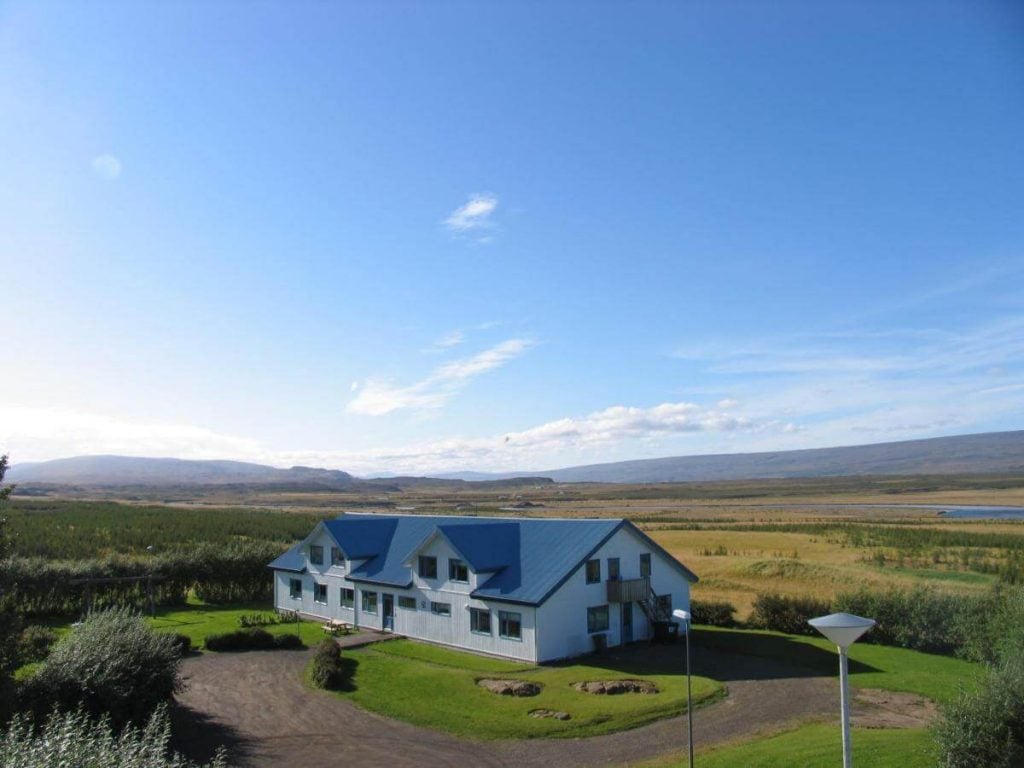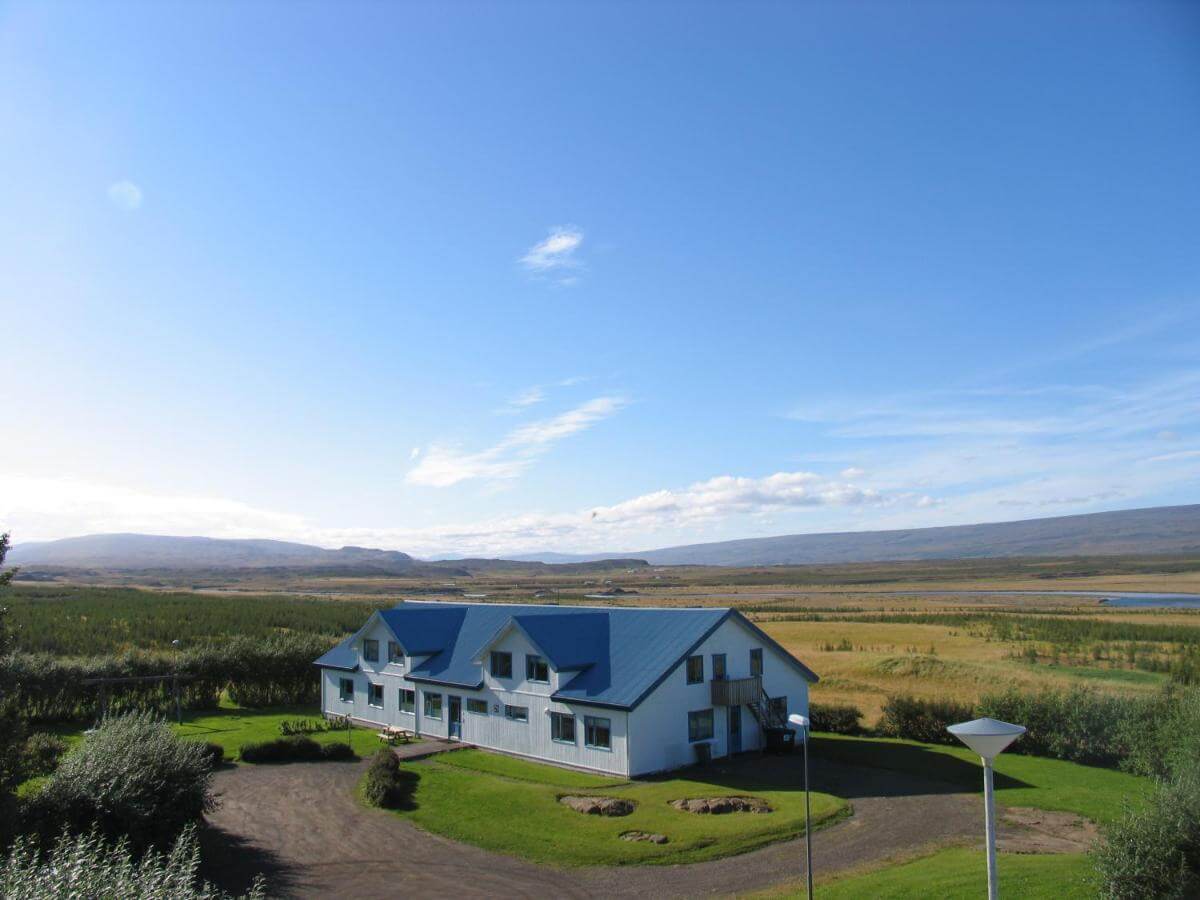 Eyjólfsstadir Guesthouse: Another highly rated property located just over an hour from Stuðlagil Canyon near the town of Egilsstaðir surrounded by nature. Modern rooms include standard single, double, triple and quadruple accommodations. Guests have access to the shared lounges as well as a continental breakfast spread.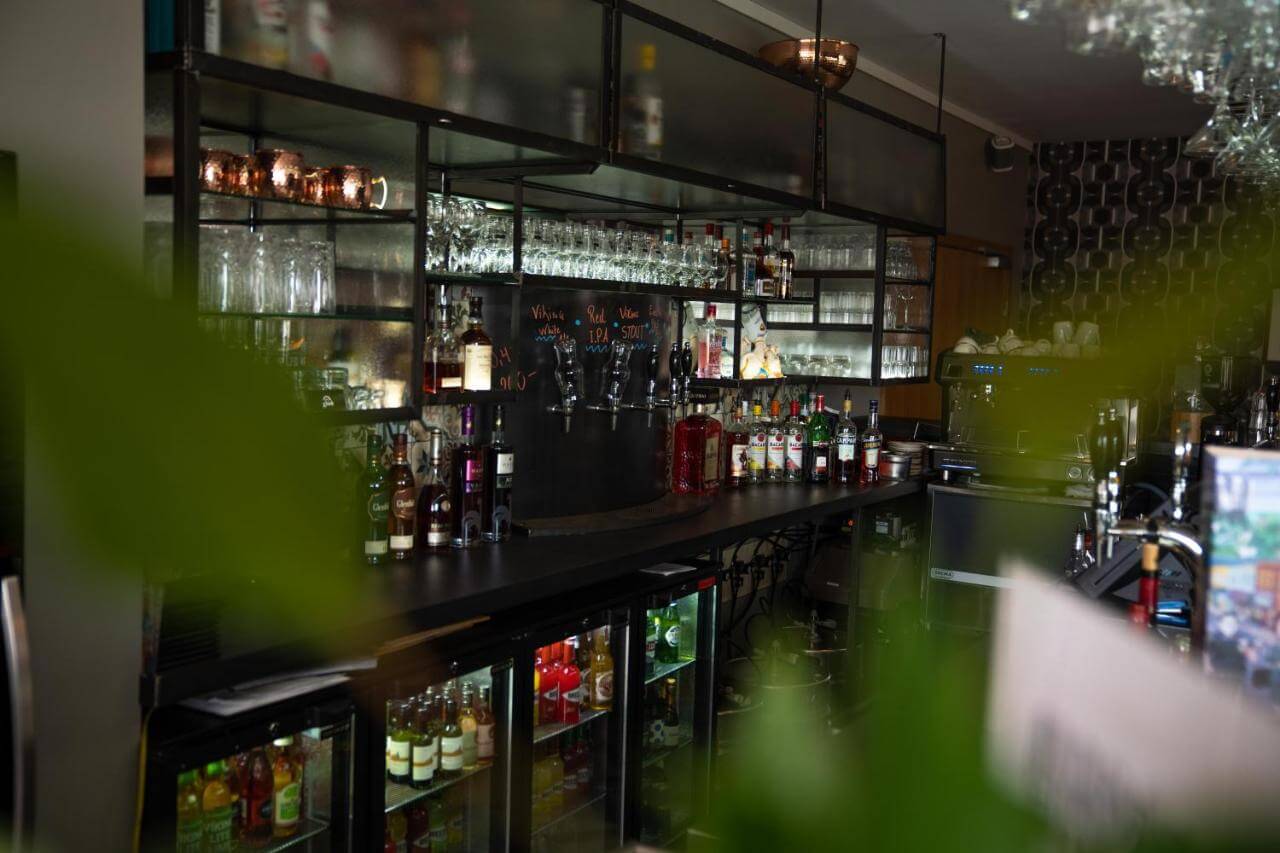 Hótel Valaskjálf: This simple and modern hotel is located right on the banks of the Lagarfljot River in the town of Egilsstaðir. Guests can take advantage of the stunning natural landscapes and the hotel is happy to help arrange tours. Free wifi and an onsite cocktail bar and restaurant will make you feel right at home.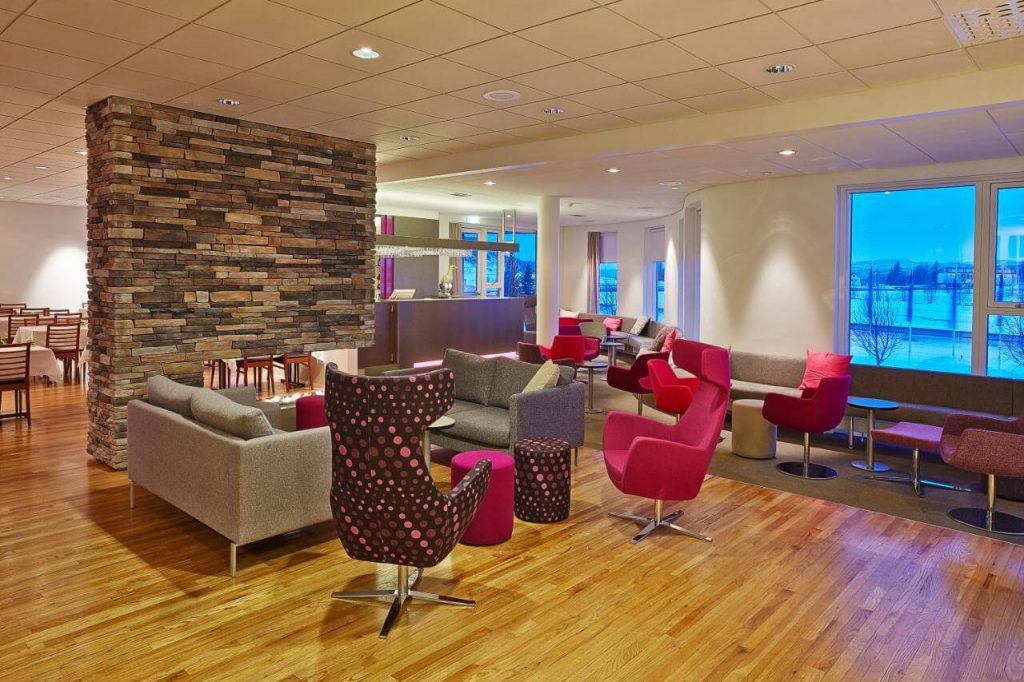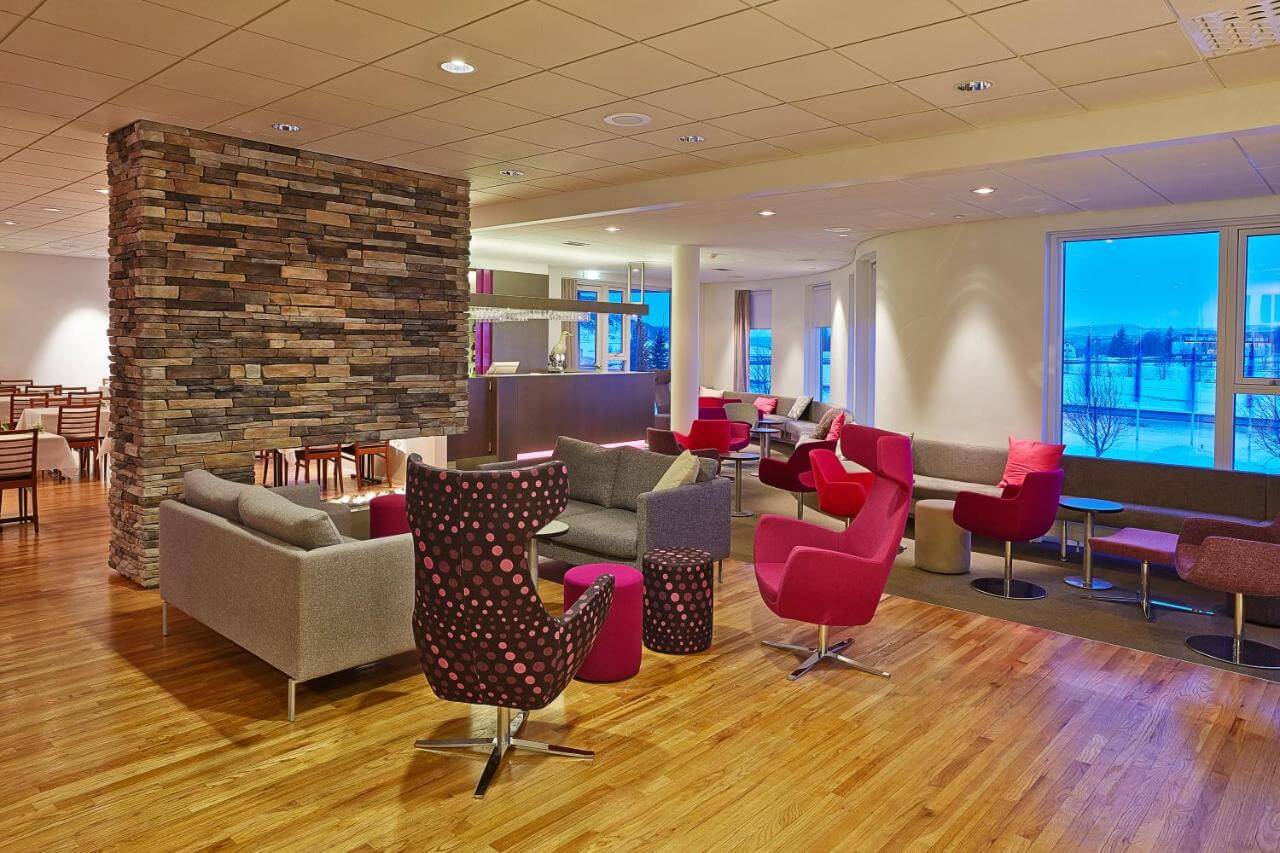 IcelandAir Hotel Herad: A top-rated hotel in the town of Egilsstaðir, about 1 hour east of the canyon. The modern accommodation features a terrace bar, onsite restaurant, Wifi throughout the property and 24-hour room service. There is also free onsite parking for those who may be renting a car in Iceland.
Psst! If you're looking for more options, we have an entire article on the best Airbnbs in Iceland with stays in locations all around the country.
Campgrounds nearby
Studlagil tjaldsvæði
The closest campground to the Stuðlagil Canyon is at the official parking lot itself. This would be very convenient if you want to plan to get to the canyon as early as possible. That said, this campground doesn't have the best reviews, so do a bit of research ahead of time so you know what to expect.
Good to know: One thing worth pointing out is that there is a 230 ISK ($1.75) fee to use the restroom here, even if you have paid the 1,000 ISK ($7.75) per person camping fee.
Á Hreindýraslóðum Guesthouse & Camping Area
Located just 25 minutes north of the Canyon, Á Hreindýraslóðum Guesthouse offers a camping area with guest access to showers, restroom facilities, a swimming pool, hot tub and open air fire pits.
Camp Egilsstaðir
An hour drive from the entrance to Stuðlagil Canyon, Camp Egilsstaðir is situated in the middle of the small town of Egilsstaðir. Facilities here include 24/7 guest access to bathrooms, showers, self-service laundry, free Wifi and more. The campsite is open year round, fees are currently set at 200 ISK per adult, and you can make your reservation online.
Hengifoss Guesthouse and Campground
Personally, we camped at Hengifoss Guesthouse and Campground the night before visiting Stuðlagil Canyon. The facilities were nice and it was a good location for exploring the nearby Waterfall Circle and Hengifoss. From this campground, it was roughly a 1.5-hour drive to the Stuðlagil Canyon.
What to pack for your trip to Iceland
Packing for a trip to Iceland is tough (the weather changes all the time!). But don't worry, we've got you covered with a super detailed packing list so you know exactly what to bring.
In this free Iceland packing list PDF download, we've provided packing checklists for everything from clothing and toiletries (for both women and men!) to what shoes to pack and extra medicines you may want to have on-hand just in case.
Plus, we're sharing tons of packing hacks and tips for traveling in Iceland that you won't find anywhere else!


---
Are you planning a trip to Iceland?
We have TONS of resources on travel in Iceland and how to make the most out of your trip. Check out our Ultimate Iceland Travel Guide for all the answers to your most burning questions, or read some of our favorite articles below.
Save this article on Pinterest for later!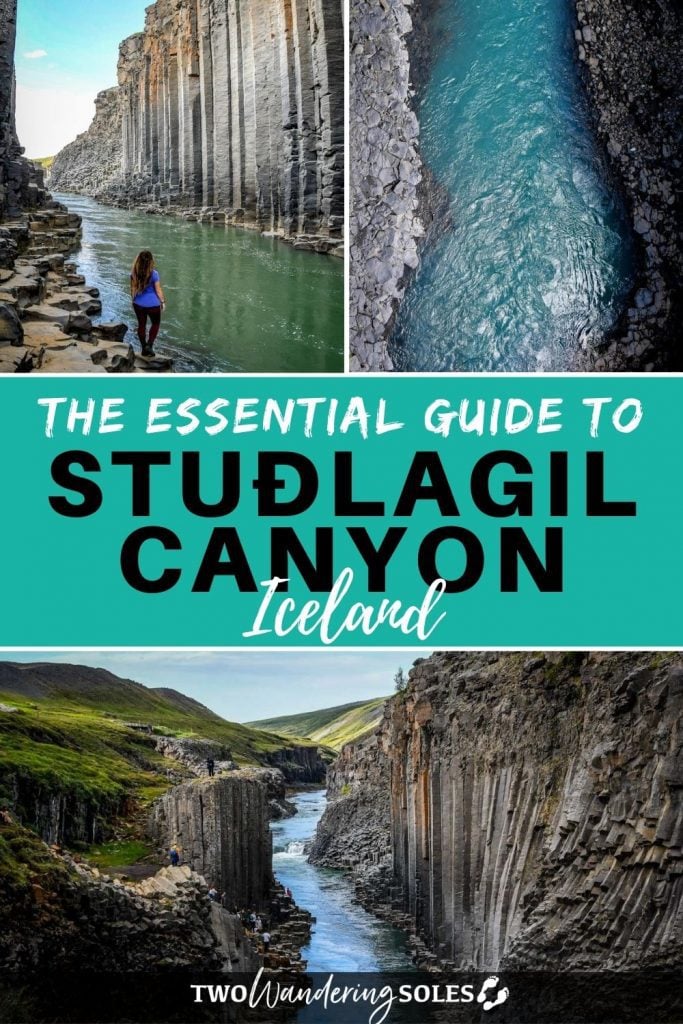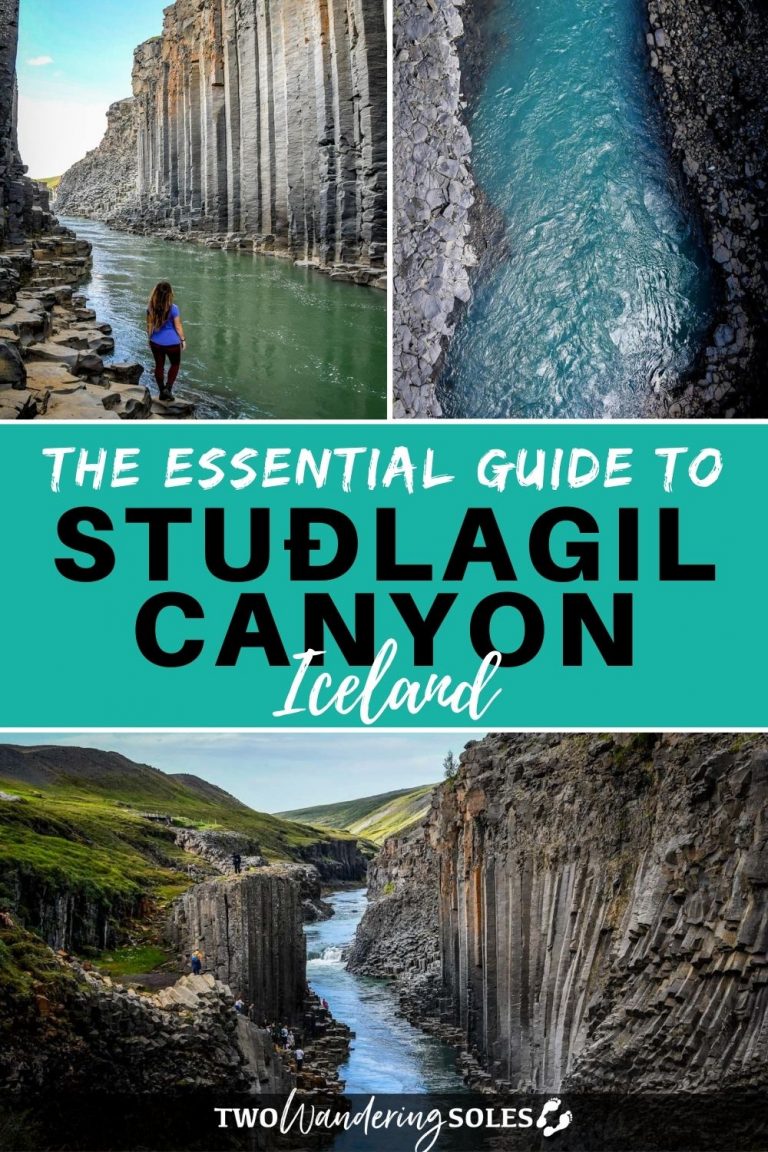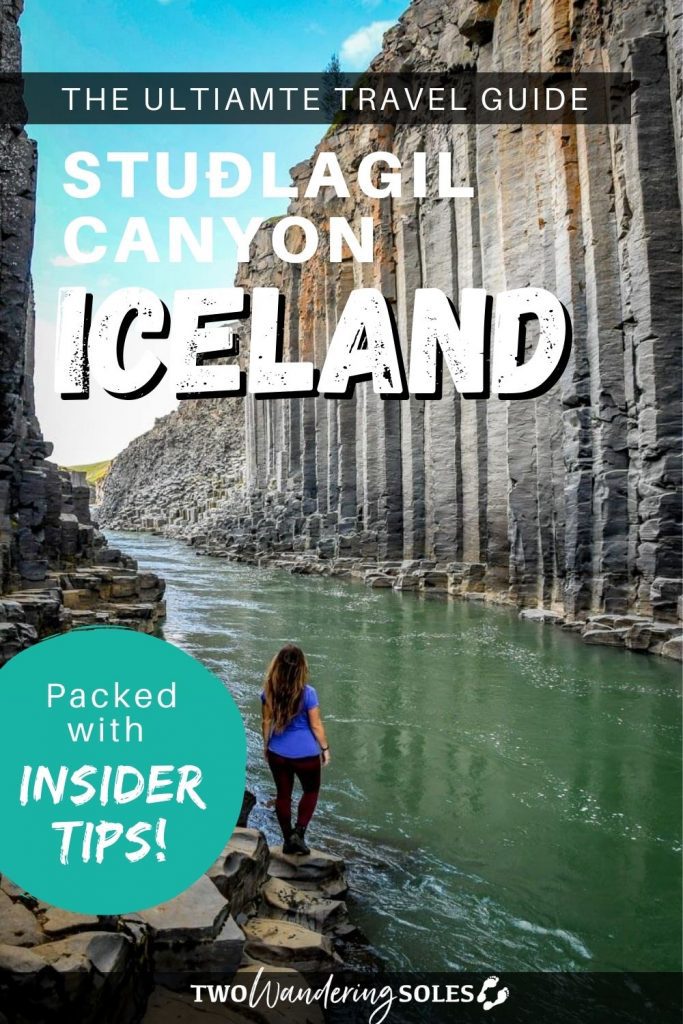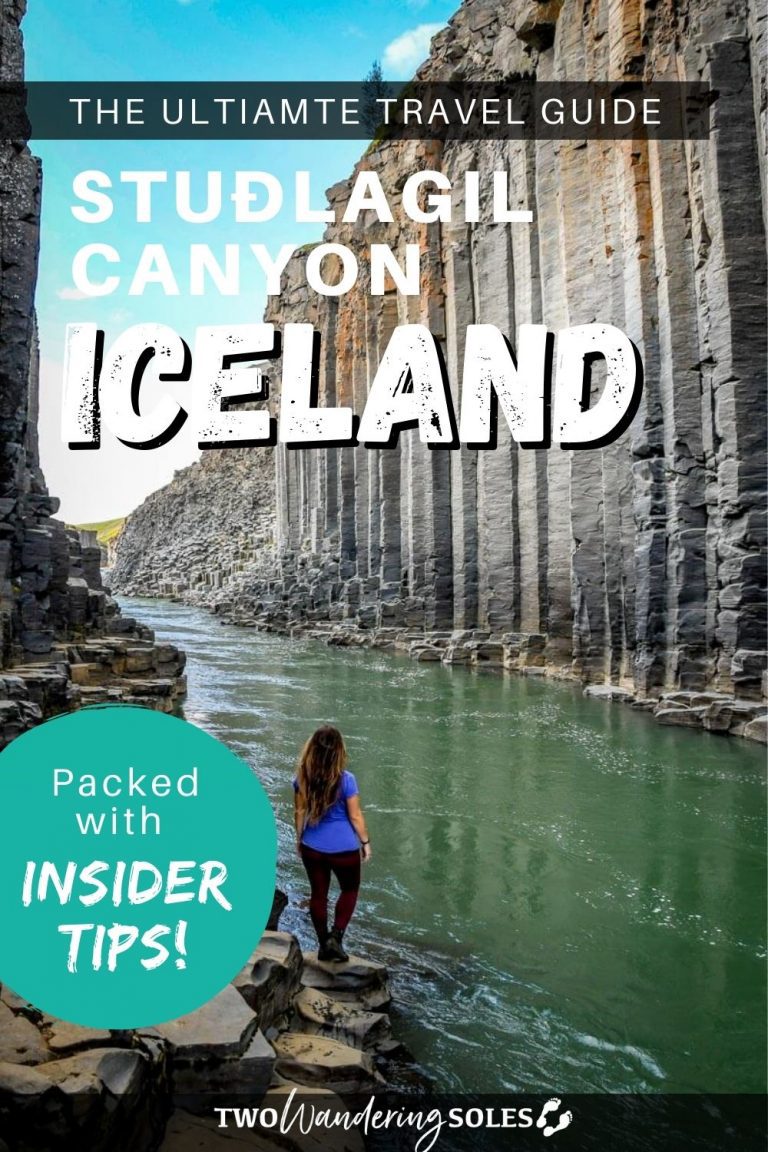 We want to hear from you!
Are you planning a trip to Iceland and have more questions? Leave a comment below and we'll do our best to get you the answers you're looking for!