There are so many incredible things to do in Iceland it can be overwhelming to try and plan your trip. We've rounded up the top adventures, sights to see and culinary experiences so you can create your own Iceland bucket list.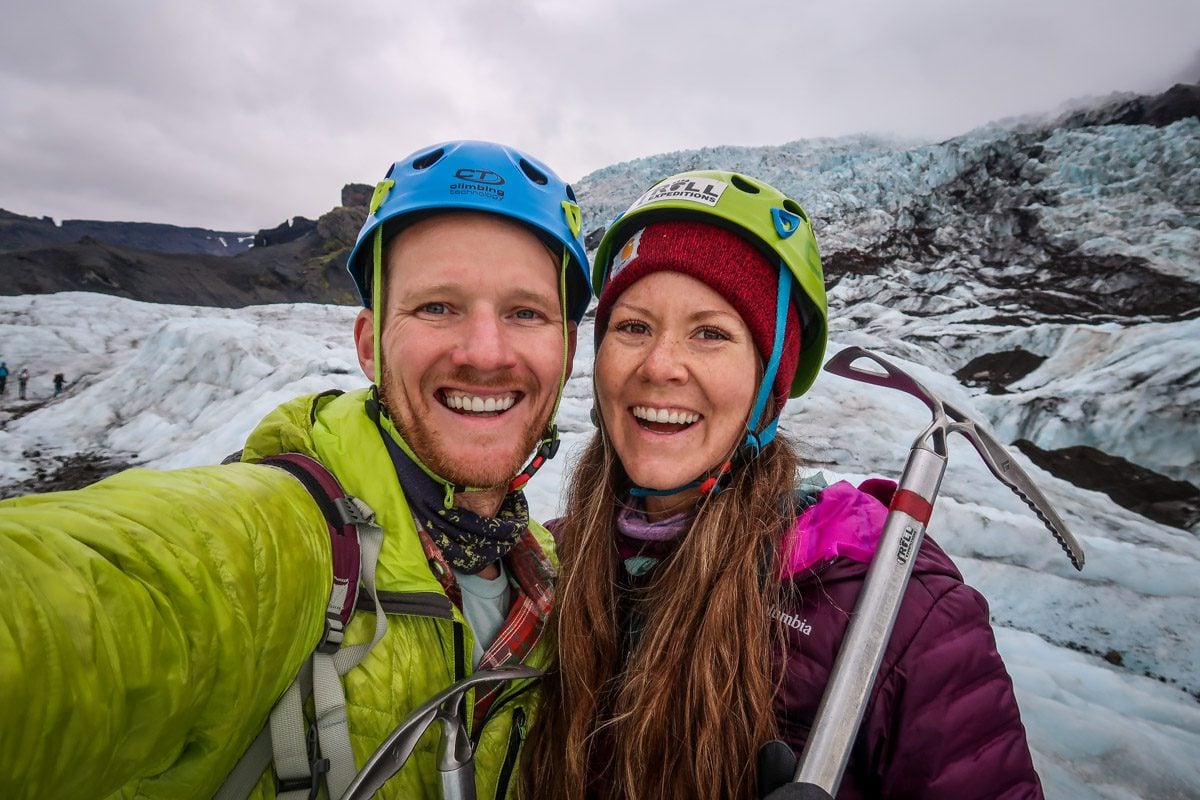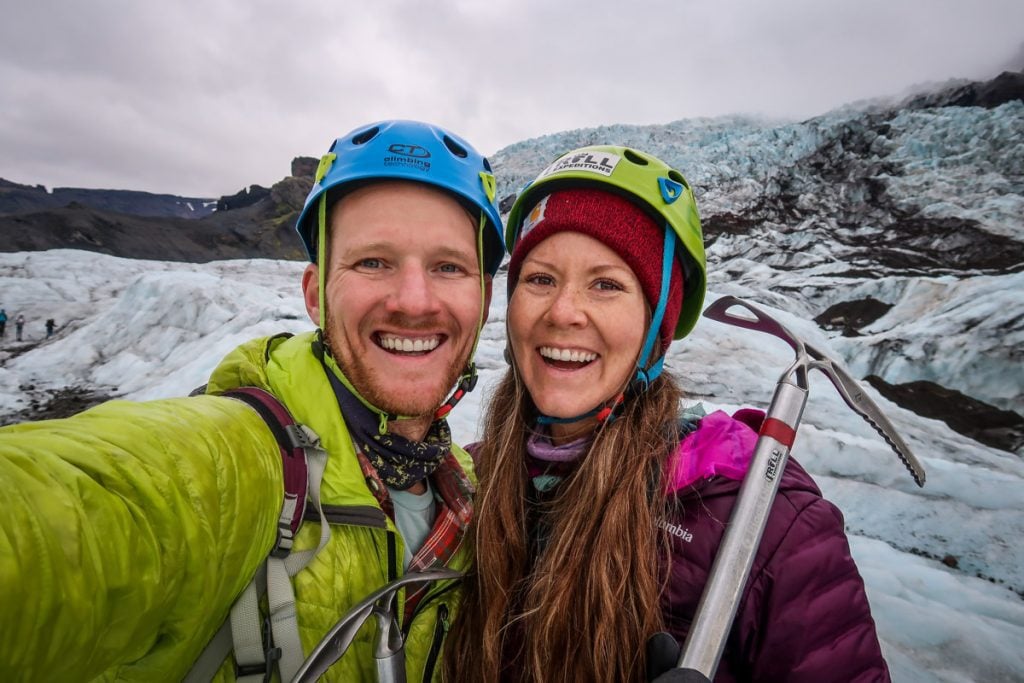 With active volcanoes, black sand beaches, rushing waterfalls and glacial lagoons, Iceland is a nature-lover's haven. And for those who get excited by culture and foodie delights, there are plenty of charming towns, historic sights and elevated culinary experiences to make your heart pitter-patter.
With so many things to do in Iceland, where is one to start? Well, we think we have a pretty darn good list to help you plan the trip of a lifetime.
Whether you're an adventure junkie seeking an off-the-beaten-path experience or you have an affinity for the finer things in life, Iceland is sure to knock your travel socks right off. Before you know it you'll be planning a return trip to this spectacular country. (We're already dreaming about our third visit!)
Without further adieu, let's dive into our curated list of the very best things to do in Iceland – complete with insider tips so you can start planning your own Icelandic adventure!
1. Go on an epic road trip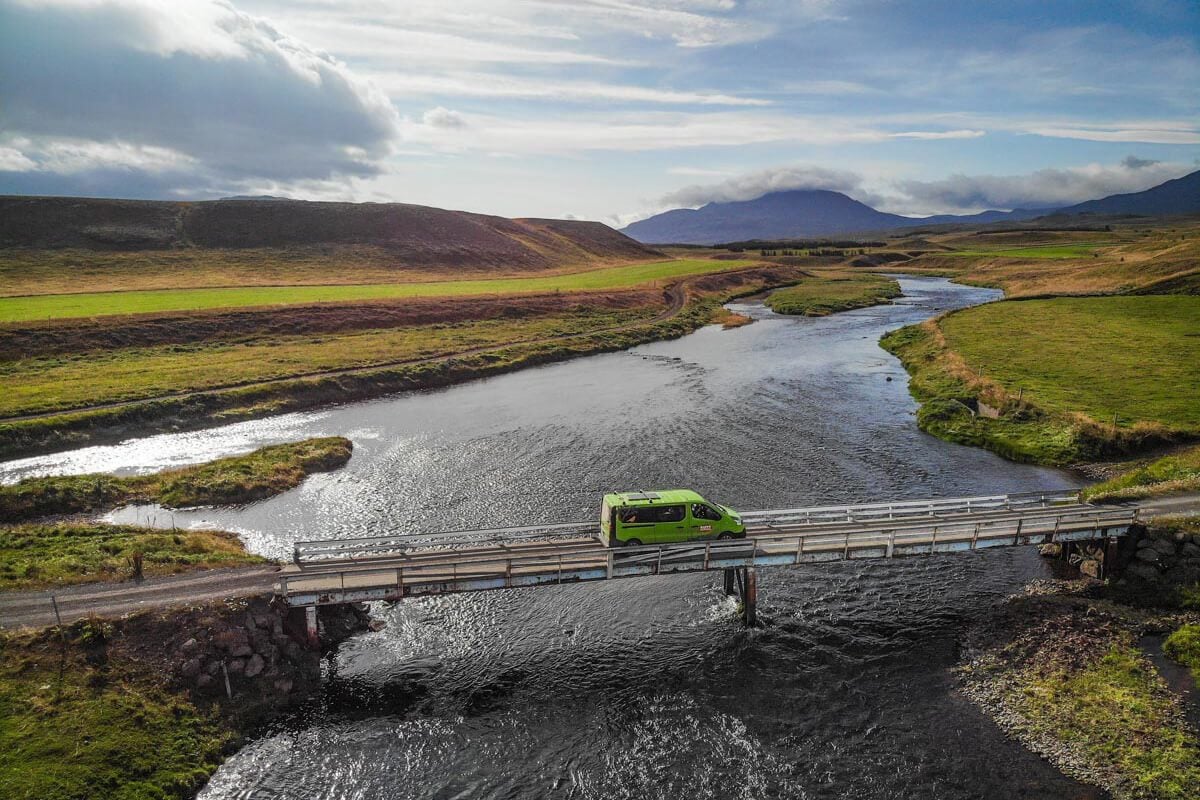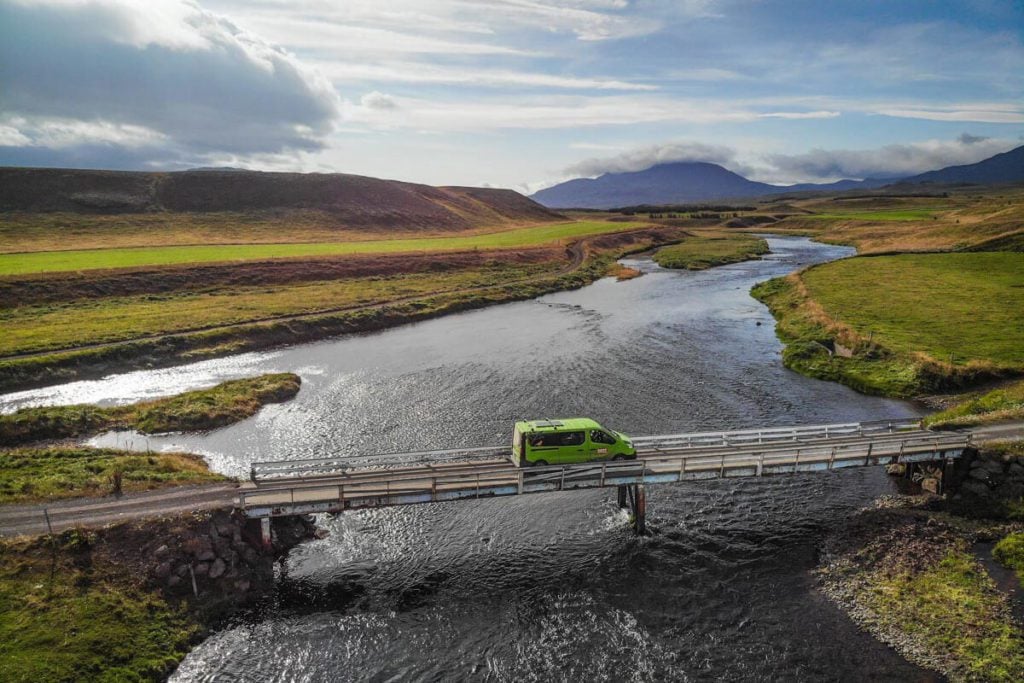 Iceland is a country made for road tripping. If you have more than 3 days, we'd highly, highly recommend renting a car, or better yet, a campervan, with which to explore.
Outside of Reykjavík, it's very difficult to experience much of this country without a car.
Pack your favorite snacks, crank the tunes and roll down the windows… well, maybe not – it gets pretty cold in Iceland – and prepare for the Iceland road trip of a lifetime!
If you have the time, we highly recommend doing a Ring Road road trip around the entire country. But if you are strapped for time, we put together the perfect Iceland road trip itinerary that hits most of the highlights.


2. Soak in as many hot springs as possible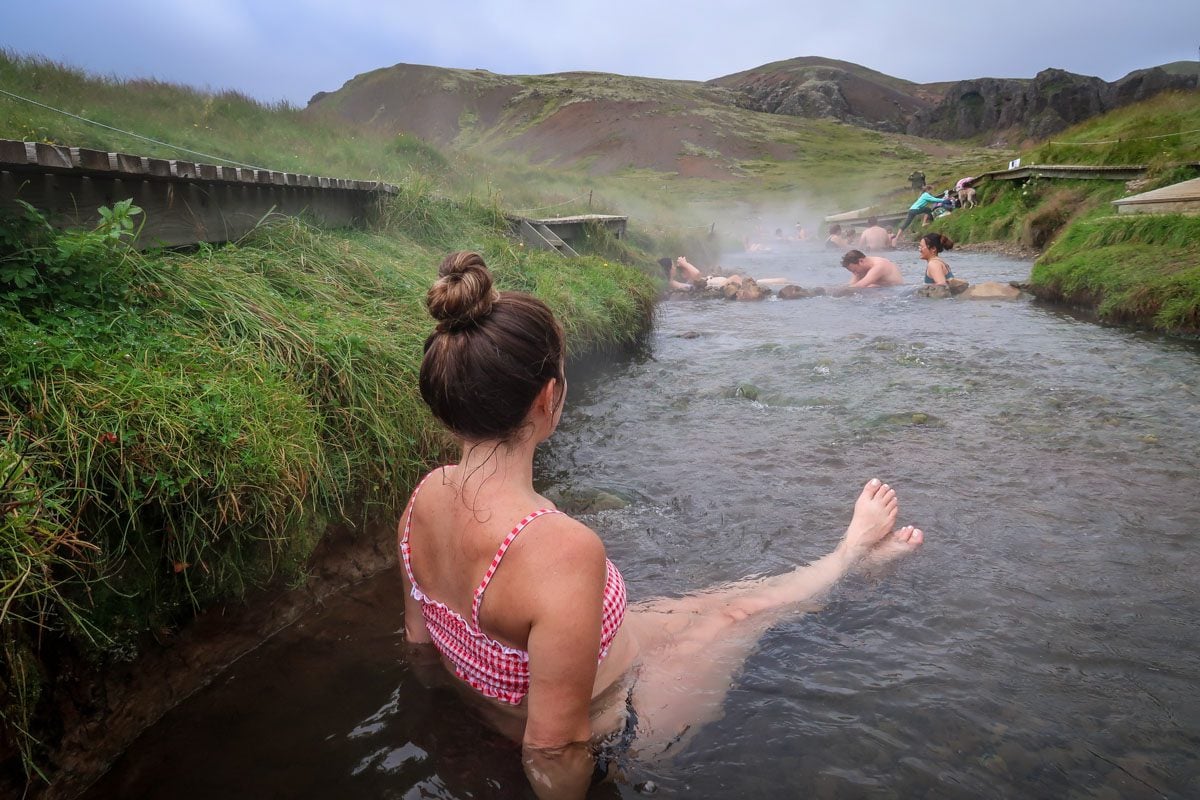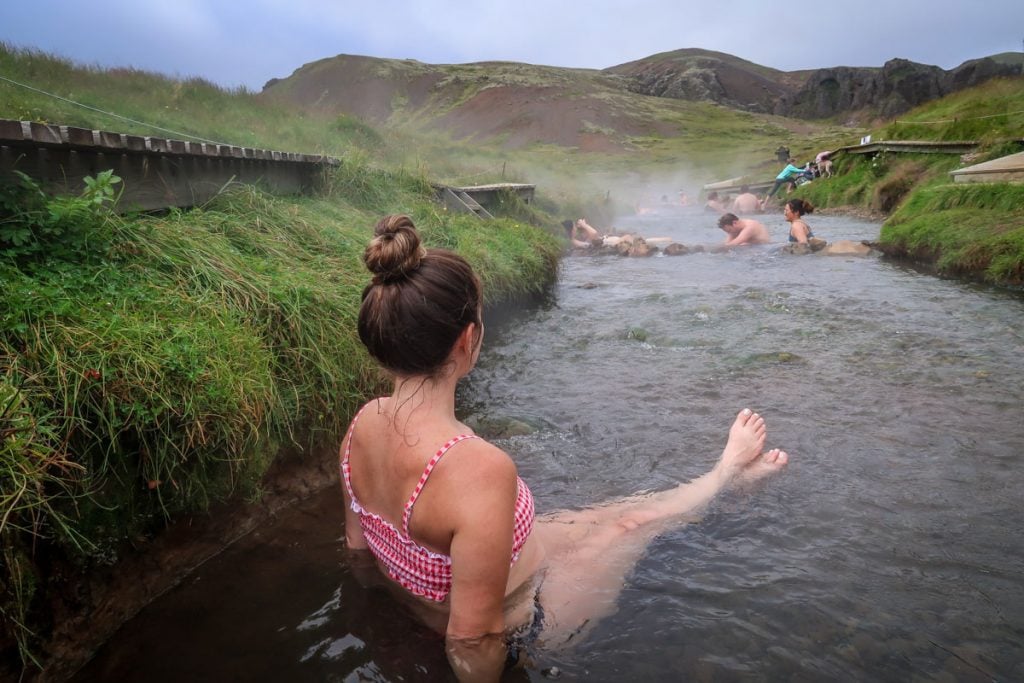 Being that Iceland is known for its geothermal activity, it should come as no surprise that hot springs are about as numerous as sheep. Well, that's a bit of an exaggeration, but you get the point.
From rustic hot pots in the middle of nowhere to bougie hot spring resorts where you can enjoy a massage, a facial and Prosecco all while soaking in tepid waters *Blue Lagoon, cough, cough*, there are quite a variety of hot springs to choose from.
Whether you're looking for an off-the-beaten-path adventure and don't mind a bit of effort (or algae!) or you prefer being pampered and would prefer your soaking experience be algae-free, visiting a hot spring (or 5!) in Iceland should definitely be on your itinerary.
Some of our favorite hot springs in Iceland include:
Fosslaug: Small riverside pool requiring a short and easy walk to reach
Hrunalaug: A very natural hot spring that looks like a scene out of Lord of the Rings
Reyklajular River: A picturesque geo-thermal river that requires a roughly 1 hour hike in
Sky Lagoon: Luxury bathing near Reykjavík with pools overlooking the ocean
…and of course, Blue Lagoon: Iceland's most famous hot spring known for its milky-blue color
We've created a list of our favorite hot springs in Iceland, including our own personal tips and things you should know before you don your bikini. This round-up includes an array of different soaking options — from totally free and little-known hot springs to the luxurious resorts that are known around the world.
3. Explore the Golden Circle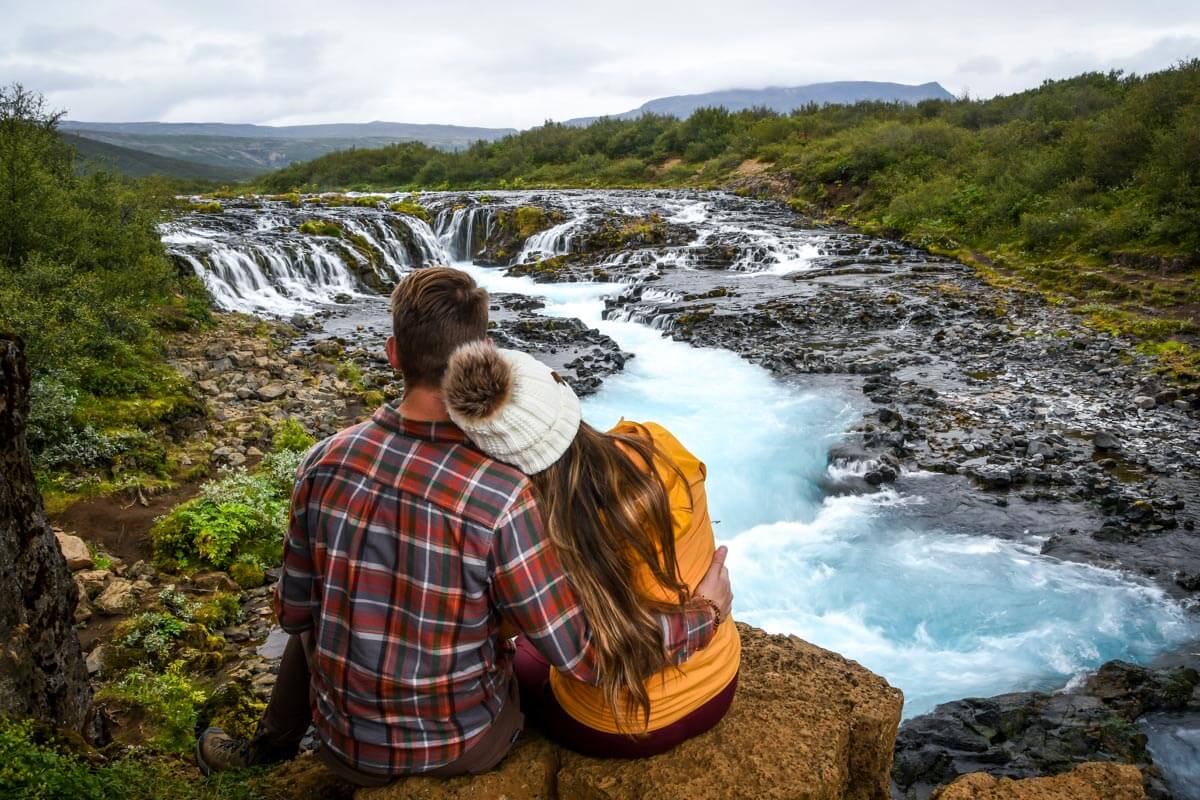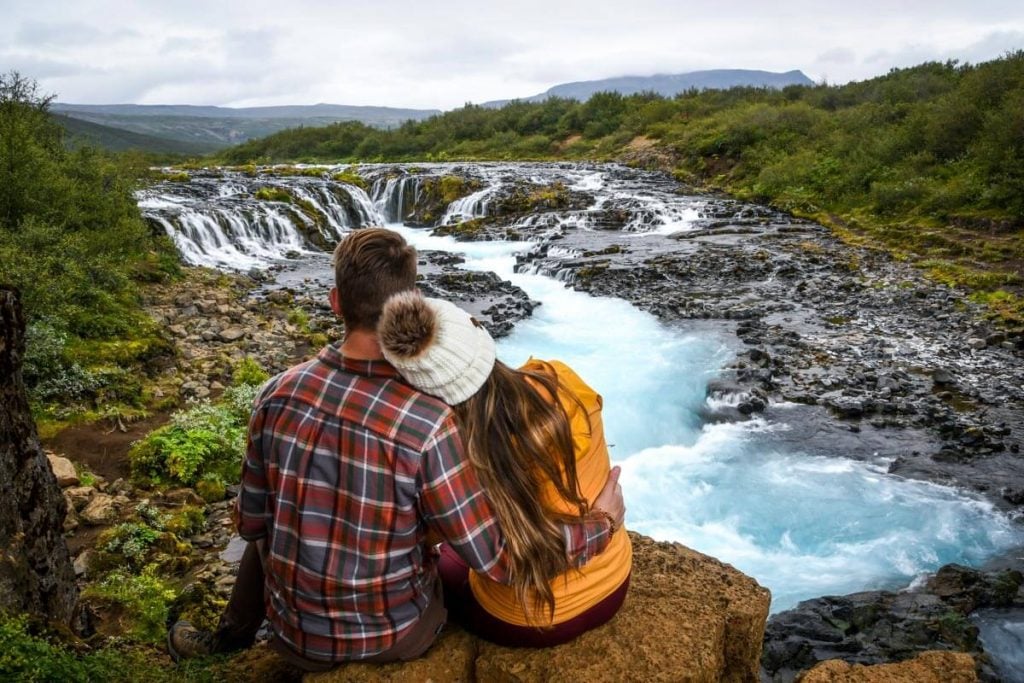 Driving the Golden Circle is sort of a rite of passage on most visitors' first trip to Iceland. This route encircles three major attractions:
Thingvellir National Park
Gullfoss Waterfall
Geysir
Lucky for you, we have an entire guide to the Golden Circle, packed with useful tidbits and hidden gems along the way.
4. See puffins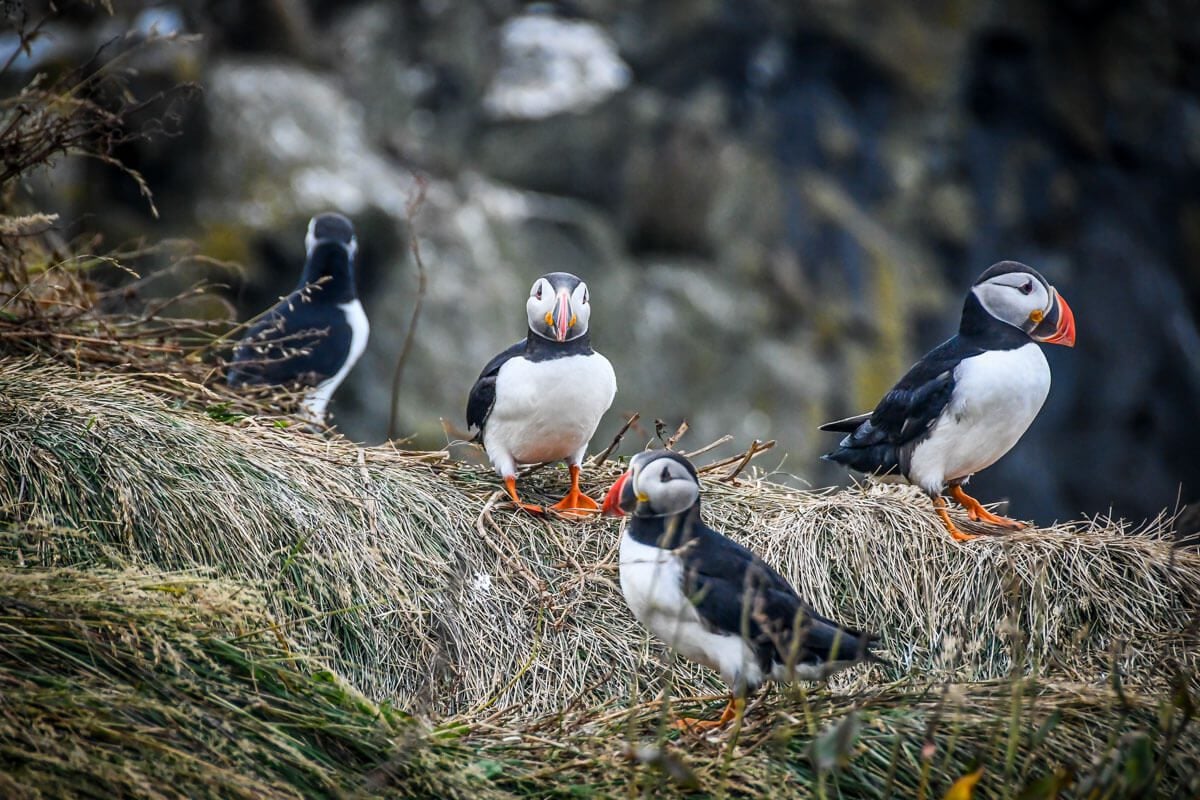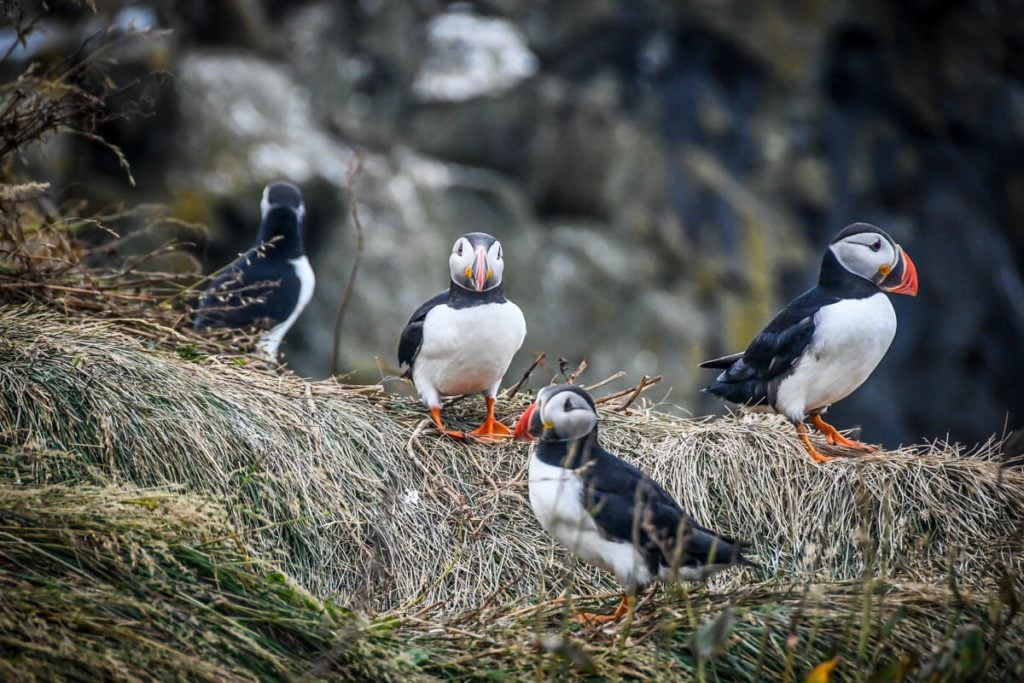 If you are traveling to Iceland during the spring and summer months, you have a good chance of spotting these cuties if you know where to look.
Iceland is one of the best places to see these charismatic black and white birds, as more than half of the world's Atlantic puffin population make a visit to Iceland each year. From late March to late August, it is estimated that between 8 and 10 million puffins flock to Iceland, forming large breeding colonies.
With their cute, clownlike faces and playful nature, these birds are incredibly fun to photograph. Just be sure to maintain your distance (use a zoom lens!), and never feed them (or any wild animal, on that note).
Fun fact: Did you know that puffins mate for life?!
Best places to spot puffins in Iceland:
Vestmannaeyjar (Westman Islands): This is the largest puffin colony in the world, but it requires a bit of effort to get here as you will need to take a ferry to the island.
Dyrhólaey: This cliffside on Iceland's south coast is where we have seen puffins on two separate trips. While not the largest colony, this is a convenient place to spot them as most visitors driving the Ring Road will pass by this location.
Látrabjarg: These remote cliffs in the Westfjords are a great place to see puffins if your itinerary brings you to Iceland's sparsely populated western region.
Lundey & Akurey Islands: If you want the best chance of spotting puffins without venturing far from Reykjavík, this is your best bet. You can catch a short boat ride from the city's old harbor to these uninhabited neighboring islands that are known for Iceland's favorite bird. In fact Lundey translates to "puffin island".
Borgarfjörður Eystri: This cliffside area is located in the east fjords, and 1 1.5-hour detour off of the Ring Road. Those who make the journey will be rewarded with the sight of nearly 10,000 pairs of puffins that call nesting at Borgarfjörður Eystri home each summer.
5. Hike the Fimmvörðuháls trail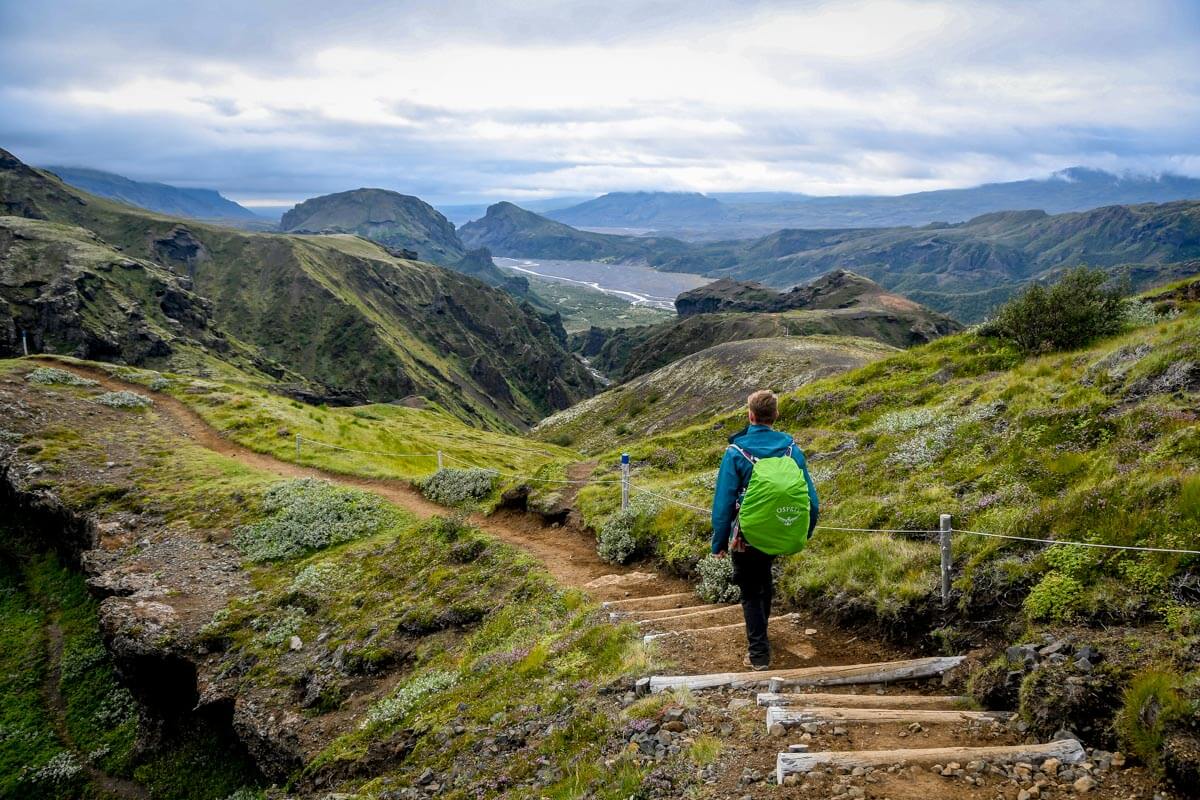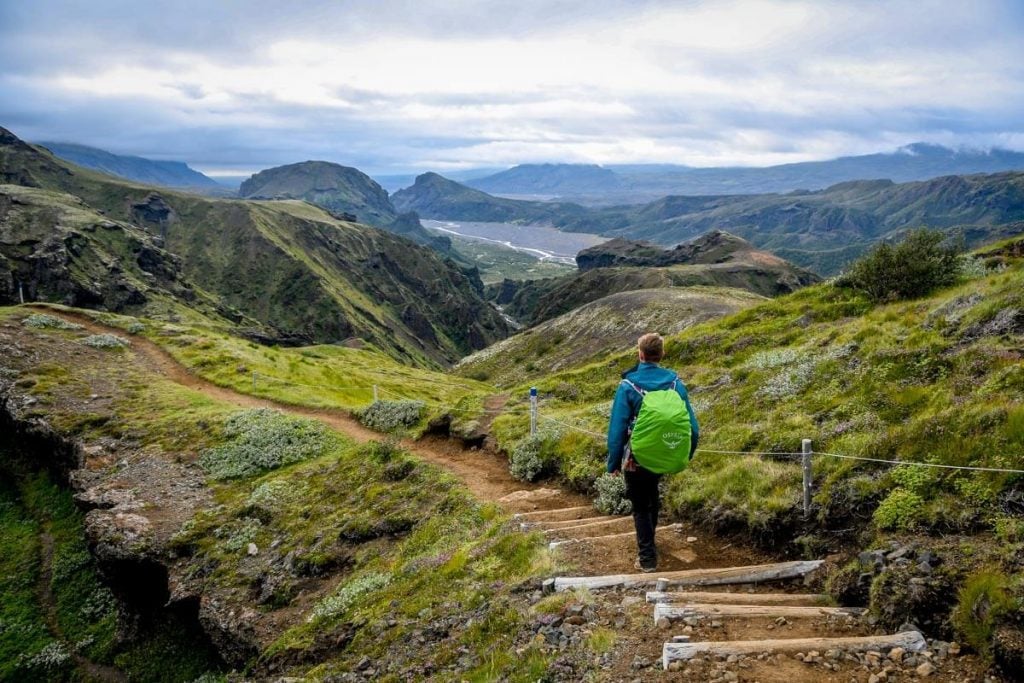 While this suggestion may not be for every traveler, if you are an avid hiker you'll definitely want to put this trek on your Iceland bucket list.
This 15.5-mile trail brings you through some of the most dramatically diverse landscapes in the country, making it one of the best hikes in Iceland.
Sound like fun? We've written a super comprehensive guide to the Fimmvörðuháls hike so you can know exactly what to expect!
6. Try Icelandic cuisine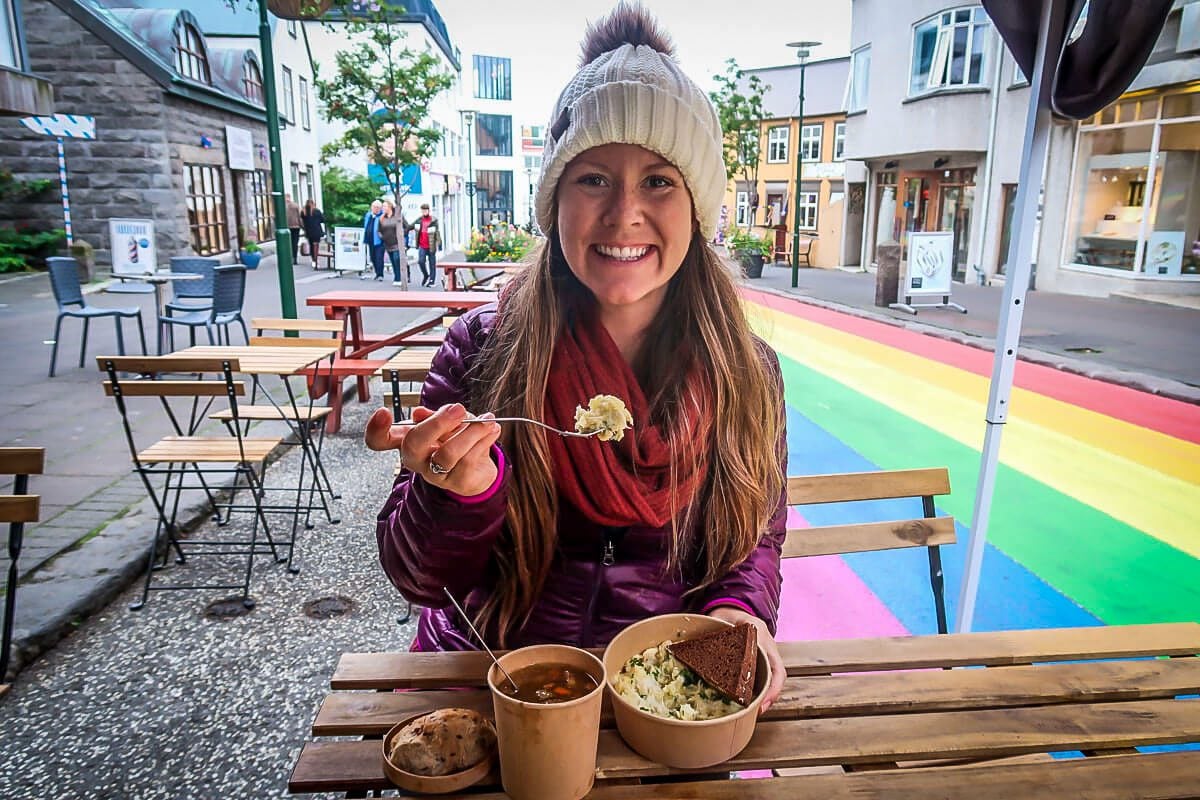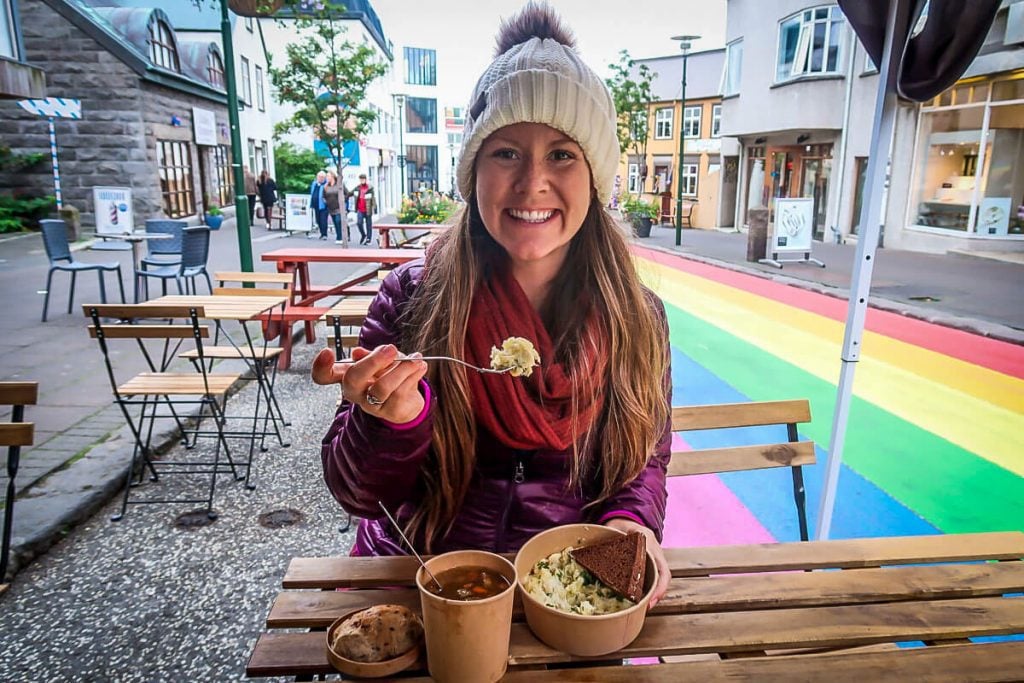 One of our favorite things to do while traveling anywhere in the world is to indulge in the local flavors because:
a) we like to eat (!!!)
b) it gives you a glimpse into the culture and how locals live
And Iceland was no exception. We ate our way through the country, all in the name of "research".
Icelandic cuisine is heavy on seafood, lamb and potatoes, and can be described as a whole as "comfort food for a cozy fall day". (Well, at least that's how I like to describe it!)
We've rounded up all the best foods to try in Iceland so you have a go-to checklist of dishes to sample on your trip. And we've also explained which foods you can skip during your trip to Iceland.
Calling all foodies! If you too love eating on your travels (hey, let's be friends!), we'd highly recommend doing a food tour with Reykjavík Food Walk. Use the discount code TWS10 when you check out to get 10% off your tour price.
7. Walk on a black sand beach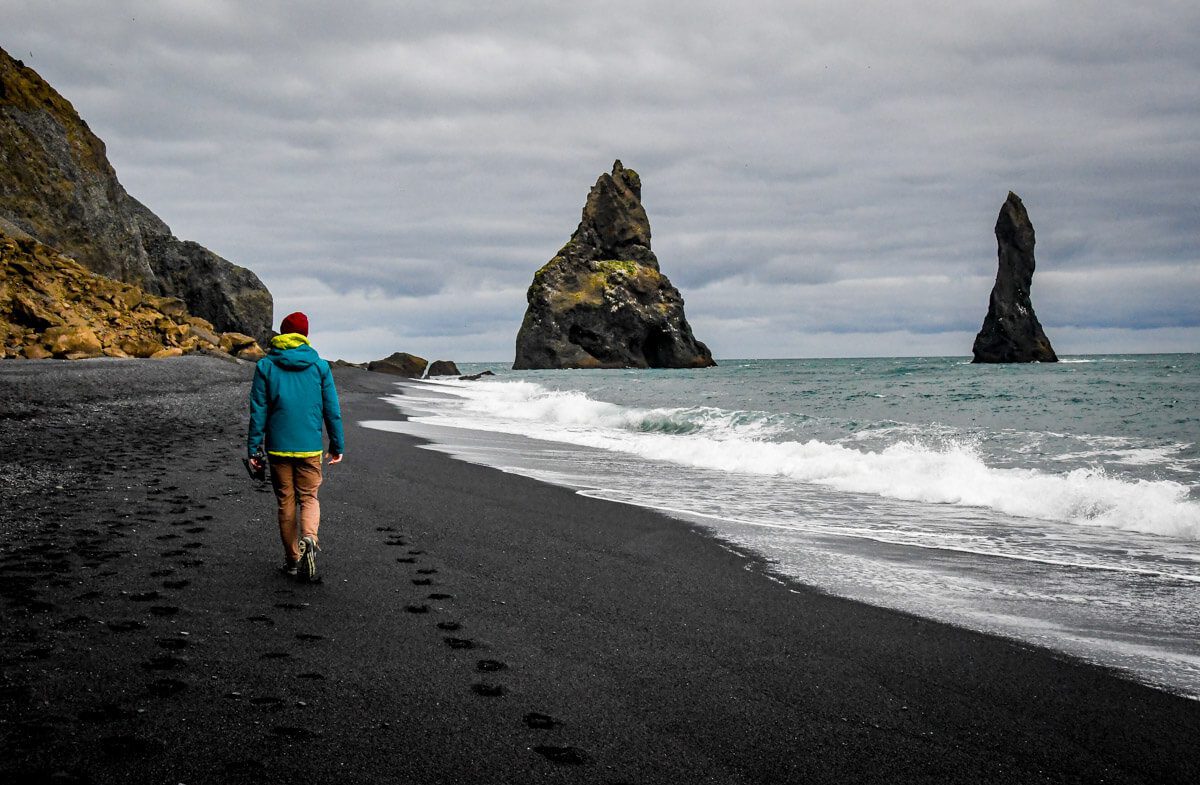 Iceland's coast is dotted with black sand beaches. With all of the volcanic activity on this island nation, it's easy to see why. While traveling in Iceland, be sure to stroll along at least one black sand beach – there are plenty to choose from.
One of the most famous and most beautiful black sand beaches in Iceland is Reynisfjara. Situated on Iceland's south coast not far from the small town of Vík, this is a good black sand beach to add to your itinerary.
8. (Try to) see the Northern Lights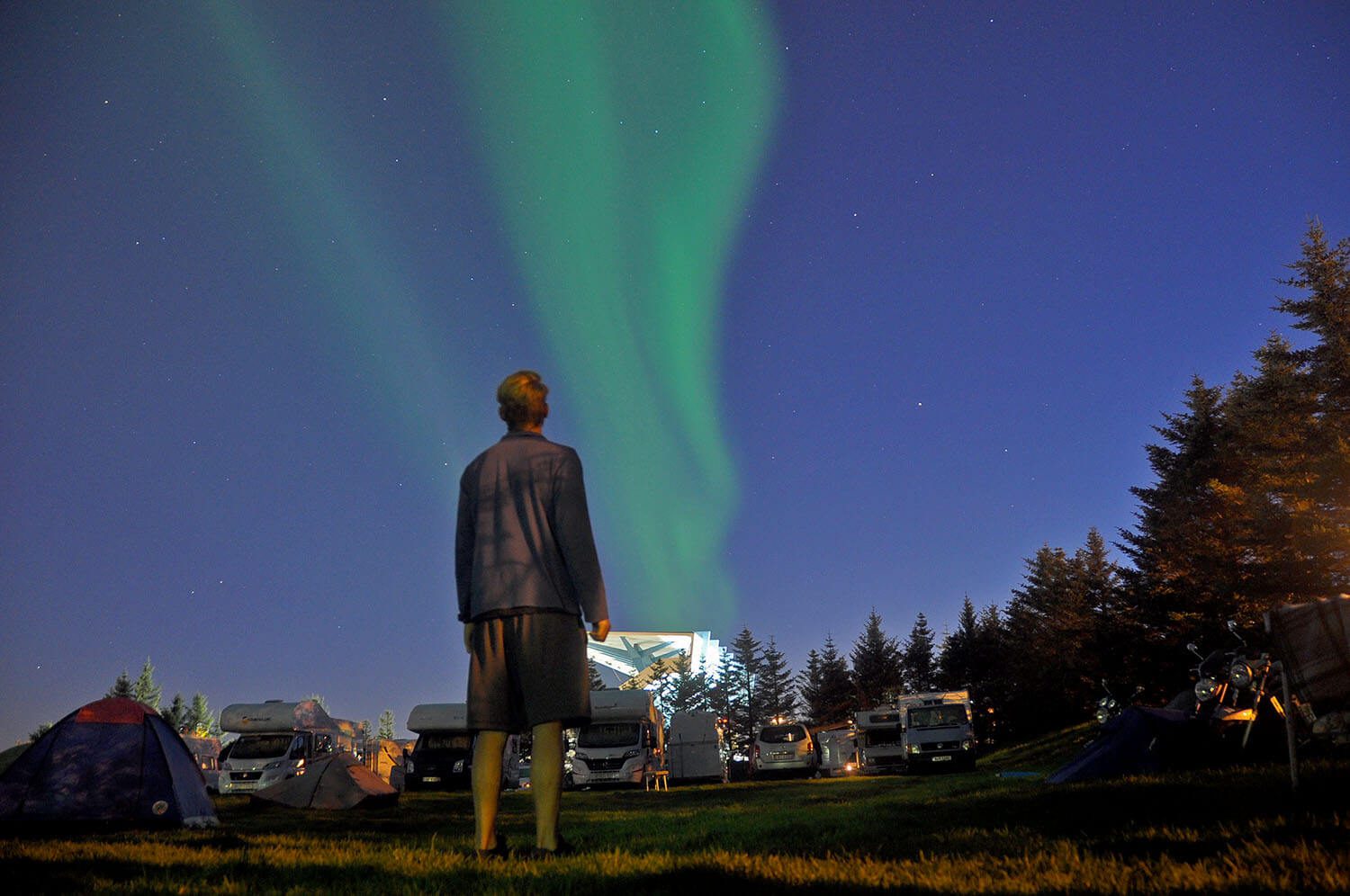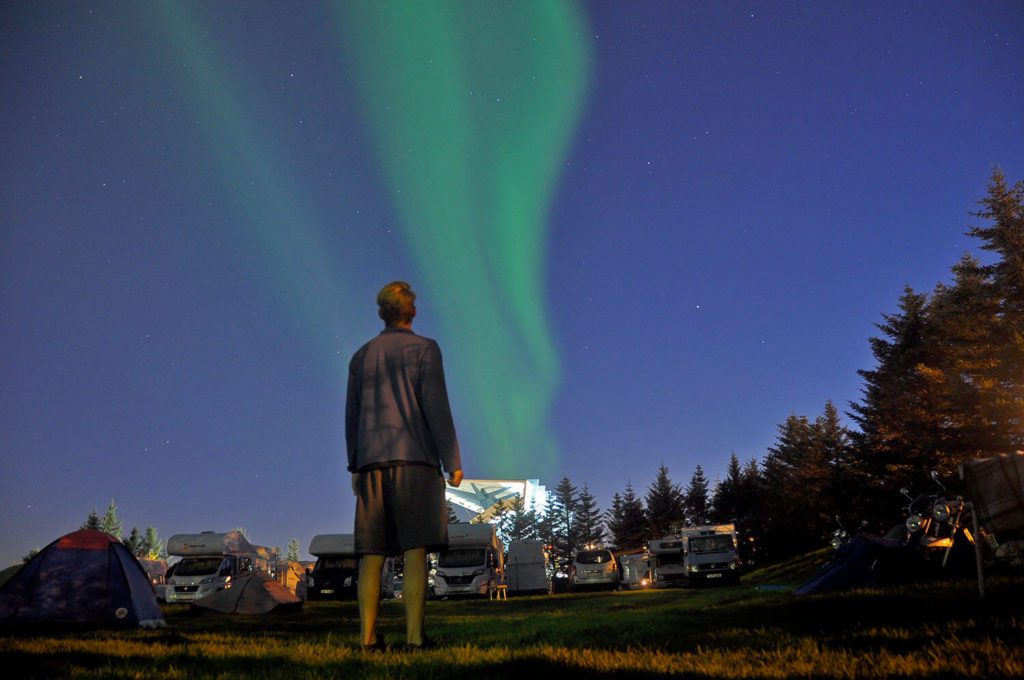 Gazing up at a sky dancing in hues of green is on many-a-travelers' bucket lists. And while seeing the Northern Lights is an experience that you will cherish forever, I'm going to pop in and be a bit of a buzzkill…
You have to be very lucky to see the Northern Lights. If you go into your trip expecting to see this natural phenomenon, you very likely may be disappointed.
But if you go in with an open mind and a few tricks to hopefully help you spot them, this may be a highlight of your trip.
Tips for seeing the Northern Lights:
Plan your trip right
Download a Northern Lights app (it's one of our top Iceland app recommendations)
Watch the weather
Try again and again
Set an alarm
9. Go whale watching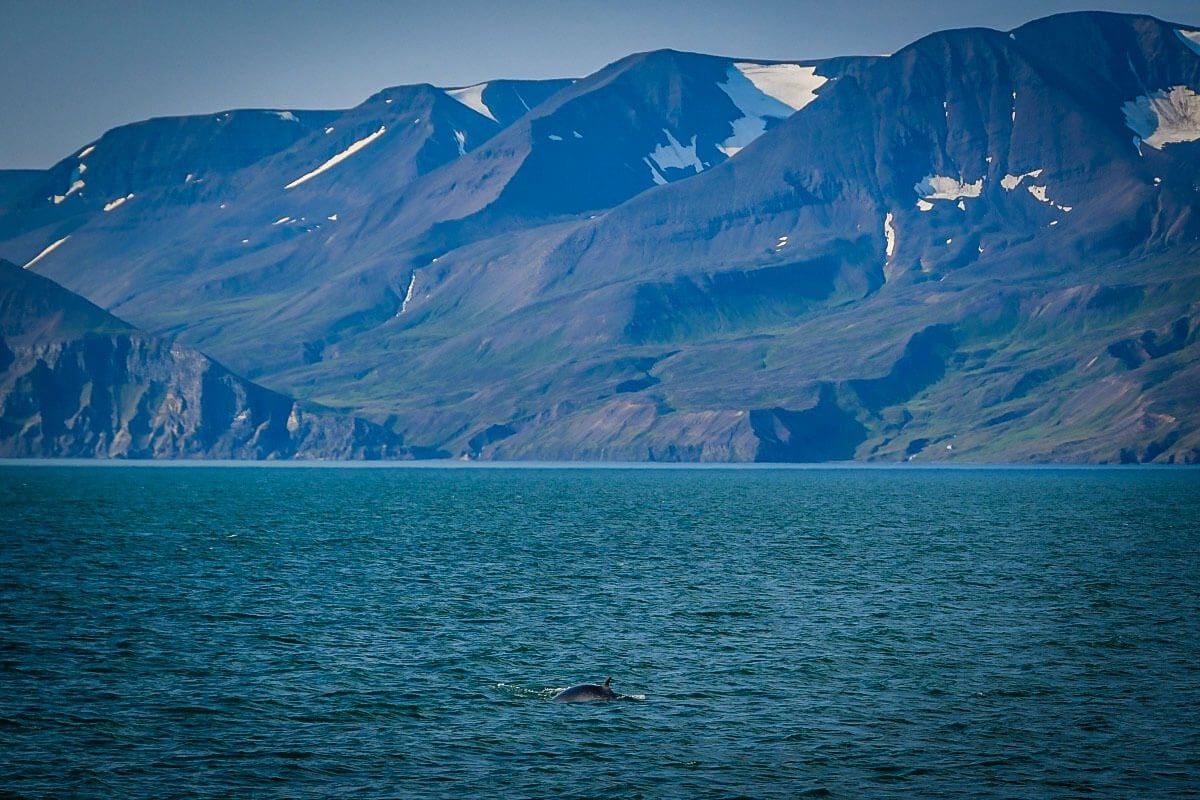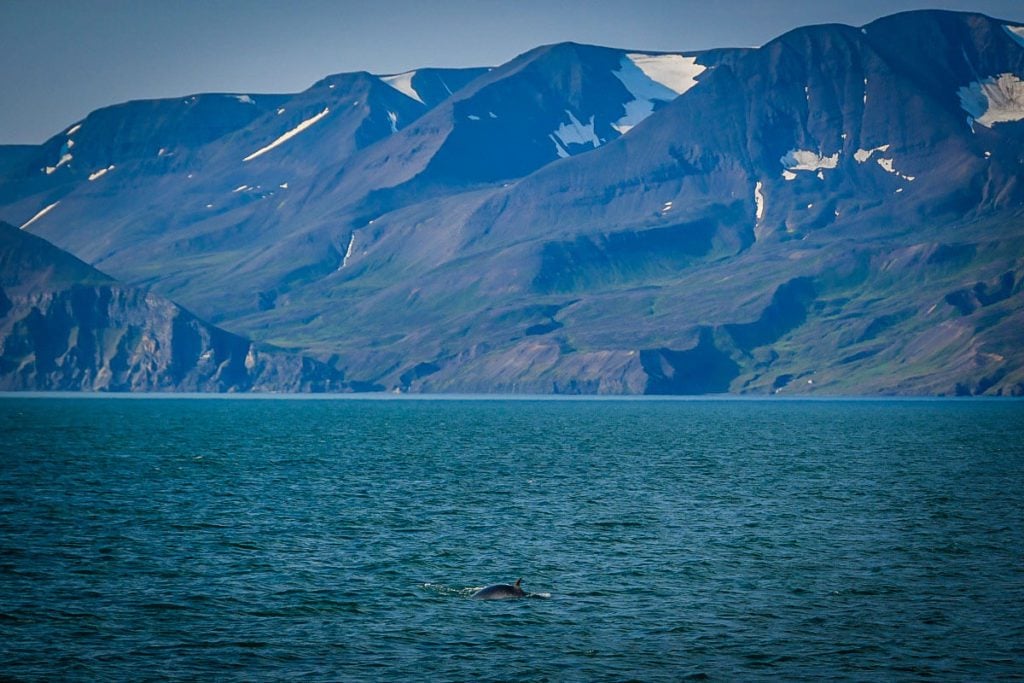 Being that Iceland is an island nation, there are plenty of opportunities to go whale watching. The two most popular spots are in Husavik (a small town on Iceland's northern coast) and in the waters just outside of Reykjavík.
While it is never guaranteed that you will see whales – they are wild creatures, after all – you do have a pretty good chance of spotting these gentle giants breaching.
Our experience: We went whale watching with North Sailing and while it was fun to be out on the water on a rare sunny and hot Icelandic day, we didn't get very lucky with spotting whales. We saw a small minke whale from a distance, but that was it. That said, we appreciate that laws in Iceland prevent tour companies from chasing whales or using sonar technology to find them. This makes it a much better environment for the whales, and even more special when you do get to see them up close.
Insider tip: If you tend to get seasick, be sure to take medicine or natural remedies with you.
10. Wake up with a view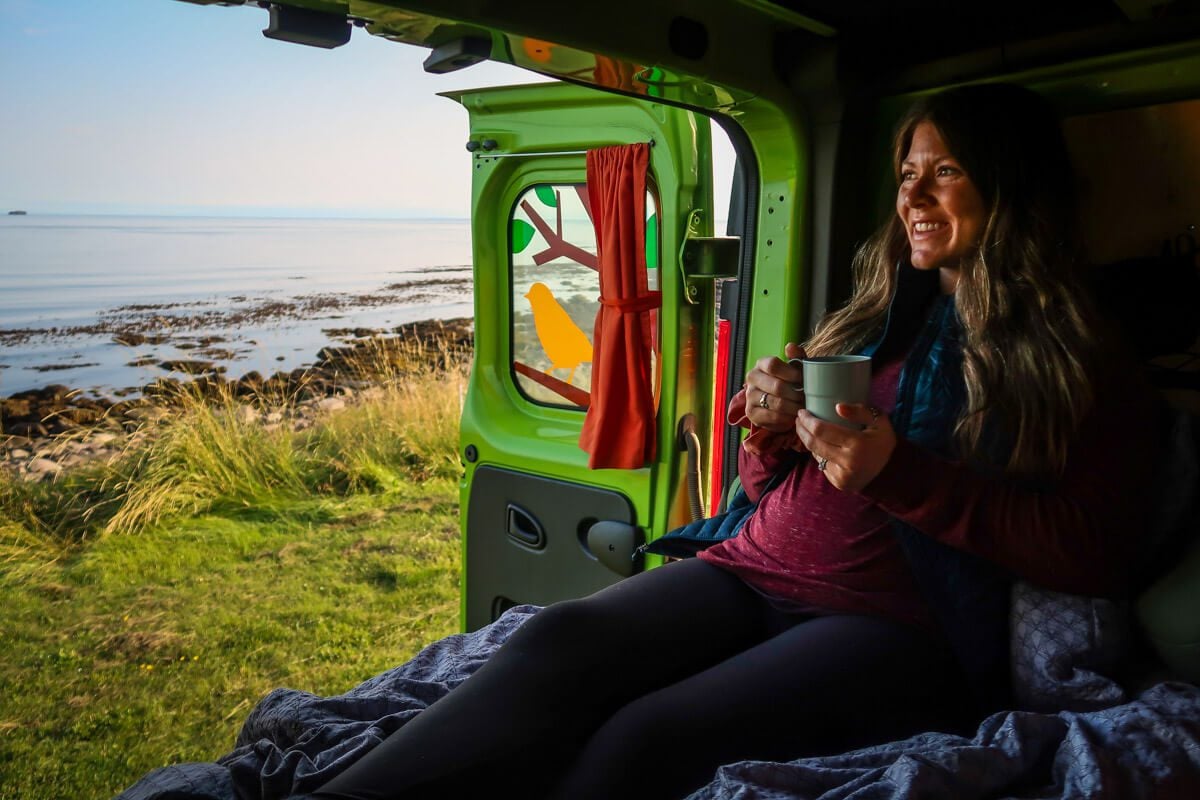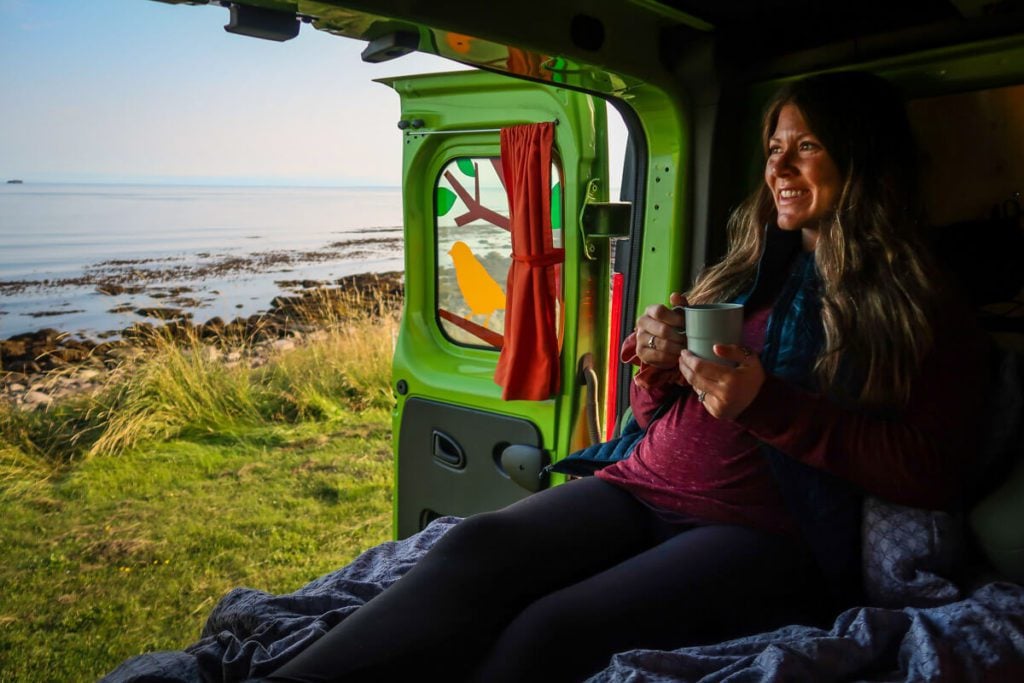 We may be biased, but we think camping is the best way to truly see all the beauty and adventure that Iceland has to offer. Whether you choose to pitch a tent or rent a campervan in Iceland, you're in for one hell of an adventure!
While campervanning around Iceland, we fell asleep under the stars and woke up with coffee next to waterfalls. We ventured to remote canyons and hidden hot springs. And we made memories we'll be talking about for years.
If that sounds dreamy to you, be sure to check out our complete guide to camping in Iceland. It legitimately has everything you need to know to prepare for a trip of a lifetime. Plus, we'll answer all your burning questions, so it's good to check out if you're on the fence.
11. Explore Reykjavík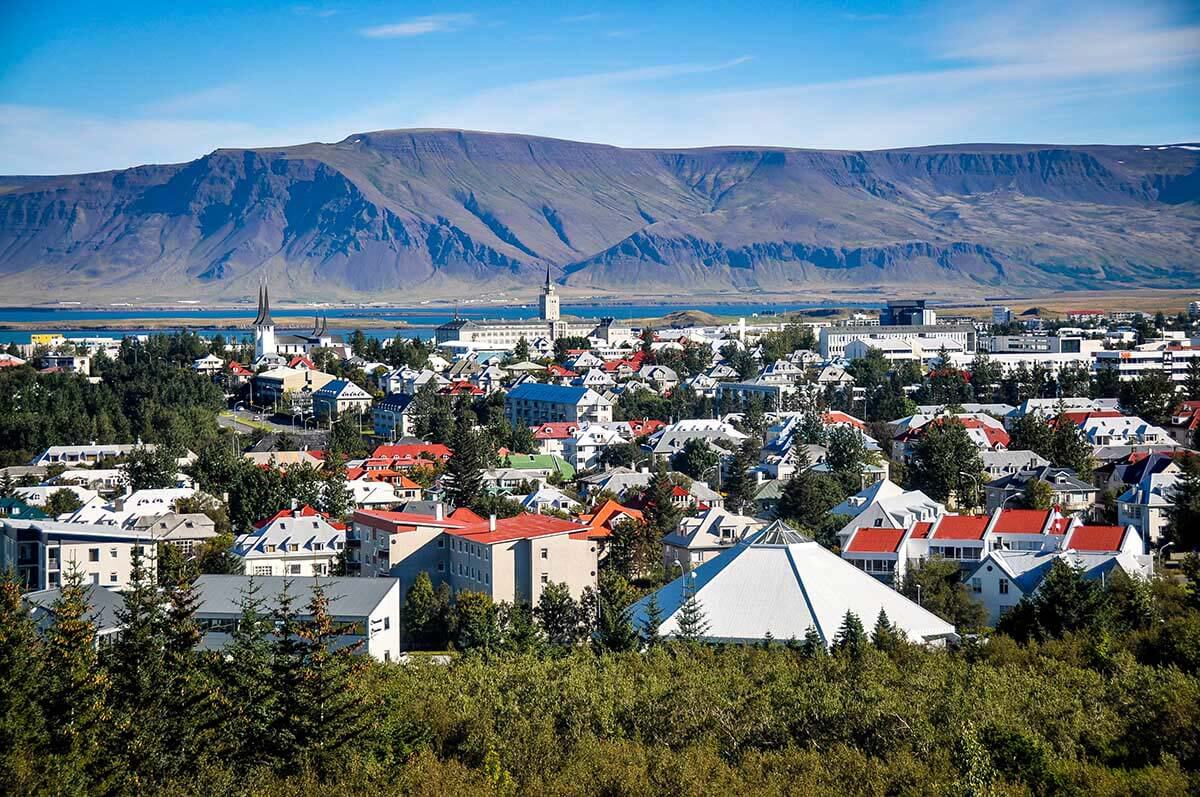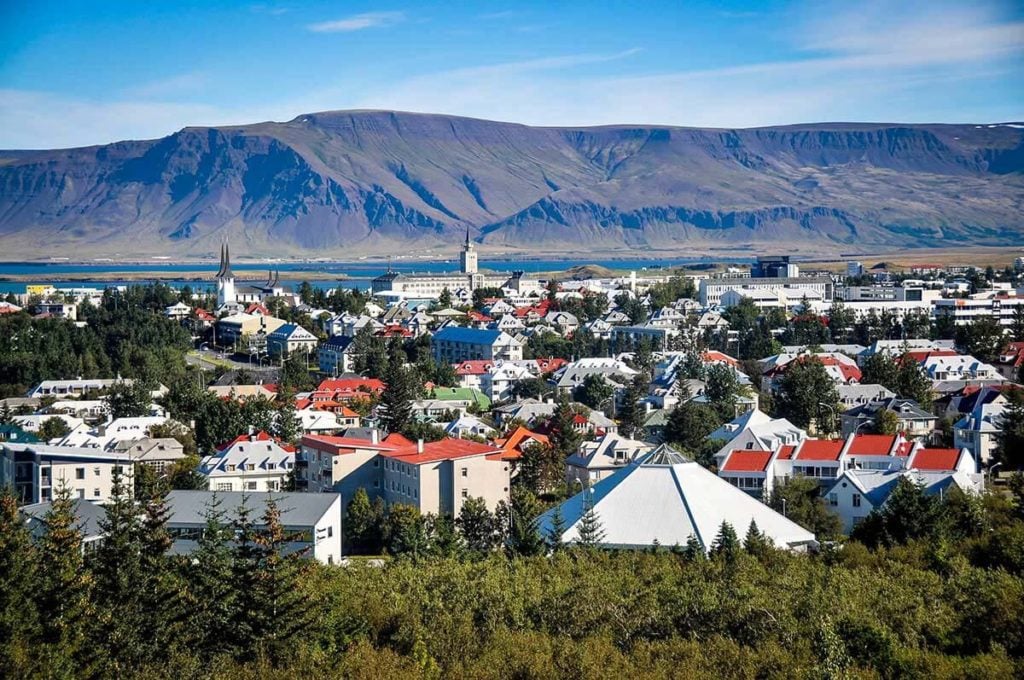 Despite being a relatively small capital city, Reykjavík is absolutely packed with fun things to do. With next-level restaurants that'll impress even the snobbiest of foodies to eclectic and colorful street art, this city is sure to charm just about any traveler.
While in Reykjavík, be sure to wander the colorful streets, explore the vibrant food and nightlife scene, and experience some free sightseeing along the way.
We've rounded up our top things to do in Reykjavík so all the research has basically been done for you!
12. Go chasing waterfalls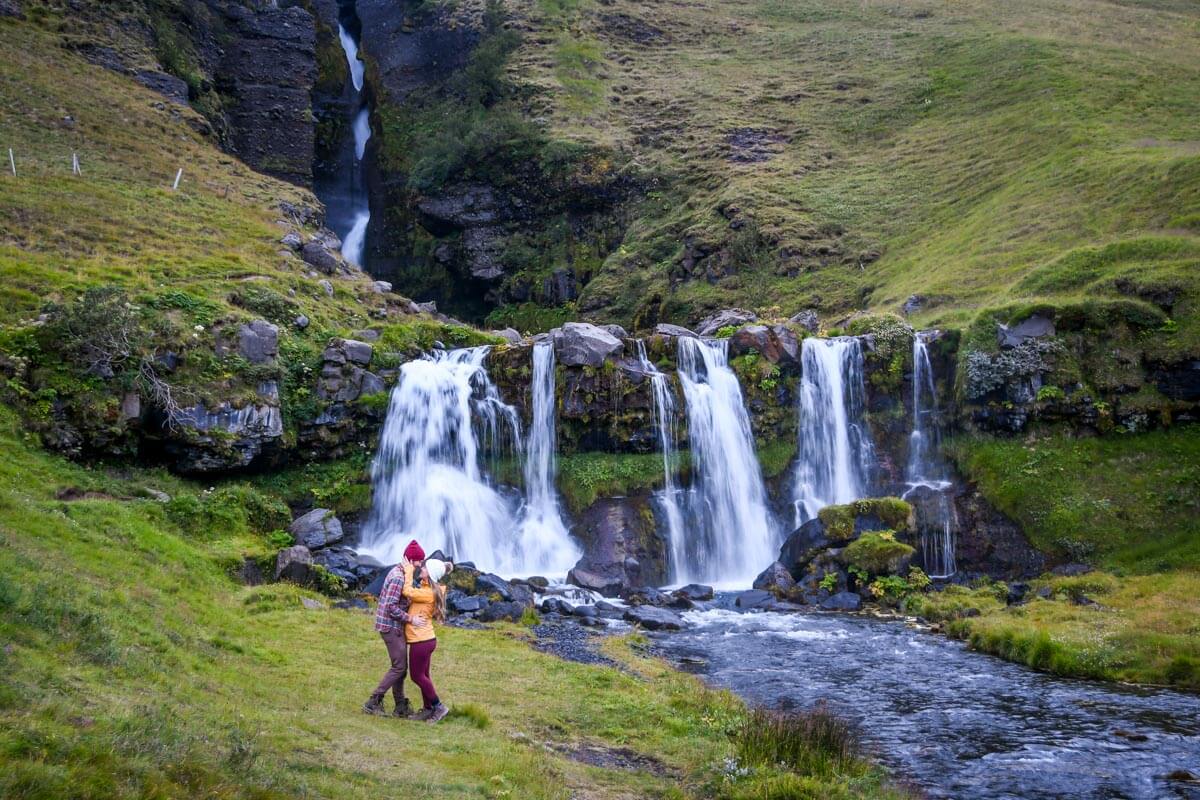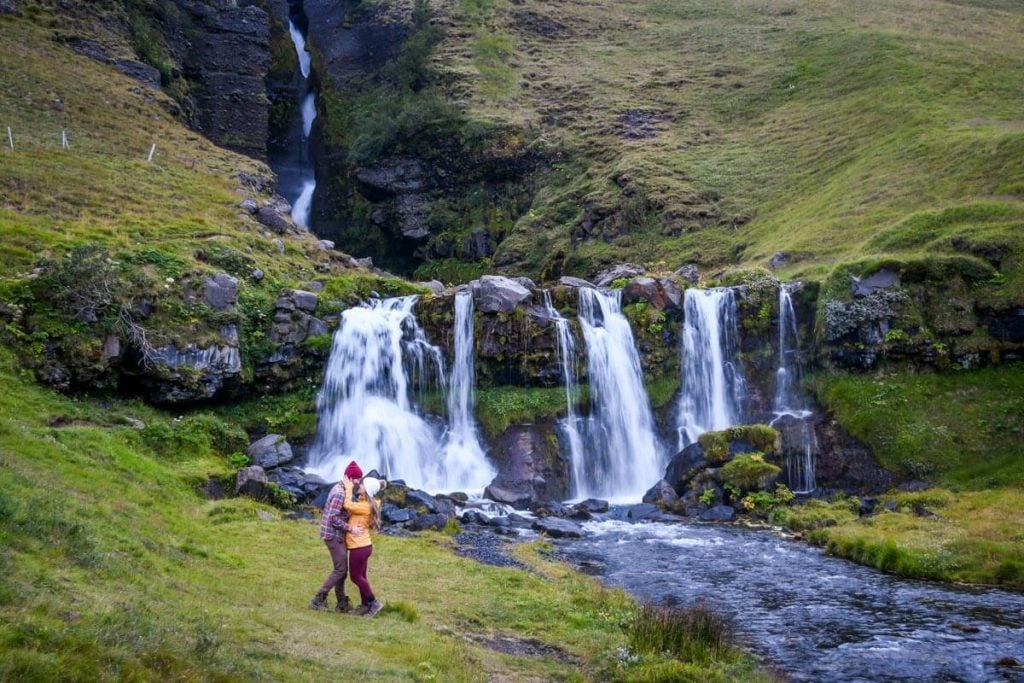 Iceland has the highest concentration of waterfalls of any place we've ever visited in the world. (And that's saying a lot for two people who live in the Pacific Northwest!)
There are waterfalls everywhere. You'll be driving and BOOM – you'll see one waterfall after another. And these aren't just trickles, friends. I'm talking about legitimate, gushing waterfalls.
So how do you determine which waterfalls are worth seeing? That's a tough question to answer, but we'll get your started with a list of our top recs:
So how do you determine which waterfalls are worth seeing? We've put together a list of the best waterfalls in Iceland – from the uber famous (and rightly so!) Skógafoss to seldom-visited falls that require a bit of effort to reach.
13. Stay at unique accommodation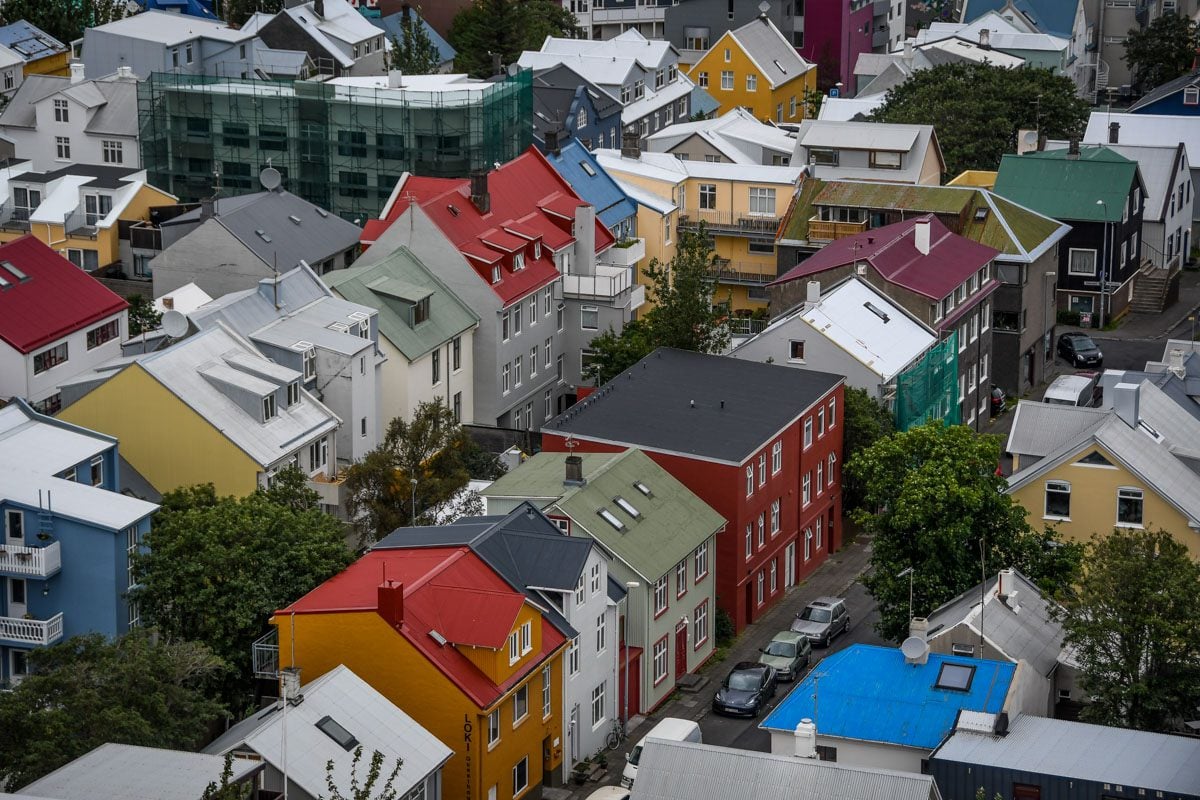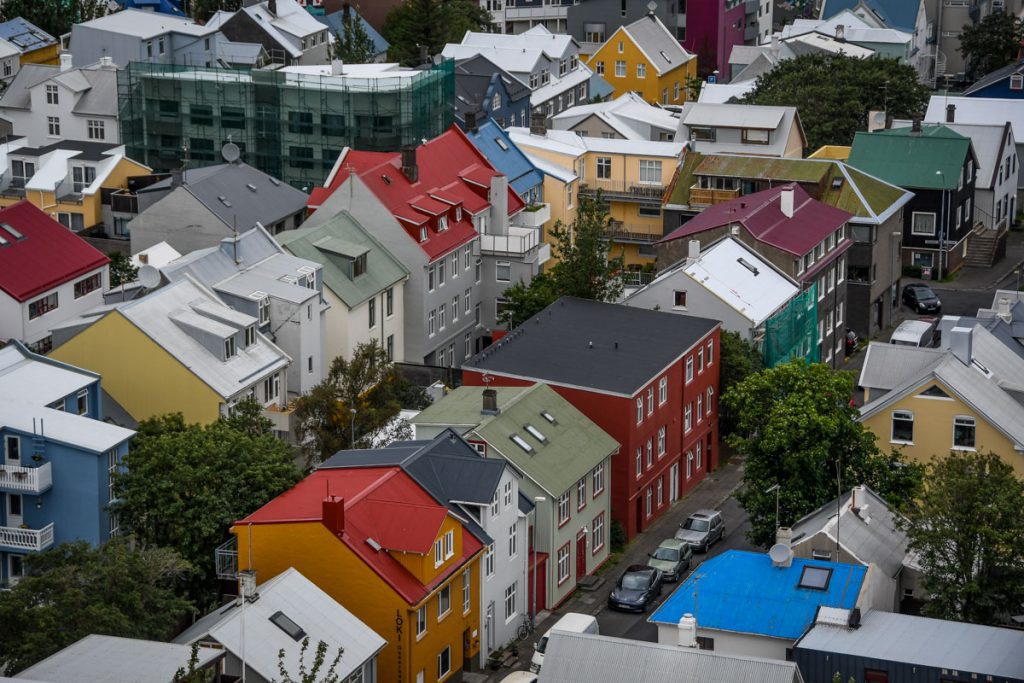 There are all sorts of cool places to stay at in Iceland – bubble hotels, farm stays, mountain huts, and luxurious "cabins" made of glass (perfect for *hopefully* seeing the Northern Lights!).
One of the best ways to find cool accommodation in Iceland is to search on Airbnb using their filters. You can set it up so it only shows you "unique stays" or "stays with hot tubs", for instance.
Want a shortcut? We rounded up some of the best Airbnbs in Iceland just for you!
14. Wander cute Icelandic towns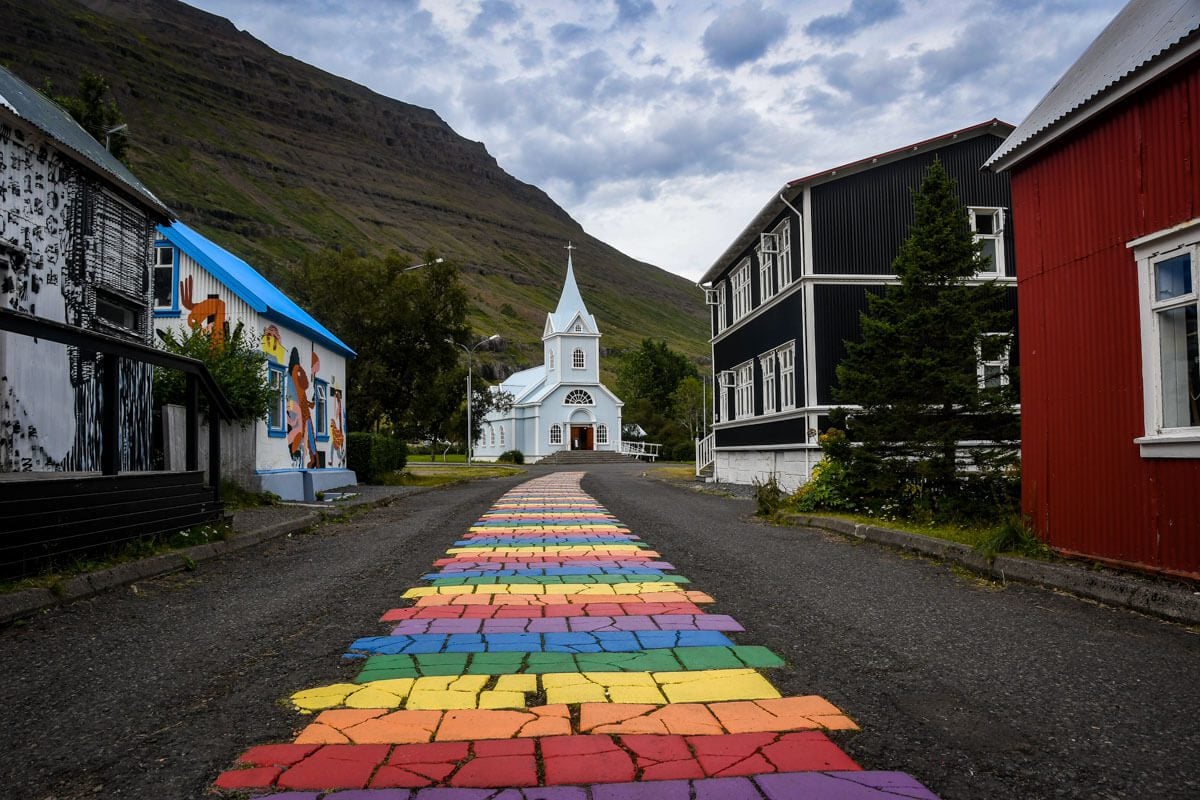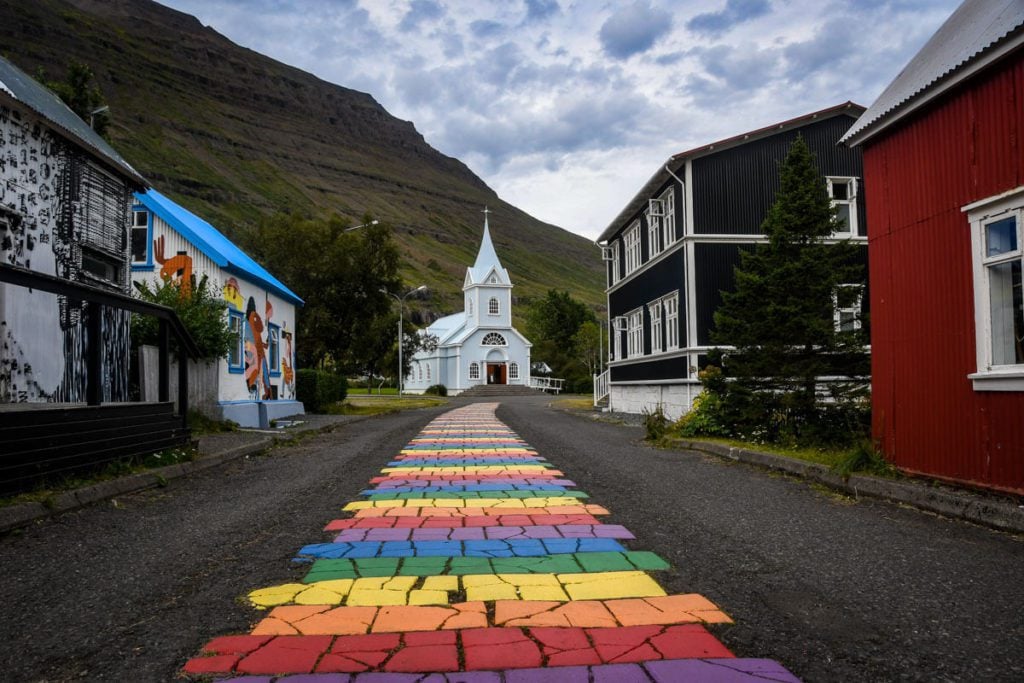 For a small country, Iceland has a surprising number of super cute towns. Well, I suppose that's a subjective statement, but if you think fishing villages flanked by mountains, colorful buildings and a quaint atmosphere is cute, then you'll surely agree with me. And if you don't think that's a winning combination, you may want to check your pulse.
Here are some of the cutest towns in Iceland (in our opinion!):
Húsavík
Seydisfjordur
Hellnar
15. Snorkel between continents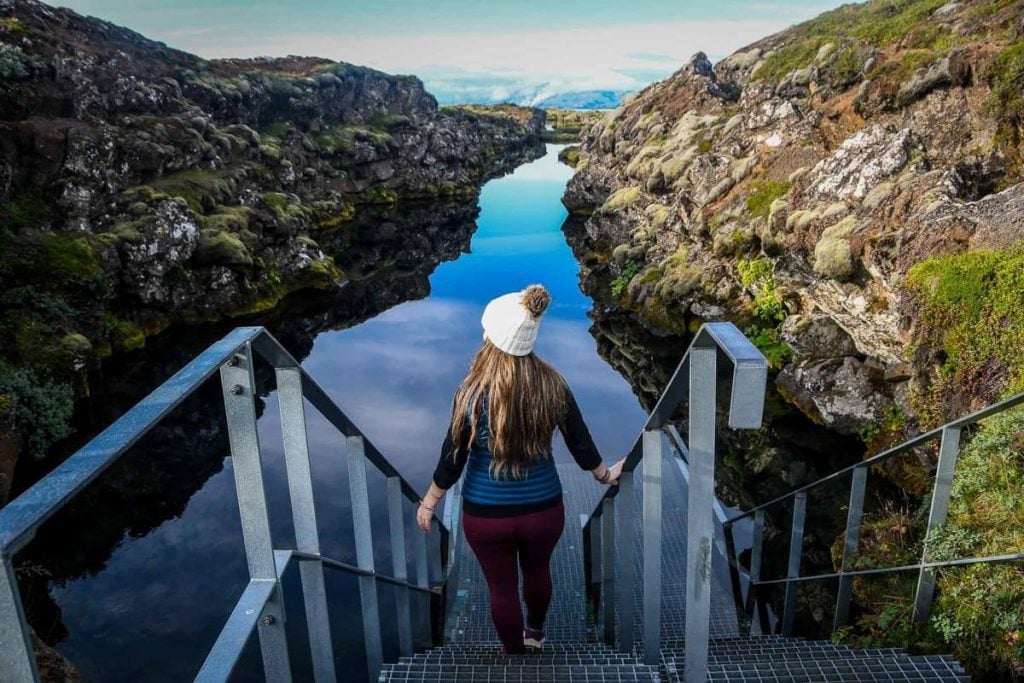 Snorkeling in the Silfra Fissure is an experience you can't get anywhere else in the world. This is the spot where the North American and Eurasian tectonic plates meet. They are pulling apart slowly and have created a rift that can be seen above ground and just below the water's surface.
The water hovers around around 36°F (2°C) year round (yes, this tour can be done during any season). Because of the near-freezing temps, you won't see much underwater life, but this place boasts visibility up to 100 meters (330 feet), which is unparalleled and an experience in and of itself.

Are you a scuba diver? This is ranked time and time again as one of the best places to dive in the world. The catch? You must either carry a certification for dry suit diving or you must have 10 logged dry suit dives (one of which must have been during the last 2 years).
16. Be wowed by a glacier lagoon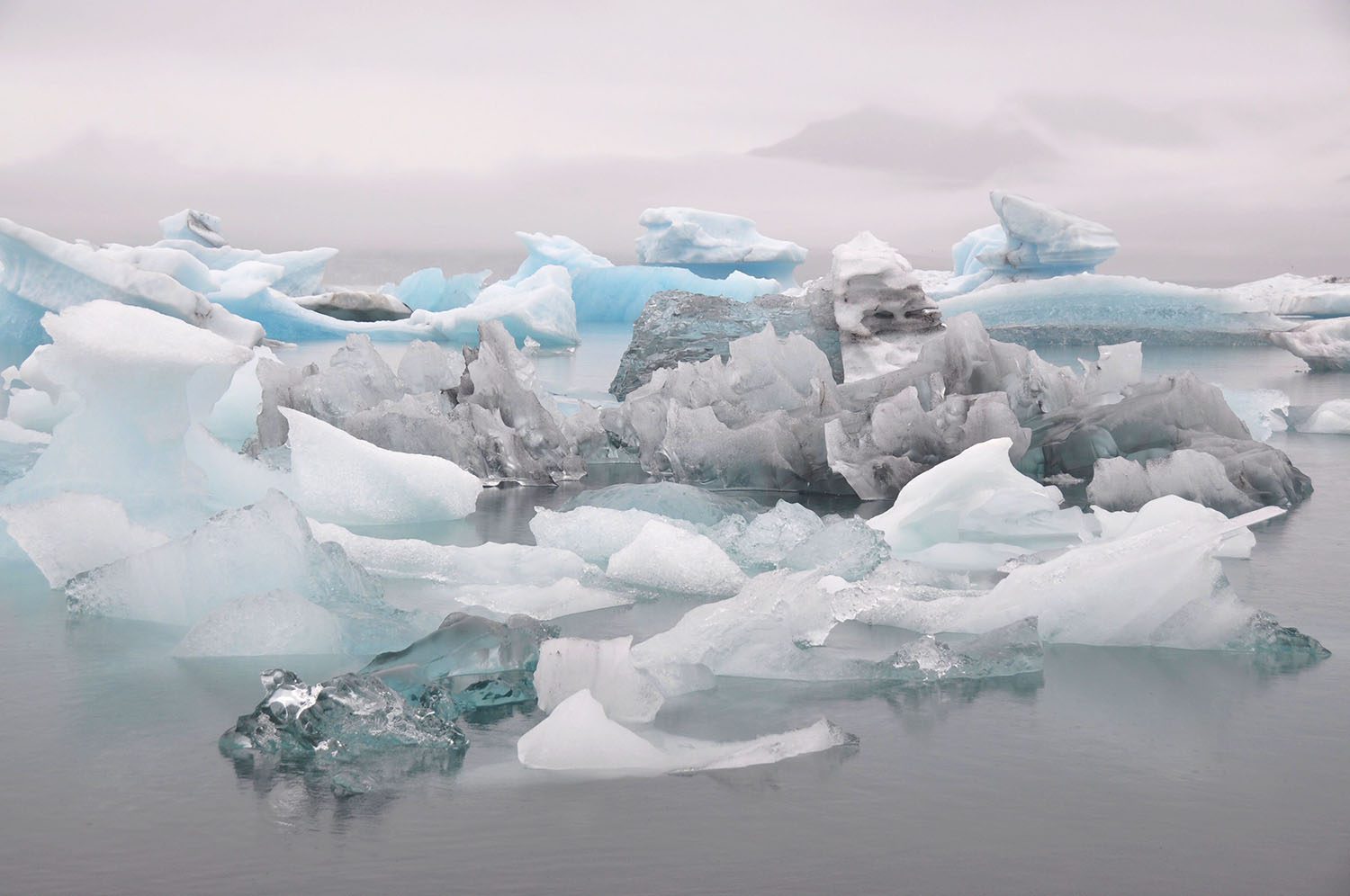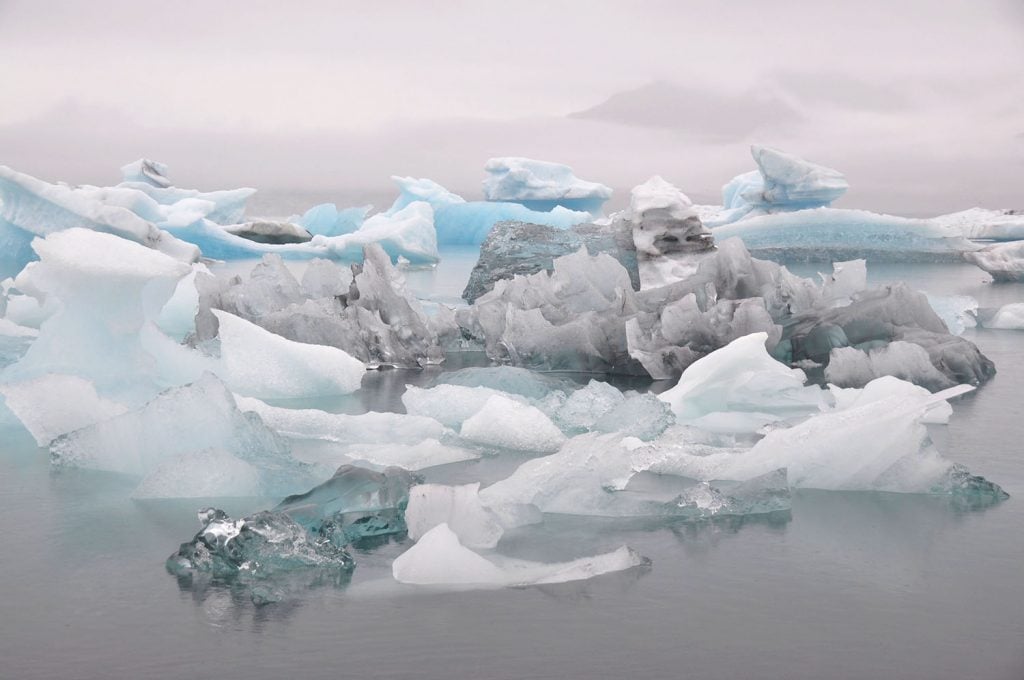 One of the coolest – both literally and figuratively – natural wonders in Iceland are the glacier lagoons.
Whether you're driving around the whole Ring Road or you're just exploring Iceland for a handful of days, Jökulsárlón Glacier Lagoon is one of the best stops you can make. It is utter magic. Imagine giant chunks of ice in all shades of blue floating in a body of water in front of you as sea birds swoop down from above and seals break the water's surface with their whiskered noses.
While you can book a glacier lagoon kayak tour or a motorized boat excursion, simply just walking around the lagoon and enjoying the sight from shore is an experience that you won't soon forget.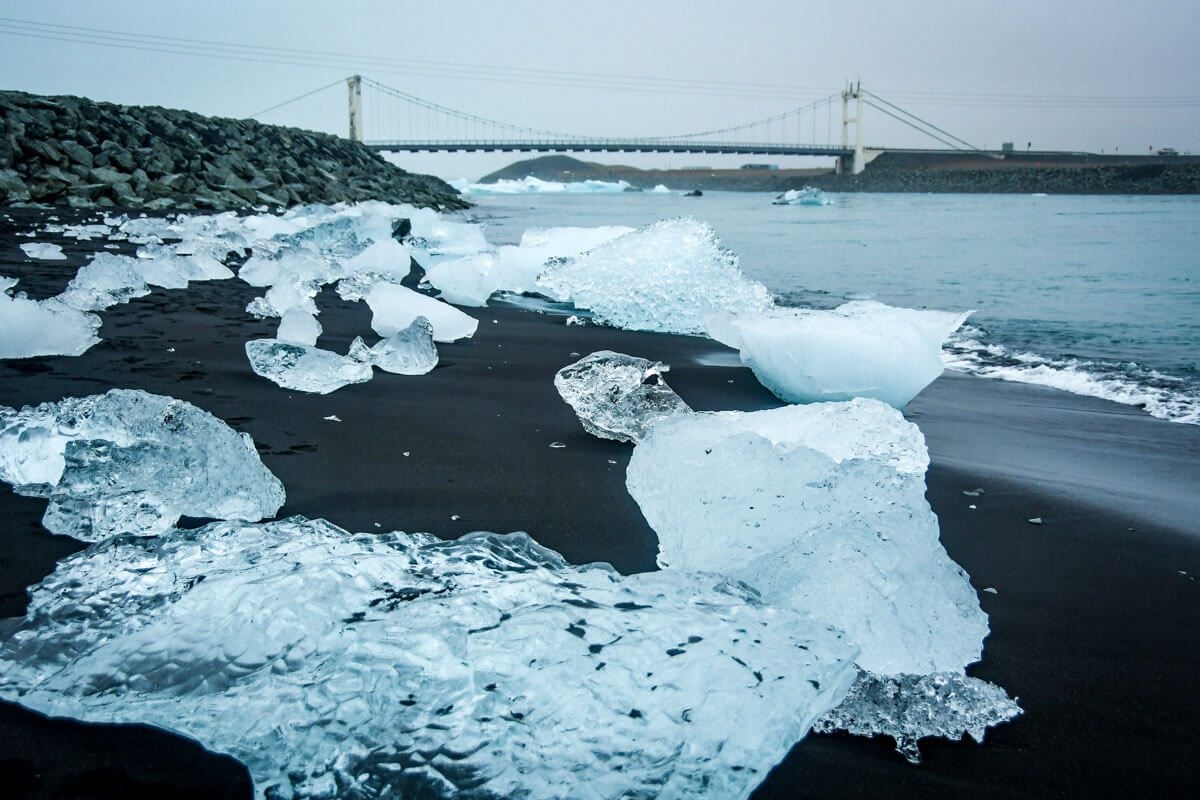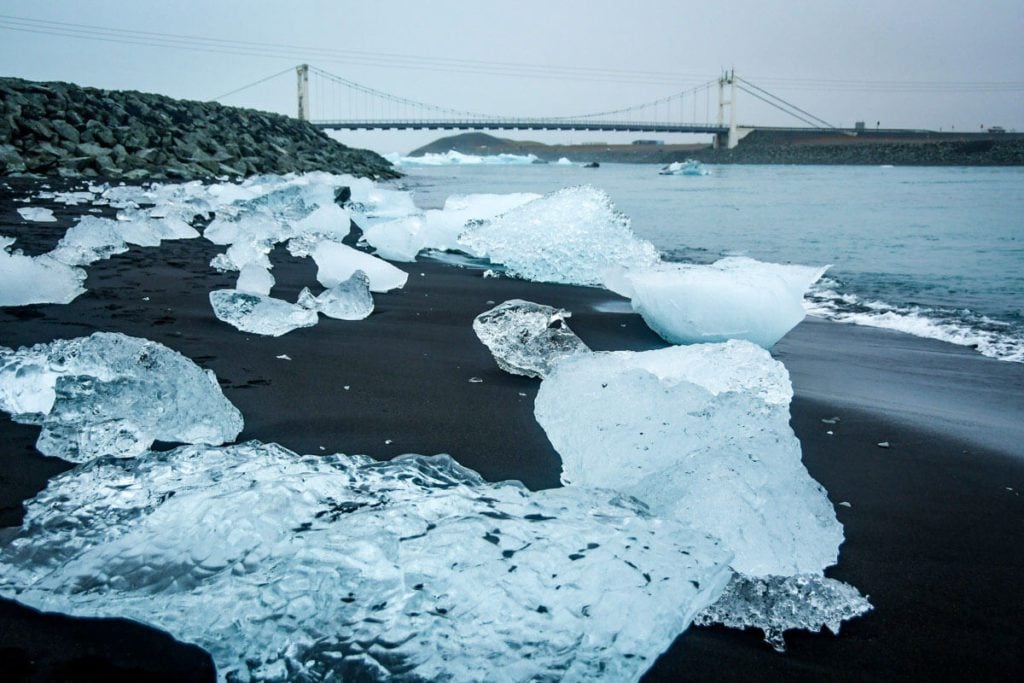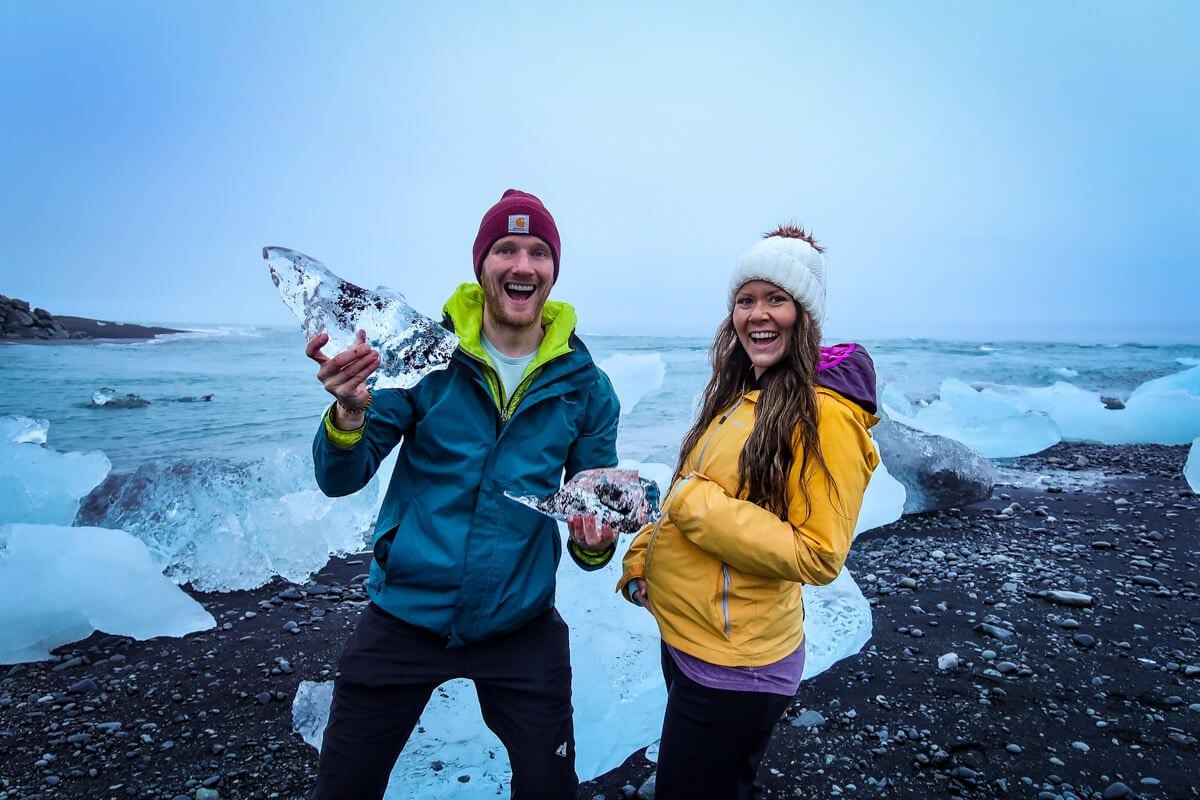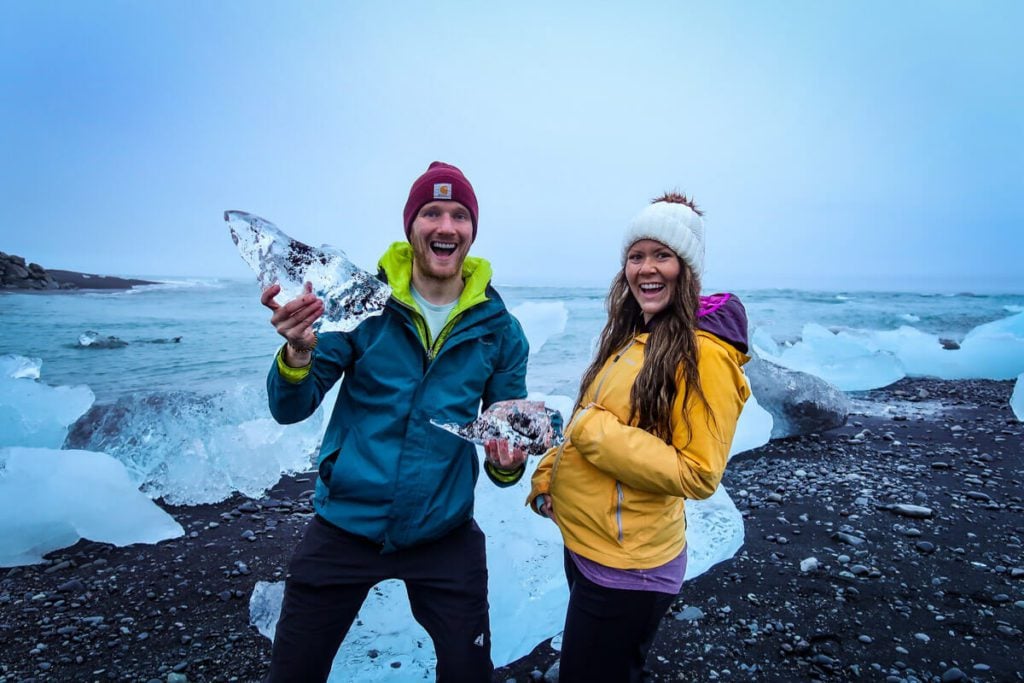 After getting your fill at Jökulsárlón Lagoon itself, be sure to make your way to the nearby Diamond Beach where you can see ice chunks that have washed up on the black sand shore
Good to know: Jökulsárlón is undoubtedly the most famous glacier lagoon in Iceland, but it's not the only one. Fjallsárlón is not far from its more popular sister, but it's pretty cool to check out this lesser-known lagoon if you have the time.
17. Hike to a seaside plane wreck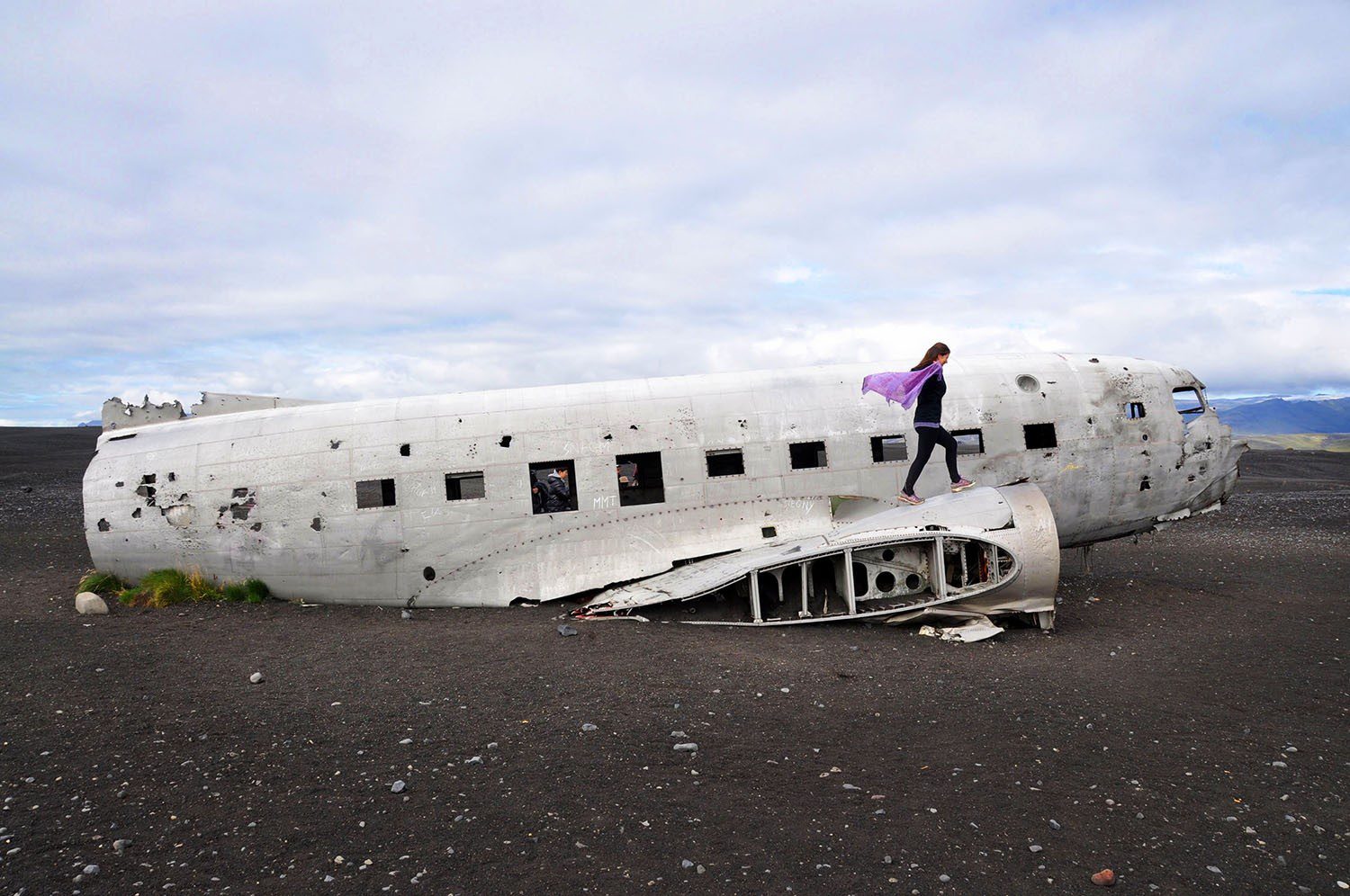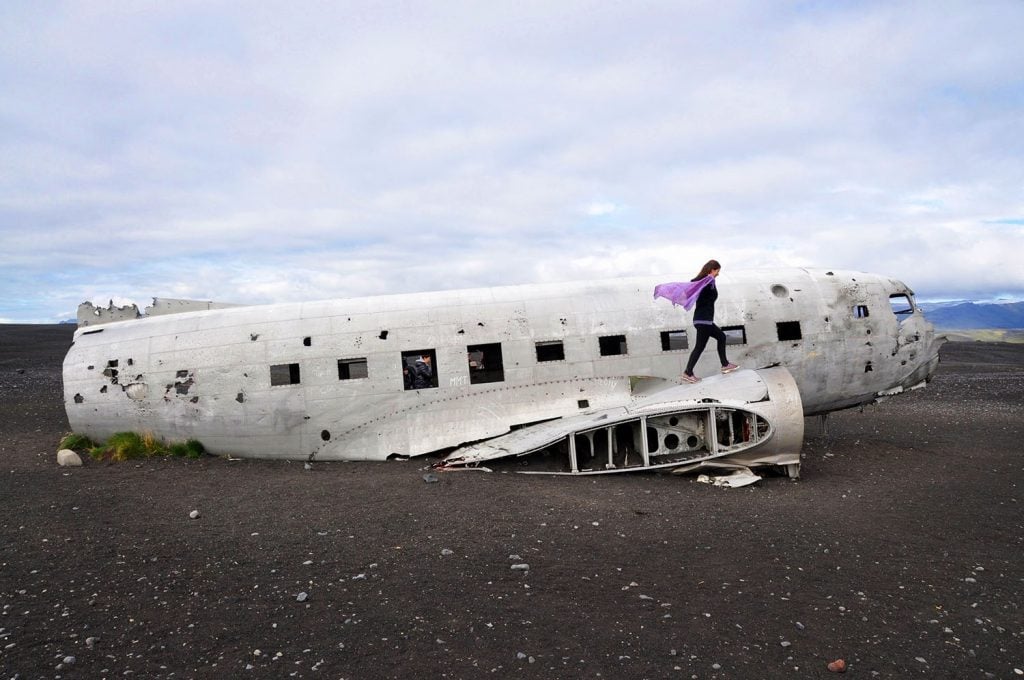 There aren't many places in the world where you can see a plane wreck on a black sand beach… Come to think of it, this may be the only one.
The Sólheimasandur plane wreck is on Iceland's south coast, not far from the town of Vík, and is popular with photographers and travelers seeking a unique sight. Near the ocean's edge, you'll find the remains of a 1973 U.S. Navy plane that crashed at this spot after running out of fuel. Thankfully, everyone on board survived.
Visiting this popular spot is easy. You simply park in this lot, and follow the marked path for a little more than 2 miles (3.5 km) until you reach the wreckage. In total, this is a 4.5-mile (7.25 km) walk.
Good to know: The walk to the plane is kind of long and very boring. It's flat, so you won't have to worry about elevation gain, but it's important to pack plenty of layers and rain gear.
18. Explore the magical basalt columns of Studlagil Canyon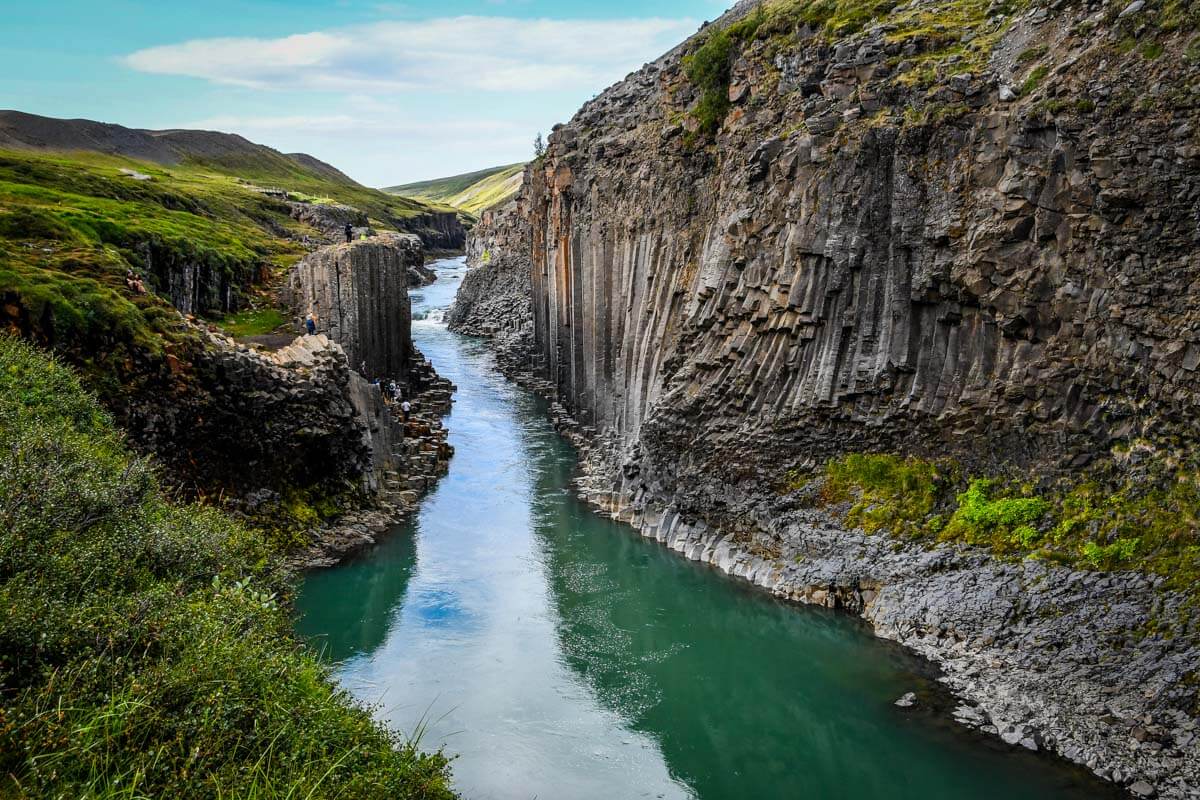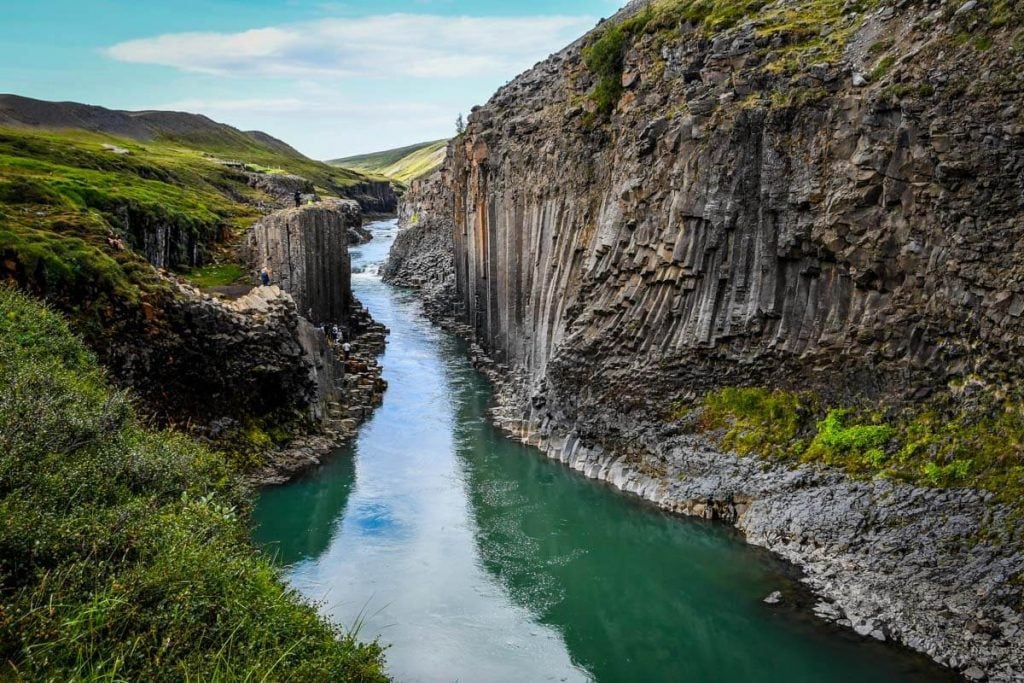 Located in eastern Iceland, Studlagil Canyon is quite a gem. With towering black basalt columns set against (sometimes) turquoise waters, this otherworldly place is unlike anything you've ever seen.
Getting here can be a bit confusing, so we created a guide to Studlagil Canyon complete with a free map, precise directions and insider tips we wished we would have known before our visit.
19. Photograph Icelandic churches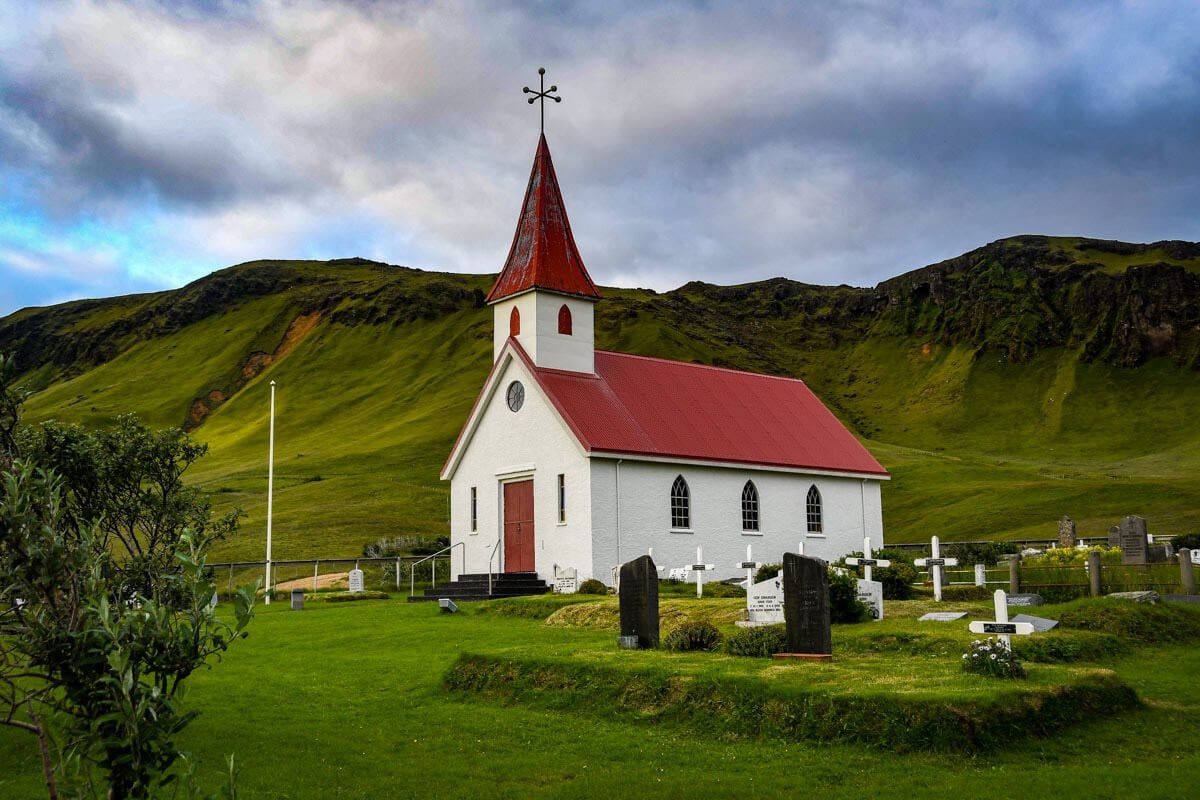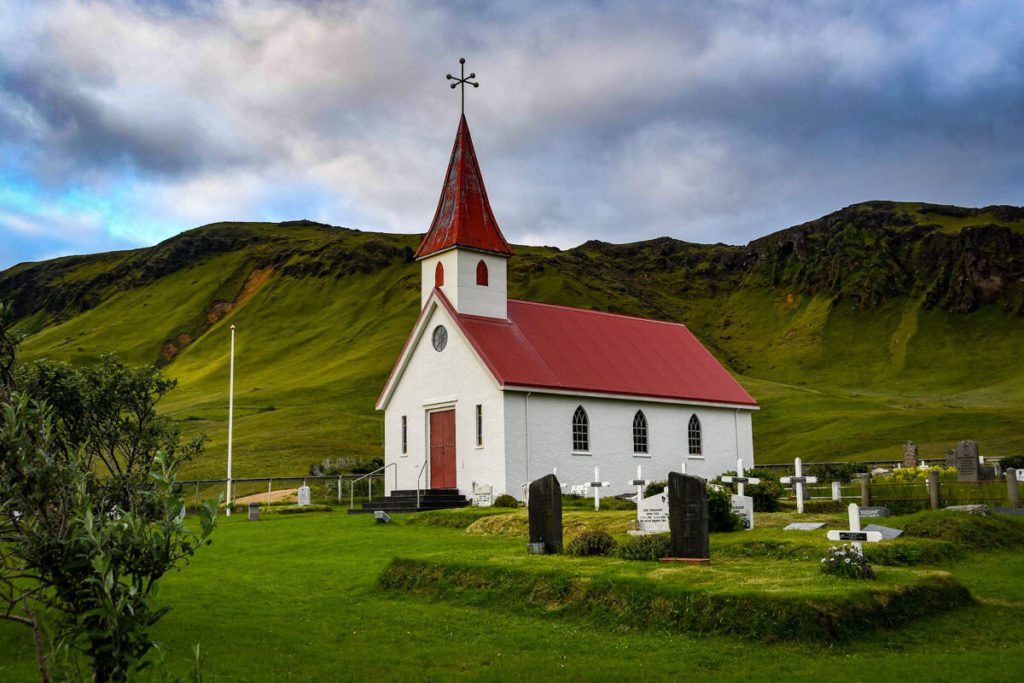 As you drive around Iceland, you'll see quaint churches dotted all throughout the countryside and in each town, no matter how small. Some of these churches have a rich history which is typically documented on a sign outside the building.
If you see one that strikes your fancy, pull over, get out of your car and explore a bit. Oh, and don't forget your camera because Icelandic churches are next-level photogenic.
20. Taste rye bread that was baked underground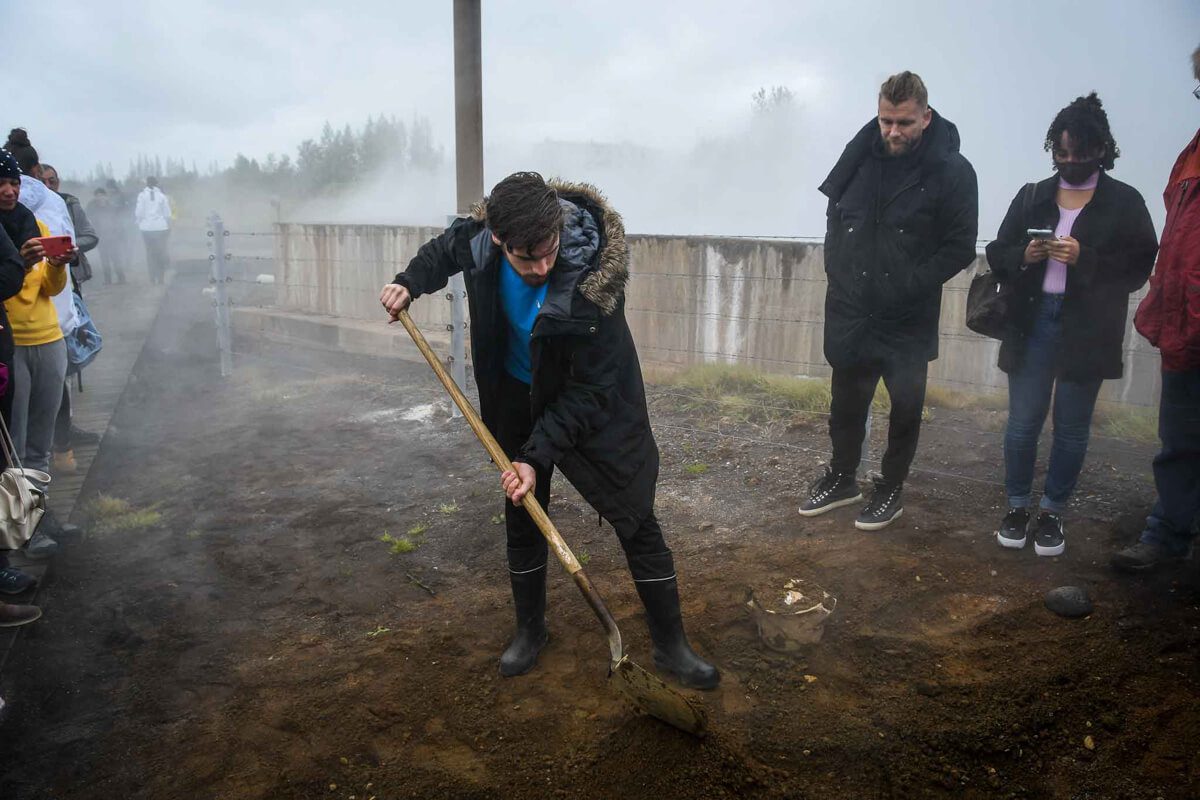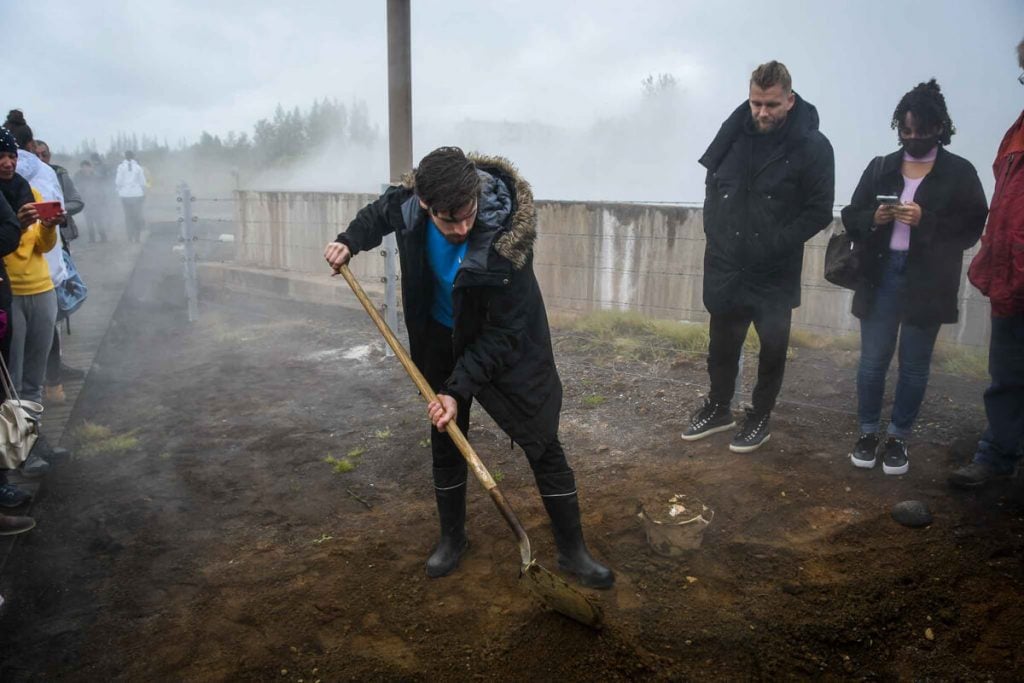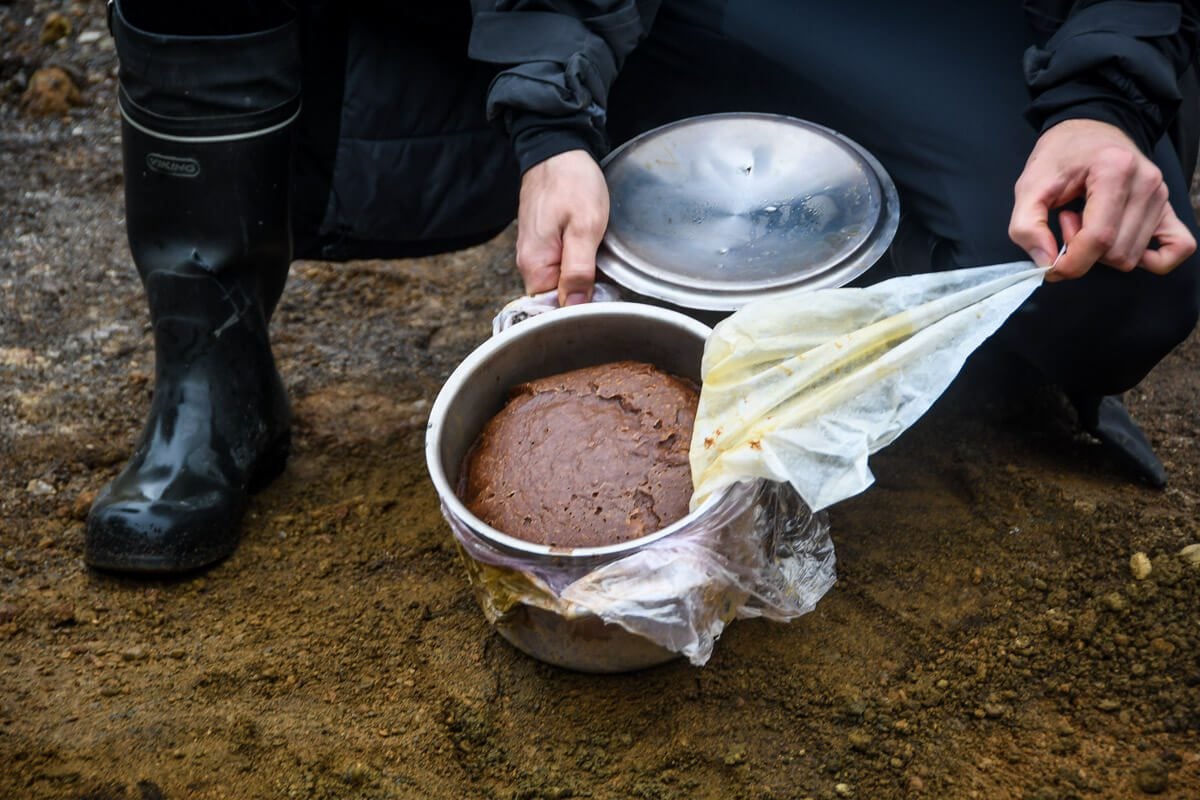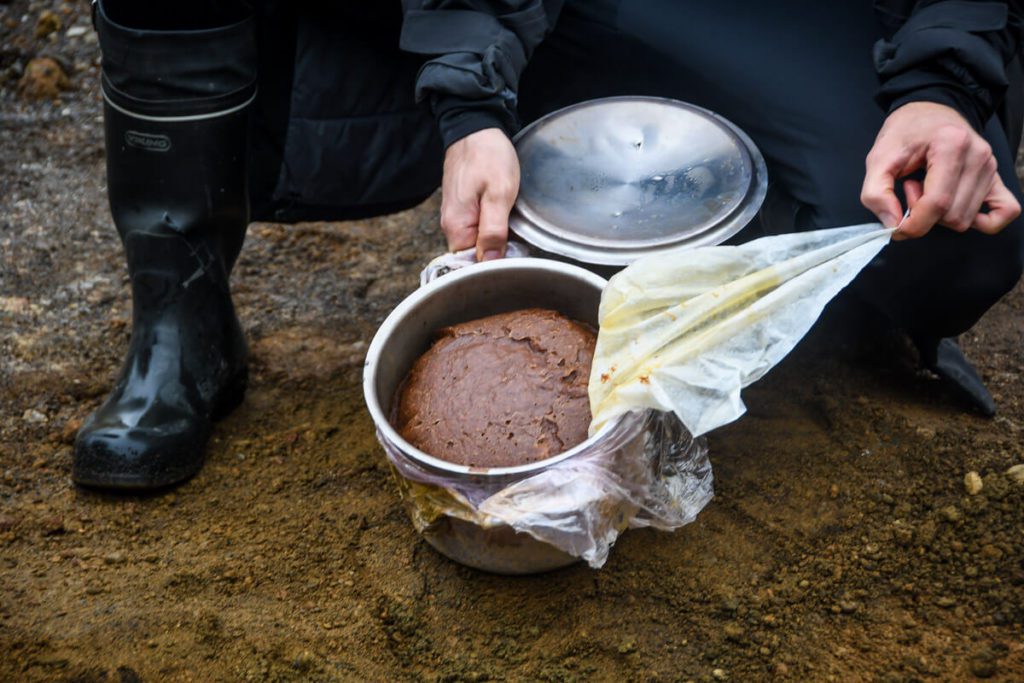 Experience for yourself the power of harnessing geothermal energy by sampling bread that was baked underground. This method of cooking was once used out of necessity, but today it is more or less as a way to taste history.
While on the Ring Road, you can stop at Laugarvatn Fontana, where they lead daily Rye Bread Tasting Tours. The tour lasts about 30 minutes and walks you through the baking process. As a group, you'll uncover a pot that has been underground for 24 hours, and you'll place a new one near a thermal spring for another tour group to collect the following day.
It is quite interesting to learn about the process, but the best part is trying the finished product. The rye bread is dense and sweet, almost like cake. And topped with a generous amount of smjor (Icelandic butter) and smoked trout, it is absolutely addicting, and definitely a food you should try in Iceland. The details: This tour runs daily at 11:45 a.m. and 2:30 p.m. and costs 1700 ISK per person ($13).
21. Meet Icelandic horses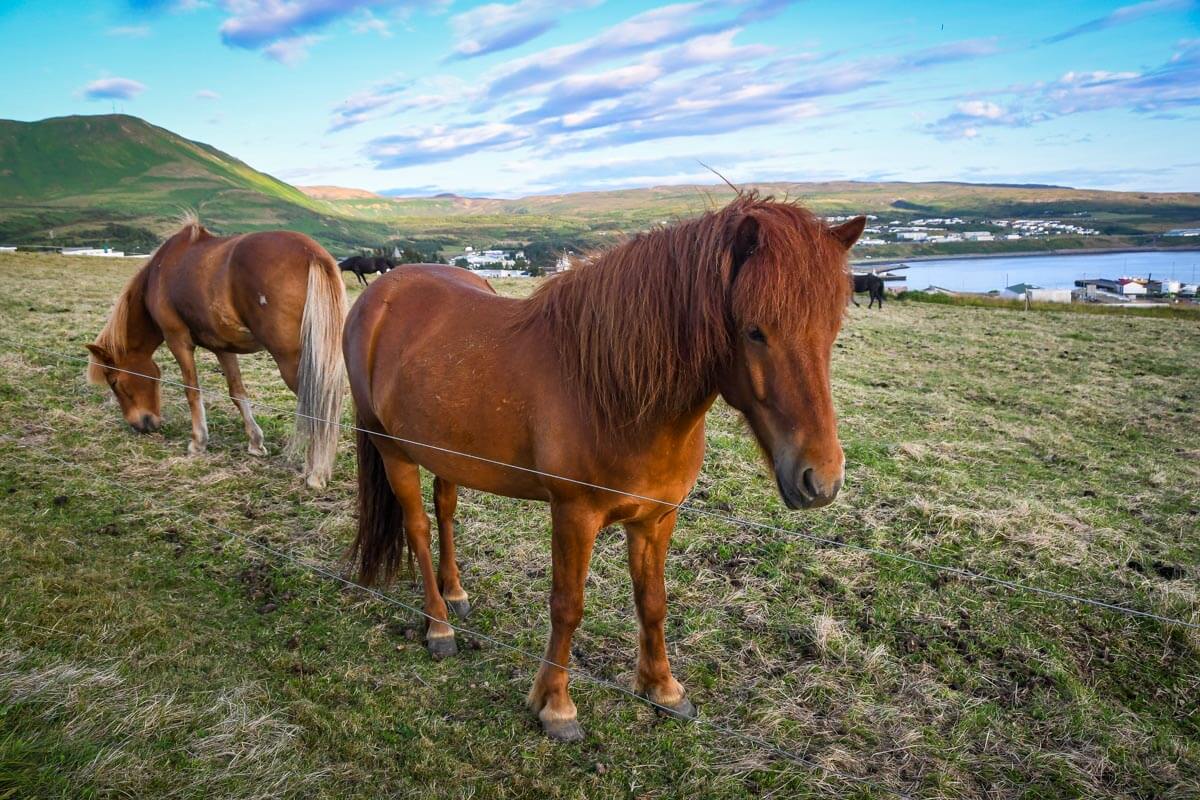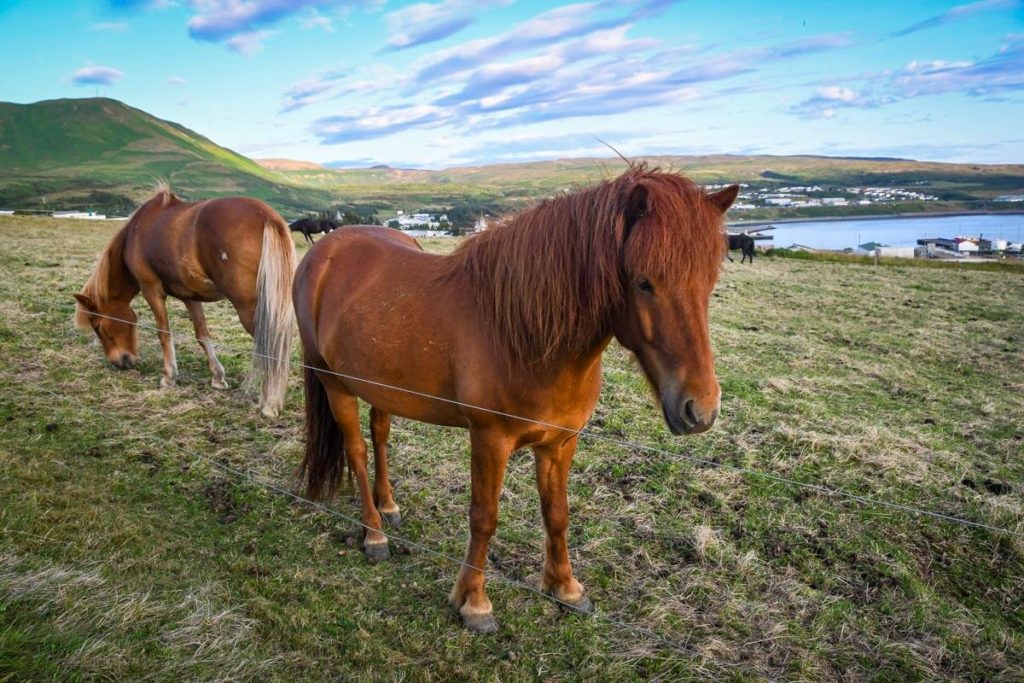 You won't drive very far before seeing your first Icelandic horse. These beauties are smaller than the horses you may be used to, and they have short legs and a thick coat of fur.
Oftentimes, these horses will gather at a fence alongside the road, as if begging for a photo. If you can safely pull over, this is usually considered just fine.
However, there are a few things you should not do:
Don't park improperly. Make sure that if you pull over, other cars have enough space to pass. Better yet, search for a designated pull-out as stopping on the side of the road is strongly discouraged.
Don't ever cross over the fence, as this would be trespassing on private property.
Don't feed the horses, as this can cause them to have excess food. Just imagine if you were a farmer and 10 visitors a day fed your horses. This means you don't have any control over what's being fed to them and they may be developing bad habits.
If you want a more intimate experience with Icelandic horses, you may want to look into a horseback riding tour. They run all over the country – from remote farms to those just outside of Reykjavík that can pick you up from your hotel.
22. Hike on a glacier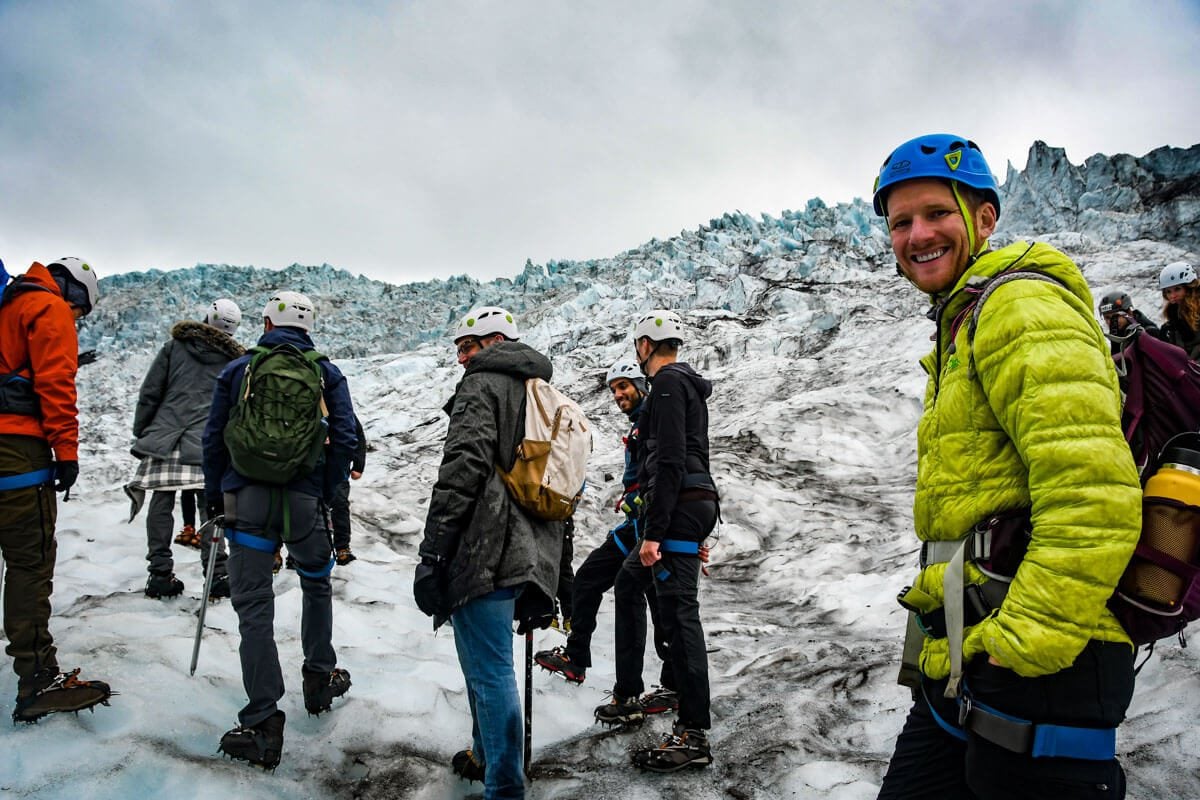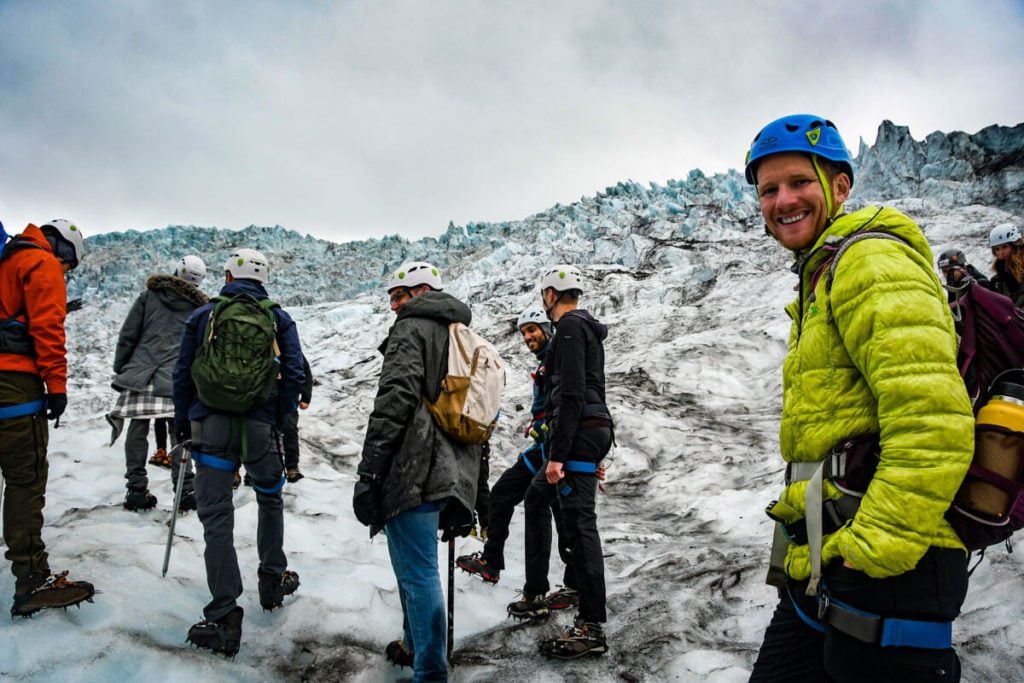 Hiking on a glacier is one of the most unique and adventurous experiences you can have in Iceland. Being that the glaciers are actively melting, this may not be something visitors can do in years to come, so this truly may be a once-in-a-lifetime opportunity.
Hiking on a glacier is an activity you must do with a guide, and there are quite a few tour companies to choose from. A guided tour includes all the equipment you'll need, like a harness, an ice axe, crampons and a helmet, as well as a guide who is experienced with the area and glacier safety.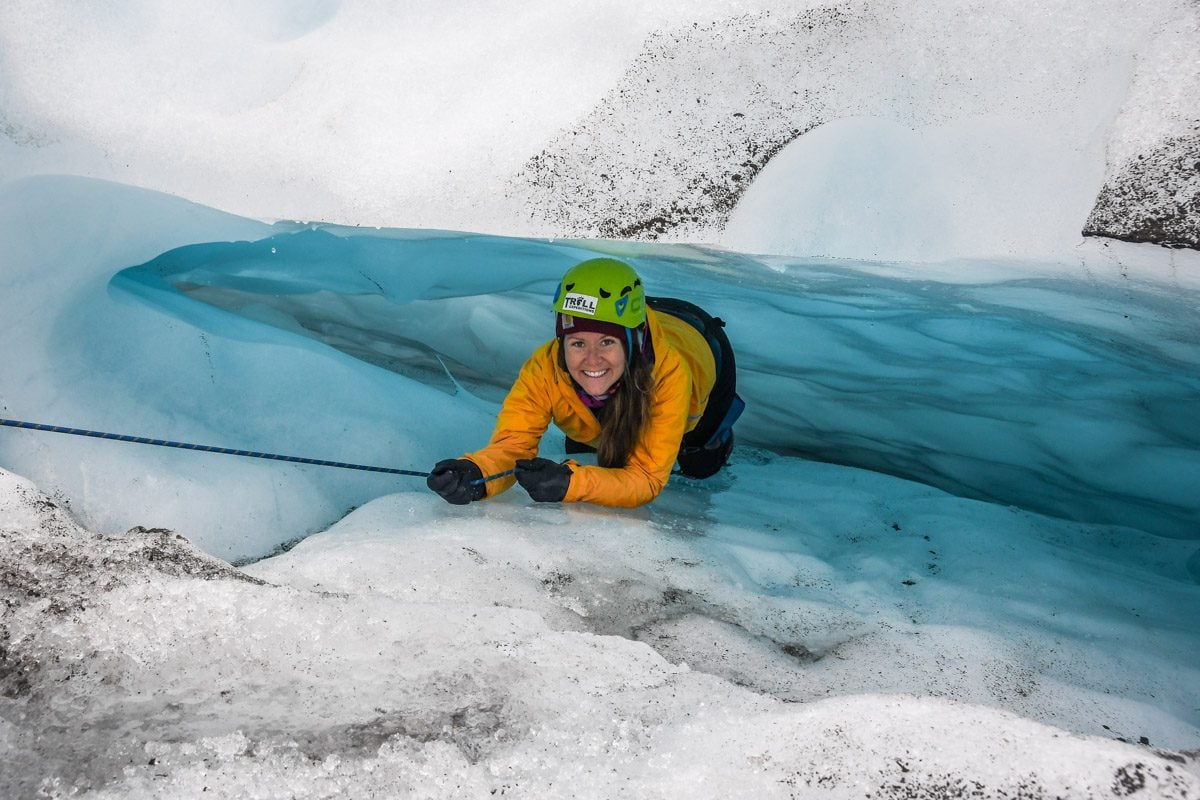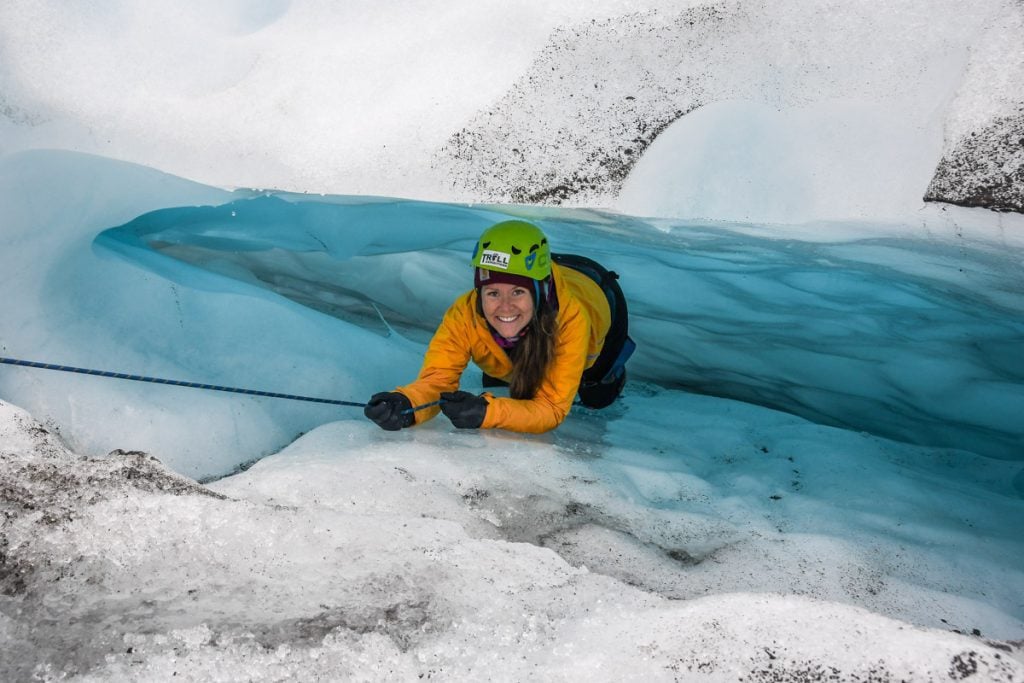 Insider Tip: After doing a bit of research, we read many recommendations that suggested choosing a 5-hour glacier tour over a 3-hour tour, as you get to see much more of the glacier itself. Being that it does take a bit of time to actually reach the glacier, we'd agree with these recommendations.
During the tour, you'll traverse a pretty large section of a glacier and see some pretty incredible sights. You may even be lucky enough to be (safely) lowered into a small ice cave, which feels like an entirely different world.
Are you visiting Iceland in the winter? You may want to also look into visiting an ice cave with a tour guide. This looks like a pretty incredible experience, but with the exception of a couple, most ice caves can only be visited during the late fall and winter months.
23. Learn about volcanoes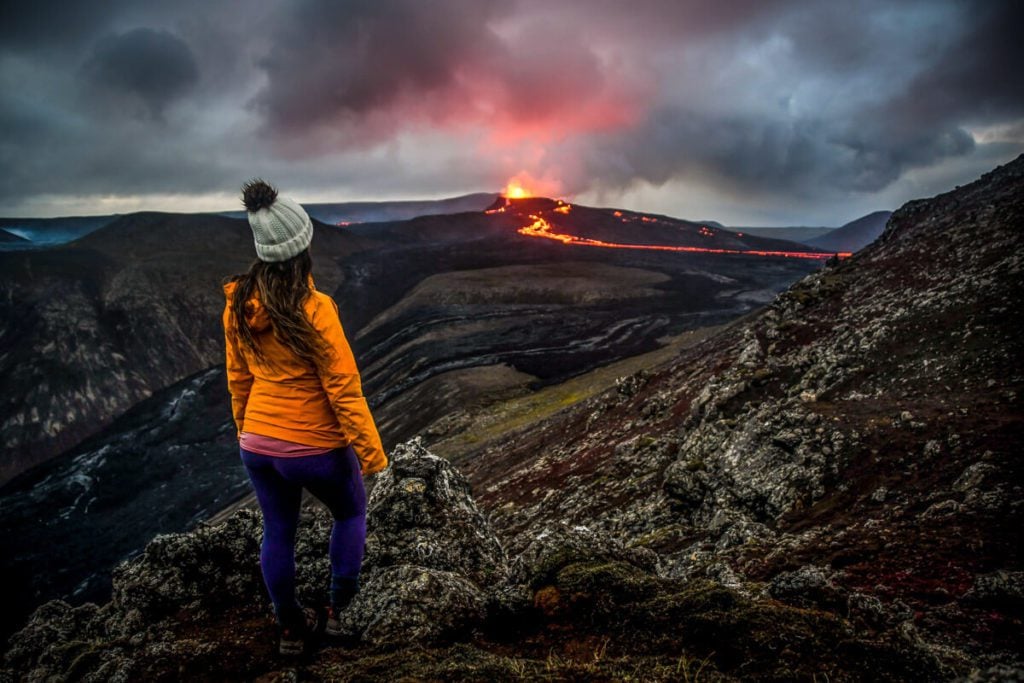 Being that Iceland is a volcanic island, it makes sense that it is a great place to learn about, well, volcanoes.
Now how you choose to learn about them is up to you, but we have a few fun suggestions:
Go to the Lava Show in Vík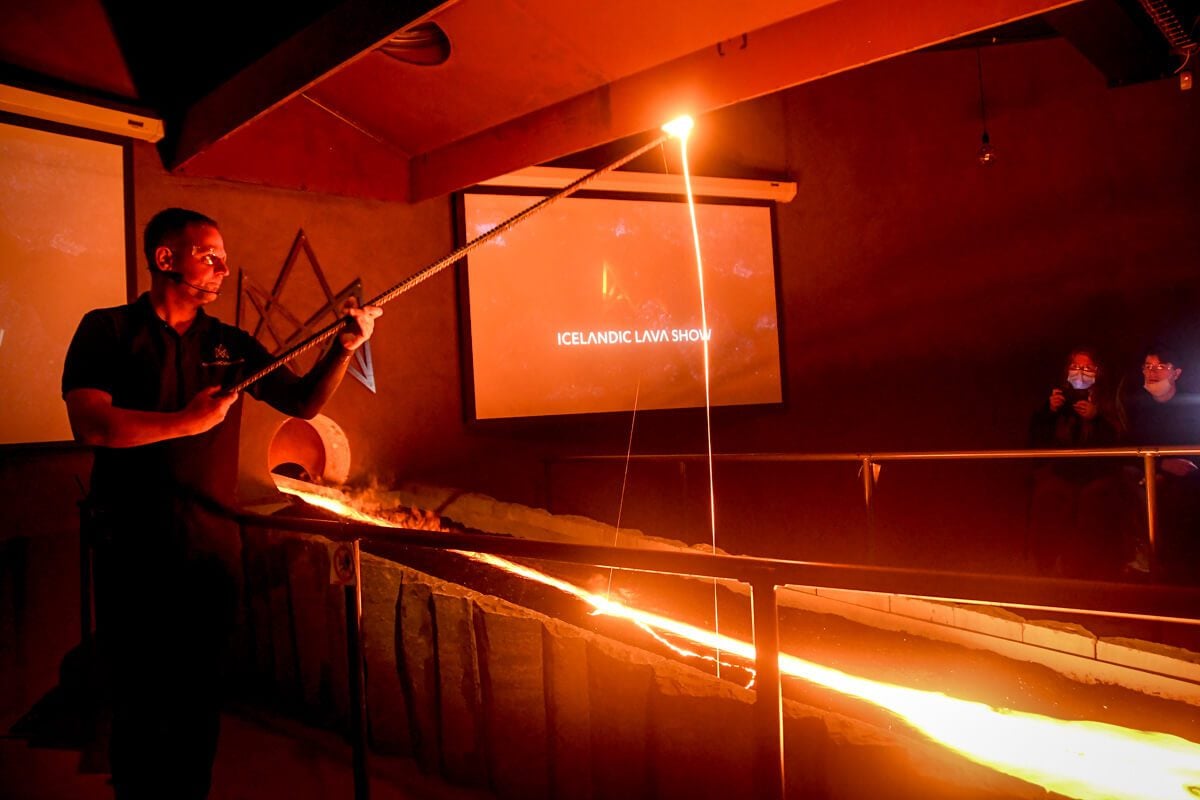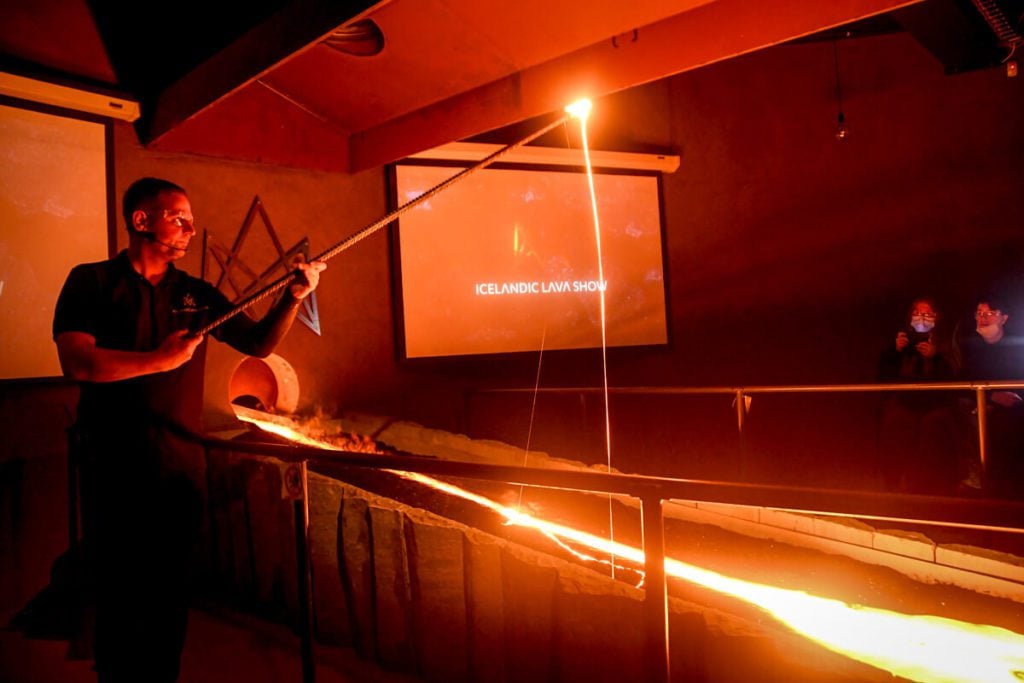 How would you like to see real lava up close? Well, this is your chance!
The Lava Show, located in the small town of Vík, boasts that it is the "only place in the world where you can safely experience hot molten lava in close proximity". And whew, we can attest that it is quite a unique experience. During this 1-hour long show, you'll have front row seats as you watch molten lava (1,100°C / 2,000°F) flowing right in front of you.
The creator of this experience, Júlíus, is extremely passionate about all things volcanoes and lava, and makes it an entertaining and educational show for both adults and children.
Do the "Inside the Volcano" experience
Have you ever thought about going inside a volcano?! Yep, you read that right – inside! On this tour, guests board a cable lift and descend 120 meters (400 feet) to the bottom of the crater for an experience you can't get anywhere else. At more than $330 per person, there's no doubt this is a huge splurge, but the reviews seem to speak for themselves. While we haven't personally done this tour, it does sound like a pretty cool way to learn about volcanoes.
Hike, hike, hike!
If you're an avid outdoor enthusiast, you'll be happy to know that Iceland has some incredible hiking opportunities. And many of the hikes in Iceland are through volcanic landscapes.
In our opinion, there's no better way to learn about something than by getting up close and personal with it. Plus, it won't cost you a thing, which is a bonus if you're traveling Iceland on a budget.
24. Scope out traditional Turf Houses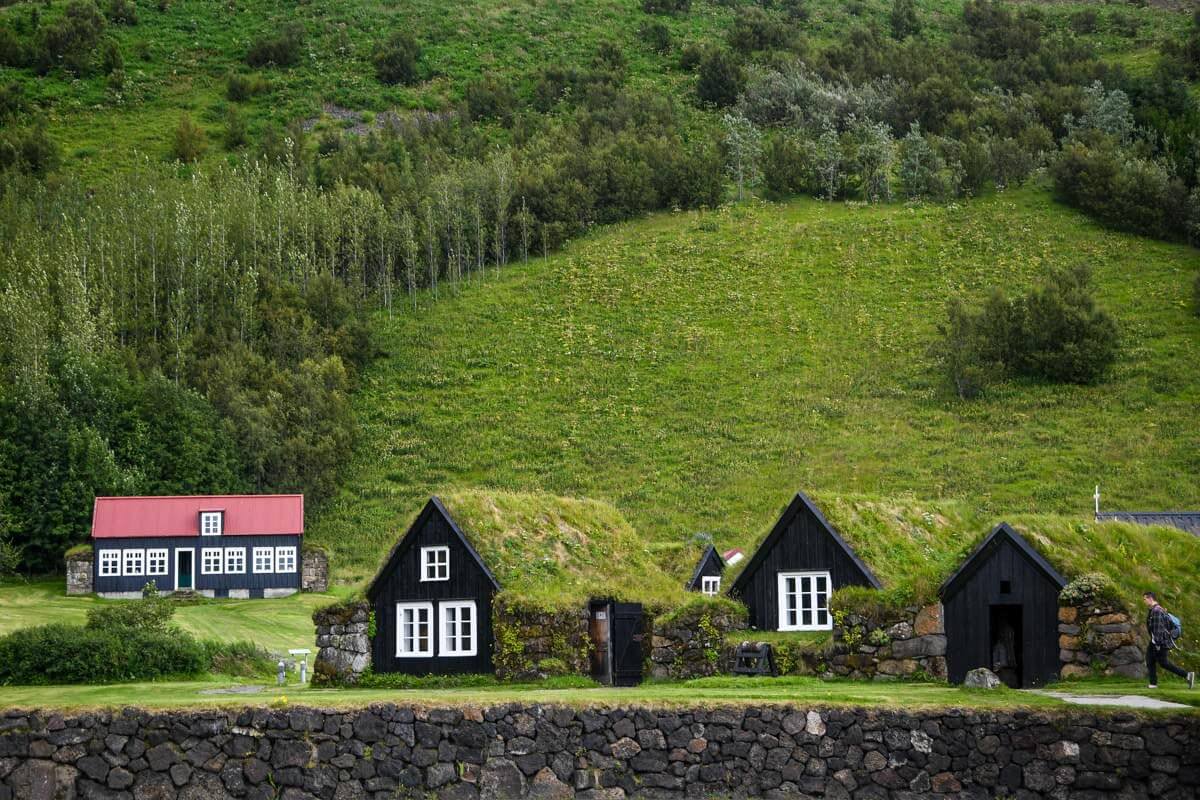 Turf houses are quite the sight to see, but if you don't know where they are on the map, you may just miss them. These historic relics give us an idea of how people once lived in Iceland, though their purpose today is only the preservation of the past.
Why did people build turf houses? The answer is quite simple. While much of Iceland was once forested, people cut down trees for construction, almost completely eliminating this resource from the small island nation. Since lumber was hard to find, Icelanders resorted to a different method of building.
Turf houses were already popular in neighboring Scandinavian countries and being that the sod provided extra insulation, it was an easy choice. Turf houses were known for keeping the temperature stable throughout the year, staying cool in the summertime and keeping residents warm through the long winter months.
Where can you find turf houses? There aren't that many remaining, but here are a handful to check out:
Note: Some of these are museums that allow visitors to enter the houses in exchange for admission. If you'd simply like to see a turf house from the outside, that's okay too.


Are you planning a trip to Iceland?
We have TONS of resources on travel in Iceland and how to make the most out of your trip. Check out our Ultimate Iceland Travel Guide for all the answers to your most burning questions, or read some of our favorite articles below.
Save this article on Pinterest for later!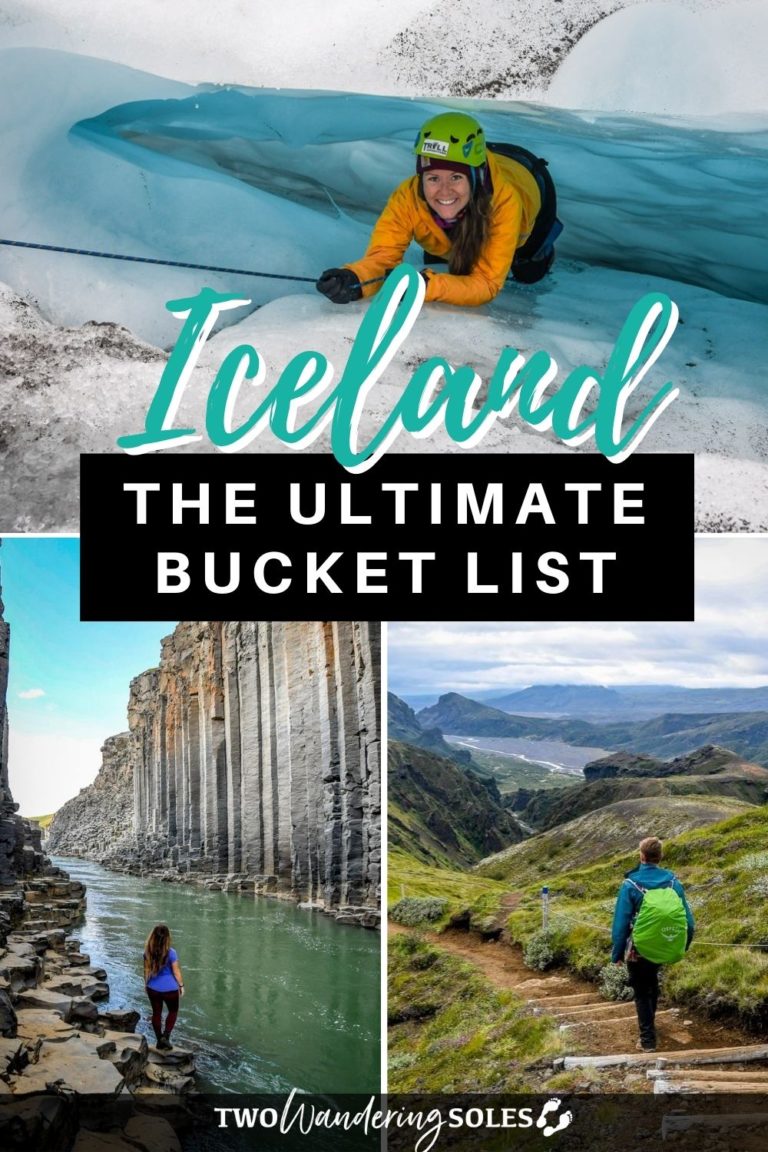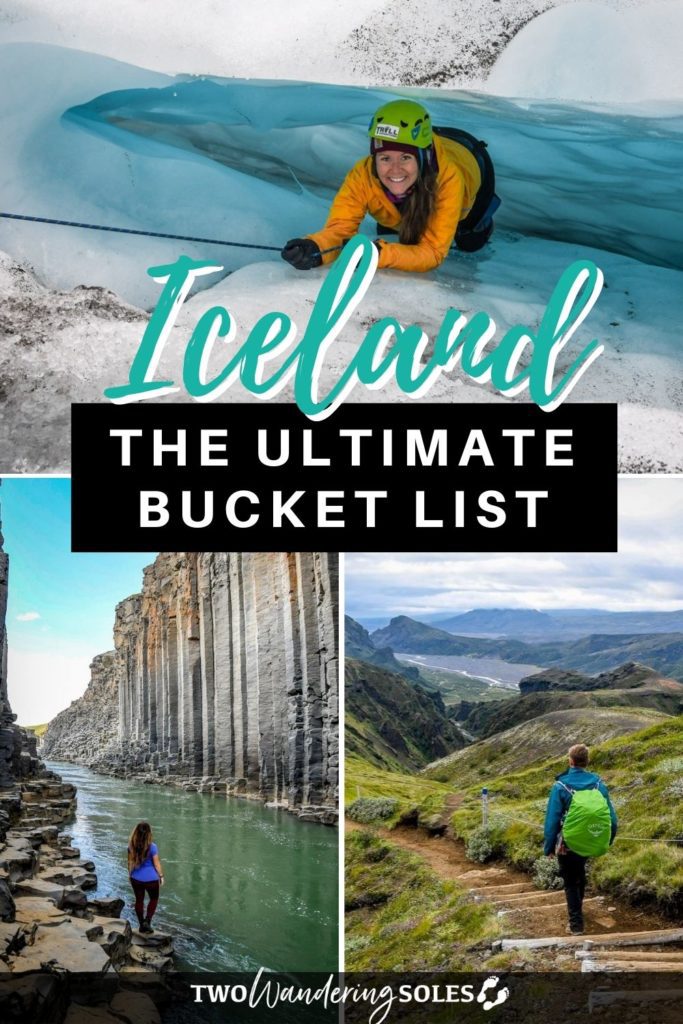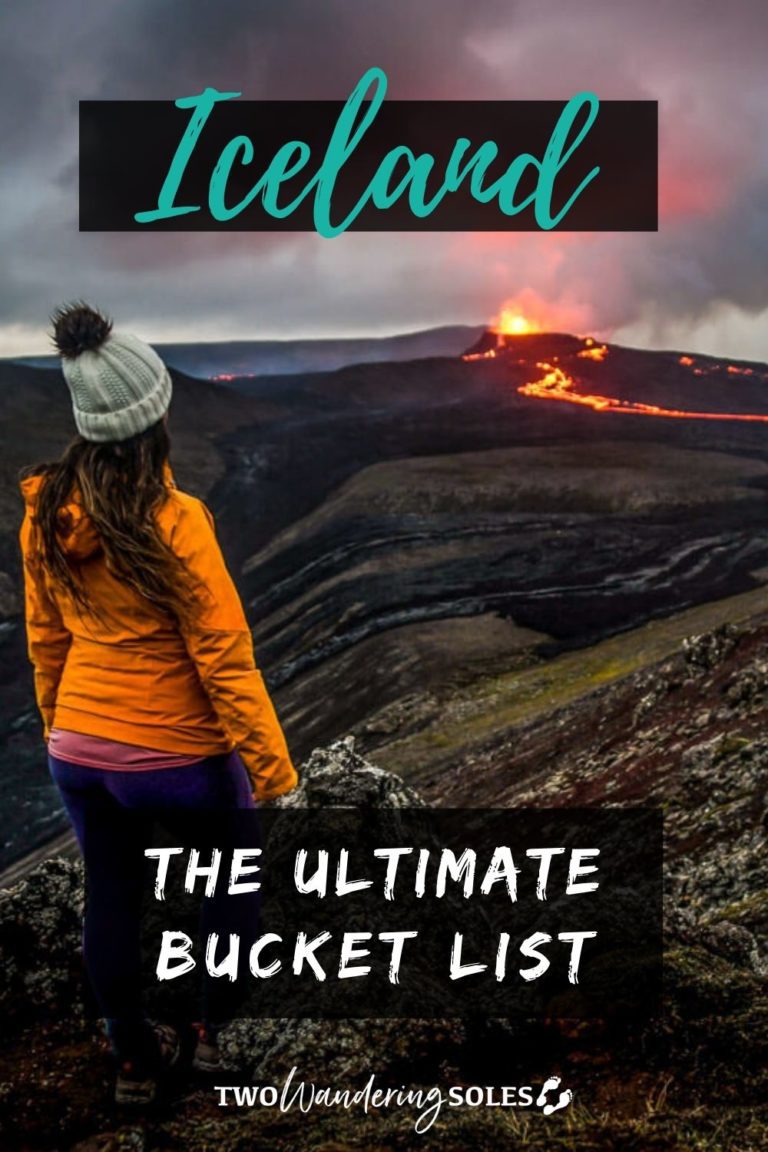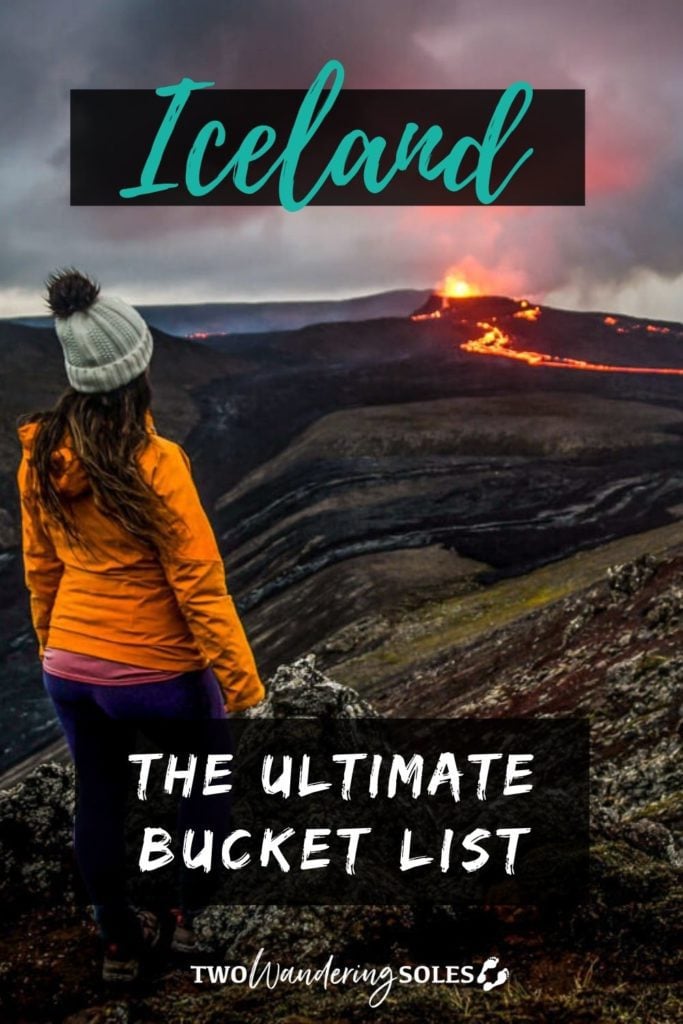 We want to hear from you!
What do you think of this Iceland bucket list? What would you add or skip? We'd love to hear your feedback in the comments below!