Choosing the best time of year to visit Japan can be downright overwhelming. Each of Japan's 4 distinct seasons has its draws and drawbacks (some more than others!). We're going to break down exactly what to expect during winter, spring, summer, and fall so you can choose the best time to visit Japan based on your travel style and interests.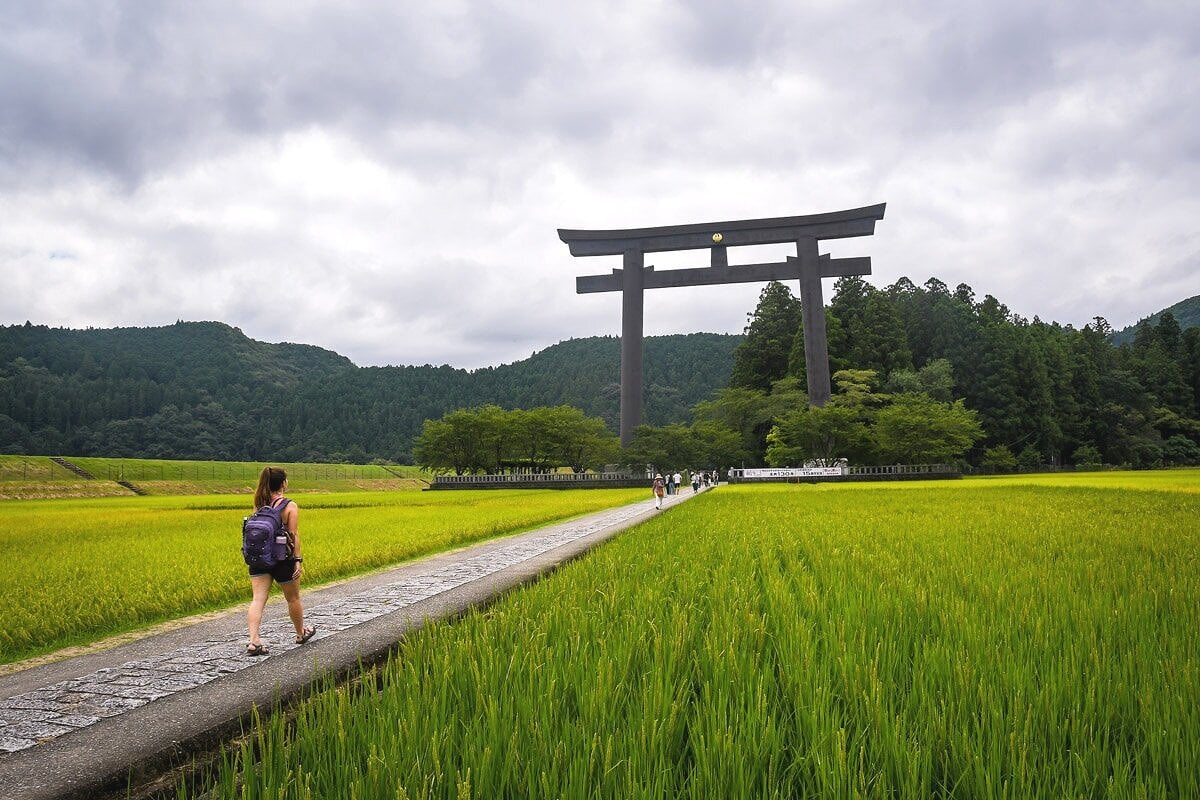 Japan has four distinct seasons: You've got the famed cherry blossoms in the spring, festivals in the summer, vibrant foliage in autumn, and powdery snow come wintertime.
So this begs the question:
What time of year is best to visit Japan?
In short, you'll have the best chance of comfortable weather and fewer crowds in early spring (March – early April) and in autumn (late October – November). Our personal pick would be to visit Japan during November; but more on that later…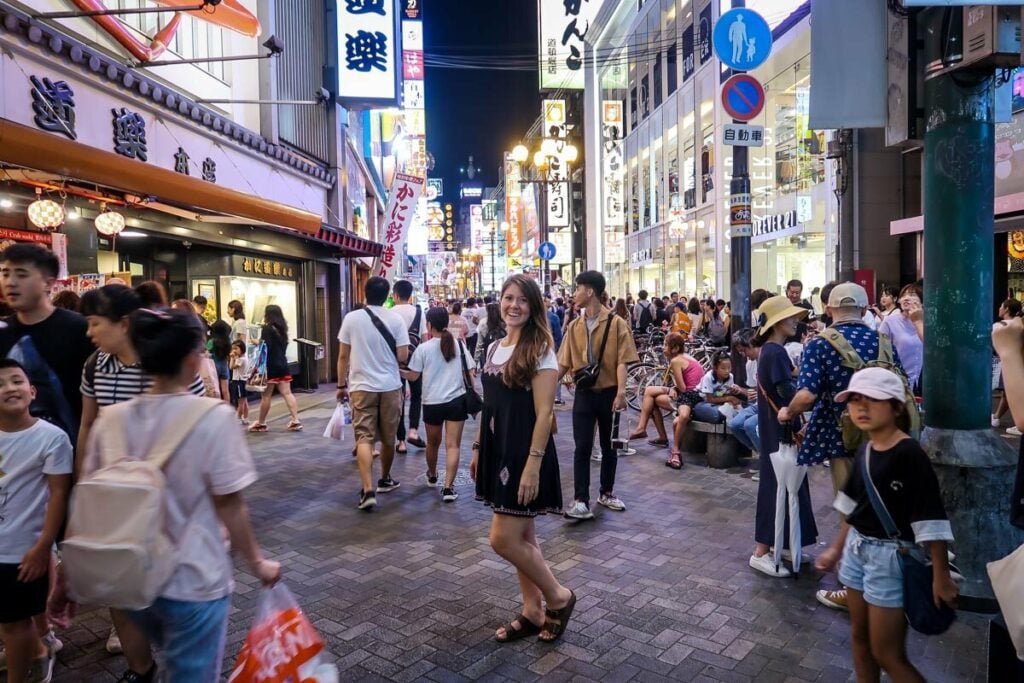 Let me backup… Truthfully there is no correct answer, as each season has its own unique draws (and drawbacks too).
But we're not going to just leave ya there, hangin'.
We're going to go over the pros and cons of visiting Japan during each season to help you decide which time of year is ideal for YOU.
Answer these questions to get started:
Do you mind hot weather?
What about cold weather?
Are you easily bothered by crowds?
How much of your time do you want to spend outdoors?
Which would you rather see: cherry blossoms or colorful fall foliage?
Thinking about your answers to these questions is going to help you start to determine when to visit Japan.
Best time to visit Japan guide
Overall BEST time to visit Japan
Want a quick recommendation? Jump down to see our personal advice for the best time to visit Japan. Plus, we'll share what times of year we'd avoid visiting!
---
Our experience
We visited Japan in both summer & winter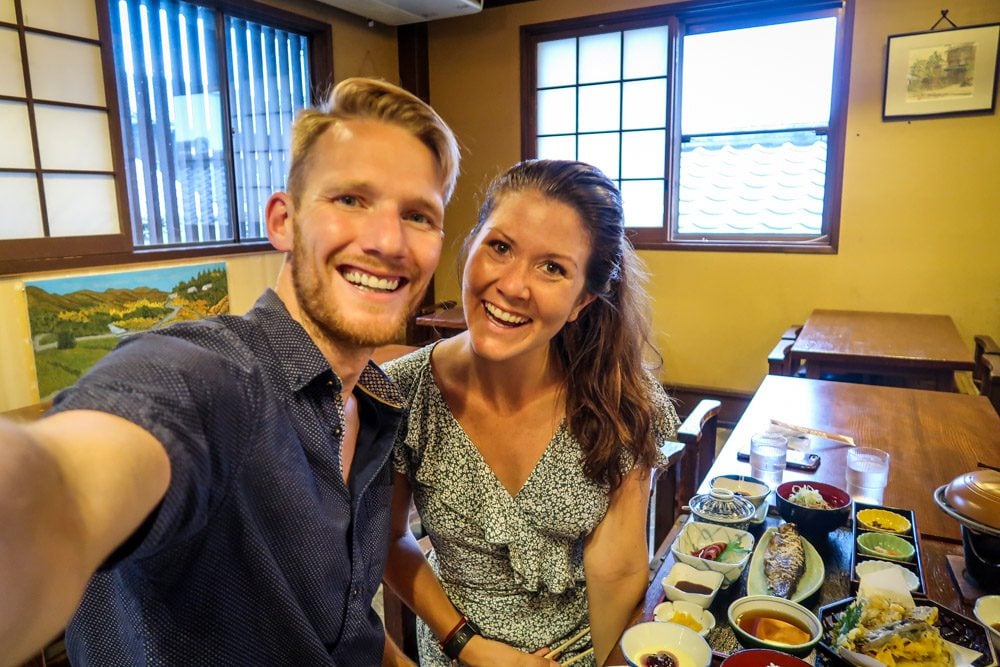 Summer
When: mid-August (2019) 
Our experience:
Very hot and humid in most places
Lots of Japanese tourists and international travelers in the popular places
We had a few days of typhoon weather
Mount Fuji wasn't on our route, but she was only visible for a handful of days of our trip, due to clouds.
Felt too hot to be able to enjoy onsens as much as other times of the year
Would we recommend visiting Japan in August?
It wouldn't be my top recommendation, honestly. I found it very hot and muggy, and I would much prefer visiting when the temps are more comfortable.
Winter
When: early February (2015)
Our experience:
Mild winter temperatures (we're used to very cold winters, and this wasn't bad for us)
Snow in the mountains was magical
Even though winter is said to be the best time to view Mount Fuji, she was covered in fog when we visited
Onsens were very enjoyable (we had a private outdoor onsen while it was snowing, which was amazing!)
Obviously the cities are still busy (because they're highly populated), but the amount of tourists was lower than other seasons
Good deals on accommodation since it was outside of peak season
We saw a few plum blossoms in Tokyo that were blooming early, which was a pleasant surprise!
Would we recommend visiting Japan in February? Yes! I think winter is one of the best times to visit Japan and it's very underrated. Next time we visit in the winter, I want to add more outdoor onsens and a snowboarding trip in the legendary Japanese powder!
Japan geography overview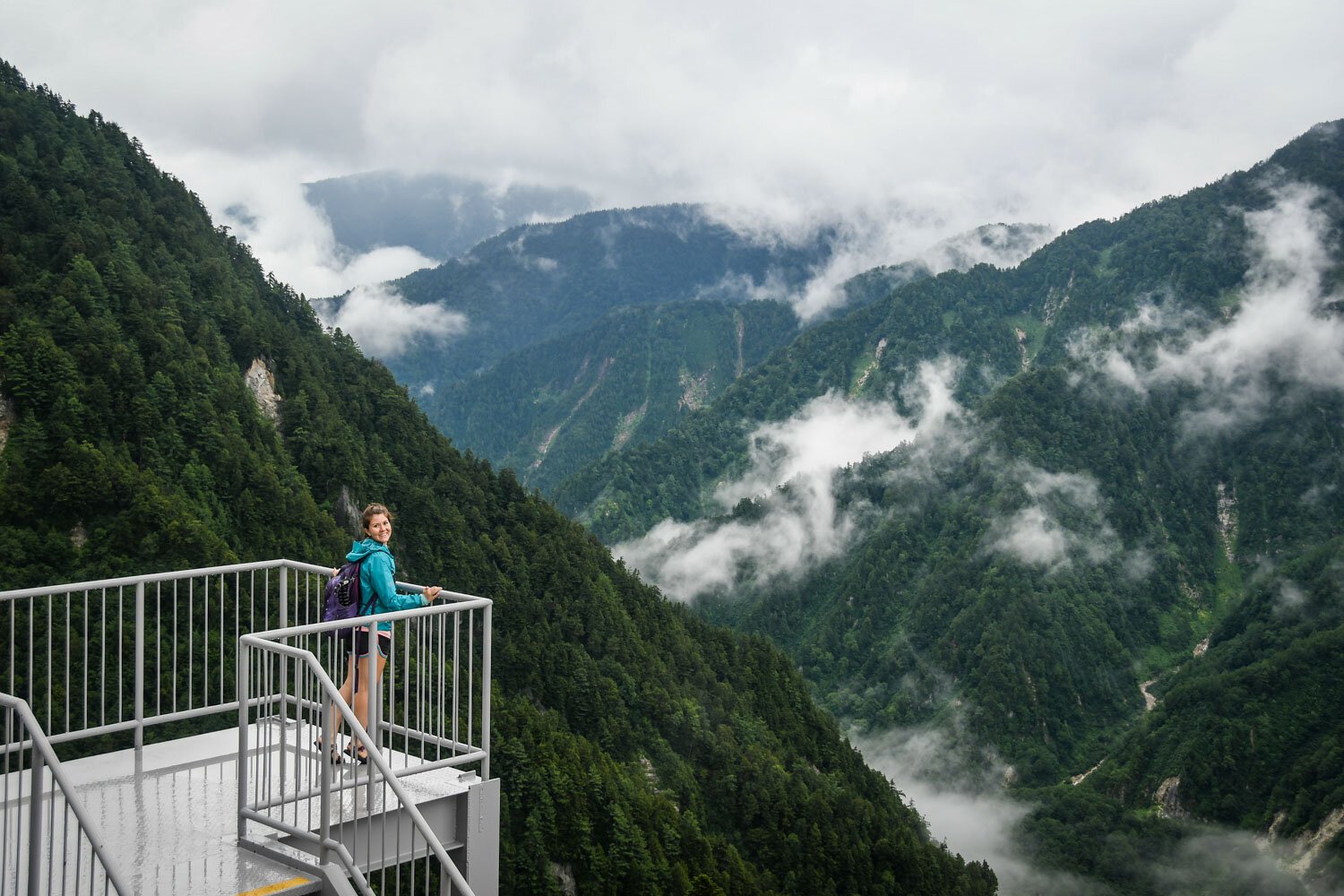 While not a large country exactly, Japan spreads more than 1,800 miles (2,900+ kilometers) north to south, from the island of Hokkaido in the northeast all the way down to the island of Okinawa in the southwest.
A distance that large means the weather from north to south varies quite a lot. Hokkaido can be freezing while the subtropical island of Okinawa can be experiencing a beach day.
For the purpose of this article, we'll mostly be discussing the weather on the island of Honshu.
Located in the middle of the country, Honshu is where Tokyo, Osaka and Kyoto are all located, and is where most international travelers will start and end their trip, especially if it is your first time in Japan.
Another thing to take into consideration is that Japan is a very mountainous country. Common sense tells us that when you venture to higher elevations, you'll find colder temperatures.
Fun Example: We went up into the Japanese Alps in August and found a drastic temperature swing: 95°F (35°C) at sea level to 65°F (18°C) in the mountains. This same area has snow until as late as early July. Crazy, huh?!
Psst! If you'll be traveling more throughout the country, be sure to check out our bucket list of crazy fun things to do in Japan!
Weather in Japan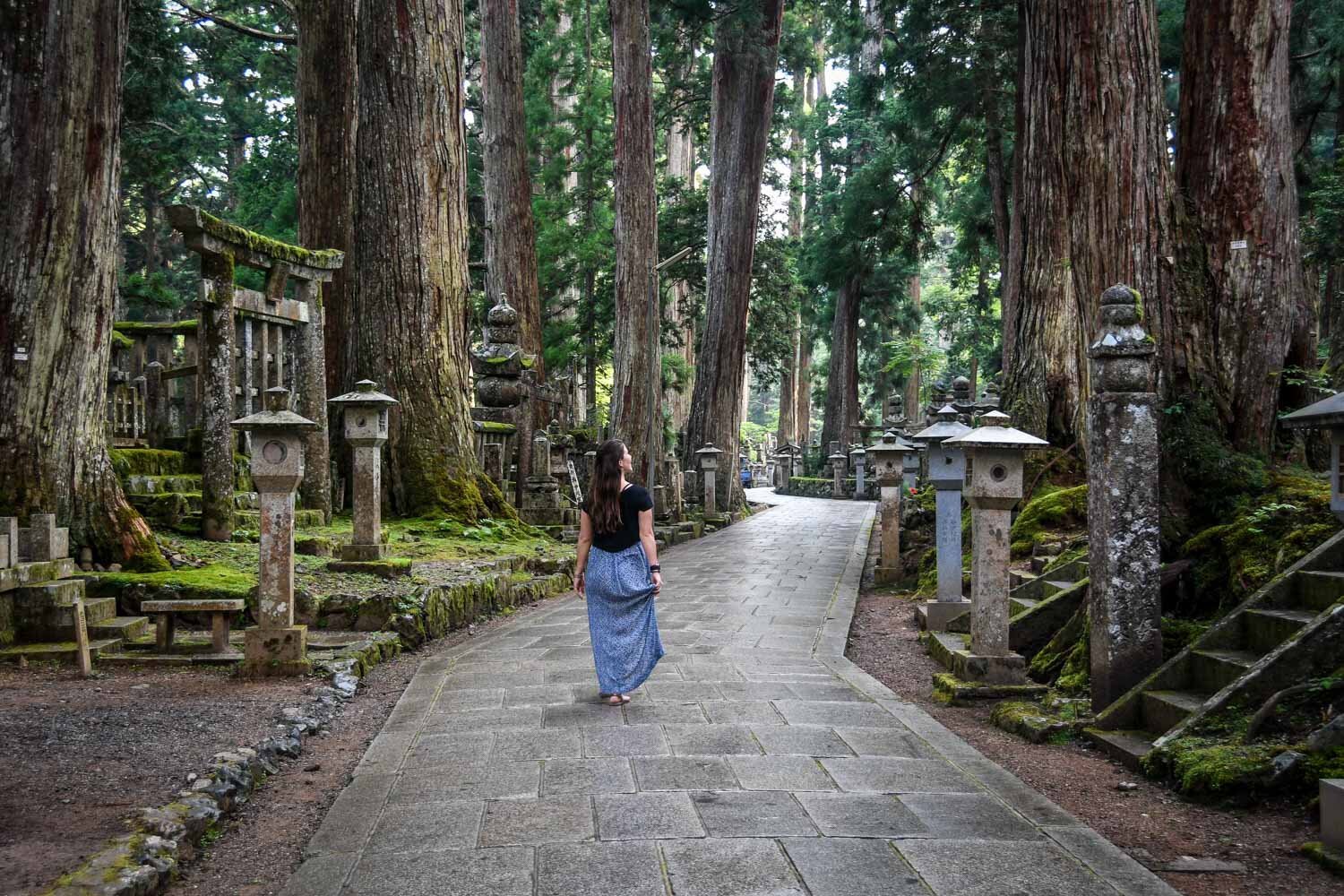 Let's chat about the sun, the snow, the rain, and those dreaded typhoons. We'll go over what type of weather you should expect throughout the year and describe our experience with a typhoon.
We're also going over some important information if you are interested in viewing Mount Fuji.
Spoiler alert: You won't be able to see this iconic mountain for much of the year.
Stats on Japan weather & seasons:
Hottest month in Japan: August (average 80°F/41°C)
Coldest month in Japan: January (41°F/5°C)
Rainiest months in Japan: June and September
Driest months in Japan: December and January
Most crowded month in Japan: late April – early May (aka "Golden Week", explained in the section about Spring)
Least crowded months in Japan: January – early March are the least popular times to visit, which can mean cheaper prices and less crowds
Note: Again, these stats are for the central island of Honshu. If you are planning to visit the northernmost island of Hokkaido, or Okinawa in the very south, be sure to look up their specific weather, as they vary from the rest of the county.
Rainy season in Japan: Early Summer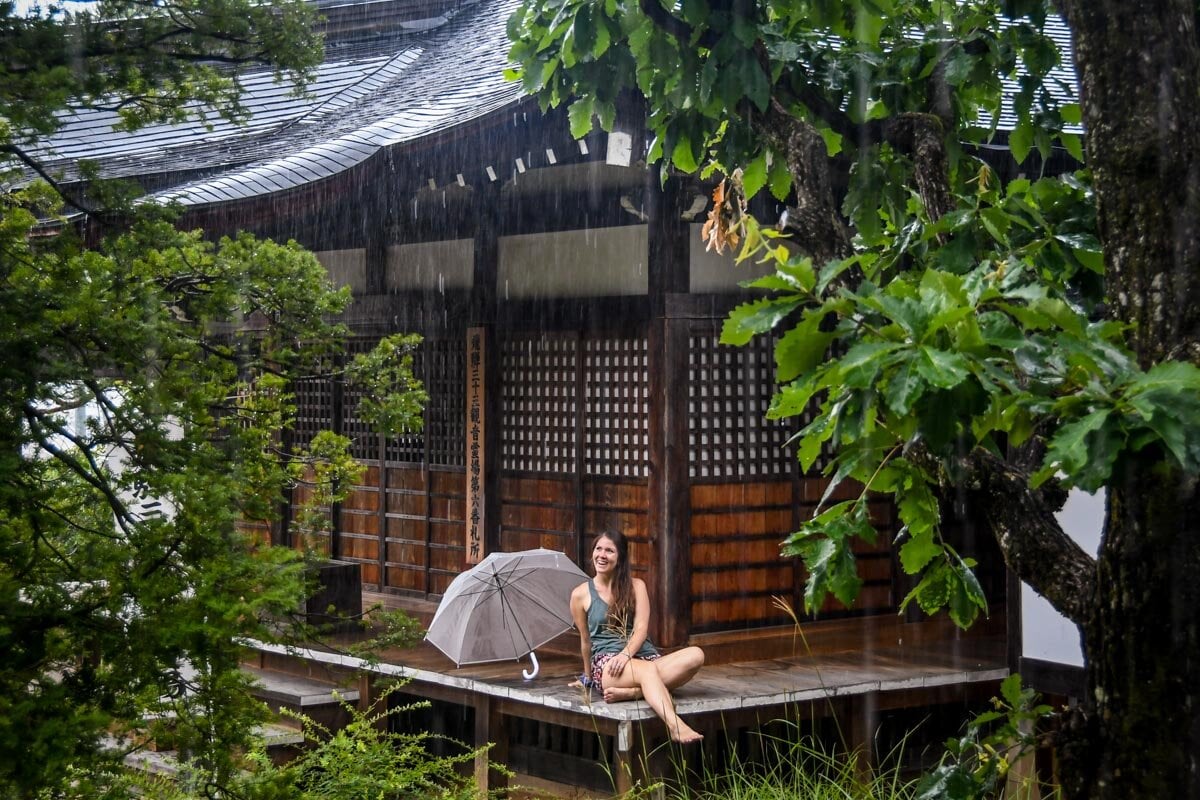 The majority of the country experiences a rainy season from June through mid-July.
The good news is that during the rainy season, there's a roughly 45% chance of precipitation each day (data from Tokyo), meaning you'll have some dry days too! Some of those rainy days will be heavy, while others will be sunny before or after the rain.
Interesting Fact: Tokyo is one of the rainiest big cities on earth! In fact, it has more than double the amount of annual rainfall as London. Say whaaaat?!
Despite rain, you'll find life goes on as usual in Japan, as locals are used to it. Do as the Japanese do and buy an umbrella to stay dry!
Typhoon season in Japan: Late Summer
Late May through October is known as typhoon season in Japan, with the majority of typhoons occurring in August and September. Data from the last 30 years show that an average of 11 typhoons approach the coast per year.
What is a typhoon?
A typhoon is a tropical cyclone. They are formed in the same way a hurricane forms, and the only real difference is the location at which they occur.
What is a typhoon like in Japan?
We visited Japan during the month of August, which as you now know is the peak of typhoon season. And one typhoon made landfall during our visit.
So how bad was it, really?
This was our experience:
The entire day leading up to the typhoon was sunny with blue skies, and we both had this feeling that it wouldn't be that bad.
But everyone was talking about it and how strong it would supposedly be. There was talk about trains shutting down, and we had a food tour cancel on us because restaurants were closing up shop.
But it's beautiful outside, we thought naively. We put on rain jackets, grabbed our one umbrella and headed into town just as a drizzle began to start.
Soon, the winds increased and the rain started really coming down. But the trains still ran, and we decided to go catch a movie. By the time we got out of the show, the streets were mostly empty and the rain was really pounding, so despite our umbrella and rain jackets, we got completely soaked.
By the next morning, blue skies started peeking out from behind clouds and by the afternoon you would never know what had happened the previous night.
What to expect: Heavy rainfall and high winds, canceled and/or delayed trains, canceled tours. In some cases, it may only interrupt a day or two, and in others it might have longer-lasting effects. You should expect some plans to change since Japanese people take typhoons very seriously.
Best time of year to view Mount Fuji
Many visitors to Japan will want to glimpse the country's most famous mountain, and for good reason — it's absolutely stunning. Well, we think it is. We've only seen her beauty in photos.
One thing many first-time visitors to Japan may not realize (ourselves included) is that Mount Fuji is notoriously shy. This means there is much of the year where your chances of seeing her are rare. Instead, this shy mountain will stay cloaked behind clouds and haze, only occasionally peeking through.
So what time of year will you have the best chance of seeing Mount Fuji?
Best chances of seeing Mount Fuji: Based on data from years past, you will have the highest chance of seeing Mount Fuji between the months of November and February.
Worst chances of seeing Mount Fuji: Alternatively, between April and August, you will have a slim chance of glimpsing this iconic mountain.
That said, nothing is promised when it comes to weather.
We visited Japan for the first time during early February, when we should have had a good chance of seeing Fuji. We spent the night in Hakone and bought the (not so cheap!) Hakone Day Pass to get close to the mountain, yet we only saw WHITE FRICKIN' CLOUDS.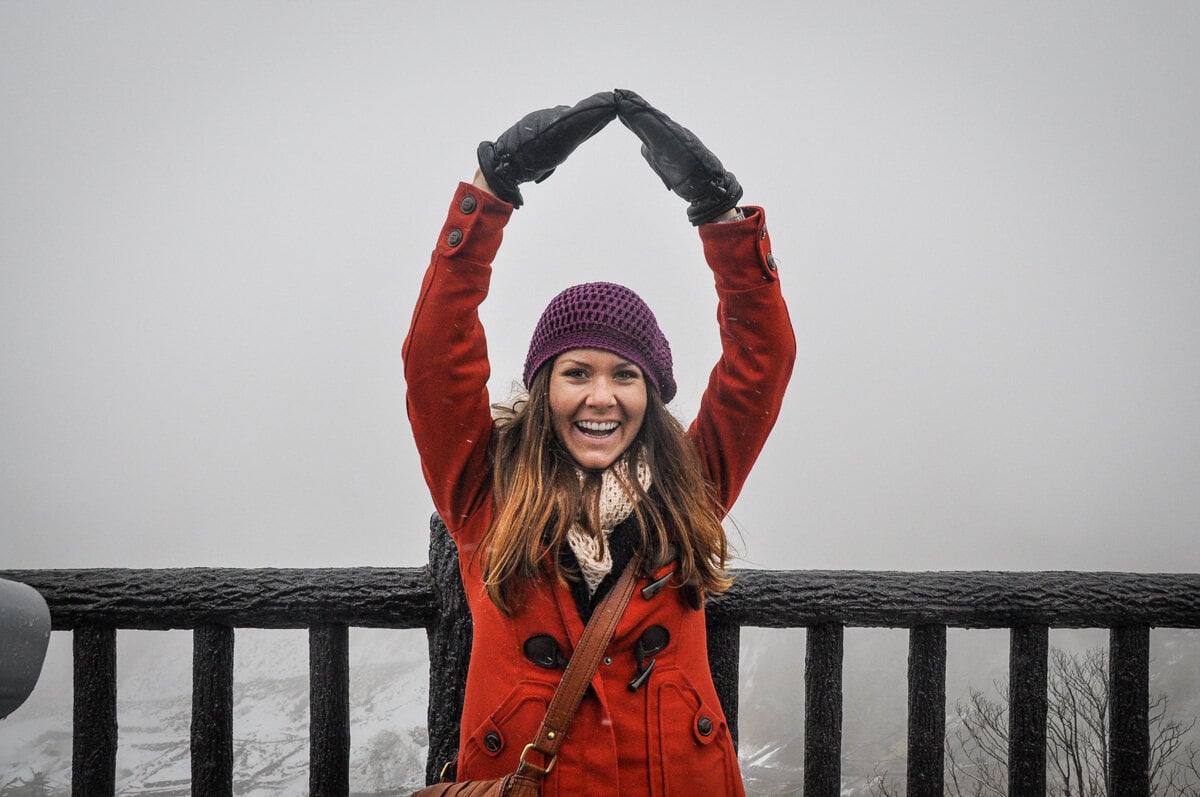 And on the other hand, we've known people who have seen Fuji peek out during July and August, supposedly bad months for viewing the mountain.
But if you're looking to get that iconic shot of a clear sky day and the mountain towering in the background in her famous symmetrical grandeur, late autumn through early spring will be your best bet at capturing this sight.
Psst! Check out our list of the most beautiful places in Japan you'll have to see to believe!
---
Japan's seasons at a glance
Japan has 4 distinct seasons: The winter is cold and the summer is hot. If either of those would bother you, it's easy to eliminate a season right off the bat.
Spring is famously known for stunning displays of cherry blossoms around the country. But when we say famous, we mean it. Japan gets very busy this time of year with domestic and international travelers, so if crowds bother you, this is another easy elimination.
Fall comes with spectacular autumn foliage, and while not as crowded as cherry blossom season, it's not an unpopular time to travel.
Jump to the season you're interested in to read more about what to expect:
We're going to go over what to expect during each season in detail so you can better plan your trip to Japan.
Winter in Japan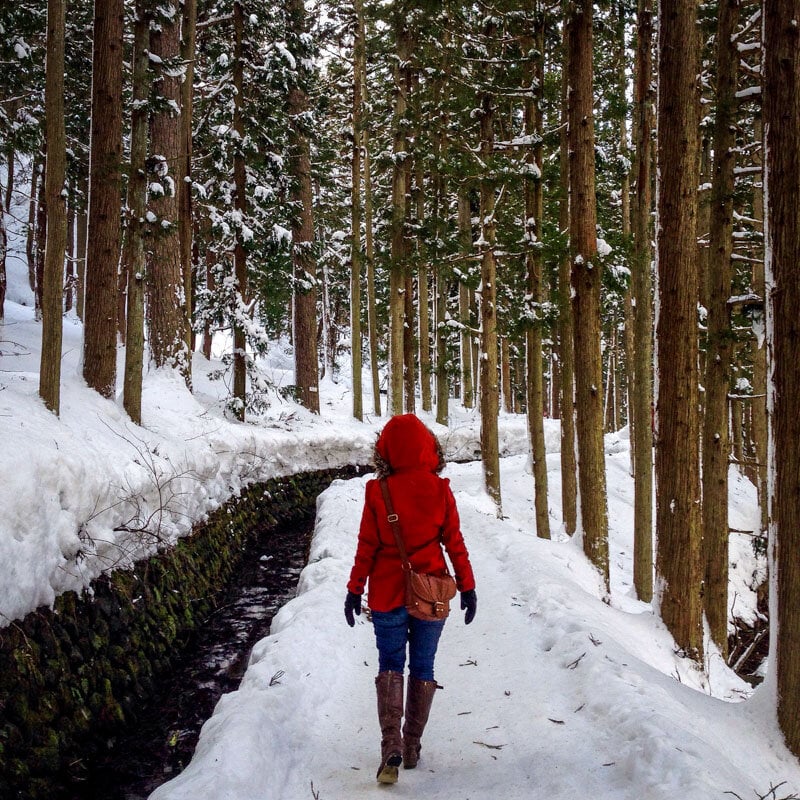 During the winter months, major cities like Tokyo, Osaka and Kyoto tend to enjoy mild temperatures, but you can find snow and colder temps in the mountains and on Hokkaido (the northernmost island in Japan).
Crowds tend to be fewer during the winter season, except for at the ski resorts where outdoor enthusiasts will be spoiled with some of the best powder in the world.
Winter comes with sunshine and blue skies that are statistically the clearest they'll be all year long.
While winter may not be the first season you think of traveling, there's actually a ton to do, and we think it is a great time to visit Japan.
When is winter in Japan? December – February
Typical weather in Japan during the winter: Dry, cold, & sunny
Average winter temperatures: 35°F – 55°F (Tokyo) (2°C – 13°C)
Pros of visiting Japan in the Winter:

least crowded season
Japan has great snow for skiing and snowboarding
great time for onsens, snow monkeys and seeing scenic landscapes & villages dusted in snow

Cons of visiting Japan in the Winter:

cold weather, averaging around 43°F (6°C)
some outdoor activities, like hiking and biking may be more difficult in the winter
Winter months at a glance
December: Third coldest month of the year, lots of Bonenkai ("forget the year") parties and celebrations. Ski season begins in Sapporo.
January: Coldest month of the year, clear and sunny skies, snowy in the northern part of the country, best month for skiing and winter activities.
February: Second coldest month of the year, still great for skiing in the mountains, yet you can start seeing spring plum blossoms further south in the country.
Best things to do in the winter in Japan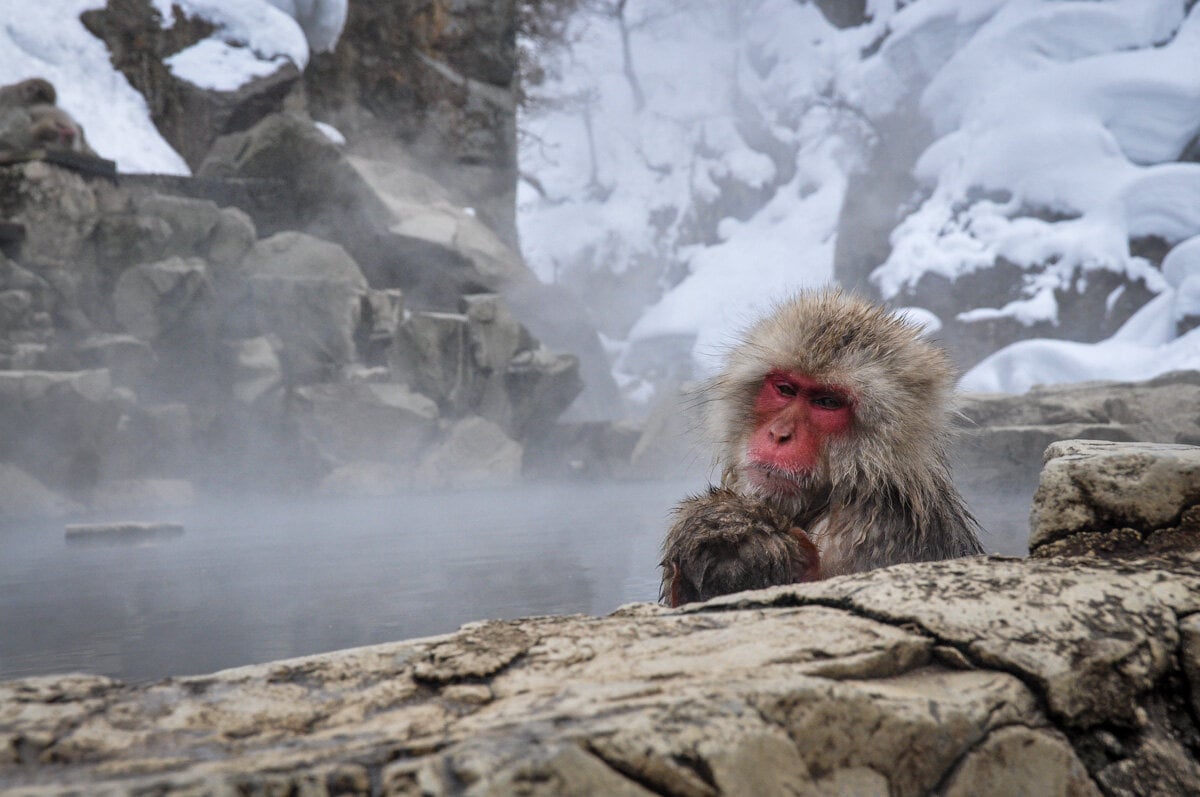 We have a huge list of all the best things to do during winter in Japan, but here are some highlights:
Go skiing or snowboarding
Visit traditional villages like Shirakawa-go, which is stunning after a fresh show
Go to the Sapporo Snow Festival (held for one week in February)
Soak in an onsen (natural hot spring)
Fill your belly with hot ramen noodle soup
See "snow monkeys" at Jigokudani Monkey Park
View Mount Fuji
Photograph famous sights with a blanket of snow
Check out some of Tokyo's best activities that take place indoors
Best times and places to ski in Japan
Sapporo: December – March
Nagano: January – February
Winter is the best season to travel to Japan if…
…you don't mind colder temperatures
…you want to ski or snowboard
…you want to avoid the crowds
…you want to save money and travel during off-peak season
What to pack for winter in Japan
Lots of layers, including a versatile jacket, gloves and a hat
Warm and comfortable footwear and socks
Sunglasses (remember, this season has the sunniest days!)
Hand warmers (you can buy these pretty much everywhere in Japan)
Ski gear (if needed)
Spring in Japan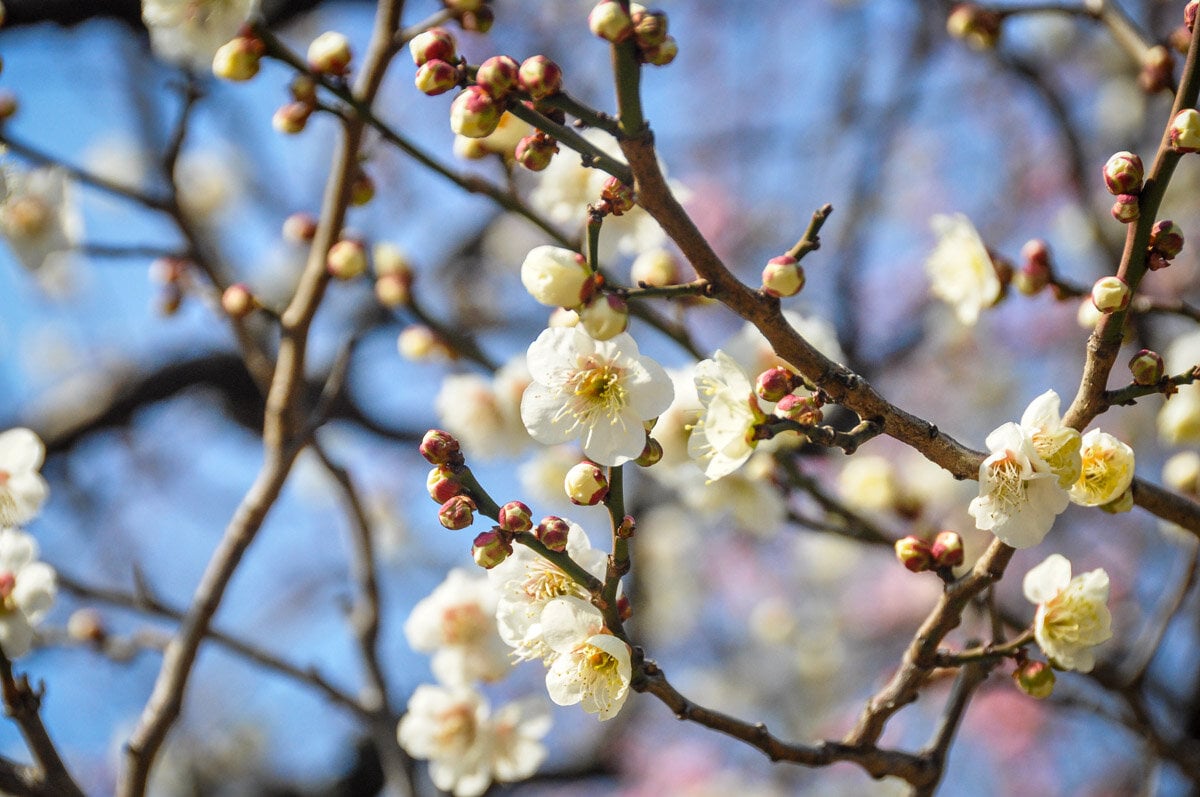 With stunning sakura (cherry blossoms) popping up all around the country and temperatures warming, it should come as no surprise that spring is a popular time to visit Japan. A very popular time, indeed.
If you travel to Japan in the spring, you'll be rewarded with comfortable temperatures, beautiful blossoms, and crowds.
When is spring in Japan? From March – May
Typical weather in Japan during the spring: Nice during the day, but chilly at night. Mostly sunny days with a more showers near the end of May.
Average spring temperatures: 40°F – 70°F (Tokyo) (4°C – 21°C)
Pros:

comfortable temperatures
beautiful cherry blossoms

Cons:

crowded (make travel plans far in advance!)
things may be more expensive since it is peak season
What is Golden Week in Japan?
"Golden Week" is a series of four national holidays that all fall within the same week from April 29th – May 5th every year.
April 29, Showa Day: birthday of Emperor Showa, who ruled the country during World War II.
May 3, Constitution Day (Kenpo kinenbi): called , this is the celebration of the Japanese constitution ratification in 1947.
May 4, Green Day (Midori no hi): similar to Earth Day, this holiday honors the environment.
May 5, Children's Day (Kodomo no hi): often referred to as "the Boy's Festival" this day celebrates young men by hanging carp streamers outside homes with boy children to wish them success in life.

Pssst! For everyone else out there wondering why they don't include young girls in this, there is a "Girls' Festival" (Hina Matsuri) on March 3rd.
Many Japanese people have holiday from work during this time, so it is a popular time to travel for both international and domestic visitors.
If your trip falls during these dates (or even a bit before and after), you'll have the unique opportunity to see some celebrations and mingle with lots of Japanese travelers.
But be warned, you should start booking your accommodation well in advance because rooms sell out in popular places, like Kyoto, for example. You'll also want to reserve seats on trains ahead of your trip, otherwise you'll be out of luck.
Should you avoid visiting during Golden Week in Japan?
I'm going to be honest, I don't think we would travel to Japan during Golden Week because of the insane crowds.
If you want to see Cherry Blossom but aren't excited about the prospect of crowds, we'd urge you to avoid Golden Week, and instead travel to Japan during early March.
When and where can you see cherry blossoms?
Cherry blossoms are only in bloom for roughly one week per location. They bloom at different times throughout the country, so if you want to extend the length of time you can view them, it's best to travel south to north so you can see them for a longer period of time.
We have an entire guide to how you can see the cherry blossoms in Japan, but in short, here are some of the best times to go:
Fukuoka: Late March – Early April
Hiroshima: Late March – Early April
Kyoto: First Week of April (very popular)
Osaka: First Week of April (very popular)
Tokyo: Late March – Early April (very popular)
Kanazawa: 1st – 2nd week in April
Matsumoto: 2nd- 3rd week in April
Sapporo: Late April – Early May
Spring months at a glance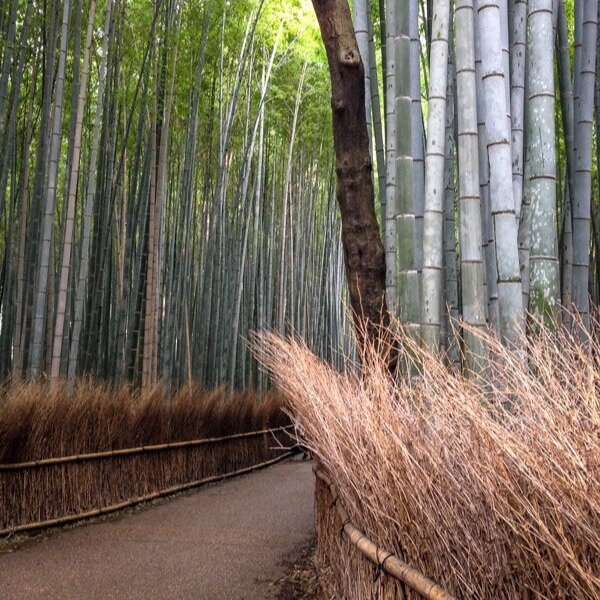 March: Temperatures are still cool, but it noticeably warms throughout the month. Skiing season in the mountains is starting to wind down, and toward the end of the month the first cherry blossoms start to reveal themselves.
April: This is the prime month for cherry blossom viewing, though many Japanese people have a whole week off from work (Golden Week), so most major cherry blossom sites will be incredibly crowded.
May: Very nice weather during the month of May — warm temperatures and sunny skies. Though it is technically the start of typhoon season, strong storms are very rare during the month of May.
Best things to do in the spring in Japan
Spring is the best season to travel if…
…you don't mind crowds
…you want comfortable temperatures (not too cold or too hot)
…you want to see the famous cherry blossoms
…you can make your bookings well in advance
…you don't mind paying a bit more for hotels and tours during peak season
What to pack for spring in Japan
Thicker layers if traveling in March
Light jacket for April and May
Comfortable walking shoes
Hiking attire if you plan to hit the trails
Summer in Japan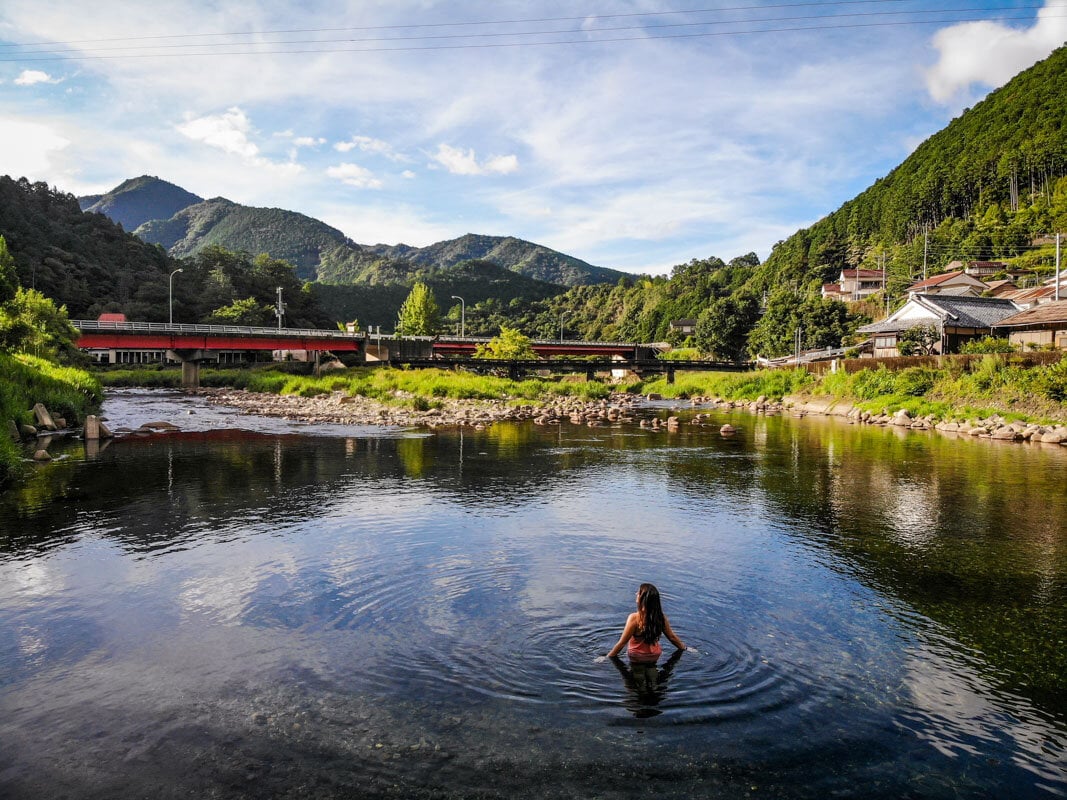 Summer in Japan is the time for festivals and celebrations. The summer spans from June to August, with August being the busiest travel month because school is out and many Japanese people travel over the Obon holiday (August 13-15).
(Unlucky for us, we unknowingly decided to visit Japan for our second time in August…whoops!)
Be prepare on ways to beat the humidity because it can get pretty sticky. Also it's rainy season and the start of typhoon season, so don't forget your rain jacket and umbrella
When is summer in Japan? June – August
Typical weather in Japan during the summer: Hot, humid, sticky, and rainy. But not as bad as everyone makes it out to be.
Average summer temperatures: 70°F – 90°F (Tokyo) (21°C – 32°C)
Pros:

Festivals throughout the country during the summer months
Prime season for outdoor activities like hiking
great time to try scuba diving in Japan

Cons:

can get very humid
rain is common at the beginning of summer (June – mid-July), and typhoons are common at the end of summer (August – September)
How bad is the heat in summer, really?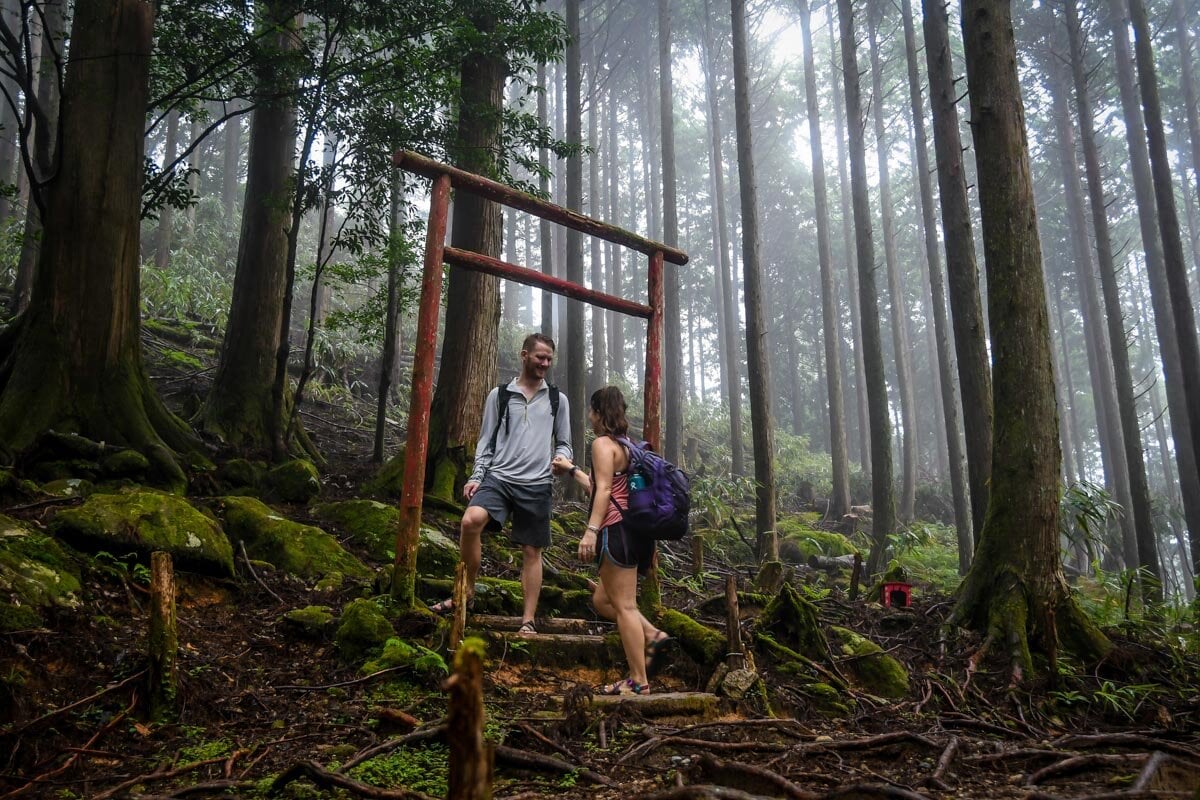 Over the last few years, I've realized I don't handle extreme heat very well. I get tired and crabby much more quickly in the heat. Needless to say, I was very nervous about traveling to Japan during August — the hottest month of the year!
So what was it like?
Well, it did get pretty hot, like 98°F hot (37°C). And it did rain on us a few times but typically it would only last for 20-30 minutes and the rain would stop.
Some days were worse than others. After a rain, for example, it was actually pretty comfortable.
We've heard that summer in Tokyo is similar to summer in NYC, hot and humid. And Osaka in summer is similar to Washington D.C. in the summer, which is even more hot and humid.
Knowing what to expect is half the battle, and this way you can prepare yourself for it.
All of our accommodation (even in tiny villages) had strong AC, so we never had an issue with being comfortable at night.
Summer months at a glance
June: The beginning of the month is quite nice, comparable to the weather in May. However, tsuyu (rainy season) starts around mid-June and last for about a month. It's not rainy all day but there is a June gloom feeling that hangs around. Temperatures get warmer and the humidity increases as the month progresses.
July: Starts out rainy because of tsuyu (rainy season), this only lasts until mid-July. Temperatures and humidity continue to rise as this is typically the second hottest month of the year. Great time to see festivals including Kyoto famous Gion Matsuri festival.
August: The hottest month of the year in Japan. August is a good time to venture into the mountains to escape the heat. Many Japanese have August 13th-15th off because of Obon holiday, so try to avoid this time because it can get busy.
Best things to do in the summer in Japan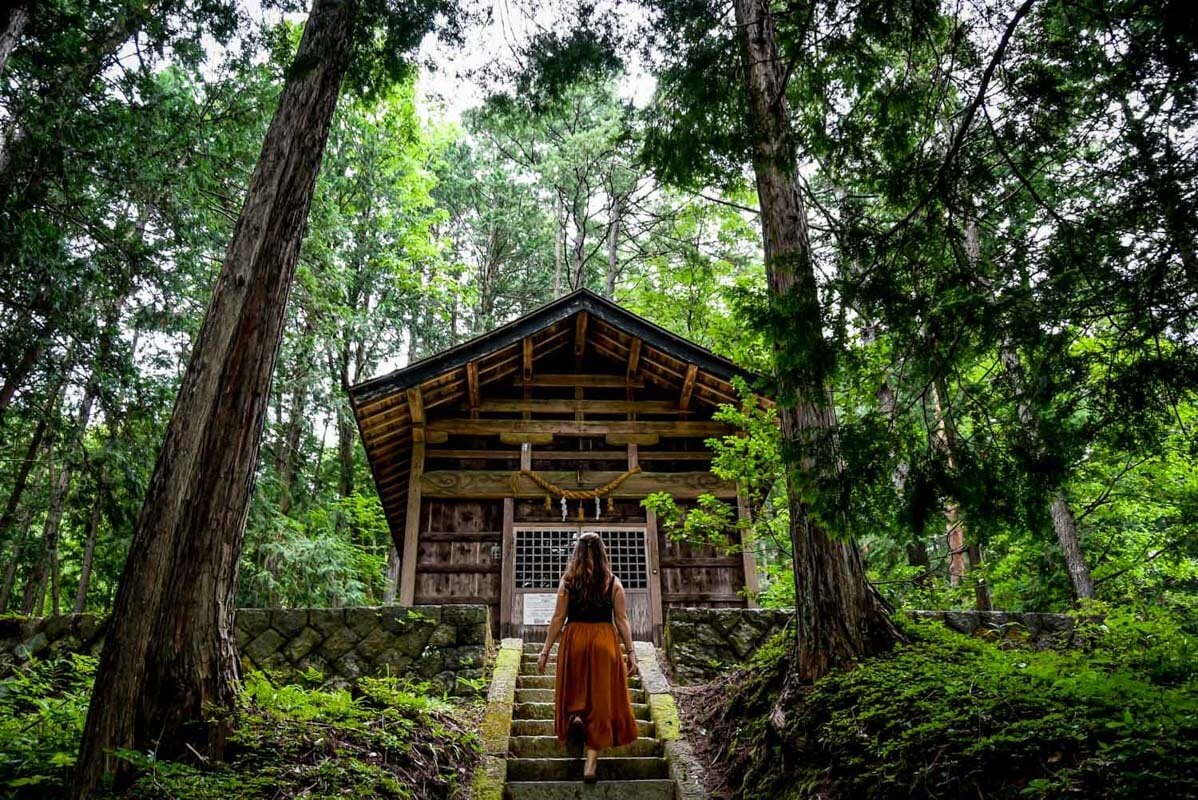 Check out Tokyo's digital art museum on a day that's too hot or rainy to be outside
Enjoy festivals including Kyoto's Gion Matsuri and Osaka's Tenjin Matsuri
Go hiking through the Japanese Alps or venture up to Hokkaido
Scuba diving (apparently the diving is actually really good in Japan!)
Head to the beach
Watch a baseball game
Ever thought of going scuba diving in Japan? Being an island nation, the diving in Japan is actually quite good, and being an off the radar scuba destinations means less crowded dive sites! If you are visiting Japan in the summer time, you'll have the best conditions for diving all over the country.
Summer is the best season to travel if…
…you don't mind humidity and a bit of rain
…you like outdoor activities like hiking and biking
…you want to experience cultural festivals
What to pack for summer in Japan
Anti-chafing cream
Hand-held fan (you can buy these all over and they make a nice Japanese souvenir)
Deodorant, finding quality deodorant in Japan is very difficult (we switched to natural deodorant several years ago and will never go back!)
Light, loose clothing that wicks sweat
Umbrella for rain and shade
Fall in Japan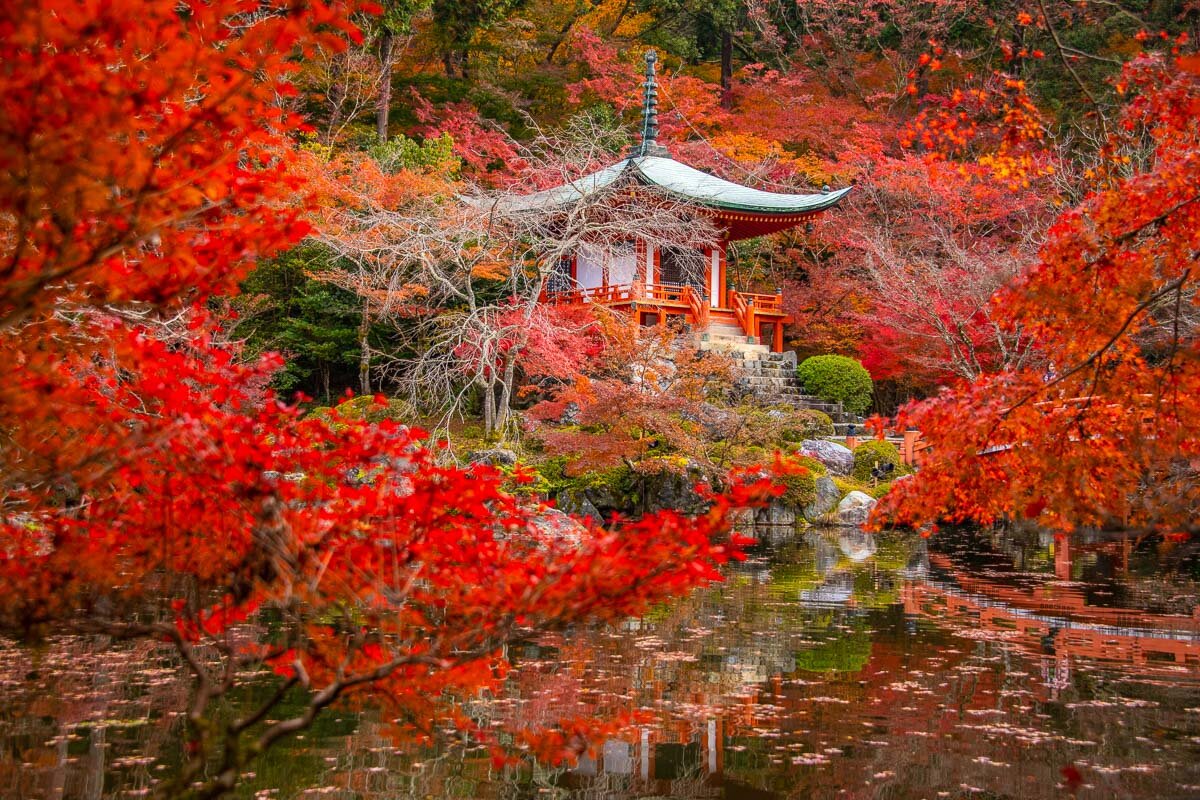 With typhoon season peaking at the beginning of September, the start of fall in Japan is typically rainy depending on where you are. However, the weather starts to clear up in October and by November the leaves are changing.
Our next trip to Japan will be in November to see the leave change!

When is autumn in Japan? September – November
Typical weather in Japan during the autumn: Rainy in September and beginning of October because of typhoon season
Average autumn temperatures: 50°F – 80°F (Tokyo) (10°C – 27°C)
Pros:

nice temperatures
beautiful fall foliage in countryside

Cons:

September can be a pretty humid and rainy month, but it starts to get better in October
When can you see fall foliage in Japan?
The colorful leaves peak a bit later than other places in the Northern Hemisphere, like North America and Europe. The best display of autumn colors can typically be seen toward the end of November and even through the beginning of December.
You can find past and current reports of fall foliage here.
Autumn months at a glance
September: peak of typhoon season in the southern prefectures, there can be airport and train delays. But it is the month with the least amount of visitors so it will be less busy.
October: rainy in the beginning of the month but the temperatures start to drop making going outside more manageable.
November: cool, crisp and dry time of year. Autumn foliage peaks near the end of November
Best things to do during the fall in Japan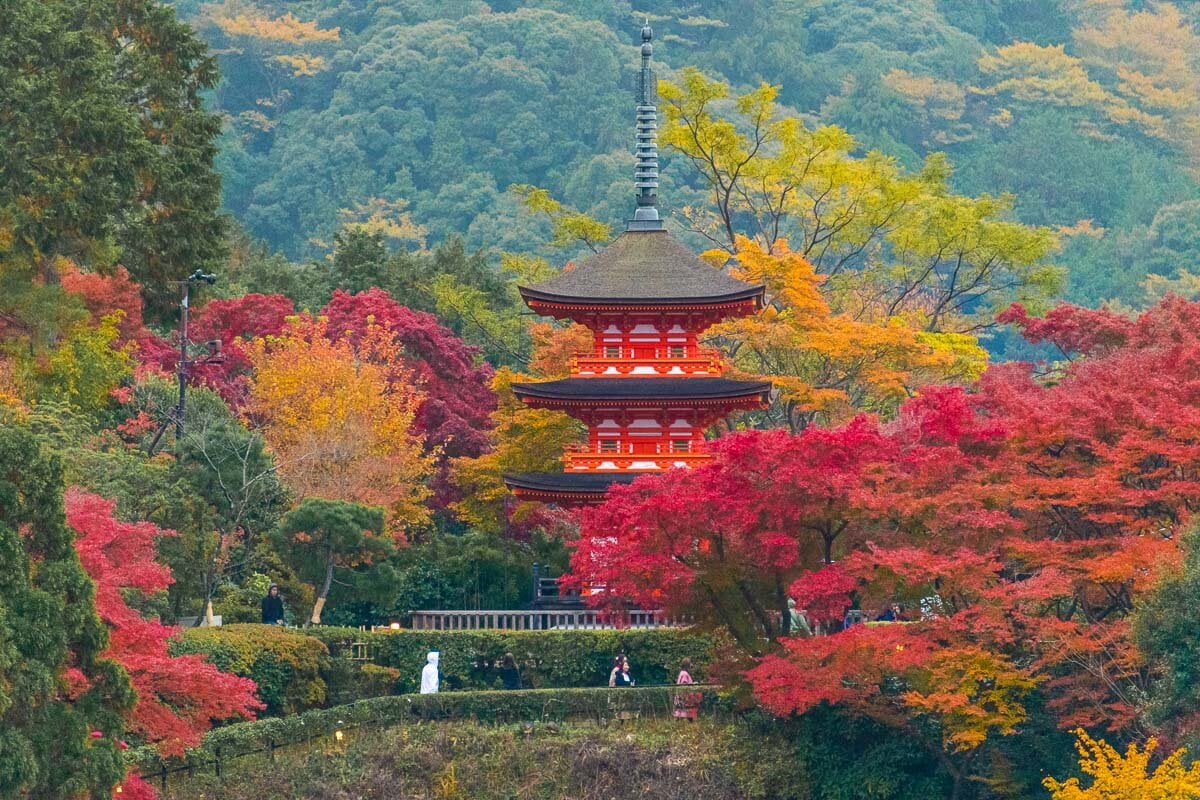 Autumn is the best season to travel if…
…you are seeking comfortable temperatures
…you would like to see (and photograph!) fall foliage
…you want to explore the major cities
…you like to avoid crowds
…you enjoy cool and crisp air
What to pack for fall in Japan
Umbrella just in case it rains
Light jacket for November
Comfortable walking shoes
---
Holidays and festivals around Japan
It's a good idea to check the calendar before booking your flight to Japan, as there are many national holidays and festivals that can affect your travels.
Some of these festivals will be fun to observe, but they can also mean trains book up quickly and hotels mark up their rates for peak times.
Here are some of the (not all!) big dates to know:
January 1: New Year's Day (people often travel on the days before and after)
February 11: Foundation Day
Around March 20 – 21: Vernal (Spring) Equinox Day
April 29 – May 5: Golden Week
3rd Monday in July: Marine Day
August 11: Mountain Day
August 13 – 15: Obon
3rd Monday in September: Respect for the Aged Day
Around September 22 – 23: Autumn Equinox Day
October 1: Citizens Day
2nd Monday in October: Health and Sports Day
November 3: Culture Day
November 23: Labor Thanksgiving Day
December 23: Emperor's Birthday
Best time of year to travel to Japan based on activity
Check the list below to find the activities you're most interested in doing while in Japan. See what time of year is best to help you decide when to plan your trip.
Photography: Spring or Fall
Beating the crowds: Winter
Hiking: Spring, Summer or Winter
Skiing/Snowboarding: Winter
Onsens: Winter, Spring or Fall
Scuba Diving: Summer
Beach Hopping: Summer
Spotting Mount Fuji: Late Fall, Winter, early Spring
Festivals and Celebrations: All year!
In our opinion…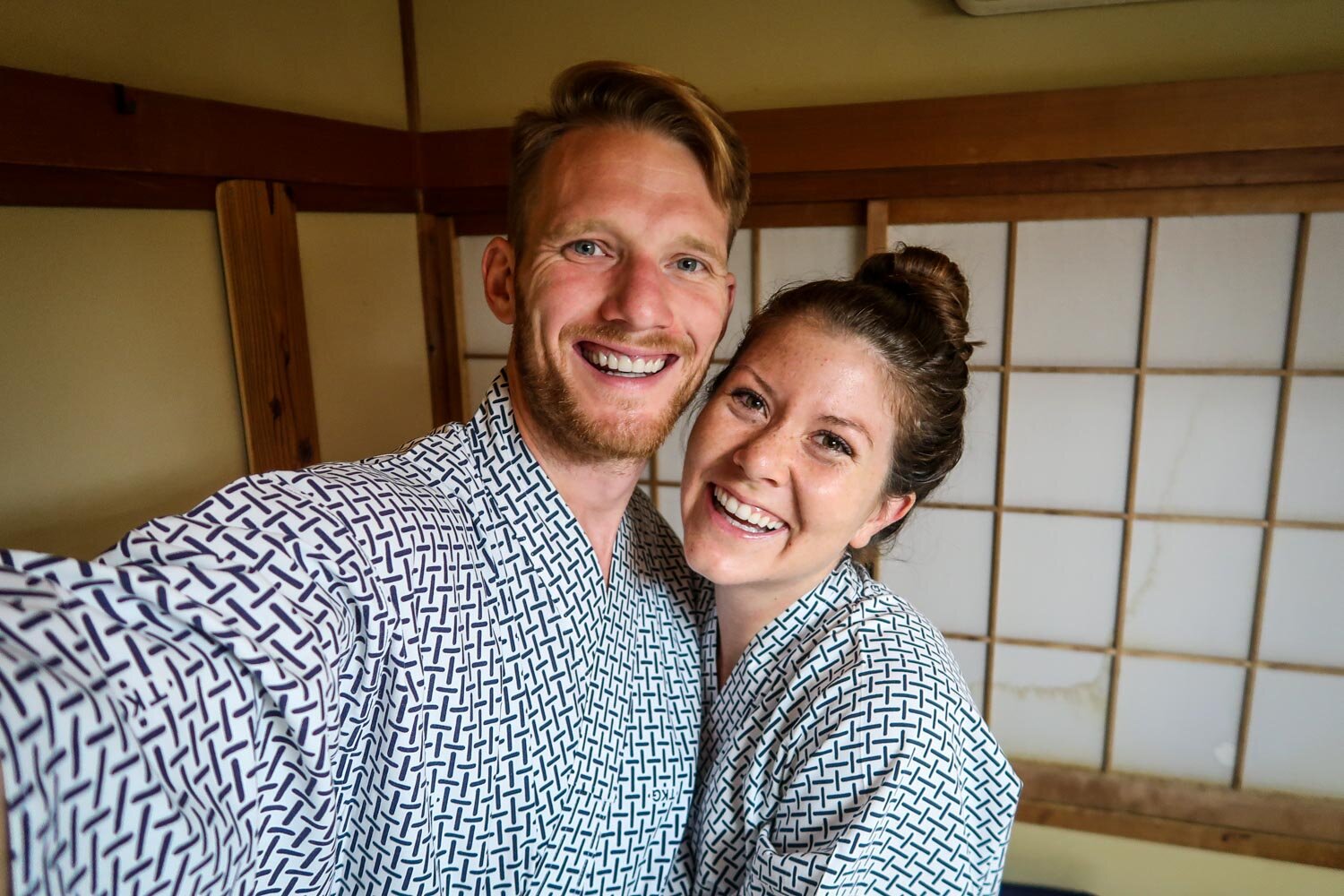 We've traveled to Japan in both the summer and the wintertime, and each had its own pros and cons.
Summer was hot and humid—like really humid—so we found ourselves sweating through our shirts daily. But we've been in hot and humid climates before, so honestly, it wasn't anything we hadn't dealt with before. But still, it wasn't all that pleasant, and it wouldn't be our season of choice.
The wintertime was picturesque in the countryside where the snow stuck to the ground. And in the big cities, we actually got many sunny, blue sky days which was a surprise. The cold temperatures made it fun to pop into cozy noodle shops or soak in hot onsens, whereas those activities were not quite so pleasant in the August heat.
We preferred winter over summer, because the crowds were fewer and we're accustomed to cold weather, so we found it to be quite mild actually.
However, if we were able to choose, we would without a doubt, travel to Japan in the fall: early November, specifically.
November has a smaller chance of rain than October, and more comfortable temperatures than December.
The temperatures will have cooled off from the crazy summer humidity, yet it wouldn't be too cold for hiking. It wouldn't have quite the same crazy crowds as cherry blossom season brings. And fall foliage in Japan is something we've been dreaming about seeing!
Alternatively, early March would offer the beginnings of cherry blossom season, comfortable weather, and less crowds than those you'll find late April and early May during Golden Week.
Other resources for planning your perfect trip to Japan
---
Are you planning a trip to Japan?
We have TONS of resources on travel in Japan and destinations throughout the country. Check out our Ultimate Japan Travel Guide for all the answers to your most burning questions, or read some of our favorite articles below.
Save this article to Pinterest for later!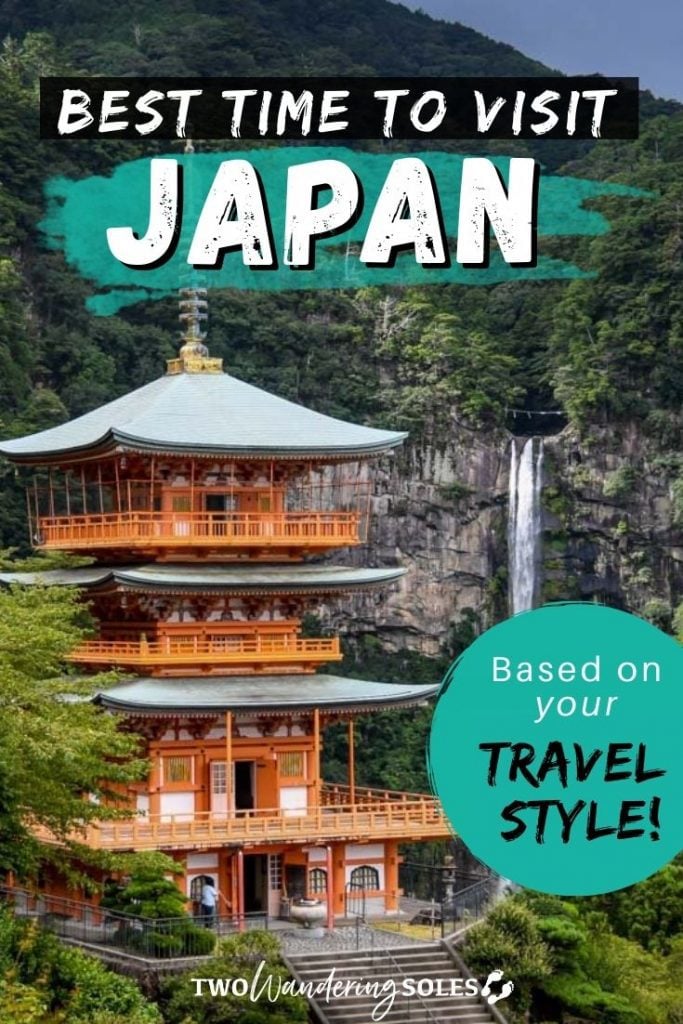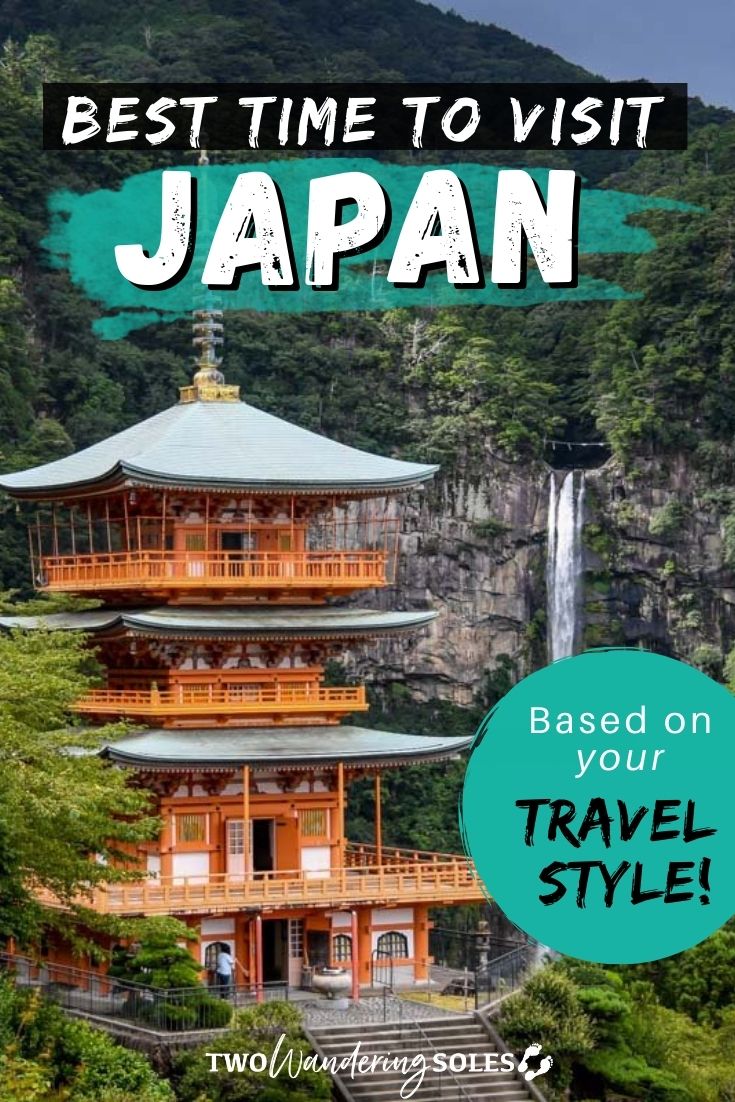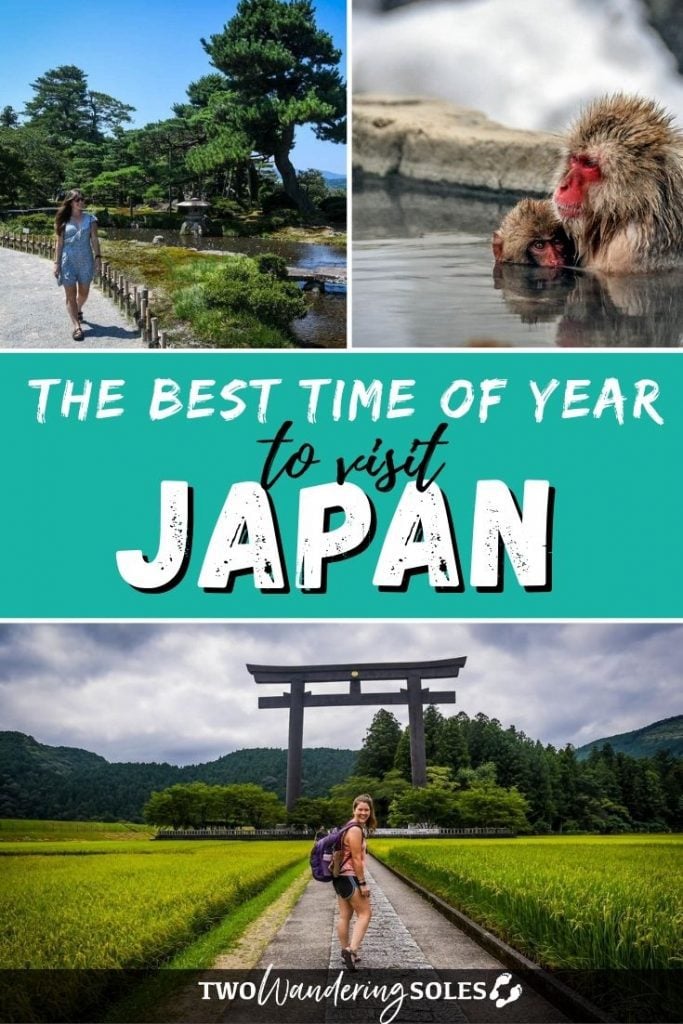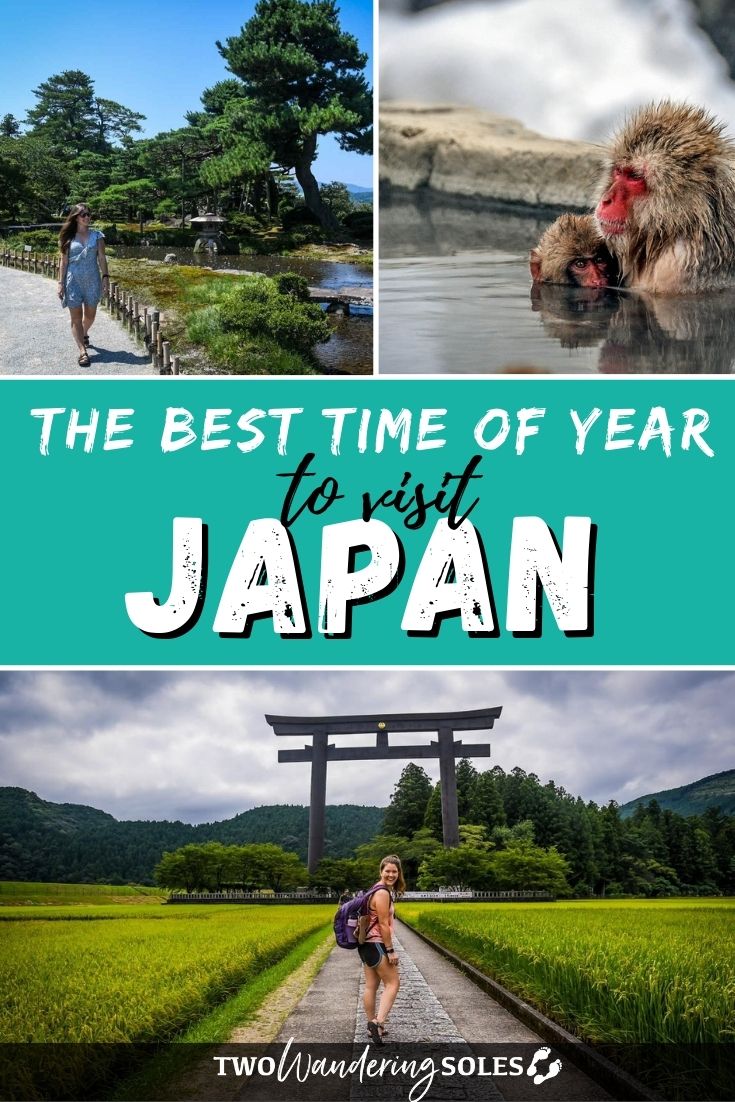 We'd love to hear from you!
What season sounds best to you? Why? Do you have any more questions after reading this article? We'll try our best to bet back to you!