As the birthplace of the Renaissance, Florence is a living, breathing museum with some seriously remarkable things to explore. This guide covers the most memorable things to do in Florence, plus additional tips for a smooth visit to this Tuscan capital.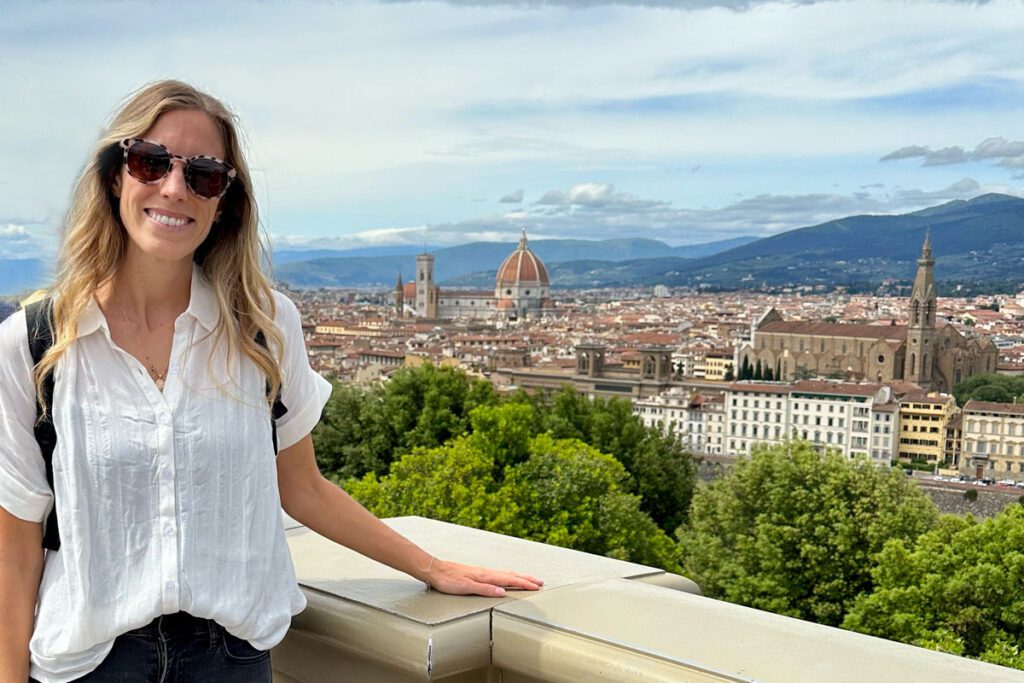 In the heart of Tuscany, nearly every inch of Florence is overflowing with artistic masterpiece; from the street artists lining the pavements, to museums filled with some of the world's most iconic art.
You don't need to be an art-lover to fall in love with Florence. There's plenty of history, authentic Tuscan cuisine, breathtaking views, adventures, and world-famous wine to enjoy.
After my third time visiting this iconic European city, I've rounded up the best things to do in Florence. This detailed guide also includes other must-know information for planning your trip so you can have the most seamless and stress-free trip to Florence.
Florence Travel Guide
For more tips and advice for planning your trip to Florence, jump to the following sections (or just keep scrolling to see it all!).
---
Top things to do in Florence
If you're looking for the very best things to do in Florence, here are our top recommendations:
Walk along the Ponte Vecchio
Gaze at Il Duomo from every angle
Climb Giotto's Bell Tower
Watch the sunset from Piazzale Michelangelo
Marvel at The David
Go on a food tour
Peruse the Galleria de Uffizi
Keep reading for more detailed information on each of these things and more ideas of fun things to do in Florence.
Related: Florence is the perfect base for exploring some of Italy's most iconic cities and towns. Check out our guide to the best day trips from Florence.
1. Walk along the Ponte Vecchio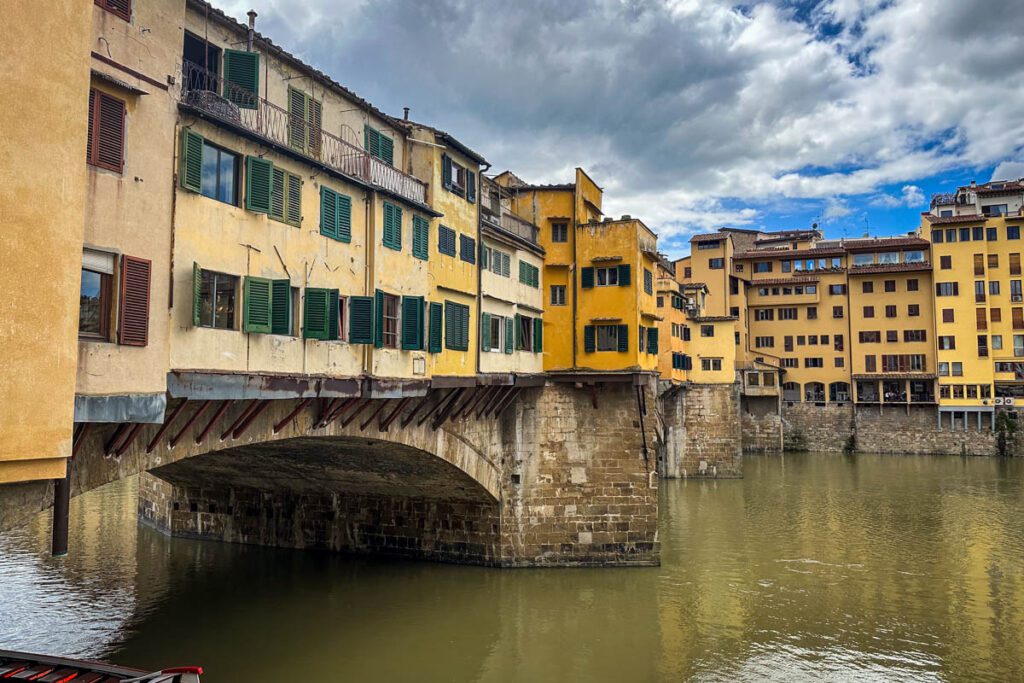 As the centerpiece of the city, and the oldest bridge in Florence, the Ponte Vecchio has lived through many eras of history since it was first documented in 996 AC.
The iconic bridge is characterized by the shops built right into the foundation and is open to foot traffic only.
Though it draws quite a crowd today, strolling across this bridge is part of the experience of Florence. You can enjoy views over the Arno River as you browse wares from the finest gold and silversmiths in Florence.
Insider tip: The best views of the Ponte Vecchio are actually from the Ponte Santa Trinita bridge, just further down the river.
Wanna go more in-depth?
To see parts of the bridge few tourists have seen, you'll need to venture into the secret underfoot passageways.
Exploring the shadowed halls beneath the pedestrian bridge, you'll learn about the governing of Florence and how it has changed over centuries from masquerading to the Medici family.
How to do it? Stop into the box office along the bridge and they'll book you on the next available tour. Otherwise, you can book the Underground Florence Tour ahead of time.
2. Gaze at Il Duomo from every angle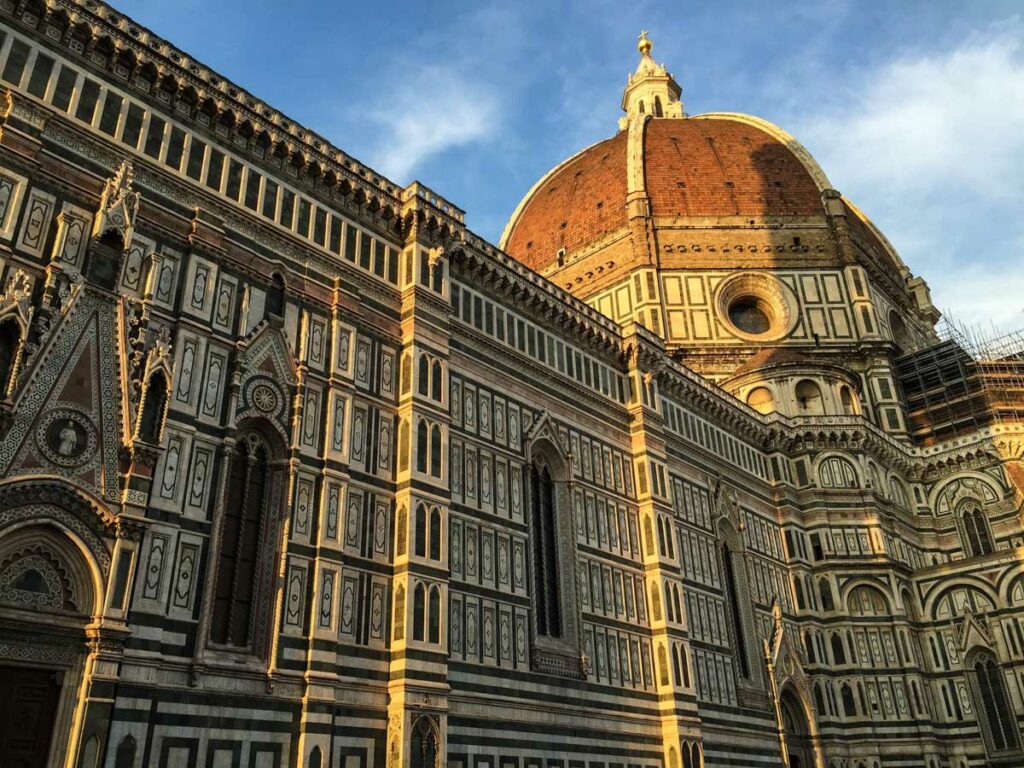 The Cathedral of Santa Maria del Fiore (known as Il Duomo of the city of Florence) is one of the most recognized and iconic cathedrals in the world. You cannot walk through Florence without stopping to marvel at the intricate decoration and immaculate detail on the outside.
And if you think the outside is impressive, you'll be equally as mesmerized by what's inside. Brunelleschi's Dome inside the cathedral is the largest masonry dome in the world with awe-inspiring murals by artist Filippo Brunelleschi.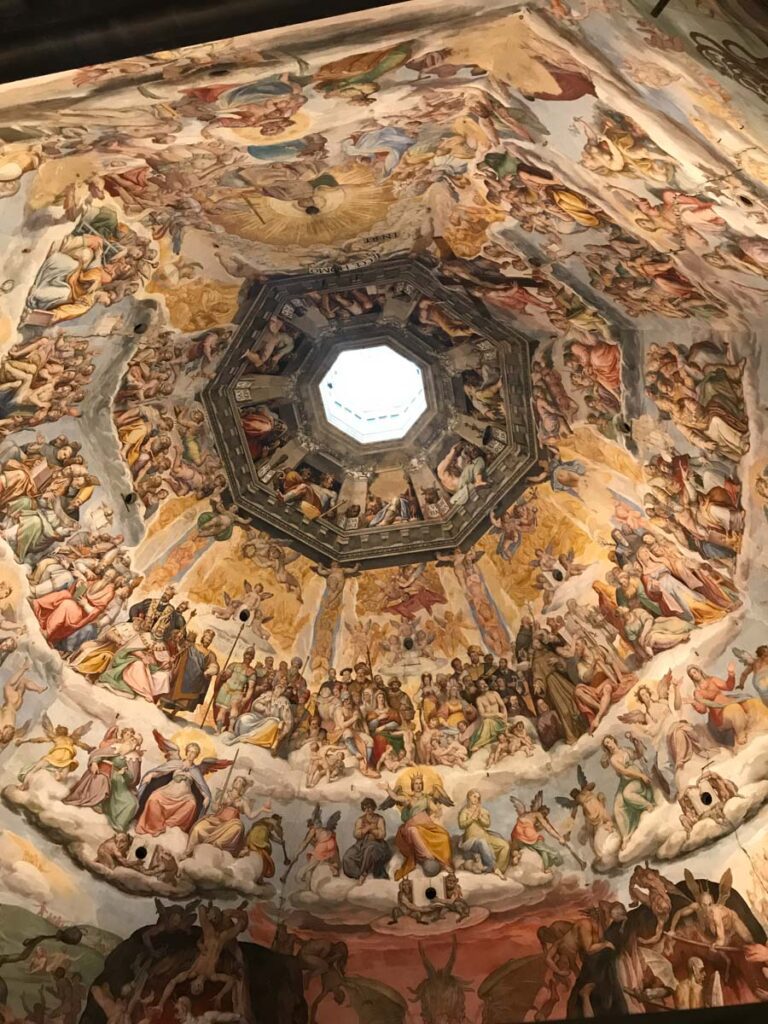 The entrance to the cathedral itself is free, however you will need a ticket if you want to climb the dome to get up close and personal with Brunelleschi's masterpiece and take in the views of Florence from the top.
Hours: Monday to Saturday, 10:15 a.m. to 4:30 p.m.; closed on Sunday and for religious celebrations.
Entrance fee: Free*
*Even though admission into the cathedral itself is free, it's not uncommon for lines to take hours. Book a skip the line tour to save time and reserve a slot to climb the dome.
How to climb the Duomo dome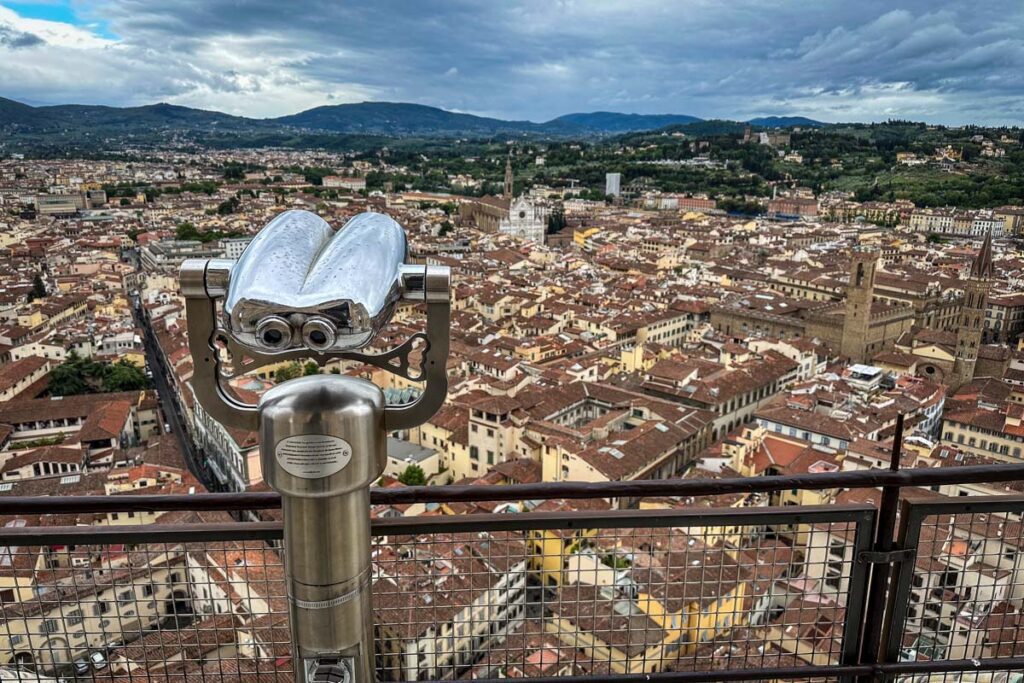 A very popular way to admire Brunelleschi's dome is by climbing the 463 steps to the top. This requires a Brunelleschi Pass.
When you go to purchase, you'll select a specific date and time to arrive at the Dome entrance. There will still be a line, but everyone will be allowed entrance at once during the time slot on your ticket, so there is no need to arrive super early to queue.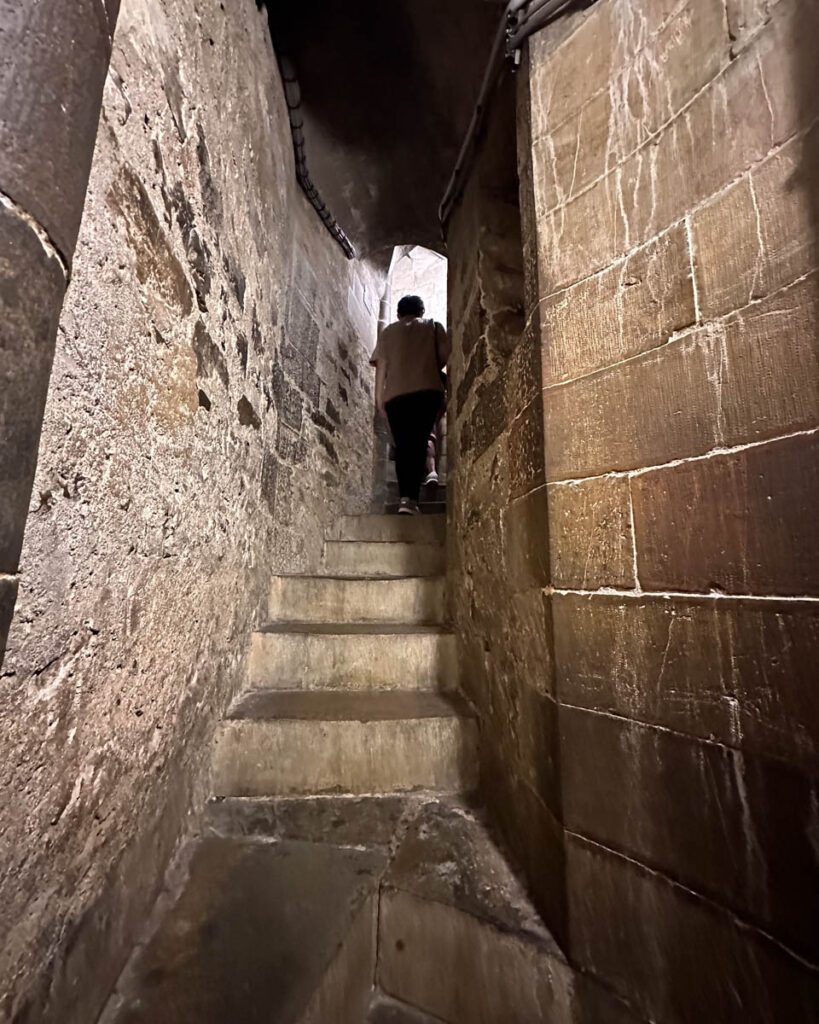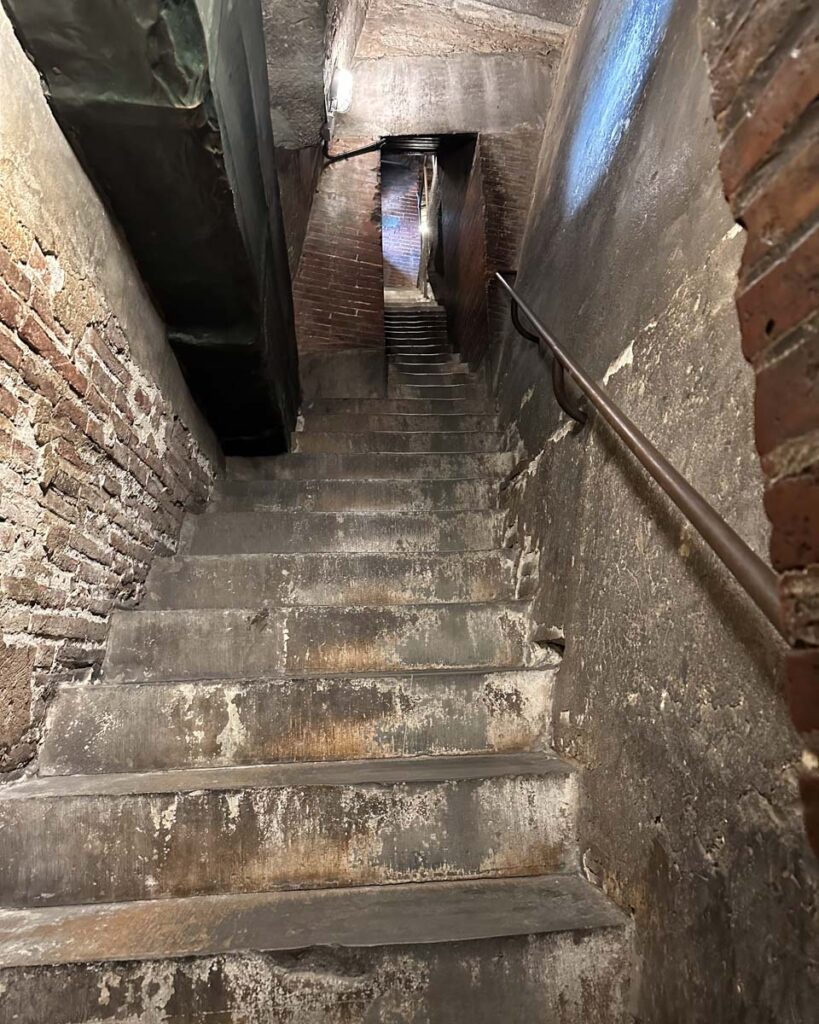 The climb to the top involves navigating a lot of tight and narrow spaces and many, many stairs. This may present an accessibility challenge for some, so keep this in mind as you look into it further.
Note: The Brunelleschi Pass includes entrance to the dome, bell tower, baptistry, museum and Santa Reparata. However, the time slot chosen is just for the dome climb. Everything else can be visited at your leisure for the 3 calendar days of your pass validity.
3. Climb Giotto's Bell Tower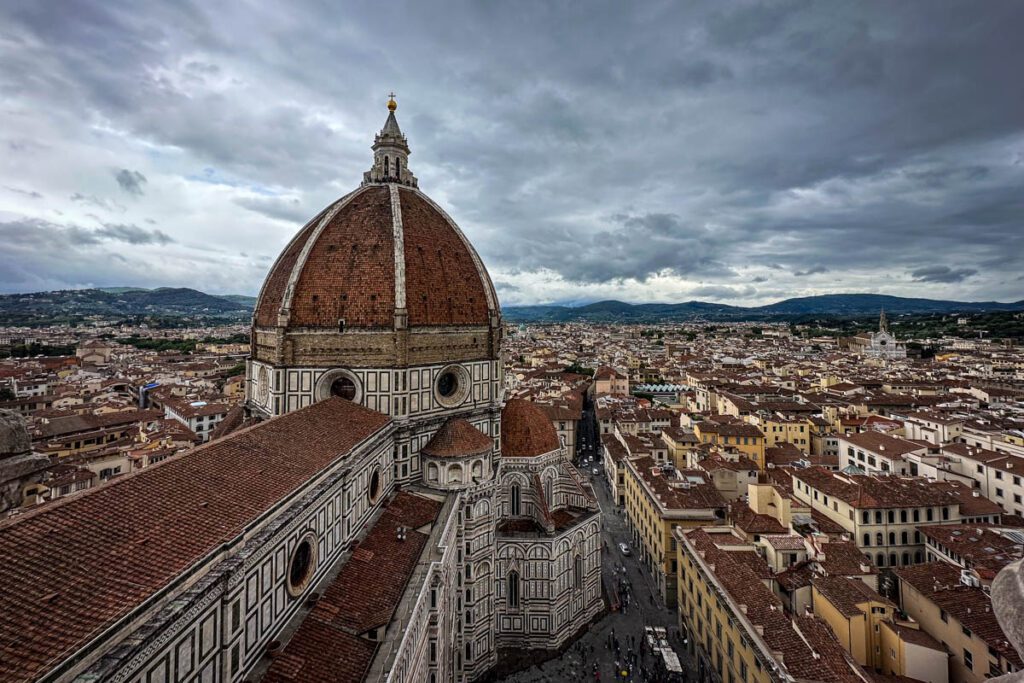 Giotto's Bell Tower (sometimes referred to as Giotto's campanile) is part of Il Duomo complex, though it requires a separate entrance from the cathedral itself.
After ascending 414 steps to the terrace of this gothic masterpiece, you'll arrive at a breathtaking panorama of Florence. A view that competes for the most acclaim in the city. The highlight of climbing the bell tower is that you'll get views of the cathedral itself (as opposed to the views from the top of the dome).
Among the views, you can admire decorative sculptures, seven bells, and the intriguing red, green, and white marbling that decorates the cathedral.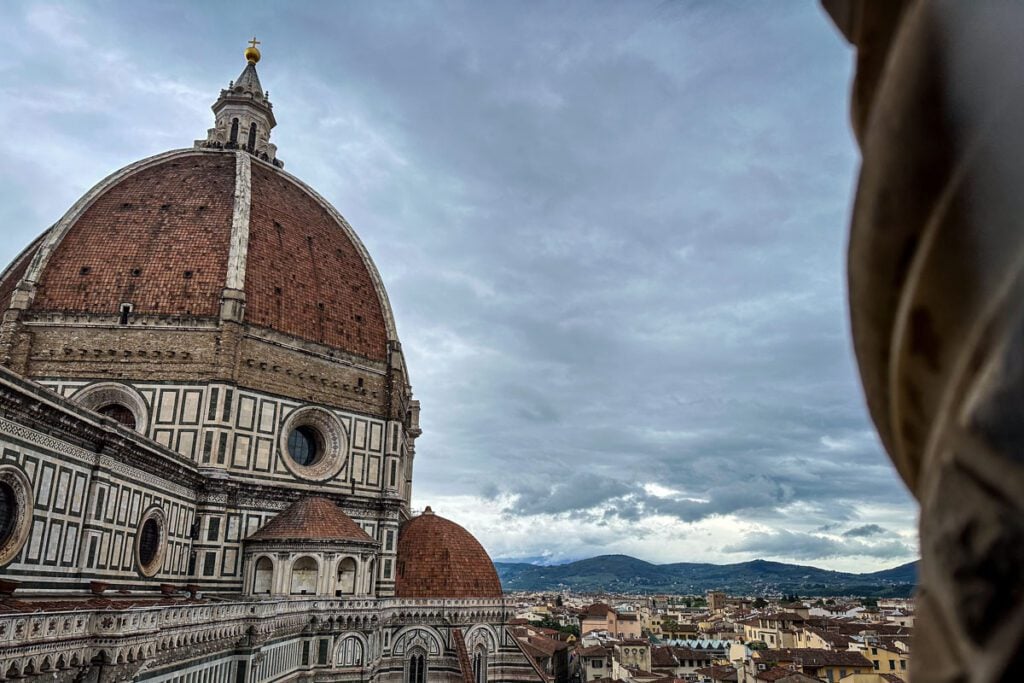 There are different levels of the tower, so you can decide how far up you want to climb. Just note that all views are fenced in for safety, so you'll have to arrange your camera to point through the metal fencing in order to get decent photos.
Hours: 8:15 a.m. to 7 p.m.
Entrance fee: €20 ($22.27 USD)
Good to know: The ticket is part of the Giotto Pass, which gives you a time slot for Giotto's Bell Tower, and access to all the monuments in the Piazza del Duomo: Baptistery of St. John, Opera del Duomo Museum, and the Cathedral of Santa Maria del Fiore for 72 hours. However, if you plan to climb the dome, it is included in your Brunelleschi Pass.
---
Want to save time and energy on planning?
We've spent a collective 6+ months living in and traveling around Italy, and we've been able to explore a lot of what this country has to offer!
We've compiled our experience to create a classic Italy itinerary that hits the top destinations for first time visitors. Our itinerary is spread out over 10 days and includes the highlights of Rome, Cinque Terre, Florence and Venice.
We'll send you our complete 10-day itinerary, filled with tips and advice. Just click below to get your classic Italy itinerary today!
---
4. Watch the sunset from Piazzale Michelangelo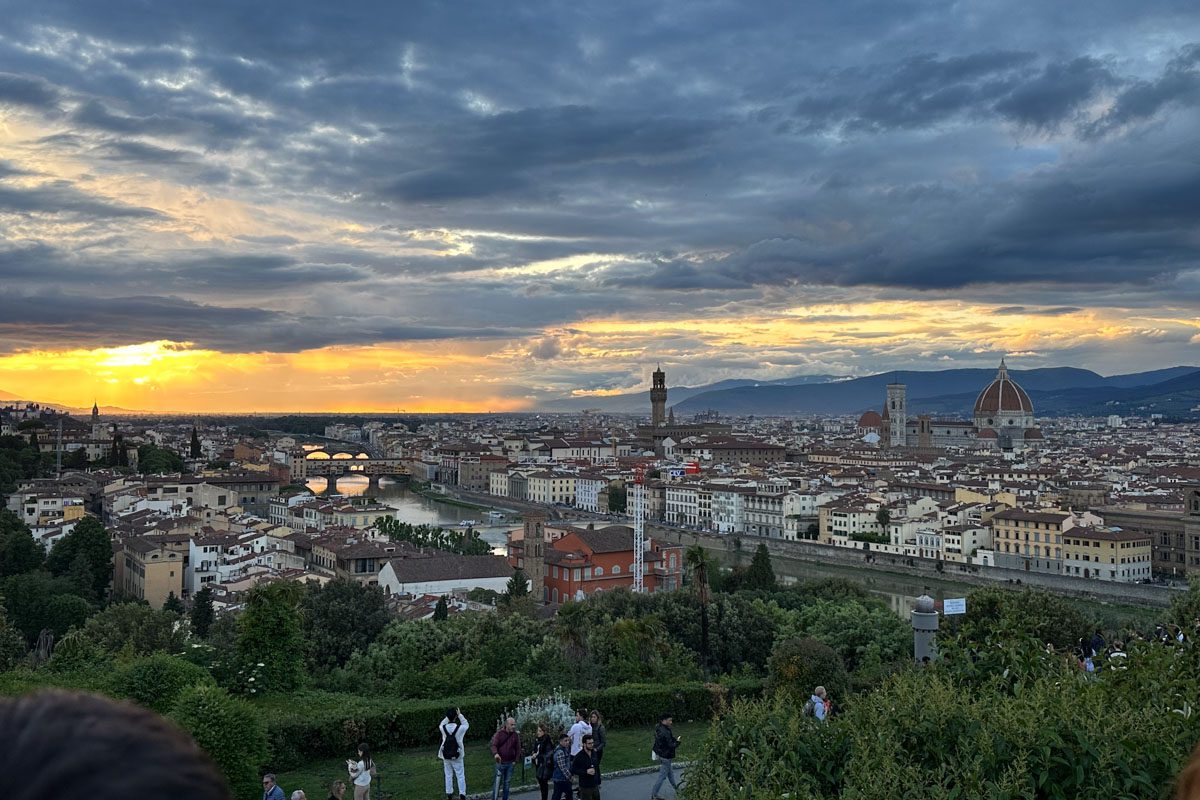 As the day in Florence winds down, you can watch the city and its backdrop of Tuscan hills get painted with orange, yellow, and red hues at the Piazzale Michelangelo.
This is one of the best and most iconic views of the city (a can't-miss even if you only have one day in Florence!).
However, it's no secret. With the sunset comes the crowds, so be prepared to share the views. If you arrive late, it'll be standing room only and you may find yourself craning your neck to get the best view from behind a sea of tourists.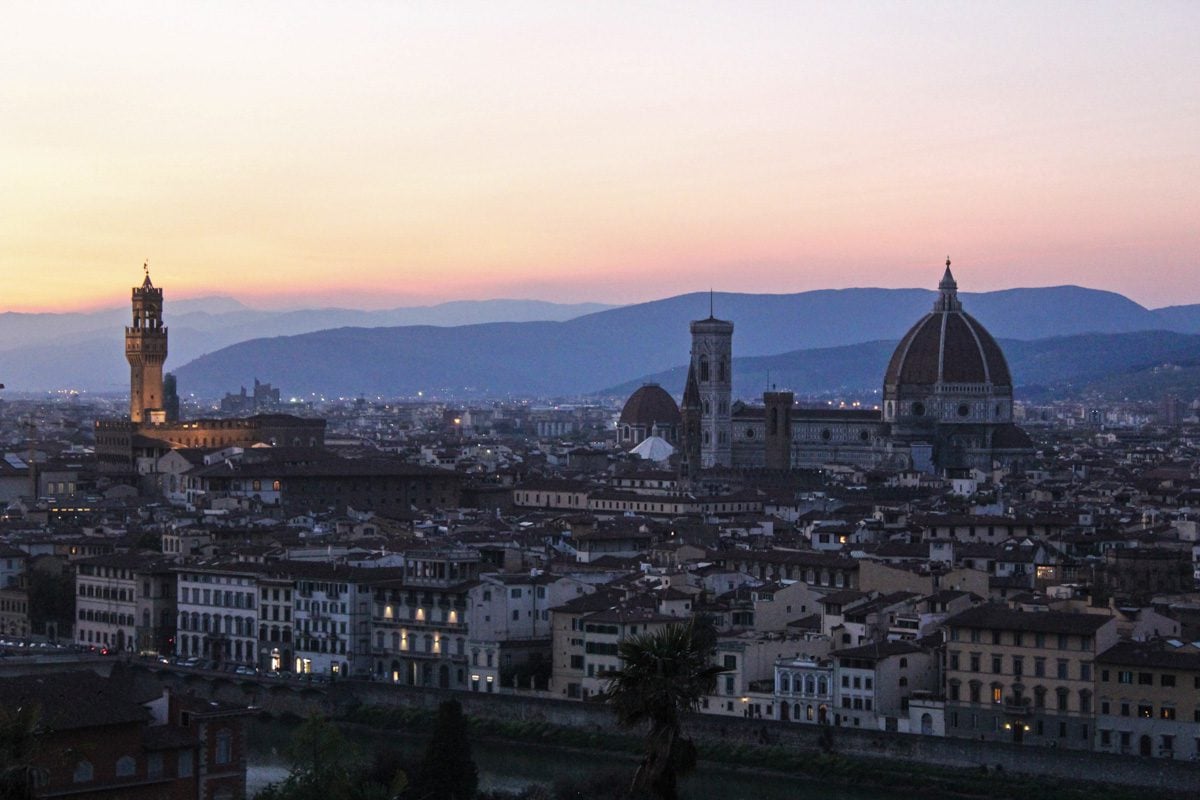 How to get there: You can walk up from the Piazza Giuseppe Poggi or grab a ride to the top. Stops 12/13 on the AT Bus stop directly at the plaza.
Insider tip: Pack a picnic and a bottle of wine to enjoy while you wait for the sun to set. Get there early (about an hour before the sun sets) to snag a seat in the limited space on the staircase to the plaza to enjoy your picnic.
5. Marvel at Michelangelo's David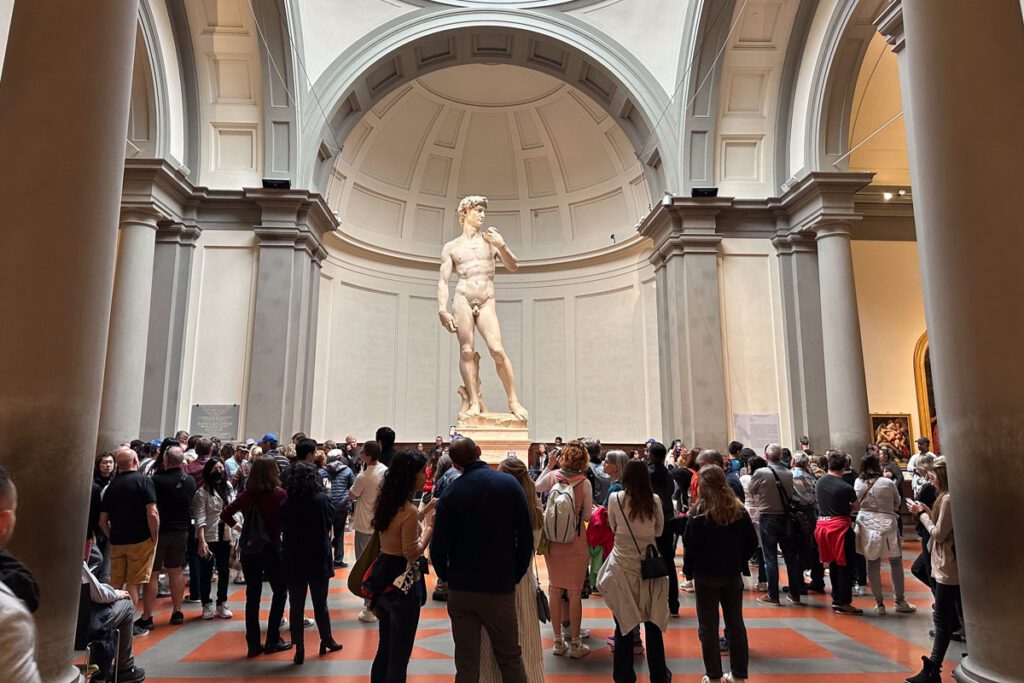 Carved from a single block of white marble, this colossal masterpiece, known casually as The David, is a testament to Michelangelo's unparalleled talent and skill. Looking up at David, towering over 17 ft in height, you can take in the statue's impeccable anatomical detail and the lifelike expression captured in his face.
Housed in the renowned Galleria dell'Accademia, The David brings the crowds, but there are plenty other works to admire there.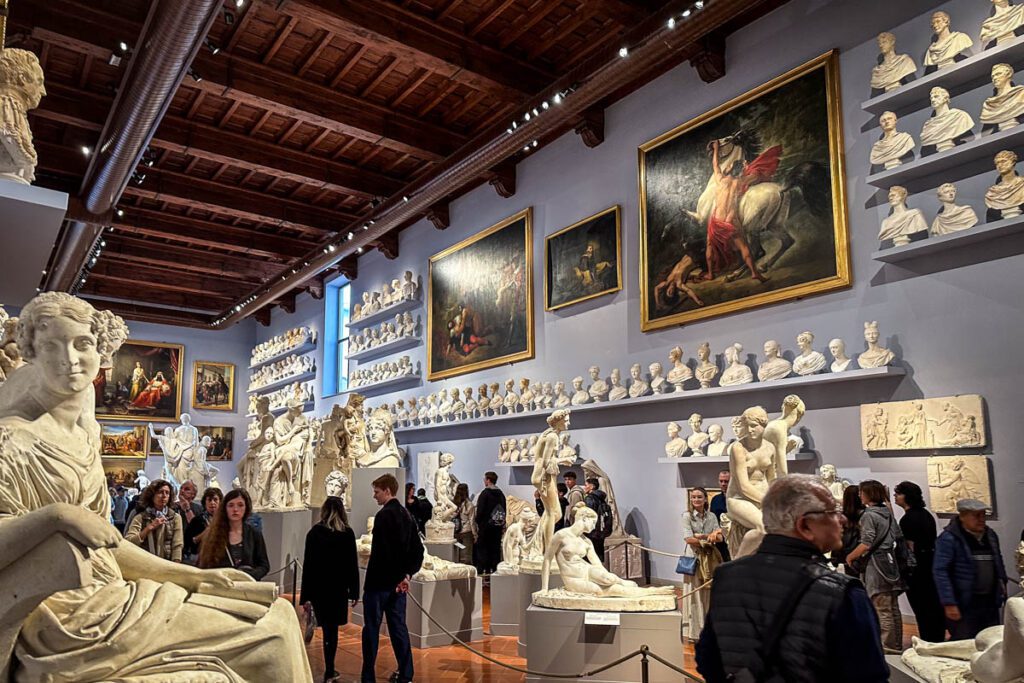 As you wander through the halls, you encounter other remarkable masterpieces, including Michelangelo's unfinished Slaves, which offer a glimpse into the artist's creative process. The gallery also showcases an array of Renaissance paintings, intricately detailed sculptures, and fascinating artifacts, each telling its own story of the city's rich cultural heritage.
Hours: Tuesday – Sunday ( 8:15 a.m. to 6:30 p.m.) *Last entry at 5:30 p.m.
Entrance fee: €17 ($18.50 USD); book regular timed entrance tickets on the official booking website
To avoid the outrageous lines, arrive with a timed, skip the line ticket.
6. Go on a food tour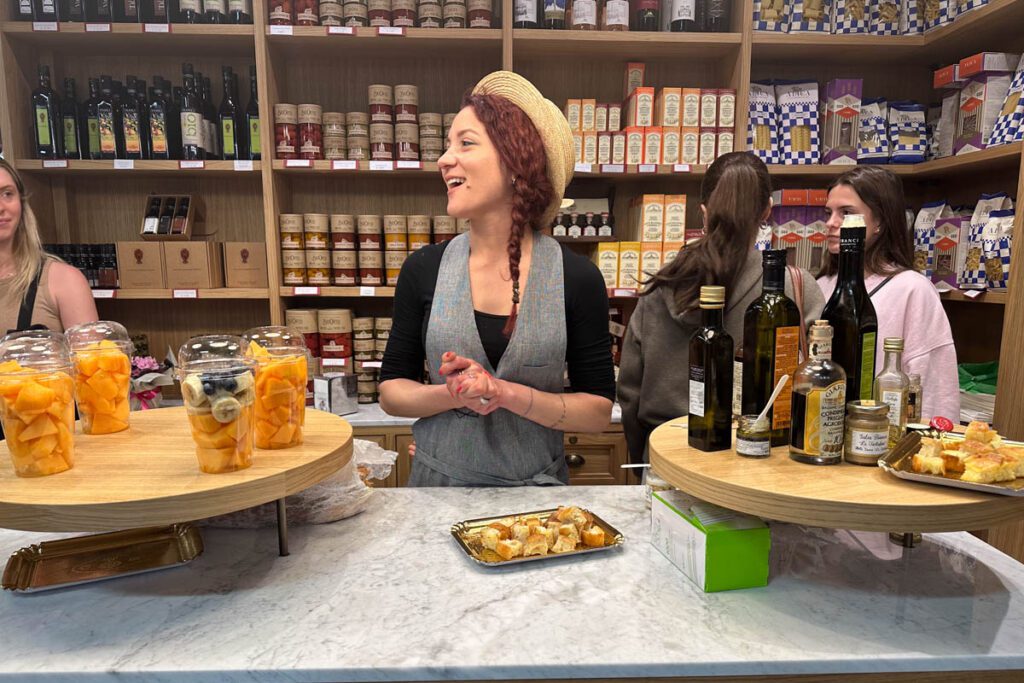 This Florence Street Food Tour will have you eating like a local as you maze through the city's lively piazza's and historical streets.
You'll visit a local market to sample olive oil and many different kinds of truffles, discover an 1860's trattoria to taste local Florentine food, and try local specialties like "coccole" and schiacciata".
I actually did this exact tour with my mom when we visited Florence and she said it was one of the highlights of her trip!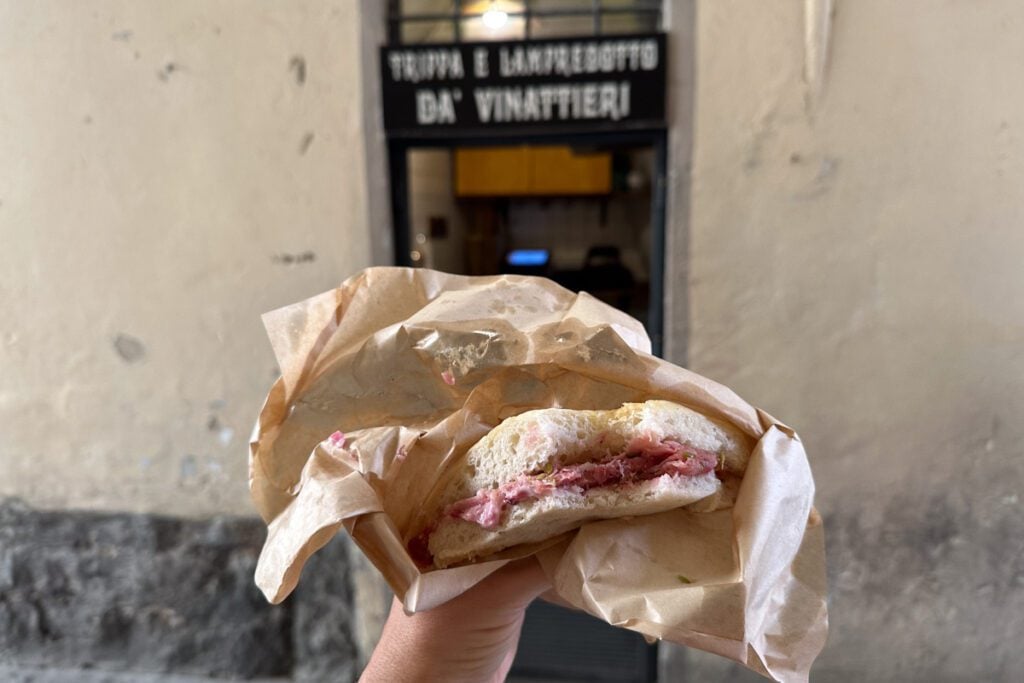 What you need to know:
Hours: 2.5 hours
Price: $19 USD / person
What guests are saying
"This was one of our highlights in Florence! Dilara was a delight and we left with bellies full of delicious food. The stops were super friendly, varied, and authentic; it never felt like we were going to touristy spots. This was a great deal for the time and food provided and I would recommend it to anyone!" – Hannah, United States (April 2023)
7. Peruse the Galleria de Uffizi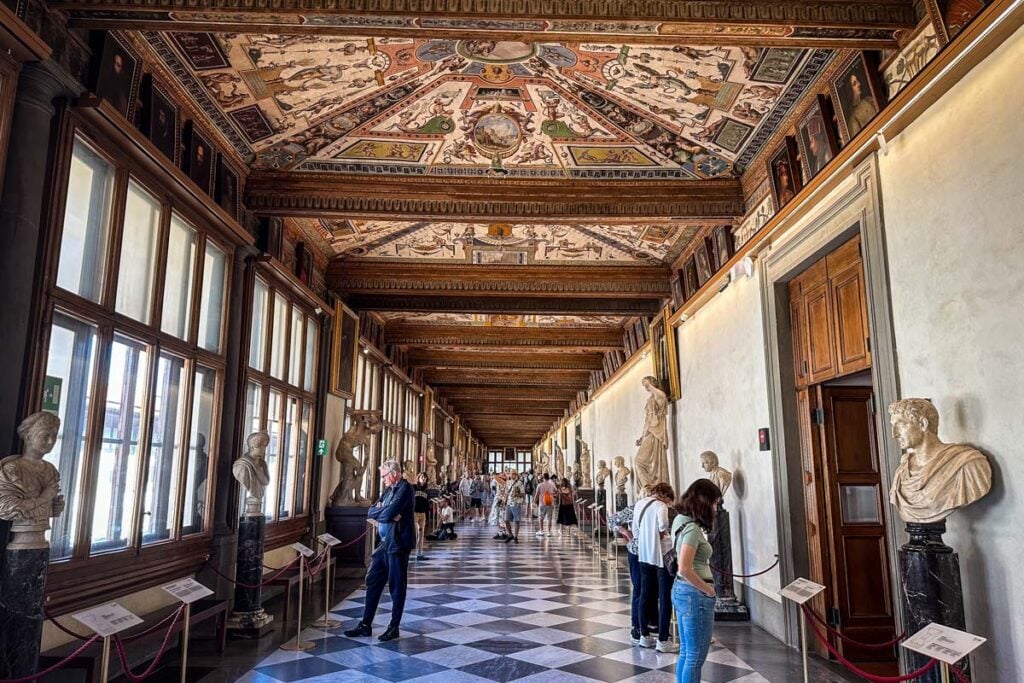 Crowned as the best art gallery in the world and the most visited museum in Italy, it's a no-brainer that the Uffizi Gallery is one of the best things to do in Florence.
Curated across two floors, you could easily spend hours inside and barely scratch the surface of the "must-see" works, paintings, sculptures, and altarpieces.
Good to know: Every first Sunday of the month, entrance to the museum is free.
Hours: Tuesday – Sunday ( 8:15 a.m. to 6:30 p.m.) *Last entry at 5:30 p.m.
Entrance fee: €29 ($32.27 USD); book regular timed entrance tickets on the official booking website. To avoid the outrageous lines, arrive with a timed, skip the line ticket.
8. Take a day trip to explore more of Tuscany
Florence makes an excellent base camp for seeing more of what Tuscany has to offer.
Visit the Leaning Tower of Pisa, sample world-class Italian wines, see the famous towers of San Gimignano, wander the artistic streets of Lucca, and the medieval Siena.
Check out our guide to the best day trips from Florence for more ideas!
9. Visit the Boboli Gardens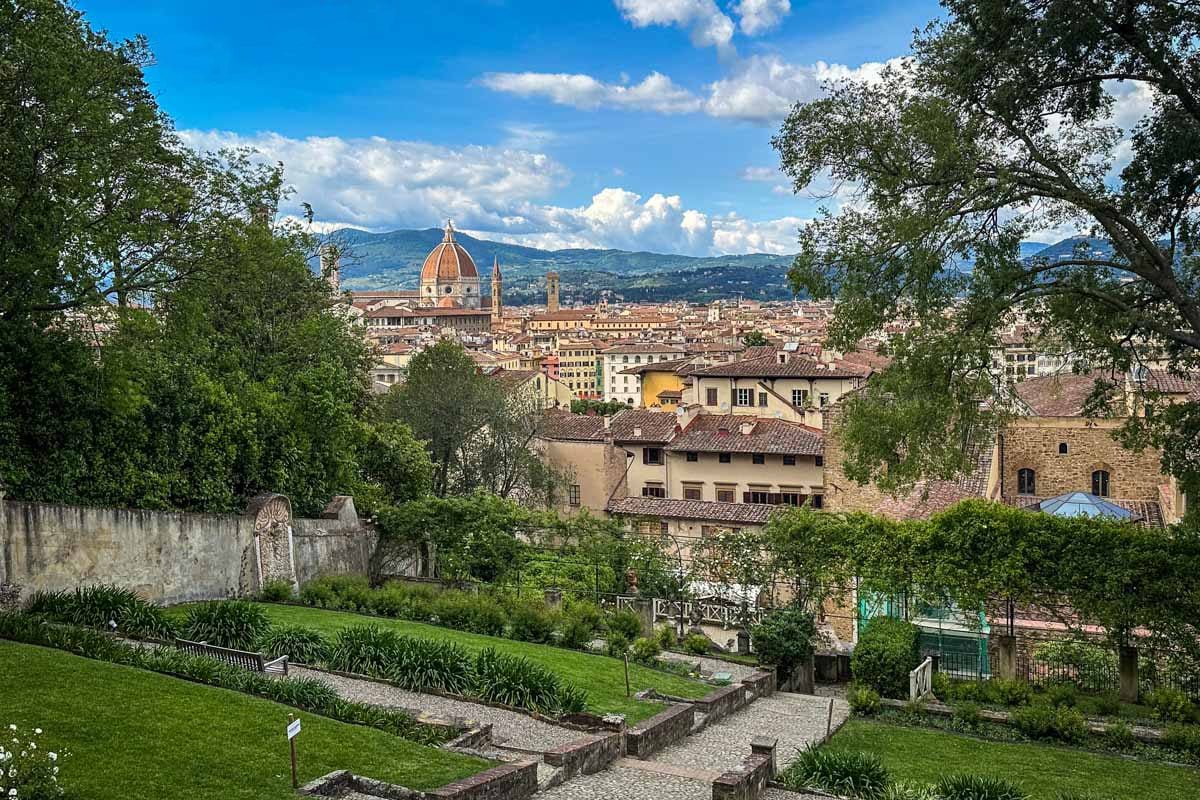 A line of wealthy families living in the Palazzo Pitti designed and decorated the backyard Boboli Gardens over centuries, with sculptures, fountains, and ancient trees.
It acts as an open air museum that is a peaceful space to take a breather from the city bustle, admire masterful works, or enjoy a picnic.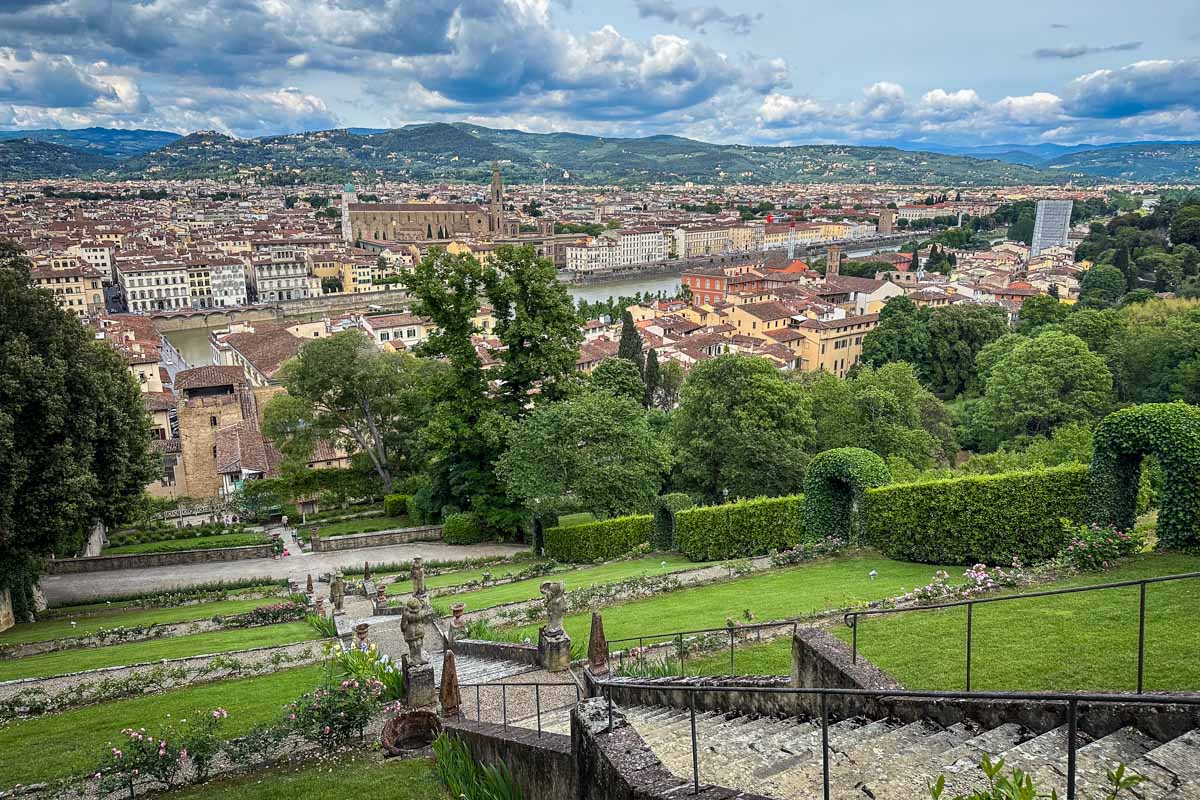 There is a small cafe onsite that serves coffees and alcoholic beverages. It's a great place to grab an aperitivo and enjoy the views (plus free snacks!).
Hours: 8:15 a.m. to 6:30 p.m.
Entrance fee: €13 ($14.32 USD)
You can grab your tickets on the official booking site.
10. Discover the Medici Chapels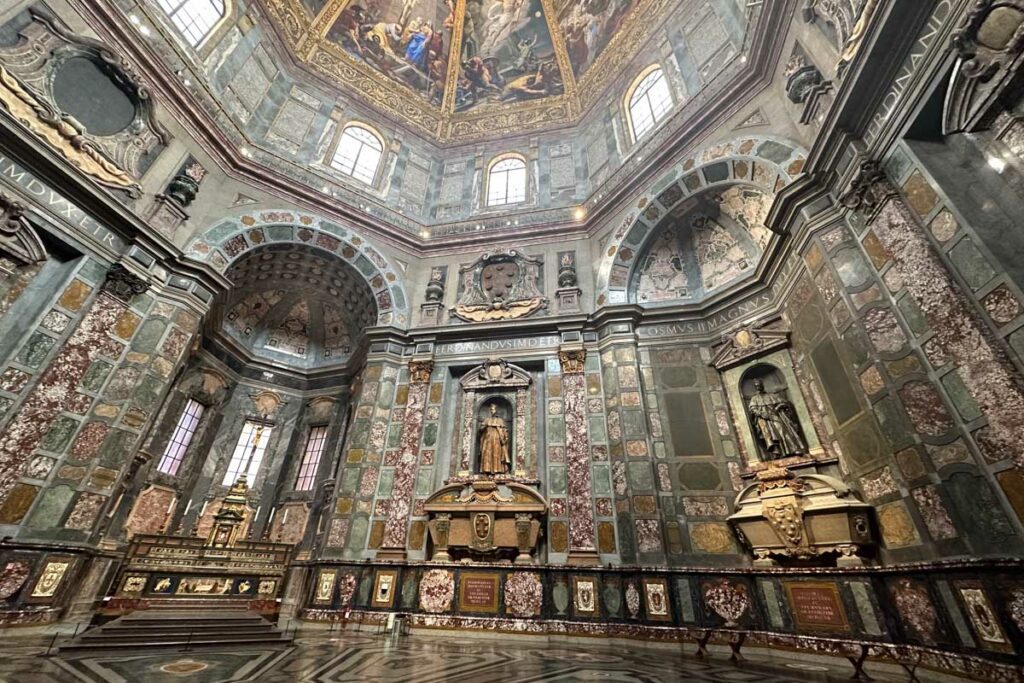 You can't wander Florence without hearing about the power and prestige of the Medici Family, the dynasty that brought wealth, art, riches, and an everlasting legacy to the city.
They erected a massive and opulent tomb to enshrine their remains and carry on their legacy, but interestingly enough the family lineage died out before the tomb was completed.
The brown brick exterior gives no hint of the lavishness within, including many sculptures by Michelangelo himself, commissioned by the family. Even though the project was not completed, it is still quite the sight.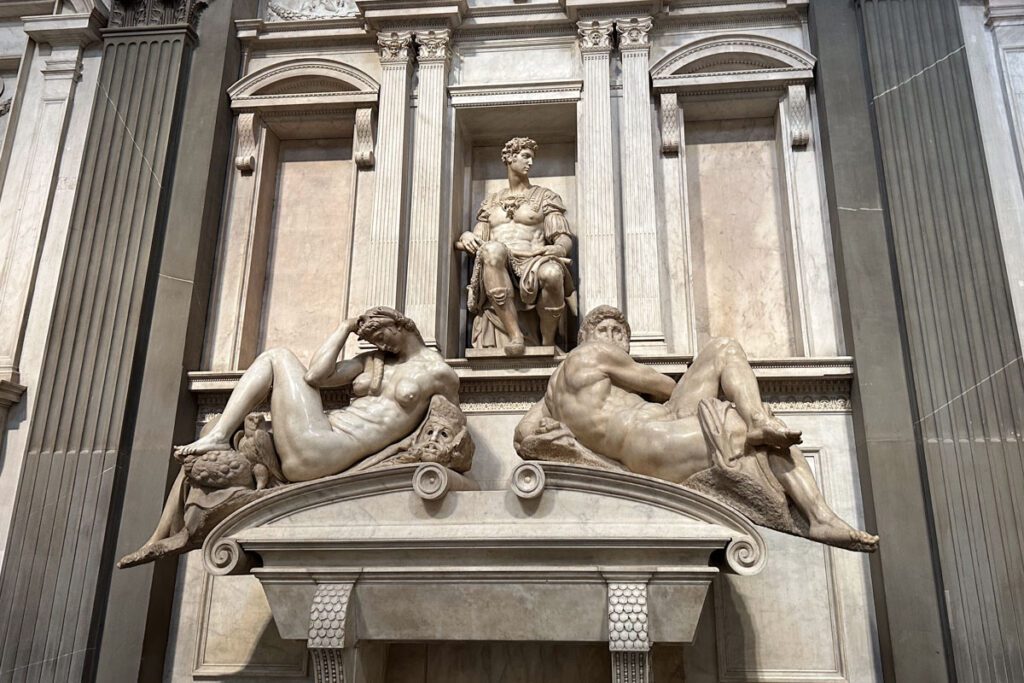 The series of chapels creates a museum where you'll learn about how the Medici family sculpted the city, and get a deeper appreciation and understanding of the famous sites that give Florence its trademark.
Hours: Wednesday – Monday 8:15 a.m. to 6:30 p.m.; closed Tuesdays
Entrance fee: €16 ($17.62 USD)
Book your tickets on the official site, in advance to skip the line.
Or you can bring the legends, betrayals, treasures, and poisonings of the family to life on a Medici Chapels Guided Tour.
11. Eat all the pasta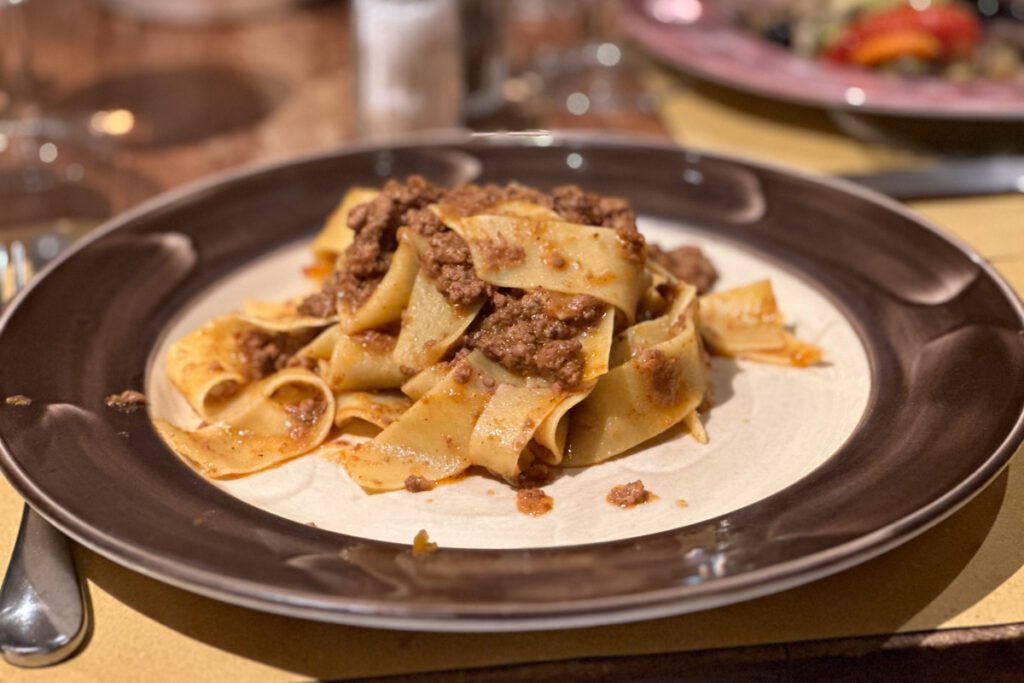 You cannot come to Florence and not indulge in pasta. You're in Italy after all! There are restaurants serving up delicious, fresh pasta everywhere you look in the city.
Here are some of my favorites:
And for our gluten-free readers…
Ristorante Quinoa: This place is an entirely gluten-free restaurant! And the pasta is to die for! I recommend the purple carrot gnocchi.
12. Have an afternoon Aperitivo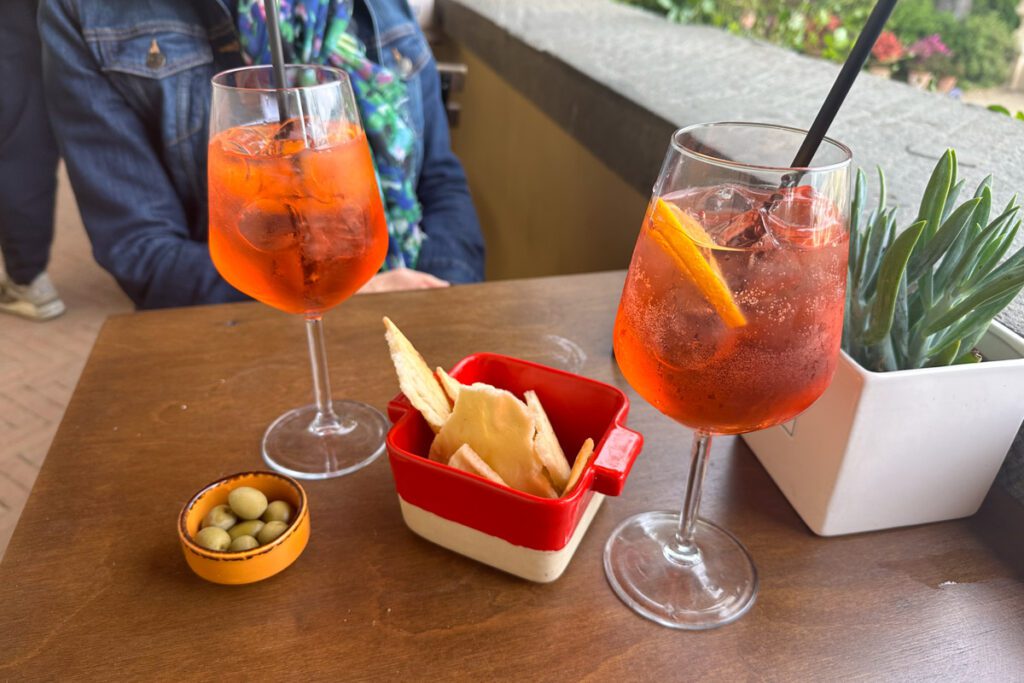 Between lunch and dinner is the Italian happy hour known as aperitivo.
Given that Florence is the birthplace of the negroni and in the center of Italy's best wine region, this pastime is an unmissable part of Italian culture.
Here are some excellent spots to toast to the evening:
13. Take a free walking tour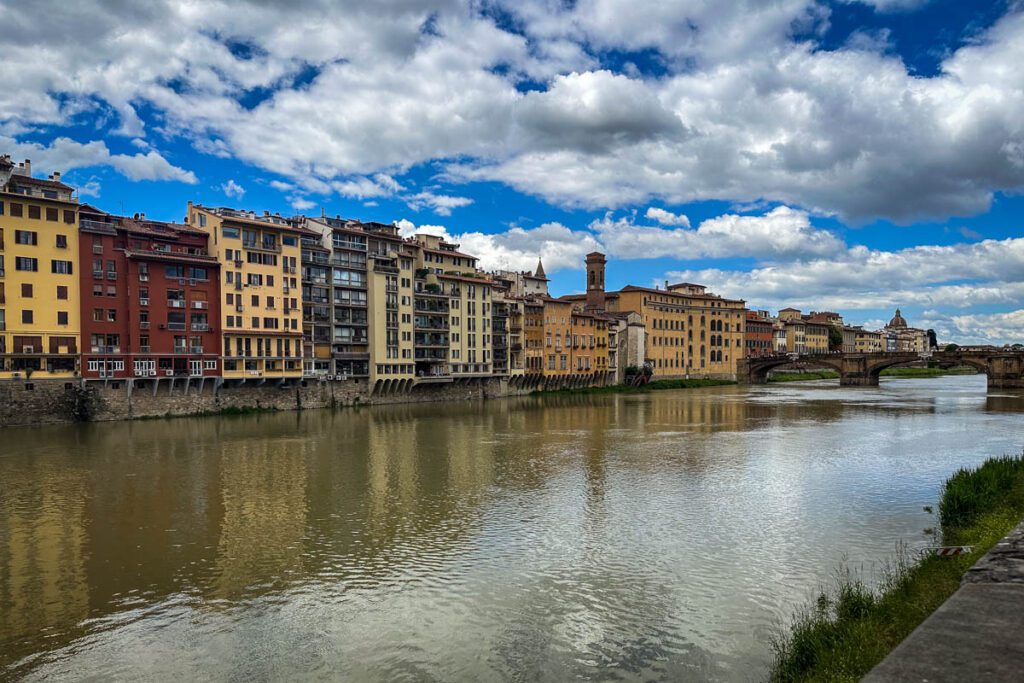 First-timers and seasoned veterans of Florence adore this Free Walking Tour of the city.
While many tours can be monotonous and repetitive, this one takes you to the most popular attractions, as well as off the beaten path locations you won't find strolling around by yourself.
As you marvel at the city, the thrilling stories and facts shared by the guide brings the Renaissance to life all around you.
What you need to know:
Hours: 2 hours
Price: tip what you want
What guests are saying
"We loved this tour and our guide, Alberto, was amazing. He is not just a tour guide but a student of Tuscany and teacher of Florence. His knowledge was impressive. I have done many paid tours before and walked away knowing the names of buildings or statues, I left this tour understanding its social, political, and religious history. Highly recommend it!" – Donald (February 2023)
14. Climb the Arnolfo Tower in the Palazzo Vecchio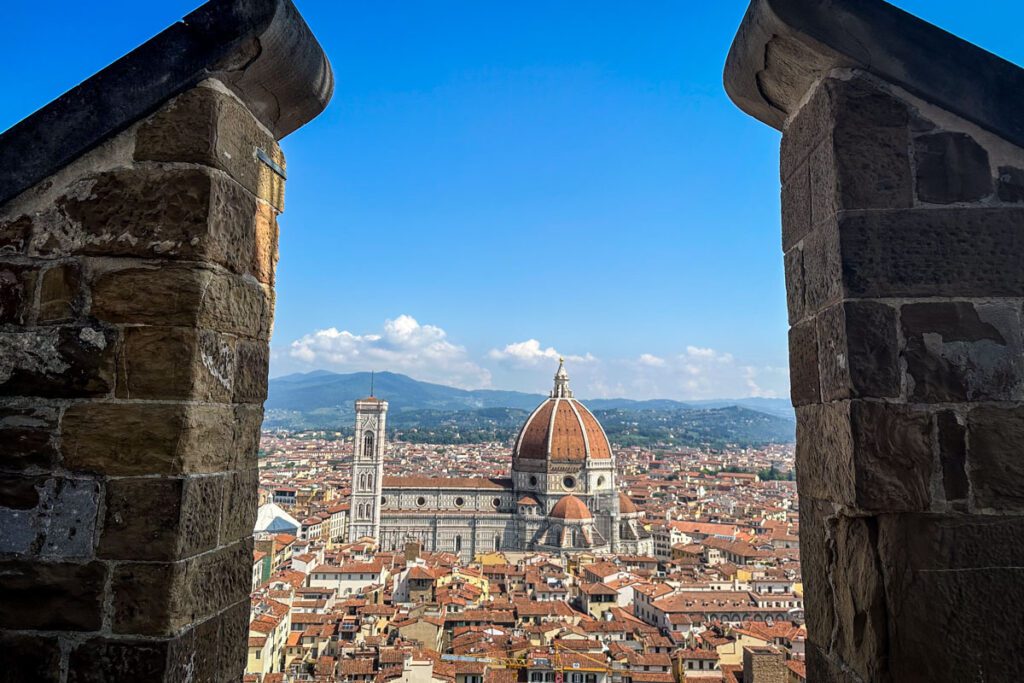 This massive stone facade soaring into Florence's skyline is one of the most distinctive landmarks of the city.
At the top are impressive, 360-degree vistas of the cityscape. Known as one of the best views in the city because it includes Il Duomo. And unlike climbing Il Duomo or Giotto's Bell Tower, there wasn't even a line here.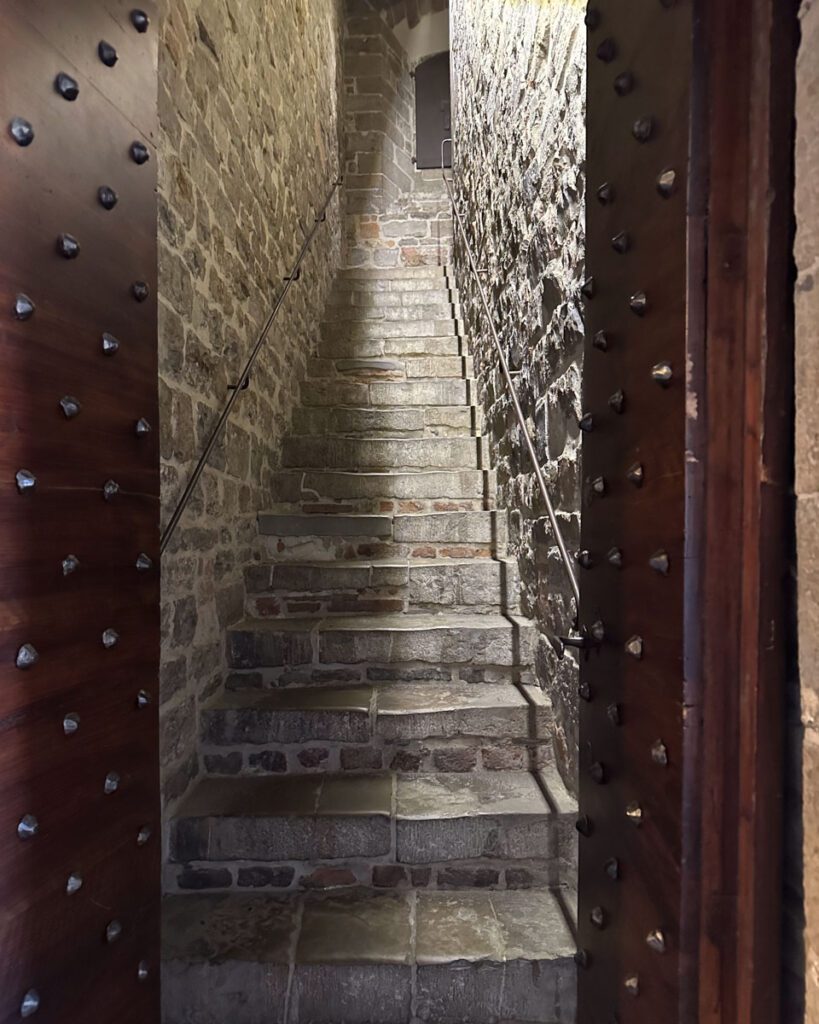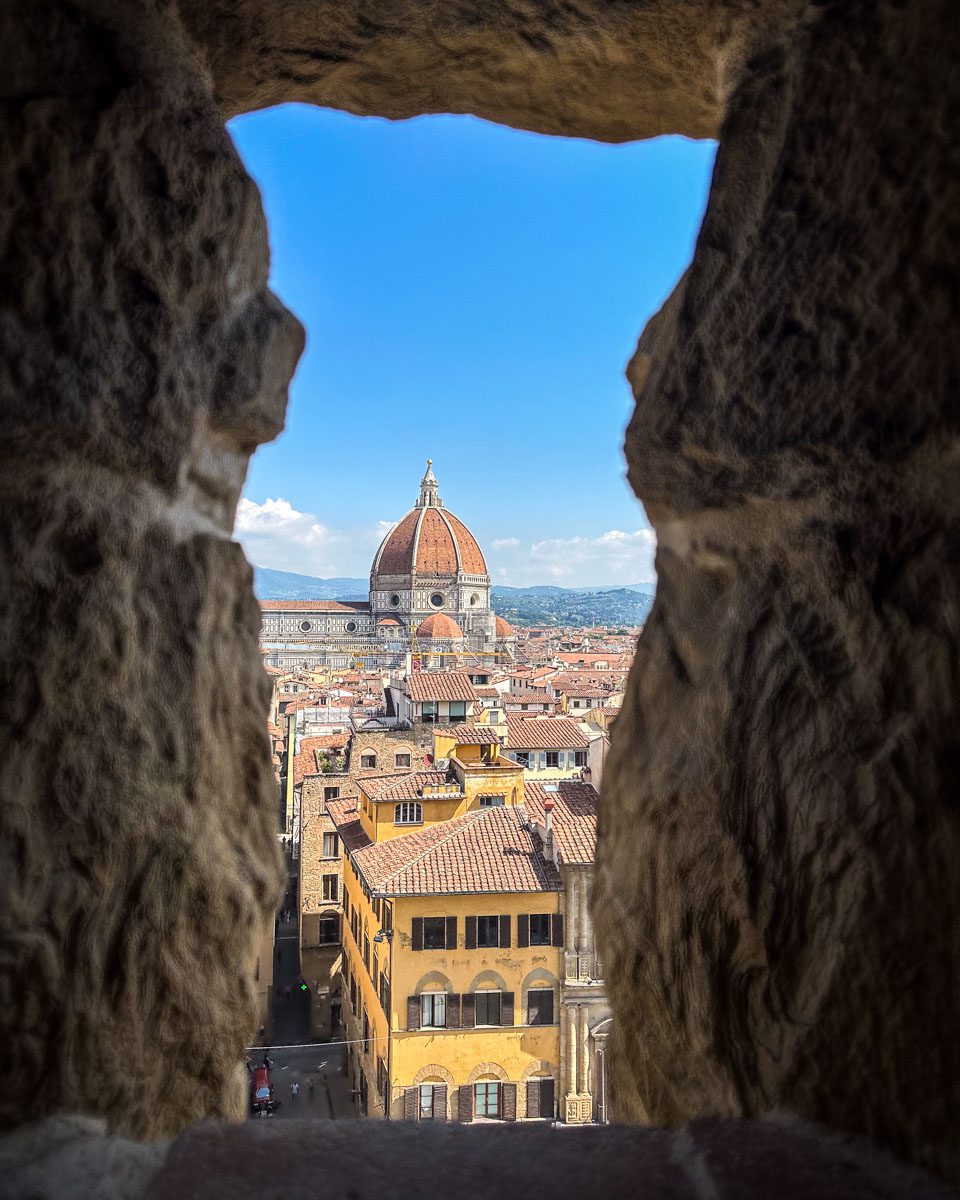 Supporting it is the Palazzo Vecchio, a Renaissance palace that seated the Medici Family, but now holds artistic treasures that tell the entire history of Florence.
Inside its humble exterior is the charming Michelozzo Courtyard, historic Hall of the Five Hundred, Studio of Francesco I, elegant Medici Private Rooms, and countless other exhibits to experience living history.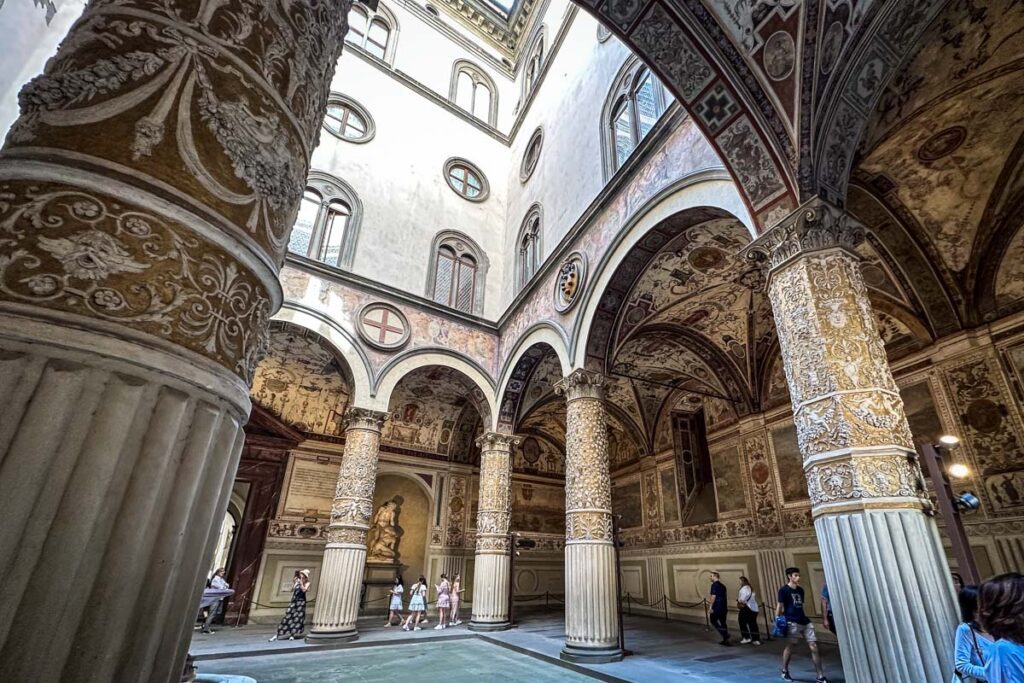 You'll become enthralled with this building on a Palazzo Vecchio & Secret Passageways Tour. It doesn't include the tower, but you will be taken on a journey through time and where many visitors don't see underground.
Hours: Friday – Wednesday (9 a.m. to 10 p.m.), Thursday (9 a.m. to 2 p.m.)
Entrance fee: €13.50 ($14.88 USD) for ages 25+
You can book tickets online for separate palace and tower tickets on the official site.
15. People-watch in the Piazza della Signoria
As the center of life and historic triumphs in Florence since the 14th-century, Piazza della Signoria was once the heart of the city's social life in medieval Florence.
Stop for a bite or coffee at the cafes framing the square or spend your time meandering the intriguing sculptures and fountains in the piazza.
Tip: This piazza makes a great place to recoup after visiting the Uffizi Gallery (see #7) or climbing the Arnolfo Tower (#14).
16. Eat your heart out at Mercato Centrale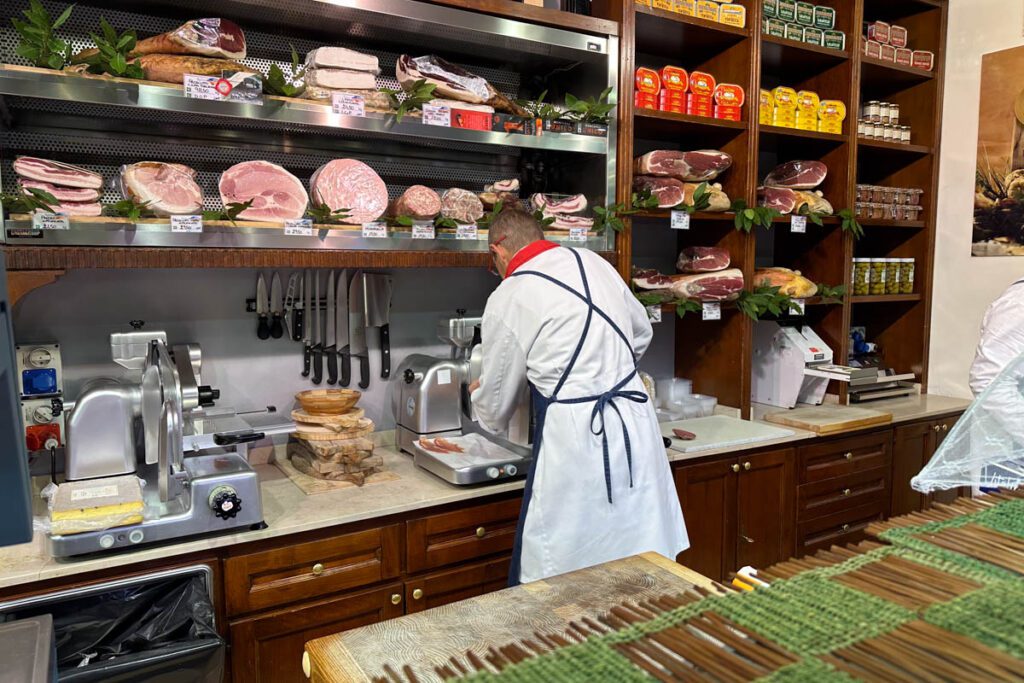 Once you've worked up an appetite outside, head inside the Mercato Centrale to grab a bite at this two-level food hall.
On the first floor, you'll find fishmongers and butchers among fruit and veggie vendors. This is more of a typical market where locals stock up on goods. You can also find cured meats, cheeses, olive oil, mushrooms, and even sundried tomatoes.
The second floor has a number of different restaurant concepts, in a more typical food hall with shared central seating. It's a one stop shop for all sorts of Italian and international favorites—from pizza and pasta to BBQ and poke.
17. Peruse the San Lorenzo Market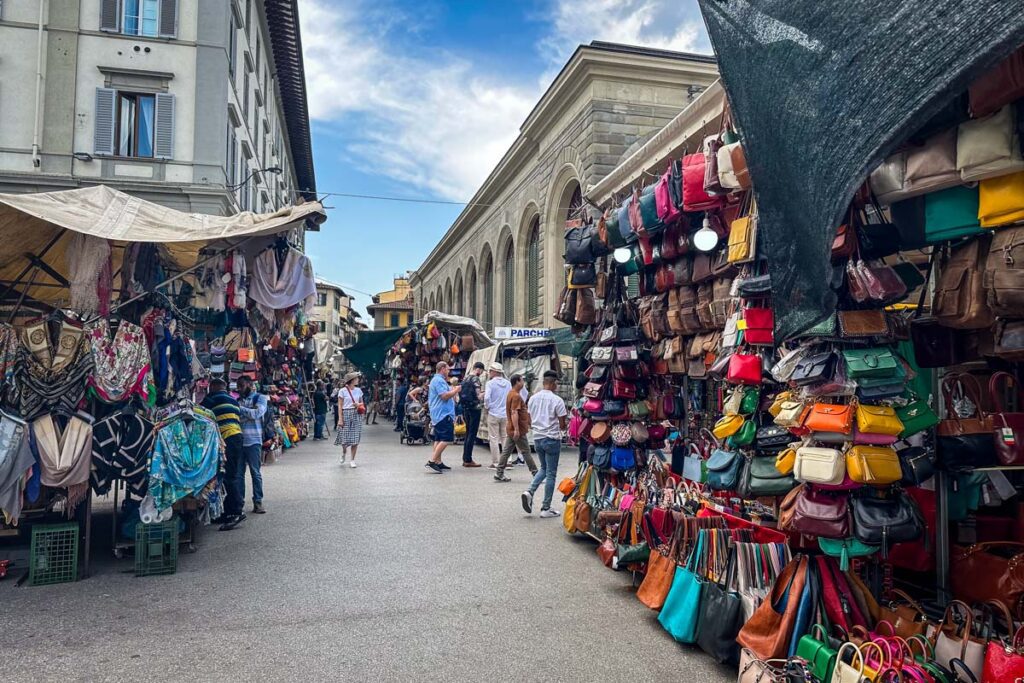 Lining several streets near the Mercato Centrale, the San Lorenzo Market has hundreds of stalls with anything and everything you can imagine.
Shop for high-quality leather goods, pottery, clothing, rings, notebooks, and various types of souvenirs and gifts.
Good to know: The vendors restock the stalls each night from nearby shops and warehouses. So they may offer to bring you there to give you more options when browsing.
Tip: Take your time looking around and don't buy the first thing you see. If you're firm, you can bargain for a good deal as most products are marked up for sale.
18. Find the best gelato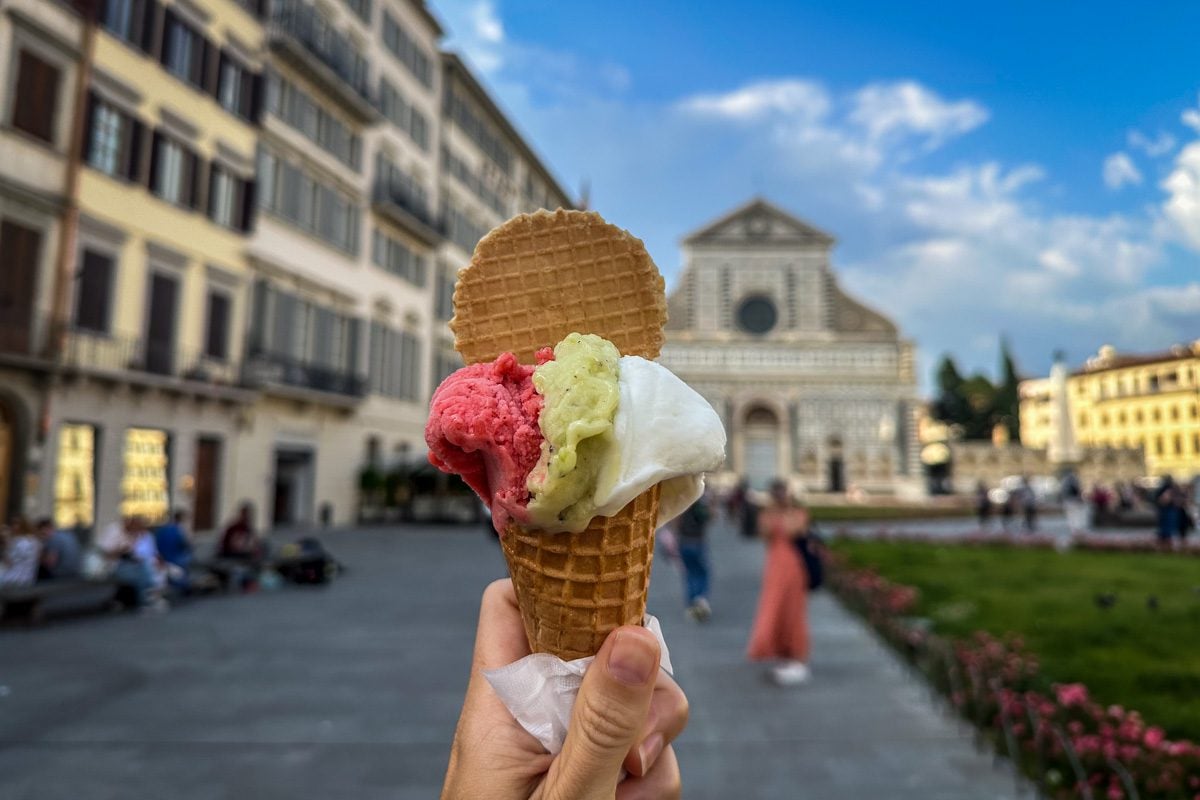 Unbeknownst to many, Florence is believed to be where gelato originally planted its sweet roots.
Although many different legends and characters take praise for its creation, one thing is for certain, you must have plenty of gelato while you're here.
Start at Vivoli, the oldest gelato shop in Florence, then use these tips to scour the city for the best scoops:
Look for an "artigianale" sign. Indicates the gelato is handmade using traditional recipes.
Natural ingredients and colors. Milk, sugar, and fruit flavoring is all you need for authentic gelato.
Served out of stainless steel wells. Don't let the piled high rainbows fool you, the best gelato is kept at the exact right temperature inside a freezer.
19. Try Florentine steak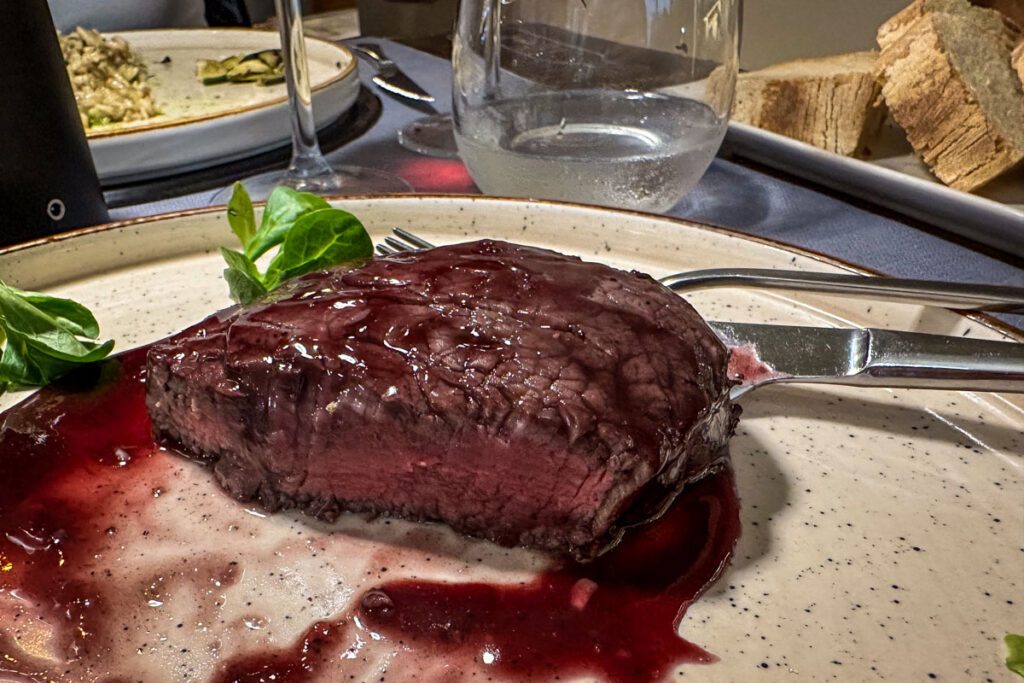 As a gastronomic jewel to Tuscan cuisine, cutting through a Florentine steak (Bistecca alla Fiorentina) is a meat-lover's dream.
Dry-aged and cut three fingers high, this bone-in cut of beef is perfectly grilled between blue and rare, and served on many menus throughout the city.
20. Take an Italian cooking class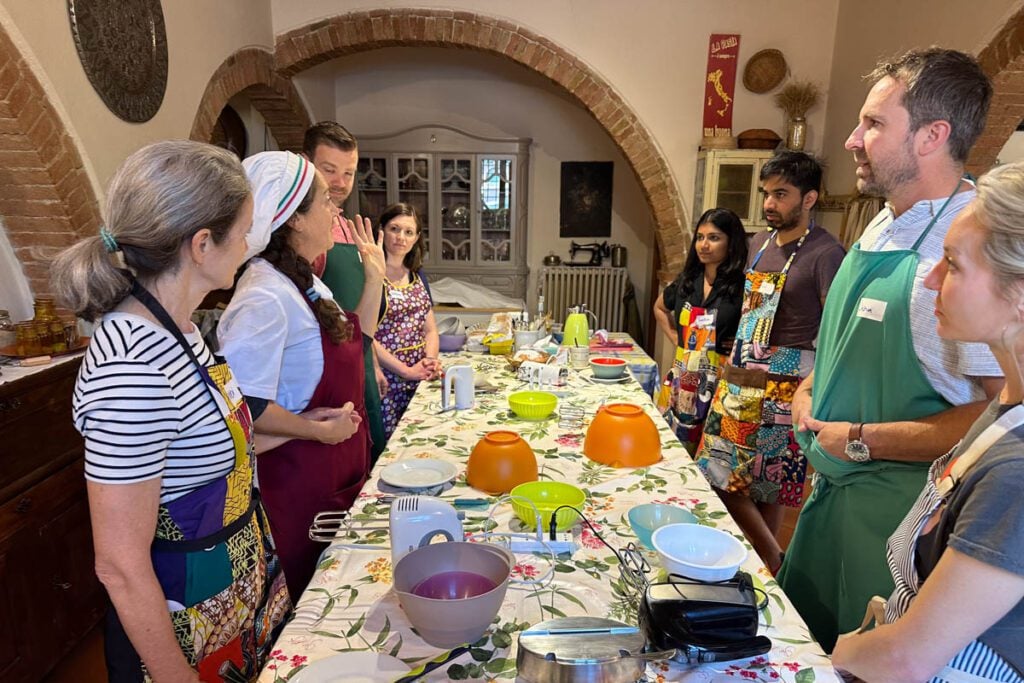 Perfect the art of Tuscan-style cooking on this Italian Food Market & Cooking Experience.
You'll join two famous local chefs at the market where they'll teach you how to shop like a true Italian. With their expert tips, you'll choose the highest-quality ingredients and bring everything back to their kitchens to cook up a feast.
Learn how to make bruschetta, fresh homemade pasta, and a seasonal main course paired with local Chianti wine.
What you need to know:
Hours: 5.5 hours
Price: $133.41 USD / person
What guests are saying
"This was simply amazing! Alice was so nice and thorough with her explanations. The food was so good and really better than some restaurants. Plus, the lunch really was appropriate and filling. The trip to the market was really nice and we appreciated the local tips on where to eat and shop. You should definitely do this activity." – GetYourGuide Traveler (May 2023)
21. Hit up a rooftop bar
Clinking glasses over a panoramic view of the city is easily one of the best things to do in Florence.
22. Go church-hopping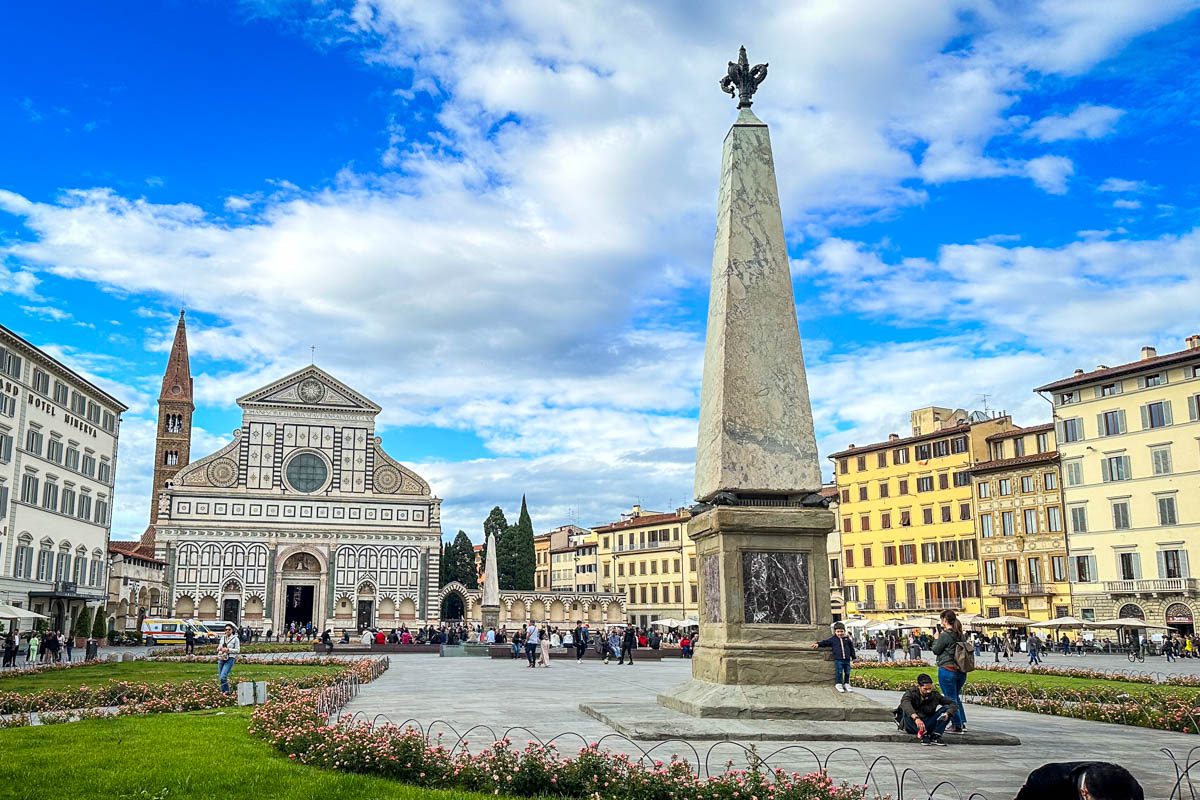 As Florence was the 'Cradle of the Renaissance' and Italy was once the center of the Roman Catholic Church, it should come as no surprise that the churches around the city are works of art, commissioned by some of the greatest artists of all time.
There are over 100 churches in the city of Florence, but here are a few notable ones worth checking out for the artistry and historical significance:
23. Visit the tombs of Michelangelo & Dante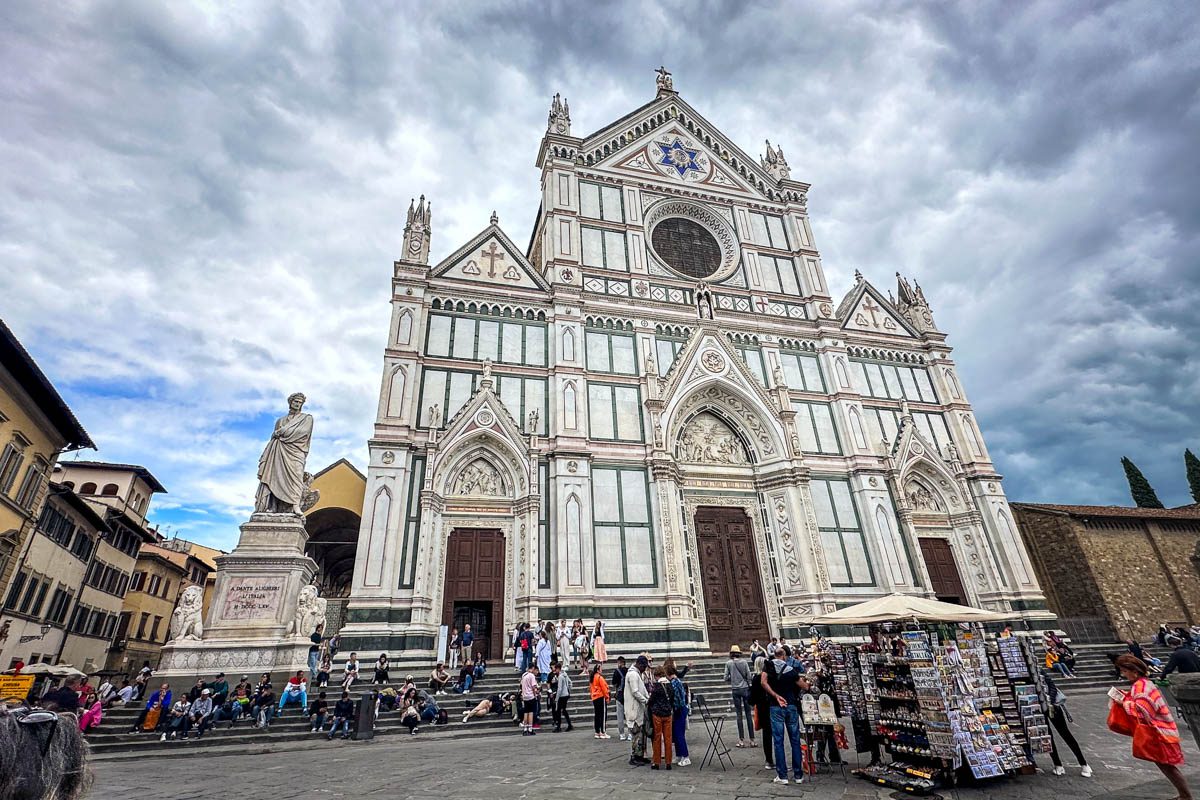 The 13th-century Basilica of Santa Croce is full of a wealth of artistry, including famous final resting places and 16 chapels decorated with murals and memorials.
World-famous sculptor Michelango, acclaimed poet and philosopher Dante, and Italian scientist, Galileo Galilei are just a few of the tombs this church pays homage to.
Hours: Monday – Saturday (use 9:30 a.m. to 5:30 p.m.), Sunday/holidays (2 p.m. to 5:30 p.m.)
Entrance fee: €8 ($8.95 USD)
Past the tombs, there are endless things to take in once inside the basilica. Join a Santa Croce Church Tour to learn about Florentine history and Italian masters as you wander around.
24. Discover the secrets of Parmigiano Reggiano
Just a short train ride away from Florence is both the birthplace of parmigiano reggiano and some of the only areas in the world that it is made.
On this Parmigiano Reggiano Experience in Reggio Emilia, you'll see how the famous cheese is produced from cow to wheel using thousand-year-old manufacturing processes. Plus you'll get to taste the richness of the final product.
What you need to know:
Hours: 4 hours
Price: $100 USD / person
What guests are saying
"We loved this Reggiano (that's right, we are big fans now!) tour with Claudio so much that we added the balsamic vinegar tour while on it! Claudio is one of the best guides we have ever met. He is warm, funny, deeply knowledgeable, and passionate about food, travel, and people. We learned so much and left with a newfound appreciation for these products we thought we'd understood before. Highly highly recommend — you won't regret it!" – Betsy, United States (April 2023)
25. Tour tuscany on a vintage vespa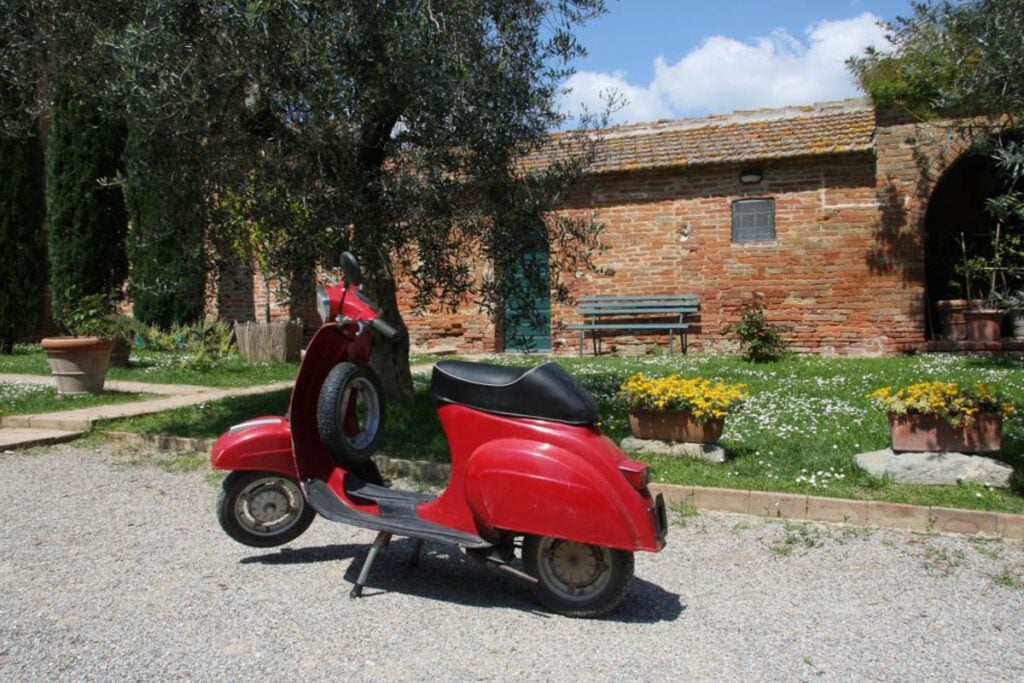 Do you (like me) have dreams of touring Italy on a Vespa? Pair these classic vintage rides with the Tuscan countryside and you have a match made in heaven!
On this Tuscan Countryside Tour, you'll whizz by castles, villas, and olive groves. Gazing out of a private terrace, you'll sip on a glass of Chianti wine with the region's best meats and cheese before returning back to Florence.
What you need to know:
Hours: 5 hours
Price: $164.43 USD / person
What guests are saying
"It was one of the highlights of my trip to Florence. The experience was absolutely amazing, and I would highly recommend it to anyone who loves adventure, beautiful scenery, and delicious food. The staff were incredibly helpful and knowledgeable – they made sure that everyone was comfortable on their Vespas and provided detailed instructions on how to operate them. […] The tour itself was absolutely breathtaking. We drove through beautiful countryside, taking in the stunning views of rolling hills, vineyards, and charming villages. […] The guides provided fascinating insights into the history and culture of the region. […] Overall, I would highly recommend this Tour to anyone visiting Florence." – GetYourGuide Traveler (May 2023)
26. Shop for leather goods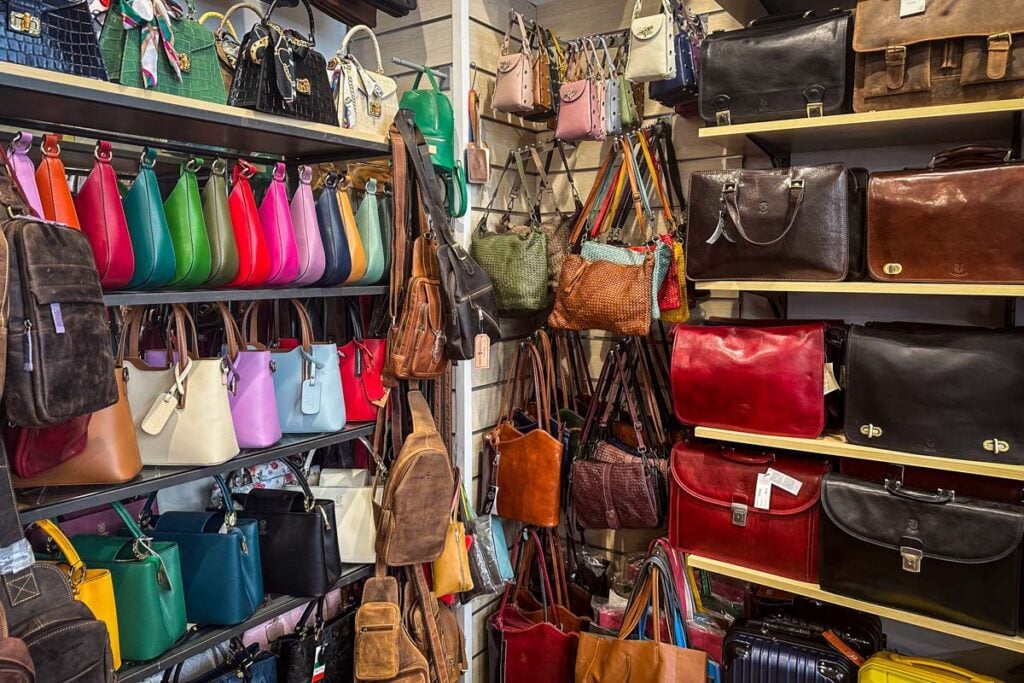 The techniques and dyes used to make leather goods in Florence over centuries coined it the finest leather in the country.
While that is still true, you'll find leather everywhere and it's hard to determine what is legitimate and what is mass-produced with a "Made in Italy" tag on it.
Luckily, there are a few shops in the city where you can find the good stuff to take back home with you, The Leather School at Santa Croce and Digerolamo, which both use traditional techniques.
27. Spot an ancient wine door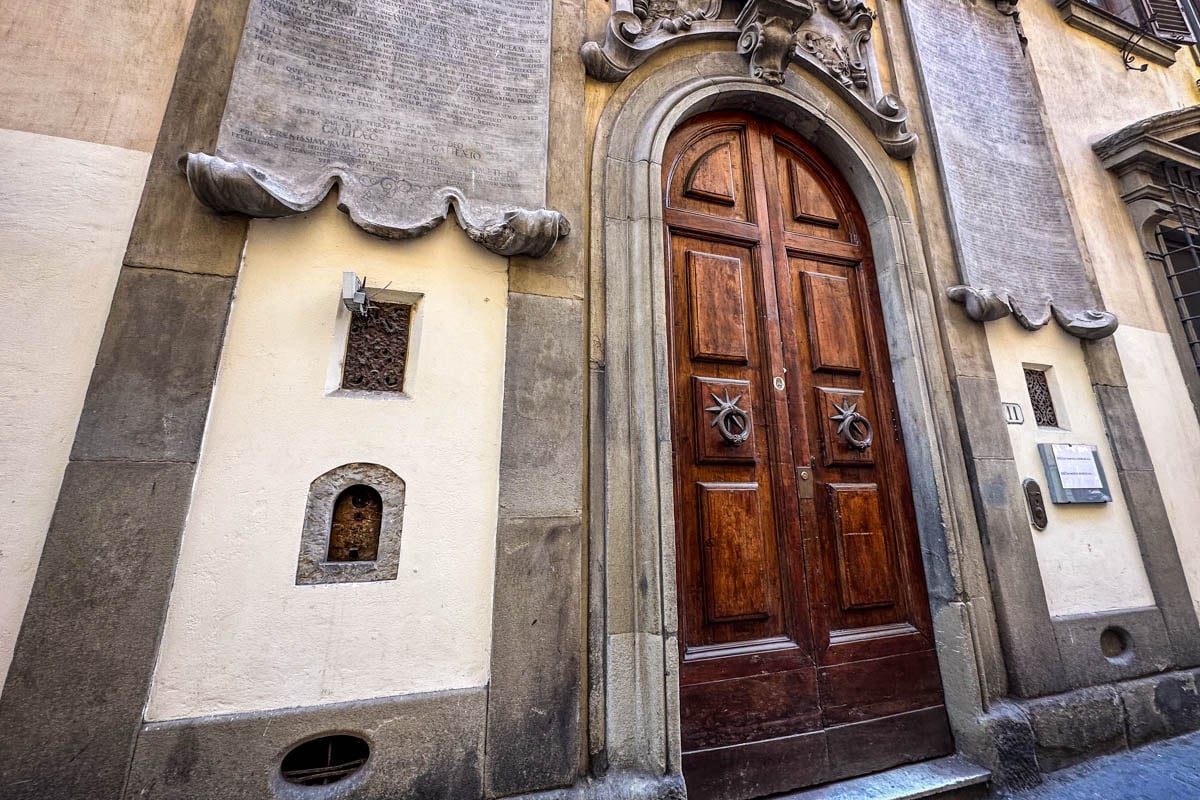 Wine doors are a concept almost entirely unique to Florence.
Back in the 1500s, nobles would use wine doors to sell their own wines as they weren't required to own a store or pay taxes. A few knocks on the small door, fitted into the side of the building, and you could purchase a bottle of wine or refill your own.
When a plague hit in the 1600s, their popularity took off as people wanted to reduce contact (much like what happened world-wide in 2020).
Today, there are a few of these ancient wine doors still in service as part of a restaurant:
Note: In my experience, I found the wine door service to require waiting in a long line just for the novelty of passing your glass of wine through the door and drinking on the street as opposed to being served inside at a table. While the concept is pretty neat, I decided not to wait in line.
28. Learn to make ceramic pottery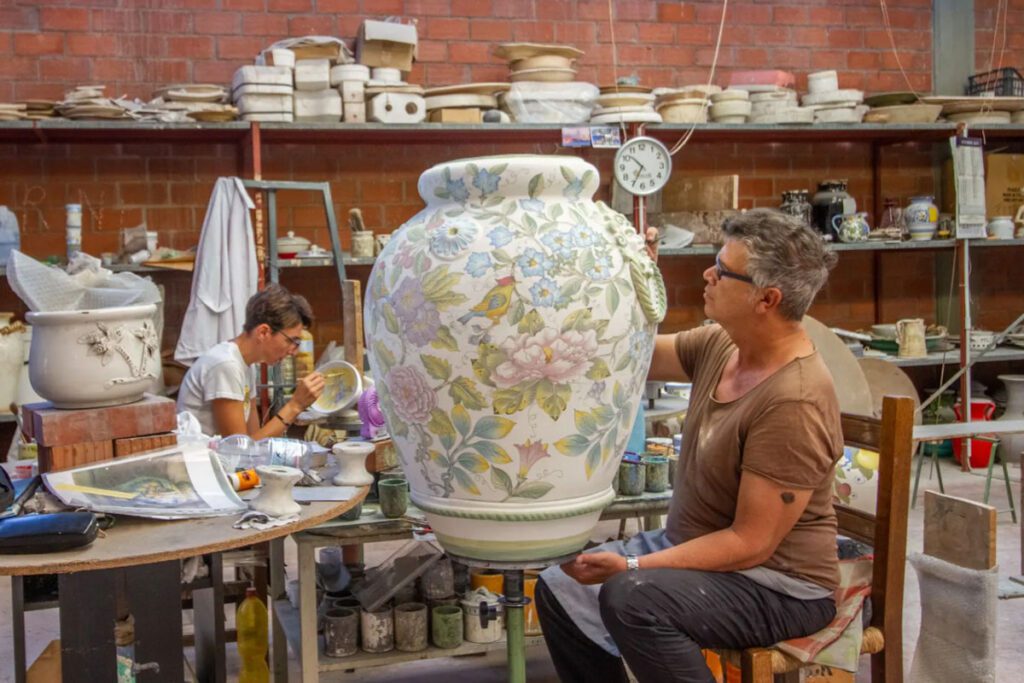 This Tuscan Ceramic Class is situated in a tiny village known around the world for its ceramic production. You'll learn the history and techniques from the master potters, then put your skills to use as you create your own authentic Italian ceramic piece.
What you need to know:
Hours: 2 hours
Price: $108 USD / person
What guests are saying
"Well worth the short train trip from Florence to meet a welcoming family that takes the time to share their history and generations of experience. It was an amazing opportunity to be right in the center of their handmade processes, where everyone you meet is excited to share and show their hard work, from the throwers to the painters. This expertise is begun to be passed onto you as you get your hands dirty and shape your own creation with the guidance from the family. Be sure to take time during your trip for this wonderful experience!" – Conor, Australia (January 2023)
29. Leonardo Interactive Museum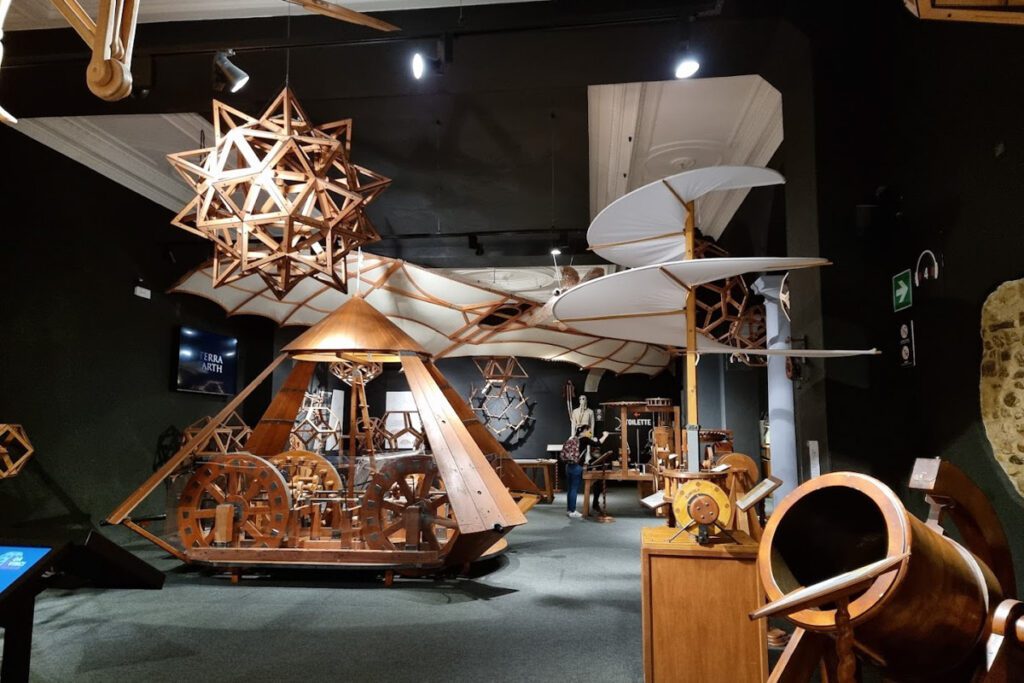 While Leonardo Da Vinci is almost exclusively attached to the Mona Lisa, not many know that he was just as incredible of an engineer as he was a painter.
At the Leonardo Interactive Museum, you can see the pages of the Da Vinci code brought to life to interact with his inventions, anatomical pages, and expert cartography in an entertaining way.
Hours: 9:30 a.m. to 7:30 p.m.
Entrance fee: €8 ($8.82 USD)
30. Go wine tasting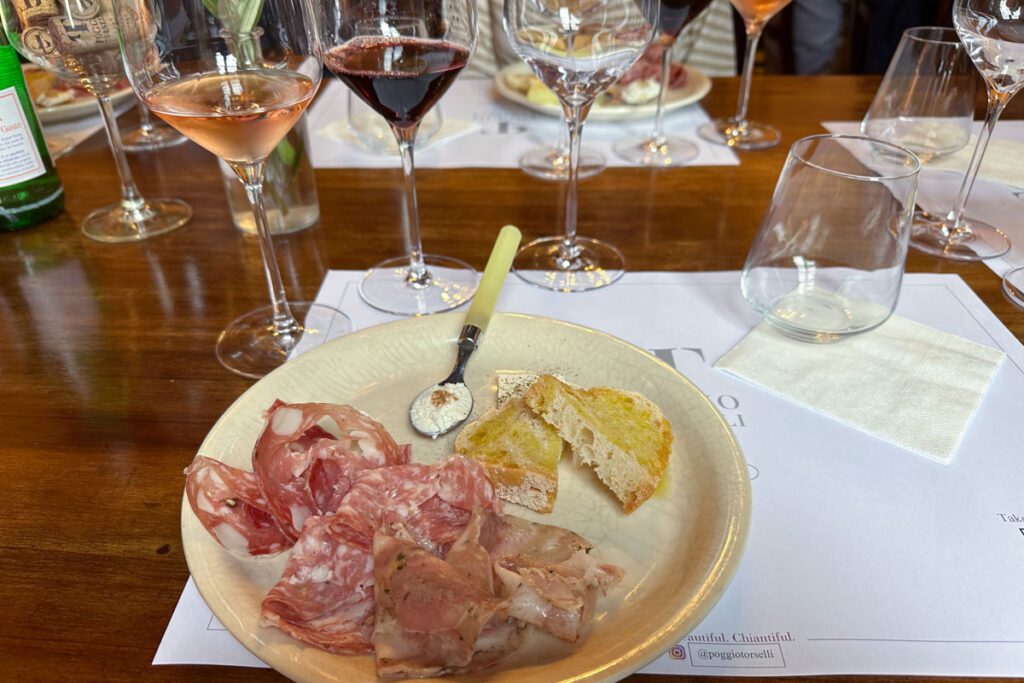 Florence sits beautifully among Tuscany's most treasured wineries, and while you can sample endless varieties during aperitivo or at a wine bar, nothing compares to a sip directly from the source.
On this Wine Tasting Tour to Tuscany, you'll visit 2 wineries in the heart of the acclaimed Chianti region and pair your tastings with local cheese, salami, bruschetta, and cold cuts.
What you need to know:
Hours: 4.5 hours
Price: $97.56 USD / person
What guests are saying
"We had a great time on our tour. At the first vineyard (Fattoria Montecchio) we had a short tour and description of their wine making process and then tried four wines (Chianti Classico, Chianti Classico Riserva, and two super tuscans, 2 cheeses, and 2 olive oils. At the second winery (Casa Emma) we tried four wines (one white, one rose, one Chianti Classico, and one super tuscan) along with a generous antipasti board with meats, cheeses, and an artichoke bruschetta. […] Both gorgeous vineyards and a great tour guide. I would recommend!" – GetYourGuide Traveler (May 2023)
31. Explore La Specola
Note: Most of this museum is closed until redevelopment is complete. However, the Anthropology and Ethnology, Geology and Paleontology, and Giardino dei Semplici Botanical Gardens are open.
La Specola is the oldest public museum in Florence that originally began as a private collection of the Medici Family.
After centuries of collection and preservation, it serves as a massive natural history museum with over 8 million specimens showcased through astronomy, mineralogy, botany, anthropology, and even zoology.
Hours: (Tuesday to Sunday) 9 a.m. to 5 p.m.
Entrance fee: €6 ($ 6.61 USD)
32. Scented candle making
The world of candle-making using decades old techniques will be revealed to you during this Scented Candle Making Experience.
Born right in the city, Luciano's family has been in the candle making business since 1866. Choosing from her wide variety of fragrances, you'll choose your favorite and she'll teach you how to melt it into wax to create the perfect smelling candle to take back home.
What you need to know:
Hours: 2 hours
Price: $76 USD / person
What guests are saying
"An amazing experience from start to finish! My family and I consider it one of the highlights of our trip. Luciano was so gracious, her home was so welcoming, and her knowledge was so impressive. I cannot recommend her more, and her assistant was also very helpful. I loved every moment!" – Susan, United States (April 2023)
33. Learn how to make gelato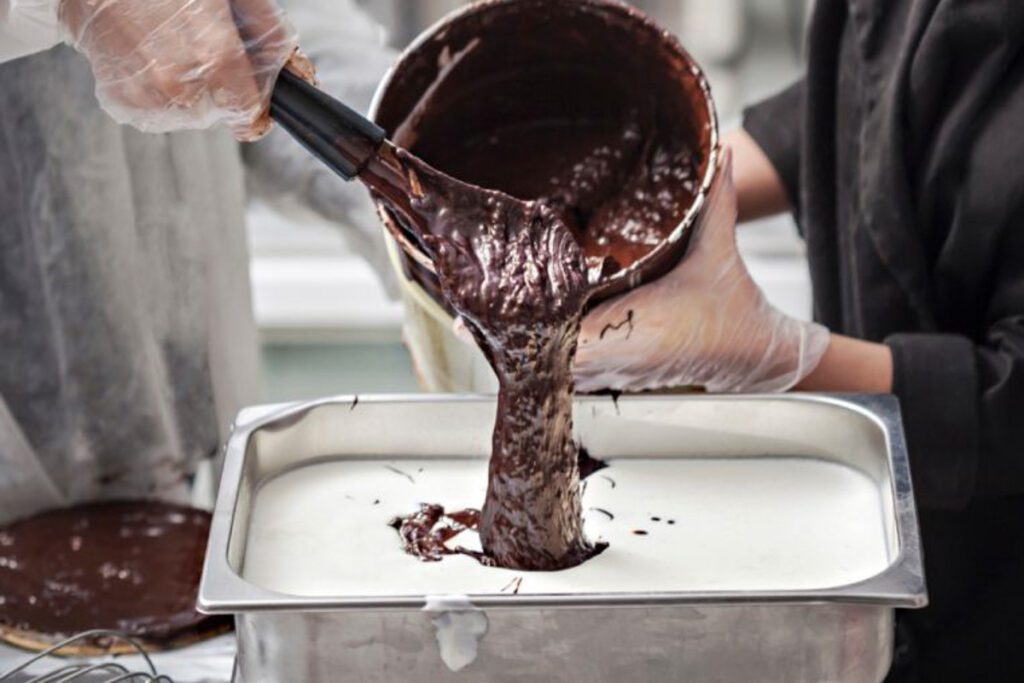 Right in one of Italy's oldest gelato academies, you can master the art of an artigianale scoop during this Gelato Making Class.
A local chef will teach you about the secrets, measurements, and techniques, then you'll put everything into practice to make gelato from scratch. The finale is learning how to serve your favorite flavor like a pro, and indulging in your finished product.
What you need to know:
Hours: 2.5 hours
Price: $82.21 USD / person
What guests are saying
"Amazing!! The absolute highlight of our visit to Florence. Vetulio was fantastic and the gelato and sorbet we made was the best we've ever tried. If visiting Florence, this activity is a must do!!!" – Alison, Australia (September 2022)
34. Visit the Gucci Gardens and museum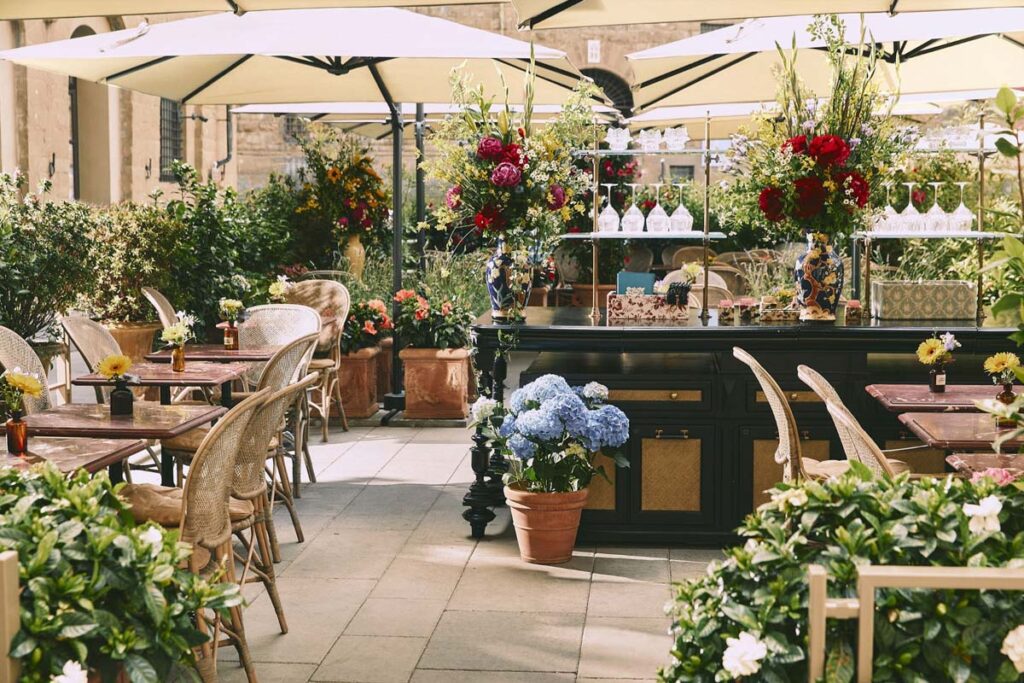 The Gucci Garden is a complex dedicated to the genius and vibrancy of the Gucci brand.
While the building itself blends right in with the city, once you step inside, you'll be transported through fashion history.
While inside, you can splurge on a Gucci piece at an official store, find something interesting in the bookshop, dine at the Gucci Osteria, or learn the story of Gucci all the way back to its first roots in Florence.
Florence's artistic roots seep into the city's fashion scene as its home to many of the world's most famous fashion brands, making it an interesting stop for fashion and art lovers.
Hours: 10 a.m. to 7 p.m.
Entrance fee: €8 ($8.82 USD)
35. Attend a Fiorentina football game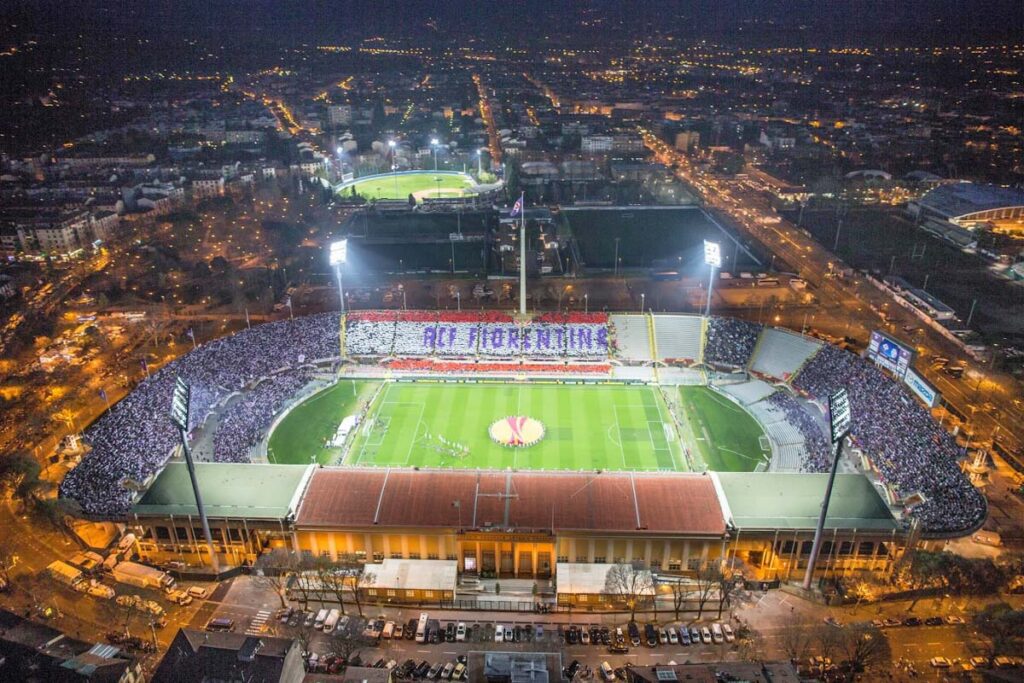 The roaring, purple-filled Artemio Franchi Stadium is a standing cultural pillar in Florence.
Attending a game and cheering on the football team will immerse you in the spirit of the city and be one of the most exhilarating experiences of your trip as chants, singing, and cheering echo through the stadium.
Grab your tickets for the soonest game at Fiorentina Point just near the stadium. Games generally run from August/September until the beginning of June, with a few breaks here or there for qualifiers.
Alternative option: Calcio Storico
Calcio Storico is a historical game that's been played in Florence since the 16th-century. It's a combination of soccer, rugby, and wrestling that makes for a very entertaining series of matches.
Florence's four historic districts each have a team that goes head to head in two semi-finals, then a final match on June 24th to decide who wins.
Tickets start selling the week before each game at the Box Office Toscana on via delle Vecchie Carceri.
---
How many days do you need in Florence?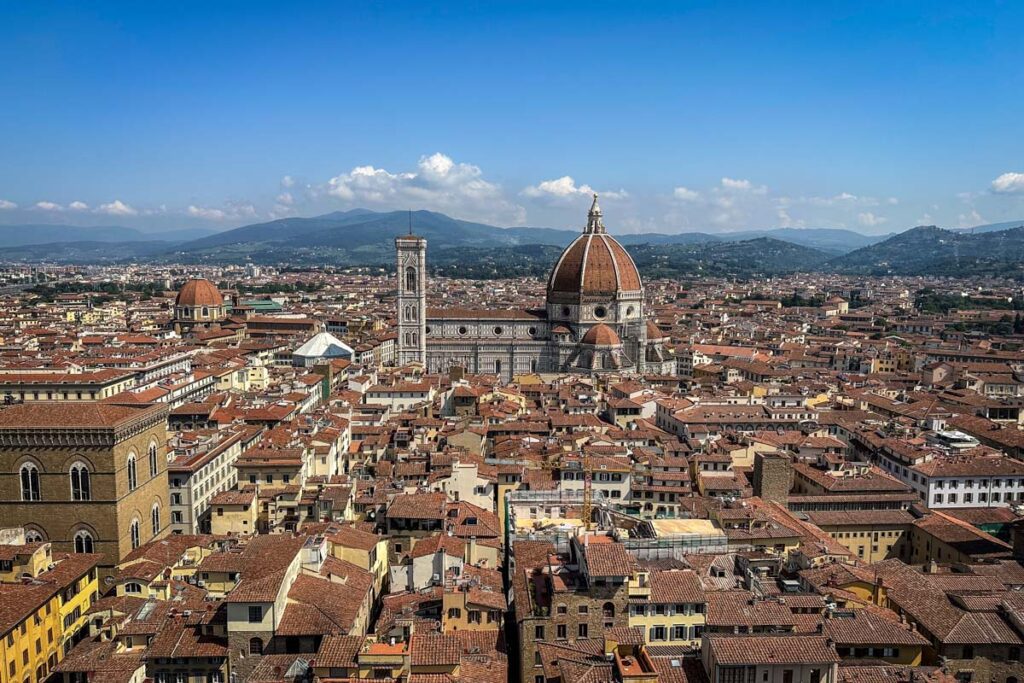 One organized day can be fulfilling for a visit, but I recommend three days as the minimum time to spend in Florence.
However, more time is always better in any destination, so here is what that could look like depending on how much time you have:
2 days: Florence Cathedral and Duomo Complex, Accademia Gallery, Uffizi Gallery, Palazzo Vecchio, sunset at Piazzale Michelangelo, and Mercato Centrale.
3 days: Days 1 & 2 plus Medici Chapels, Boboli Gardens, food tour, aperitivo on a rooftop bar, and more opportunities for shopping and dining.
4 days: Add a cooking class and wine tasting.
5+ days: Time for a day trip(s) around Tuscany.
Best time to visit Florence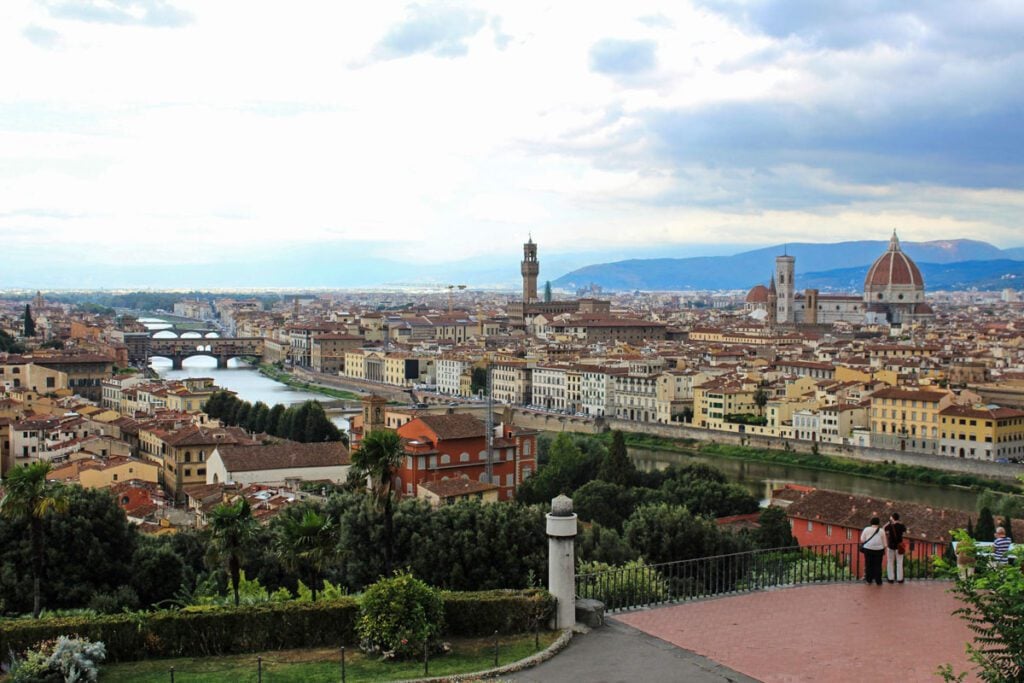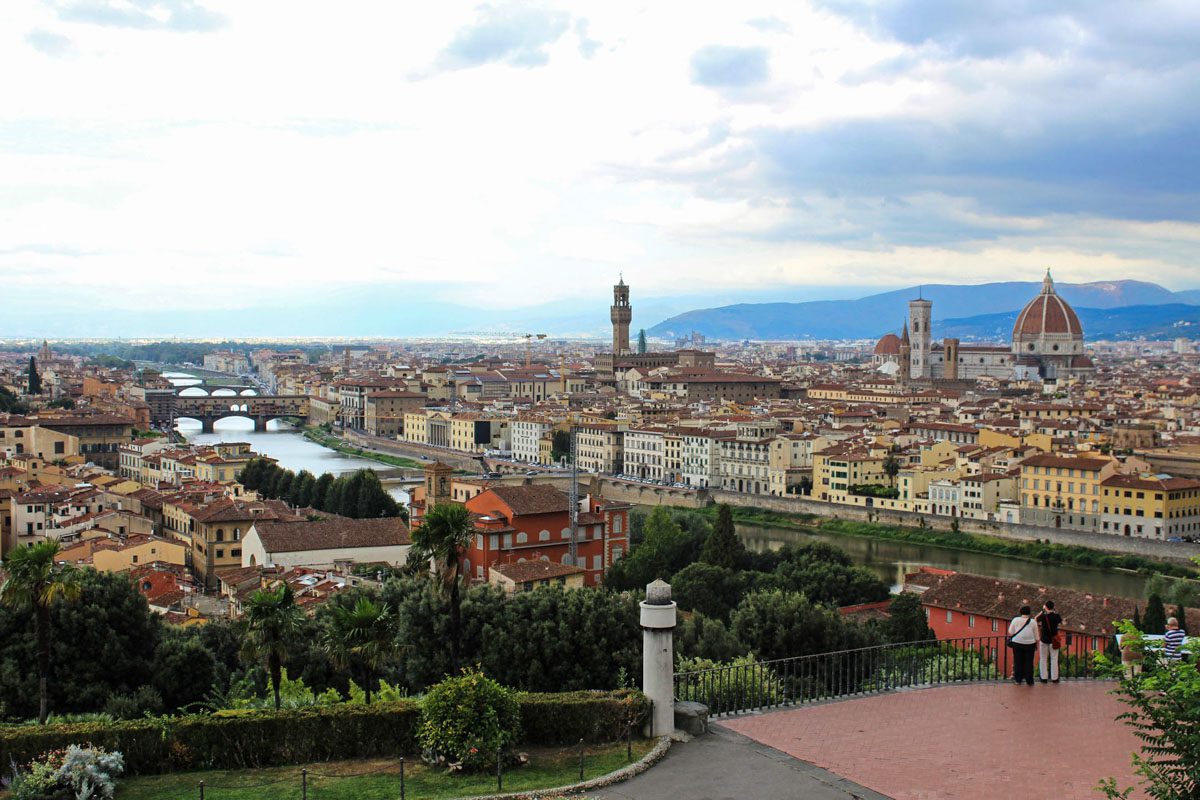 The best time to visit Florence is during the shoulder seasons from April to May and September to mid-October when the weather still feels like summer, but the prices are cheaper and crowds are more mellow.
The most popular time to visit Florence is June, July, and August, but note this is peak tourism season and you should expect high crowds and prices during this season.
We recommend avoiding this season altogether, but if you're not able to do that, adjust your expectations and plan everything well in advance.
You can absolutely visit Florence in the winter. You'll have the benefit of the fewest crowds and cheapest prices, but do know the weather and overall atmosphere may impact your trip.
Keep in mind, Florence is a university town where a lot of American coeds go to study. During the school year (fall and spring semesters), you're likely to run into tons of university students touring the city and surrounding areas.
Psst! Find out the best time to visit Italy based on seasonal weather patterns in each region and your personal travel style.
How to get to Florence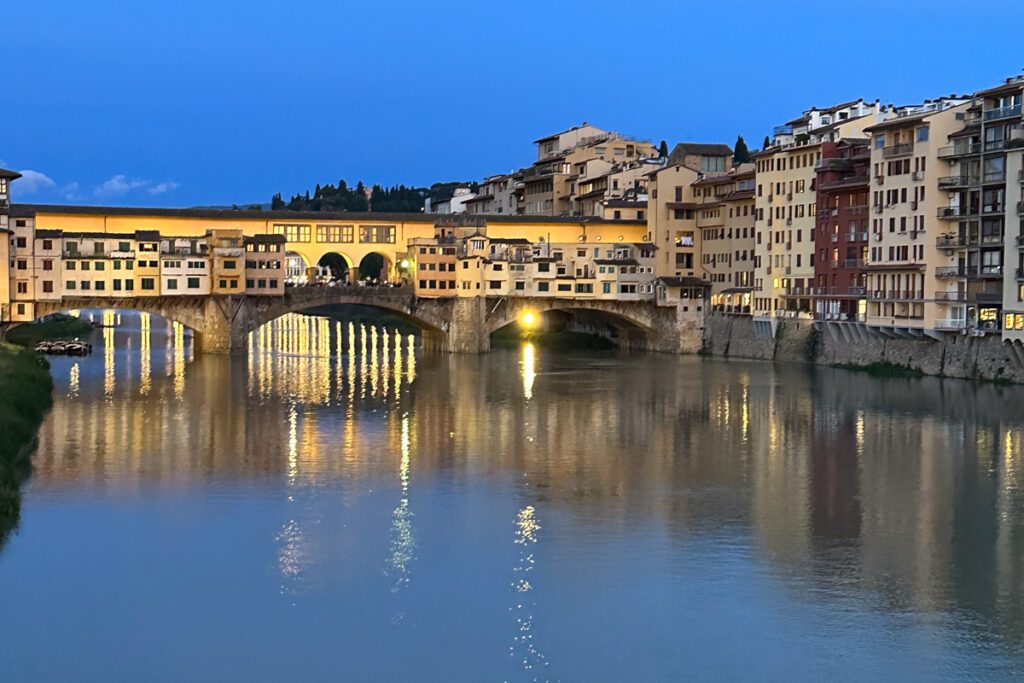 The best way to get to Florence from elsewhere in Italy, is by train. Here is a quick breakdown of the most popular routes. Book your train tickets via Trenitalia.
From Rome: 1 hour, 45 minutes
From Milan: 1 hour, 54 minutes
From Venice: 2 hours 13 minutes
Insider Tip: You can use the Trenitalia app to book your train tickets up to immediately before boarding. Just be sure you enter the train station names in Italian. The main station in central Florence is Santa Maria Novella, listed as 'Firenze S. M. Novella.' Rome is 'Roma – Termini,' Milan is 'Milano Centrale' and Venice is 'Venezia S. Lucia.'
We've covered all the details for traveling from Rome to Florence, plus helpful tips and FAQs about the journey.
If you are coming from outside the country, flying directly into the Florence International Airport (FLR) is an option.
Otherwise you can fly into the Pisa International Airport (PSA), which is 88.1 km (54.7 miles) west of Florence and just under an hour on the high speed train. Follow the directions our transportation guide for Florence to Pisa to find out how to travel between the two cities.
How to get to Florence city center from the airport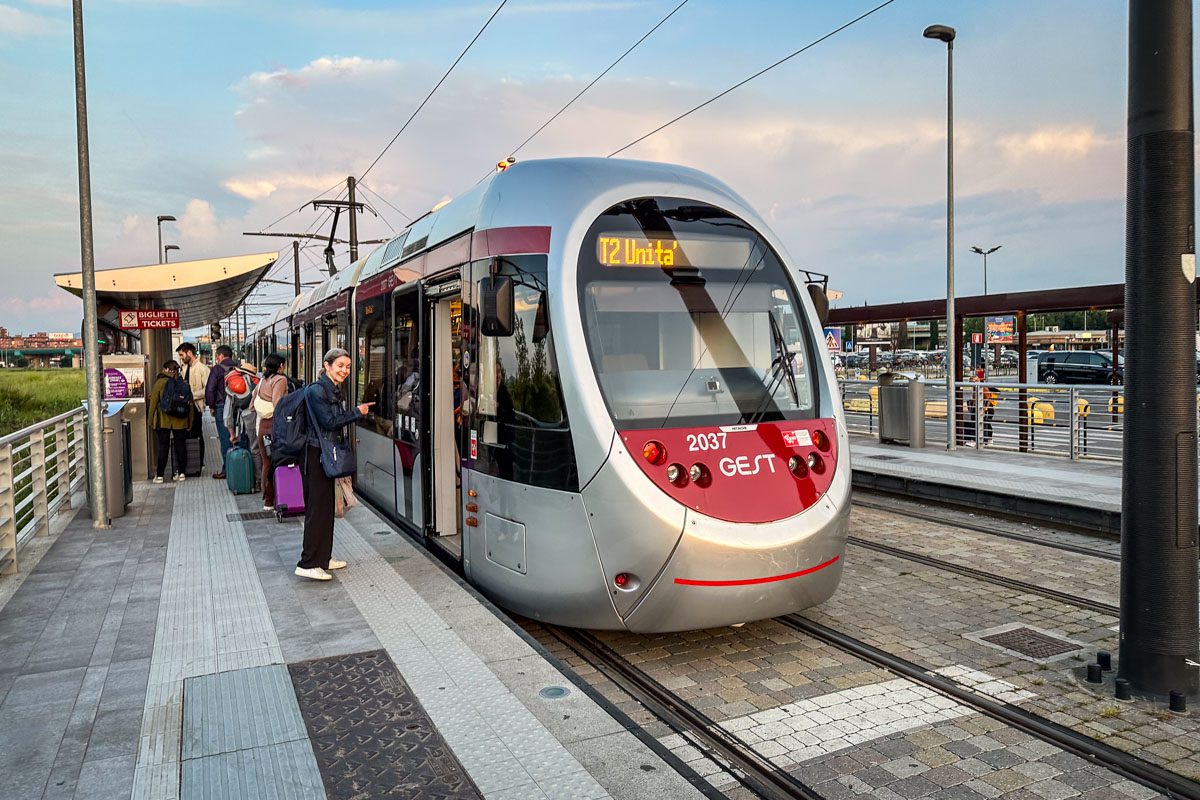 There is a tram that runs from the Florence Airport into the city center (drop offs near SMN train station). You can purchase tickets at the machines right on the platform. The tickets are just €1.50, whereas a taxi ride into the city center will cost you about €25, give or take.
Transportation in Florence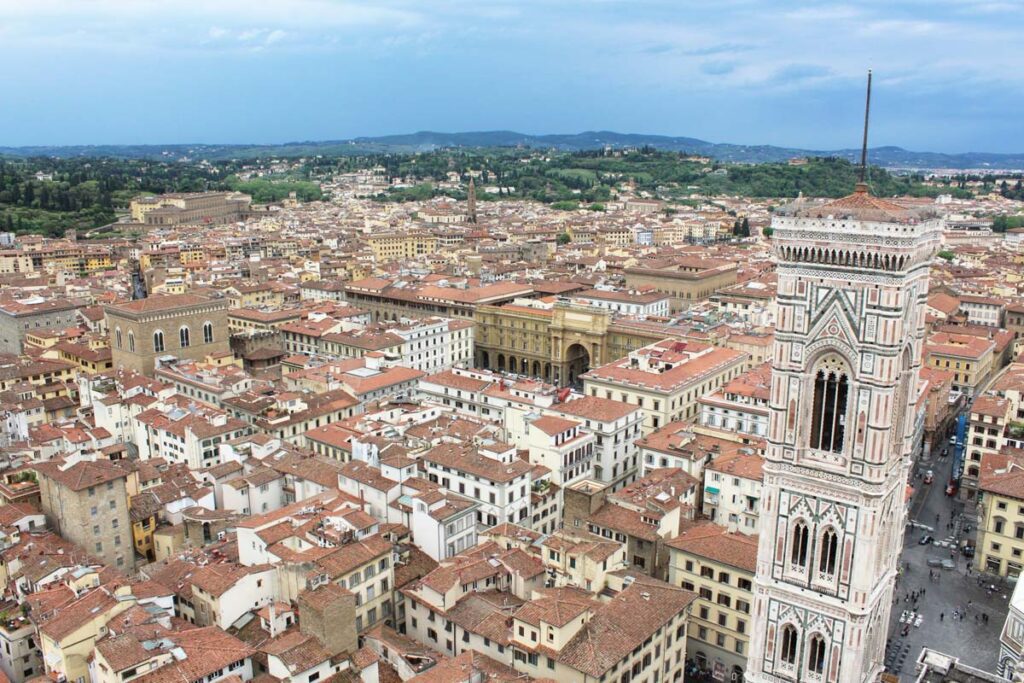 Florence is a small city. In fact, walking is the best way to get around since you can get from one side of the city to the other in about 30-minutes.
However, the city has excellent public bus routes you can use. Purchase tickets before you board the bus at shops around town with an "Autolinee Toscane" sticker in the window, at the counter at the Santa Maria Novella train station, or using the Tabnet App.
You can purchase tickets as a single-ride 90-minute ticket for €1-2 or multiple ride tickets for around €14 ($15.43 USD).
There are two trams that run through Florence, T1 and T2. They use the same tickets as the bus and you can purchase them at the tram station before you board.
T1: East to west, Scandicci to the Santa Maria Novella train station, and recently extends to the Careggi teaching hospital.
T2: North to south, Santa Maria Novella Train Station to the airport.
Taxis are a comfortable, but expensive way to get across town. You can find them at taxi stands in the main tourist areas. Uber is extremely limited, if available at all in Florence.
Tips for visiting Florence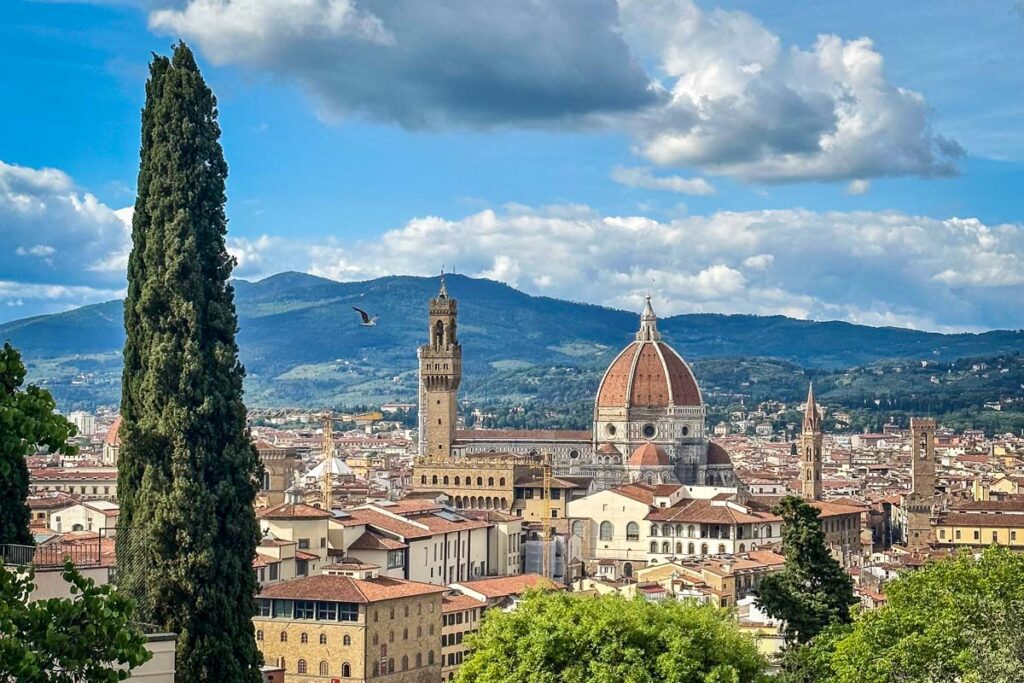 Use these tips for visiting Florence when planning your trip and after you arrive for a more seamless visit.
Florence is known locally as "Firenze". Something to note when purchasing tickets or getting directions.
Purchase entry tickets in advance. If you're budget allows, grab a skip the line while you're at it. The wait to get in most major sites can take hours otherwise.
Start your day early to beat the crowds.
Cover up when visiting churches. No bare shoulders or midriffs, bottoms should reach past your knees. These rules aren't heavily enforced, but it is a good thing to keep in mind and be respectful of the religious institutions.
Currency exchange will charge a conversion fee. It's best to get cash from ATMs and always decline the conversion rate (this means your bank will give you the best conversion rate for the day of the transaction).
Pick-pocketing is common in Italy. Leave your valuables at home and always keep track of your belongings. Be mindful of your bag if wearing a backpack and don't leave your purse hanging on the side of your chair while dining on the sidewalk.
Arrive with a plan and accept you won't see everything. Nearly everything requires a ticket to get in, so to get the most out of your time in Florence you need to be strategic with how and where you spend your time. When planning, make a list of absolute must-sees.
The Florence Pass vs. Firenze Card: Which is better and are they worth it?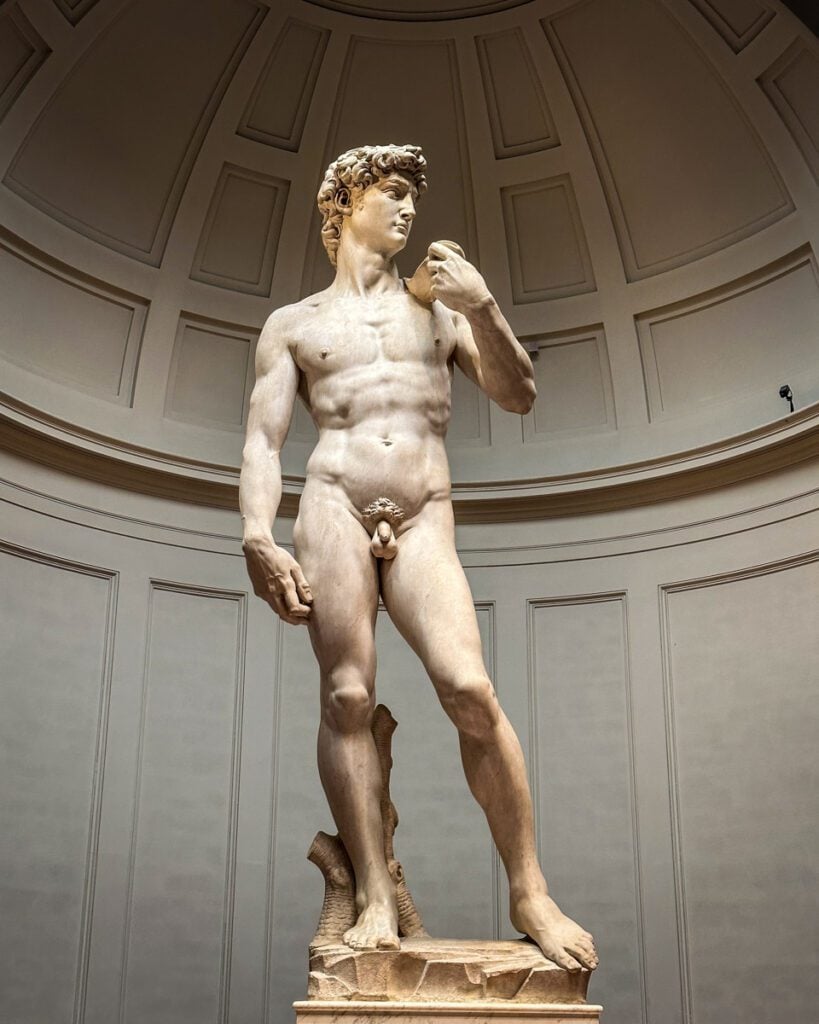 During your trip, you're going to visit a ton of attractions, many of which require separate entry tickets.
To save time and money, it's worth looking into the city's two main passes, the Florence Pass or the Firenze Card. With both of these passes, you pay a flat fee and get all your tickets in one swoop.
They each come with pros, cons, and their own list of attractions, so I've broken them down below so you can decide which, if any, is the best option for your trip.
The Florence Pass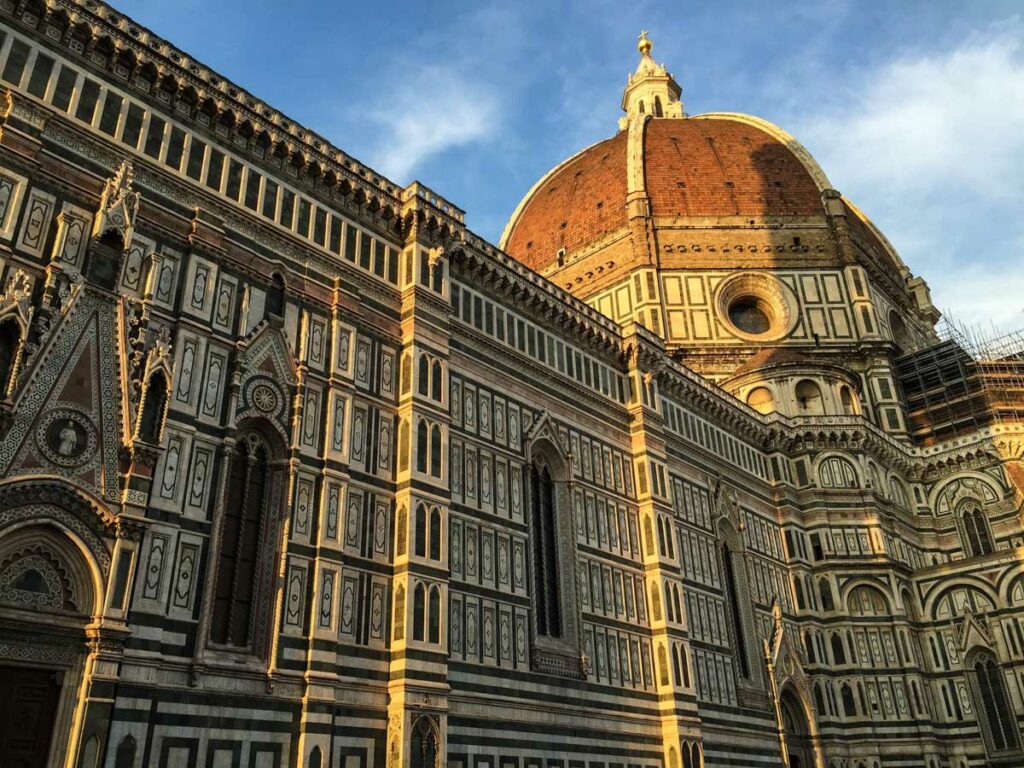 The Florence Pass gets you into a handful of the most popular attractions in Florence.
Cost: €115 ($126.92 USD)
Includes: Priority access to the Uffizi Museum, Accademia Gallery, Brunelleschi's Dome (Il Duomo). Plus entry tickets to Giotto's Bell Tower, Baptistery, Opera del Duomo Museum, and Santa Reparata.
Is it worth it? All the sites included with the Florence Pass are in this list of things to do in Florence. Consider the cost of what you do want to see and compare to the cost of the pass.
It's also worth comparing the cost of the Brunelleschi Pass and Uffizi + Accademia Museum Pass as it's the same bundle.
Pros
All tickets are digital.
Travel at your own pace by selecting your own visit dates/times for each site.
Saves a ton of money if you plan on visiting the majority of included sites.
Ideal for longer visits in the city since you can spread out your reservation dates.
10% discount on other attractions.
Cons
Only includes the main attractions.
Firenze Card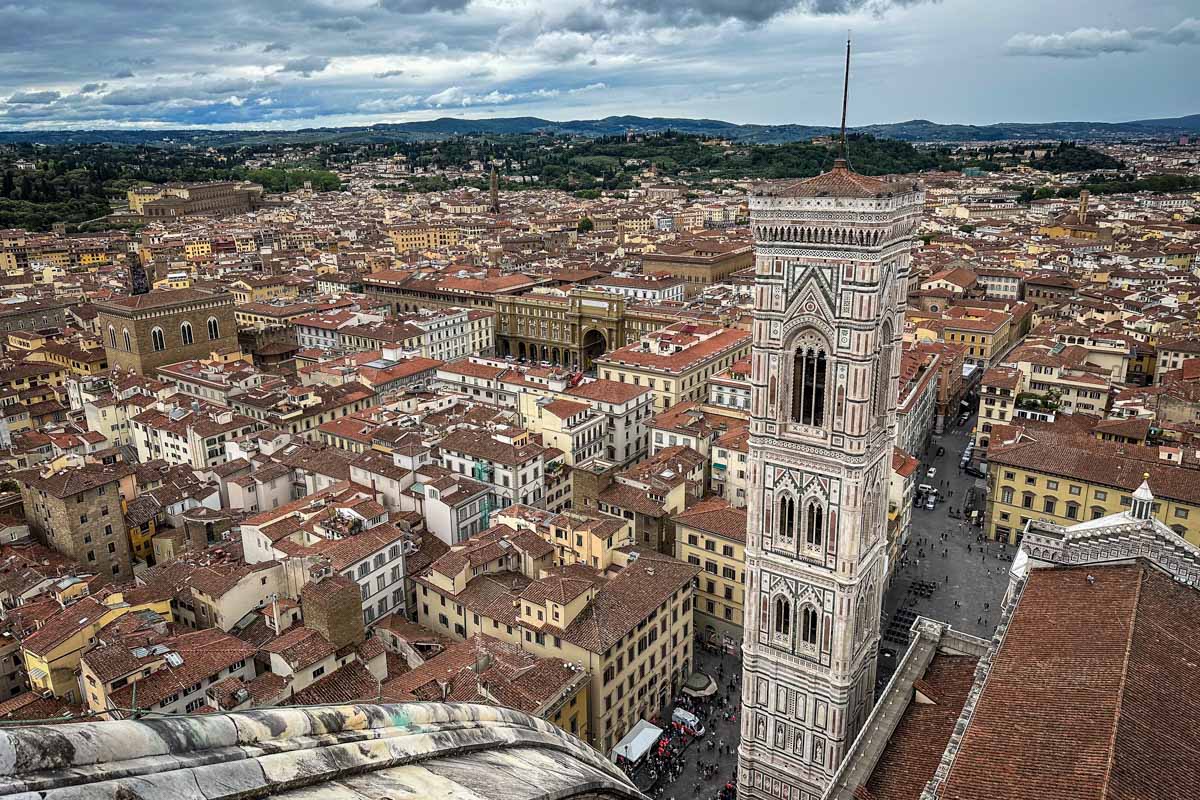 The Firenze Card is the official museum pass of Florence where you can spend a fixed rate and get access to dozens of museums around the city.
Cost: €85 ($93.72 USD)
Includes: Tickets to more than 60 museums, palaces, and cultural sites. See full list
Is it worth it? Overall, whether or not the Firenze Card is right for you requires you to crunch some numbers and compare the prices/capability of visiting all the museums you want.
It may not be right for you if you're only in Florence for a day or two and plan on only hitting the main museums, however you may find it saves you money if you're traveling with a family, in Florence for at least 3 days, or visiting many smaller museums.
Pros
Can be worth it if you want to visit numerous museums and palaces since many smaller museums are included in the cost.
Card is digital or physical.
Children up to 18 get in free with the cardholder.
Cons
It doesn't include priority access, so you'll need to arrange reservations over the phone for the big galleries like Uffizi and Accademia.
It is only valid for 72 hours. However, you can add an additional 48 hours with FirenzeRestart.
Alternative: Uffizi + Accademia Museum Pass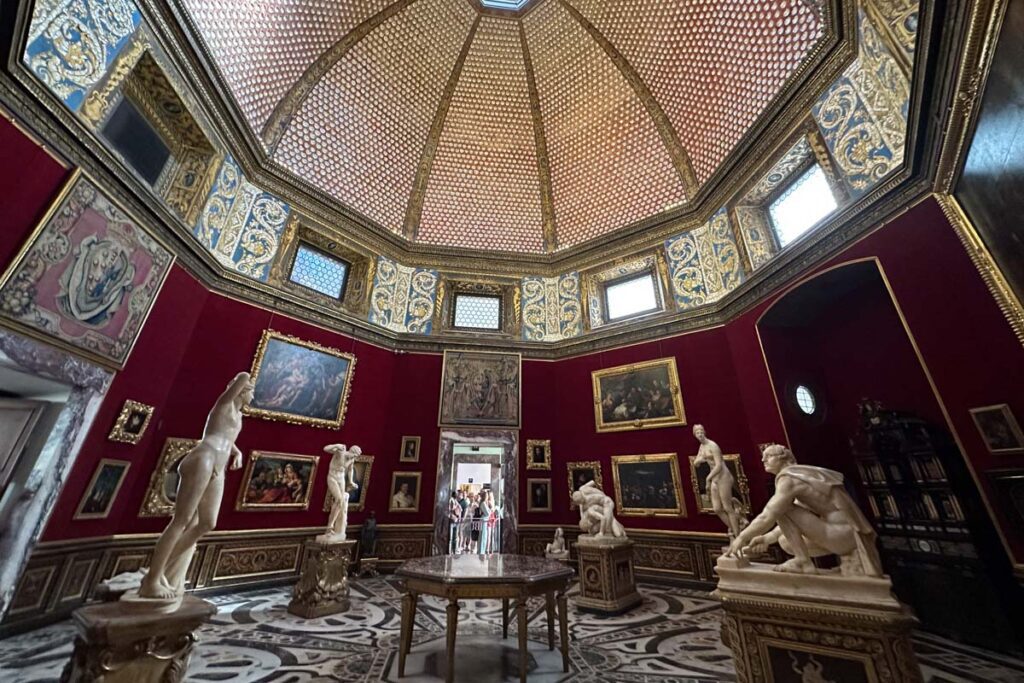 This pass only includes the two biggest museums in Florence, Uffizi and Accademia.
For each place you can select your own date and time slot for priority entrance. Plus, you'll save a few euros buying them both together.
This is great as a standalone pass if you're only in Florence for a short time and are okay with visiting both galleries in one day. Otherwise, consider the other two passes as they already include entry to both of these places and offer more flexibility.
Cost: €59 ($65.05 USD)
Includes: Priority access to the Uffizi Gallery and Accademia Museum.
Where to eat in Florence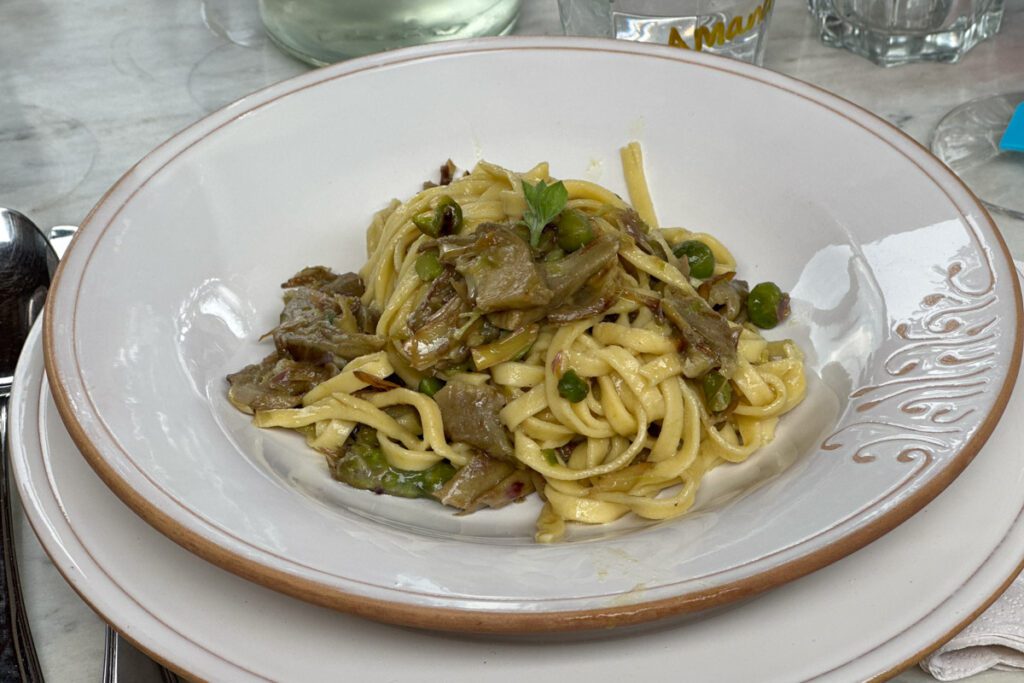 From gourmet Tuscan cuisine to pizza by the slice, there are endless places to dine in the Tuscan capital. Here are some acclaimed spots to get you started:
Where to stay in Florence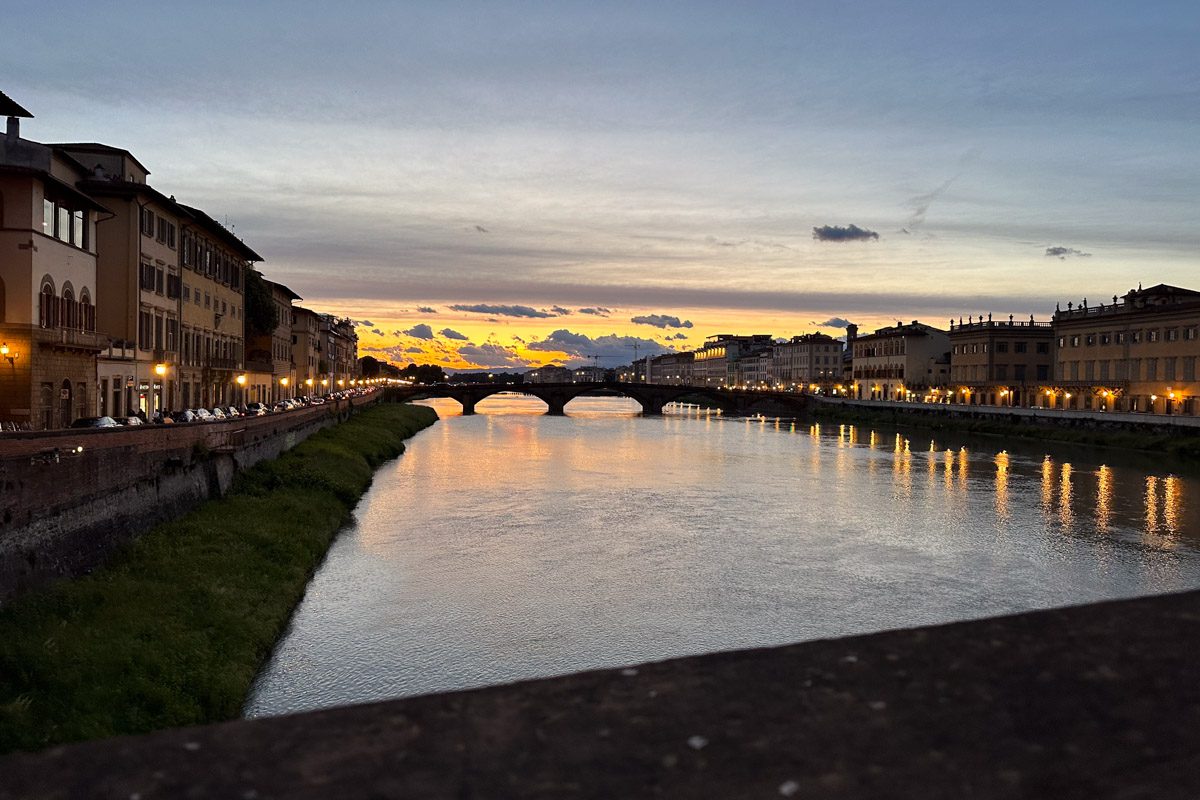 Florence is not a huge city, so all of the neighborhoods are just a short walk away from all the hubs. Each has its own flare and draw, so I've broken them down below:
Duomo (City Center): The modern and cosmopolitan center of Florence with all the top attractions, hip cafe culture, and shopping.
Santa Maria Novella: Riverside neighborhood with budget accommodation options, boutique shopping, historic sites, and fantastic drinks/dining.
San Marco: Just northeast of the city center is a nice escape from crowds in an artistic and academic neighborhood.
San Lorenzo: A stone's throw north from the city center is an unpolished neighborhood with the best markets and traditional Tuscan food.
Santa Croce: This is the hub of Florence's food and drink culture with limited accommodation, but worth the hunt to stay in this cool area.
San Frediano/Santo Spirito: Two lively neighborhoods on the other side of the Arno River with a genuine Florence feel. Find unique, vintage, and artisan goods as well as craft food and drinks.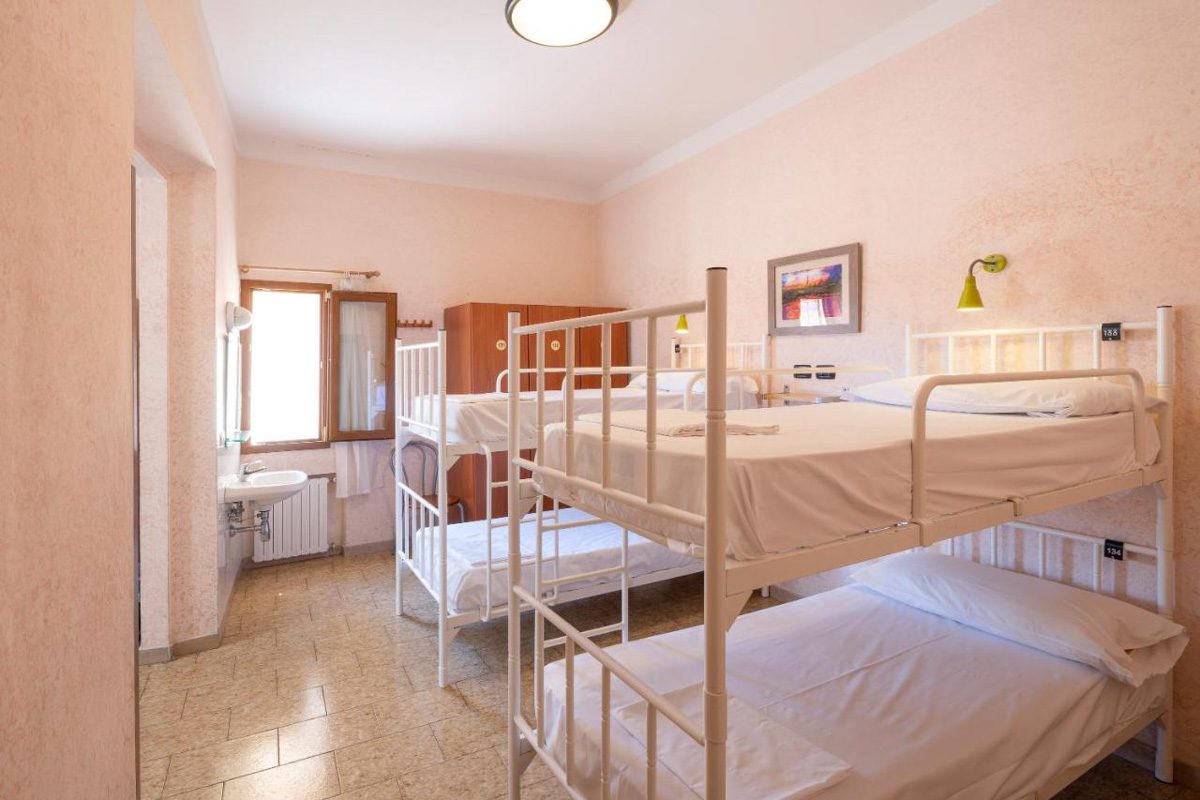 Situated in the historic city center, this hostel is close to all the main attractions in the city, including the main train station. There are private and shared rooms, an outdoor garden patio, washer and dryer facilities, free coffee, cafeteria, and clean rooms.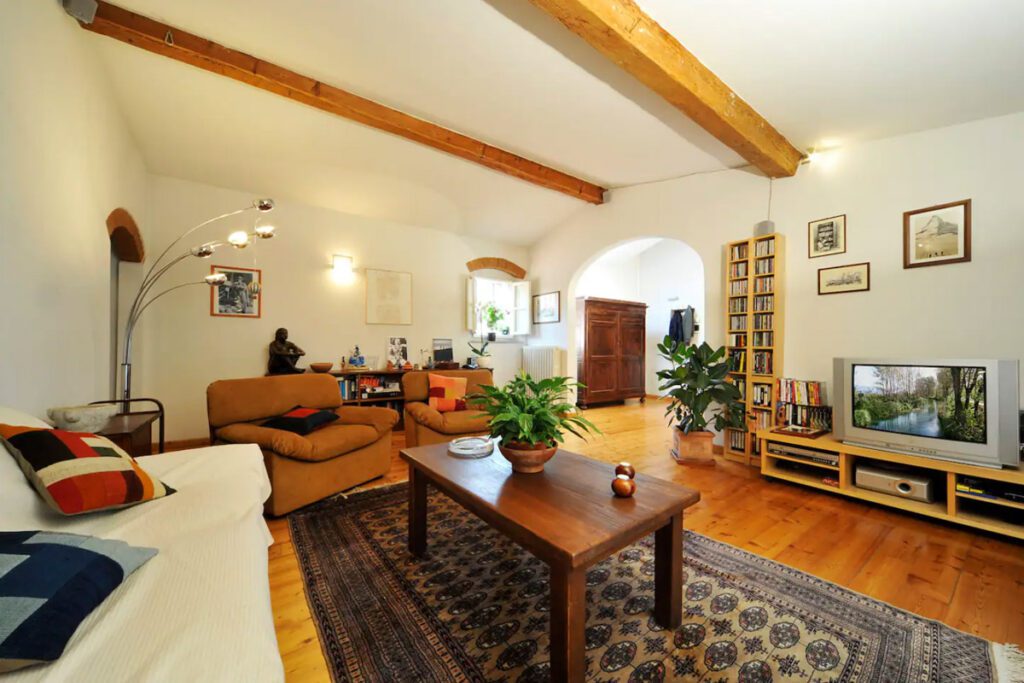 This cozy one bedroom apartment offers all the comforts of home, including wifi and A/C. Conveniently situated in the heart of historical Florence, you'll be within walking distance of all the major attractions.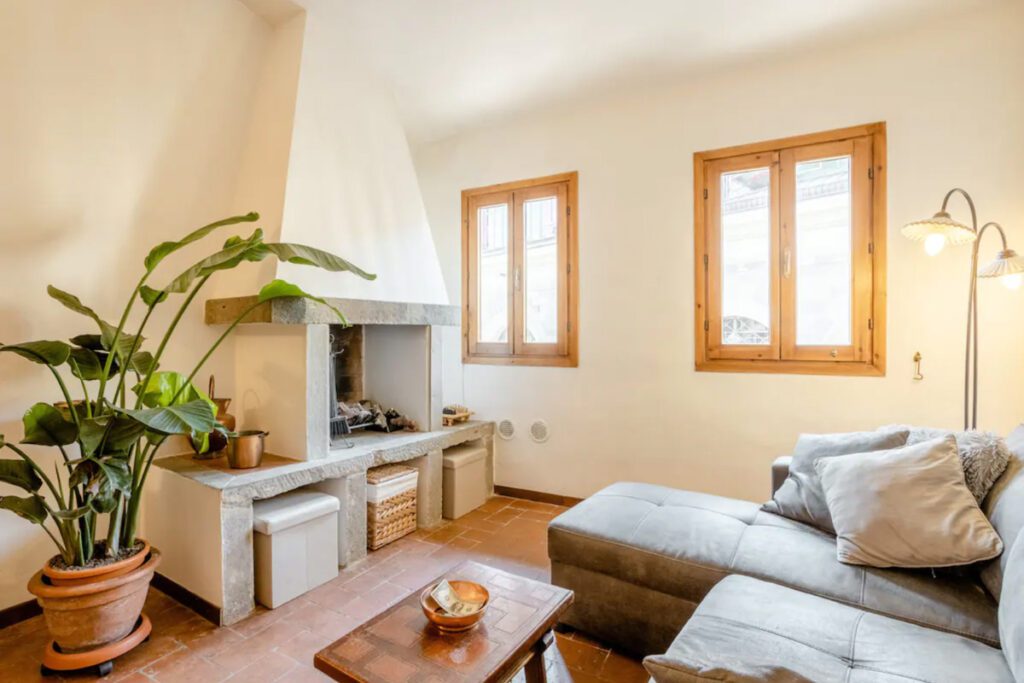 A charming and modern 2-bedroom apartment overlooking Mercato Centrale. The beds are extra comfy, the kitchen is fully-equipped, and it's close to all the action in the city center.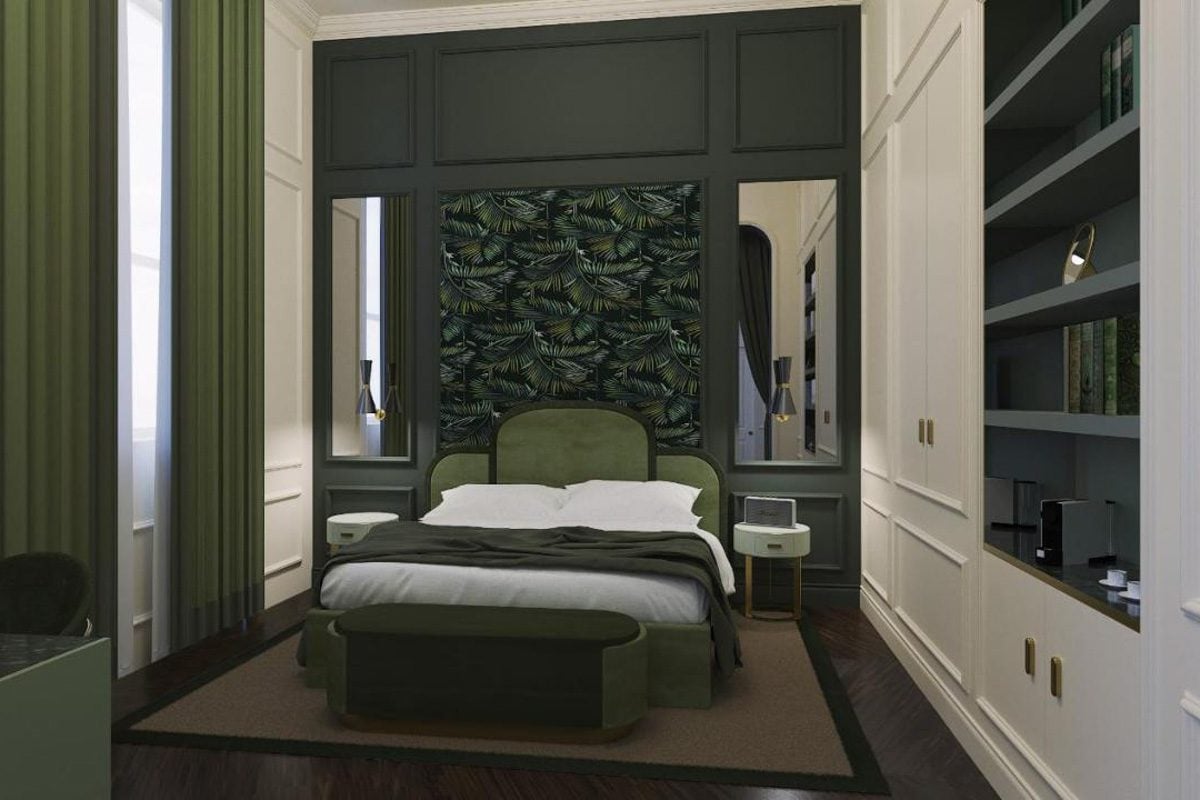 In the heart of the city center, this unique and contemporary boutique hotel has all the comforts and amenities needed for a memorable experience. The 5 star accommodation features a terrace, restaurant and lounge, plus air conditioned rooms in a stunningly designed space.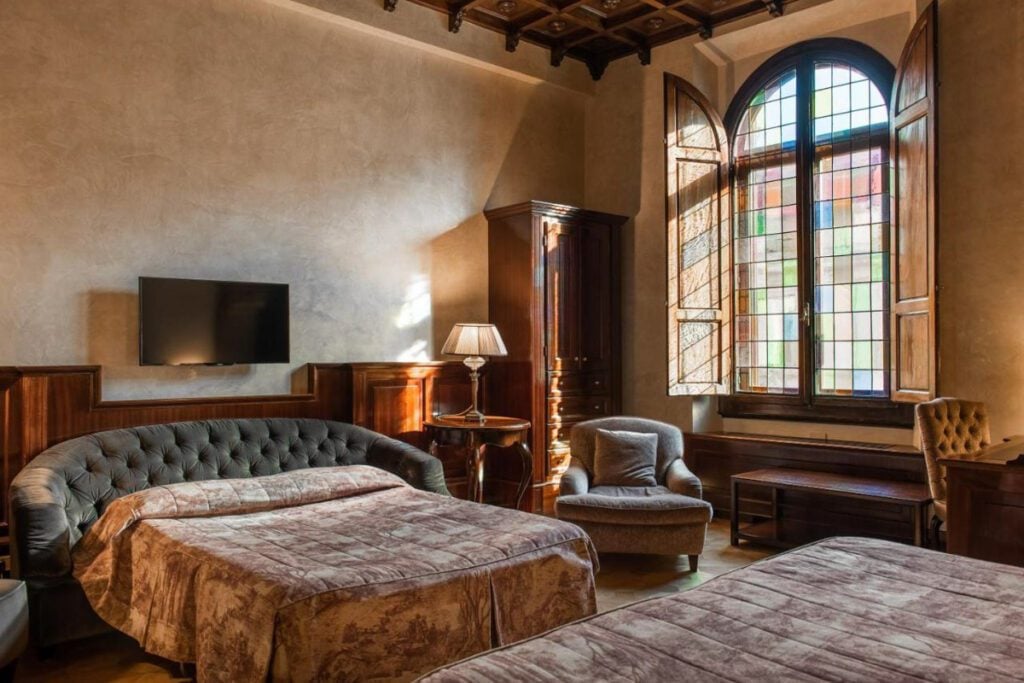 This luxurious hotel is conveniently located just across the street from the train station within the history center. Elegant rooms, a breakfast buffet, rooftop garden, and free Wifi are steps away from all the best restaurants and attractions of Florence.
What to pack for traveling to Florence
Pack these essentials to have a comfortable time exploring this epic list of things to do in Florence.
Day bag
Sun protection: sunglasses, hat, and sunscreen
Bug spray
Comfortable walking shoes
Light shawl or scarf (for religious buildings)
Camera (this is our favorite portable tripod for travel!)
Be sure to download our complete packing list for Italy! It's packed with good suggestions and insider tips to help plan your Italy trip. And it's completely FREE, so why not!?
Round up of the best things to do in Florence
Here's a recap of all the best things to do in Florence so you can see everything in one place.
Ponte Vecchio
Il Duomo
Giotto's Bell Tower
Piazzale Michelangelo
The David
Food tour
Galleria de Uffizi
Day trip in Tuscany
Boboli Gardens
Medici Chapels
Eat all the pasta
Afternoon Aperitivo
Free walking tour
Arnolfo Tower
Piazza della Signoria
Mercato Centrale
San Lorenzo Market
Find the best gelato
Eat Florentine steak
Italian cooking class
Rooftop bars
Church-hopping
Tombs of Michelangelo & Dante
Learn about Parmigiano Reggiano
Tour tuscany on a vintage vespa
Shop for leather goods
Spot an ancient wine door
Pottery making
Leonardo Interactive Museum
Wine tasting
Explore La Specola
Scented candle making
Learn how to make gelato
Gucci Gardens and Museum
Fiorentina football game
---
Are you planning a trip to Italy?
We have lots of resources on travel in Italy and destinations throughout the country. Check out our Italy Homepage for everything you need to know, or start by reading some of our favorite Italy articles here:
Save this article on Pinterest for later!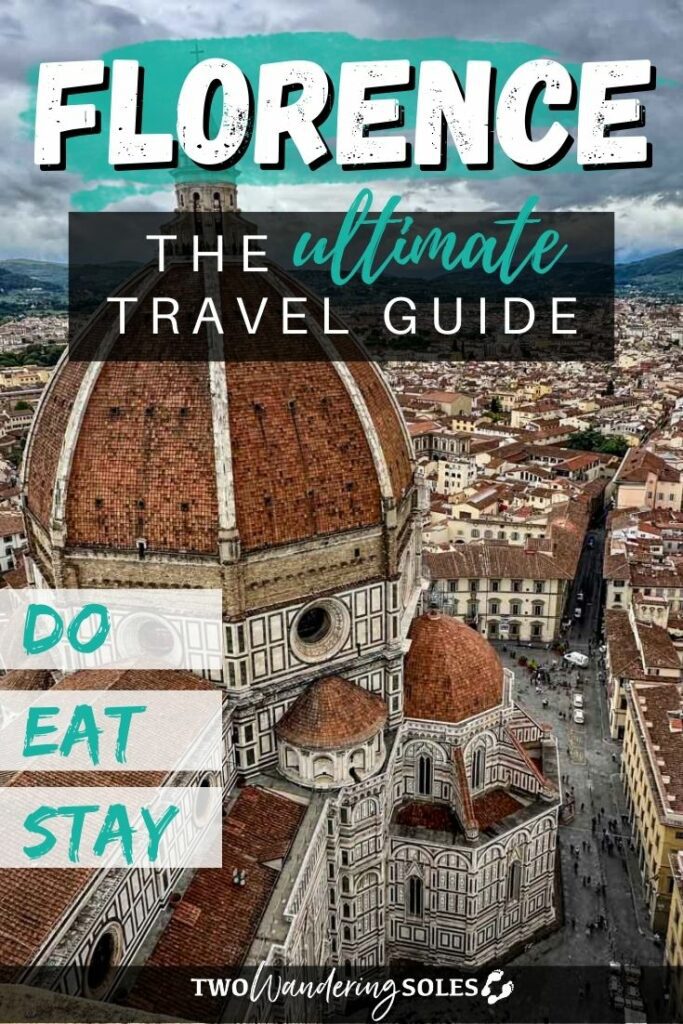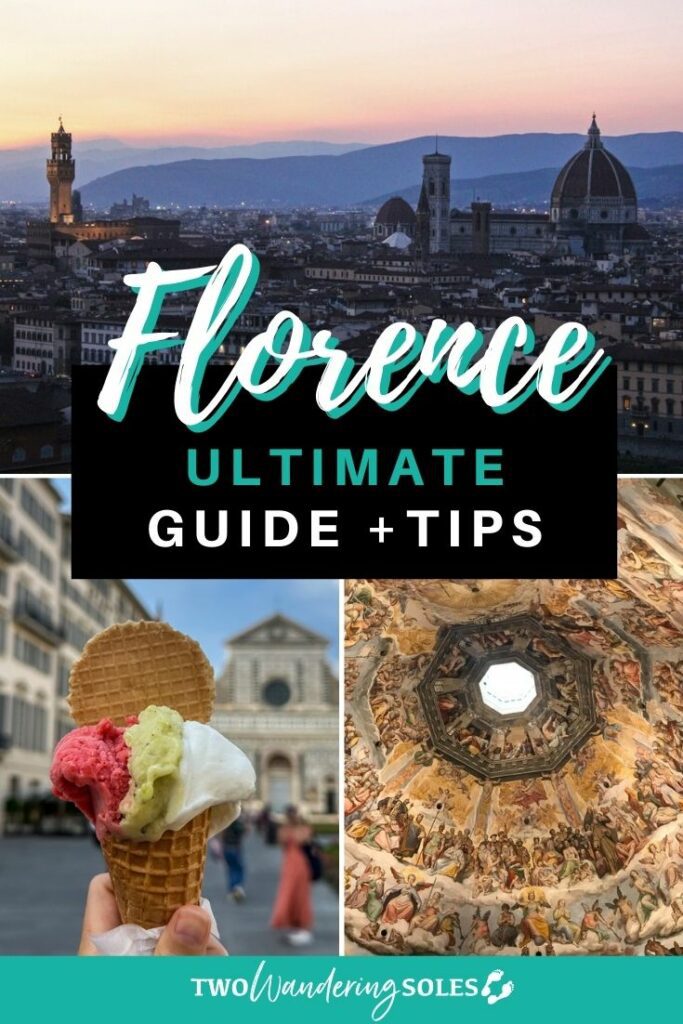 We want to hear from you!
Have you ever been to Florence before? What was your experience like? Which of these things to do in Florence are going straight to the top of your bucket list? Leave your comment below and we'll do our best to get back to you!