There's a reason the West Coast of New Zealand is called an untamed natural wilderness. This region is incredibly diverse and packed with adventure. There are so many things to do in the West Coast from visiting glaciers to snow capped mountains, to hiking through rainforests and on tropical feeling beaches. This part of New Zealand truly has it all.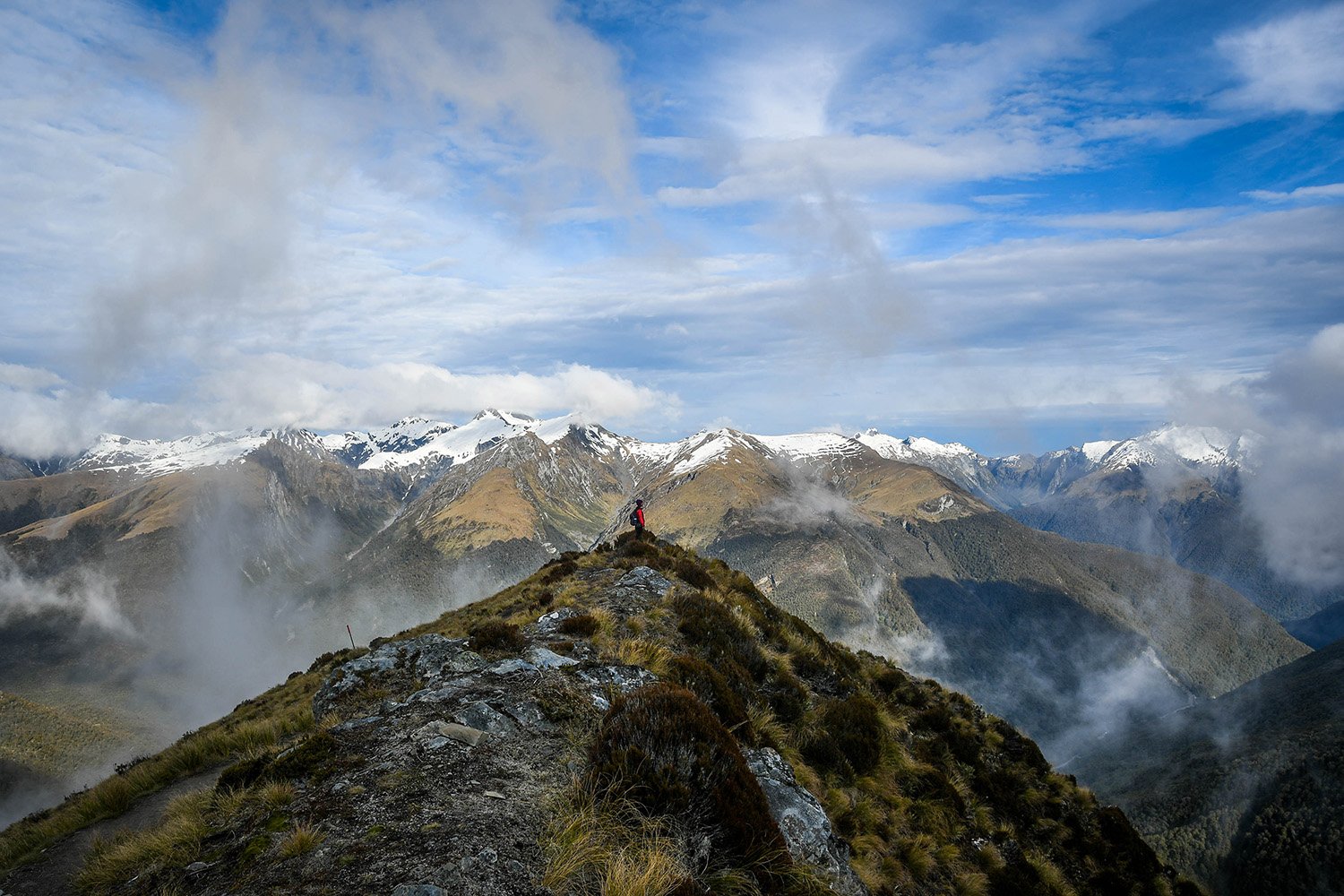 New Zealand is a country comprised of epic landscapes and never-ending adventure. And one of the most captivating areas in this island nation is the West Coast of the South Island.
The West Coast is known to be one of the most remote and most sparsely populated areas in the country, with just over 32,000 residents.
Also, being that this region spans quite a distance north to south, the climate and landscape changes drastically. You'll find glaciers and alps in the southern part, while palm trees and white sand beaches await you in the north.
We've put together a guide of the best things to do in West Coast New Zealand, including heart-thumping adventures, once-in-a-lifetime splurges, free activities and experiences off the typical tourist path.
Whether you're an adrenaline junkie with a big budget or a family traveling with kids and no room for splurges, we've got ideas for every type of traveler.
Plus, we're sharing our top tips with everything we wish we would have known about traveling in this remote region.
West Coast New Zealand Travel Guide
For more tips and advice for planning your trip to West Coast New Zealand, jump to the following sections (or just keep scrolling to see it all!).
---
Top things to do in West Coast New Zealand
There are plenty of things to do in this ultra diverse region. From heart-thumping adventures to once-in-a-lifetime splurges, to free things to do, there really is something for every type of traveler.
If you're looking for the very best things to do in West Coast New Zealand, here are our top  recommendations. 
Go tubing in a glowworm cave
Carve your own jade necklace
Spend the night in Brewster Hut
Get up close and personal with a glacier
Ride in a helicopter
Soak in hot pools
Keep reading for more detailed information on each of these things and more ideas of fun things to do in West Coast New Zealand. 
But first we're going to answer an important question you may be wondering…
Where is West Coast New Zealand?
Alright, first things first: What area exactly does "West Coast New Zealand" refer to? Good question.
"West coast USA" is a pretty general term, encompassing California, Oregon and Washington. However, West Coast New Zealand is a much more specific region, as it refers to a section of the South Island's West Coast.
If you are looking at a map of the South Island, the portion from Haast to Kahurangi National Park is referred to as "West Coast New Zealand".
The West Coast was one of our favorite regions in the country, and making room for it on your New Zealand itinerary should be a top priority.
Read Next: Top Things to Do in New Zealand on Your First Visit
---
1. Go Tubing in a Glowworm Cave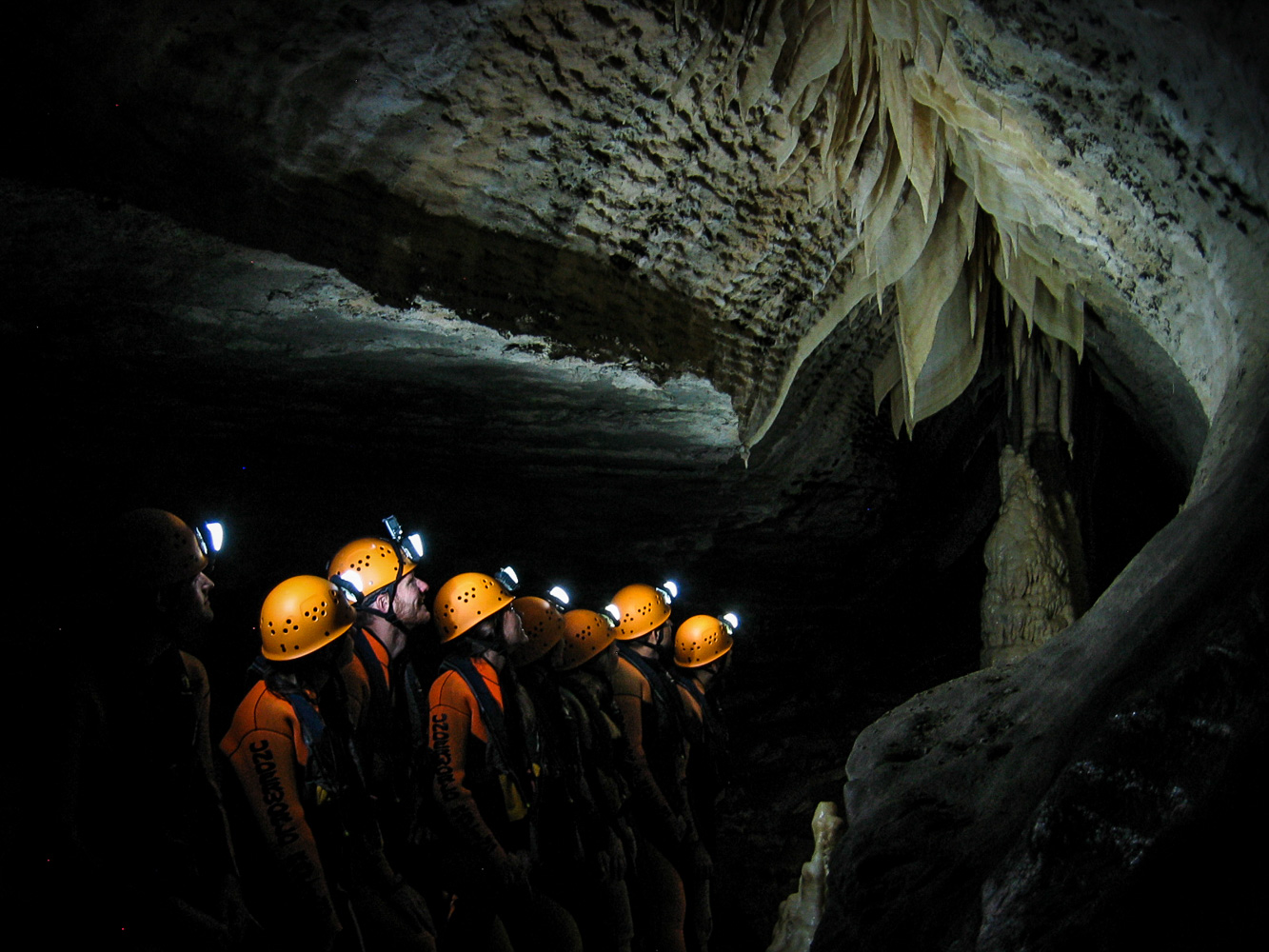 If you're seeking an adventure that most tourists miss, listen up because this one's for you.
When visiting New Zealand's West Coast, be sure to include the Underworld Rafting Tour in your plans. Situated in Paparoa National Park, lies an extensive cave system that is begging to be explored, but it's still kind of a secret that most travelers miss.
The name of this activity doesn't fully do justice to the adventure you're about to embark on.
A mix of hiking, exploring remote caves, viewing glowworms, and river tubing, this is truly an epic adventure, and we loved every minute.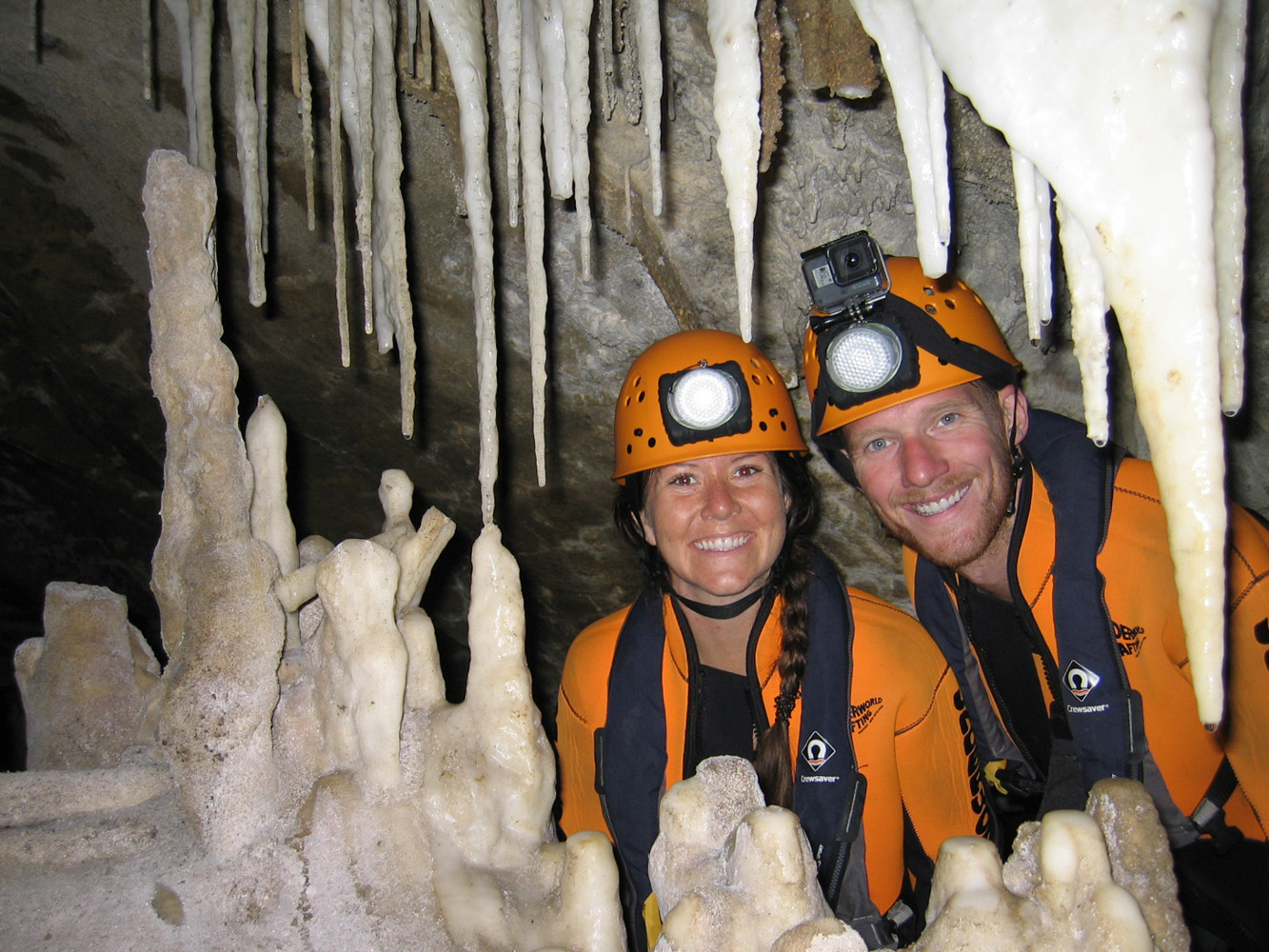 So what makes these caves so interesting? Well, there are the "normal cave things" like stalactites and stalagmites.
But there's more…. the Nile River (no, not that Nile River!) runs through this cave system, carving an adventurous path that can be walked at times and floated at other points.
But the most unique part is the glowworms that cover the cave ceiling.
The best part is can see these magical creatures without being swarmed by loads of other tourists or surrounded by fake colored lighting, like the more popular glowworm caves.
In fact, the tourism board of New Zealand has said many times that this is the most impressive glowworm display in the country, and that it tops the ultra-popular Waitomo and Te Anau glowworm caves.
"Waitomo and Te Anau are great glowworm cave experiences but for a totally natural underworld adventure you can't go past the Nile River Cave in Charleston."

They go on to say, "Without a doubt, this is one of the most amazing natural experiences you'll find anywhere in the world."
Umm, how can you not want to add this activity to your itinerary after reading that?!
Do it yourself: Head to the teeny town of Charleston where you'll find a campground, a gold mine museum, a pizza parlor and the UnderWorld Adventures tour office. They are the only tour operator that has access to the Nile River Cave System.
After checking in and gearing up, you'll take a short bus ride followed by a 20-minute journey in a "train" (aka the kind you'd see at a children's theme park) into the National Park. Once you disembark, the 4-hour adventure really begins!
Looking for a place to stay around Charleston? Westport is just a 20-minute drive north of Charleston we stayed at the Carters Beach Top 10 Holiday Park.
Nerd alert
Fun facts about glowworms: These tiny creatures are not actually worms, but instead are gnat larvae, and spend most of their life in this stage.
At their largest, glowworms can reach 3 centimeters long (such big boys, am I right?! #sarcasm). They tend to live in caves or sheltered, humid forests.
To catch food, they string a series of strings (think spider webs) that dangle downward, kind of like a "fishing line".
The glowworm then perches amongst the hanging strings and deliberately glows (from a chemical reaction, not magic) to attract prey.
Cost: Underworld Rafting Tour costs NZD $185 per adult ($125 USD).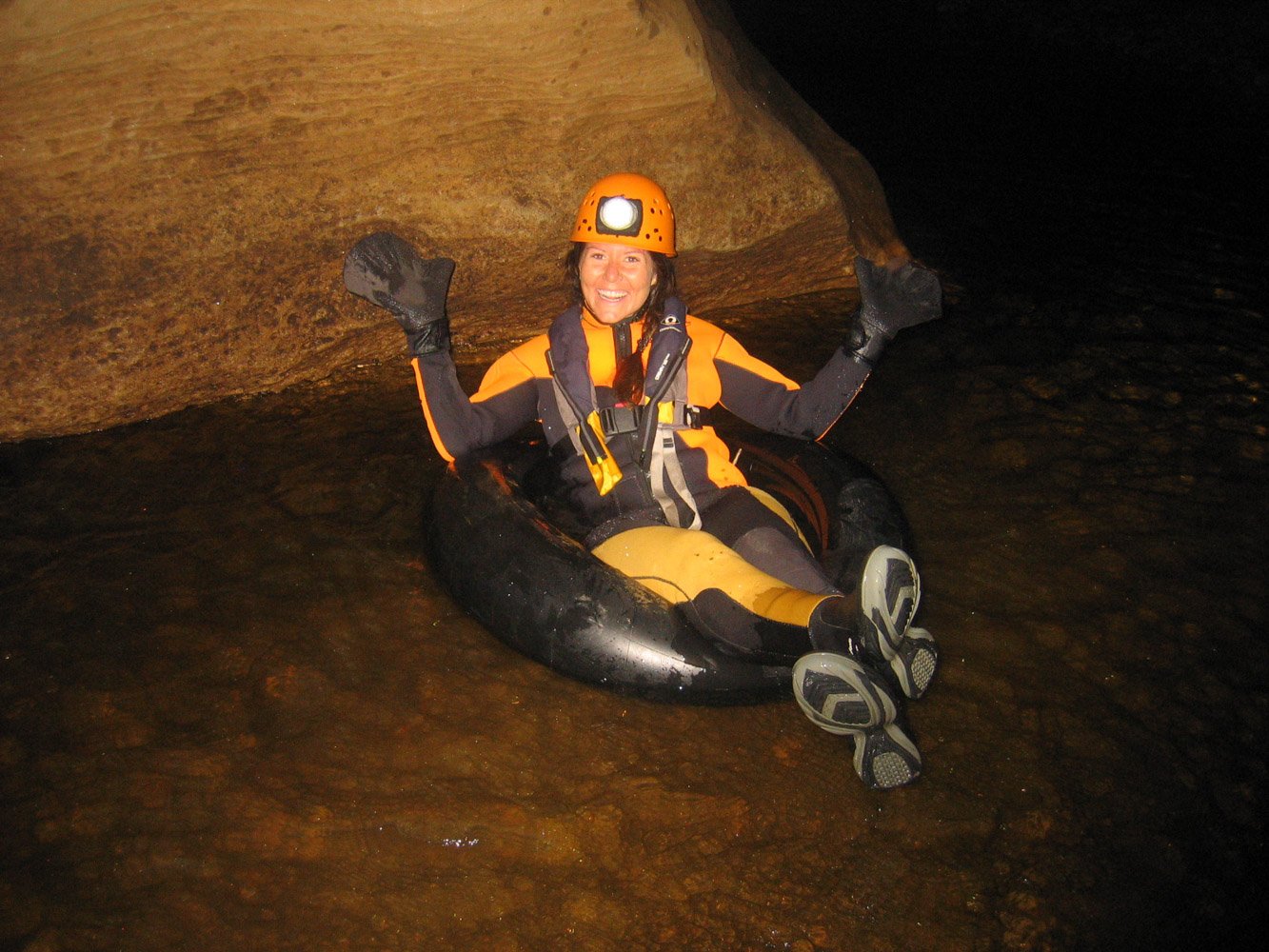 This activity was our favorite tour we did in all of New Zealand. "Adventure activities" are not cheap in this country and we often handed over our credit card with a "this better be worth it" sigh. However, we felt like the price of the Cave Rafting tour was completely justified and well worth it.
For one, all your gear (head-to-toe wetsuits, booties, gloves, helmets, headlamps, and tubes!) is provided. And secondly, the guides take photos along the tour, and when you're finished, you get a code to download them. For FREE.
This is literally unheard of in New Zealand. We each paid NZD $80 for (mediocre) photos & video of our 2-second bungee jump, for crying out loud.
Tip: Not into getting wet? There's a caving tour that excludes the tubing part so you'll stay nice and dry. The tour WITHOUT tubing costs NZD $120 ($81 USD).
---
Want to save time and energy on planning?
We spent 5 weeks traveling around New Zealand in a campervan, and we've been lucky enough to explore a lot of what this country has to offer!
We took our 5-week travels and condensed it down to 30 days (because so many people wanted a 1-month route) that hits the top destinations on both the North and South Islands.
We'll send you our complete 1 month itinerary, filled with tips and advice. Just click the banner above to get your 30-day New Zealand road trip itinerary today!

---
2. Carve your own jade necklace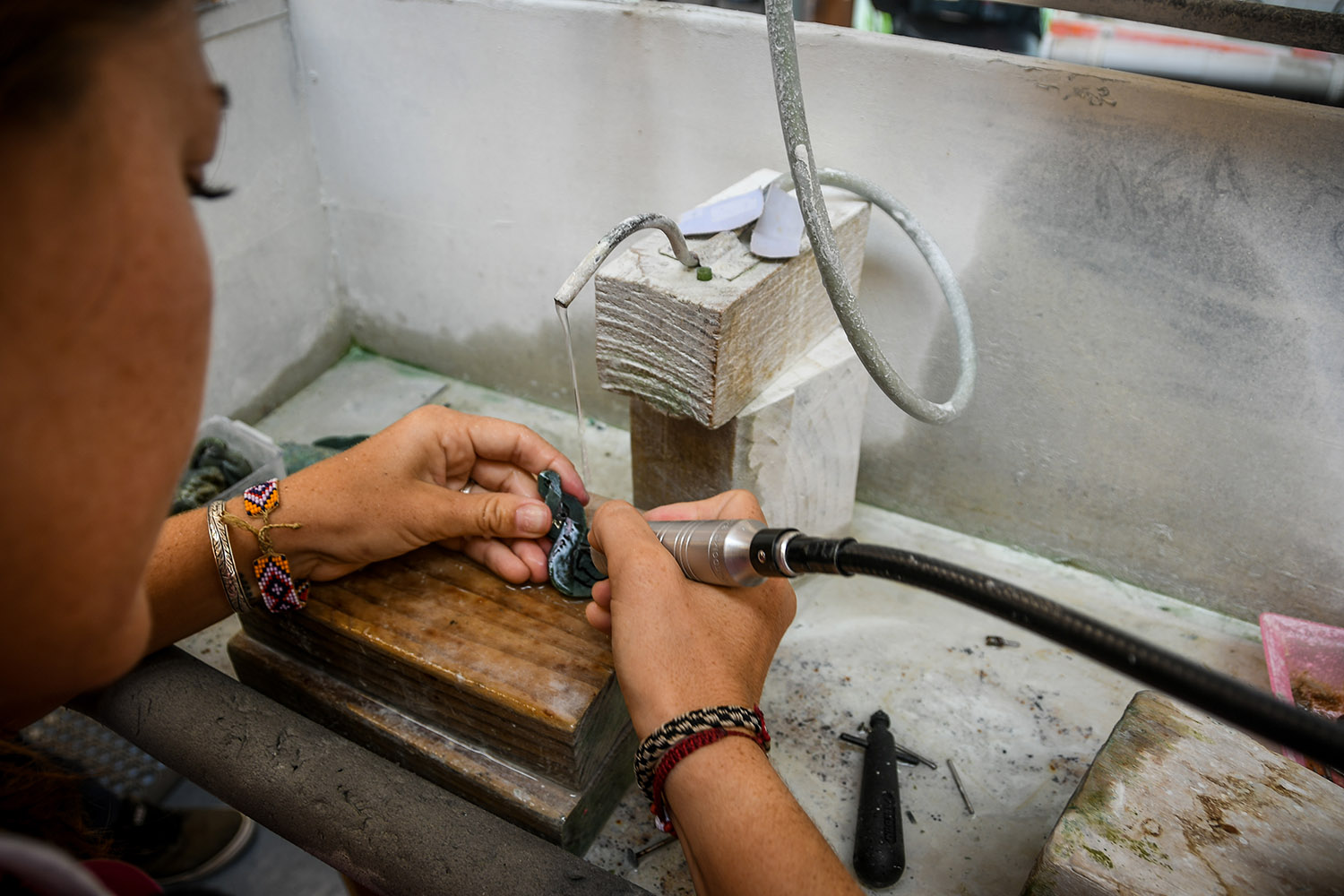 You don't need to spend much time in New Zealand to see jade necklaces dangling from the necks of about half the people you meet. And at every souvenir shop in the country, you'll see these pieces for sale.*
Carving jade is an important part of Maori culture, and many of the designs you see around the country have a special meaning to New Zealand's indigenous people.
*Insider Info: If you see jade necklaces at souvenir shops selling for really cheap, they are not real. They are ground up pieces of stone (or worse yet, plastic!) molded into a design.
For a unique souvenir and truly once-in-a-lifetime experience, carve your own jade necklace and learn about the beautiful process behind these famous pieces of jewelry.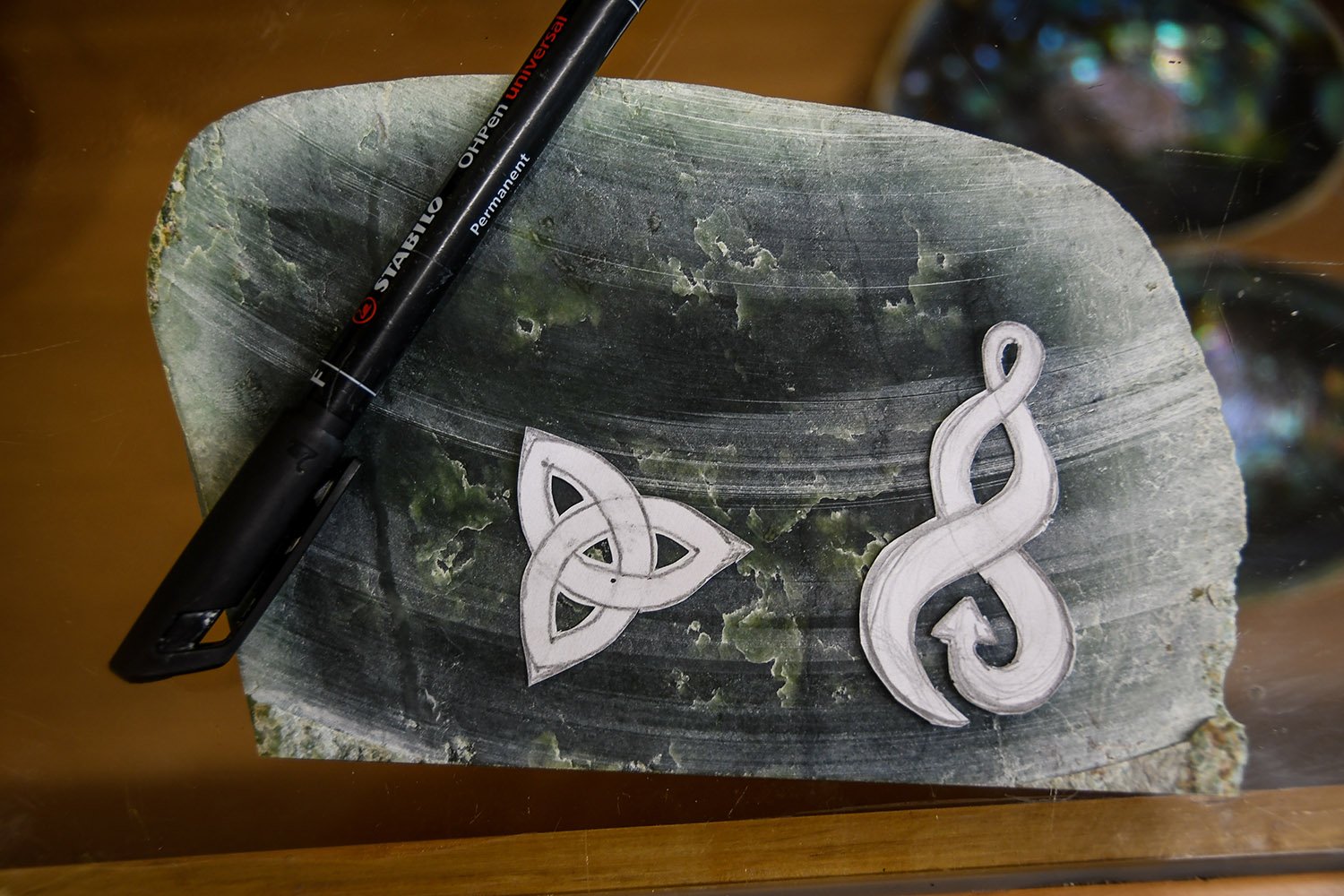 You'll start with a piece of greenstone (or jade), and you will use a variety of different tools and machines to carve it down to your own design.
Even if you're not artistically inclined (umm, have you met Ben?!), this activity is really fun. And the instructors are great at helping you create the piece you have in mind.
Tip: We'd recommend clearing out your whole morning and early afternoon, as this activity can take quite a while. Some people are quick, while others (ourselves included!) are slow. We had an activity scheduled in the early afternoon and felt rushed. We had to leave before we were truly happy with our finished piece.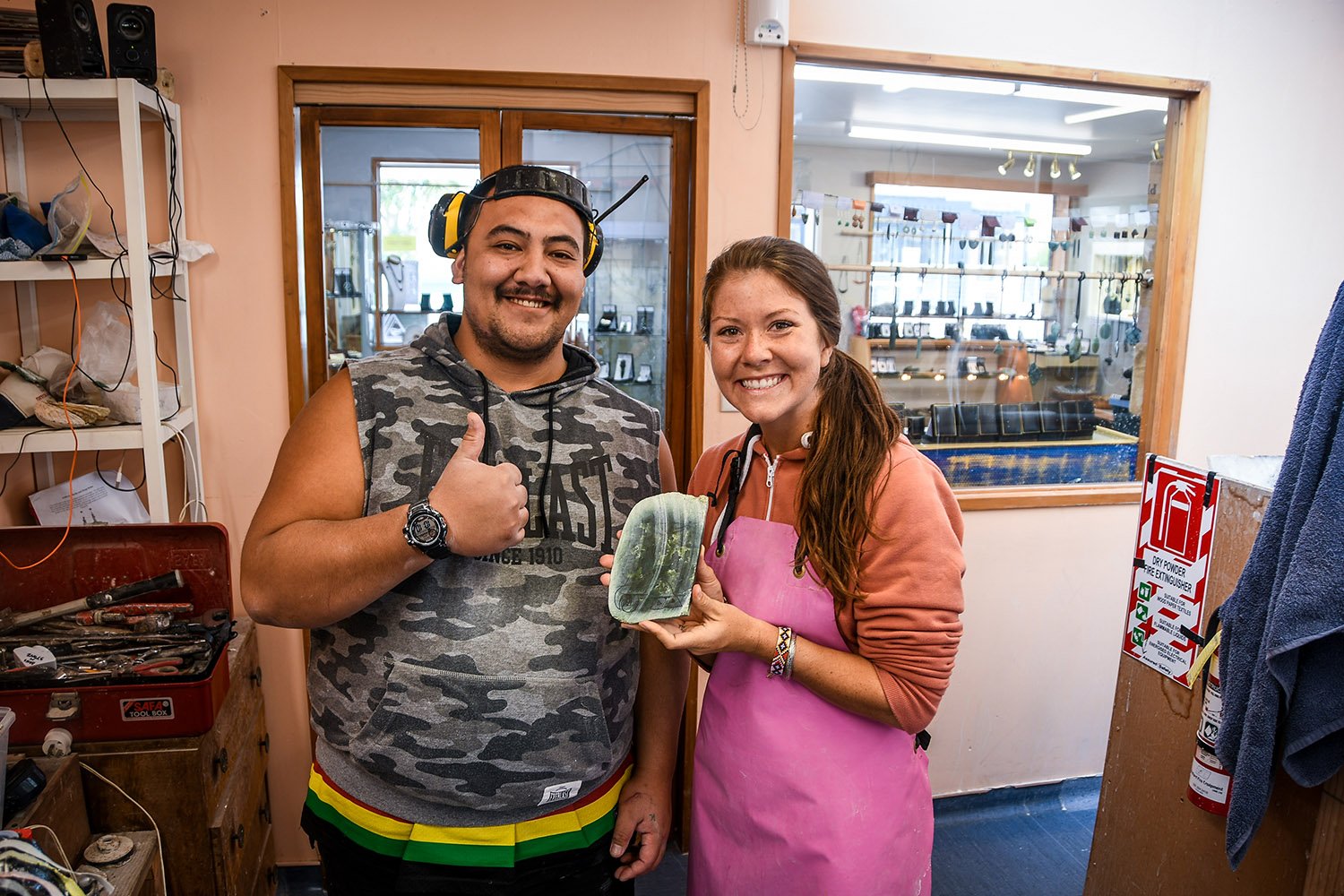 Do it yourself: Located in the artisan town of Hokitika, Bonz N Stonz is a small shop that offers visitors the unique experience of carving their own jade necklace with the help of expert artists.
Cost: Jade carving starts at NZ $190 (you can carve other materials including bones and shells, both materials found on washed up on the beach)
Psst! The best way to travel around New Zealand is in a campervan. We have the perfect campervan guide with everything you need to know about campervaning in NZ.
3. Spend the night in Brewster Hut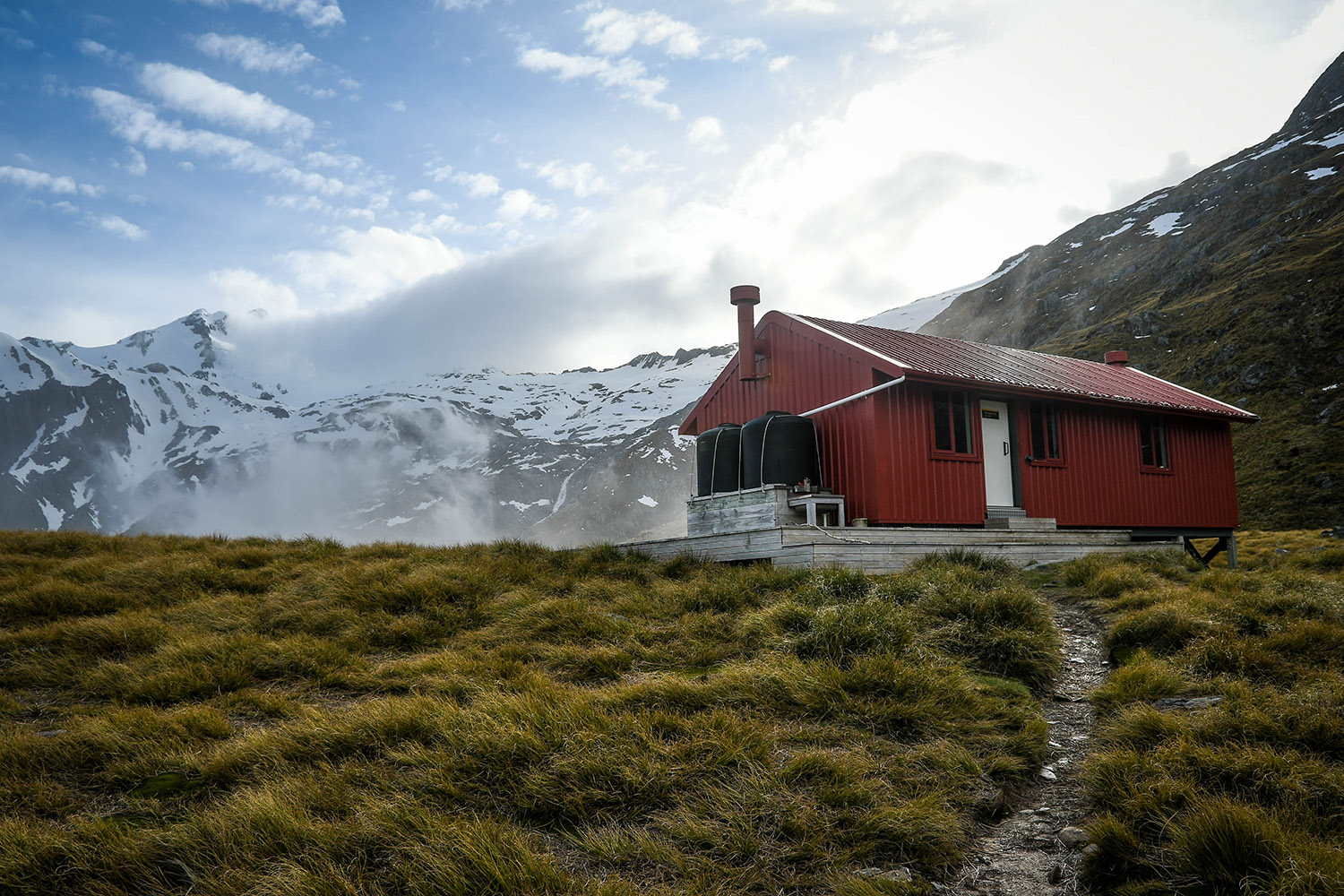 New Zealand is a country with a seemingly infinite amount of hiking trails in all lengths and levels of difficulty. Along some of the longer trails, there are networks of mountain huts that are privately owned or run by the DOC (Department of Conservation).
Brewster Hut is perched at an elevation of 1450 meters in Mount Aspiring National Park, just inside the border of the West Coast region. This unassuming red hut has some of the most spectacular 360-degree views we had the privilege of seeing in the entire country.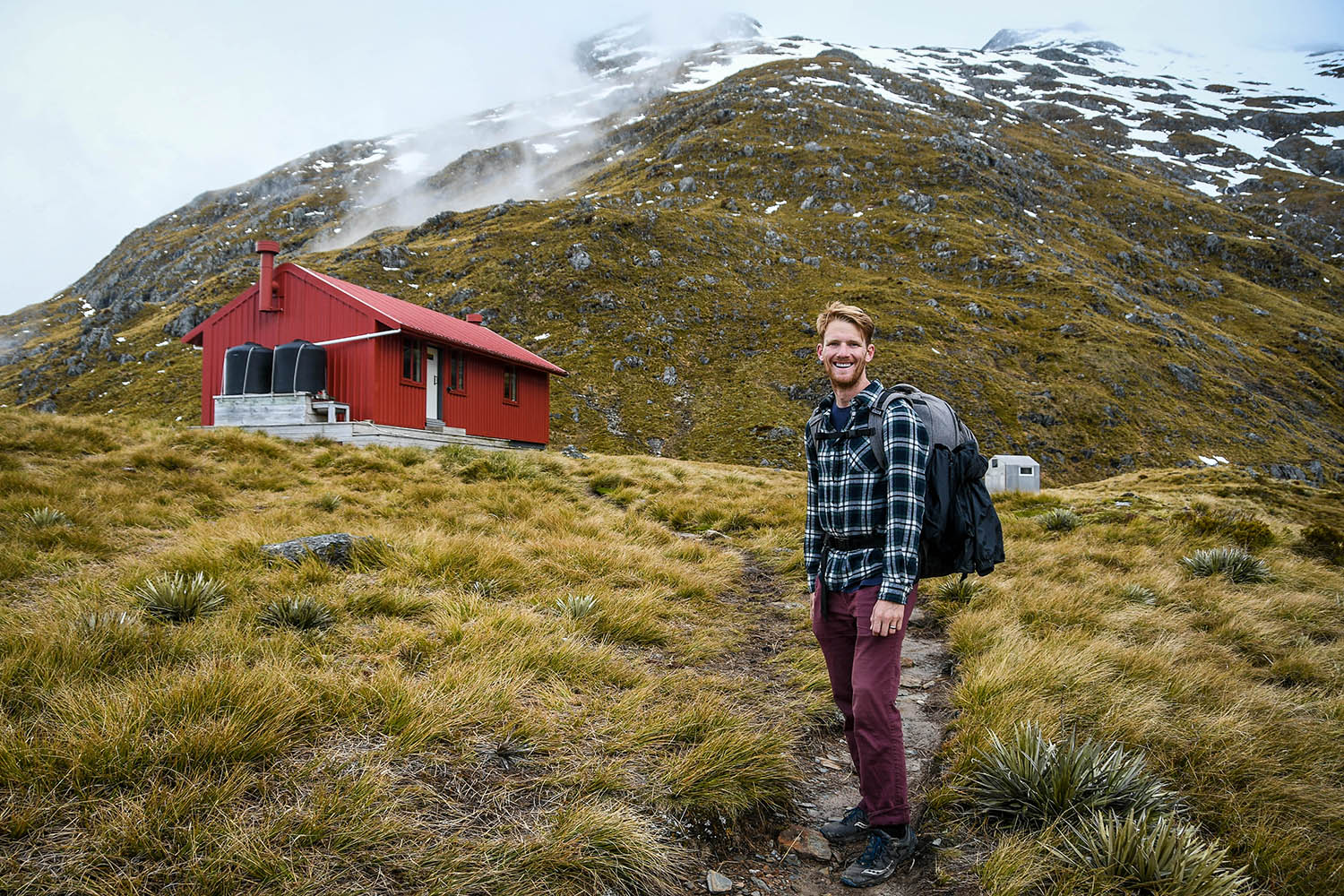 After a grueling 3-hour hike which consisted of climbing on tree roots at a 45-degree angle for 80 percent of the time, we finally arrived to the shelter we'd be calling home for the night.
We chatted with fellow hikers as wind whistled against the shelter walls. And we stood outside in silence as the sunset enveloped the sky in a cotton candy hue.
We filled our grumbling bellies with "hiking food" and wine we'd carried on our backs the whole way up (so worth it!).
The sky turned black and the only source of light came from our headlamps. And we snuggled up in a bunk and heard everyone's breathing start to get heavier until it turned to light snores.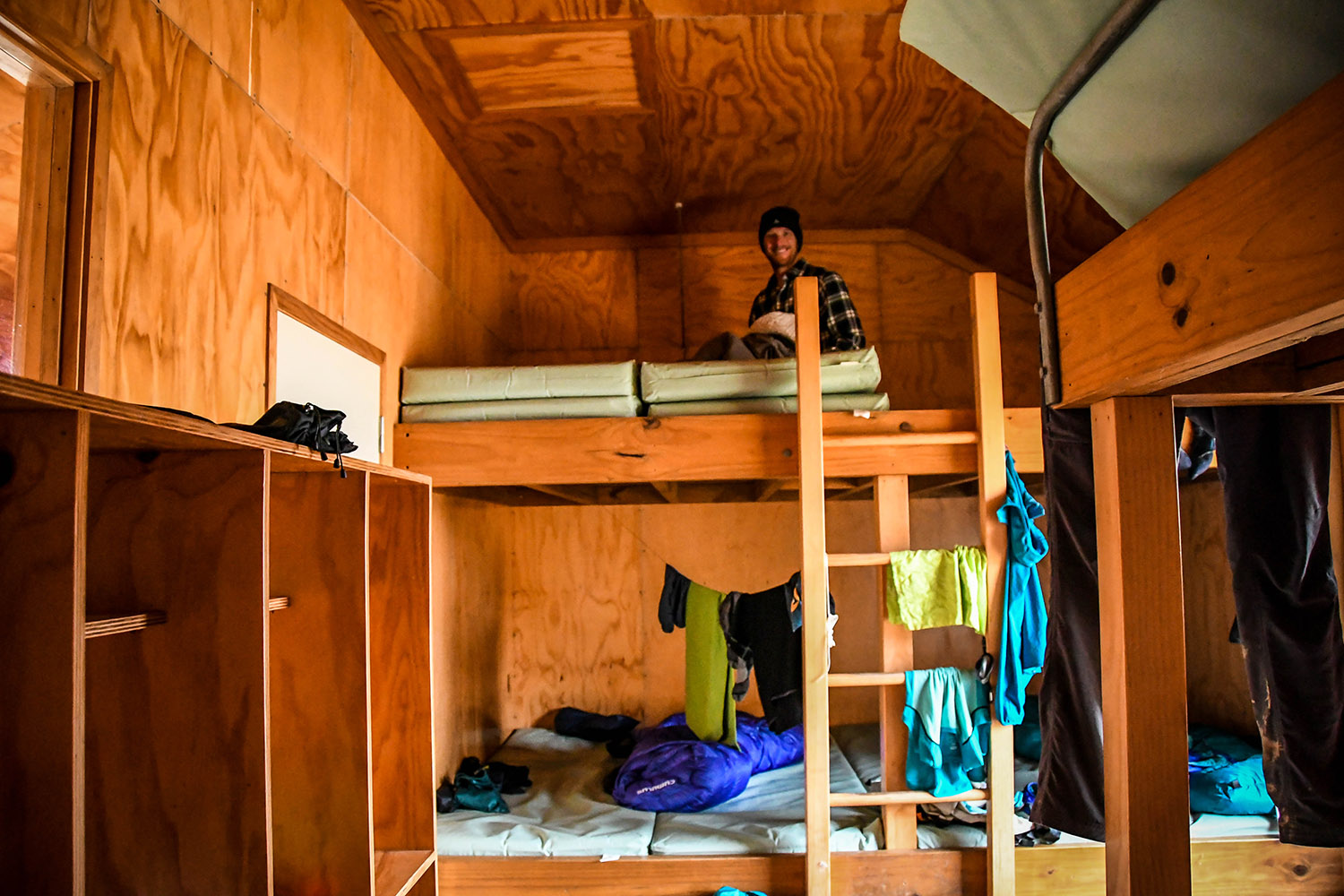 Do it yourself: Park overnight at Fantail Falls on the Haast Pass (don't leave valuables in your car). The start of the hike you have to cross the Haast River.
When we did it in late November, the freezing cold river was only knee deep, but we've heard it could get up to your waist or further which you should not try to cross. Don't attempt the hike if it has rained heavily recently.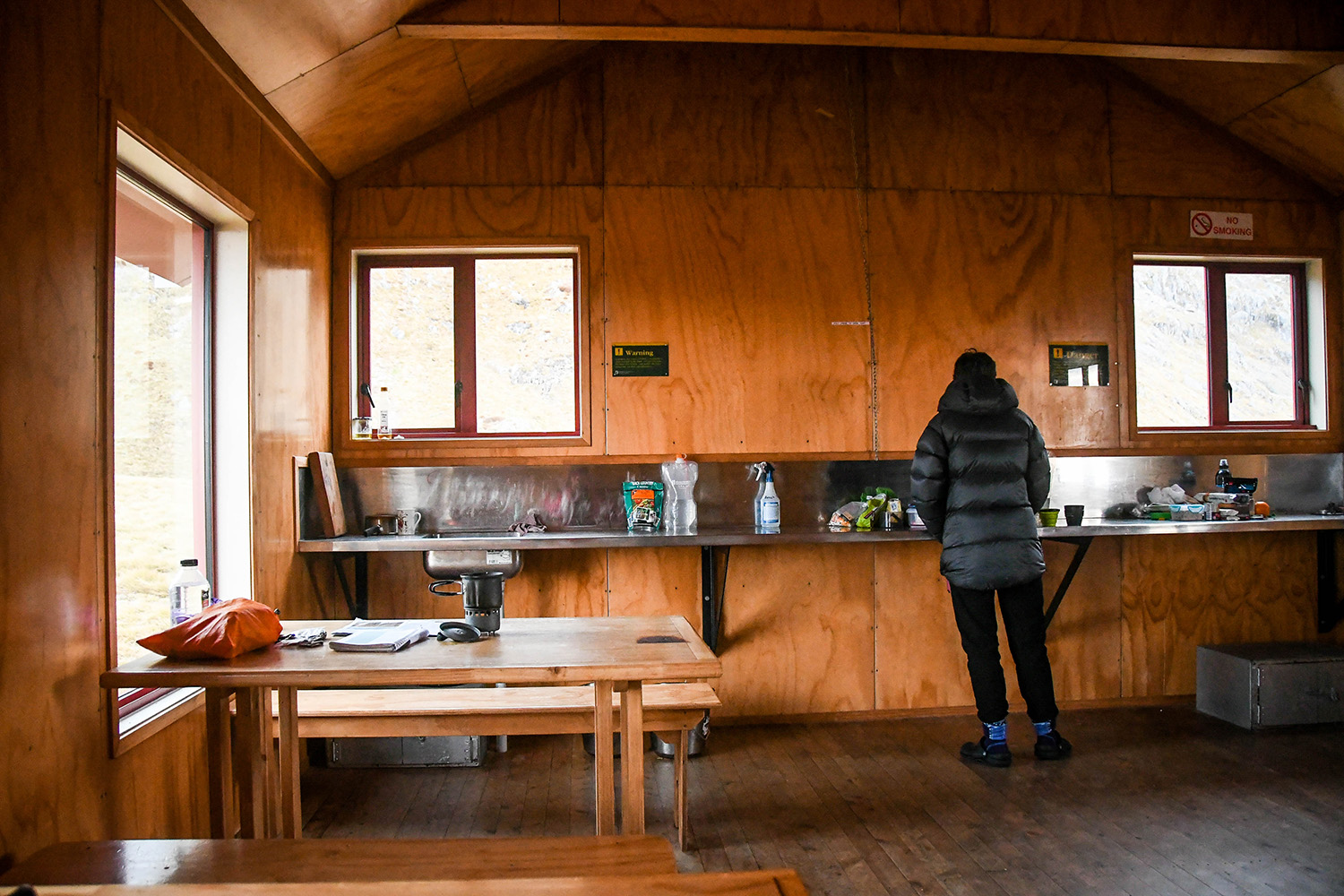 When crossing the river, aim for the big orange triangle signalling the trailhead. Once across, dry off your feet and start climb up the hill, following the small orange triangles. It will take you about 2-3 hours to get past the tree line, and from there it is about another 1 hour hike to the hut. Take care as the trail gets narrow and windy with steep drops on both sides at times.
Cost: Bookings are required between December to April and cost $15 NZD per person. 12 bunks available. Outside of these dates, there is no cost, but it is first come first serve. Be sure to pack out what you pack in.
4. Get up close and personal with a glacier
Fox and Franz Josef glaciers are far from the only glaciers in New Zealand (there are actually more than 3,000 in the country!), but they are certainly the most popular.
While traveling through New Zealand, you can't miss a stop at one (or both!) of these glaciers, it's one of the best things to do in the West Coast.
Good to know: For the most up-to-date conditions on both Franz Josef and Fox, check out the daily glacier access update. When we visited in November 2018, the road to Fox Glacier was closed due to a recent landslide, so we were unable to visit.
Both glaciers are easily accessibly (hence their popularity), and you can get quite close just by walking on the marked path.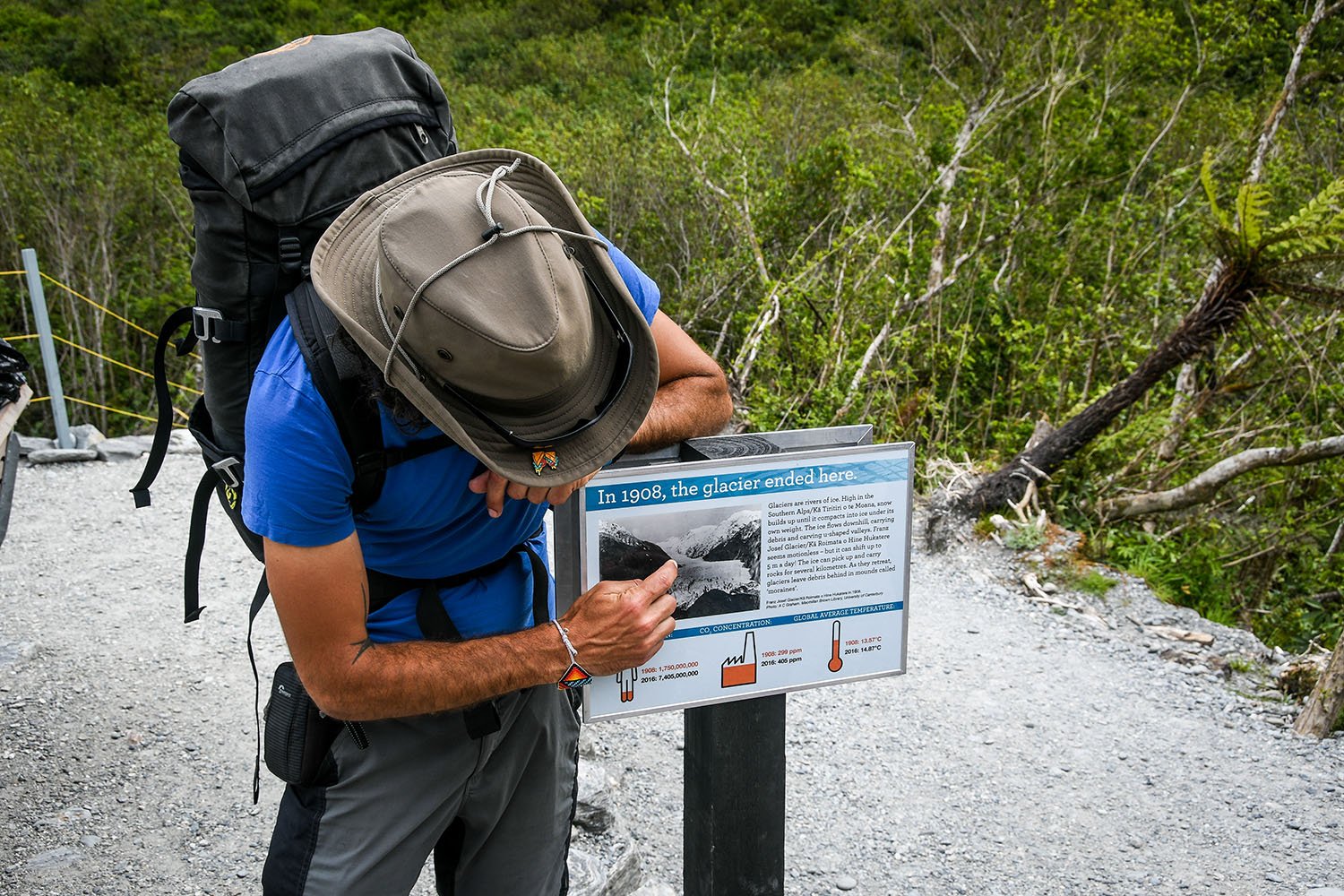 If you want more information on local flora and fauna, the history and just about anything else glacier-related, consider going on the eco-tour. Your guide can take you to the best viewpoints, walk to spots most travelers don't go, and answer all your silly questions — like, Why do glaciers sometimes look blue? Answer: Ice crystals absorb red and yellow hues and reflect blue light, which is what our eyes see. Cool, huh?!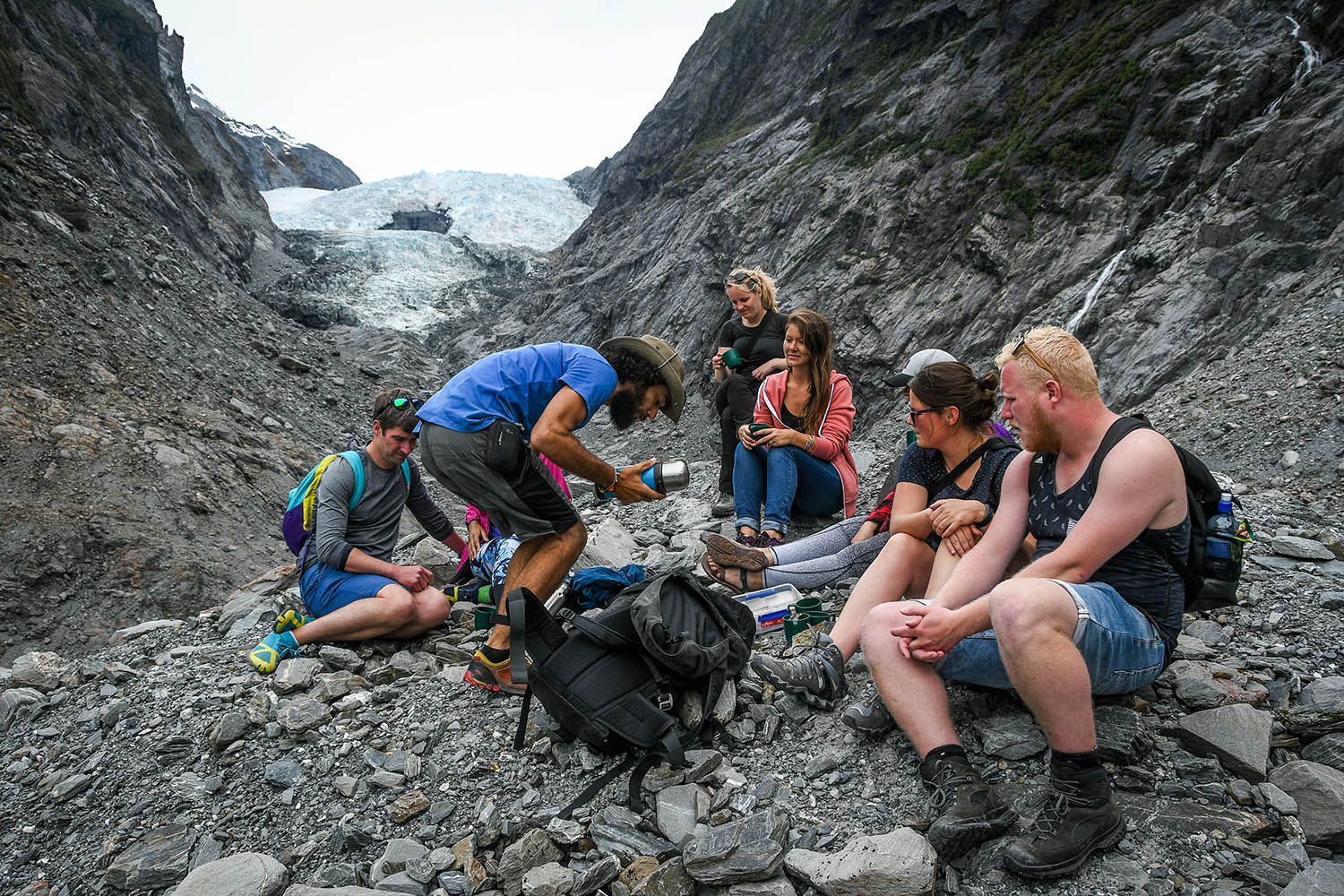 Do it yourself: We did an tour with Glacier Valley Eco-Tour from Franz Josef. Our guide was fun, knowledgeable and energetic. The tour lasts 3.5 hours, but don't worry you'll get snacks when you get the glacier. During summer months, daily tours start at 9:30 a.m. and 5:30 p.m. In the winter, the tours go out at 11 a.m.
Cost: $80 NZD for an adult and $40 for a child (4-15 years old).
Where to Stay in Franz Josef: Not all campervan holiday parks are created equal, and the Rainforest Retreat is one of the best in all of New Zealand. With semi-secluded campervan parking surrounded in foliage, clean facilities, friendly staff, and a large buffet breakfast, you'll not want to leave.
5. Ride in a helicopter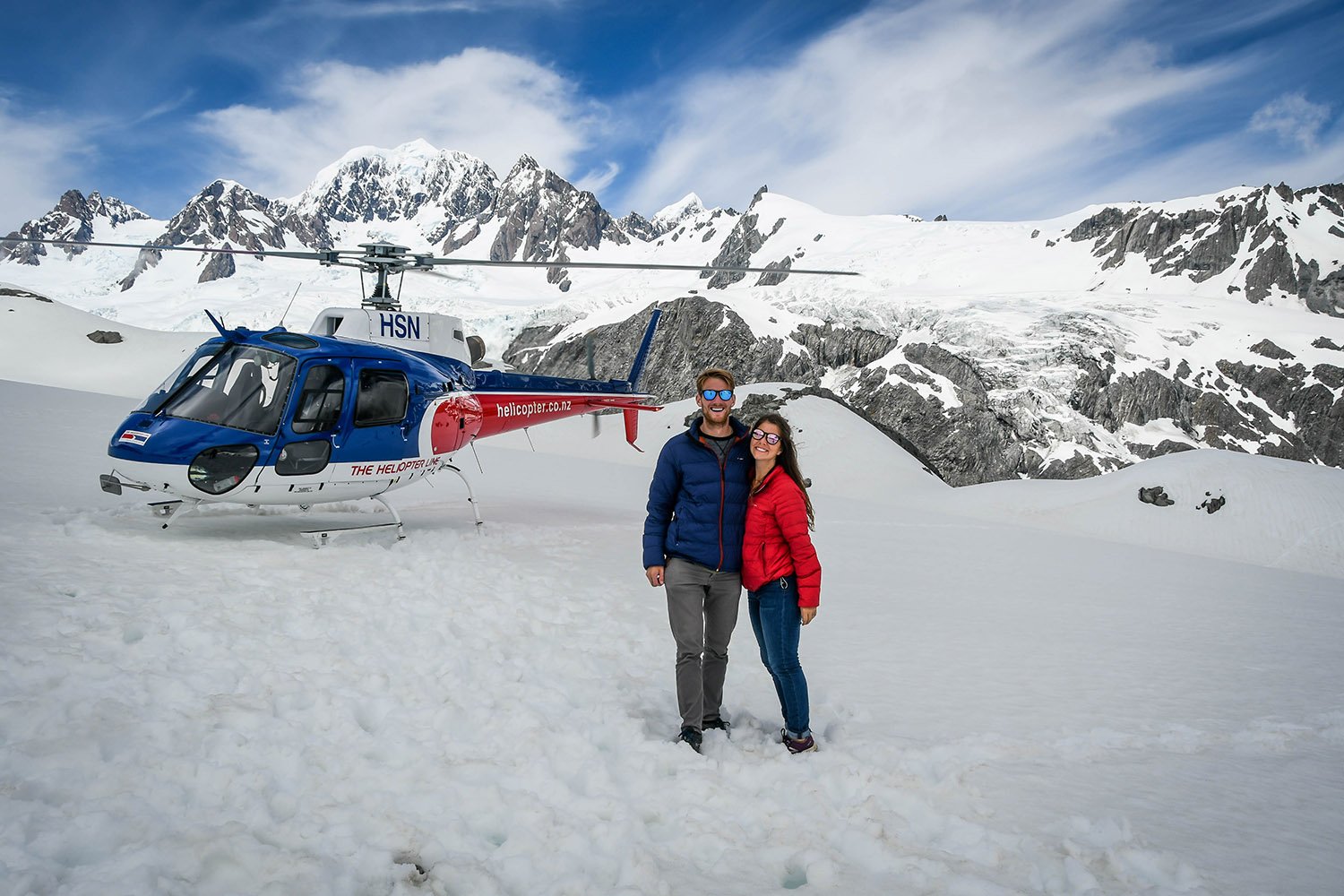 If flying in a helicopter is on your bucket list, New Zealand is the perfect place to get that check mark.
There are signs advertising helicopter rides all over the country (seriously a mind-boggling amount!); but unless you've got unlimited funds, you'll have to choose just one place to fly.
The epic landscapes of the south island mean there really isn't a bad place to take in the view from above. But we think seeing glaciers up close that are shrinking by the year is a pretty special experience.
They've shrunken significantly in the past decade, and there's a good chance these glaciers will look quite different 10 years from now. So seeing them from a helicopter really is an experience of a lifetime.
Plus, if the weather is good enough, you have the opportunity to land on snow and get out to view the glaciers from a vantage point few get to see.
Real Talk: Not gonna lie — the experience is quite short. From takeoff to the moment we stepped out of the helicopter, a mere 40 minutes had passed. But every one of those 40 short minutes, we were smiling stupidly and taking in some of the most incredible views in all of New Zealand.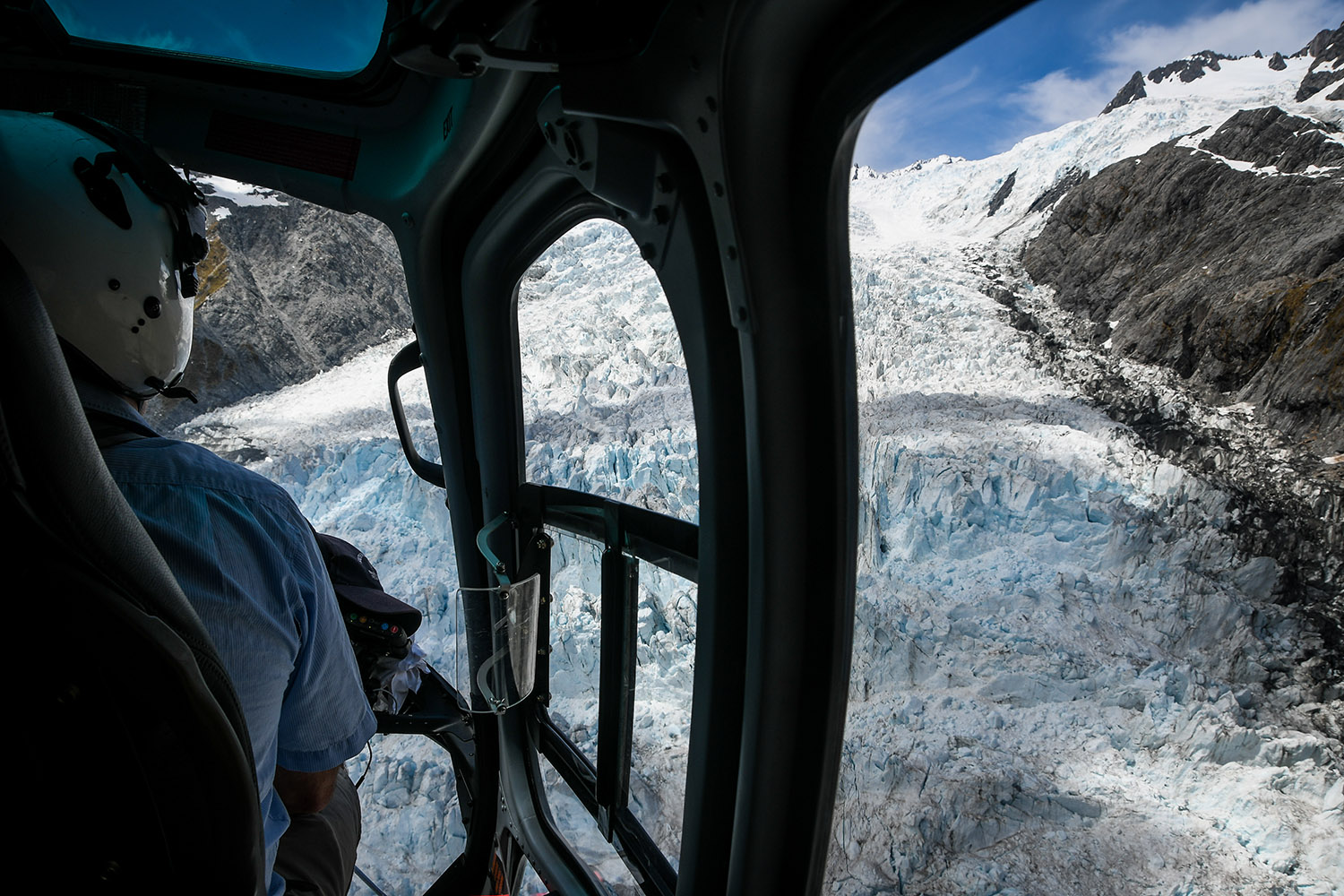 Do it yourself: There are numerous helicopter companies in Franz Josef and they all provide similar trips, but recommend Glacier Country Helicopters. Their reviews are great and the tour looks awesome!
You have to be willing to be flexible if you really want to ride in a helicopter because it is completely dependent on weather. Your flight might be delayed or even cancelled for the day. If there is space for the next day, you could be rescheduled, but if not, you'll be refunded.
Be sure to pack a camera, sunglasses, a jacket and sturdy shoes.
Cost: The Franz Josef Town: Glacier Helicopter Tour with Snow Landing costs $185 USD (NZD $296) per person. They have longer tours that fly over multiple glaciers like the Fox Glacier, and cost just slight more.
If you're feeling extra adventurous, check out this 2.5-hour glacier hike with helicopter transfer ride tour.
6. Soak in hot pools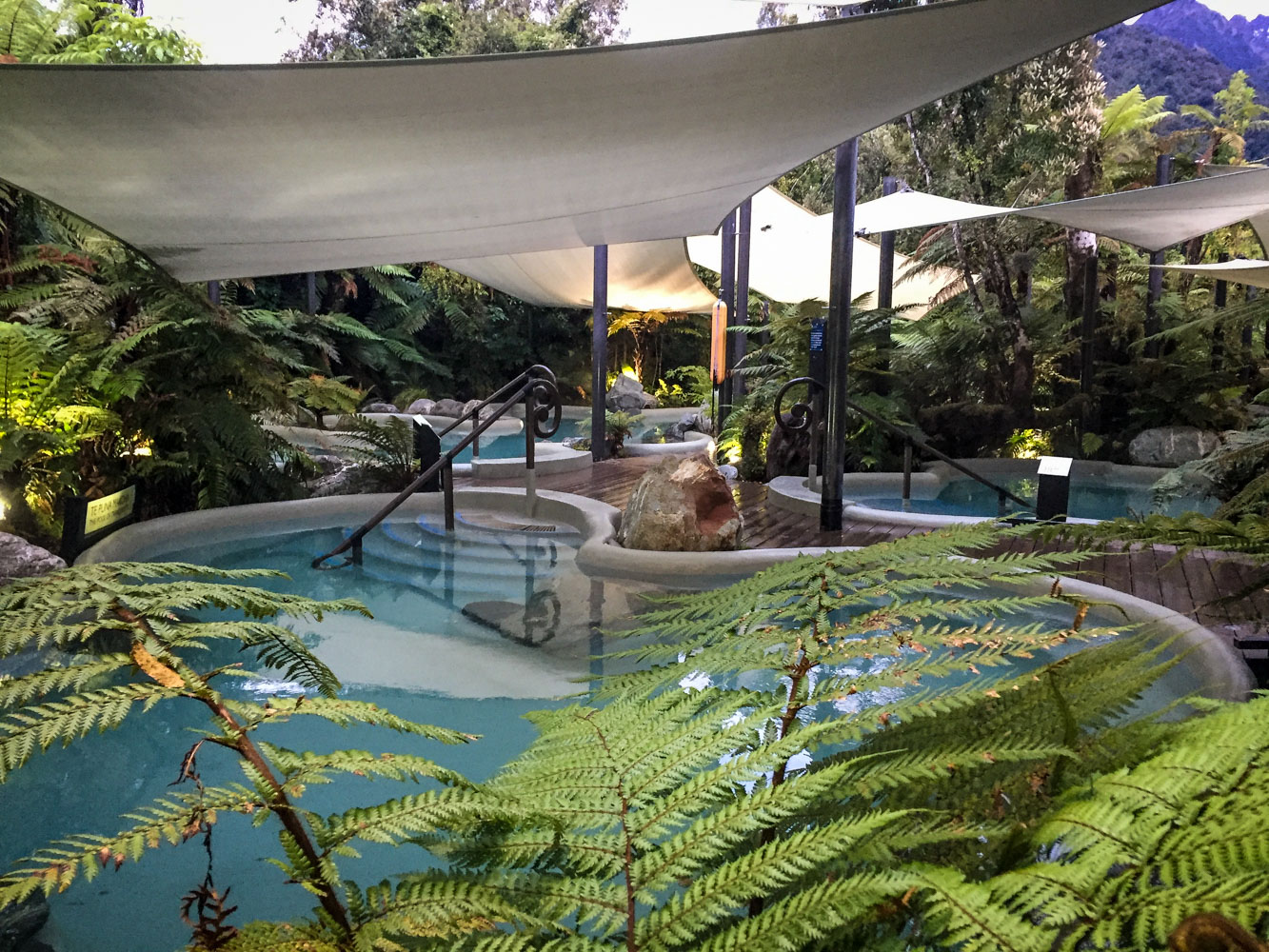 In the town of Franz Josef, the hot pools are a popular attraction, and its no wonder why. After a day of walking up close to a glacier, there's not much that sounds better than soaking your cold toes (and entire body, for that matter) in some luxuriously hot water. For us, it was especially nice since we had made the grueling hike up to Brewster Hut the previous day.
The Franz Josef Glacier Hot Pools are beautifully designed and maintained with natural foliage surrounding the pools and overhead. However, they are not heated naturally (I mean, there are a couple of giant glaciers right next door, so the ground can't get too hot).
If you prefer to soak in privacy, you can upgrade to a private pool. There are only 3 onsite, so you'll need a reservation for your 45-minute time slot. Private pools are essentially Jacuzzis and come with their own private changing room, shower and toilet.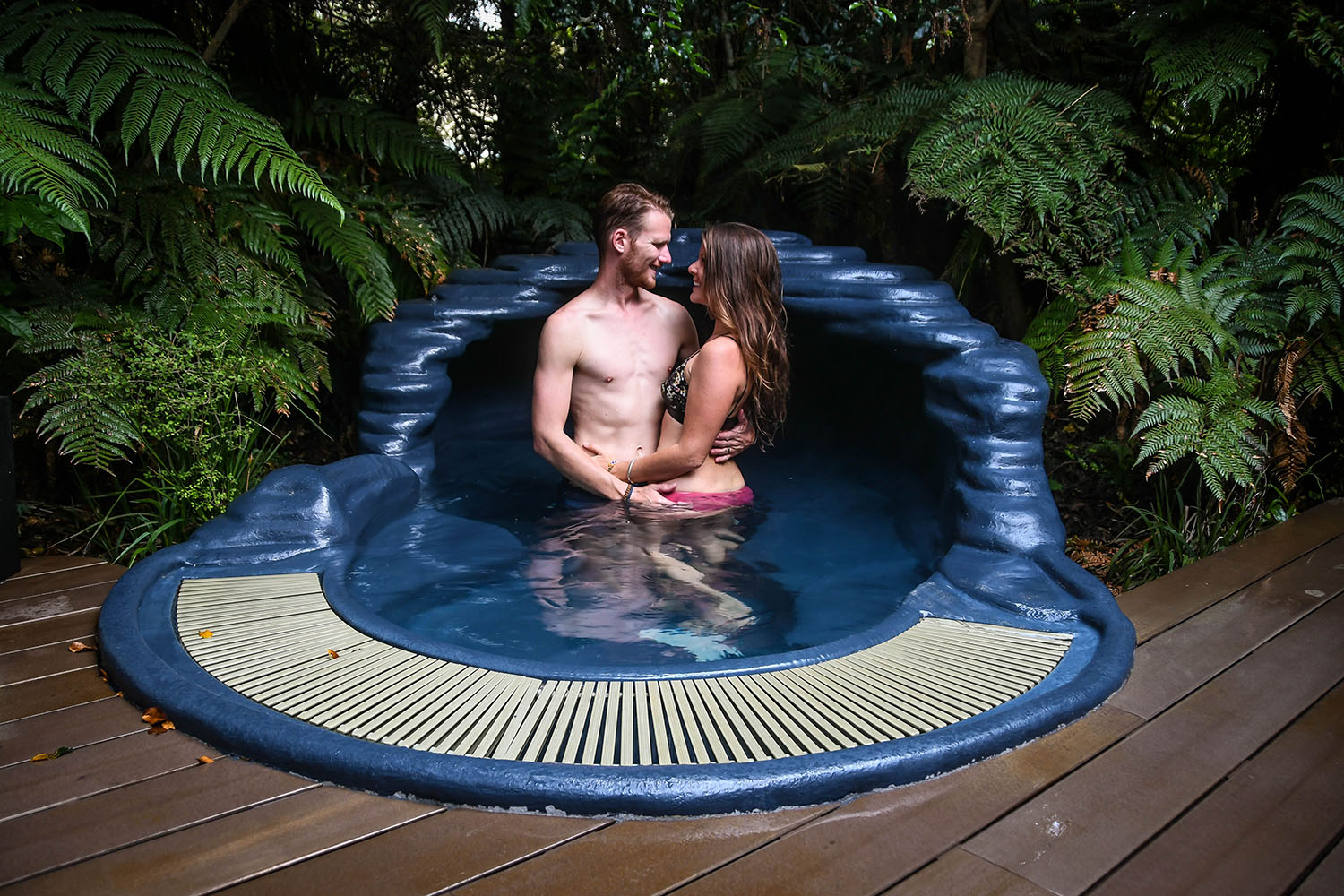 Insider Tip: If you are too relaxed to cook dinner after soaking, walk right across the street and enjoy a meal at King Tiger Restaurant and Bar. Their menu is a fusion of Asian cuisine and features favorites like Thai Massaman Curry and Indian Lamb Korma. Pair your meal with a local wine or beer.
Do it yourself: Book your tickets in advance, especially if you want to have a private hot pool. Bring a swimsuit, towel, and change of clothes. If you don't have a suit or towel, you can rent them there for $5 NZD each. Open from 11 a.m. to 9 p.m. with last entry at 8 p.m.
Cost: Main pool entry costs $28 NZD per adult and a 45-minute private pool costs $99 NZD for 2 people.
7. See aqua waters at Hokitika Gorge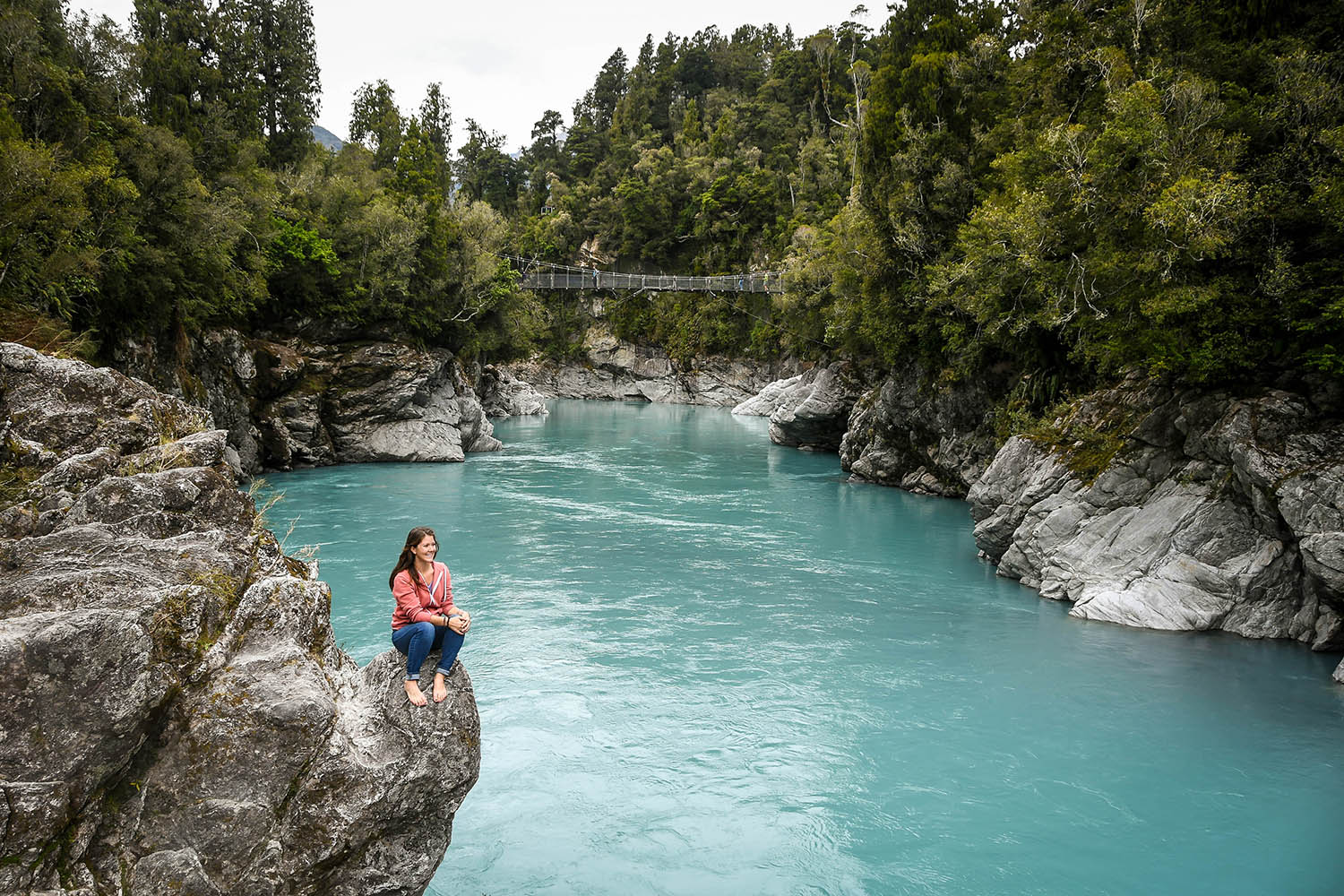 New Zealand is a country full of spectacularly blue waters. But some of the most impressive can be found at Hokitika Gorge.
A 30-minute drive inland from the seaside town of the same name, the gorge is well worth the little detour. From the parking lot, it's an easy, 5 to 10 minute walk to the picturesque suspension bridge that spans the aquamarine gorge below.
Cross the bridge and follow the path down to the boulders where you will get even more get epic views.
If you're a photographer, you'll definitely want to put Hokitika Gorge on your itinerary, as it truly is one of the most Instagrammable places in New Zealand.
Insider Tip: We encountered the worst sandflies we've ever experienced (in our entire lives!) down on the boulders next to the gorge. Learn from us and come prepared with socks that cover your ankles and/or coat any exposed skin in baby oil to prevent bites. You'll thank us later!
Do it yourself: Take Stafford Street east out of Hokitika and follow signs (or Google Maps) that winds your way through farm fields until you reach the gorge parking lot. Drive slowly through the one way bridges. One-way trip takes about 30 minutes.
Cost: Free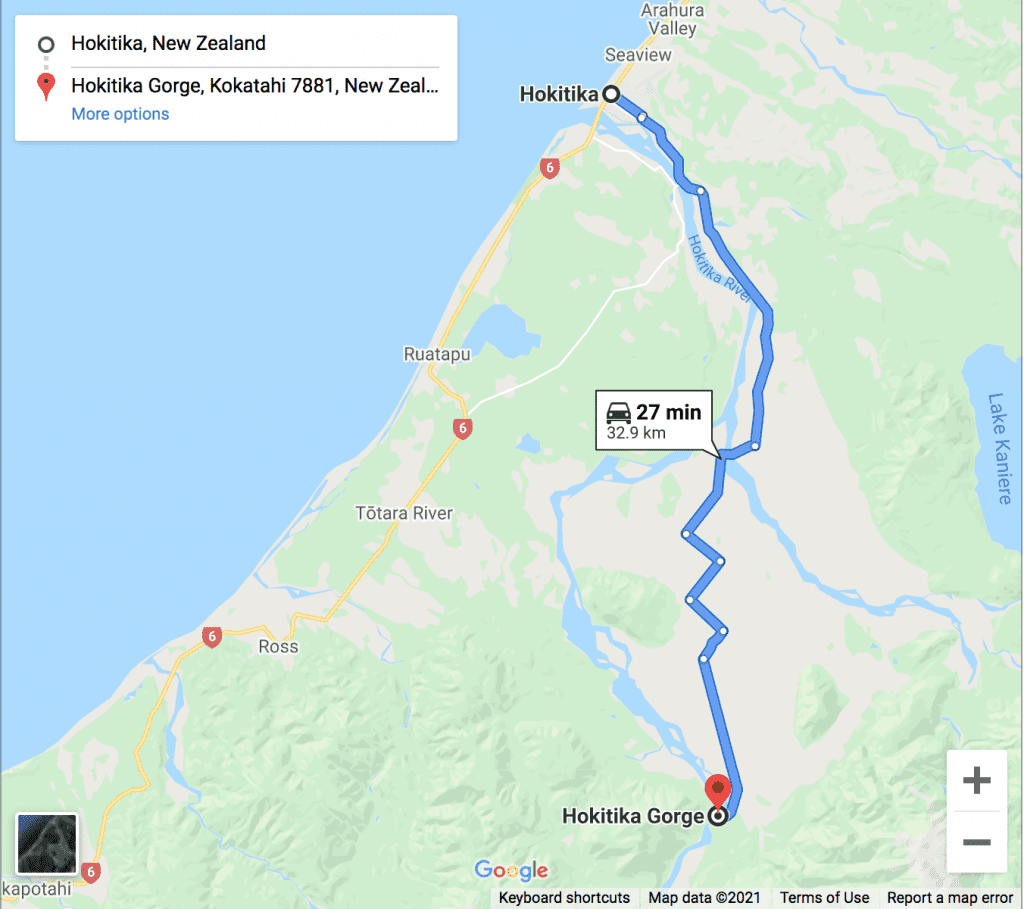 8. See glowworms in the wild
One of the things you absolutely must do in New Zealand is see glowworms. These tiny creatures are nearly impossible to see during the day (unless you know exactly where and what you're looking for), but at nighttime, it's a different story.
Sure, there are many glowworm caves around the country, but entering almost always requires handing over a wad of cash to join a tour group. We would absolutely recommend seeing a glowworm cave during your visit if your budget allows, but it's also fun to see these little guys in a totally natural (and free!) environment.
On the West Coast, you'll find a few different trails that are free to wander and look for the glowing lights.
Do it yourself: In Hokitika, as you are leaving town to the north on Hwy 6, on the right side of the road there is the Glow Worm Dell (search for this in Google Maps). In Franz Josef, on the south park of town off of Hwy 6, there is the Terrace Walk. For each of these, you don't need to go too far into the woods to see the glow worms.
Bring a flash light to get to each of these night walks, but keep your lights off and let your eyes adjust to the darkness to in order to see the worms.
Cost: Free
9. Walk the Truman Track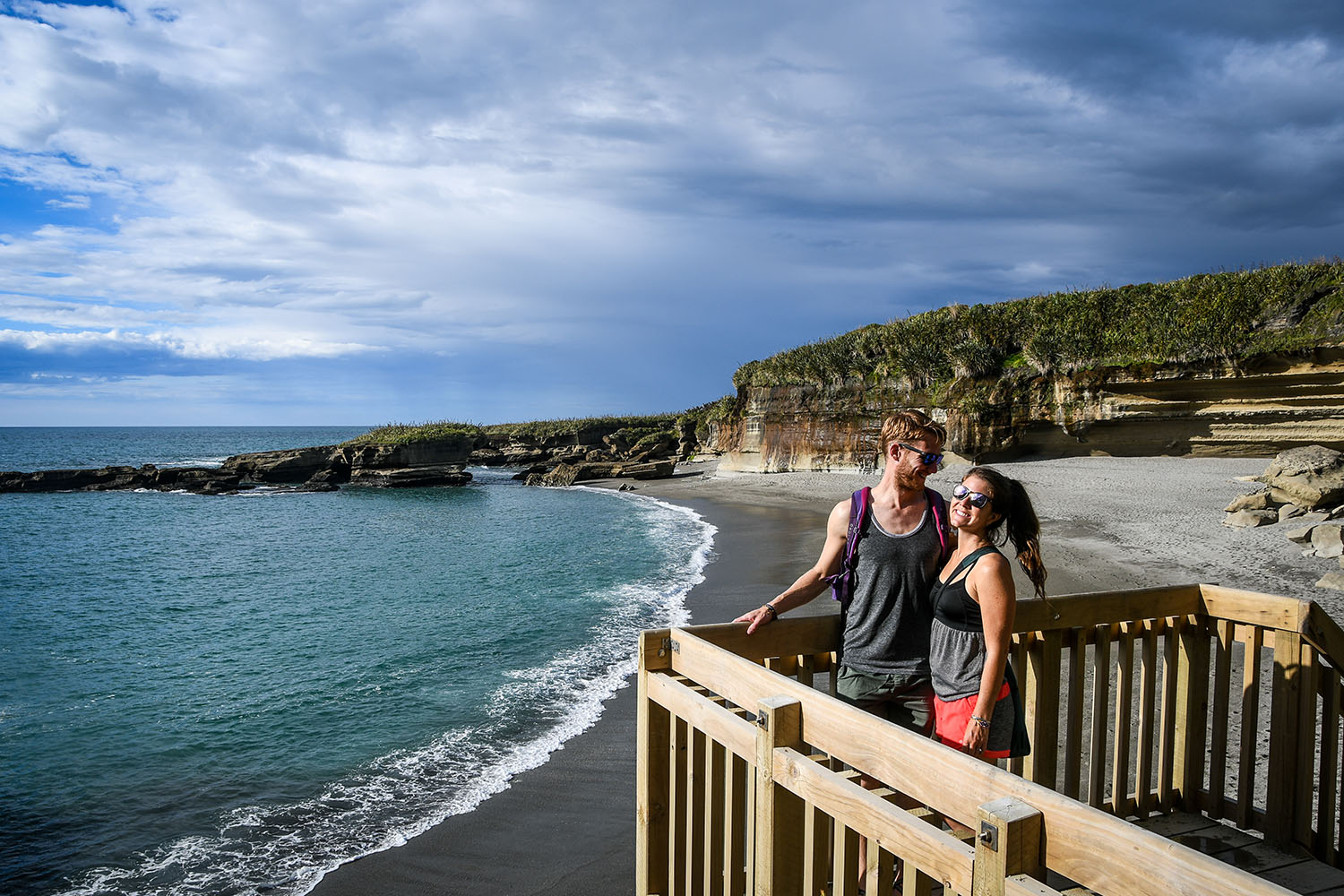 This short 1.5 km walk through a shaded forest leads you down to the ocean where you'll find a spectacularly picturesque beach.
Though this walk is completely flat and very easy, we only saw a handful of others on the trail and at the beach.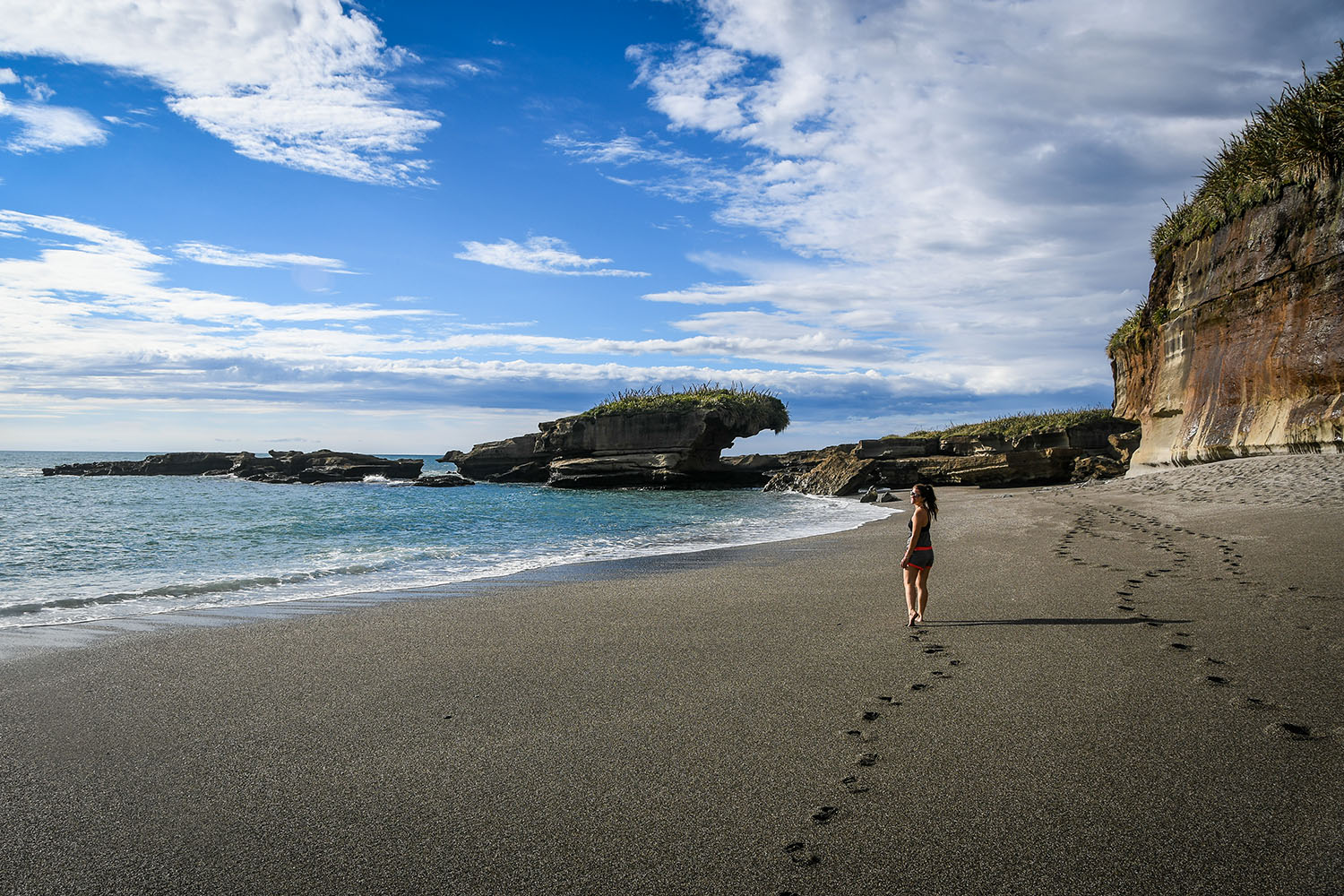 Do it yourself: Just 3 kilometers north of Punakaiki, don't miss this beautiful walk before or after your visit to the Pancake Rocks. Keep a lookout for a small sign and turnout for cars. It can be easily missed if you're not paying attention.
Cost: Free
10. Learn about New Zealand's gold mining history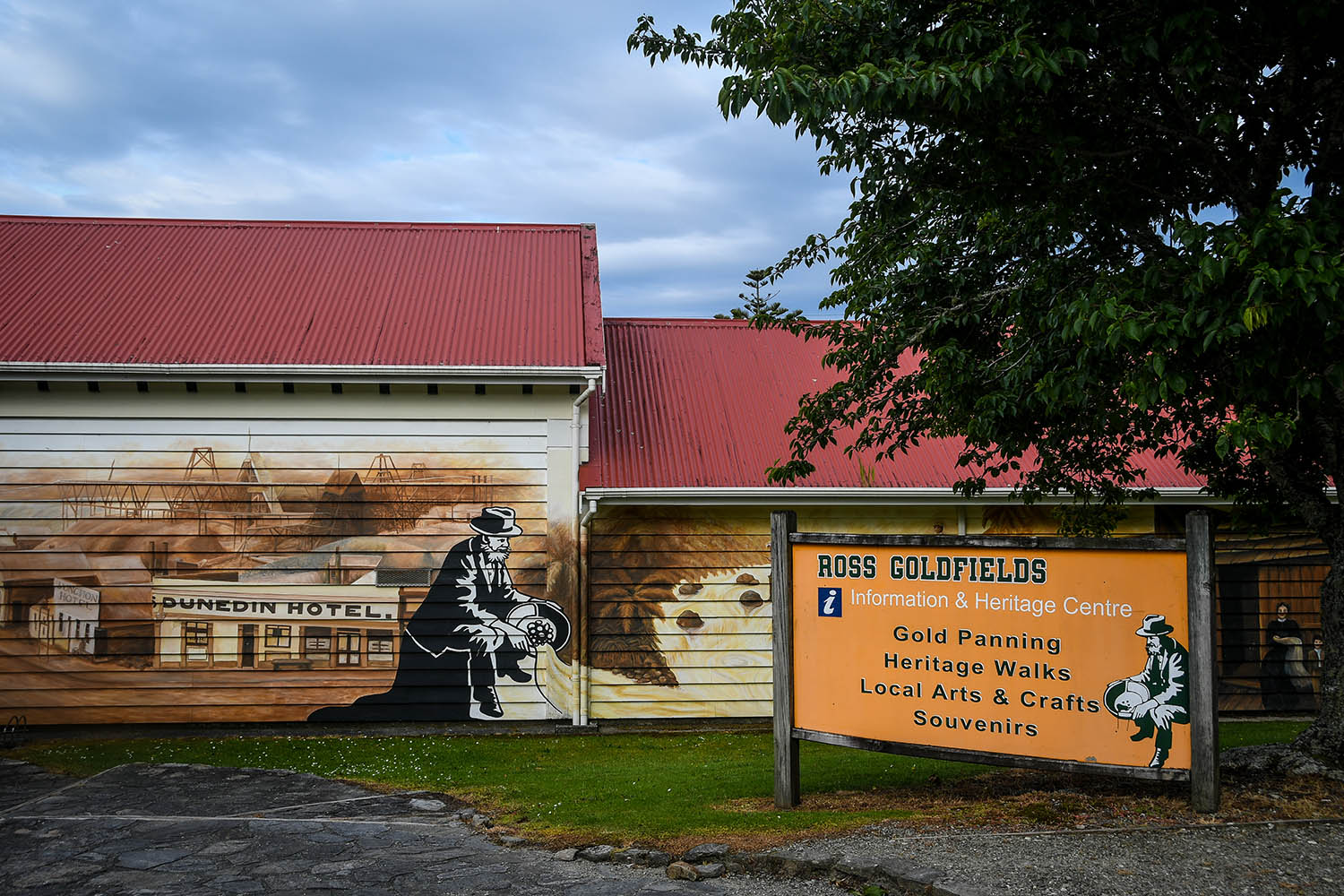 Similar to the western states of the U.S., New Zealand's West Coast also experienced a Gold Rush.
Settled in the 1860's, the town of Ross was a hotspot for those seeking riches and good fortune. Today, you can have a drink at the Historic Empire Hotel, walk along the beach and learn about this town's gold mining history.
Starting at the Heritage Museum, a 45- to 60-minute interpretive loop (Ross Water Race Walkway) brings you past relics from the Gold Rush. And if you're feeling lucky, you can even rent a pan for $10 NZD and try your hand at panning for gold. Yes, there is still gold in the nearby Jones Creek!
Do it yourself: Don't blink or you might miss Ross! Head southwest on St. James Street off of Hwy 6and in about a block or so the Information Center will be on your left.
Cost: Free to do the interpretive walk, $10 NZD to try panning for gold.
Where to Stay in Ross: Have you ever wanted to sleep on the beach? Well, at Ross Beach Top 10 Holiday Park you pretty much can. Check out #14 for more info.
11. Sample local brews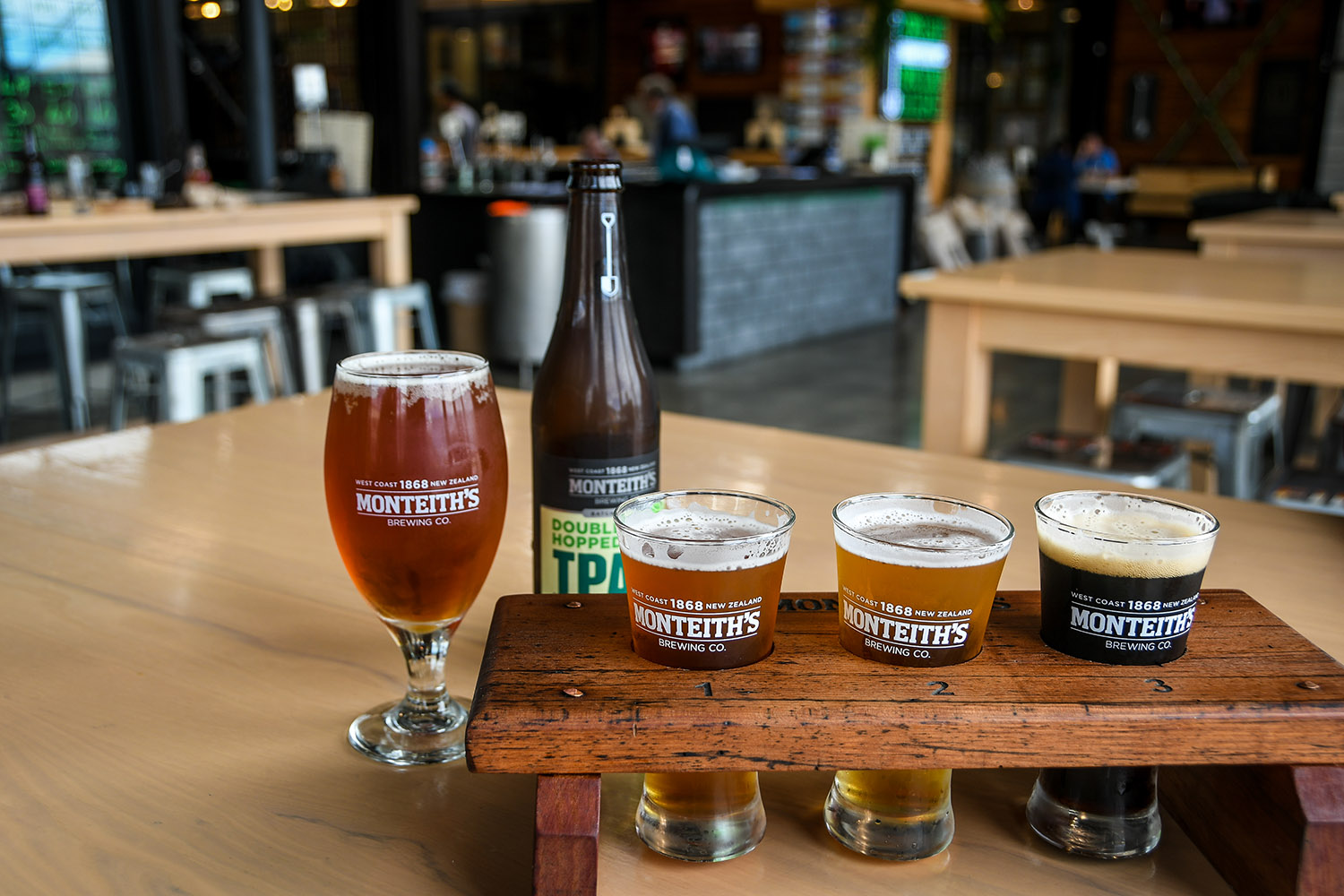 If you've been following this blog for a while, you know that Ben and I are huge craft beer fans. Sadly, on many of our travels we aren't able to find *good* craft beer. It's a real struggle, folks.
The craft beer scene in New Zealand is quite a bit behind that of much of the US. But we were pleasantly surprised to find a handful of decent breweries and taprooms around the country.
One of the better selection of beers and ciders we found was at a brewery on the West Coast called Monteith's. You'll find their beer served in restaurants all around the country, but you just can't beat trying a brew from the source.
The building itself is large and modern, with indoor and outdoor spaces, and they serve a variety of food. Our meals were okay (the star being the French fries), but the beer was great! We even bought a few bottles to take with us back to our campsite (and they didn't last past that evening, which means we really liked them!).
Do it yourself: When passing through Greymouth, Monteith's Brewery is just a block or two off of Hwy 6. Open hours are 11 a.m. to 9 p.m. in the summer and 11 a.m. to 8 p.m. in the winter. Brewery tours are at 11:30 a.m., 3 p.m., 4:30 p.m. and 6 p.m.
Cost: Beers are $8 to $10 NZD with a flight of 3 costing $13 NZD. Food ranged from $15 to $30 NZD a plate, but there is a whole variety from pizza to sandwiches to main courses. Brewery tours cost $25 NZD but it a great deal because it includes 3 brews and discounts in the retail and other tours around the West Coast.
12. Glimpse a super rare Kiwi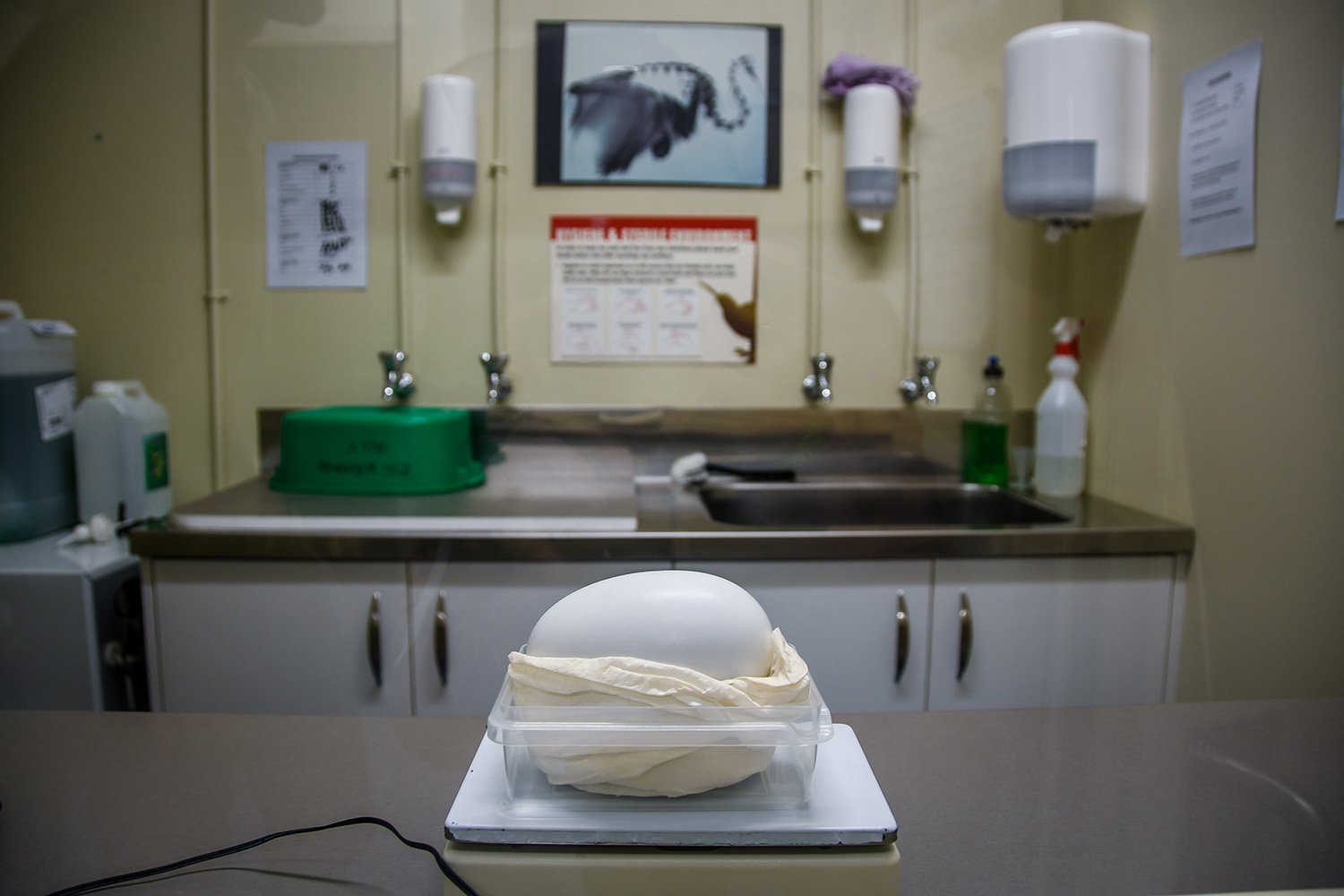 From the moment you step foot in New Zealand, you'll see the kiwi bird everywhere. Pictures of the kiwi, that is. Seeing one in the wild is actually super, duper, incredibly rare.
This nocturnal, flightless bird is the icon of New Zealand (yep, this is why New Zealanders are often referred to as "Kiwis"!).
Sadly, deforestation and the introduction of non-native predators — like possums, stoats (weasel-like pest), cats and dogs — have caused the population of this beloved bird to dwindle.
Thankfully, there are nationwide programs in place to help protect New Zealand's iconic kiwi, and you can learn exactly what is being done at the West Coast Wildlife Centre in Franz Josef. This is a hatching facility for 2 of the rarest species of kiwi, and there is an nocturnal exhibit where you can see these birds roaming around in a habitat.
We did the backstage pass tour where we meet a ranger and they showed us the incubation room, where a baby was slowly hatching from an egg!
Do it yourself: In the center of Franz Josef town, you really can't miss the West Coast Wildlife Centre. Buy a pass and freely explore the centre, learning as much as you can about the kiwi and the program New Zealand is using to regrow their population. There is also a Glacier attraction and a cafe onsite.
Cost: Entry for adults is $39 NZD and $20 NZD for children. The backstage pass costs $59 NZD for an adult and $35 NZD for children, but you can save $2 per ticket if you book online.
13. Enjoy a West Coast sunset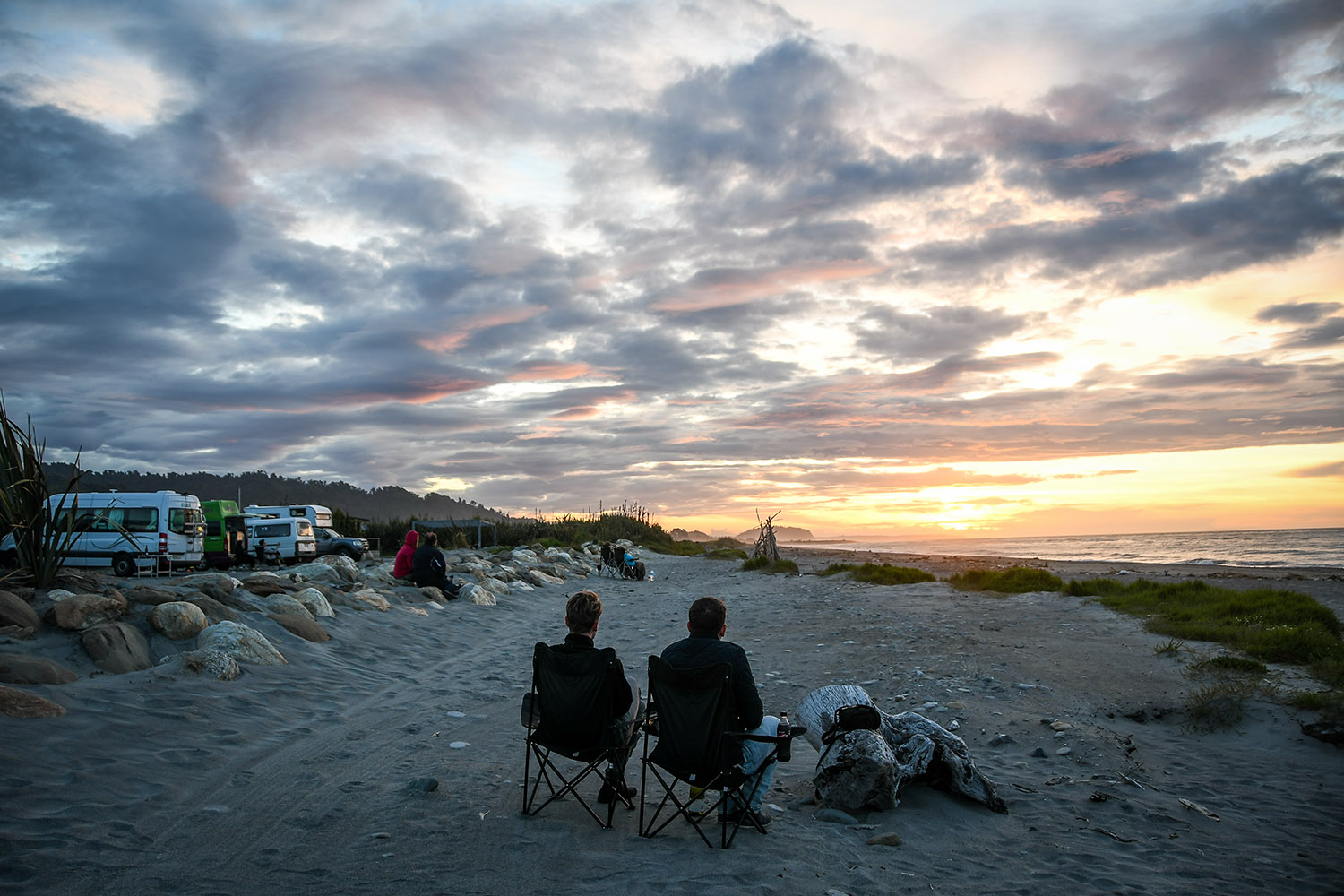 New Zealand's West Coast is the perfect place to enjoy sunset, so you should make sure you're at a beach at least one of your nights in this region.
There are some great Holiday Parks right on the beach, which makes it easy to cook and bring your dinner with as you watch the sky turn a fiery red with a southern alps to your back.
Ross Beach Top 10 Holiday Park is one of them. This new park has a kitchen, laundry facilities and clean restrooms. If you don't have a campervan, you can book one of their shipping container rooms (a lot more stylish than it sounds, check out the pictures). It's a great place to break up your drive up the West Coast.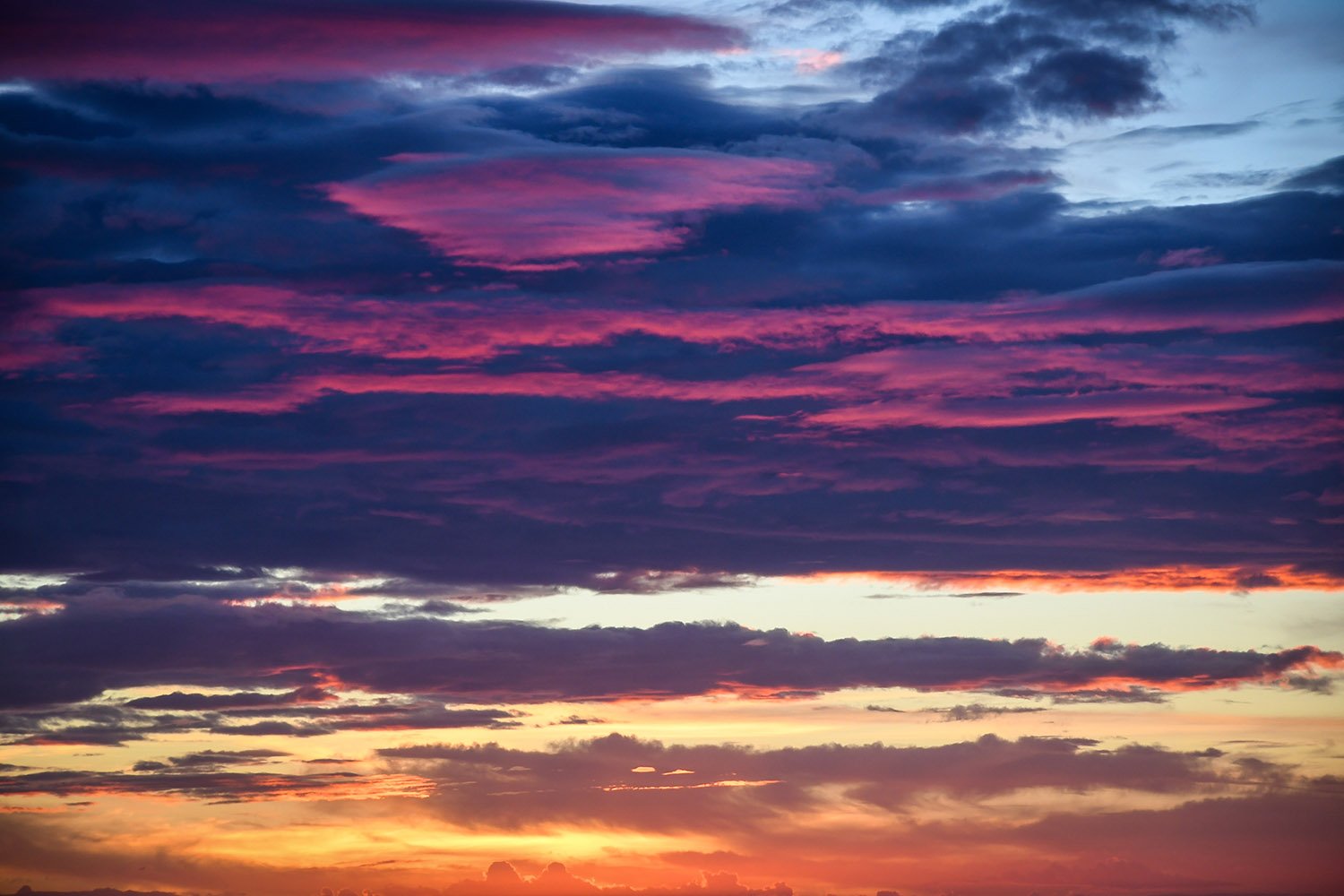 Do it yourself: Reserve your camp spot at the Ross Beach Top 10 Holiday Park website.
Cost: An unpowered site costs $40 NZD per night, and powered sites $50 NZD per night. Top 10 members save 10% throughout the country at any Top 10 campground.
14. Explore Pancake Rocks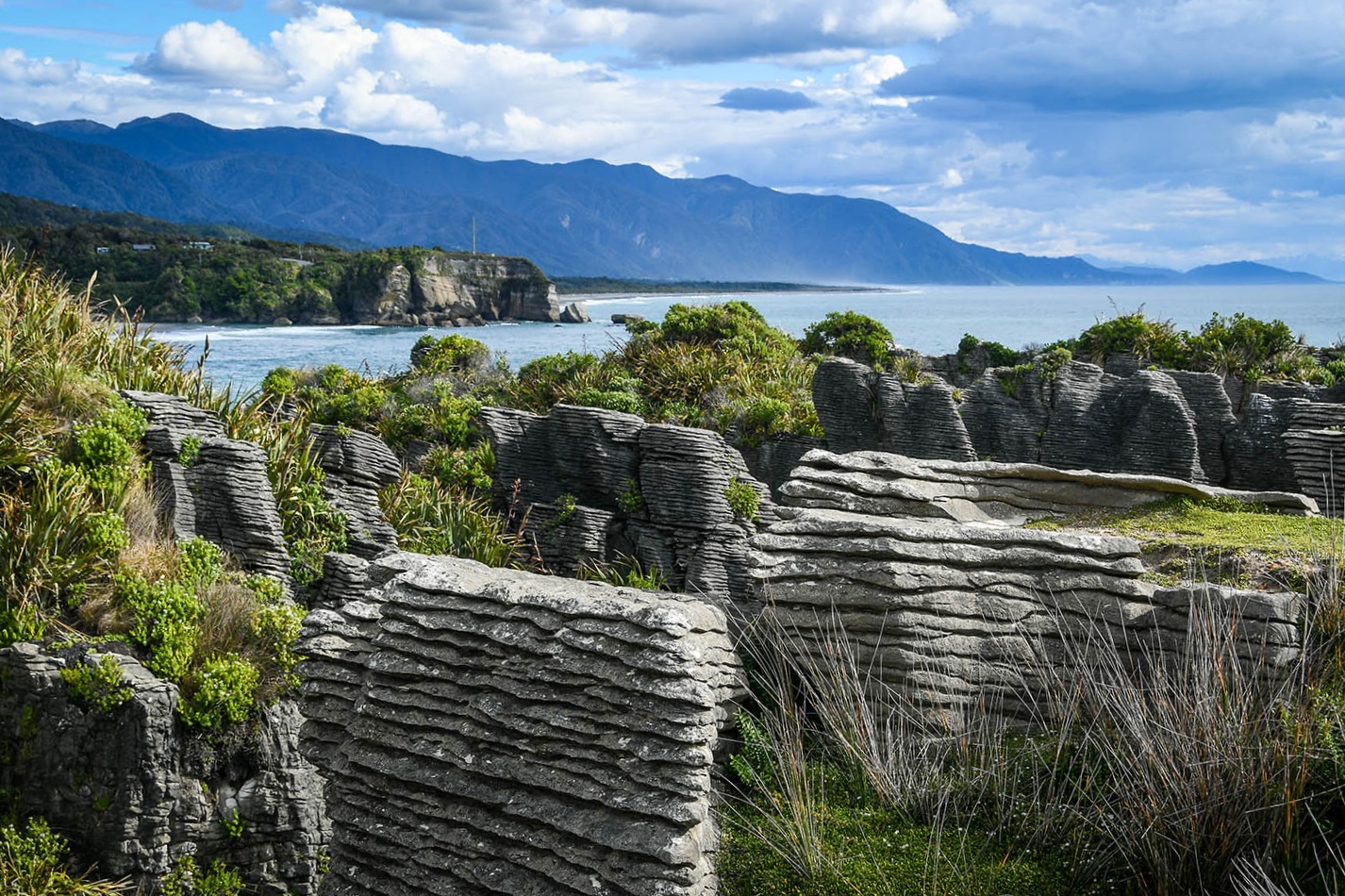 The Punakaiki Rocks are a sight to behold. Commonly known as "Pancake Rocks", all you need is one look at them to understand the nickname.
These limestone rocks protrude from the ocean in interesting shapes and formations. They all have a distinctly layered pattern and resemble, well, a stack of pancakes. Gimme dat maple syrup!
Depending on the tide and the ocean condition, you may also be able to watch water explode through the blowholes.
For more information on how the rocks were formed and whether you can expect to see the blowholes in action, head to the Visitor's Center.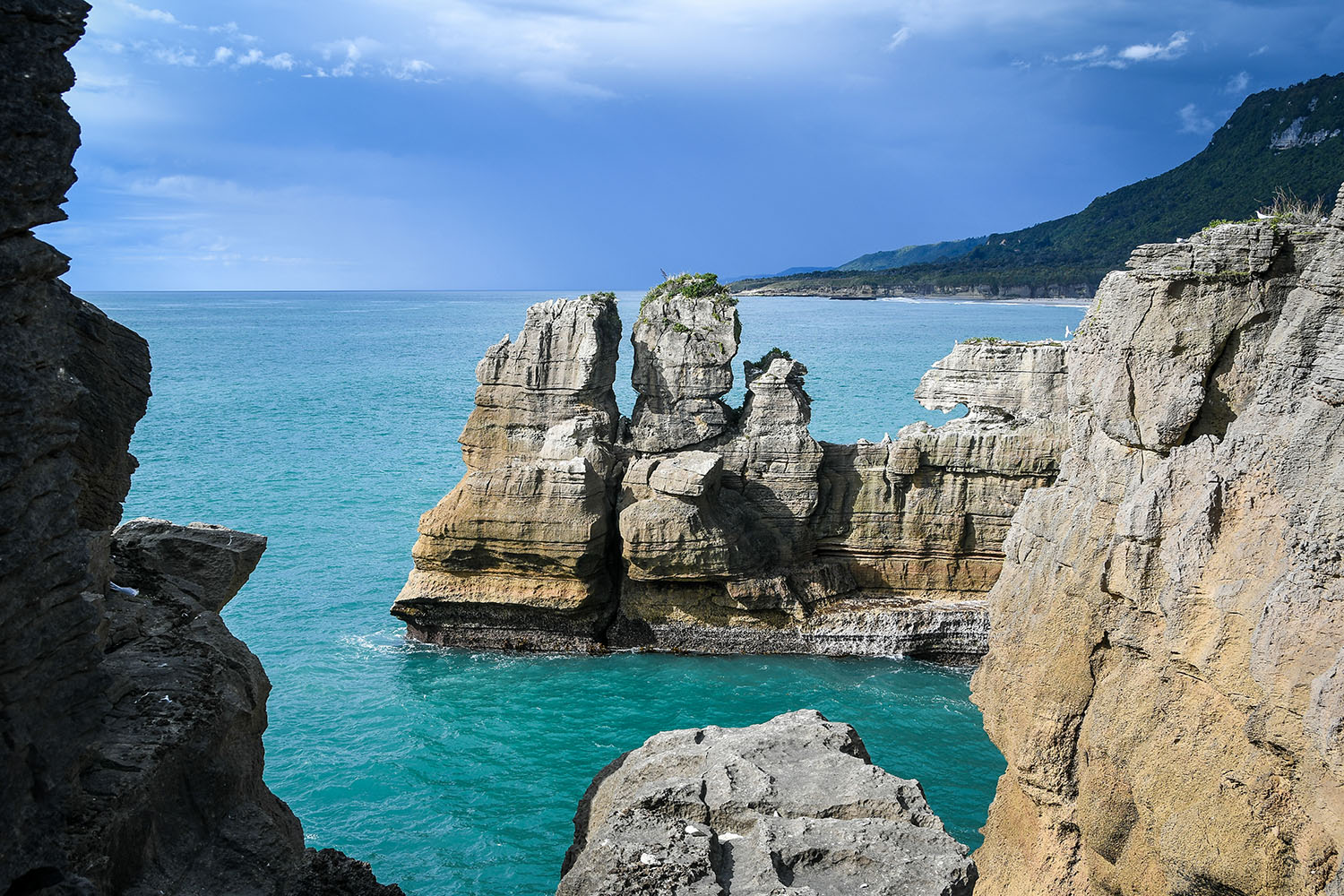 Do it yourself: As you drive on Highway 6, you won't be able to miss all the cars parked for this popular sight. There is an easy, paved path that takes roughly 20 minutes, but add some time for photo stops.
Cost: Free
15. See the sacred Kotuku (White Heron) nesting grounds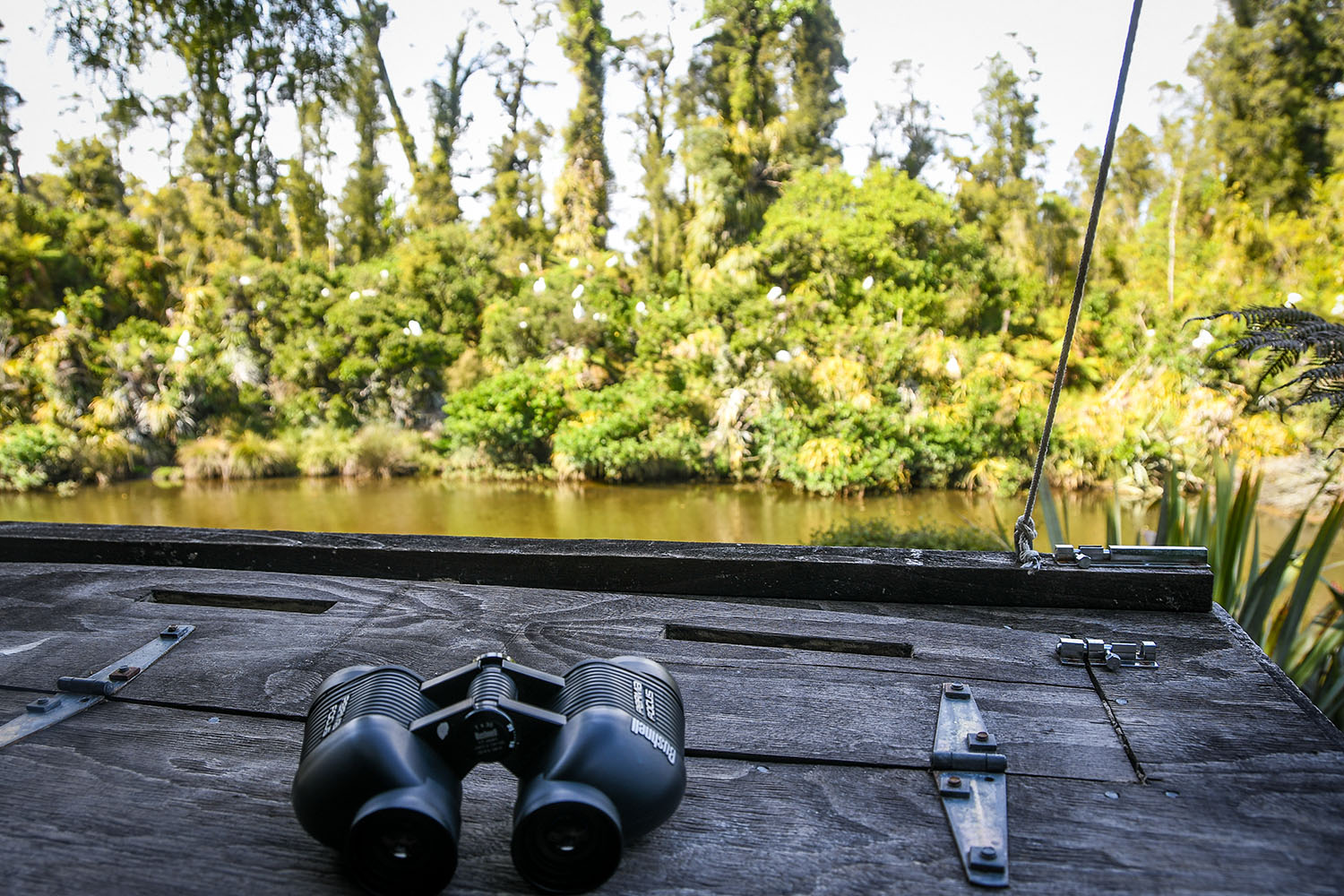 To be honest, we didn't really know what to expect when we first started.
I mean, we like birds, but bird watching has never really made it onto our list of top things to do when visiting a new place.
But we've gotta say, we were impressed with this tour.
You start with a speedboat ride, which allows you enter the natural reserve. The boat (safely) whips around turns on the river and we didn't expect it to be so much fun.
The guests of the tour are the only ones allow on the nature reserve. These are the only breeding grounds for the Kotuku (White Heron) in all of New Zealand.
Once you leave the boat, you take a short walk through some natural bust to a look out spot where there are binoculars waiting for you.
The site where all the birds are nesting is quite magical. You'll see about 50 of these angelic white birds feeding to their young, gathering sticks for their nest, and cleaning their feathers.
We stayed in the look out for about 20 to 30 minutes before heading out back to the boat where we took another 20 to 30 minute speedboat ride back.
I'll be honest and say we were the youngest people on the tour by a good 30 years, but we had a great time.
If seeing rare birds in their natural habitat is interesting to you, this tour would be fun to add to your West Coast itinerary.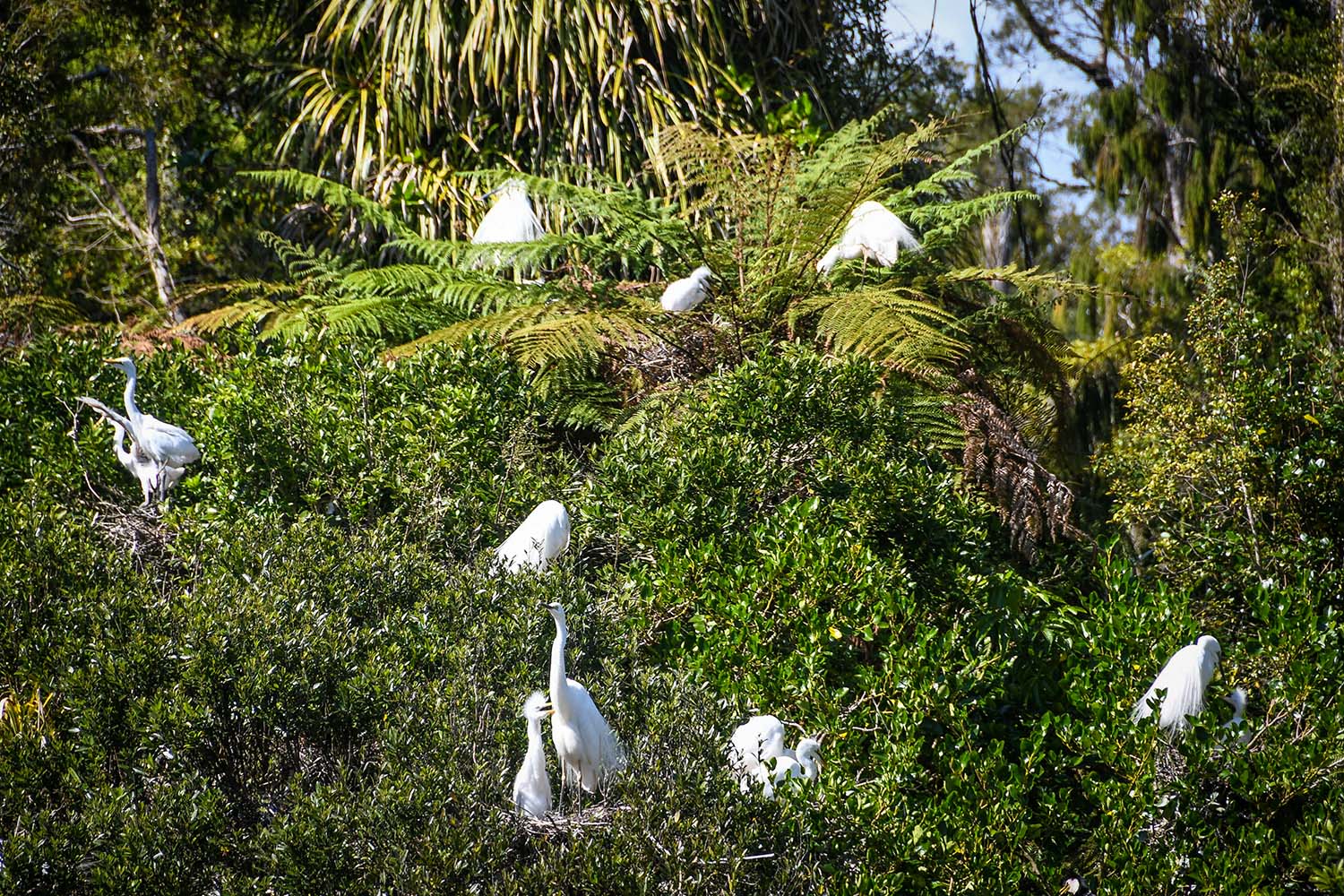 Do it yourself: Book your trip through White Heron Sanctuary Tours in Whataroa, about 30 minutes north of Franz Josef.
Cost: $150 NZD for an adult and $75 for children. A portion of your payment goes to the Department of Conservation.
16. Drive one of the most epic coastal routes in the world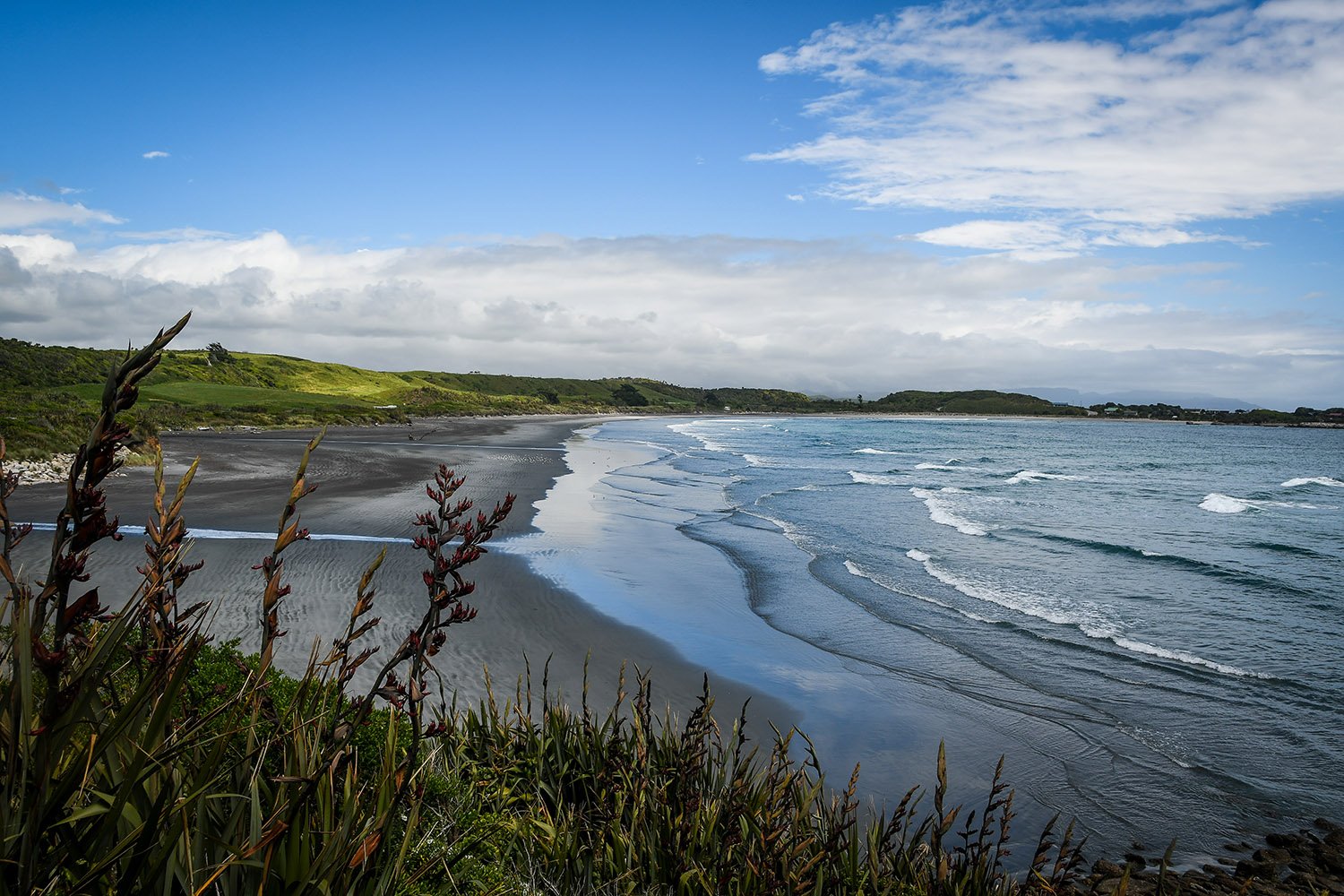 You don't earn a spot on Lonely Planet's "Top 10 Coastal Drives of the World" without having absolutely mind-blowing scenery. And you'll find just that along Highway 6.
You'll drive past towering snowcapped mountains, thick moss-covered rainforests, and rock-strewn rivers in the south. And the views shift to epic ocean lookouts, wild beaches, intricate rock formations and spindly palm trees as you head north.
Buckle up your seatbelt and make sure you're stocked up on snacks. The scenery doesn't get much more beautiful or varied as it is in the West Coast.
Insider Tip: It is common courtesy (and even a NZ law!) to pull over and let people pass if there is a back up behind you.

Most of the roads in West Coast New Zealand are one lane on either side, and locals tend to (understandably) get annoyed being stuck behind campervans. Just be sure to find a safe place to let others pass.
Do it yourself: Whether you start in Haast and travel north to Westport, or vice versa, you'll be able to experience this amazing coast drive and all its beauty.
Cost: Free… sort of. Gas in New Zealand ain't cheap!
---
West Coast New Zealand map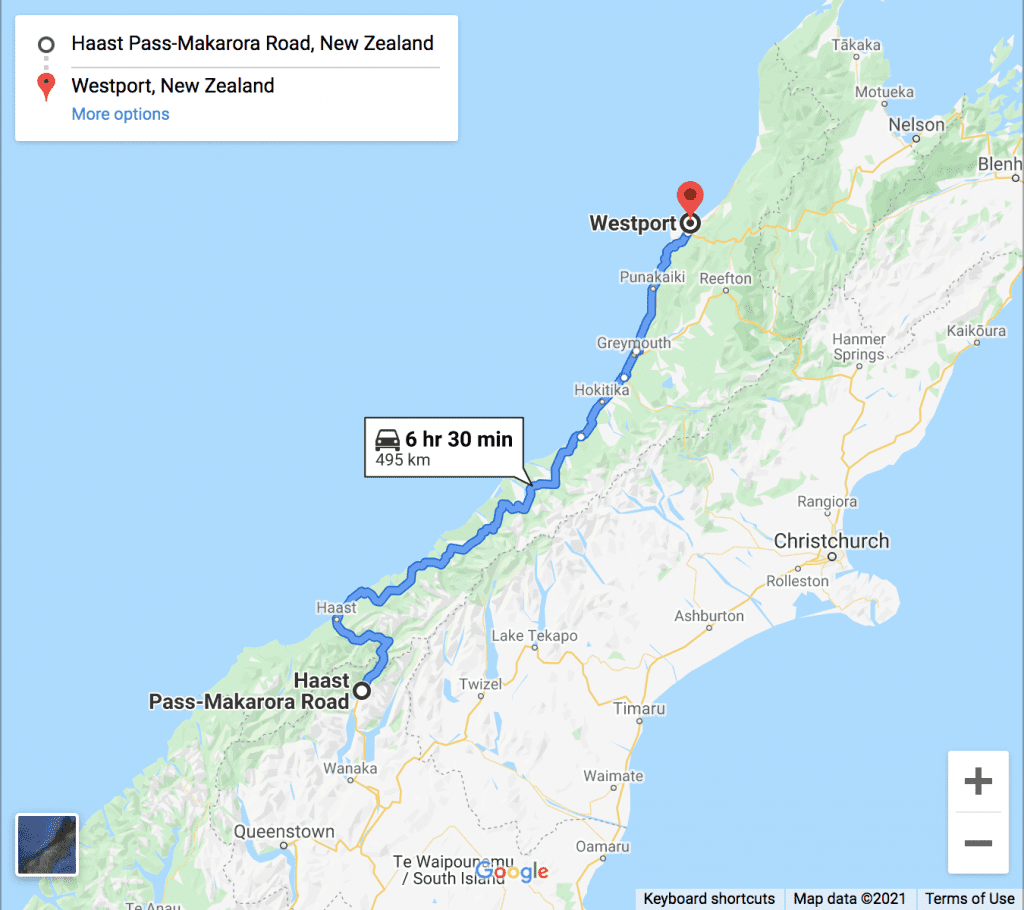 Tips for Visiting West Coast New Zealand
Before heading west, there are a few things you should know about this region that will ensure you are prepared for all its epic beauty and isolated roads.
1. Stock up on Groceries
Being that this is one of the most remote and sparsely populated regions of New Zealand, it comes as no surprise that big towns are few and far between. In the section from Haast to Greymouth, you won't have a huge selection of grocery stores.
With the exception of Franz Joseph and Hokitika, most of the towns are quite small and have limited options when it comes to restaurants and supermarkets.
2. Fill up your tank
We heard that gas prices tend to be higher on the West Coast due to its remote nature, though we didn't notice too much of a price difference when we visited. Regardless, it is a good idea to come with a full tank (especially if you're entering via Haast Pass).
3. Be prepared for limited cell service
Cell service can be quite limited in this region, especially in the southernmost end. Be sure to download your Google Maps so you can view it offline.
4. Know that rain is likely
This region is known for temperate rain forests, so you shouldn't be shocked to learn that rain is quite common. Many activities, such as helicopter flights, rely on good weather to run safely. This means you will have to be flexible and there is a chance you won't be able to do all activities on your list if you happen to visit during a streak of rainy weather.
You could get really lucky (like us!) and have a perfectly sunny stay in the West Coast, but it's good to know that rain is not uncommon.
5. Pack layers!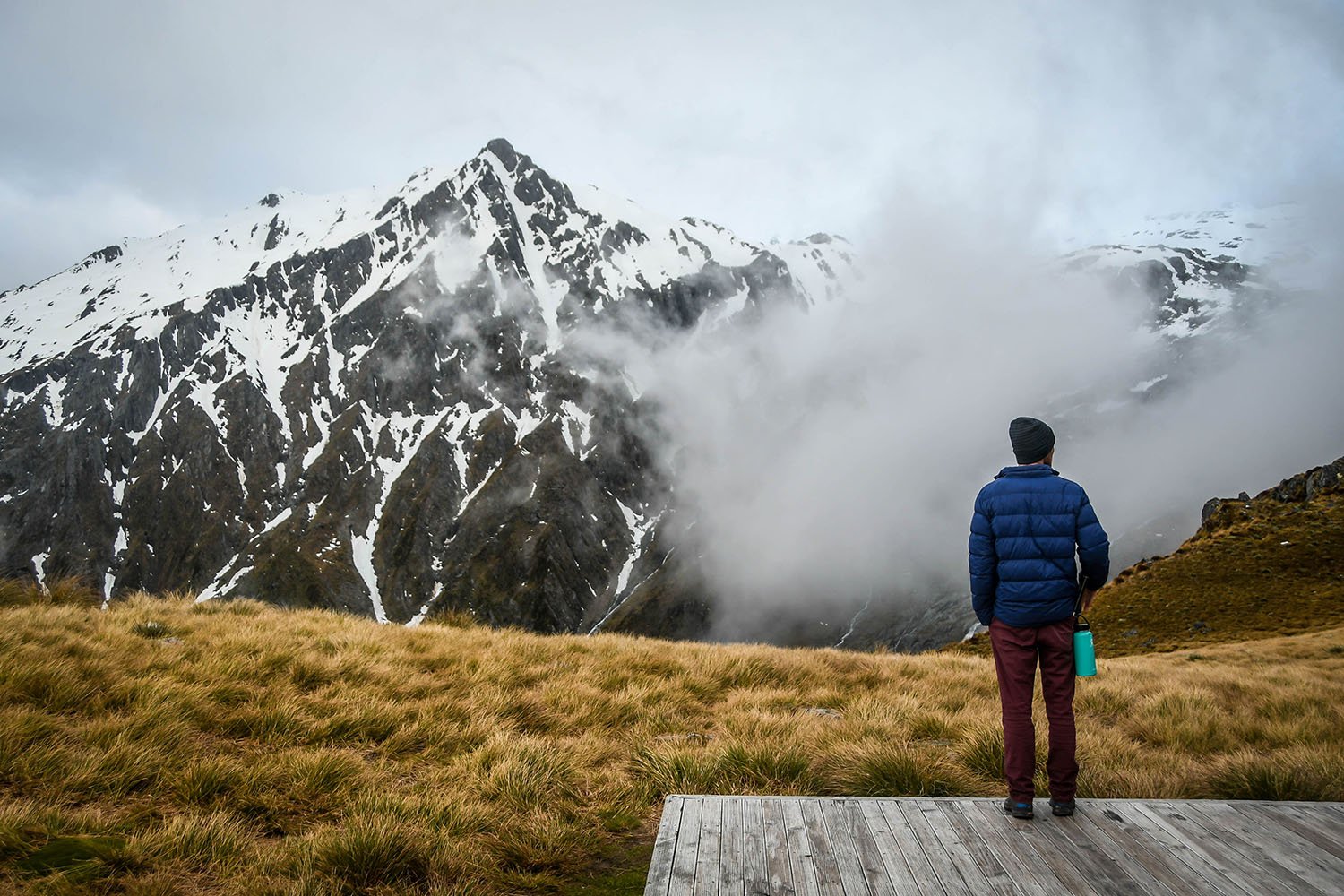 Temperatures in New Zealand's West Coast vary drastically. In the north, it can be quite hot and humid, while it can be freezing cold in the south. We wore tank tops and shorts in the north days after wearing down jackets and wool socks in the south.
6. Be prepared for sandflies
We traveled to places known for sandflies in the past and never had too much of a problem. But man oh man did we notice these suckers in the West Coast!
They swarmed us in the hundreds and made for some very uncomfortable (and itchy!) days after we had been bitten. Learn from our mistake and wear socks that cover your ankles, especially around dusk. And if you have any exposed skin on your legs, apply a layer of oil (baby oil works well). They can't bite through oil, so it will prevent all bites, but won't necessarily keep them from swarming annoyingly.
What to pack for traveling to New Zealand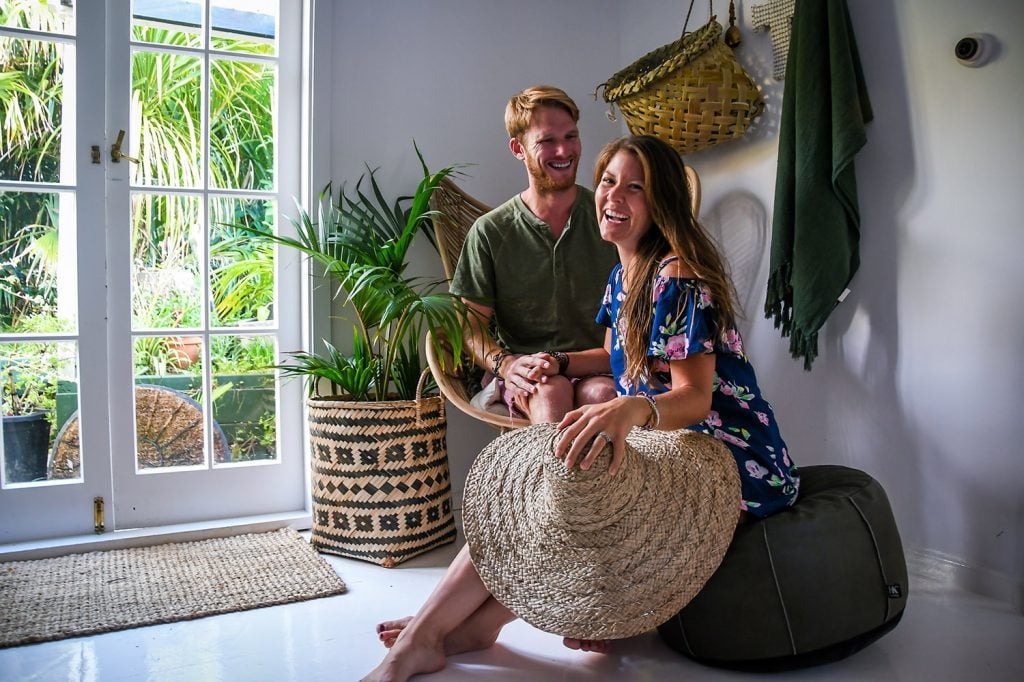 We know it can be overwhelming packing for a trip to a new destination. That's why we spent hours creating this super helpful PDF just for you.
In this free New Zealand packing list PDF download, we've provided packing checklists for everything from clothing and toiletries (for both women and men!) to what shoes to pack and extra medicines you may want to have on-hand just in case.
Plus, we're sharing tons of packing hacks and tips for traveling in New Zealand that you won't find anywhere else!

Round up of the best things to do in West Coast New Zealand
Here's a recap of all the best things to do in West Coast New Zealand so you can see everything in one place.
Glowworm cave
Carve your own jade necklace
Brewster Hut
Franz Josef Glacier
Helicopter ride
Hot pools
Hokitika Gorge
Glowworms in the wild
Truman Track
Heritage Museum
Local beer
West Coast Wildlife Centre
Sunset
Pancake Rocks
Kotuku (White Heron) nesting grounds
Highway 6 coastal drive
Disclosure: This article was created in partnership with the West Coast New Zealand Tourism Board. As always, all opinions are our own.
---
Are you planning a trip to New Zealand?
We have TONS of resources on travel in New Zealand and destinations throughout the country. Check out our Ultimate New Zealand Travel Guide for all the answers to your most burning questions, or read some of our favorite articles below.
Save this article on Pinterest for later!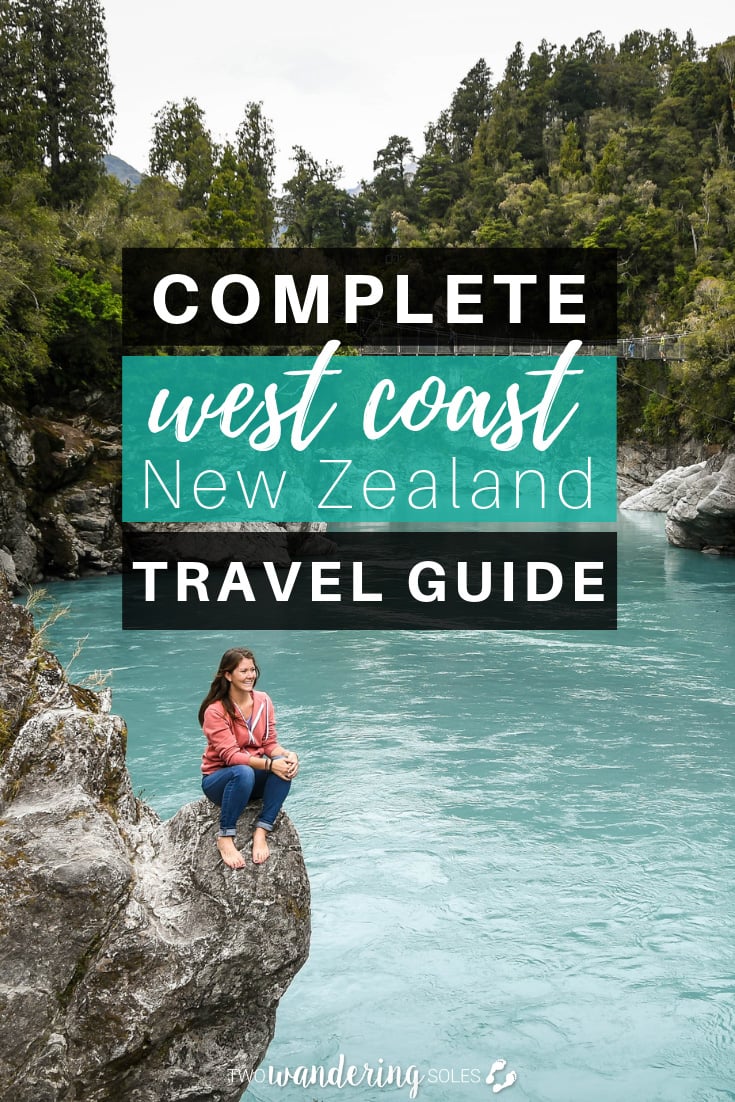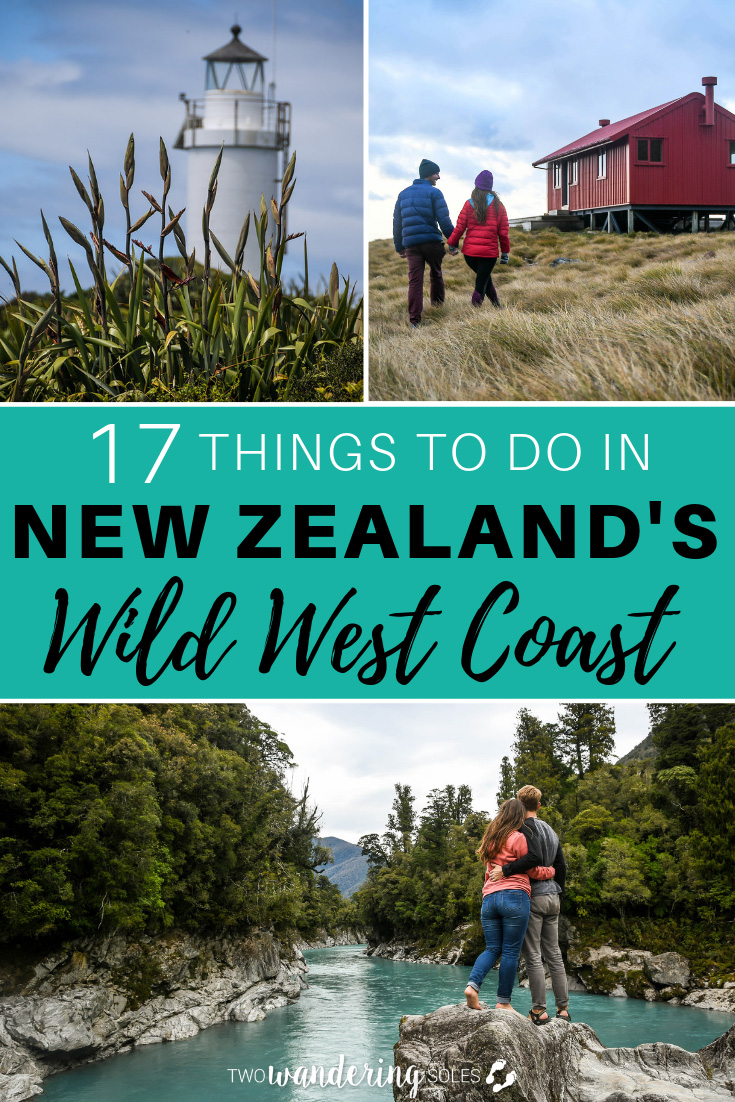 We want to hear from you!
Are you planning a trip to New Zealand? Is the West Coast on your itinerary? What are you most looking forward to? What questions do you still have?
Comment below and we will try our best to answer any questions you may have.