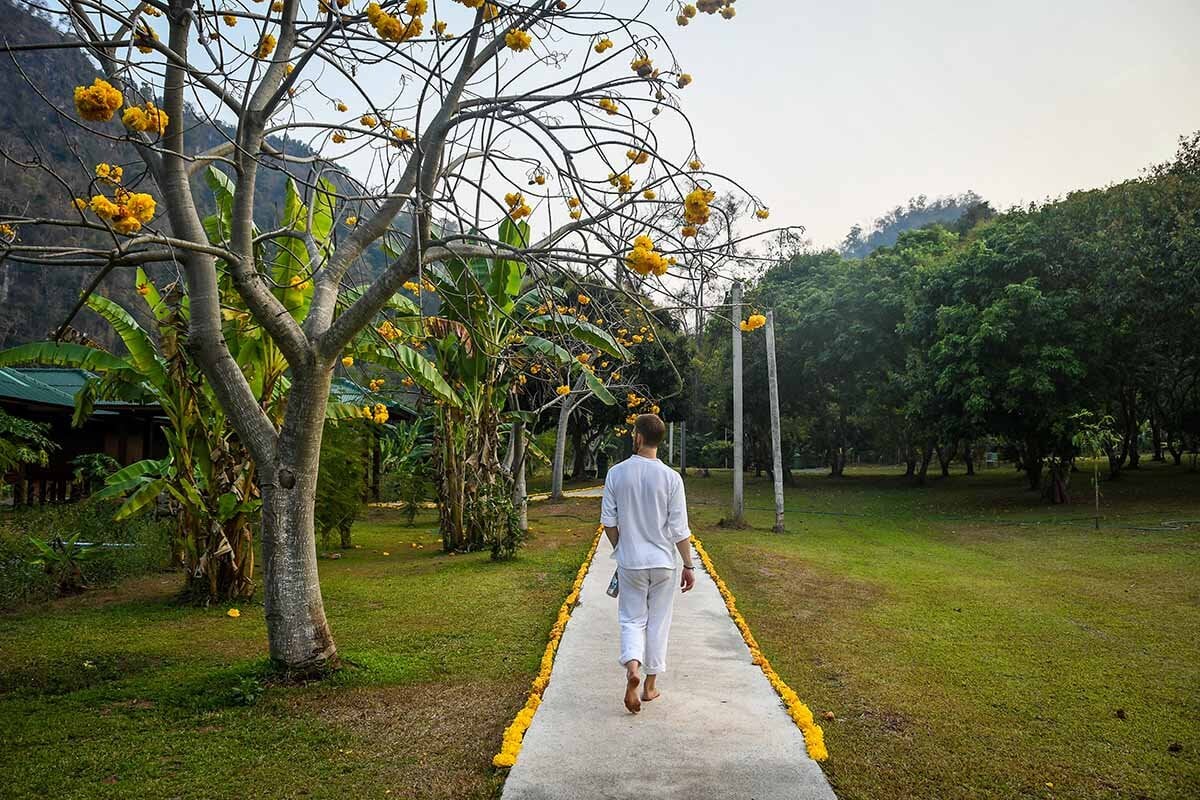 The more time we spent in Thailand, the more we heard about meditation retreats. In all honesty, they sounded terrifying. Ten days of no talking and sitting for hours and hours on end. Seems like torture to me.
But people also spoke of the life-changing results. About how they see the world differently and have given up harmful and restrictive mindsets. I was intrigued, but still couldn't get past the harshness of sitting for hours on end during a 10-day Vipassana retreat.
And no talking? I'm not sure how I feel about that…
So when I heard of a meditation retreat that offered more freedom, I made up my mind that I would go. And convincing Ben was easier than I thought.
The monastery we visited is set in beautiful northern Thailand and welcomes people with varying backgrounds and knowledge of meditation.
Whether you truly want to delve into this practice and learn everything you can about Buddhism, or you want to get away from the cities and beaches and have a meaningful experience, staying at Wat Pa Tam Wua is a wonderful addition to your Thailand itinerary. 
We're sharing our experience at this Thailand meditation retreat so you know exactly what to expect!
Wat Pa Tam Wua: Forest Monastery
Wat Pa Tam Wua is nestled in a mountain valley and is surrounded by lush jungle, caves and palm trees. Little ponds dot the grounds and while we were there, trees with massive yellow flowers were in full bloom.
The nearest town of any notable size, Pai, sits roughly 70 kilometers (43 miles)  to the southeast. So as you make your way to the monastery, you are very well aware of the seclusion of it.
Our van driver dropped us off on the side of the road and pointed to a dirt path with a sign in Thai. We walked with our packs for a good 15 minutes, and as we approached I took in all of the surroundings.
My only thoughts were, "Oh yes, this will certainly do."
If you're going to be removing yourself from most worldly comforts, you might as well do it in a place that is epically beautiful, right?!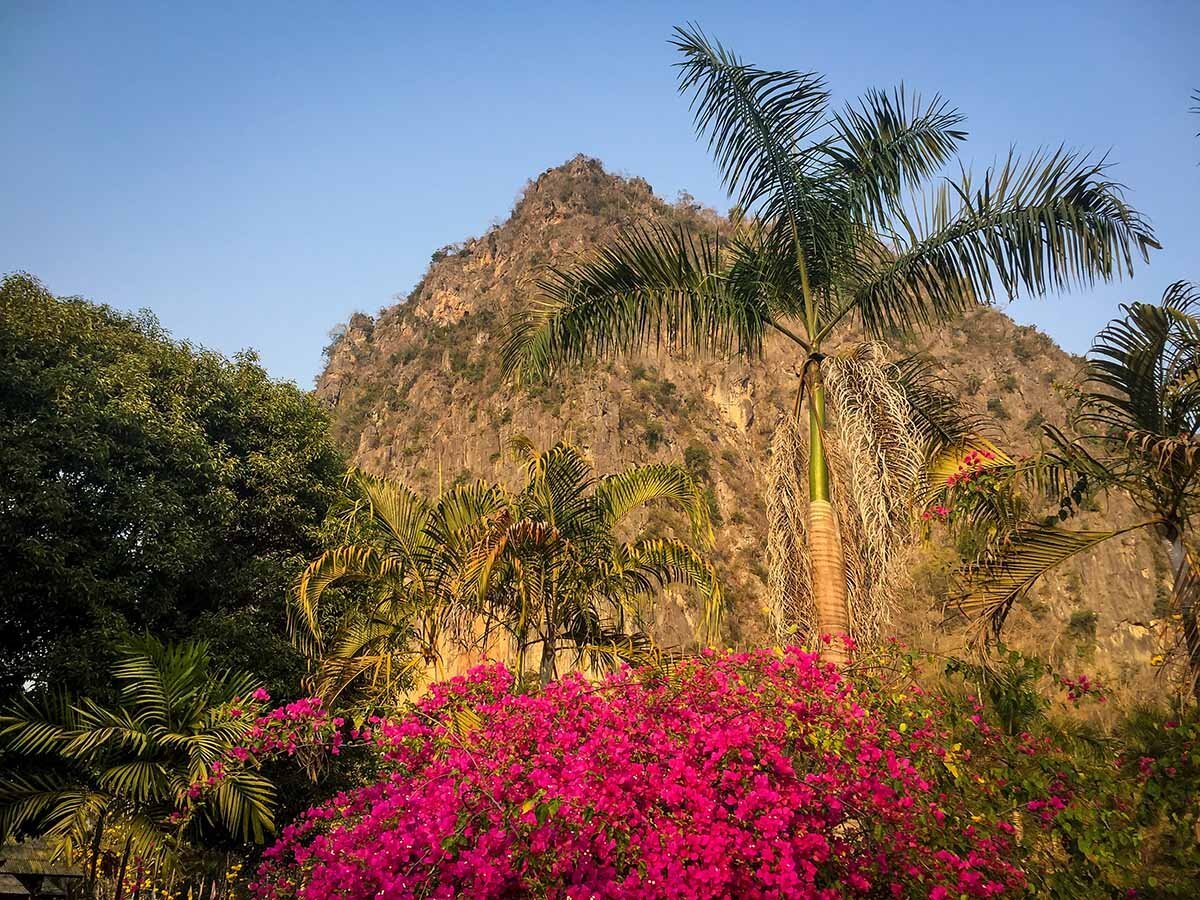 We were greeted by a smiling monk with great English, who we later found out is the Abbott, or head monk. He escorted us to a desk where a young Thai man introduced himself as Mark and told us to enjoy lunch and return to his desk for further instructions.
And thus began an experience that was both challenging and beautiful.
If this sounds like an experience that you'd enjoy, the next sections will cover exactly how to get to this meditation center as well as what to expect once you're there.
How to get to and from Wat Pa Tam Wua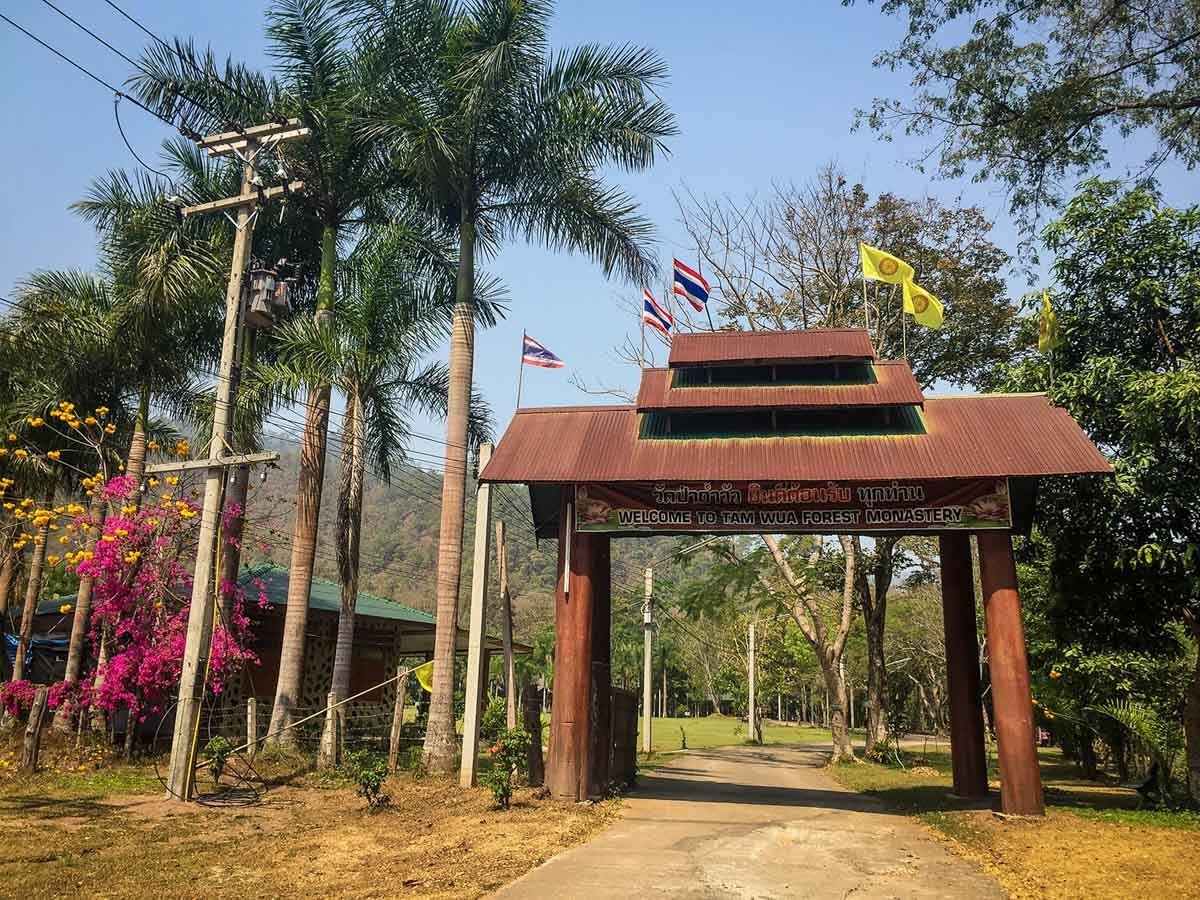 The monastery is on Highway 1095 about 2 hours from the town of Pai and 1 hour from Mae Hong Son. The only mini bus company that runs past the monastery is Prempracha. It's easy to get to Wat Pa Tam Wua from Chiang Mai, and you can even make a reservation online from Prempracha's website.
Minivans leave from Chiang Mai's Terminal 2 Arcade Bus Station on Platform 12. They leave every hour on the half hour from 6:30 a.m. to 2:30 p.m. and the trip takes 5 hours. Be sure to arrive at the bus station at least 1 hour before departure to confirm your reservation. 
If you are already in Pai, you can book a Prempracha minivan from the bus station on walking street to Mae Hong Son. The ride to the Forest Monastery should be about 2 hours. 
Be sure to tell the driver that you want off at the Wat Pa Tam Wua Forest Monastery. They will know where it is and drop you off on road leading to the temple. 
Getting back to Chiang Mai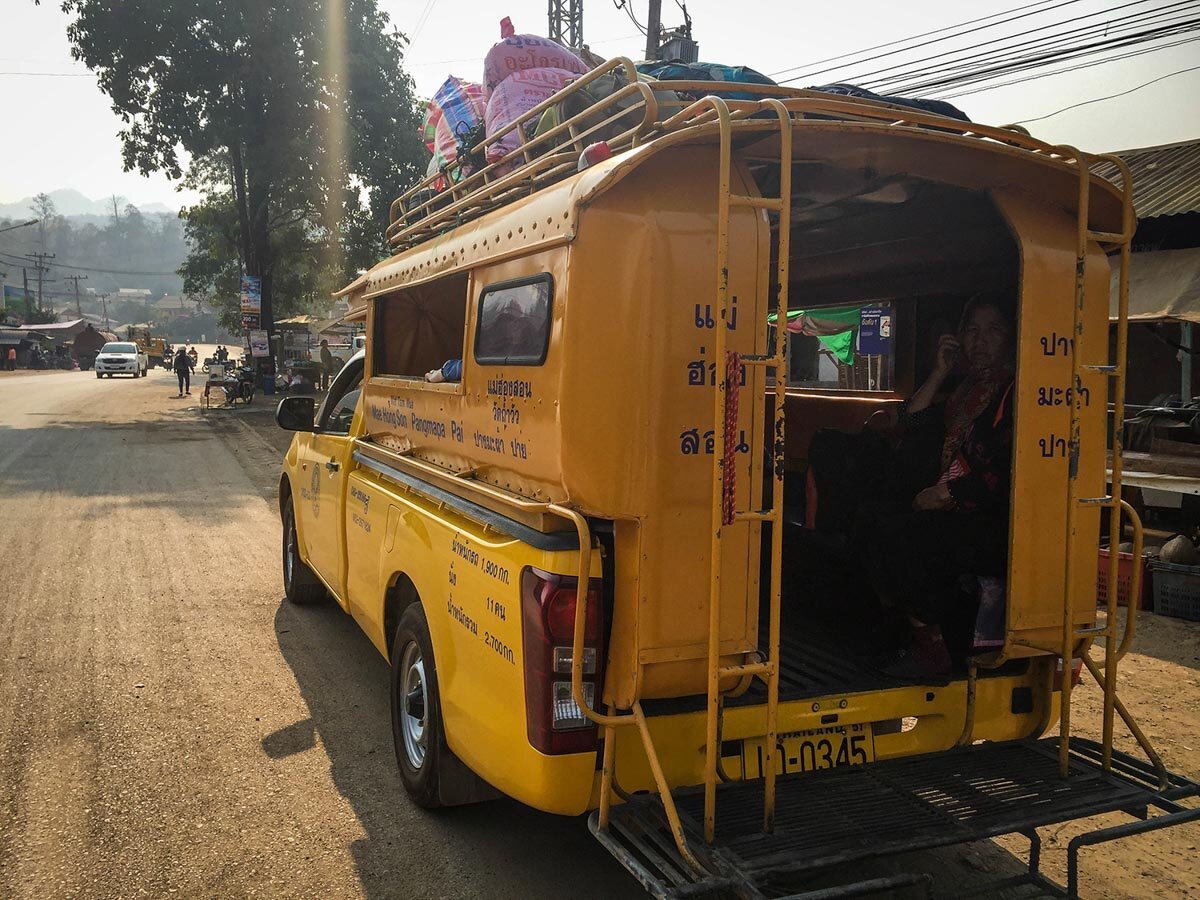 To get back to Pai from the monastery, every day there is a songthaew (two-benched truck) that drives from Mae Hong Son to Pai. It stops at the monastery at 8:15 a.m. and 1 p.m. and costs 100 baht. It's not the most comfortable ride, but it will get you there.
If you are continuing on to Chiang Mai, you can book a minivan at the bus station on walking street.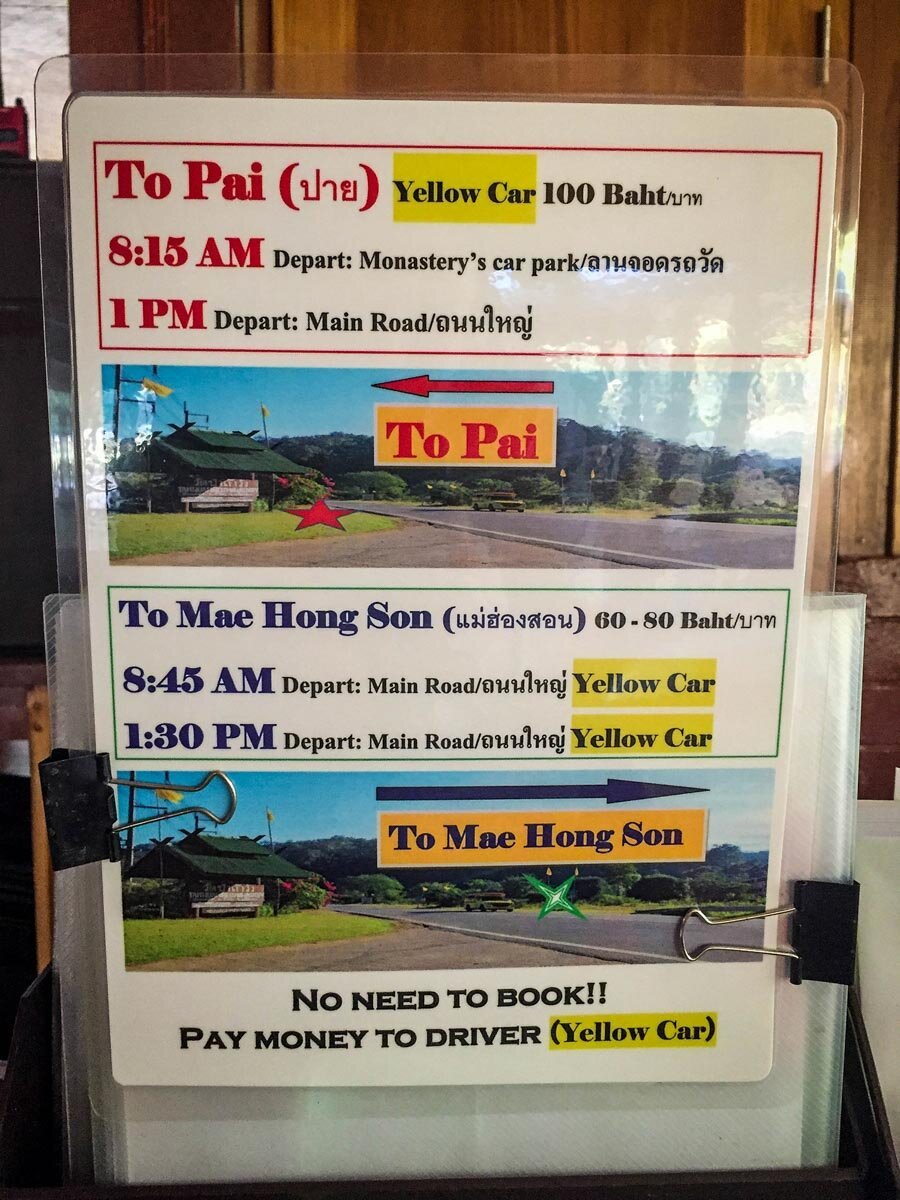 Daily Schedule at Wat Pa Tam Wua
The schedule at Wat Pa Tam Wua is the same every day and is posted in the main hall.
5:00 a.m. Morning meditation by yourself in your kuti (room)

6:30 a.m. Rice offering to monks

7:00 a.m. Breakfast

8:00 a.m. Practice meditation in the main hall (walking, sitting, laying)

10:30 a.m. Offering food to the monks

11:00 a.m. Lunch

1:00 p.m. Practice meditation in the main hall (walking, sitting, laying)

4:00 p.m. Cleaning of monastery areas (Be mindful while cleaning)

5:00 p.m. Relax time – coffee and tea

6:00 p.m. Evening Chanting and meditation in the main hall

8:00 p.m. Practice Meditation on your own in your kuti (room)

10:00 p.m. Sleeping
Our favorite part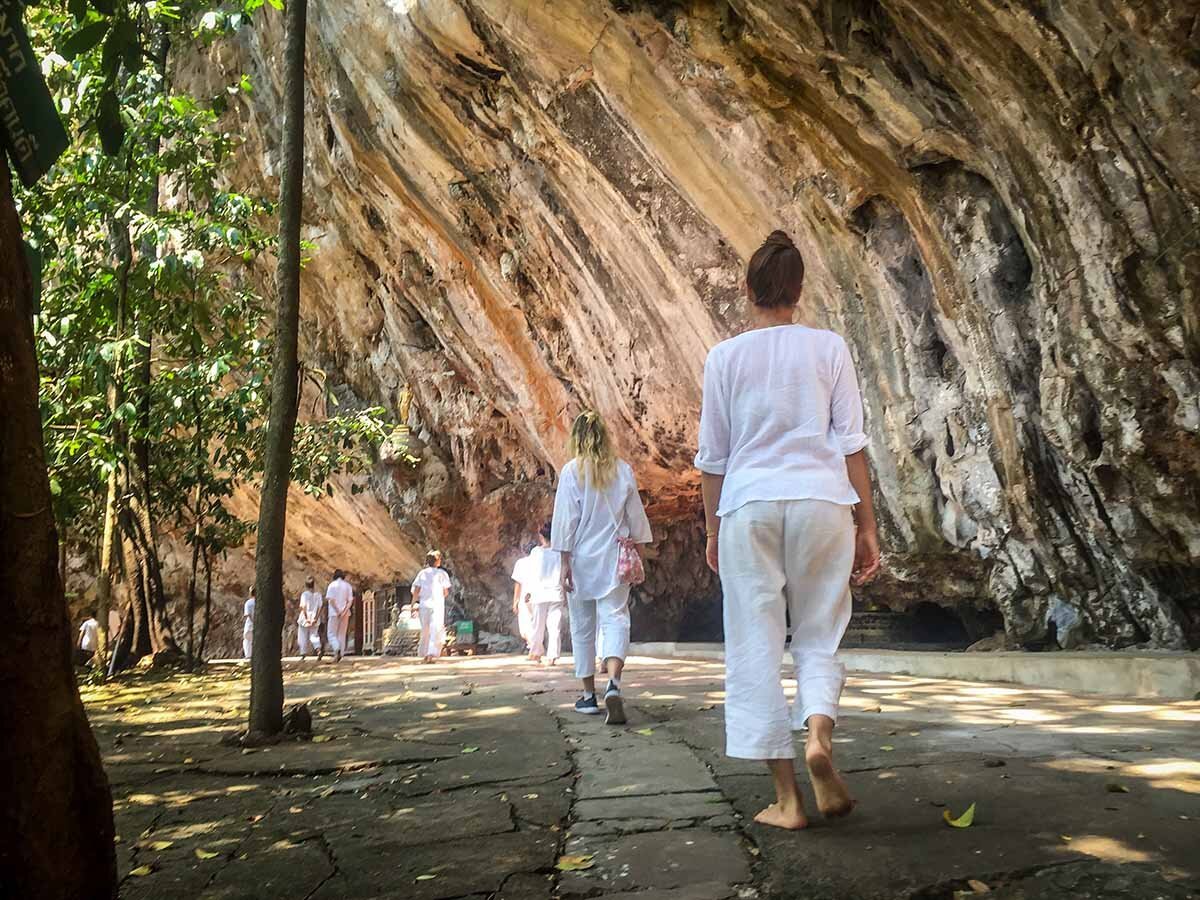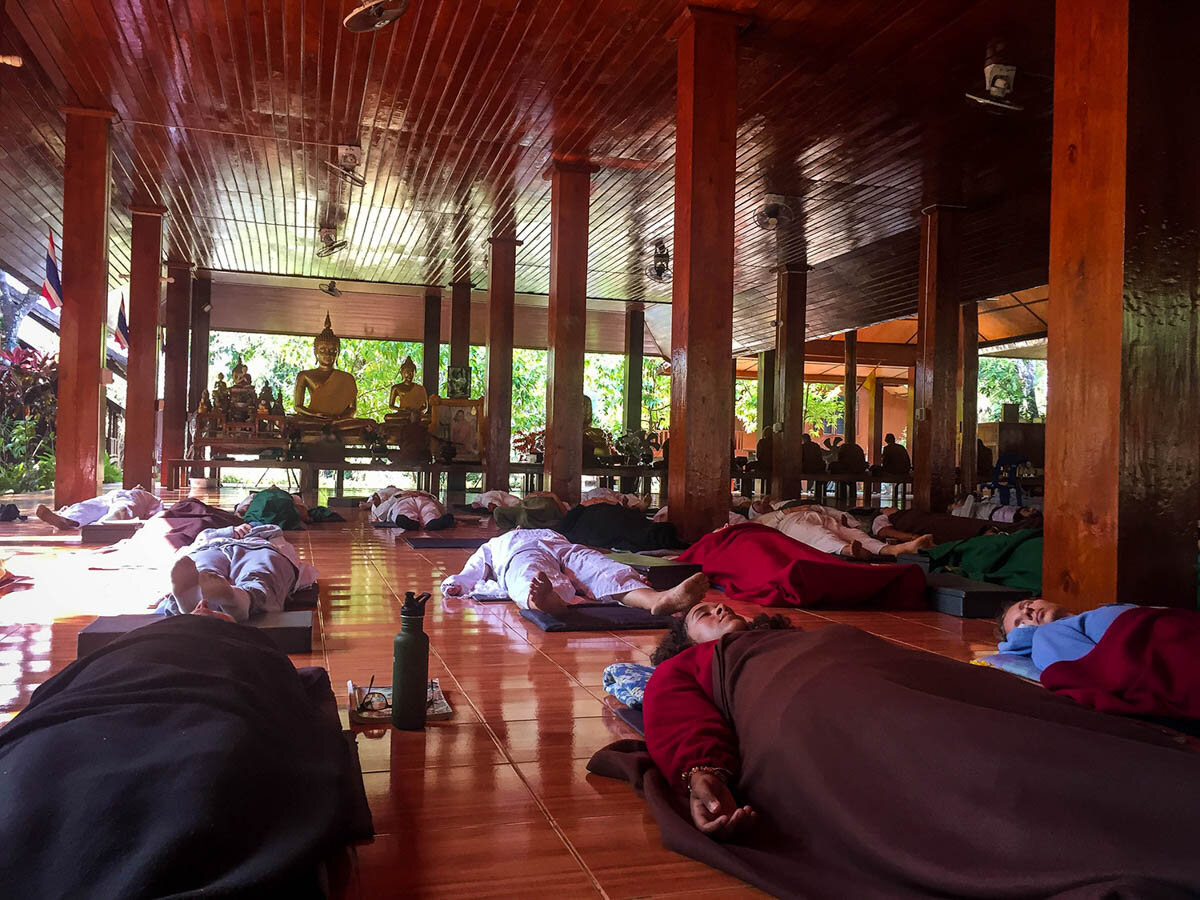 I really loved the fact that Wat Pa Tam Wua gives you options. You try meditation in three different styles: walking, sitting and laying.
Of course, everyone has their own preference and type that works best for them. But the beauty is you can discover your favorite for yourself.
Our least favorite part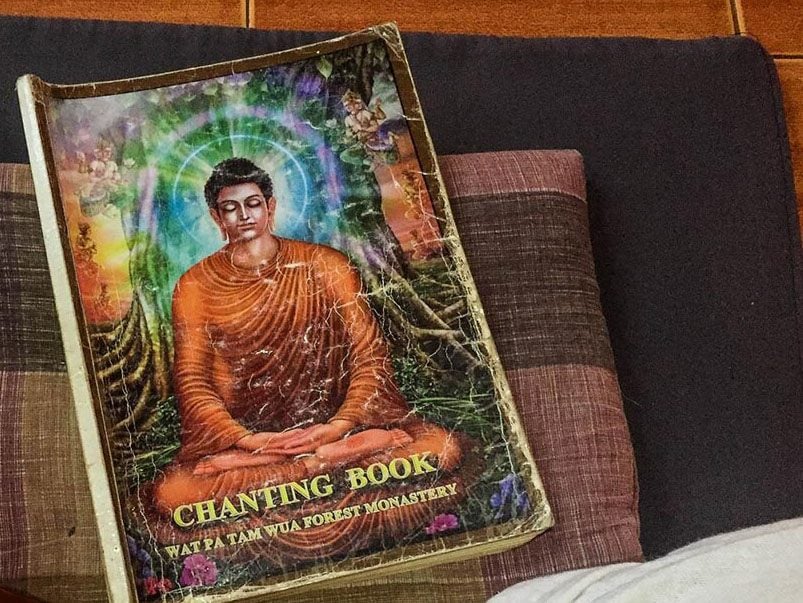 Each evening, there are 45 minutes of chanting that was really hard for me to get into. It was in 3 languages, so much of the time I really had no idea what I was saying.
Personally, I think I would have gotten much more out of this time if I knew what the chant meant. That said, maybe not knowing would be helpful for some in practicing mindfulness.
How much does this meditation retreat cost?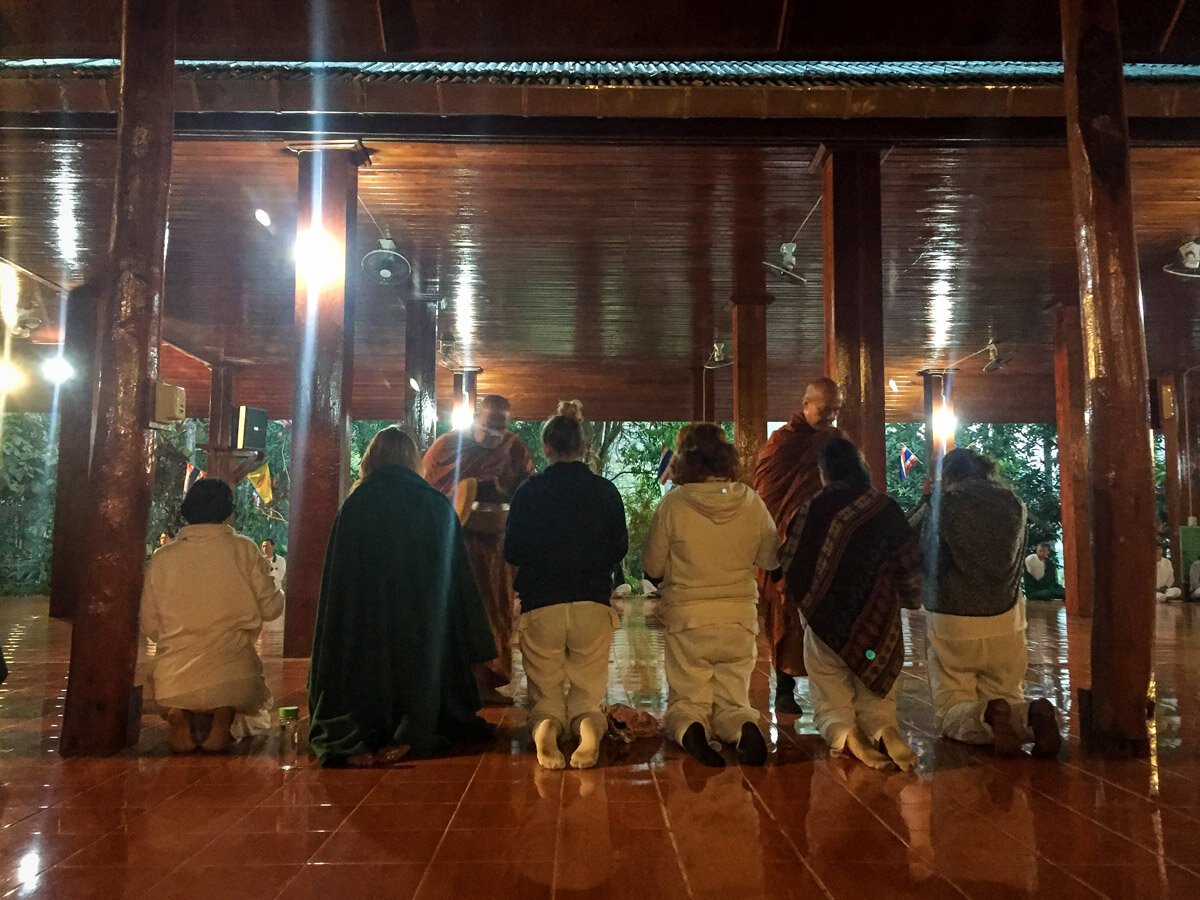 Staying at Wat Pa Tam Wua is absolutely free of charge. You will be provided basic accommodation, daily breakfast and lunch, and guided meditations.
That said, donations are accepted and greatly appreciated. They aren't pushy about it, but any money helps to keep this monastery running free of charge for others into the future. If you found it to be a meaningful experience (we're pretty sure you will!), we'd encourage you to make a donation from the heart.
What to Pack for a Meditation Retreat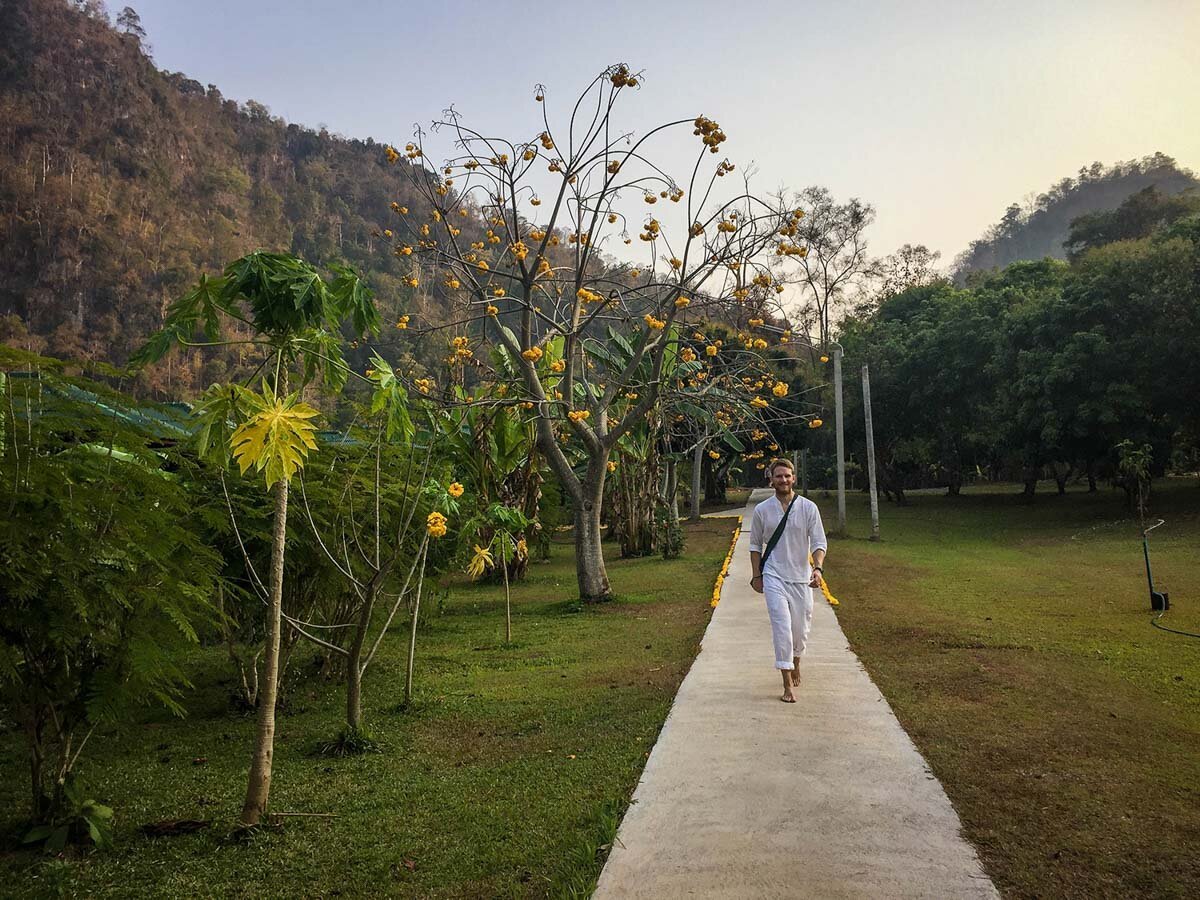 You won't need much for this meditation retreat, and if you're staying in Pai before or after your time at the monastery, you might want to consider putting some of your stuff in storage at your hotel. However, it's definitely not necessary.
Book

Insect repellant: there is some available at the monastery, but it's nice to have your own too.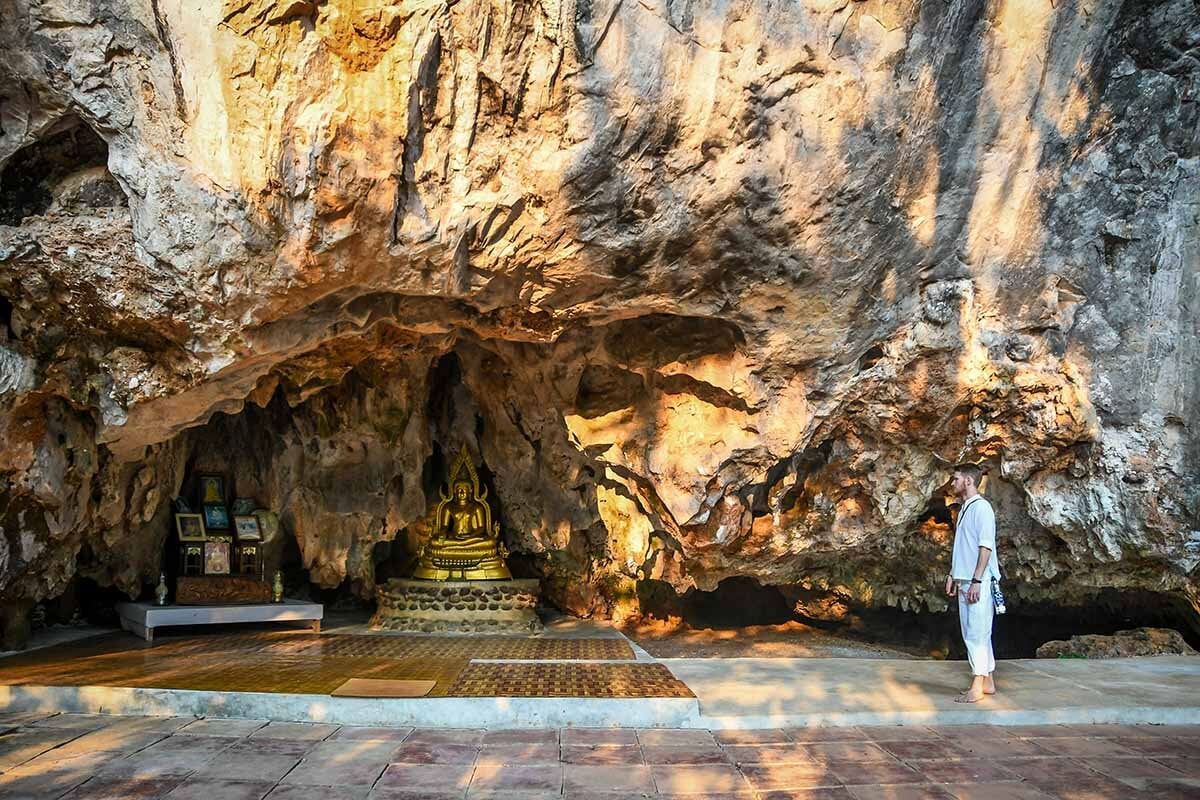 Basic toiletries (you'll be able to shower daily if you'd like)

Travel pillow: basic bedding is provided, but the pillow is very tiny. I was happy to have my travel pillow with me

Silk sleeping bag liner: one of the women who shared my room swore hers kept her warm at night

Warm sweater: even though we were there at one of the hottest times of the year, it got incredibly cold at night. A lot colder than you'd think!

Money for a donation
How long can you stay?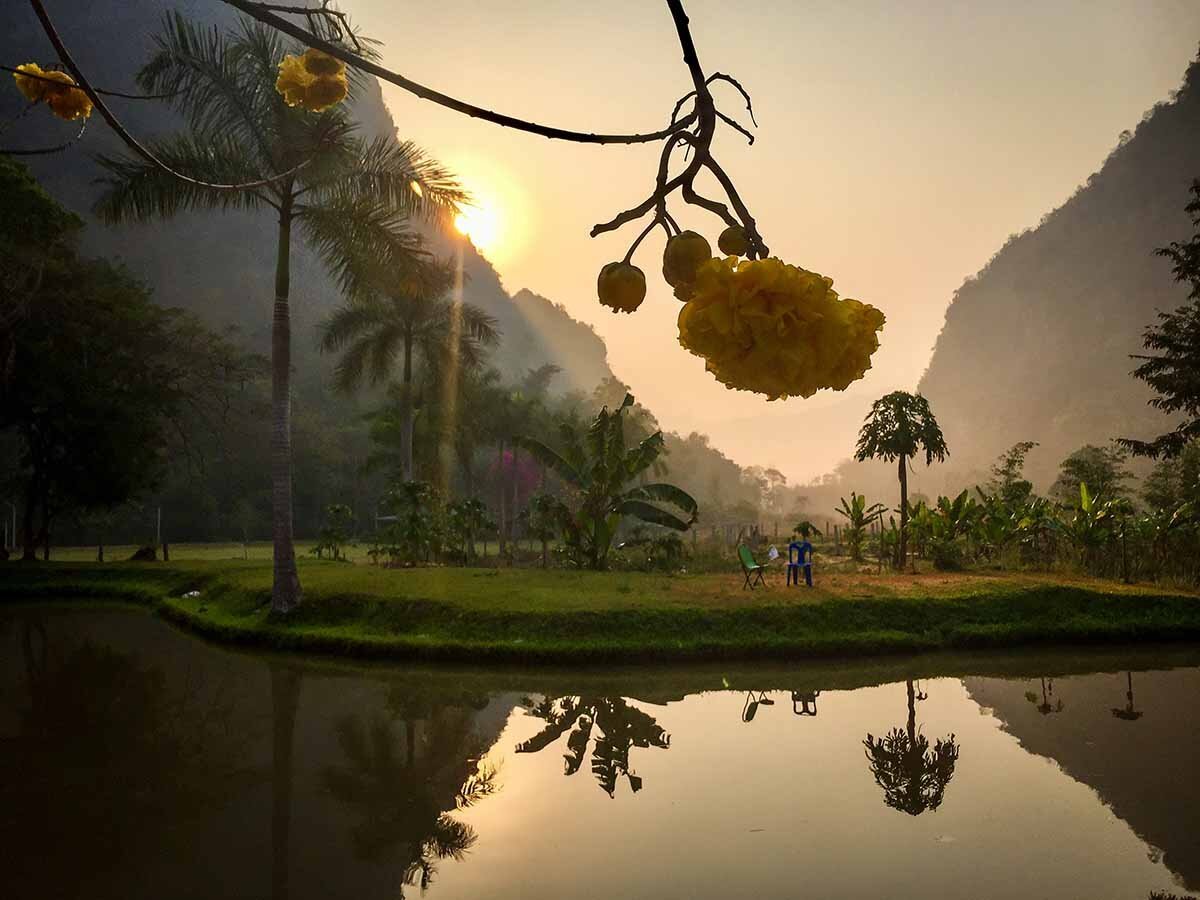 The maximum amount of time you can stay is 10 days, and while there is no minimum, they recommend at least 3 days. I would agree with this recommendation; especially since it takes some time to get there. 
As beginners, we thought 3 days was a good amount of time, but I think we would have gotten even more out of it had we been able to stay longer. 
Do I need to make reservations?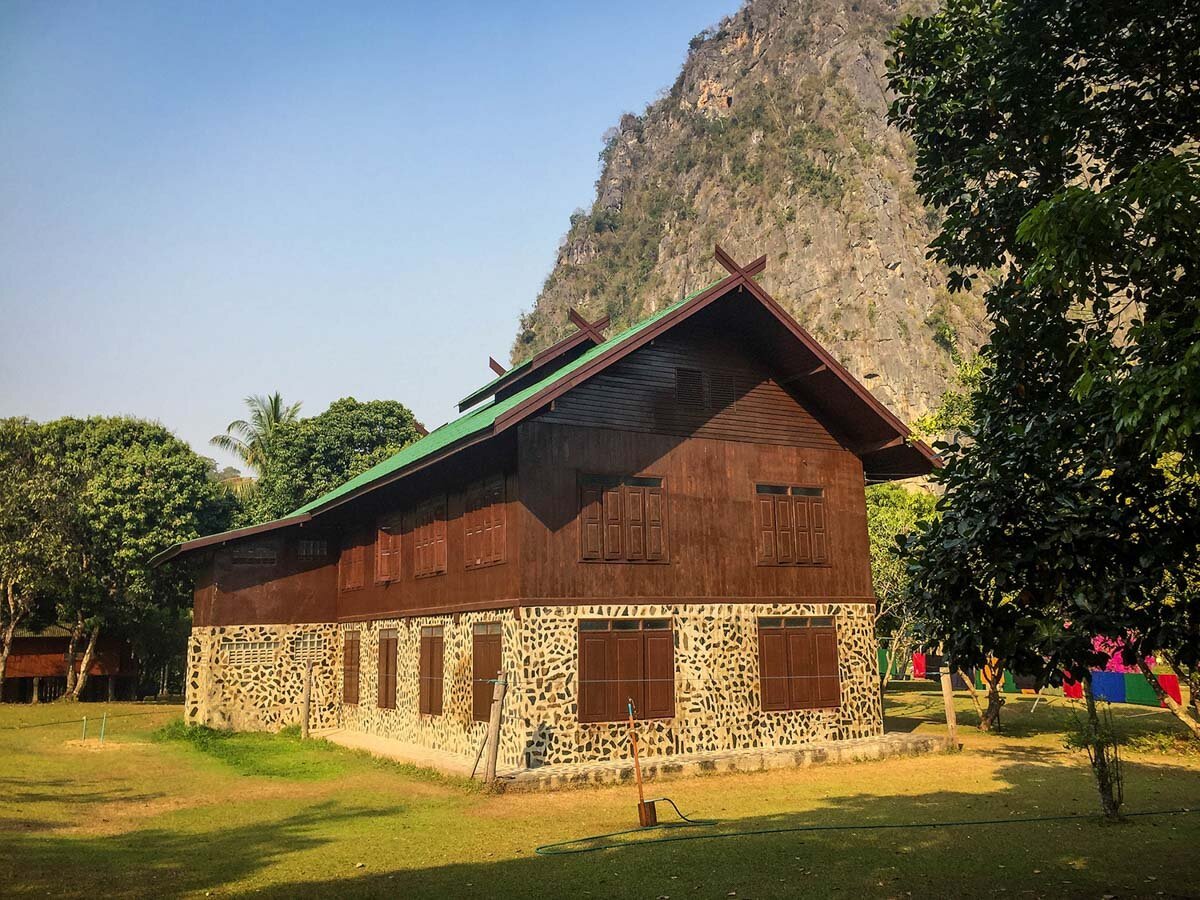 No, you do not need to make reservations. In fact, we tried texting a number we found online, and they just told us to show up.
We constantly get emails from people who have read this article and still ask if they need to make reservations.
I know it sounds a bit scary to head into the middle of the Thai countryside hours away from the nearest sizable town, with no accommodation booked in advance, but trust us here. You'll understand once you get there.
While you may not get a private room, there will be space for you. There is a huge dormitory-style lodge that can fit basically as many people as needed since mats are just placed on the floor for sleeping.
Moral of the story: No, you do not need to make reservations. And yes, you WILL have a space to sleep.
What is the accommodation like?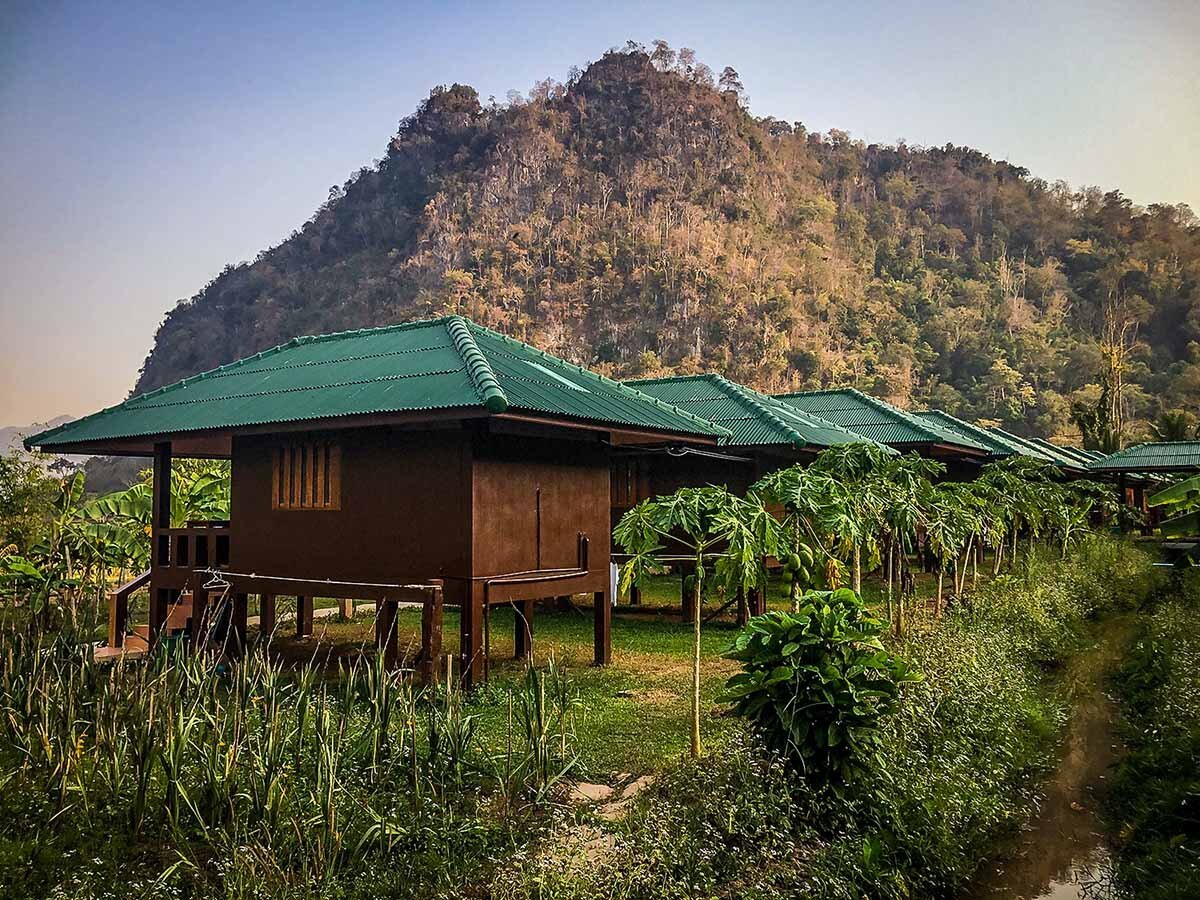 Accommodation is basic but nice. If you arrive in low season, you will likely get your own private bungalow, complete with your own bathroom and shower. That said, if you come during a busier time, you might be staying in the dorms.
Whether you're in a private bungalow or the dorm, you will not have a traditional bed. Instead, you'll be given a (very) thin mattress pad, a small pillow and a couple of fleece blankets. You will be sleeping on the floor (or on a bed frame), as monks do.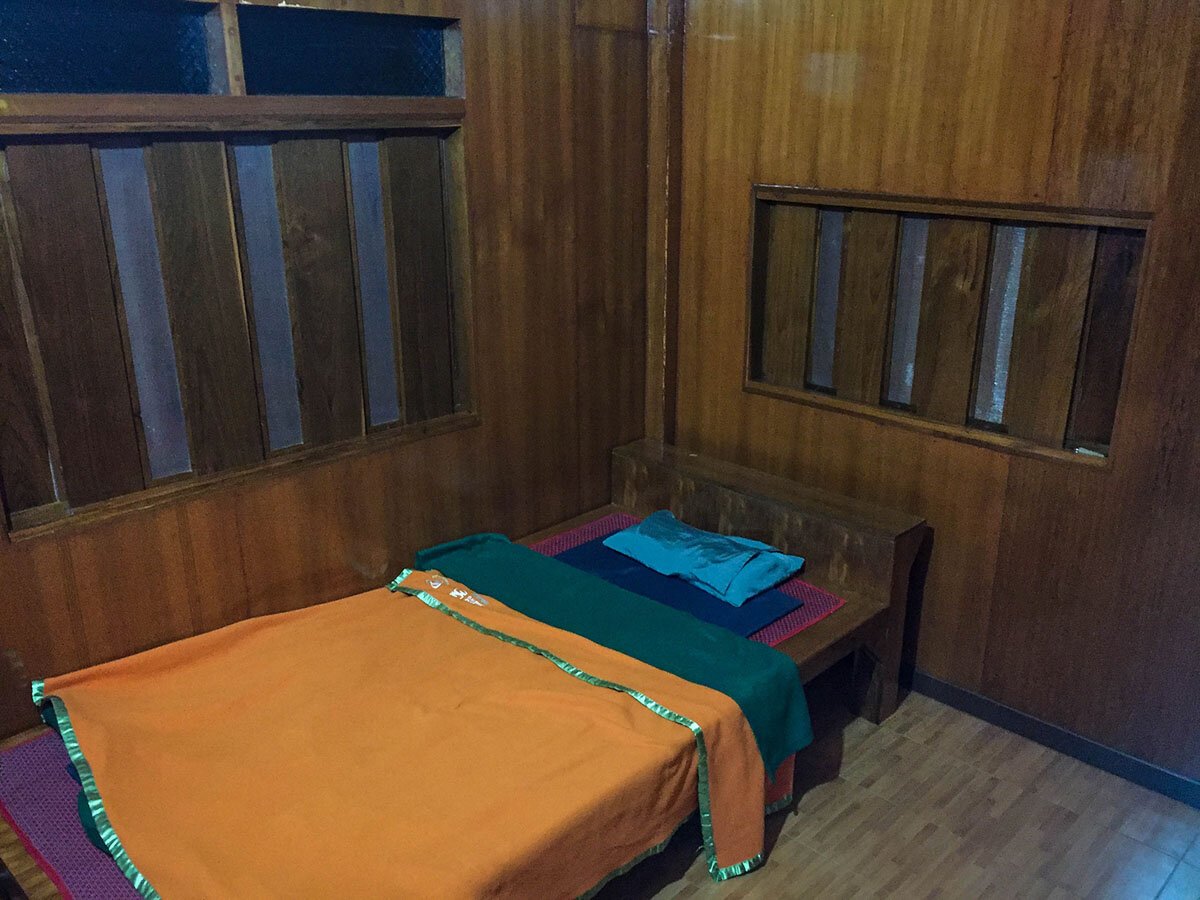 When we stayed at the Forest Monastery in March, Ben had his own private bungalow, but I had shared accommodation with three other women. The main dorm can sleep many, many more people.
What is the food like?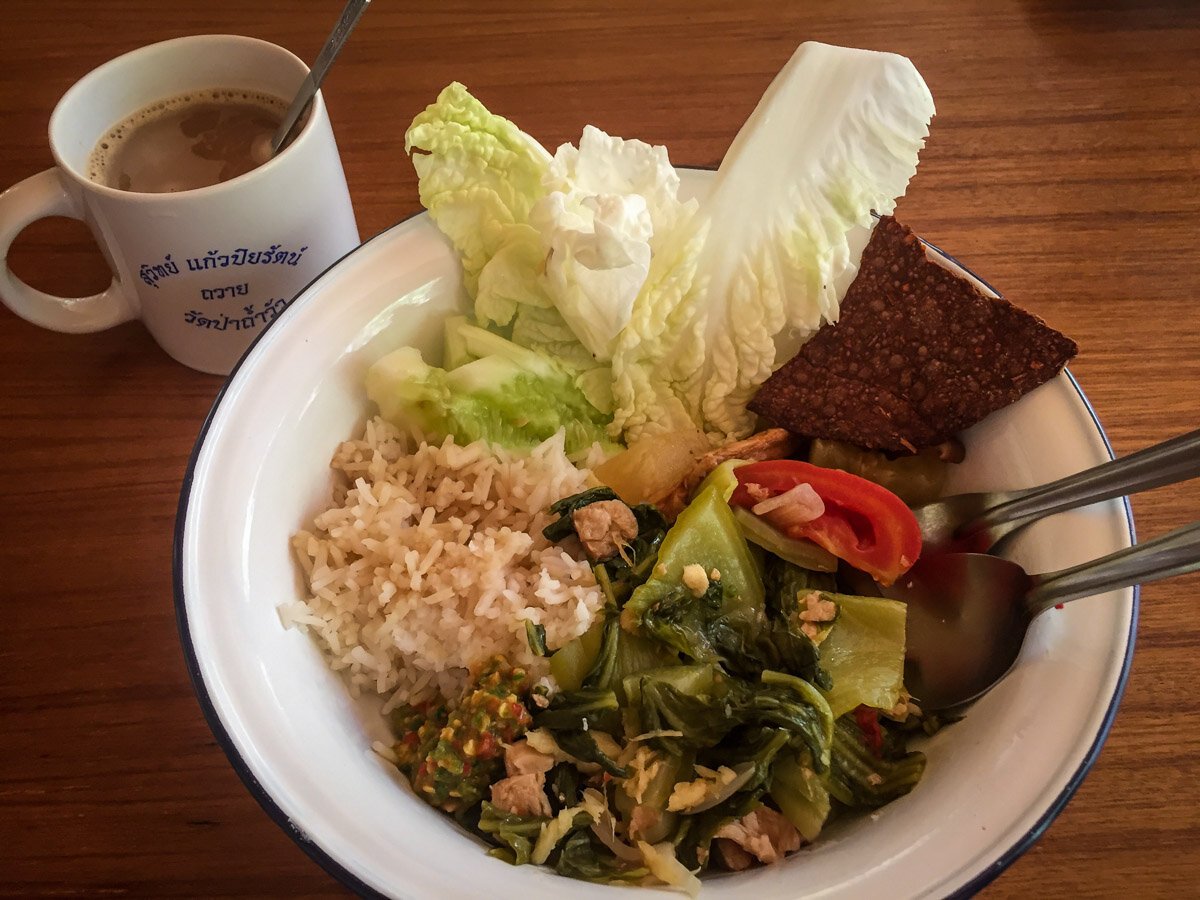 As a guest at Wat Pa Tam Wua, you will receive free meals during your stay. Be aware that they only serve breakfast and lunch, as monks cannot eat afternoon. All food served is vegetarian (and I believe most of it was actually vegan).
Breakfast is simple — rice and one savory dish, like fried noodles or vegetables and tofu. 
For lunch, there are many more dishes, and we were always left full and satisfied. 
We were really impressed with the food, and there is plenty to go around. However, I will mention when we stayed at the monastery, I usually ended up near the middle to the back of the line and all the good fruit was taken already. If you go, please be considerate of how much you take and save some for others. 
I was concerned about not having dinner – Hello, I get super hangry! But honestly, intermittent fasting wasn't all that bad. An early bedtime is enforced, so by the time I started getting hungry, I was already in bed.
Also, you are not restricted from eating. You could pack your own snacks or walk to the onsite "coffee shop" which is more or less a small convenience store that sells things like noodle cups, nuts, and chips.
Meet Pui Dog!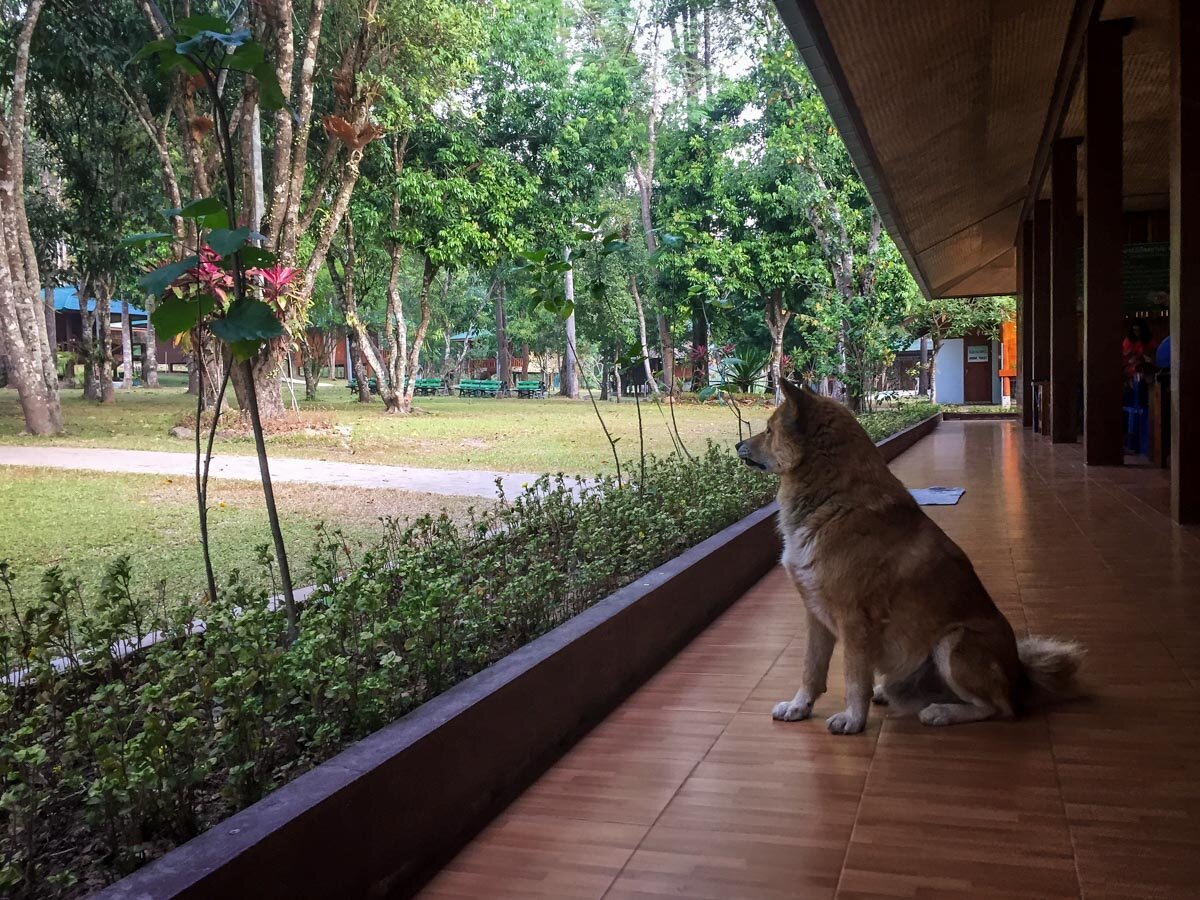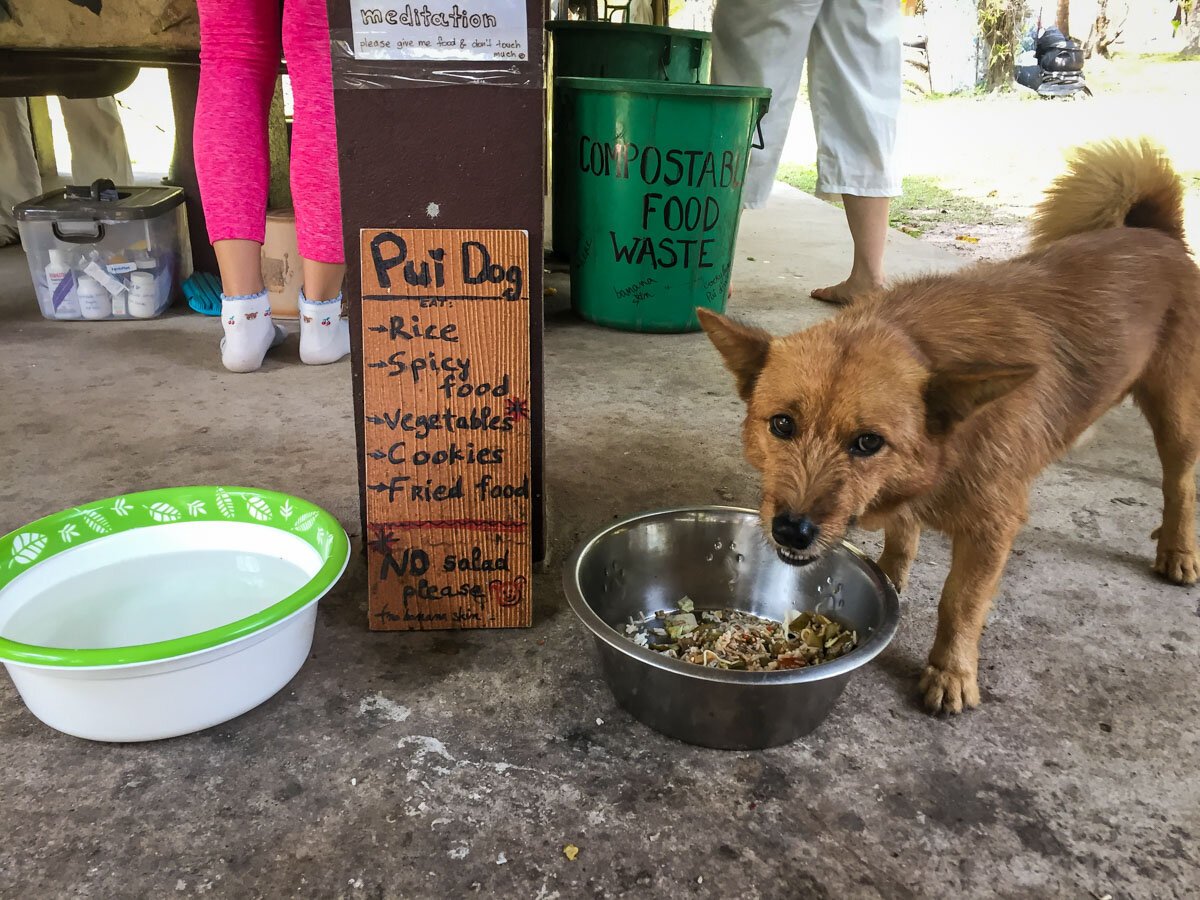 One staple around the monastery is Pui Dog, and we hope you have the chance to meet him and feed him any scraps at breakfast and lunch. The story about him is pretty cool too…
It is believed that Pui Dog was a monk who didn't exactly follow the rules. Legend has it that he was reborn as a dog who made his way back to the monastery to find enlightenment. His coat even matches the saffron robes of the monks!
When the gong is struck to signal the start of meditation, Pui Dog sits just outside the meditation hall and howls (even if you miss the sound of the gong, you surely can't miss Pui Dog!). This happened before just about every meditation, like clockwork! And he sat, silently during practice.
Another kind of interesting belief is that the reason Pui Dog never reached enlightenment is that he fell in love with a female monk (yes, women can be monks in Thailand). There is a female dog that comes around the monastery every once in a while with a white coat (similar to the lighter robes of female monks). Pui Dog and this white dog play together, like old friends.
The story of Pui Dog is pretty cool, and it's fun watching the monks interact with him.
Rules at the Monastery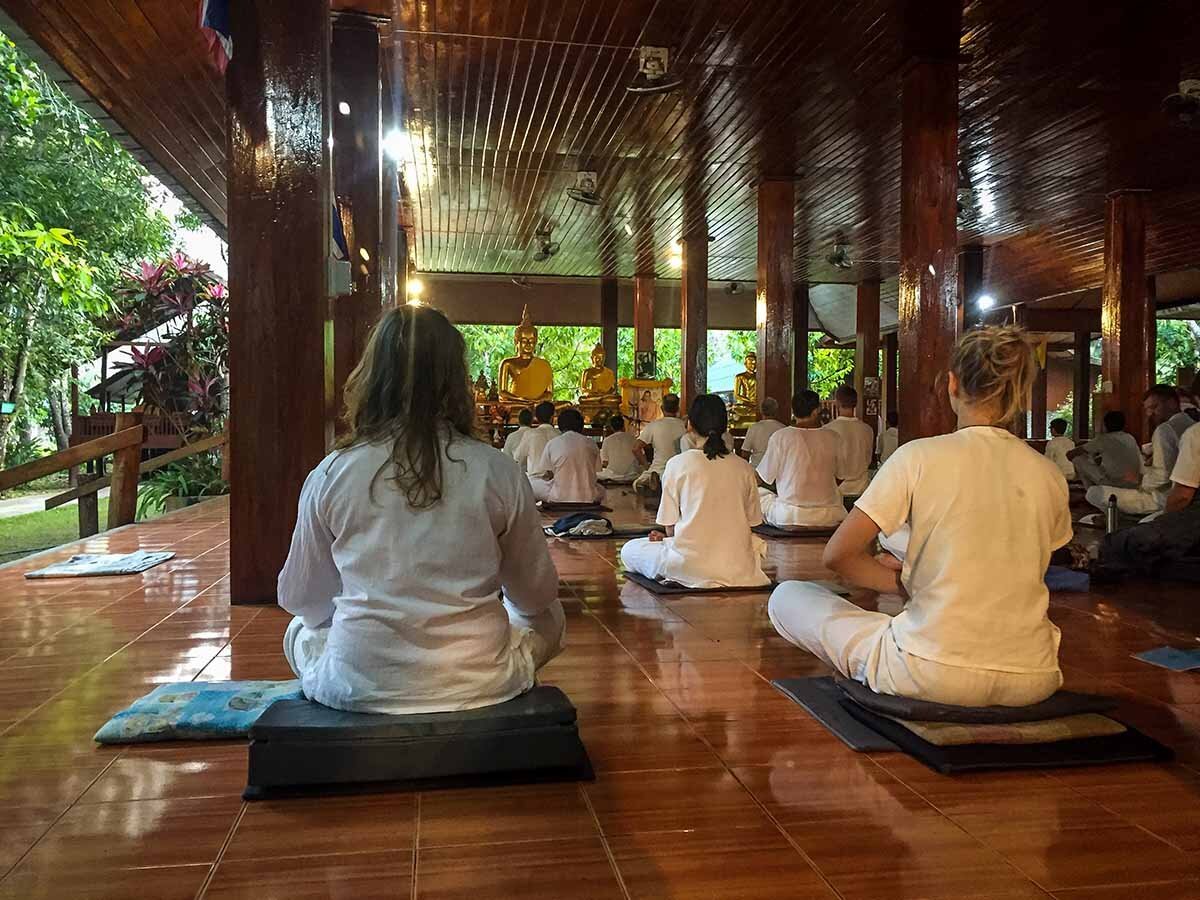 Women and men must sleep separately. As a woman, I was not even allowed to go near the entrance of Ben's bungalow.
No alcohol or smoking while you're at the monastery. This also means you can't walk off the premises to smoke. You're supposed to refrain from these habits during your entire stay.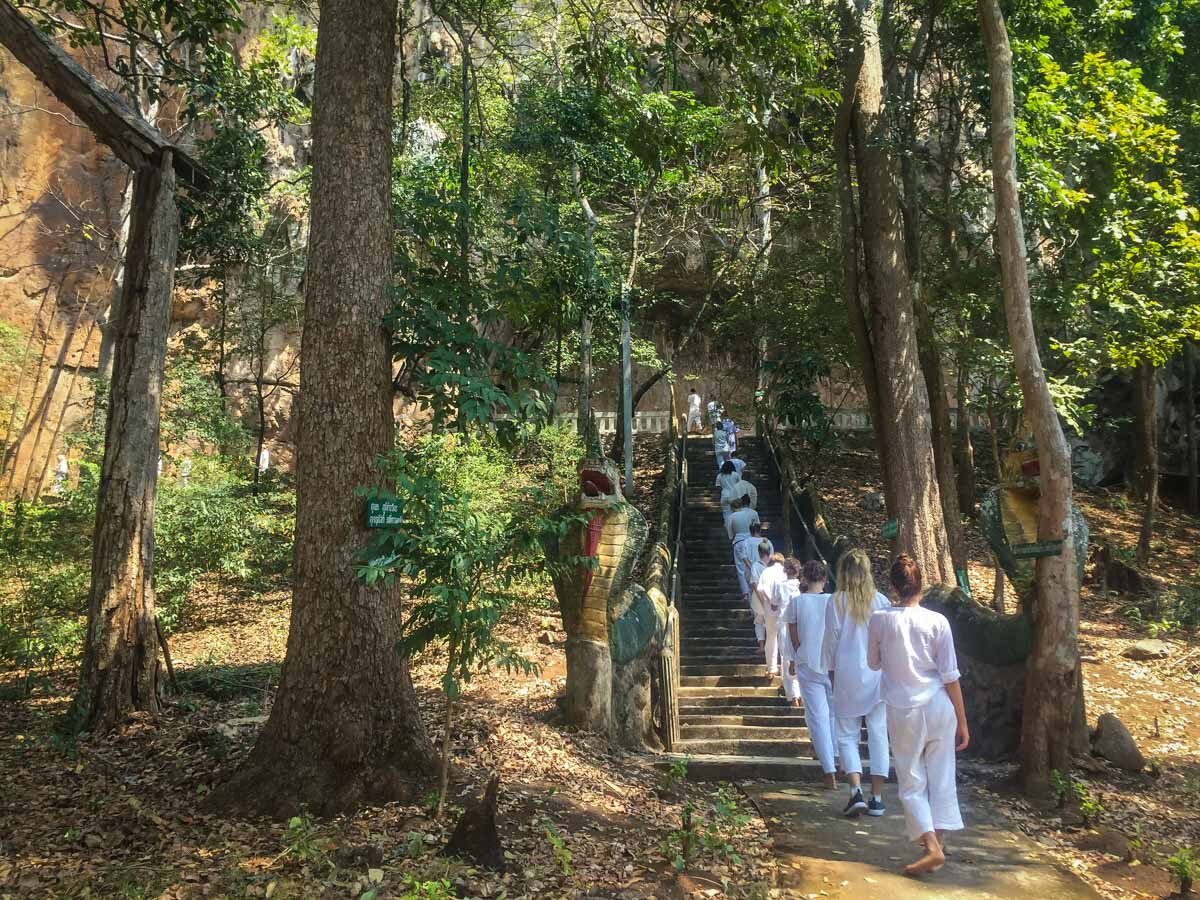 Women cannot touch or talk to the monks. The only exception is the Abbott (or leader) monk, who is able to interact with women. After every meditation, there is Q&A time with the monk leading the meditation, and anyone is allowed to ask questions then too.
Bedtime hours are strictly enforced. Ben had his light on at 9 p.m. while reading a book each night and would hear something hitting the side of his bungalow. He later realized that was probably someone trying to tell him to turn off his light. Oops!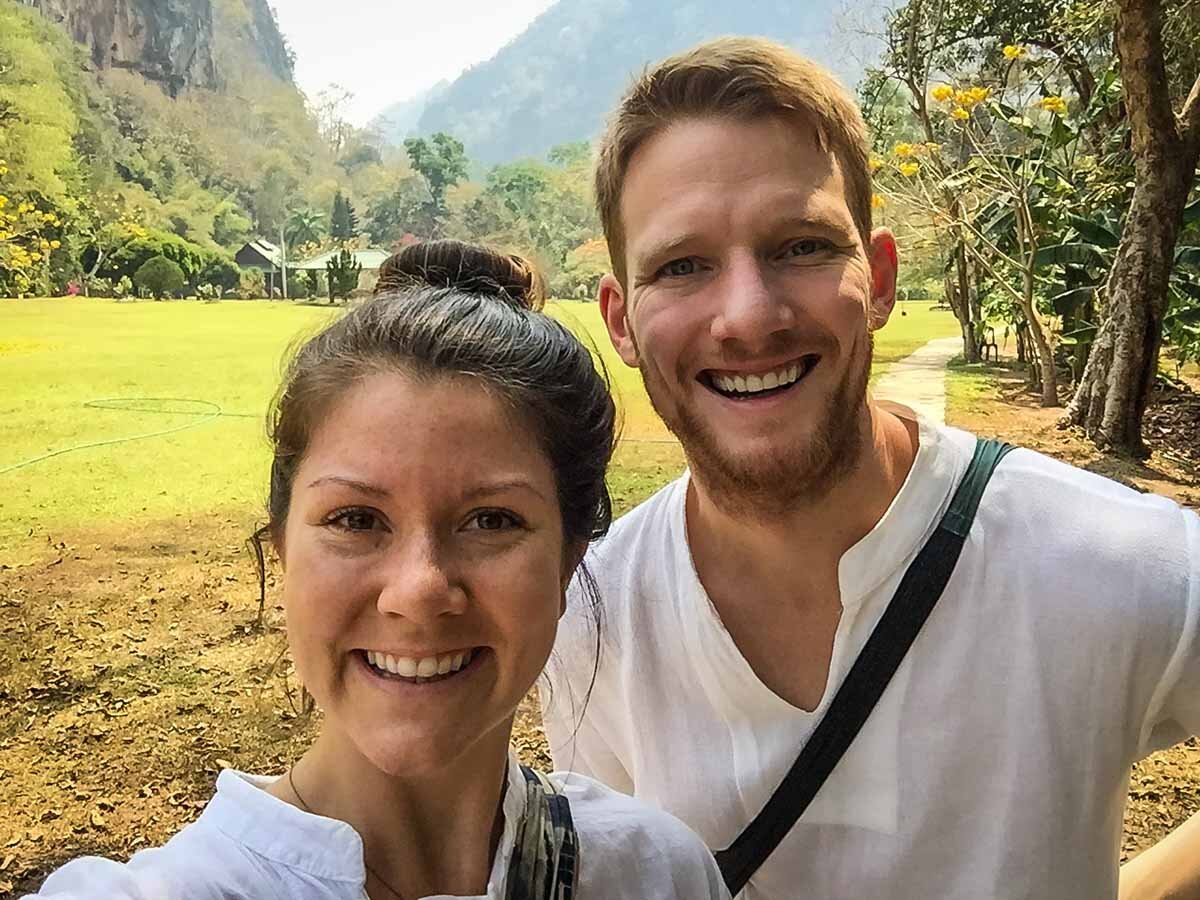 Do know that women and men are allowed to talk and hangout during certain times, but there are many times genders are separated. There are separate lines for food, and during meditations there is a men's section (closer to the monks) and a women's section (in the back). Also, when offering the monks food, women can only offer to the Abbott monk, while men can interact with the rest of the monks.
Part of me was annoyed at first by this separation of men and women, but I believe it is a way to prevent distractions and keep the monks' interests in mind.
Who is this monastery for?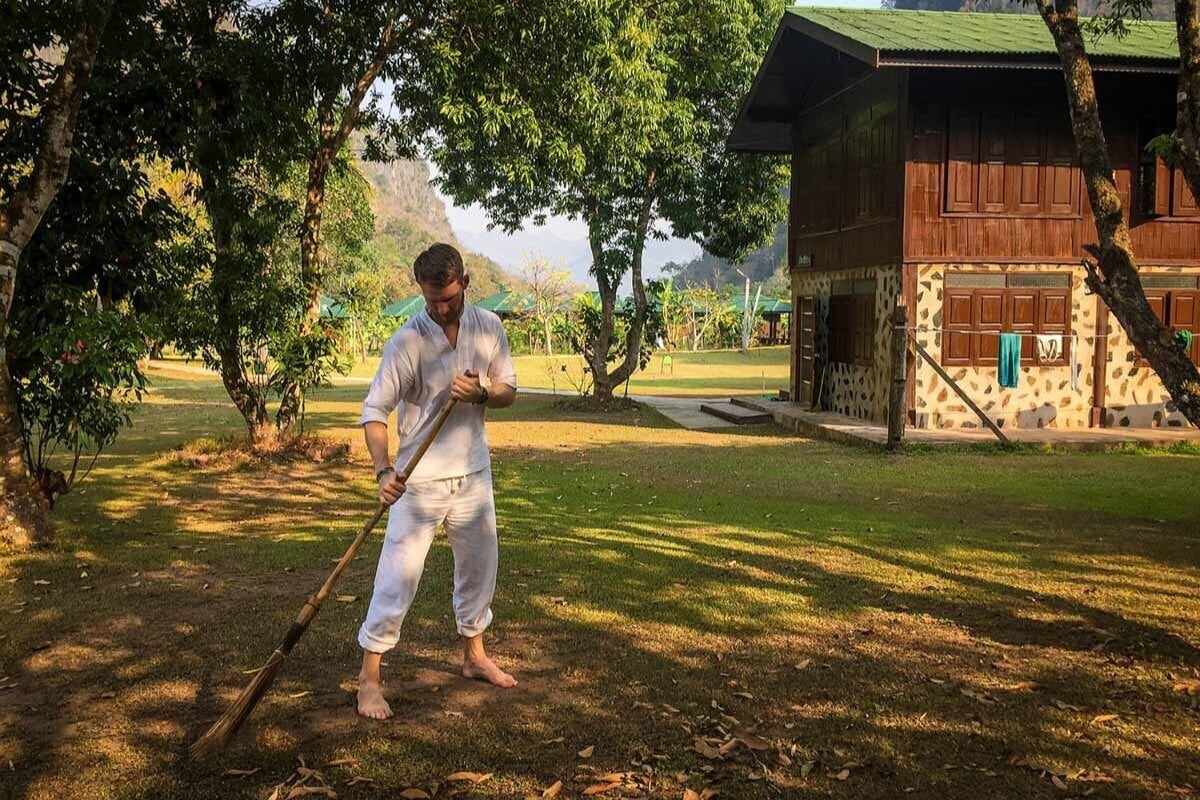 Whether you're new to meditation or you've been doing it for years, all levels are welcomed here. I will say that you will get so much more out of this experience if you have a basic understanding of meditation and have tried it at least a handful of times.
We have used the apps Simple Habit and Headspace to do guided meditations, and there are also some decent ones on Youtube.
Who is this monastery NOT for?
This is not for you if you're simply looking for free accommodation. Immersing yourself in the daily activities is required, and you'll need to provide a relevant reason if you are skipping meditations or other activities.
A visit to the Forest Monastery is not for you if you are closed-minded and aren't willing to learn about meditation and Buddhism.
An important thing to keep in mind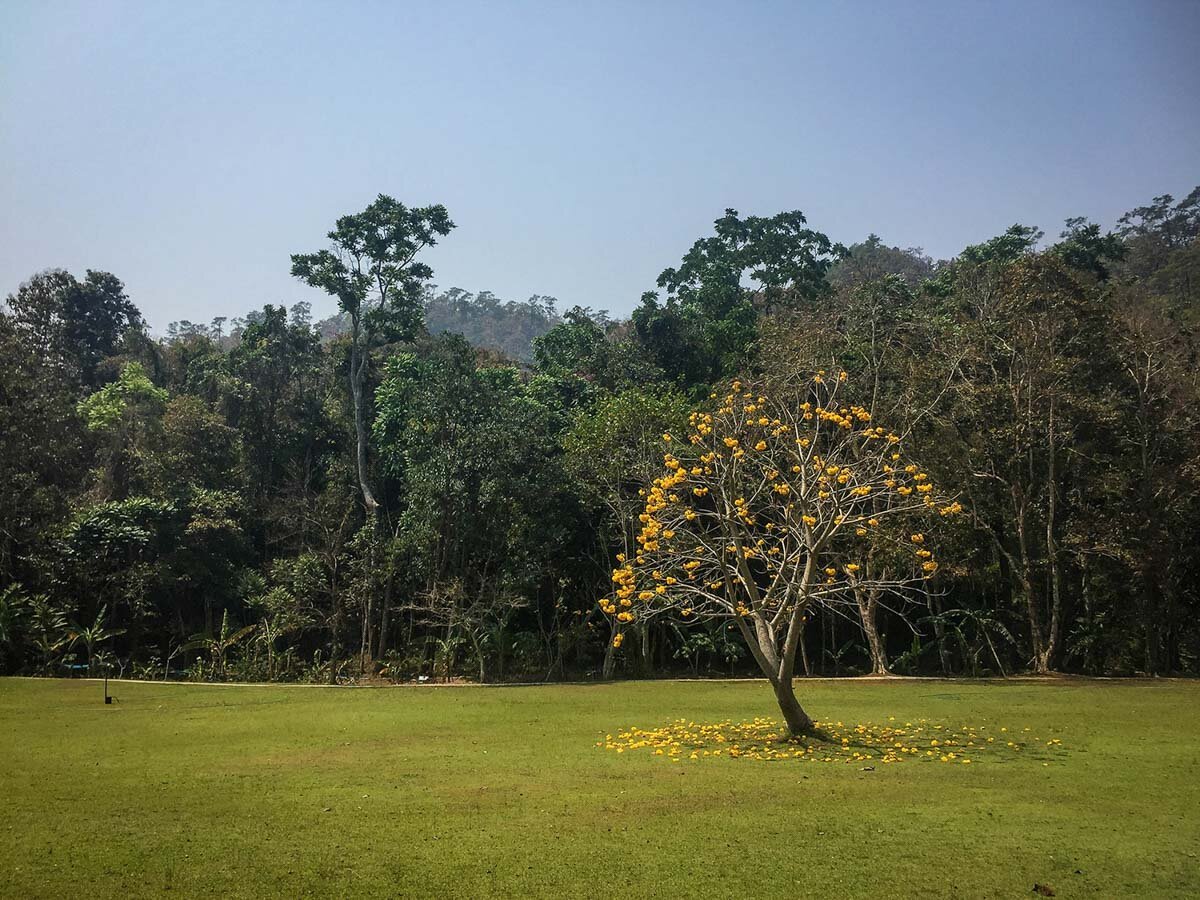 If your Thai visa is about to expire, you will not be allowed to stay at Wat Pa Tam Wua. A woman who arrived at the same time as we had a Thai visa that was set to expire the next day.
She explained at the reception that she was planning to pay the fine at the airport for overstaying her allotted time (something that is rather common in Thailand), but the man checking us in explained that immigration officials regularly stop by the monastery to check on the guests' visas, and he would not allow her to stay until she extended it. He was (understandably) very strict on this.
Luckily, they arranged a taxi to bring her to Mae Hong Son which is 40 minutes away, get her photo taken and go through immigration that afternoon.
Moral of the story: Be sure you know how much longer you have on your visa.


Are you planning a trip to Thailand?
We have TONS of resources on travel in Thailand and destinations throughout the country. Check out our Ultimate Thailand Travel Guide for all the answers to your most burning questions, or read some of our favorite articles below.
Did you find this article helpful? Save it on Pinterest!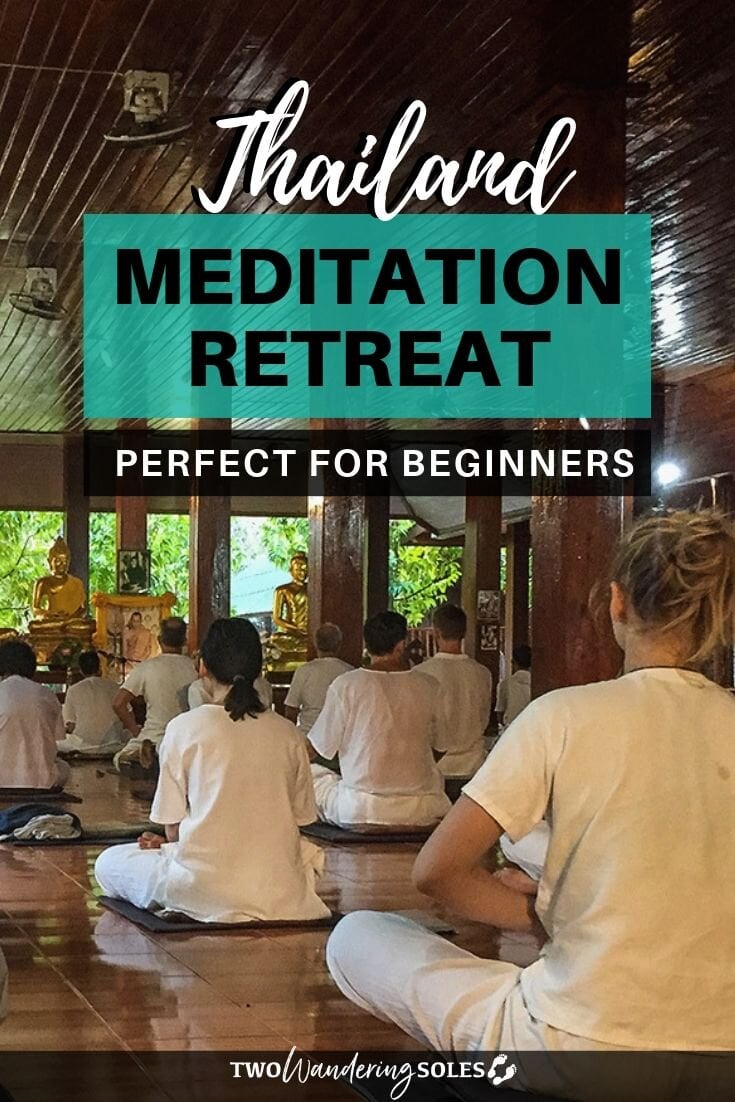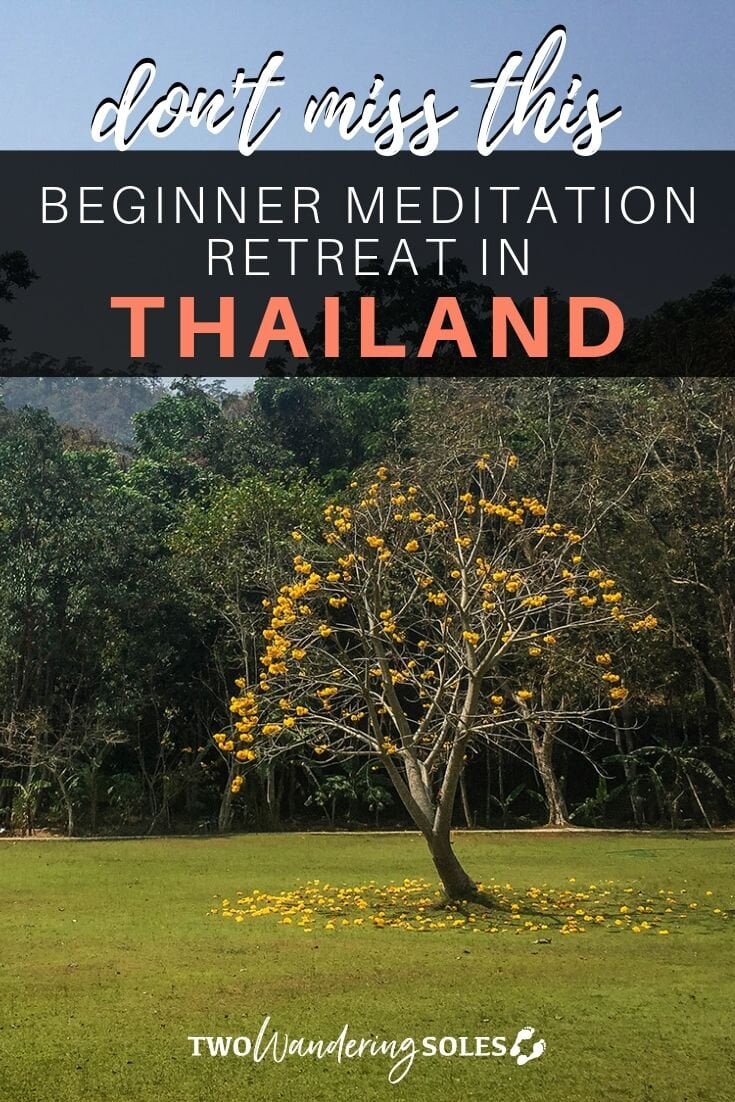 We want to hear from you!
Are you interested in meditation? Do you want to visit Wat Pa Tam Wua Forest Monastery? Let us know your thoughts in the comments below.