If you're looking for the best restaurants in Bend, Oregon, you've come to the right place! We've done all the eating — I mean, research — for you, and have gathered a variety of amazing restaurants, from cheap eats to fine dining.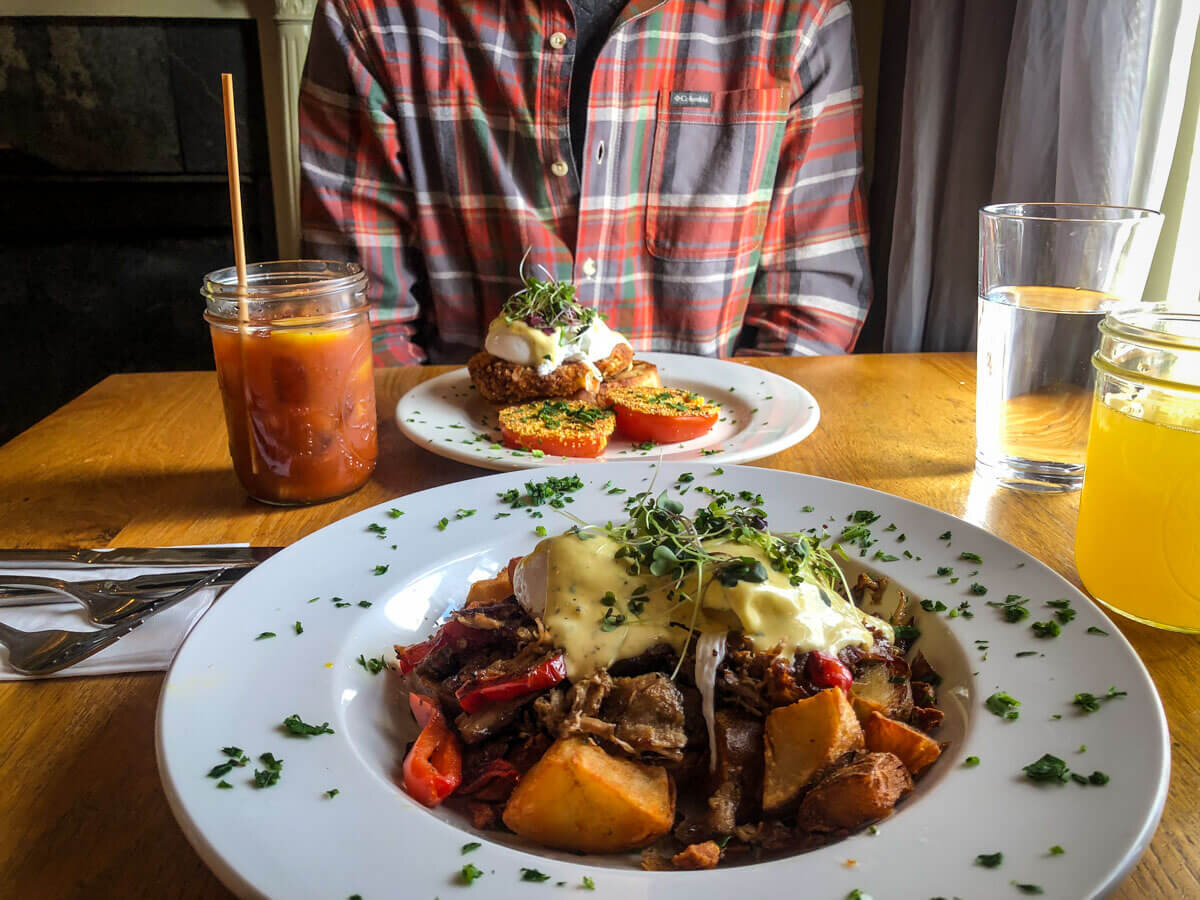 Bend, Oregon is most well-known for its proximity to epic outdoor adventures. After a day of hiking, mountain biking, skiing, climbing, paddling, (or all of the above!), you'll have worked up quite the appetite. Luckily, Bend has no shortage of amazing restaurants where you can cure your food cravings!
We've rounded up some of the best restaurants in Bend, Oregon — from casual to fancy and covering a variety of cuisines.
After nearly 2 years of living in Bend, we've had a lot of time to "research"… ermm… eat our way around town. So allow us to share what we've learned after all this investigative work!
We're not only sharing our favorite restaurants in Bend, but we're also divulging what to order, which is sometimes just as important as where to eat. But we didn't stop there… For all our fellow craft beer lovers, we've gathered a list of the best breweries in Bend, which you'll also find in this article, along with coffee shops and cocktail spots.
Before we dive in, you might want to grab a snack because this article may just make your tummy rumble. You've been warned!
Planning a trip to Central Oregon? Don't miss our list of exciting things to do in Bend!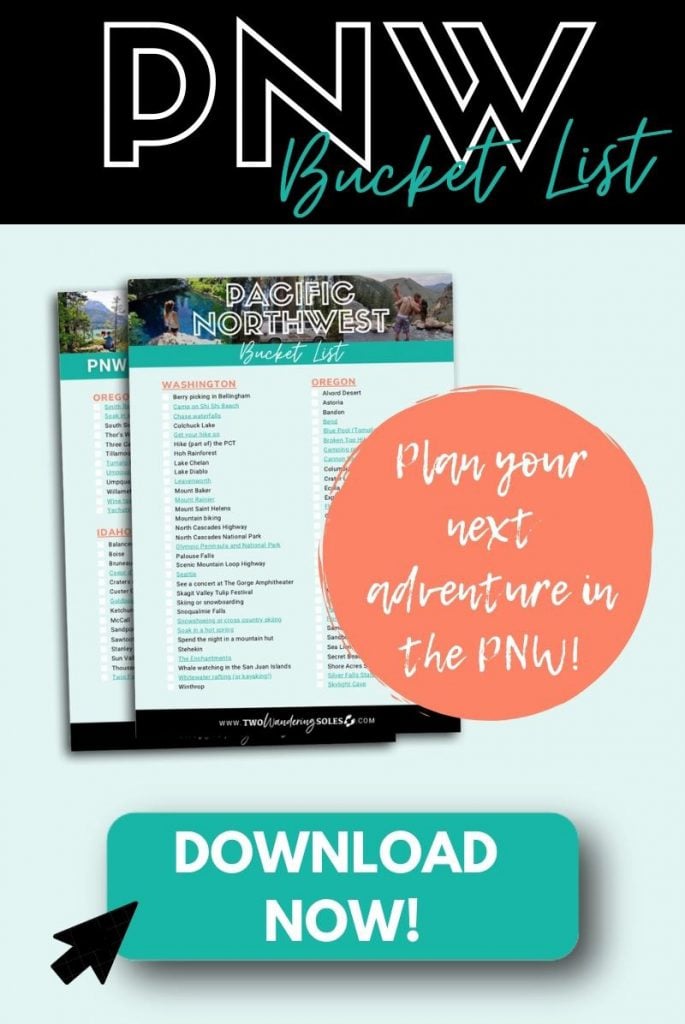 Bend's restaurant scene at a glance…
Bend has grown rapidly over the last decade, and what used to be a pretty basic restaurant scene has evolved to include vegan eats, authentic world cuisine, and fine dining.
While it can't rival the foodie cities of Portland or Seattle, and there are some notable gaps in cuisine (anyone wanna move to Bend and open a Korean restaurant? Indian? Ethiopian? Pretty please?!), Bend's restaurant scene can hold its own for a small(ish) town.
How we created this list
We typically don't do restaurant round-ups because we don't feel like we can do a town's food scene justice when we're just traveling through. However, after living in Bend for more than a year, we've done quite a bit of "research" and wanted to share our findings… aka restaurants we love.
1. We are only including restaurants that we have personally eaten at and loved. In fact, most of the restaurants on this list are places we've been to more than once (and some of them, several times). There are many other restaurants in town we like… but to make it on this list, they have to be really special.
Here are some factors we took into consideration:
Excellent food. Duh.
Good atmosphere. If the atmosphere isn't great, we will note that it's a better takeaway spot.
Consistency in food and service.
Worth the price. There are some restaurants in town that are good but overpriced for what you get. We tried only to include restaurants that we believe are a good value (some are very cheap and others are very expensive, but worth the price).
2. For most restaurants on this list, we're not only sharing a description but also what to order.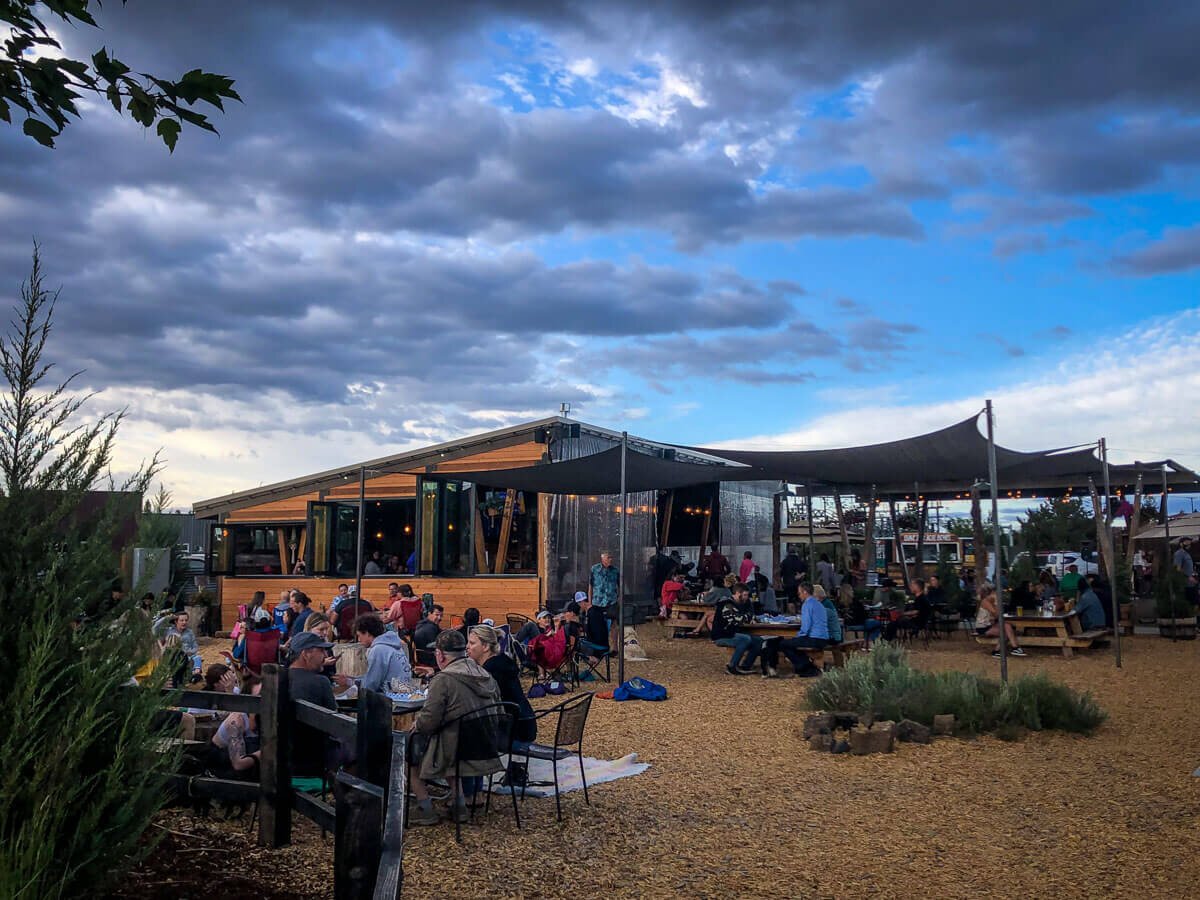 3. We tried our best to make this list pretty well-rounded, and tried to include all of the following:
cheap eats as well as fine dining
American fare as well as cuisine from around the world
breakfast spots and dinner locations
restaurants, pubs, bakeries, food trucks, coffee shops and breweries
4. We'll be the first to tell you that this list is a work in progress. As we try more restaurants in Bend, this list will likely grow!
5. We've divided the restaurants into categories, so click the link to jump to what it is you're searching for:
Good to know: None of the restaurants on this list are chains per se, but some have more than one location in Bend. Read the descriptions carefully, as we've noted the specific locations we recommend.
Our Personal Favorite Restaurants in Bend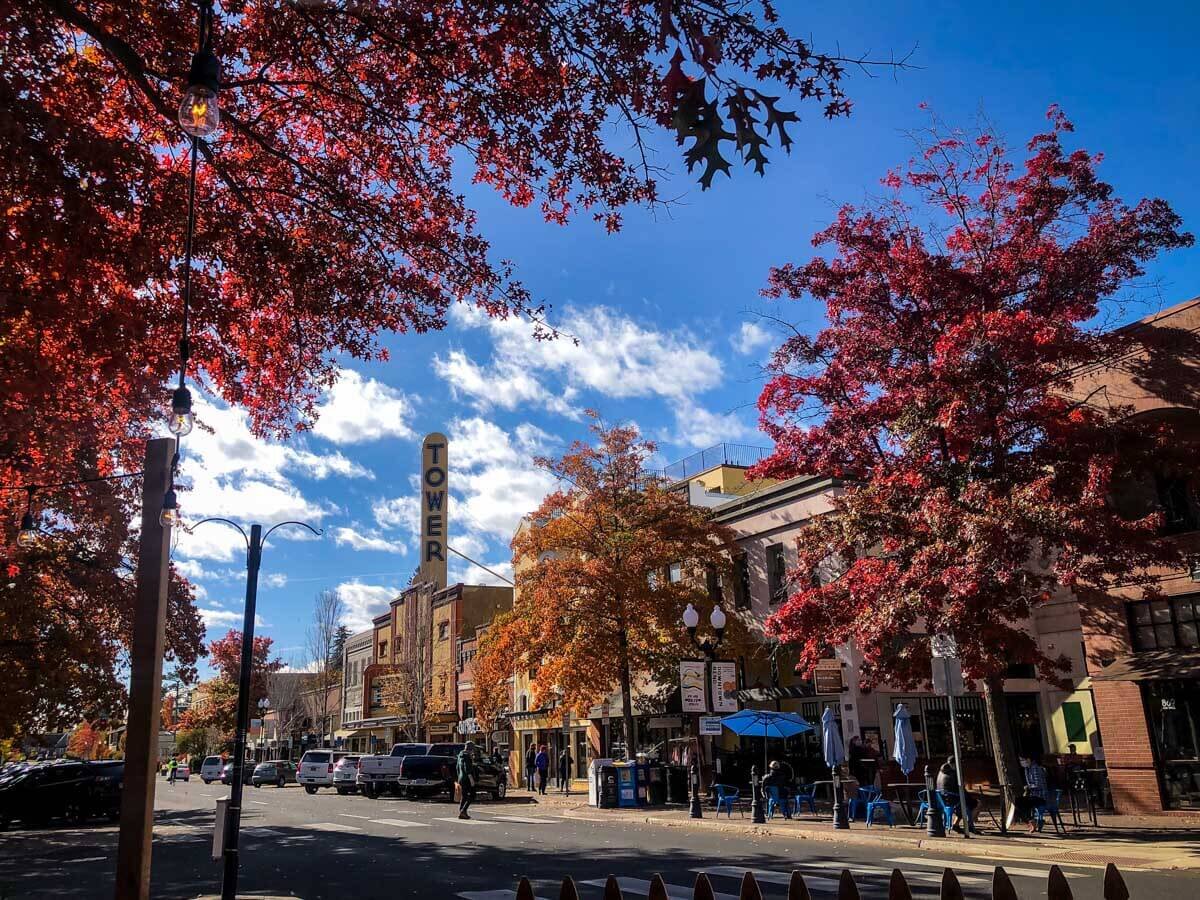 Want some quick recommendations?
Below, we're sharing some of our personal favorites. We've got tons more recommendations for you in the sections below, but this is a good place to start.
If you see one that sounds good to you, be sure to keep scrolling down so you can get all the deets on what to order.
Sparrow for the Ocean Rolls
Wild Rose for any Thai cravings! (We are Thai food snobs, and this place is legit)
Bo's Falafel Bar for their chicken bowl (we order this on a near-weekly basis — read our description below for our full order)
Nancy P's for sandwiches & sweet treats to take with on adventures
El Sancho for margs and street tacos
Spork for a fun variety of fusion dishes from around the world
Brother John's (westside location!) for a local dive bar feel & comfort food (they've got some great sandwiches)
Big 'O Bagels for cheap breakfast sandwiches on the go
The Victorian or McKay Cottage for excellent brunch fare
Best Restaurants in Bend, Oregon
Whether you're just visiting town for the weekend or you're a local looking to find some new spots to eat, you'll have no problem finding excellent restaurants in Bend.
Keep reading for our favorite local eateries (plus, what to order!).
Wild Rose
At a glance: Authentic Northern Thai cuisine in a fun & cozy space downtown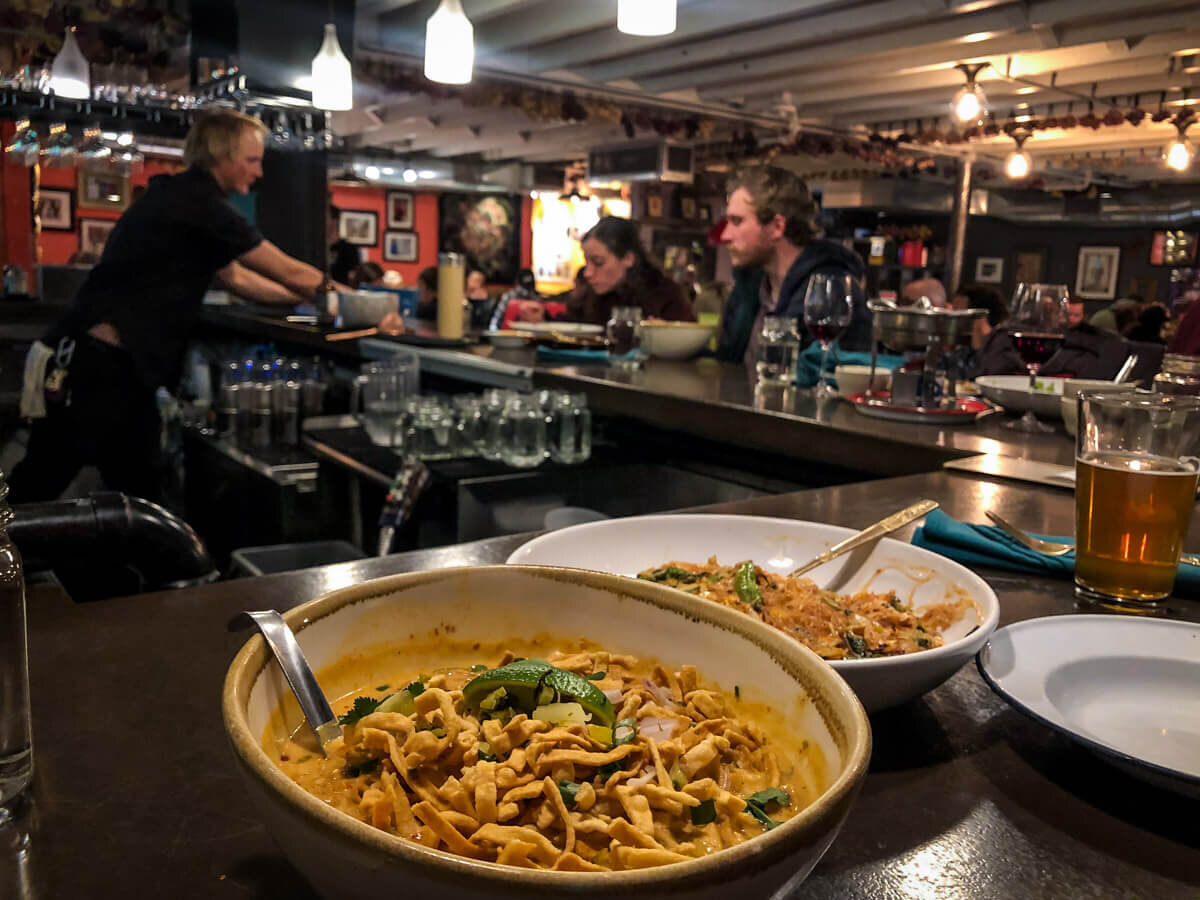 After spending more than 2 years living and traveling in Thailand, it's safe to say we're picky about Thai food. And when I say picky, I mean really really picky. This is the best northern Thai restaurant we've eaten at in the United States (so far!).
While it's not exactly what you'd get on the streets in Chiang Mai, we were over the moon excited to find Khao Soi on the menu. If you've also been to northern Thailand, you'll know this delicious curry noodle dish is difficult to find outside of Chiang Mai, let alone in Central Oregon. Plus, everything else we've had on the menu is great.
The menu can be a little confusing if you're not familiar with Thai dishes, so ask your server for some recommendations. It's worth noting that Wild Rose does not have Pad Thai (a favorite of many hesitant eaters) on the menu. Fear not, there are plenty of other dishes to choose from! Our advice is to order a couple of small plates for sharing as well as some bigger dishes.
Good to know: They do spice like restaurants in Thailand (aka spicy!). Your server will ask you your preferred spice level, so be cautious if you don't handle spice well. You can always ask for hot peppers on the side to kick it up a notch!
What to order: If you've never tried Khao Soi, this is one of the few places outside of northern Thailand where we've seen it on the menu. Their som tom (papaya salad) is authentic, spicy and delicious. Northern Thai sausage (sai oua) has a really unique flavor, so if you've never tried it, this can be a good small plate to share. There are also some fun Thai-inspired cocktails on the menu with ingredients like lemongrass, ginger and kaffir leaf.
Where: This gem is located in the heart of downtown Bend, just off of Wall Street (on NW Oregon Ave)
Bo's Falafel Bar
At a glance: Affordable bowls and gyros with many topping choices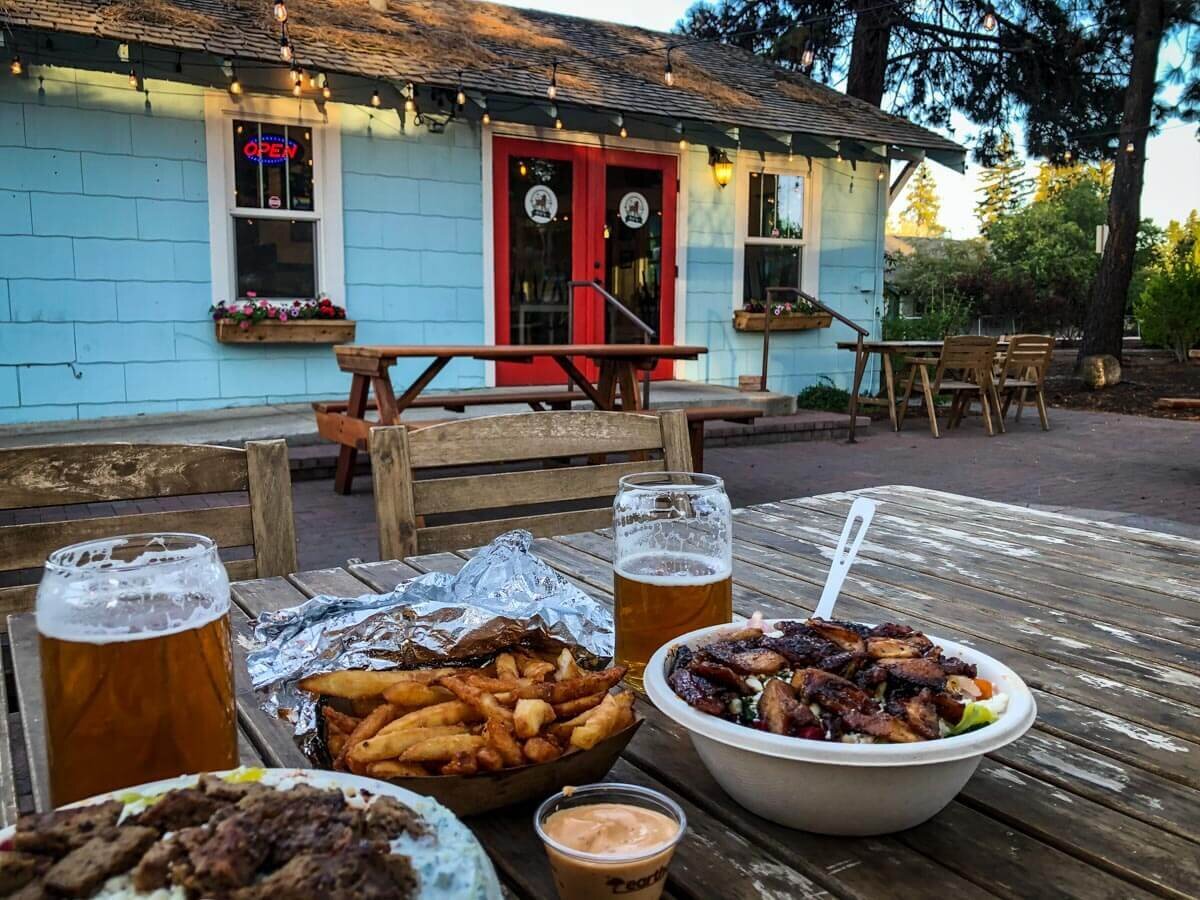 This is one of the most underrated (in our opinion!) places in town! Their bowls are HUGE and you can pick from a generous variety of toppings. Everything is reasonably priced and the outdoor patio is cute!
If it's a nice day, sitting under the cafe lights on the patio is a treat!
What to order: Our favorite thing to order is the chicken bowl with greens. You can choose your own toppings and sauces or go with one of their suggested combos. We personally like the "The Spicy" with added sweet corn and heirloom tomatoes. We also usually order a side of battered fries and a few falafel balls to add to the bowl. The one chicken bowl plus the sides is more than enough food for the two of us, and oh so good. You'll thank us later!
Where: This adorable house-turned restaurant is in the Galveston Flats neighborhood, right beside the roundabout on the corner of Galveston and NW 14th Street
Ariana
At a glance: One of Bend's best fine dining restaurants located in a cozy bungalow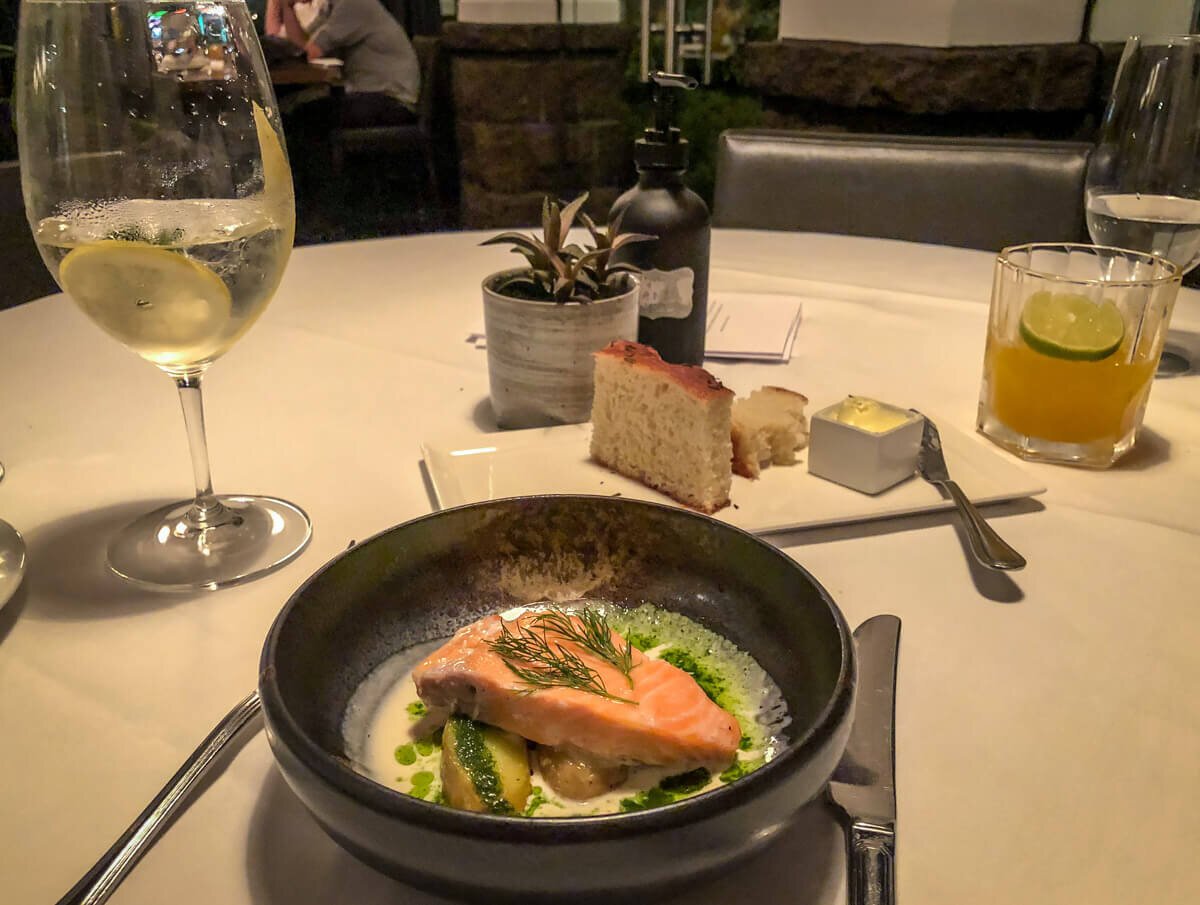 If you're looking for a special occasion dinner, Ariana won't disappoint. This fine-dining restaurant is set in a cozy yet sleek house-turned restaurant, and is the perfect spot for a memorable meal.
The chef-owners are a husband and wife duo who whip up extraordinary dishes like pan-seared jumbo wild scallops over ramp risotto with morels. Excuse me while I wipe the drool off my keyboard…
Additionally, they have handcrafted cocktails as well as an extensive wine list to pair with your meal.
What to order: We'd recommend going with the 6-course chef's tasting menu and enjoying the full dining experience. It is $75 per person (+$45 for wine pairings) and is well worth the price for a memorable meal. Reservations are necessary.
Where: Located on Galveston Ave, next to El Sancho's westside location
Spork
At a glance: Trendy spot with fusion dishes from around the world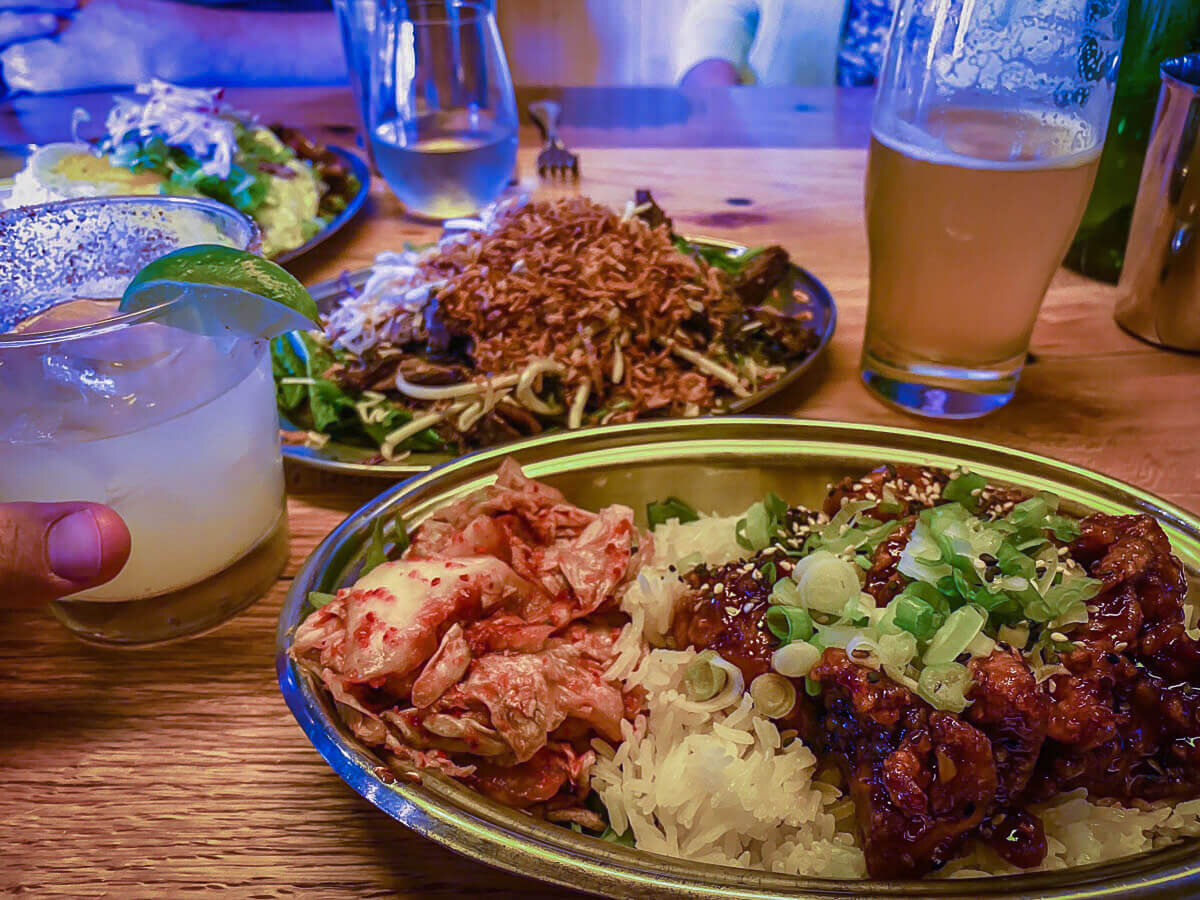 Asian-Latin fusion… need I say more? With eclectic décor and a laidback atmosphere where you order and pay at the counter, Spork is a popular spot for good reason.
With tasty menu items like Peru's famous Llomo Saltado and Thai-inspired coconut green curry, Spork delivers on the flavor, and prices are reasonable. They also have a selection of tasty cocktails to pair with your meal.
The two downsides are a) it does get very busy on the weekends, so expect a wait. And b) there's not much outdoor seating, so if that's what you're after you might want to grab your meal to go (picnic in Drake Park, anyone?!).
What to order: Everything we've had here is great. We really liked the spicy pork noodles and the fried chicken (you can order this as a main or a side dish, and the cauliflower version is very good too). If you're looking for a cocktail, their Thai Collins (with kaffir lemongrass gin) is really good!
Where: Spork is located on Newport Avenue on the west side of town
Brother Jon's Public House
At a glance: Local pub feel with American fare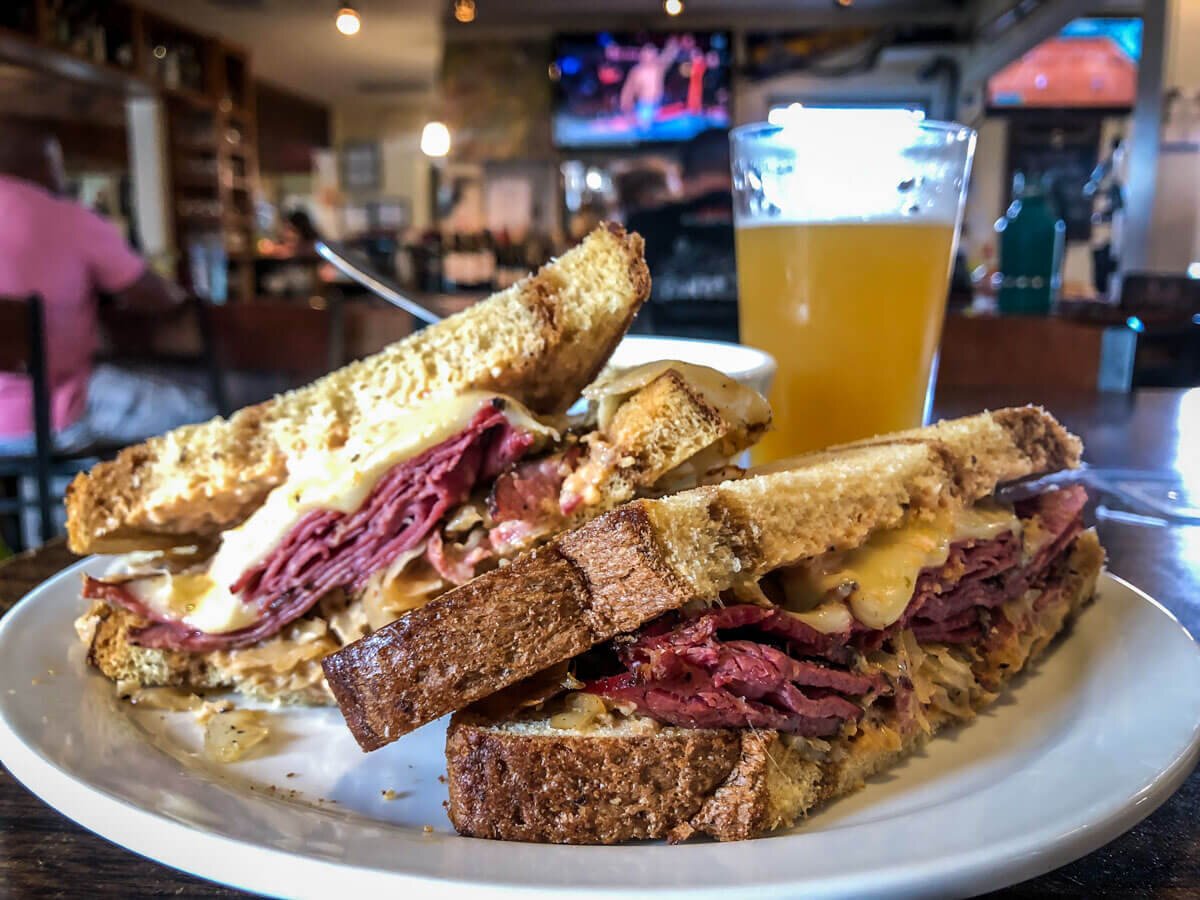 If you're looking for a spot that feels like a local hole in the wall*, this is your place.
It's a good spot to catch a game and enjoy some classic American comfort food. Plus, the bartenders know how to whip up some strong and delicious cocktails.
What to order: Their spicy artichoke dip is great, and we're big fans of their sandwiches: Pastrami Bomber and Jack Sparrow are both great choices! They also have classics, like Reubens and French Dip.
Where: There are two locations in town – one downtown that feels like a small sports bar and one *location on the west side of the river that's a house turned into a local pub. *We much prefer the west location.
El Sancho
At a glance: Lively spot for street tacos and margaritas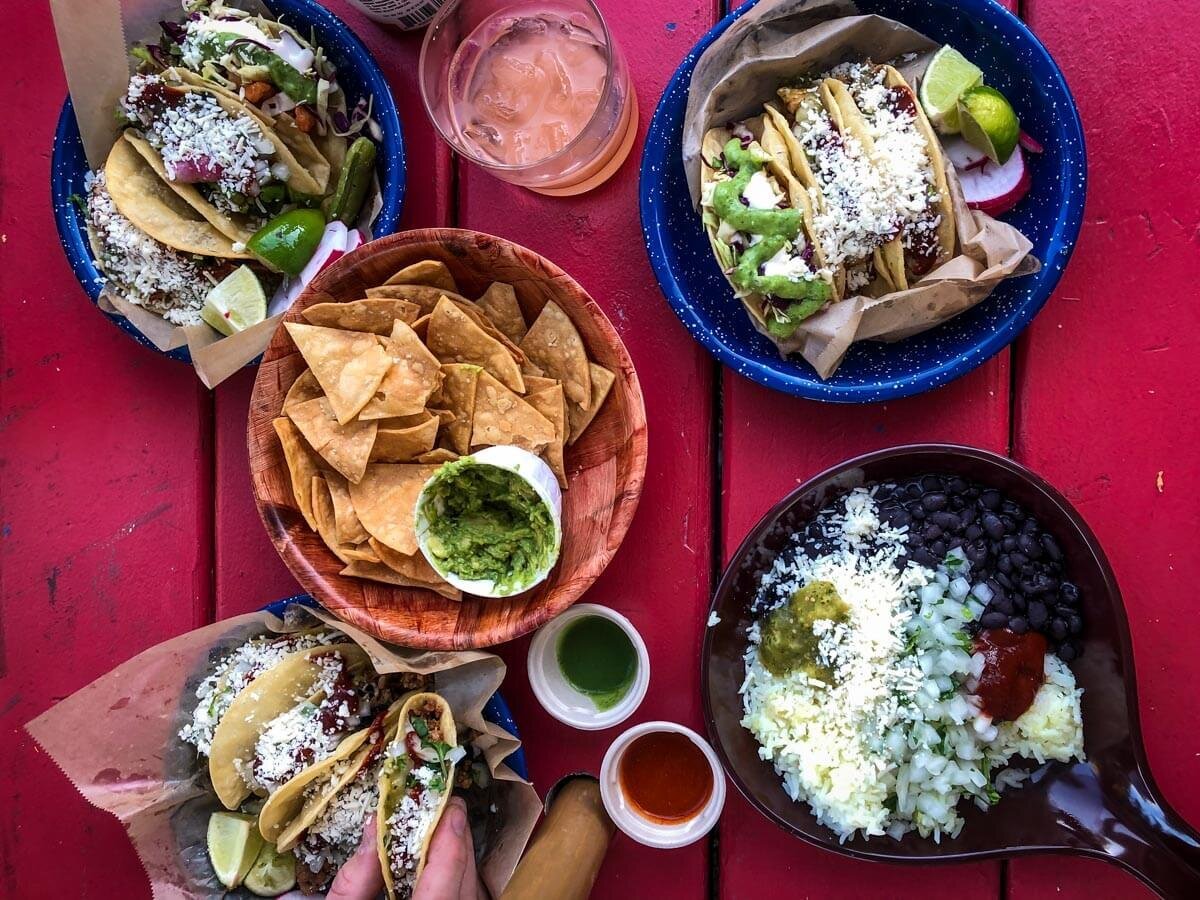 Known for street tacos and pitchers of margarita, El Sancho is a trendy town staple. We lived less than one block from their westside location and were, how shall we put this, frequent flyers.
With an extensive variety of fillings to choose from, including lots of vegetarian options, this is a fun place to fix those taco cravings.
What to order: We've tried all the tacos on the menu, and our personal favorites are: carnitas, Oaxacan cheese, wild mushroom, and chipotle chicken. We typically order a variety. Also, their bowls are perfect if you'd prefer to tackle your food with a fork rather than your fingers (this is definitely me sometimes!). Their margaritas are good as well, and the pitcher is a good deal if you're with a friend and plan to get more than one marg.
Where: El Sancho has 2 permanent locations as well as a couple of food trucks. We personally love the smaller and newer westside location, but it's only really worth going to in the summer months as there's very limited indoor seating.
Bangers and Brews
At a glance: No-frills location serving up gourmet Argentinian sausages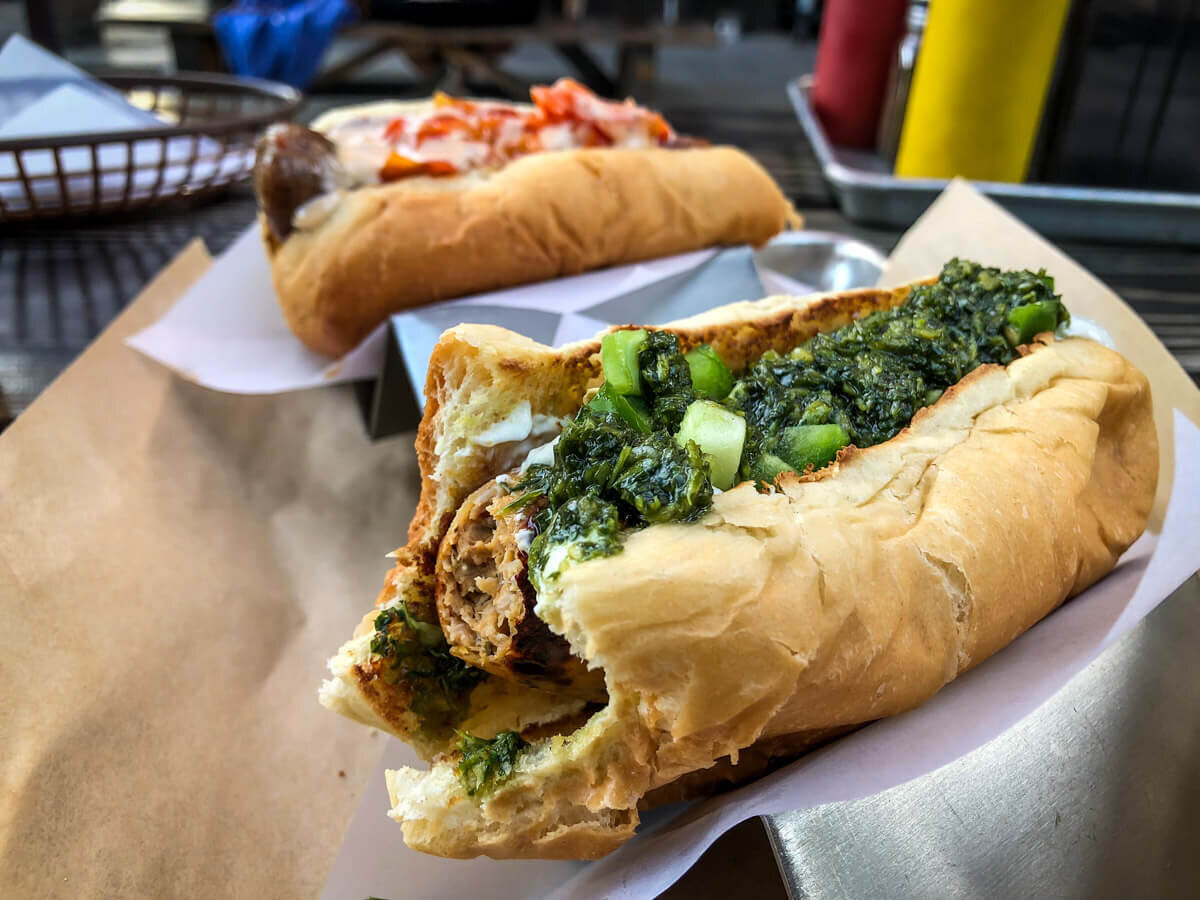 This low-key spot doesn't look like much, but it sure delivers on flavor! Build your own gourmet sausage with a variety of meats, like lamb or water buffalo, as well as many toppings and sauces to choose from. Owned by an Argentinian family, it should come as no surprise that their house-made chimichurri is excellent.
Order at the counter and when you sit down, you'll be brought a small basket of warm bread with chimichurri before your meal.
What to order: We particularly liked the combo of jalapeño sausage with caramelized onions, cream cheese and chimichurri. So good! You can also order baskets of fries — both their sweet potato fries and their loaded bacon and gorgonzola fries are great.
Where: Located on the east end of a small strip mall just off SW Century Drive, it doesn't look like much from the outside, but the small patio is really nice. There's also a location on the east side of town near the On Tap food truck pod.
Miyagi Ramen
At a glance: Cozy ramen shop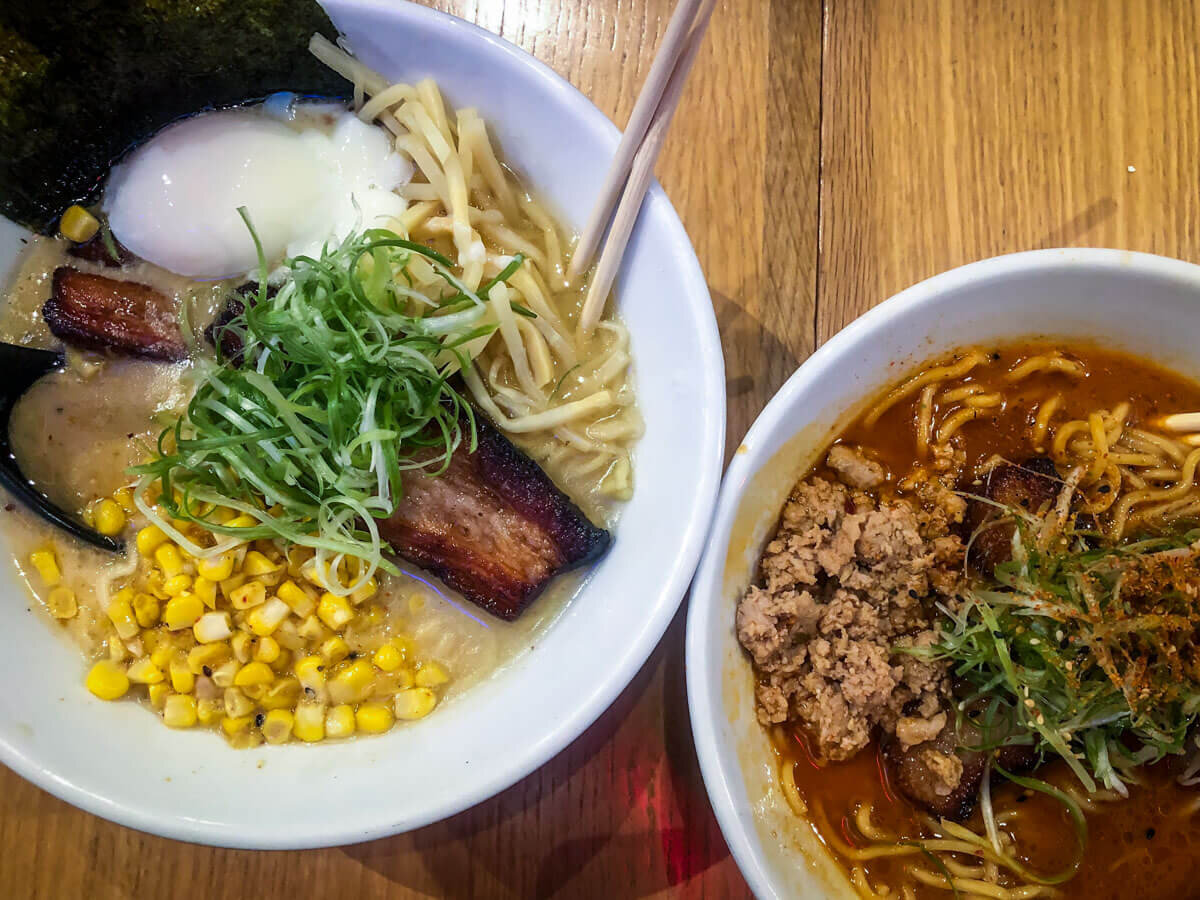 If you're looking for a hot bowl of yummy goodness after a fall hike or a day on the slopes, Miyagi will deliver. With a few different types of ramen bowls as well as bao buns, we sure do love us some good ramen!
What to order: Our favorite here is the spicy miso ramen
Where: Located in the Box Factory, the space itself is very small, but they do takeout very well if you'd prefer to eat elsewhere.
Kebaba
At a glance: Mediterranean and Middle Eastern fare in a cozy house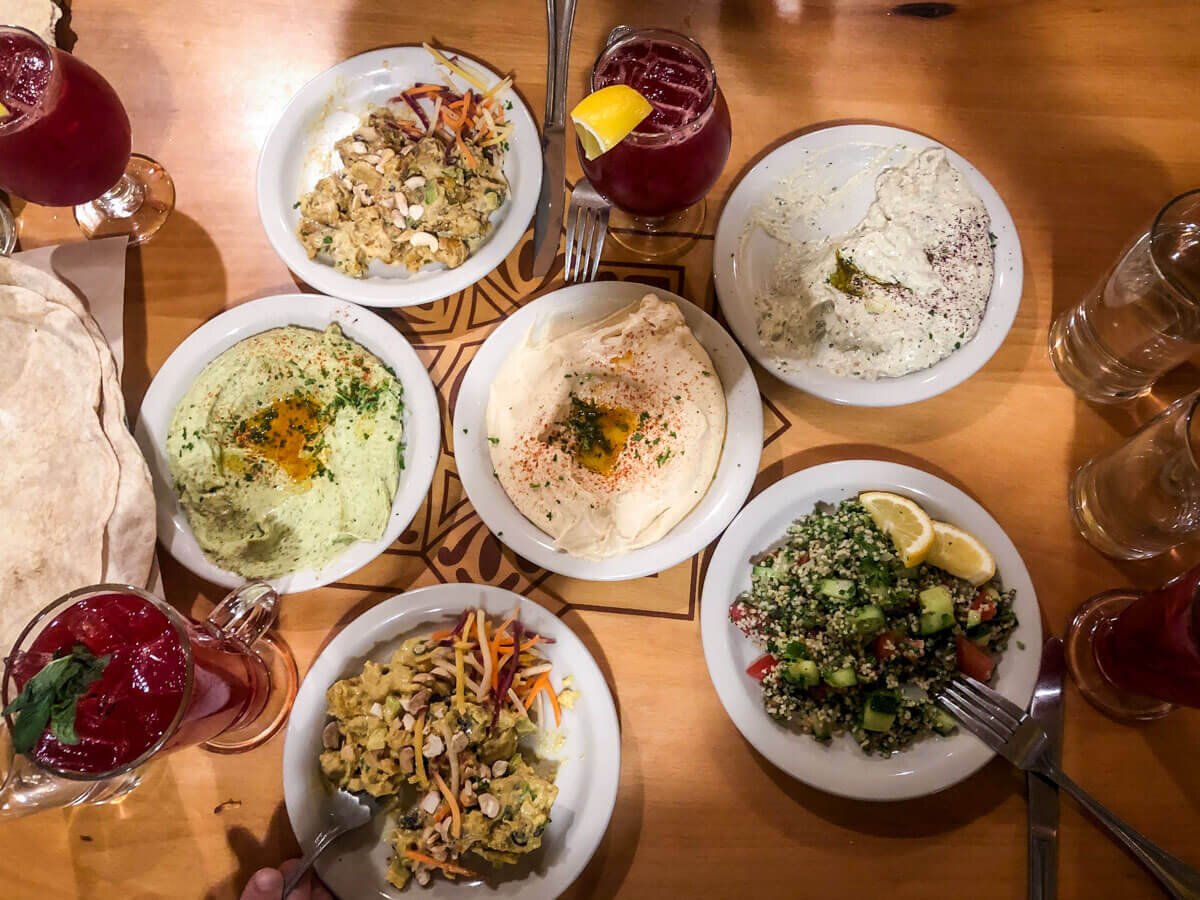 I have a thing for houses turned into restaurants. I think they just have a special atmosphere that can't quite be replicated in a commercial building. And Kebaba is just that — super cozy and homey.
Their menu has a nice variety of Mediterranean and Middle Eastern fare, like gyros (choose from traditional lamb, chicken, falafel and Pacific wild salmon) tabouli salad, and flatbreads.
Good to know: This is an excellent option for vegetarians and vegans. (We went here with vegan friends and they loved it.)
What to order: The only thing we've personally tried (so far) on the menu is their mezze platter. It's a fun way to get a sampling of 6 different dishes (there is a smaller version for lunch). Next time, we'll likely try one of their rice bowls and a few other small plates.
Where: Situated on Newport Ave, not far from Newport Market
Barrio
At a glance: Latin-inspired menu with great happy hour deals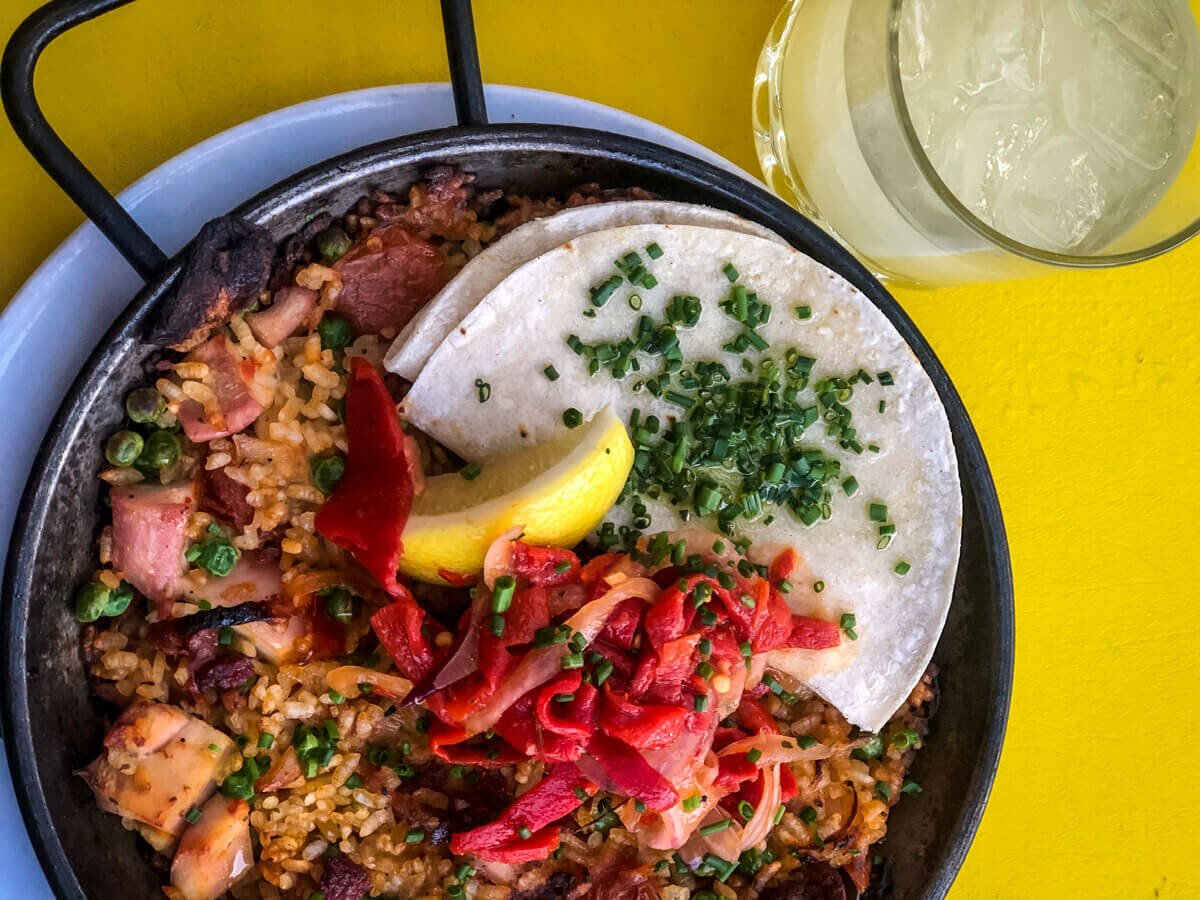 With a brick-and-mortar location smack dab in the center of downtown as well as three food trucks, Barrio is a Bend staple. This Latin-inspired menu boasts a variety of tapas, different paellas, and a big selection of margaritas.
Barrio has excellent happy hour deals at their downtown location. With $6 cocktails and sangria as well as $12 paella, this makes a perfect afternoon pick-me-up.
What to order: For a budget-friendly meal, the happy hour paella is a pretty excellent choice. And when paired with a $6 margarita or sangria, how can you go wrong?!
Where: Situated in the center of Wall Street in downtown Bend, the back patio is nice for enjoying happy hour on a nice afternoon
Bend Izakaya Ronin
At a glance: Quality sushi and Japanese small plates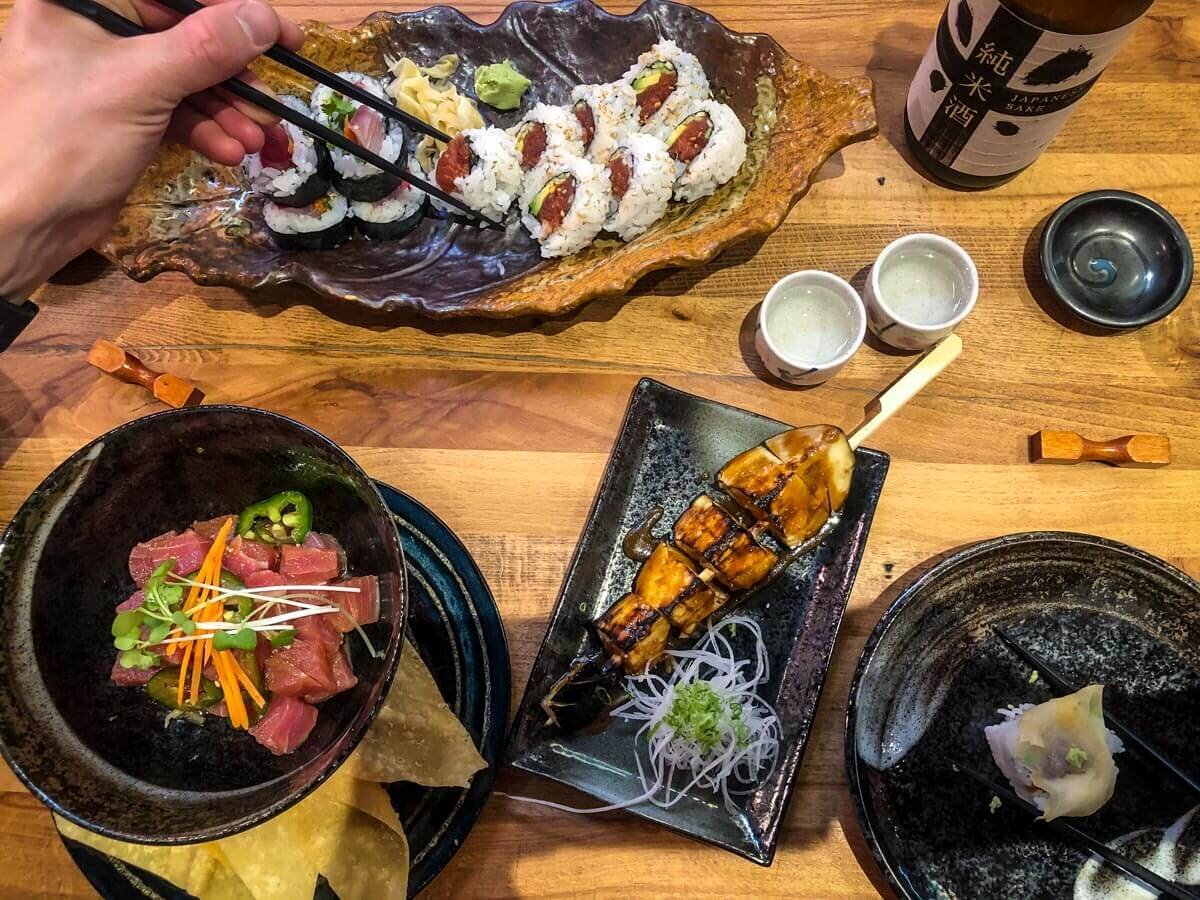 If you're a fan of Japanese food, Ronin is a great choice for a nice dinner in Bend. Ronin started as a food truck and made its way to a brick-and-mortar location in Westside Bend.
This restaurant is modeled after Japanese izakayas, which are cozy, casual pubs that serve a variety of small plates and drinks. In addition to sushi rolls, you'll find items like Tatsuta–age, a style of Japanese fried chicken, and silken tofu.
What to order: The nigiri is excellent as are the rolls, so order whatever stands out to you. The Japanese fried chicken can be a good addition, and when we were there they had yakitori-style skewers grilled over charcoal. We'd recommend ordering a couple of dishes at a time until you're satisfied. Also, if you're into it, get a bottle of sake to enjoy with your meal, or opt instead for a Japanese beer — they have both Sapporo and Asahi beer on draft.
Where: Located in an industrial-style building just off of Century Drive
---
Best Brunch in Bend
We're big fans of brunch, and luckily Bend has lots of great options. We've still got lots of brunch places on our "to try" list, but we're sharing some of our favorites (so far!).
Psst! One of these establishments has some pretty killer Bloody Marys!
The Victorian Café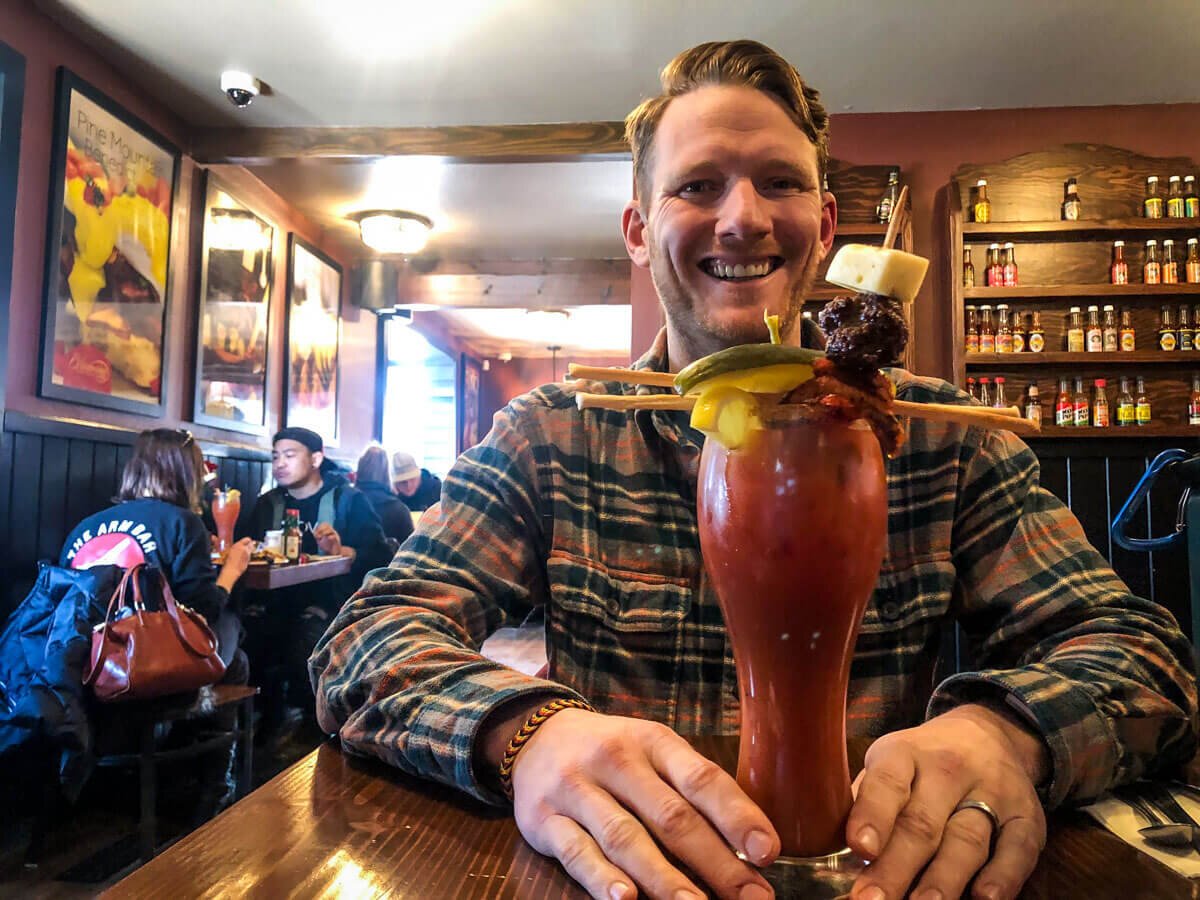 Set in a cute red Victorian house, this popular spot will make all your brunch fantasies come true. With a cozy atmosphere and breakfast favorites, it comes as no surprise that The Victorian has won many "best breakfast in Bend" awards over the years.
Boasting at least nine different types of eggs benedict each morning, it can be hard to choose just one!
Be prepared to wait, especially on weekends. You can order a coffee (or mimosa!) while you wait on the patio outside.
What to order: If you're a Bloody Mary fan, their 24-ounce "Proud Bloody Mary" is a must! You can ask for it made with pepper-infused vodka if you like it spicy, like us! They also have excellent (strong!) mimosas with a variety of juice options to choose from, so you can switch it up from the typical OJ. For food, we really enjoyed their crab Benedict, and will have to try one of the many others next time we visit.
Where: Situated on the corner of Galveston and 14th Streets, you can't miss the red building from the roundabout.
McKay Cottage
At a glance: Widely known as one of the best brunch places in town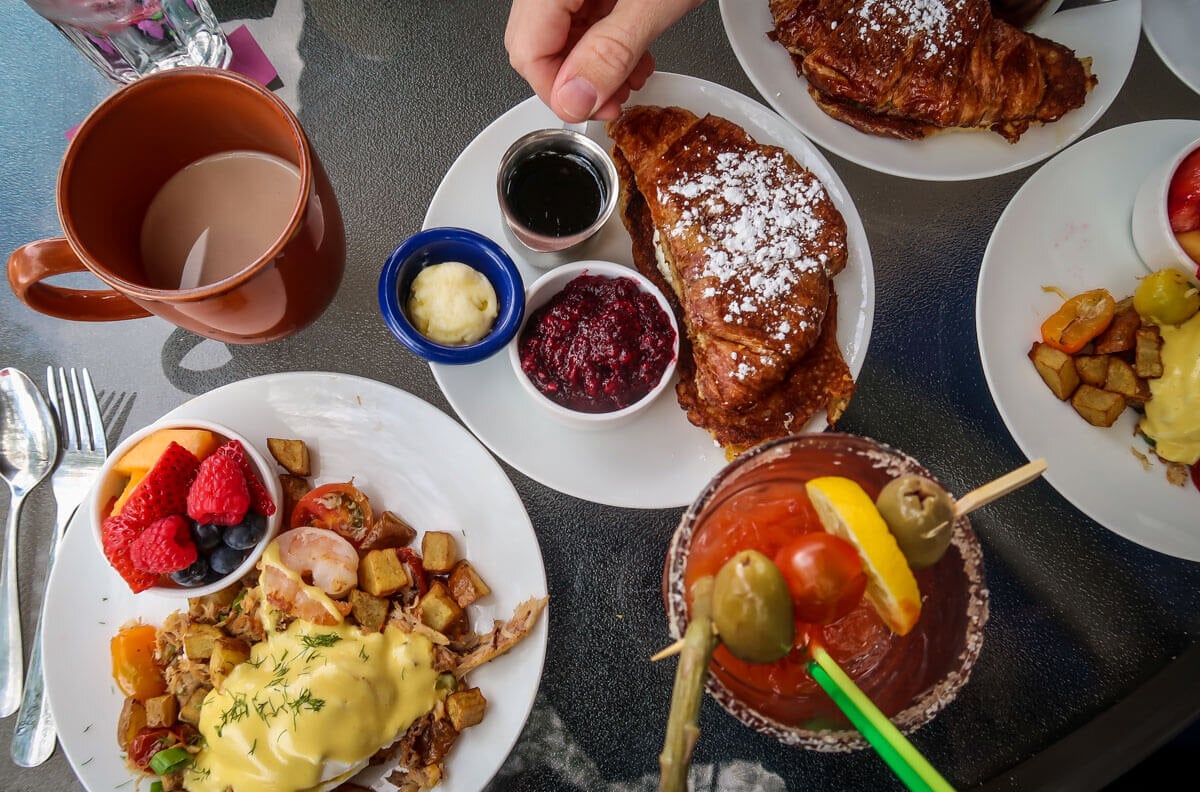 Voted "best brunch in Bend" for several years in a row, this cute cottage is an excellent breakfast choice. With classic American breakfast items like benedicts, scrambles, French toast, and scratch-made pastries, there's something for every brunch-lover on the menu.
The service is friendly and very accomodating. We were there on a chilly day, and the hostess gave us blankets to make our outdoor table more comfortable. Also, we told our server we were slipping two dishes and they were split for us on separate plates, which is always a nice gesture.
Good to know: This is a popular spot, so expect a wait (especially on weekends). They can serve you a drink while you wait, which is nice. Just come with patience and expect a wait, so you're not surprised
What to order: The stuffed French toast, made with croissants and served with housemade marionberry compote is a unique twist on a classic — and oh so good! We literally ate the last bites of compote with a spoon (don't judge!). The Cannon Beach Hash is indulgent and is packed with fresh crab and gulf shrimp. If you're dining with a partner, consider splitting two items to get a little taste of each — we ordered both items described above to split, and they were both fantastic. It was a good mix of savory and sweet!
Where: Nestled between Petco and some other businesses, the location feels a bit strange when you park. However, once you actually get to the restaurant, you'll be able to appreciate the cozy cottage atmosphere.
---
Food on the Go
While visiting Bend, you'll likely have lots of adventures planned outside of the town itself, maybe even a few epic hikes, and it's a good idea to pack some food to bring with you. You don't want to get hangry, now do ya?!
We've rounded up some of our favorite spots in town for grabbing food to go.
Sparrow Bakery
At a glance: Famed local bakery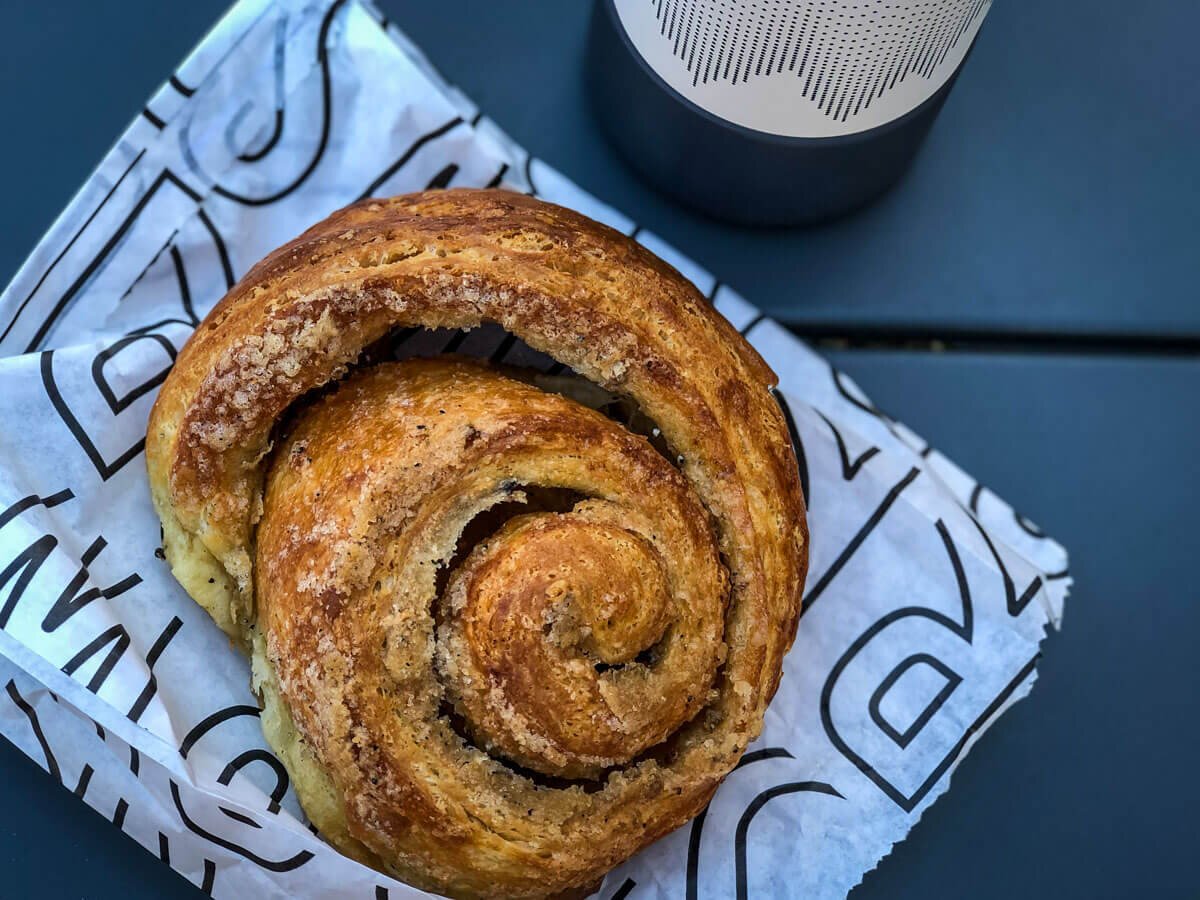 This local bakery is a town staple and an absolute must-visit while in Bend.
What should you order? Well, everything we've tried is very good. The breakfast sandwiches are nice, the chocolate cookies are rich and decadent, the COCC Cookies (named after the local community college) are amazing, but the real show-stopper is the Ocean Rolls, for which this bakery is famous.
These massive pastries are rolled (similar to a cinnamon roll), but croissant dough is used and instead of cinnamon, the filling is made with cardamom, vanilla and sugar. It may sound strange, but when you sink your teeth into this crispy yet gooey and not too sweet delicacy, you'll be thanking us for the recommendation.
Insider Tip: Come early to avoid lines (especially on weekends)!
What to order: Ocean Roll, COCC cookie, chocolate cookie, croissants
Where: There are two locations and both are nice. The location at Northwest Crossing has more indoor seating, while the Scott Street location (our personal favorite) is very small but has a nice little patio. Next door is an artist's collective, which is cool to check out when you're in the area.
Big O' Bagels
At a glance: Low-key spot with cheap and delicious bagel breakfast sandwiches for bringing on the go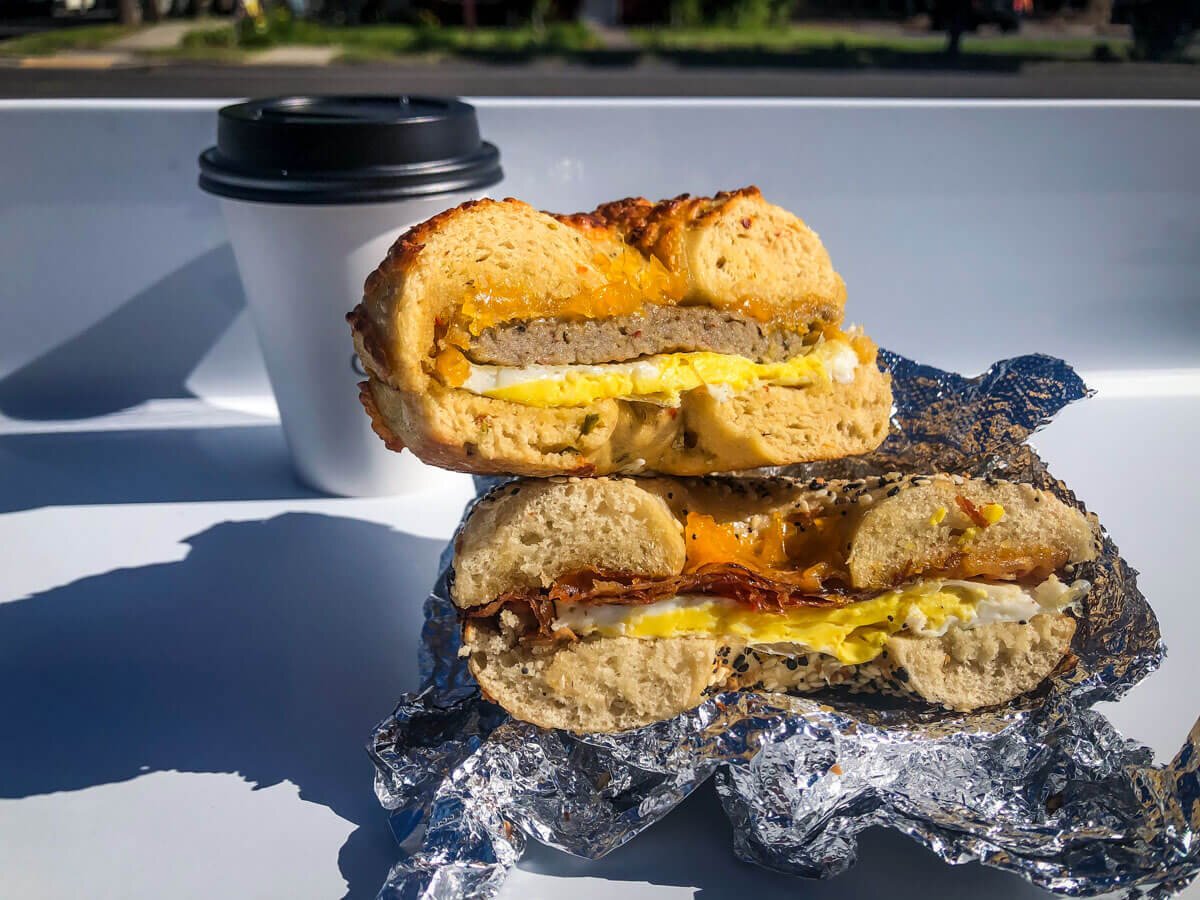 At under $5, the Eye Opener (aka a breakfast sandwich with egg, cheese and meat of your choice) is one of the best deals you'll find in town. These are perfect for grabbing on the way to a hike or for a day of skiing at Mount Bachelor.
What to order: Our two favorite combos are everything bagel with bacon, and the cheddar jalapeño bagel with sausage. We typically get one of each and split!
Where: There are three locations in Bend, but the only one we've been to is on Galveston Ave on the west side of town.
Nancy P's Bakery & Cafe
At a glance: Cute cafe with excellent baked goods and sandwiches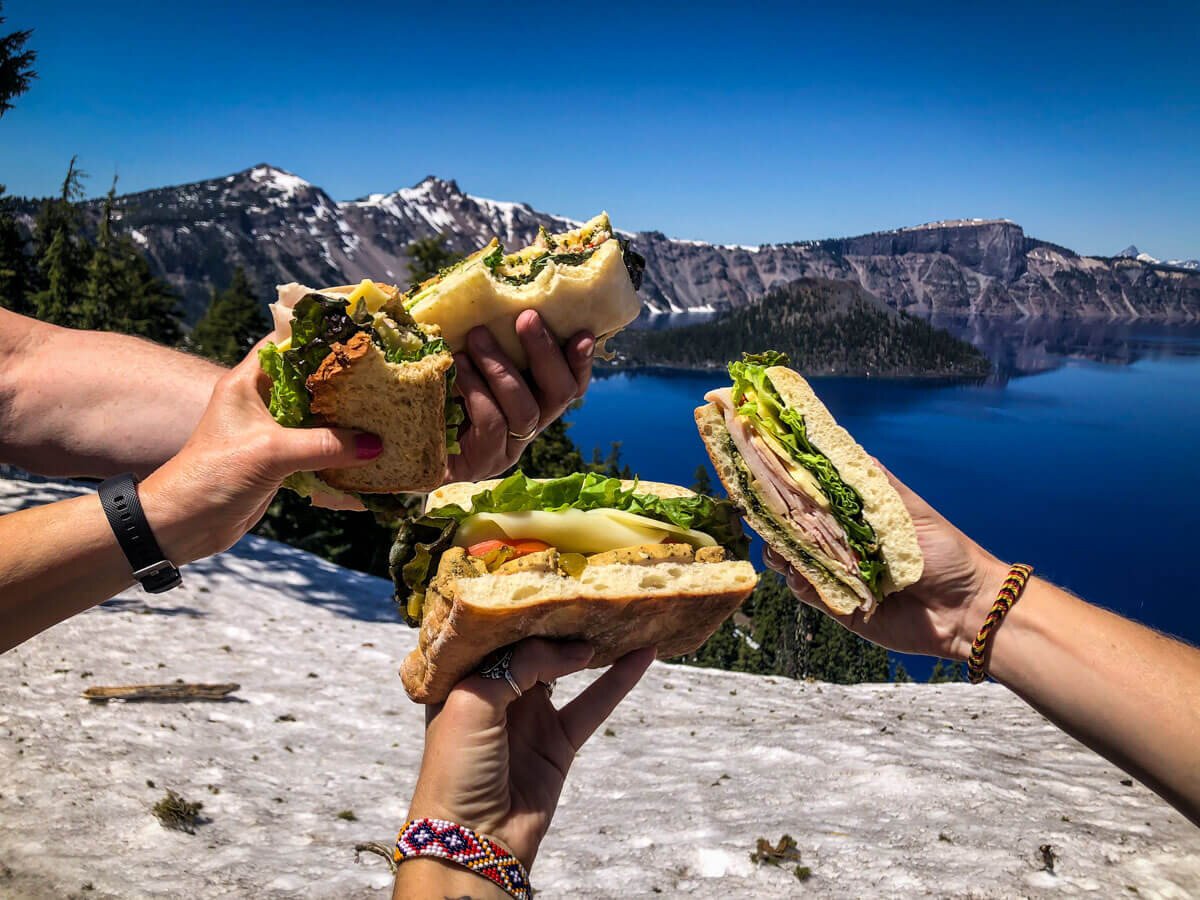 This cute little cafe serves up some excellent baked items as well as sandwiches, salads and breakfast offerings in a homey atmosphere.
While it's a nice place to eat and relax, this is one of our favorite places to grab a sandwich and treats for a day of hiking and adventuring.
What to order: Our favorite sandwich is the turkey pesto sandwich (so good!) and if you're craving a sweet treat, the key lime bar and the brownie puddle are equally delicious. They also have breakfast "pastry pockets" which are filled with eggs, cheese, and veggies, ham or bacon.
Where: Located in the heart of Westside Bend, just behind Newport Market.
Rockin' Daves
At a glance: Laidback joint serving sandwiches and breakfast items
This hole-in-the-wall joint is a Midtown staple and serves up reasonably-priced breakfast and lunch fare. Choose from bagels, breakfast burritos and sandwiches. Portions are generous and prices are good!
We've only gotten takeaway here, but they also serve cocktails if you'd prefer to dine in and jam to their 60's and 70's playlists.
What to order: Build your own breakfast burrito! The large is huge and can easily be split between two people if you have it cut in half.
Where: Located just off Highway 20, you'll see it as you head east of town toward Pilot Butte.
Planker Sandwiches
At a glance: Excellent sandwiches, perfect for bringing adventuring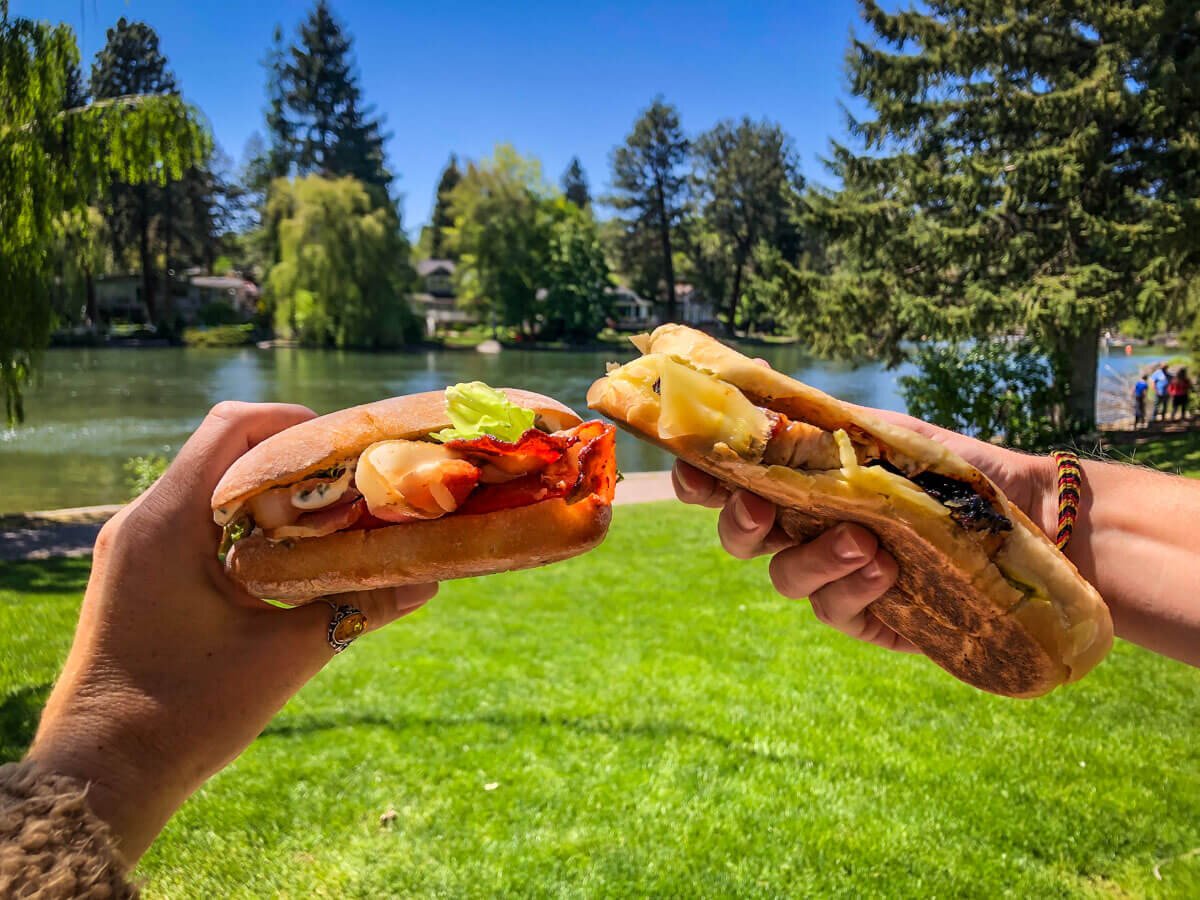 This unassuming shop downtown makes some really good sandwiches. They've got a pretty great variety of sandwiches, both hot and cold, so whatever it is you're craving — be it a classic BLT (with avocado for the win!) or a hearty meatball parm on sourdough, chances are there's something on the menu that'll strike your fancy.
Just steps away is Drake Park, which is the perfect spot for a picnic, or pack your sandwich up to bring along on a hiking adventure!
What to order: We really like the pulled pork sandwich, which comes with apple chutney, whole grain mustard and gruyere. The tomato panini with mozzarella and fresh basil is a good option for vegetarians. They have a few breakfast sandwiches, which are pretty great as well.
Insider Tip: If you want to spice your sandwich up, you can add on Mama Lil's Peppers for $1. These babies are made in Portland (you'll find them on the menu at many delis around Oregon) and we love them on sandwiches!
Where: This small shop is located downtown on Wall Street. There's a small amount of seating, but we'd recommend getting your sandwich to go and walking a block down to Drake Park or driving a few minutes to Pioneer Park for a perfect picnic lunch.
---
Best Food Trucks in Bend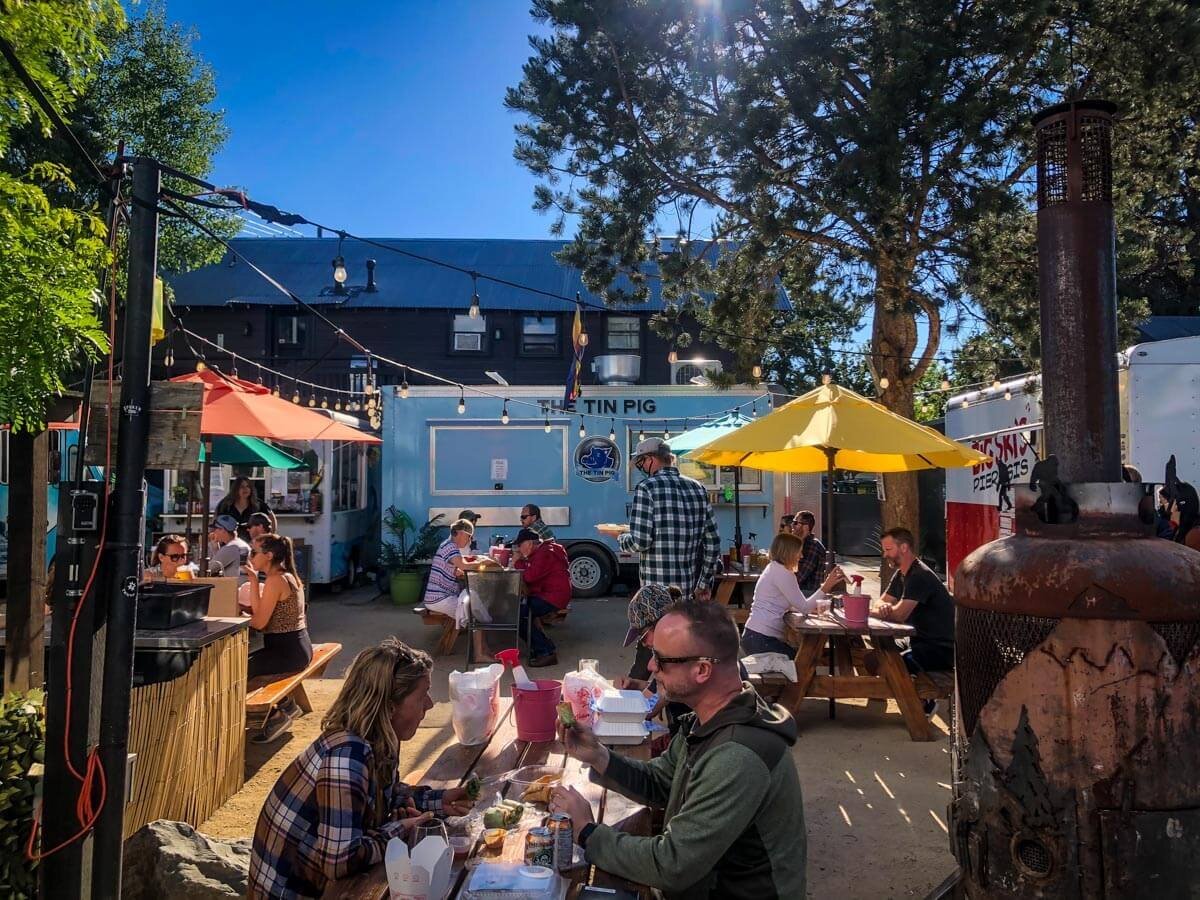 Bend has no shortage of food trucks. In fact, there are pods all around town, with offerings of all types of food and, of course, a nice variety of local craft beer.
We've found that there are some food trucks in town that are, how shall we put this… overrated and overpriced. And then there are some that have blown us away. Here are a few of our favorites…
Aina Kauai Style Grill
At a glance: Hawaiian food truck known for poke bowls and friendly service
We're huge fans of poke bowls, and this place is amazing! Everything is super fresh, the portions are generous and the prices are reasonable.
The owner, originally from Kauai, is really friendly as well so be sure to strike up a conversation!
What to order: The poke bowl is amazing, and the poke nachos — with ahi piled high on wonton chips with the other traditional fixings — are fun to try if you want a different spin. If you're not into poke, there are other options to choose from, like pulled pork (aka kalua pig) and breaded chicken dishes.
Where: Parked at Bevel Brewing in the southeast side of town, there is lots of outdoor seating and a handful of other food trucks in the lot as well. Bevel Brewing has excellent beer too, so it's definitely worth the stop.
Alebrije
At a glance: Authentic Oaxacan food truck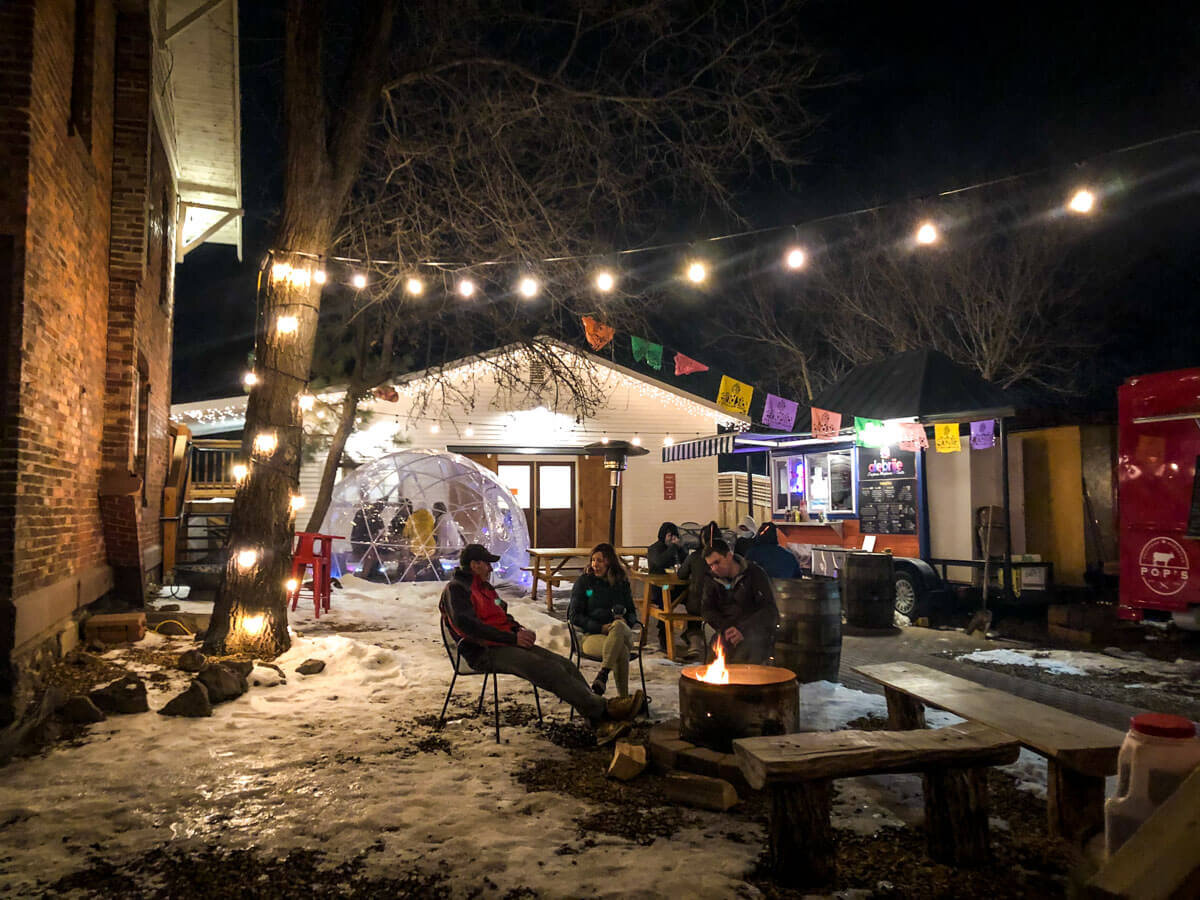 If you've traveled to the Mexican state of Oaxaca, you know that this region is known for its cuisine. This food truck has a pretty extensive menu, including Oaxacan staples like mole enchiladas and memelitas (which are thick corn tortillas with black bean puree and queso fresco). With reasonable prices, this is a good pick for Mexican food in Bend.
What to order: The carnitas nachos are great (and split-able), and we've heard great things about the mole enchiladas.
Where: Parked at Brew & Bunk, which is just off highway 97 and a short walk to downtown. Bunk & Brew is actually a really cool spot and off the beaten path — it's a hostel with a public patio that is home to a couple food trucks and a craft beer stand. They sometimes host live music, making it a fun place to hang out for an afternoon.
Tacos Pihuamo
At a glance: No frills food truck with the most authentic tacos you'll find in town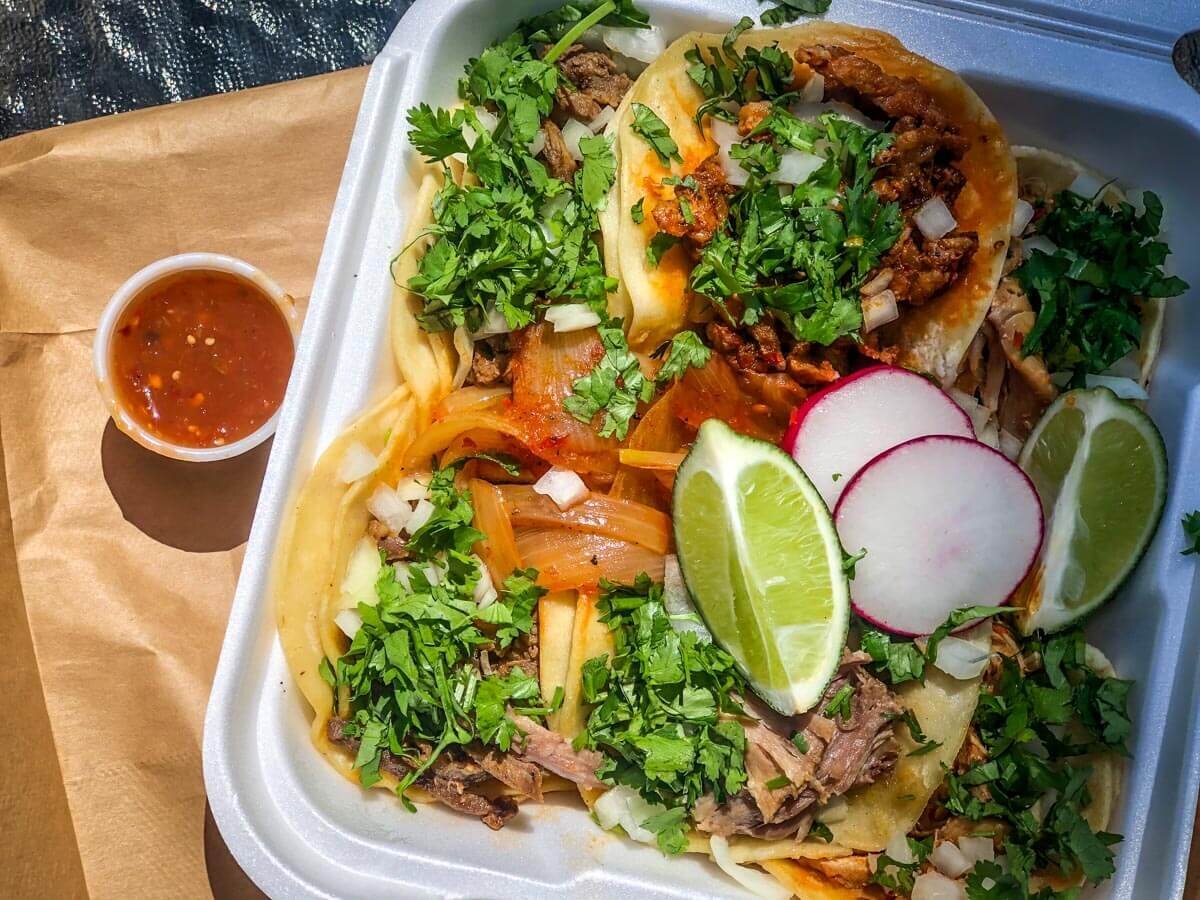 If you want super cheap and very authentic Mexican food, Tacos Pihuamo will satisfy your craving. This no-frills food truck is only open for lunch and (early) dinner on weekdays — they are closed on weekends.
If you come right at the lunch hour, you may be standing in line for a bit (though they are pretty quick). Just be prepared to take your food with you, as there is no seating.
Good to know: Our one bone to pick here is they serve their meals in styrofoam containers. I just don't understand why these exist anymore when we have cardboard options!
What to order: We love their super authentic street tacos (birria, pollo and carnitas are our favorites). They also have burritos, enchiladas, quesadillas and tortas, so whatever it is you have a hankering for, you'll find a very authentic (and cheap!) version here.
Where: This truck is parked just off of 3rd Street. You don't come here for the atmosphere — it's all about the food!
Friken Faco
At a glance: Food truck with great Korean and Thai fried chicken
This green double-decker bus parked outside The Lot is hard to miss. The name, Fricken Faco, is a nod to their menu of fish tacos and fried chicken.
While we haven't personally tried their tacos, their fried chicken is pretty damn good — and we don't even typically order fried chicken.
What to order: Korean barbecue or spicy Thai fried chicken (both are fabulous) and the medium size is very generous. We haven't tried anything else on the menu because we keep going back to those two.
Where: Parked at The Lot in Westside Bend, this is our favorite spot to enjoy a beer on a cold or rainy day, as this pod is covered and has heated benches around the perimeter.
Sol Verde
At a glance: New Mexico style burritos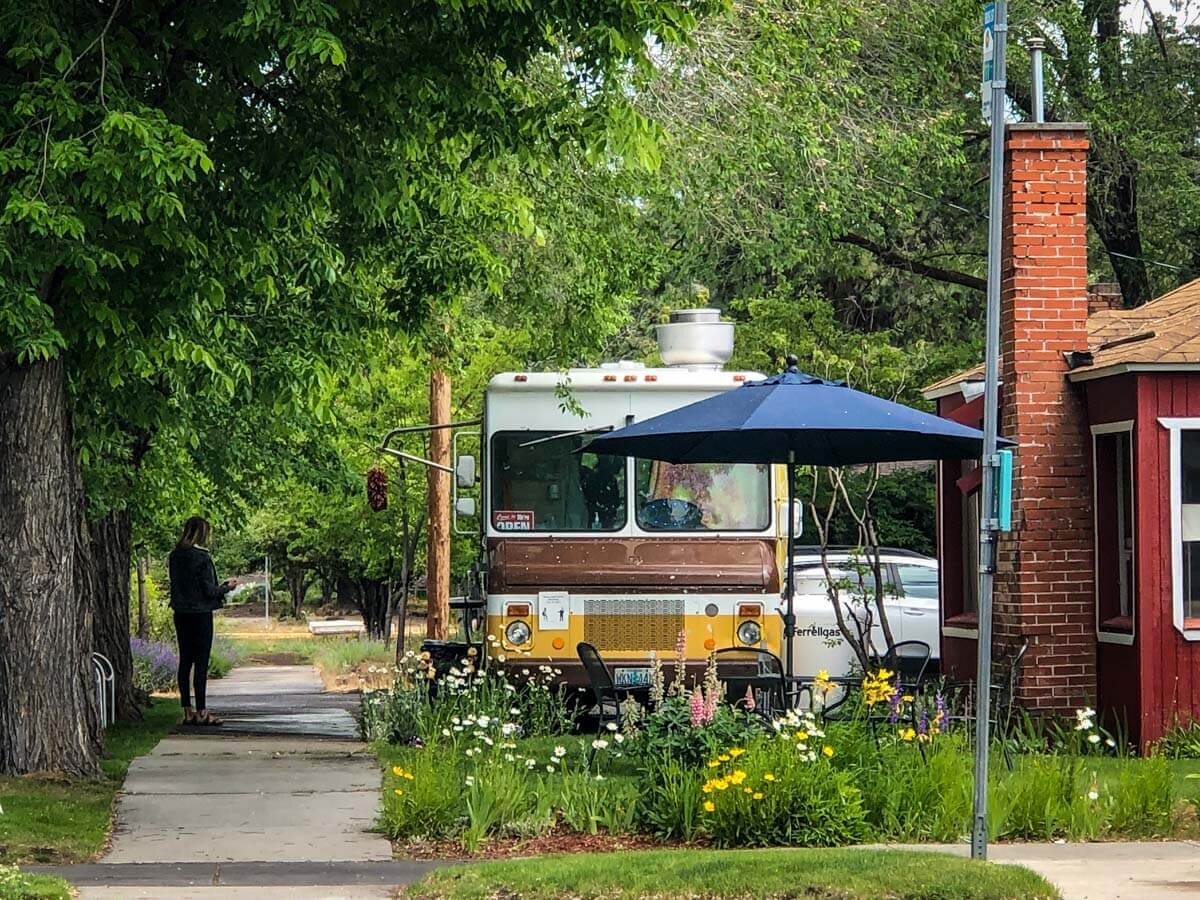 This lone food truck is easy to pass up if you don't know what you're looking for. Parked just off of Galveston Avenue on the west side of town, they serve up some killer burritos. We've only had their breakfast burritos, but damn, they were good (and pretty generously portioned).
There are vegetarian, gluten-free and dairy-free options available, making this a good choice even for those with dietary restrictions.
What to order: We can only speak to their breakfast burritos, but they were damn good!
Where: Parked on Galveston Avenue just across the street from Megaphone Coffee, it is super convenient to grab a coffee while you wait for your breakfast burrito!
---
Best Coffee in Bend
The PNW is known for craft beer and excellent coffee (think Seattle and Portland!), so it should come as no surprise that in addition to an eye-watering amount of breweries in town, there are just as many — if not more — coffee shops.
Megaphone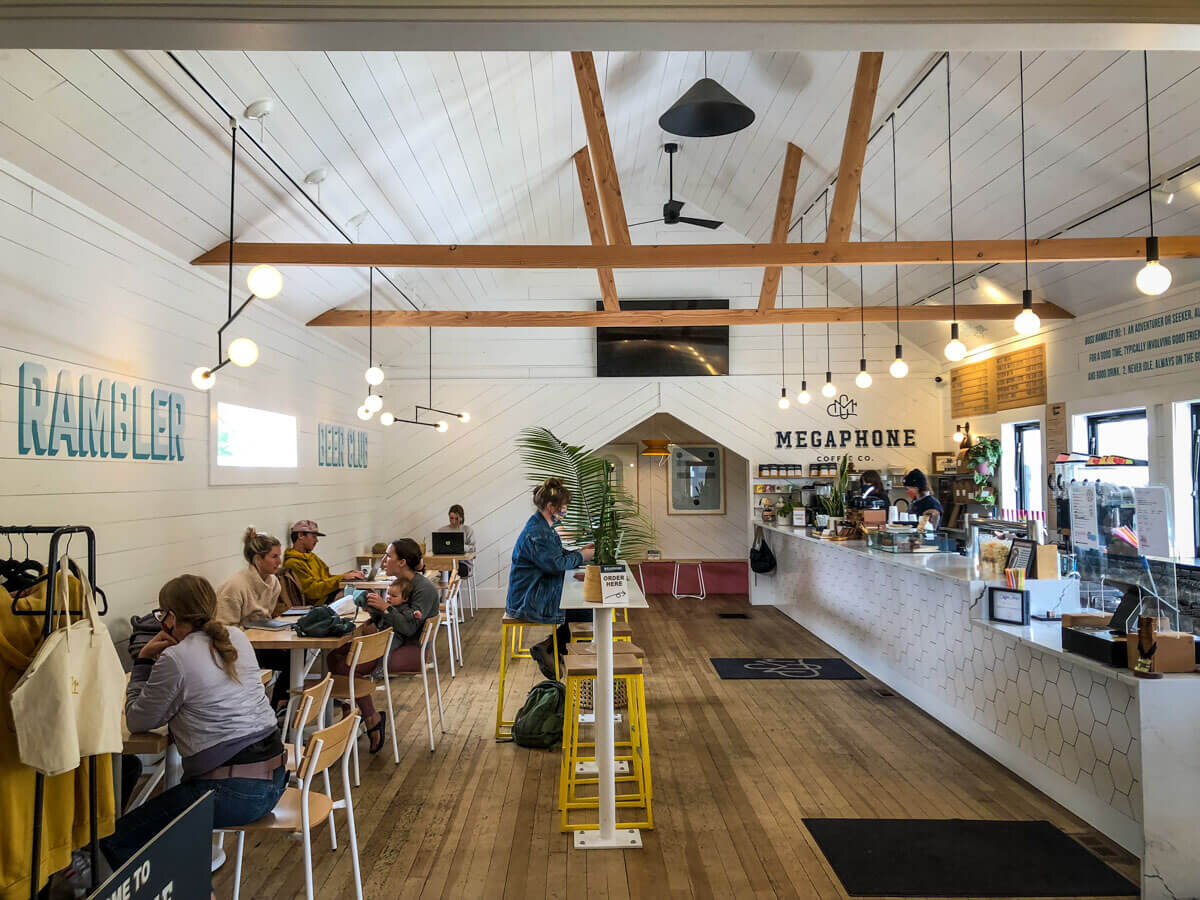 This is one of our favorite coffee shops in town. It doesn't hurt that we used to live just up the block from here so we were in all the time. They have excellent coffee and friendly service.
Around midday, this turns into a taproom, Boss Rambler, which is also fun to check out. In the summertime they have yummy adult slushie drinks and chairs in the sunshine.
What to order: We are partial to the dirty chai (chai with a shot of espresso) with oat milk.
Backporch
This local roaster is known for having some of the best coffee in town, and with a handful of locations, you won't have to go too far to find one. Sadly, our favorite Backporch location closed, but in its place, a new one opened downtown.
What to order: We like the honey lavender latte, or if we're not feeling fancy, their Americanos are pretty good too. Also, look for Backporch mentioned at some of the local breweries, as they do a handful of collaborations — think yummy coffee porters!
Where: With several locations, you can grab Backporch while in downtown (Bond St) or after exploring the westside (Newport Ave). There are also a couple of locations on the east side of Highway 97.
The Commons Cafe and Taproom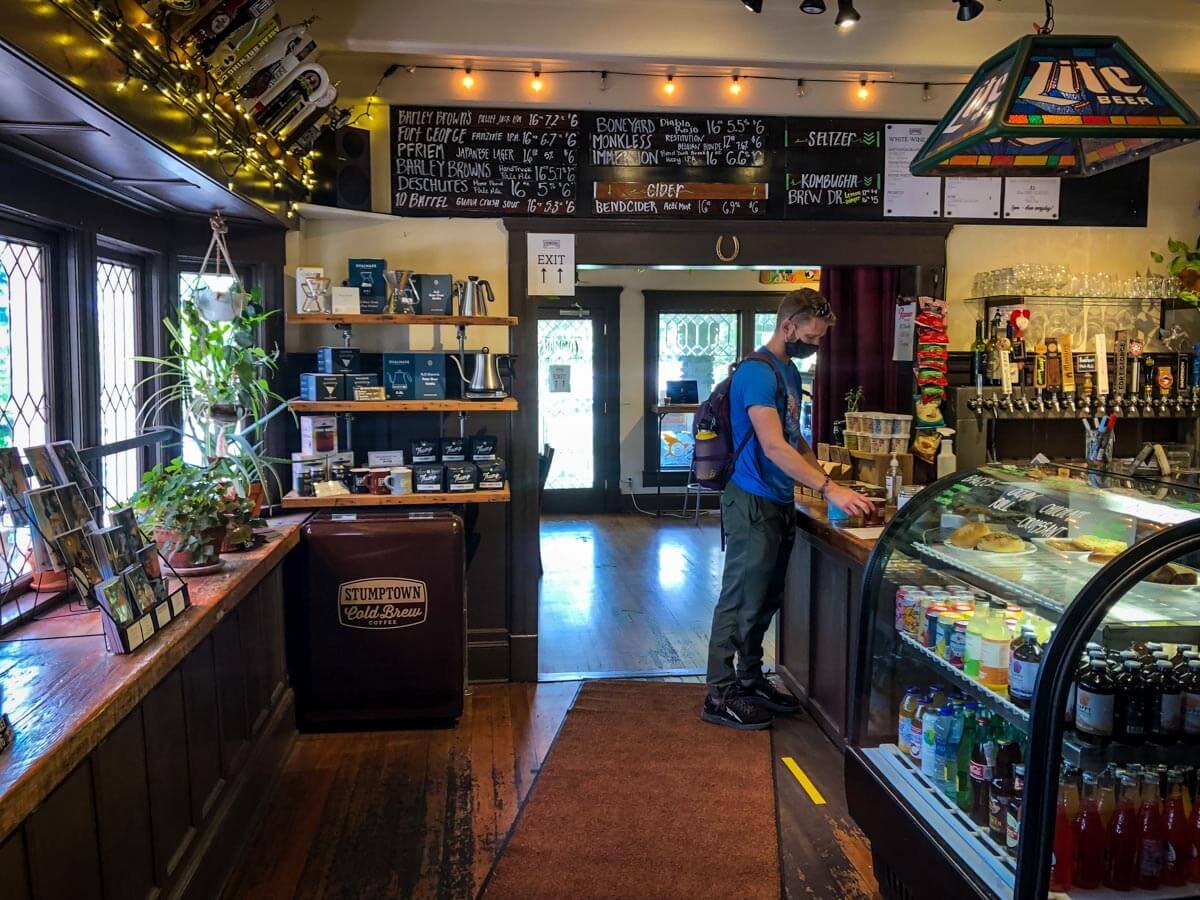 For a true coffeehouse vibe, you won't find a better spot in town than The Commons. With mismatched couches, a fireplace, and lots of local art on display, we can't think of a much cozier place to relax with a cup o' joe. Or craft beer, because they have that on tap too!
This is a popular spot for friends to catch up and a comfortable space for people to work on their laptops. They also host live music pretty regularly, so stop by morning, noon, or evening for a pick-me-up.
What to order: Whatever you're feeling — they have specialty coffee drinks, house drip, and a small selection of baked items. They also serve craft beer.
Where: Situated at the edge of Drake Park, The Commons has a beautiful view over Mirror Pond.
Honorable Mentions
Honestly, there are too many good coffee shops in town to name them all. Here are a few more we really like:
Dudley's Bookshop Cafe: This independent bookstore is simply the cutest. They have an onsite coffee bar where you can order specialty beverages to enjoy while cozying up to a book (or your laptop). The upstairs level has lots of seating for just that purpose. We'd highly recommend stopping here to support this local gem!
Lone Pine: Excellent coffee and pastries in an industrial yet cozy space on the edge of downtown. We haven't tried their waffles yet but we've heard rave reviews. Apparently, they're made with butter and syrup baked in so you can grab 'em and go.
Spoken Moto: Coffee shop with an edgy vibe and motorcycle and vintage décor. It's a good place for working on your laptop. They also serve beer and cocktails and have a small collection of food trucks just outside.
Strictly Organic: Low key coffee shop (we like their location on Bond Street) with good food options, like breakfast burritos, as well as many baked goods.
Palate: This coffee shop is super cute and cozy but there's not a ton of seating.
Kanona: With beachy vibes, this Westside coffee shop also serves smoothie bowls and avocado toast.
---
Best Breweries in Bend, Oregon
We're huge fans of craft beer, so this was a fun section for us to write. Bend has a pretty crazy amount of breweries for its size.
With so many to choose from it can be pretty overwhelming. Luckily, we've done all the hard work for you and "researched" our way through just about all the breweries in town.
We're sharing our favorites below as well as what each brewery is known for so you can plan your visit accordingly.
Bend Brewing Company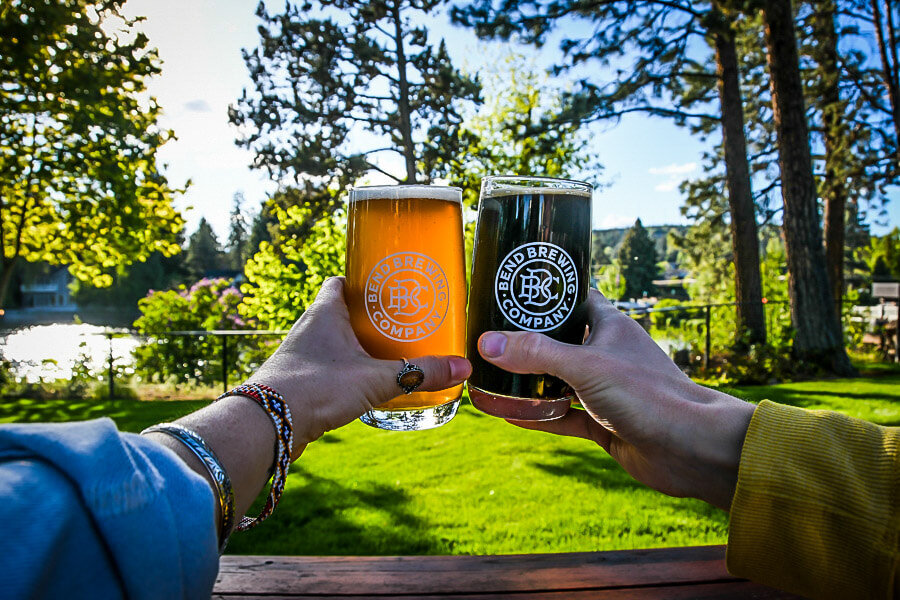 Situated downtown and right up along the Deschutes, sitting at a picnic table on the BBC lawn is one of the best places in town for enjoying a sunny afternoon.
Bend Brewing has a pretty good variety of beer. We're both big IPA fans, and personally, our favorite IPAs are elsewhere in town (though BBC's aren't bad by any means). What we love at Bend Brewing are their complex aged beers, which are typically only available for a limited time. One of our favorites that's always on the menu is Trade War, which is a really solid stout. If it's available on nitro, do it!
Food: In addition to beer, BBC also has a pretty good food menu, so it's great for a late afternoon beer and dinner. The sriracha cauliflower app is one of our go-tos — even just for a snack with our beer. If you're a fan of nachos, BBC has a HUGE nacho platter that you'll definitely want to split. And the fish 'n chips are pretty good, but we'd recommend opting for the full size as the small is quite small.
Crux
Really cool venue with big indoor and outdoor spaces, making this a good spot at any time of the year. There are tons of IPA options (as well as other beers) and they often host events and live music, so check to see if there's anything going on when you plan to visit.
Food: There's a small selection of food trucks outside, including El Sancho (tacos), but there's definitely not as big of a dining selection as many of the other breweries in town.
Silver Moon Brewing
This brewery has a really fun backyard patio and we find ourselves coming here over and over for the atmosphere. They host events throughout the year, including "not your grandma's BINGO" on Sundays (which is really fun and has pretty decent cash prizes), trivia, karaoke, fundraisers and more.
While they don't have the largest selection of beers, Silver Moon has more of a local vibe than some of the other big names in town.
Food: There is a small pub grub menu. In our experience, the food has been kind of hit or miss — the fried pickles were pretty good, but the portion was very small for the price, but the O.G. Grilled Cheesy ("adult grilled cheese") was fantastic.
10 Barrel
One of Bend's more famous breweries, there are two locations in town (as well as locations in Boise, Denver, and Portland). Their larger eastside location often has big events, but we much prefer the smaller, cozier west location (on Galveston Street), even though it does get very busy and often has a wait, especially on weekends.
10 Barrel has a big variety of all types of beer, including creative limited-time collaborations. Additionally, they have a pretty decent cocktail menu as well as wine, so it's a good choice for just about anyone!
Food: In addition to being known for their beer, lots of people flock here for lunch or dinner. The menu includes classic dishes like burgers, fish n' chips and sandwiches. Their steak & gorgonzola "nachos" are a fun twist, as they're served atop fries or housemade potato chips (or both!). They also have lots of creative pizza choices (we like the Jaca and the Veggie Za; you can order half and half!).
Boneyard Beer Pub
This brewery is located in a warehouse-style building and has edgy vibes. The beer menu isn't huge, but what they do have is pretty solid. RPM is one of our favorite IPAs in town!
There is both indoor and outdoor seating, though the patio isn't quite as "atmospheric" as some of the other breweries in town.
Food: Boneyard has a pretty creative pub menu featuring dishes inspired by cuisines from around the world. You'll find items like polenta tots, taco salads (that look great, though we haven't tried them), sandwiches, and a variety of bowls — think poke, stir fry, and mac ' n cheese. The only food item we've had here was the nachos, and sadly they were a bit disappointing. However, the rest of the menu looks promising.
Deschutes Brewery
Honestly, this is the most famous brewery in Bend, but we always seem to forget about it. Oops. They do have good beer and pretty decent food, but their downtown location doesn't really have a great outdoor area for hanging out. With so many other good options in town, we don't find ourselves here all that often.
That said, it is kind of a "must visit" if you're visiting Bend for the first time. Named after the river that runs through town, Deschutes brews up some staple beers that you can find across the country and even the world (we've found their Mirror Pond Pale Ale in Thailand!).
There's a downtown location as well as the main brewery, which runs tours and has a small taproom.
As far as their "permanent beer menu" goes, we personally really like Black Butte Porter, Fresh Haze IPA, and Obsidian Stout. They also do seasonal beers, which are fun to try!
Good to know: Many of their beers are named after local landmarks, so pay attention to the names and try to find them on a map!
Food: Deschutes Public House (downtown) has a pretty extensive food menu with pub favorites like burgers, pizzas and salads. We've had a few food items on the menu, and they were good but honestly not all that memorable.
GoodLife Brewing Company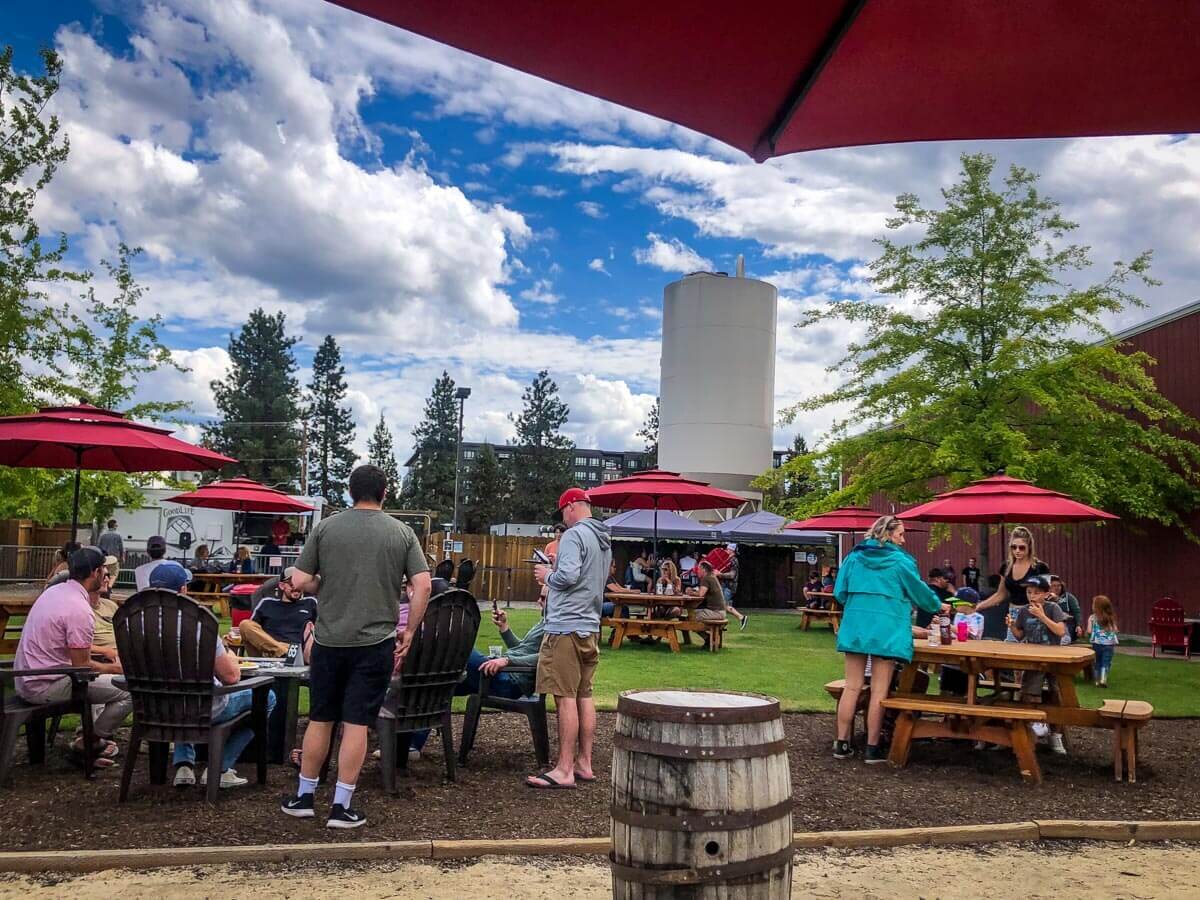 This westside brewery is known for playing chill music and oozing laidback vibes. There is a small indoor space and a huge outdoor lawn that's family and dog-friendly and is perfect for hanging out on a nice day.
They have a smaller beer selection, but we find ourselves being drawn back here for the lowkey atmosphere.
Food: They've got a small pub menu with items like nachos, sandwiches and wings. There are also sometimes food trucks onsite.
Honorable Mentions
Bevel: This small-scale brewery has really good beers and is surrounded by food trucks. The owners are frisbee golf champions and you'll find some frisbee paraphernalia around the space.
Worthy: They have a huge location on the east side of town and a tiny one right downtown that serves tacos and margaritas (as well as beer, of course)!
Monkless: This Belgian ale brewery isn't our favorite for beers, but we can't really blame them as we're much more into IPAs, porters and stouts, and they don't really do these styles. We will mention it though as it has a pretty sweet patio that overlooks the Deschutes River. If you like seafood, their mussel pot is pretty good!
Sunriver Brewing: With a location in Bend as well as nearby resort town, Sunriver, this is yet another local brewery. We like their Vicious Mosquito IPA and their General Tso cauliflower.
Cascade Lakes Brewery: With a cozy fireplace atmosphere and some tasty food options, Cascade Lakes makes a good stop on your way back from, well, a trip up the Cascade Lakes Highway, as it's right on the way.
Taprooms in Bend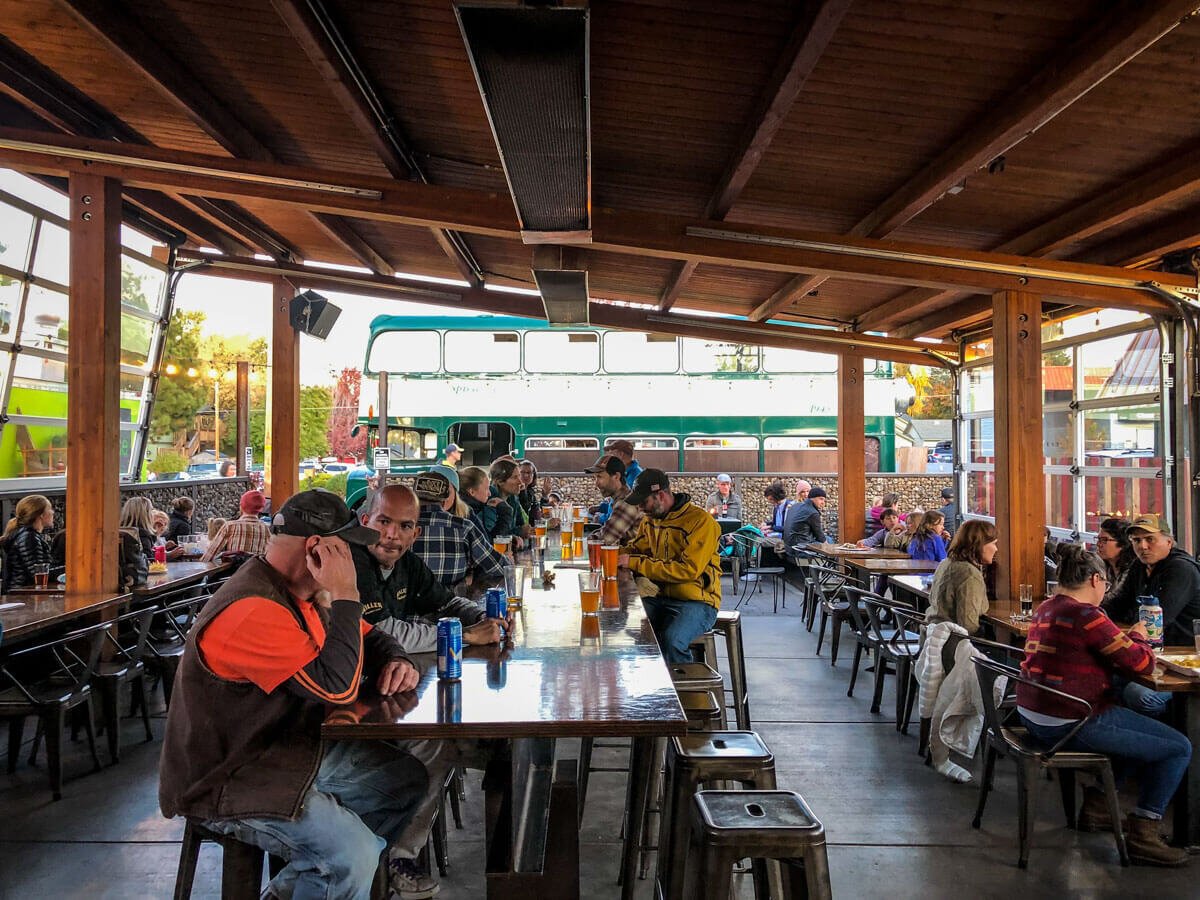 There are many taprooms in town as well where you can sample beers from several local breweries. Here are our three favorites:
The Lot: With a variety of rotating taps and a handful of food truck options, The Lot is one of our favorites. With a semi-enclosed seating area and heated seats, this is a particularly good choice on a rainy day or during the winter months.
On Tap: Located east of downtown, this taproom and food truck pod has a lively atmosphere and often hosts live music. There are fire pits for chilly evenings!
Crosscut: This looks more like a cozy cabin than a taproom. The fire pits and picnic tables outside make it a fun place to sample brews from around the state all year long. If you get hungry, there are a few food trucks. The Italian one serves some pretty decent cheesy bread that typically hits the spot!
---
Cocktail Bars in Bend
If you're not into beer, don't worry — even though Bend is a mecca for beer-lovers, there are plenty of places around town to grab excellent cocktails.
San Simón
At a glance: This hidden gem serves up some of the best cocktails in town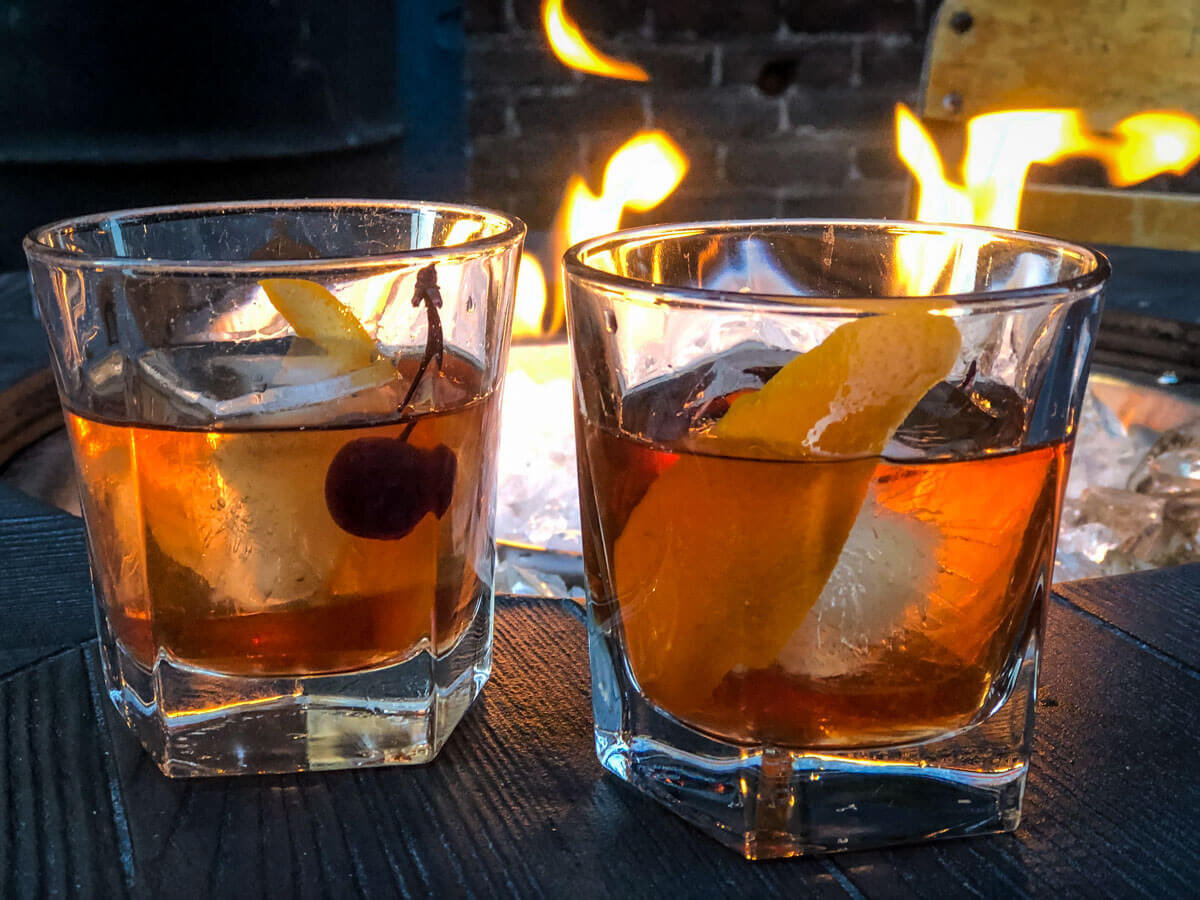 Tucked away in an alley, San Simon is known as one of the best cocktail bars in town. Not only are the drinks excellent, but there's also a killer atmosphere.
The bar itself is dimly lit and intimate, giving it a speakeasy-esque vibe. But if you come on a sunny summer day, sitting outside in the alleyway is a treat in itself.
Their happy hour menu is small, but if you're into Old Fashioned, theirs are great and at just $6 from 4 – 6 p.m., you can't go wrong! If you come outside of happy hour, no worries, because the full cocktail menu is excellent as well.
If afternoon cocktails give you the munchies, you're in luck because you can order small plates like rosemary roasted almonds and platters to share, like charcuterie boards.
Velvet Lounge
At a glance: Funky little downtown cocktail bar
This tiny little spot is near the river in downtown, and sitting on the sidewalk makes for great people-watching while enjoying a housemade cocktail.
Choose your favorite spirit and sample one of their inventive combinations, like the Rosemary Ricky (house-infused rosemary lime gin + lemonade + rosemary sugar + soda water) or the Hibiscus Maté Sour (vodka + hibiscus sugar + homemade lemonade + Yerba Maté).
O'Keanes
At a glance: Courtyard with a cozy atmosphere & a variety of drink options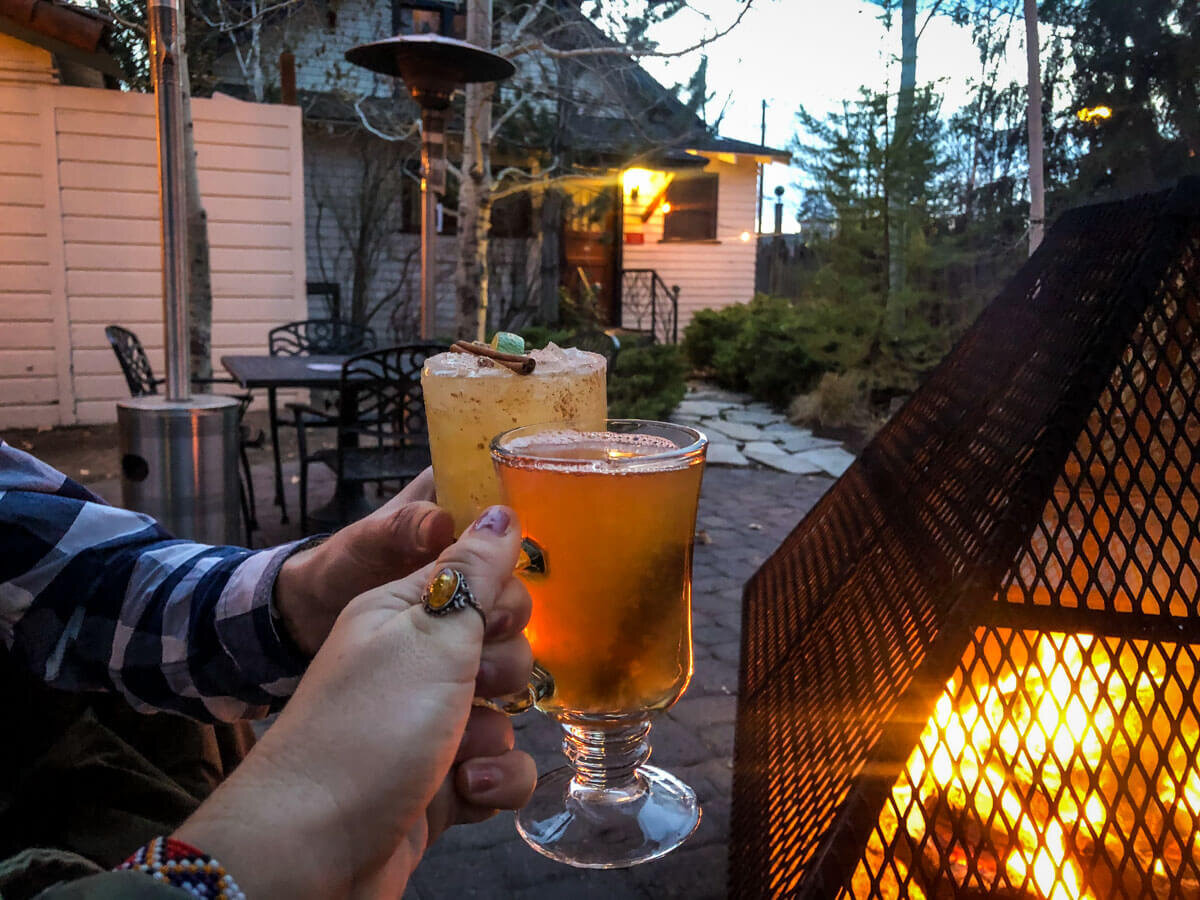 This courtyard is tucked away behind the main McMenamin's building, and is easy to miss if you're not actively searching for it. Look for a small sign on a fence that says "O'Keane's" and follow the path until it opens up to a secluded courtyard dotted with fire pits and sparkling with twinkle lights. If you're into it, there's also a small cigar bar just tucked away from the patio.
The menu includes cocktails, beers brewed onsite, and wine. We love coming here in the winter months after a day at the mountain because they have a pretty good selection of hot cocktails. It's also a nice place to relax after seeing a movie in McMenamin's (super unique!) theater, or soaking in their onsite hot pool (read more about both in #7 of this article).
Insider Tip: If you happen to arrive in the late afternoon, you may just catch happy hour. Order some discounted drinks and grab a snack. "Scoobie Snacks" are basically mini corn dogs, and the portion is generous, making it a fun one to share!
---
Top of our to-try list
We haven't eaten everywhere, but it's on our list (or something like that!).
Here are some restaurants in town we're itching to try:
Jackson's Corner for brunch and housemade pizzas (their Honey Pie sounds amazing!)
Lemon Tree for a nice brunch
Burrito Sunrise for breakfast burritos
Los Jalapeños for (another!) breakfast burrito
Foxtail for baked goods
Zydeco Kitchen & Cocktails for a nicer dinner with creative cocktails
900 Wall for a fancy night out
Tin Pig for what we've heard is the "best Nashville-style chicken sandwich" in town
Root Down for healthy eats
Active Culture for açai bowls, rice bowls and other healthy options
Broken Angel vegan food truck (we've heard great things about the vegan crunchwrap supreme!)
Big Skis Perogis for perogis at a food truck pod
Boxwood Kitchen & Supper Club for comfort food and cocktails
Dogwood Cocktail Cabin for — you guessed it — cocktails
And there are still many, many more amazing places than are listed above (as well as new ones popping up all the time!). As we have the opportunity to try more restaurants in Bend, we will continue to update this list!

Are you planning a trip to Oregon?
Being that Oregon is our home state, we have TONS of content to help you plan your trip. Start with our Oregon Homepage and be sure to check out the articles below. Leave us a comment if you have any more questions!
We want to hear from you!
Which restaurants sound the best to you? Have any more suggestions for us to try? (Remember, we've only included restaurants on this list that we've personally tried — at least once! — and loved.)

Save this article on Pinterest for later!