A magical, otherworldly place with towering red rock formations called hoodoos, Bryce Canyon National Park is one of those places you have to see to believe. The small park packs a big punch well beyond its scenery, with plenty of unique things to do in Bryce Canyon.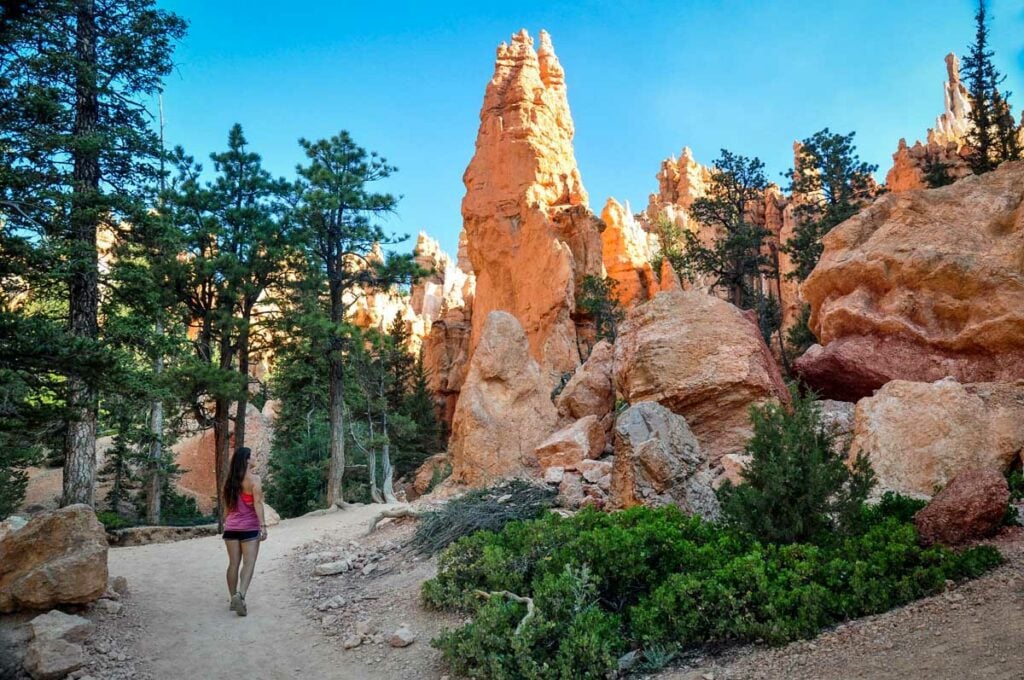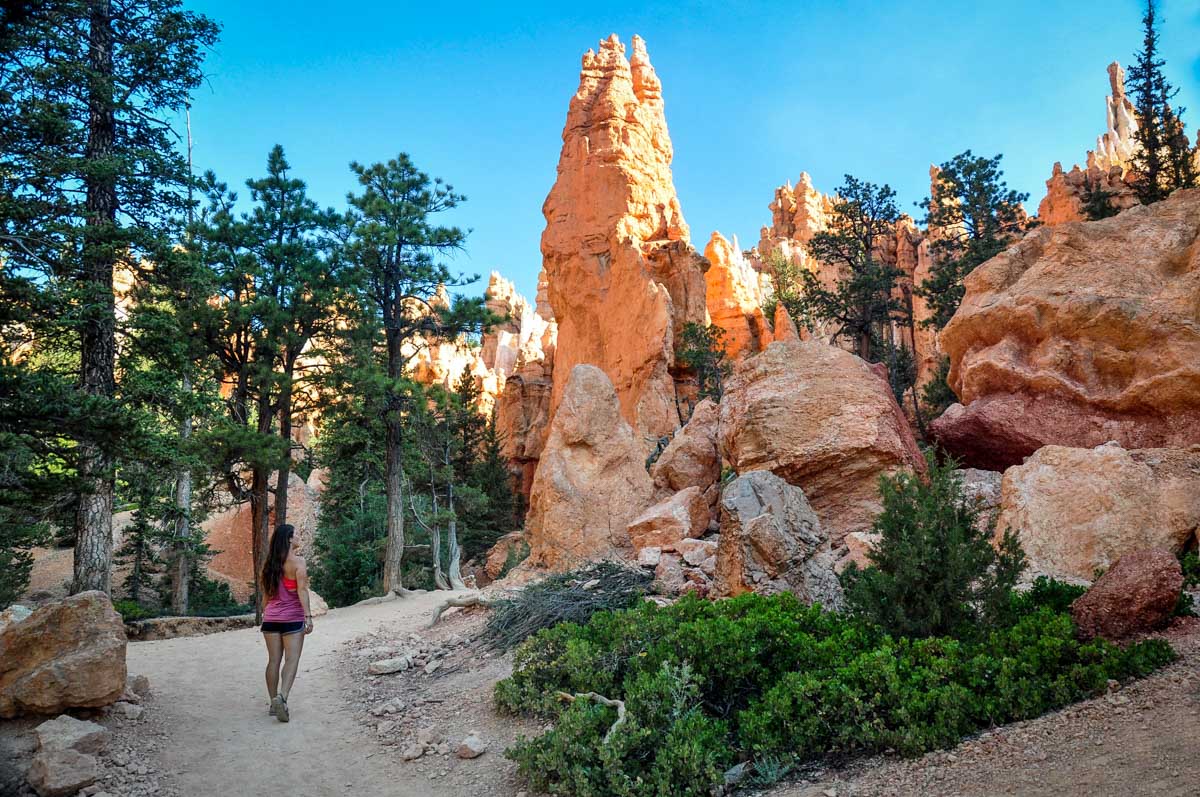 Bryce Canyon National Park is unlike anything you've ever seen before. That may sound a bit dramatic, but it's 100% true. The park's red pillar-like rock formations, known as hoodoos, seem to be pulled straight out of a fairytale. Or maybe another planet altogether. And Bryce Canyon happens to have the largest collection of hoodoos in the entire world, carved out over eons by erosion.
Walking amongst the red rocks and hoodoos in the canyon or from above, watching the sun play tricks on your eyes as the shadows — and colors — constantly change is truly otherworldly. You will find yourself constantly wondering, "How the heck was that made?"
Add to that the park's ultra dark skies and high elevation, plus several unique things to do in Bryce Canyon, and you have one incredibly unique national park!
Article contents
---
Bryce Canyon National Park at a glance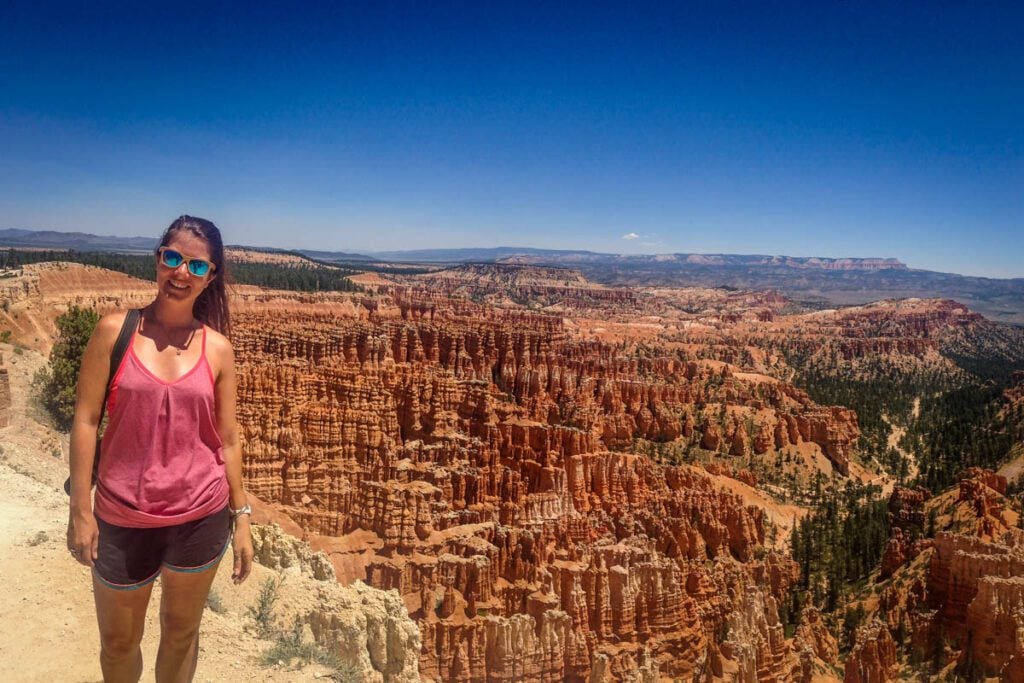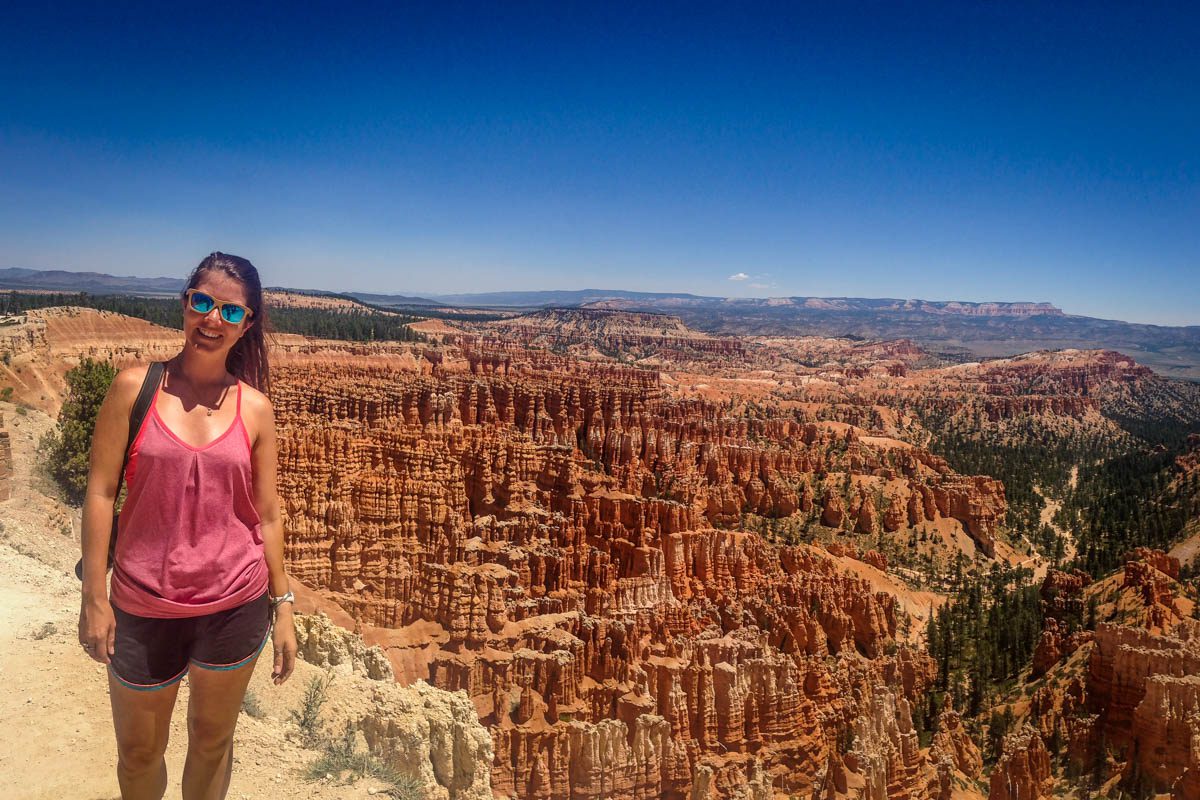 Open: year-round

Good to know: due to the park's high elevation, some visitor services, campgrounds, roads and two trails, the Wall Street side of the Navajo Loop and a section of the Rim Trail between Bryce Point and Inspiration Point, close in the winter (typically in mid to late November when significant snowfall starts)

Entrance Fee: $35/vehicle, $30/motorcycle, $20/hiking & biking, or free with your America the Beautiful Pass
Wildlife: antelope, rattlesnakes, mountain lions, and nearly 200 bird species
Established: February 25, 1928
Ancestral Lands: Paiute, Zuni, Hopi, and Navajo peoples
Area: 35,835 acres
How to get to Bryce Canyon National Park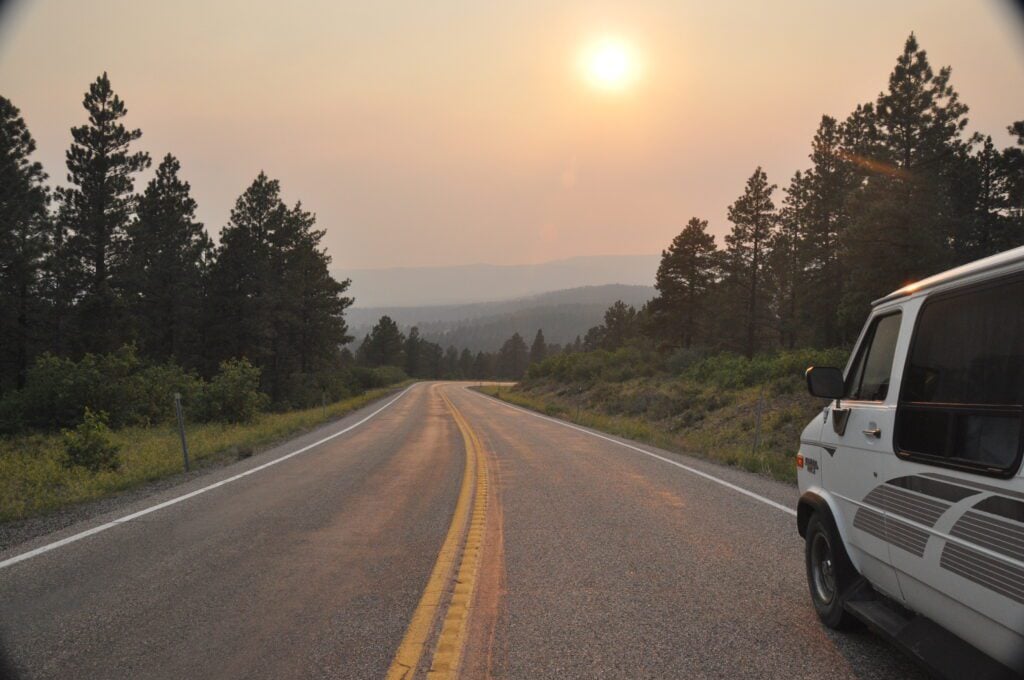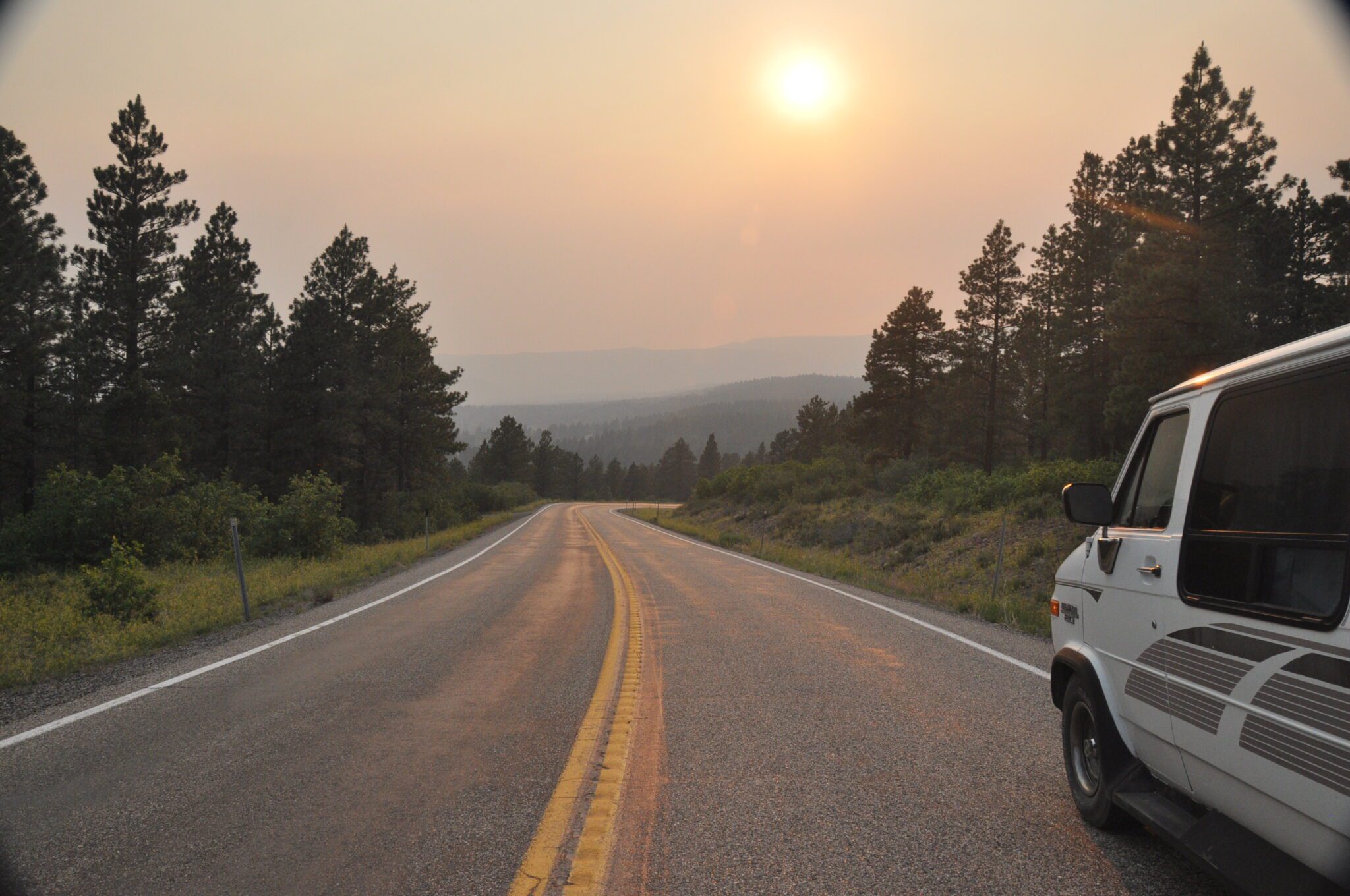 Bryce Canyon National Park is in a remote location in southern Utah, about 270 miles from major airports in both Salt Lake City and Las Vegas. It's about 1 hour and 20 minutes (72 miles) from Zion's east entrance in Orderville and just over 2 hours (112 miles) south of Capitol Reef National Park.
For this reason, Bryce Canyon is a fantastic park to visit on a Utah road trip!
While the park is fairly small, because of its remoteness, you do need your own vehicle to get to and around Bryce Canyon. It's easy to navigate, but congestion and parking can become serious problems during the busy season.
From late April through mid-October, the free Bryce Canyon Shuttle runs daily (more on that below!).
Psst! Check out our ultimate Zion to Bryce Canyon National Park itinerary to plan an epic road trip around these two incredible national parks.
Getting around in Bryce Canyon National Park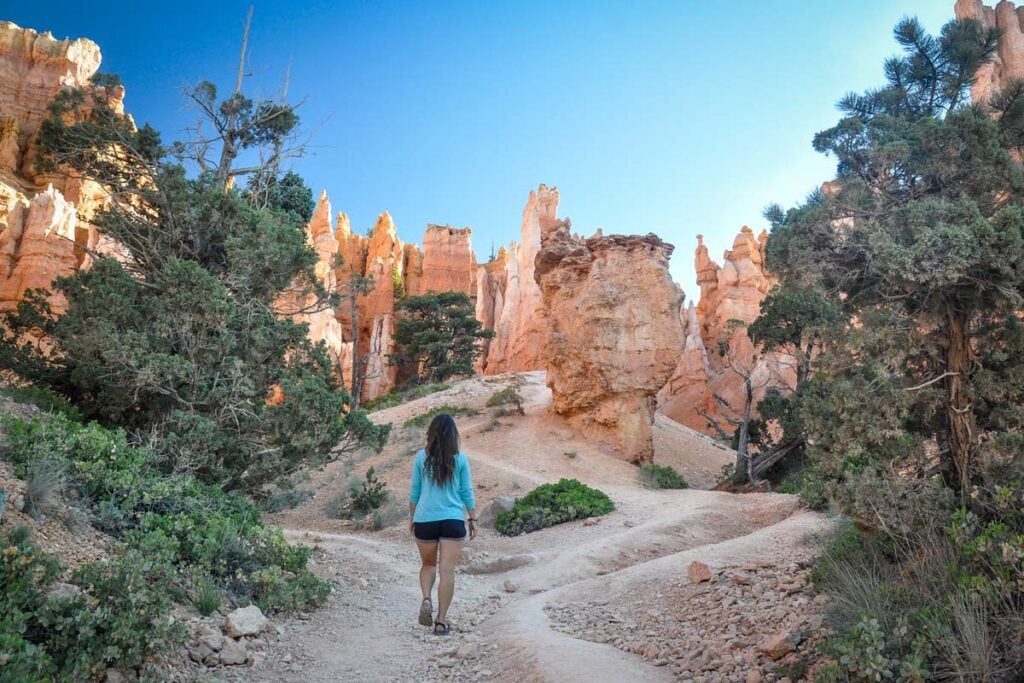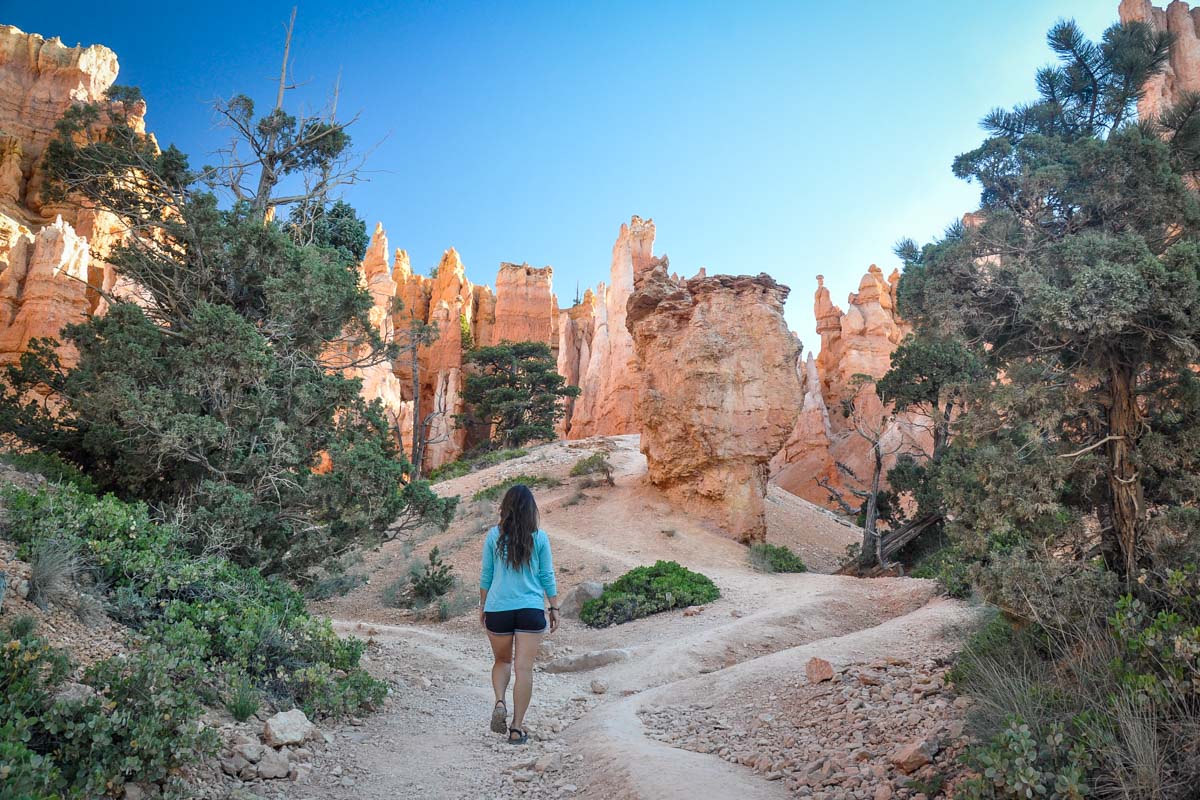 During "shuttle season," the Bryce Canyon Shuttle runs daily beginning at 8:00 a.m. It stops approximately every 15 minutes at the park's most popular overlooks and hiking trails, as well as the Visitor Center.
There's a shuttle station just outside the park in Bryce Canyon City, which is the best place to park your vehicle if you plan to take the shuttle.
Note that if you drive a vehicle longer than 20 feet, there are strict guidelines as to where you can park during the shuttle season. The only places these oversized vehicles are permitted to park (in addition to your own campsite, of course) are in the Shuttle Station lot, the additional parking lot across from the Visitor Center, and Ruby's Inn in Bryce Canyon City.
Wanna try out vanlife while visiting Bryce Canyon National Park?
It's no secret we're obsessed with #vanlife. If you don't have the time (or interest!) in building your own conversion but you still want to give van life a test drive, we've got some ideas for you…
Check out our list of top companies for USA Campervan Rentals, from budget to bougie, we've even included some exclusive discounts for our readers!
One company we'd recommend looking into is Escape Campervans. They have 12 different locations across North America (including Las Vegas and Salt Lake City) and come fully loaded with all the gear you need for an epic road trip. Plus, their rates are fair and affordable.
BONUS: We've partnered with them to give you a 10% off discount when you use our link!
We have plenty of recommendations for campervan-friendly campsites in the where to stay section below.
Entrance tickets and fees
Private vehicle: $35, valid for 7 days
Motorcycle: $30, valid for 7 days
Per person: $20, valid for 7 days

If you're planning to visit more than one of Utah's "Mighty 5" National Parks, we'd highly encourage you to look into getting an annual park pass. At $35 per vehicle, entering Bryce Canyon, along with most other national parks in the U.S., can be expensive.
For just $80 per year, you can purchase the America the Beautiful park pass. This pass grants you free access to all of the national parks. Plus it also covers your entrance to over 2,000 natural, historical, and recreational sites across the United States.
If you still need convincing, check out our article: America the Beautiful Annual Park Pass: Is it Worthwhile?
Psst! Check out some of our other favorite national parks on the west coast & Western U.S. that make great adventure and hiking destinations.
How many days do you need in Bryce Canyon?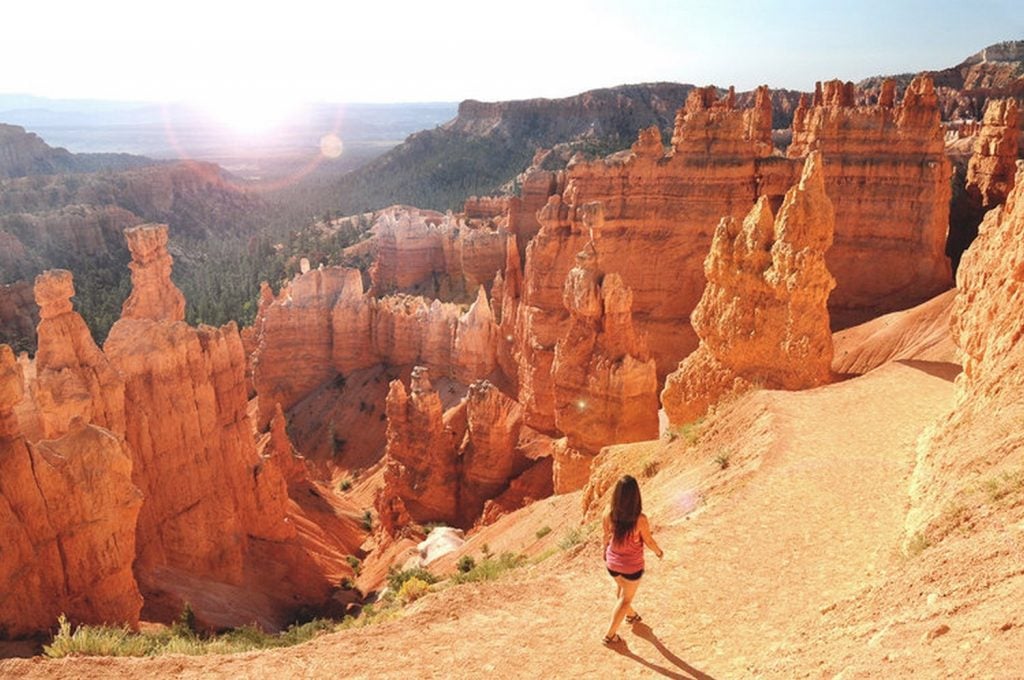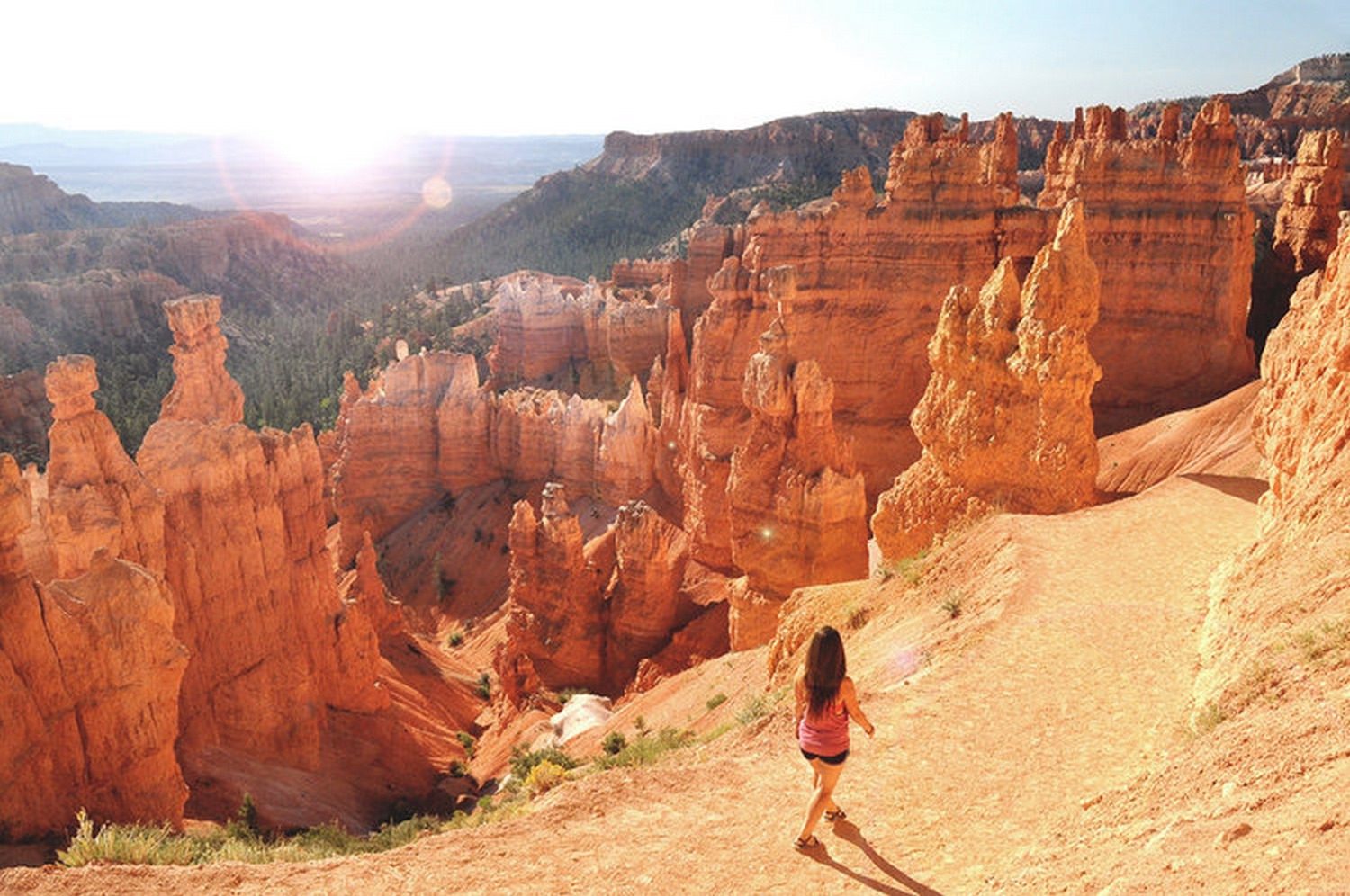 Since it's relatively small as far as national parks go, you don't need much time in Bryce Canyon — 1-2 days is ideal. You can see the highlights in one full day, including the park's scenic drive and some of the most popular hiking trails.
If you have a second day, or even a half-day, you can fit in some more hiking and experience just about all the best things to do in Bryce Canyon.
When is the best time to visit Bryce Canyon?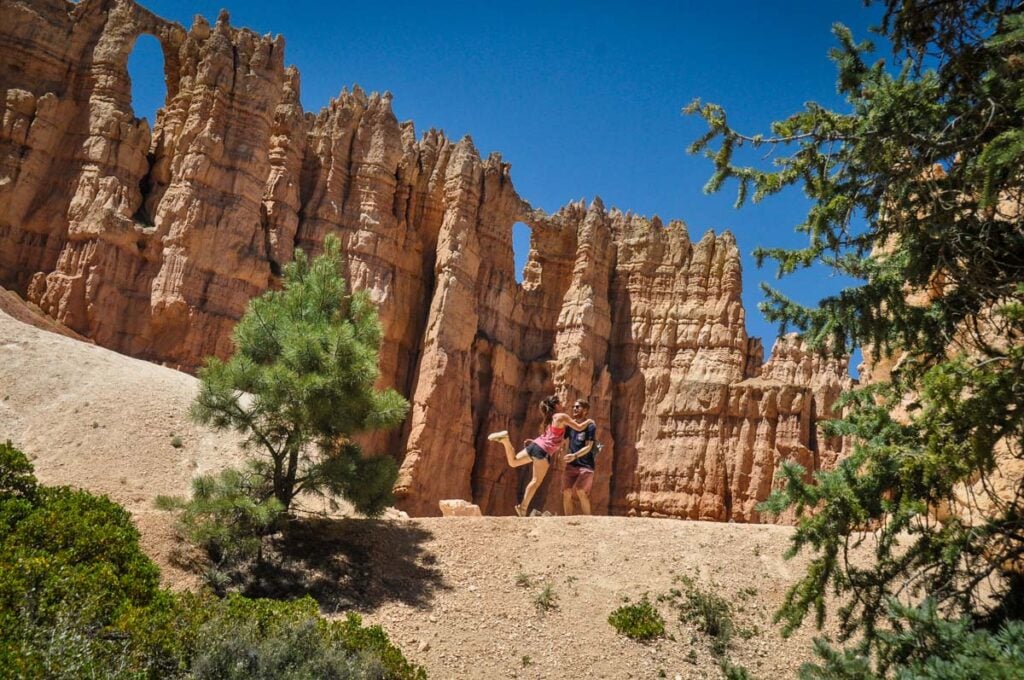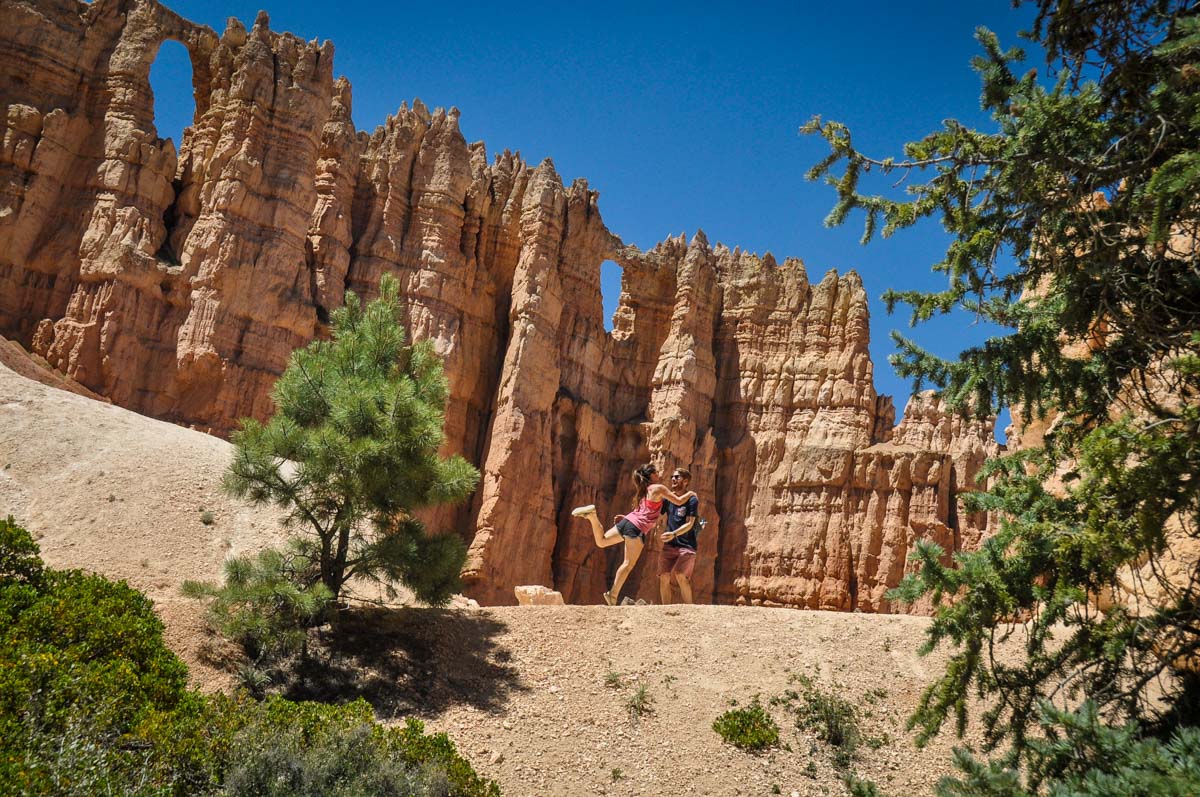 Bryce Canyon's higher elevation means it experiences four distinct seasons, and each one has its own special draws.
Summer is an excellent time to visit, especially if you want to camp. However, it's also by far the busiest season and can get quite hot during the day.
Because the rim of the canyon sits at about 8,000 feet in elevation, the temperature varies significantly throughout the day — and also changes based on exactly where you are in the park (hiking in the canyon versus on the rim, for example). When we were there in June, it was about 50°F when we woke up, but nearly 90°F in the afternoon when we were hiking around in the canyon!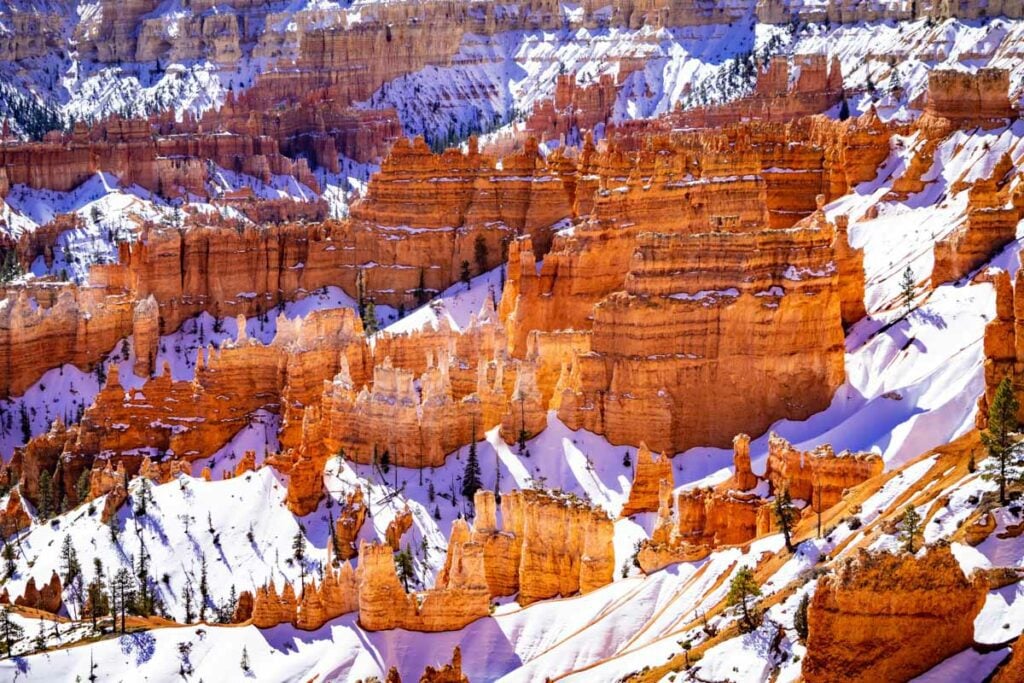 Spring and Fall are both pleasant and less crowded than summer, but be prepared for cold and unpredictable weather, plus a chance of snow between late October and early May.
Winter in Bryce Canyon National Park can be absolutely magical if you're prepared for snow and extremely cold temperatures. There's nothing quite like the sight of crisp white snow blanketing the iconic hoodoos, and crowds are practically non-existent.
Another perk of visiting in winter: the Bryce Canyon Winter Festival. Held every February, this festival combines all things winter and outdoor recreation, with activities including archery, snowshoeing, cross-country skiing, photography workshops, astronomy tours, and kids' events.
Psst! Did you know Bryce Canyon is one of the best national parks to visit in winter?
Bryce Canyon National Park map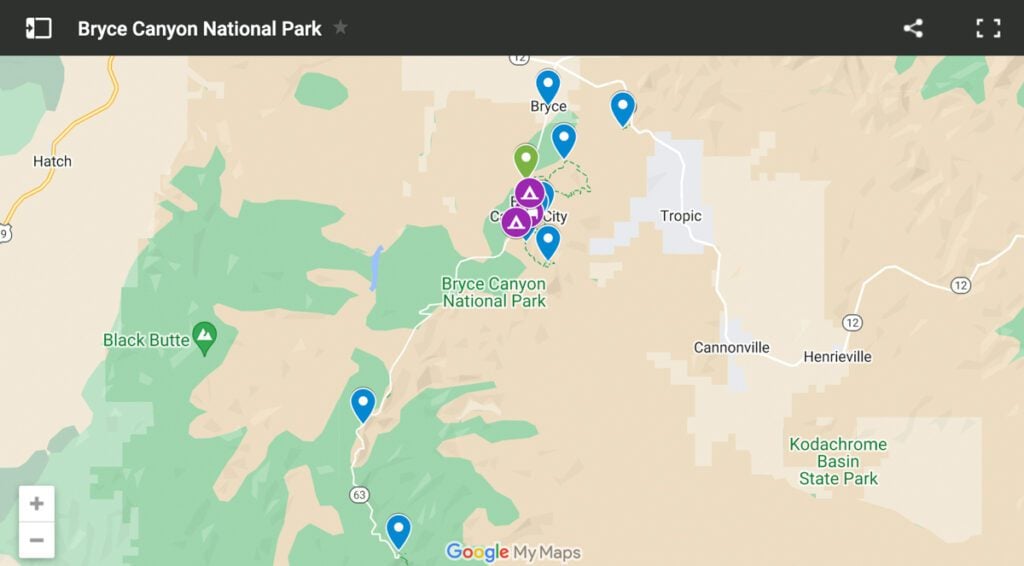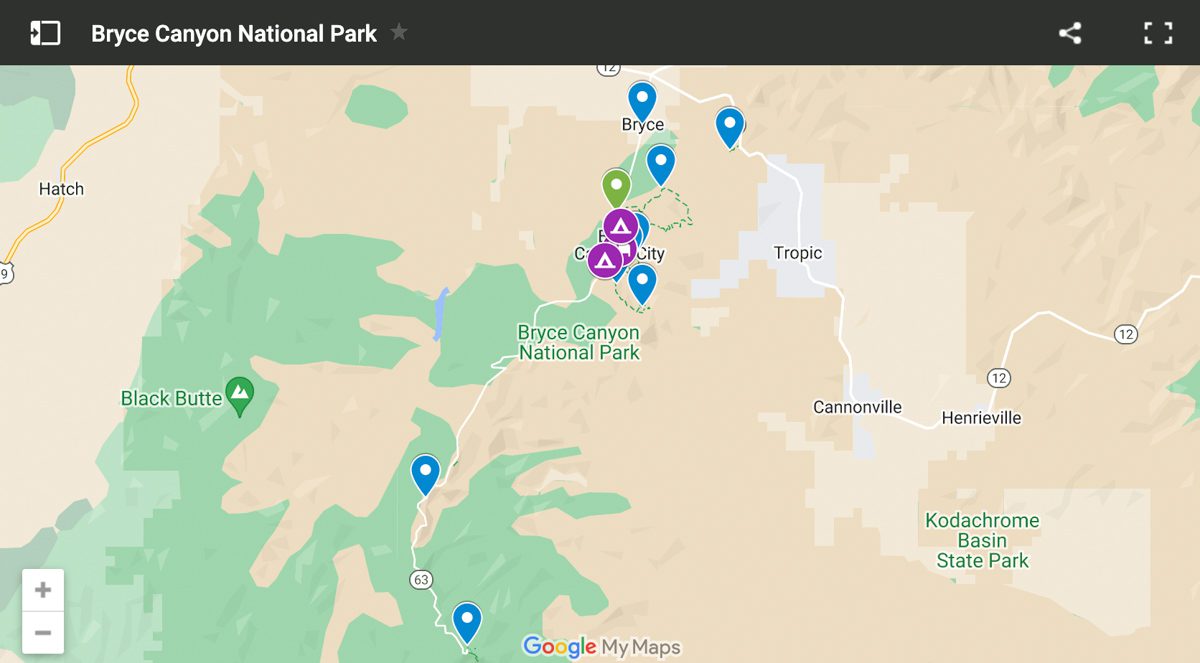 The map above displays the main entrances, campgrounds, lodging options, and locations for the best things to do in Bryce Canyon National Park.
---
Things to do in Bryce Canyon National Park
There are several awesome things to do in Bryce Canyon that allow you to get up-close and personal with the park's iconic hoodoos and explore its unique landscapes.
1. Take a scenic drive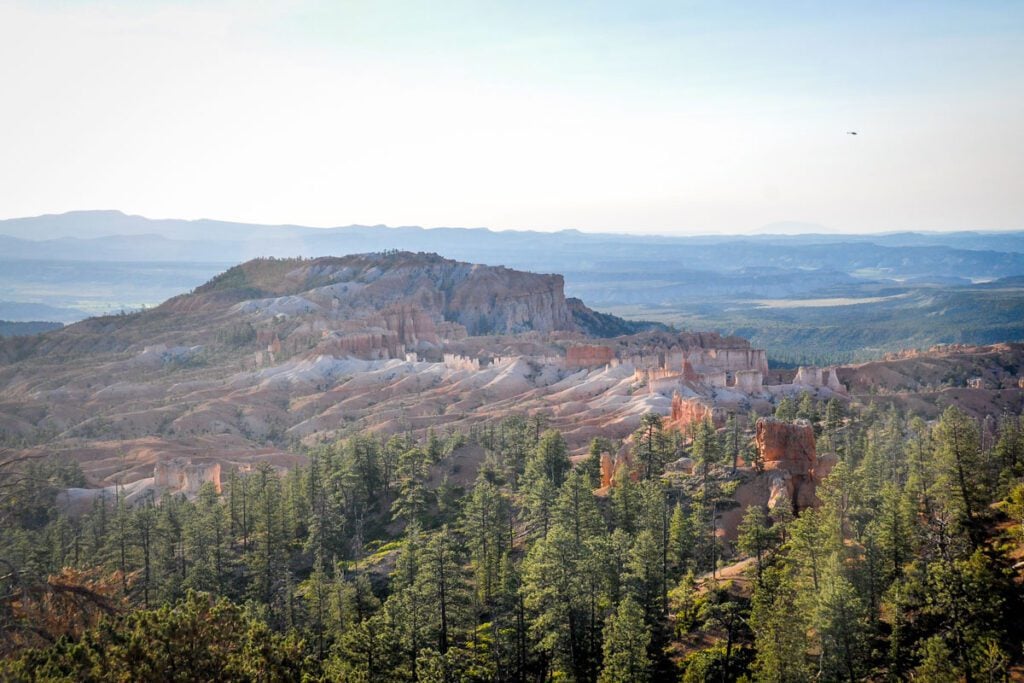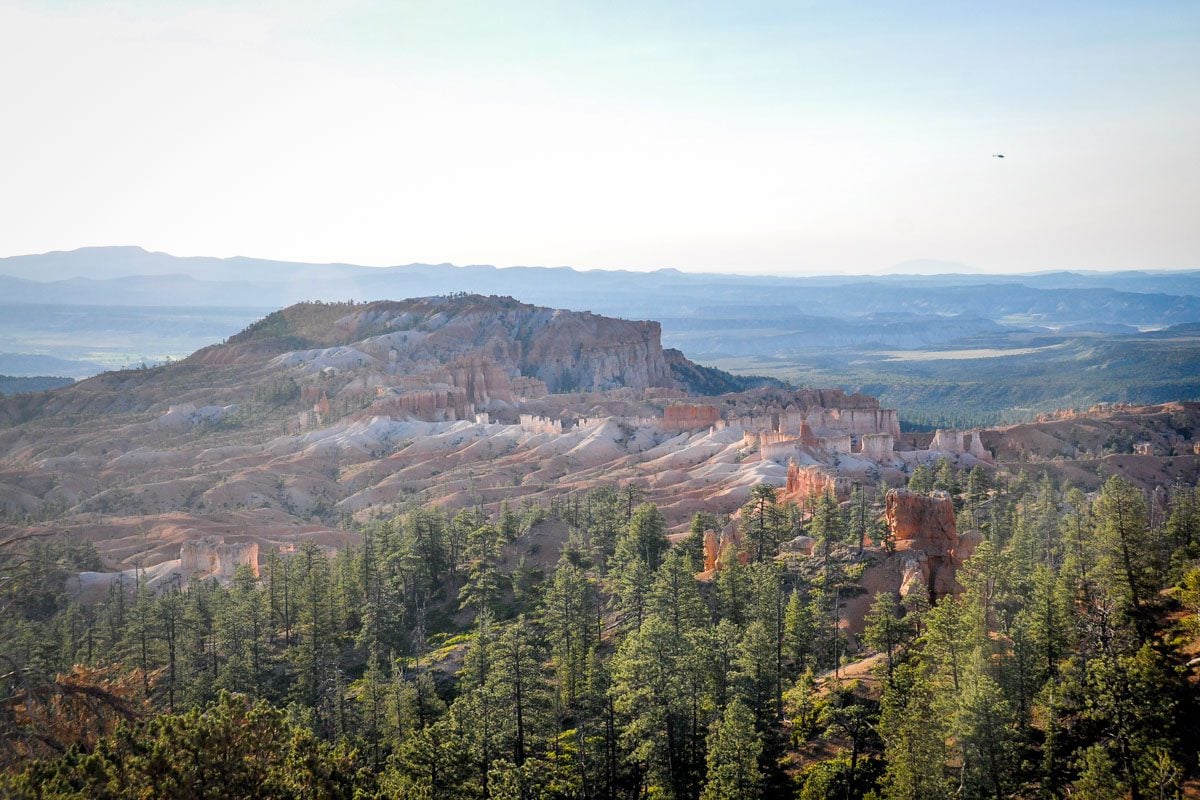 Cruising the park's 18-mile (one-way) scenic drive should be first on your list of things to do in Bryce Canyon. There are 13 viewpoints along the route, along with several picnic areas and some trailheads.
The first stretch of the road, in the northern section of the park, has significantly more hoodoos, but viewpoints along the second half showcase wide-open views that stretch clear into Arizona. Allow 2-3 hours to complete the scenic drive from start to finish, including short stops.
Insider tip: Drive the full length to Rainbow Point straight through, then stop at various viewpoints on the way back. This lets you get the lay of the land and decide which viewpoints you really want to set time aside for, which can be a huge timesaver, especially if you're only visiting for one day.
2. Snap a photo of Natural Bridge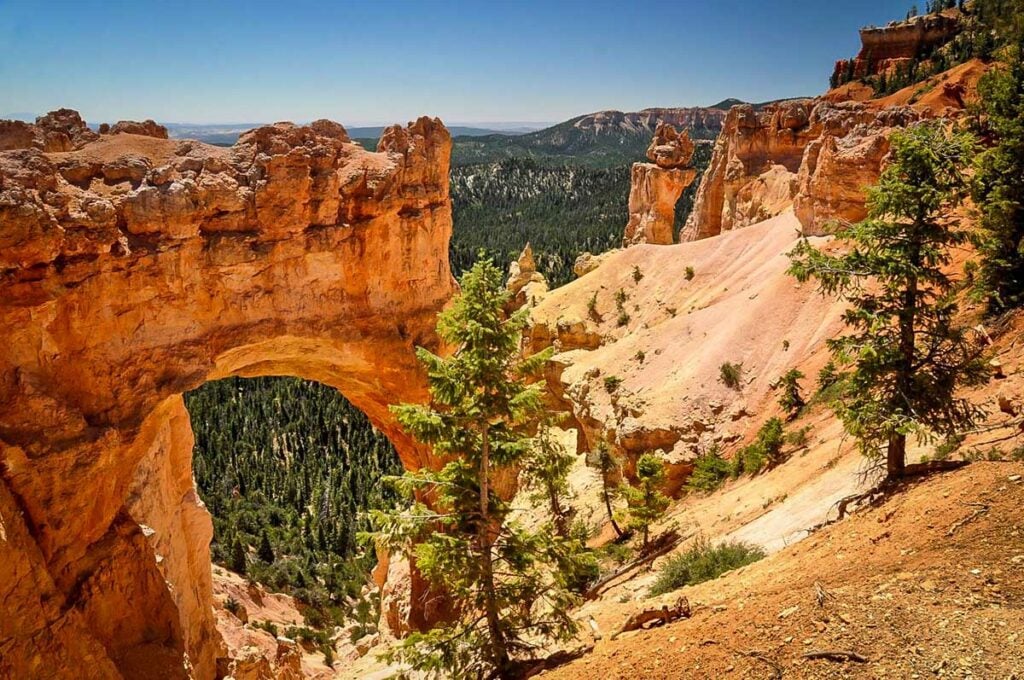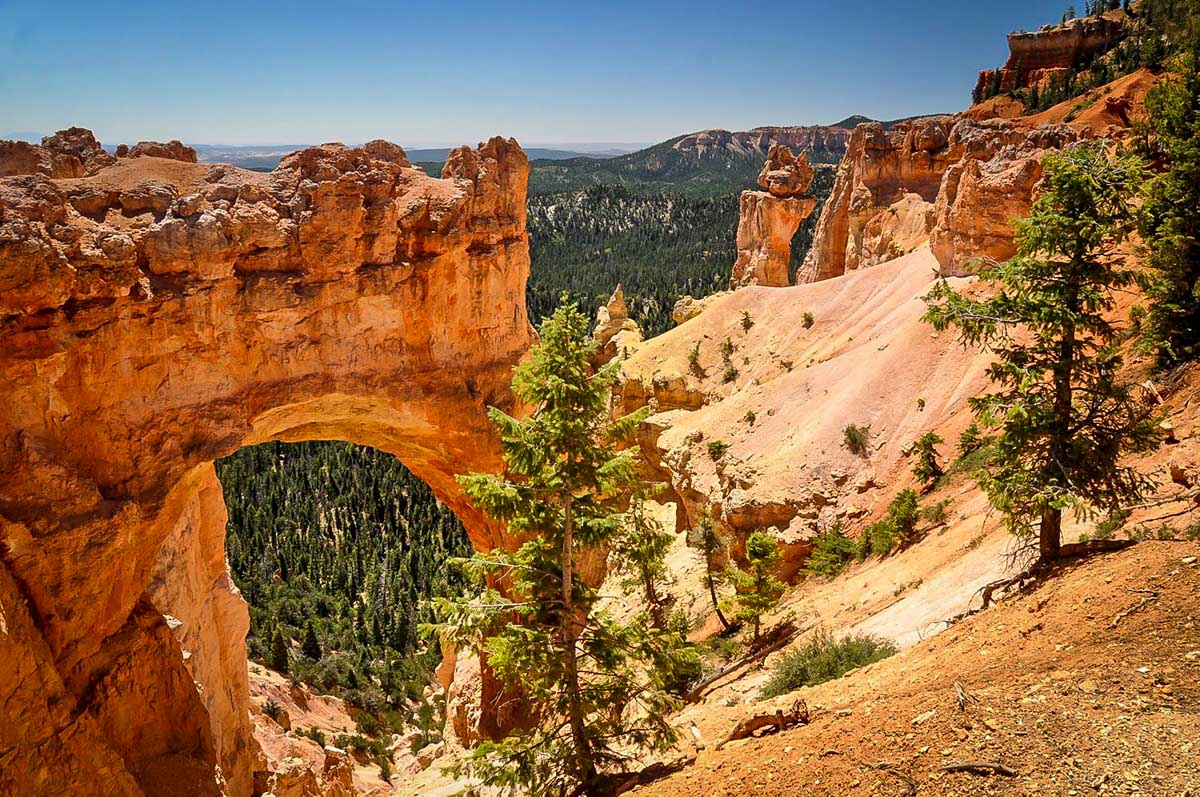 Even though this is a popular stop along the park's scenic drive, it's worth mentioning separately as one of the best things to do in Bryce Canyon because it's so unique.
En route to Rainbow Point (or on your return drive), make a quick stop to check out Natural Bridge. You can get a fantastic view right from the roadside overlook, so this should be on your itinerary even if you're not doing the entire scenic drive.
3. Check out Rainbow Point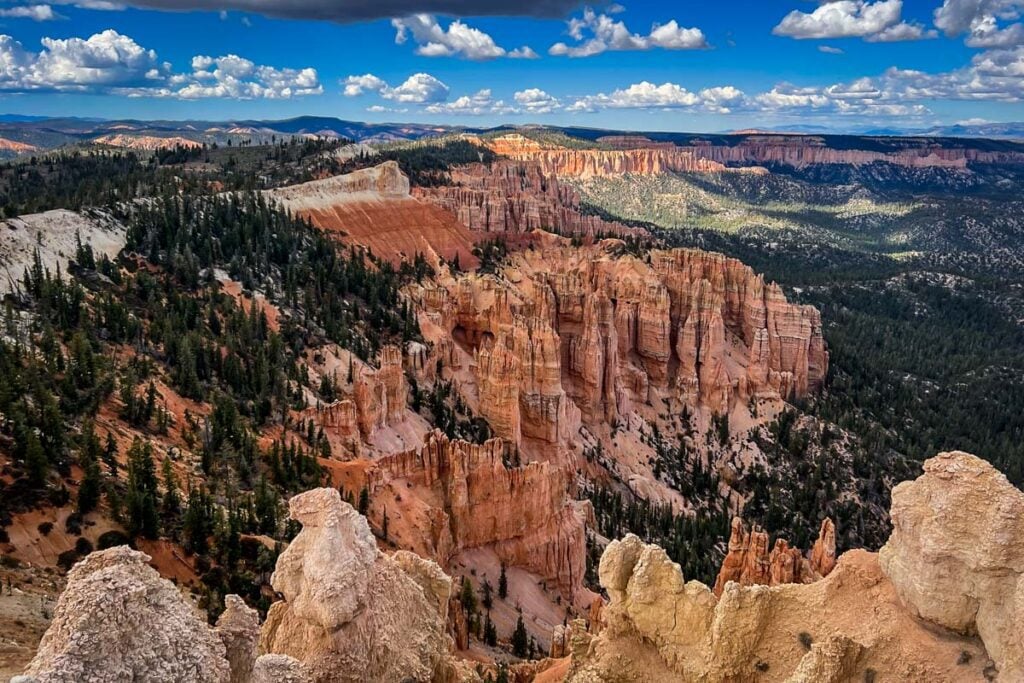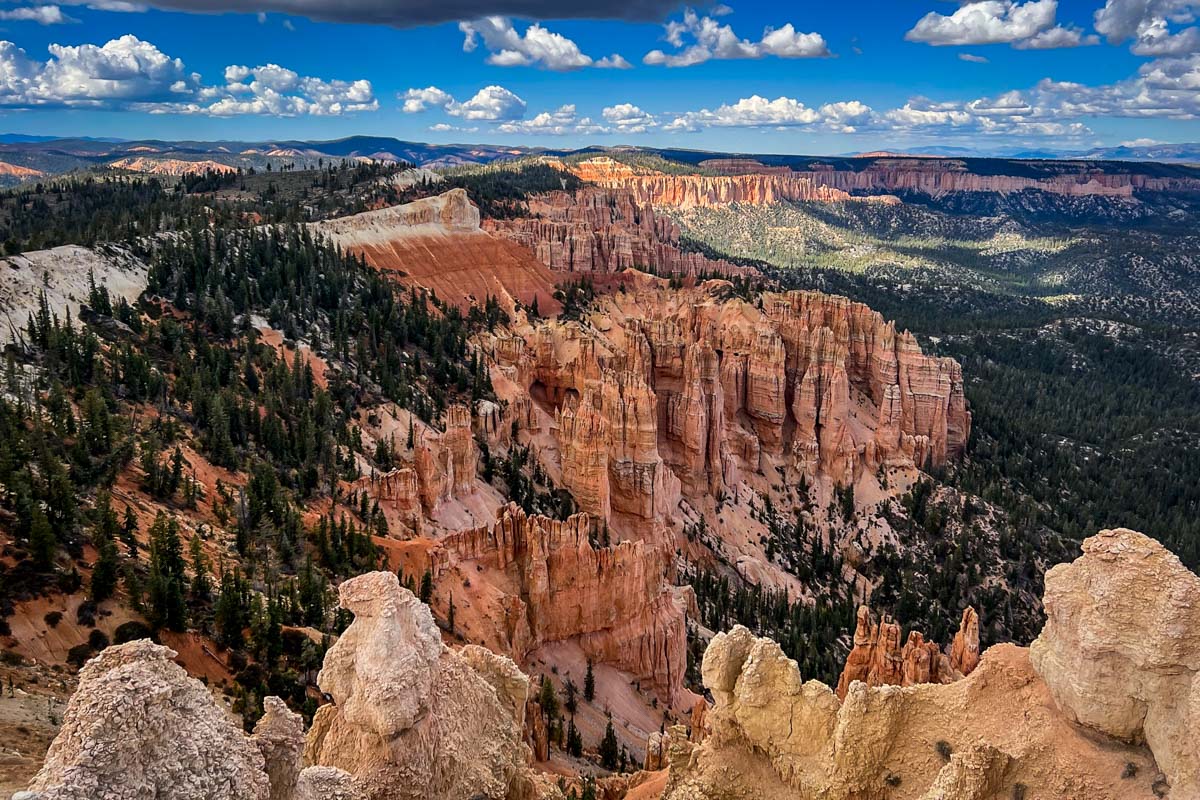 We mentioned that the southern stretch of the park's scenic drive has some seriously impressive views. Rainbow Point is one of them!
As the final viewpoint on the scenic drive, Rainbow Point shows off views of the entire park looking north and the colorful Grand Staircase-Escalante National Monument and Vermilion Cliffs to the southeast. To find the best views, head specifically to Yovimpa Point.
At Rainbow Point you'll find restrooms, plus a few hiking trails, if you want to get out and stretch your legs.
The Bristlecone Loop Trail is a fairly easy 1-mile trail worth a quick detour. It's not heavily trafficked and passes by ancient bristlecone pine trees. This hike is definitely one of the more unique, hidden gem things to do in Bryce Canyon!
Tip: Rainbow Point is the highest elevation in Bryce Canyon, sitting just above 9,000 feet. Be prepared with warm layers!
4. Hike Queens Garden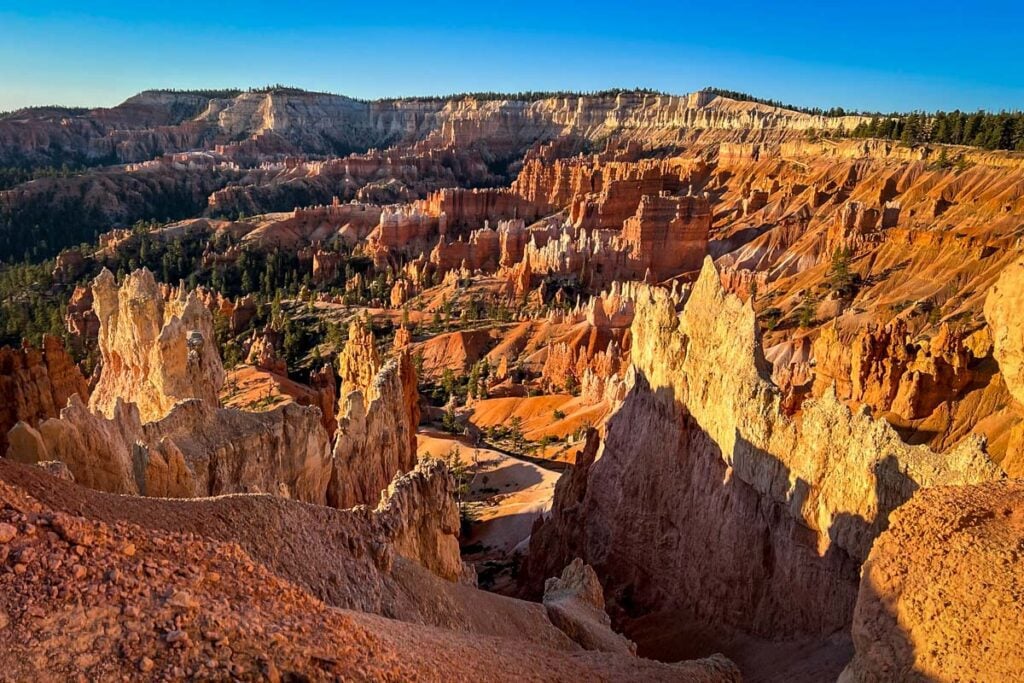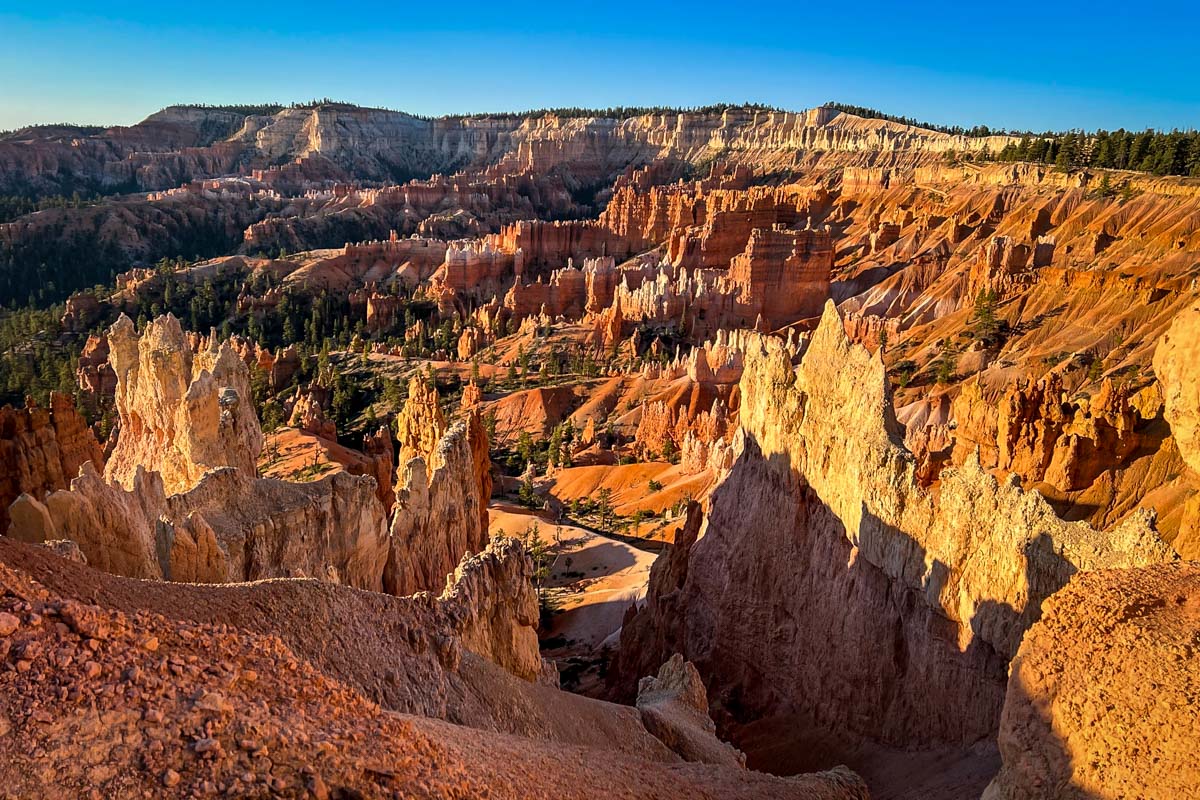 Distance: 2.1 miles, out-and-back
Elevation gain: 406 ft
Difficulty rating: Easy
Queens Garden is one of the most popular trails in Bryce Canyon, noted for being short (2.1 miles round-trip), fairly easy, and spectacularly beautiful. It's easy to see how the trail got its name — the hoodoos here resemble a garden!
Along the trail, which descends 320 feet down into the canyon, you'll walk among the hoodoos and under natural arches. At the namesake viewpoint, down a short spur trail, one of the rock pillars looks like Queen Victoria (if you use a bit of imagination, that is).
The trail starts from Sunrise Point, so it's perfect for hiking in the early morning after catching the sunrise.
Note: If you're visiting outside of the winter months (November through March), you can combine Queens Garden and Navajo Loop for a fantastic ~3-mile hike. See more details below!
5. Hike Navajo Loop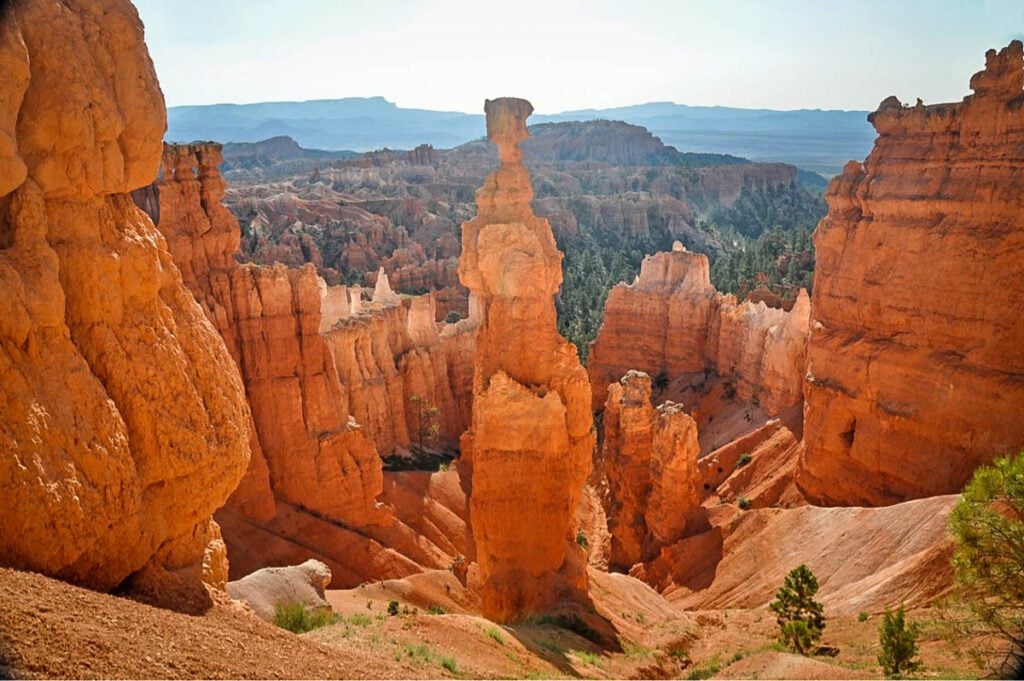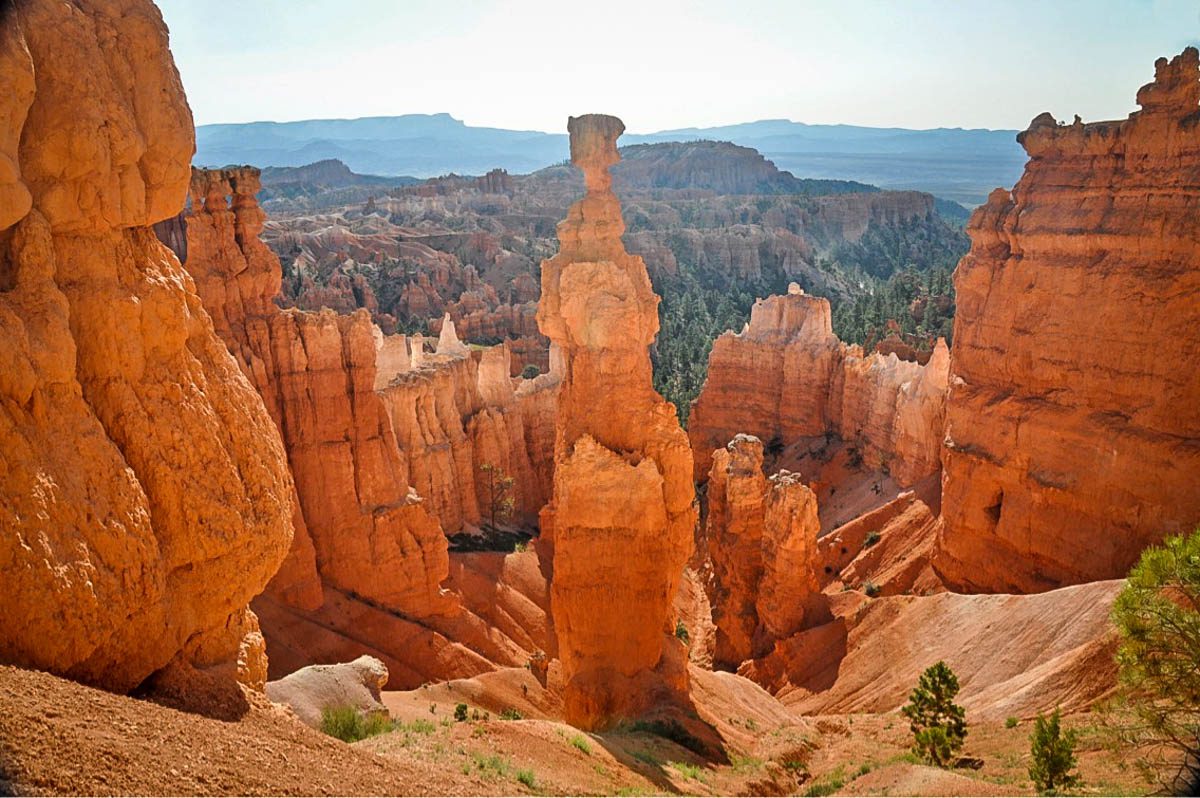 Distance: 1.5-mile loop
Elevation gain: 515 ft
Difficulty rating: Moderate
On this 1.5-mile loop hike, you'll get a close-up view of Thor's Hammer, the very fragile-looking Two Bridges, and Wall Street Canyon. This trail starts at Sunset Point and forms a short loop.
Navajo Loop is moderately difficult, primarily because it ascends a set of switchbacks to get back up to the rim of the canyon. In addition to some of Bryce Canyon's most iconic hoodoos, the trail also showcases some of the park's unique forest.
In the winter, the Wall Street side of Navajo Loop closes due to safety concerns about ice and falling rocks. The Two Bridges side, the one with the much-photographed set of steep switchbacks, remains open year-round. Wall Street is the park's only slot canyon and if you're visiting when it's open, it's one of the best things to do in Bryce Canyon.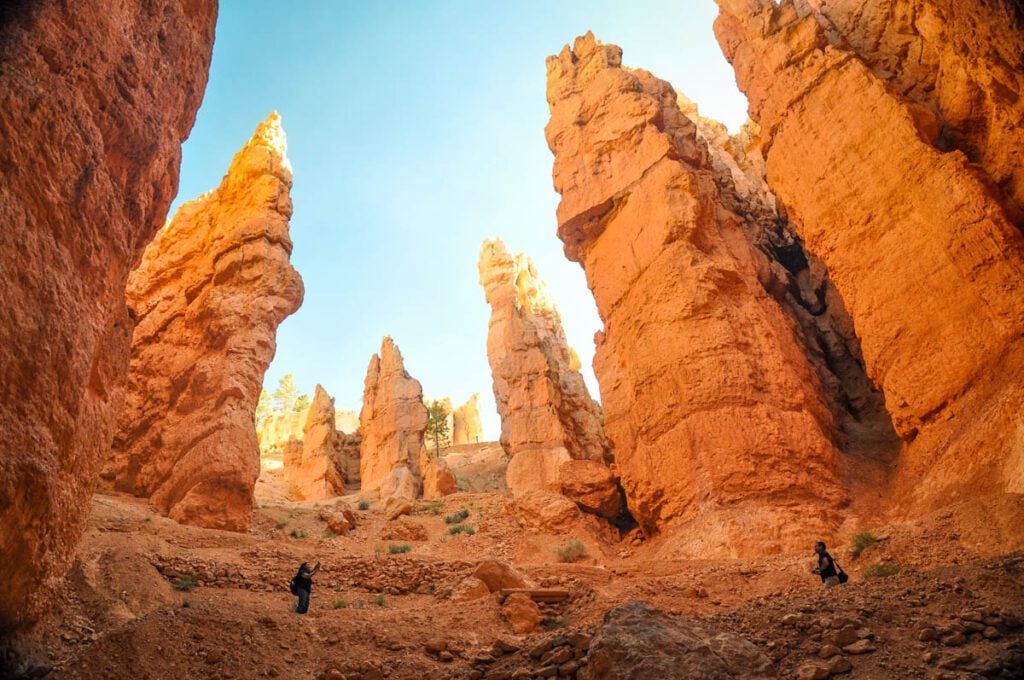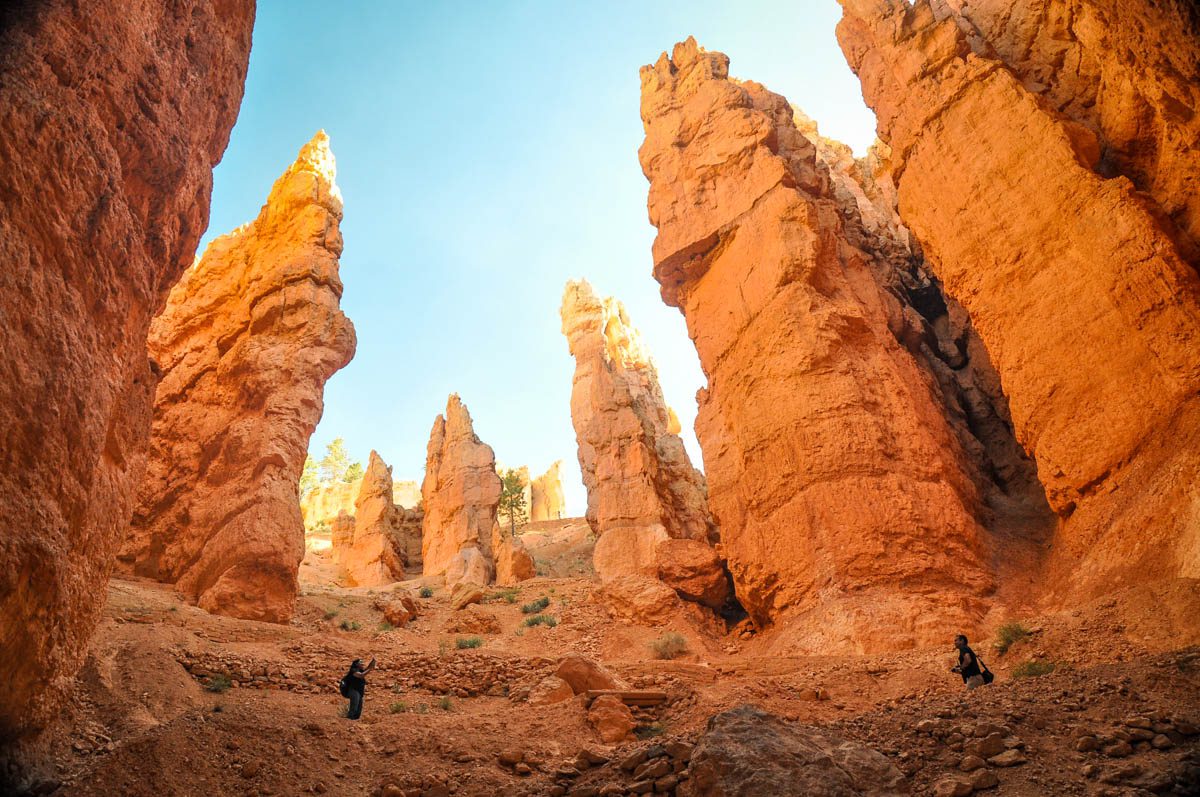 If you're hiking Navajo Loop in its entirety and it's not winter, you'll be able to see both Wall Street and Two Bridges. However, if you hike it as a loop combined with Queens Garden, as outlined below, you'll join Navajo Loop partway through and will have to choose which side to see. Again, if it's winter, Wall Street won't be an option regardless.
Insider tip: Combine Queens Garden and the Navajo Loop for the best views of Bryce Canyon. To do this, instead of turning back when you're finished hiking Queens Garden, follow the signs for Navajo Loop. This ~3-mile loop trail essentially has you hike from Sunrise Point to Sunset Point, and is widely considered the best hike in the park! Follow the quick and easy Rim Trail between the points to complete the loop.
6. Take in the views at Inspiration Point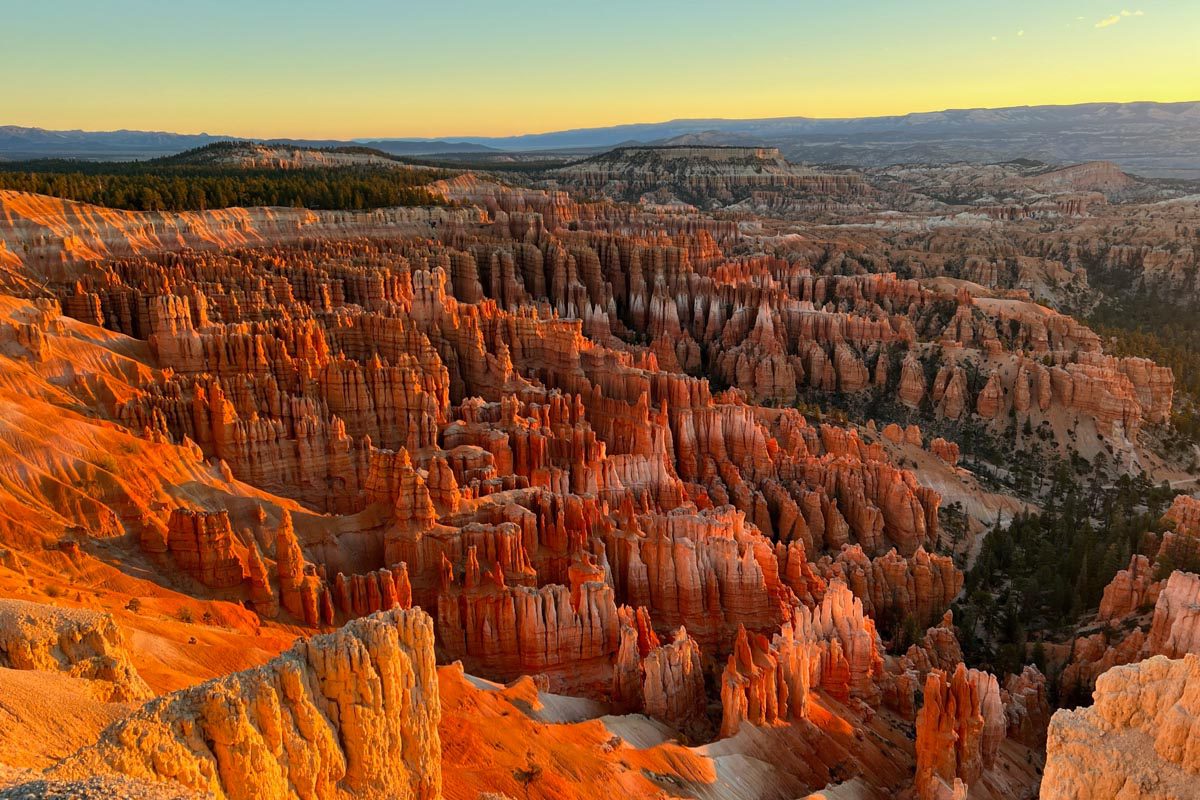 As its name implies, Inspiration Point is by far one of the best views in Bryce Canyon National Park — maybe the best view.
There are multiple levels of viewpoints here, all looking out over the park's iconic main "amphitheater" of thousands and thousands of hoodoos. There's a parking lot adjacent to the main overlook, but the best view is from Upper Inspiration Point, a 5-minute walk on a paved path.
You can also walk from Inspiration Point along the Rim Trail to Sunset Point, an easy stroll that's less than a mile and offers incredible views.
Note: Inspiration Point is one of the most accessible areas in the park, with ramps and paved trails for wheelchairs or strollers.
7. Catch sunrise from Bryce Point
To be fair, the views from Bryce Point are stunning at any time of day, but sunrise is truly breathtaking. As the sun starts to rise, the hoodoos seem to rapidly change colors and at certain moments you'll be sure they're on fire — the glow is that intense!
Regardless of what time you stop at Bryce Point, though, you'll enjoy similar views to Inspiration Point (aka some of the best views in Bryce Canyon National Park!).
Wondering why you shouldn't head to Sunrise Point for sunrise? It's ironic, we know, but Sunrise Point actually doesn't have nearly as expansive a view as Bryce Point.
8. Enjoy sunset from Sunset Point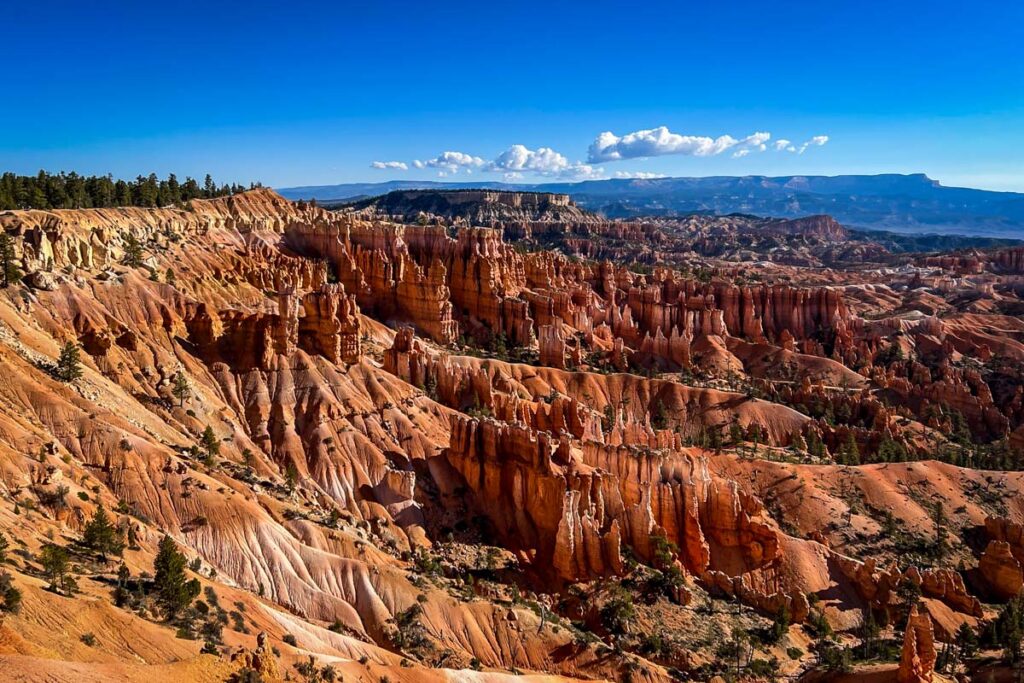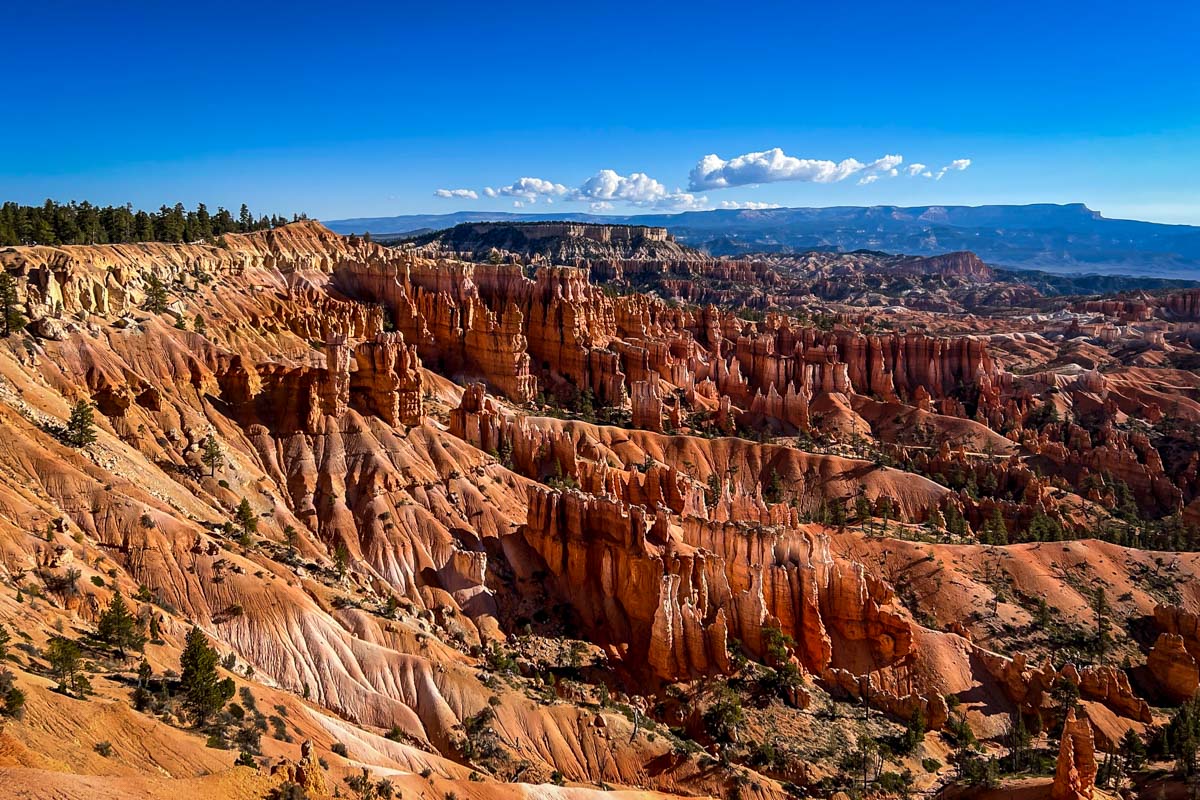 If you're not much of an early riser, Sunset Point is a fantastic alternative to Bryce Point. Better yet, add both to your Bryce Canyon National Park itinerary! This viewpoint is home to some of the park's most famous formations, including Thor's Hammer and the Silent City.
Sunset Point has a decent-sized parking lot, and it's a short, easy, and super scenic walk along the Rim Trail between it and Sunrise Point. If you're visiting between April and October, the park shuttle also stops at these viewpoints.
Park Rangers also hold daily Hoodoo Geology Talks at Sunset Point year-round. They start at 11:00 a.m. and last about 20 minutes.
9. Stargaze
Bryce Canyon is officially designated as an International Dark Sky Park, so it's safe to say the stargazing is top-notch. The park's isolated location far from city lights is a huge factor, allowing you to see thousands of stars and often the Milky Way with the naked eye.
Of course, you can simply look up and enjoy the stars on your own, but attending one of the park's free Ranger-led astronomy programs is one of the best things to do in Bryce Canyon.
In the summer, there are short constellation tours offered a few times every night from Thursday through Sunday. Full moon hikes occur year-round, typically 1-2 nights per month based around the moon cycle. They're extremely popular, so the park runs a lottery system to attend.
10. Hike Fairyland Loop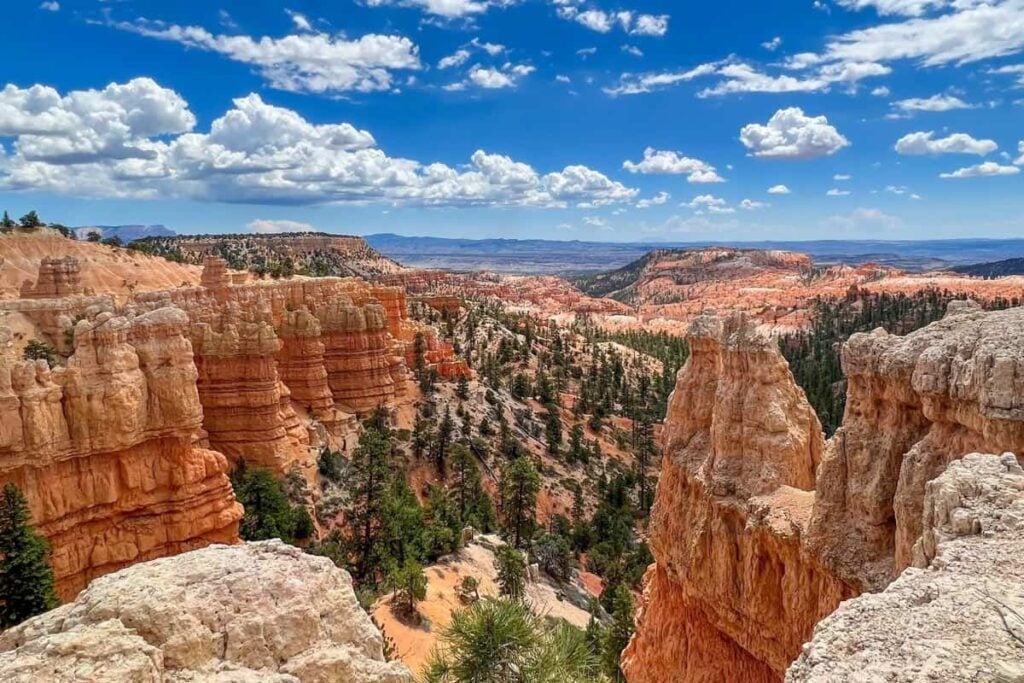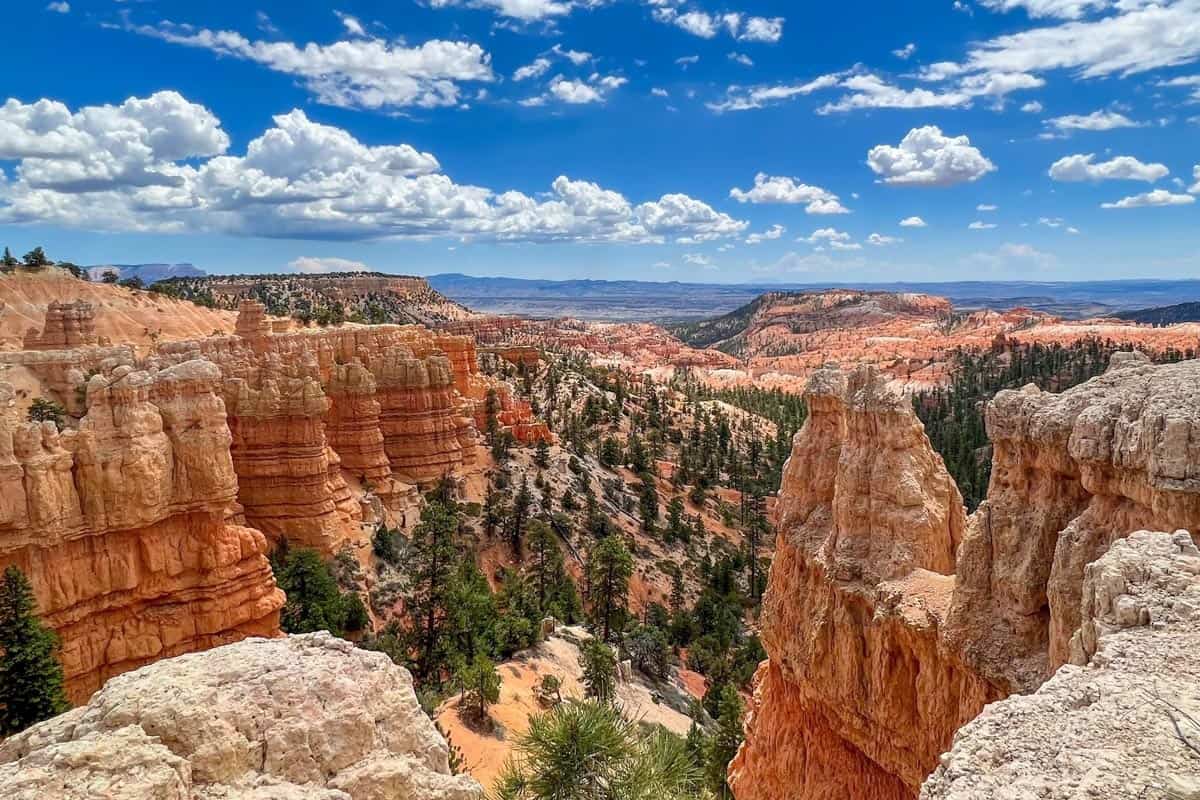 Distance: 7.8-mile loop
Elevation gain: 1,545 ft
Difficulty rating: Challenge
At nearly 8 miles, this is the longest and most challenging hike in the park, making it one of the best things to do in Bryce Canyon for hiking enthusiasts.
You'll start and end at Fairyland Point, a scenic overlook close to the park entrance. There's an excellent chance you won't share the trail with many other people.
The trail descends down into the canyon fairly quickly, then has lots of ups and downs with amazing views the entire way before coming back up and joining the Rim Trail at Sunrise Point.
Important note: In the winter, the one-mile road connecting Fairyland Point to the main park road closes. There's no set date, but it closes once the accumulated snow requires plowing.
The road remains open to foot traffic, so it's still possible to hike Fairyland Loop in the winter, but you'll need to factor in an additional two miles (one mile each way).
11. Go on an ATV tour
Although you can't ride ATVs through the national park itself, the surrounding area is packed with awesome off-roading trails.
In Bryce Canyon City, just outside the park entrance, you'll find a few outfitters offering both rentals and guided tours. This is typically a half-day adventure, but if you rent your own ATVs, you may want to set aside a full day.
A few of the Bryce Canyon ATV companies include:
12. Take a horse-drawn wagon ride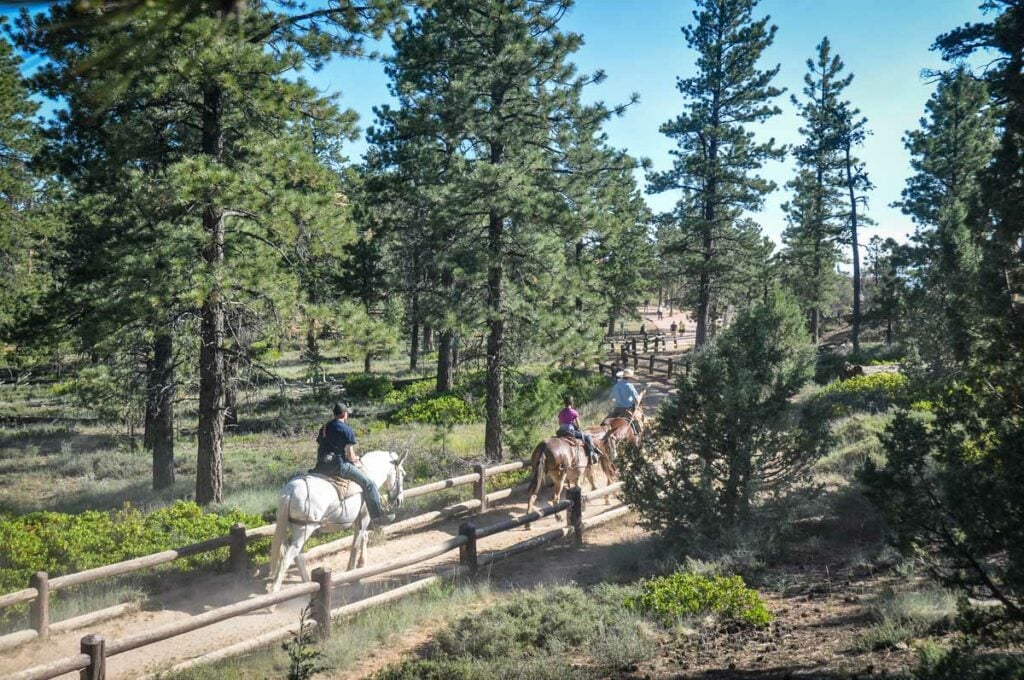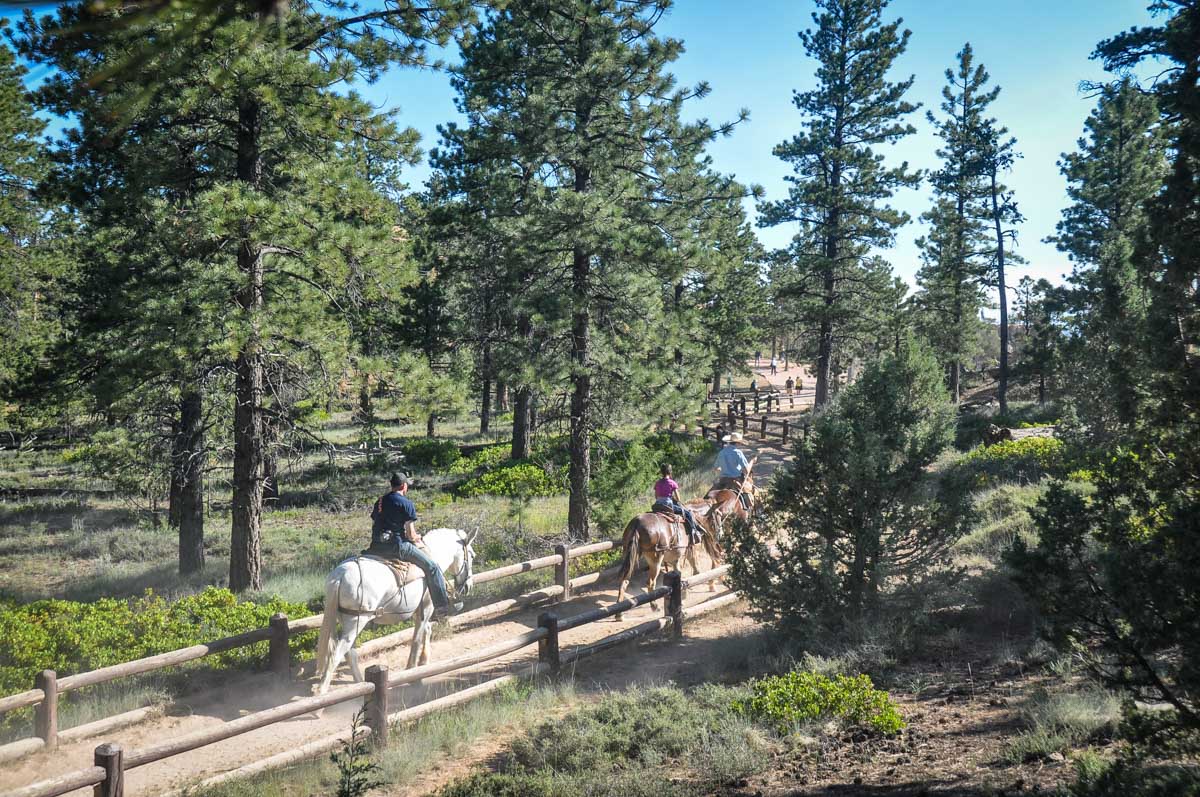 One of the most memorable things to do in Bryce Canyon is go on a covered wagon ride, pulled by horses. This unique experience is offered by Ruby's Horseback Adventures on summer weekends, typically from Memorial Day weekend through the end of September.
Departing from Ruby's Inn, the covered wagons ride about one mile through the national forest to Fairyland Point. This is a perfect activity for families or large groups!
13. Explore Mossy Cave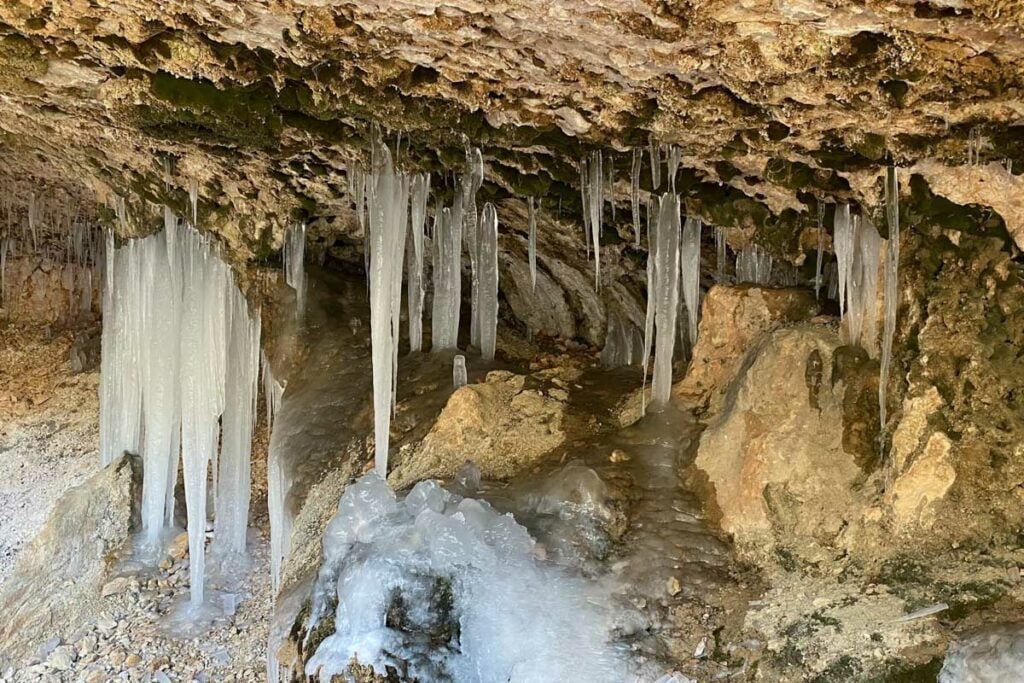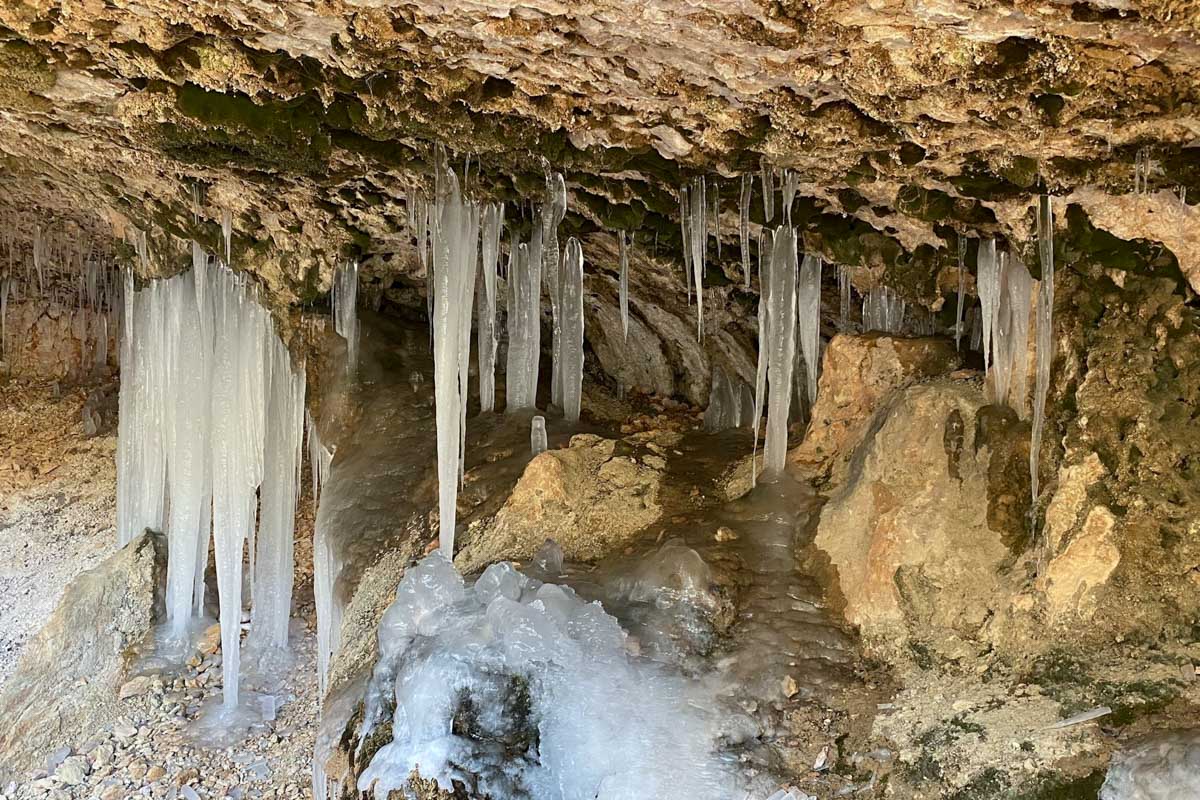 Distance: 0.9 miles, out and back
Elevation gain: 121 ft
Difficulty rating: Easy
In this unique environment made up almost entirely of hoodoos, visiting this small waterfall and cave is one of the best things to do in Bryce Canyon National Park! Most of the year, this area is verdant green with moss, and in the winter, you'll see tons of icicles in shaded areas.
Technically, the Mossy Cave trailhead is just outside official park boundaries, but the waterfall and cave itself are in the park. The short and sweet 0.9-mile trail takes you to both Water Canyon, where the waterfall is, and a scenic overlook, which is actually Mossy Cave.
To find Mossy Cave, plug it into your GPS and once you cross the small bridge, look for parking in the small pullout on your right. DO NOT park on the side of Highway 12!
Park Rangers patrol this area, which gets extremely congested during peak season, and cars do get ticketed. If the parking area is full, come back a little later.
14. Snowshoeing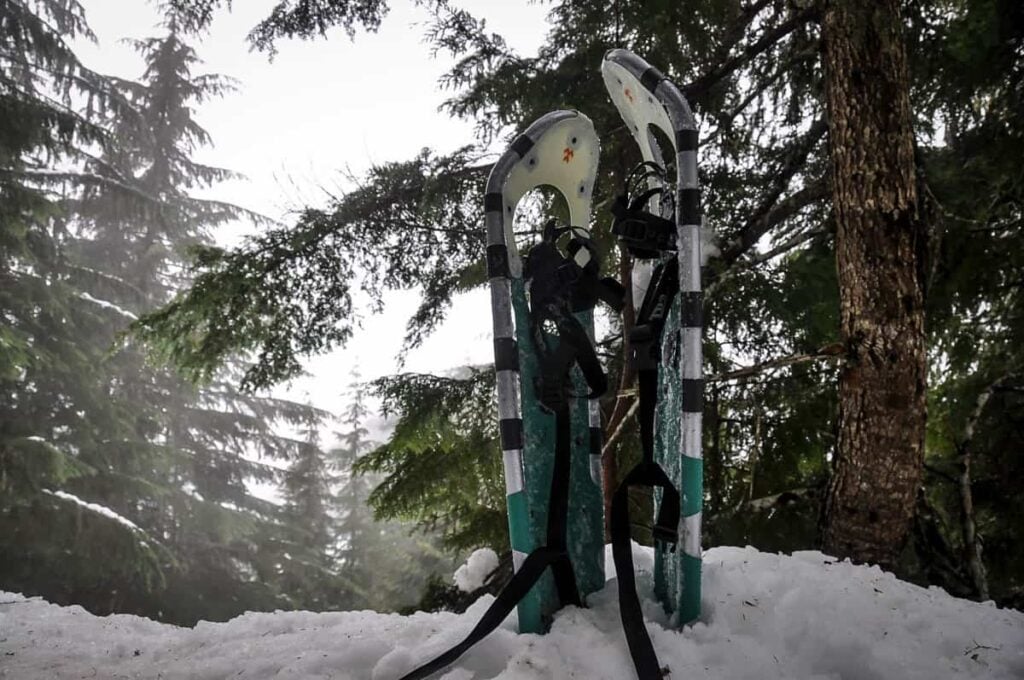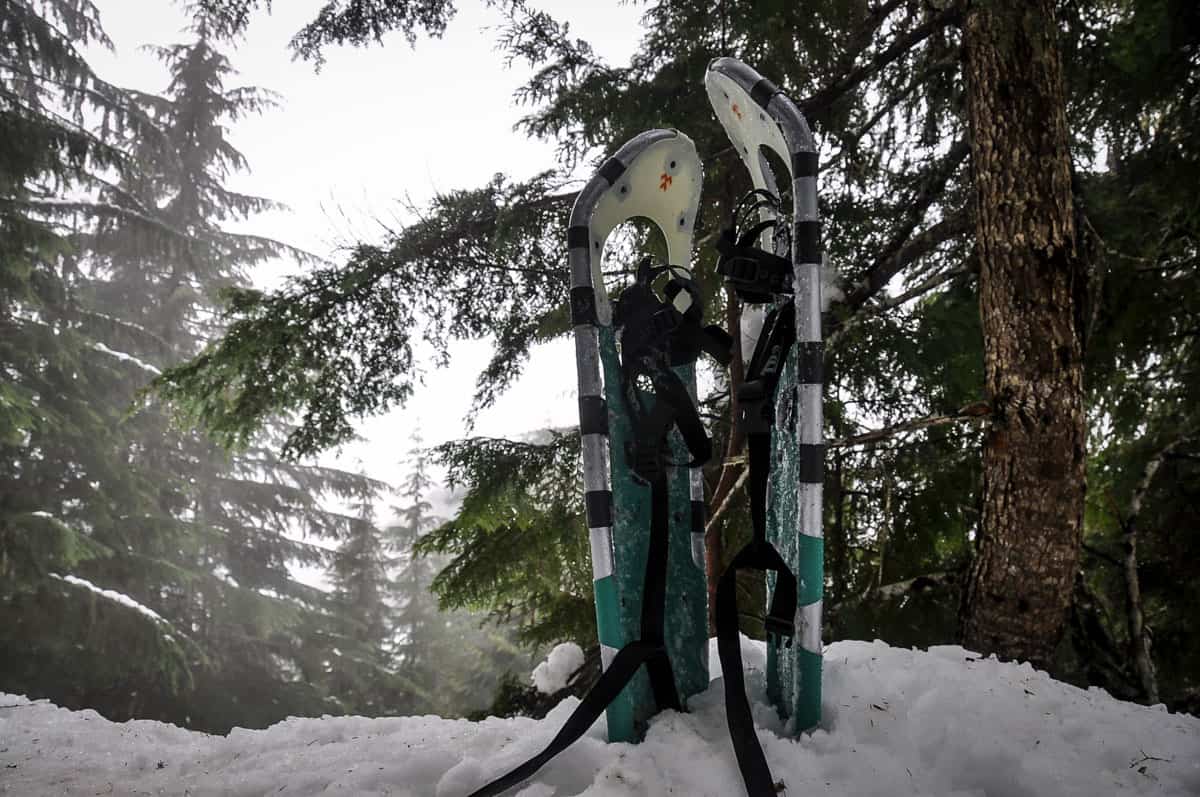 If you're visiting Bryce Canyon between December and March, you may be able to go snowshoeing through the hoodoos. Although it can snow as early as October and into April, the heaviest period of snowfall occurs between mid-December and mid-March.
Bring your own snowshoes or rent a pair from Ruby's Inn and tackle your preferred trail. Alternatively you can join a Ranger-led snowshoe hike when they're offered.
Check the park's official calendar for up-to-date info, as events are added continuously — they can't predict snowfall! If you join the Ranger-led program, snowshoes and trekking poles will be provided for free.
If you nail your timing exactly right, you may be lucky enough to attend a Full Moon Snowshoe Hike. These are extremely rare, but if you happen to be visiting during the winter when there's a full moon and fresh snow, this is one of the best things to do in Bryce Canyon!
Note: Trail conditions change quickly in the park, mostly due to the steep, well-worn trails and abundance of sunshine. It doesn't take long for powdery snow to become slick ice, which is NOT good for snowshoeing! The ideal time to go is within a couple of days after fresh snowfall.
New to the sport? We have a beginners guide to snowshoeing on our sister site.
15. Bryce Canyon Winter Festival
Speaking of winter, the Bryce Canyon Winter Festival is one huge reason to plan a visit in February! This unique and much-loved event is a celebration of all things outdoors and winter, held over a long weekend.
There's something for everyone (and most events are totally free!), including walking tours and geology talks, photography workshops and contests, kids' crafts and other activities, kayaking and archery demos and lessons, guest speakers, and so much more.
---
Where to stay in Bryce Canyon National Park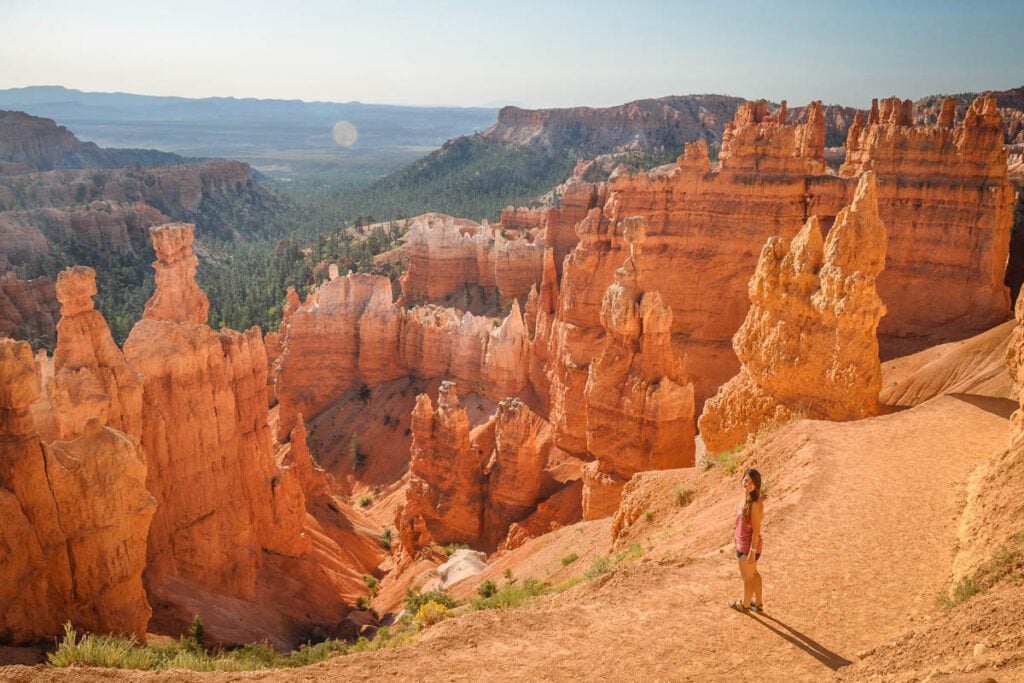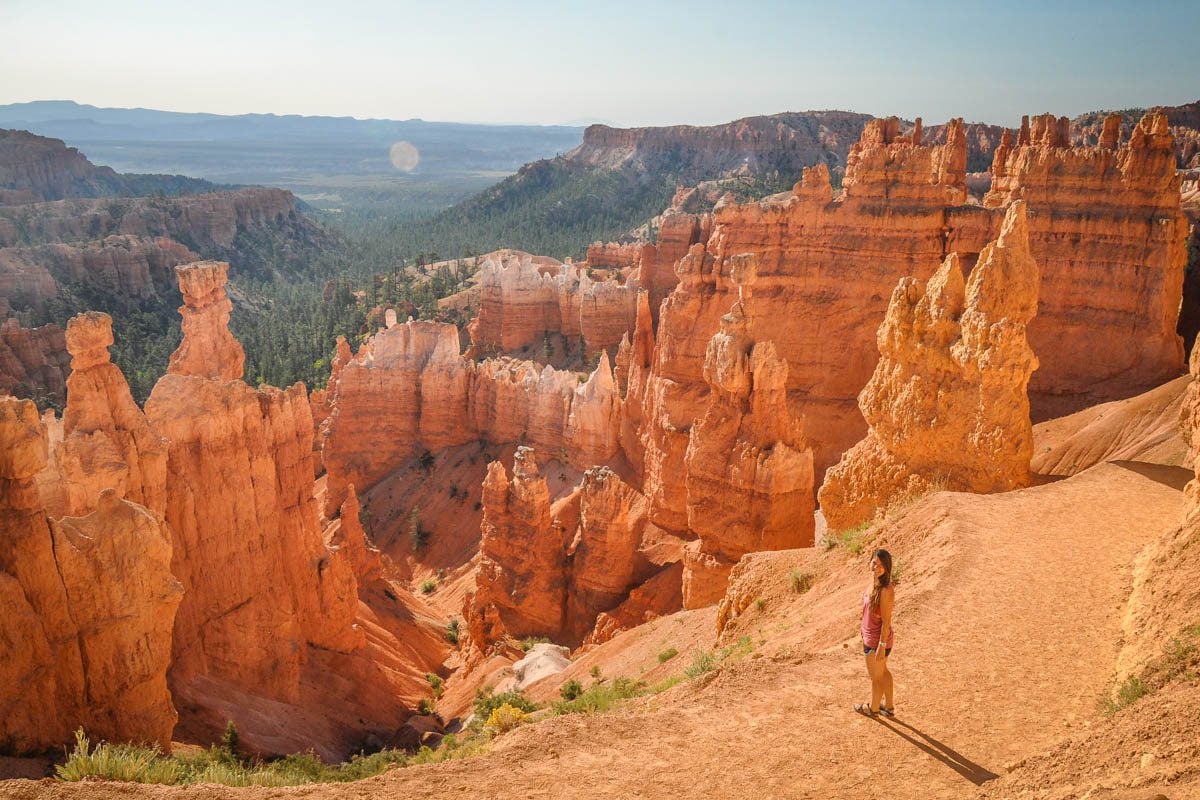 Whether you prefer to camp or to sleep indoors, Bryce Canyon has accommodation options to suit everyone.
Lodging inside the park
The only in-park lodging option aside from campgrounds is the Lodge at Bryce Canyon. The lodge includes several individual buildings with a variety of accommodations including traditional hotel rooms, and western cabins that each sleep four guests.
The lodge is closed for winter between the end of November and April 1, with each specific type of lodging having its own staggered opening and closing dates. Reservations for the lodge are made available 13 months in advance and because it's the only option inside the park, reservations book up extremely fast.
As an alternative to the lodge, there are a handful of hotels and cabins in Bryce Canyon City, just outside the park entrance.
Campgrounds in Bryce Canyon National Park
There are two campgrounds inside Bryce Canyon National Park, both located near the lodge and popular points of interest.
Due to the park's spectacular dark skies and epic sunrises, camping in Bryce Canyon is extremely popular and sites are competitive. Reservable sites book out about six months in advance, and first-come, first-served sites are typically filled by mid-morning (earlier on summer and holiday weekends).
North Campground: Located across from the visitor center and open year-round, with reservations required between May 19 and October 7. There are four loops, two designated for RVs, and there are no hook-ups, but there is a dump station open in the summer. Tent sites are $20 and RV sites are $30.
Sunset Campground: This campground near Sunset Point (1.5 miles from the visitor center) is first-come, first-served only, open from April 15 through October 31. One loop is designated for RVs, while the other two accommodate tents. Tent sites are $20 and RV sites are $30. There's also a shuttle stop at the campground entrance.
Campgrounds outside the park
Camping inside Bryce Canyon National Park is more convenient but, if you aren't able to get a spot in the park, there are many campgrounds located around the park as well.
If you're traveling in a campervan or simply hoping to save money on your visit to Bryce Canyon National Park by camping along the way, we have a deal for you!
The Dyrt is our favorite campsite locating app with the largest database of campgrounds (44,000+ campsites and counting!) and over 1 million user-submitted reviews. Plus, it's super user-friendly, and has some pretty cool features, like outdoor gear contests and forums to connect and seek advice from fellow campers, that you won't find on any other camping app.
Try their Pro Membership for FREE for 30 days and gain access to the offline version of the app, utilize their trip planning feature AND get exclusive discounts on campsites and gear!
What to pack for visiting Bryce Canyon National Park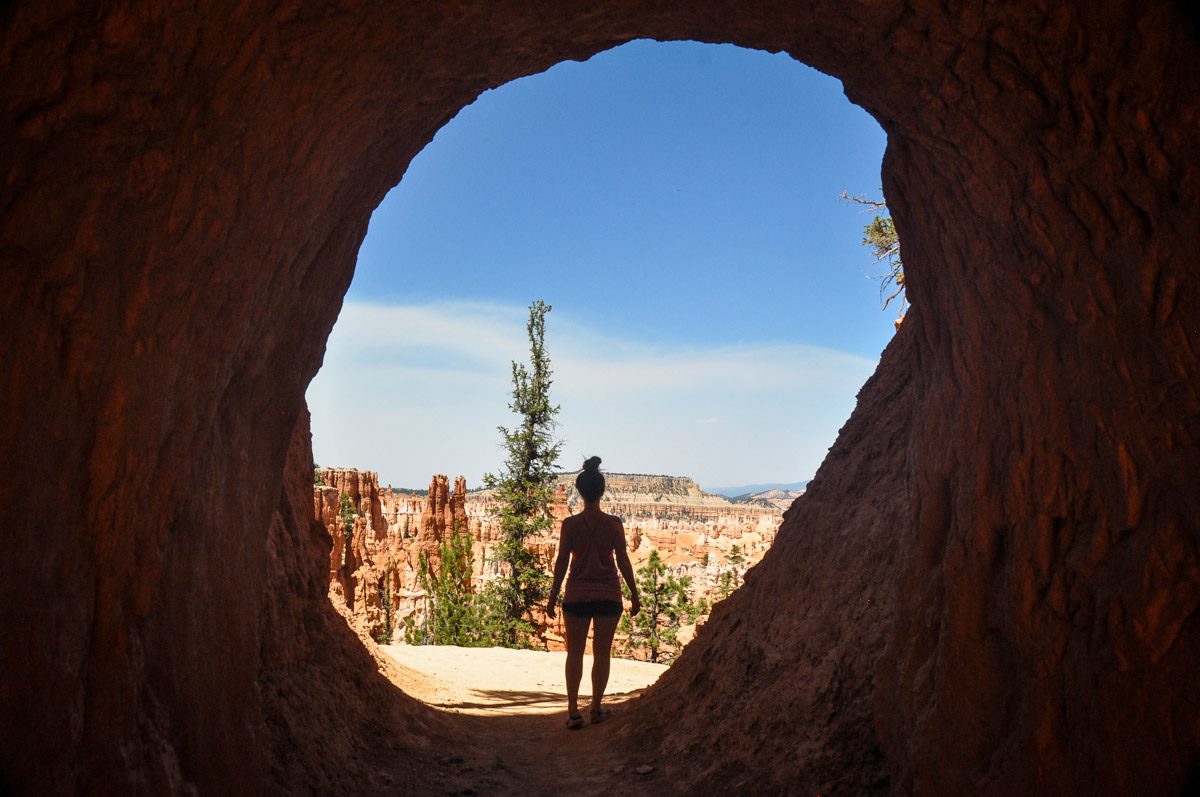 Hydration pack and/or water bottles
Sun protection: sunscreen, sunglasses, hat
Bug spray (we prefer the natural stuff)
Camera (be sure you have a bag so you can put away your camera for the Angel's landing hike!)
Tripod (this is our favorite for hiking)
Hiking shoes or Chacos if you prefer
Comfortable hiking clothes (always dress in layers!)
Rain jacket
Snacks
AllTrails Pro (or download Google Maps offline for the area in case you lose service)
Tips for visiting Bryce Canyon National Park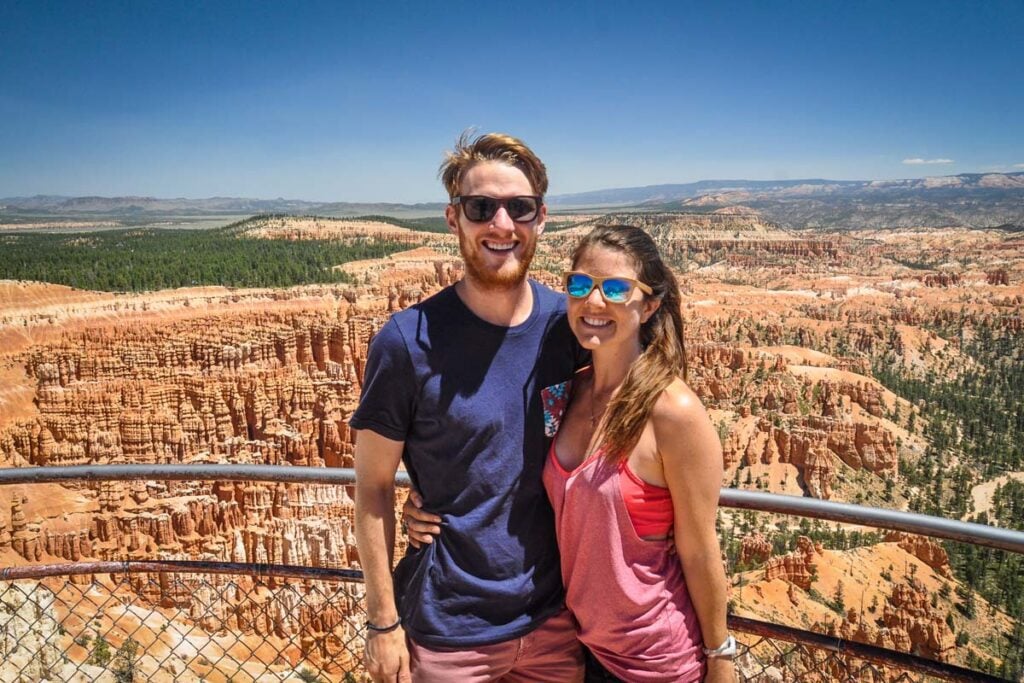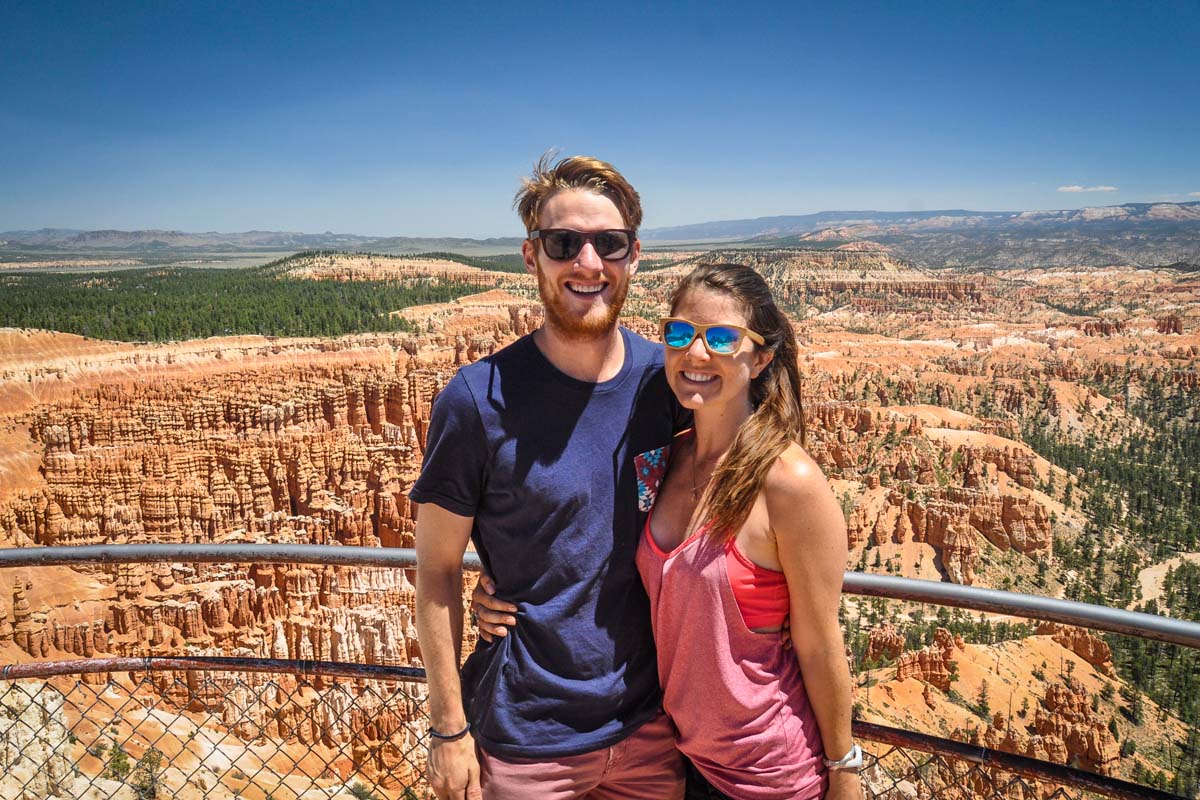 Head out early to avoid crowds and the heat. We hit the trail around 7:00 a.m. and passed just a handful of people on our hike, but many more who were just starting on our way out.

Plus, the sunrise light in Bryce Canyon is beautiful as it casts a glow of many shades of red on the rocks.

Pack layers and bring a rain jacket no matter when you're visiting, as weather changes quickly at high elevation.
Wake up before the sun. Photographers especially as the best time to photograph Bryce Canyon by far is sunrise. The shapes of the hoodoos cast shadows once the sun has fully risen, and even sunset can be challenging to photograph.
The park Visitor Center is open year-round, and the only day it's closed is Christmas Day.
If you're camping, note that hanging anything from trees, including a hammock, is prohibited. Hammocks can only be used with independent, free-standing supports.
---
Check out our other Utah National Park guides
Save this article on Pinterest for later!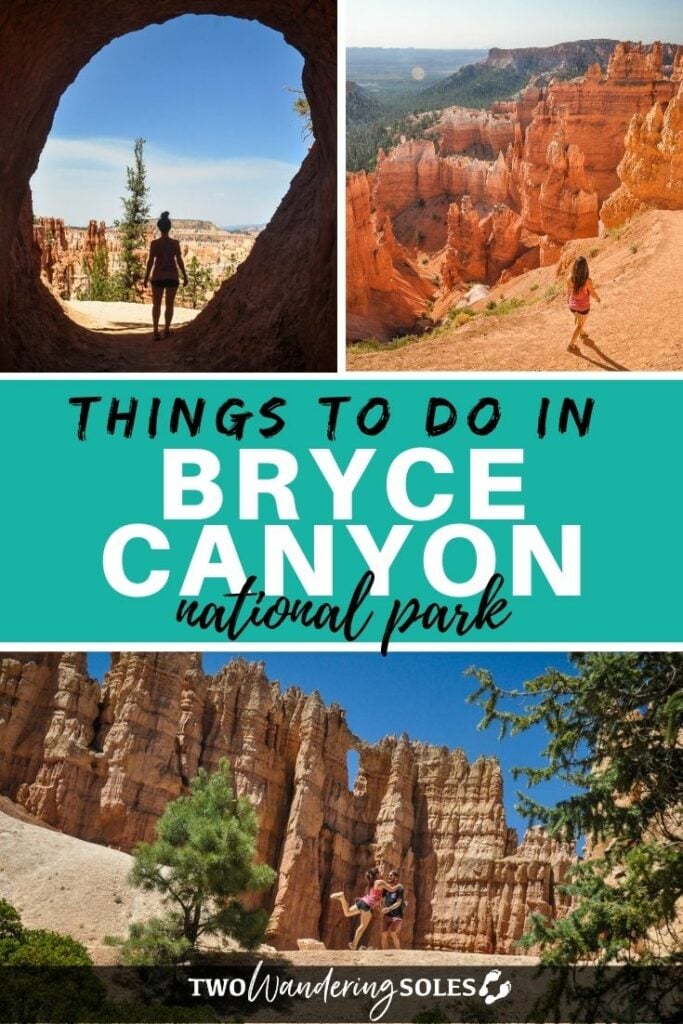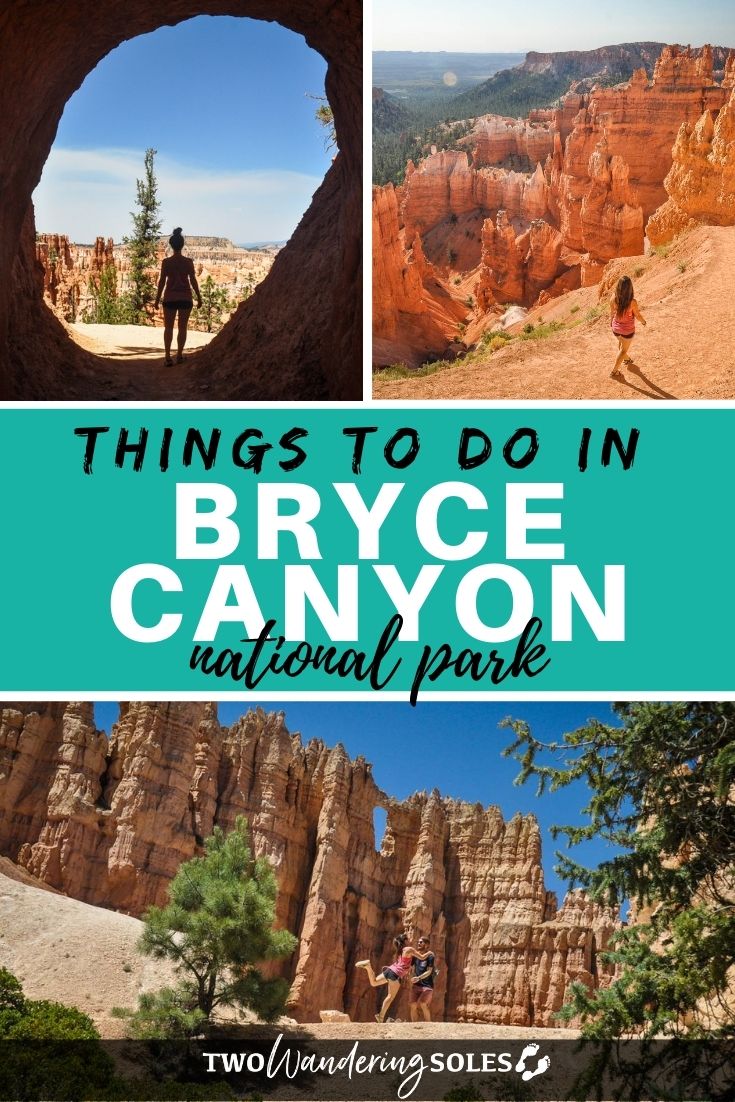 We want to hear from you!
Which is these things to do in Bryce Canyon is going straight to the top of your bucket list? Have you been to Bryce Canyon National Park before? What was your favorite part? Leave your comment below and we'll do our best to get back to you!