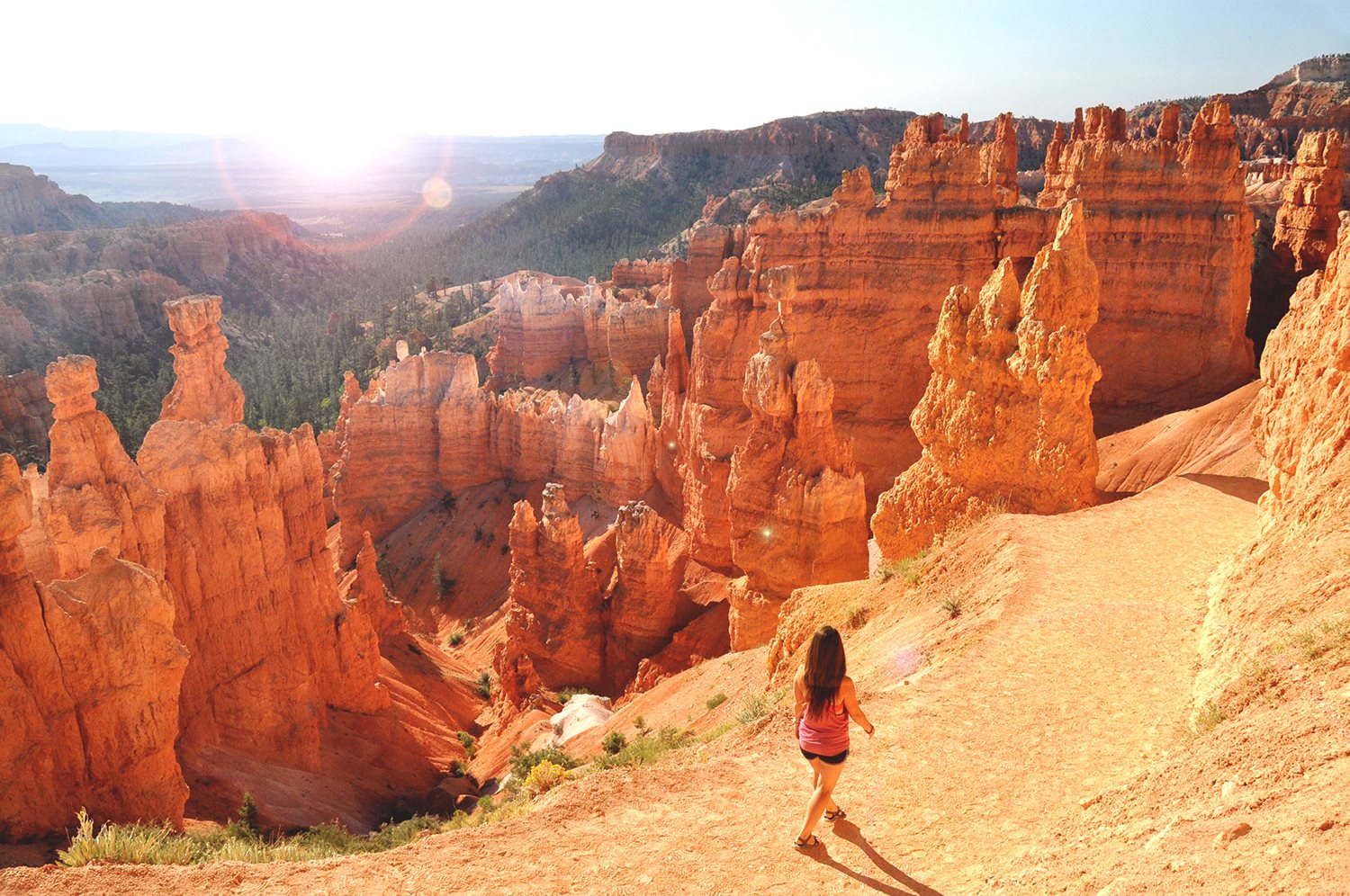 The landscape at Bryce Canyon National Park is unlike anything you have never seen before. The pillar-like rock formations are seem to be pulled right out of a fairytale.
Spend your time in Bryce walking amongst the red rocks and watch the sun play tricks on your eyes as the shadows constantly change. 
Before you go, be sure to pick up the America the Beautiful National Park Pass if you are heading to 3 or more US National Parks in the same year.
What is Bryce Canyon known for?
Hoodoos! Bryce Canyon has the largest collection of hoodoos (pillars of rock created by erosion) in the world. You can see the majestic hoodoos from a variety of viewpoints, but our suggestion is to get up close and personal and hike amongst them to fully experience their grandeur.
The Good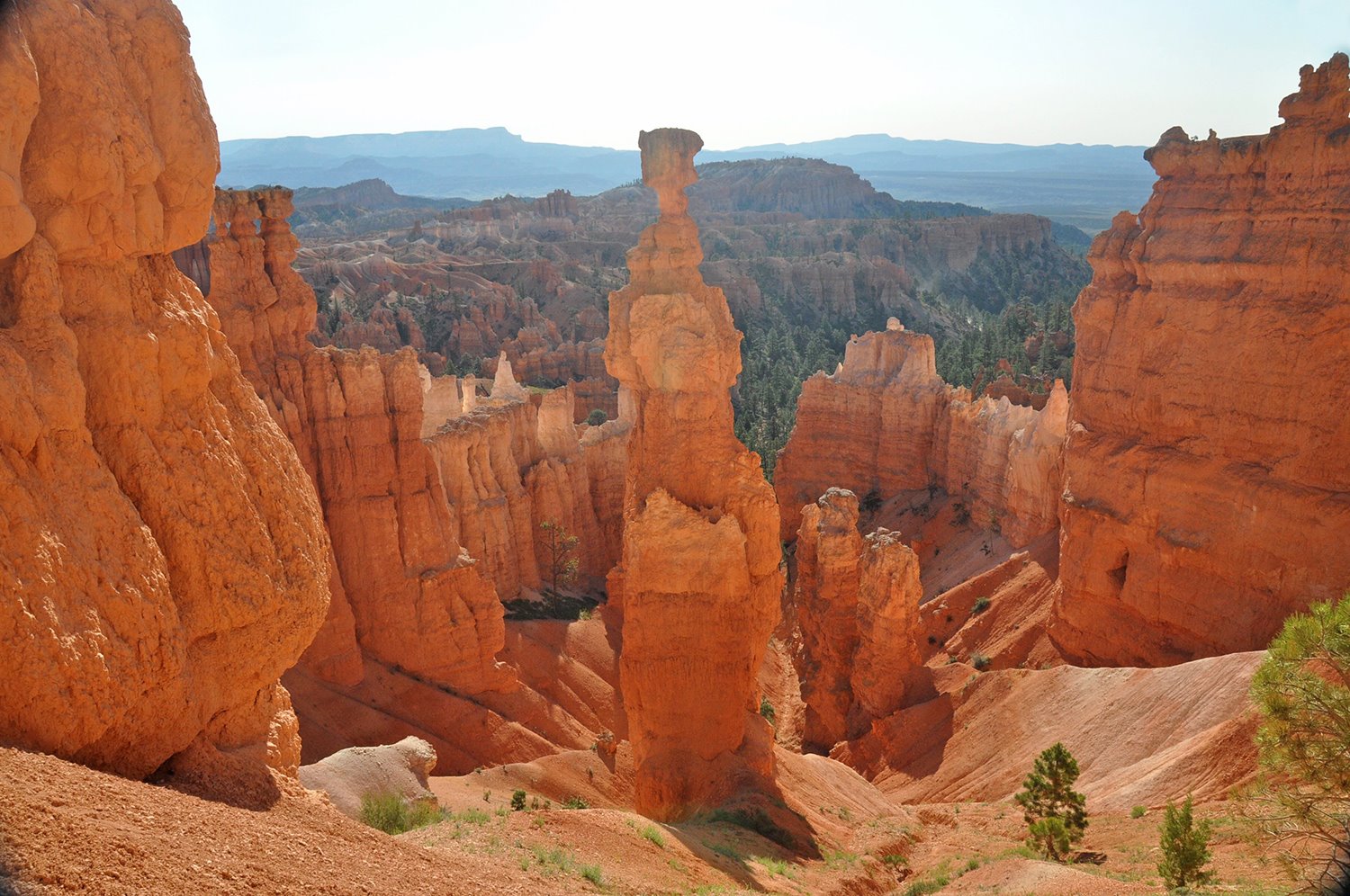 This is one of the most unique landscapes we have ever seen. Once inside the canyon everywhere you look is a new formation and makes you wonder, "How the heck was that made?" 

In the summer months, when the other parks are extremely hot, Bryce is actually quite comfortable because of it's high elevation (8000 feet)

Also, because it's not close to any major cities, there is little light pollution meaning Bryce Canyon is an excellent place to go stargazing!
The Bad
It does get crowded at the rim of the canyon, but once you head down one the trails it's not so bad.

What time of year is best to visit Bryce Canyon National Park?
Each season has it's unique draws.
Summer is a great time to visit Bryce Canyon, especially if you want to camp. However, it can get quite hot during the day, and you should expect crowds. Because the rim of the canyon is about 8000 feet elevation, the temperature will vary greatly throughout the day. When we were there in June it was about 50°F when we woke up, but by the afternoon, it was nearly 90°F when we were hiking around in the canyon.
Spring and Fall are nice and less crowded, but be prepared for the cold weather and a chance of snow.
Winter in Bryce Canyon can be absolutely magical if you're prepared for snow and cold temperatures.
Looking for a place to camp? Our favorite camping app is The Dyrt because they have the largest network of campsites in the USA. Simply set your filter to only show you the free campsites, and voila — free camping is made easy!

Want a major bonus?! (Yes, you do!) Use this link to get 90 days of The Dyrt's Pro Membership totally free (no strings attached).
Best Hikes & Viewpoints in Bryce Canyon National Park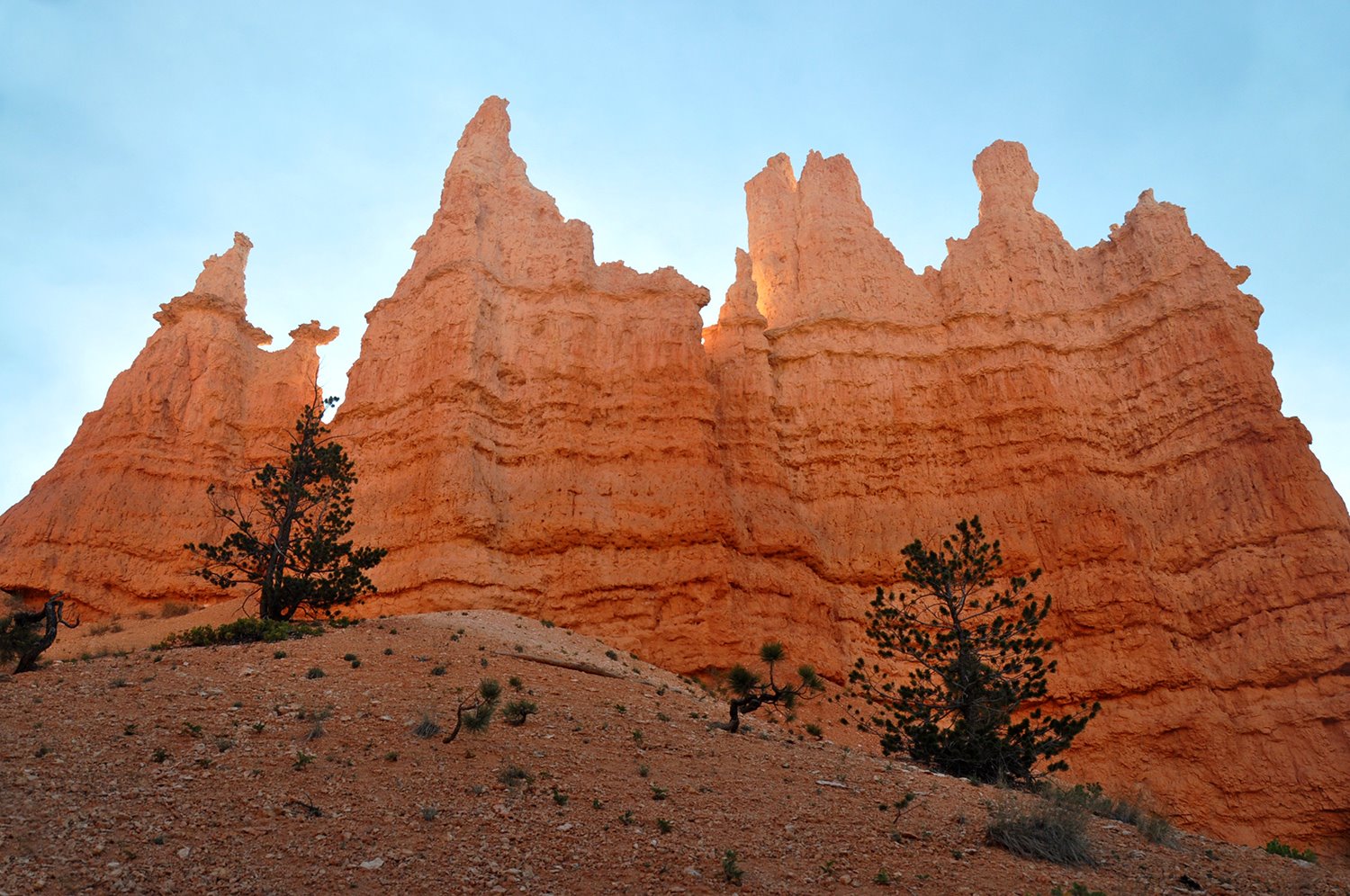 There are tons of great hikes in Bryce Canyon National Park that allow you to get up close to the famous hoodoos. Below are a few of our top recommendations.
Queens Garden Hike
1.8 miles roundtrip; Time: 1-2 hours

Walk among the hoodoos and through arches and to viewpoint that makes one of the rock pillars look like Queen Victoria.
Navajo Loop Hike
1.3 miles roundtrip; Time: 1-2 hours

You'll get to see Thor's Hammer, Two Bridges (very fragile looking), and Wall Street canyon.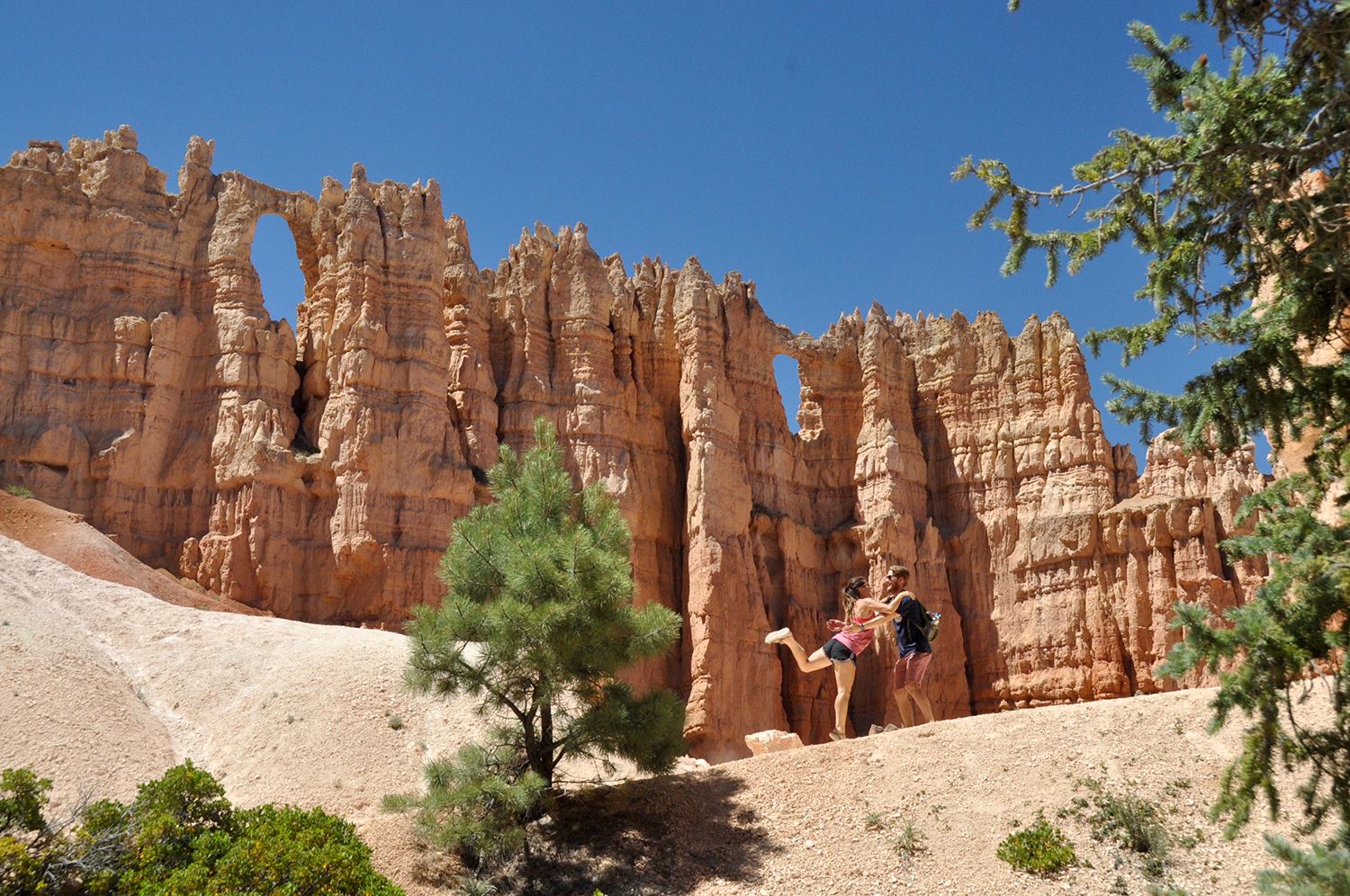 Peek-a-boo Loop Hike
5.1 miles roundtrip; Time: 3-4 hours; 1,300-foot elevation gain

This strenuous hike is well worth it if you have the time because you'll get to see some spectacular hoodoos, the Wall of Windows and you'll most likely be alone for most of the hike.
Bryce Point
This iconic view point of Bryce Canyon. Great spot for sunset.
Don't have much time?
Combine the Queens Garden and the Navajo Loop for the best views of Bryce. Start at Sunrise Point, go down into the canyon and loop back up to Sunset Point. It's the best 3 mile hike in the park!
Is Bryce Canyon Suitable for Families with kids?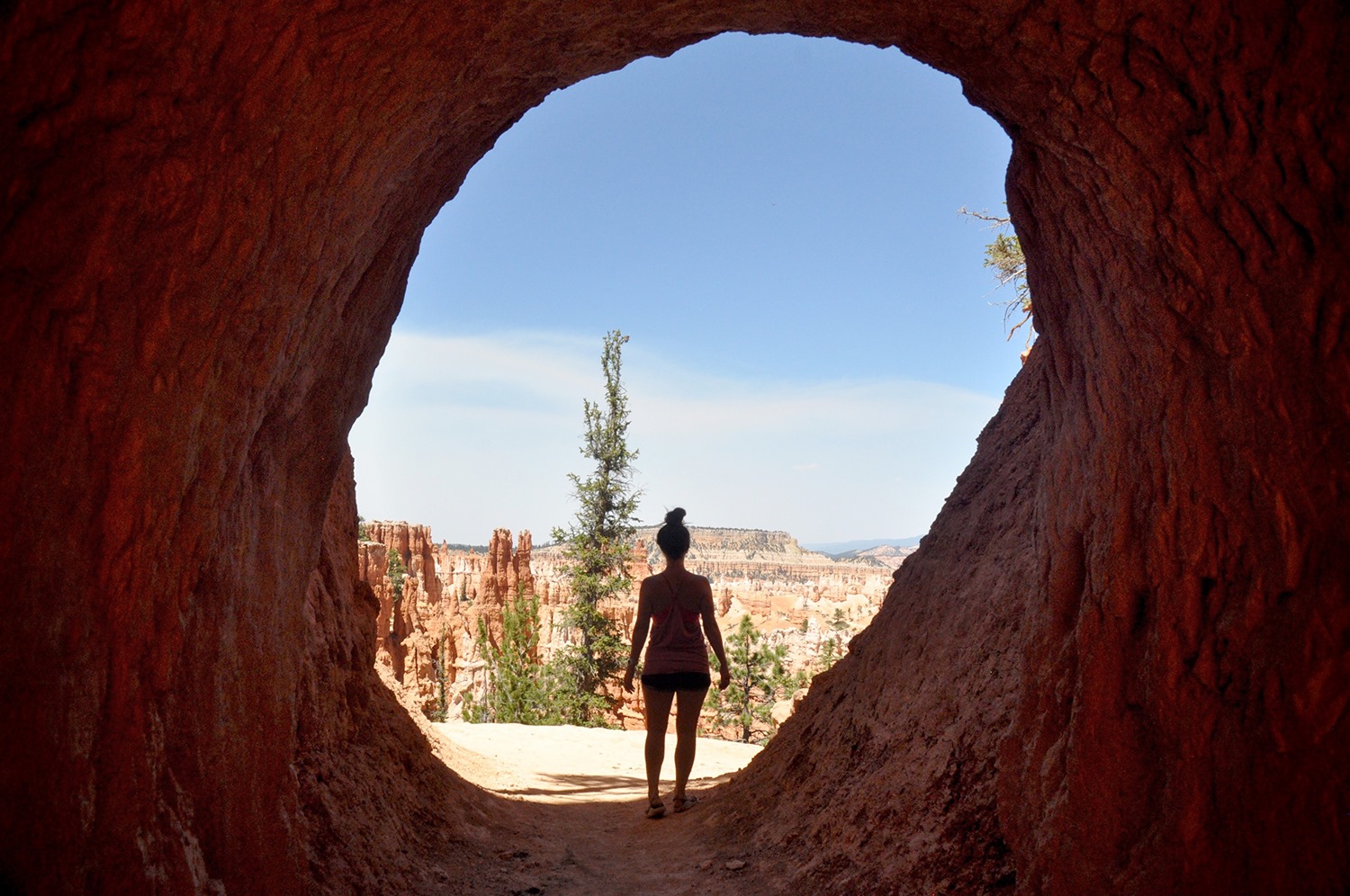 The viewpoints along the 18-mile park road are nice to see, especially the Natural Bridge. However the best are Sunset Point and Sunrise Point.
How to avoid crowds in Bryce Canyon National Park
Start hiking early to avoid the crowds and the heat. We hit the trail around 7 a.m. and passed only a handful of people on the hike. Plus, the sunrise light is beautiful as it glows the rocks many different shades of red. Be sure to get there early and head straight down into the canyon.
Most people do the Queens Garden and Navajo Loop so see those first and then explore other parts of the park. We hiked the Peekaboo Loop in the afternoon and there was barely anyone around.
Photo Spots in Bryce Canyon National Park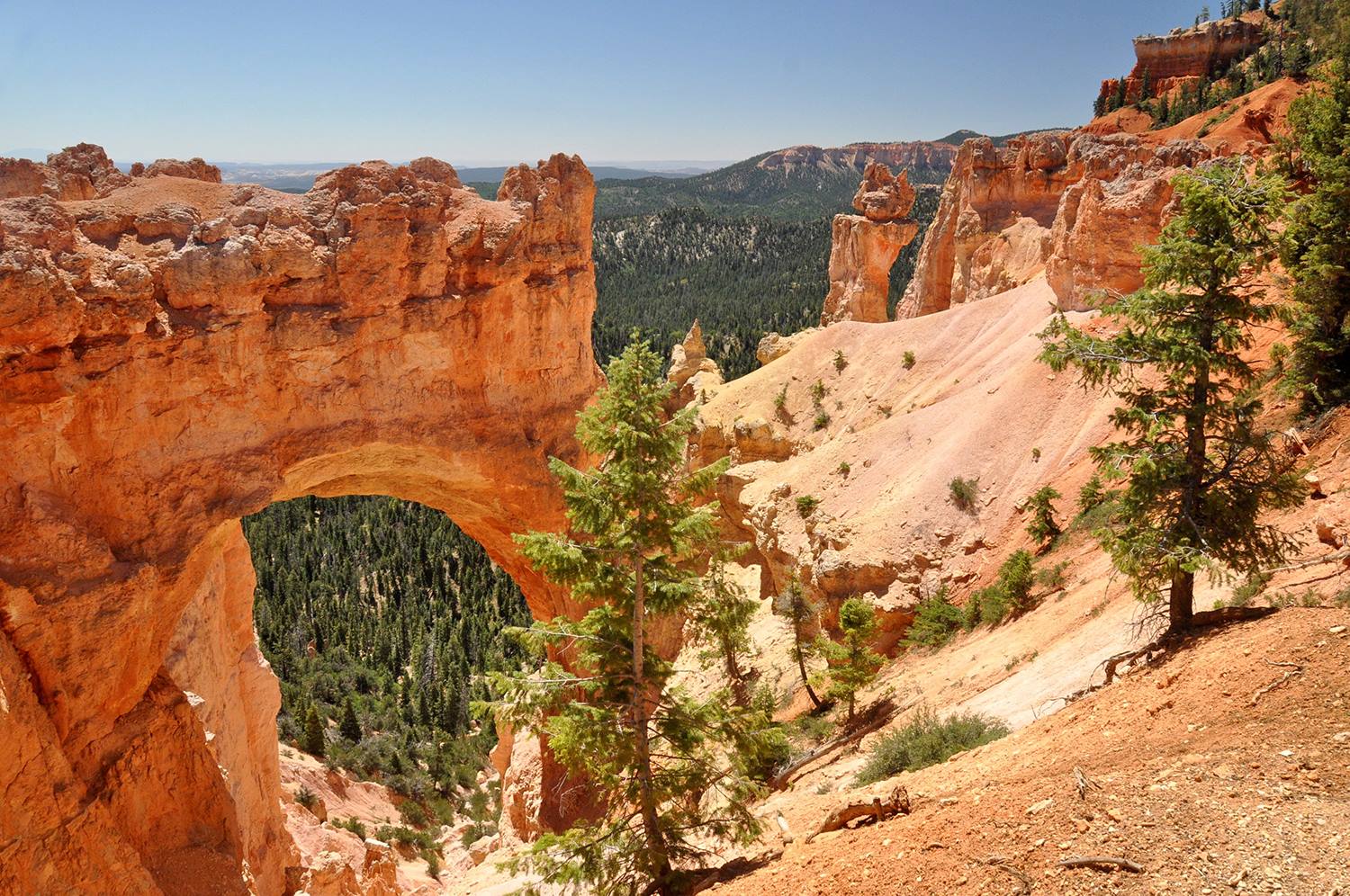 Down in the Queens Garden, you can get a silhouette of Queen Victoria on a hoodoo.
You can't miss Bryce Point to get the overview of all the hoodoos below, but even the best photography equipment won't do this stunning scenery justice.
What to pack for Bryce Canyon
Shoes for hiking (they will get dusty, we used our Chacos and washed off our feet at a water spigot)

Camera

Picnic Lunch

Sunscreen

Water bottle

Hat for shade
Where to stay near Bryce Canyon National Park
Camping in Bryce Canyon
Use a campsite app like The Dyrt to help you find camping in the area. There is camping in the park, but make sure to get your reservations early and book online at the National Park Service. $30 per night for an RV spot and $20 per night for a tent site. 
Hotels in Bryce Canyon
When we are are in the US, we like use Booking.com to find the best deals for hotels. There are a bunch of hotels in the city of Bryce so search away!
Our favorite part about Bryce Canyon
Even though there are crowds at Bryce, you can easily get away from them by going down into the canyon. The landscape makes you feel like you're on another planet, because there is no other place like it on Earth.
---
Visiting other National Parks in Utah?
Check out our articles on how to plan your visit:
We want to hear from you!
Have you been to Bryce Canyon National Park? What was your favorite part? Are you planning a road trip to Utah? We'd love to hear from you in the comments below!