The Yucatán Peninsula has an incredibly rich history and is blessed with more than just beaches. You can walk amongst ancient ruins, get lost in the jungles of Sian Ka'an and experience the region's vibrant culture and food. With the help of our Editor, we've put together a list of the top things to do in the Yucatán peninsula, Mexico.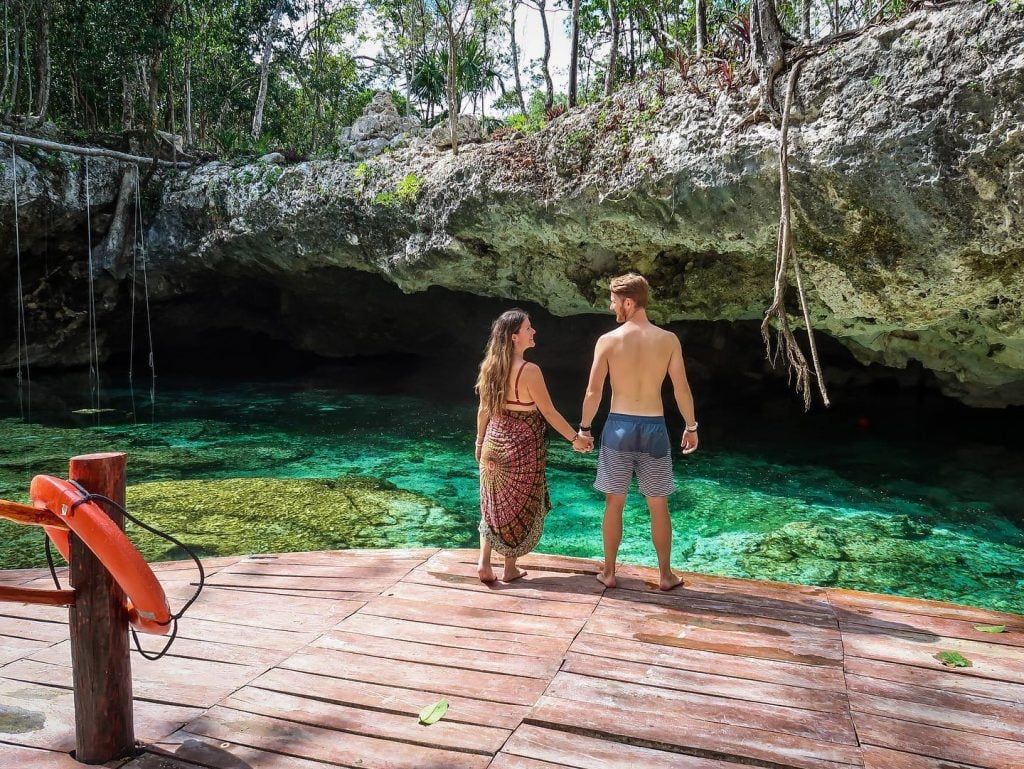 You might not know the Yucatán Peninsula of Mexico by name, but you definitely have heard of places like Cancun and Cozumel. Spring break, anybody?
Yes, the Yucatán is probably better known for the resort-dotted beaches, but there are TONS of amazing experiences outside of resort life for the adventurous traveler.
The Yucatán Peninsula has an incredibly rich history and is blessed with more than just beaches (as is the rest of Mexico). You can walk amongst ancient ruins, get lost in the jungles of Sian Ka'an and experience the region's vibrant culture in Mérida. Not to mention the food…can you say tacos!?
Along with our Editor Amanda, we have the combined experience of spending nearly 2 years in this region of Mexico. With her help we've put together a list of the best things to do in the Yucatán peninsula of Mexico. But first, there are some logistics you should understand before planning your trip…
Article Contents
---
Be sure to download our complete packing list for Mexico! It's packed with good suggestions and insider tips to help plan your Mexico vacation. And it's completely FREE, so why not!?
---
How to get to the Yucatán Peninsula
The largest airport in the Yucatán region and your best bet for finding flights is undoubtedly Cancun airport. You can find cheap direct flights to Cancun from many U.S. cities and elsewhere around the world.
Which brings us to step #1 for exploring the Yucatán… Leave Cancun!
Just leave.
As you can see by this list, other than flying in, there really isn't anything that we would recommend staying in Cancun for.
How to get around the Yucatán Peninsula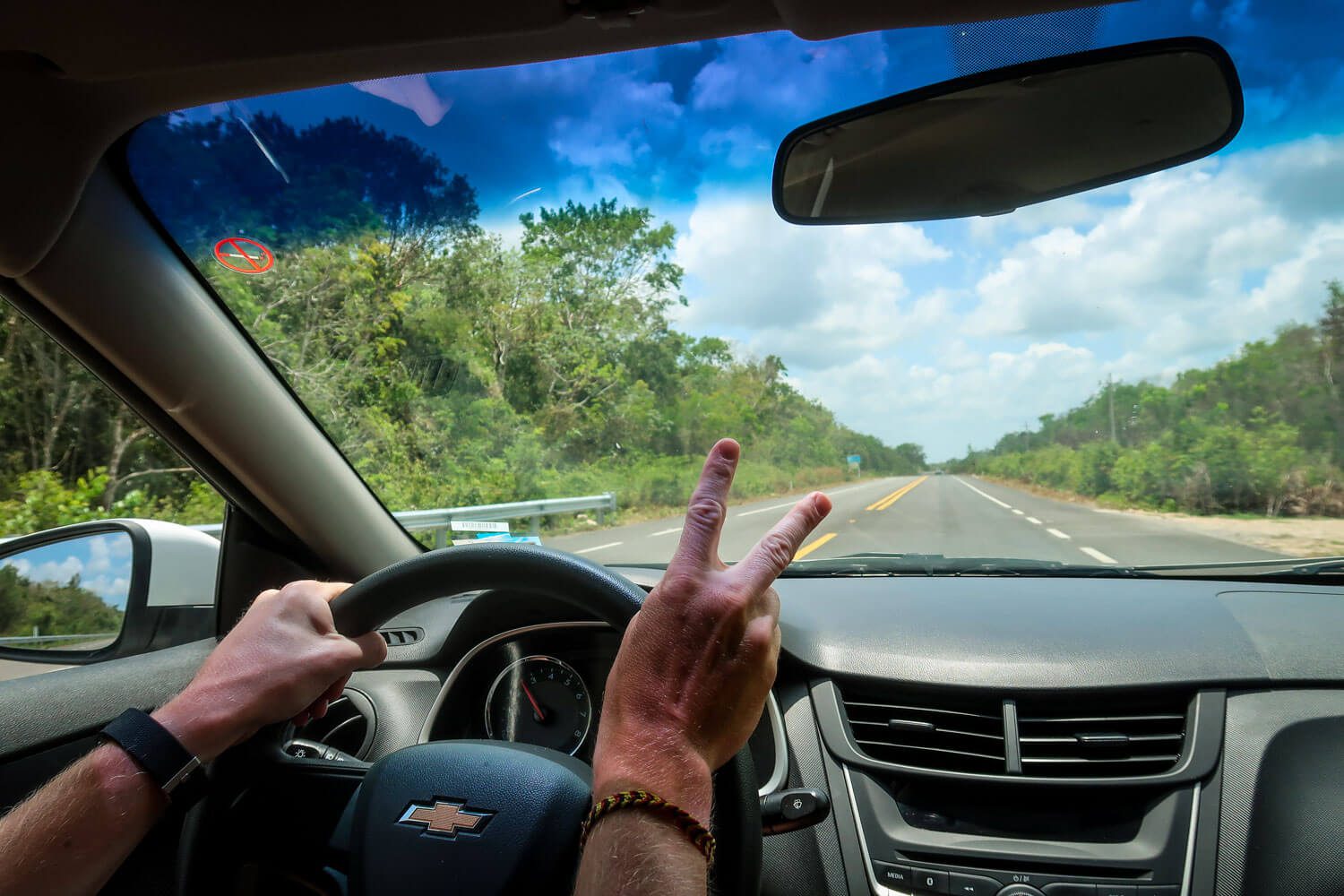 Mexico's Yucatán Peninsula is very large and you could easily spend weeks exploring just this specific region of Mexico. There are a few good options for getting around, depending on your travel style and where you want to go.
By Car
One of the easiest ways to get around Mexico is by driving a rental car. We like this option because it gives you the flexibility to explore on your own and make last minute changes to your travel schedule if you happen to fall in love with a place and decide to spend an extra night or two there.
Renting a car in Mexico is safe and crazy cheap when you compare costs to average US prices. We use Discover Cars to search for the best deals on rental cars around the world and we even have an entire guide to getting a rental car in Mexico including tips for driving and safety.
Search & Compare Rental Car Prices
Discover Cars: We personally use this aggregate site to compare rental car prices from all the big name companies and get the best price possible.
RentalCars.com: We've had good experiences finding rental cars with this site in the past.
By Bus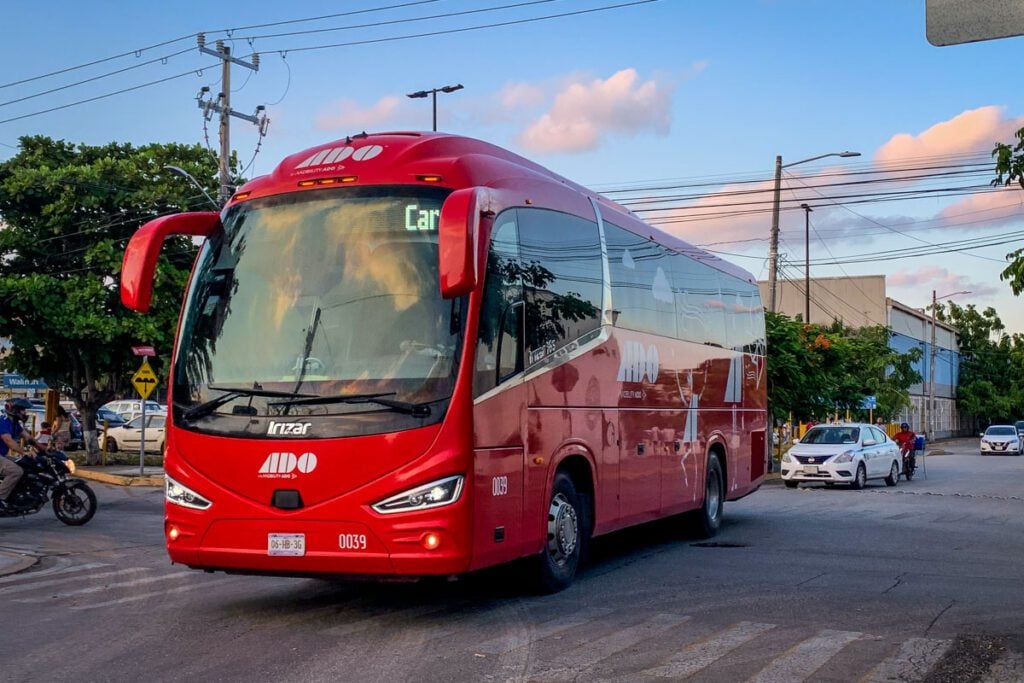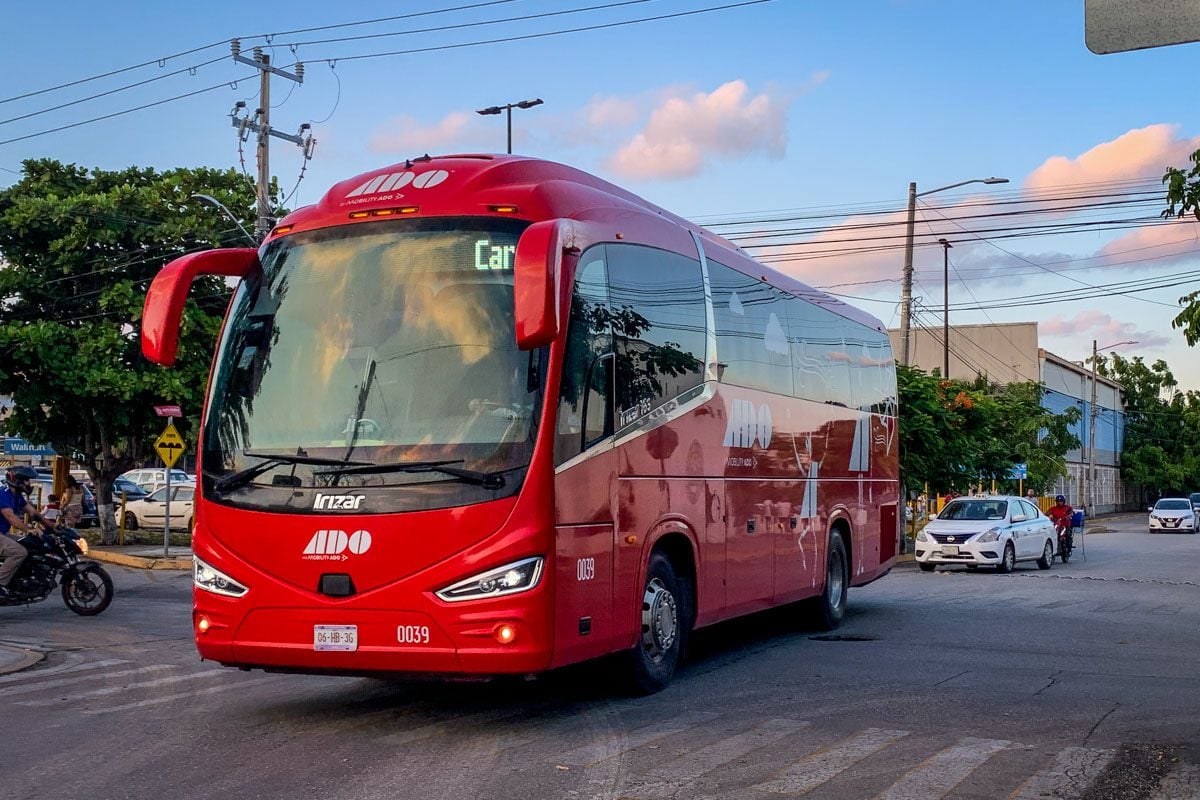 Another great option for traveling around the Yucatán region is by bus. The ADO bus company connects all of the major cities in the region (and around elsewhere in Mexico as well). It's very affordable and actually quite comfortable with air conditioning and power outlets. The best part is you can purchase your tickets directly from the station on your day of travel.
While ADO services all of the larger cities in the area, there are plenty of second class bus terminals that run shorter routes between the smaller towns.
Check out this guide to using the ADO bus system in Mexico for more information.
By Colectivo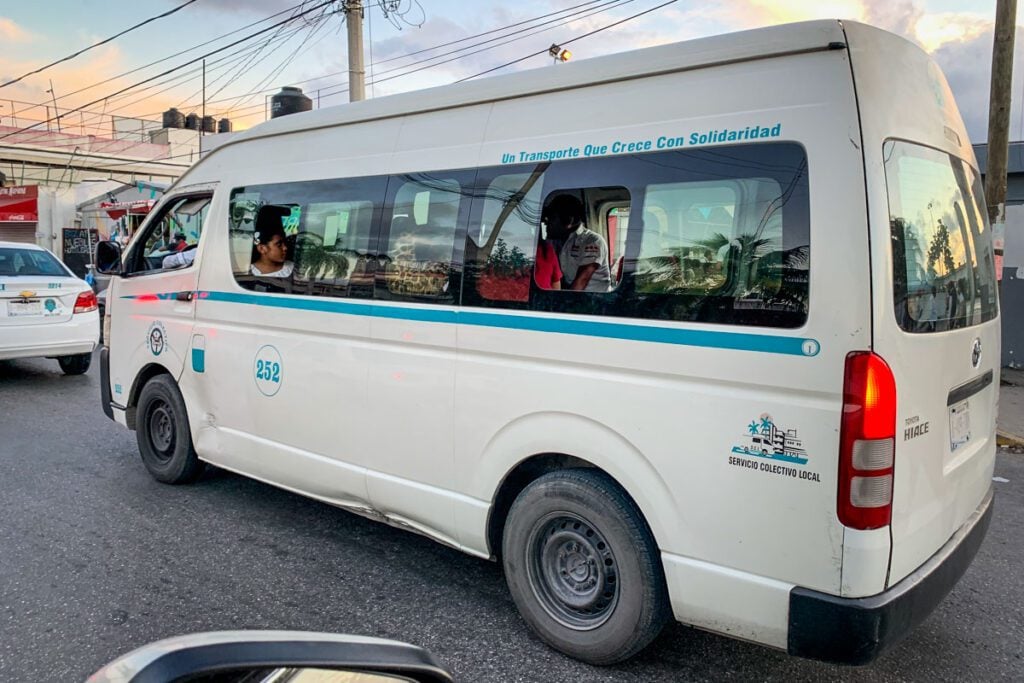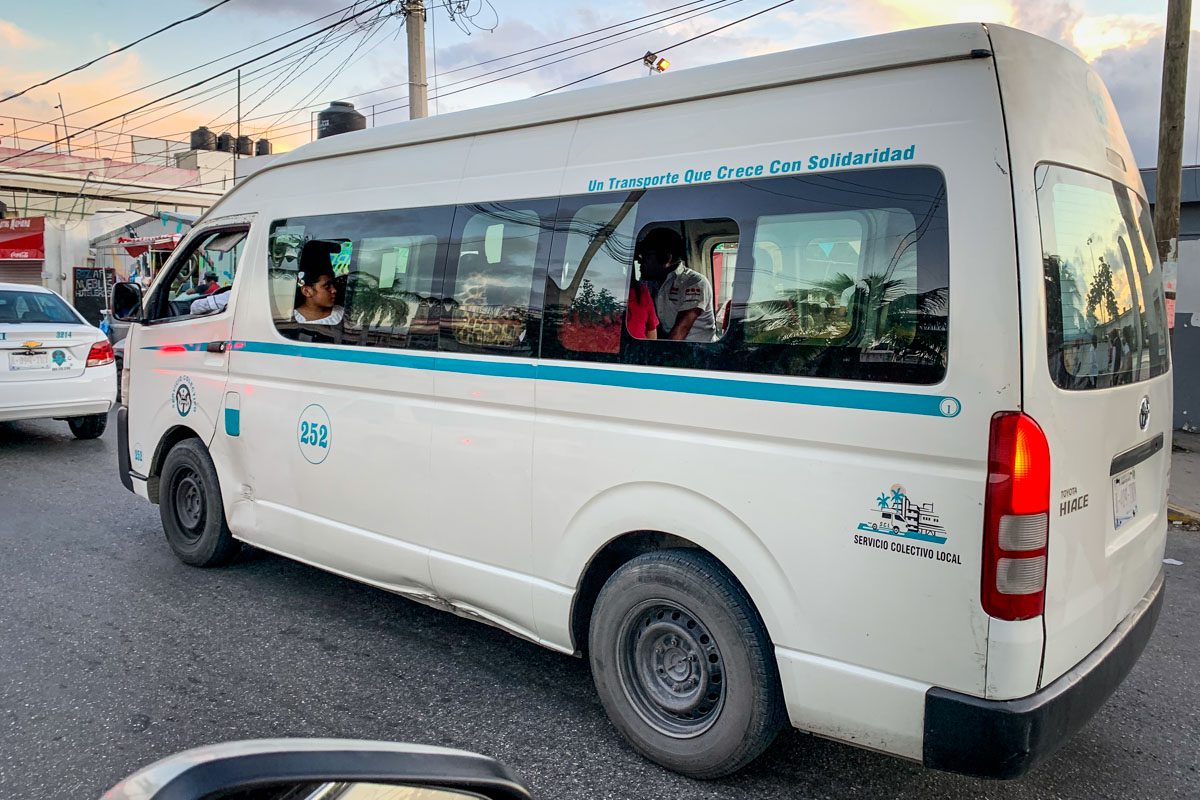 Colectivos are Mexico's version of a shared taxi bus. These run all over the country in short distances and are by far the most affordable method of transportation. If you are going a short distance, like from Playa del Carmen to Tulum for example, a colectivo is a great way to get there for a much more reasonable price than a taxi cab. You may have to make a few stops along the way though.
---
Top Things to do in the Yucatán Peninsula
Whether you have just a couple weeks, or months to spend here, there are plenty of adventures to be had in this region of southern Mexico. Below are our top picks, as well as a few suggestions at the end of places we've never had the chance, but can only dream of visiting one day.
1. Soak up the culture in Mérida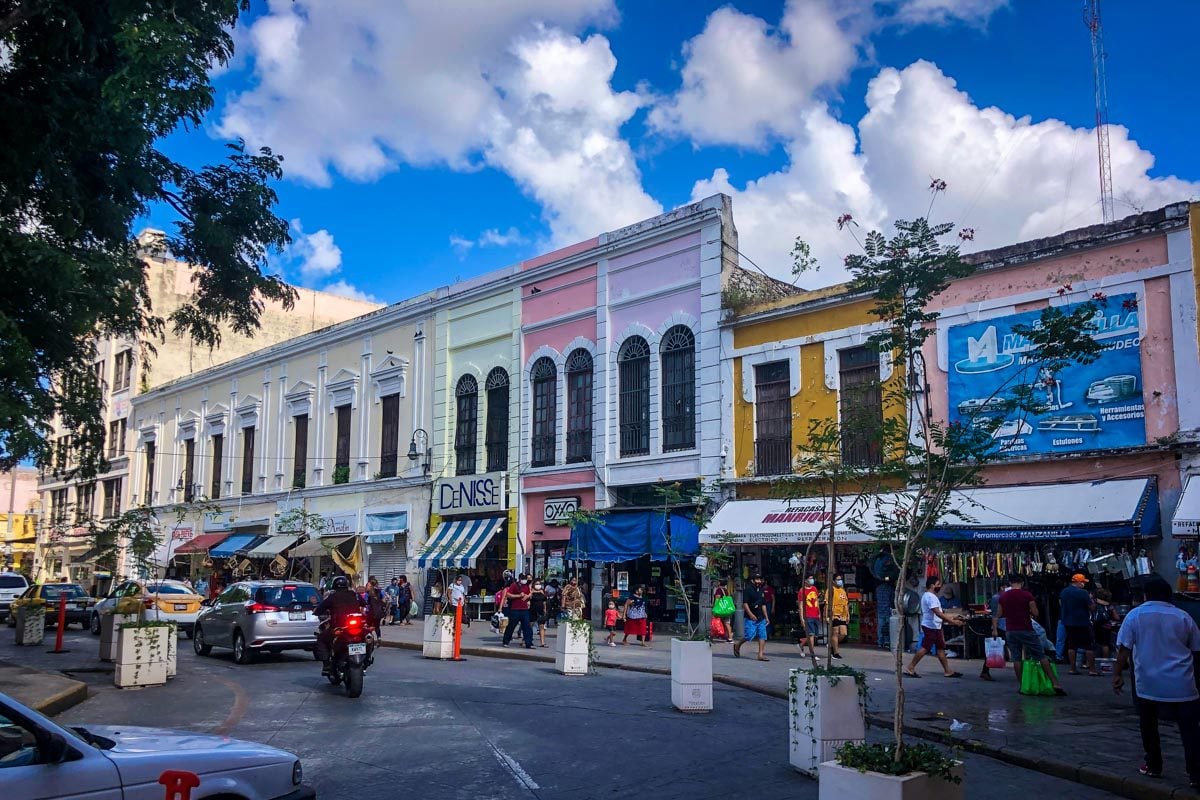 A sprawling city with lots of charm, there are so many fun things to do in Mérida, you could stay occupied for days exploring all the beautiful parks and squares.
On Sunday mornings the city really comes to life. The downtown streets shut down for parades of cyclists, and the streets around the Plaza Grande are filled with craft markets, food vendors, bandshells, and throngs of locals enjoying their weekend.
To top off the night, the large avenue of Paseo de Montejo holds a night of cultural performances and music from around the country, all for FREE on Sunday nights.
Where to eat in Mérida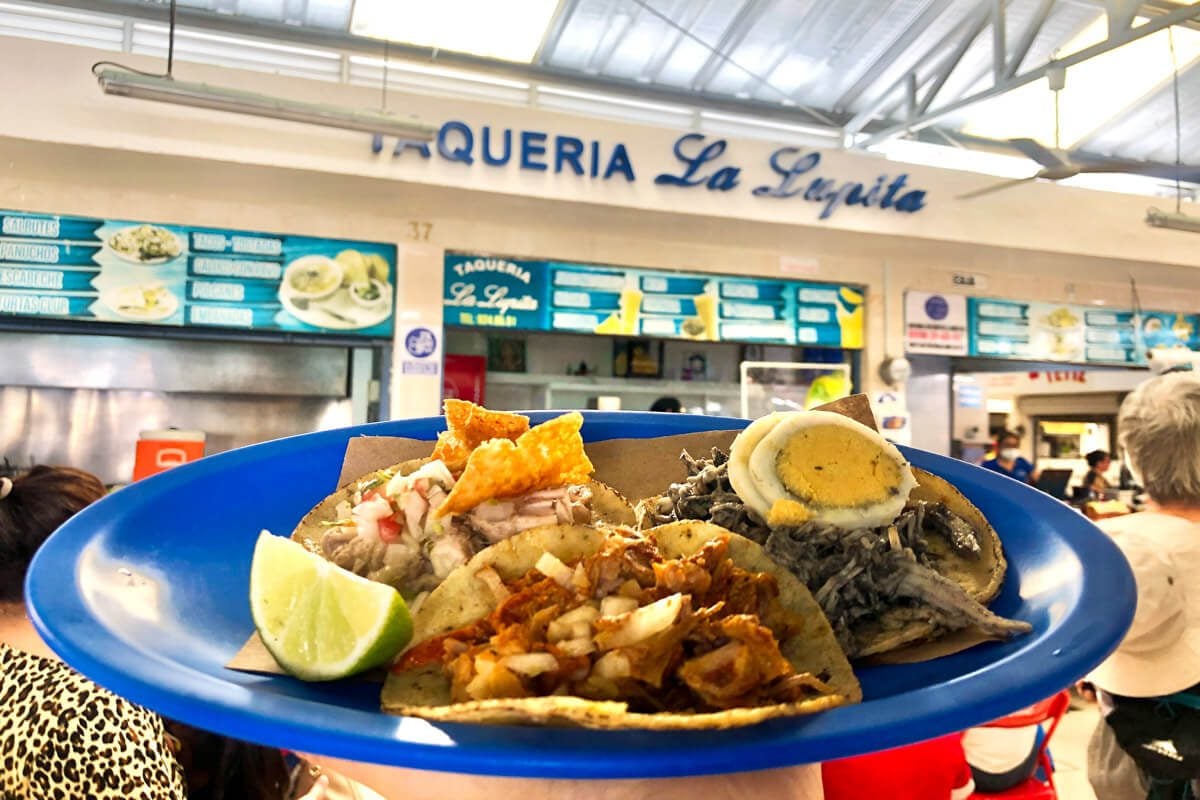 Mérida is known for having some of the best food in Mexico. Head to the bustling Mercado Lucas de Galvez for the best cheap eats. Indulge in essentially all you can eat tacos and tortas (Mexico's delicious version of a sub sandwich). There is so much street food in the Yucatán, you may never have to set foot in a restaurant, but if you should feel so inclined, here are some recommendations:
Taqueria La Lupita at Santiago Park: The best tacos in Mérida, according to us, and Netflix! Get there early as they are quite popular and close at 2 p.m.
Mercado 60: A trendy night market with International cuisines and live music.
Manjar Blanco: Some of the best authentic Yucatecan cuisine you will find. Go there for lunch as they close at 5 p.m.
El Trapiche: Delicious Yucatecan cuisine as well as more "American" style dishes.
El Lucero del Alba: Good for lunch as they close early – try the fish tacos!
Tlahuasco Cafeteria Centro: A good cheap local breakfast
Where to stay in Mérida
If you want to stay close to the action in Mérida, you'll want to stay in the historic city center, near the Plaza Grande and Paseo de Montejo.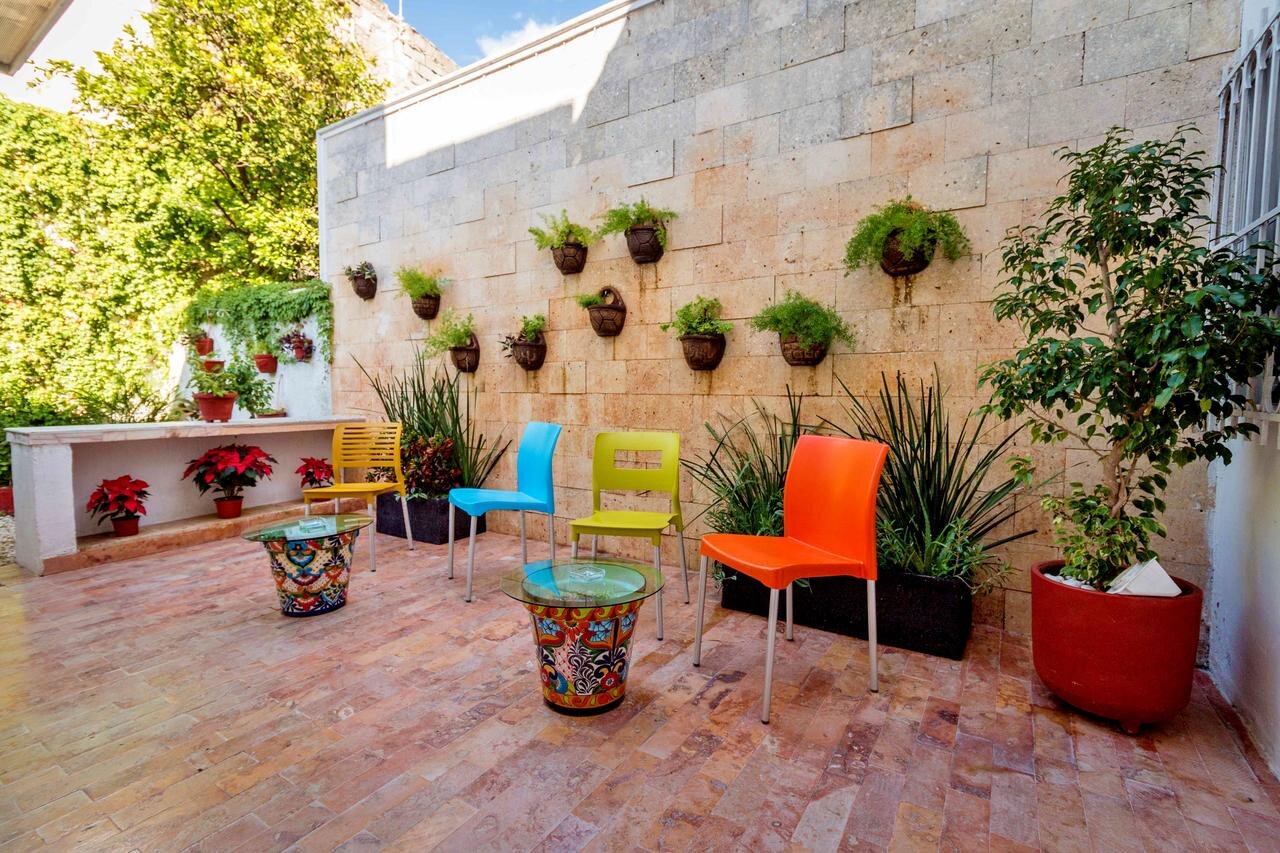 Budget Option: Casa XunanKab
This guest house is known for their beautiful terrace, comfortable rooms and quiet but ideal location in the Paseo de Montejo area. It's within walking distance to the Plaza Grande.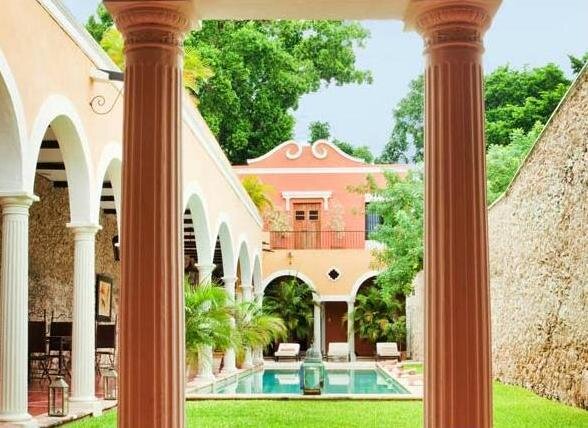 Mid-Range Option: Hotel Hacienda Mérida
This beautiful colonial-style property is in an excellent location for exploring Mérida, just a 10-minute walk from the Plaza Grande. Air conditioned rooms, an onsite restaurant and outdoor pool are just a few of the amenities worth staying here for.
If you're looking for more information on where to stay, we've put together a detailed list of the best Airbnbs in Mexico for every type of traveler. This list includes Airbnb stays in Mérida and all across the Yucatán so be sure to bookmark it before your next trip.
2. Get lost in ancient ruins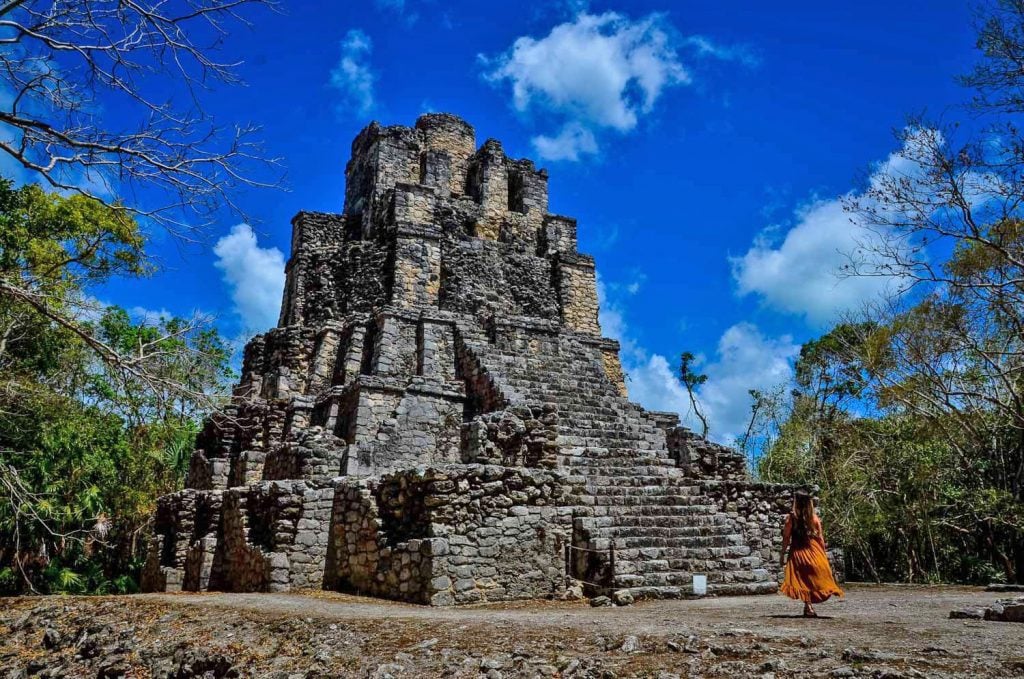 Known as the most advanced civilization in ancient Mesoamerica, the Maya people were the original inhabitants of what we know today as southern Mexico and Central America. Today there are hundreds of Mayan ruins that are scattered throughout the Yucatán and open to the public for exploration.
Exploring ruins is probably one of the most popular things to do in the Yucatán region outside of visiting beaches, so try to get there early and be prepared for crowds.
Chichén Itzá
Probably the most well known, and for good reason, is Chichén Itzá, an UNESCO World Heritage Site and one of the Seven New Wonders of the World.
Wander through this ancient city and you'll surely begin to appreciate the sophistication of the Maya people that once lived there. You'll want to get there early as the site gets very crowded with tourists and there is very little shade to protect you from the midday heat.
If you'd prefer to tour the ruins with a guide, you can hire one at the entrance as there will be numerous guides waiting for work. Additionally, you should have no problems finding souvenirs as the entire site is lined with vendors that sell a wide range of items.
How to get there: The major city closest to Chichén Itzá is Mérida and there are multiple options for getting there if you don't have a rental car. You could take a first class ADO bus, which departs at at 7:15 a.m. and 12 p.m. This option should take an hour to an hour and a half and will cost somewhere in the range of $8 USD.
Alternatively, you can take a second class bus through the Oriente bus terminal in Mérida. These buses leave more frequently and the cost will be closer to $5 USD. However, these buses stop along the way so you'll need to allocate extra time if you choose this option.
Entrance Fee: about $23 USD (481 MXN) (2020 rate)
Uxmal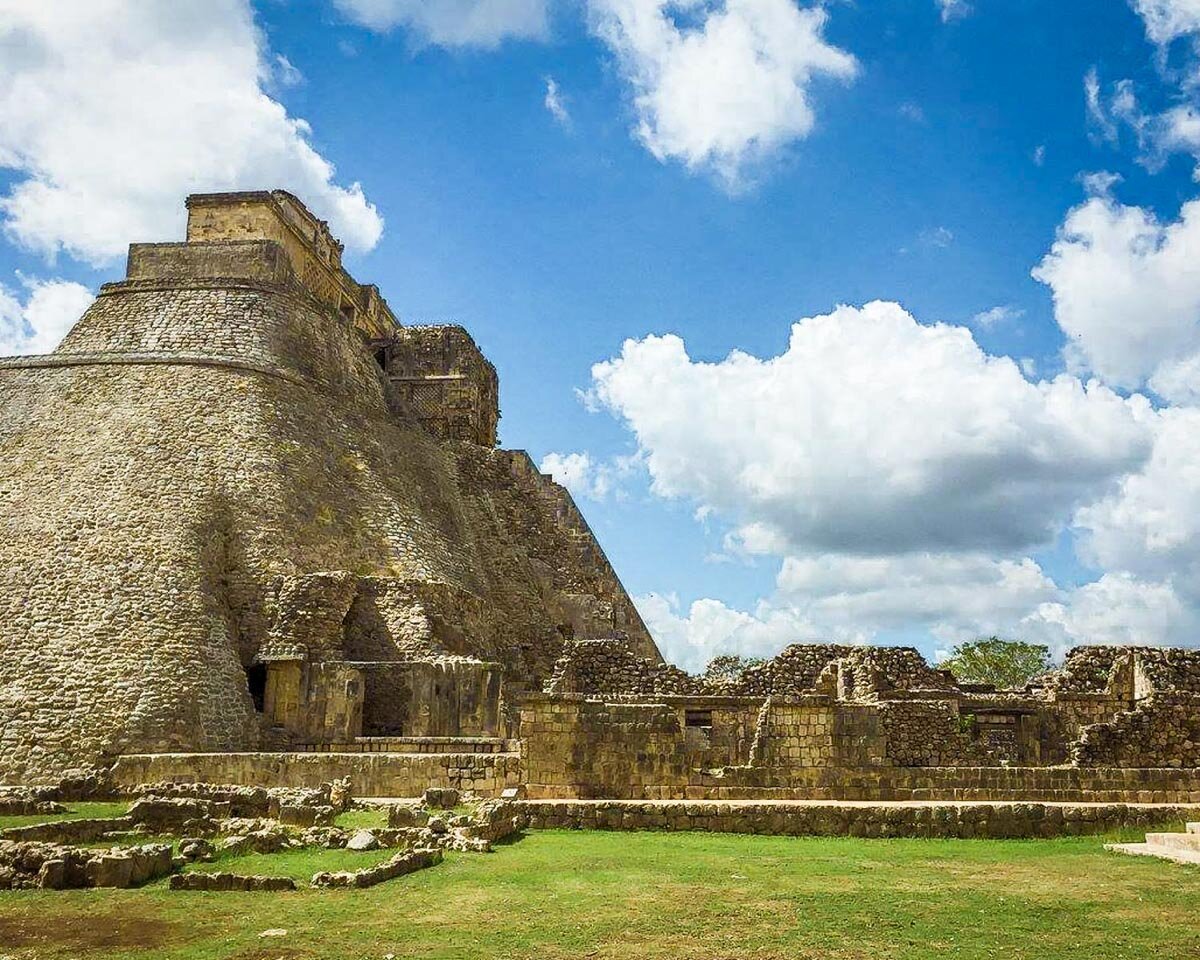 Everyone will want to see the legendary Chichén Itzá, but there is an even more impressive site that too many travellers overlook.
Uxmal is one of the few remaining Mayan ruins where you can still explore inside the temples Indiana Jones style. This makes a big difference because you get to see the well-preserved details in the stonework up close.
You will feel like you've gone back in time standing atop the pyramids imagining what the city must have looked like. If you were to only see one Mayan ruin, make sure it is Uxmal. But if you have more time, head across the border to Guatemala and visit the spectacular ruins of Tikal.
How to Get There: To take the bus from Mérida, buy a two-way bus ticket to Uxmal from the ADO TAME bus station between Calle 68 & 70. (This is a second class bus terminal across the street from the first class ADO CAME station.) Ask for the arrival times for your return because you will need to wait for the bus outside the site.
Coba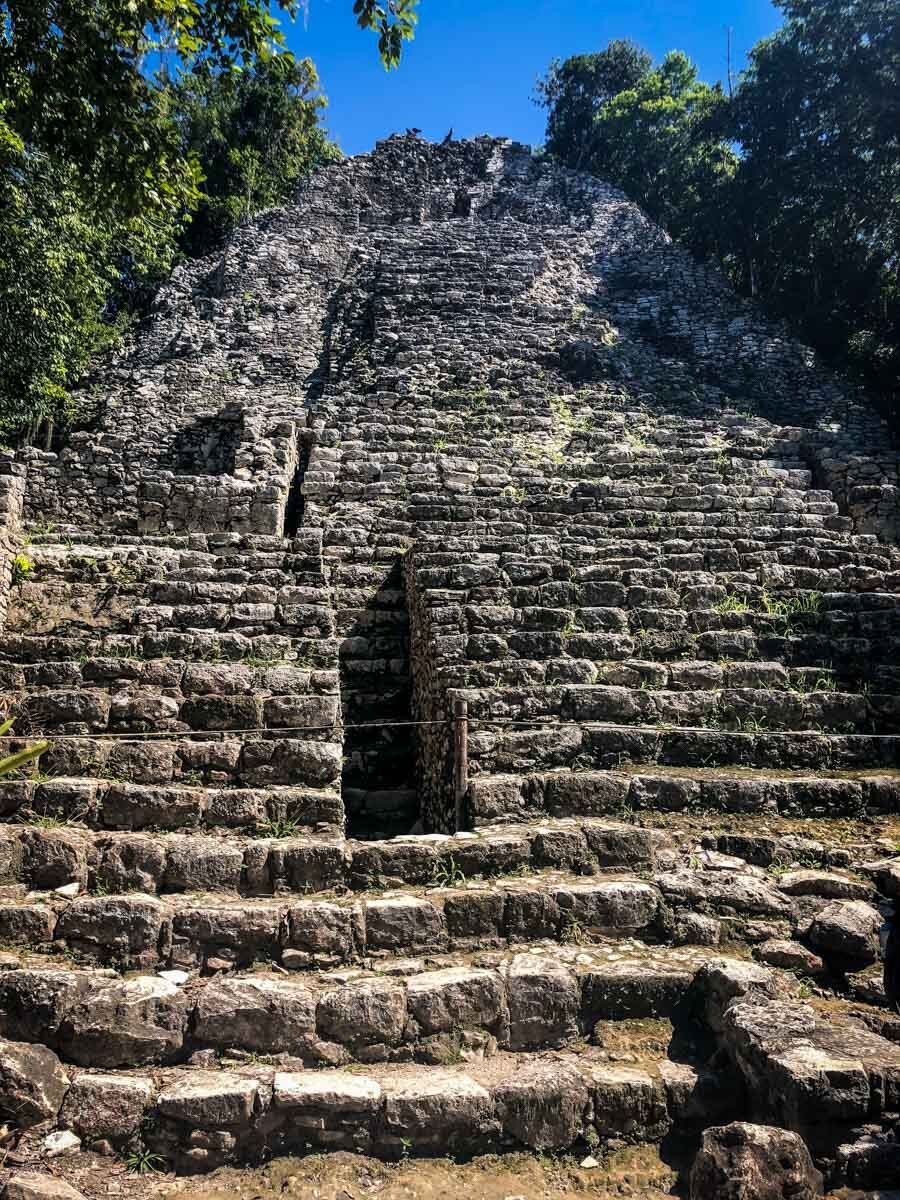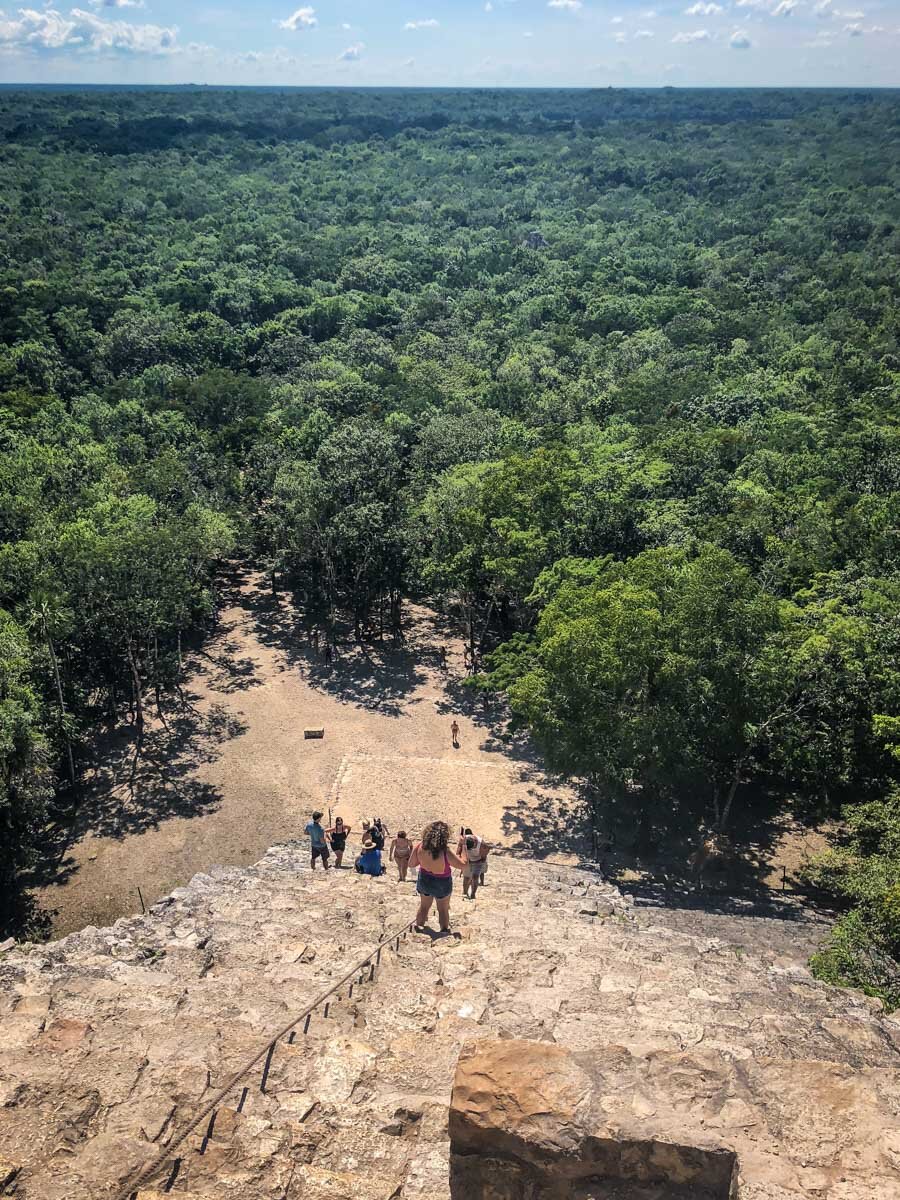 Situated about a 45-minute drive northwest from Tulum are the ruins of an ancient Mayan city known as "Coba". The archaeological zone is spread out and encompasses two lagoons and the largest network of stone causeways of the ancient Mayan world. There are also multiple stone pyramids, the tallest of which is some 42 metres (138 ft) high, and open to the public for climbing.
This area is fun to visit for multiple reasons.
For one, the best way to explore this site is by bicycle! You can rent a bicycle near the entrance and make your way through the site, exploring at your own pace. Or you can pay a bicycle driver to take you in a sort of peddled tuk-tuk.
There is also so much to see here! With plenty of smaller ruins tucked into the jungle, stunning views from the top of the tallest pyramid, lush jungles and beautiful lagoons, you can easily get lost here for a few hours or more.
How to get there: About 45 minutes outside of Tulum, you can easily reach Coba by car, taxi or colectivo. Another affordable way to get there is by bus. Head to the ADO bus station in the town center of Tulum to catch a bus. Buses run everyday and leave for the ruins in the mornings. The cost will be about $6 USD.
Entrance Fee: 75 MXN for foreigners
3. Take a dip in a cenote (or two!)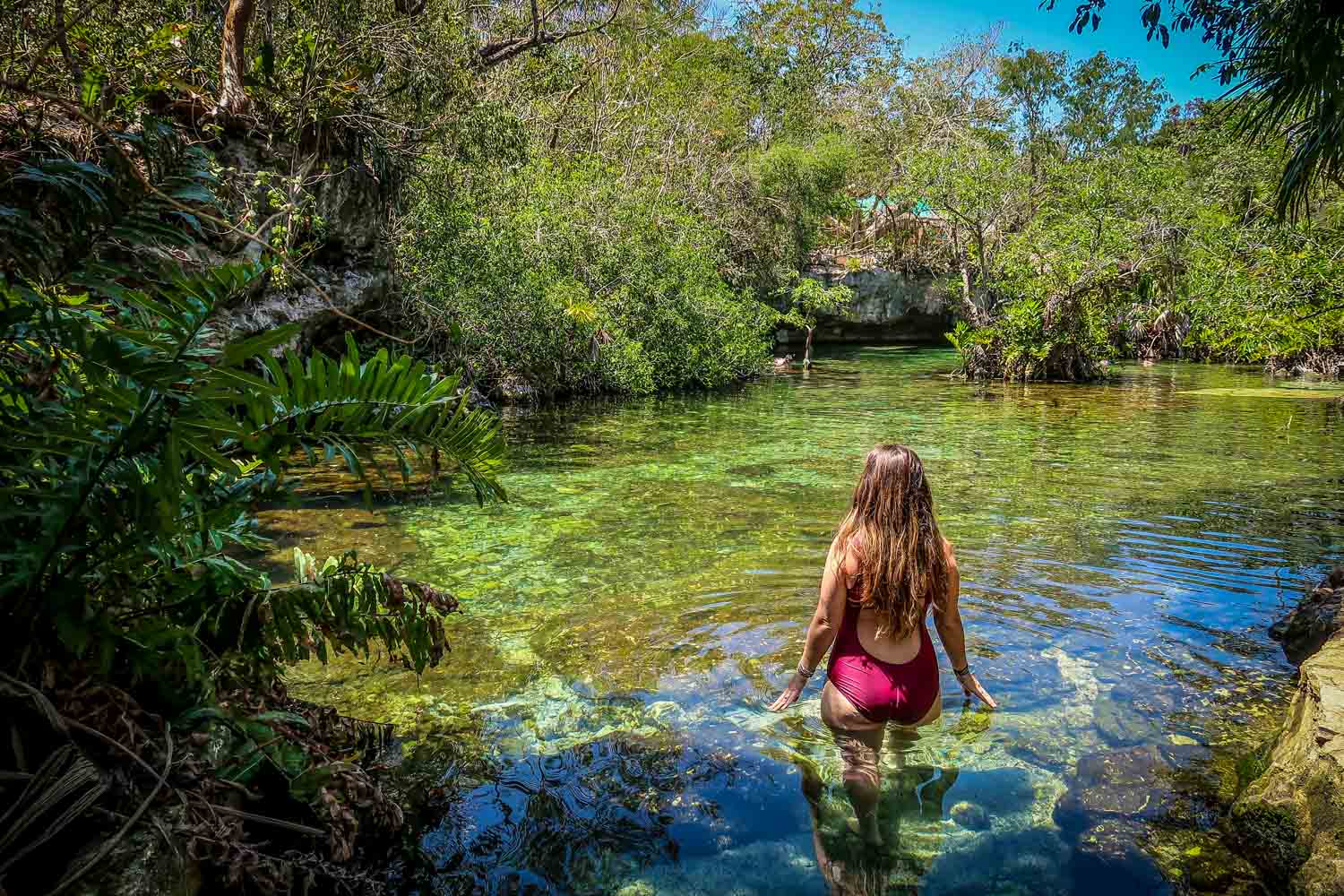 Throughout the Yucatán there are thousands of natural freshwater sinkholes known as cenotes. From the moment you first lay eyes on one you will be captured by their magical aura. It is easy to understand why the Maya people believed cenotes to be sacred.
You can find cenotes scattered all over the region open to the public for swimming, scuba and freediving. It's one of the best things to do in the Yucatán, so you won't want to miss a chance to explore one of these swimming holes.
We personally went scuba diving in Cenote Dos Ojos and El Pit Cenote. We could not recommend them more if you dive! There is no underwater wildlife, but experience diving in a freshwater cave is unbelievable.
We put together an entire article that breaks down the details of all the best cenotes in Mexico by area so you can decide which ones to visit and what to expect. Our top recommendation for first-time visitors to Riviera Maya would be to head to Cenote Azul, just outside of Playa del Carmen.
4. Lounge for Days in Tulum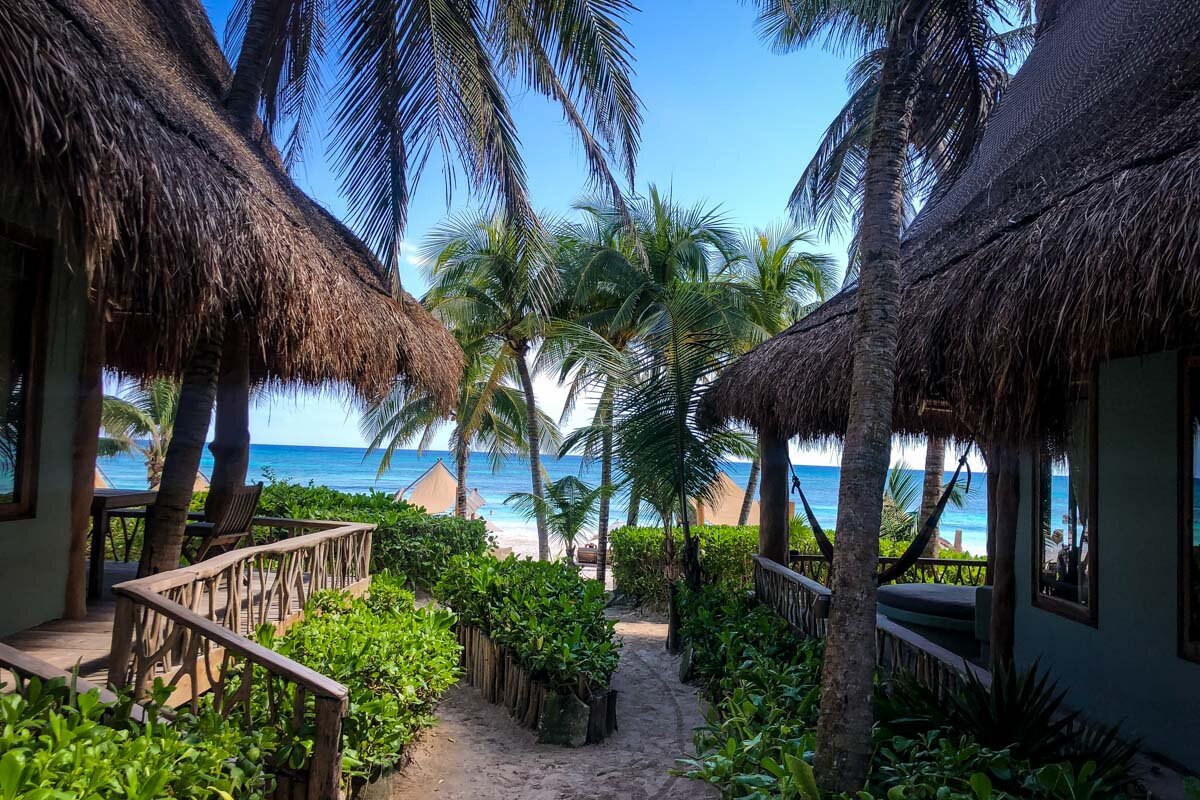 You might be surprised to find Tulum is more than just all-inclusive resorts. We stayed in an eco-friendly geo dome treehouse in the jungle outside of Tulum and had a very different experience than what we've typically seen of Tulum on social media.
Spend your days here lounging on lengths of spectacular beaches Tulum is known for. There are tons of public beach clubs, run by locals in town, where you can pay a small fee for lounge chairs, bar service, and a taste of paradise.
Tulum is also a fun town with a great backpacker culture. Every night you can walk up the main drag to find quirky bars, and lively hangouts. I dare you to not get sucked into the beach bum lifestyle while visiting here!
Tip: At the northern end of Tulum's public beach there is an abandoned lighthouse. Officially, it is off limits, but locals know it as a great hangout spot for viewing the endless ocean and beautiful sunsets over the Yucatán jungle.
Top things to do in Tulum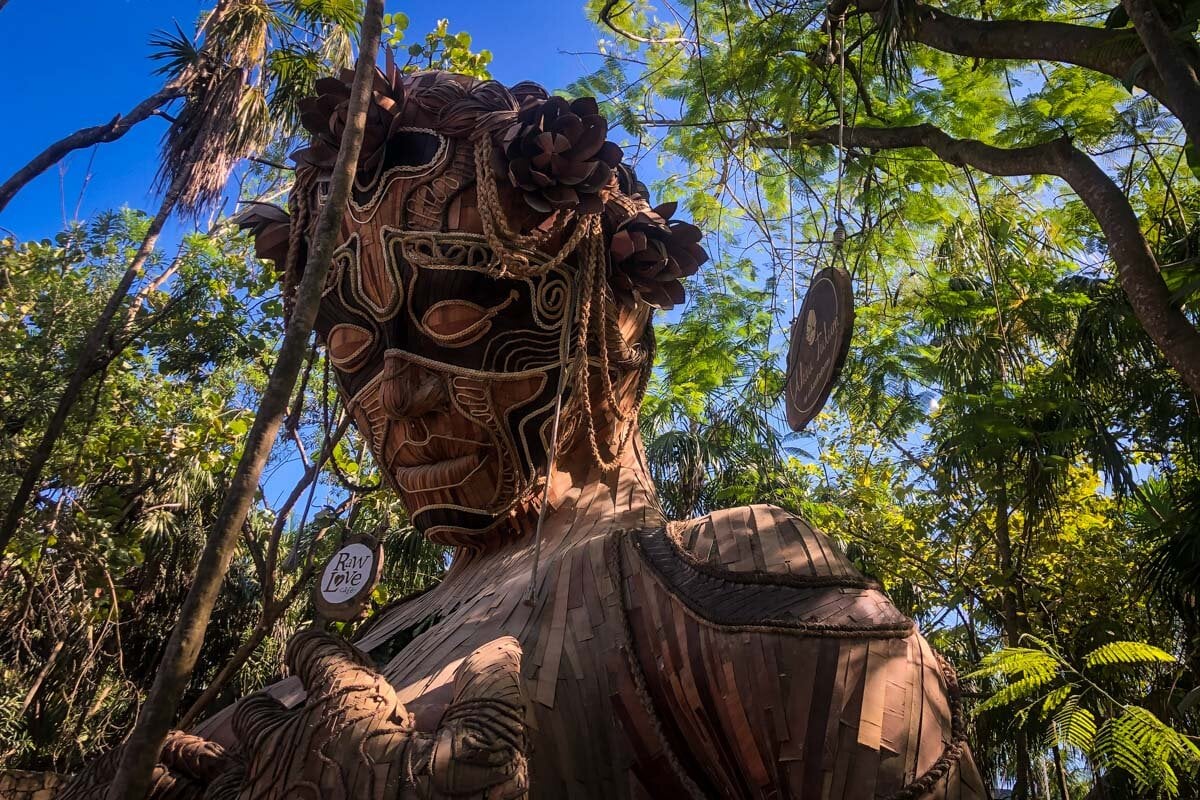 Take a photo in front of the the insta-famous giant wooden sculpture outside the Ahau Tulum Hotel (but know you might have to wait up to 1 hour in line for the photo shoot, depending on the time of day)
Lounge on one of the many public beaches, including Playa Paraiso, named the best beach in Mexico by TripAdvisor
Check out the Tulum Ruins, which are located right on the coast
Try a yoga class: Tulum has gained popularity as a yoga-centric mecca in Mexico
Browse Tulum's boutique shops
Rent a bike and explore the town
Where to eat in Tulum
Taqueria Honorio: A local taco joint with the best tacos in Tulum (in our humble opinion)! Go early because they close at 3 p.m. and oftentimes run out of the most popular varieties.
Burrito Amor: Fun outdoor seating with a large menu (Recommended by Katie and Ben!)
Macondo at Nomade: A delicious and healthy restaurant with instagram-worth interior inside the Nomade hotel.
Charly's Vegan Tacos: Yes you read that right, vegan! You'll find a lot of high quality vegan and vegetarian food in this part of Mexico due to the tourism here.
Posada Margarita: Serving up handmade pasta, this is definitely the best Italian food in Tulum.
Where to stay in Tulum
The town center known as Tulum Pueblo, is actually about a 15 minute drive inland from the coast. It's important to understand the difference when booking accommodation here. You'll have more budget-friendly and backpacker-style accommodation in Tulum Pueblo, whereas the larger and more expensive resorts will be on the coast in the hotel zone.
You can rent a bicycle from your accommodation or in town to get around easier if you don't have a rental car.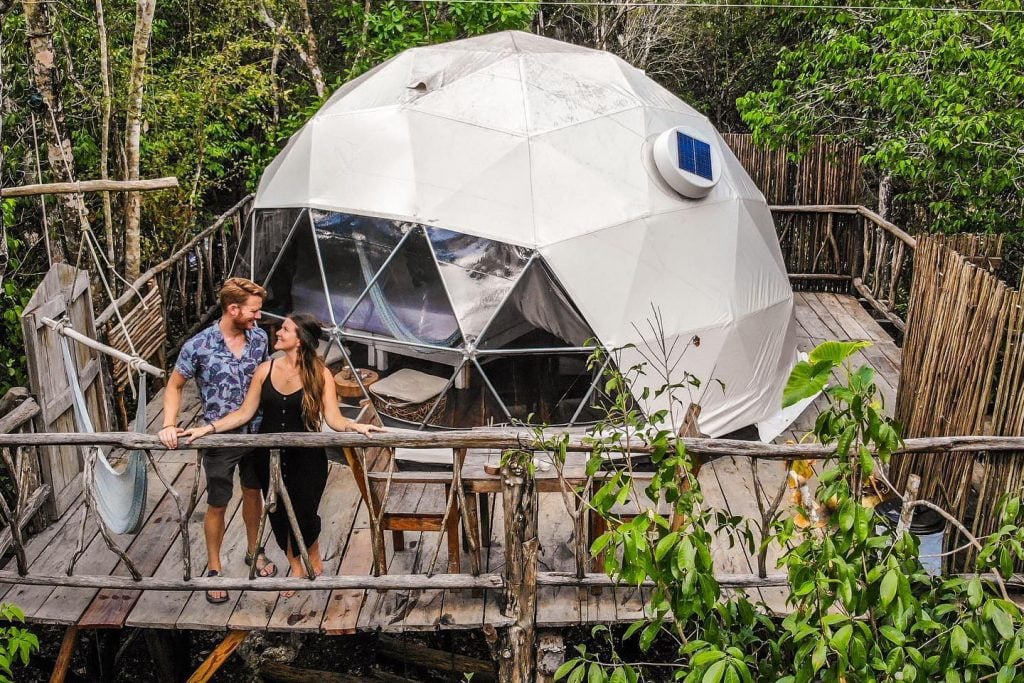 Katie and Ben Recommend: Jungle Treehouse Geo Dome
This off-grid geo dome isn't for everyone, but if you have an adventurous spirit and are looking for an unique off-the-beaten-path experience, we can think of a better place to suit. The dome is very well equipped and the amazing hosts have seemingly thought of everything you need for during your stay.
One of the best parts about staying here is it is located very close to a little known cenote. During our visit there, we had it all to ourselves and it was one of our favorites in all of Mexico. Another highlight was the breakfast at this place. We don't want to spoil the surprise too much but it is magical and changed everyday!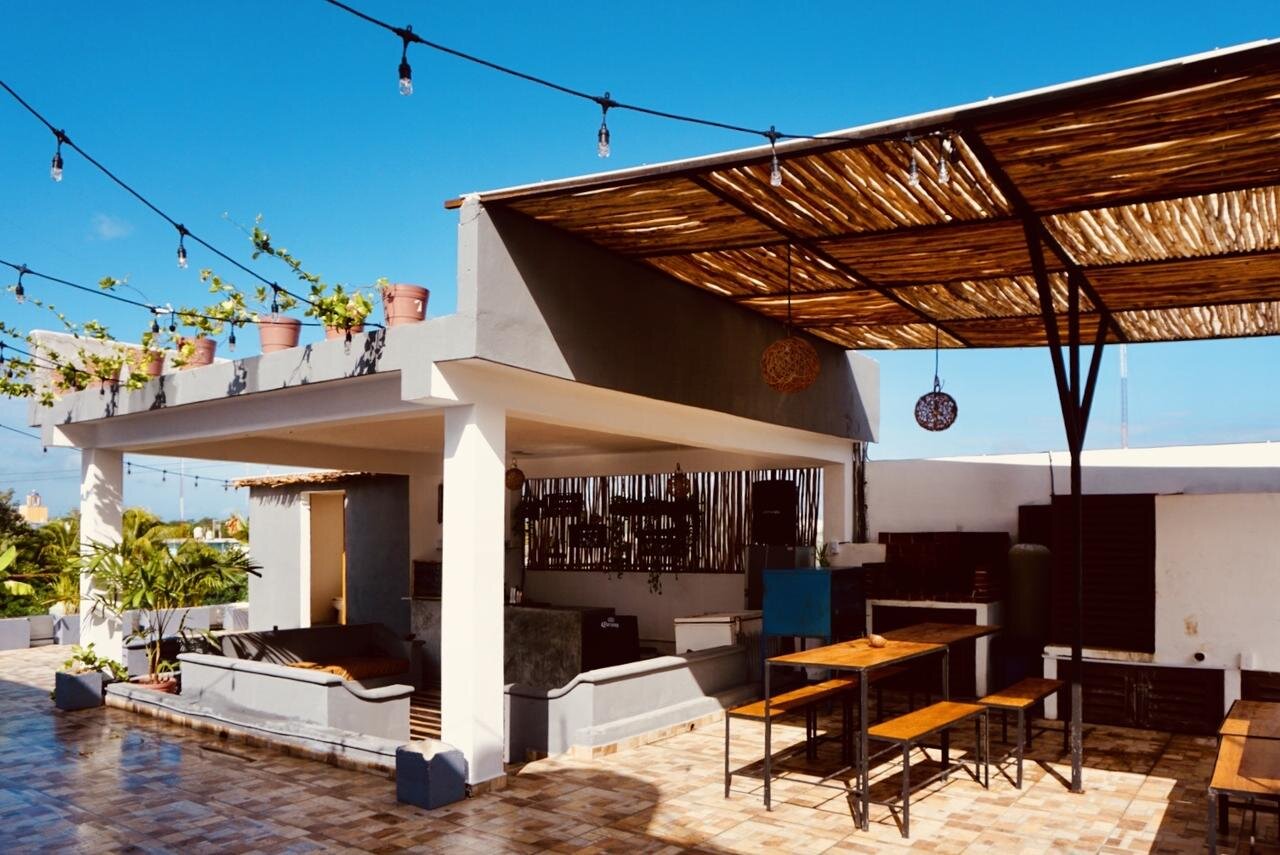 Budget Option: Banana Hostel
This hostel in Tulum Pueblo has fabulous reviews. In fact, it is one of the most popular choices for budget travelers in the area because of its outdoor pool, bar and other facilities.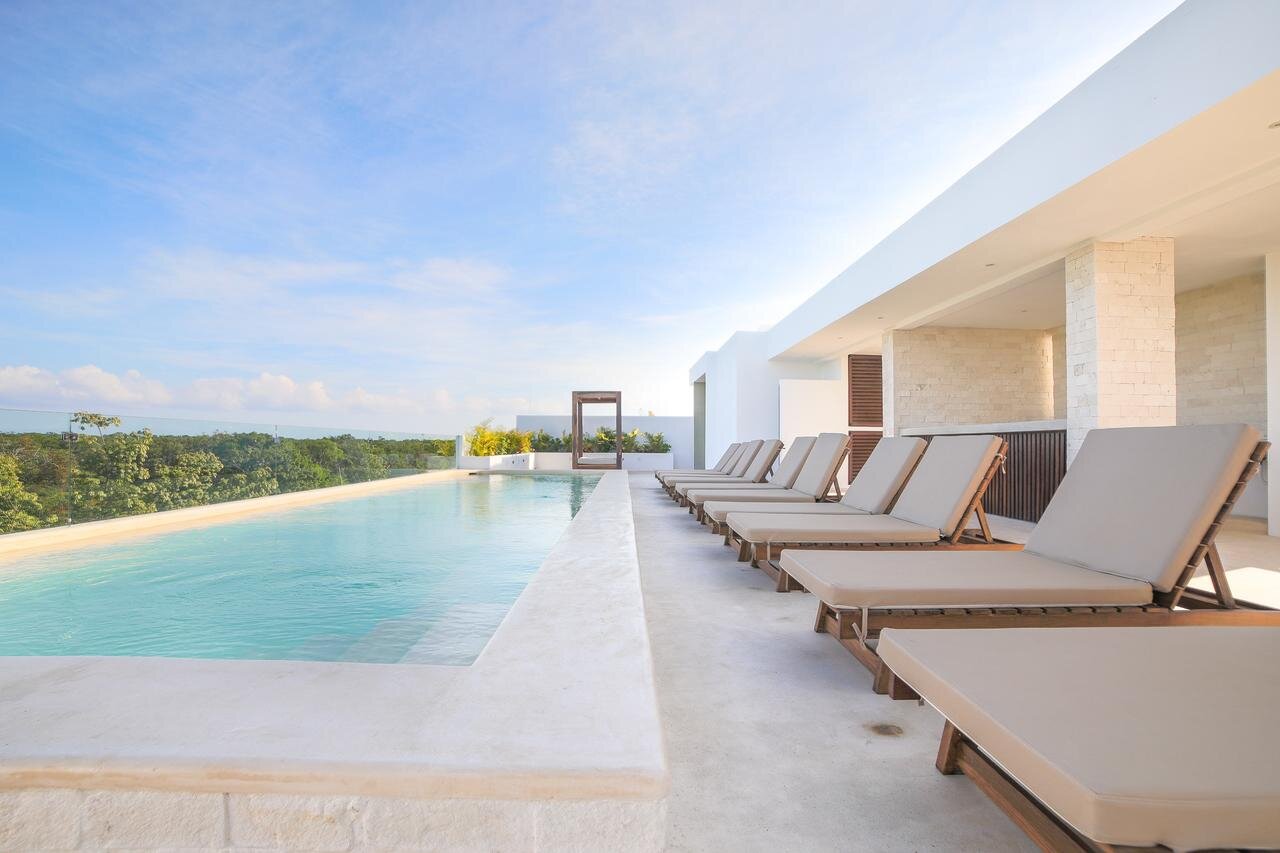 Mid-Range Option: Hotel Blanco Tulum
Get luxury at an affordable price by staying in the city center instead of at the beach. This adult-only hotel offers luxurious guest rooms with a spa-like feel and a rooftop pool and sundeck.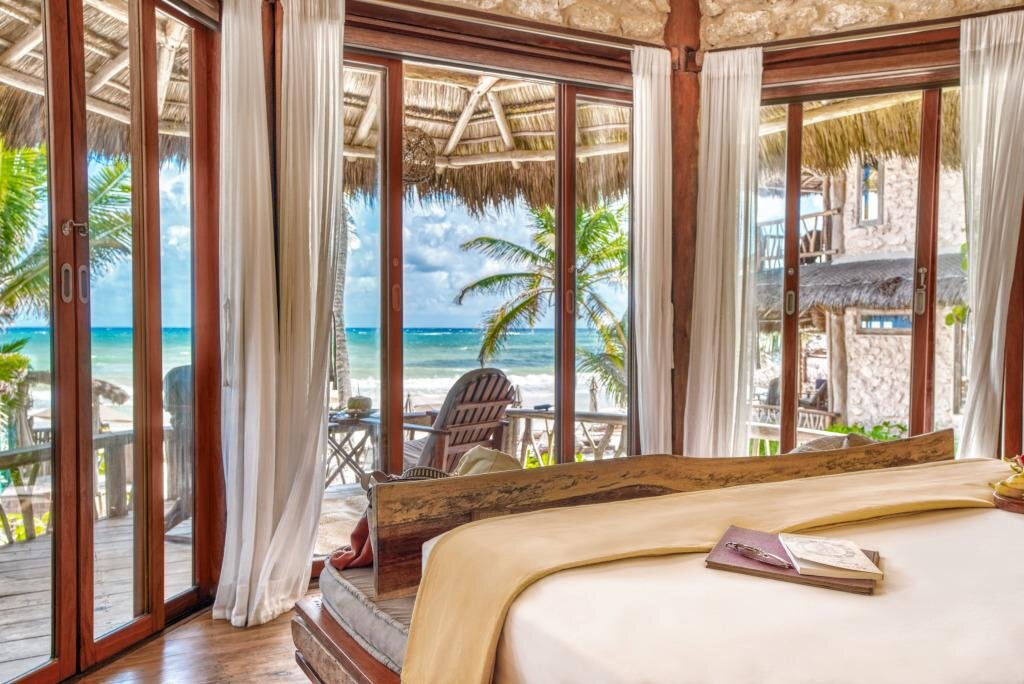 Splurge Option: Alaya Tulum
If beach-side bungalows, a private yoga deck and gourmet onsite restaurant sound like your kind of vacation, then this is the place for you! Just be prepared to fork out the cash for this kind of luxury.
5. Explore the Sian Ka'an Bio Reserve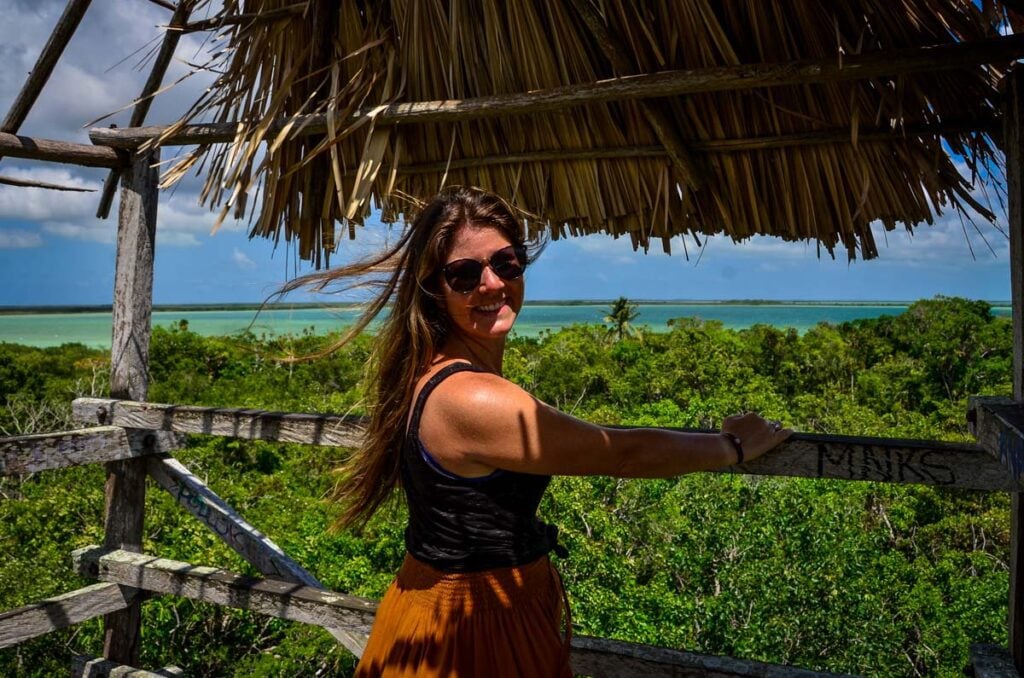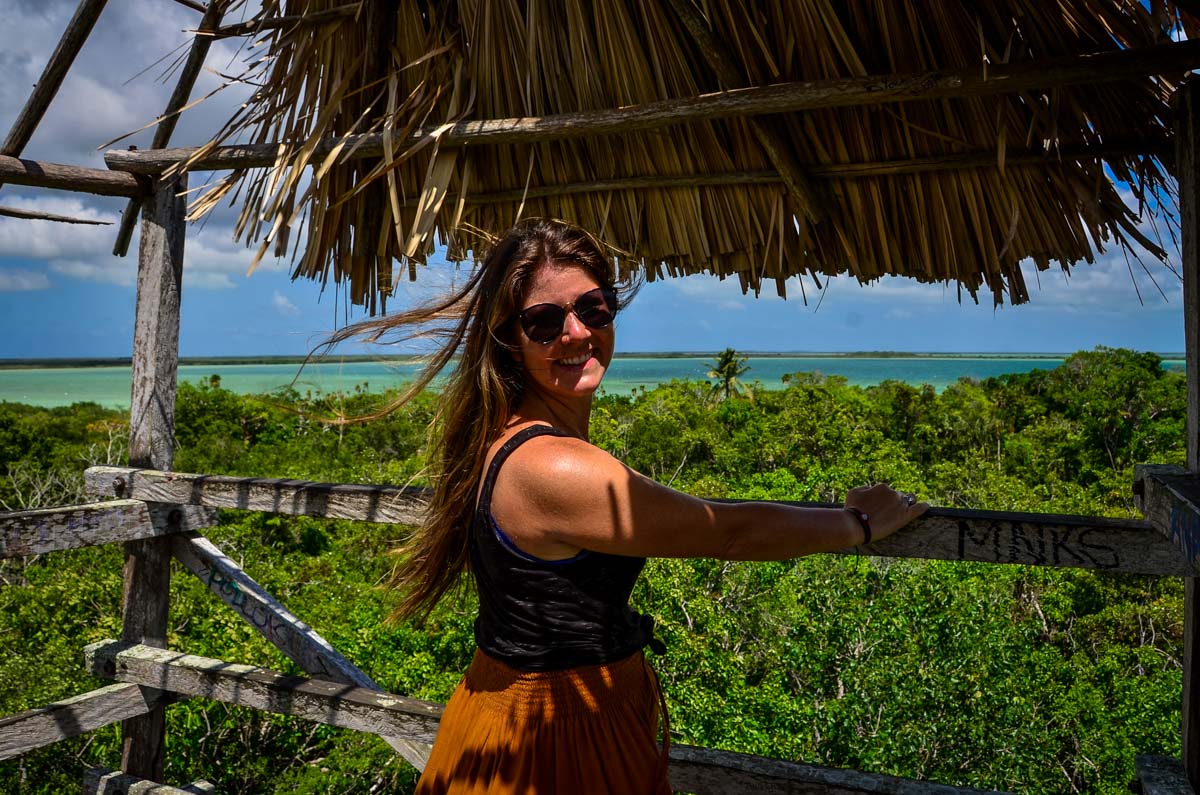 Just south of Tulum you'll find 1.3 million acres of protected land and sea in the Sian Ka'an Biosphere Reserve. Teaming with wildlife, including some rare and endangered species like the black-handed spider monkey and the West Indian manatee, the reserve was given UNESCO World Heritage status and is the largest protected area in Mexico.
The diverse jungle ecosystem offers one of the most unique experiences in the Riviera Maya. Hire a boat to take you out into the lagoons of Sian Ka'an where you can float effortlessly down along ancient waterways surrounded by lush mangroves.
On the coastal side you can go on an ocean safari and spot dolphins and sea turtles in the wild while you get a chance to snorkel over the protected reef system.
We've written in detail all about how to visit the Sian Ka'an Biosphere Reserve without a tour.
6. Visit the beaches in Akumal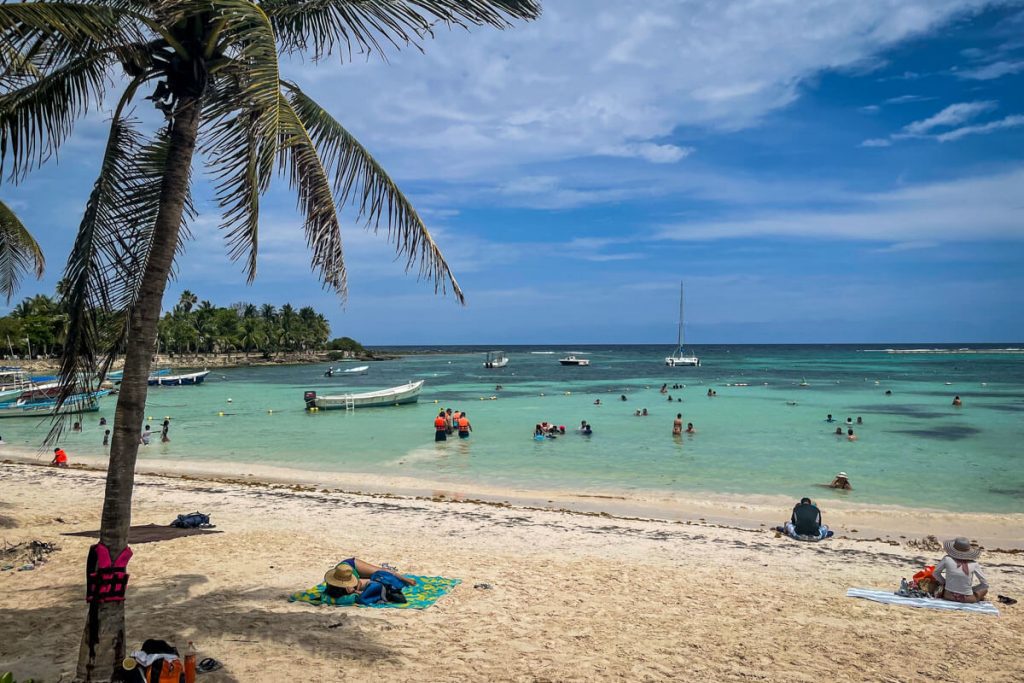 The small town of Akumal is home to some beautiful white sand beaches, as well as a robust offshore reef. It's a great place for snorkeling or lounging in the sunshine, away from the crowds of nearby Playa del Carmen and Tulum.
How to do it yourself:
You can rent snorkel gear at the beach, or ask your accommodation for help in renting as they may be able to find you a better deal. We rented our gear in the town of Tulum before heading out. If you're going for a day trip from Tulum or Playa del Carmen, pack a lunch and some sunscreen and get a colectivo or taxi to Akumal Beach.
Enter the Akumal Beach near the Lol-Ha Restaurant or Akumal Dive Center. You can also enter the beach from the CEA Center building which will charge you $5 USD for the use of their restrooms and locker facilities.
The beach is free to the public under Mexican law, however, the businesses in Akumal have organized to privatize nearly all public access points to the beach. This is why you'll likely see access fees at many "official" beach entrance points.
From the beach you can jump right in, but read below to know what NOT to do in the water. Walk further south to get closer to the off-shore reef.
Important Note about Swimming with Sea Turtles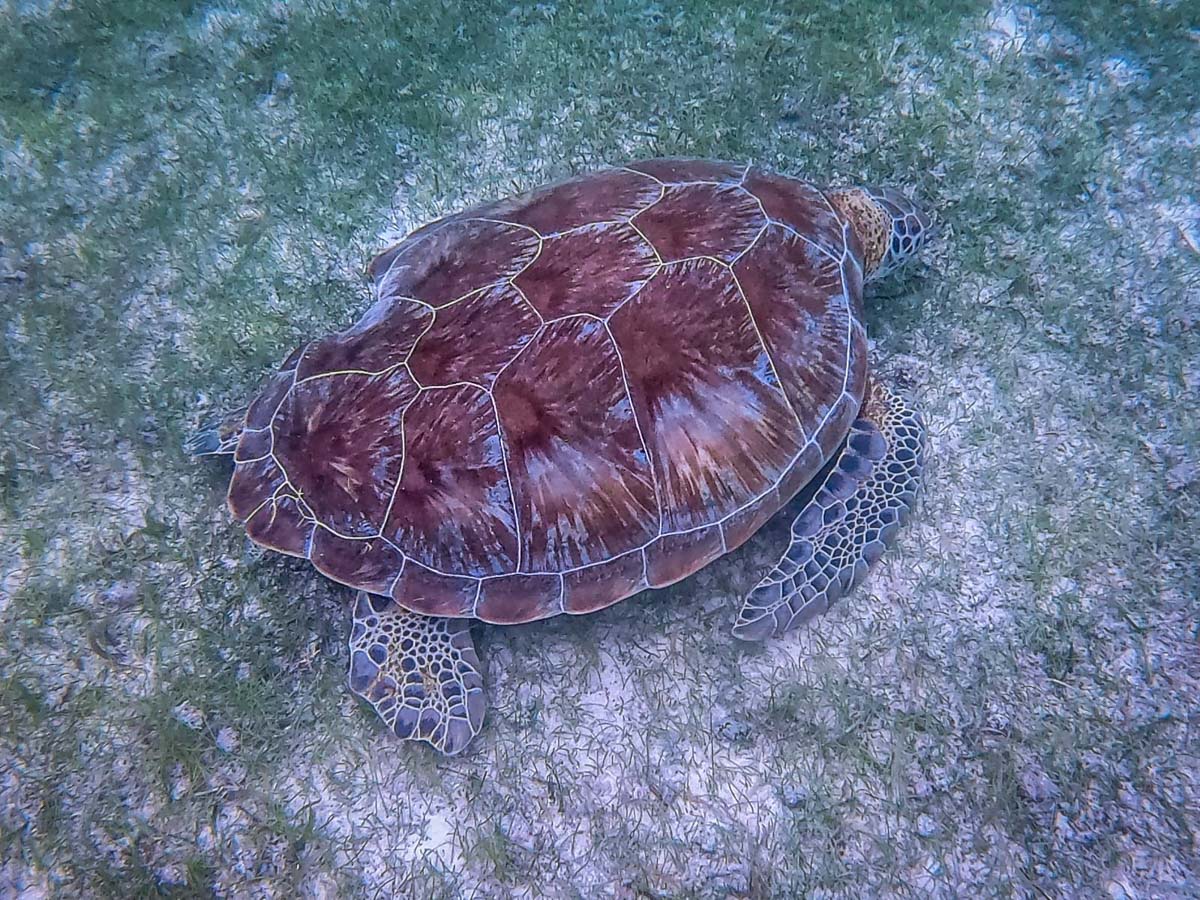 You may have also heard that Akumal is famous for its populations of Green, Hawksbill and Loggerhead sea turtles. You can rent snorkel gear at the beach and dive right in to experience the wonder of swimming alongside these gentle giants in their natural habitat.
However, we think it's important to call out that tourism overtime has scared away many of these gentle sea creatures and where there used to be many, you are now able to see just a few. For this reason, we do not recommend coming to Akumal to swim with the turtles.
If you should decide to go on your own, there are a few things you need to be aware of…
Swimming at Akumal Beach and viewing the turtles has caused a contentious issue between authorities, nearby hotels, and local tour guides who may be aggressive in insisting you cannot swim there without a tour.
We found out that this is because the sea floor here where the turtles graze is a protected area. You are not allowed to go under the surface of the water or touch the ocean floor while swimming in this area. This is why all the tours will be using life jackets and insist you cannot go without a tour.
You can learn more about the ecosystem management and sustainability efforts from the Centro Ecological Akumal.
As with any animal encounter in the wild, it is important to be respectful of the natural habitat. Keep a safe distance as you observe, NEVER touch a wild animal, and do not try to feed or otherwise lure the animals to you by any means. Remember you are a guest in their world and you should never disturb the natural order.
Related: Check out all of our resources on traveling responsibly and sustainably around the world.
7. Post up in Playa del Carmen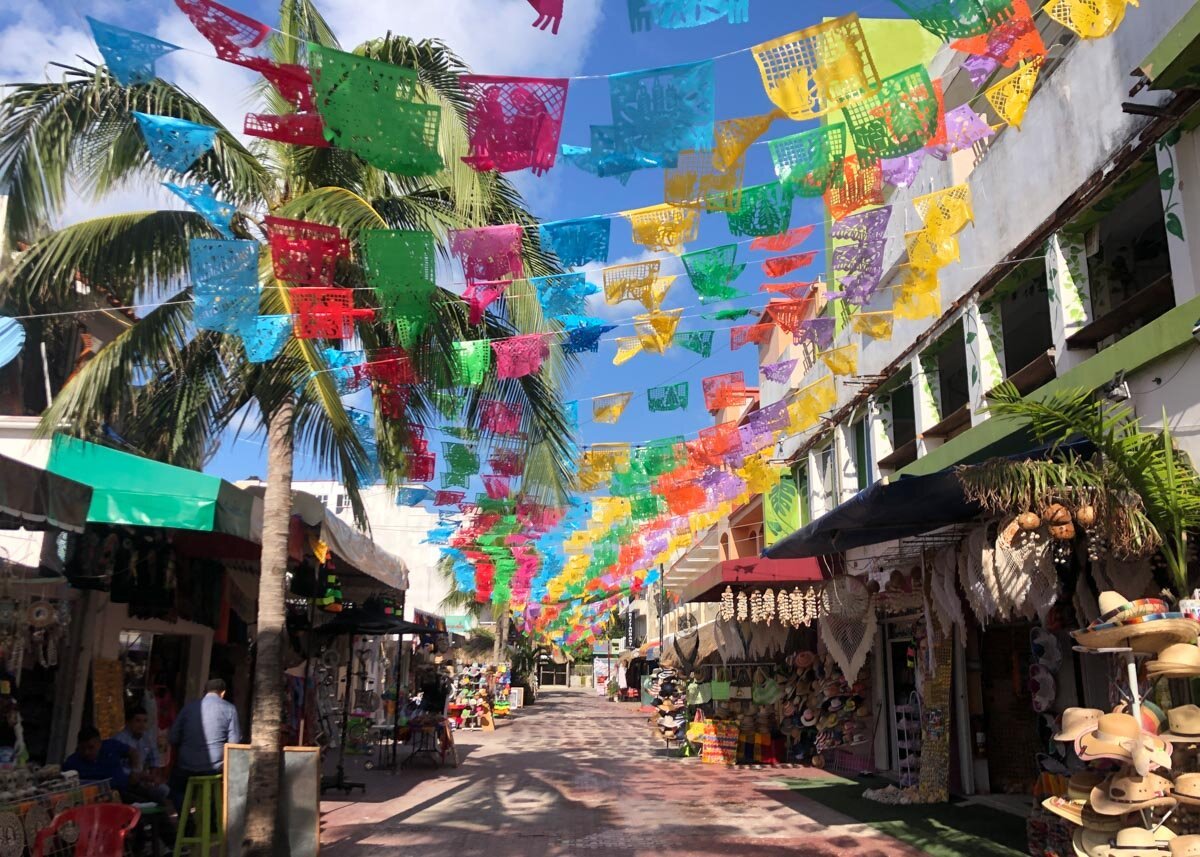 Playa del Carmen makes an excellent hub for exploring the coast of Mexico's Yucatan peninsula. It's a large enough city to offer a diverse range of accommodation options, plenty of delicious restaurants (including international cuisine and lots of healthy and even vegan options!) and lots of things to do.
While it's become pretty popular with the resort-going tourists, there is so much more to the city and it's pleasantly less crowded than its northern neighbor, Cancun.
Will you be traveling from Cancun? There are several options for transportation between the two cities, and we have a detailed guide on how to travel from Cancun to Playa del Carmen which outlines all of your options.
Top things to do in Playa del Carmen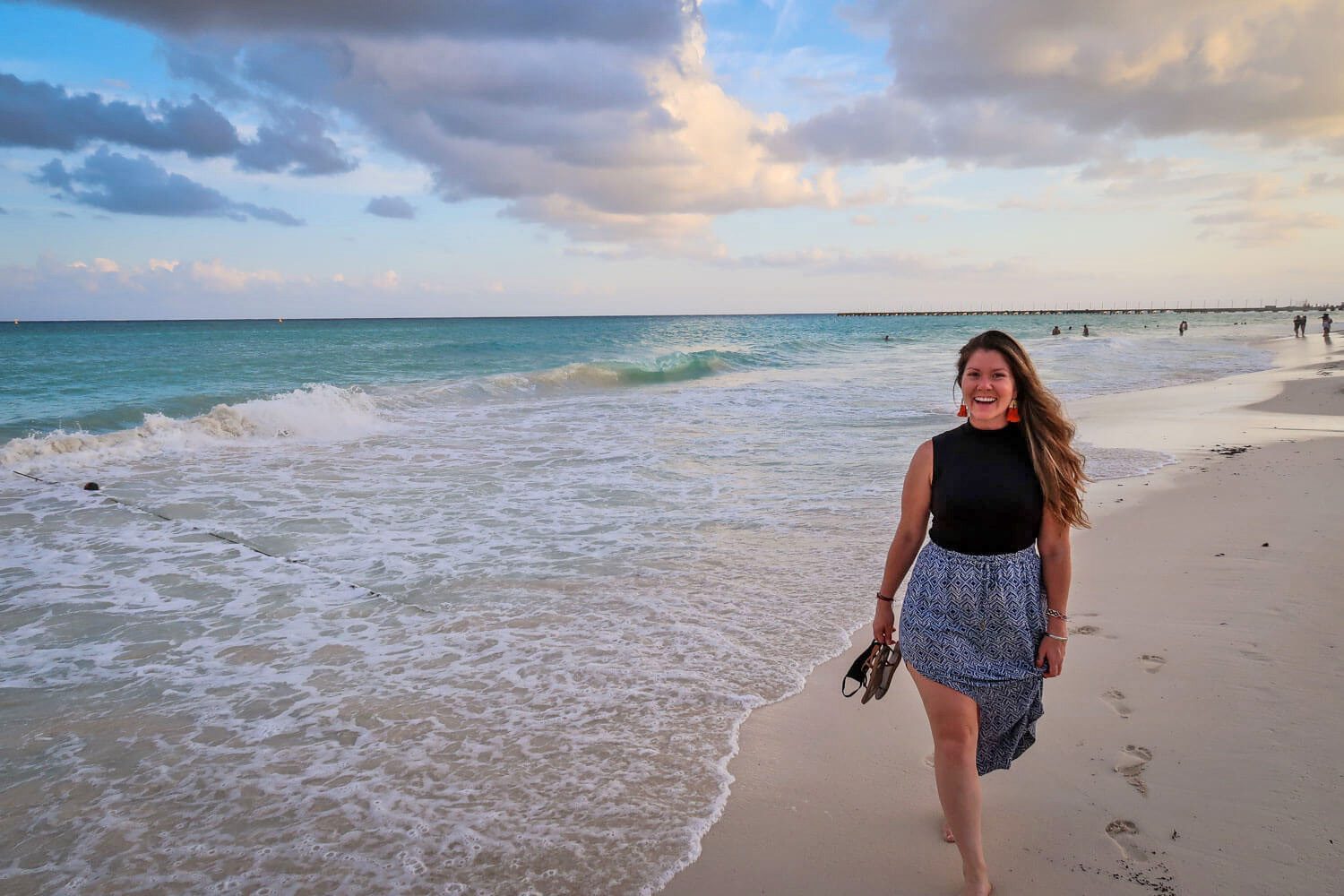 Head to the beach: All of the beaches in Mexico are free and open to the public
Go snorkeling or diving to incredible reefs in the area
Stroll down 5th Avenue and shop/eat/party your way through
Eat all the tacos al pastor you can get your hands on
Hit up a rooftop pool or beach club
Party the night away at one of the many nightclubs
Where to eat in Playa del Carmen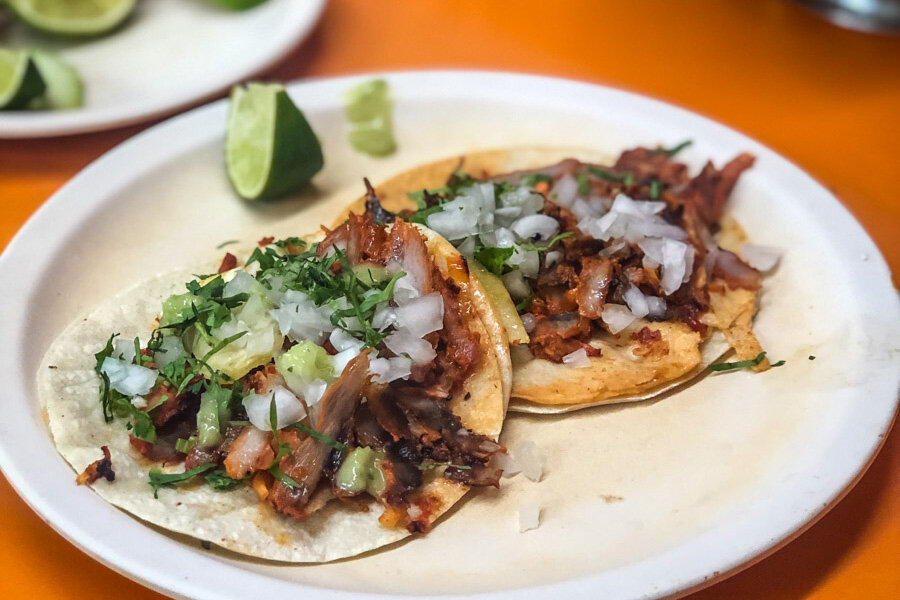 El Fogón: With multiple locations in Playa, this local taco joint is the place to get the best tacos al pastor. We recommend the location on 30 Av. Nte. as the location on Av. Constituyentes always seem to have a line up the block.
Birria Tacos y Consome: Right up there in the number one spot with Fogón is Birria for the best tacos in Playa. What Fogón does for al pastor, Birria does for… well birria.
Rockas Jamaican Kitchen: Head to Rockas for an authentic Jamaican culinary experience.
Fresco Habito: A healthy cafe with insta-worthy smoothies and salad bowls.
Osteria de Roma: An Italian-run restaurant serving up homemade Italian dishes like gnocchi and my personal favorite, cacio e pepe.
Mercado 30: From the street you'll enter what looks to be Bajo Cafe. If you walk through the cafe you'll see plenty of space for laptop workers and Peace & Bowls (another restaurant concept who shares a menu with Bajo) at the back near a small pool.
Mu Burgerhouse: If you're craving a burger and fries, you'll want to head straight here.
Where to stay in Playa del Carmen
The great thing about Playa del Carmen is that it is incredibly walkable, as long as you are staying near the main strip: 5th Avenue.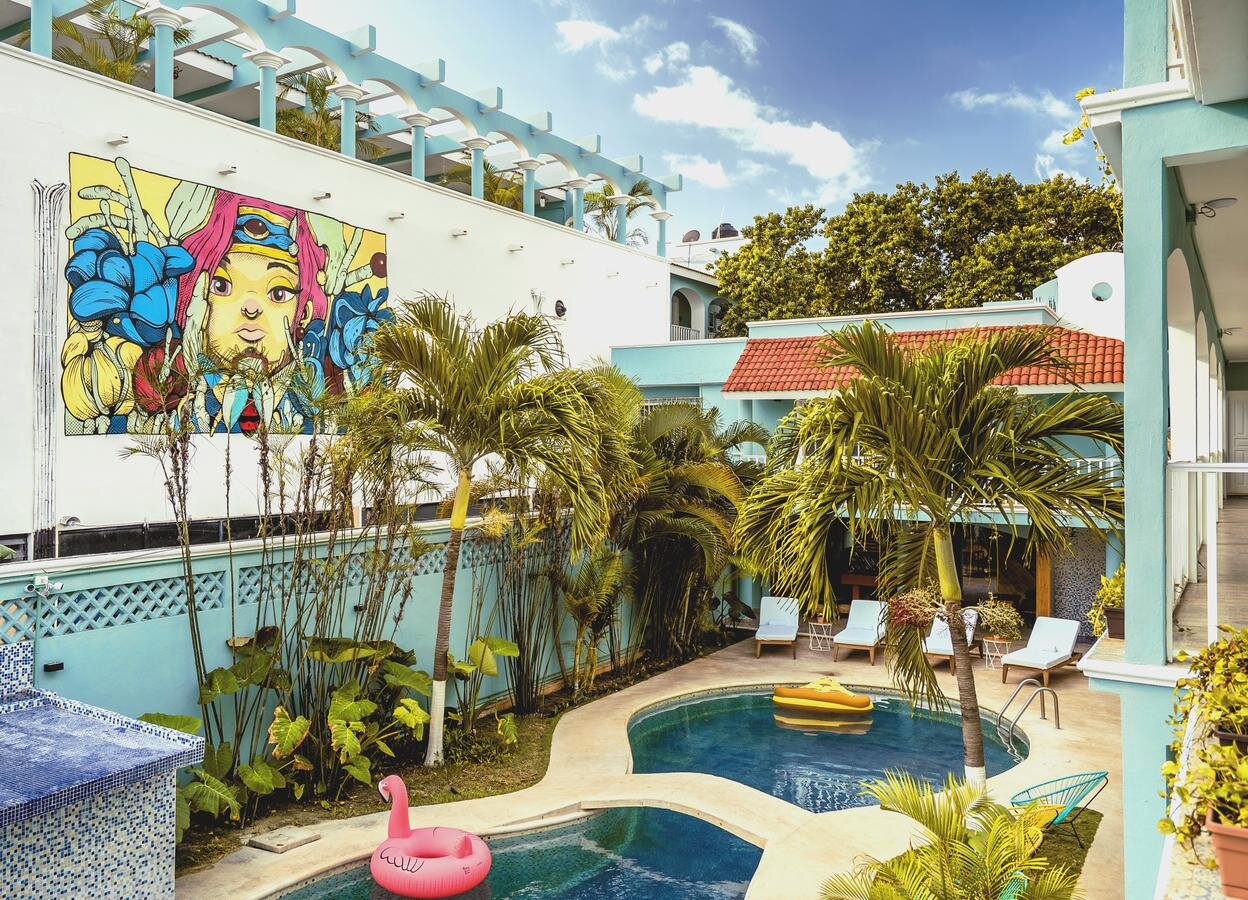 Budget Option: Selina Playa del Carmen
Selina hostels are known throughout central and south America for being great places to socialize and get work done (for all you digital nomads out there!). Located on 5th Ave, just a block from the beach, this is a great place to call home for the budget-conscious travelers in Playa.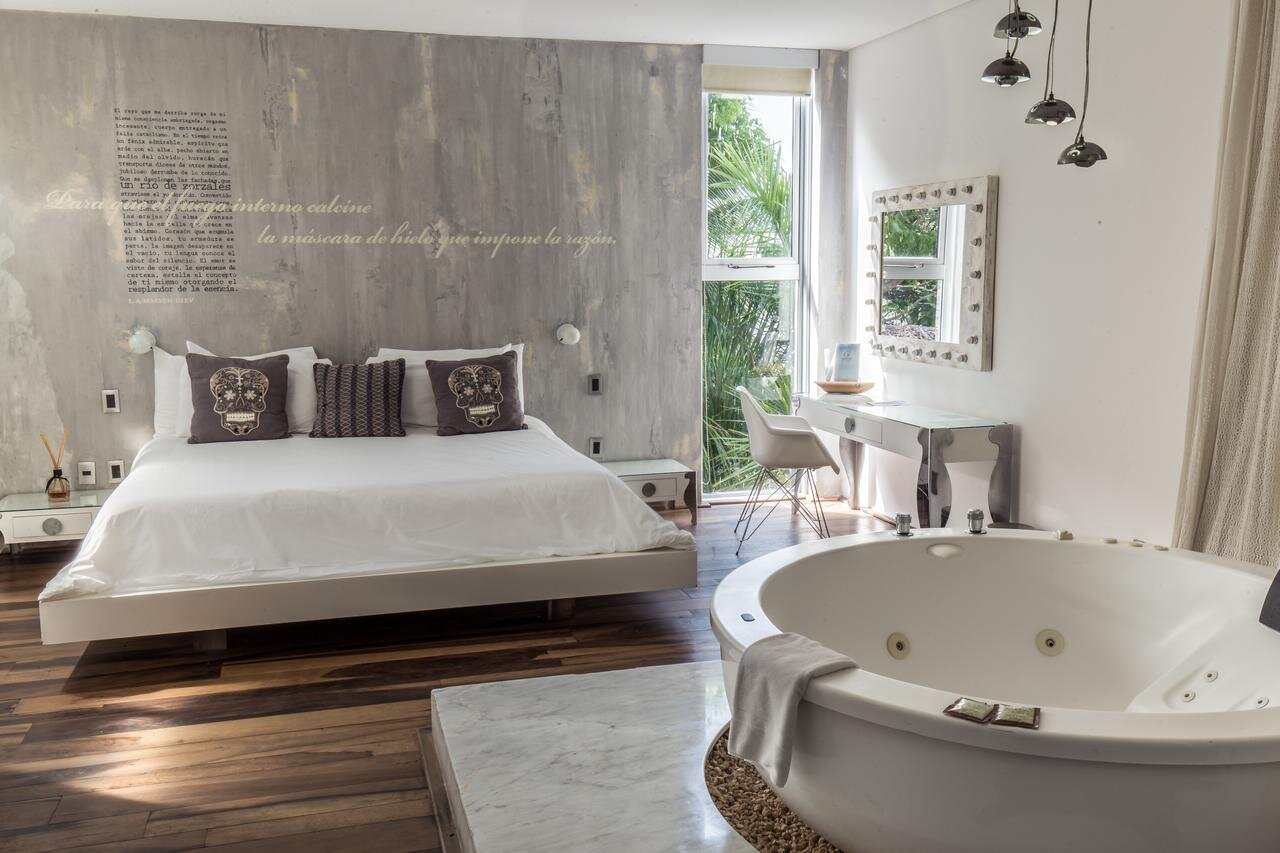 Mid-Range Option: BE Playa Boutique Hotel
This luxurious boutique hotel is in a great location just a block of 5th Avenue. The rooftop pool and bar is a great place for a sunset happy hour, and it's within walking distance to many great restaurants, shops and the beach.
8. Take the ferry to Cozumel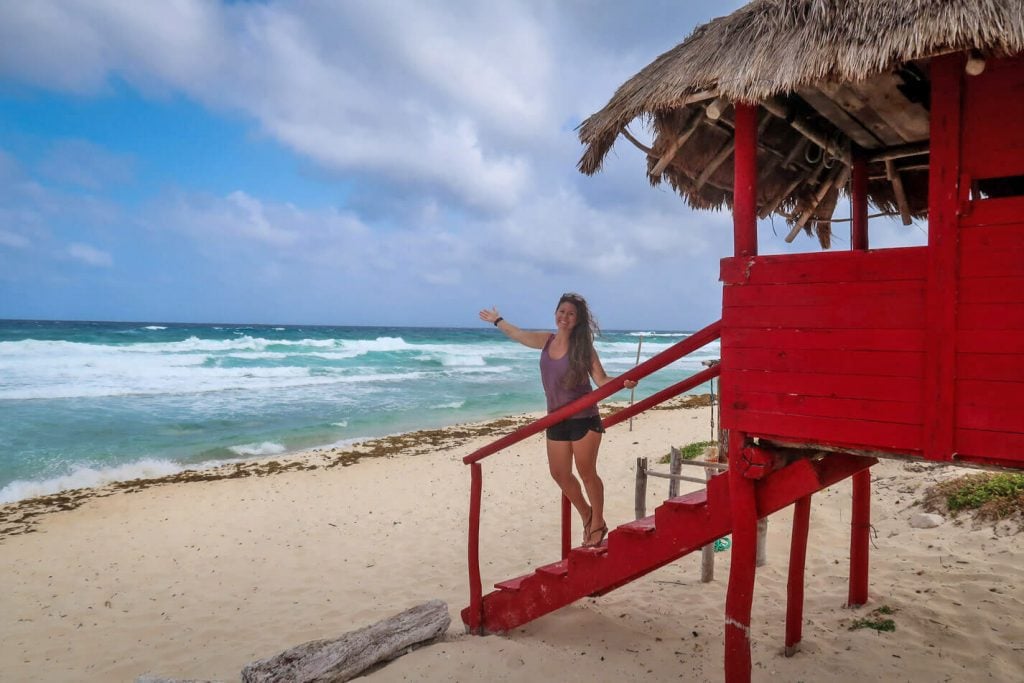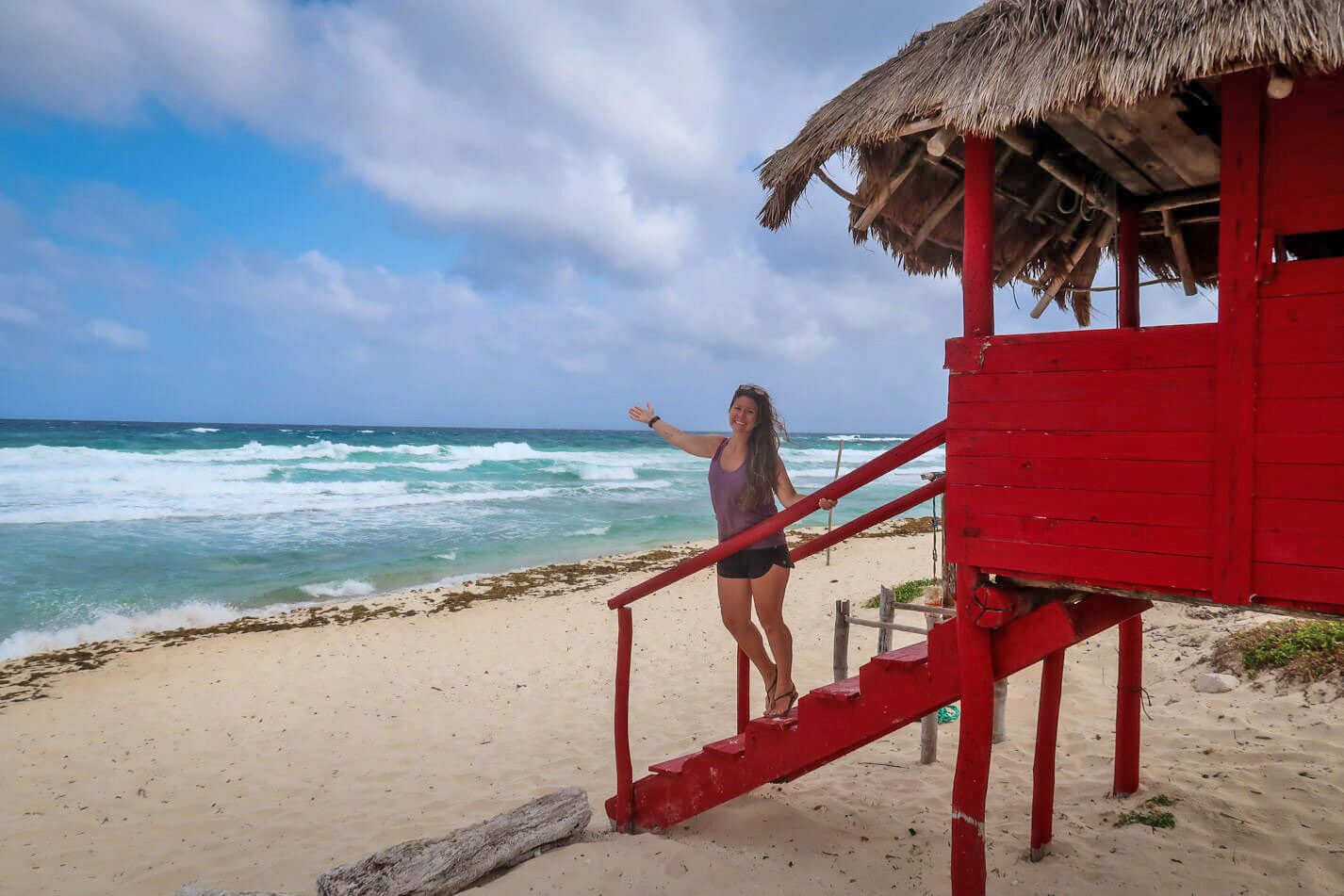 This large island in the Caribbean Sea is just an hour ferry ride from Playa del Carmen and makes for an exciting day trip. Known as a popular cruise ship destination, the majority of the island is actually undeveloped and therefore can be a great place to explore via scooter.
While there isn't much to do on the island other than lounging on beaches and scooting around, the main reason most travelers come to Cozumel is to discover the underwater playground lying not far off it's coast. The Cozumel reef system is part of the Mesoamerican Barrier Reef System (which connects to the barrier reef in Belize), the second largest coral reef system in the world.
This is one of the best places for scuba diving in the world and well-worth the visit if you are a certified diver. If you are someone who is curious about the sport but has never done a dive before, no worries! Dive shops in Cozumel offer "discovery dives" which include an introduction to the equipment, breathing underwater, and have trained guides who will accompany you on your very first dive.
Other Things to do in Cozumel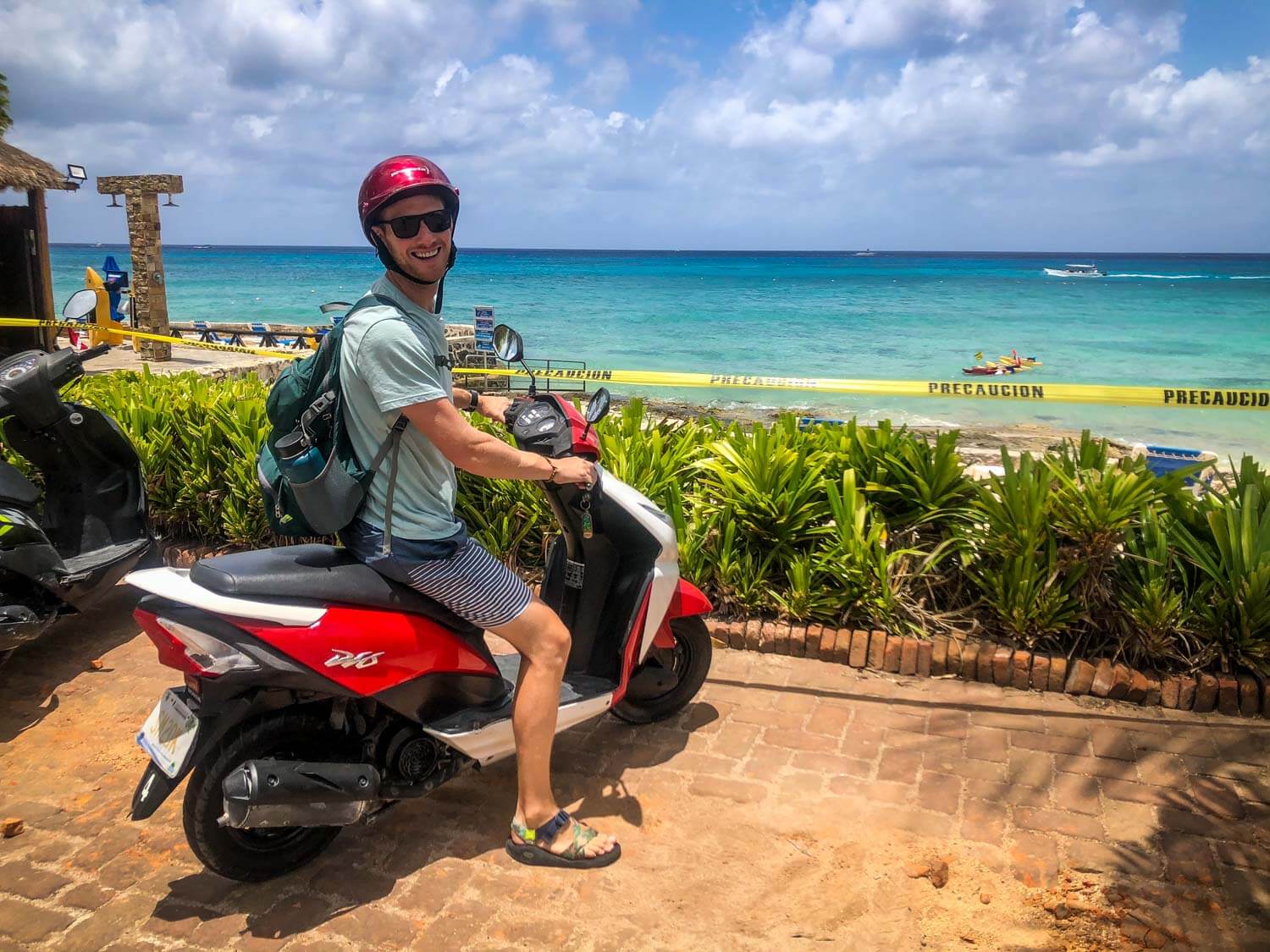 Rent a scooter or topless car (not your typical convertible, these cars look like they've had the tops cut right off) to explore
Visit Punta Sur Eco Park for beaches, snorkeling, wildlife and a lighthouse
Go snorkeling at el Cielo sandbar aka "heaven", known as one of the best snorkeling spots in Cozumel and for its abundance of starfish
Visit the San Gervasio Mayan ruins
Taste handmade chocolate and learn about the traditional process from seed to chocolate bar at the Mayan Cacao Company
Go deep underwater with Atlantis submarines
Tour the family owned and operated Cozumel Pearl Farm
Try a new water sport such as SUP boarding, aqua biking, helmet diving or deep sea fishing
How to get to Cozumel from Playa del Carmen
You can catch a ferry to Cozumel just about every half hour or so* from the ferry terminal in Playa del Carmen, at the southernmost end of 5th Avenue, near the Portal Maya.
We've written in detail about how to purchase your ferry tickets and what you need to know in our Playa del Carmen article (just scroll down to #20!).
9. Check out Puerto Morelos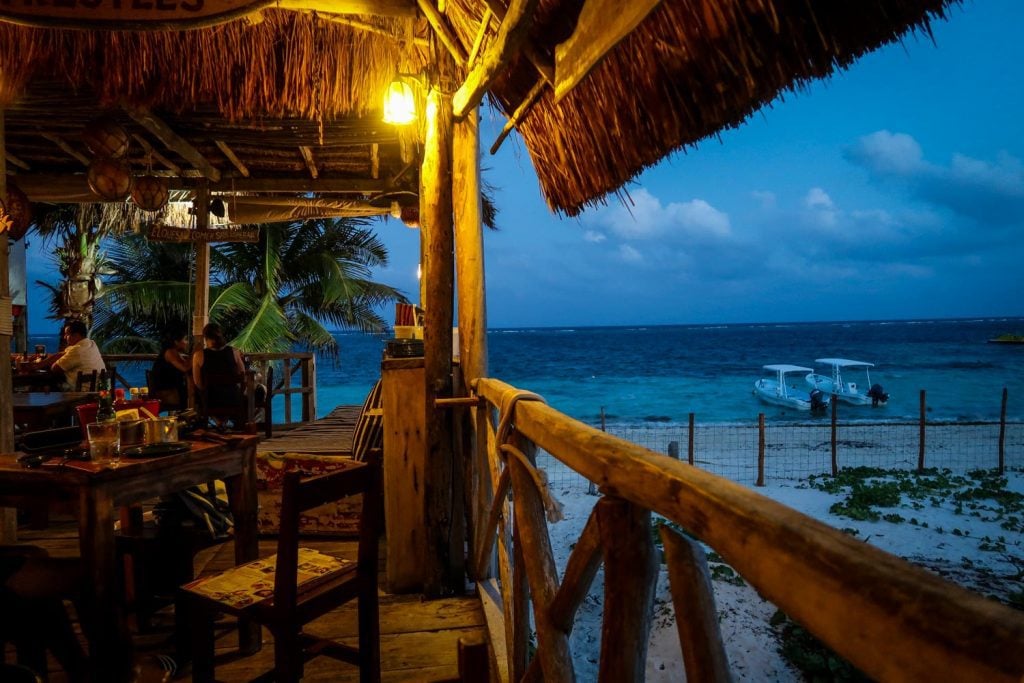 A small fishing village in Mexico's Riviera Maya, this hidden gem has not been overrun by tourism and retains much of its authentic charm. Situated about halfway between Cancun and Playa del Carmen, this sleepy coastal town is the perfect place to stick your toes in the sand while enjoying a good book with a margarita in hand.
Don't be fooled by the relaxed Caribbean vibe, there is still plenty to keep you occupied here during your stay…
Things to do in Puerto Morelos
The diving here is said to be excellent. Go snorkeling or diving with a Marine Biologist
Take a BBQ cooking class with a Netflix featured chef from Chef's Table
Visit Jardín Botánico Dr. Alfredo Barrera Marín, Mexico's most biodiverse botanical gardens
Relax at a beach club
Check out the shops and restaurants in town
Eat plenty of fresh seafood (Katie and Ben recommend the sea side restaurant at Merkadito del Mar)
10. Venture to Isla Holbox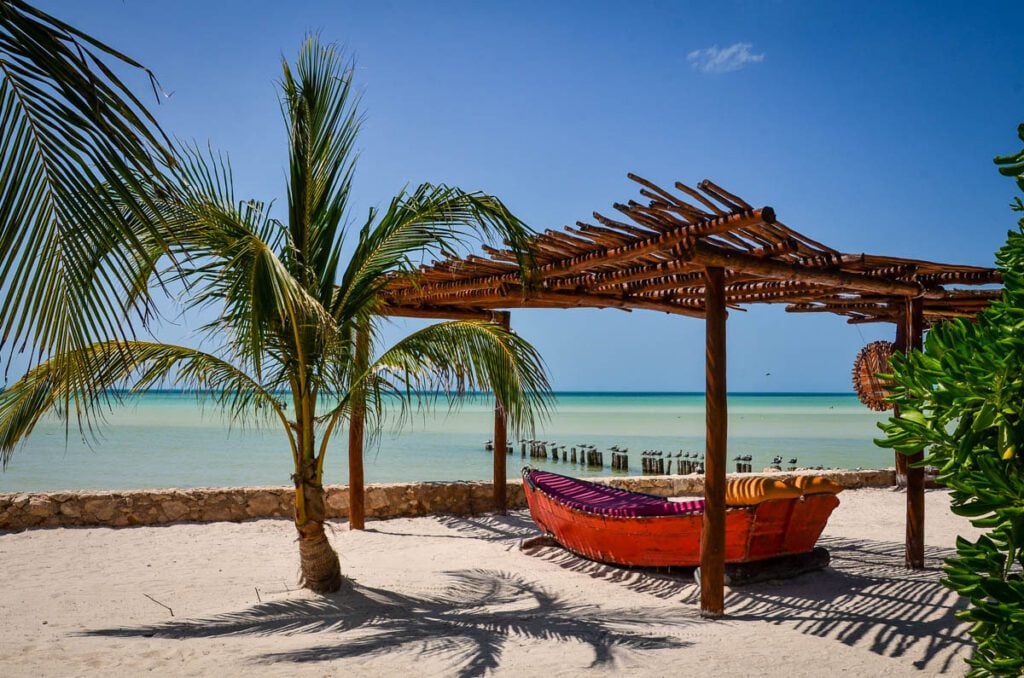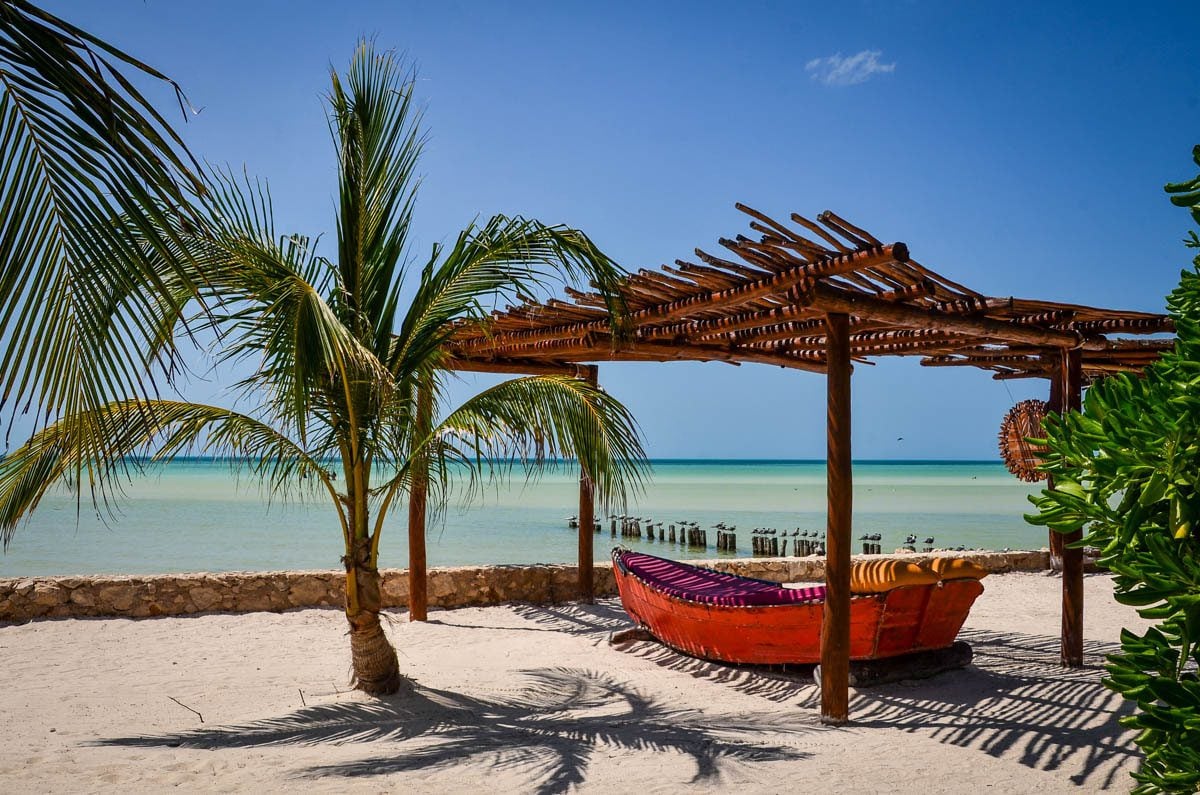 Another island off the Yucatán Peninsula that is gaining in popularity is the peaceful, car-free island known as Isla Holbox (pronounced 'hole-bah-shh'). Located in the north between the Caribbean Sea and the Gulf of Mexico, the island is part of the Yum Balam Nature Reserve and is only accessible by ferry.
The only way to access the island is by ferry, which we've described in detail in our guide on how to get from Cancun to Holbox that outlines everything you'll need to know.
We also have a complete guide to visiting the Isla Holbox Mexico, including all the fun things to do, where to eat and where to stay. But if you want a quick run down, here are some of our top suggestions.
Top things to do in Isla Holbox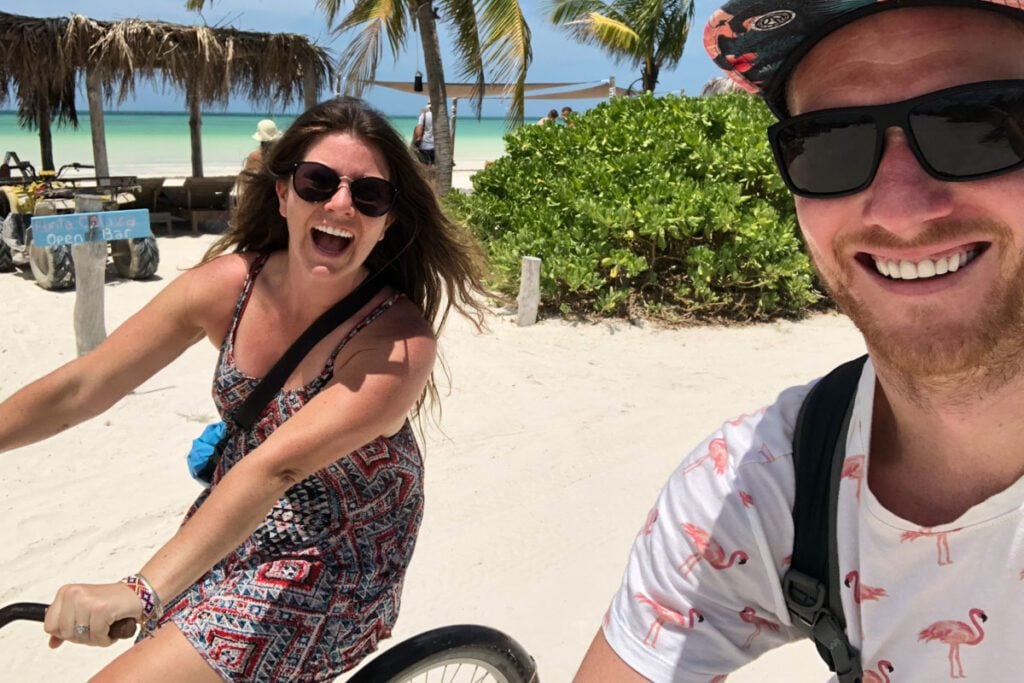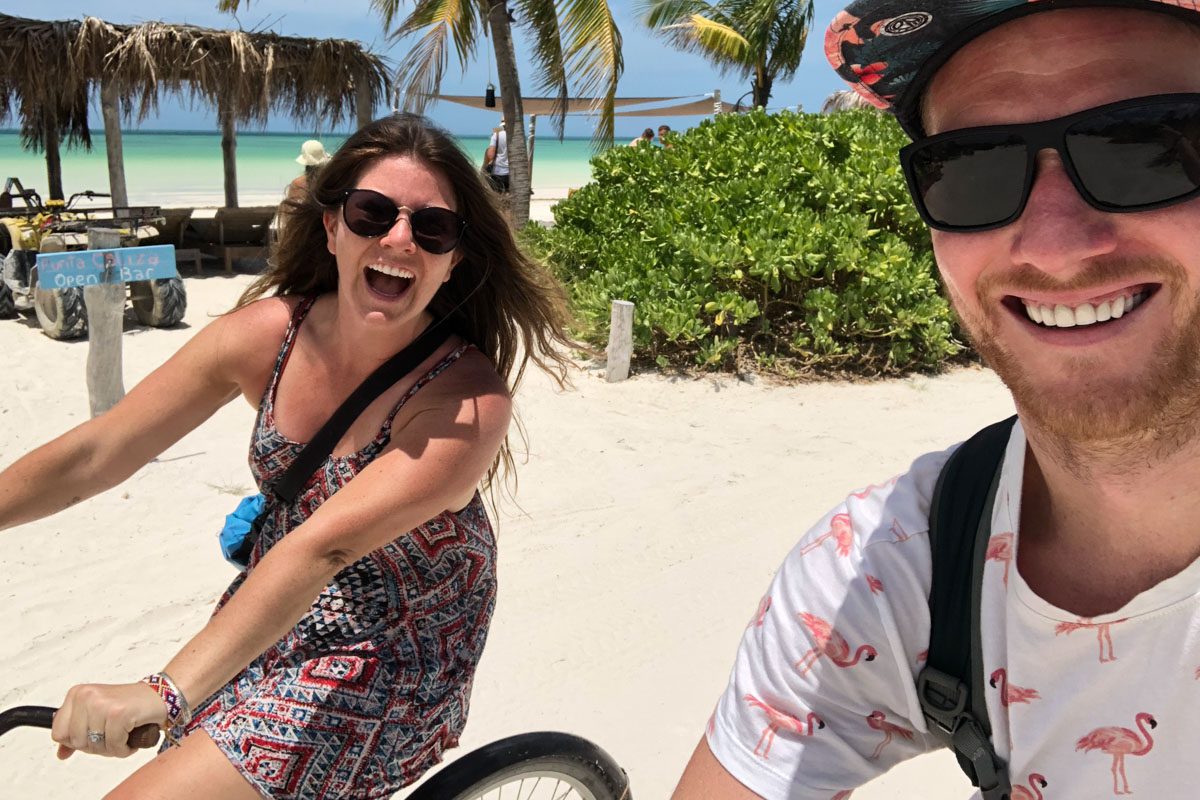 Go swimming with whale sharks: this is possibly one of the top things this island is known for and if you're there from June – mid-September, you will have a chance to see them up close and personal!
Swim with bioluminescent plankton at night: Another thing this island is known for. We strongly recommend going with a tour as the walk to the part of the island that has the bioluminescence is far and you'll get eaten alive by bugs if you don't get lost along the way.
Explore the island by bicycle: check out the street art, shops and eateries all over town.
Walk on a sand bar for a mile. Park your bike just past Hotel de Nubes and follow the small trail at the end of the road to the water. You'll have the wade into chest deep water for about 50 feet until you reach the sandbar.
Take a boat tour to see the flamingos in the Yalahau Lagoon.
Kayak through the mangroves of the nature reserve.
Go snorkeling at Cabo Catoche, where the Caribbean Sea and the Atlantic Ocean meet.
Tip: Bring as much cash as you think you'll need to Isla Holbox as there are not many ATMs and the likelihood of them working is 50/50.
11. Visit the Lagoon of Seven Colors in Bacalar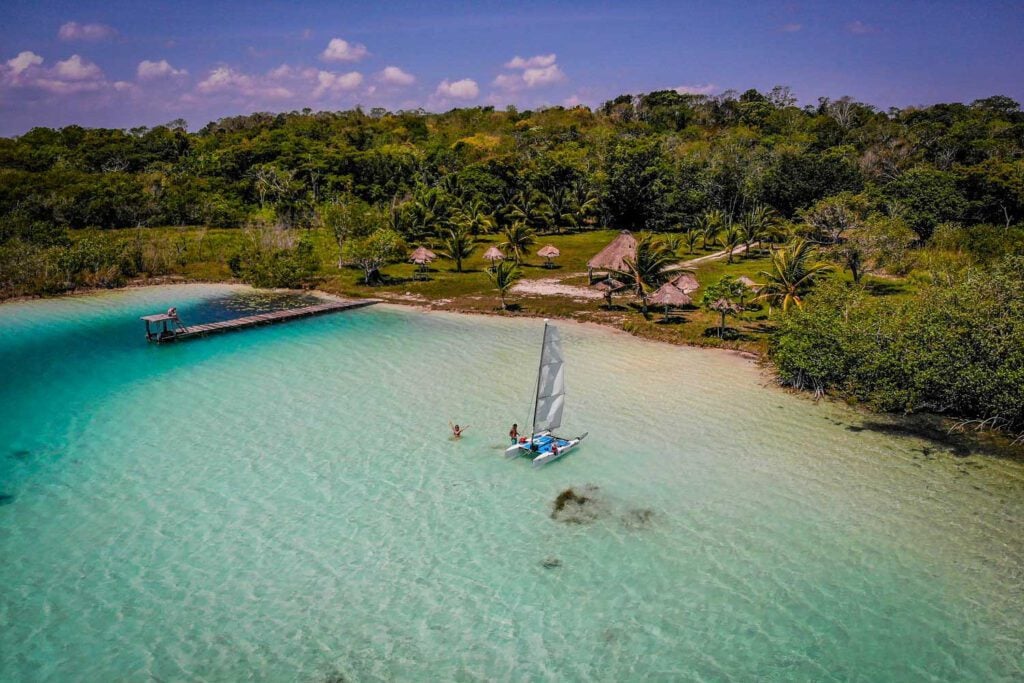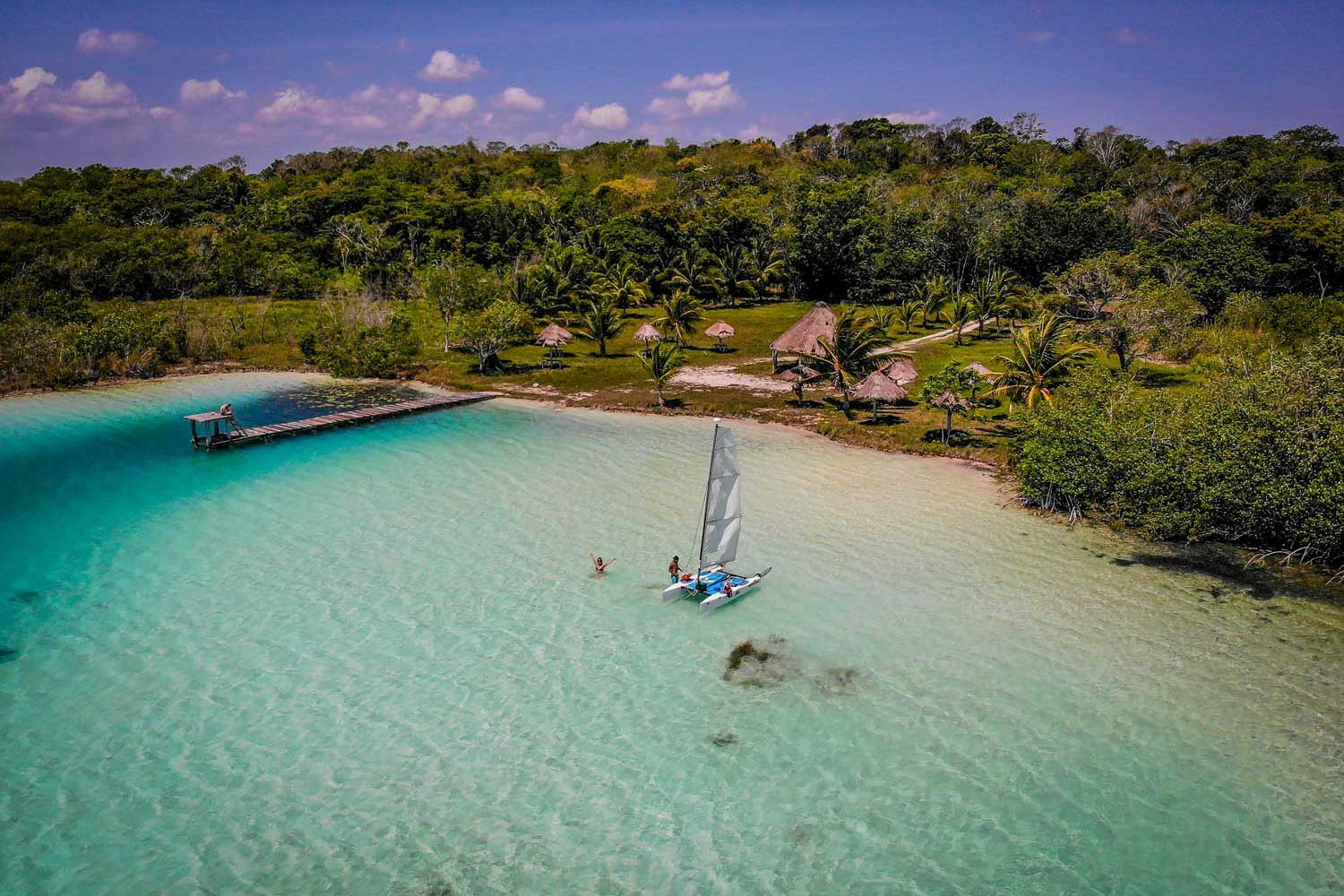 Located in the southern tip of the Yucatán Peninsula near the Belize border is the small town of Bacalar. This town is probably best known for its lagoon, aptly named the Lagoon of Seven Colors as it appears in seven miraculous shades of turquoise blue.
The small town hasn't felt the rush of mass tourism yet, and is more popular among backpackers than resort goers, so the vibe is pretty relaxed.
Note on the Lagoon Colors: Because of the Yucatán coast repeatedly getting hit by hurricanes due to climate change, the turquoise blue colors of what the lagoon used to be, have dulled slightly in certain areas to light blue and shades of green. Growing tourism in the area has also affected the water's colors as more people pollute the lagoon.
Eco-tourism in Bacalar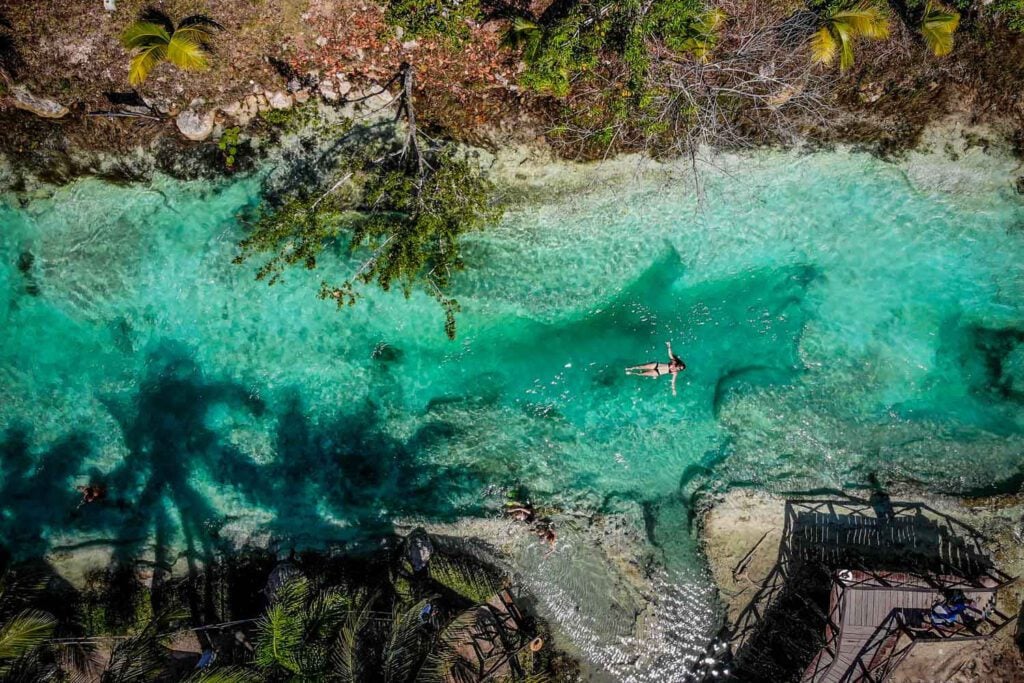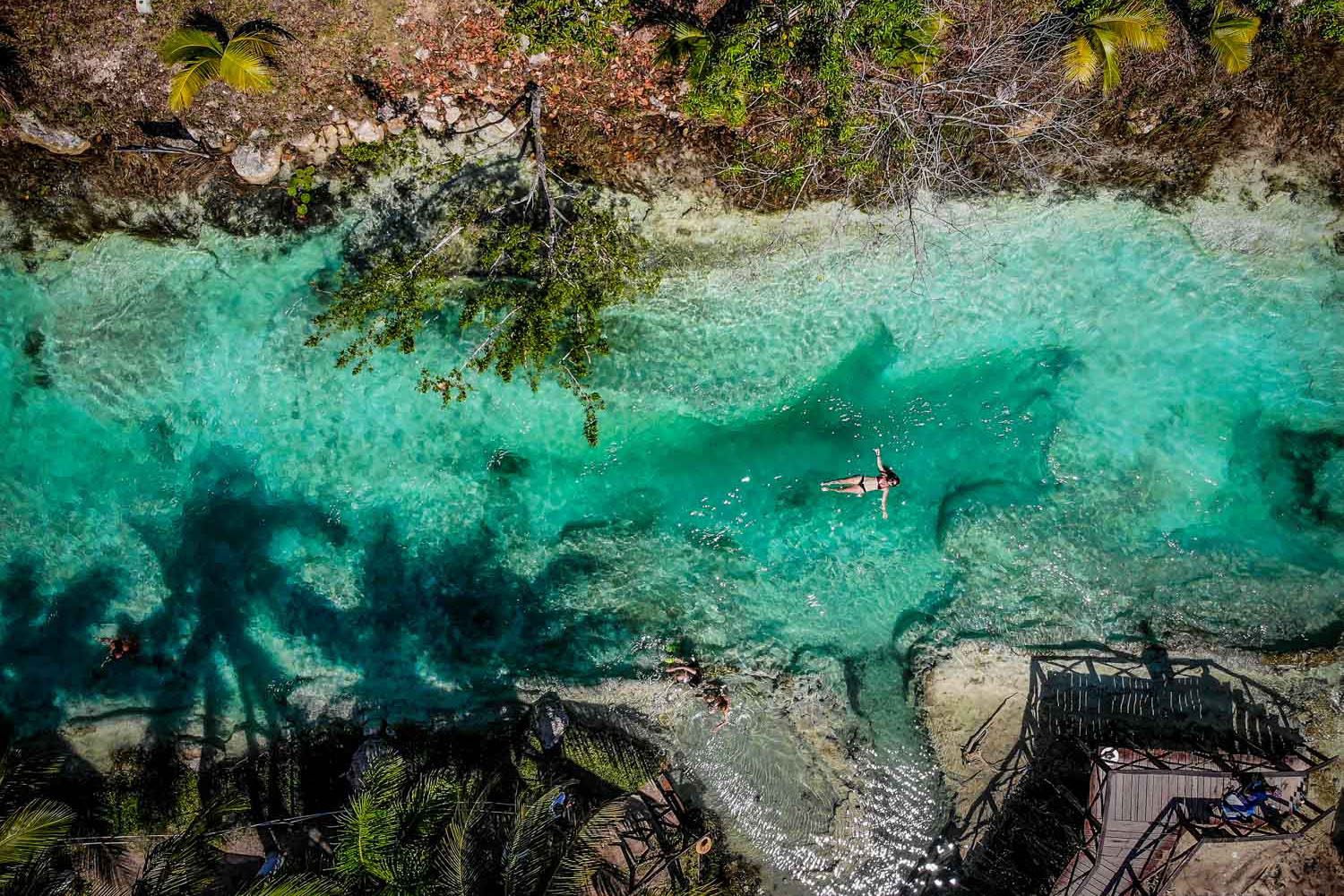 Because of the rapidly dulling colors of the water, the local government implemented a rule where all motorized boats are not allowed on the lake for one day a week to help regenerate the ecosystem.
We recommend doing a sailing boat tour in the south section of the lake where the water is still turquoise and you can see the stromatolites, or living rocks, up close from the boat.
Yes, you heard that right, living rocks! Stromatolites are prehistoric (yes, really really old) rocks that have the special ability to photosynthesize and therefore filter the water using sunlight and release oxygen. These rocks have gained this ability over millions of years and can be ruined by one step of a tourist. Please do not touch or walk on these unique rocks that are helping regenerate the Lagoon of Seven Colors.
How to get there: Bacalar is about a 3-hour drive straight down the coast from Playa del Carmen through Tulum. The easiest way to get there is to rent a car and make the drive yourself. However, ADO buses make the journey once a day from Playa del Carmen. A ticket will cost you about $25 and the ride will take 4 hours.
Top things to do in Bacalar: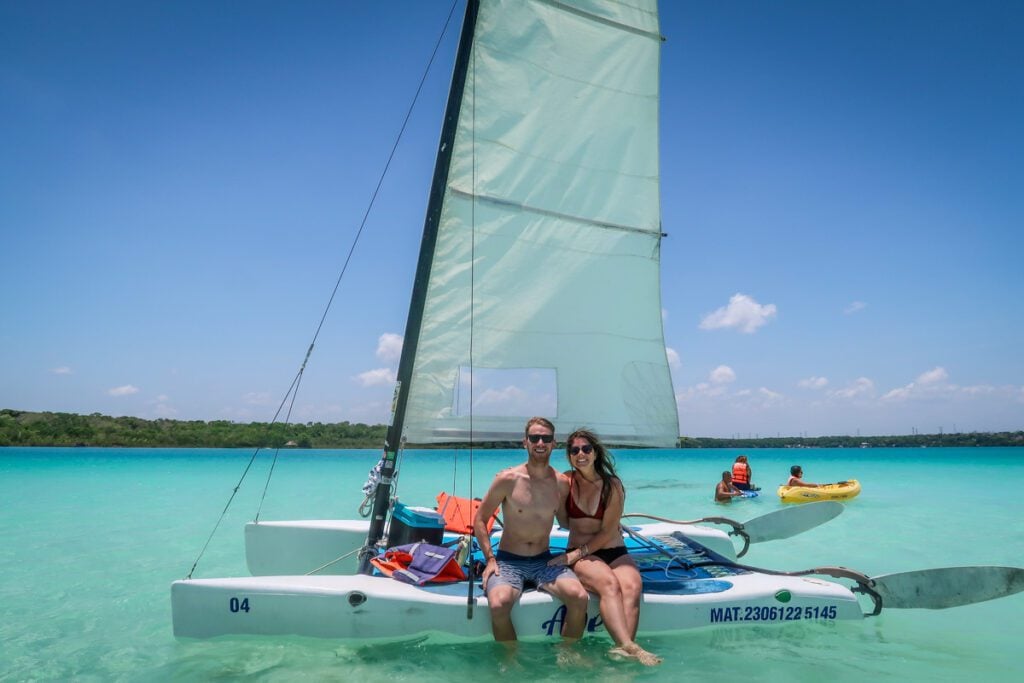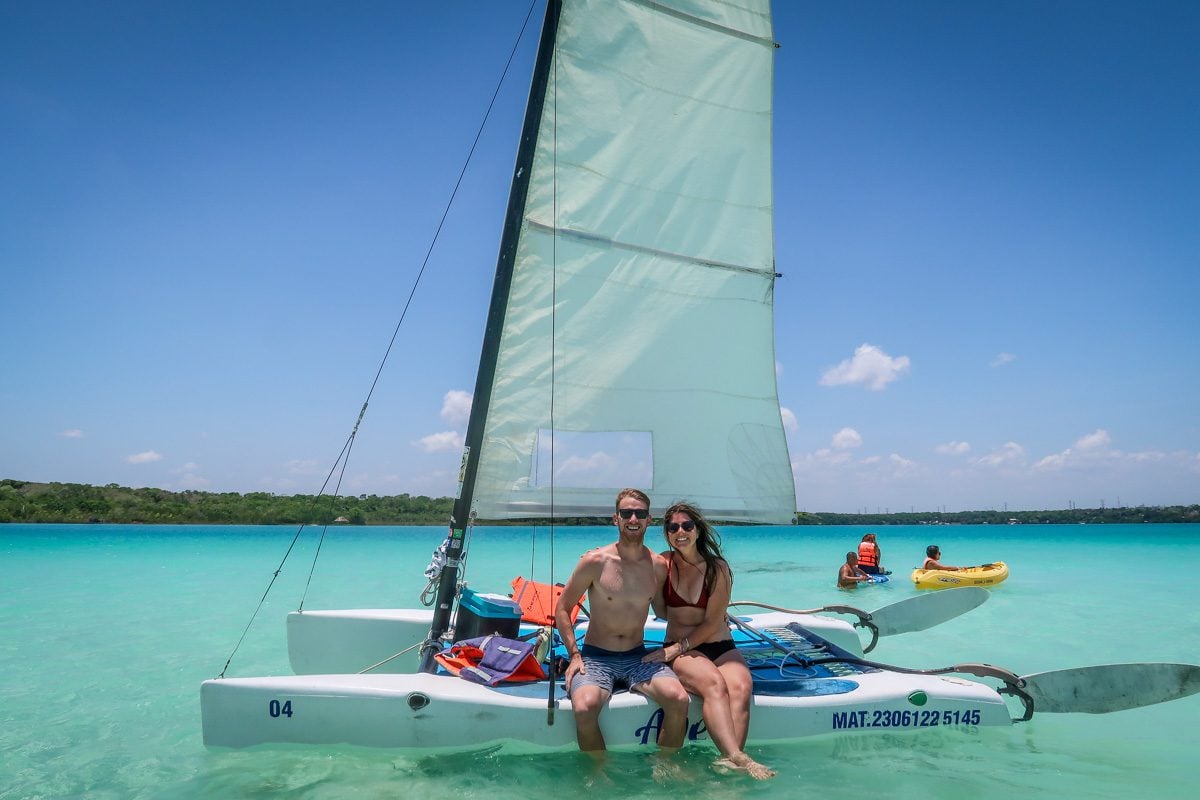 Go kayaking, swimming, or sailing on the lagoon
Visit the Fuerte de San Felipe, an 18th-century Spanish fort which is now home to a museum about piracy
Check out nearby Cenote Azul, one of the deepest in the region
Take a sail boat tour around the lower portion of the lake starting near Xul-Ha. This section of the water is still turquoise blue and sailing allows you to get close to the water and really enjoy your time.
Zipline through the jungle with Tirolesas Kan Kin Bacalar
More Things To Do Around the Yucatan Peninsula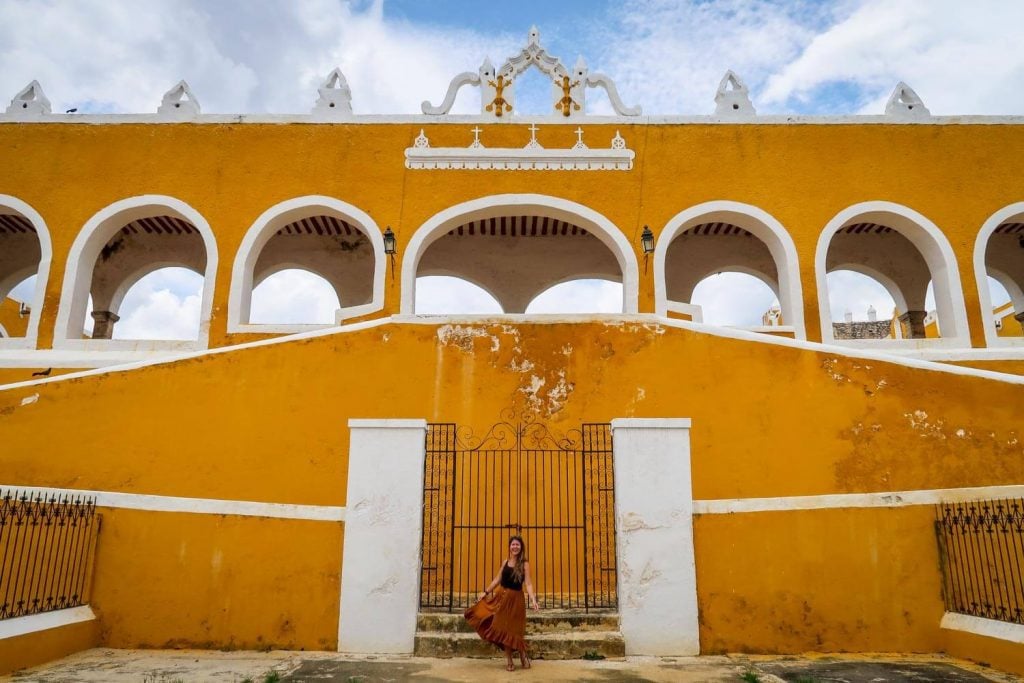 Would you believe us if we told you this list of 11 awesome adventures to have in the Yucatán doesn't even include everything? If you have more time to explore this region, we'd also recommend checking out the following places:
Rio Lagartos: Pink lagoons and flocks of pink flamingos? Have to see it to believe it!
Campeche: Colourful, colonial streets with an interesting history
Izamal: The Mayan town painted in yellow
Valladolid: The sleepy colonial city with beautiful architecture
Isla Mujeres: A postcard-worthy island off the coast of Cancun with excellent diving
---
Are you planning a trip to Mexico?
We have lots more resources on travel in Mexico and destinations throughout the country. Check out our Ultimate Mexico Travel Guide for all the important travel information, or read some of our favorite articles below.
Save this article on Pinterest for later!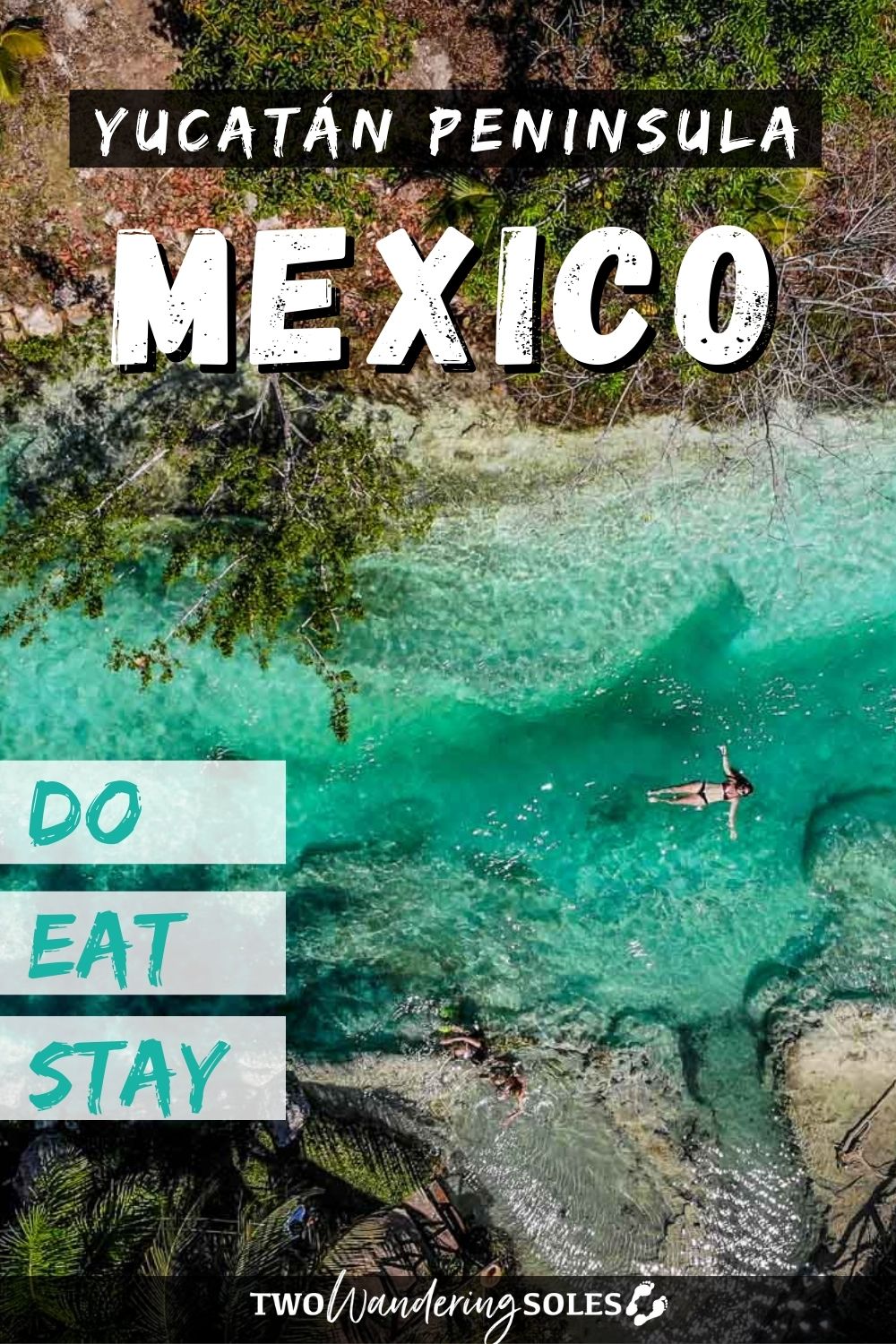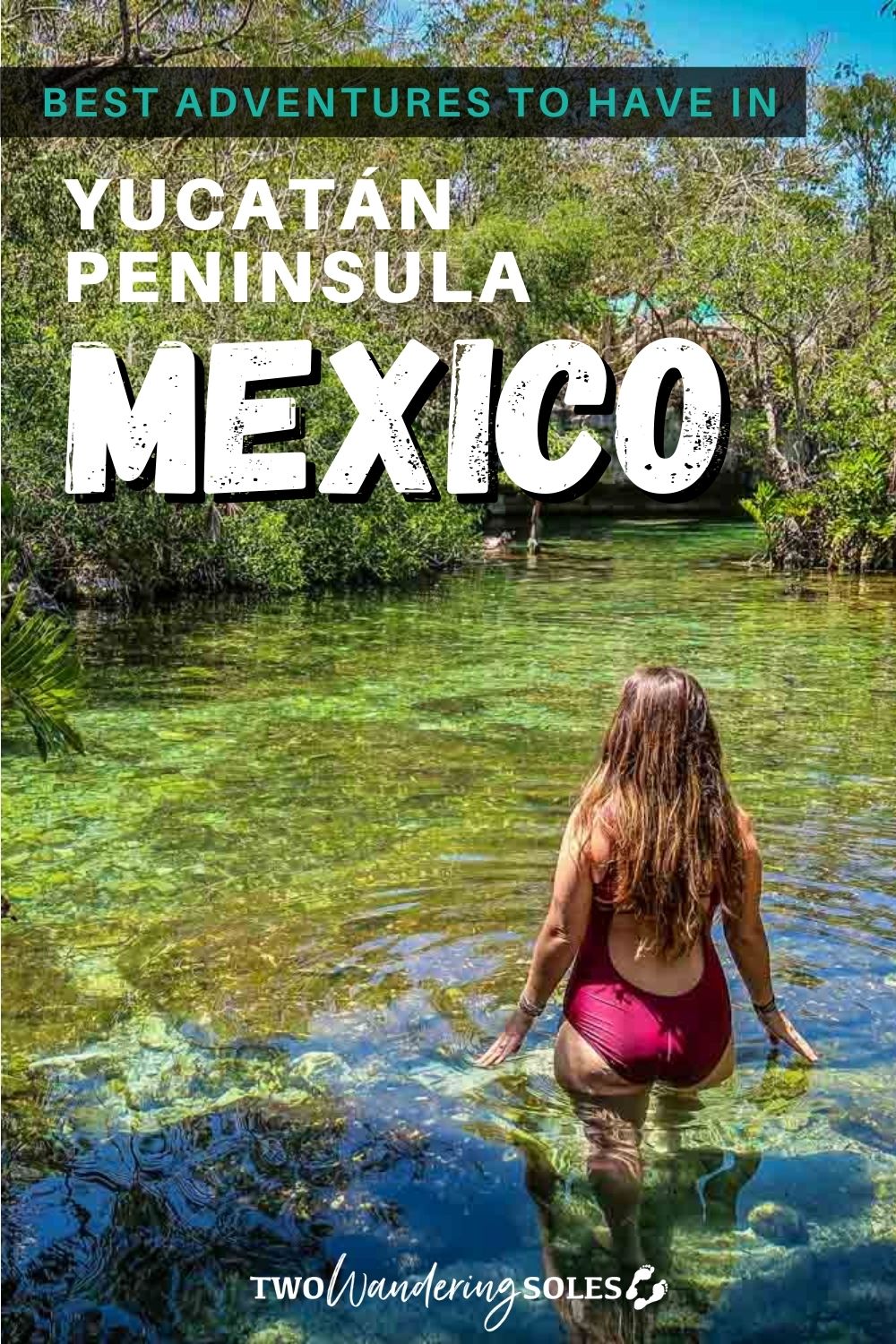 We want to hear from you!
Have you been to the Yucatan Peninsula? What was your favorite place to see? Do you have more adventures to add to this list? Please leave comments and questions in the comment section below.