The Golden Circle is one of the top attractions in Iceland, and for a good reason. It's easily accessible to all travelers whether you're visiting the island for just a few days or staying much longer. This travel guide is everything you need to plan your own self-driving tour of the Golden Circle, plus some secret spots off the beaten path that you'll want to check out.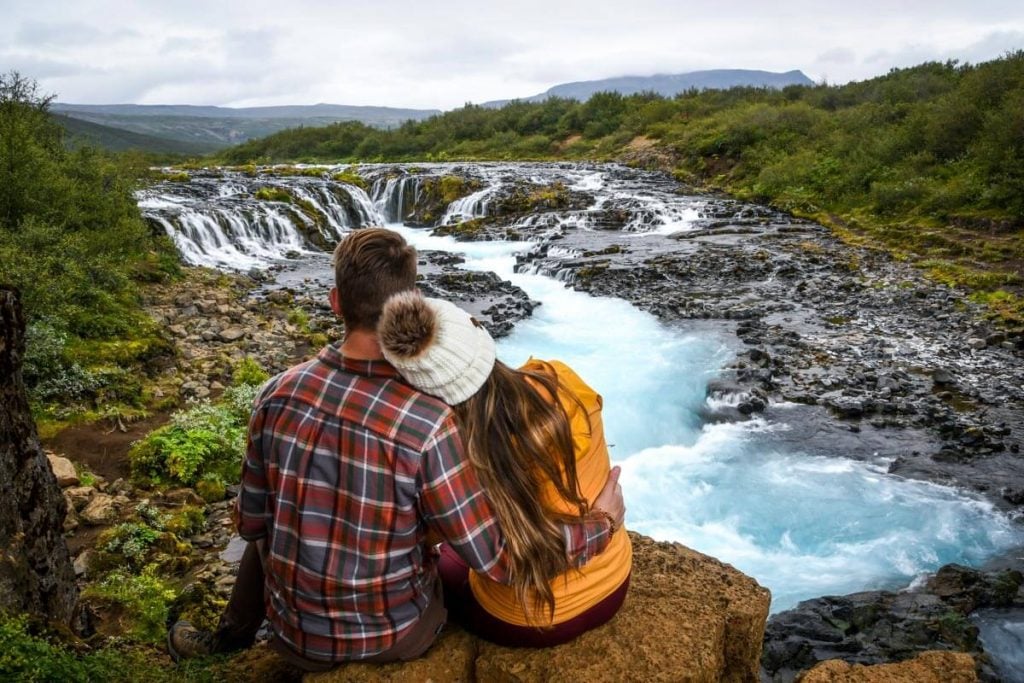 One of the most popular attractions in all of Iceland is the route known as the Golden Circle. It's one of those "must things to do in Iceland" that appears on just about every itinerary.
So what is the Golden Circle exactly?
In short, it is a famous driving loop that passes by three main sights:
Thingvellir National Park: the place where the Eurasian and North American tectonic plates meet
Geysir: a geothermal valley with a frequently-erupting geyser
Gullfoss: a massive waterfall
These three attractions are well-developed and easily accessible for people of most ages and abilities, making it a good addition to most visitors' first trip to Iceland, even if you're only in the country for a short time.
Golden Circle Iceland Guide
---
Want to save time and energy on planning?
We've traveled to Iceland 3 times now and spent weeks living in a campervan, traveling around the country. We've been able to explore a lot of what Iceland has to offer!
We've complied our experience to create the perfect Iceland itinerary. Our itinerary is for 7-9 days and meant to be explored while traveling in a campervan. It includes the highlights of the southern coast of Iceland.
We'll send you our complete 7-9 day customizable itinerary, filled with tips and advice. Just click below to get your perfect Iceland itinerary today!

---
Where is the Golden Circle?
This popular driving route in southwest Iceland loops from Reykjavík past three major attractions and back to Reykjavík.
How to plan your Golden Circle route
We've driven the Golden Circle route twice and have gathered all sorts of tips for the main attractions. Plus, we're sharing some off-the-beaten-path stops you'll miss out on if you don't know what you're looking for. (And in our opinion, some of these hidden gems are even cooler than the big names!)
In this article, we're going to break down everything you need to know about planning your Golden Circle trip while in Iceland.
Golden Circle map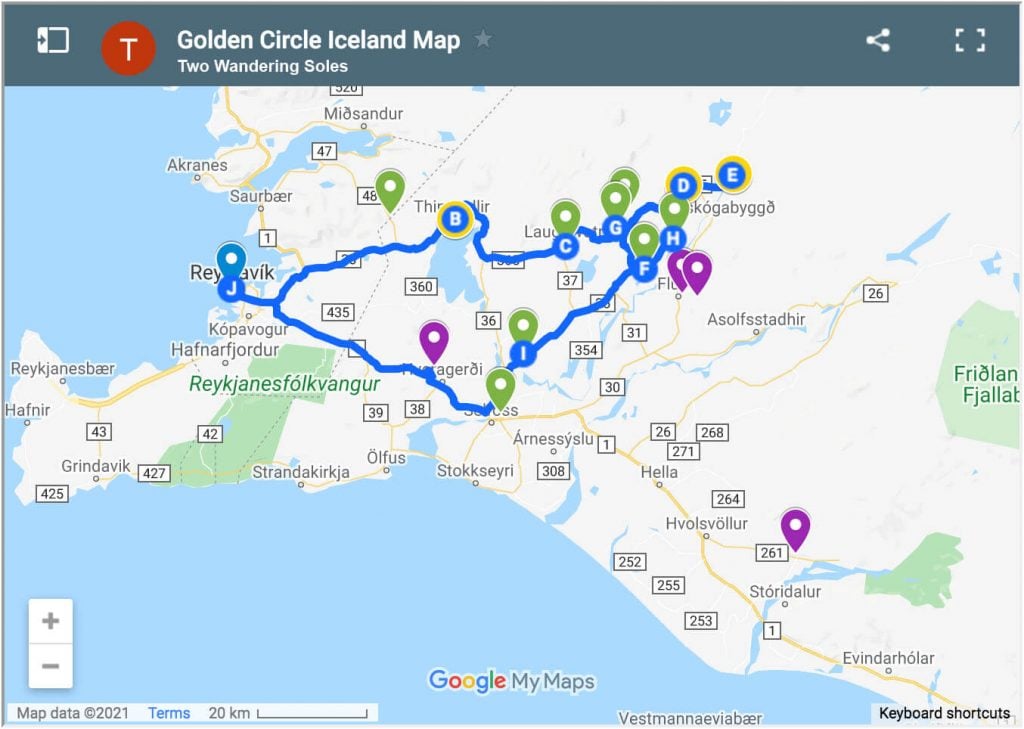 How long does the Golden Circle take?
Golden Circle distance: 246 kilometers (153 miles)
Golden Circle drive time (return trip to Reykjavík): 3.5 hours (this does not include time at stops or additional attractions along the way)
Our recommendation: allocate between 6-10 hours, depending on how many additional stops you'd like to include
In short, you can easily drive the Golden Circle as a day trip from Reykjavík, and get back to town in time for dinner. Alternatively, you can take your time and stretch it out over two days if you'd prefer.
The total drive time from Reykjavík to the three main attractions and back to Reykjavík is just about 3.5 hours. That said, you'll need to account for the time spent at each stop as well as any additional stops you'd like to make along the way.
We'd recommend allocating between 6-10 hours for this route so you don't feel too rushed.
If you really want to take your time and see some of the lesser-known sights, you may even want to plan to spend the night along the Golden Circle route so you have ample time for exploring. (This is what we did!)
The loop to just the three main attractions is roughly 153 miles (247 km). If you add in time spent at each attraction, it can add up to a good portion of your day. Plus, you'll need to add on more driving distance and time if you want to include more stops along the way (which we'd highly recommend!).
Distances between main attractions
Reykjavík to Thingvellir: 47 km (29 miles) / 40 minutes
Thingvellir to Geysir: 60 km (37 miles) / 50 minutes
Geysir to Gullfoss: 10 km (6 miles) / 10 minutes
Gullfoss to Reykjavík (via Selfoss): 130 km (80 miles) / 1 hour 50 minutes
Good to know: Another factor to consider is whether you will be doing the Golden Circle as part of a longer road trip, or whether you need to return to Reykjavík. Personally, we continued along the Ring Road route after completing the Golden Circle, so we did not need to drive back to Reykjavík.
---
Golden Circle main attractions
The Golden Circle truly only encompasses three main attractions, which we've listed below.
However, there is much more in this area that is worth seeing. If you have the time, we'd highly recommend looking at our list of "off the beaten path" attractions to add to your route to make it more interesting.
Thingvellir (Þingvellir) National Park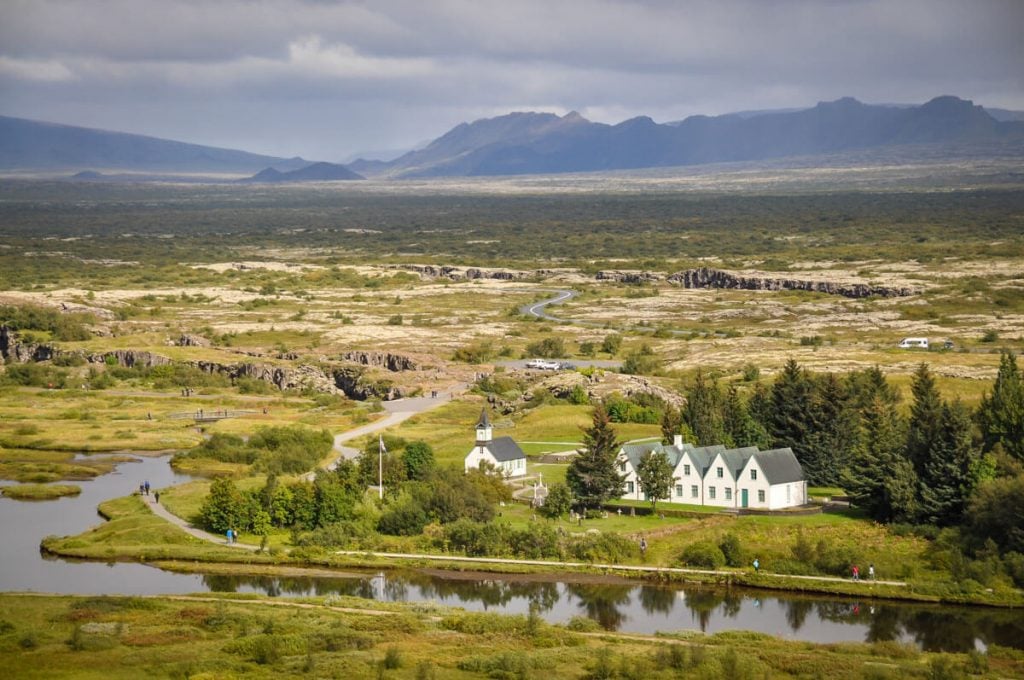 Located 47 kilometers (29 miles) east of Reykjavík, this is most visitors' first stop on the Golden Circle, and for good reason.
Thingvellir was Iceland's first national park, and it is also recognized as a UNESCO World Heritage Centre. In addition to these titles, Thingvellir held an important role throughout history and has great geological importance.
Thingvellir National Park throughout History
Þingvellir translates to "parliament plains" because this was originally where lawmakers met to settle disputes and put laws into place. While these meetings took place outdoors instead of in a fancy building, this is actually recognized as the oldest parliament in the world. The first recorded meetings took place as early as 930 A.D., which was during the age of the Vikings.
In 1930, Thingvellir was established as Iceland's first National Park.
Thingvellir National Park was declared a UNESCO World Heritage Centre in 2004.
When Iceland gained its independence from Denmark on June 17, 1944, there was a huge gathering and celebration at Thingvellir.
In modern history news, Thingvellir was a filming location for several Game of Thrones scenes.
Geology at Thingvellir National Park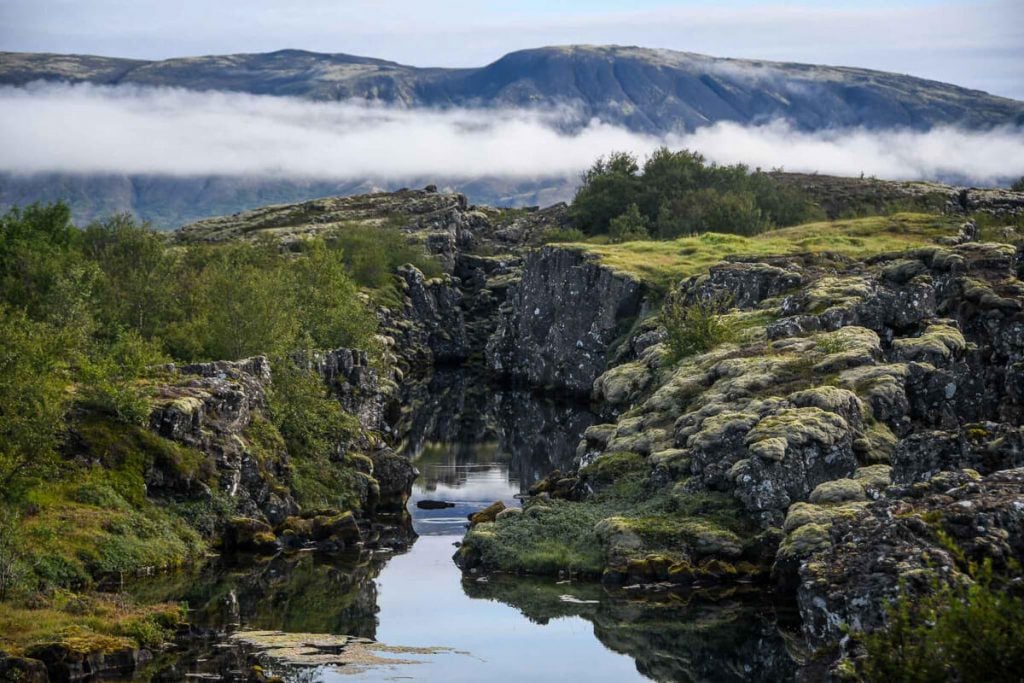 This is the spot where the North American and Eurasian tectonic plates meet, creating a rift. Thingvellir is the only place in the world where you can see these two plates meeting above ground.
Each year, these tectonic plates are drifting apart at a rate of 2 centimeters (about three-quarters of an inch).
Silfra is the name of the fissure between these two tectonic plates, and it's filled with glacial water that has been filtered through an underground lava system. This is the only place in the world where you can snorkel (or dive, if you have drysuit certifications) between two tectonic plates!
How do you pronounce Þingvellir?
I had the same question, and it's kind of a tricky one.
While the first character in the word, "Þ", looks like a "P" it most definitely is not. This character is known as thorn and has a "th" sound, so it is acceptable to spell Þingvellir as Thingvellir.
Double Ls are another tricky one in Icelandic, as they sound more like "ti" or "til".
My best phonetic spelling attempt of Þingvellir would be "thing-vet-ir".
Here's a video pronunciation of Thingvellir.
Things to do in Thingvellir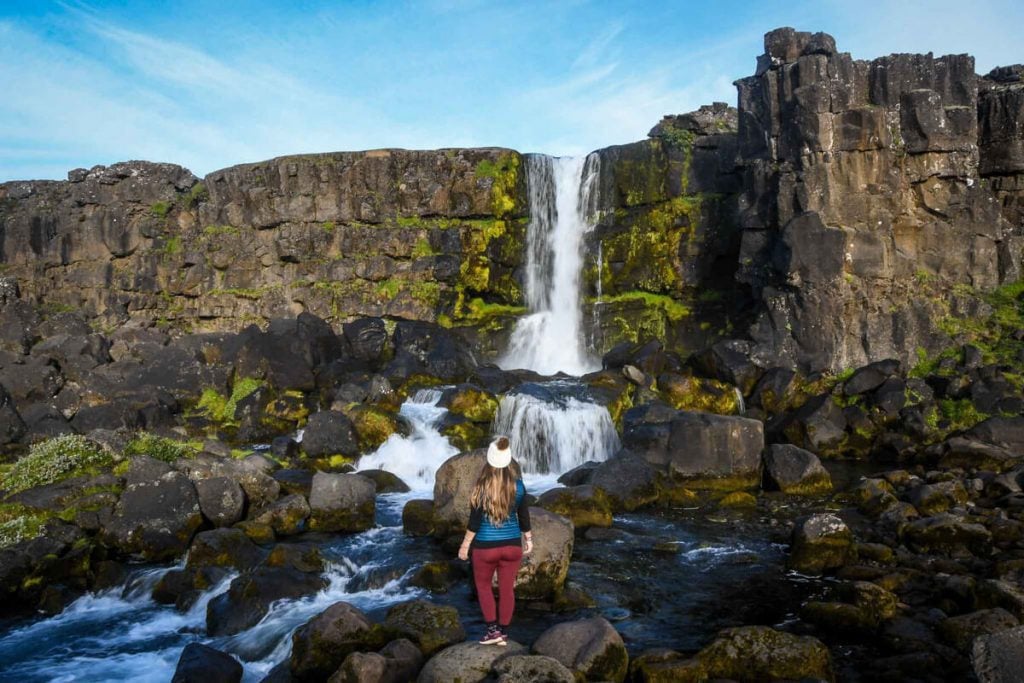 Almannagjá Gorge: A path through this gorge quite literally brings you past the two tectonic plates, and offers up some pretty awe-inspiring views.
Oxararfoss waterfall: A short walk from the parking lot will lead you to this waterfall which has some interesting basalt column features.
Lake Þingvallavatn: Glimpse the largest natural lake in Iceland.
Silfra Fissure: This is the only place in the world where you can snorkel (or dive, if you have dry suit certification) between two tectonic plates! Even if you're not getting in the water, it's worth walking to this point where you can see the fissure from above the ground. More on this activity below!
Þingvallakirkja: The Thingvellir Church is situated in a beautiful setting and is fun to see while in the national park. You can even walk inside if you'd like.
"Heart of Iceland" exhibit: Thingvellir has a deep history and has some of the most interesting geological features in the entire country. If you'd like to learn more about both, consider visiting the "Heart of Iceland" exhibit in the Thingvellir visitors center. It costs 1,000 ISK for adults.
Optional stop near Thingvellir: If you're a waterfall buff and just can't get enough of 'em, Þórufoss is located just a short detour from the park entrance and makes a good quick stop on your way to Thingvellir. This waterfall tends to be less crowded than many others along the Golden Circle.
Snorkeling in Silfra Fissure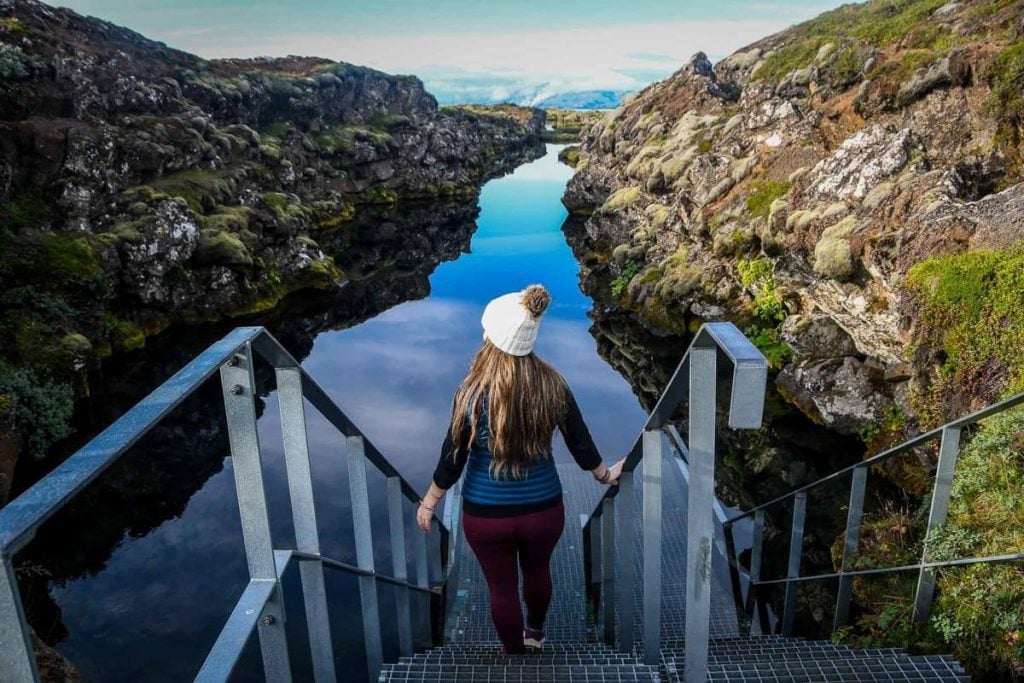 This rift between the North American and Euroasian tectonic plates is one of the top-rated dive and snorkel sites in the world. It's the only place on earth you can dive (or snorkel) between tectonic plates, so it truly is a once-in-a-lifetime experience.
The water is just above freezing and stays 2-4ºC / 35-37ºF all year round. Thankfully, the tour companies provide drysuits, which should keep you pretty warm. Being that the water originates at the Langjökull glacier and filters through volcanic rock, it is incredibly clear. We've heard that visibility is virtually limitless!
Good to know: It used to be possible to dive in the Silfra Fissure without much scuba experience. However, recent regulations have made it so divers must possess either a dry suit certification or have 10 logged drysuit dives within the last two years.
Our personal experience: Diving (or snorkeling) in the Silfra Fissure has been on our bucket list for years, but during our first trip to Iceland we were on an incredibly tight budget. Being that this is definitely a splurge activity, we didn't include it in our itinerary. And on our second trip to Iceland, I was 6-months pregnant which barred me from participating. Next time we're in Iceland, we're definitely going!
Important Info:
Facilities on site: Restrooms, visitors center, cafe, souvenir shop
Cost: Free to enter, but there is a 750 ISK fee to park all day (after 9 a.m.)
We'd recommend parking in lot P2, as it's close to many of the trails
Geysir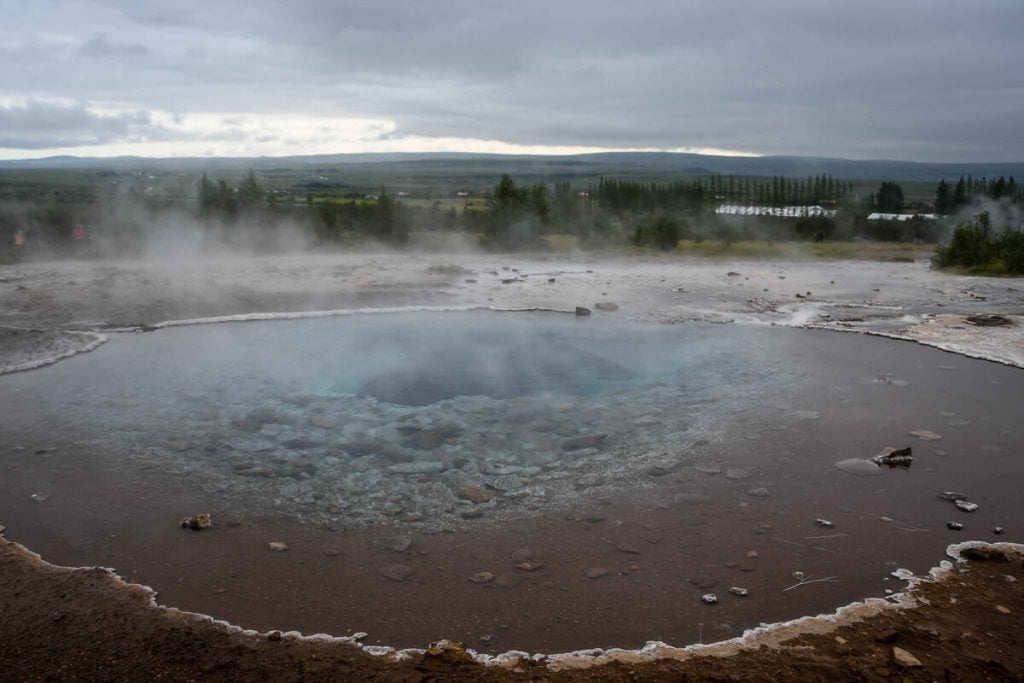 Next up on the Golden Circle route is a stop at Geysir, a geothermal field known as Haukadalur Valley. This area is famous for its boiling mud pits and geysers that erupt frequently.
On this site, there are two large geysers: Geysir and Strokkur.
Geysir is the larger of the two and documentation of its activity dates back to the thirteenth century. Apparently in its heyday, water would shoot up as high as 170 meters (230 feet). That's taller than a 20-story building! However, today Geysir is more or less dormant. And when it does erupt, it's not nearly as high as it once was.
But don't worry, Strokkur is still very much active and you'll definitely have the chance to see it erupt with boiling water in all its glory.
As soon as you get out of your car, you'll notice the scent of sulfur in the air and you'll see steam in the distance. Follow the well-marked paths past bubbling mud pits and you'll likely see a crowd gathered at one point. This is Strokkur.
Like clockwork, this famed geyser erupts every 5-10 minutes or so, shooting a stream of boiling water 20-40 meters into the sky (65-130 feet). Think of Yellowstone's Old Faithful, but on a smaller scale.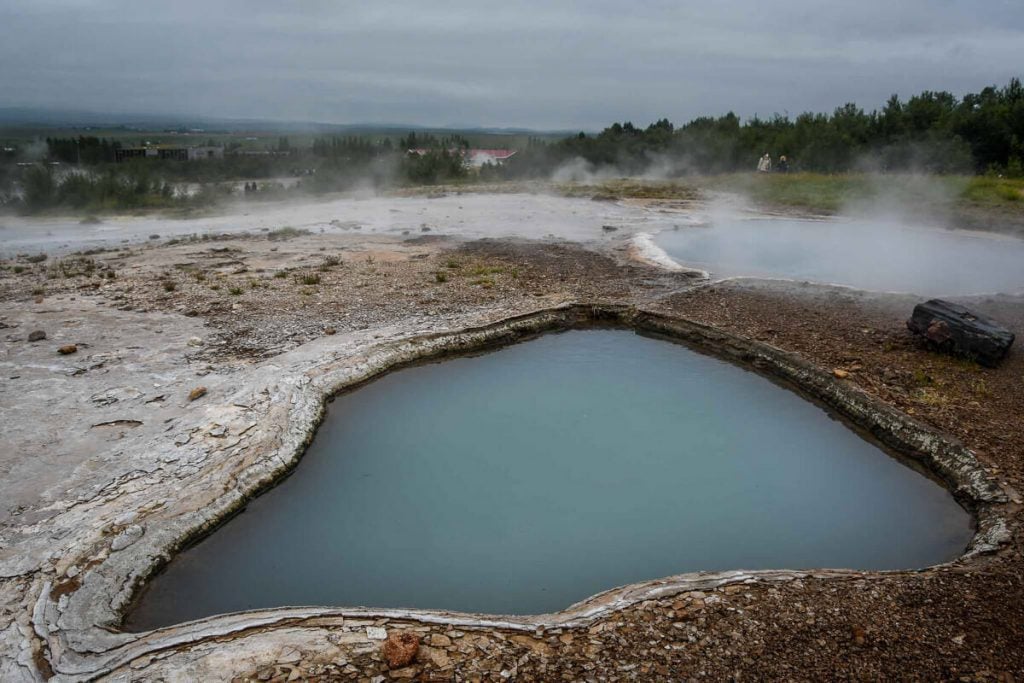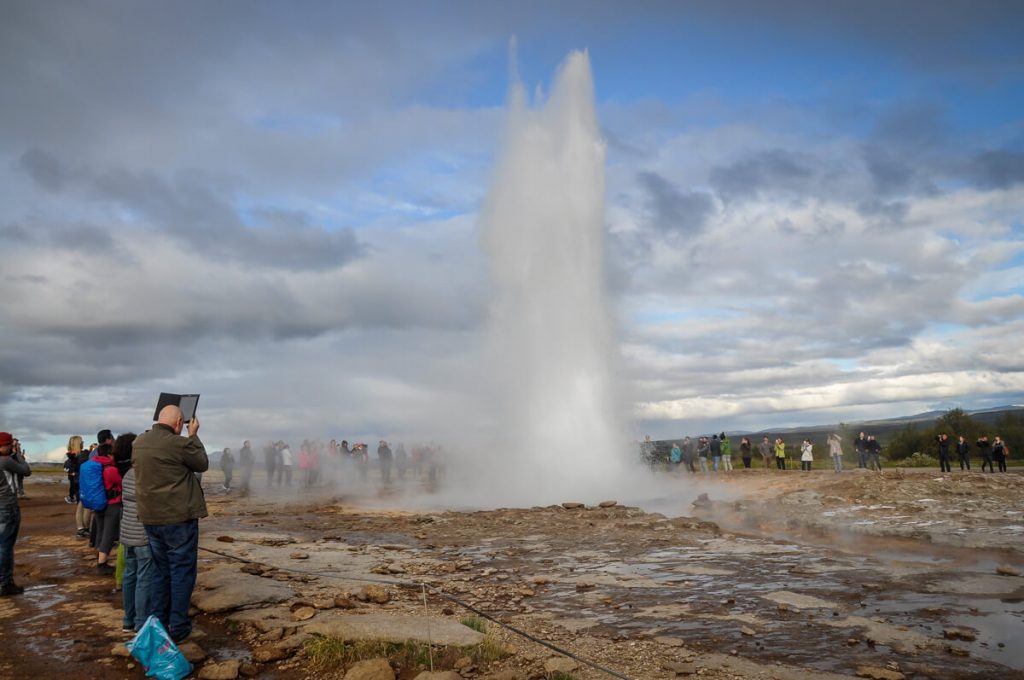 Fun Facts about Geysir
Of the two main geysers at this site, Strokkur is the only one that is active. Geysir had been quiet since 2000, but suddenly erupted in 2016. However, it hasn't erupted since then (yet!).
Strokkur erupts very regularly, about every 5-10 minutes.
Things to do at Geysir
The main attraction here is to walk the short path past boiling mud pits on your way to Strokkur. Depending on how long you want to spend here, you can watch this geyser erupt a few times.
View the pool where Geysir, which is now-dormant, sits.
Follow the path up on the hill behind Strokkur to get a view of the Haukadalur geothermal valley from above.
If you're into rustic (aka undeveloped) hot springs, you may want to check out Kualaug which is located not far from Geysir. We haven't personally been, but we've read it can get quite hot and the water is on the muddy side. If that doesn't bother you, it looks like a unique stop on this popular path.
Important Info
Facilities on site: restroom, visitors center, cafe
Cost: free to enter and park
Gullfoss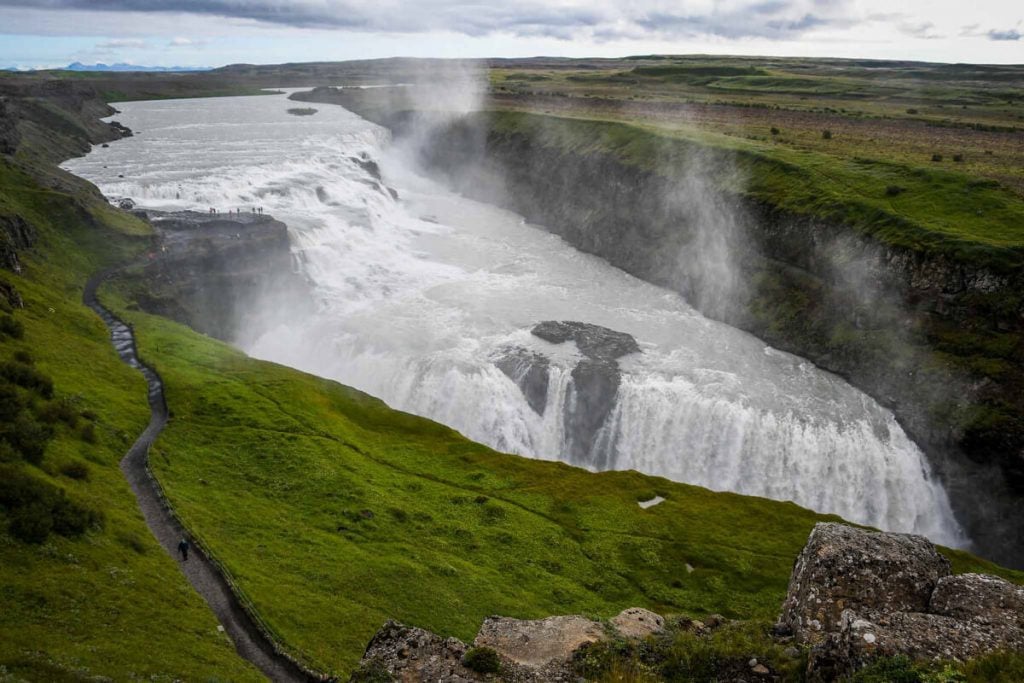 Translating to "golden falls", this attraction is responsible for giving the Golden Circle its name.
Gullfoss is one of Iceland's most iconic waterfalls and is one of the top 3 most-visited sights in Iceland, for good reason.
Originating at the base of the Langjökull Glacier in Iceland's highlands, the Hvítá River flows southbound where it forms the mighty waterfall known as Gullfoss. The falls itself has two cascading sections, dropping 32 meters (100+ feet) in total.
While not the tallest nor the largest waterfall in Iceland, this unique 2-tiered beauty is truly a sight to behold.
This powerful waterfall engulfs visitors in a heavy spray of mist and rewards them with rainbows on sunny days.
Insider Tip: If you have a camera with you, stick it inside your rain jacket or a dry bag when you're walking through the mist to protect it.
Fun facts about Gullfoss
The falls is 32 meters tall (105 feet), and has two tiers
When filming Game of Thrones, there were scenes filmed at this waterfall, but they were never released
Gullfoss translates to "golden falls", as it is said to have a golden hue on bright, sunny days. This is also said to be how the Golden Circle gets its name.
Visiting Gullfoss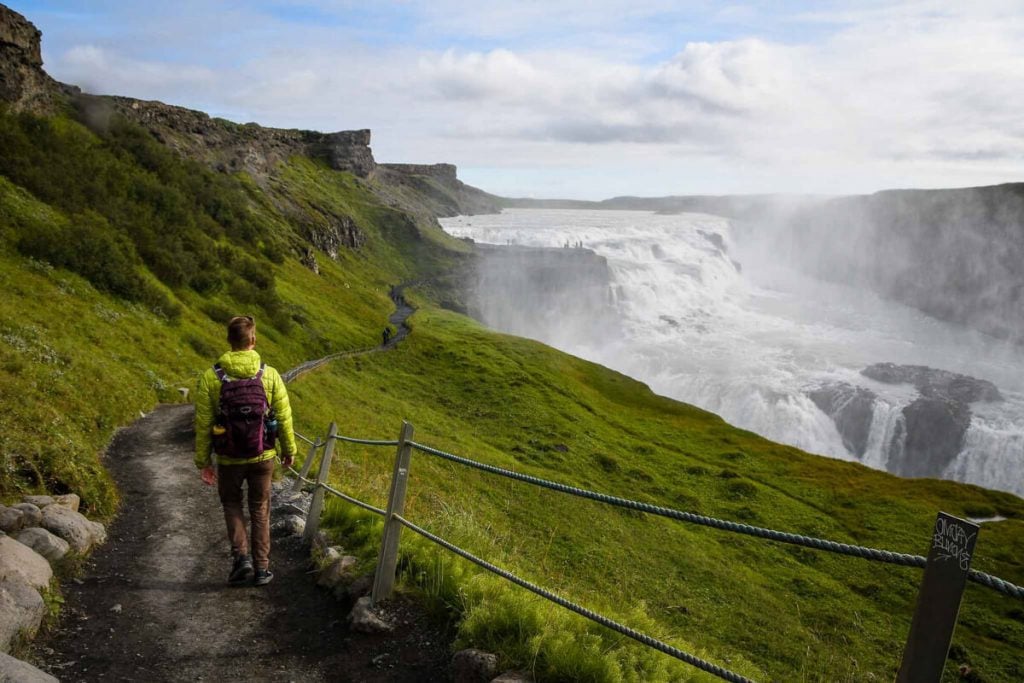 There is a paved path from the parking lot that is a short and easy walk to the falls. There is also a staircase leading to a lower viewpoint, which will bring you closer to the falls (and in turn, the mist!).
Interesting history about Gullfoss
Gullfoss was at the center of some drama back in the early 1900's that includes deceit, corruption and an unlikely hero. If you want a short history lesson, keep reading (it's pretty interesting!)…
In the early 1900's, the world was just learning about hydropower and in 1907, an English businessman attempted to begin the creation of a hydroelectric plant at Gullfoss.
At the time, the land was owned by a sheep farmer, Tómas Tómasson, who declined the businessman's offer. His reasoning, "I will not sell my friend," has famously gone down in history, but he didn't quite stop the businessman's plan.
Here's the catch: Even though Tómasson declined to sell the land, he did agree to lease it to the land to the businessman, unaware that he was still plotting to carry on with building a hydroelectric plant through a loophole in the contract.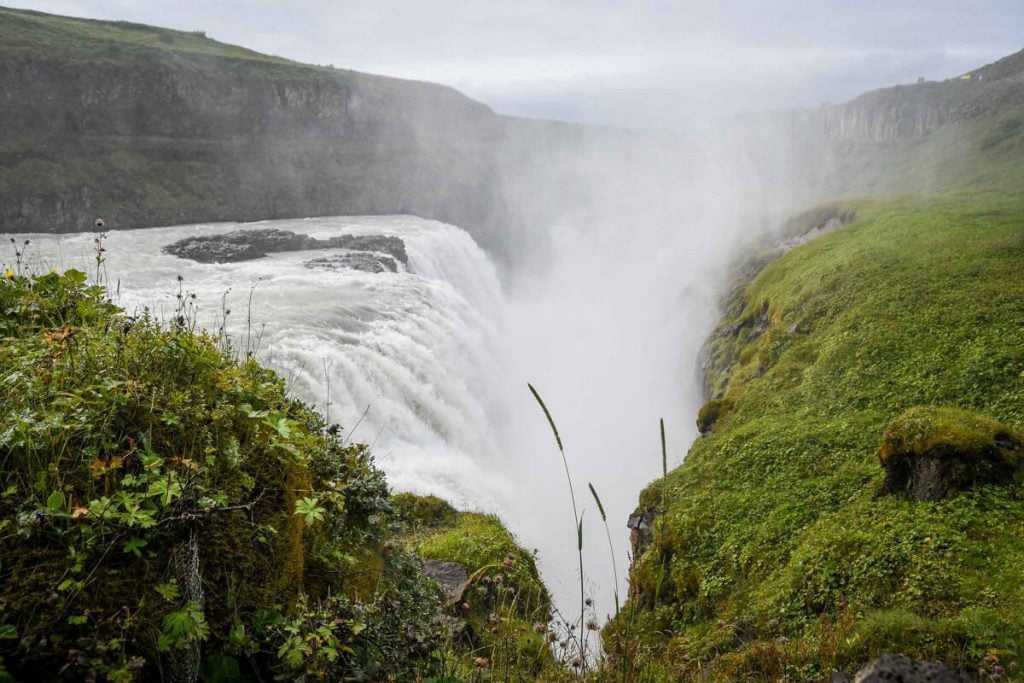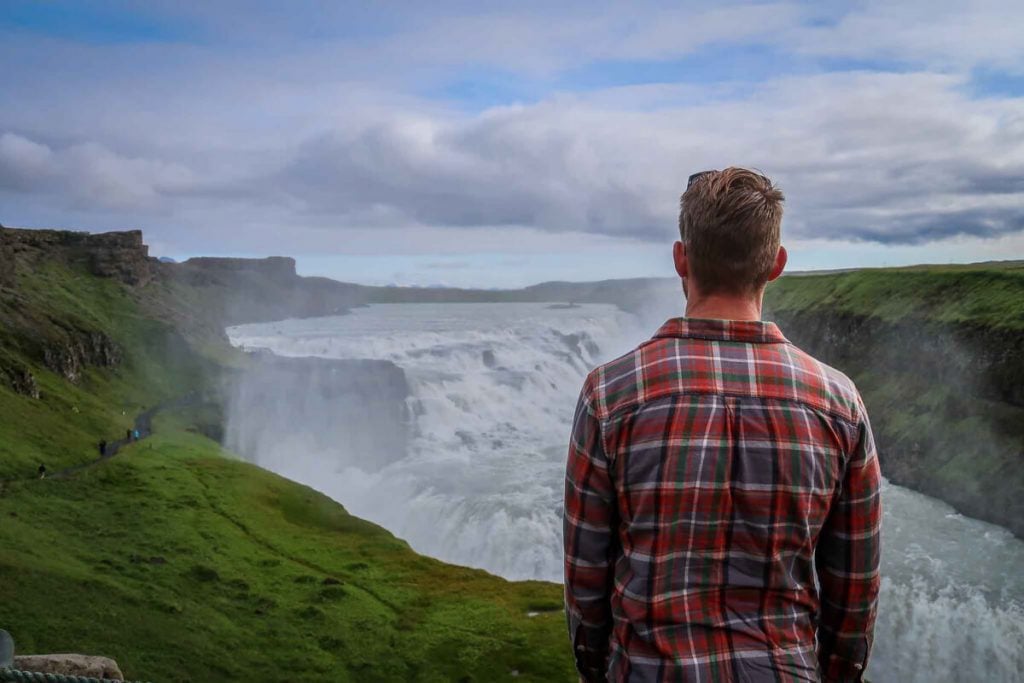 Tómasson's daughter, Sigríður Tómasdóttir, is the real hero here. She realized what was happening and saved up her own money to hire a lawyer to take on her case and fight to protect her beloved Gullfoss. It is said that Sigríður made the 120 kilometers (70+ miles) on foot several times to meet with officials in Reykjavík to discuss this matter.
This legal battle was long and at times looked bleak. At one point, Sigríður threatened to throw herself into the waterfall if construction began. Even though she lost her legal case, Sigríður's efforts were declared a success in 1929 when the businessman withdrew from the lease due to lack of funding. Gullfoss was then donated to Iceland, and remains protected to this day.
Sigríður Tómasdóttir is hailed today as Iceland's first true environmentalist and is one of the most beloved figures in Icelandic history. She was lucky enough to live a long life where she was able to see several ground-breaking environmental laws passed. Oh, and remember that lawyer who represented her? Well, his name was Sveinn Björnsson, and he went on to become the first president of Iceland once the country gained independence in 1944.
Okay, history lesson complete! When you're at Gullfoss, be sure to keep your eyes peeled for a plaque that is dedicated to Sigríður Tómasdóttir because now you'll know the full, drama-filled story.
Important Info
Facilities on site: visitor center, restrooms, gift shop, and cafe
Cost: free to park and enter
Want an extra dose of adventure?
Add "snowmobiling on a glacier" to your Iceland bucket list! There are tours that depart from the Gullfoss parking lot that will bring you to the nearby Langjökull Glacier. Here, you'll suit up and hop on a snowmobile for an unrivaled experience. You'll also explore the natural ice cave near the glacier, for a very different Golden Circle experience!
Off-the-beaten-path stops on the Golden Circle
While the Golden Circle technically just refers to the three attractions listed above, there is plenty more to see in this area.
We're going to go over some additional attractions you may want to add to your Golden Circle itinerary:
Walk the rim of colorful Kerið Crater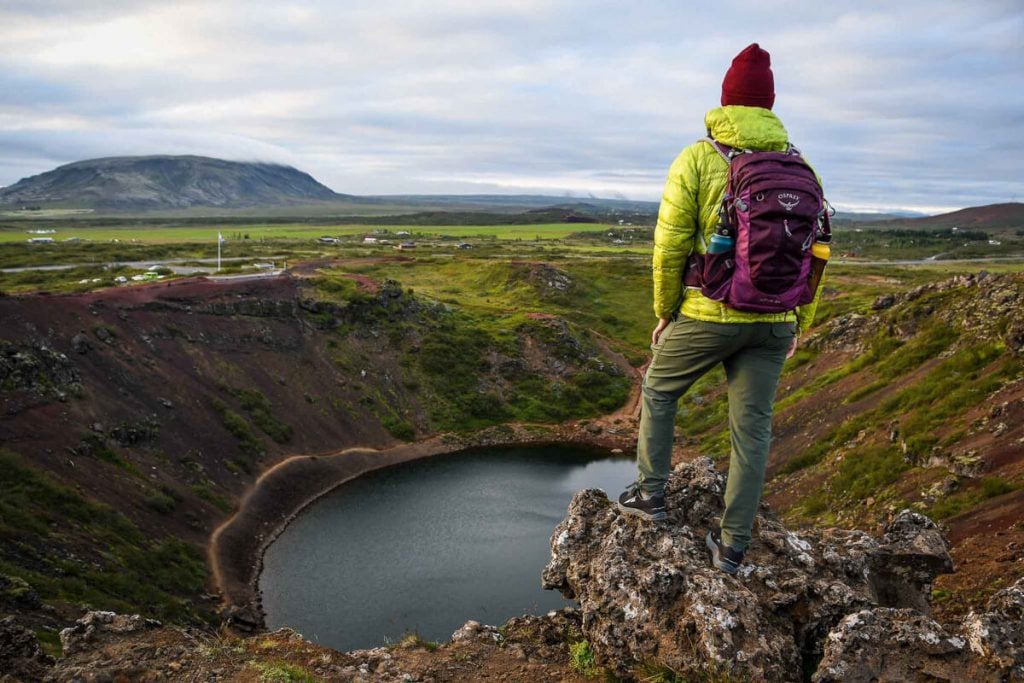 Perhaps the most colorful stop along the Golden Circle, this aquamarine lake sits inside a volcanic caldera and is flanked by red volcanic rock and bursts of lime green moss in a shocking display of Mother Nature's artistic side.
Good to know: Kerið Crater is pronounced "kair-ith", as the "ð" symbol in Icelandic has a "th" sound.
After purchasing a ticket for 400 ISK ($3) at the trail entrance, you can walk the gravel trail that encircles the rim of Kerið Crater. This loop trail is just under a mile long and is relatively flat and easy and shouldn't take much more than a half hour in total (including photo stops). You can also descend on a staircase down towards the water for a different perspective.
Find the stats and trail notes here.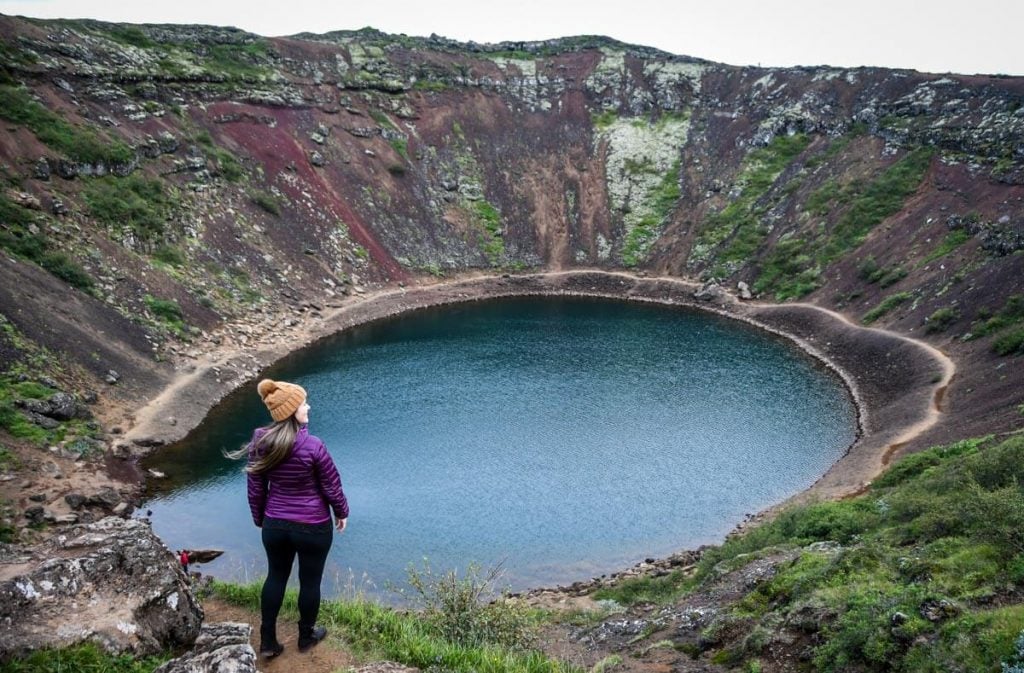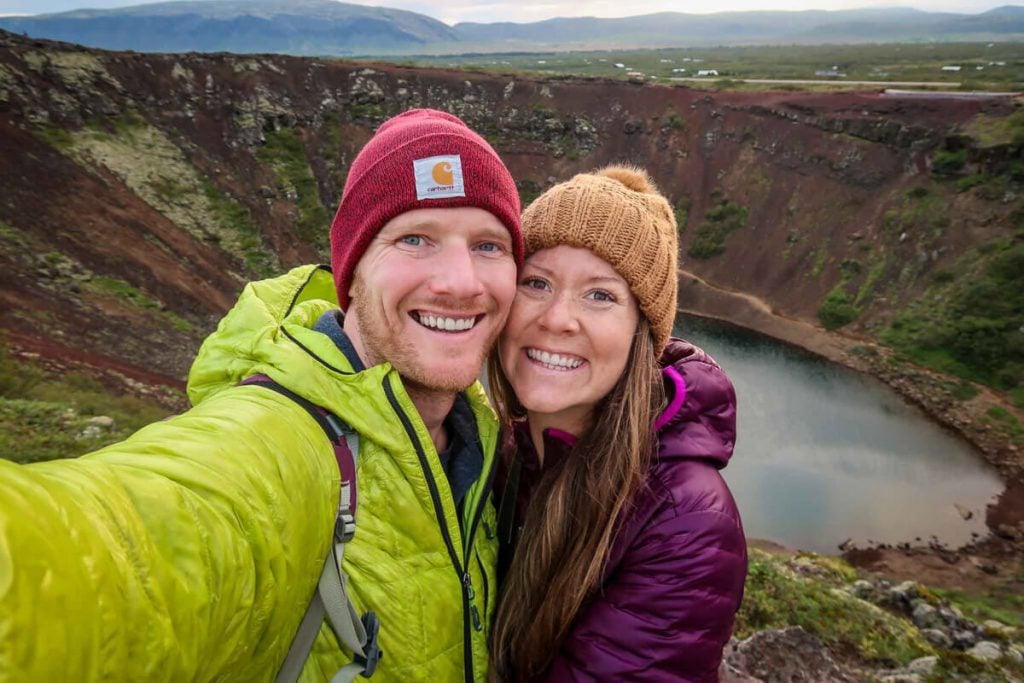 Interesting geology: Most of the volcanic rock you see in Iceland is black, so why is the rock surrounding Kerið Crater red? Geologically speaking, Kerið Crater is quite young and therefore the iron deposits in the rock are, for lack of a better term, fresh. Geologists believe that this was once a volcano, and after its eruption the lava drained out, causing it to collapse and eventually fill with water. The water level fluctuates throughout the seasons and gets its piercing hue from minerals that seep from the surrounding into the water.
Fair warning: Many of the pictures you'll see of this crater on the Internet have been heavily edited – with the colors being enhanced to an unnatural level of saturation. While still very beautiful and colorful in real life, just beware that it may not look quite as vibrant as some photos may have you believe.
Cost: 400 ISK ($3) per person to enter, pay at the ticket booth at the trail entrance (this was the only natural attraction along the Golden Circle we visited where we had to pay an entrance fee)
Taste Rye Bread that has been baked underground at Laugarvatn Fontana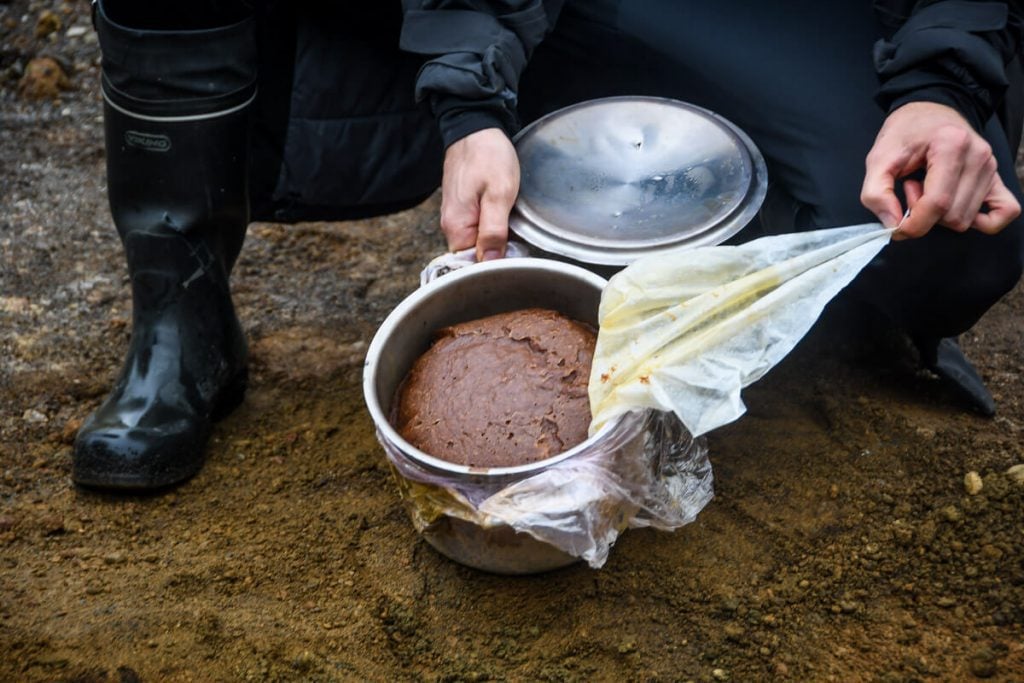 We first heard about this place from Zac Efron. Yep, that's right, the studly star of High School Musical can do more than sing and dance. But we all knew that, right?
In Netflix's original series, Down to Earth, Efron explores sustainability in different places around the world, and it just so happens that the first episode takes place in Iceland and includes a visit to Laugarvatn Fontana.
Situated on the shores of Lake Laugarvatn this resort is most well-known for its lakefront baths that are heated by geothermal energy. While the hot pots looked nice enough, we had a packed day planned and passed on a soak (though if you have a flexible itinerary, go for it!).
Instead, we opted to experience geothermal energy in a different way: by tasting bread that has been baked underground using the power of the hot springs that lie just below the earth's surface.
Real Icelandic rye bread is definitely a food you should try in Iceland. And if you can learn about geothermal energy while eating unlimited amounts of yummy bread, how can you pass the opportunity?!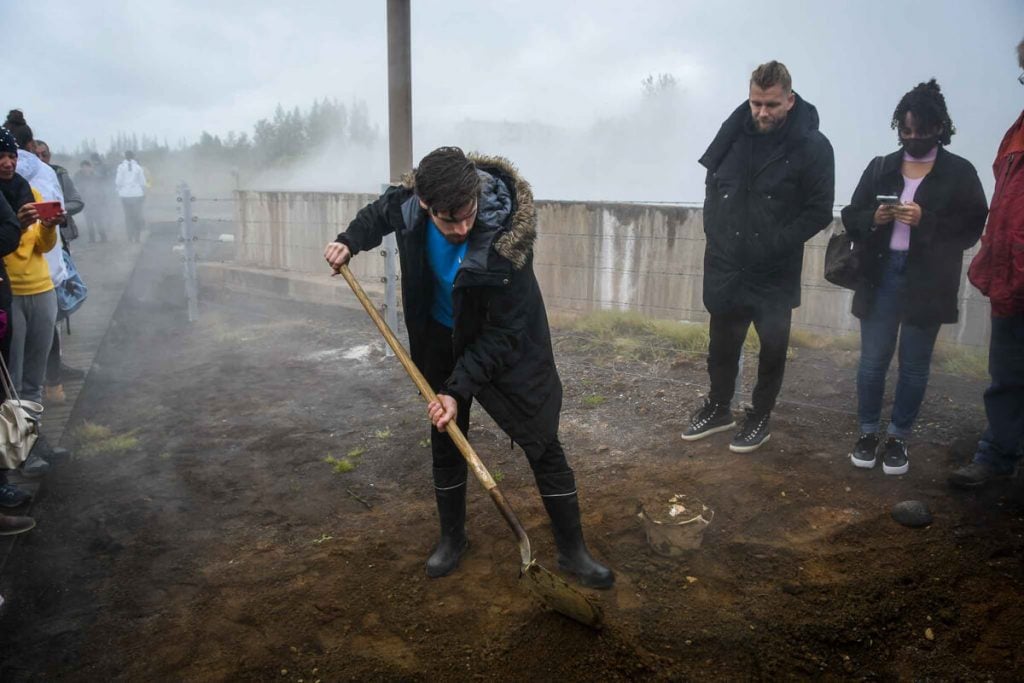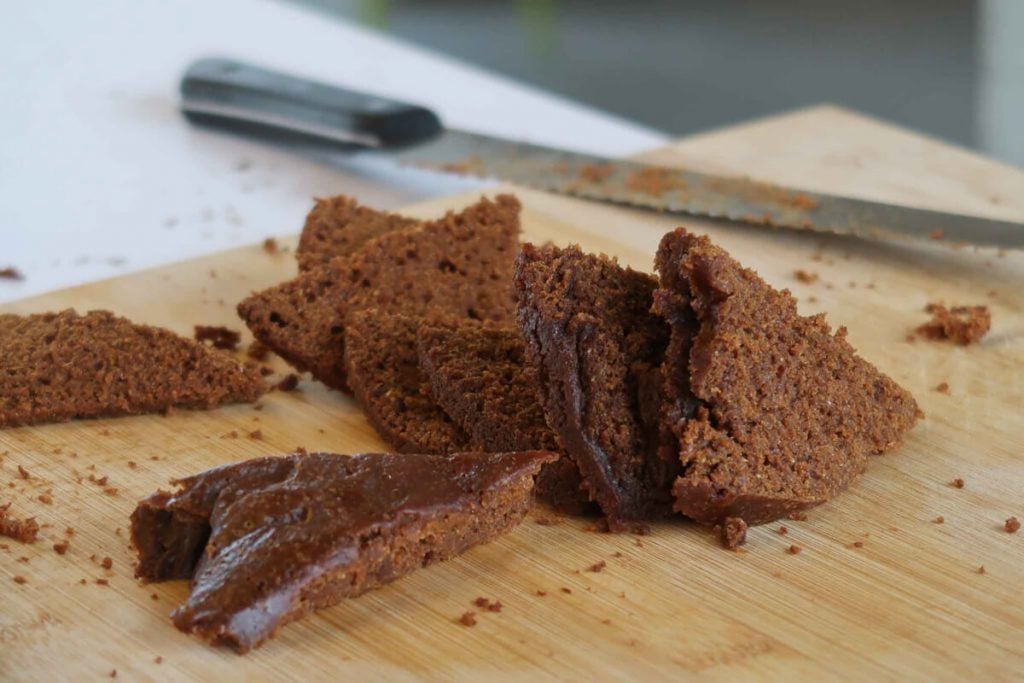 The "rye bread tour" is just 30 minutes, but you'll learn about geothermal cooking and get to help bury rye bread that'll be tasted by visitors the following day. You'll also unearth two large pots that have been cooking underground for the last 24-hours – yes, this is what you'll get to eat! And no, even though the boiling springs have a slight sulfur smell to them, the bread doesn't taste like it at all!
Once the pots have been dug up, the tour finishes inside with the opportunity to sample as much bread (with Icelandic butter and smoked fish, if you'd like) as your tummy desires. I'm not ashamed to say we went back for fourths (as did most other guests!), it was that good. Kinda like a hearty fall cake, sweet but not too sweet. Warm and topped with a generous spread of butta and ohhhh yeah…
Eventually, we had to stop ourselves (it was difficult!) and continue on our Golden Circle route.
Do it yourself: Book your Rye Bread Tour here. Tickets cost 2,300 ISK ($18) per person and you must make a reservation. Tours happen twice daily, at 11:45 a.m. and 2:30 p.m., so be sure to plan your Golden Circle route accordingly if you want to stop here.
Have lunch in a Greenhouse at Friðheimar Tomato Farm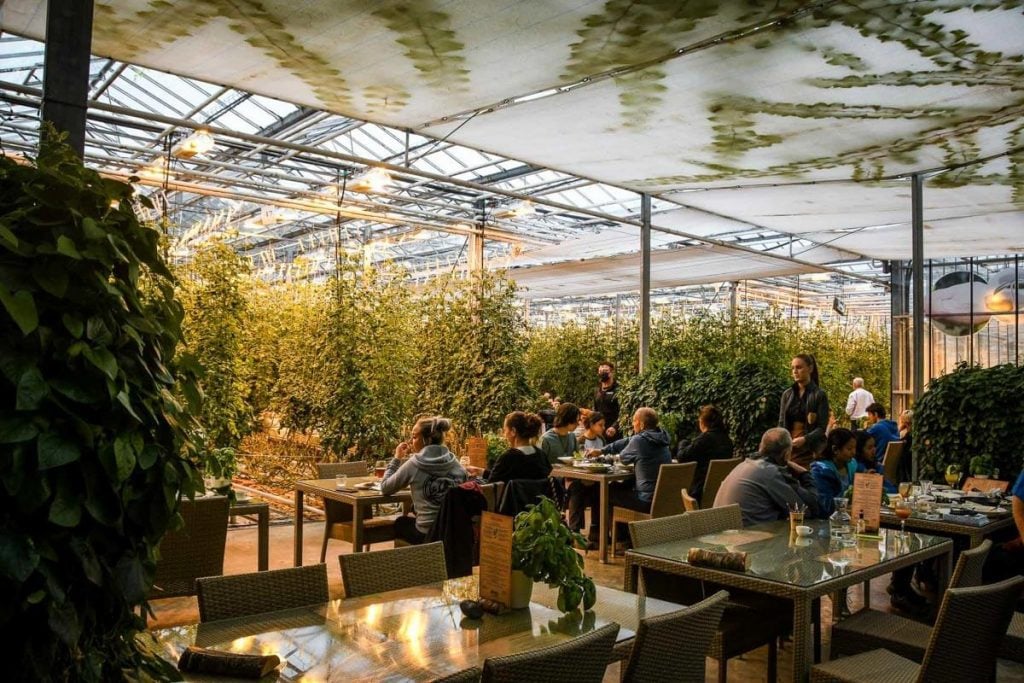 Imagine eating lunch in a greenhouse surrounded by tomato vines and watching bees buzz pass on their way to pollinate. Even if it's a typical chilly Icelandic day, the greenhouse is a welcomed retreat from the elements as it stays a balmy and consistent temperature year round.
Did we mention that the tomatoes that surround you are the same plants that produced the food you're currently enjoying? A true farm-to-table experience, if you ask me.
Having lunch at Friðheimar Tomato Farm is definitely a memorable experience to add to your Golden Circle itinerary.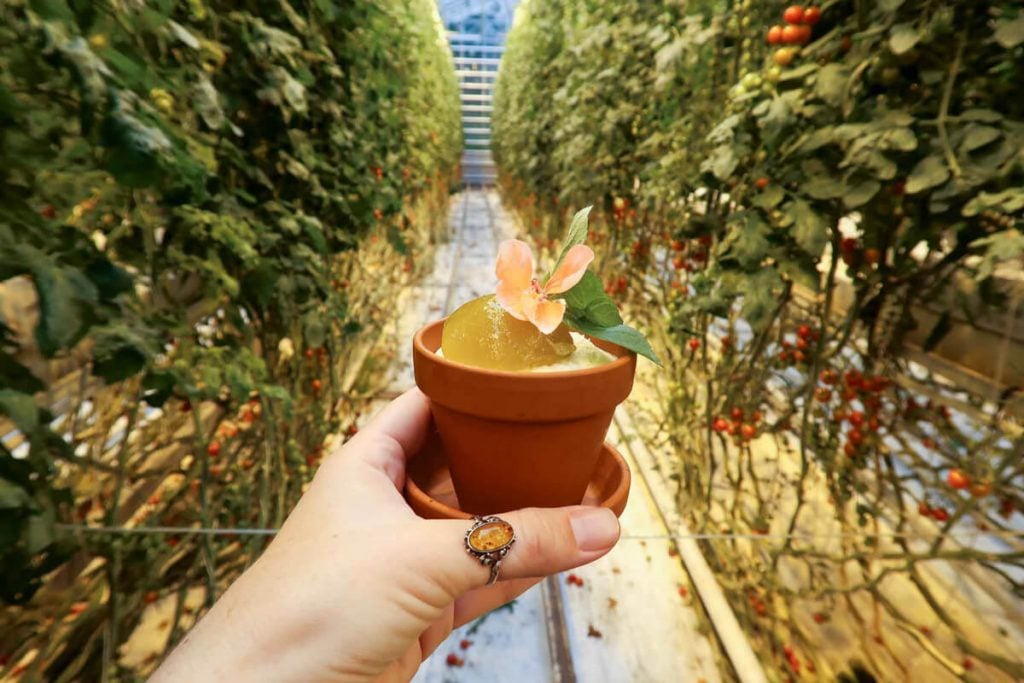 Friðheimar is famous for their "Peace Tomato Soup", which is served buffet style (aka unlimited refills!) alongside homemade artisan breads, butter, sour cream, cucumber salsa (so good!) and fresh herbs. In addition to the soup (which you should definitely try!), there is an entire tomato-themed menu, boasting items like:
fresh ravioli with homemade tomato sauce and pesto
handmade Icelandic burrata served with fresh heirloom tomatoes, sea salt, basil and olive oil
a wide assortment of twists on a classic Bloody Mary (some alcoholic and some non-alcoholic)
green tomato and apple pie with whipped cream
cheesecake topped with green tomato jam, lemon and cinnamon
What did we order?
1 "peace tomato soup"
1 burrata and heirloom tomatoes dish
1 cheesecake with green tomato jam (tastes like a tart kiwi jam!)
Total cost of lunch for two: 6,580 ISK ($55)
It was all fantastic, and we would go back again in a heartbeat.
Fun Facts about Friðheimar Tomato Farm
As we were seated, our server gave us a brief overview of the facility, which is quite impressive. We even took notes so we could share with you!
The farm has 9 greenhouses on site
They produce 40% of all tomatoes in Iceland
Staff at the greenhouses pick more than 1 ton of tomatoes per day. That's crazy!
Bees inside the greenhouse are used to pollinate the plants naturally
Leftover tomatoes are donated to social causes instead of being exported
The greenhouses are completely run on geothermal energy
The energy required to run this greenhouse is the equivalent of what it would take to power a town of 7,000 people! Since they solely use geothermal energy, it is totally free.
Do it yourself: Friðheimar Tomato Farm is open year round from 12 p.m. to 4 p.m. each day and it is recommended that you make a reservation in advance.
Good to know: Friðheimar Tomato Farm is no secret. This restaurant is only open for lunch and is popular with both self-driving visitors as well as some tour companies. It is important that you make a reservation if you'd like to include this on your Golden Circle route. You can easily make a reservation using this link. If you don't make a reservation, it's likely that your wait time will be an hour or more in peak season.
Hike to Brúarfoss, "Iceland's Bluest Waterfall"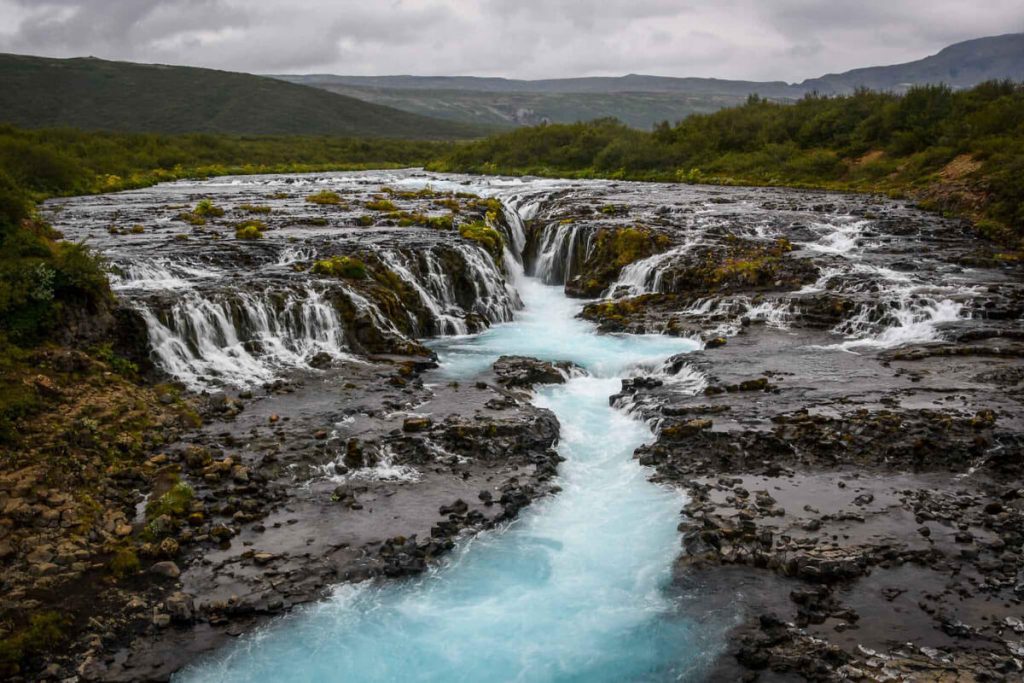 Known as the "bluest waterfall in Iceland", we really enjoyed this stop on the Golden Circle.
That said, the 2-hour+ round trip hike isn't for everybody. If you're pressed for time or just don't feel like walking too far from the comforts of your car, this is a stop you can skip. But for those who want to stretch their legs and get away from tour buses, the hike to Brúarfoss makes a worthwhile addition to your day trip.
Important note: There used to be a much shorter path to Brúarfoss, but it was on private property and has been closed due to tourists being disrespectful. Be sure to park in the proper lot (here's the location on Google Maps) and follow the path so you don't trespass. And for the love of all things, PLEASE clean up after yourself and do not leave trash behind. On a related note, there are no restroom facilities here, so if you think you'll need to relieve yourself along the way, follow Leave No Trace guidelines and pack everything out with you.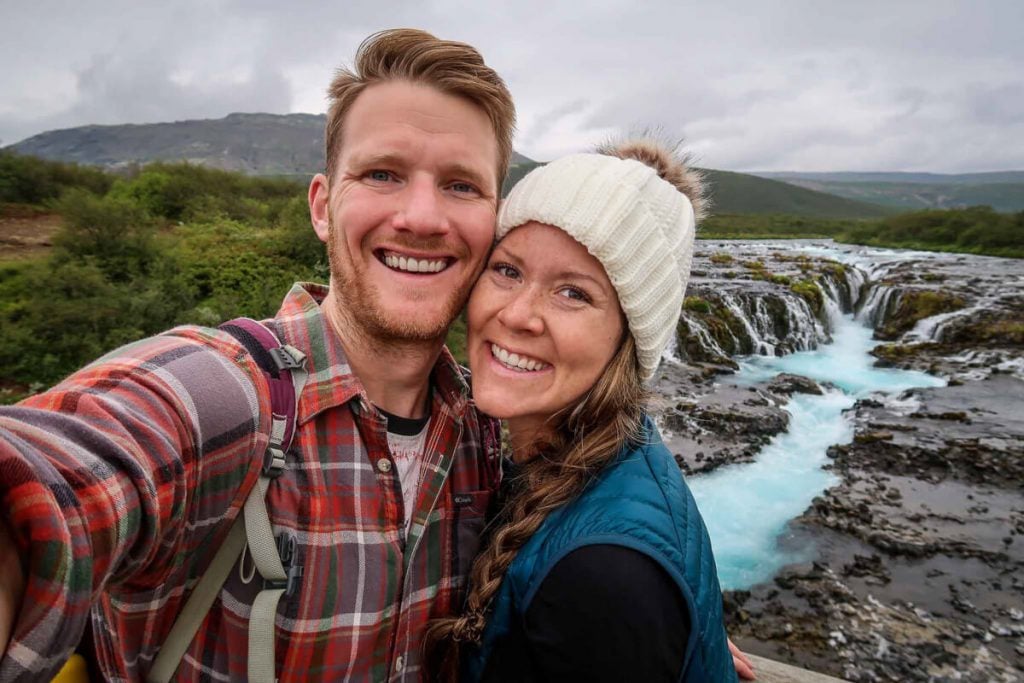 Brúarfoss Hike
Distance: 7 km (4.4 miles) round trip
Type: Out and back
Elevation gain: roughly 500 feet*
Level: Easy
*Good to know: Alltrails is one of our favorite apps for traveling in Iceland, as it is super helpful with showing distance and elevation of hiking trails. However, the trail stats for Brúarfoss are incorrect. It is far less steep (thank goodness!) than Alltrails would have you believe.
The hike itself is roughly 7 kilometers in total (4.4 miles) and is relatively flat as it follows the banks of the Brúará River. The source of this river is the Langjökull Glacier, which gives it a striking milky sky blue color.
Insider Tip: Depending on the time of year you visit and the recent rainfall, there is a portion of this trail that can get very muddy. We recommend you wear hiking boots for this reason.
You can read more about what to expect at Brúarfoss and all the falls listed in this article in our guide to the best waterfalls in Iceland.
Enjoy an ice cream cone at the source at Efstidalur II Creamery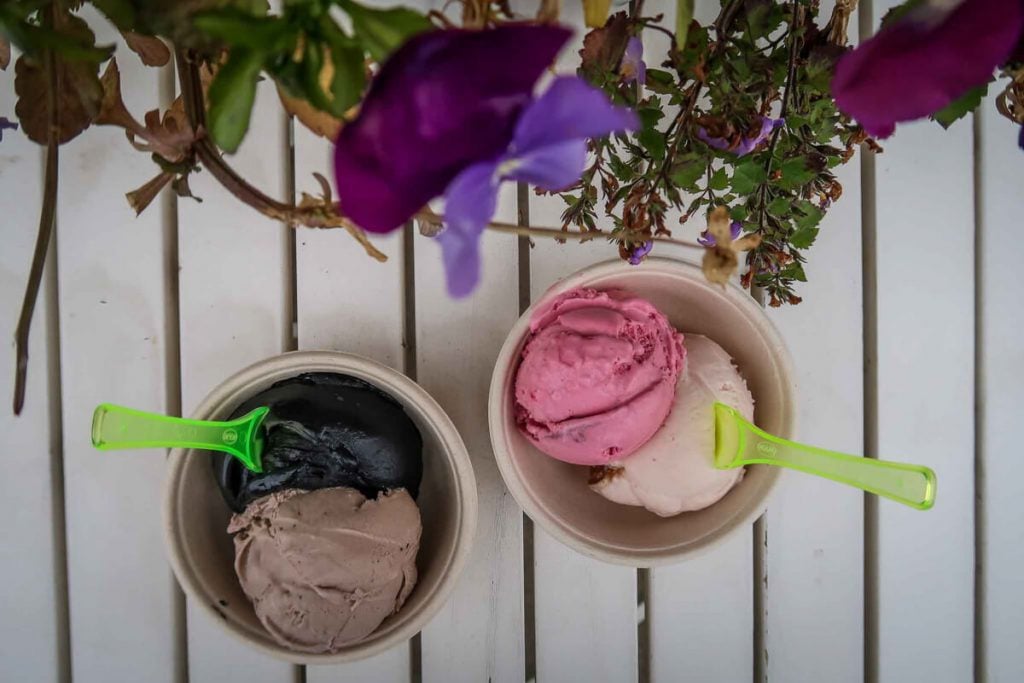 Any other ice cream addicts out there? Good, I knew I liked you!
Even though Iceland is objectively cold 90% of the year, ice cream is kind of a big thing here. And I'm here for it.
While there are some great ice cream shops in Reykjavík, we'd encourage you to stop at a creamery (or two!) as you road trip through the country to sample the creamy goodness from the source.
Along the Golden Circle route, Efstidalur II Creamery makes a good stop if you need a sweet treat and a bit of fresh air (well, air that smells a bit like cows, but still!).
Choose from flavors like blueberry, salted caramel and even black licorice (it's super popular in Iceland and the ice cream flavor is surprisingly mild and delicious!). Enjoy your cone or bowl of homemade dairy goodness while saying hi to the bovine ladies that were responsible for your midday treat.
Faxi Waterfall
What Faxi Falls lacks in height it sure makes up for in width! This short and squatty waterfall stretches across Tungufljót River in a powerful cascade.
Located just 18 kilometres (11 miles) south of its far more famous neighbor, Gullfoss, Faxi receives far fewer visitors. This makes it a great quick stop for waterfall lovers looking to have a peaceful moment on the Golden Circle.
See the Grave of Chess legend Bobby Fischer
If you're a chess fan, seeing the grave of Bobby Fischer might be an interesting last stop to add to your Golden Circle route before heading back to Reykjavík. (It's located just outside Selfoss which is on the way so it's a quick detour.)
Not a chess fan? Give this stop a miss (we skipped it).
Did you know that Bobby Fischer spent the later years of his life living in Iceland? I had no clue. Apparently, he fled the United States because he was facing criminal charges for tax evasion as well as participating in a competition that violated executive orders. When Fischer passed away in 2008, he was buried in a quiet ceremony in Selfoss, Iceland.
Do it yourself: Here is the location of Bobby Fischer's grave. If you're a real chess nerd (more power to you!), there's a museum nearby dedicated to this famous chess champ.
Bonus stops near the Golden Circle
These places aren't exactly along the Golden Circle route per se, but they are pretty darn close!
We think they are well worth adding to your itinerary if you have time, especially if you plan to continue on a longer road trip around Iceland.
Secret Lagoon
Don't let the name fool you – the Secret Lagoon is no secret, but it is certainly less crowded than, say, the Blue Lagoon.
Said to be the oldest natural swimming pool in Iceland, the Secret Lagoon makes a relaxing stop at the end of your Golden Circle loop.
Tickets cost 3,000 ISK ($23) per adult and it is recommended that you make reservations in advance
Good to know: In Iceland it is considered good hygiene to shower naked before entering a public pool or hot spring. Some of the more touristy (and expensive!) hot springs have private shower stalls, but the Secret Lagoon does not. Just know that it is expected that you shower naked (not in a swimsuit) prior to entering the pool and it is considered rude not to do this. Just wanted to warn ya!
Our recommendation: Unless you have lots of extra time (aka 2 full days for the Golden Circle), we'd recommend choosing either the Secret Lagoon or Hrunalaug Hot Spring. They're both very different, so continue reading to see which you'd enjoy more.
Hrunalaug Hot Spring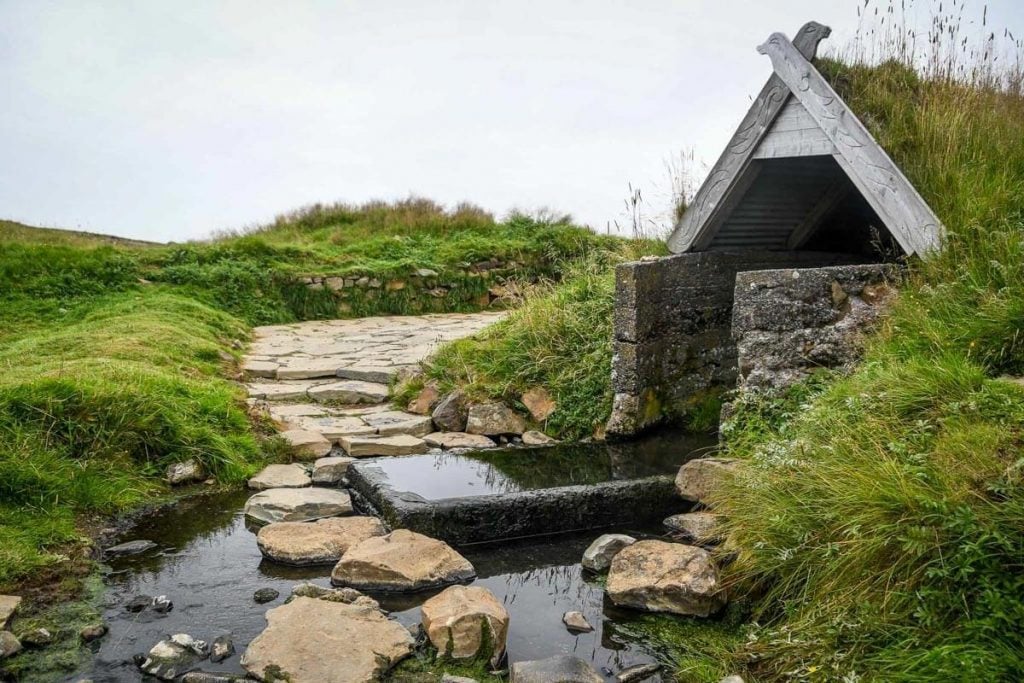 If you prefer your hot springs a little more on the rustic side, you are going to love Hrunalaug. Nestled in a picturesque valley, this small pool has a charming hut that can be used for changing. While Hrunalaug Hot Spring can apparently get quite crowded, there weren't too many others at the time of our visit in the early evening hours.
It was cleaner and more beautiful than I was expecting, but do know that the water won't be as pristine or clear as the nearby Secret Lagoon. If you're looking for more of a resort experience, that may be more your style.
Good to know: This hot spring is on private land, and at the entrance there is a box that requests 1,000 ISK for donations, as the land owner surely has to clean up after unruly tourists and spend their own time and money maintaining this pool.
Gluggafoss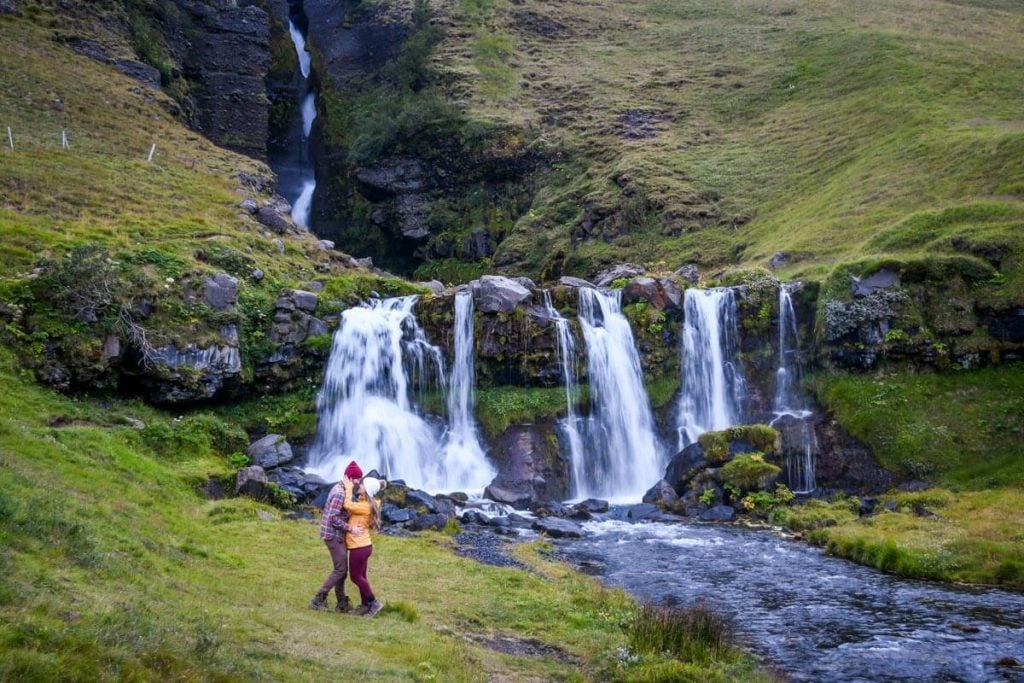 Now, this little-known waterfall is not on the Golden Circle, but it makes a pretty convenient stop if you are continuing along the Ring Road.
The waterfall is a very short walk from the small carpark, and if you're like us, you may even have it completely to yourself (definitely a perk being that it's so close to the Golden Circle).
Walk up the short set of stairs to get a better view of the falls, and take pleasure in the fact that you're seeing a sight that most tourists never see.
Reykjadalur Hot Spring River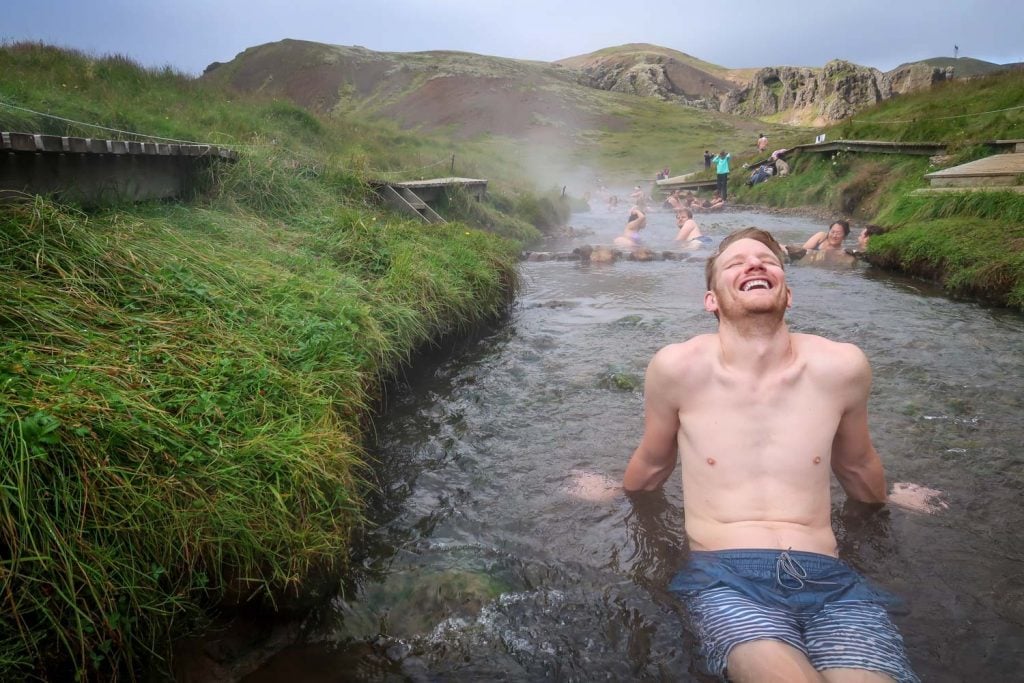 This thermal river was one of our favorite hot spring experiences in Iceland, and making a visit here is a great addition to your Golden Circle route. That is, only if you are self-driving and have more than one day to see all the sights.
This is pretty much just like it sounds – a steamy thermal river nestled in a lush Icelandic valley. Yep, pretty much what dreams are made of.
Getting to the Reykjadalur thermal river requires a 1-hour hike each way (with a healthy dose of elevation gain). So this stop is not for those in a hurry. Your efforts will be rewarded with magical views and clean water that gets progressively hotter upstream.
Insider Tip: Pack a cold beverage to enjoy in this slice paradise!
Psst! Are you interested in more hiking?? We have a whole guide to the best hikes in Iceland with photos, details and insider tips to help you plan your trip.
Golden Circle Itineraries
Below, we'll give you two different Golden Circle itineraries.
The first is meant for travelers who are limited on time and will be starting and ending in Reykjavík. This still packs in MANY more sights than the typical "Golden Circle loop".
The second itinerary is intended for travelers who will continue on a longer road trip after their Golden Circle trip, thus packing in a little more adventure!
Be sure to check out our top things to do in Reykjavík so you can plan your stay before and after exploring the Golden Circle!
Itinerary #1: Golden Circle Day Trip from Reykjavík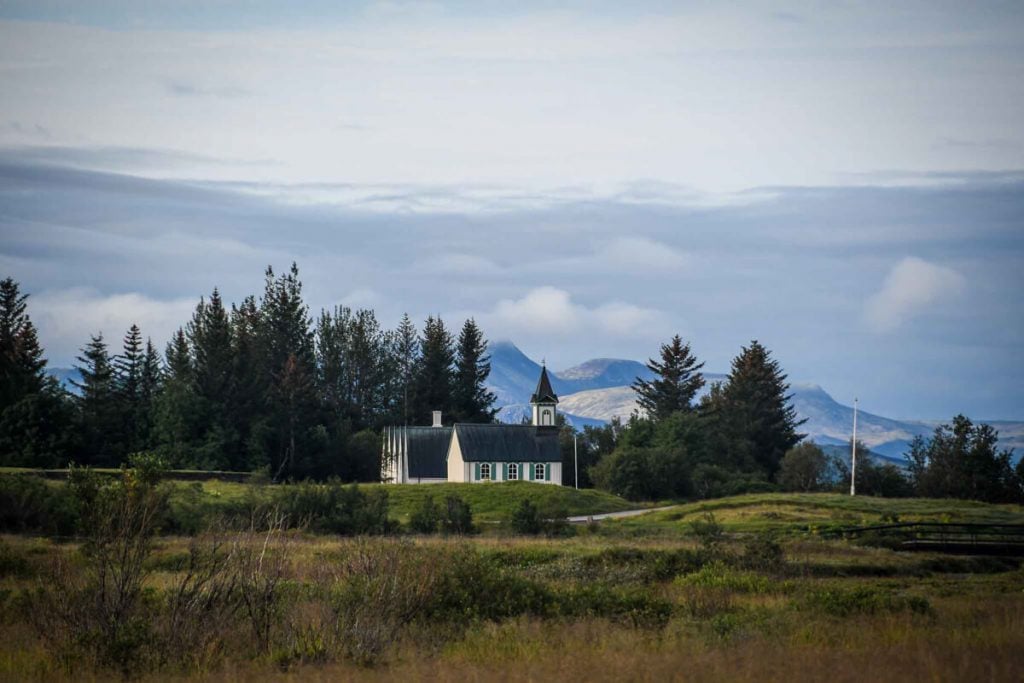 If you are doing the Golden Circle as a day trip and will return to Reykjavík at night, the itinerary below is what we'd suggest following. It is a twist on the classic Golden Circle loop, bringing you to many more destinations in order to pack a big punch in just one day.
Reykjavík
Thingvellir National Park
Fontana Rye Bread @ 11:45 a.m.
Geysir
Gullfoss
Friðheimar (reservations necessary)
Burafoss (optional, as this entails a 2-hour round trip hike)
Efstidalur II Creamery for ice cream
Faxi Waterfall
Kerið Crater
Reykjavík
Itinerary #2: Golden Circle with more time (1.5 days)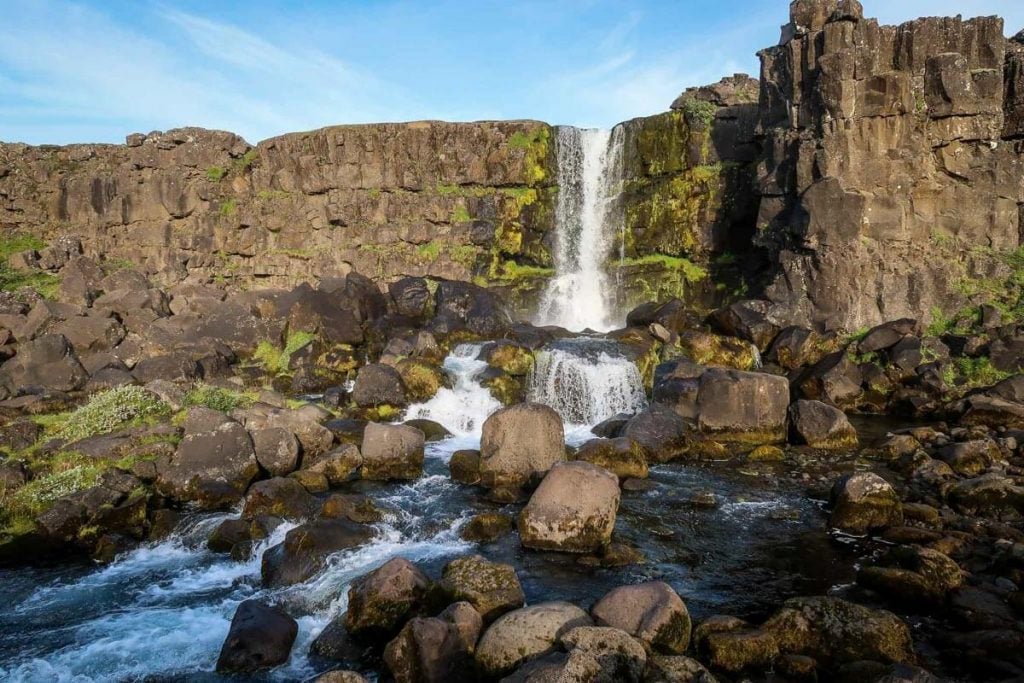 If you plan to include the Golden Circle as part of a longer road trip around Iceland and don't intend to return to Reykjavík on the same day, this is the itinerary we'd suggest following. This is the route we personally followed, and we saw so much more than a typical Golden Circle tour.
Good to know: Note that some of the stops on this itinerary are not actually part of the Golden Circle, but since they are nearby we think it makes sense to group them together into one route.
Day 1
This route can be started midday, or you can get an earlier start
Reykjavík
Hot spring river
Fjöruborðið for dinner

This seaside restaurant is known for langoustines, and it was one of our most memorable meals in Iceland! Definitely put this on your itinerary if you love seafood like we do!

Kerið Crater at sunset
Thingvellir Camping (or a nearby guesthouse)
Day 2
This will be a packed day.
Thingvellir National Park
Fontana Rye Bread @ 11:45 a.m.
Geysir
Gullfoss
Friðheimar for lunch (reservations necessary)
Burafoss waterfall hike (optional, as this entails a 2-hour round trip hike)
Efstidalur II Creamery for ice cream
Faxi Waterfall
Hrunalaug Hot Spring or Secret Hot Spring (chose one!)
Gluggafoss Waterfall
Camping at Hamragarðar*
*Choose a campground based where you will be headed next on your Iceland road trip. We personally chose this campground because it is very well-located (more on that below). The facilities aren't quite as nice as many other campgrounds in Iceland, but we think its proximity to some of the best sights in the country makes up for it.
This campground is situated just beside the stunning Seljalandsfoss waterfall, which is well worth seeing (especially at sunset if possible).
It is also a good place to begin sightseeing the following day as there are many nearby attractions.
Additionally, if you plan to do the Fimmvörðuháls hike, this makes a good place to start your day.
Golden Circle Tour vs. Self-drive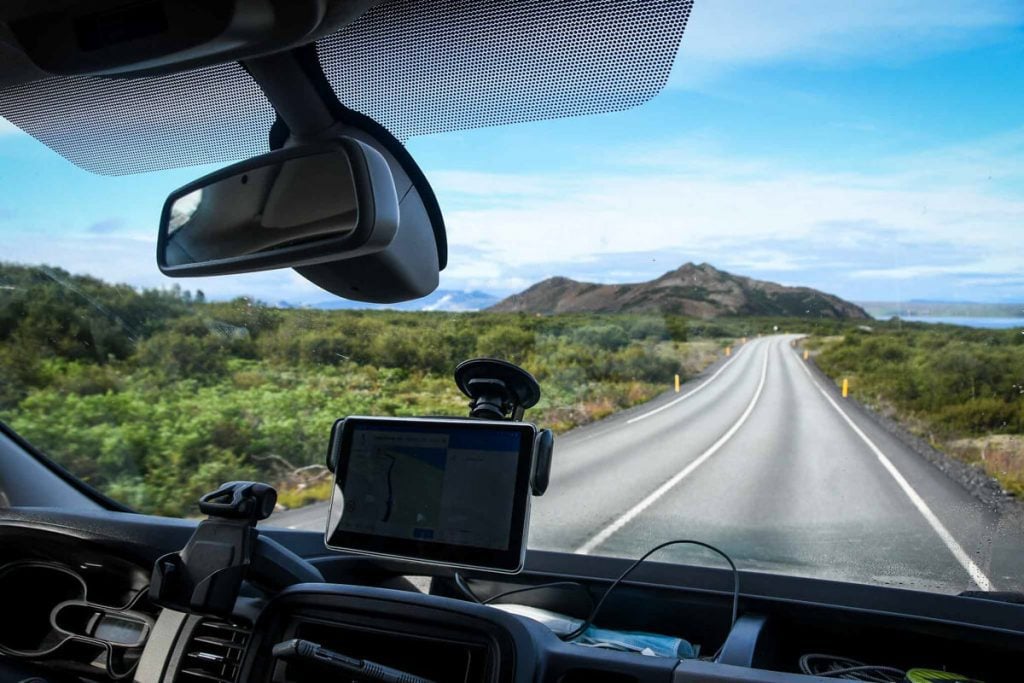 Are you debating whether you should book a guided Golden Circle tour or rent a car and do it yourself?
In our opinion, self-driving is without a doubt the best way to go. Driving yourself will allow you to go at your own place and stop at places along the way if you want. It also lets you customize your route to be exactly what you want to see.
That said, we know it can be overwhelming to drive in another country. We have all sorts of information about renting a car in Iceland (with some essential tips!) plus a huge guide to Iceland campervan rentals you can check out for more info.
However, if the thought of self-driving is too overwhelming to you, know that there are many companies that offer organized tours around the Golden Circle.
Our Golden Circle tour recommendations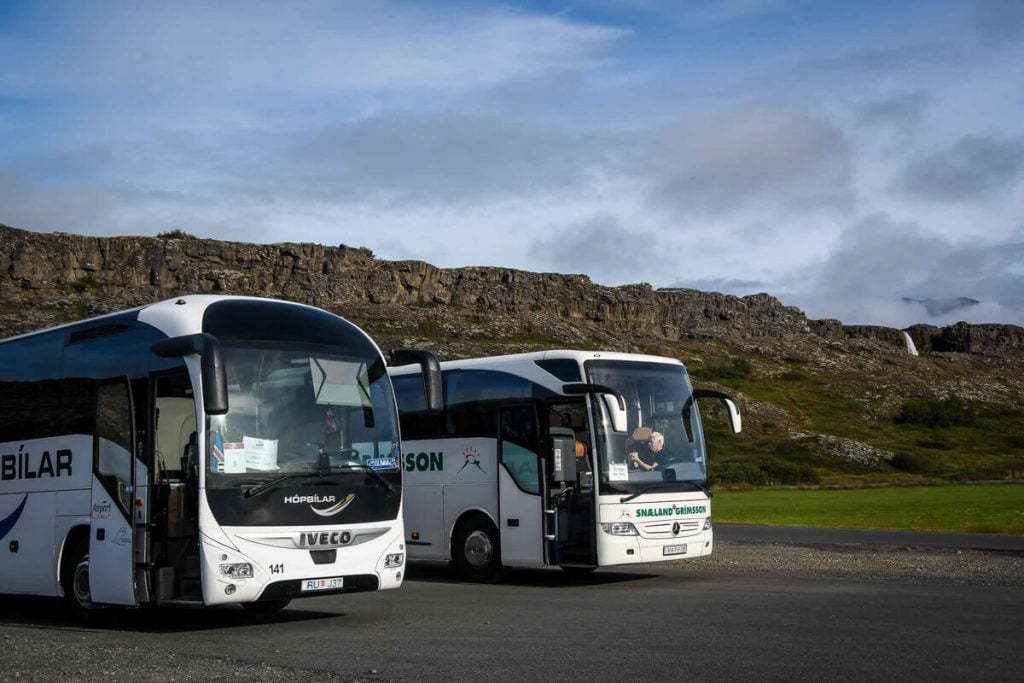 Full-Day Small Group Tour with Secret Lagoon
This budget-friendly tour includes the 3 main attractions on the Golden Circle as well as entrance to the Secret Lagoon. It earns rave reviews, includes pick-up and drop-off at your hotel in Reykjavík, and at just over $100 per person, it won't take too much of a toll on your budget. Plus, it is a small group tour, meaning the group size will be from 4-19 people.
Budget Golden Circle Tour
If you're looking for the absolute cheapest tour, this one is very popular. At just under $60 per person, it's a great value. That said, you won't
Golden Circle + Silfra Snorkeling
If you want to be sure to experience snorkeling in the Silfra Fissure, this guided tour would be our pick. It includes all the "regular" Golden Circle stops, plus, it includes this unique snorkeling experience.
Adventurous Golden Circle + Glacier Snowmobiling
If you want a super unique Golden Circle experience, this tour includes snowmobiling on the nearby Langjökull glacier. Talk about a once-in-a-lifetime experience! It is a bit of a splurge, so this option is a good choice for adventurous travelers with a bit of wiggle room in their budget.
Best time of year to visit the Golden Circle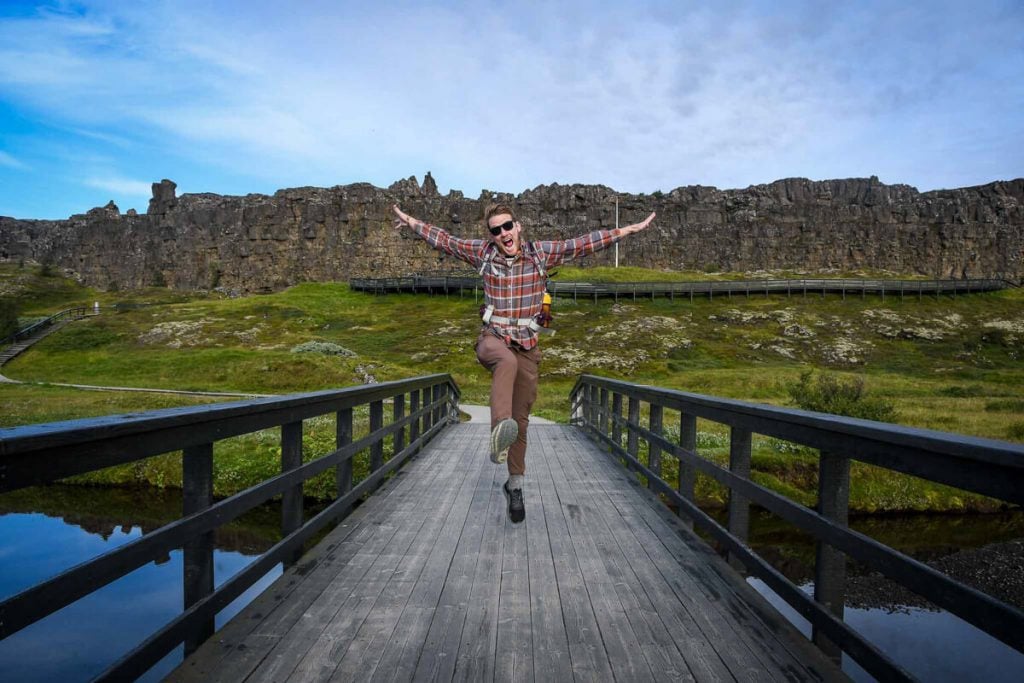 One of the major draws to the Golden Circle is that it is accessible all year round and the three main attractions are open during all seasons.
The roads are paved and well-maintained, so it shouldn't be too difficult. Just be cautious if there has been a recent freeze or snowfall. Additionally, some of the restaurants mentioned in our article are only open seasonally, so be sure to check their hours before your visit.
If you have more questions, we did a deep dive for our article on the best time to visit Iceland and included all sorts of info on the seasonal changes, weather, and what you can expect in each season.
Golden Circle FAQs
Still have questions about the Golden Circle? Chances are we've answered it in the FAQs below.
Do you need a 4×4 to drive the Golden Circle?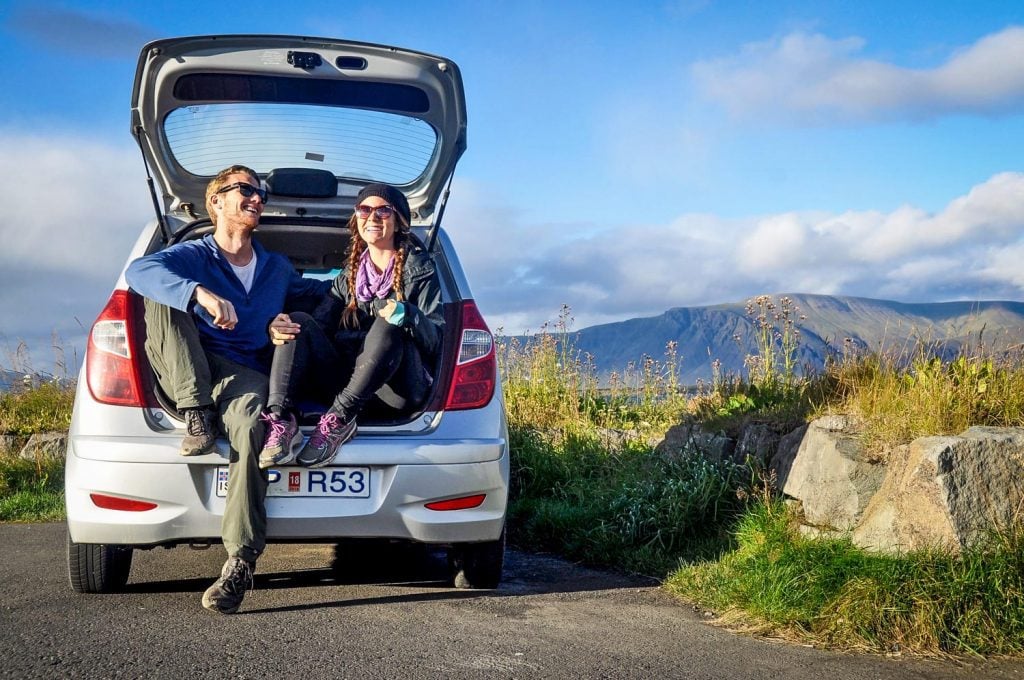 Not at all! There are some roads in Iceland that are known as F-roads and require 4×4 vehicles. Luckily, the Golden Circle route does not include any F-roads. The entire loop is very easy to navigate and the roads are in good condition.
That said, you'll definitely want to read up on our tips for driving in Iceland so you feel prepared to conquer this route on your own.
How can I avoid the crowds on the Golden Circle?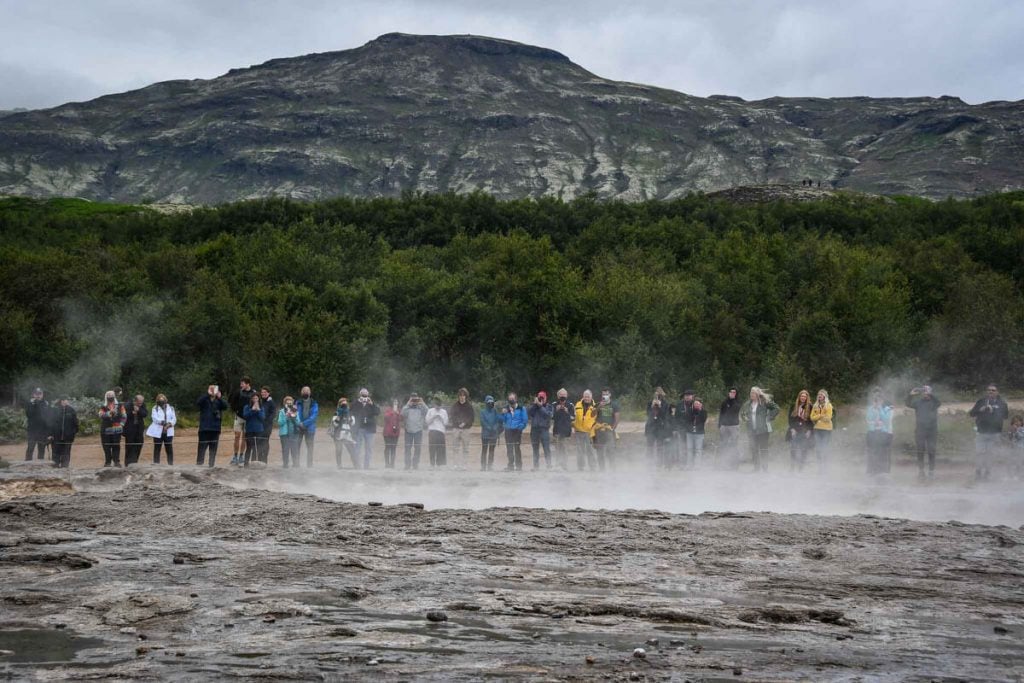 The Golden Circle is popular, and you'll find crowds just about every day of the year. Honestly, the main attractions are pretty large and shouldn't feel too packed even in peak season. However, there are a few ways you can avoid being in throngs of people:
Drive the Golden Circle on your own instead of going with a tour. This will allow you to go at your own pace and avoid arriving to the attractions alongside a crowd of people. If you really want to do a guided tour, specifically choose one that is a small group instead of a coach bus.
Go early or stay late, as most of the large tour groups are on the routeduring midday. If you're visiting in the summertime, you can take advantage of long daylight hours. We found that before 10 a.m. and after 5 p.m. tended to be the least crowded times.
Stay along the route. This will allow you to see the sights early in the morning and in the evening.
Hit the main attractions, but also visit some of the lesser-known spots as they tend to be far less crowded.
How much does the Golden Circle cost?
Good news: All of the main attractions along the Golden Circle are free!
Bad news: Gas in Iceland ain't cheap! If you're self-driving, this will likely be your largest cost (along with your car rental, of course).
You'll also need to factor in money for food (whether you cook your own meals or eat at restaurants) and any entry fees for the off-the-beaten-path attractions that strike your fancy, like the rye bread tasting experience, visiting Kerið Crater, or soaking in a nearby hot spring. For each attraction that has a fee, we've included a price in the description so you can plan accordingly.
If you choose to do a Golden Circle tour, expect to pay between $60 and $200 per person, depending on the type of tour.
Why is it called the Golden Circle?
This route gets its name from Gullfoss, as it translates from Icelandic to mean "golden falls". It is said to have a golden hue on sunny days. While not the most creative of names for this loop, it was created mostly as a way to market these attractions to visitors.
Is the Golden Circle worthwhile?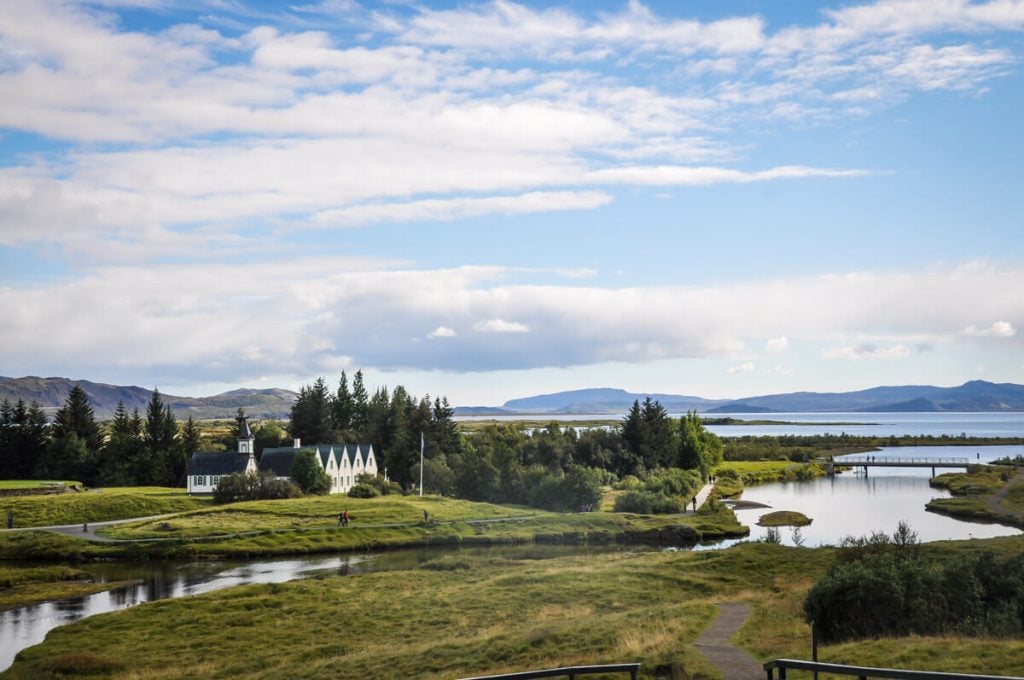 This is a pretty subjective question, and the answer will vary from person to person.
Being that it's one of the most popular attractions, we'd say it's definitely worth putting on your Iceland itinerary as there are some incredible sights on this route that are famous for a reason.
However, if we're totally honest, the Golden Circle wouldn't be included in our personal list of favorite places in Iceland.
Here are our honest opinions on each of the three major attractions:
Gullfoss is a seriously impressive waterfall and well worth seeing if you can. That said, there are other waterfalls in Iceland we enjoyed much more.
Thingvellir National Park is a really unique place geologically, as it is where the Euroasian and North American tectonic plates meet. Visually, it's not as interesting (in our opinion) as some of the other sights in Iceland.
Geysir is a pretty short stop for most visitors, and while it's cool to see, it likely won't make it into your top memories in Iceland.
In short: If it's your first time visiting Iceland and want to see as much as possible, do it. I think you'd regret leaving it out. However, if you are really limited in time or are only looking for unique, off-the-beaten-path experiences, you could potentially leave it out of your itinerary.
Where to eat on the Golden Circle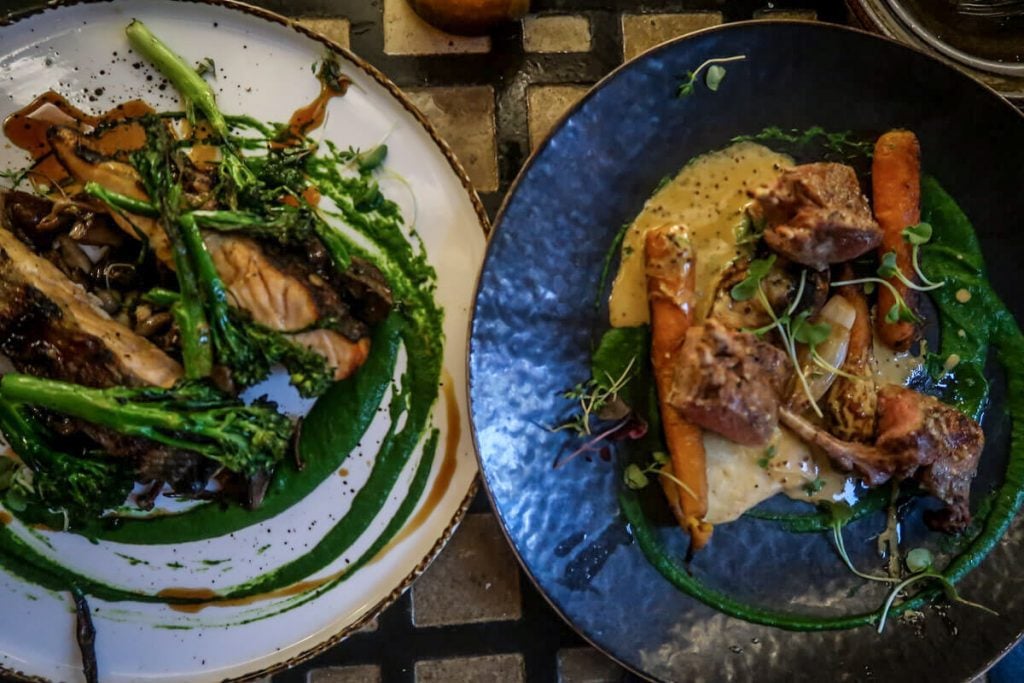 Friðheimar: Warm up from the chilly Icelandic temps inside this tomato greenhouse where you can enjoy all sorts of dishes from their tomato-focused menu. Be sure to get an order of their famous "Peace Tomato Soup", which is fantastic. While you're eating, be sure to take in the whole experience – from the tomato plants that surround you to the bees that buzz around as they pollinate. Dining inside a greenhouse is an experience you can't have every day, after all!
Farmers Bistro: Dine at Iceland's only mushroom farm for a unique foodie experience. In addition to mushrooms, they cultivate bell peppers, tomatoes, broccoli, carrots, kale and more – all of which make appearances on their menu. Enjoy their "gourmet buffet", which includes mushroom soup (lactose and gluten free), homemade garlic bread, bell pepper jam, sautéed mushrooms with butter and thyme, bell-pepper & mushroom tapenade, marinated mushroom, mushroom butter, garlic butter & butter. It's truly a mushroom-lover's fantasy!
Efstidalur II Creamery: Make a quick stop here during your Golden Circle route to stretch your legs, see the resident cows, and enjoy an ice cream cone, of course! They also have a food menu, which is said to be good, if you're feeling a bit more hungry at this point.
Restaurant Minilik: If you're looking for food other than Icelandic options, this Ethiopian joint in Flúðir will surely impress. With authentic dishes, vegetarian options, and a cozy setting, this place earns rave reviews. Who knew you could get stellar Ethiopian food in the middle of Iceland?!
Fish & Chips: This casual stand in Flúðir serves up one thing – fish & chips (with yummy housemade garlic sauce). If you're looking for an inexpensive and quick dining option, this is a great choice, especially before or after a soak in one of the nearby hot springs.
Fjöruborðið: While not on the Golden Circle route, we've include this seaside restaurant in Itinerary #2 because it is not too far out of the way. If you're a seafood lover (like we are!), you'll love this place. Their menu is focused on one thing – langoustines (also known as "Icelandic lobsters"). Do yourself a favor and order both the grilled langoustines (large size!) and the langoustine soup. We ordered one of each for the two of us and were super satisfied, but you can also order a 3-course menu which includes both dishes as well as dessert. This is definitely a "splurge meal", but oh so worth it!
Where to stay on the Golden Circle
Thinking about taking your time along the Golden Circle? Good for you! If you have room in your itinerary, it's nice to not be too rushed.
We drove the Golden Circle in our campervan rental, which made it easy for us to find places to stay along the way. We have an entire guide to camping in Iceland with our best campsite recommendations.
If camping is not your thing, here are our top recommendations for places to stay in the region: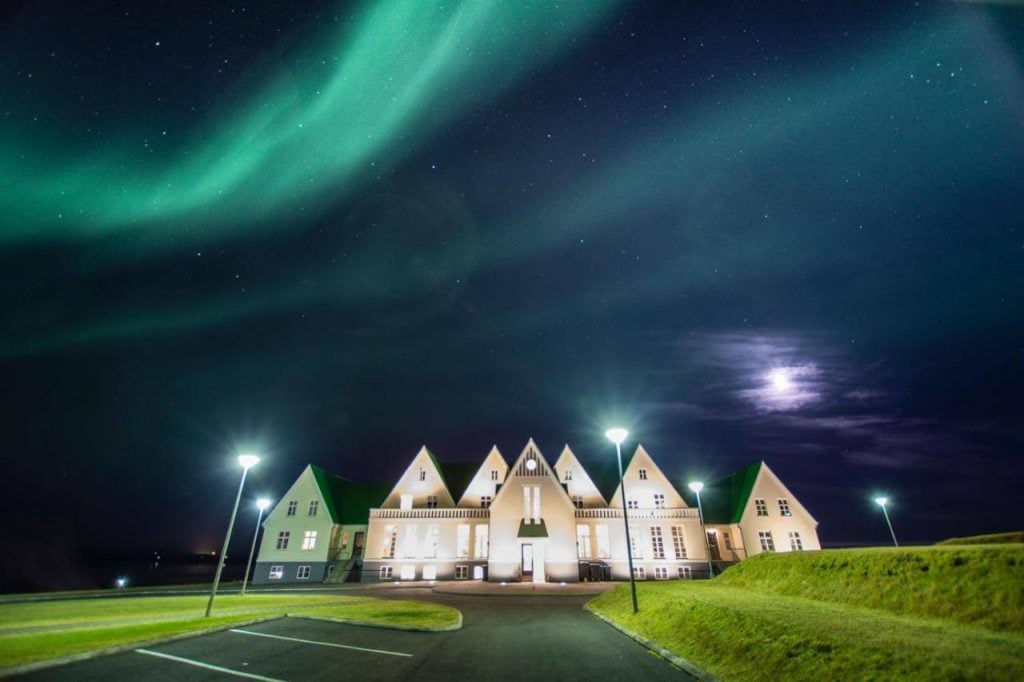 Héradsskólinn Historic Guesthouse
A top-rated hostel located within the Golden Circle Iceland and overlooking Lake Laugarvatn, Hekla Volcano and the Eyjafjallajökull Glacier. Set in a former 1920's school building, Héradsskólinn offers both private rooms and dorm-style accommodation, and an onsite bistro and cafe.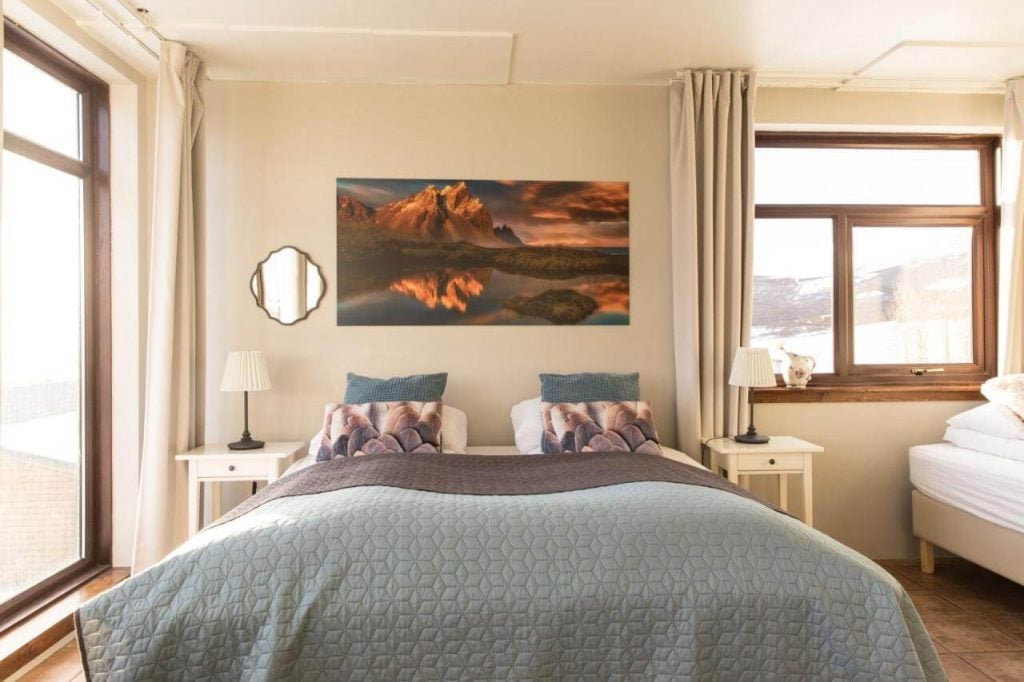 A beautiful farmhouse turned bed and breakfast in Laugarvatn, Iceland, perfectly situated within the Golden Circle region. They offer horseback riding during the summertime, traditional cooking and a geothermal outdoor hot tub.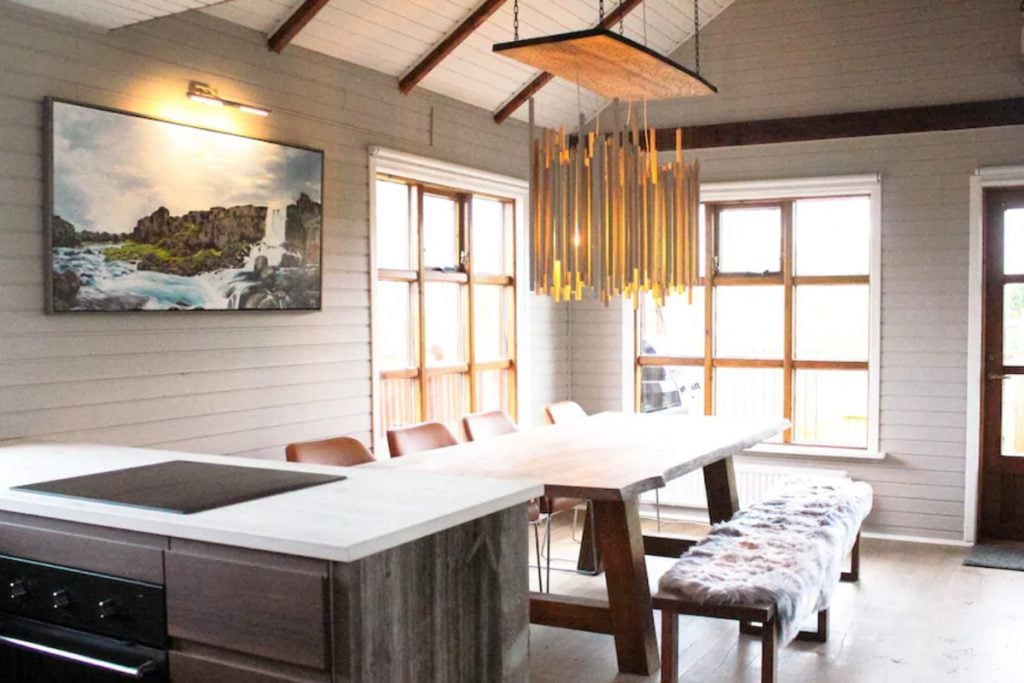 A beautifully decorated 3 bedroom home with all kinds of amenities like a fireplace, in-home laundry and home theater set up. Outside on the large deck you'll find a BBQ grill and private hot tub. One of the best deals for families or small groups and perfectly located to explore the Golden Circle.
If you're looking for more options, we have an entire article on the best Airbnbs in Iceland with stays in locations all around the country, including the Golden Circle.
What to pack for visiting the Golden Circle Iceland
Packing for a trip to Iceland is tough (the weather changes all the time!). But don't worry, we've got you covered with a super detailed packing list so you know exactly what to bring.
In this free Iceland packing list PDF download, we've provided packing checklists for everything from clothing and toiletries (for both women and men!) to what shoes to pack and extra medicines you may want to have on-hand just in case.
Plus, we're sharing tons of packing hacks and tips for traveling in Iceland that you won't find anywhere else!

---
Are you planning a trip to Iceland?
We have TONS of resources on travel in Iceland and how to make the most out of your trip. Check out our Ultimate Iceland Travel Guide for all the answers to your most burning questions, or read some of our favorite articles below.
Save this article on Pinterest for later!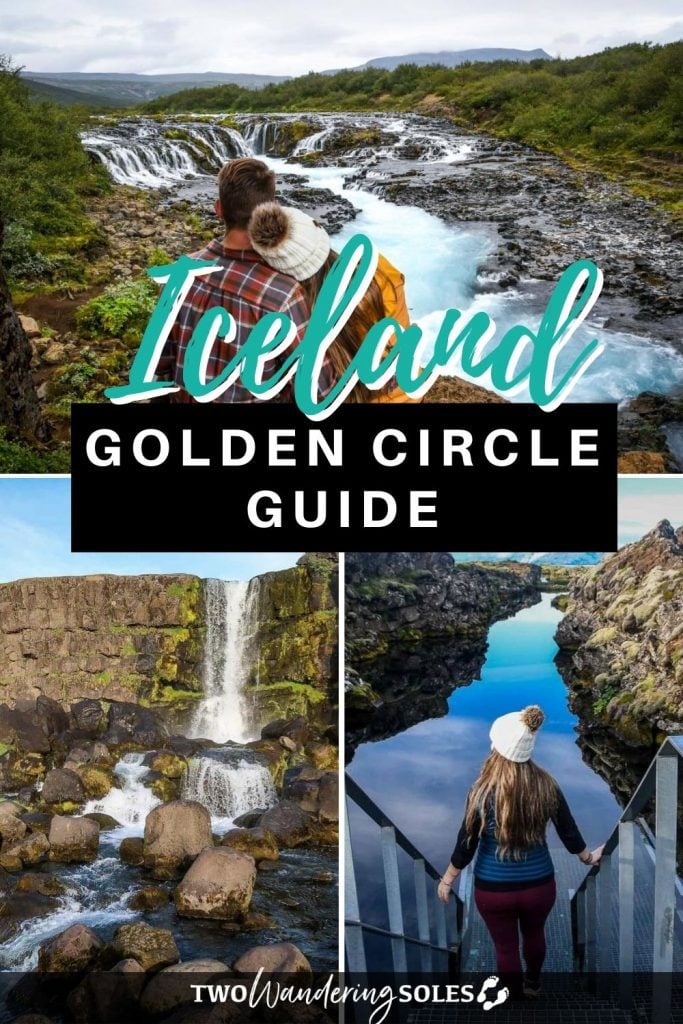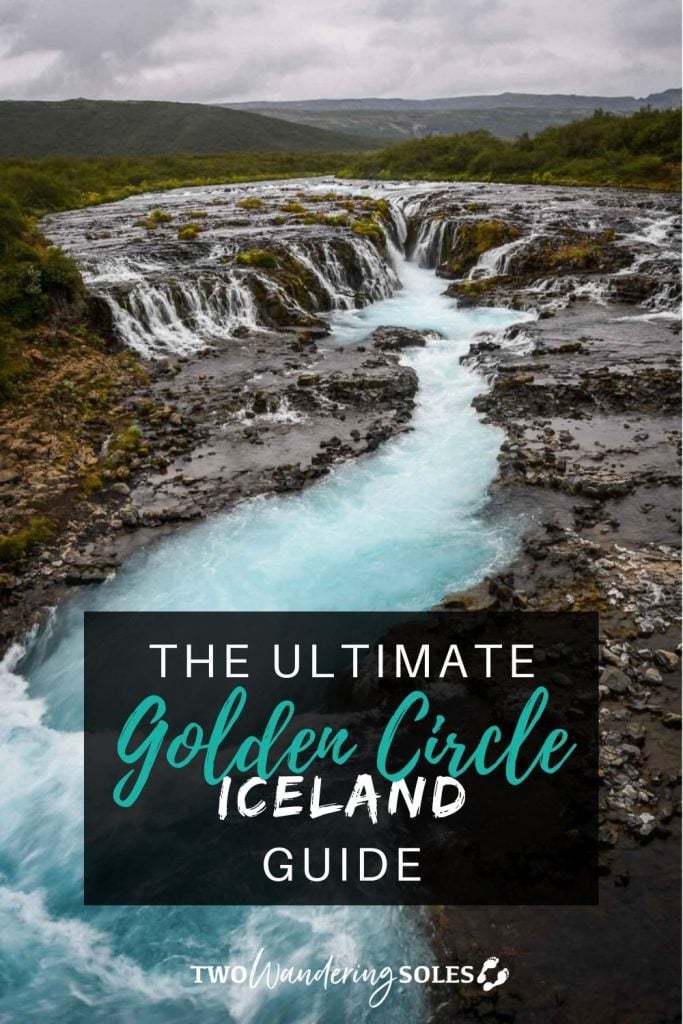 We want to hear from you!
Are you planning a trip on the Golden Circle Iceland and have more questions? Leave a comment below and we'll do our best to get you the answers you're looking for!