One of many highlights of the South Island, visiting Milford Sound New Zealand is at the top of many bucket lists. We put together this ultimate guide with everything you'll need to know when planning a visit including when to go, where to stay, things to do, and essential tips.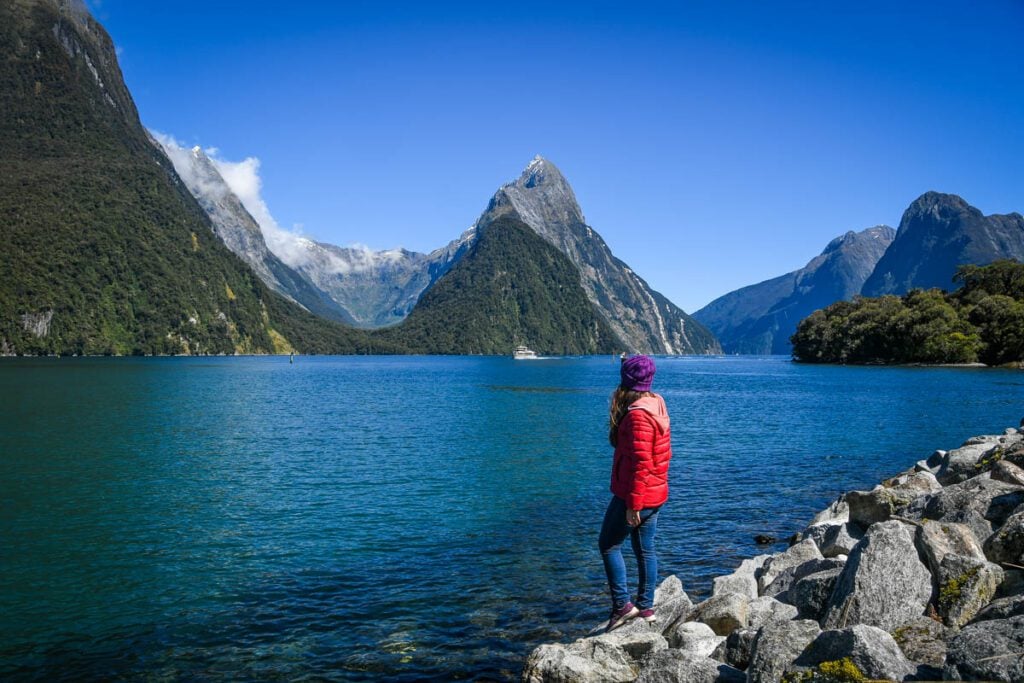 Touted as New Zealand's most popular tourist destination and even called the "8th Wonder of the World", Milford Sound ("Piopiotahi" in Māori) is arguably New Zealand's most spectacular natural attraction (and that's saying something!).
Located in Fiordland National Park, the 15-kilometer stretch that makes up Milford Sound is surrounded by towering cliffs, cascading waterfalls, mountain peaks, and lush rainforests. A visit to this untouched wilderness tops many travelers' lists of things to do in New Zealand.
Milford Sound Travel Guide
For more tips and advice for planning your trip to Milford Sound, jump to the following sections (or just keep scrolling to see it all!).
And if you want more information to plan your trip to Milford Sound, be sure to check out our other guides: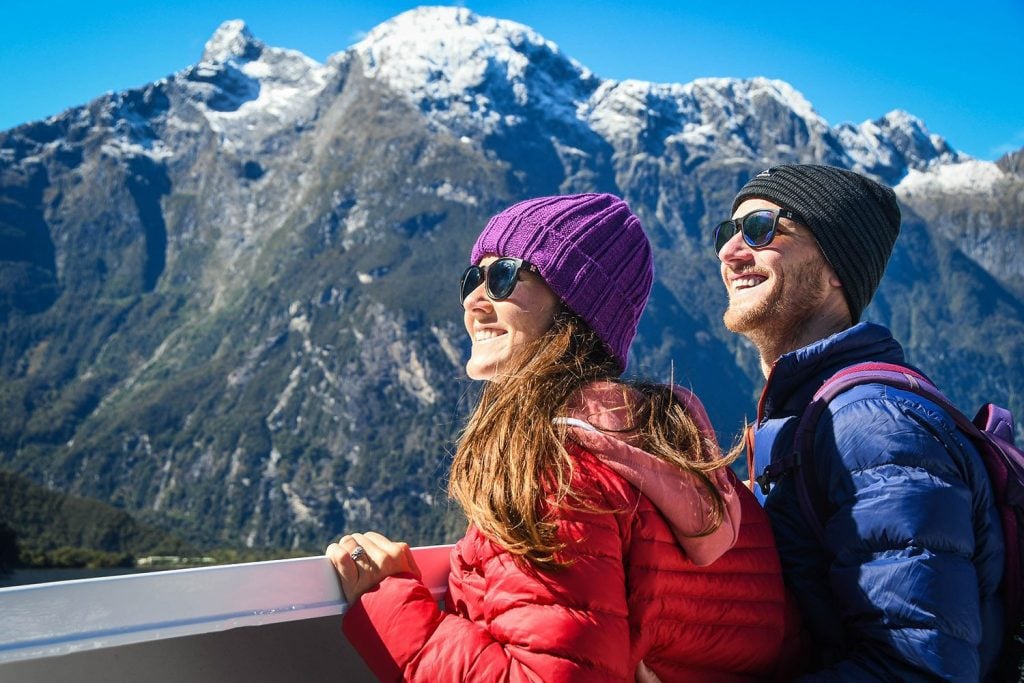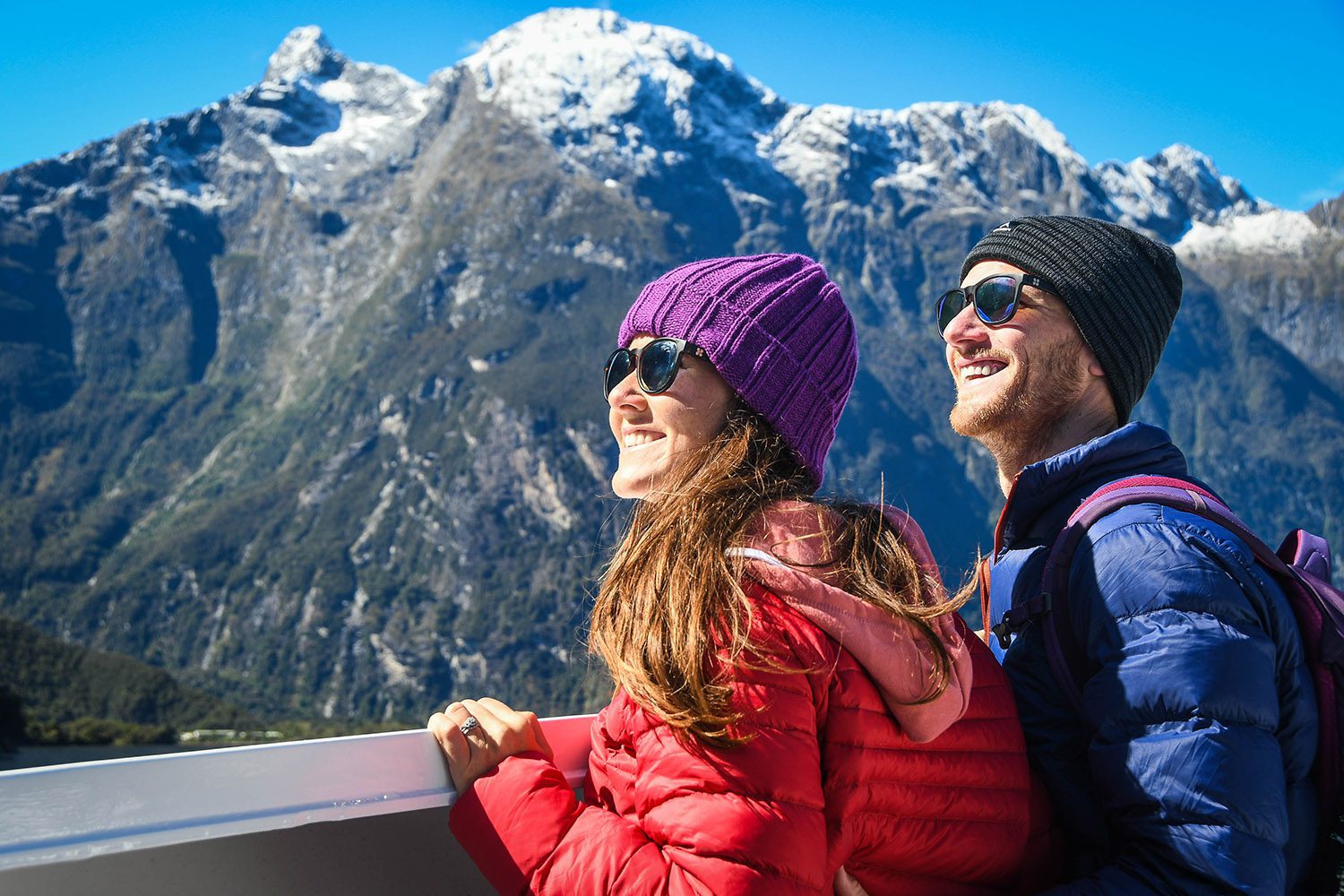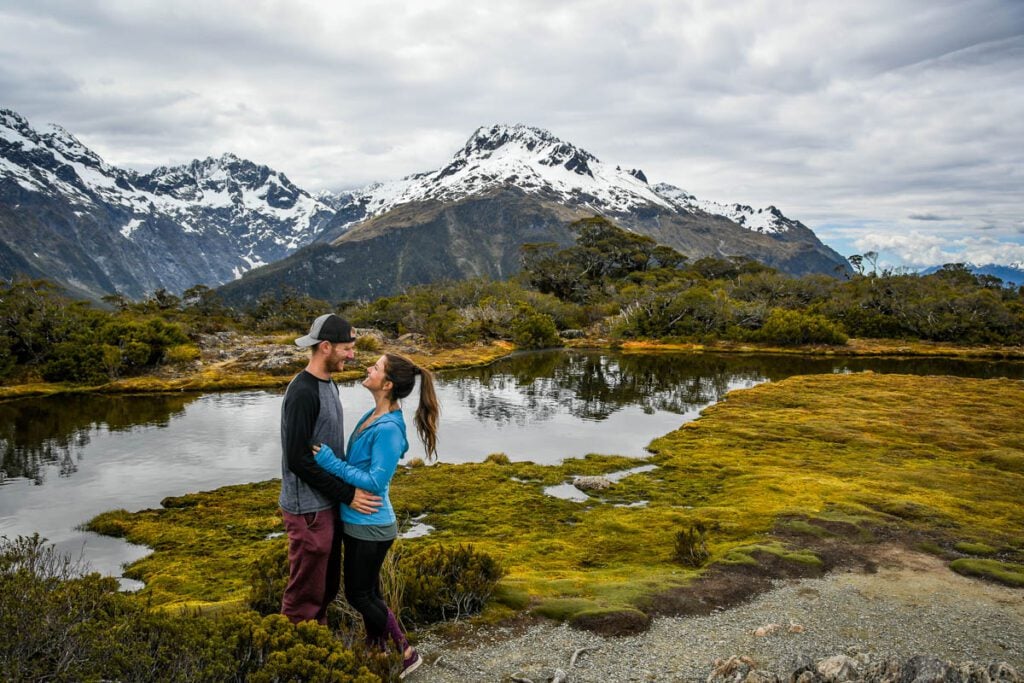 ---
Want to save time and energy on planning?
We spent 5 weeks traveling around New Zealand in a campervan, and we've been lucky enough to explore a lot of what this country has to offer!
We took our 5-week travels and condensed it down to 30 days (because so many people wanted a 1-month route) that hits the top destinations on both the North and South Islands.
We'll send you our complete 1 month itinerary, filled with tips and advice. Just click below to get your 30-day New Zealand road trip itinerary today!


---
About Milford Sound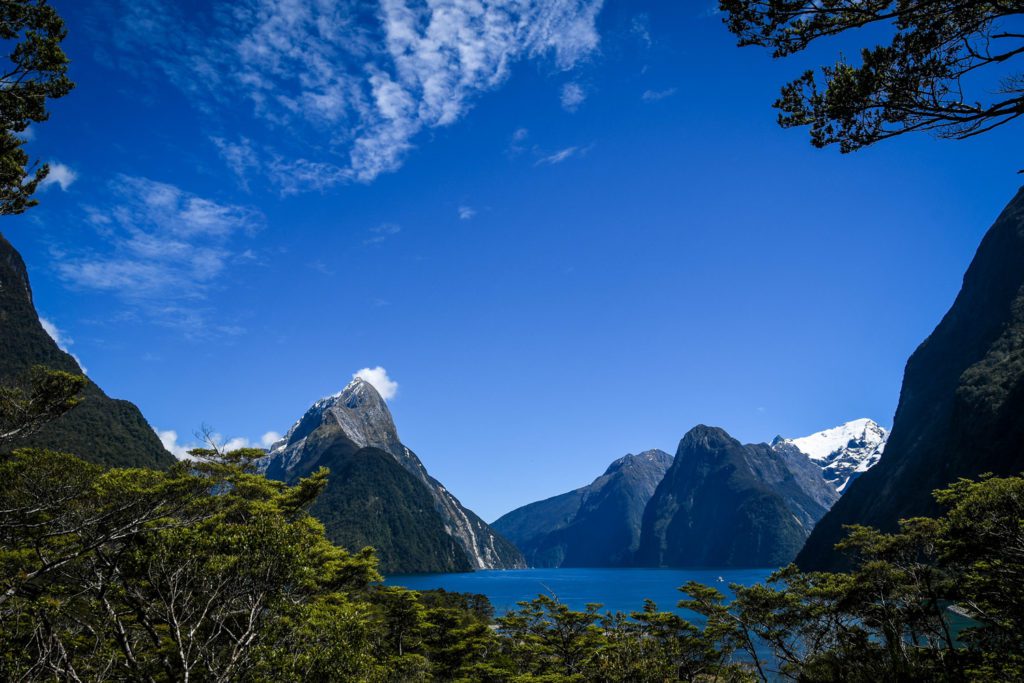 The first thing you need to know is that Milford Sound is not a sound—it's a fjord. The most famous one in Fjordlands National Park, in fact.
The fjords were formed by glacial erosion over hundreds of millions of years. Piopiotahi was discovered by the Māori people over 1,000 years ago and later given the name "Milford Sound" by European settlers.
Note: Like a fjord, a sound is also a valley filled with sea water, but the term sound typically refers to a valley filled by the flooding of a river, whereas fjords are formed in glacial valleys.
Now, it's one of New Zealand's most popular tourist attractions, seeing pre-pandemic numbers of nearly 900,000 visitors in 2019. With dense native forests, seemingly endless waterfalls, and abundant wildlife, it's easy to understand the popularity.
Take our word for it: this is one of those bucket list places that totally lives up to the hype and an absolute must for your South Island itinerary.
Will you be visiting both islands on your trip? We also have a 2-week North Island itinerary that you can copy!
English language note: In this article, we'll be using "fjord" and "fiord" interchangeably.
Wildlife on the Milford Sound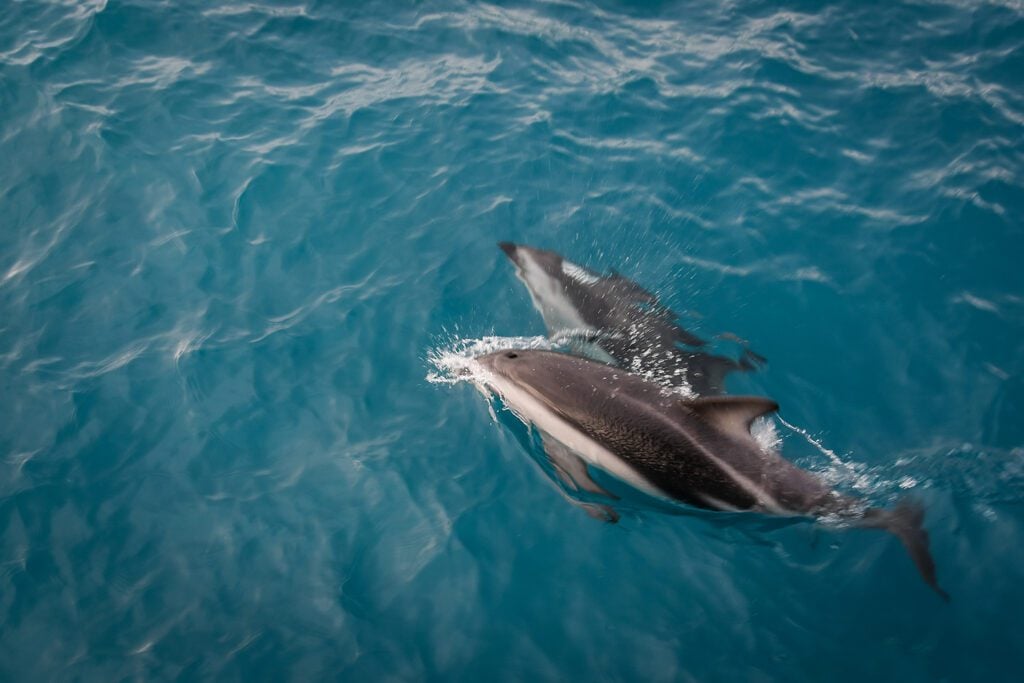 From the treetops of the surrounding rainforest to the depths of the pristine water, Milford Sound is teeming with a diverse array of flora and fauna, including several rare species found nowhere else in the world.
Marine mammals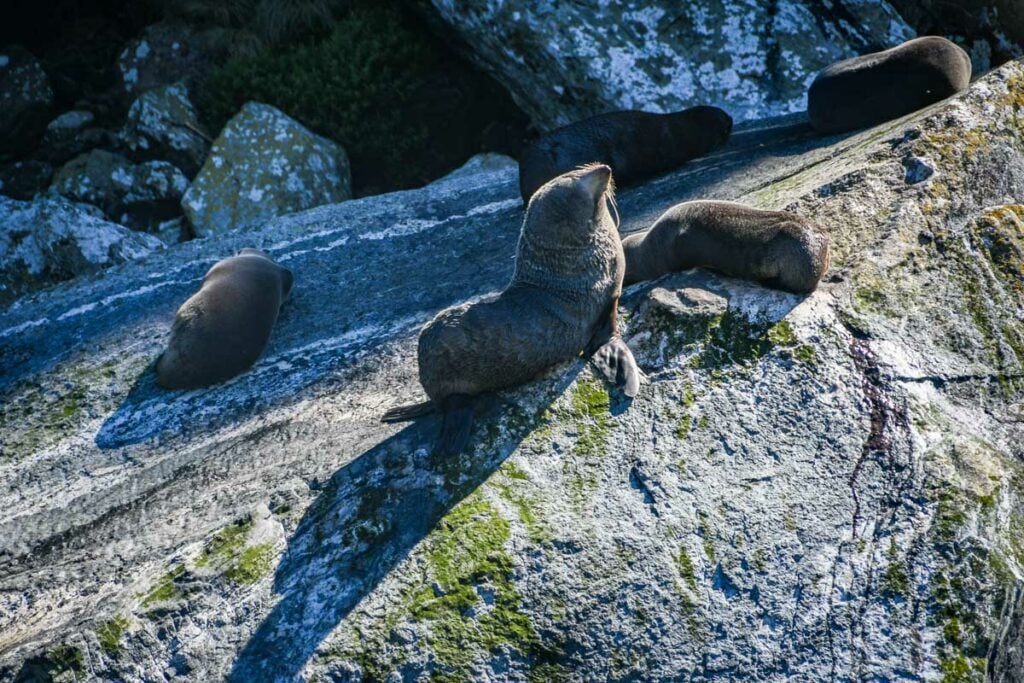 On your Milford Sound tour, there's a good chance you'll see fur seals sunbathing on Seal Rock and curious bottlenose dolphins frolicking around your boat. Dusky dolphins occasionally make an appearance, and whale sightings are rare, but not unheard of.
Psst! If you want to see dusky dolphins on your trip to New Zealand, don't miss our guide to (ethically!) swimming with dolphins in Kaikoura.
Seabirds
You'll no doubt see gulls and cormorants soaring overhead, and you might think, been there, done that. But there's another bird commonly found in Milford Sound, and it just may steal your heart…
The Little Blue Penguin. Yes, that's its real name! Also called Fairy Penguins, these cuties are the world's smallest penguin species and they are stinkin' adorable!
Also endemic to the area is the Fiordland Crested Penguin, one of the rarest penguins in the world. You'll know you've spotted this endangered species if you see a penguin with a funky hairstyle.
Meanwhile, on land…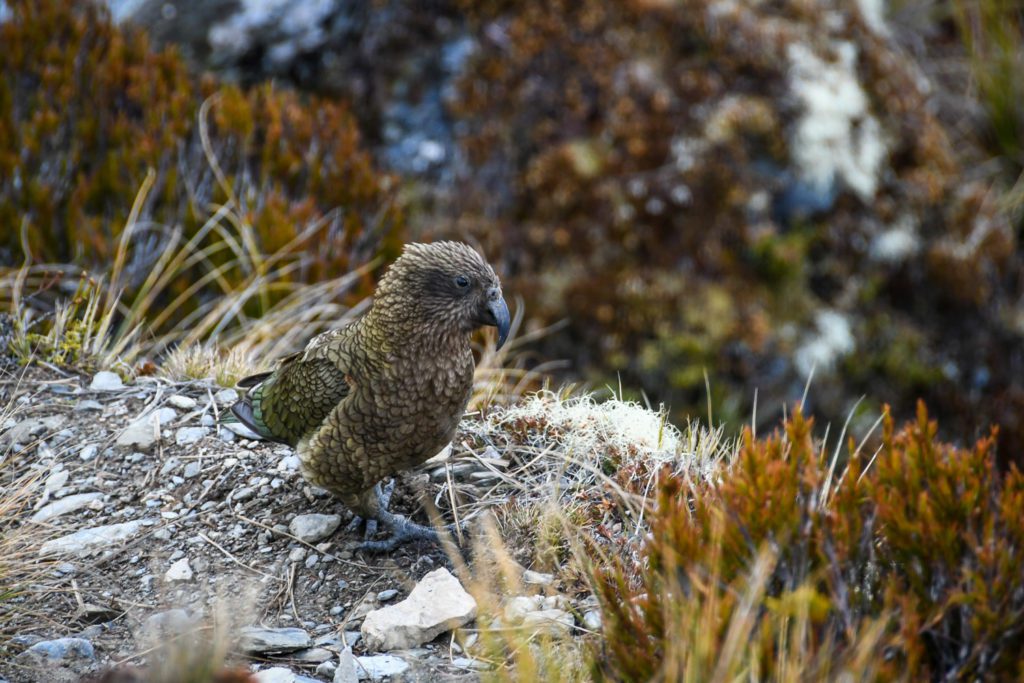 As if the diversity in the water wasn't enough, there are more than 700 species of plants in the rainforests around Milford Sound that can only be found in Fiordland.
Venture into the trees and you'll likely see a kea or two. This alpine parrot is known for its high intelligence and mischievous behavior (like stealing things from tourists!). Less likely to be spotted are the colorful takahe and the whimsical kakapo, both of which are critically endangered.
Best time to visit Milford Sound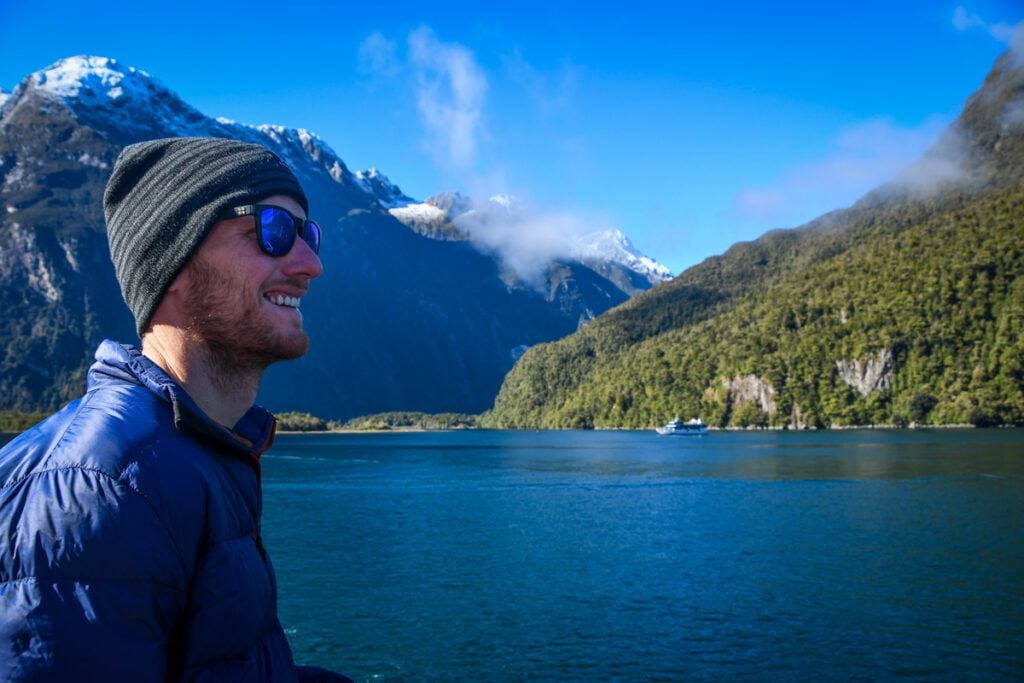 In our opinion, the best time to visit Milford Sound is in November. Deciding on when to take your Milford Sound cruise can be tricky, but here's why we think November is the sweet spot:
Temperatures are comfortable. This is the shoulder season between New Zealand's spring and summer, so things are starting to warm up and the days are getting longer.
You'll avoid peak tourist season. December to February is New Zealand's summer, which sees bigger crowds and higher prices.
You have a better chance of seeing wildlife, as marine life such as penguins and seals are more active in the spring and fall.
You actually want some rain. That's right, with atmospheric mists and too many waterfalls to count, Milford Sound is at its best in the rain! The South Island's west coast is notorious for rain at all times of year, but December and January are the wettest months.
We would personally avoid visiting during peak tourist season (December to February), when Milford Sound will be at its most crowded and huge cruise ships might be coming into the fjord. We would also avoid visiting in the winter (June to August), when you may be faced with icy driving conditions and closures on Milford Road.
For an in-depth guide on the regional seasons, weather patterns, and other factors, check out our complete guide to the best time to visit New Zealand.
How many days do you need in Milford Sound?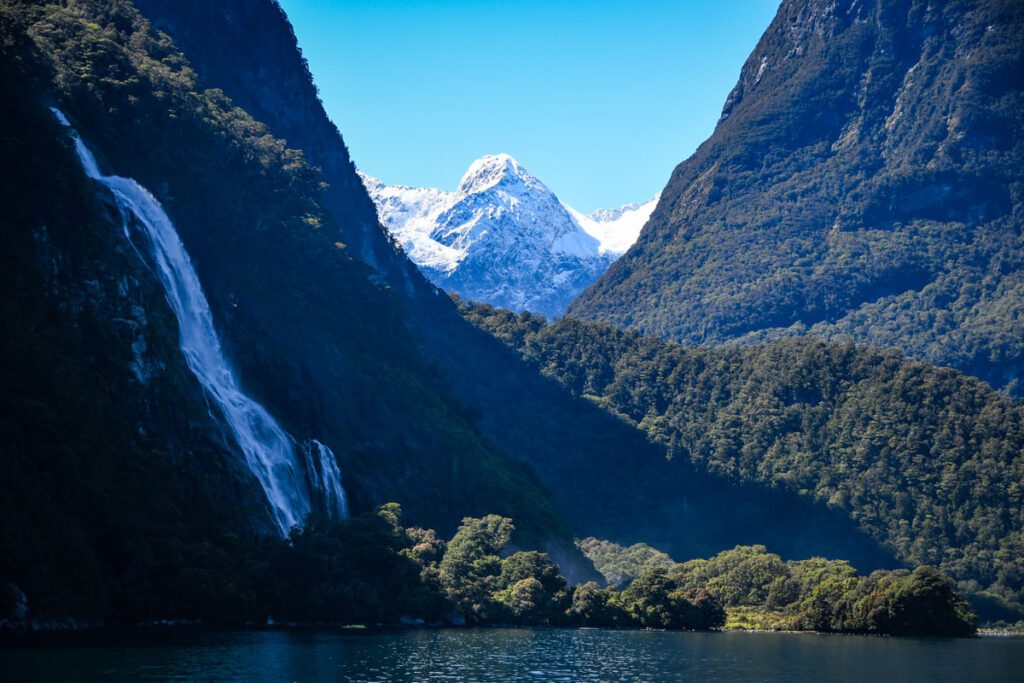 You shouldn't need to spend more than a day in Milford Sound. However, its remoteness means you'll need to add extra time for travel.
Most tourists do a Milford Sound day tour from Te Anau or Queenstown. Since Queenstown to Milford Sound is a 9-hour drive round-trip, we recommend staying 1 or 2 nights in Te Anau or at a nearby campsite to give yourself more time to explore.
We have a whole guide to planning a road trip from Queenstown to Milford Sound, but here's a mini-itinerary to give you an idea:
Day 1: Drive from Queenstown to Te Anau (4.5 hours). Spend the rest of the day exploring Te Anau.
Day 2: Drive from Te Anau to Milford Sound (2.5 hours) for a cruise & kayaking tour. Drive back to Te Anau, making stops along the Milford Road. Spend another night in Te Anau.
Day 3: Drive back to Queenstown or onward to the next destination on your road trip.
Psst! We also have a massive guide packed with insider tips to help you plan the perfect New Zealand itinerary.
How to get to Milford Sound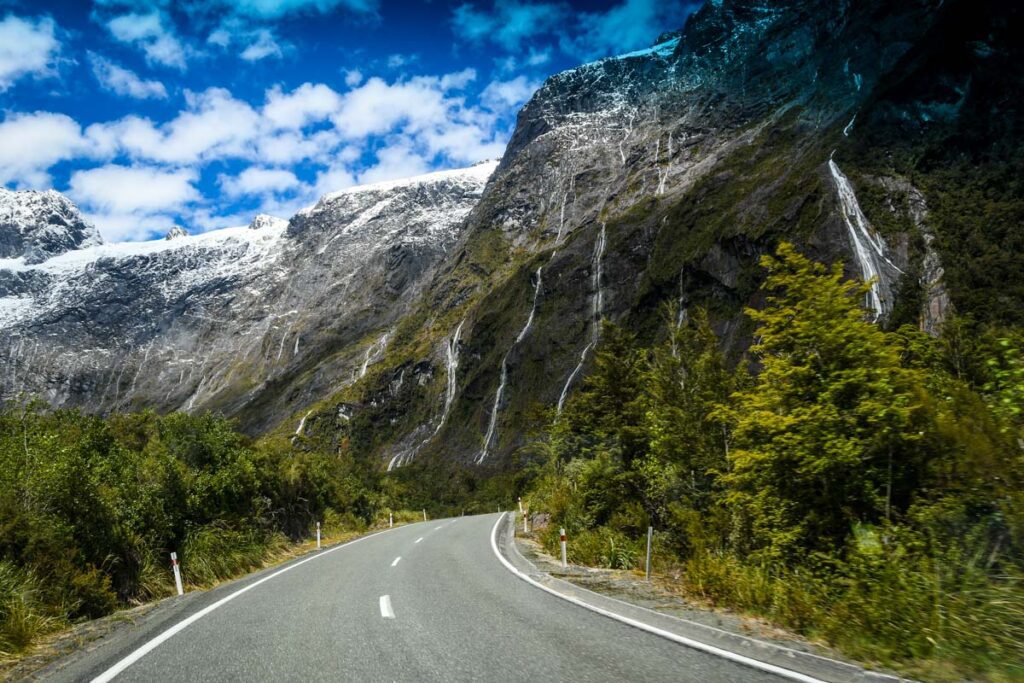 While some tours include transportation to and from Te Anau or Queenstown, you might be driving to Milford Sound yourself if you're renting a car or doing a campervan road trip. There's only one way in, and it's pretty freakin' spectacular: the Milford Road.
From Te Anau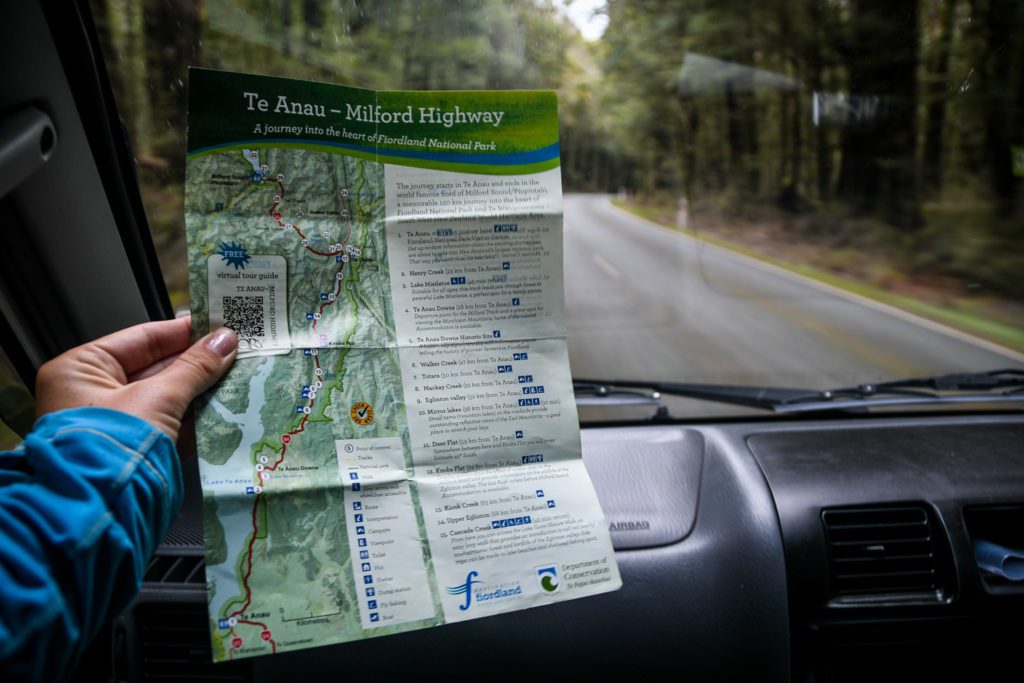 Distance: 118 km / 73 miles
Time: 2.5 hours minimum
The section of State Highway 94 from Te Anau to Milford Sound is known as the Milford Road. The route is straightforward since you'll be staying on 94 the whole time, but there are some important things you need to know before making this drive:
Give yourself more time than Google Maps says. Traffic will be heavy as everyone makes their way to their Milford Sound cruises. Plus, this drive is so astonishingly beautiful that you'll want to stop at landmarks along the way. Trust me.
There are no services on this road. Make sure you have a full tank leaving Te Anau, as well as snacks, water, and anything else you need for the drive.
There's also no cell service, so download your maps before heading out. This article explains how to download offline Google Maps if you're not familiar with the process.
It can be dangerous in the winter, and the road will close if there's an avalanche advisory. Check conditions before leaving and bring emergency gear, including snow chains.
From Queenstown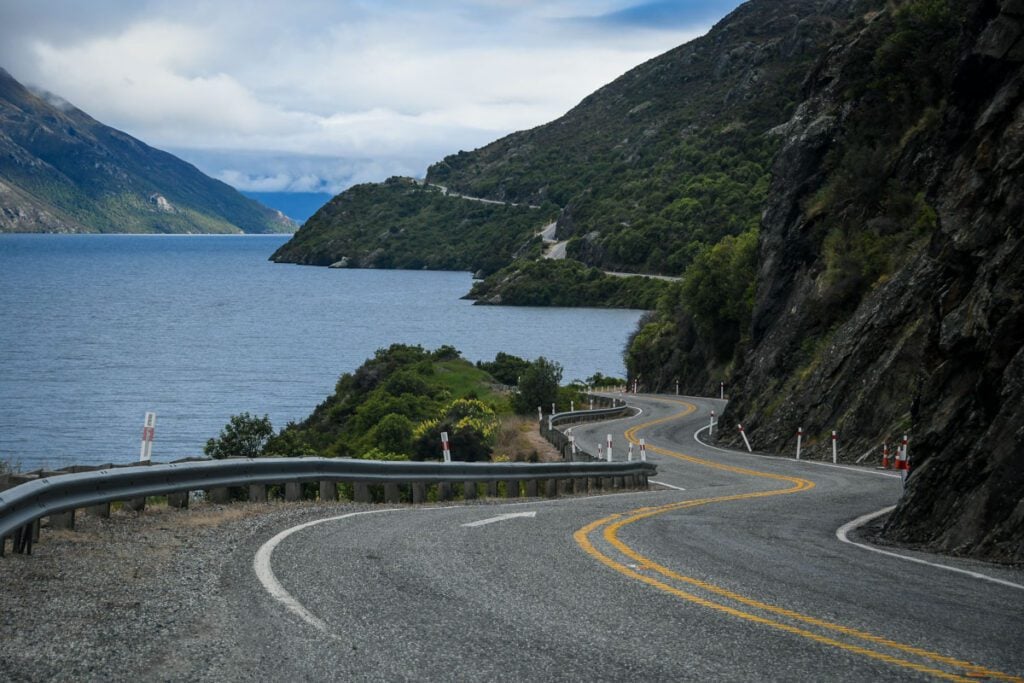 Distance: 288 km / 179 miles
Time: 4.5 hours minimum
Though it may look closer on a map, there's no route to Milford Sound from Queenstown as the crow flies, so you'll still need to go through Te Anau.
Take State Highway 6 out of Queenstown, heading south along the shores of Lake Wakatipu. In Lowther, turn right onto Highway 97. Turn right again in Mossburn onto Highway 94, which you'll stay on all the way to Milford Sound. Don't forget to stop in Te Anau for gas and supplies.
Staying in Queenstown? You'll definitely want to read our list of the best things to do in this adventurous city!
Getting around Milford Sound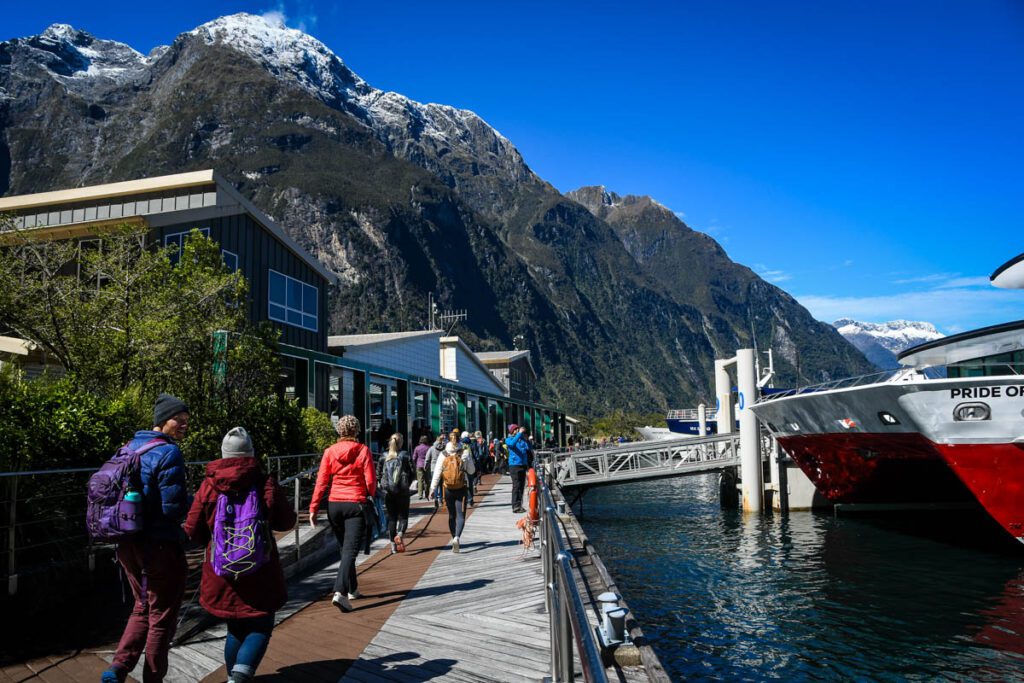 There are no taxis, rideshares, or public transportation once you arrive in the township of Milford Sound.
Walking is super easy and the best way to get around. From the car park, it's just a 1-minute walk to the Information Centre & Cafe, 2 minutes to the Milford Sound Foreshore Trail, and about 10-15 minutes to the ferry terminal.
If you require assistance getting around, we recommend booking a Milford Sound tour that includes transportation, as tour buses can park right at the ferry terminal and your guides will be able to help out.
If you're staying at Milford Lodge, you can take advantage of their free shuttle service to bring you right to the ferry terminal, or walk the 2 km (about 30-35 minutes) and take in the scenery.
Things to do in and around Milford Sound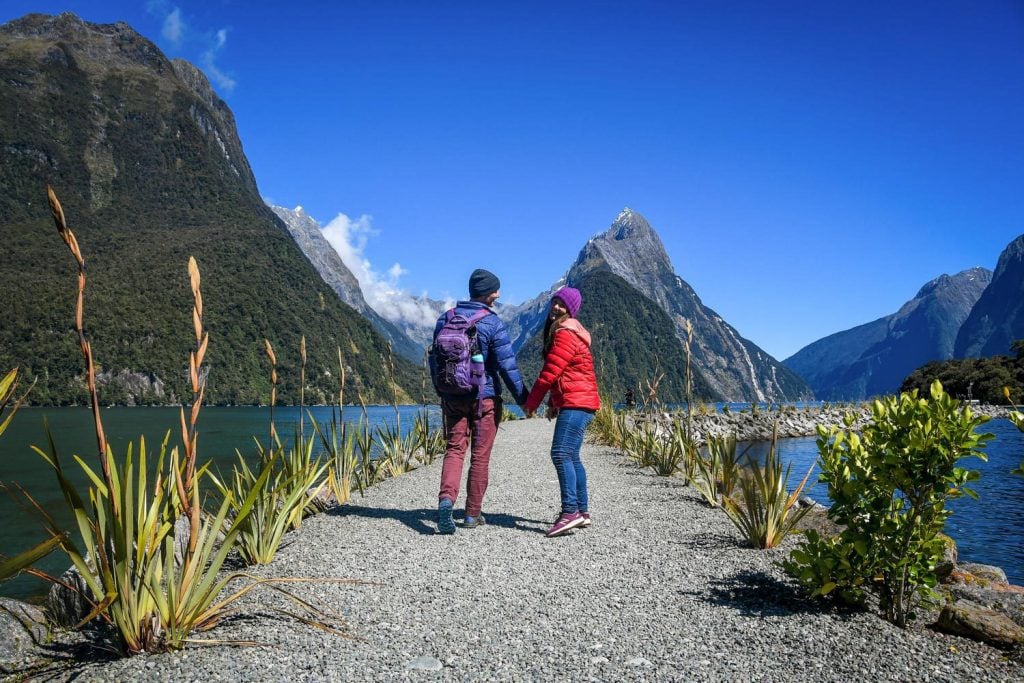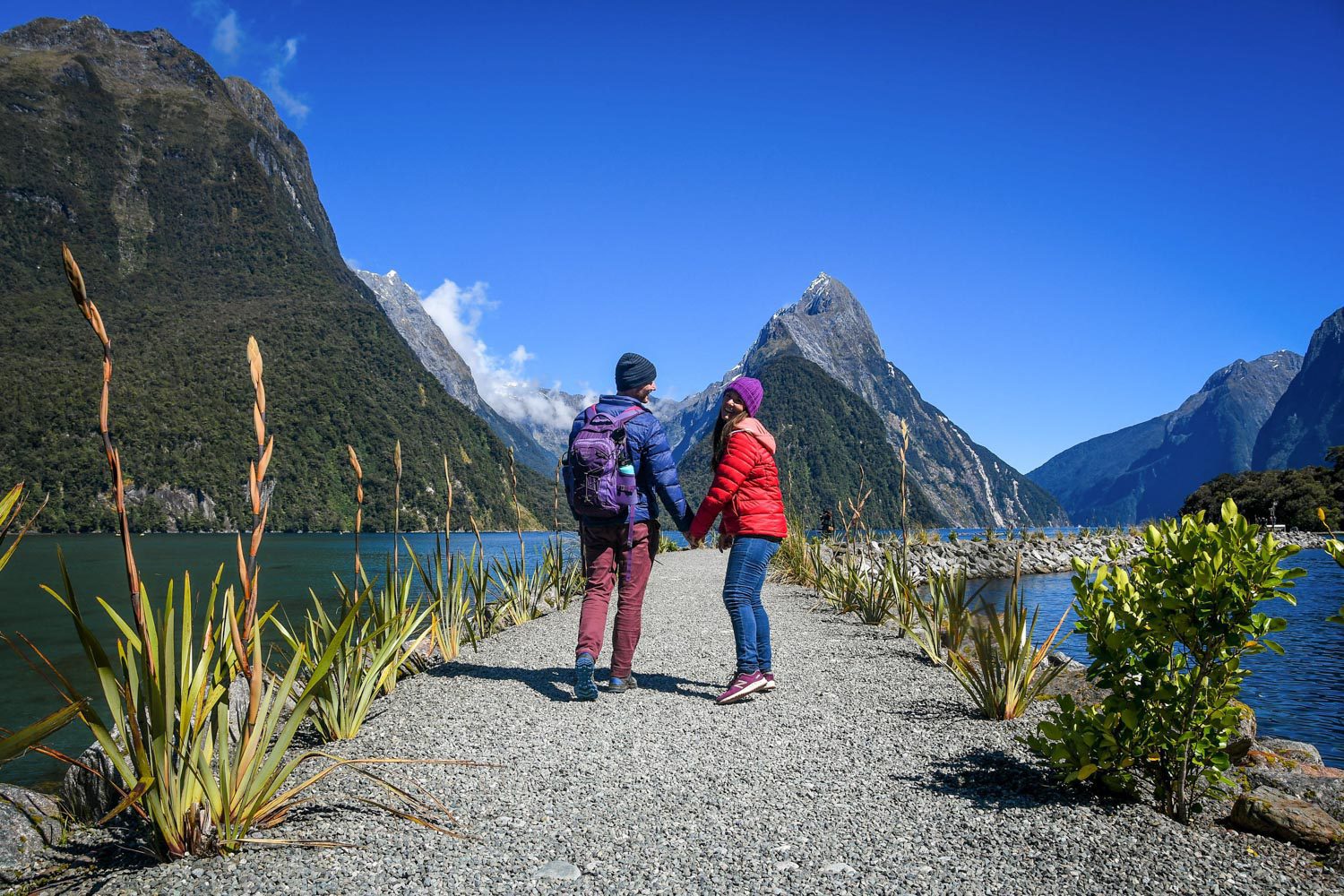 Whether you're looking for a few hours of sightseeing or an overnight cruise adventure, there's no shortage of ways to experience the staggering beauty and wild nature of Milford Sound.
1. Cruise Milford Sound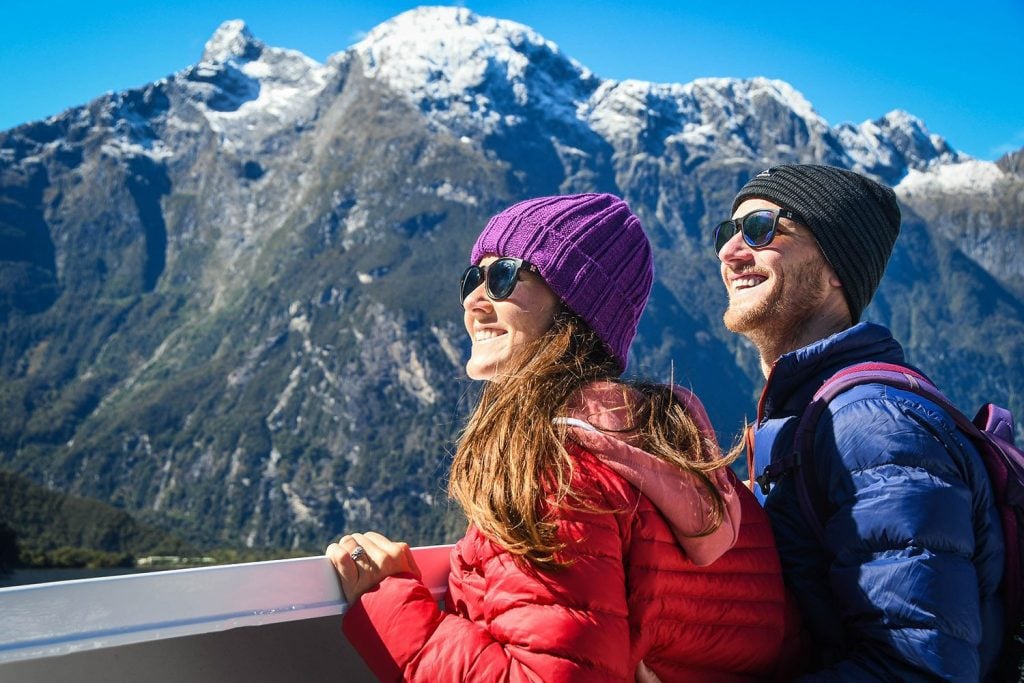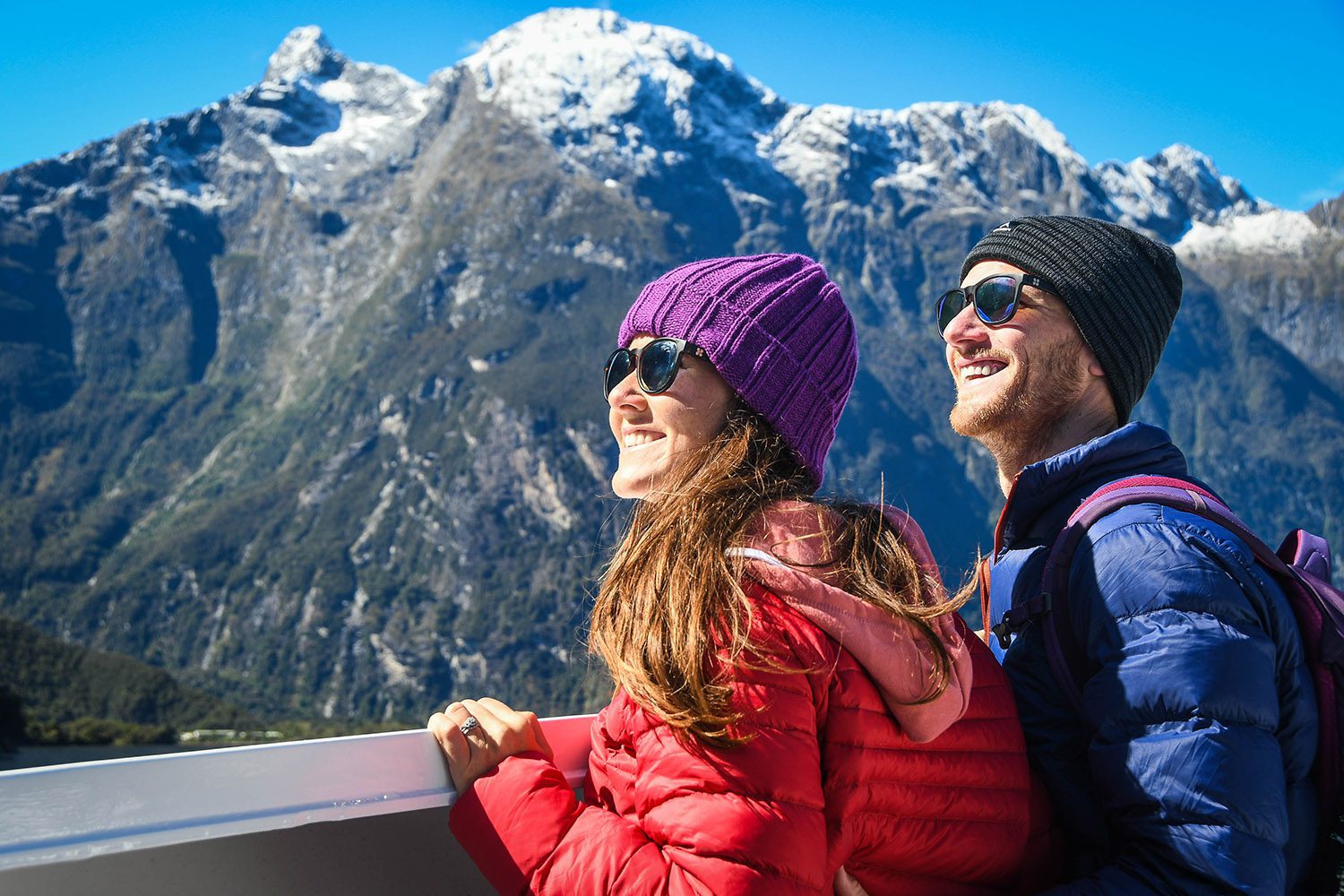 A cruise is one of the most popular ways to experience Milford Sound. This is what we personally did, and we were happy with it, though we wish we had done a nature cruise that included kayaking (like this one).
On a Milford Sound cruise, you'll see many highlights of the fjord, including Bowen Falls, Seal Rock, and Stirling Falls. Be sure to have your camera ready for wildlife sightings.
There are tons of tour operators offering similar cruises with minor differences (e.g. boat size, food options). Then there are tours that offer additional experiences, such as kayaking or helicopter rides. Some also include transportation.
Our Milford Sound cruise guide can help you decide which is the best option for you.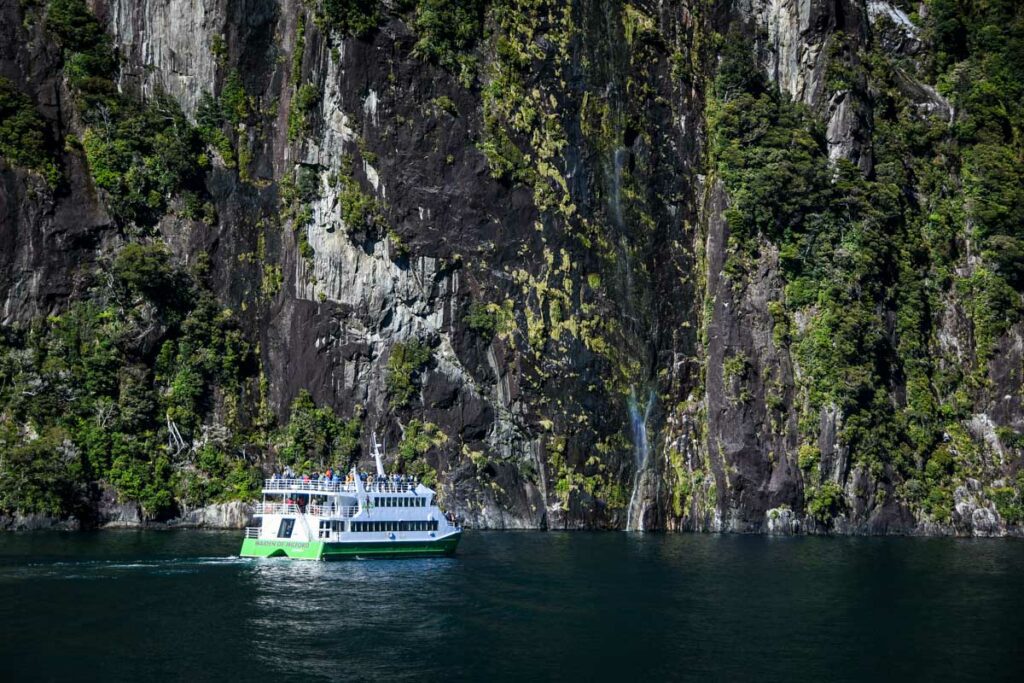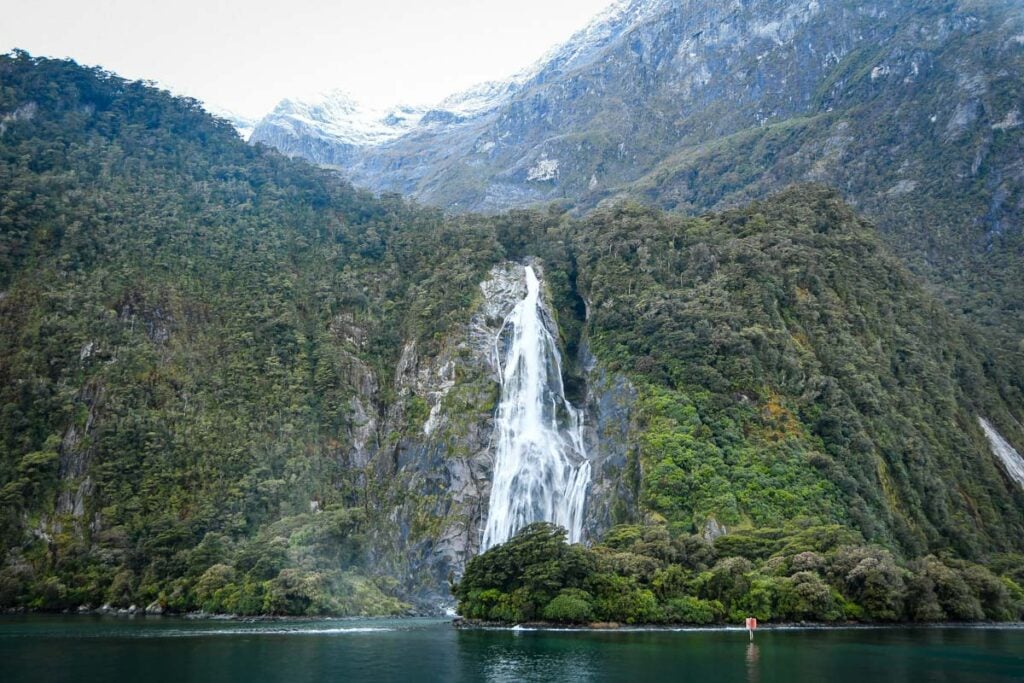 Here are a few important things to know before booking your Milford Sound cruise:
Book your tour in advance. Whether you're just doing the cruise or a longer tour, book as early as you can to avoid disappointment.
The boats run in rain or shine, so don't worry if your forecast looks wet. In fact, locals say the scenery is even better in the rain!
There's only one ferry terminal, and it's shared by all the cruise operators. Each company has its own check-in desk inside.
The public car park is 300 meters from the terminal, so be sure to give yourself an extra 15-20 minutes before your check-in time to walk down.
Most Milford Sound cruises take about 2 hours and follow the same basic route from the ferry terminal to the mouth of the Tasman Sea and back.
Tour prices vary depending on what's included, but the cruise itself is usually around $80-90 USD per person.
Lunch may or may not be included. Be sure to double check with your tour provider so you know if you need to pack or buy lunch.
2. Go kayaking in Milford Sound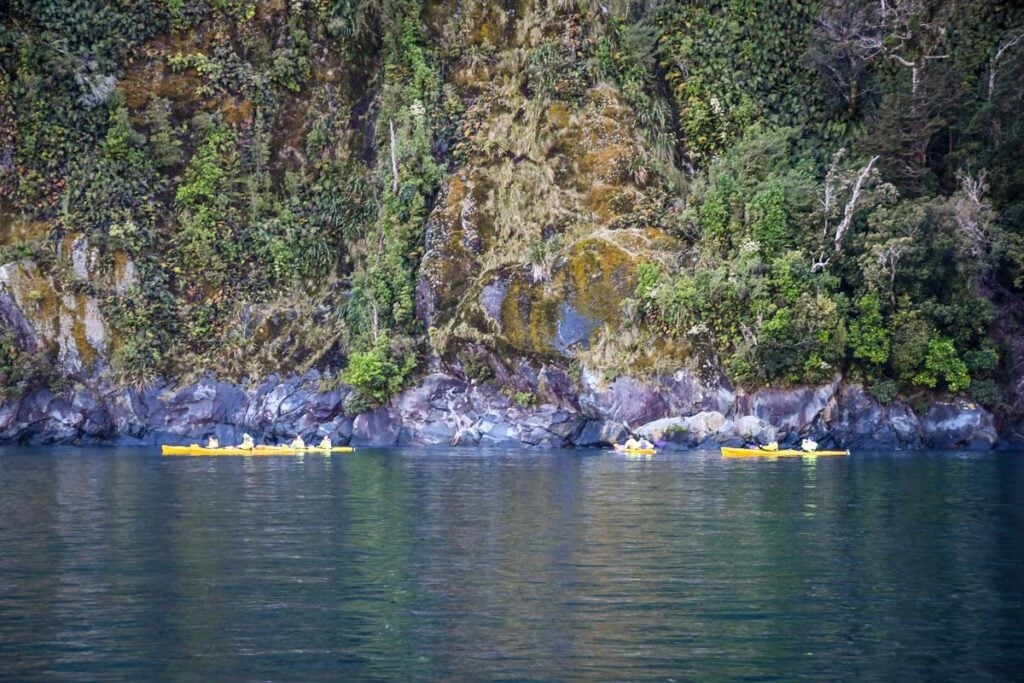 If we'd had more time to spend in Milford Sound, we definitely would have booked a kayaking tour.
Gliding along at water-level, you can fully appreciate the scale of this dramatic landscape.
Watch mountain peaks disappear into the clouds, marvel at the cliffs towering above the fjord, and hear the thunder of the falls as they seem to plummet from the sky. You might even get up-close and personal with some of the wildlife, as dolphins and seals are notoriously curious.
Unless you're a local Kiwi or living here on a working holiday, chances are you won't have your own kayak and you'll need to join a tour. For safety reasons, kayaks are not available to rent independently at Milford Sound.
There are plenty of tour options catering to all experience levels. Guided excursions range from 1 hour of leisurely paddling in Harrison Cove to kayaking the length of the fjord on a 6-hour adventure.
Unless you're a super experienced kayaker, you won't go as far into the fjord as you would on a cruise. That's why we'd recommend booking a tour like this one that offers the opportunity to kayak and cruise, aka the best of both worlds!
3. Walk to the Mitre Peak Viewpoint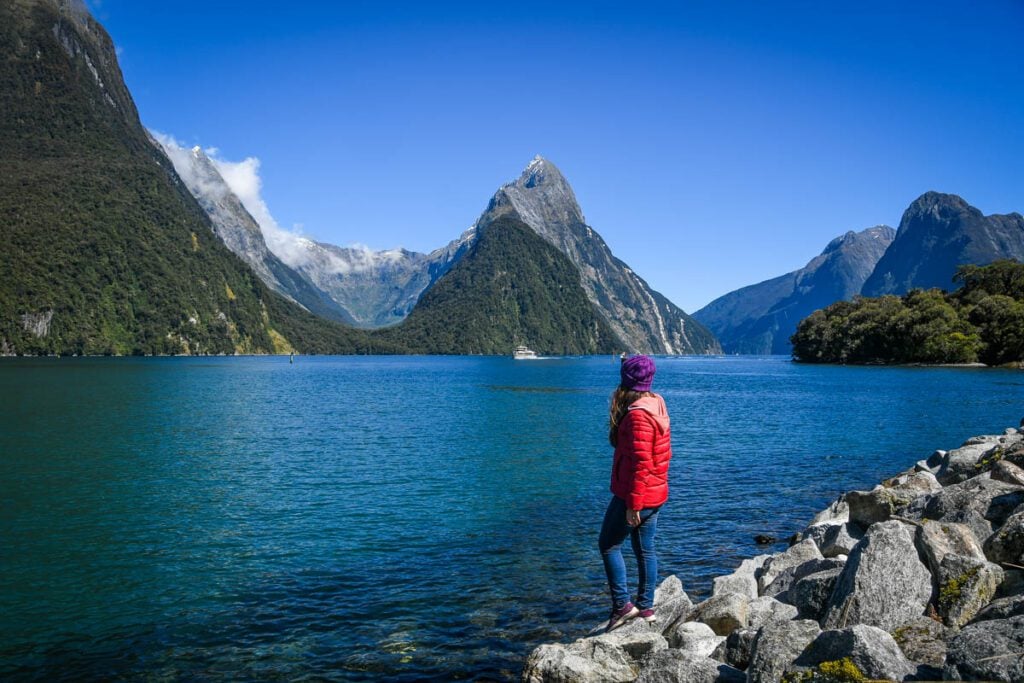 Also known as the Milford Sound Lookout, this stunning viewpoint is the culmination of the Milford Sound Foreshore Walk, an easy 1-kilometer trail that takes about 15 minutes round trip.
The trailhead is across the road from the Southern Discoveries Information Centre & Cafe. There are a couple of picnic tables at the trailhead. From there, it's a combination of boardwalk and crushed gravel to the viewpoint, with some educational signs along the way.
At the end of the trail, you'll be rewarded with uninterrupted views of the spectacular Mitre Peak.
4. Snap a photo on the Milford Sound Swing
If you love collecting Instagrammable travel photos, this iconic swing is a popular spot for influencers and travel bloggers. (We should know!)
Located on a picturesque, sandy beach just off the Foreshore Walk, this natural log swing is set against the backdrop of the mighty Mitre Peak. Visit during golden hour or sunset for some truly breathtaking photos.
Do it yourself:
Start out on the Milford Sound Foreshore Walk. After the bridge, hang right. Further down, you'll see a gap in the railing where you can hop off the boardwalk. Keep the water on your left and follow the beach until you reach the swing.
Important note: This spot is easier to find and access at low tide. If you're visiting at high tide, be prepared to get your feet wet.
5. Hike the Milford Track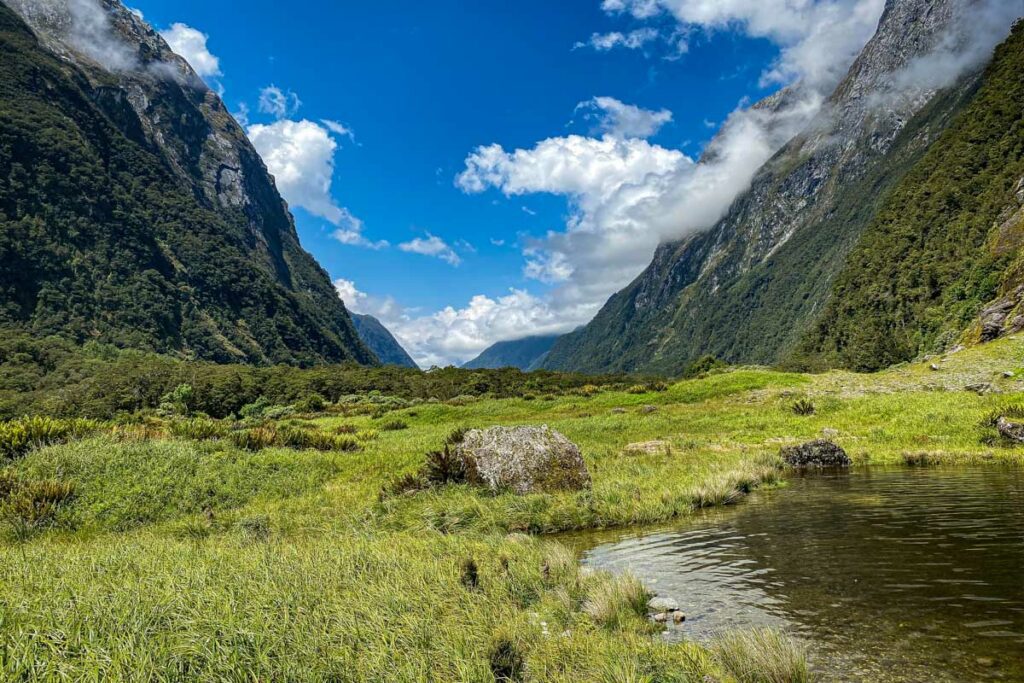 The legendary Milford Track is one of the best hikes in New Zealand, and also considered a Great Walk (one of 10 in the country!).
This 4-day adventure starts with a boat from Te Anau Downs to the trailhead at the northern tip of Lake Te Anau. You'll spend 3 nights on the trail, sleeping in the designated DOC huts (camping is not permitted). Note that tickets for the huts can sell out within minutes of bookings opening.
Day 3 is the most exciting, including a climb up and over McKinnon Pass and a side trip to Sutherland Falls, New Zealand's highest waterfall.
Be prepared for lots of sandflies (New Zealand's native version of mosquitos, with a very itchy bite). Also be prepared for some wet weather, but don't worry about the rain – that's when the waterfalls really come to life!
Do it yourself:
Distance: 53.5 km (33.5 miles), 4 days
Elevation Gain: ~850 m (2,788 ft)
Difficulty Rating: Hard
Important note: For this hike, we highly recommend using AllTrails+ to download the offline map, as the trail is not well-marked in some places and can be difficult to follow. You can get your first week of Alltrails+ for FREE when you sign up using our link!
6. Stay at the Milford Sound Lodge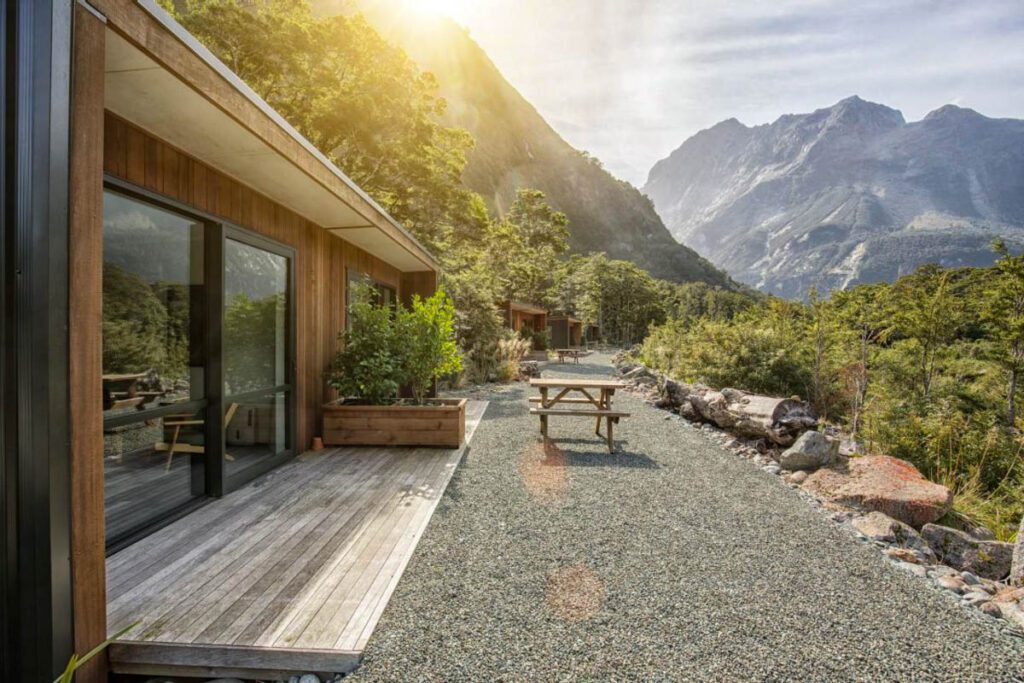 The only accommodation in Milford Sound, this highly-rated luxury lodge boasts cozy chalets in the breathtaking setting of Fiordlands National Park.
Enjoy incomparable views from your doorstep in a mountain, riverside, or garden chalet with all the amenities. With breakfast included and Milford's only restaurant onsite, you'll have a chance to try traditional New Zealand foods while taking in the natural beauty around you.
This property is also the site of Milford Sound's only campground. Exclusively for self-contained vehicles (no tents, trailers, or caravans), this is the only place you can park your campervan rental overnight in Milford. Spaces are limited, to be sure to book well in advance.
7. Discover the Milford Sound Underwater Observatory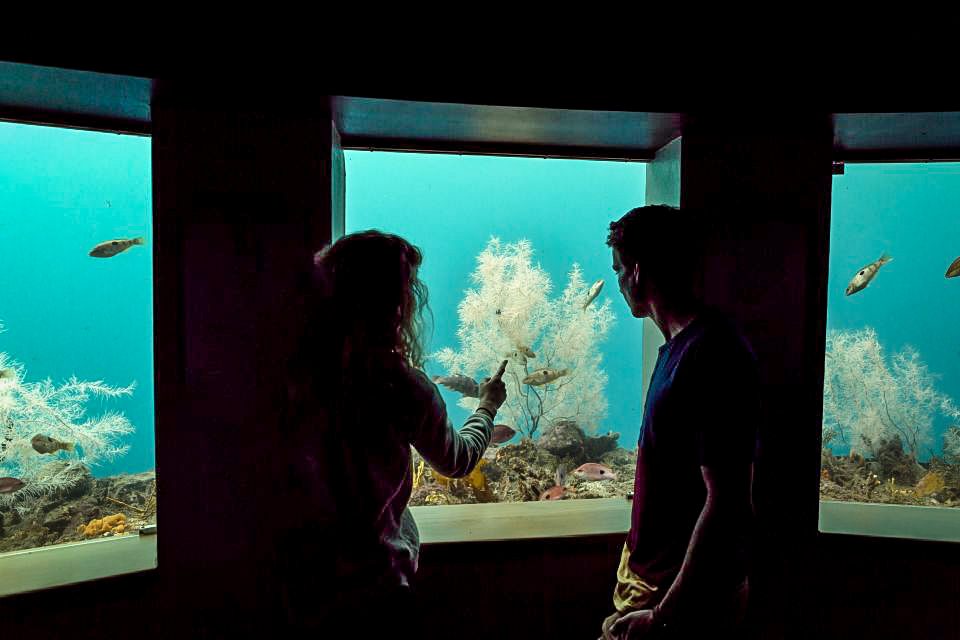 Few places on Earth boast an underwater realm as unique as that of Milford Sound. Here, a fascinating natural occurrence known as 'deep-water emergence' takes place, where the mingling of freshwater and seawater allows species typically found at great depths to thrive in shallower waters.
One example is the Black Coral, traditionally associated with the deep sea, yet in Milford Sound, it flourishes just 10 meters beneath the surface.
Possibly one of the most unique attractions in Milford Sound is the floating underwater observatory. Accessible only by boat, exclusively for Southern Discovery tours, this is the only observatory of its kind in New Zealand.
The observatory allows you to experience the unique biodiversity of Milford Sound from a completely different perspective—10 meters under the water! It's just like visiting an aquarium, except all the fish and marine life are roaming free and you're the one in the enclosure.
8. Explore Te Anau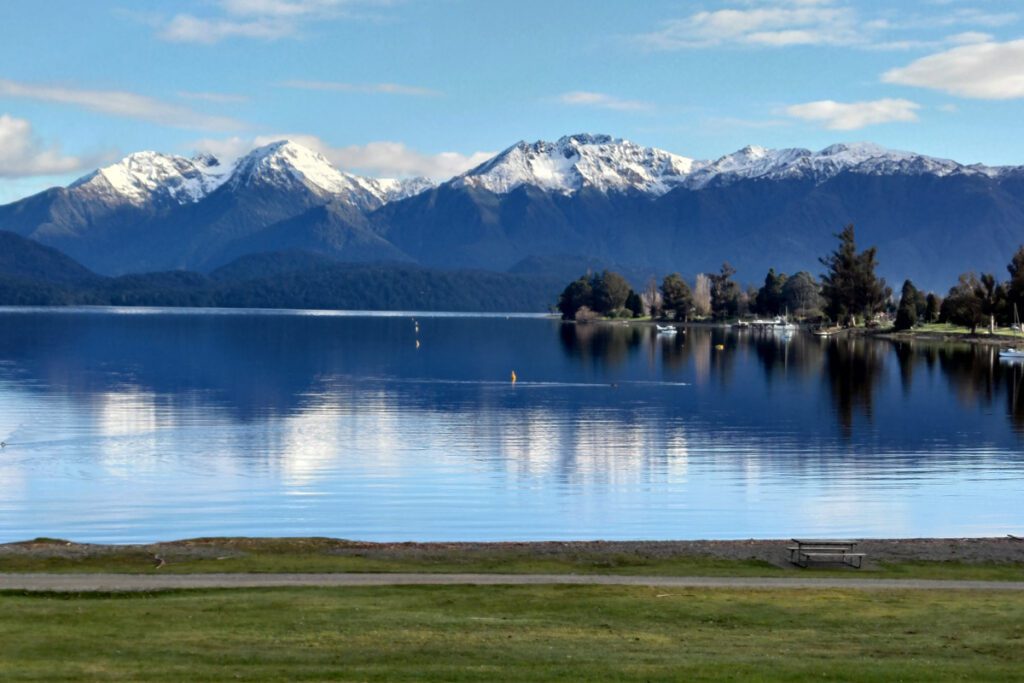 Located 2.5 hours from Milford Sound, Te Anau is the nearest town and well worth exploring. We'd recommend spending a night or two here to break up your drive from Queenstown to Milford Sound.
There are lots of fun things to do in Te Anau:
Tips for visiting Milford Sound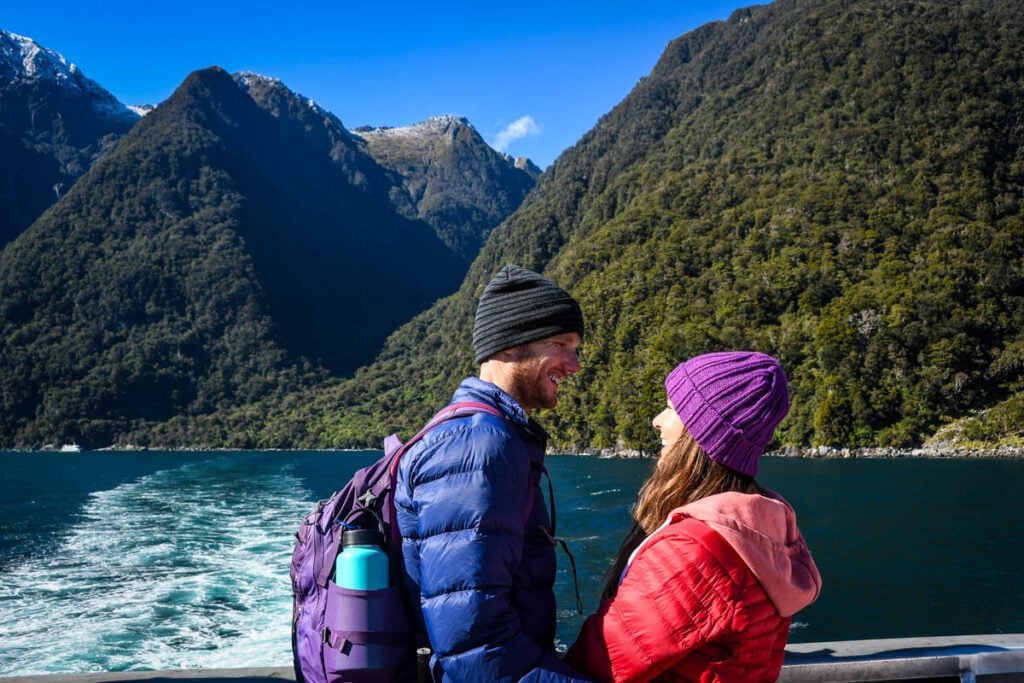 There are a few things you should know before planning your visit so you can get the most out of your Milford Sound experience.
Book all tours in advance. Cruises, scenic flights, and kayaking tours fill up quickly in the summer. Even in the off season, it's always a good idea to book as early as you can to avoid disappointment.
Bring water and snacks. With the exception of the cafe at the Information Centre, there are no shops in Milford Sound. Even if your tour includes lunch, we recommend bringing plenty of snacks.
Have some cash on you. It's always a good idea to carry some cash just in case. Some boat cruises may have food and drinks for purchase that don't take cards.
Download everything you need. You won't have cell service for a lot of your visit, so download any maps, tickets, etc. that you think you might need before leaving your accommodation.
Enjoy the journey. The Milford Road is an experience in itself. Take your time, make stops, do some of the scenic walks, and immerse yourself in this incredible landscape.
FAQs about Milford Sound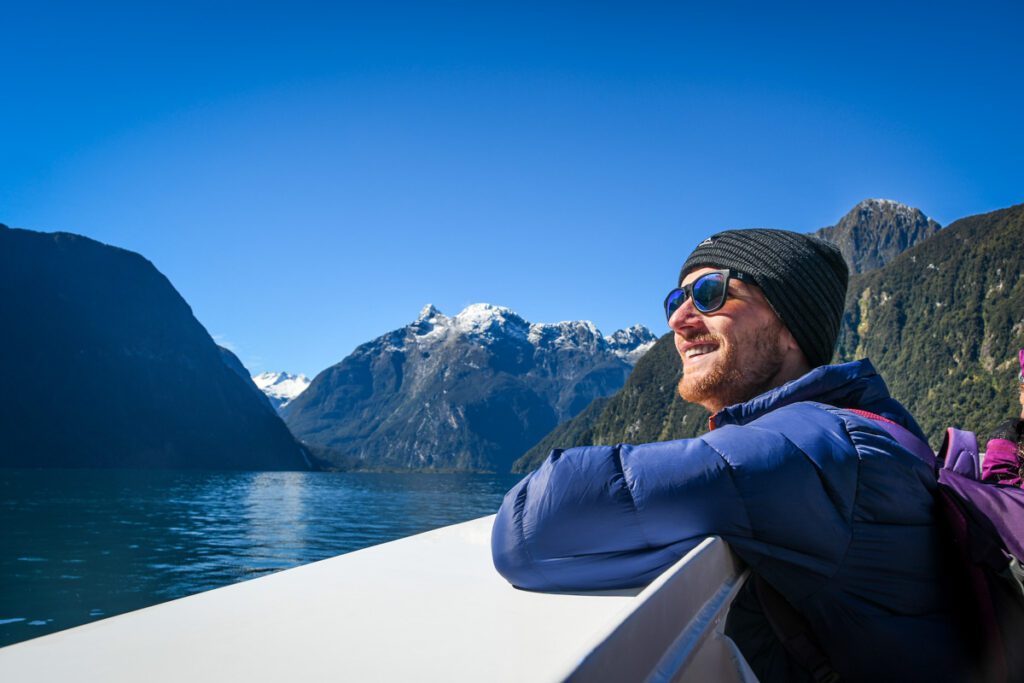 Now that you have our recommendations for things to do in and around Milford Sound, here are some other things to consider as you plan your trip.
Why is Milford Sound so famous?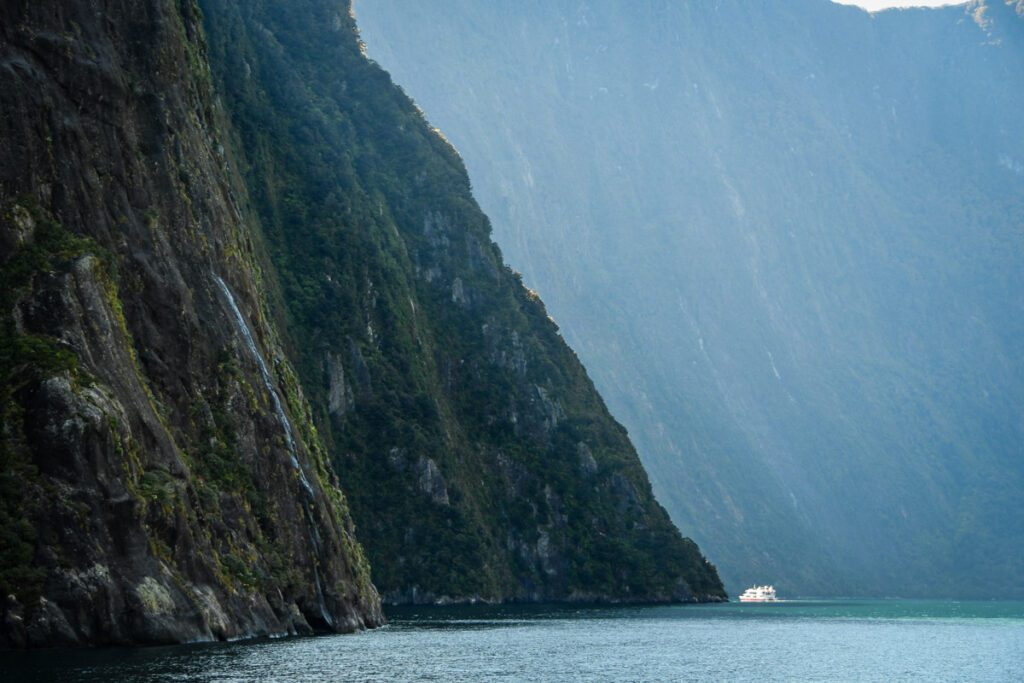 The jaw-dropping scenery of Milford Sound is what makes it one of the most iconic sights in New Zealand, and its remoteness adds to the mystique. Rudyard Kipling (author of The Jungle Book) called it "the 8th Wonder of the World". It also holds the title of the wettest inhabited place in New Zealand and one of the wettest in the world for the staggering amount of rain that falls here.
Can I visit Milford Sound as a day trip?
Absolutely. This is the most popular way to visit Milford Sound. Whether you join a bus tour, choose a scenic flight, or drive yourself, you can easily do a day trip from Queenstown or Te Anau.
Can you visit Milford Sound all year long?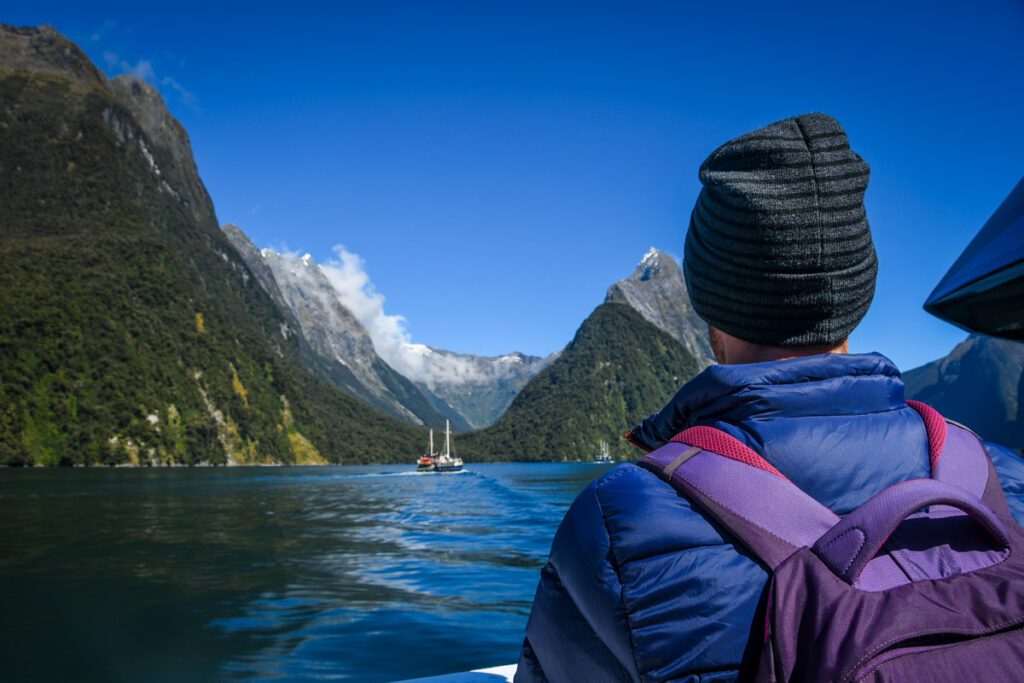 Yes! Milford Sound is absolutely breathtaking in every season.
Summer is the warmest and also the rainiest, but remember that rain means more waterfalls! Summer is also peak tourist season, which means more crowds, higher prices, and booked up tours and accommodations.
Many travelers love visiting Milford Sound in the winter, as it's much quieter and the snow is magical. Just remember road conditions are icy and there may be avalanche closures.
If you plan on hiking Milford Track, the best time is late October to the end of April.
How much does Milford Sound cost?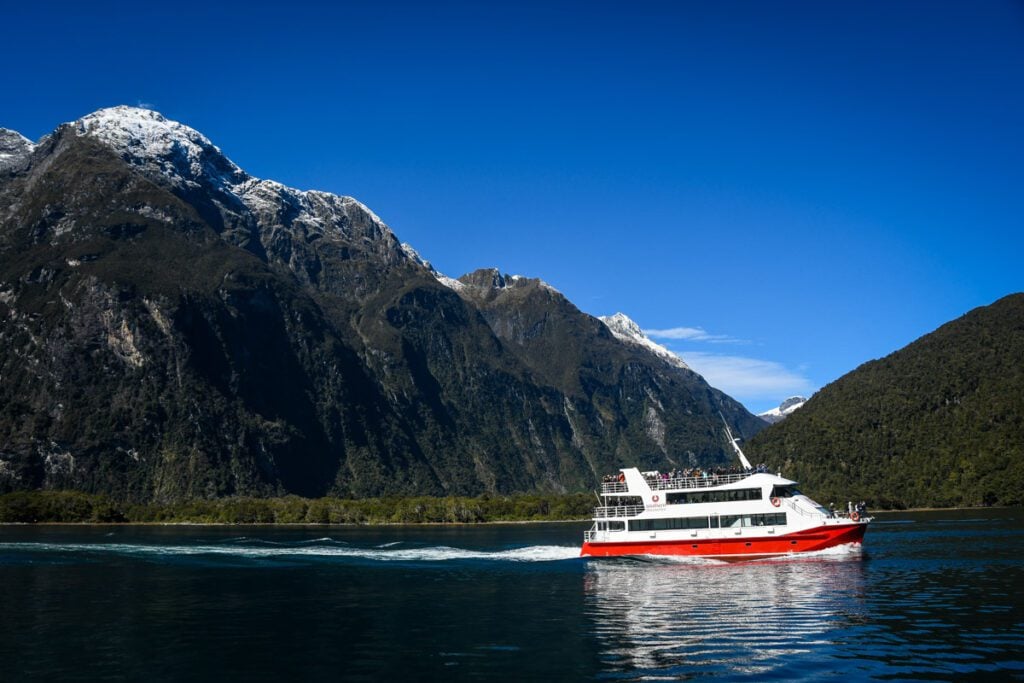 This entirely depends on the type of experience you want. For instance, you could drive to Milford Sound and just walk around, and you would only pay for parking (about $20 NZD for 5 hours). But you'd really be missing out…
Basic cruises are usually around $80-90 USD per person. If you choose a tour with more to it (e.g. transportation, kayaking, helicopter ride, etc.), you'll need to budget more.
Are there restaurants near Milford Sound?
The Milford Sound Lodge has an onsite restaurant – Pio Pio Cafe. Other than that, the options are slim to none. We'd recommend bringing plenty of snacks!
Is Milford Sound really worth it?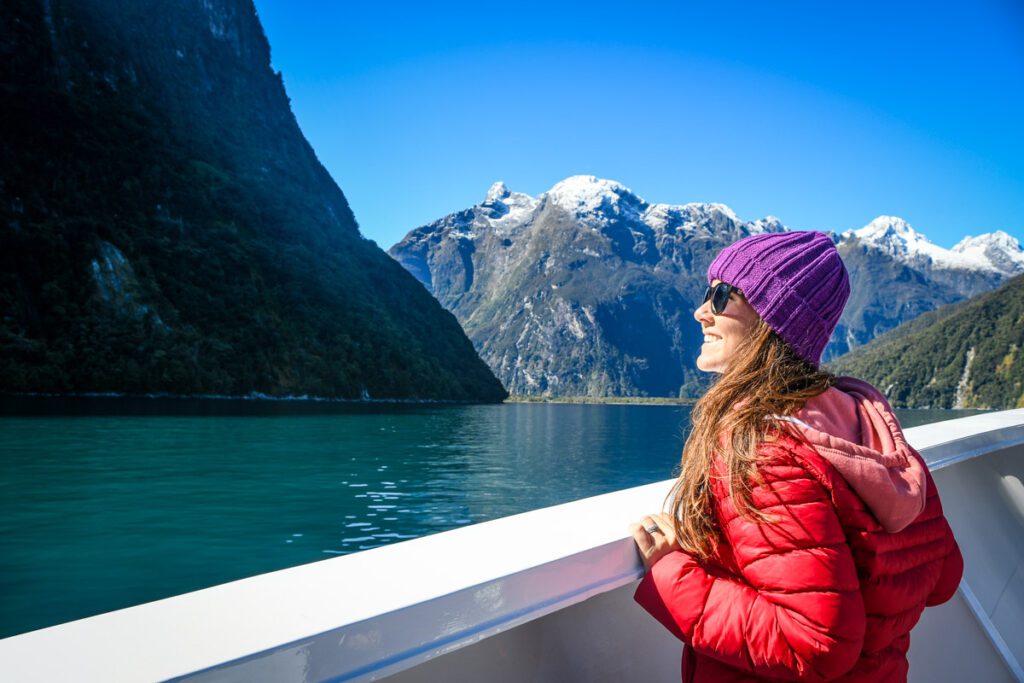 YES. Milford Sound is more than just "doing the thing in the place". It is truly a bucket-list experience and photos don't do it justice. I personally think Milford Sound is an absolute must-do.
Our biggest regret is that we didn't do more than the boat tour. If you can swing it, we'd recommend doing something more immersive than just the cruise, like this tour that combines a boat cruise and kayaking.
Is there a difference between Milford Sound and Doubtful Sound?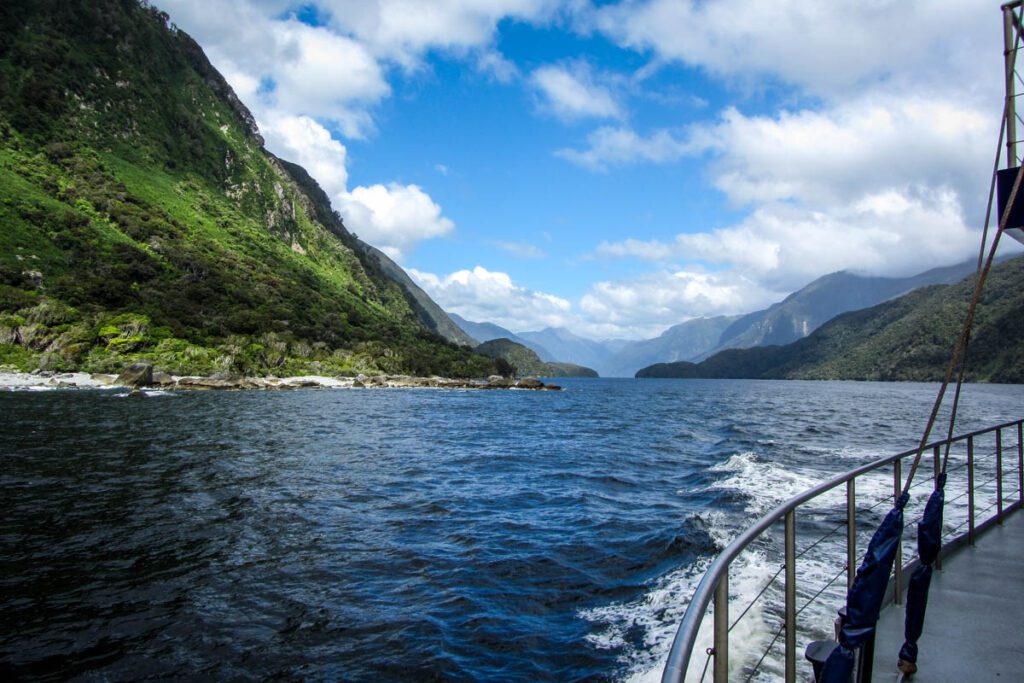 Despite their similar-sounding names and close geographical proximity in the Fiordland region of New Zealand's South Island, there are some key differences between these two iconic "sounds."
Fun Fact: Just as we mentioned earlier about Milford Sound, Doubtful Sound is also not a true sound, but actually a fiord.
Milford Sound is more accessible, smaller in size, and renowned for its dramatic cliffs and waterfalls. It's a popular day trip destination from Queenstown and Te Anau.
In contrast, Doubtful Sound is less accessible, larger, and characterized by dense rainforests and a sense of isolation. It requires a boat trip and bus ride to reach (you can't self-drive there), providing a quieter and more remote experience.
Both fiords offer beautiful landscapes and wildlife viewing opportunities, but the choice depends on your preference for accessibility and the scale of the natural environment.
Our personal pick: This Doubtful Sound overnight cruise sounds magical! It is on our list for our next NZ trip, since we've already visited Milford Sound. Our Director of Content, Amanda, did this exact cruise when she visited New Zealand with her family and raves about the experience.
Where to stay near Milford Sound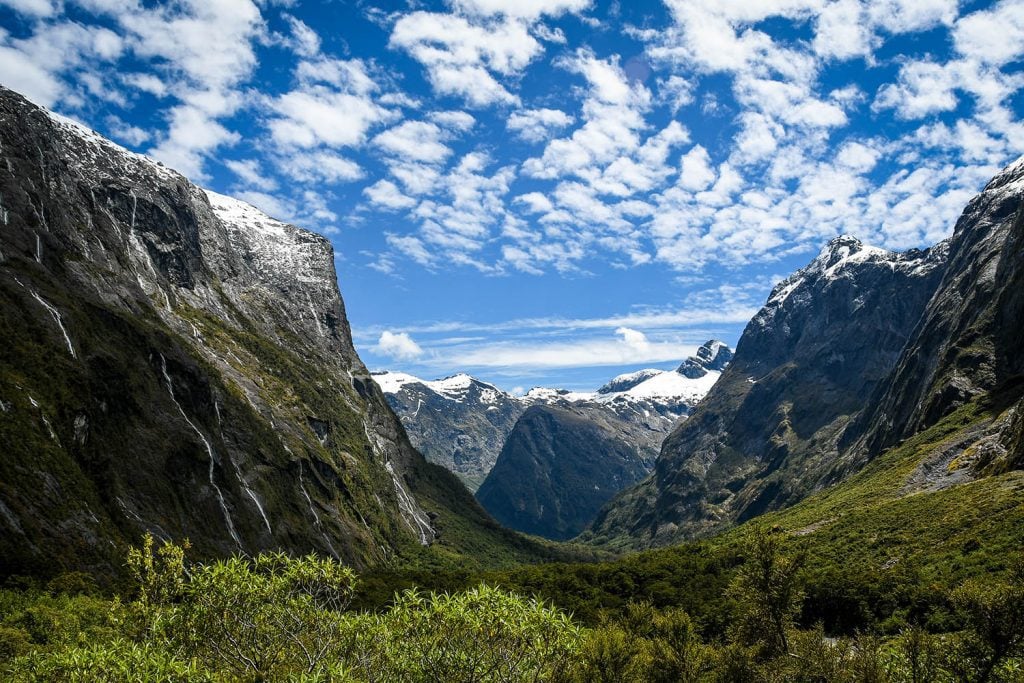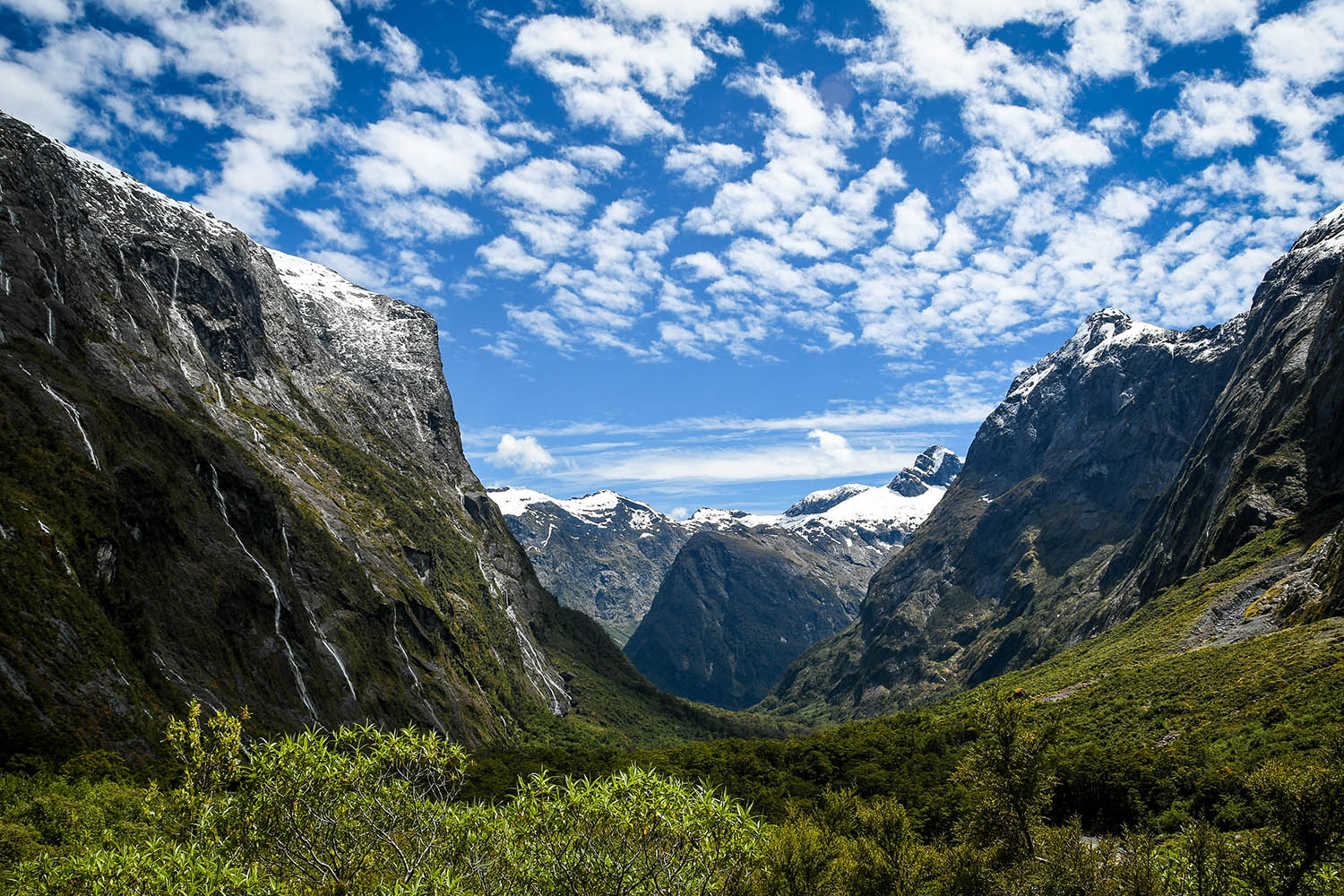 Aside from the Milford Sound Lodge, there are no accommodations in the township, but you can find hotels and B&Bs in nearby Te Anau. Below are a few options with great reviews.
Psst! Are you staying in Queenstown? We have a guide with a list of the best Queenstown accommodations.
Hotels
Fiordland Lakeview Motel and Apartments
Location: Te Anau
It's right there in the name – the views of Lake Te Anau from this motel are seriously stunning. Each room has a kitchenette with a full-sized fridge and the new deluxe suites boast electric fireplaces and reclining chairs.
Location: Te Anau
Enjoy dreamy mountain views from this modern motel with comfy beds and spotless rooms.
Location: Manapouri
If you really want to treat yo'self, this bougie lodge receives rave reviews. Amenities are everywhere, from arrival drinks and canapes to a farm-to-plate set dinner, daily fresh fruits and baked treats, and a hot tub.
Cabot Lodge is a destination in itself; if you're just looking for a place to sleep after exploring the Fiordlands, we'd recommend booking somewhere else.
Airbnbs
Location: Te Anau
Just steps away from the lake, you'll want to plant yourself in front of the large picture windows and admire the view from this cozy bungalow.
Location: Te Anau
Perfect for large groups, this spacious house has a large kitchen, a patio with a BBQ, and gorgeous mountain views.
Location: 8 minutes from Te Anau
This dreamy log cabin just outside the city provides a quiet and peaceful stay, complete with a gas fireplace to keep things cozy.
Location: 15 minutes from Te Anau
This rustic studio on a livestock farm offers panoramic mountain and river views. A woodburning stove and fresh breakfast items from your host make it extra special.
Camping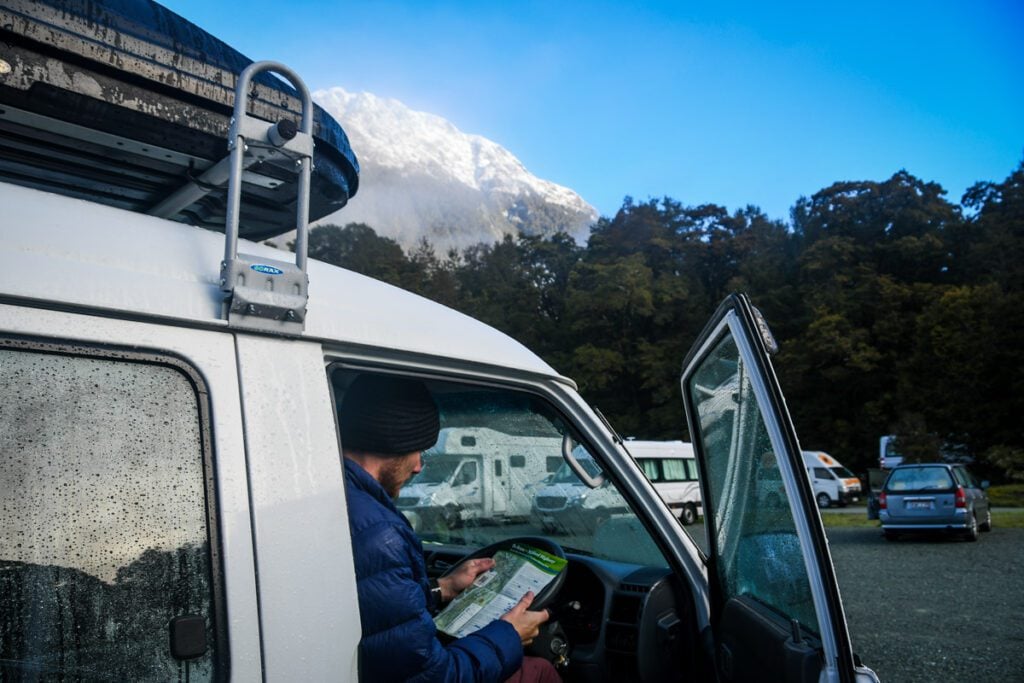 Location: 1 hour from Milford Sound
Just past the southern tip of Lake Gunn, this is the closest campsite to Milford Sound. Sites are $15 NZD per adult and should be pre-booked online to avoid being turned away or having to pay extra fees.
Location: 1 hour 15 minutes from Milford Sound
This holiday park is the only serviced campground on the Milford Road. Their unpowered tent and campervan sites are $30 NZD per adult and they have shared kitchen and laundry facilities, as well as public restrooms and showers. They also have cabins (for a much higher price).
Location: 3.5 hours from Milford Sound
This is more or less a parking lot near a historic train track, but it has clean bathrooms and is free, which is ideal if you're traveling New Zealand on a budget.
Psst! Wondering what we mean by "DOC campsite", "holiday park", and "freedom camping"? Our New Zealand camping guide will tell you everything you need to know.
What to pack for visiting Milford Sound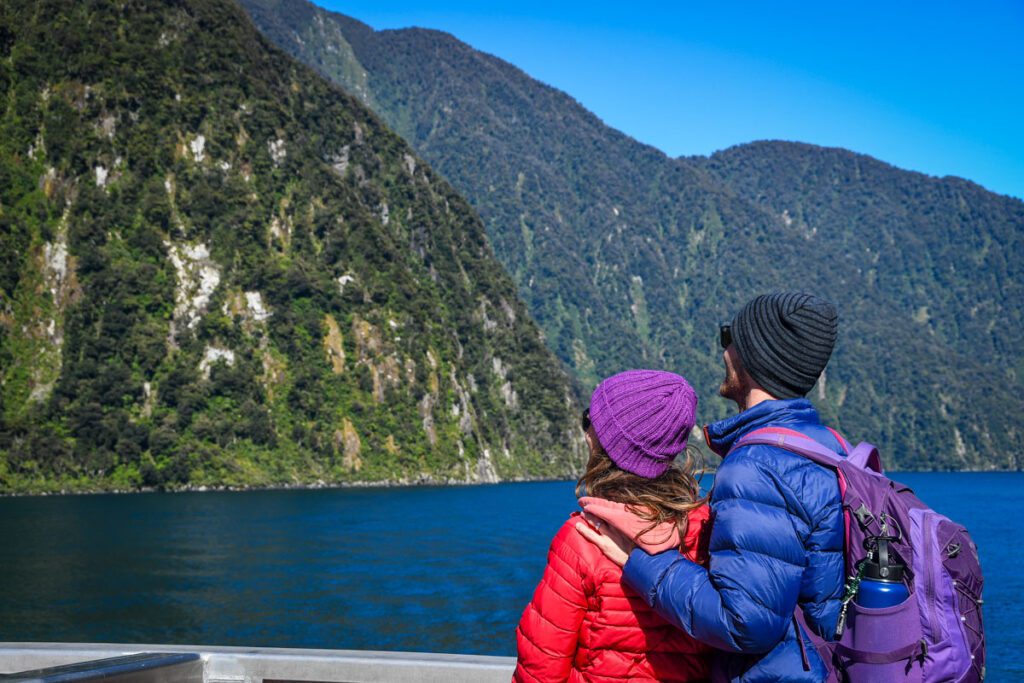 Wear layers
Waterproof rain jacket: choose one that also works as a windbreaker if possible, as it can get very windy
Sunglasses
Sunscreen: one of the most important things to know about New Zealand is there is a hole in the ozone layer above the country, meaning you'll likely burn more quickly than you're used to
Water
Snacks (there aren't many food options in Milford Sound)
Camera
Battery bank: to keep your phone charged
Gloves and a beanie: these are nice to have if you're doing an early morning Milford Sound cruise
Pressure point bands to prevent carsickness (and seasickness on your cruise!)
Portable jumper cables: This tiny device lets you jump your vehicle without another car. After experiencing a horror story in Iceland, we learned the hard way to always pack these for road trips abroad!
Travel insurance: We NEVER travel without it, but especially for a road trip, it's a good thing to plan for.
Be sure to download our complete packing list for New Zealand! It's packed with good suggestions and insider tips to help plan your New Zealand trip. And it's completely FREE, so why not!?


---
Are you planning a trip to New Zealand?
We have TONS of resources on travel in New Zealand and destinations throughout the country. Check out our Ultimate New Zealand Travel Guide for all the answers to your most burning travel questions, or read some of our favorite articles below.
Or, let us do the planning for you!
Save this article on Pinterest for later!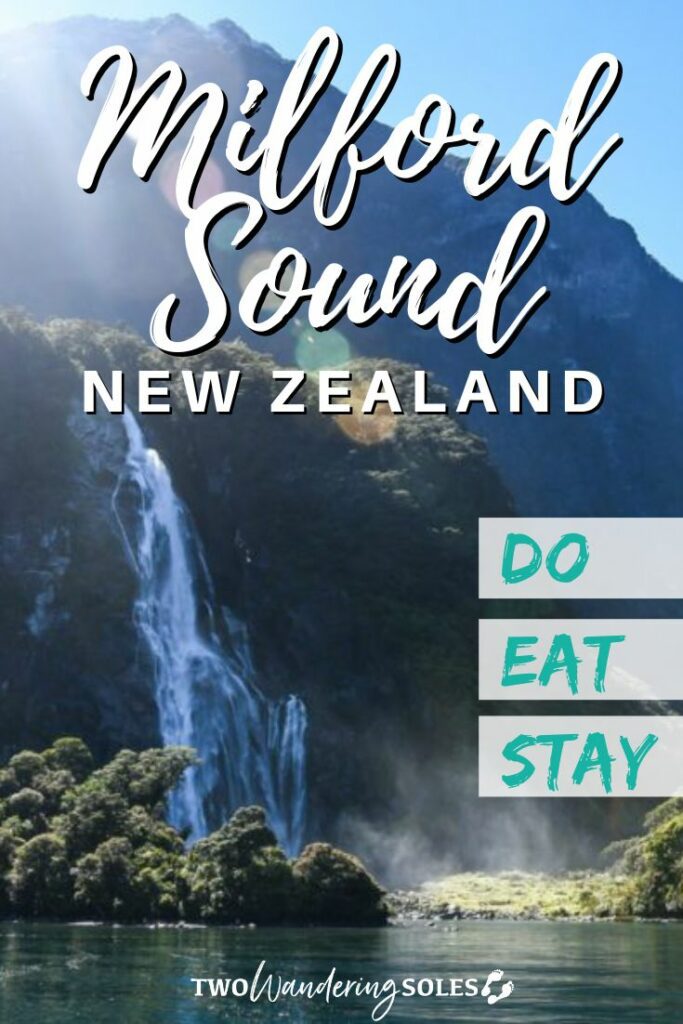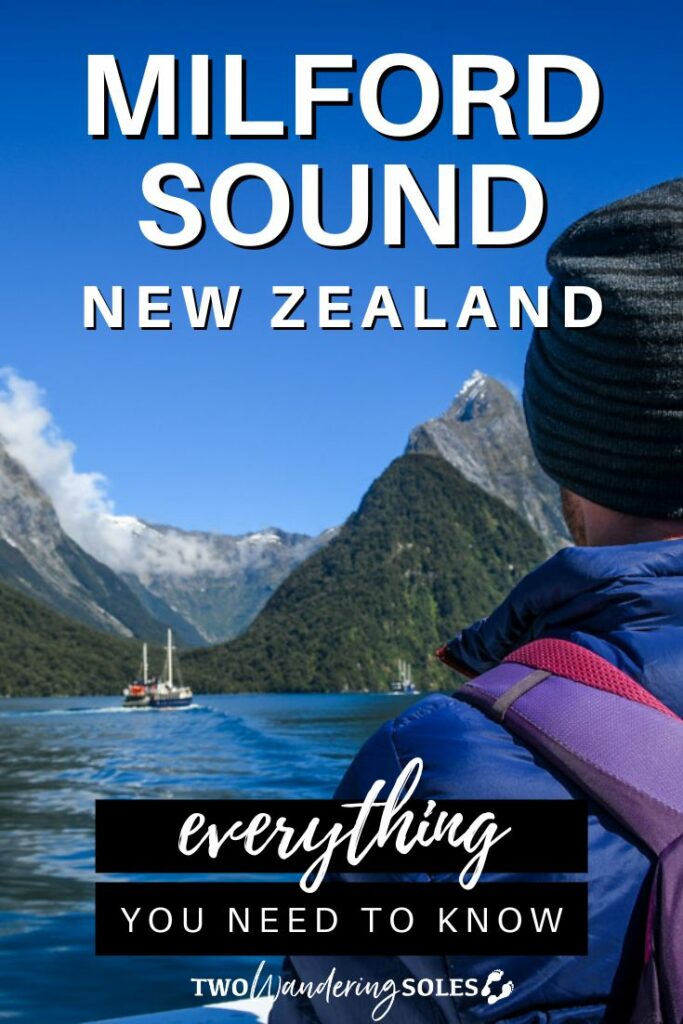 We want to hear from you!
Are you planning a trip to Milford Sound and still have questions? Let us know in the comments below and we'll do our best to get back to you!