The Isle of Skye is one of many crown jewels nestled in the Scottish Highlands. We put together this ultimate guide with everything you'll need to know when planning a visit: when to go, where to stay, things to do, and essential tips.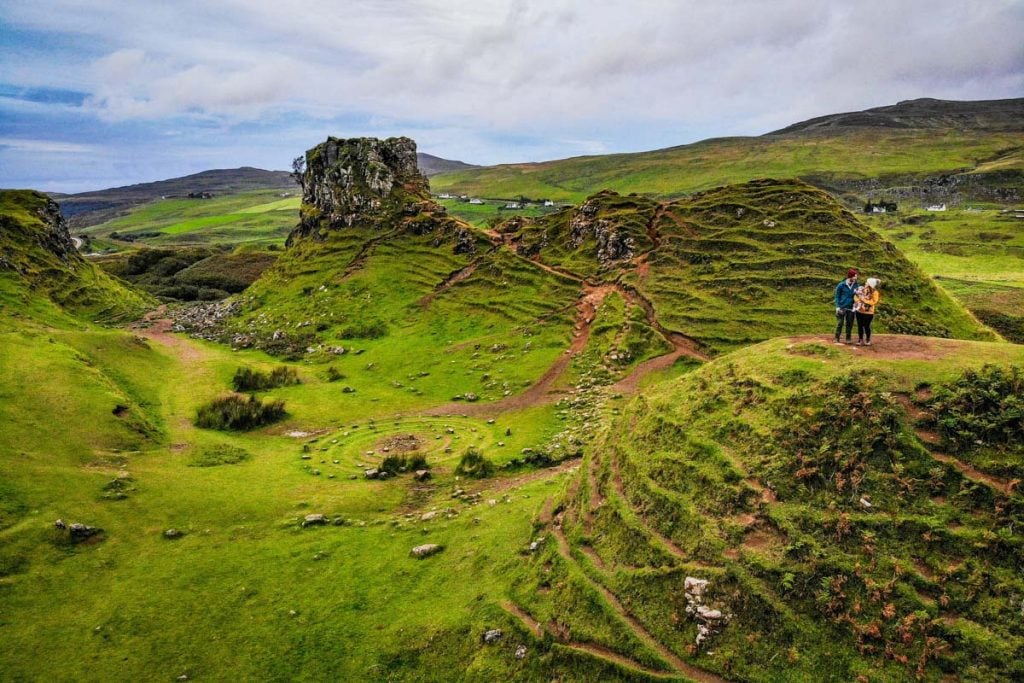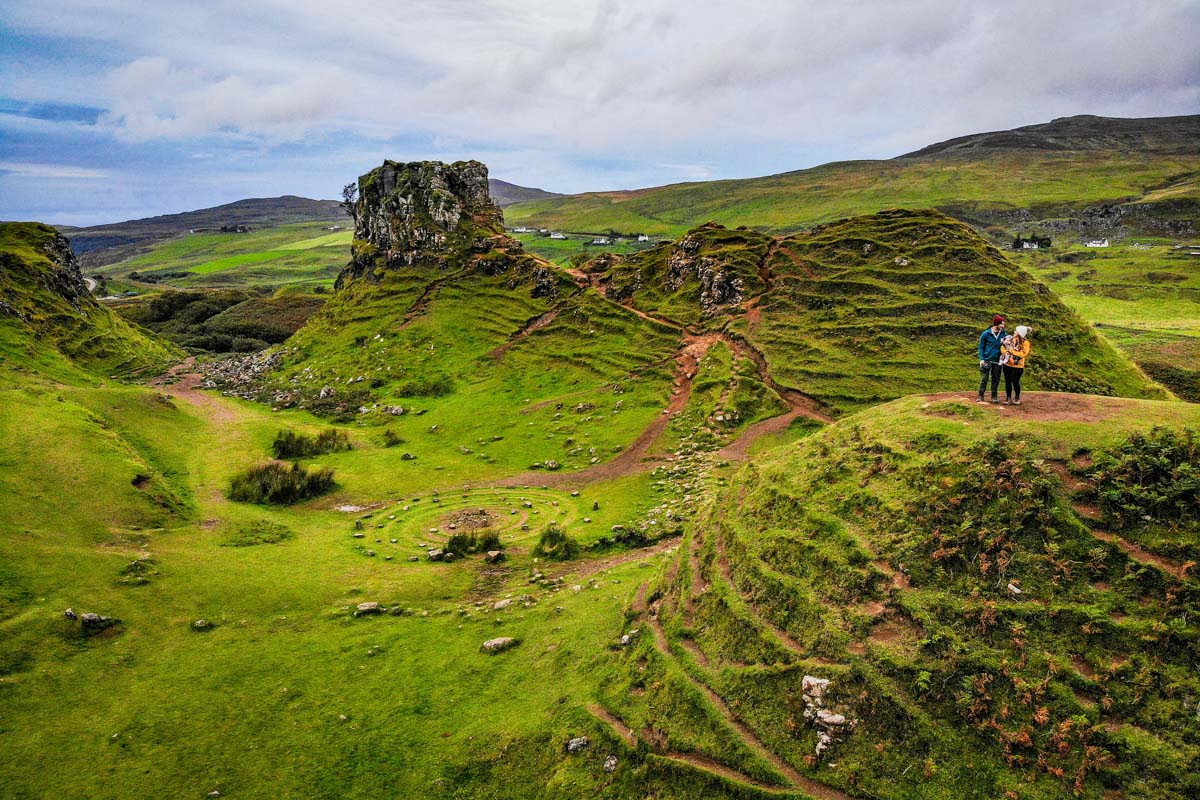 When planning our Scotland road trip, I was overwhelmed by the sheer number of amazing places. The more I researched, the longer my list grew. It was truly difficult to narrow it down. Because you can't see it all in one trip, after all!
But one place that I knew for sure, 100%, without a doubt, would make it onto our Scotland itinerary was the Isle of Skye.
Known for jaw-dropping rugged landscapes, epic bucket list hikes, and colorful villages (like the postcard perfect Portree!), the Isle of Skye is arguably one of the most beautiful places in Scotland.
When I asked for advice from people who had spent a lot of time in Scotland, every single one of them said something along the lines of, "Whatever you do, you absolutely need to visit the Isle of Skye."
And now that we've been there, I understand the hype.
In fact, if you're planning your very own trip to Scotland, I would repeat the advice that I was given:
You absolutely must visit the Isle of Skye!
I will be the first to tell you that planning your time in the Isle of Skye can be a little daunting. While it's not a huge area overall, it is absolutely jam-packed with attractions.
Instead of sitting behind a screen, researching until your eyes go blurry (like I did!), we've created a one-stop-spot for planning the perfect trip to the Isle of Skye.
In this article, you'll find the very best things to do in the Isle of Skye. Plus, we're sharing insider tips (so you don't make the major mistake we made!), a packing list, where to eat, an Isle of Skye map, and so much more!
Article contents
---
Want to save time and energy on planning?
We traveled in Scotland for about 2 weeks and were able to visit most of the highlights of the country, including most of the top places to visit.
We took our 2-week travels and created the perfect Scotland road trip itinerary. We'll send you our complete 2-week itinerary, filled with tips and advice. Just click below to get your 2-week Scotland road trip itinerary today!


---
What is the Isle of Skye known for?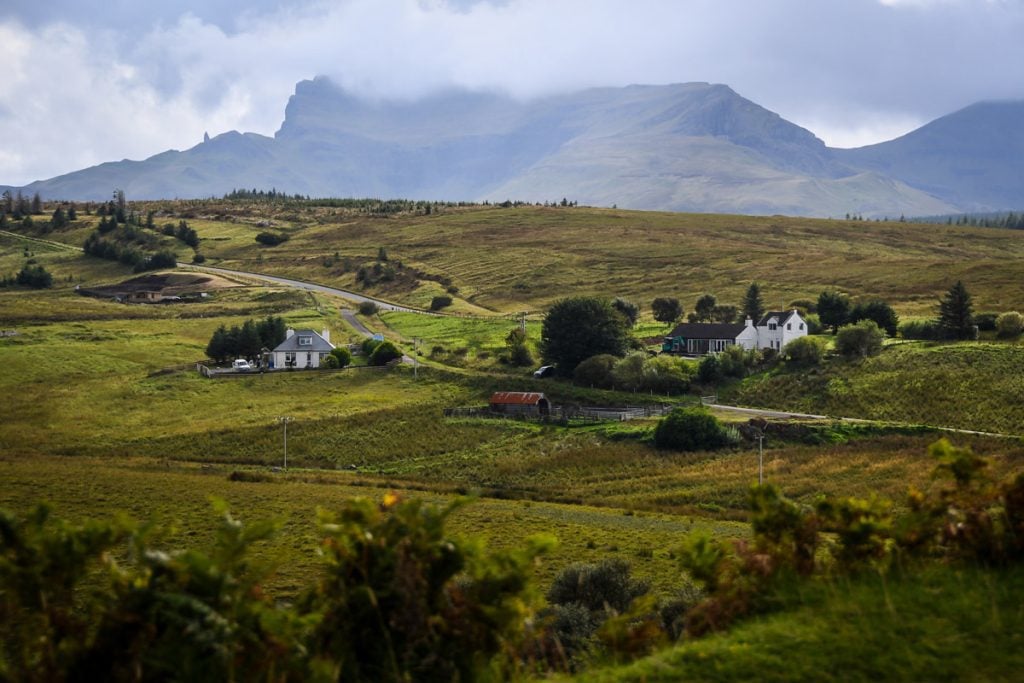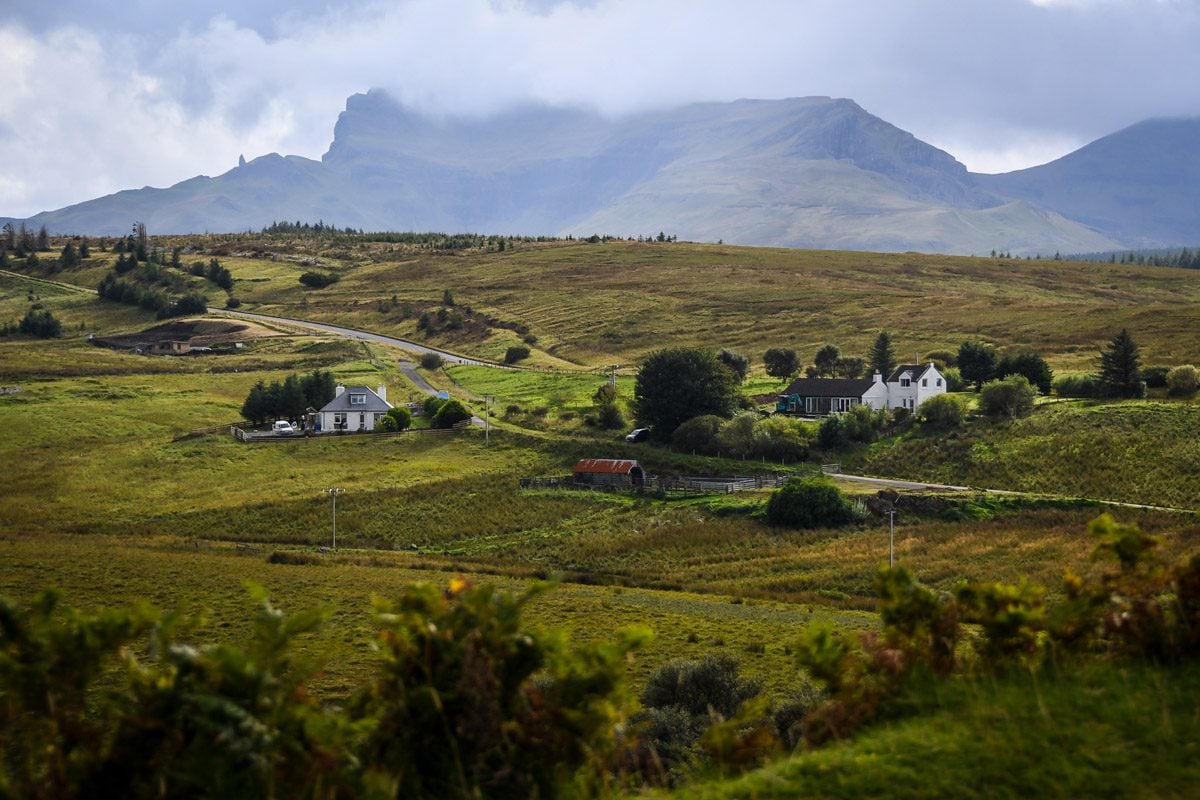 The Isle of Skye is part of an archipelago known as the Inner Hebrides. Situated just off the western coast of mainland Scotland, the Isle of Skye is the largest of the Inner Hebrides, and is the most accessible.
In fact, you can easily drive to the Isle of Skye via the Skye Bridge – the main portion of which is just under 0.4 miles (0.6km) long. Easy peasy.
Being that the Isle of Skye is so easy to get to, it is a popular destination for international tourists and local travelers alike.
With hiking trails of all levels, world-class restaurants, charming hotels and well-equipped campgrounds, the Isle of Skye is beloved by all types of travelers.
Isle of Skye top attractions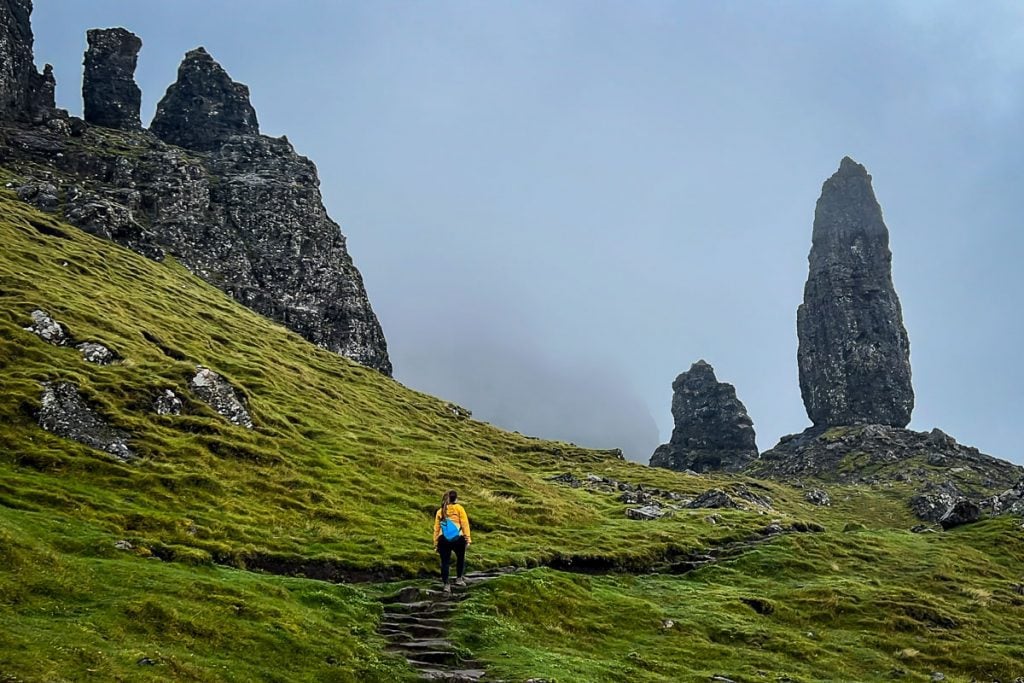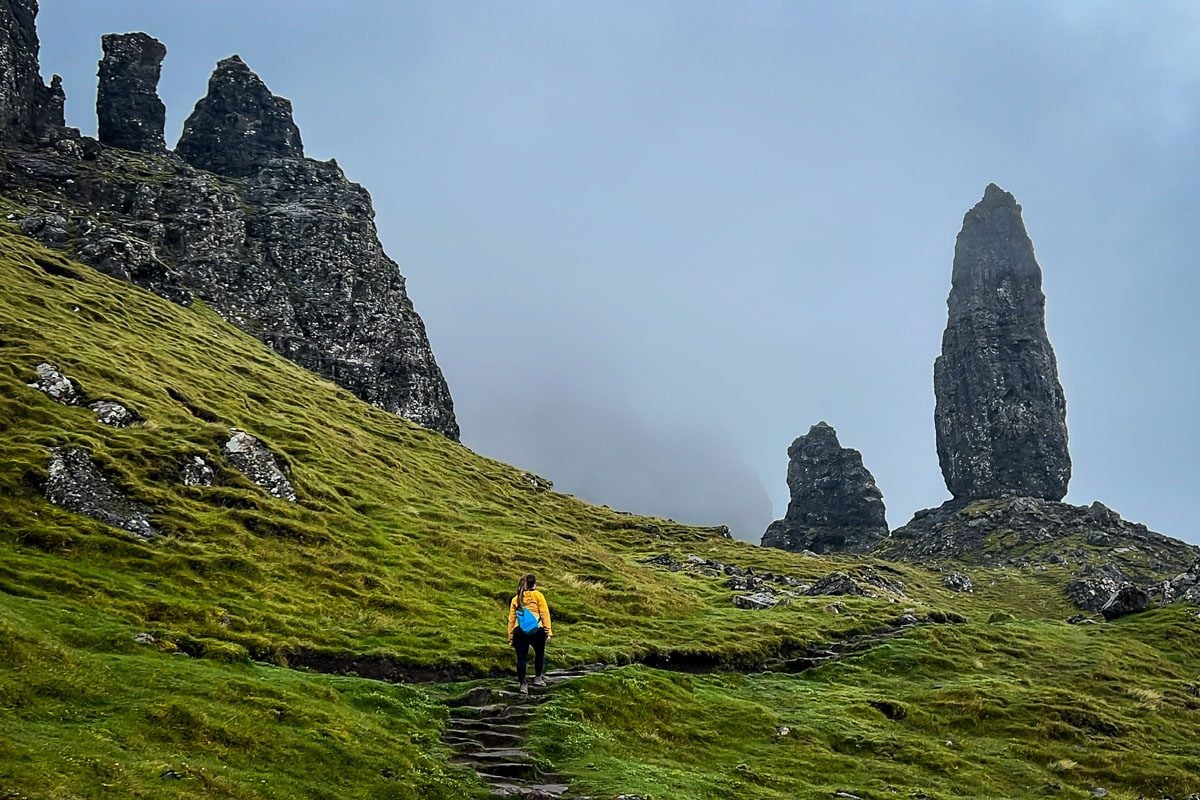 There is so much more to Skye than this list, but these are the top attractions that make most visitors' wish lists:
Interesting comparison: If you've ever been to the Snaefellsnes Peninsula in Iceland, the Isle of Skye will feel eerily familiar. Wild beaches, rugged treeless landscapes, and seaside villages can be found in both places.
Best time to visit Isle of Skye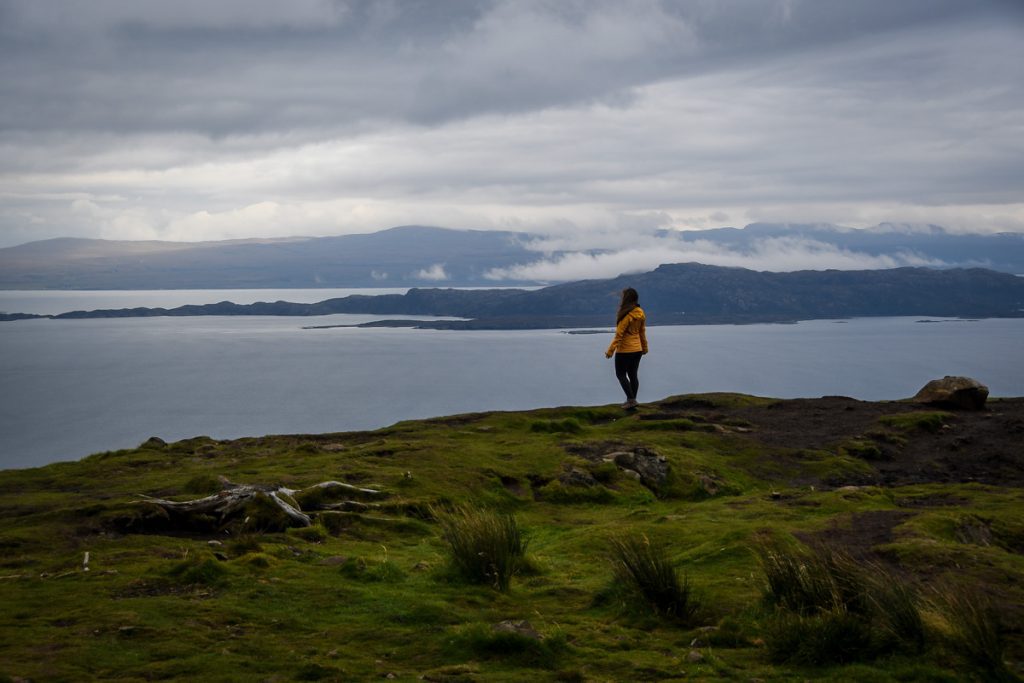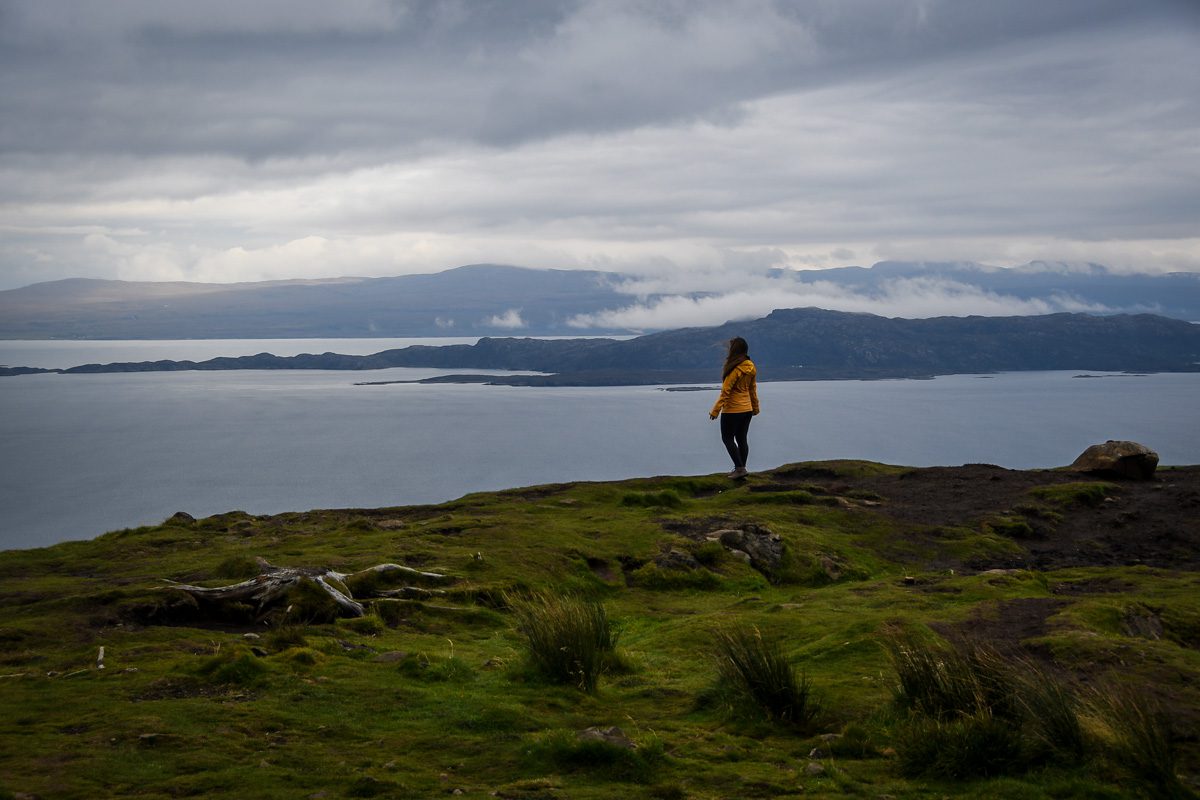 Exploring the Isle of Skye is best during times with favorable weather. While Scotland's weather is ever-changing, you can count on spring and fall to be the most ideal times to visit.
Summers in Scotland are magnificent, but it's the busiest time of year and filled with both tourists and midges (pesky mosquito-like bugs). If you're doing a lot of hiking, this is a great time, but bring a bug net (you'll thank us later!).
However, there are perks of visiting Skye in all seasons, and we cover them in-depth in our guide to the best time to visit Scotland!
Good to know: Some restaurants and cafes on the Isle of Skye are open seasonally. If you're visiting during the winter months, you may find you have fewer dining options.
How to get to the Isle of Skye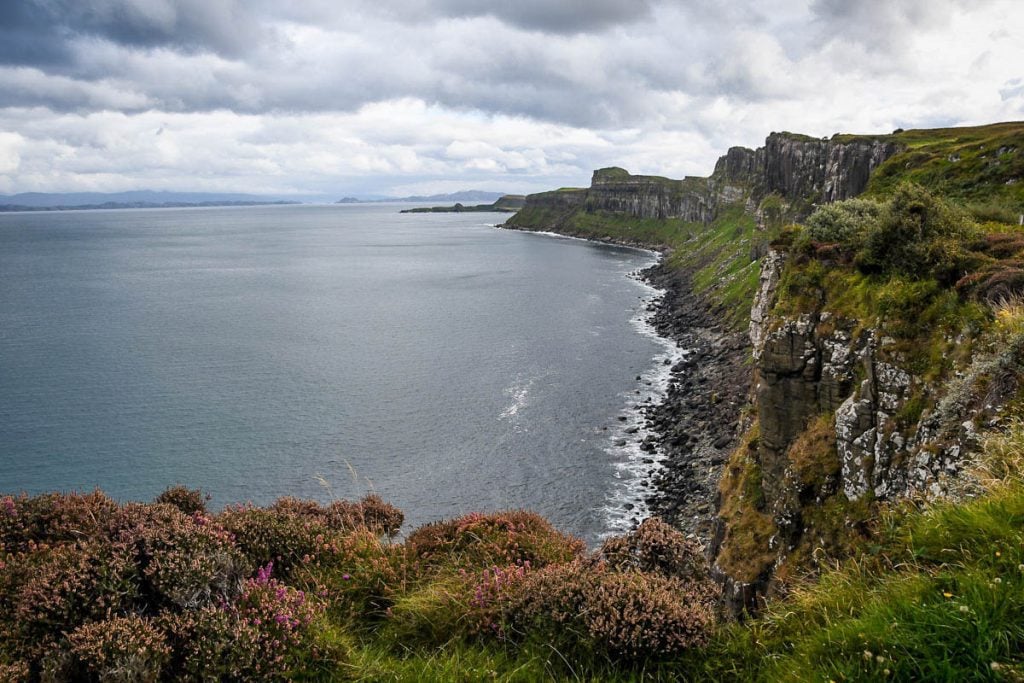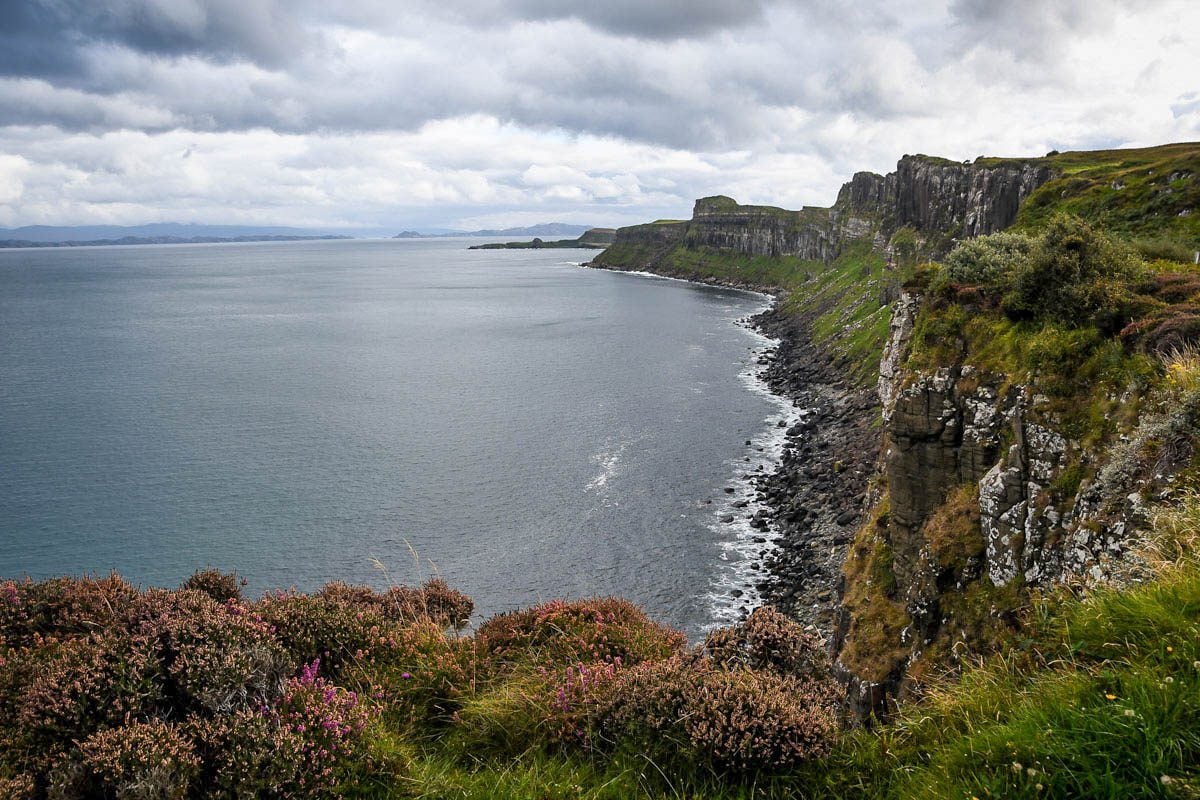 The Isle of Skye can only be accessed by car, bus, or guided tour. Most people fly into Glasgow or Edinburgh, the two closest cities, rent a car, then drive from there.
There are a variety of great stops between both cities and Skye, making for an epic Scotland road trip if you're planning to self-drive.
Self-drive: From Glasgow or Edinburgh, expect it to take 5 hours minimum to drive to the Isle of Skye. Consider stopping in Stirling, Cairngorms, Loch Lomond, Glencoe, and Fort William along the way.
Bus: The cheapest way to get to Skye is by public bus. You can take any of the multiple routes from either city to Portree. Once in Skye, there is limited public transport so this may not be the best option for continued exploration.
Guided tours: An ideal option for first-timers exploring the Isle of Skye without their own ride. We recommend this tour from Edinburgh.
Will you be traveling from Edinburgh? There are several options for transportation between the two cities, and we have a detailed guide on how to travel from Edinburgh to Isle of Skye which outlines all of your options.
Getting around the Isle of Skye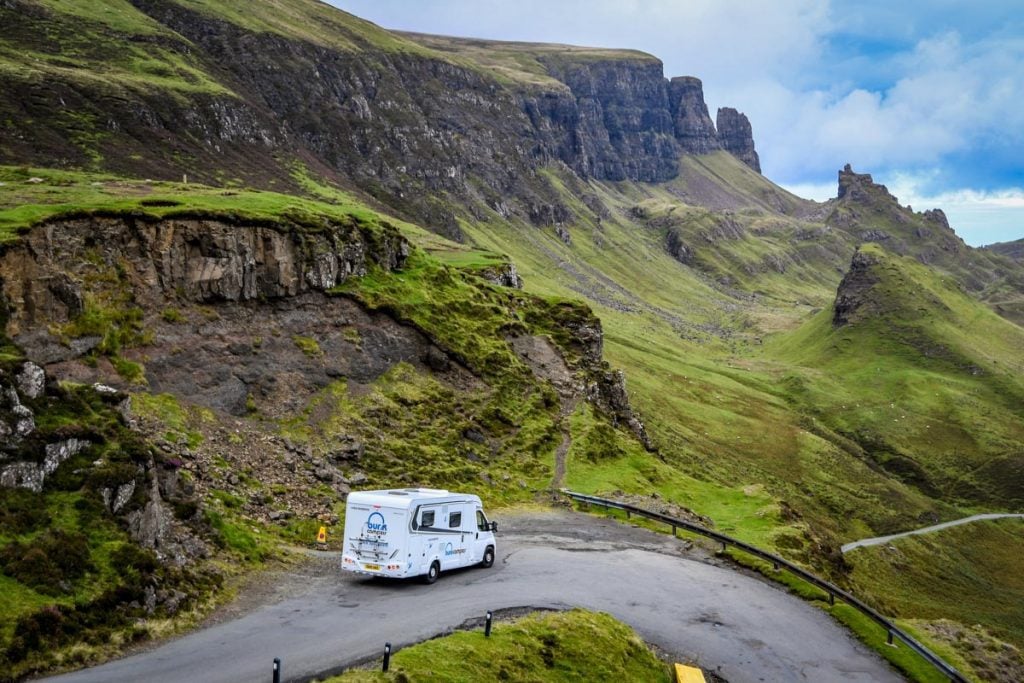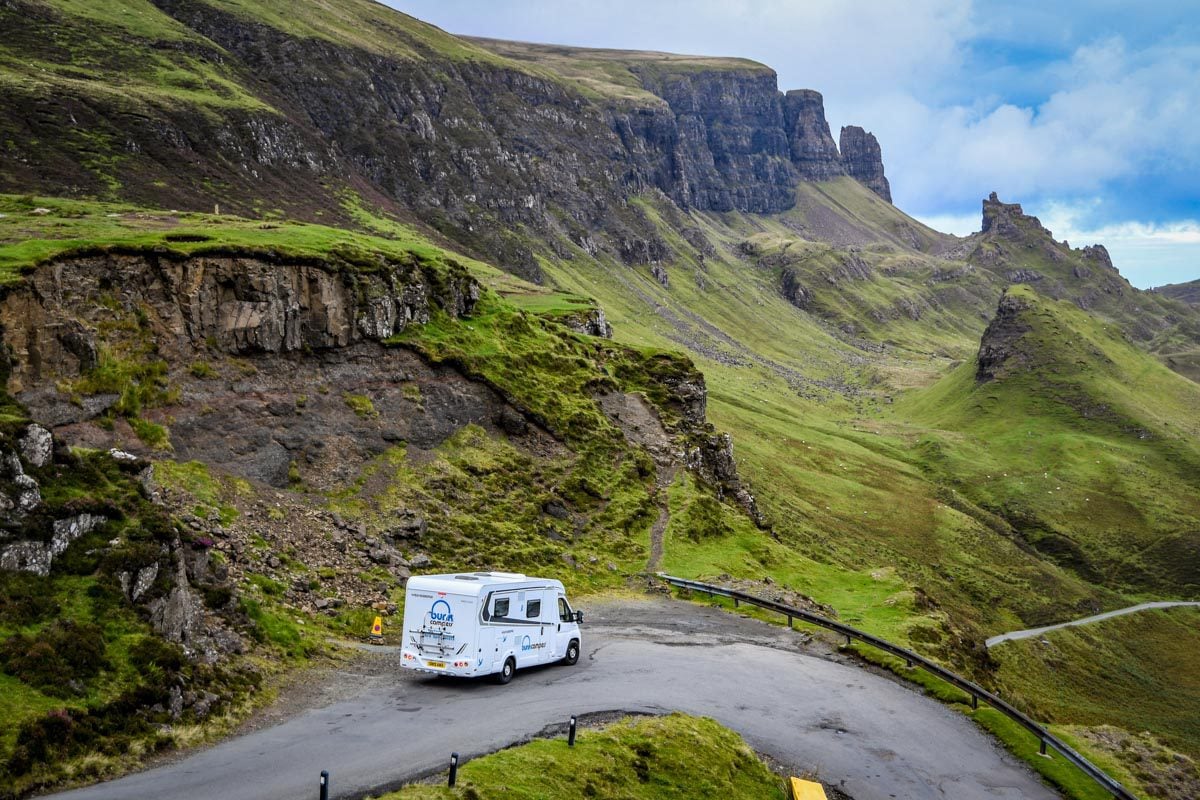 Without a doubt, the best way to get around the Isle of Skye is self-driving.
There are buses, but they aren't very frequent, so we wouldn't recommend relying on public transport.
The only other ways to get around would be by hitchhiking (which we wouldn't recommend unless you have unlimited time to wait around and a super adventurous spirit!), and by a guided tour of Skye.
So let's assume that you're going with the first option (smart choice, by the way!).
One thing I want to point out is that driving on the Isle of Skye is a wee bit different than driving in mainland Scotland.
Whether you're renting a car or hiring a campervan in Scotland, here are some tips specific to driving around Skye:
Isle of Skye driving tips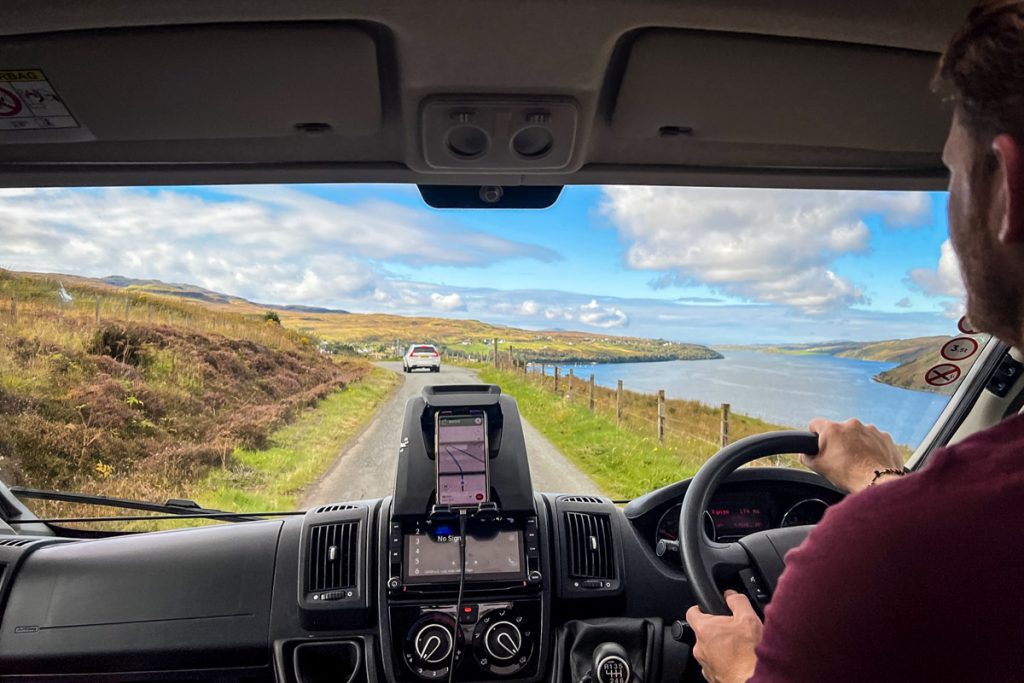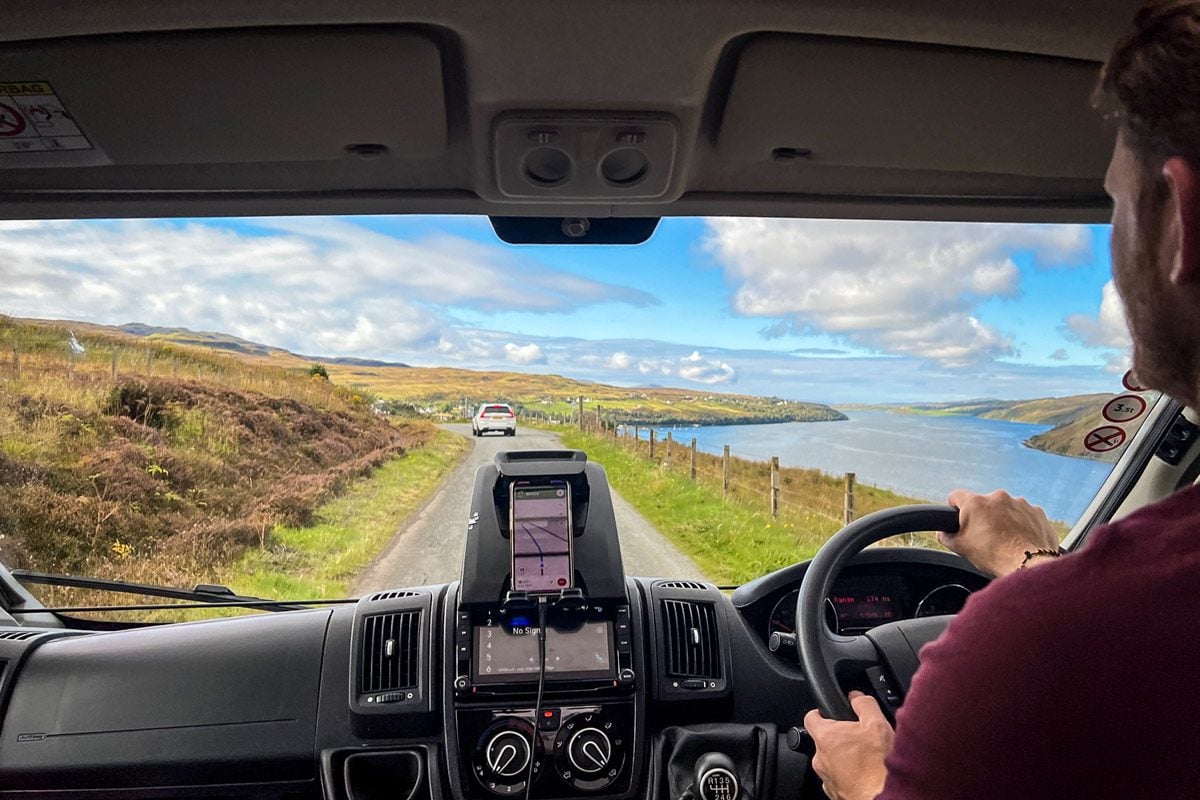 1. Download Google Maps
You'll be going in and out of cell service as you drive around the Isle of Skye, so it's a good idea to download this section of Google Maps before your trip so that you can still have real-time access to your GPS location and the ability to get directions even when you have no cell signal.
2. Watch out for sheep
That's right – in some of the less-populated areas of Skye, sheep graze alongside the road, crossing as they like. Keep your eyes peeled and drive cautiously any time you see them.
3. Be prepared to give way to oncoming traffic
There are many narrow roads around Skye, and in some places, you'll need to pull into small pull-outs known in Scotland as "passing places". Be patient and budget extra time when you're driving on some of the smaller roads.
Renting a car in Scotland? We've got an entire guide to driving in Scotland and tips for choosing the best rental car for your needs.
Thinking about hiring a campervan or motorhome? Yaassss! This will be an adventure of a lifetime. We have everything you need to know about camping in Scotland as well as how to choose the best campervan for you.
Psst! We have an entire guide to driving in Scotland including where to find the best deals on rental cars and tips for safety.
---
29 Fun things to do on the Isle of Skye
To say there are a lot of things to do on the Isle of Skye is almost an understatement.
This island, while relatively small, is absolutely packed with cool sights, bucket list hikes, and incredible food.
We've put together a list of the very best things to do in Skye to help you plan the perfect visit to Scotland's most popular isle.
Psst! Before you start feeling overwhelmed by all the things to do in the Isle of Skye, jump down to our perfect Skye itinerary, where we've put together our suggestions for how to spend your time.
1. Take a selfie with highland cows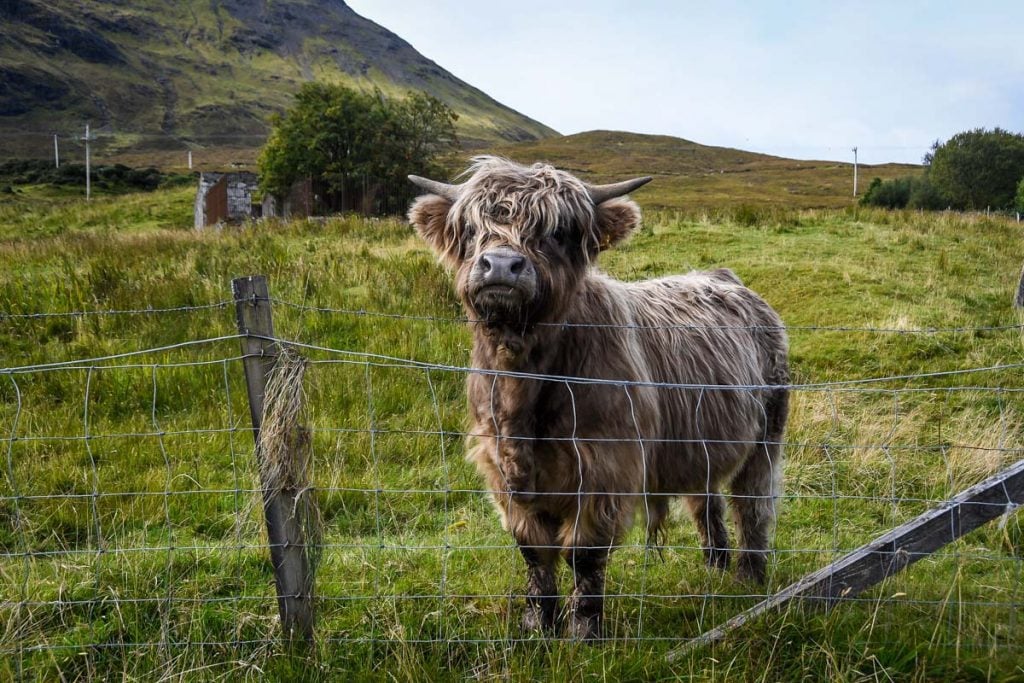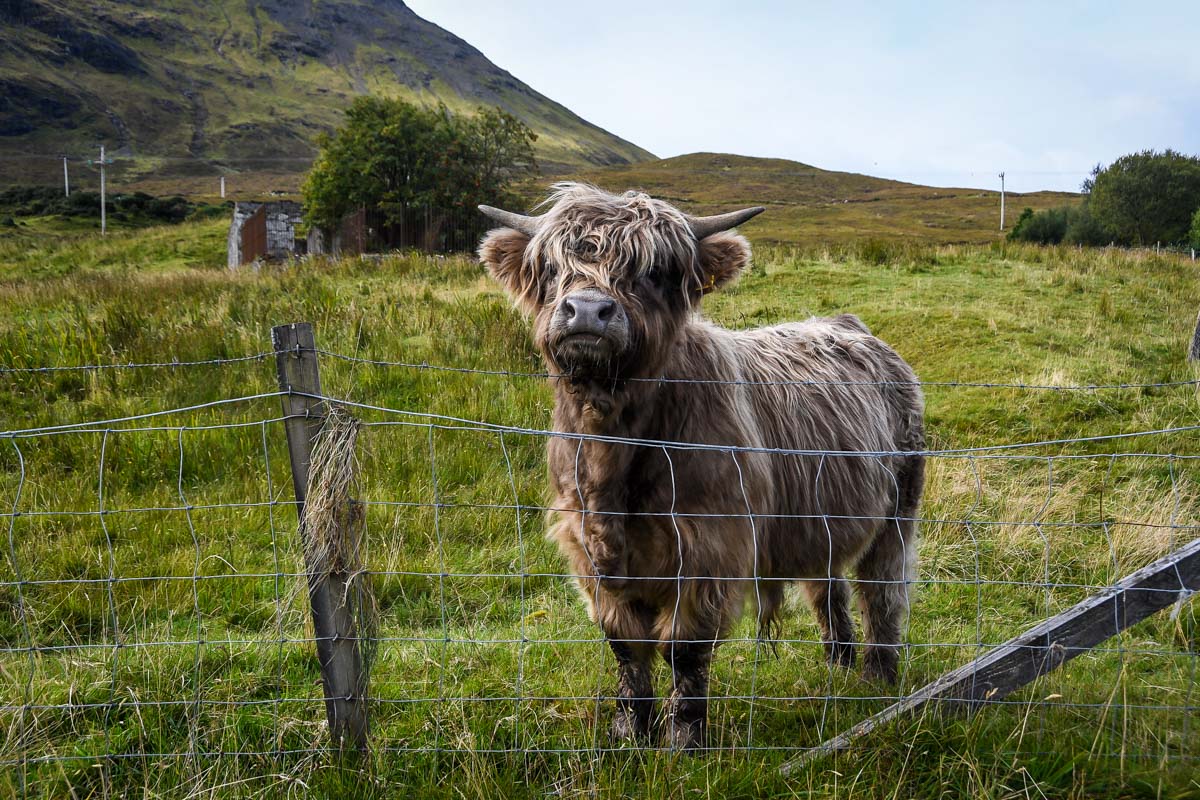 While the symbol of Scotland is a unicorn (yes, really!) highland cows are – dare I say – a more iconic Scottish animal. And one that you can actually see in real life. So there's that.
While driving around the Isle of Skye, be sure to stop at this spot so you can walk to the cows and see them up close.
2. Wander colorful Portree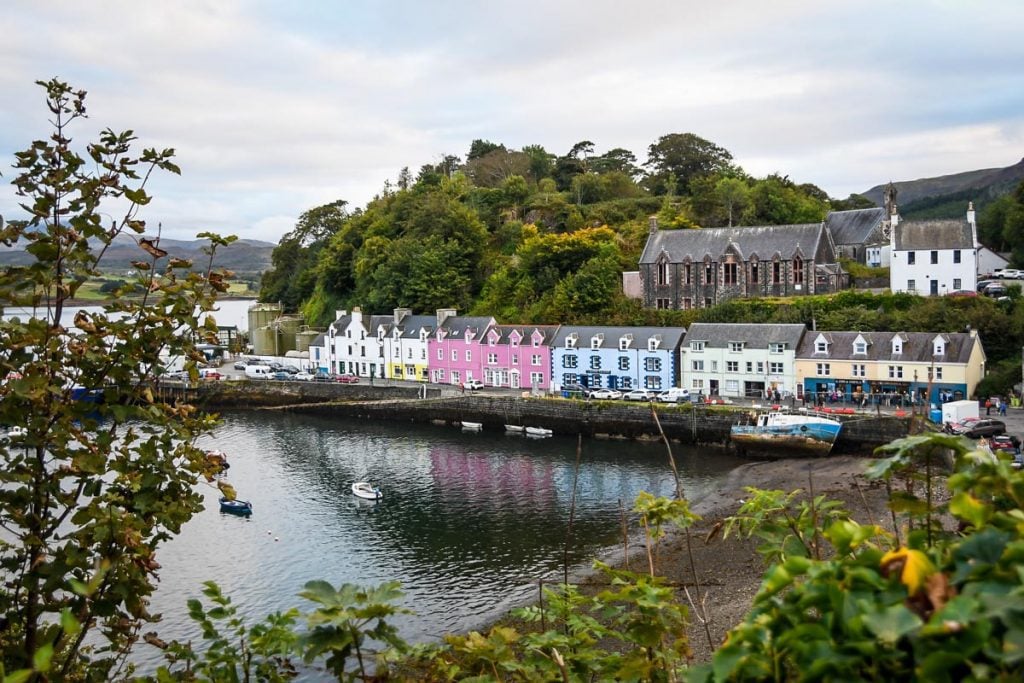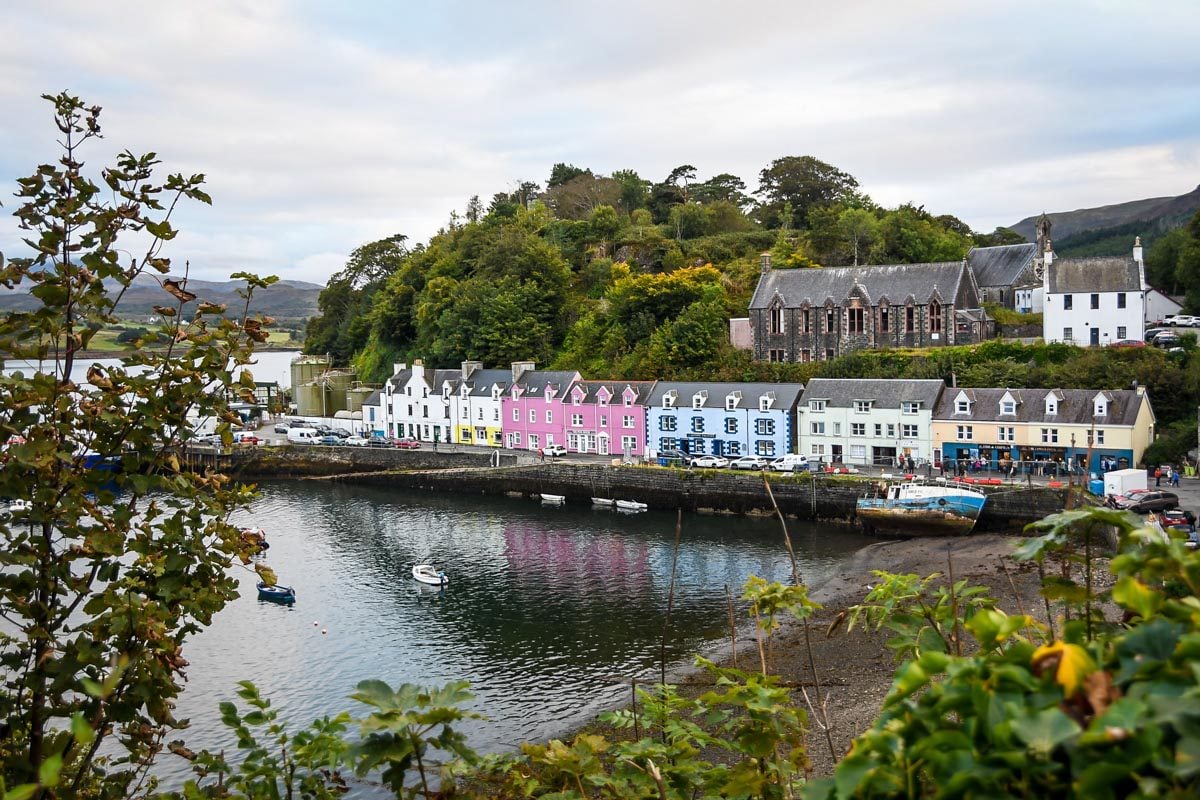 Portree is undeniably beautiful. Wander the streets and be sure to snap some photos along the way, as this is one of the most picturesque towns in Scotland.
The colorful buildings set against a quaint harbor make for a postcard-worthy combination.
Whether you're a photographer or just want to capture moments from your Scotland trip, you'll definitely want to snap a picture of this lovely seaside village.
The best view of Portree can be found at this spot.
Psst! If you have time to discover more of the country, don't miss these epic places to visit in Scotland.
3. Enjoy fresh seafood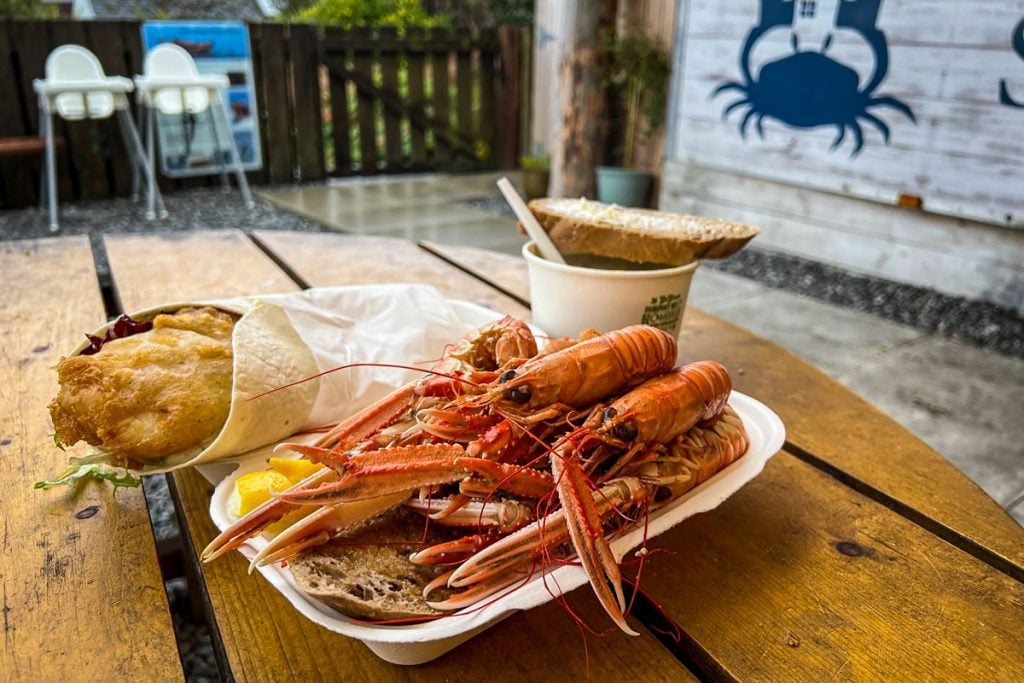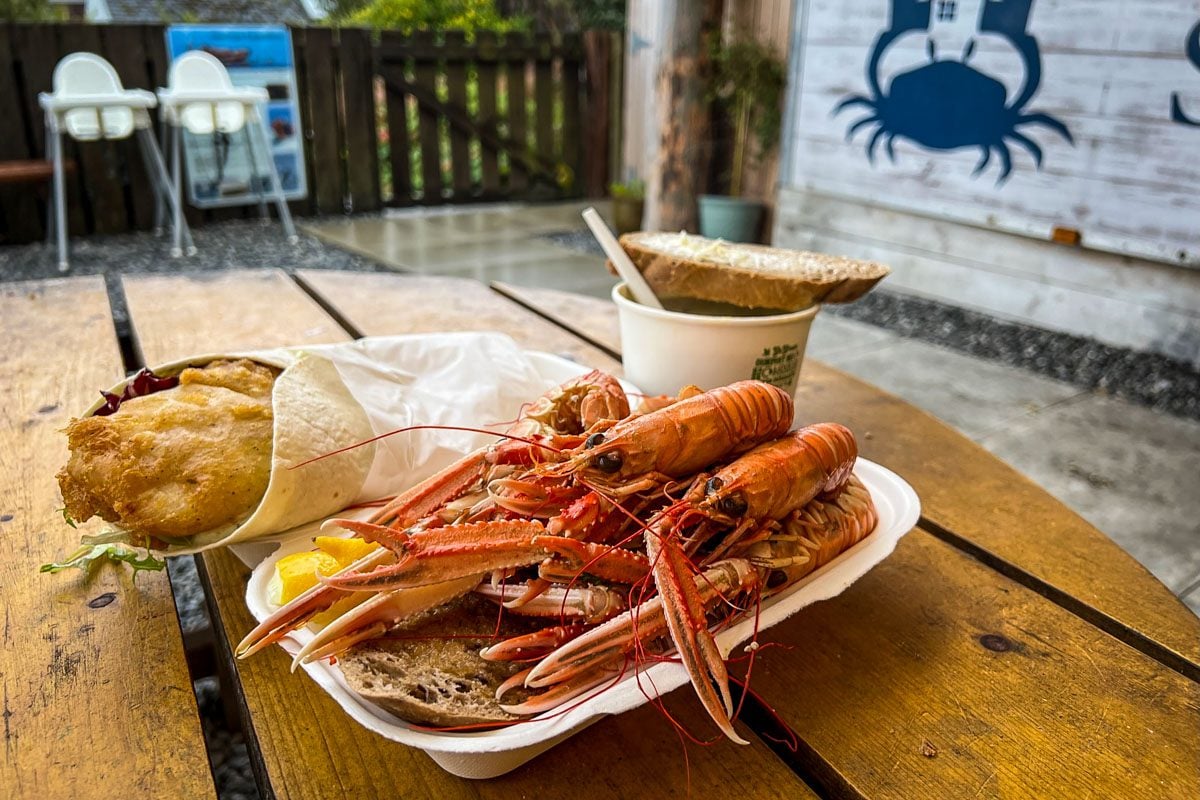 The Isle of Skye is one of the best places to enjoy fresh seafood while in Scotland.
Insider Tip: If you're a scallop fanatic like me, be sure to order them while exploring Skye, as they are famous for hand-dived scallops.
There are an abundance of options around the island. Here are our top picks:
Oyster Shed: This popular seafood market and kitchen is open Monday – Saturday (11 am – 5 pm) year round. It makes a good lunchtime stop during your Isle of Skye road trip. Enjoy hand-shucked oysters, steamed mussels, fish stew, smoked salmon, langoustines, and seared scallops in a super casual setting (aka you'll be eating your meal while standing beside a barrel).
Loch Bay Restaurant: Run by a husband and wife team, this cozy restaurant is known for locally-sourced seafood, like hand-dived scallops, and a welcoming atmosphere. While it's located a bit out of the way from the typical sights, this restaurant is a destination in itself.
The Galley Cafe: This casual cafe specializes in seafood dishes, making it the perfect lunch or dinner stop if you're in the area. Hint: It's near Fairy Glen and makes a perfect post-walk meal.
One of the many restaurants in Portree: You'll have no trouble finding excellent seafood in Portree. Just be sure to make a reservation in advance, as the restaurants here do book up.
Here are our top picks for a nice seafood dinner in Portree:
4. Wander Fairy Glen at sunset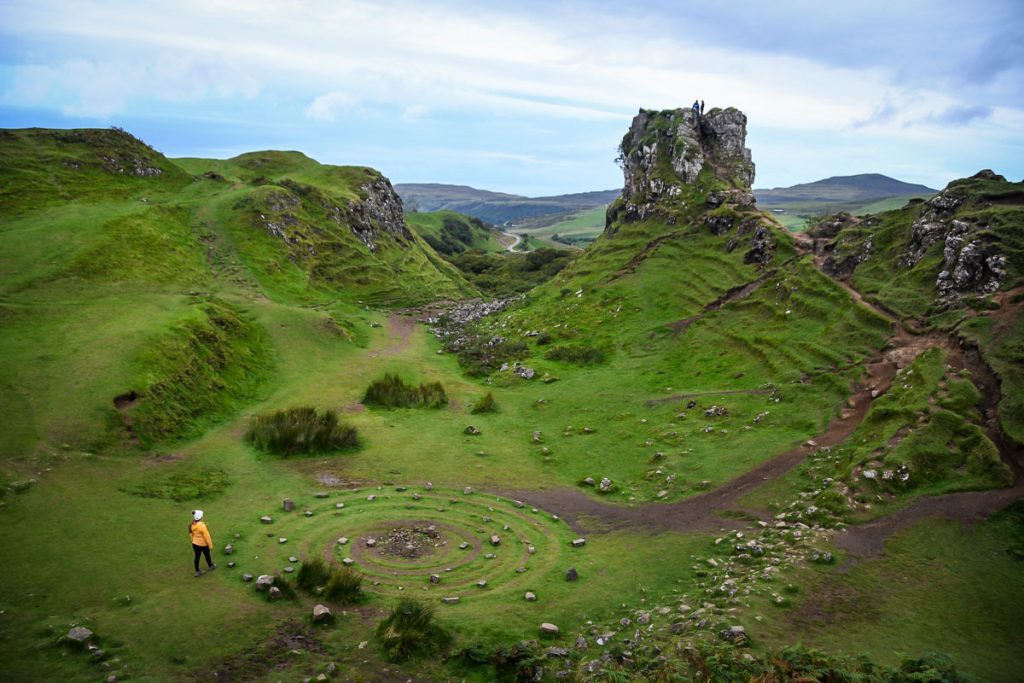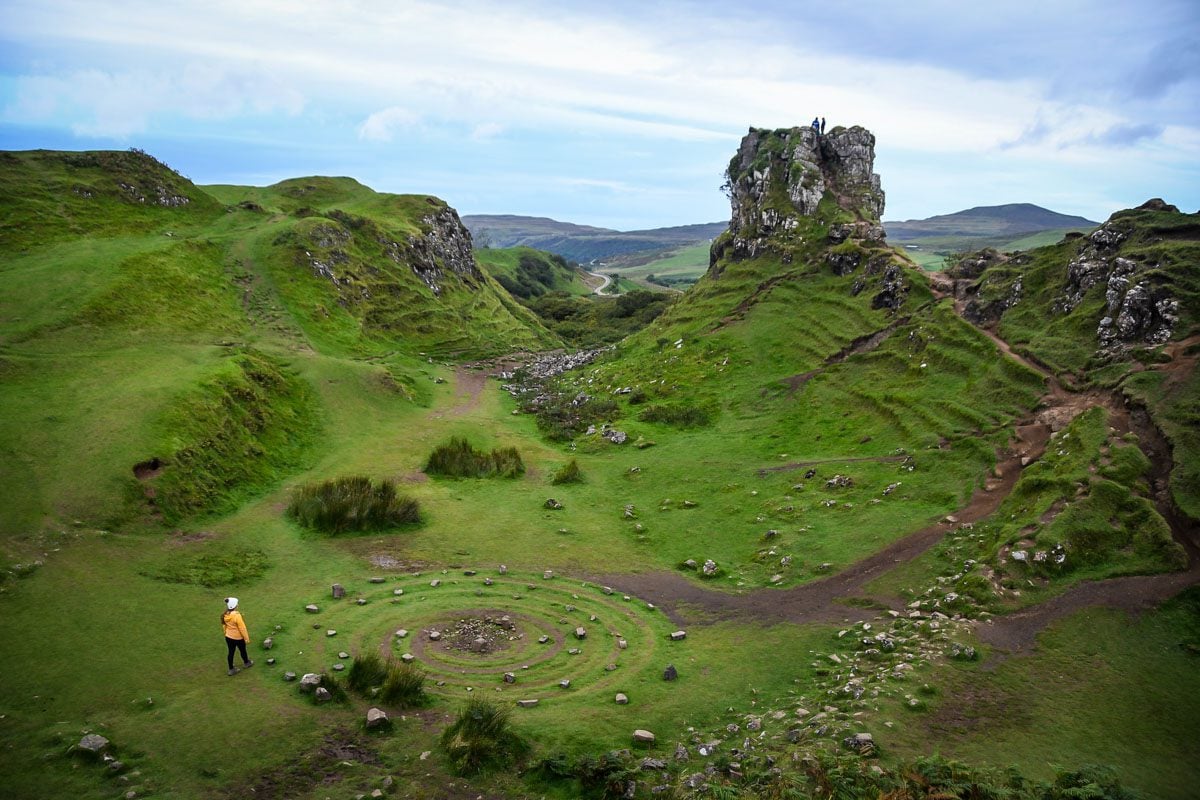 This place was one of our favorite stops on the Isle of Skye.
A flat and easy mile-long loop trail brings you past grassy knolls, conical hills, a tranquil bog, and rock formations where sheeps graze.
You'll know when you reach the spot known as The Fairy Glen, as there are concentric circles made in the ground with stones.
You'll also see Castle Ewen – which is not a castle at all, but a rock formation that somewhat resembles a fortress-like structure.
The whole place has an ethereal, magical quality to it.
When we visited around sunset time, there were just a handful of other people, making our experience feel really special.
Be a responsible traveler: Don't move the stones or walk in the circular area (even if you see other people doing so). This causes erosion and will mean this spot is not as beautiful for future visitors.
How Fairy Glen got its name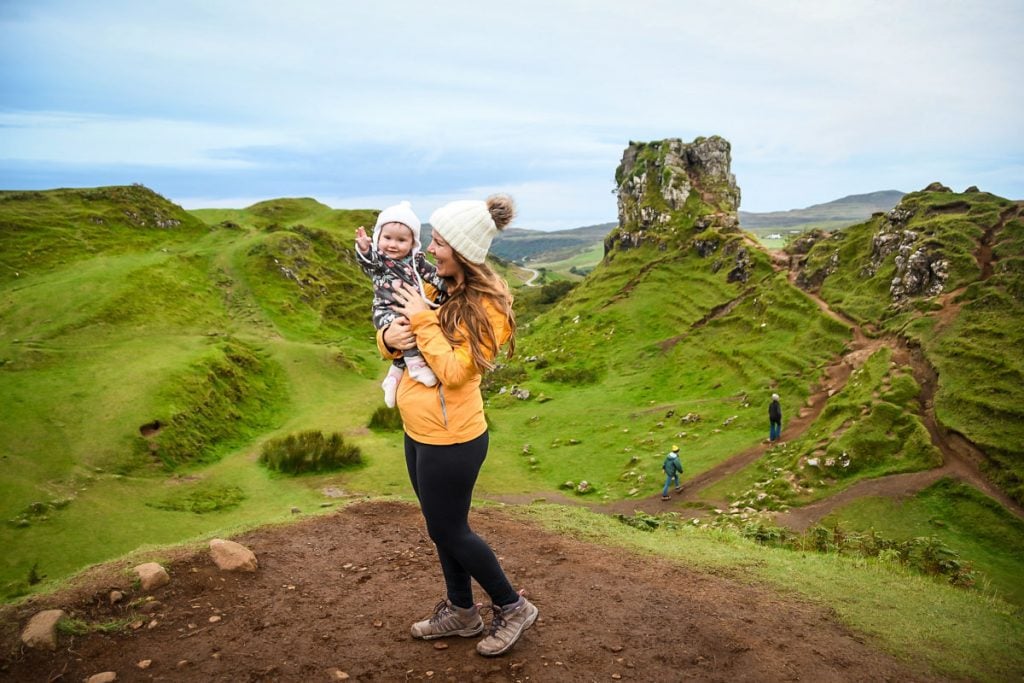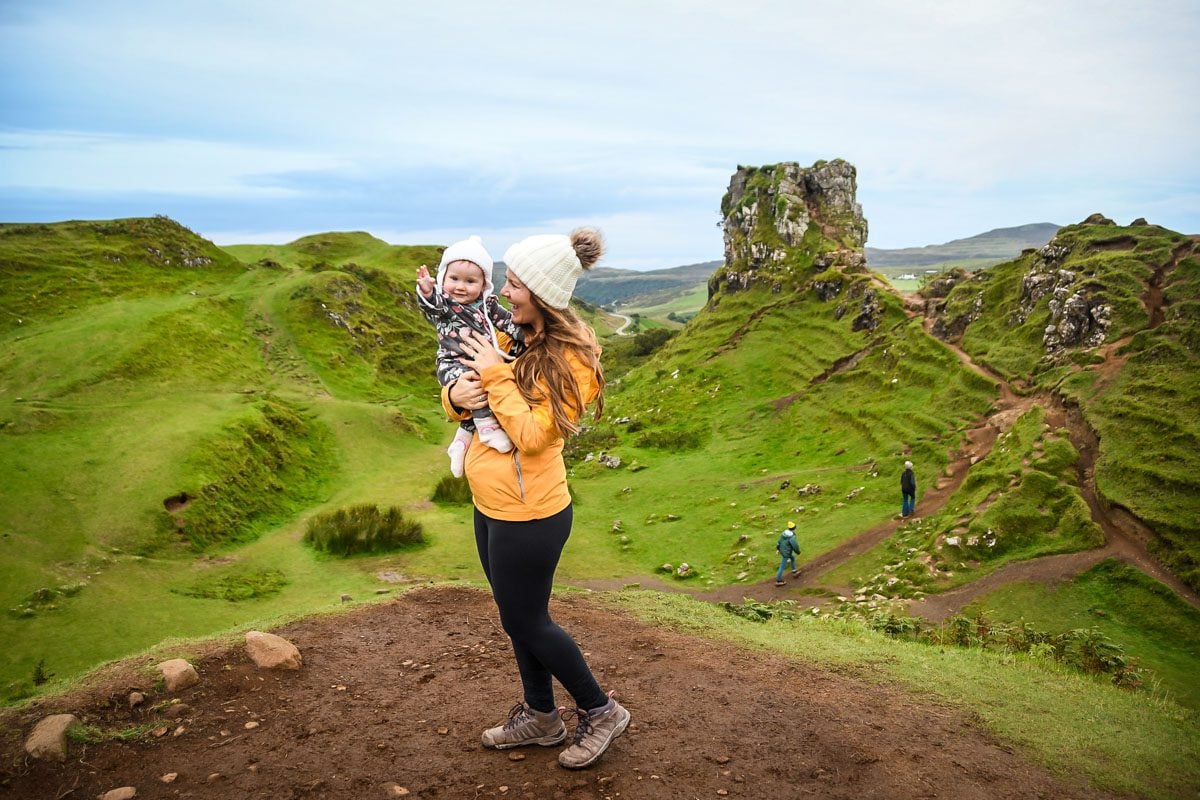 Throughout history, the Isle of Skye was thought to be a home for fairies, as they are said to live near water. That said, there are no known legends or folklore tied to this exact spot. It simply got its name from the otherworldly quality of the landscape.
The rocks have been placed by visitors over recent years, and while it's beautiful, it doesn't have anything to do with folklore. Some tour guides are said to have created stories to make this place seem more magical, but the fact of the matter is that it's simply a beautiful area to explore.
Sorry if that spoils the illusion!
Fairy Glen Hike
Distance: 1 mile (1.6 km)
Elevation gain: 135 feet (41 meters)
Type: Loop
Difficulty: Easy
Timing: Plan on 20-25 minutes for the walk itself, and more if you'd like to take photos and climb up to the viewpoint.
Insider Tip: The best view of the circles in the ground is from the cone-shaped hill opposite Castle Ewen. There is a path to the top, from which you can get a really nice view overlooking it all.
These trail notes will be helpful in planning your hike to Fairy Glen.
Good to know: After a rain, parts of the path can get muddy, so wear hiking boots.
5. Hike to the iconic Fairy Pools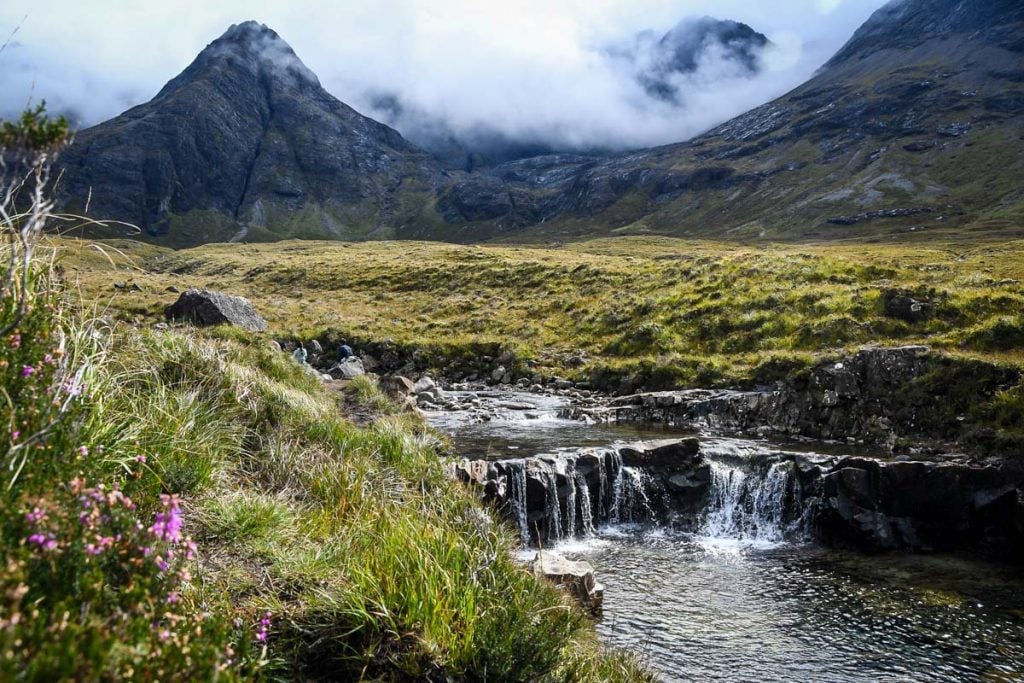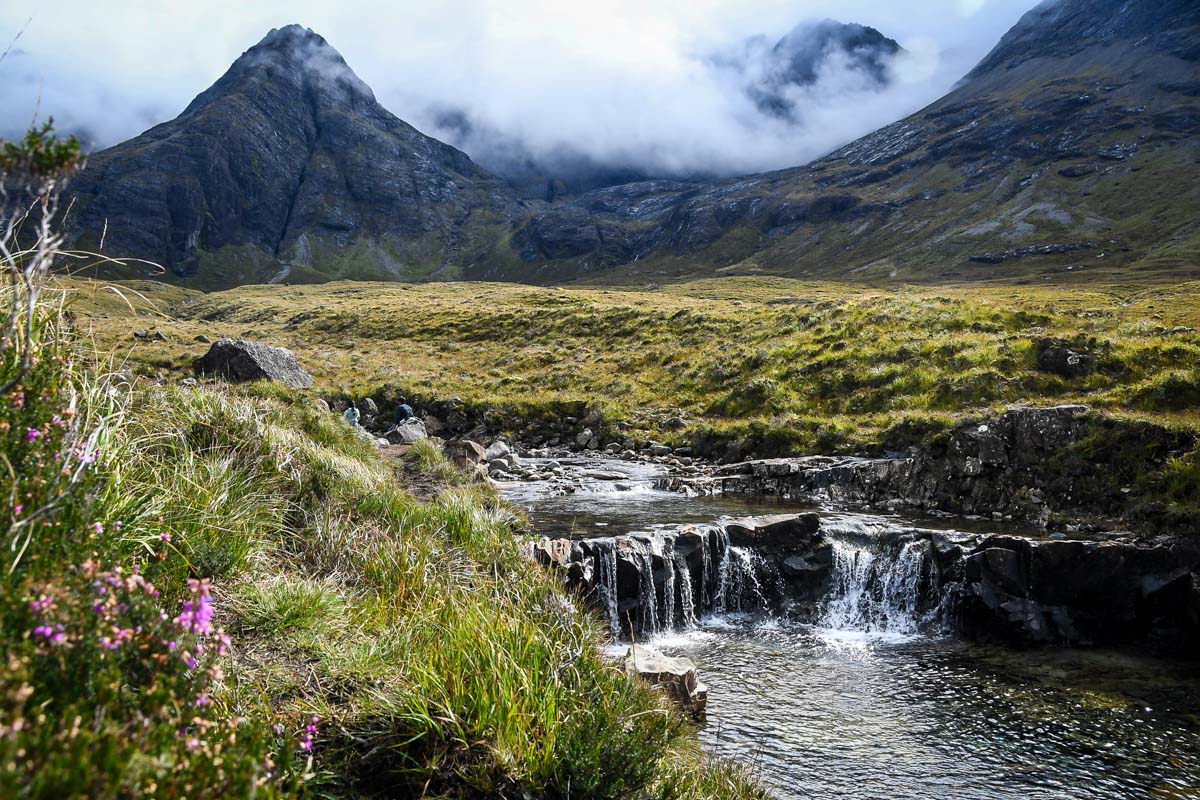 No trip to the Isle of Skye would be complete without hiking to the famed Fairy Pools.
While this is one of the most visited places in Skye, it is popular for a reason.
We've got a guide to hiking to the Fairy Pools so you know exactly what to expect.
Tip: If you want to avoid crowds, come early or stay for sunset. The middle of the day is the most crowded. But even at its busiest, you'll be able to find spots along the path that you have all to yourself.
6. Get weak in the knees at Kilt Rock & Mealt Falls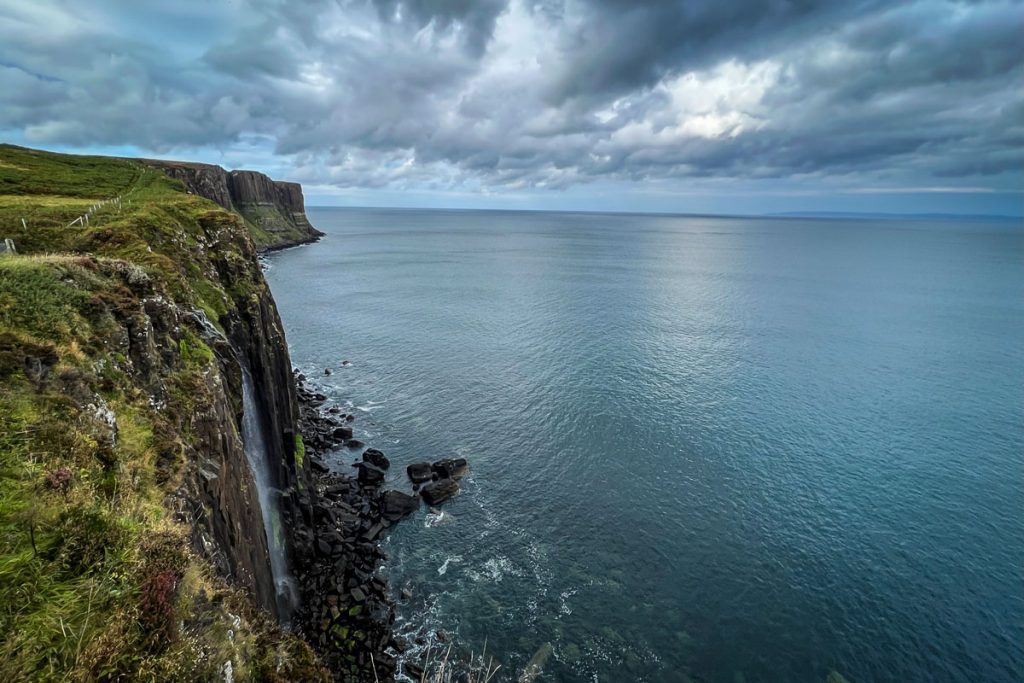 This is one of the most iconic views on the Isle of Skye, and for good reason. It's not often that you can see a waterfall tumble over a sheer cliff into the ocean.
It is quite the drop! (Just hang on tight to your phone or camera.)
This is a quick stop, as it's just a short walk from the parking lot.
7. Cheers with a local brew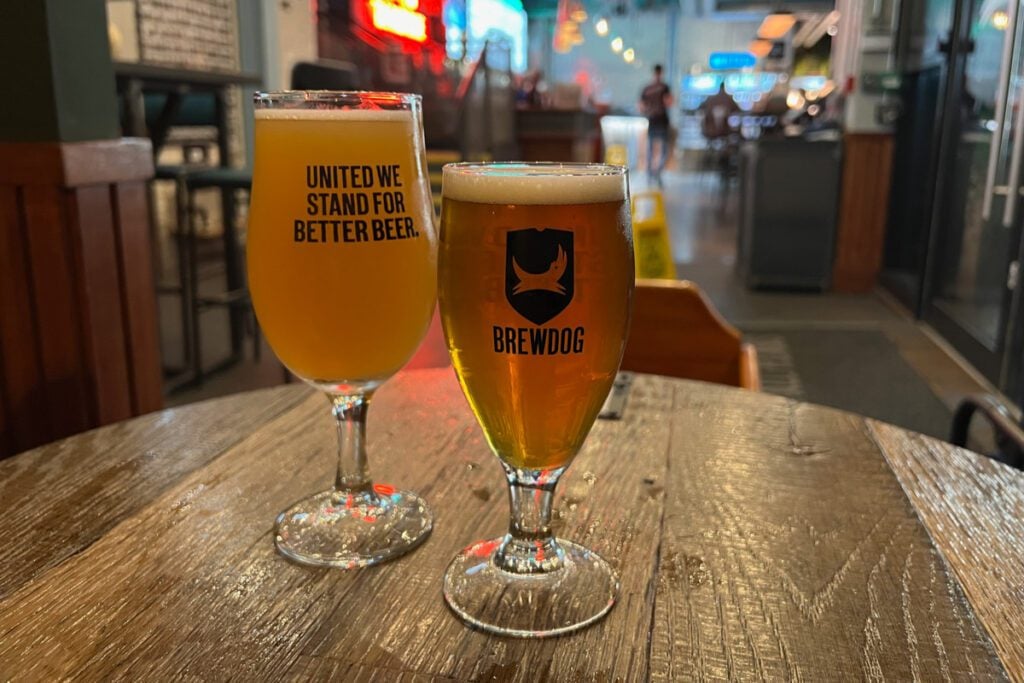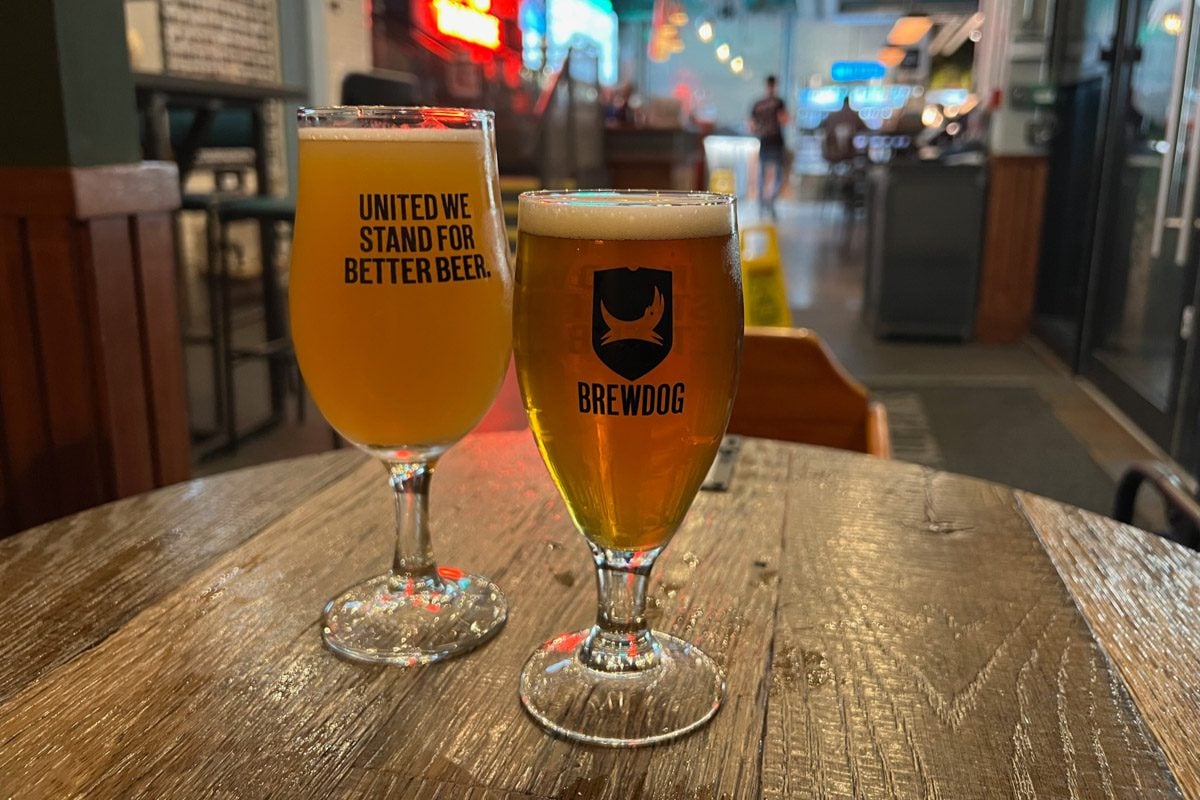 Pop into Isle of Skye Brewing Company for a local ale or their house-distilled gin – whatever floats your boat.
Sláinte! (That's Gaelic for cheers!)
8. Explore Spar Cave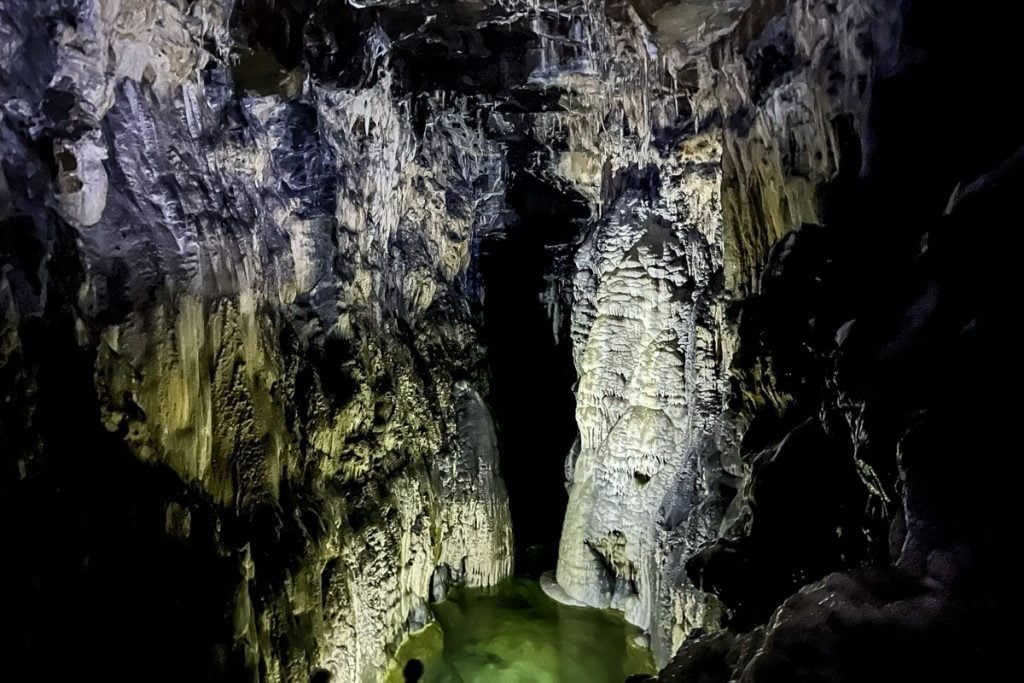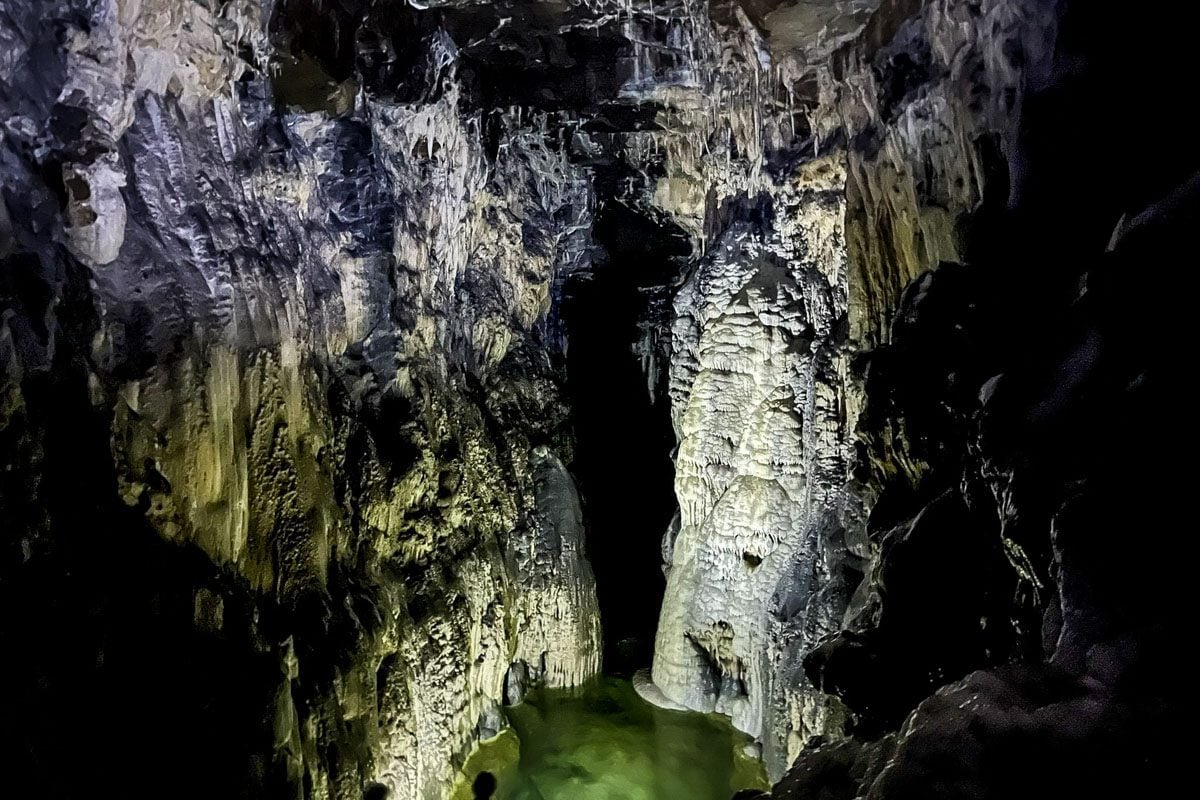 This cave is one of the best kept secrets on the Isle of Skye. A short, half-mile trail takes you to a fairytale-like cavern made of dripping flowstone.
You'll walk along freshwater pools surrounded by silver walls, feeling like you've discovered an entirely different world.
It's important for you to do a bit of additional planning in order to visit this cave safely. Once you enter the cave, it will be pitch black, so you'll need a hefty light source with you to see anything.
Additionally, the cave only appears during low tide, so be sure to double-check the tide charts before you head out.
9. Get on the water in a kayak or SUP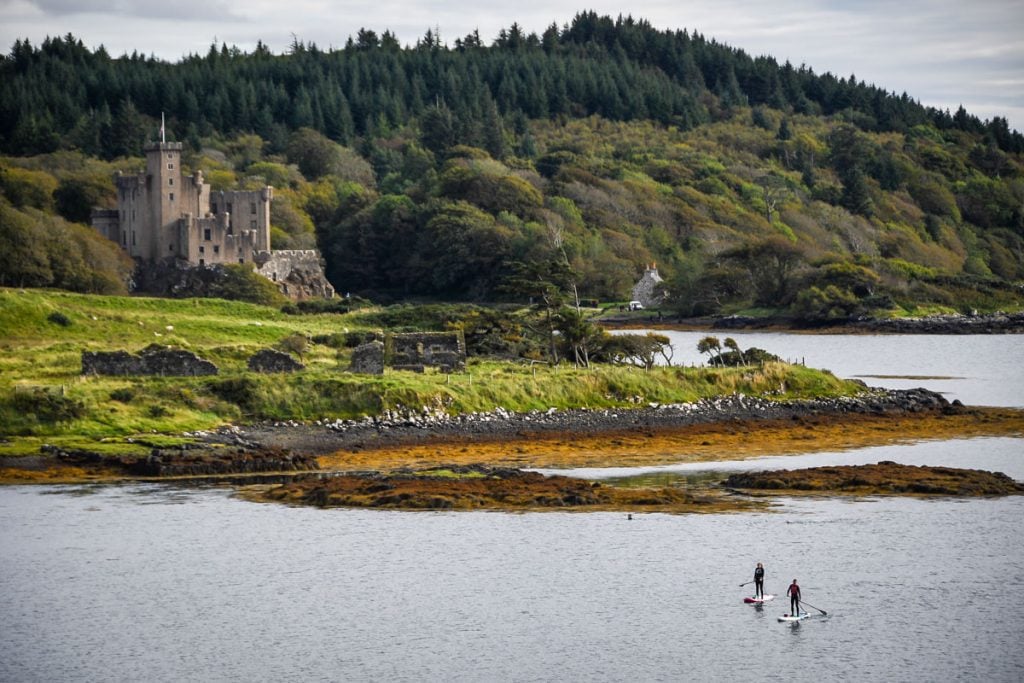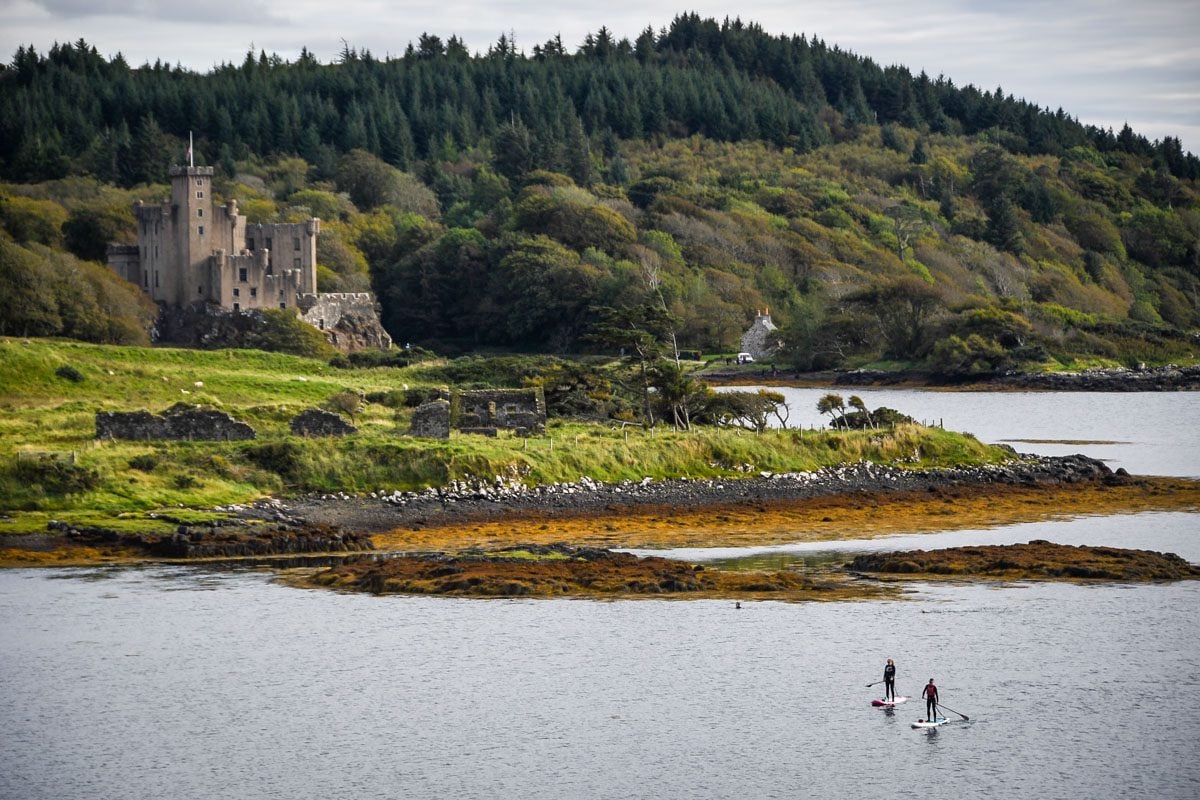 There are few better ways to soak up the serene and secluded nature of the Isle of Skye than a peaceful paddle in the isles coastlines.
Explore Highlands offers kayak and stand-up paddle board tours ranging from half-days to full day excursions in a variety of different spots around Skye.
Their friendly, local guides also cater to beginners, families, and avid recreationalists looking to explore the renowned scenery, landscapes and wildlife.
No matter your experience level on the water, there is an adventure waiting for you to experience.
10. Make a quick stop at Fairy Bridge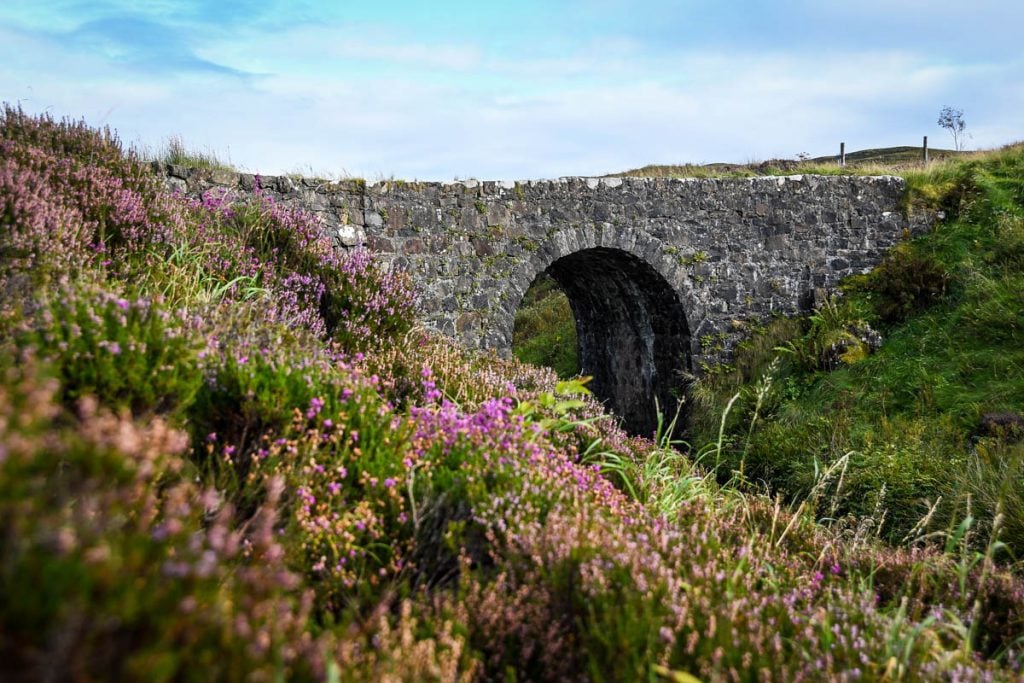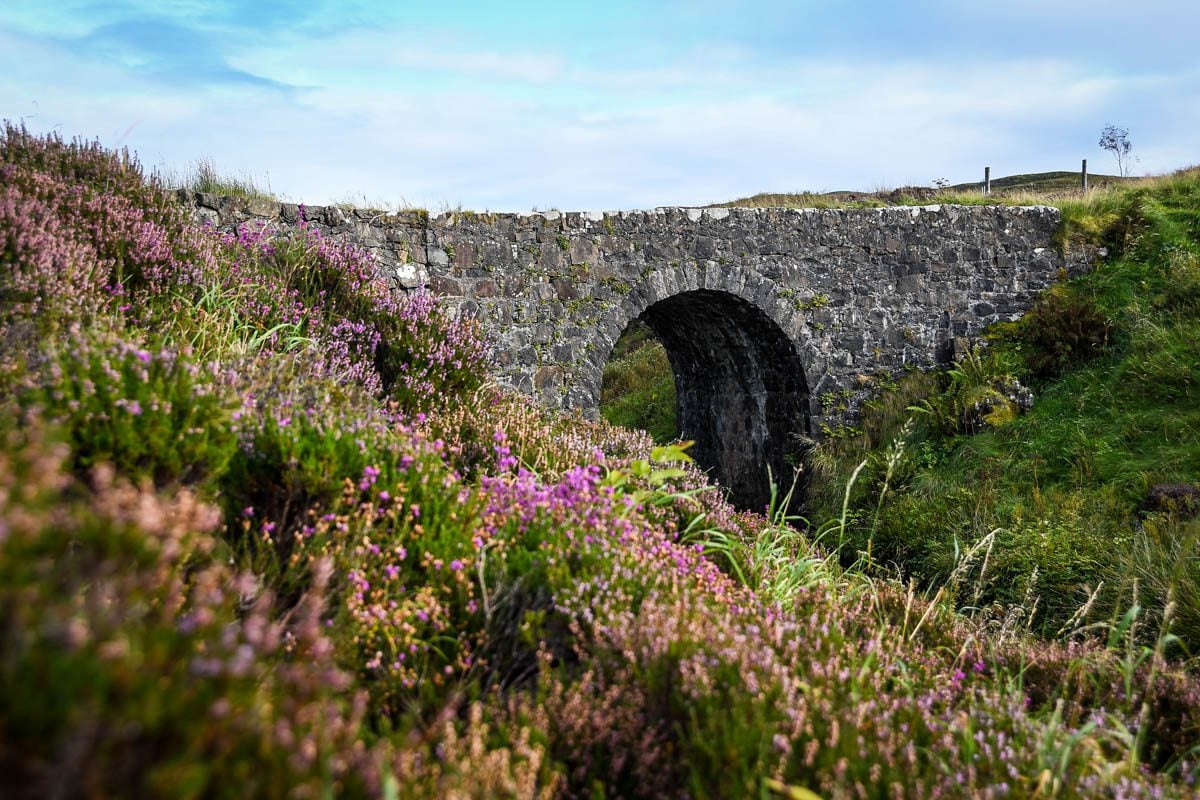 There's not much to see here, but this historic bridge does make for a nice photo op or a quiet spot for a picnic.
It has a single arch and dates back to the 19th century.
11. Hike the rugged coastline at Brother's Point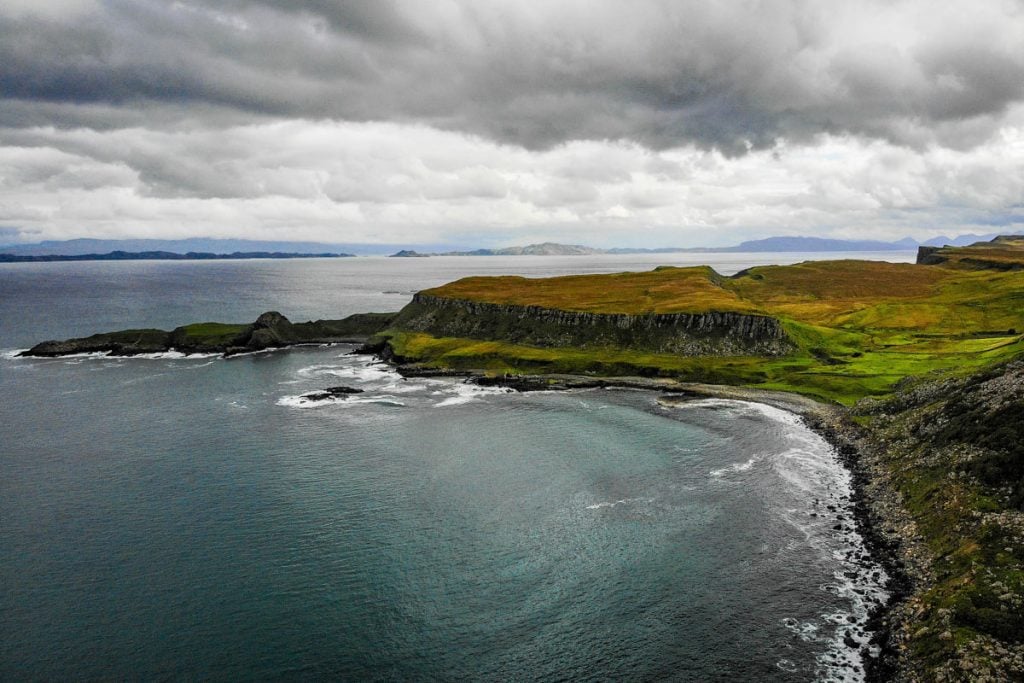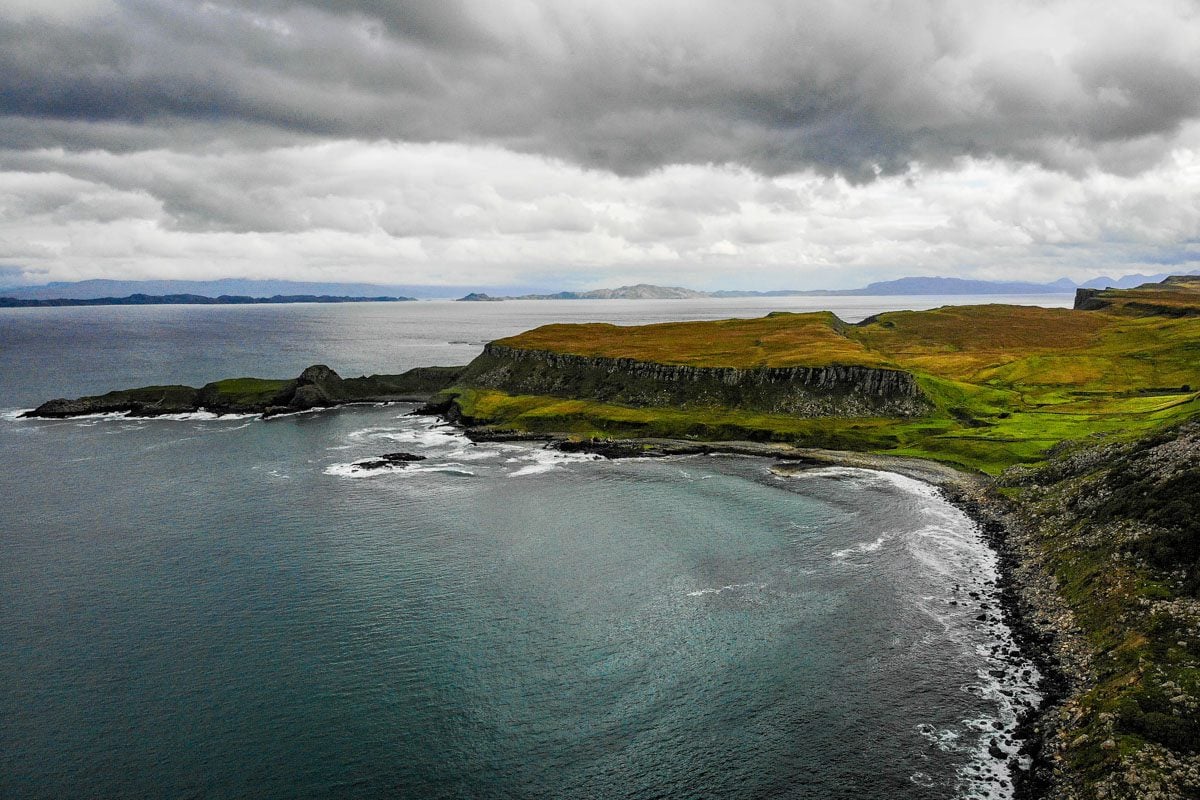 Distance: 2 miles / 3.2 km
Elevation: 305 ft / 93 meters
Type of trail: Out-and-back
Difficulty Rating: Easy
You'll feel as though you've stumbled upon an undiscovered gem in the Isle of Skye as you walk past local sheep herds to this magnificent viewpoint.
Listen to the waves crash on the shores below while you enjoy long distance views of Kilted Rock, Mealt Falls, and the lush green hills of the isle.
12. Walk out to the Neist Point Lighthouse
On the western shores of Skye is one of the most famous lighthouses in Scotland. It's one of the best photography locations in the Isle of Skye, and makes for a pretty incredible sunset.
Neist Point's orange and white details contrast beautifully to the backdrop of green and blue hues Scotland is so renowned for.
Take the short and scenic walk all the way to the lighthouse, or enjoy views of the entire Neist Point peninsula from afar.
13. Tour the Talisker Distillery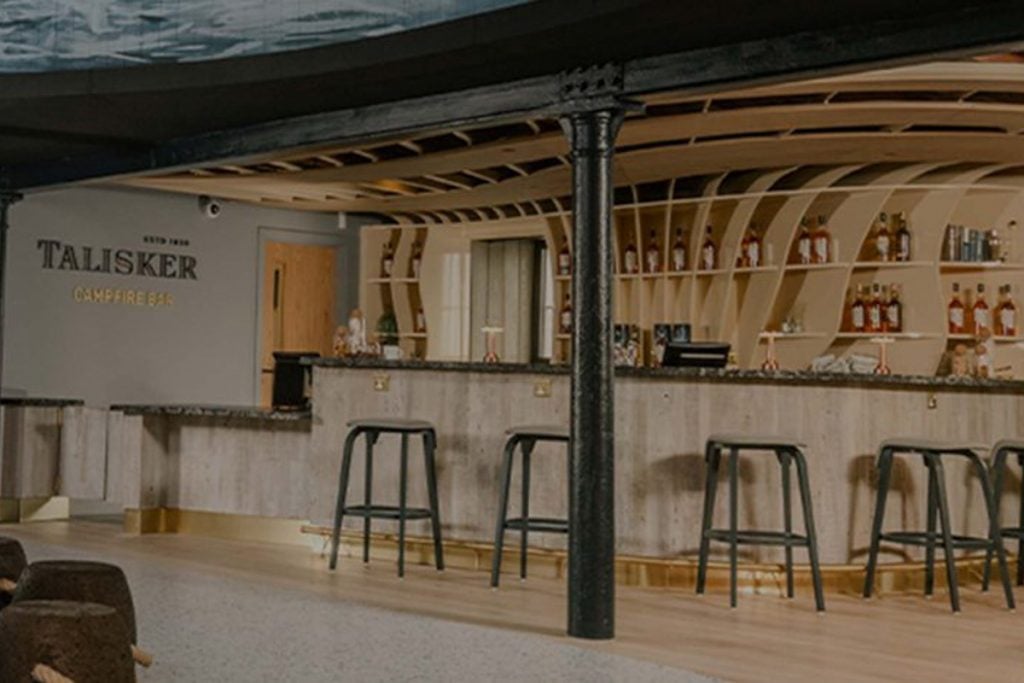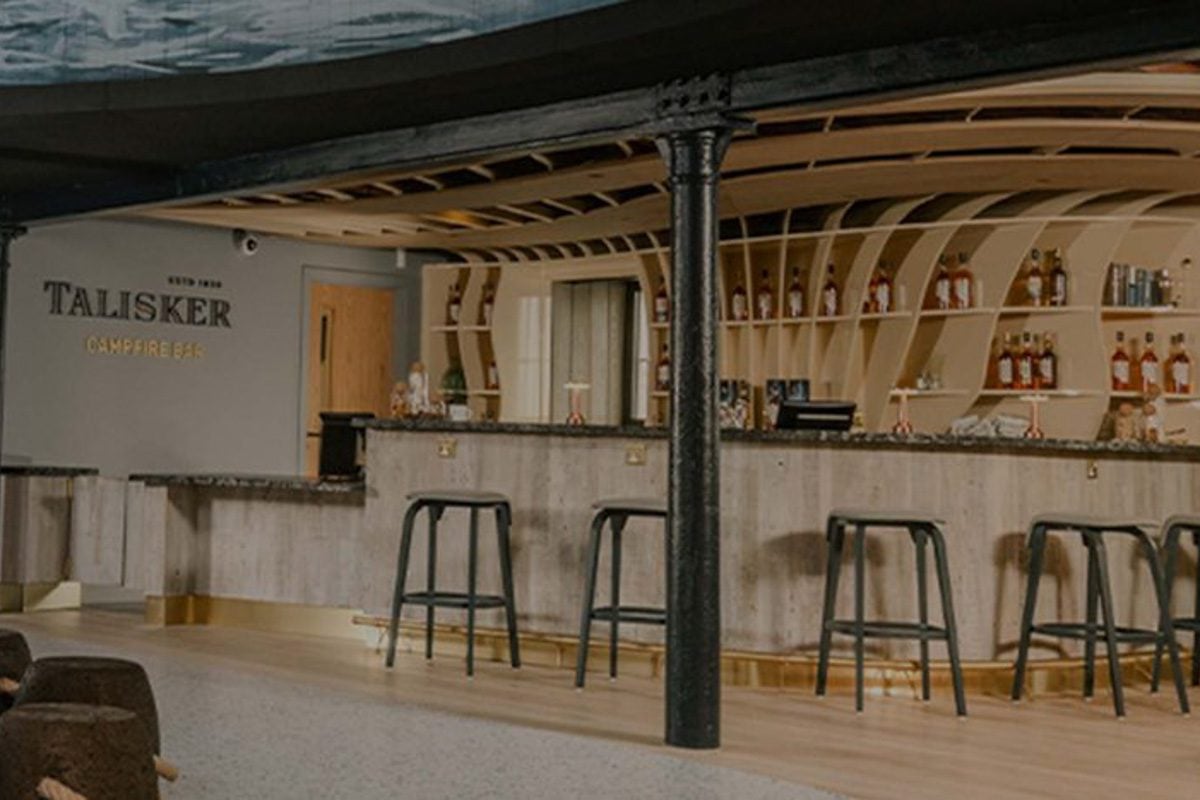 Join the passionate guides of the oldest working distillery in Skye as they take you on a journey through three single malt tastings.
You'll toast the only single malt whisky from the Isle of Skye gazing over dramatic views of the Cuillin Hills and Loch Harport.
14. Tour the Dunvegan Castle (or see it from afar)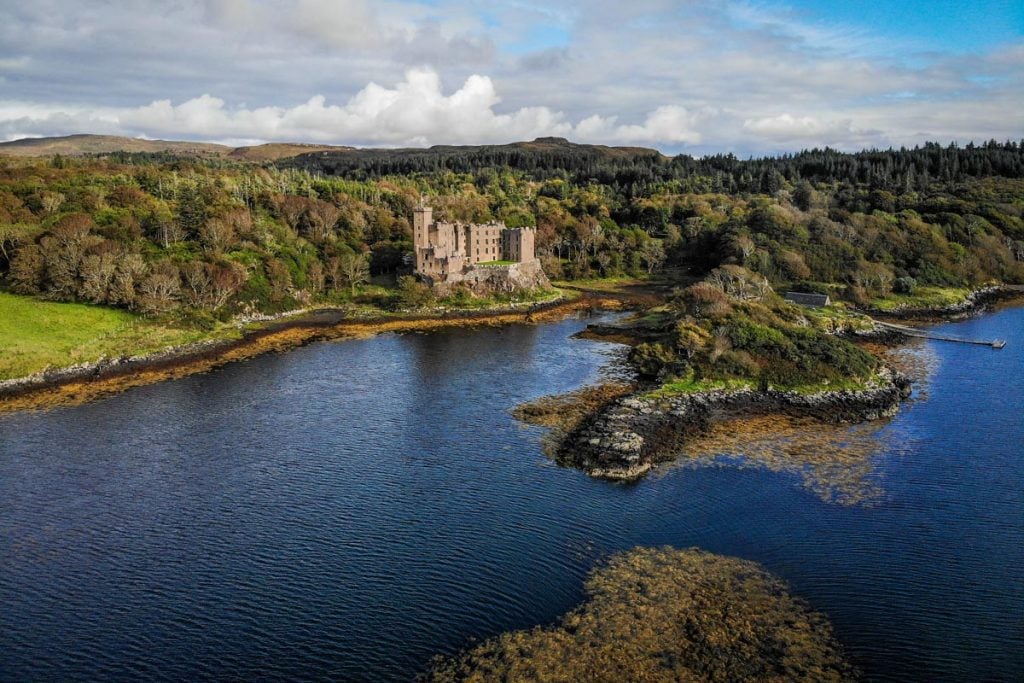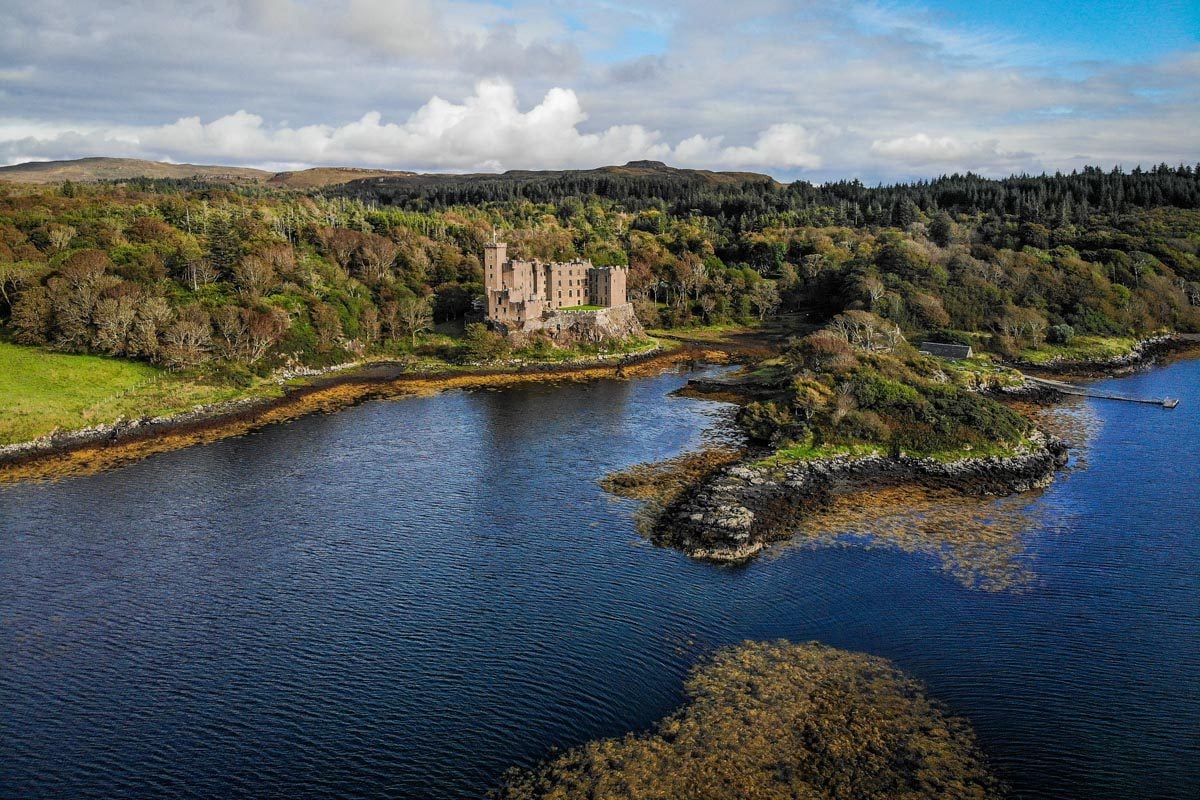 Along the shores of Loch Dunvegan is one of the most spectacular Hebridean castles in the Scottish Highlands.
This fortress was occupied by the same family for over 800 years and features architectural work across ten different building periods from the 1200s to the 1850s.
You can experience all the intricate details from centuries of reign on a tour, or view the castle and the stunning surrounding scenery at this viewpoint, for free.
15. Walk across the historic Sligachan Old Bridge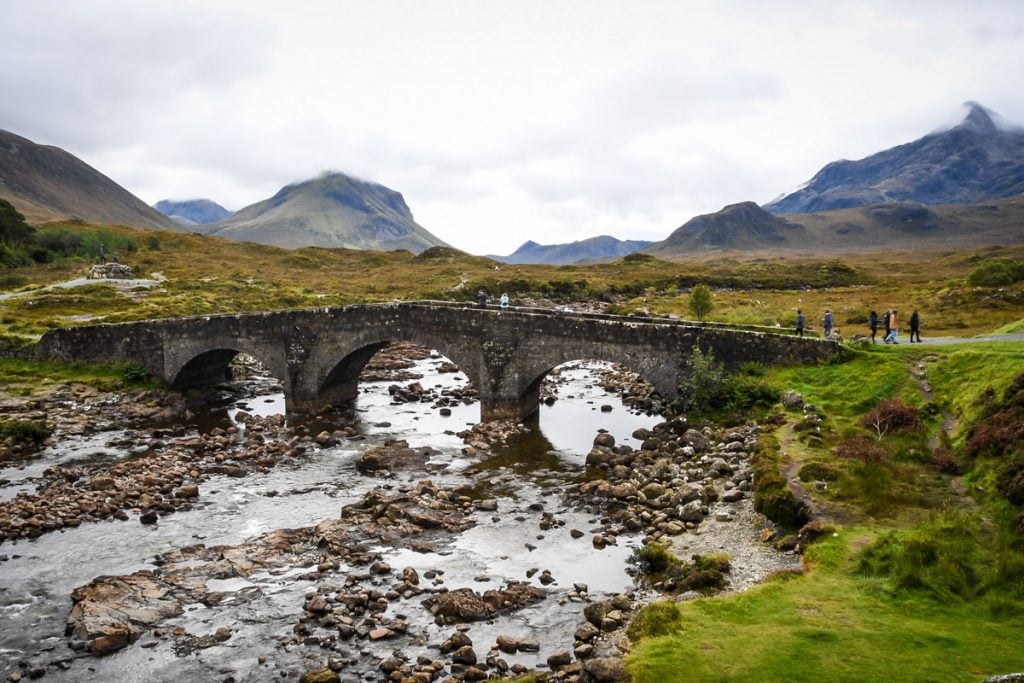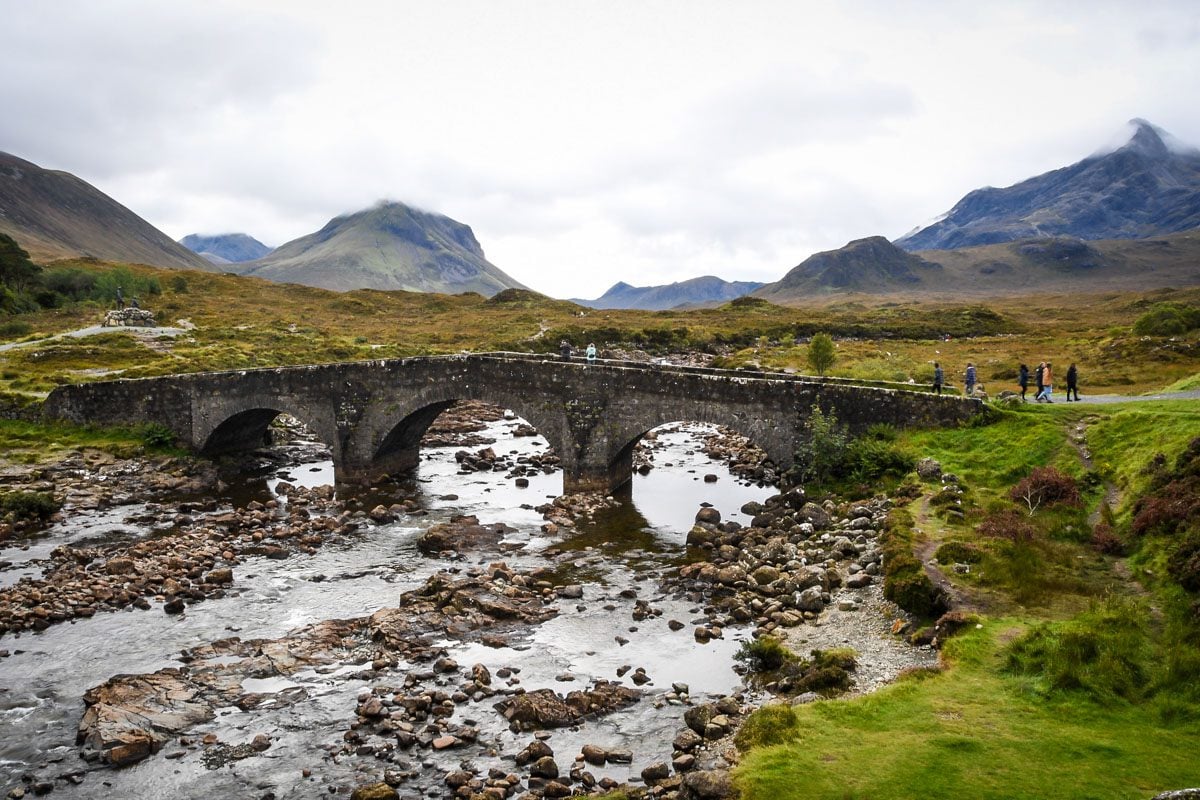 The legends shared in the Isle of Skye help bring some of its locations to life, and the stories surrounding this bridge definitely attract a crowd.
The Sligachan Bridge was built in the early 1900s, over water that is believed to hold the key to eternal youth. However, in order to reap the benefits of these enchanting waters, you must hold your head under for at least 7 seconds.
Since you're in the area, the Sligachan waterfalls are only a short walk up the road and worth peeping before heading back to the car.
16. Visit the Armadale Castle & Gardens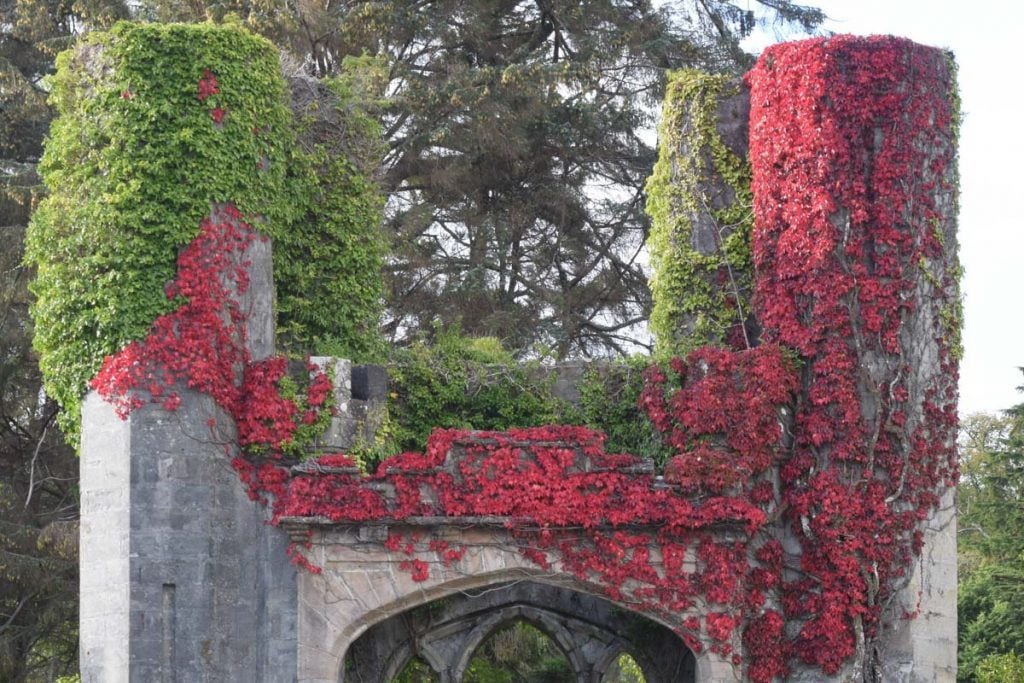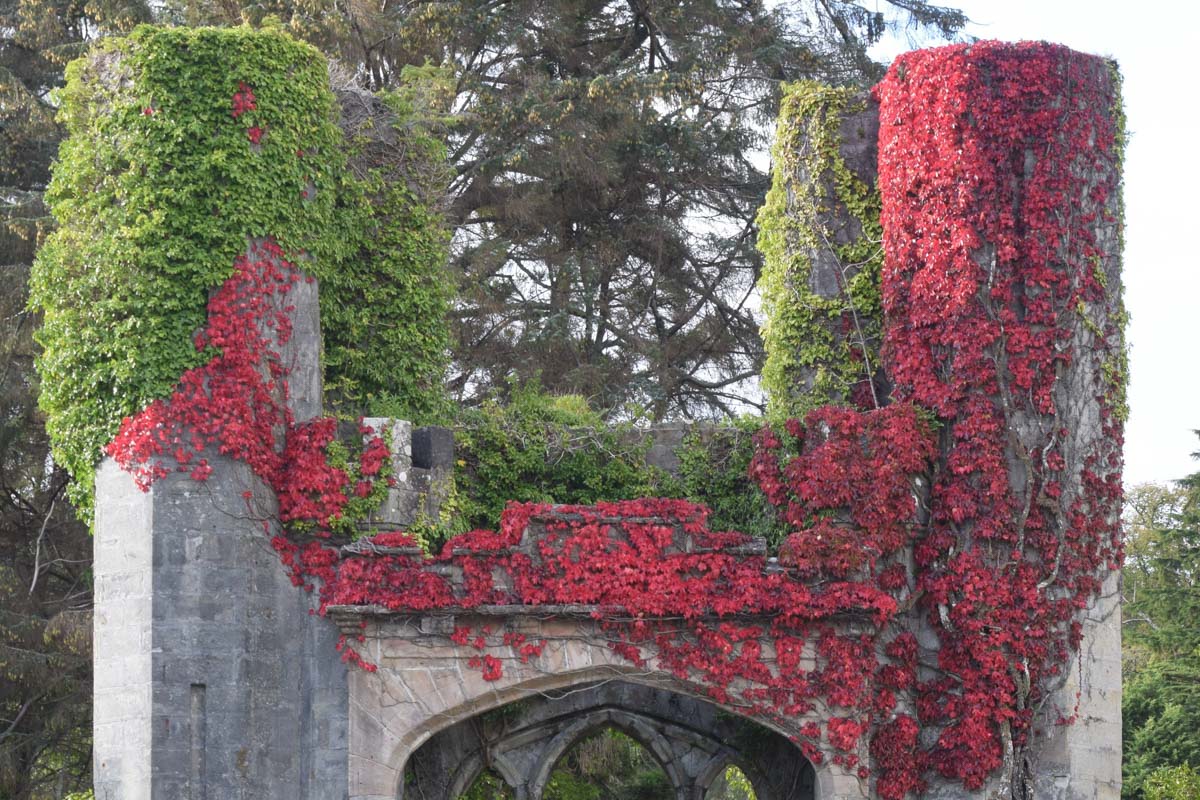 This castle along the Sound of Sleat was the last residence of the Macdonald Clan. The dreamlike gardens and former manor house are filled with romantic corners and interesting clan history.
History buffs will adore this stop since you can learn about so many of the main figureheads of Scottish history and folklore, as well as the history of the Highlands and Isles.
Relics, plaques, weapons, and documents share history from the 18th-century to the present day.
17. Search for the honeycomb rocks at Elgol Beach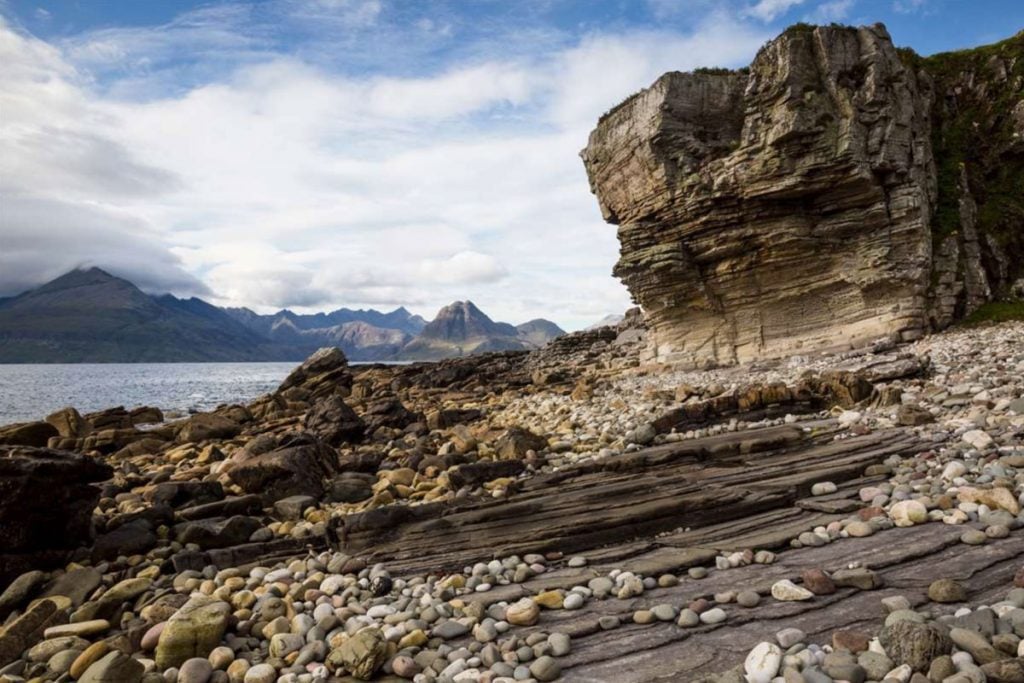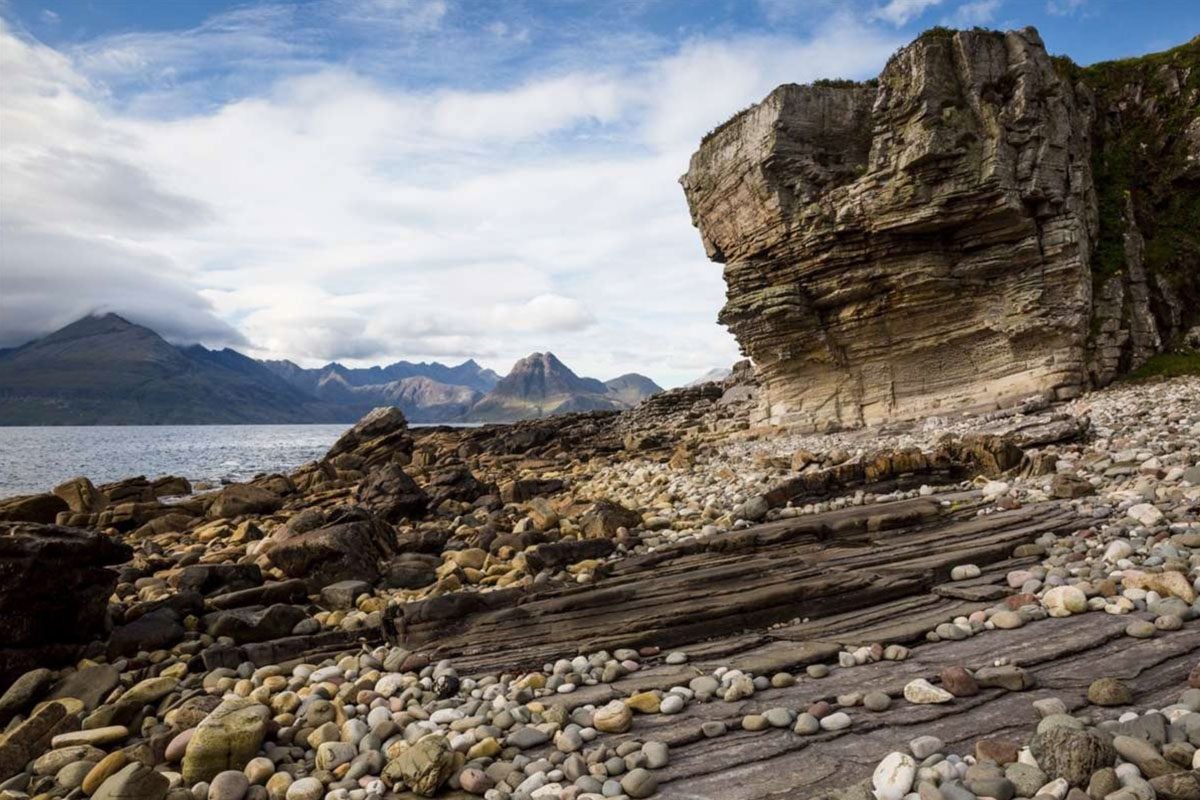 Elgol, a tiny fishing village with a population of 150, has attracted photographers for years to see some of the most unobstructed views of the Black Cuillin Hills.
The hills can be enjoyed anywhere in town, but they're famously photographed with the honeycomb-shaped rocks on the shores of Elgol Beach.
The intricately eroded rocks can be enjoyed year round, but they're most beautiful when doused in the golden light of a winter sunset.
18. Get off the beaten path at Loch Coruisk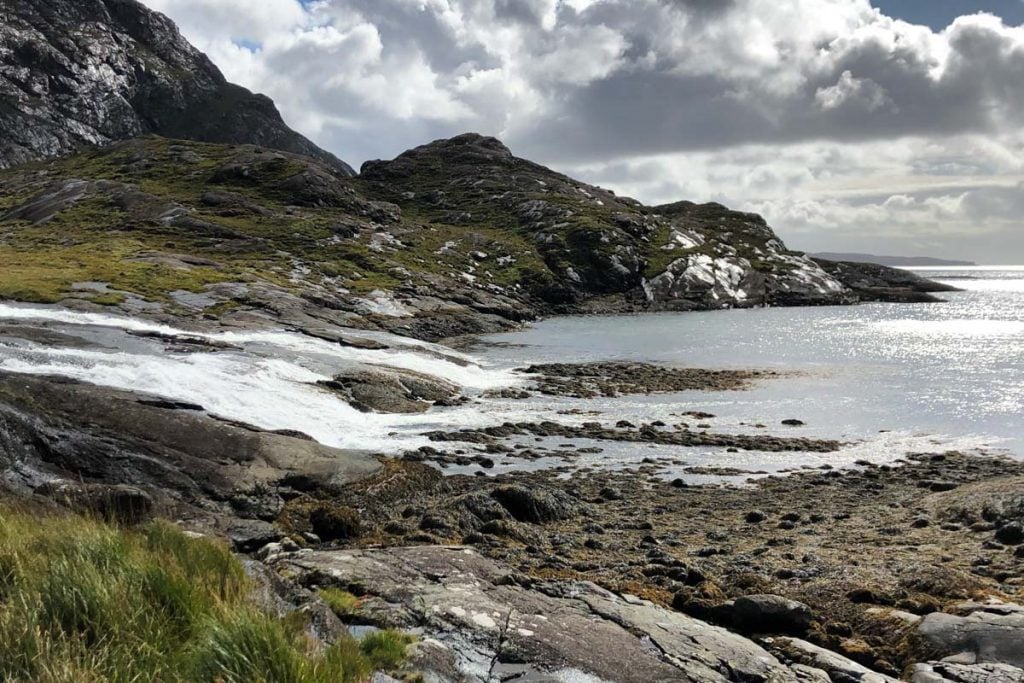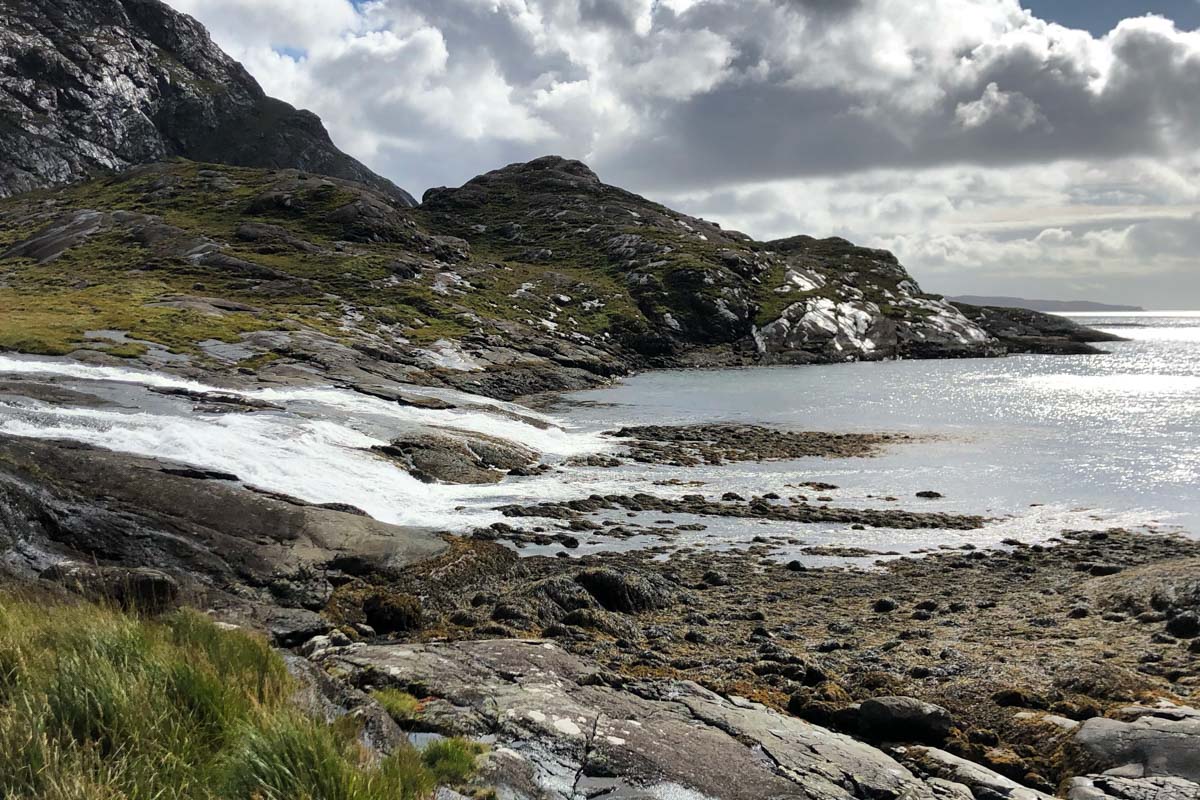 At the foot of the Black Cuillin Hills is a jaw-dropping inland loch that makes for an adventurous and fulfilling full day hike. Walk among the towering green hills of Skye and flowing streams to reach this well kept secret.
If a full day of sweating doesn't suit your fancy, you can take a boat tour to Loch Coruisk. Boats leave from Elgol and give ample time on the shores of the lake to take in the views and spot wildlife.
While you're here, keep an eye out for the legendary kelpie (shape-shifting water horse) that is said to call these waters home.
19. Walk in the white sands at Camusdarach Beach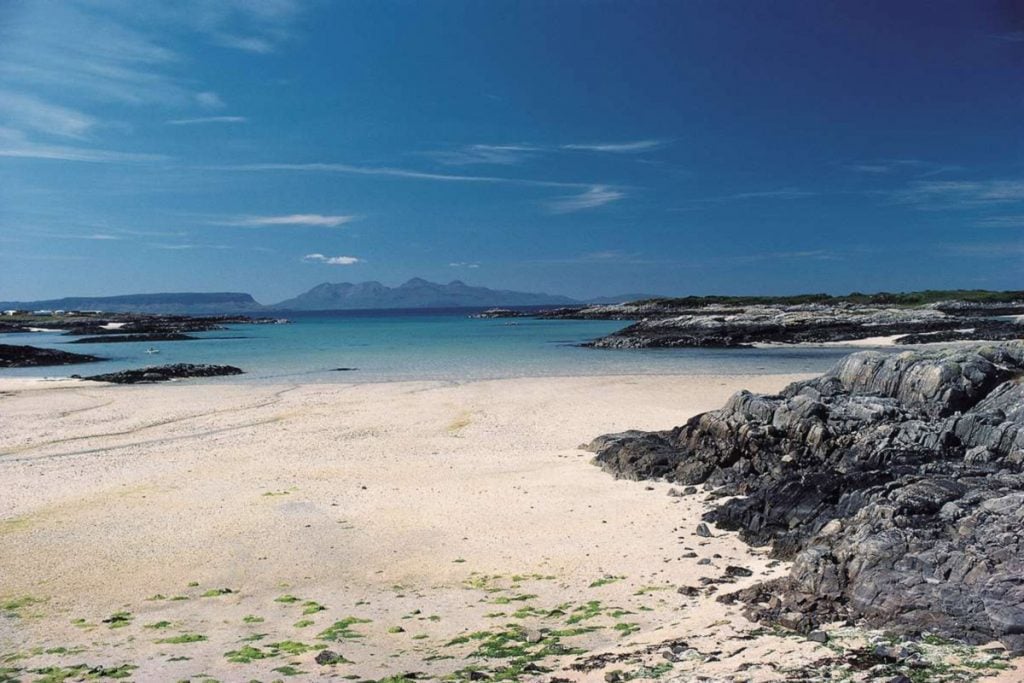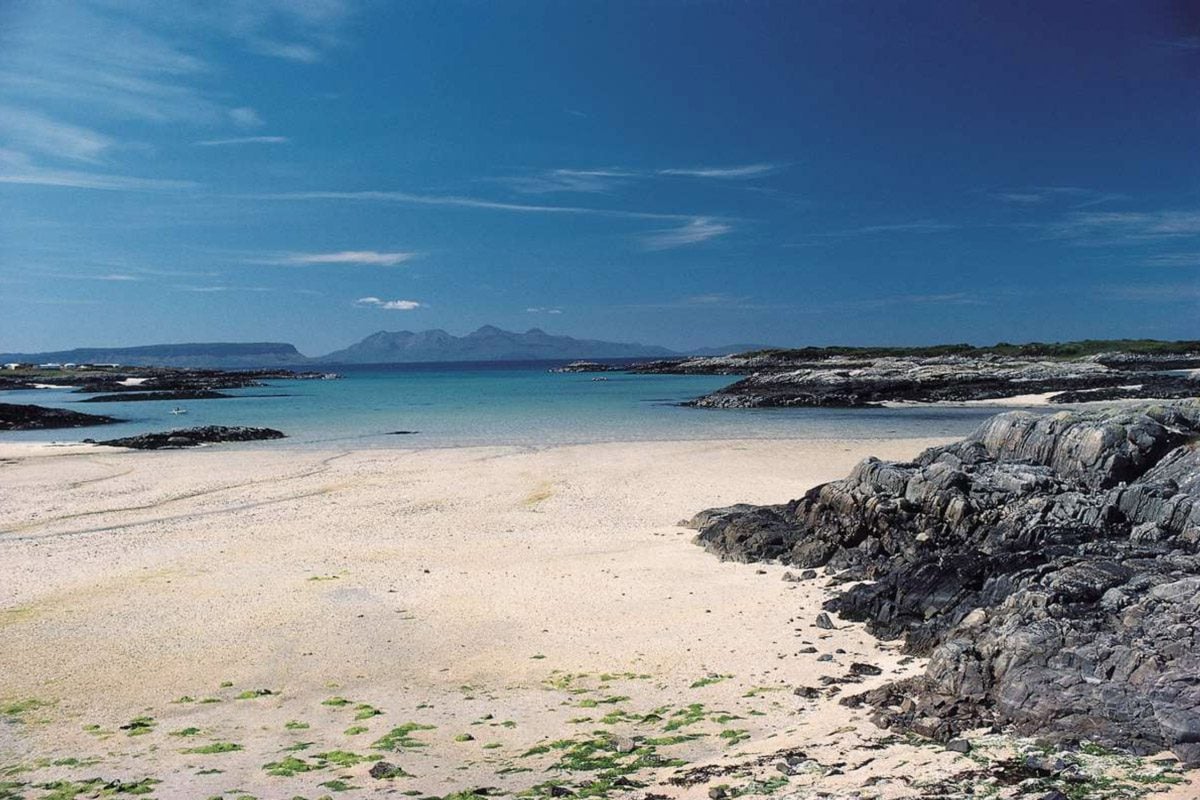 The silver, powdery sands of Camusdarach Beach will make you feel as though you've been teleported to a tropical oasis.
Vibrant sands meeting crystal clear waters is the perfect combination for a relaxing afternoon or an ideal picnic spot.
Or if you're bold enough, bring your swimsuit and take a cold plunge into the chilly water!
While not technically on the Isle of Skye, Camusdarch Beach is worth a stop if you're riding the 'Harry Potter Train,' taking the ferry from Mallaig to Skye, or driving up from Glasgow or Edinburgh since it's nearby.
20. Visit the tip top of Skye at Rubha Hunish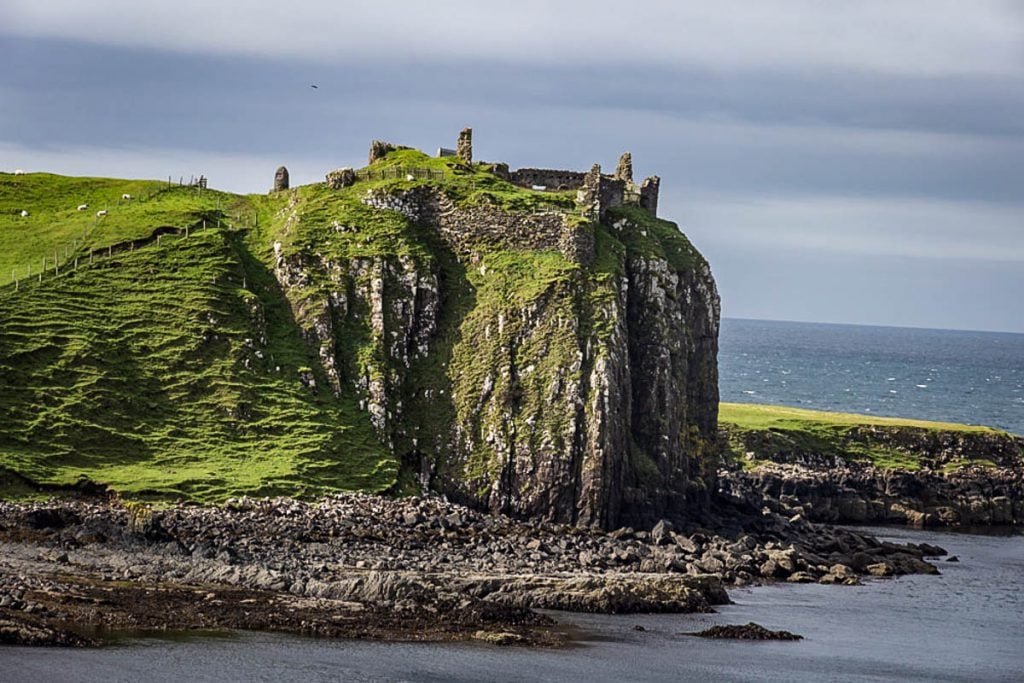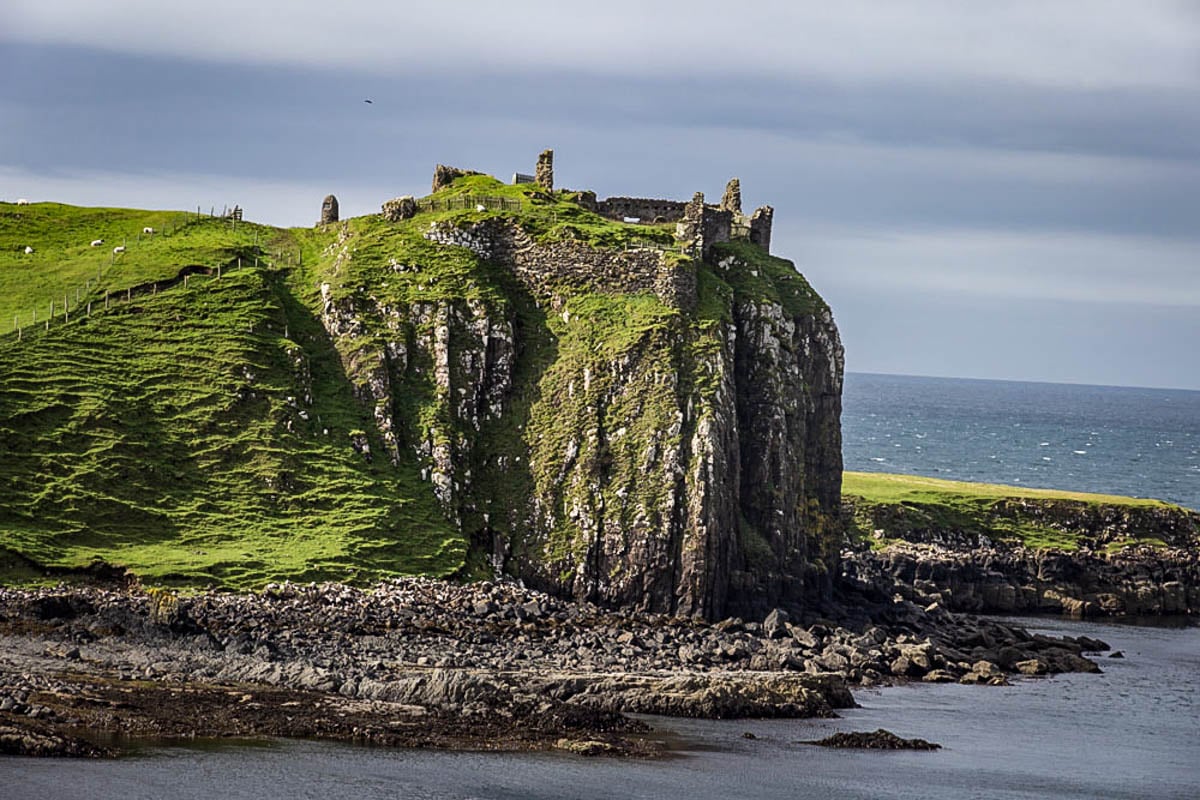 The tip top of the Trotternish Peninsula features views as far as Duntulm Castle and a bothy that was originally used by the coastguard for whale spotting.
Rubha Hunish is also famous for being one of the best hikes on the whole isle for seabird and mammal spotting.
You'll walk along steep cliff sides, royal blue waters, and arrive at panoramic views. If you want to take your visit to the next level, you can spend the night in the bothy on top of the cliff and witness a spectacular sunrise over the Isle of Skye.
Tip: Scotland's coastline is notoriously wet, so bring your waterproof boots!
21. Try to spot otters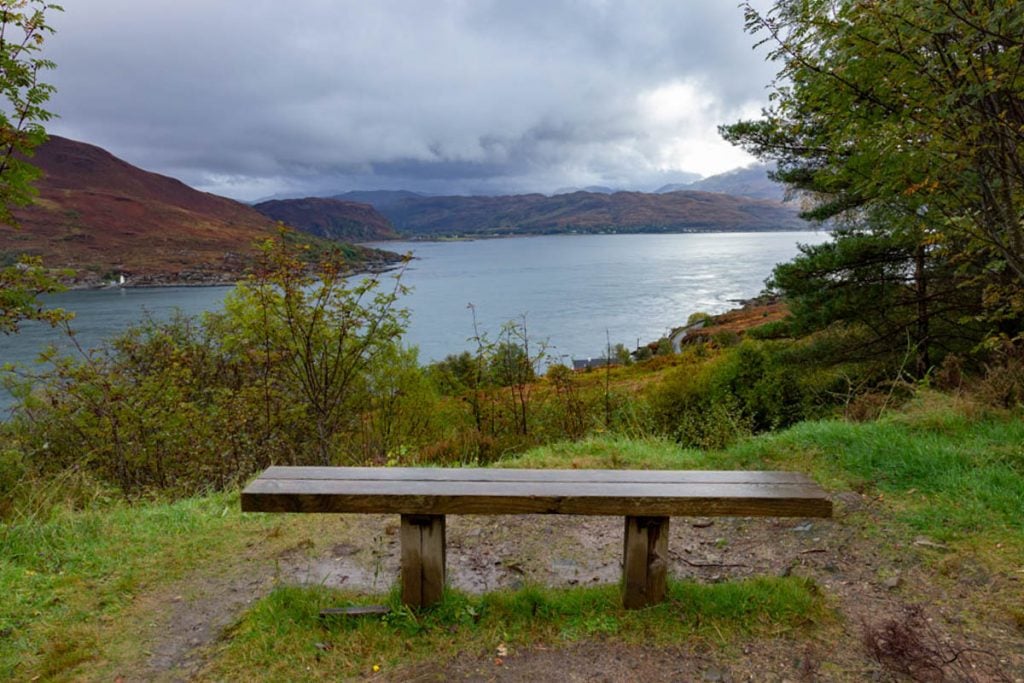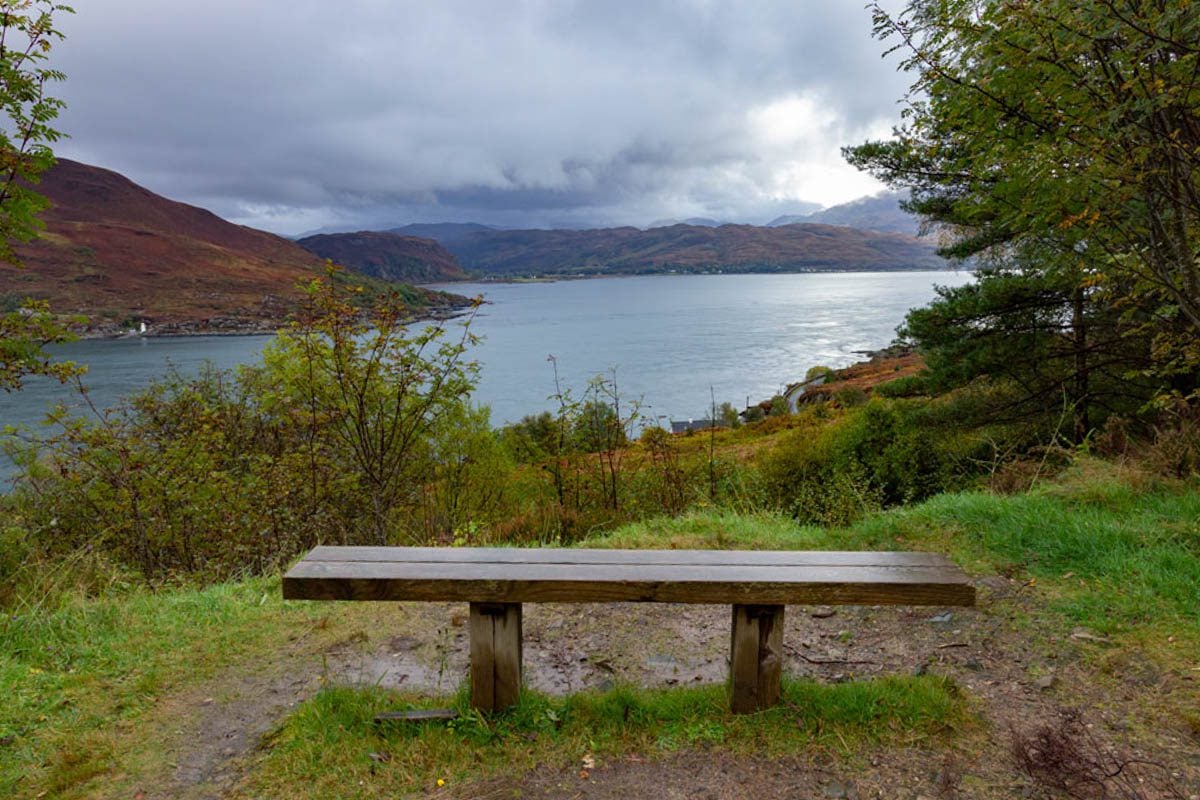 Otters, seals, whales, and other wildlife can all be spotted at the Kylerhea Otter Hide.
The hide is a wooden building with full facilities and free binoculars to search for wildlife. Inside the hide has facts and more information about all the different animals you can spot.
It's easy to access along a flat wooded trail. Along the way to the viewing area, you can see native and non-native plant species as well as different signs to read about local wildlife.
22. Hunt for dinosaur footprints at Staffin Beach
This black sand beach surrounded by the rugged and moody outcropping of the Trotternish Peninsula reveals dinosaur footprints during low tide.
Staffin Beach, known locally as An Corran, was already a popular stop on the Isle of Skye since it's so close to other popular stops like the Quirang, but it didn't get the recognition it does now until 2001.
Over two decades ago, dog walkers and scientists discovered these 170 million year old footprints. As you walk, look for the tracks of the Stegosaurus, Megalosaurus, Cetiosaurus, Hadrosaurus, and Ceolophysis.
23. Pretend you're in Outlander at the Duirinish Stone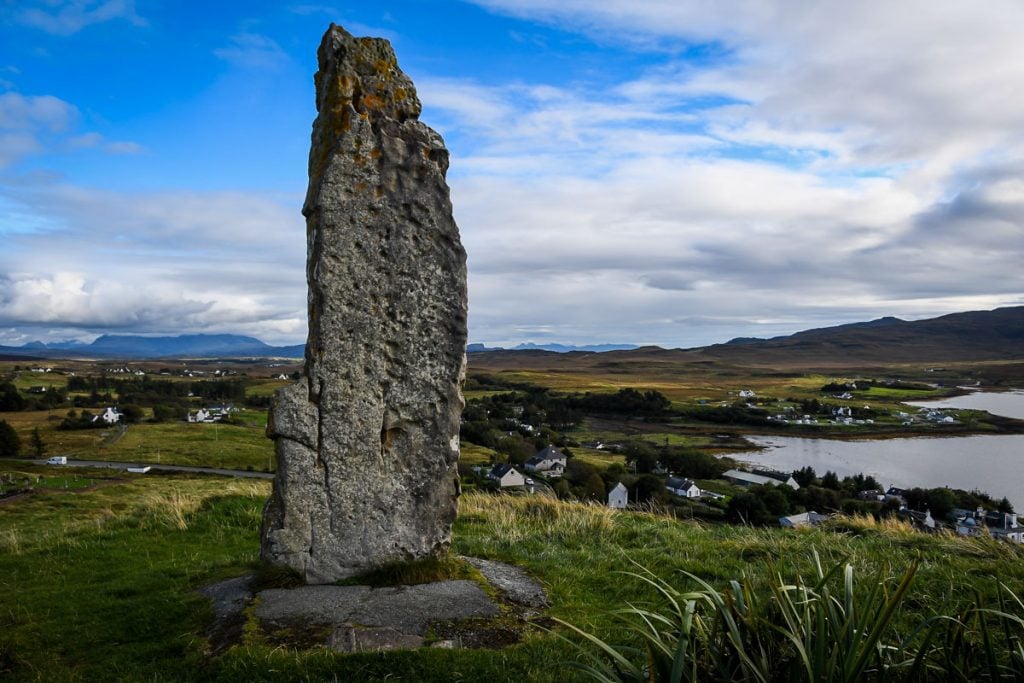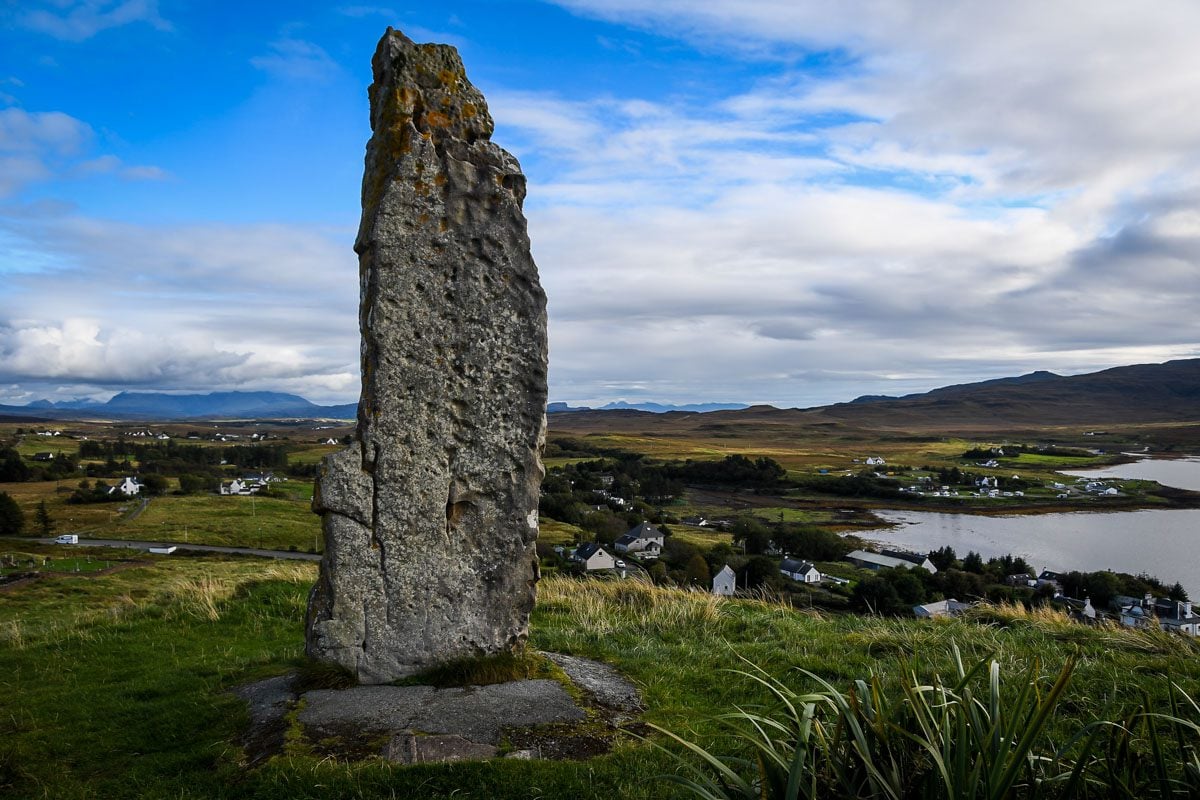 This standing stone feels like a true hidden gem on the Isle of Skye.
A short walk brings you to a hill that overlooks a small hamlet on the water below. The star of it all is of course the mysterious standing stone.
We were the only ones here when we stopped, and it made a nice and short little detour on our Isle of Skye road trip.
Insider Tip: To get here, you'll walk past the ruins of St. Mary's church and cemetery to the left and follow the small path up the hill toward the stone (which you can see from below).
24. See the Church of Kilchrist ruins
Atop a small mound are parish church ruins surrounded by a centuries-old graveyard.
This location of praise was believed to have been used for Christian worship dating back to the 7th century. Although you can no longer see the original medieval stone church, you can explore the ruins of the chapel that replaced it in the 16-century.
Not many venture out to see these ruins so you'll likely have them all to yourself, except the occasional baaa-ing from local sheep.
25. Visit the stunning Eilean Donan Castle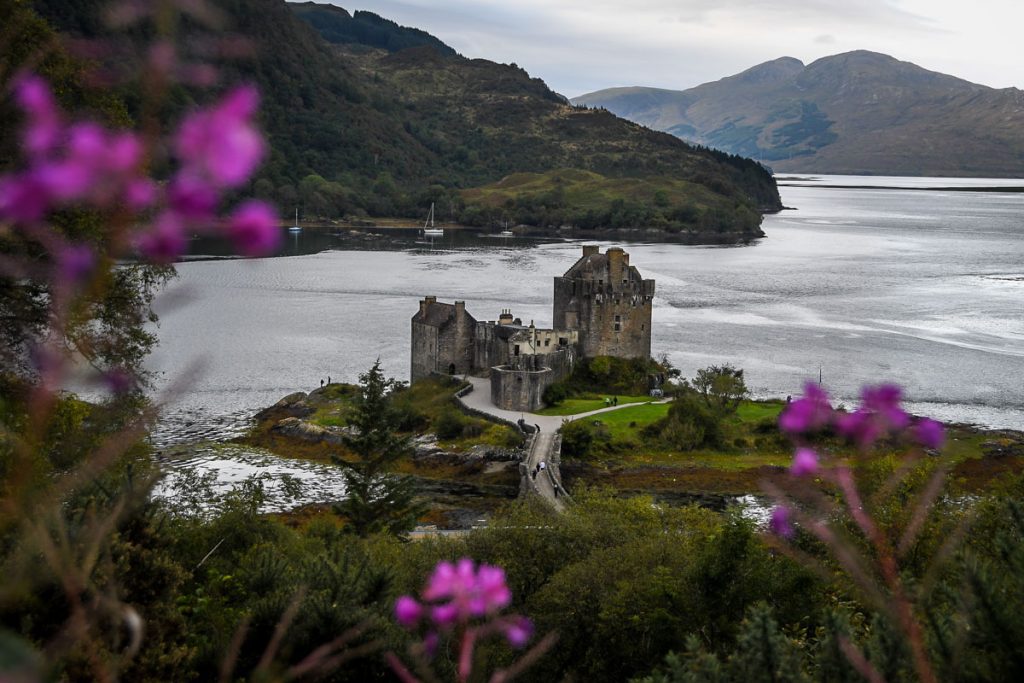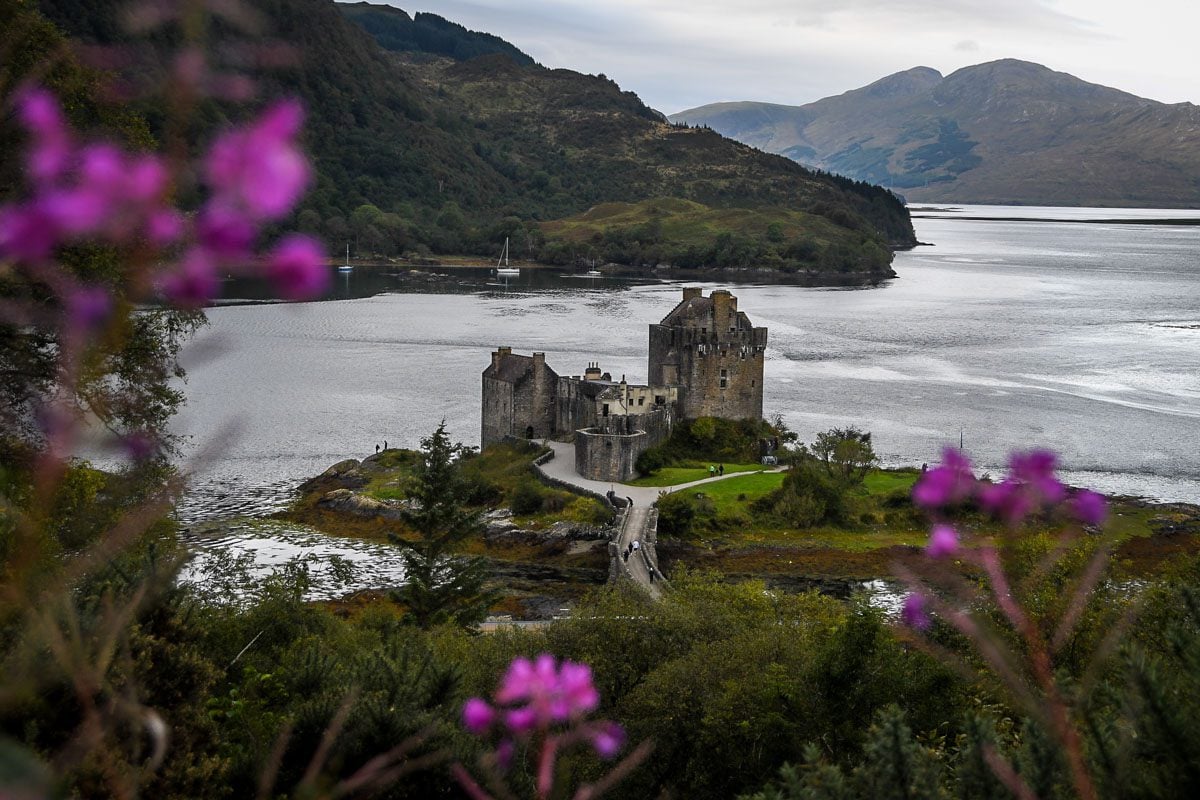 While this is not technically on the Isle of Skye, it is just a short 15-minute drive from the bridge, so it should definitely be a stop on the way to or from the island.
Known as one of the most beautiful castles in Scotland, Eilean Donan is unique because it was built atop a rock just off the shore of a loch. This 13th century castle is accessible by a small bridge (if you pay the £10 entrance fee).
Even if you don't go inside, you can marvel at its beauty from shore, or you can drive to this viewpoint for the best view.
26. Grab a coffee in a unique setting
The Isle of Skye has a handful of super unique places to get your caffeine fix that'll put a regular old Starbucks to shame!
Sip a latte in the ruins of an old house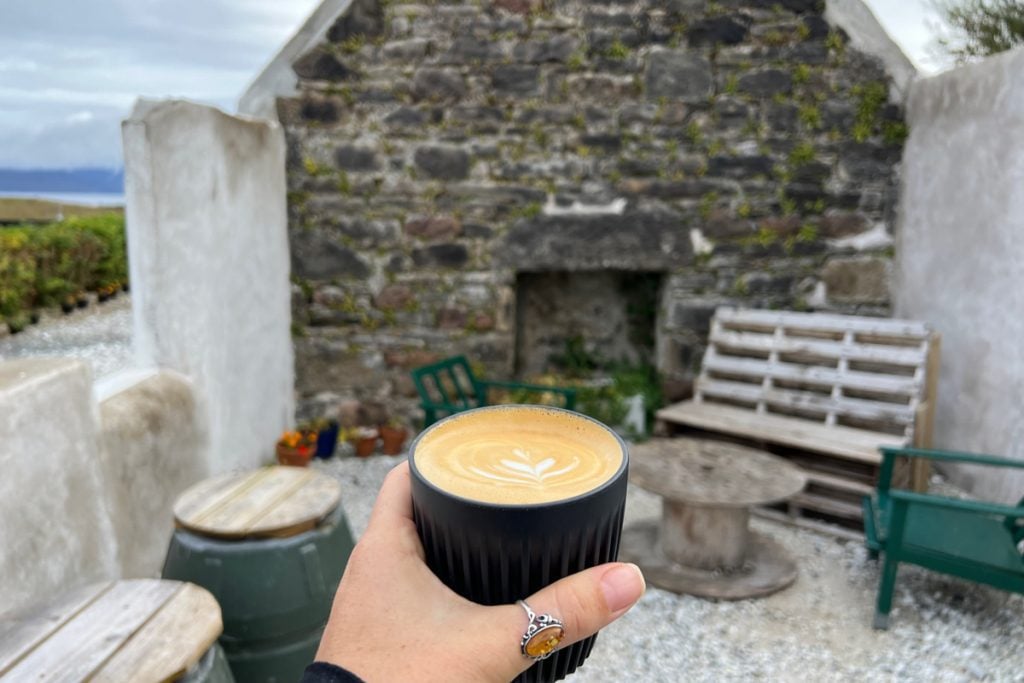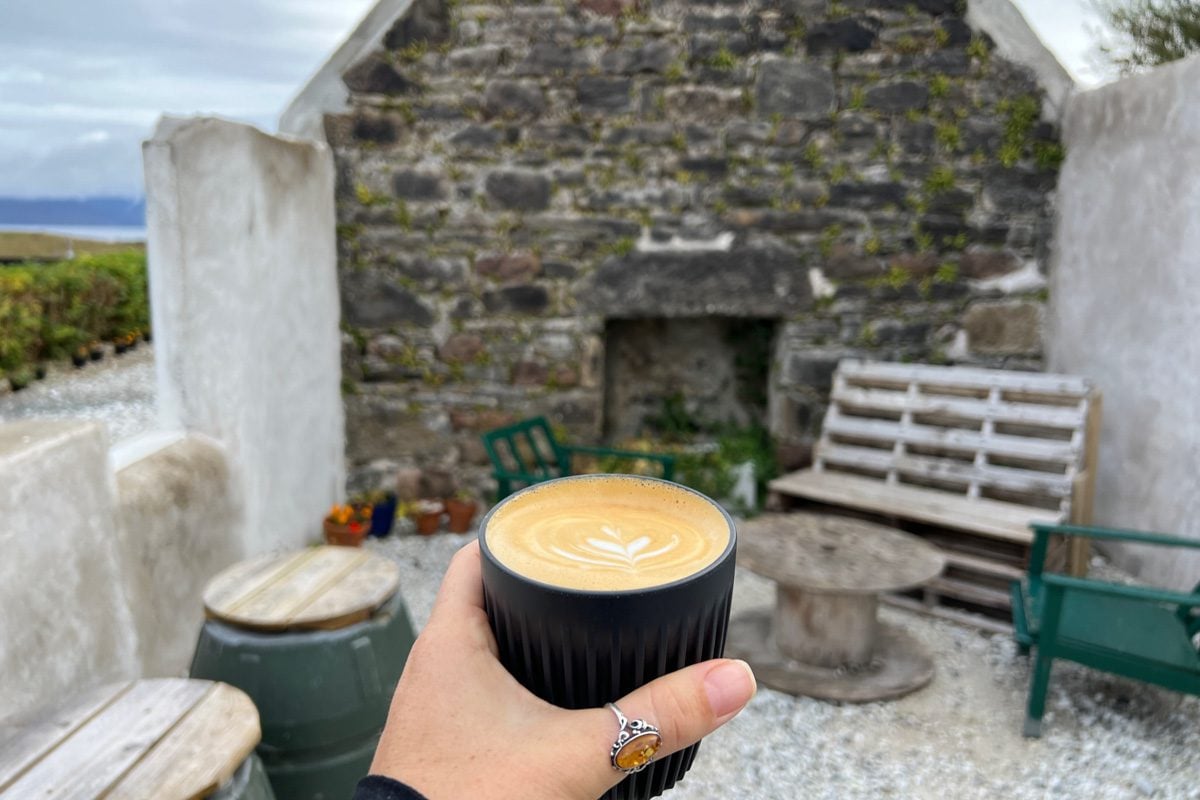 Lean To Coffee, run by a husband and wife duo, is located right after you cross the bridge to Skye. Enjoy a latte and muffin in ruins of an old house that has been creatively converted into a seating area.
In addition to the usual coffee drinks and a small assortment of daily-baked pastries, there are some lighter fare, like granola bowls. This unique, seasonally-open coffee shop is the perfect welcome to Skye.
Step inside a real life fairytale oasis
While not on the Isle of Skye exactly, Manuela's Wee Bakery is located just minutes from the stunning Eilean Donan Castle which should definitely be on your route either before or after Skye.
This is unlike any coffee shop you've ever seen – with tiny fairytale inspired houses, and a pond in the center, magic is in the air.
We found the coffee to be average, but the freshly baked goods are very tasty. In addition to pastries and coffee, this bakery does pizzas and has an onsite gin distillery, so no matter what time of day you visit, you'll find something that strikes your fancy.
Order your morning joe inside a yurt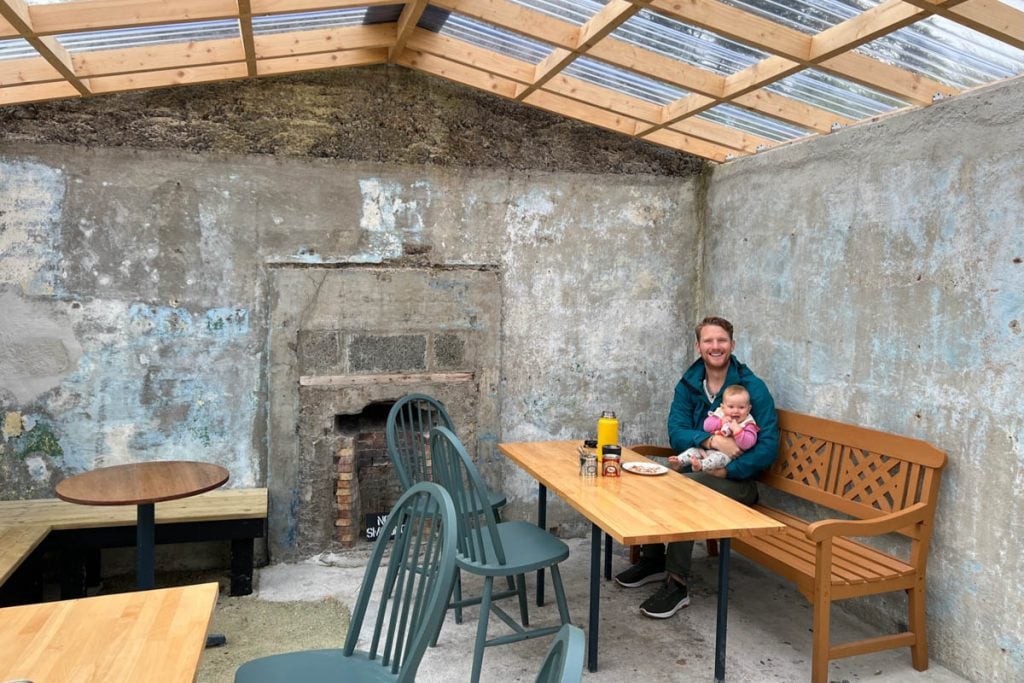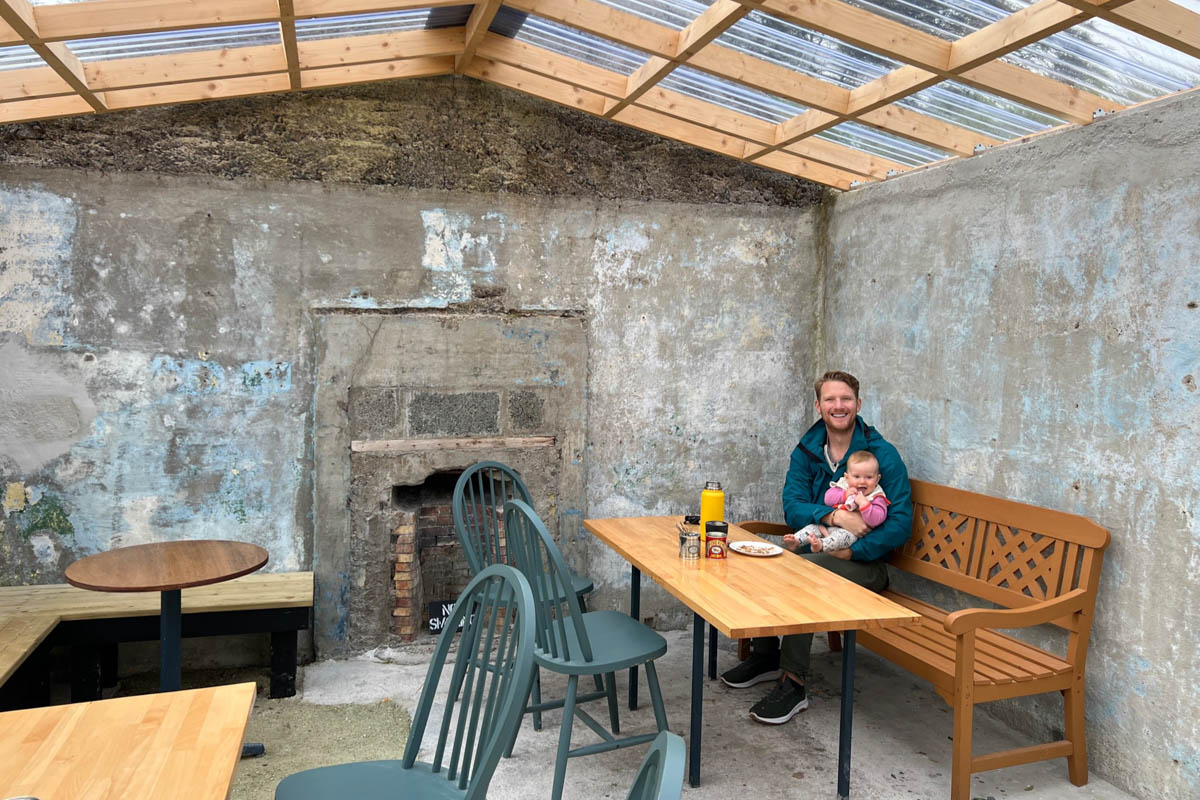 Situated on one of Skye's northwest peninsulas, YURTea & Coffee is just what it sounds like. A coffee shop inside a yurt!
This seasonally-open spot is a unique place to jumpstart your day or get a pick-me-up. If you arrive early enough, you'll have an assortment of baked goods to choose from.
Sip your coffee in a cozy book-lined cafe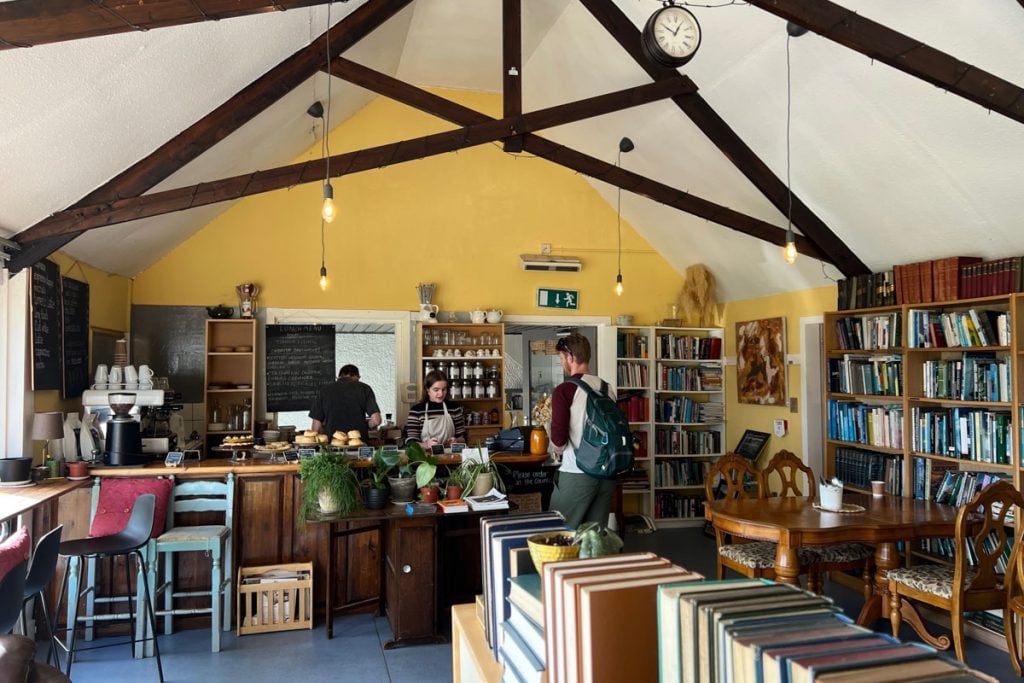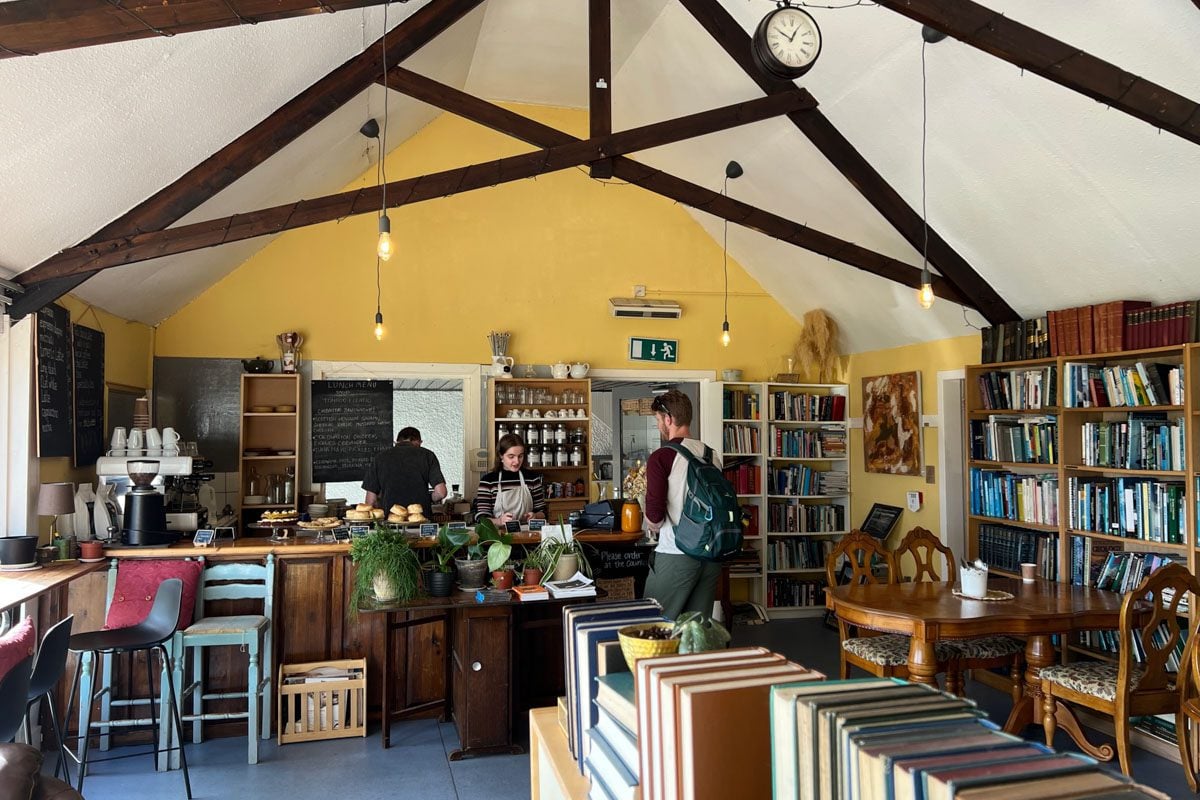 Bogg Myrtle is a cozy cafe not far from the famed Fairy Pools that has solid coffee and a variety of cakes. This book-filled setting feels almost like a small library and begs you to pause and stay a while.
They also have a small breakfast and lunch menu. We loved their tomato lentil soup so much I've tried to recreate it myself!
More coffee options on the Isle of Skye
While not quite as unique as the spots above, here are three more excellent coffee shop options.
The Coffee Bothy: Super cozy cafe near the entrance of Skye that serves homemade breakfast food and sandwiches as well as coffee drinks.
Caora Dhubh Coffee Company: Caora Dhubh, which translates to black sheep, is located on a western peninsula of Skye (near Talisker Distillery), and is known for brewing some of the finest coffee on the Isle of Skye.
Birch Cafe: If you're looking for a pick-me-up in Portree, this is the best coffee shop around.
27. Spend a night glamping in Skye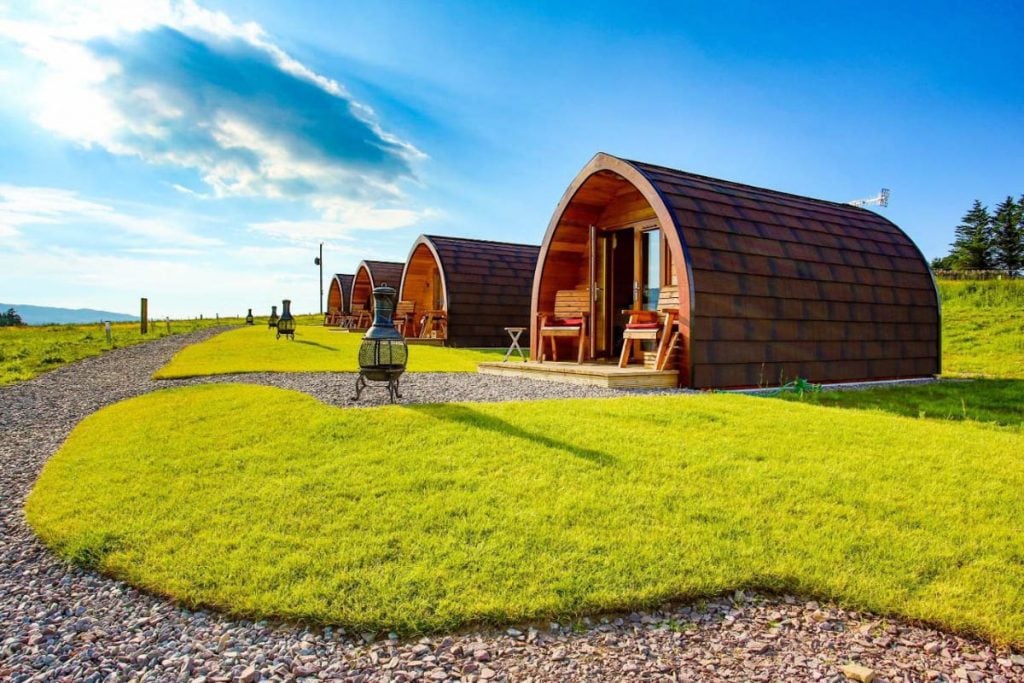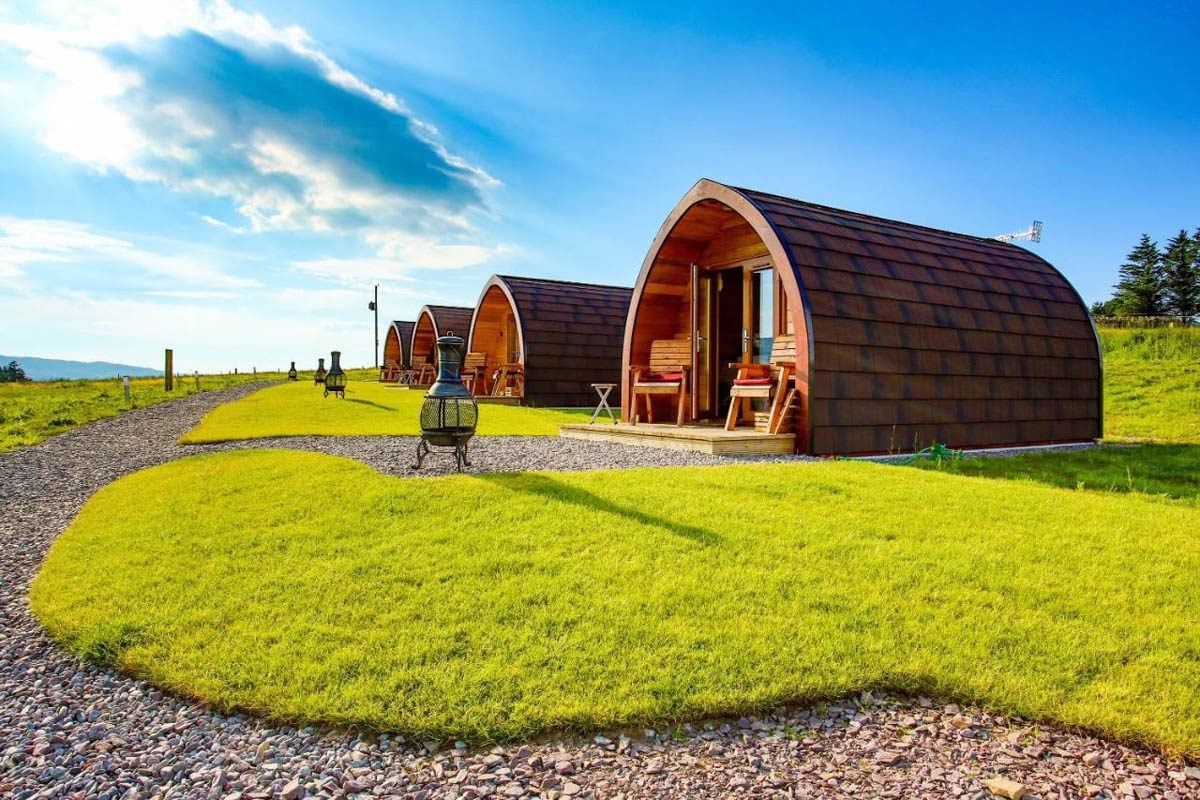 Get in touch with the rugged and remote nature of the Isle of Skye in your own private glamping cabin or pod.
You can bring all the creature comforts of home to your glamping site to have the most elevated experience in Scotland's expansive landscapes.
Spend the night along the Trotternish Loop in the Skye Fox Retreat Cabins or North Skye Pods, or get off the beaten bath just east of Portree in the renowned Skeabost View Pods.
---
Best hikes on the Isle of Skye
The Isle of Skye is a hiker's paradise.
From easy walking trails to long-distance routes, this island has options for everyone from novice to expert hikers.
Below is a list of the top hikes in the Isle of Skye, and we've included the distance, elevation gain, difficulty level and highlights so you can choose the hikes best suited to your preferences.
Old Man of Storr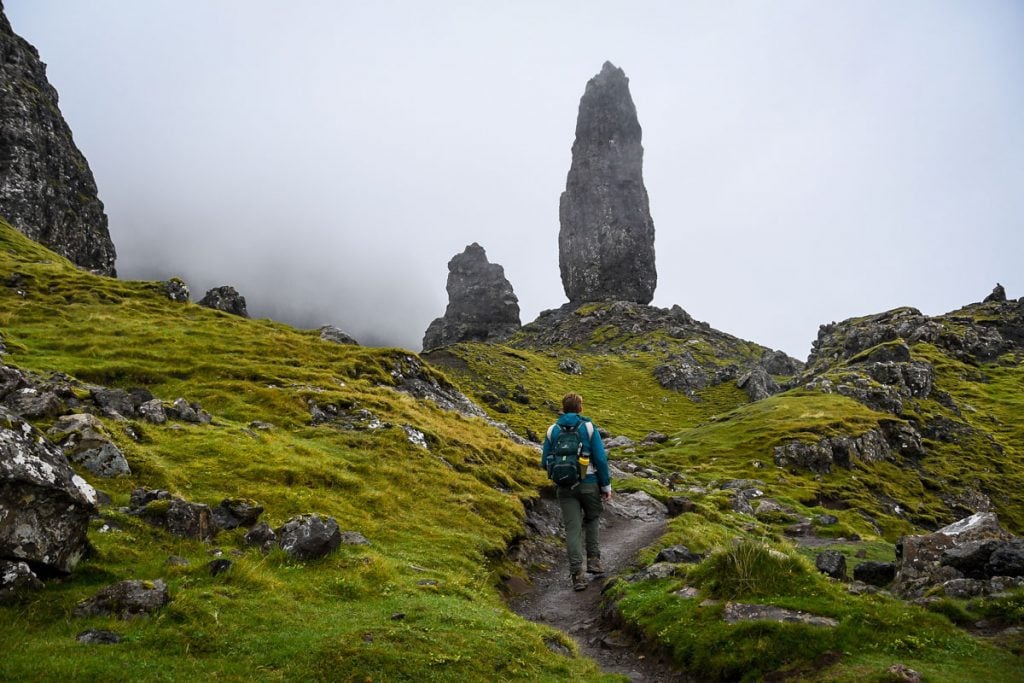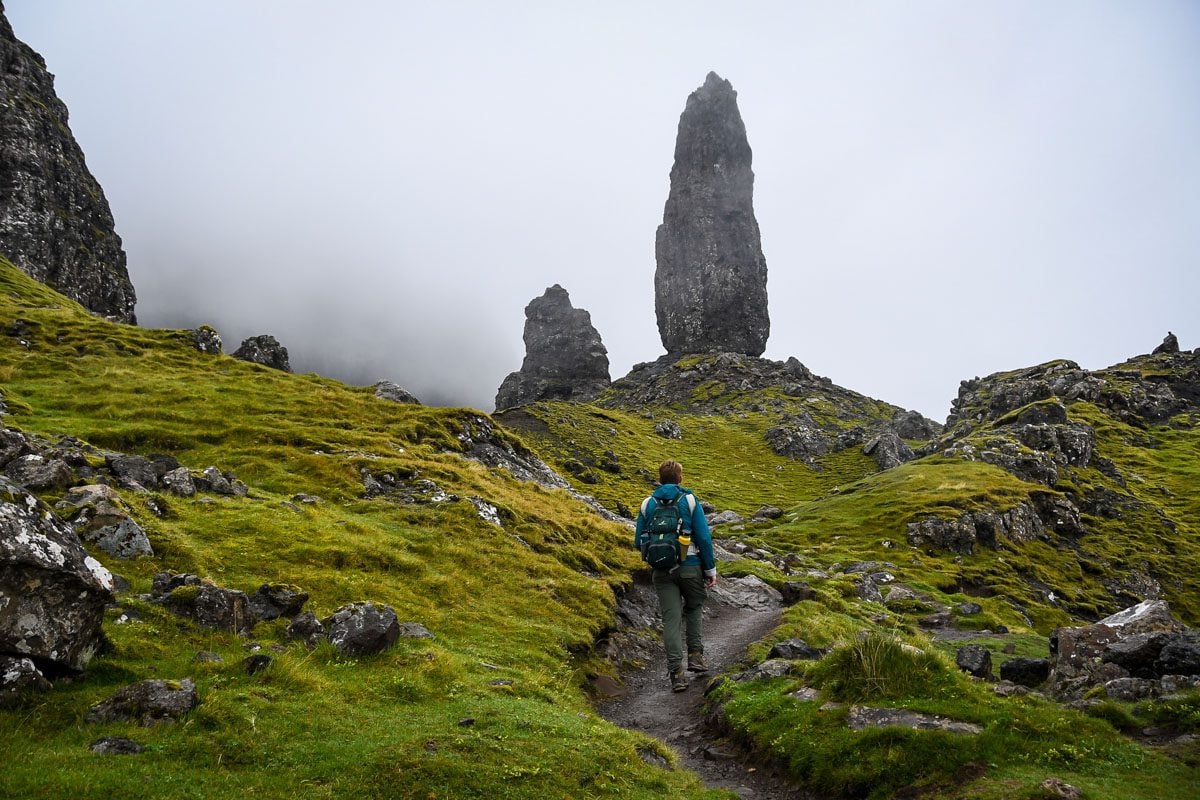 Distance: 2.9 miles (4.7 km)
Elevation gain: 1,060 feet (323 m)
Type of trail: Loop
Difficulty: Moderate
Highlights: Moss-covered rock formations scatter this otherworldly landscape
Psst! We have a guide to hiking the Old Man of Storr trail that tells you exactly what to expect and everything you need to prepare for this popular hike.
Lochan Coire Lagan
Distance: 5.4 miles (8.6 km)
Elevation: 1,899 ft (579 m)
Type of trail: Loop
Difficulty Rating: Challenging
Highlights: Cascading waterfalls dot this trail with scenic coastal views and lochs
Loch Coruisk
Distance: 13.8 miles (22.2 km)
Elevation: 2,752 ft (839 m)
Type of trail: Out-and-back
Difficulty Rating: Challenging
Highlights: A deep fresh water loch with a vast marine life ecosystem.
Fairy Pools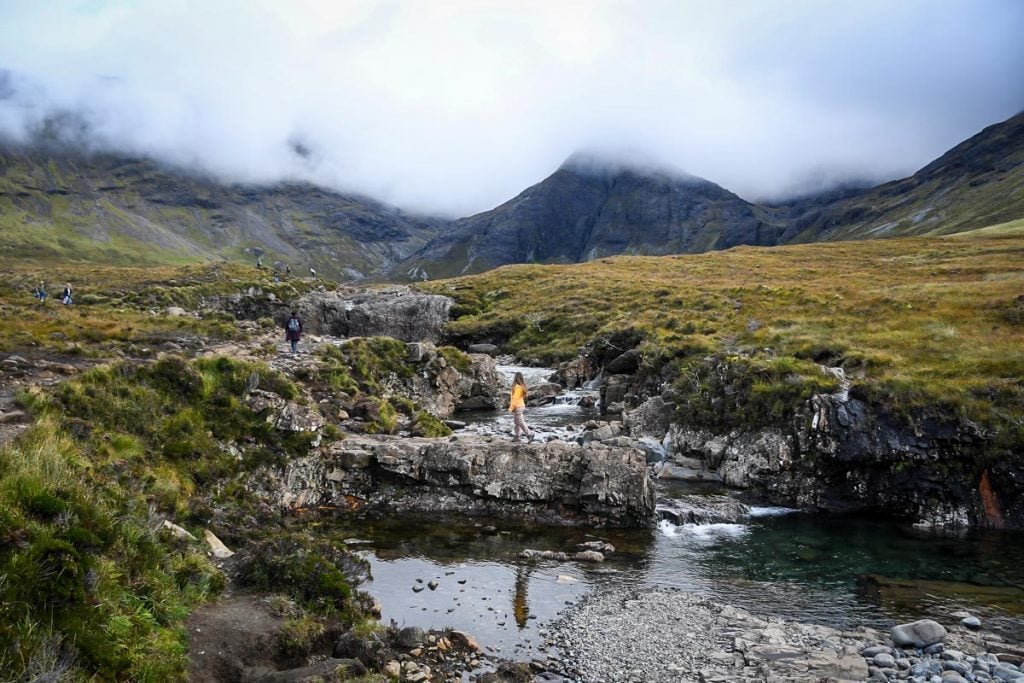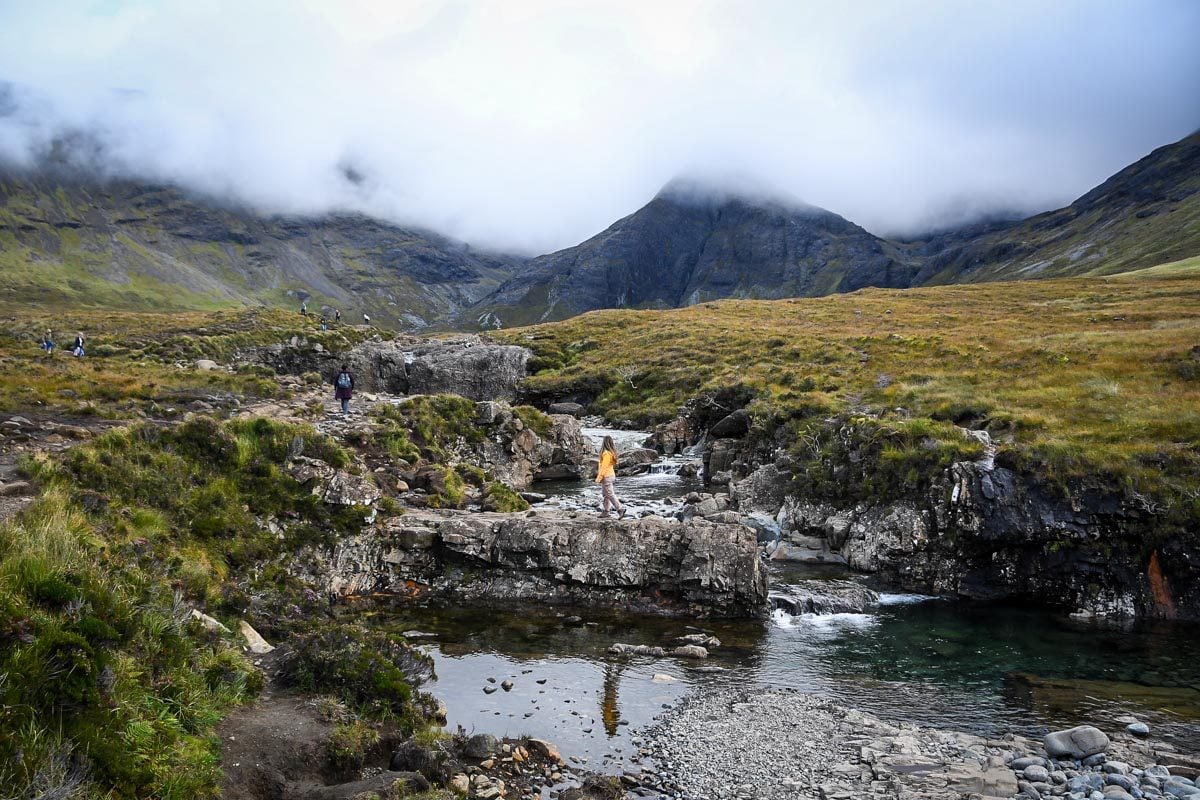 Distance: 2.3 miles (3.7 km)
Elevation: 508 ft (155 m)
Type of trail: Out-and-back
Difficulty Rating: Easy
Highlights: Waterfalls feed into a series of clear, cascading pools.
Psst! Check out our complete guide to the Skye Fairy Pools hike.
Sgurr na Stri
Distance: 14.5 miles (23.3 km)
Elevation: 2,709 ft (826 m)
Type of trail: Out-and-back
Difficulty Rating: Challenging
Highlights: See Loch Coruisk surrounded by dramatic peaks, feeding into a turquoise bay.
Point of Sleat
Distance: 5.3 miles (8.5 km)
Elevation: 892 ft (272 m)
Type of trail: Out-and-back
Difficulty Rating: Moderate
Highlights: Powdery white sand meets the Sleat of Sound's turquoise waters.
The Quiraing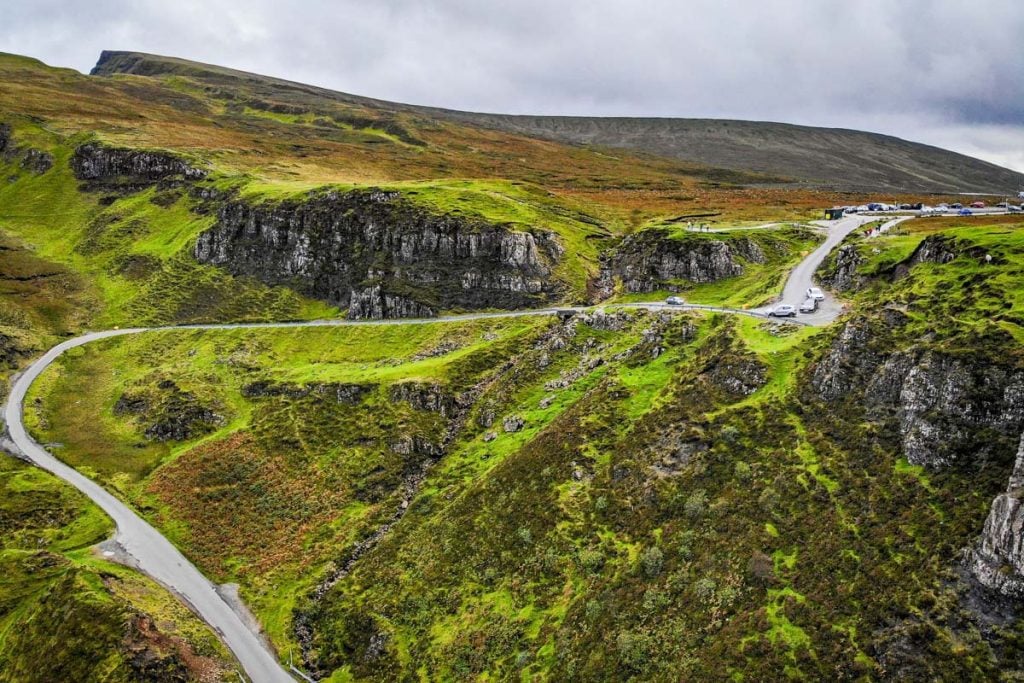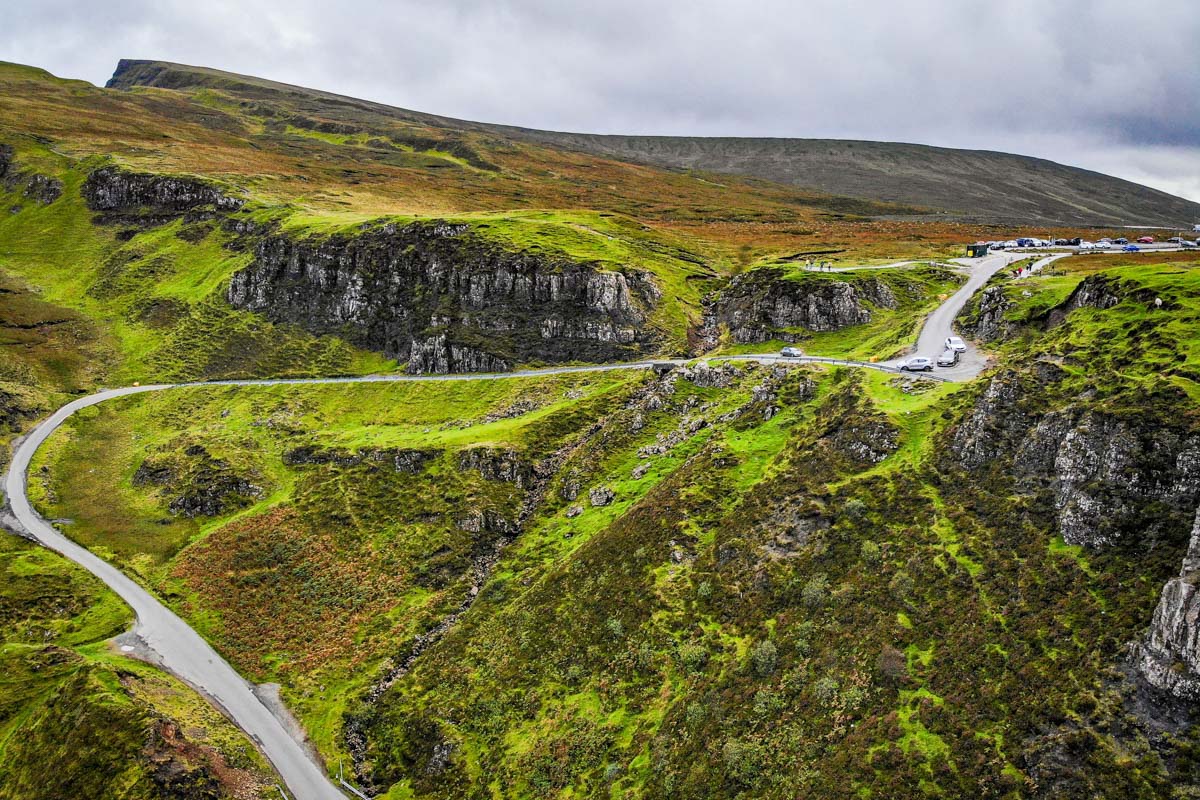 Distance: 3.9 miles (6.2 km)
Elevation: 1,286 ft (392 m)
Type of trail: Loop
Difficulty Rating: Moderate
Highlights: Step into a magical realm with vibrant, otherworldly landscapes.
Insider Tip: Want to extend your hike? This route brings hikers on a longer version of the loop.
Neist Point Lighthouse
Distance: 1.7 miles (2.7 km)
Elevation: 442 ft (135 m)
Type of trail: Out-and-back
Difficulty Rating: Moderate
Highlights: Hike to a stark white lighthouse sitting on a picturesque point.
---
Perfect Isle of Skye Itinerary + Map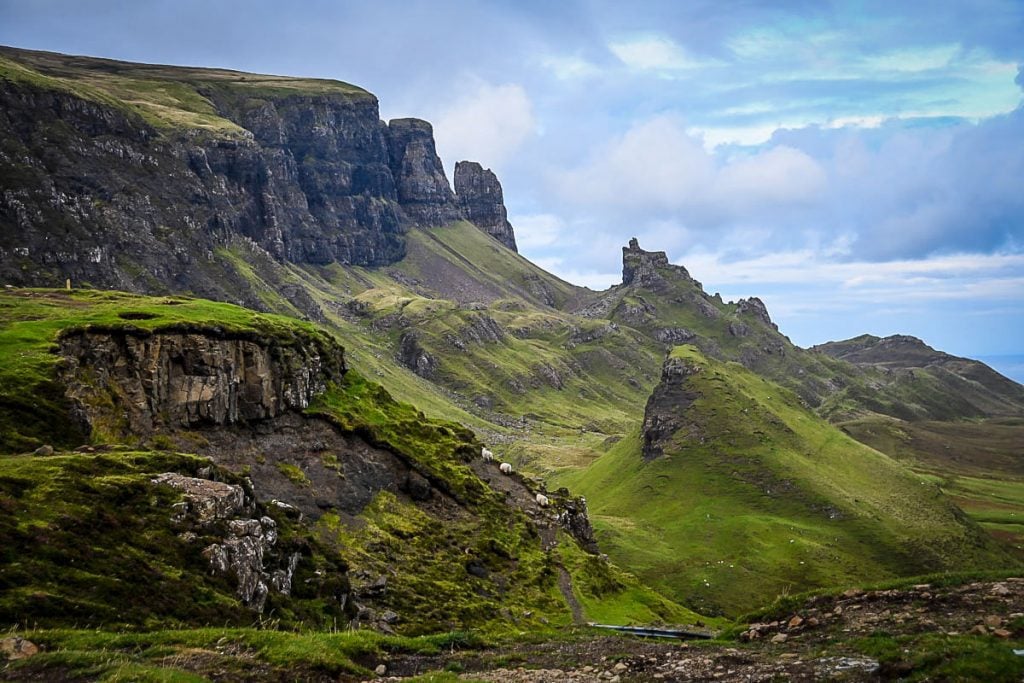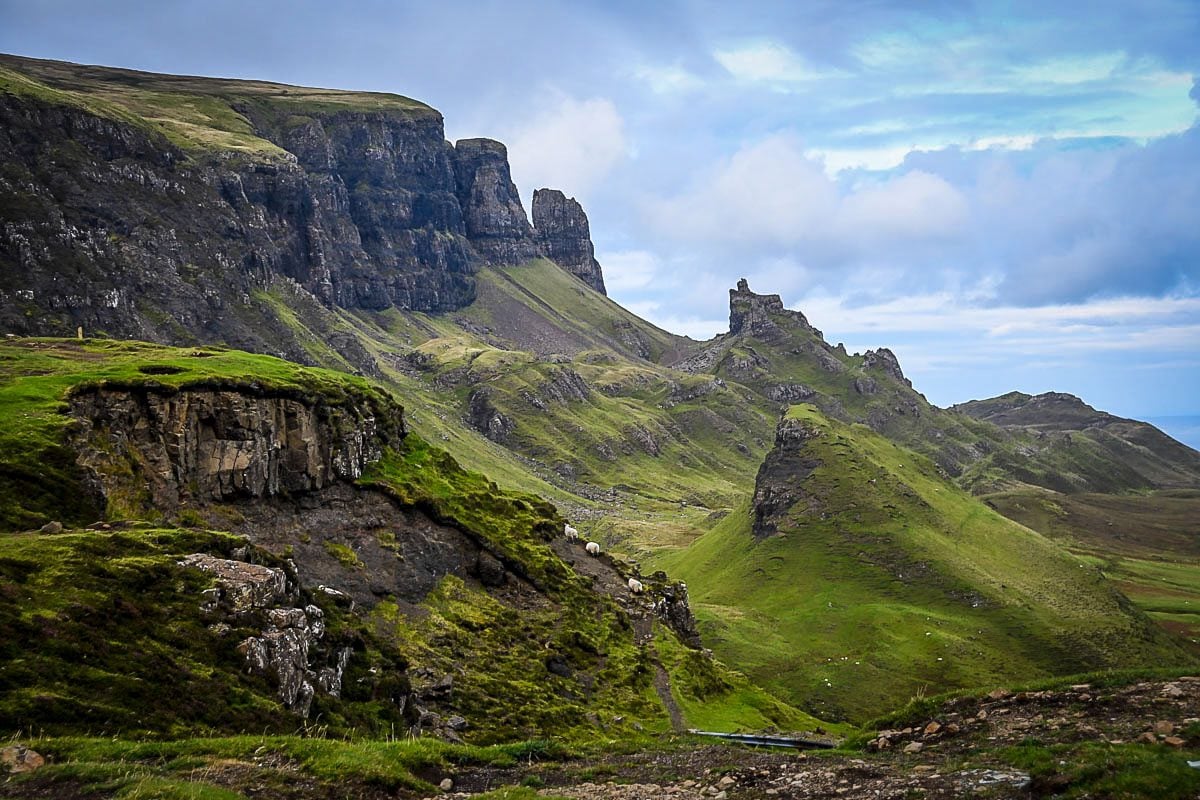 There are so many things to do around the Isle of Skye that it can be a little overwhelming trying to plan how to spend your time.
Below is what we think is a perfect 3-day itinerary of the Isle of Skye. It includes some epic hikes, amazing food stops, and isn't too rushed so you have time to really enjoy yourself.
Feel free to add or cut things and adjust based on how long you have.
Day 1
Day 2
Day 3
Day 4
Make your way across the Skye Bridge to leave the isle
Pop into Manuela's Wee Bakery for coffee and pastries in a super unique setting
Stop at Eilean Donan Castle, either to explore inside or to enjoy the beauty from afar
Have more time? Use the list of things to do in the Isle of Skye (above) to help you fill in the rest of your time!
Where to stay on the Isle of Skye? Portree is pretty centrally located, so you could easily base yourself there and follow this itinerary. We did a similar route, and we stayed northwest of Portree at this campground.
We have many more suggestions for where to stay on the Isle of Skye.
Isle of Skye Map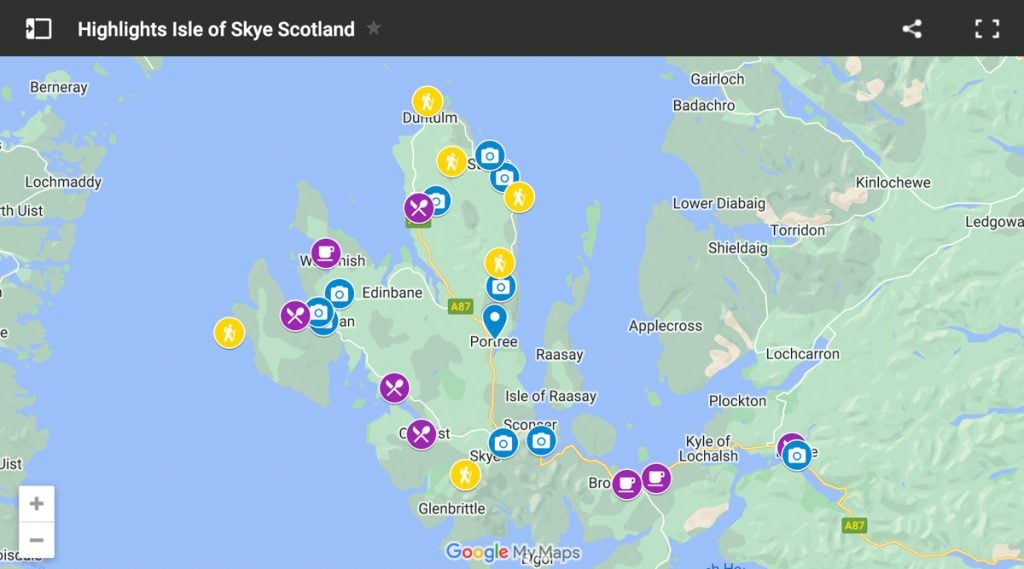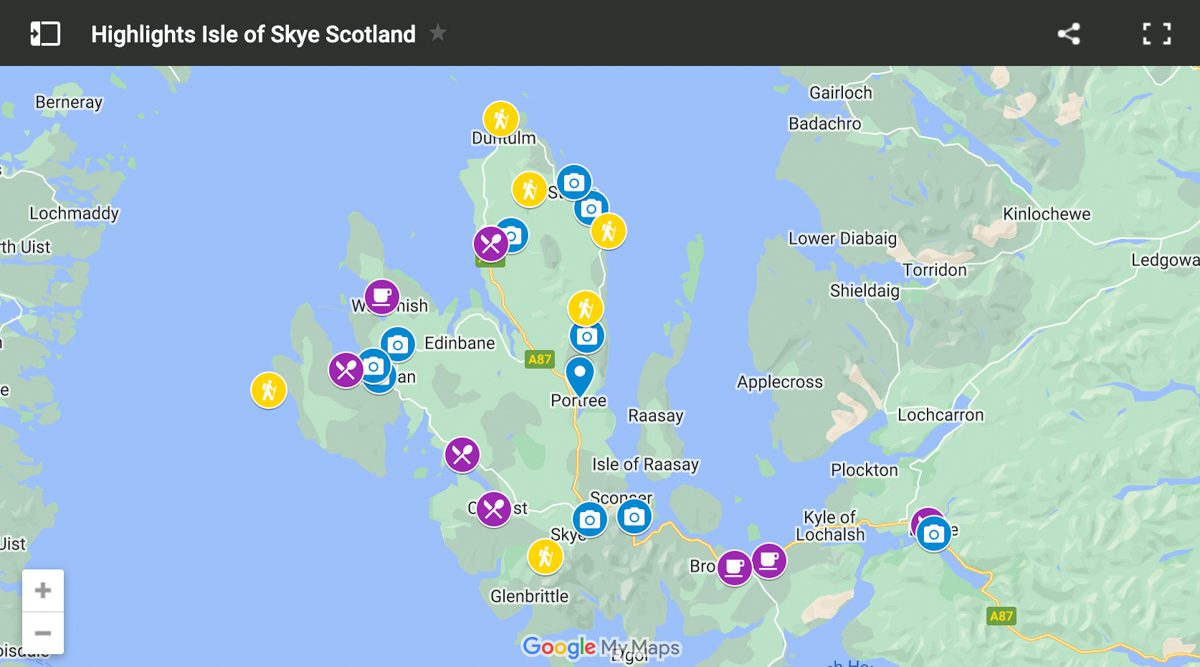 The map above shows the highlights of the isle as outlined in our perfect itinerary.
---
Isle of Skye FAQs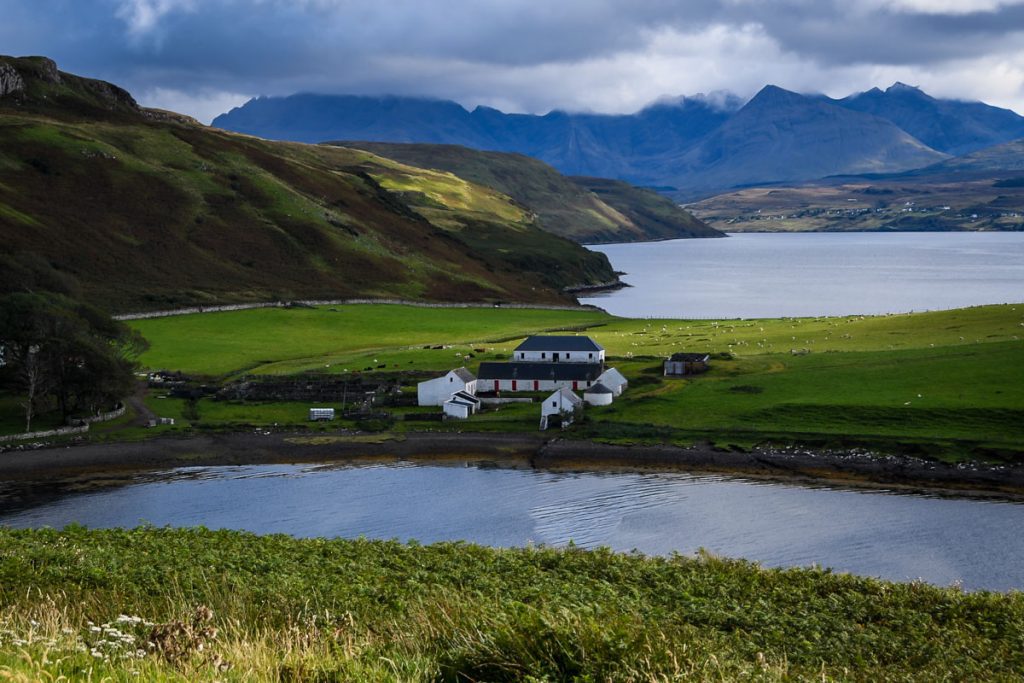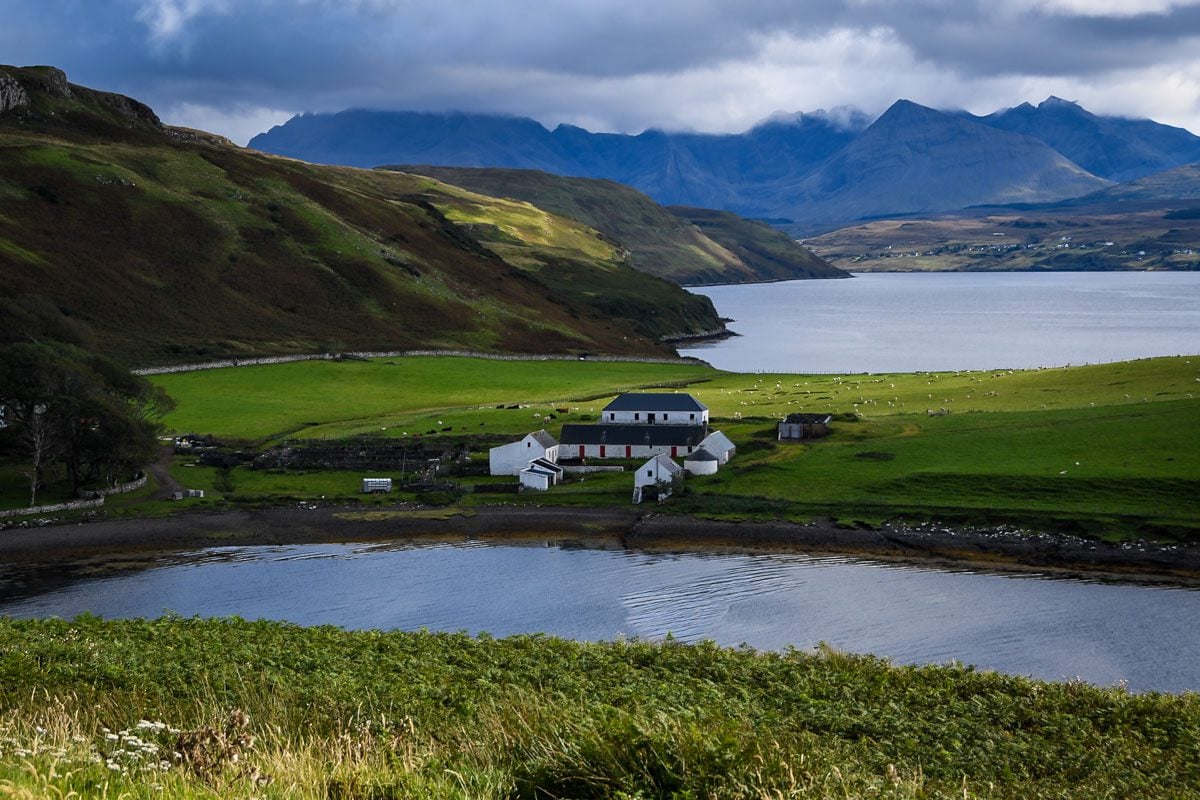 We've got answers to some of your most common questions about the Isle of Skye.
How big is the Isle of Skye?
The Isle of Skye is roughly 50 miles long (80 km).
Fun Fact: The island's coastline has many inlets, meaning that no place in Skye is further than 5 miles (8 km) from the ocean.
How long does it take to get around the Isle of Skye?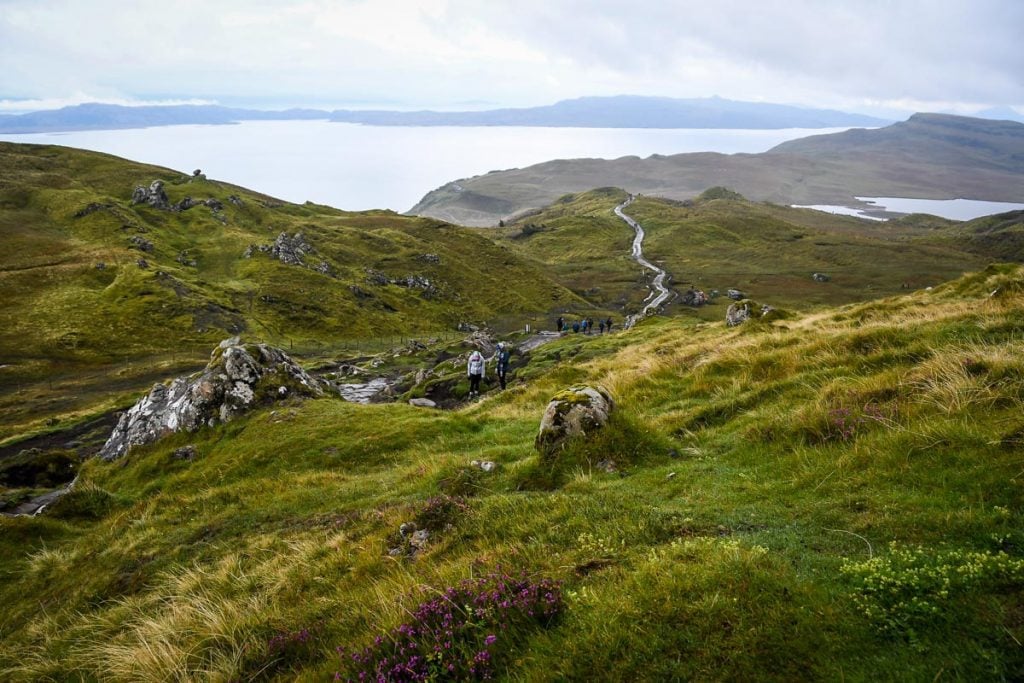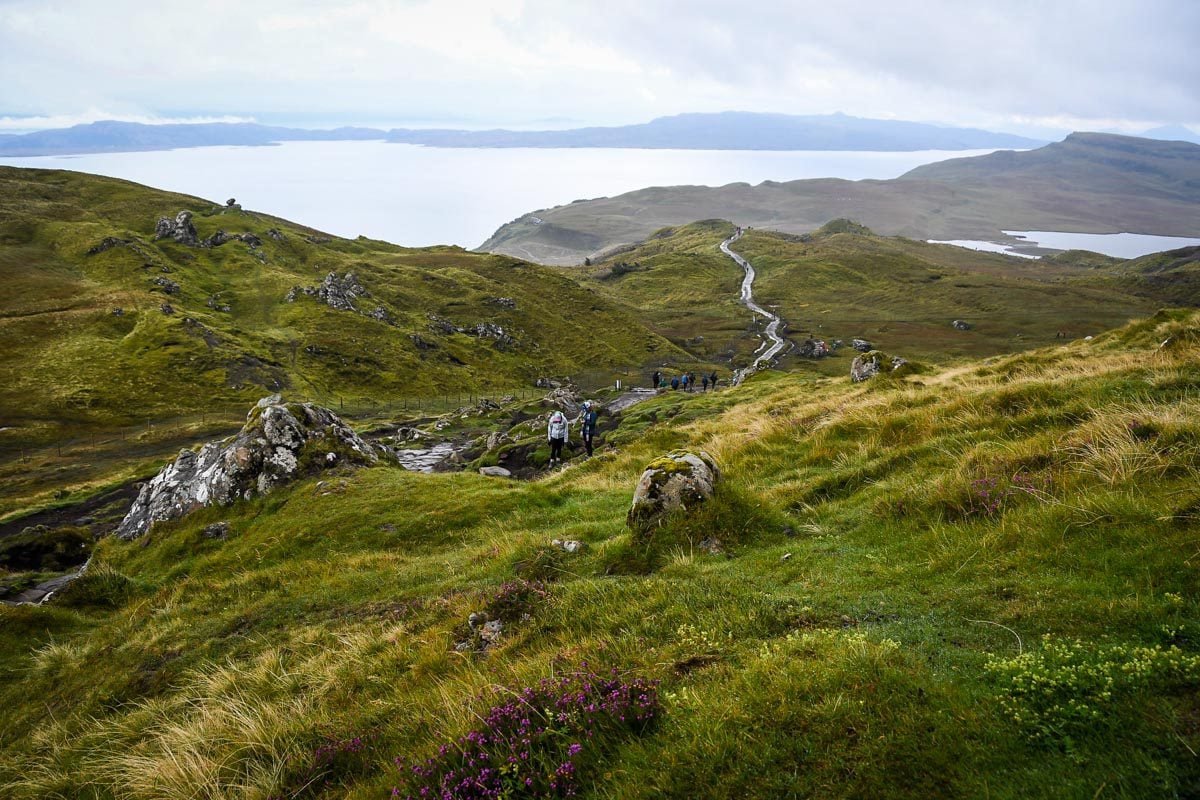 Technically, you could drive the main roads around the Isle of Skye in just shy of 5 hours.
But hold up – that would be a terrible idea!
It would be a shame to be in one of the most beautiful places in Scotland and not leave your car.
There are only so many things you can see from behind the wheel, after all. And some of the coolest places in the Isle of Skye – like the famed Fairy pools – require a bit of a detour.
If you plan on doing any hikes along the way, stopping for meals in cozy cafes, and, well, just taking in the views, you'll need to devote a lot more than just 5 hours to the Isle of Skye.
Don't let the island's small size fool you. There are so many things to see and do that you'll want to devote at least a couple of days to exploring, if not more.
How many days do you need to explore the Isle of Skye?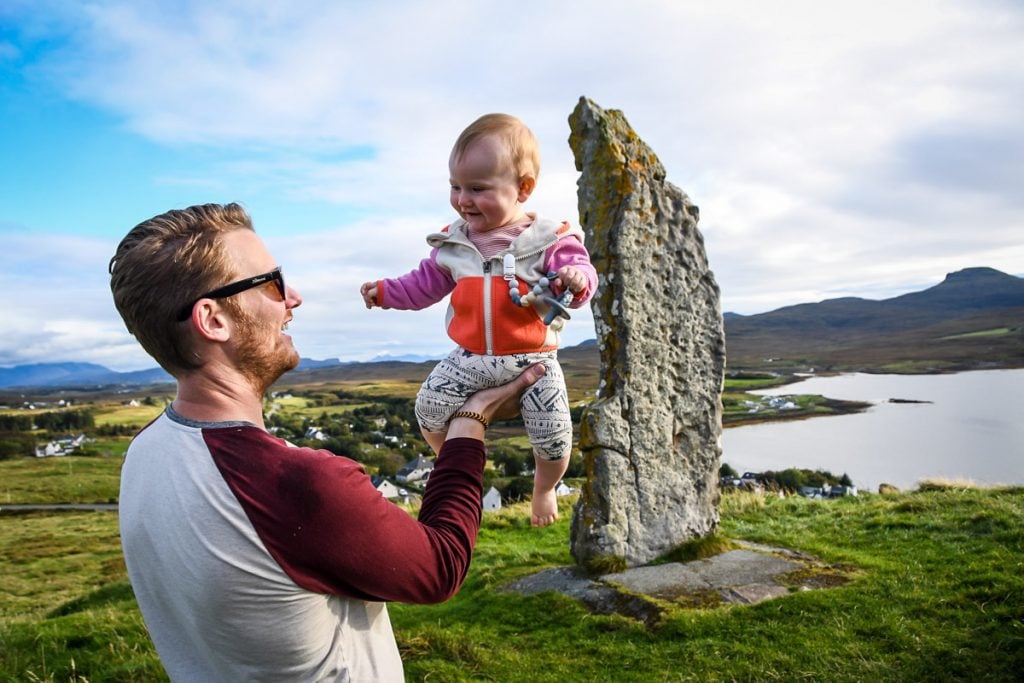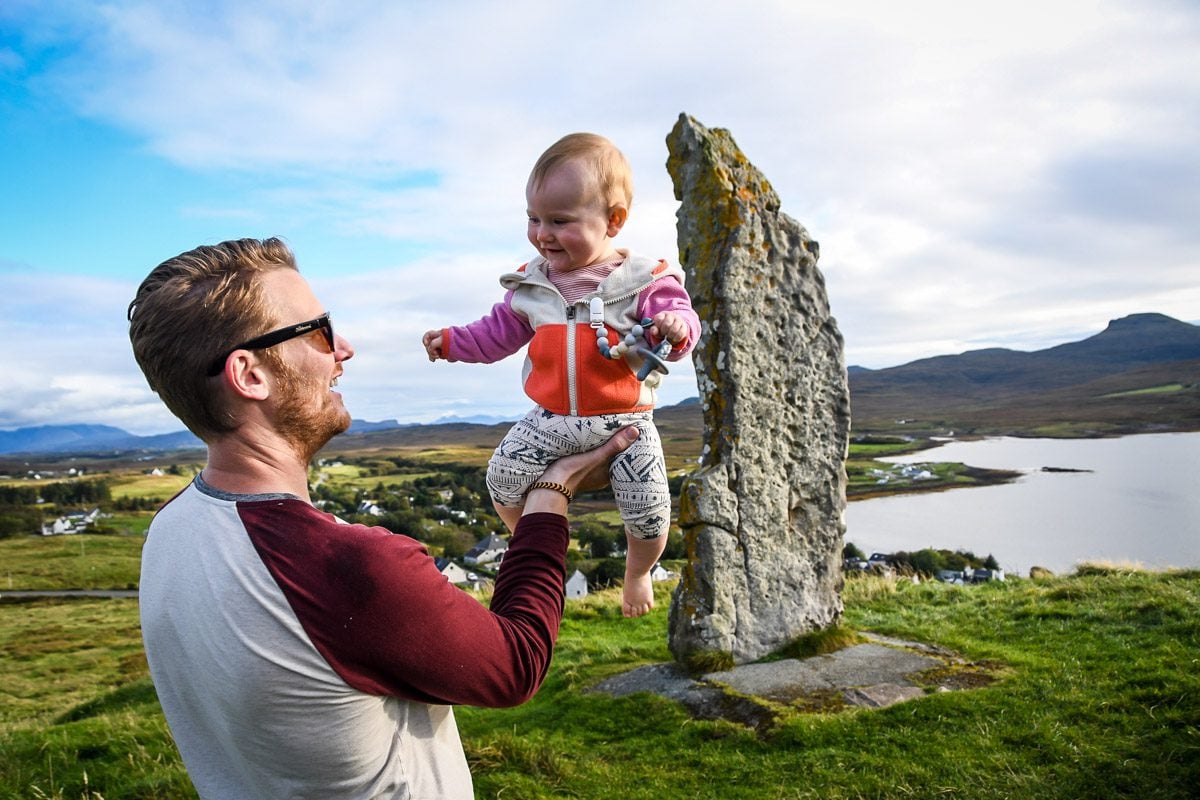 We'd recommend allotting a minimum of 2 full days for exploring the Isle of Skye.
Even better would be 3 days/2 nights or 4 days/3 nights.
If you are an avid hiker, we'd encourage you to lean toward the longer end as this area has some seriously cool hiking opportunities.
Our experience: We personally had 3 days and 2 nights in Skye, and there were several places we did not have enough time to see. We would have loved an additional day.
10 essential Isle of Skye travel tips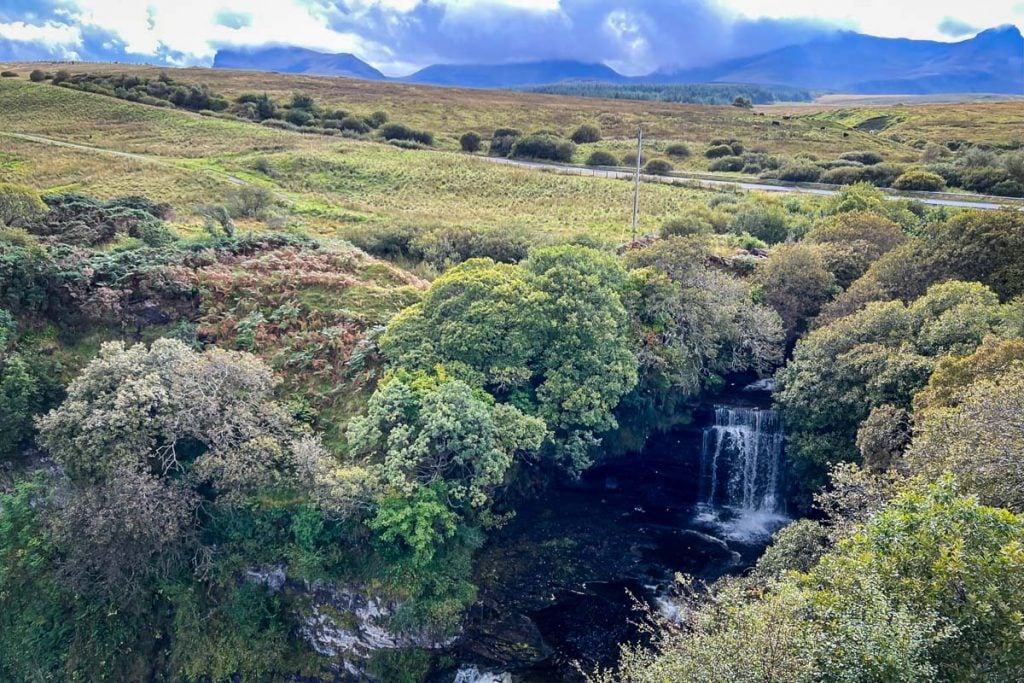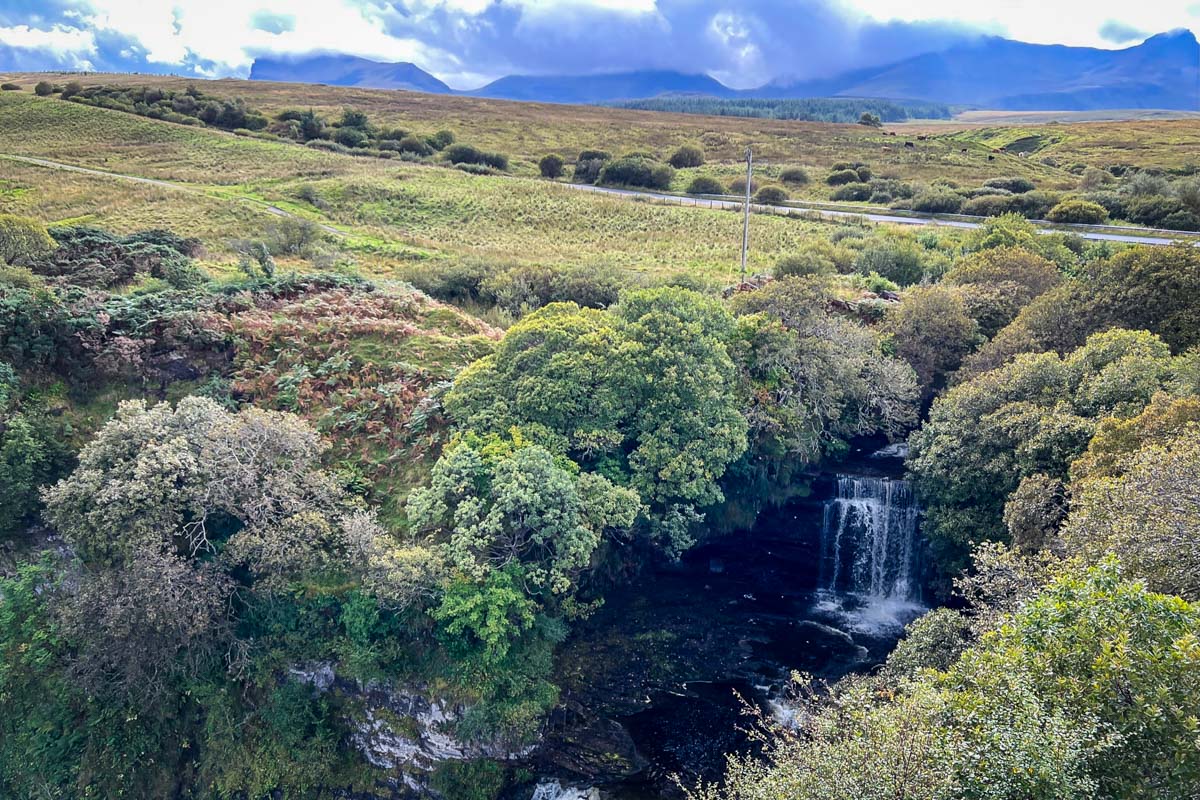 Traveling around the Isle of Skye is a wee bit different than around mainland Scotland. We've got you covered with some essential things to know about Skye so you can make the most of your visit.
1. Be prepared to go in and out of cell signal
Cell service is spotty around the Isle of Skye. Near Portree and some other areas, we had pretty decent coverage. However, as we drove outside the main villages, we found our signal was weak or non-existent.
Be prepared by downloading Google Maps ahead of time so you can still get directions. It's a good idea to download the Alltrails maps for any hikes you plan to do in the Isle of Skye. (This is one of the main features that convinced us to go Pro with Alltrails, and we've never looked back!)
2. Stock up on snacks before getting to Skye
For being somewhat remote, there are a surprising amount of great places to eat around the Isle of Skye (check out our top recs here!).
That said, there's a good chance that you'll find yourself far from any dining establishment at some point during your time on the Isle of Skye. And if you plan on doing any walks or hikes, your tummy will be 'a rumblin' and no food in sight.
Do your travel companion a favor and avoid those cankerous hangry moments by stocking up on snacks and even some simple grab-and-go meals before you get to the Isle of Skye.
Plus, there's some really freaking beautiful spots to have a picnic!
Sure there's a small grocery store in Portree, but the selection is rather meh. Do your shopping in mainland Scotland so you're all set and ready when hunger strikes.
3. Fill up your gas tank before getting to the Isle of Skye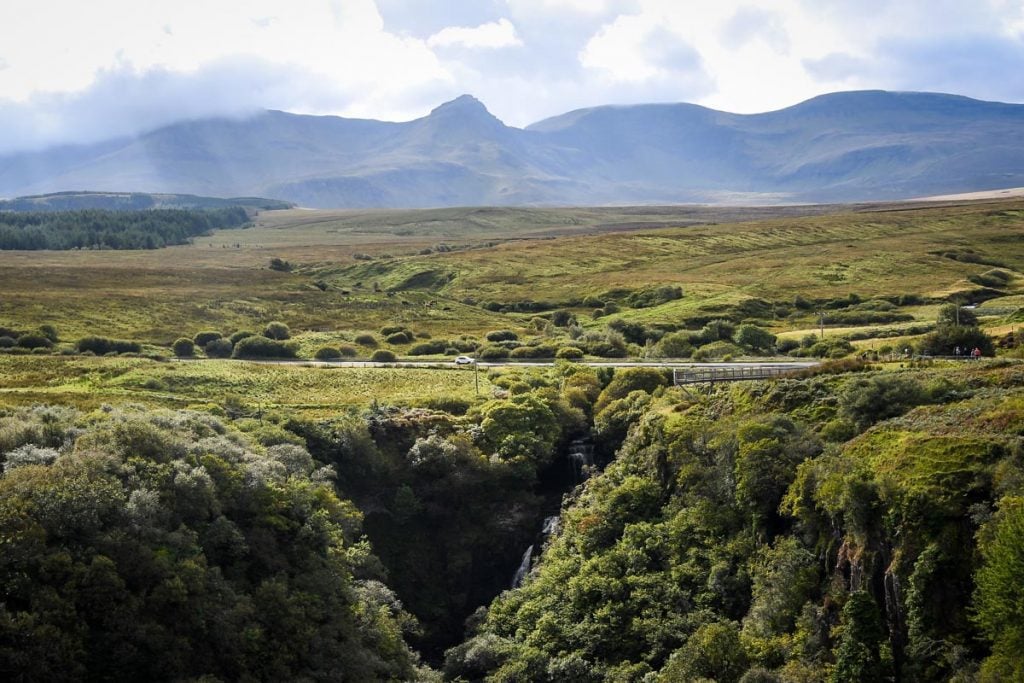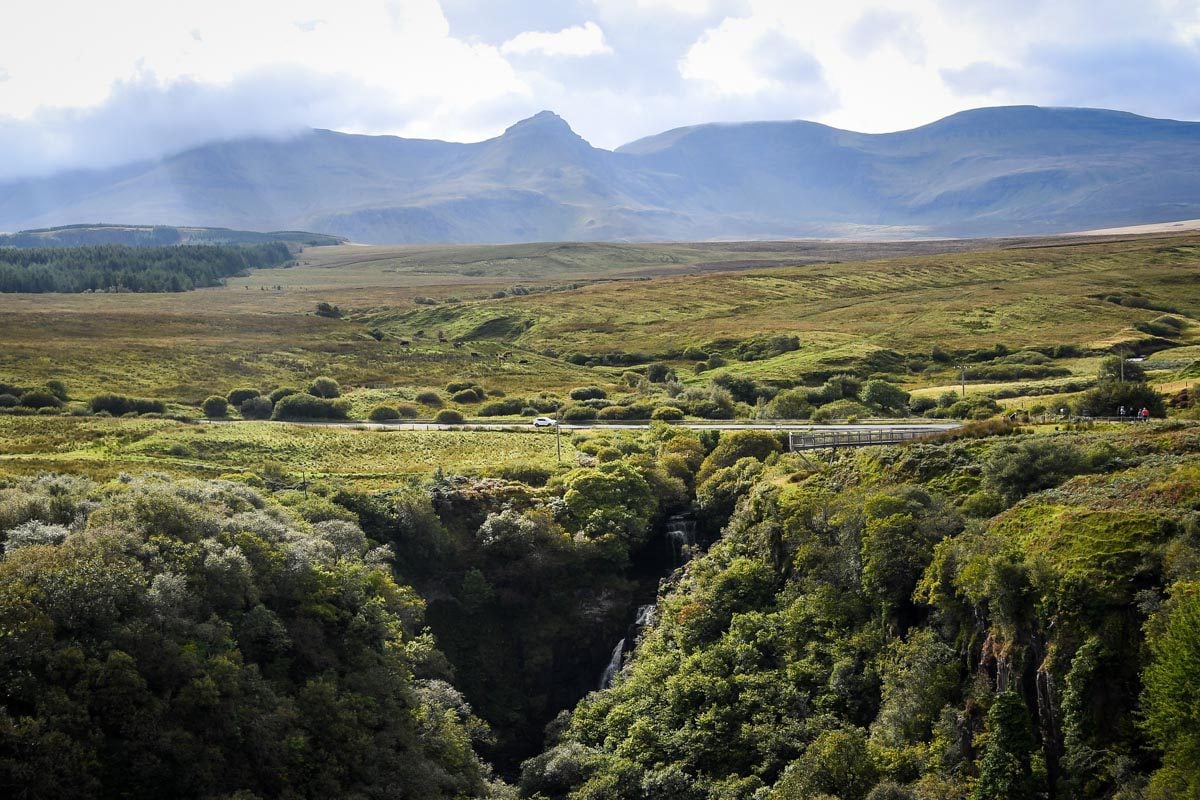 Yes, there are gas stations (called petrol stations in Scotland) around the Isle of Skye. But there aren't many.
We discovered this the hard way…
We were running low on gas – like, really low. There are two gas stations in Portree, and one was closed. Unless we wanted to drive 20 minutes out of the way, we were left with one option…
And this gas station was very small, with hardly enough space for our campervan to pull through. Did I mention that there was a line? It was a 20-minute stressful ordeal that easily could have been avoided if we had simply filled our tank ahead of time.
Learn from our mistake. Fill up before reaching the Isle of Skye and hopefully you won't have to worry about it until after your visit.
4. Make Portree restaurant reservations in advance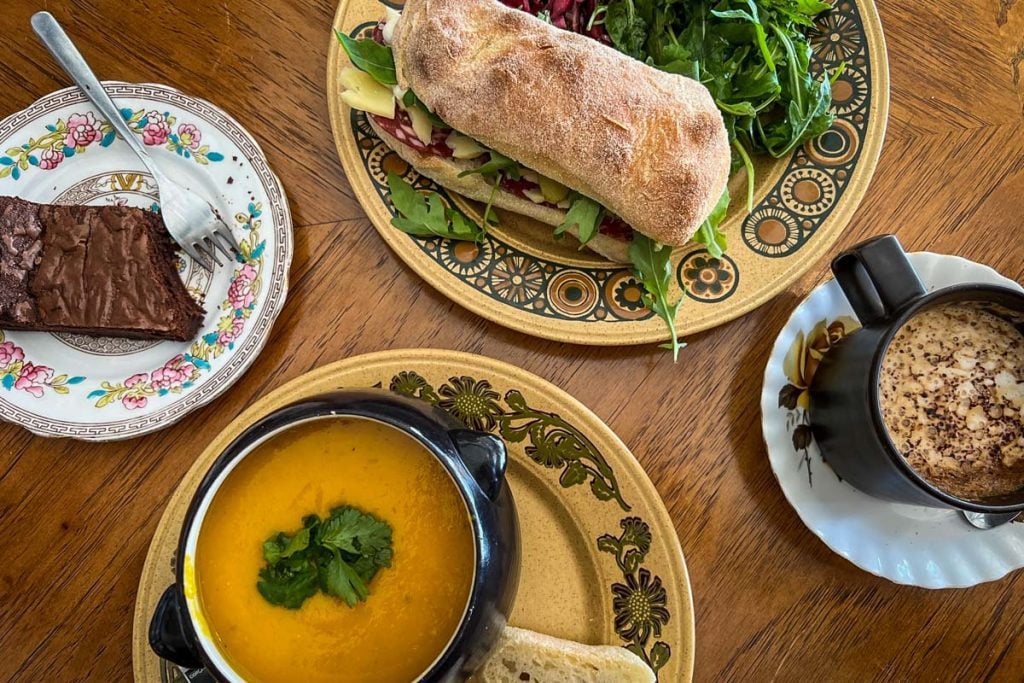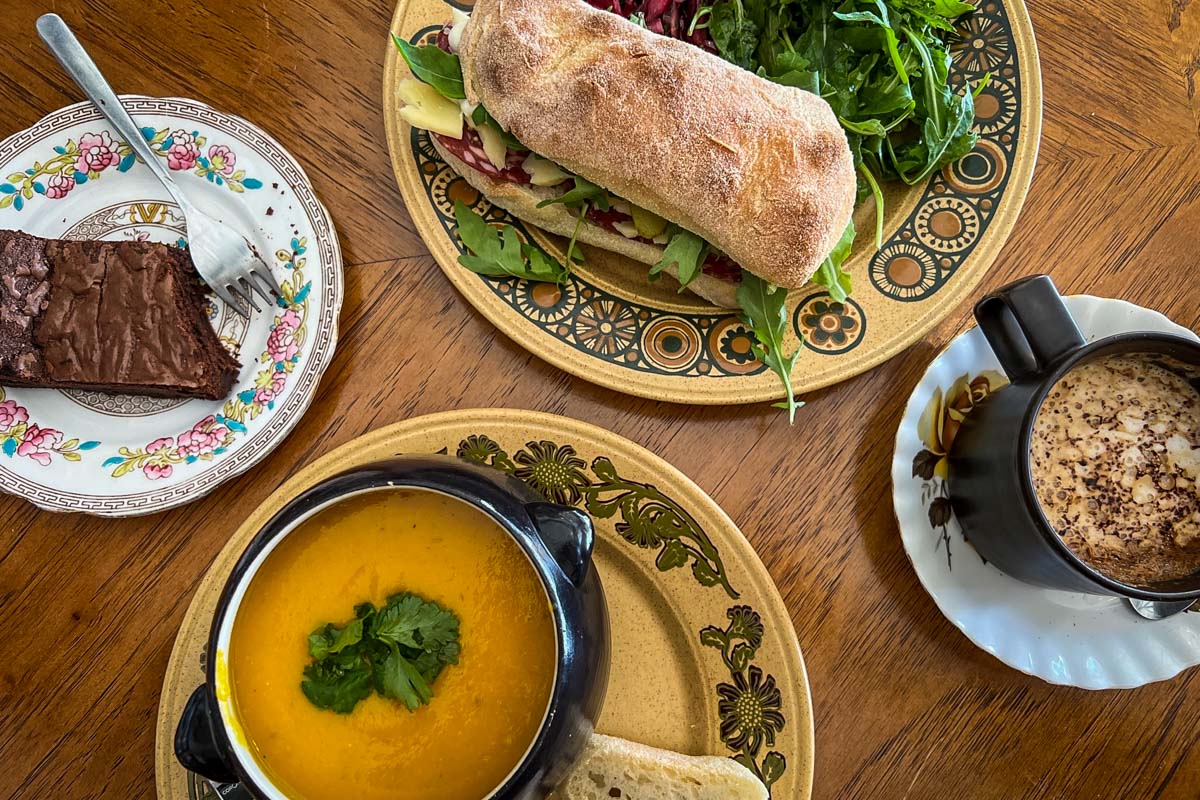 Another mistake we made was just assuming we'd be able to find a place to eat for dinner.
We aren't picky, we told ourselves.
We don't mind waiting a bit, we told ourselves.
Well, it didn't matter.
We drove 20 minutes from our campsite to Portree to spend an hour walking around town, getting turned down by every single restaurant we walked into.
Every single restaurant was full.
And the couple mediocre fast food options that didn't take reservations had crowds of people waiting to order.
We ended up giving up and going to the town's only (poorly stocked) supermarket where we gathered a random assortment of things for a pretty sad dinner.
We were in such a beautiful town with excellent restaurants, and yet, here we were eating a bag of chips and a sad-looking pre-made Indian meal.
If you plan to visit Portree (you should!) and you want to have a nice seafood dinner in town (you should!), be sure to make reservations at least a few days (if not more!) in advance.
Jump down to our Isle of Skye restaurant section for our top recommendations.
5. Book your hotels or campsite well ahead of your trip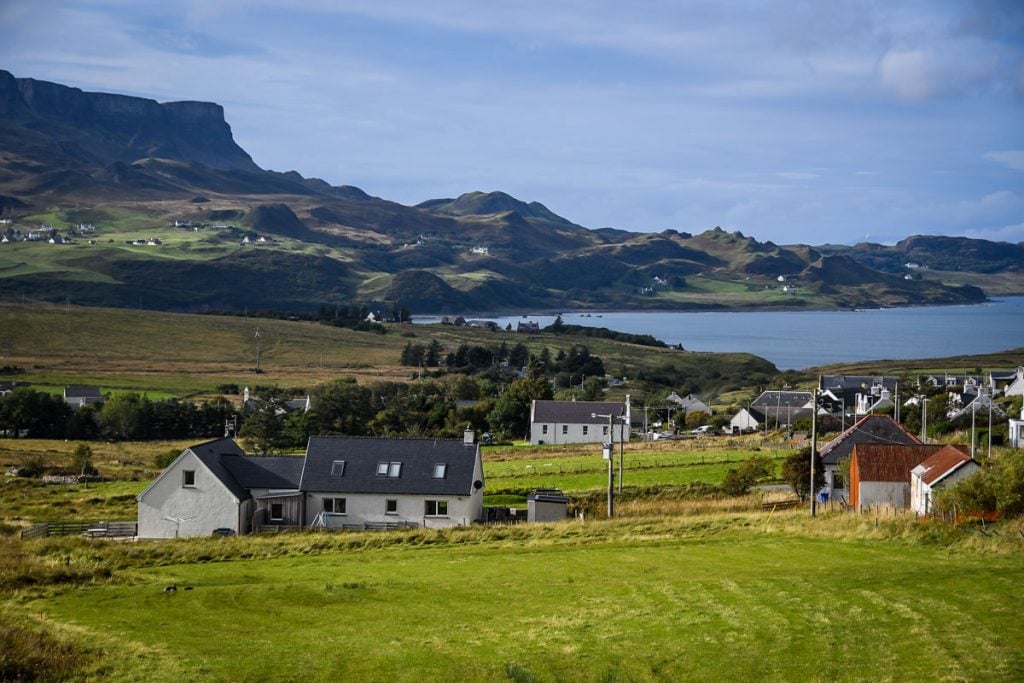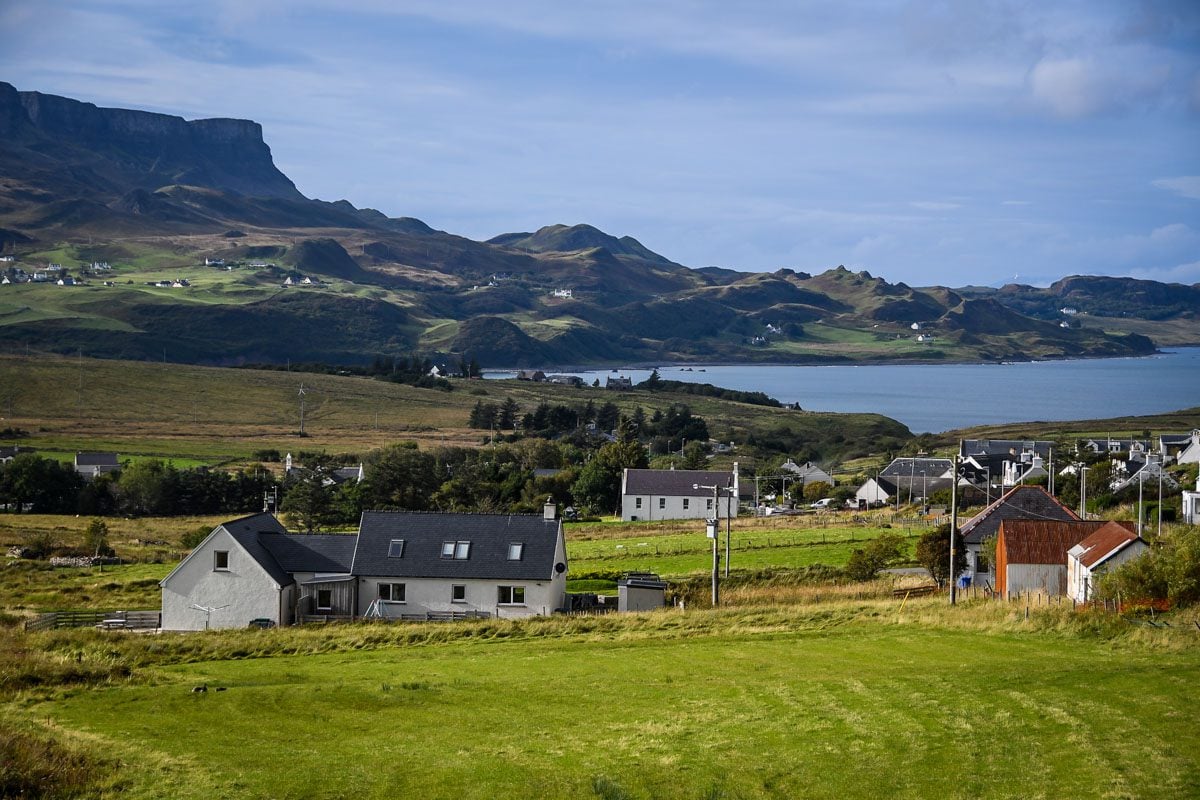 Speaking of reservations…
You're gonna want to get on those Isle of Skye hotel reservations ASAP.
My advice is to book those hotels before any others on your trip. Being that it is a popular tourist destination (aka high demand) and an island (limited supply), hotels here book out well in advance (especially during the peak summer months).
And what if you're camping?
You should reserve your campsite ahead of time, too. We originally wanted to stay at the campground closest to Portree, but when we called 4 days in advance, they were already totally booked. Thankfully we found a different campground that had availability and snagged their last spot.
The lesson here is if you plan to travel around the Isle of Skye, make dinner and accommodation reservations in advance.
6. Expect rain
The Isle of Skye, like the rest of Scotland, is famously rainy.
Rainiest Months: September – January
Driest Months: March – June
But don't let that deter you! We visited the Isle of Skye in mid-September, which is approaching the rainiest month of the year (October). It rained in some form each day, but we were still able to do everything we had planned.
As Scots say, "If you don't like the weather now, wait a few minutes."
We found that the heaviest rains didn't last long, and would eventually turn into a fine mist (which was kind of a cool, eerie vibe). And even though we had rain every day, we also had blue skies.
Our advice:
Expect rain. If it's wet, you won't be disappointed. But if it doesn't rain, you'll be pleasantly surprised.
Be prepared with rain gear (aka rain jackets that are waterproof, not just water resistant), an umbrella, and good shoes. As they say, "There isn't bad weather. There's only bad clothing."
Bring your own sunshine! It sounds corny, but truly, a positive attitude can mean the difference between an adventure in the rain and a crappy day ruined by weather.
7. Be prepared for midges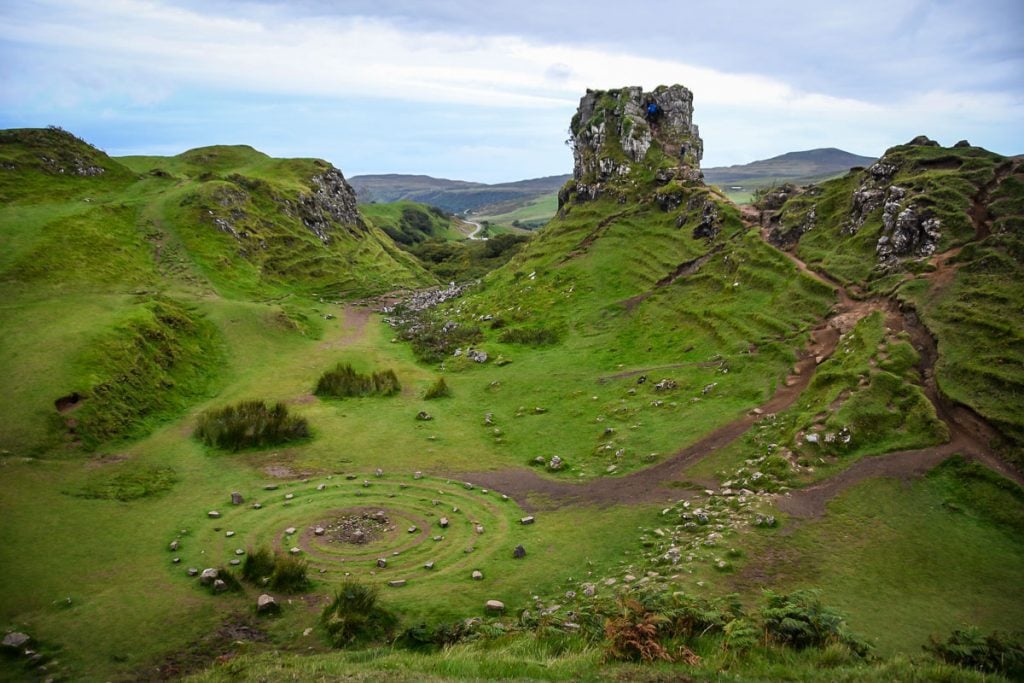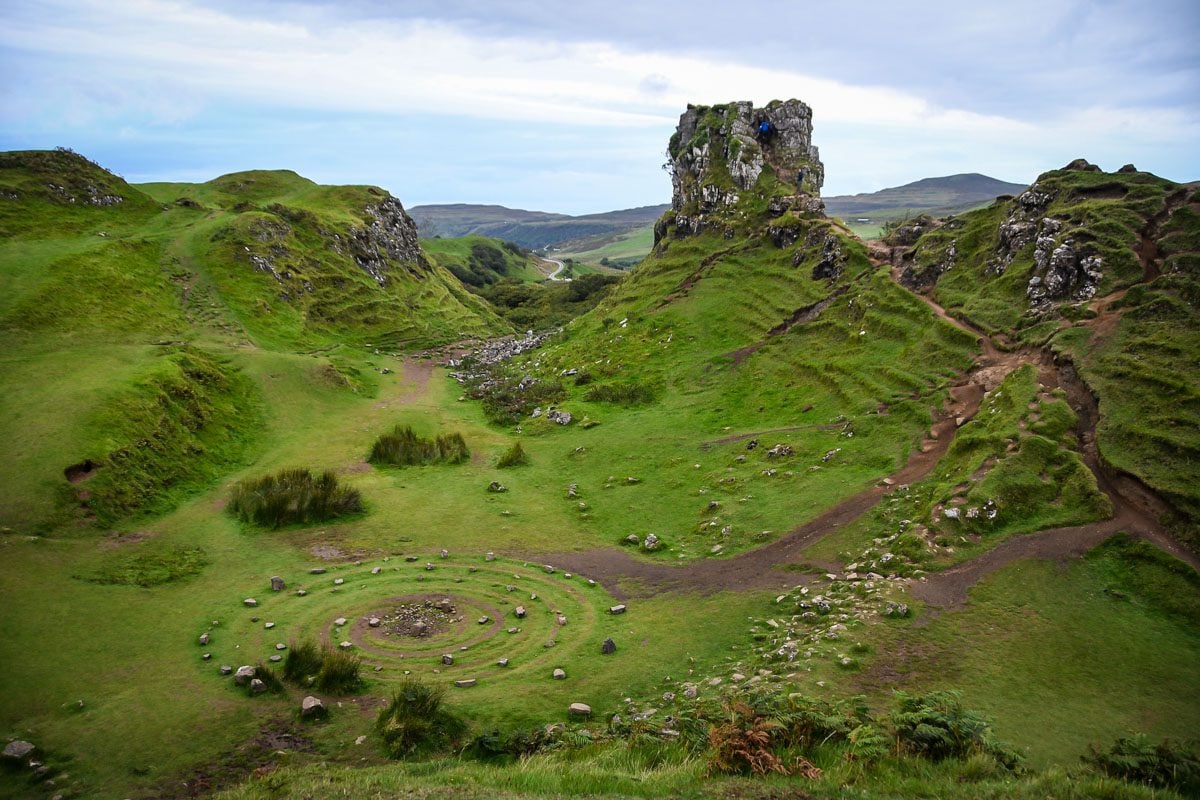 A what?
Midges are pesky little bugs that love nothing more than to swarm your face. Kind of like a mosquito. Talk about annoying.
Before our trip to Scotland, we read enough rants about "THE DAMN MIDGES" that we were quite worried.
We were pretty lucky and hardly noticed them during our mid-September trip. But we were traveling in Scotland at the tail end of "midge season" (May – September).
So if your trip falls into this range, there are a few things you'll want to know…
Things to know about midges
They're most common near water sources (like rivers and lakes) and in humid weather.
They bite, like mosquitos.
They are most active during the summer months (May – September).
You can check this "midge forecast" to see how bad they're predicted to be in different locations around Scotland. It's based on some science-y stuff like rainfall, temperatures and humidity.
How to avoid midges
If you're traveling during peak midge season and planning to spend a good bit of time in the outdoors, these tips will help you minimize the annoyance.
After landing in Scotland, grab yourself some Smidge. We saw this repellant at many shops all around the country, and we've read pretty good reviews.
Alternative: We bought this natural repellant before our trip because we read it also worked for midges, though, like I said, we got lucky and didn't have to deal with them in the first place, so we can't speak from experience.
Get yourself a fashionable head net. It doesn't look great, but at least you won't have to deal with them dive bombing your ears!
8. Start your days early to avoid crowds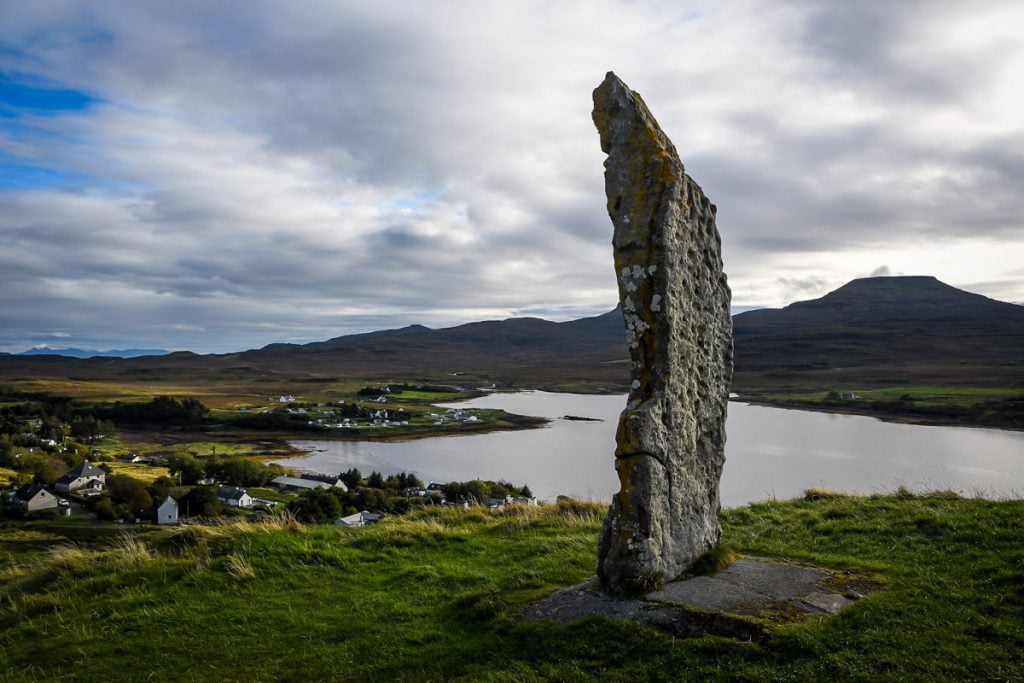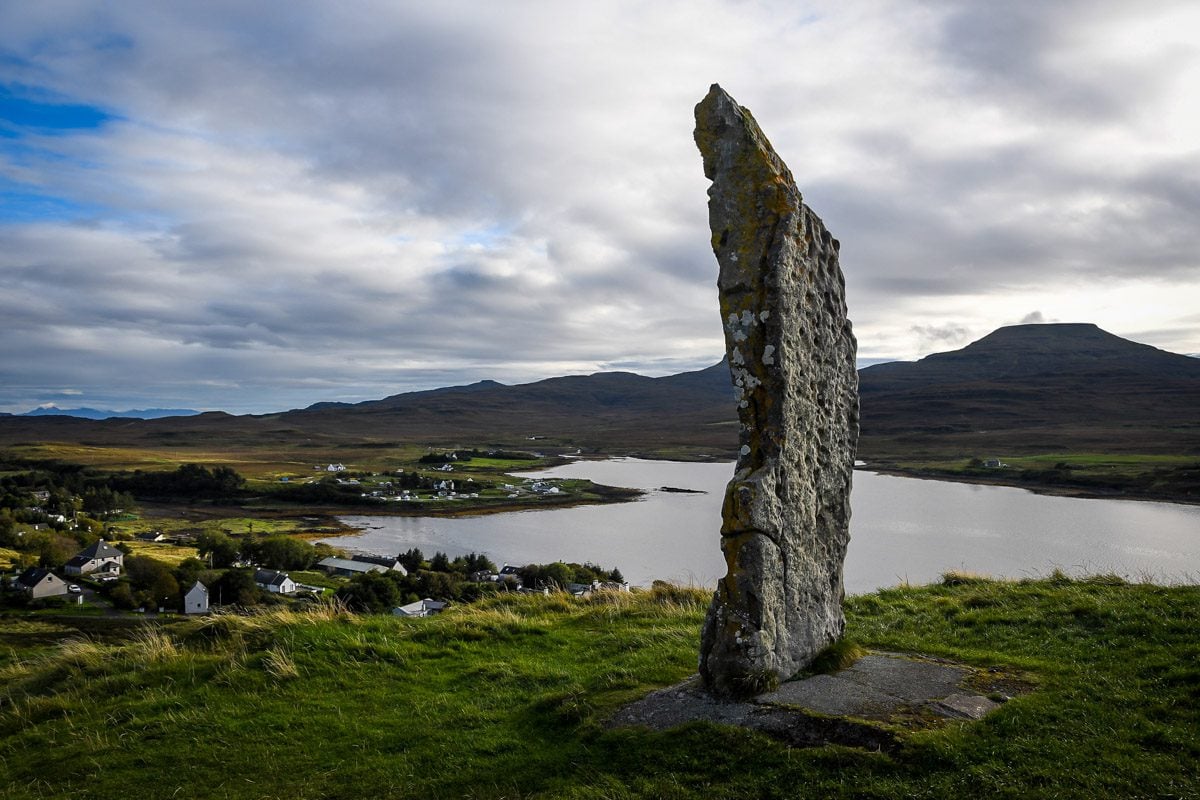 The Isle of Skye is one of the most popular places to visit in Scotland. And for good reason. It is absolutely epic (you probably know that by now!).
Other than crowded parking lots, we didn't find it to be too crazy busy. There's lots of open space and people tend to spread out.
But if you want to have the popular spots to yourself, get there early. Noon is when things start to get more crowded.
Alternatively, if you're not a morning person, you could aim to get to some of the bigger sites around sunset when most people have turned in for dinner. This is a sweet spot where you'll hit that golden hour glow and fewer people to share the views with.
Insider Tip: If you do a hike around sunset, be prepared to walk back in the dark. Don't forget your headlamp!
9. Driving on Skye is a little different than mainland Scotland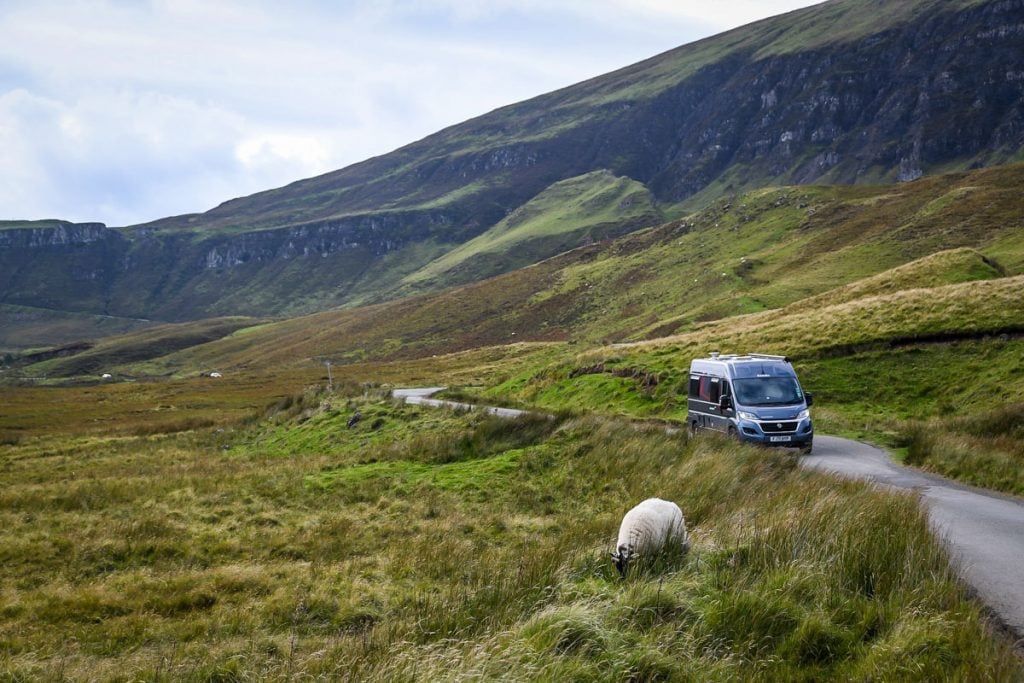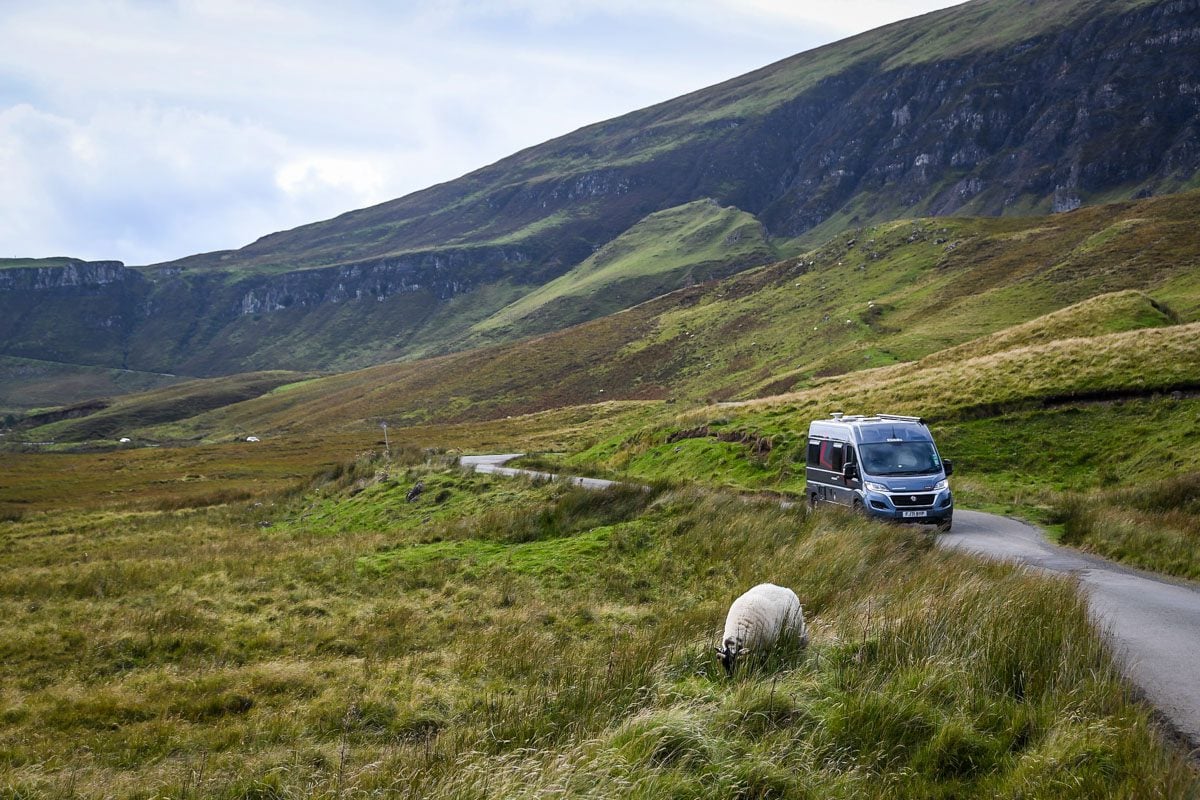 A few things to keep in mind as you drive around the Isle of Skye:
Watch out for sheep. Yes, really. They graze beside many of the smaller roads and are known to pop out into traffic without a second thought. It happened to us on more than one occasion. So keep your eyes peeled and slow down when you see them.
Be prepared for very narrow roads. Like very narrow. So narrow that you'll have to pull over (in a passing place) to allow online traffic to drive past.
Don't forget to check out all of our tips for driving in Scotland!
10. Keep your Skye itinerary flexible
If possible, have a bit of flexibility in your schedule so you can choose the best weather windows for hiking (if that's important to you).
For example, we knew the second day of our time on the Isle of Skye would be less rainy, so that's when we did our major hikes.
---
Where to stay in the Isle of Skye
When it comes to accommodation, Portree has options for all types of travelers.
From budget-friendly campgrounds to unique glamping pods to luxurious guesthouses, there truly is something for everyone.
We're including accommodation recommendations in Portree (Isle of Skye's main town) as well as options in the countryside.
Important: If you plan to visit the Isle of Skye while in Scotland, we'd recommend booking this accommodation first. Being that it is a popular tourist destination (aka high demand) and an island (limited supply), hotels here book out well in advance (especially during the peak summer months).
Hotels in Portree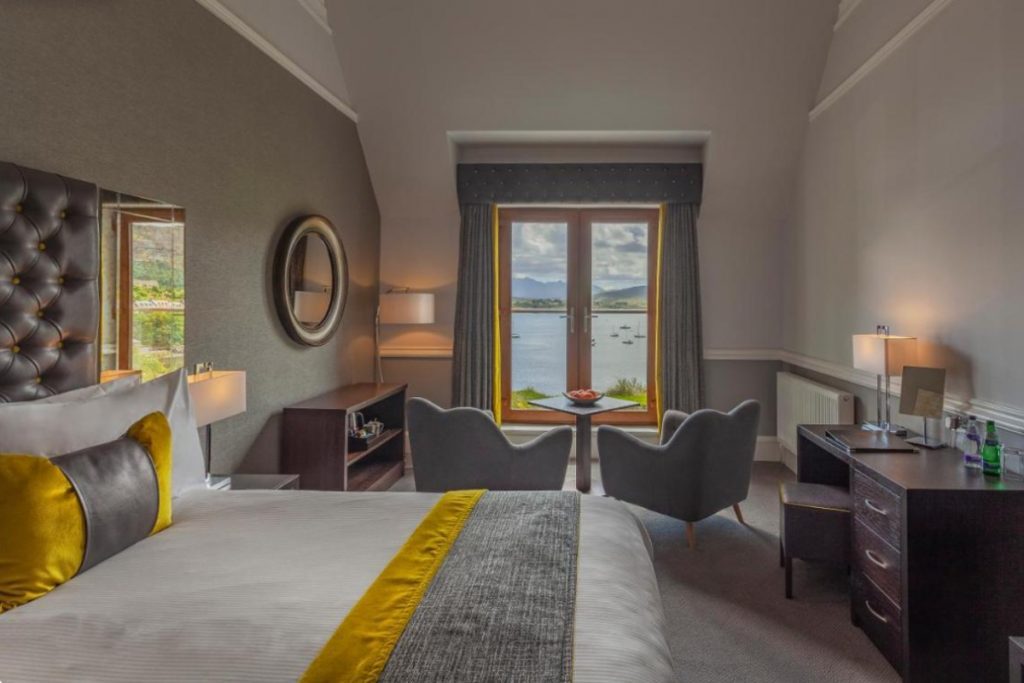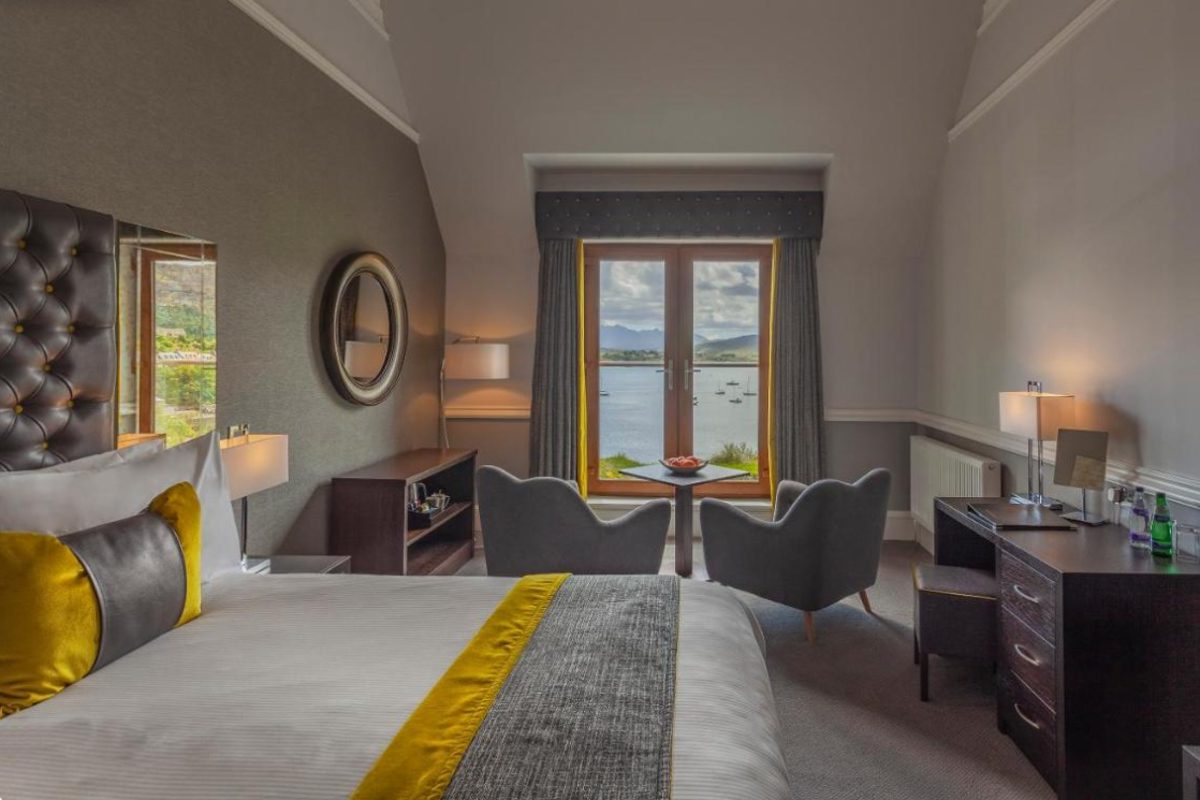 Cuillin Hills Hotel: This 1880s hotel overlooking Portree Bay once belonged to the Macdonald clan. With modern and upscale rooms, 15 acres of private land, and over 130 malt whiskies onsite, this makes the perfect basecamp for exploring Skye.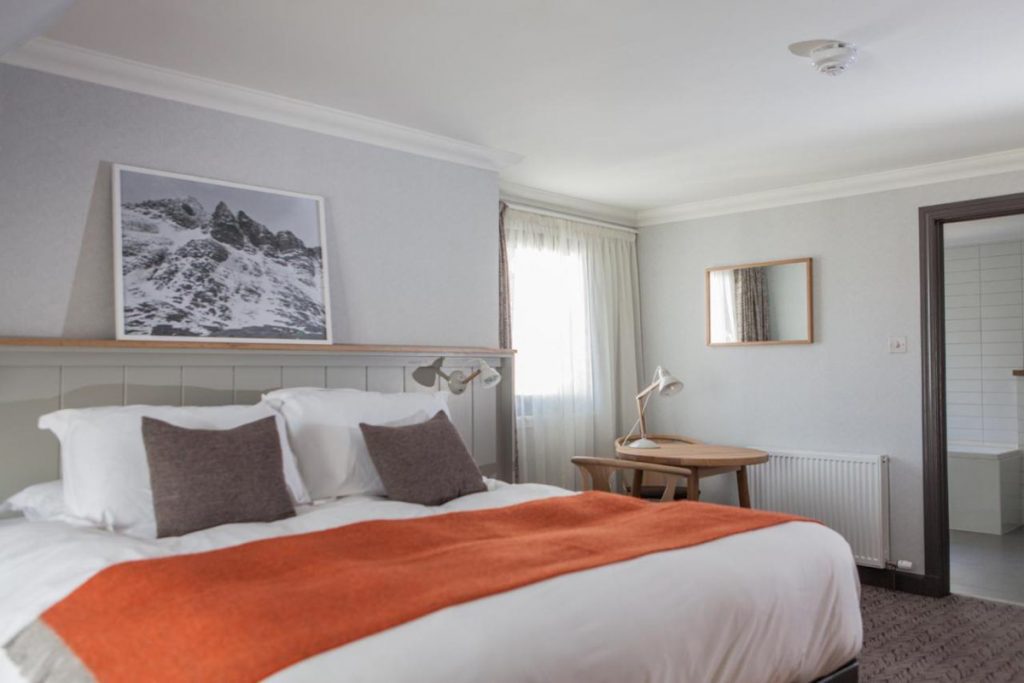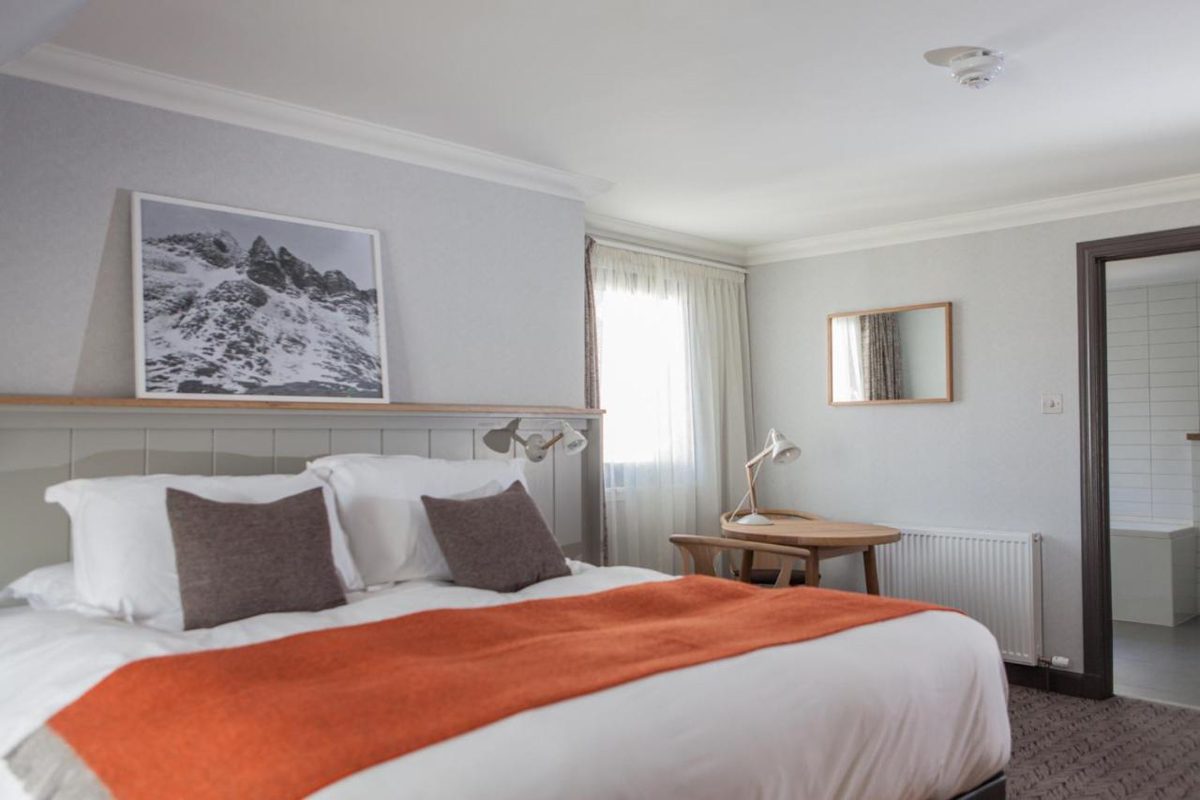 Bosville Hotel: These harbor-side, 19-century cottages have been restored and converted into a boutique hotel. Stay in the heart of Portree with some of the best views in town.
Hotels outside of Portree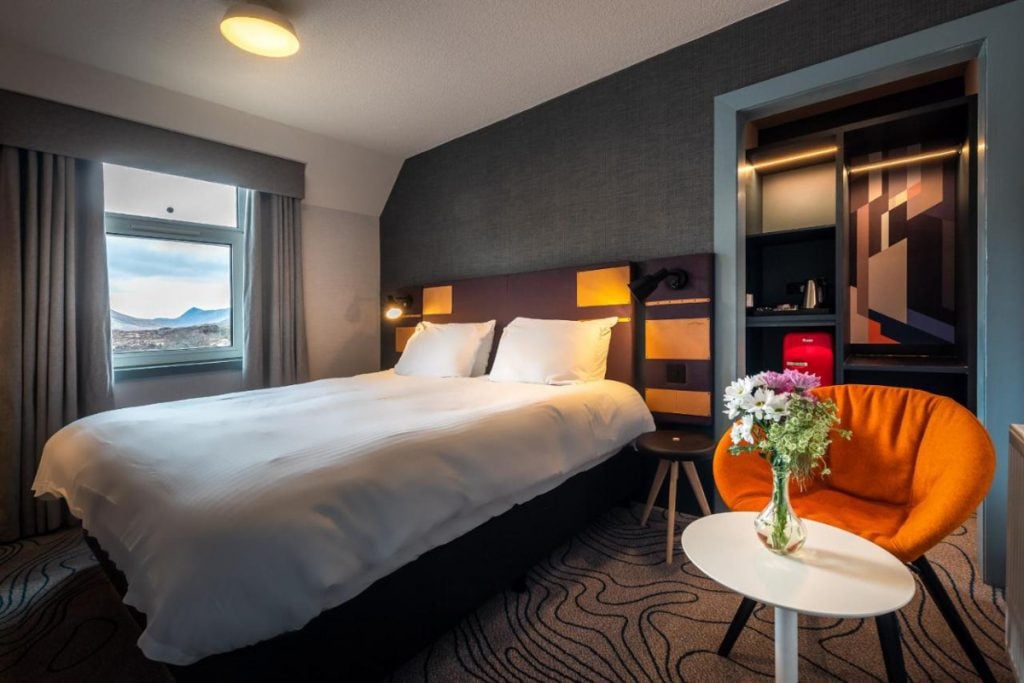 Sligachan Hotel: Tucked into rural farmland on a scenic loch in Sconser, this hotel is in one of the best places to visit in Scotland if you're hoping to spot Highland cows. The property is right next to the iconic Sligachan Old Bridge and less than 30 minutes from the Fairy Pools, plus it has its own micro-brewery and whiskey bar onsite.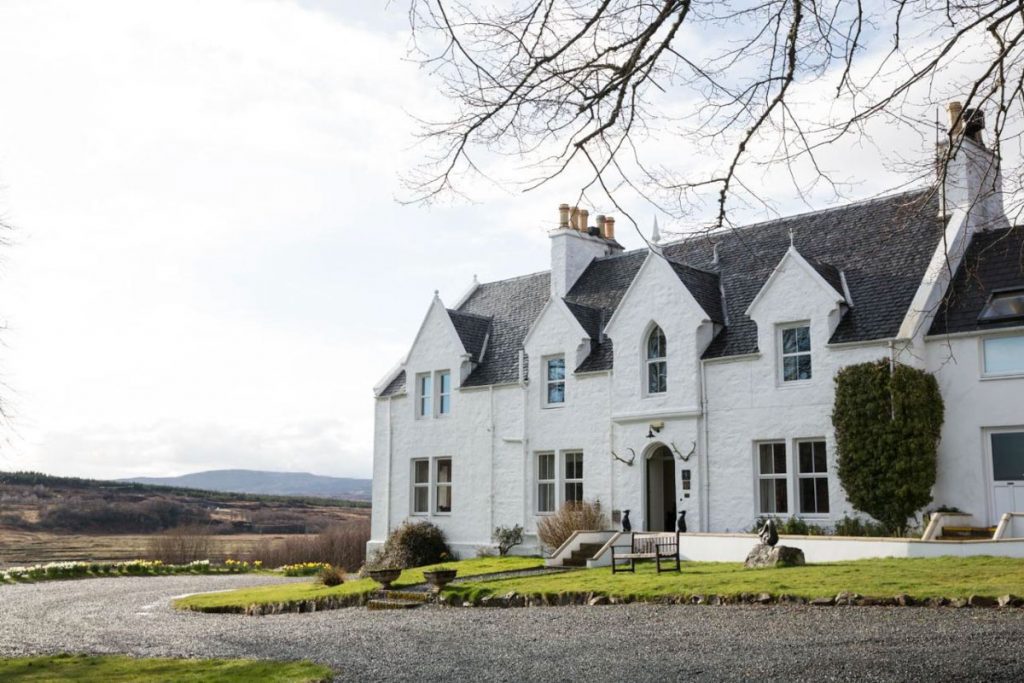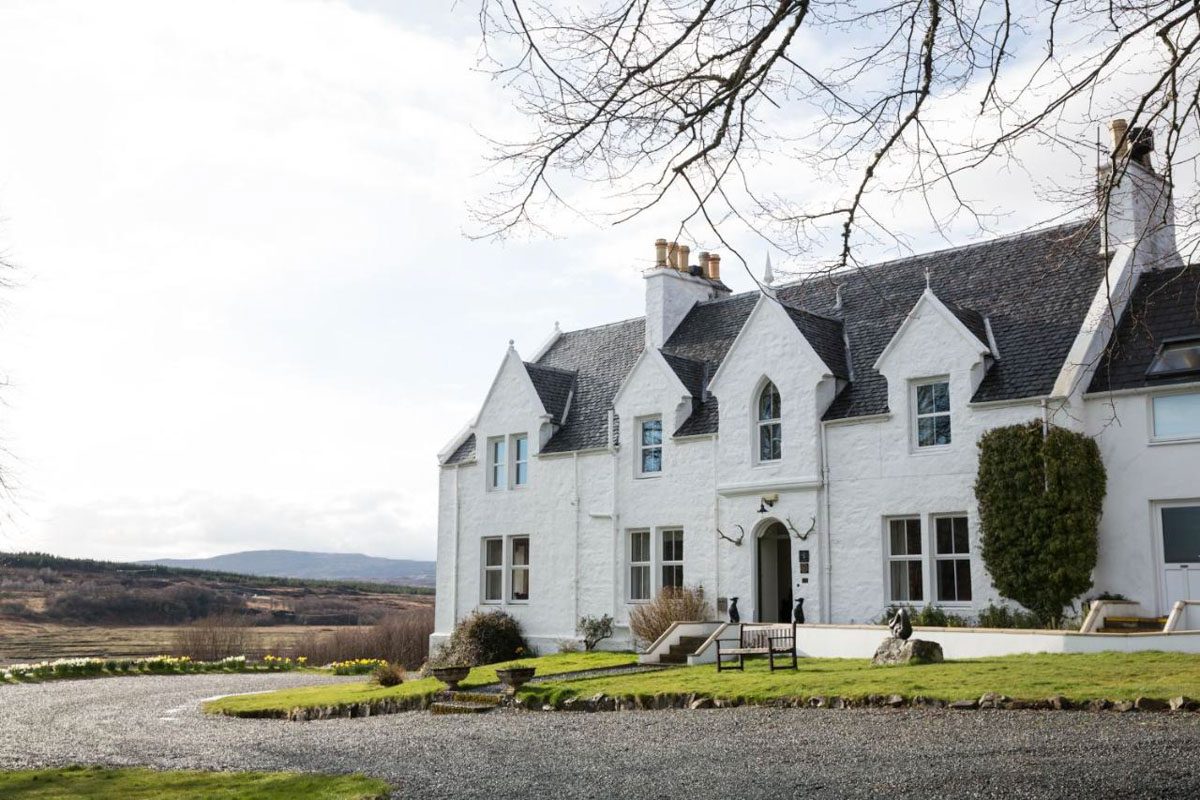 Kinloch Lodge: Stay in a 17th-century hunting lodge on the banks of Loch Na Dal in Southern Skye. They also have campsites available.
Glamping in the Isle of Skye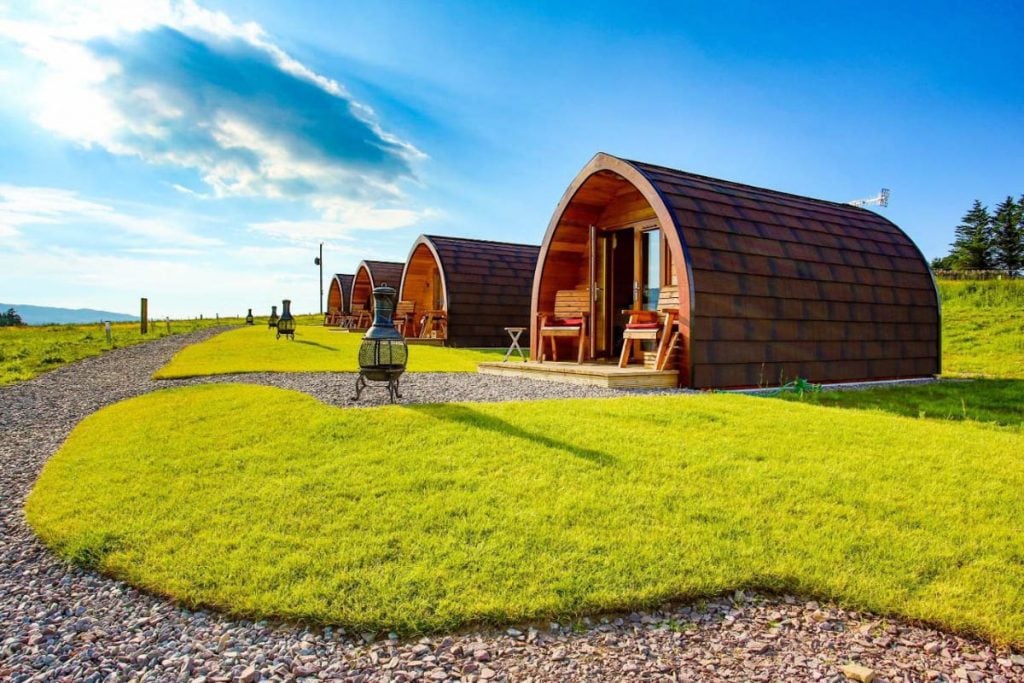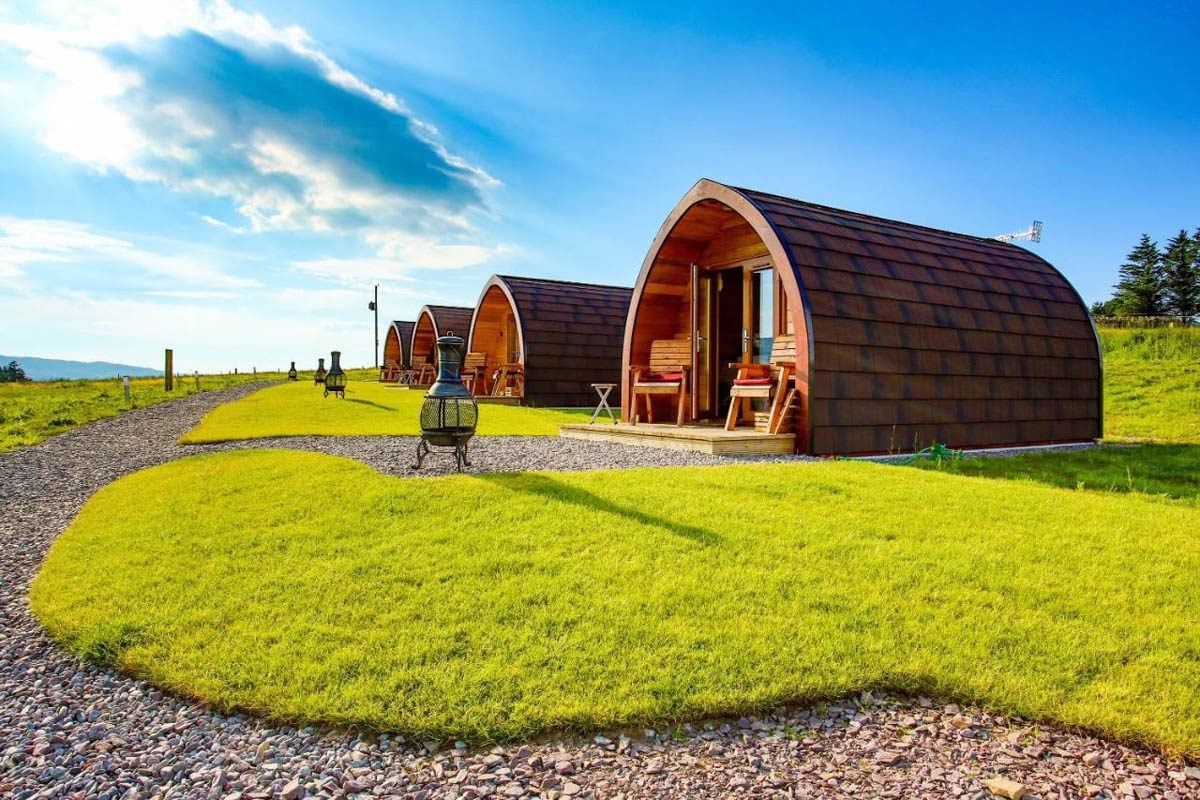 Skeabost View Pods: These secluded, countryside cabins are the perfect escape just west of Portree. Each pod has its own kitchenette, WiFi, and private patio.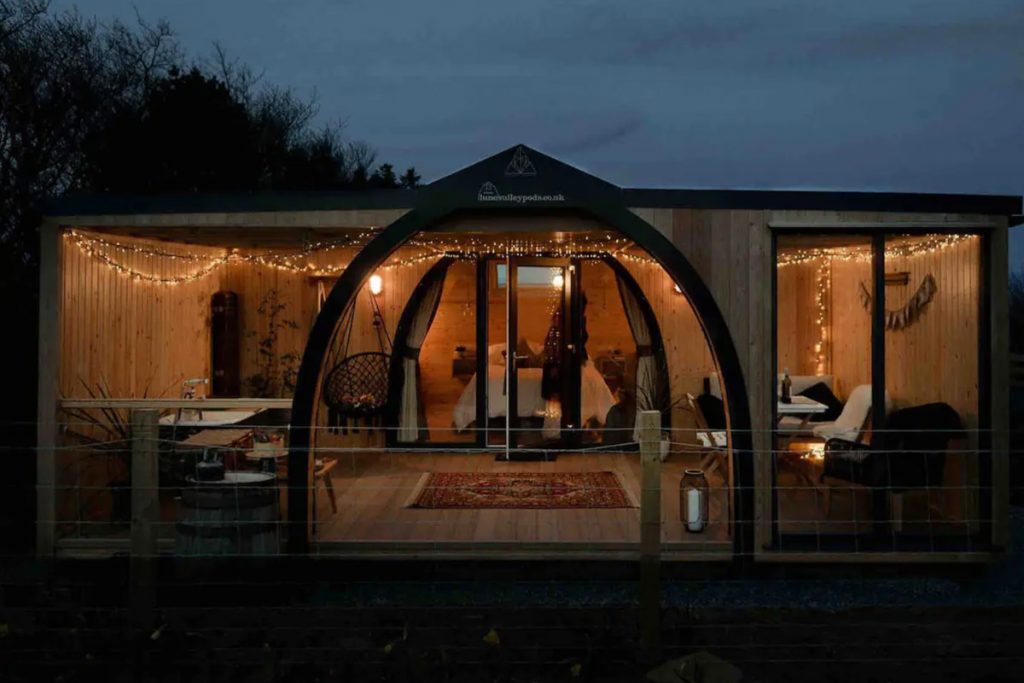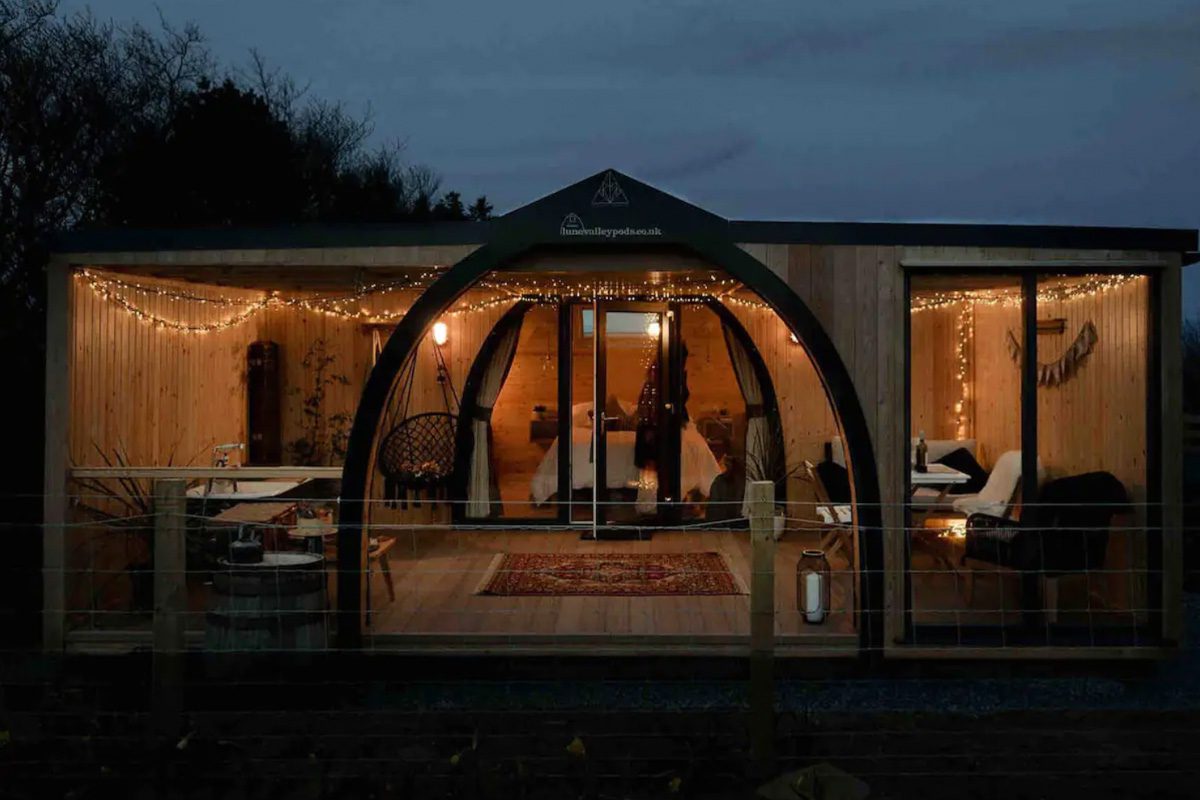 Skye Red Fox Retreat: These sleek and compact wood cabins are the epitome of luxury glamping with full-service kitchens, working spaces, and an intimate deck with glass roofs and floor-to-ceiling windows.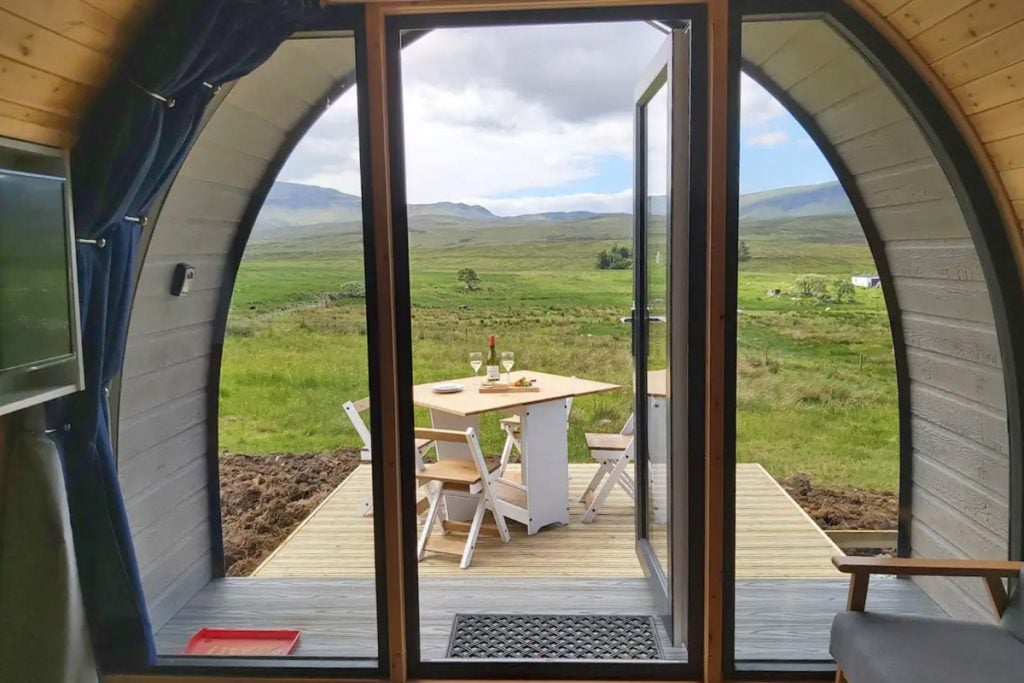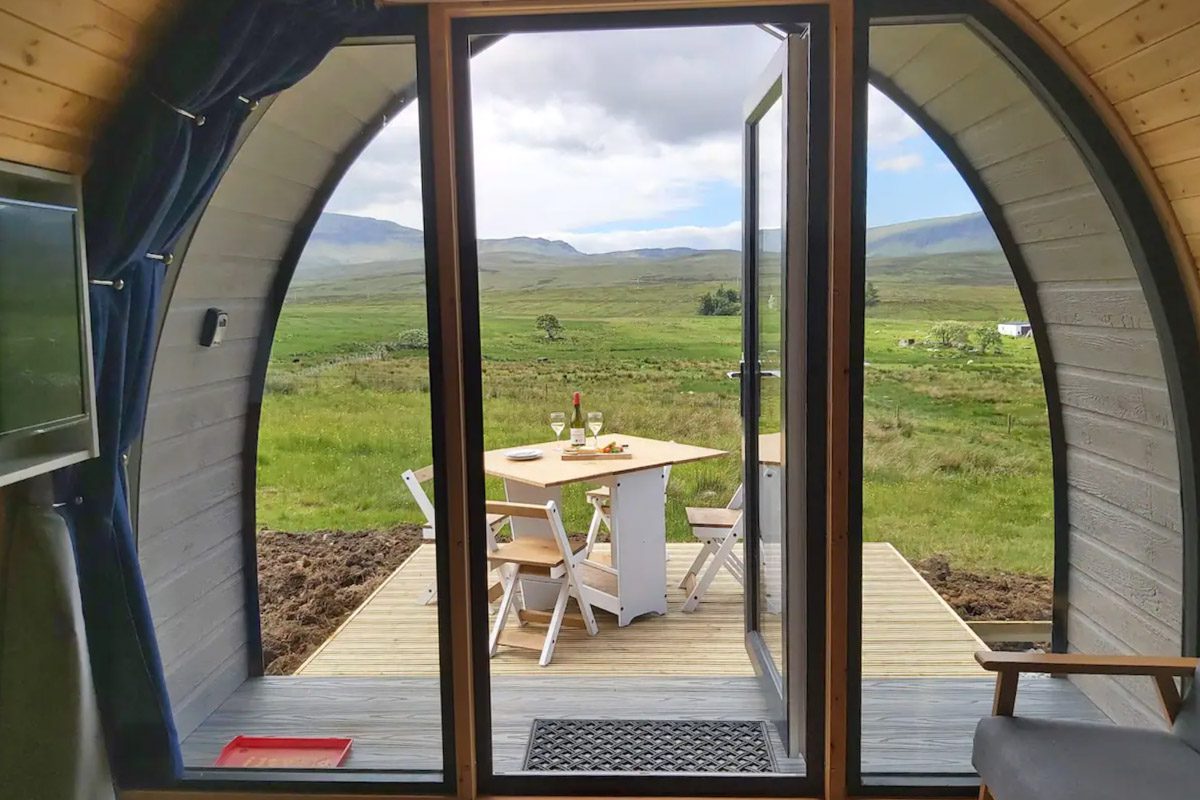 North Skye Pods: Feel immersed in nature along the Trotternish Ridge while being close to all the main highlights in Skye. Each pod comes with all the creature comforts and even heated floors!
Psst! Looking for more unique places to stay? We've got an entire list of the best glamping in Scotland with your name on it!
Camping on the Isle of Skye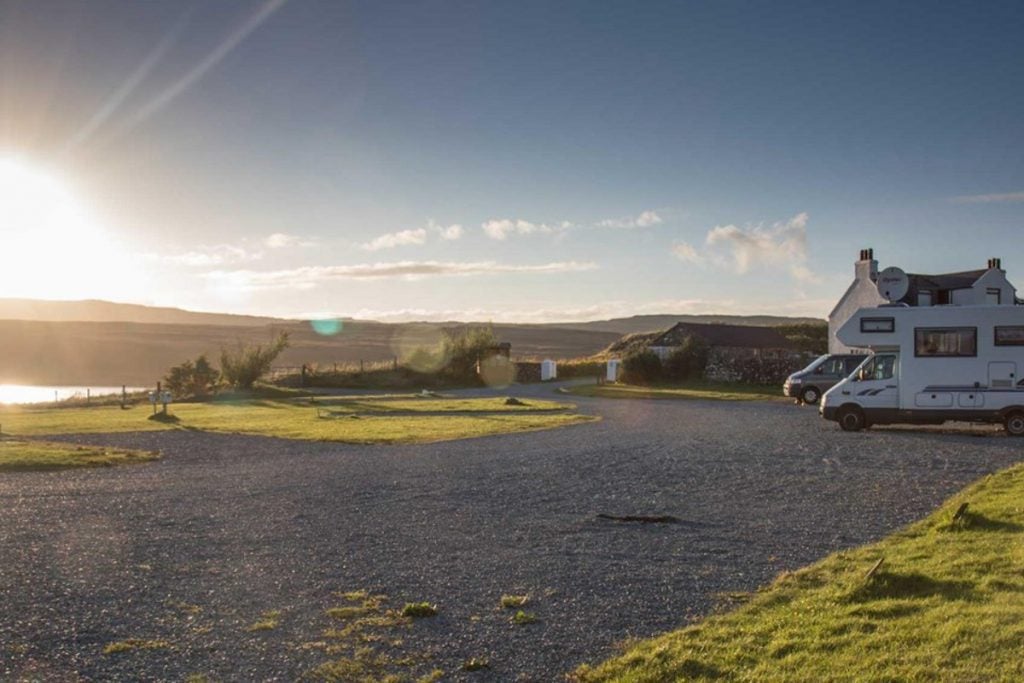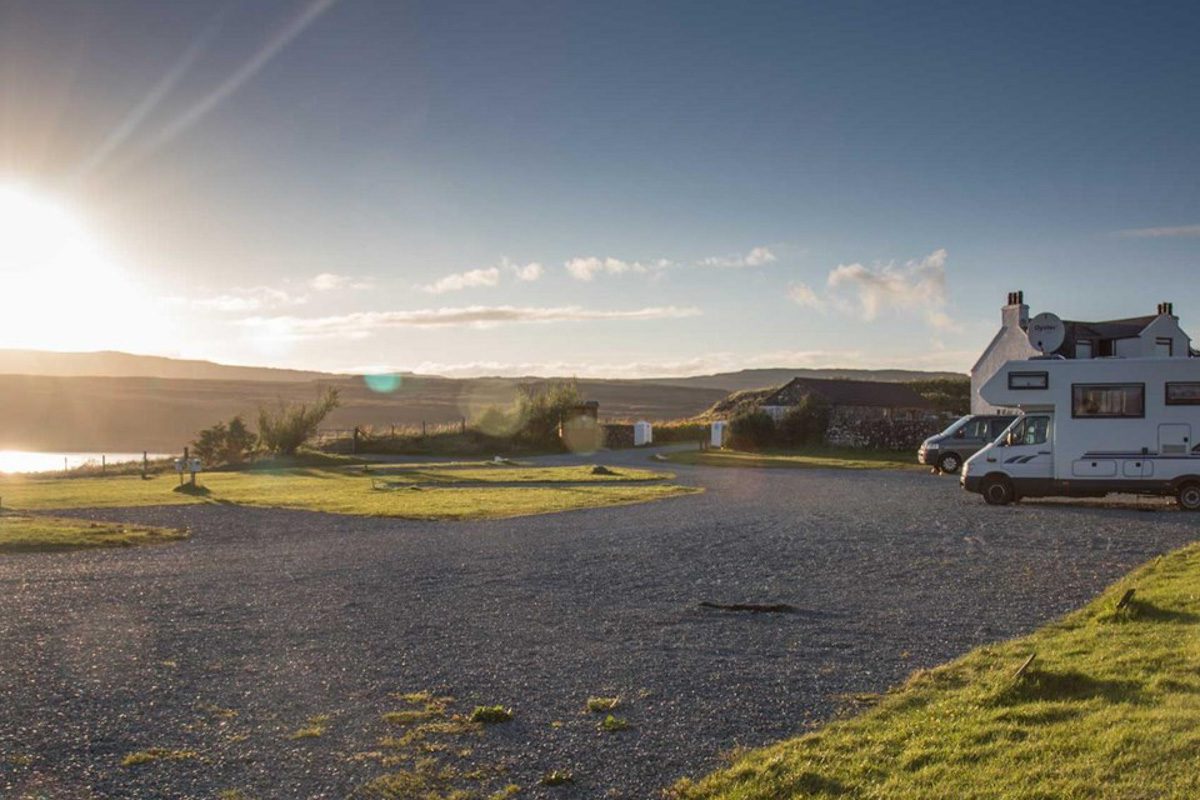 Skye Camping and Caravanning Club Site: This is where we personally stayed during our time on the Isle of Skye and we had a nice experience. The amenities are nice enough (not the best nor the worst on our Scotland camping trip). The location is not exactly near any major attractions, but it's not too far out of the way, either. It is roughly a 20-minute drive to and from Portree.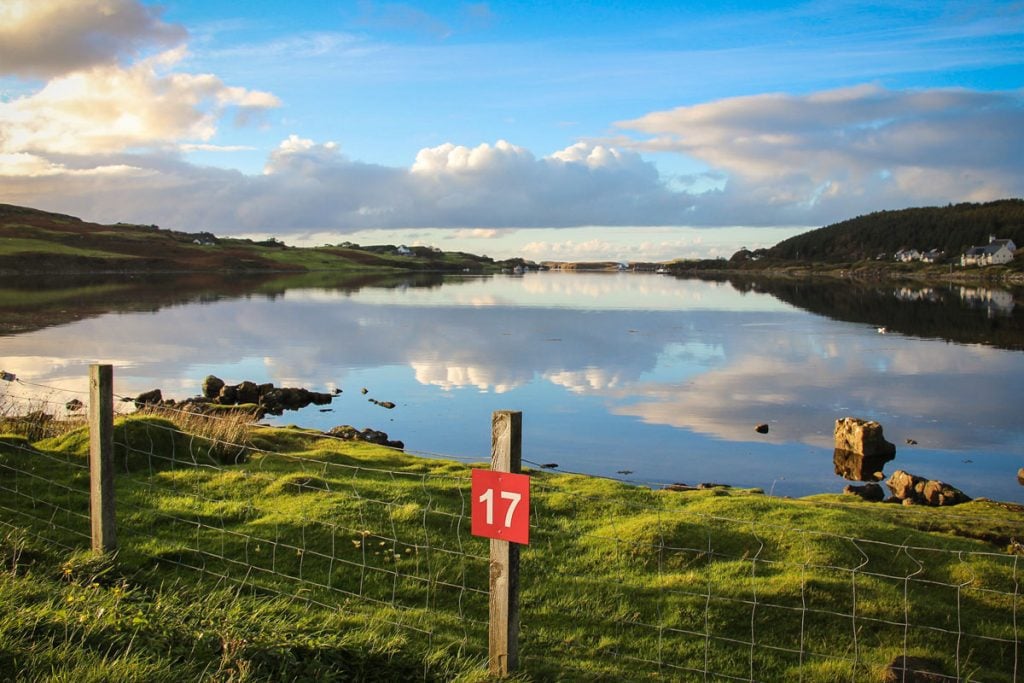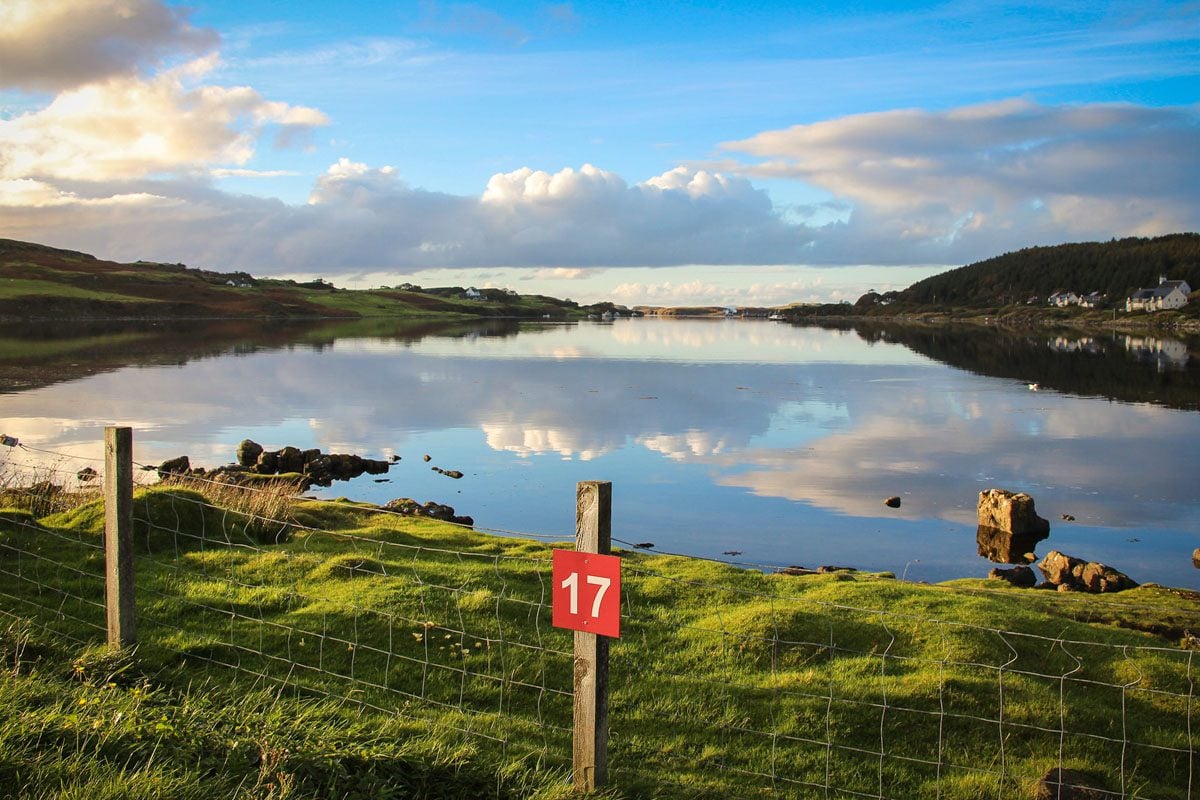 Kinloch Campsite: It doesn't get much better than this small campground overlooking Loch Dunvegan (yep — Dunvegan Castle is just minutes away!). Campsites can accommodate tents, campervans, or motorhomes, and they're thoughtfully tiered so everyone has a great view. Amenities include free hot showers and free wi-fi.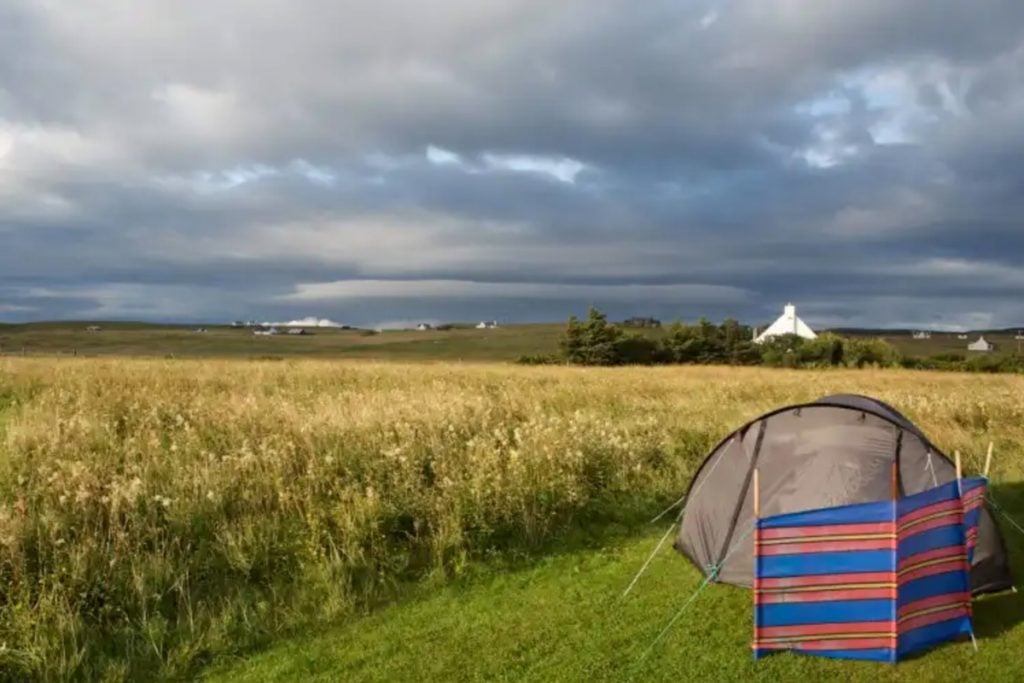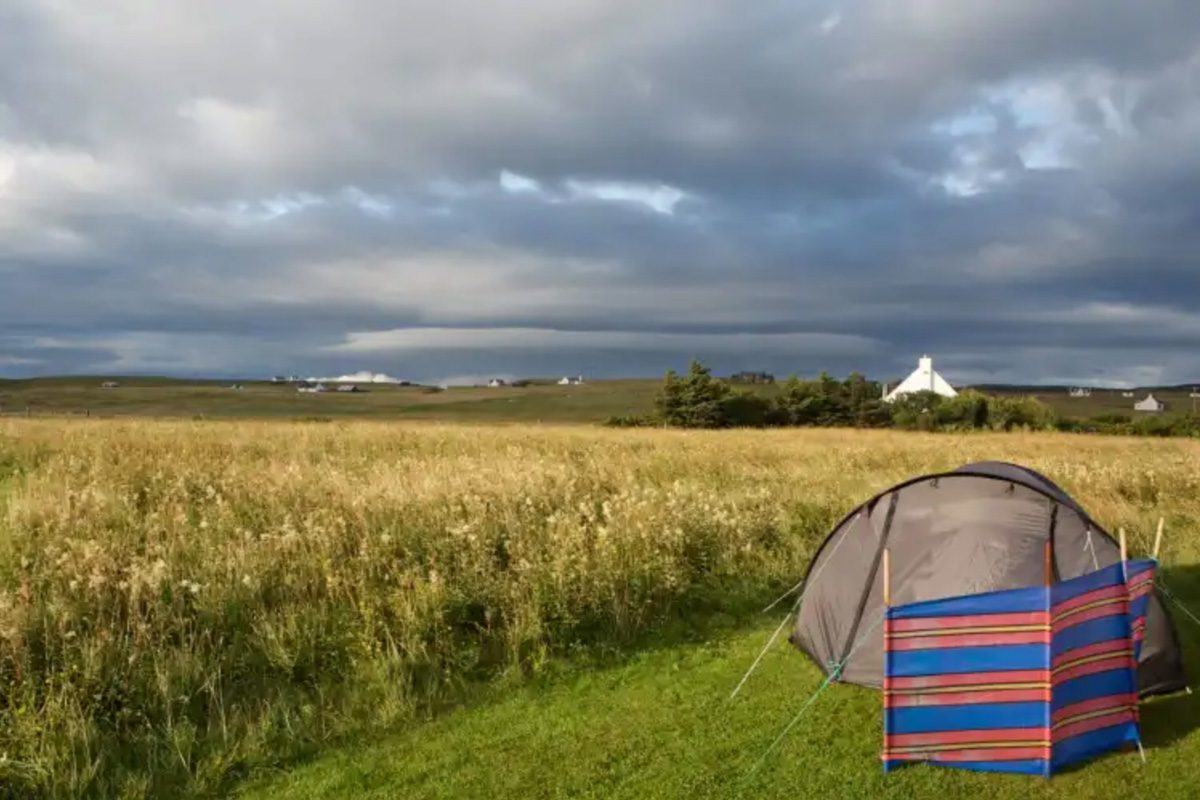 Camus More: This campsite on the north end of the Trotternish Loop makes the perfect basecamp for exploring the top things to do in the Isle of Skye.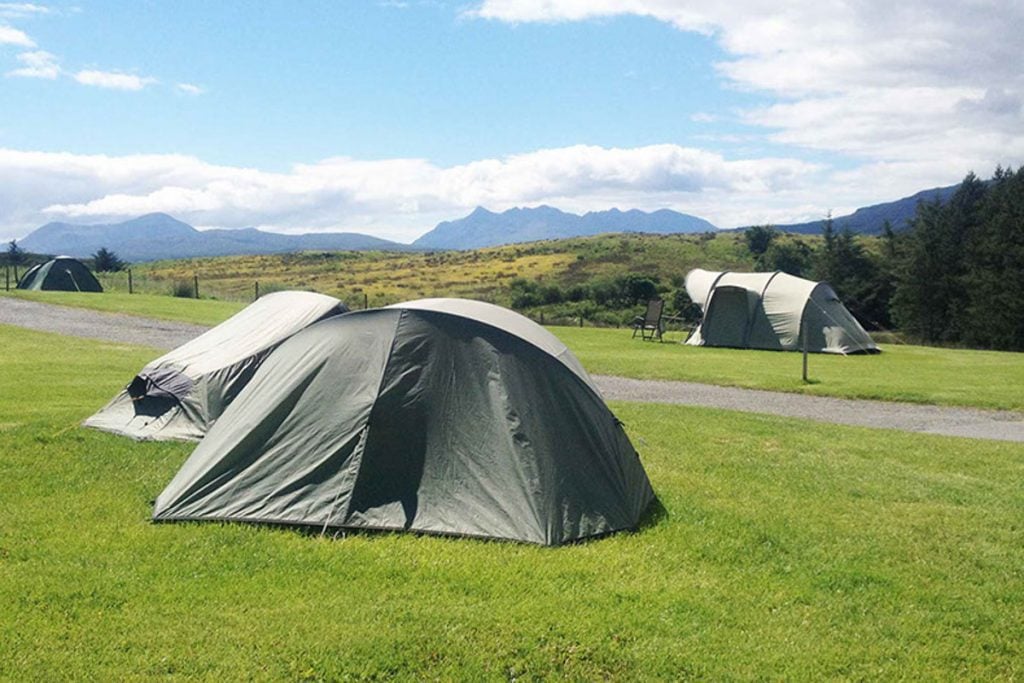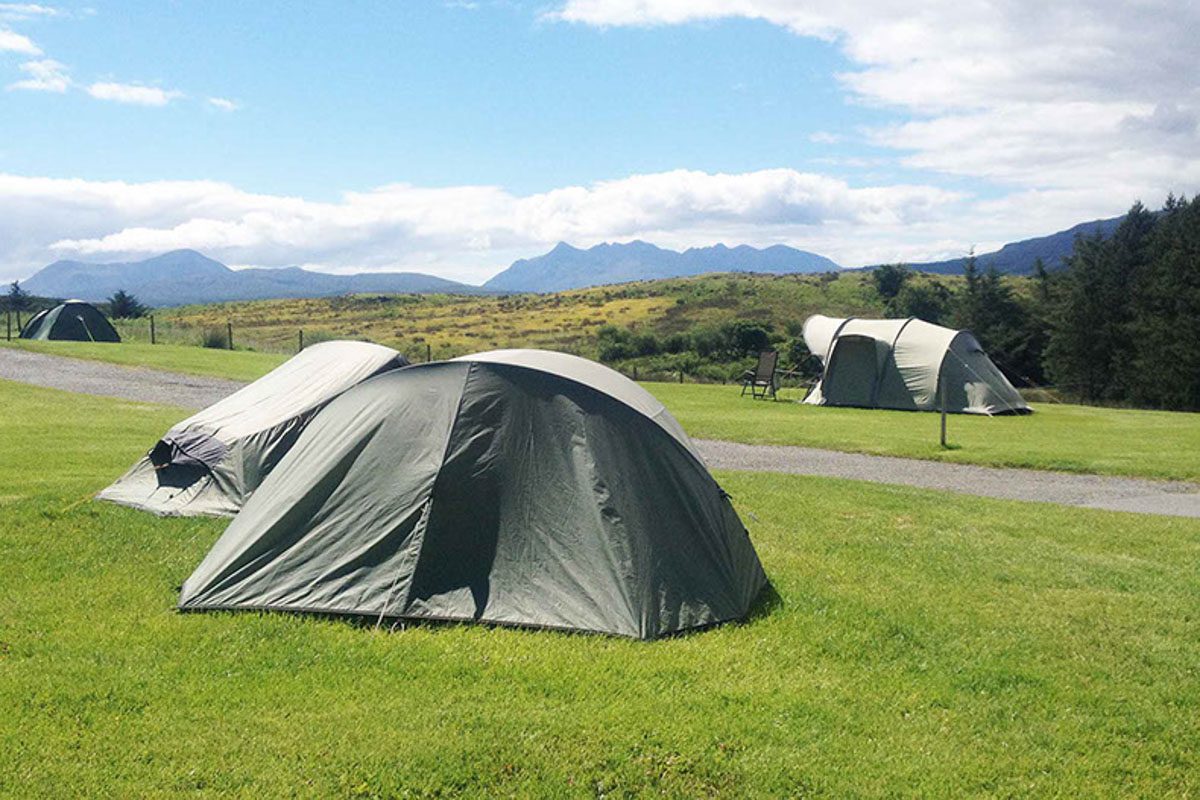 Portree Campsite: Conveniently located in the town of Portree, this campground has well-appointed amenities. Its proximity to town means you can enjoy a nice meal in Portree before retiring to your campervan or motorhome.
Insider Tip: This is the most popular campsite on the island and it books up well in advance, so be sure to make your reservations ahead of time. We tried to stay here, but they were completely full when we called several days in advance of our stay.
Where to eat in the Isle of Skye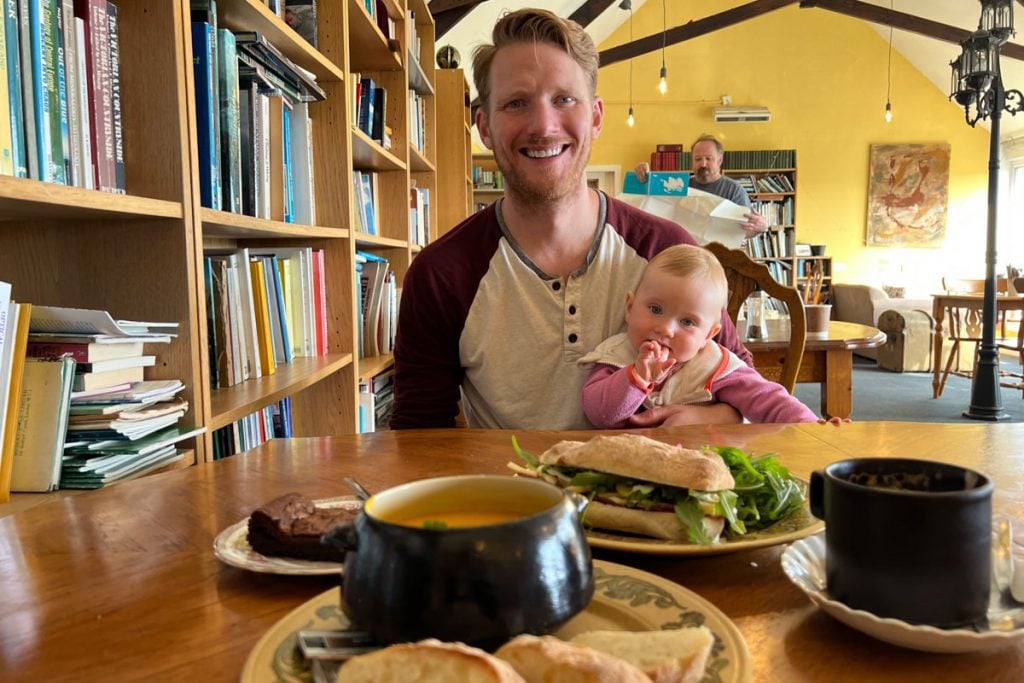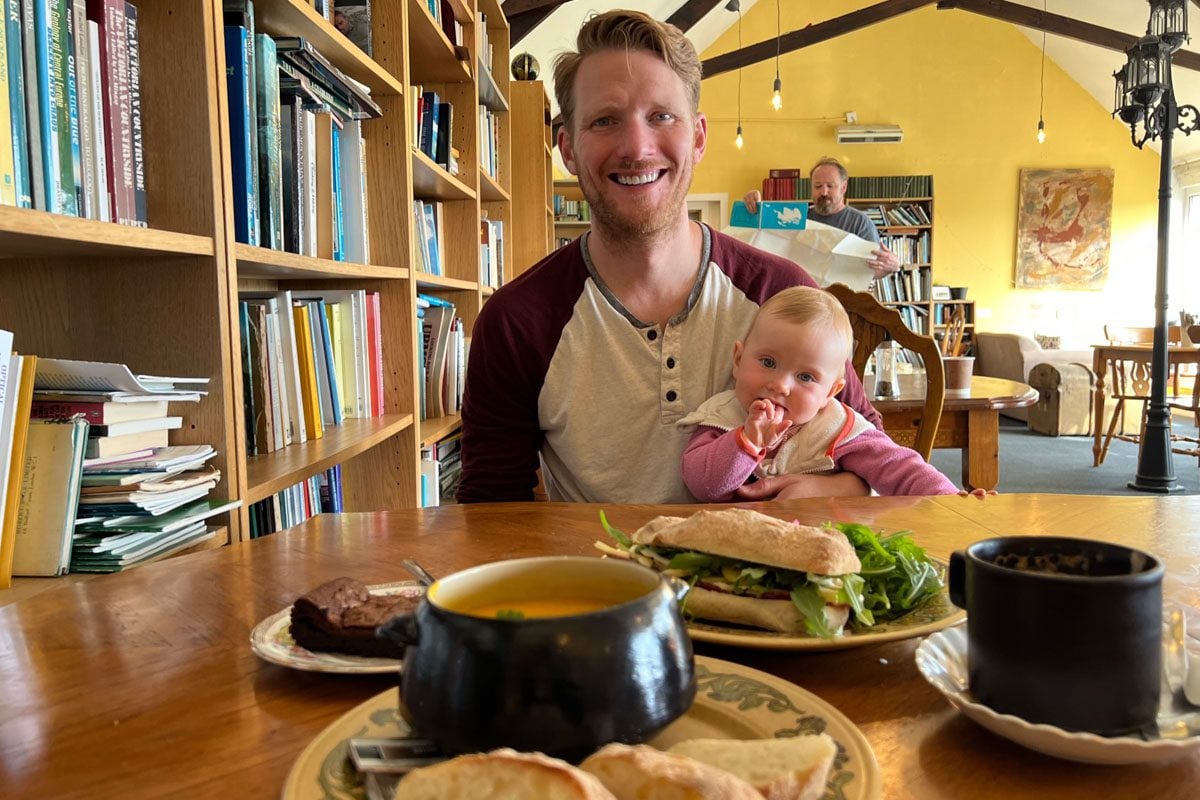 For being a relatively small and somewhat remote part of Scotland, the Isle of Skye has many excellent food options. From cozy cafes to unique venues (like a yurt!) to fine dining, there are plenty of places to choose from.
Insider Tip: While there are plenty of restaurants in Skye, we'd recommend bringing snacks with you as there are some areas where you'll be hard-pressed to find a place to eat. Bring some staple items so you can avoid hangry moments! Your travel companion will thank you.
Cafes and quick bites
Portree restaurants
Restaurant Rosedale: Scottish tapas and seafood dishes with harbor views.
Sea Breezes: Seafood restaurant on the water known for their "seafood platters for two". A friend of ours said this was her favorite meal in all of Scotland.
Scorrybreac: Cozy restaurant with tasting menus featuring seasonal dishes made with local ingredients sourced from the island.
Good to know: Some restaurants and cafes on the Isle of Skye are open seasonally. If you're visiting during the winter months, you may find you have fewer dining options.
Casual options in Portree
What to pack for the Isle of Skye
With variable weather conditions, excellent hiking opportunities, and some nice restaurants, there are a few things you definitely don't want to forget when you're packing for a trip to the Isle of Skye.
Check out the exact items we recommend for traveling in Scotland.
Rain gear

rain jacket (make sure it's waterproof, not just water resistant)
dry bag: to keep your valuables from getting wet on a hike

Hiking boots
Wool socks
Layers
Smart outfit if you plan to have a nice meal in Portree
Bug repellent: midges are common in Skye, especially during the summer months
Camera and lightweight tripod (optional)
Be sure to download our complete packing list for Scotland! It's packed with good suggestions and insider tips to help plan your Scotland trip. And it's completely FREE, so why not!?
---
Are you planning a trip to Scotland?
We have lots of resources on travel in Scotland and destinations throughout the country. Check out our Scotland Travel Homepage for everything you need to know, or read some of our favorite articles below.
Save this article on Pinterest for later!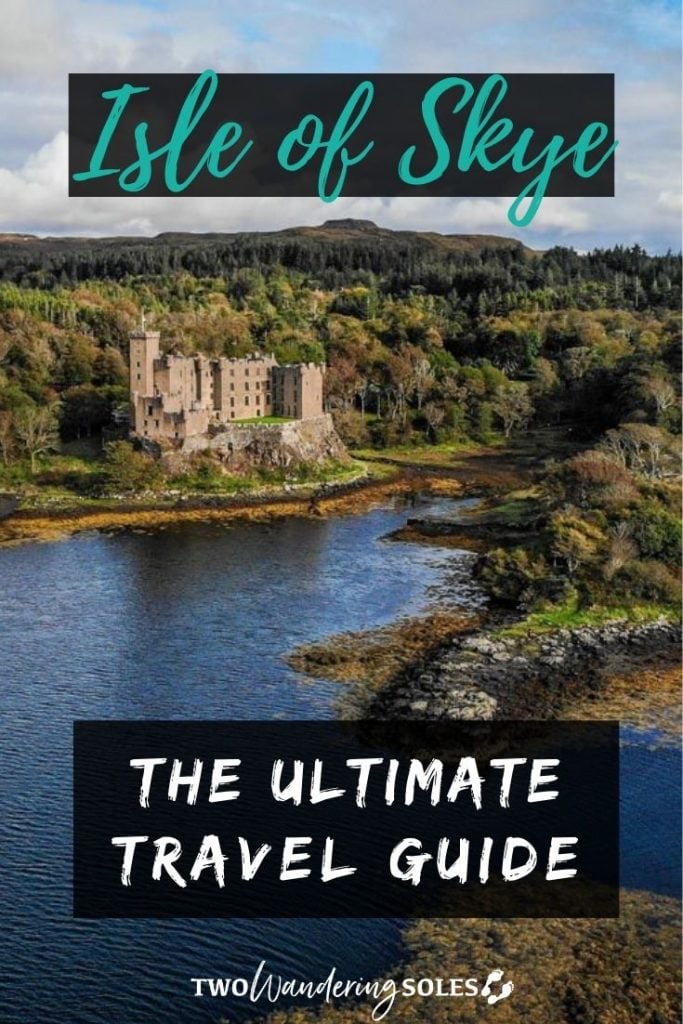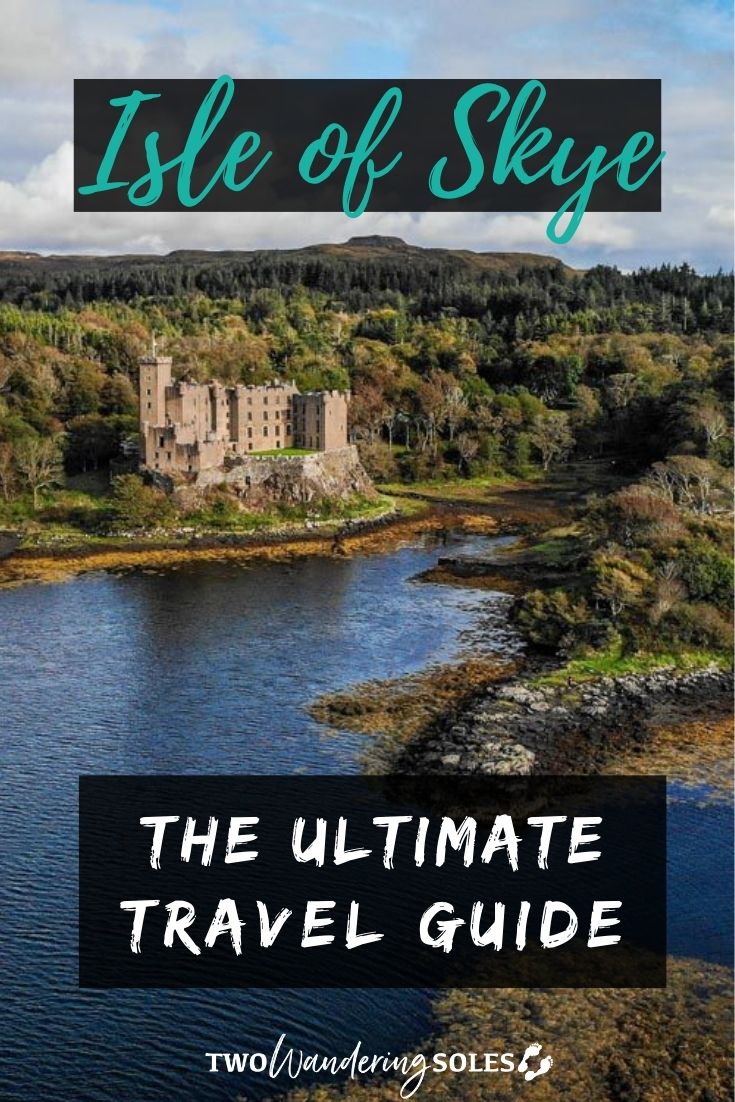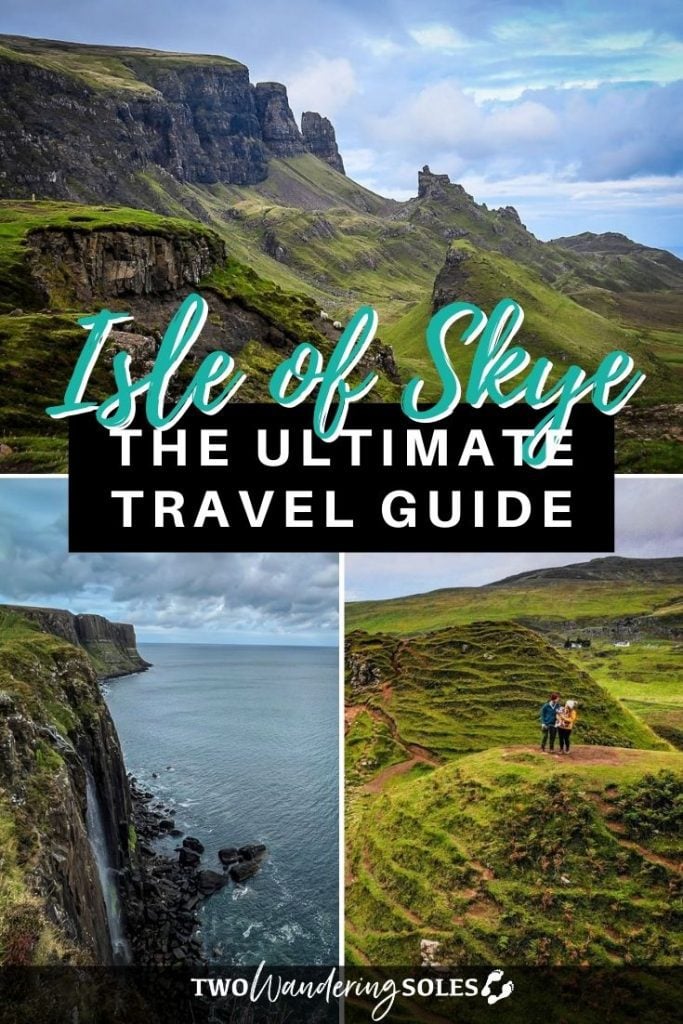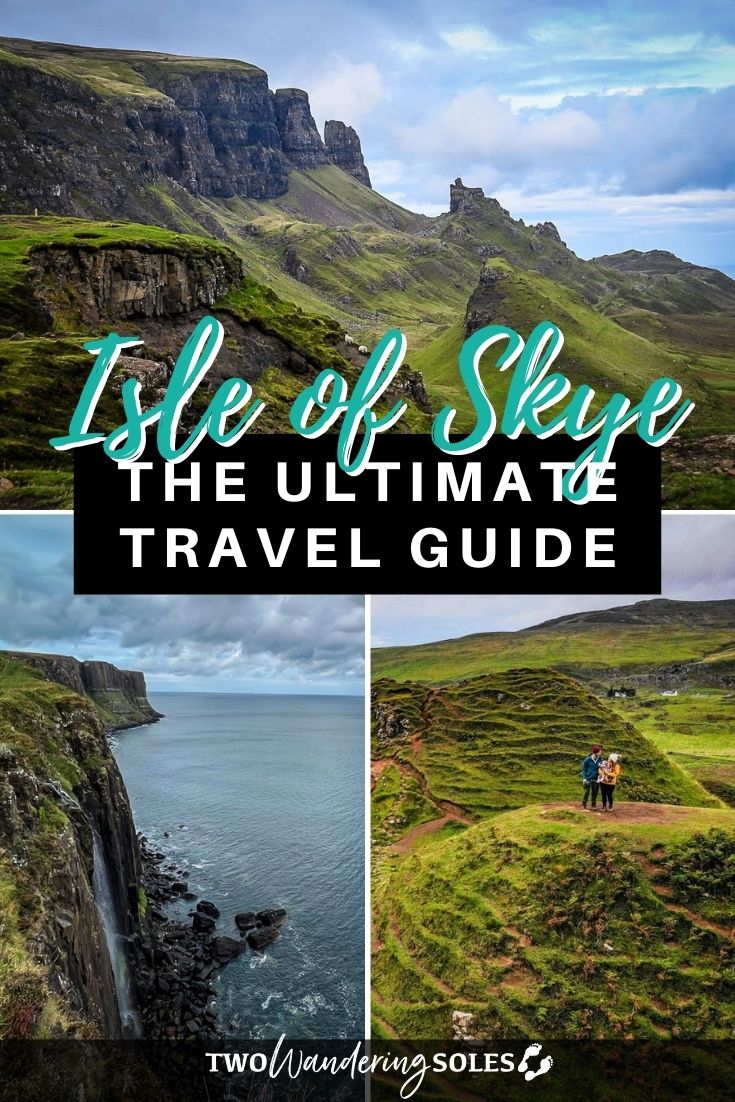 We want to hear from you!
Which of these fun things to do on the Isle of Skye has jumped to the top of your bucket list? Is there anything you think we're missing from this list? Comment below and we'll do our best to get back to you!