Find out what to expect and exactly how to get to some of the best hot springs in Iceland. This article breaks down all the details so you can easily visit them on your own trip. Plus we're sharing some important tips for Icelandic hot springs etiquette so you don't embarrass yourself or offend anyone (you're welcome!).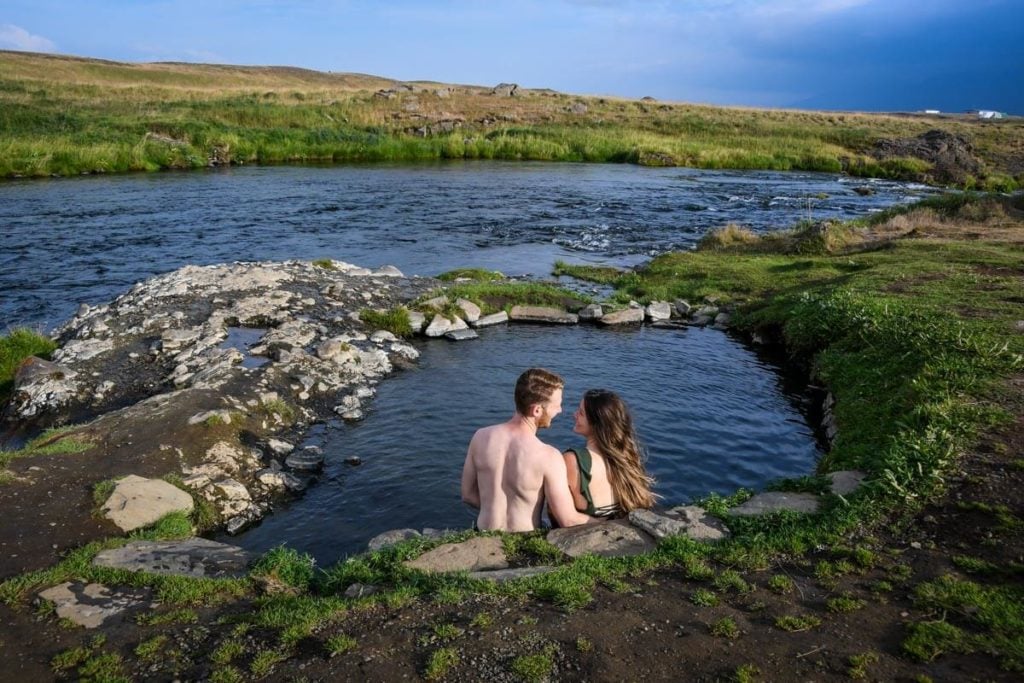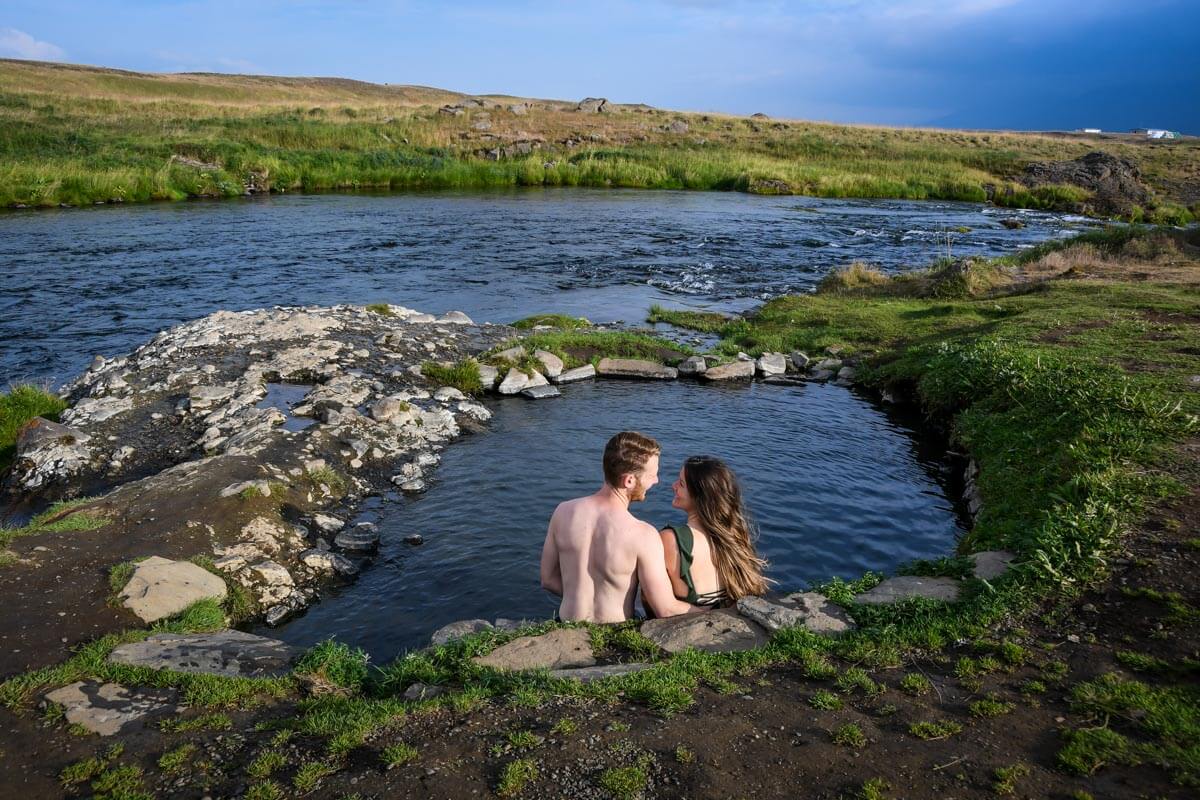 Iceland is dotted with volcanoes and known for its seemingly endless supply of geothermal activity, so it should come as no surprise that this country is a hot spot for hot springs.
Whether you're a hot spring enthusiast like us or you've never dipped a toe in one, we'd highly encourage you to add a hot spring (or three!) to your Iceland itinerary. We'd even go as far as saying soaking in hot springs is one of the best things to do in Iceland.
Sometimes called "hot pots" (for some reason, I find that phrasing super endearing), there are Icelandic hot springs for just about every type of traveler. From remote and rustic hot springs that you may be lucky enough to have all to yourself to developed resorts with spa-like amenities, there's a huge range of soaking opportunities in Iceland.
In this article, we're sharing some of the best hot springs in Iceland along with what to expect and exactly how to get there, so you can easily visit them on your own trip.
We're also sharing some important things to know about etiquette in Icelandic hot springs so you don't embarrass yourself or offend anyone (you're welcome!).
Article Contents
---
Want to save time and energy on planning?
We've traveled to Iceland 3 times now and spent weeks living in a campervan, traveling around the country. We've been able to explore a lot of what Iceland has to offer!
We've compiled our experience to create the perfect Iceland itinerary. Our itinerary is for 7-9 days and meant to be explored while traveling in a campervan. It includes the highlights of the southern coast of Iceland.
We'll send you our complete 7-9 day customizable itinerary, filled with tips and advice. Just click below to get your perfect Iceland itinerary today!


---
Iceland Hot Springs FAQs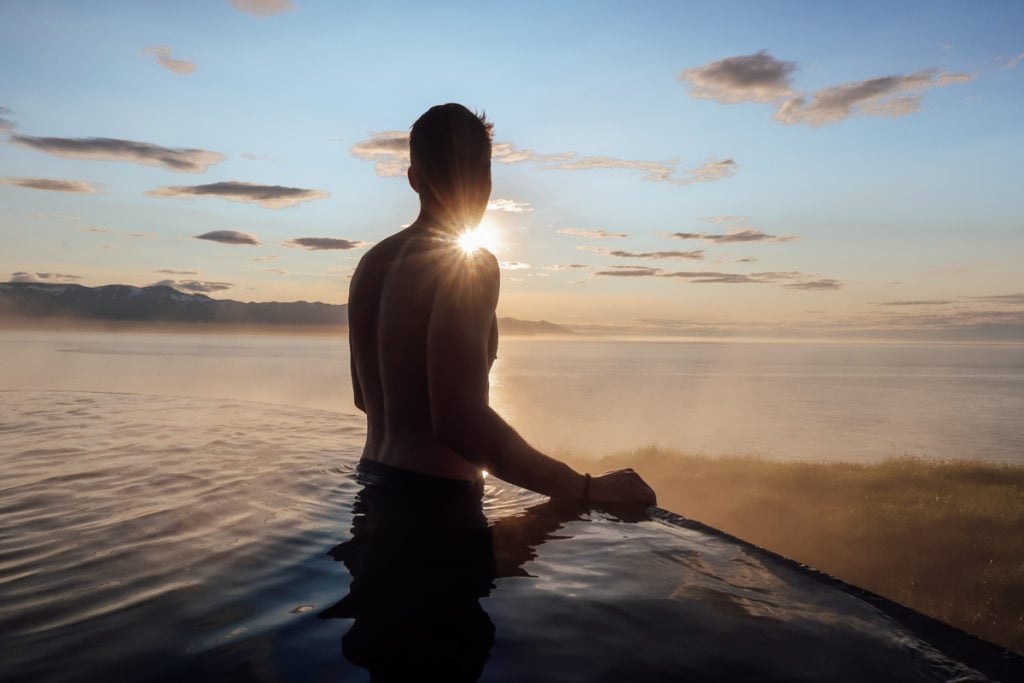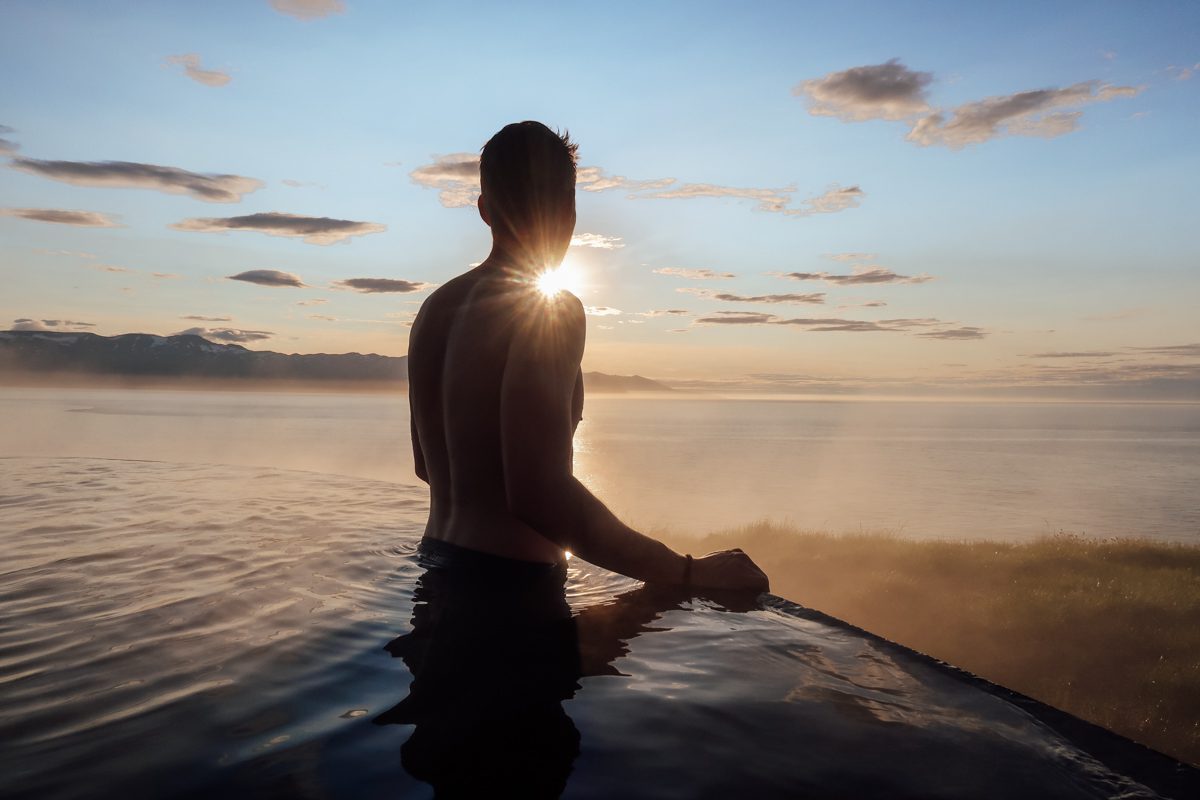 Got questions about hot springs in Iceland? We've got answers for you…
How many hot springs are there in Iceland?
Total counts of hot springs in Iceland vary, with some estimates around 45 and others that report well over 100 natural bathing springs around the country. Frankly, it doesn't matter which is more accurate – the point is hot springs in Iceland are plentiful and you'll have more than enough to choose from.
In addition to hot springs, there are said to be more than 200 public swimming pools (heated by geothermal energy) throughout the country. For a population of just over 360,000 people, that sure is a lot of hot water!
Why are there so many hot springs in Iceland?
Short answer: Iceland has a lot of geothermal activity.
Long answer: If you want to get nerdy about it, here's the scoop… Iceland is situated on the Mid-Atlantic Ridge (aka the spot where the North American and Eurasian tectonic plates meet).
Tectonic rifts lead to high volcanic activity and this, in turn, heats much of the underground water (known as geothermal activity). Geothermal activity is what creates hot springs all around the country.
What are the benefits of soaking in hot springs?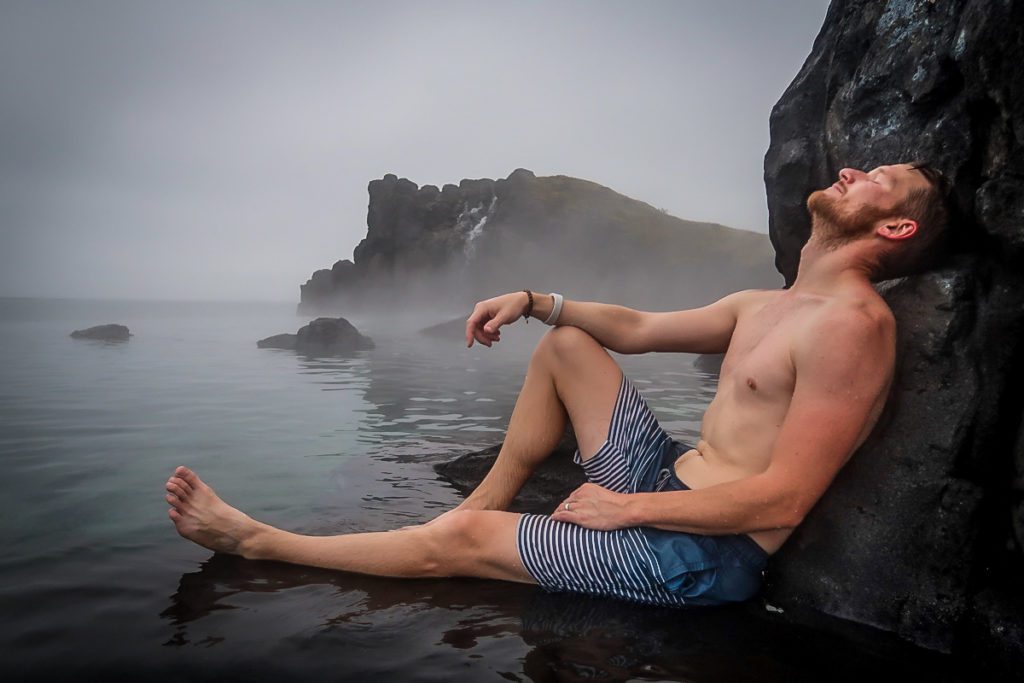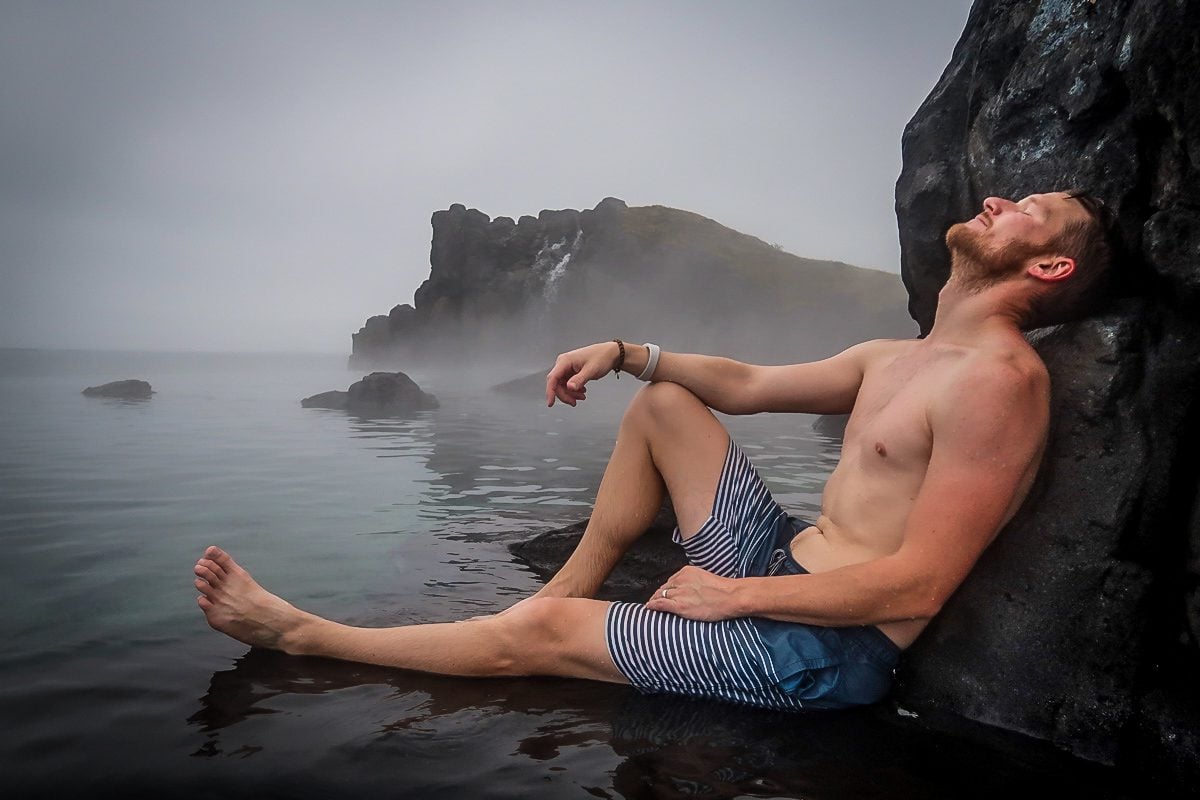 Personally, we love soaking in hot springs because it's a fun and unique experience. However, there are some supposed health benefits too:
1. Hot springs are relaxing. You can't really argue with that, now can you? Soaking in a hot spring is a good way to start your trip – you'll surely feel rejuvenated after a long flight and landing in a new country. Alternatively, it's a fantastic way to end your journey as well and soak up a bit of R&R before heading back to the "real world".
Insider Tip: Luckily, there are a few great hot spring resorts and public pools near Reykjavík, making it easy to tack on at the start or end of your trip. In fact, it's one of our top things to do in Reykjavík.
2. Mineral-rich waters are supposedly good for your skin. The Blue Lagoon boasts water that has a high concentration of silica, which is said to hydrate and improve the skin's texture. Other hot springs around the country have high levels of other minerals, such as sulfur, sodium and magnesium, each of which have their own health benefits.
3. Can ease muscle aches. There's not much that feels better than a long hot soak after a day of hiking or exploring.
Speaking of hiking, here's a list of some of the best hikes in Iceland.
Can I soak in hot springs if I am pregnant?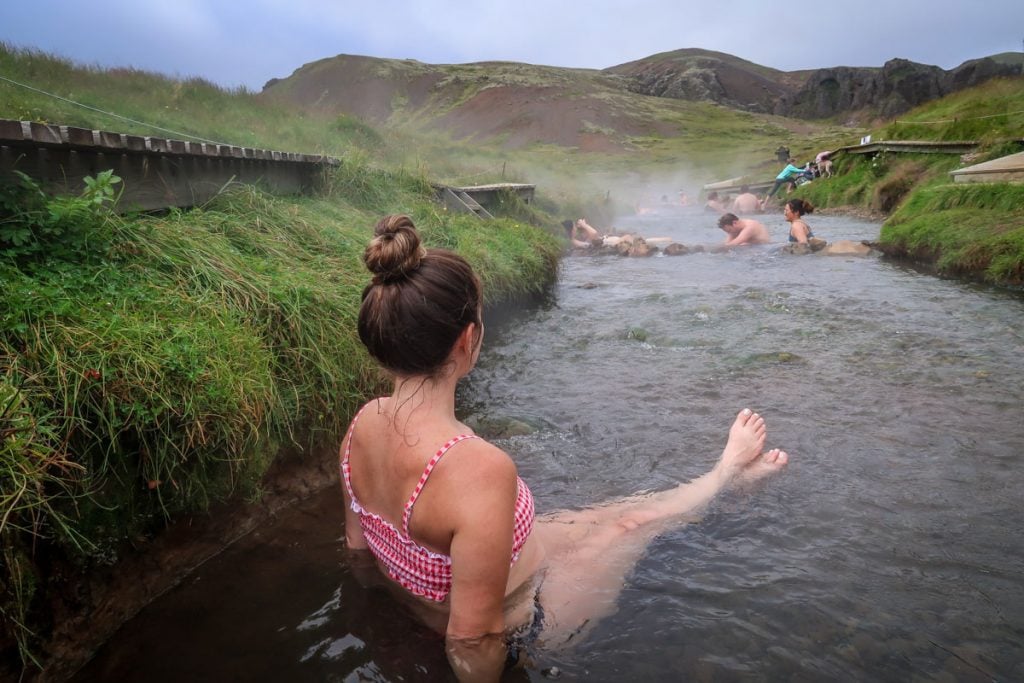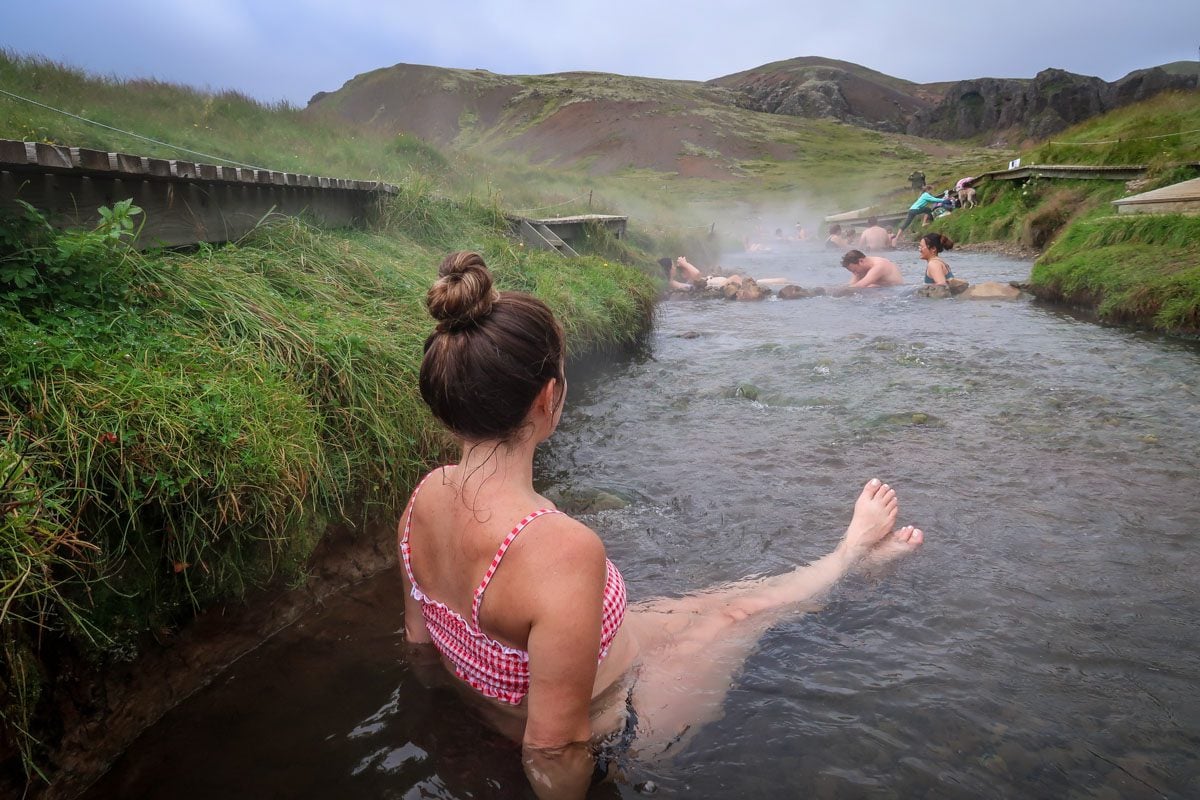 First and foremost, we are not medical experts, so the following information is just to share our personal experience and is not meant to be taken as medical advice. Before making any decisions, please talk to your healthcare provider.
Disclosure aside, here's my personal experience: I was 6.5-months pregnant while traveling in Iceland. I spoke with my OB before my trip and she said as long as I stuck to pools that were under 100ºF (38ºC), I should be fine. She also said to drink plenty of water during my soaks and to get out if I felt lightheaded.
Our friend who lives in Iceland and just had a baby said this, "I loved going to hot pots [throughout my pregnancy]. Up to 37/38ºC is recommended and okay in Iceland."
Think about it this way: Baths are commonly recommended throughout pregnancy. Hot tubs are sometimes said to be avoided because the temperatures can get higher than 100ºF. However, most hot springs in Iceland have cooler areas, which are further away from the water source. We stuck to those spots and I alternated between being in the water and just letting my feet dangle in if I felt too hot.
Again, talk to your doctor before making any decisions.
Can you go to hot springs in the rain or snow?
Absolutely! In fact, some people think it makes the experience even better when it's cold or snowy out.
Developed vs. natural hot springs in Iceland
Iceland has a huge variety of hot springs – from those that are very remote and require a grueling hike to reach to those that have spa facilities and will make you feel like a freaking princess.
Both have their merits as well as their drawbacks.
Developed Hot Springs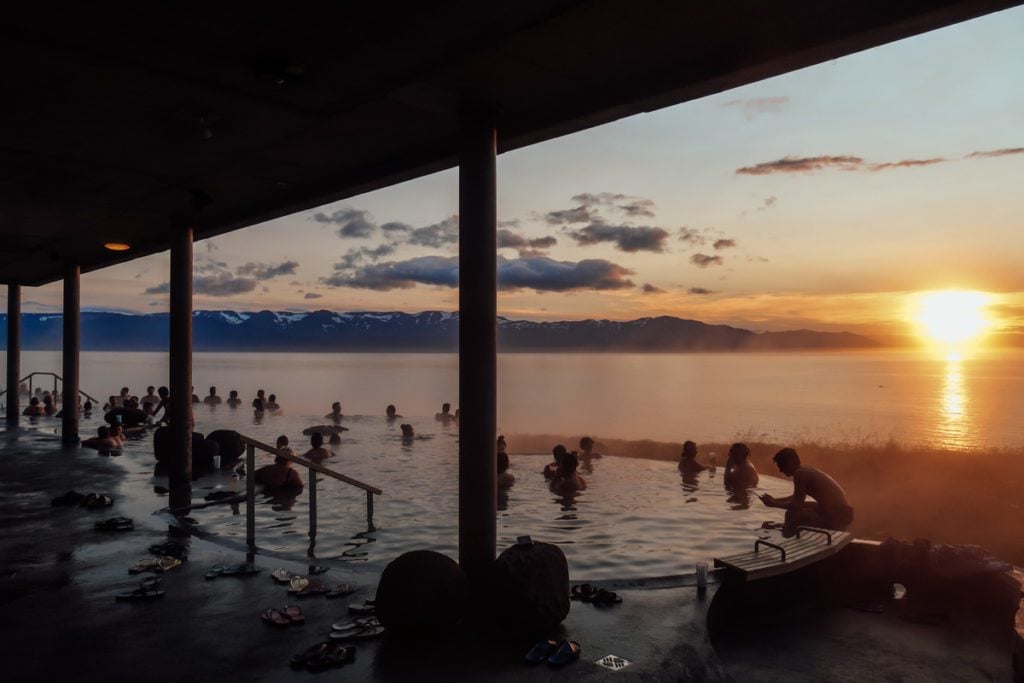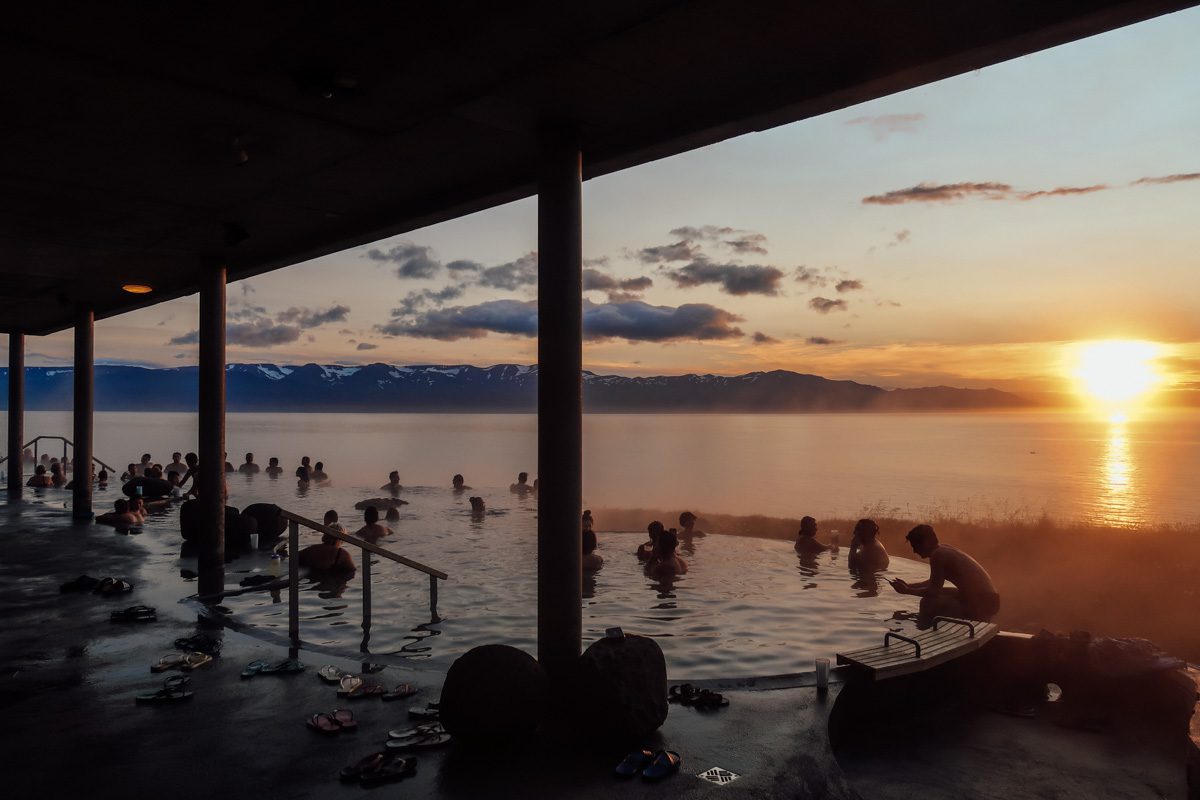 Clean: Developed hot springs in Iceland are typically very well maintained (that's part of what your entry fee pays for). You can expect clean and clear water.
Showering and changing areas: All developed hot springs will have showering and changing areas. They are usually quite nice and clean, but the level of privacy varies. In some resorts, the shower facilities are open while others have private stalls.
Touristy: It shouldn't come as a surprise that this is more of a "tourist" experience than an authentic local one. That said, don't let that turn you off, as they can be a really freaking cool tourist experience.
Can be expensive: Some hot springs cost upwards of $50 per person. You'll have to determine what price point is worthwhile to you.
Natural Hot Springs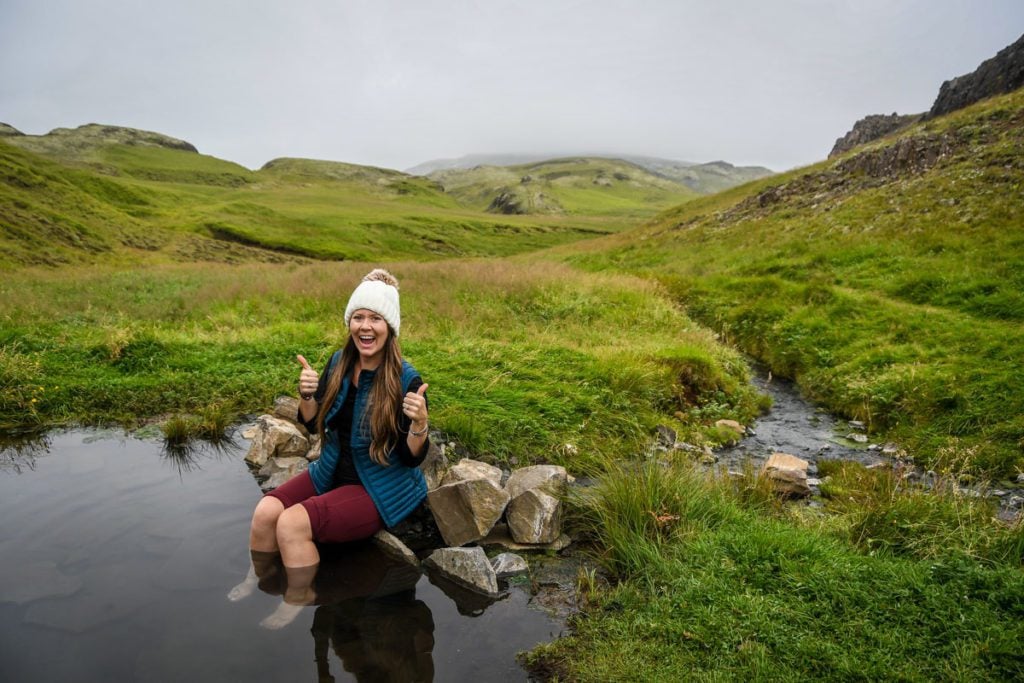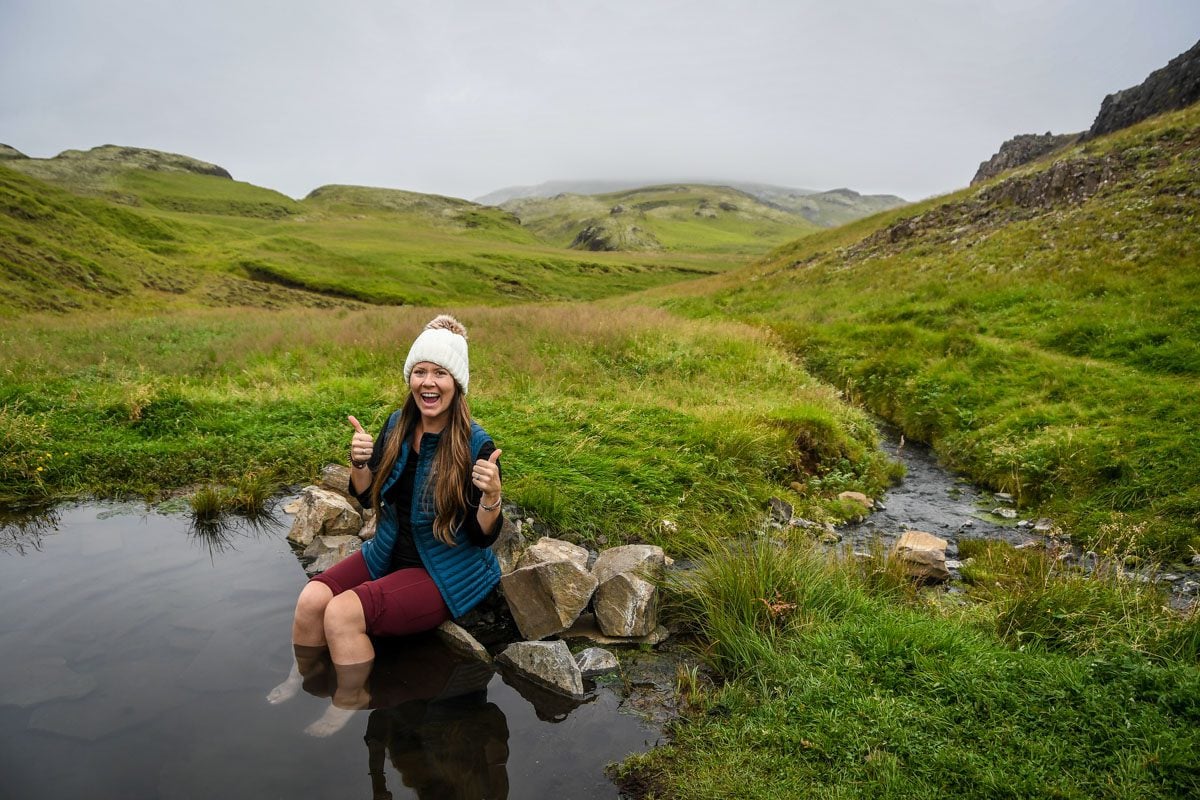 Free or cheap: Unlike developed hot springs, ones in the middle of nature are typically free. There are a handful that are located on private land, in which case landowners ask for a fee or donation (typically on the honor system).
Can be murky or dirty: Natural hot springs in Iceland aren't maintained as often as those in developed resorts. This means you should expect murky water, a muddy or sandy bottom, and maybe even algae. Some are cleaner than others, but be sure to manage your expectations when going to a natural hot pot. Conditions of the water can change depending on the season, recent weather, and how often it is used.
Crowd levels can vary a ton: You may find yourself unable to fit inside a small pool that's already packed with other travelers. Or perhaps you'll get lucky and have the hot spring all to yourself. We've experienced both situations in Iceland, so be sure you have realistic expectations before going out of the way to get to a hot pot.
May not have changing facilities: Some hot springs have rustic shelters for changing, while many others do not.
Our personal take on hot springs
We consider ourselves hot spring connoisseurs of sorts, and have sought them out all over the world – from the snow-covered mountains in the Pacific Northwest to remote areas of Myanmar.
Personally, we're huge fans of the free, natural hot springs. The more off-the-beaten-path, the better. Requires a hike to get there? Sign us up!
Sometimes we get a little snobbish about the ultra developed hot spring "resorts" that require a hefty entrance fee. In fact, on our first trip to Iceland, we skipped the Blue Lagoon because we thought it would be "too touristy". Well, that and we were on an extremely tight budget.
Since that first trip, we've returned to the Blue Lagoon on two different occasions, and I can say with certainty that yes, it's touristy, but yes, it's also super worthwhile and a cool place to add to your Iceland itinerary.
Our advice is to try soaking in a few different types of hot springs during your trip to see which you like best. Try at least one natural spring and one developed resort, even if you, like us, are hesitant about them. I will admit, Iceland does developed hot springs pretty damn well!
Public pools vs. hot springs in Iceland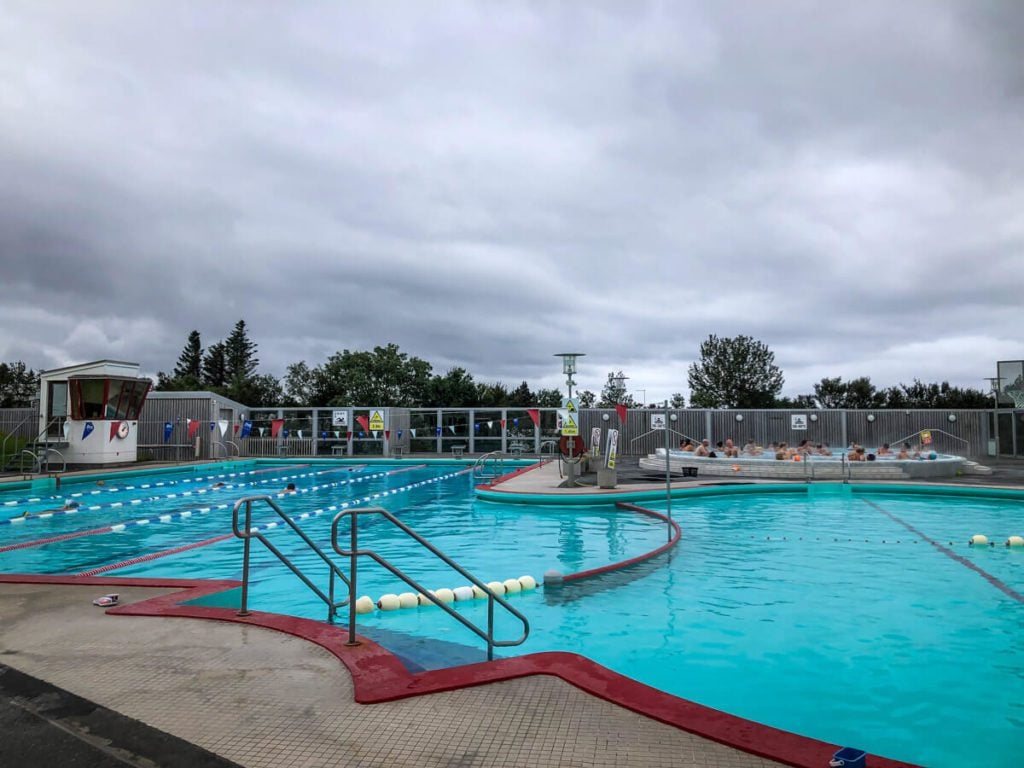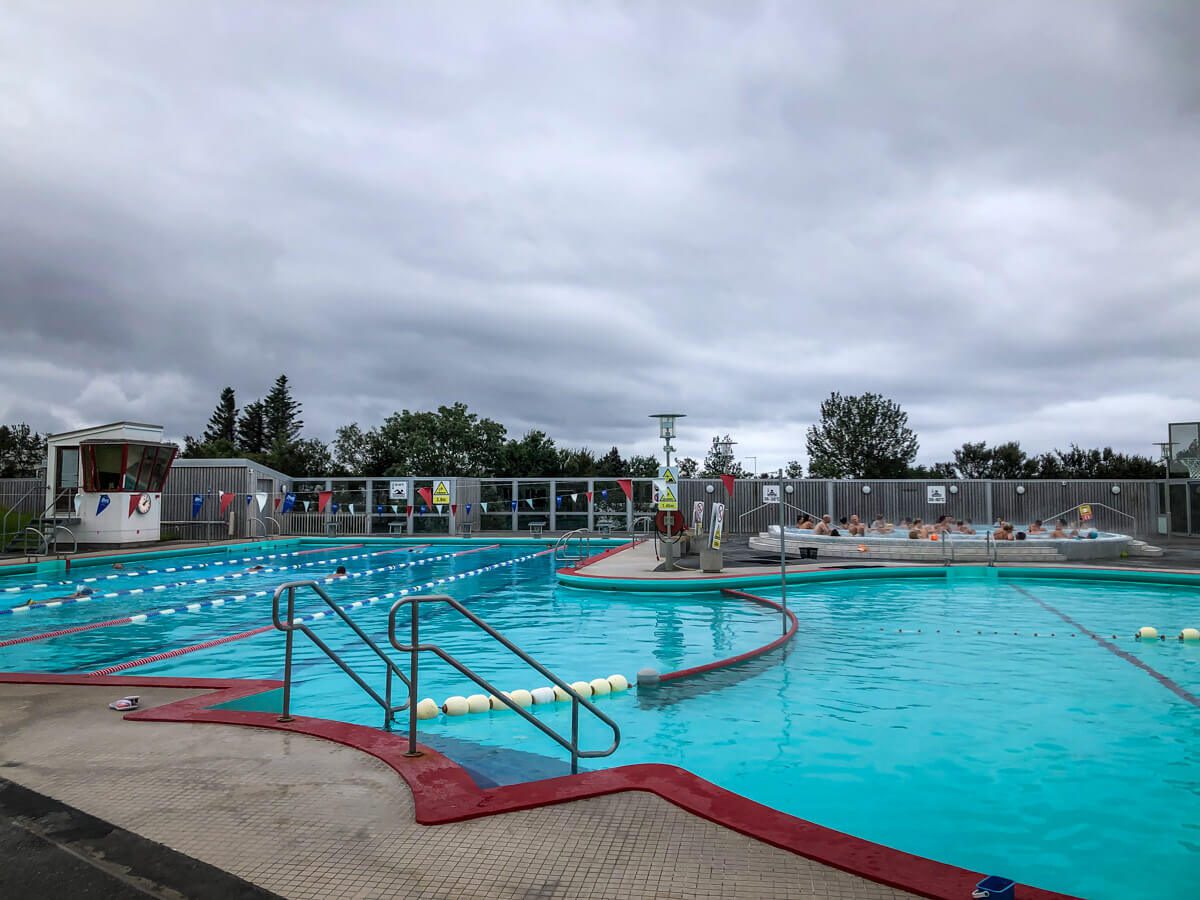 If you want to soak where the locals do, head to a public pool. While they may look similar to a regular old swimming pool, there's a couple of major differences:
They are often located outdoors. Yes, even in Iceland's notoriously chilly climate, the public pools are exposed to the elements, but that's okay because…
They are heated using geothermal energy. There are typically different pools of varying temperatures. The larger lap pools are usually on the cooler side, whereas there are smaller soaking pools at increasing temperatures. Icelanders visit public pools in all weather.
They are a local gathering space. This is a common place for friends to meet on a regular basis and catch up.
Cameras are usually not allowed. Since public pools are intended for Icelanders to get exercise, relax and socialize (instead of being intended for tourists), there are often rules restricting cameras.
Almost every town has at least one public pool. They are incredibly common throughout the country.
Unlike natural hot springs, public pools are easily accessible and regularly cleaned. However, unlike the hot spring resorts, they are cheap and intended for locals to visit regularly.
If you have the time, we'd recommend trying a public pool during your trip because it's quite a different experience from soaking in hot springs. It's certainly not as picturesque, but it's also kind of a cool authentic experience where you'll likely be surrounded by more locals than tourists.
Iceland hot springs etiquette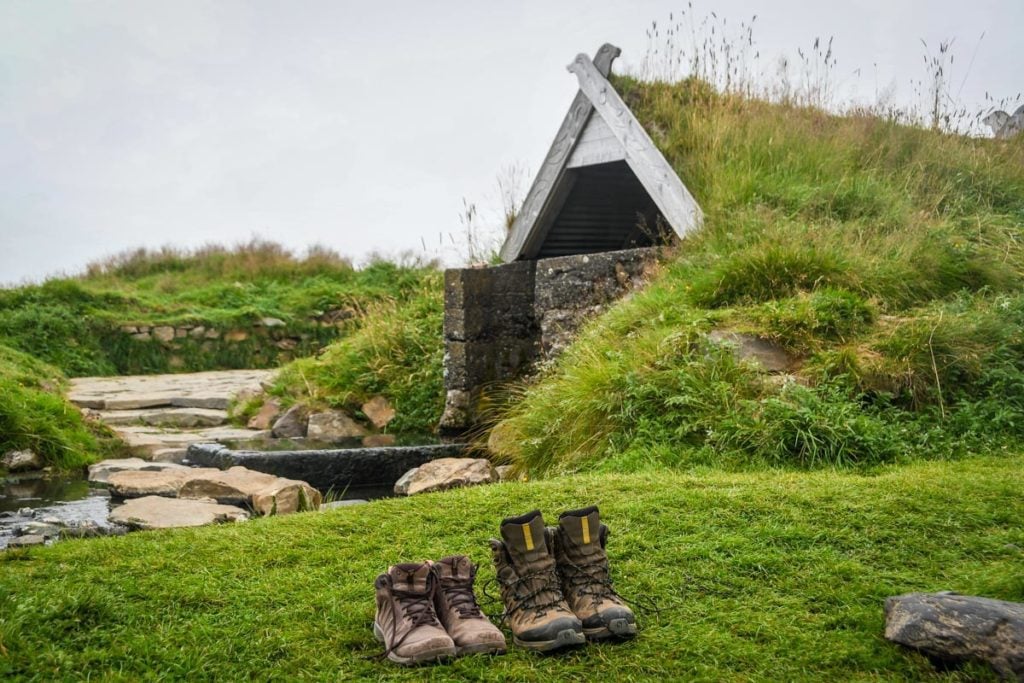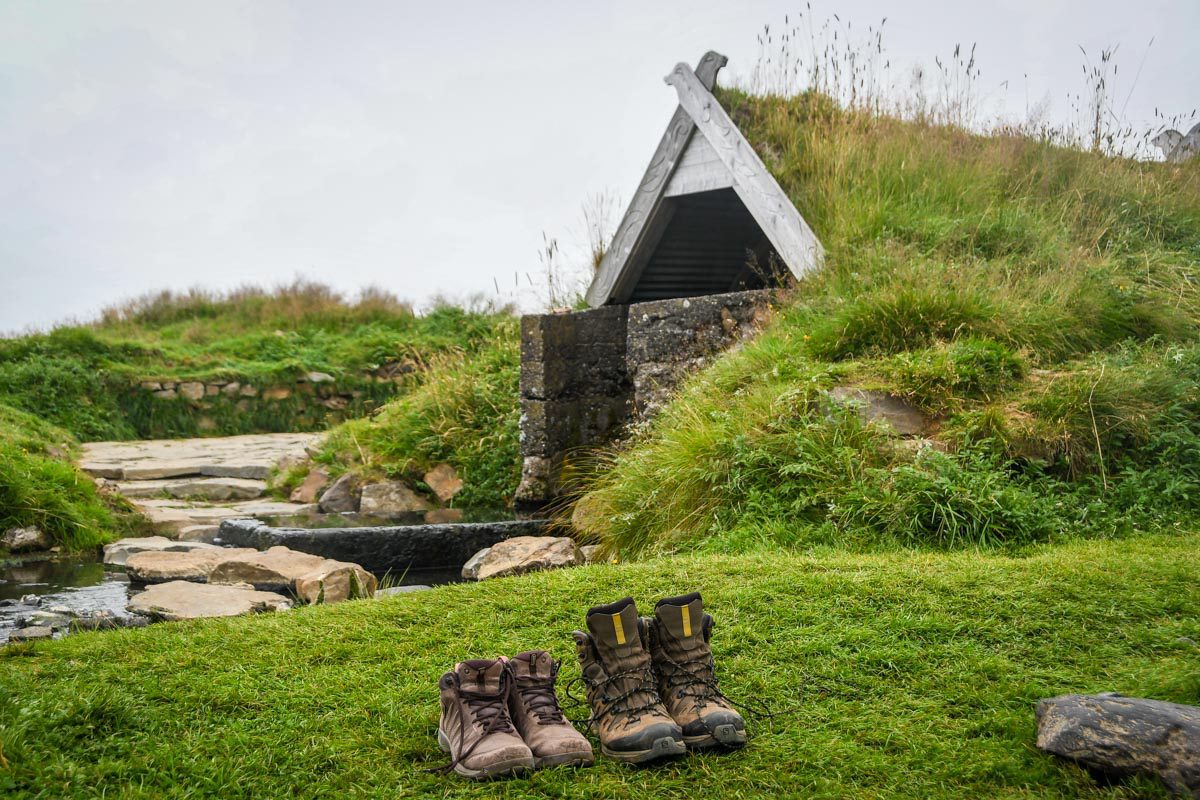 Hot spring etiquette is different all over the world. In Japan, for instance, one bathes nude in a hot spring (or onsen). However, in Iceland, bathers must wear a swimsuit to cover up.
Before dipping your toes in, let's go over the etiquette for Iceland hot springs so you don't embarrass yourself or offend the locals.
Note: Some of these rules apply more for hot spring resorts while others are directed at natural hot springs.
1. Remove your shoes
If there's a changing room, take your shoes off before entering. There will usually be a shoe rack for this purpose.
2. Shower naked
If there is a shower, it is not only mandatory that you shower before entering the water, but also that you shower completely naked. In some facilities, the showers are more private than others.
If this sounds uncomfortable to you, know this – everyone else will be more focused on themselves than on you. It's not so awkward when everyone is naked. Don't let this scare you off!
3. Wear a swimsuit
While it's common and totally acceptable to bathe naked in some places around the world, this simply isn't the case in Iceland. This goes for developed hot springs as well as natural ones.
4. Be respectful
I hope I don't have to go too far into depth for this one, but be respectful of fellow soakers. This means keeping your voices down, respecting other people's space, and making room for others.
5. Don't litter (and avoid glass)
This is especially important at natural hot springs as they aren't maintained or cleaned all that often. If you bring snacks, be sure to completely clean up after yourself (and maybe even clean up after others for some karma points).
Also, it's best to avoid glass bottles. Nobody intends for them to break, but cleaning up glass is very hard to do, especially when there's mud and murky water involved.
6. Dry off completely
If you are returning to a changing room, it's nice to rinse off once again. However, be sure you've completely dried off before heading to the lockers so you don't drip all over the place.
Map of the best hot springs in Iceland
We've even created a map of the best hot springs in Iceland so all your visual people (hey, that's me too!) can see if they would work to include on your trip.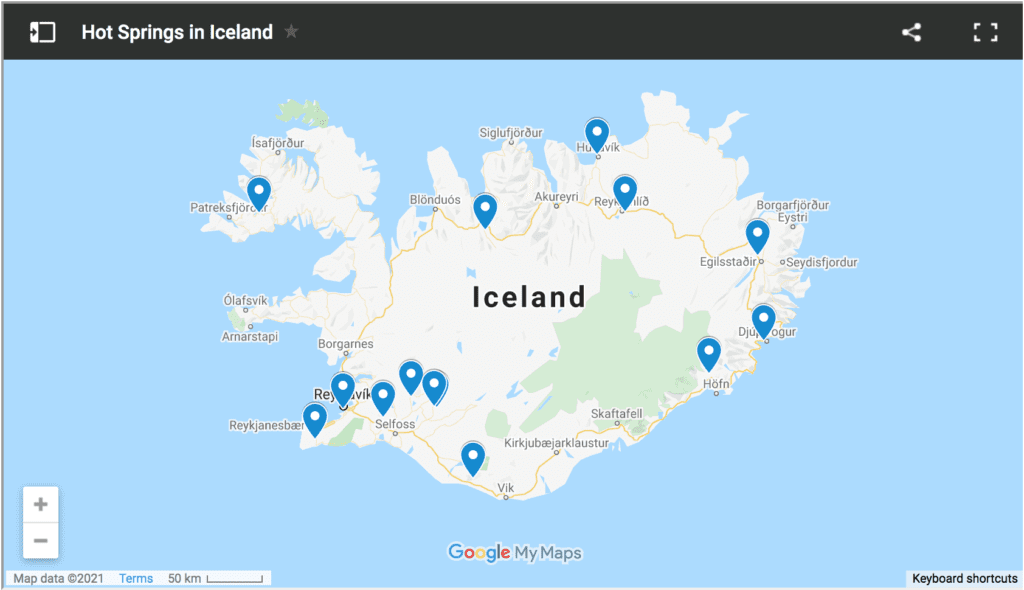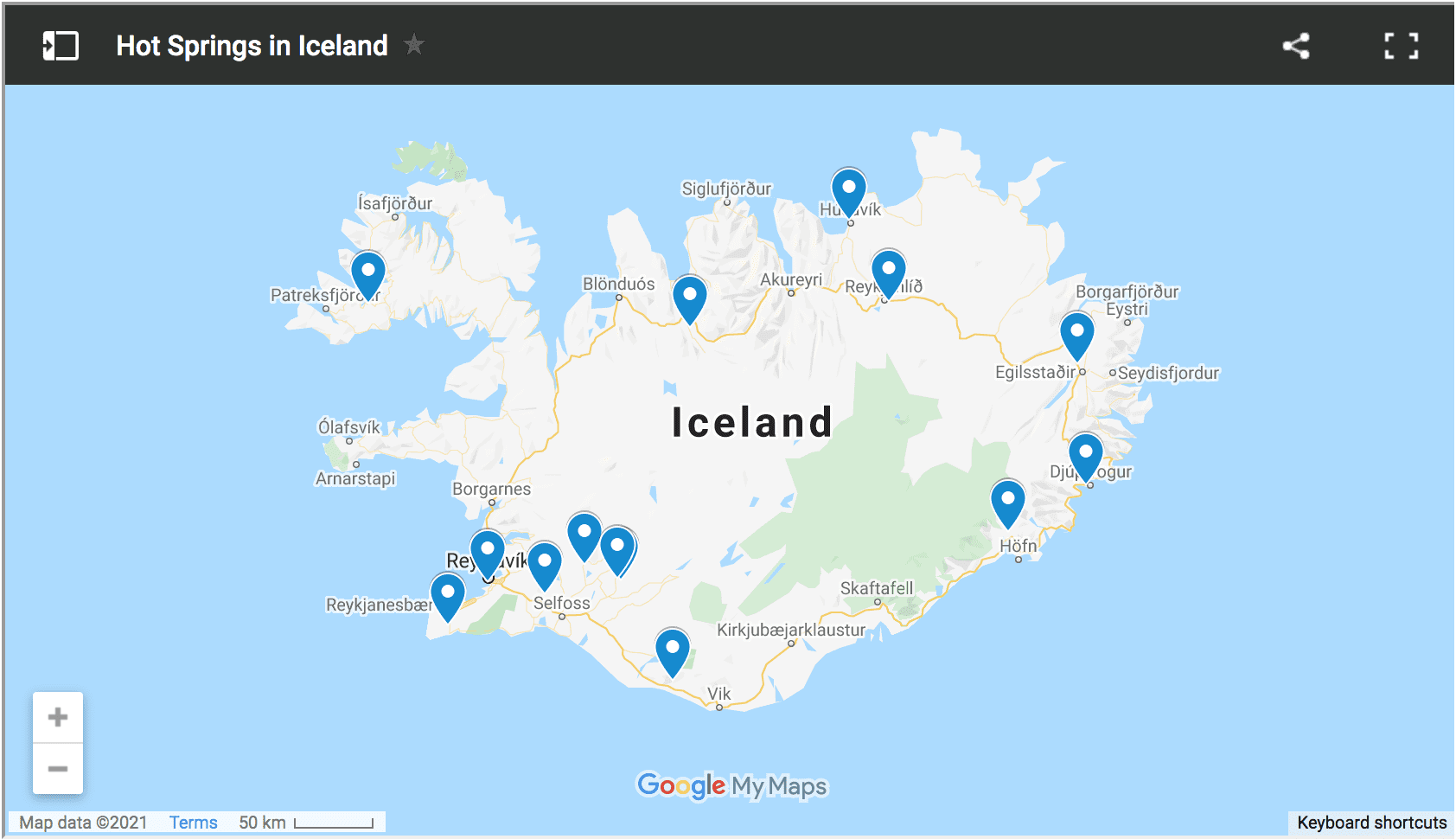 ---
Incredible Hot Springs in Iceland
One thing that we can say for sure is that Iceland has some of the best hot springs in the world. With such a high concentration, they are easy to fit into your Iceland itinerary.
Since we haven't had the chance to visit them all (with sooo many hot springs in Iceland, that could take a while!), we called on some fellow travel bloggers to help us create this list.
Without further ado, let's go over some of the best hot springs in Iceland and what you can expect at each.
1. Reykjadalur Hot Spring Thermal River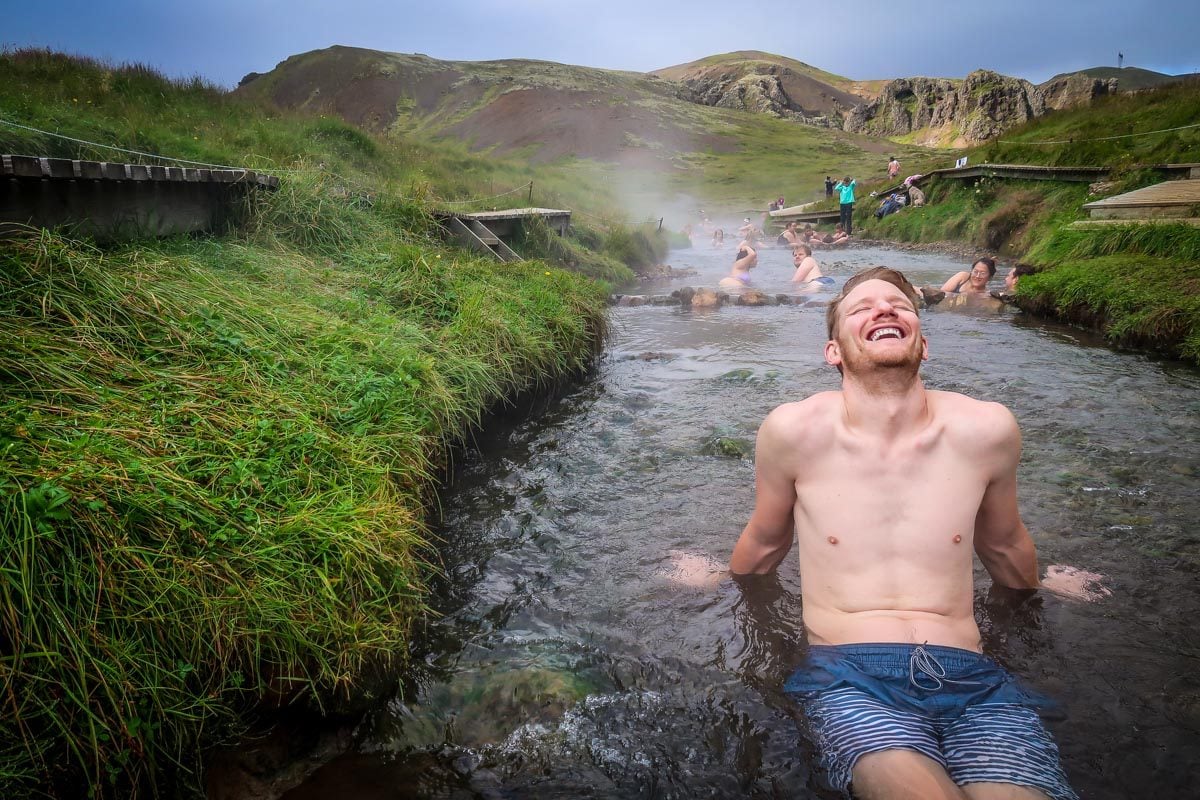 At a glance: Thermal river requiring a 1 hour hike to reach
Type of Hot Spring: Natural
Price: Free
Location: Reykjadalur Valley
Visiting Reykjadalur Thermal River was one of our favorite hot spring experiences in Iceland. There's something more rewarding about a place you have to put a little work into finding.
We visited on our first day in Iceland. Shortly after landing and stocking up on groceries, we began this hike, and what an adventure it was!
The hike to the hot springs takes roughly 1 hour each way. It is 5 miles roundtrip with just over 1,000 feet of elevation gain. This makes for a pretty steady uphill climb, but you do pass a waterfall on the way.
While some hikes are more about the journey than the destination, in this case, the destination is pretty darn magical. The river carves through a verdant valley, with steam rising up from water.
When we visited in the late afternoon, there were a fair amount of people, but since the river is quite long, most people were able to have their own space.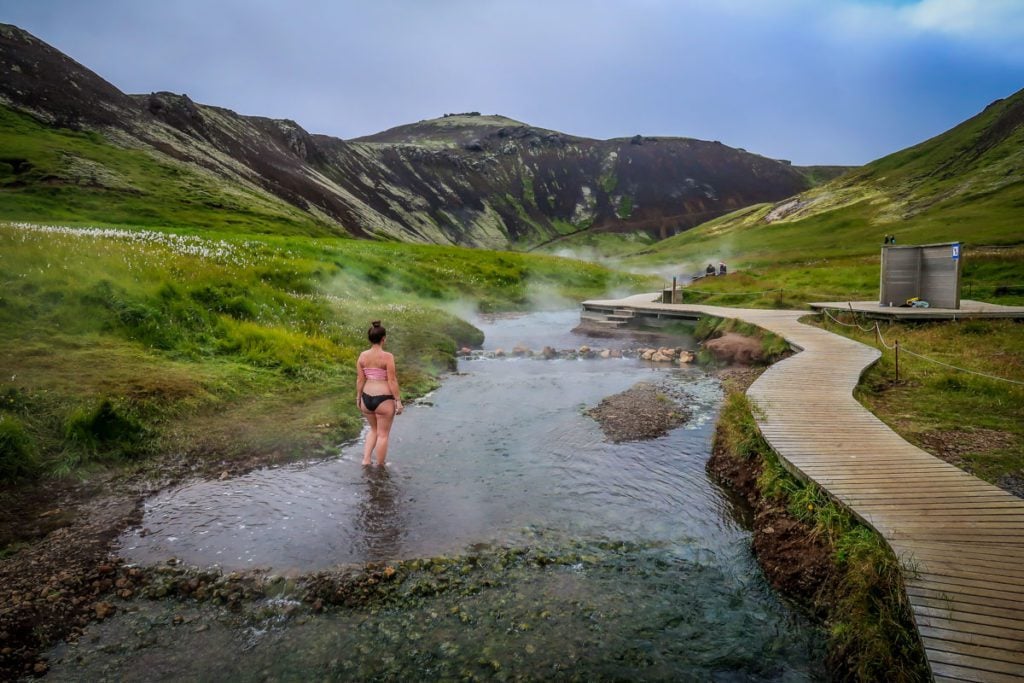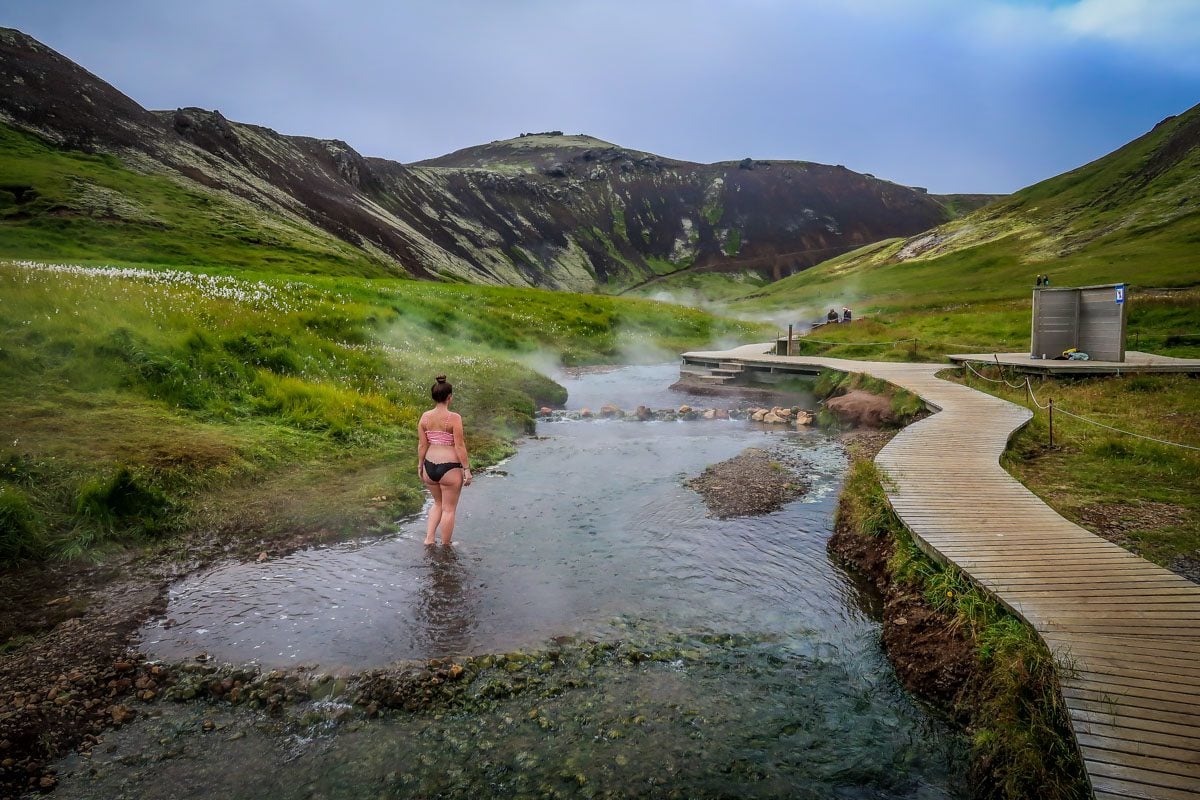 Good to know: The water gets hotter as you walk upstream (to the point that it's too hot to sit in toward the end). There are also some changing "barriers" set up here, but they are not very private.
At just a 45-minute drive from Reykjavík, we think this is one of the coolest things you can do at the start or end of your trip in Iceland.
How to get there: Find out exactly how to get there and everything else you need to know in our guide to visiting Reykjavik Thermal River.
2. Blue Lagoon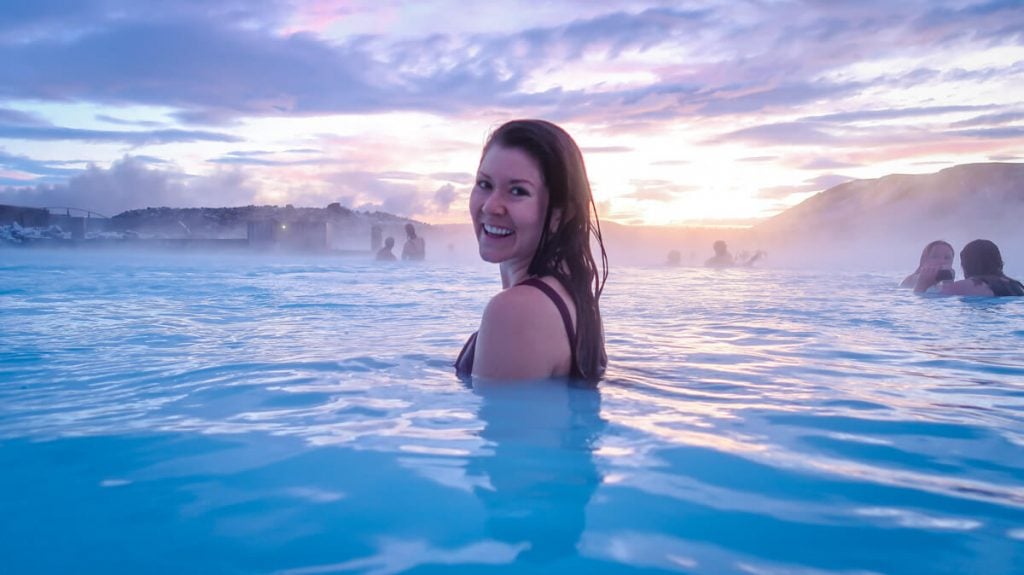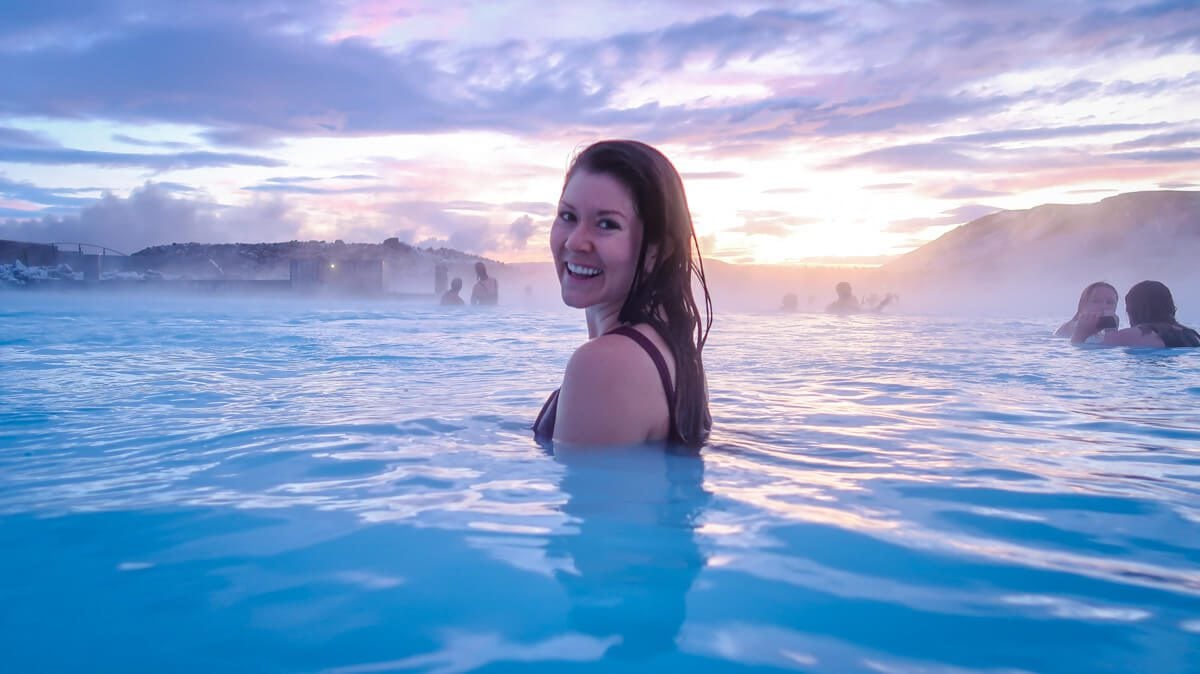 At a glance: Iceland's most iconic hot spring famous for its milky blue hue
Type of Hot Spring: Developed
Price: from 6990 ISK ($53 USD); there are different prices depending on the day and the level of entrance package you choose
Location: Reykjanes Peninsula
We couldn't talk about Iceland's hot springs without mentioning the Blue Lagoon. In recent years, this world-renowned resort allegedly draws more than a million visitors annually. Which begs the question, "Is the Blue Lagoon worthwhile?"
I'm not going to lie, on our first trip to Iceland, we told ourselves that it was too expensive and too touristy to be worth it. But that was mostly to help justify our decision to skip it.
I've since visited the Blue Lagoon twice – once in the summertime and once in the winter – and I can say that in my opinion, it is definitely a worthwhile addition to your itinerary if your budget allows.
On a tight budget? No worries! There are plenty of free natural hot springs on this list that you can opt for instead.
While it is crowded on just about any day of the year, it is quite a large and efficiently-run facility, so you should be able to find some space all to yourself. Additionally, when you make reservations, you must select a time slot, which ensures it doesn't get too crowded at any one given time.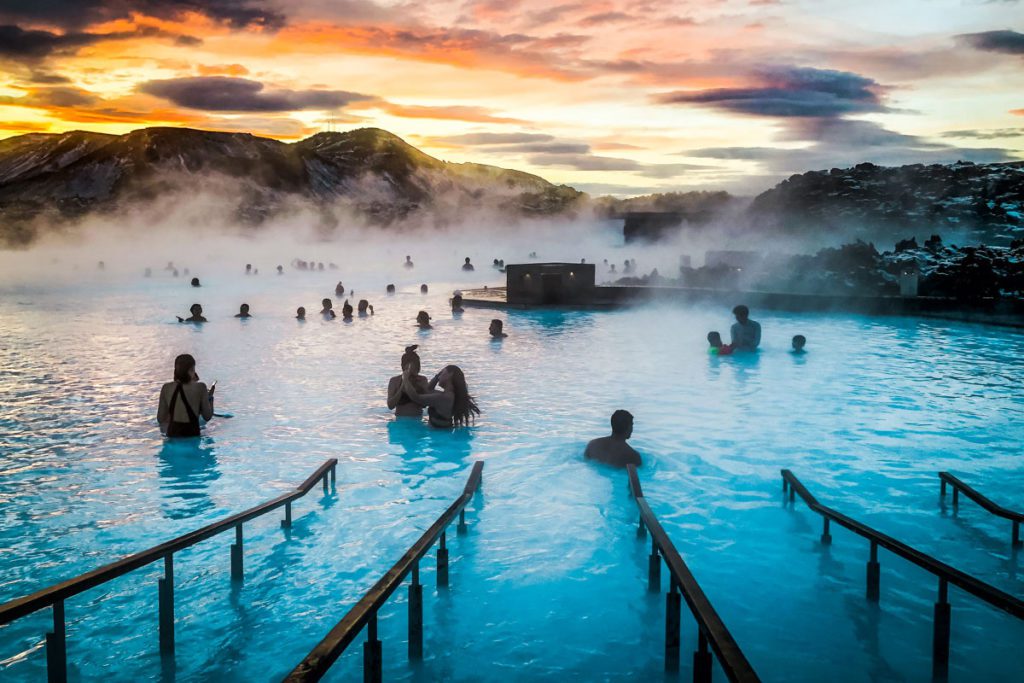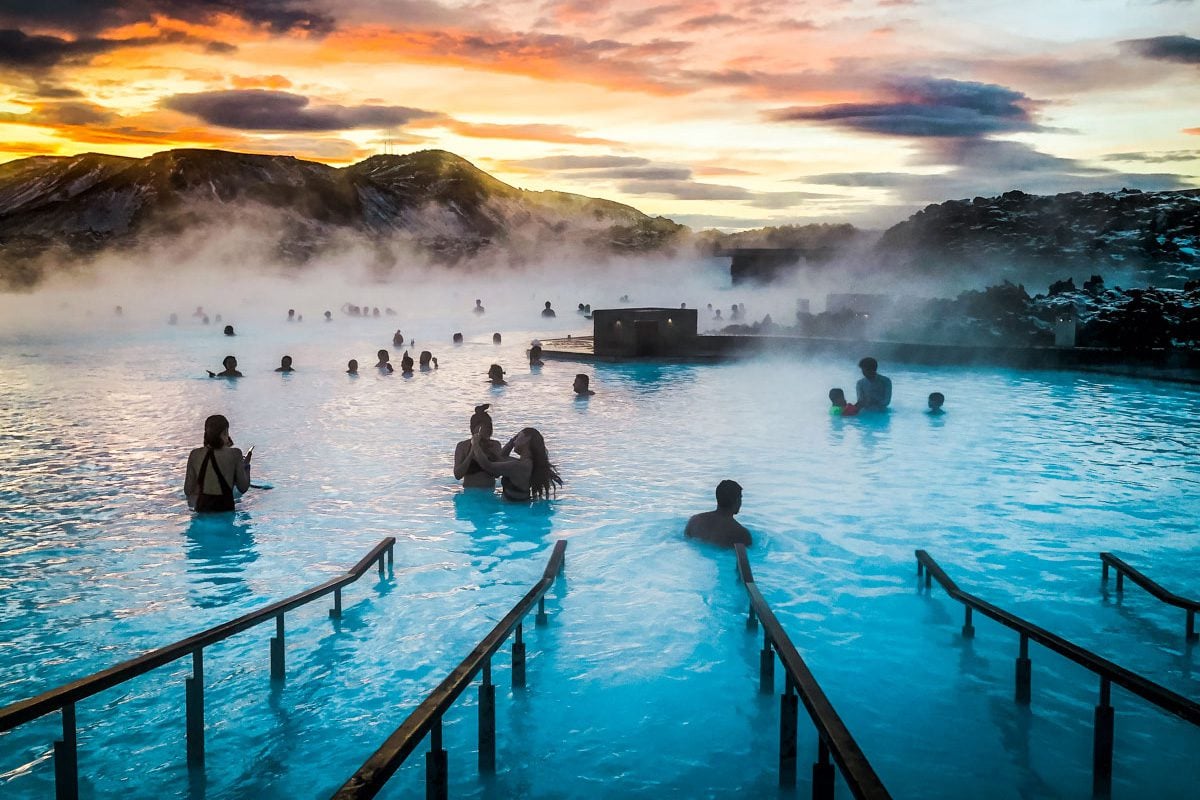 Good to know: Definitely book your spot in advance, as the Blue Lagoon is so popular that it often sells out.
What to expect at the Blue Lagoon
The pools at the Blue Lagoon have varying temperatures, so you can move around and find one that suits you.
The water itself is a milky blue color, which makes this place extra beautiful and unique. According to the Blue Lagoon's website, this is because there is a high amount of silica in the water which "reflects visible light when suspended in water".
While you're at the Blue Lagoon, don't forget to get a complimentary drink of your choice – beer, prosecco, green juice, you name it! Also, head to the mask station, where you can lather your face and neck with silica. This white mask is said to be moisturizing and healing, so test it out and decide for yourself.
Feeling bougie? You can upgrade your package to include more face masks, another beverage, and a robe. Honestly, we feel like the standard package was enough, but to each their own!
How to get there: The Blue Lagoon is about an hour from Reykjavík and just 20 minutes from Keflavík Airport. You can get there by rental car, or by taking a bus from either location. Just take Highway 41 to Highway 43 and follow the signs for the Blue Lagoon entrance.
3. Fosslaug Hot Spring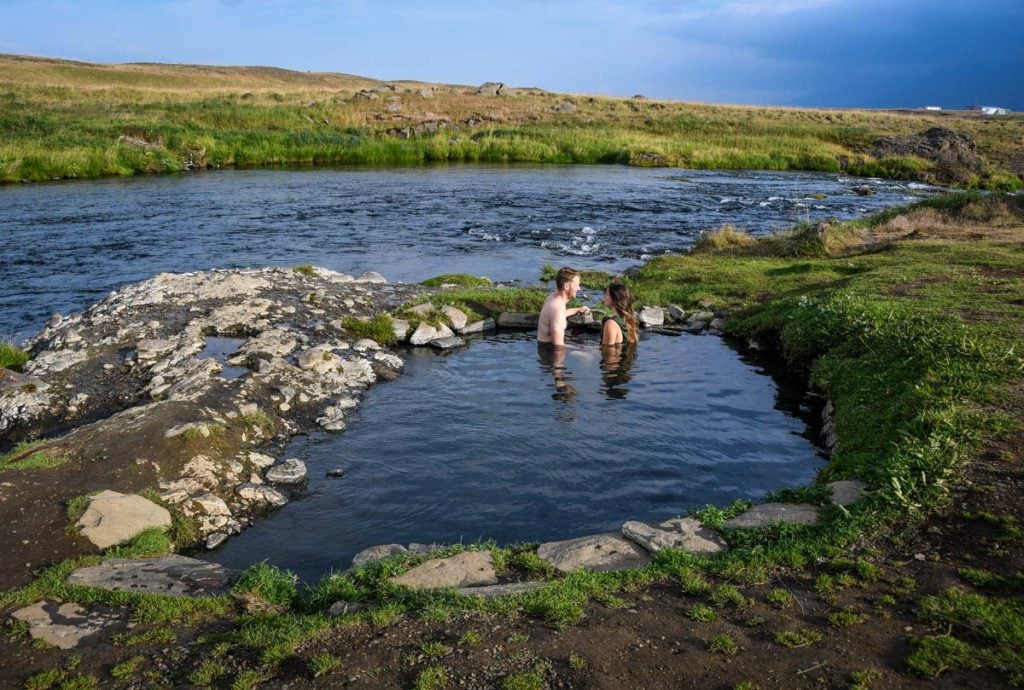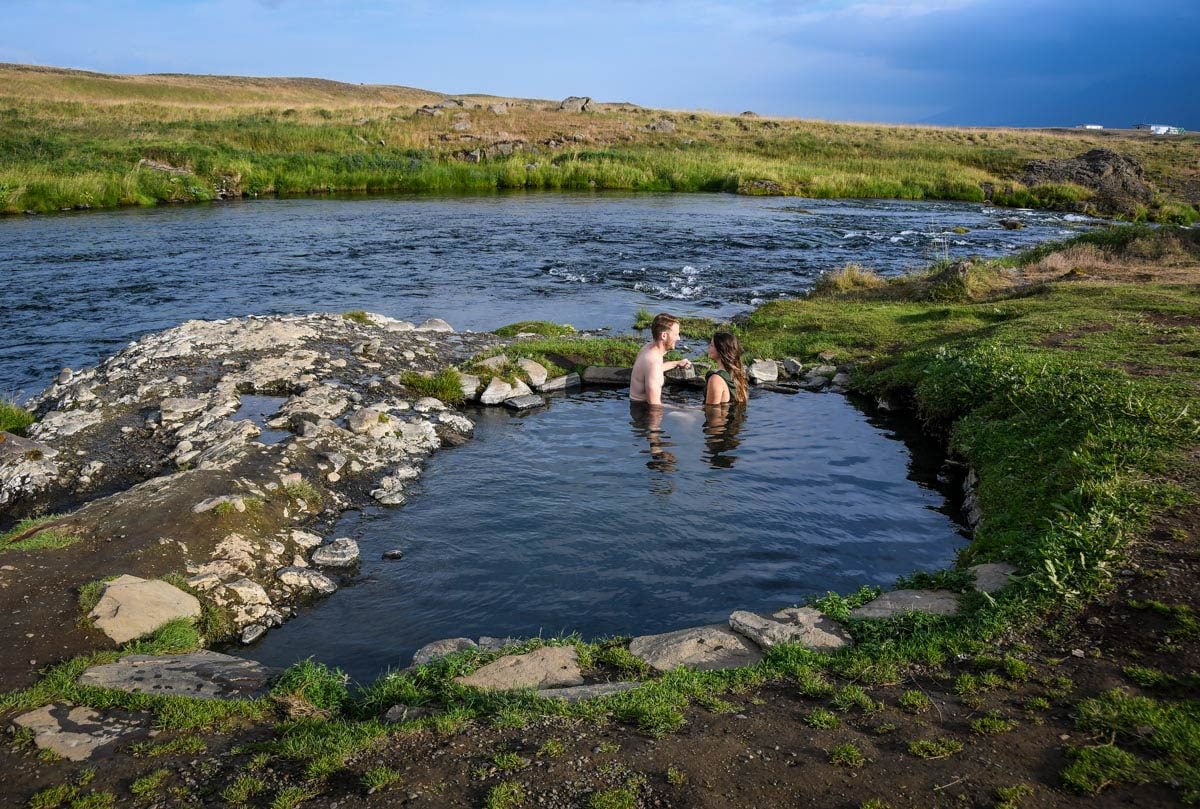 At a glance: Small riverside pool requiring a short and easy walk to reach
Type of Hot Spring: Natural
Price: Free
Location: Northern Iceland
Nestled beside a small river, Fosslaug hot spring is truly a gem and a worthy detour from the Ring Road. With bucolic views and the sound of a babbling creek, this small hot pot is the stuff dreams are made of. To make this rustic hot spring even sweeter, visitors will find a small but picturesque waterfall, named Reykjafoss, just around the corner.
For a natural hot spring, the water is pretty clear and the temperature is more lukewarm than hot, making it comfortable for a longer soak. This small pool can't fit too many people—8 would be pushing it—so coming early in the morning or around sunset will give you the best chance of having the pool to yourself.
Good to know: There is no changing room, so we'd recommend changing into your swimsuit before starting the short hike.
How to get there: Find out exactly how to get there and everything else you need to know in our guide to Fosslaug Hot Spring & Reykjafoss Waterfall.
4. GeoSea Geothermal Sea Pools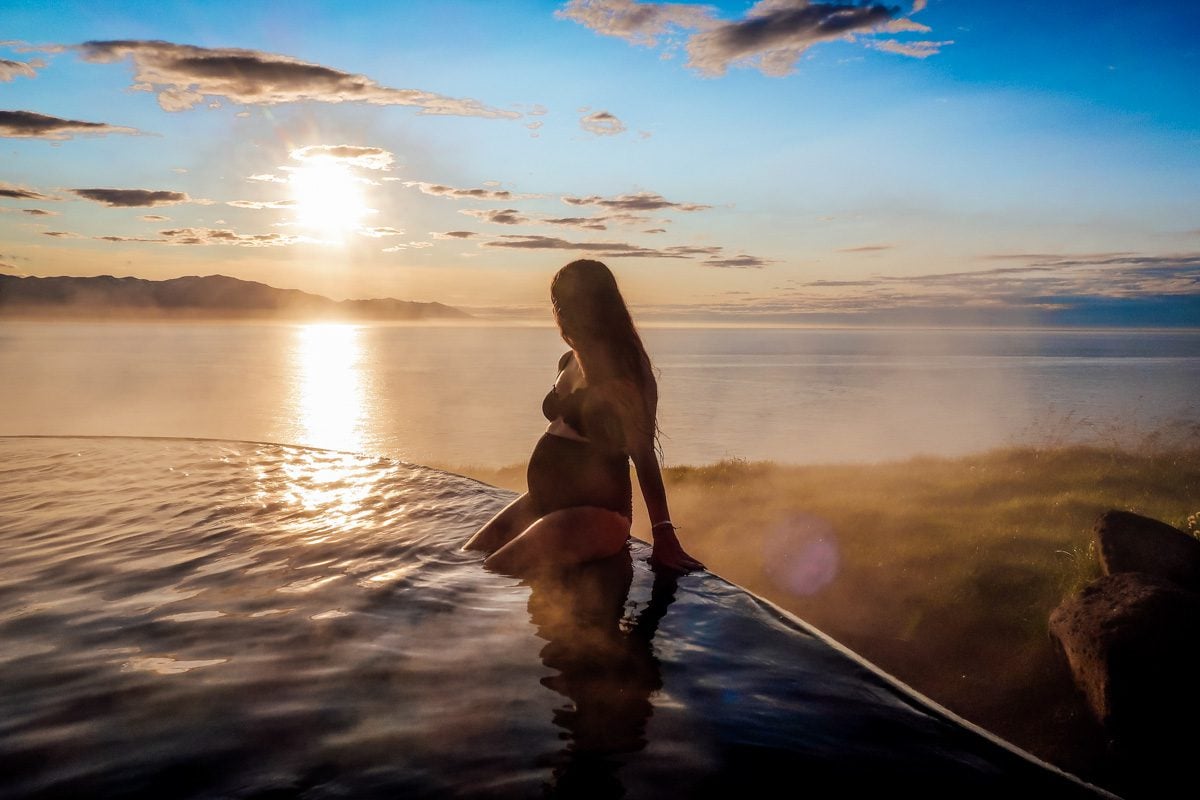 At a glance: Hot pools overlooking the ocean in Northern Iceland
Type of Hot Spring: Developed
Price: 4,900 ISK ($38 USD)
Location: Húsavík
The 3 hot spring pools at GeoSea offer a luxurious soak for those that make their way as far north as one can go in Iceland. The infinity-style pools with varying temperatures sit at the ocean's edge overlooking Skjálfandi Bay. It's a great way to warm up after a long day of whale watching.
The facilities include nice changing rooms with restrooms and showers. Drinks are available for purchase there as well. The western-facing pools make the perfect place to catch the sunset with a drink in hand.
Insider Tip: Looking for cheap dinner nearby? The seasonally-open fish and chips restaurant on the main drag is excellent and serves huge portions which can be split between two people.
How to get there: If you're traveling on Ring Road, you'll need to cut north towards Húsavík. Take Hwy 85 north if you're coming from the West, or Hwy 87 north to Hwy 85 if you're coming from the East. GeoSea Resort is located just northwest of the town of Húsavík, near the Húsavík Lighthouse.
5. Myvatn Nature Baths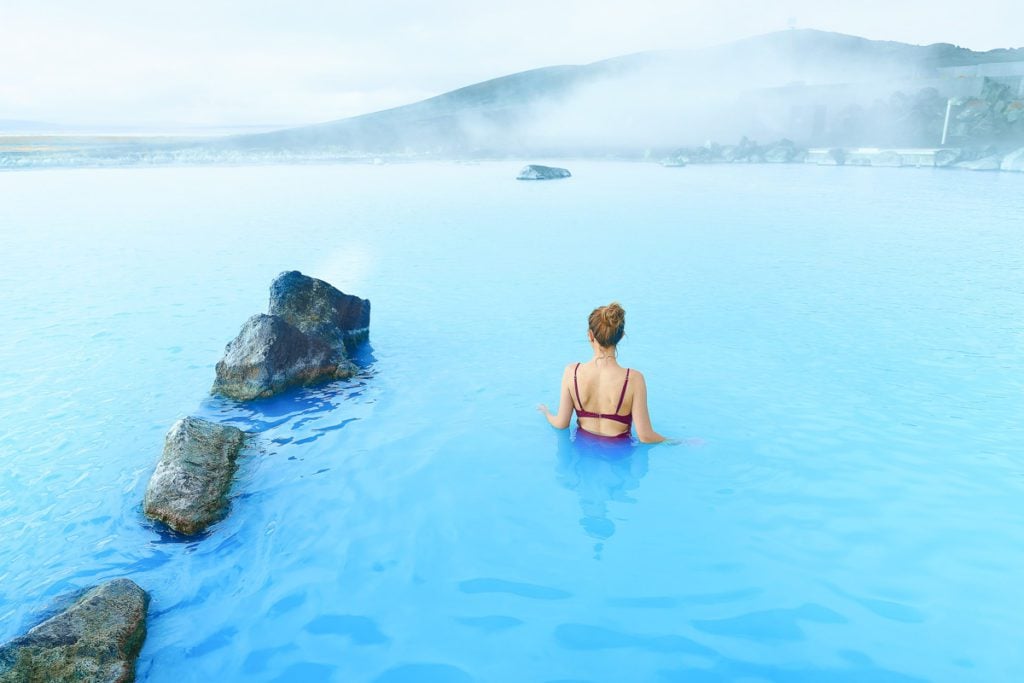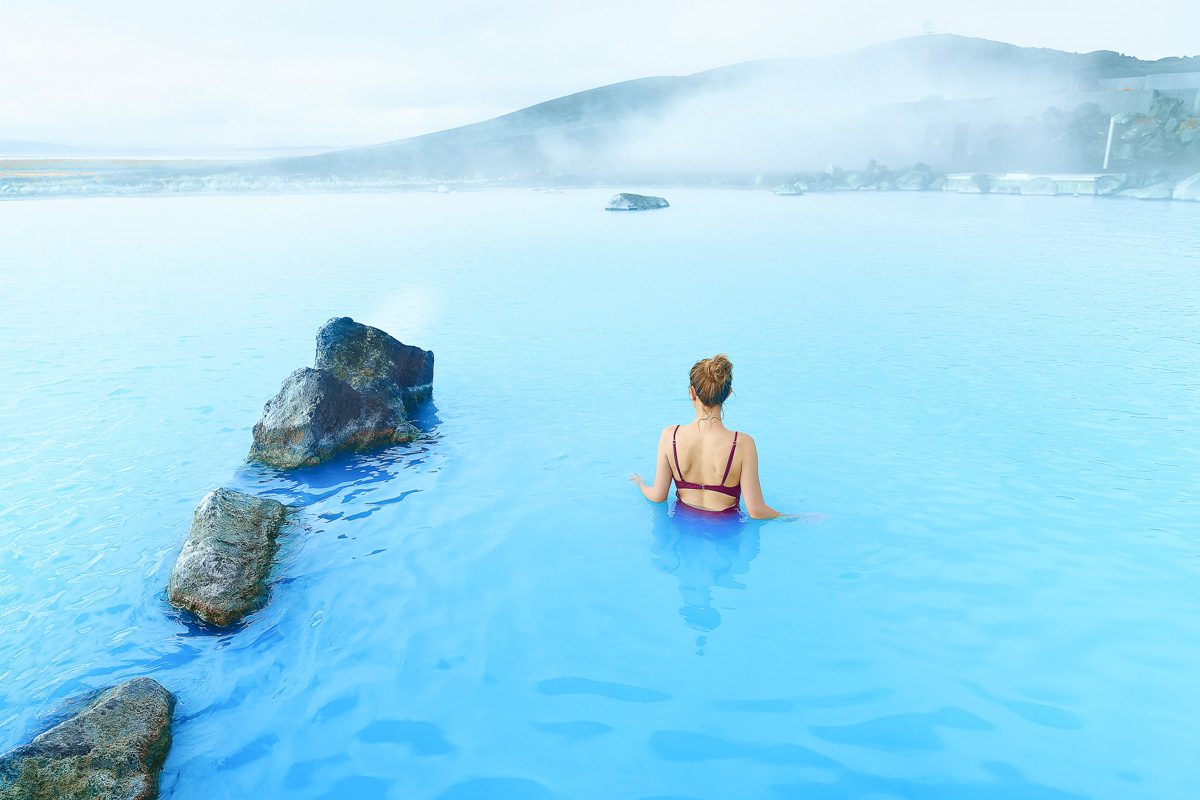 At a glance: Similar to the Blue Lagoon, known for its stunning blue water
Type of Hot Spring: Developed
Price: from 3,500 ISK ($28 USD); depending on the time of year you visit
Location: North Iceland
Myvatn Nature Baths are known as the "Blue Lagoon Of The North" for their blue waters. They are much cheaper than the real Blue Lagoon so if you are looking to save money on your trip, this is a great alternative! The water is warm, but not overly hot at roughly 30-40°C.
One of the best tips for Myvatn Nature Baths is that there is a soaking trough where the water is much hotter than the lagoon itself. If you love soaking in very hot water, the soaking trough is a great place to start.
The best time of day to visit Myvatn Nature Baths is whenever you are near them. Unlike the Blue Lagoon, they are not crazy-busy, so you can pretty much show up at any time. Sunset is a wonderful time to visit as you will have some really nice views.
What to expect at Myvatn Nature Baths
If you are visiting Myvatn Nature Baths, you can book ahead, but you don't have to as they don't get as insanely crowded as the Blue Lagoon. You should bring your swimsuit, change of clothes, and shower shoes or flip flops. There are changing facilities on the property with free lockers, and you are required to shower naked before you enter the lagoon.
The baths are elevated on the side of a hill, so you have sweeping views into the valley below which makes for a relaxing soak.
There are dining options at Myvatn Nature Baths in the event you get hungry, as well as saunas in case you want to take a break from soaking. In all, this is a wonderful experience if you are looking for an affordable spa-like hot spring in Iceland.
Exact Location | Myvatn Nature Baths
How to get there: Myvatn Nature Baths are located just off the Ring Road in North Iceland. All you have to do is plug their name into your GPS and you will arrive. There are no hikes or long drives. The facility is just off the main road and very easy to find.
Recommended by: Victoria from Iceland Trippers
6. Seljavallalaug Swimming Pool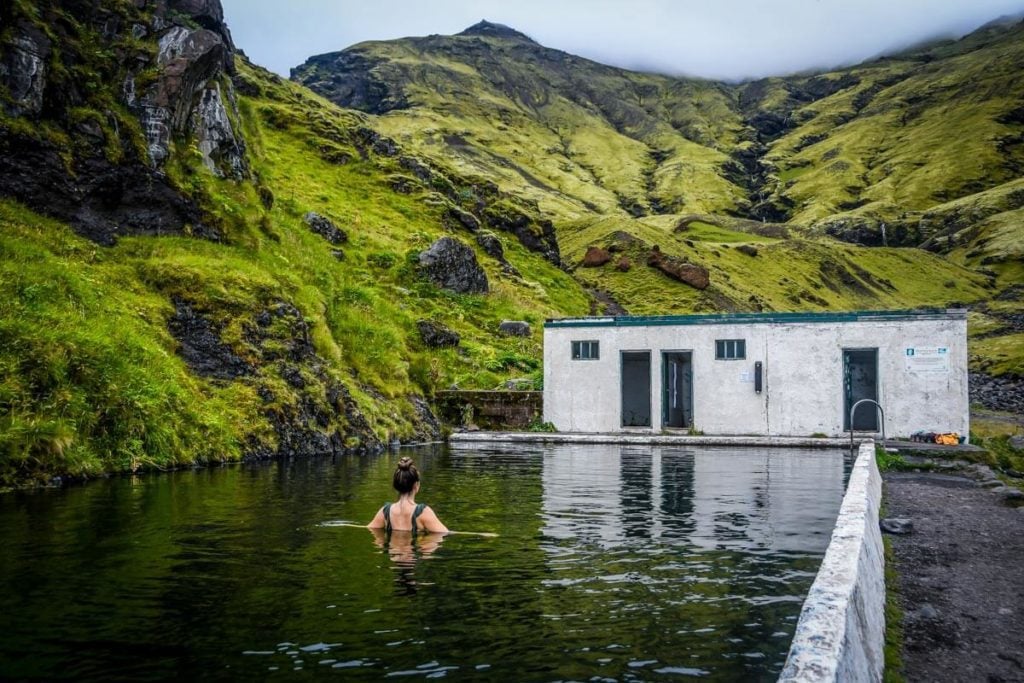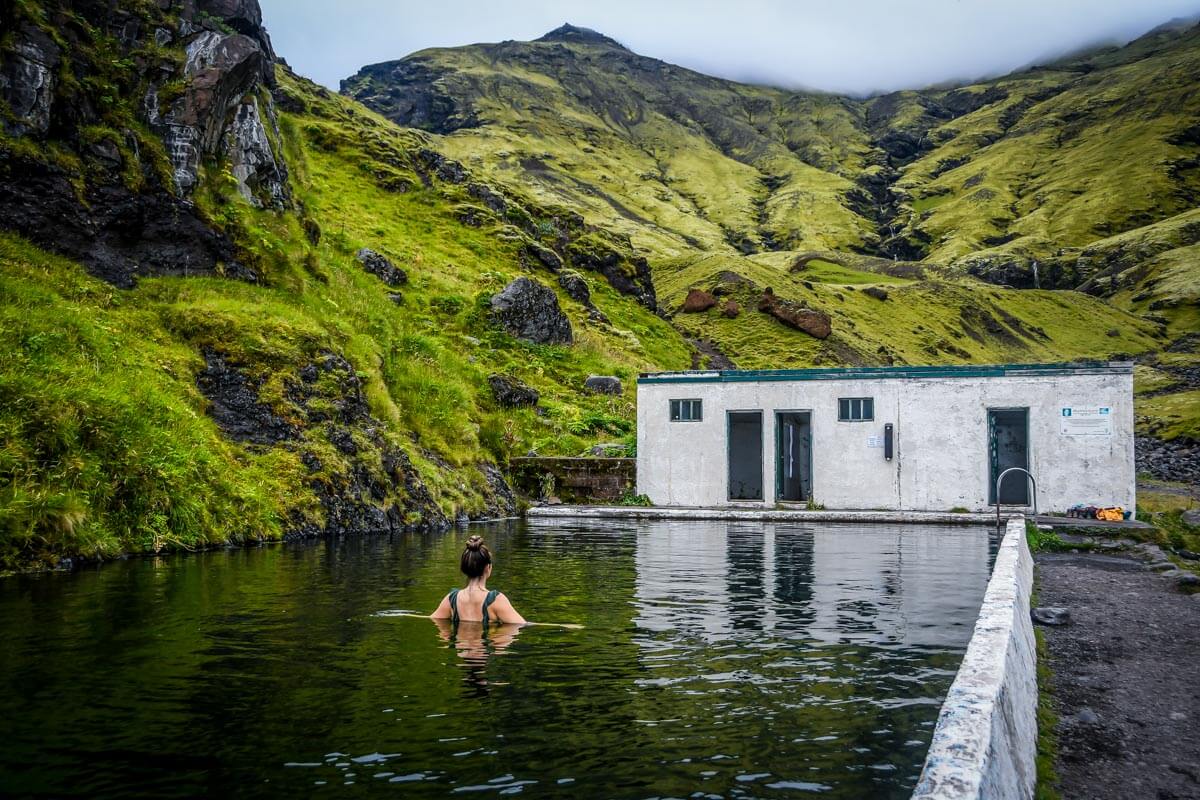 At a glance: A public pool in the middle of a stunning valley which you must hike into
Type of Hot Spring: Minimally developed, natural setting
Price: Free
Location: South Iceland
Built in 1923, this is one of the oldest public pools in all of Iceland (some accounts claim it is the oldest). We've visited this hot pool twice – once in 2016 and again in 2021 – and we enjoyed our visit both times. That said, there are a few things you should know…
Seljavallalaug is a 25-meter outdoor public pool fed by a natural hot spring. The water in the pool is lukewarm (not hot), and the bottom of the pool has algae so it's a little slippery in places. It didn't bother us, but don't expect clean, pristine water here. There was also some trash around left from other visitors and graffiti in the changing rooms when we visited.
The facilities are minimal, changing rooms are separated by gender, but there are no doors, just stalls, so it's not that private. There are no toilets here either.
The "hike in" is an easy 20-minute walk along the riverbed to reach this pool. On our most recent visit, we were the only ones there for a while.
How to get there: Find out exactly how to get there and everything else you need to know in our guide to visiting Seljavallalaug Swimming Pool.
7. Sky Lagoon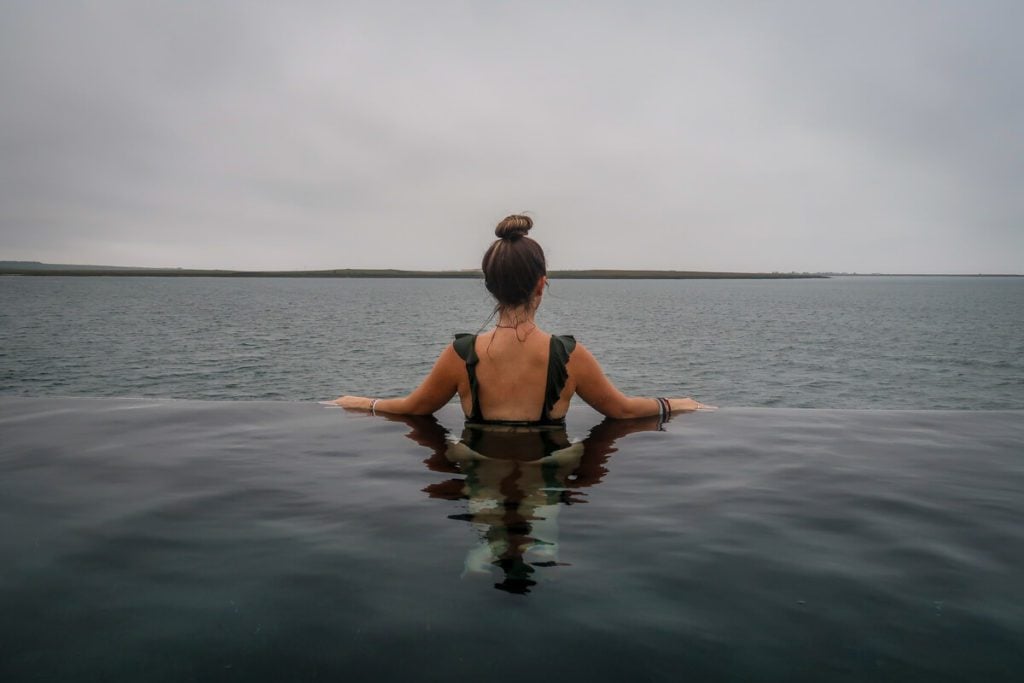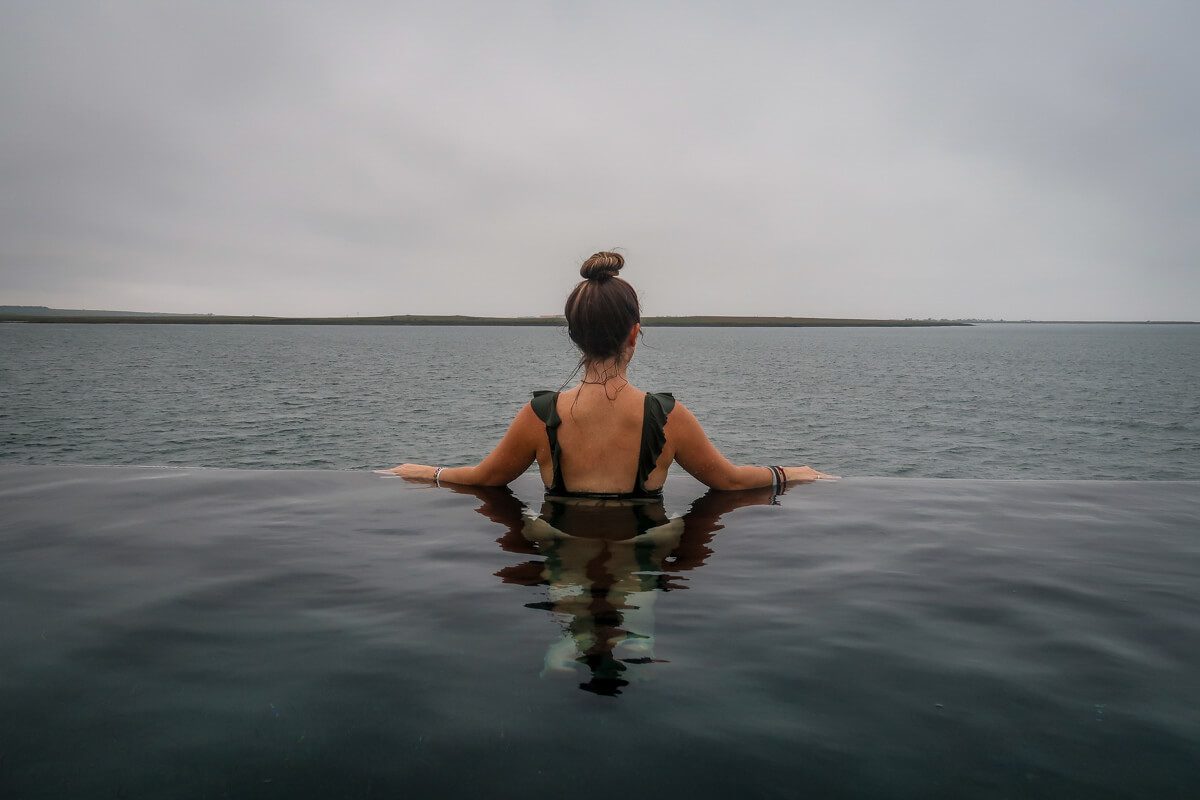 At a glance: Luxury thermal spa near Reykjavík with infinity pools overlooking the ocean
Type of Hot Spring: Developed
Price: Day passes range from around $55 USD for basic entry to $110 for the full Sky Experience
Location: Near Reykjavík
Sky Lagoon is a new luxury bathing and spa facility near Reykjavík that opened in April 2021.
The capstone experience in visiting Sky Lagoon is participating in their 7-step wellness ritual (which costs an extra $23 / 3,000 ISK extra per person to do). The ritual is based on centuries-old Icelandic traditions to combine the healing powers of warm water, cold water, warm steam, dry heat and fresh air.
Here is the jist of what it entails:
Soaking in the healing warm waters of the lagoon
Take a quick dip in the icy cold plunge pool to stimulate your immune system, increase blood flow in the body and tighten skin
Visit the sauna for 5-10 minutes, allowing the heat to open pores, remove toxins and cleanse your skin
Slowly step through a cold-fog mist space to stimulate and refresh your senses
Apply the signature Sky Body Scrub to rejuvenate and reinvigorate the body
Maximize the hydrating benefits of the Sky Body Scrub with another warm steam
Cleanse yourself from head to toe in a warm shower
Our experience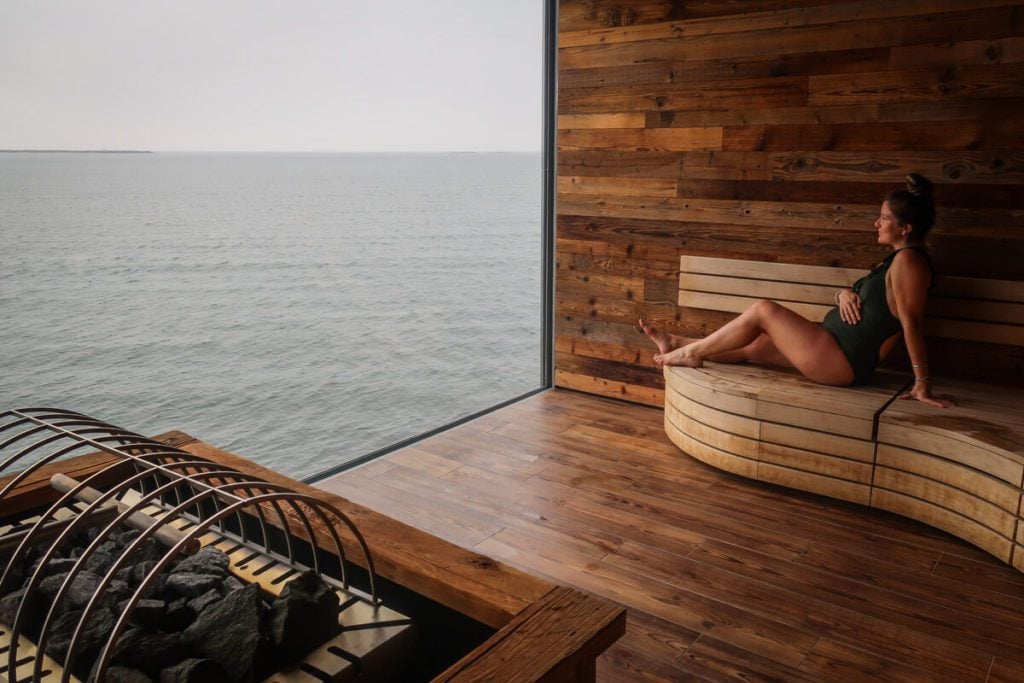 We arrived in the early afternoon, and the place wasn't very busy. We assume this new facility is still under the radar and will become more popular over time.
Everything on site was beautifully designed from the changing facilities to the picture perfect infinity pools overlooking the ocean. In fact these were the best changing facilities we encountered at any of the hot springs we visited in Iceland with private showers.
We appreciated the level of luxury and feeling like you could treat yourself here. You can even purchase drinks at the swim up bar.
How to get there: The cheapest way to get there is to take the public bus from Reykjavík. Download the Straeto App to purchase your bus tickets. From Hlemmur square, take Bus 4 to Hamraborg (about 15 minutes). From there take Bus 35 to Kópavogsbraut (about 4 min). You'll get off and have to walk about 10 minutes until you reach the parking lot. It is located in sort of an unassuming industrial area, but once you get inside, you'll be transported to another world!
Psst! We've got a big list of Iceland travel apps you should download before your trip.
8. Laugarvatn Fontana Geothermal Baths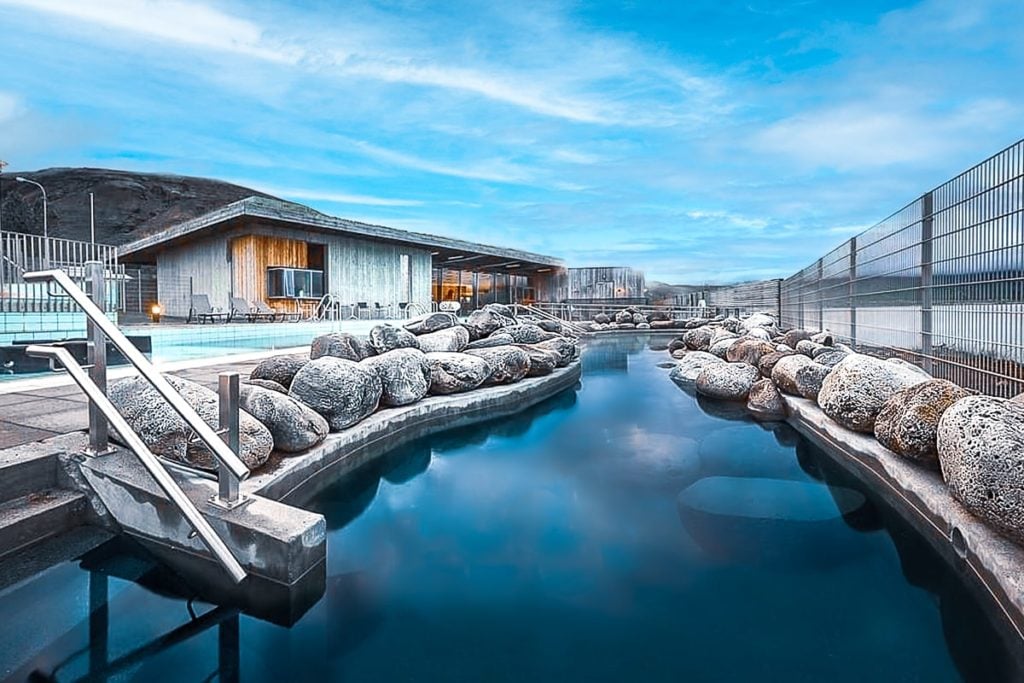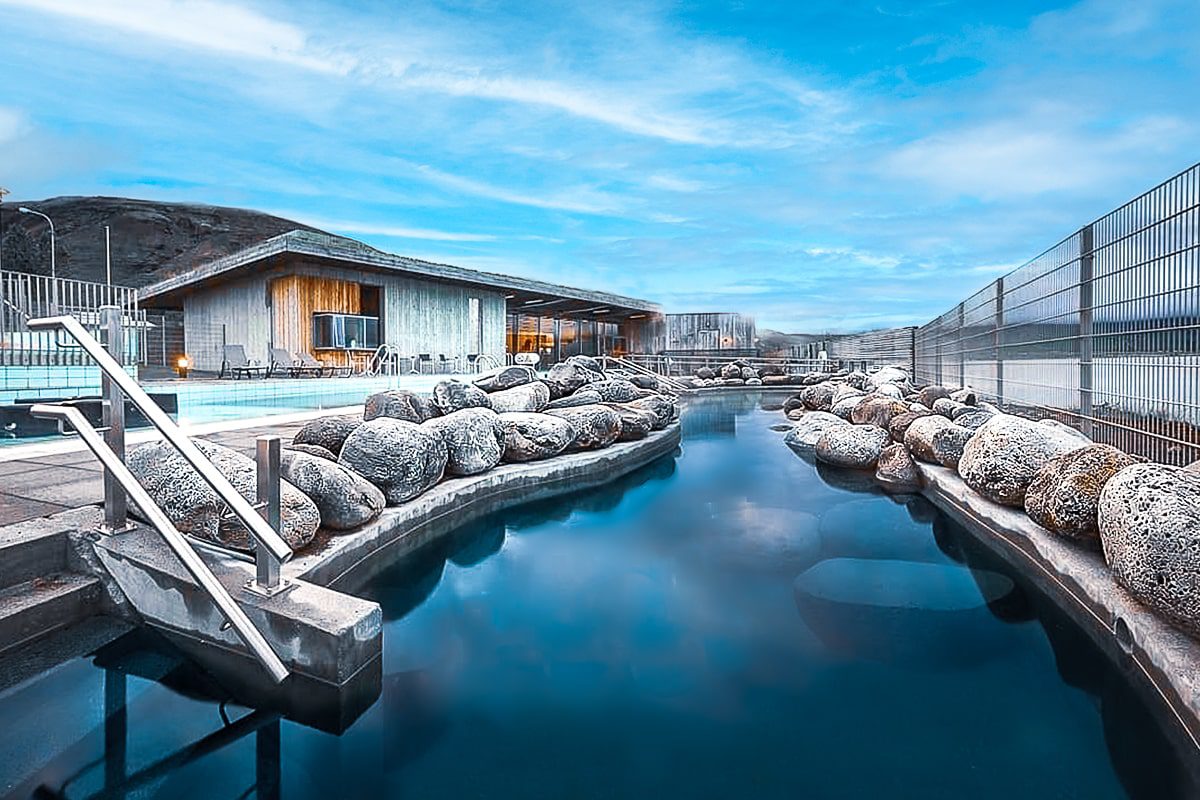 At a glance: Modern lakefront hot spring featuring outdoor mineral pools, natural steam baths and a Finnish-style sauna, all in the heart of Iceland's Golden Circle.
Type of Hot Spring: Developed
Price: 3,950ISK ($30 USD) per person
Location: Golden Circle
Nestled along Iceland's most popular tourist route is a geothermal oasis; Laugarvatn Fontana. Located conveniently between Thingvellir National Park and the renowned Geysir, this spa experience is popular with both travelers and locals alike; and as such, is often teeming with activity.
It's recommended to visit outside peak visiting hours, when tours have yet to start or have already ceased (such as early morning or later in the evening) if you wish to have a more intimate experience.
What to expect at Laugarvatn Fontana
Laugarvatn Fontana boasts an unbeatable waterfront property with sleek amenities, including a cafe/bar, indoor seating area, courtyard complete with rooftop terrace, and lavish changing facilities.
You'll need to bring a bathing suit and towel – though even those are available to rent at reception if need be – and lockers are included in your admission. Be sure to adhere to local customs by removing footwear upon entering the changing rooms, showering without your swimsuit, and being mindful of your noise level while soaking.
Outside are four crystal-clear pools that range in temperature from 32°C-40°C (90°F-104°F), each of which is fed via theongoing geothermal activity beneath the facility.
These pools, and the adjacent steam baths and sauna, possess remarkable panoramic views of the surrounding black sand beach and mountain ranges; so be sure to pack your camera if you wish to capture these magical landscapes!
Laugarvatn Fontana is the perfect place to visit if you want a luxury spa experience without paying luxury spa prices, and should be a must-see on every Iceland itinerary.
Exact Location |Laugarvatn Fontana
Recommended by: Natasha from Planes, Trains & Karcz
9. Hrunalaug Hot spring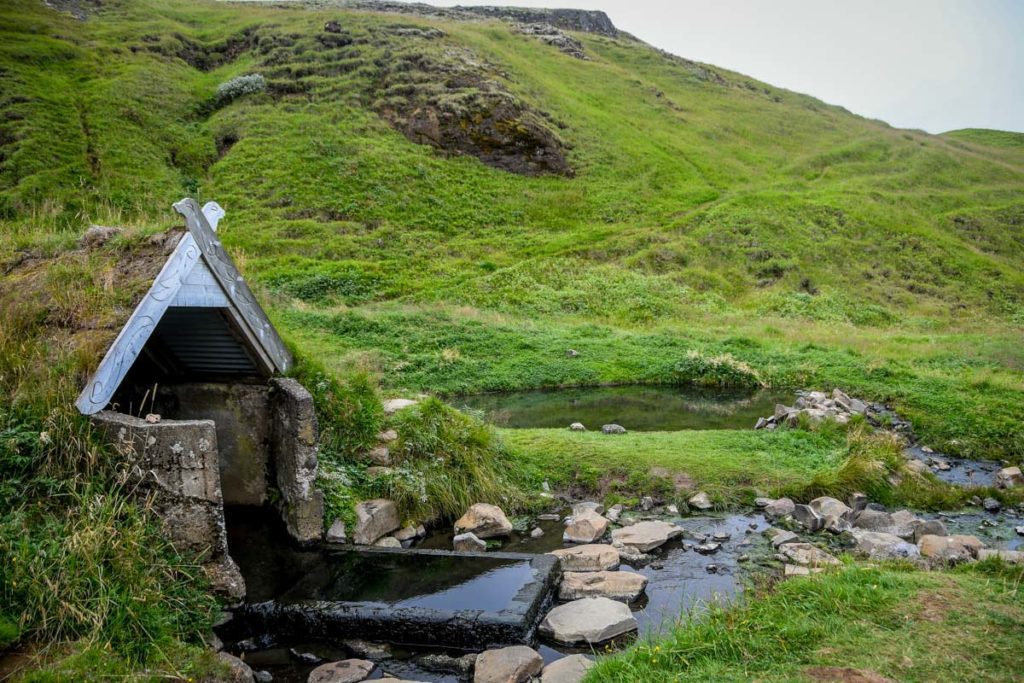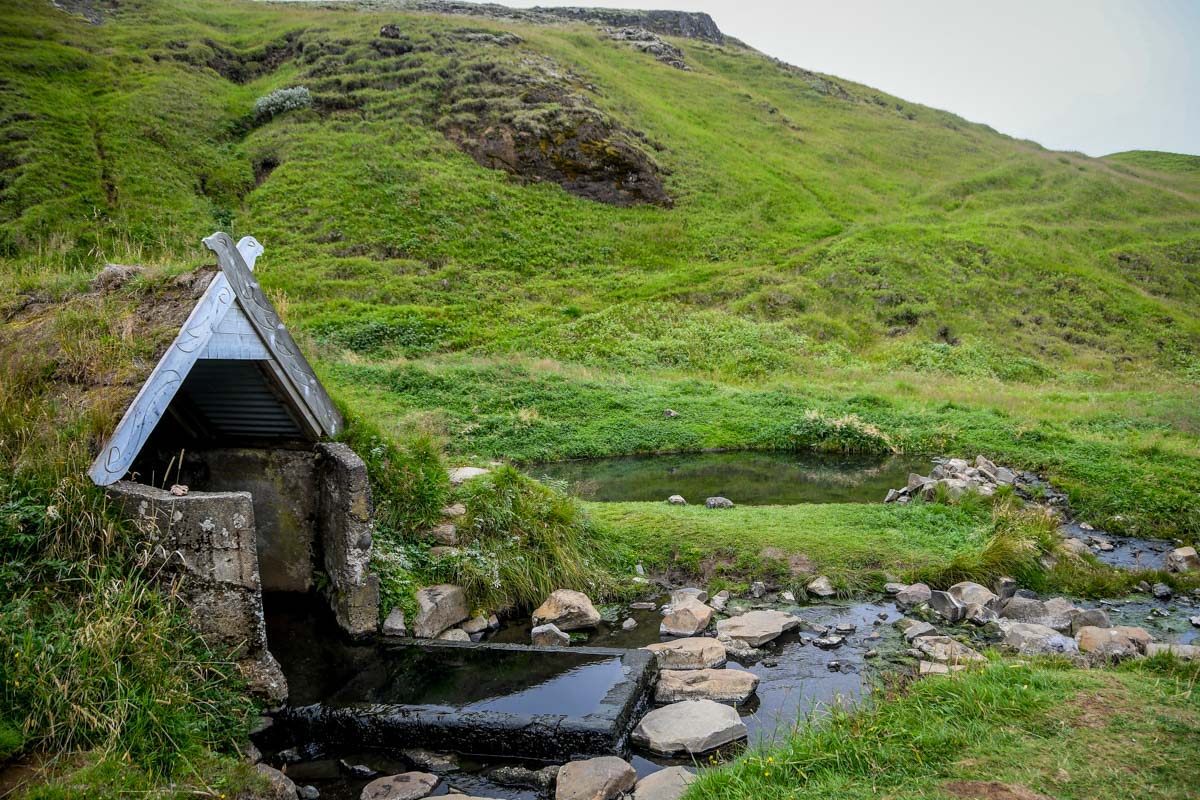 At a glance: A quaint little stone pool, like a scene from Lord of the Rings
Type of Hot Spring: Natural
Price: 1000 ISK ($8 USD)
Location: Near the Golden Circle
Hrunalaug Hot Spring looks like a scene straight out of the movie Lord of the Rings. With lush rolling hills and a quaint little changing room, you'll feel like you're actually in the Shire.
The hot spring is just a short walk from the parking lot, but the ground can get a bit muddy here, so be prepared. There is also a small changing area, but it's not very private if there are other visitors around.
The water is comfortable, but certainly not pristine either. And we've read accounts that there can be a lot of litter left around, though it was pretty clean when we visited.
While Hrunalaug is open to the public, there is a small honesty box where the landowner requests 1,000 ISK ($8) per visitor to help maintain the area.
We stopped here after a long day of exploring the Golden Circle and really enjoyed a nice soak. When we arrived, a big (and loud) group showed up at the same time, but other than them, there weren't too many others there.
How to get there: From Ring Road take Highway 30 North to Hrunavegur Road. Follow the sign that says "Hruni" to find the parking lot.
10. Secret Lagoon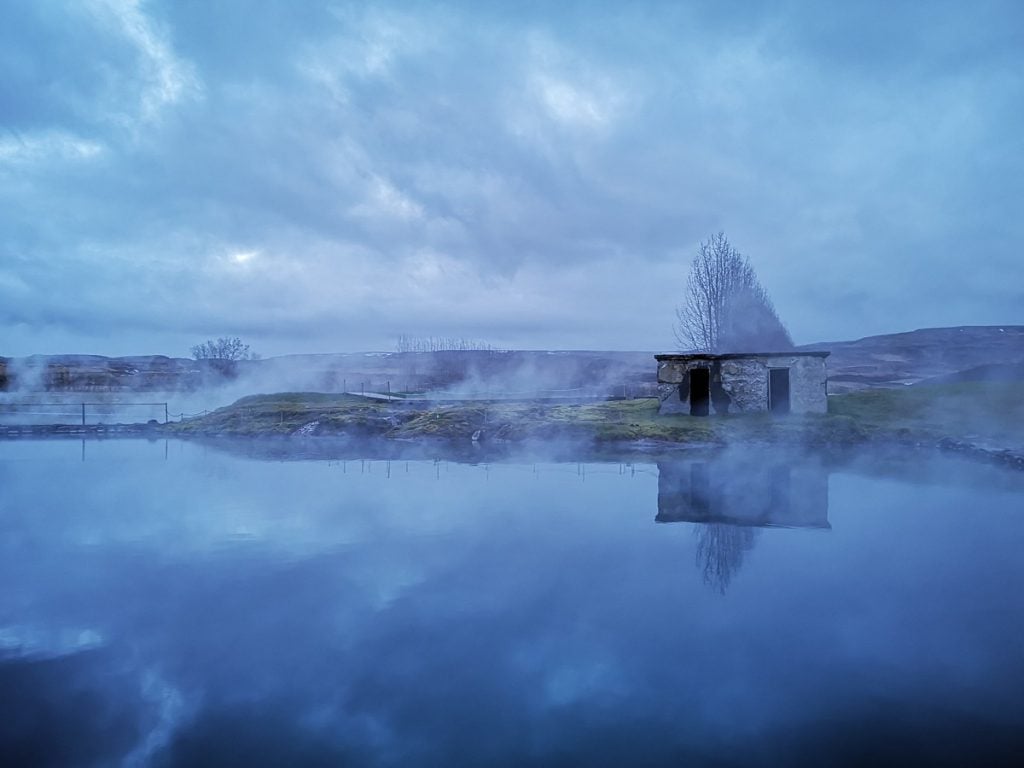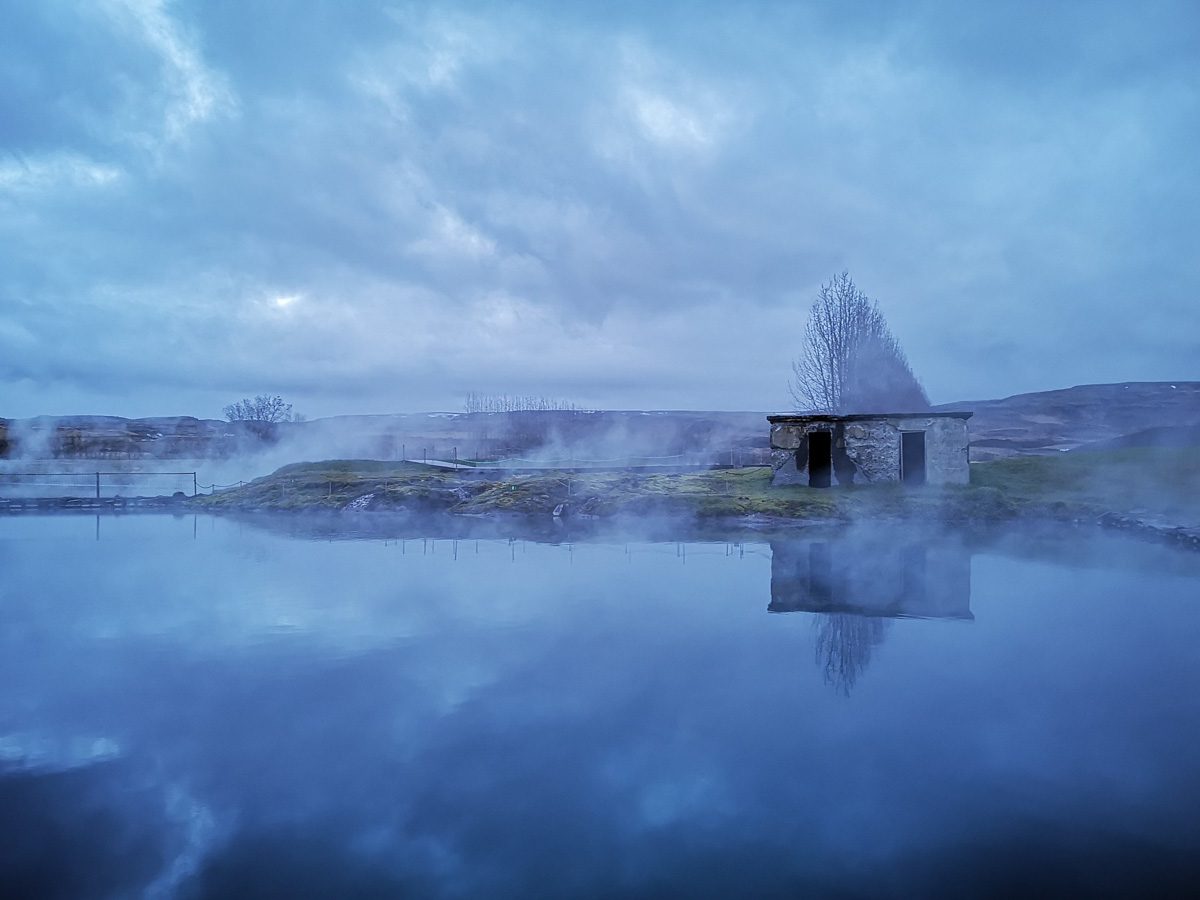 At a glance: Iceland's oldest swimming pool
Type of hot spring: Constructed pool, at the location of natural hot springs
Entrance fee: Adults kr3000 ($23), Seniors kr2200 ($17), Children under 14 Free
Location: Flúðir, in the Golden Circle region
The Secret Lagoon is known locally as Gamla Laugin, which means 'Old Pool'. It was made in 1891 at Hverahólmi, a geothermal area near Flúðir, making it the oldest swimming pool in Iceland.
After falling into increasing disrepair, the pool was improved and re-opened in 2005. This time under the name of 'Secret Lagoon', to once again take advantage of the local natural supply of sulphur-rich hot water, used exclusively to feed the pool.
The abundant supply allows the water to completely renew every 24 hours, keeping it clean and fresh, as well as maintaining a consistent and optimum water temperature of 38-40℃ (100-104°F).
What to expect at Secret Lagoon
An attempt has been made to try and keep the site as natural as possible and limit development, something that definitely adds to the atmosphere and visitor experience.
There are basic changing rooms (swimsuits and towels can be rented for an additional charge) and a cafe serving drinks and snacks. Otherwise the outlook remains natural and authentic.
As elsewhere in Iceland, thorough showering is required before entering the water. Next to the pool there is also a walkway that allows for safe viewing of the surrounding steaming hot pools and springs, as well as a small geyser that erupts periodically.
Although far from 'secret' (as the name would suggest), the Secret Lagoon nonetheless combines both a delightful location to enjoy some natural hot water, with a chance to visit and experience the birthplace of Icelandic swimming pool culture.
Although now a popular tourist destination, a booking system (reservations are recommended) ensures that the pool doesn't feel overcrowded.
Tip: For a truly special and mystical winter experience, try visiting these steamy baths in the half-light of dawn or dusk.
Exact Location | Secret Lagoon
How to get there: The Secret Lagoon is approximately 100km to the east of Reykjavík, a journey that typically takes 1½ hours to drive by car. Start by taking the Ring Road (Hwy 1) out of the capital, heading towards the town of Selfoss.
Once past Selfoss, look out for a left turn onto Route 30. This leads you all the way to Flúðir, from where a signposted right turn and a short drive brings you to the pool. If going without a car, there are certain Golden Circle bus tours out ofReykjavík that include a stop at the lagoon, in addition to the usual 3 stops on that tour.
Recommended by: Rachel from Children of Wanderlust
11. Vök Baths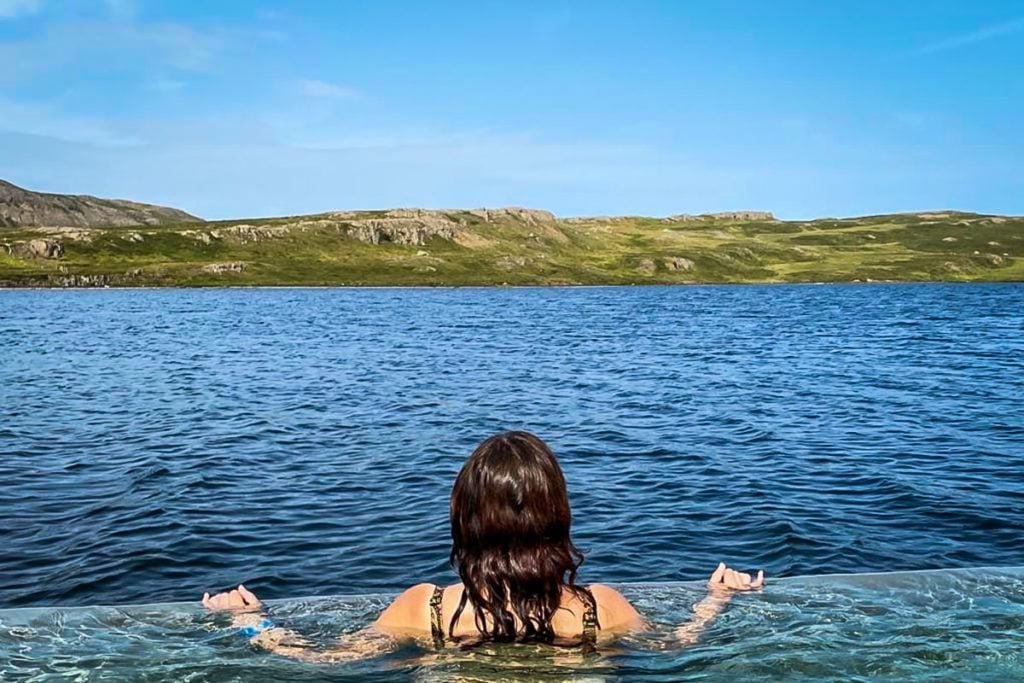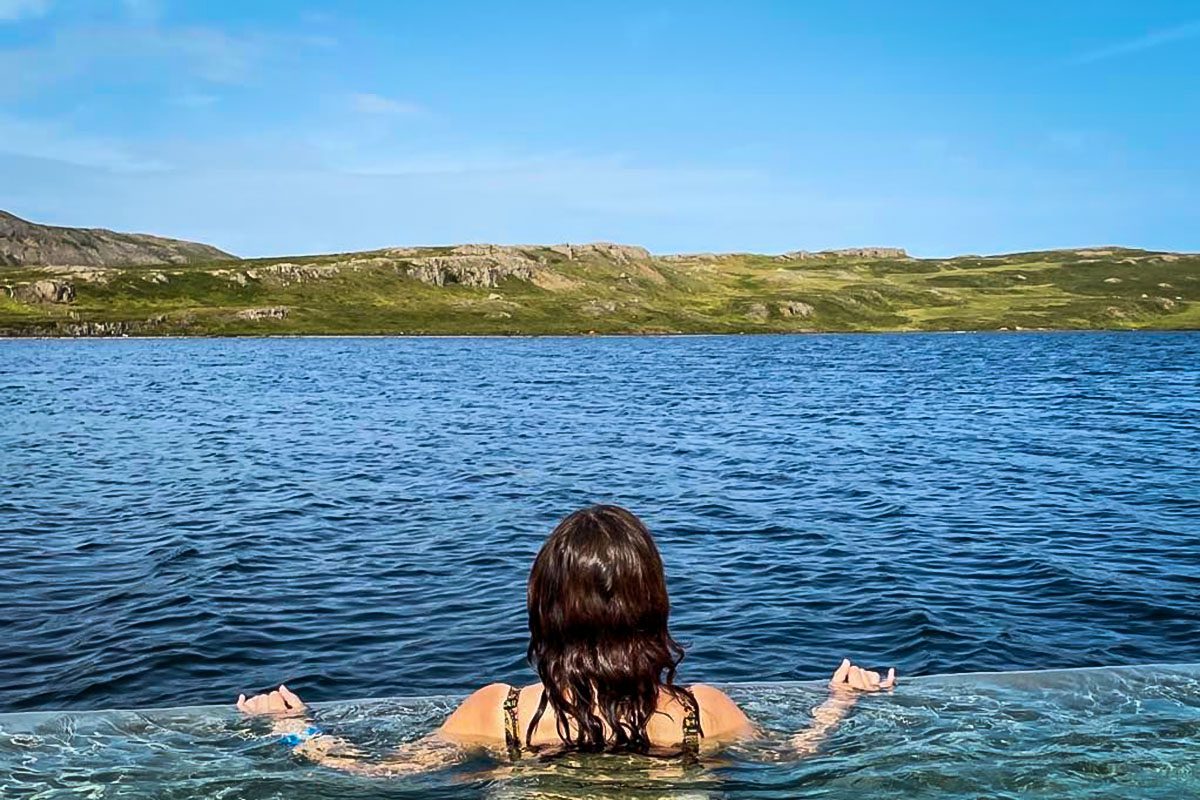 At a glance: Vök Baths captivate with their tranquility and an extraordinary view of the lake and the surrounding hills.
Type of Hot Spring: Developed
Price: ISK 5,500 ($42 USD) for the Standard soaking package; ISK 6,400 ($50 USD) for the Comfort package with an extra drink at the pool bar. And the Premium package price is ISK 8,900 ($68 USD) which includes beverages at the pool bar and a premium platter at Vök Bistro restaurant.
Location: East Iceland, on the bank of Urriðavatn Lake
Vök Baths are the largest thermal spa in East Iceland and are located on the edge of Lake Urriðavatn. What makes this destination particularly unique is that the facilities are beautifully integrated into this lake.
The geothermal heat was discovered in the area some time ago when the residents around the lake noticed certain spots that strangely did not freeze in the winter. It was decided to utilize this geothermal energy and build a spa, as this part of Iceland is very cold and hot springs are rare here. The 75°F warm water streams from hot springs deep under the lake.
What to expect at Vök Baths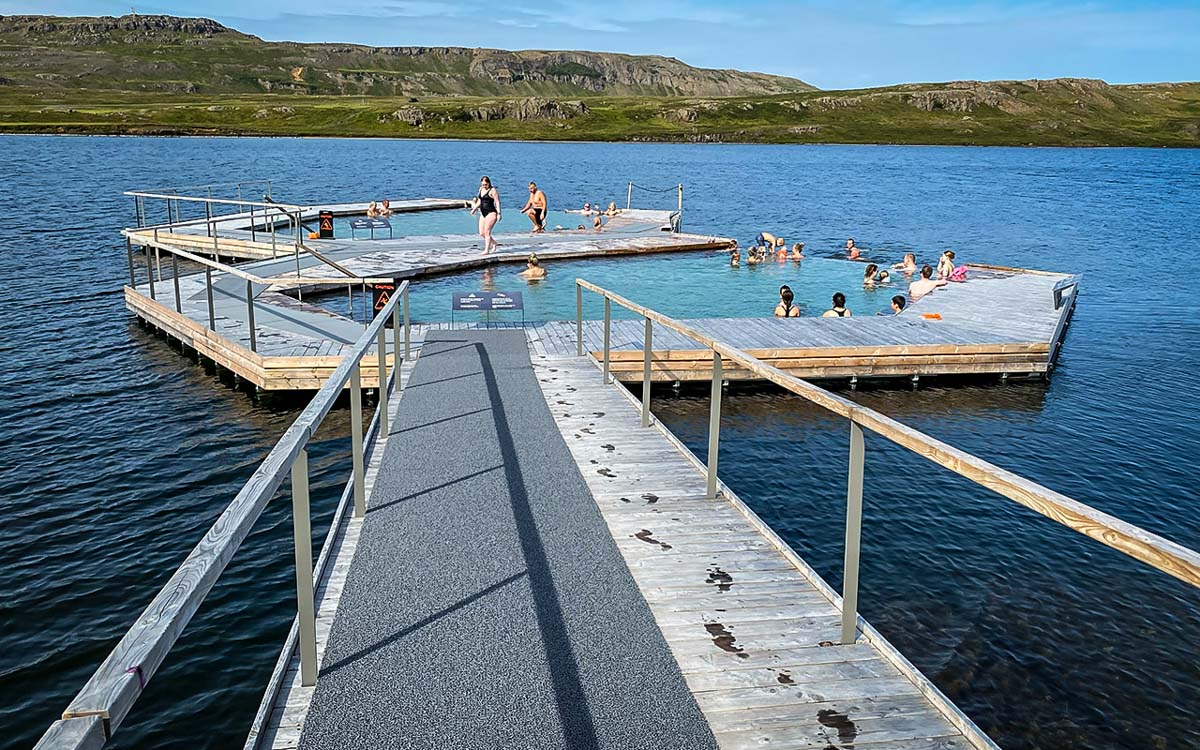 Vök Baths were opened in July 2019 and boast a collection of serene geothermal floating pools with infinity views. Two pools are level with the lake, hot pools that overlook the lake, and a cold tunnel that leads into the lake.
The spa also has a sauna, a bar in one of the pools, and a tea bar that uses Icelandic herbs and spring water to make Tisane tea. Excellent alcoholic and non-alcoholic drinks are served at the pool bar.
There are covered changing rooms with private showers and a reception to rent swimsuits and towels. The resort also has a restaurant, which serves seasonal soups and dishes.
Although the water atVök Baths is geothermally heated, it is not enriched with minerals. This means the baths do not have the eggy smell that hovers over many Icelandic baths.
The place is beautifully situated, among the hills, in a quiet, secluded area. It is tranquil, and perfect for relaxation. The water is clear, lukewarm, and calm.
How to get there: The Vök Baths are close to Egilsstaðir and are well marked. To reach the baths from this settlement, travel north along Route 1 across Lake Lagarfljót, and turn right onto Route 925.
Recommended by: Agnes from The Van Escape
12. Hoffell Hot Pots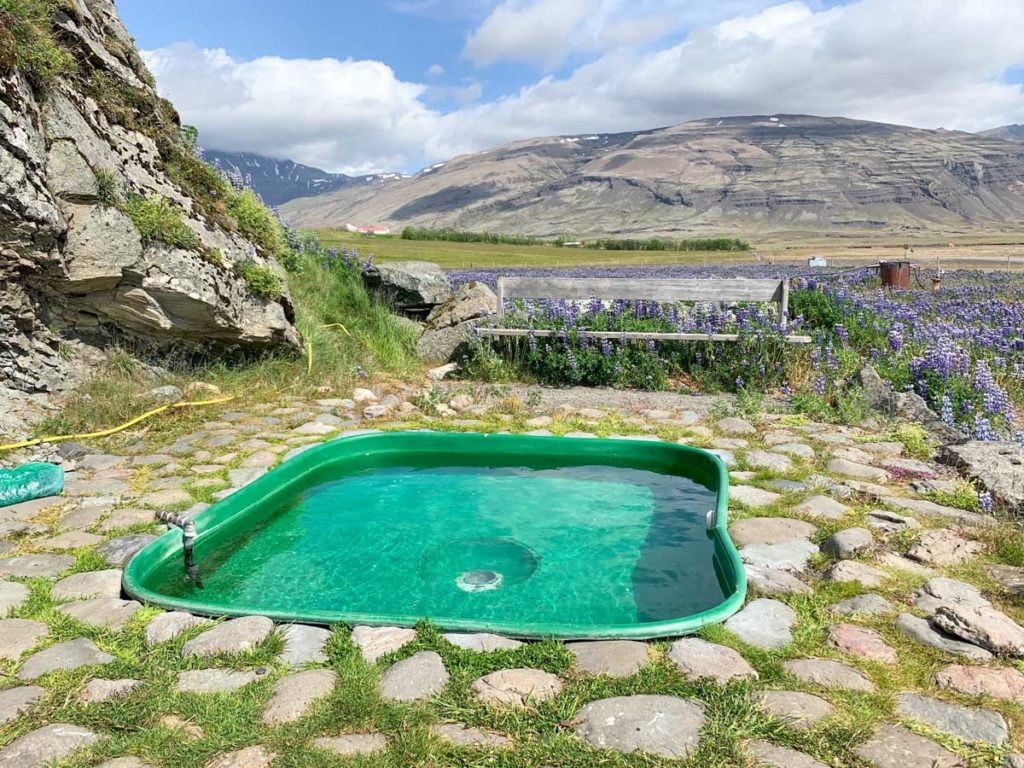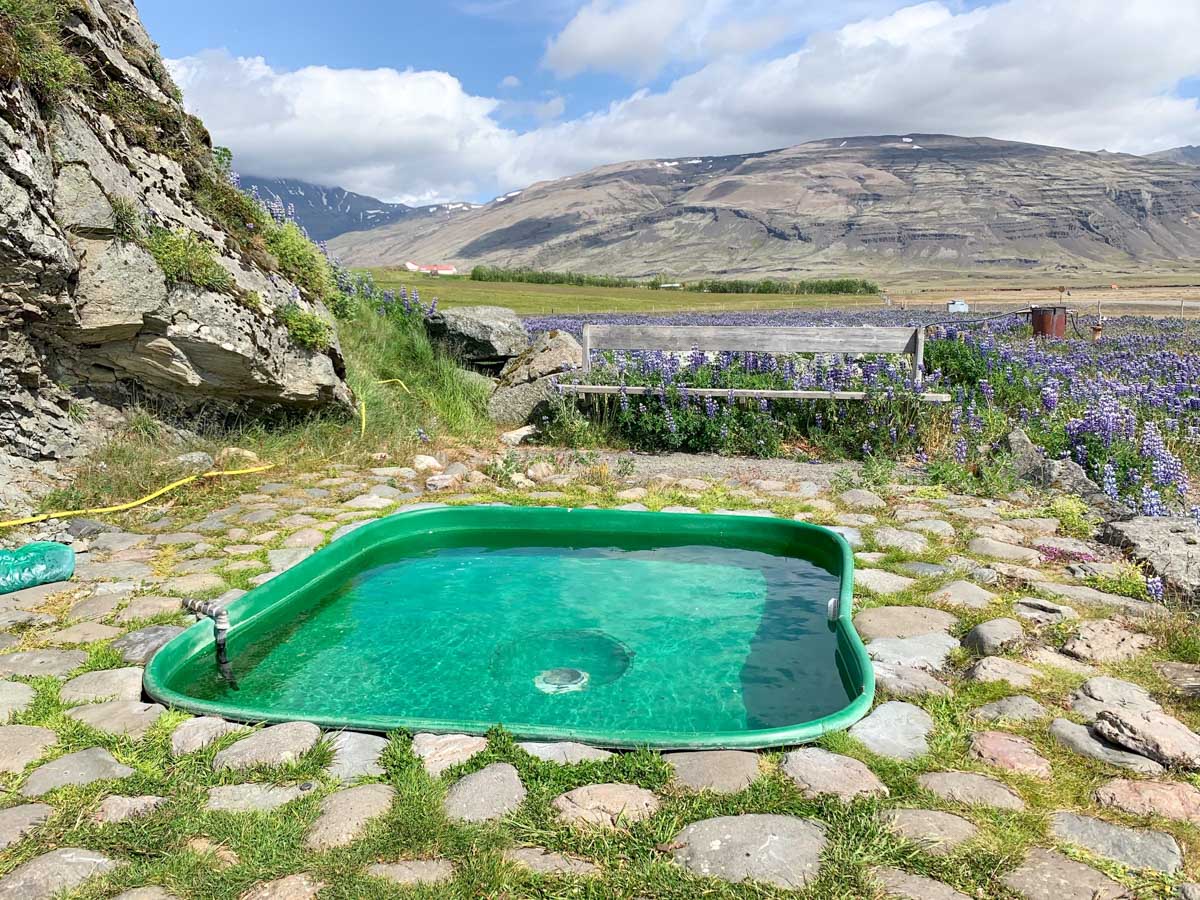 At a glance: Simple in-ground hot tubs heated by natural geothermal energy with a spectacular view!
Type of Hot Spring: Minimally developed, natural setting
Price: 500 ISK ($4 USD)
Location: Southern Iceland
Hoffell Hot Tubs are set in a stunning location in southeast Iceland, about 20 minutes from the town of Hofn. There are 4 Hoffell Hot Tubs, and there are two that are warmer than the rest and one that is on the cooler side. This is perfect so you can soak in the hotter ones and take a dip in the cooler ones. They are truly one of the cooler places to visit in South Iceland!
There is a booth that is sometimes manned by a local to take money, but if not, there is an honor box to leave your small payment. Please be honorable and pay, or else the landowner will be forced to close the hot pot.
What to expect at Hoffell Hot Pots
The Hoffell Hot Tubs are plastic tubs that are built into the ground and heated with geothermal water. They are like regular hot tubs, but very rustic. You are supposed to shower before entering, but you do not have to shower naked like at other hot springs in Iceland. You should bring your own towel, change of clothes, and swimsuit.
In high season, the Hoffell Hot Tubs can be quite popular. If you want to snag a tub to yourself, go earlier in the morning, or late in the afternoon. If you don't mind sharing, you can visit at any time, but keep in mind things get quite busy during summer!
In all, Hoffell Hot Tubs are a lovely thermal bath to put on your Iceland itinerary.
How to Get There: Hoffell Hot Tubs are about a 20 minute drive from the town of Hofn. Turn off the Ring Road and drive 3km/1.8 miles down a dirt road. At the end, it gets kind of confusing as the road splits off into two. You want to stay near the center. As long as you have Hoffell Hot Tubs plugged into your GPS you should be good to go. Look out for a gate and parking lot and you have arrived!
Recommended by: Victoria from Iceland Trippers
13. Djúpavogskörin Hot Springs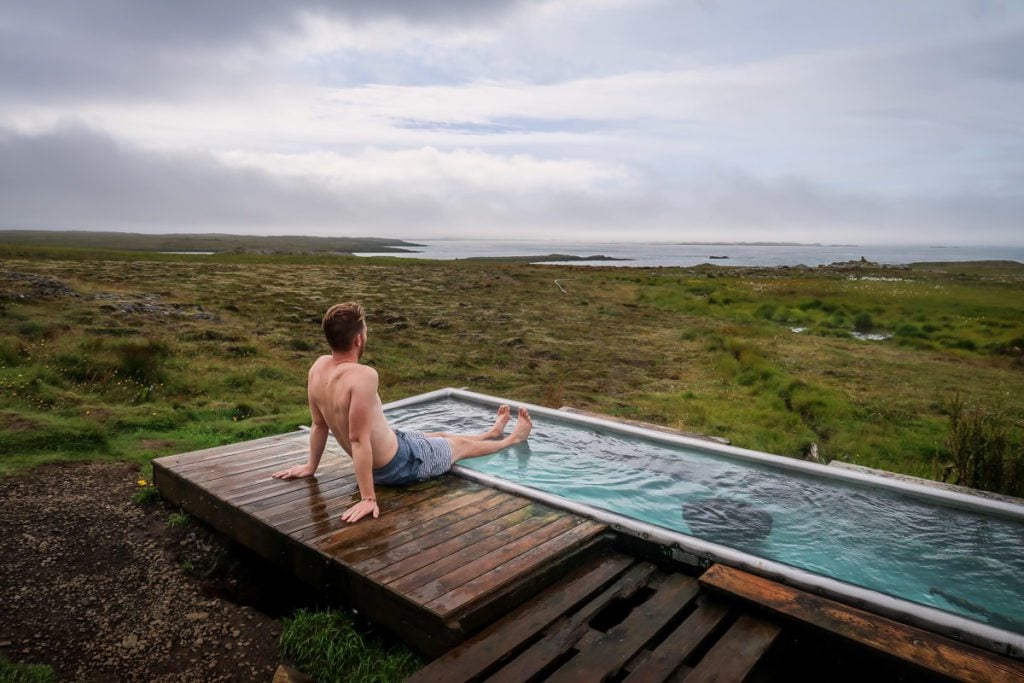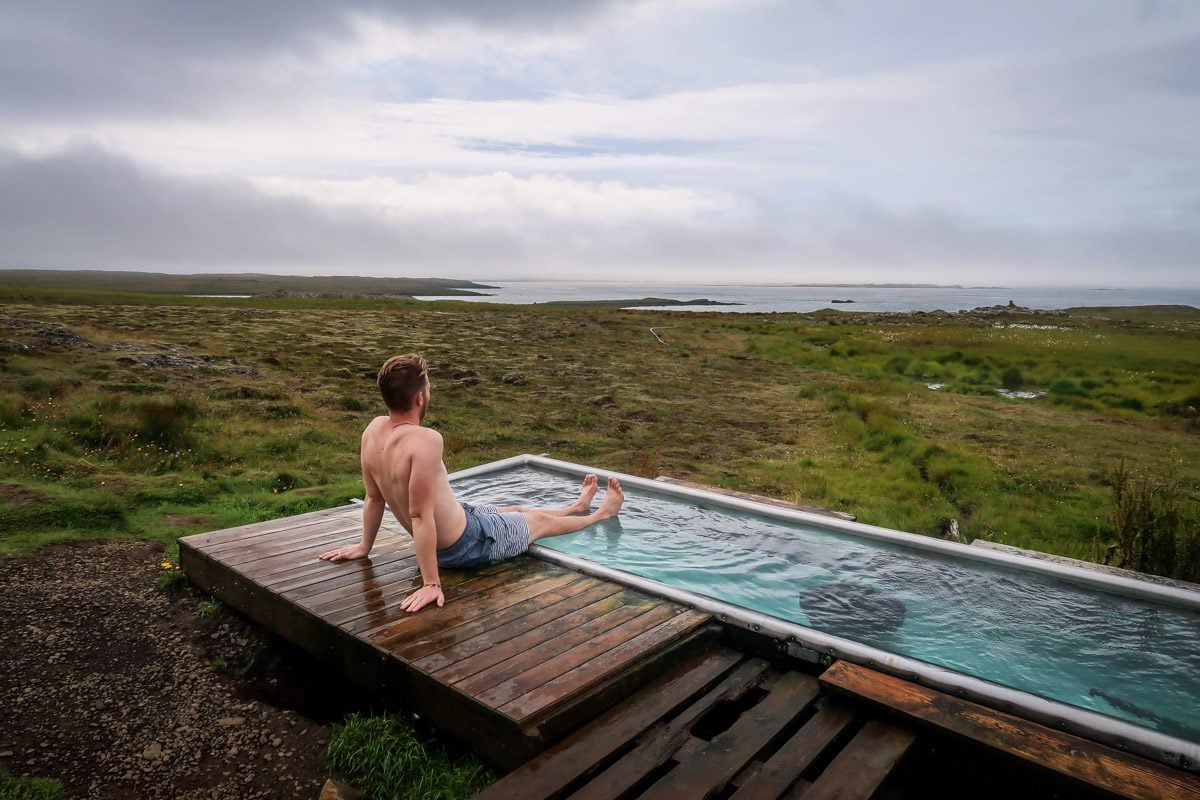 At a glance: A small geothermal tub with ocean views in East Iceland
Type of Hot Spring: Minimally developed, natural setting
Price: Free
Location: East Iceland
A small unassuming pool built seemingly in the middle of nowhere, Djúpavogskörin Hot Springs (sometimes called Djupivogur hot springs after the nearest town) makes a nice stop as you drive Ring Road up Iceland's East Fjords.
The small tub is perfect for a couple but even 4 people would make it crowded so you'll want to try to plan your arrival when there aren't others around (typically earlier in the mornings or later in the evenings is your best bet).
The pool was built by locals to enjoy the thermal baths and spend time in nature. There is no changing area here, but there is a deck built up around the pool that can accommodate 6-7 people and a small rack where you can hang your towels.
The water in the pool is very hot so be careful getting in… or you may decide to just soak your feet.
Situated all the way over in East Iceland, it would take you about 6.5 hours to get to Djúpavogskörin Hot Springs from Reykjavík. Instead, we recommend visiting these hot springs as part of your Ring Road road trip.
How to get there: Plug the exact location into your Google maps to find the hot springs just off Ring Road. The geothermal pool is a bit hidden from view of the road, so watch your map carefully as you're driving. The pull-off can be easily missed! Park your car in the small flat area, then walk around the corner to find this soaking tub.
14. Reykjafjarðarlaug Hot Pool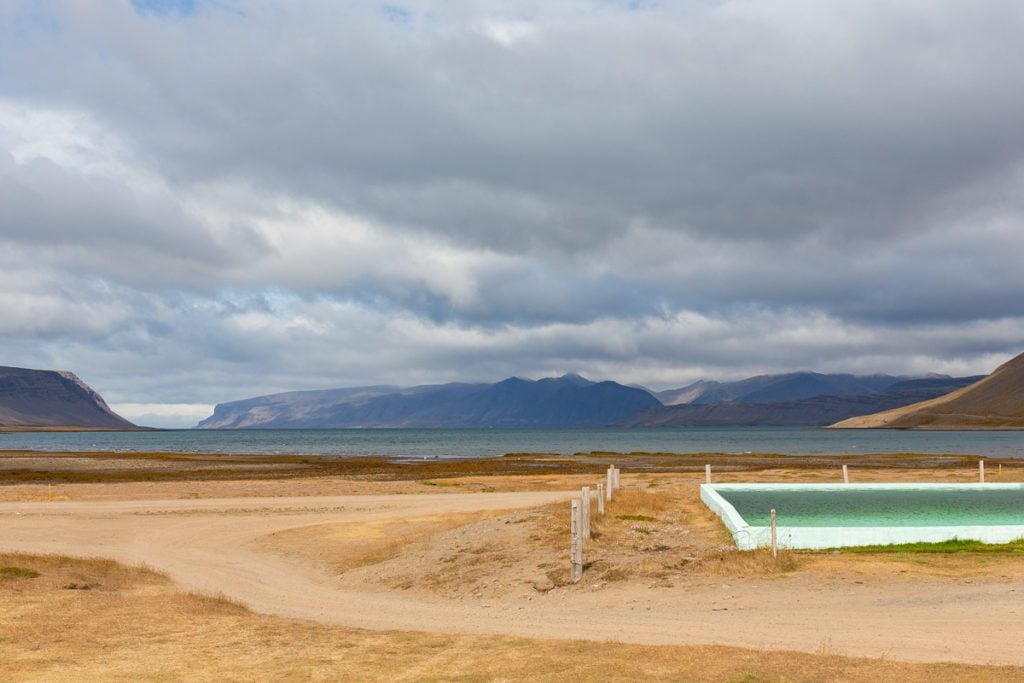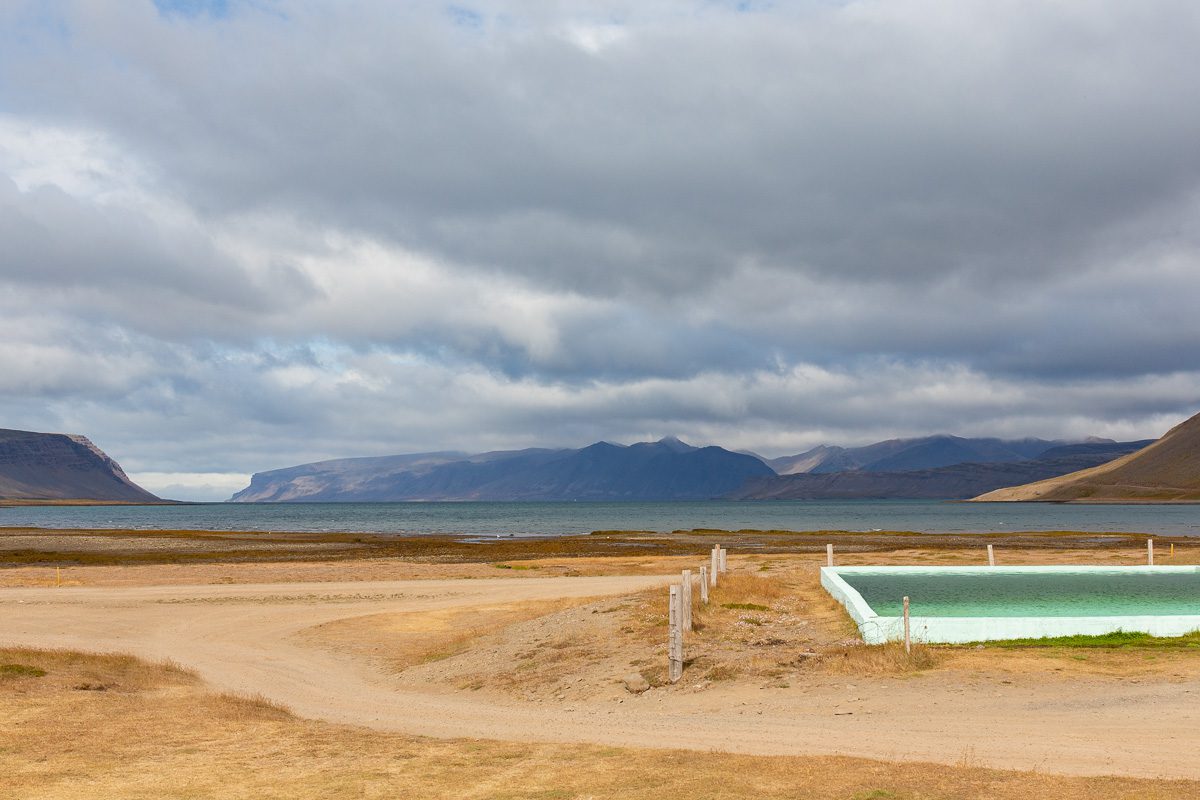 At a glance: A warm hot spring with pool on the shore of the Westfjords
Type of Hot Spring: Natural stream with man made pool adjacent
Price: Free
Location: Westfjords
Reykjafjarðarlaug Hot Pool is located on the roadside at the head of a fjord and a great spot to hit up on your Westfjords road trip. It's just a few steps from the parking area, so it's very easy to get to.
The hot spring is in a shallow depression with mountains rising on either side. The surrounding landscape is vast with the deep blue fjord stretching off into the distance.
What to expect at Reykjafjarðarlaug Hot Pool
Reykjafjarðarlaug is a shallow pool that has space for only 4 people. It has a stony bottom that is quite silty. A stream runs from the hot pool down towards the larger pool and the sea beyond. The water in the hot pot is hot while the larger man-made pool is quite cool.
There is a small wooden changing area and toilet, but there are no other facilities.
The pool is accessible from the parking area, while the hot spring is a short walk over a grassed area. The parking area can get quite busy as it is one of the few stopping places in the area but given where it is it is never busy compared to other places in Iceland.
How to get there: From the ferry terminal at Brjánslækur that links the Westfjords to the Snæsfellsnes Peninsula, take Highway 62 north to Flókalundur before turning left onto Highway 60 towards Ísafjörður. At the junction with Highway 63, turn left towards Bíldudalur and follow the road around the first headland and along the edge of the fjord. The parking area will be seen on your left at the head of the fjord.
Recommended by: Suzanne from Meandering Wild
What to pack for Iceland hot springs
Hydration pack and/or water bottles
Snacks
Swimwear
Sun protection: sunglasses, hat
Comfortable walking shoes or hiking sandals (like Chacos)
Camera and tripod (this is our favorite for hiking)
Be sure to download our complete packing list for Iceland! It's packed with good suggestions and insider tips to help plan your Iceland trip. And it's completely FREE, so why not!?


---
Are you planning a trip to Iceland?
We have TONS of resources on travel in Iceland and how to make the most out of your trip. Check out our Ultimate Iceland Travel Guide for all the answers to your most burning questions, or read some of our favorite articles below.
Save this article on Pinterest for later!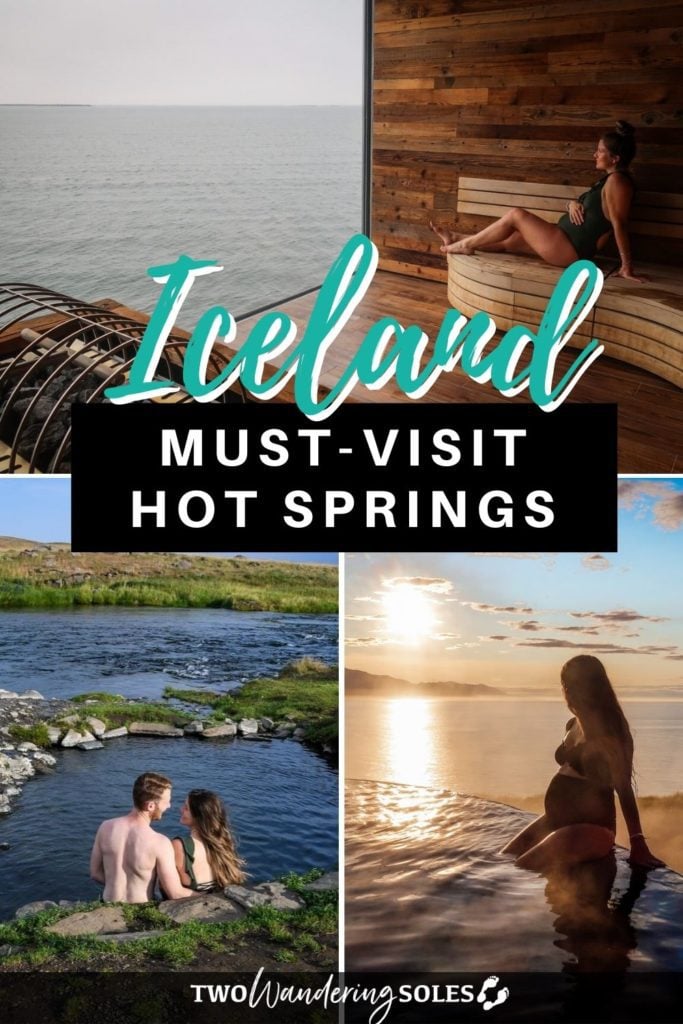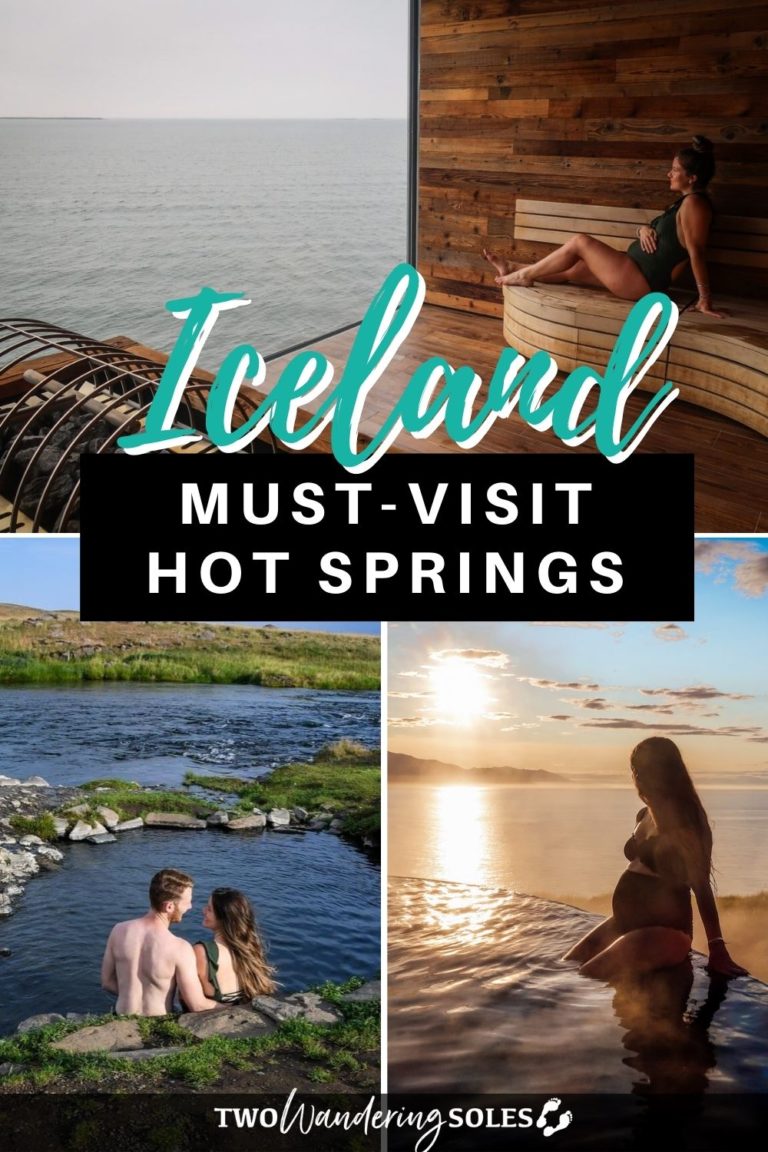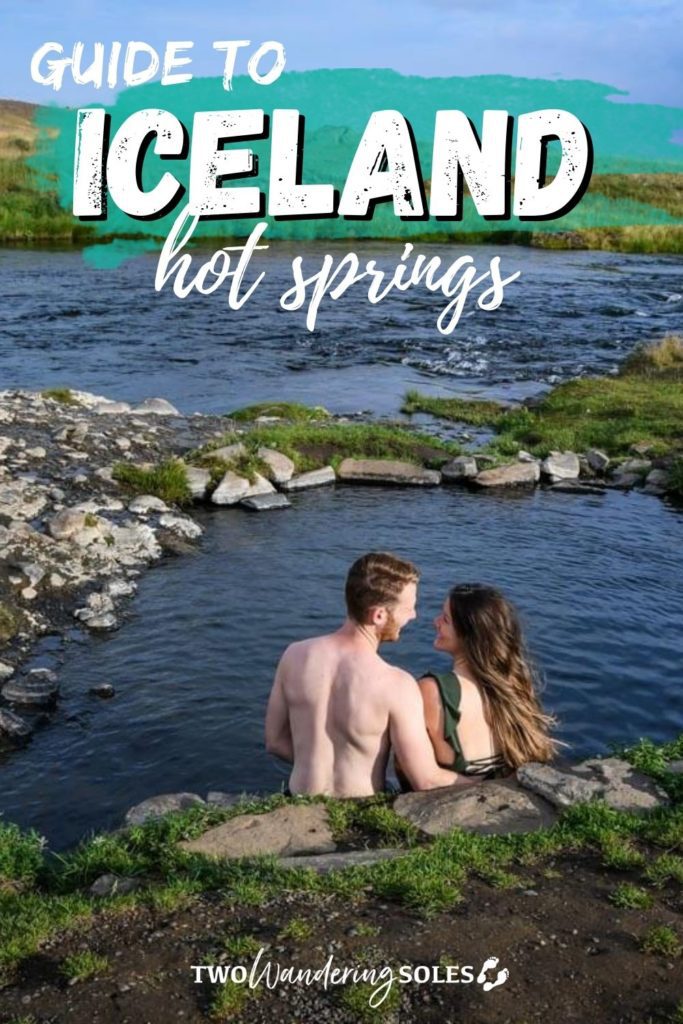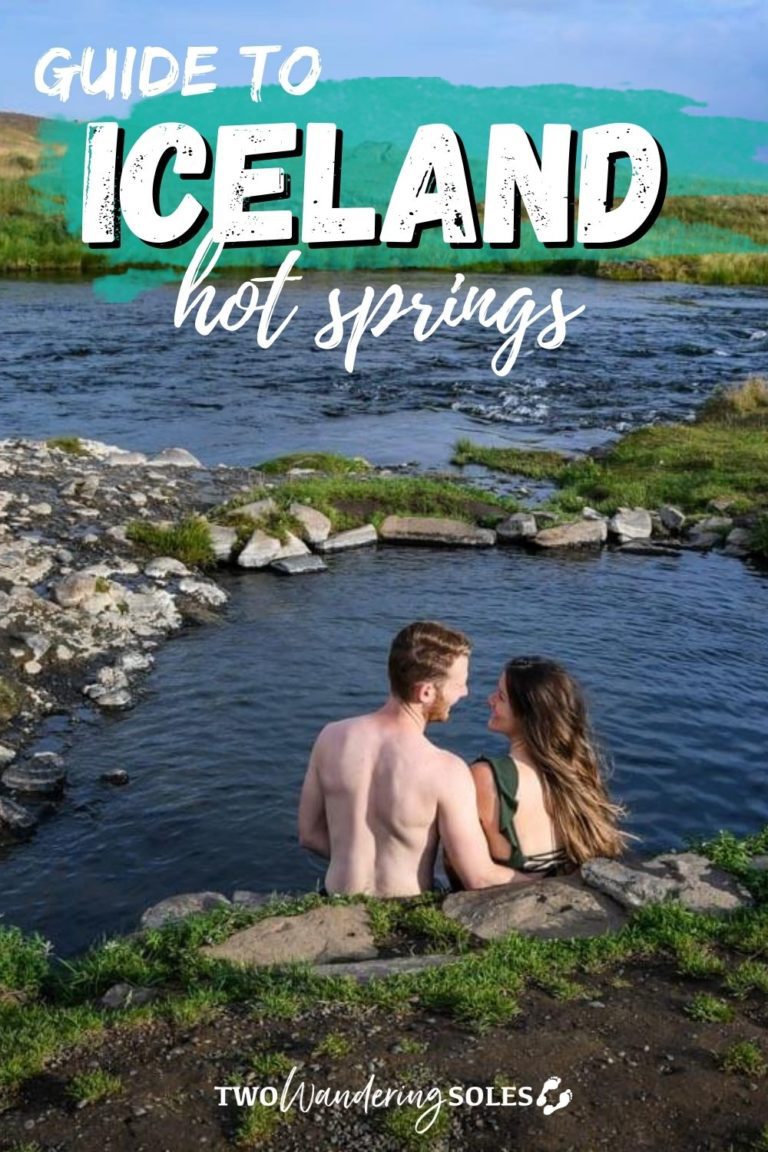 We want to hear from you!
Which Iceland hot springs are you most excited to visit? Do you have a favorite Iceland hot spring you think we should add to this list?
Comment below and we'll do our best to get back to you!