With incredible food, a merging of cultures and a charming mix of old and new, Istanbul has no shortage of unique and fun things to do. We've put together a list of our favorite things to do in Istanbul, from the must-do activities that headline all guidebooks, to the lesser-known city secrets.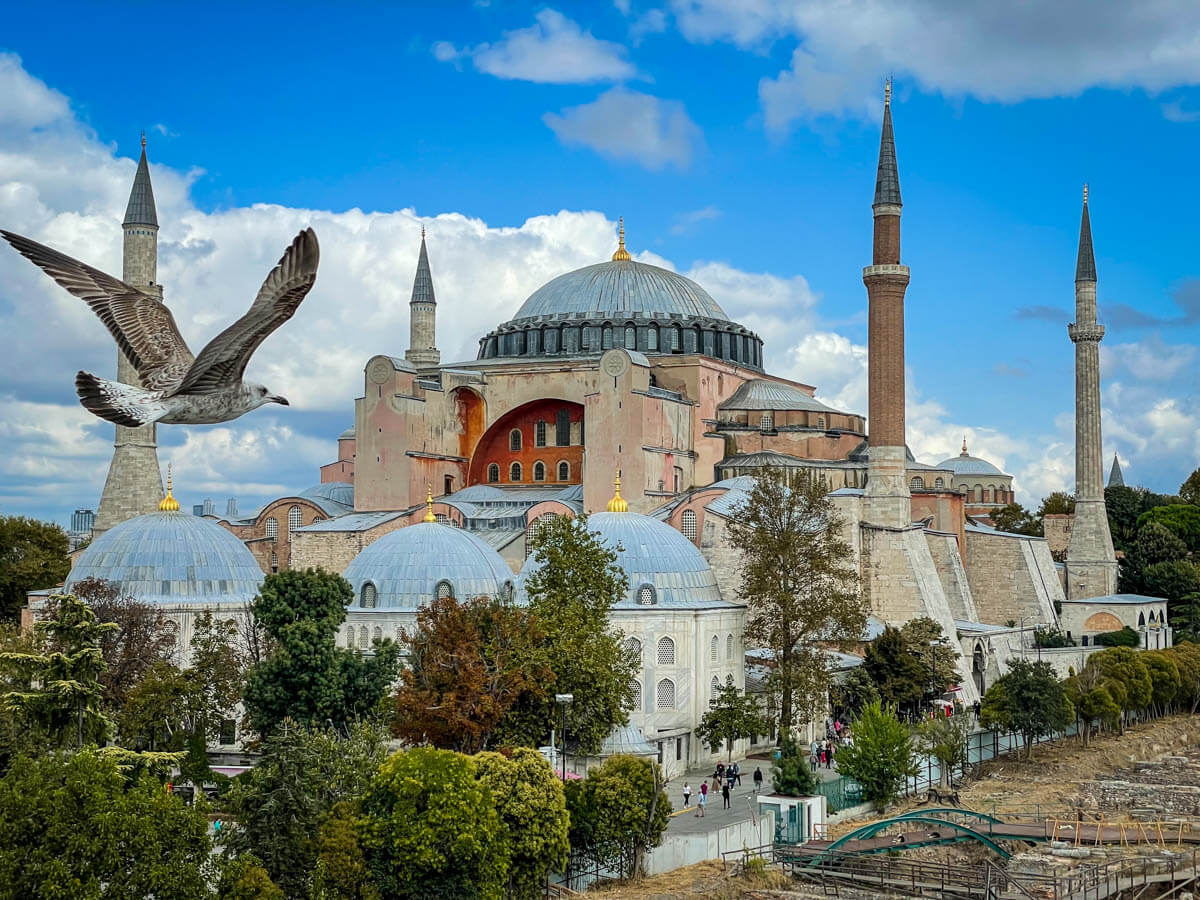 Every city claims to be unique, but Istanbul is truly one-of-a-kind. There is no other city in the world that spans two continents, after all.
Istanbul sprawls over seven hills and is split by the mighty Bosphorus River: Europe on one side of the water and Asia on the other. And that's just the beginning…
You'll see Muslim women wearing hijab walking beside thoroughly tattooed and pierced hipsters. Sophisticated restaurants share the same zip code as traditional tea shops and spice markets. Istanbul is home to fishermen and millionaires, age-old mosques and H&M.
Although nearly 20 million people call this city home, it doesn't feel too compact, and green spaces frequently break up development. Modern construction neighbors ancient ruins in a tangible marriage of new and old.
Because Istanbul is the meeting place of Asia and Europe, traces of both continents are found here, along with a presence uniquely its own. Influences from Christianity and Islam merge with the grandeur of ancient Roman civilization, and are then mixed with a pinch of Middle Eastern flair.
We were utterly enchanted by Istanbul. In fact, of all the incredible places to visit in Turkey, Istanbul is still up at the top of our favorites. It even made our list of the best cities to visit in Europe.
There are many reasons to visit Istanbul, but in our opinion, this city has a little bit of everything: Europe and Asia, old and new, upscale and authentic, Christian and Muslim. There is something incredibly charming and mesmerizing about how everything melds together in one beautiful masterpiece.
If you find yourself in this wondrous metropolis, you'll soon see there is no shortage of fun things to do in Istanbul. The difficult part will be choosing how to spend your time.
We've put together a list of some of our favorite unique and fun things to do in Istanbul, from the must-do activities that headline all guidebooks, to the lesser-known city secrets.
---
1. Take a free walking tour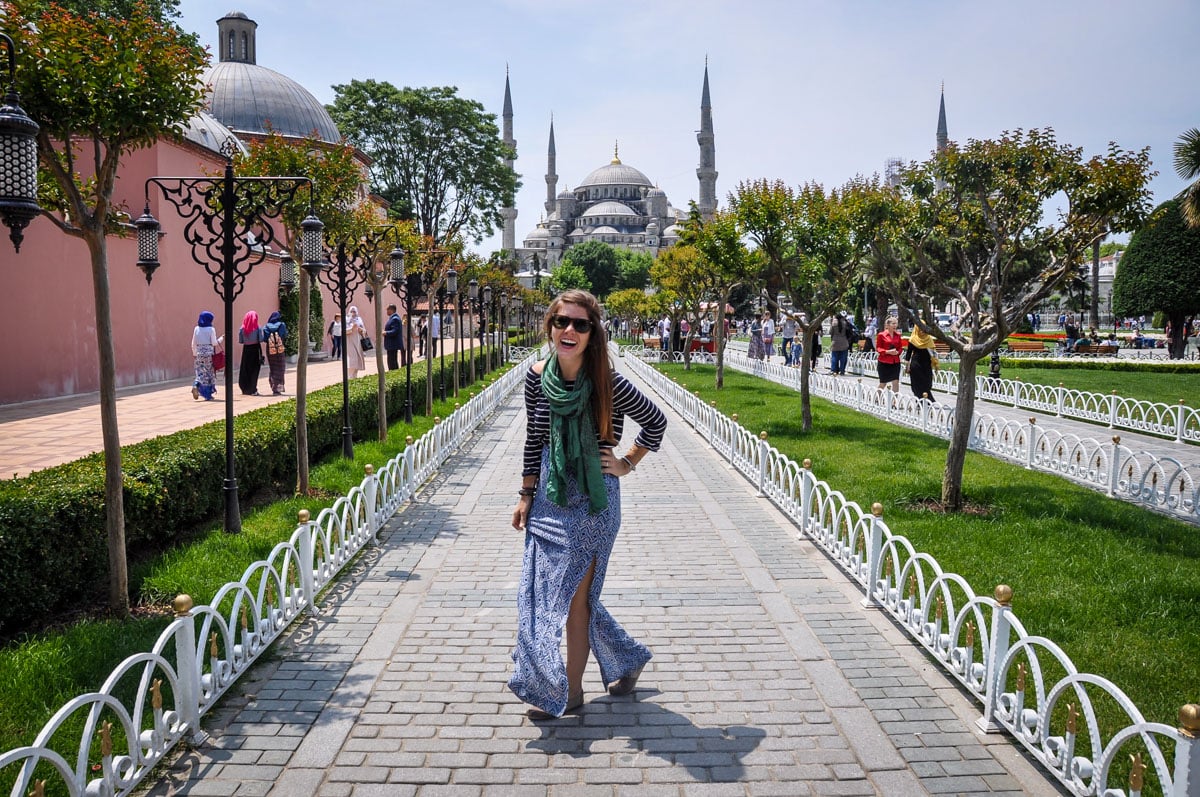 Ever since our amazing walking tour in Medellin, one of the first things we do in a new city is take a free walking tour. Usually these excursions are led by young locals who can give you great insight to their city and the life its people lead.
You learn about this city's history, its progression and the important places (including some stellar places to eat and check out on your own!). The free walking tour in Istanbul is a great introduction to this metropolis and its place in history.
Tip: Take the free walking tour on your first morning in Istanbul. That way, you'll get a feel for how the city is set up and can decide where to best spend the rest of your time.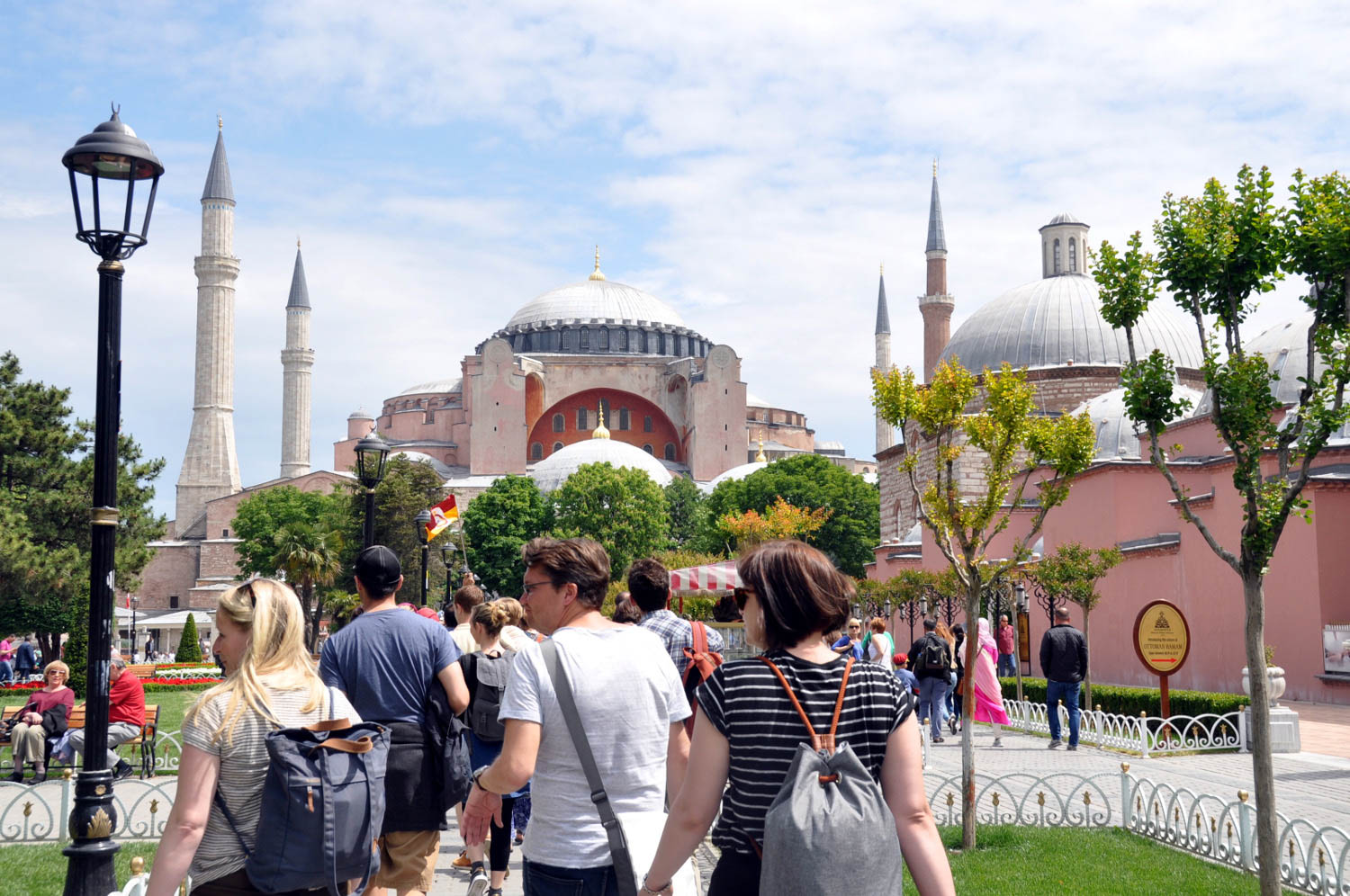 How to do it yourself
Free Istanbul Tours offers daily tours of Old Istanbul beginning at 10:30 a.m. and they usually last about 2.5 hours.
As an alternative, they also offer a Parts Unknown Istanbul tour (for those who have already seen the popular sights such as the Blue Mosque, Hagia Sophia and Basilica Cistern or just want to get off the beaten path) which is on Tuesdays, Thursdays and Saturdays at 2:00 p.m.
Important: Booking a reservation in advance is necessary to take the walking tour. You can make your reservation on their website.
Tours are based on tips, and entrance fees to the sites are not included in the price. The minimum suggested contribution is 10 Euros, or 100 Turkish Lira per person.
Note: Attendees are asked to dress appropriately for entering mosques, which means women need to have their heads, shoulders and knees covered.
2. Take a Turkish cooking class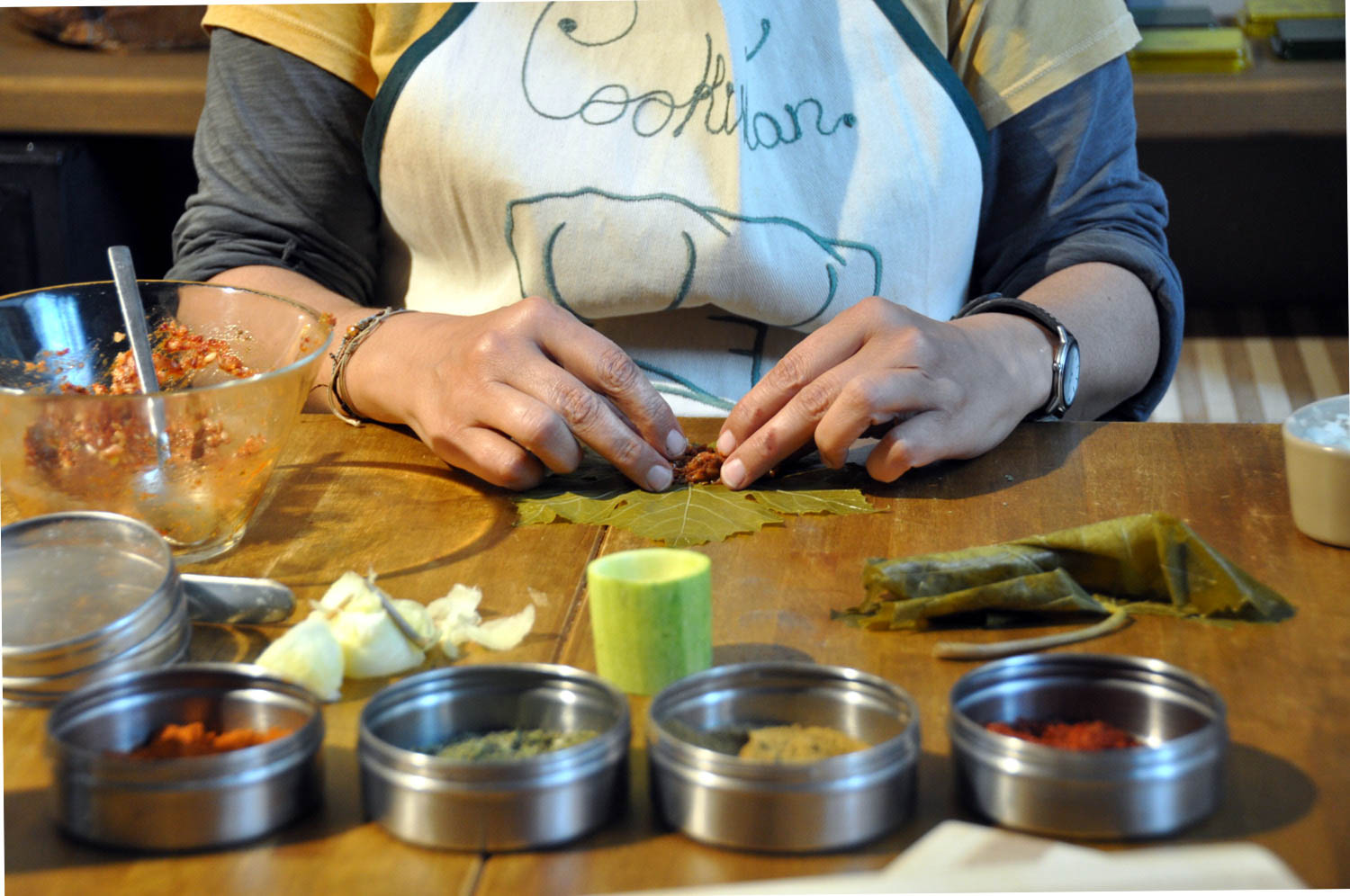 A country's culture is tied closely to its cuisine, and you can learn about one by exploring the other. If you like to eat (and let's be real, who doesn't?!), taking a cooking class when visiting a new country is one of our favorite things to do.
Turkish cuisine has complexities you won't pick up on as an outsider, yet many dishes are easy to recreate at home.
Istanbul has many classes to choose from, but the team at Cookistan was exceptional. We've written all about our own experience in this Turkish cooking class so you can see if it would make a good addition to your time in Istanbul (Spoiler alert: you'll most likely love it like we did!).
In this class you'll not only learn, but you'll leave Turkey with a souvenir that keeps on giving – a recipe and the knowhow to recreate it at home!
How to do it yourself: Make a reservation on our favorite cooking class website, Cookly.
3. Marvel at the Hagia Sophia
Visiting hours: 9:00 a.m. to 10:00 p.m. daily
Entrance fee: Free
Being that the city of Istanbul spans two continents, it's not surprising that it holds an incredible amount of historical significance. One such building is the Hagia Sophia (Aya Sofya).
The awe-inspiring masterpiece, recognized as a UNESCO World Heritage Site, was once a Byzantine basilica, then an Ottoman mosque. In 1935 it was turned into a museum, standing as a symbol of cultural harmony in Turkey, until 2020 when it was converted back into a working mosque once again.
This means it's free to enter (whereas the museum had an entrance fee) but visitors are now limited to which areas you are allowed to explore. You will also need to make sure to wear the appropriate covering to enter the mosque.
The Hagia Sophia is open daily to the public, but closed during prayer hours. When I was there last in 2022, they didn't allow visitors entrance until 10 a.m. and by that time there was a line nearly around the entire block (but luckily it moved quickly once they opened!).
How to dress for entering a mosque
This goes for the Hagia Sophia as well as the other religious sites on this list of things to do in Istanbul:
For ladies your shoulders and legs should be covered and you will need a head covering as well. I typically bring a shawl or scarf that I can drape around my head.
For men, just your shoulders and knees should be covered.
(See the diagram in the photo to the right.)
At Hagia Sophia, they do also sell head and dress covers on site for 10TL and 30TL respectively.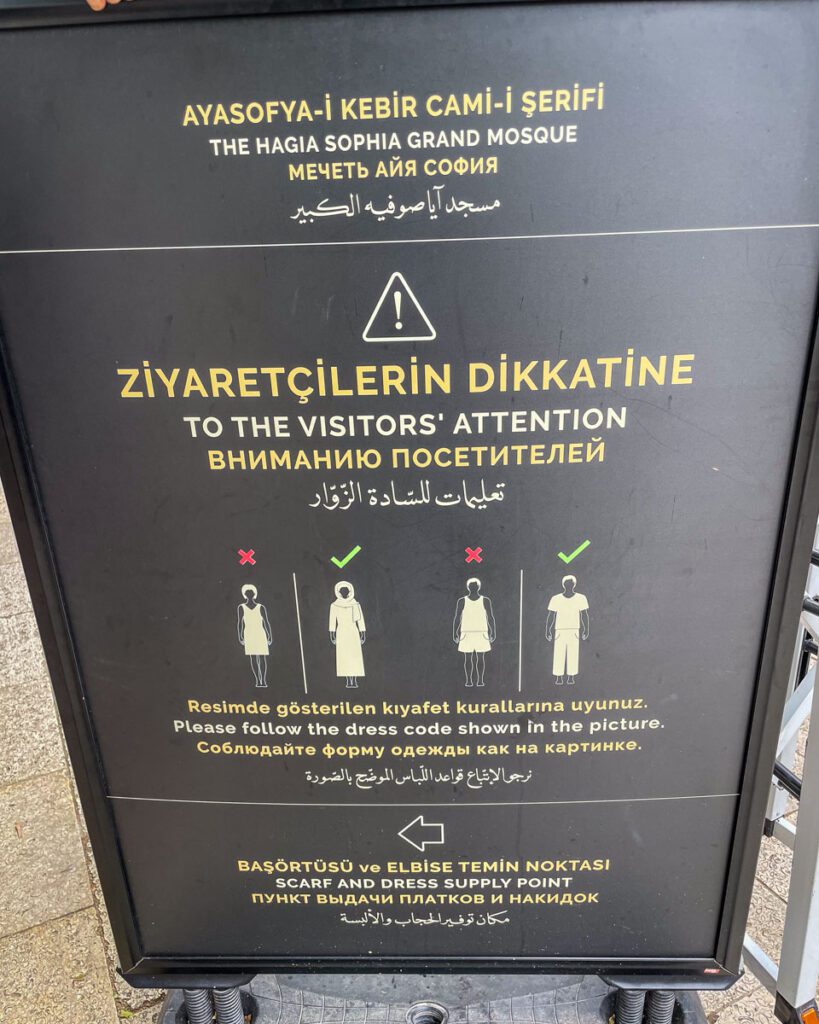 4. Get scrubbed down in a Turkish Hammam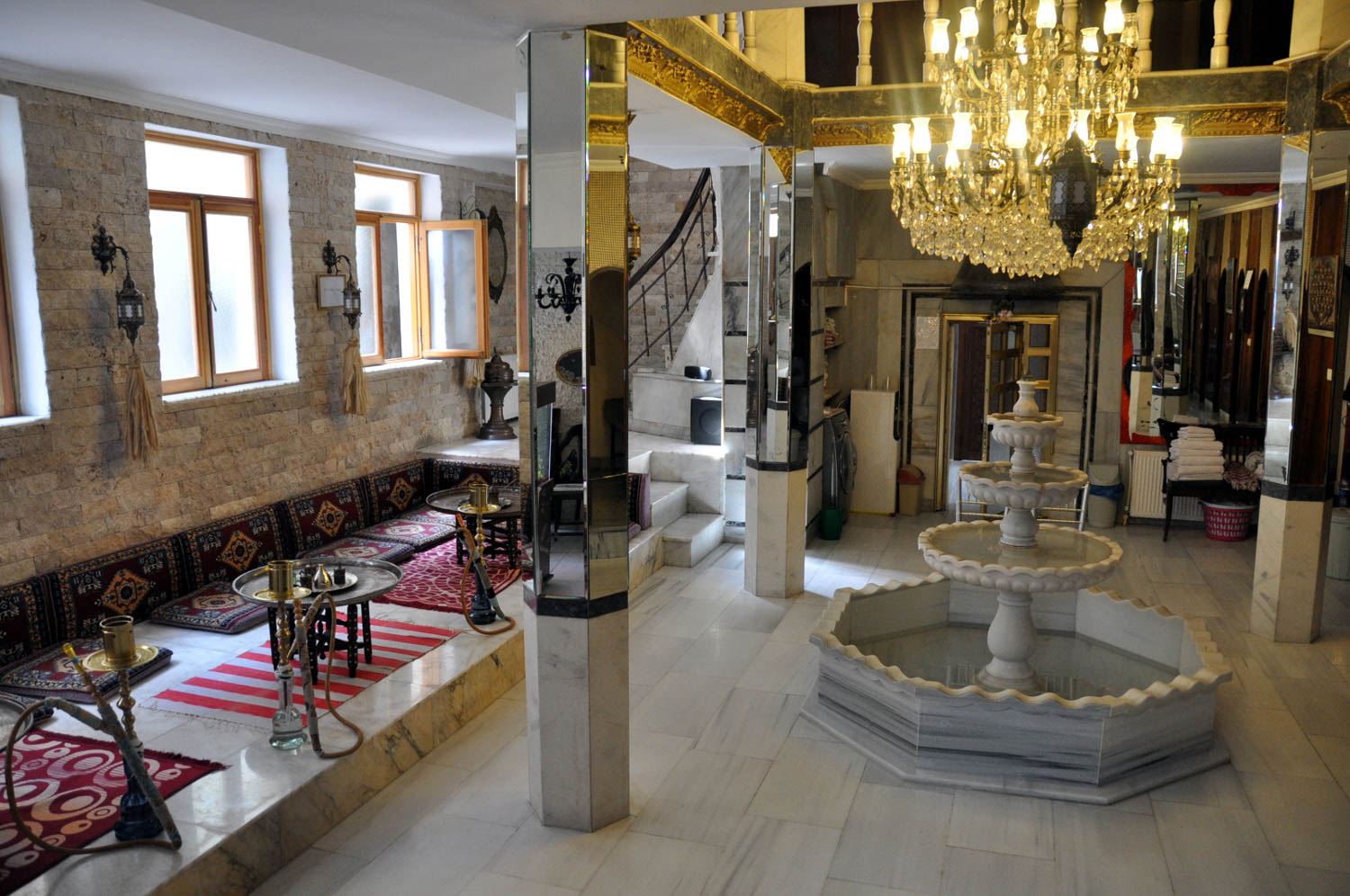 There are plenty of hammams, or traditional bathhouses, to choose from around Istanbul that range from basic to straight up luxurious.
If you're on a budget, look no further than Aga Hamami, the oldest Turkish bath in Istanbul. This historic hammam is over 560 years old and the basic package costs just 750 TL (~$25 USD) per person. A comparable experience at other, more luxurious bathhouses average around $85 USD.
One of the things we enjoyed most about this hammam is that as a couple, we were able to experience it together. Many bathhouses are completely separated by gender, but this hammam features a central room that we could hang out in together.
If you want to try a slightly more luxurious traditional hammam experience, head to Kılıç Ali Paşa Hamami. Built nearly 1.5 centuries after Aga in 1580, the impressive main dome is considered among the largest in Istanbul.
Here you will receive the traditional hammam package for 1950 TL (~$70 USD) but it includes a personal attendant, hot stone relaxation and unlimited access to the lounge facilities. However, this one is separated by gender based on entry times.
Helpful tip: Check the hours of the hammam you choose to be sure they are open and if/when they are receiving men or women. (Some hammans split their hours so only women are allowed during certain hours and only men during others.)
If you can, it's helpful to make a reservation online beforehand to guarantee your appointment, but you can also just show up and see if they can fit you in.
The staff should be able to explain the procedure to you in English. Prices range from about $30 USD to well over $100 USD, and vary in luxury according to cost.
And if you are traveling with children, they will love the experience too. Our friends over at The Educational Tourist wrote about their Turkish bath experience with kids.
5. Go underground in the Basilica Cistern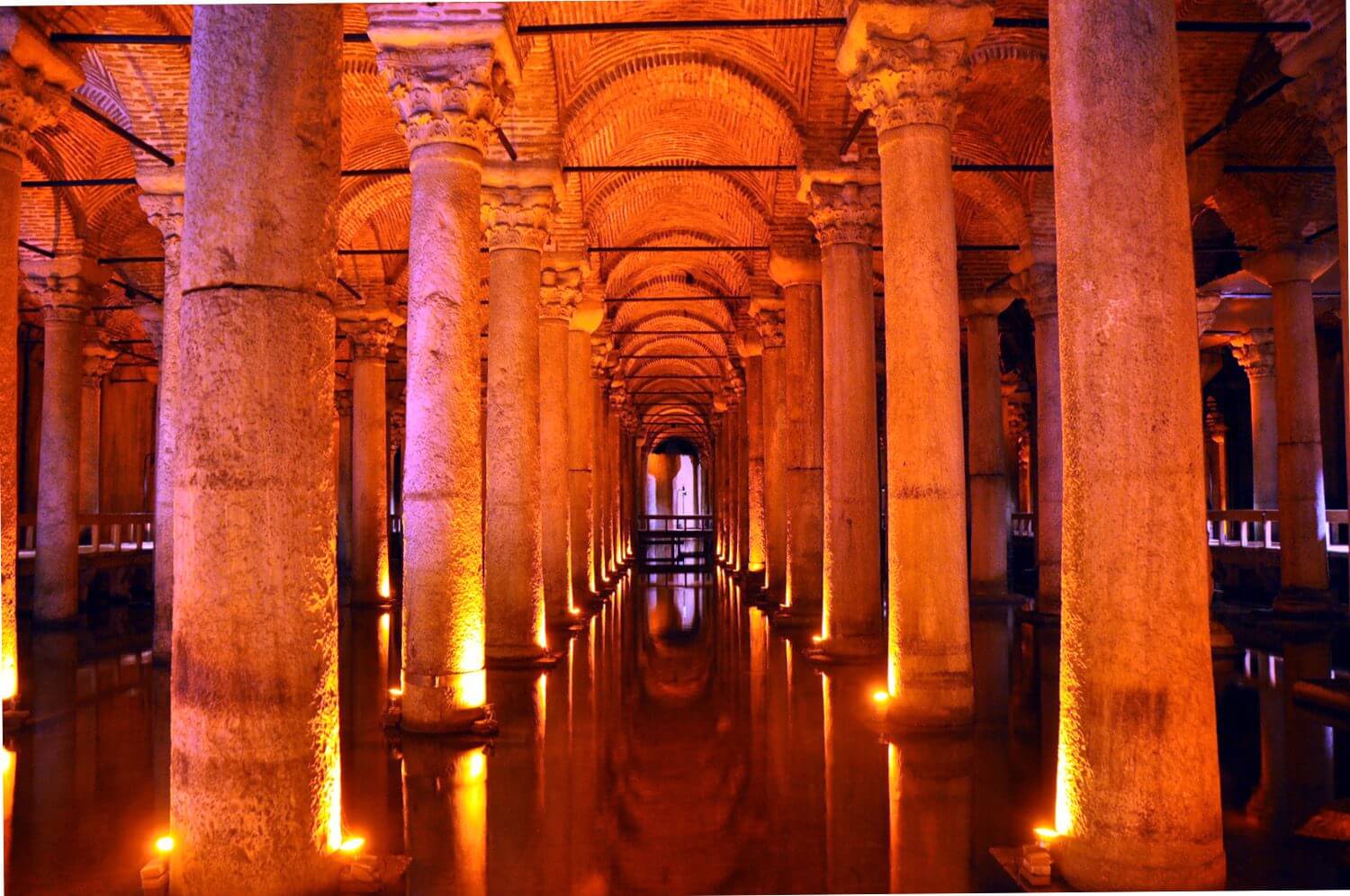 Visiting hours: 9:00 a.m. to 10:00 p.m. daily
Entrance fee: 450 TL (~$16 USD) for adults
You may recognize the Basilica Cistern as the setting of Dan Brown's book-turned-movie Inferno. The largest of the ancient cisterns that lie beneath the city of Istanbul, this eerie underground museum underwent a major transformation in 2021 and is back to being one of the most popular tourist destinations in the city.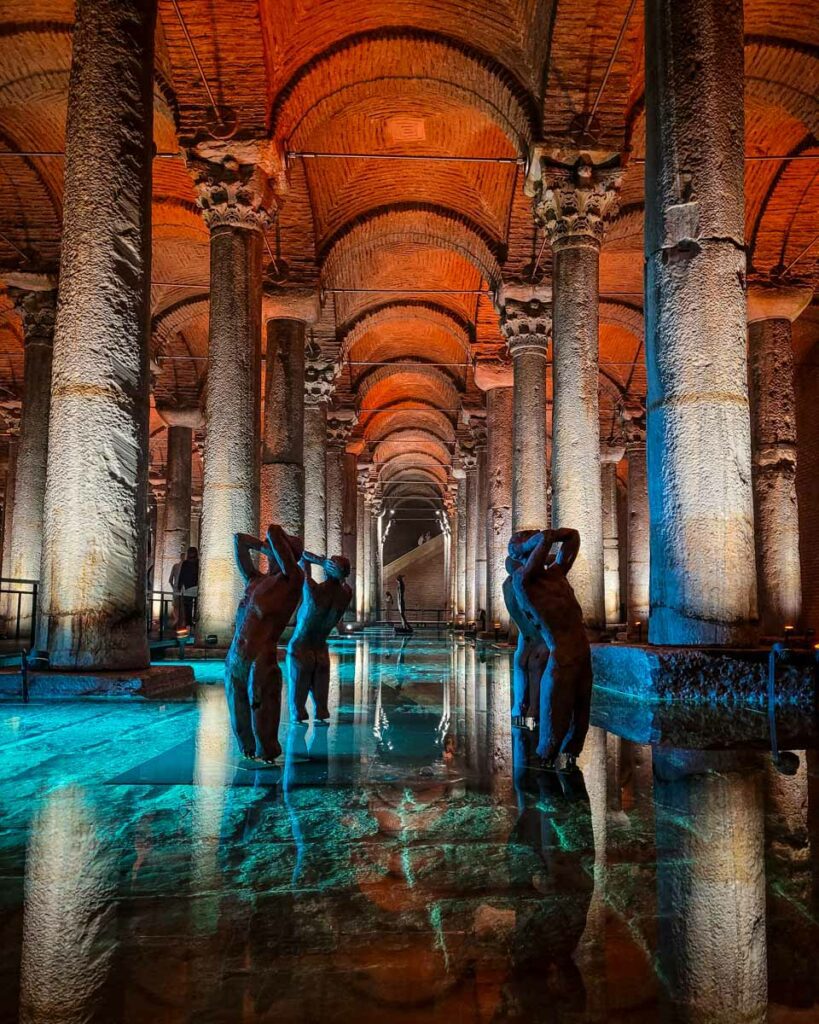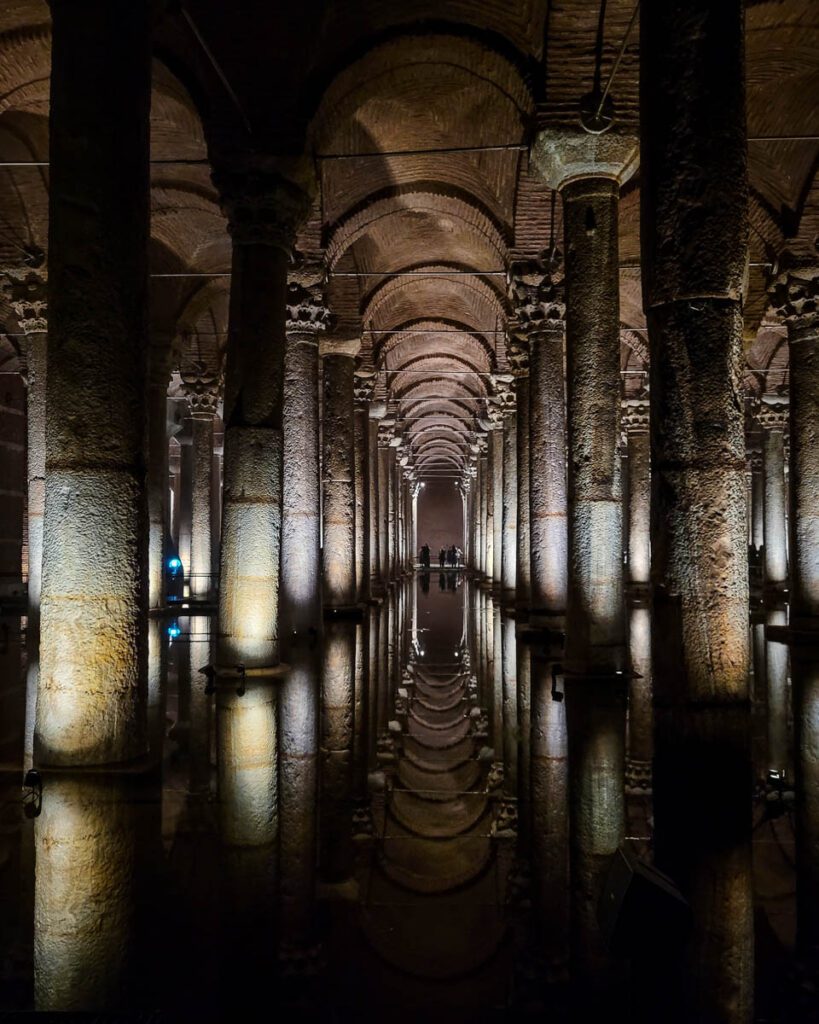 While touristy, the renovations make this quite an interesting place to visit and there are regular light/music shows as well as a film depicting the history of the city. The lighting also makes for some fun and unique photos.
6. Check out the Blue Mosque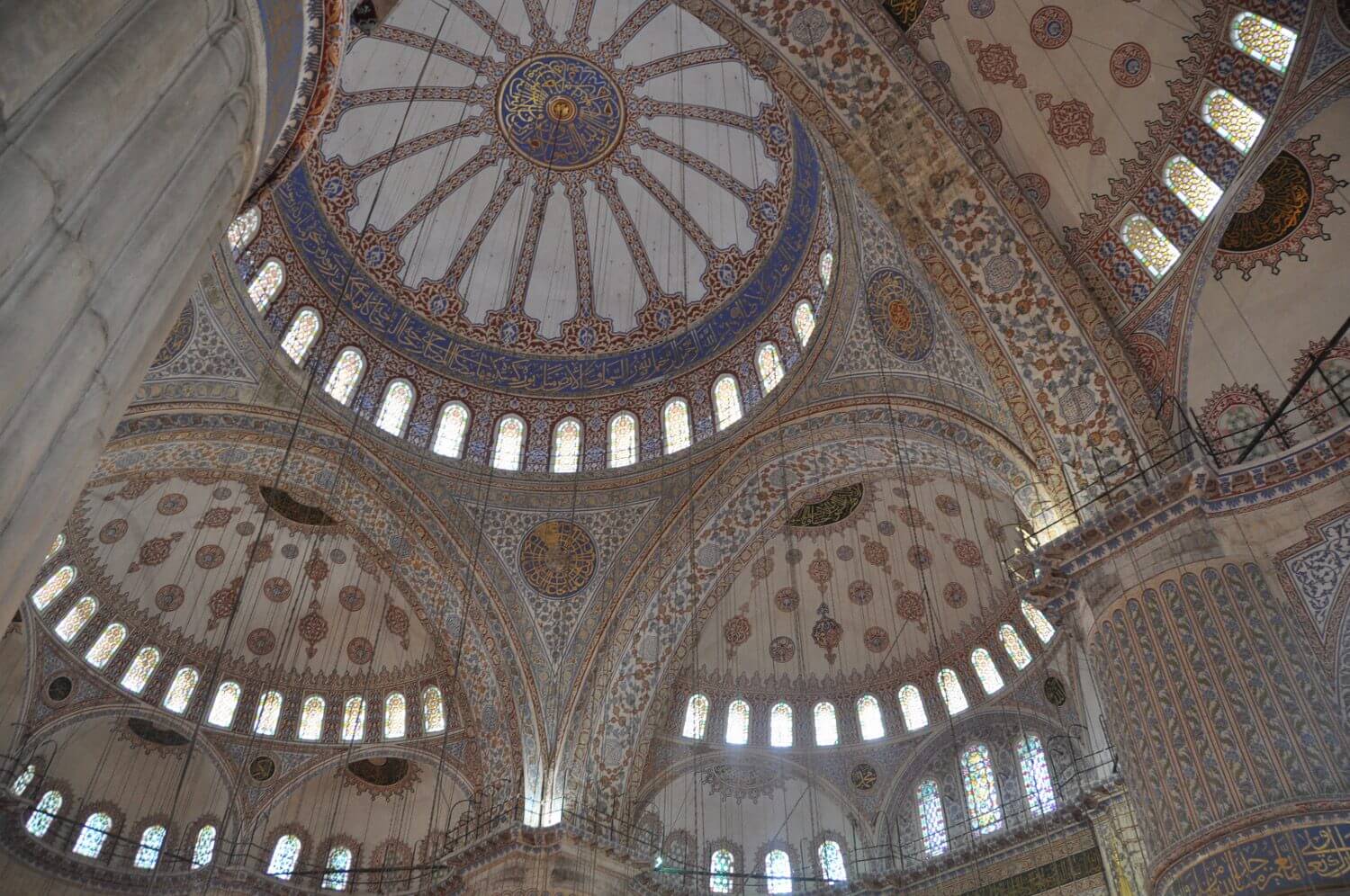 Visiting hours: 8:30 a.m. to 6:45 p.m.
Entrance fee: Free
Another famous historical building in the Sultanahmet area is the Blue Mosque (officially named Sultan Ahmed Mosque). Constructed between 1609 and 1617, this Ottoman-era imperial mosque is known for the thousands of Iznik tiles painted in predominantly blue colors that decorate its interior.
Same as the Hagia Sophia, the Blue Mosque is a functioning place of worship. This means you will need to wear the appropriate covering when entering. There are coverings available onsite to borrow free of charge, but there is often a line, which adds to the time you'll spend waiting to enter.
7. Browse the Grand Bazaar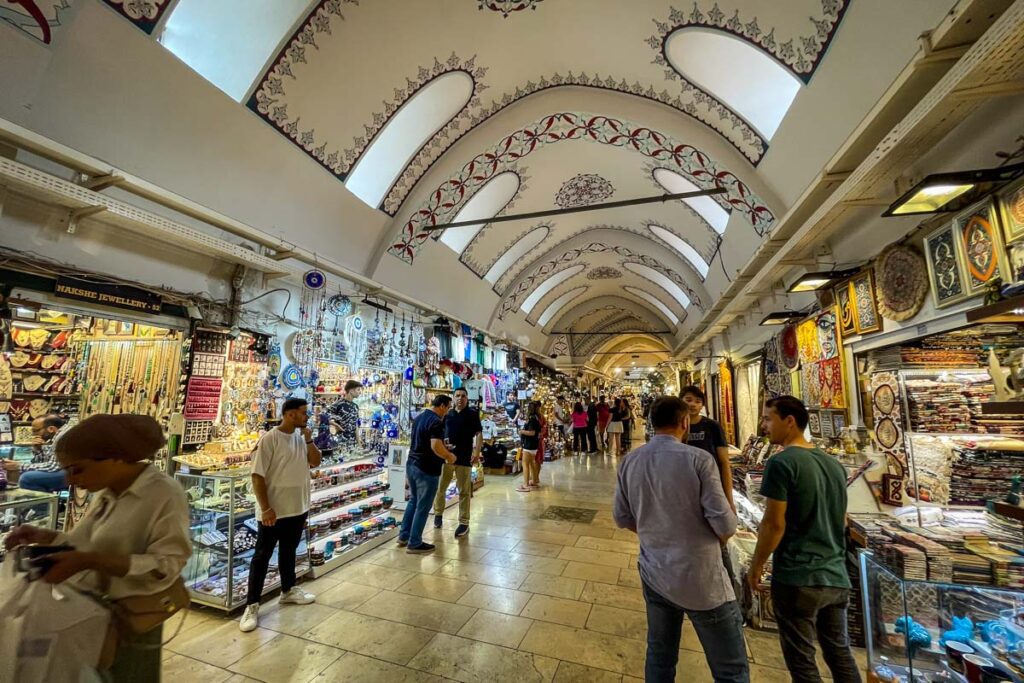 Visiting hours: 8:30 a.m. to 7 p.m. daily, except Sundays and religious holidays
Entrance fee: Free
Istanbul is known for its variety of Bazaars, and we'd recommend taking a gander. As one of the largest and oldest covered markets in the world, the Grand Bazaar is worth a stop just for the historical significance alone.
With over 4,000 shops, it's also a great place to browse and find souvenirs. You can buy anything from fine jewelry to Turkish lamps to Turkish towels and linens (our favorite!) and so much more!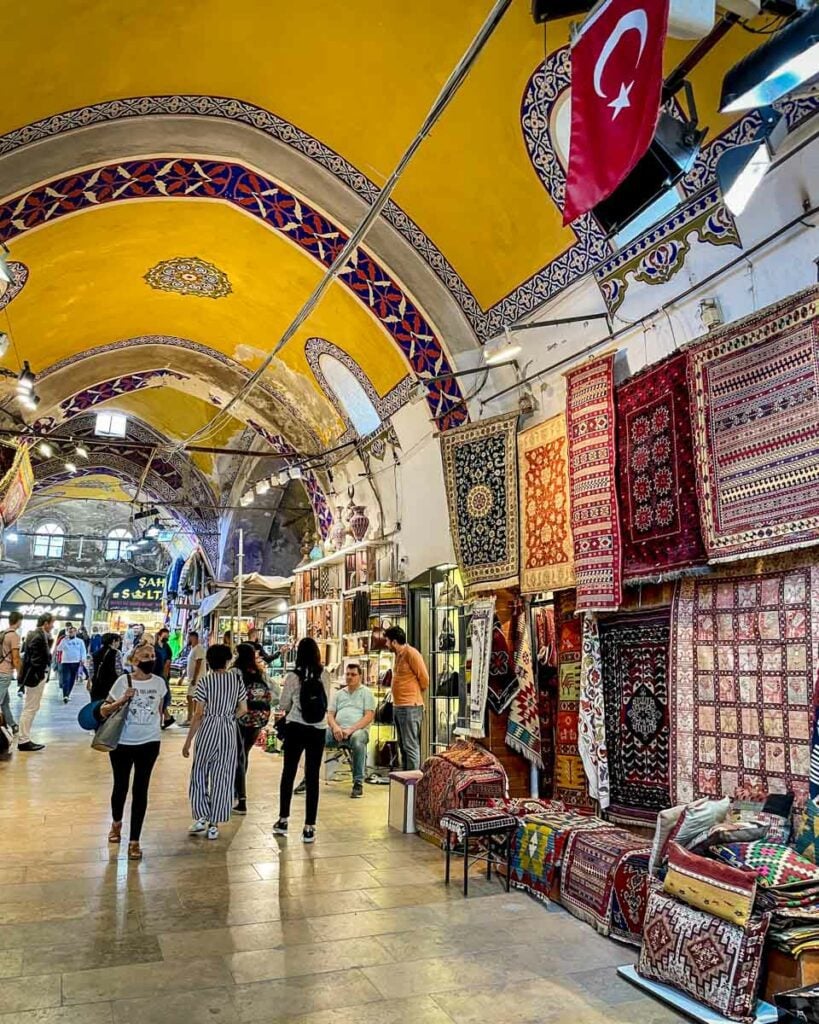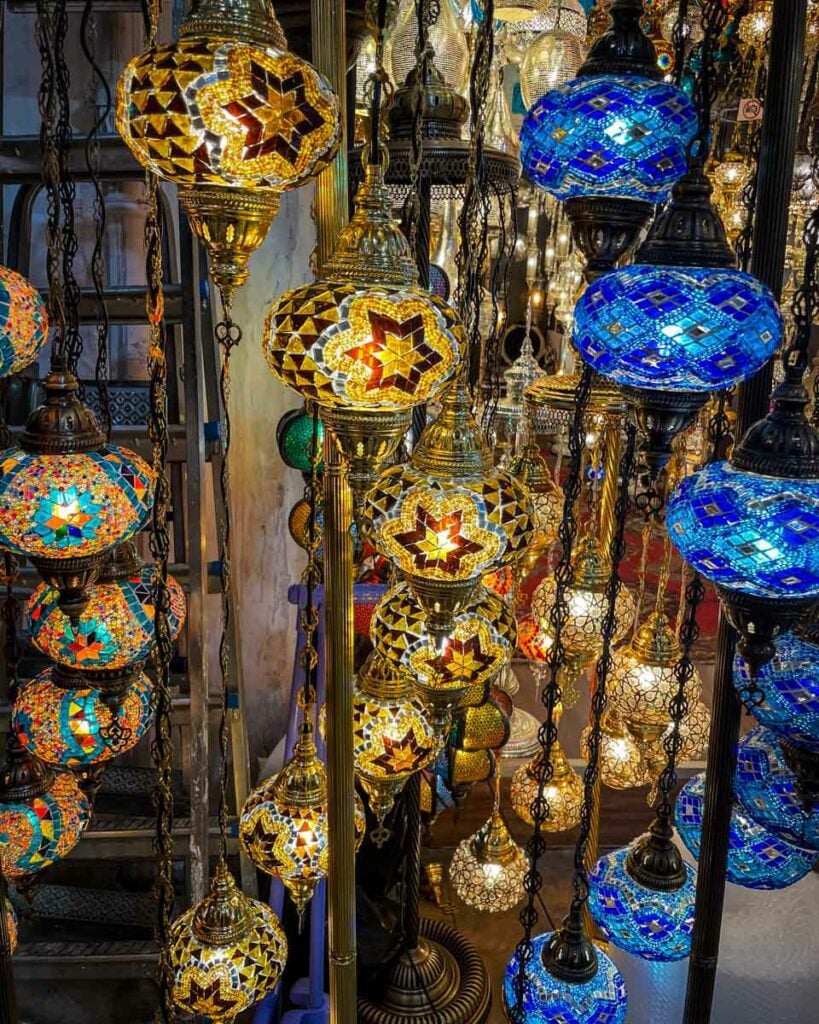 Alternative option: We wanted to get a taste of where the locals shop, so we wandered through the farmer's market in the Tarlabasi Pazari neighborhood.
It felt far less touristy than the main bazaars and had unbeatable produce prices, which tempted us into buying more cherries than two people should be able to consume. Oops! But we aren't most people.
Check out this website for a list of farmer's markets happening each day.
8. Climb Galata Tower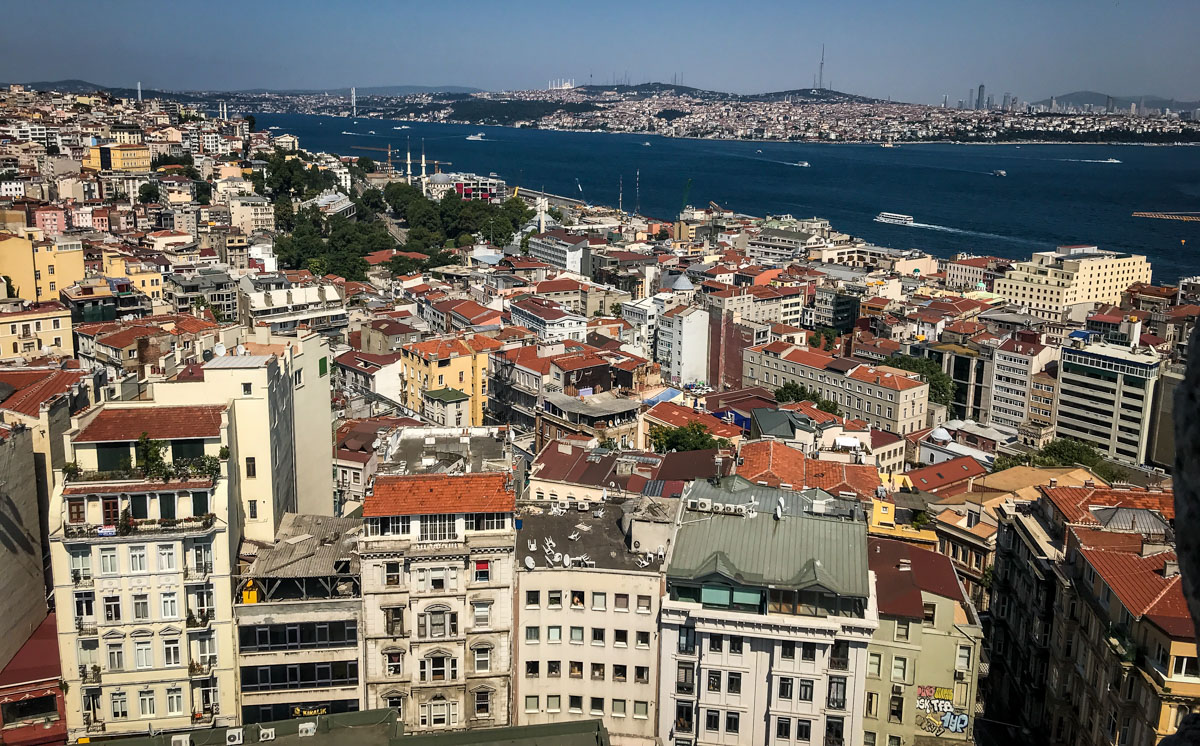 Visiting hours: 9 a.m. to 7 p.m. daily
Entrance fee: 650 TL (~$23 USD) for adults
Erected in the Galata neighborhood of Istanbul, this medieval stone tower was built in 1348 and stood as the tallest building in the city at the time. Today, its height gives an advantage to those who climb it (or let's be honest, take the elevator to the top) to see the views!
If you're looking for the best 360-degree panoramic view of Istanbul, there is no better place than at the top of the Galata Tower.
You can purchase tickets for the tower at the ticket counter inside the base for 650 TL (~$23 USD) and then take the elevator to the top floor. The last story will be climbing stairs until you reach the rooftop. The tower is open 7 days a week from 9 a.m. to 7 p.m.
Once you've had a chance to check out the views, skip the restaurant in the tower and wander the neighborhood instead to find a nice rooftop to enjoy a drink or an afternoon meal.
9. Explore different neighborhoods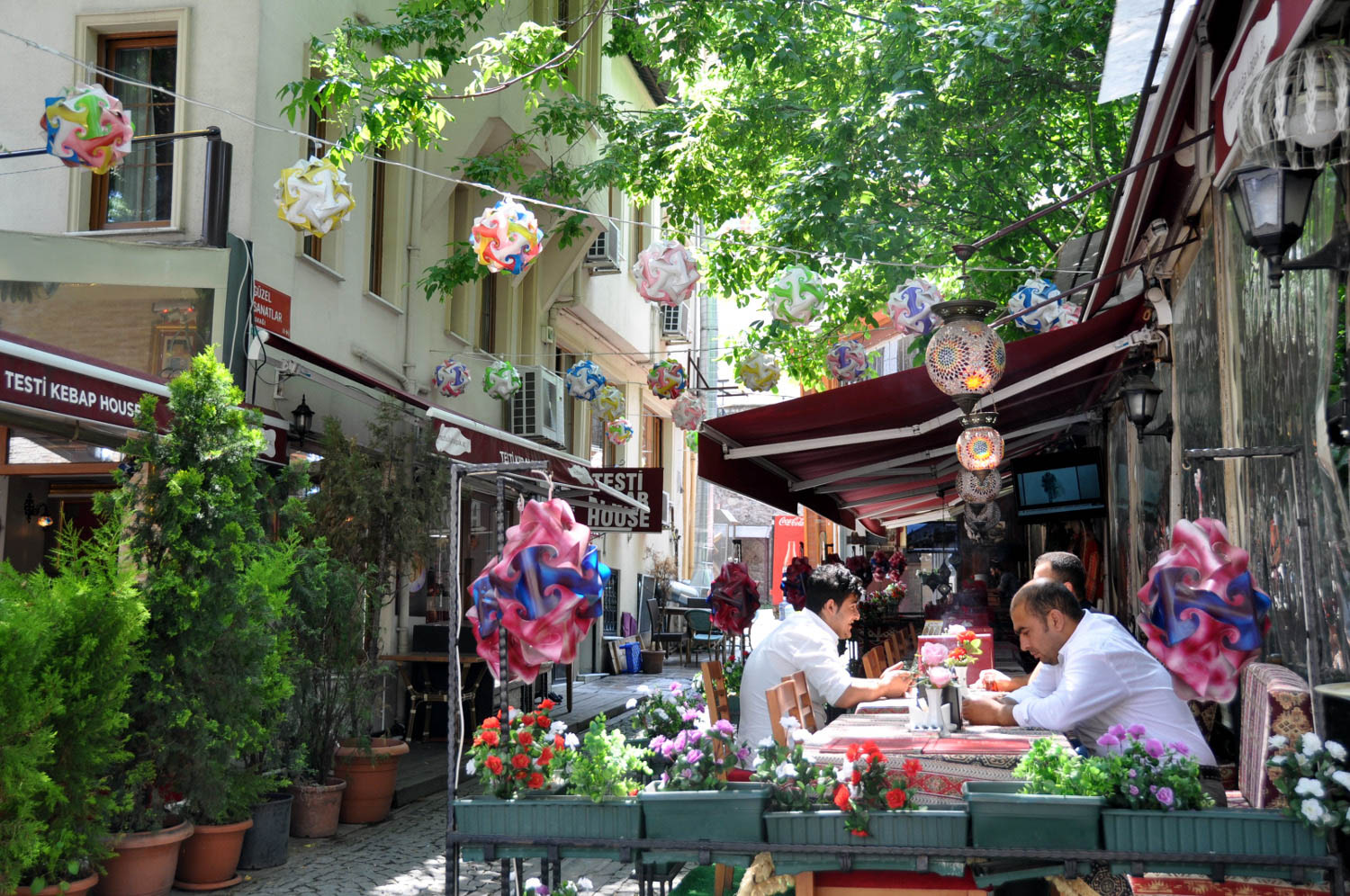 Istanbul is a sprawling city and it can seem overwhelming at times, but think of it as a compilation of many smaller cities.
Each neighborhood in this metropolis has a distinctly different feel, and attracts people for different reasons. Spend an afternoon getting lost in narrow cobbled streets of Galata, or window-shopping and people watching in Taksim.
Central neighborhoods in Istanbul to check out
Taksim Square: known as the "Time Square" of Istanbul, this shopping area is always crowded with people. This is where you'll find the best shopping in the city, as well as several restaurants, bars and nightclubs.
Beyoglu (Galata): This up-and-coming neighborhood has a bohemian feel and boasts many small shops and cute restaurants. It's the area we'd most recommend to stay in on your visit. Be sure to wander past the Galata Tower, and if you want views of the city, head to the top for 650 TL (~$23 USD).
Kadiköy: We stayed in this neighborhood for its proximity to both Sultanahmet and Taksim. We were impressed by the amount of trendy restaurants and soon discovered why this is often referred to as the "hipster" neighborhood.
Sultanahmet: This is where many of the main tourist attractions are, so as you may expect, it is very touristy. While it's definitely a place worth a visit in Istanbul, we got tired of the restaurants' inflated prices, the souvenir shops, carpet sellers and the lack of authenticity.
Ortaköy: Popular with locals and visitors alike, this neighborhood features a picturesque mosque on the Bosphorus and boasts some pretty cute restaurants and bars.
Balat: Get off the beaten path in this colorful neighborhood that makes for some pretty epic Instagram backdrops with brightly painted houses and kids playing in the streets. You'll see traces of Jewish, Orthodox and Armenian communities living peacefully together in these winding streets.
Bebek: This is a hip area popular with locals and right on the Bosphorus. Head here if you want a taste of trendy local life away from the typical tourism.
Check out this website for more information on these neighborhoods as well as the rest of Istanbul.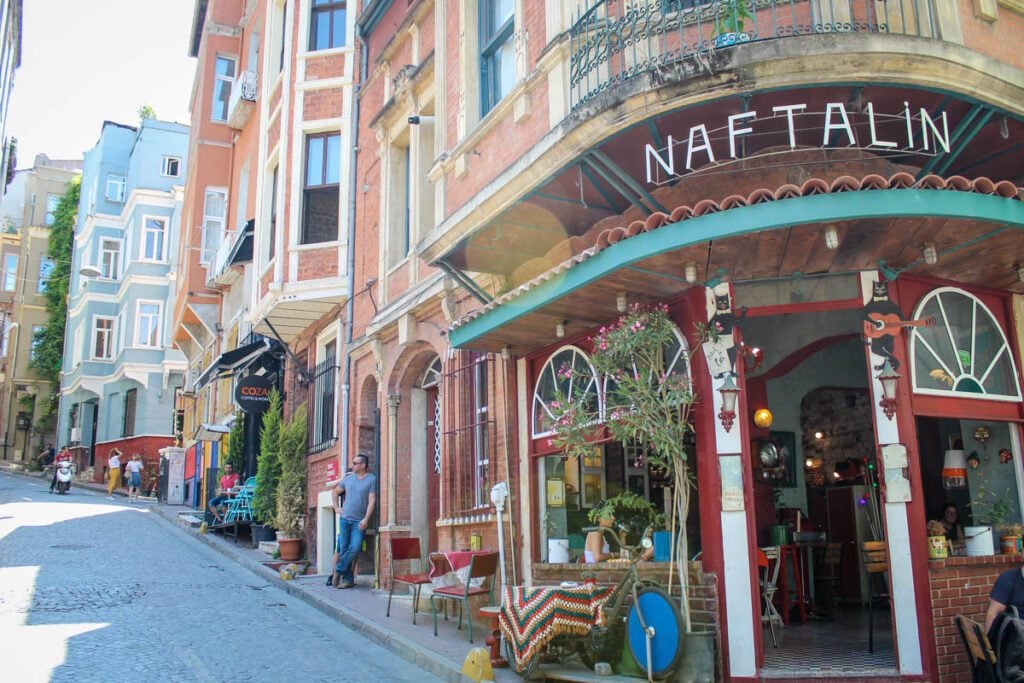 How to get around Istanbul's neighborhoods
The metro is very convenient and is the cheapest way to get around. The taxi drivers are in short supply in Istanbul at the moment, so this was our preferred mode of transportation. First, you'll need to purchase an Istanbulkart card.
Buy this from one of the machines at the metro station for 10 TL and it will come preloaded with 4 TL on it. Even if you are traveling with multiple people, you only need one card. Simply pass it back once the first person has gone through the turnstile.
Psst! Looking to get out of the city for a bit? Don't miss your chance to pop over to Cappadocia, a region in Turkey with some of the coolest nature and plenty of unique things to do!
10. Stroll Istiklal Avenue
Istiklal Avenue (Istiklal Caddesi in Turkish) is both the local and tourist center of Istanbul in the heart of the city. Would you believe this single avenue is visited by nearly 3 million people every single day?
The nearly mile-long stretch of pedestrian walkway is home to restaurants, boutiques and even nightclubs. However, even with the chain restaurants creeping in, there is still a feel of old Istanbul here.
11. Catch the sunset on the Galata Bridge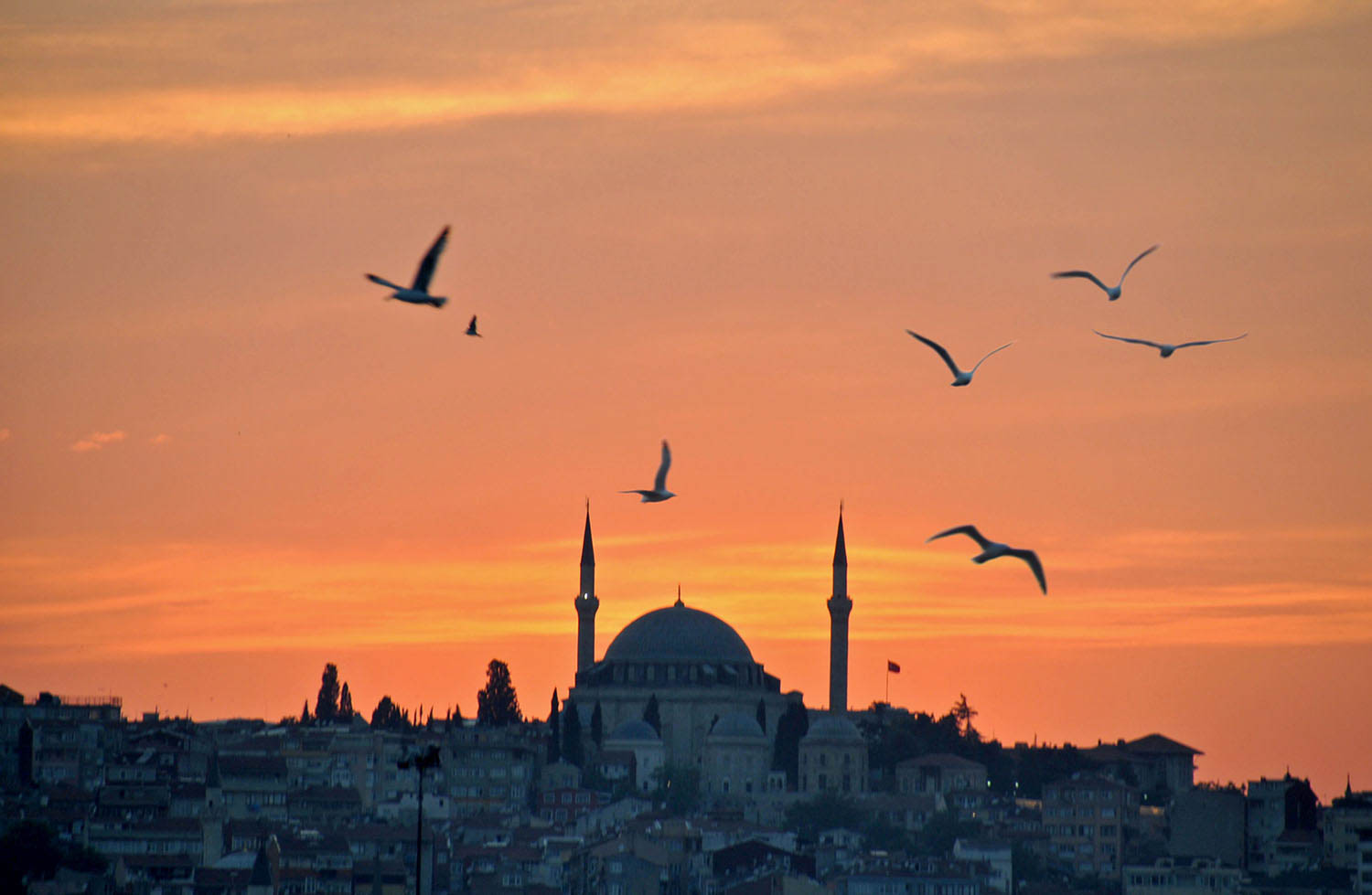 Istanbul has some killer sunsets, so be sure to catch at least one. Whether you're on a rooftop or near the water, you'll be enchanted by the orange sky and flapping seagulls.
Our favorite sunset-viewing spot was on the Galata bridge where we could watch the fishermen pack up for the day and see spectacular views of at least three mosques.
Look up the time of sunset, and make it to the Galata bridge (or whatever spot you wish to watch the sky fade to orange and purple) a bit ahead of time. Find a comfortable spot to relax and get ready to be wowed.
12. Cruise the Bosphorus Strait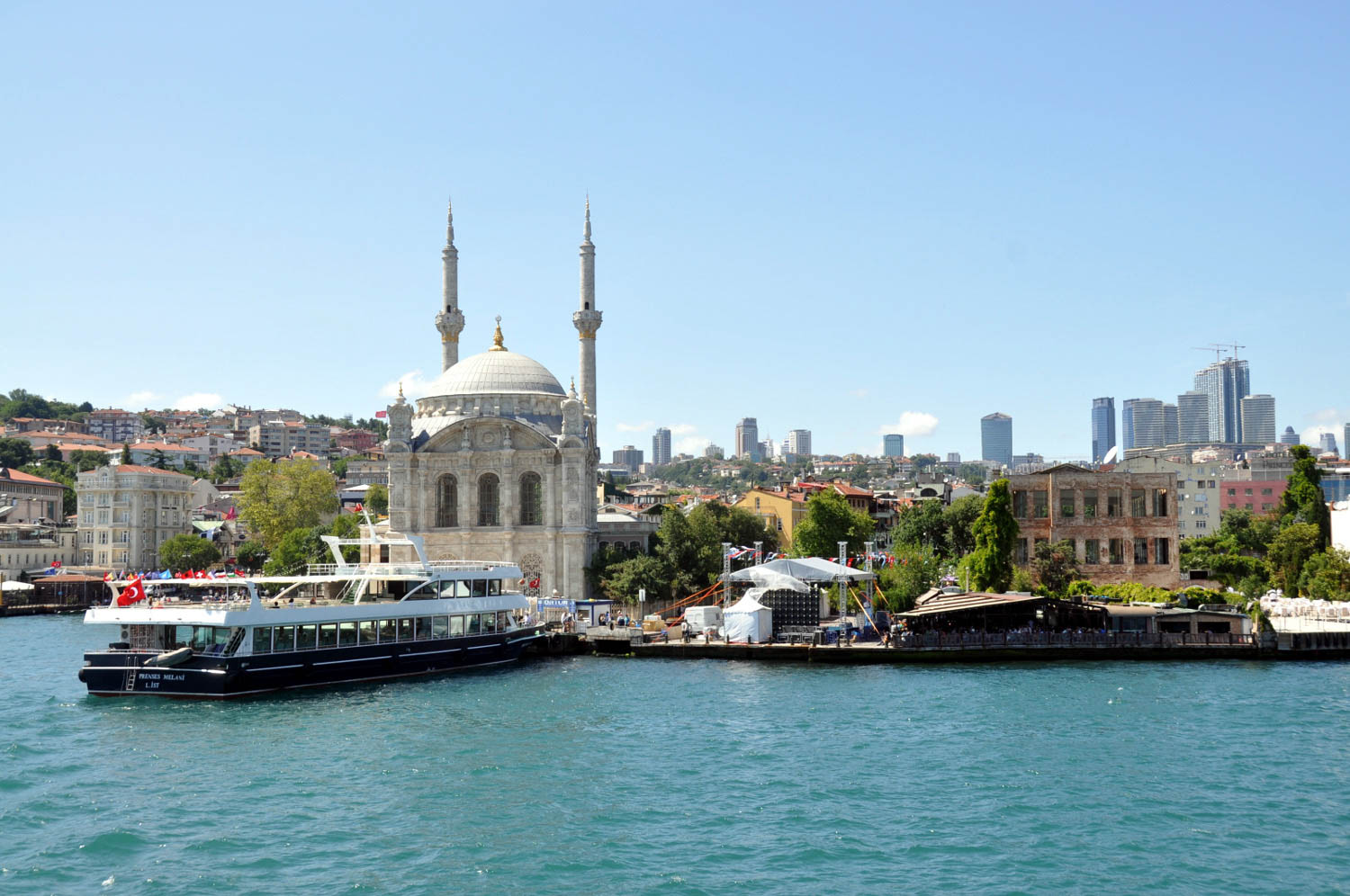 Taking a boat trip on the Bosphorus was something we didn't get to until our very last day in Turkey, but we're sure glad we squeezed it in!
Since Istanbul is the only city in the world that is split between two continents, it is pretty cool to cruise between the two, seeing Asia on one side and Europe on the other.You can do a Bosphorus dinner cruise for a pretty reasonable cost in Istanbul. The cruises usually last for 2-3 hours and happen over sunset, including dinner and entertainment.
Traveling on a budget?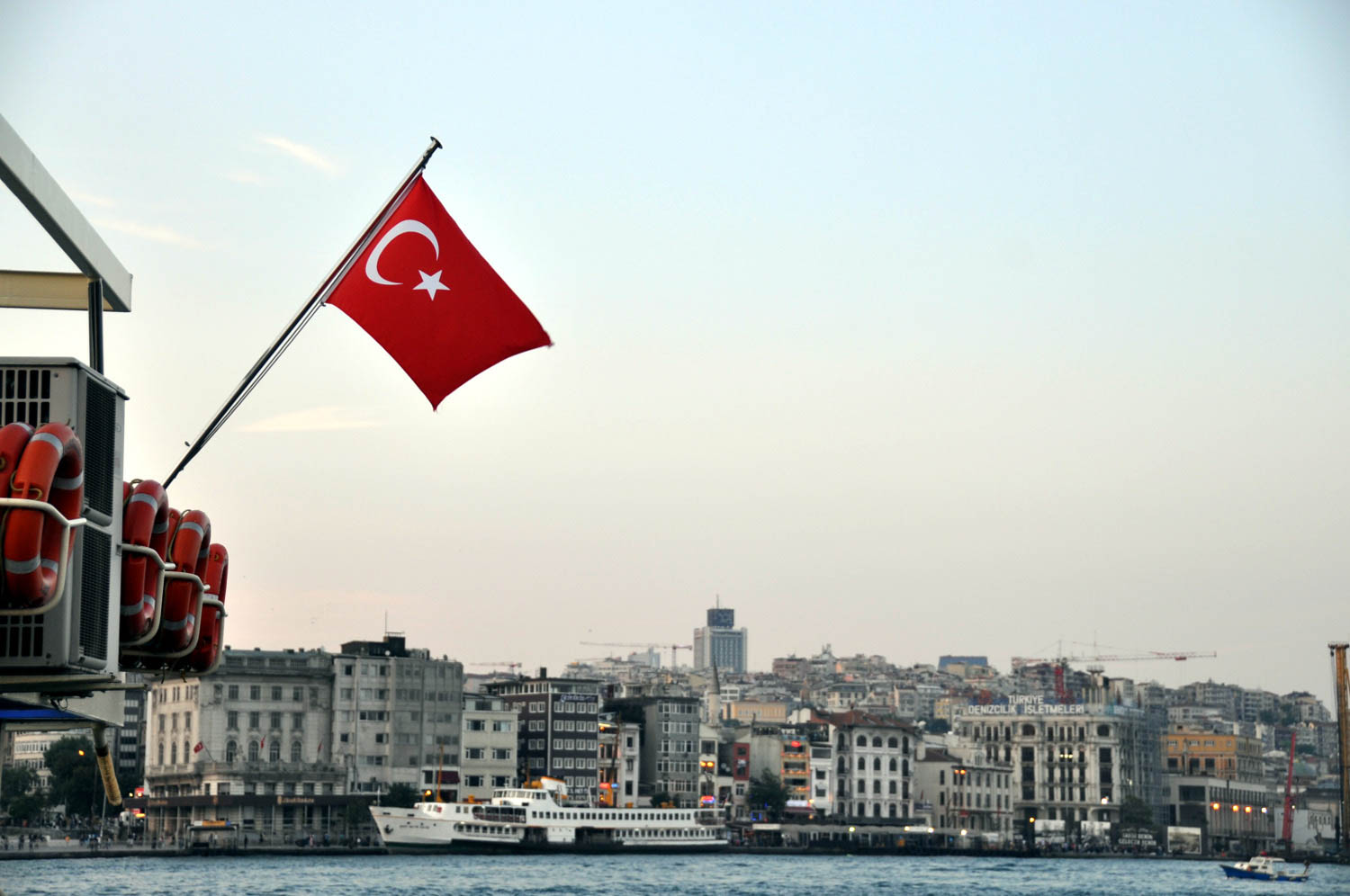 While there are several tour companies who operate boat trips along this river, we did this little cruise the cheapest way possible by taking the government ferry on the short trip, which took 2 hours in total.
If you want to cruise on the government ferry, go to the ferry office near the Karaköy Pier right next to the bridge.
Depending on which ferry route you want to take, it'll cost about 4TL for a one way trip to the Asia side of Istanbul. There is no need to buy a ticket online or at a tour agency—there are a bunch of scams out there so be careful.
13. Check out Istanbul's Archaeology Museums
Visiting hours: 9 a.m. to 7 p.m. daily
Entrance fee: 340 TL (~12 USD) for adults
Displaying one of the world's largest collections of classical antiques, Istanbul's archaeology museums are some of Istanbul's hidden gems that are often missed by tourists.
The Istanbul Archaeological Museum, Museum of the Ancient Orient, and Museum of Islamic Art are the three museums clustered in the Eminönü district of Istanbul. Each with its own unique collection, they are great places to learn a bit more about the history of the region.
The museums are open to visitors every day of the week except Mondays, so be sure to plan your schedule accordingly. Hours of operation vary by season so check out the official website and note that the ticket offices close promptly at 4:00 p.m. everyday. A museum entrance ticket will cost 340 TL (~12 USD).
14. Witness a Whirling Dervish Ceremony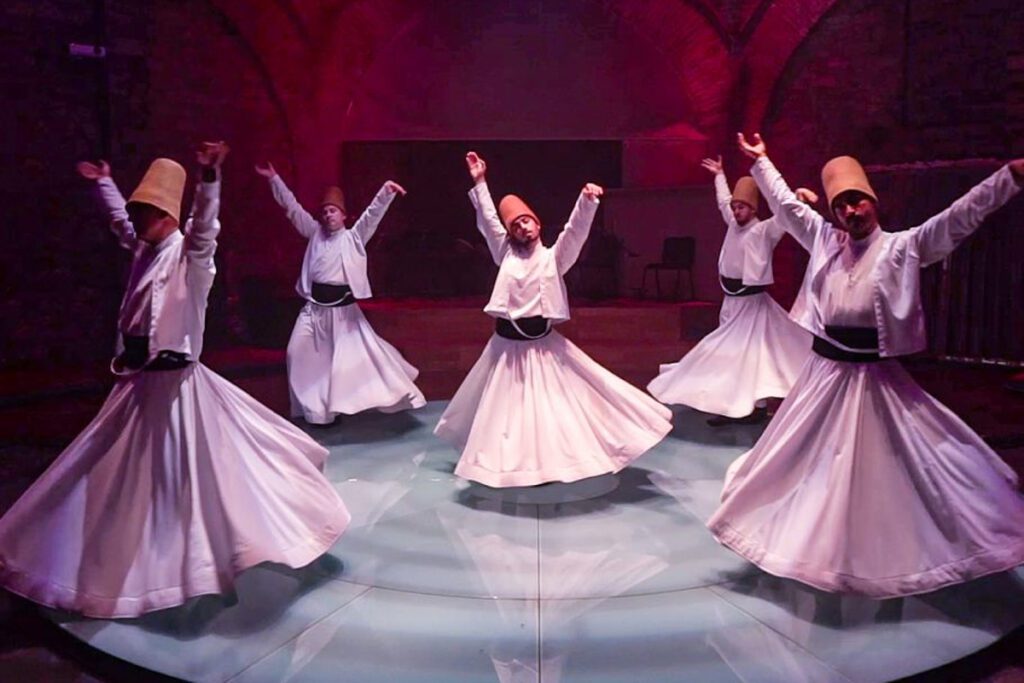 While it may seem like a tourist attraction, the hatted men wearing skirts and spinning in unison is actually a ceremony of the Mevlevi order, a branch of Sufism. It was founded in 1273 by followers of Mevlana Celaleddin-i Rumi, a Muslim saint and Anatolian mystic.
There are few places in the city where you can witness a ceremony for yourself. Aside from the designated cultural centers, you can head to the Galata Mevlevi House (sometimes referred to as the Galata Lodge) to see the dervishes 'whirl'.
The sema dances are held every Sunday at the Galta Lodge at 5 p.m. during the summer months, and every other week during the winter months. Tickets will cost 150 TL (~$5 USD) for entrance to the museum, and they don't have seat numbers so be sure to get there early for a good seat to the ceremony!
Another option is to book your experience as part of a group tour.
15. Tickle your senses at the Spice Bazaar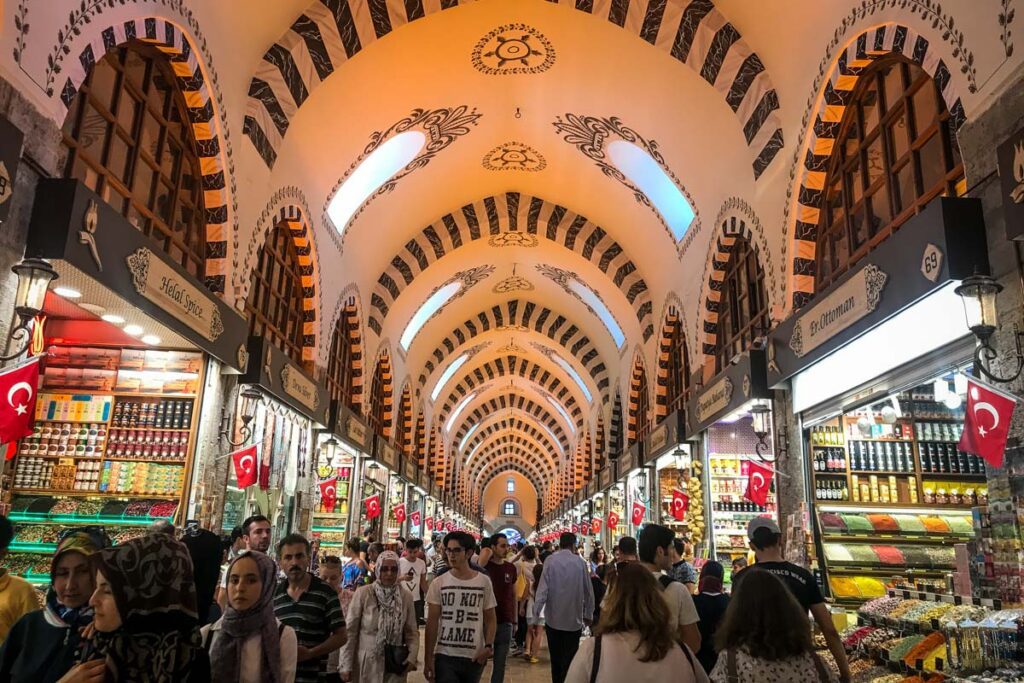 Visiting hours: 8:30 a.m. to 7:30 p.m. daily
Entrance fee: Free
Second only to the Grand Bazaar, the Spice Bazaar (sometimes called the Egyptian Bazaar) is the next largest and well-known covered market in Istanbul. You will find some cross-over in what is sold at both of these markets, but the Spice market is most known for selling spices and sweets.
Breathe in the scents as you walk through the entrance and browse your way through the 85+ shops selling mostly spices, sweets and teas. But if you want to purchase anything, step outside, where prices are cheaper.
16. Indulge in a Turkish breakfast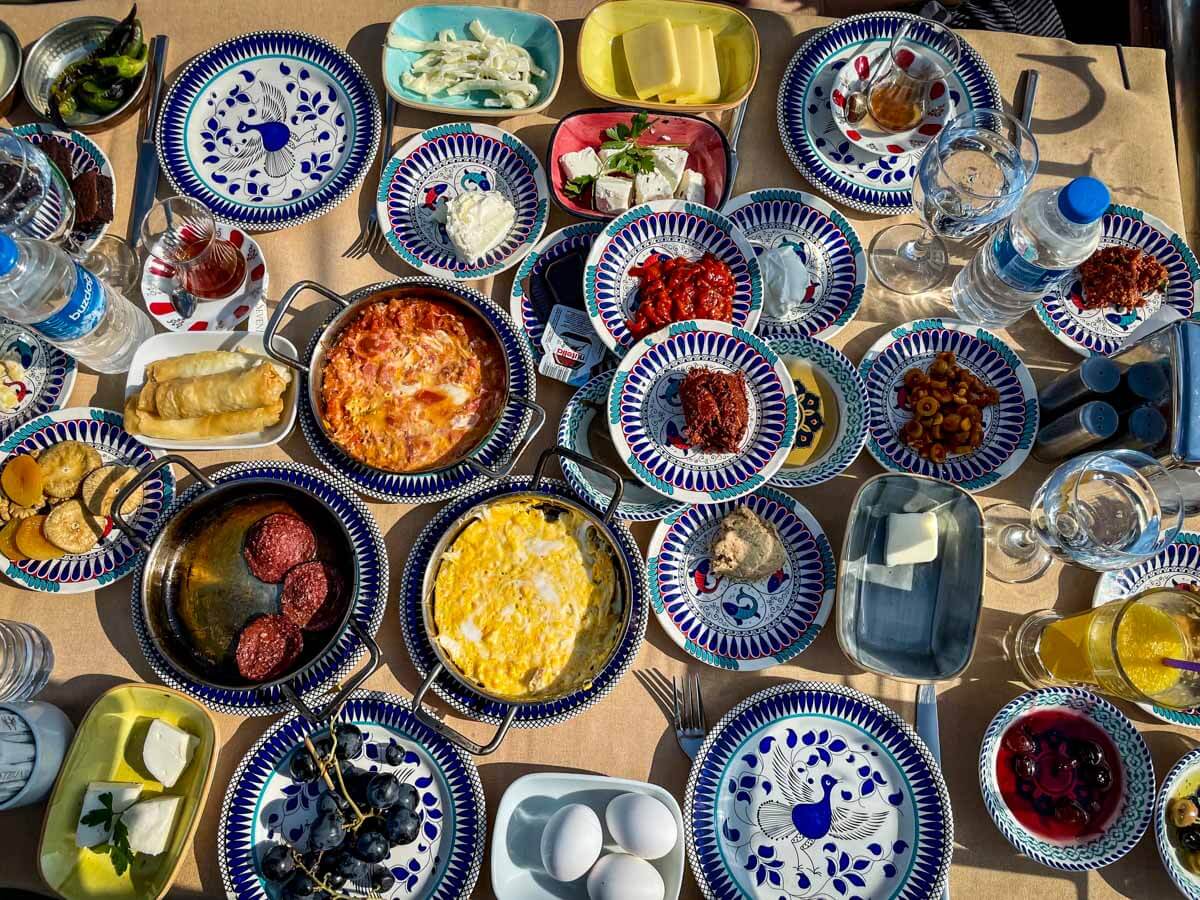 The Turkish breakfast is unlike any breakfast I have ever experienced—and this is coming from a breakfast food fanatic!
The traditional breakfast spread is usually a decadent affair consisting of variations of cheese, bread, jams and spreads, vegetables like cucumber and tomato, and of course olives. Top it off with a Turkish coffee or tea (always black!) and you have yourself a true Turkish delight.
Whether you're at a five-star restaurant or a local hole in the wall, every place in Turkey will offer their variation of a Turkish breakfast spread. Try out a few and decide which Turkish breakfast staples are your favorites.
Are you a vegan traveling in Turkey?
Fear not! This article has top vegan restaurants in Istanbul; it also describes which Turkish foods are vegan, so you can travel to this beautiful country without worrying about what to eat!
17. Eat and drink everything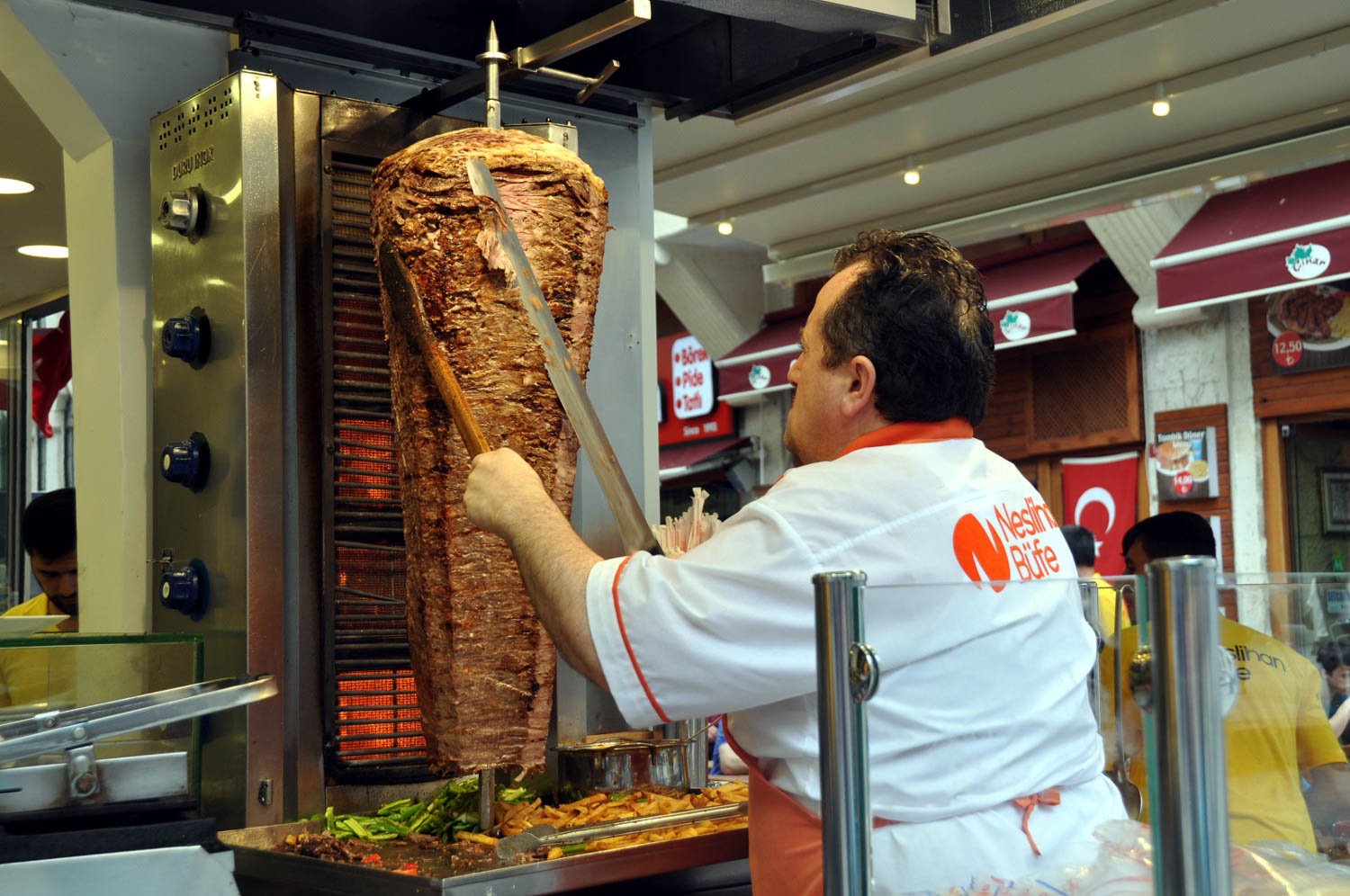 After taking a cooking class (see #2 on this list), you'll understand why we were surprised by the cuisine in Turkey!
You'll find some amazing Turkish food in Istanbul. While you're in this city, try the street food, sit down at a local restaurant, and don't forget to try Turkish tea and coffee.
Wander the bazaars, sampling local cheese and Turkish delights (yes, sampling is encouraged!). Snack on dried fruits and nuts, and save room for baklava.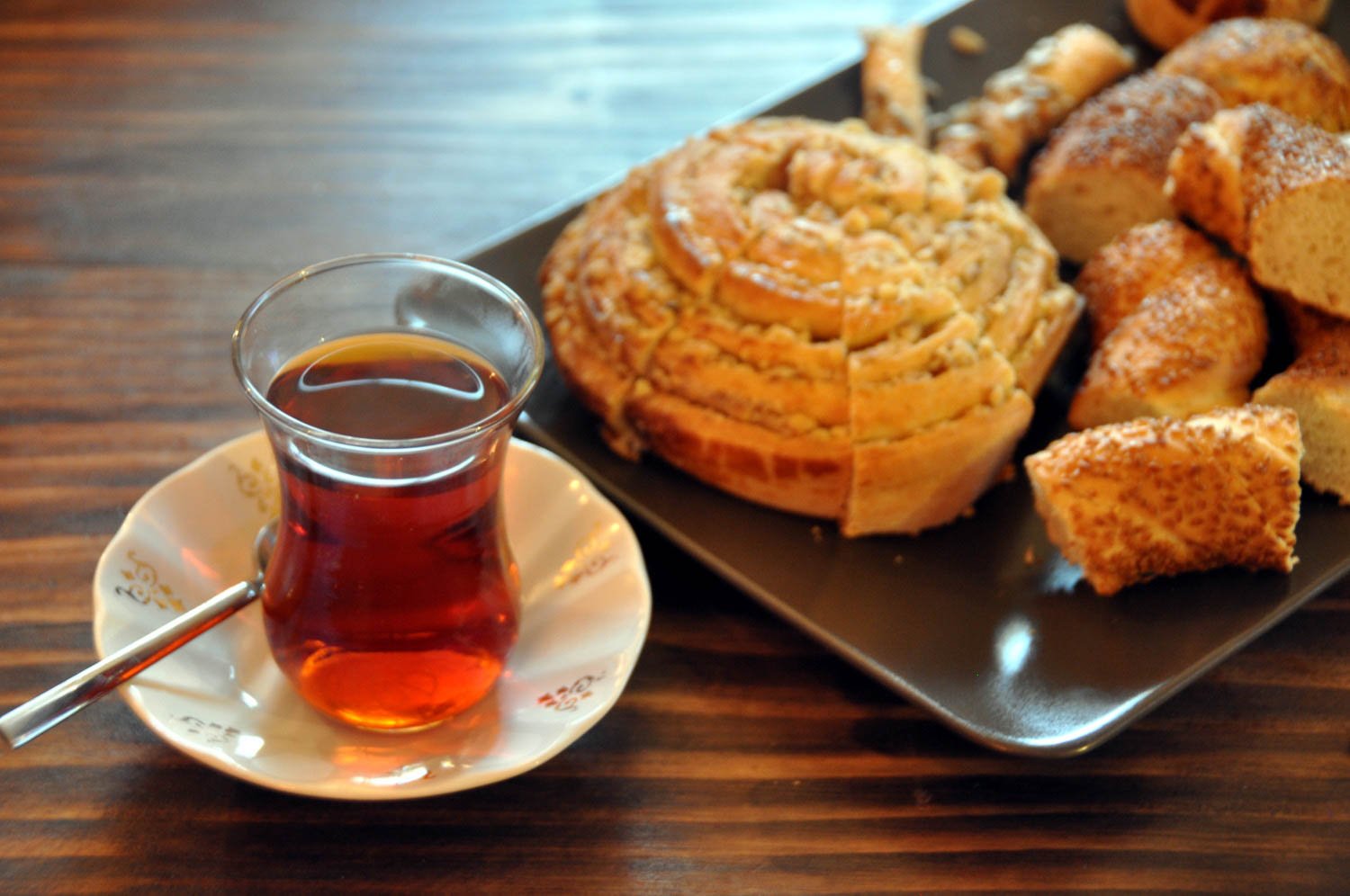 Be sure to try kaymak. Just do it and don't check the calories! It is a type of clotted cream and is best eaten with a drizzle of honey and fruit or served with a dollop of Nutella on bread.
If you're anything like us, you'll leave Turkey wowed by the food!
18. Have a local pint
As you know, we are big fans of beer. Craft beer, that is. After spending 7 months drinking the light stuff Asia has on tap, we were itching to have something a bit darker, stronger, better.
We found our fix at BBC in Istanbul. BBC, which stands for Bosphorus Brewing Company, serves up a plethora of their own brews as well as a wide selection of imports. The night we visited, Guinness was on tap for under $3 USD, which Ben just couldn't resist!
Sample a flight or have a pint of your favorite style brew in a cute garden setting outside the tourist zone.
Tip: Our favorite BBC beers were the chocolate stout and the IPA. We hadn't heard great things about the food, so we just stuck to one appetizer, but it was actually pretty good!
19. Eat a fish sandwich on the Bosphorus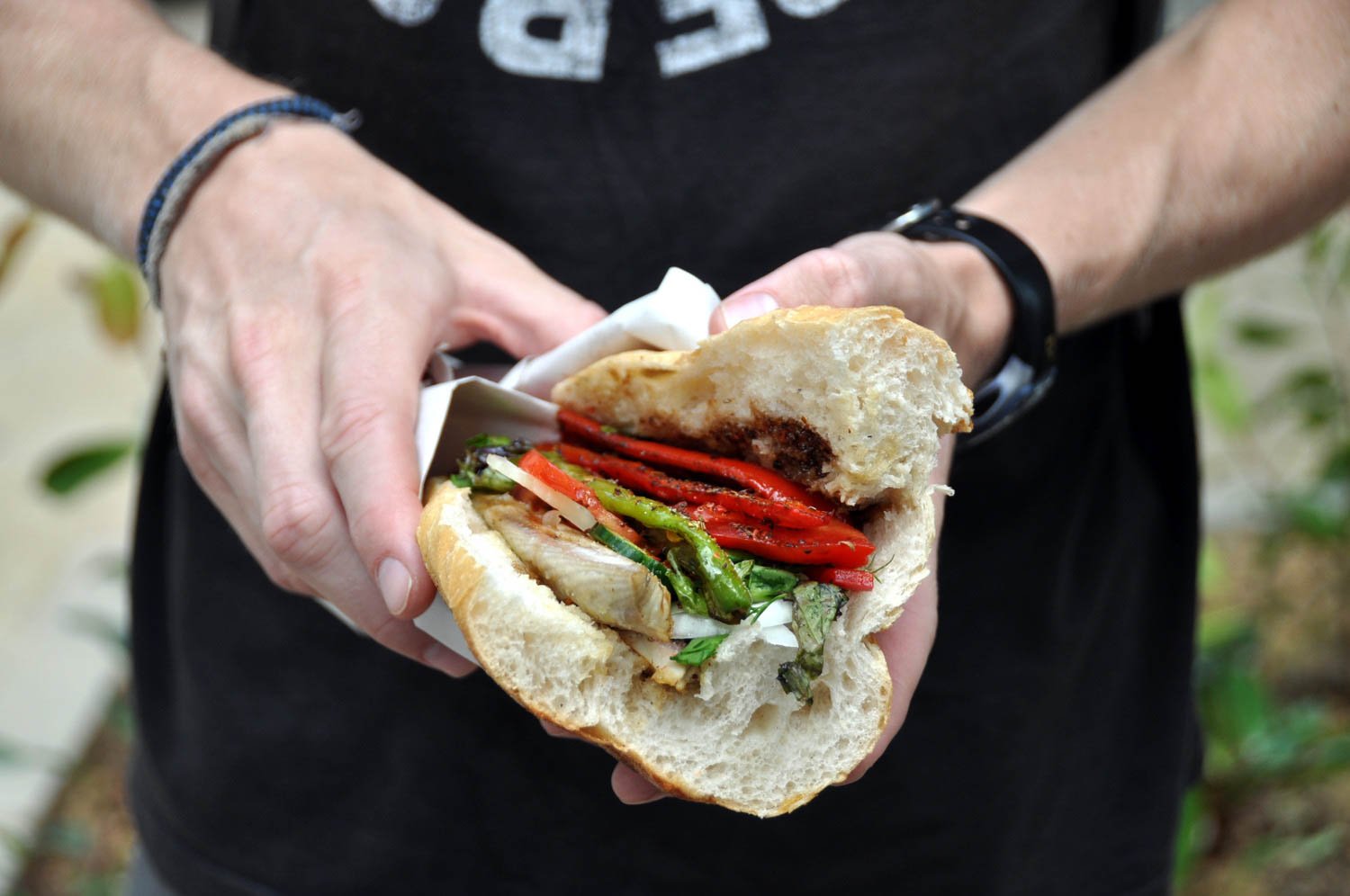 Lining the Galata Bridge are crowds of fishermen, and beneath the bridge are an assortment of restaurants that all have one thing in common on their menus: fish sandwiches.
According to our Free Walking Tour guide, they no longer make the fish sandwiches in restaurants in the traditional way over coals, but instead focus on getting them out as quickly as possible. He said to expect soggy bread and wilted lettuce. No thanks.
But we were still determined to eat a fish sandwich on the Bosphorus. And we finally found one that was worthy of our quest.
Located right next to the Bosphorus in the Kadiköy neighborhood, on a street not frequented by travelers, there is a small stand where one man cooks up a mean fish sandwich over coals and tops it with roasted peppers and onion, fresh cucumbers and herbs, a squeeze of lemon and Turkey's famous pomegranate molasses. Mmmmm…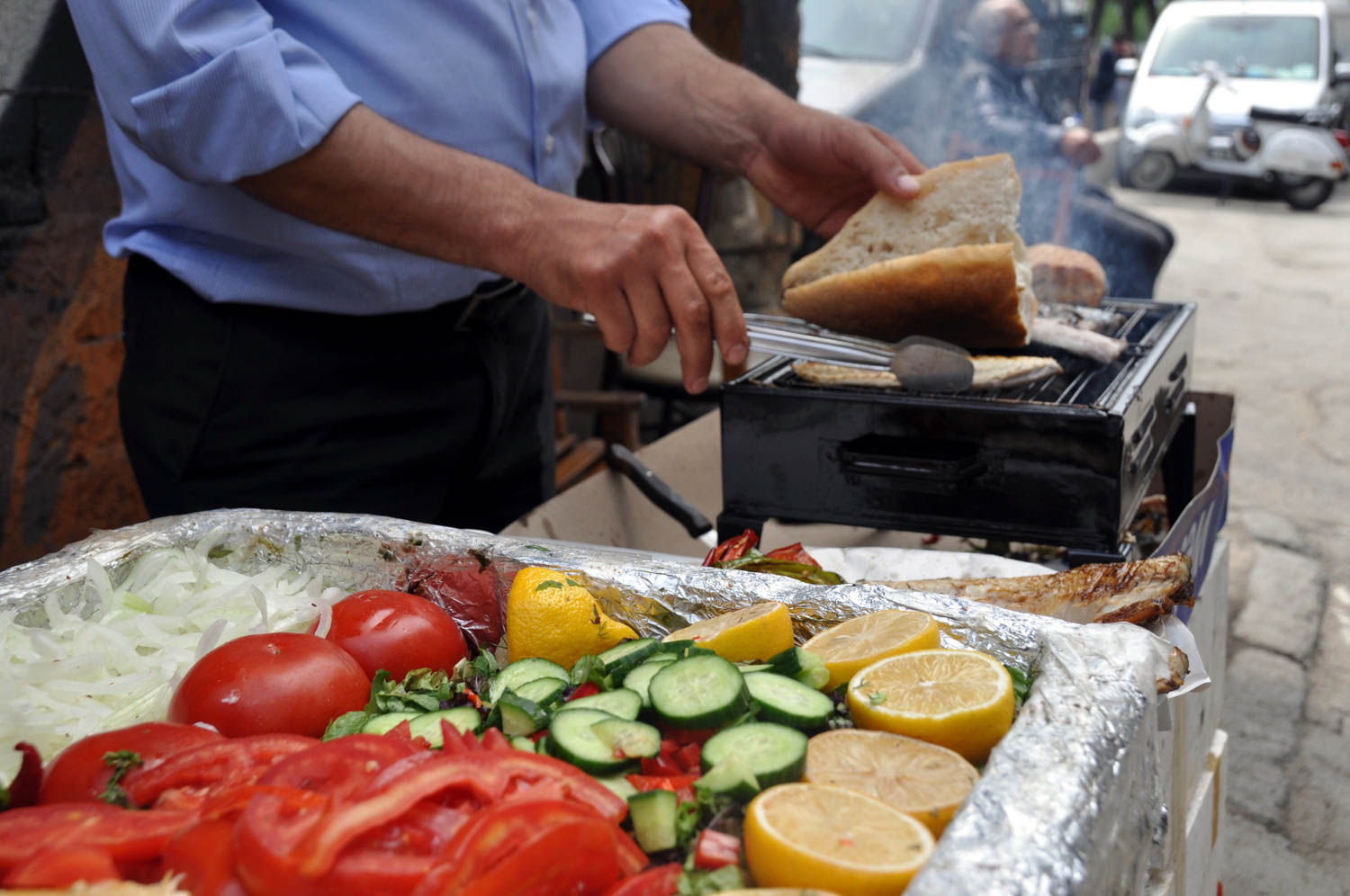 How to find it: Head east on the Galata Bridge. Once you reach the end of the bridge, turn left 180 degrees and aim for the water.
Walk north close to the water, dodging restaurant owners trying to lure you in, and you should find the man with the charcoal grill making the holy grail of fish sandwiches. Be sure to order one with all the fixings!
20. Picnic at Gulhane Park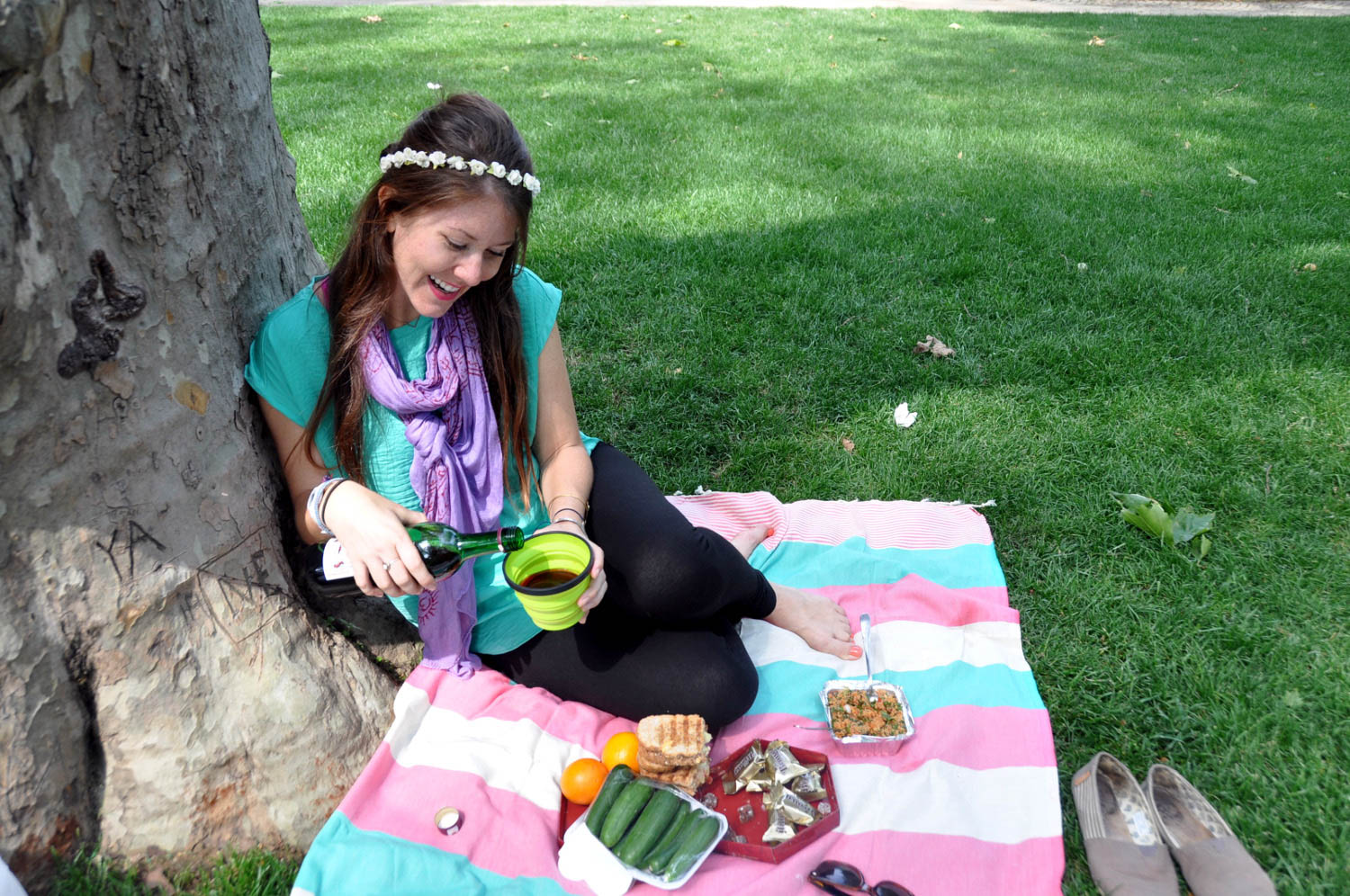 This one may not be in your guidebook, but our picnic at Gulhane Park was one of our favorite afternoons in Istanbul. Pick up some fruit, wine and cheese from a local market, then buy a Turkish towel (great souvenir alert!) and head to the park.
Wander through Gulhane Park, located next to Topkapi Palace Museum. Find a grassy spot, spread out your blanket and watch the world pass by.
The mix of people lazily milling about in green landscaping creates an idyllic backdrop to an afternoon picnic.
21. Sip a Turkish coffee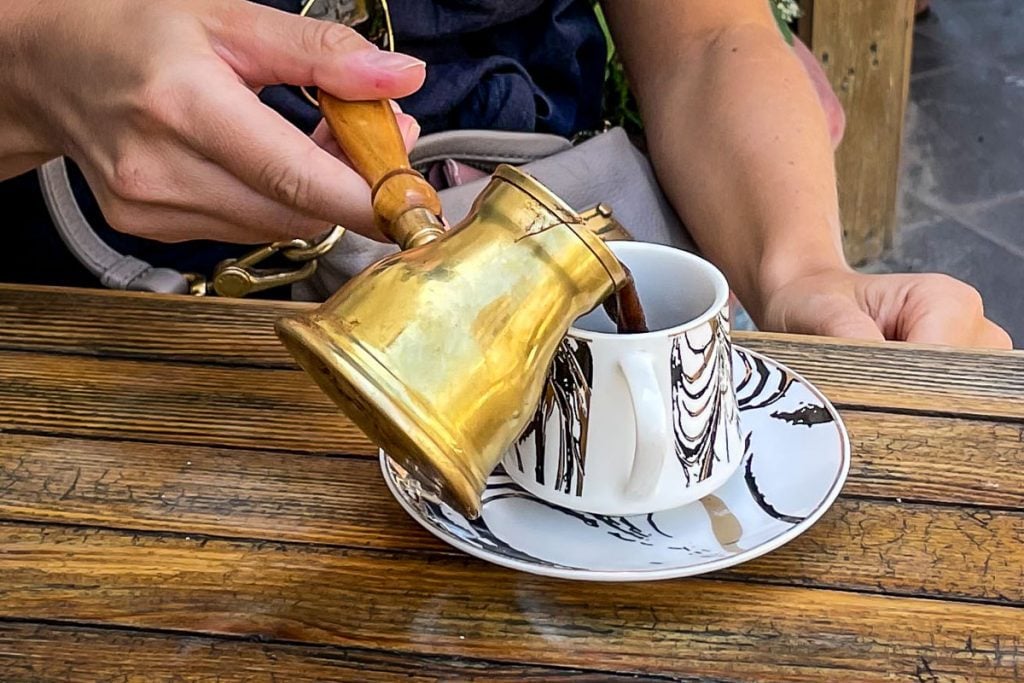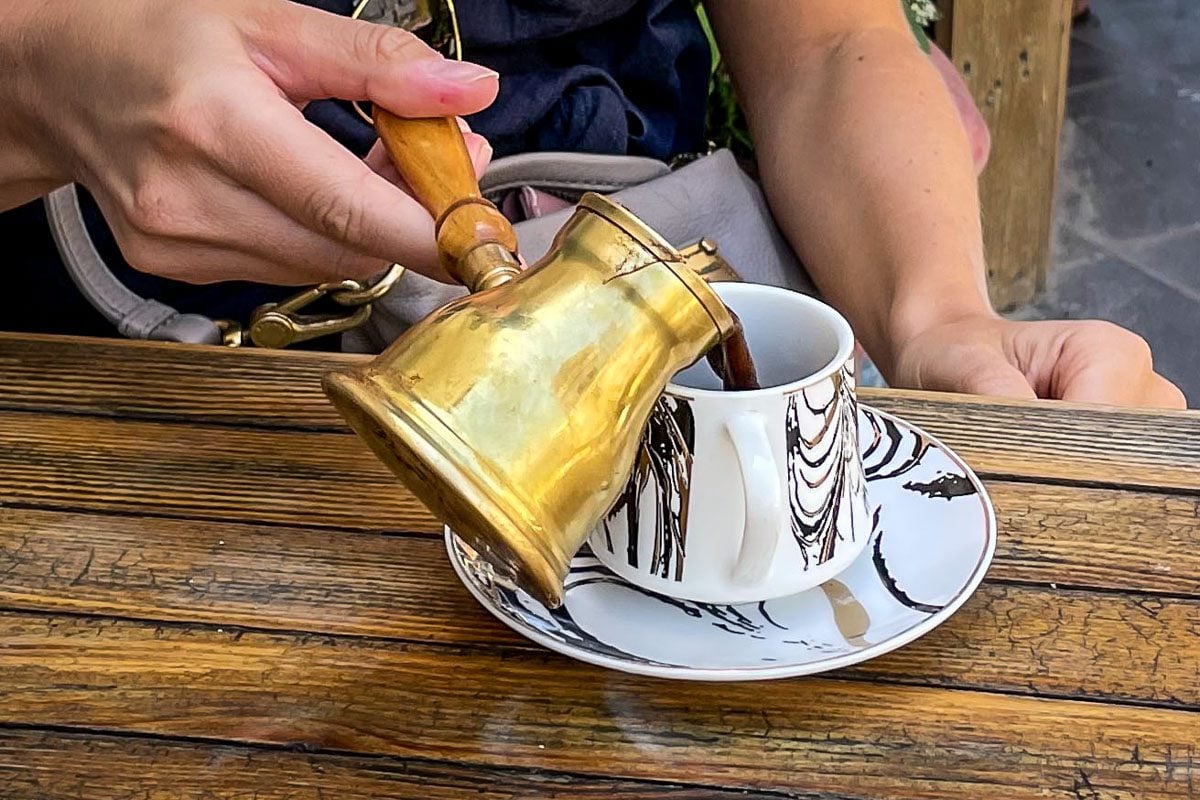 More than just a pick-me-up, the centuries-old tradition of Turkish coffee is an integral part of Turkish culture.
Prepared in a special pot called a "cezve" and served in small, ornate cups, Turkish coffee is brewed from finely ground coffee beans, typically of the Arabica variety. The coffee grounds, sugar, and water are combined and slowly brought to a boil, creating a velvety and strong brew, similar to an espresso shot.
Stop by any cafe in Istanbul and be sure to give it a try!
Note: If you want to have coffee the way you might expect in the US, you'll have to order an Americano.
22. Grab happy hour on a rooftop and watch the sunset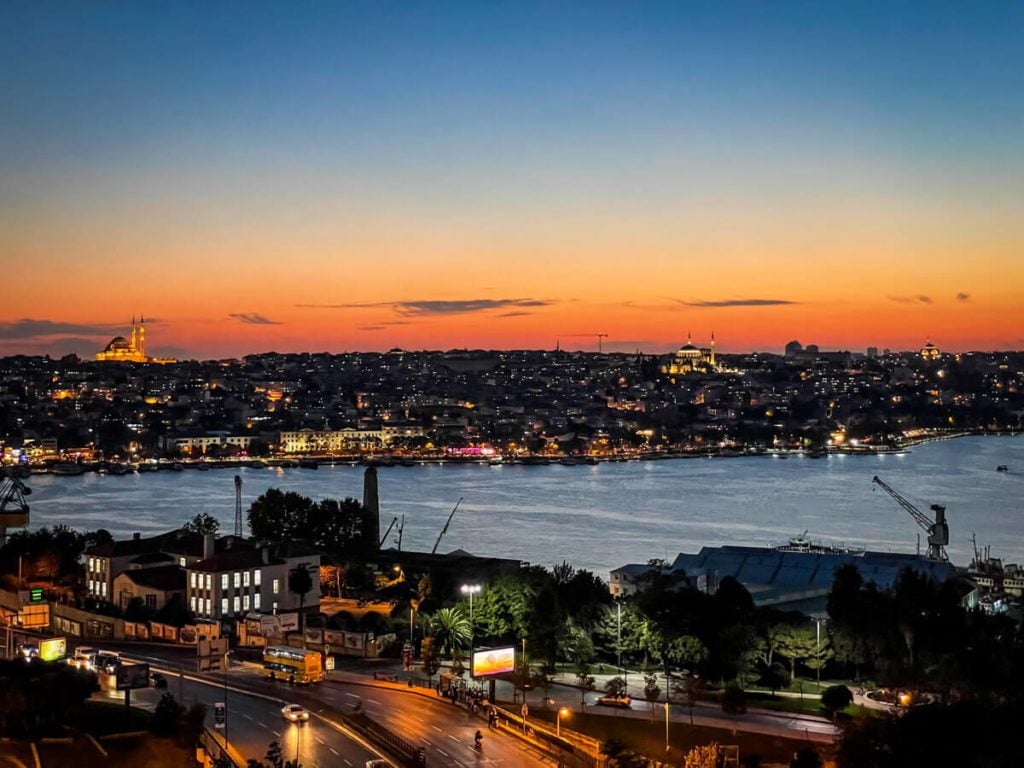 Istanbul boasts some pretty spectacular sunset views with the Bosphorus Strait cutting the city down the middle and the Golden Horn waterway separating the Sultanahmet neighborhood from Galata.
Post up at a rooftop bar near the water and take in the incredible views as the sky turns to a blazing orange.
Our favorite rooftop bar in the city for doing just such a thing is Monkey Bar in the Galata neighborhood which is a hip cocktail bar with a chill vibe and nightly DJ. Other good rooftops include:
23. Experience Istanbul's nightlife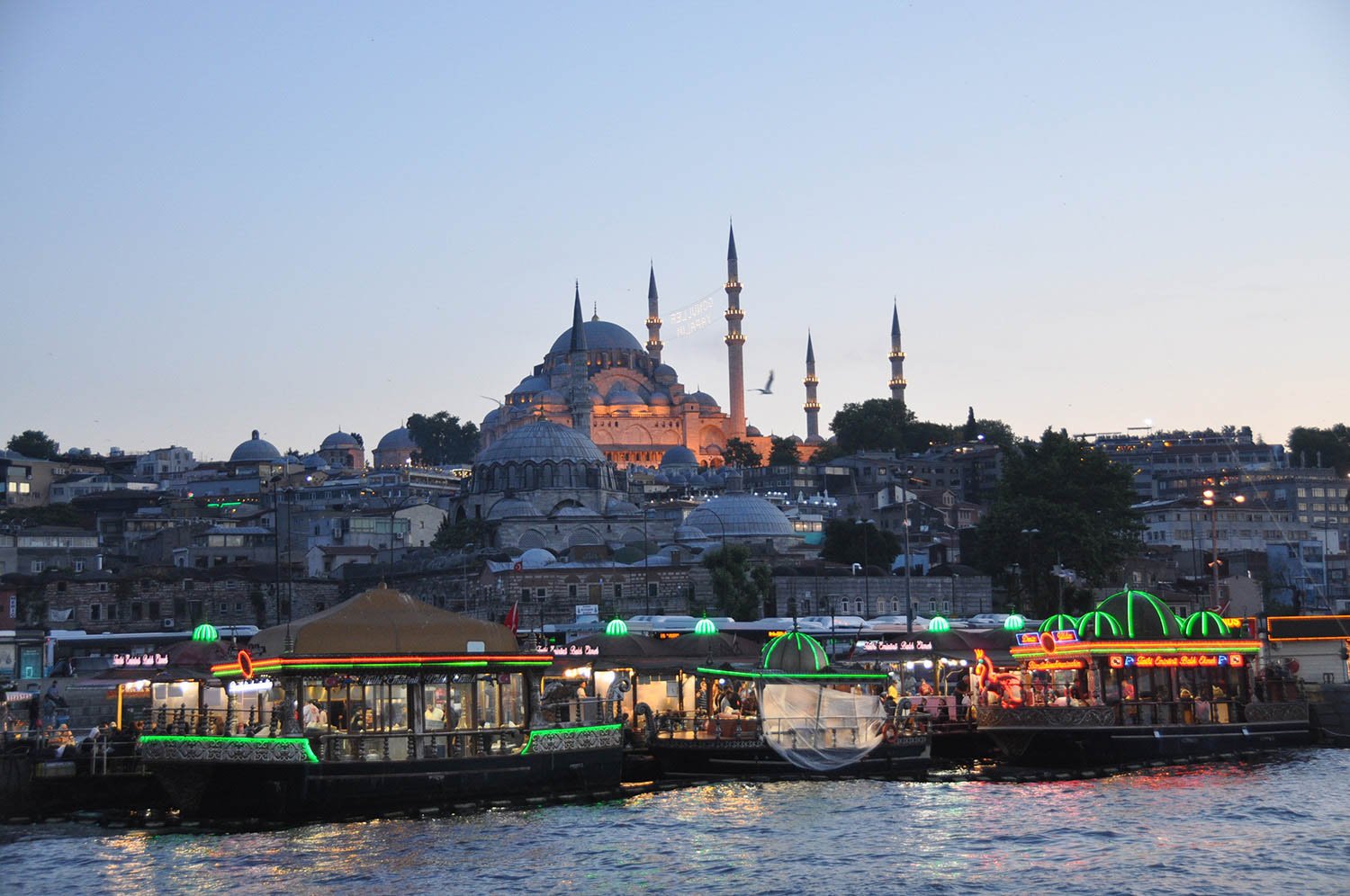 A city as big as this is bound to have a booming nightlife scene and Istanbul is no exception.
Whether you're looking for loud electronic dance music, hip upscale lounges, or a live performance, Istanbul has no shortage of bars, clubs and venues to dance the night away.
The neighborhoods of Galata and Ortakoy on the Bosphorus are particularly popular for a good party.
24. Tour Topkapi Palace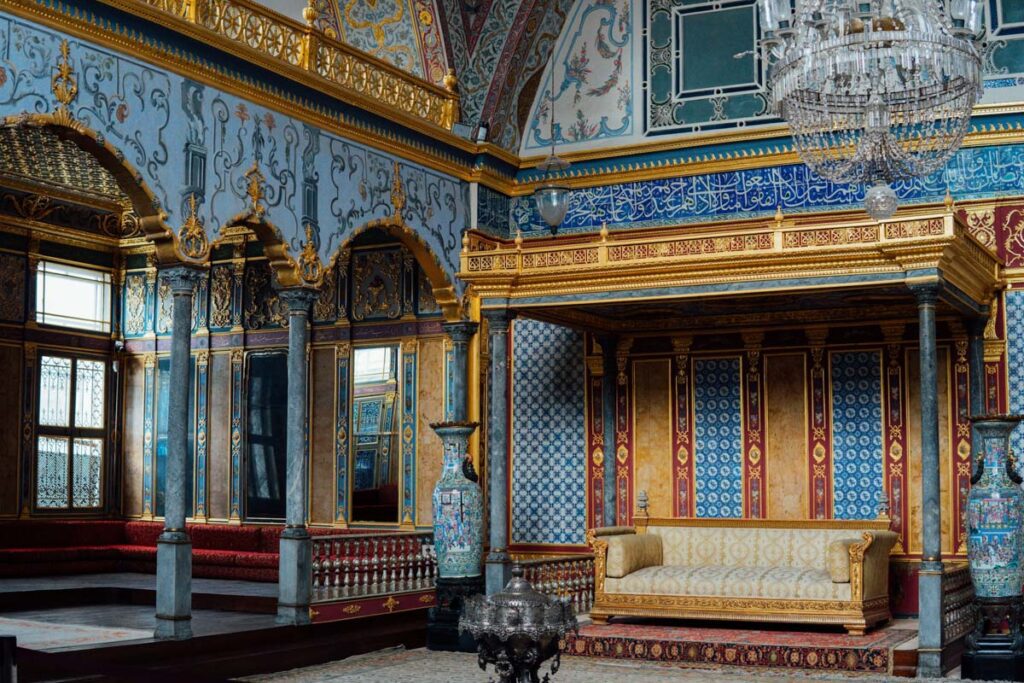 Visiting hours: 10 a.m. to 4 p.m. daily, closed Tuesdays
Entrance fee: 750 TL (~$27 USD) for adults
Feel like royalty as you walk the halls of a palace where generations of sultans at the head of the Ottoman Empire kept their primary residence during the 15th century.
Be sure to glimpse the Harem, an adorned room where the sultan 'kept his women', the treasury of the crown jewels and the weapons room, as you navigate through the palace. And don't forget to check out the views from the courtyards as you can imagine they are some of the best views in the city!
Entrance to the Topkapi Palace Museum will set you back 750 TL (about $27 USD) and you can roam the palace and grounds as you please. Be sure to check out the official website for visiting hours as they change by the season and the ticket booth closes as early as 4:00 p.m. on certain days.
25. The Chora Church (Kariye Mosque)
Visiting hours: 9 a.m. to 6 p.m. (summer); 9 to 7 p.m. (winter)
Entrance fee: Free
The Chora Church, also known as the Kariye Mosque in Istanbul's Edirnekapı neighborhood, has a rich history. Originally a Greek Orthodox church from medieval times, it's renowned for its exquisite Late Byzantine mosaics and frescoes.
This Byzantine architectural gem was transformed into a mosque during the Ottoman era and later became a museum in 1945, only to return to mosque status in 2020. The interior features beautifully preserved Byzantine Christian mosaics and frescoes that were uncovered and restored after the conversion to a museum.
The Chora Church is located in the western part of Istanbul's Fatih district, near to the colorful neighborhoods of Fener and Balat (see #35 on this list).
26. Explore the Süleymaniye Mosque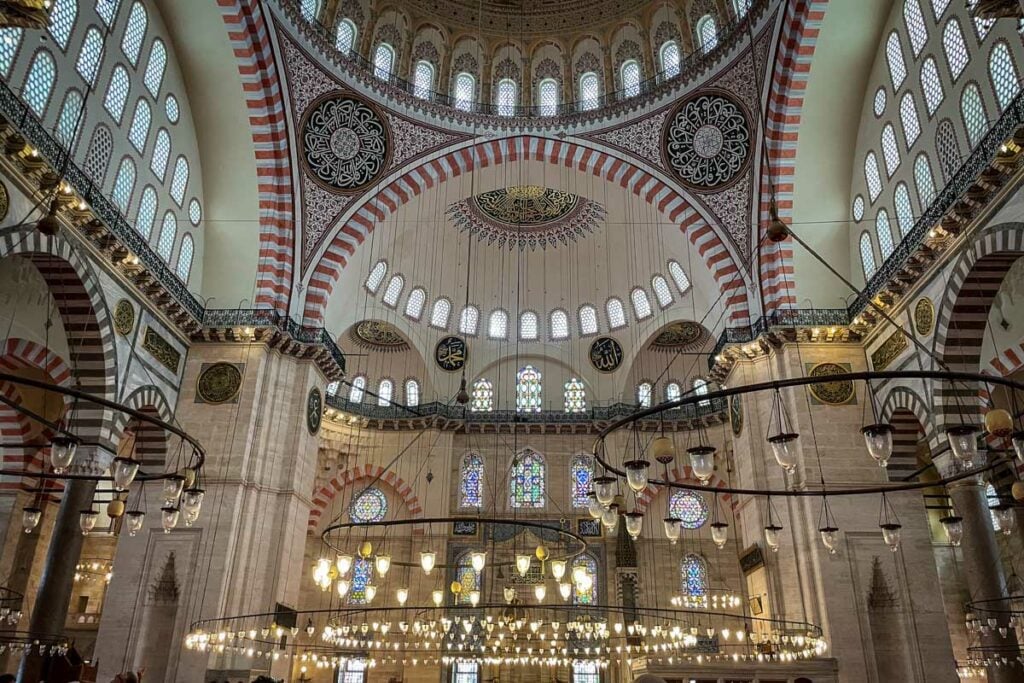 Visiting hours: 9 a.m. to 6 p.m., except during prayer times
Entrance fee: Free
If you don't feel like waiting in line to visit the Hagia Sophia and Blue Mosque, or just want to get off the beaten tourist path, the Süleymaniye Mosque is a great place to start.
Perched on Istanbul's Third Hill, the magnificent Ottoman imperial mosque was designed by the legendary architect Mimar Sinan at the request of Suleiman the Magnificent.
Dating back to 1550 with its inauguration in 1557, it held the title of the city's largest mosque for 462 years, only surpassed by the Çamlıca Mosque in 2019.
As you step inside, you'll be captivated by its grandeur, much like its more famous neighbors. The mosque's stunning interior, adorned with intricate tilework and graceful calligraphy, reflects the opulence of its imperial patron. Plus it offers an excellent panoramic view of Istanbul from the Third Hill.
27. Check out Beylerbeyi Palace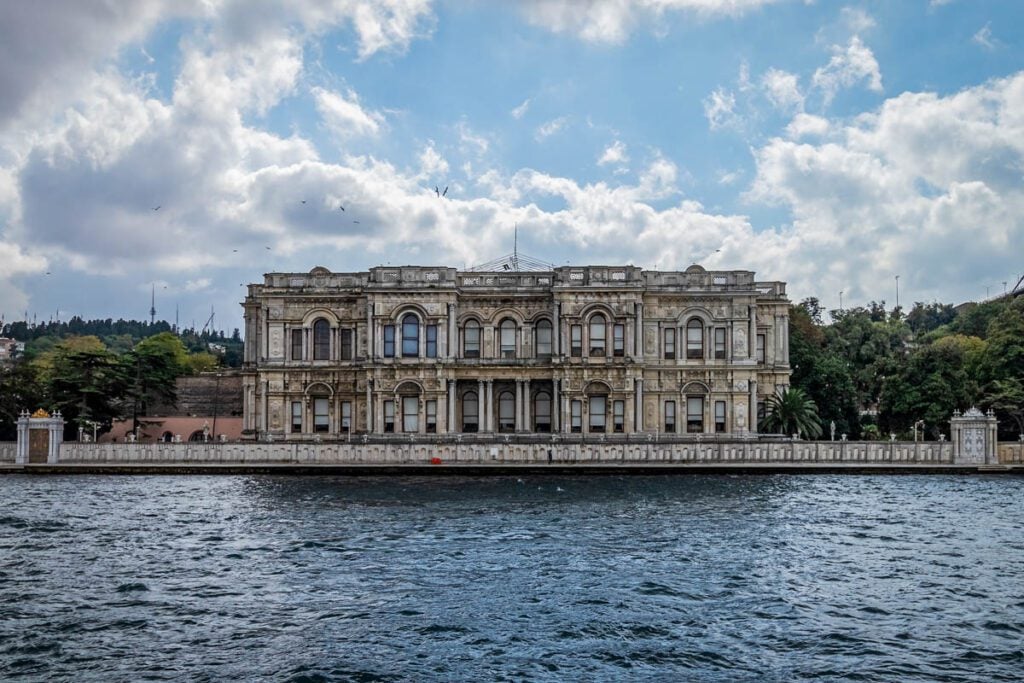 Visiting hours: Tuesday – Sunday, 9 a.m. to 6 p.m.
Entrance fee: 60 TL per person
Located just north of the first bridge, on the Asian side, Beylerbeyi Palace is a notable landmark on the banks of the Bosphorus.
The Ottoman summer residence holds historical significance as it was the final place of Sultan Abdulhamid II's house arrest before his passing in 1918.
As you explore the lavishly decorated halls and chambers, you'll find yourself stepping into a refined world of Ottoman opulence. The palace's breathtaking gardens and stunning waterfront location offer picturesque views of the Bosphorus Bridge and Asian Istanbul.
28. Glimpse the Hippodrome and Walls of Constantinople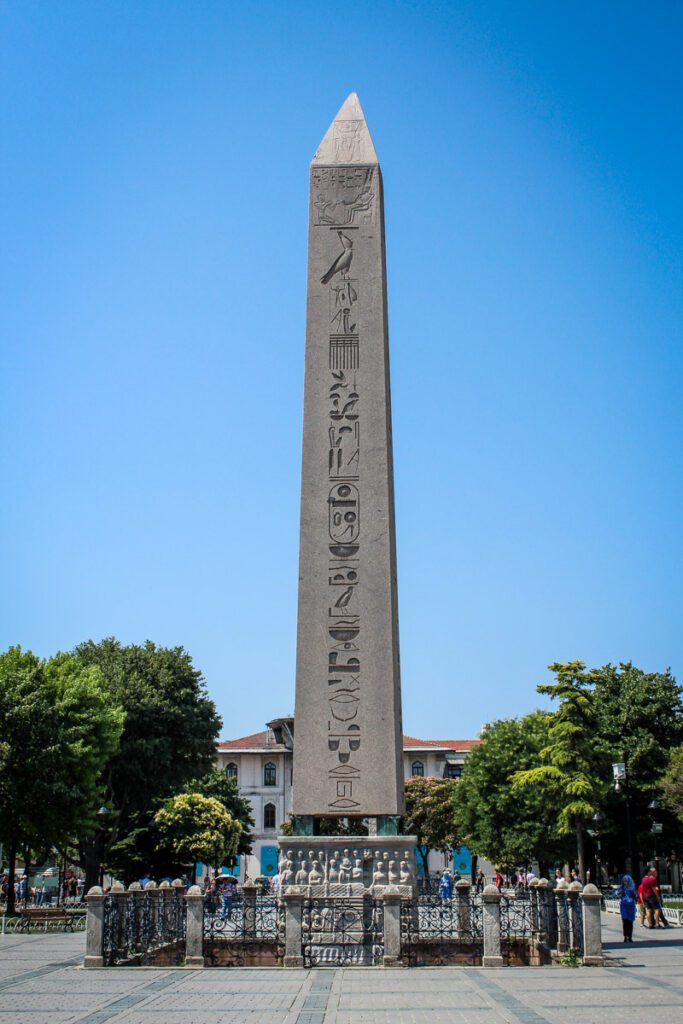 The Hippodrome of Constantinople once stood at the sporting and social center of the ancient capital city. Today it is the focal point of Sultanahmet Square in the Old City center of Istanbul and part of the UNESCO World Heritage Site there.
The square is also home to remnants of the original Walls of Constantinople. Built by Emperor Theodosius II in the 5th century, the walls largely remained intact throughout most of the Ottoman Empire until the 19th century.
Since the 1980s, a significant restoration effort has been in progress, ensuring the continued existence and appreciation of this historical treasure. Today you can walk alongside these iconic ramparts that stand as a testament to the city's enduring history.
29. Snap a photo of the Ortakoy Mosque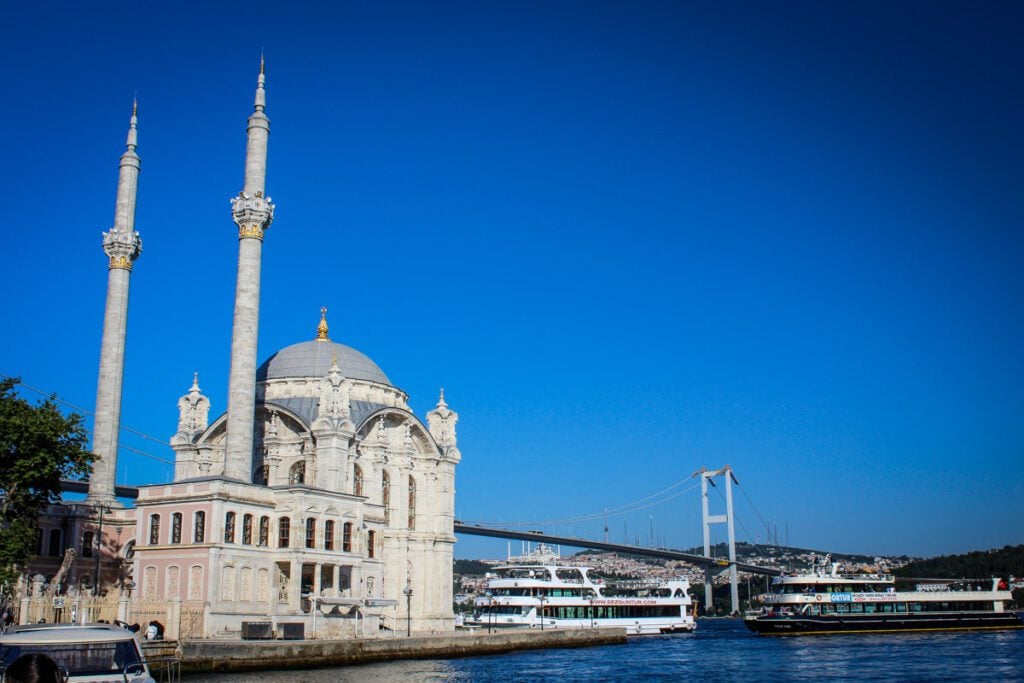 The Ortakoy Mosque is another iconic Istanbul landmark that proudly stands in the Ortaköy pier square, a popular location along the banks of the Bosphorus.
Completed around 1854 or 1856, this mosque is an iconic symbol of Ortaköy, offering an unparalleled view of the Bosphorus Strait and the majestic Bosphorus Bridge. Its picturesque location makes it a prominent landmark visible from Bosphorus cruises and ferries, adding to its allure and historical significance.
30. Pay a visit to the Dolmabahce Palace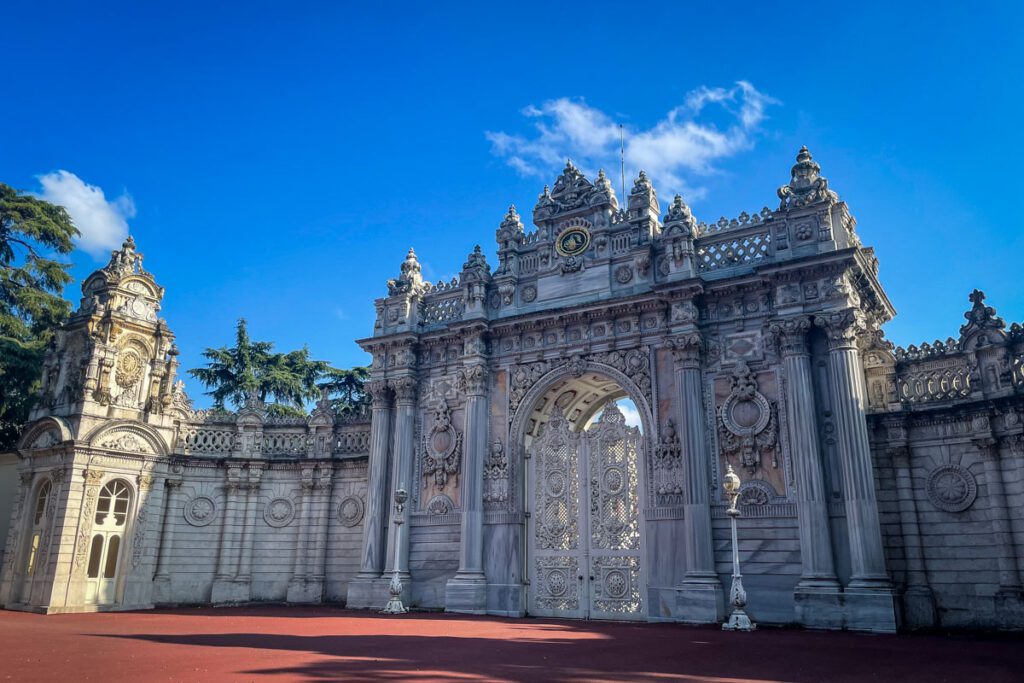 Visiting hours: Tuesday – Sunday, 9 a.m. to 6 p.m.
Entrance fee: 650 TL (~$23 USD)
Situated in the Beşiktaş district on the European Coast of the Bosphorus Strait, the Dolmabahce Palace was once the administrative hub of the Ottoman Empire.
This grand palace, with its opulent architecture, breathtaking interiors, and lush gardens, offers a glimpse into the extravagant lifestyle of the sultans. As you wander through its ornate rooms, admire the crystal chandeliers, and marvel at the sheer magnificence of the Dolmabahce, you'll feel like you've stepped back in time.
31. Go shopping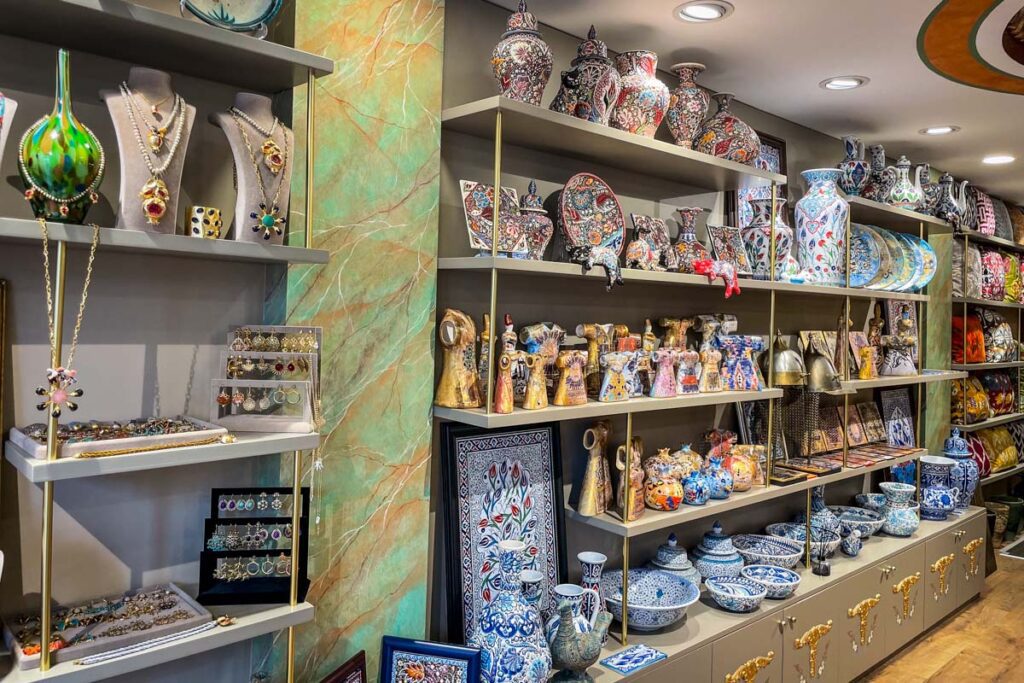 We already mentioned Istanbul's many bazaars, but if you're looking for a higher-end kind of shopping, you'll find plenty of that here too. Istanbul is renowned for its opulent shopping opportunities, boasting an array of high-end designer boutiques, department stores, and luxury shopping hubs.
Nişantaşı stands out as a premier location housing numerous international designer brands, while upscale shopping centers like Kanyon and Zorlu Center offer an exquisite retail experience.
If boutique and designer labels are on your wishlist, head to Abdi İpekçi Street where you'll find storefronts for Louis Vuitton, Prada, Gucci and many more. You'll find exclusive designer brands for luxury furniture and home goods have flagship stores here as well.
32. Go on a food tour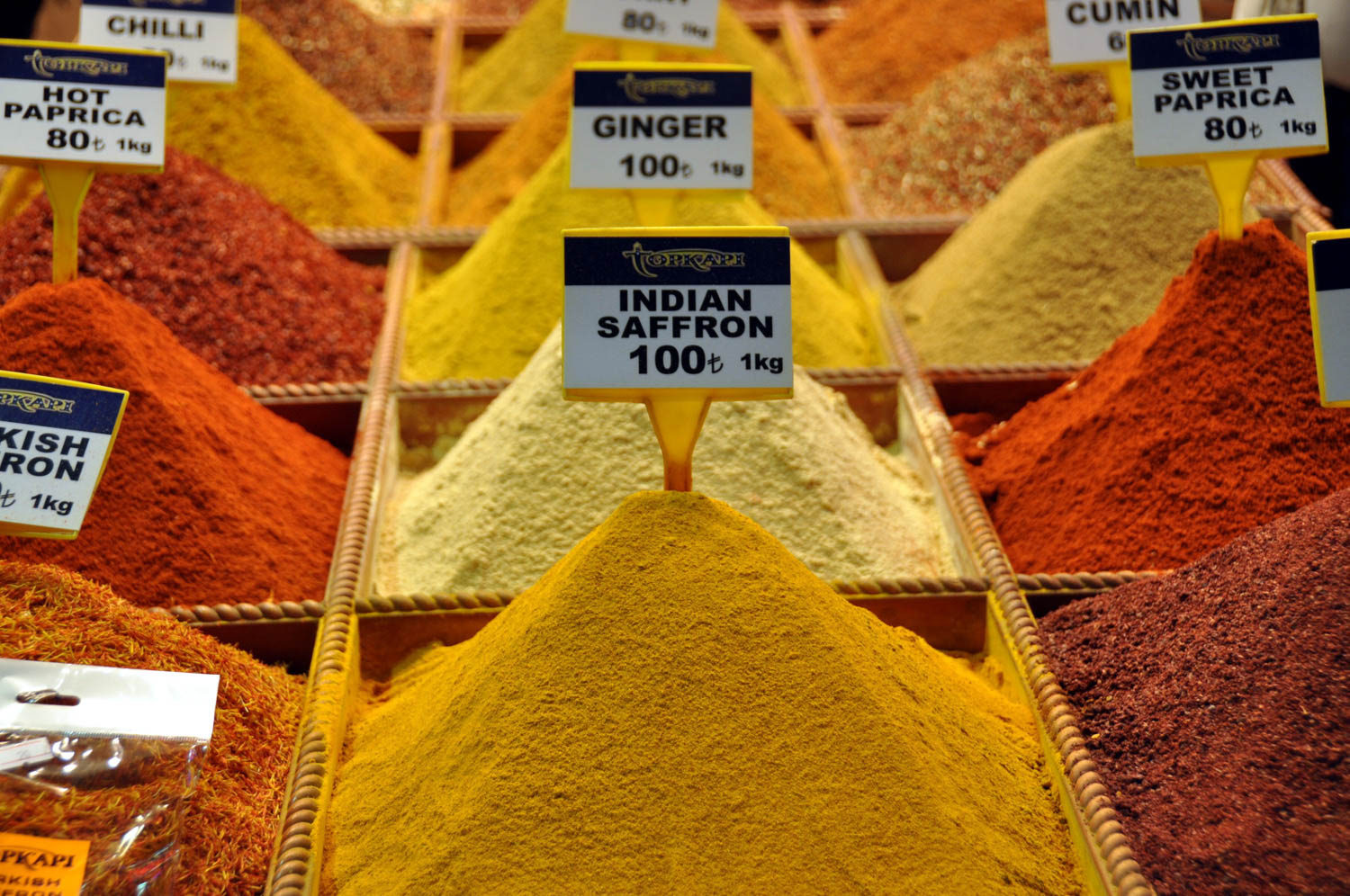 If you've been following us for a while, then you know we love to eat. Specifically, we love to try new and interesting cuisines on our travels. And there really isn't a better way to do that than by taking a food tour in a new city.
Not only do you get to try new foods, but you usually have a local guide that can give you insights into the neighborhoods and local advice you wouldn't find anywhere else.
In this highly-rated tour you'll be guided by a local expert to savor the city's culinary delights on both the European and Asian sides. Your palate will be treated to a diverse array of Turkish delicacies, including balik ekmek, İskender kebap, simit with honey and kaymak, menemen, and much more, with food samples at eight different locations.
Along the way, you'll explore a dairy market, take in panoramic views of Istanbul via a ferry ride, and indulge in traditional Turkish desserts.
33. Day trip to the Princes Islands
The idyllic Princes' Islands are a cluster of 9 islands, just 20 km off the coast of Istanbul, that have a particular draw for tourism.
The islands once served as a place of exile for disobedient Byzantine princes, which is how they got their name. Today, they have evolved into a sought-after destination for both locals and tourists, to experience a laid back reprieve from the bustling city.
To reach the Princes' Islands, your best option is to take a ferry departing from one of the terminals in Istanbul. The ride will take about 1.5 hours.
Once you arrive on the islands, it's important to note that cars and motorbikes are prohibited, creating an ideal environment for exploring on foot or by bike. You can either rent a bike on the island or hop on an electric bus for convenient mobility.
34. Hang out in Kadıköy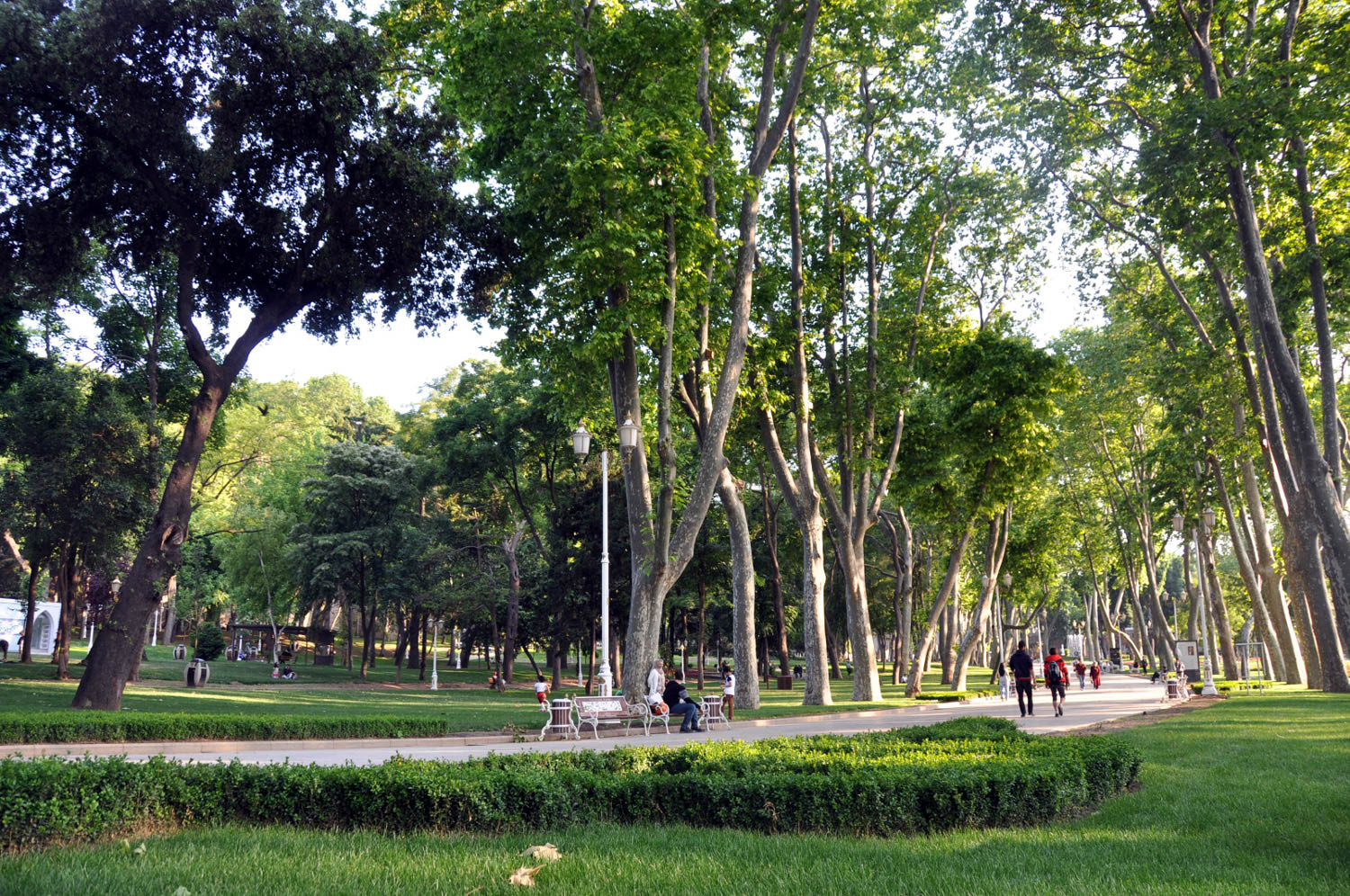 Most tourists visiting Istanbul will be drawn to spending time exploring the European side with its historical landmarks and Sultanahmet Square. However, if you want to get a taste for local life in Istanbul, you'll find a lot more of that on the Asian side.
Kadıköy is a neighborhood hub of creativity, where you can explore a mix of quaint streets, hip cafes, modern art galleries, and bustling markets.
Enjoy a leisurely stroll along the lively Kadıköy waterfront, savoring delicious street food and browsing through vintage shops. As the sun sets, the area comes to life with its bustling nightlife scene, offering a diverse range of restaurants, bars, and live music venues, making it a perfect spot to unwind and soak in the local atmosphere.
35. Check out colorful Fener and Balat
Fener and Balat are two adjacent lesser-known gems on the European side of the city. These colorful neighborhoods resonate with a deep sense of multiculturalism, and you can savor authentic Turkish cuisine at local eateries or browse the antique shops and boutique art galleries.
Wander through narrow, winding streets adorned with colorful houses and centuries-old churches, such as the medieval Greek Orthodox Chora Church (see #25).
36. Take a unique art class
If art is your thing, there are some really unique experiences available in Istanbul…
Turkish mosaic lamp making workshop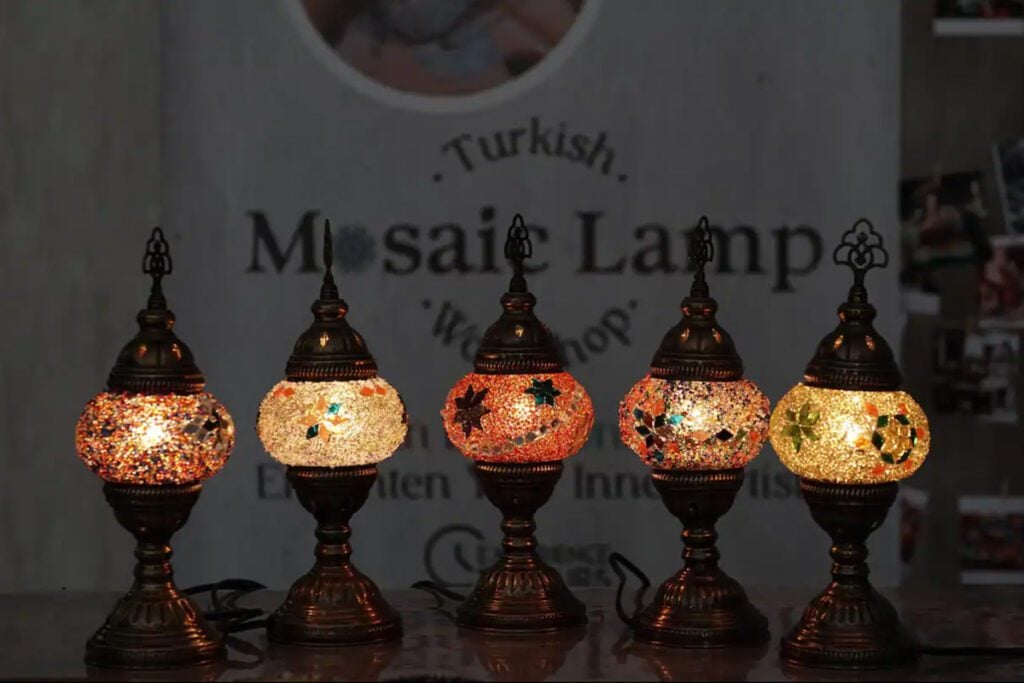 Design your own traditional Turkish mosaic lamp while immersing yourself in Turkish culture and legends. This highly-rated experience claims to be the most colorful workshop in Istanbul and we can see why!
What you need to know:
What guests are saying:
"Mohamed was so lovely and such a gracious host! He was so knowledgeable and passionate and made it a lot of fun. We had tea, Turkish delights, and step by step guidance as we made our lamps!"

– Karen, October 2023
Learn the Turkish art of paper marbling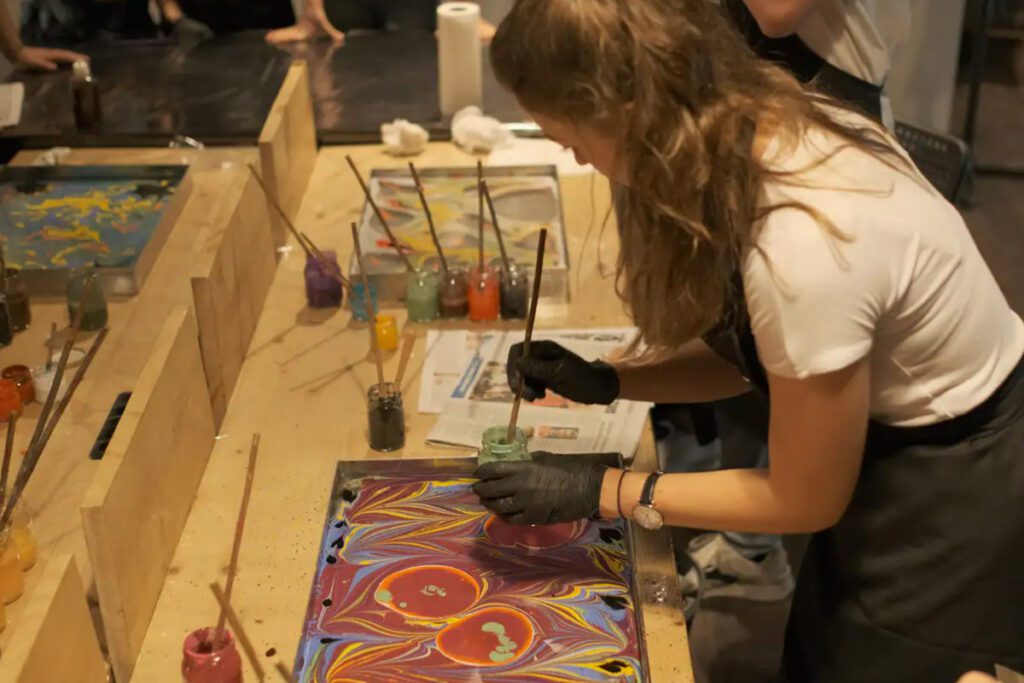 Discover the Turkish art of paper marbling, known as Ebru. This technique was recently recognized by UNESCO as part of the world cultural heritage.
This once in a lifetime experience is guided by the renowned artist Tuzin Tiryaki, a leading figure in the world of Turkish Marbling. You'll learn the fundamental techniques and use of traditional tools as you create your first Ebru pieces on the tray.
What you need to know:
Duration: 2 hours
Price: from $89 USD per person
Location: Workshop located inside Ozza Galata
What guests are saying:
"You don't have to be an artist to enjoy this amazing, creative experience! Just follow along the expert instruction and create your own visual masterpiece. The staff that runs this class could not be any more kind, caring, and sweet. You can't help but make new friends."

– Doug, October 2023
37. Do a photography tour of Istanbul
You've seen the photos of Istanbul plastered all over your Instagram and now you're here and it's time to make these photos come to life. You could travel with all sorts of travel gear, do lots of research to find the best locations and set up a tripod to grab some shots…
Or you could hire a professional to help you out! This unique Airbnb experience is led by a local photographer who knows all the best photography spots around the city. It's a super affordable way to make some good memories and bring home digital souvenirs!
What you need to know:
Duration: 2 hours
Price: from $71 USD per person
Meeting Location: Taksim Square & Istiklal Street
What guests are saying:
"He speaks very good English and knows a lot of interesting facts about the area. He showed us in beautiful places and took great pictures there with us. I can recommend it to everyone. The tour is really worth the money. I would be happy to come back."

– Sara, October 2023
---
Where to Stay in Istanbul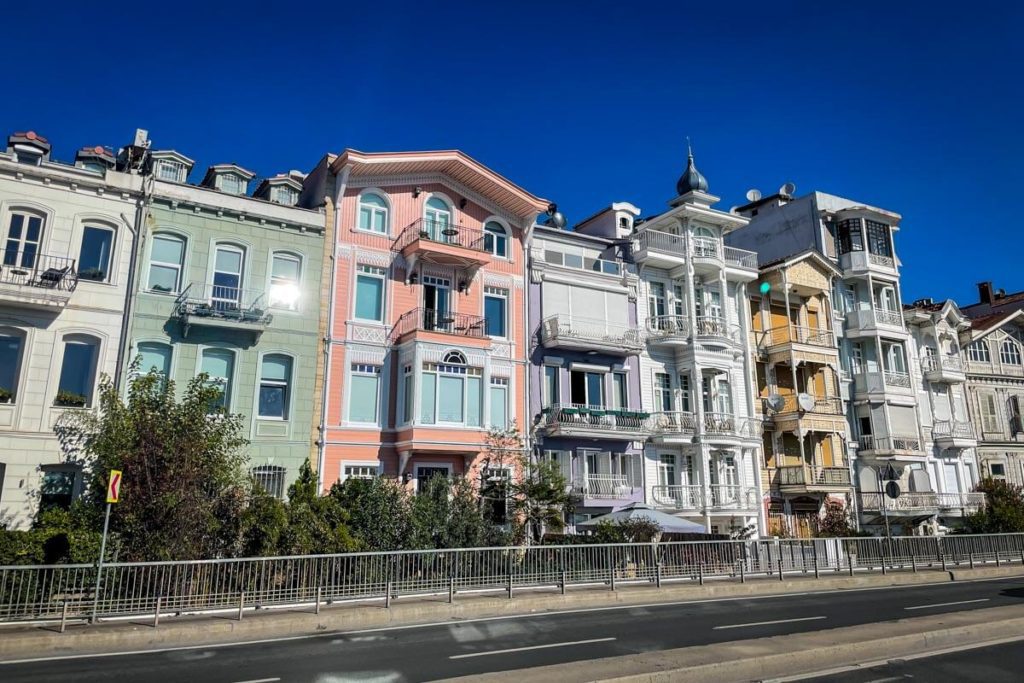 Istanbul has many different neighborhoods, each with their own vibe and unique draws. Do a little research and see which area intrigues you most.
The majority of the best things to do in Istanbul are going to be in the Sultanahmet and Galata neighborhoods. You'll especially find a lot of expats and digital nomads living near Galata. We'd recommend staying here if you are hoping to get to some of the attractions and activities on this list as you won't have to travel as far.
…By the way, did we mention traffic in Istanbul is horrendous?? We're talking seemingly 24/7 traffic all day everyday. It can easily take you an hour to get 5 miles down the road! So be sure to choose your stay according to where you'll want to spend the most time while in Istanbul.
Budget stays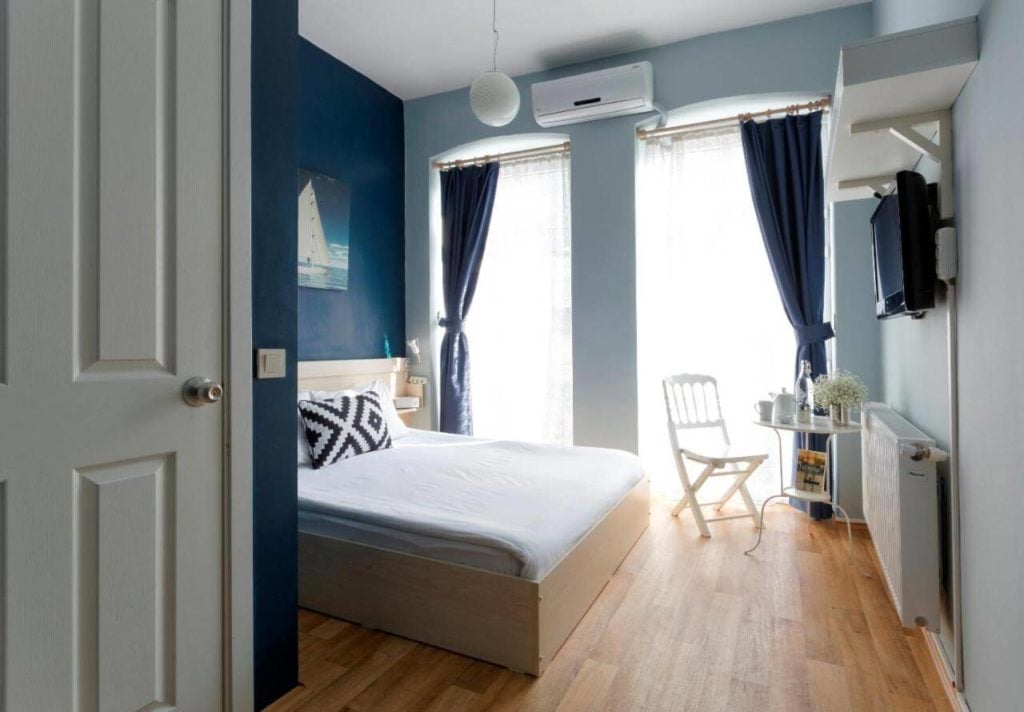 Cheers Porthouse: This charming guesthouse is located in the up-and-coming hip neighborhood of Karaköy, which is between the hotspots of Taksim and Sultanahmet, and is walking distance to each. Plus, there are numerous restaurants and local watering holes close by. Porthouse has clean rooms with the most friendly staff. Breakfast is simple and available from 8 a.m. until whenever, so you can always grab a snack.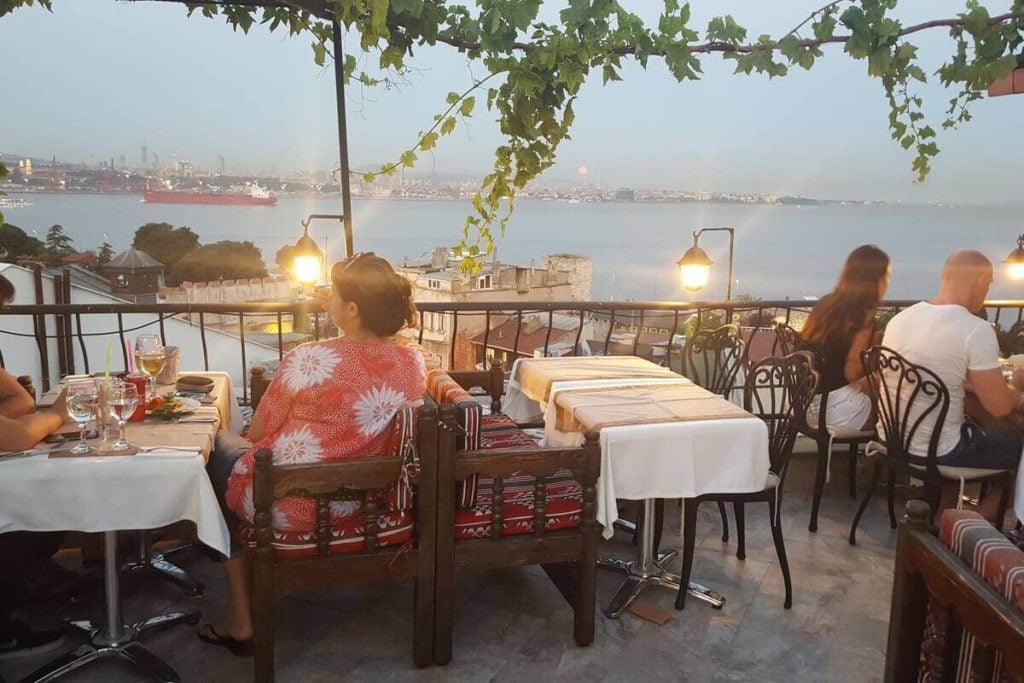 Metropolis Hotel & Guesthouse: A 5-minute walk away from the Blue Mosque, this hotel is right in the center of the action in the Sultanahmet neighborhood, but off side street so it's quiet and peaceful. Metropolis has simple rooms and helpful staff, but what sold us was the Turkish breakfast buffet! Not only do you get to start your day off with a full belly, but you get to have breakfast on their lovely rooftop, overlooking the bosphorus.
Mid-range/Couples stays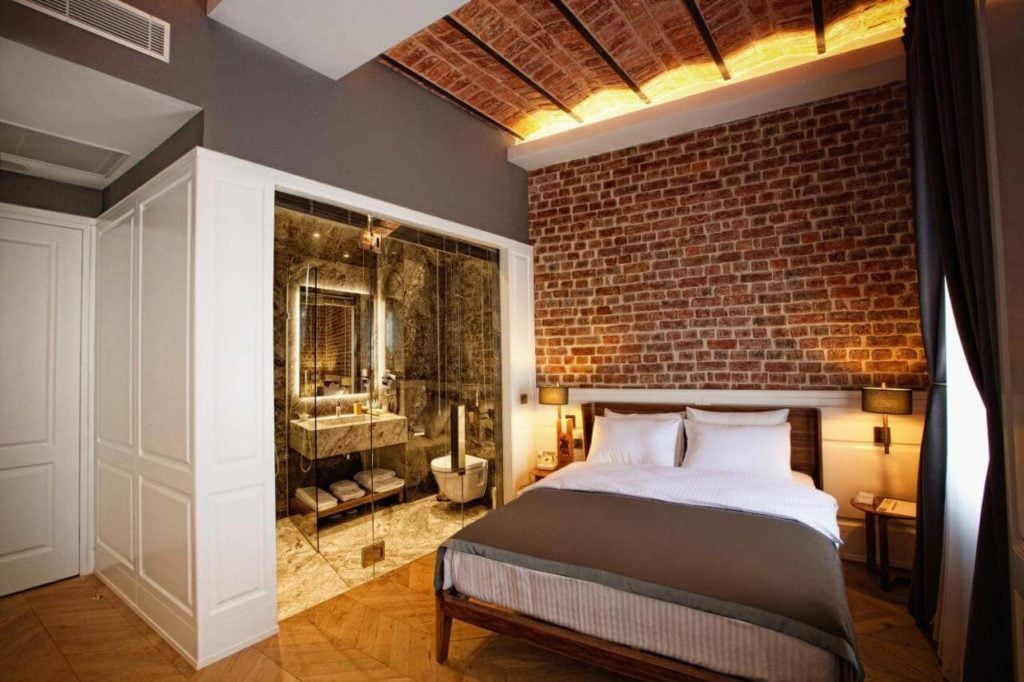 Hotel Miniature: Situated in the Sultanahmet neighborhood just steps from the Hagia Sophia and Blue Mosque, this 139-year-old Ottoman mansion has been renovated into one of Istanbul's cutest boutique hotels. The rooms compliment a range of budgets and feature original brick walls, high ceilings and luxurious modern en suites. A rooftop terrace is the perfect place to enjoy your Turkish breakfast spread.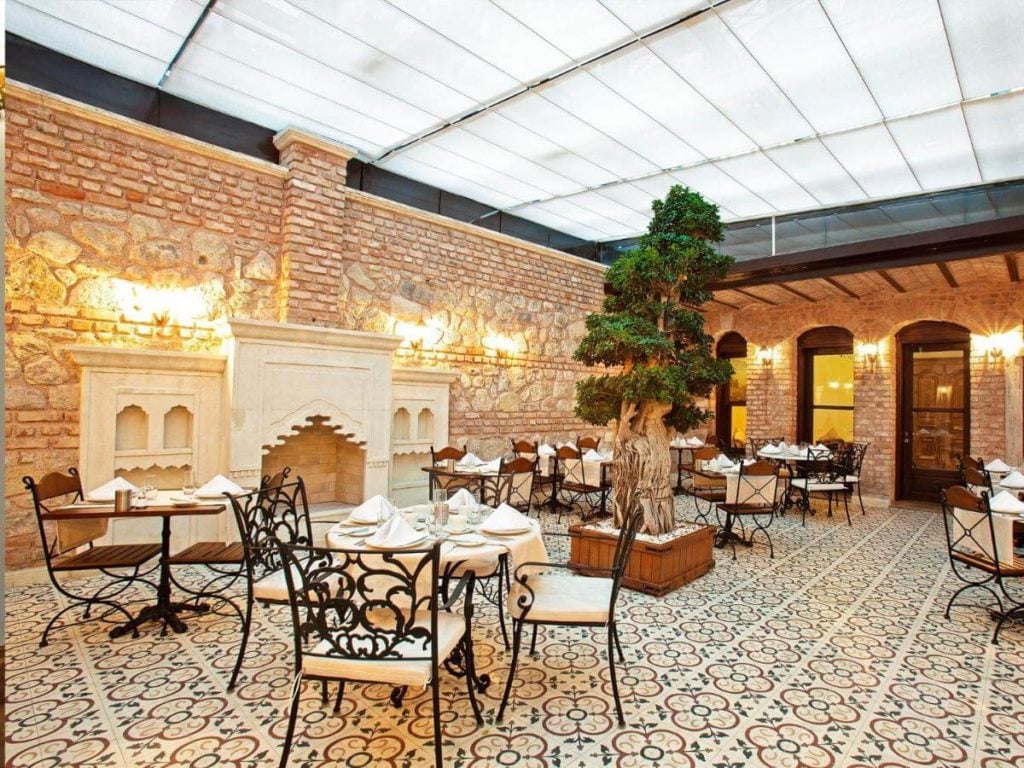 Celine Hotel: Another Ottoman mansion turned into a gorgeous boutique hotel in the Sultanahmet neighborhood. The Celine Hotel features an indoor winter garden with a fireplace and classic furnishings. Each of the air conditioned rooms have historical touches and modern finishes to make you feel comfortable and at home.
Luxury Stays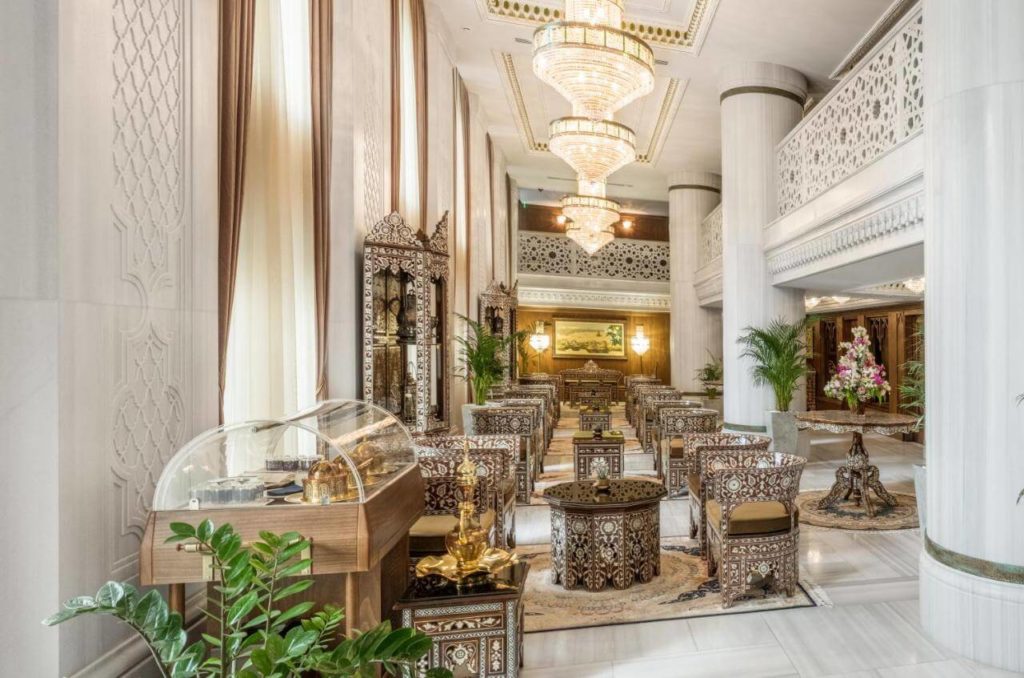 AJWA Sultanahmet: This 5-star hotel is situated right in the historical center of Old Istanbul. If the seriously Instagrammable entrance isn't enough to make you want to stay, check out the gorgeously decorated interiors. The property features 61 rooms, an onsite restaurant and spa, embracing all aspects of luxury hospitality.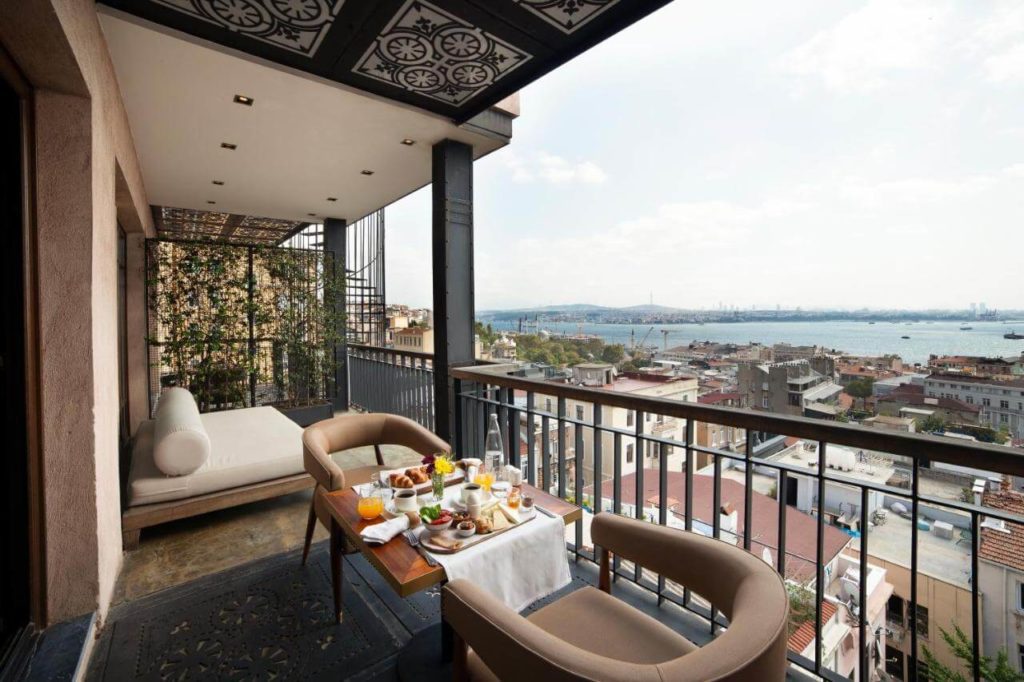 George's Hotel Galata: Situated in a majestic historic building in the heart of the Galata neighborhood, George's has found itself on the Hot List and the Gold List by Condé Nast Traveller. This one-of-a-kind boutique luxury hotel offers breathtaking views over the Bosphorus from the room's private balconies and its top notch restaurant.
---
A note about safety in Turkey…
Many people are wondering if Turkey, and Istanbul in particular, is safe right now. Here are our thoughts on safety in Turkey…
While we felt very safe in Istanbul overall, there was one little scam that we fell for. We've met a few other travelers who fell victim as well, so we're sharing this common ploy so you know what to look out for.
Watch out for this scam in Istanbul:
A man carrying shoe shining equipment will walk in front of you and drop something (maybe a brush or some wax). When you pick it up and hand it to him, he will act very grateful and say how he wants to repay your kindness with a free shoeshine.
Even if you refuse (like we did), he may just start scrubbing your shoes. Ben was wearing super crappy Vans made with canvas material, and the "shine" just got them wet. The man will then tell you a sad story about his sick child, etc. and will pretty much force you to give him a few lira.
While it's not the worst type of scam we've encountered, it is a bit annoying and it happened to us two times while we were in Istanbul (thankfully the second time we didn't fall for it, and just kept walking). Now that you know what to look for, it might just be interesting to see if happens to you!
---
Round up of the best things to do in Istanbul
Here's a recap of all the best things to do in Istanbul so you can see everything in one place.
Free walking tour
Turkish cooking class
Hagia Sophia
Turkish Hammam
Basilica Cistern
Blue Mosque
Grand Bazaar
Galata Tower
Topkapi Palace
Explore different neighborhoods
Istiklal Avenue
Sunset on the Galata Bridge
Cruise the Bosphorus Strait
Istanbul's archaeology museums
Whirling Dervish Ceremony
Spice Bazaar
Turkish breakfast
Eat and drink everything
Have a local pint
Fish sandwiches on the Bosphorus
Picnic at Gulhane Park
Turkish coffee
Happy hour on a rooftop
Istanbul's Nightlife
Chora Church (Kariye Museum)
Süleymaniye mosque
Beylerbeyi Palace
Hippodrome and Walls of Constantinople
Ortakoy Mosque
Dolmabahce Palace
Shopping
Food tour
Princes Island
Kadıköy
Fener and Balat
Take a unique art class
Photoshoot
---
If you're headed to Turkey, we've got some things you should see!
We have lots of resources on travel in Turkey and destinations throughout the country. Check out our Ultimate Turkey Travel Guide for all the answers to your travel questions, or read some of our favorite articles below.
Save this article on Pinterest for later!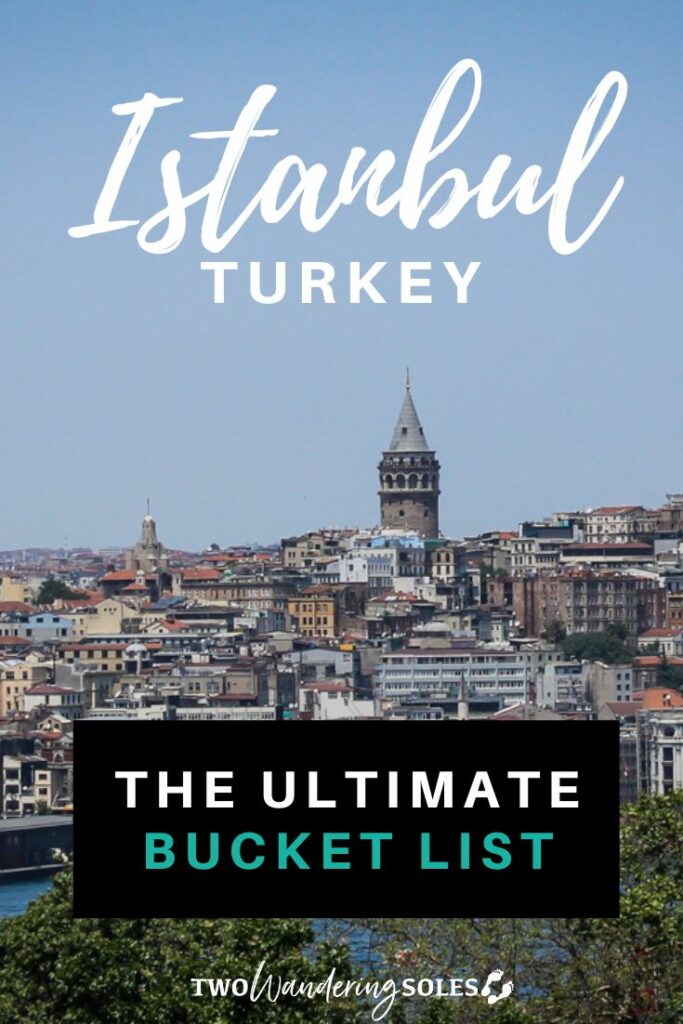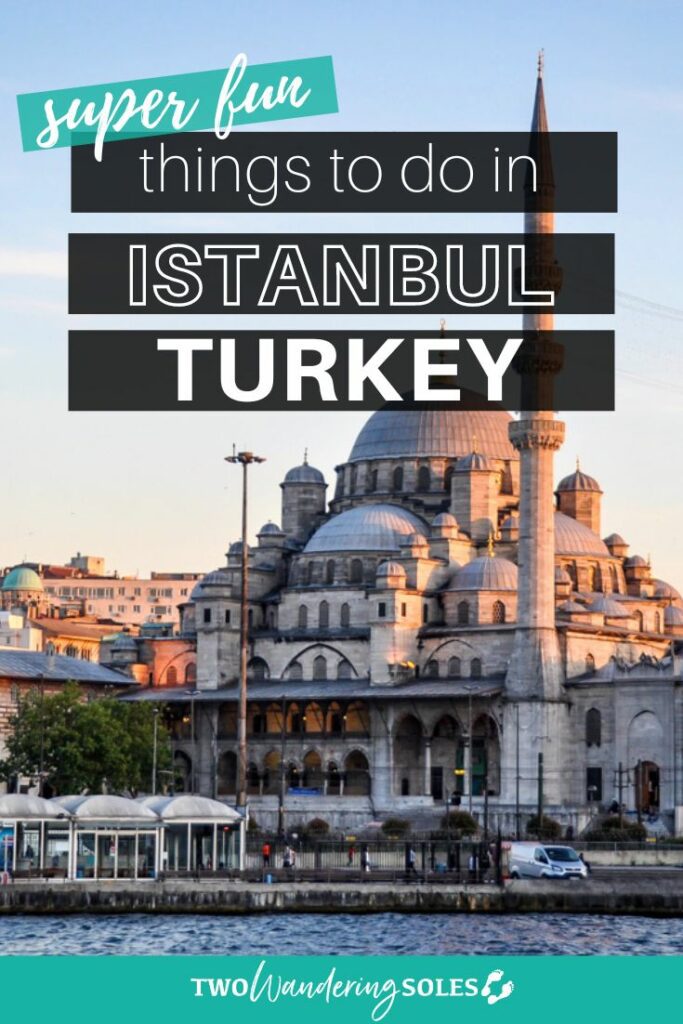 We want to hear from you!
Which of these exciting things to do in Istanbul are going straight to the top of your Istanbul itinerary? Are you planning a trip and still have questions? Comment below and we'll do our best to get back to you!