Road tripping allows you the freedom to travel like no other and is undoubtedly the best way to see all that Iceland has to offer. From vehicle rentals to budgeting to en route entertainment, here is everything you need to help you plan your Iceland road trip.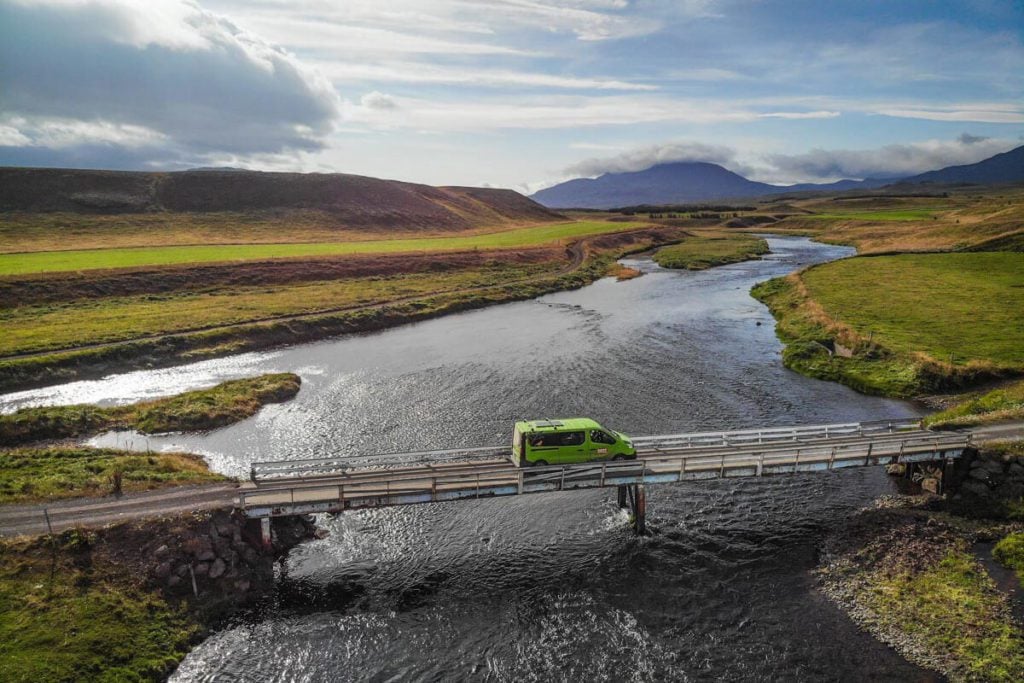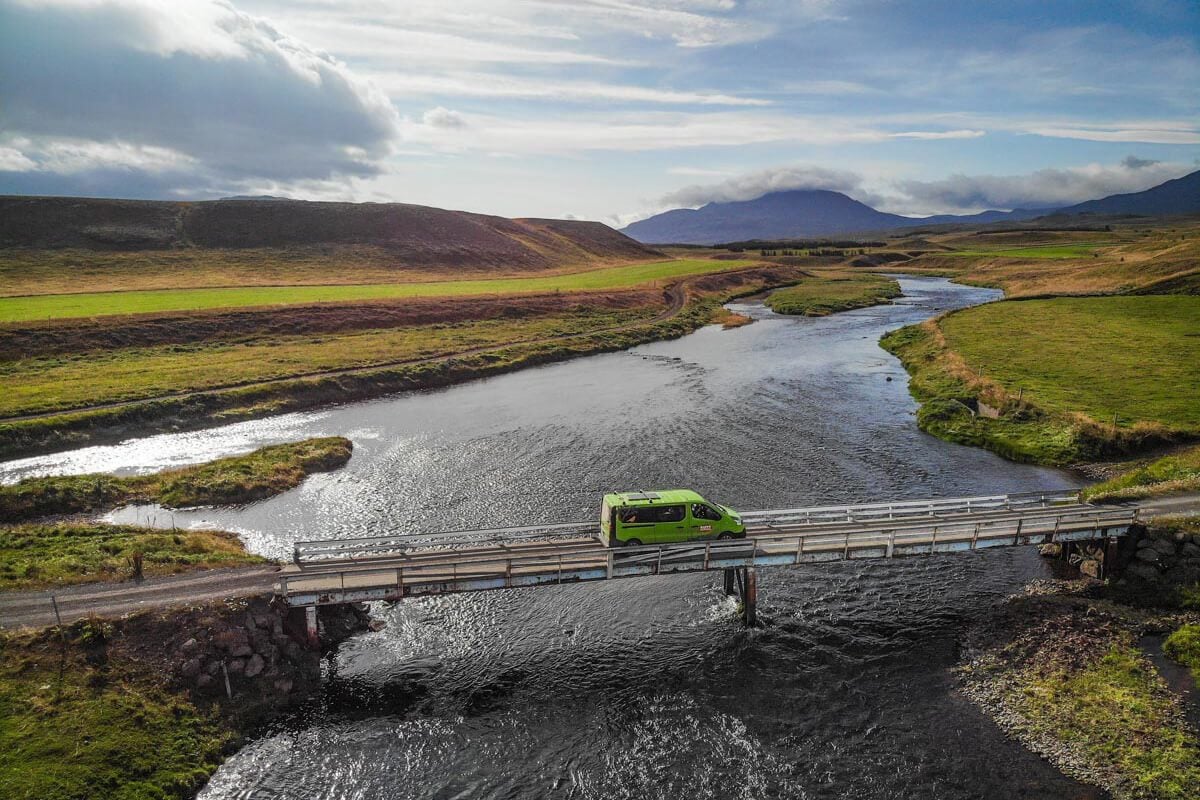 When it comes to road trips, Iceland is perhaps one of the best countries in the world for hopping behind the steering wheel and taking on the open road.
With drool-worthy landscapes around every corner and more epic "detours" than you can count, taking an Iceland road trip will be up there as one of your most memorable travel experiences. Plus, the driving in Iceland is pretty darn easy – I mean, there's basically just one main road around the entire country (aka the Ring Road), so you can't really get lost.
In this guide, we're covering literally everything you need to know to have the absolute best time on your Iceland road trip. We've been to Iceland three times, and have explored by both car and campervan. We've gathered all sorts of tips in one place: from essential safe driving advice to tips for shopping in Icelandic supermarkets to how to save money on gas, you can find it all right here!
This guide will get you ready to crank your favorite tunes and roll down your windows (or not, because it'll probably be chilly outside) and embark on the Iceland road trip of a lifetime!
Iceland Road Trip Planning Guide
---
Want to save time and energy on planning?
We've traveled to Iceland 3 times now and spent weeks living in a campervan, traveling around the country. We've been able to explore a lot of what Iceland has to offer!
We've compiled our experience to create the perfect Iceland itinerary. Our itinerary is for 7-9 days and meant to be explored while traveling in a campervan. It includes the highlights of the southern coast of Iceland.
We'll send you our complete 7-9 day customizable itinerary, filled with tips and advice. Just click below to get your perfect Iceland itinerary today!


---
Things to know about driving in Iceland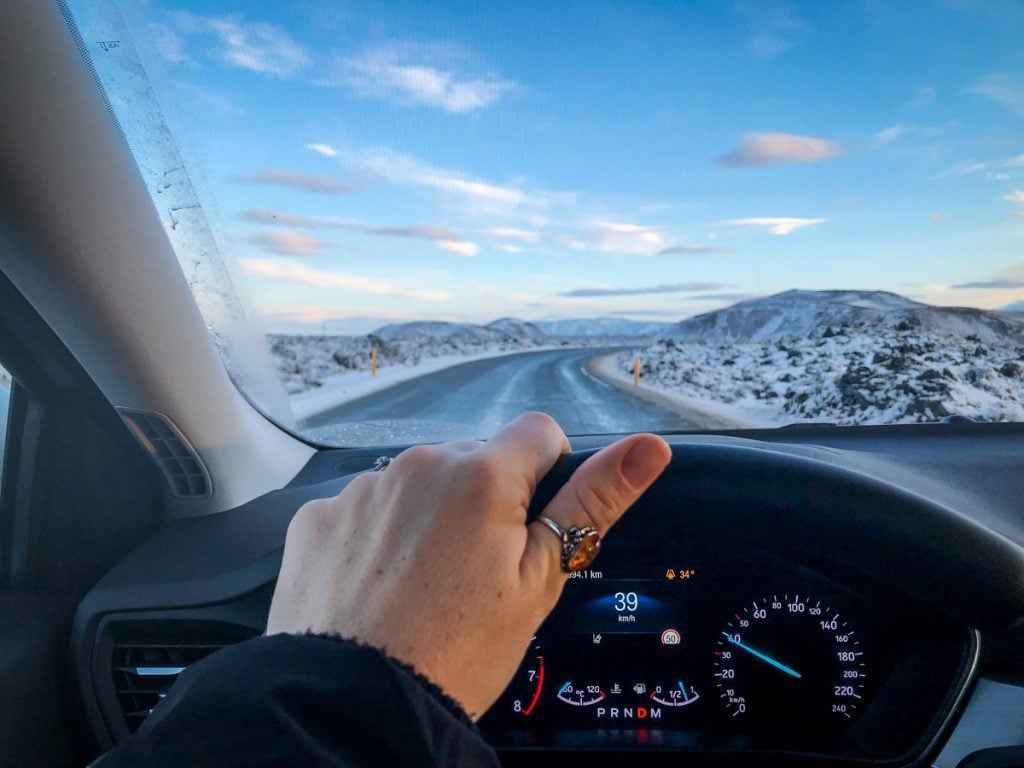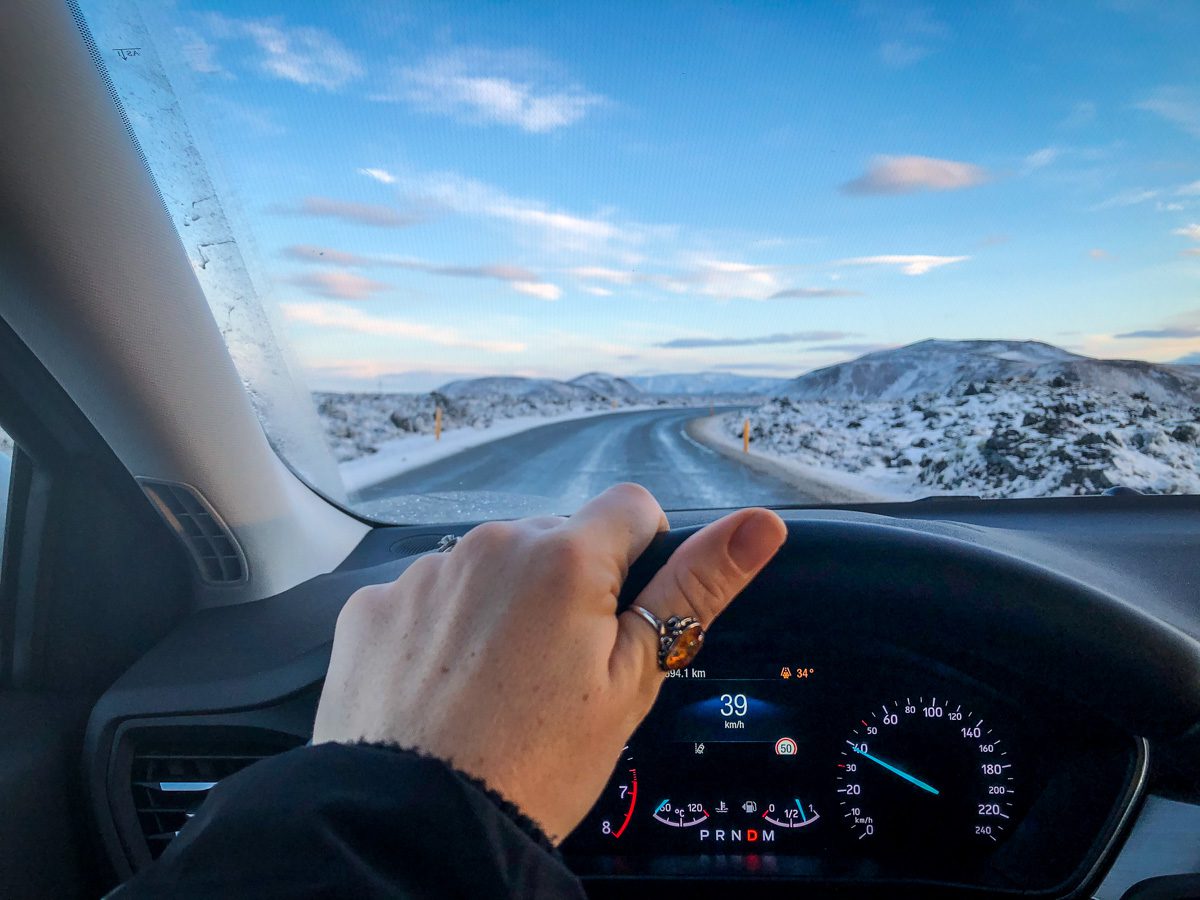 Driving in Iceland might be different from what you're used to. There are some important things—really important things, actually—that you need to know before you set off on your Iceland road trip.
We're going over everything you should know about driving in Iceland before you get behind the wheel.
1. Let's talk about gas, baby!
When planning your Iceland road trip, don't forget to factor the cost of gas into your road trip budget. Being as it has to be shipped here from overseas, it's easy to understand why petrol is a bit more expensive in Iceland. However, you'll want to prepare yourself for the first time you pull up to the pump and see prices nearly quadruple what you might expect to pay in somewhere like the US.
During our most recent trip to Iceland (August 2021) the price of gas in Iceland was 225.8 ISK per liter ($1.75 USD). That works out to be just shy of $7 USD per gallon. Yikes!
Gas stations in Iceland will generally be open 24 hours a day, however you should expect the building to be closed overnight and no attendants. This means you can only fill up after hours if you are paying with a card. Which brings us to our next point…
Some of the gas stations in Iceland required us to type in a PIN number to authenticate the credit card transaction. If you're like us and using a US-based credit card, you won't have a PIN. This presents a problem when you're alone at night and there are no attendants on duty to manually run your card inside. For this reason we suggest bringing a back up debit card (with a PIN) to use at the pumps if this happens.
And on that note… Don't let your tank run dry! Once you get outside of Reykjavík and venture off the Ring Road, there can be lonnnng stretches of highway where you don't see another sole. You don't want to wind up stranded in a place like that with an empty gas tank. Fill up often and don't let your tank get below ¼ if you can help it!
2. Watch your speed!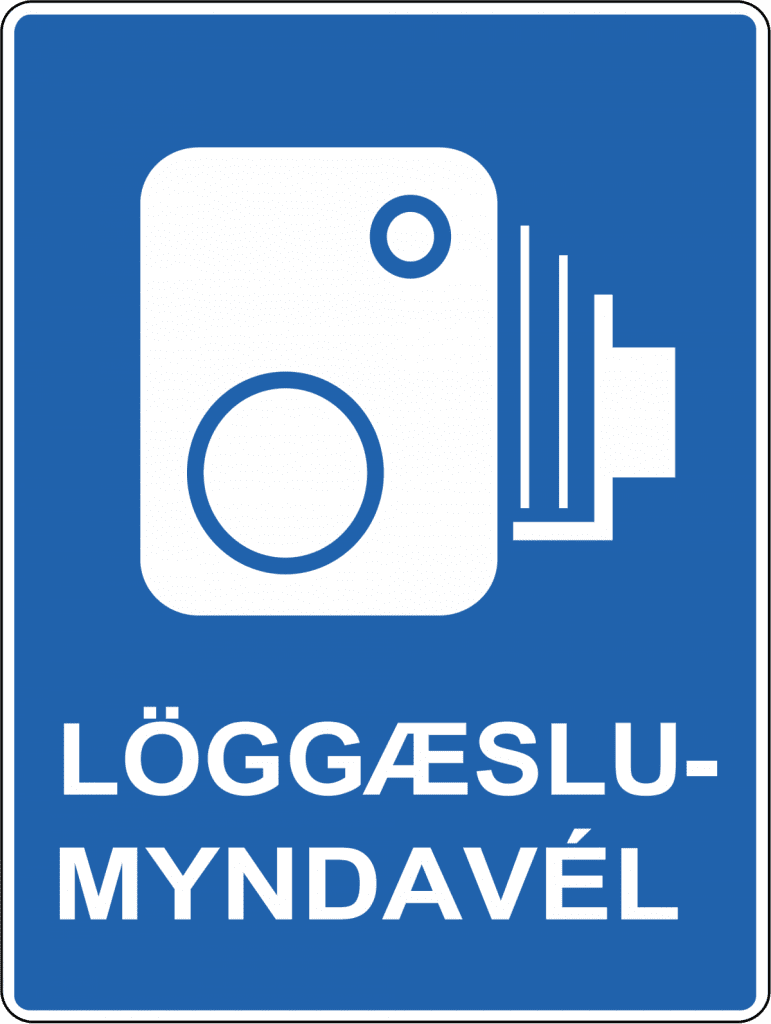 This is an important one. (Be sure you read it!)
While driving in Iceland, you'll want to be extra cautious about your speed. For safety reasons, obviously, but also to avoid the speed traps and hefty fines that go along with a speeding ticket.
There are speed traps set up all over the country (mostly around Reykjavik and popular tourist areas) with cameras that'll detect your speed and flag you if you're over the limit. If you're not paying attention, you might never notice them, but before every camera there is a blue sign to warn motorists like the one pictured.
It's also good to know that all tunnels in Iceland have at least one speed camera (if not more!), so be sure you follow the 70-kilometer speed limit in tunnels.
Always go by the posted speed limit signs, but here is the general rule of thumb:
90 km per hour on highways (Nowhere in Iceland are you allowed to drive faster than this. And this is only 56 m.p.h. so it may seem a bit slow to those of us who are used to driving on highways in the US)
80 km per hour on gravel roads
70 km per hour in tunnels
3. Turn your headlights on
You may not be in the habit of turning your headlights on while driving in the middle of the day, but in Iceland it's the law. All drivers must have their headlights on while driving (any time of day) for your safety as well as other drivers as it can get quite foggy.
If you don't have the automatic lights function on your vehicle, just remember to turn your lights off everytime you park. We accidentally left ours on and drained our battery, and it was quite the adventure trying to find someone with jumper cables.
Tip: Pack this portable jumper set (yes, you can fly with it!) as we found most rental cars didn't come equipped with jumper cables.
4. How to navigate single-lane bridges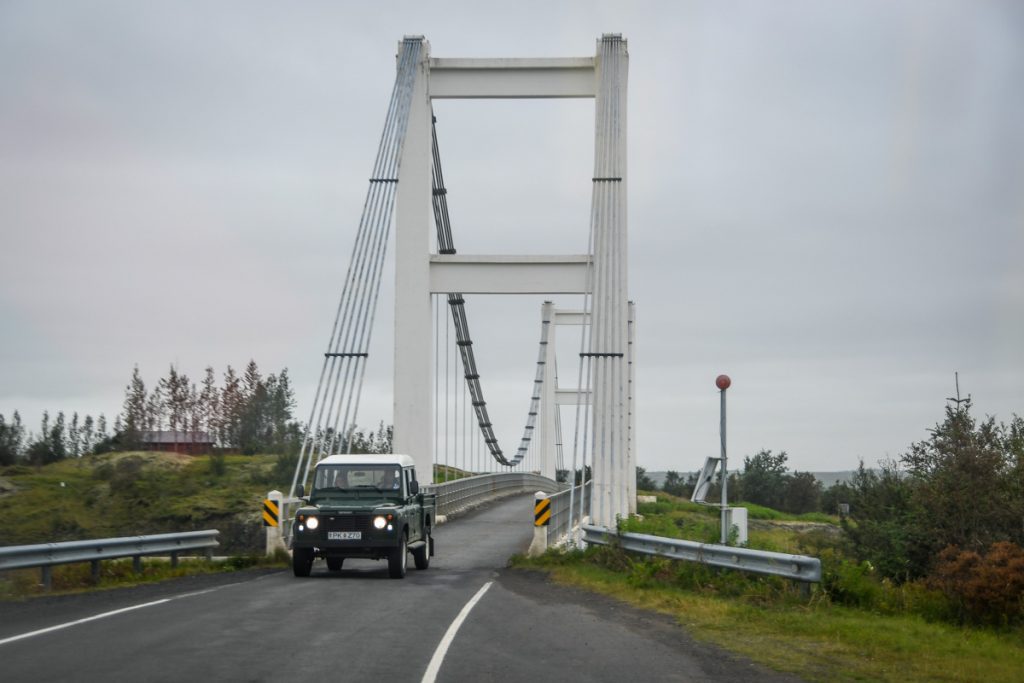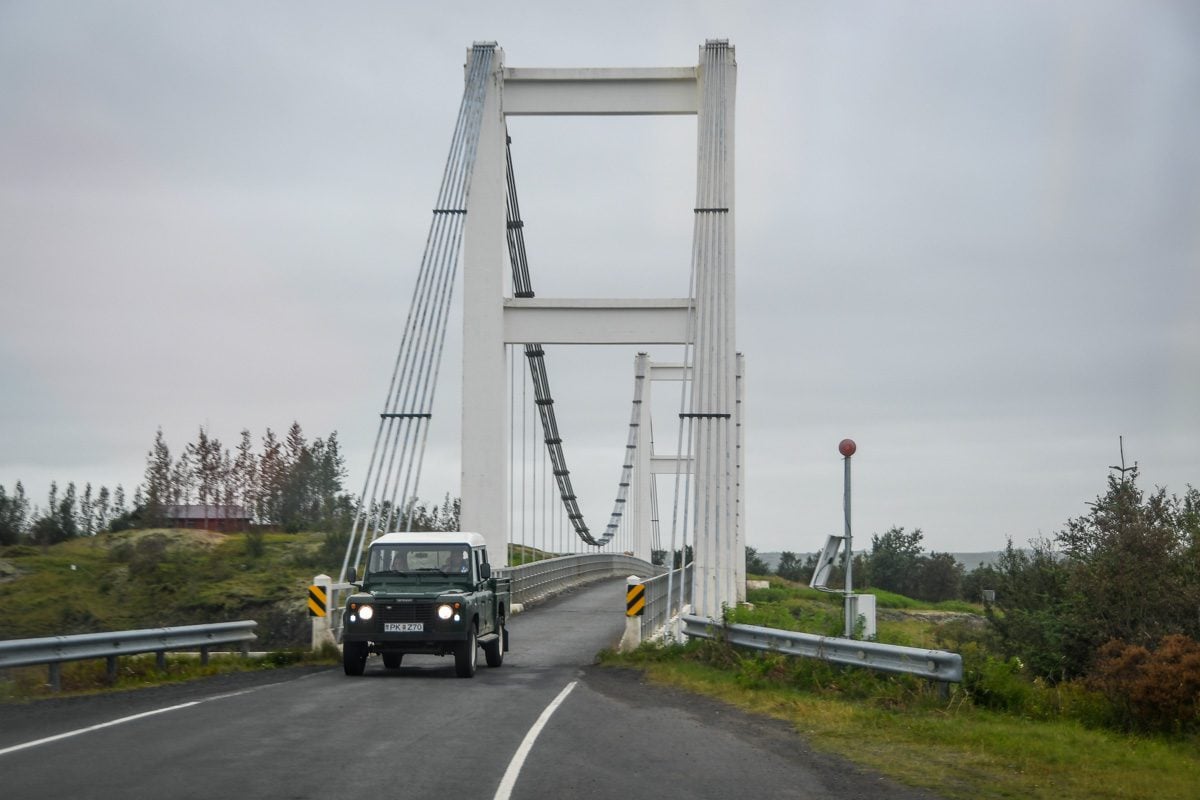 If you are driving the Ring Road around Iceland, you'll run into quite a few single-lane bridges, and you'll need to know how to navigate in the case you wind up there at the same time as another car.
The general rule to follow is to give way to the car that's closest to the bridge and wait for them to cross before taking your turn. However, it's a good idea to slow down just in case that other driver isn't as prepared as you (and hasn't read this article!).
5. Where you can and can't drive
There are some roads in Iceland that legally require you to have a 4×4 vehicle to drive on. These are known as "F-Roads". Akin to "fire roads" in the United States, F-Roads aren't really maintained at all. Not only is it illegal to drive on them with a regular 2-wheel drive vehicle, but you'll likely get stuck! And insurance certainly won't be covering anything that happens to your vehicle when you're driving illegally.
It's also worth noting that F-Roads aren't open all year long. These mountain roads are only open during the summer months, typically June/July – September (or after the first snow). Check the current conditions here.
That being said, be prepared to drive on unpaved roads, even if you are not venturing off into F-Road territory. Of the more than 8,000 miles of roads in Iceland, fewer than 3,000 miles are paved roads. Which means you'll definitely encounter some gravel. Just pay attention to the reduced speed limit on gravel roads (80 km / hour) and don't get too close to the vehicle in front of you if you don't want to risk your windshield.
On that note… Don't EVER drive off road. Not only is it illegal to go offroading in Iceland, but driving off the road can cause irreversible damage to the incredibly fragile ecosystem on the volcanic island. Be a responsible traveler, and stick to the roads!
6. What to do at roundabouts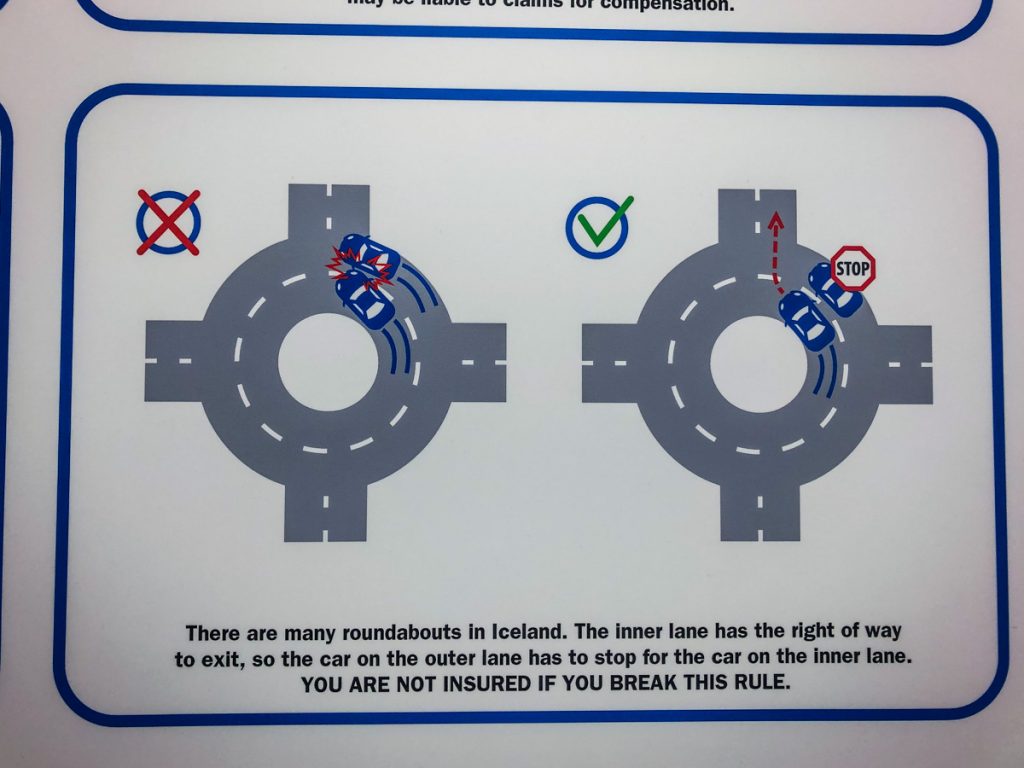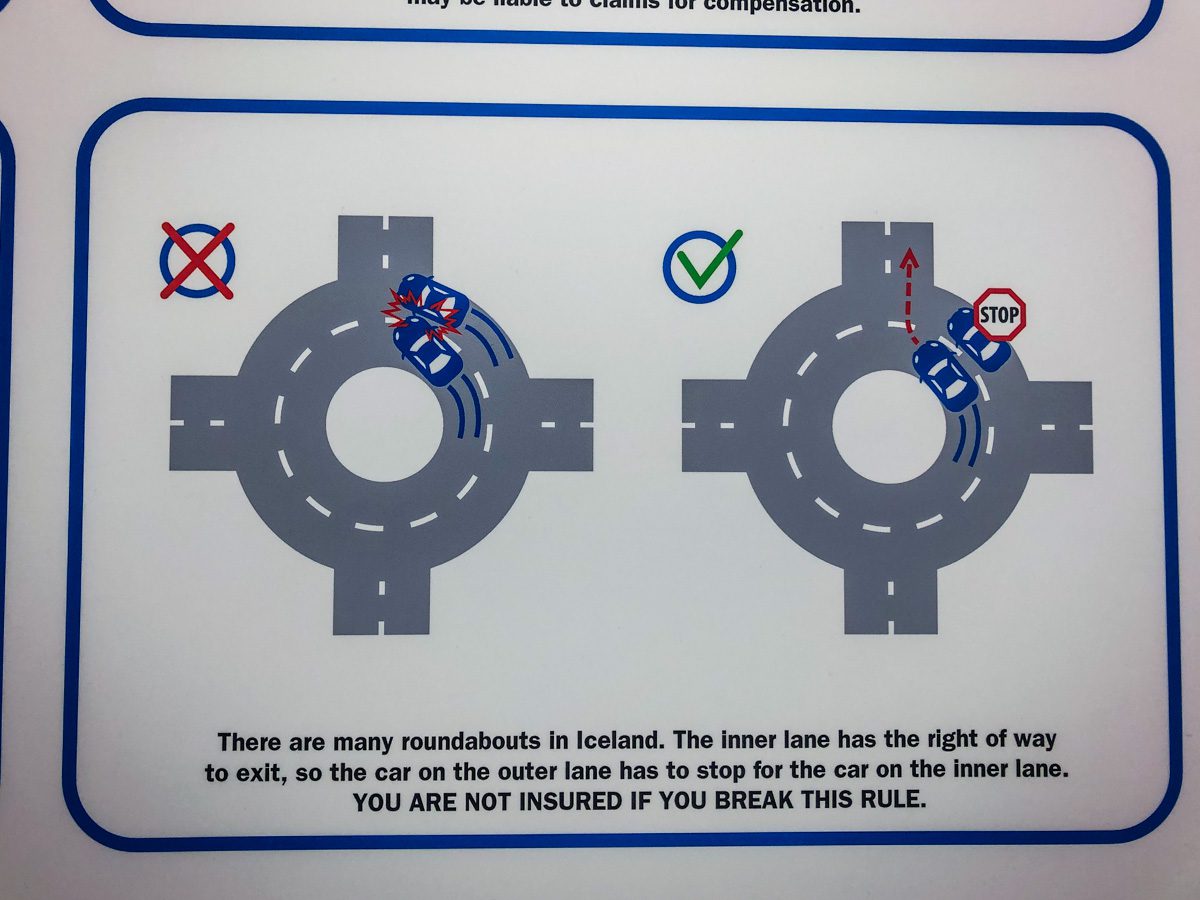 There are tons of roundabouts in Iceland—especially in Reykjavik. And they can be confusing to navigate, even if you're used to roundabouts at home.
The biggest thing you have to know is that when you're driving a 2-lane roundabout, the inner lane has the right of way. That means if you are in the outer lane, you must yield to the inside driver at each exit. If you don't follow this rule and there is an accident, insurance won't cover you.
7. Be prepared for sudden changes in weather
The weather in Iceland is notoriously unpredictable. There's a saying in Iceland that goes, "if you don't like the weather, wait 5 minutes." If you are planning to spend a long time driving in Iceland, there's a good chance you'll run into lots of different weather conditions on the road and it's best to be prepared.
Keep up to date with the forecast by checking before your drive. This website breaks down road and weather conditions by region, which is helpful. We also found the Vedur app to be the most consistently accurate when it comes to current weather conditions in Iceland.
And be prepared for winds. Strong winds. With little vegetation or tree coverage to shield the roads, the winds can be brutal while driving in Iceland. Be extra cautious while driving in high winds, watch out for sand and ash and hold the door tight when entering or exiting your vehicle.
If you are planning your Iceland road trip during the winter months, you'll want to make sure your rental vehicle comes with studded snow tires (a pretty standard offering in Iceland), and might consider upgrading to a 4×4 vehicle just to be safe.
Ask your rental company if they offer a "Winter Supply Kit" which typically consists of flashlights, jumper cables, a shovel and other winter gear to keep you warm and safe in case of an accident.
For more detailed information and driving tips, check out our guide to renting a car in Iceland.
Rental car vs. campervan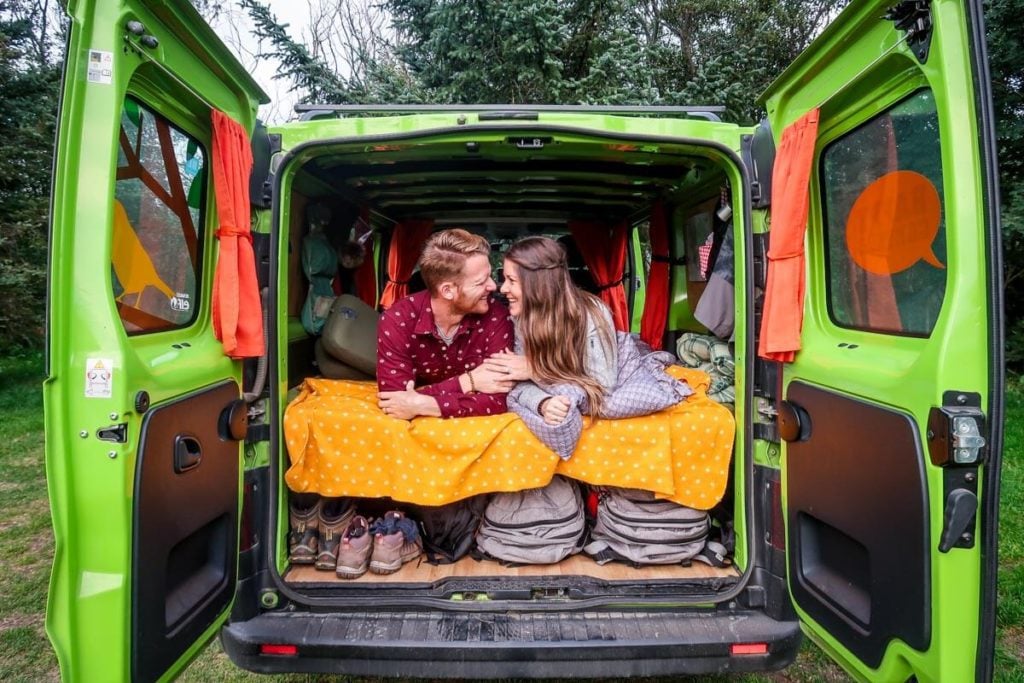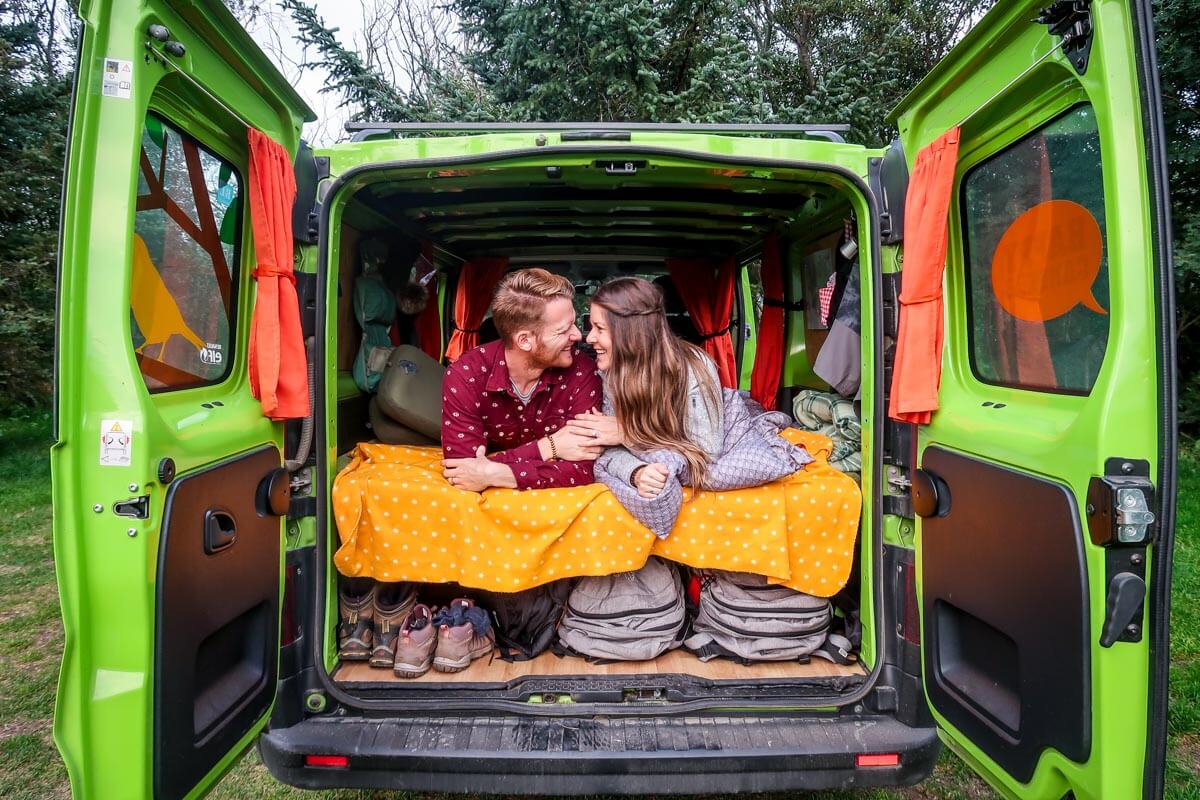 When considering how to get around on your Iceland road trip, you have two standard options; you can rent a car and stay in hotels/Airbnbs or go tent camping, or you can opt for a campervan rental and bring your accommodation along for the ride.
We've rented cars in Iceland on two separate occasions and also traveled around Ring Road in a campervan. There are pros and cons to each mode of transportation and plenty to consider before making your decision.
Budget, accommodation preferences, comfortability and travel styles are all important factors to consider. If you are on a tight budget, or prefer to stay in hotel-style accommodation, renting a car may be a better option for you. If you are up for an adventure, don't mind using public showers and restrooms, but want a more comfortable camping experience, we'd highly recommend renting a campervan!
We've gone over the pros and cons of each as well as important information to know about the rental process and costs associated with renting a car or a campervan in two separate detailed-packed guides:
Best time of year for a road trip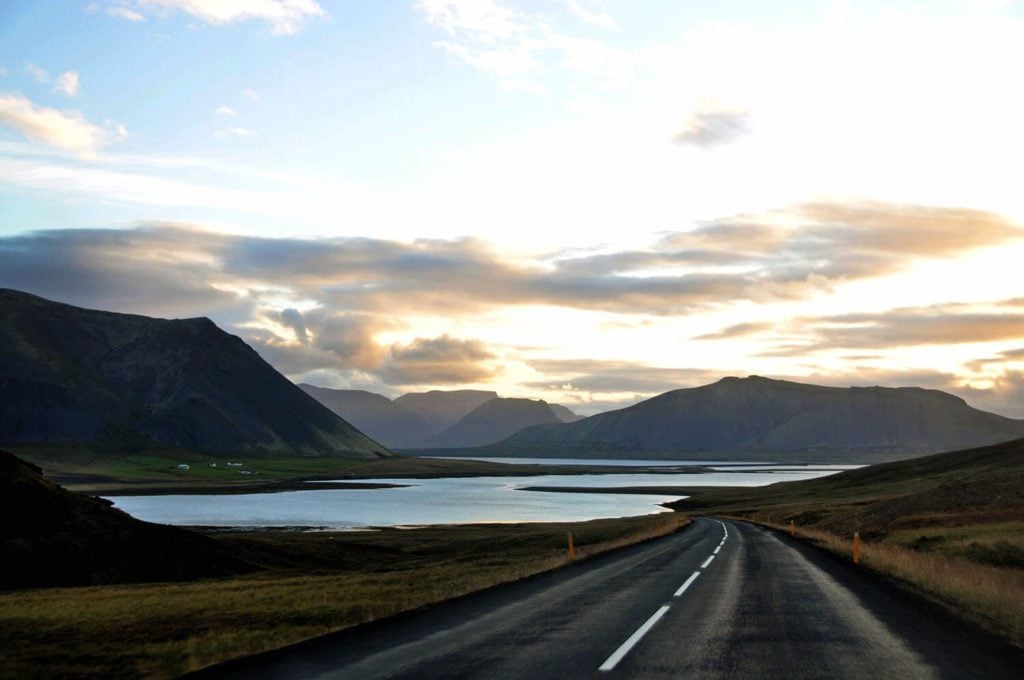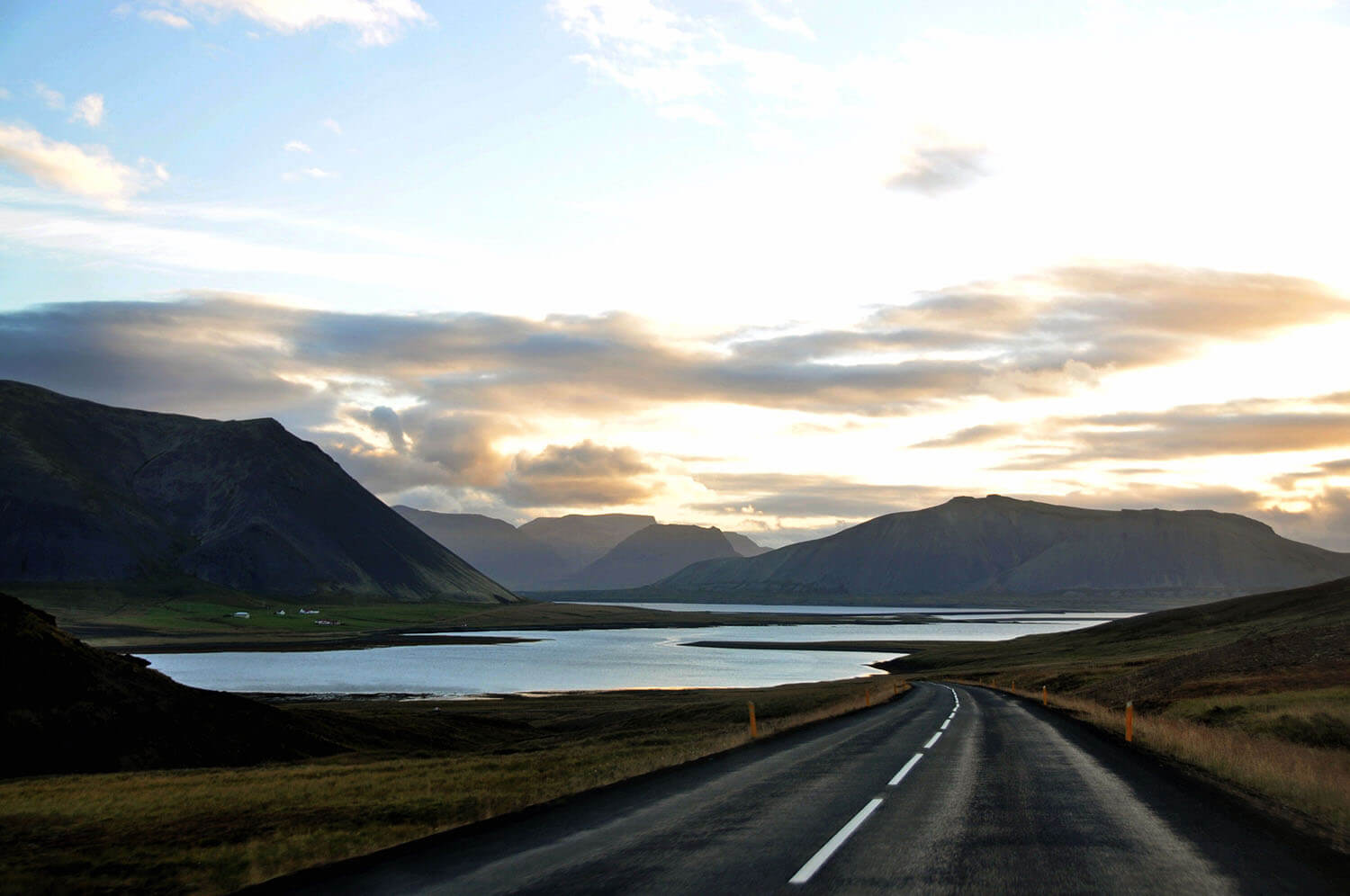 Iceland makes for an exciting travel destination year-round and there are unique draws and drawbacks to visiting in every season. When considering the timing of your Iceland road trip, there are a few factors you may want to keep in mind:
Road closures: F-Roads, which are the unmaintained back roads leading you into the highlands, are only open during the summer months. If you plan to do a lot of hiking or want to get off-the-beaten-path on your Iceland road trip, you may want to consider traveling during the peak season.
Driving Conditions: How comfortable are you with driving in snowy conditions? If you're traveling to Iceland from a warm-weather hometown and have never experienced driving in the snow, we'd advise you to reconsider a winter road trip and instead opt for the summertime.
If you're an experienced driver in all types of conditions, you can rest assured that car rentals in Iceland generally come equipped with studded snow tires and everything you need to stay safe in all seasons.
What you hope to see: If your sole purpose for visiting Iceland is to catch a glimpse of the illusive Northern Lights, or you cannot wait to photograph puffins while they are nesting, or maybe it's your dream to get up close and personal with humpback whales as you cruise across the bay…
All of these activities are possible in Iceland, but unfortunately they all have different seasons and you won't be able to do/see all of these things during one trip (unless you get crazy lucky).
We've put together a detailed guide on the best time to visit Iceland, which breaks down every season with the unique draws and drawbacks. Give it a read to figure out which season makes the most sense for your Iceland road trip.
Planning your route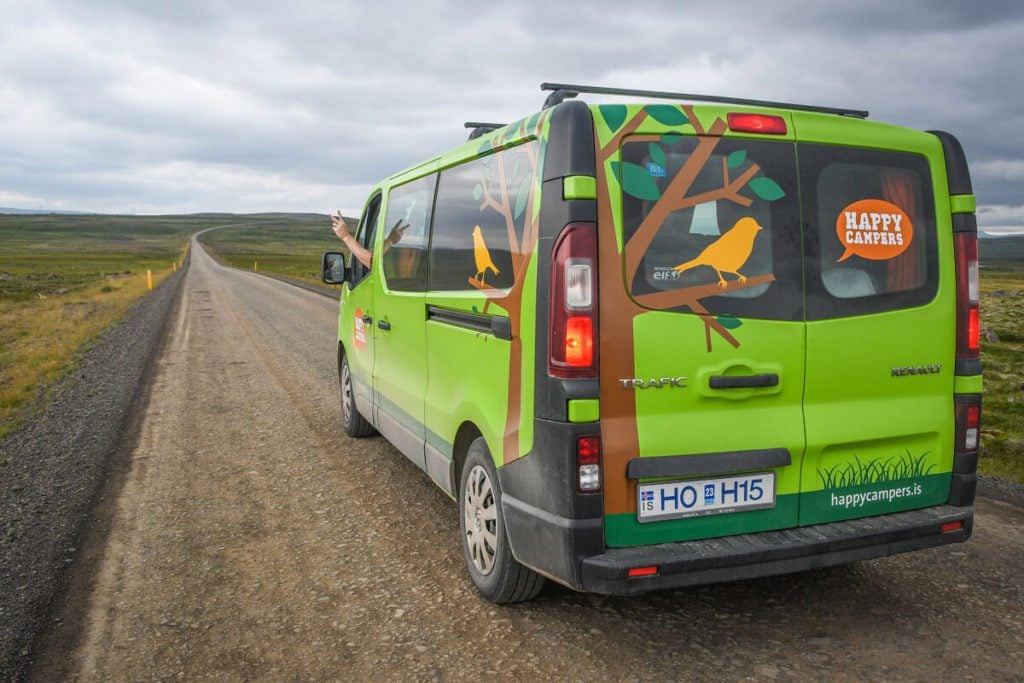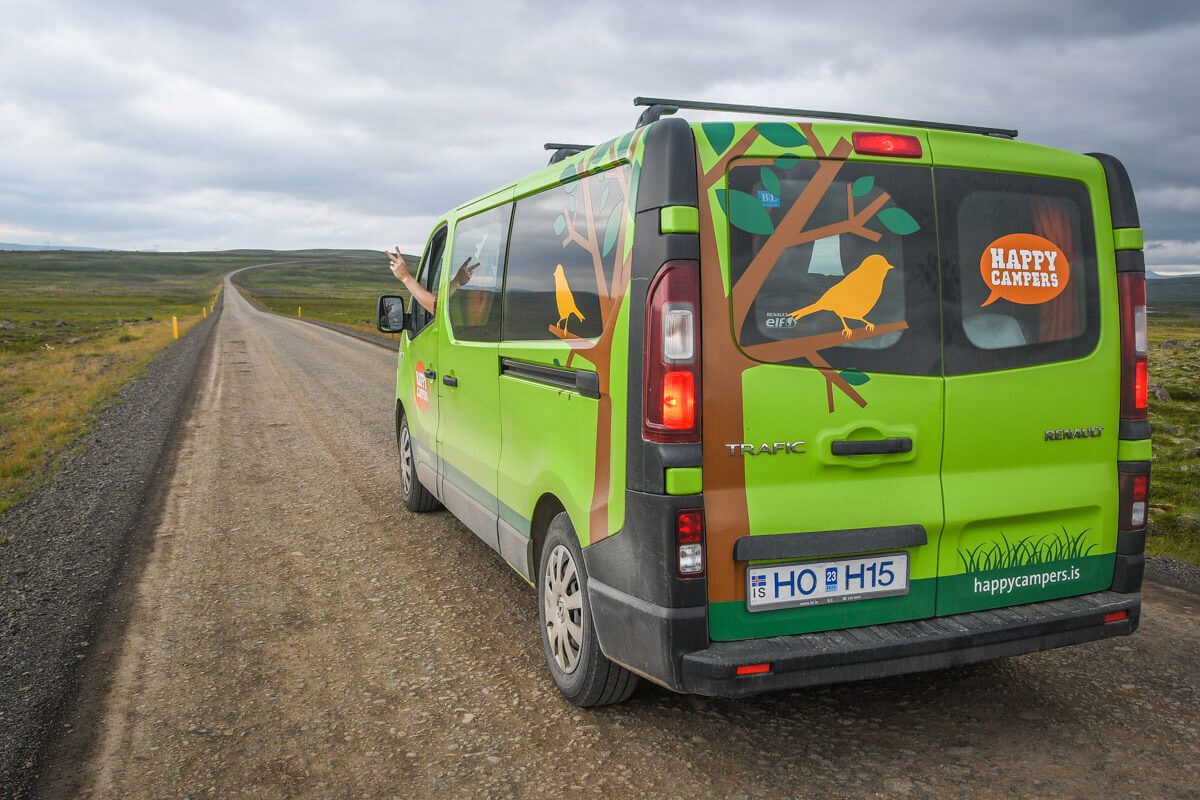 So you have big road trip dreams for Iceland, but how do you even begin to plan?!
We like to start our road trip planning process by following 5 simple steps.
Decide how many days you have to spend on your trip
Make a list of all the places you want to go
Use Google Maps to save the desired locations and begin to work out a general route
Perfect the route by pruning and primping, factoring in where you're going to stay
Create your final itinerary
In order to plan your route around Iceland, you'll have to first decide how many days you are able to dedicate to your road trip. After visiting Iceland on three separate occasions, we finally came up with what we think is the perfect 7 day Iceland itinerary for your first visit.
A single week is a good amount of time to get a solid taste of what Iceland has to offer, including some of the highlights like Reykjavik, the Golden Circle and some of our favorite hot springs and waterfalls.
READ NEXT:
Things to do in Iceland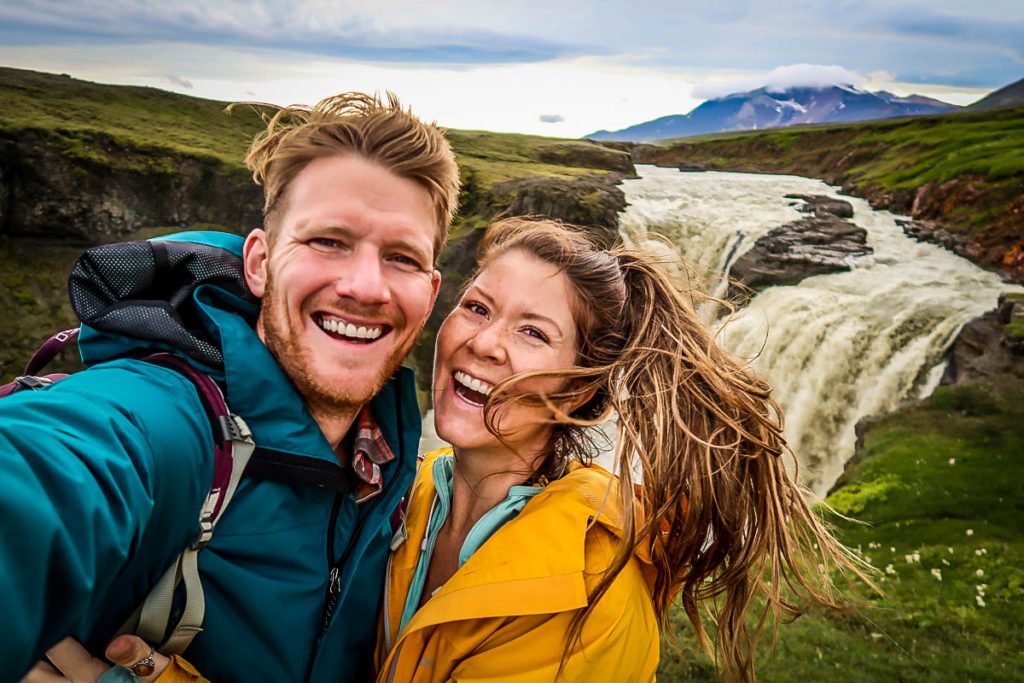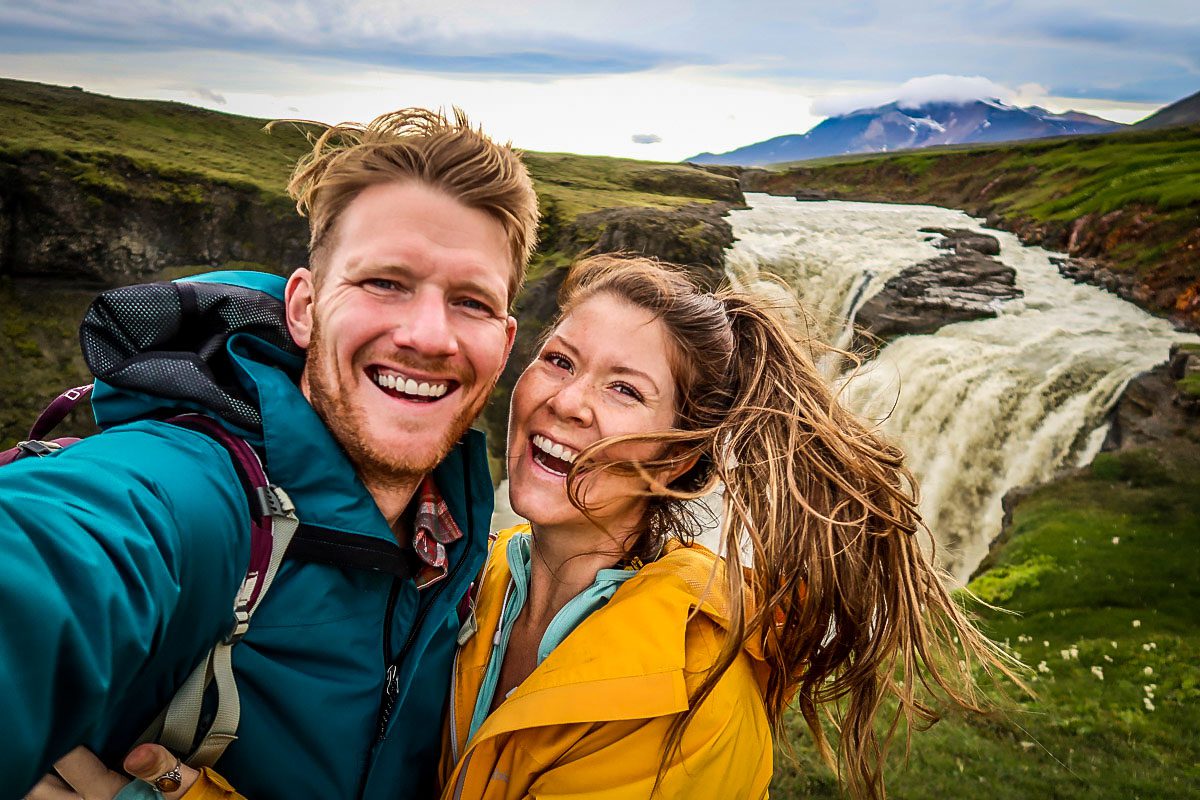 If you have more time than just a week, GREAT! There are so many more things to do in Iceland you could road trip for a month and still not get bored. Here is a good list of highlights to get you started…
We could go on… But we've actually already compiled a list of best things to do in Iceland with all the details you need to have these experiences for yourself.
Where to stay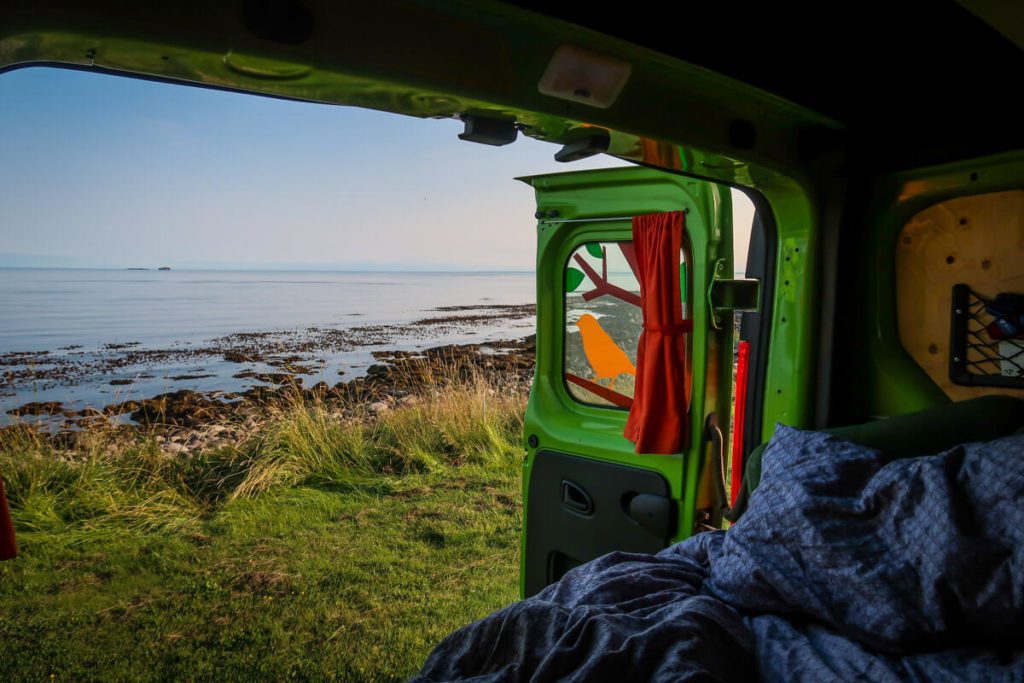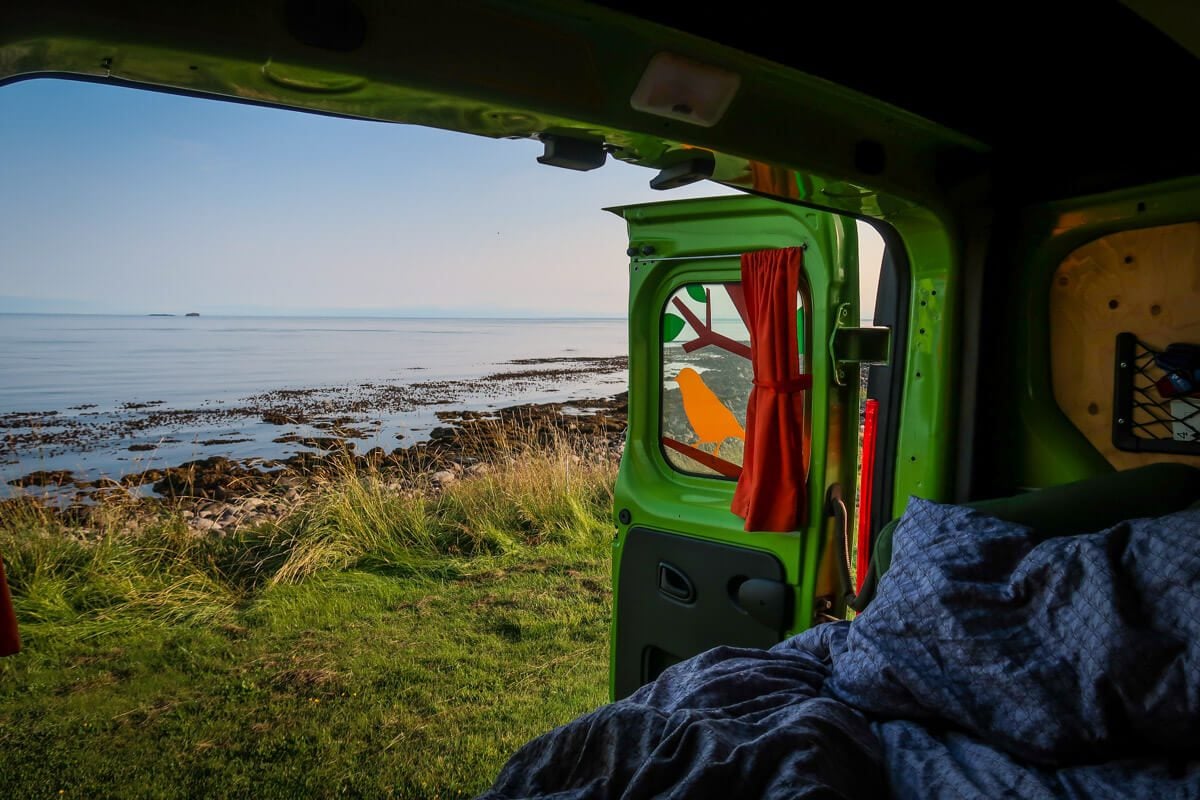 When planning your road trip route around Iceland, another thing you'll need to consider is where you're going to stay.
If you're renting a campervan, you'll want to check out some of our favorite campsites in Iceland and plan your route based on where you can camp.
If you're not going the campervan route, hotels in Iceland can get pretty expensive. Instead, we'd recommend staying in Airbnbs to cut down on costs and give yourself a more home-y feel.
We've rounded up a highly curated list of the best Airbnbs in Iceland— from budget-friendly, to the most unique accommodation, to some seriously incredible properties! This list includes the top places to stay in Iceland, as well as some hostel and hotel recommendations as well in case you want to mix it up a bit.
Our top tips for staying in an Airbnb in Iceland:
Book Airbnbs with a kitchen so you can cook meals. This will help you save money so you don't have to eat out for breakfast, lunch and dinner each day.
Set your filter to find places with a private hot tub–your sore muscles and aching joints will thank us later after you've spent a day hiking!
Check to take sure there is onsite parking or space to leave your vehicle overnight.
Is there laundry? On a road trip, it can be helpful to book an Airbnb with a washer and dryer every once in a while so you can do a load of laundry. Nobody likes to stink up their car!
For more tips, we have loads of info on how to book Airbnbs, red flags to watch out for when booking, and the exact filters we use when booking.
Perfect Iceland itinerary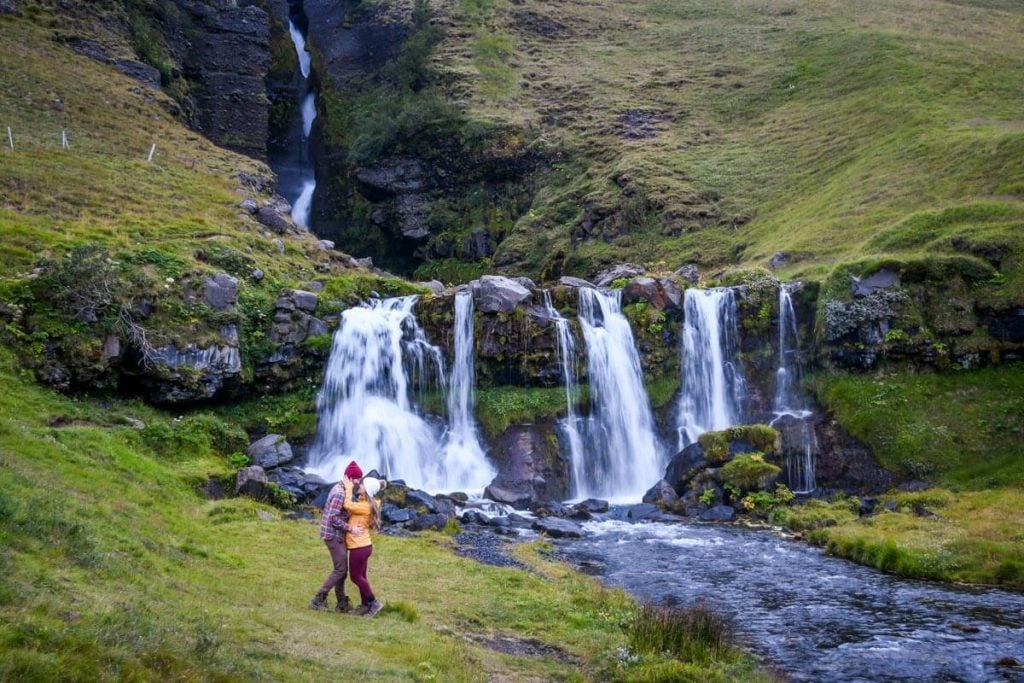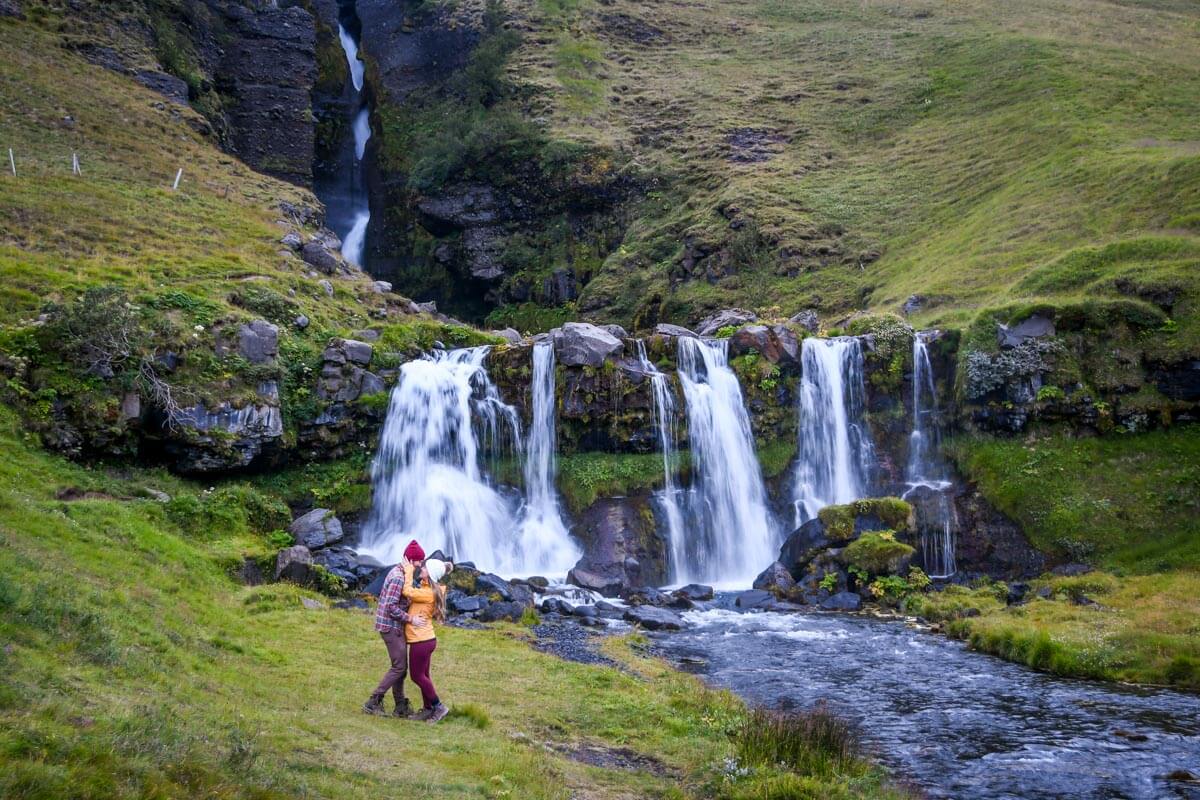 Raise your hand if you don't want to spend hours of time researching and you just want all the info right at your fingertips!
If your hand is up, keep reading…
If you want to save some hours of your life, we've already put in more than enough for you and us combined. Trust us.
And we're happy to share everything we learned — from digging through reviews, Youtube and all sorts of Internet rabbit holes, as well as actually traveling in Iceland on 3 separate occasions.
We've put together the perfect Iceland itinerary for your first visit. This itinerary includes day-by-day instructions, photos and tips that will help you plan your road trip through southern Iceland and the iconic Golden Circle.


In this 7-9 day itinerary, you'll find:
Can't miss sights and experiences
Where to eat

suggestions for what to order

Where to stay (whether you're camping or doing hotels)

the best campsites to stay on the route
unique stays along the way

Insider Tips
Suggestions for extending this trip
We've spent hours of research putting this all together, just for you!
In full transparency, this is a paid itinerary since it has taken an incredible amount of time for us to create.
However, we keep all of our paid itineraries affordable – just $17 for an entire 7-9 day itinerary. We think this is an incredible value considering almost all your planning will be done for you!
Road trip budget tips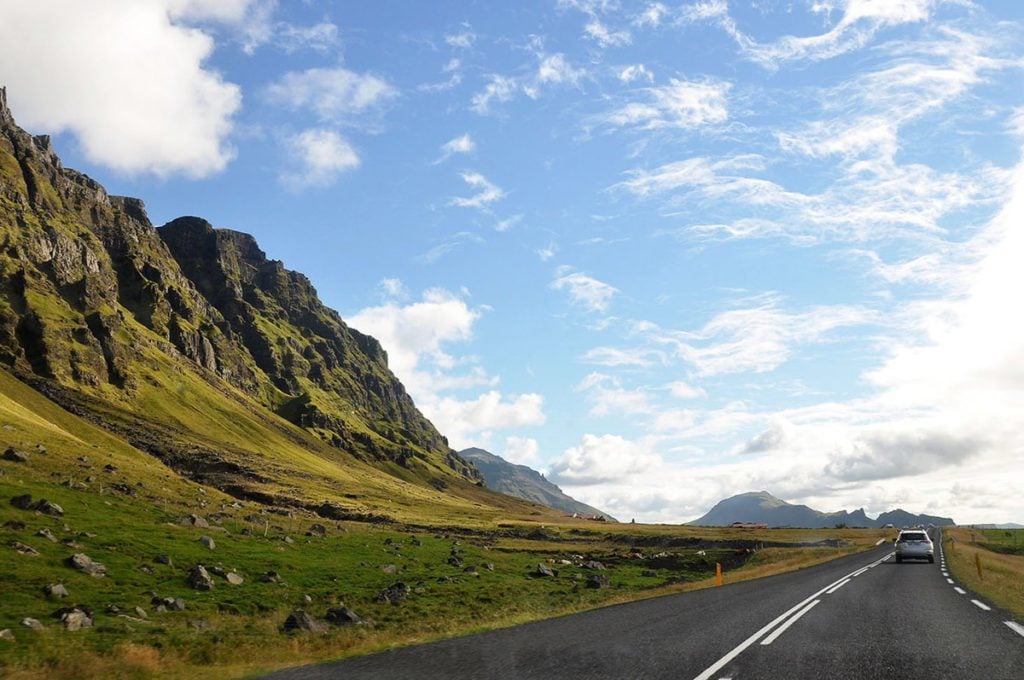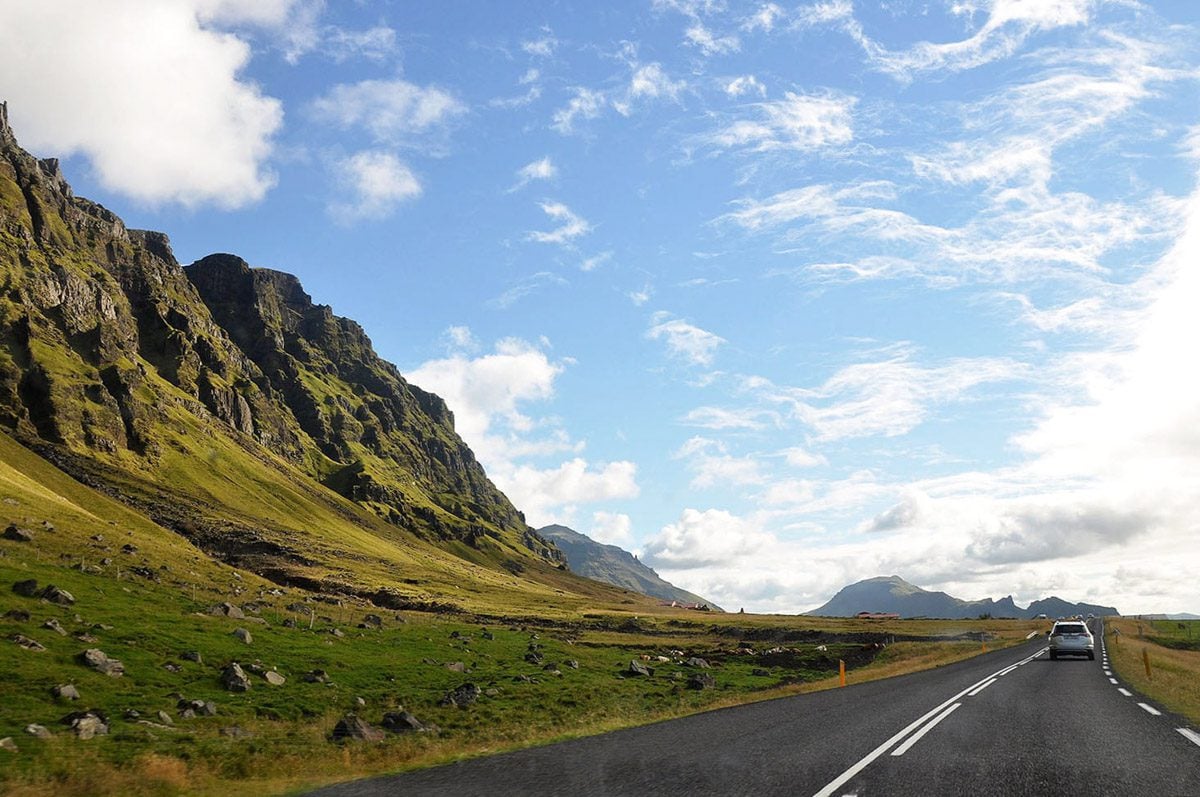 The hard truth is, Iceland is notoriously expensive and we'd be lying to you if we said anything different. Unless you've got a bottomless bank account (lucky you!), you'll probably want to set some sort of budget for your Iceland road trip.
This will vary from traveler to traveler depending on your style. For some, your road trip budget might be more or less a target to aim for, but you've got flexibility. And for others, it's a strict number that you'll need to be very mindful of the entire trip.
Whichever sounds like you, setting a budget is important. Especially in a country as expensive as Iceland.
If you know anything about us, you've probably picked up on the fact that we are very detailed when it comes to documenting our travel budget and expenses. This means we've broken down exactly how much a trip to Iceland will cost you along with plenty of sneaky budget tips and insider info to help you plan Lucky you!
Stocking up on groceries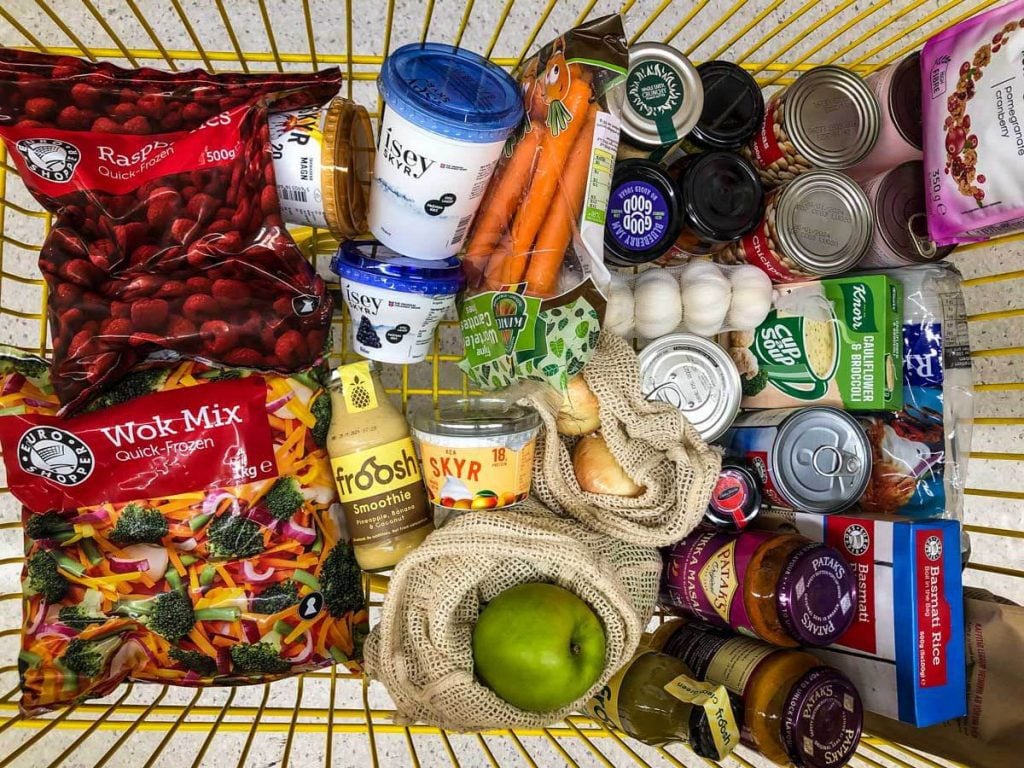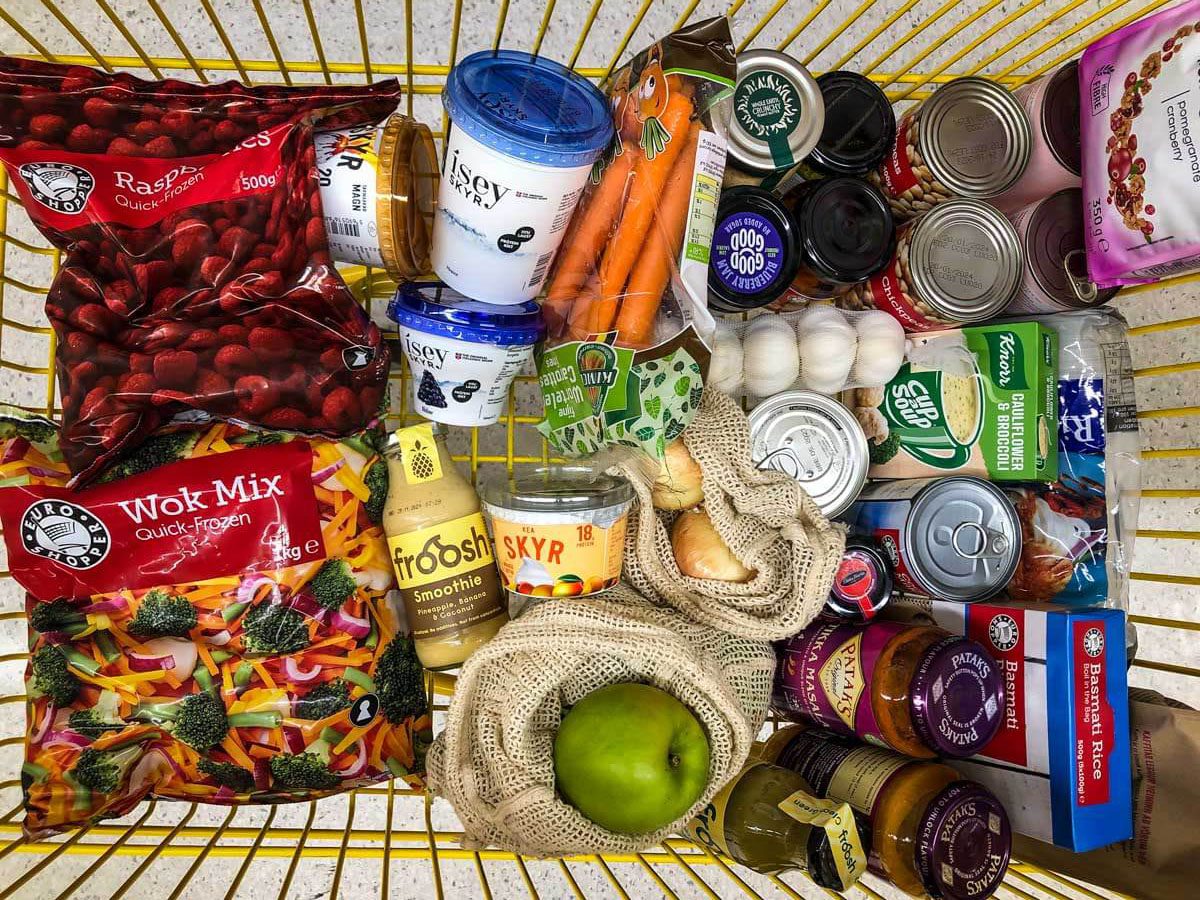 Whether you're road tripping in a car or living in a campervan in Iceland, you'll want to stock up on groceries before you hit the road. There's nothing that makes you hungrier than sitting in a car for hours on end…am I right??
We can tell you from firsthand experience that grocery shopping in Iceland can be a little overwhelming if you're not equipped with some tips and knowhow. That's why we put together a handy little guide to navigating supermarkets in Iceland – from the average price of some staple items to supermarkets with the best prices, we've got you covered.
Mistakes to avoid when planning your Iceland road trip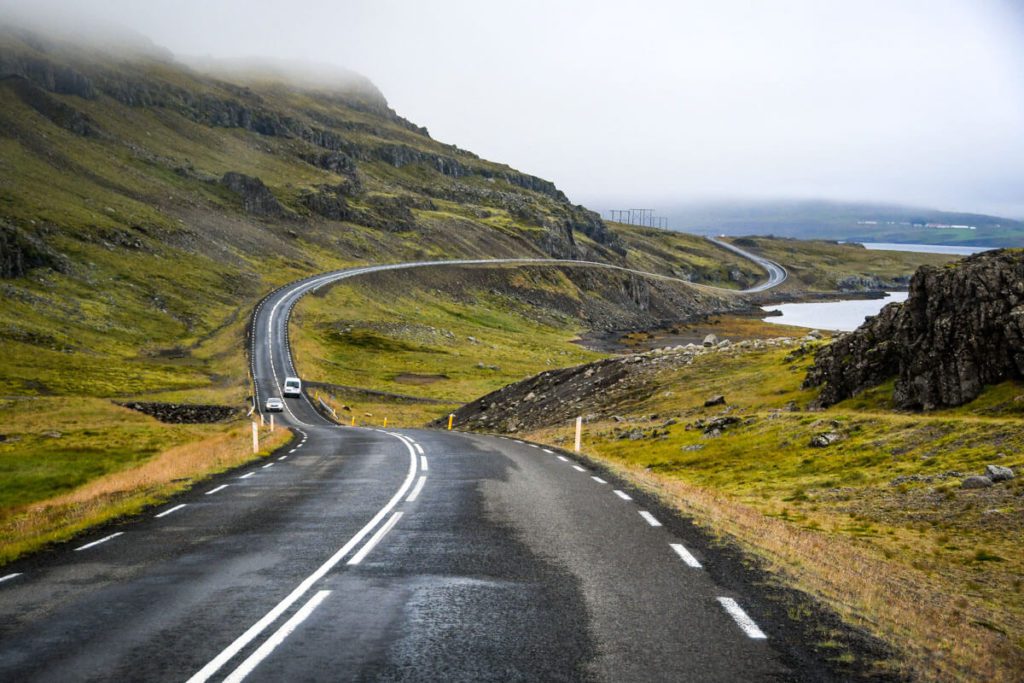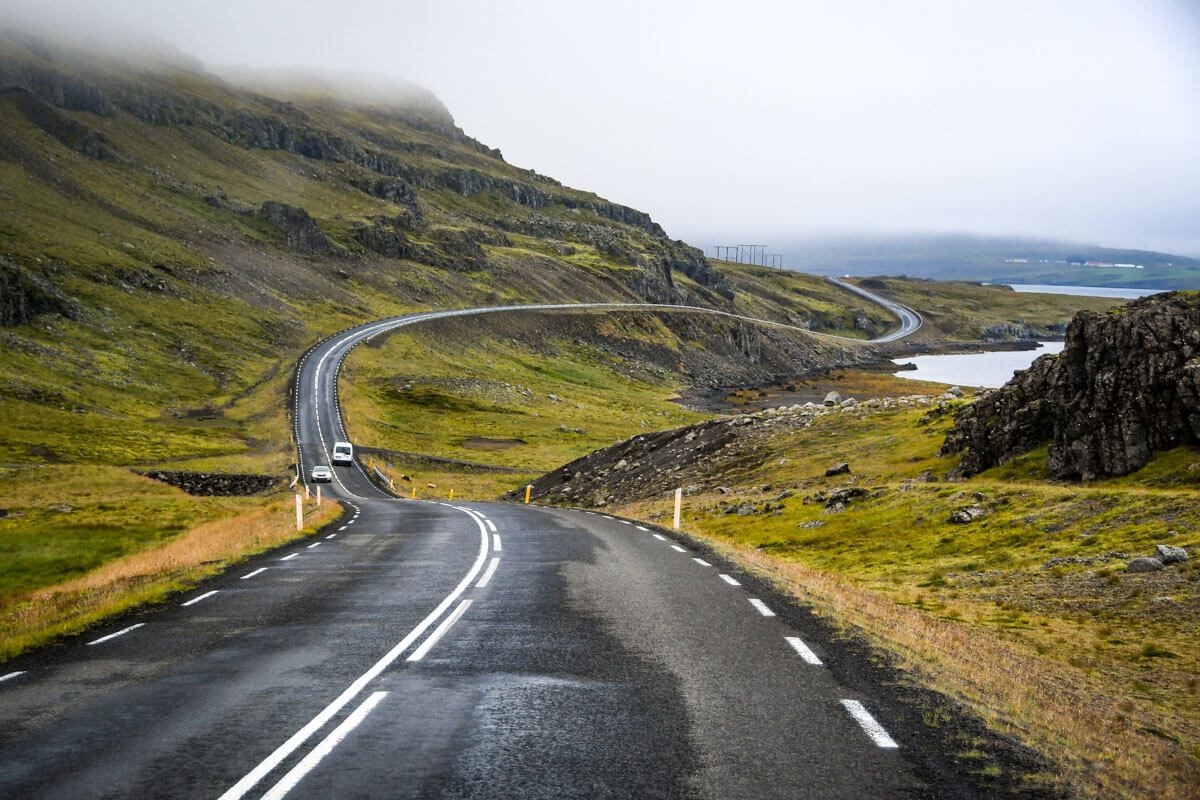 Take it from us, we've made plenty of road trip mistakes over the years. We've learned our lessons and we want to pass on our tips to you to help you avoid the potentially costly mistakes while road tripping in Iceland.
1. Not giving yourself enough time
It can be tempting to pack as much as possible within your given time frame, but we'd strongly encourage you to plan your Iceland road trip with a bit of "buffer time".
When you're planning your route from behind your computer screen, it can be easy to see 6 hours of driving time and think, well that's not too bad. But when you're on the road, even a few hours can be exhausting and have you itching to get out of the car and stretch your legs!
You may plan to spend 2 hours hiking into one of the best Iceland hot springs, only to get there and realize your aching joints need more time to soak than you realized. Or maybe you allotted just 45 minutes for an epic hike, but when you get there, you realize it's a 45 minute hike one-way, and it'll take you another hour to see the sights and get back to your car.
As you're planning, take into account that things might go wrong. Bad traffic or a flat tire might delay you. Or maybe the weather turns dangerous when you have an epic hike planned, and you want to stay an extra day.
2. Sticking to your route EXACTLY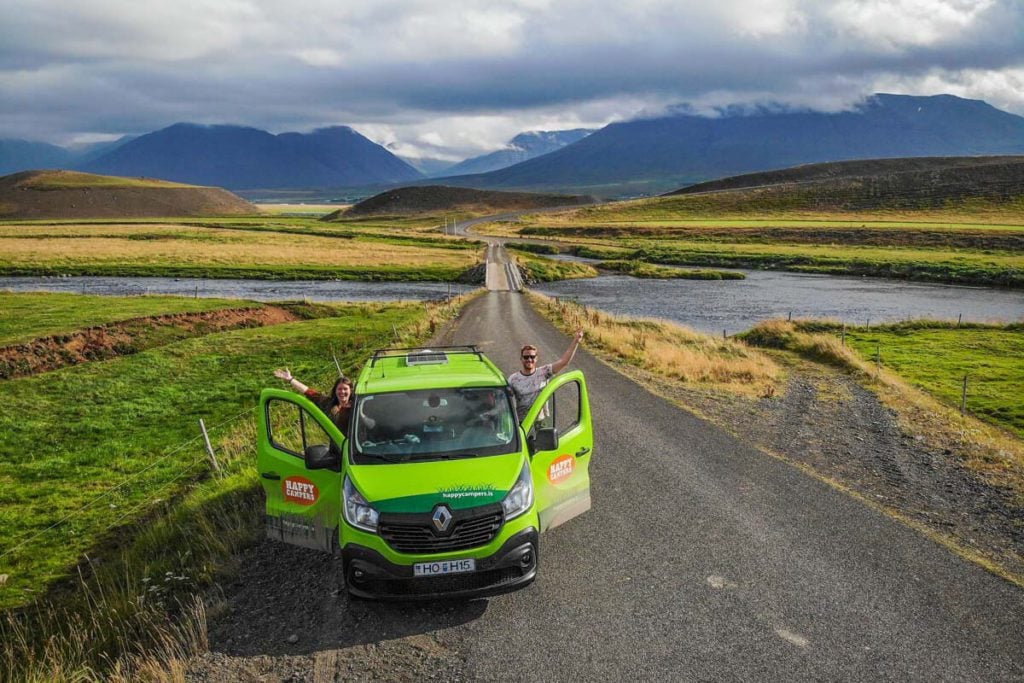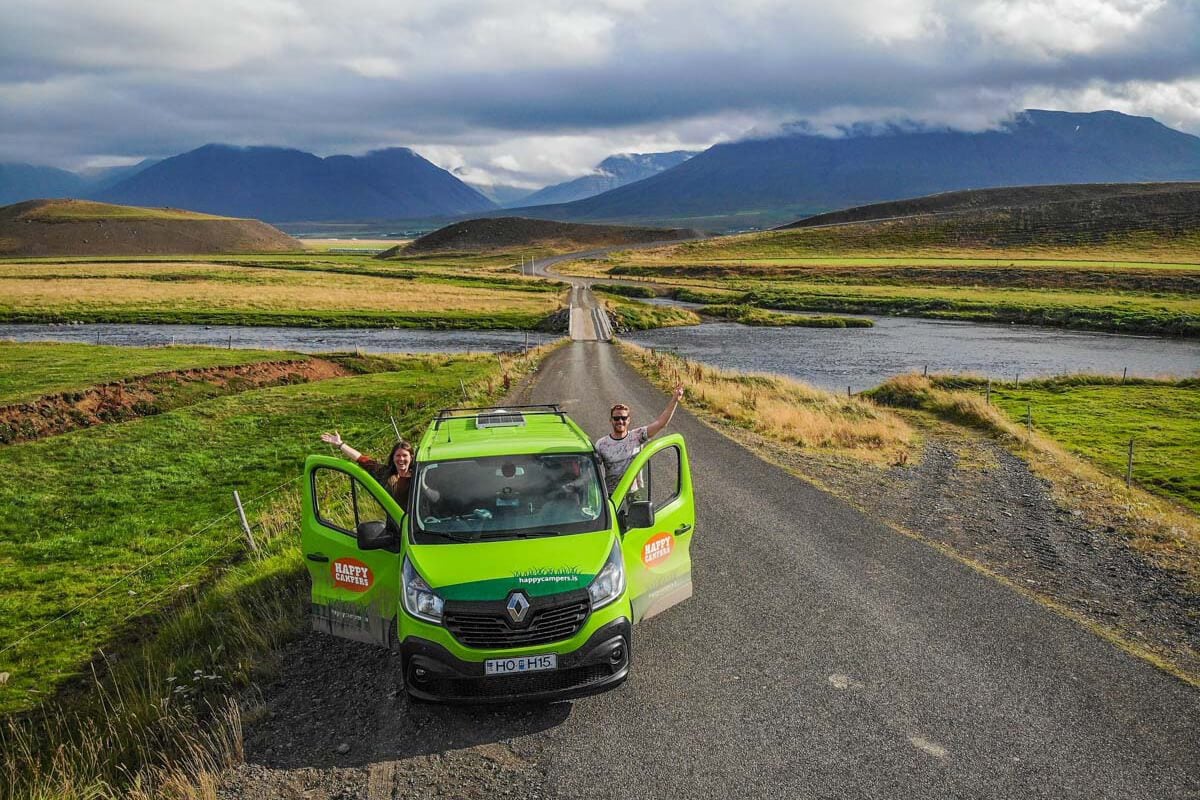 After planning a road trip route, you might feel the need to follow it exactly. But we'd advise otherwise…
Sometimes the best road trip stops are the unplanned adventures off the main road and into that cute little harbour-side town or a quick pull over on the side of the road that turns into a hike to an unknown viewpoint.
Give yourself some "wiggle room" in your itinerary for the opportunity to get lost and explore some hidden gems along the way.
3. Not planning ahead during busy season
Sometimes the busy season is the only time you have to travel. We've certainly been there.
If you're traveling to Iceland during the summer months, be sure to spend a little extra time planning:
Book your accommodation further in advance.
Research hidden spots and how to get away from the crowds.
Budget a little more money.
Plan to start your days earlier than you typically would.
4. Forgetting to download Google Maps offline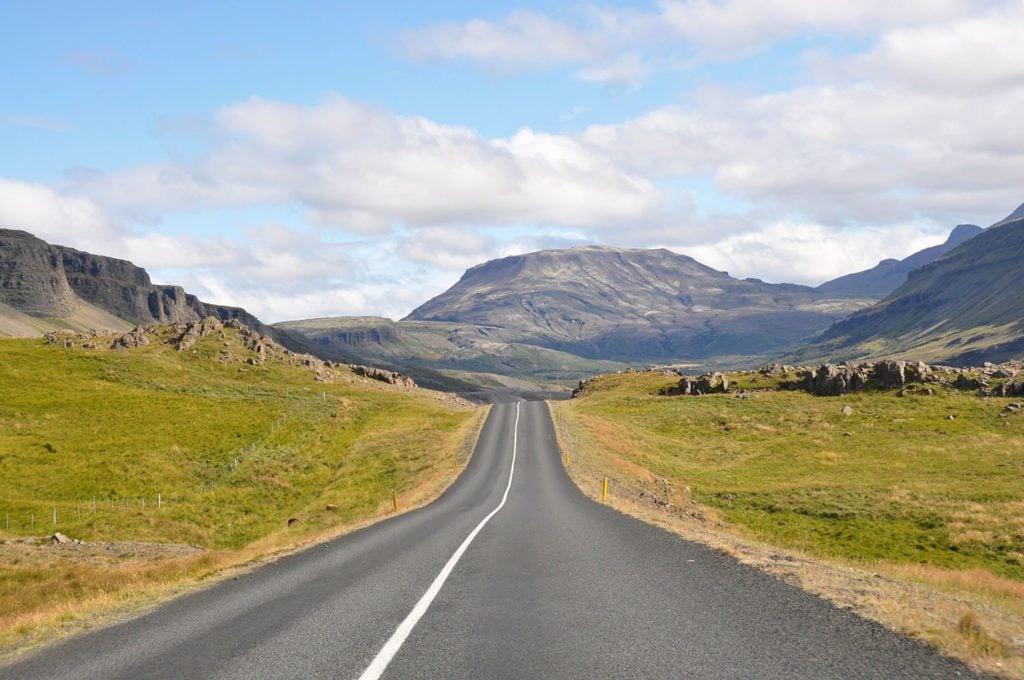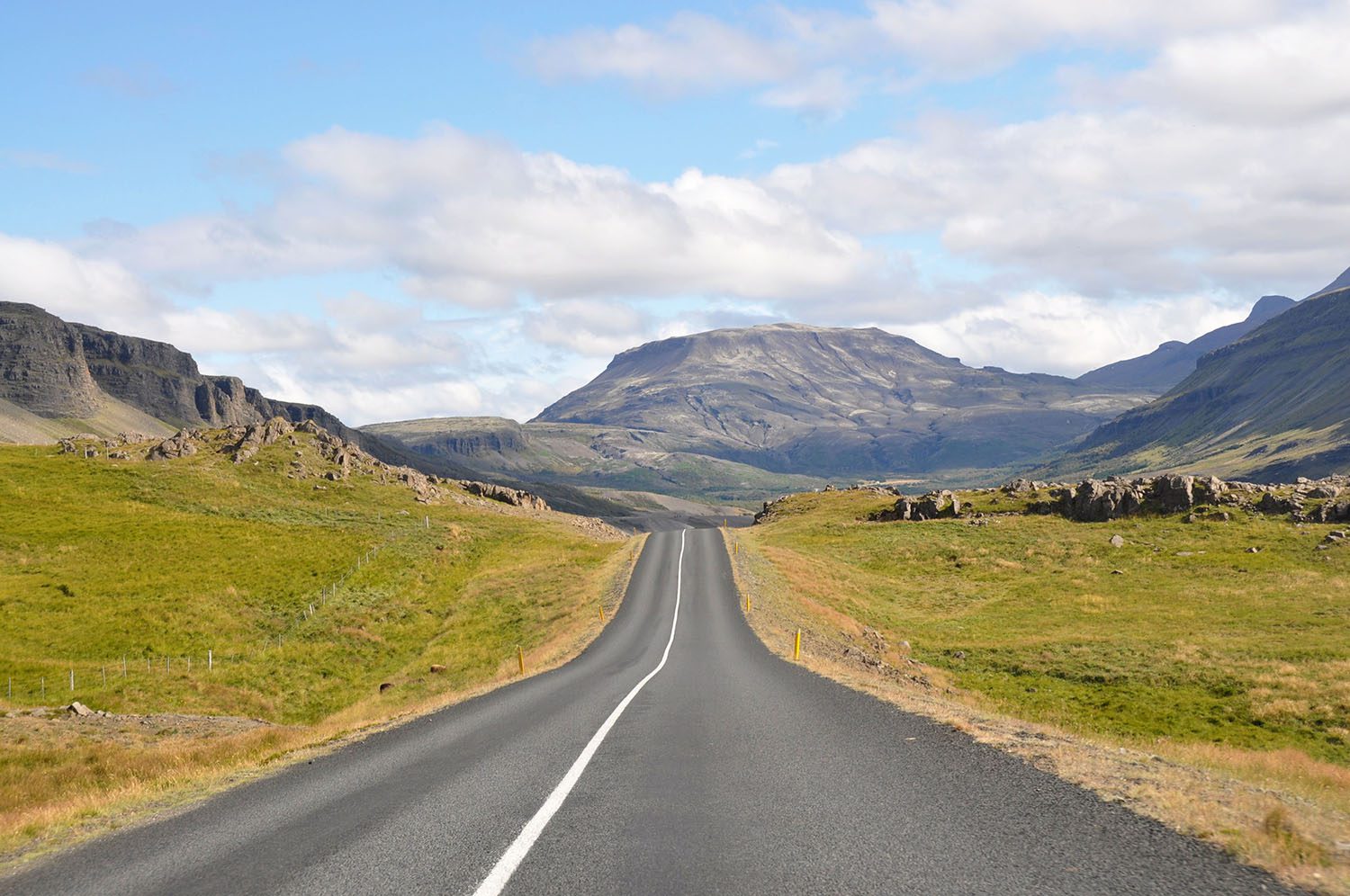 There are long stretches of road in Iceland where you'll find very little cell signal. Depending on where you're driving (especially if you're going through the highlands), cell service might be patchy at best. So you'll want to download anything you need on your phone before you set off on your road trip.
While you have Wifi, download the offline version of Google Maps for the regions you'll be driving through Iceland. This also goes for all your podcasts, music, and audiobooks too.
Even if there is good cell service, your data might go quickly if you're constantly streaming music and directions.
How do you Download Google Maps Offline?
It's super simple, just follow these steps:
Sign into Google Maps (it's connected with your Gmail account).
Search for a destination in the search bar. (Example: "Reykjavik" or "Snæfellsnes peninsula")
You'll see a white bar that pops up at the bottom of the screen. You may need to swipe right to find the "download" icon.
Make sure you're connected to WiFi, and click the "download" icon.
The map data from this region will now be on your phone, and can be accessed even when you have no cell signal! You'll even be able to see your current GPS location as long as you have it authorized. (Settings > Google Maps > Location > select "Always")
5. Forgetting you get carsick
Motion Sickness is a pain in the ass, but it can be dealt with if you prepare. Don't worry, I'm right there with ya! I like to pack a little "kit" to help prevent nausea when on road trips. This will come in handy on the long and sometimes winding roads in Iceland, trust me.
ginger chews
medication
sparkling water
crackers
trash bag (in case of emergency)
Also, it goes without saying, but try to avoid reading or looking closely at your phone screen, especially on winding roads.
If you're feeling sick, the best thing to do is stop the car and get yourself some fresh air. Sometimes that's all it takes to get your system back on track.
And remember to take it slow and be patient. Carsickness happens to the best of us!
You can read about more common road trip mistakes and tons of other tips in our road trip planning guide.
Apps to download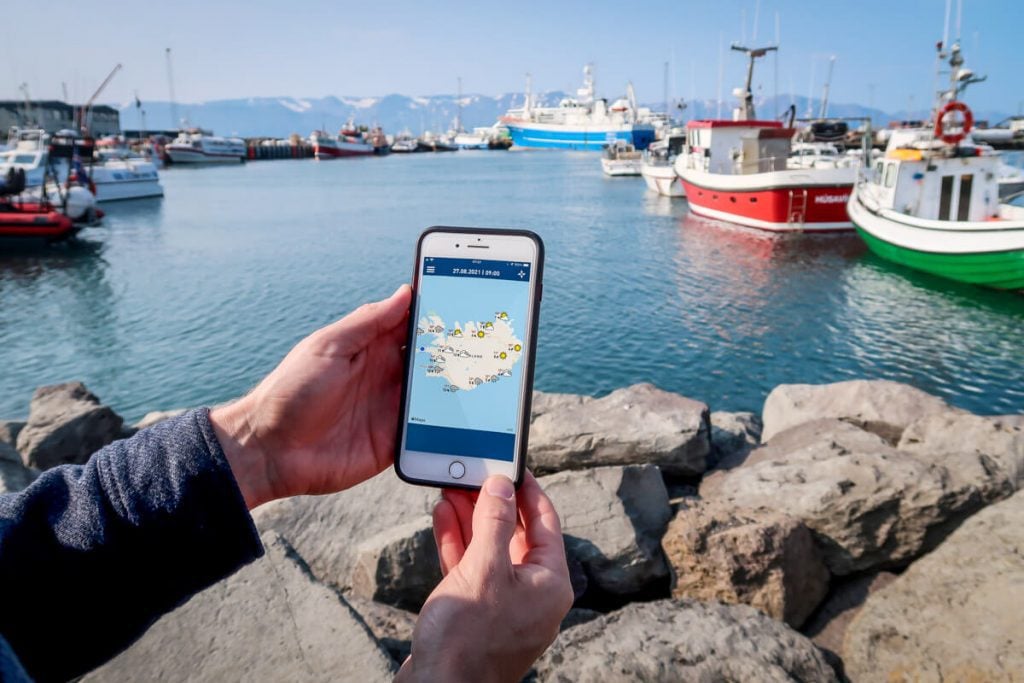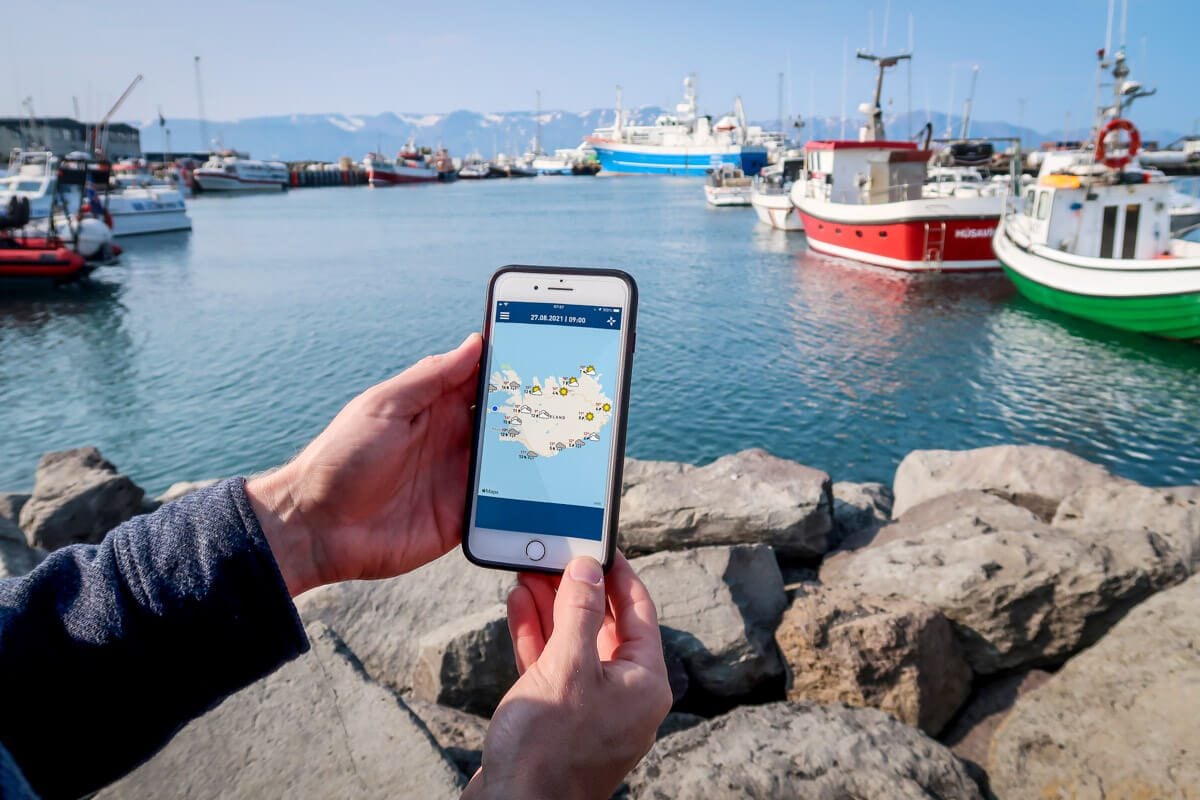 When hitting the road in Iceland there are plenty of factors to keep in mind such as traffic, weather, and directions. How many times have you heard that you missed your exit and have to drive twice as far to double back?
Don't worry though. As they say…. There's an app for that. In this case, there are a few apps for Iceland road trips that we'd recommend downloading to take the frustration out of navigating, help with road trip planning, and enjoy the ride without any hiccups.
Here are some of essential apps for road tripping in Iceland:
Vedur: Ask any local and they will tell you the only weather app they trust is Vedur.
Google Maps: Make sure you download the offline version of our route while you're still connected to Wifi!
Bensin: Location nearby gas stations and see up to date pricing before you arrive at the pump. This app is a game-changer on an Iceland road trip.
SafeTravel: The best way to check road conditions in Iceland with up to date information.
Parka: Use this app to pay for parking in specific locations around Iceland, including downtown Reykjavík, Skaftafell National Park, and Geldingadalir Volcano.
We have a whole article on the best Iceland travel apps that goes into more detail on each one and why we think it's worth a download.
En route entertainment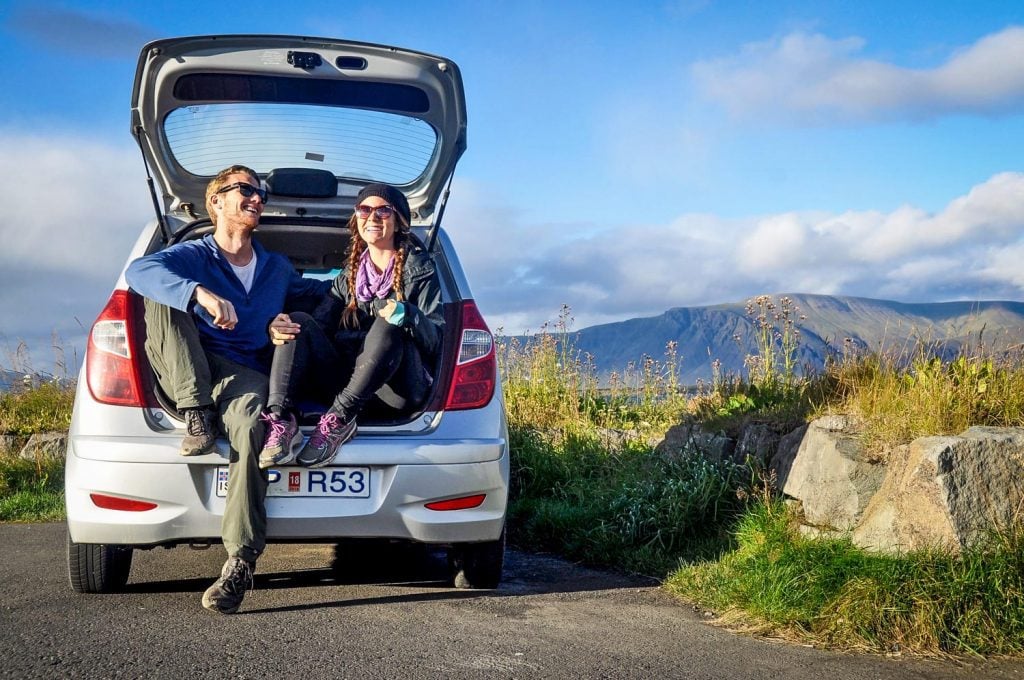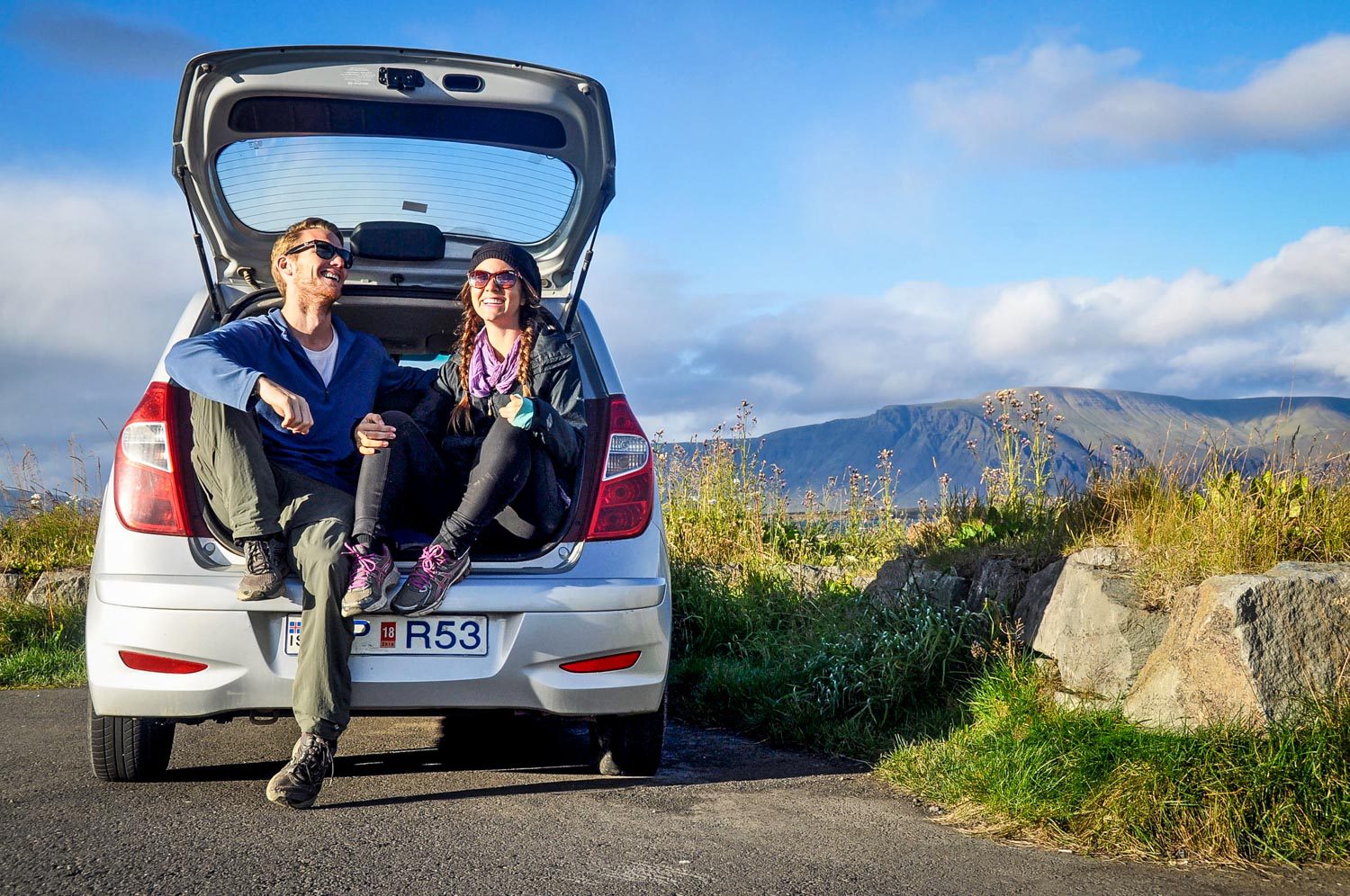 If you're like us, one of the first things we plan when going on a road trip is which audiobooks we want to listen to and which podcasts to download for our enroute entertainment. We put together some of our top recommendations in case you're looking for something new to listen to.
Audiobooks
Where the Crawdads Sing by Delia Owens: One of my favorite reads from 2020. A beautifully-descriptive coming of age tale about how society is quick to judge and misunderstand those deemed "outsiders". It also reads like a love letter to nature.
A Walk in the Woods by Bill Bryson: This funny account of one man and his ill-prepared companion's attempt to hike the Appalachian Trail. A humorous and adventurous quick read.
You are a Badass by Jen Sincero: If you need a little motivation right now (I'm with ya!), Jen will give you the kick in the pants you need to stop doubting yourself. It reads like you're talking to a good friend.
Whatever You Do, Don't Run: True Tales of a Botswana Safari Guide by Peter Allison: A collection of personal stories recounting hilarious and sometimes terrifying tales of life living in the African bush as a safari guide, coming face to face with some of the fiercest wild animals, and managing the hordes of camera-toting tourists.
Shantaram by Gregory David Roberts: The thrilling story of an escaped convict who flees a maximum security prison in Australia, fleeing to Bombay with his guide and companion, where they can disappear forever in the criminal underworld.
If you like these recommendations and want more, we have an entire list of books for travelers– broken out by category, from memoirs to fictional travel stories.
Podcasts
The Dirtbag Diaries (Duct Tape Then Beer): A podcast all about adventure — hiking, skiing, rock climbing — you name it!

Favorite Episodes: Mr. Hodges, All in the Family

How I Built This with Guy Raz (NPR): A deep dive into the stories behind some of America's most successful businesses.

Favorite Episodes: Lonely Planet, Patagonia, Burton, AWAY Luggage, Canva

Science Vs. (Gimlet Media): Dives into hot button topics and major political issues (from essential oils to immigration) and goes over the FACTS of both sides of the argument, while incorporating humor.
Criminal: A true-crime podcast covering all types of crimes — from gory murders from history to funny pop-culture crimes, like streaking.

Favorite Episodes: Brownie Lady, The Chase (interview with a "professional" streaker)
What to pack for your Iceland road trip
Packing for a trip to Iceland is tough (the weather changes all the time!). But don't worry, we've got you covered with a super detailed packing list so you know exactly what to bring.
In this free Iceland packing list PDF download, we've provided packing checklists for everything from clothing and toiletries (for both women and men!) to what shoes to pack and extra medicines you may want to have on-hand just in case.
Plus, we're sharing tons of packing hacks and tips for traveling in Iceland that you won't find anywhere else!


---
Are you planning a trip to Iceland?
We have TONS of resources on travel in Iceland and how to make the most out of your trip. Check out our Ultimate Iceland Travel Guide for all the answers to your most burning questions, or read some of our favorite articles below.
Save this article on Pinterest for later!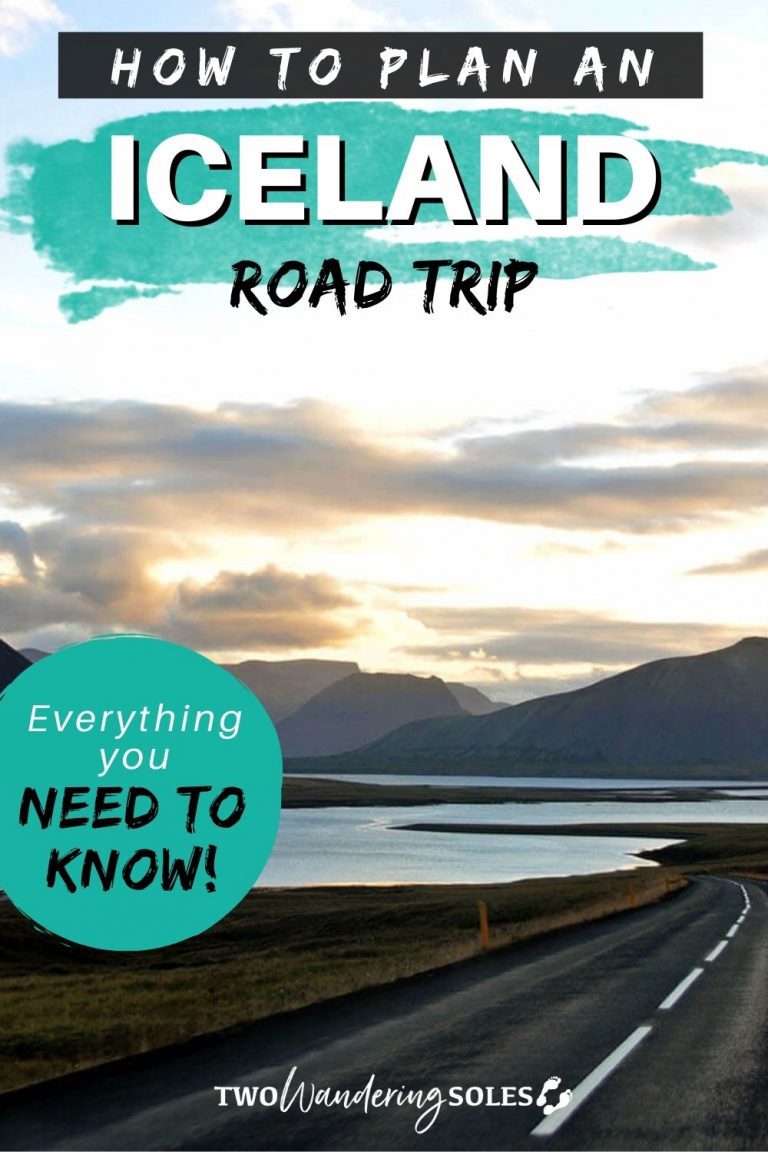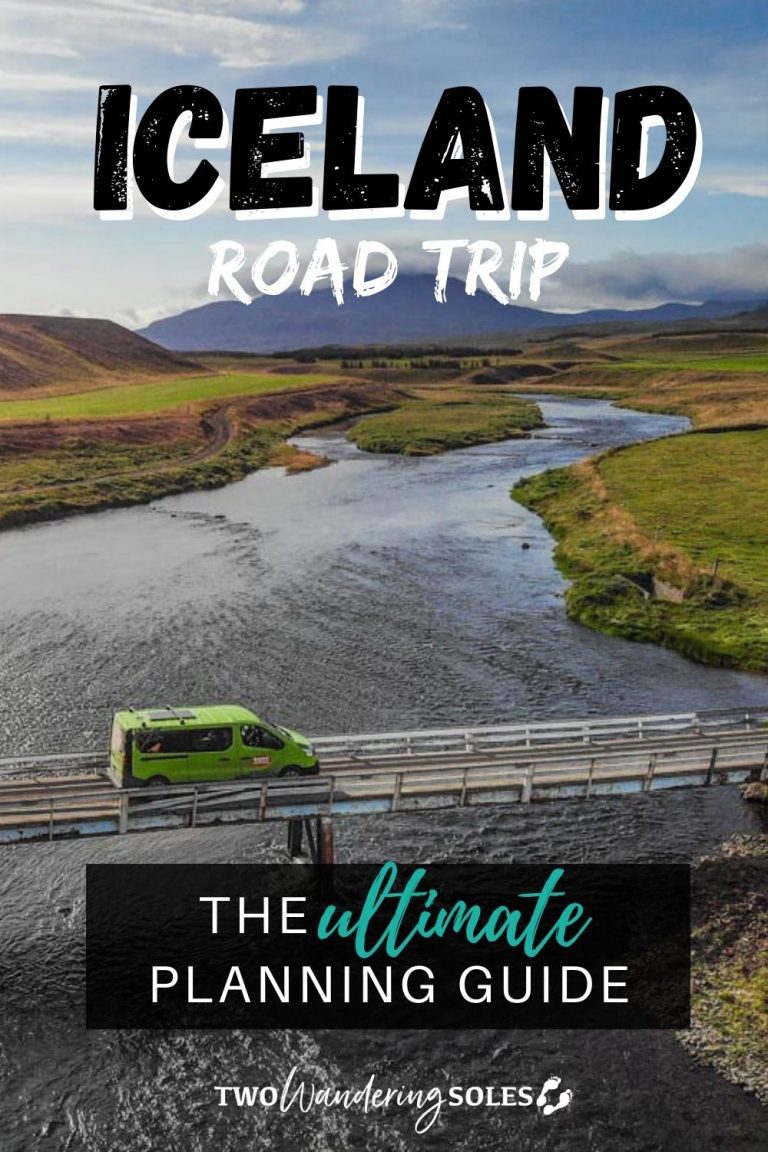 We want to hear from you!
Do you have any more questions about planning your Iceland road trip? Leave your comment below and we'll do our best to get you the answers you're looking for!