This is the ultimate list of things to do in Cape Town for every type of traveler. From adventures on Table Mountain to sipping local wines in the Cape Winelands, Cape town has it all. Plus we've included tips for traveling to Cape Town as well as advice on where to stay.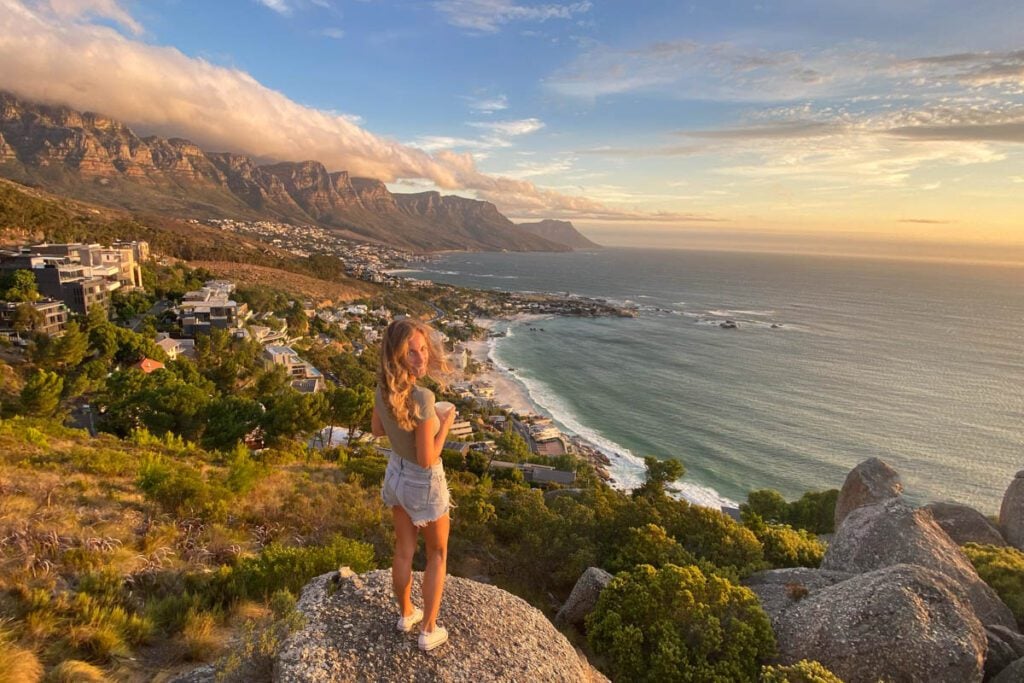 Situated in the Western Cape of South Africa, right on the Atlantic Ocean, Cape Town is unlike any other city in the world.
A captivating blend of cultures and cuisines makes for an exciting foodie scene, and access to both mountains and the ocean creates a perfect environment for adventure-seekers.
With close proximity to vineyards, exciting hiking trails, and scenic drives, Cape Town attracts all types of travelers. And its burgeoning scene of cafes and co-working spaces has made it a popular digital nomad destination in recent years.
Cape Town has been on our travel dream list for years, and each time we talk with people who've traveled to the Mother City, it continues to rise higher on our list!
Our editor, Amanda, has spent a collective 9 months living in Cape Town, and says it is her favorite city in the world. So much so that she keeps going back!
She has explored Cape Town's iconic sites, like Table Mountain, as well as some lesser-known places (like an alpaca farm!).
Amanda has agreed to share her favorite things to do in Cape Town as well as some super helpful tips, including where to stay, how to get around, and advice for staying safe.
This article is an information-packed guide that goes beyond the typical tourist sites.
Tip: Be sure to bookmark or pin this article for later so you have access to it during your travels.
Cape Town Travel Guide
For more tips and advice for planning your trip to Cape Town, jump to the following sections (or just keep scrolling to see it all!).
---
Absolute BEST things to do in Cape Town
If you have limited time to spend in the city, or you're just looking for the very best things to do in Cape Town, here are our top recommendations:
Table Mountain
V&A Waterfront
Sunset
Kayak tour of the bay
Kirstenbosch Botanical Garden
Cape Point & the Cape of Good Hope
Franschhoek Wine Tram
Tour Robben Island
Boulder Beach penguins
Hike Lion's Head
Keep reading for more detailed information on each of these things and more ideas of super fun things to do in Cape Town.
1. Summit Table Mountain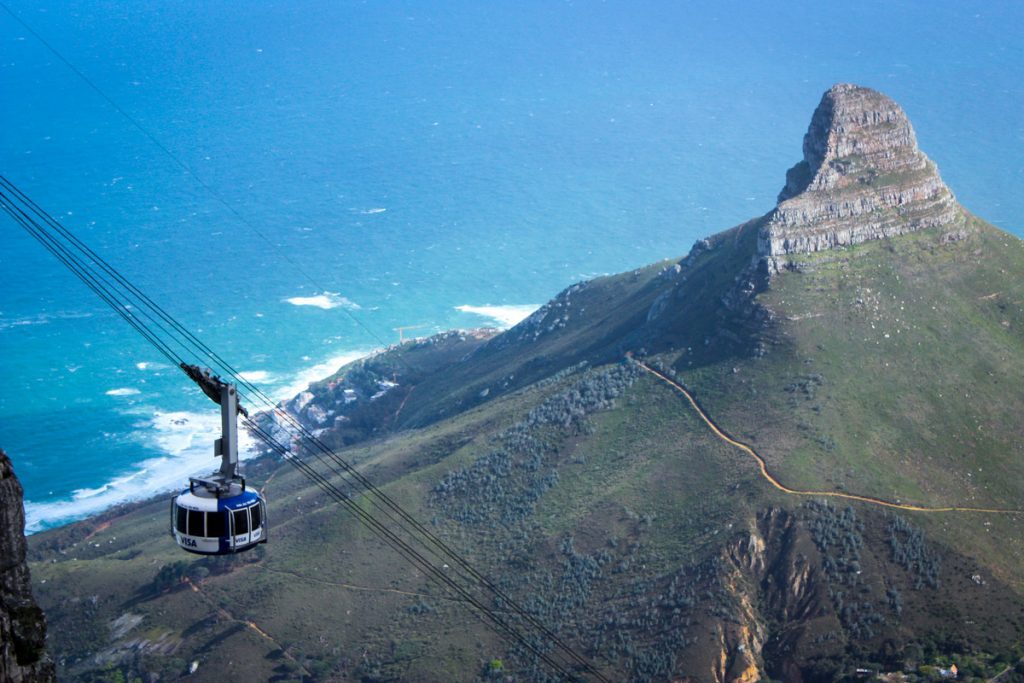 No matter which time of year you're visiting Cape Town, you cannot miss the iconic Table Mountain towering above the vibrant city. It dominates the skyline and demands your attention.
There are several ways to summit this bad boy. While a hike to the peak is a challenging endeavor, you'll be rewarded with some of the best panoramic views of the city the whole way up.
Some prefer the convenience and speed of the cable car. Purchase tickets online before you go and you'll avoid the immense lines that gather during the high season (late November – February).
A word of caution: No cable car trip up is guaranteed a trip back down. On days where high winds whip the cape, cable car service is temporarily suspended. You may have to hike back down, so keep this in mind as you plan your adventure.
Insider Tip: The top of Table Mountain makes a great place to watch the sunset from, whether you choose to take the cable car up or hike. Just be sure it's a clear day with no wind if you want to ride down in the dark. Read about more epic sunset views in #3…
Hiking Table Mountain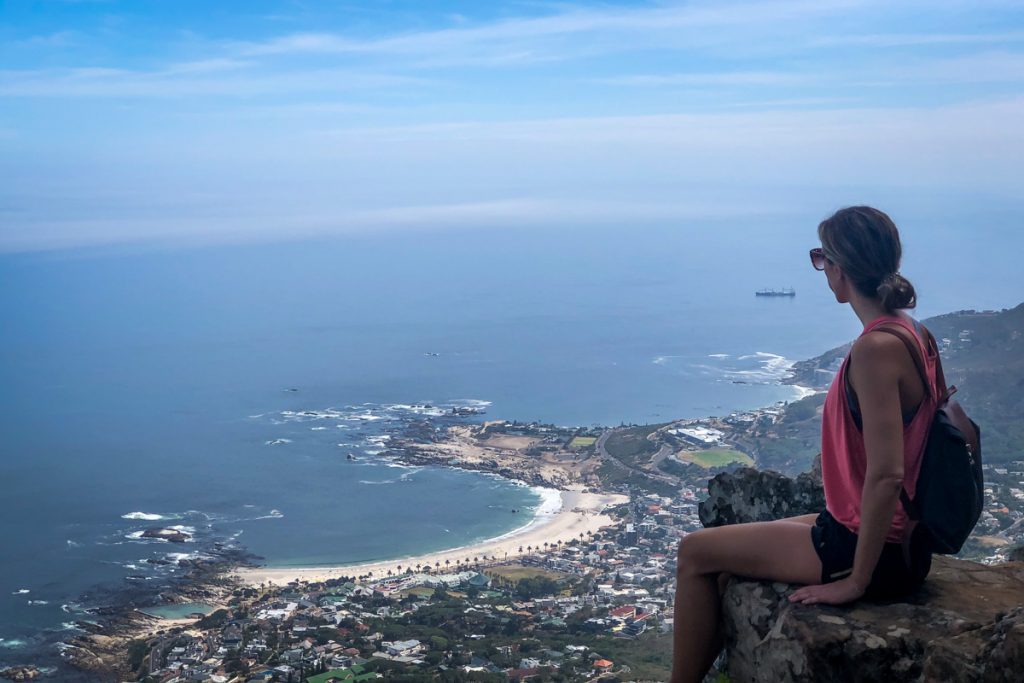 If you are a die-hard and want to tackle this peak head-on, you can always choose to hike to the top of Table Mountain.
Before you make the trek, be aware that all Table Mountain hikes require moderate to advanced level hiking and can take 4+ hours to summit the peak and return.
One of the most popular routes is Platteklip Gorge which takes about 1.5 to 3 hours to zig-zap up the table and brings you right to the cable car station at the summit. You can either choose to turn around and hike back down or take the cable car down to save time.
Skeleton Gorge/Nursery Ravine are other popular routes, both of which begin in Kirstenbosch Botanical Garden and run parallel to one another.
The distance is just over 5 miles to the top with an elevation gain of 2,100 ft. This means stairs – lots and lots of stairs! The Skeleton Gorge trail even has ladders you need to climb at certain parts.
It is recommended to bring plenty of water – 2 liters per person minimum – on any Table Mountain hike and sun protection as there isn't much shade in certain areas. Never hike alone as the terrain can be tough and tourists do, unfortunately, at times attract crime.
2. Make your way around the V&A Waterfront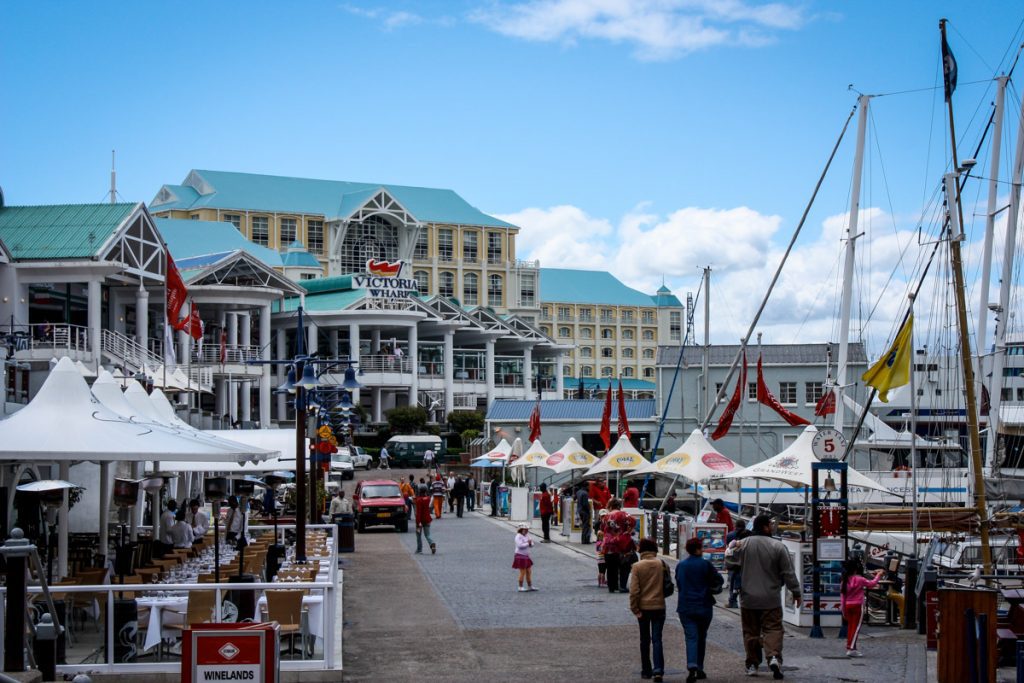 Probably one of the most visited areas of this bustling city is the seaside neighborhood known as the Victoria & Alfred Waterfront (V&A for short!). Wandering around this area can easily occupy the better part of a day with so much to see and do.
There's not much you can't do here. You can eat, work, shop and socialize your way through this part of town.
The Cape Wheel (a giant ferris wheel) boasts the best bird's eye views of the city while street performers entertain the crowds beneath. Restaurant after restaurant will be serving up freshly caught seafood and the V&A Food Market is worth a gander… Even if just to get a taste of South African biltong – a local favorite!
The waterfront district has revived aging warehouses into a gigantic space for fantastic local artisans known as the Watershed. Take a gander through the craft market and keep an eye out for souvenirs that might make great gifts for friends and family back home!
Looking for a place to stay during your visit? We've rounded up the coolest Airbnbs in Cape Town!
3. Catch an epic sunset
Being that Cape Town is on the west coast of the continent, it should come as no surprise that there are plenty of places to take in incredible sunset views.
Pack yourself a picnic or a bottle of South African wine and head to one of these spots to take in the sights. Cozy up as the sun sets over the ocean and the sky is painted in hues of orange and pink.
Note: All of these spots have direct views of the sun setting over the ocean, but they also have some pretty epic views of the topography shown in some of the photos.
Signal Hill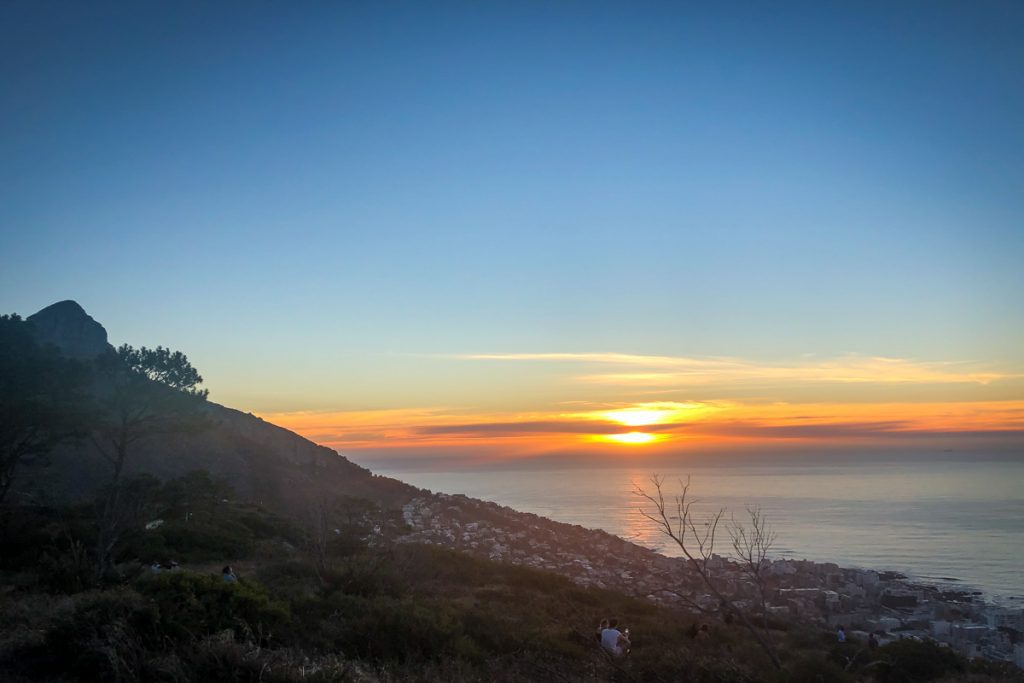 Stretching out in front of Table Mountain and Lion's Head, nearest to the Waterfront is Signal Hill. Unlike its neighbors, you can actually drive to the top. This makes Signal Hill one of the more accessible sunset views.
A perfect place to enjoy the sunset with panoramic views of the city and sea below. You won't be the only one up there at sunset, so be sure to go early and get a good spot!
Insider Tip: Sort out your transportation home before you get dropped off. If not, you will be waiting until well after dark for your ride to make it through the downward stream of traffic.
Clifton Beach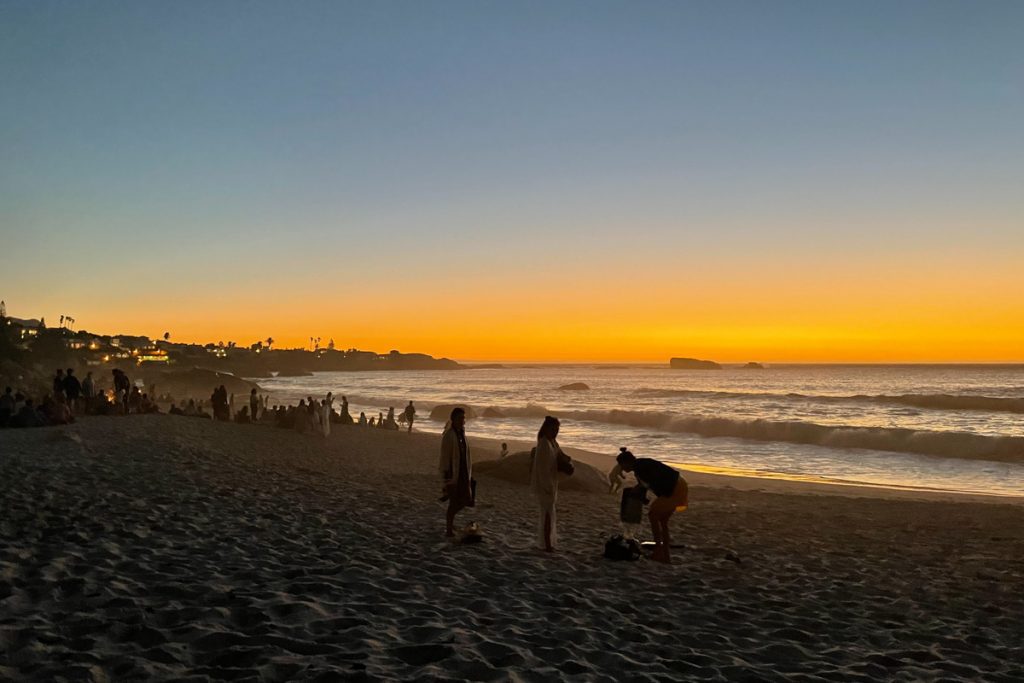 The Clifton beaches, which line up in order from 1st to 4th, separated only by boulders, make a great spot for catching the sunset.
You'll join other beach goers doing everything from body surfing to playing paddle ball while awaiting the golden hour. Just be sure to pack a light jacket as it can get quite chilly down by the water once the sun has set.
Accessibility note: The only way to access Clifton Beach is by stairs.
Sauders Rocks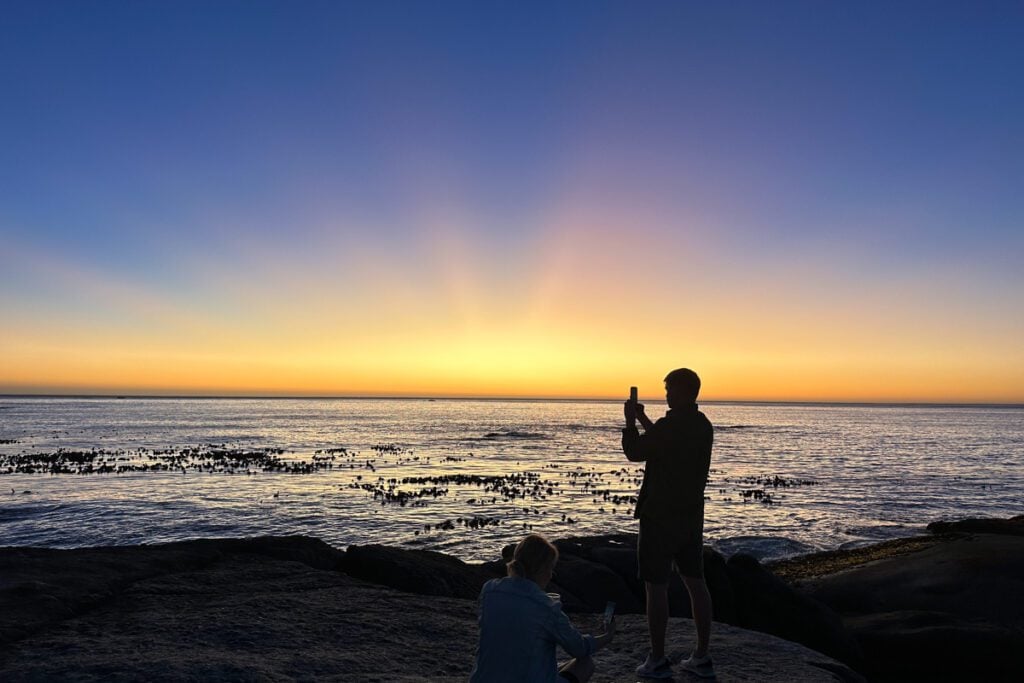 At the western edge of the Sea Point Promenade is Saunders Rocks Beach – a small public beach characterized by giant stone boulders and a man-made tidepool.
Every day at sunset you'll find locals and tourists gathering on top of the rocks, wine glasses in hand and snacks in tow, to watch the sun set over the Atlantic.
Kloof's Corner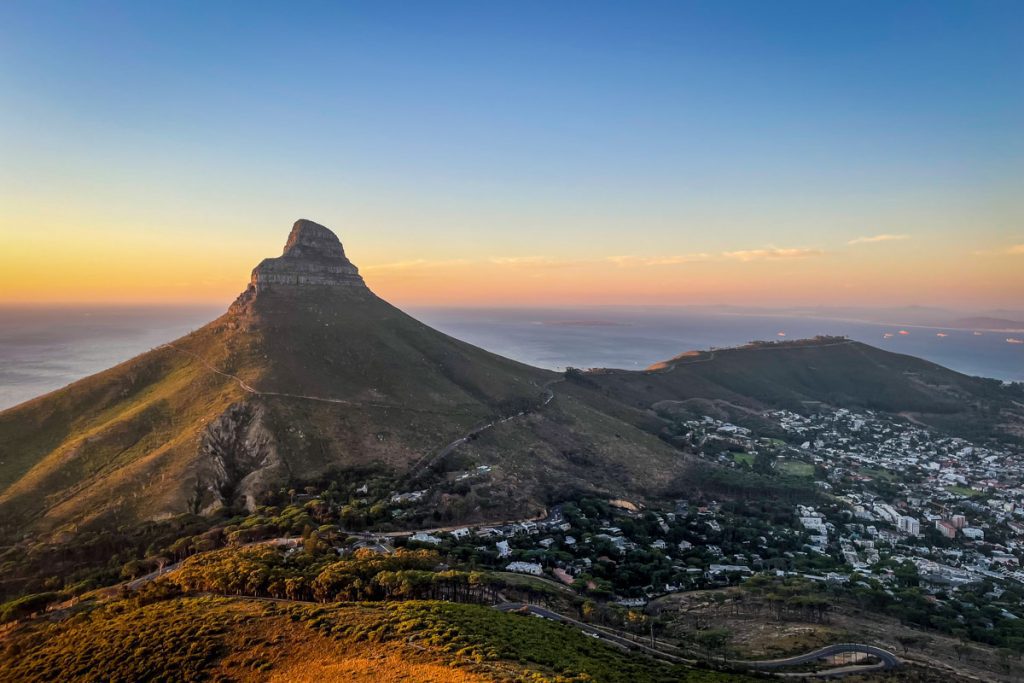 If you're up for a bit of a hike, but don't want to exert yourself as much as Lion's Head or Table Mountain would require, you can hike to Kloof's Corner for incredible sunset views.
The quick 20-minute hike starts on Tafelberg Road (the same road you'll find the cable car station on) and is basically a series of stairs that'll take you to the "corner" of Table Mountain, which faces Lion's Head and looks out over the city with 180 degree views.
The well–marked trail won't be as challenging to descend if you choose to stay past sunset.
Sunset Rock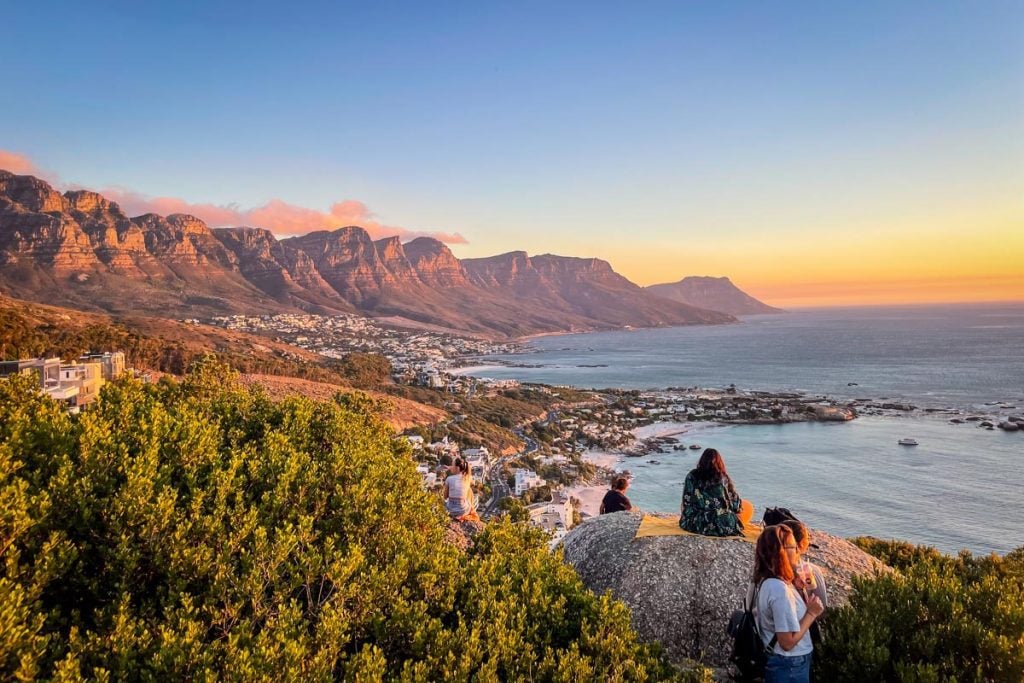 This unique observation area that was once a hidden gem has become quite popular over the past few years.
Follow Ocean View Drive all the way to its peak and get out where the road comes to and end. There are small foot paths weaving through the shrubbery alongside giant boulders which make great viewing platforms.
Go early and find yourself a boulder to set up "camp" for the sunset. You'll be rewarded with panoramic views of the Twelve Apostles (the west-facing side of the Table Mountain range), Camps Bay and Clifton Beach.
You can find the exact location on Google maps.
Camps Bay Beach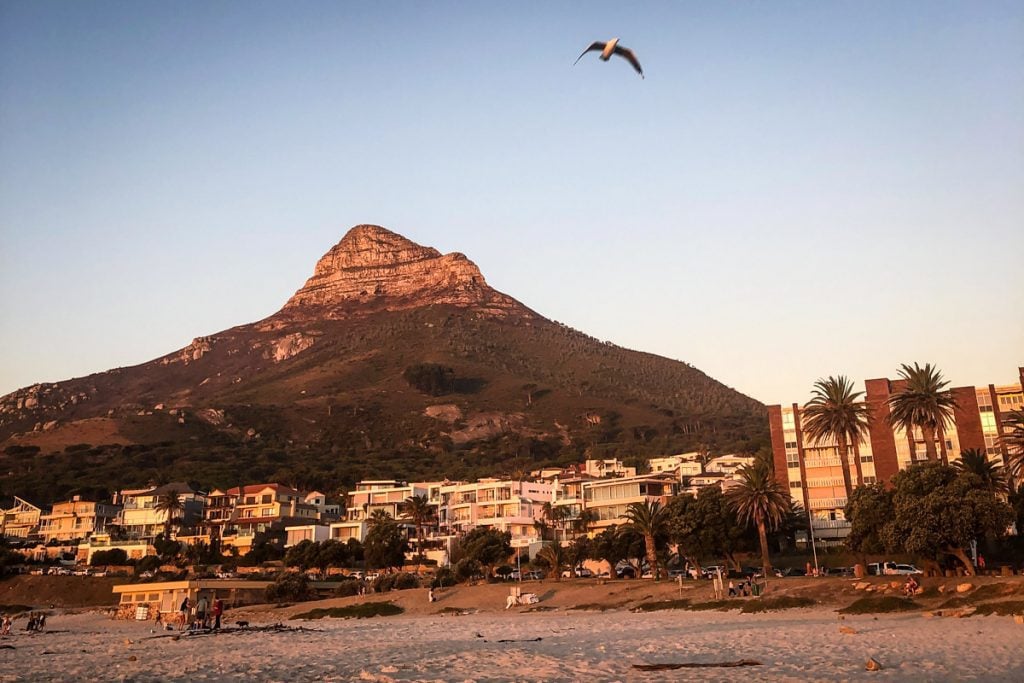 As the largest of the beaches in Cape Town, you'll have no trouble finding a place to plop down and admire the sunset at Camps Bay. I'd recommend facing the water and walking to your right, then climbing the bluffs to find a perch a bit higher up.
This is another one of the more accessible sunset spots in Cape Town.
Just be sure to check the weather ahead of time. If it's windy, this beach can turn into a bit of a sand storm.
In that case, head across the street to one of the rooftop bars and see if you can get a table on the edge. Mantra Cafe, Surfshack and Chinchilla Rooftop all have great sunset views.
Llandudno Beach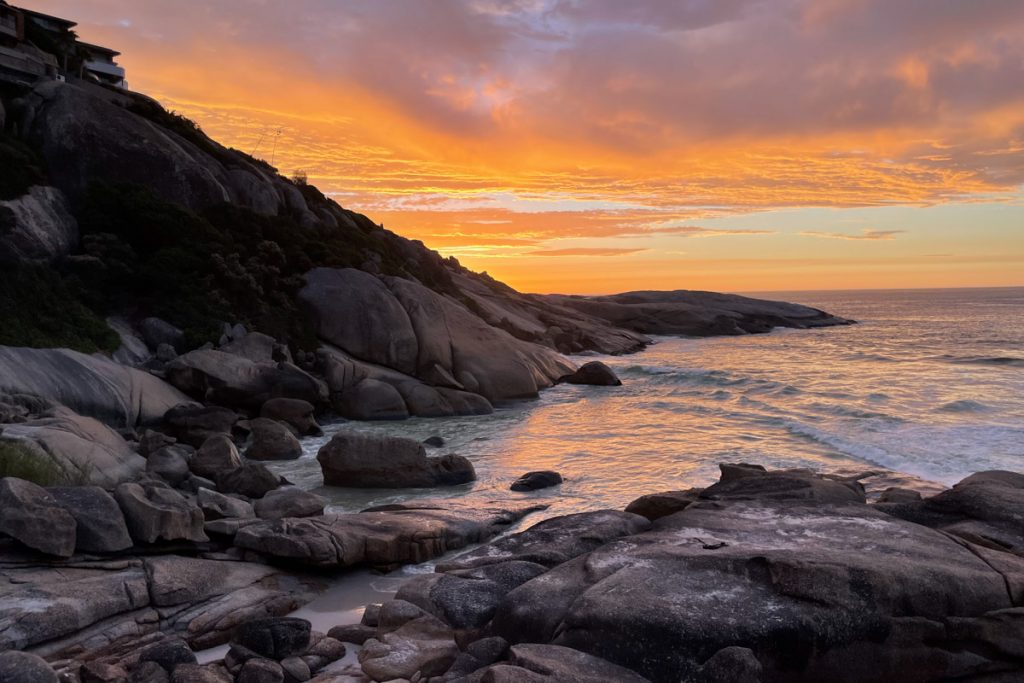 Take a 15-minute or so drive down the coast from Camp's Bay and you'll find Llandudno Beach.
This beautiful stretch of sand is popular among locals. If you follow the beach all the way to the south and climb the boulders, you'll find an excellent perch for sunset.
4. Kayak with dolphins in Table Bay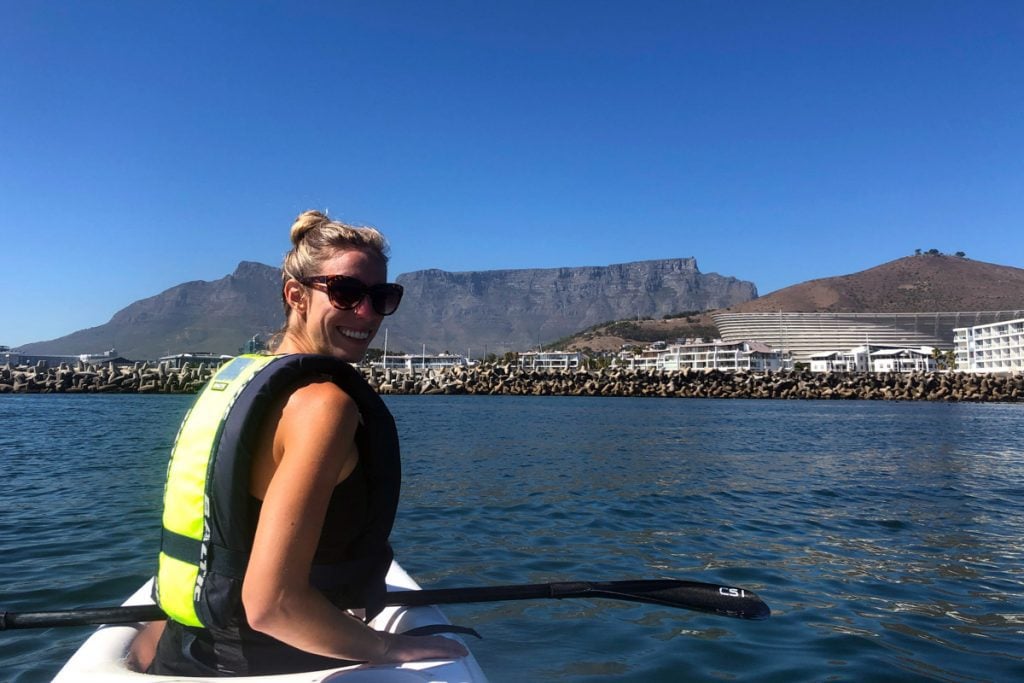 One of the best ways to see Cape Town is from the sea. If you're looking for an active adventure in Cape Town, a kayak tour of Table Bay may be the perfect addition to your itinerary.
If you're lucky you'll see dolphins frolicking in the waves and depending on the time of year, you might even encounter a humpback whale up close (like I did!).
Looking to lower your carbon footprint? The best locally-owned kayak tour company in Cape Town, Atlantic Outlook, is now offering a special package focused on sustainable tourism.
It's called the Land & Sea Experience for two. The half-day experience includes a tandem bike ride from your accommodation, a stop for your morning coffee fix and breakfast, and your kayaking excursion—all powered by YOU (and not a motorized vehicle).
5. Get lost in Kirstenbosch Botanical Garden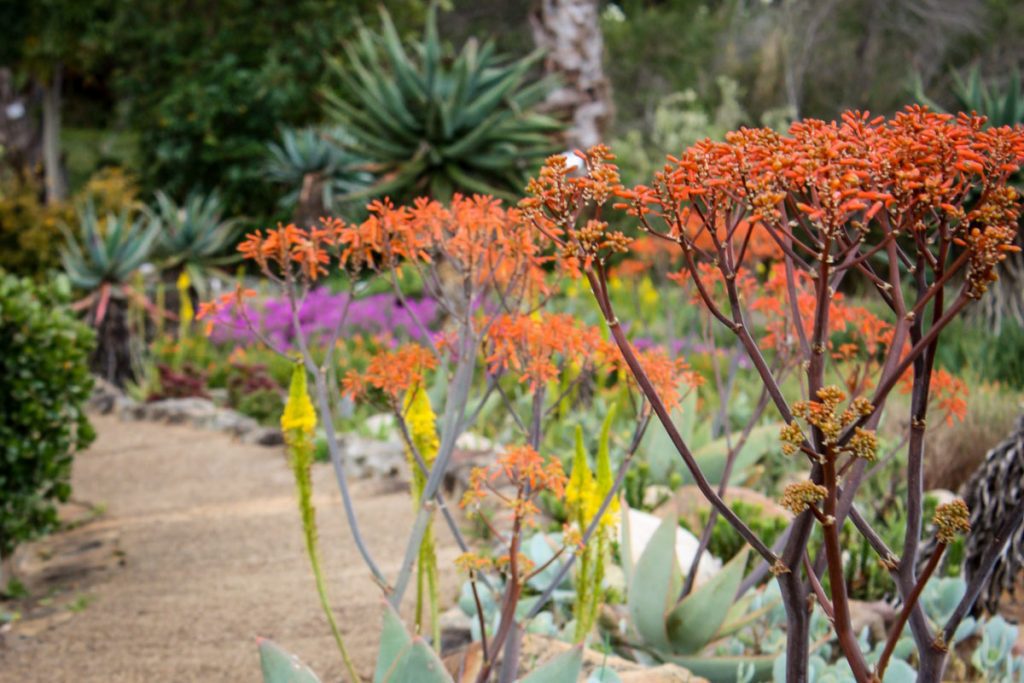 Located at the foot of Table Mountain, Kirstenbosch Botanical Garden is a can't-miss for anyone who loves exotic plant life, beautiful landscapes or simply the outdoors.
With an array of African plant life intermixed with walking paths, you can easily get lost in the gardens for an afternoon.
If you are visiting Cape Town during the summertime (November – March), be sure to catch a show as part of Kirstenbosch Summer Sunset Concerts.
Even if you don't know the music, the experience is totally worth it! Pack a picnic (BYOB!) and arrive early to stake out your space in the grass to enjoy the concert.
Hours: 365 days a year

Sept – March: 8 a.m. to 7 p.m.
Apr – Aug: 8 a.m. to 5 p.m.

Entrance fee: R55 for adults (~$3 USD)
6. Explore the Cape of Good Hope & Cape Point Nature Reserve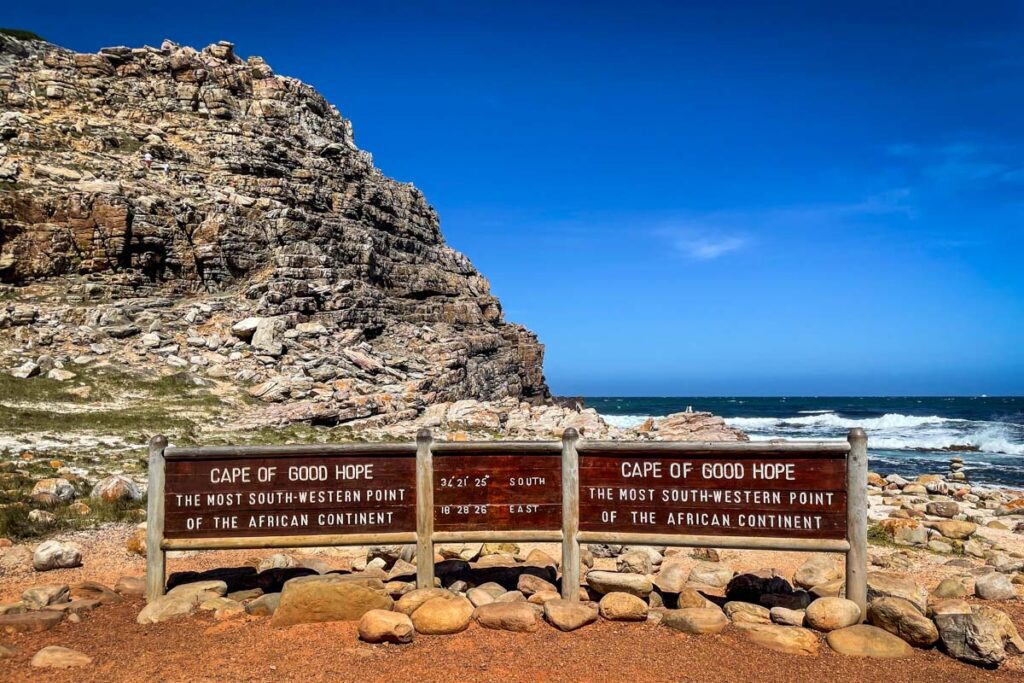 If you've got the time and spirit for adventure, venturing south down the Cape Peninsula is an absolute MUST while in Cape Town.
This part of Table Mountain National Park (previously known as "Cape Peninsula National Park") is not to be confused with the actual mountain of the same name.
Within the large park, you can hike the trails and take advantage of the trail hut network for a unique, and breathtakingly beautiful experience. I've visited this reserve on multiple occasions and am still wowed by the scenery every time I return.
Tip: Make sure to use this South Africa packing list so you are fully prepared for a day of adventuring.
Cape Point and the Cape of Good Hope are the two critical elements of the park.
Cape of Good Hope
The Cape of Good Hope marks the point where a ship begins to travel more eastward than south when following the African coast down from the equator. It's a popular stop in the park, so you'll probably have to stand in line to get your shot in front of the park sign for the 'gram.
Insider Tip: If you want a reprieve from the crowds, take a short hike uphill where you can lounge at the cliff's edge overlooking the continent's most southwestern point.
Cape Point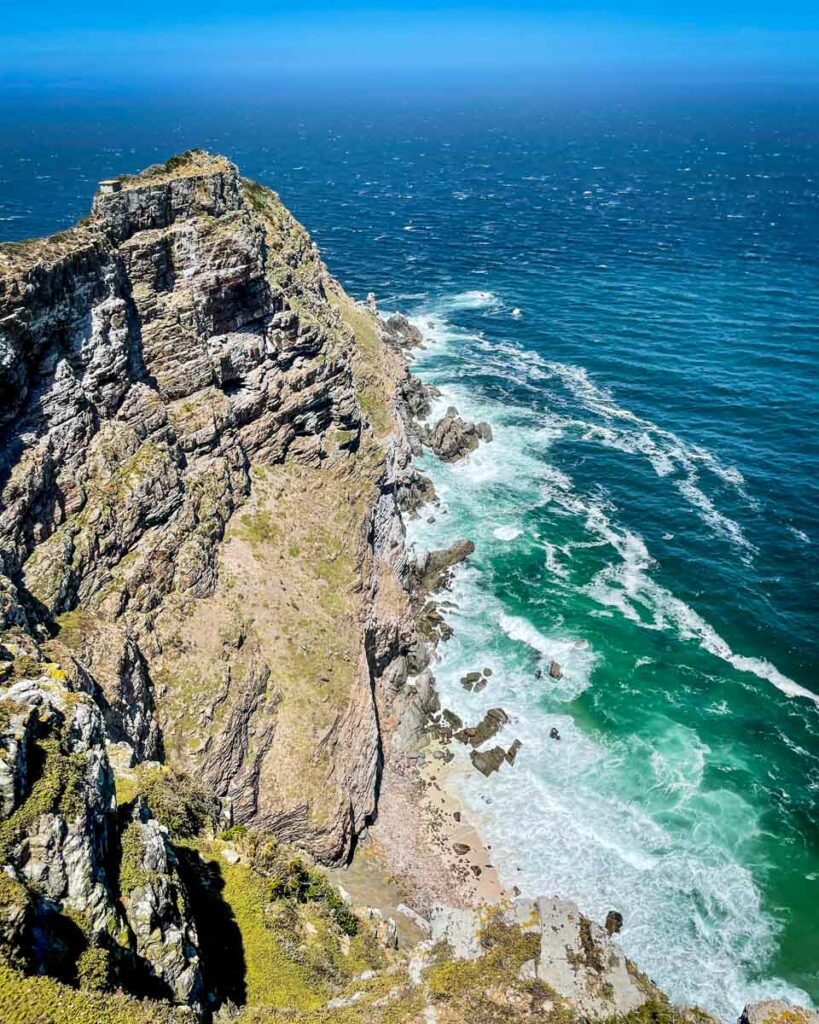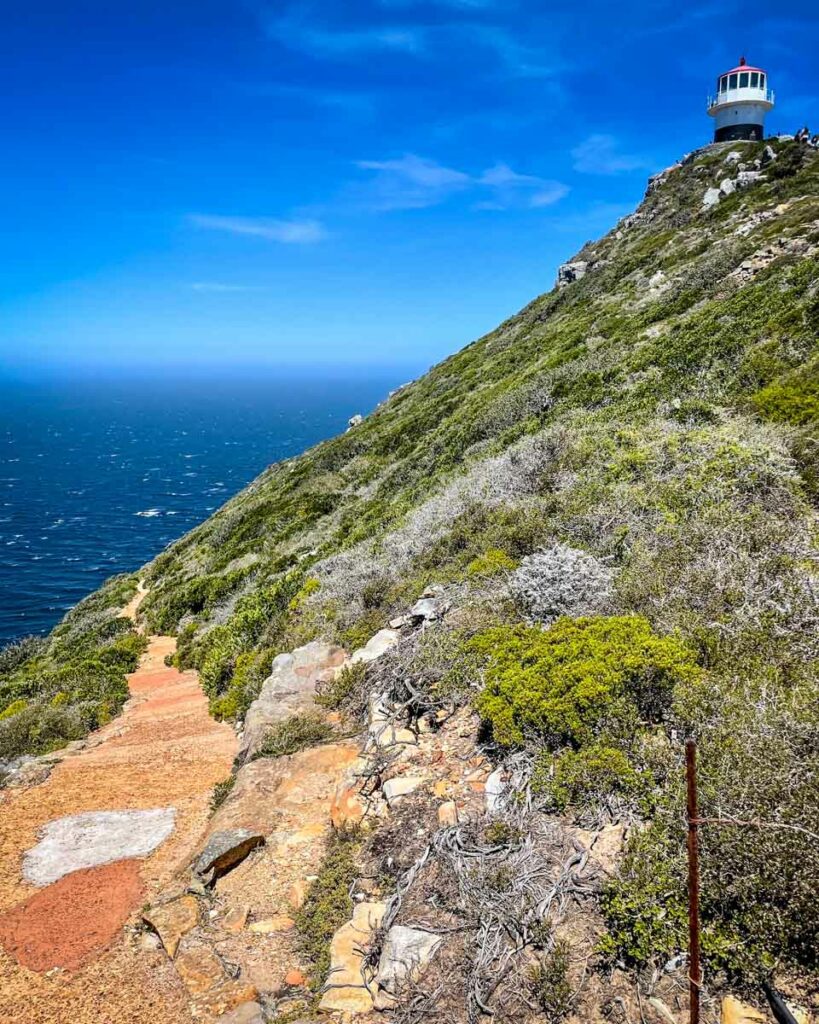 At Cape Point Nature Reserve, you can stand on the edge of the African continent with your face in the wind as you survey the vast ocean and craggy cliffs.
Then venture a bit further to the famous Cape of Good Hope – the southwesternmost point on the African continent.
Note: This is not to be confused with Cape Agulhas, which is actually the southernmost point on the African continent, and a 3 hour drive down the coast from Cape Town.
How to get to Cape Point Nature Preserve
Hours: 8:30 a.m. – 6 p.m. (closes to new visitors at 4 p.m.)
Entrance fee for non-South Africans: R376 (~$20 USD) for adults and R188 (~$10 USD) for kids ages 2-11
The easiest and most affordable way to visit the national park is to rent a car and drive south from Cape Town, down the cape peninsula. You can do the whole thing in a day, including stops at Muizenberg Beach, Kalk Bay and Simon's Town on the way down.
Psst! We recommend using Discover Cars to find the best rates on rental cars in South Africa. I've personally used this site to rent a car in Cape Town and saved a lot of money when comparing the rates on other platforms!
The park closes to outside visitors at 4 p.m. so you can make your way slowly back to Cape Town and take the scenic Chapman's Peak Drive (read more in #14) to catch the sunset on your return.
This trip can also be done with Uber, but we'd recommend arranging your ride home ahead of time, just in case. Simply ask your Uber driver if they'd be willing to come back and pick you up and how much they'd charge in cash for the return trip.
7. Step aboard the Franschhoek Wine Tram
The Franschhoek Wine Tram hop-on, hop-off experience is a unique way to discover the Cape Winelands and sample some of the world-renowned wines that come from this region.
You can choose white route you wish to take based on the stops on each of the different lines. Each route makes a loop, allowing passengers to hop on and hop off as they please to experience the activities offered at each of the vineyard stops.
Plan to spend a day sampling local wines, strolling the vineyards, taking a cellar tour or two and enjoying world-class cuisine. The best part is, you won't need to worry about having a sober driver as the open-air tram will take you everywhere you need to go!
We put together a detailed guide to taking the Franschhoek Wine Tram, which details each of the routes and which stops we'd most recommend.
How to get there: The best way to experience the Franschhoek Wine Tram is by booking a tour that provides round trip transportation from Cape Town. Uber is available in the area, and hiring a driver or renting a car are other options depending on how much you want to spend and the size of your party.
8. Tour Robben Island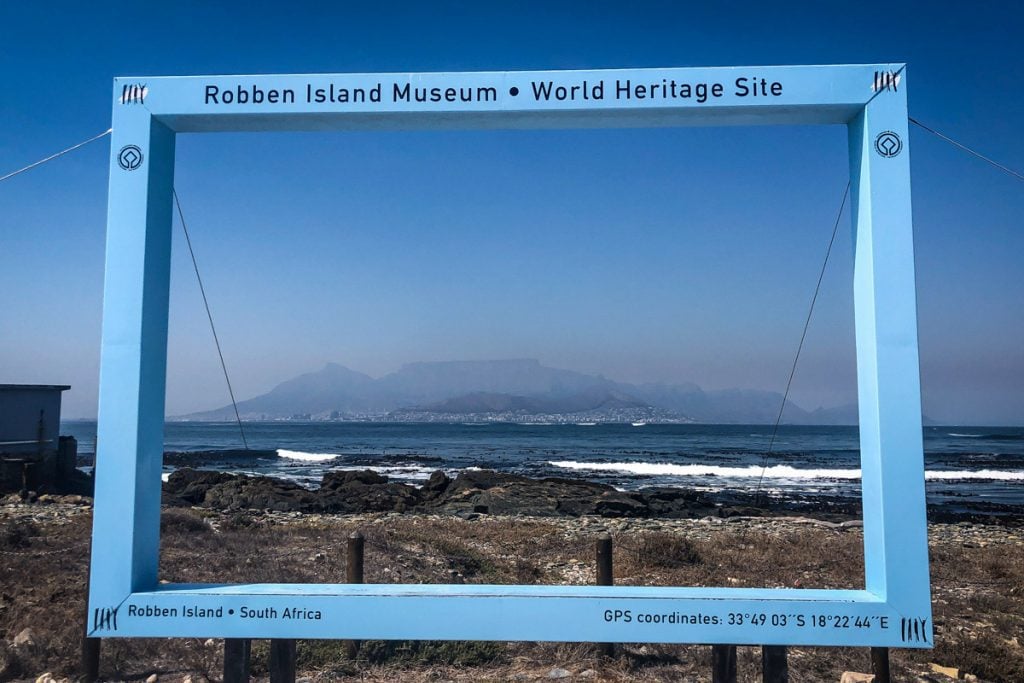 During the moving Robben Island experience, former inmates of the infamous prison help visitors to understand the struggle against apartheid.
Take a ferry from the V&A Waterfront to the island where you will be ushered onto tour buses. On the air conditioned bus ride, your English speaking guide will explain the history of the island, pointing out some significant sites along the way.
You will then be dropped off at the entrance to the prison, where a former inmate will take over as your guide.
You'll walk through the prison-turned-museum where Nelson Mandela spent many years of his life. Enter the cells and read personal stories from each of the individual inmates that once slept there as you make your way through the prison.
9. Meet the penguins at Boulders Beach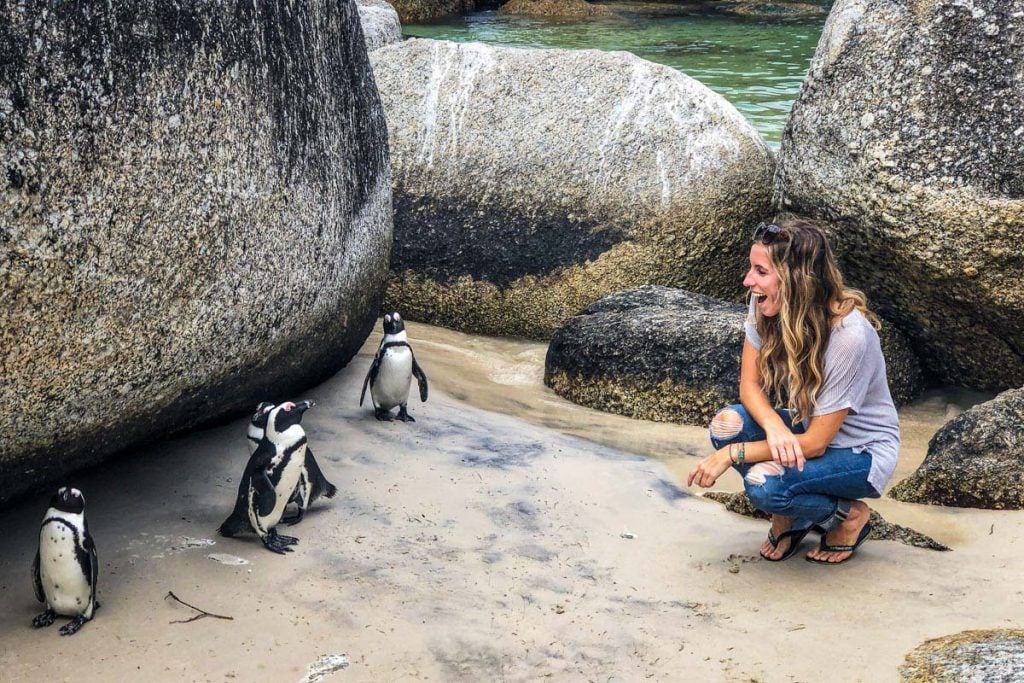 Simon's Town is a great base for several breathtaking sights along the Cape Peninsula. However, it's best known for a set of residents that seem just a bit out of place on the African continent.
Penguins!
To see Simon's Town's African penguin colony up close, skip the overcrowded boardwalk area. Instead, head down to the free parking lot at Boulders Beach.
You can purchase tickets at the park entrance adjacent to the parking area, and literally swim with the penguins while you avoid the selfie stick sword fight at the main entrance location.
Responsible Travel Note: As with any wild animal encounter, always keep your distance and respect the space of the animals. Remember this is their home you are entering and you want to make sure you are not causing any harm during your "visit." Never, ever try to touch, pet or hold a wild animal. Check out more responsible travel tips.
Hours: 7 days a week

Dec – Jan: 7 a.m. to 7:30 p.m.
Feb – April: 8 a.m. to 6:30 p.m.
May – Sept: 8 a.m. to 5 p.m.
Oct – Nov: 8 a.m. to 6:30 p.m.

Entrance fee for non-South Africans: R176 (~$10 USD) for adults and R88 (~$5 USD) for kids ages 2-11
Looking for a more unique experience? If lounging on the beach and taking photos sounds a bit drab. Why not paddle alongside the penguins on a sustainable kayak tour!
10. Hike Lion's Head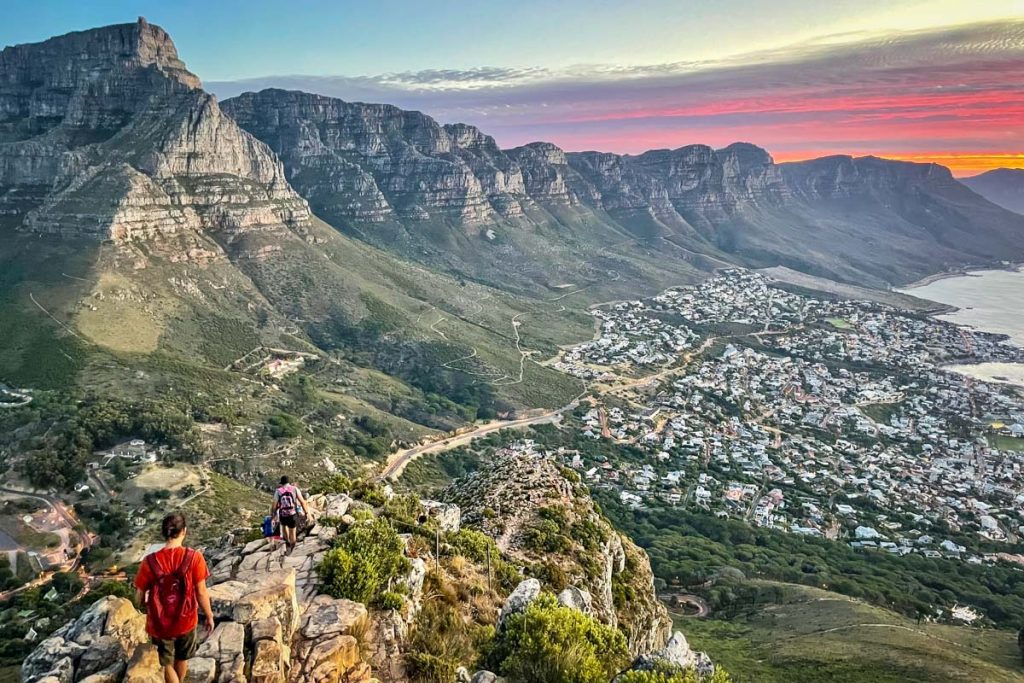 Table Mountain's next door neighbor is considerably more hiker-friendly, though still a physical feat. At just over 3 miles long with a 1,600-ft elevation gain, the Lion's Head hike will take you anywhere from 45 minutes to 1.5 hours to get to the top, depending on your speed and fitness level.
There are plenty of benches to rest along the way for those that want to take their time. And there are also two routes to the top. One for the more advanced hikers that includes a series of ladders, and one that takes a bit longer, but makes for an easier hike (no climbing necessary!).
Oh yeah…and did I mention the views!? Just because it's an easier hike than Table Mountain, does not mean you will be missing out on the views.
Lion's Head is a true peak with 360° views of the endless ocean and the city below, and Table Mountain as your backdrop.
It is recommended to bring your own water, sun protection and try to avoid the midday sun as there isn't much shade on the trail. The trail is popular for sunset-goers so you can expect a bit of a crowd during those hours.
Insider tip: Lion's Head makes for a great spot to watch the sunset from, just be sure to bring a headlamp (or use your phone's flashlight) to get down after dark. Bonus points if you get to the top to watch the sunrise or make it out for a full moon hike!
A word of caution: The winds can pick up fast in Cape Town and it is not safe to be on the peak during those conditions. If you are on the trail and it starts to get considerably windy, it is best to turn around and try the hike again on another day, not to risk your safety.
How to get to Lion's Head trailhead
Just a short drive up Signal Hill Road, you will come to a point where the trailhead starts. There is a small parking area on one side of the road opposite where the trail begins.
If you drive a little further, you'll reach another small parking lot for a church to the left of the road. You can also park here and take the trail up the other side of the peak.
11. Hit up a farmer's market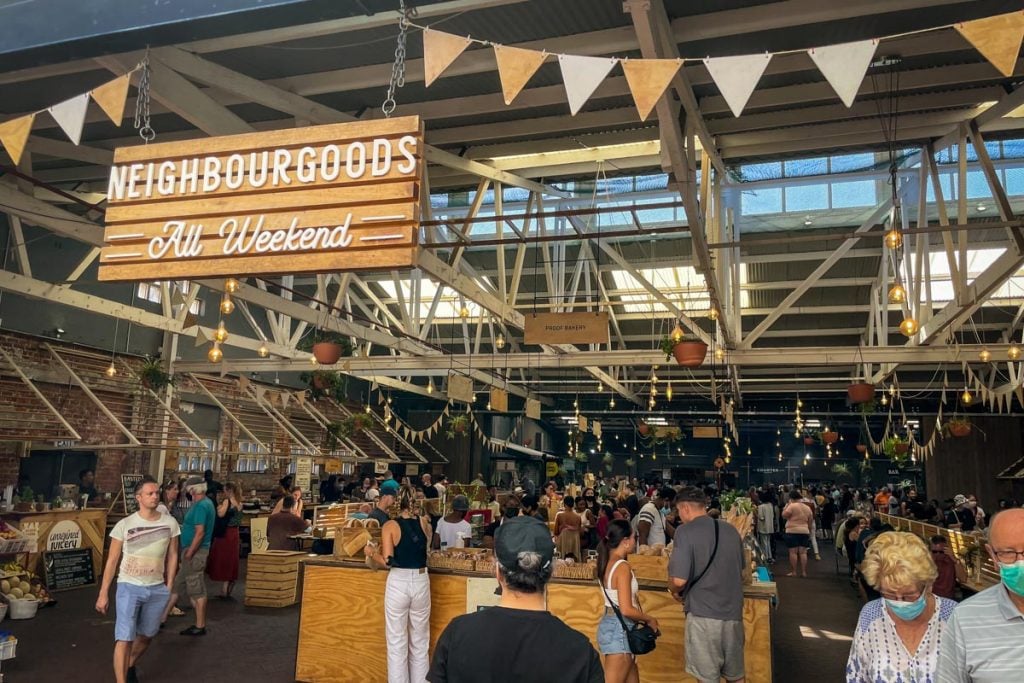 One of my favorite things about Cape Town is the many markets set up to offer an array of food stalls (definitely come hungry!), fresh produce, breads, meats, artisan crafts, and locally made products for sale.
​​The most popular markets in Cape Town are the Oranjezicht and Neighbourgoods Markets.
Oranjezicht City Farm Market
Location: Next to the V&A Waterfront (contrary to its name)
Hours:

Saturdays 8:15 a.m. – 2 p.m.
Sundays 9 a.m. – 2 p.m.
Wednesdays (Nov – March) 5-9 p.m.
Neighbourgoods Market
Location: Old Biscuit Mill in Woodstock
Hours:

Saturdays 9 a.m. – 4 p.m.
Sundays 10 a.m. – 4 p.m.
Another fun market is the Cape Point Vineyard Market in Noordhoek, which happens every Thursday evening from 4:30 – 8:30 p.m. and makes for a great place to watch the sunset!
12. Head to the Beach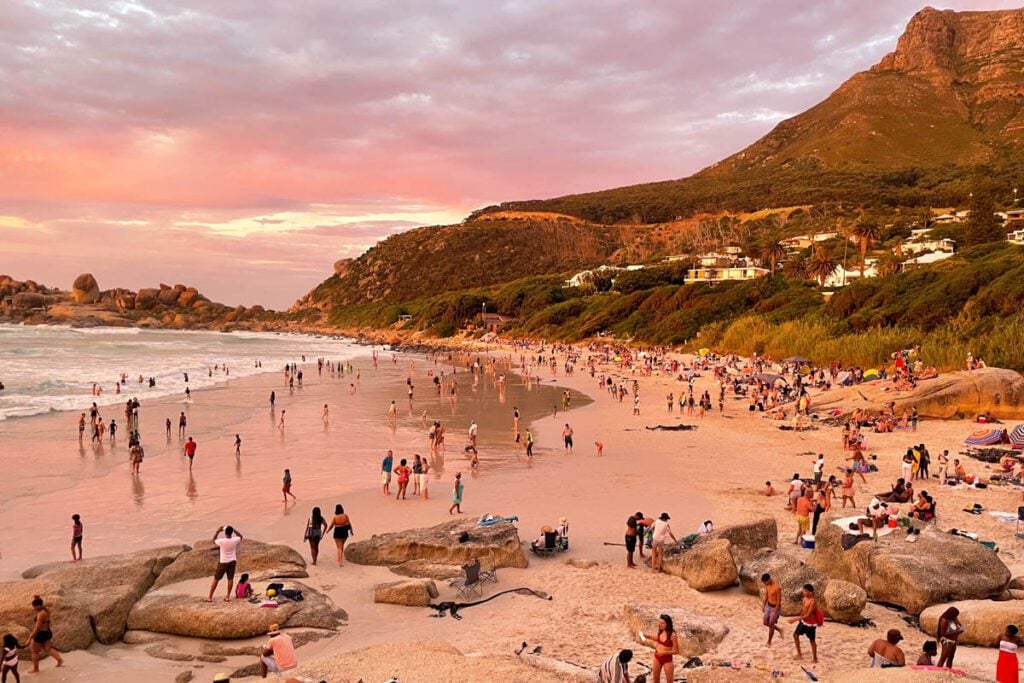 When visiting a city by the ocean, heading to the beach is a no-brainer!
There is something extra special about the beaches in Cape Town… Shh! Don't tell anyone, but the chilly temperatures of the Atlantic Ocean scare away beach-loving tourists.
This means the spectacular beaches here are never too crowded. And if you're brave, you can still go for a dip!
Camps Bay and Clifton Beach are my go-tos when it comes to posting up in the sand. Each of the Clifton beaches are small stretches of sandy beach separated by giant boulders. You can walk between them, but you may need to get your toes wet!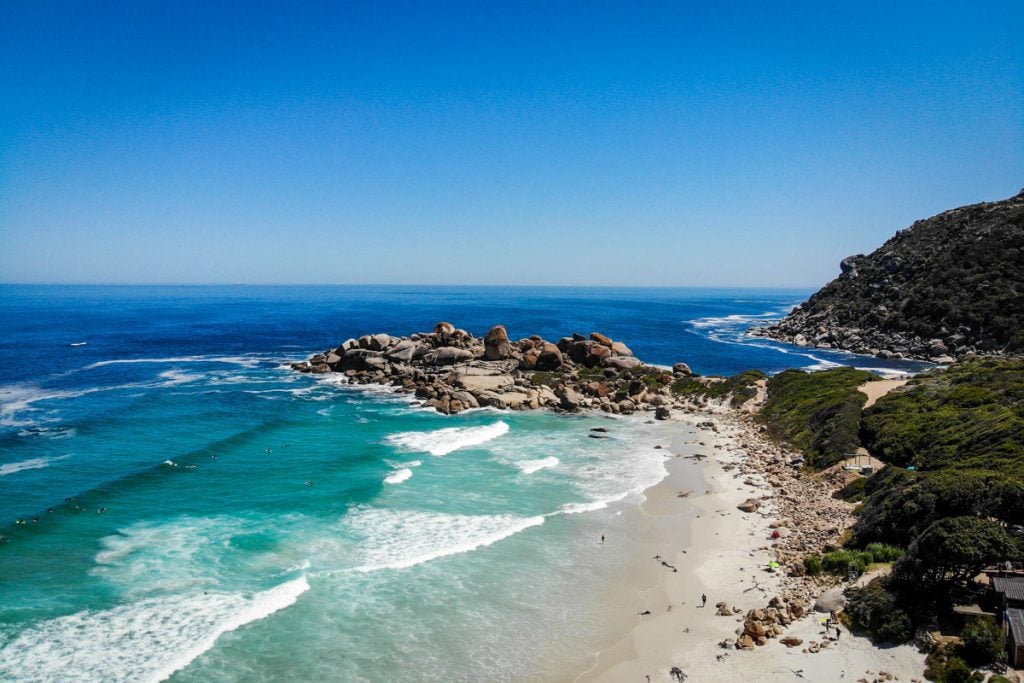 Camps Bay Beach may seem like your typical stretch of sandy beach complete with colorful umbrellas. That is until you turn your back to the ocean… Take in the majesty of the 12 Apostles, a range of mountain peaks that stretch down the coastline, behind you.
Insider Tip: Pack a picnic and stay for the sunset. Call ahead to order pizza from Col'Cocchio across the street, which will be hand-delivered to your spot in the sand.
There are lots of other Cape Town beaches to discover if you don't mind a bit of a drive. Here are a few notable beaches to check out:
13. Visit the colorful Bo-Kaap neighborhood & museum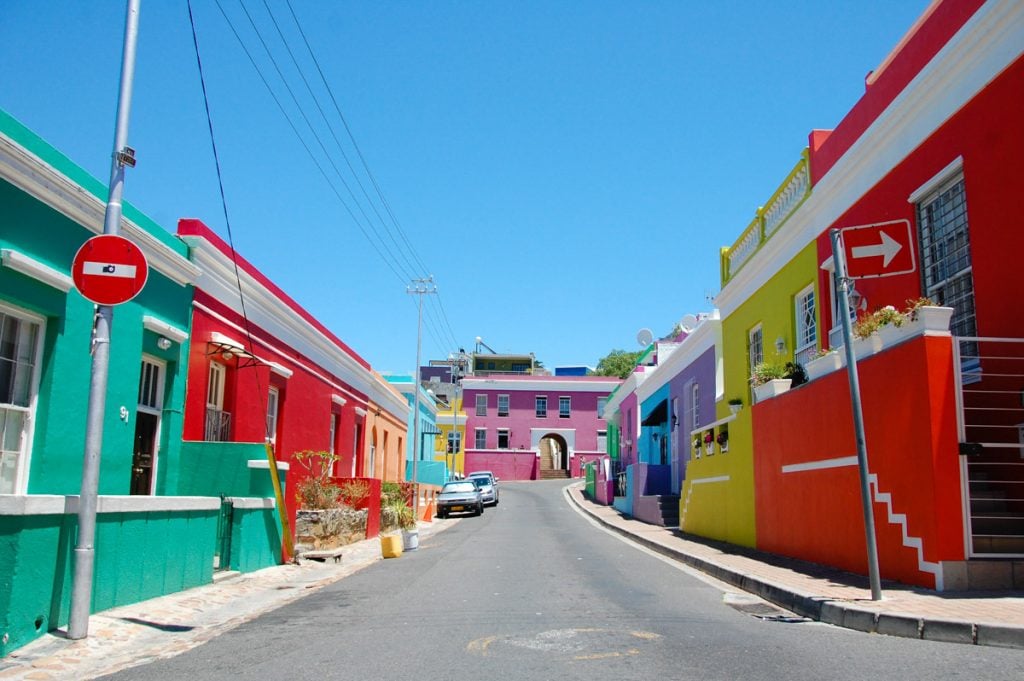 You'll probably recognize photographs of Bo-Kaap with its hilly streets lined with brightly colored houses.
Walking up and down the streets of the small neighborhood feels like you've stepped into a movie set. The vivid colors can't help but make you smile and snap pictures.
Every home in this neighborhood is considered a historical landmark and their care is a serious matter for the local Cape Malay residents that still call Bo-Kaap home.
The neighborhood is also home to the Bo-Kaap Museum. This is a great place to check out if you want to learn more about the birthplace of the Afrikaans language and the fascinating cultural crossroads that still resides among the cobblestone streets.
14. Take in Chapman's Peak Drive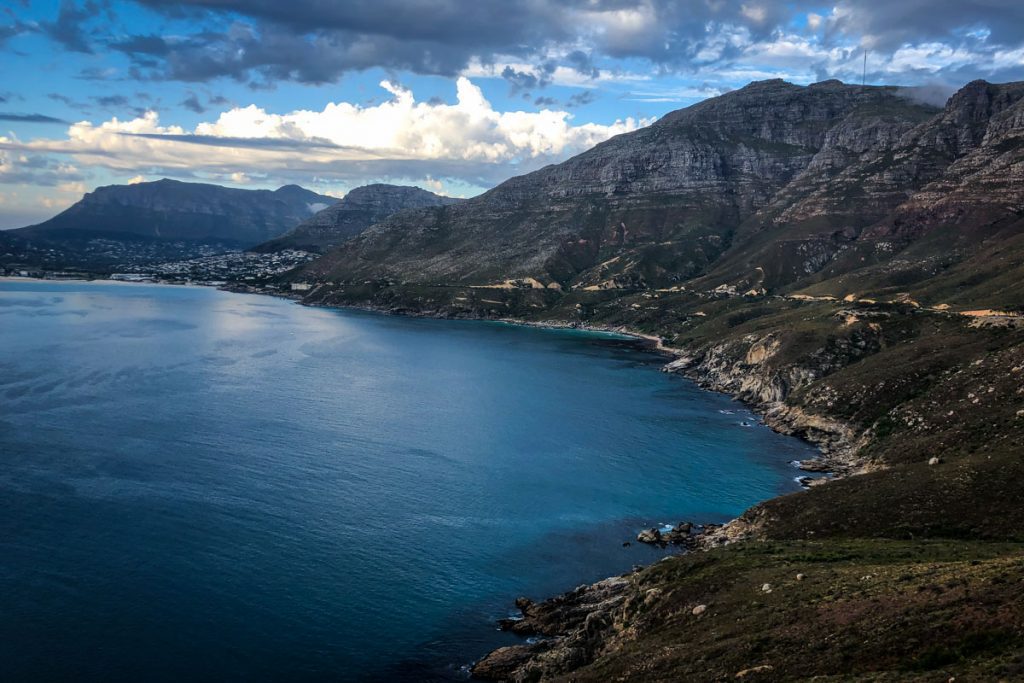 Chapman's Peak Drive is one of the most scenic drives I have ever taken and well-worth the R10 or so it costs per car. The road hugs the coastline along the cliff side, similar to the drive along the Amalfi Coast in Italy. And the views are just as stunning!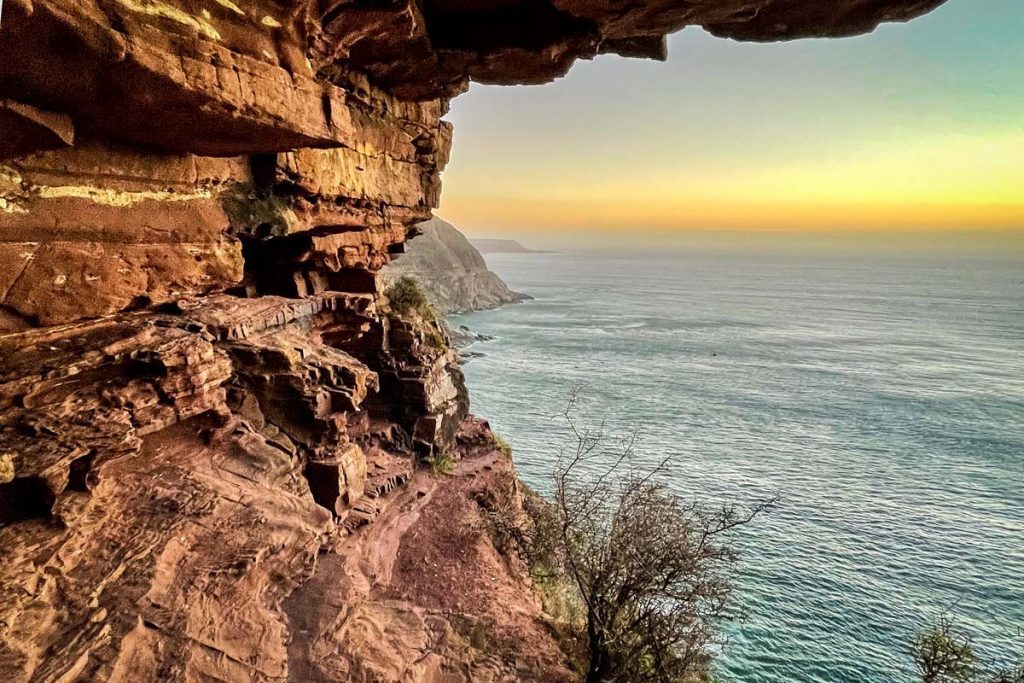 The pinnacle of the drive is Chapman's Peak Lookout Point, where you'll find a small parking lot (get there early or you won't get a spot!). The viewing platform is perched on a cliff overlooking Hout Bay to the right and breath-taking views of the ocean to the left.
You can imagine why everyone tries to get here for sunset!
15. Free walking tour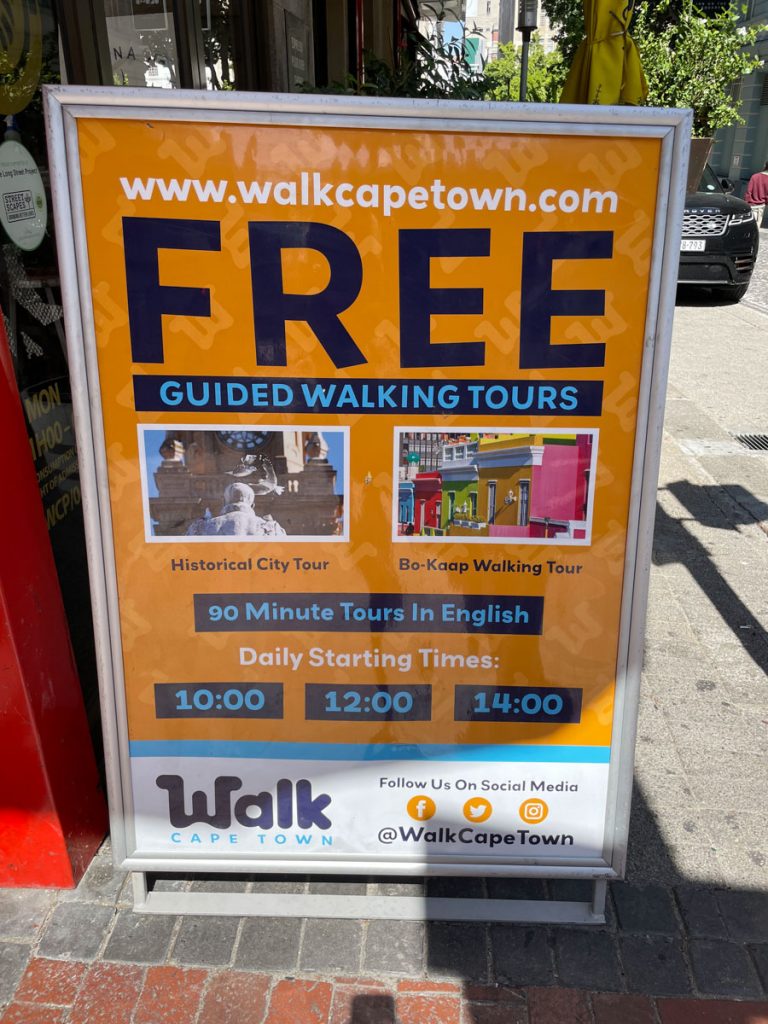 I find that the best way to get your bearings in a new city is to Google the best free walking tour options and get out in the streets.
Luckily for you I've tested out the tours offered by Free Walking Tours Cape Town and can vouch they are not only informative, but quite interesting.
They offer 3 tour times daily, each lasting 1.5 hours.
11:00 a.m.: Historic City Tour or Apartheid Freedom Tour
2:00 p.m.: BoKaap Tour or Apartheid Freedom Tour
4:20 p.m.: BoKaap Tour or Historic City Tour
There is no need to make a reservation beforehand, just show up at the meeting point and look for the guides with green umbrellas.
As with most "free" walking tours, the programs are run entirely on tips. At the end of the tour you'll be asked to make a tip/donation of whatever you can afford. I'd recommend tipping R200-400 per person, depending on how much you got out of the tour.
16. Stroll the oceanside Sea Point Promenade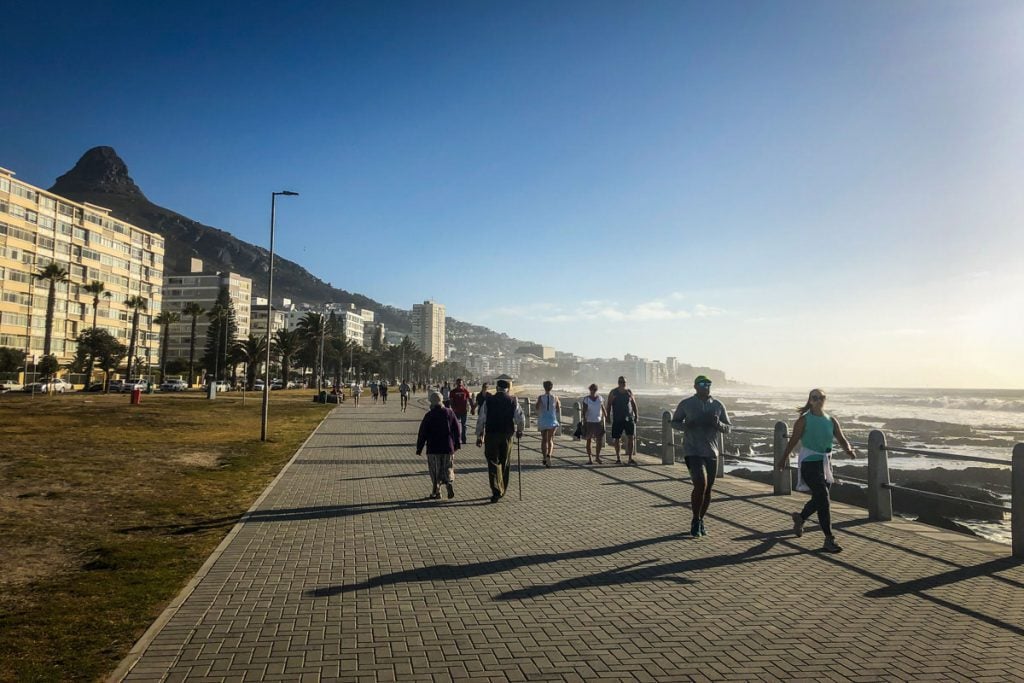 Beginning at the Sea Point public pool and winding its way down the coast is a promenade popular with joggers, bikers and dog-walkers alike. Stroll down the walkway, breathing the fresh ocean air and people-watch as you go.
If you're lucky, you might catch some of the paragliders swooping overhead before landing in the grassy park next to the walking path.
There are also bicycles and electric scooters you can rent if you feel the need for speed.
17. Go on a cultural food tour
Visit Cape Town's best hidden African restaurants and kitchens on this African food and storytelling tour, a meaningful and impactful travel experience in the Mother City.
As your taste buds take a tantalizing journey through South, East, and West Africa, you'll learn about how food holds communities together during difficult economic and social conditions.
What you need to know:
Hours: 3 hours
Price: $56 USD
What guests are saying
"An amazingly authentic experience. The food was delicious, plentiful and varied. Our host shared from his own experiences and it was a real privilege to visit several hand picked locations. We would never have found them ourselves. Highly recommend. The best SA activity so far. Thank you so much for an awesome evening and the most wonderful experience." – Lois (April 2023)
18. Take a scenic helicopter flight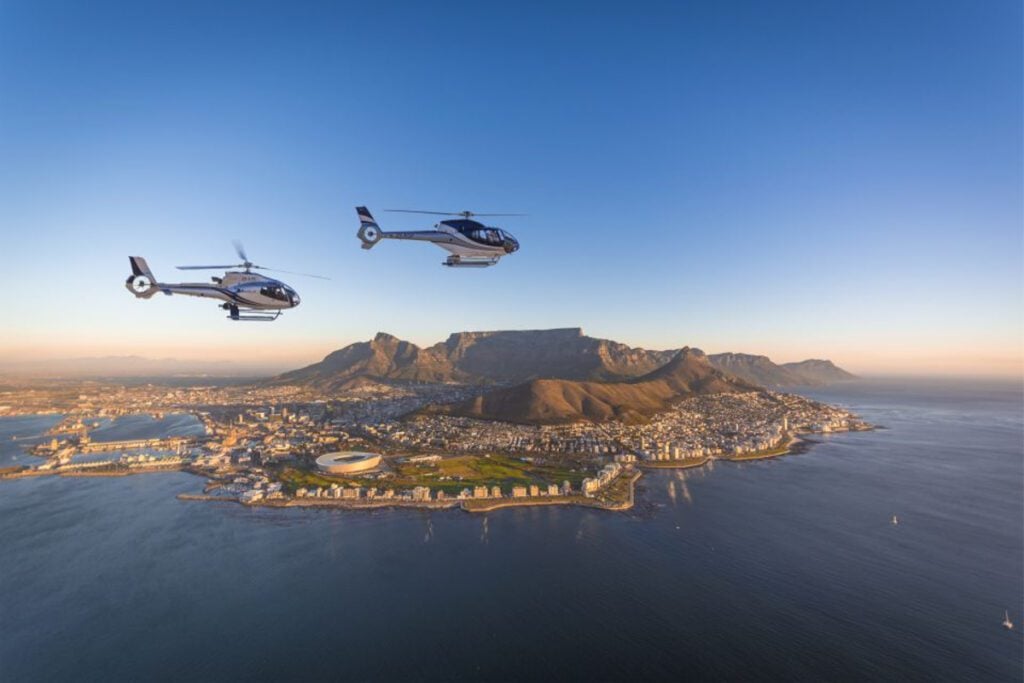 If you're looking for a real treat (and by that I mean splurge!), there are several companies that offer scenic tours of the Cape Peninsula. Imagine the photos you'd get while flying above the city with aerial views of Table Mountain and the Cape of Good Hope.
There are 3 typical helicopter flight options available:
19. Visit the Babylonstoren Gardens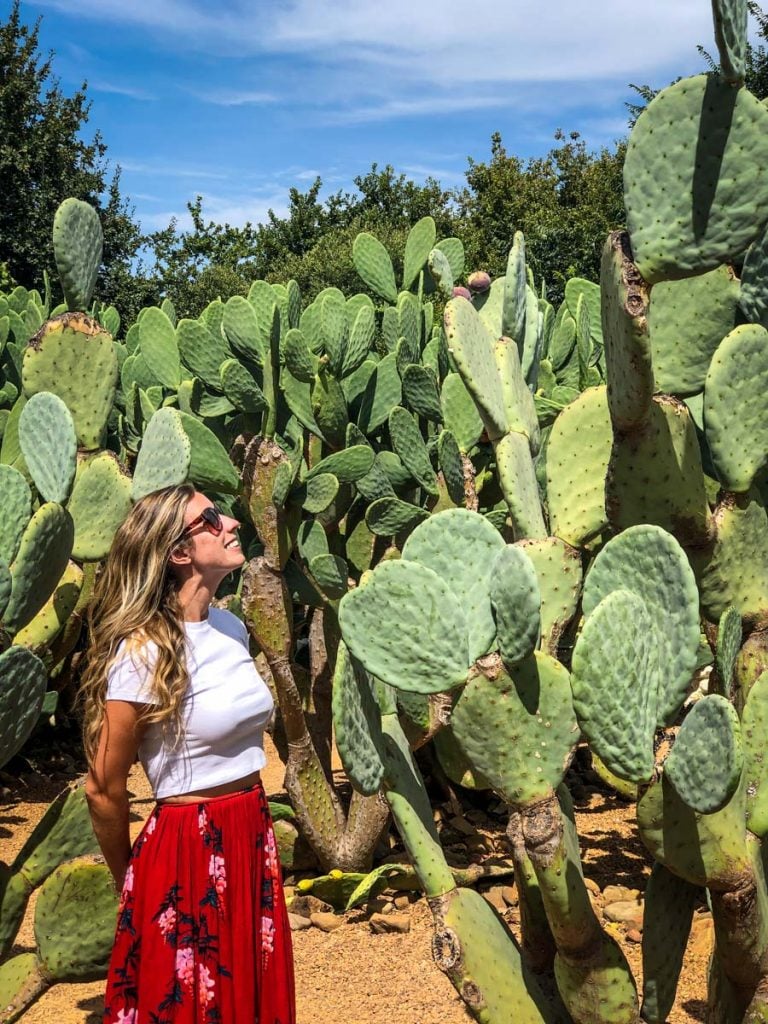 Babylonstoren Wine Estate is one of the oldest Cape Dutch farms in the Franschhoek wine region. The large estate is a great place for wine tasting and boasts a fabulous fine dining restaurant called Babel (highly recommended!) as well as a hotel onsite.
What makes this place so unique, however, is the working fruit and vegetable gardens with spectacular botanical diversity. The gardens are spread out over 8 acres and are wonderful to walk through on a sunny day.
Join the daily garden tour, which leaves at 10:00 a.m. from the Farm Shop everyday, and is led by an experienced gardener. Guests are encouraged to pick, taste, smell and touch on this tour of the gardens.
Monday through Friday, Babylonstoren also offers a Special Collections Tour, departing from the same location at 11:30 a.m. Depending on the time of year, tours will focus on the succulent collection, the cycads next to the stream or a walk through the Healing Garden.
Note: There is an R80 (~$5 USD) entrance fee for everyone visiting the estate during daytime hours (excluding dinner reservations and hotel guests).
Combine your tour of the gardens with lunch at the Greenhouse Restaurant. Tucked away at the back of the gardens, the Greenhouse Restaurant offers picnic-style meals of fresh ingredients on a first-come-first served basis.
20. Self-guided wine tasting tour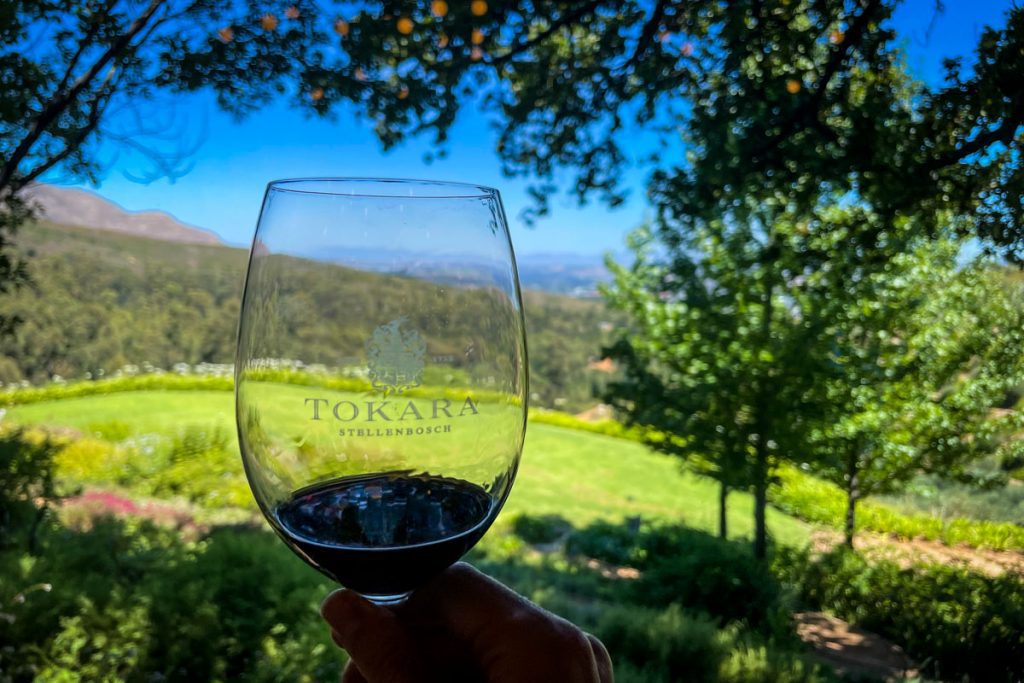 It's no secret that South Africa produces some world-class wines. A combination of the terrain, special weather patterns and exceptional grapes make the Cape Winelands an ideal place to harvest and one of the best wine regions in the world.
As an added bonus, South African wine is completely approachable. Tastings are inexpensive, vineyards are gracious hosts, and the pours are generous.
Between Stellenbosch, Paarl and Franchhoek, there are some extraordinary vineyards attracting wine-loving tourists from around the globe. Spend the day (or a weekend!) exploring the wine region and indulging in as many tastings as you can fit into your schedule.
Don't miss out on tasting the Pinotage – a cross between the Pinot Noir grapes and native cinsault grapes, that is only found in South Africa.
Some of my favorite wine farms to visit
We have an entire guide to the best wine farms in the Cape Winelands, but if you're looking for some quick answers. Here are some of my favorite wine farms.
If a self-guided tour sounds like too much planning for your liking, you can join a full or a half day organized tour (which usually includes transportation from Cape Town!). Compare tour prices here.
Alternative: Cycling in the winelands tour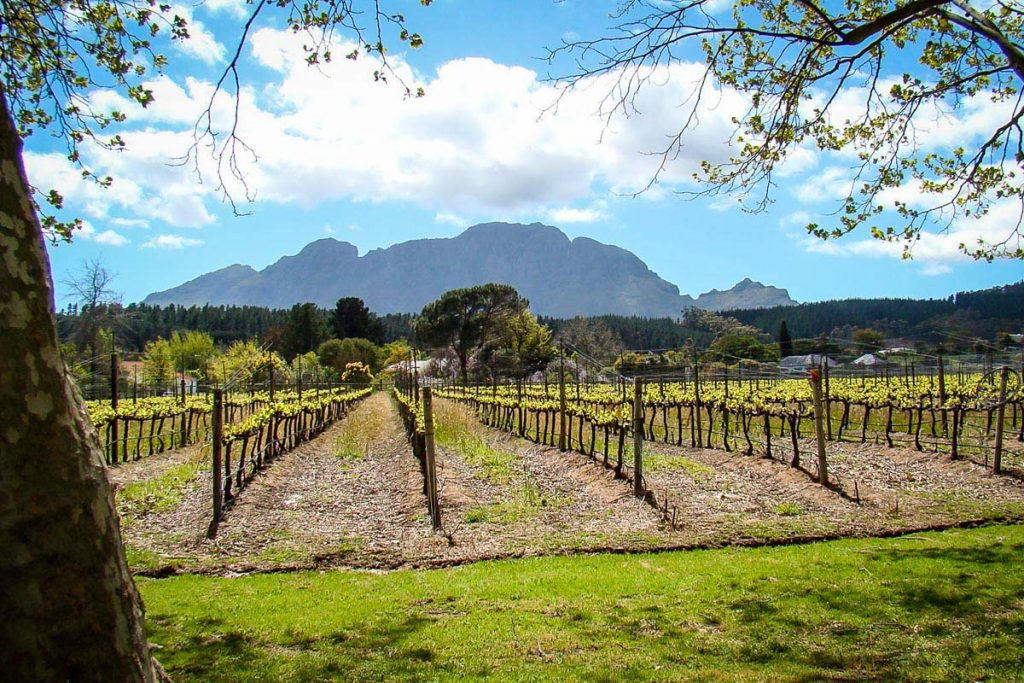 Take on the Cape Winelands with a little bit of speed! A cycling tour through the Cape Winelands region will get your blood pumping and prepare you for all the wine tasting to come.
This is no leisurely ride through vineyards (although you will do some of that!).
The Cape's historic wine route runs through the towns of Franschhoek, Paarl, and Stellenbosch. You can cycle as much or as little as you please while taking in the scenery and enjoying samples of the local wine along the way.
The entire route is about 24 miles long and a tour from Cape Town will last all day.
Psst! If you want a less strenuous experience, you could try doing an e-bike tour through the winelands with Vine Bikes.
21. Take a cooking class
While you're in Cape Town, you shouldn't miss the opportunity to create and indulge in authentic African cuisine, the heart and soul of the continent's diverse culture.
On this Authentic African Cooking Experience, you'll cook traditional recipes passed down by generations, as hosts Florence teaches you about the history of the ingredients, recipes, and techniques used.
What you need to know:
Hours: 2.5 hours
Price: $50 USD
What guests are saying
"It was a wonderful experience! We really enjoyed ourselves. Florence and her husband were really accommodating, very friendly, open minded. What we liked very much was the fact that they taught us a lot about African history and where the foods derrived from 🙂 the food was fantastic." – Elvira (March 2023)
Alternatively, Cape Malay is a unique culture to the western Cape that's much different than other traditional South African dishes.
During this Cape Malay Cooking Class, you'll cook a 3-course meal in the historic Bo-Kaap neighborhood using fresh spices and authentic ingredients.
What you need to know:
Hours: 2 hours
Price: $40.40 USD
What guests are saying
"We had a wonderful afternoon. The family welcomed us in despite arriving very early! We thoroughly enjoyed learning to cook Cape Malay Cuisine, and also learnt the history of the Bo Kaap area and Cape Town. The food was delicious- we sat and ate together at the dining room table after cooking 3 dishes. Would thoroughly recommend. Thank you Jasmina and family." – GetYourGuide Traveler (February 2022)
22. Woodstock Street Art Tour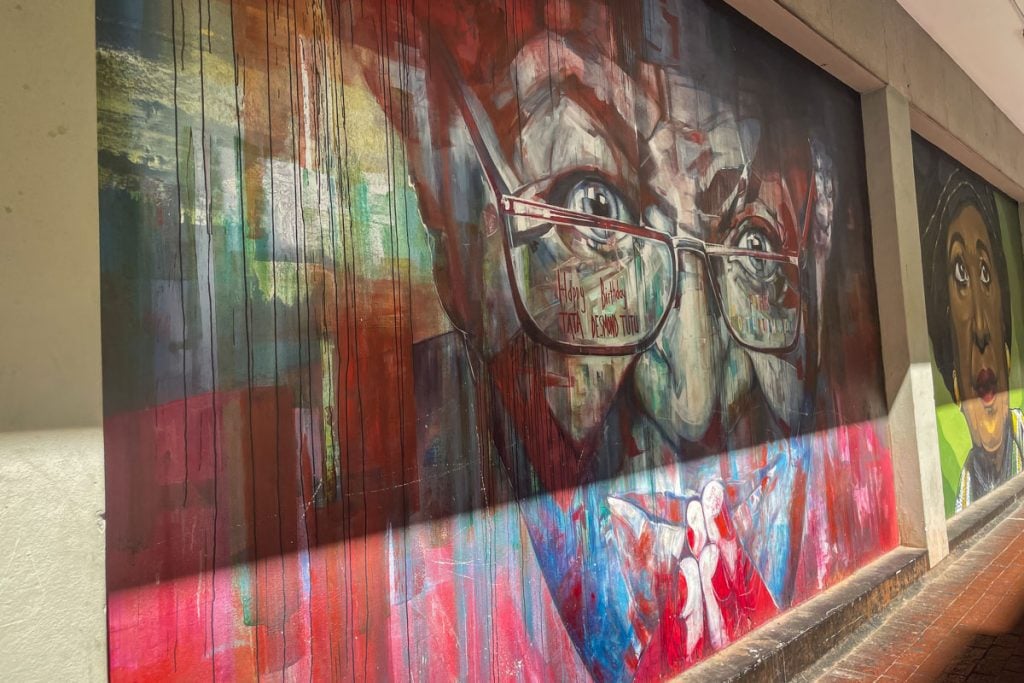 Woodstock is a trendy neighborhood where hipster cafes and art galleries have taken over repurposed factories. At the center of it, an old biscuit mill has been transformed to house some of the most popular restaurants in Cape Town.
A neighborhood this hip wouldn't be complete without colorful murals lining the streets, and Woodstock has plenty of those. Peep the street art as you browse the vintage shops and antique furniture stores, or book yourself a guided street art tour to get the full story behind the symbolic art.
23. See an outdoor movie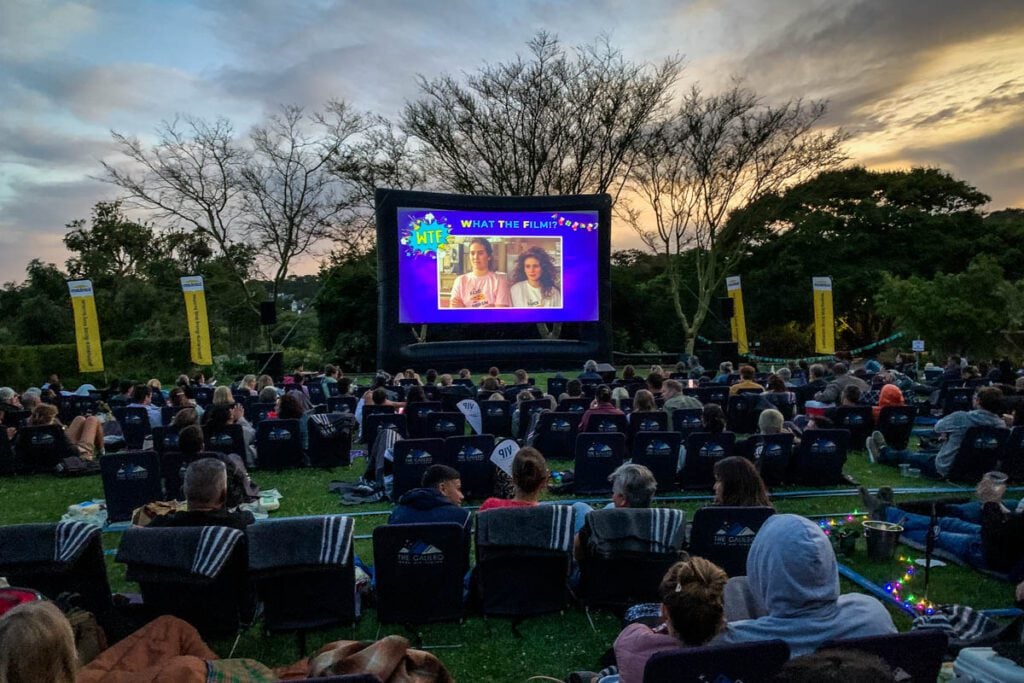 With Cape Town summers boasting such great weather, why not take your movie night outdoors and view a flick under the stars?
There are a few options in Cape Town for outdoor movie viewing during the summer months (November – April).
The Galileo: A pop-up outdoor theater offering events each week Thursday through Sunday (and some Wednesdays) in various locations throughout the city. Check their events calendar for movie locations and ticket information.
The Pink Flamingo Rooftop Cinema: There is a small rooftop cinema above the boutique Grand Daddy Hotel in the city center. The screening area can seat just 50 people. Check their website for showings open to the public.
The Labia Theater (all year round): While this isn't exactly outdoors, we thought this art house-style theater deserved a mention since they offer screenings of Indie and popular films for just R60 per person.
24. Take a sunset cruise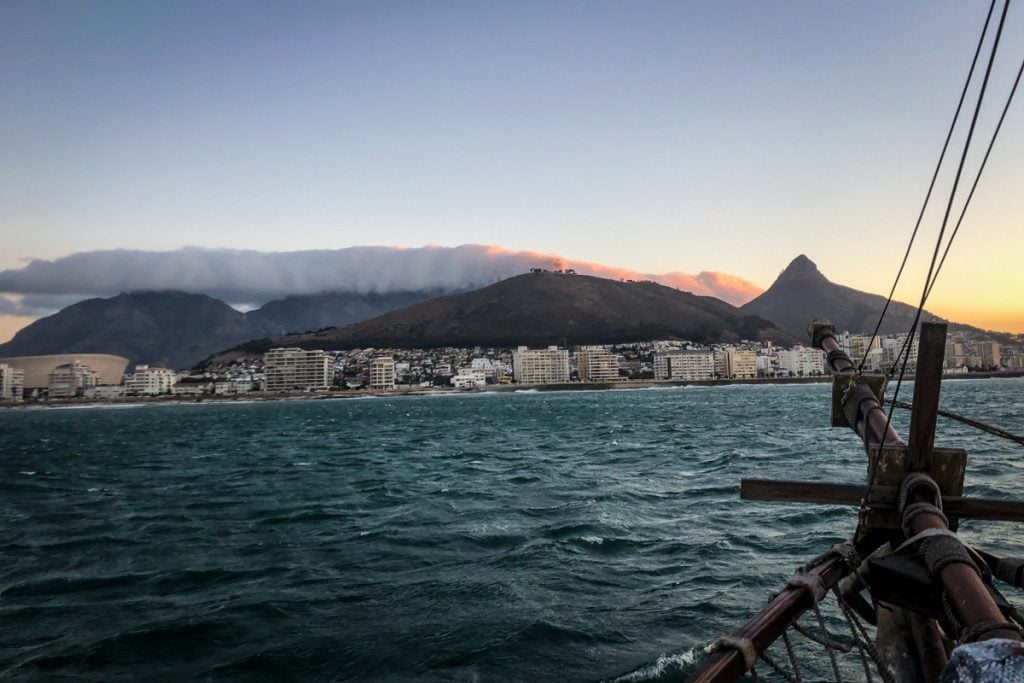 I've already mentioned one of the best views of Table Mountain is undoubtedly from the water. And what better way to take to the sea than on a pirate ship??
The Jolly Roger Party Boat Cruise departs from the V&A Waterfront every Friday and Saturday night for a 2-hour sunset booze cruise. Complete with live music, free welcome drinks + a cash bar, and a real pirate captain. If you really want to get into the spirit, dress up and go in character as a pirate!
Tip: To keep the party going after the cruise, head over to Ferrymans Tavern for a pint and some more live music.
If a pirate party isn't really your scene but you still want to experience the views, you can book regular sunset cruise online. Alternatively, you can head to the V&A waterfront where you'll see stands lined up in front of the marina for sunset cruises.
You can usually just sign up and book a cruise on the day-of and the price is around R350 (~$20 USD) per person, which usually includes a drink or two.
25. Try the tasting menu at a world-class restaurant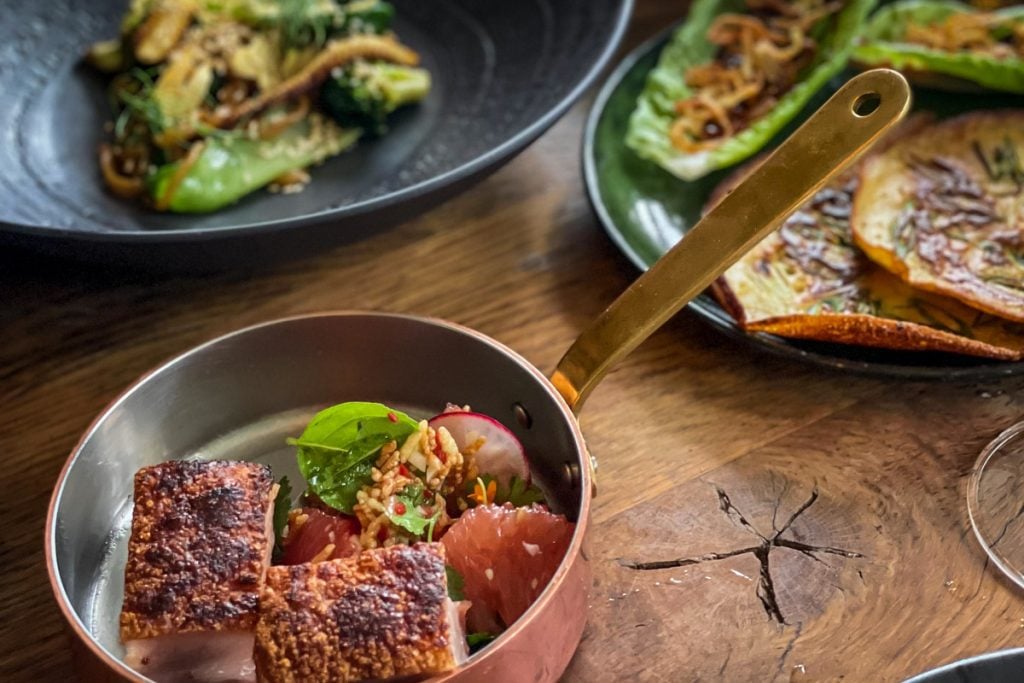 South Africa has no shortage of world-class restaurants and Cape Town is home to some of the best restaurants in the country. Here are a few of our recommendations for top notch places to eat in Cape Town.
For more of our favorite restaurants in Cape Town, jump down to the where to eat section.
26. Check out the surf (or just the surfers) at Muizenberg Beach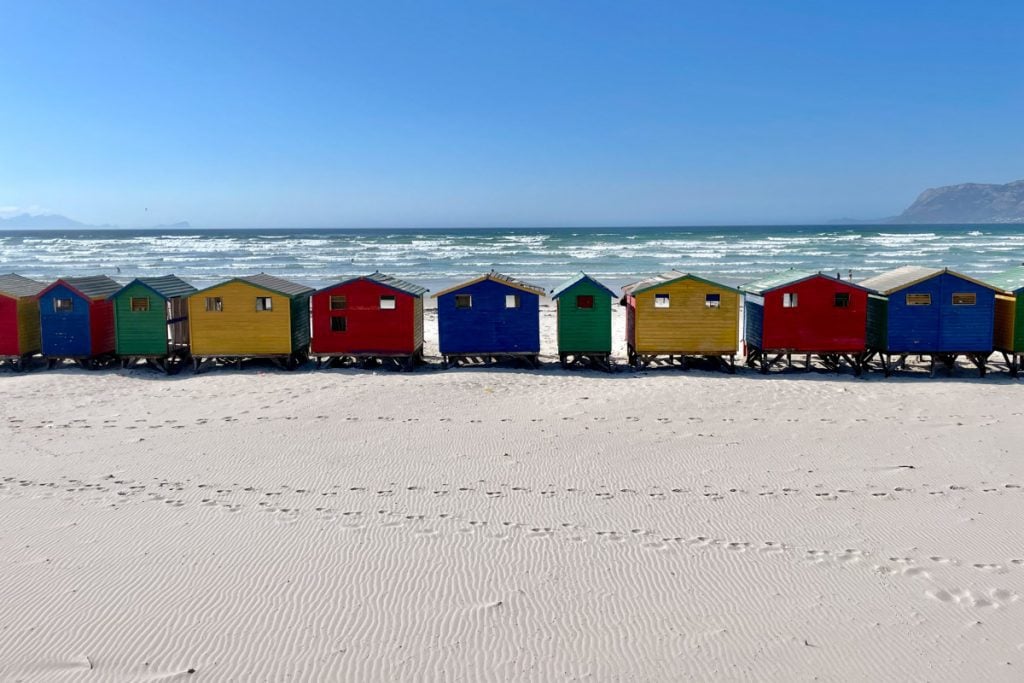 If you came to the Cape Peninsula to surf, then chances are you're heading to Muizenberg Beach at some point. Just a short drive from Cape Town, this is where all of the best surfers like to catch waves.
Don't worry if you're not into surfing though, there is plenty of people-watching to be done from the sand.
This is also where you'll find the colorful beach huts you see in photos all over Instagram. So bring your camera and get ready to have a photo sess!
27. Discover the Cape Peninsula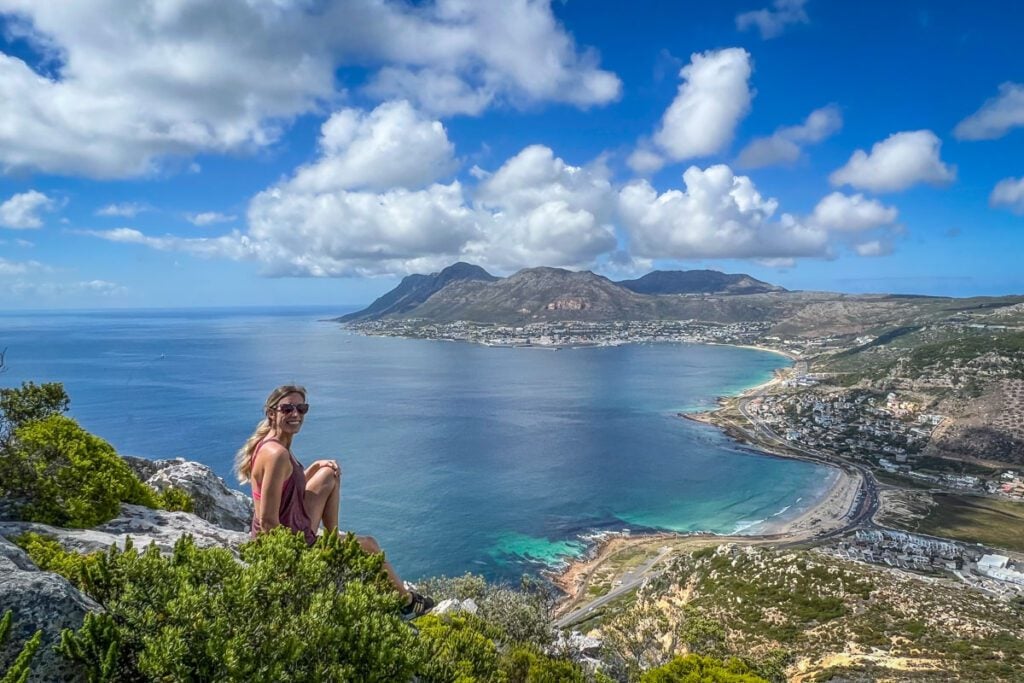 Rent a car and drive down the picturesque Cape Peninsula for the day, soaking up the craggy mountains, turquoise waters, and white sand beaches (some that feature waddling penguins!).
Along with natural beauty, there are a number of small towns you don't want to miss:
Kalk Bay – a must stop is the Cape to Cuba restaurant with live music Sundays
Fish Hoek – hike to the top of Elsie's Peak for amazing views
Simon's Town – Minari Korean Kitchen has the best Korean dim sum, also home to Boulders Beach (#9)
The Cape of Good Hope and Cape Point (see #6) are along this route, and they're two staple locations along the peninsula!
28. Check out the District Six Museum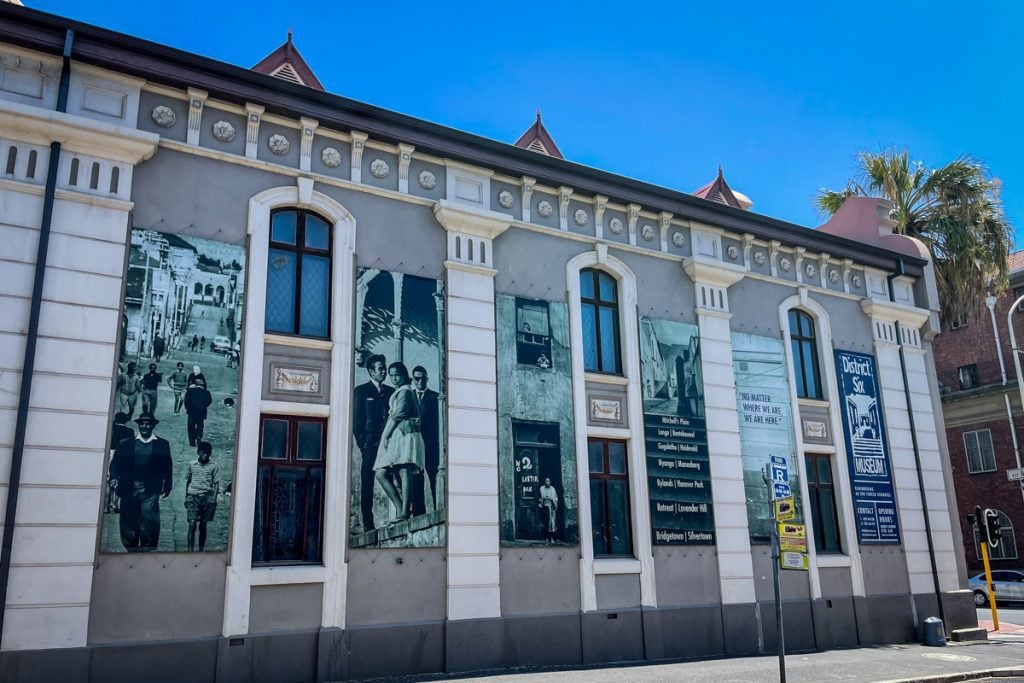 District Six is a former residential area of Cape Town that was destroyed by the Apartheid Nationalist Government in the 1970's after forcefully removing over 60,000 of its residents.
The memorial museum celebrates the once lively multi-racial neighborhood and its former inhabitants.
Insider Tip: Just a block down the street from the museum is one of Cape Town's best kept secrets. Charly's Bakery is an institution in the Mother City, but very few tourists seem to venture there. One step inside and you'll understand why this place is beloved by all who visit.
29. Visit a township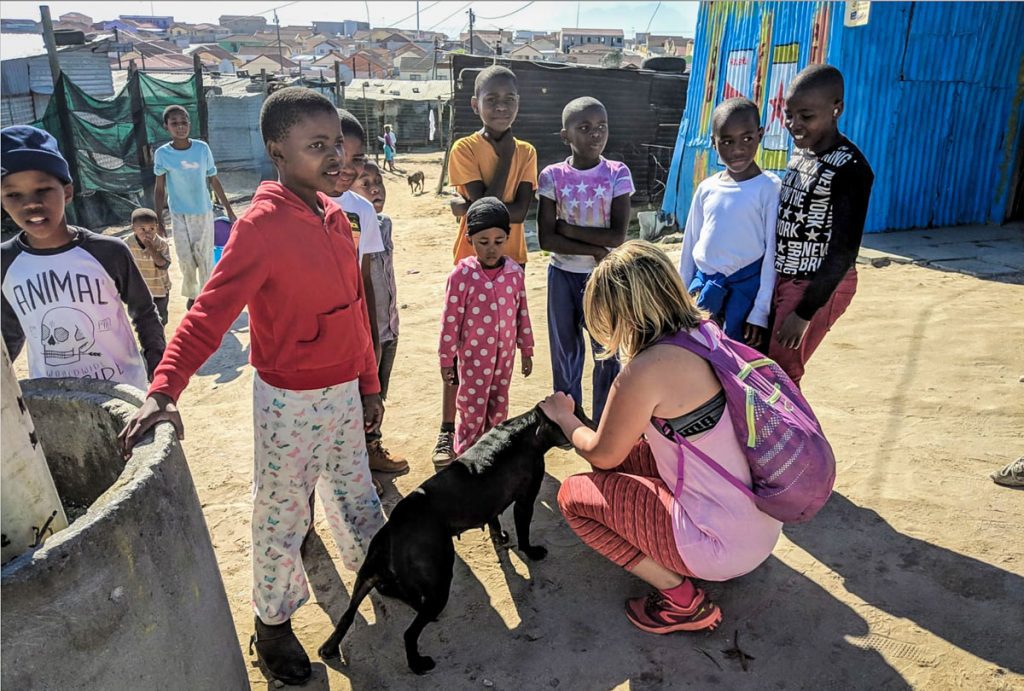 Open your eyes to a different side of South Africa when you join your guide on a tour of Cape Town's Townships. Take the opportunity to meet and interact with the local community. Walk the streets, learn about the interesting history of townships and visit the local school.
A unique and sustainable way to tour a township is by bicycle. There are a few innovative companies offering biking tours of the townships surrounding Cape Town.
Though I wasn't able to experience these tours for myself, two of the companies that have good reviews and look like they offer fun tours are Awol Tours and Ubuntu.
While townships may offer tours to outsiders, it is important to remember that this is still someone's home and to respect the property and privacy of the residents.
Act like a guest and not a voyeur. And always ask permission before taking someone's photo or a photo of their property.
30. Go paragliding off Signal Hill
A popular activity for adrenaline junkies is paragliding off Signal Hill and out over the Atlantic Ocean.
Don't worry if you've never done it before! Your guide will be right behind you in a tandem paraglide and will make sure you land safely in the park below, near the shore.
31. Abseil off Table Mountain
If you are really an adrenaline junkie, forget the cable car—you can abseil from 1,000 meters on the top of Table Mountain!
Abseiling is a form of controlled repelling, while strapped into a harness, off a vertical drop. Think about how you'd come down from climbing a rock wall.
It is said that the views from the abseil are incredible. While descending down the side of a sheer cliff, you'll have panoramic views of Camps Bay, the Atlantic Seaboard and the deep blue seas at your feet with the Twelve Apostles at your side.
The entire experience takes about 45 minutes to 1 hour. You can learn more and book your experience at Abseil Africa.
Related reading: Planning to explore more countries in Africa? Check out this list of best places to visit in Africa.
32. Visit an alpaca farm
Just an hour drive from Cape Town in the heart of the Cape Winelands is the picturesque town of Paarl. At the Alpaca Loom & Coffee Shop you can enjoy a coffee or a light breakfast in the cafe overlooking the farm surrounded by miles of vineyards with the mountain range on the horizon.
Take a bucket of feed down to the pen where you can feed alpacas right out of the palm of your hand.
This interactive experience makes for some great photo ops, just be sure to watch out for the spitting! (Yes, as a show of dominance, alpacas may split at or near you… it's actually quite funny.)
After indulging in some playtime with alpacas, stick around for the barn tour. The employees of the farm will escort you through the property, explaining the history of their operation.
If you time it right, you'll have the chance to meet the baby alpacas on the tour!
How to get there: There are a few options for getting to Paarl from Cape Town.
Uber is widely used in Cape Town and drivers don't mind the longer trips out to wine country. However, it's hard to say how many Uber drivers are around Paarl. So that is something to keep in mind for your return trip.
You can hire a driver for the day, or a half-day, for a reasonable amount if you split the cost between a full car.
Renting a car is probably going to be your cheapest option as car rentals are quite affordable in South Africa.
33. Go surfing
Part of the draw to this coastal city is the access to the surf. There are plenty of surfing beaches in and around Cape Town for beginners all the way up to die-hard surfers.
While Muizenberg is probably the most popular, other beaches such as Lluandudno, Big Bay, and Dungeons make for good surf spots as well.
If you're new to surfing and want to give it a try, there are plenty of shops that offer lessons at Muizenberg. You can also sign up for surf lessons from locals on Airbnb Experiences.
Alternative idea: If the waves are too intimidating for you, perhaps a stand up paddle board tour of the V&A Waterfront is more your speed.
34. Get your grub on at Mojo Market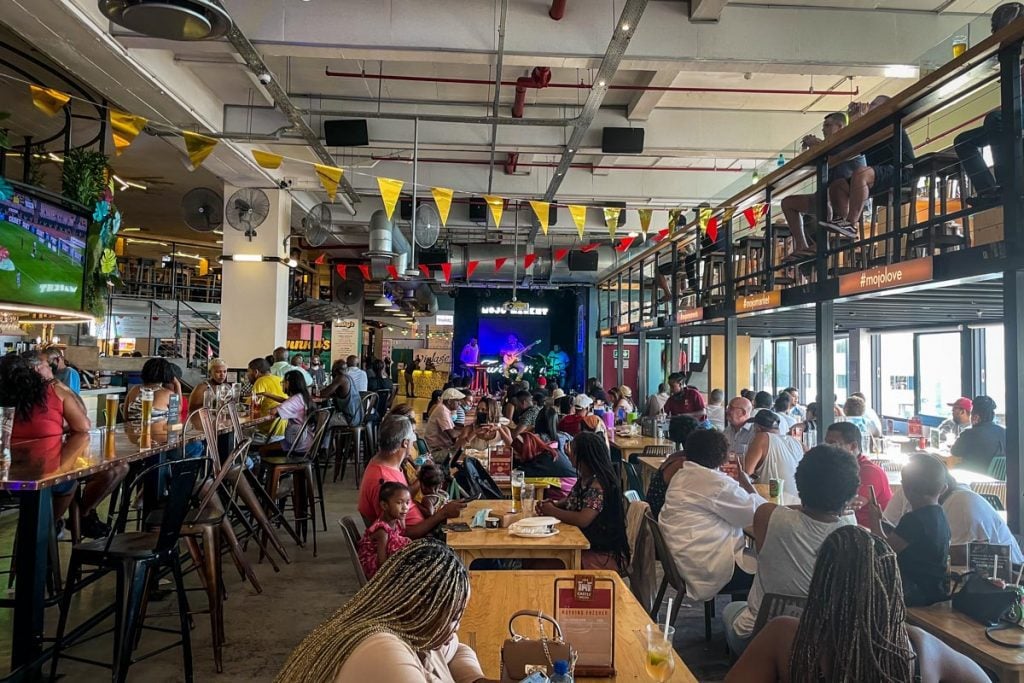 This giant indoor food hall in Sea Point will become your best friend in Cape Town.
With 30 food stalls serving up cuisines from all over the world, there is surely something to please everyone here. And the center bar boasts "the widest selection of beverages on tap in the Southern Hemisphere".
Catch live music daily or join a crew to watch a screening of a popular sporting event. Some of my favorite food stalls are: Sha Sha Warma, Earthfire Pizza, WTF Plant, Bunka Ramen and Dashi Poke.
Live music at Mojo Market
Monday – Thursday: 8 – 10 p.m.
Friday: 6:30 – 8:30 p.m. & 9 – 11 p.m.
Saturday: 1 – 11 p.m. (with some breaks)
Sunday: 1 – 9:30 p.m. (with some breaks)
Bonus: Mojo Market has free wifi (no password required!) which makes it a fun place to work from during the week.
35. Jazzy brunch at Kloof Street House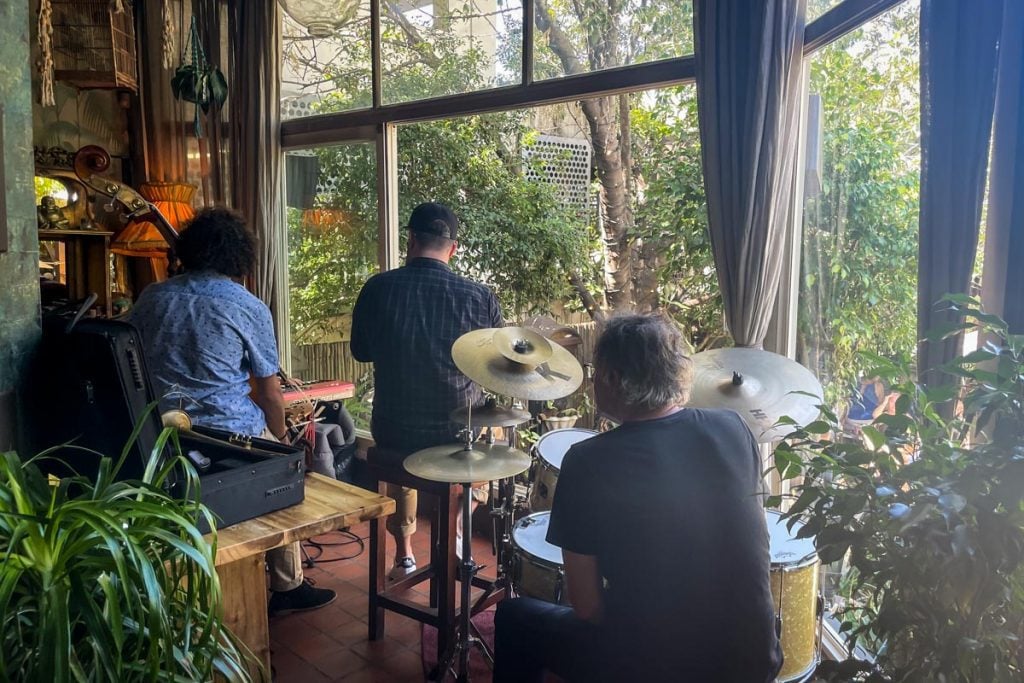 The magnificent Kloof Street House is a dining staple when visiting Cape Town. Settle in for brunch in the Victorian house-turned-restaurant while you enjoy live jazz music every first Sunday of the month from 1 p.m. – 3 p.m.
Reservations are required to get a table during this time. Ask for a seat in the gardens if you want to view the jazz band.
And if you can't make it for brunch, Kloof Street House is open daily from 10 a.m. all the way into the late night when it turns into a trendy cocktail lounge that shuts down at 2 a.m.
Special Note: If jazz is your thing, you'll want to check out The Crypt Jazz Club in the historic St. George's cathedral. As one of the original live jazz clubs in Cape Town, the place has an interesting history. Unfortunately it was closed down while I was in Cape Town last, but it's supposedly reopening on a soon-to-be-announced date.
36. Head to a rooftop bar for sundowners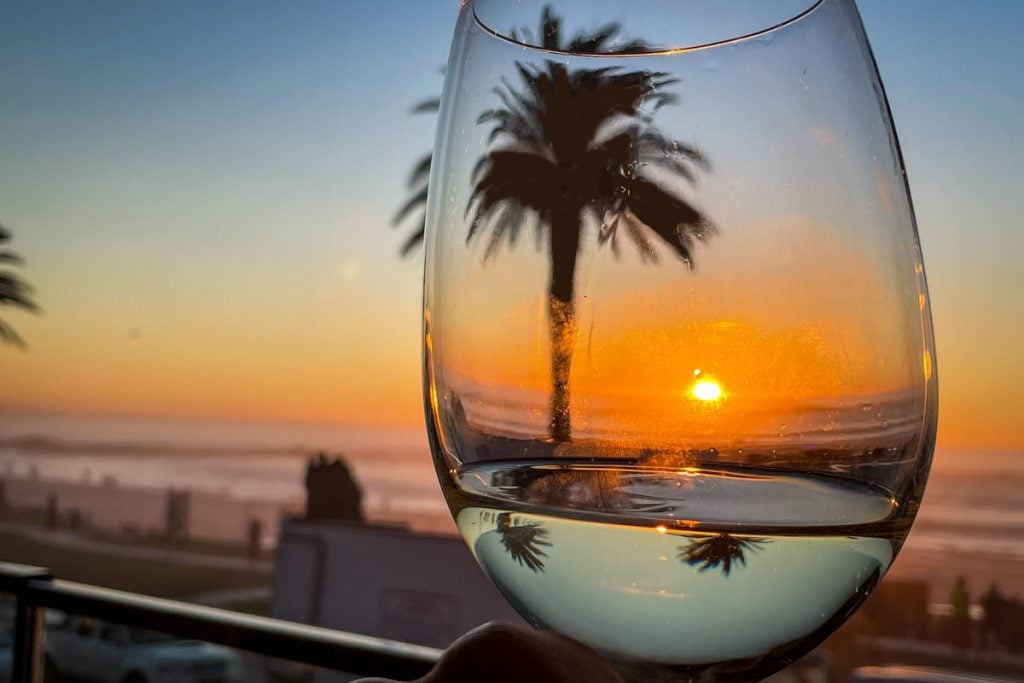 With all these epic sunset viewing spots (see #3), you may not want to spend the occasion at a place as basic as a rooftop bar.
But if you do find yourself in the mood for a sundowner (it's what the locals call sunset cocktails!), head to one of Cape Town's many rooftop bars.
Best rooftop bars in Cape Town for sundowners:
37. Experience "First Thursday" on Bree Street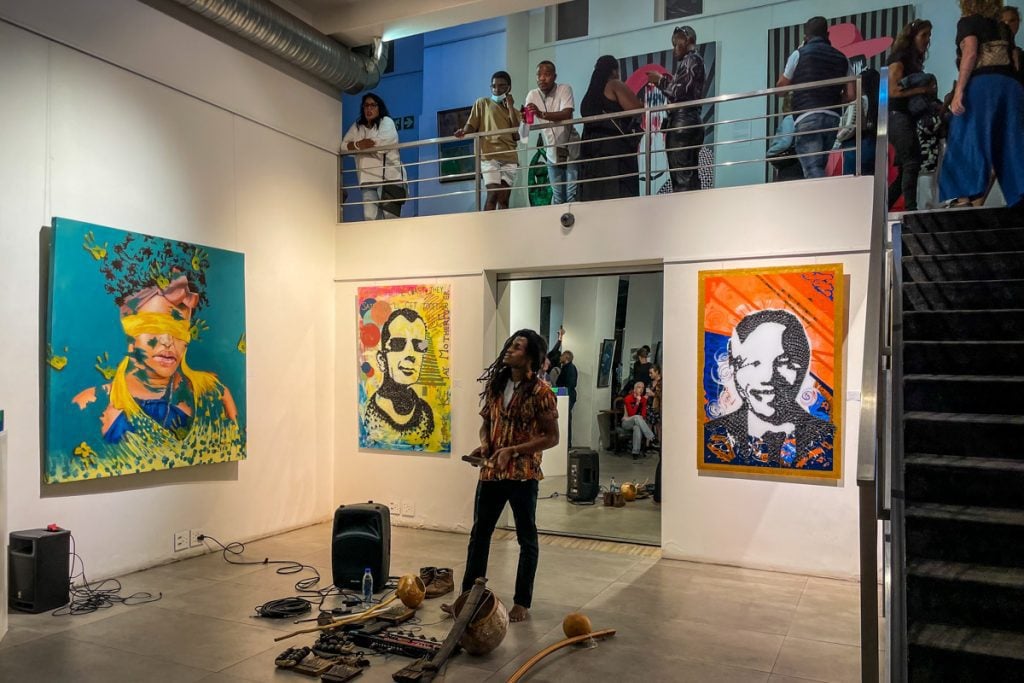 On the first Thursday of every month, Cape Town celebrates a sort of sudo-holiday of arts and culture—and let's be honest, partying.
On First Thursday as it's known, dozens of art galleries along Bree Street in the Cape Town city center open their doors with special events (and oftentimes cash bars) to showcase new talents each month.
There is no official schedule or structured tour and it's completely free to pop in and out of the galleries at your leisure. The celebrations start in the afternoon and continue well into the wee-hours of the evening.
As the night wears on and skies turn to dark, the crowds get a bit more rowdy, music fills the streets and you'll find it near-impossible to find a table at any of the eateries in the area without a reservation.
Insider Tip: I've found a good starting point is at the youngbloodafrica gallery. The party has already begun by 5 p.m. and the cash bar is flowing. Live music artists will get set up by 6, and the crowds get thick. But by then you can make your way down Bree Street and check out some other stops along your way.
38. Sea Point public swimming pool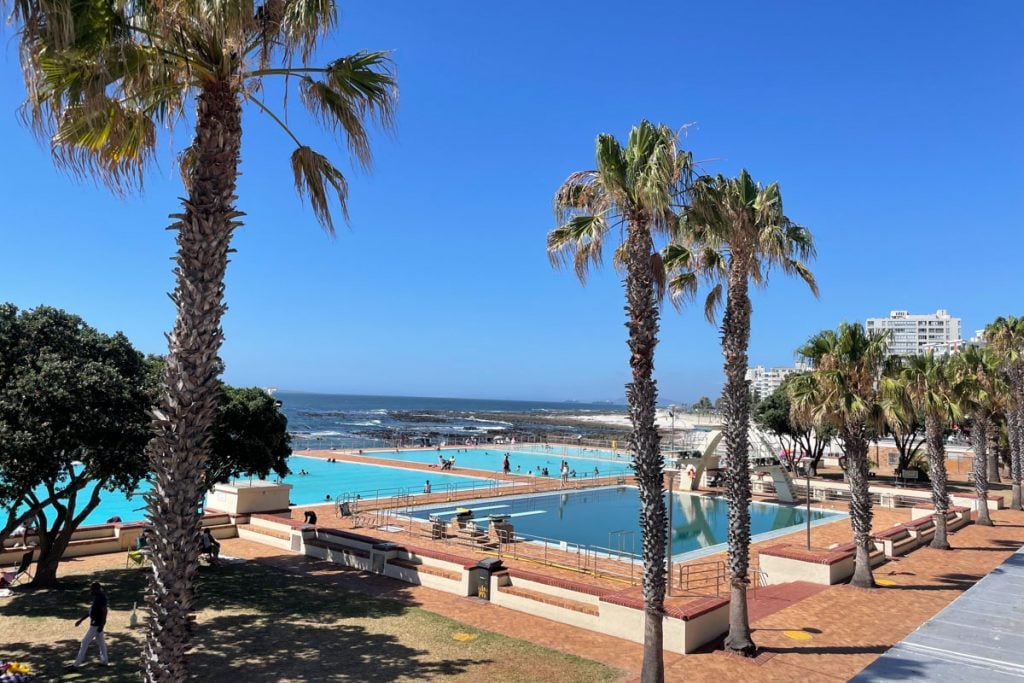 If you're not willing to brave the chilly Atlantic waters, you're not entirely out of luck. The neighborhood of Sea Point has a giant public swimming pool that sits so close to the coast, you almost feel like you're swimming in the ocean.
Tip: try to avoid weekends as the place gets a bit crowded and go during the week instead.
Hours: 7 a.m. – 5 p.m.
Entrance fee for non-South Africans: R33 (~$2 USD)
39. Get yourself a cup of Joe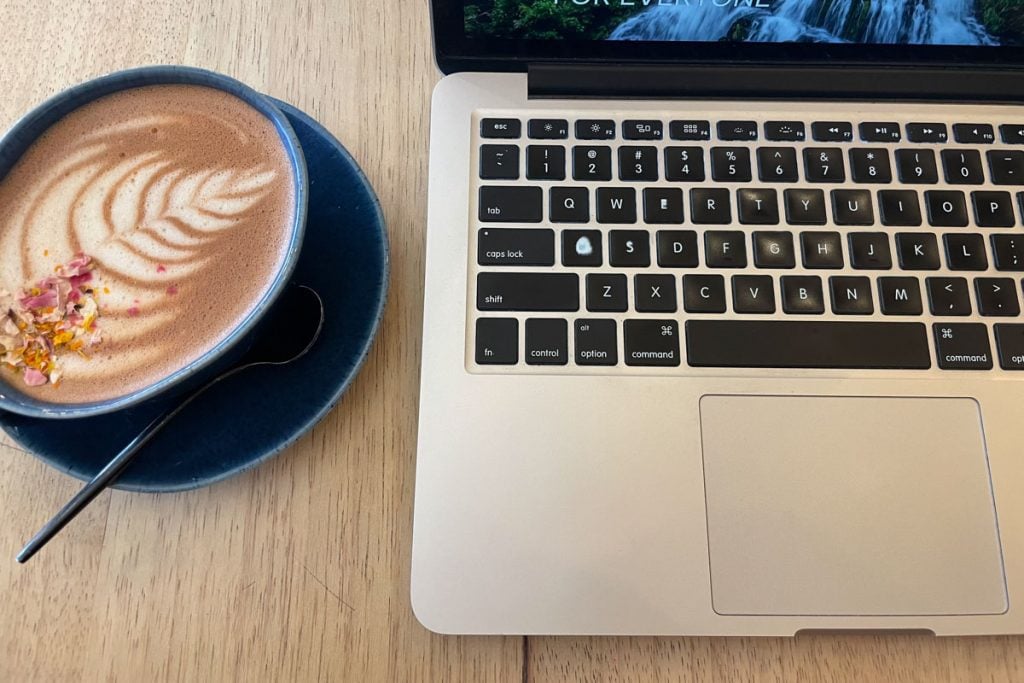 A favorite city among digital nomads, Cape Town has its share of hipster cafes serving up some delicious lattes alongside their WiFi. Here are some noteworthy cafes to check out:
40. Take your afternoon tea like a royal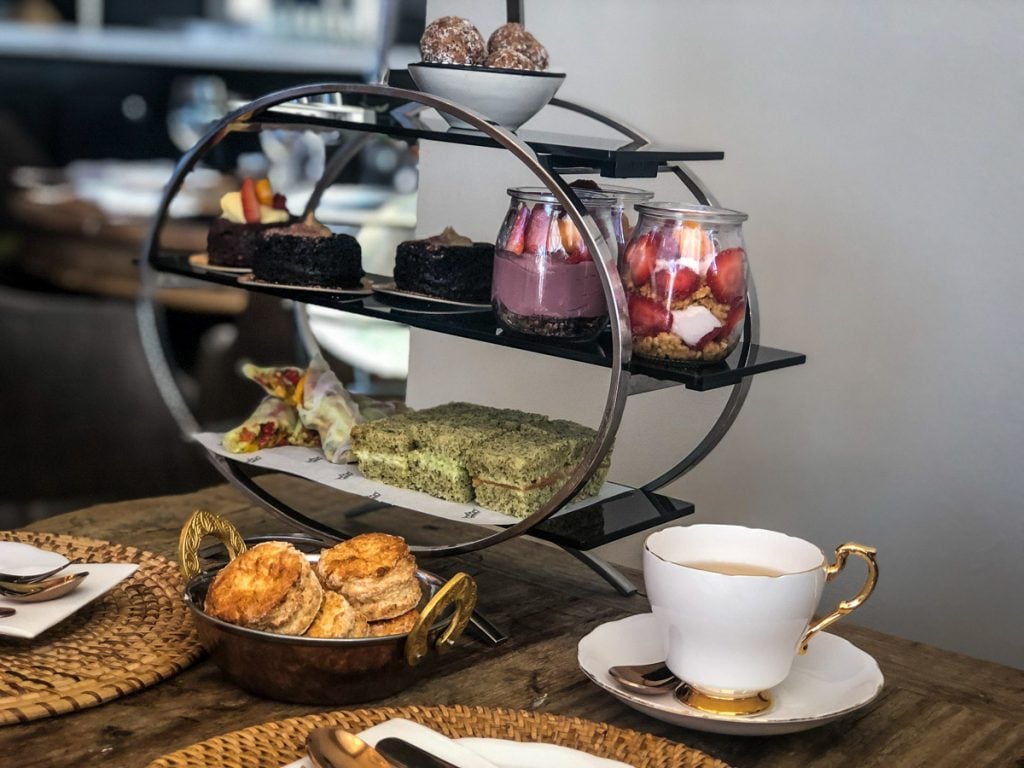 The lavish ritual that dates back to the Victorian era has made a resurgence in Cape Town with plenty of permutations of the age-old tradition. The following are the best spots to go for high tea in Cape Town.
Keep in mind, a reservation is usually required at least 24 hours in advance for preparation. And don't forget to come hungry! Even though it's called high tea there is usually an indulgent spread of small bites and desserts.
The Granary Cafe at the Silo Hotel: They offer a "Royal Tea Experience" that would make the royals in London jealous. With an incredible spread of pastries and small "tea" bites from the pastry chef, they can cater to any dietary needs (including sugar-free!).
Mount Nelson, A Belmond Hotel: Take your afternoon tea in the outdoor conservatory, the gardens or in the bright tea lounge. Live piano music sets the scene while you feast on sumptuous cakes, pastries and sandwiches.
12 Apostles: Taking your high tea at the 12 Apostles means you'll have a backdrop of beautifully manicured gardens and mountainscape in the distance. Your tea comes with a variety of sweet and savory treats. There is a vegan high tea menu for dairy-free diners and The Leopard Bar is also pet friendly for those who want to bring along their furry friend.
41. Head to a secret speakeasy bar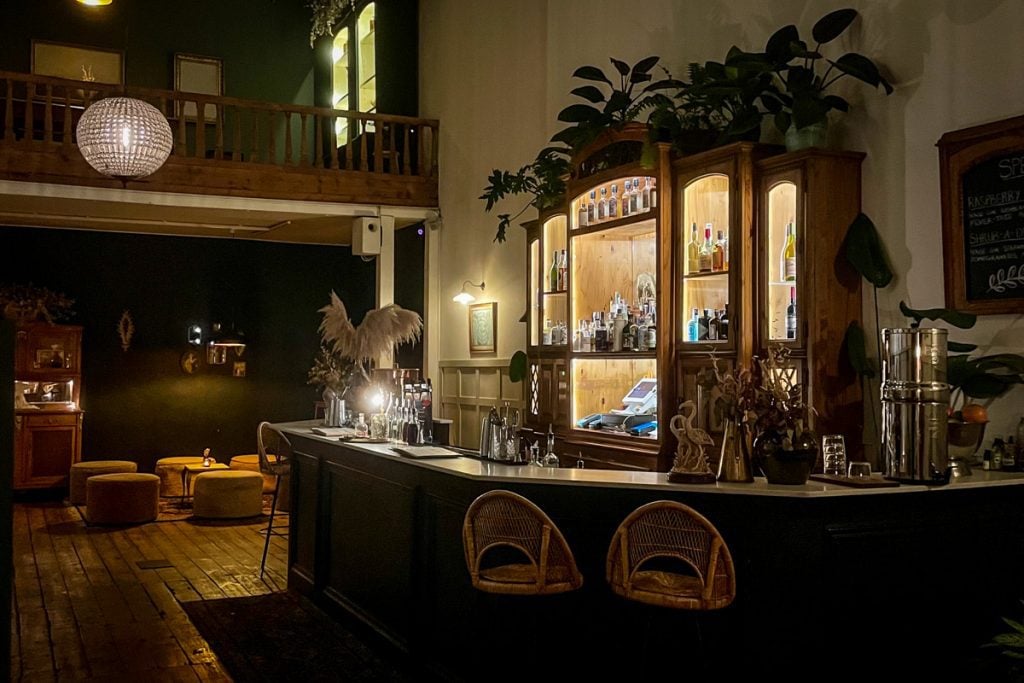 It's well known that Cape Town has a lively nightlife, so it's no wonder there are a handful of prohibition-inspired establishments popping up around the city.
If you're into mixology or just like a good ol' fashioned cocktail, here are a few hidden gems and popular spots worth checking out.
42. Browse the Zeitz Contemporary Art Museum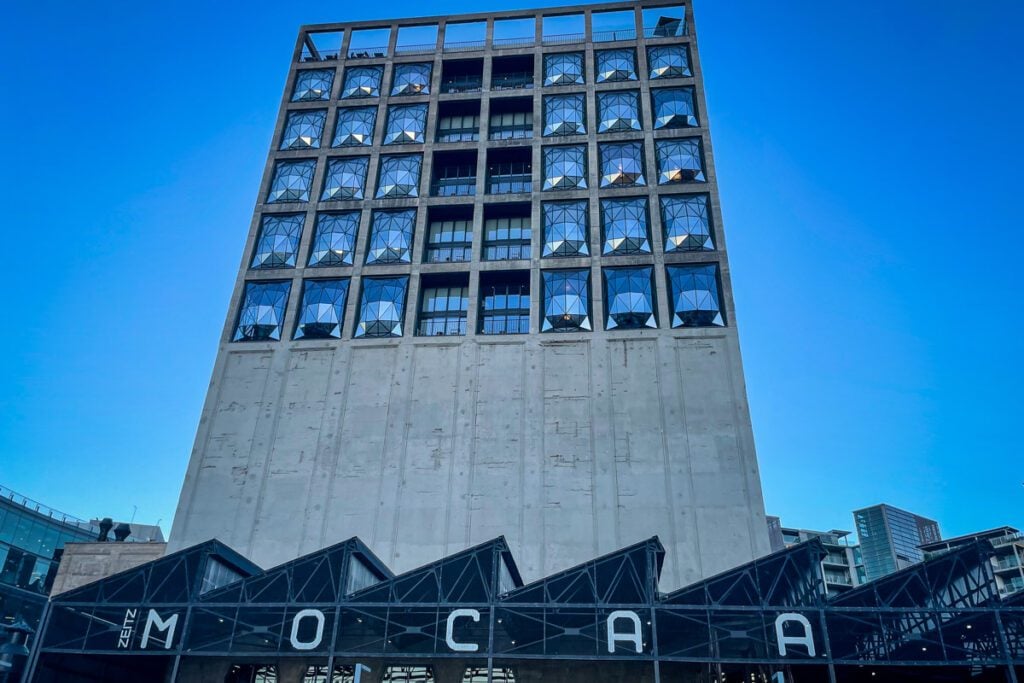 The Zeitz MOCAA (Museum of Contemporary Art Africa) is an awe-inspiring transformation of a series of grain silos into a massive art museum. Even its windows and staircases are works of art.
The museum hosts collections from artists from all over the continent and provides an easy half-day worth of sights and sounds. A must-see in Cape Town for those who love art museums!
Don't forget to check out the Silo Hotel that sits atop the museum. At over $1,000 a night, you may have to settle for viewing the hotel's signature diamond-shaped windows (that provide 180° panoramic views) from the outside. But it's still worth a look!
Insider Tip: You may not feel like dropping a grand for a night in a hotel room, but you can still experience the magic that is the Silo Hotel. Make reservations for brunch or high tea at the Granary Cafe, or head up to their rooftop for a sundowner.
43. Laugh your a** off at the Cape Town comedy club
Hosting the best local and international stand-up comedians, you'll experience side-splitting laughs at the Cape Town Comedy Club.
Although many wouldn't think of Cape Town as a hotspot for laughs, its only dedicated comedy venue is on the list of top 10 comedy clubs in the world!
44. Wander through Green Market Square
This historic cobbled square is one of the liveliest areas of Cape Town, where a cornucopia of items are brought to stalls by local traders each morning.
If you're hunting for an authentic and quality souvenir, this is the place to get it.
Browse through curios, food, jewelry, clothing, leather goods, canvas art, and just about anything you can imagine to find the perfect item to take home and support local artists in Cape Town.
45. Learn about ocean conservation at the Two Oceans Aquarium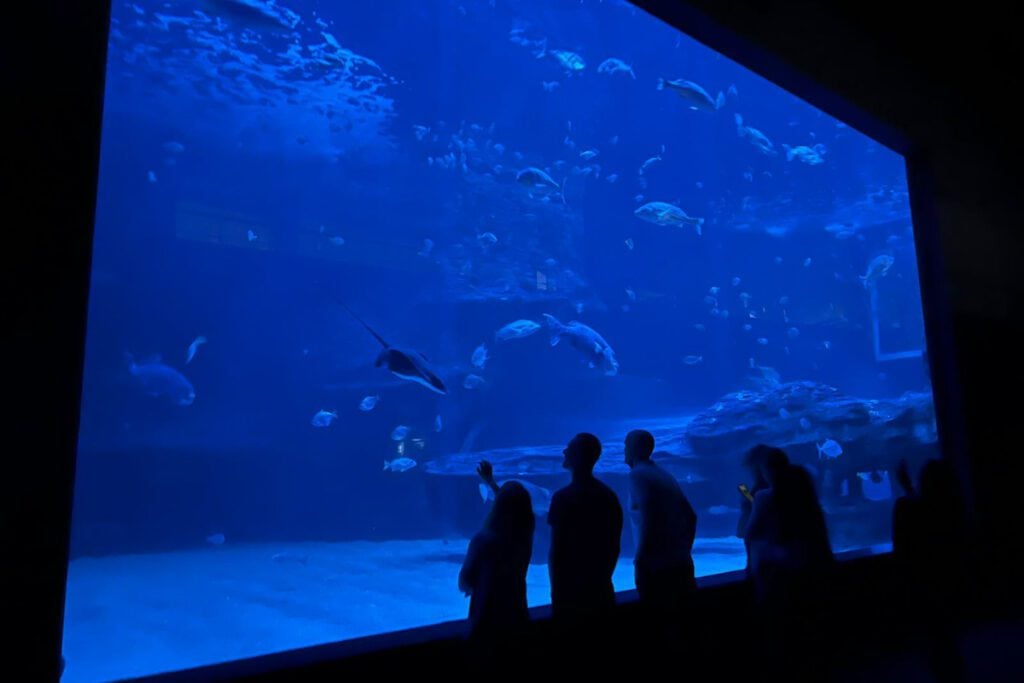 The award-winning Two Oceans Aquarium gives you a glimpse into the underwater diversity of the Atlantic and Indian Oceans with over 8,000 different species on display.
For over 25 years, Two Oceans has developed world-class conservation practices through their own non-profit organization and education programs.
Most recently, the aquarium was also recognized as a PADI Dive Resort as they offer a handful of diving options and courses inside their exhibits.
Feeling adventurous? Try scuba diving in the kelp forests
The kelp forests inside the aquarium are a haven for both experienced and beginner divers. Float among giant algae fronds, massive kelp resembling trees, and pristine wildlife.
Good to know: Open-water or above with a logged dive within 6 months is required. Otherwise they offer refresher courses you can take before you dive, as well as PADI Discover Scuba Diving Course that will prepare beginners for this experience.
46. Go snorkeling with seals
A tiny island on the map of Hout Bay is home to a friendly and playful cape fur seal colony that you can swim with on this Seal Snorkeling Experience.
Plunge into the clear waters and observe, interact, and swim alongside these furry locals ethically, on their own terms.
What you need to know:
Hours: 2.5 hours
Price: $54.39 USD
What guests are saying
"It was just perfect. Very very well organized, great staff, superfriendly, helpful, professional and also funny. The experience itself…incredible. The seals are playful and curious and it's simply beautiful to swim with them. I cried some happy tears when we got back to the boat. One of the best experiences ever." – GetYourGuide Traveler (March 2023)
Alternative: Snorkeling in the Kelp Forest
Snorkel through a magical underwater world on this Great African Seaforest Snorkel Tour.
This ecosystem is only one on the continent and recently voted one of the seven modern wonders of the world.
What you need to know:
Hours: 3.5 hours
Price: $48 USD
What guests are saying
"I feel so sad for anyone who leaves CapeTown without spending time in the magical African sea forest. […] JP and John have a deep deep love for the ocean that is infectious, and all guests at every type of comfort level with the ocean had a wonderful time. We spent almost 2 hours in the water and it wasn't long enough!!! I will absolutely be doing this again next time I come back to CapeTown!" – Aalia, United States (April 2023)
Alternative: Wildlife Encounter Boating Adventure
This Ocean Wildlife Tour features much more than friendly seals. Encounter whales, penguins, seals, sunfish, dolphins, and more with stunning views overlooking Cape Town and Table Mountain.
What you need to know:
Hours: 2 hours
Price: $64 USD
What guests are saying
"It was a wonderful, special experience. There are dolphins swam next to the boat and we were able to see them very close. Also, we saw a moonfish, penguins, seals, and whales. Also interesting were the information that Paul could give us about the animals. The view from the boat to Cape Town is also beautiful and we were completely alone on the water…" – Barbara, Germany (March 2023)
47. Get your adrenaline pumping on a canopy zipline tour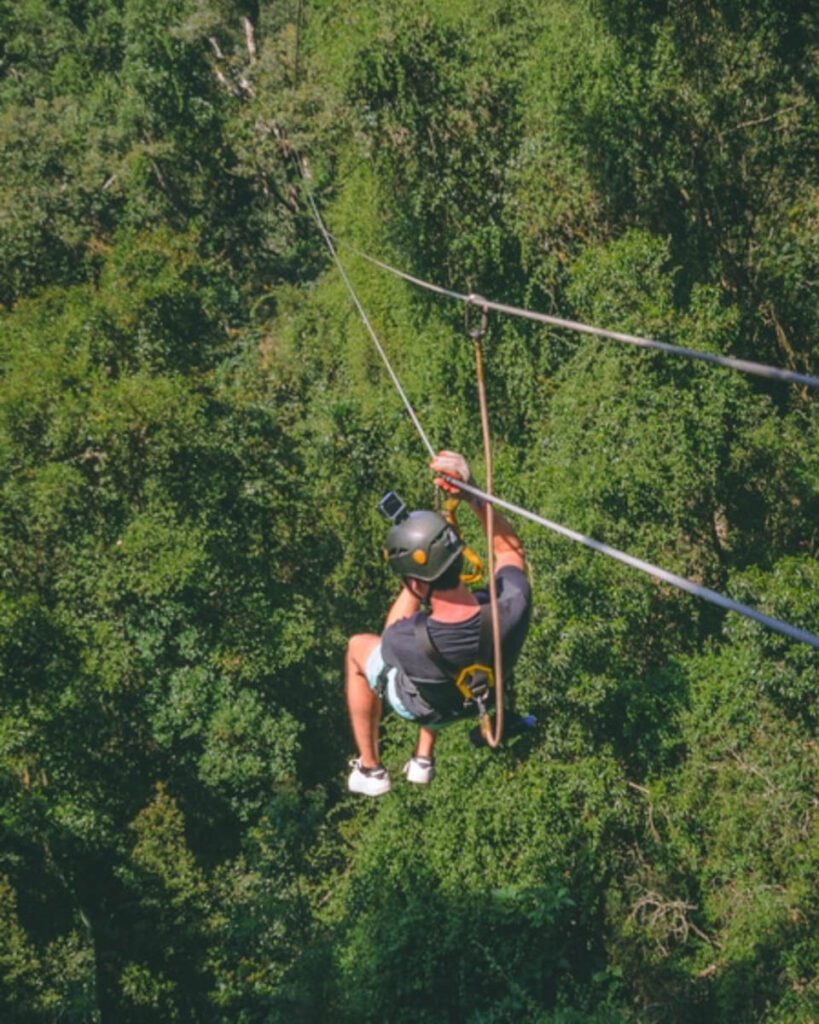 Just east of the city, dotted in a maze of nature reserves, you can soar through South Africa's rugged mountainscapes on a Cape Canopy Tour.
Feel the rush as you glide through the scenery of the Hottentots Nature Preserve, an acclaimed World Heritage Site, surrounded by sparing eagles, coursing rivers, and sweeping vistas.
What you need to know:
Hours: 4.5 hours
Price: R995 ($55 USD)
What guests are saying
"WOW, what an amazing day we had! There was 7 of us ranging from 18 to 55 years old […] The whole experience from start to finish was AMAZING and I can't recommend it enough. We must say a special thanks to our guides who were THE BEST. It was pretty much guaranteed to be a special day as you zip from mountain to mountain in a stunning location, but they were really the cherry & cream on top of the cake making the whole day fun, light-hearted and oodles of energy – they're both so good at their jobs and kudos to the Cape Canopy team." – Danielle (January 2022)
48. Take a kitesurfing lesson
While world-class surfers take to Hawaii for the best waves, the best kitesurfers flock to Cape Town for its prime, year-round kitesurfing conditions.
Even Red Bull King of the Air, the most prestigious kiteboarding competition in the world, is held right on the coast each summer.
But the coasts aren't only for the experts! There are plenty of local companies and rental shops that offer lessons for first-timers or beginners.
49. Let your inner child out to play in the Atlantis Dunes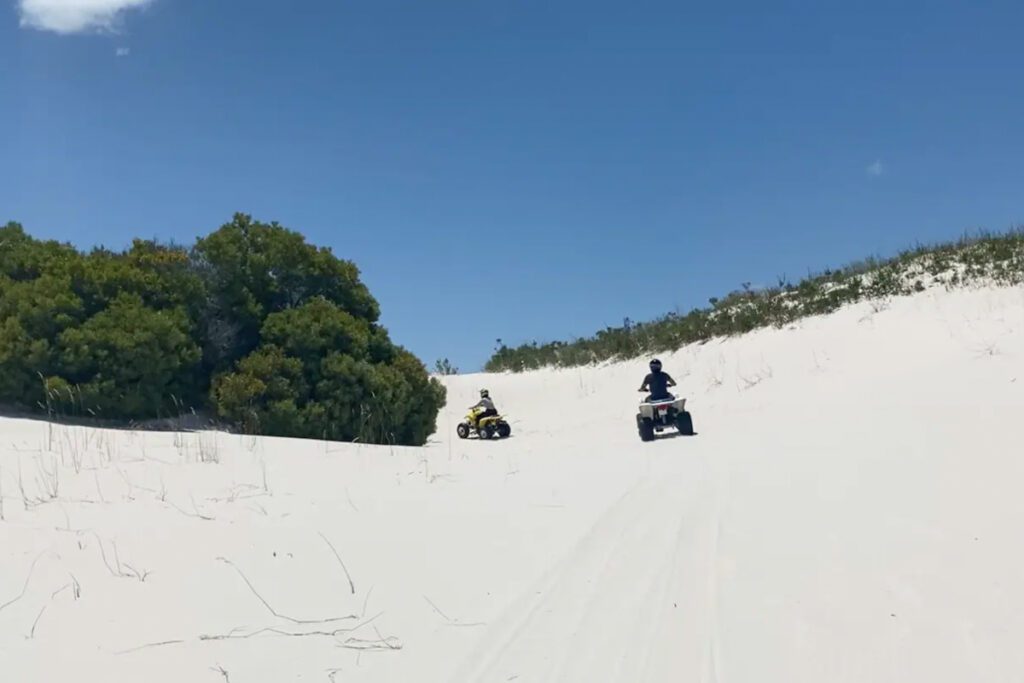 One of Cape Town's best kept secrets has been uncovered…
Just north of the city are powdery white sand dunes that make the perfect playground for a bit of sandboarding, off-roading, or a scenic stroll.
How to get there: The dunes are about 43 km (27 miles) from Cape Town that's about a 40-minute drive with your own vehicle. Otherwise, local bus T03 runs to/from the dunes. An Uber will set you back about R650 ($35 USD) one way.
If you're looking for a more exhilarating adventure, an Atlantic Dunes Quad Biking Tour is a sure way to get your heart racing in all the corners of this nature area.
50. Take a day trip to a game reserve and go on safari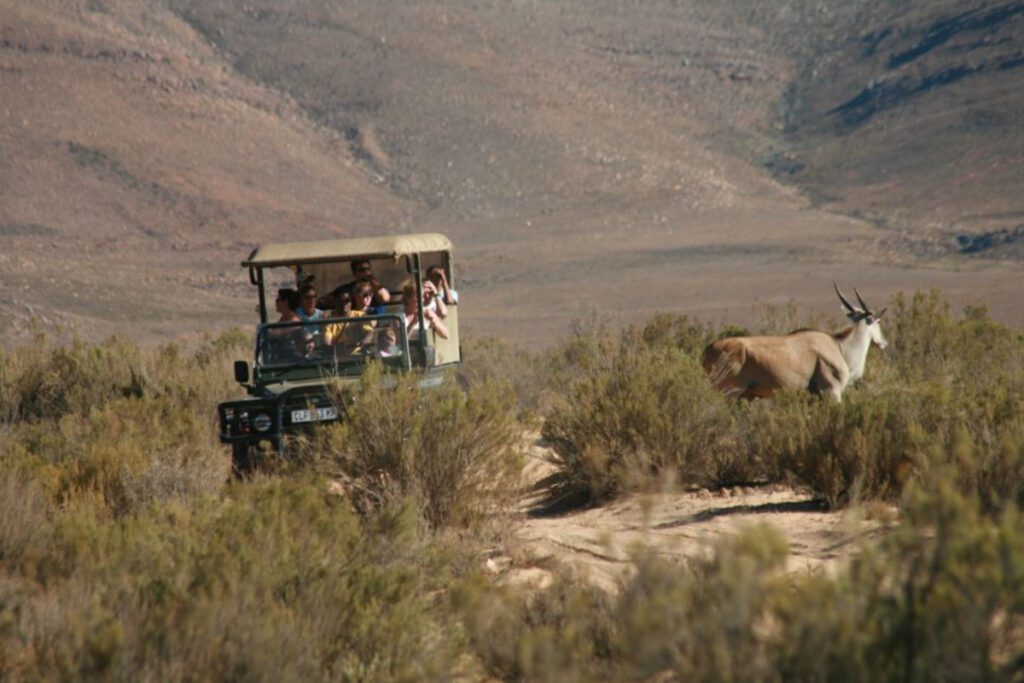 One of the most exciting adventures from Cape Town is none other than going on safari.
At the Aquila Private Game Reserve, you can join an Open Vehicle Game Safari Tour to see giraffes, lions, leopards, rhinos, zebras, wildebeests, and endless others species on their bio-diverse reserve.
See if you can spot the famous Big 5 as you explore their natural habitats before enjoying a delicous lunch at the onsite lodge and heading back to your hotel Cape Town.
What you need to know:
Hours: 9 hours
Price: $154.58 USD
What guests are saying
"It was a great day spent in a nice group with great organization. There was lots of attractions and great care for visiting guests at every stage of the event. […] To anyone who wants to visit a fairly large area of South Africa in one day, along with the landscape, fauna and flora, and above all great people, I would recommend this trip without hesitation. Thank you to the organizers and participants of this trip." – Christopher (April 2023)
Bonus: Drive the South African Garden Route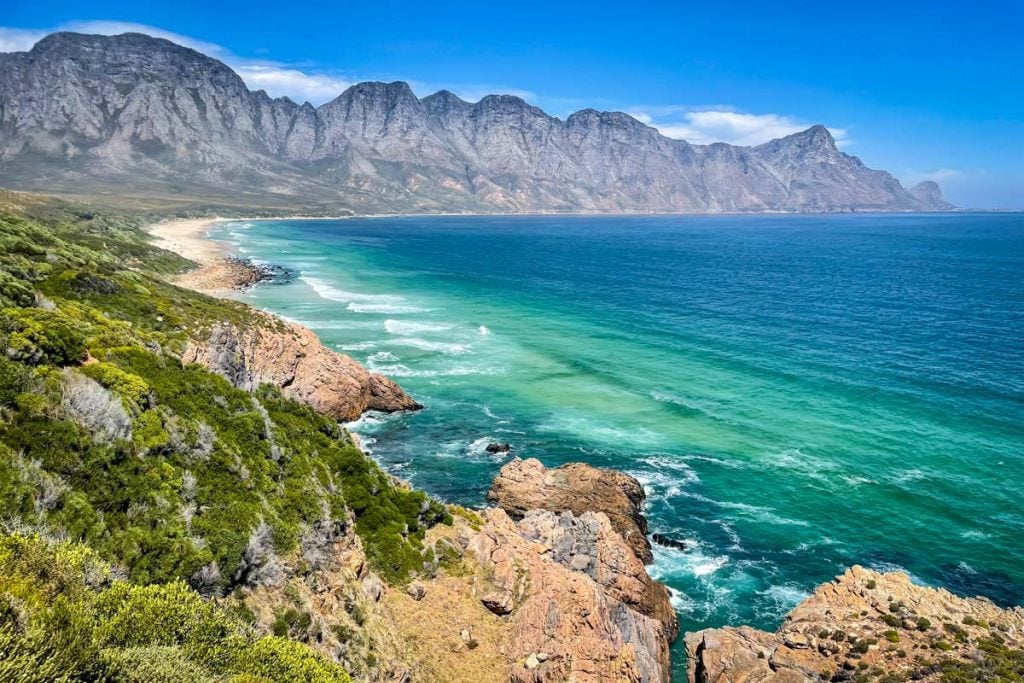 If road trips are your thing and you have the time to explore more of South Africa, I highly recommend driving the Garden Route across the southern coast of the continent.
With so much to see and do on this drive, you'll want to be sure you have more than a few days to dedicate to this trip.
Get yourself a camper van and use this guide to plan your South African Garden Route trip of a lifetime!
---
How many days do you need in Cape Town?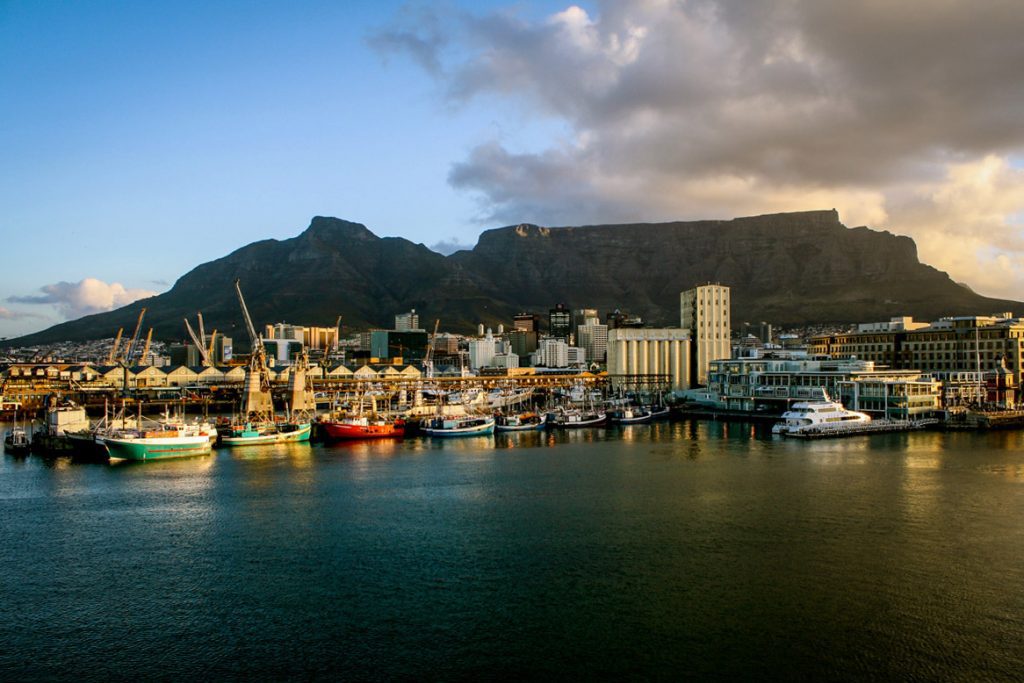 As you can see by this extensive list, there is literally a lifetime of things to do in Cape Town. A few days is simply not enough time.
Here's what 1-2 weeks looks like for a trip to Cape Town:
5 days: If you're strategic about planning, you could fit our top 10 things to do into 5 days.
1 week: This will give you a bit more wiggle room to relax. You might get some beach time in, or choose a couple more activities.
10 days: Now we're talking! You can get a pretty good taste of Cape Town with 10 days to plan activities.
2 weeks: That's more like it! With 2 weeks, you'll have enough time to tackle a good bit of things to do from this list. Pick and choose which activities to prioritize and don't forget to schedule in some down time to relax and soak it all in.
Best time to visit Cape Town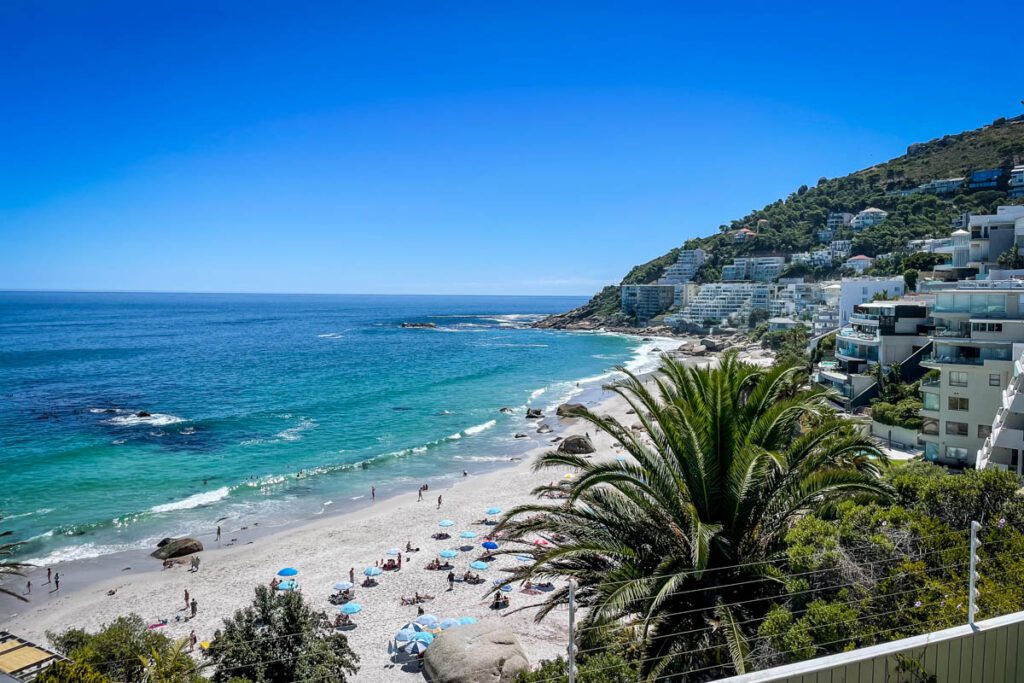 As with any question like this, the answer really depends on what you plan to do and your personal travel style.
In our opinion, the best time to visit Cape Town is December through April (more or less the summer months in the southern hemisphere).
Unless you want to pay a premium for accommodation and have your plans set months in advance, we'd strongly suggest you avoid the Christmas and New Year holidays. January is also a very busy and expensive month that may be best to avoid.
February is the sweet spot where summer is still in full-swing, but Cape Town is easing out of peak season. March and April are both great months to visit with beautiful weather and less crowds.
Psst! You'll find our guide to the best time to visit South Africa helpful to get the full breakdown on what makes each season distinct and unique to help cater to your trip.
How to get to Cape Town city center from the airport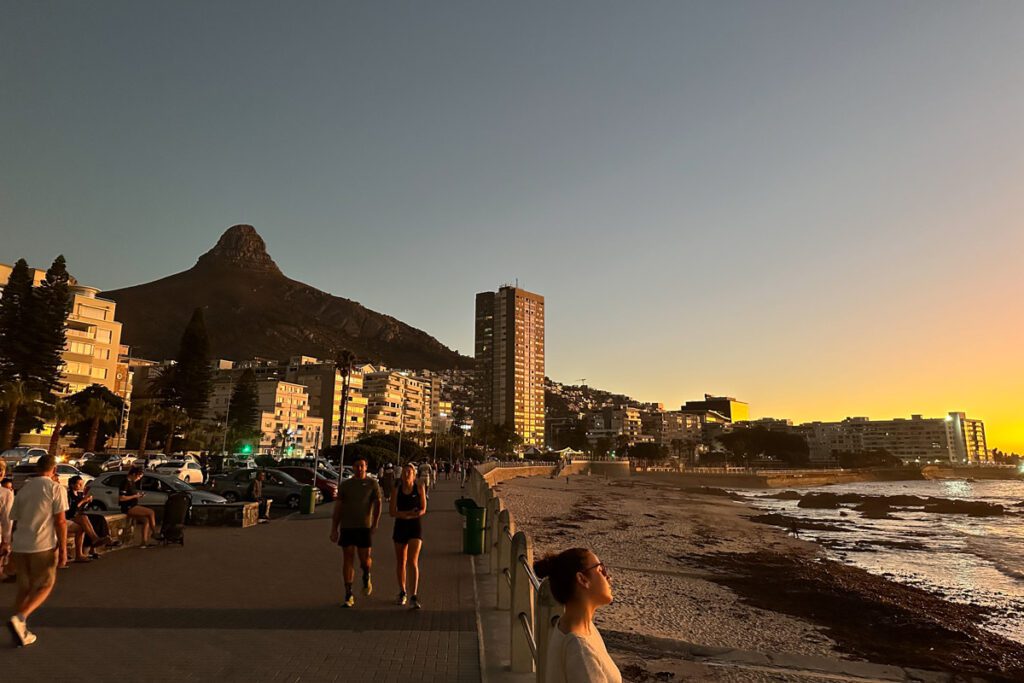 The Cape Town International Airport (CPT) is located about 20 km (12.5 miles) from the city center. The drive takes about 20 minutes with no traffic, but can easily take up to 45 minutes with traffic.
Depending on where in Cape Town you will be staying (more on that below) you could add up to 30 minutes to your drive time from the airport.
All that being said, Uber is your best option for getting from the airport into the city. Unless you've rented a car for the duration of your stay, in which case you can drive your rental car into town.
Uber is widely used and very affordable. For example, a ride from Sea Point to the airport cost me just R237 (~$13 USD).
Transportation in Cape Town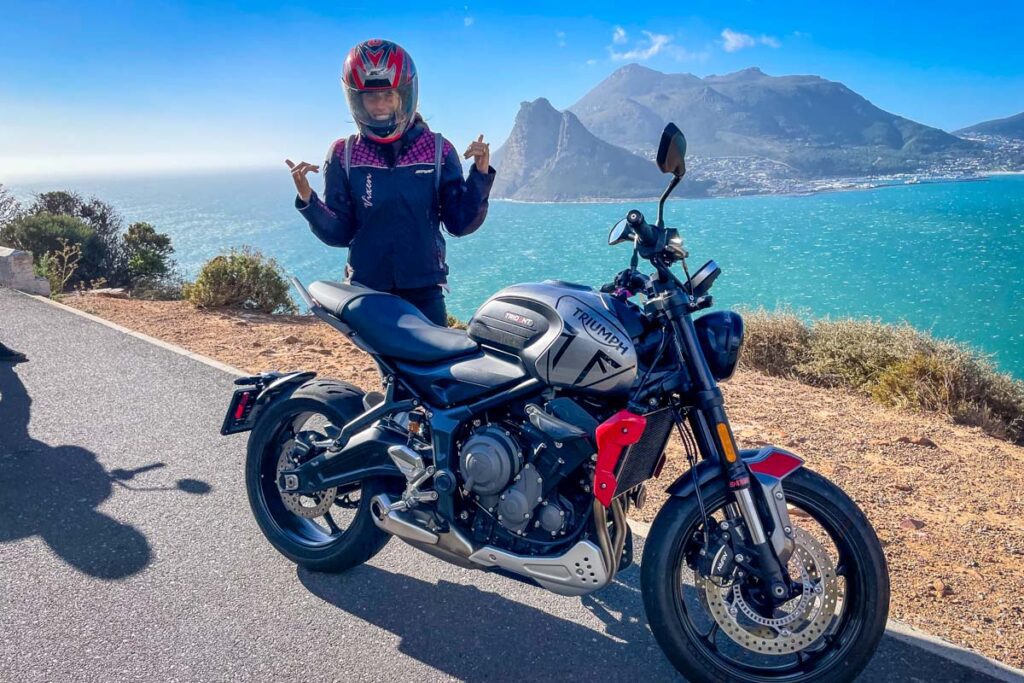 Cape Town is a vast, sprawling city with lots to explore in every different corner. The public transportation system is lacking and you'll likely need to rely on rideshare apps like Uber.
There are also a lot of vehicles on the road, especially during peak season. Traffic can become a bit of a deterrent, and you'll definitely want to check traffic conditions before you head out on the road.
That being said, the cost of transportation is inexpensive for foreigners spending USD, Euro, etc. and it's easy to navigate the individual neighborhoods without your own vehicle.
Uber/rideshare apps
Uber is widely used around Cape Town and is the safest and most affordable way to get around. There are other rideshare apps popping up to compete with Uber in Cape Town as well.
Always check that the car number matches your app before you get in. And don't expect the nicest vehicles. Oftentimes the cars are quite run down and may not have AC (you'll need to choose Uber Black if you want a more luxurious ride).
Note: It is recommended not to hail cabs from the street as these are not as reliable as Uber.
Insider Tip: Uber Eats is also a thing here, and with minimal delivery fees, it definitely comes in handy!
Get a rental car
Rental cars in Cape Town are inexpensive compared to prices in the US or Europe. Just remember the driving is on the left side of the road, and the cheapest rental options require use of a manual transmission.
It's often safest to plan where to park before you get to a destination, and don't leave ANY belongings in the car when parked.
We use Discover Cars to search and compare prices from all the rental car options in the area, and have found it generally saves us money in the long run. Discover Cars pulls information from a large number of companies to find you the best price for your rental car.
Search & Compare Rental Car Prices
Discover Cars: We personally use this aggregate site to compare rental car prices from all the big name companies and get the best price possible.
RentalCars.com: We've had good experiences finding rental cars with this site in the past.
Public bus system
Cape Town has a variety of different privately-owned bus services, but MyCiti is by far the most popular for getting around. It's cheap and connects the city center to popular landmarks.
Note the MyCiti buses don't accept cash, so you'll need your own myconnect card to travel around. You can pick one up at the bus station or at select retailers around Cape Town.
Alternative
If you're planning on traveling around South Africa, renting a campervan is a great way to see the country. You can pretty much go anywhere and you don't have to pay for hotels.
We recommend Happy Campers because they are a family-run company with great service and awesome vans.
Is it safe to travel to Cape Town?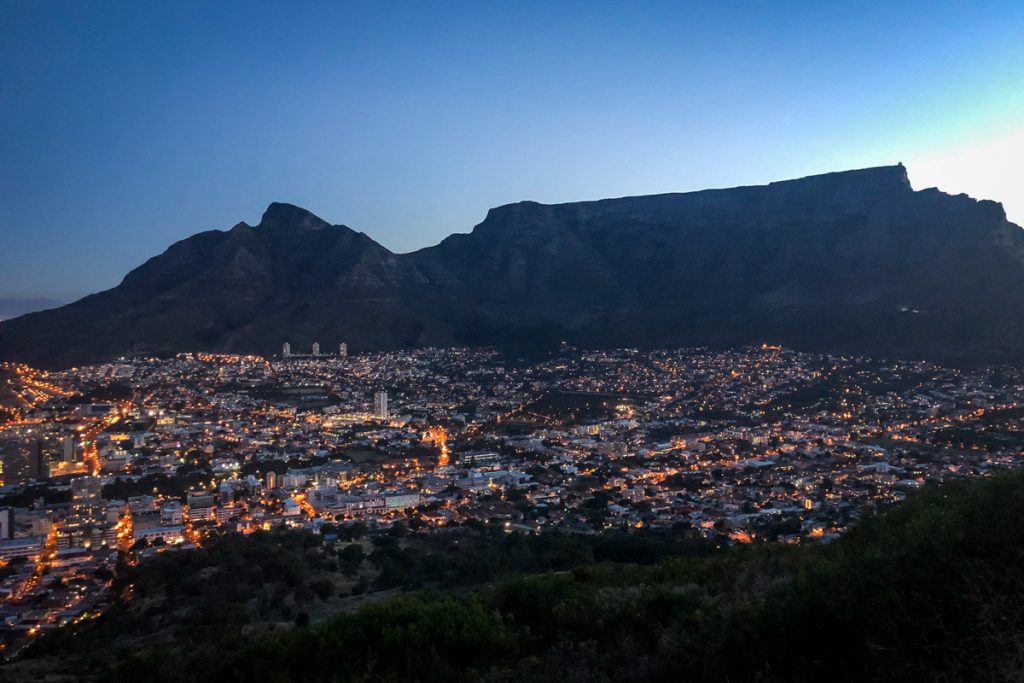 The short answer is: yes. Of course, there is always a caveat to that.
As with any major city, there are safer areas of town and areas that you need to be more cautious in. I stayed in the Sea Point neighborhood and felt very safe walking the streets alone during the daytime and in my home at night.
The downtown area where Long Street is located (the popular street for nightlife) is a bit of a different story and precautions should be taken when getting around there.
Before you ask… yes, there is crime in Cape Town, just like in any major city. Most of the crime in Cape Town is opportunistic. This means that if you make it easy for them, people will take advantage of you. As a tourist, you are already a high target.
Does that mean you should stay locked in your hotel or apartment all day and only leave home with a money belt tucked under your shirt? No.
Tips for staying safe in Cape Town
Be sure all of your valuables are on you at all times and don't hang your purse on the back of your chair while dining.
Don't leave your belongings unattended, especially not in a rental car or at the beach.
If parking on the street overnight, be sure to empty your car of everything in view from the windows. And do not leave valuables in your car overnight.
When driving through downtown city center, don't use your cell phone next to an open car window. If you're sitting in traffic, it's far too easy for a passerby to reach in and grab it from you (unfortunately I've heard of this happening).
Muggings are not unheard of in Cape Town. It is recommended not to walk alone after dark, no matter where you are staying.
Always be aware of your surroundings – this includes watching your alcohol consumption. Trust your instincts and if a person or a place feels unsafe, get out without stopping to think twice.
All that being said, this city has far too much to offer to let fear discourage you from visiting. If you are smart and stay aware, you likely won't run into any trouble. Instead you'll return with a boatload of stories to make friends and family back home jealous of your travels.
Other tips for visiting Cape Town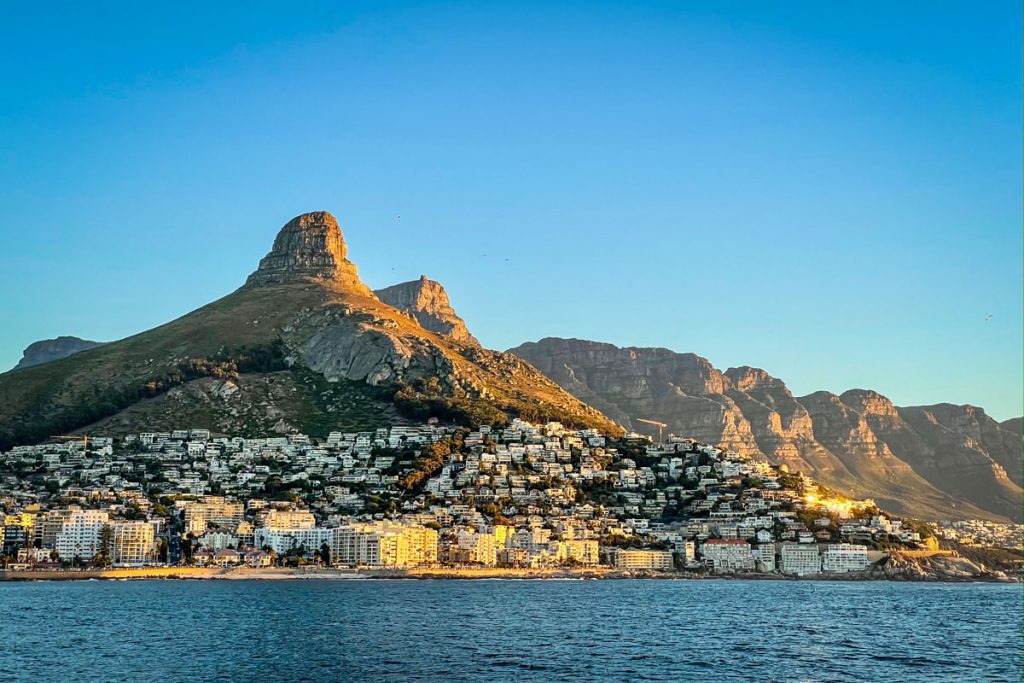 Currency: The national currency is the South African Rand (shown as R25).
Credit Cards are widely accepted, including your American Express cards, but be sure to have your debit card with you to withdraw cash from ATMs when you need it. Never use money exchanges, especially not at airports, as these take a large cut and the exchange rates are usually outrageous.

A word of caution: As in most places, you need to be careful about credit card fraud, but in South Africa in particular. There are a lot of instances of card numbers getting stolen and used after you've swiped. (This happened to me on 3 separate occasions while I was traveling in South Africa.)

Insurance: It's always a good idea to have travel insurance when traveling abroad (we never leave home without it!). Especially especially in a place like Cape Town where you're likely to be having some active adventures and petty crime is also an unfortunate possibility.You can check rates and find out which is the best travel insurance policy for you in our travel insurance comparison.
Water shortage: You may have heard of the extreme drought that hit Cape Town and made the national news back in 2016. While 'Day Zero' is no longer a threat, the water shortage is still an important issue to be aware of. Be mindful of your water usage and try not to be wasteful.
Where to eat in Cape Town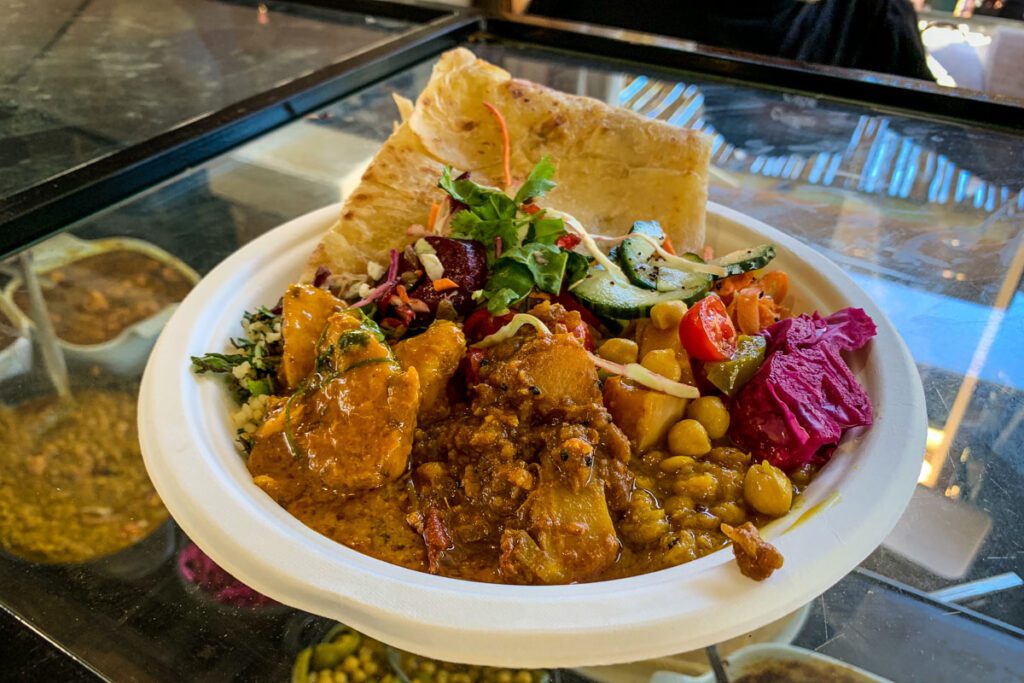 From vibe-y vegan/GF restaurants to some of the most acclaimed restaurants in the world, Cape Town puts exceptional cuisine right at your fingertips.
*These cafes also offer wifi and make great spots for coworking. 
Fine Dining
Check out #25 on this list for some of our top recommended world-class dining experiences.
Grub & Vine: A warm and welcoming bistro-style eatery with high-end beautifully prepared and executed dishes
Belly of the Beast: With no set menus, you're treated to a number of excellent courses chosen by the chef's based on fresh local ingredients (online booking only and they only seat 24 guests per service)
La Colombe: An upmarket vineyard restaurant with French fusion cuisine featured on the best restaurants in the world list
Vibe-y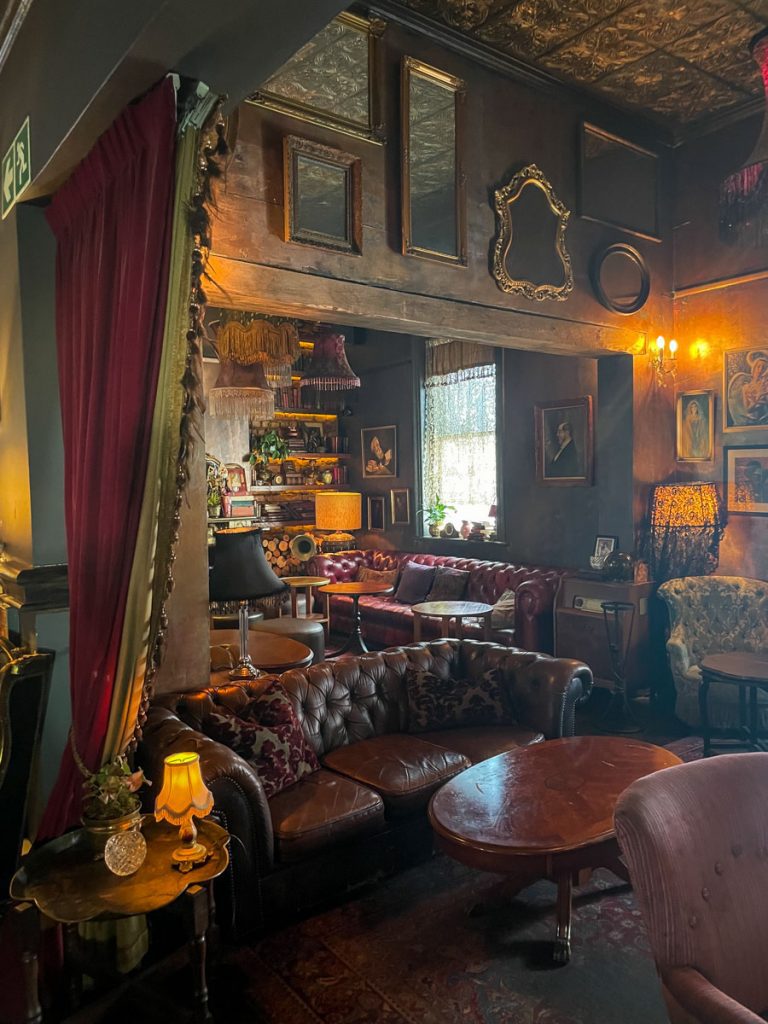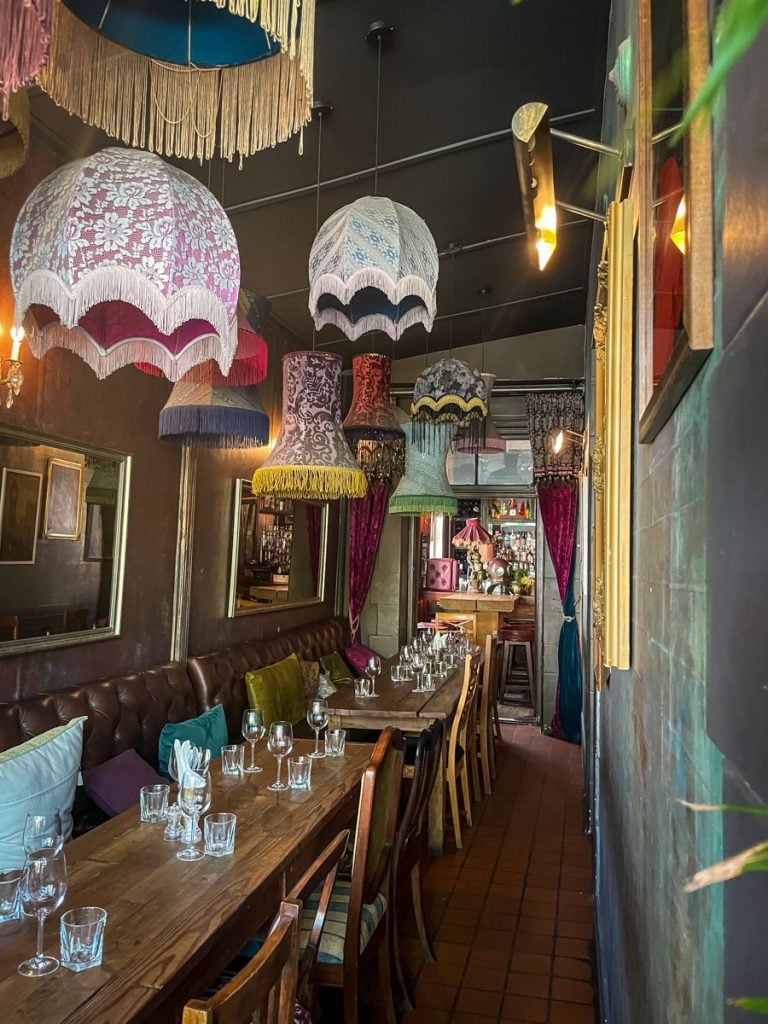 Staples
Mojo Market*: Giant indoor food hall that houses 30+ food stalls serving up cuisine from all over the world. They have multiple bars, regular live music, and are always the place to be.

This is a true staple of Cape Town and a definite must-see, whether it's for a quick pint or a meal at any time of the day or night (they close at 12 am, but most of the food closes at 10).

Kleinsky's Delicatessen*: An authentic New York-style deli serving up all your favorite deli specialties like bagels and rubens. Try the banh mi hot dog… You'll thank me later!
Bao Down: An unassuming restaurant that serves exceptional Asian food, most namely their bao buns. It's a well-loved restaurant in Cape Town, so reservations are recommended.
Uno Más Mezcaleria: Authentic Mexican food- their cocktails are a must! 
The Granary Cafe at the Silo Hotel: A fancy-shmancy restaurant at the gorgeous hotel with beautiful views in a chic setting.

Their Sunday brunch is ahhh-mazing as is their Royal Tea experience (that comes with a surprising amount of delicious food!). Reservations are necessary.

Giovanni's: A classic Italian deli and local secret in Green Point. You can order take-away and have yourself a healthy picnic on the beach.
Curry Club: Fragrant Indian curries and dishes in a home-y setting.
Maria's Greek Cafe: As close to authentic Greek food as you'll find in Cape Town.
Eastern Food Bazaar: Find Indian, Asian and Turkish street food (at street food prices!) in this massive food hall in downtown Cape Town.
Zest Restaurant: Good food, plus they do brunch! Call ahead to reserve a table on the small terrace overlooking the ocean (good for sunset!)
Charly's Bakery*: One of Cape Town's best kept secrets. This bakery and sweets shop is an institution in the Mother City, but very few tourists seem to venture there. One step inside and you'll understand why this place is beloved by all who visit.

The chocolate cake (and presumably chocolate cupcakes) is the best cake I have ever eaten. No joke.
Breakfast/brunch & healthy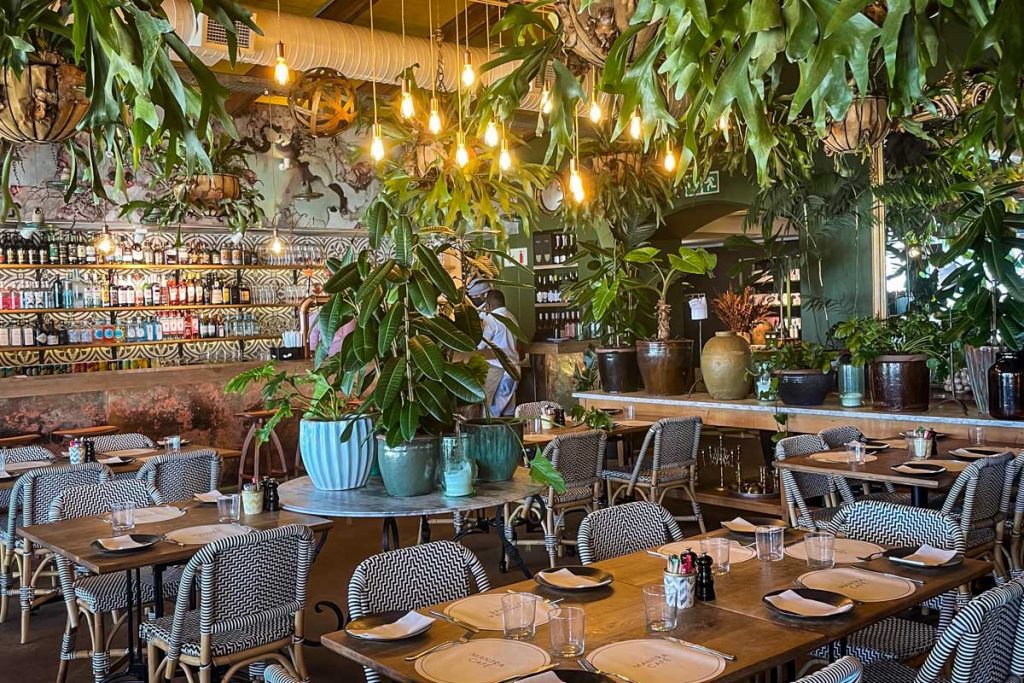 Mantra Cafe*: The aforementioned cafe is my favorite place to post up and work for the day.

They stop serving breakfast at 11 and switch over to the lunch menu (which isn't as good in my option)

Kanéla Café*: Situated in a large home on the Main Road in Sea Point, this cozy cafe has a large patio and healthy menu
The Stranger's Club*: Another old house-turned cafe with a beautiful interior garden and healthy menu options
Loading Bay: Hipster-vibes brunch spot in De Waterkant with great food.
Scheckter's RAW*: A gourmet health food cafe with a veg-only menu. Try the pumpkin pancakes for a real treat!
Nü Health Food: Plant-based restaurant with a nutrition-focused menu. There are multiple locations around Cape Town you can pop into.
Jason Bakery*: This coffee shop and bakery sells freshly made pastries daily. Stop by to try their exceptional breakfast or lunch menu.
The Conscious Kitchen*: A health focused vegan restaurant with a nourishing menu and vibe-y atmosphere.
Best coffee
Rooftop Bars for sunset
Drinks/nightlife
The Art of Duplicity*: A true speakeasy with an undisclosed location. You'll have to make a booking to find out the rest. 
The Gin Bar*: You'll have to walk through Honest Chocolate Cafe (another good recommendation!) to enter this "secret" gin bar. With "more gins than you can shake a stick at" this place is the go-to spot for gin lovers in Cape Town. But don't worry, they have beer and wine as well. 
The Drinkery: A cute little bar that is somewhat hidden (as in not very well marked) upstairs in Heritage Square on Shortmarket Street. The intimate setting includes plush couches, a small terrace and a bar with only 4 stools.
Athletic Club & Social: This popular watering hole is housed in a historic heritage building dating back to 1900. Nowadays it turns into a nightclub with a lively dance floor.  
Cause | Effect: This innovative "cocktail kitchen" is run by a band of mixologists who use ingredients inspired by Cape Town's oceans, mountains, fynbos and vineyards. 
Harrington's Cocktail Lounge: This is always one of my favorite places to go out dancing in Cape Town as they have a DJ and dance floor, but it's hit or miss in terms of whether or not it's popping off.
Where to stay in Cape Town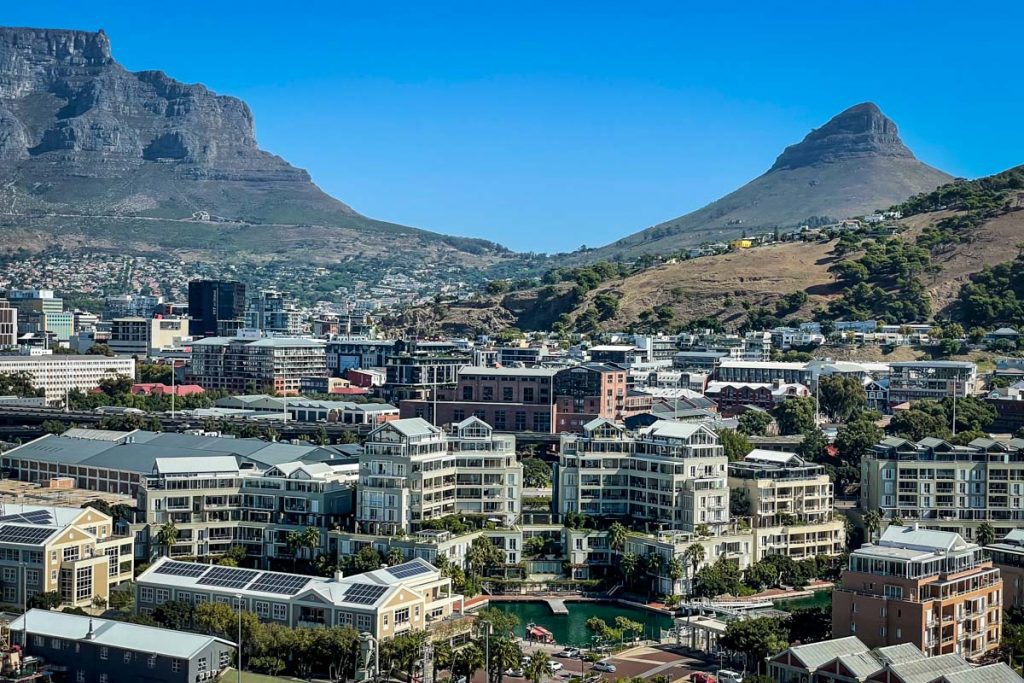 Arriving in a new city as large as Cape Town, it can be hard to figure out exactly where to stay. Especially when you don't have local friends you can ask. That's where I come in!
Here is a breakdown of the best neighborhoods to stay in in Cape Town based on my experience.
Sea Point: Many Californians would liken this area to San Diego (but with a more affordable price tag on short term accommodation!). The area feels a bit safer than the seedy CBD. With plenty of restaurants and the seaside promenade, you won't have a hard time finding everything you need without a car.

This is my go-to area to stay when I visit Cape Town during the summer time for 3 months.

Central Business District/Kloof: The area known as the CBD is on the east side of Signal Hill and continues into the area known simply as "Kloof" as it surrounds Kloof Street leading up to Lion's Head. Here you'll find lots of trendy restaurants, bars and nightlife. However, the downtown feel is a bit more congested and you won't be near the sea.

This is the top place to stay for nightlife.

Camps Bay: The ritzy hillside/seaside neighborhood of Camp's Bay provides for a beautiful backdrop, but at a steep price point. Plus there are some, but not nearly as many establishments in the area so you'll be traveling pretty far (and long—especially with traffic) to get to the CBD for all the restaurants, etc.

This is the top place to stay if you really want a seaside holiday feel without the hustle and bustle of the city.

Green Point: A residential area on the point between Sea Point and the Waterfront. You'll notice just how green the area is with lots of public parks and the recognizable Cape Town stadium.

This is another good area to stay as a digital nomad, or for a more residential feel.

Dewaterkant/V&A Waterfront: This is where most of the tourists stay to be close to all the "action" in the V&A Waterfront. It's not as desirable a location for longer short-term stays (digital nomads), though it's very walkable for those on holiday.

This is the best place to stay for short-term holiday makers.
Budget Stays in Cape Town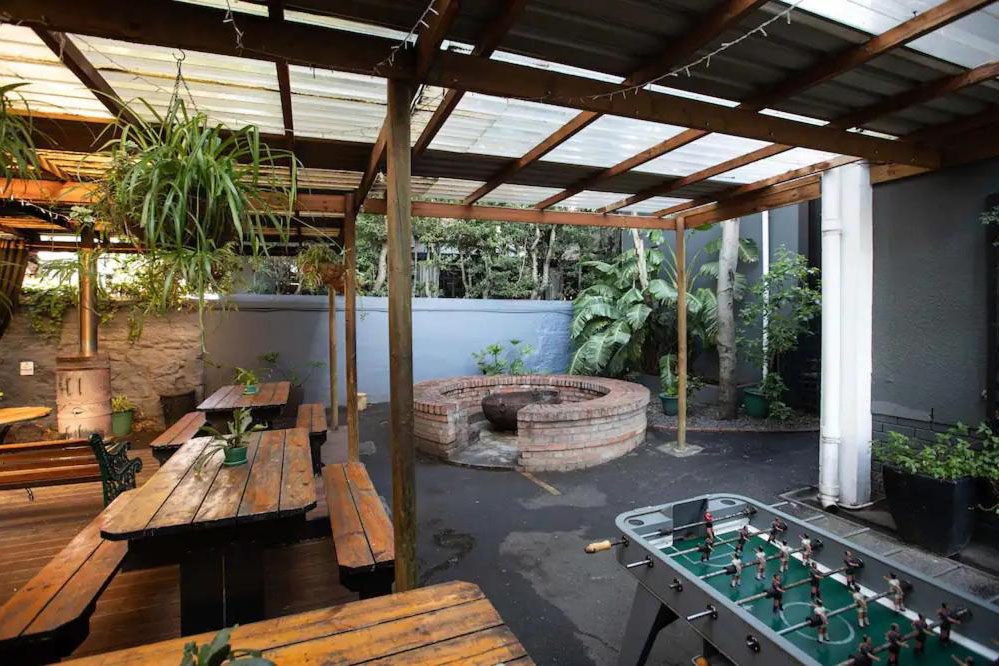 Never at Home: This social hostel on Kloof Street is the best place in Cape Town for backpackers and budget travelers looking for a place to meet other young people. They offer both dorm-style and private rooms at a good budget rate.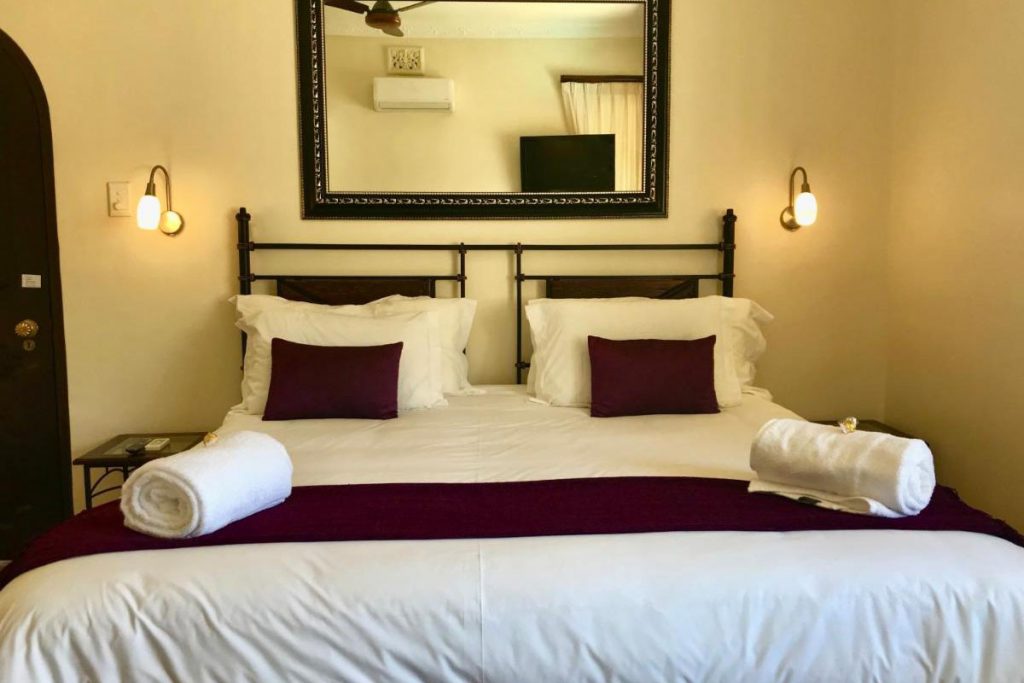 Sundown Manor Guesthouse: This cozy guesthouse has just 12 rooms in a beautiful manor home in Sea Point and comes at a decent price for your budget accommodations. The location is great, right near Mojo Market, which means you can easily walk around Sea Point.
Mid-range stays in Cape Town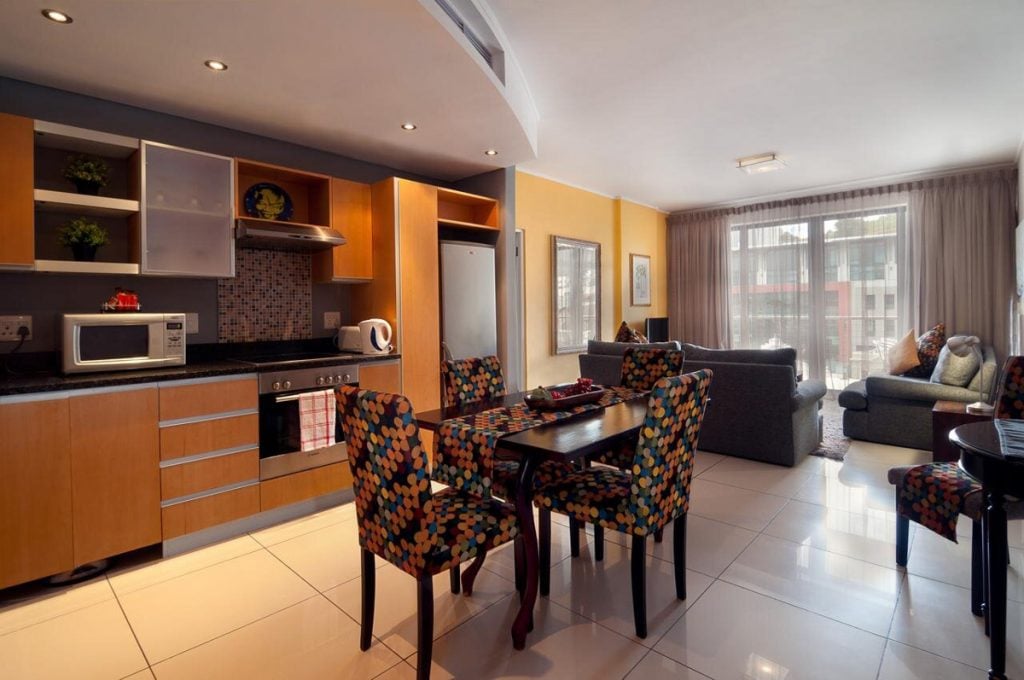 Rockwell All Suite Hotel & Apartments This highly rated property offers modern, fully serviced apartments in Dewaterkant near the V&A Waterfront and downtown. It's a little bit pricer than the first two options, but still won't break the bank!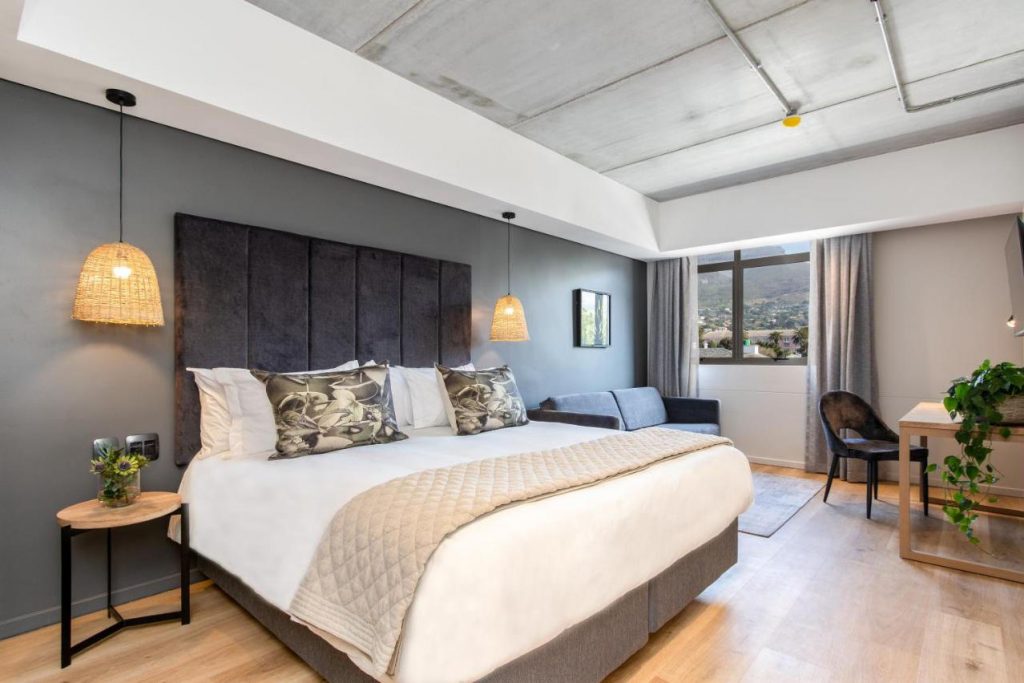 Kloof Street Hotel: This moderately-priced hotel is in a beautiful building just off Kloof Street near the CBD offering views of Table Mountain. You cannot beat the downtown location and with a pool, you'll have everything you need here.
Splurge stay in Cape Town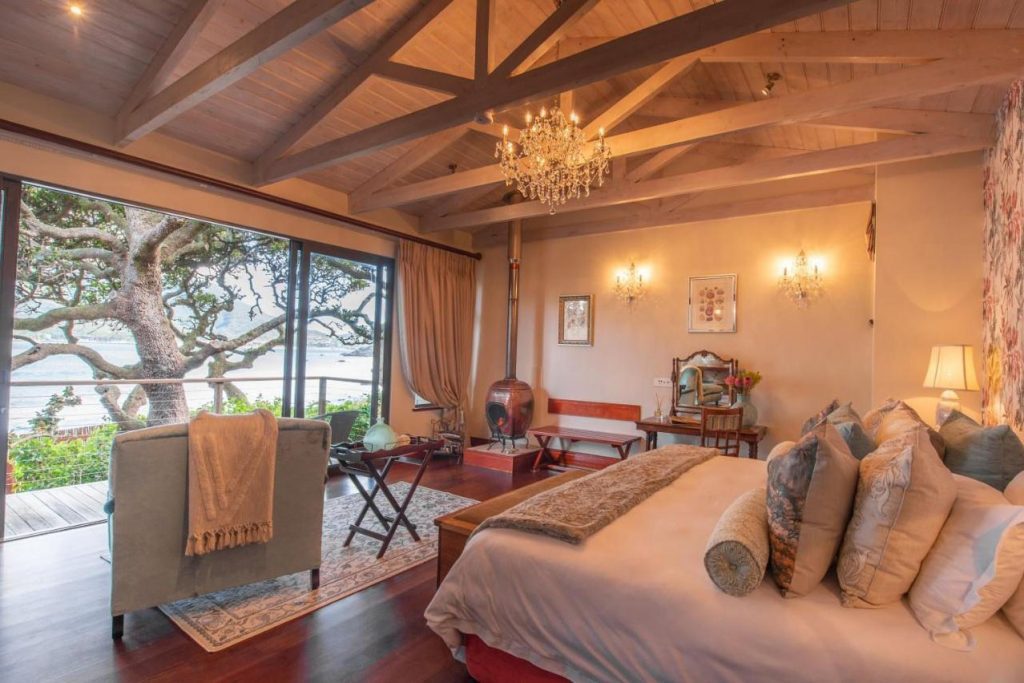 Tintswalo Atlantic: This hidden gem at the foothill of Chapman's Peak near Hout Bay offers stunning views from its ocean-front location. Each of the elegantly decorated suites has a private balcony where you can whale watch right from your room!
Round up of the best things to do in Cape Town
Here's a recap of all the best things to do in Cape Town so you can see everything in one place.
Table Mountain
V&A Waterfront
Sunset
Kayak tour of the bay
Kirstenbosch Botanical Garden
Cape Point & the Cape of Good Hope
Franschhoek Wine Tram
Tour Robben Island
Boulder Beach penguins
Hike Lion's Head
Hit up a farmer's market
Head to the Beach
Bo-Kaap neighborhood & museum
Chapman's Peak Drive
Free walking tour
Sea Point Promenade
Food tour
Take flight in a helicopter
Babylonstoren Gardens
Self-guided wine tasting tour
Cooking class
Woodstock Street Art Tour
See an outdoor movie
Take a sunset cruise
Try the tasting menu at a world-class restaurant
Muizenberg Beach
Discover the Cape Peninsula
District Six Museum
Visit a township
Paragliding off Signal Hill
Abseil off Table Mountain
Visit an alpaca farm
Go surfing
Get your grub on at Mojo Market
Jazzy brunch at Kloof Street House
Head to a rooftop bar for sundowners
"First Thursday" on Bree Street
Sea Point public swimming pool
afternoon tea
cup of Joe
Head to a secret speakeasy bar
Zeitz Contemporary Art Museum
Cape Town comedy club
Green Market Square
Two Oceans Aquarium // Scuba Diving in kelp forests
Snorkeling with seals // False Bay Seal Island
Canopy ziplining tour
Take a kitesurfing lesson
Atlantis Dunes
Game drive / safari day trip
Bonus: Drive the Garden Route
---
You might also like…
Save this article on Pinterest for later!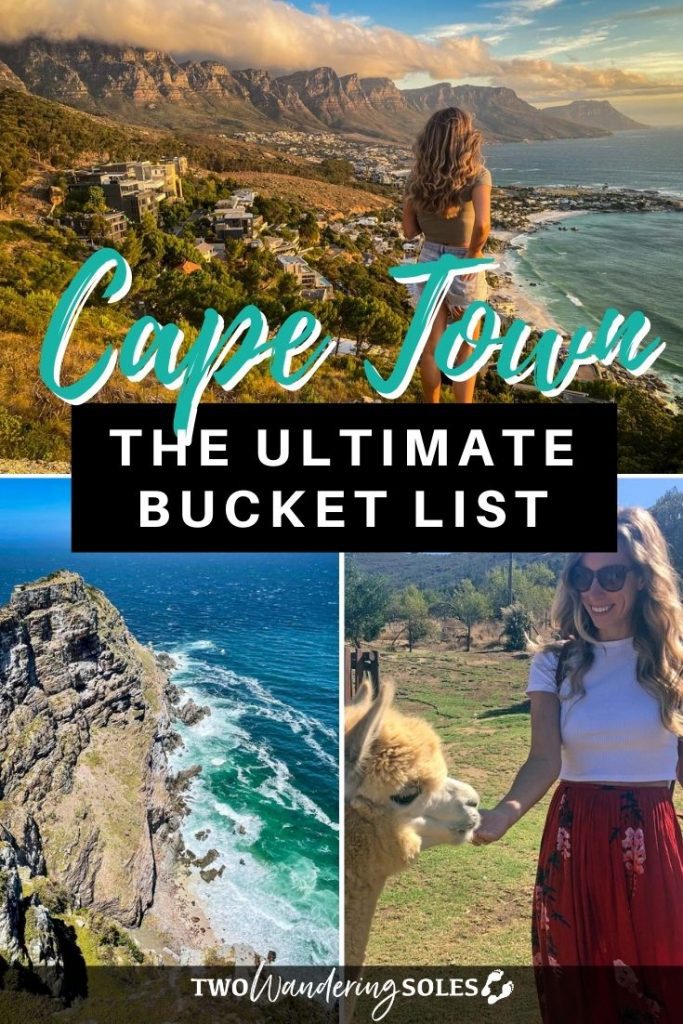 We want to hear from you!
What are you most excited for on this list? Is there anything else you would add? Got any more questions about visiting Cape Town? We want to hear it all in the comments below. We try our best to respond to everyone, so comment away!