How to Use Credit Cards to Travel for Free
Updated: December 6, 2019
We've traveled to 40+ countries in the past 5 years, all while paying student loans and continuing to grow our savings. I'm not saying this to brag, but instead to illustrate that you, too, can create the life of your dreams if you make it a priority. Yes, this includes you even if you have a significant amount of debt…
Just like most people our age, we have a crippling amount of student loan debt. But unlike many, we haven't let it affect our dreams of traveling the world.
We're constantly getting asked how we afford to travel so often, and to be honest, there's no magic formula.
Every person's financial situation is different, but this is what has worked for us:
We've learned how to earn money online, no matter where in the world we are. (Learn how exactly how we earn money blogging)

We have become expert budgeters and track all our expenses so we can be more aware of our spending habits. And overall, we are frugal and don't purchase things we don't have the money for.

We have learned travel doesn't have to be expensive. We find cheap flights and travel on a budget (most of the time!).

We've used travel credit cards to elevate our finances and help fund our travels.
We have articles on all of these points above to show you in much deeper detail how we have applied these methods to help fund and maintain our lifestyle.
In this article, we are going to dive into #4 and go over everything we have learned about using credit cards wisely, specifically those with travel rewards. We're sharing how we've used travel credit cards to get free flights and how they've helped us build excellent credit.

We're also going over which credit cards we have in our wallets, as well as which cards might be best for you depending on your financial goals.
If you're new to travel credit cards, we recommend reading everything below so you are well informed. If you just want to know which credit card is best for you, click here.
Article Contents
Click the link to jump to the section you are interested in, or just keep scrolling…
A Note on Using Credit Cards
Let's start off by saying, we are not financial experts. We are simply sharing our financial story, since it's something we get asked about on an almost daily basis.
We cannot advise you on how you should handle your finances or credit cards, since every person's situation is different. We are sharing what we have learned from experience, but if you want tailored financial advice specific to you, consider talking to a banker or a financial expert.
Before we get into ways you can use travel credit cards to your advantage, we have to warn you that credit cards can be dangerous to your financial health and future if you don't manage them properly. Misusing credit cards can get you further into debt, and could limit your chances of getting a house or even a job.
Use Credit Cards Wisely
Both of us have been using credit cards since we were teenagers and had our own jobs. Both of us have always fallen on the conservative side of finances, which means we don't argue too much about money (which is pretty great!).
Here are some of the guidelines we follow when managing credit cards:
Never pay for something you don't have money in the bank for.

Aim to pay off your balance IN FULL every month (some people argue against this, but we stand firm on this).

If you can't pay off your full balance, at least pay your minimum payment. NEVER MISS A PAYMENT!

Don't open more credit cards than you can handle. At the start, only open 1 credit card per year. After that, you can open 2 or 3 as long as you know when to close them.
Using these common sense rules over time and always being conservative, we have been able to bring both our credit scores above 800, even while traveling the world.
Now, onto the fun stuff!
Out of all the credit card reward programs available, travel credit cards tend to have the best bonuses, rewards and kickbacks.
Let's breakdown the different rewards to look for when choosing a travel credit card:
Reward Miles
What the heck is a mile? How much money is 1 mile worth? We had these exact questions when we first started. And to be honest, I think the credit card companies use these tactics to try to confuse the user. But it's much simpler than you think.
In most cases, 1 mile/point is equal to 1 cent ($0.01 USD). So if you have 100 miles/points, you have $1. If you have 10,000 miles/points, you have $100 USD of reward money. For ease, I'll use the term reward miles for the rest of this article, but know that it could also mean reward points depending on the card.
There are a few variations to this, depending on the program. For instance, some programs will give you $1.25 for every 100 miles. But let's not make it confusing…
This reward money most often must be spent on travel expenses when using a travel credit card. But this can look different. Depending on the card, you might be able to "erase" that hotel you stayed at on New Years Eve (aka you'll get a credit to your account in the exact amount of the hotel price). Often, this can be applied for transportation, like Uber, trains, planes, buses, etc.
And some credit cards have an airline booking system through which you can book flights. Beware that some are better than others. Look out for programs that have blackout dates and only let you book with certain airlines.
Personal Note: We like to choose the flight ourselves, as we often can find cheaper fares than what is offered in the booking system. We find it works better for us to "erase" this purchase after the fact, using our reward miles. Make sense?
Cash Back
2% back on travel, 3% back on gas, 5% back on dog toys! Okay, that last one was made up, but credit card companies try to make Cash Back confusing as well, but just like Reward Miles, it's simple.
Cash back refers to miles you gain when you purchase something with the card. If you get 2% cash back on everything (like the Capital One Venture cards), if you buy something costing $100, you get $2 worth of miles or (…everyone all together now) 200 miles!
When a card says it offers 2% cash back on travel, it means any travel purchase you make (hotels, buses, trains, flights, checked bag fees, etc.) you will earn 2 cents (2 miles) for every dollar spent.
This is a great way to gain reward miles for consistently using your credit card. But the most bang for the buck reward comes from Sign Up Bonuses.
Sign Up Bonus
One of the biggest reasons to open a new travel credit card is for the sign up bonus. You'll often see these sign up bonuses with a large amount of miles offered if you spend a couple grand within the first 3 months.
One example is 50,000 miles (or $500 bonus) if you spend $3,000 in the first 3 months. Sometimes it's 60k, or even 70k miles, but if it's that high then you most likely have to spend $5,000 in the first few months.
Using sign up bonuses like these, we have saved over $6,000 in the last few years on travel expenses like flights, buses and even Airbnb's. In fact, one of our most recent trips to Thailand, the entire $800 flight from the US to Bangkok was covered using a sign up bonus we earned. Discover how we find cheap flights around the world using our travel hacks.
Important note on signup bonuses: We typically open new credit cards when we know we have some major expenses coming up and we know we can easily spend that $3,000. There are other times when we would have to really try to spend that money, so it doesn't make sense to open up a new credit card. Be sure to take this into consideration before applying for a new card.
Airport Lounge Access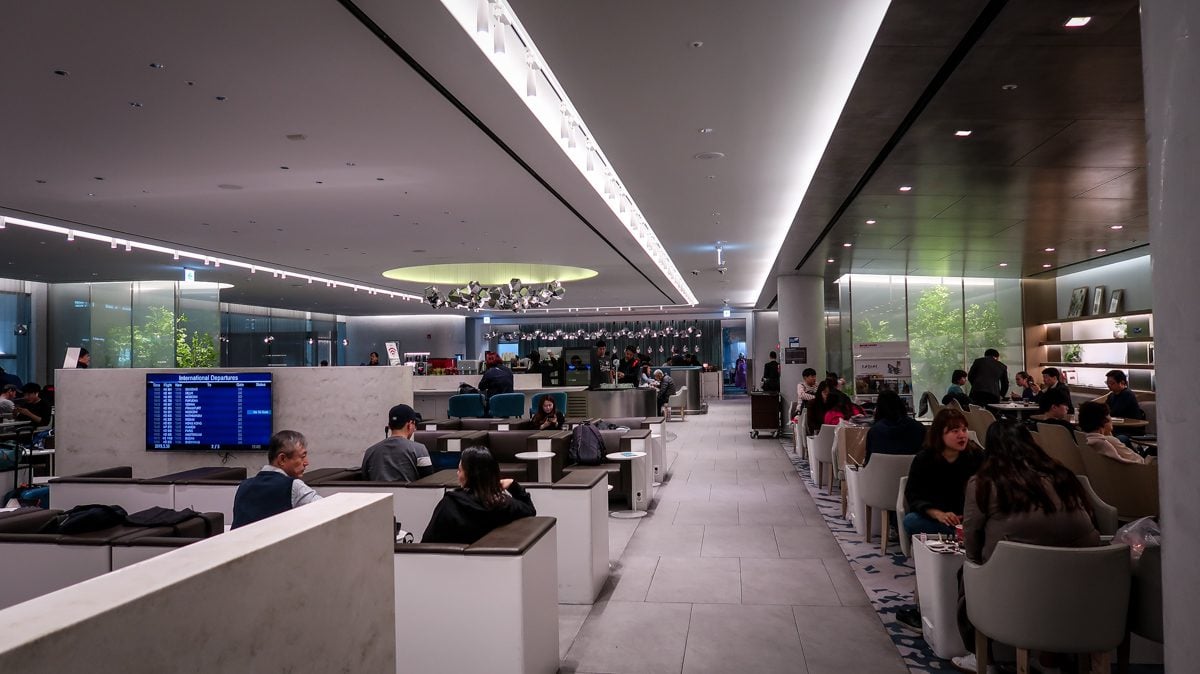 For as often as we travel, we have no idea how it took us this long to start taking advantage of airport lounges. I guess we just always assumed they were for rich business travelers and we kind of ignored them.
But it turns out all you need is the right credit card to get in.
What you'll find inside most lounges:
Endless buffet of food

Free and fast WiFi

Free beer and wine, sometimes open bar

Fancy coffee machines

Printers and copies (sometimes)

Comfy chairs, great airport views and peace outside of the busy terminal
Airport Lounge Video Tour
We'll take you on a short tour around a few lounges during our latest travels. Peek inside what it's like hanging out in the VIP lounges:
The network of airport lounges is made to seem complex, but it really is not. There are a few premium travel credit cards that automatically offer you access to the lounges but most of them give you a membership to Priority Pass, a specific network of over a thousand lounges worldwide.
For instance, there is an AmEx card gives you membership to the Priority Pass lounges, along with Delta Sky Lounges and AmEx branded Centurion Lounges.
Insider Hack: To make things easier to understand, we recommend downloading the LoungeBuddy app. Simply plug in the name of the cards you have access to, and Loungebuddy will tell you where you can go for free and which lounges you need to pay for. If you use our referral code "QeMJ9Y1fzS" LoungeBuddy will give you $10 toward your first lounge experience.
Other Travel Credit Card Benefits
There are tons of other perks or benefits offered on hundreds of travel credit cards, like bonus cash back on hotel stays, elite status on big hotel chains, and discounts for online shopping. One of our travel credit cards even gives us $15 in Uber credit each month. Cha-ching!
It would be hard to list all the perks out there, so be sure to read up on what each individual card has to offer.
Now it's time to take a peek inside our wallet… Psst! You probably won't find much cash in there, because we use credit cards way more often!
We're going to go over exactly which cards we actually use, as well as the reasons we love them. Here is the list of travel credit cards we use, but be sure to come back to this page because we have more credit card tips for you!
Caution: The cards we use might not be the best choice for you, especially if you are just starting out with credit cards. Also, remember there are two of us. Some of these cards, we EACH have, while others only one of us has.
Reasons we love these credit cards:
Signup bonus, ranging in value from $500 to $700 USD (aka 60,000 miles when you spend $3,000 in 3 months)

Reimburse Global Entry + TSA Precheck – $100 value

Priority Pass + Lounge Access – $99+ value

Airline credit – $200 value

Uber credit – $200 value

Hotel Perks

Travel insurance

No Foreign Transaction Fees
Some of these cards have high annual fees, but they almost always pay for themselves without even trying.

Now that you know the perks of travel credit cards, are you ready to find one that works for you? Jump down this page, find the right card and you'll be surprised on how much you can save on travel.
The Other Card we also travel with:
Charles Schwab Debit Card (from a High Yield Checking Account)
This is one of our top travel hacks, so read carefully…
In most places in the world, cash is king. The best way to get cash in a foreign country is from an ATM, as it gives you the best exchange rate. (Avoid those currency changers if you can, because they charge hefty fees!).
The problem is most credit cards and debit cards charge an ATM fee (and sometimes a foreign transaction fee) when you withdraw cash.
Enter the Charles Schwab Debit Card…
This card will reimburse all of your ATM fees! Let me repeat that: YOU WILL NEVER PAY AN ATM FEE AGAIN. Oh, and did I mention this account is totally, 100% free to set up with no annual fees? Yeah, that's pretty cool.
We used to withdraw as much cash as possible at once so we weren't charged multiple fees, but we never liked carrying lots of money on us. Now, we only withdraw small sums whenever we need it because we never have to worry about ATM fees again!
At the end of each month, we get a credit to your account in the amount that was charged in ATM fees. This has saved us thousands of dollars over the last 5 years (in ATM fees and money we would have lost in currency exchange).
If you don't have a Charles Schwab in your home country, don't worry. There are other types of banks and brokerage funds that offer this option. But we highly, highly recommend getting a card that reimburses ATM fees if you frequently travel internationally. It will save you loads of money. You're welcome!
Find the Best Credit Cards for YOU!
Editorial Disclaimer: The opinions expressed here are the author's alone, not those of any bank, credit card issuer, hotel, airline, or other entity. This content has not been reviewed, approved or otherwise endorsed by any of the entities included within the post.
The content on this page is accurate as of the posting date; however, some of the offers mentioned may have expired."