With thousands of hotels in New York City, finding a place to stay can be daunting. Luckily, we think we've found the perfect hotel for anyone's first trip to NYC. The Kimpton Muse Hotel is where value meets luxury, and you can't beat its convenient location. Read our full review on what makes this one of the best places to stay in New York City.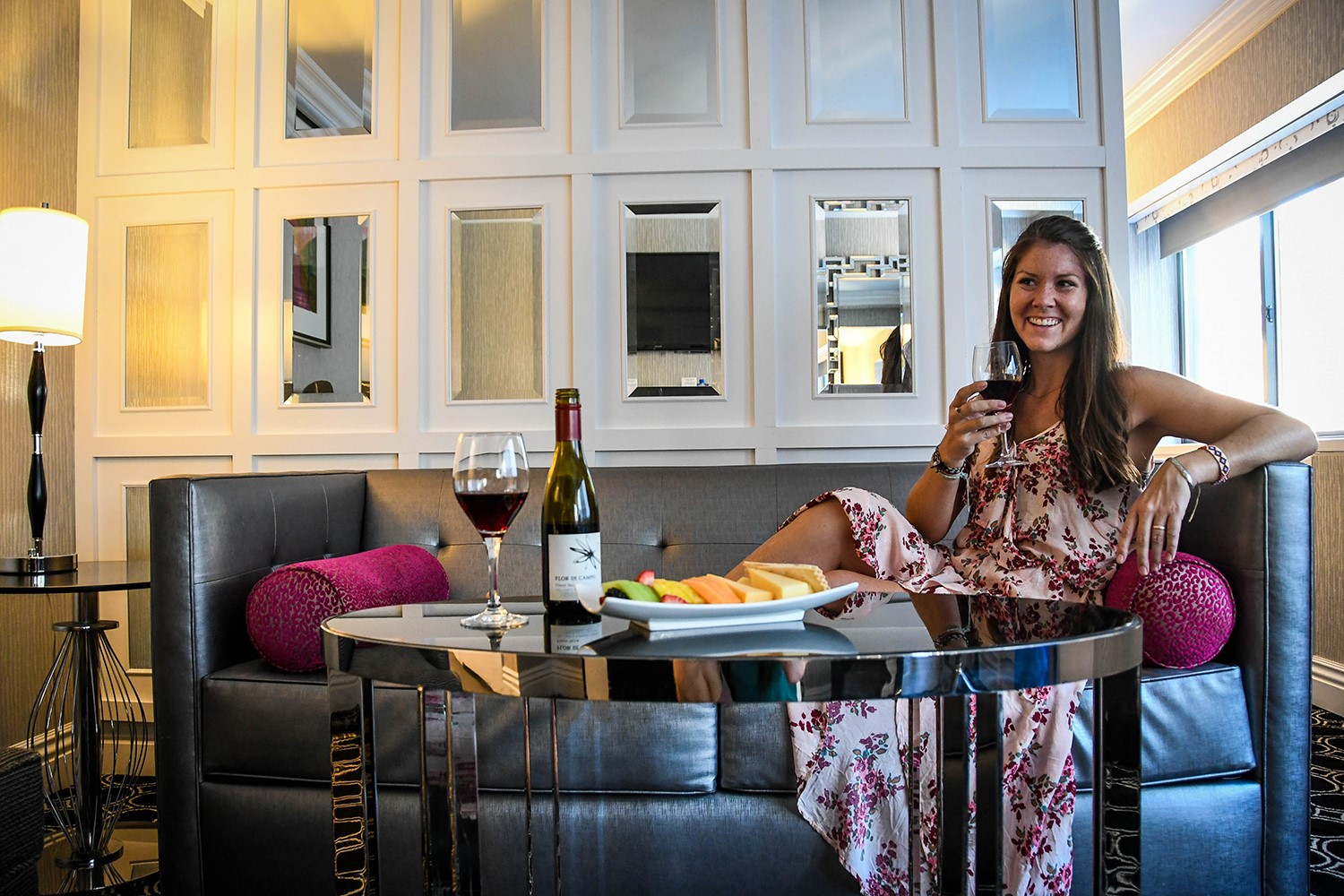 When planning a trip to New York City, choosing a place to stay can be quite overwhelming.
If you're anything like us, you'll be asking yourself: 
Which burrow should I stay in? 
Which area is most convenient for visiting the top NYC sights?
How can I find a sleek and comfortable hotel without blowing my entire budget?
There are plenty of wonderful options in this city, but if you're looking for a boutique-style hotel that is well located and reasonably priced, we've got just the place in mind for you.
Kimpton Muse Hotel
Kimpton has 66 properties in 35 cities around the world. Each boutique hotel is unique and designed to create a different type of atmosphere depending on the location.
With splashes of color and pop art-inspired decor, The Muse Hotel embodies the lively energy and edgy vibes of Midtown Manhattan.
The Muse Hotel is where sophistication meets playfulness and luxury meets value.  
Location: Midtown, Manhattan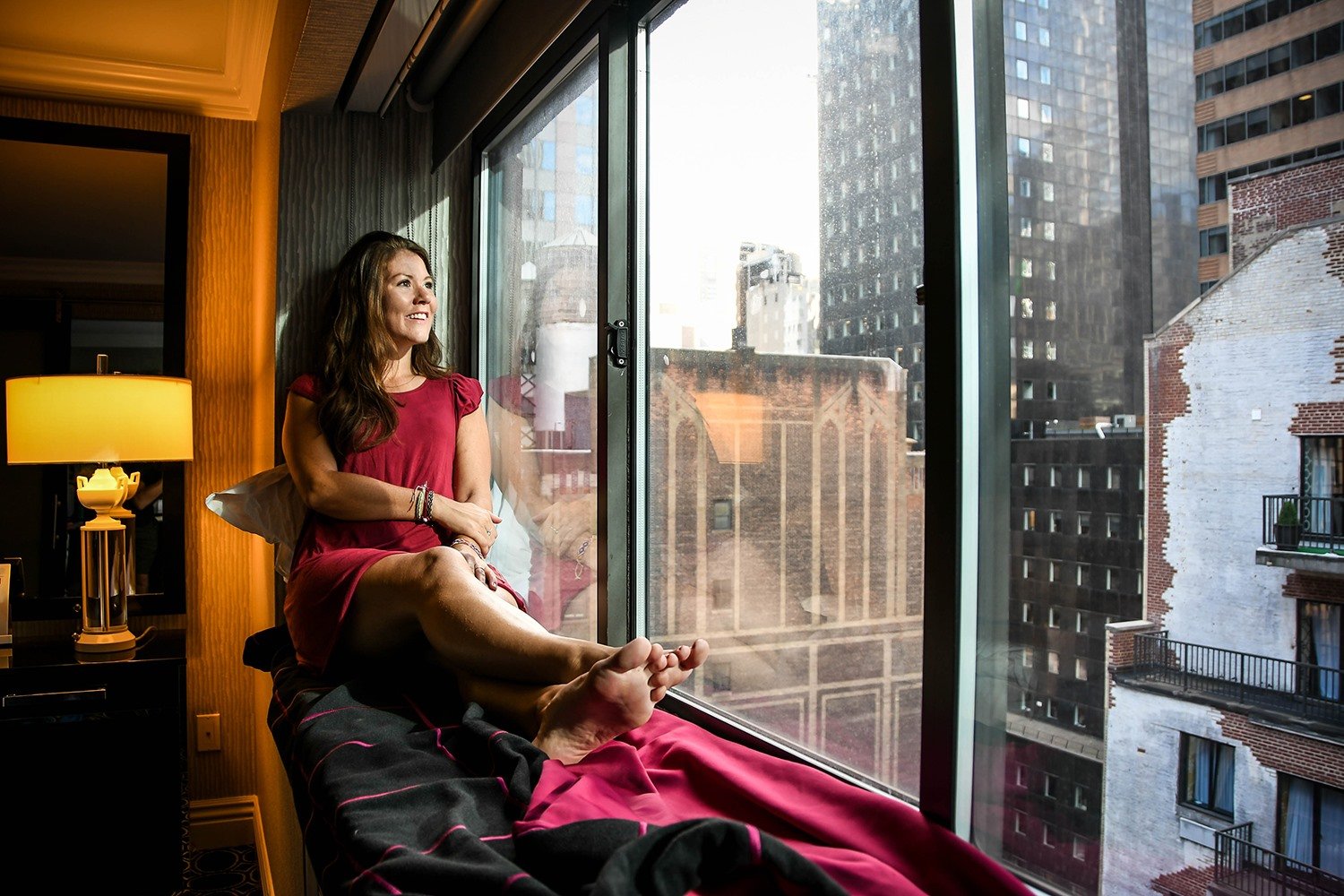 You honestly can't get a much better location if you're visiting NYC for the first time and want to see all the major sights and attractions. Situated just one block from Times Square, the Kimpton Muse is literally at the heart of it all.
We're going to be honest, we did not like Times Square. But let's be real: every first-time visitor to NYC is going to want to at least see this super famous landmark. And honestly, even if you only step foot in Times Square once (like we did!), this location is still such a good pick.
There's no denying how convenient this area is. You're within walking distance of Broadway, Rockefeller Center and Grand Central Terminal, just to name a few attractions. Plus, you are in the middle of Manhattan, so you can hop on the subway and easily get to Central Park, Brooklyn or Lower Manhattan. If you stay in any of the aforementioned neighborhoods, you'll find yourself spending much more time in the subway.
Speaking of the subway, the nearest stop is just a mere 2 blocks away. This Midtown location is seriously as good as it gets. 
And let's be clear: even though a 2-minute walk will bring you to the commotion that is Times Square, once you are inside the hotel you would never know you're just a stone's throw from this busy intersection.
Our room was peaceful and we slept soundly each night. Blackout curtains ensured that light didn't so much as peek inside the windows!
Read Next: 31 Fun Things to Do in New York City
The Rooms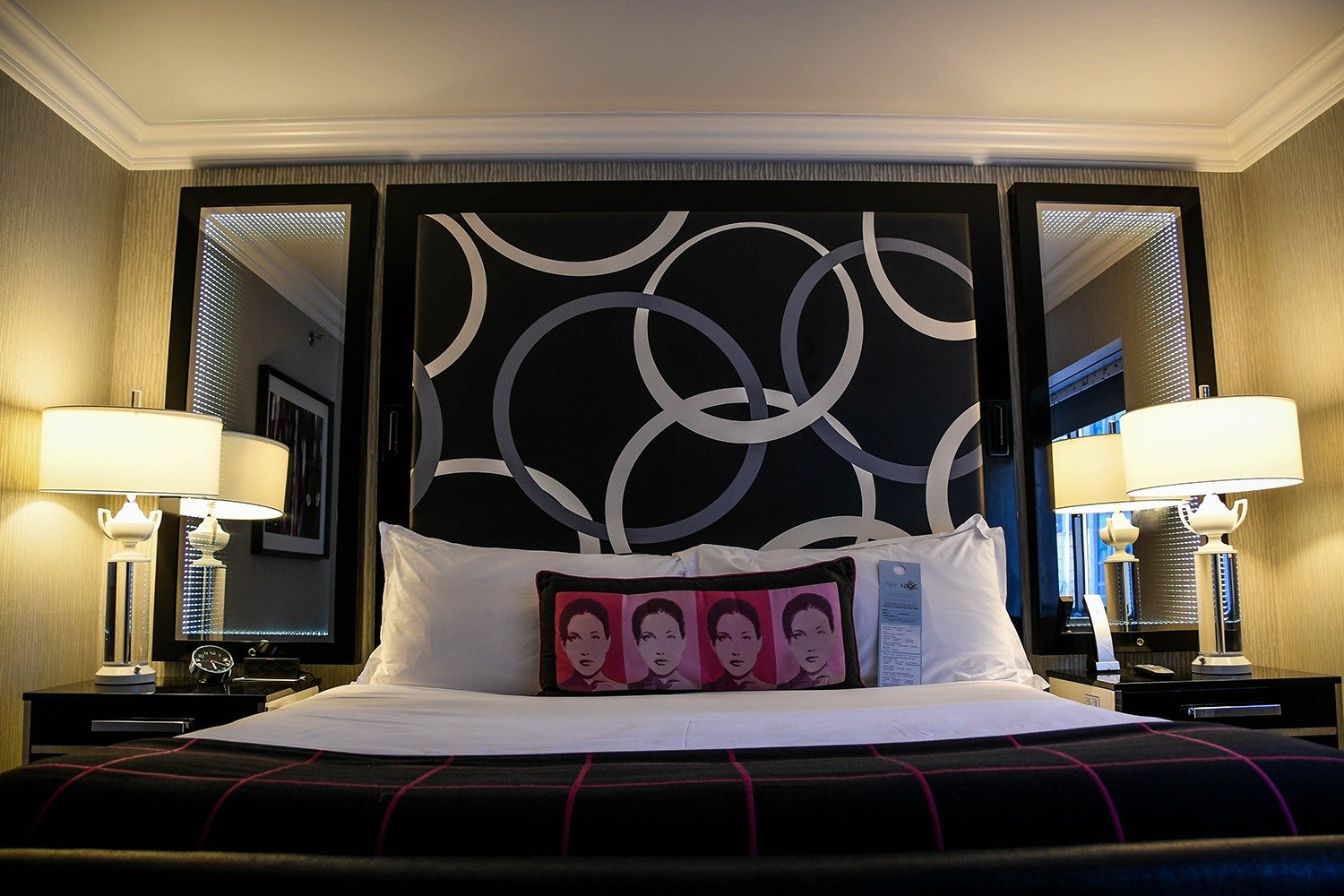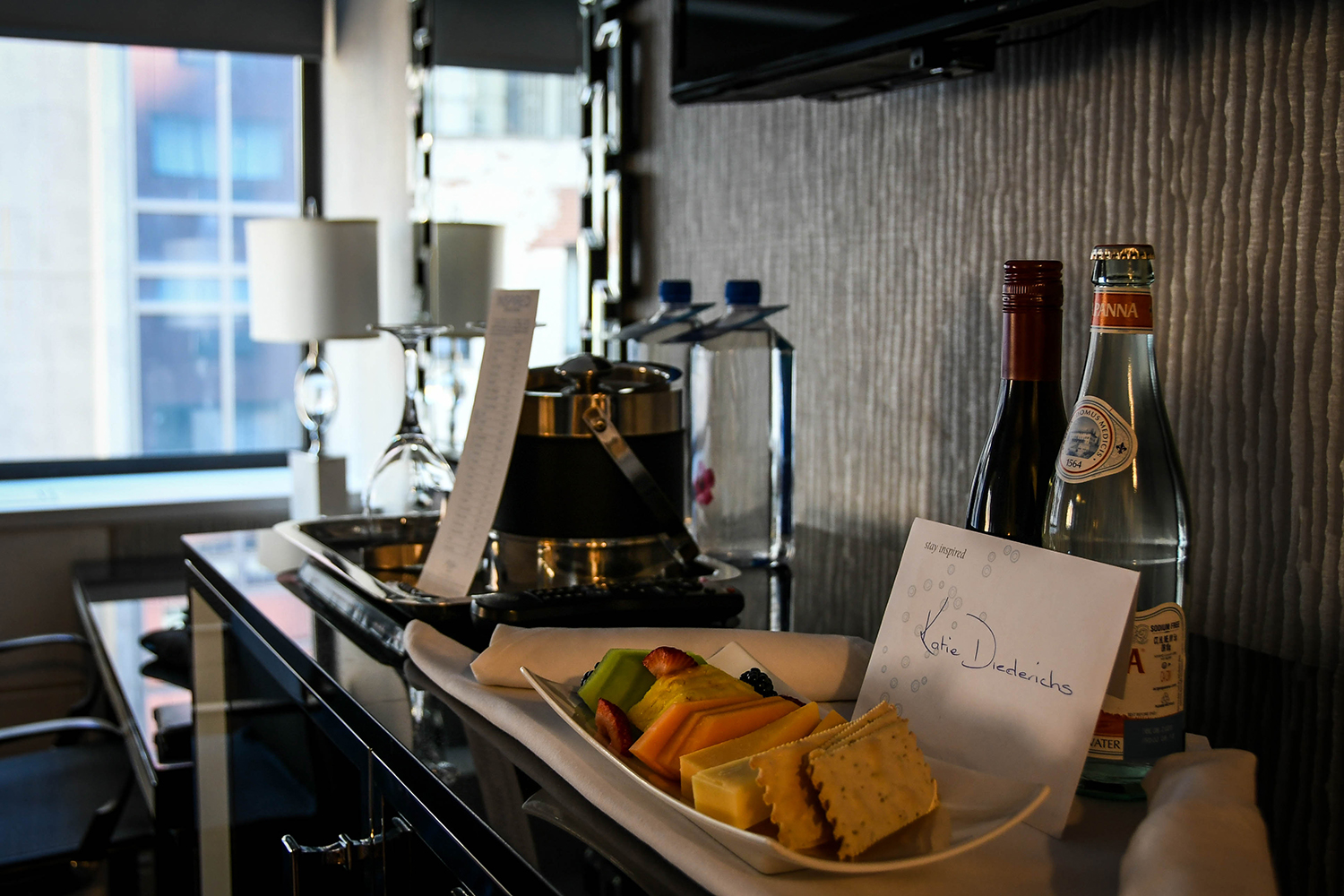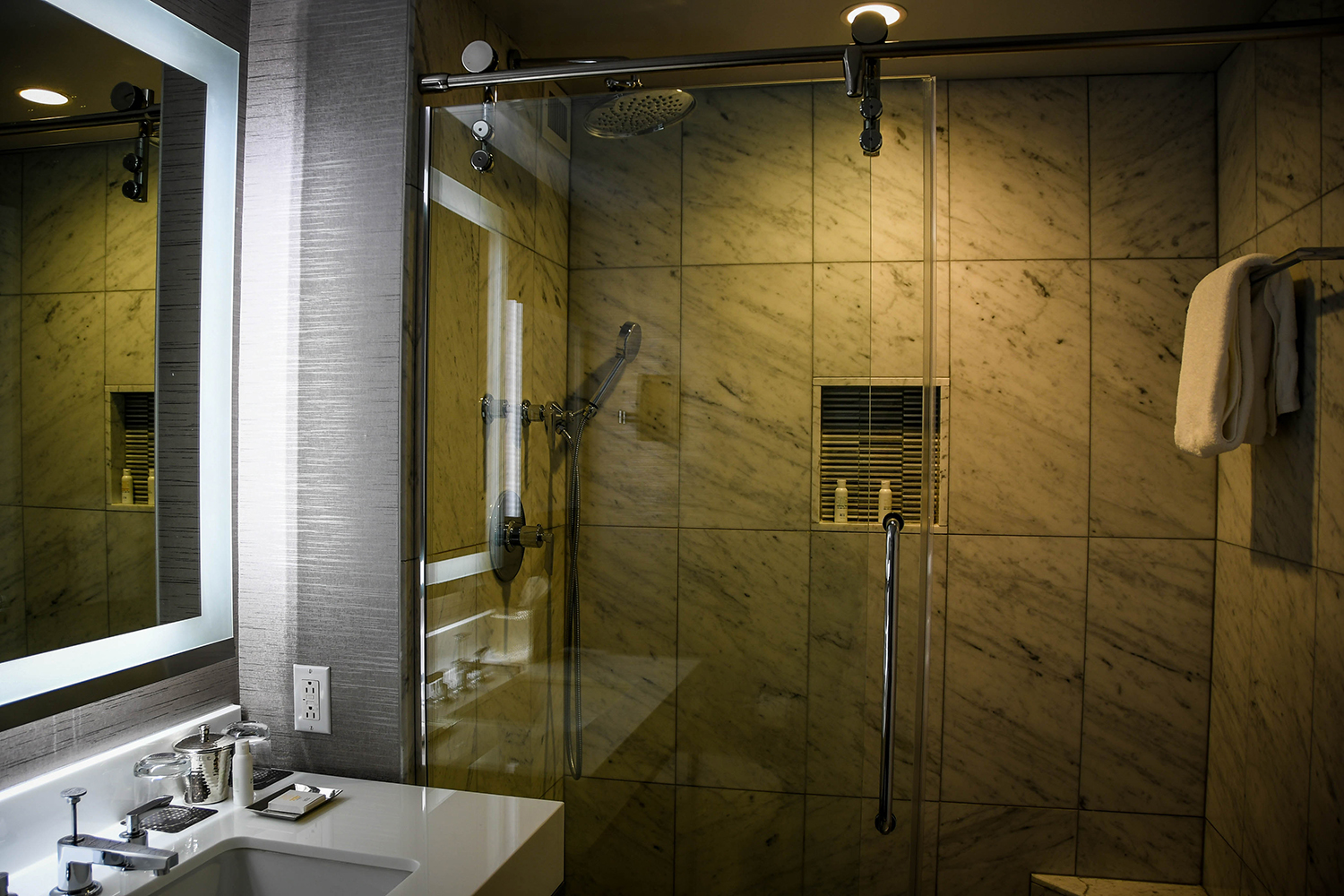 To be honest, we were surprised by how spacious our King Deluxe room was. During our trip to NYC, we spent a couple nights in a different hotel in Chelsea, and our room at The Muse was at least 6 times bigger. No exaggeration.
With fresh and edgy decor, super comfortable beds (it was hard to get out of bed in the morning!), and luxe bathrooms, you will feel right at home from the moment you open your door.
The Amenities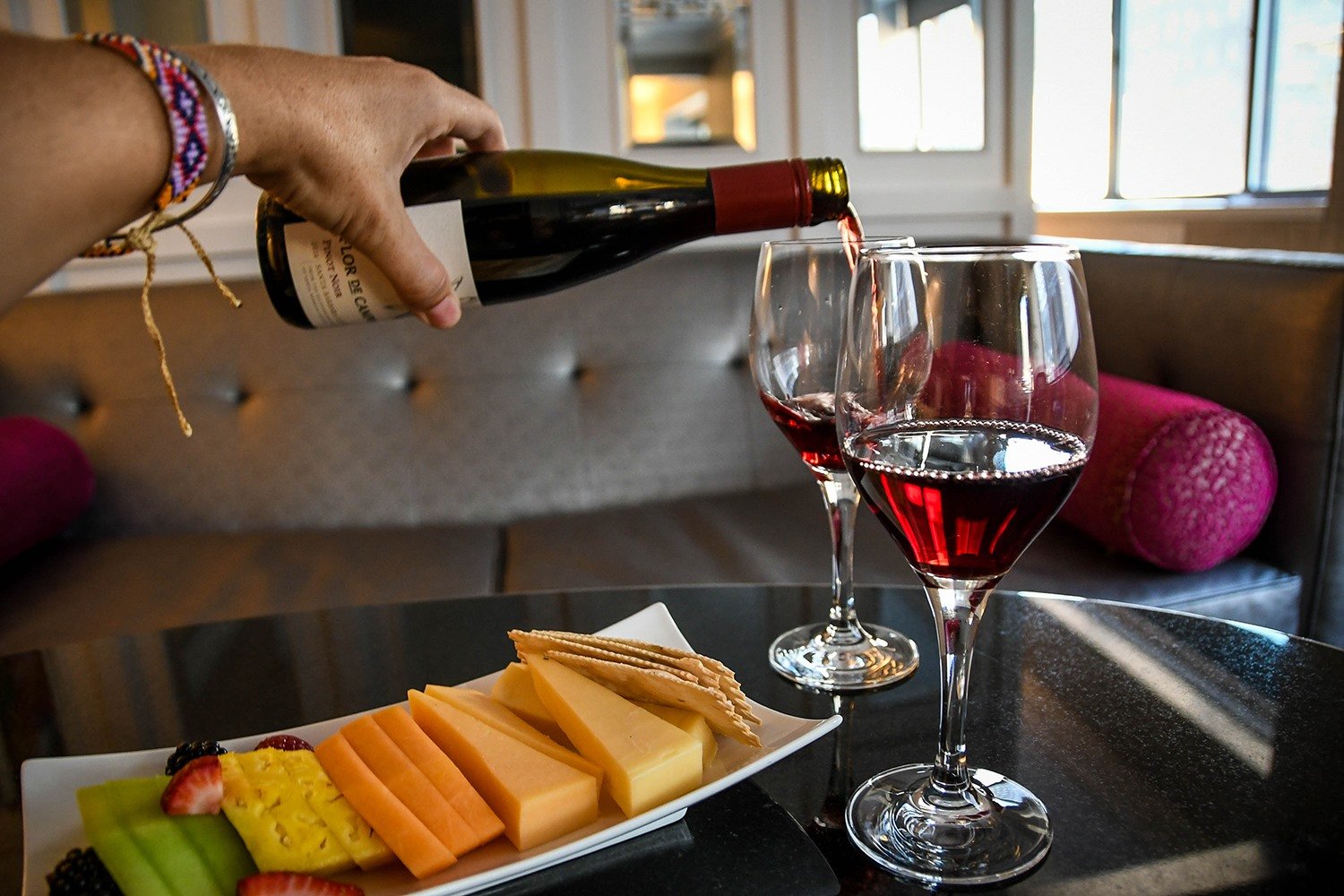 This hotel has quite a few perks that will make your stay extra special!
1. Wine Hour
Complimentary wine from 5 p.m. to 6 p.m. each evening? Yes, please! It's perks like this that made us never want to leave.
2. Free Bike Rentals
Getting around NYC by bicycle is a fun way to see more of the city and get some exercise along the way. Lucky for you, the Kimpton has complimentary bike rentals for guests!
3. Complimentary Fitness Center
When traveling, it can be tricky to stay fit. The Kimpton Muse has a fully equipped fitness center so you can get in a sweaty workout sesh before eating your way through the city. The fitness center is open 24/7, so you will be able to sneak in a quick workout before you begin your day or when you come back to the hotel after a late night.
4. Yoga Mat in the Room
At the Kimpton Muse, each room is stocked with a yoga mat, so you can start your day off right with sun salutations or get a little stretch in after a long-haul flight! 
5. Pet Friendly Rooms
If you are traveling with a furry friend, you are both welcome at the Muse. Pet-friendly rooms make it easy to bring your favorite companion along for the adventure!
Value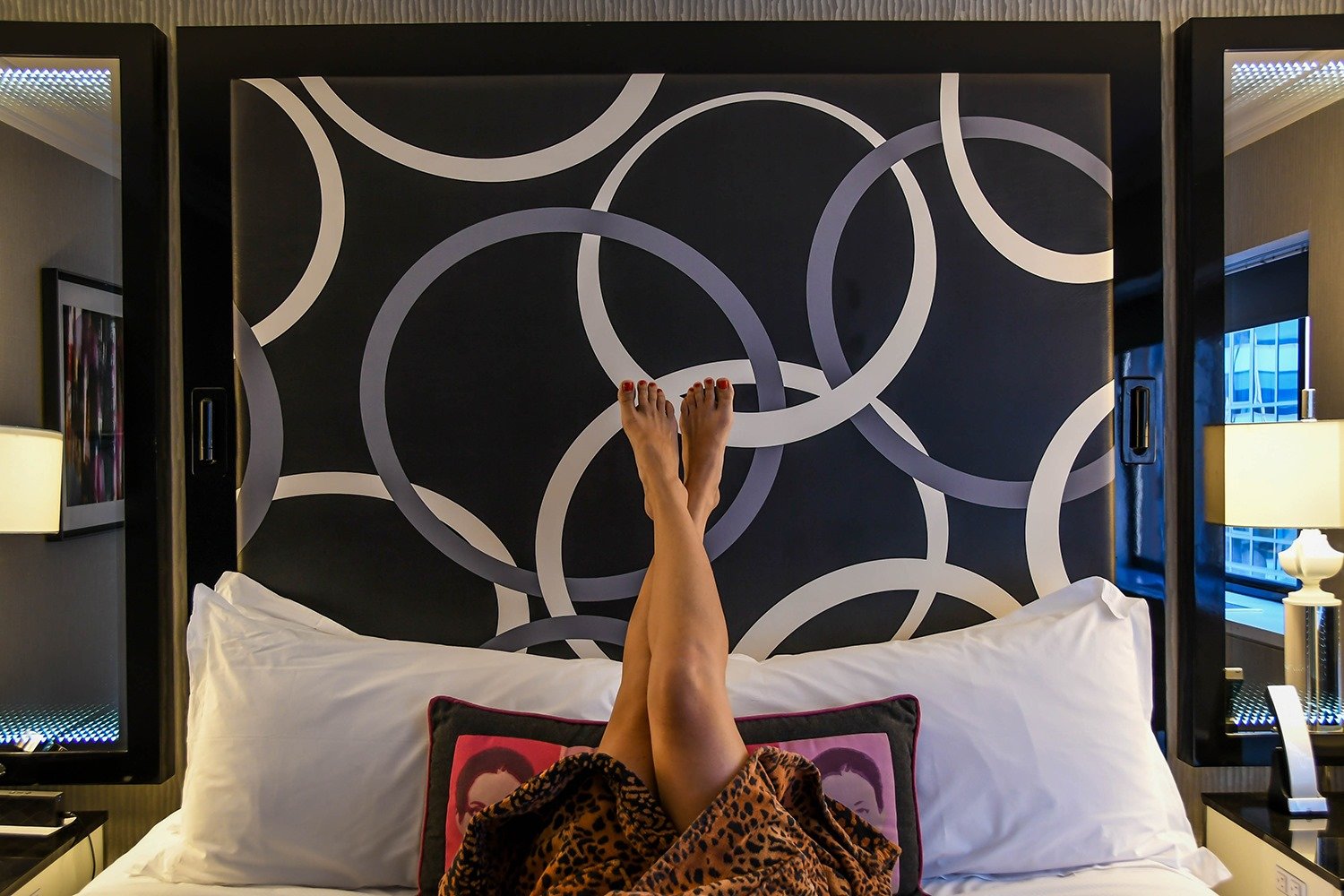 There are no shortage of hotels in New York City, and they range from fantastic to mediocre to truly horrendous. And even if you end up in a not-so-great hotel, it's still not going to be cheap. New York City is notoriously expensive; no way around it.
Our first night, we made the mistake of staying in a place that sounded like a "really good deal". Still not cheap by any means, but one of the least expensive places we found. I've got to say, it was one of the worst hotels we've ever stayed at in all of our travels. ALL of our travels. That's a LOT of hotels, guys.
When we moved to the Kimpton Muse, we were astonished by just how much bigger/nicer/cleaner/BETTER everything was. And the crazy thing was that it wasn't all that much more expensive than our original hotel.
The lesson we learned is that in NYC you're going to have to pay more than you would for a hotel room in many other parts of the world. And don't pick the cheapest place. We speak from experience.
Paying just a little bit more can get you some seriously amazing accommodation, like The Muse.
Room for Improvement
We had a fantastic stay at the Kimpton Muse Hotel, and truthfully, it is hard to think of anything we would change. They have thought of everything, and we were really impressed by the hospitality.
That said, there is one thing we think they could operate in a more eco-friendly way.
Refillable Toiletries
One small change we believe many hotels could make is to transition their toiletries to refillable bottles. This would cut down on the amount of single-use plastics they go through and would be a simple way to be more environmentally friendly.
However, until guests start requesting this, many hotels are going to stick with the small containers because it has become associated with quality service.
Who is the Muse Hotel For?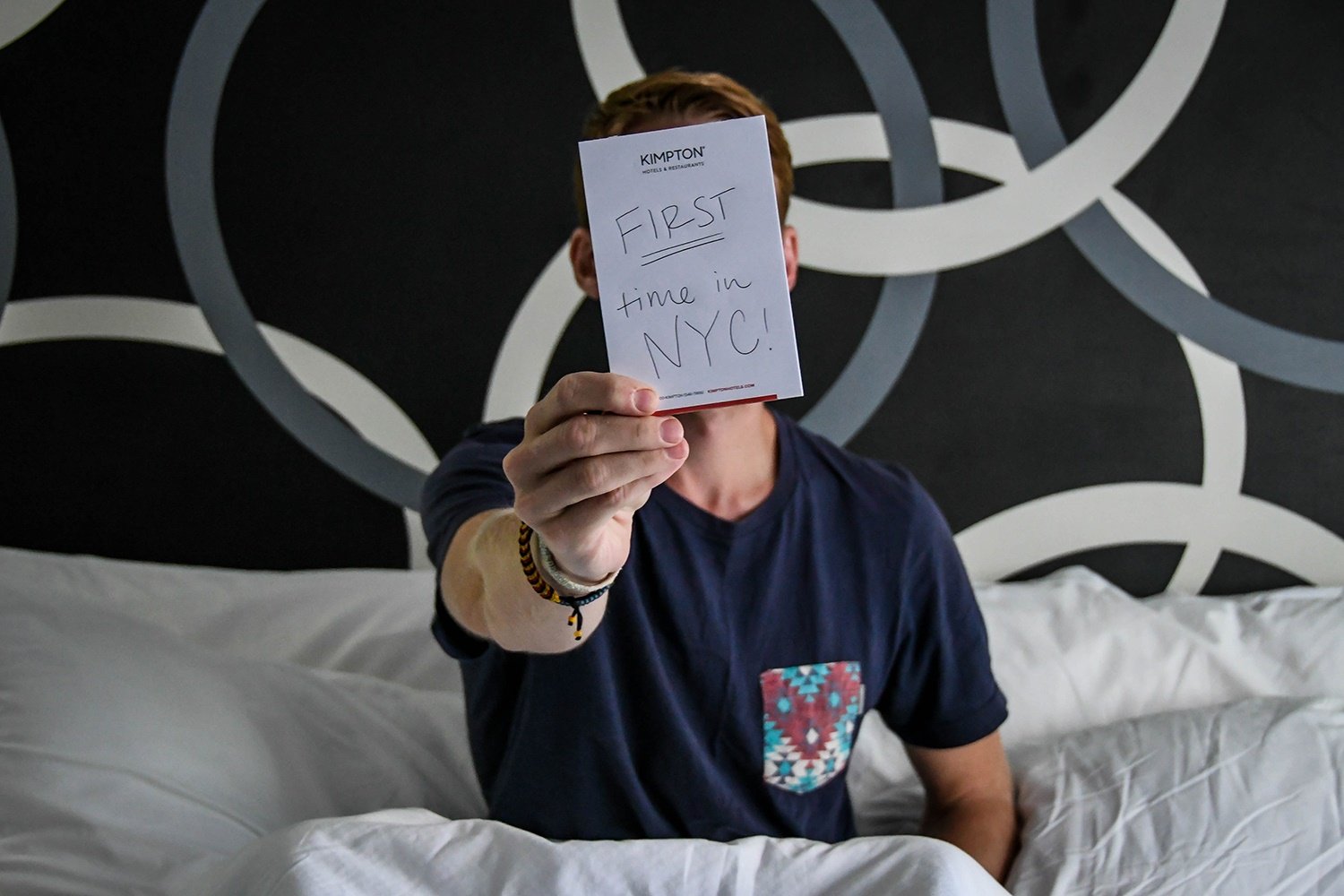 This hotel is perfect for people visiting NYC for the first time. We saw families and couples, and think it would also be a good base if you were traveling for business in the Midtown Manhattan area.
Book your stay at the Muse Hotel
If you are planning a trip to NYC and The Muse sounds like it's up your alley, head to their website directly, or make a reservation here on Booking.com.
Continue planning your trip to NYC with our article 31 Fun Things to Do in New York City.
We were guests of the Kimpton Muse Hotel, and would like to thank them for their hospitality. And as always, all opinions are our own. 
---
You might also like…
Planning a trip to New York? Save this to Pinterest!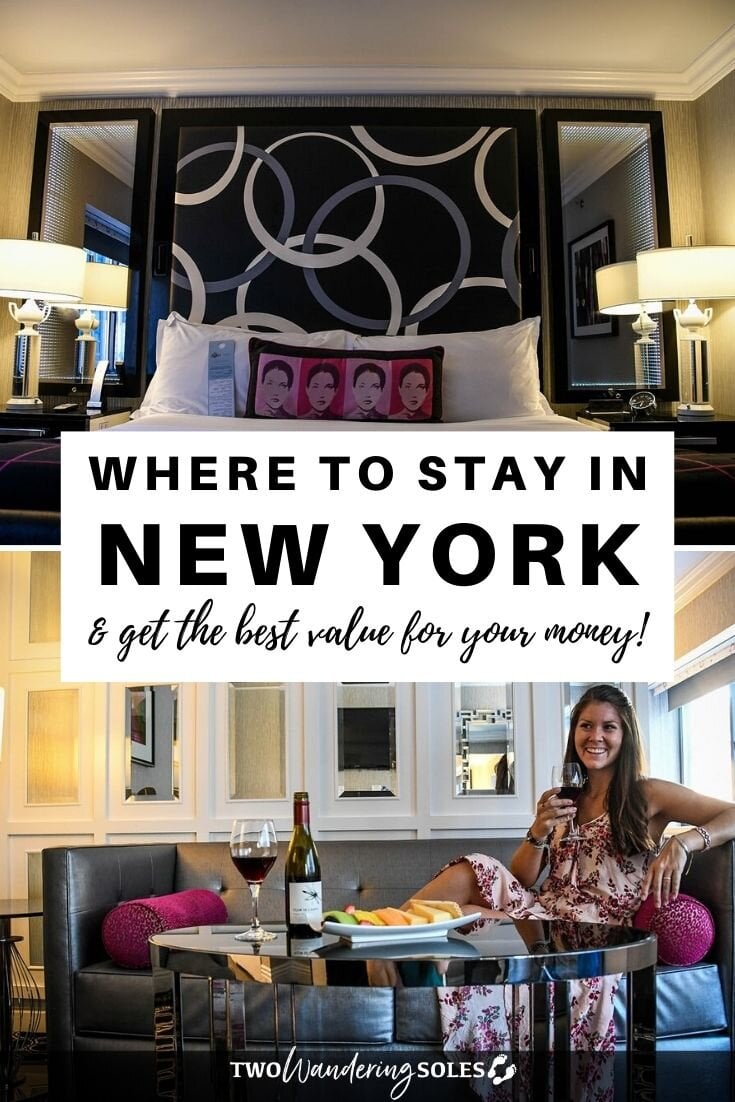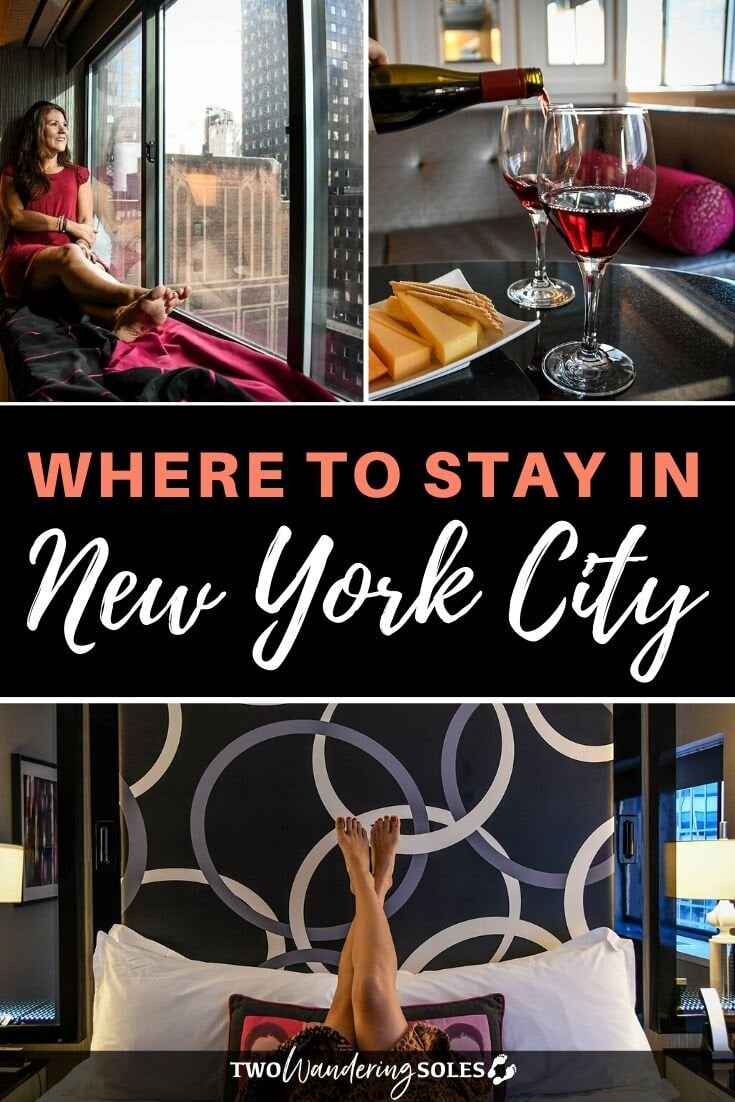 Leave your comments below!
What is your favorite neighborhood to stay in when visiting NYC? Any other hotel recommendations? We'd love to hear from you in the comments below!