If your planning a trip to the adventure-filled volcanic island, you'll want to check out this highly curated list of the best Airbnbs in Iceland. We're sharing our favorite stays to meet every need — from budget-friendly, to the most unique accommodation, to some seriously incredible properties!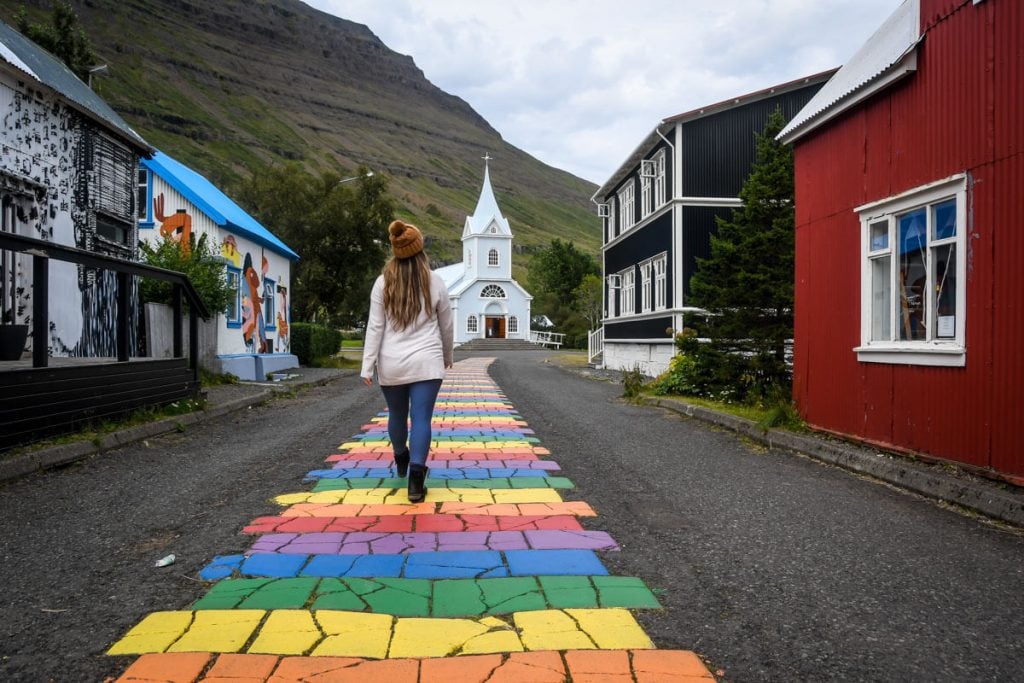 Situated in between the North Atlantic and Arctic oceans, the small island nation of Iceland is like no other place in the world.
The volcanic island may be small, but don't underestimate the adventure that is to be had here. With waterfalls around every turn, glaciers and black sand beaches, Iceland is a photographer's dream and a nature-lover's paradise.
Whether you're visiting this European gem on a short layover or for an extended vacation, you'll want to check out this list of the best Airbnbs in Iceland.
Iceland Airbnbs article contents
We organized this list of Airbnbs in Iceland based on popular itineraries and bucket list experiences. Click on one of the categories below to jump to that section of the article, or just keep scrolling.
Bonus categories:
Our top 5 recommendations:
Don't have the time or patience to read through the entire article? Here's the quick n' easy rundown of the best Airbnbs in Iceland for your specific needs.
---
Want to save time and energy on planning?
We've traveled to Iceland 3 times now and spent weeks living in a campervan, traveling around the country. We've been able to explore a lot of what Iceland has to offer!
We've compiled our experience to create the perfect Iceland itinerary. Our itinerary is for 7-9 days and meant to be explored while traveling in a campervan. It includes the highlights of the southern coast of Iceland. 
We'll send you our complete 7-9 day customizable itinerary, filled with tips and advice. Just click below to get your perfect Iceland itinerary today!

---
Why stay at an Airbnb in Iceland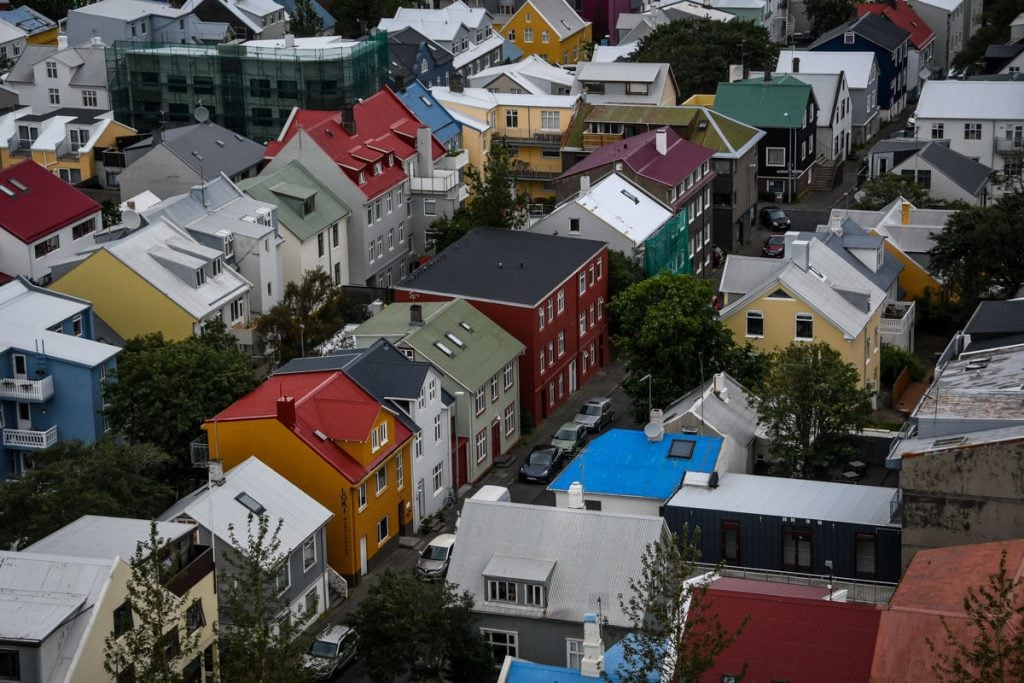 Renting an Airbnb is one of our favorite ways to get to know a place. Airbnbs in Iceland are as varied and unique as the country's landscape. Plus, they offer experiences you won't get in a hotel:
Experience the country from a local's point of view
Stay in a location outside of the major hotel areas
Enjoy the comforts of home like a stocked kitchen or laundry facilities
Stay together with your family or larger group
Save money on longer stays
Try out a unique accommodation like an 'igloo', glass house, or camping pod
Psst! We have an entire article with our best Airbnb tips, from setting up your profile to exactly which filters we use when we book.
Where to stay in Iceland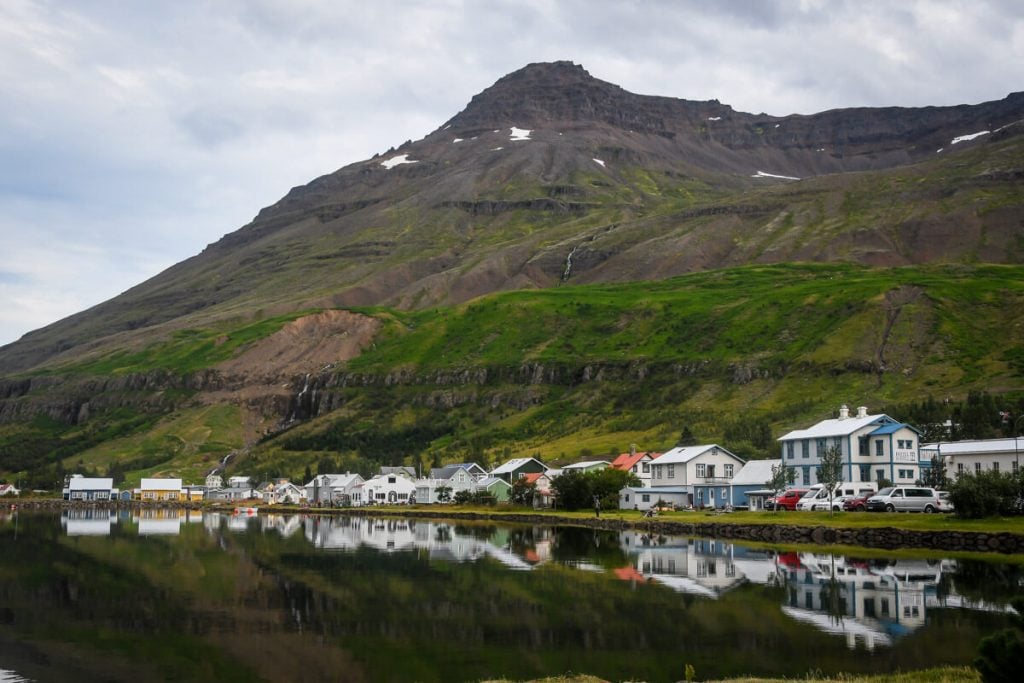 Where to stay in Iceland depends a lot on your itinerary and what you plan to do while you're there. Here are some of the top towns to stay in and what they are known for:
Reykjavík: Iceland's capital and largest city. You will most likely begin and end your journey here as it's close to the International Airport.
Reykjanes peninsula: The peninsula just south of Reykjavík where the famous Blue Lagoon and the International Airport are located. Keflavík is the largest town, 50 km south of Reykjavík, and a great place to stay if you're taking advantage of a stop-over flight on IcelandAir.
Selfoss and Hveragerði: Both towns on the well-known Golden Circle loop are great places to stay if you want to make a night of it instead of returning to Reykjavík.
Akureyri: Iceland's second largest city located on the Northern coast and a popular stop on the Ring Road itinerary.
Snæfellsnes peninsula: This area, just 90 km long, is often overlooked by tourists on the Ring Road tour, however, it's home to some of Iceland's most dramatic landscapes and many small fishing villages.
---
19 Best Airbnbs in Iceland
This list is rounded out with stays for solo travelers on a budget, couples and families or larger groups. It includes unique stays like a dome tent, igloo, and camping pod, all the way up to more luxurious retreats with all kinds of amenities.
Airbnbs in Reykjavík
As the largest city in Iceland nearest the airport, you will likely begin and end your journey here. No matter how long you plan to stay, you'll want to check out our top things to do in Reykjavík so you can plan your stay based on where all the activities are.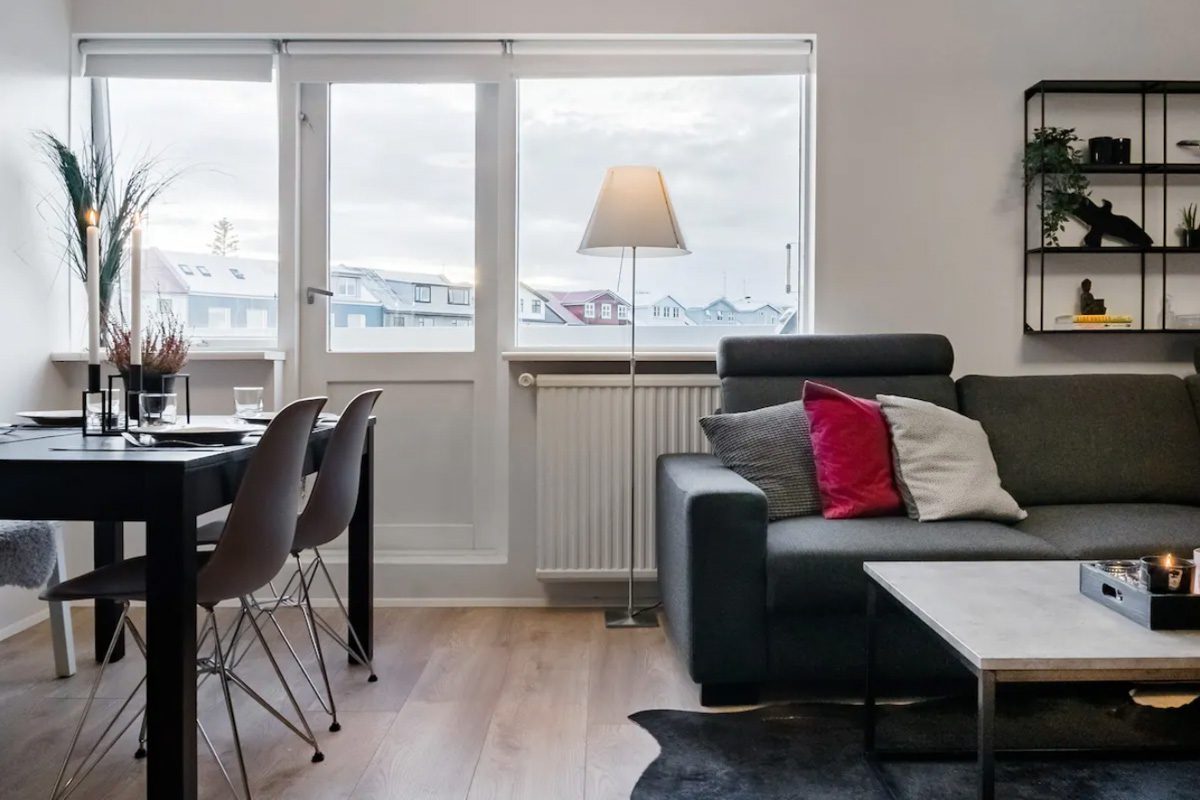 Stylish apartment is great location
Location: Reykjavík Harbor
Budget: $$
Number of Guests: 3
Minimum Stay: 3 nights
Superhost | Plus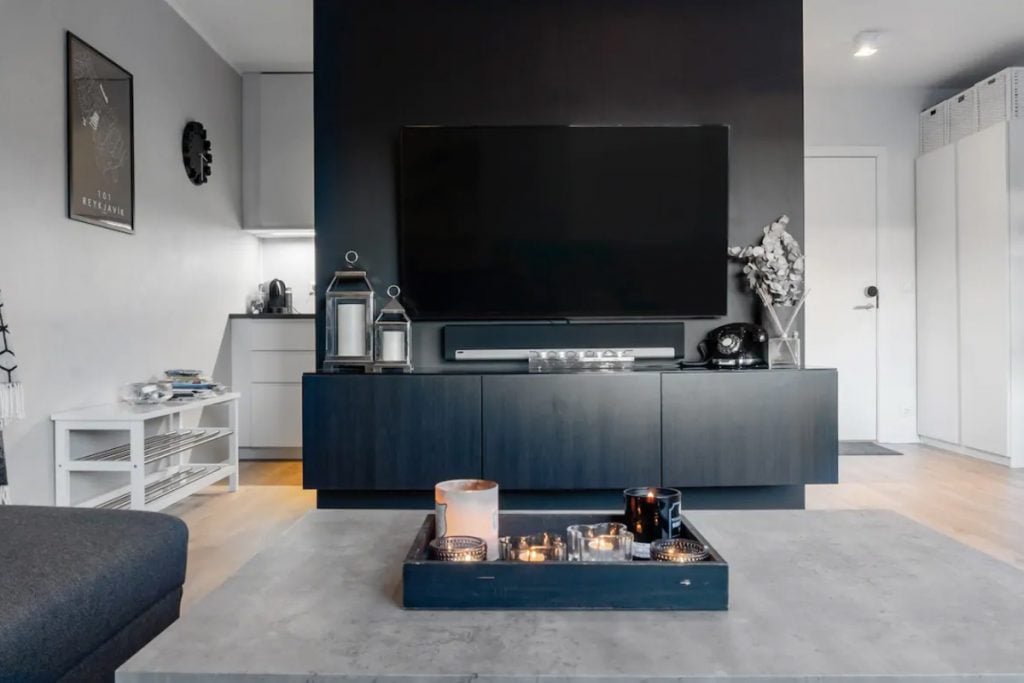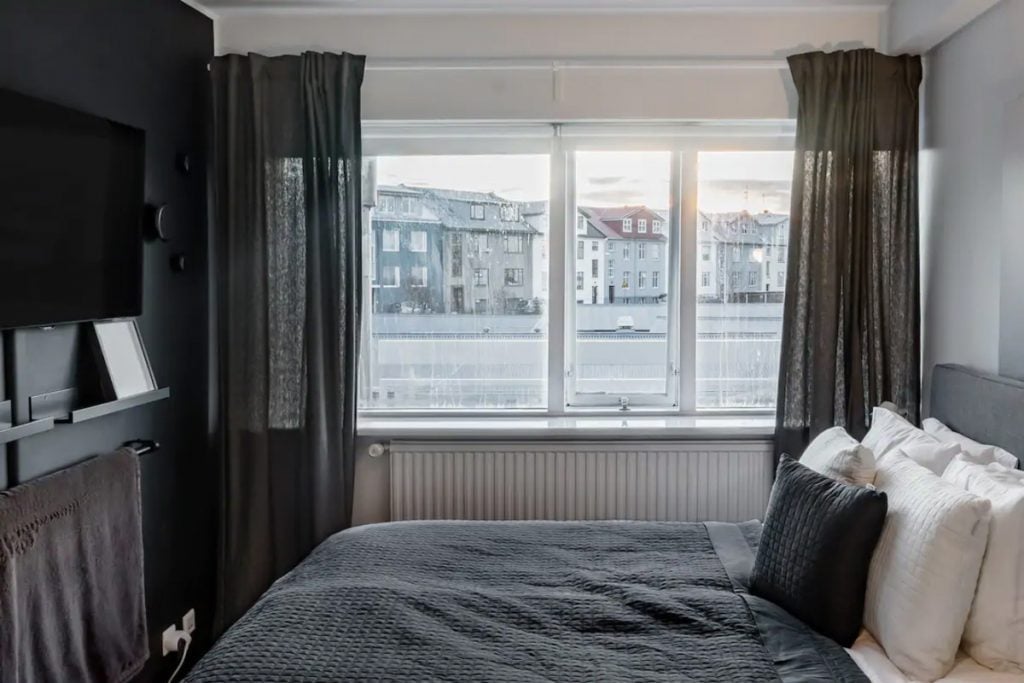 This stylish and modern 1 bedroom apartment comes with everything you will need to make your Iceland stay comfortable. Conveniently located near the Reykjavík Harbor and near the center and a quick walk to downtown. You'll be right in the center of the action.
Guests love the location and proximity to the center of town, restaurants and grocery shopping.
"Amazing and stylish apartment. Great location. Plus Hrafn is a wonderful host!" – Marisela, August 2021
Brand new studio apartment
Location: Central Reykjavík
Budget: $$$
Number of Guests: 3
Minimum Stay: 2 nights
Superhost | Plus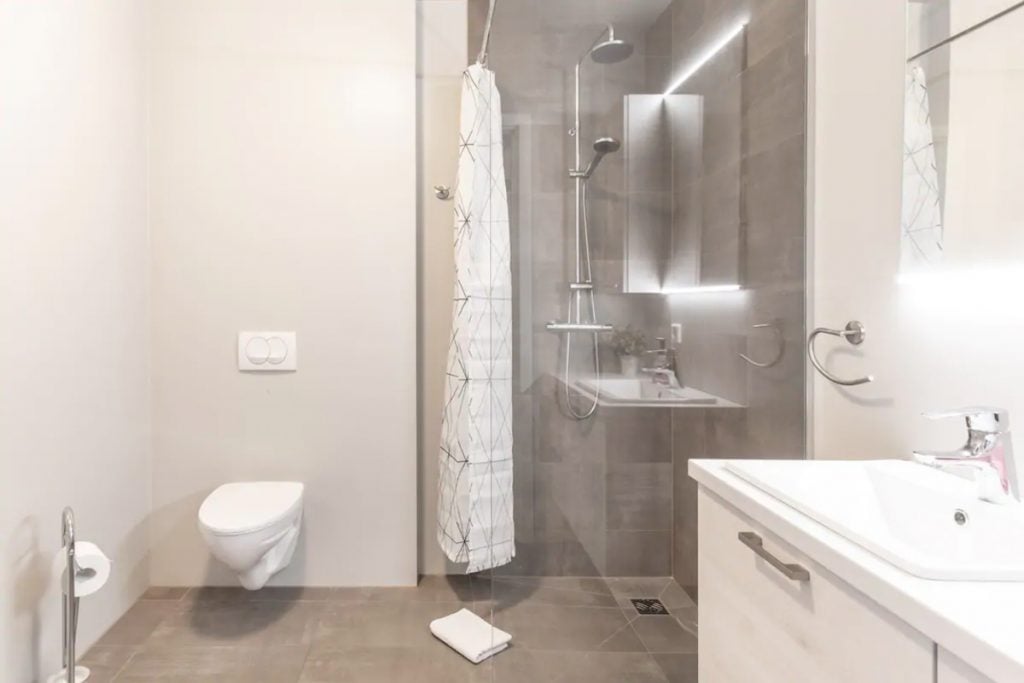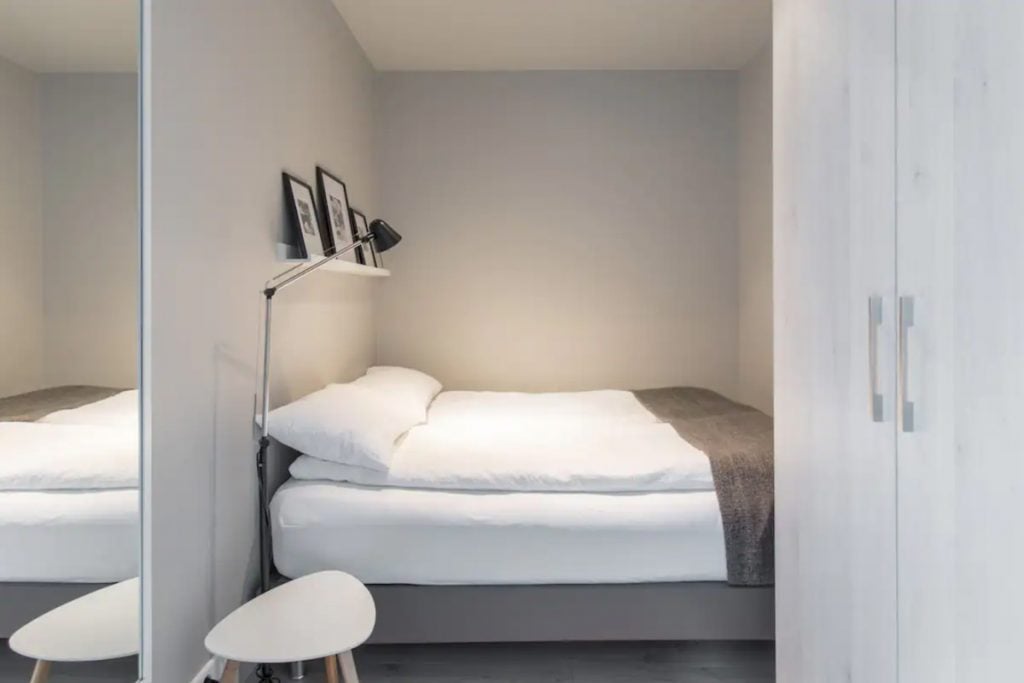 This clean and bright studio apartment is perfectly located in central Reykjavík where you can walk to plenty of attractions like shops and restaurants. The apartment is outfitted with modern amenities like a rain head shower and even has a private patio where you can enjoy your morning coffee.
Guests really appreciated the special touches such as all the bathroom and kitchen essentials provided by the host.
"Absolutely great!! The location was perfect, the bed comfy and the house stylish and wonderfully set up. Super comfy. Would stay there again in a second." – Matthew, February 2020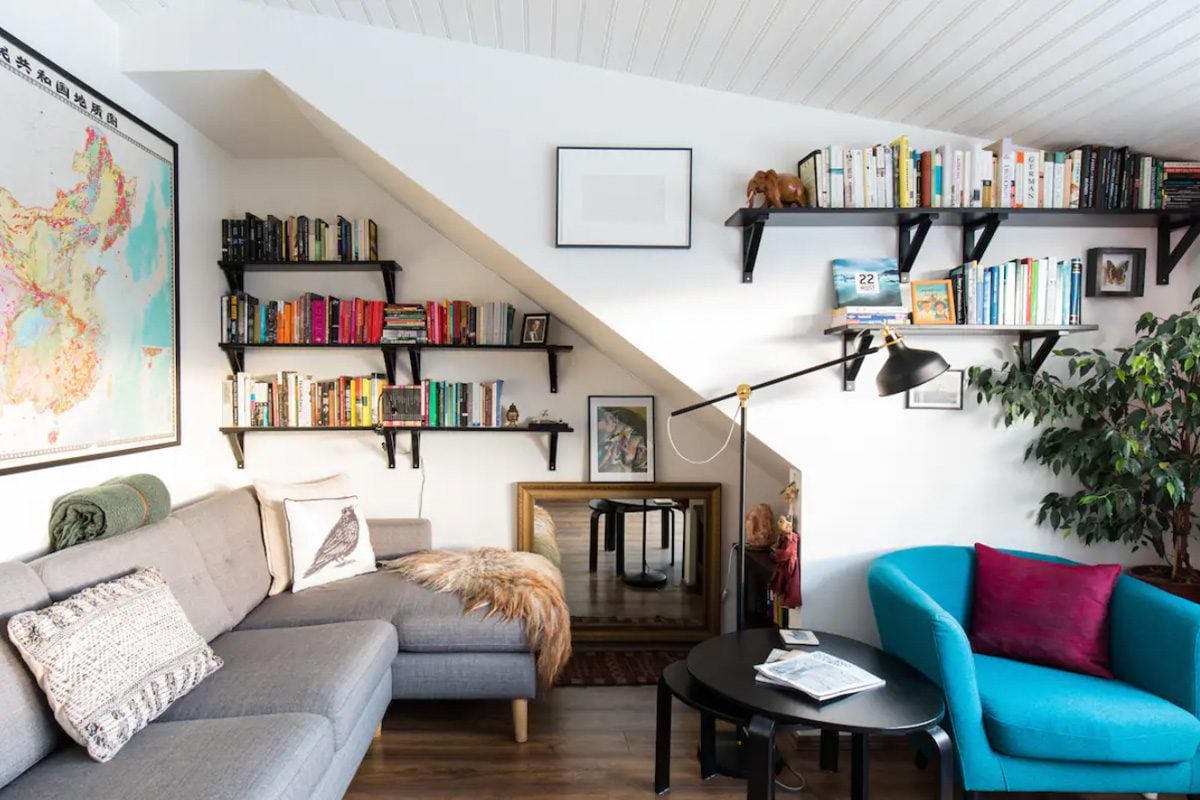 Renovated apartment with modern amenities
Location: Downtown Reykjavík
Budget: $$$
Number of Guests: 2
Minimum Stay: 2 nights
Plus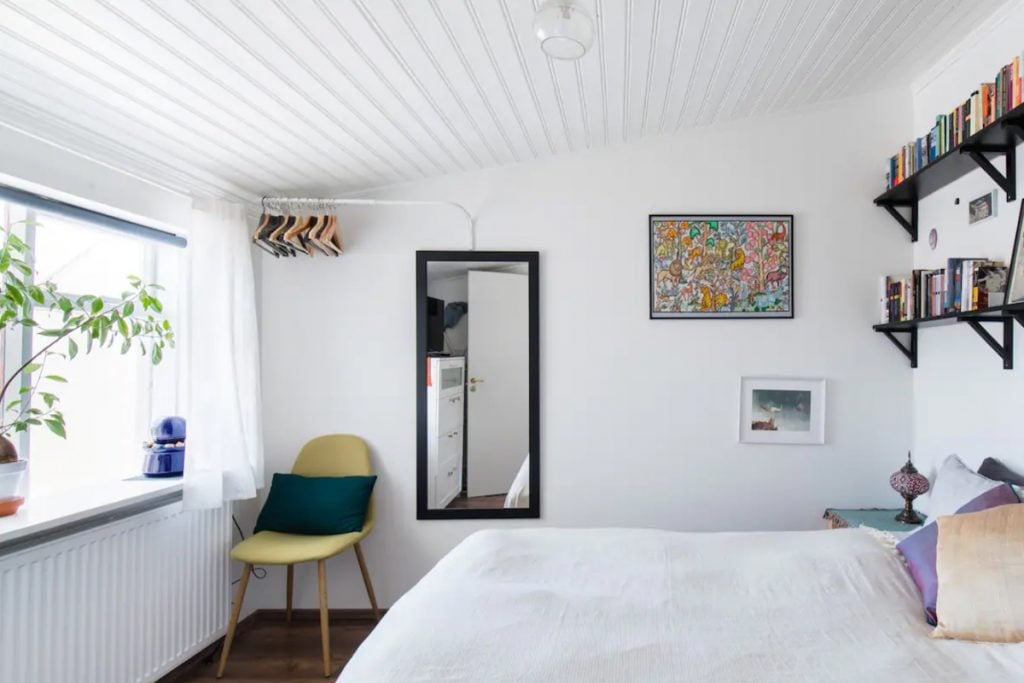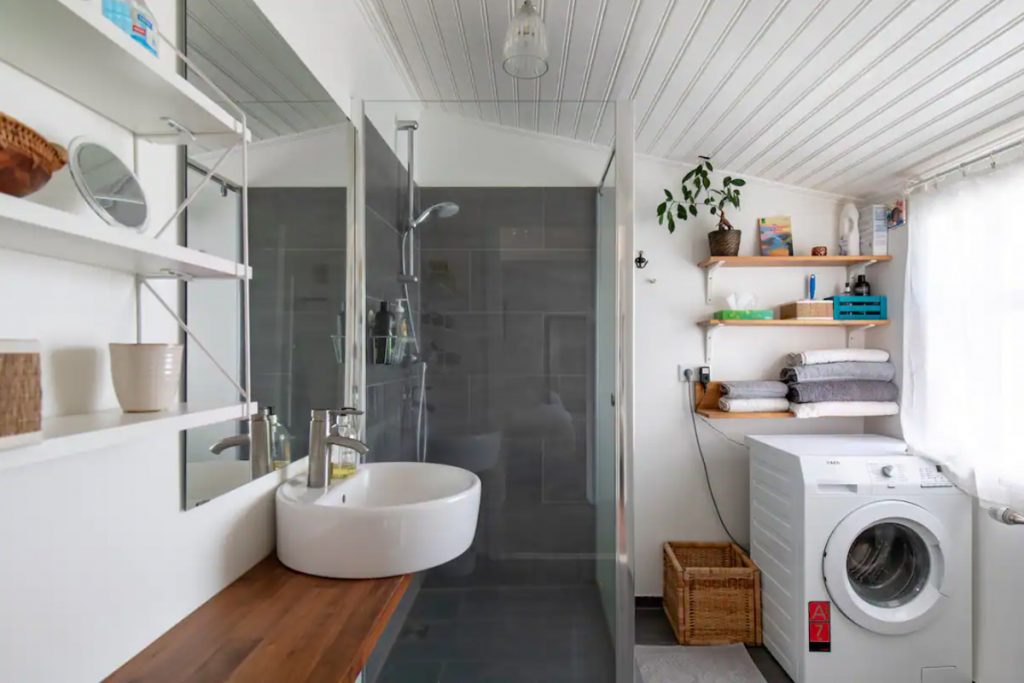 Glimpse Hallgrímskirkja through the picture windows with volcanic mountain ranges in the distance. This renovated 1 bedroom Icelandic feels like home and is filled with special touches, modern amenities and local art—all a warm welcome after a day of sightseeing.
Guests rave about the location and the views this place has to offer.
"What a wonderful stay! We fell in love with this place. Location is superb and the apartment is very comfortable. We would love to stay here again!" – Marion, August 2021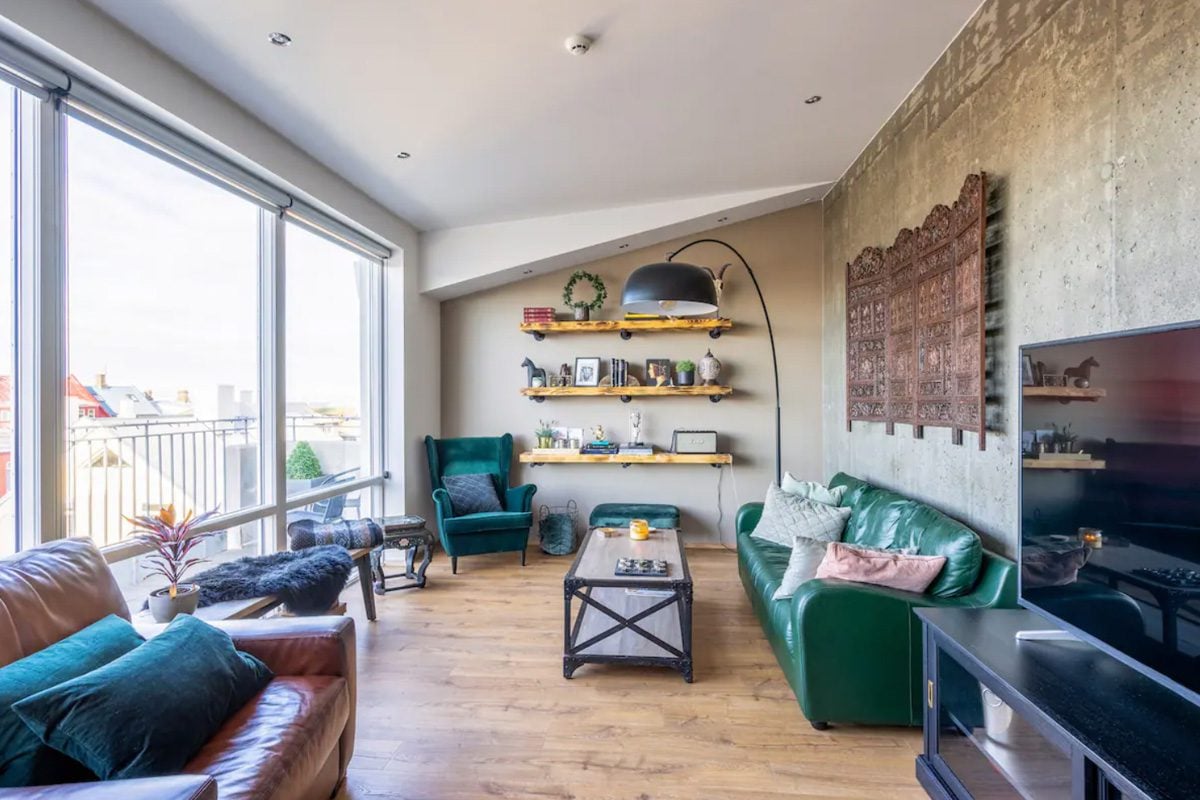 Modern industrial downtown Reykjavík apartment
Location: Downtown Reykjavík
Budget: $$$$
Number of Guests: 4
Minimum Stay: 1 night
Superhost | Plus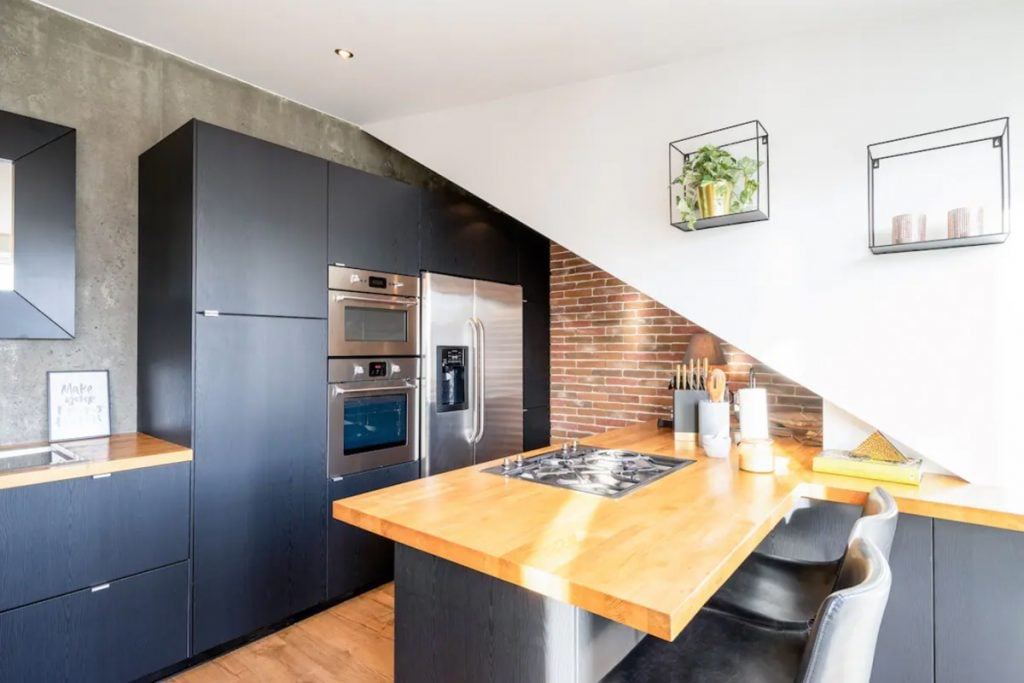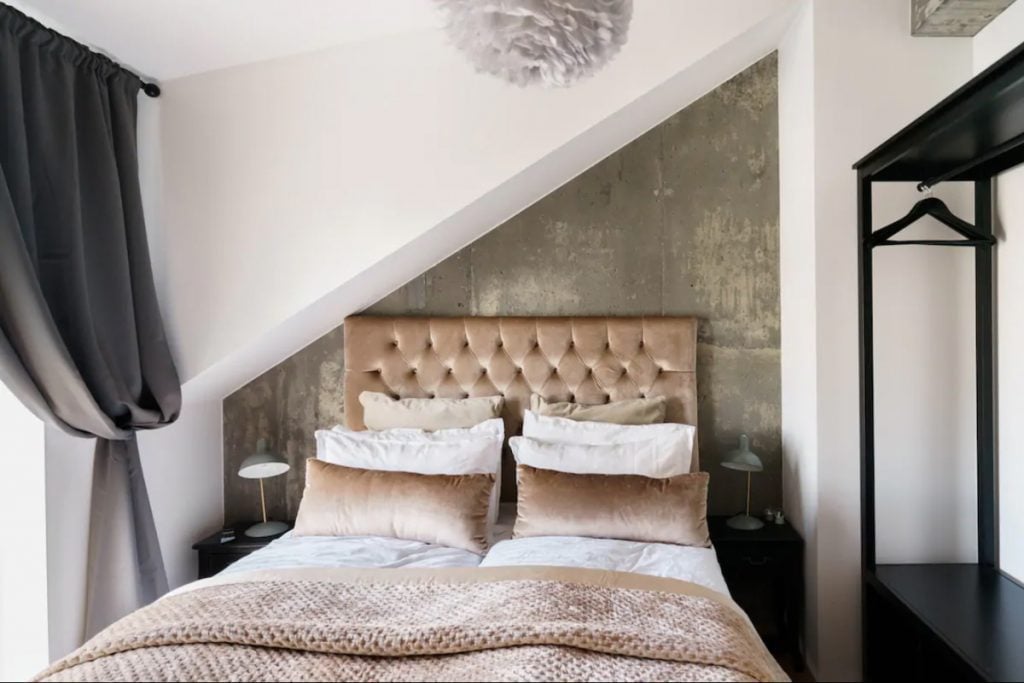 Centrally located in downtown Reykjavík, this luxurious 2 bedroom apartment has everything you need to enjoy your stay in Reykjavík. This stylish abode has only 5 star reviews and includes amenities like a washer and dryer and baby essentials like a high chair and crib if necessary.
Guests love how helpful and responsive the hosts were.
"The apartment is beautiful, the views are magnificent and the location is hard to beat. In addition, the host is super nice, communication was easy and made us feel at home. Next time we visit Reykjavik we would definitely stay here. Everything was perfect." – Veronica, August 2021
Honorable Mention:
Airbnb Stays just outside of Reykjavík
These stays may not be right in the heart of town, but they are close enough to easily community and we thought they deserved a mention.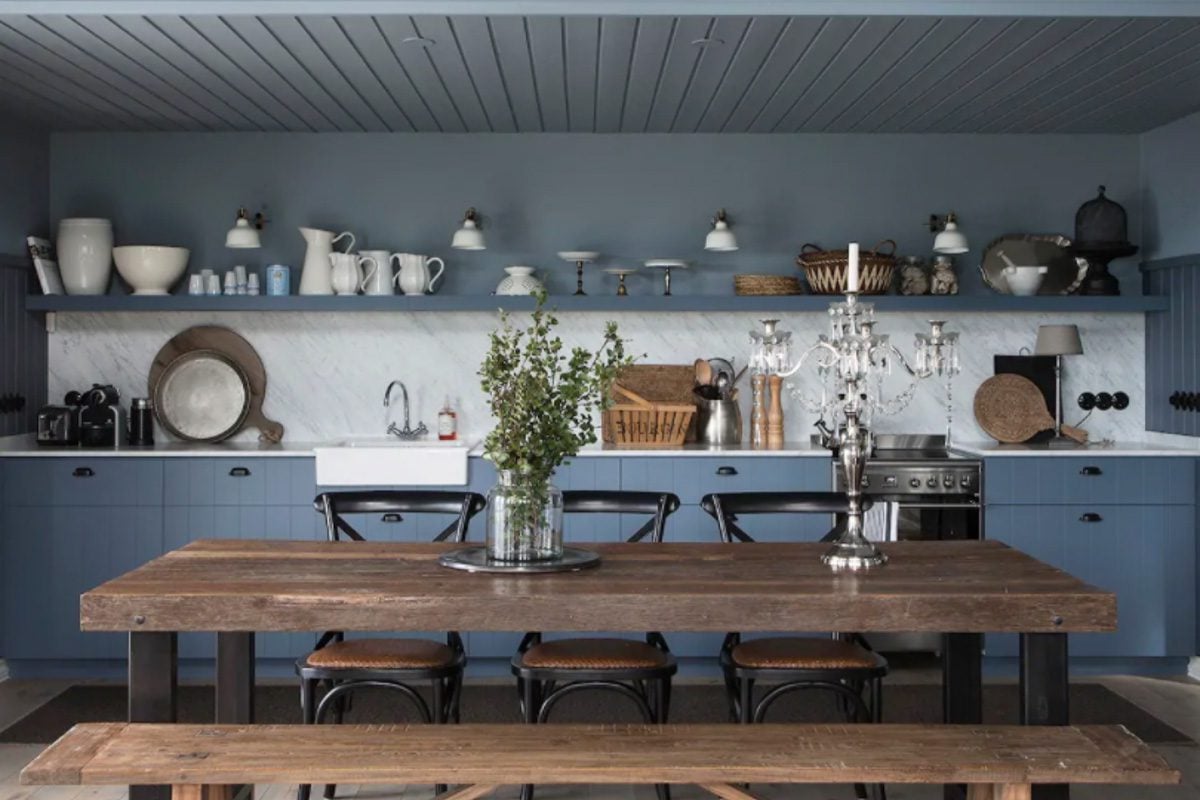 Beautiful Icelandic home near on the Ring Road loop
Location: Borgarnes
Budget: $$$
Number of Guests: 4
Minimum Stay: 3 nights
Superhost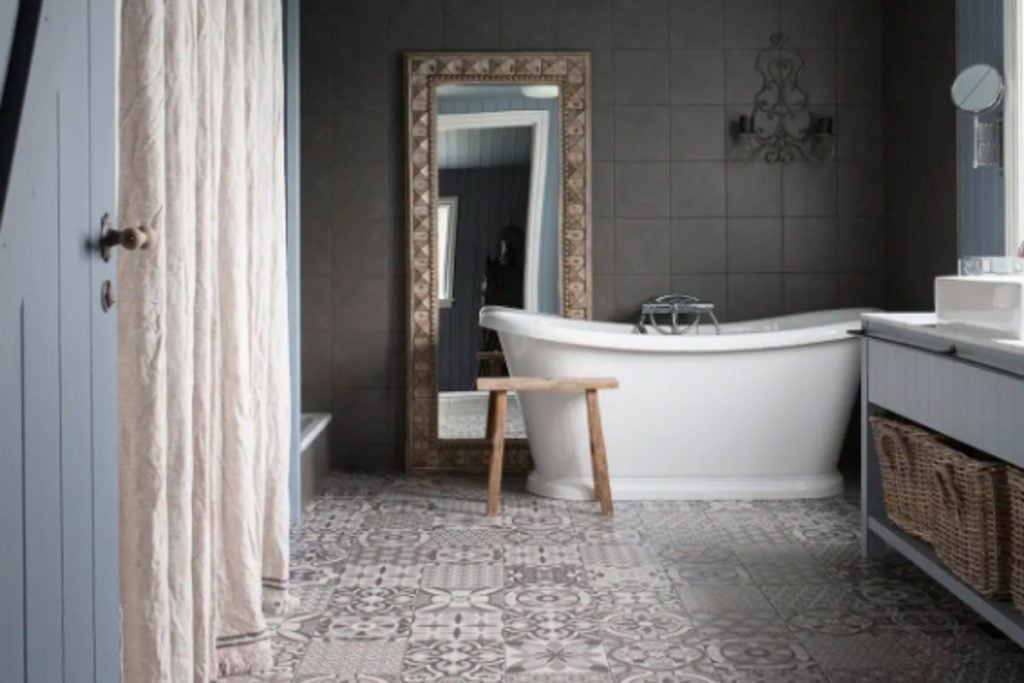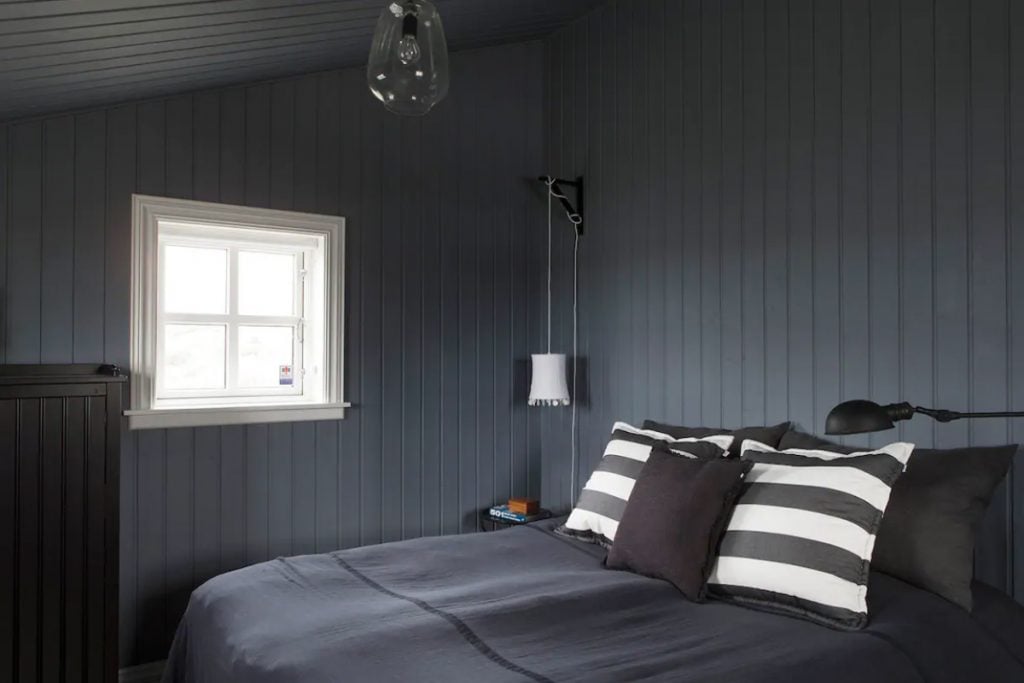 Conveniently located in Borgarnes, at the entrance of the Snæfellsnes peninsula, this beautiful 2 bedroom home is just over 75 km from Reykjavík, about a one hour drive. It's also just off Hwy 1, the Ring Road. Enjoy all the comforts of home in this beautifully decorated space from the fully-stocked kitchen to the deep soaking tub in the bathroom.
Guests rave about the stylish decor and remarkable views.
"This house is a gem! The house is beautifully decorated, cozy, and the view is amazing! It was the perfect place to end our trip and relax but also a great base to discover the Snæfellsnes peninsula." – Lawrence, August 2020
*Note: This property has disappeared from Airbnb, but we were able to find it on Booking, with an exceptional 10/10 review!
Most luxurious stay outside of Reykjavík | MARIA Luxury Villa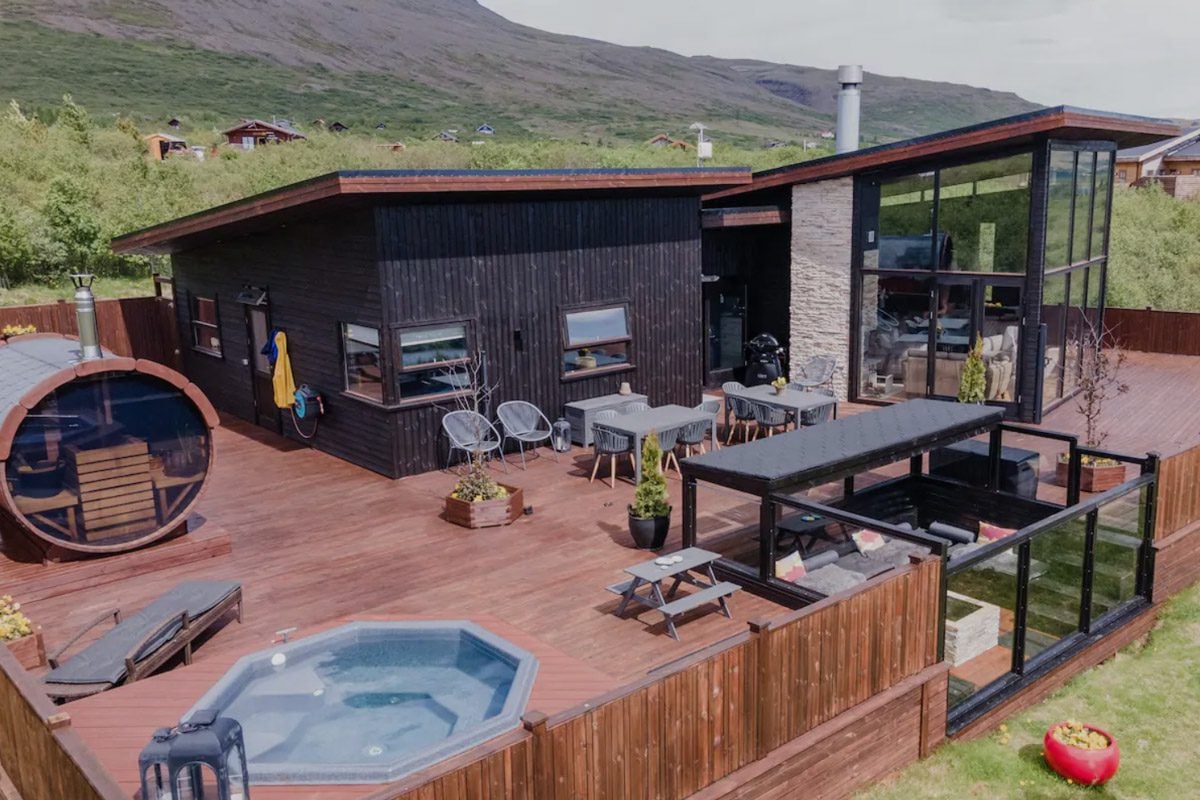 Large luxury home with hot tub and private sauna
Location: Saurbær
Budget: $$$$
Number of Guests: 8
Minimum Stay: 2 nights
Superhost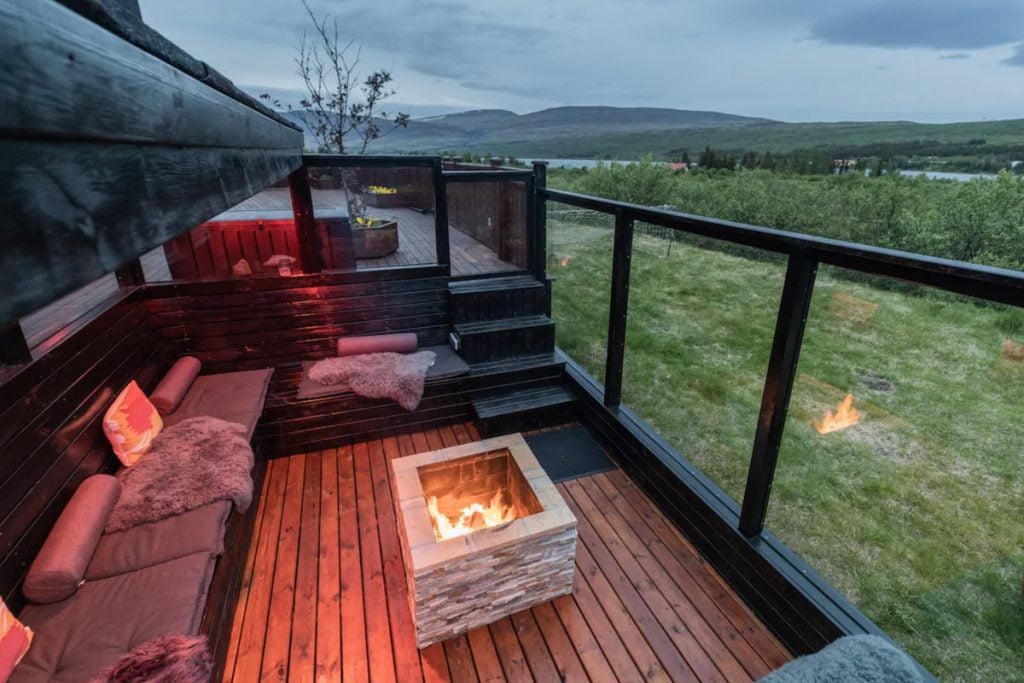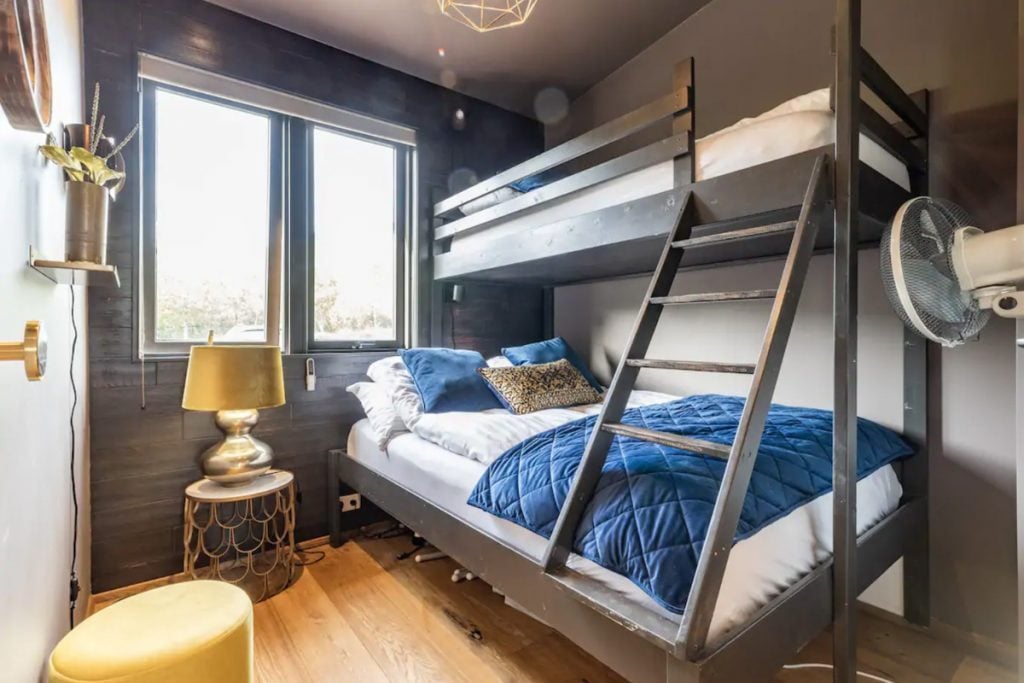 Surrounded by nature near the Snæfellsnes peninsula, this 4 bedroom luxury home offers plenty of amenities for a larger family or group. The single story villa includes a large terrace, outdoor hot tub and sauna, play room for kids, fully equipped kitchen and in house laundry.
Guests love the amazing private amenities included in the property.
"Beautiful house, sauna and hot tub were amazing. Gestur was very helpful and accommodating… Location is a great hub for driving around the vesturlands." – Joshua, June 2021
Honorable Mention:
Best Airbnbs for Northern Lights Viewing
Many people come to Iceland during the winter months, braving the cold weather and long nights in hopes of catching a glimpse of the Aurora Borealis, aka the Northern Lights. This natural phenomenon can be witnessed on a clear night in Iceland from September through March.
We picked out some neat Iceland Airbnbs that we thought would be especially good for Northern Lights viewing.
Best budget Northern Lights stay | Nónsteinn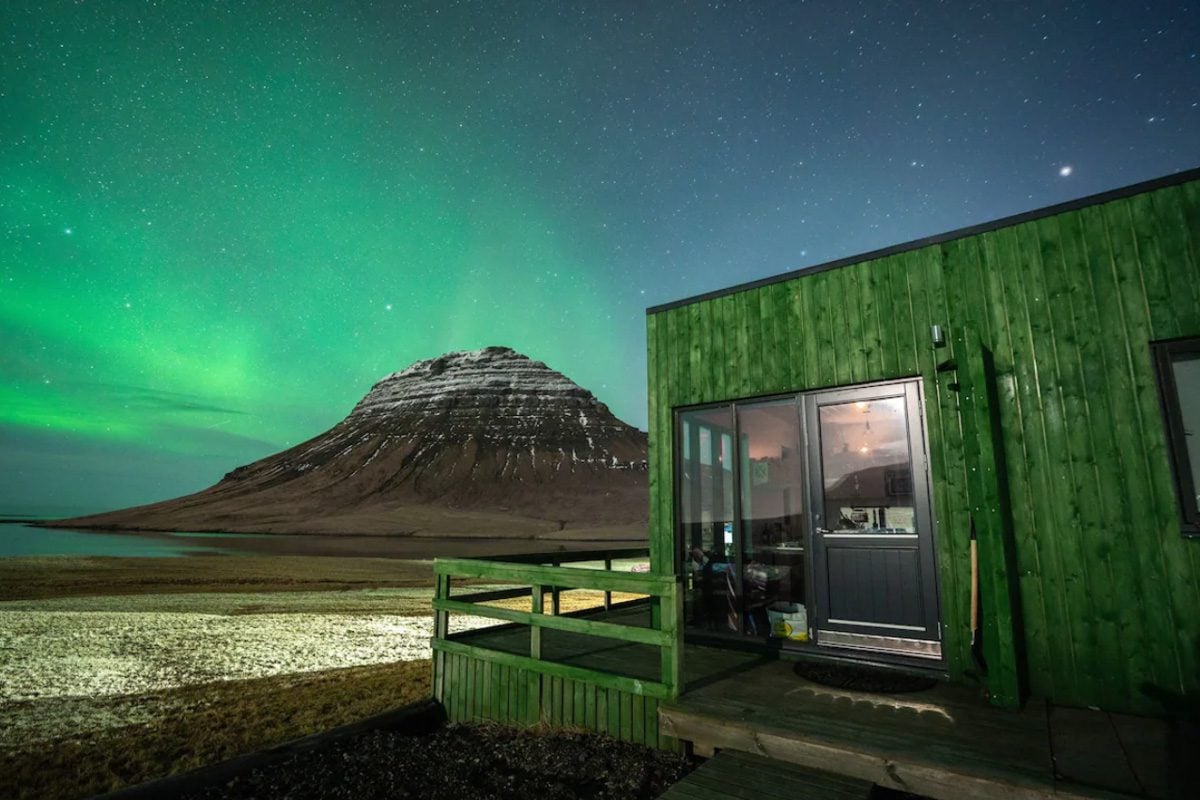 Private tiny guest house with incredible views
Location: Grundarfjörður
Budget: $$
Number of Guests: 2
Minimum Stay: 1 night
Superhost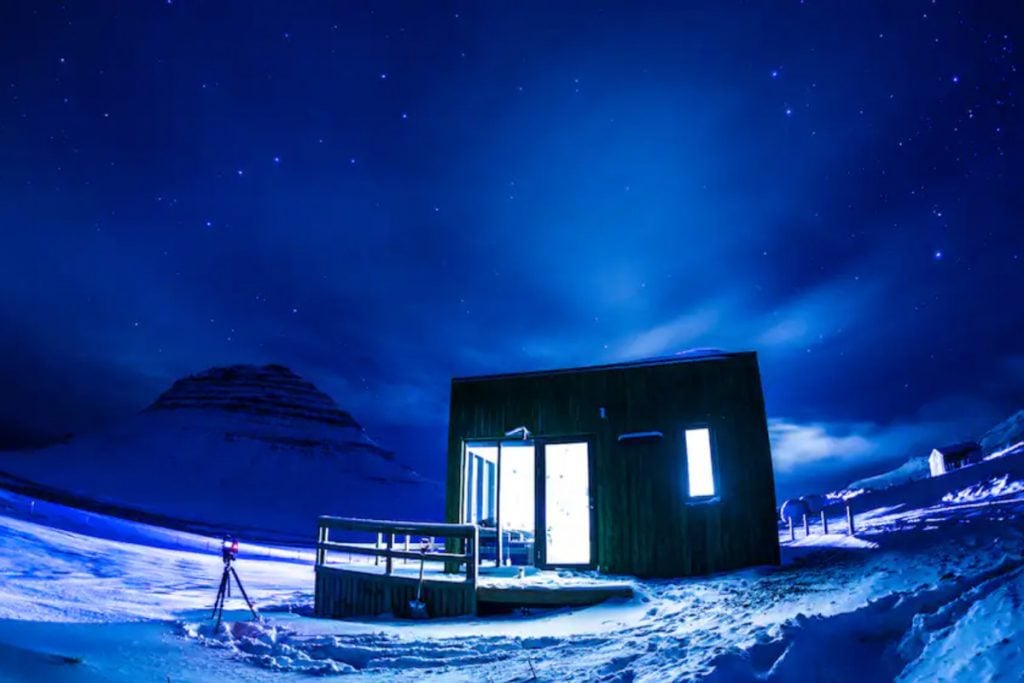 Enjoy life in the Icelandic countryside in this cozy and romantic tiny cottage on the Snæfellsnes peninsula. This guest house is the perfect no-fuss space for a couple or solo traveler looking for adventure. Plus, it's uniquely situated in an area that gets incredible Aurora sightings with mountains in the backdrop.
Guests raved about the experience staying in such a unique space and location.
"Probably the coolest Airbnb in all of Iceland! This place was such a treat and a memory we will hold dear to our hearts for years to come. Unbeatable views in cozy quarters. Once in a lifetime experience here!" – Ashley, August 2021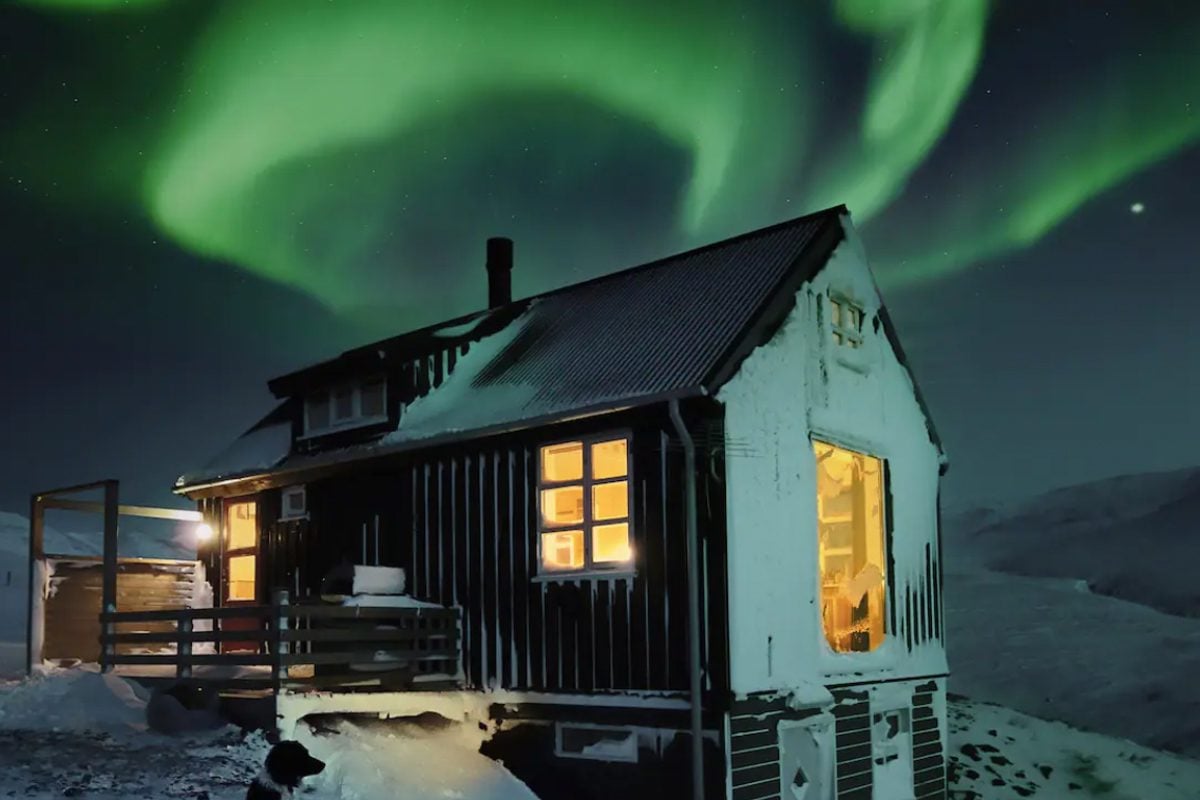 Cozy countryside home in West Iceland
Location: Búðardalur
Budget: $$$
Number of Guests: 4
Minimum Stay: 4 nights
Superhost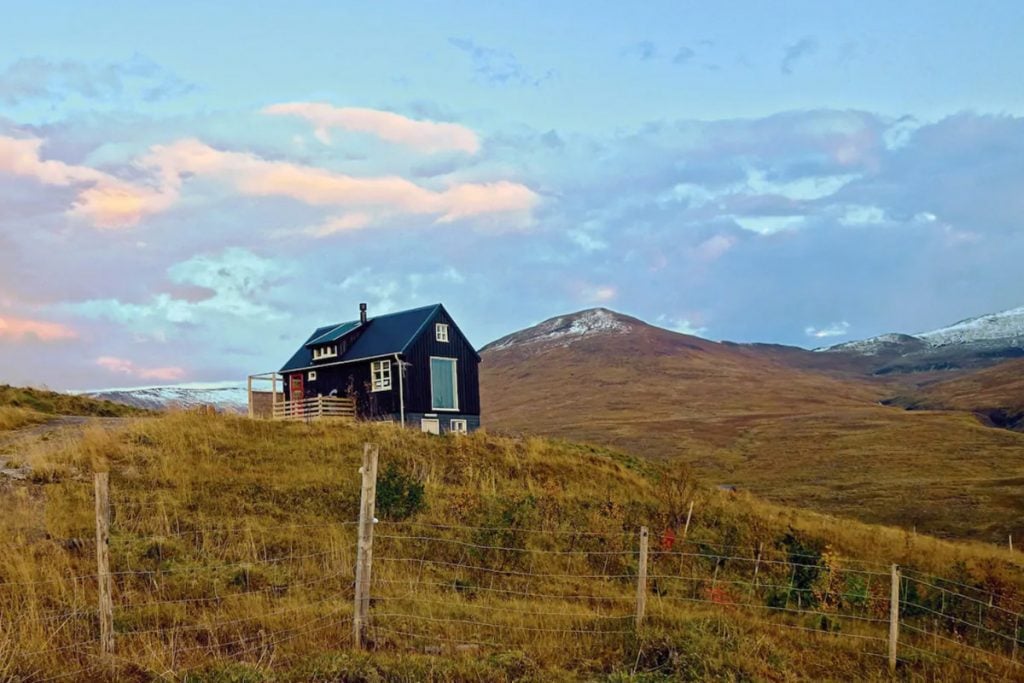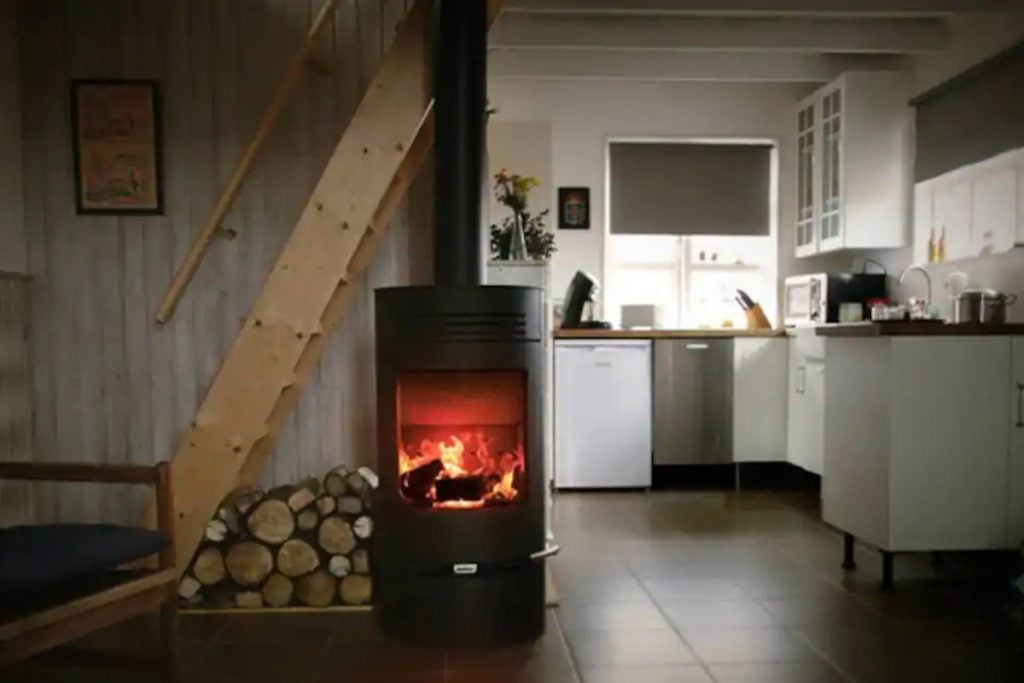 Aptly named a "Piece of Heaven" this gorgeous mountain home is located in West Iceland, 15 minutes outside of the small fishing village of Búðardalur. The cottage is designed in the old Icelandic country style, but with modern upgrades like a wood stove and modern kitchen.
Guests love the remote feeling of getting away from it all. You cannot beat the Northern Lights views from the countryside.
"A truly fantastic place to stay. Stunning views and the coziest of homes. All the amenities you could ask for, Kristjan thinks of everything. Won't find a better value!" – Logan, August 2021
Most unique Northern Lights viewing | Glass cottage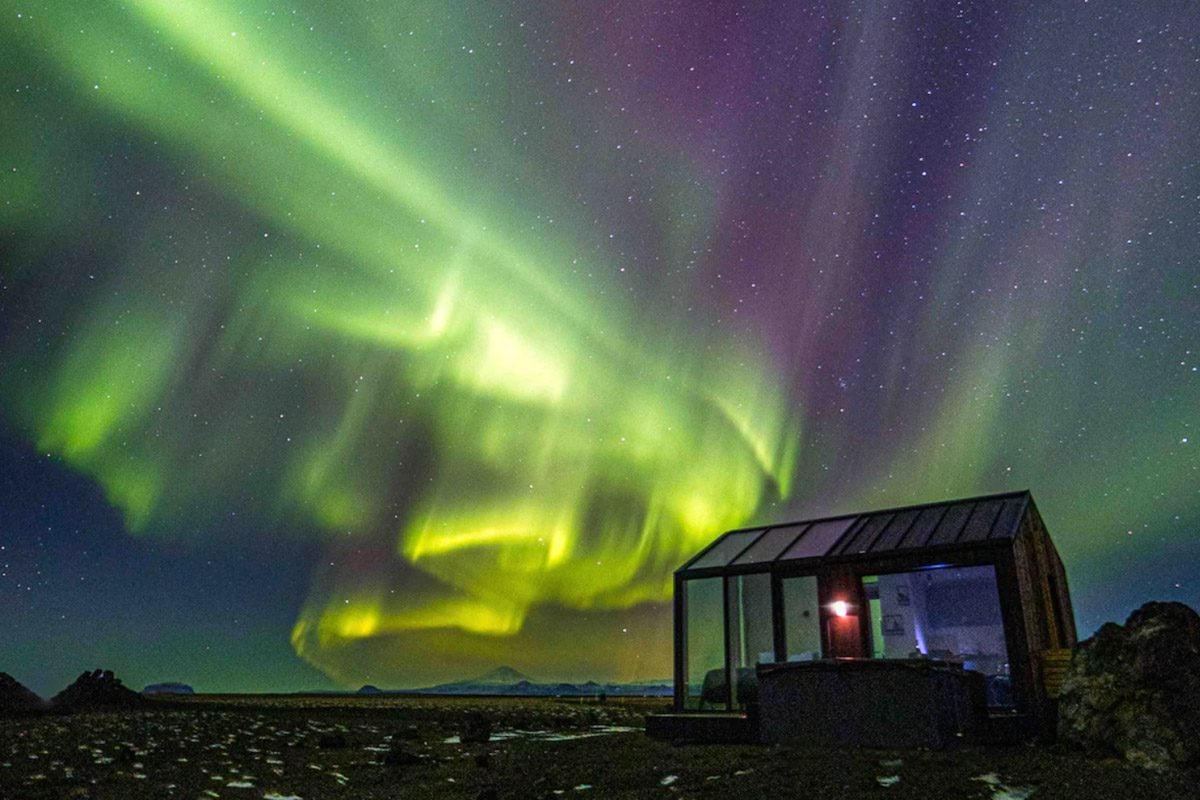 Luxurious glass cottage with hot tub
Location: Hella
Budget: $$$$
Number of Guests: 2
Minimum Stay: 1 night
Superhost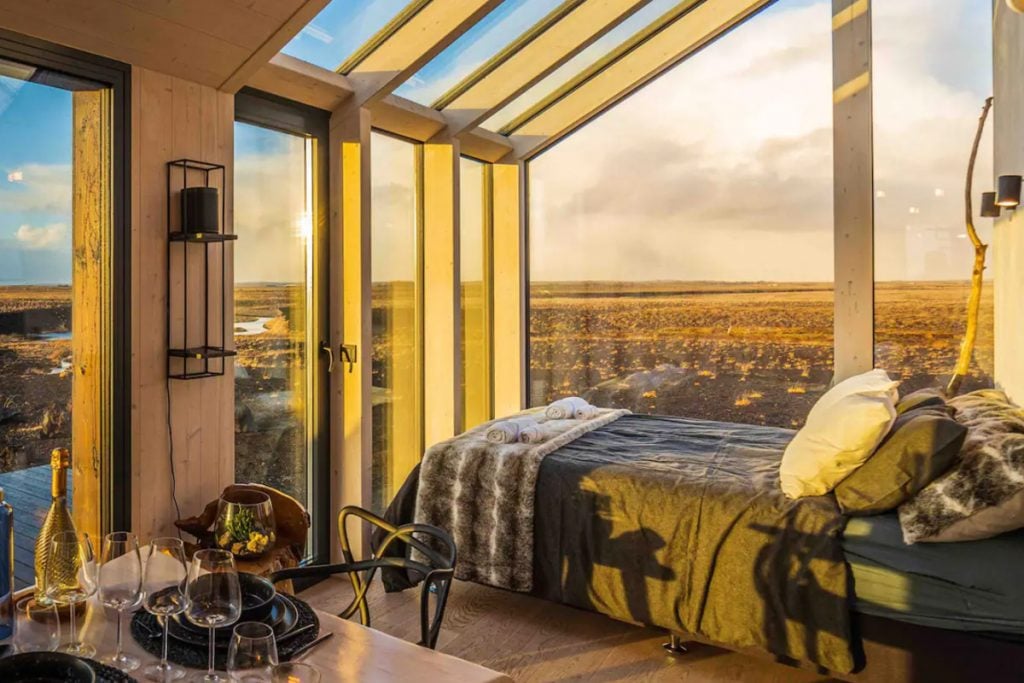 An experience like no other, fall asleep under the stars in the comfort and warmth of your tiny glass home. This cozy and luxurious private cottage is remote enough that you won't feel a lack of privacy, even when you're surrounded by windows. The space includes a fully equipped kitchen, dining area, and outdoor terrace where you can relax in your private hot tub.
Guests raved about the unique experience.
"Absolutely beautiful stay in a remote location with great, simple amenities. This would be the perfect winter time stay with the hot tub and northern lights, although it was just as great in the summer!" – Kyla, August 2021
Igloos & Other Unique Stays
Speaking of all-glass cottages (see above in case you missed it)… We found a few other unique properties on Airbnb in Iceland.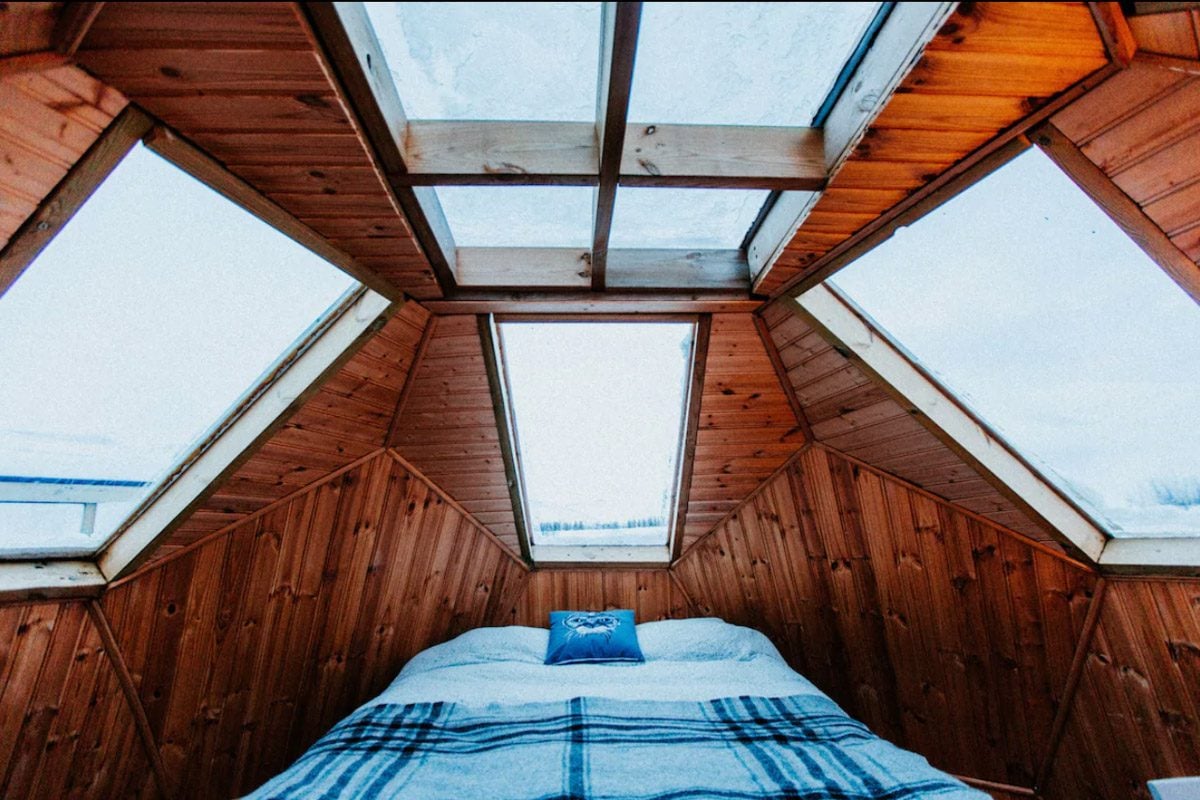 Wooden dome house "igloo" in the countryside
Location: Árskógssandur
Budget: $$
Number of Guests: 2
Minimum Stay: 1 night
Superhost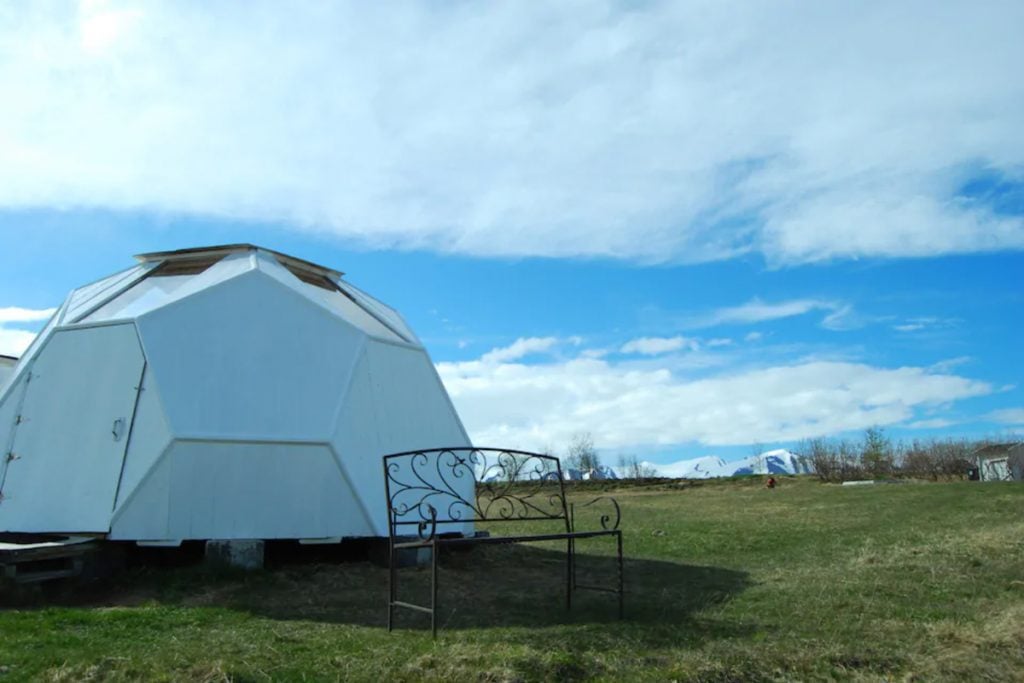 The Iglúhús, as it's known, is a unique property in the countryside of northern Iceland. Spend a night under the stars, sleeping in this dome-shaped house with above-bed windows. The space is actually a guest house on the main property of the hosts and does not include a shower or running water. There is a kitchenette with kettle, toaster and coffee maker, and a toilet in the shed next door.
Guests rave about the magical experience of staying in such a unique home and sleeping under the stars.
"Such a unique and amazing experience! The home is so well thought out to the very last detail and the location is gorgeous. Highly recommend staying for the experience!!!" – Hillary, August 2021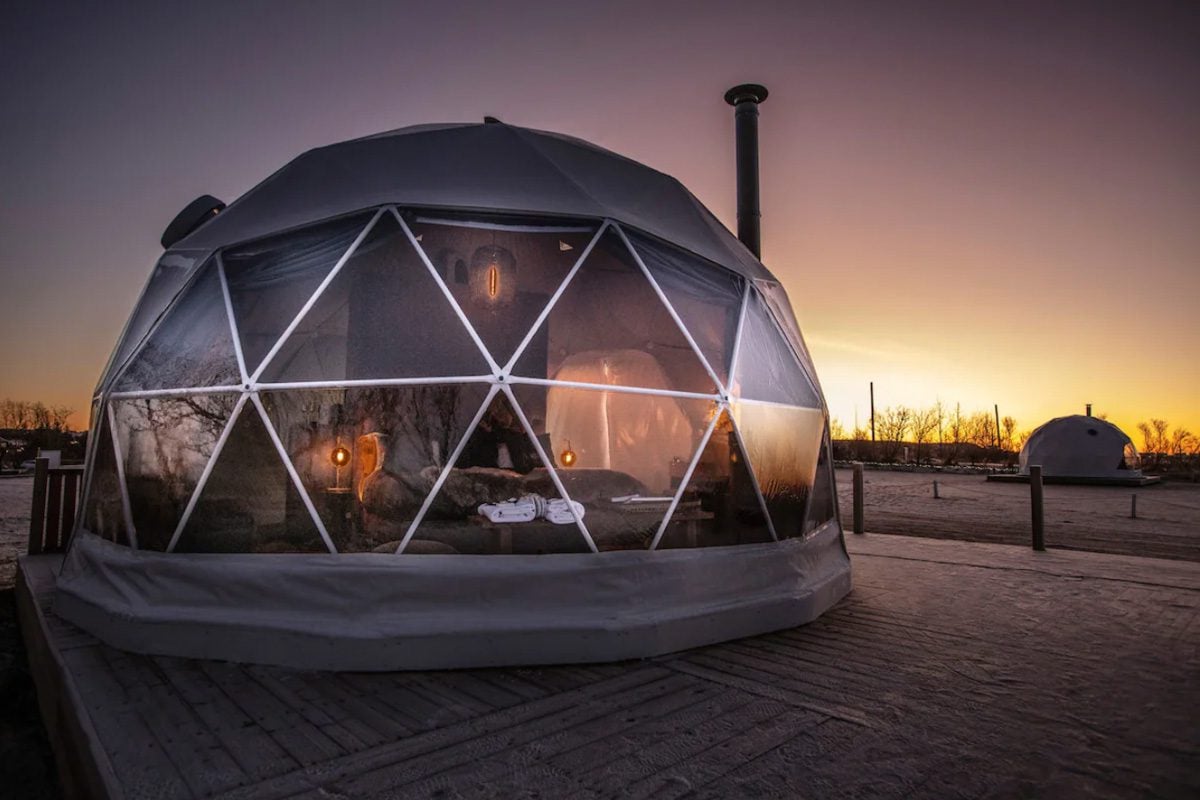 A unique way to comfortably experience nature
Location: Gufunes, Reykjavík
Budget: $$$$
Number of Guests: 2
Minimum Stay: 1 night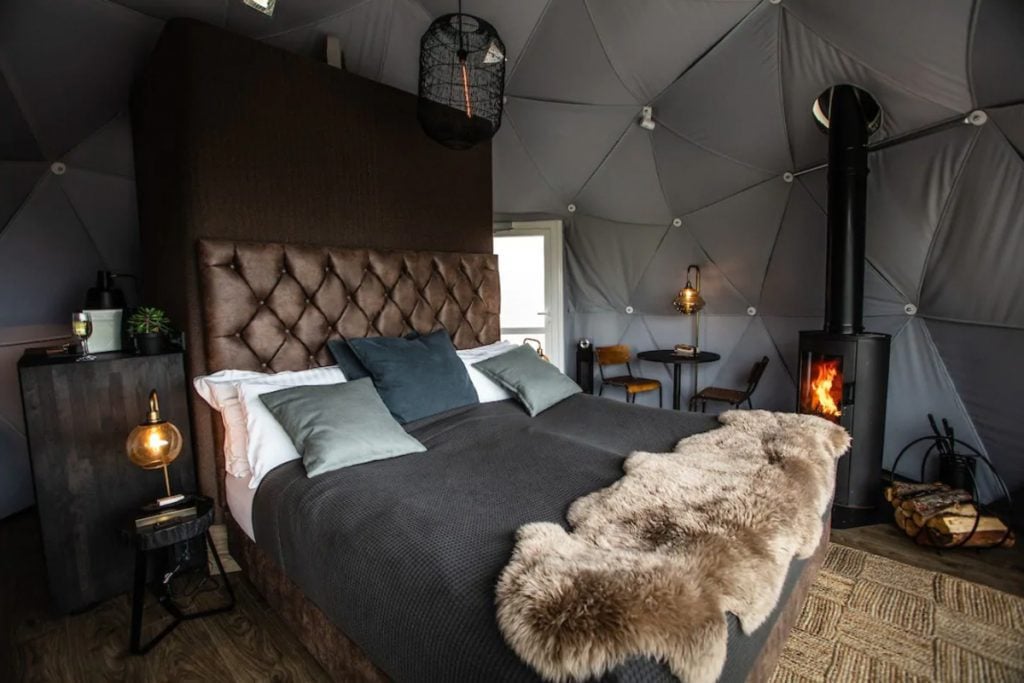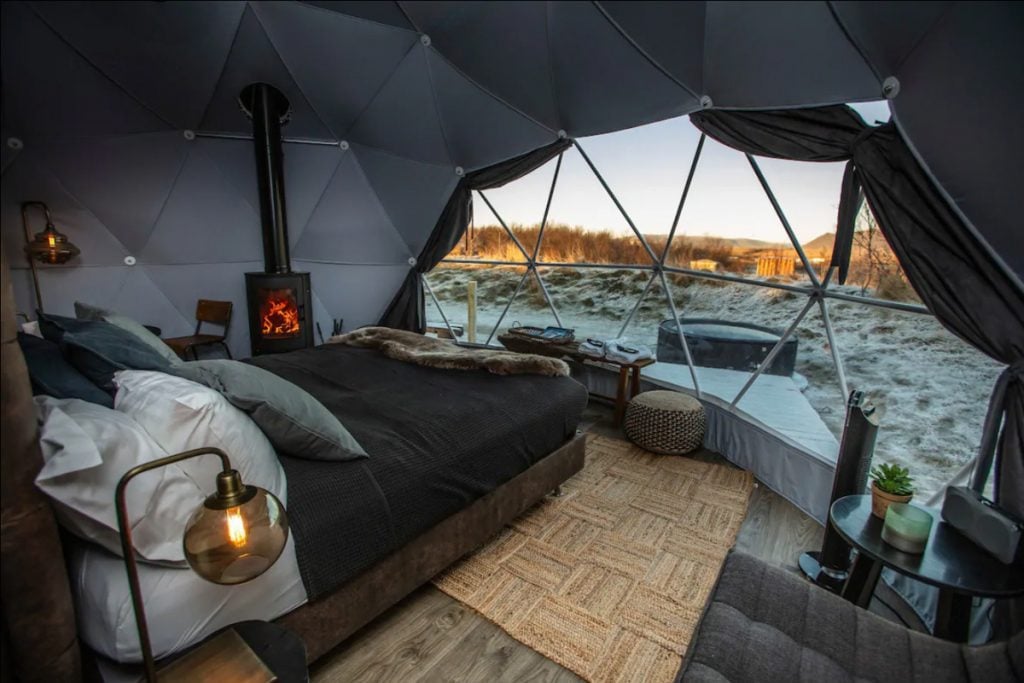 Reykjavík Domes is part of a camping resort just east of downtown. They offer private domes – one standard and one luxury – outfitted with a king sized bed, wood burning fireplace and even a private hot tub (for the luxury dome only). The one thing they don't have is a private bathroom – you'll have to use the communal bathrooms shared with other campers.
Guests rave about the super unique experience and comfortability of the beds in both domes.
"Exactly as pictured. The night we stayed it snowed and we faintly saw the northern lights. It could not have been more perfect for the last night of our honeymoon. There was even a bottle of champagne!" – Genna, November 2019
*Important Note: We included this stay on our list because of its unique experience and proximity to Reykjavík making it easily accessible for all travelers. However, we noticed not all the reviews on this place were excellent. There were a few comments about the bathroom situation being less than desirable and the lack of views. Be sure to read the reviews before deciding if this stay is right for you.
Best Budget Airbnbs in Iceland
If you're planning a trip to Iceland, or have traveled there in the past, you probably already know it's a notoriously expensive country to travel in. That's why we included some of the most budget-friendly Airbnb stays we could find.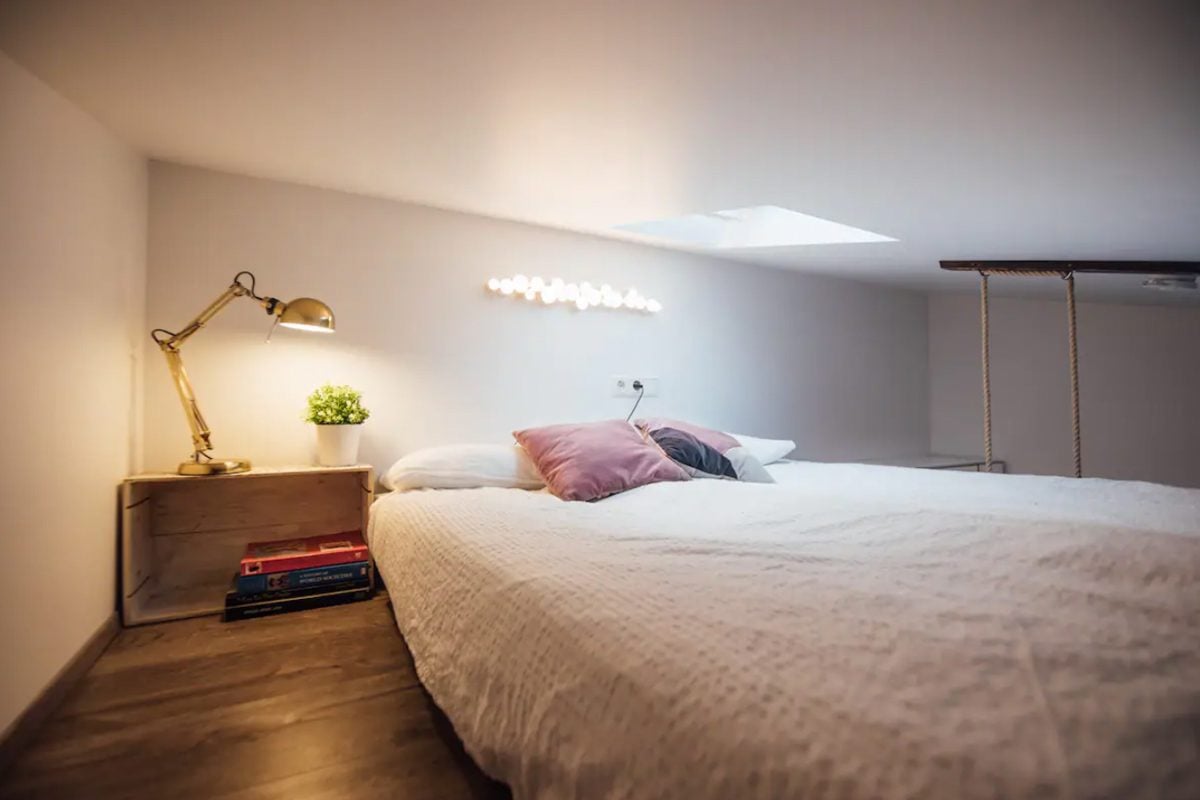 Converted garage apartment on the Golden Circle
Location: Selfoss
Budget: $
Number of Guests: 2
Minimum Stay: 5 nights
Superhost | Plus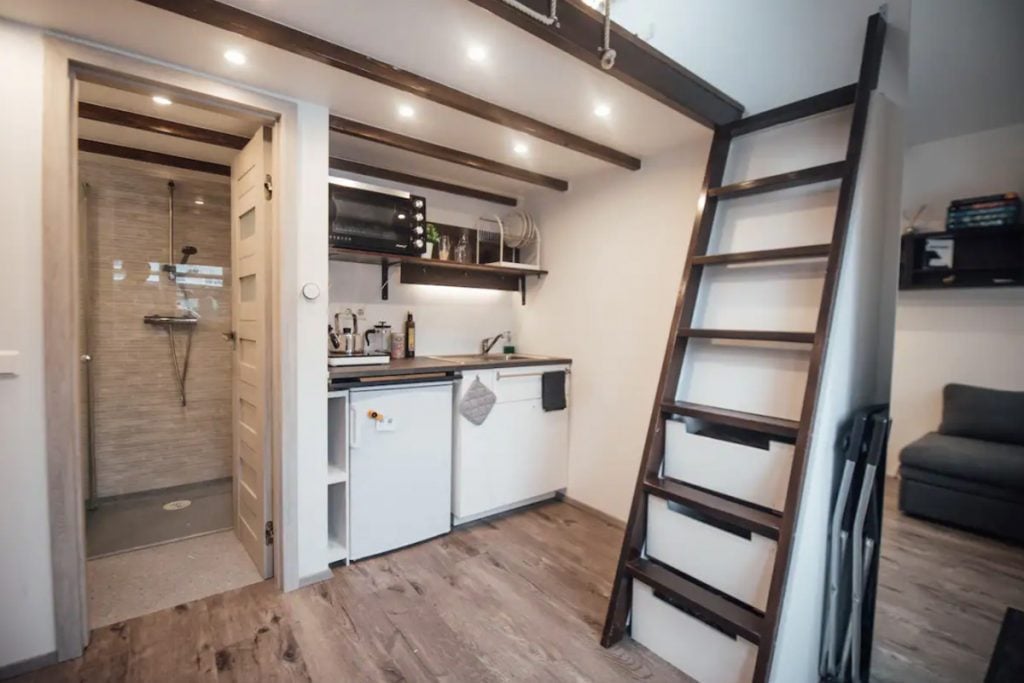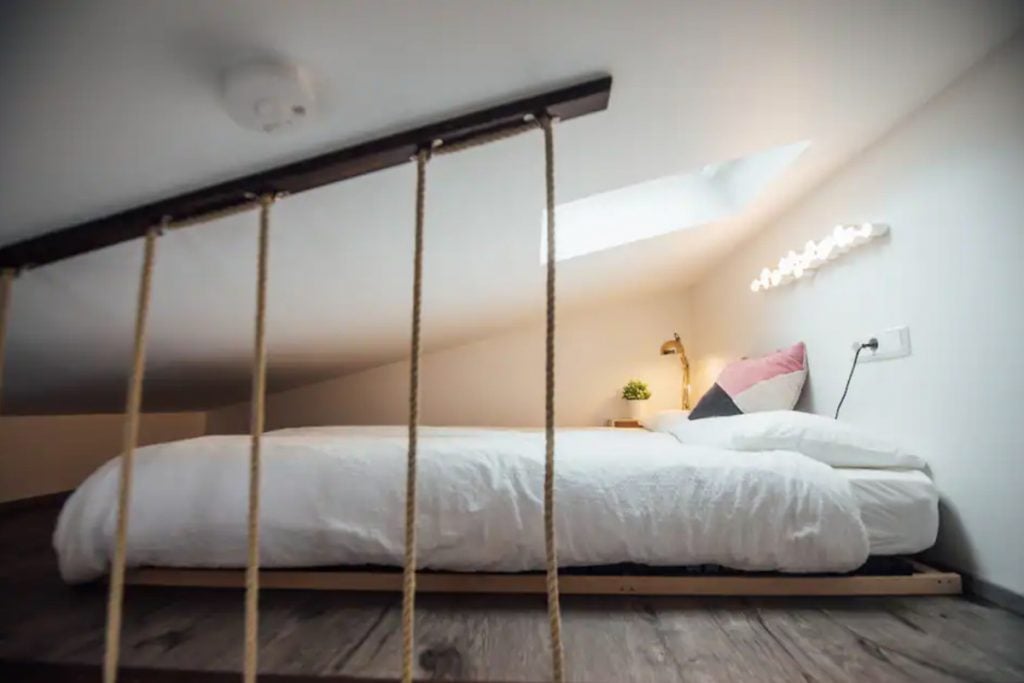 Right in the heart of Selfoss on the Golden Circle, this innovative host turned their garage into a loft apartment used as a guest house. The small space is well-designed for comfort and usability and includes a lofted double bed, small kitchen, private bathroom and a parking spot.
Guests love the thoughtfulness of the space and the desirable location in the heart of Selfoss.
"A lovely little place with delightful and stylish touches in a great location!" – Tessa, July 2019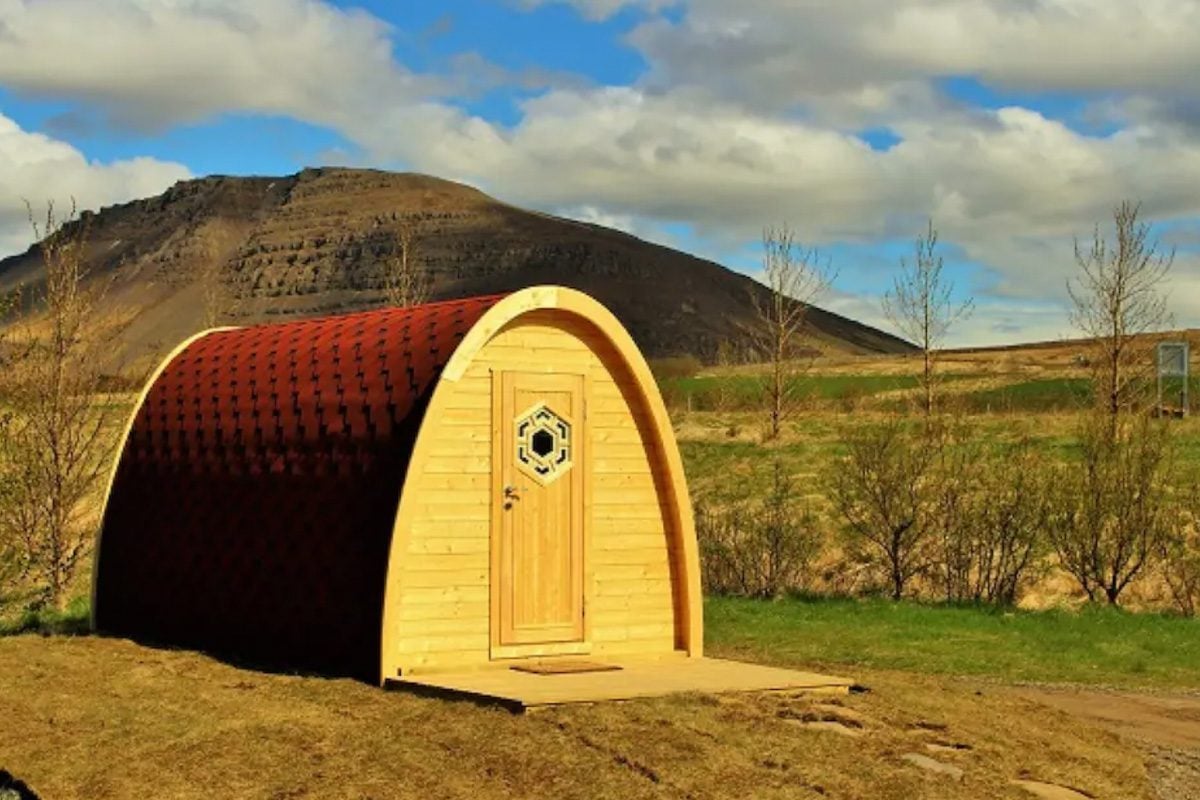 A rustic camping experience near the Snæfellsnes peninsula
Location: Borgarnes
Budget: $
Number of Guests: 2
Minimum Stay: 1 night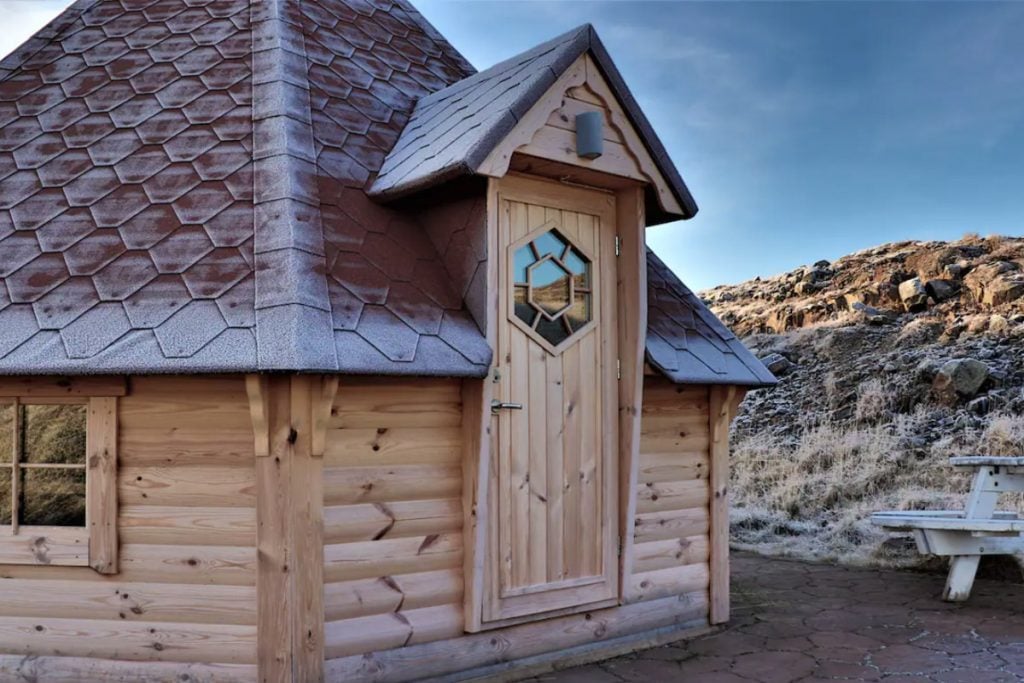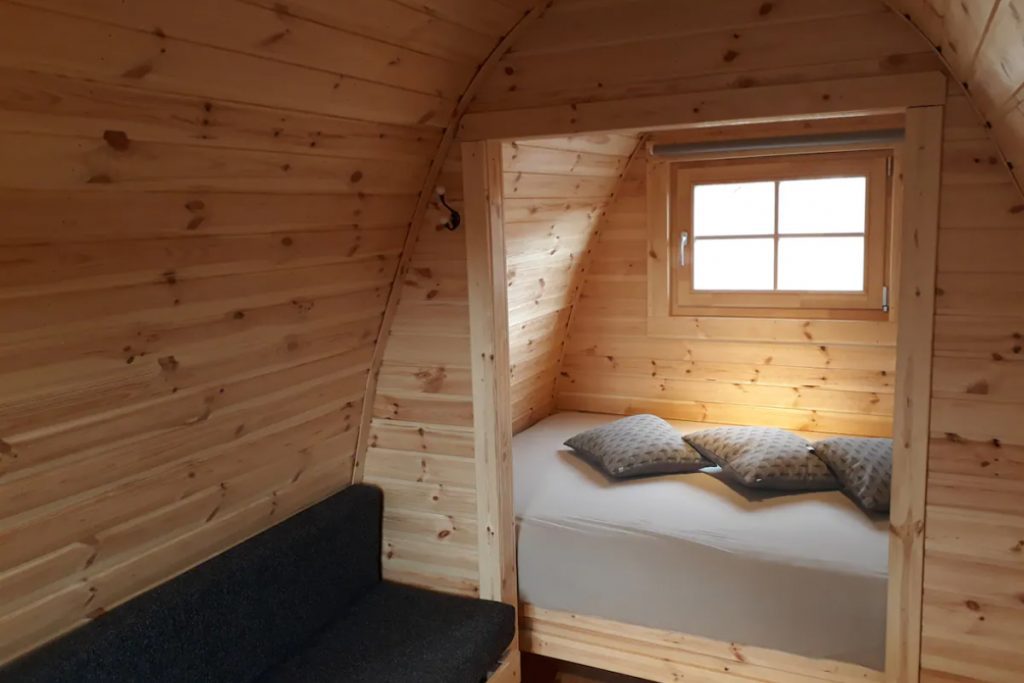 If you're on a budget but maybe not cut out for sleeping on the ground. Or you don't want to go through the hassle of renting camping gear (although it is actually quite easy to do in Iceland), these camping pods might be the perfect solution for you.
Stay the night in a bare bones "pod" with a comfortable bed and a roof over your head. Other than that, there's not much else. This stay includes access to hot tubs, and a communal bathroom and kitchen. Bring your own sleeping bag or rent bedding at an additional cost.
"Exactly as described! The little pod was comfortable for two, had a small porch with two chairs, a small fridge to store food, space to sit and space to sleep. The bathrooms were clean and conveniently located. The check-in was easy and finding the place was a breeze…" – Jana, August 2021
Best Communal Cabin Experience | Laugarfell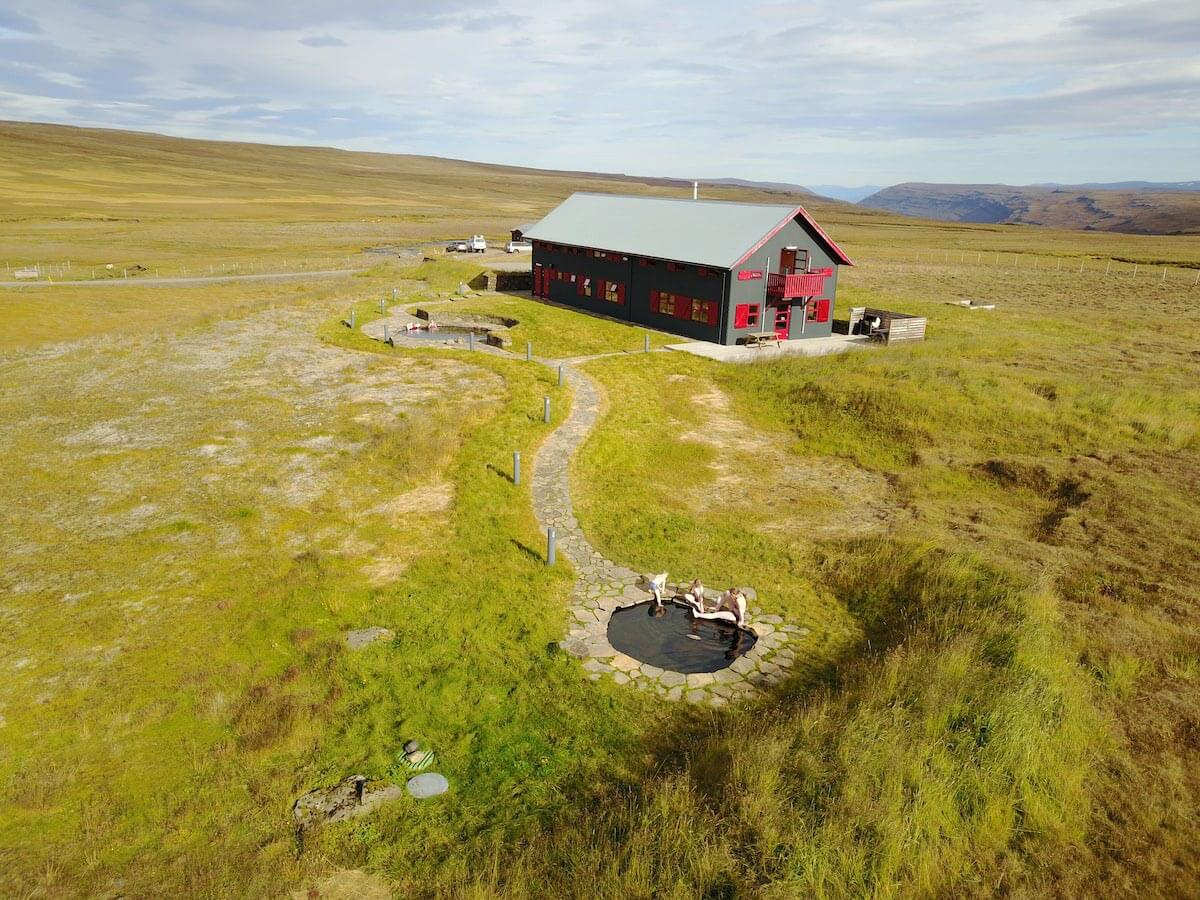 Private room in communal nature lodge
Location: Egilsstaðir
Budget: $
Number of Guests: 2
Minimum Stay: 1 night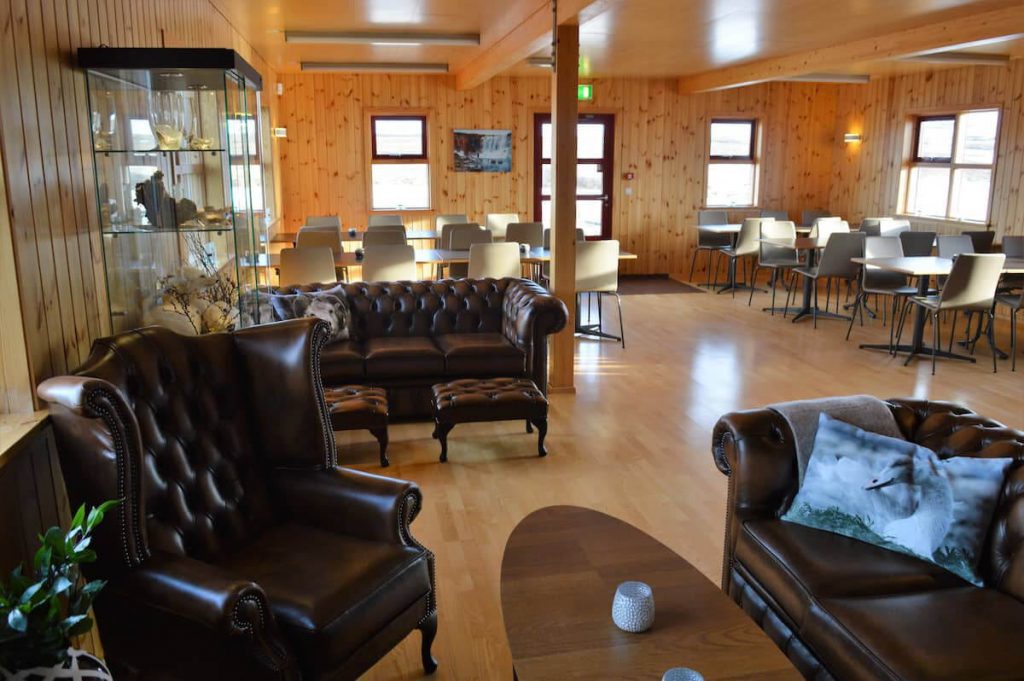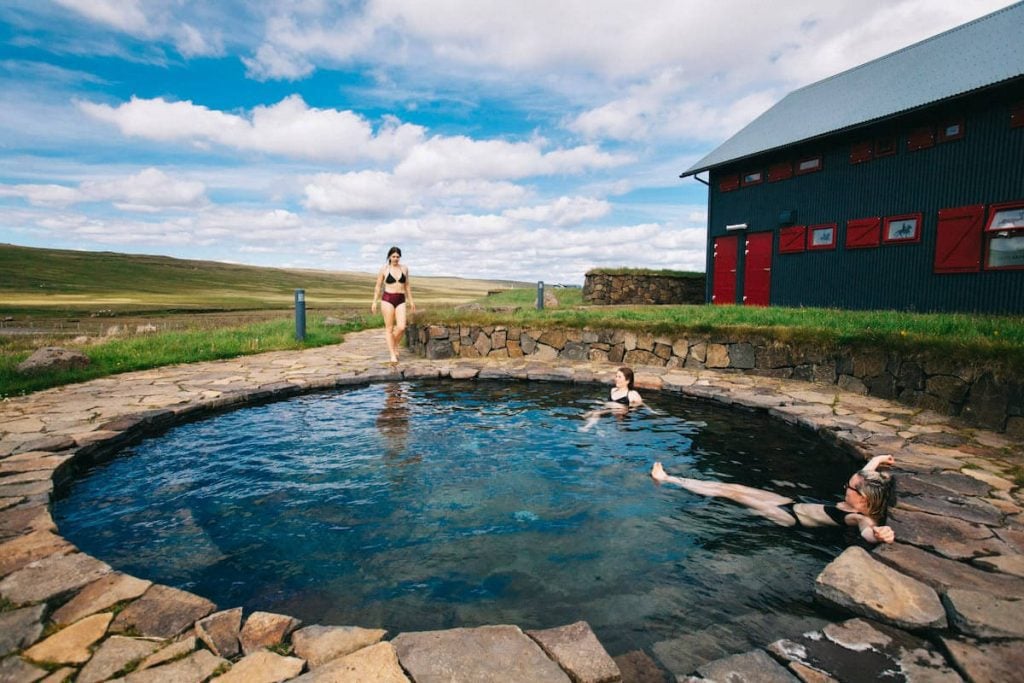 Located in a remote part of the eastern Icelandic Highlands north of Mount Snæfell, is a dreamy nature cabin and perfect stay for those looking to escape. Laugarfell accommodates 28 people with private rooms, shared bathrooms and communal living spaces including a kitchen.
There are two natural hot spring pools on the property, known for their healing powers, and perfect to soak your aching bones after a long day of hiking to the many natural attractions in the area.
Guests love the remote locations and cozy welcoming cabin feel.
"Olga was so helpful! She helped point out the northern lights and gave us suggestions for the rest of our trip. We loved the remote location, the incredible hike, and the cozy room." – Sarah, September 2018
Honorable Mention:
Airbnbs near the Blue Lagoon (Reykjanes Peninsula)
You've probably heard of Iceland's iconic Blue Lagoon or seen photos of this geothermal wonder on Instagram before. Located on the Reykjanes Peninsula, just south of Reykjavík, this popular natural spa is near the international airport and can be easily visited on a day trip or long layover.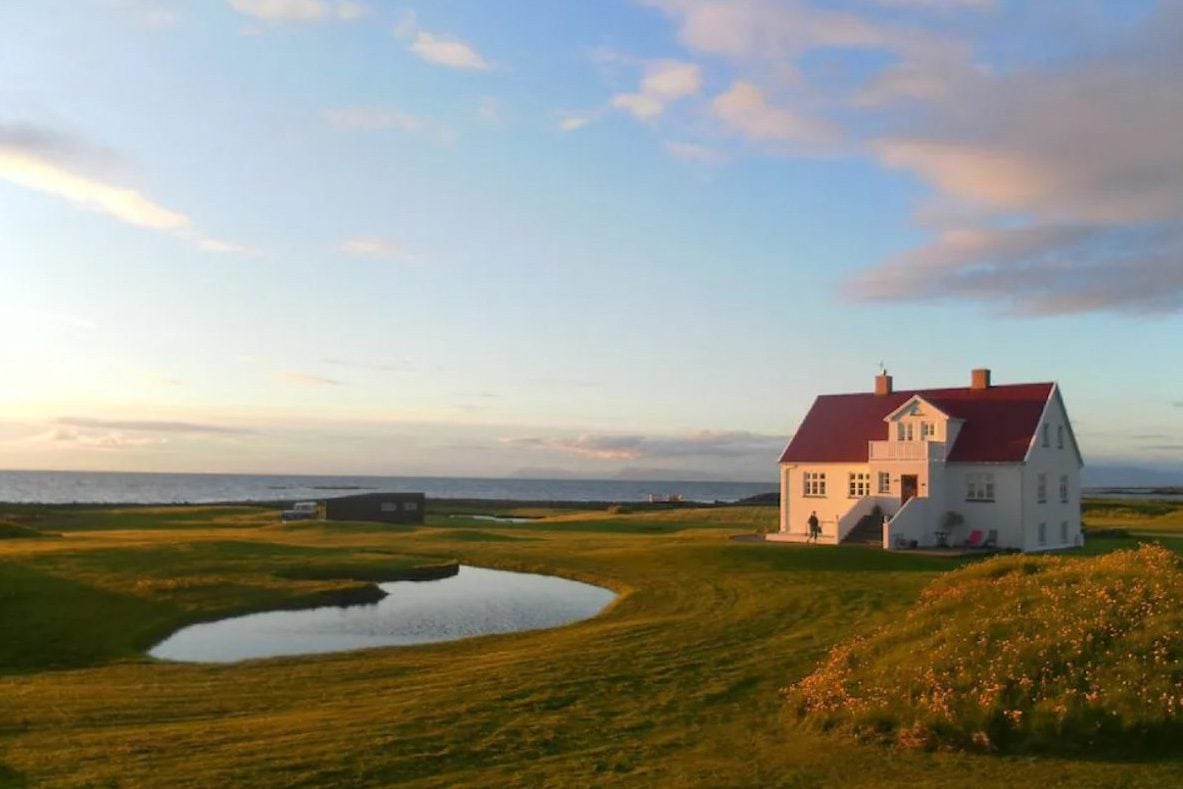 Renovated farmhouse with private beach and hot tub
Location: Vogar
Budget: $$$
Number of Guests: 2
Minimum Stay: 3 nights
Superhost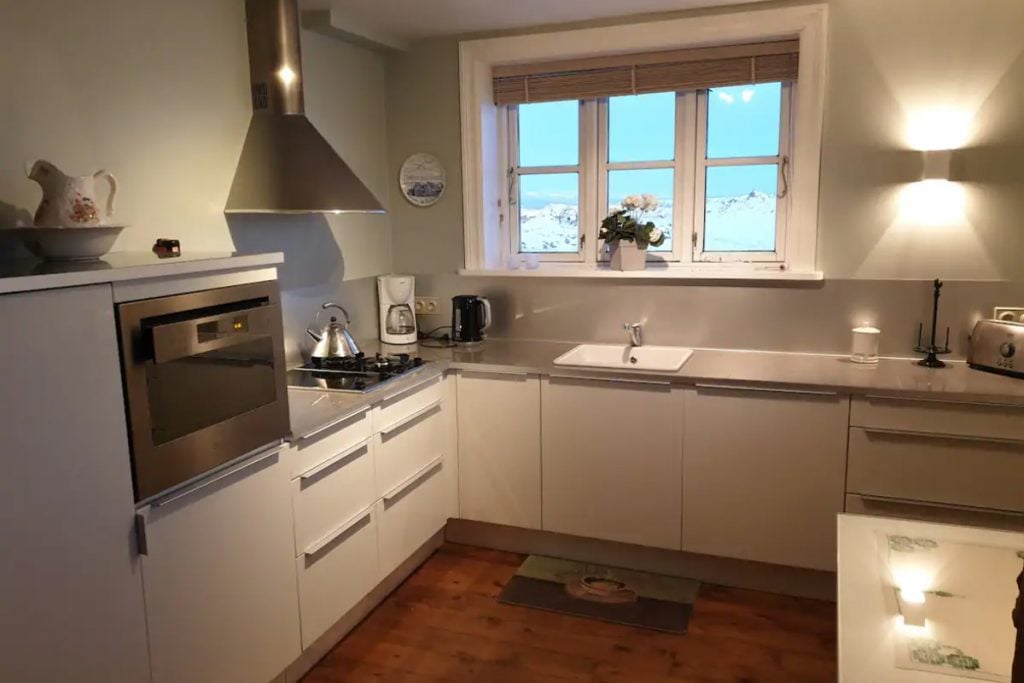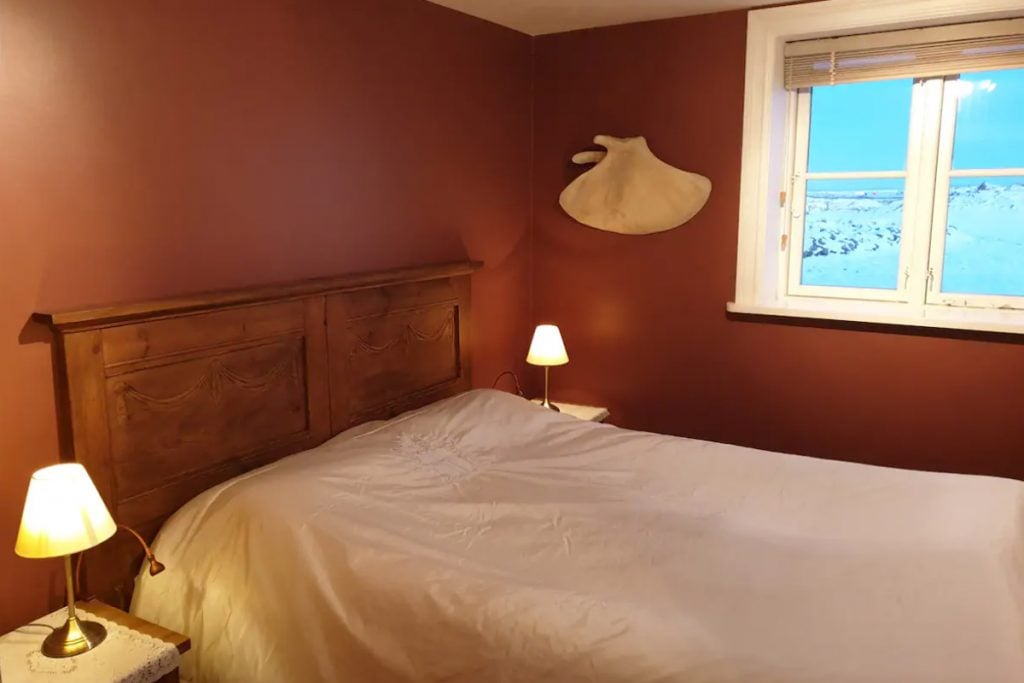 A stay in this iconic Icelandic farmhouse will have you feeling like you're living in a postcard. The picturesque property is situated right on the coast with private beach access. Guests stay in the one bedroom apartment on the ground floor of the home (with their own private access) while the owners of the home live on the top floor.
Guests love the private beach access and sunset views.
"Anna's home is the perfect oasis for visiting Iceland. Not too far from the city but also close to nature. If the volcano is active at night you can see it from the window." – Mary, August 2021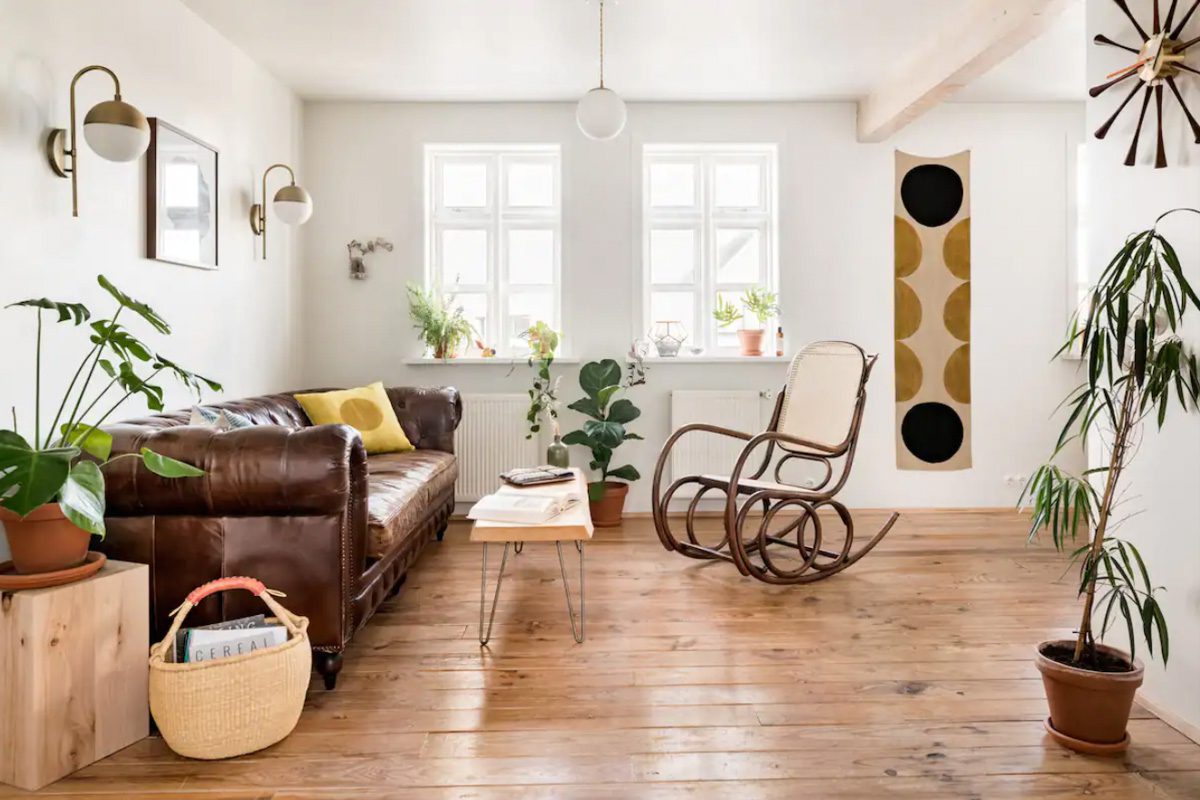 Art-filled garden cottage with welcoming hosts
Location: Hafnarfjörður
Budget: $$$
Number of Guests: 4
Minimum Stay: 2 nights
Superhost | Plus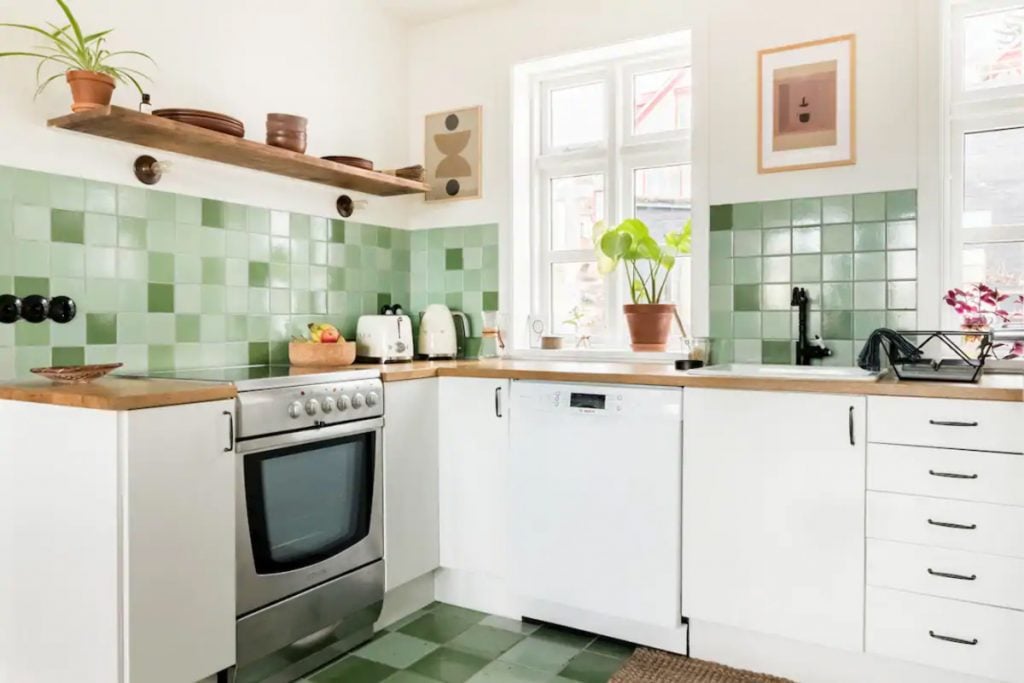 Curated by the owners of Reykjavík Trading Co.,The Garden Cottage is a completely renovated building dating back to 1884. The stylish 2 bedroom abode is decorated with furniture pieces handmade by the owners or picked up on their travels to Scandinavia, California and Mexico.
Other highlights of the property include the communal garden and greenhouse, resident chickens and The Shed, which is their workshop where you can visit for a coffee, buy pieces or see their process of making objects.
Guests rave about the property and their hosts, exclaiming that they go above and beyond to make all their guests feel welcome and comfortable.
"Absolutely wonderful. Beautiful decor. Great hosts who are friendly and warm. Really appreciated the welcome and great conversation. The greenhouse was amazing and my son (2.5yo) loved the chickens and garden. Just a dream!" – Bhumy, August 2021
Honorable Mention:
Airbnbs near the Golden Circle
As one of the most popular scenic routes in Iceland, the Golden Circle is a 186-mile (300-km) loop that combines 3 of Iceland's most visited attractions: Þingvellir (Thingvellir) National Park, The Great Geysir and Strokkur Geysir, and Gullfoss Waterfall. Most first-time visitors to the country will have their hearts set on completing this route as part of their itinerary.
Beautifully decorated cabin with hot tub and modern amenities
Location: Klausturholar
Budget: $$
Number of Guests: 6
Minimum Stay: 2 nights
Superhost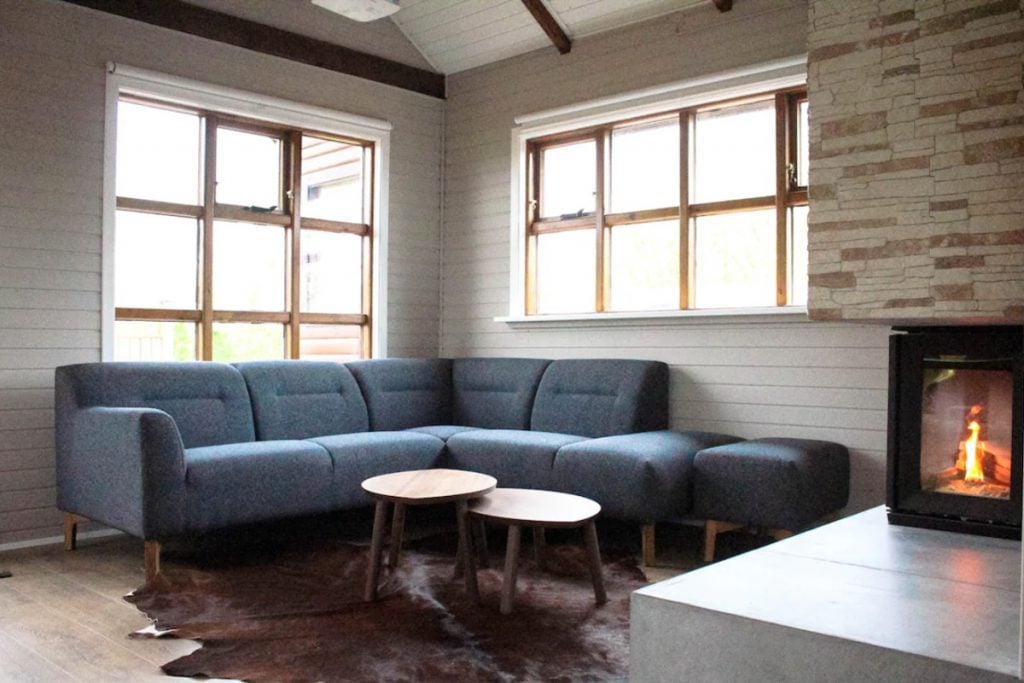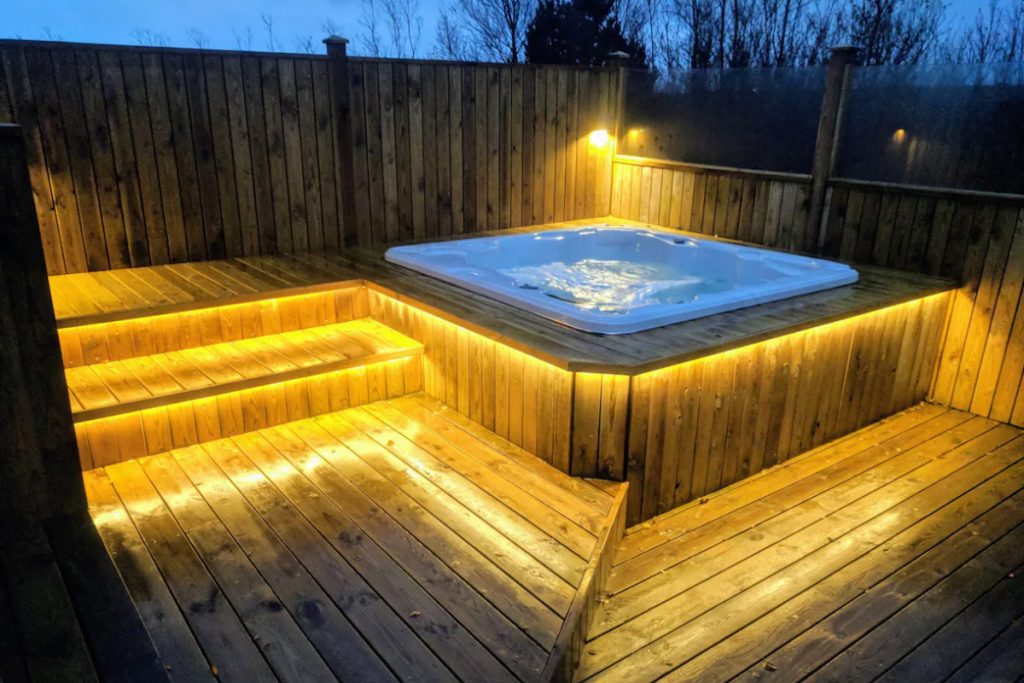 Perfectly located to explore the Golden Circle and other nearby attractions, the Breidablik Cabin is one of the best deals for families or small groups. The beautifully decorated 3 bedroom home comes with all kinds of amenities like a fireplace, in-home laundry and home theater set up. Outside on the large deck you'll find a BBQ grill and private hot tub.
Guests love the convenient location for sightseeing and relaxing after a long day.
"We loved staying at this beautiful cabin. Plenty of space to relax and cook and a great location for seeing many nearby sites. Would definitely stay again!" – Julianne, July 2021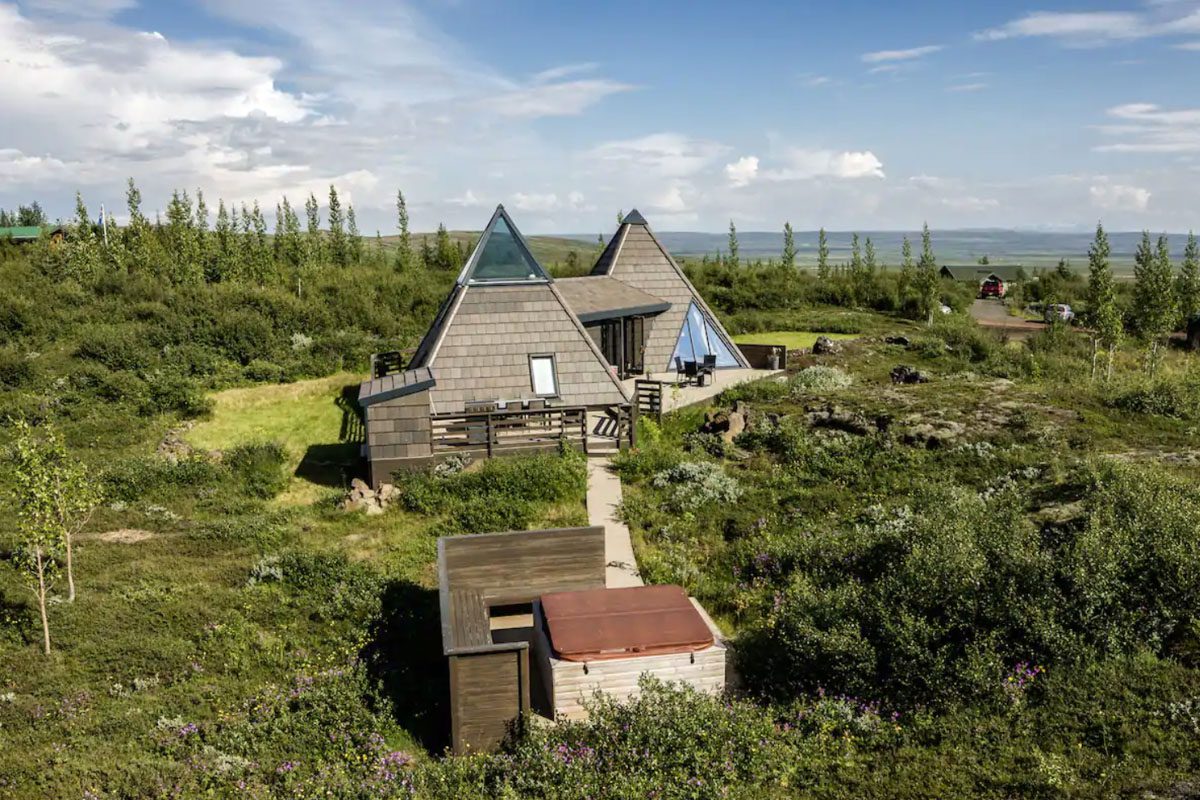 Modern eco cottage in the middle of the Golden Circle route
Location: Laugarvatn
Budget: $$$
Number of Guests: 4
Minimum Stay: 3 nights
Superhost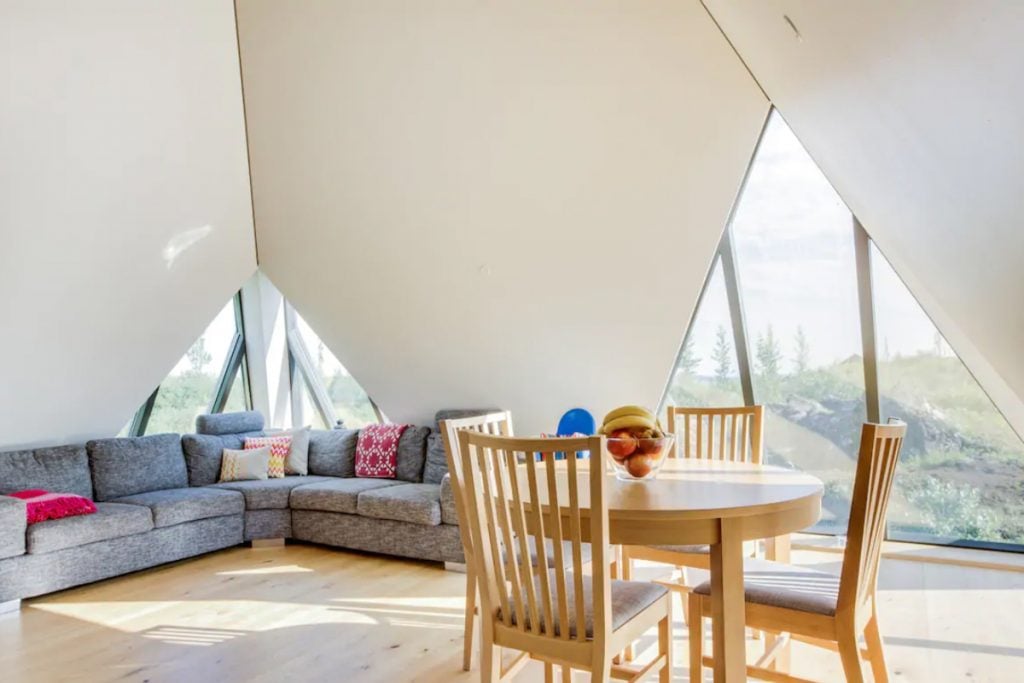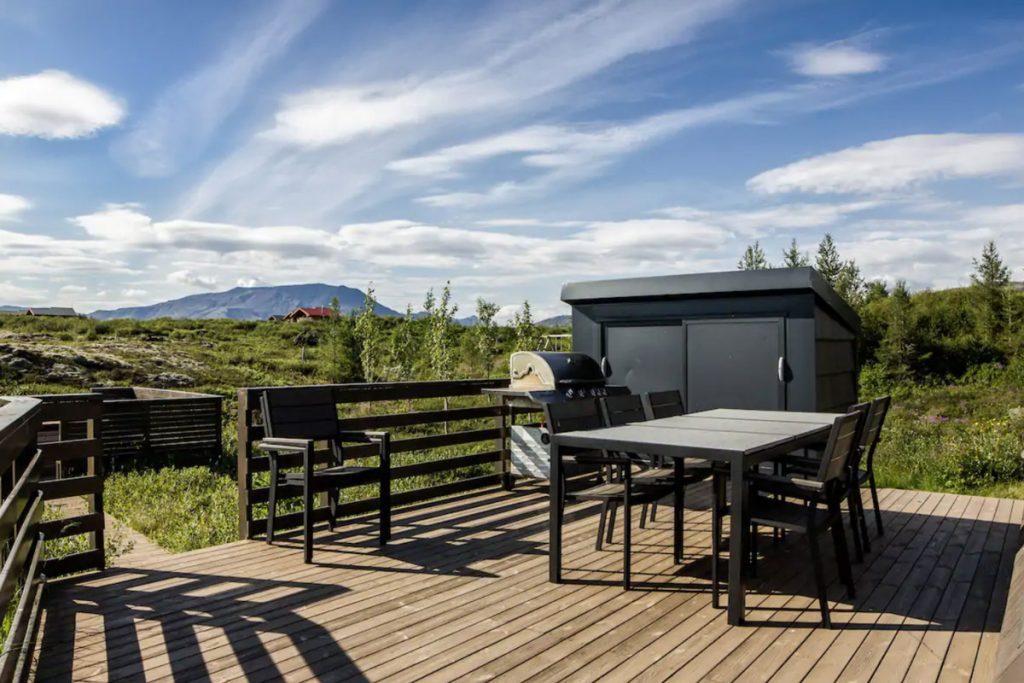 Situated smack dab in the middle of the Golden Circle route, this unique home was built to reflect the Icelandic landscape and complement the small vegetation in the old lava-field.
The house is kept warm year round by a uniquely sustainable method of running geothermal water through pipes in the floor. The running water comes from a natural spring and the electricity in the home is generated by geothermal activity.
The only thing to note is that the stay does not include access to Wifi as the house is completely "off-grid".
"Palmi is a great host! He provided lots of thorough information about the house and getting around. It's a unique space in a secluded neighborhood with beautiful views and all of your basic amenities. We felt very much at home during our week there and plan to return the next time we find ourselves in Iceland." – Lauren, February 2020
Airbnbs near the Ring Road route
Ring Road is a nickname given to Route 1, Iceland's main motorway that circles the perimeter of the island nation. Since most of the island's interior is uninhabitable wilderness, this 825-mile (1,328 km) route connects the populated coastal areas, hitting the majority of the country's major attractions.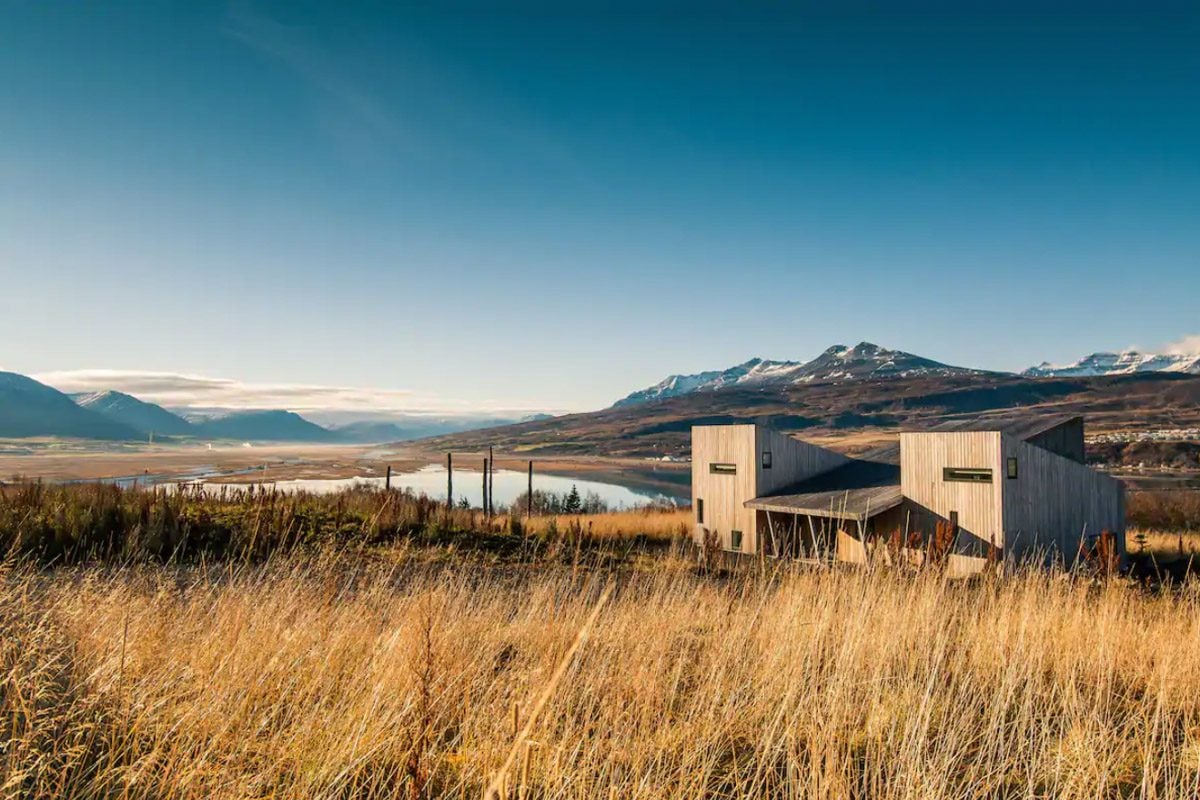 Modern apartment in Villa Lola with excellent views
Location: Akureyri
Budget: $$$
Number of Guests: 4
Minimum Stay: 1 night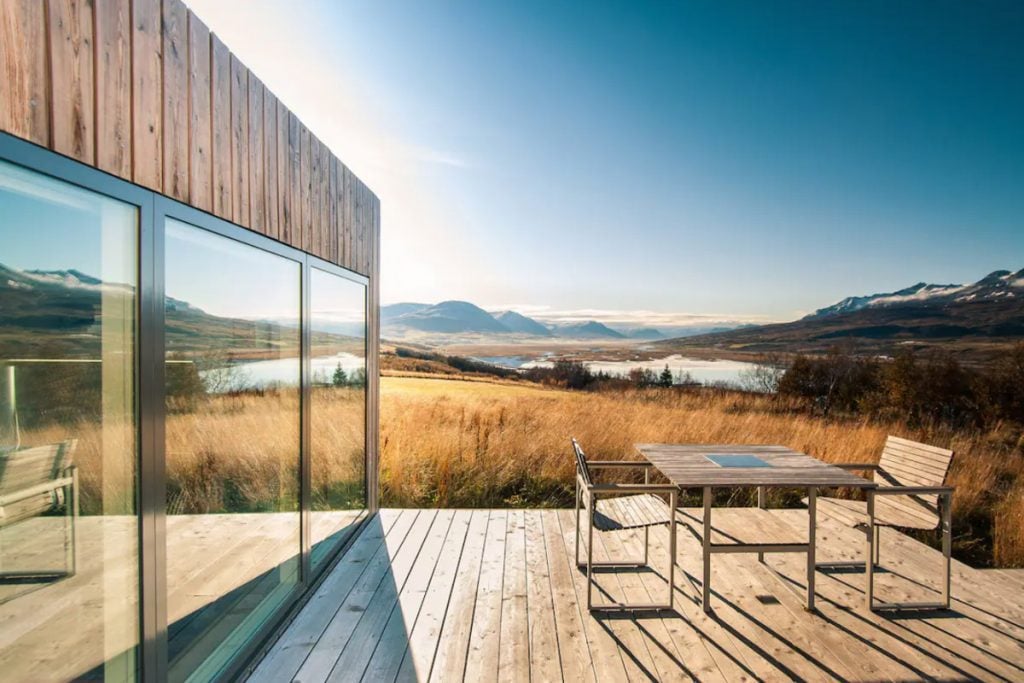 The space is the largest of 3 apartments in Villa Lola, a modern architectural home overlooking the bay and Akureyri. Just a 10-minute drive from Iceland's second largest city and the capital of the north, you'll have easy access to everything you need while still feeling surrounded by nature.
The modern one bedroom + loft apartment has plenty of windows and a private deck for taking in the views and the Northern Lights if you are lucky.
Guests loved the feeling of being secluded in nature and mentioned it's a great spot to recharge. However, there were quite a few comments in the reviews about the sandflies (very pesky little bugs that'll bite you into misery if you aren't careful), so it would be good to note that you'll want to keep the windows closed and ask the host to do the same before your arrival.
"One of the best Airbnb's I've stayed in. Tastefully designed with amazing views. Check in and communication were superb." – Ron, July 2021
Best off-the-beaten-path retreat in the south | Afternoon Cottages
Cottage 1, Cottage 2, Cottage 3, Cottage 4, Cottage 5, Cottage 6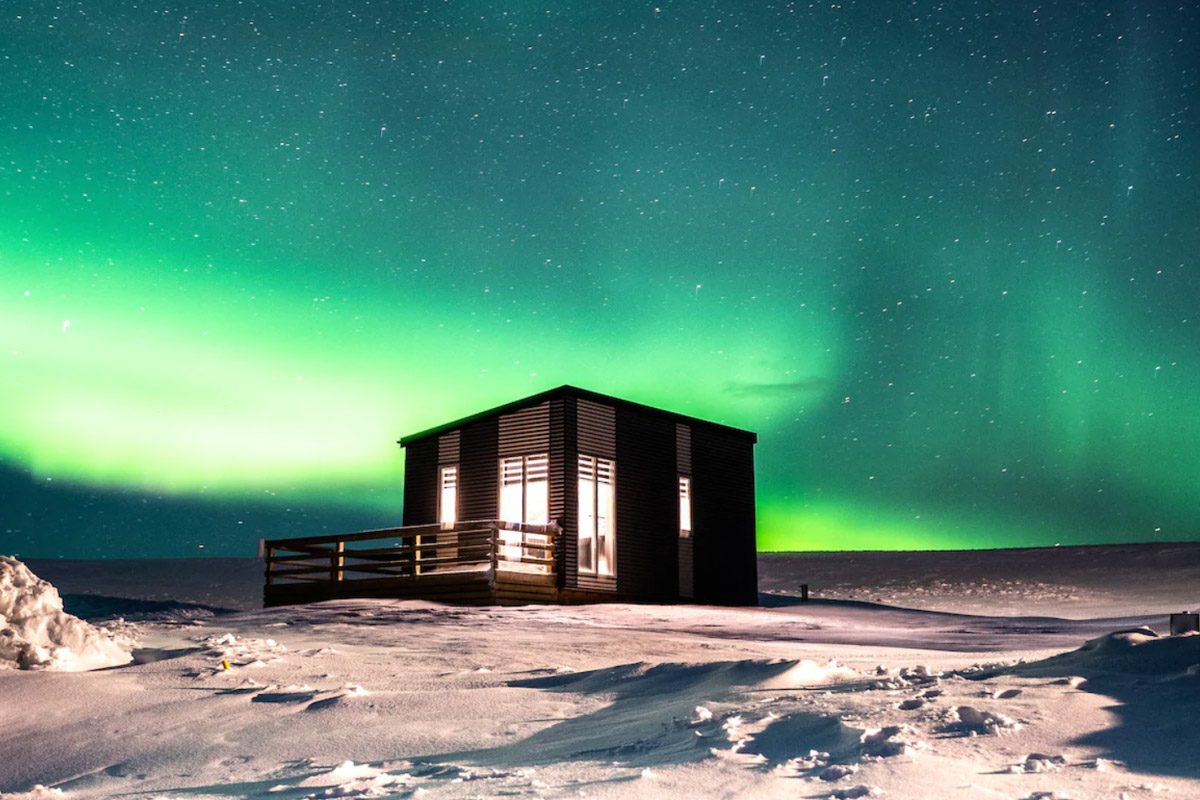 Cozy guest cottages near Hella
Location: Hella
Budget: $$$
Number of Guests: 2
Minimum Stay: 1 night
Superhost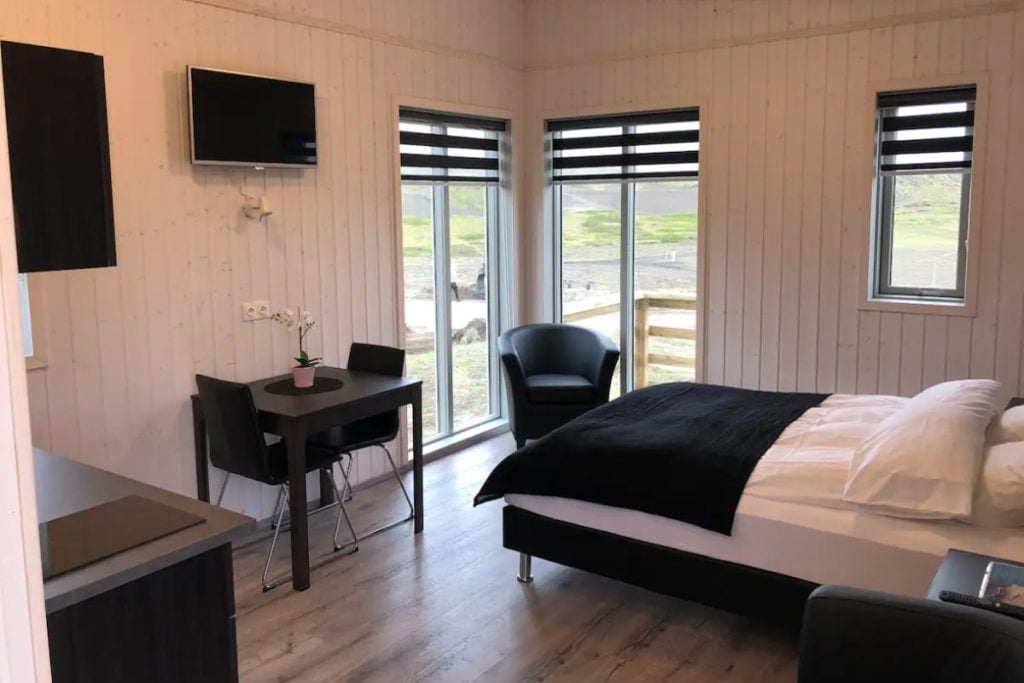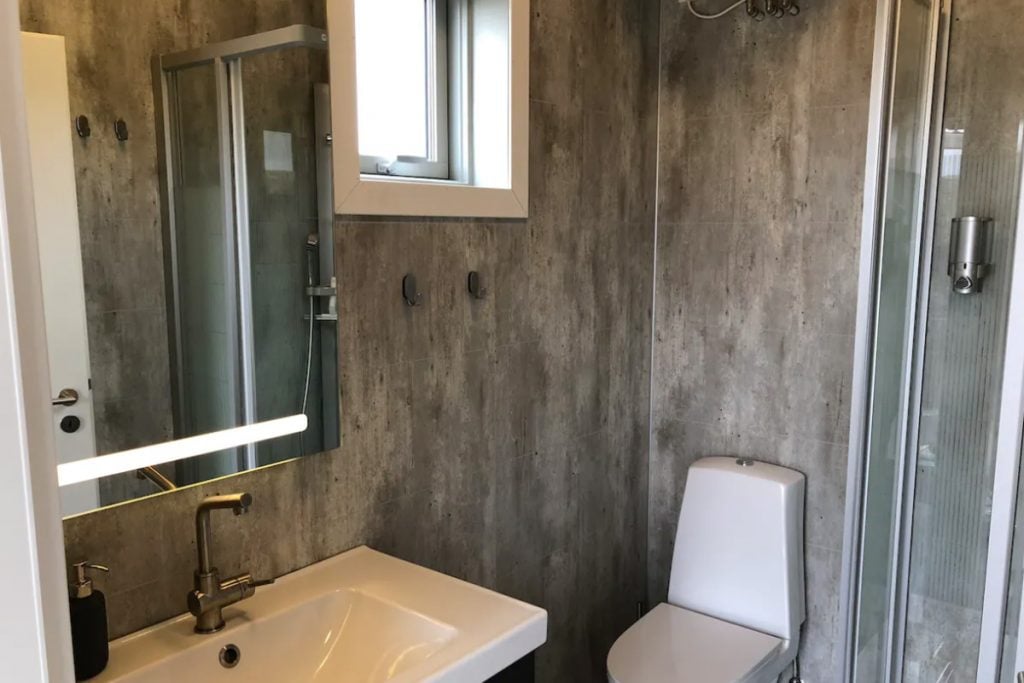 Surrounded by nature, you'll have everything you need in one of these 6 guest cottages near Hella, Iceland. The cozy but spacious cottages operate like a studio apartment with a well-equipped kitchen, queen-sized bed and ensuite bathroom.
The cottages are nicely spaced to allow for more privacy, and just a 20-minute drive from Hella where you can stock up on essentials. Book one cottage on your own, or snag all six for a larger group.
Guests love the clean and stylish space, but warn about the dirt road entrance. Be sure you have a car that can handle rough terrain and try to arrive before dark to better navigate your way.
"Elvar is a great host, super fast responses and very much cares about you having an amazing time. Space is stylish and beautiful, a fantastic place to stay!" – Pierce, June 2019
Honorable Mention:
Mountain Cottage: Budget-friendly 2 bedroom cottage in Ólafsfjörður with indoor hot tub
Fossar Cabin: 2 bedroom A-frame cabin in Kirkjubæjarklaustur near a creek
Can't find an Airbnb?
Here's a quick list of recommended boutique properties, hotels and hostels in Iceland.
Recommended hostels:
Recommended mid-range stays for couples in great locations:
Recommended luxury stays with all the amenities:
Looking for a campervan?
We've partnered with Happy Campers to give our readers a 5% off their campervan rental when you use our coupon code: TWS5
Just enter the coupon code TWS5 at checkout on Happy Campers website.
We also put together a HUGE Iceland campervan rental guide with tons of insider tips and advice.
Best Airbnb Experiences in Iceland
While we're on the subject of Airbnbs in Iceland, we thought it would be a good idea to mention Airbnb Experiences. If you're unfamiliar, it's an offering by Airbnb that takes the "local experience" to a new level with experiential offerings such as craft classes, foodie tours, outdoor adventures, and cultural exchanges hosted by locals.
Different from booking with a tour company, local hosts offer their guests a special look into their world. Sharing a passion, skill, knowledge or inside access to local places and communities that guests couldn't find on their own.
Here are a few unique and popular AirbnbExperiences worth checking out if you're traveling in Iceland.
*All images from Airbnb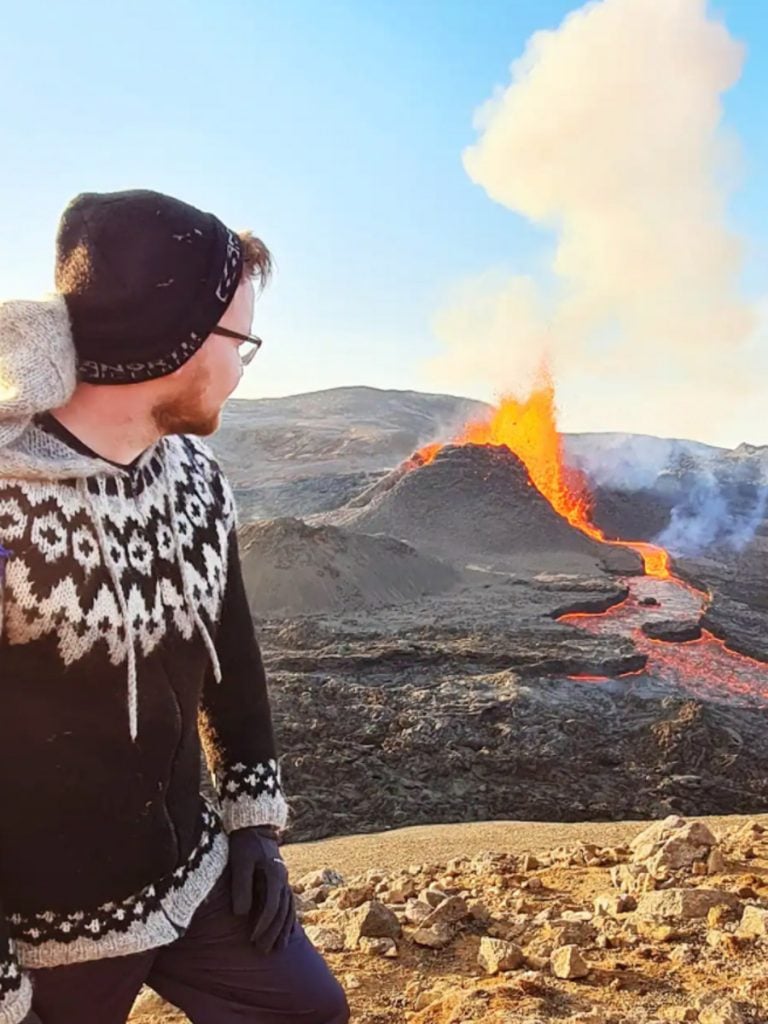 Volcano Hike: Hike Iceland's youngest volcano and see Fagradalsfjall erupt from meters away on this private tour from Reykjavík, led by a real life volcanologist. The hike takes about 4 hours in total and is recommended for experienced hikers only.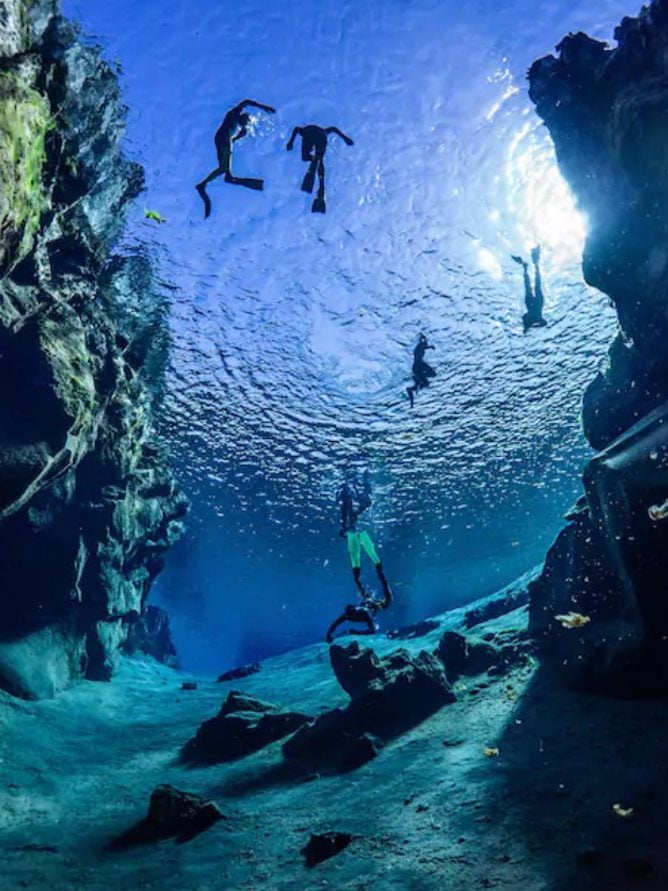 Silfra tectonic snorkeling w/ photos: A private small group excursion in Þingvellir National Park to snorkel the famous Silfra fissure. The tour, led by a local Icelander, who is also a freediving champion and scuba instructor, includes a dry suit, snorkeling equipment and underwater photography.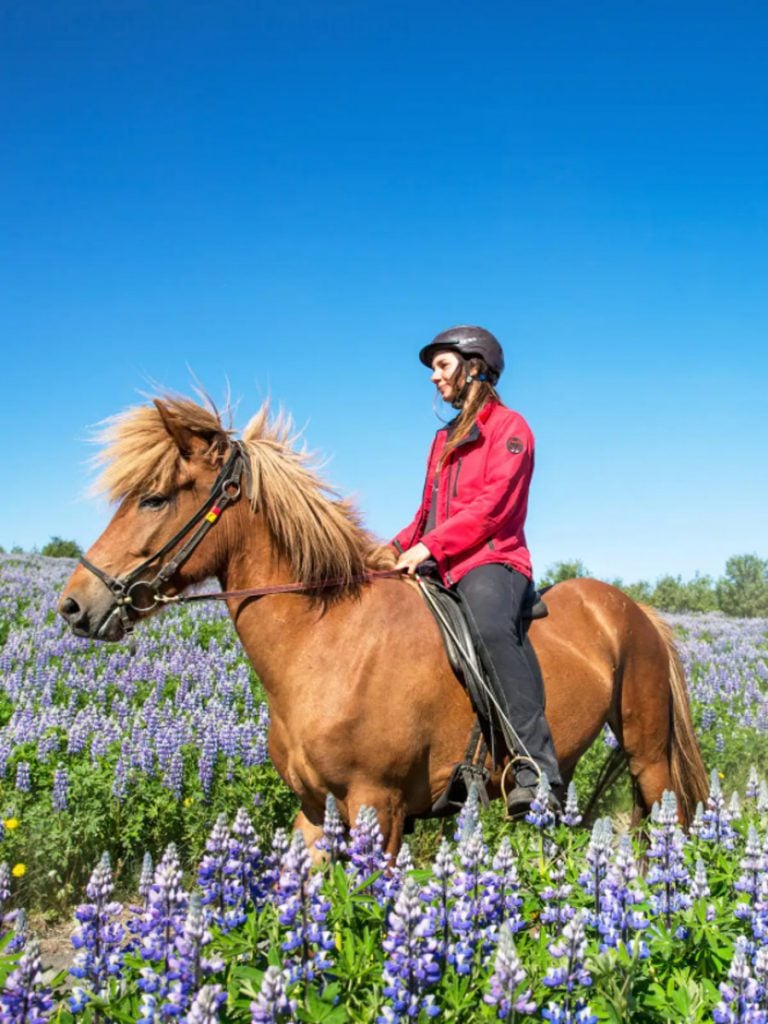 Horse riding in the lava fields: From hosts who value sustainable tourism and aim to provide exceptional service and a safe riding experience, this horseback riding tour will be something you won't soon forget. The 2 hour tour includes a safety briefing, helmet, weather-conditonal riding gear and assistance with getting comfortable with your horse.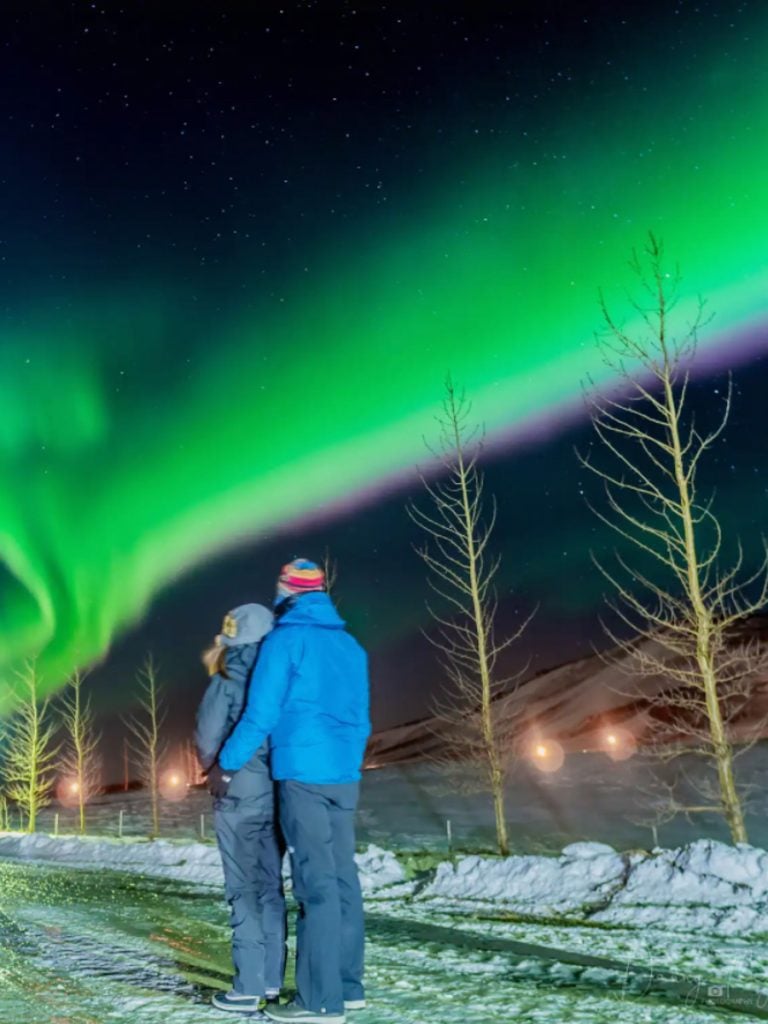 Aurora Northern Lights hunt & photoshoot: A small group excursion from Reykjavík led by a professional photographer. Not only will you find the best spots to photograph the Aurora Borealis, but your experienced local guide will take your portrait and assist you in creating the best photographs possible with your own equipment (even if that's just a smartphone!).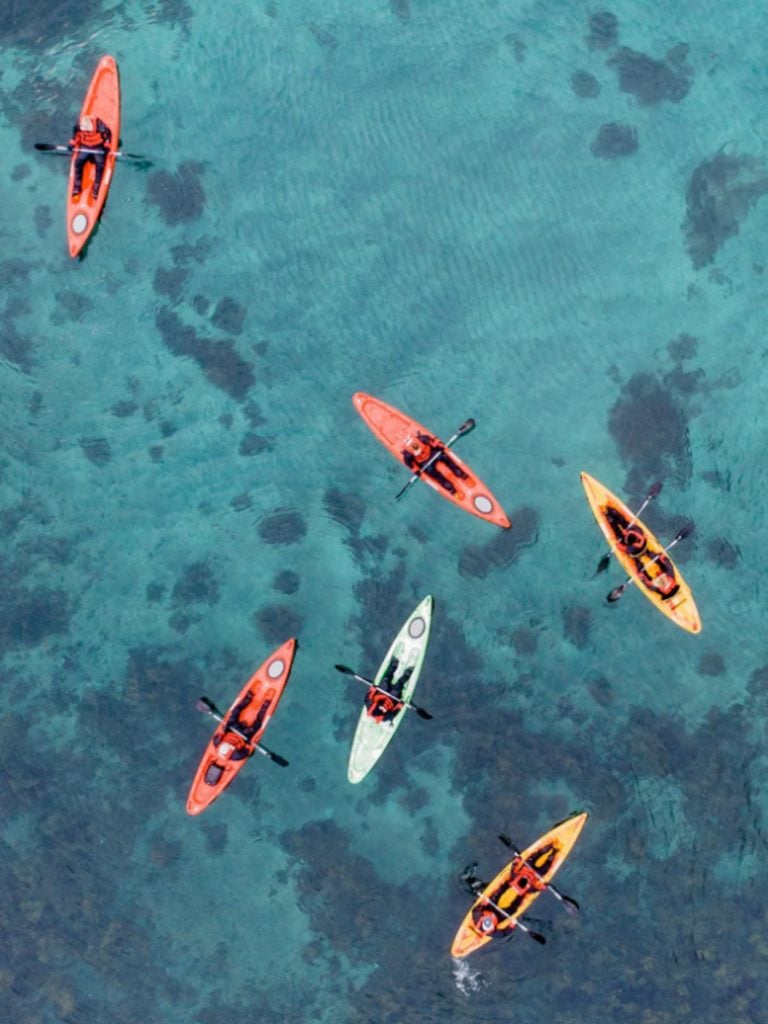 Kayaking adventure by Mt. Kirkjufell: Led by a local family-owned business on the Snaefellsnes peninsula, this 2 hour guided sea kayaking tour will take you through some of the most incredible and unspoiled Icelandic nature, stopping at scenic spots along the way for photographs.
What to pack for your trip to Iceland
We know it can be overwhelming packing for a trip to a new destination. That's why we spent hours creating this super helpful PDF just for you.
In this free Iceland packing list PDF download, we've provided packing checklists for everything from clothing and toiletries (for both women and men!) to what shoes to pack and extra items you may want to have on-hand if you plan on traveling in a campervan.
Plus, we're sharing tons of packing hacks and tips for traveling in Iceland that you won't find anywhere else!

Are you planning a trip to Iceland?
We have TONS of resources on travel in Iceland and how to make the most out of your trip. Check out our Ultimate Iceland Travel Guide for all the answers to your most burning questions, or read some of our favorite articles below.
Save this article on Pinterest for later!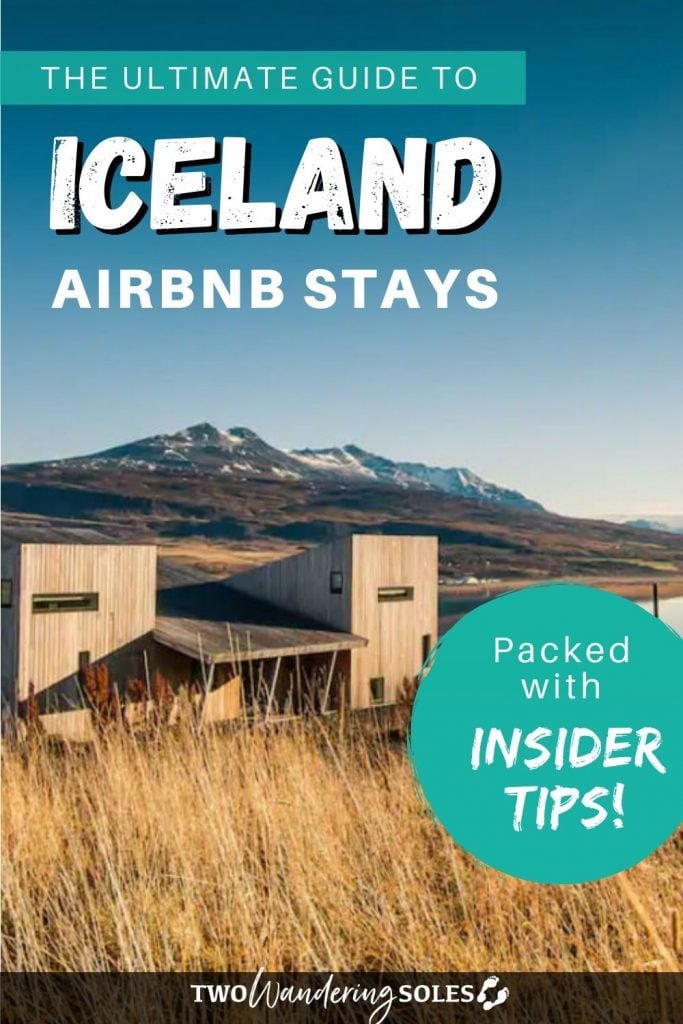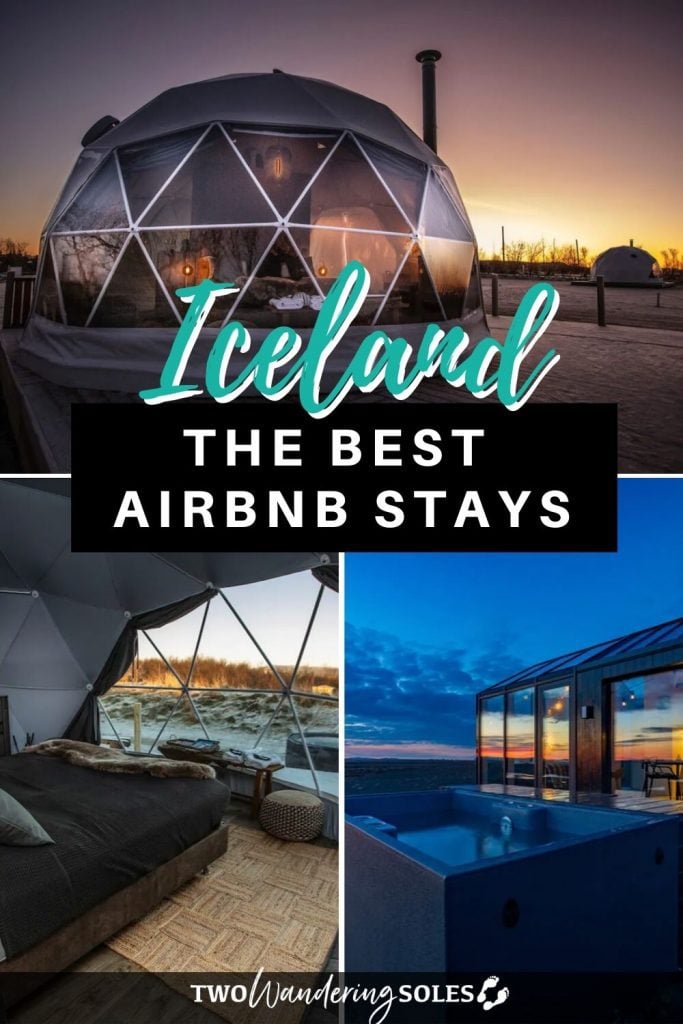 We want to hear from you!
Are you planning a trip to Iceland sometime soon? When will you be traveling? Do you have any more questions you want answered?
Comment below and we'll do our best to get back to you with the answers you need!