Considered the "cultural capital of Japan", Kyoto is full of can't-miss sights, hidden gems, and world-renowned dining. We're sharing the very best things to do in Kyoto, including the most popular attractions and the secrets you won't find in most guidebooks.'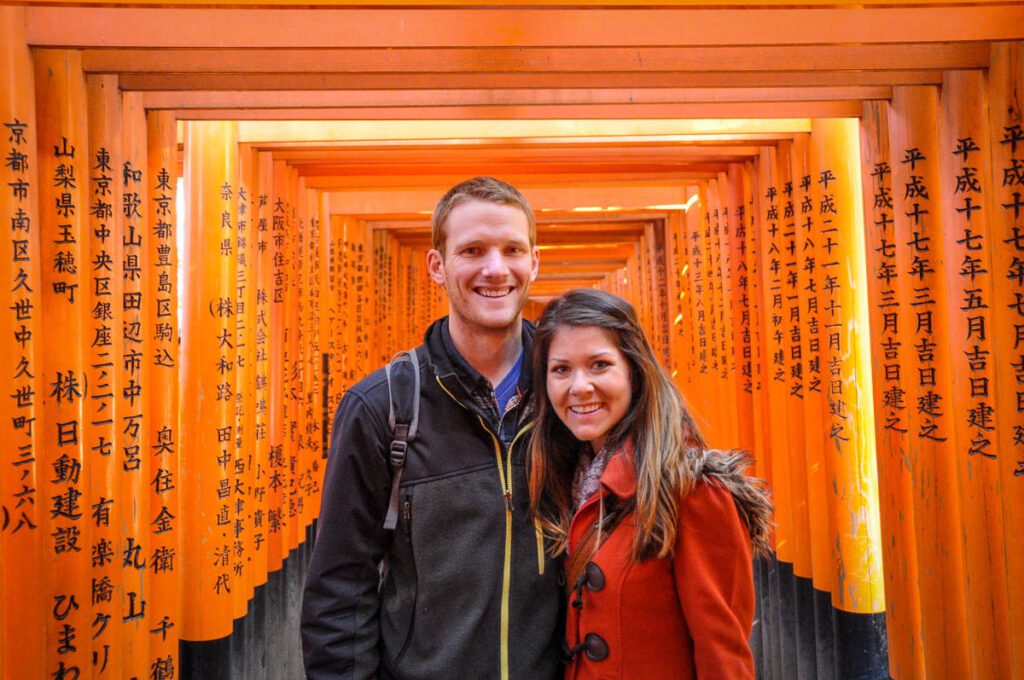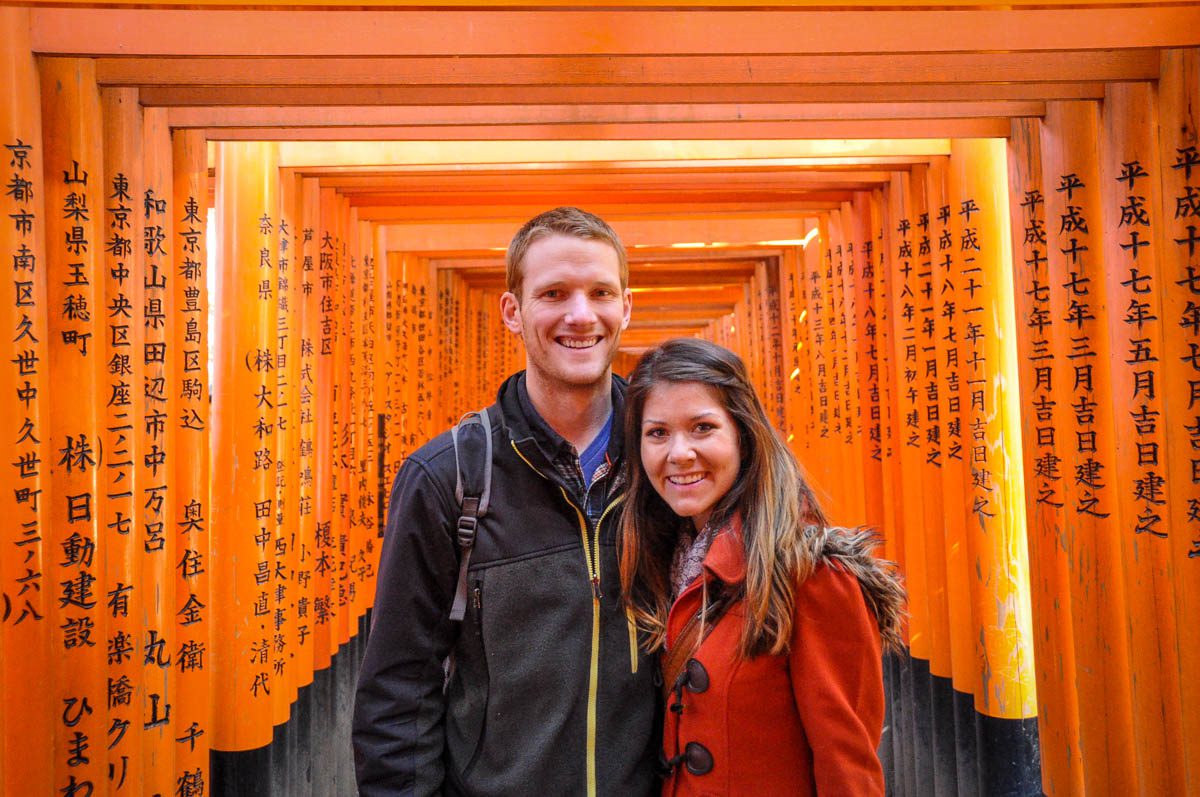 Kyoto is one of the most popular cities to visit in Japan, and for good reason.
Kyoto is considered the cultural capital of Japan, and being that it is home to more than 400 Shinto shrines and 1600 temples, it's easy to see why.
On top of that, there are 17 UNESCO World Heritage Sites in Kyoto, as well as some of the country's oldest and most renowned restaurants.
With historic districts, like Gion and Higashiyama, famously beautiful streets, like Pontocho Alley, and iconic attractions, like Arashiyama Bamboo Forest and the Fushimi Inari gates, Kyoto deserves a spot on your itinerary.
Whether it's your first trip to Japan or your 5th, there is so much to discover in this magical city.
We're sharing the very best things to do in Kyoto, as well as where to eat and insider tips, to make your visit to this Japanese gem truly wonderful. From Kyoto's top attractions to the hidden gems, every type of traveler will find something to love.
Brew yourself a mug of Japanese matcha and buckle in because we're going over all the things you'll need to know to plan your trip to Kyoto.
Kyoto travel guide
For more tips and advice for planning your trip to Kyoto, jump to the following sections (or just keep scrolling to see it all!).
---
Best things to do in Kyoto
If you're looking for the very best things to do in Kyoto, here are our top 5 recommendations:
Fushimi Inari Shrine
Philosopher's Path
Nijo Castle
Higashiyama Historic District
Arashiyama Bamboo Forest
Keep reading for more detailed information on each of these things and more ideas of fun things to do in Kyoto.
1. Walk through the orange gates at Fushimi Inari Shrine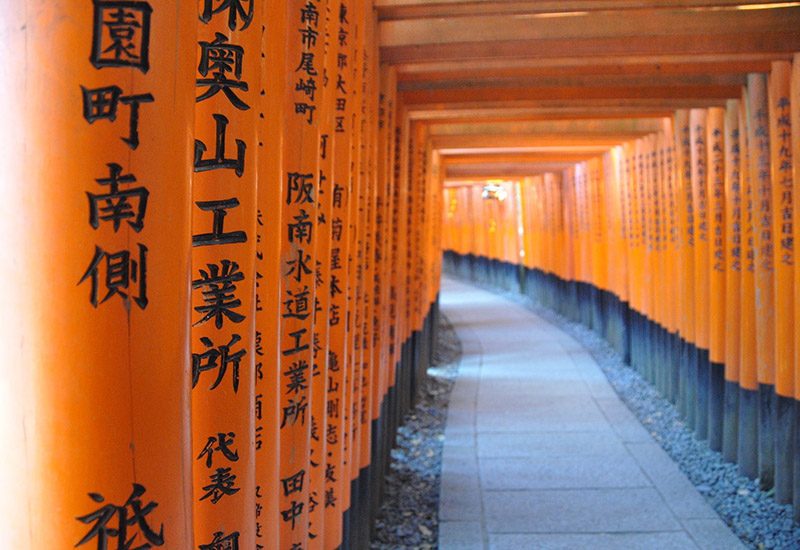 These iconic orange gates are one of the most symbolic sights in Japan and one of the best things to see in Kyoto.
While it is (very) popular, Fushimi Inari is still absolutely worth visiting.
Follow the pathway beneath thousands of orange-painted gates as the sunlight streams through the spaces between them.
It is truly a magical experience that we can't quite describe.
What is Fushimi Inari?
Featuring more than 10,000 orange torii gates, Fushimi Inari is a shrine dedicated to Inari, the Shinto god of harvests, rice, agriculture, and worldly success.
There are some 30,000 shrines devoted to Inari around Japan, but Fushimi Inari is the most well-known and most important of them all.
Fun facts about Fushimi Inari
The specific orange color of the gates is called shuiro in Japanese, and represents the sun.
Fushimi Inari was originally built in 717 and moved to its current location in the year 816.
While exploring Fushimi Inari, you will notice lots of fox statues and souvenirs for sale. This is because foxes are said to be the messenger to Inari. See how many foxes you can spot!
This sacred spot is featured in movies, including Memoirs of a Geisha.
Tips for visiting Fushimi Inari
There is no entry fee, making Fushimi Inari one of the best free things to do in Kyoto.
Since Fushimi Inari gets crowded, try to get here as early as possible.
There is a shrine mid-way where you can write a wish on a small wooden fox "ornament" to hang with the thousands of others that have been left.
If you follow the entire pathway through the torii, it is roughly 2.8 miles (4.5 km) in total. You can do all or part of the walk, but it's good to know that there is a moderate incline (550 feet / 168 meters).
Along the way, you will be rewarded with panoramic views over Kyoto.
Here is the Fushimi Inari walking route to follow.
Want a local to show you around Fushimi Inari? This guided tour earns rave reviews!
2. Explore the Higashiyama Historic District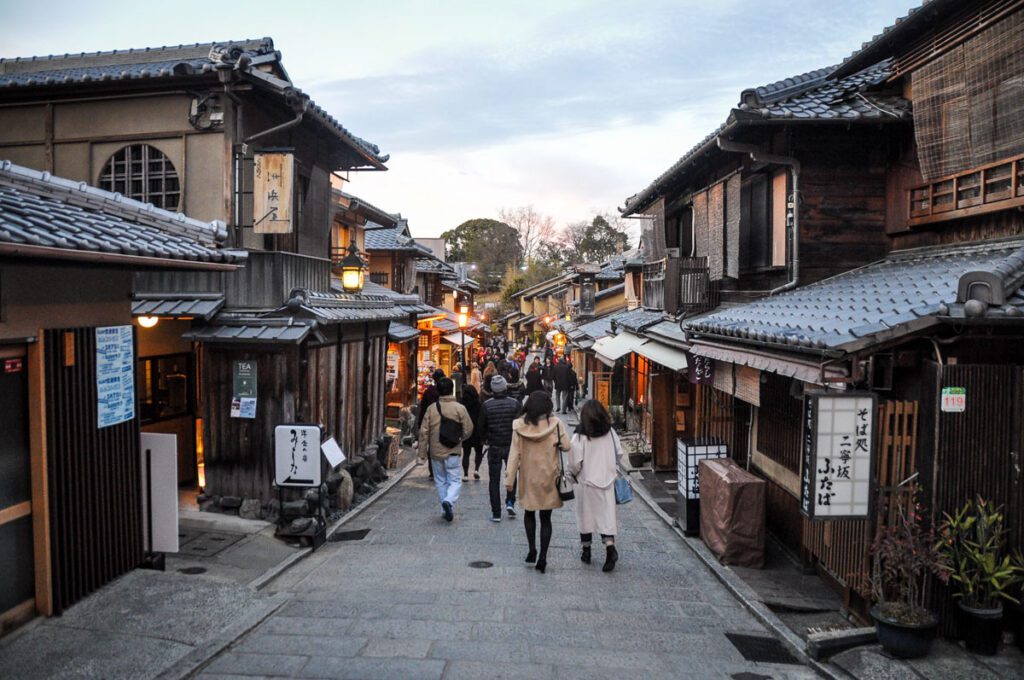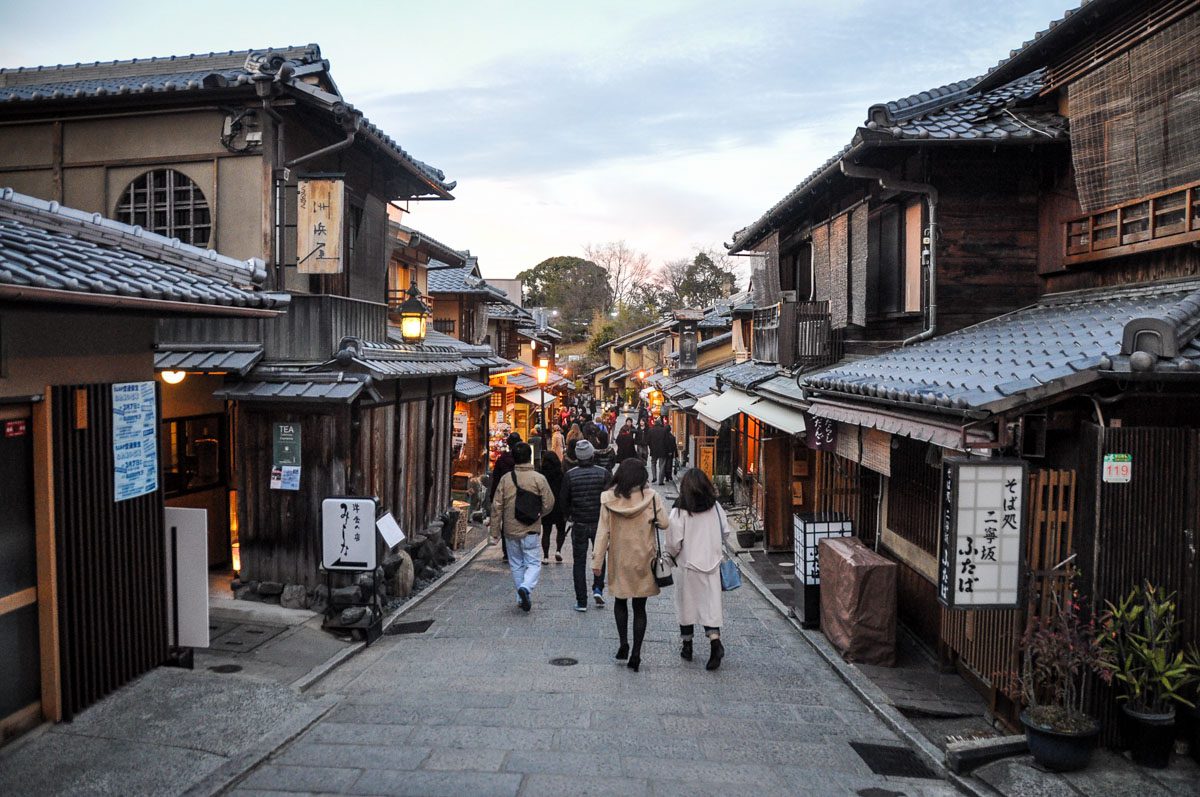 The Higashiyama district is perhaps the best preserved part of Kyoto and gives visitors a feeling of traveling back in time.
In recent years, there has been an effort to remove telephone poles and repave the pedestrian road to reflect what it truly looked like in the past.
Stroll along Ninenzaka, a pedestrian road that spans this district, and get a glimpse of history as you pass by traditional wood shops, cafes and restaurants.
While one of the most beautiful neighborhoods in Kyoto, Higashiyama also gets very crowded. For that reason, we'd recommend getting here early.
Top sights in Higashiyama Historic District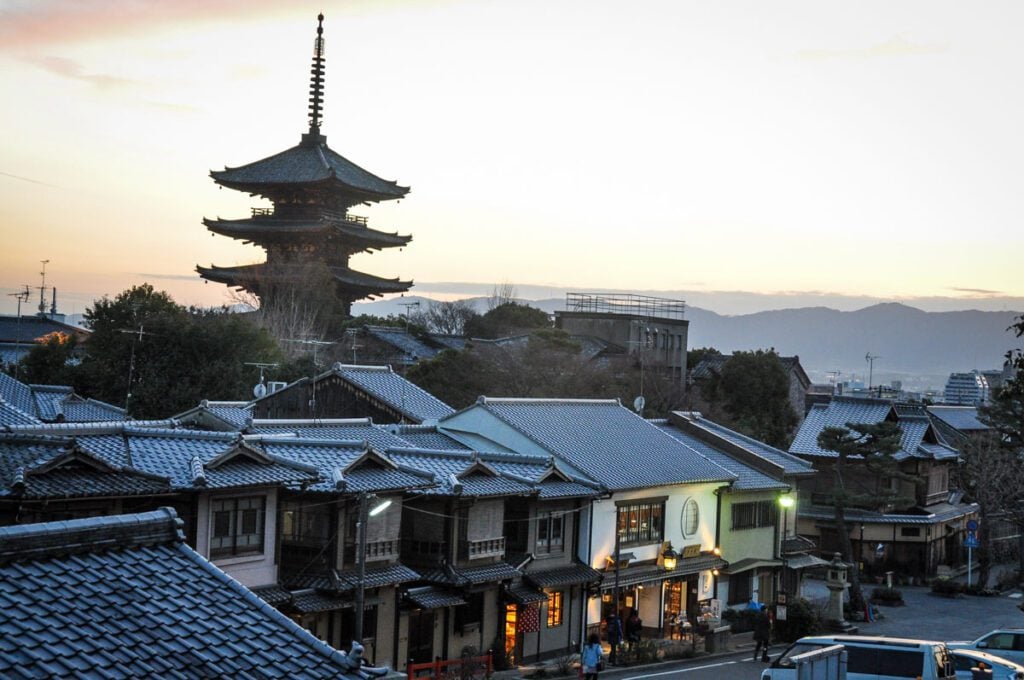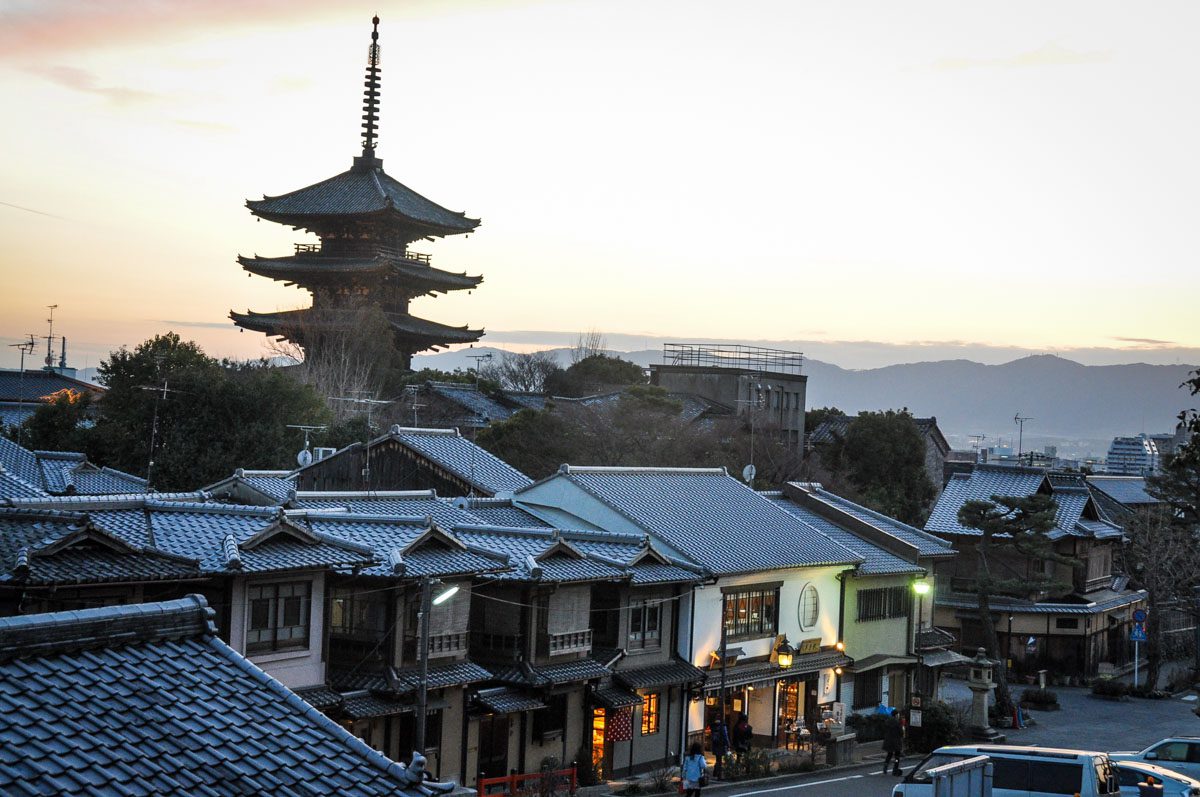 Yasaka Pagoda: this landmark is a popular photo op in the area
Ninenzaka road: paved pedestrian street that is one of our favorite places to get souvenirs in Japan
Ninenzaka Stairs: located along the pedestrian street, this set of stairs is a particularly beautiful spot
Yasaka Shrine: Shinto shrine from 656 A.D.
Kiyomizudera Temple: perched atop a small mountain on the east side of Kyoto, this temple offers great views over the city and is a UNESCO World Heritage Site
Maruyama Park: famous as one of the best places to see cherry blossoms in the country, this park is centrally located
Kodaiji Temple: beautiful temple with a bamboo grove
3. Take a Japanese Food Tour with a local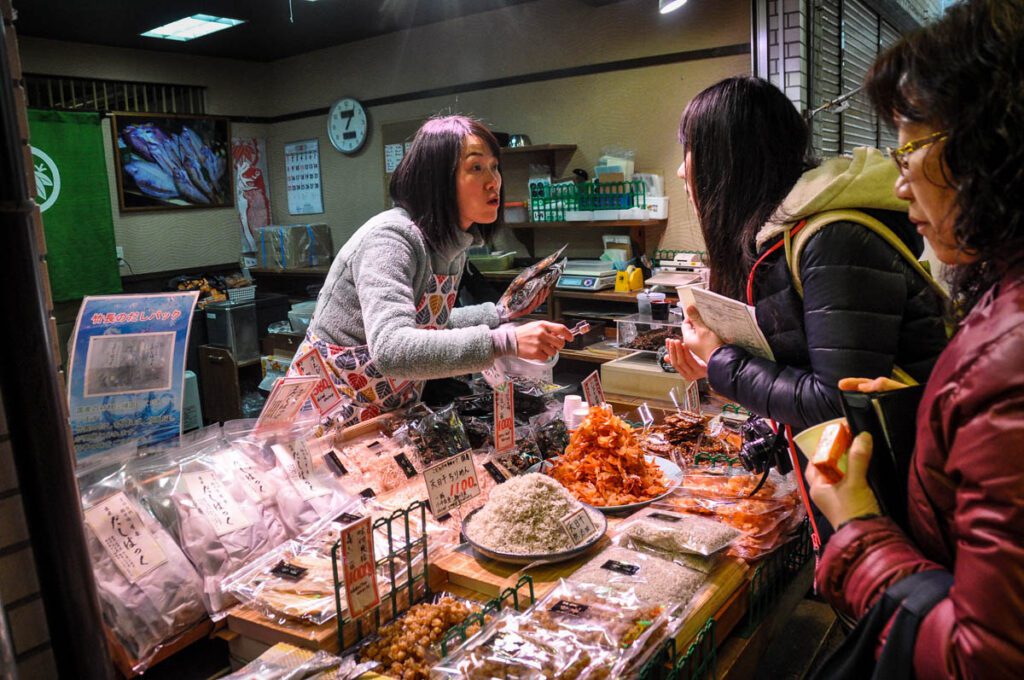 We're obsessed with taking food tours around the world (we've done 13 and counting!) because it's one of the best ways to learn about a country's cuisine.
Plus, you'll get to sample some of the best local dishes in a short amount of time.
Japanese cuisine is much more than sushi and ramen, and Kyoto has some of its own regional specialties.
This foodie night tour looks incredible! Wander around to several different places throughout downtown Kyoto with a local (and other travelers) and learn all about traditional Japanese food and culture.
What guests are saying about this foodie tour:
"Such an amazing tour with a fun an knowledgeable host. Took us to several amazing tucked away places that there is no way we ever would have gotten to experience or even know about on our own. Was also incredibly fun to just chat about culture and food and the group had a great energy too! 10/10 recommend for when in Kyoto." -Carrie, January 2023
4. Sample Japanese snacks at Nishiki Market
Nicknamed "Kyoto's kitchen", Nishiki Market is one of the best places in the city to sample the local cuisine and see where locals shop.
This 5-block-long marketplace is more than 400 years old and houses more than 100 different stalls.
Nishiki Market is narrow yet bustling with vendors offering samples and selling spices used in Japanese cooking, sweets, traditional snacks, fresh seafood, produce, and other goods, like knives and cooking utensils.
Snacks to try in Nishiki Market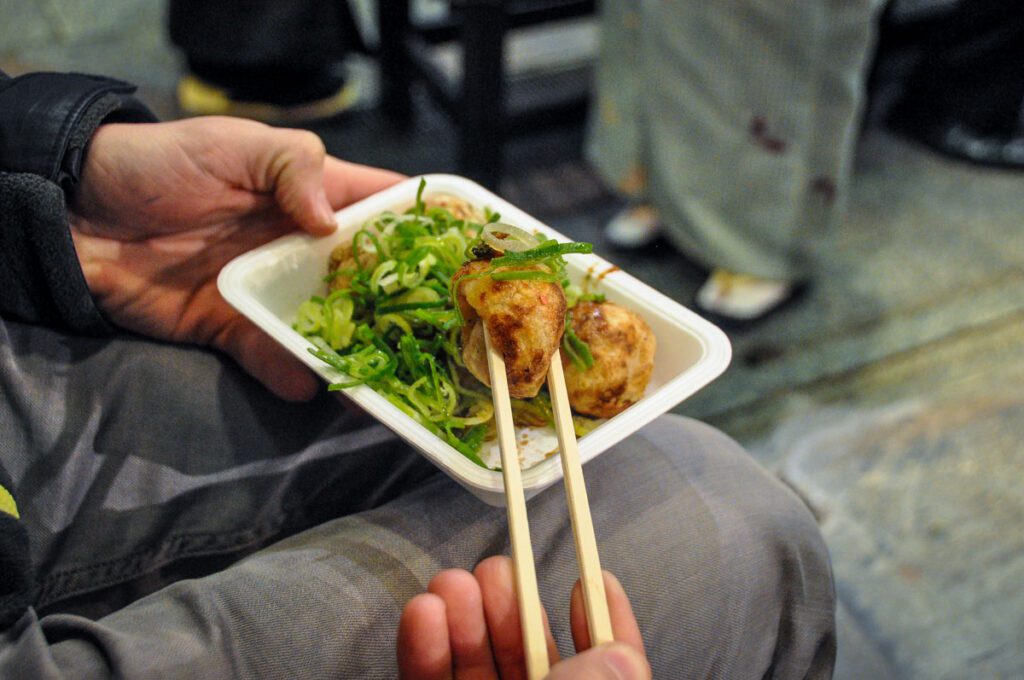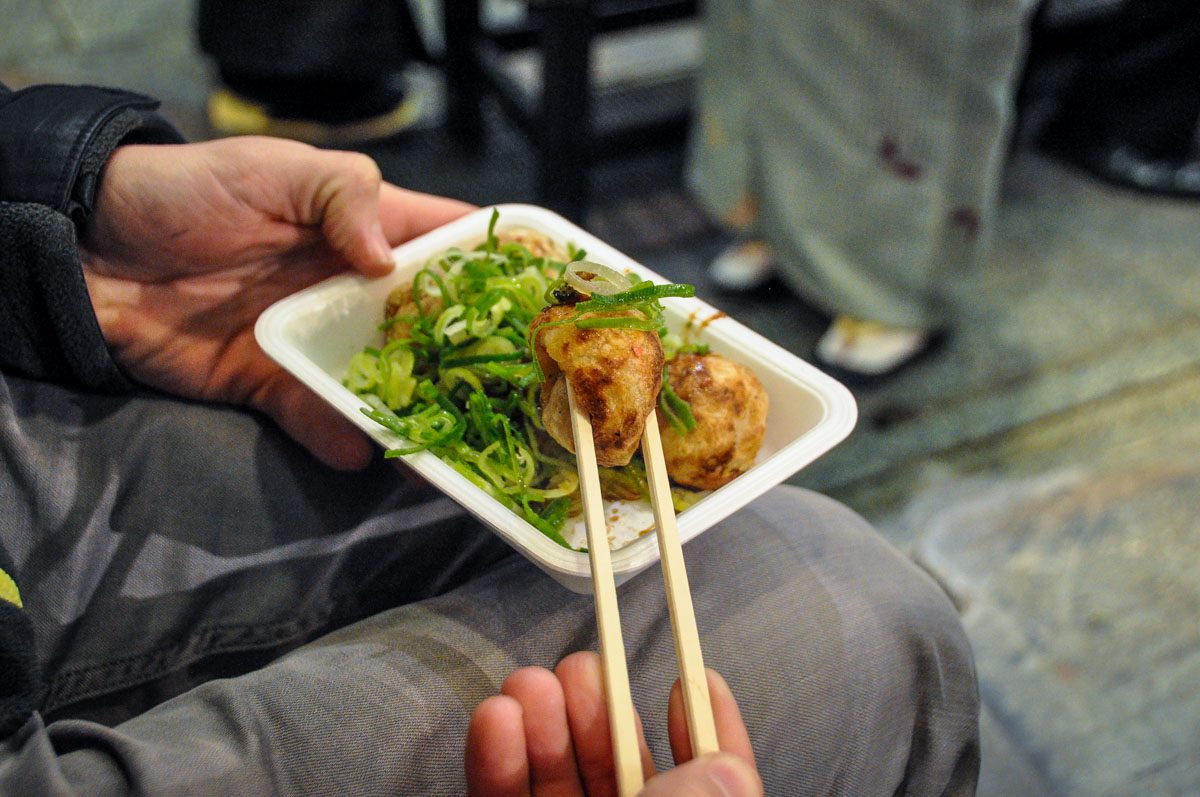 Nishiki Market is a great place to try these Japanese and Kyoto-specific specialties:
Tako tamago: candied baby octopus stuffed with a boiled quail egg inside its head; this sweet and salty snack is one of the most famous bites to try in Nishiki Market
Goma dango: these sesame dumplings are chewy and come in a few different colors and flavors.
Pickled vegetables: you'll see barrels of pickled vegetables that you can purchase to bring home or snack on.
Wagashi: beautiful Japanese sweets that are often served at tea ceremonies. These make great souvenirs to bring home and share with family and friends.
Want local insight? Wander Nishiki Market with a local who can tell you the ins and outs of this place, its history, and its importance in Japanese culture.
5. Participate in a Tea Ceremony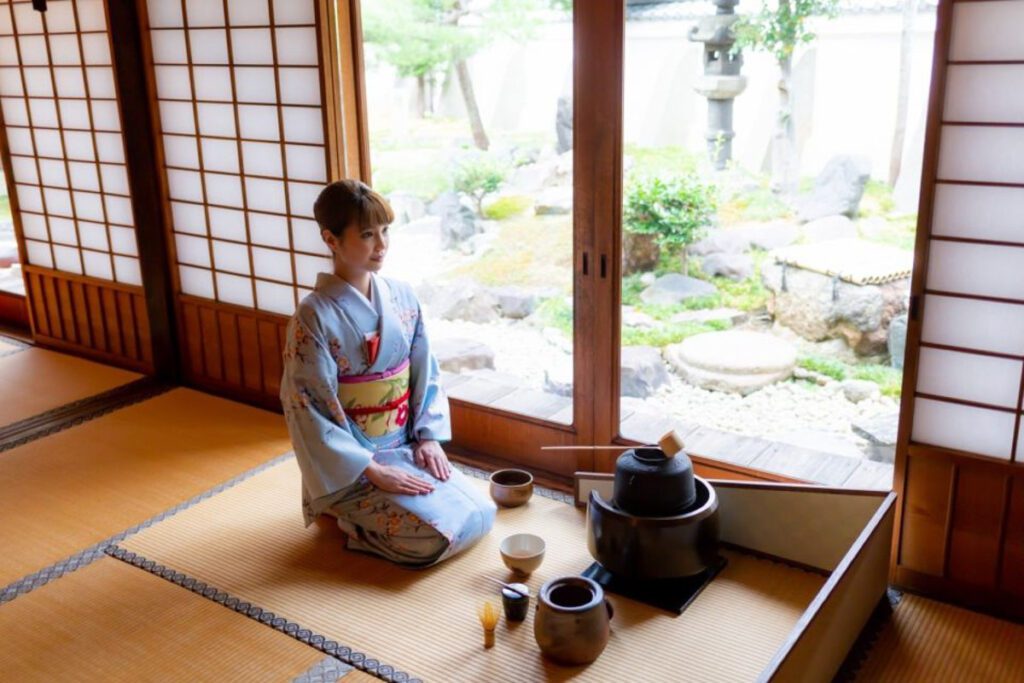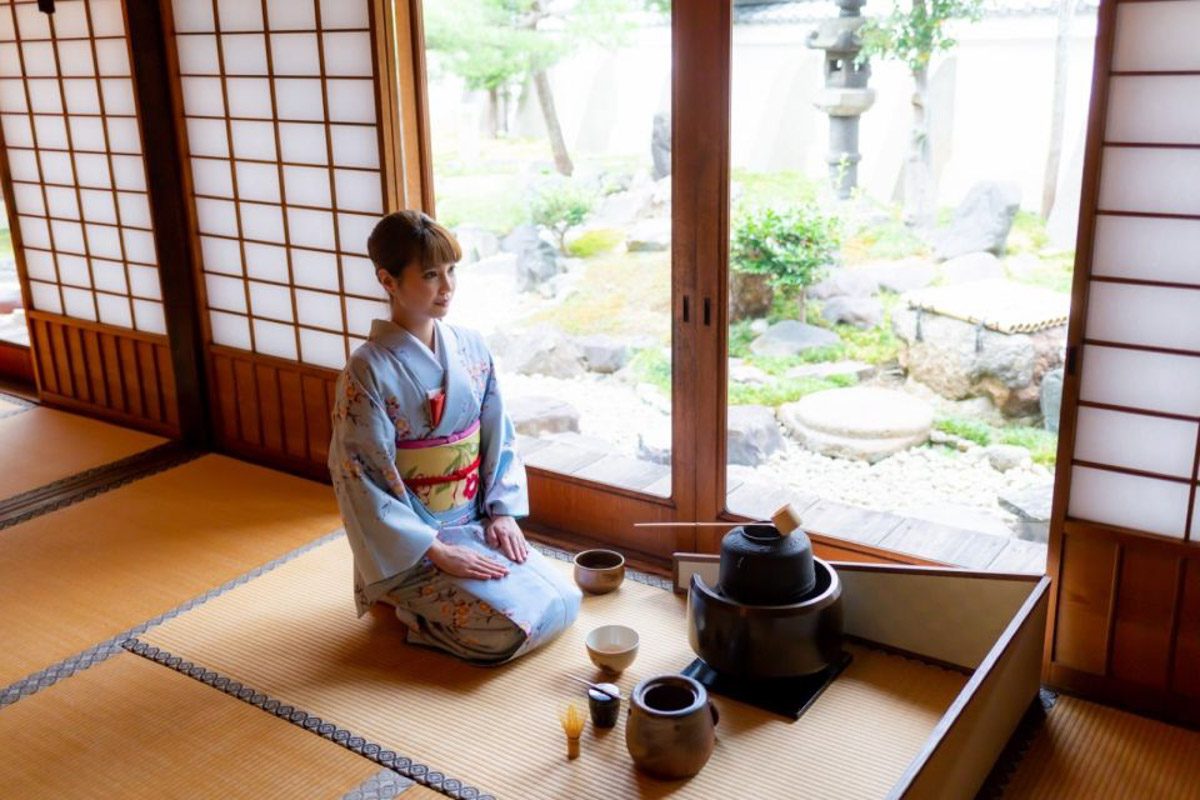 Tea ceremonies have been an inseparable part of Japan's culture since the 13th century.
The Tea Ceremony Jku-An at Jotokuji Temple is the perfect way to immerse yourself in a traditional chanoyu ceremony sampling the finest matcha tea.
Slip your shoes off at the door and begin your journey through the main cultural symbol of Japan.
Your tea master will guide you through each step of the ceremony, explaining how to prepare and drink the matcha, as well as the importance of the ceremony.
"Highly recommend! The host gave a joyful introduction into true Japanese tea ceremony. She is very fluent in English, so it was easy to understand her and to ask any questions. The atmosphere was relaxing and the tea house is very beautiful and appropriate." -Guest review, September 2019
6. Walk the Philosopher's Path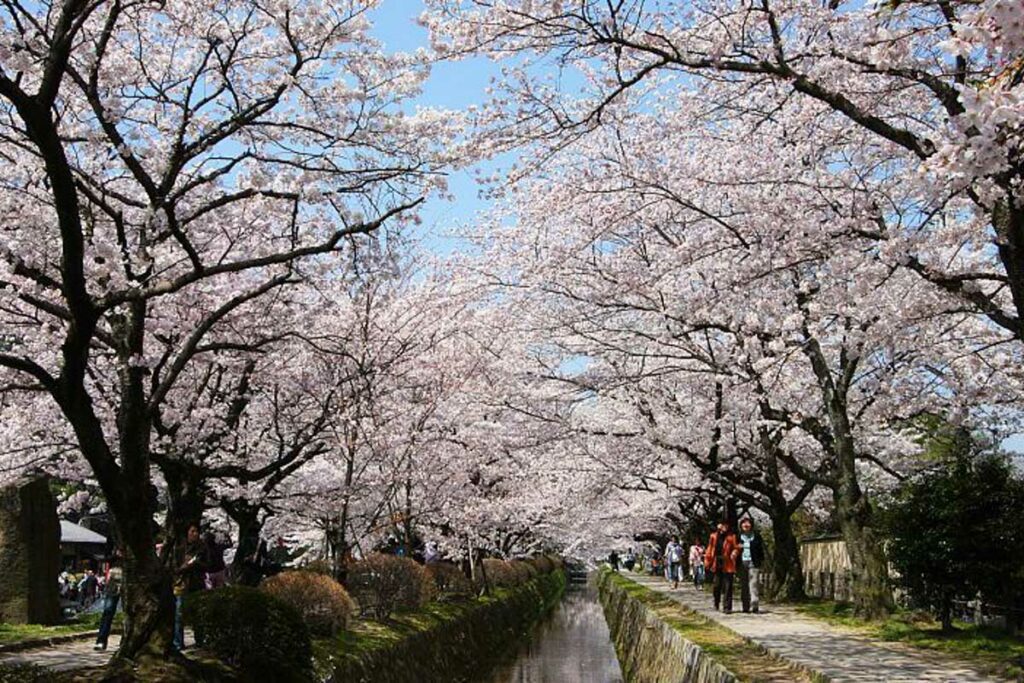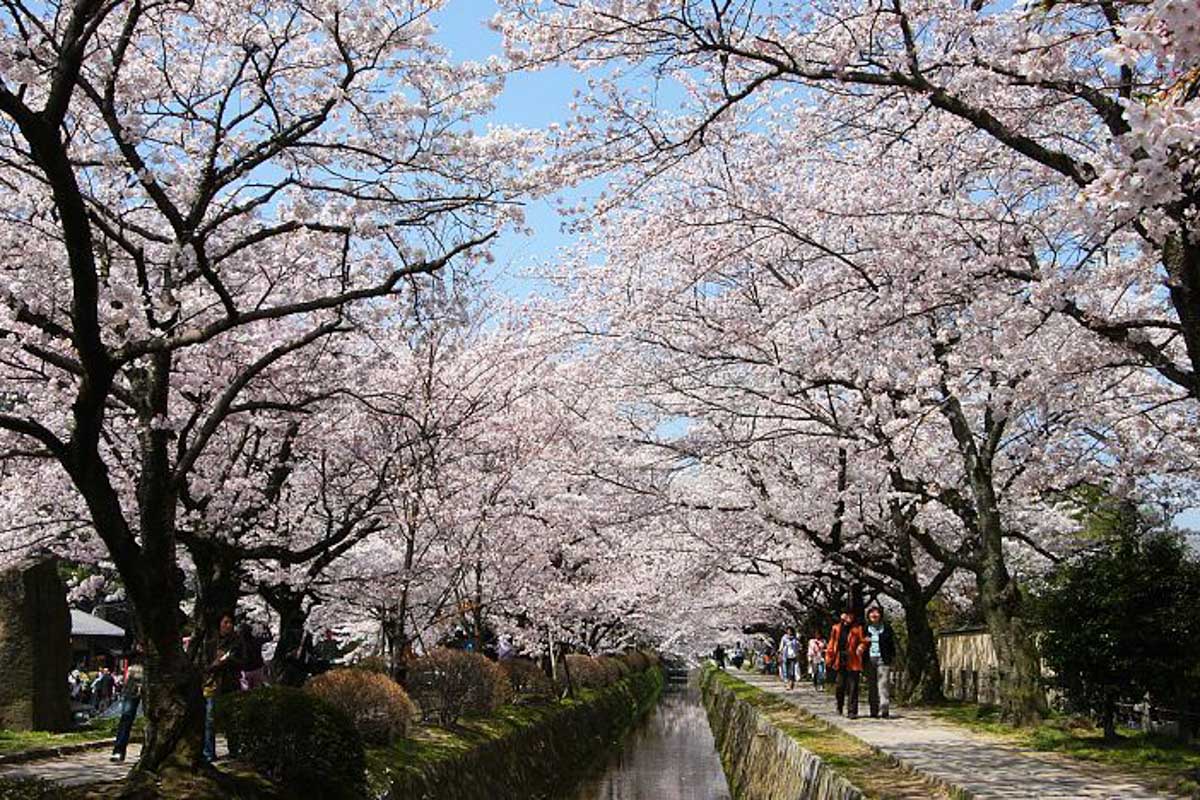 Follow the stone laid steps of Japan's famous philosopher, Nishida Kitaro, who foraged this path daily commuting to Kyoto University.
The trail is one of the best things to do in Kyoto on its own, but it also connects three magnificent temples you should meander to see: Ginkaku-Ji, Eikan-do/Zenrin-ji, and Nanzen-Ji Temple.
The pathway follows a canal that is lined with hundreds of cherry trees, creating a dreamy pink and white tunnel during Japan's cherry blossom season.
Begin your stroll at Ginkakuji (Silver Pavilion) and follow the trail, Tetsugaku-no-michi, for about a mile until you reach the Nanzenji neighborhood.
7. Wander the iconic Arashiyama Bamboo Forest (& a hidden bamboo grove!)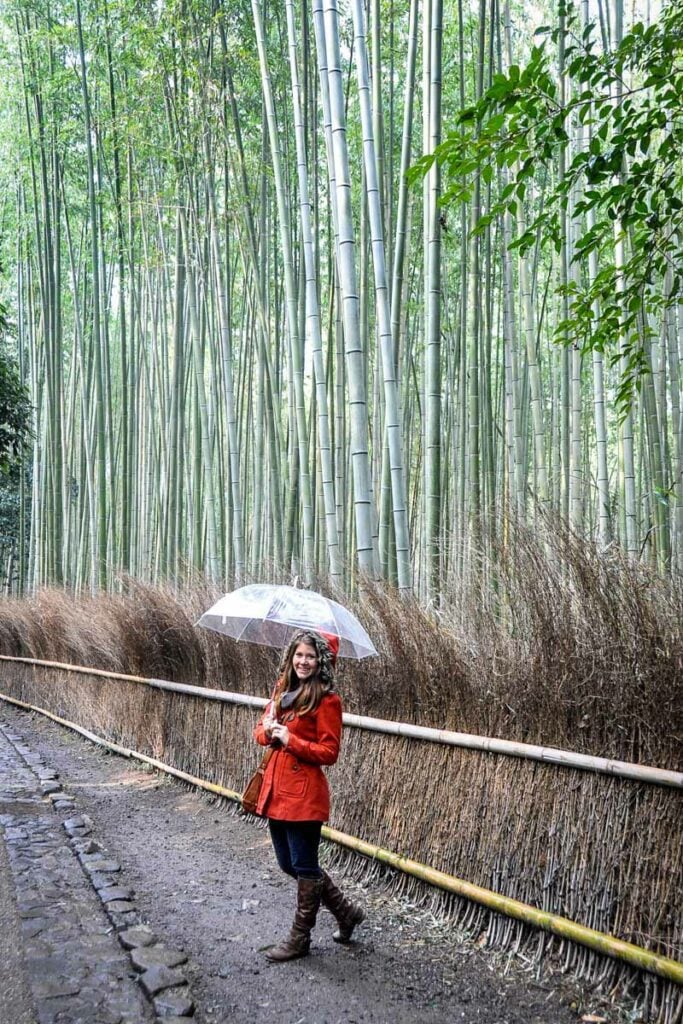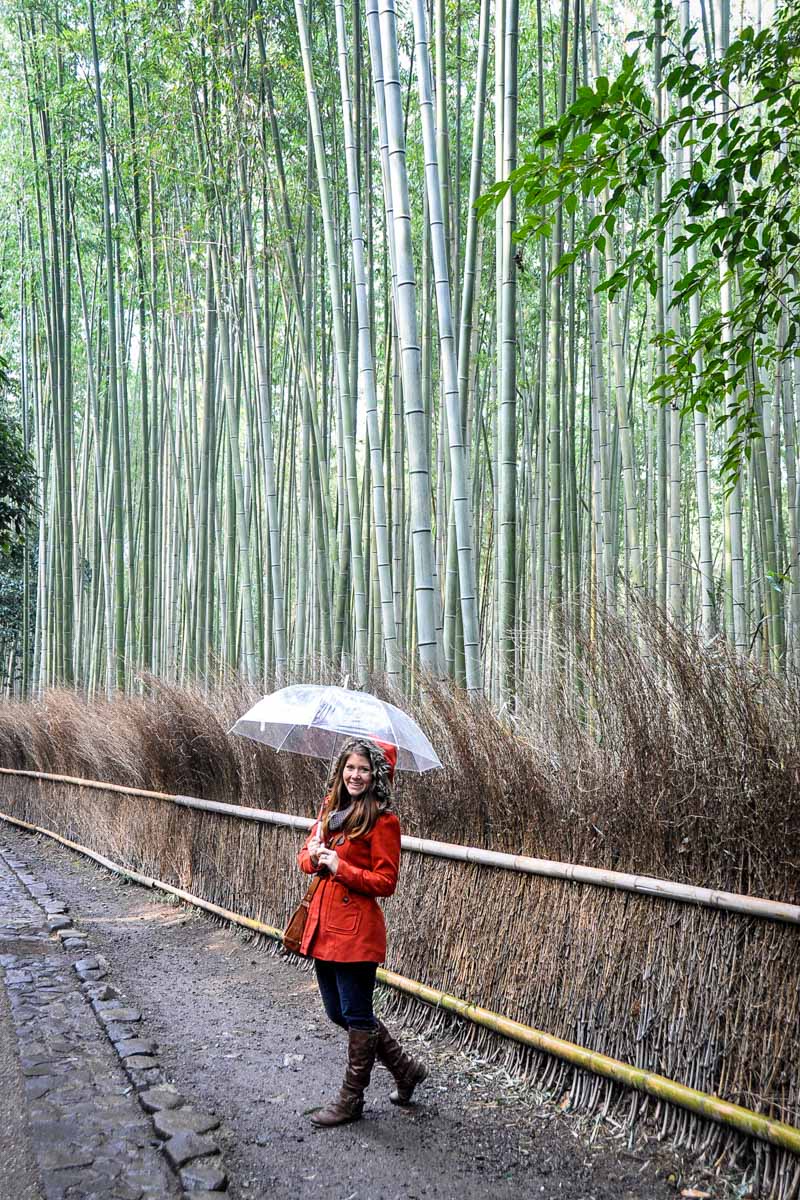 There are few Kyoto attractions more iconic than the Arashiyama Bamboo Forest.
Strolling through a forest of towering bamboo stalks that sway ever so slightly in the breeze creates an almost otherworldly atmosphere.
While photos online may make it seem like this is a tranquil oasis, I can guarantee that you will find it to be very crowded at almost all hours of the day.
That said, it is still one of those places you have to visit in Kyoto.
As long as your expectations are managed, Arashiyama Bamboo Forest is still worth a visit – especially since there's a much less crowded bamboo forest nearby…
Hidden Bamboo Grove: Adashino Nenbutsuji Temple
Most visitors head to the Arashiyama Bamboo Forest, then return to Kyoto city center, completely missing this hidden gem.
The Adashino Nenbutsuji Temple is believed to have been founded in the 8th century by a monk who placed stone statues around the grounds to honor the souls of the dead. Today, there are more than 8,000 stone statues, many covered in moss.
In addition to these memorials, Adashino Nenbutsuji Temple has a peaceful bamboo grove that feels like a hidden gem compared to the Arashiyama Bamboo Forest.
More lesser-known bamboo forests:
These temples have small bamboo groves and are less crowded than the one in Arashiyama, making them a good choice if you're trying to avoid lots of people.
8. Explore more of Arashiyama
Arashiyama is most famous for its bamboo forest (see above), but this neighborhood on the western outskirts of Kyoto has much more to it and is worth part of a day.
Things to do in Arashiyama
See Japanese macaques up close at the Iwatayama Monkey Park
Walk through the Kimono Forest, an art exhibit featuring poles covered in colorful kimonos (beautiful at night & during the day)
Feel a world away from the city at Jojakkoji, a peaceful forested temple
Explore Tenryū-ji, a Zen temple with a teahouse & large gardens
Togetsu-kyo Bridge: 400-year-old wooden footbridge
Wander past historic houses on Saga Toriimoto Preserved Street, where few tourists venture
Take a day trip on the Sagano Scenic Railway
9. Have dinner in Pontocho Alley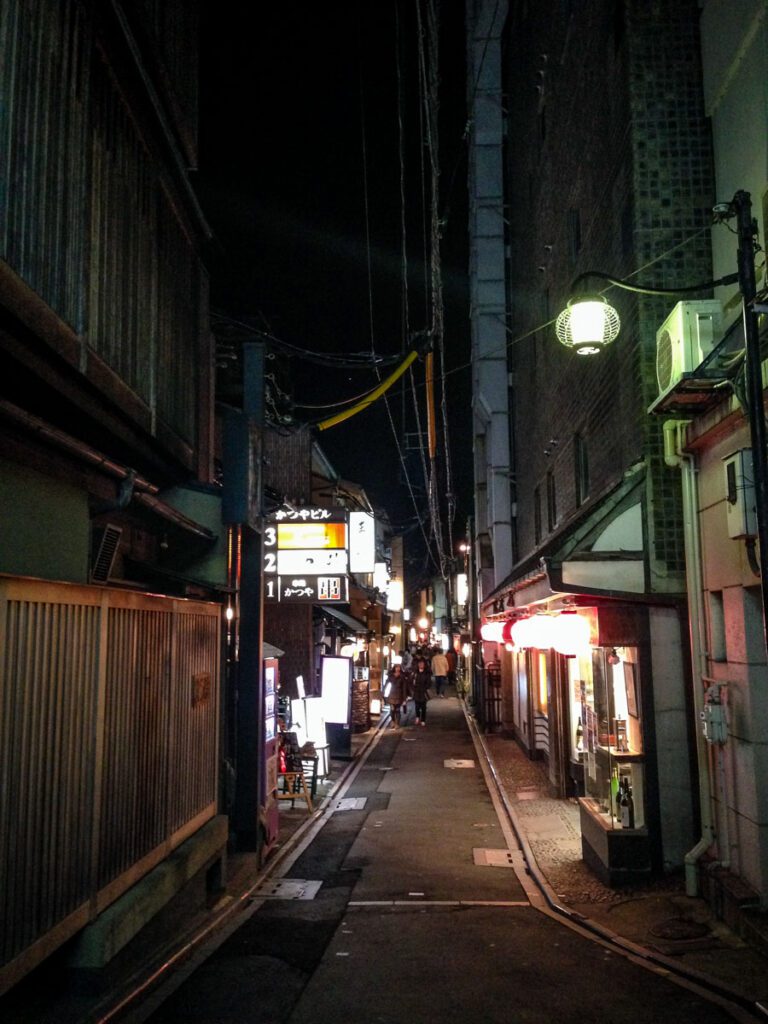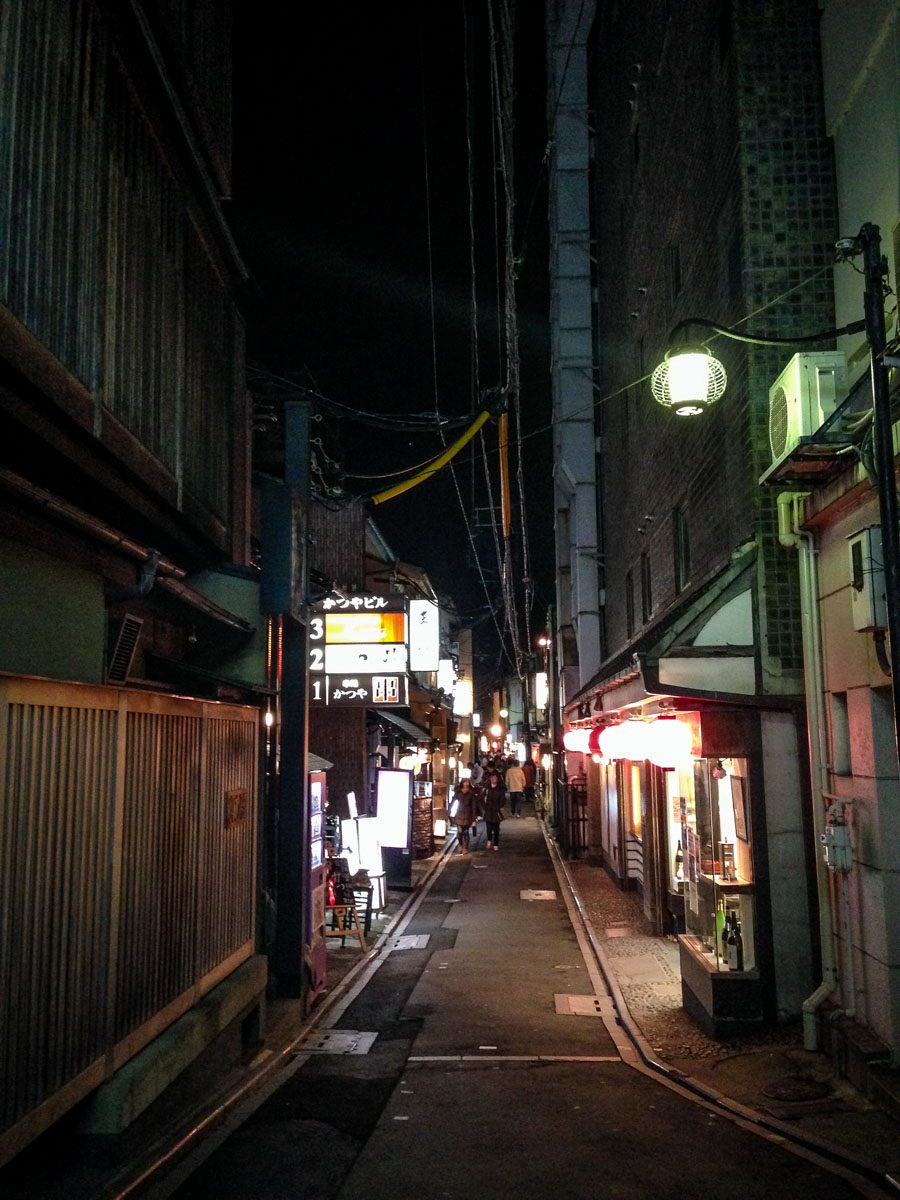 Widely known as the most beautiful street in Kyoto, Pontocho Alley is home to traditional wooden shops and restaurants that ooze Japanese charm.
Situated one block west of the Kamogawa River, this narrow street is a great spot to wander in the early evening hours and pop into whatever restaurant strikes your fancy.
From fine dining restaurants (that require reservations and a fat wallet) to casual noodle shops and pubs, you'll be sure to find something that fits the bill.
If you'd rather head directly to your destination rather than wander, these Pontocho Alley restaurants come highly recommended:
Pontocho Fujita: Kaiseki (traditional multi-course meal) restaurant specializing in fish and vegetable dishes
Yoshiya: local favorite serving regional cuisine; reservations needed
10. Photograph the iconic Kinkaku-ji Temple (Golden Pavilion)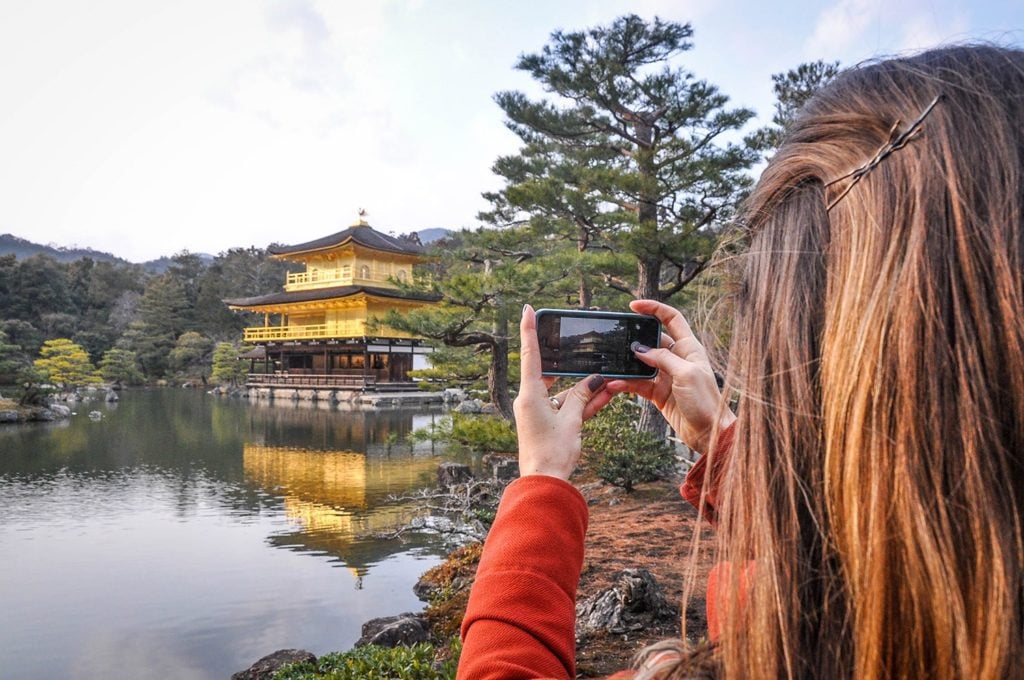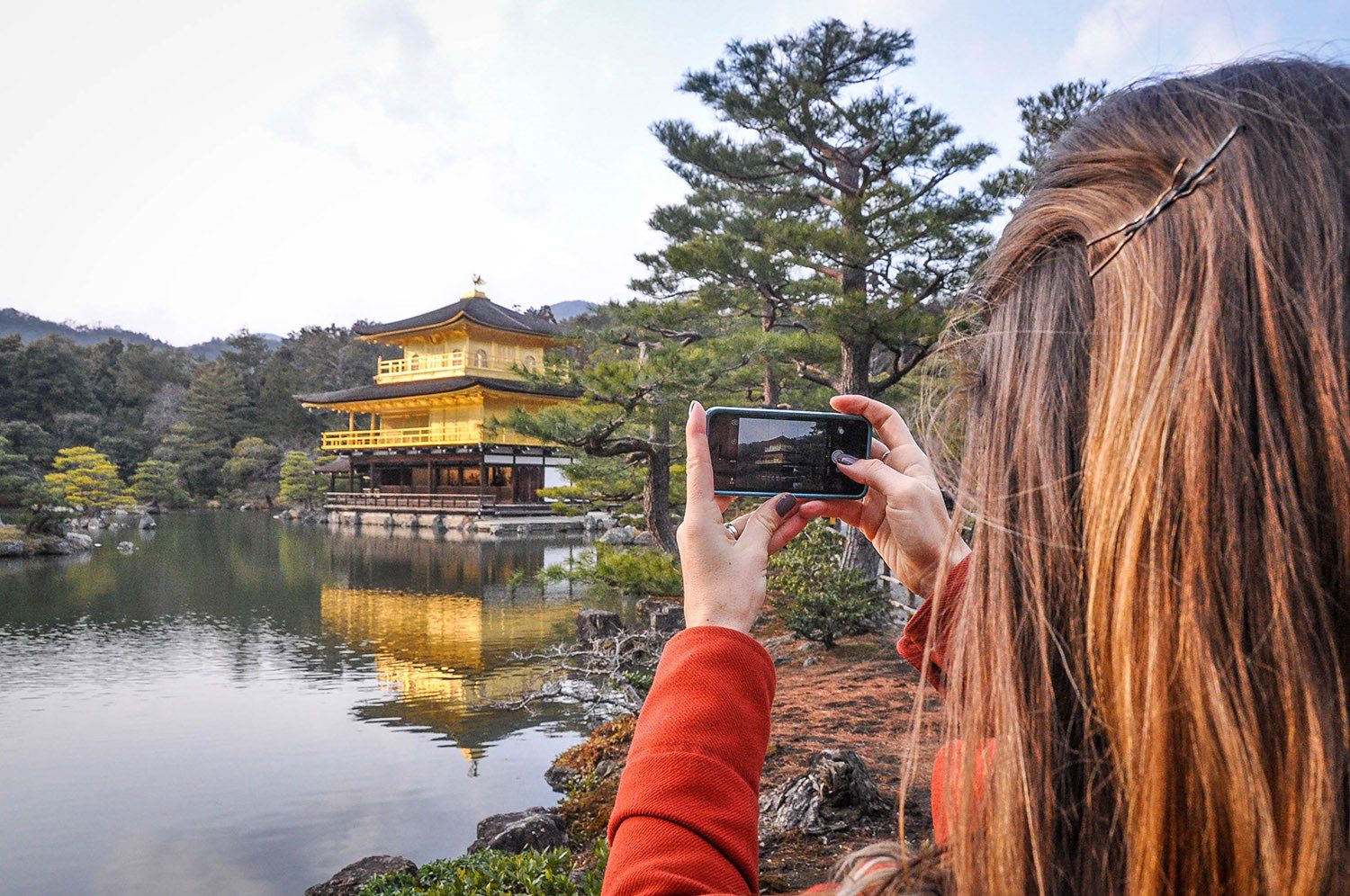 This dazzling Buddhist temple, covered in gold leaf, is one of the most famous sights in Kyoto and the crown jewel of the ancient city.
The pavilion showcases three unique types of architecture: the Heian Period on the ground floor, houses of the samurai on the first floor, and style reflection of Zen temples on the second floor.
All of these styles are reflected beautifully into the lake beside the temple, making for a pretty stellar photo-op, especially around dusk when the sun is setting.
Entry fee: 400 yen ($3)
11. Visit Ginkaku-ji Temple (Silver Pavilion)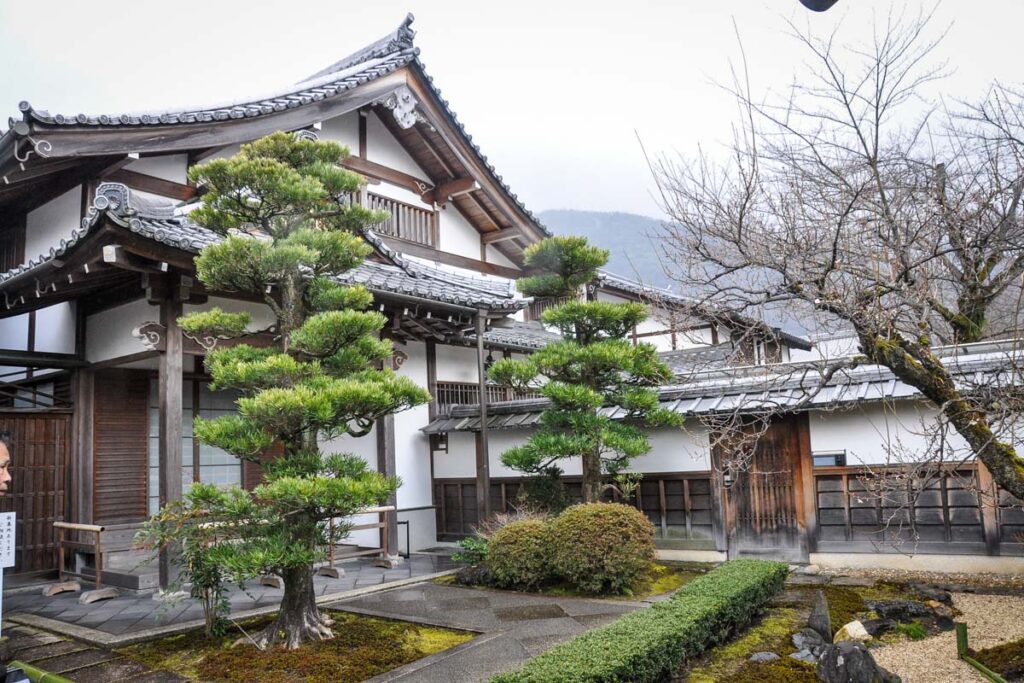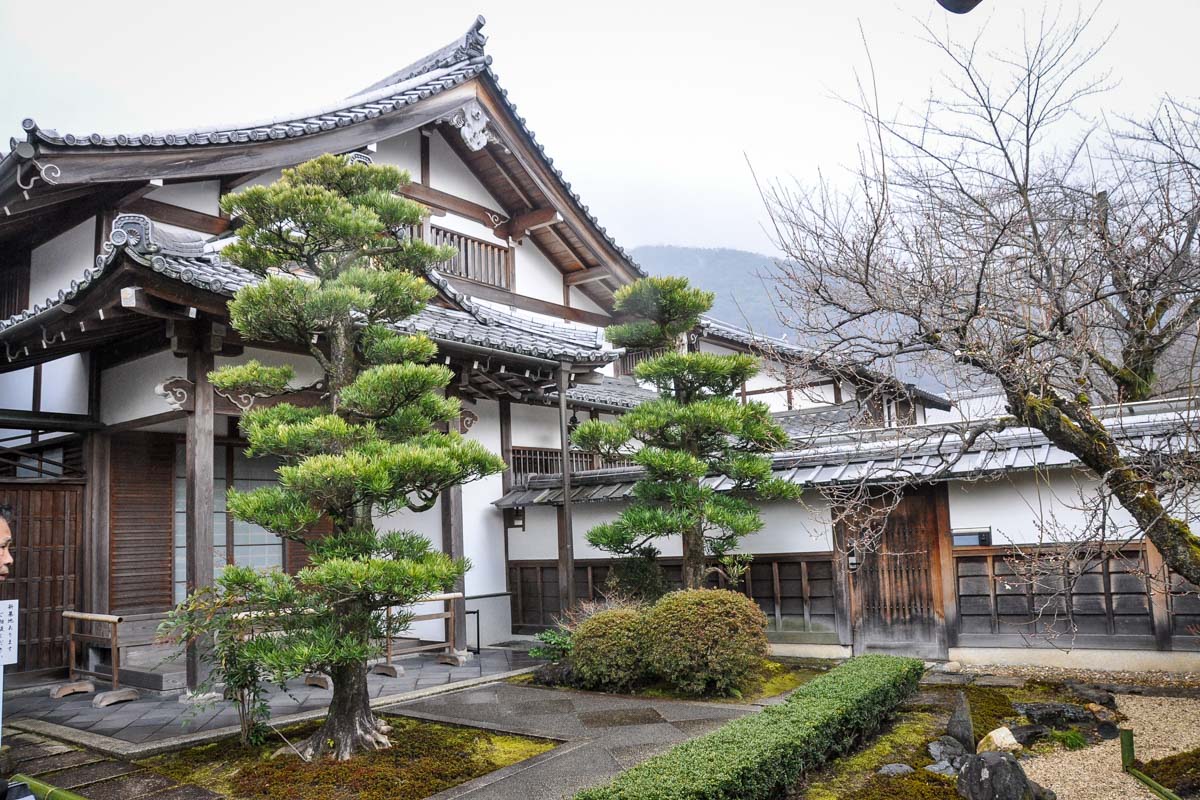 Modeled after the golden Kinkaku-ji Temple, shogun Ashikaga Yoshimasa's 15th century retirement villa turned temple sits beautifully at the edge of Kyoto's eastern mountains.
Despite its nickname, it's not actually coated in silver.
The alias was given mainly because of the way the moon reflected off the temple's dark exterior, giving it a more silver look in addition to its contrast to the Gold Pavilion.
The Silver Pavilion is the main draw, however there are half a dozen other temple buildings, a moss garden, and a dry sand garden that can also be enjoyed along a clockwise walking path.
Entry fee: 500 yen ($4)
Good to know: This spot is especially beautiful (& popular!) during cherry blossom season.
12. See Japanese macaques up close at Arashiyama Monkey Park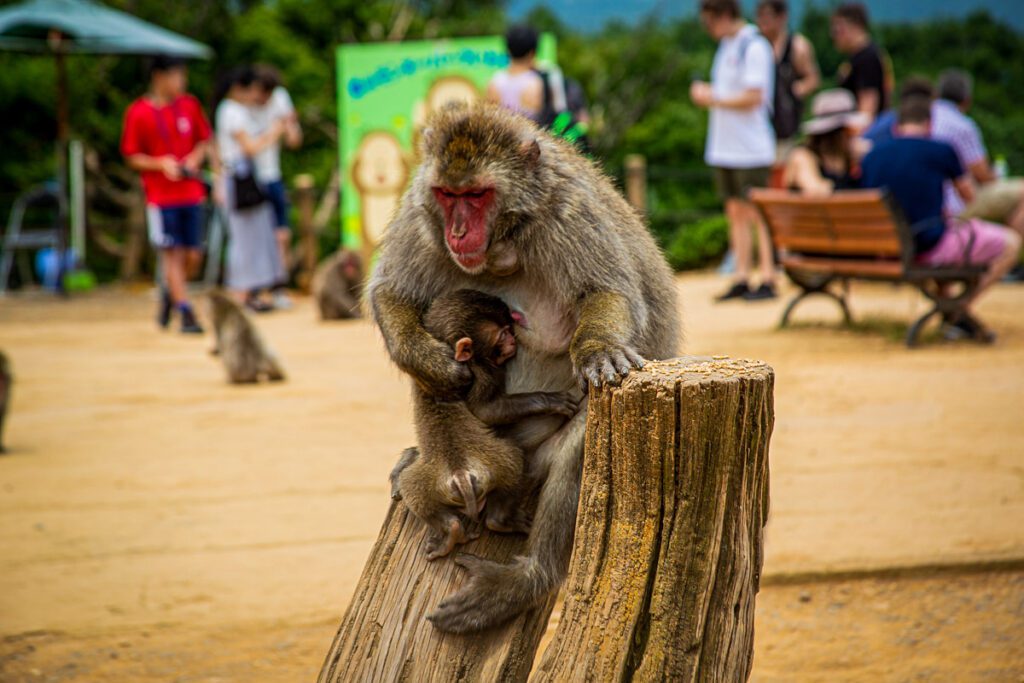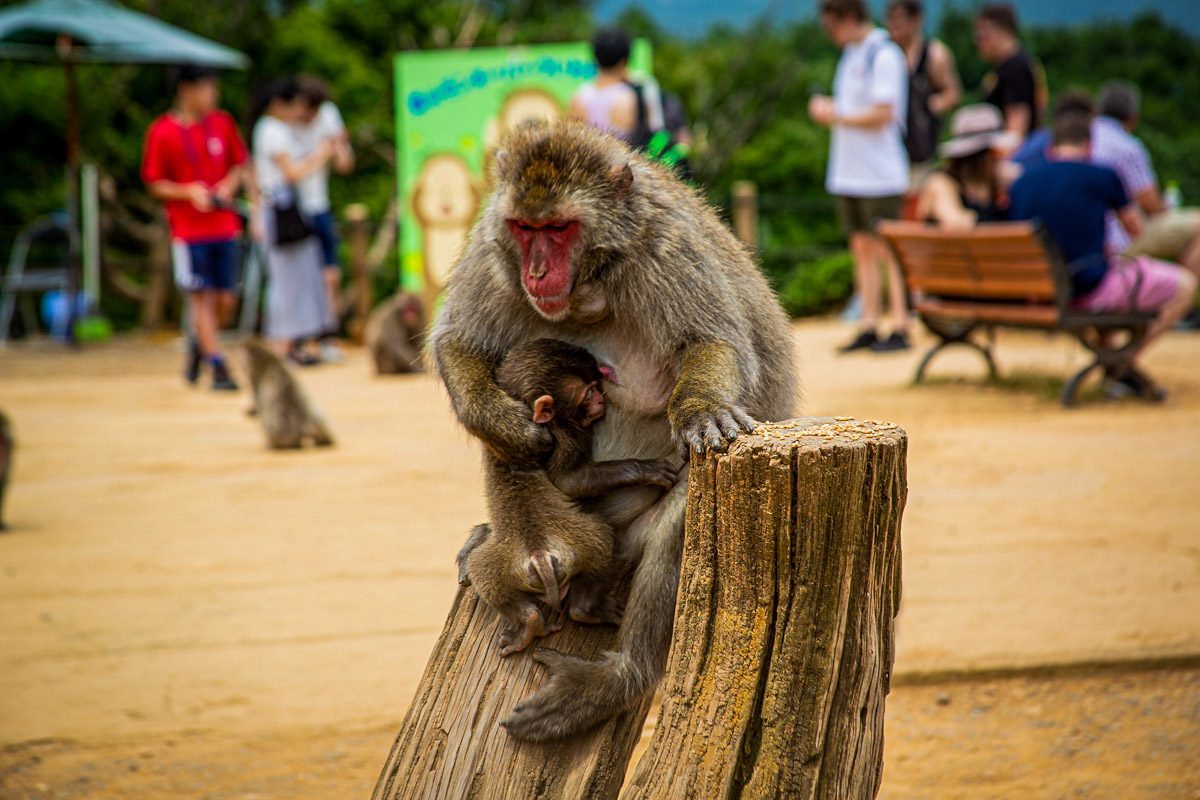 While the snow monkeys soaking in Jigokudani Park is a bucket list-worthy experience, you can enjoy the same monkeys, sans hot spring, right in the heart of Kyoto.
At the top of Mount Itawa, over 120 semi-wild snow monkeys play and scamper around the area where you can feed them while getting a bit of midday entertainment.
After a short walk to the mountaintop park, you have the option of entering a small hut to feed the monkeys, kind of like a reverse zoo experience, or you can enjoy them freely outside.
Good to know: Do heed the warning though, don't get too close and don't look them in the eye as they see it as a threat.
Entry fee: 550 yen ($4)
13. Learn local secrets on a Kyoto Free Walking Tour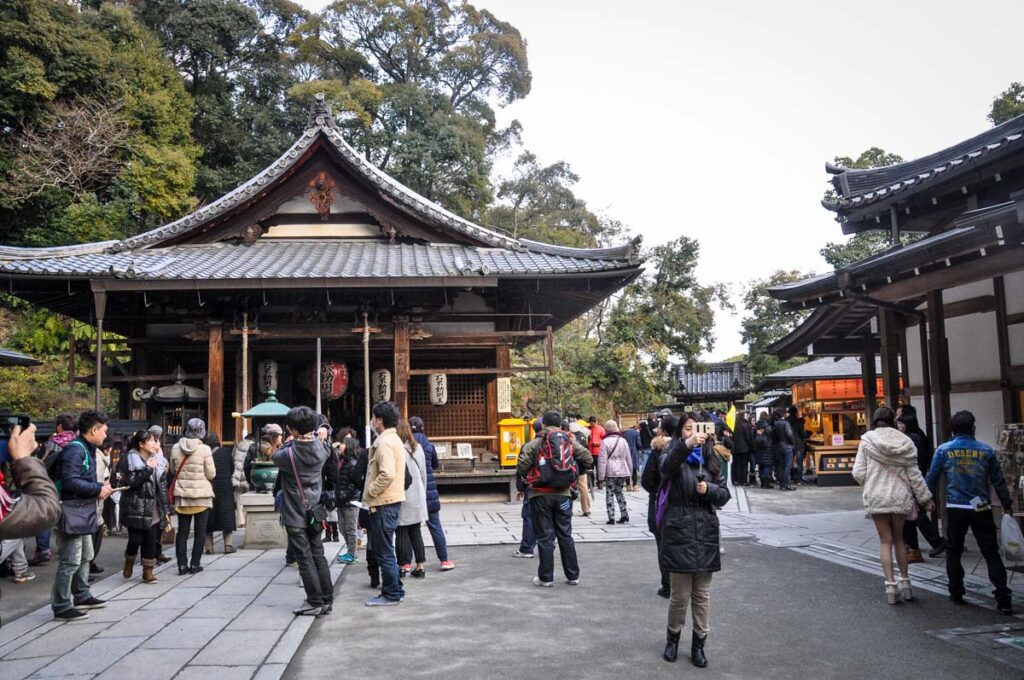 We are big fans of taking free walking tours when we travel to new cities around the world.
You get to connect with a local, learn all sorts of tidbits you'd never pick up if you were wandering the city on your own.
Plus, you can usually ask your guide for local advice and recommendations.
FYI: Free walking tours don't cost anything to join, but it is expected that you tip your guide.
Do it yourself: See more information on how to join a tour and where to meet at the Kyoto Free Walking Tour website.
14. Wander around Gion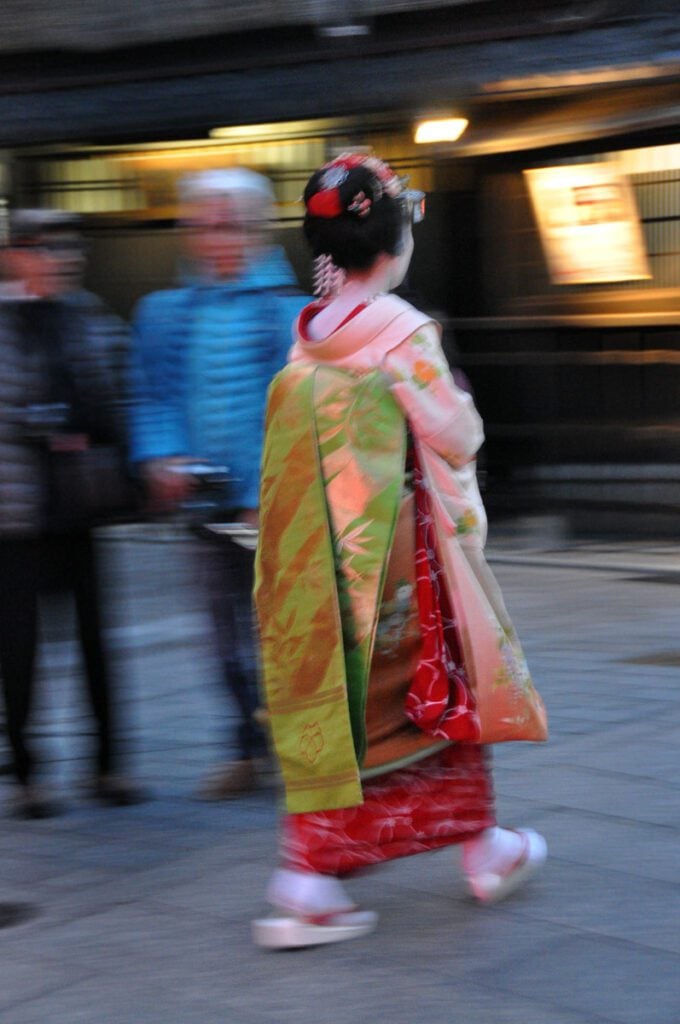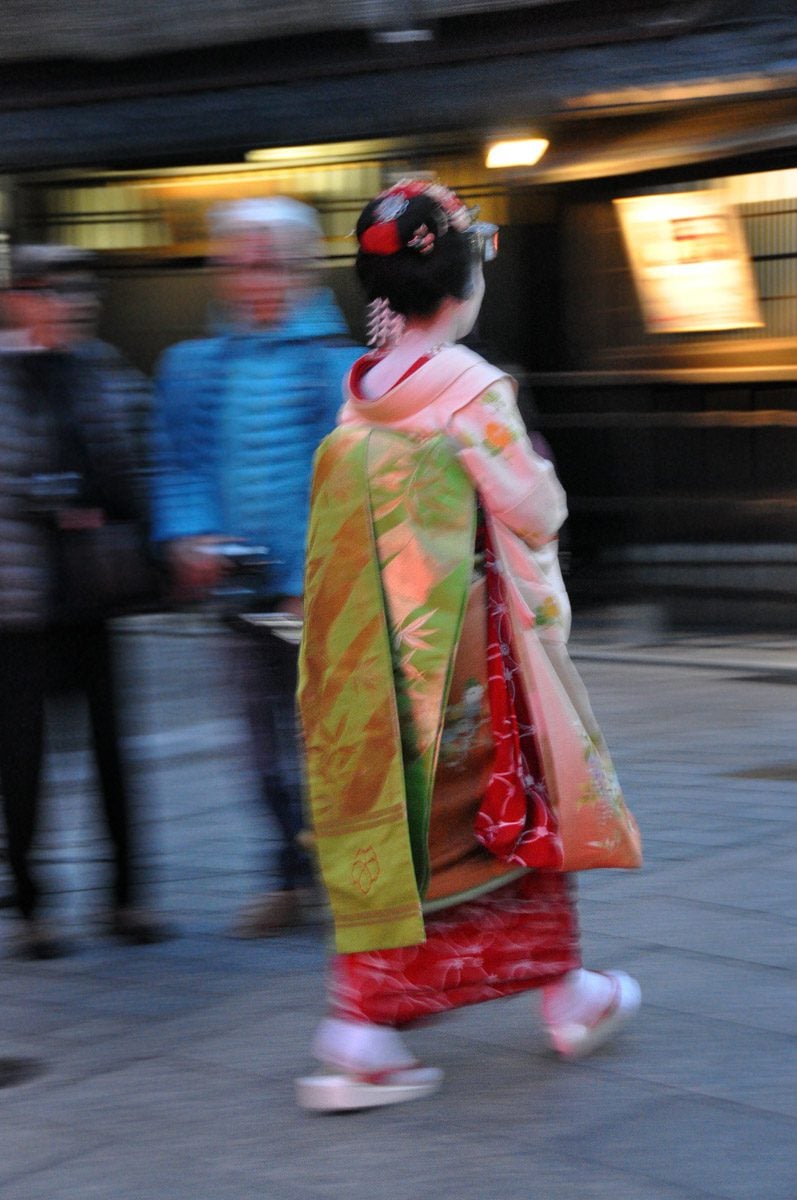 Famously known as the "Geisha District", Gion should not be missed.
Wander around this neighborhood and you'll find: upscale Japanese restaurants, ochaya (or teahouses), and boutiques.
Additionally, you'll find many important landmarks, including the following:
Tatsumi Bridge
Kennin-ji Temple (known for Zen garden)
Yasaka Shrine
Nene-no-michi Lane
Ishibei-koji Lane
Want a local guide? Check out this local's walk of Gion by night.
15. Take a Japanese cooking class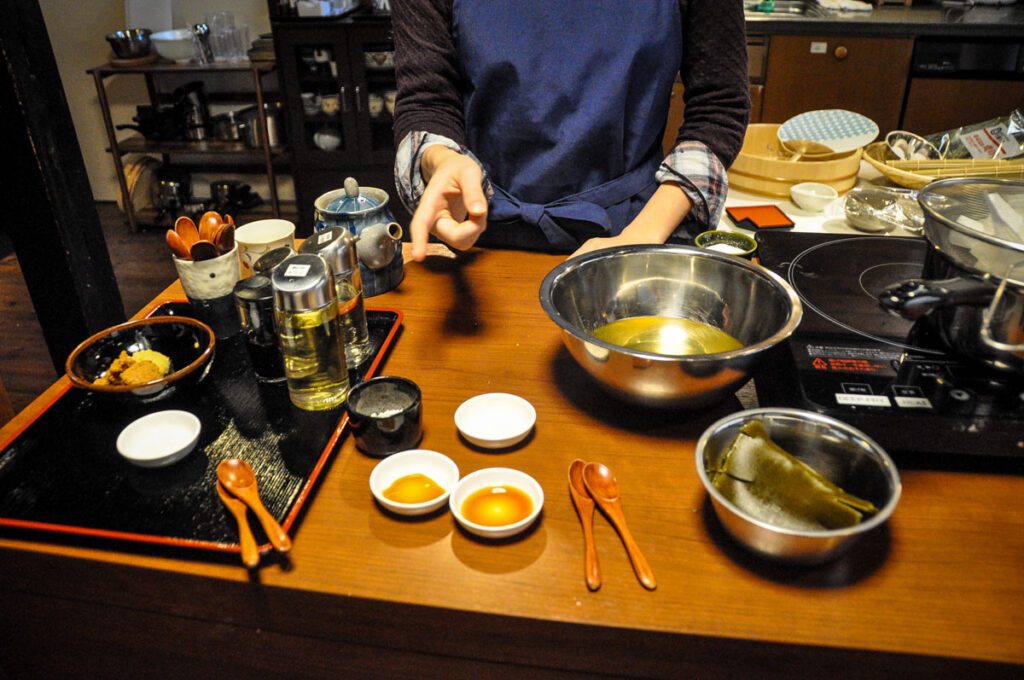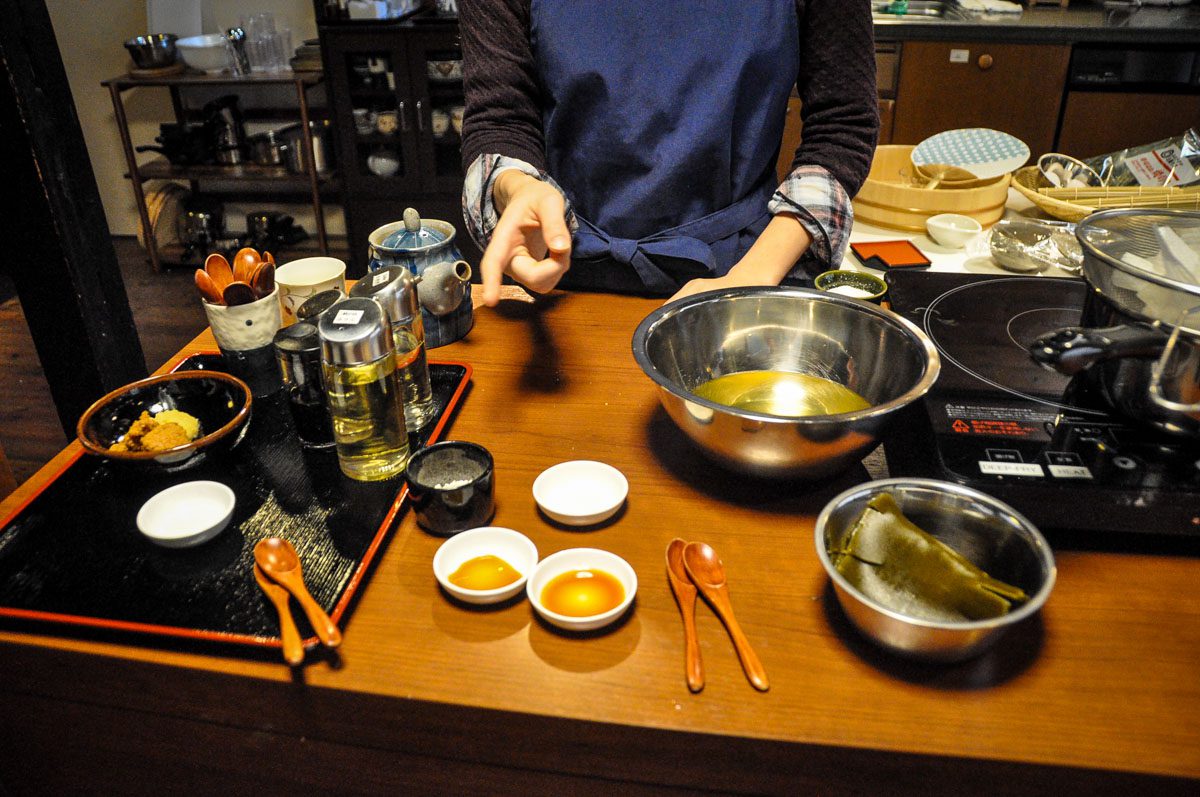 Whether you fancy yourself a chef, or you'd like to sharpen up your skills, taking a cooking class is one of the most unique things to do in Kyoto.
We've personally taken 2 cooking classes in Japan:
one where we made 3 types of ramen
one where we made many different types of sushi
After each class, we got to enjoy an incredible meal and give ourselves a pat on the back because we were the ones that made it!
We had so much fun learning the process behind two of our favorite Japanese foods.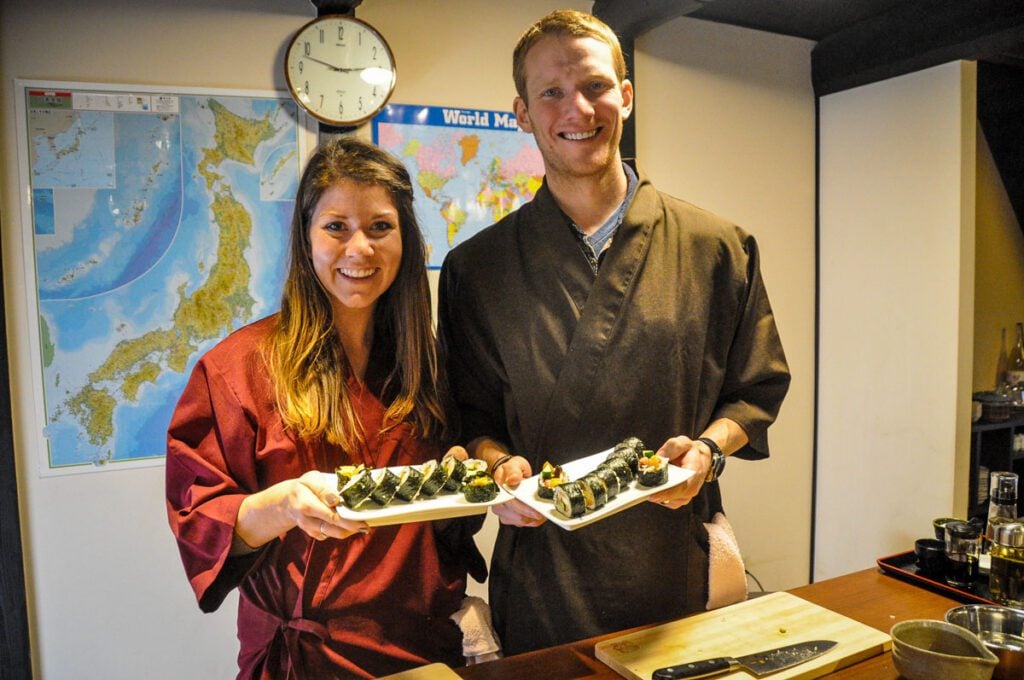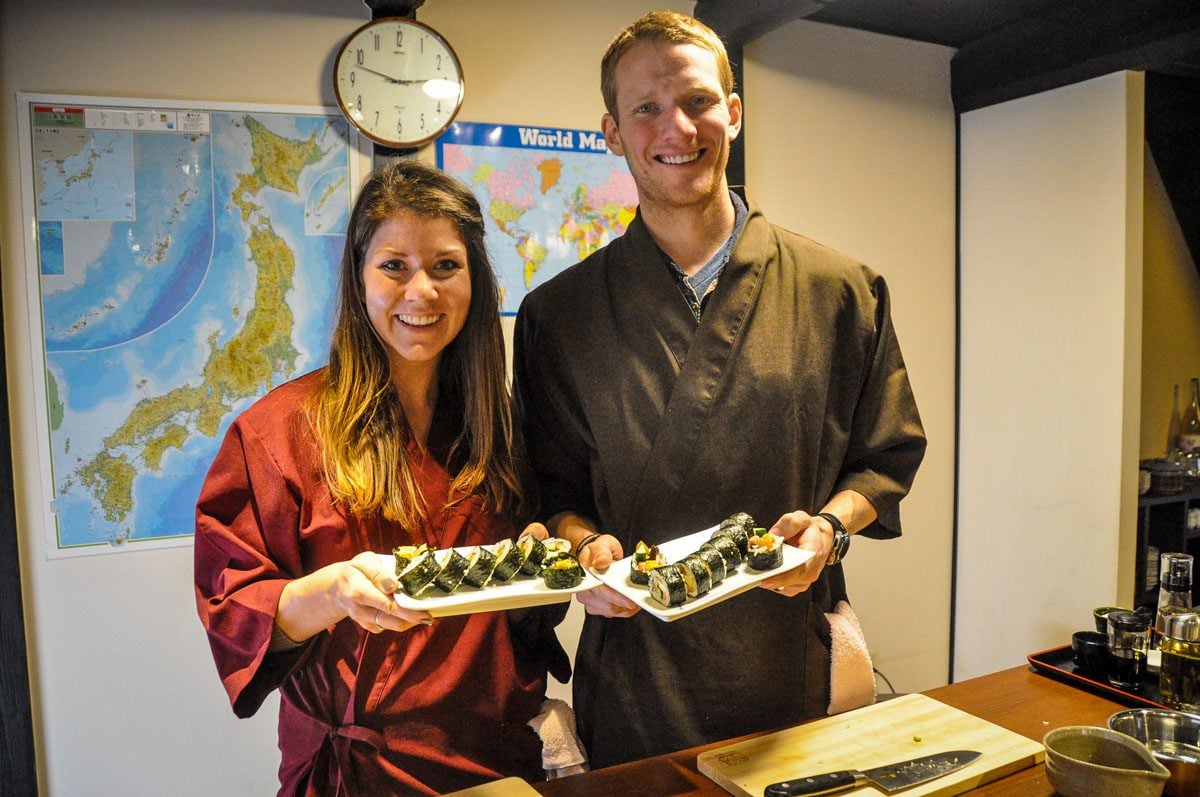 The added bonus is that you are typically given recipes to bring home (and the know-how on how to execute them), so you can recreate the meals for your family and friends. It's kind of like a souvenir that keeps on giving!
If you're looking for a cooking class in Kyoto, there are plenty to choose from. Here are our top recommendations:
16. Cheers with a rooftop view
There are few better ways to end a day of exploring than by toasting with drinks on a rooftop. Soak in the views of town as the sun sets over the horizon.
Kyoto has a handful of rooftop bars, but here are our top 3 recommendations:
Cicon Rooftop Bar (Nohga Hotel): Beautifully designed rooftop bar with fire pits, cafe lights and comfy couches. Enjoy the view over cocktails and light bites.
K36 Bar & Rooftop: Sleek rooftop venue with sweeting city views and an impressive menu of whiskeys and champagne.
in the Moon: Trendy rooftop bar featuring cocktails, music and a lively atmosphere.
17. Explore Kyoto on a bike tour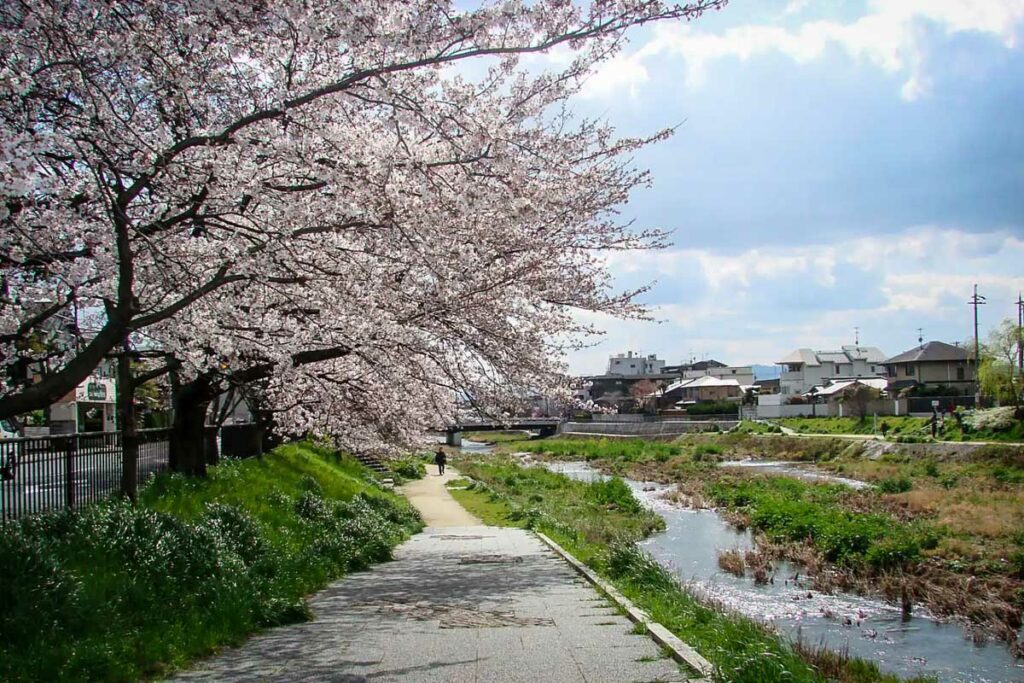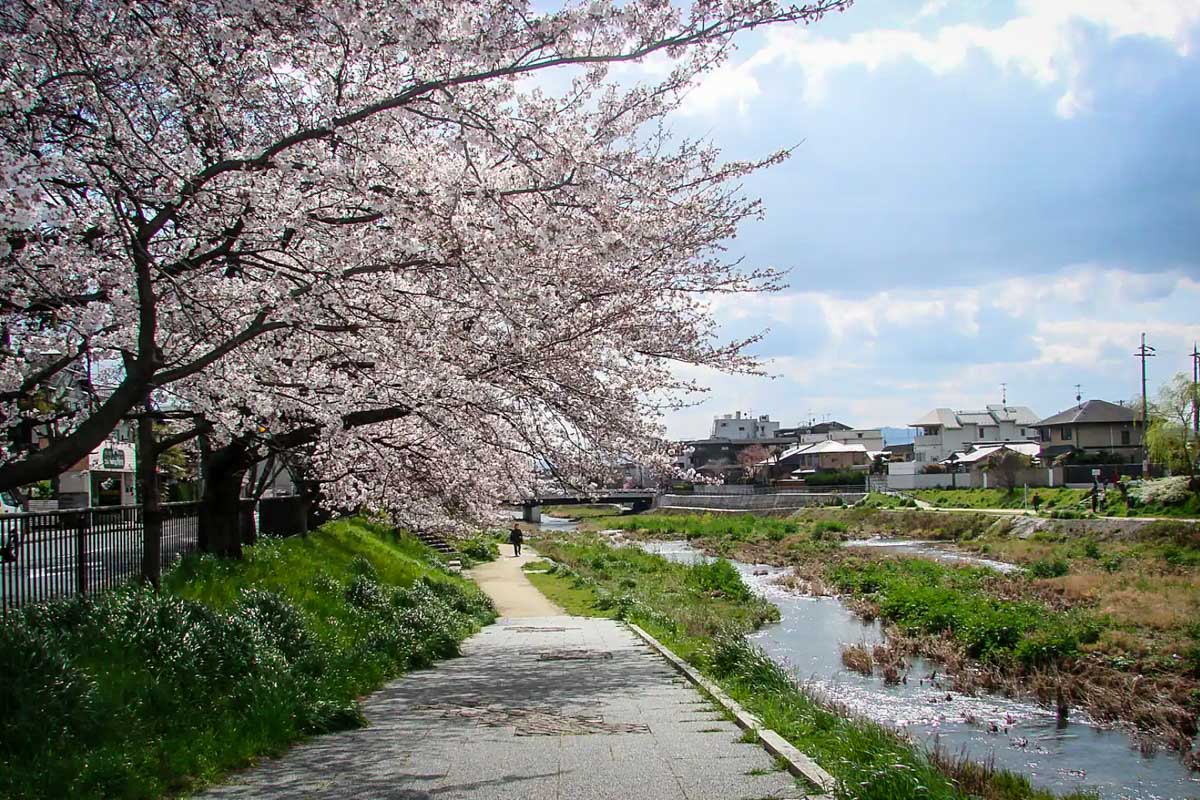 While we're high fans of walking tours, there's only so much ground you can cover on foot.
Put two wheels beneath you, and there's a lot more you can see!
Kyoto is a perfect city to take a bike tour because there are lots to see within the center as well as just outside the city limits. You'll be able to see places most visitors miss and cover lots of ground in a short amount of time.
Here's what guests are saying:
"Awesome! I recommend this bicycle tour on the first day you arrive to Kyoto to get a fun tour of the local area and good restaurants. The experience was very fun and informative. I will recommend this tour to anyone I know traveling to Kyoto." – Ryan, March 2022
18. Take in panoramic views of the city at Kiyomizu-dera Temple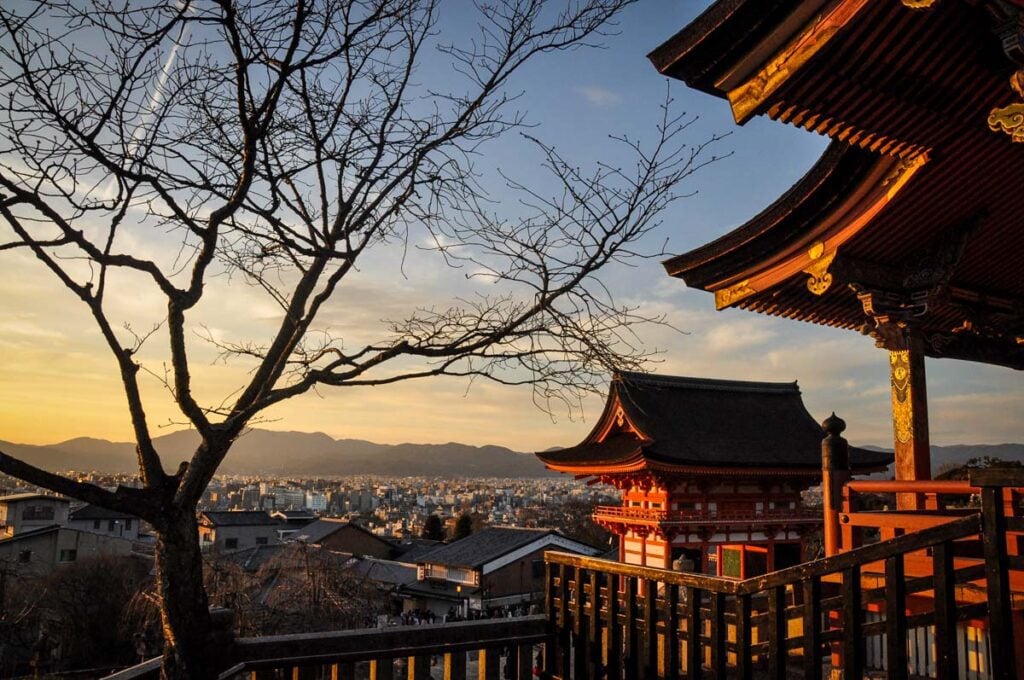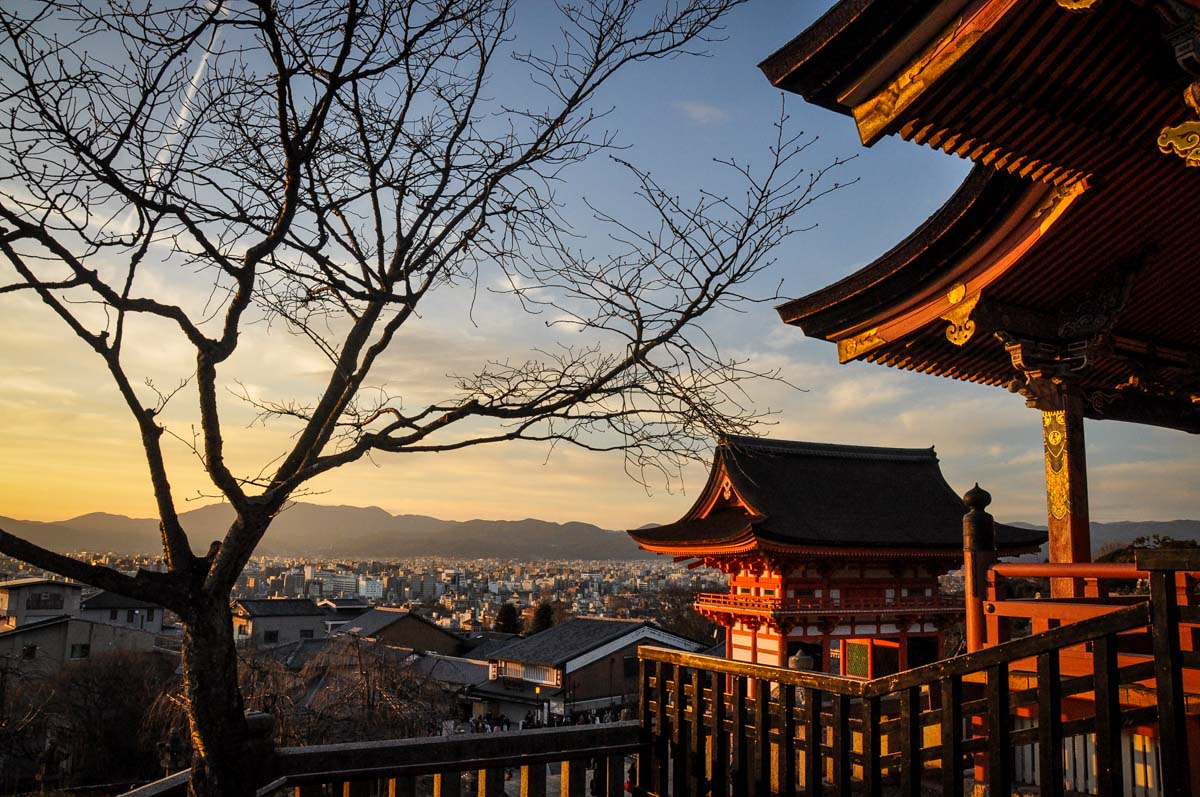 Atop Mt. Otowa in the Higashiyama mountain range, is one of the most celebrated temples in Japan.
Wander the grounds and visit the temple's main draw, the wooden balcony jutting over the city's eastern hills where you can gaze out on Kyoto's city skyline and an endless sea of cherry and maple trees.
The temple was built near a pure stream nestled in the mountains, which is where the grounds got their name, translating literally to "Pure Water Temple".
Its flow is divided into three streams, representing longevity, success in school, and an optimistic love life. Use the cups to sip from the streams, but choose wisely since drinking from all three is considered greedy.
Entry fee: 400 yen ($3)
19. Get nerdy at the Manga Museum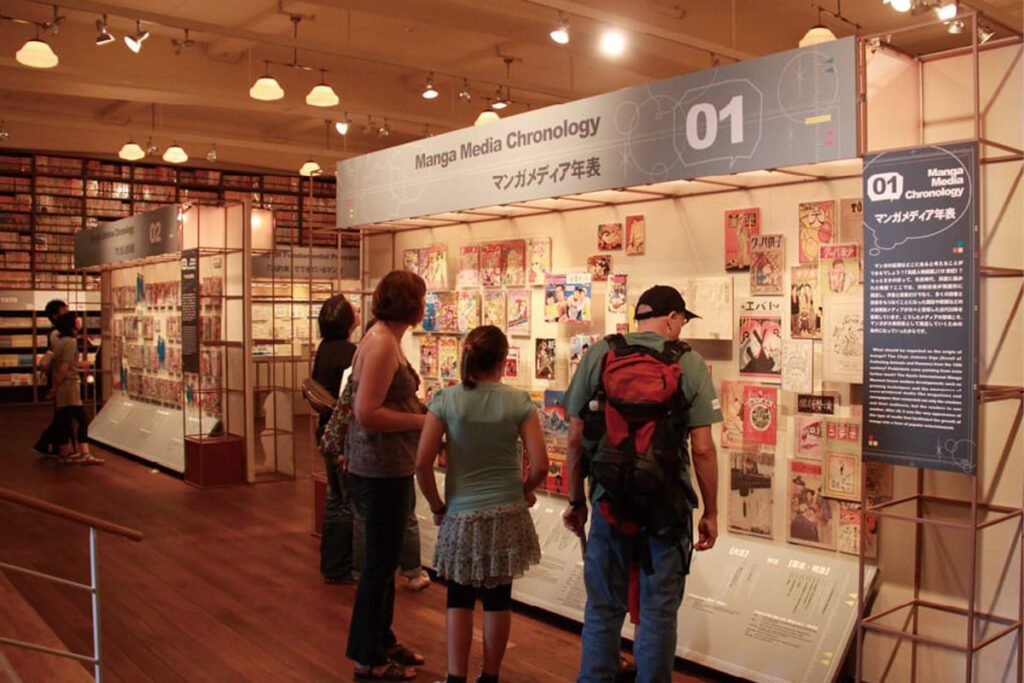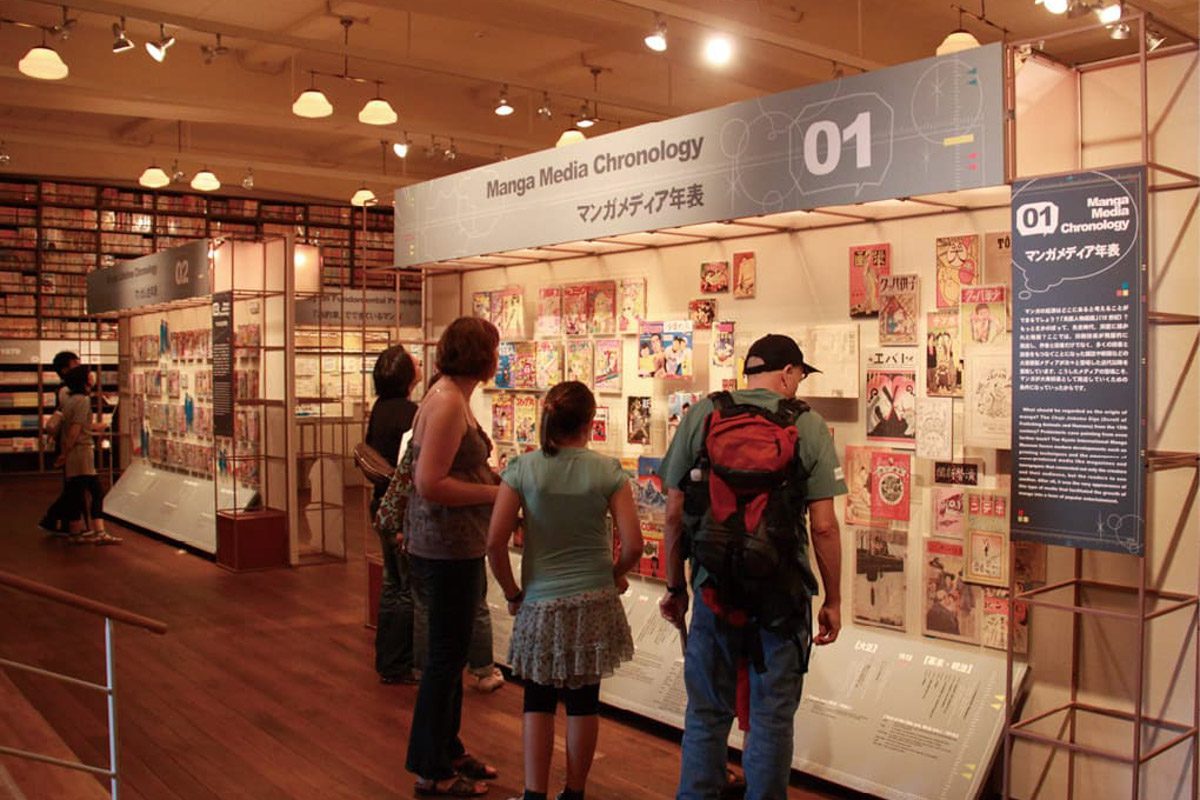 Anime and manga are two defining pillars of Japanese culture, giving much of the country its vibrant and playful nature.
At the Kyoto International Manga Museum, explore over 50,000 volumes of manga comics and 250,000 collected items ranging from post-war magazines to beloved modern day series like Pokemon, Studio Ghibli, and Dragon Ball Z.
Entry fee: 900 yen ($7)
20. Try green tea ice cream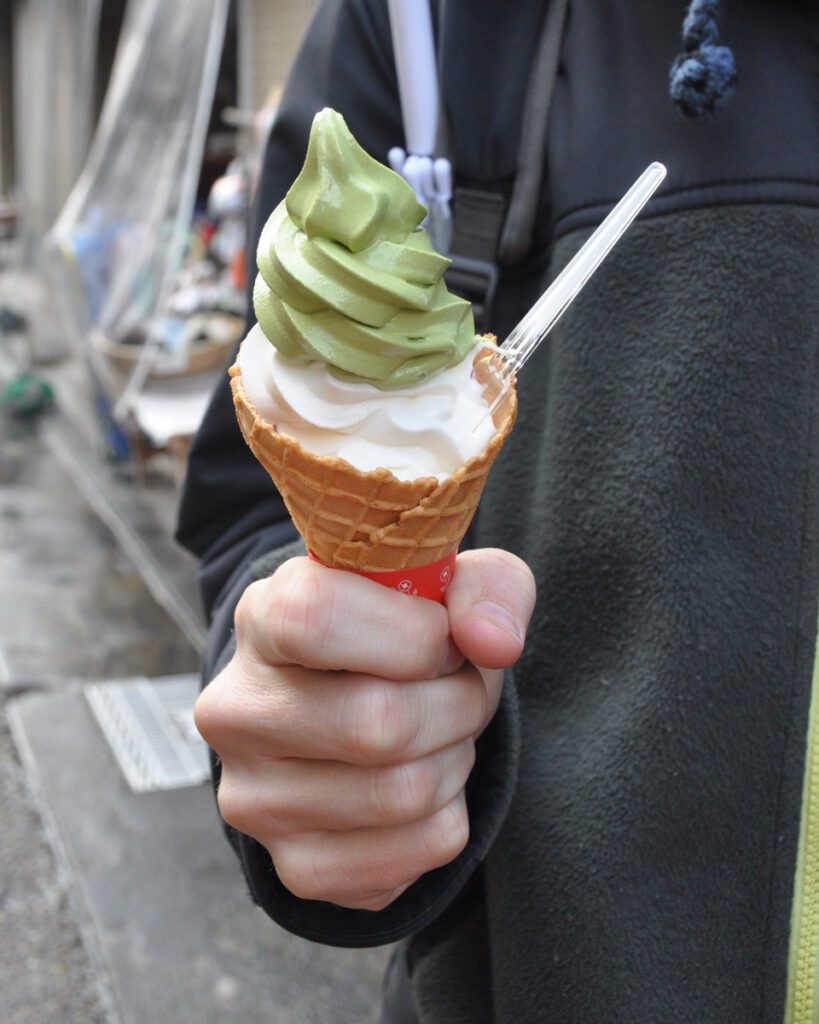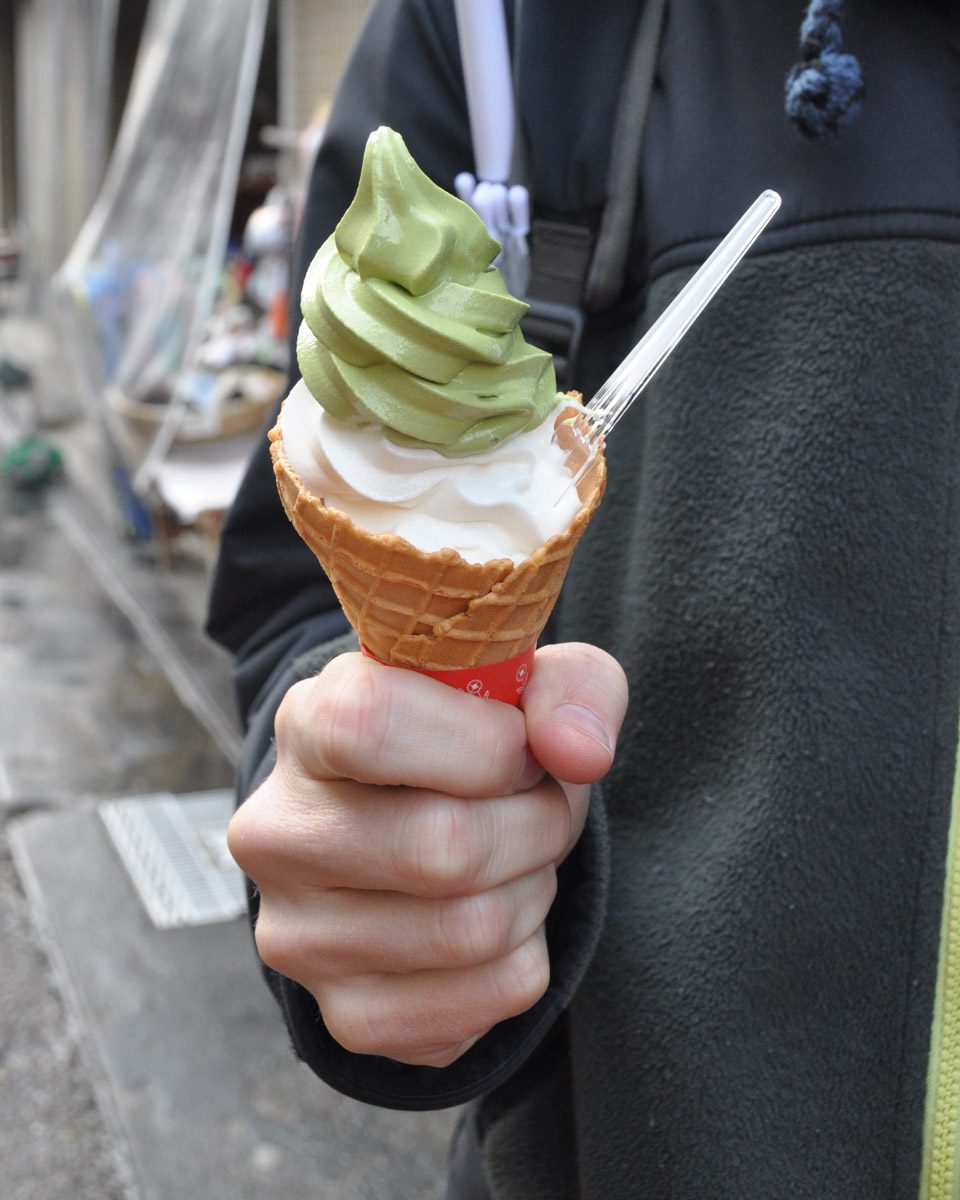 Matcha is a big deal all over Japan, and you'll see a lot of green tea treats around Kyoto: pancakes, mochi, tea cookies…
Sample whatever your heart desires, but we're fans of matcha ice cream.
Insider Tip: We preferred to have it mixed with vanilla so the sweet and creamy balanced out the green tea's bitterness.
21. Shop for souvenirs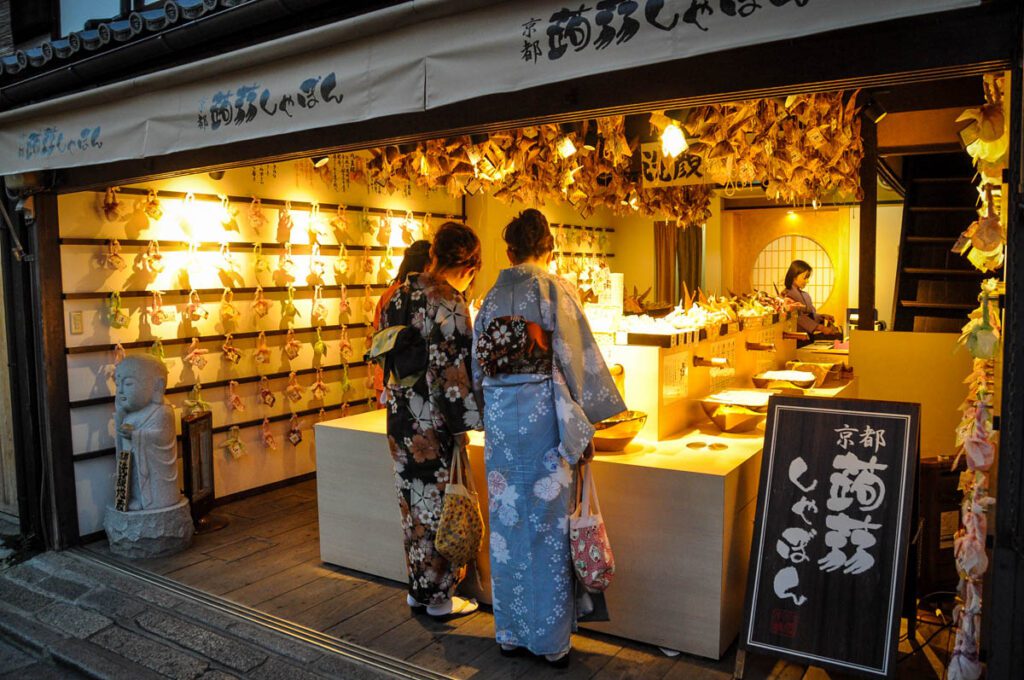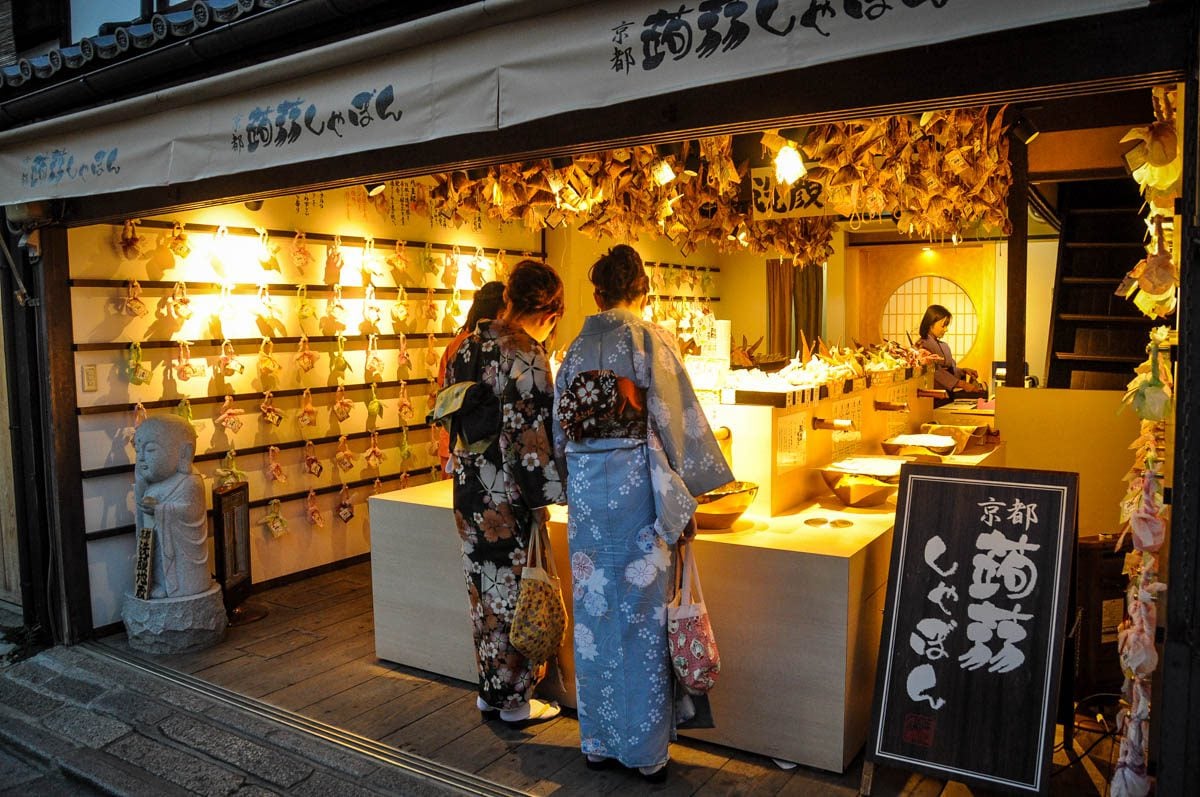 If you want to come home from your trip with some traditional Japanese souvenirs, Kyoto is one of the best places to shop for them.
We particularly liked shopping for ceramics, handmade fans and chopsticks along Ninenzaka pedestrian road in the Higashiyama historic district.
We even have a list of our favorite (non-cheesy!) Japanese souvenirs to help you make a list of what to look for!
22. Dive into Kyoto's history at the Imperial Palace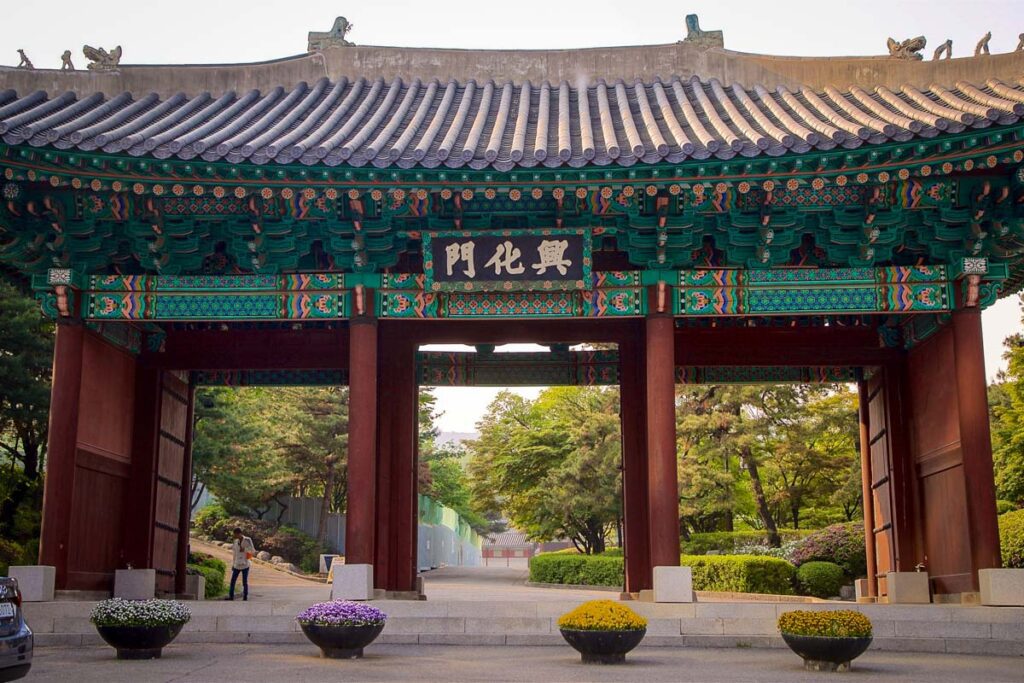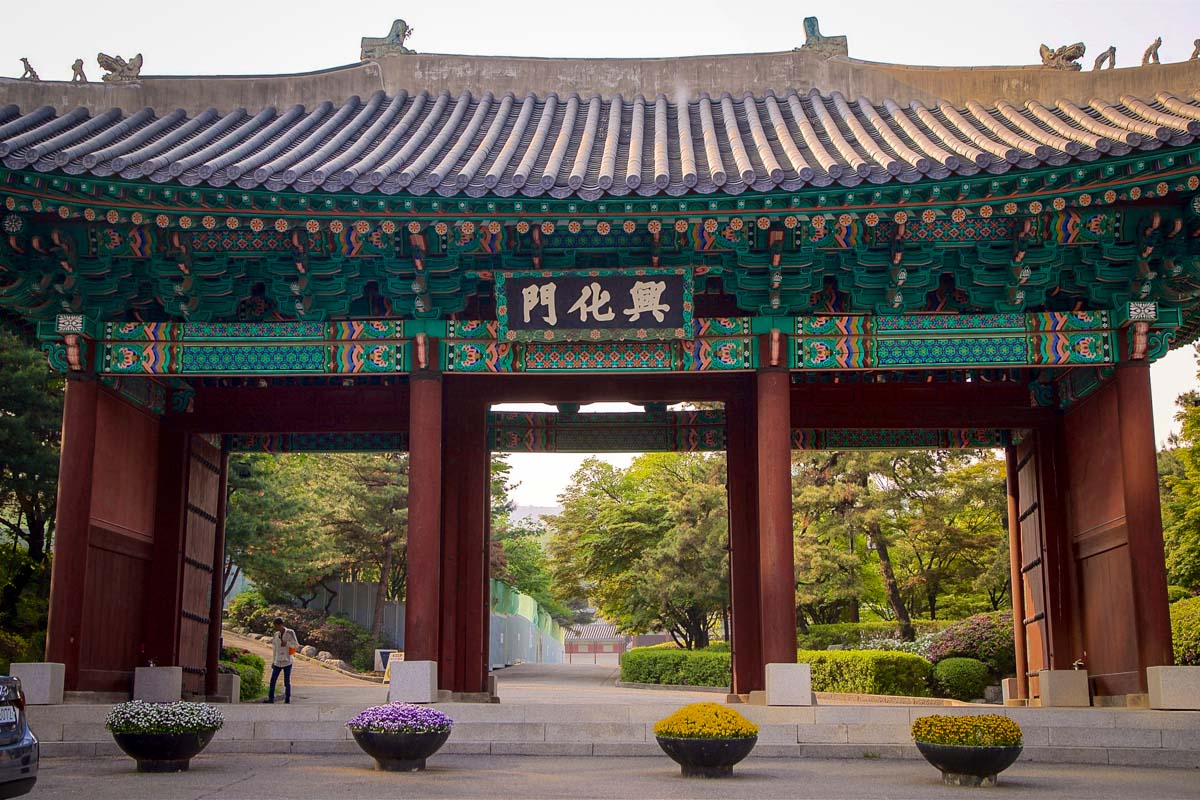 Hidden within the lush greenery of the Kyoto Gyoen National Garden is the former residence of the Imperial Family.
Japanese emperors stayed here beginning in 1331 and ending in 1869 when the palace was moved to Tokyo.
Admire architecture through the decades beginning in the 7th century and roam the stunning gardens that tuck the palace away from the rest of the city.
The palace grounds are very large, and although you cannot enter any of the buildings, we recommend picking up an audio tour for 500 yen ($4) and taking your time walking around and relishing in centuries of rich history.
23. Order a handcrafted cocktail at one of Kyoto's speakeasies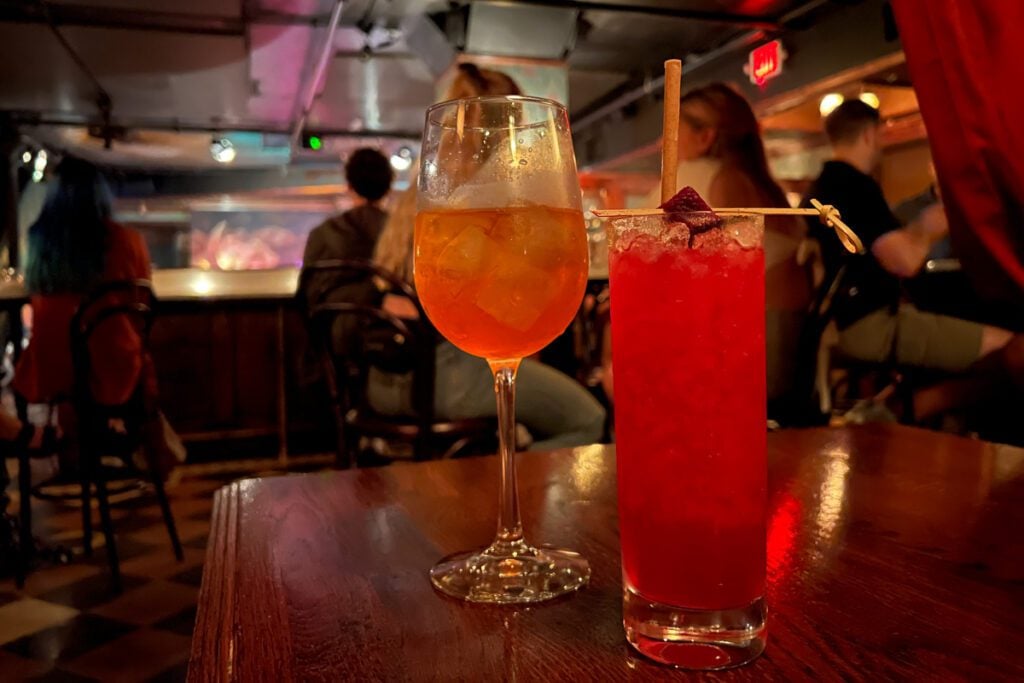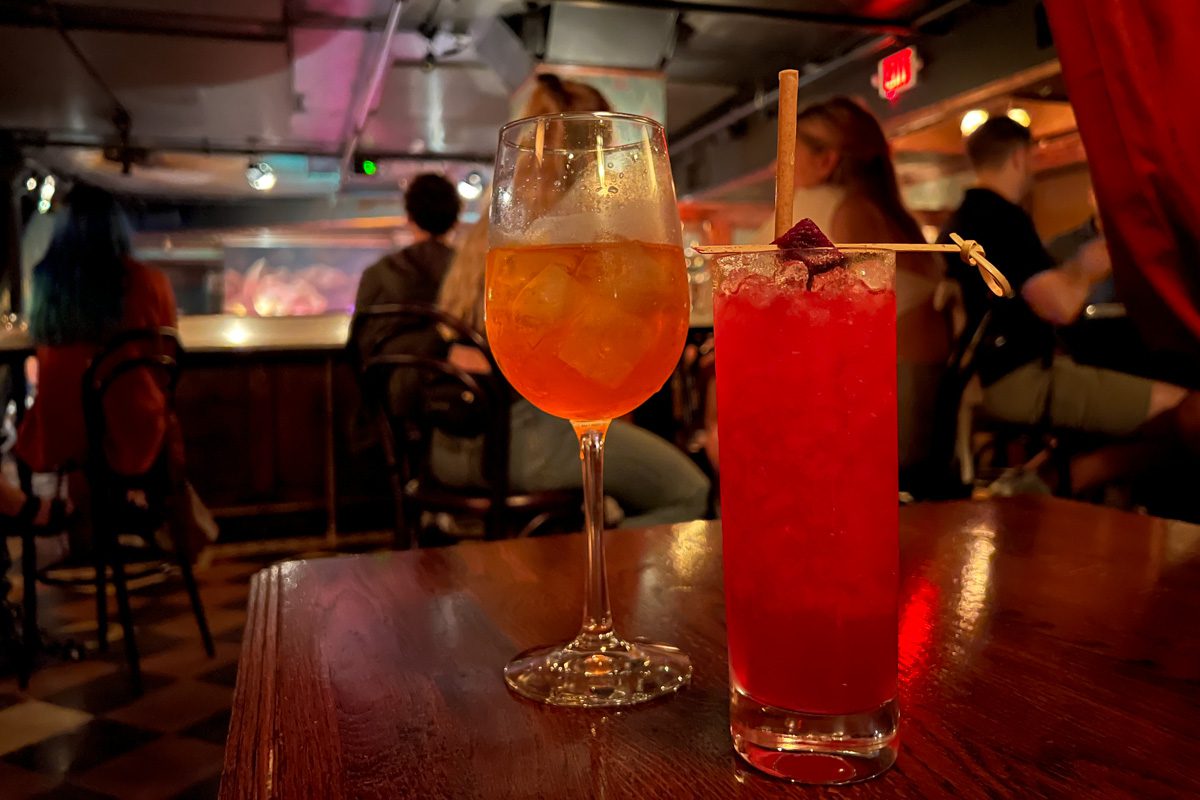 We're huge fans of speakeasies.
Handcrafted cocktails in a hidden, intimate atmosphere… I mean, you can't get much better when it comes to nightlife (in our opinion, anyway).
Luckily, Kyoto has a handful of excellent speakeasies to choose from:
Bee's Knees: This cozy cocktail bar has landed a spot on Asia's 50 Best Bars list several times, meaning it's no secret, but still very much worth a visit. Try their inventive Japanese twists on classic cocktails.
Scotch & Branch: To get here, you must step through a phone booth — adding to the speakeasy charm! Once you're inside, you'll find a dimly-lit bar that specializes in whiskey.
L'Escamoteur: Known for being a little over the top, the stunning preparation and presentation of the cocktails is part of the allure.
24. See cherry blossoms in Maruyama Park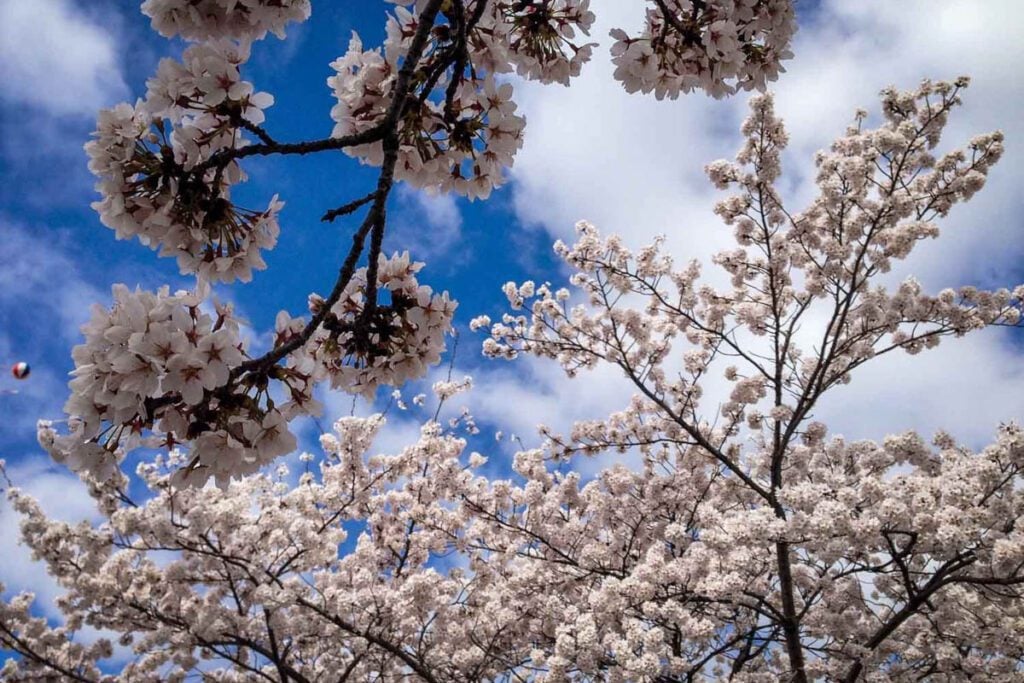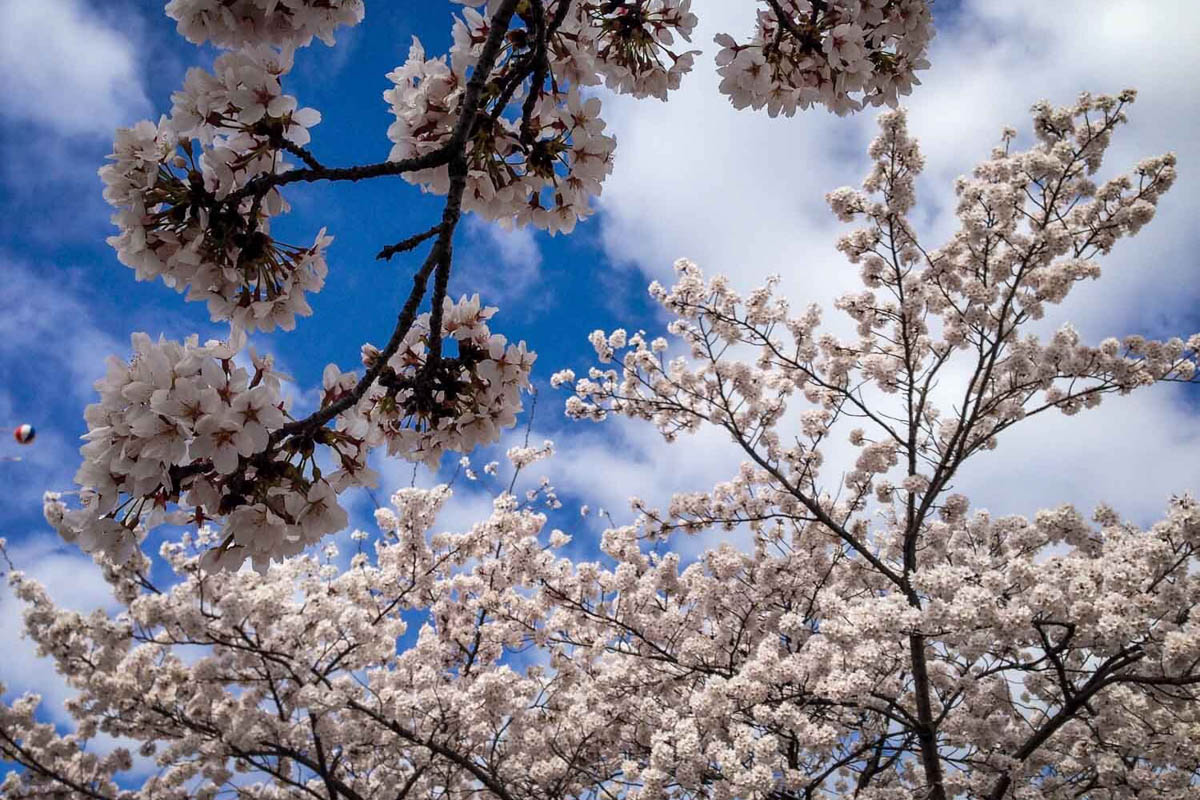 At the base of Kyoto's eastern mountains is the oldest park in the city, filled with gardens, rest houses, small orchards, and the best location in Kyoto for springtime hanami.
The highlight of the cherry blossom season at this park is the massive weeping cherry tree that acts as the centerpiece of the entire park.
Visiting Kyoto in the spring? We've got everything you need to know in our guide to Cherry Blossoms in Japan.
25. Be wowed by Yasaka Koshindo (Kyoto's most colorful temple)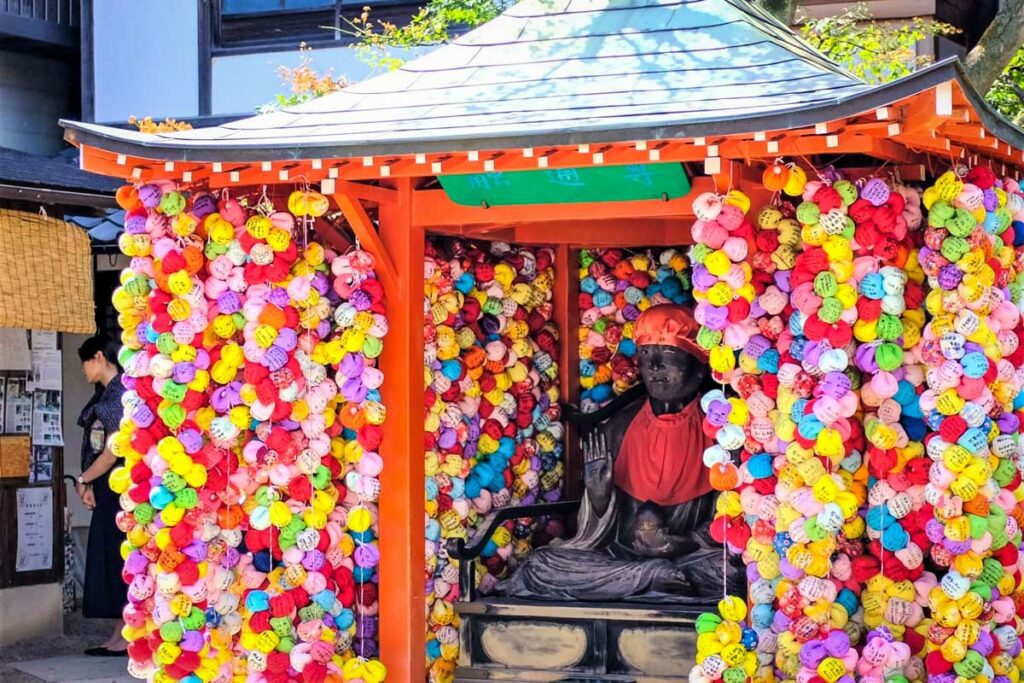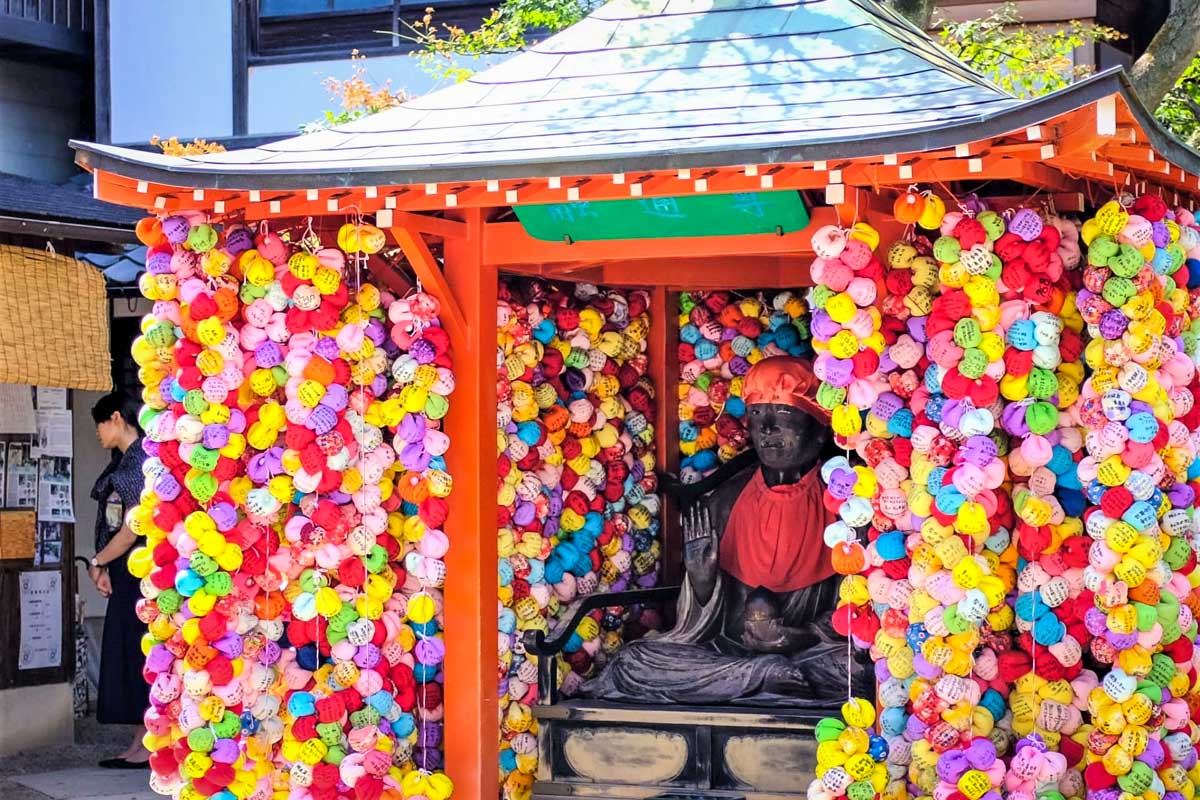 Among the neutral tones of the Higashiyama Ward, the vibrant talismen of this temple draws in worshippers and photographers alike.
The temple was built in honor of Koshin-san, a warrior of Taoism, and someone that helped those struggling with their daily lives and evil people.
It's said that worshippers write their wish on the kukurizaru (colorful balls that represent good faith monkeys) and give up one of their greeds in order for their wish to be granted.
26. Go on a photo walk with a local photographer
On a recent trip, we booked a session with a local photographer and it was one of the best experiences of our entire trip. Plus, talk about the best souvenir ever!
Sometimes it's hard to get epic photos of ourselves on our travels (especially with a child now!).
There are lots of incredible photographers in Kyoto, but here are our top picks:
Photographer: Satoshi
Guests rave about the fact that he shares local tops and knowledge and brings you to sacred, less busy spots on the photowalk.
Photographer: Lim
Very budget friendly and rave reviews. You can upgrade your photoshoot to include a kimono rental.
27. Learn how sake is made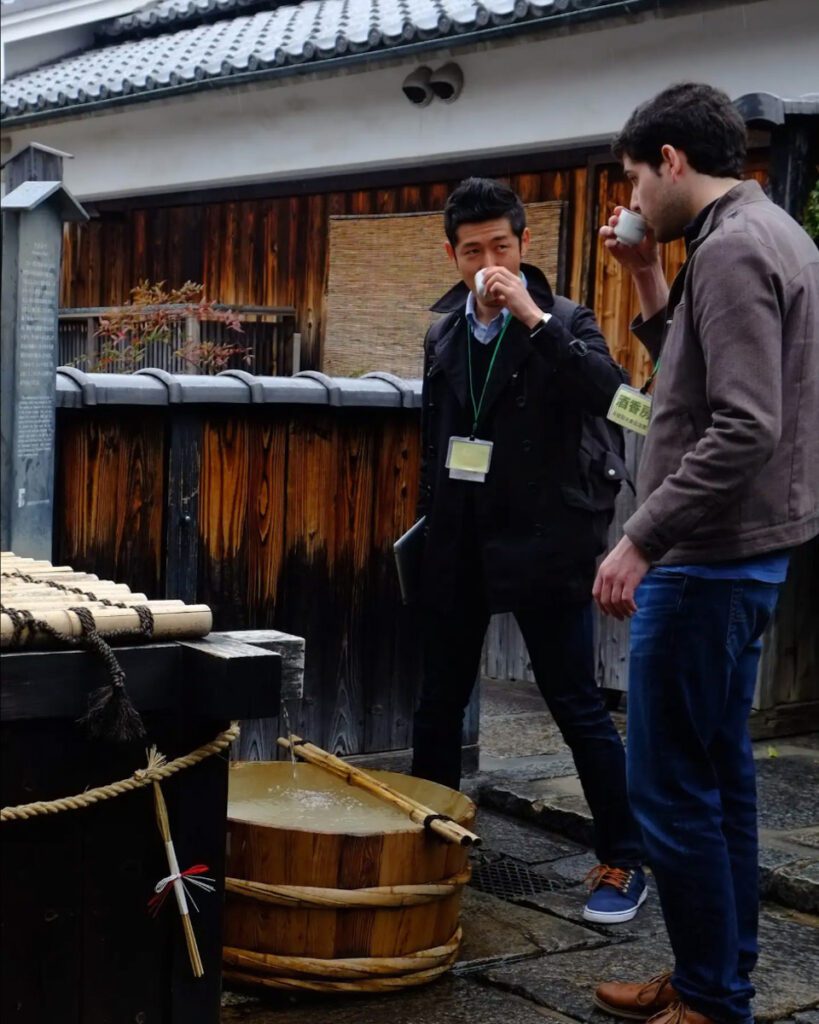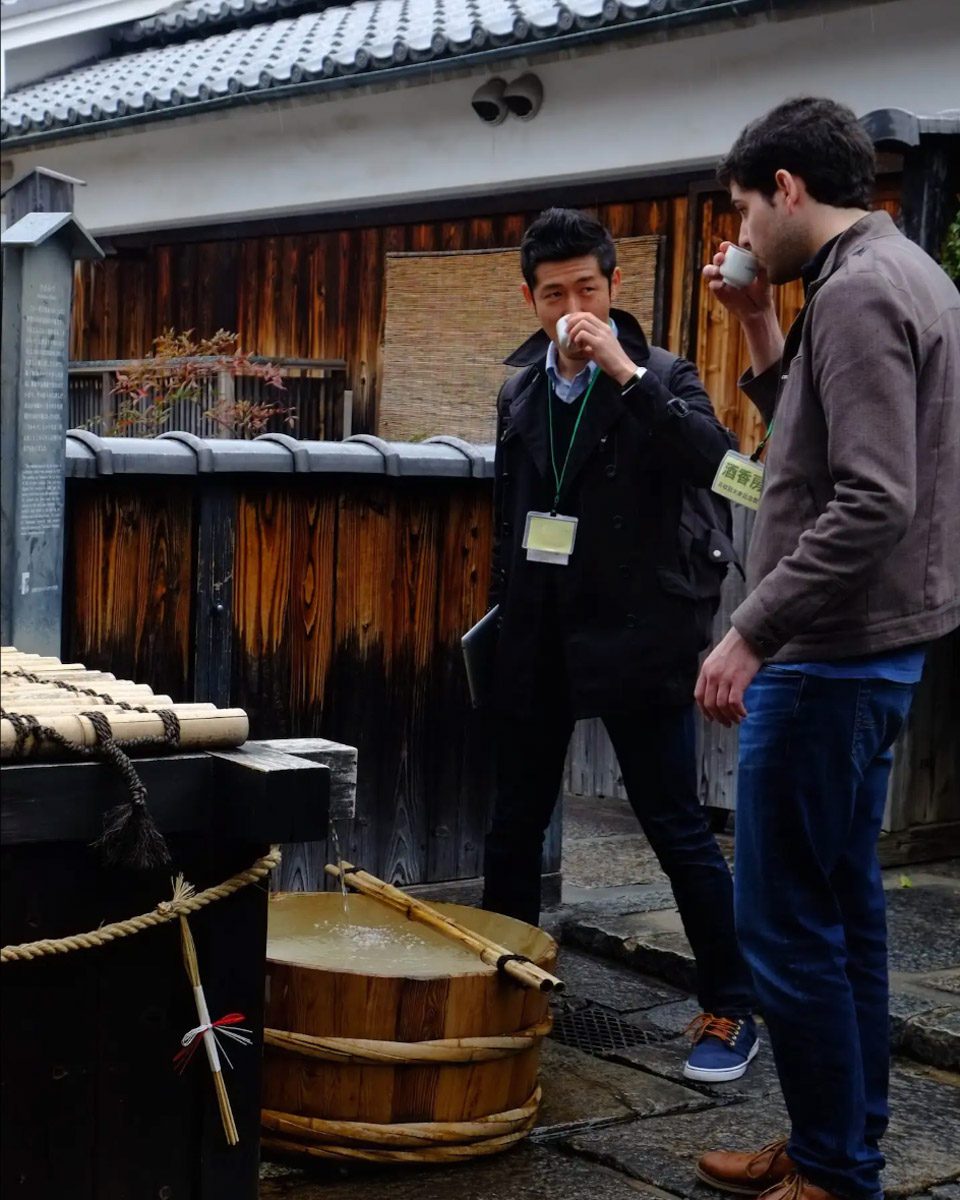 Sake is a Japanese spirit made from fermenting rice, and it plays a large role in Japanese culture. At some point on your trip to Japan, at least be sure to try it. You'll be able to find it on just about every menu around the country, after all!
Or, go a step further and learn how sake is made!
Visit the Fushimi Sake District and pop into one of the many distilleries to learn about sake and, well, sample some.
We'd recommend joining a tour, like this one, so you get the full experience — from a brewery tour to a guided tasting.
Here's what guests are saying:
"This experience was very informative, fun and seriously a must try if you are interested in nihonshu, or Japanese sake! The quality of the sake we tried and the quality of the delivery of info by Kotaru was very very helpful to understand much more about this beautiful drink, totally recommend!" -Kevin, December 2022
Alternative: If you'd prefer not to book a tour, you can stop by the Gekkeikan Okura Sake Museum to learn more about sake at your own pace.
28. Try traditional sweets at the oldest confectionary shop in Japan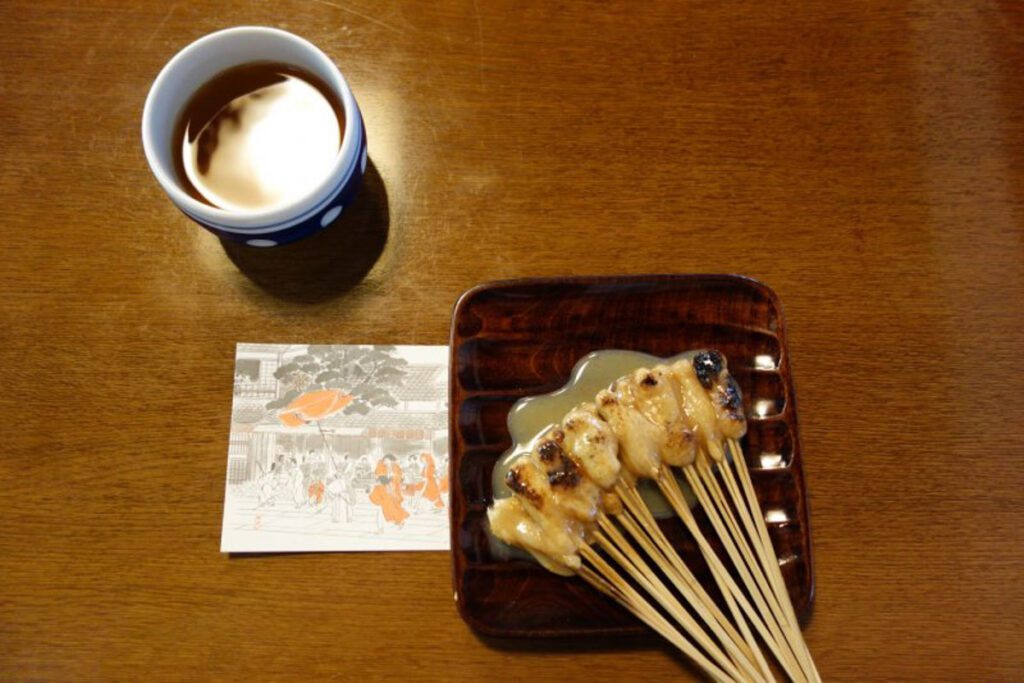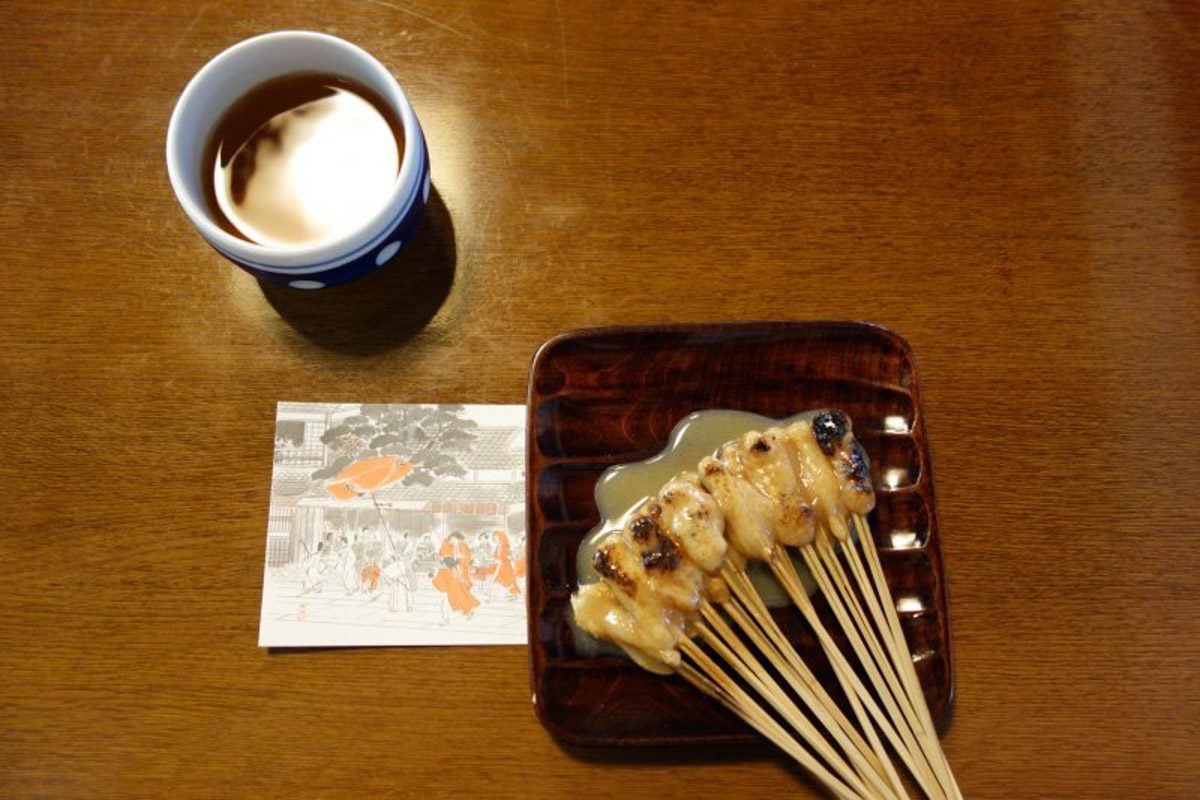 Surviving an entire millennium of wars, plagues, natural disasters, as well as the rise and fall of countless empires, Ichimonjiya Wasuke has upheld its tradition of selling authentic confectionery since the year 1,000.
Over the years, small modifications have been made, like a mochi pounding machine to save time, otherwise the shop has maintained the same legendary one-item menu: mochi.
Caramelized rice skin is perfected over a small cast-iron hibachi before being brushed with a sweet miso paste and served piping hot. That's drool-worthy if you ask us!
29. Spot a Geisha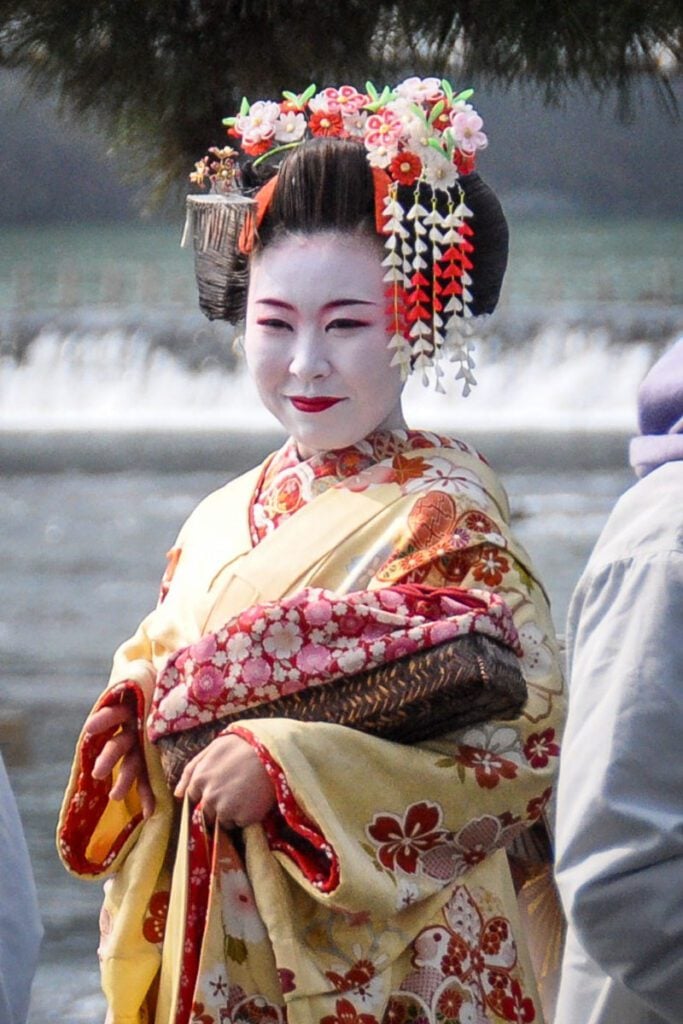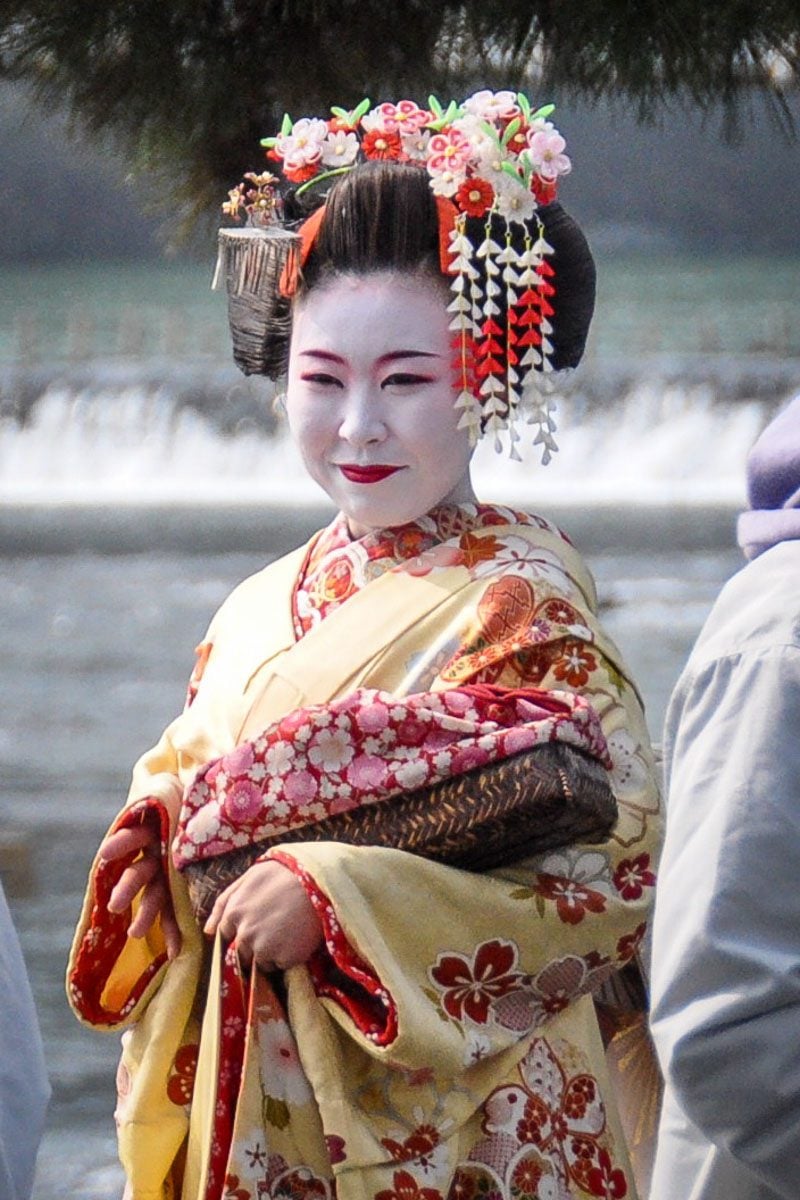 Geisha are highly-trained Japanese performance artists, who specialize in singing, dancing and playing traditional instruments.
Meeting a geisha or a maiko, a geisha in training, is at the top of many travelers' bucket lists.
While in the past, there were tens of thousands of geisha in Japan, it is estimated that there are fewer than 200 geisha and maiko in Kyoto today. This means seeing one in real life is quite special.
You can book a cultural performance where you will see geisha perform. Or you can try to spot them as they walk to their appointments, usually between 6 – 8 p.m.
The best areas to see geisha in Kyoto:
Hanamikoji Street in Gion
Southern end of Pontocho Alley
Important: Be respectful and keep your distance. In recent years, some geisha have reported being harassed and bothered by eager tourists.
30. Wander the colorful Kimono Forest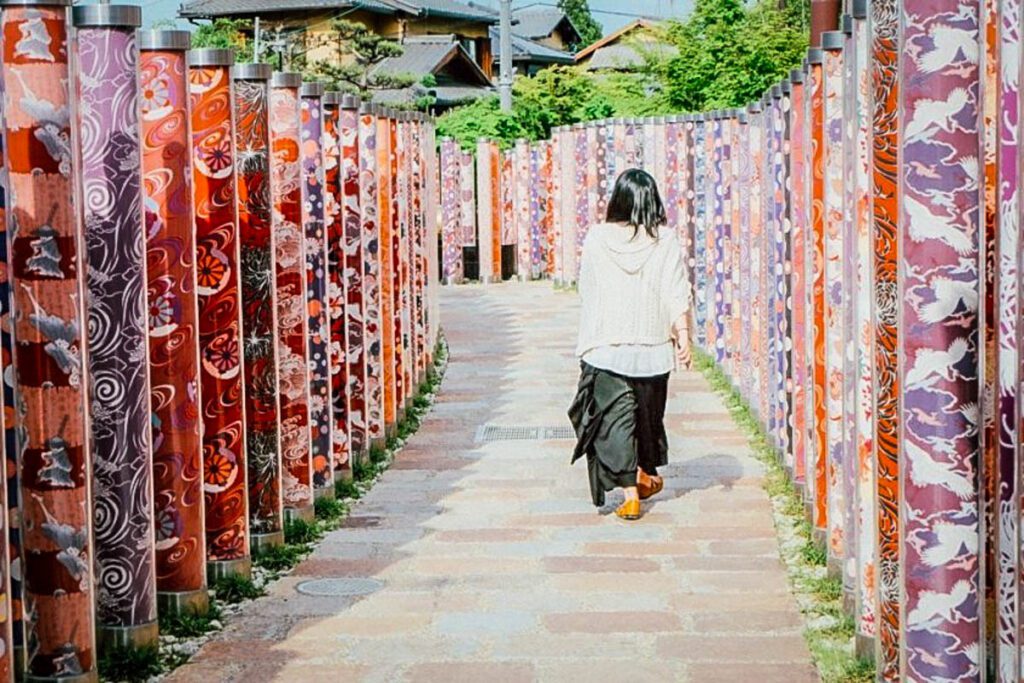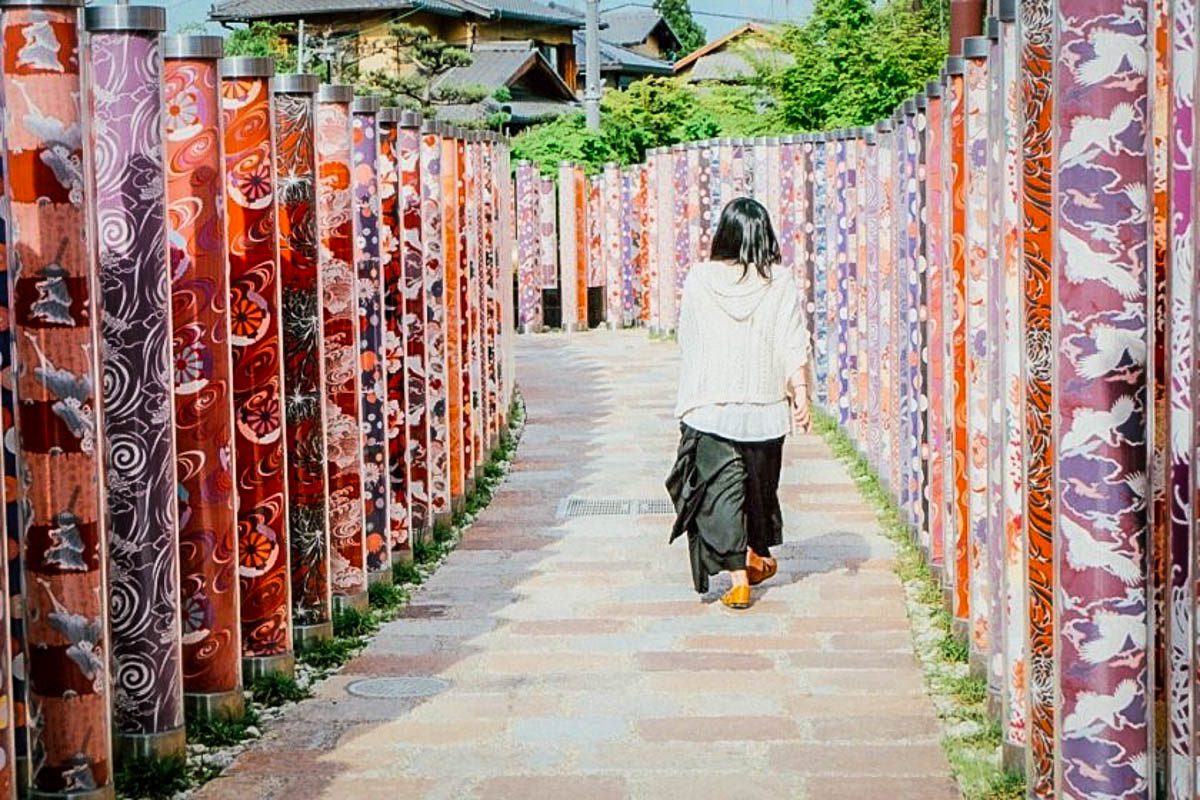 Make your way to the Randen Arashiyama Station to walk through nearly 600 pillars made with traditional Kyo-Yuzen dyed fabrics.
The dying technique is used to create the vibrant colored kimonos you'll spot all over Kyoto. A quick wander through this "forest" will wow you with 32 different textile patterns to admire.
The path is arguably most beautiful at night, where each pillar is illuminated to create a breathtaking and mystical pathway.
31. Walk past thousands of stone sculptures at Otagi Nenbutsu-Ji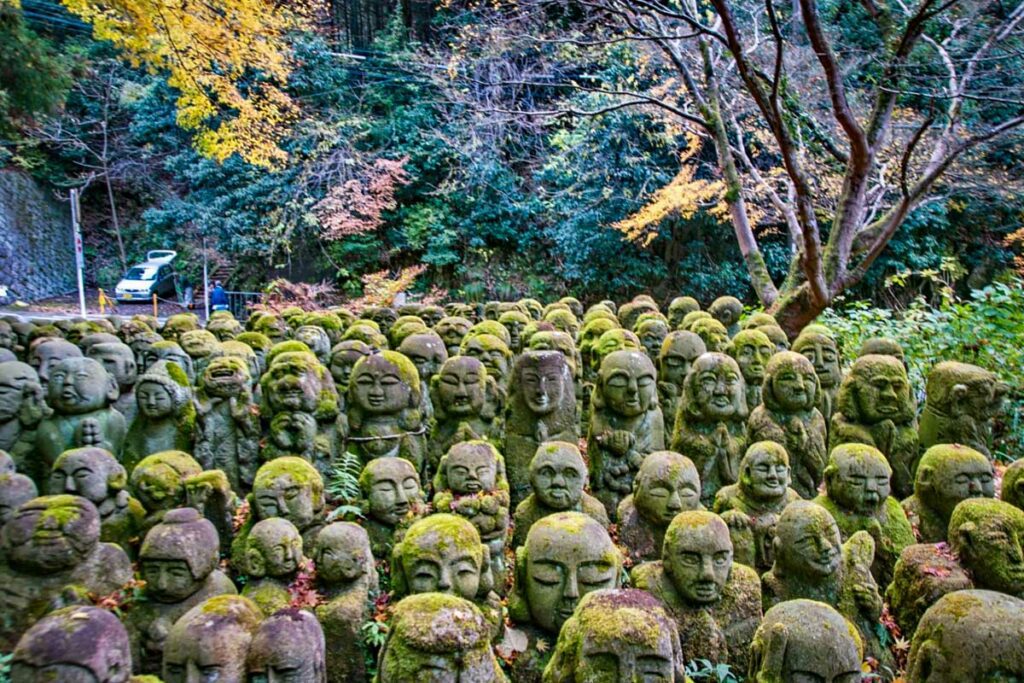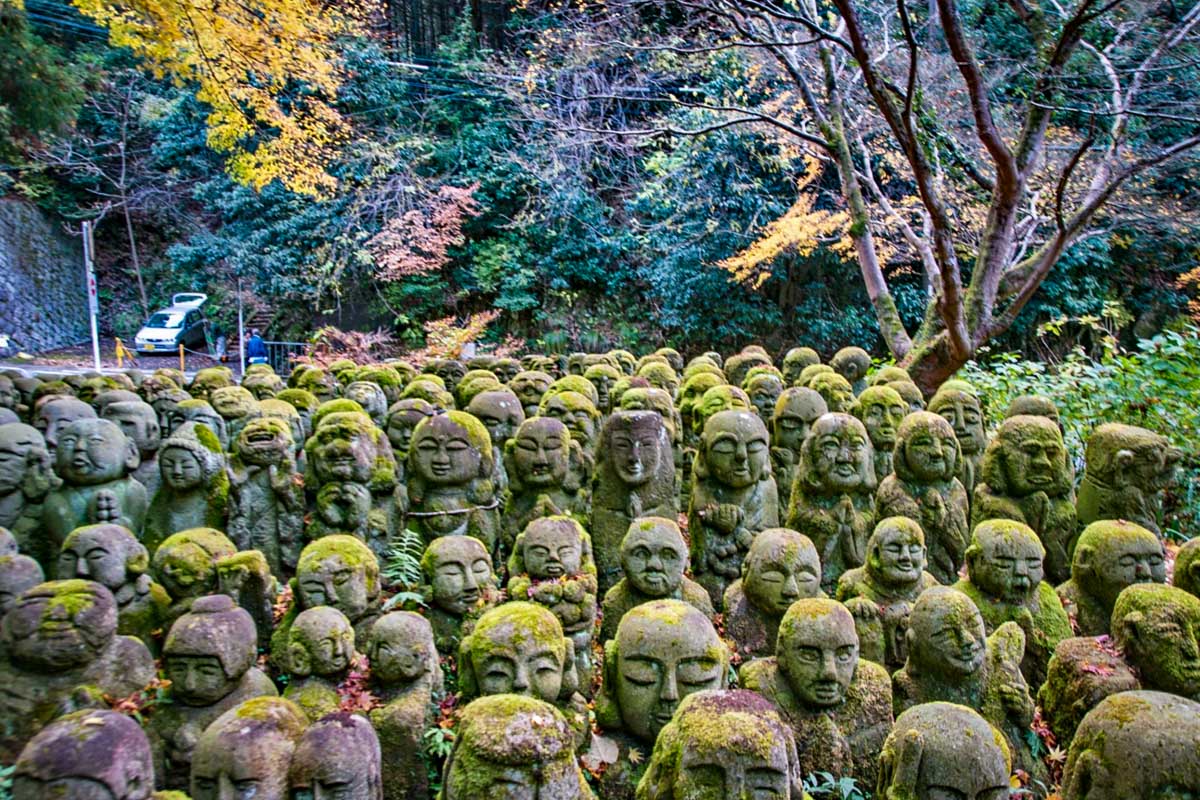 Off the beaten path in Arashiyama are more than 1,000 whimsical stone sculptures nestled in a former 8th-century Buddhist temple.
The original Otagi Temple experienced many devastating natural disasters that decimated the grounds in the early 1900s, so one of the priests deconstructed what was left and rebuilt it piece by piece in a safer location (now Kyoto).
During its restoration, hundreds of Rakan statues were added to the grounds, creating a peaceful and meditative experience as you wander around the temple.
A favored game among visitors is scanning the sculptures and finding the face that closely resembles your own.
Entry fee: 300 yen ($2.35)
32. Learn the art of Japanese calligraphy
Fancy yourself an artist? Want to dive into Japanese art and culture with a local by your side? Or are you just looking for a super cool souvenir?
If you answered "yes" to any of the above, consider booking an art class in Kyoto, like one of these:
Traditional Kyoto Bookmaking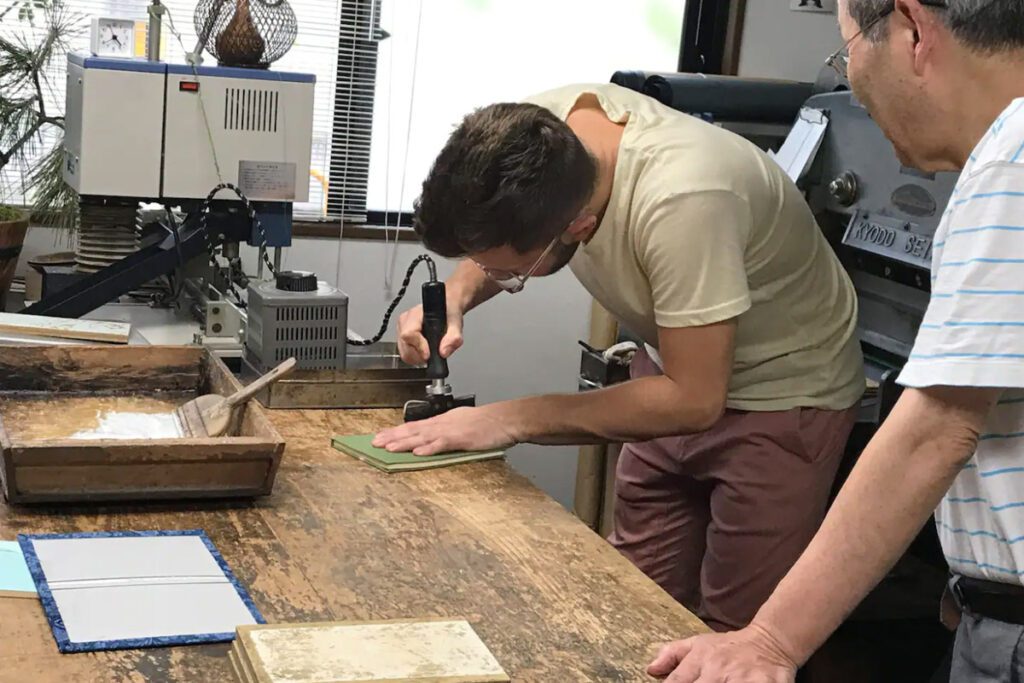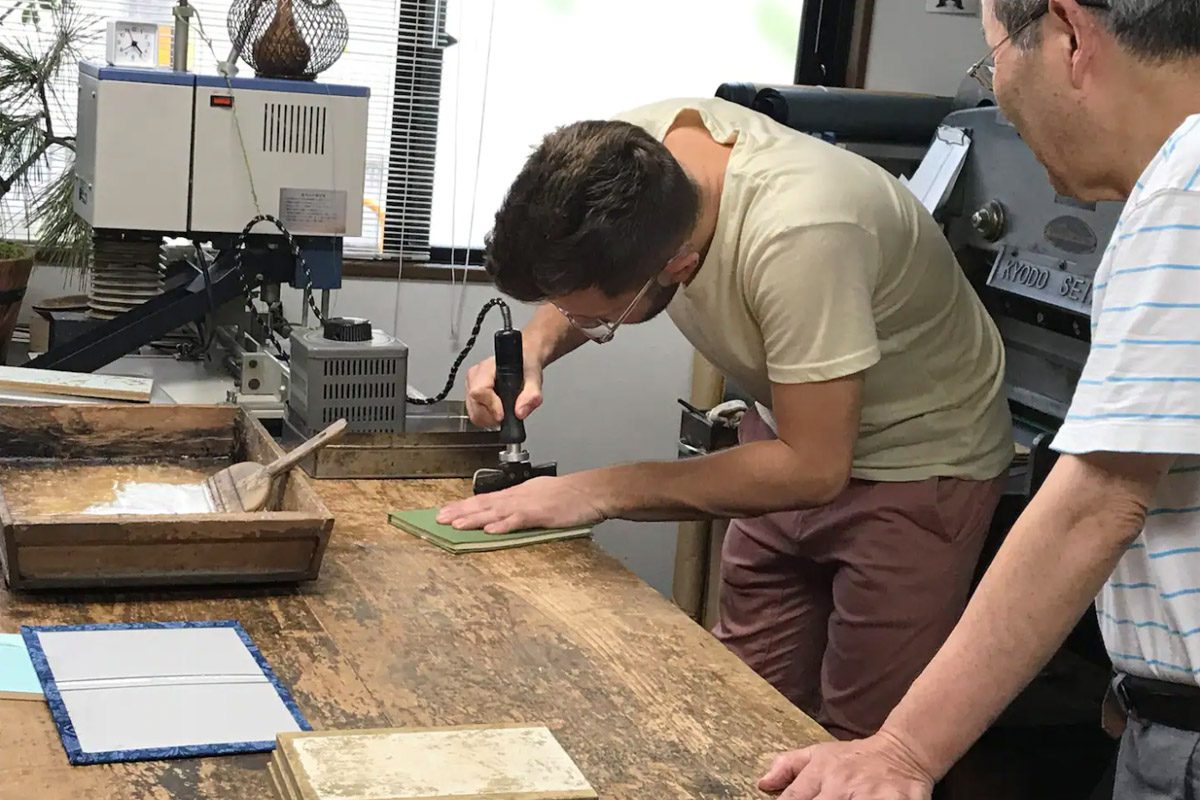 Bind your own book with a silk kimono cover in a bookmaking studio that has been a town staple for 55+ years.
"A magical experience with very gracious, skilled teachers. The books we took home with us are treasures and the process was a perfect mix of clear directions and hands on creating ourselves with much background and stories about the tools, materials and craft all along the way. I recommend it very highly!" – Hannah, January 2023
Make Handcrafted Postcards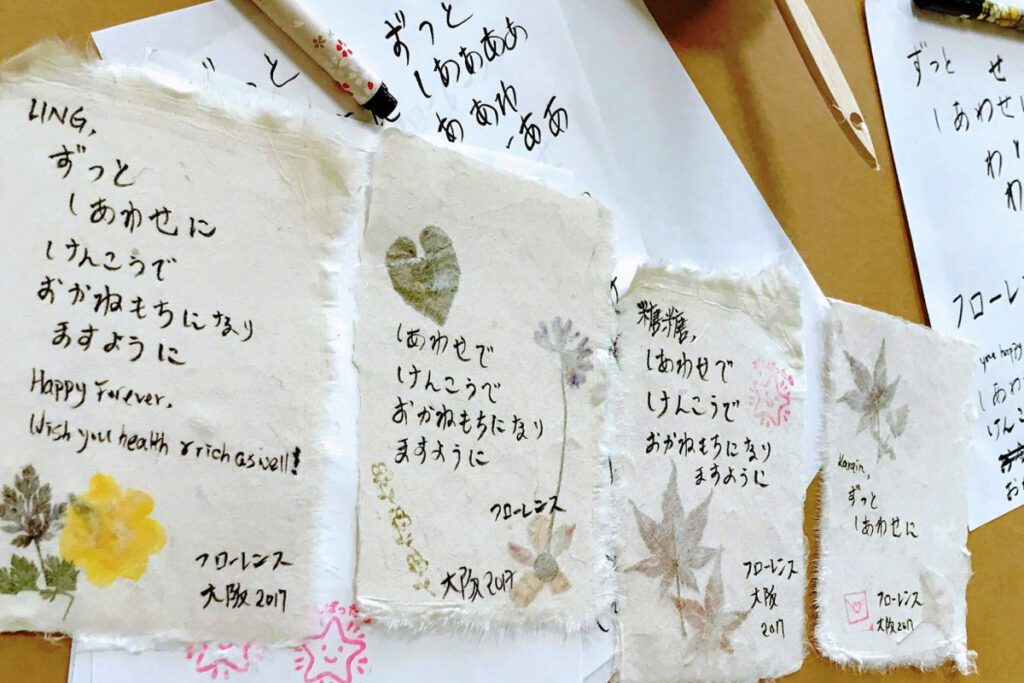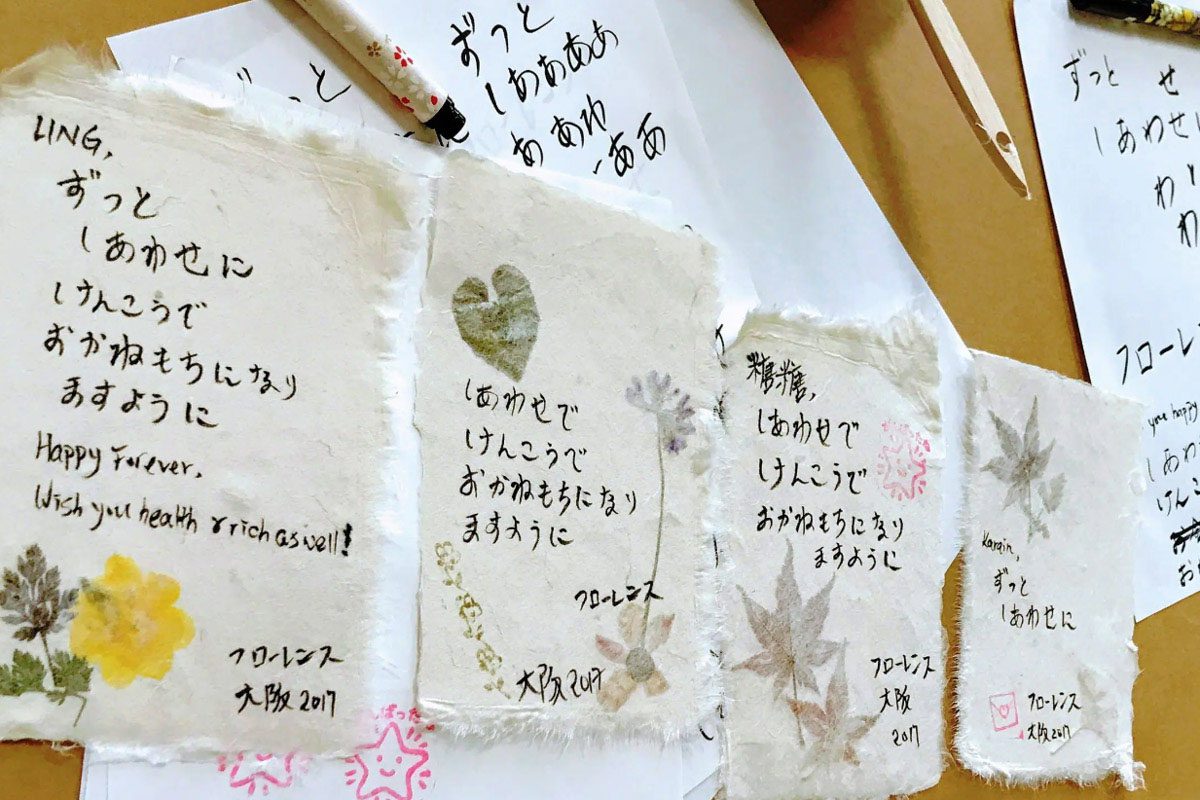 Meet in a family-owned paper shop where you will create your own handmade paper and learn a bit of calligraphy to make your own Japanese postcard.
"Miwako is so kind and welcoming, and the whole process was so fun. We learnt so much about how washi paper is made and how many uses it has. Miwako took the time to help me with calligraphy and she really made the whole experience feel so personal. I highly recommend this workshop for everyone!" -Kyna, Japanese 2023
Learn Japanese Folk Embroidery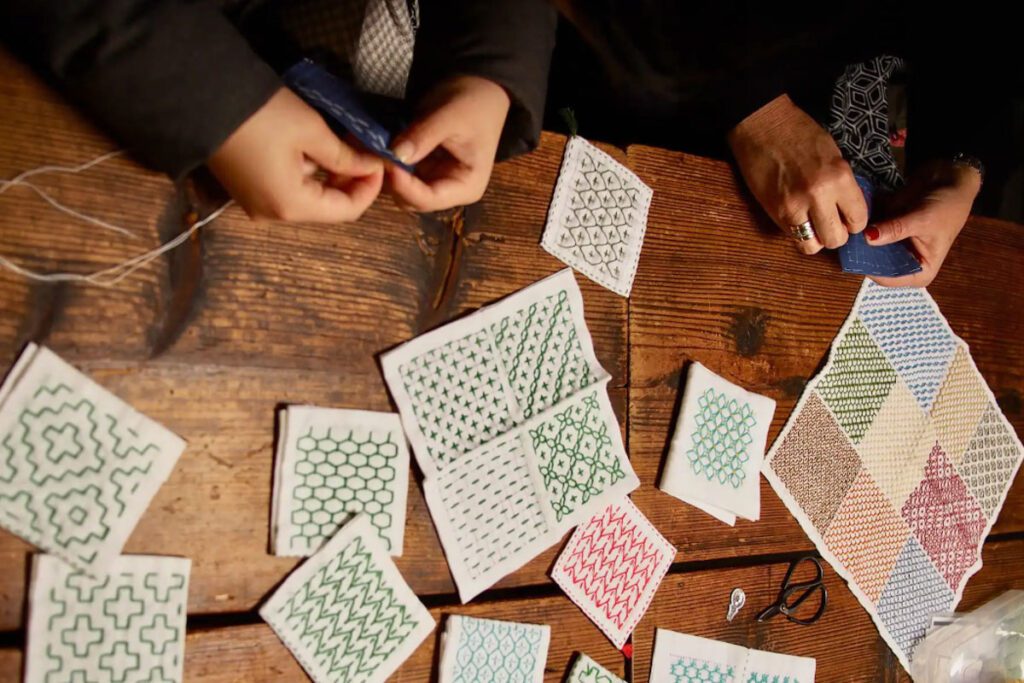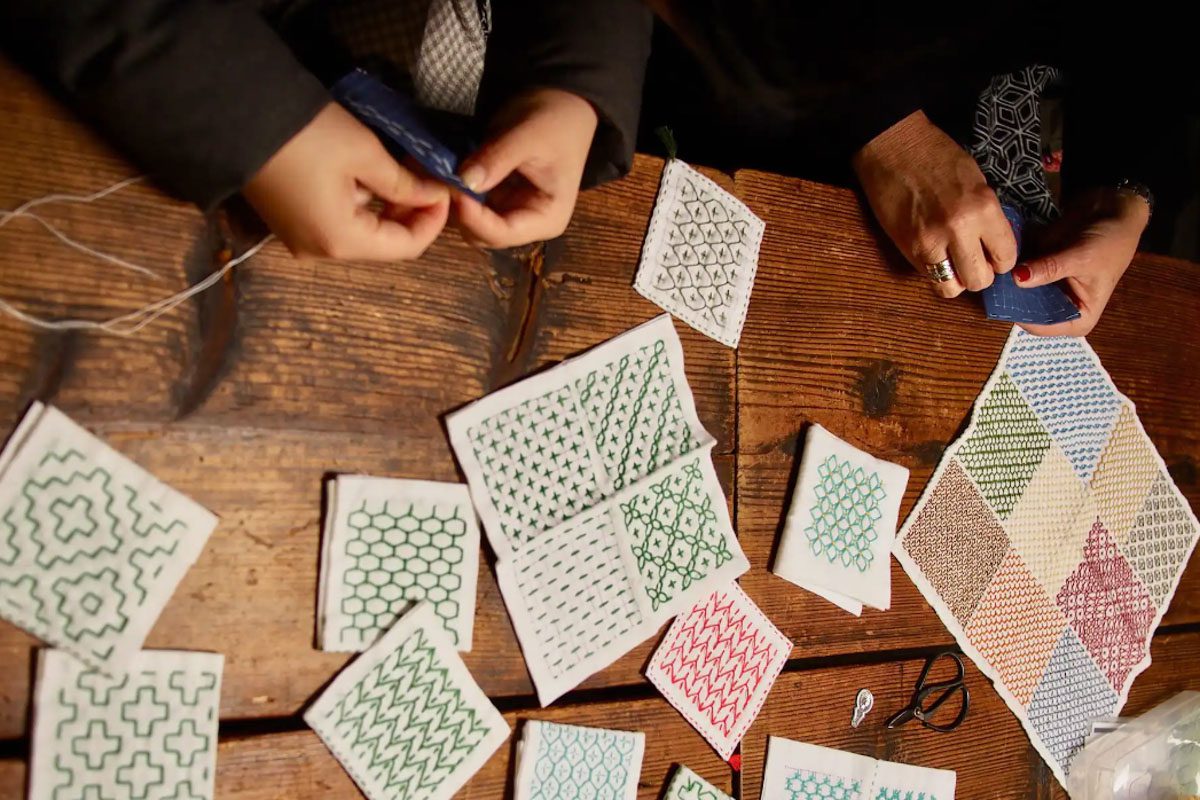 Learn the traditional craft of sashiko, Japanese folk embroidery.
"This workshop is one of our highlights in Kyoto. Kazue-san is fluent in English and she explains the steps very clearly. It was easy to follow and she's very encouraging throughout. The process of embroidery is very therapeutic and I will practice it more at home." – Ning, January 2023
33. Try Fire Ramen (if you dare!)
At Menbaka Fire Ramen, a passion for serving delicious ramen translated to, literally, a flaming bowl of noodles!
As each bowl of ramen is placed in front of eager restaurant guests, hot scallion oil is poured into the bowl, creating a fireball to rise nearly 6 feet into the air.
This technique creates the fire ramens unique flavor and makes for a pretty entertaining travel story to take home!
And don't worry, the restaurant proudly claims "no one dead yet" on their site after over 30 years of serving up legendary noodles.
Insider tip: Menbaka has an authentic vegetarian menu where you can swap the traditional bases and toppings for veg-friendly options!
34. Crawl through the Enmusubi Stone & make a wish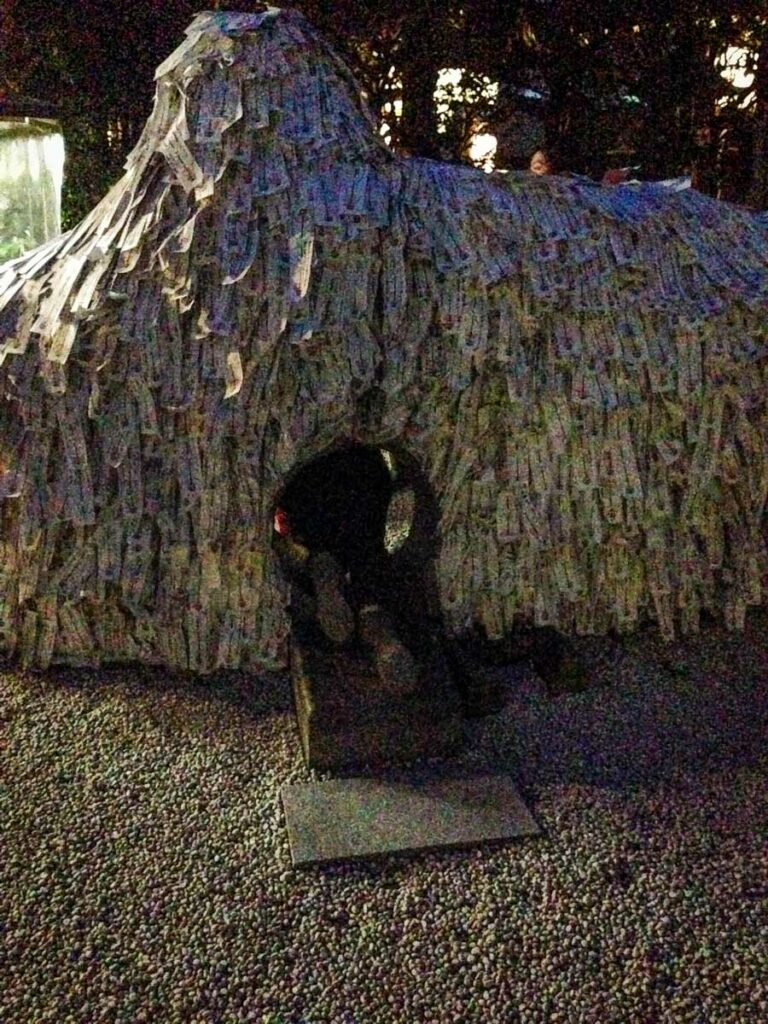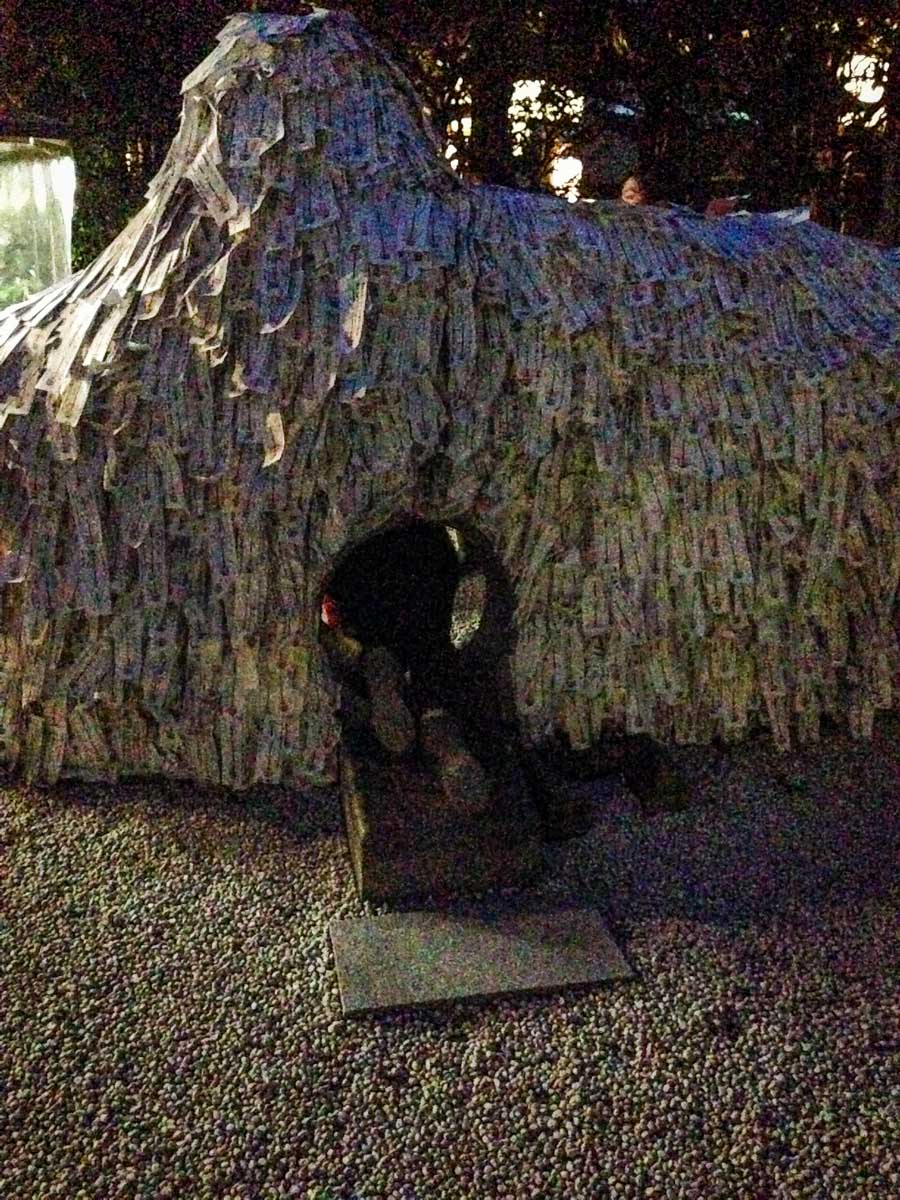 Have you had your fill with the modern day dating scene?
A visit to the Yasui Kompira-gu Shrine may turn your luck around! This shrine holds a powerful stone said to end bad relations and foster good ones.
Write down all your wishes on a paper amulet, crawl in and back out of the hole in the stone, then pin your amulet to the exterior for your wish to come true.
Even if you don't have wishes in romance, this shrine is very popular to come and wish or pray away bad luck, poor relations, misfortune, and for better days to come.
35. Eat traditional Buddhist cuisine (shojin ryori) at Tenryuji Temple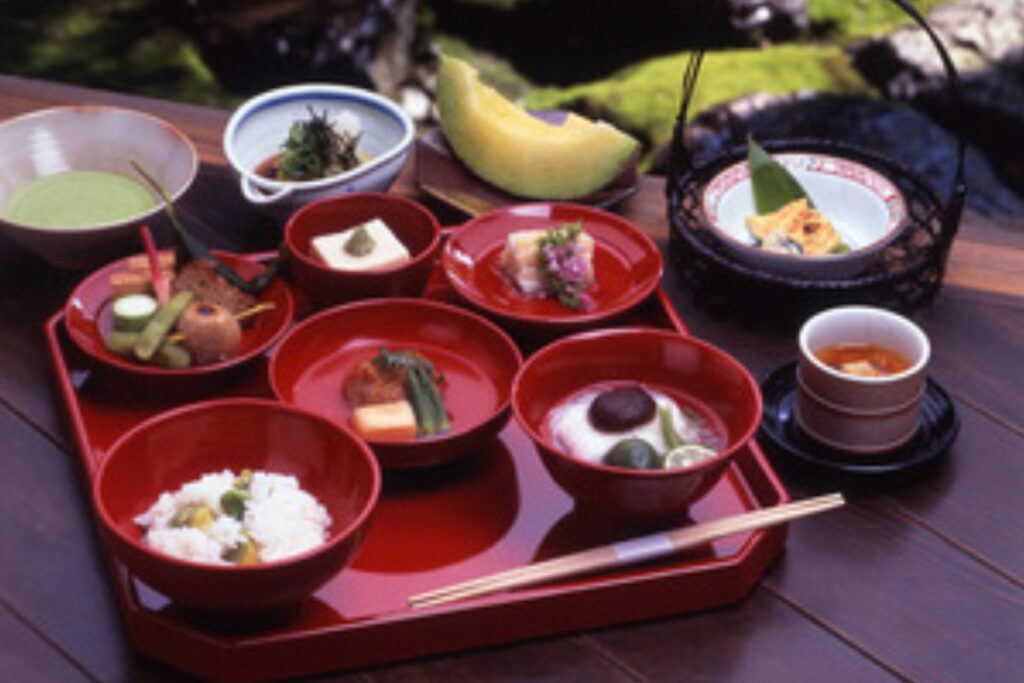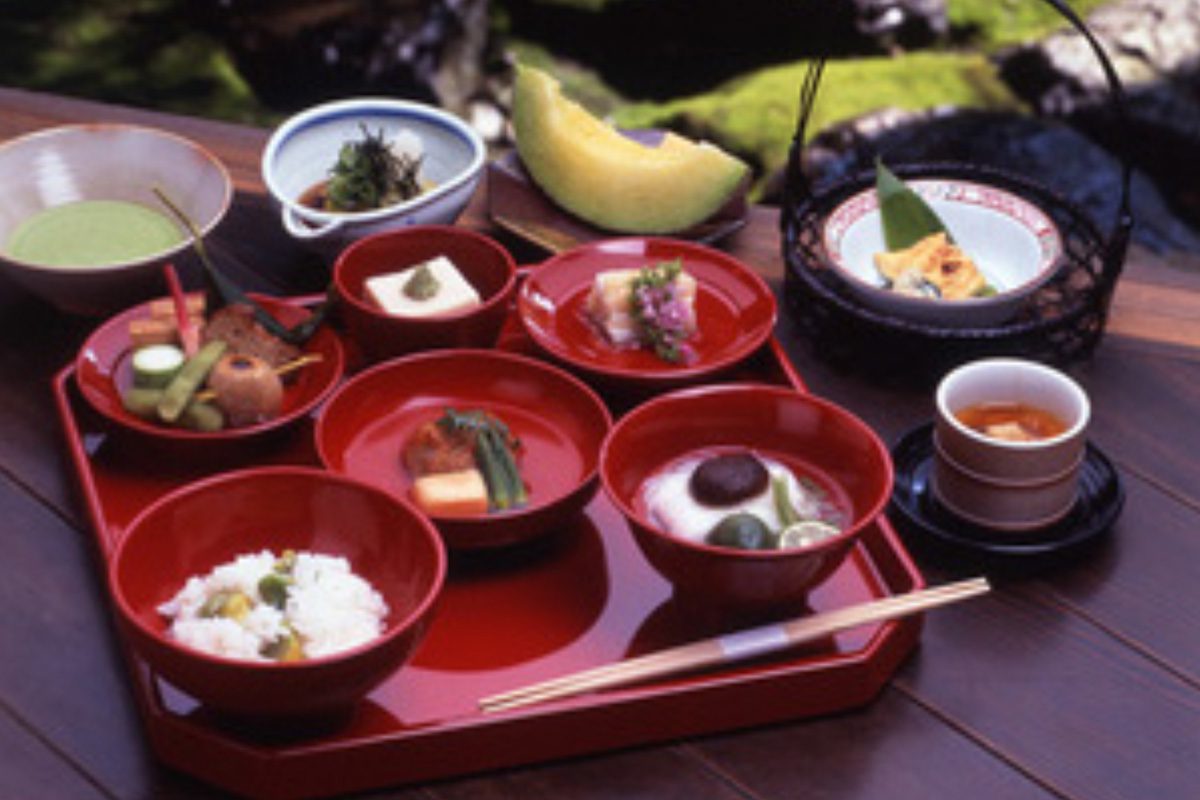 Shigetsu is a vegetarian restaurant located in the Tenryuji Temple that is known for serving traditional Buddhist meals.
This style of vegetarian cuisine, Shojin, comes from Zen Buddhism and highlights seasonal vegetables and wild plants. It also avoids any ingredients with strong flavors, such as onions and garlic.
Shigetsu is only open at lunchtime, from 11 a.m. to 2 p.m.
36. Photograph Toji Temple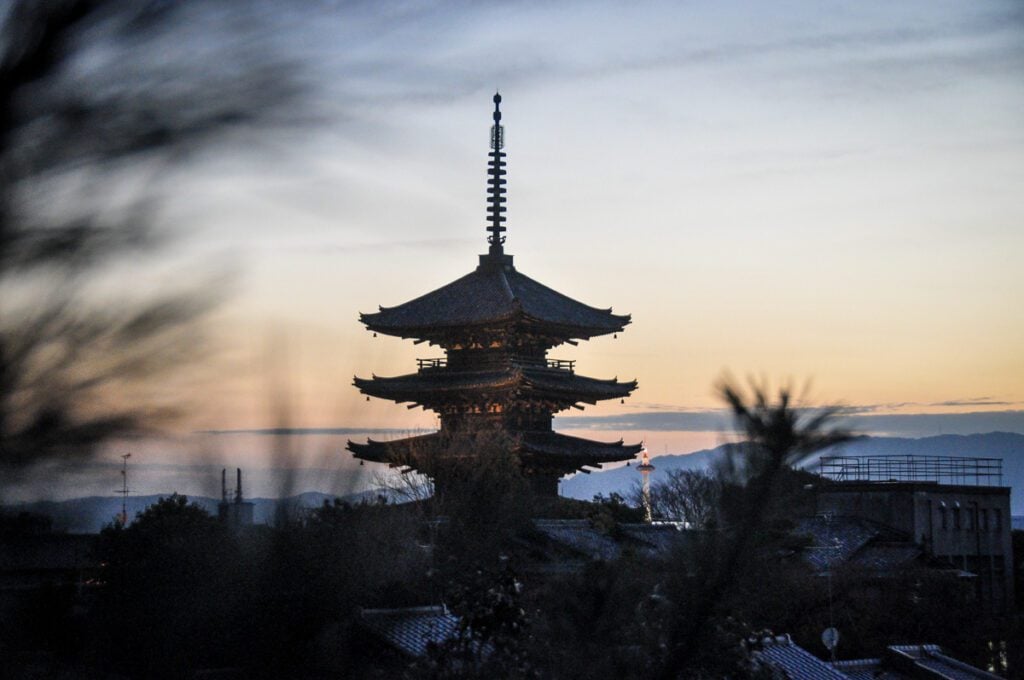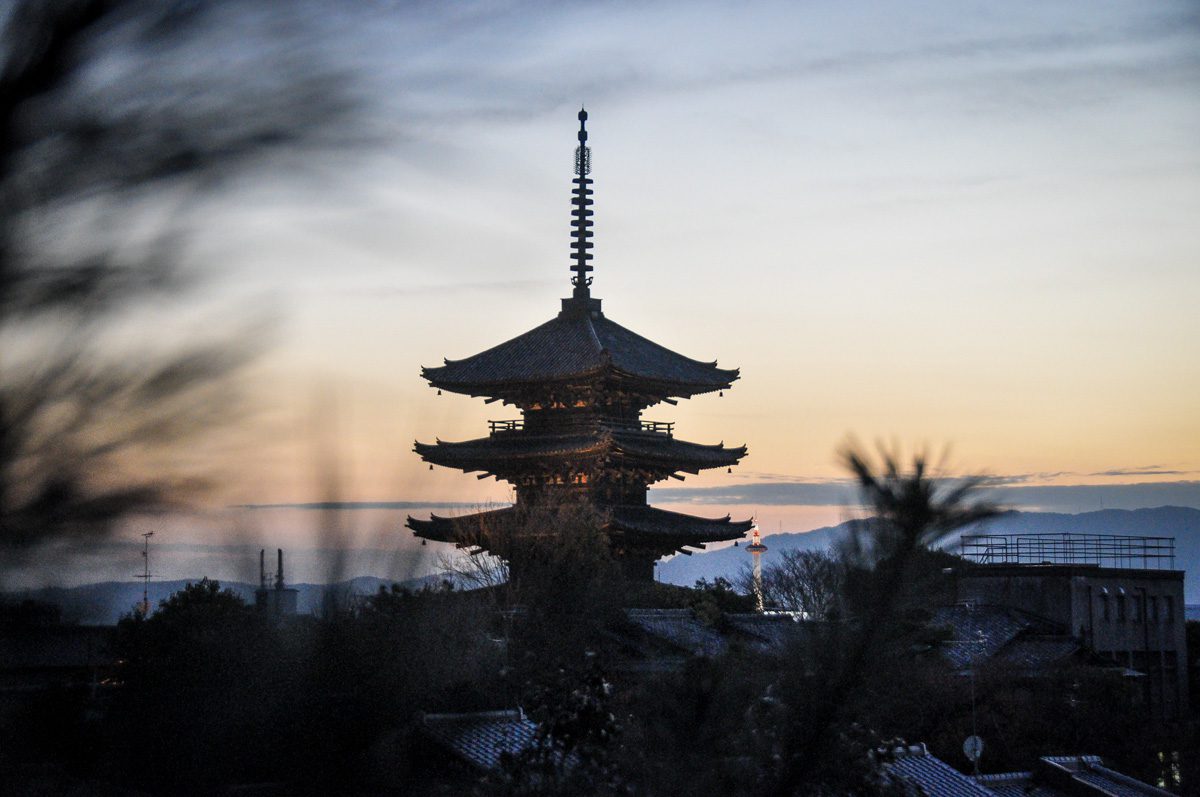 Founded in 796, this UNESCO World Heritage Site is one of 17 around Kyoto, known for having the tallest wooden pagoda in Japan.
The 5-tier pagoda can be spotted from various locations around Kyoto, and has become one of the main symbols of the city.
One of the best views is from the zen gardens at the base of the tower, particularly when colors change in the fall or cherry blossoms bloom in the spring.
Insider tip: On the 21st of every month, the Kobo-ichi Flea Market takes place in the plaza. Find vintage items, clothing, kimonos, antiques, toys, and many interesting finds.
37. Find Zen at a Japanese garden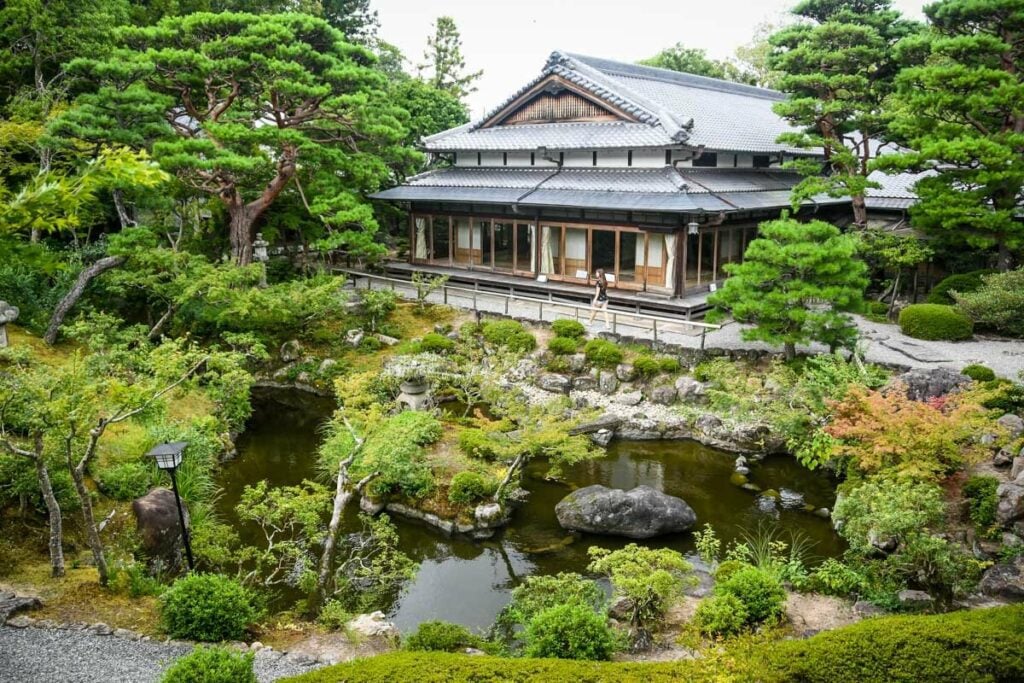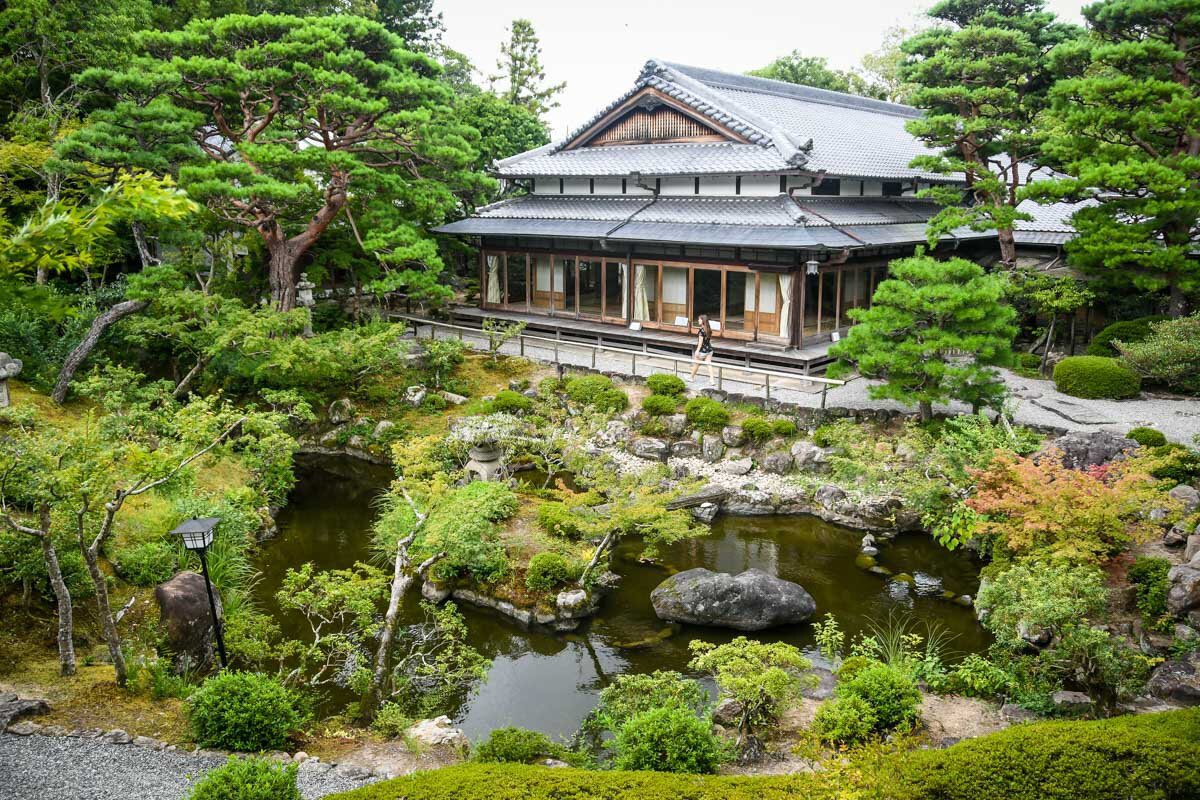 Kyoto is one of the best places in the country to explore Japanese gardens as there are many to choose from.
Three of the best Japanese gardens in Kyoto:
38. Eat soba noodles at one of Japan's oldest restaurants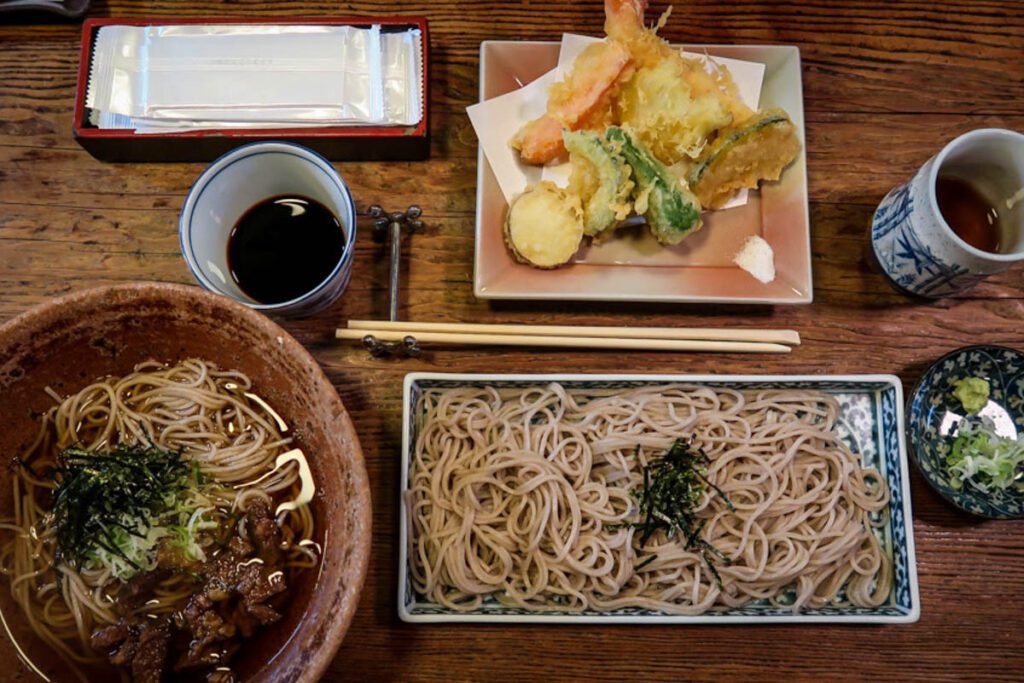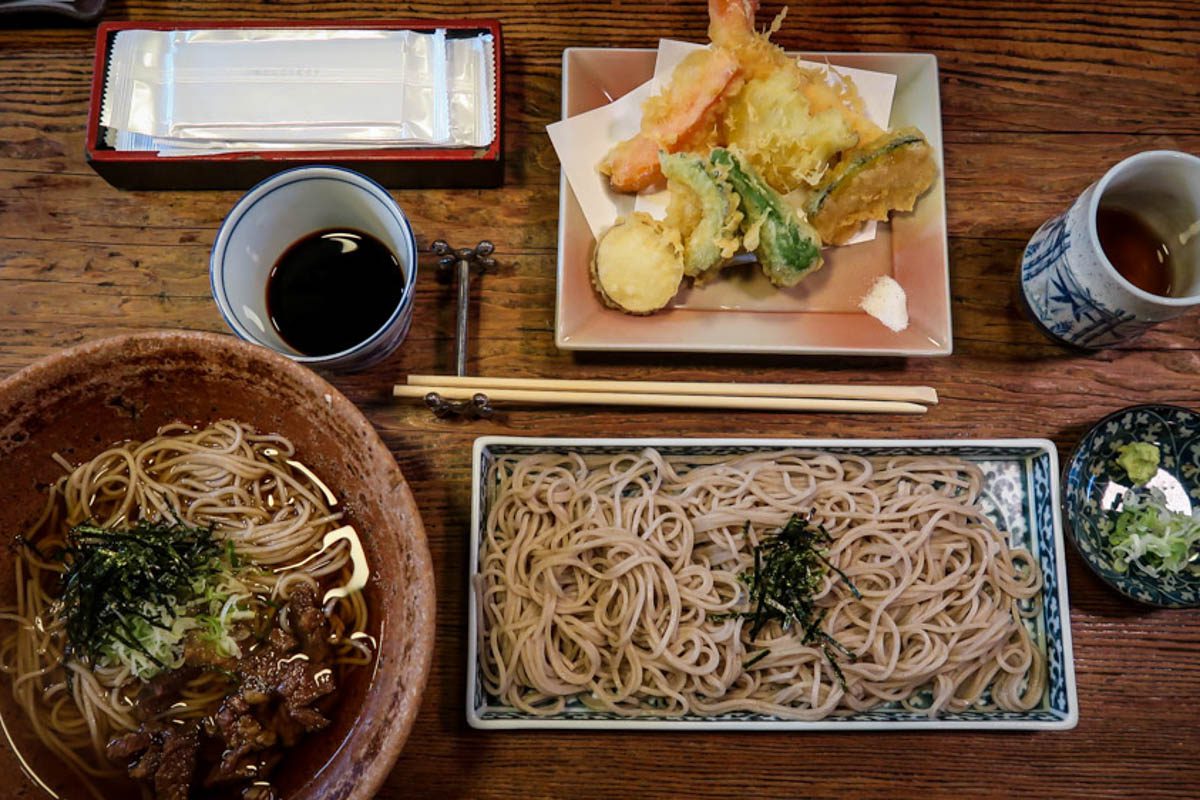 Serving legendary soba since 1465, Honke Owariya's dedication to fine, carefully crafted ingredients has led this confectionary store turned resto into a sensation for over 500 years.
Inside, you'll find unique soba dishes you can't find anywhere else, some of which are acclaimed as the best soba dishes in Kyoto.
The ho-rai Soba, rikyu soba, and sobamochi are just a few specialty dishes you must try when you visit. Explore the menu to find century-old traditions and modern innovations.
39. Get coffee at the coolest Starbucks in the world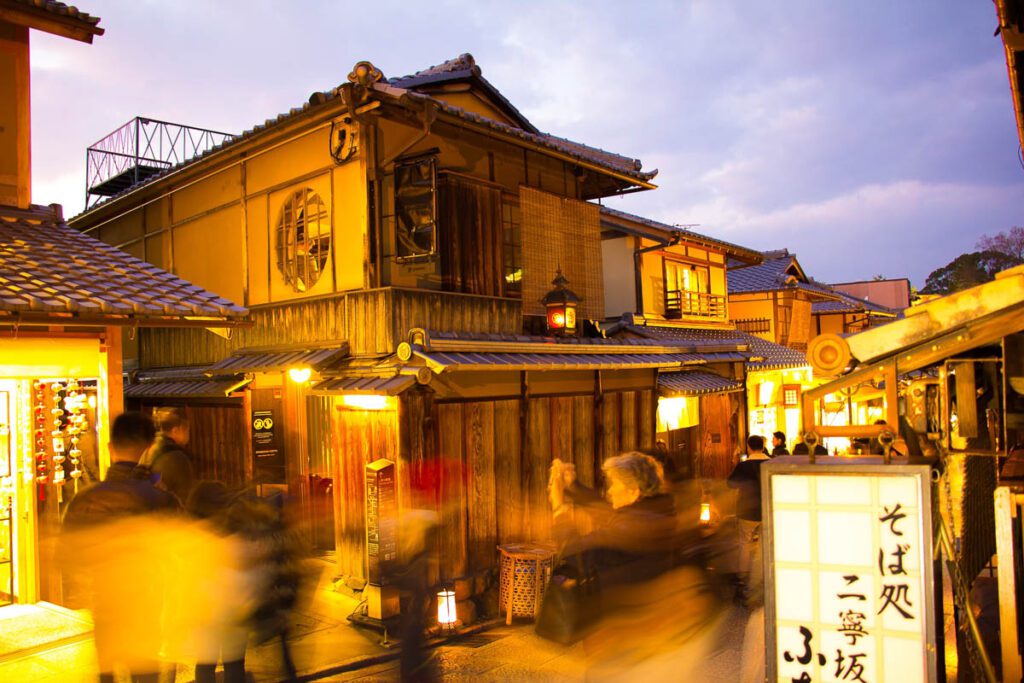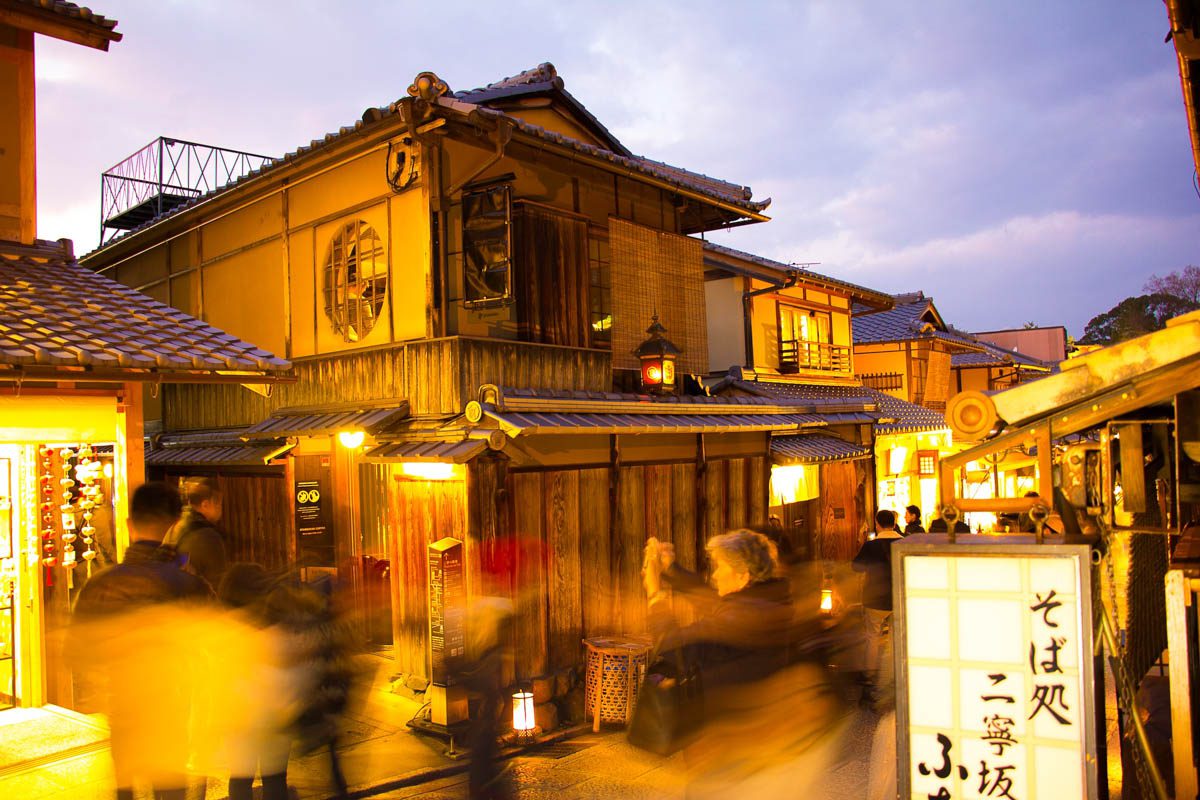 Now, Starbucks almost never appear on our lists of recommended "things to do" in cities around the world. There are usually so many more local coffeeshops we'd recommend supporting instead.
However, there are 2 exceptions to this rule (so far!):
Seattle: It is kind of fun to say you've been to the "original Starbucks".
Kyoto: The Starbucks Ninenzaka Yasaka Chaya location is one of the most unique and beautiful Starbucks in the world.
Here's what we mean…
With tatami mat rooms where you have to take off your shoes and sit on the floor, you've never seen a Starbucks like this one.
You'll swear you're in a traditional Japanese teahouse rather than a Starbucks.
40. See how many monsters you can spot on Yokai-street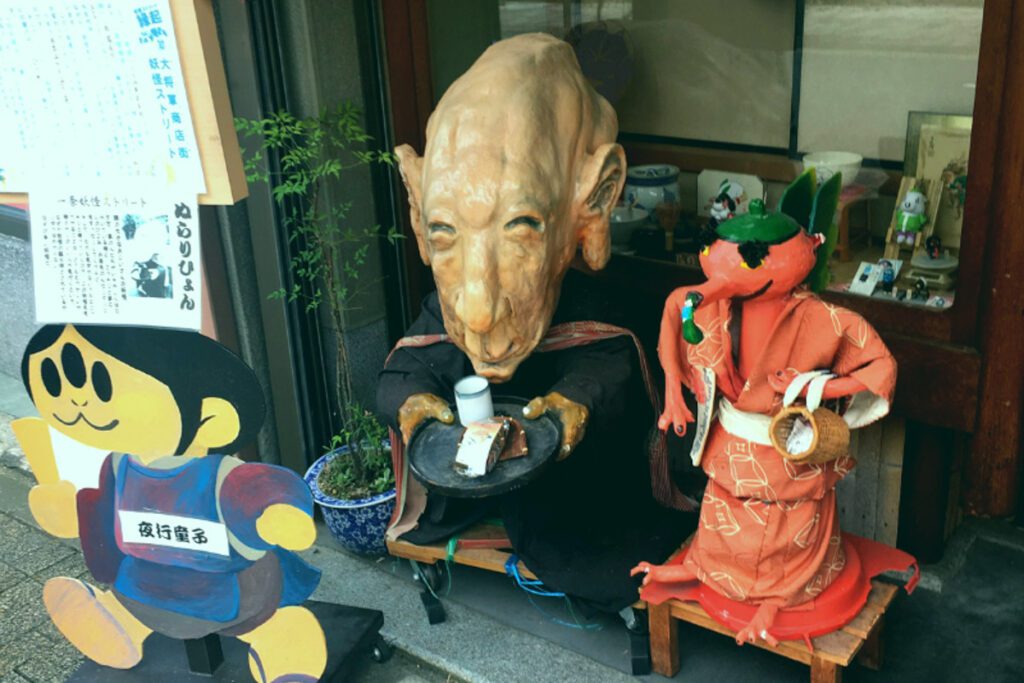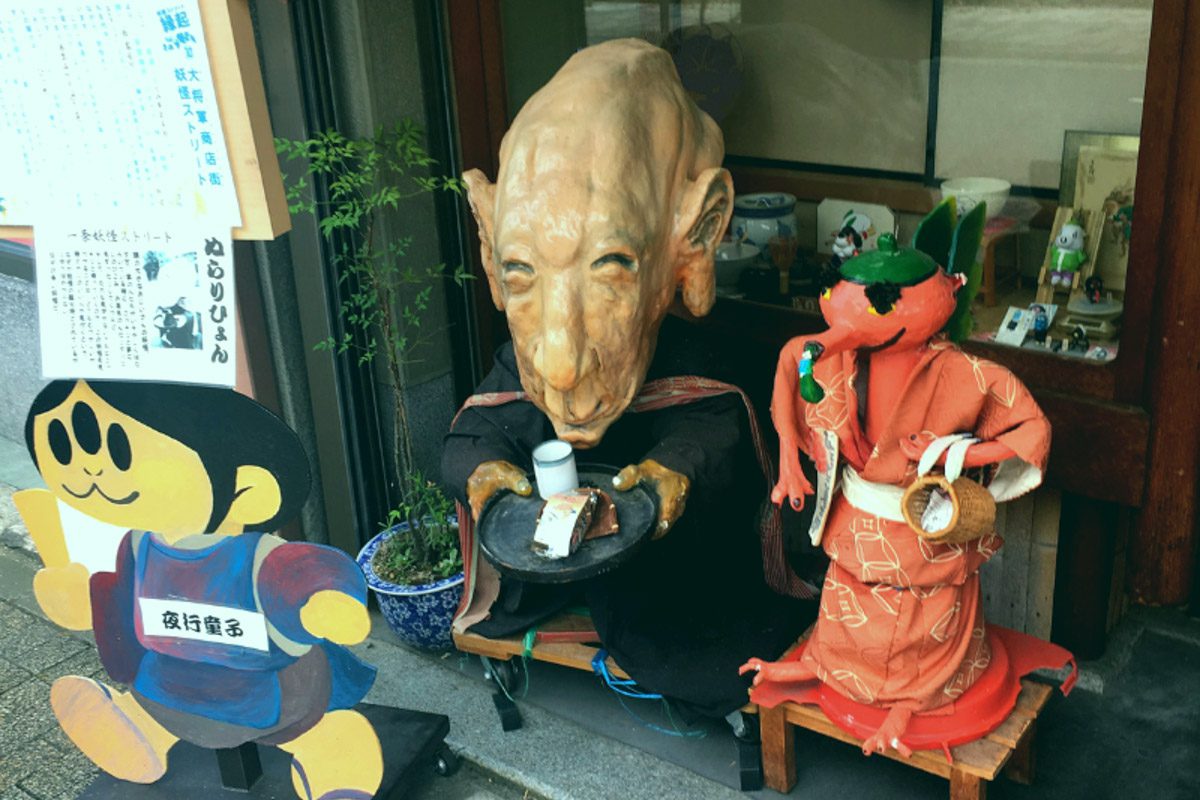 Nicknamed "Kyoto's weirdest street", you can spot both characters from traditional Japanese folklore and hodgepodges of interesting monsters lining this road.
In Japanese folklore, Yokai are supernatural entities and spirits that come in a variety of looks, shapes and sizes.
Tales of these monsters are commonly used to scare children, which is why you'll see some created with household items like brooms.
Many of the shops and stalls down this road are hundreds of years old and cater to locals, so it makes the perfect place to pick up an authentic Japanese souvenir as you keep an eye out for yokai.
41. Dress up at the Samurai & Ninja Museum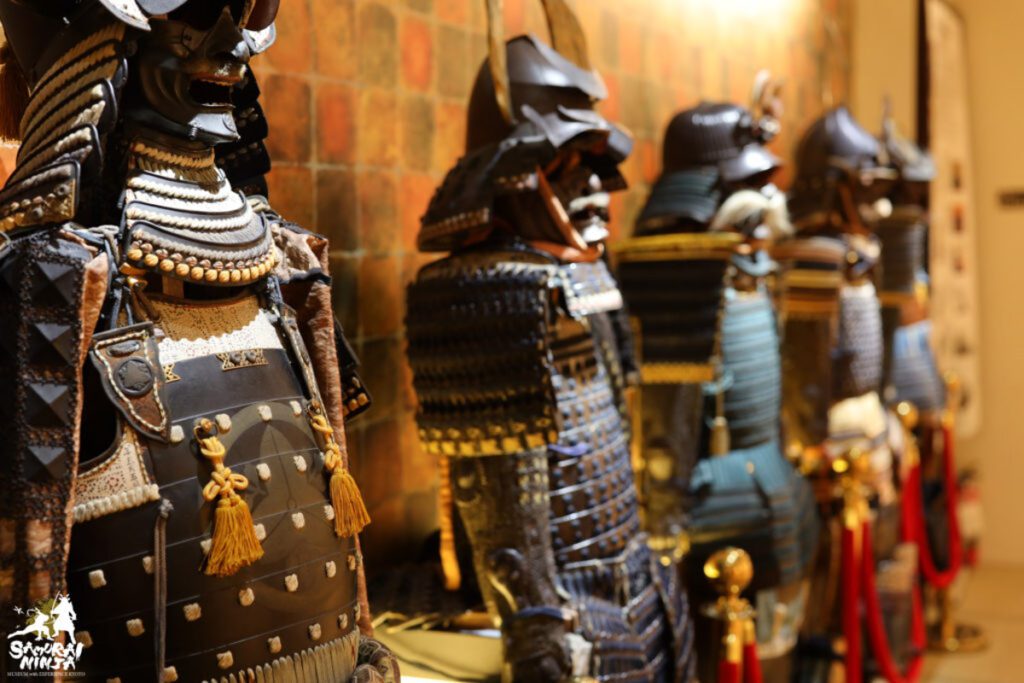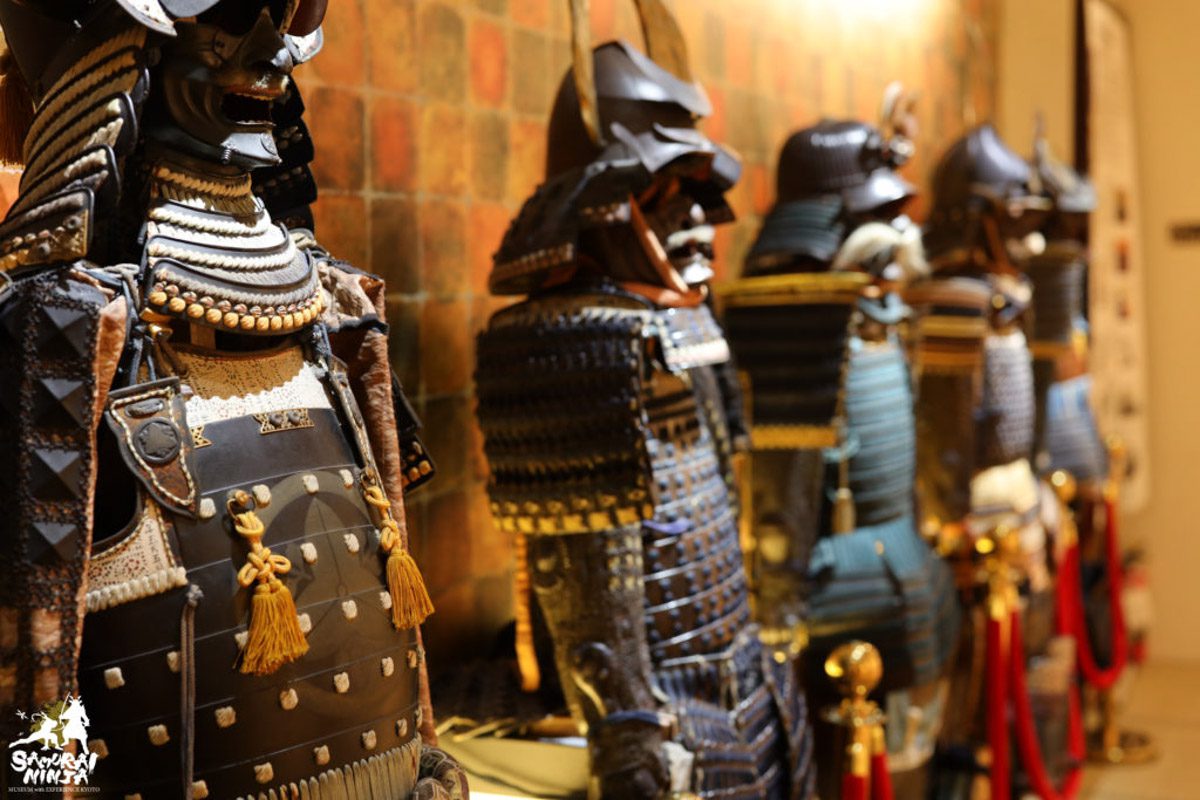 Feel the honor of Japanese warriors at this interactive museum displaying genuine weapons and armor of samurais and ninjas from centuries past.
Tours take you back in time to the Edo Period and earlier while telling interesting and detailed stories about their significance and place in Japanese history.
The articles on display are inspirational for any type of visitor: martial artists, history buffs, or anyone with casual interest. This is a family-friendly activity, so if you're traveling Kyoto with kids, this would be fun to add to your itinerary.
The most anticipated part of a visit to the Samurai & Ninja Museum is living the life of a samurai, where you'll dress in full uniform, learn how to hold and sheath a katana, test your target skills with ninja stars, and try out a traditional blow gun.
Entry fee: 3000 yen ($23.50) samurai and ninja experience included
42. Soak in one of Kyoto's only onsen
While Kyoto doesn't have many onsen, Sagano Onsen is a worthy soak for those craving a bit of relaxation.
With mineral-rich waters and a handful of different types of pools, this onsen is popular with locals but not on most tourists' radars, so it feels like a hidden gem.
Important: This onsen does not allow visitors with tattoos (no matter the size).
43. Explore Nijo Castle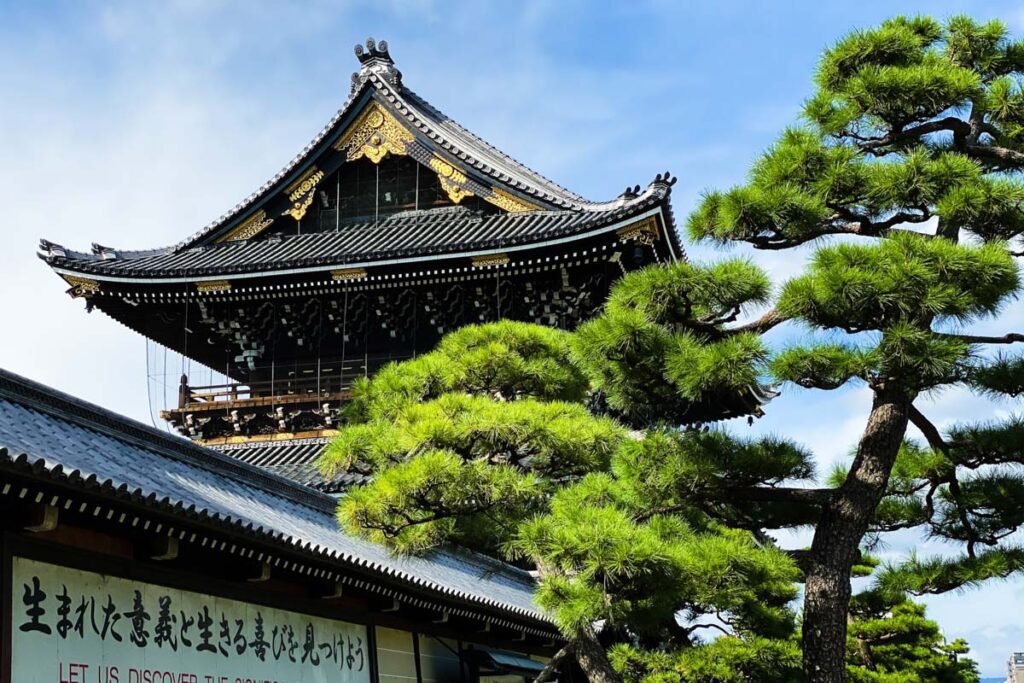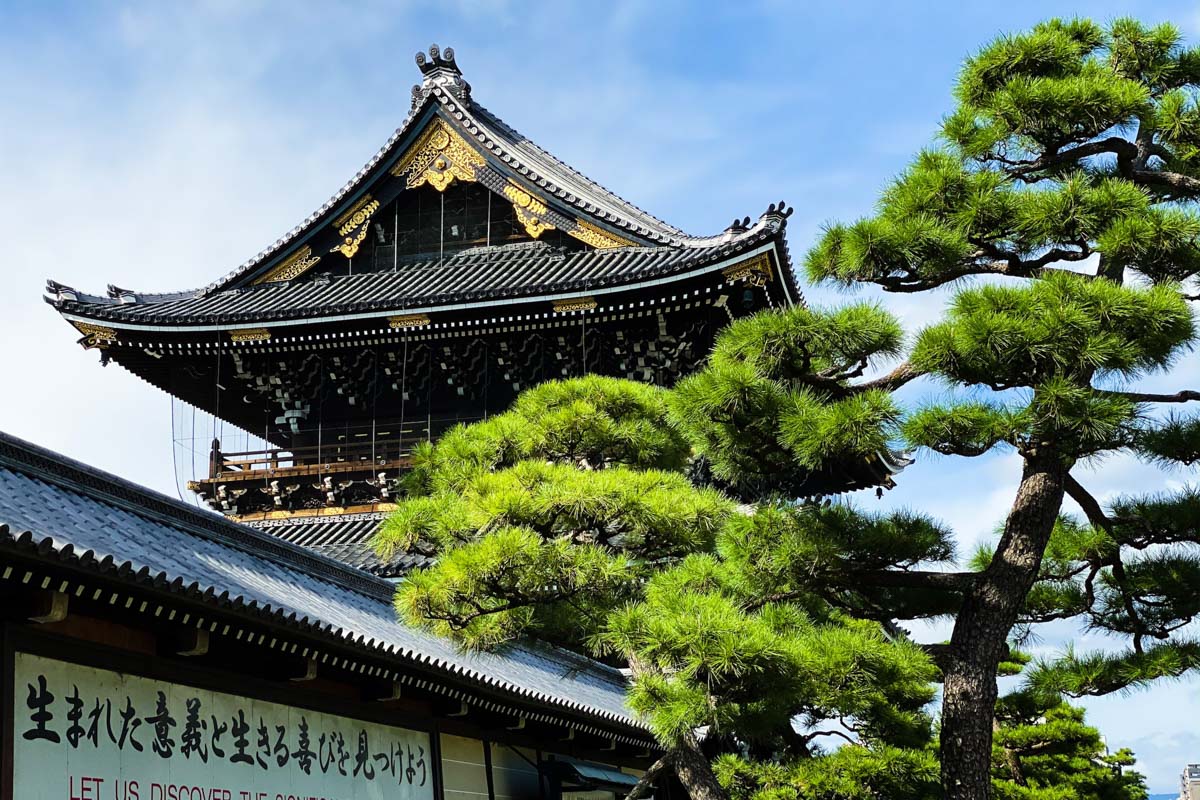 Explore one of the most significant castles in Japan that showcased the power that shoguns (warlords) had over emperors during the Edo Period.
Intricate wood carvings, decorative panels, significant history, and the over luxurious details of this 17th century castle can be admired throughout the stunning grounds.
Pick up an audio tour for more in-depth information about the Edo Period, famed artists, and insightful history.
Insider tip: Visit this castle right after it opens to ditch the crowds and roam the grounds peacefully.
Entry fee: 800 yen ($6) an additional 500 yen ($4) to enter the Ninomaru Palace.
44. Order a drink at a Buddhist temple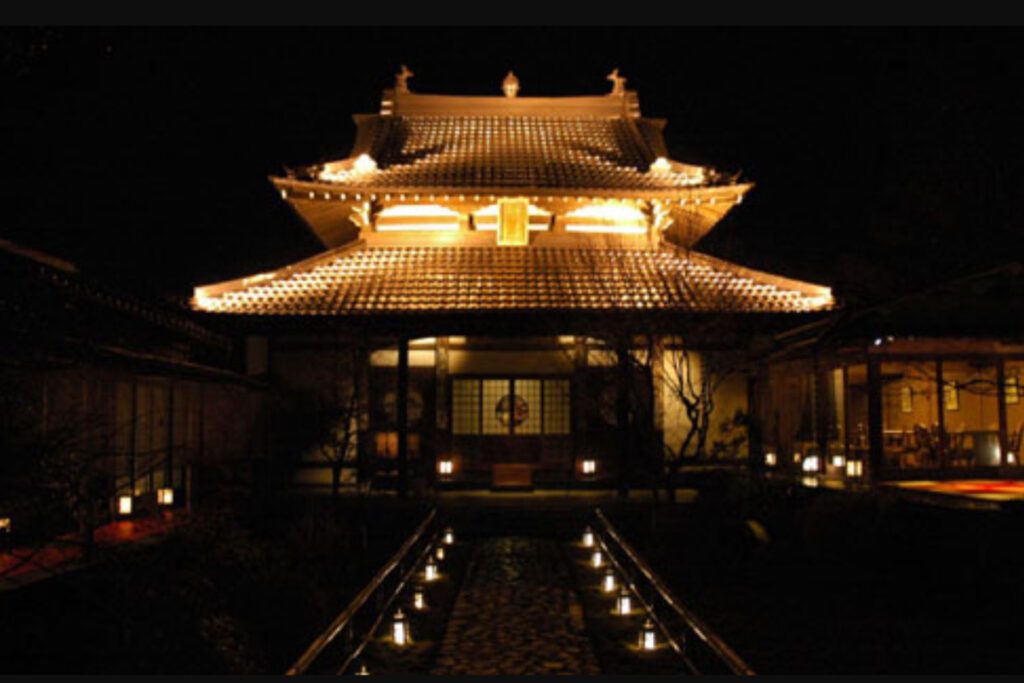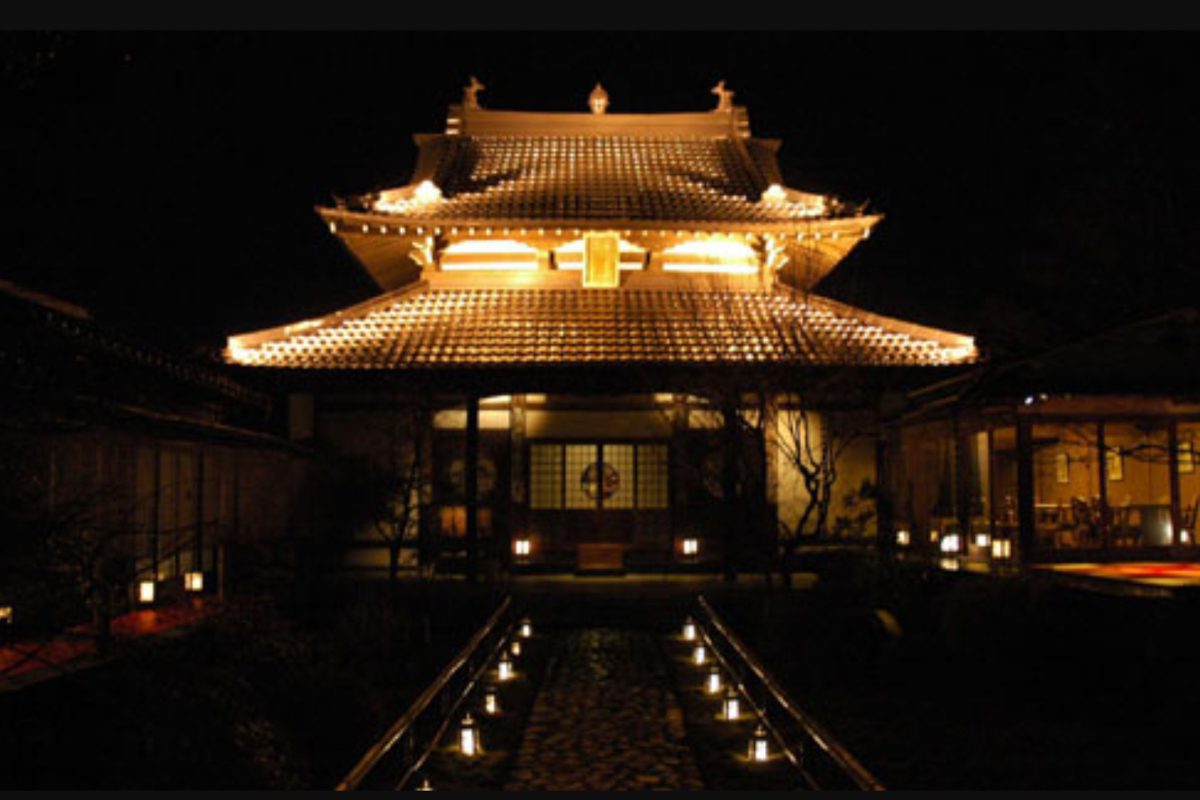 Kanga-an is a small, little-known temple with a secret…
Nestled in a tranquil corner of Kyoto, this Buddhist temple has a Zen garden, a vegetarian restaurant and — gasp! — a bar.
While certainly not a spot for bumpin' nightlife, this is a unique place to grab a quiet drink in a very unique location. I mean how often is it that you can get tipsy in a temple?
Tip: We've heard their house-made umeshu, or plum wine, is quite good!
---
Day trips from Kyoto
If you're looking to see some sights outside the city, there are plenty of amazing day trips from Kyoto.
45. Take a day trip to Osaka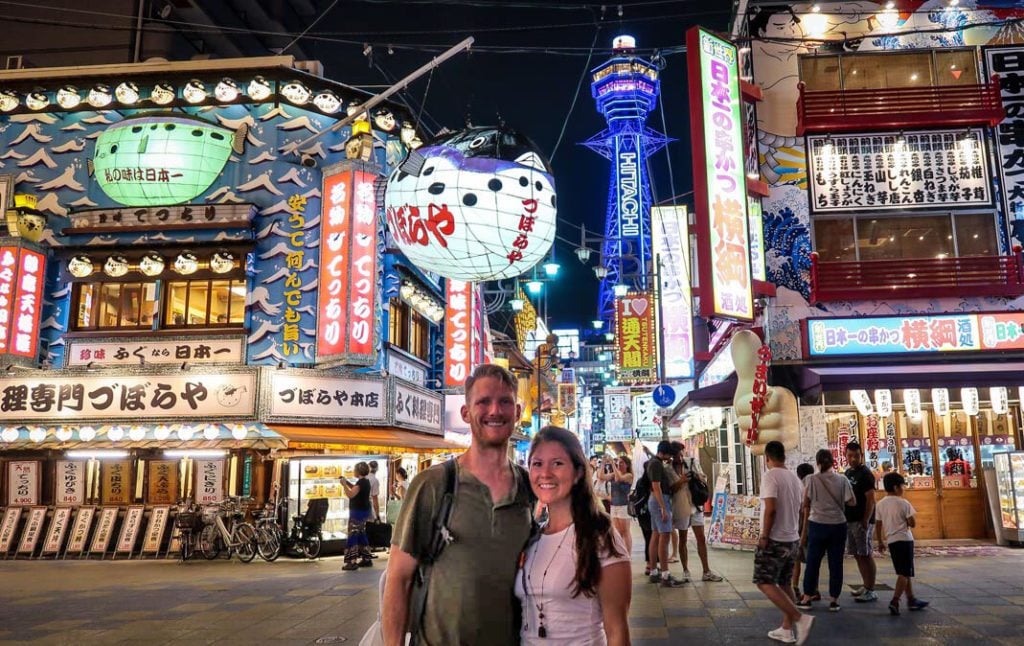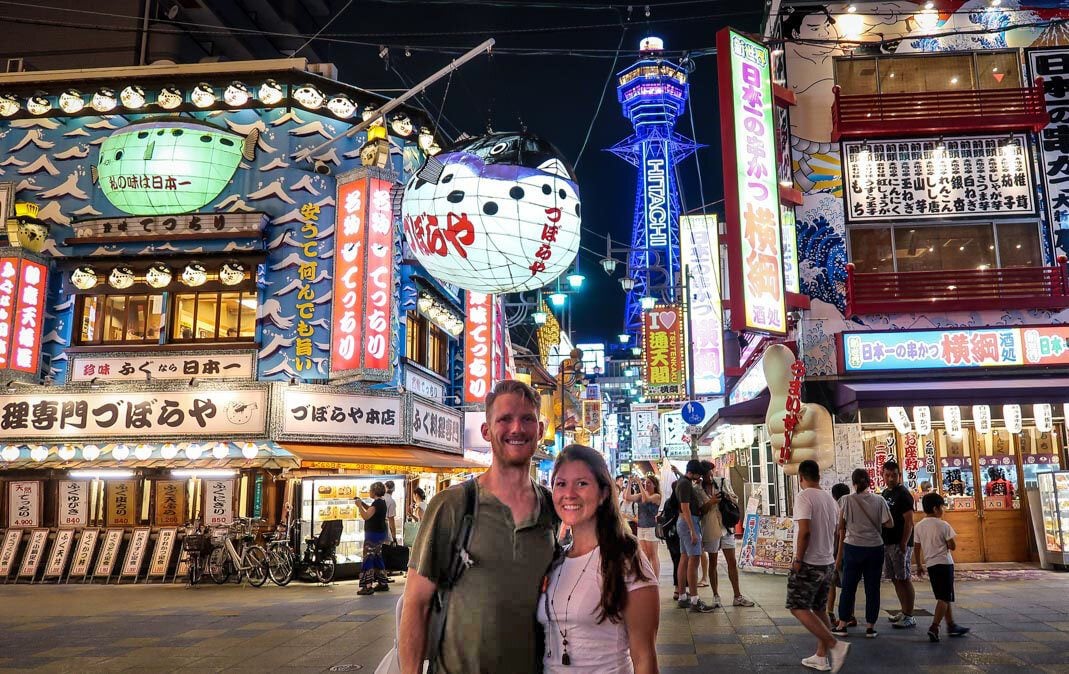 Osaka is one of Japan's most lively and exciting cities.
While it doesn't have the charm that you'll experience on Kyoto's preserved historic streets or the same level of organized chaos as Tokyo…
But there is a certain gravitational draw to Osaka. It feels like the real modern Japan, with more of a local vibe than tourist hotspot.
If you have the time, we'd recommend spending a couple of days exploring Osaka because there truly is so much to do. We even have a complete guide to all the best things to do in Osaka.
However, if you are strapped for time, you can certainly visit Osaka as a day trip from Kyoto, as the two cities are just 15 minutes apart by high-speed train.
Want to know more about trains in Japan? We have a Japan Rail Pass Guide packed with practical tips and money-saving advice!
46. Hike the Kibune to Kurama Trail (& relax in an onsen!)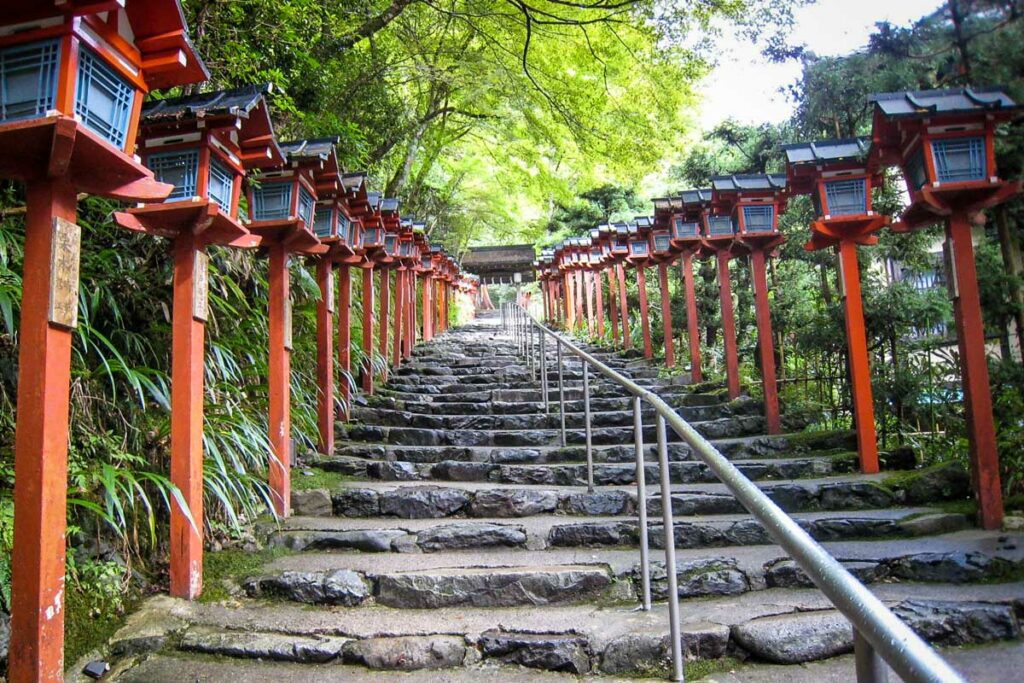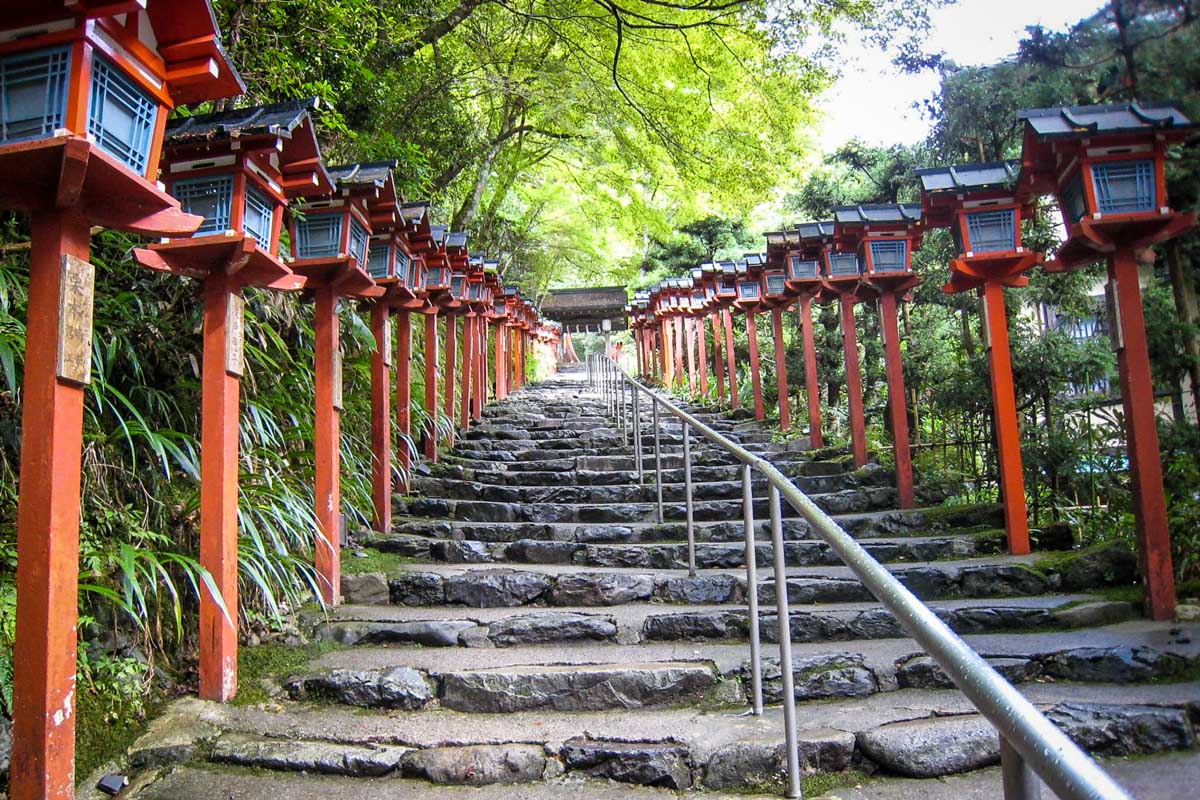 If you are looking for a unique day trip from Kyoto that combines nature and culture and is not on the "typical" Kyoto itinerary, you're going to want to put this hike at the top of your list!
Along the path, you will pass by several shrines and temples. There are also teahouses and restaurants to stop for sustenance on the way.
Once you make it to Kurama, reward yourself with a soak at the beautiful onsen. There is a ¥1,000 ($8) entrance fee to enter the onsen, and ¥300 to rent a towel if you don't have your own.
Kibune to Kurama Trail Details
Distance: 4.8-mile
Elevation gain: 1,410 feet
Type of hike: Point to point
Difficulty: Easy to moderate
47. Take a tea tour at Kyoto Obubu Tea Farms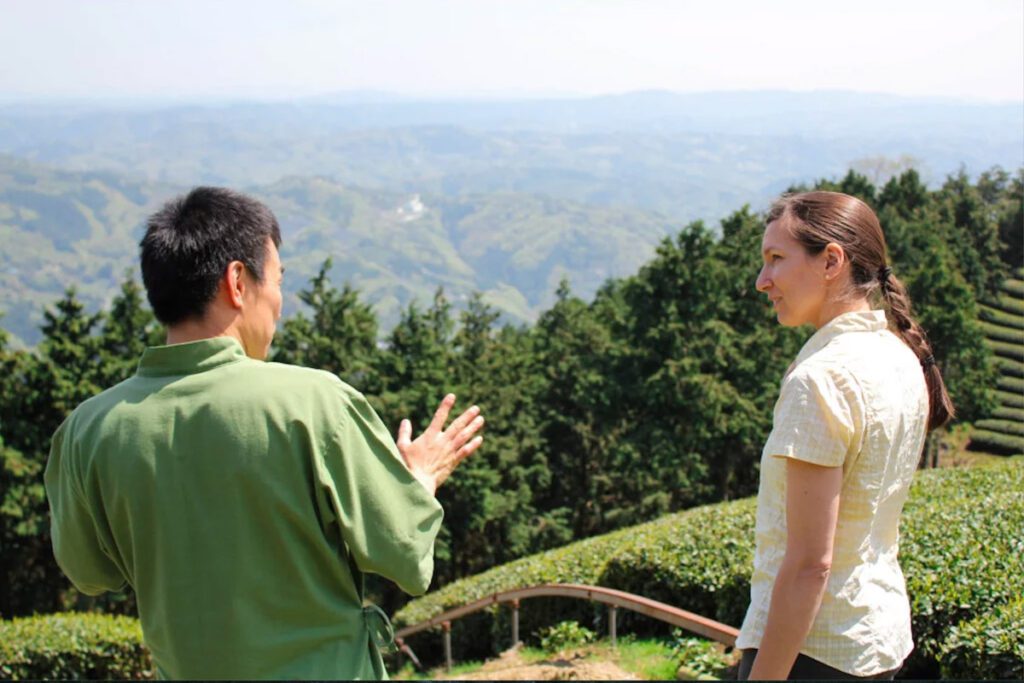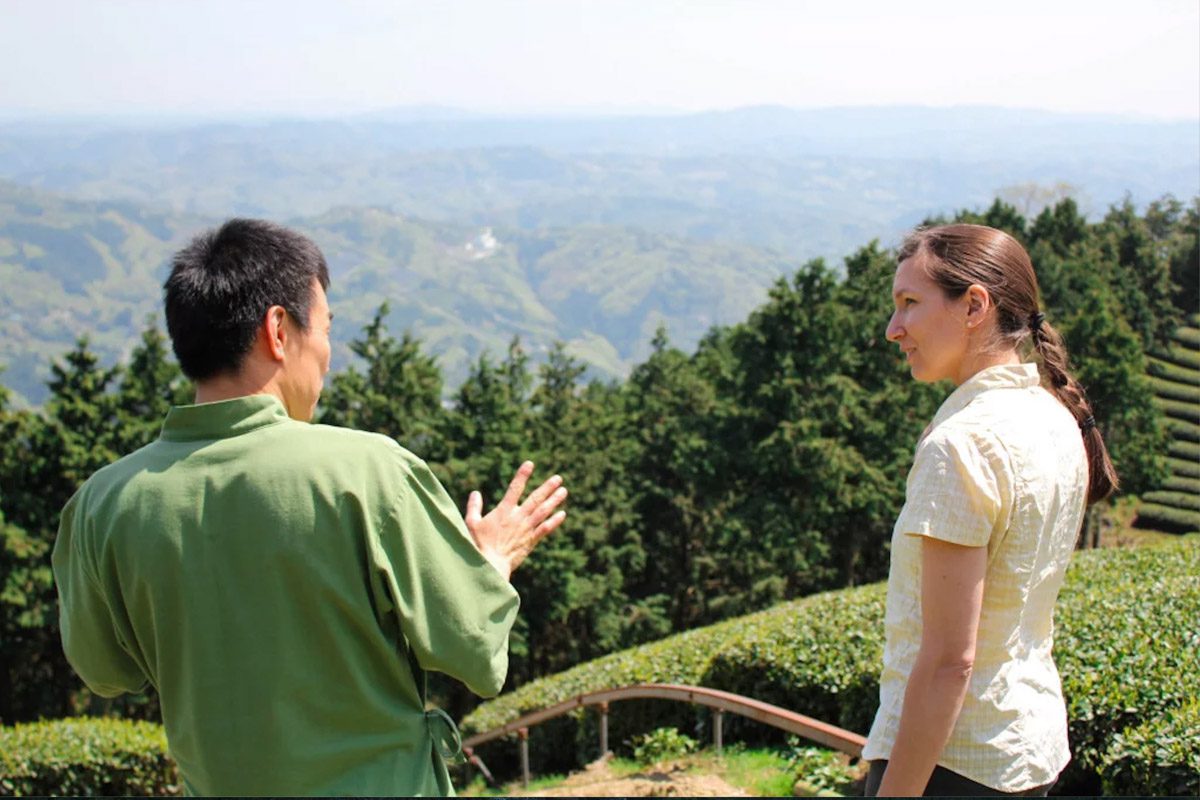 If you're a tea lover, head straight to the source.
Taking a tour of a tea farm will not only give you a glimpse into where your favorite beverage comes from, but tea fields are undeniably beautiful.
There are a handful of tea farms outside of Kyoto, but Obubu Tea Farm has a strong focus on educating people on the growing process and has tours in English.
To learn more about joining a tour, check out their website.
How to get there: From Kyoto, it takes roughly 1.5 hours to get here by train. Here are detailed instructions on how to get to Obubu Tea Farm.
After your tea farm tour, enjoy lunch while overlooking a tea plantation at nearby Dan Dan Cafe.
48. Take a scenic train ride on the Sagano Railway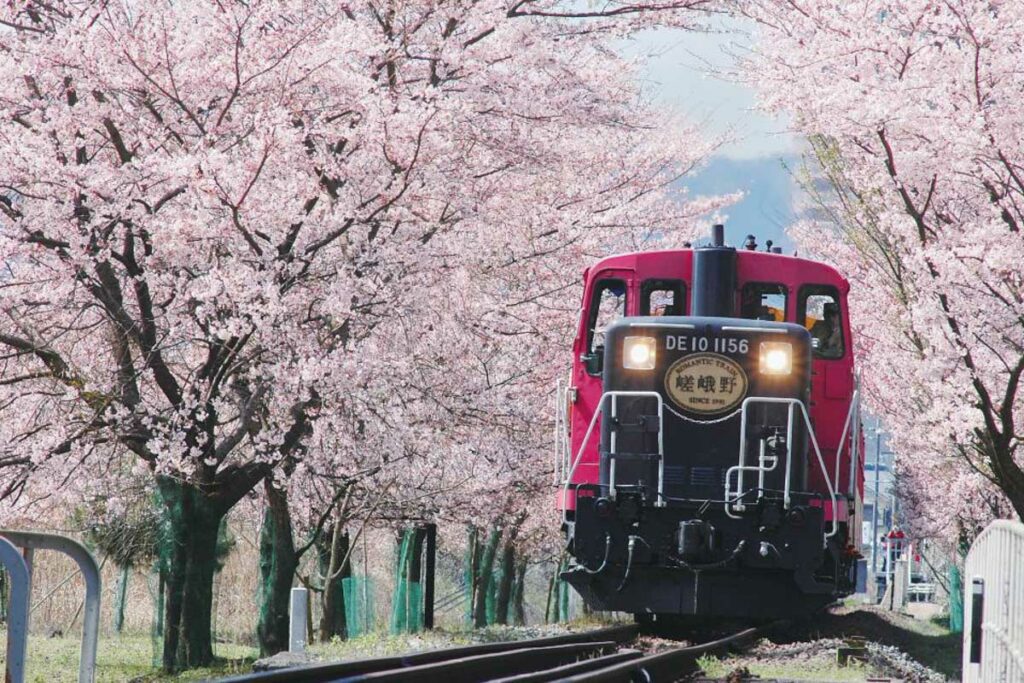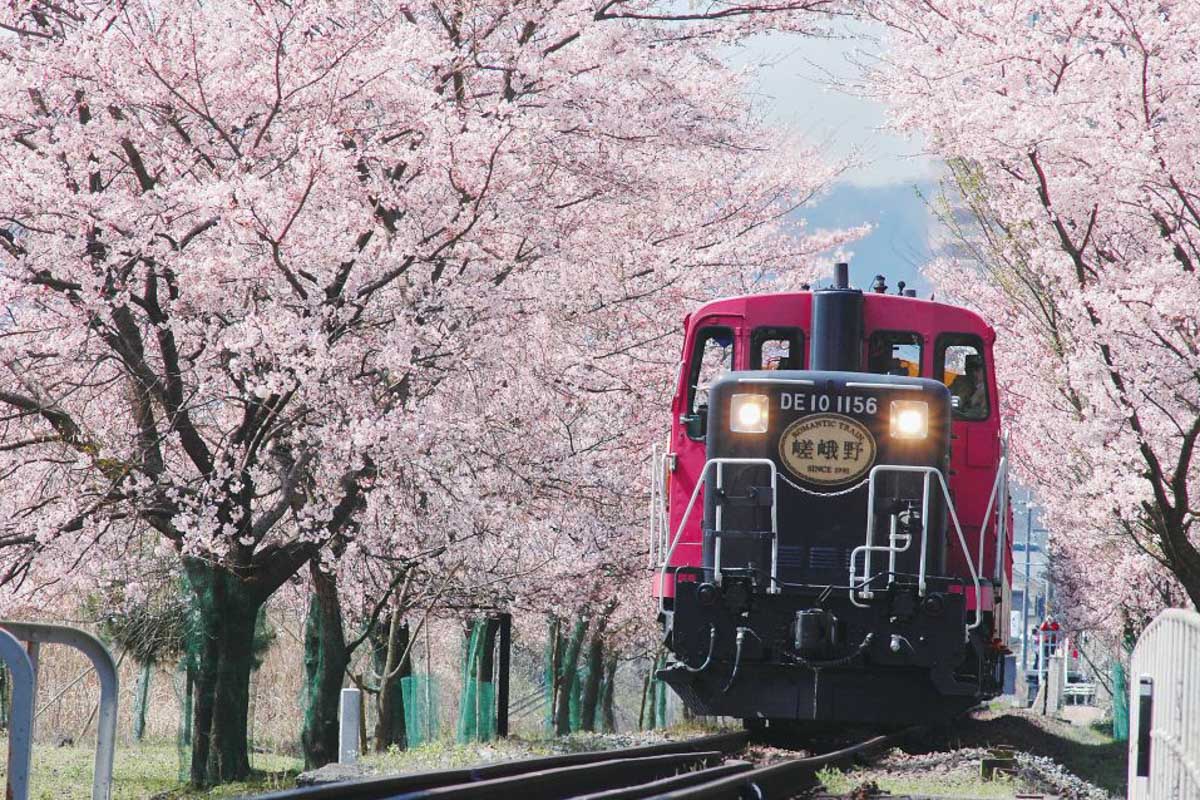 Ride through stunning mountain scenery to discover one of the crown jewels of Kyoto.
On this exciting day trip, you'll explore three UNESCO World Heritage Listed sites: Arashiyama, Kiyomizudera Temple, and Fushimi Inari.
Kyoto: Sagano Train and Sightseeing Day Trip with Lunch: This tour includes round trip bus or train transport to and from Kyoto, railway ticket, buffet-style lunch, and a professional guide to narrate your journey.
49. See the famous deer in Nara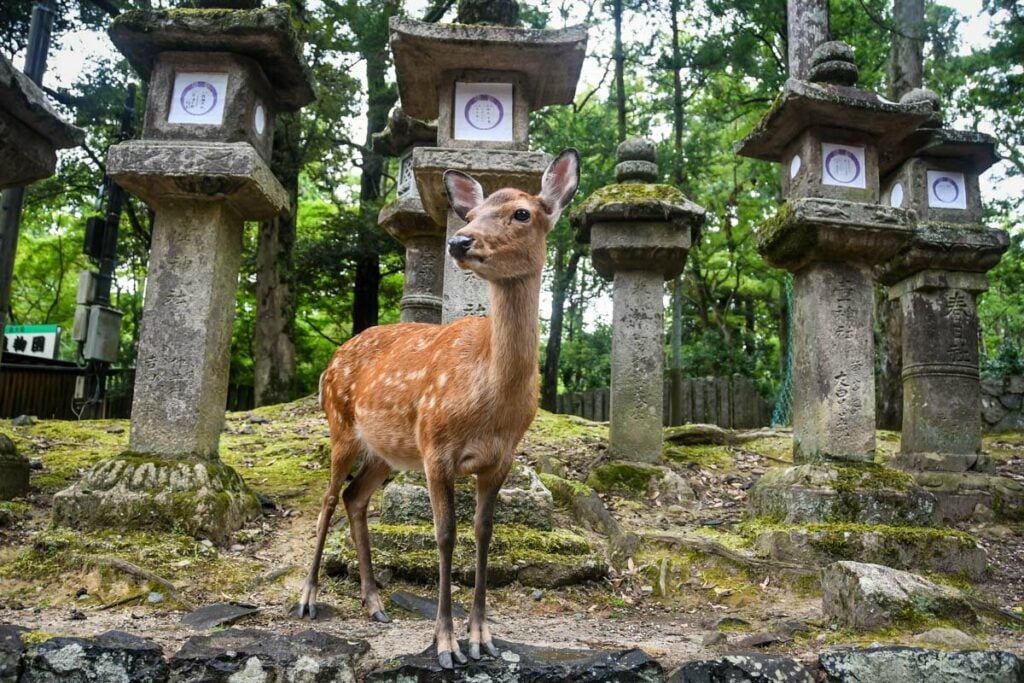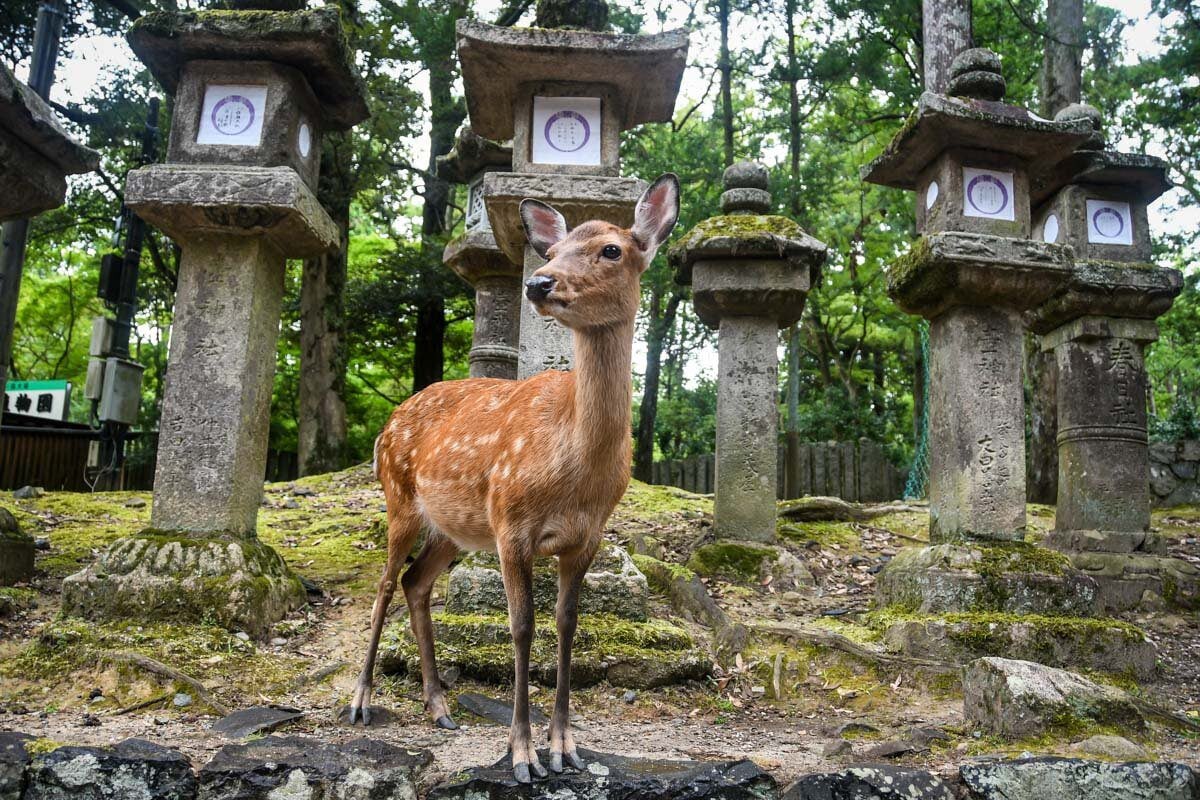 Known for the famous "bowing deer", Nara is well worth a spot on your Japan itinerary.
While seeing the deer is the biggest draw for most visitors, Nara has a lots of incredible historic sites as this city was once the capital of Japan (during the Nara period, which spanned the years 710 to 794).
Good to know: The fastest train between Nara and Kyoto takes just 35 minutes each way, making this an easy day trip.
50. Take a scenic boat ride down the Hozugawa River
Dating back to the 8th century, this scenic river route was once used for transporting lumber and goods to the Port of Osaka, but now is an atmospheric boat ride through one of the most beautiful areas of Kyoto.
Stretching nearly 10 miles, you'll spot historical locations, local ravine wildlife, and see a variety of foliage depending on the season you visit. The entire ride takes around 2 hours.
How to get there: The meeting point is just outside of Kyoto in Kameoka, less than half an hour by train. Use these instructions to board the correct trains and find the starting point.
Entry fee: 4100 yen ($32)
---
Round up of the best things to do in Kyoto
Here's a recap of all the best things to do in Kyoto so you can see everything in one place.
1. Fushimi Inari Shrine
2. Higashiyama Historic District
3. Japanese Food Tour
4. Nishiki Market
5. Tea Ceremony
6. Philosopher's Path
7. Arashiyama Bamboo Forest
8. Explore Arashiyama
9. Pontocho Alley
10. Kinkaku-ji Temple (Golden Pavilion)
11. Ginkaku-ji Temple (Silver Pavilion)
12. Arashiyama Monkey Park
13. Kyoto Free Walking Tour
14. Gion
15. Japanese Cooking Class
16. Rooftop Bar
17. Kyoto bike tour
18. Kiyomizu-dera Temple
19. Manga Museum
20. Matcha ice cream
21. Shop for souvenirs
22. Imperial Palace
23. Speakeasy
24. Maruyama Park
25. Yasaka Koshindo (colorful temple)
26. Go on a photo walk
27. Sake tasting
28. Oldest confectionary shop in Japan
29. Spot a Geisha
30. Kimono Forest
31. Otagi Nenbutsu-Ji stone sculptures
32. Japanese calligraphy class
33. Fire Ramen
34. Enmusubi Stone
35. Eat traditional Buddhist cuisine
36. Toji Temple
37. Japanese garden
38. Eat soba noodles at Honke Owariya
39. Coolest Starbucks in the world
40. Yokai-street monsters
41. Samurai & Ninja Museum
42. Sagano Onsen Tenzan-no-yu
43. Nijo Castle
44. Stay in a ryokan
45. Day trip to Osaka
46. Kibune to Kurama hike
47. Kyoto Obubu Tea Farms
48. Sagano Railway train ride
49. Day trip to Nara
50. Hozugawa River Boat Ride
---
Where to eat in Kyoto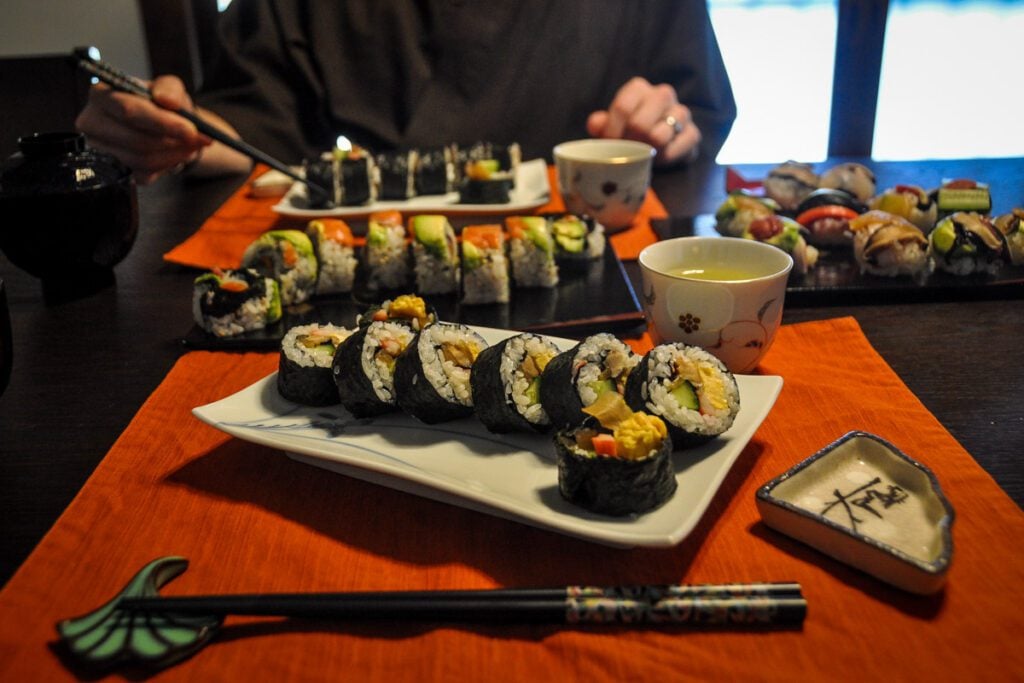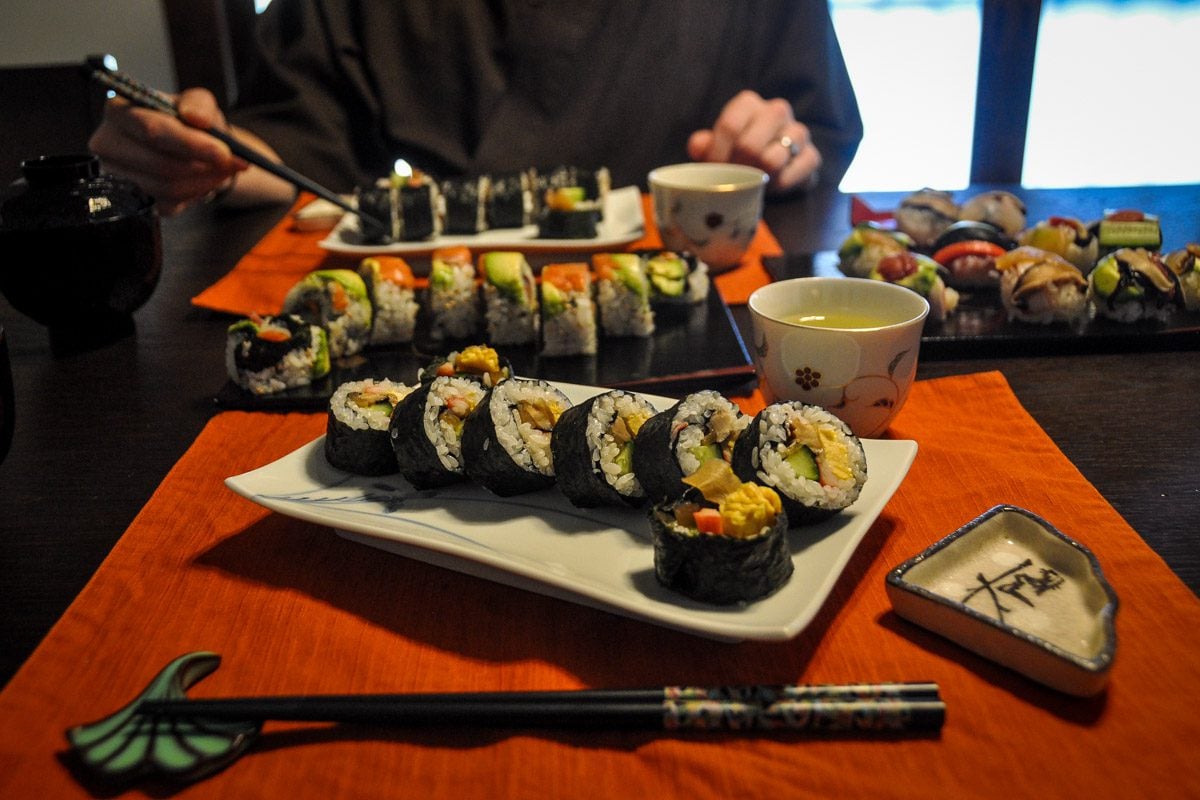 Kyoto has no shortage of incredible dining options.
From casual and inexpensive noodle shops to Michelin star restaurants, you can find both traditional Japanese fare and international cuisine.
Here are a handful of great places to eat in Kyoto.
Best time to visit Kyoto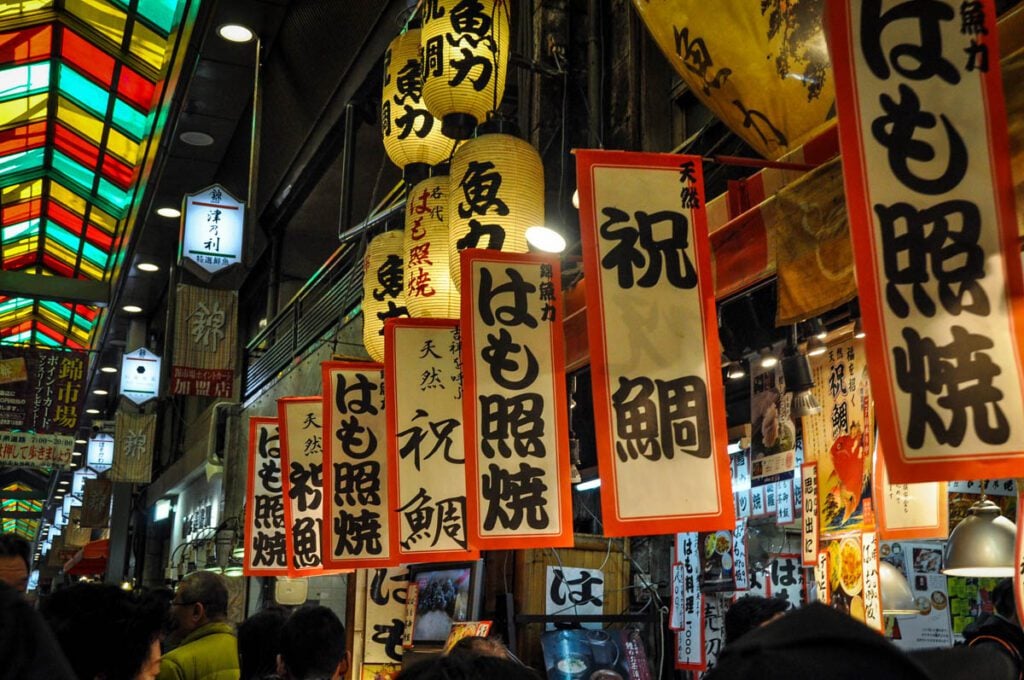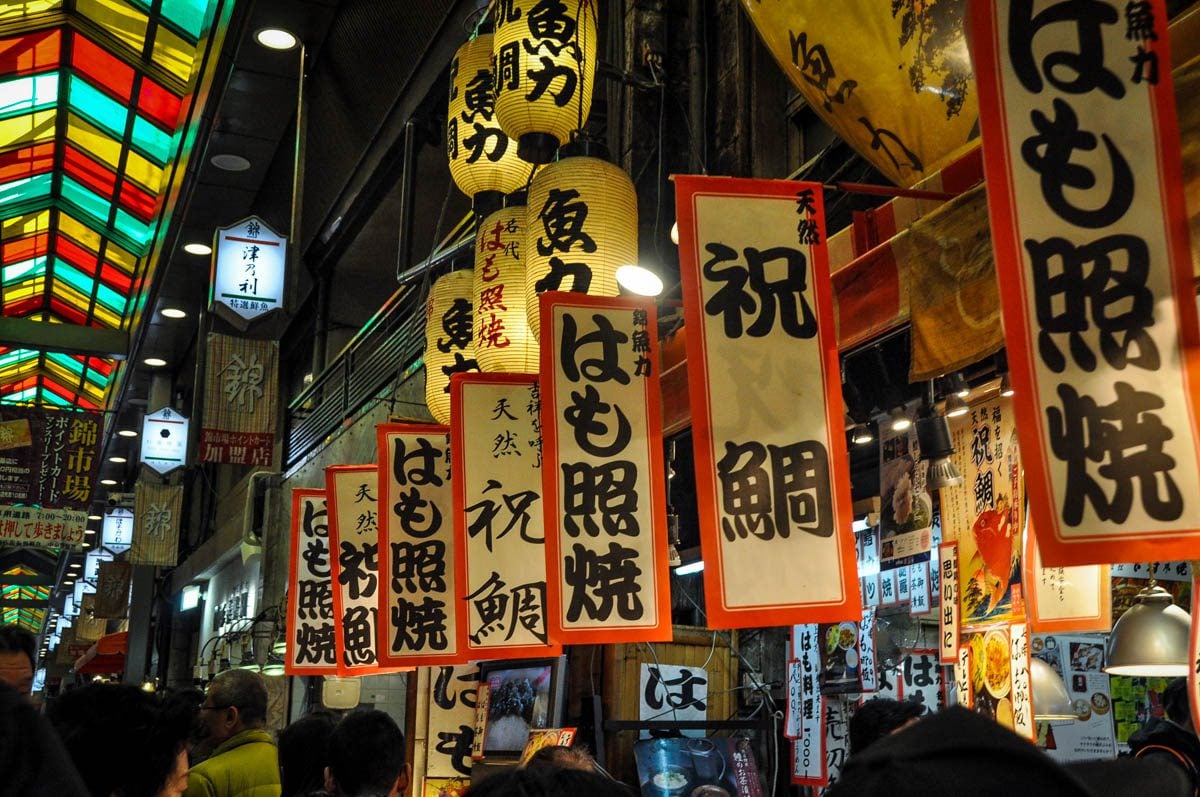 Japan experiences the full spectrum of all four seasons, with each one offering something unique.
Spring in Japan is world renowned for its legendary cherry blossom season, bringing in huge amounts of tourism. Autumn is popular for fall foliage with vibrant colors countrywide.
Winter brings clear skies, snow spots, and ideal onsen weather, whereas the summer heats things up across the country, perfect for hiking and exploring the country's endless nature.
The ideal time to visit largely depends on your interests, preferences, and itinerary. We have a full breakdown of each season, plus pros and cons in our guide to the best time to visit Japan.
Tips for avoiding crowds in Kyoto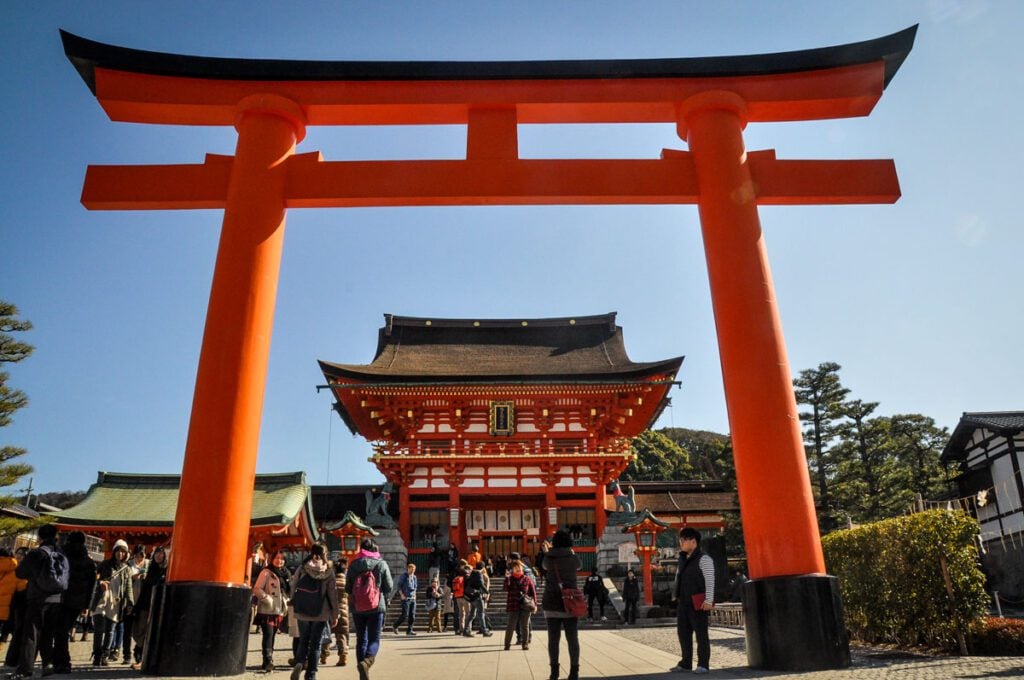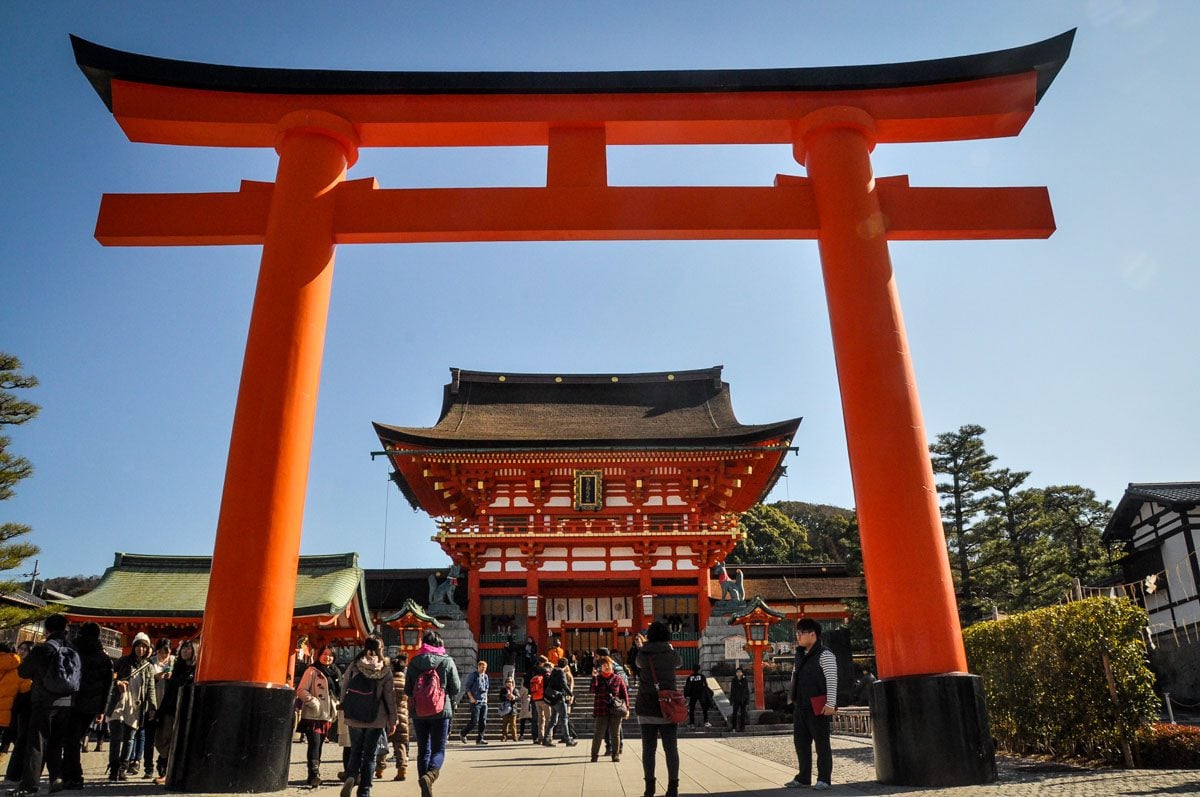 Kyoto is a popular tourist destination in Japan and all of the major attractions draw crowds (especially during cherry blossom season).
Start your days early
If you want to avoid getting stuck in a sea of tourists, we highly recommend you start your days early and avoid midday at the most popular places.
Seek out less popular places
Visit the top attractions, but also make an effort to get off the beaten track. We've included many things on this list that are not on the typical tourist itinerary.
Visit during "off" season
Traveling to Japan during cherry blossom season (usually mid-March through early May) is a dream for many people. However, it will be incredibly crowded throughout the country, especially in Kyoto, which is a popular cherry blossom destination.
If you aren't into crowds (we get it!), we'd recommend traveling during off-peak season.
The summer months tend to be a bit less busy, but personally, we're not fans of this time of the year, which tends to be very hot and humid. Plus, it can rain a lot.
Instead, we really enjoy visiting Japan in the winter. This season has fewer crowds, and it can be a fun time to soak in onsen, experience the country's legendary skiing, and warm up with hot bowls of ramen.
Think hard about where you stay
Staying in the outskirts of the city can give you a more "local" experience, however, if it is your first time in Kyoto and you want to see all the major sights, it will take you much longer to get around the city. This means you won't be able to arrive as early in the morning to the popular attractions in order to beat the crowds.
Our advice: If you are visiting Kyoto for the first time, we'd recommend staying in the Gion / Southern Higashiyama neighborhoods.
Jump to more info on where to stay in Kyoto.
How to get to Kyoto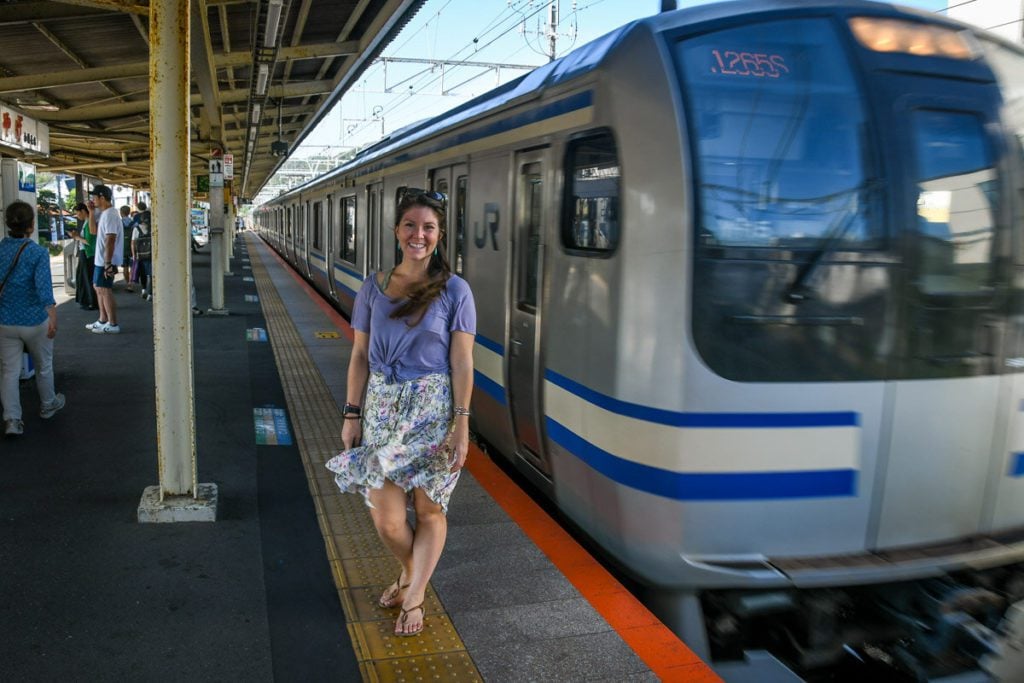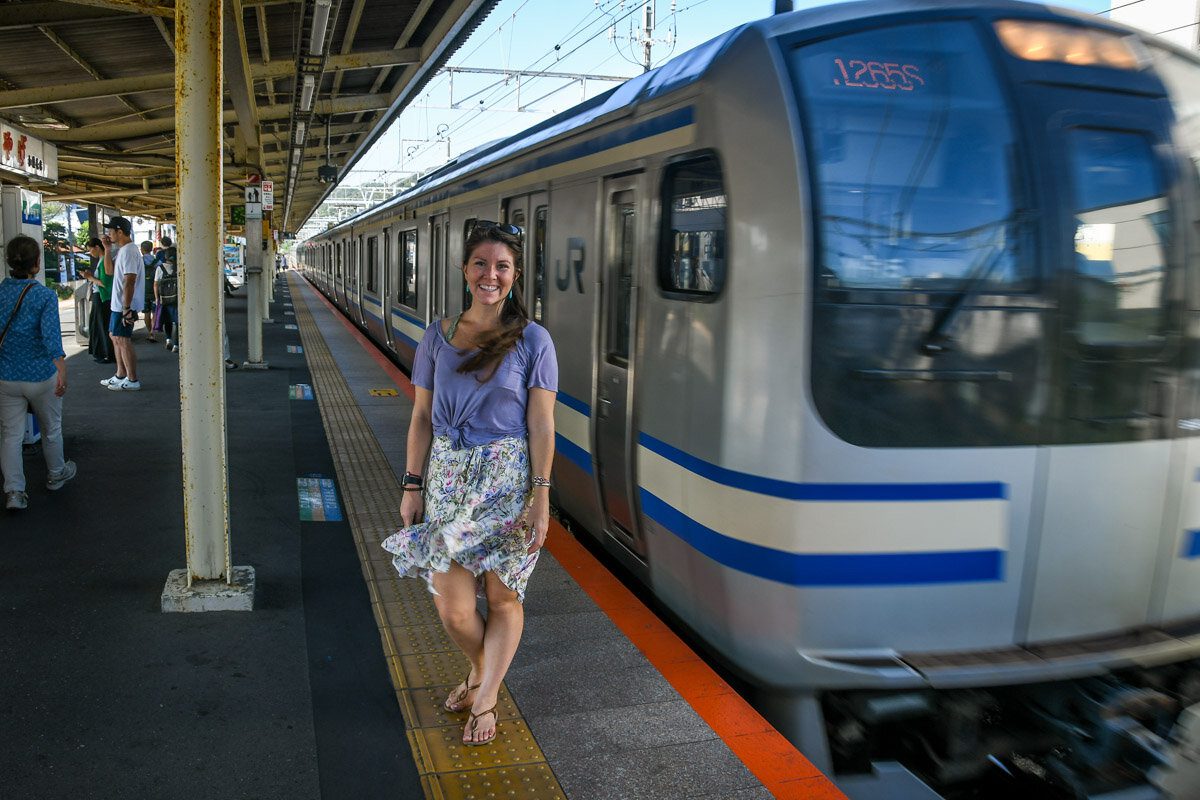 There is no airport in Kyoto. The closest airport is Kansai Airport, which is located just outside Osaka. Thankfully, it is very easy to get to Kyoto from Kansai Airport, downtown Osaka and Tokyo.
For planning your routes, be sure to download the Japan Official Travel App for the most accurate times and up-to-date information.
Kansai Airport to Kyoto:
The easiest way to get from Kansai International Airport to Kyoto is to take the Haruka Train. It leaves once or twice an hour, only takes an hour and 26 minutes, and costs about ¥3,630 per ticket.
You can also take a regional train from the airport to Osaka or Shin-Osaka and transfer to another train heading to Kyoto. This will be about 2 hours and costs around ¥2,750 per ticket.
Osaka to Kyoto:
From Osaka Station, take a JR Tokaido line to Kyoto. They run about three times an hour so you will not have to wait long. It takes about 30 minutes to get there.
This train is included in the JR Pass so if you have the pass you don't need to worry about purchasing a ticket. If you don't have the JR Pass, it will cost ¥1,410 per ticket.
From Shin-Osaka, you can ride the Shinkansen Hikari train to Kyoto. It takes about 13 minutes total travel time and departs almost twice an hour (also included in the JR Pass). A regular fare for this train is ¥3,060.
Tokyo to Kyoto:
The best way to travel from Tokyo to Kyoto is by a Shinkansen bullet train. It takes about 2 hours and 39 minutes on the Hikari line and they leave once or twice an hour.
Did you know the price of the JR Pass is about the same price as a round trip ticket from Tokyo to Kyoto. If you're doing this trip, you might as well buy a JR Pass and save the hassle of trying to get individual tickets throughout your entire trip.
You don't have to worry about purchasing your train tickets with the JR Pass, but you will have to reserve your seats in advance at the train station for this trip since it is a very popular route.
How to Get Around Kyoto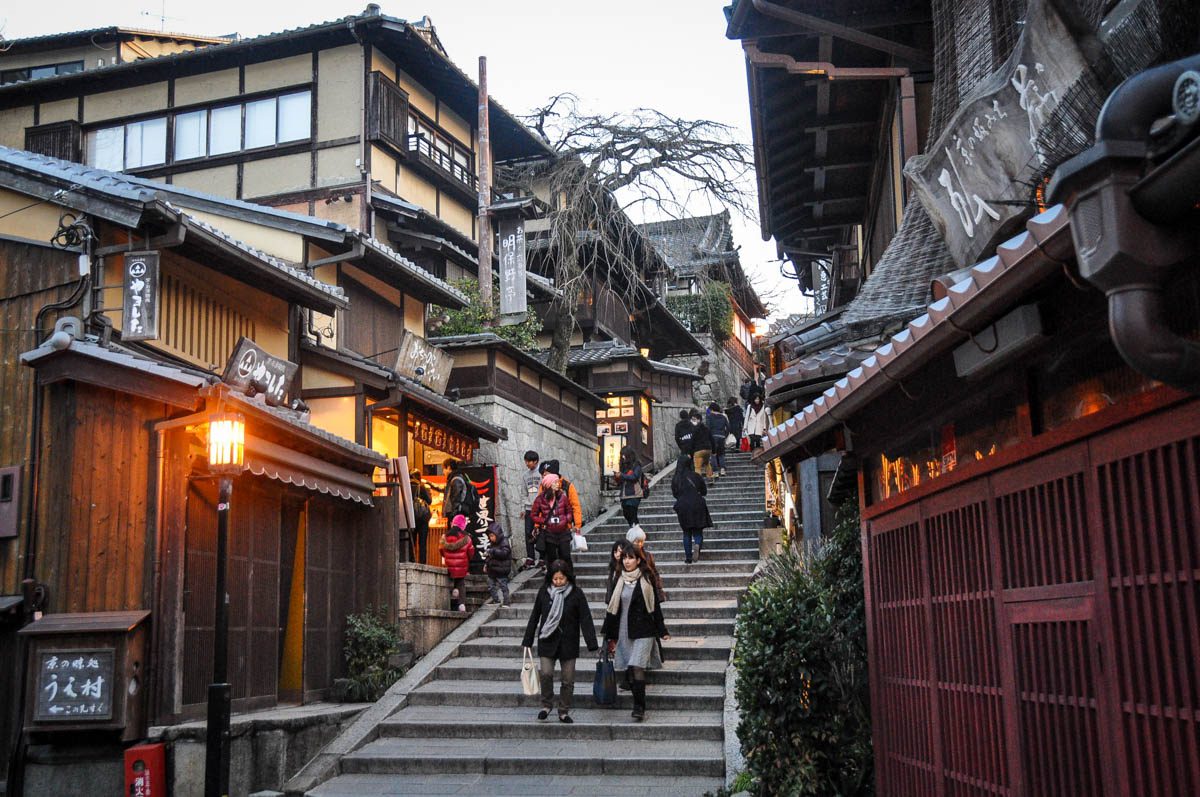 Kyoto has an extensive public transportation system, making it easy to get around. There are two subway lines, the Karasuma Line runs north to south and the Tozai Line runs west to east.
You can use an IC Card, like an ICOCA card, to get on and off most public transportation. You can purchase and recharge these cards near the train station and some convenience stores.
There is a network of bus lines throughout the city as well. If you are planning on exclusively using buses, you can purchase a 1-day pass and ride as many as you want for 24 hours. You might want to ask your hotel front desk which pass or card would be best for your time, location, and all the things you want to do in Kyoto.
Where to stay in Kyoto
There are many incredible places to stay in Kyoto for travelers of all budgets. Below are our top picks for hotels, hostels, and Airbnbs.
We've selected some that are higher-end as well as several that are for travelers on a budget.
Our advice: If you are visiting Kyoto for the first time, we recommend you stay in the Gion and Southern Higashiyama districts.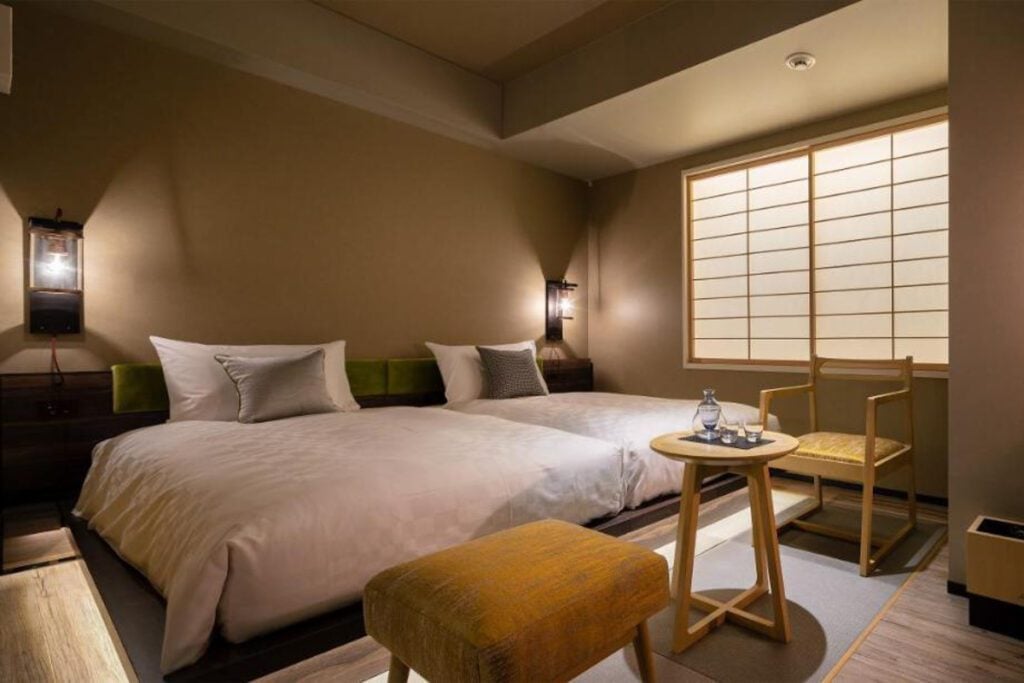 Best Budget Hotel: Hotel Resol Kyoto Kawaramachi Sanjo
This 3-star hotel is situated in the center of Kyoto and conveniently located next to the train station. Steps away are many popular shopping and dining areas, as well as popular Kyoto attractions.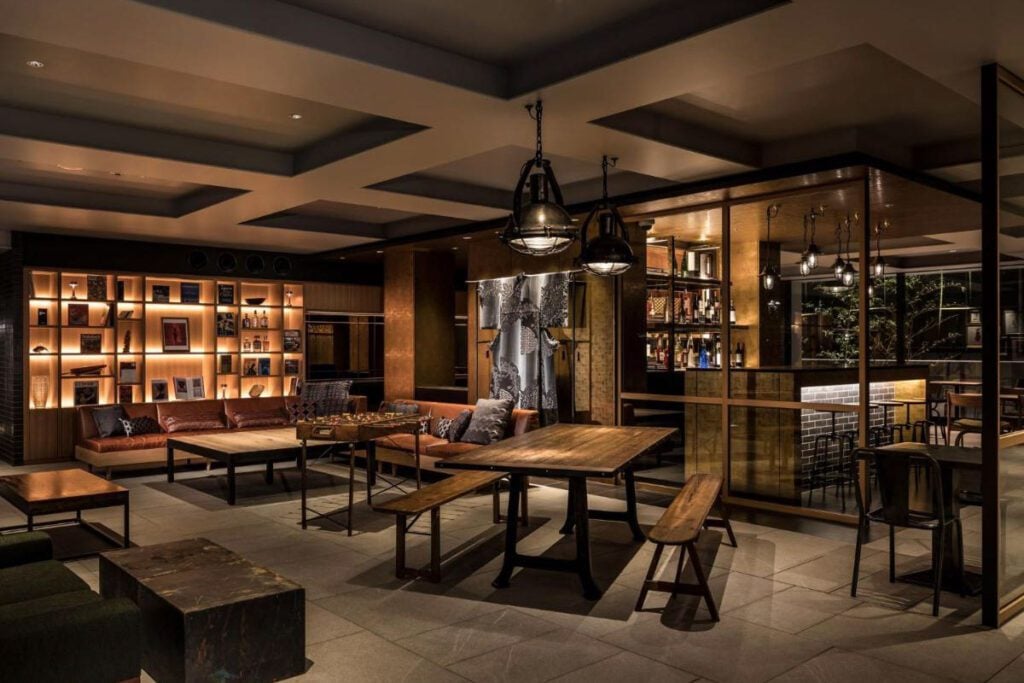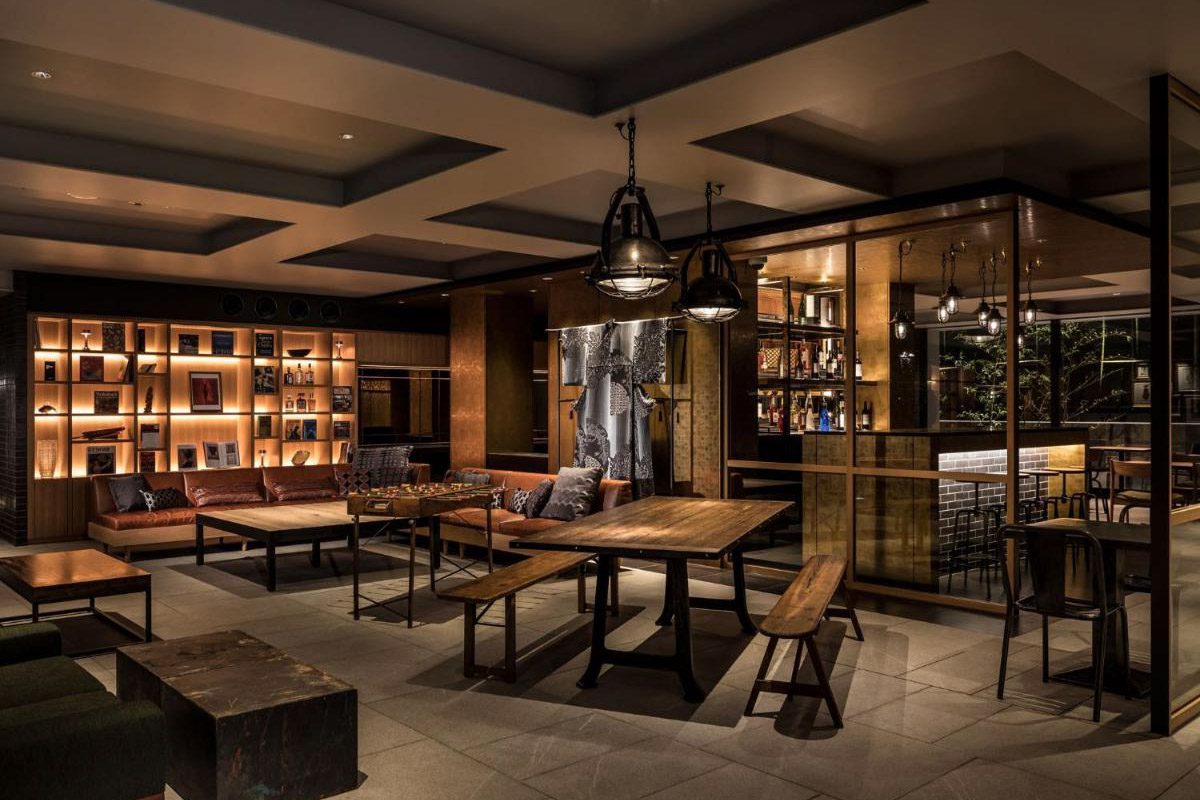 Luxury Pick: Kyoto Granbell Hotel
Stay walking distance away from all the top things to do in Kyoto while having full access to this hotel's impressive amenities: onsite bar, restaurant, bicycle rentals, public bath, and maiko shows twice a week.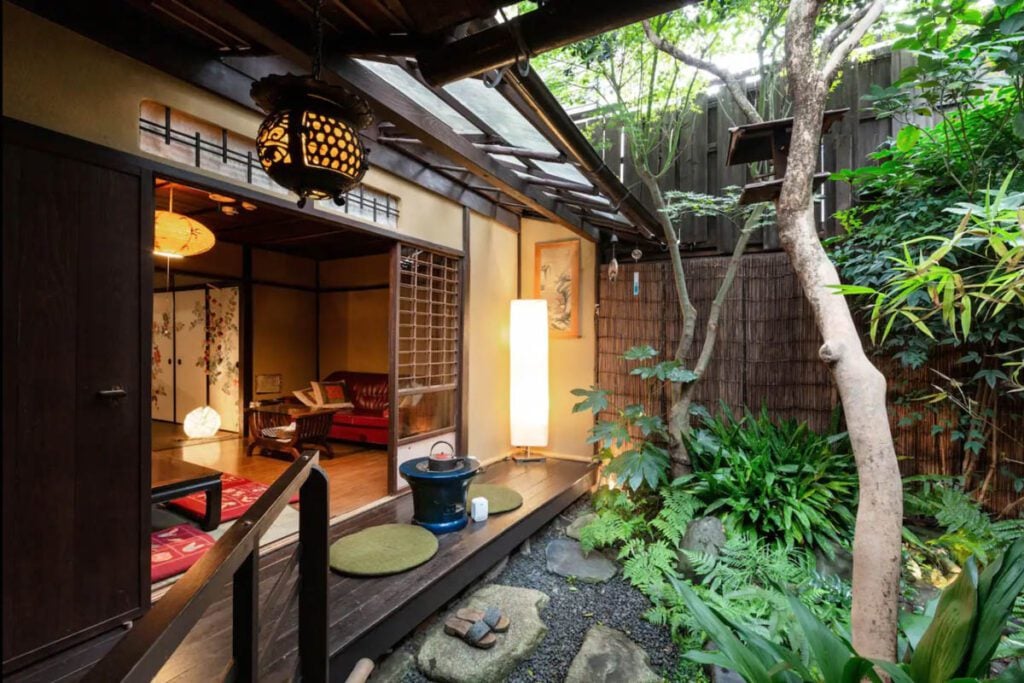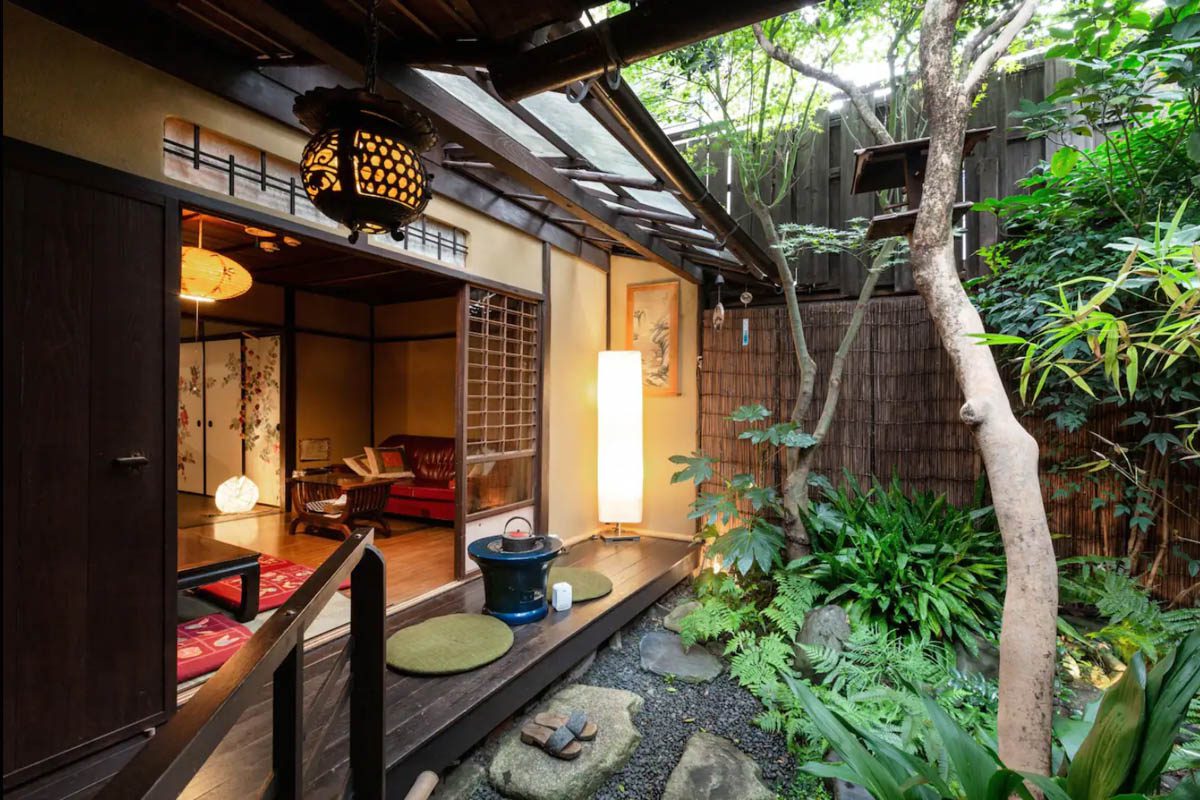 Budget Airbnb: 100 Year old Machiya Guest House
This charming guest house transports you back in time with its tatami interior and traditional Japanese garden onsite. Enjoy peace and stillness while still being close to many shops, stalls, and sites in Kyoto.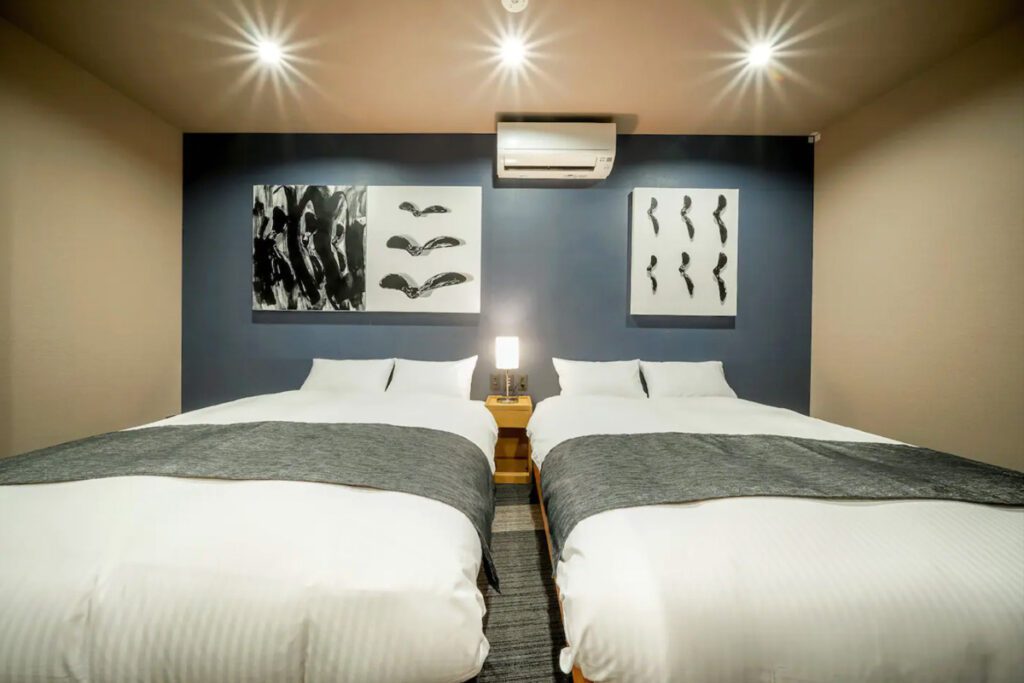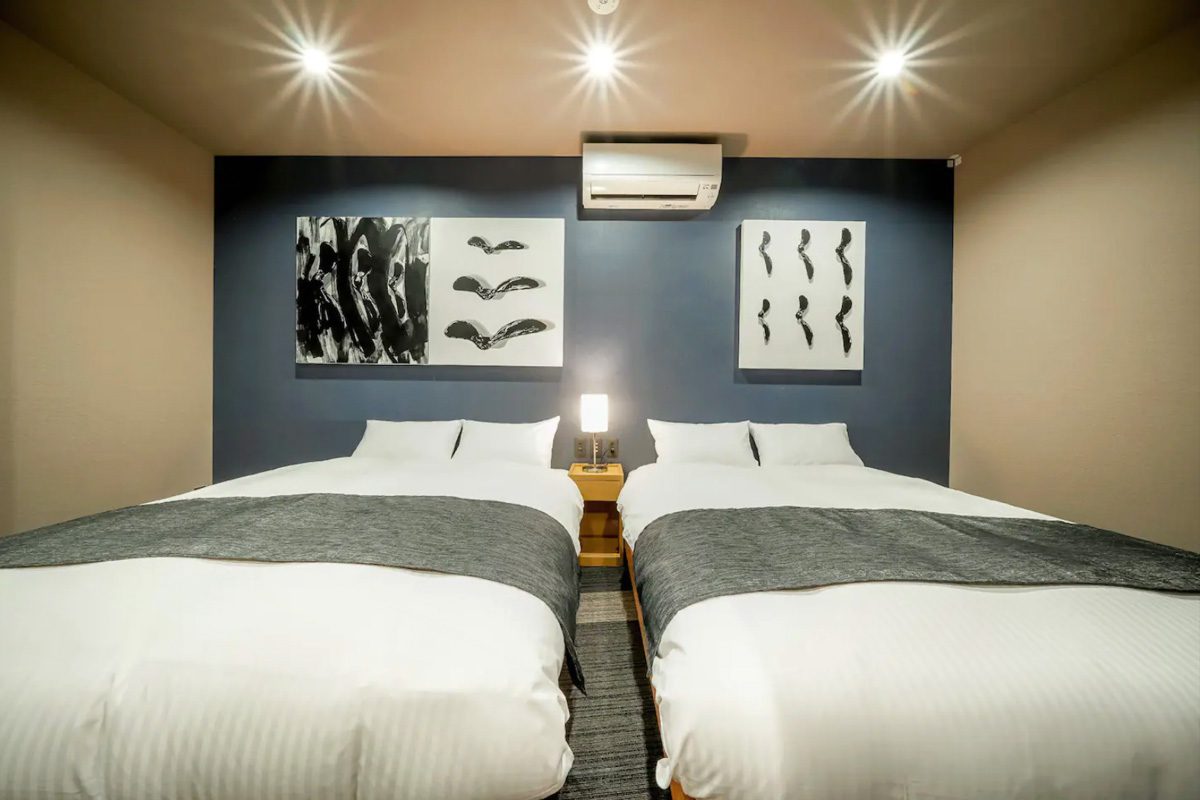 Luxury Airbnb: MaikoTown
Tradition meets modernity at this stay in the heart of the city. You can uncover many parts of the city others miss as it's located down a quiet street lined with teahouses, but still close to many shops and restaurants.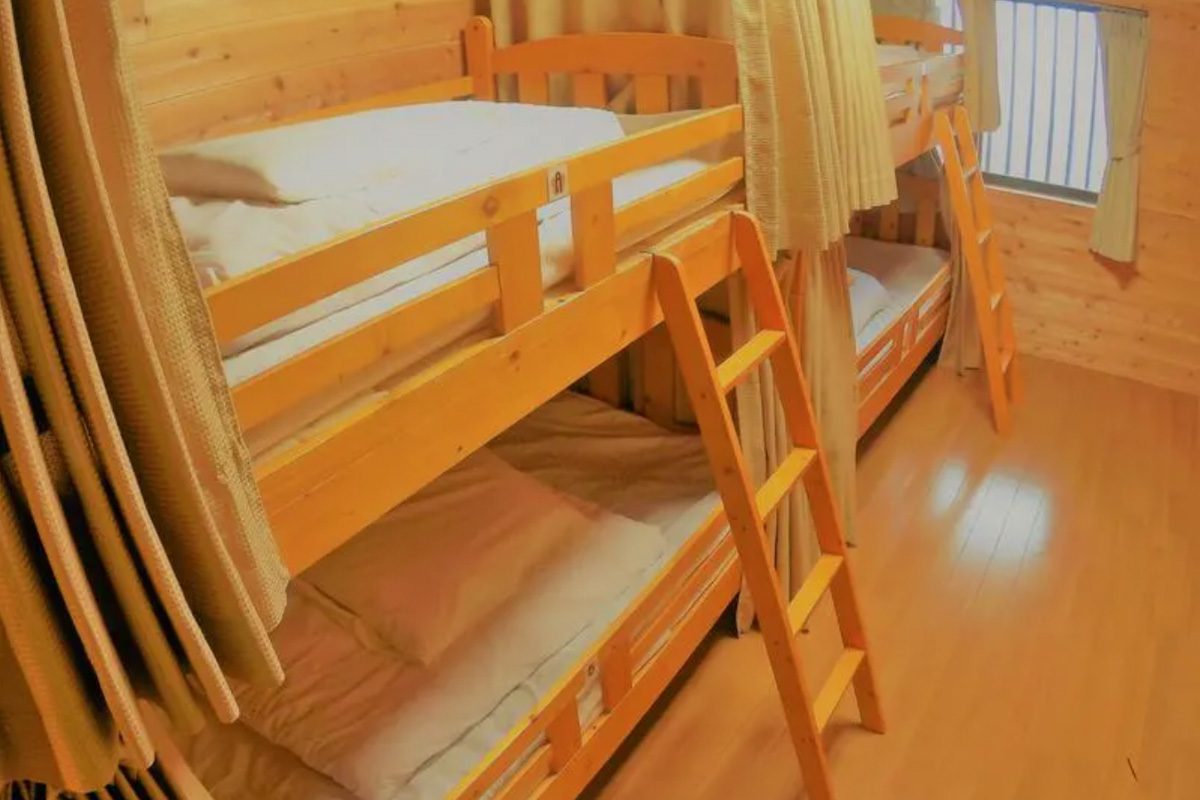 Best Hostel: Guest House Ga-Jyun
Stay in one of the most famous areas of Kyoto that's close to temples, shrines, and the subway station. The ancient traditional Japanese house is cozy, convenient, and the ideal budget stay while in the imperial city.
---
Are you planning a trip to Japan?
We have TONS of resources on travel in Japan and destinations throughout the country. Check out our Ultimate Japan Travel Guide for all the answers to your most burning questions, or read some of our favorite articles below.
Save this article on Pinterest for later!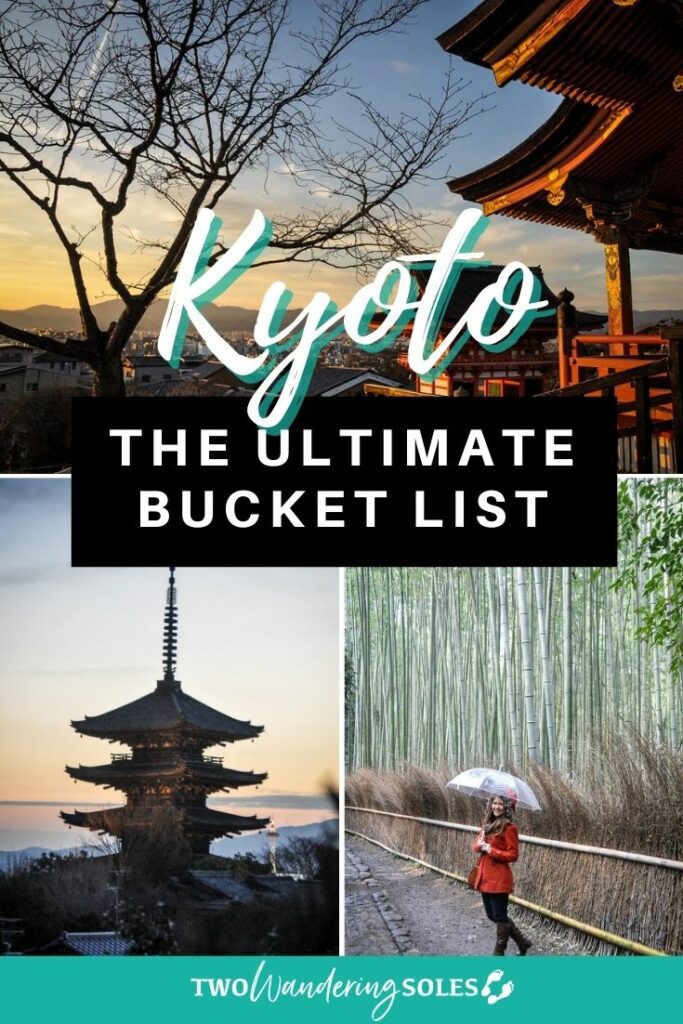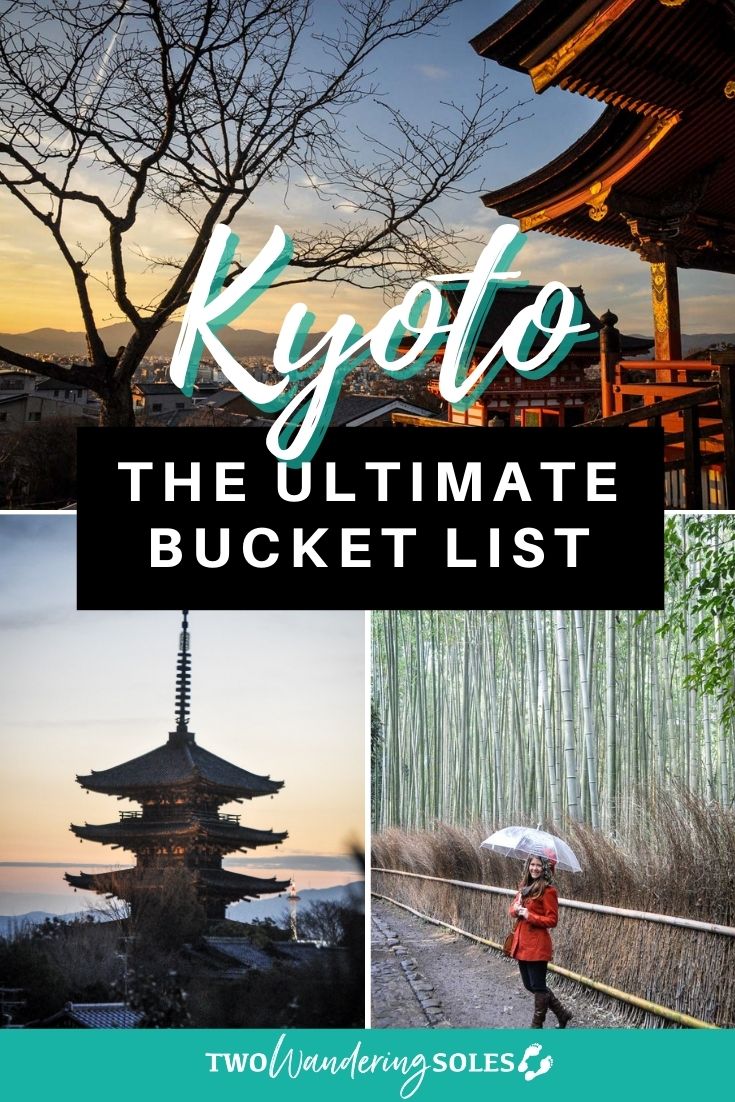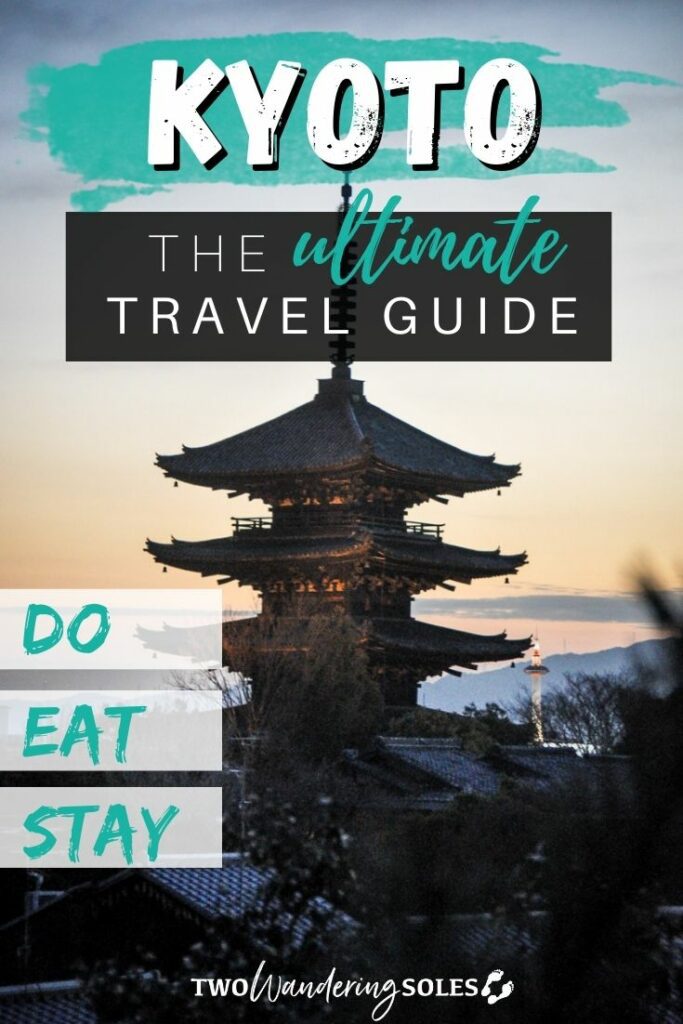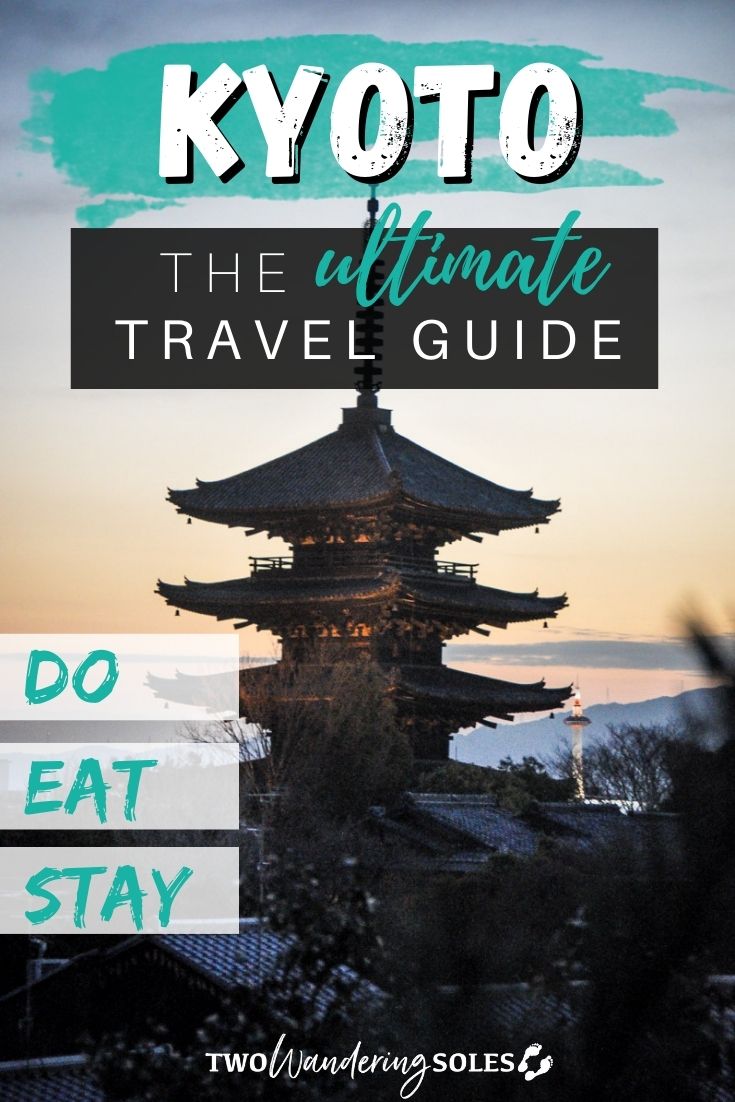 We want to hear from you!
What do you think about this list of things to do in Kyoto, Japan? What would you add to the list? Do you know of any other hidden gems? Do you have any questions about traveling in Kyoto? Let us know in the comments below!