In this article we're giving you the details for all the best cenotes in Mexico, organized by area so you can decide which ones to visit and what to expect. Because this natural phenomenon is so common here, you won't want to miss the chance to explore one (or more!) of these popular swimming holes.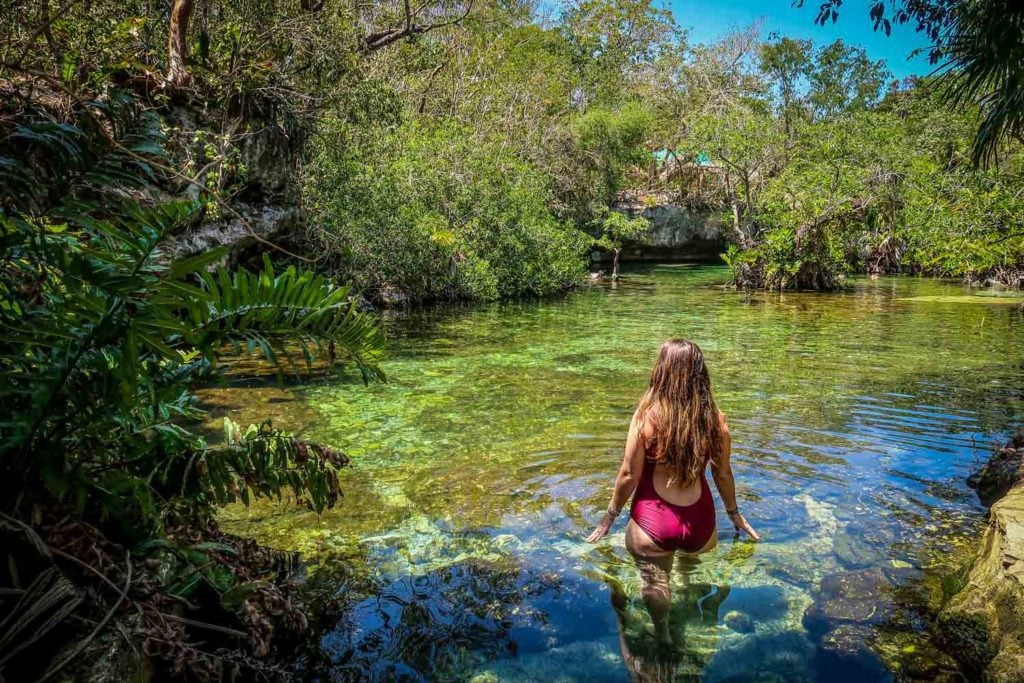 While planning our 3-month stay in the Yucatán, the one thing I knew I wanted to do was to visit as many cenotes as possible. But as soon as I typed "cenotes in Mexico" into Google, I became overwhelmed.
There are a lot of cenotes in Mexico. Like, A LOT, a lot.
How many, you ask? Well, there aren't exact numbers because they are so numerous, but some estimates claim that there are upwards of 6,000 cenotes in Mexico, most of which are located in the Yucatán Peninsula.
So which cenotes are worth visiting?
Well, the answer to that depends on where in Mexico you're traveling as well as what type of experience you're looking for:
Are you looking for the perfect Instagram shot?
Do you mind a little extra effort to get off the beaten path?
Is it your goal to go scuba diving in a cenote?
Is a steep entrance fee going to be a deal-breaker?
Looking for a cenote that is family-friendly?
We are sharing our top recommendation for cenotes in Mexico as well as what to expect at each of them (aka how much they cost, what types of facilities they have, and what they're known for).
Even though we were in the Yucatán for a full 3 months and we were able to visit a good handful of cenotes, there are still so many on our bucket list. So we called upon some other travel bloggers to give their suggestions as well!
Article contents
---
---
What are cenotes?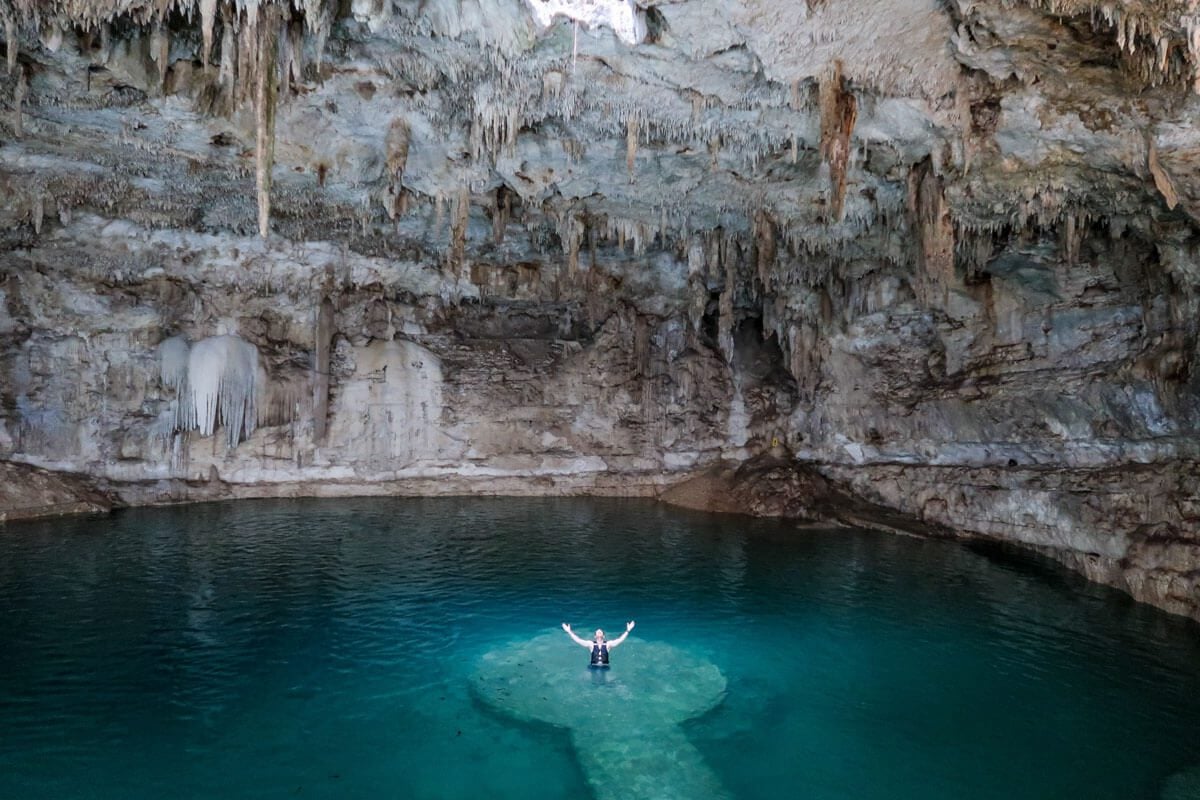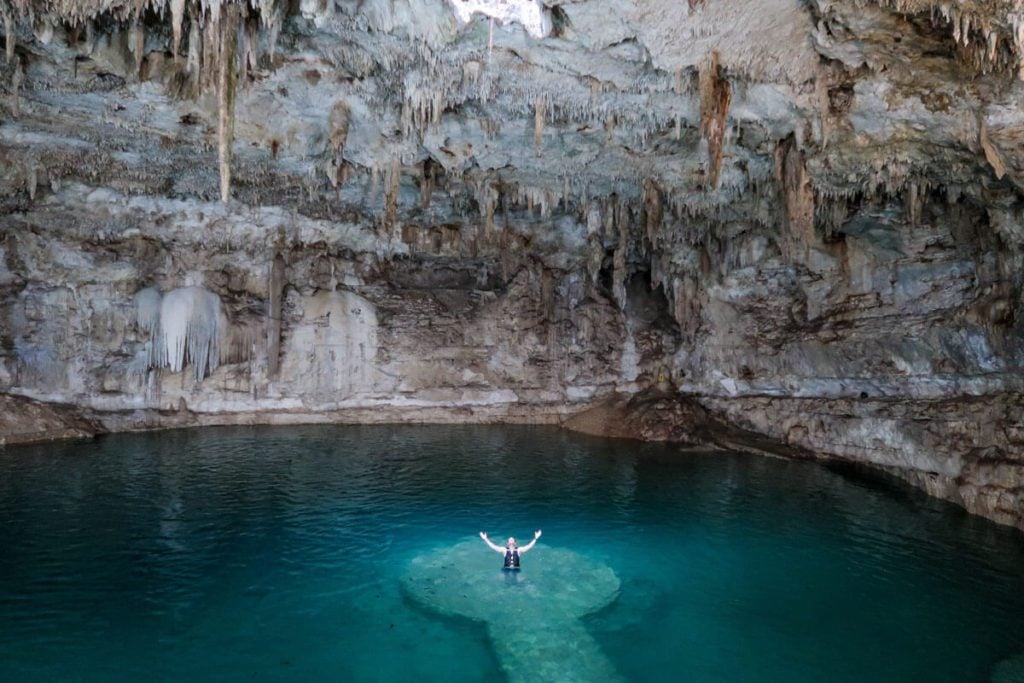 Cenote is a regional term specific to the Yucatán Peninsula of Mexico to describe natural sinkholes in the limestone bedrock layer of the earth's surface exposing the groundwater. These freshwater swimming holes can be found all over the region due to the unique geological characteristics of the peninsula and an underground labyrinth that connects the region aquatically.
Pronounced 'say-noh-tay,' the word derives from the Maya word ts'onot which referred to any location with accessible groundwater. The Maya considered cenotes to be sacred places protected by the Mayan spirits known as Alux and were sometimes used for sacrificial offerings.
With crystal clear water, often taking on deep blue or turquoise hues, and sometimes cave-like features including stalactites and stalagmites or long hanging vines draped over the edges, it is easy to understand why the Maya people believed cenotes to be sacred.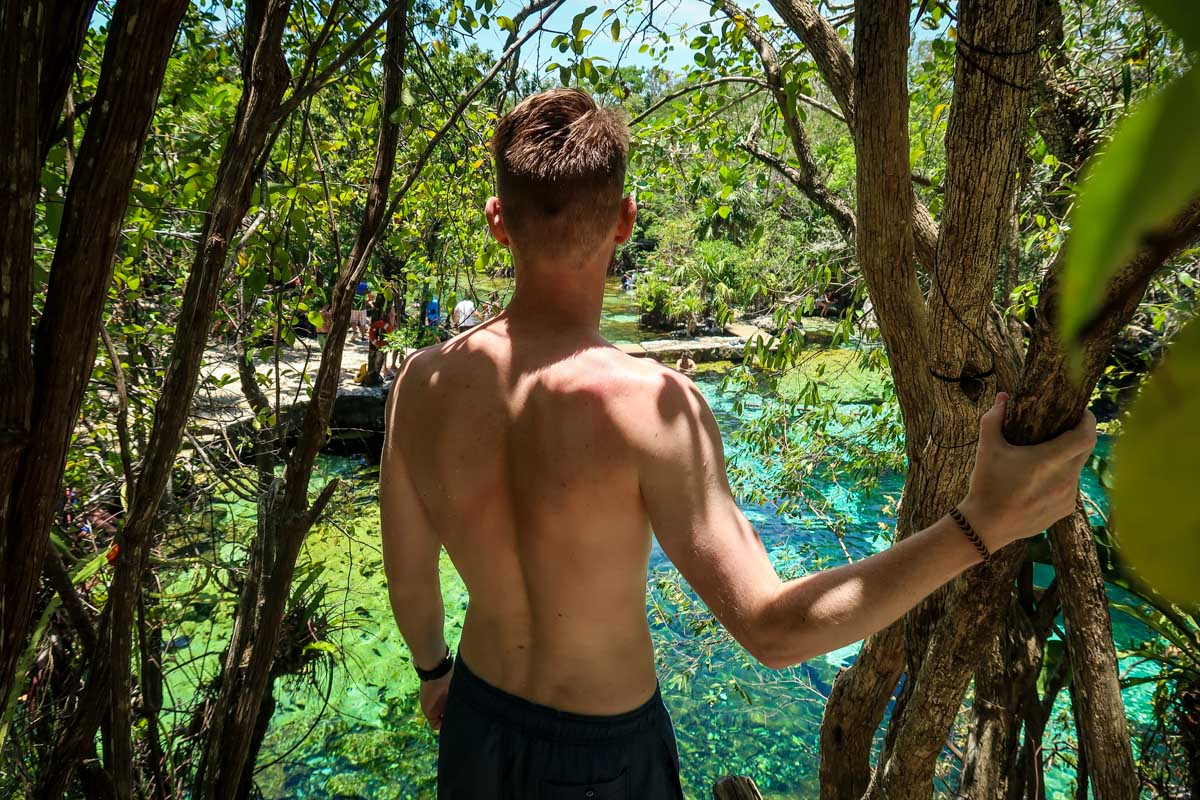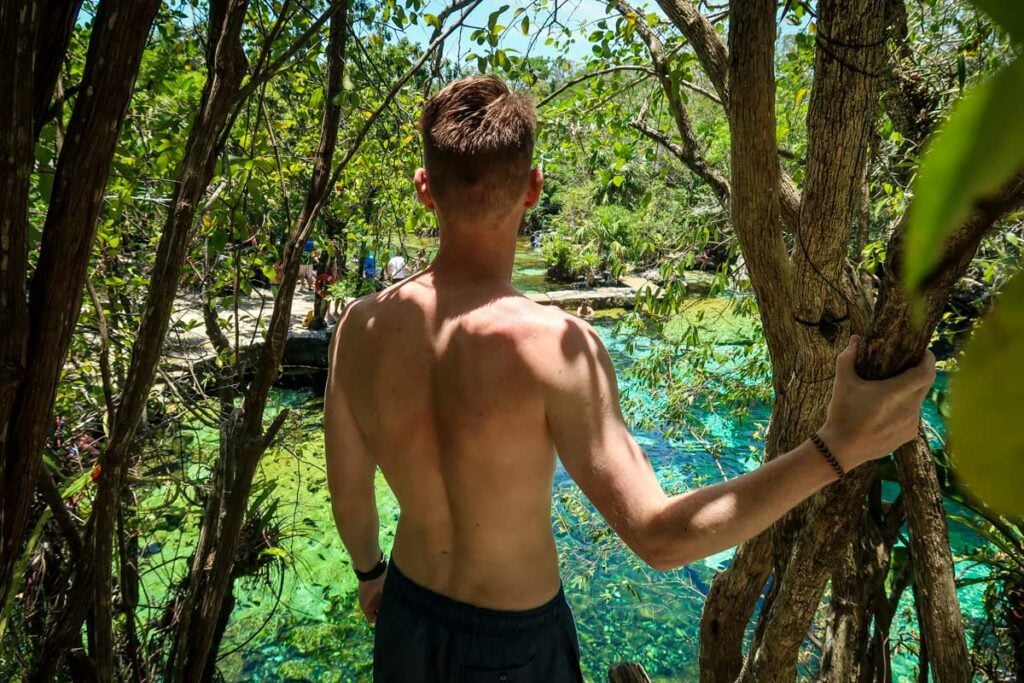 Nowadays these magical places are often built up as tourist attractions. Some cenotes will come with a large crowd, hefty entrance fee and mandatory life-jacket policy, while others remain seemingly untouched by humanity.
SUPER IMPORTANT NOTE: Cenotes are delicate ecosystems and still an important source of freshwater for the region. It is important we do our part to protect them and respect the basic rules posted at the entrance to most cenotes.
While the rules may vary slightly from place to place, some rules apply to all cenotes in Mexico:
In order to avoid water contamination, you are NOT allowed to wear any sunscreen (sorry folks – not even the biodegradable stuff) while swimming in cenotes. It's best to avoid wearing makeup, bug repellant or lotions of any kind.
It is also best practice to rinse off in the shower (if they are provided) before entering the cenotes.
NEVER touch the stalactites or stalagmites in the caves, and pay attention to your limbs/fins/tank if you are scuba diving so as not to accidentally bump into any.
Types of cenotes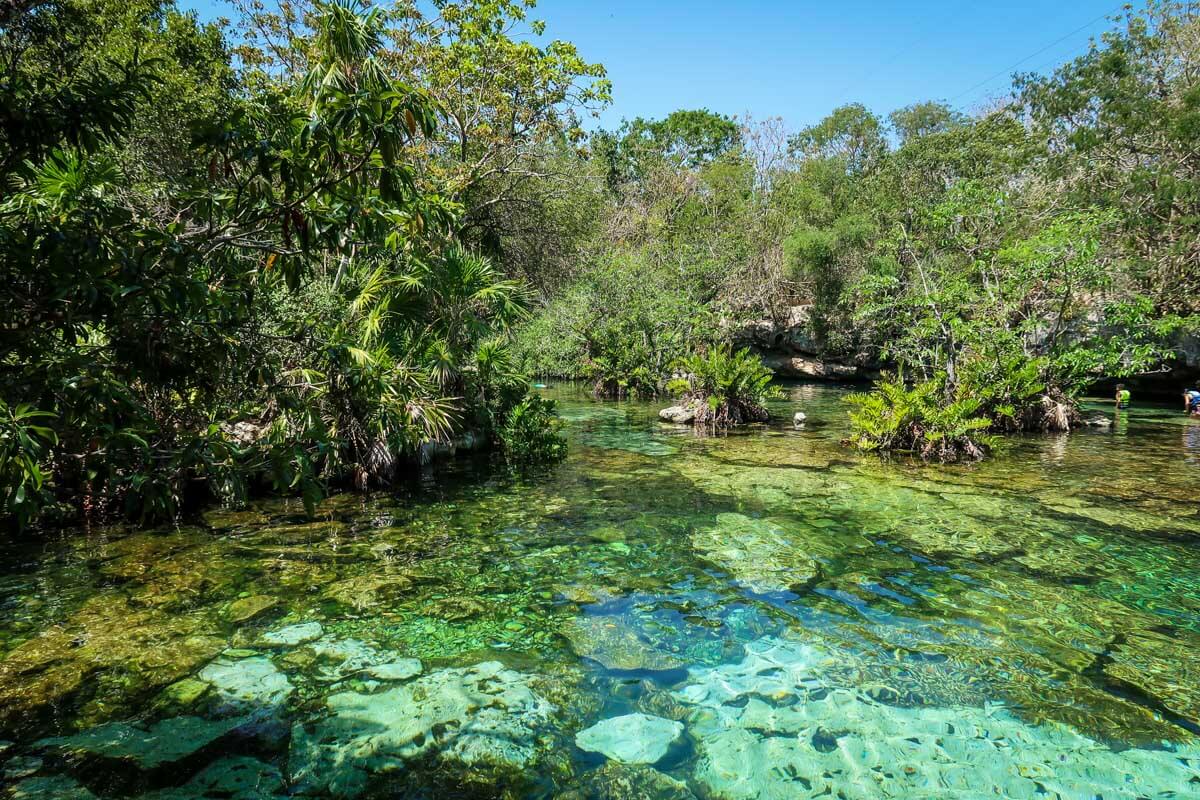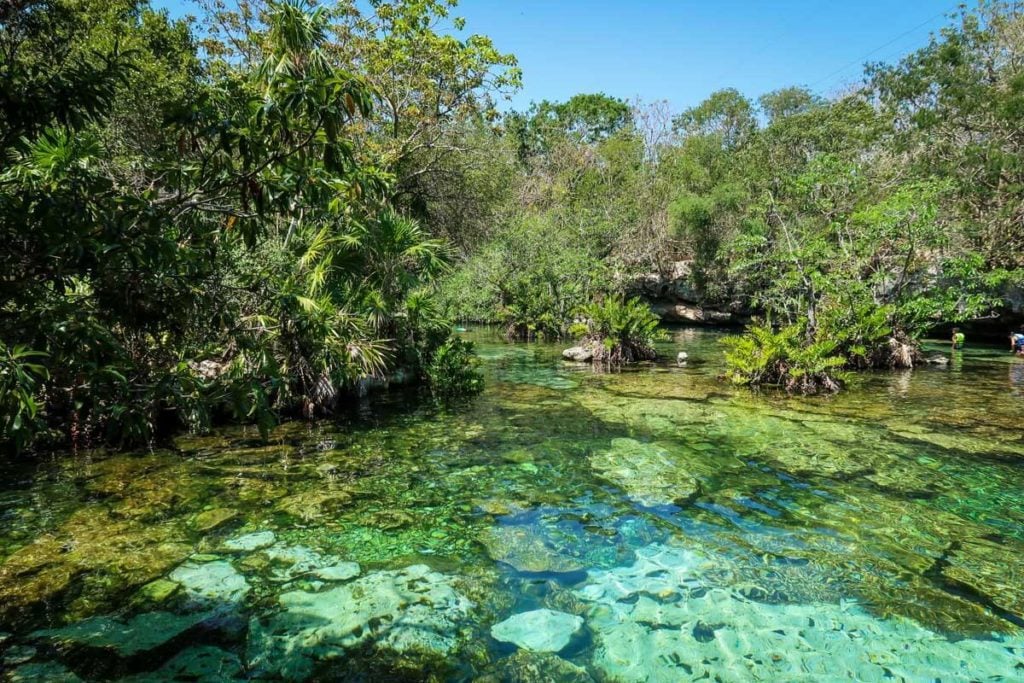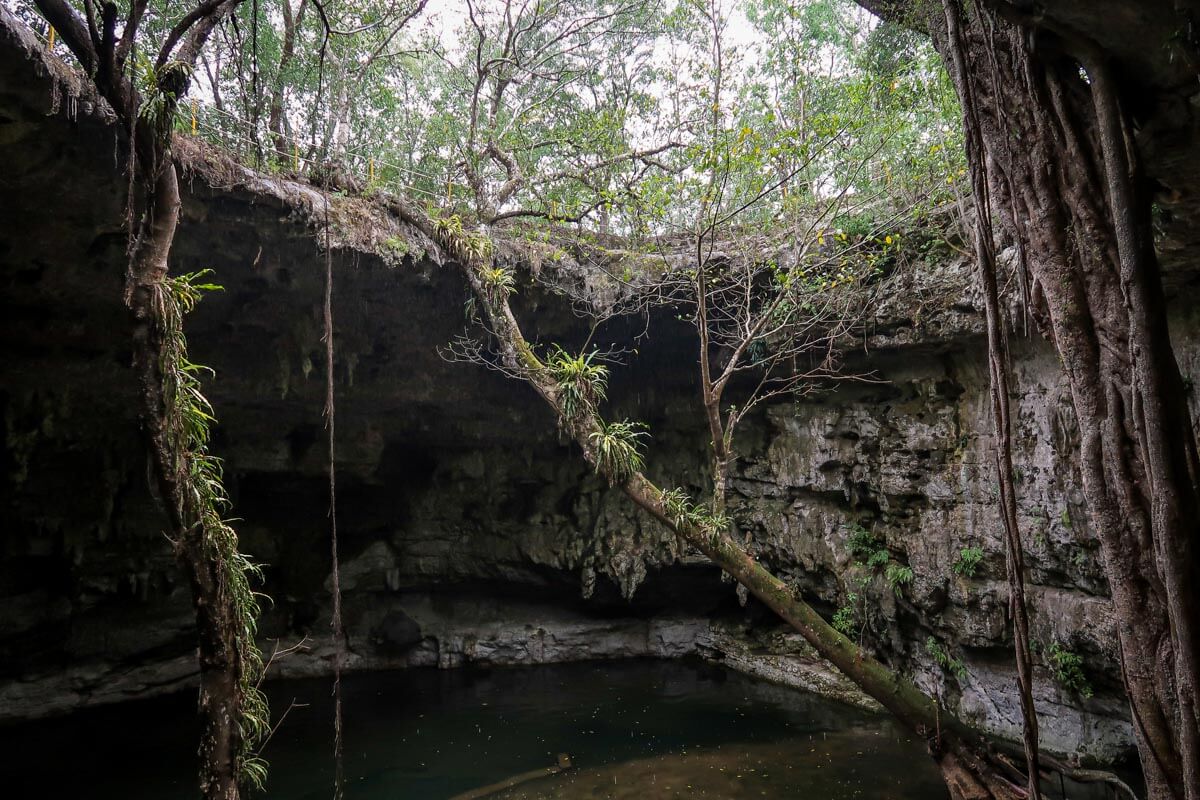 Open Cenotes: On the surface these cenotes may look like a pond or lake but oftentimes they are extremely deep. Over millions of years the roof that once covered these cenotes has collapsed and completely disappeared leaving them exposed to the elements. These are the oldest types of cenotes.
Semi-Open Cenotes: Although they are not yet old enough to be fully exposed, these 'middle-aged' cenotes are partially collapsed and exposed. Semi-open cenotes may be connected underground and underwater to other semi-open cenotes nearby.
Cave or Cavern Cenotes: With the roof largely intact creating a cave-like space, the youngest of the cenotes accessible to humans is also the most enigmatic. These cenotes are ideal for diving and provide some of the most unique underwater views.
Underground Cenotes: These cenotes may exist underneath parts of the Yucatán unbeknownst to the people or animals crossing overhead. They are essentially pockets in the limestone bedrock filled with groundwater that have not collapsed and are still completely enclosed.
Mexico Cenotes Map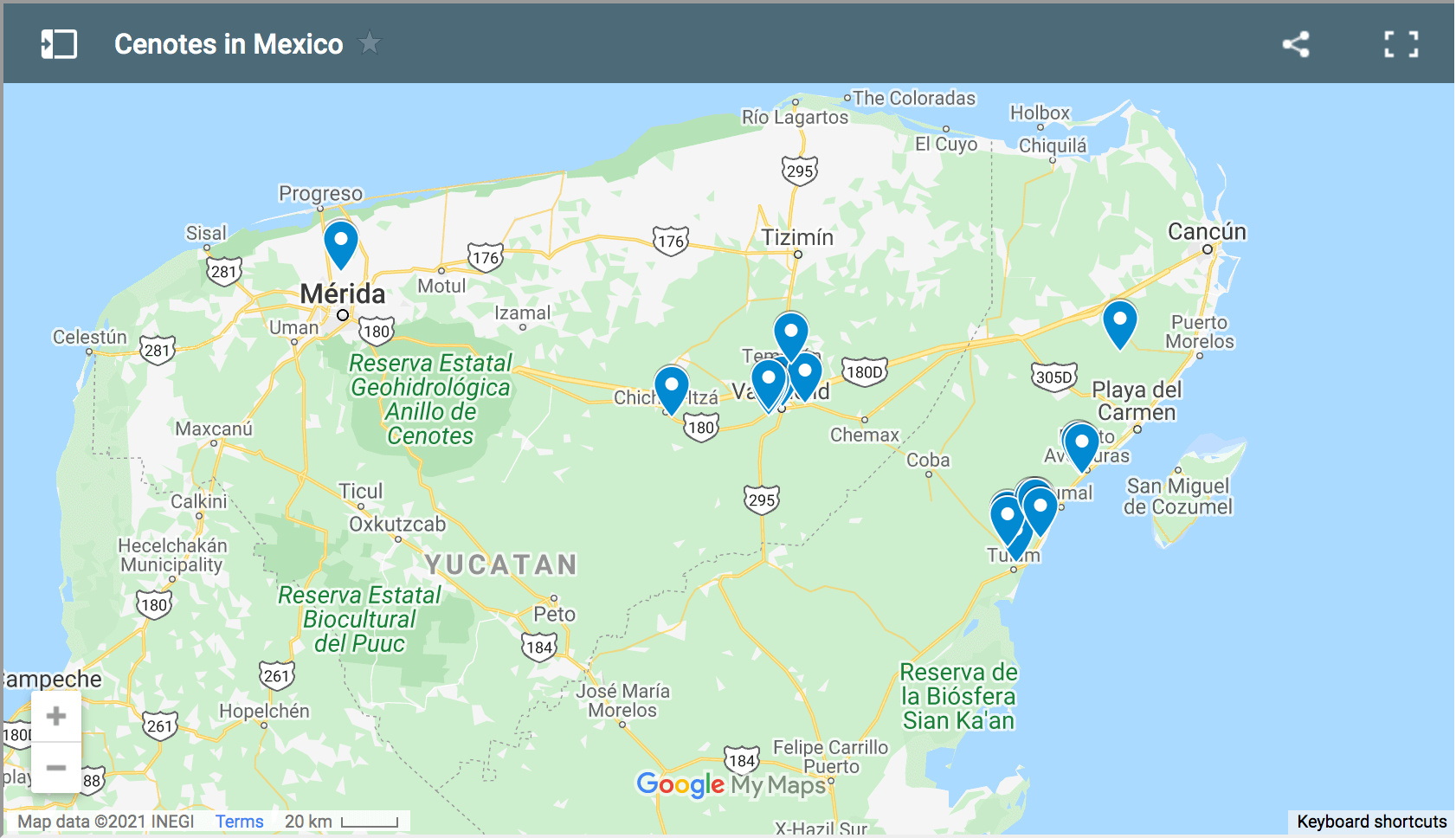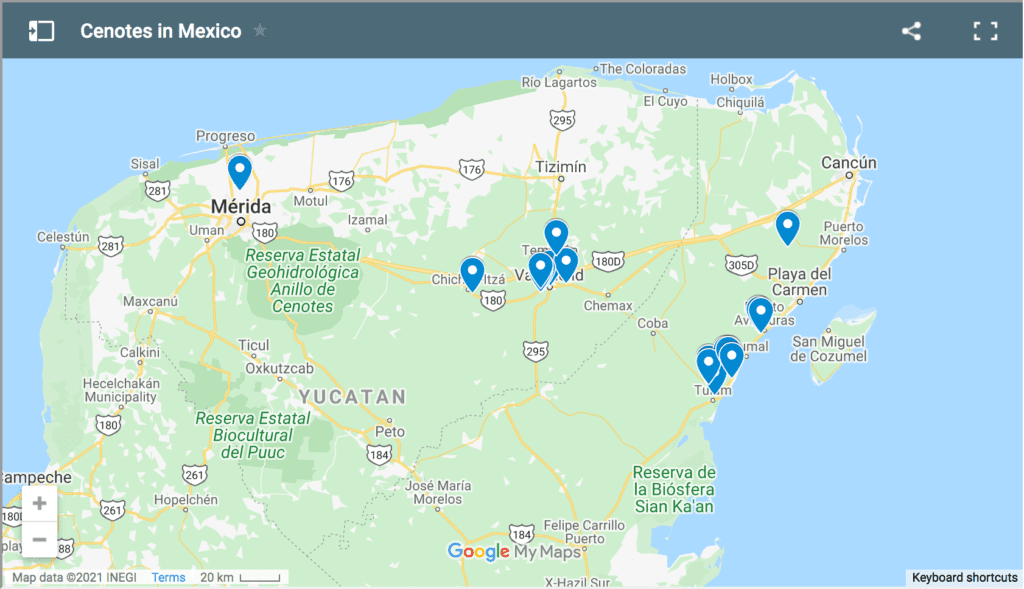 We curated the map above of the best cenotes in Mexico so you can start plotting out your itinerary.
How to get to the cenotes in Mexico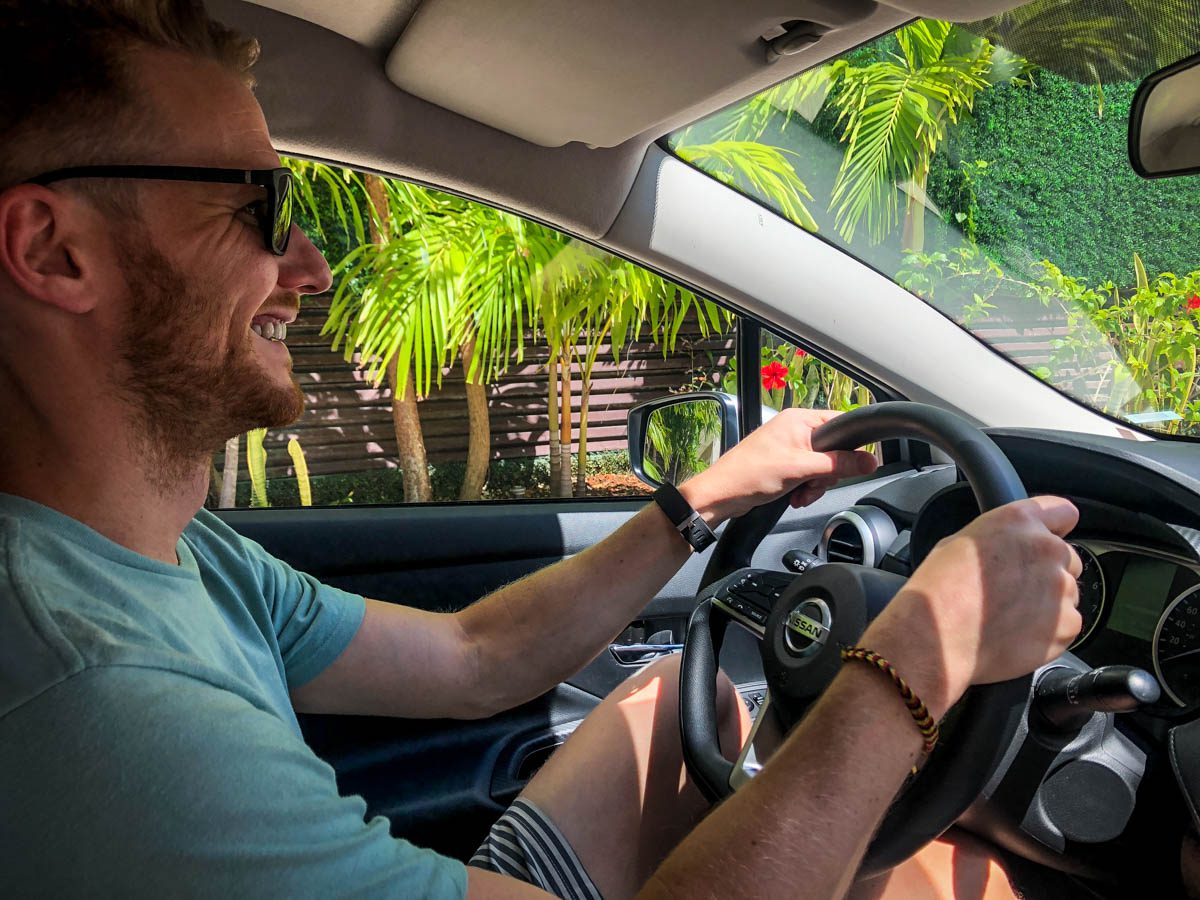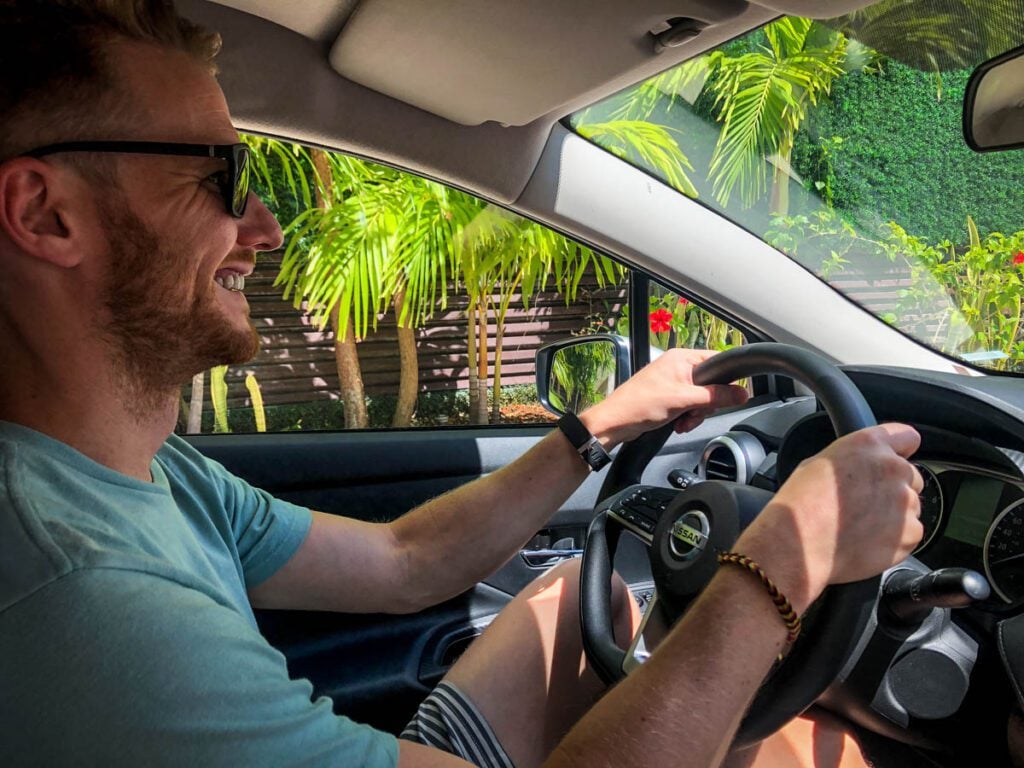 If you're staying somewhere in the Yucatán peninsula, you're likely closer to cenotes than you may realize. We've broken down this article by region to help you find the best cenotes nearest you, but you'll still need to figure out transportation. You have a few different options:
Rental Car: Renting a car in Mexico is pretty easy and fairly cheap (at least when compared to rental costs in the US). We like this option because it gives you the flexibility to explore on your own and make last minute changes to your travel schedule if you happen to fall in love with a place and decide to stay longer than expected.
Taxi: Taxis are readily available in all major destinations in the Yucatán and easy to hail from just about any trafficked area. However taxi prices can be steep, especially if you are a tourist and going somewhere outside of town (like all the cenotes). Be sure to negotiate your price before getting in — most taxis don't use a meter. And remember you'll need to find a return ride. Luckily most of the more popular and touristy cenotes (like many on this list) will have taxi drivers waiting in the parking lot to take you home. Uber is unfortunately not available in this area.
Collectivo: Mexico's version of a shared taxi bus. These run all over the place and are by far the most affordable method of transportation. If you are going a short distance, like from Playa del Carmen to Cenote Azul for example, a colectivo is a great way to get there for a much more reasonable price than a taxi cab. You may have to make a few stops along the way though.
Tour: Another option for seeing the cenotes is to go with a tour group. Oftentimes these tours will include multiple stops at other notable attractions such as Mayan ruins in the area. Just be sure to choose a reputable company with good reviews and responsible tourism practices.
Psst! We have an entire guide to getting a rental car in Mexico including where to find the best deals and tips for driving and safety.
Top 5 must-visit cenotes in Mexico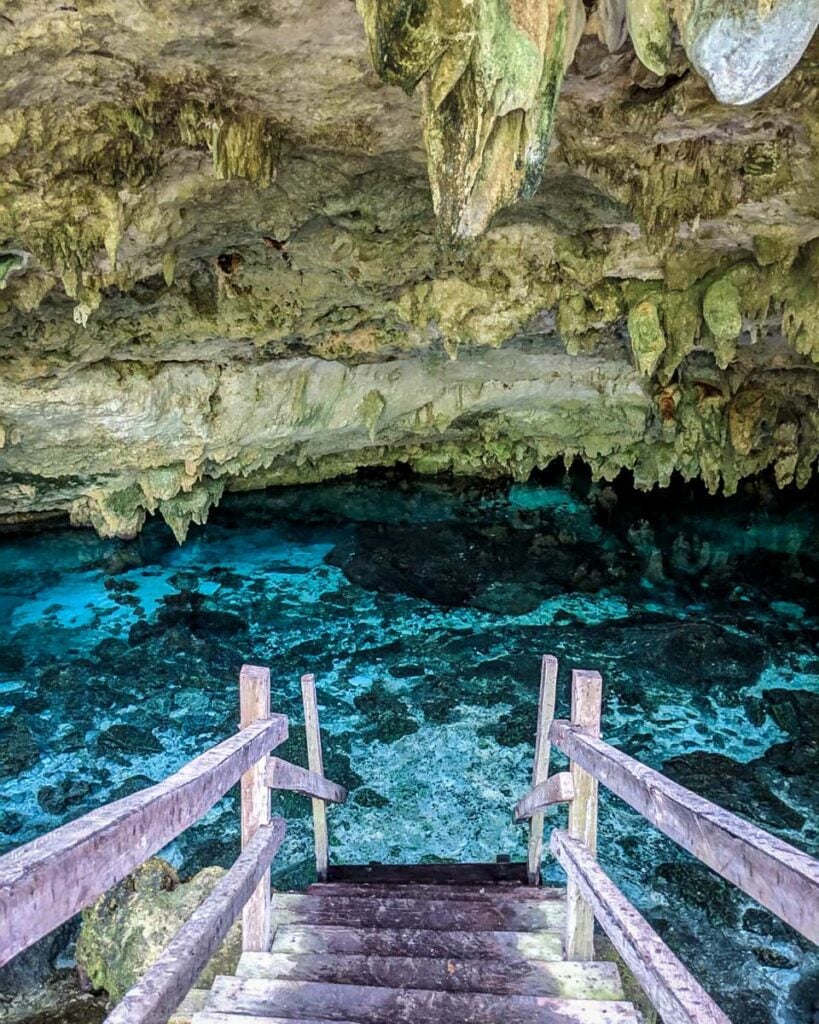 Insider Tip: If you plan to visit more than a couple cenotes in Mexico, it may be a good idea to pack your own snorkeling gear (or at least a mask). You can pick up pretty cheap ones for less than $15, so bringing your own can save you money on rental fees. However, if you love snorkeling or diving, we can't recommend getting a quality mask highly enough. We waited far too long to make this purchase and had to deal with lots of leaky masks over the years.
---
Tulum Cenotes
These cenotes are all located near the popular beach destination of Tulum and easily visited on a day trip from anywhere in the Riviera Maya.
Canamayte Eco Park
Cenote Dos Ojos
El Pit
Gran Cenote
Cenote Calavera
Cenote Car Wash
Cenote Taak Bi Ha
Canamayte Eco Park
At a glance: Off the beaten path cenote near Tulum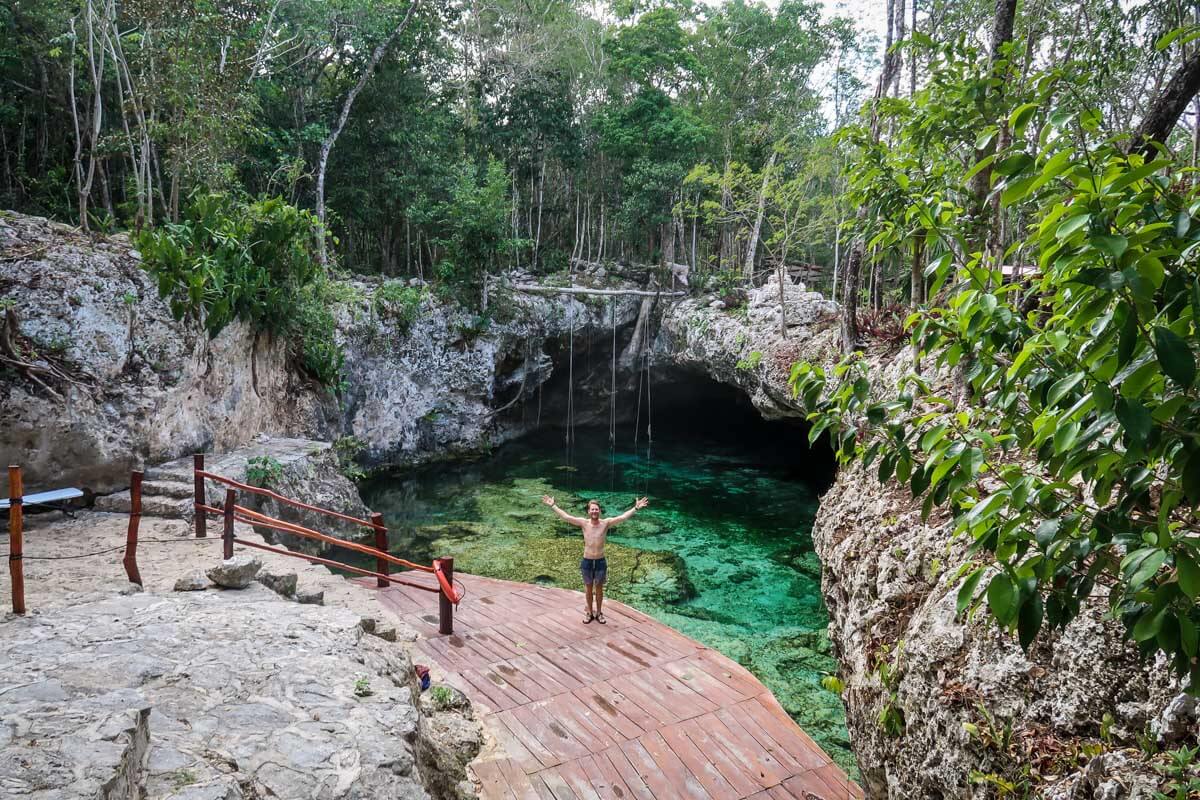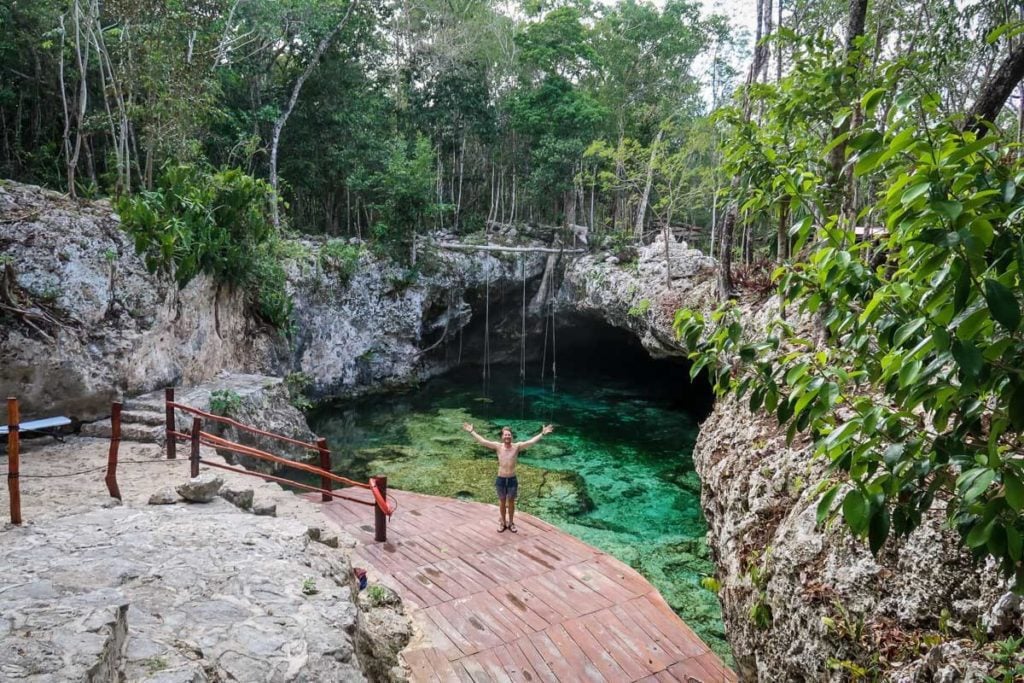 Location: Google map location
Hours: Open daily from 9 a.m. to 5 p.m.
Facilities: Toilets, changing rooms, small onsite garden, restaurant
Entrance Free: 250 MXN per person (~$12 USD)
Rental Equipment Available: You get something similar to a life jacket included in your entrance fee
The cenotes around Tulum are known for being very crowded, but not this one! While it requires a bit of effort to get to – you'll need a rental car and the confidence to drive on some dirt roads – it is well worth the journey to get here.
This eco park has two cenotes: a semi-open pool called Mariposa ("butterfly"), and a small but pretty cool cave cenote.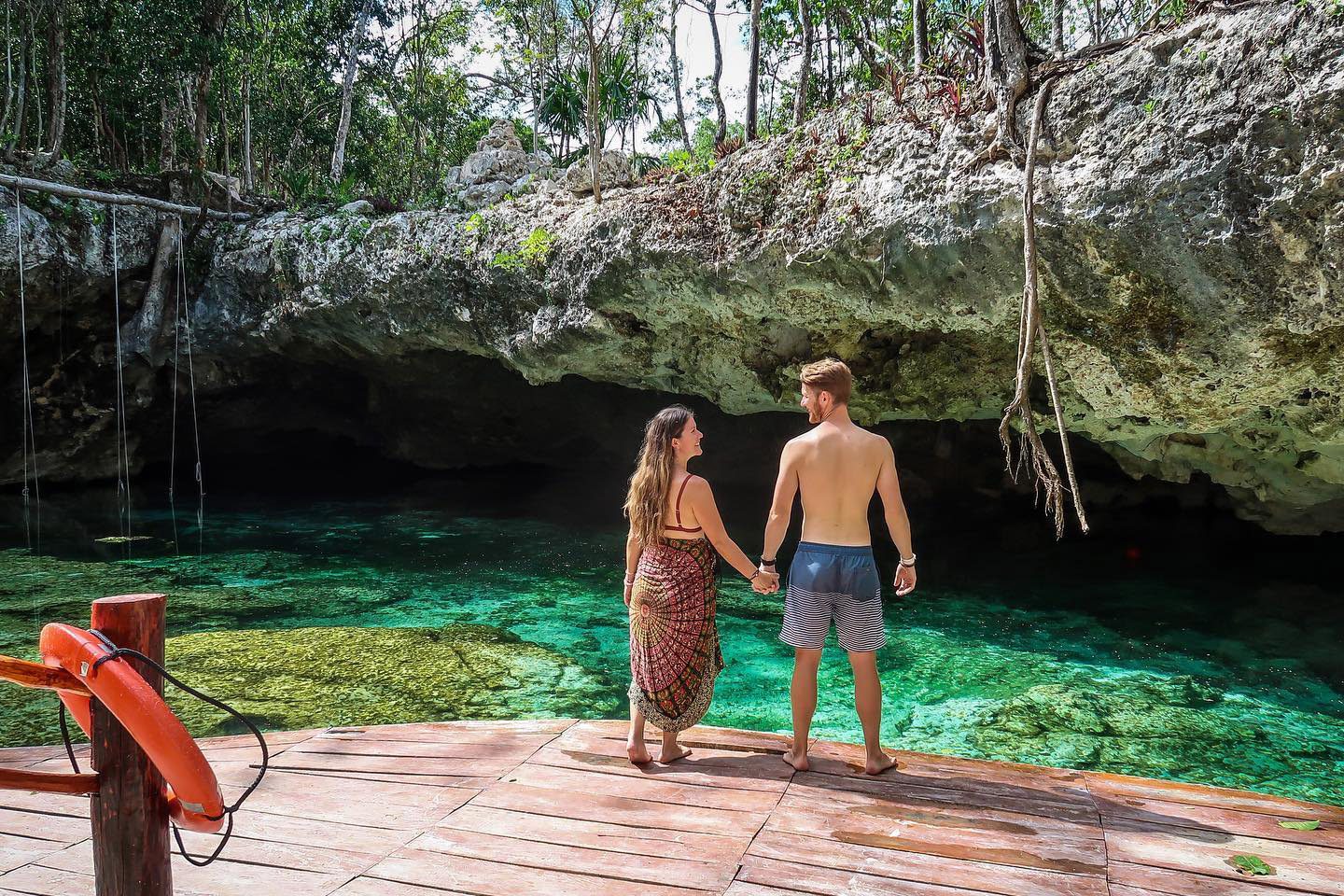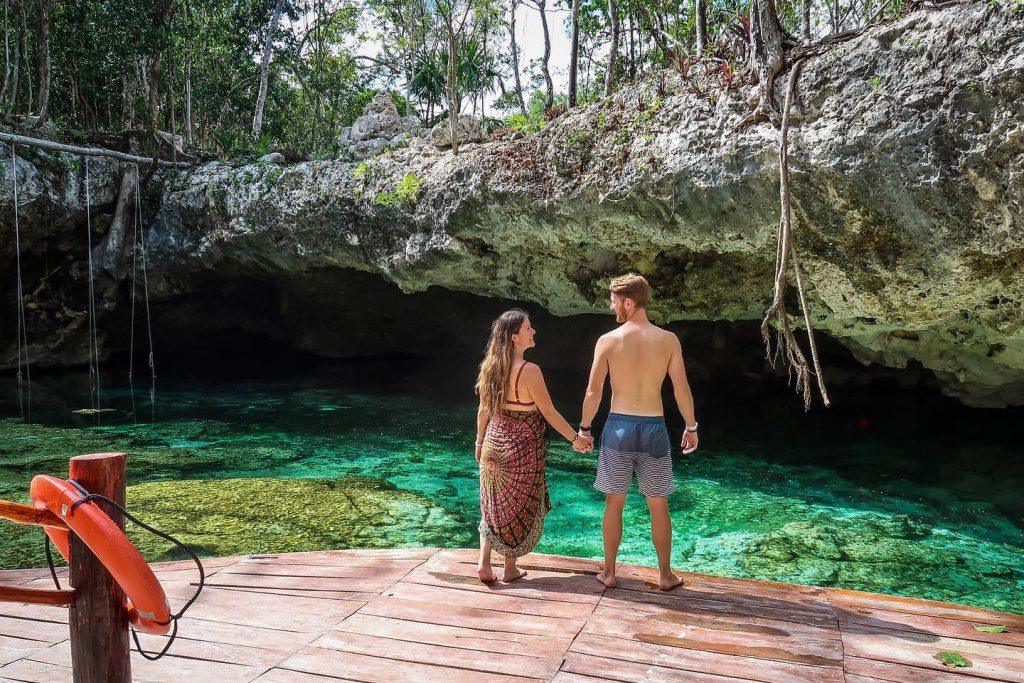 While neither cenotes are very big, it's likely that you won't be competing with crowds for space here, as it is a bit off the beaten path. We have heard that a tour bus arrives midday, so we'd suggest timing your visit in the morning or late afternoon. We had the place entirely to ourselves!
The staff here are particularly friendly, and while we didn't eat here, we have heard the food is pretty good at the onsite restaurant. There is also a large area with hammocks for relaxing and a small trail through the jungle with signs that mark native plants and flowers.
Insider Tip: We stayed at a Geodome Airbnb in the jungle, just a 3-minute walk from this cenote, which was amazing. Not only did we get a discount on our entrance fee, but we were able to visit just before closing (and also again in the morning) so we literally had the entire place to ourselves. Also, it's one of the best places we've stayed at in Mexico. Do yourself a favor and book 2 nights at the jungle geodome during your trip. (Find the details and booking link in our guide to the best Airbnbs in Mexico.)
Cenote Dos Ojos
At a glance: Popular cave cenote with stunning stalactites and stalagmites that is excellent for snorkeling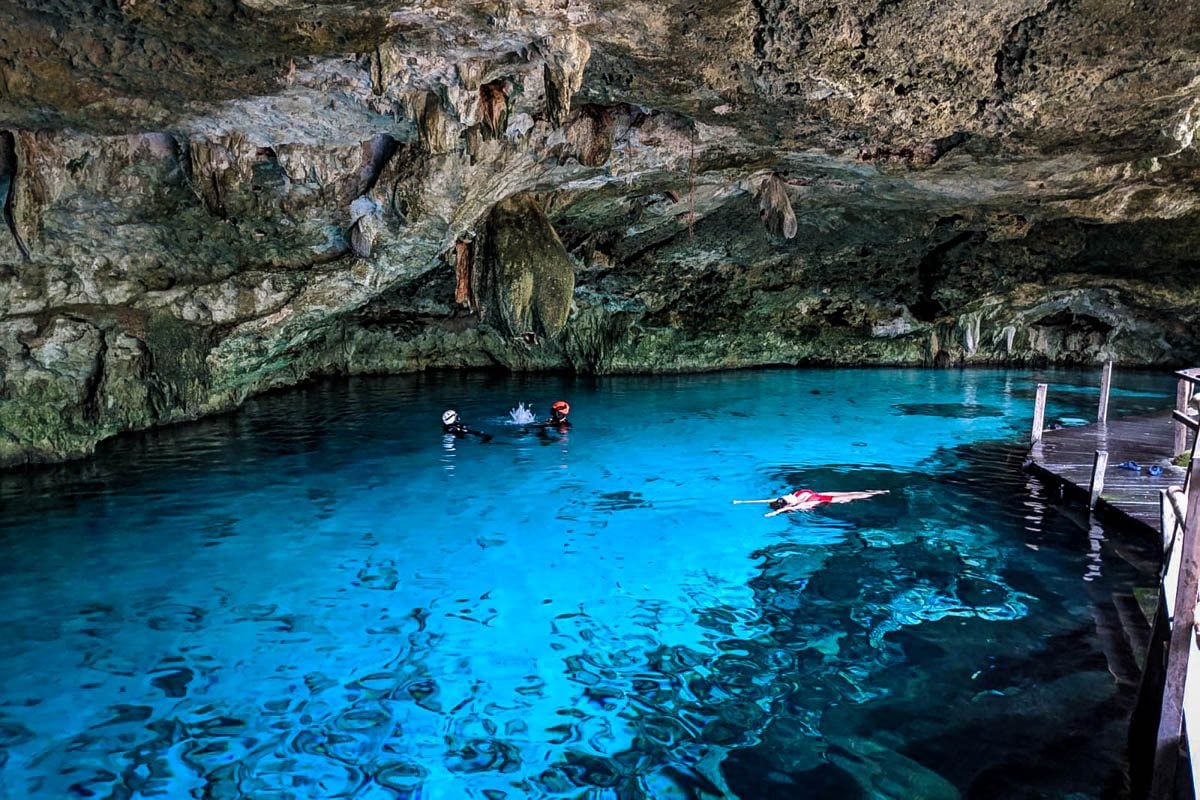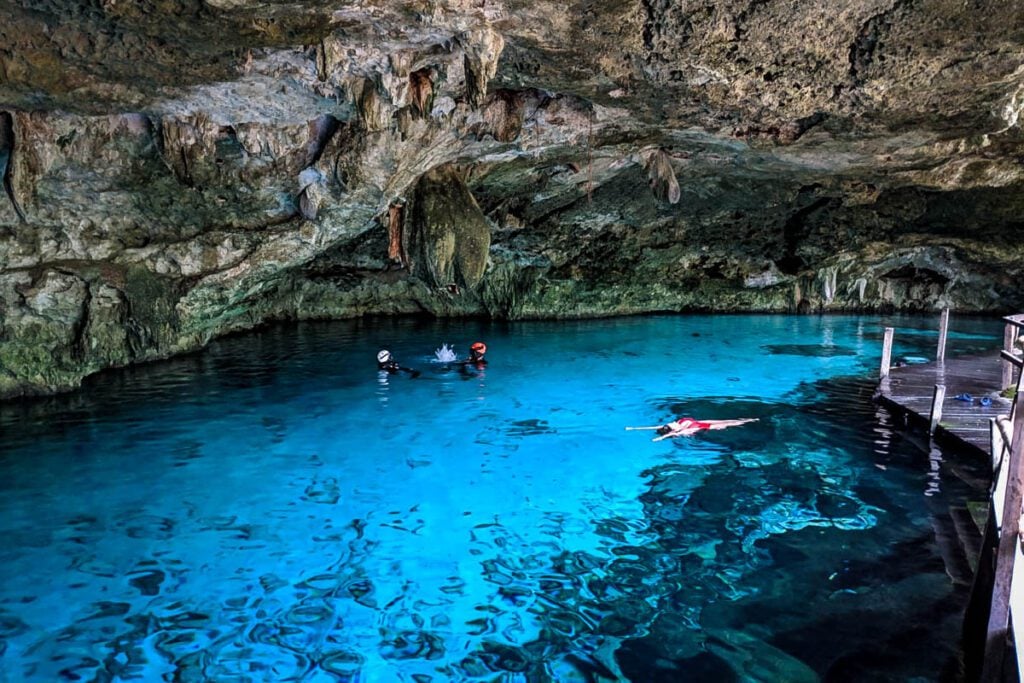 Location: Google map location
Hours: Open daily, 9 a.m. to 5 p.m.
Facilities: Restrooms, a snack bar, picnic area, locker rentals and a changing area
Entrance Free: 350 MXN per person (~$17 USD)
Rental Equipment Available: Snorkeling gear is available for around 100 pesos, and life jackets are included in the entrance fee
Located between Playa del Carmen and Tulum, this is a popular cenote for both scuba divers as well as snorkelers. In Spanish, Dos Ojos means "two eyes" and gets its name because it is actually two cenotes that are connected by an underground cave system. Cool huh?!
Dos Ojos is special because it truly feels like you are swimming inside a cave. There are stalactites and stalagmites all around, and seeing them from underwater as small fish swim by is a pretty unique experience.
Good to know: Because of its fragile nature, it's very important that you never touch anything inside these caves. The stalactites and stalagmites take thousands of years to form, so be very careful as you swim past them.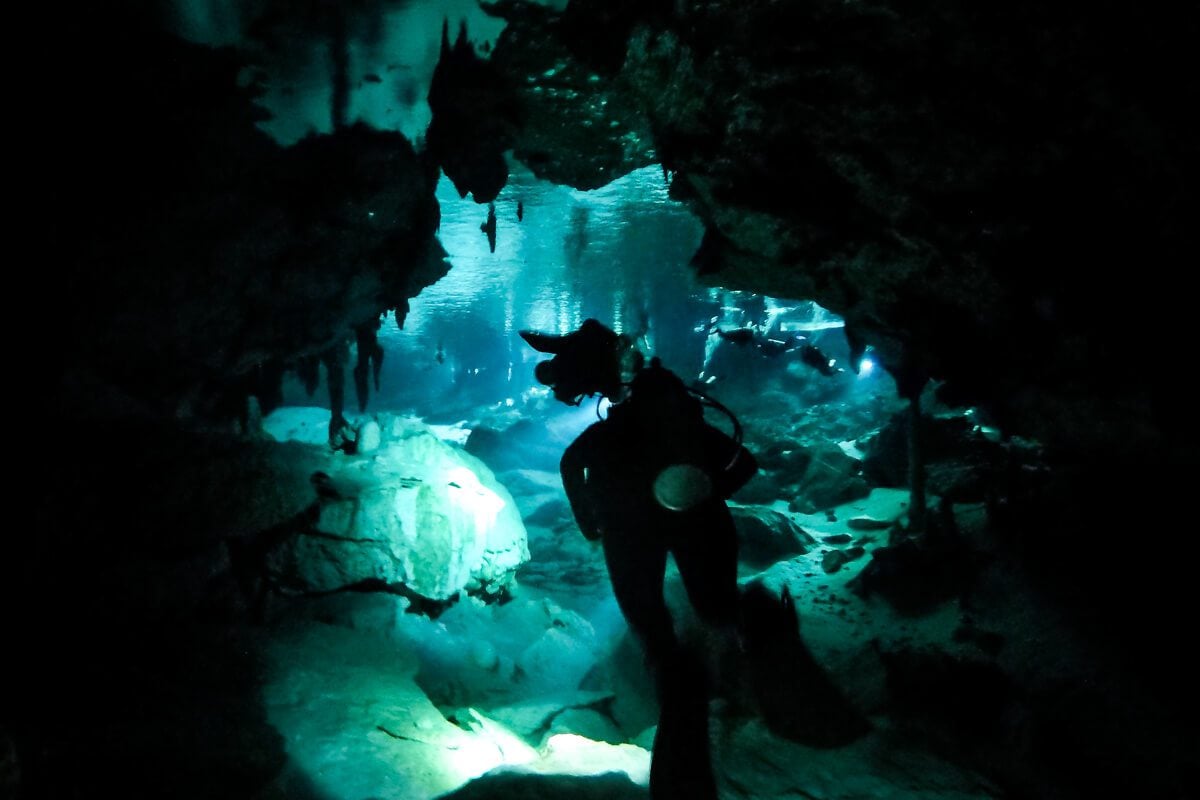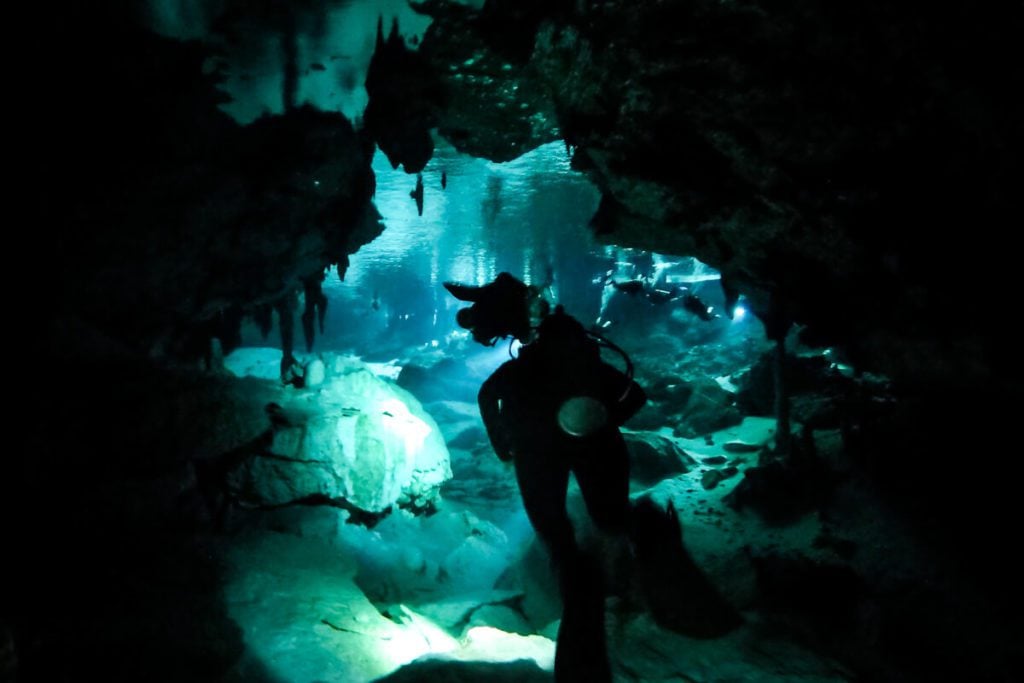 In this cenote system there is even a bat cave, where you can surface if you're scuba diving and experience being in the water while bats swoop overhead.
While some cenotes aren't all that interesting beneath the surface, this is definitely one that we'd recommend wearing a mask (or better yet, scuba diving!) so you can get a full scope of its beauty. You can rent snorkeling equipment for around 100 pesos at this cenote if you don't have your own.
Recommended by: Katie & Ben from Two Wandering Soles
El Pit
At a glance: With some unique features, this is one of the best cenotes in Mexico for scuba diving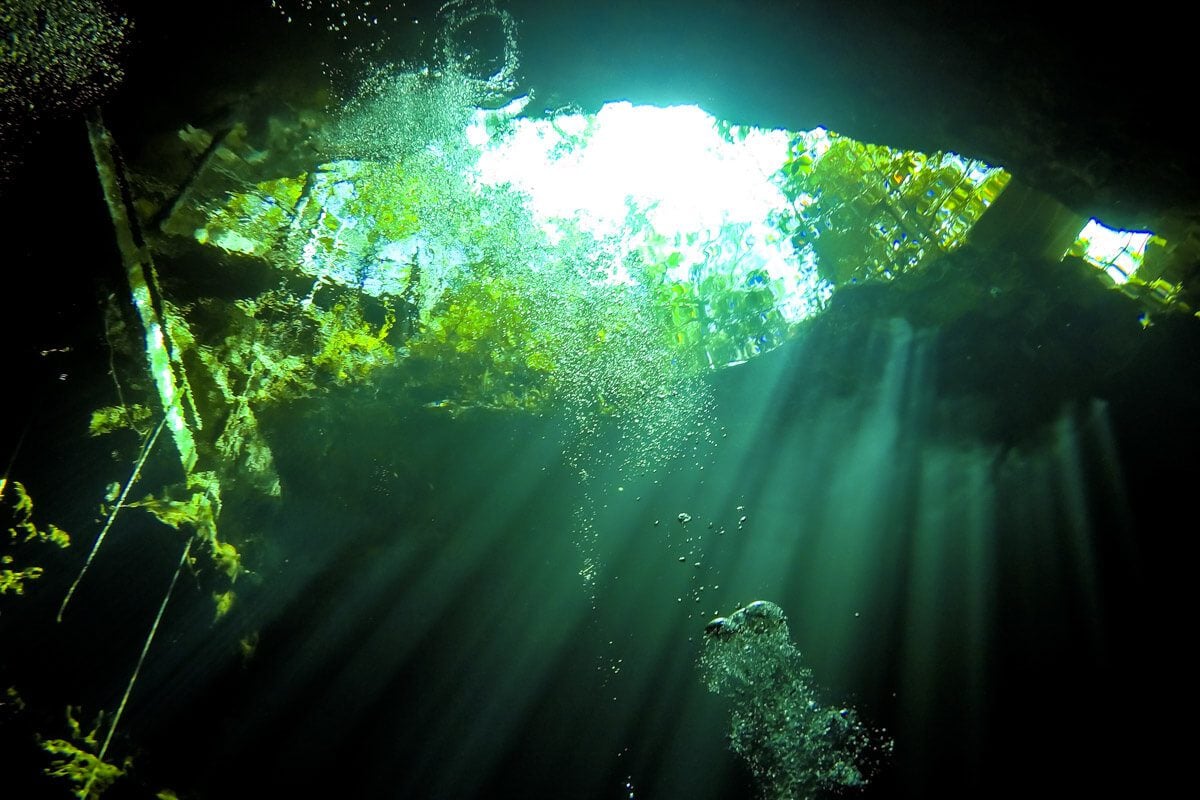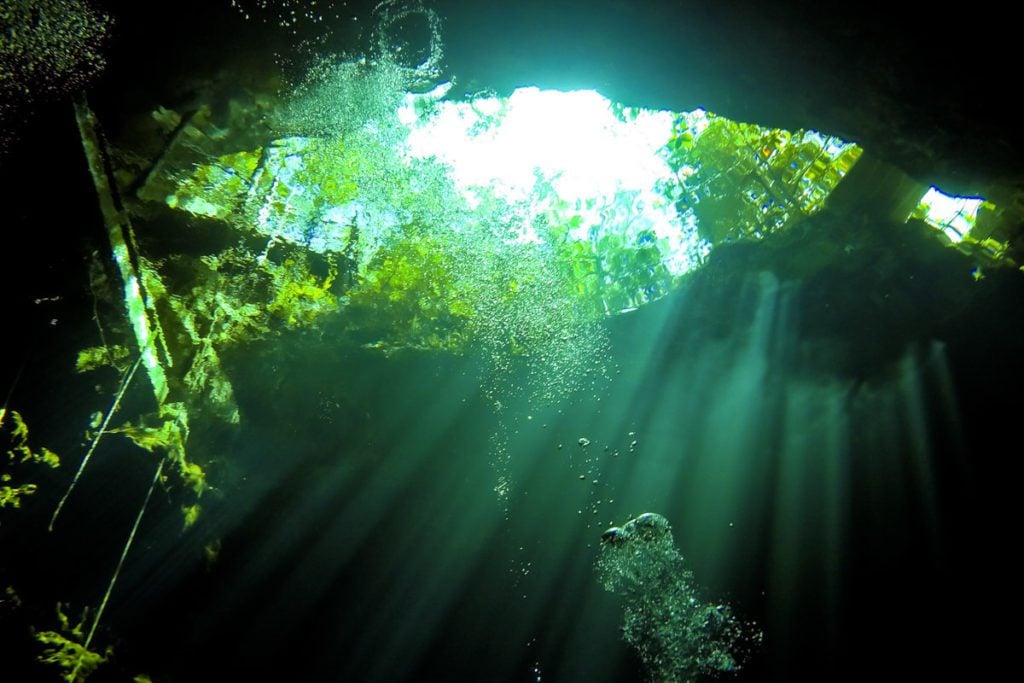 Location: Google map location
Hours: Open daily, 8 a.m. to 5 p.m.
Facilities: Toilets and tables
Entrance Free: There is a $20 fee to dive in El Pit (included in the cost of your scuba diving tour)
Rental Equipment Available: There aren't onsite rentals; you must book your scuba diving trip in advance with a reputable dive company
This is an excellent cenote for scuba diving, as it is about 30 meters (100 feet) deep and allows natural light beams to stream all the way down. There are also a couple of very interesting features (which we'll discuss), which make for some incredible underwater photography opportunities.
Good to know: To be honest, this is not the best cenote to visit if you're not planning to scuba dive, as the most beautiful views are actually quite far below the water's surface. While we were there, the only other visitors were scuba divers.
While divers won't see any marine life to speak of in this cenote, they will see two features that are arguably even more interesting: a halocline and a hydrogen sulfide cloud.
Halocline: From about 13 to 15 meters beneath the surface, divers will pass through a halocline, or area where the salinity of the water changes. The water on the surface is fresh, while the water deep down has a higher concentration of salt. The area where the water meets becomes very blurry and disorienting, and is known as a halocline. It's pretty interesting to experience for yourself.
Hydrogen Sulfide Cloud: At around 30 meters deep, divers will enter the hydrogen sulfide cloud, which feels as if you are floating through, well, a cloud! There are some trees that rest on the cavern's floor, making this an eerily beautiful experience. This so-called "cloud" is a natural phenomenon that occurs when organic material, like leaves and tree branches start to decompose in the water.
Diving in this cenote is an otherworldly experience and was definitely one of the most interesting dives we've ever done.
Interesting History: This cenote has played an important role in history, as it is thought to have been the only source of freshwater for a great distance. Human and animal remains have been found inside this cave that date back about 11,200 years ago, making them some of the oldest remains on the North American continent. Also, our scuba instructor told us that within this cave system lies the bones of a wooly mammoth (you must have special certification and must go very deep inside the cave network to reach it).
Our advice: Typically diving companies will pair two different cenotes together in one full day. We dove in Dos Ojos and El Pit, and loved seeing how different they were. We'd highly recommend this dive combination.
Recommended by: Katie & Ben from Two Wandering Soles
Gran Cenote
At a glance: Popular cenote for snorkeling and swimming surrounded by caverns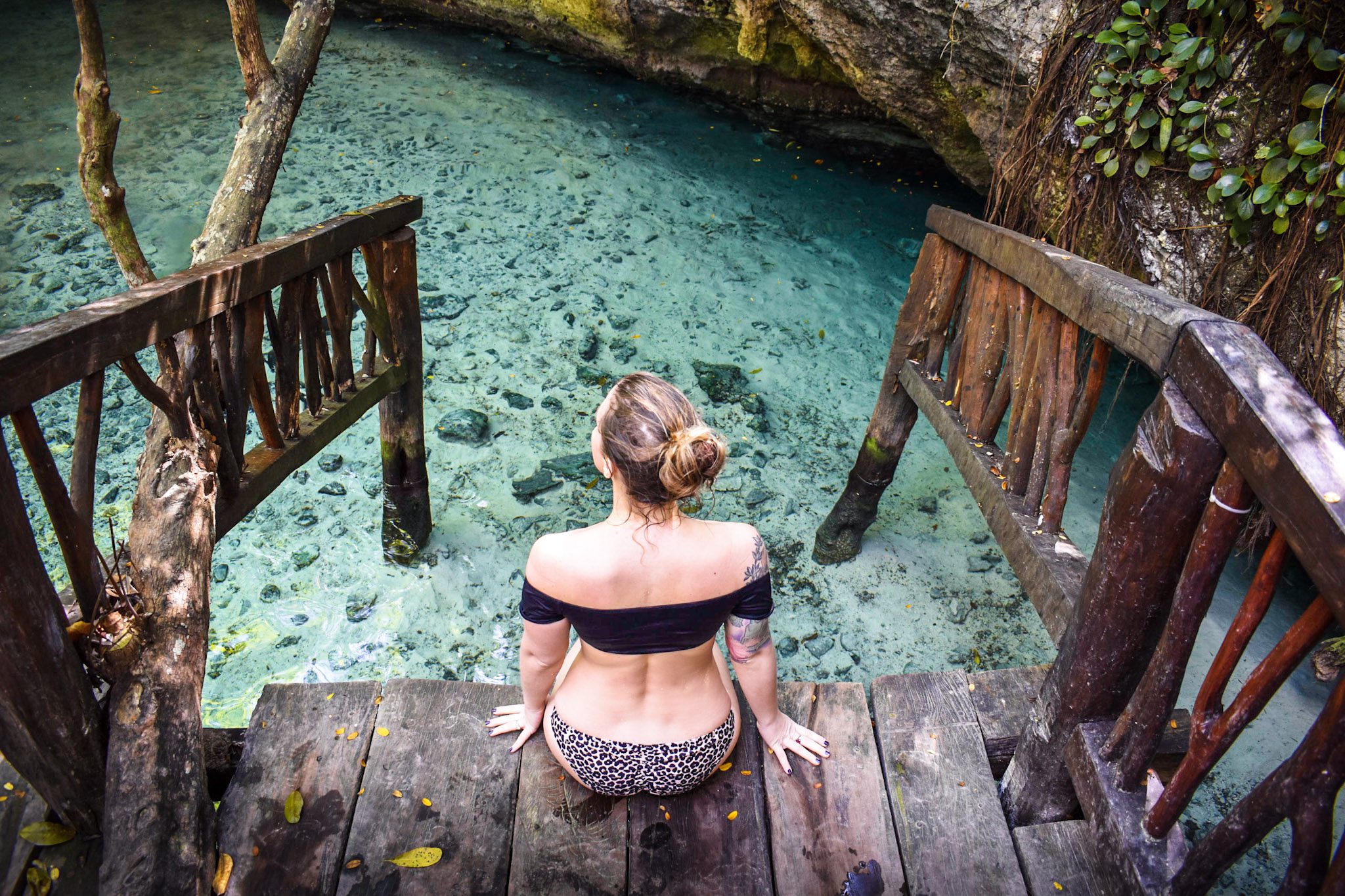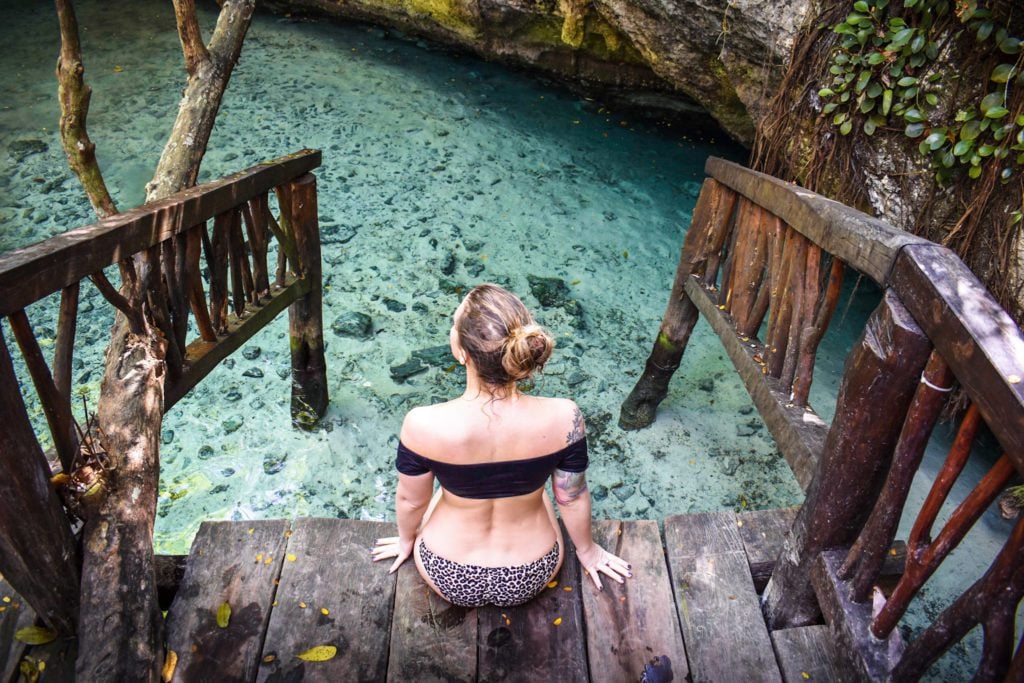 Location: Google map location
Hours: Open daily, 8 a.m. to 4:45 p.m.
Facilities: There are bathroom and shower facilities onsite. While there's no restaurants here, there are a few food stands outside of the gate.
Entrance Free: 300 MXN per person (~$15 USD)
Rental Equipment Available: There are life jackets, lockers, and snorkeling gear available to rent.
Located just 10 minutes outside of Tulum, this cenote offers stunning turquoise water and beautiful rock formations, both above and below the water. In fact, Gran Cenote is one of the best snorkeling and scuba diving spots in the area, with cool stalagmites rising from the ground below and spectacular light beams shining through the crystal water.
In addition to exploring the rock formations, you can also swim alongside the small fish and dozens of tiny freshwater turtles that call the Gran Cenote home.
The cenote also features some interesting animals outside of the water- the tunnel-like cave along the eastern side of the cenote is teeming with hundreds of chirping bats and, if you happen to be visiting around February, you may just find a colorful toucan flying above the cenote.
Both Tulum and the Gran Cenote are extremely popular destinations, both for independent travelers and tour groups, so if you want to explore the cenote in peace, your best bet is arriving right before it opens to be first in line. The cenote usually stays fairly calm until around 9 a.m., but remains packed with tourists through about 3 p.m. every day.
Recommended by: Jessica from Uprooted Traveler
Cenote Calavera
At a glance: Small cavern cenote with holes you can jump through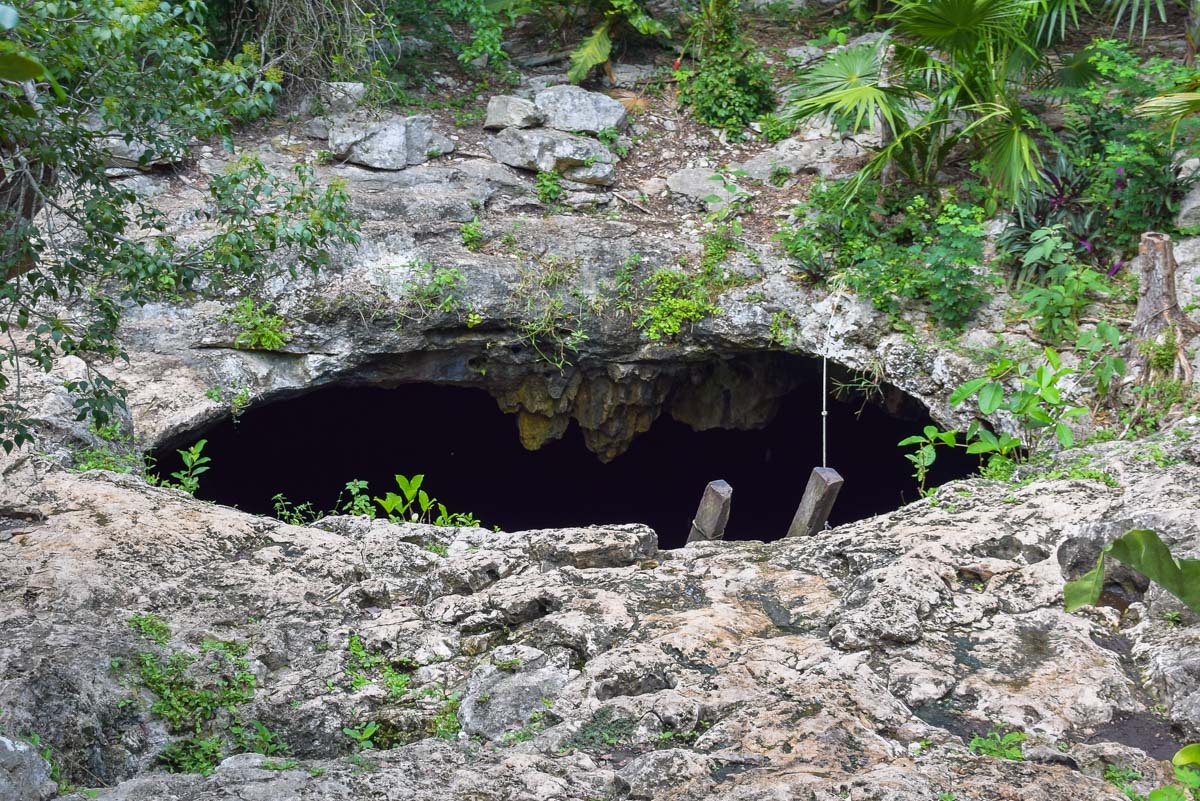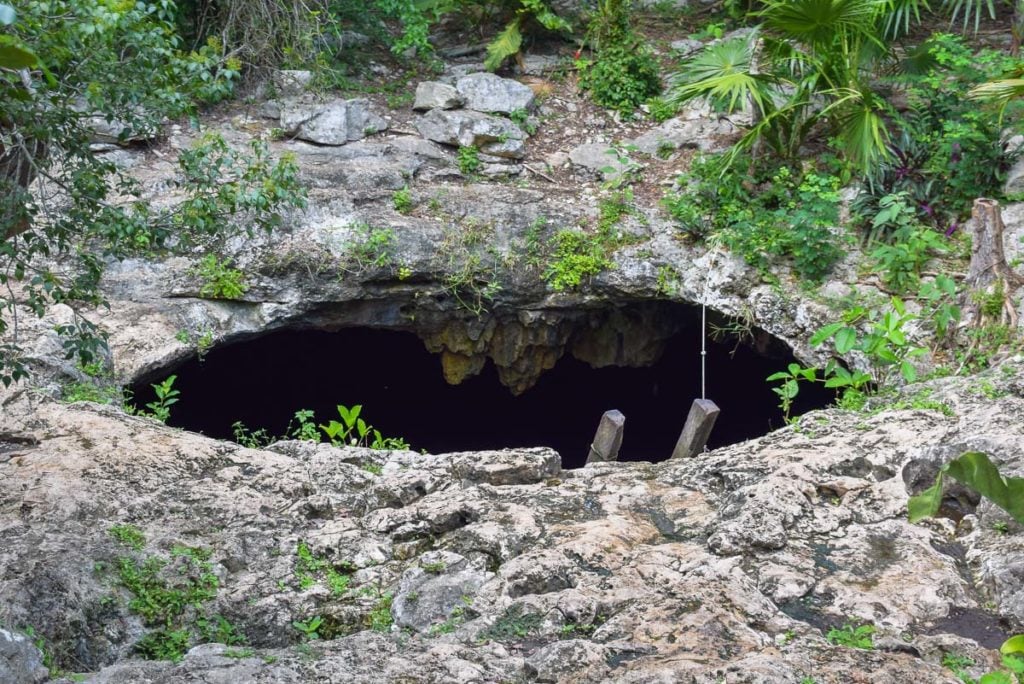 Location: Google map location
Hours: Open daily, 9 a.m. to 5 p.m.
Facilities: Small bathrooms, a bar onsite, one picnic table. Facilities are very basic here and it is not a built up cenote like many of the others nearby.
Entrance Free: 250 MXN per person (~$12 USD)
Rental Equipment Available: Snorkel equipment is available for rent
Cenote Calavera is one of the coolest looking cenotes in Mexico. It is an underground cave accessed by only three holes in the ground, one large one and two smaller ones. This limestone erosion makes the cenote almost "hidden", it reminds me of Hidden Beach near Puerto Vallarta where the swimming area is only revealed thanks to an eroded hole.
If you dare, you can jump right into the water through the holes, or if you prefer, just take the ladder. Once in the water you can swim around going under the edges of the cenote cave. Although, if you're afraid of bats, maybe this one isn't for you. You'll also find one rope swing which is a popular Instagram photoshoot location.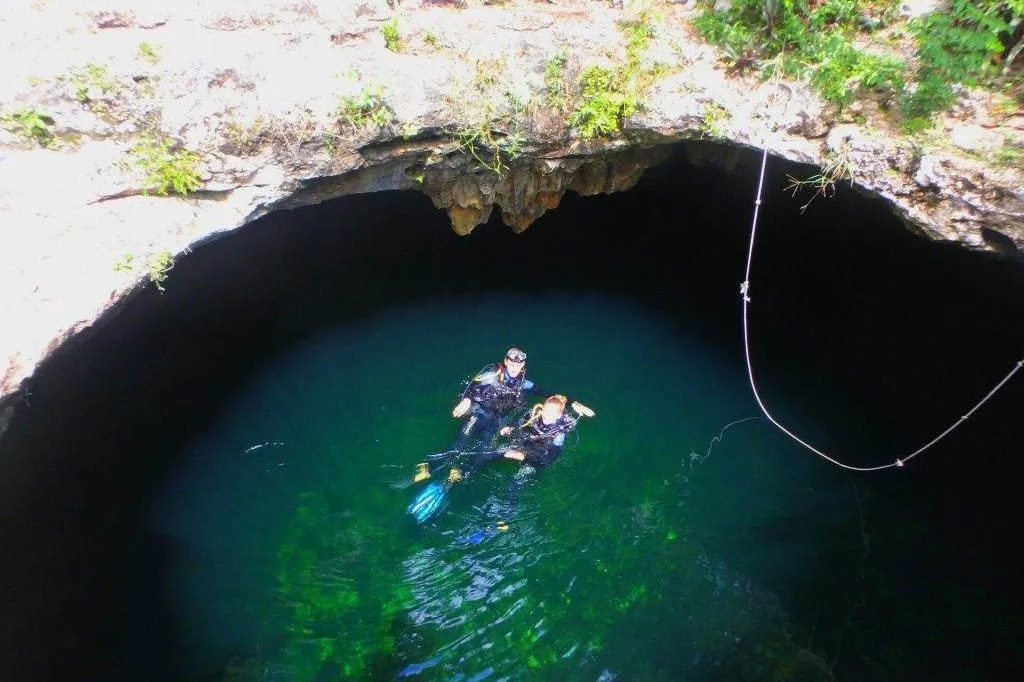 This cenote is small, and as such, fills up quickly. There is really only room for about half a dozen people to swim in it at once, so you should arrive first thing as soon as it opens for your best chance at a peaceful swim. During the afternoon, it is common for there to be a line to enter the cenote.
Luckily, Cenote Calavera is located only a short distance from downtown Tulum, so it's very easy to get to. You can take a taxi or even ride a bicycle!
Fun Fact: "Calavera" is the Spanish word for "Skull". Cenote Calavera is called this because from above, the three holes look like the face on a skull!
Insider Tip: They will charge you extra to bring a camera or GoPro into the cenote (the price can vary). So instead, just plan on taking pictures with your phone which they will not charge for.
Recommended by: Bailey from Destinationless Travel
Cenote Car Wash
At a glance: Popular open cenote with diving platform and rope swing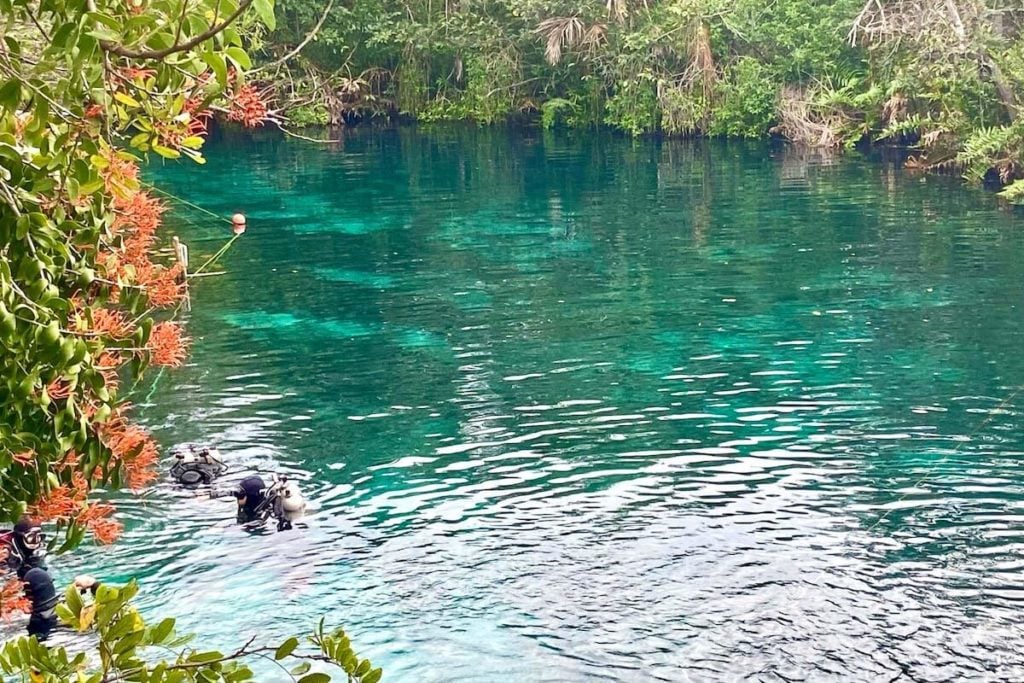 Location: Google map location
Hours: Open daily, 9 a.m. to 6 p.m.
Facilities: There are changing rooms, restrooms, picnic tables and a small rental booth with snacks for purchase
Entrance Free: 100 MXN per person for swimming, 200 MXN for diving (~$5 or $10 USD)
Rental Equipment Available: Lockers, snorkel gear and life jackets available for rent
Cenote Carwash is a beautiful open cenote located 9 km from downtown Tulum along Route 109 going toward the Coba Ruins. The official name of this cenote is Aktun Ha, meaning "water cave" in Mayan. It's called Carwash because it's right beside the road and taxi drivers returning to Tulum used to stop and wash their dirty cars.
This is a great cenote for swimmers and divers who want to explore the crystal clear water and an underwater garden. There is a jumping platform with a rope swing. For scuba diving fans, this cenote has an underwater cavern to explore. Divers of all abilities will marvel at the stalactites and stalagmites found deep in the cave passages.
The marine life you can see in Cenote Carwash includes tiny fishes, turtles, and possibly a friendly small crocodile sunning on the shore. It is nearby Cenote Zacil-Ha so you can visit both easily in a day.
Recommended by: Karen from Outdoor Adventure Sampler
Cenote Taak Bi Ha
At a glance: Newer cave cenote with stalactites and stalagmites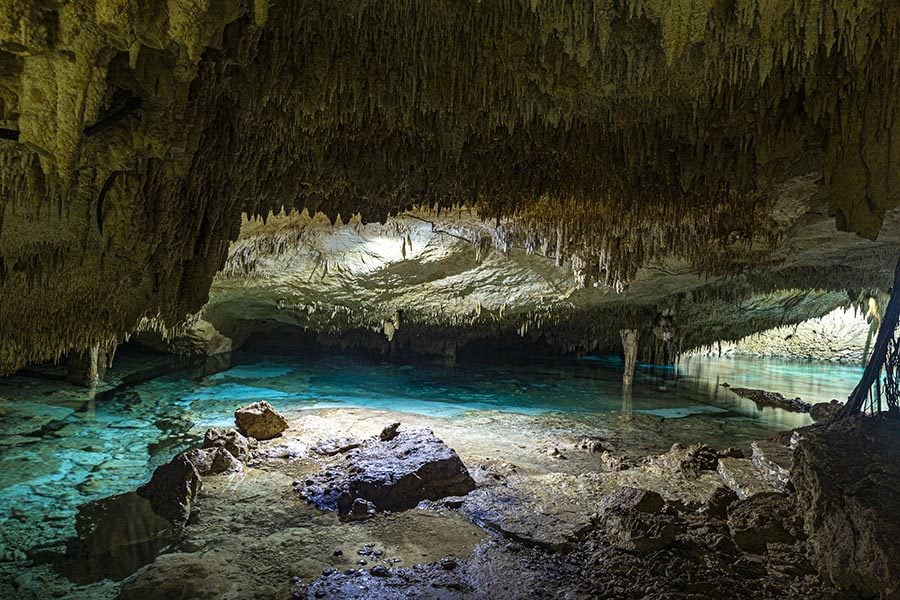 Location: Google map location
Hours: Open daily, 9:00 a.m. to 4:00 p.m.
Facilities: Showers and bathrooms available at the entrance
Entrance Free: 350 MXN per person (~$17 USD)
Rental Equipment Available: Snorkels and life jackets are available for rent
Cenote Taak Bi Ha is one of the newest cenotes in Mexico to be discovered and opened for tourism, but it quickly became very popular. It is indeed one of the most beautiful enclosed cave cenotes. And on the Riviera Maya where open-air cenotes are more common, it is a unique site.
This cenote is suitable for anyone to visit, including kids. You can snorkel, swim or dive there. It is also one of the most instagrammable for the amazing stalactites and stalagmites that surround the clear turquoise blue water.
Insider Tip: To make the most of your trip, make sure you get there early in the morning before the crowds arrive.
Recommended by: Isabella from Boundless Roads
Cancun Cenotes
The nearest cenotes to Cancun are on the Ruta de Los Cenotes in Puerto Morelos, about an hour drive from downtown. While there are plenty of cenotes there that we hope to visit one day, we only had one contribution to this article.
Honorable mentions:
Cenote Lu'um
Cenote Verde Lucero
Cenote La Noria
Cenote Zapote EcoPark
At a glance: An Eco Park experience with 4 different cenotes and other activities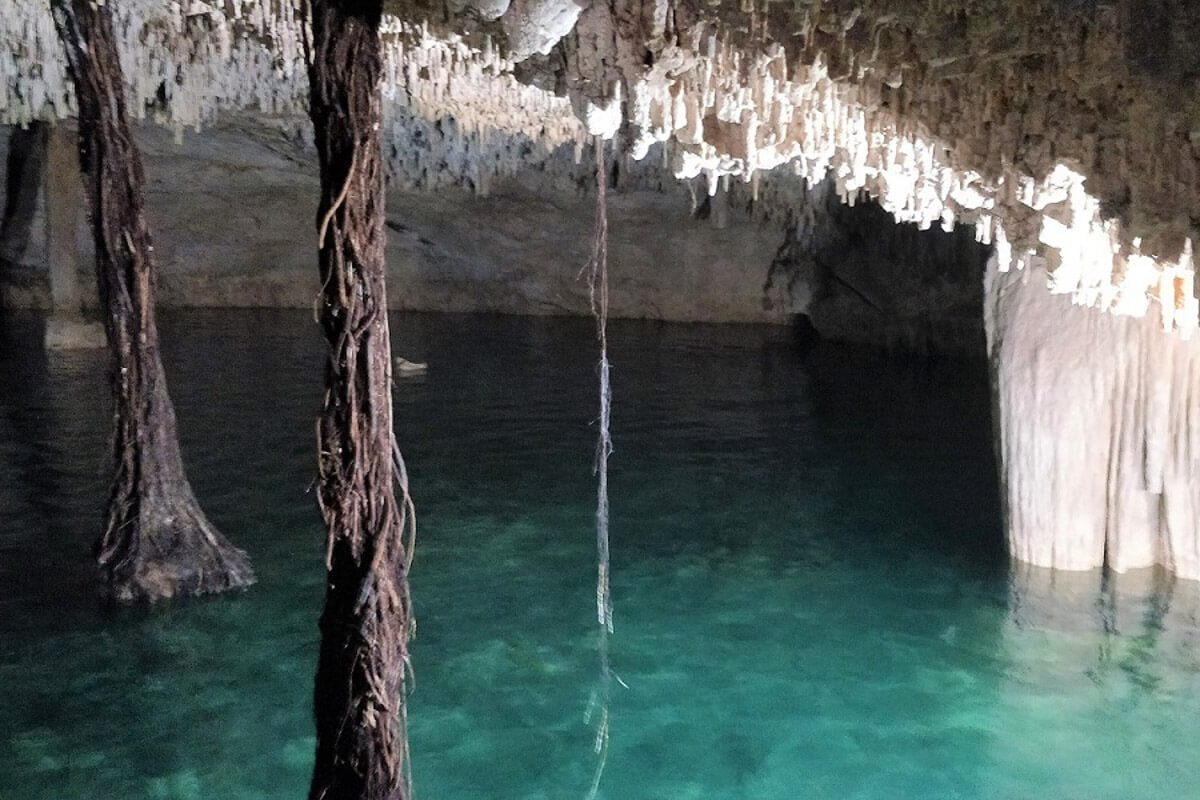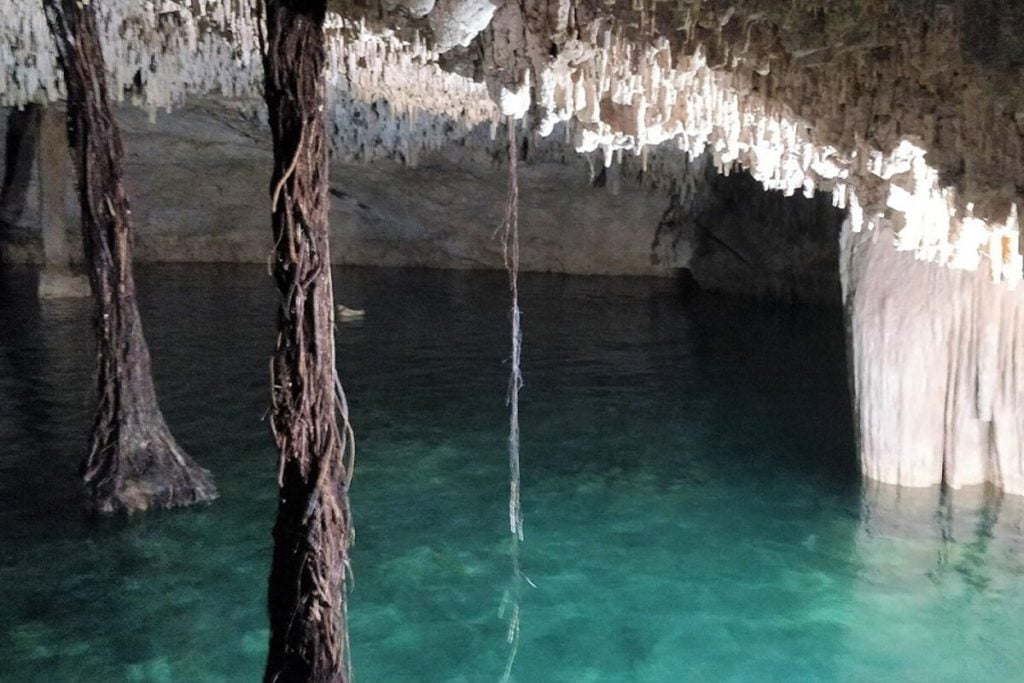 Location: Google map location
Hours: Open daily, 9 a.m. to 8 p.m.
Facilities: There is a restaurant on site with restroom facilities
Entrance Free: 800 MXN per person (~$38 USD)
Rental Equipment Available: Lifejackets are available at each location as well as quad bike rentals
Visiting one of the best cities in Mexico on the Yucatán peninsula is the perfect time to check out a cenote or two. The great thing about Cenote Zapote EcoPark is that there are actually 4 cenotes to discover here.
The prehistoric park features 2 open air cenotes and 2 underground (cavern) cenotes that are each more than 10,000 years old. The first cenote was fully open, surrounded by lush green trees. The second was within a cave and quite dark.
The third cenote was also inside but very well lit. You could even swim in a circle around the entrance. There is also a small opening in the cave that lets in light. There was a lot more to see in this cenote under the water so it's a good idea to bring your own snorkeling equipment.
The fourth and final cenote (which in my opinion was the most magical of them all) was an amazing open blue pool surrounded by greenery. There are a few diving platforms here for those that like to "cliff-jump". This cenote is 20 meters deep, so they actually offer scuba diving tours here as well.
At each cenote, there are life jackets available for use — but you do not cross-contaminate the cenotes so you have to get a new life jacket when you move on to the next.
Snorkelling is allowed at all 4 locations however; you must have your own equipment. There are also quad bikes for rent, ziplining activities, and a buffet which is all at an extra cost. It is also important to note that the water here is really cold, so be prepared!
Recommended by: Ve from Ve Naugh's Guide to Expat Life
Other Riviera Maya Cenotes
These cenotes are all situated somewhere between Tulum and Playa del Carmen and can easily be visited on a day trip. In fact, we recommend a visit to one (or all!) of these cenotes as one of the top things to do in Playa del Carmen.
Cenote Azul
Cenote Jardin del Eden
Cenote Cristalino
Cenote Yax-Kin
Cenote Azul
At a glance: A popular open cenote for swimming, snorkeling and cliff jumping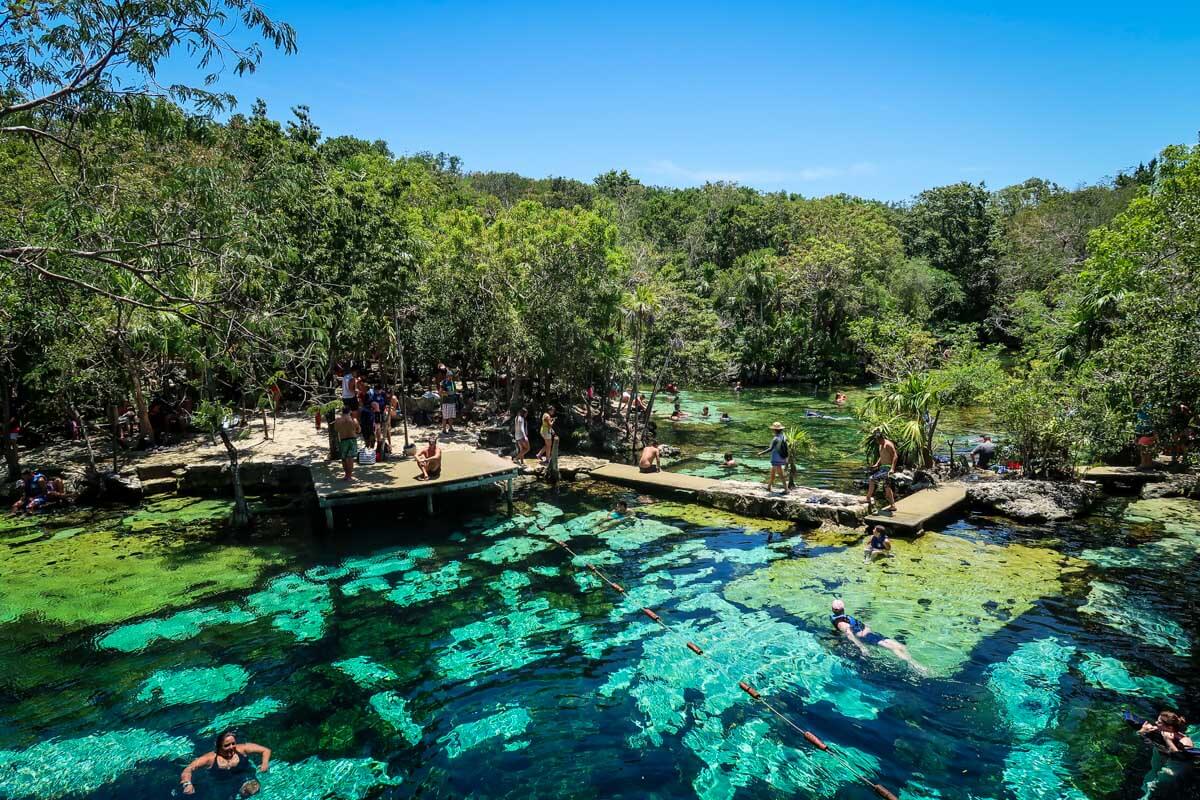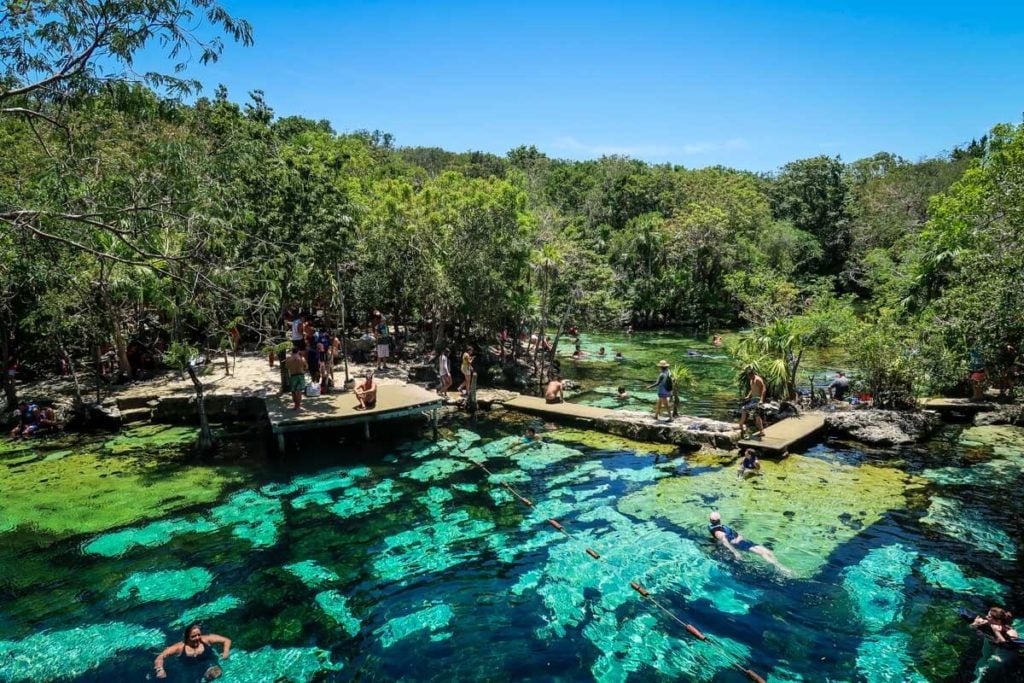 Location: Google map location
Hours: Open daily from 8:30 a.m. to 5 p.m.
Facilities: There are restroom and shower facilities here as well as a small shop with snacks.
Entrance Free: 120 MXN per person (~$6 USD)
Rental Equipment Available: Life jackets, snorkel equipment and lockers available for rent
A super popular cenote for swimming, just a 20-min ride outside of Playa del Carmen. It will be busy on weekends with tourists and locals alike.
This cenote is open air – more similar to a shallow lake than a cave. There are lots of small fish swimming around in these turquoise waters, making it a fun place to go snorkeling.
There are lots of tables and benches scattered throughout the jungly trails that surround this cenote, making it a fun place to relax for an entire afternoon. Pack a picnic lunch and a deck of cards to enjoy between dips in the water!
The entry fee is 120 pesos and an extra 70 pesos for snorkel rental.
Insider Tip: The lockers are basically next to the parking lot so you might as well forgo the rental cost and just leave your stuff in the car (as long as you don't have anything too valuable sitting out).
Check out our complete guide to visiting Cenote Azul for all the information you need to plan your visit!
Recommended by: Katie and Ben from Two Wandering Soles
Cenote Jardin del Eden
At a glance: A hidden gem halfway between Playa del Carmen and Tulum and a favorite of free divers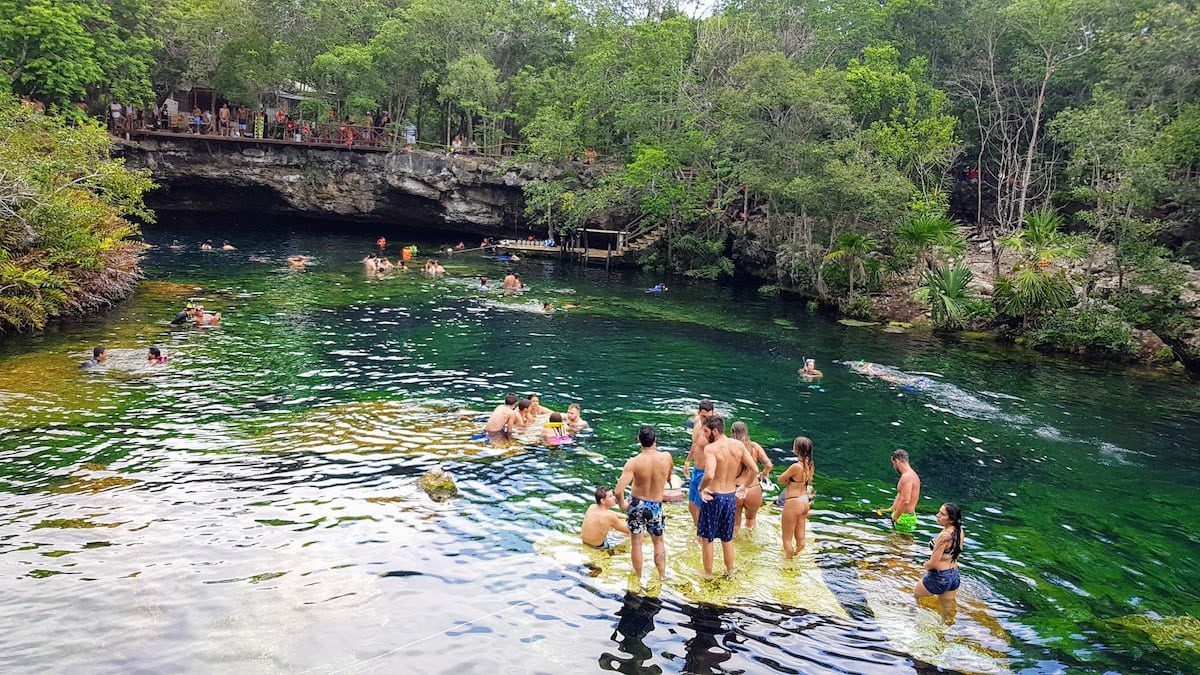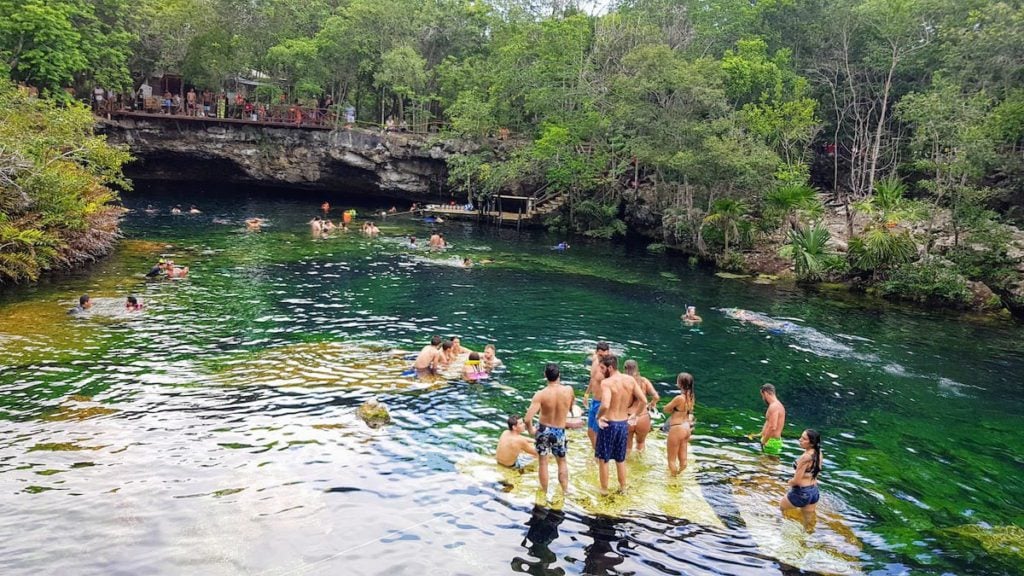 Location: Google Maps location
Hours: 7:00 a.m. to 5:00 p.m. Sunday – Friday
Facilities: 2 bathrooms, no food or drinks sold, can BYO non-alcoholic beverages
Entrance Free: 200 MXN per person (~$10 USD)
Rental Equipment Available: Snorkels and life vests available for rental
Located halfway between Tulum and Playa del Carmen, Cenote Jardin del Eden is a hidden gem that is highly worth visiting. When translated to English, the name means "garden of Eden" and it's easy to see why! Hidden in a lush tropical forest is a beautiful, clear, natural cenote that isn't on the radar of most tourists. That just means you get more of it to yourself!
Cenote Jardin del Eden is an open cenote, meaning the original roof collapsed, but that doesn't mean you can't jump in. In fact, there are many different places to jump from like cliffs, wooden platforms, and even trees between 17-25 feet high. For scuba and free divers, there are also a number of deep underwater caves to explore.
The water here is rather chilly but swimming is so worth it. Thanks to the ban on sunscreen, the water has stayed completely clear and is home to many different fish and other aquatic life. If you sit still in the shallows, you will even be treated to a complementary fish massage as they nibble away your dead skin!
Insider Tip: Avoid Sundays as it is the most popular day for locals to visit the cenote meaning it will be crowded.
Recommended by: Yulia from Miss Tourist
Cenote Cristalino
At a glance: Cool waters and a local vibe make this cenote a fun day trip from Playa del Carmen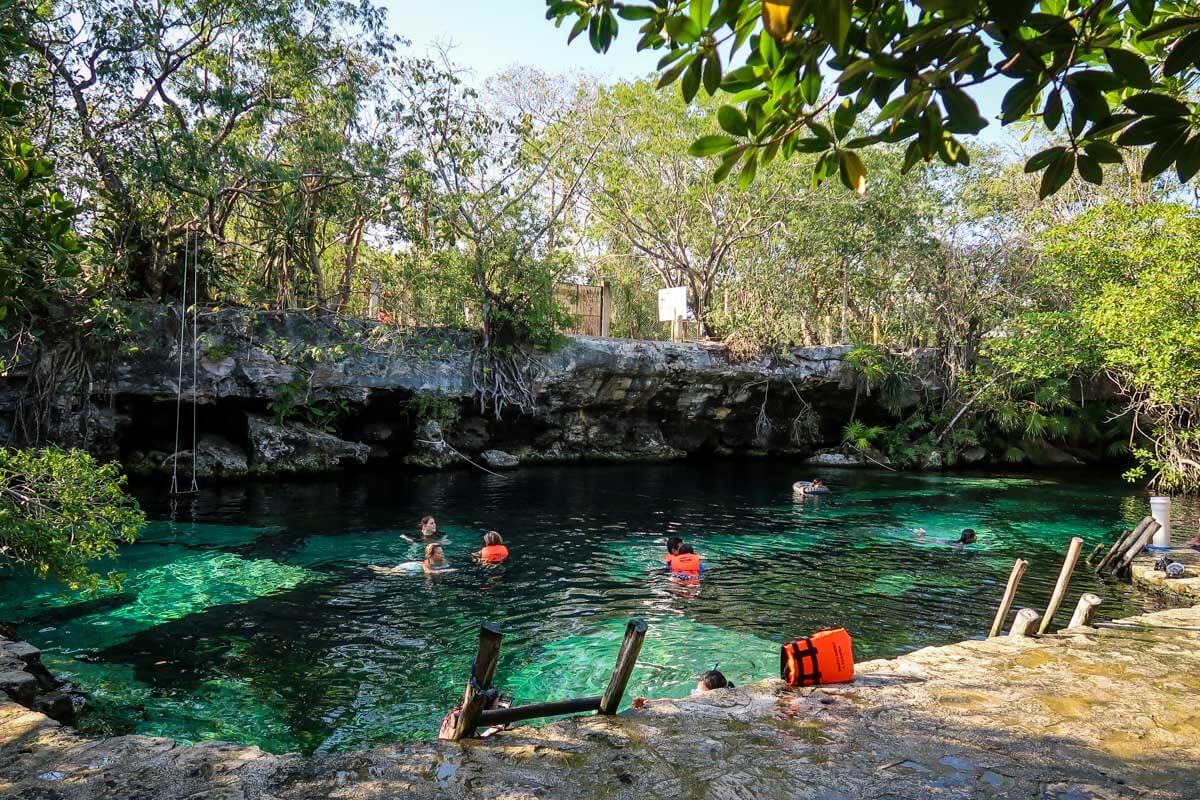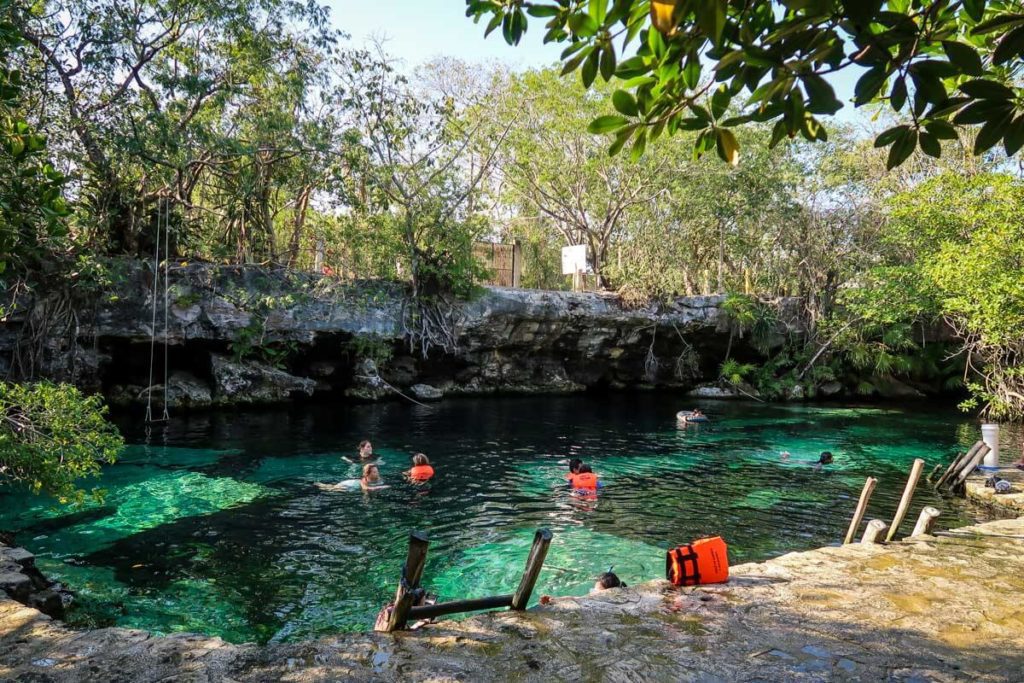 Location: Google map location
Hours: Open daily from 8 a.m. to 6 p.m.
Facilities: Toilets, showers, snack stalls
Entrance Free: 150 MXN per person (~$7 USD)
Rental Equipment Available: Life jackets are included in the entrance fee. You can also rent lounge chairs for 50 pesos.
This cenote is very easy to get to from Playa del Carmen (the cheapest way is by collectivo!), and when we were there it seemed to be more popular with locals than with foreigners.
Cristalino translates to "crystal clear", and once you get in the water you'll know how this cenote got its name. Not only is the water clear, but it is also quite cold! This feels refreshing on a hot and humid day, but on a more mild day, I found myself shivering a bit.
In addition to the chillier water temps, be prepared to have your toes nibbled by fish. Think of it as a free exfoliation of dead skin on your heels and you might actually enjoy it!
This cenote is too deep to put your feet on the ground (between 4-6 meters), so it means you'll want to don a life jacket (which is included in your entrance fee) or plan on treading water. There are also a few wooden swings and a few places with ropes that span across the pools where you can sit or hang onto. Just be careful about where you're hanging out because there are also cliffs where people jump off into the water!
Insider Tip: There is a narrow passageway between some mangroves. If you have a snorkel mask on, put your head underwater as you swim through this channel because it's pretty darn cool!
Life jacket tip: Instead of putting your life jacket on as you normally would, we recommend sticking your legs through the arm holes and wearing it sort of like a diaper. It sounds weird, but it becomes like a floating seat and makes the whole experience so much more relaxing. Try it and you'll thank us!
Recommended by: Katie & Ben from Two Wandering Soles
Cenote Yax-kin
At a glance: An open cenote with chill resort vibes and fewer crowds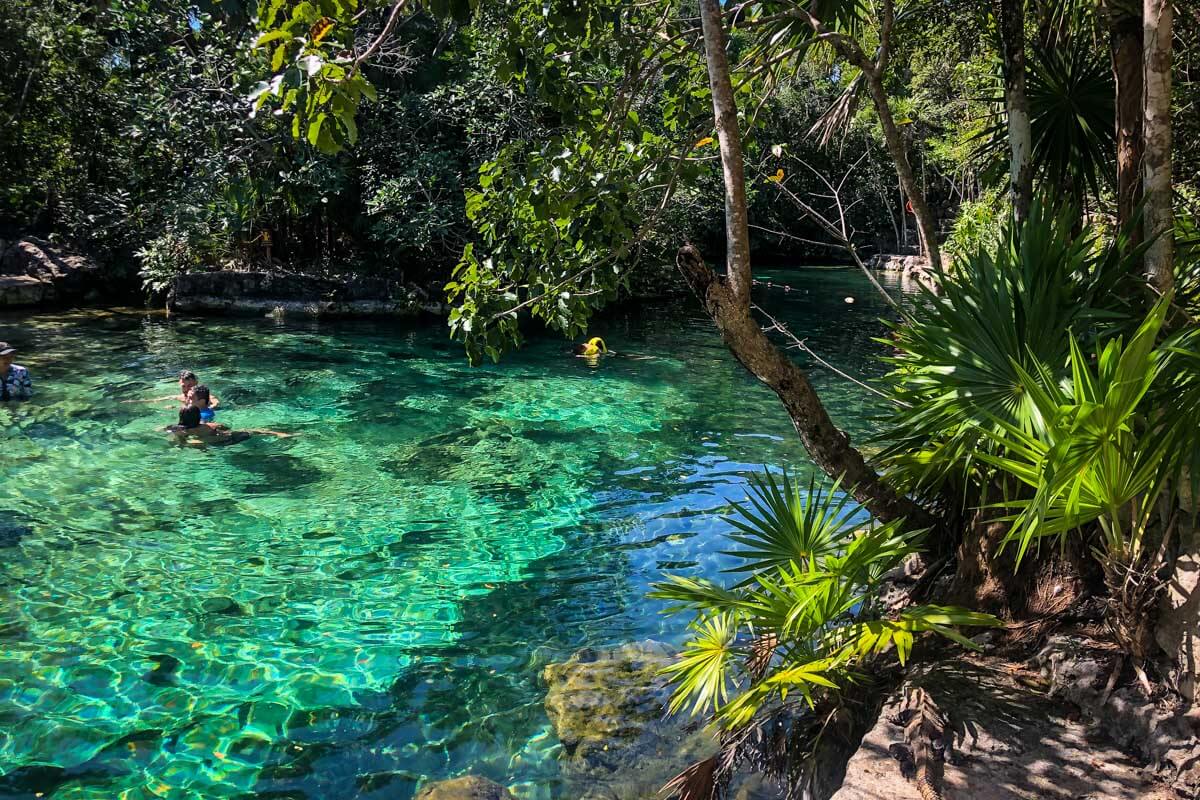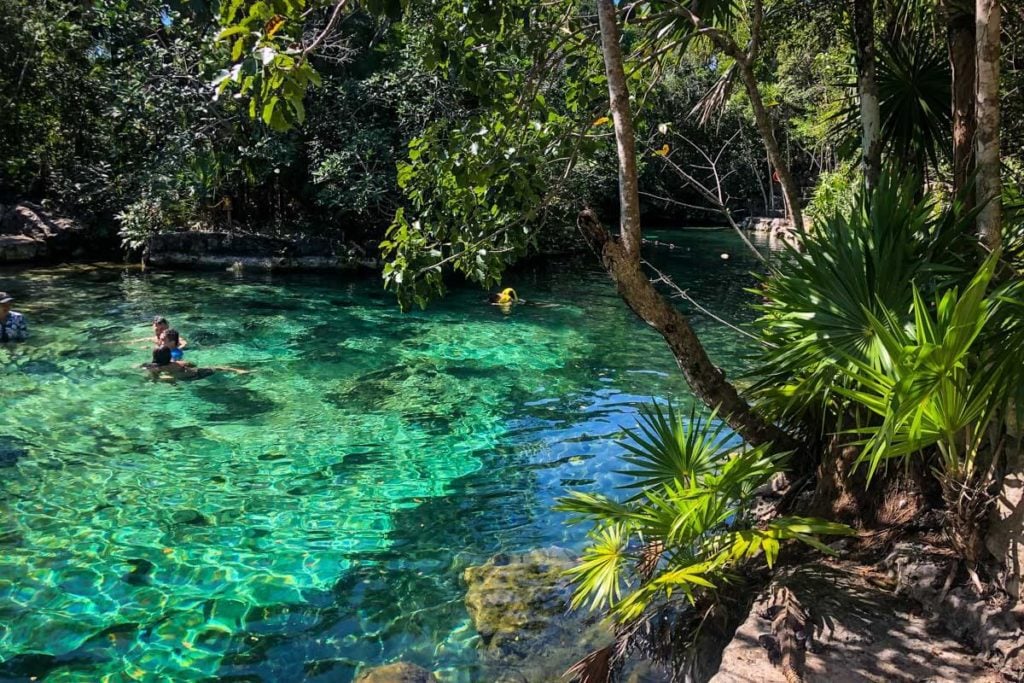 Location: Google map location
Hours: Open daily, 10 a.m. to 5 p.m.
Facilities: Restrooms, an information center offering snacks and rental equipment, and free lounge chairs
Entrance Free: 120 MXN per person (~$6 USD)
Rental Equipment Available: Snorkeling equipment for rent
Cenote Yax-kin is a privately owned cenote located about 15 minutes north of Tulum. This may be one of the lesser talked about cenotes in Mexico, but that just means you won't run into the crowds you'll find at some of these other places.
The setup here is more resort-like with an open-air cenote (no caves here) and lounge chairs arranged around the edges. There is a small restaurant onsite, but when I visited it wasn't operational.
The cenote is rather large with crystal clear waters. You can swim in the shallow waters or make your way around the bend (to a more private area without lounge chairs) where the water gets deeper. There is even a platform for jumping, but it's not too high—great for kiddos.
Recommended by: Amanda, Director of Content at Two Wandering Soles
Mérida Cenotes
You'll want to make a cenote visit a priority once you experience the heat while exploring Mérida.
Cenote Xlacah
At a glance: A unique open cenote in the Dzibilchaltun Ruins compound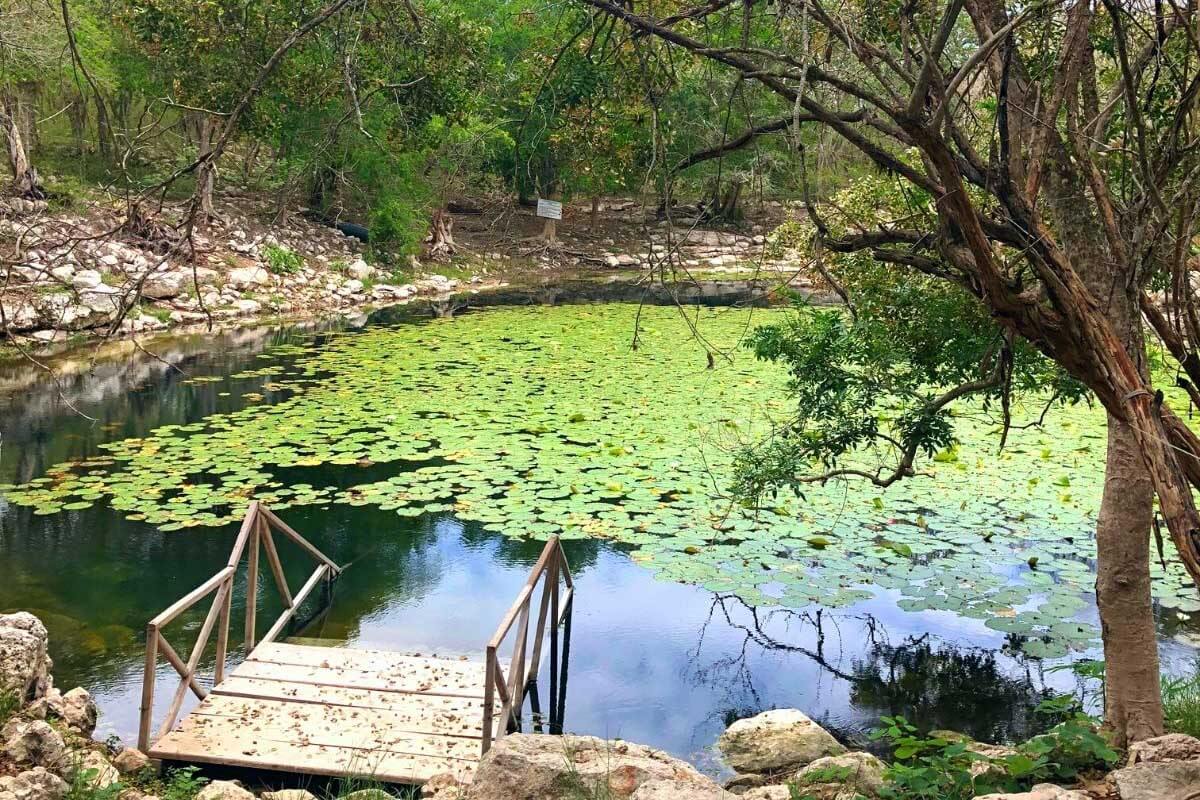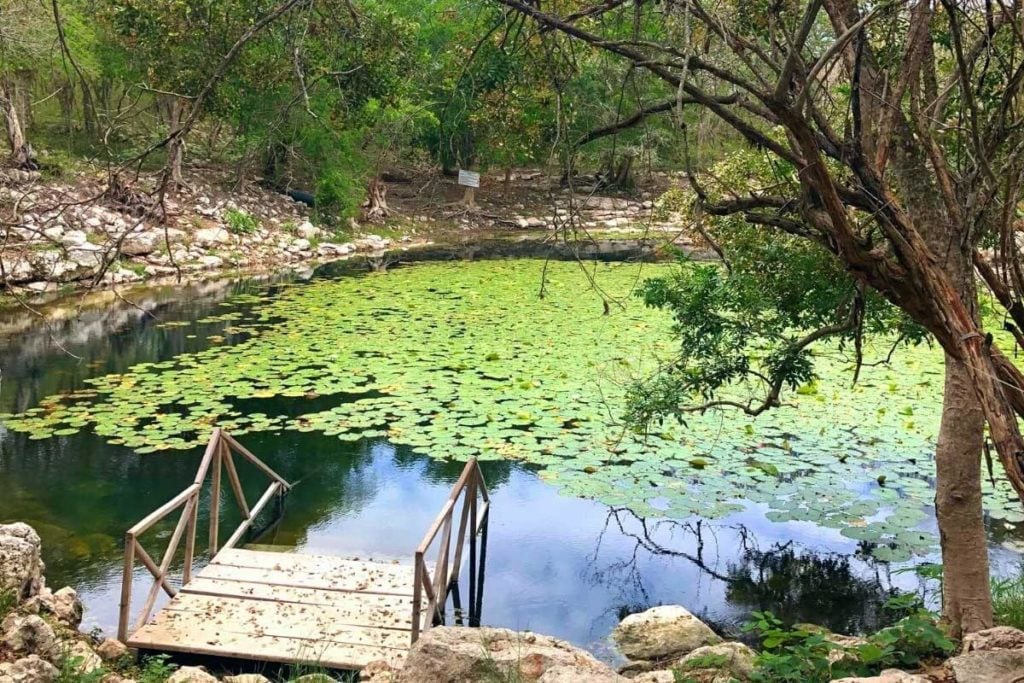 Location: Google map location
Hours: Open daily, 8 a.m. to 5 p.m
Facilities: There are only restrooms at this location
Entrance Free: $227 MXN per person (~$11 USD) – Includes admission to the Dzibilchaltun Ruins & Museum
Rental Equipment Available: No equipment rentals available here
Cenote Xlacah is located on the grounds of Dzibilchaltun Ruins, some of the best Mayan Ruins near Mérida, Mexico. Admission to the cenote is included with the price of admission to the ruins. If you want to see the ruins and swim, plan to spend at least half a day there.
The ruins site is on the smaller side, but there is an ancient pyramid you can climb, several additional structures and a sculpture garden to explore. After checking out the Dzibilchaltun Ruins, you can change into your bathing suit and head to Cenote Xlacah for a refreshing swim.
It is an open cenote, sometimes called a "swimming pool" cenote, because it looks like a natural swimming pool.
There is nothing overhead above the water, and you'll access this cenote the same way you'd get into a pool. The water by the sides isn't very deep, so you can't jump in. For those not comfortable swimming, hanging out by the sides is a great option.
The water at Cenote Xlacah is clear, and you can see the plant life, fish and even an occasional turtle below you. It's a great idea to bring a mask and snorkel so you can swim around and enjoy the underwater views.
Besides the cenote and Dzibilchaltun Ruins, there's also a small museum on-site. It has some interesting items discovered during excavations at Dzibilchaltun and other Mayan ruins throughout the Yucatán Peninsula.
Insider Tip: Water shoes will really help you enjoy your visit, as the ground is very rocky all around the cenote.
Recommended by: Shelley from Travel to Mérida
Valladolid Cenotes
While these cenotes can be reached on a day trip from Cancun or Playa del Carmen, you'll have the best opportunity to explore them if you decide to spend a night or two in the charming colonial town of Valladolid.
Cenote Zaci
Cenote Suytun
Cenote Oxman
Cenote Xkeken / Cenote Dzitnup
Cenote Ik Kil
Cenote Hubiku
Cenote Saamal
Cenote Zaci
At a glance: A beautiful oasis in the center of town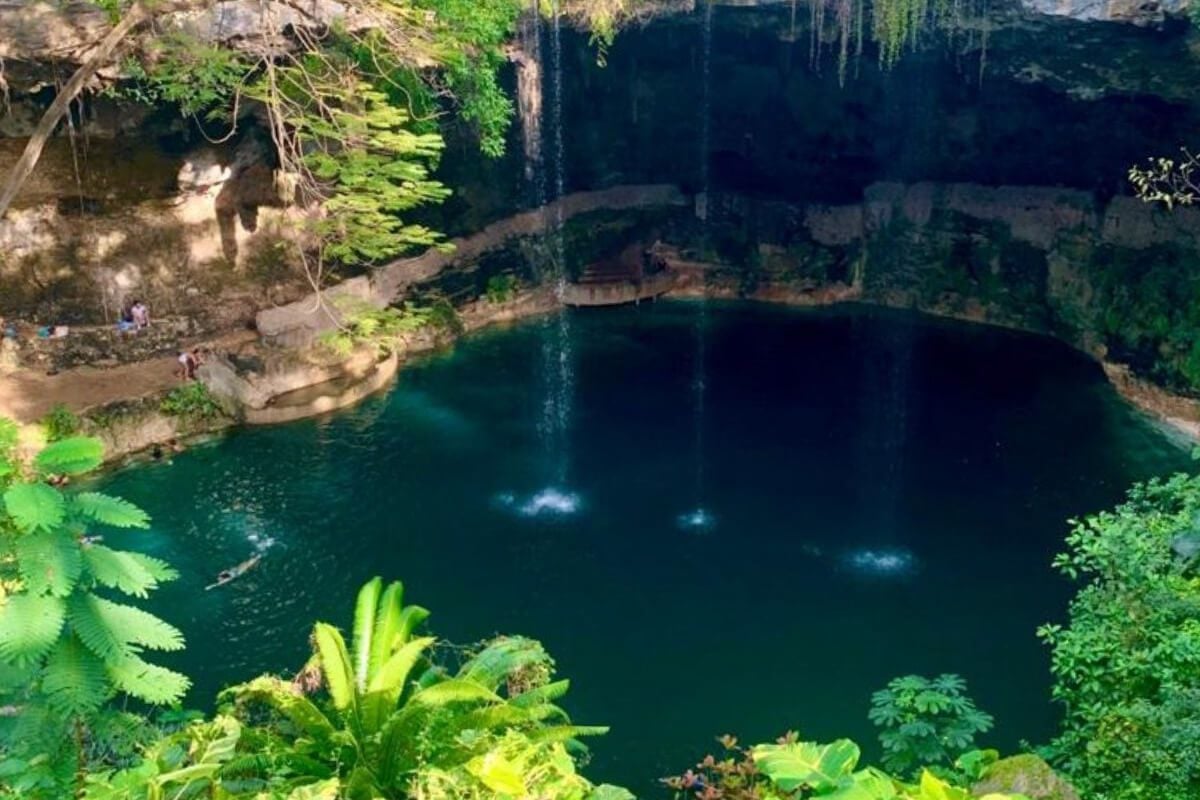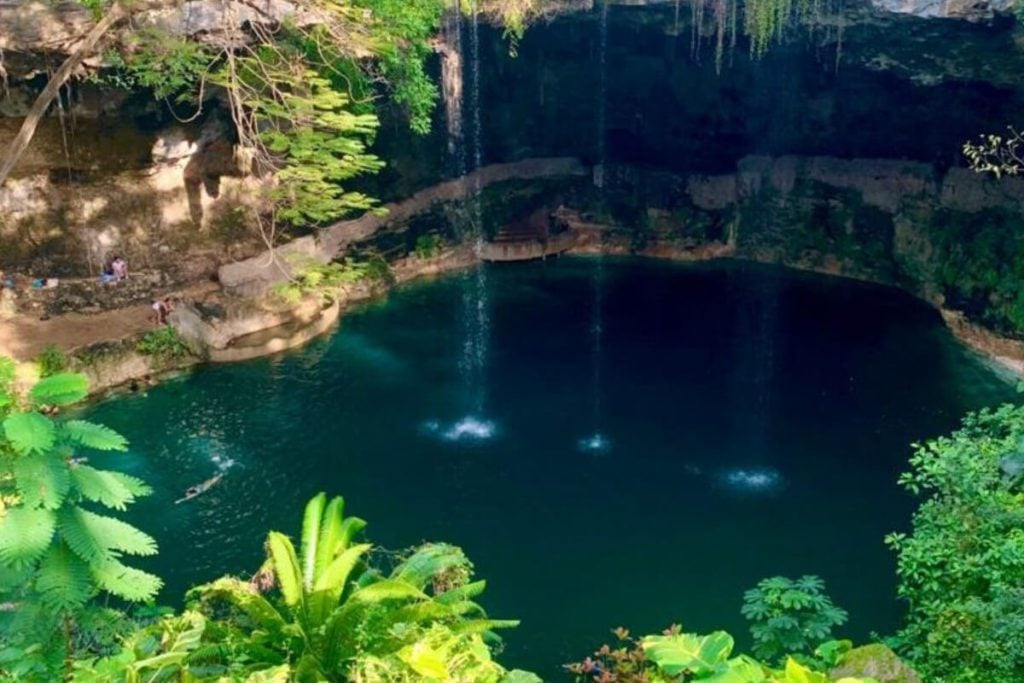 Location: Google map location
Hours: Open daily, 8 a.m. to 5:30 p.m.
Facilities: There are bathrooms/changing rooms as well as a restaurant on site
Entrance Free: 30 MXN per person (~$1.50 USD)
Rental Equipment Available: Only life jacket rentals available here
After a day of walking around and checking out all the best things to do in Valladolid, Mexico, you'll want to cool off with a refreshing swim in Cenote Zaci. This beautiful cenote is located only about a 10-15 minute walk from downtown Valladolid, a popular colonial town in the Yucatán Peninsula.
It is a semi-open cenote, so it's not fully exposed to the sun and there are plenty of shaded areas while you're swimming. There are also lots of places you can jump into the water from, and you'll see plenty of other visitors diving and jumping into the water.
As the water is deep at Cenote Zaci, it won't have the vibrant and crystal clear blue color of some other cenotes. It's also not the best for snorkeling, but there are small fish in the cenote, and also some turtles, which you may see when they surface to breathe.
After swimming, enjoy a meal at the onsite restaurant. Here, you can sample traditional Yucatecan foods, like cochinita pibil, poc chuc, sopa de lima and panuchos.
Insider Tip: If you're eating at the restaurant, you get free admission to the cenote.
Recommended by: Shelley from Travel Mexico Solo
Cenote Suytun
At a glance: One of the most recognizable cenotes due to its popularity on Instagram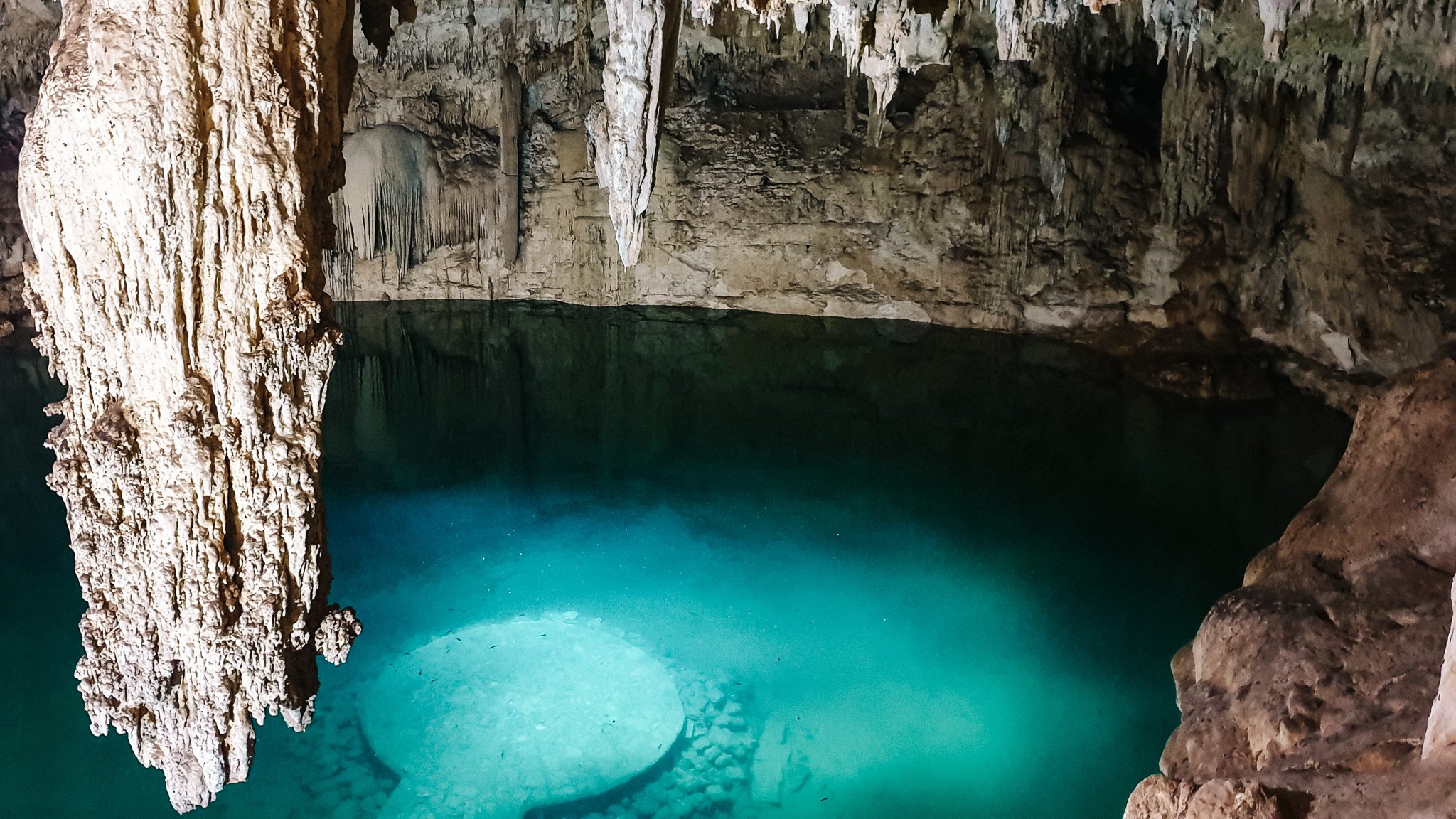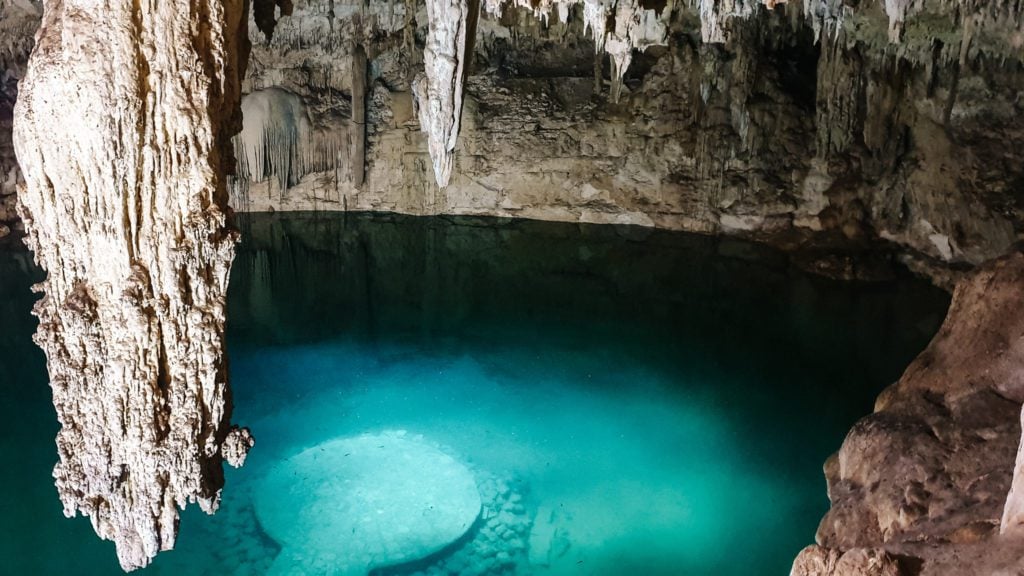 Location: Google map location
Hours: Open daily from 9 a.m. to 5 p.m.
Facilities: Bathroom and changing facilities
Entrance Free: 150 MXN per person (~$6 UDS) for one hour, (130 MXN if you book online)
Rental Equipment Available: Life jacket usage is mandatory and you can rent them for 30 MXN.
Cenote Suytun is one of the beautiful cenotes in Mexico, located only 8 kilometers east of Valladolid. You may recognize the surreal setting as it's become a very popular Instagram spot.
Especially since there is a unique platform stretching out into the center where you can stand and pose for photos.
However, the water level changes frequently, and recently the water on the platform has been up to 3 meters, meaning you can only swim across it. Still it's a beautiful place to visit, because of its mysterious setting and many stalagmites.
The cenote has a circular shape and has a small opening in the surface, which allows sunlight to come in. Even if you don't feel like swimming, the views from above are so worth it!
As for all beautiful cenotes in Mexico, Suytun is an extremely popular place. Make sure to visit first thing in the morning or during late afternoon. Avoid visiting during the peak hours of the day when the crowds are thick. Your experience will be completely different when you have the place almost to yourself. The parking lot is always a good indicator of how busy it is.
Insider Tip: Keep in mind that you have to use a very slippery staircase to get to the cenote, so don't forget to bring good shoes.
Recommended by: Deborah from Passport the World
Cenote Oxman
At a glance: A dreamy cave cenote with less crowds and a rope swing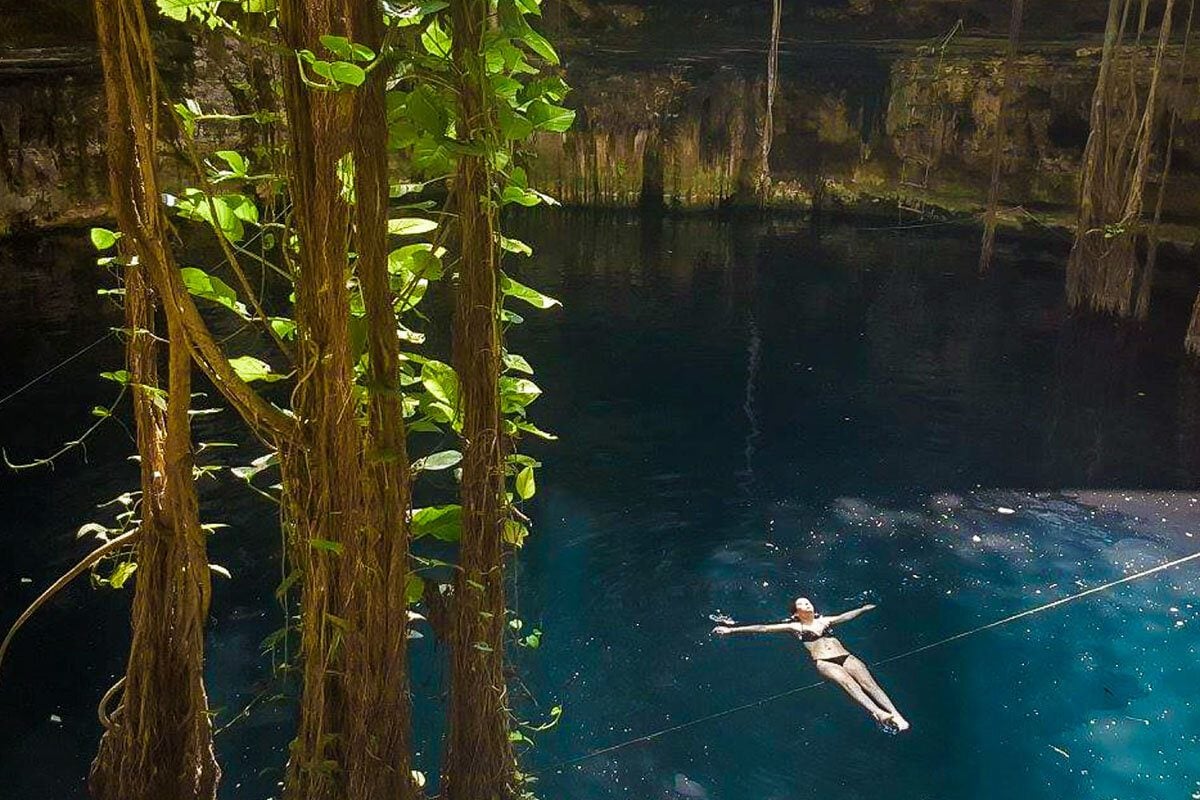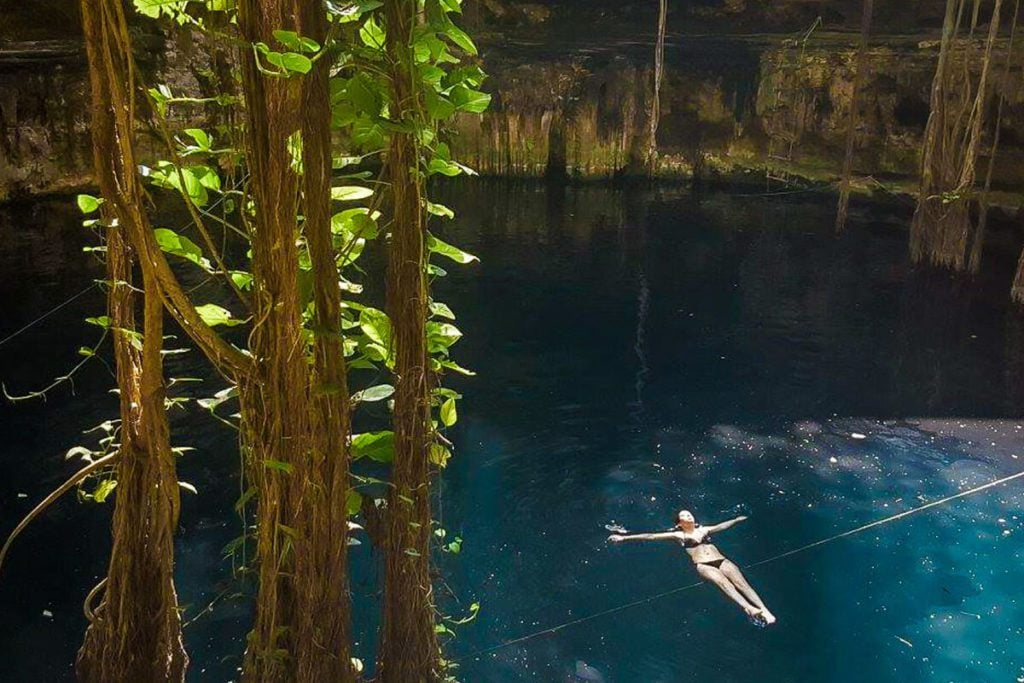 Location: Google map location
Hours: Open daily from 10 a.m. to 5 p.m.
Facilities: There are changing rooms with toilets and showers, but no lockers available here. There is also an onsite restaurant.
Entrance Free: 80 MXN per person (~$4 USD)
Rental Equipment Available: A life jacket is included in the entrance fee.
Birds' nests sit in jungle vines that drape down into the crystal blue waters of this stunning cave cenote, just outside the city of Valladolid. Oxman's beauty is so surreal I mistook the birds for angels singing!
Despite being one of the most beautiful cenotes in Mexico, this serene location has somehow managed to stay mostly under the radar. This means that you will not have to share your experience with loads of other GoPro-toting tourists. (Though there will surely be a few.)
The cenote is located in the Hacienda San Lorenzo, a complex which includes a swimming pool surrounded by palapas and chairs for sunbathing as well as an onsite restaurant.
The best part is the rope swing that allows you to leap from the edge of the pit and plunge into the clear blue waters making a dramatic entrance.
Recommended by: Lindsay from Bright in the World
Cenote Dzitnup (aka Cenote Xkeken)
At a glance: A fully enclosed cavern cenote with artificial lighting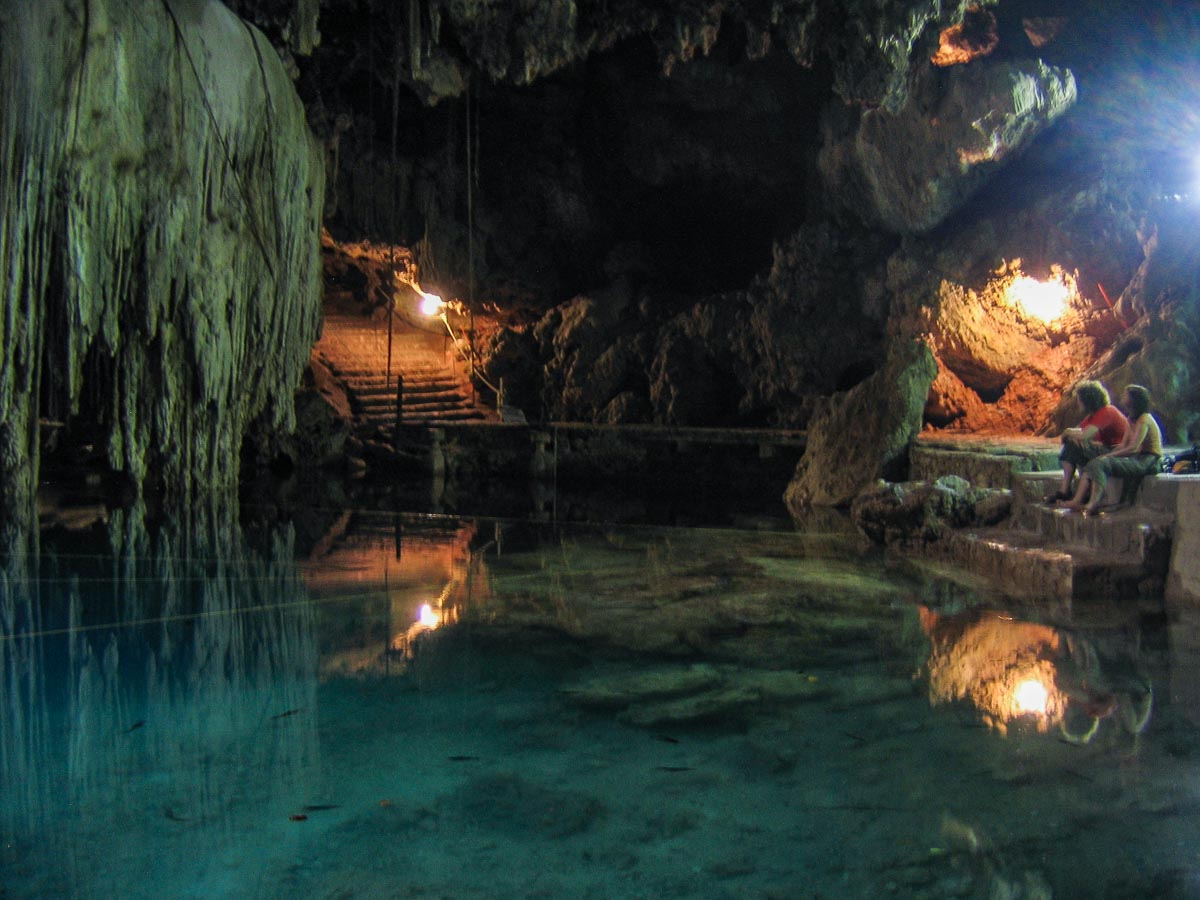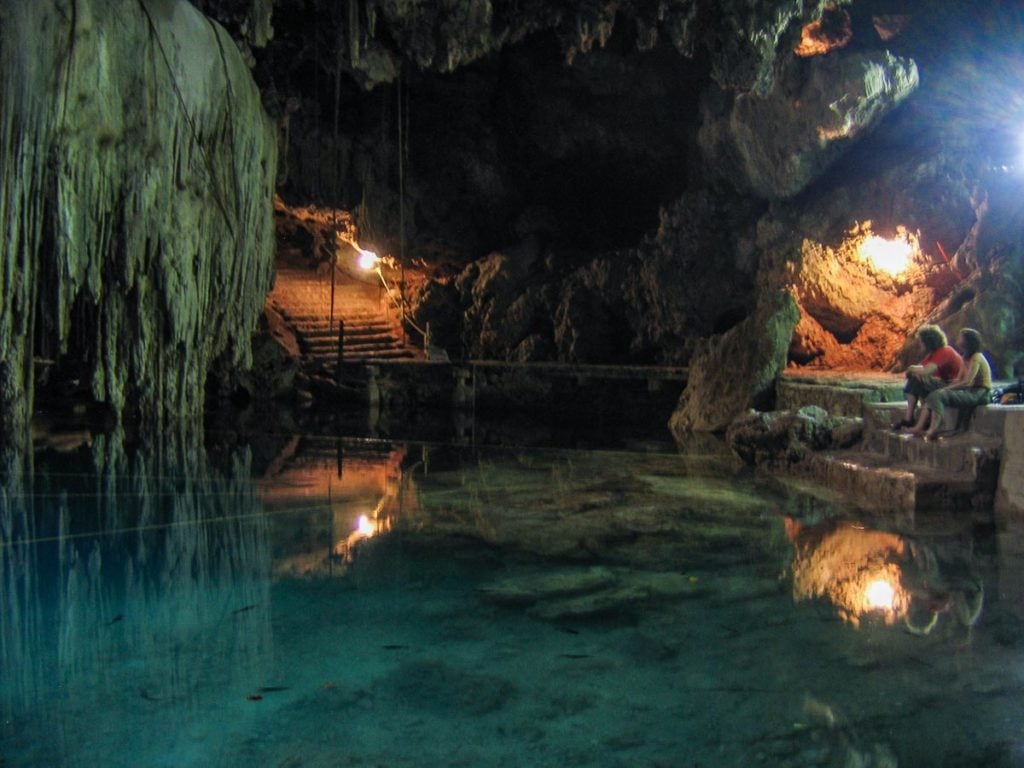 Location: Google map location
Hours: Open daily, 8 a.m. to 6 p.m.
Facilities: Restrooms, showers, food vendors
Entrance Free: 50 MXN per person (~$2.50 USD)
Rental Equipment Available: Life jackets and lockers available for rent
Half way between Cancun and Mérida along highway 180 on Mexico's Yucatán Peninsula is the colonial city of Valladolid, with many historic and cultural sites to explore, and cool blue denotes to dip into.
Cenotes are super popular with tourists and equally significant to the Mayan locals, and there is one cenote in Valladolid you don't want to miss — Cenote Dzitnup, also known as Cenote Xkeken, located just 6 miles south of Valladolid.
There's a small parking lot where you'll find life jackets and lockers available for rent (for a few pesos per hour), and local food vendors selling cold drinks, small souvenirs, and serving really good Yucatecan food. Plan on getting lunch on your way out.
The steps going down into the cavern can be slippery and there is little natural light in Cenote Dzitnup, but inside it is well lit for the tourists who visit the cenote to snorkel and swim.
The turquoise water at Cenote Dzitnup is crystal clear reflecting the stalactites and long tree roots hanging from the ceiling of the cave. Even so, snorkeling is not ideal given the low light, but swimming is popular — so much so, there's even a lifeguard on duty.
If you're not a strong swimmer but are tempted by a dip, there are plenty of ropes strung between rocks that you hold on to.
Recommended by: Lori from TravlinMad
Cenote Ik Kil
At a glance: A deep semi-open cenote with tall cave walls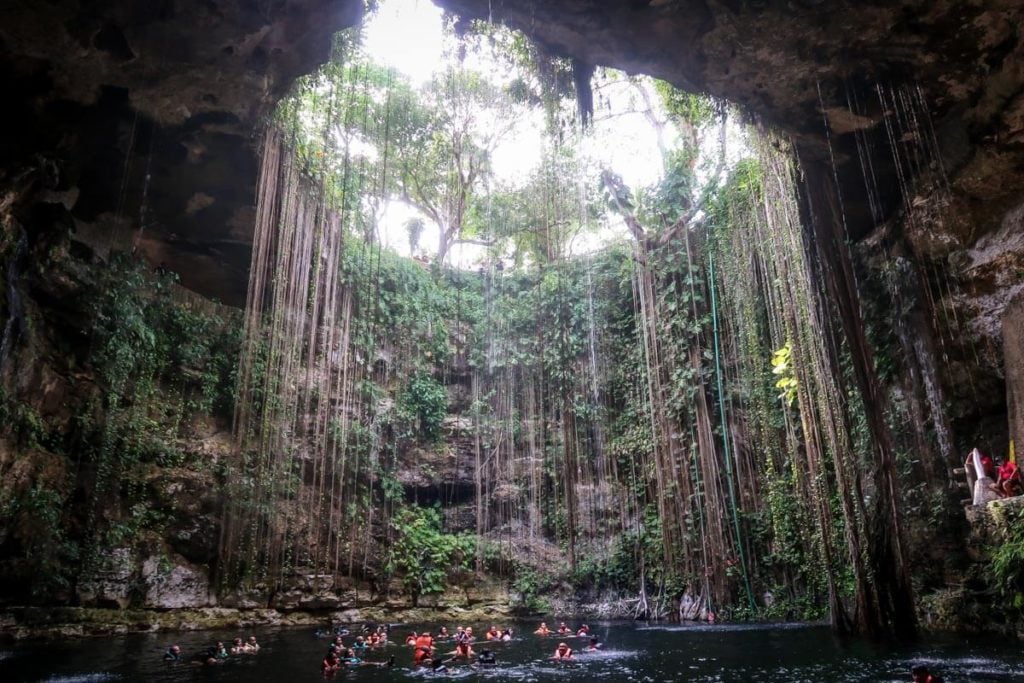 Location: Google map location
Hours: Open daily, 8:00 a.m. to 5:00 p.m.
Facilities: There are restrooms, changing and shower facilities plus lockers, a restaurant, small shops and snack stalls.
Entrance Free: 80 MXN per person
Rental Equipment Available: Life jackets are required and come at an extra cost of 30 MXN, towels and snorkel gear also available for rent
While it may not be the most beautiful of all the cenotes in Mexico, Cenote Ik Kil is certainly one of the most popular. This is probably due to its location near the famed Chitzen Itza Mayan ruin, which makes it an easy stop to lump together in a tour or day trip.
This is one of the more developed cenotes, which means it can have a bit of a resort feel with a whole tourism area built up around it including an onsite restaurant and well-maintained facilities.
One thing that makes Cenote Ik Kil unique is that it's located 85 feet below the surface of the earth. To reach the water, you'll have to climb down a long staircase carved into the limestone around the cavern.
Tip: The staircase can get quite slippery, so tread carefully!
Once you reach the water that comes right up into the stairwell, you'll start swimming through an enclosed area, around the corner until you pop out into the open cenote. Life jackets are mandatory here as the water is very deep—like 150+ feet deep! You can float around the cavern, gazing up into the sky above and there is even a jumping platform, not too high off the water.
Insider Tip: Get there before 9 a.m. for a tranquil experience with just you and the resident black cat fish.
Recommended by: Amanda, Editor at Two Wandering Soles
Cenote Hubiku
At a glance: A popular cavern cenote with a single beam of sunlight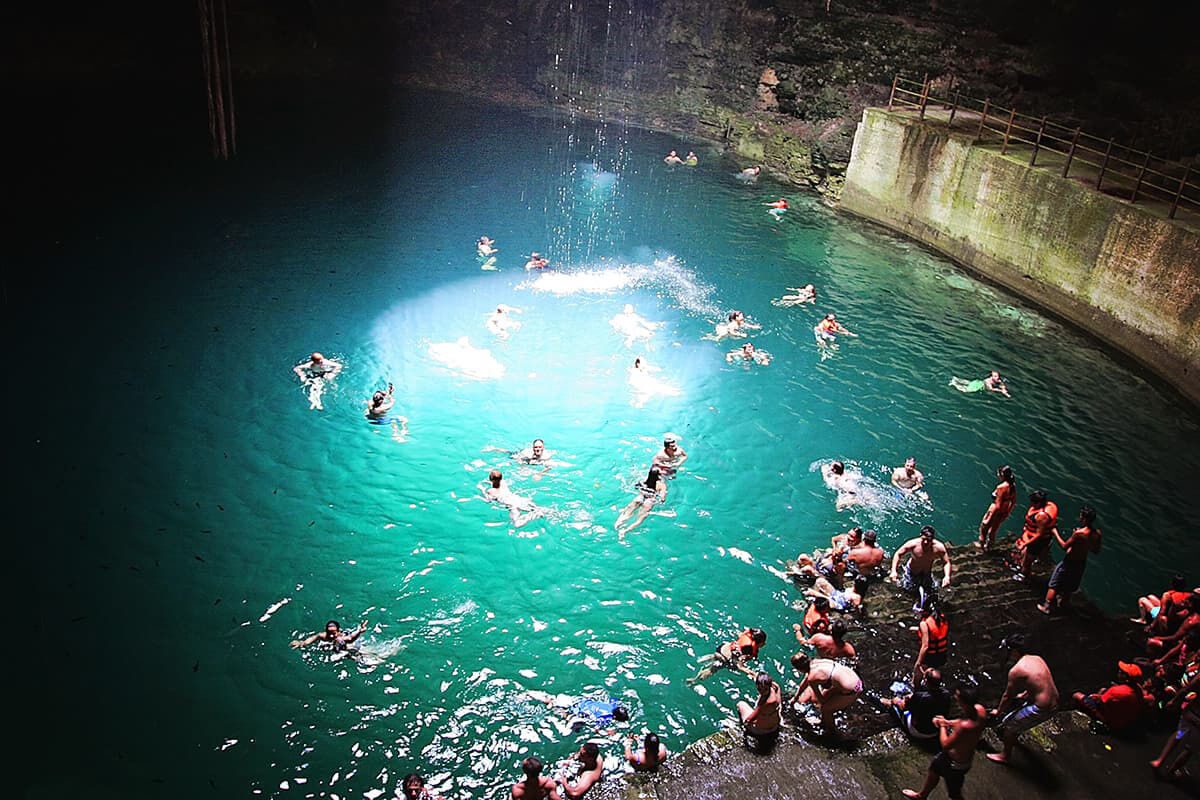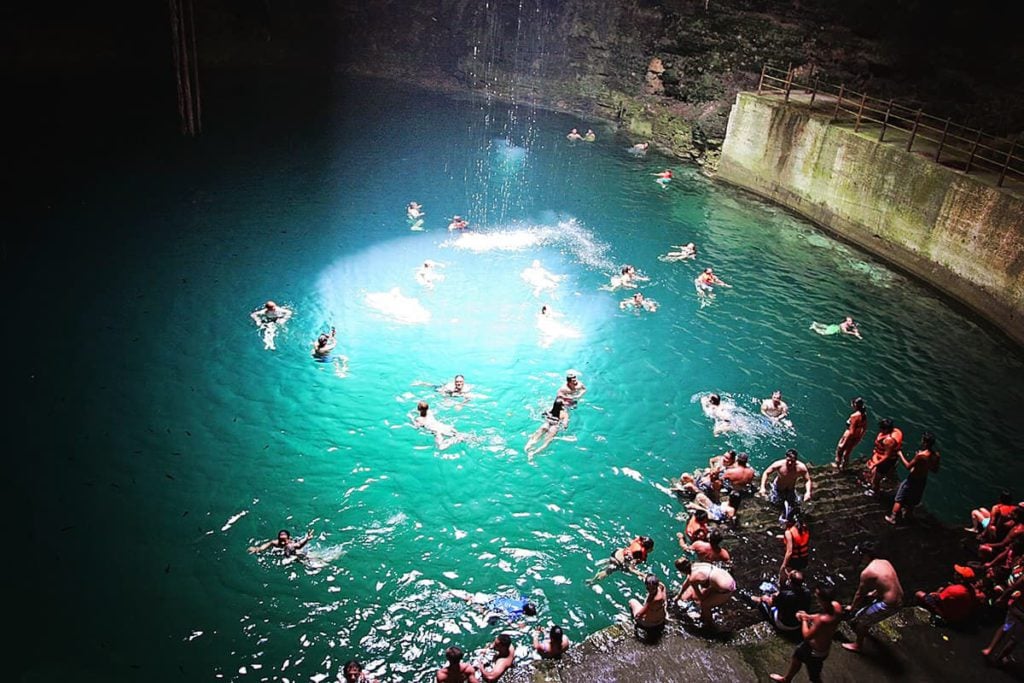 Location: Google map location
Hours: Open daily, 9 a.m. to 5 p.m.
Facilities: Bathrooms and shower stalls are available on site
Entrance Free: 100 MXN per person (~$5 USD)
Rental Equipment Available: Life jackets and lockers are available for rent
Cenote Hubiku is a popular stop along the tourist route to Chichén Itzá. Tickets can be purchased as a package deal that includes transportation to and from Cancun, lunch in a Mayan village, a tour of the Chichén Itzá ruins, and entrance to the cenote's on-site tequila factory and artisan shop.
As far as cenotes go, Hubiki is a relatively young one. It was formed when the roots from a large tree collapsed and created a hole in the "roof" of the formation. That opening is still small, so most of the interior of the cenote is enclosed and shaded. When the sun is directly overhead, a bright beam of sunlight shines inside to illuminate the interior and it looks very magical.
Cenote Hubiku is considered a sacred place, so guests are required to rinse before entering to help preserve its purity. Life jackets are advised, since the outer ledge can be slippery, and the water is 150 feet deep and very cold. Unlike many cenotes, Hubiku is filled with tiny black catfish that love to swim right up to visitors!
Insider Tip: Upon arrival, be advised that a photographer will request to take photos of each guest. They will print the photo and place it on a bottle of tequila, and then attempt to sell it to you as a souvenir at the end of the trip. Tequila is often confiscated at the airport, so keep that in mind.
Recommended by: Erin from San, Sun and Messy Buns
Cenote Saamal
At a glance: Similar to Cenote Ik Kil but without the crowds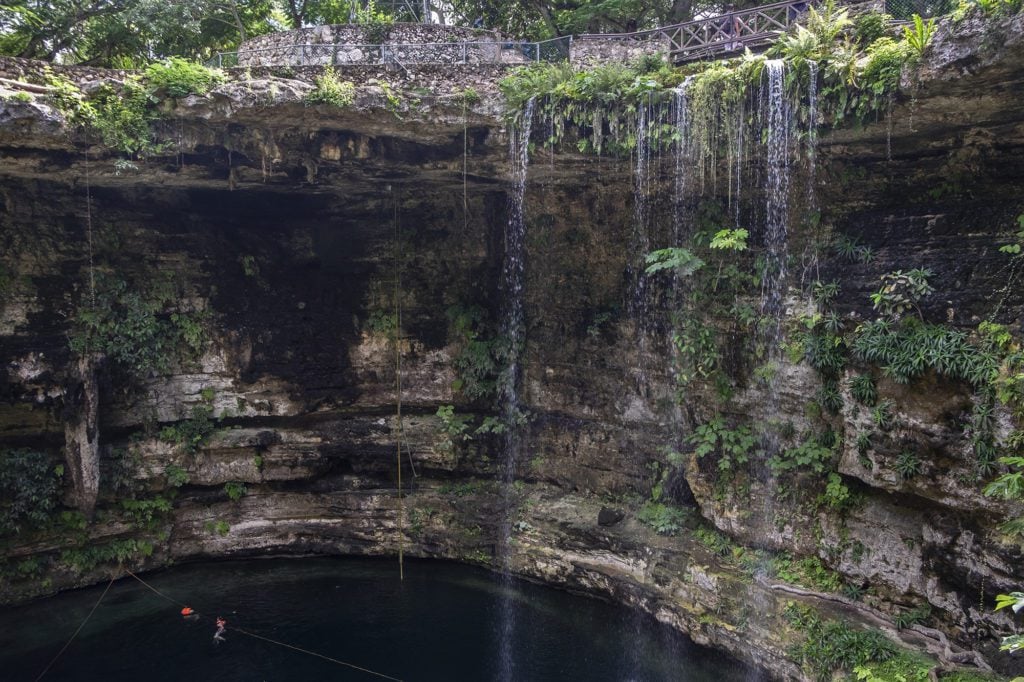 Location: Google map location
Hours: Open daily, 9 a.m. to 5 p.m.
Facilities: Bathrooms, changing rooms, and showers are available. The cenote is located on-site with Hacienda Selva Maya, where there are vendors and a buffet.
Entrance Free: 80 MXN per person (~$4 USD)
Rental Equipment Available: Life jackets are required and are included in the admission price.
Located just outside of Valladolid, Cenote Saamal is one of the many easily accessible and affordable cenotes in Mexico! Cenote Saamal is worth visiting because it attracts fewer visitors than other cenotes in the area while being just as stunning. It is an open-air cenote that features towering rock walls with hanging vines and a waterfall trickling from the top, which is very reminiscent of Cenote Ik Kil.
If you're going swimming in the cenote, there is some practical information that you need to know. You are required to shower off prior to entering the cenote and you must wear a life jacket at all times.
There are wooden stairs that take you down to the water level so you don't have to worry about slippery rocks.
Like other cenotes in Mexico, the water felt extremely refreshing and you might see some little fish swimming around you. If you're not interested in swimming in the cenote, but still want to see its grandeur, you can easily look into it from the top. There is a pathway that goes almost entirely around the opening.
During a visit to Cenote Saamal, you can have lunch and do some shopping at Hacienda Selva Maya in addition to swimming in the cenote.
Recommended by: Pam & Kathrine from Everywhere Forward
---
More resources for planning your trip to Mexico
If you're planning a trip to Mexico, we've got loads of helpful resources for you! Start with our Mexico Travel Homepage, where you'll find general info, and be sure to check out the articles below. Leave us a comment if you have any questions!
Save this article on Pinterest for later!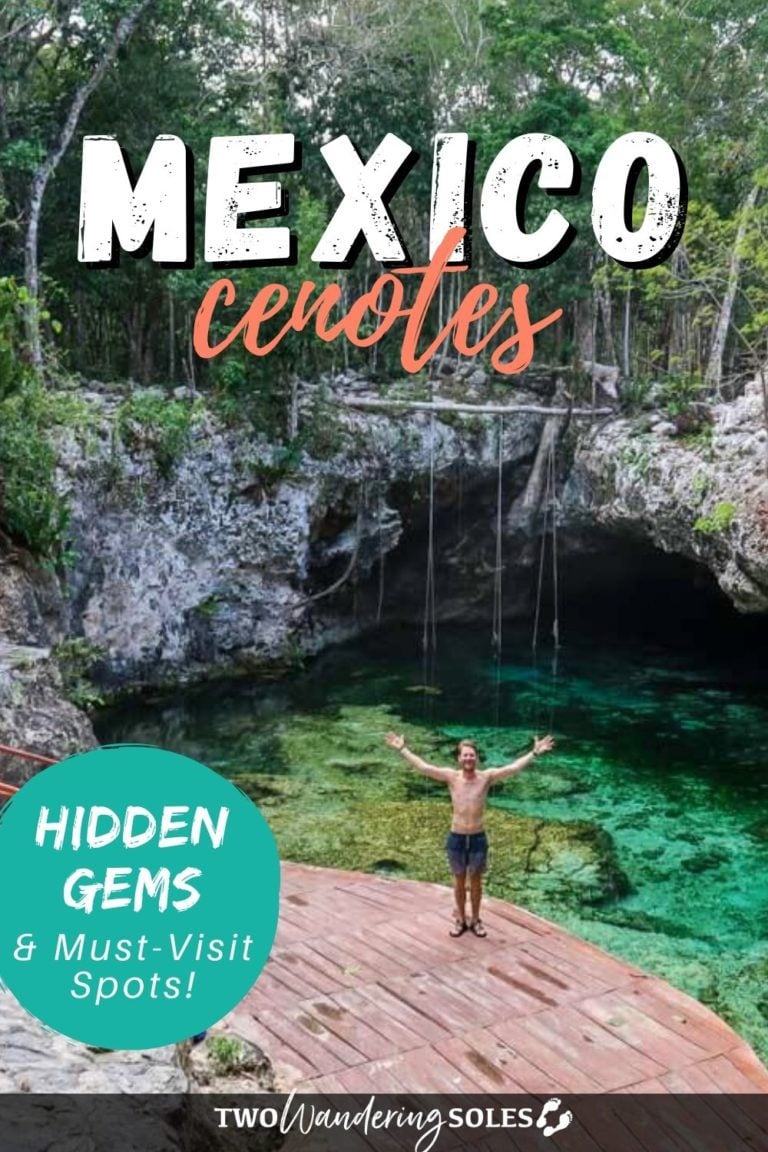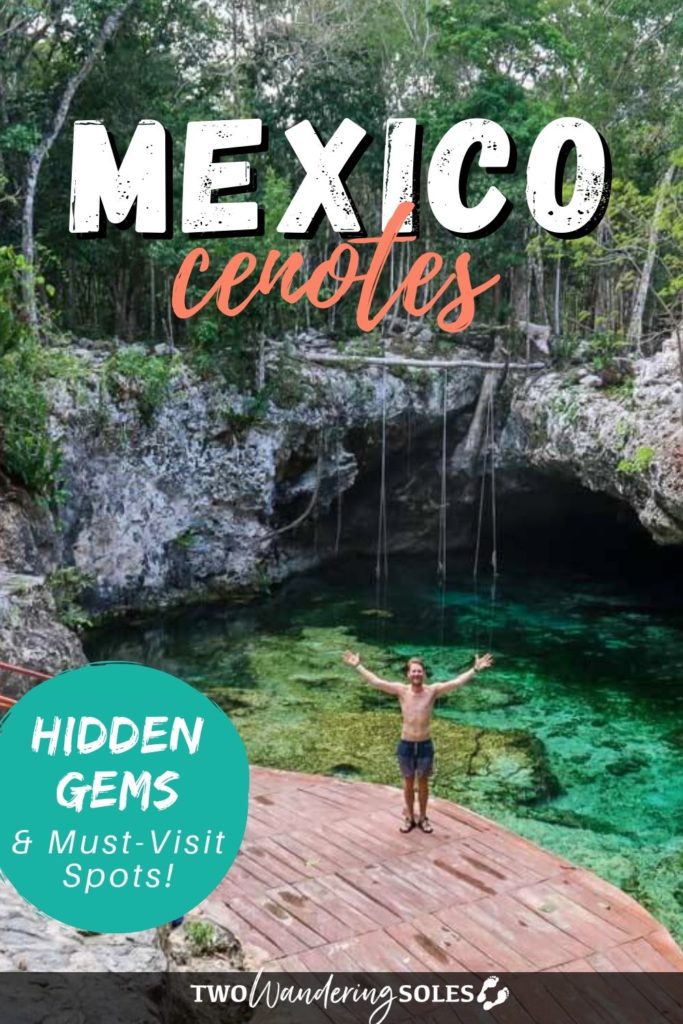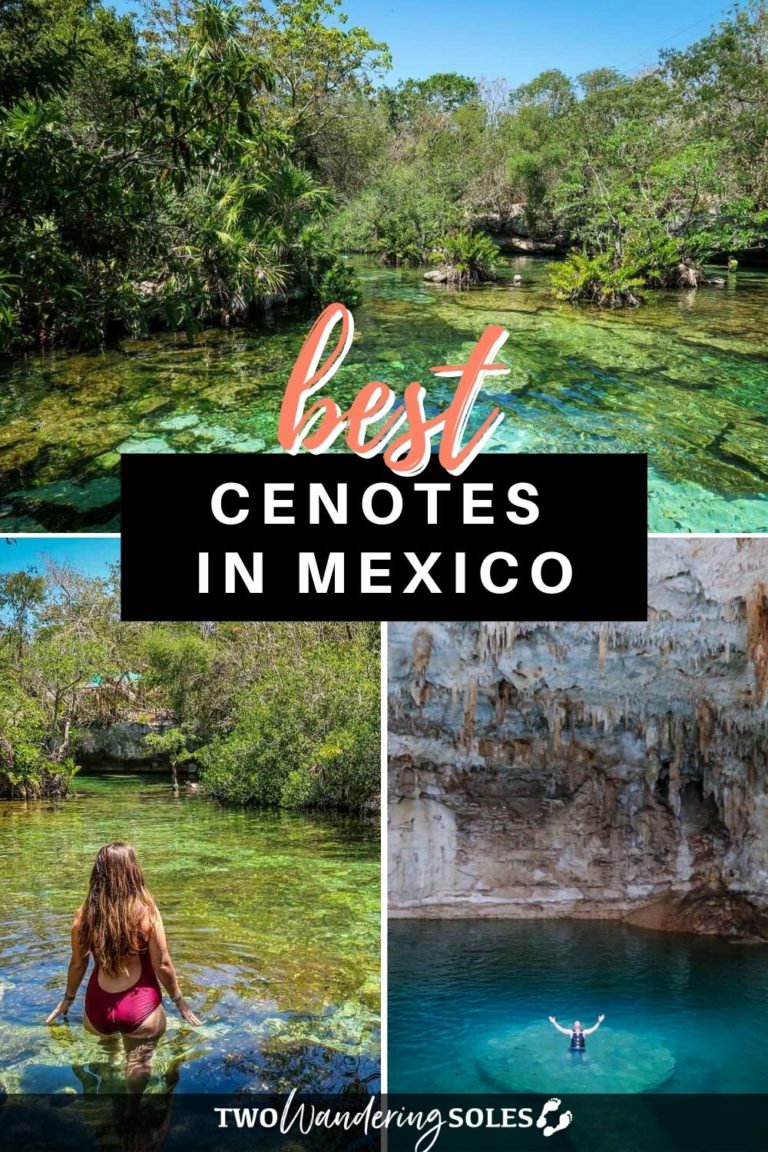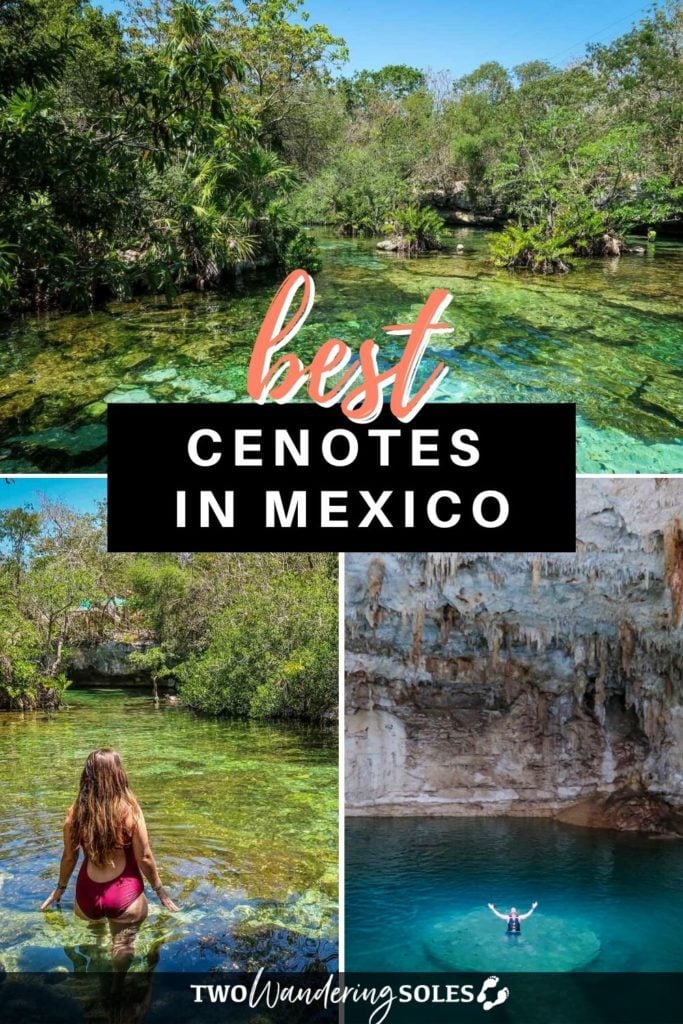 We want to hear from you!
Which cenote are you most excited about visiting? Do you have a cenote you think should be added to this list? Leave your comments below and we'll do our best to get back to you!