There is no place in the world quite like Iceland. With waterfalls around every turn, glaciers and black sand beaches, Iceland is a photographer's dream and a nature-lover's paradise.
This country is small but don't underestimate the amount of adventure you can find. Plus, the charming city of Reykjavík is a great place to mingle with friendly locals and experience the unique culture of this volcanic island nation. 
If you're looking for true adventure on a budget, rent a car and a tent and follow our super detailed 7 day Iceland itinerary. Or for a bit more comfort and protection from the elements, try renting a campervan and exploring all of Ring Road. 
Insider Tip: Out of all the campervan rental companies out there, we like Happy Campers the best. They are a family run company providing excellent vehicles with all the gear you need for an epic road trip in Iceland.
What are you waiting for… Adventure is calling!
But first, don't miss your chance to download our perfect south coast Iceland itinerary!
Important Info | Best Time to Visit | Things to Do | What to Eat | Typical Budget
Travel Tips | What to Pack | Iceland Articles | Book Now
Important Information About Iceland
Iceland at a Glance: From every mountain and cliff's edge, Iceland seems to have an abundant supply of flowing water. Not to mention the lava fields, fjords, volcanoes and mud pops. A visit to this surreal place will leave you speechless and never wanting to leave!
Currency in Iceland: Króna | 2018 Conversion Rate: 100 ISK = $0.88 USD
Tipping in Iceland: It is not very common to tip in Iceland. If there's no service charge in your restaurant bill, then it is perfectly fine to tip 10% gratuity, but it is not expected of you. You won't be expected to tip hotel and spa staff, tour guides, hairdressers, or taxi drivers.
Language & Helpful Phrases: Icelandic
Hello = halló/Góðan daginn
Thank you = takk
Beer = bjór
Delicious = ljúffengur
Bathroom = baðherbergi
How much? = hvað kostar þetta (mikið)
Too expensive = of dýrt
Don't want = vil ekki
Religion and Culture: Iceland's culture varies and strongly originates from Scandinavian traditions. As much as 80% of Icelanders view themselves as members of the Lutheran State Church. The people also take great pride in their Viking heritage and traditions. The country has embraced traditional crafts such as weaving, silver smithing, and wood carving.
Transportation around Iceland: In Iceland, there are many of your typical modes of transportation from taxis and public buses to rental cars and cyclists. You will also find some less conventional methods of getting around such as hitchhiking or traveling by campervan. The fastest way around the country is via domestic flights. This option is best if you are only staying for a couple of days in Iceland and you want to see a lot of places.
Popular places to visit in Iceland:
Reykjavik – Super walkable, extremely safe, and full of Nordic charm, Reykjavik is packed with spunk, charm, and fun things to do.
The Blue Lagoon – The Blue Lagoon is undoubtedly the most famous hot spring in the entire country, and for good reason. The milky blue waters surrounded by lava stones are stunning. Plus, with a complimentary beverage (Prosecco, please!) and silica face mask, you'll feel totally pampered soaking here.
Snaefellsnes Peninsula – Sandwiched between the Westfjords to the north and the Reykjanes Peninsula to the south, the Snaefellsnes Peninsula is a region in western Iceland worth exploring with some pretty epic waterfalls, hikes and incredible views.
The Golden Circle – Easily accessible, the Golden Circle is a famous driving loop that passes by 3 of the countries main attractions: Thingvellir National Park, Geysir, and Gullfoss. Plus some secret spots off-the-beaten-path that you'll definitely want to check out.
Sólheimasandur Plane Wreck – Hike to the eerie wreckage of a 1973 U.S. Navy plan that crashed on this desolate black sand beach in Iceland to get some pretty interesting photo ops.
Fimmvörðuháls trail – Arguably one of the best day hikes in Iceland, this hike rewards those who take it on with some of the most dramatic landscapes the country has to offer.
Stuðlagil Canyon – Nestled in a glacial valley in northeastern Iceland, this seriously Instagrammable canyon boasts the country's largest collection of basalt columns.
Other popular spots include:
Reykjadalur Hot Spring Thermal River
Seljalandsfoss
Seljavallalaug swimming pool
Skógafoss
Vík
Fjaðrárgljúfur Canyon
Svartifoss
Diamond Ice Beach
Skaftafell glacier
Wondering how to fit all this into one trip? We've got you covered! We've created the perfect customizable Iceland Itinerary for a 7-9 day road trip.
Best Time to Visit Iceland
For an in-depth guide on the regional seasons, weather patterns and other factors, check out our complete guide on the best time to visit Iceland. We've also listed out some of the basics below to give you a general idea.
Climate in Iceland
Thanks to the Gulf Stream, Iceland experiences cool summers and mild winters despite its location in the south of the Arctic Circle.
Warmest season: mid-June to late August

Rainy season: precipitation peaks from October to February

Winter: November to March

Spring: April to May

Summer: June to August

Fall: September to October
Peak season for tourists is from July to August because of the great weather.
Times to avoid traveling in Iceland
The worst time to visit Iceland is when it is the most crowded. This is often July to August.
Tip: If you want to see the Northern Lights, it is best to visit from mid-October to March.
Major Festivals in Iceland
Culture Night, August: This festival is a citywide celebration of culture and art. Celebrations take place in city streets, squares, museums and businesses. The night marks the beginning of the city's cultural year with the slogan, "Come on in!" paying homage to the old fashioned customs of hospitality.

Secret Solstice, mid-summer solstice: This music festival takes place in Reykjavík each summer to celebrate the summer solstice and combines music with distinctly Icelandic characteristics to bring a unique experience to festival-goers they won't be able to get anywhere else.

New Year's Eve: This special holiday is celebrated by Icelanders with bonfires, reveries and lots of fireworks!
*Some of these festivals follow the Lunar calendar, so the exact dates vary each year.
FREE e-Book
We Traveled the World for 4 years on a Budget with these 21 Brilliant Travel Hacks!
[30 pages, money-saving trips, and 100% FREE]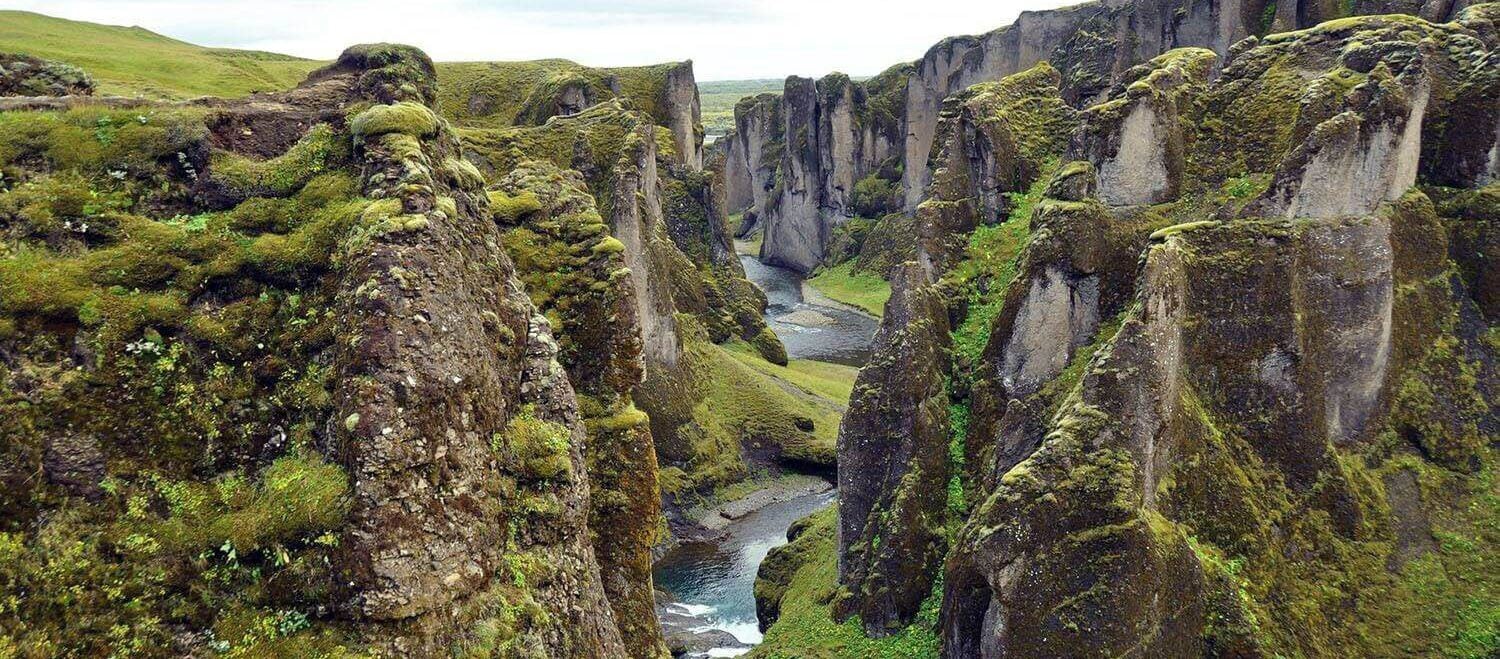 Top Things to Do in Iceland
Soak in Hot Springs
You've probably heard of the Blue Lagoon outside Reykjavík, but did you know Iceland is actually filled with naturally geothermal-heated pools. We rounded up our favorite Iceland hot springs, including all the details about visiting so you know exactly what to expect.
View the Northern Lights
Catching a glimpse of the green hues dancing across the northern sky is probably on every traveler's bucket list. The lights are best seen from remote places in Iceland from mid-September to mid-April.
Wander Around Reykjavík
This is probably where you will find the most cafes, pubs, and clubs in all of Iceland. The town is filled with beautiful wooden houses painted in bright colors that stick out perfectly against the green and blue landscaping. There are plenty of cool things to do in Reykjavik to satisfy any type of traveler.
Chase Waterfalls
One of the biggest draws to visiting this unique country is the incredible amount of waterfalls one can see in a day. We've rounded up the best waterfalls in Iceland, plus their exact locations, so you can see just how many you can fit into your itinerary. So get your galoshes and rain jacket and go chasing waterfalls!
Take a Hike
We've done quite a bit of trekking around this jaw-dropping country and we've compiled a list of our favorite Iceland hikes to share with you. This article includes plenty of photos and details to help you plan your experience hiking in Iceland and know exactly what to expect.
That's not all… There are so many more incredible things to do in Iceland, we had to create an entire article about it. We've rounded up the top adventures, sights to see and culinary experiences so you can create your own Iceland bucket list.
Best Foods to Eat in Iceland
Before the times of importing goods, Icelanders were limited in their food options to food they could hunt, fish or farm. This influenced the traditional cuisine and is still seen in dishes around the country today. We break down all the options in our guide to Icelandic food, so you know what to try and what to skip on your net trip.
Here are some of our favorites:
Skyr: Don't miss the chance to try this creamy dairy product that is often described as the marriage between cottage cheese and yogurt.

Lamb: In Iceland, lamb is served in many different ways. Often, it is roasted with spiced gravy or stewed with root vegetables.

Fermented Shark: Yup. You read that right. Only in Iceland will you find shark fermented with vinegar and other ingredients sold as a delicacy.

Ice Cream and Cheese: Just because Iceland has ice doesn't mean they don't eat ice cream all year round. There are a lot of good ice cream shops on the island.

Seafood: Fish is often present in an Icelander's daily meal. It is often grilled, roasted, fried or boiled. Besides fish, you will also find some savory lobster dishes.

Pylsur: Bæjarins Beztu Pylsur is small chain of hotdog stands you will find all over Reykjavík serving up the best pylsur outside of an American baseball stadium.
Typical Budget for Iceland
Out of all the countries we've visited, Iceland is probably one of the most expensive. The reason for this is because almost everything needs to be imported to this volcanic island in the arctic.
Good to know: If you're on a budget, the best way to enjoy Iceland would be to go camping. There are a lot of free campgrounds around the island. You'll definitely save a lot of money here. For more money saving tips, check out our article on how to travel on a budget in Iceland.
How Much to Budget in Iceland Per Day
Budget traveler: If you are on a tight budget and watch your spending closely, $76 – $100 could be a sufficient budget.
Mid-range traveler: If you want to have a few splurges and stay in nicer accommodation, plan to budget $200 – $300 per day.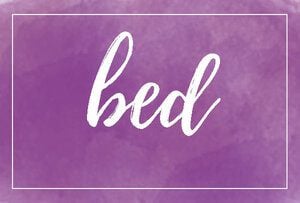 Campsites = $10-$22 per person
Dorm bed = $30-$50
Budget room = $85-$120
Mid-range = $200
Luxury hotel = $300+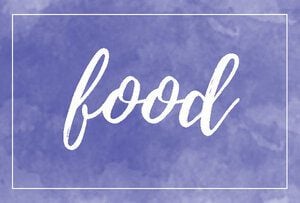 Street food = $3.50-$17
Mid-range restaurant = $15+
Fancy restaurant = $25+
Local beer = $6-$10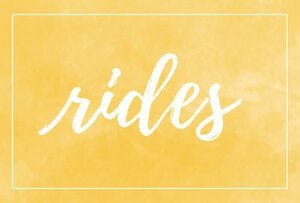 Car Rental = $32 per day
Bus Ticket = $4.60 (Long-distance bus tickets are at $80 to $110)
Camper Van = around $150+ per day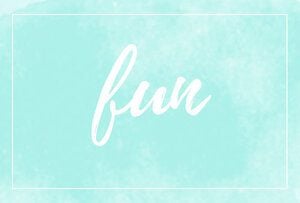 Museum = $8-$25
Blue Lagoon = $150 for two people
Horseback riding = $106
Responsible Travel Tips for Iceland
We are passionate about sharing tips anyone can use to travel more responsibly. Here are some easy ways you can travel better in Iceland.
1. Learn a little
Cultural differences can make traveling confusing if you don't know what to expect ahead of time. Before going to Iceland, educate yourself. Beyond this travel guide, read about the language, culture, religion and local rules of the country.
2. Be respectful
If you love to take photos or videos like we do, be sure to always ask permission before sticking a camera in someone's face. Do not treat the locals like animals in a zoo.
3. Minimize your waste
Don't forget to bring your very own shopping bags and reusable water bottle, and make it a habit to remove and recycle plastic packaging of things you buy. If you are camping in Iceland, remember to leave on footprints… that means you should be prepared to haul your trash away when you leave and dispose of it in the proper receptacles once you return to town.
Related Article: 36 Responsible Travel Tips
One of the most frequently asked questions we get from people planning a trip to Iceland seems to be what to pack for Iceland and what to wear on your trip.
Here are some specific items we'd recommend packing for Iceland:
bug repellant (solids are the way to go)

reusable straw & reusable bag (say no to single-use plastic!)

gloves, winter hat, scarves

swimsuit

wool socks

thermal long underwear (for highland activities and travels)

sun protection

backpack with rain cover

waterproof jacket (the outer layer should be water and windproof)

hiking pants or rain pants

hiking boots (or winter boots depending on the time of year you travel)
Related Article: Check out our eco-friendly travel gear packing list for some great recommendations of things to pack on your travels.
Find all sorts of information and tips on traveling to Iceland that will help you plan your trip. From how to plan an epic camping adventure to money saving tips, we've got it all!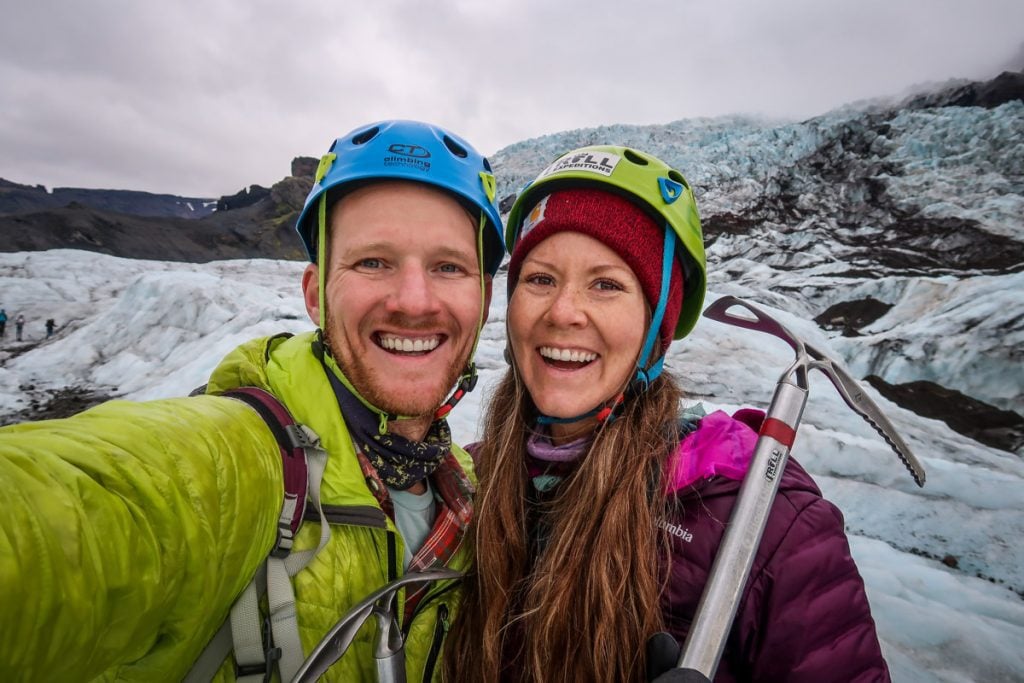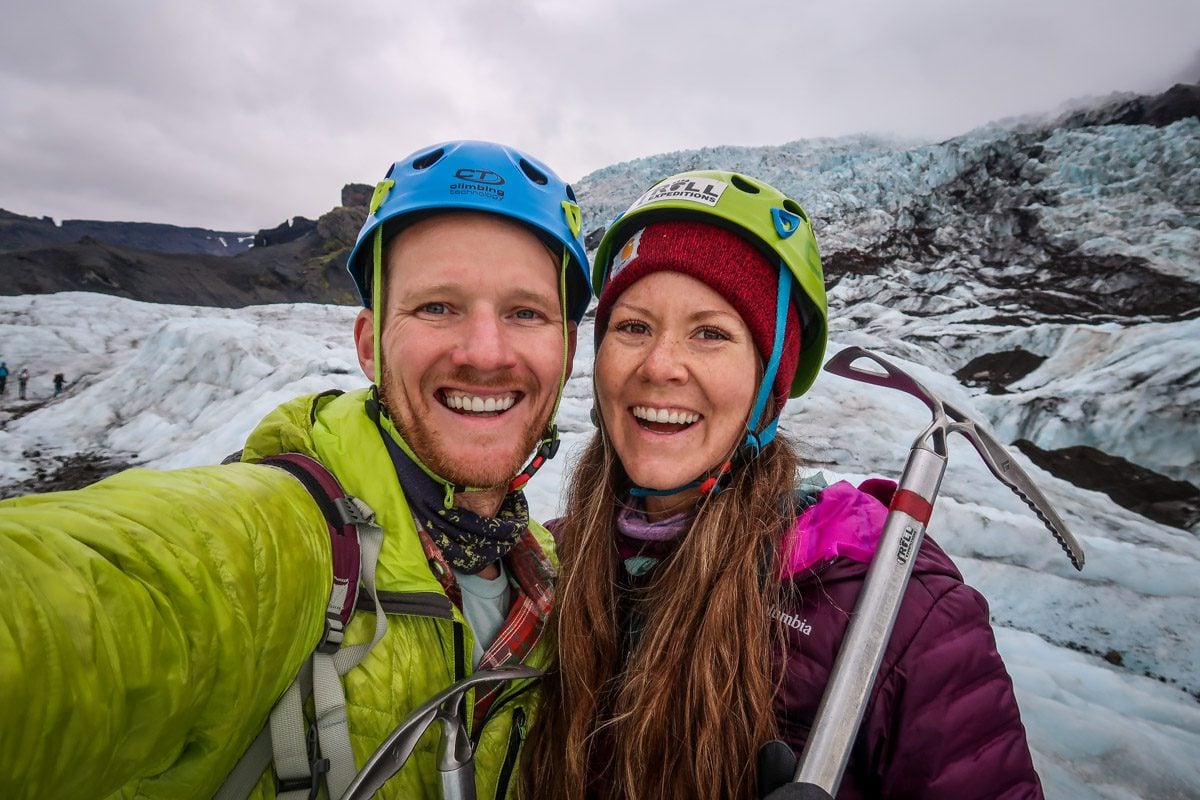 There are so many incredible things to do in Iceland it can be overwhelming to try and plan your trip. We've rounded up the top adventures, sights to see and culinary experiences so you can create your own Iceland bucket list....
Book Your Trip to Iceland Now!
Here are some helpful links for booking your trip to Iceland…
To find the best airline deals: Skyscanner
Booking a rental car: Rentalcars.com
Campervan rentals in Iceland: Happy Campers
Finding tours in Iceland: Get Your Guide
Don't you dare travel without this!