Famously flavorful, complex, and fiery, Thai dishes delight the senses with unique combinations of sweet, sour, salty, and spicy. Truly a foodie's paradise, we've rounded up the best Thai food you must try on your next visit.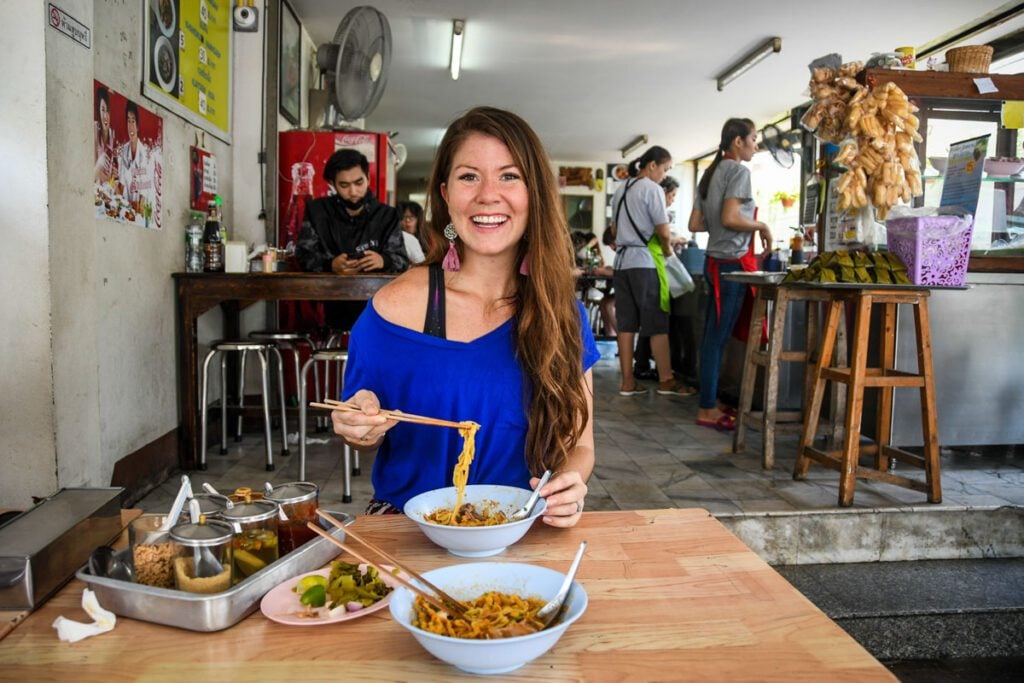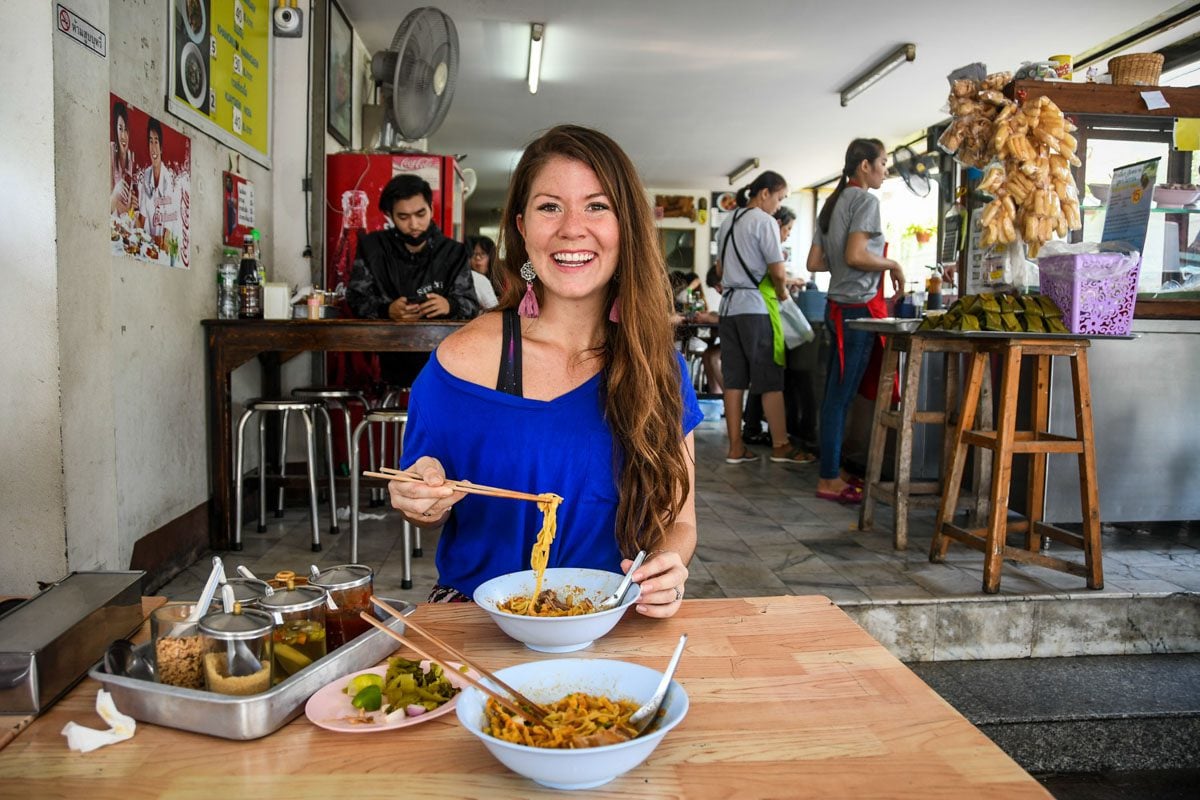 Spicy and fresh, sweet and sour, Thai cuisine is multi-dimensional and utilizes all flavor profiles. Thai dishes are known for packing a punch in both flavor and spiciness. One thing is for certain — I don't think we've ever had Thai food that is bland!
If we had to choose our favorite cuisine in the world, Thai would be at, or very near, the top of the list.
Over the years, we have spent about 2 years, collectively, living and traveling in Thailand, and we have explored Thai cuisine pretty in depth.
We've taken cooking classes and food tours in Thailand, we've shopped at local markets for the regional ingredients and replicated dishes on our own. We've eaten at top-rated restaurants in Thailand as well as more street food stands than we can count.
So it's safe to say, we are very familiar with Thai food.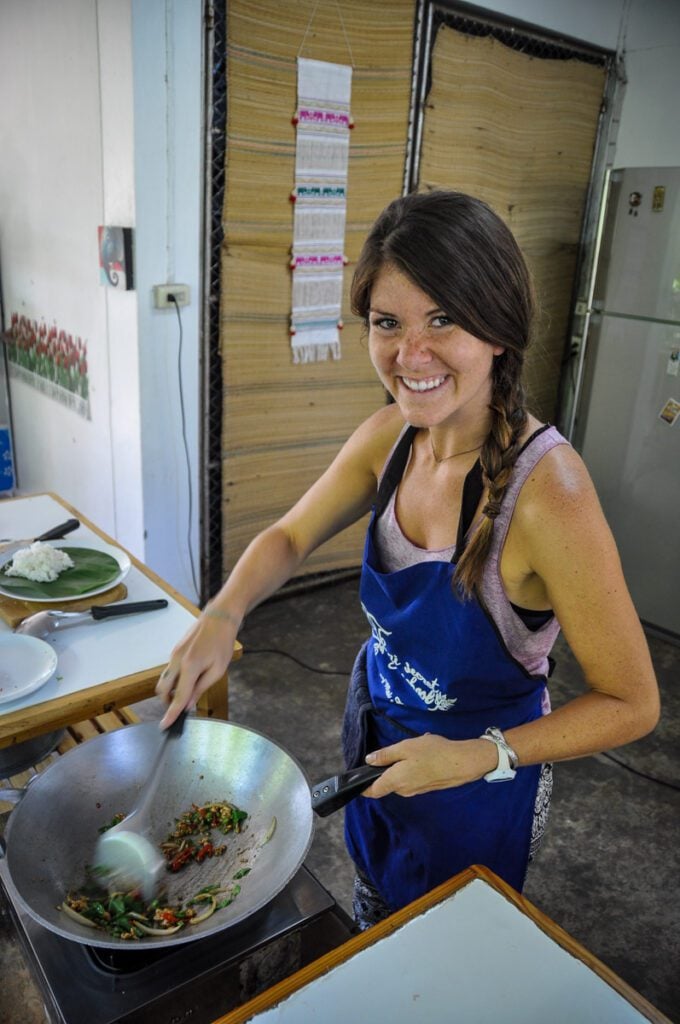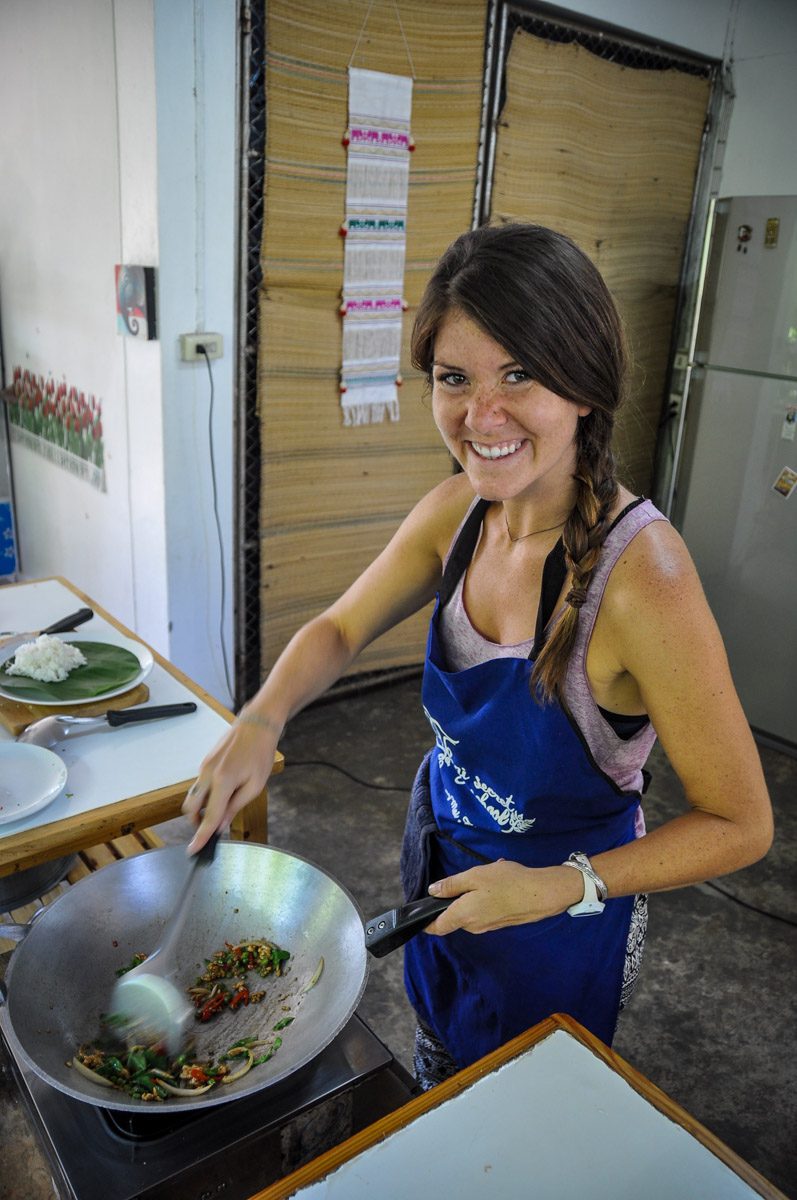 In this article, we're going to help you decipher how to read Thai menus. We're also going over some of the most common ingredients in Thai cooking and how the cuisine varies across the different regions of the county.
And most importantly, we're sharing the best Thai foods to try – from the popular dishes you'll find on every Thai menu, to the less common foods that you will have to make an effort to find.
Whether you are traveling in Thailand and creating a bucket list of Thai foods to try, or you'd like to know what to order at your favorite local Thai restaurant, we hope this guide to Thai cuisine gets you excited to eat your way through our favorite cuisine!
Before we get started, I want to warn you that you might not want to read this article on an empty stomach… So grab a snack and let's dig in!
Thai cuisine guide
---
Best Thai dishes you should try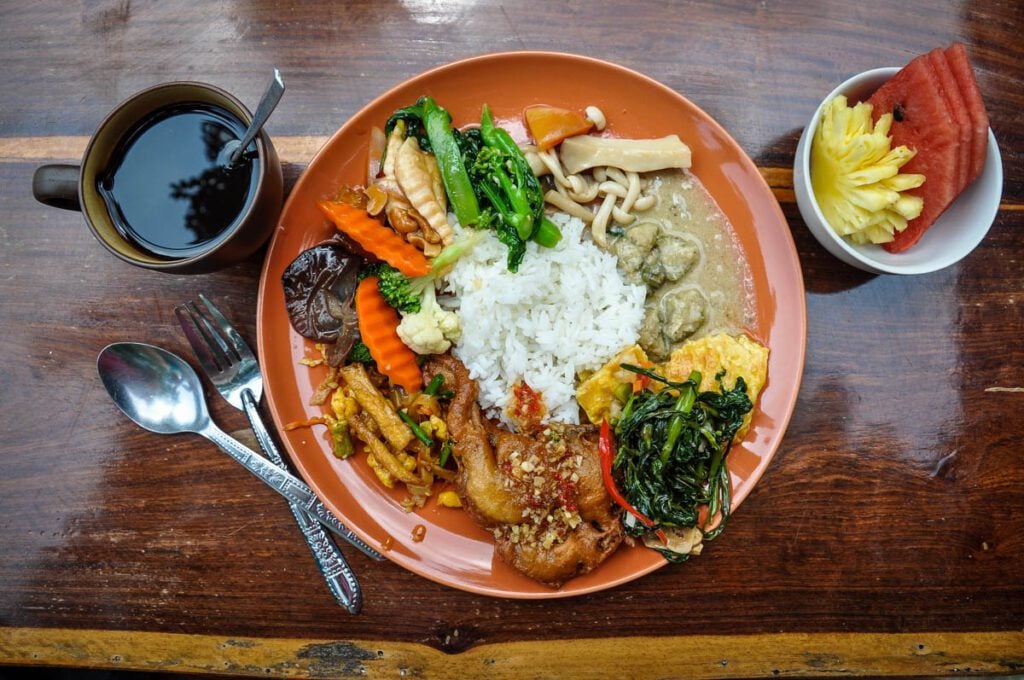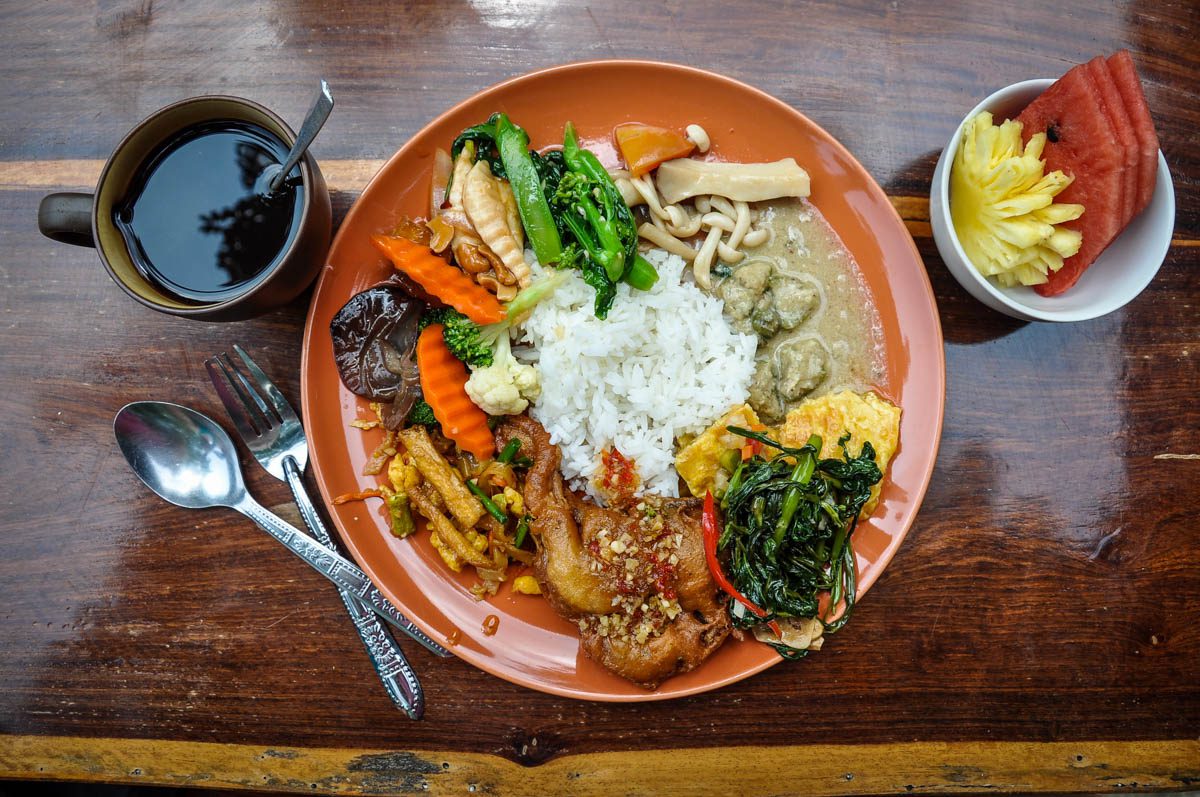 With so many incredibly flavorful bites around every corner, it's hard to know what to try to be sure you're getting the best taste of Thai food. If you're looking for the very best Thai dishes to try, here are our top 5 recommendations:
Khao Soi
Som Tam
Tom Kha Gai
Tom Yum
Pad Thai
Keep reading for more detailed information on each of these dishes and more ideas for Thai dishes you should try on your next visit.
1. Khao Soi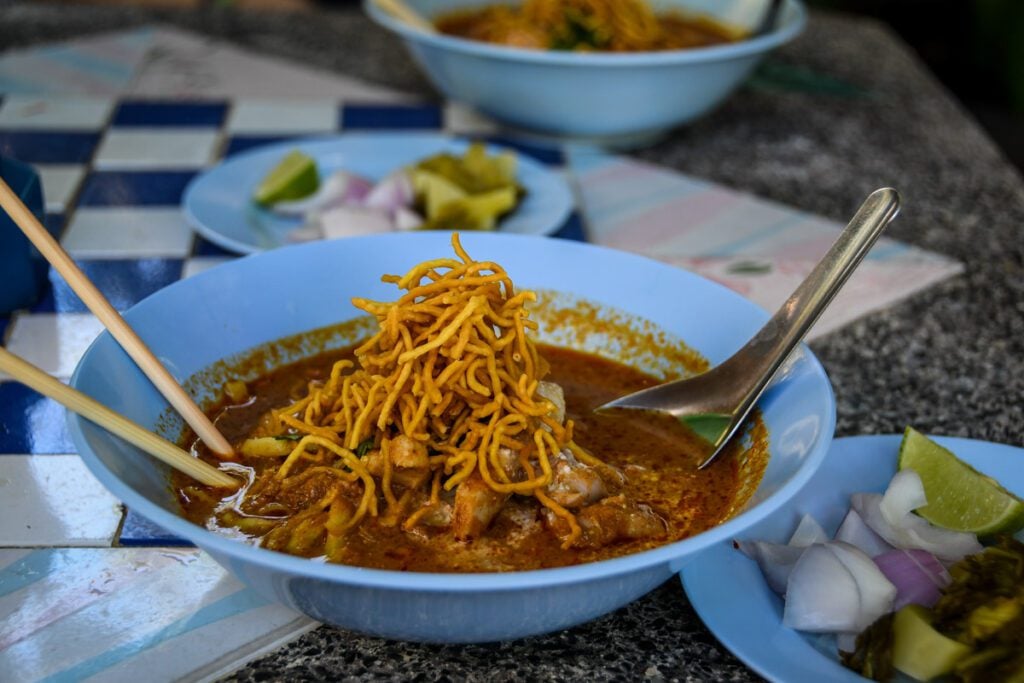 Hailing from Northern Thailand, Laos, and Myanmar, Khao Soi is a delicious egg-noodle soup we can't get enough of! Made with a rich coconut curry, similar to massaman but lighter, the orange-yellowish sauce is slightly spicy, creamy, and brimming with flavor.
This gravy-like soup is garnished with crispy egg noodles, pickled mustard greens, cilantro and lime. The same noodles are also boiled and added to the sauce.
In the most traditional preparation, the rice noodles are steamed and cut up with scissors, a method still found around Chiang Mai and other cities in Northern Thailand.
Where to order: This dish is most common in the north of Thailand and is typically found in restaurants as the special or main offering. Some of the best Khao Soi we've had was at Khao Soi Maesai in Chiang Mai.
2. Som Tam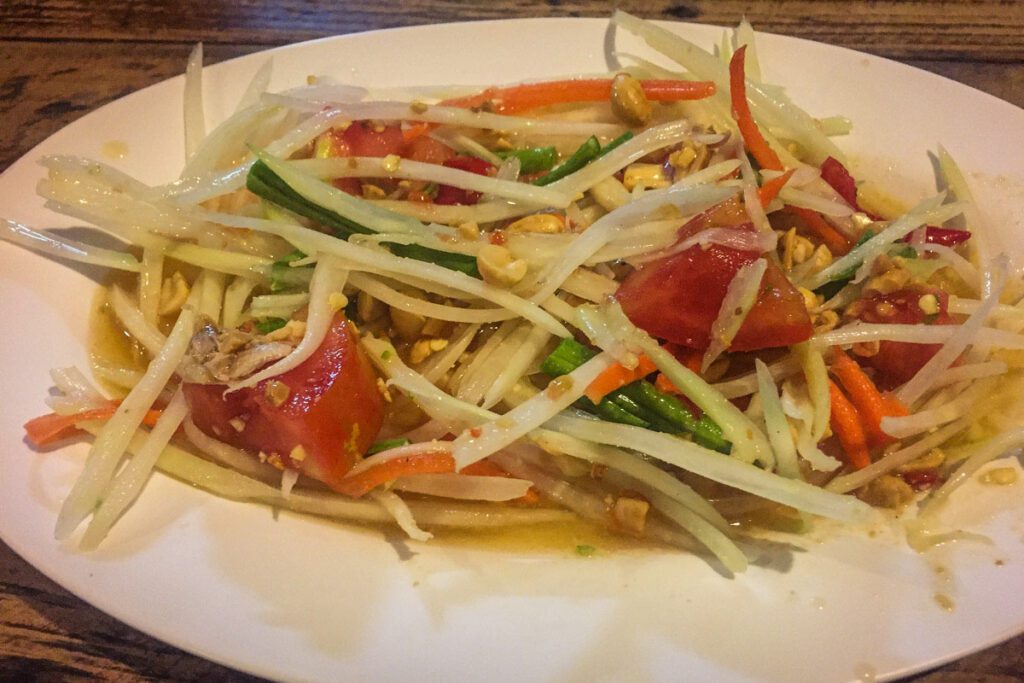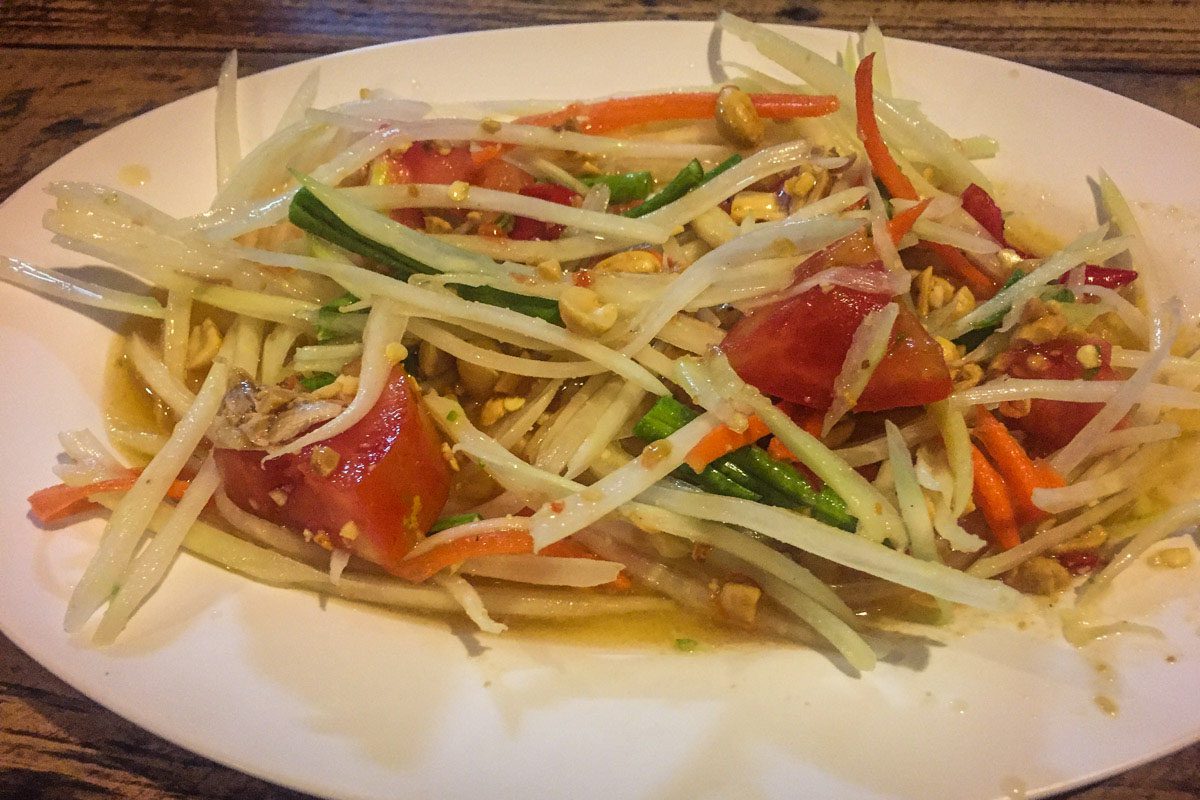 Popular throughout Southeast Asia, Som Tam is a salad made from shredded unripened (green) papaya and topped with a spicy chili pepper dressing.
The shredded fruit is combined with fish sauce, palm sugar, lime, and chilies in a mortar and pestle, creating a complex bouquet of flavors that tantalizes all the senses. I swear I can almost smell it now as I type this!
Especially in Bangkok and Central Thailand, Som Tam is typically on the spicier side — don't be fooled by the fact that sweet papaya is the main ingredient!
Often served as an accompaniment at restaurants or in a plastic bag on the street, there are many variations for Som Tam garnishes. The most common include dried shrimp, peanuts, beans, and tomatoes.
Where to order: Found literally all over Thailand, listen for the telltale pounding of a mortar and pestle on the street; it's usually Som Tam. For the freshest preparation, visit a food stall with a large crowd of people. They'll have the highest turnaround and shred through the most papaya!
3. Tom Kha Gai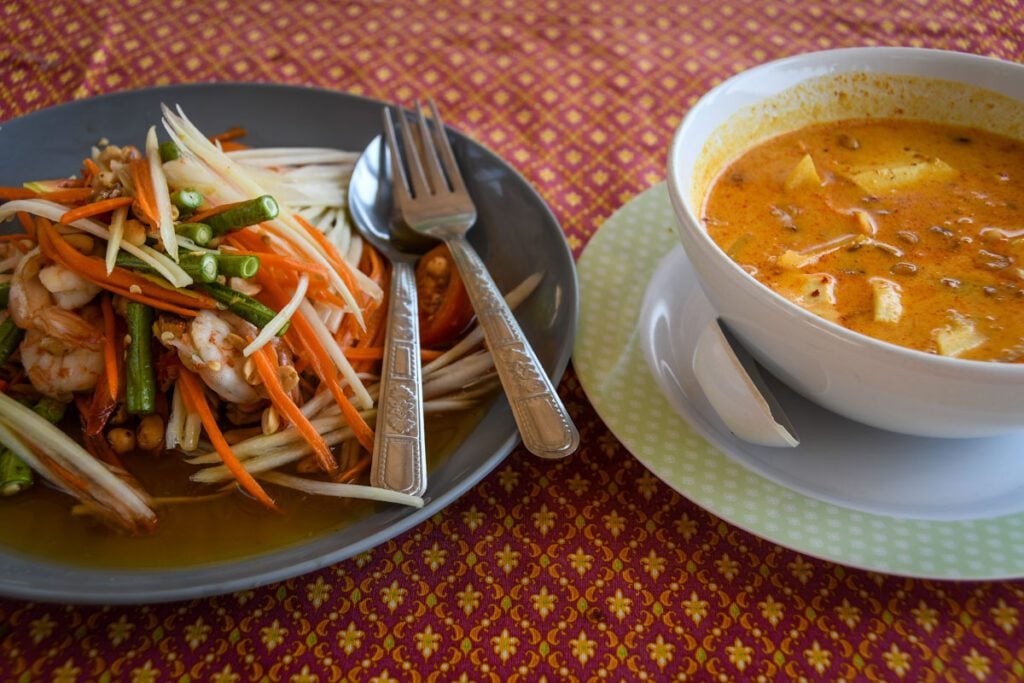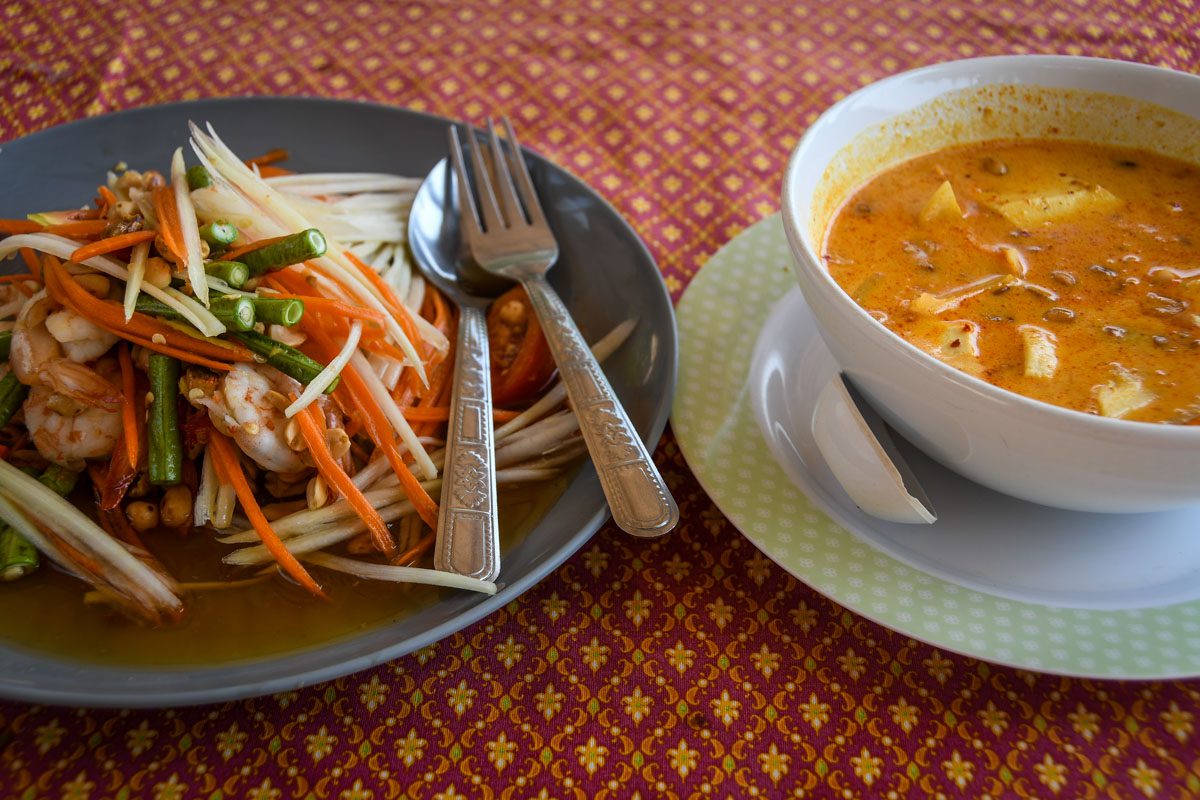 Tom Kha Gai translates to chicken galangal soup — a dish that's sweet, sour, and slightly spicy all at once. Easily one of the best introductions to Thai cuisine.
Made with a base of chicken stock, the broth is infused with coconut milk, galangal, kaffir lime leaf, and lemongrass. Chicken, as well as mushrooms, are often added to the liquid, and as it's ubiquitous in Thai dishes, the soup is typically garnished with cilantro and chilies.
Like other dishes from Northern Thailand, this simple yet undeniably comforting soup is heavily influenced by the cuisine of neighboring Laos. As a result, the texture is lighter and the flavors are less intensely spicy and salty than other traditional Thai foods.
Where to order: Less common as a street food, this dish is commonly served in restaurants across the entire country (and abroad)! However, for the most authentic version, order Tom Kha Gai at a casual eatery in Chiang Mai.
4. Tom Yum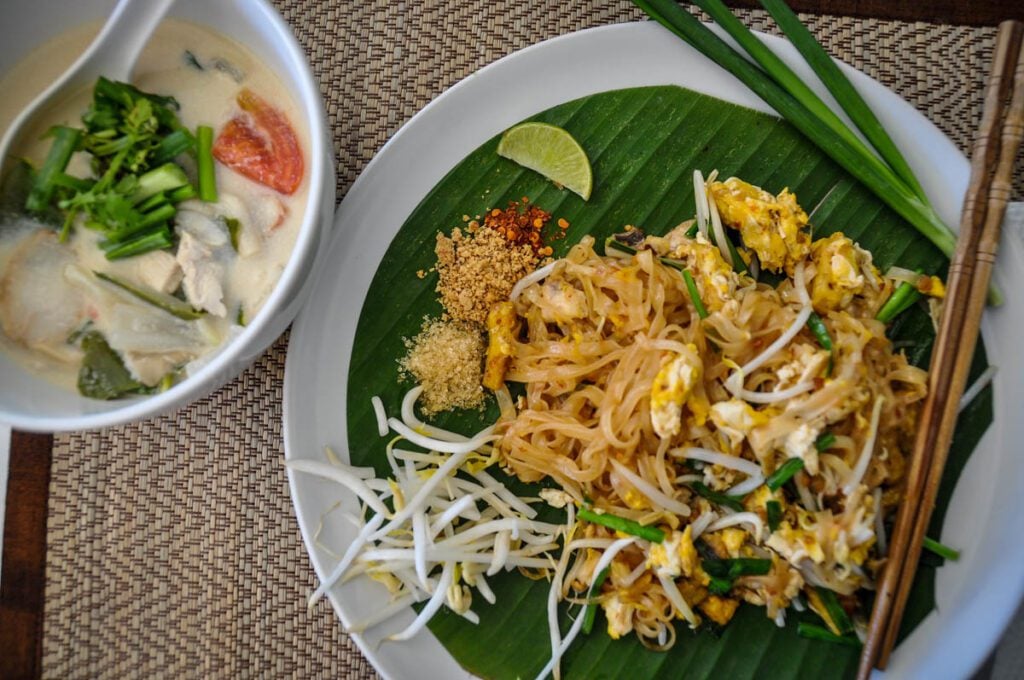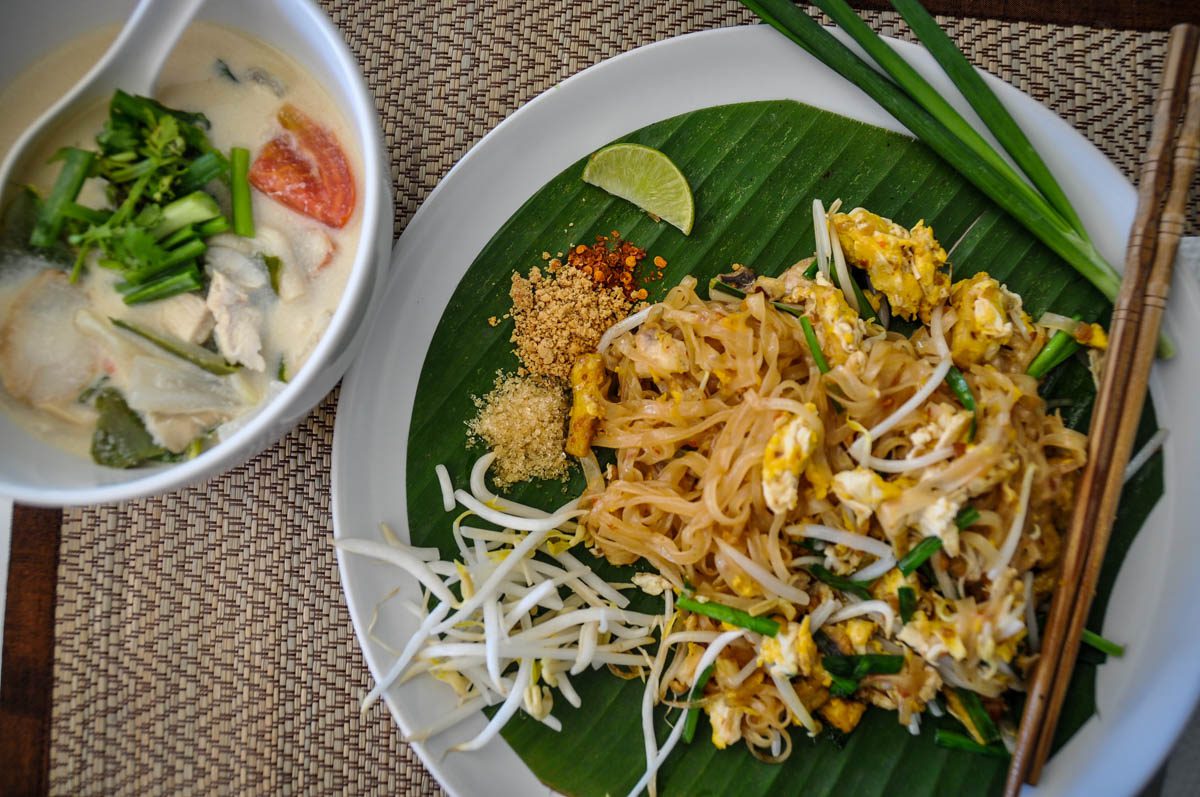 One of Thailand's most celebrated soups (and possibly one of the most celebrated Thai dishes overall), Tom Yum is a spicy hot and sour soup made with prawns.
There are many different variations, with broths of different colors, textures, and additions, usually divided into clear and creamy versions. The Tom Yum soup base traditionally contains lemongrass, kaffir lime leaves, galangal, and an abundance of crushed red chili peppers (hence the spiciness!).
You'll find all the necessary ingredients for making Tom Yum bundled specifically together at markets, and a jarred paste is also available to add flavor. This dish is that popular in Thailand!
It's easy to understand why — the heads and shells of the shrimp add a rich, savory seafood flavor, and all the lime and chilies work beautifully together to stimulate the senses. Yum!
Where to order: Originating in Central Thailand but popular throughout the country, Tom Yum is widespread in food courts, casual restaurants, and fine dining establishments alike. A perfect lunch or appetizer, it's easy to order this Thai dish even when you don't have much time.
5. Pad Thai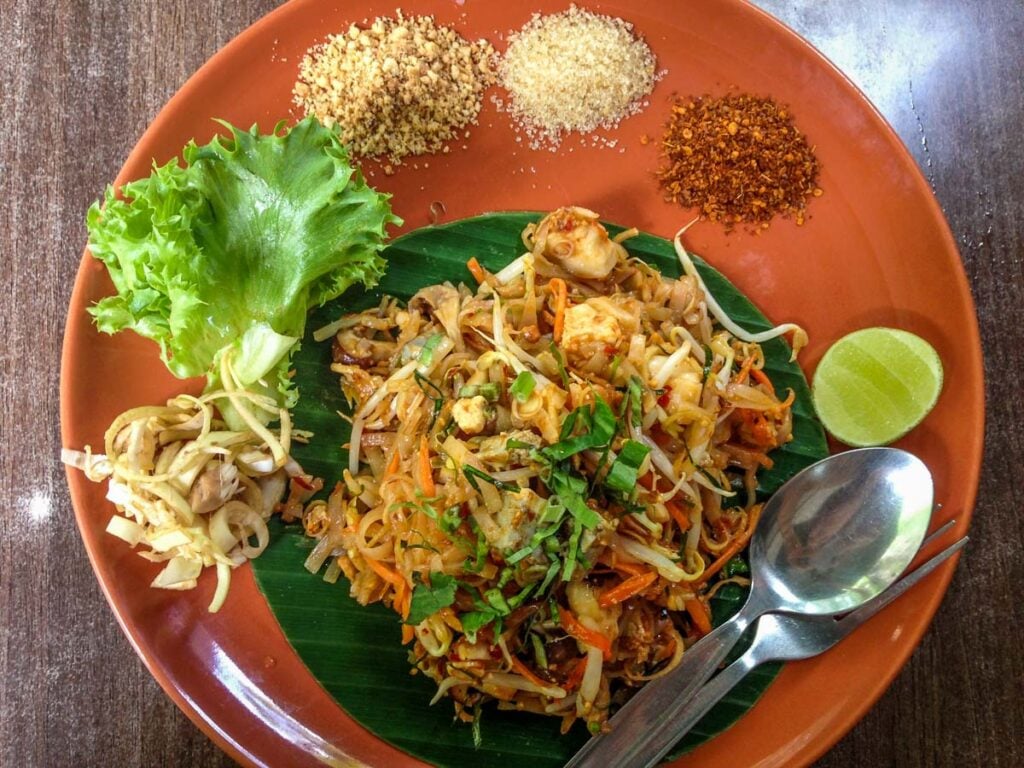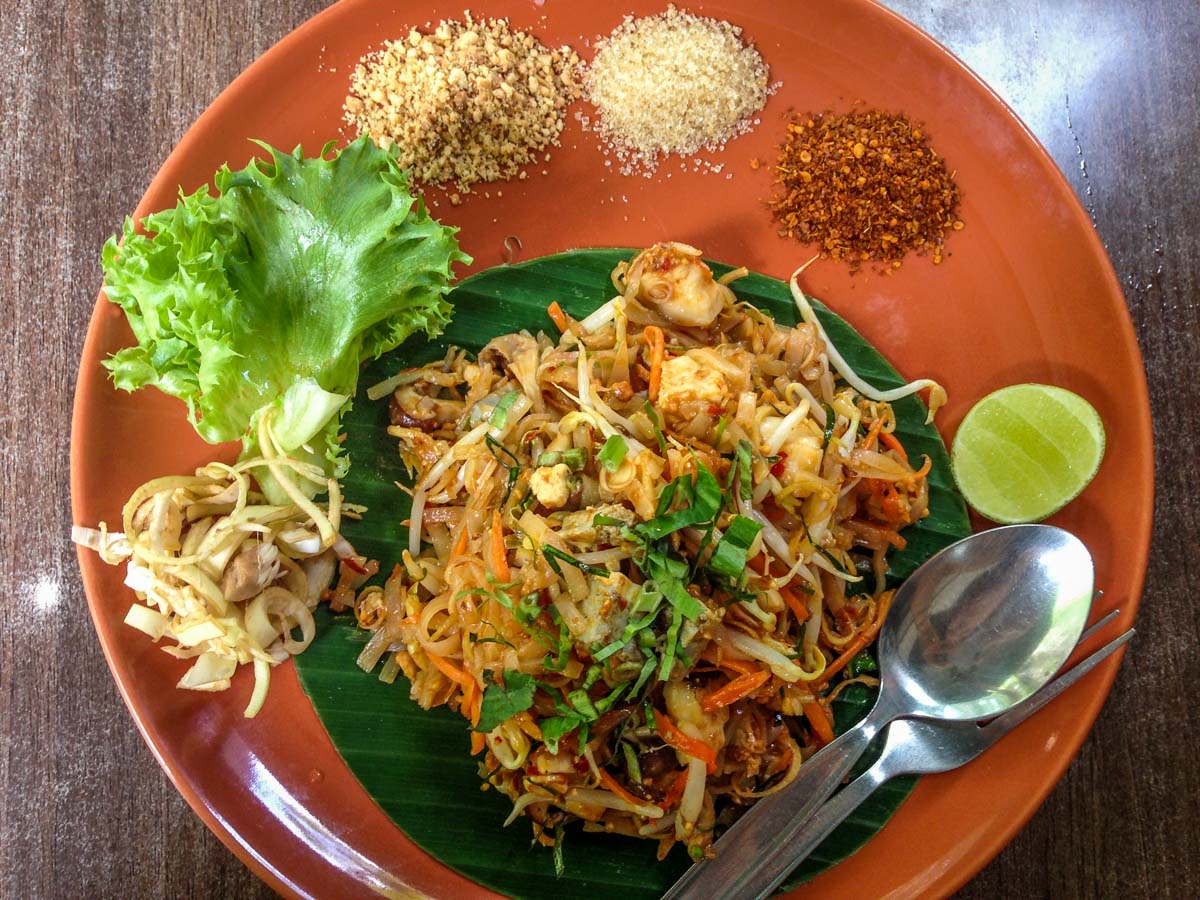 Arguably the most famous Thai food, Pad Thai is prepared by stir-frying rice noodles in a wok with eggs, bean sprouts, peanuts, and oftentimes, shrimp or chicken. The sauce is made using tamarind, a sour tropical fruit, as well as fish sauce, sugar, and vinegar, giving it a deliciously sour-sweet flavor.
Despite its reputation as Thailand's national dish, many believe Chinese immigrants in the 20th century actually created the recipe. When Thailand experienced a rice shortage during World War II, the prime minister promoted Pad Thai across the country as a noodle alternative.
The dish reflects the country's nationalization and it is now among the most well-known of all Thai dishes.
Where to order: Ubiquitous throughout Thailand, Pad Thai is on nearly every restaurant menu, especially at tourist-oriented hotspots.
It's also a common street food and you'll find many food courts with an eatery specializing solely in Pad Thai. These market stalls and vendors often have some of the best preparation, with steaming hot noodles jumping straight from the wok onto your plate.
6. Pad See Ew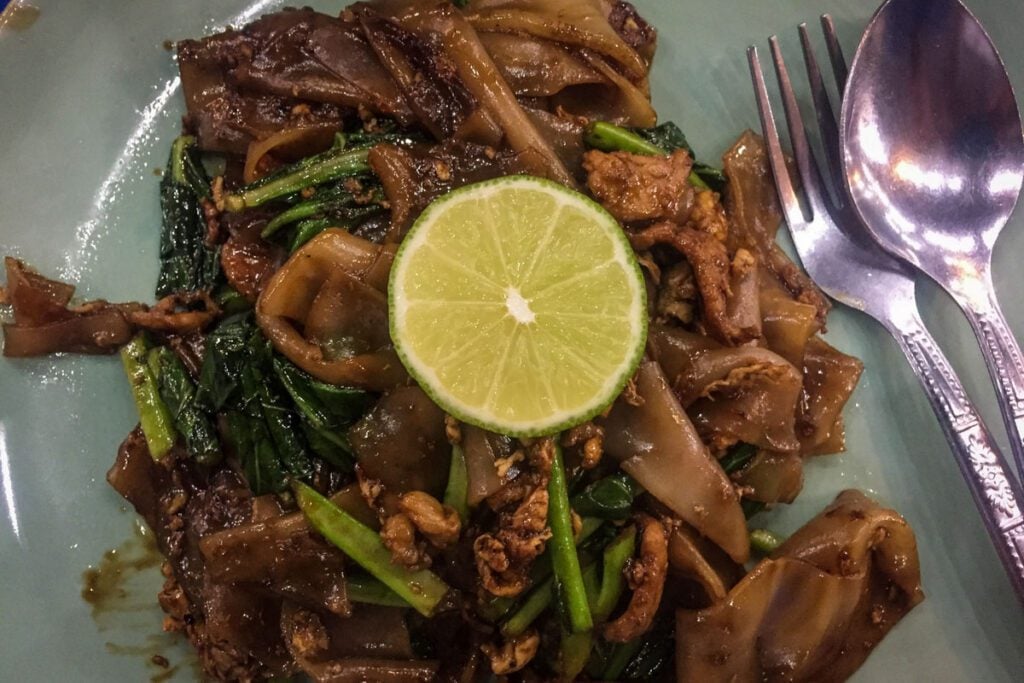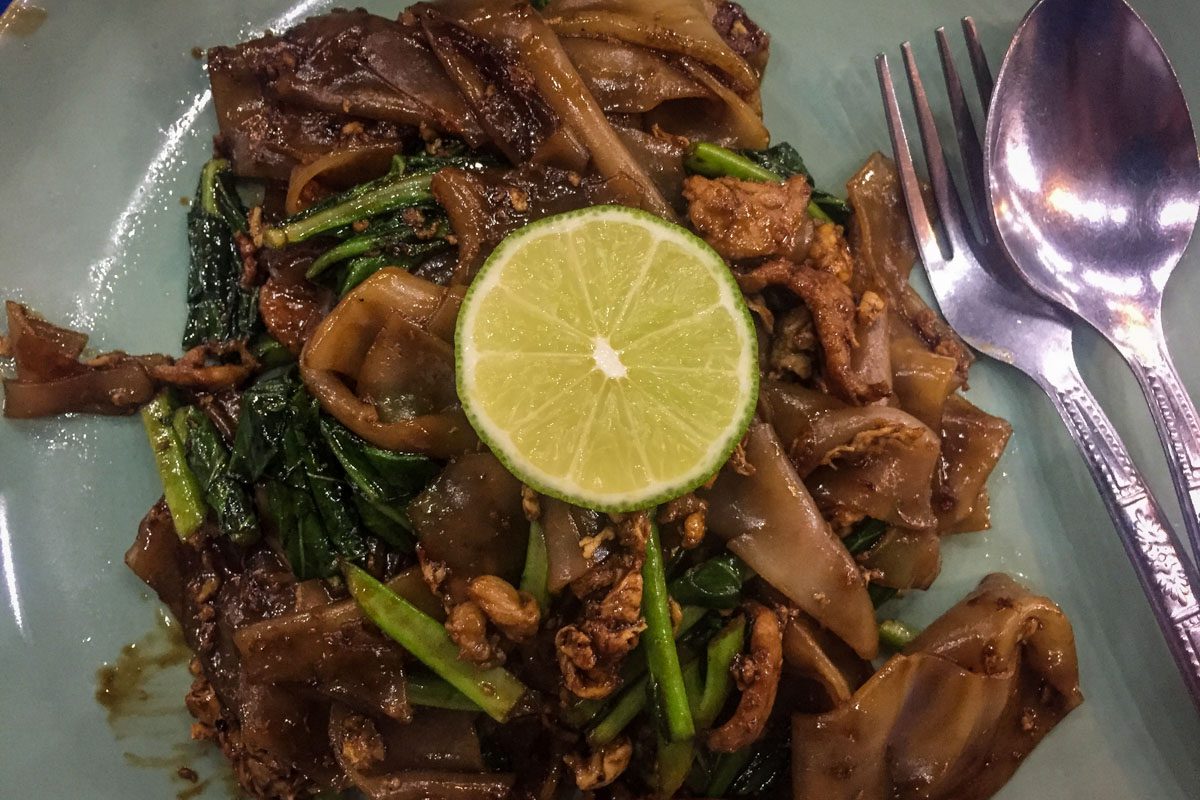 Another stir-fried noodle dish with Chinese origins, Pad See Ew is made with caramelized and charred flat noodles, yielding a delicious smoky flavor. To achieve the signature charring, a wok is heated to super-high heat, creating flare-ups and resulting in delicious burnt bits.
The sauce is made with both light and dark soy sauce, oyster sauce, vinegar, and sugar, and broccoli and beef are common additions. Deliciously tangy and sweet yet savory, watching street cooks caramelize this Thai dish's components is an impressive sight!
Where to order: A street food typical throughout all of Thailand, look out for vendors with the highest output volume. The more the wok is used, the higher the amount of wok-hei (literally translated to "wok breath" in English), that signature savory, smoky flavor gets into the dish.
7. Sai Ua (northern Thai sausage)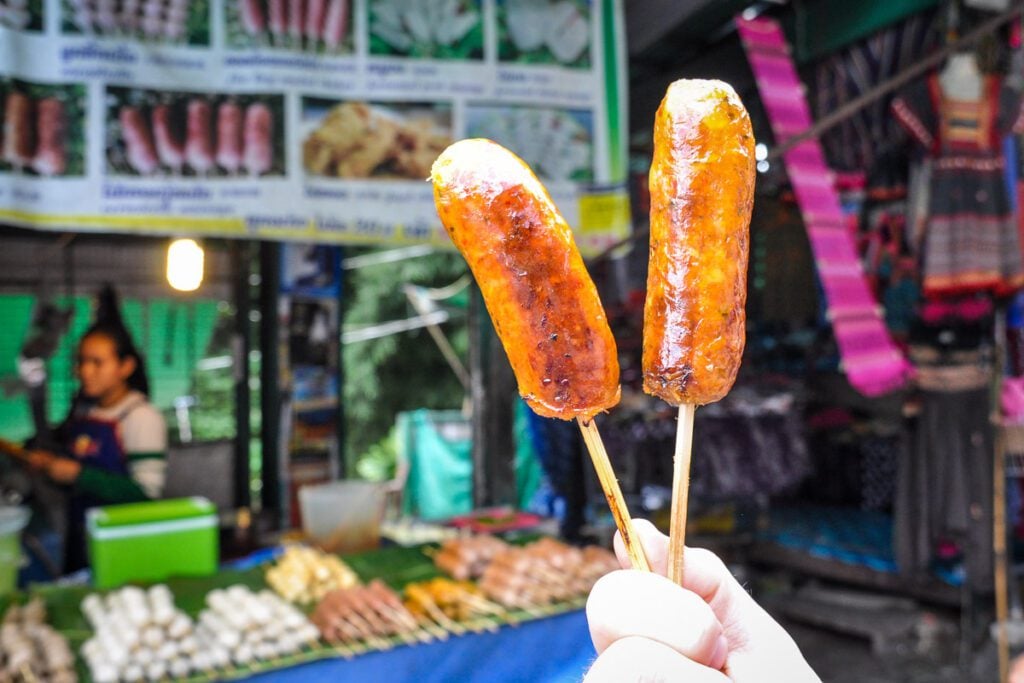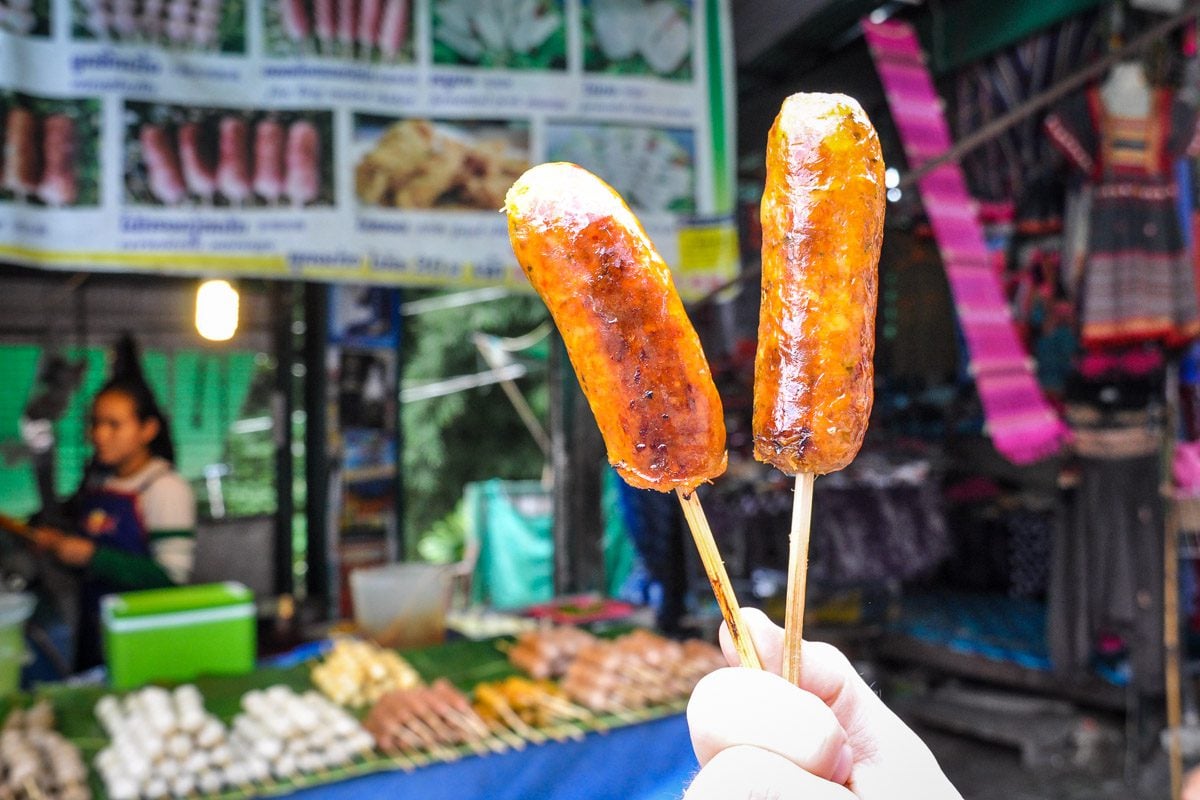 Fair warning: If you have a weak stomach, you may want to skip reading about this particular Thai dish!
Translated to "stuffed intestine," Sai Ua is a tasty pork sausage from Northern Thailand.
Filled with red curry paste, lemongrass, cilantro, and various other seasonings, this meat dish is bursting with flavor. All of the ingredients are coarsely chopped, adding interesting varied texture and flavor to each bite.
Typically the sausages are grilled and served with sticky rice, and it's not uncommon to find them sold frozen in markets for at-home preparation.
Where to order: Historically, Sai Ua sausage is considered a homemade delicacy, so it's not commonly found in the streets. Recently, however, many more restaurants have started to serve the dish, especially as one component of a multi-plate meal.
Warorot Market (Kad Luang) in Chiang Mai has delectable Sai Ua, as well as a great selection of delicious barbecue dishes.
8. Laarb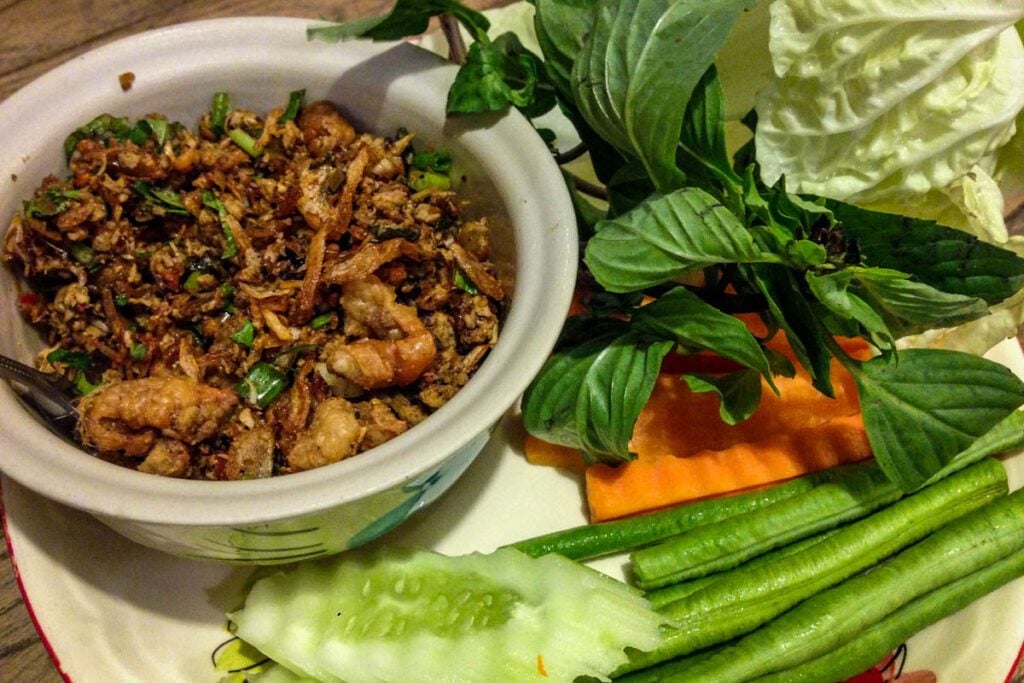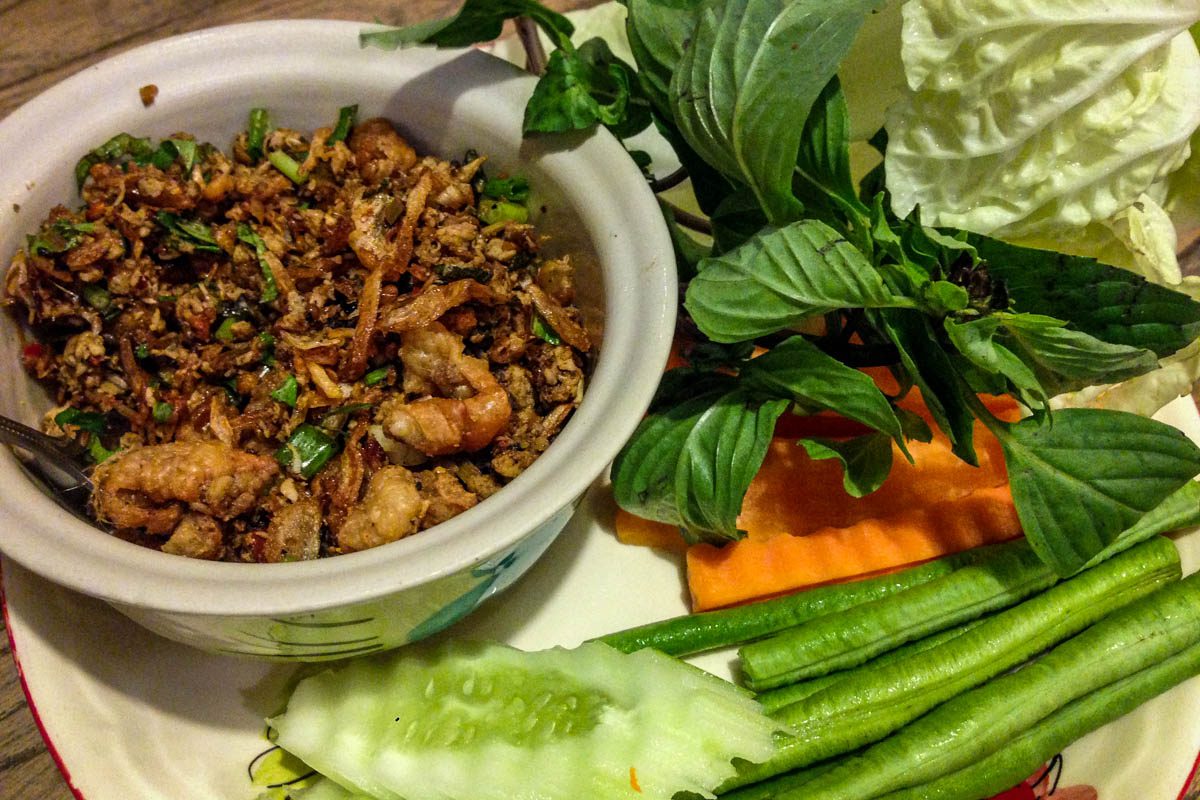 Laos' national dish is also very popular in Northern Thailand, with many local variations. Fundamentally a meat salad, Laarb is made from various ground meats, most commonly chicken, pork, or beef (or a combination).
Sometimes the meat is served raw (we know, just try not to think much about it!), while other times it's stir-fried. The dressing is acidic and spicy, made with lime juice, fish sauce, and often, a lot — truly a mind-melting amount — of chilies.
Highly aromatic, don't let the heat stop you from trying Laarb. Before the burn sets in, the flavor is vibrant, filled with countless spices and herbs.
Plus, every chef makes their own version with a personal twist, making Laarb truly one of the most unique Thai dishes!
Where to order: A common street food throughout Northern Thailand, don't be too timid to try Laarb from a stall. Without fail, every variation we've tried has been jam-packed with flavor!
9. Moo Satay (pork satay)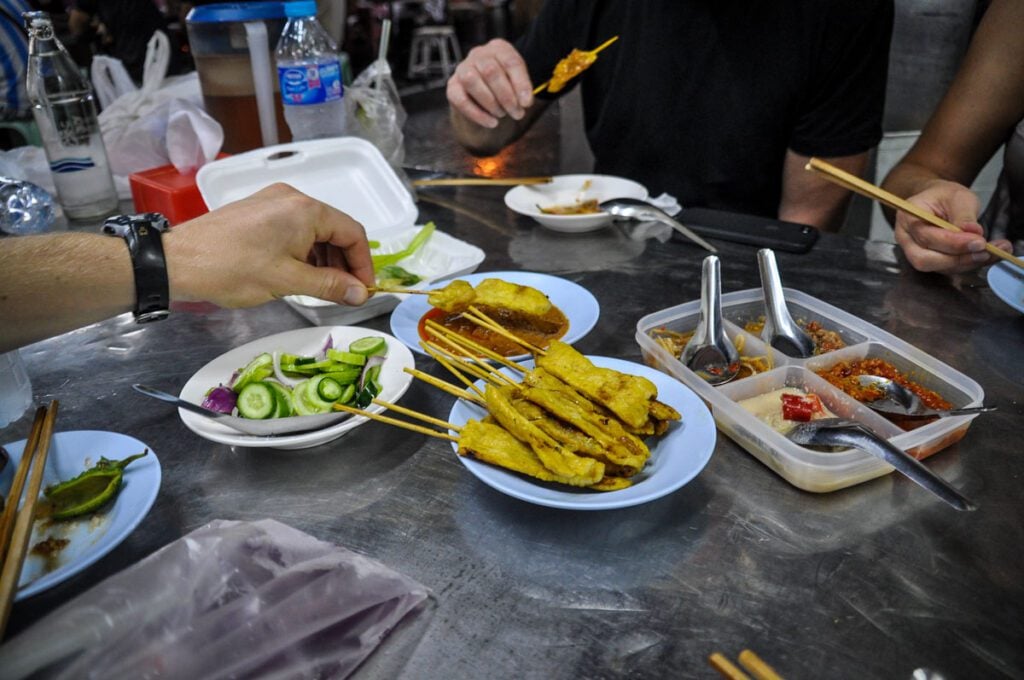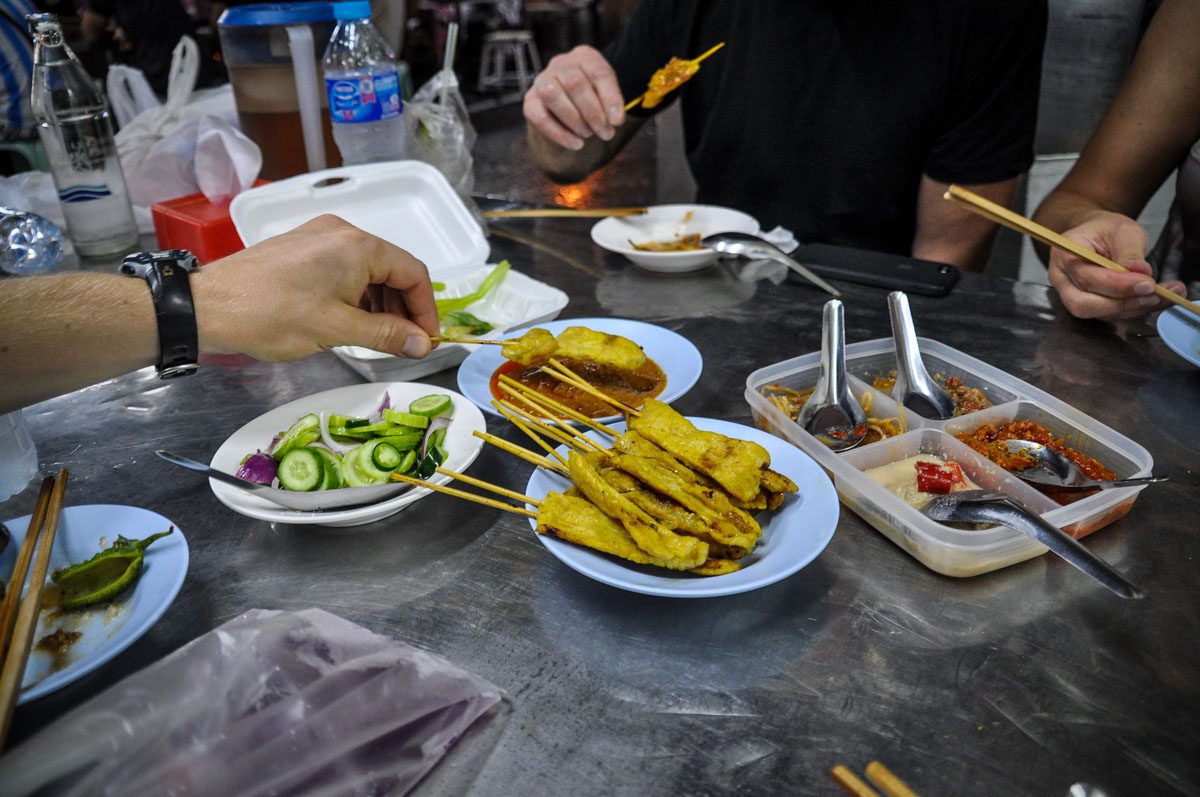 Popular throughout all of Southeast Asia, Moo Satay is one of our favorite street bites. Cooked over charcoal at night markets, roadside stalls, and just about everywhere else, it's a must-try snack or light meal!
Moo means pork in Thai, and while chicken and beef satay are also delicious, the pork variety in particular has a great flavor and texture.
Marinated in coconut milk with lemongrass and a dash of curry powder, this dish is a much more approachable entry point for newbies than many other Thai dishes. And the icing on the cake is that it's typically served with a delicious peanut sauce!
Where to order: Look for street stalls all across Thailand, especially the ones with big charcoal grills. In Bangkok, Satay Tee Tha Din Daeng is a great place to sample the dish, with over 8,000 satay skewers prepared per day!
10. Poh Pia Tod (Thai spring rolls)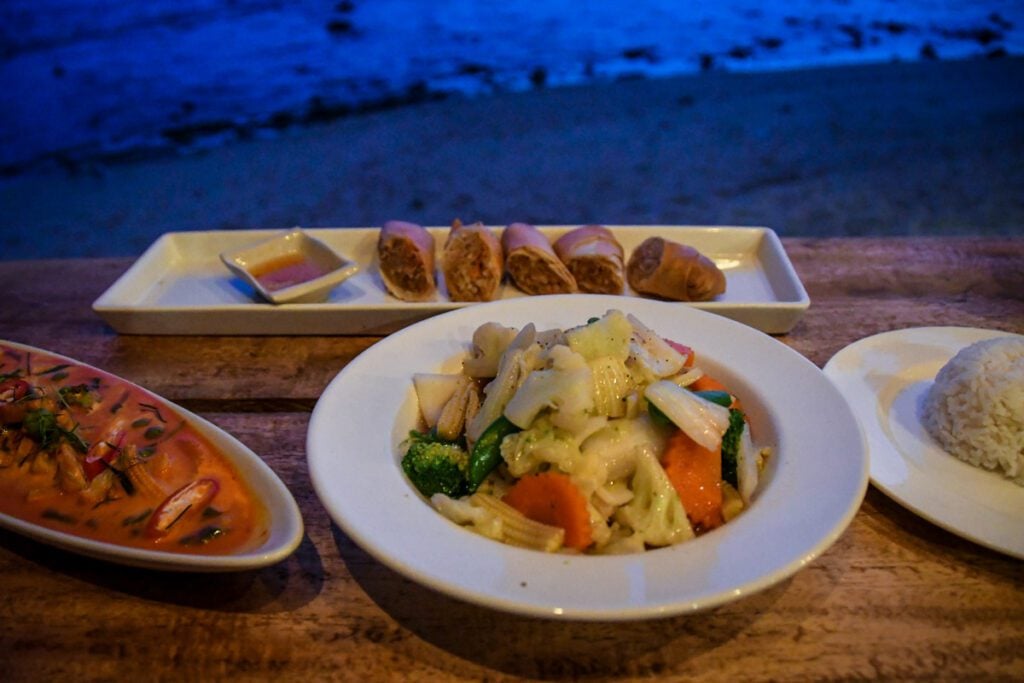 Thai fried spring rolls are a mouthwatering appetizer—a delicate golden-brown pastry filled with savory meats and vegetables. Common throughout all of Asia and a staple of American takeout food, you've probably seen versions of this Thai dish served with a sweet chili sauce.
In Thailand, Poh Pia Tod typically comes stuffed with shrimp, pork, or chicken, as well as carrots, mushrooms, bean sprouts, and a variety of other veggies. Much like in the U.S., the rolls are often accompanied by a chili sauce, but unsurprisingly, the Thai version is spicier.
Where to order: Especially common in Bangkok, look for street stalls with large vats of bubbling oil. If you time it just right, you can grab one or two when they've just come out! Poh Pia Tod is also a common appetizer in casual restaurants, especially ones frequented by foreigners.
11. Pla Kapung Nueng Manao (steamed fish with spicy lime sauce)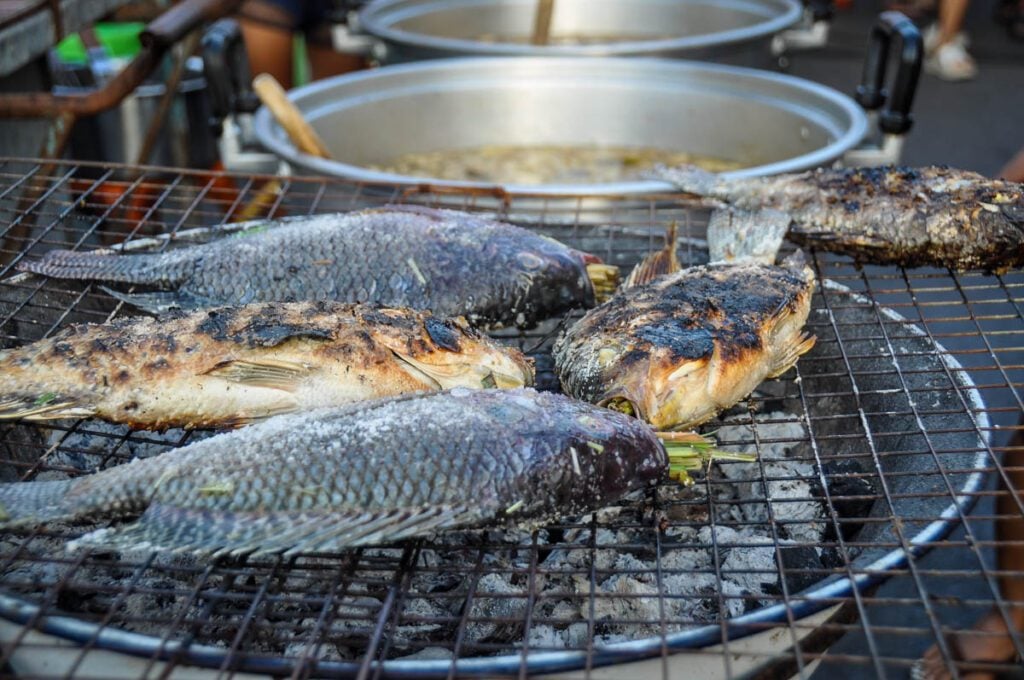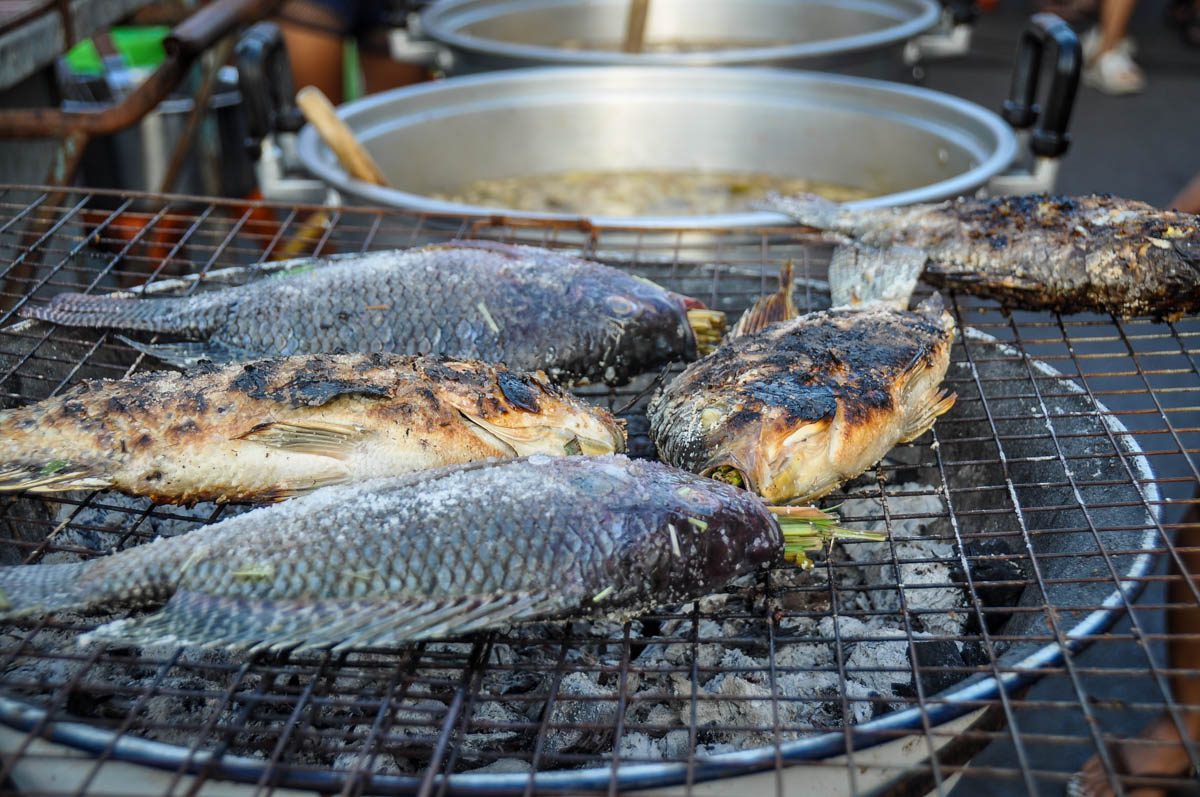 A delicious whole fish steamed with lime, lemongrass, and chilies, the traditional preparation method of Pla Kapung Nueng Manao makes the flesh delicate and flavors vibrant. Plus, eating it is a fun, unique experience!
The sauce is essentially a soup, covering the base of the plate with a light broth of citrus, garlic, and chilies, making it perfect for dipping.
The fish is usually Barramundi, a type of Asian Bass common throughout the entire Indo-Pacific region. Especially if you're looking for a break from all the fried or grilled street food in Thailand, this is a great healthier alternative.
Where to order: There are numerous popular seafood-oriented restaurants that prepare whole fish in a variety of styles, especially in Bangkok. It's the perfect memorable group dining experience!
12. Massaman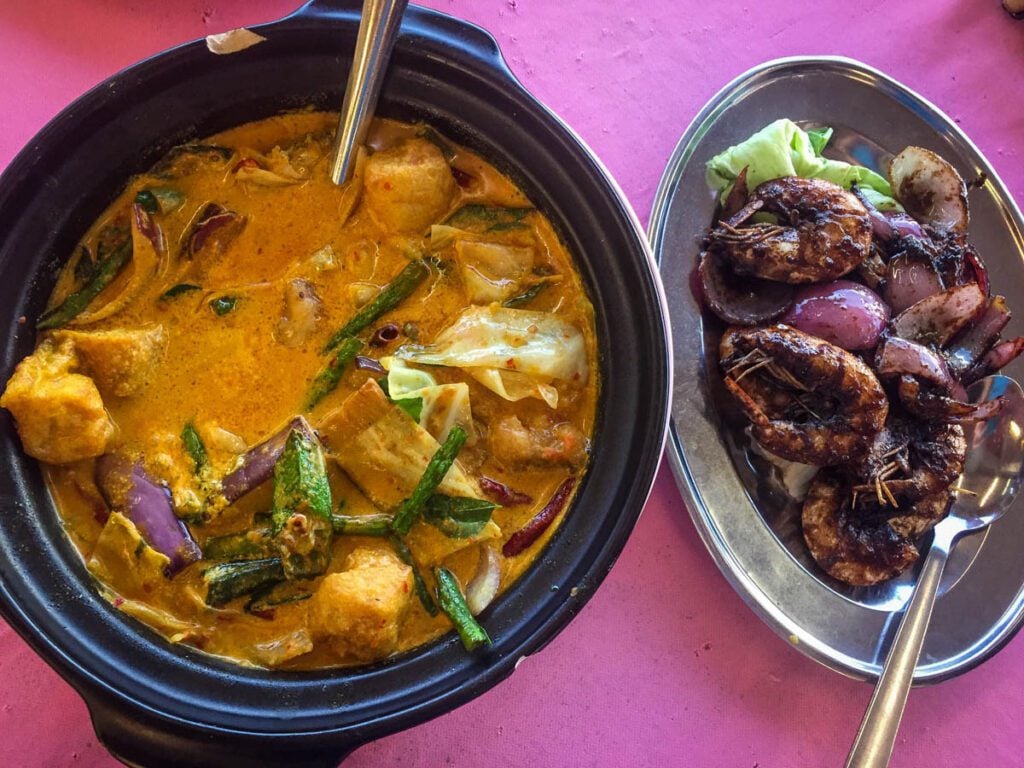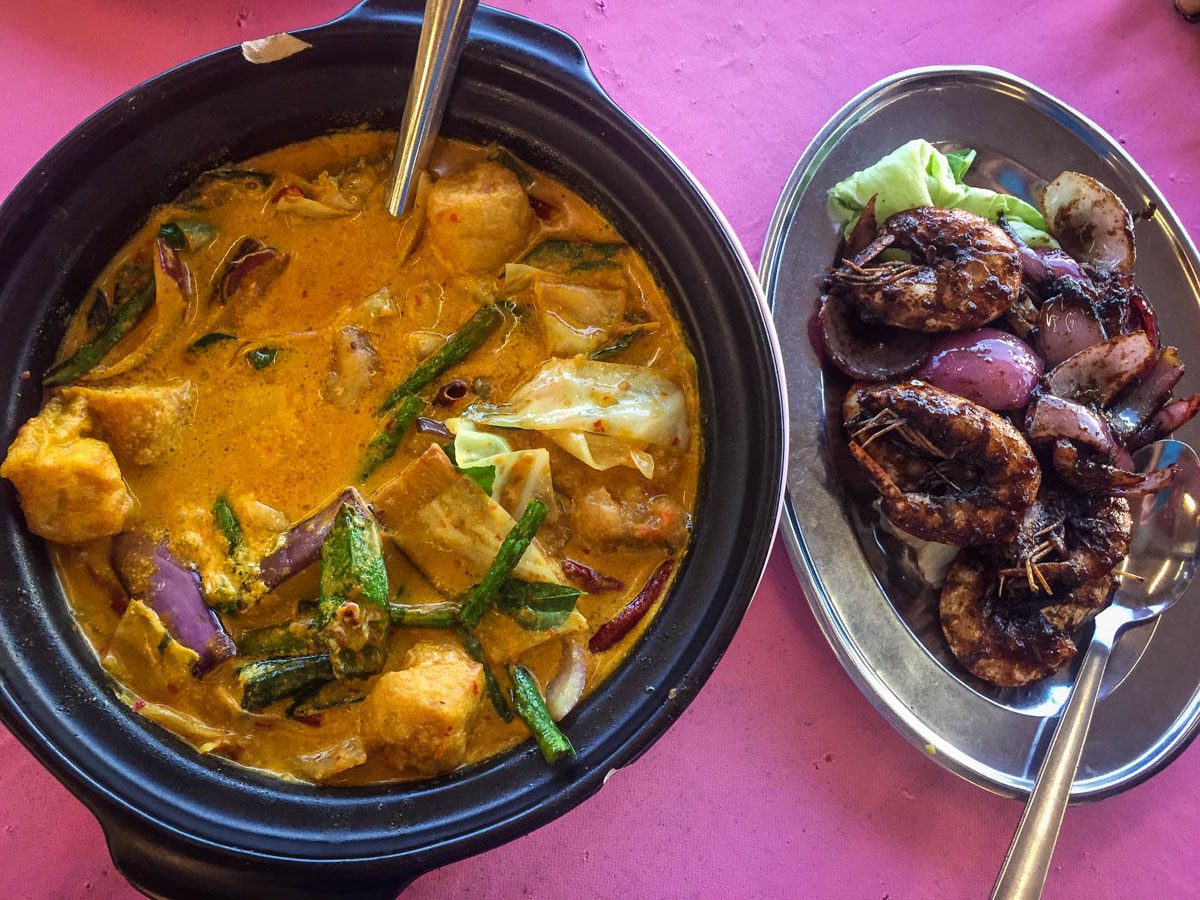 Prepared in Thailand for hundreds of years, Massaman combines influences from all around Asia to create a mild but intricately-flavored curry.
Muslim in origin, the curry carries influences from Persia and India, cultures that interacted with Thailand throughout several reigning empires. As a (fascinating) result, Massaman is seldom made with pork and follows halal preparation techniques.
Additionally, Islamic merchants carried spices to Thailand on their trade route from Malaysia and India including cardamom, cinnamon, cloves, and nutmeg. These are atypical in traditional Thai cuisine, but are added to Massaman.
The curry is made with dried peppers, garlic, galangal, shallots, lemongrass, and the typically Middle Eastern spices we just mentioned. Such a diverse range of influences creates an extraordinary flavor — one of the most exotic of all Thai dishes!
Where to order: Common throughout Central and Southern Thailand, look for Massaman on menus at smaller, family-run restaurants or upscale eateries with modernized renditions.
13. Green Curry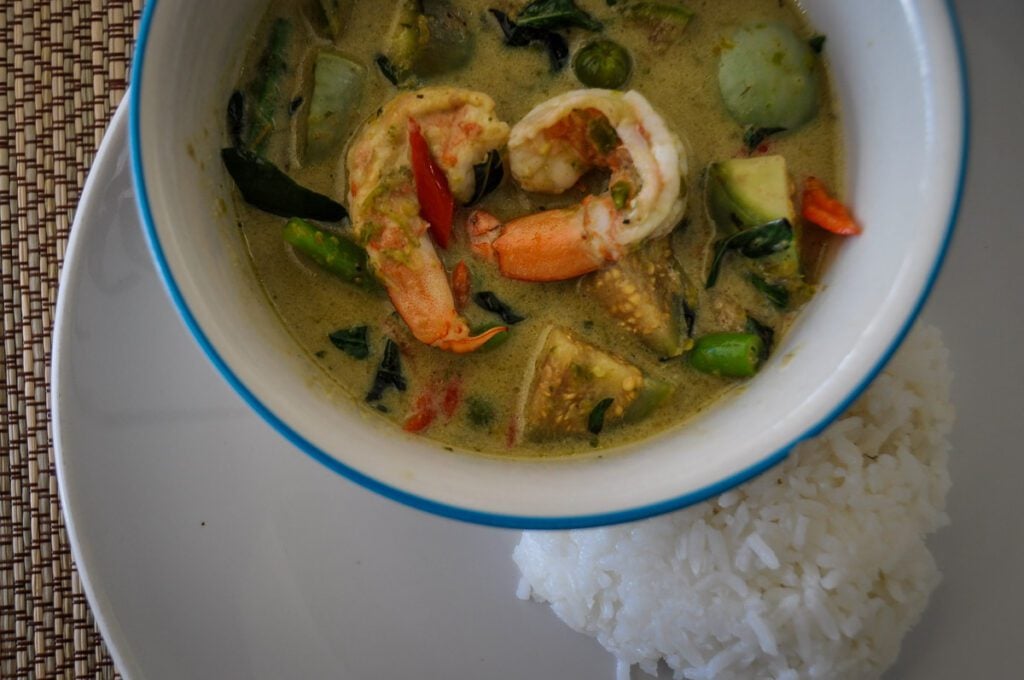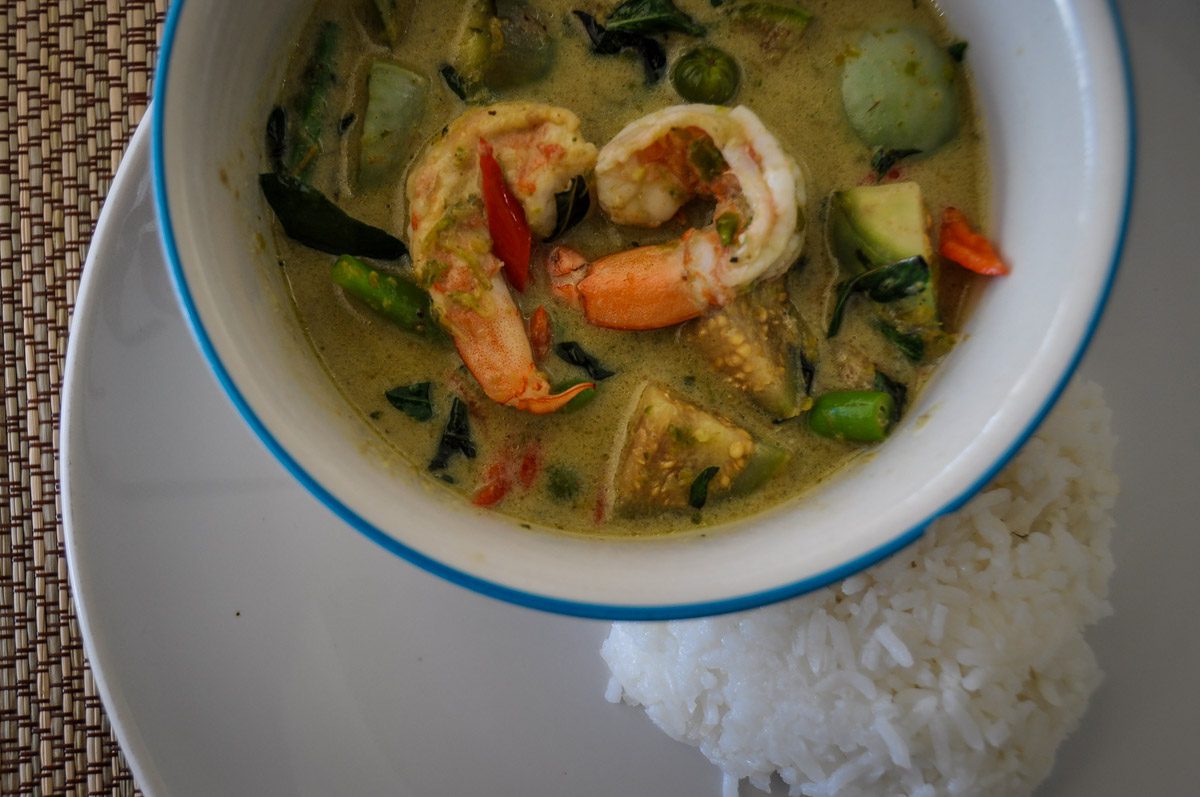 Although called Gaeng Khiao Wan, or "sweet green curry" in Thai, don't let the name fool you; this is actually the spiciest of all Thai curry varieties (and that's really saying something!)! The misleading name refers to the shade of green rather than the flavor.
Stuffed with a myriad of peppers (including bird's eye chilies), lemongrass, galangal, garlic, and cilantro, Thai green curry is less oily and more vegetable-forward in taste.
Thickened with coconut milk and served with chicken and rice, then topped with Thai basil, it'll make you sweat, but it's so, so worth it!
Where to order: Another common Central Thai dish, many restaurants serve their own version of this classic dish. Sanguan Sri is a good pick in Bangkok, as the restaurant has been preparing Thai green curry in the same manner for over 50 years!
14. Red Curry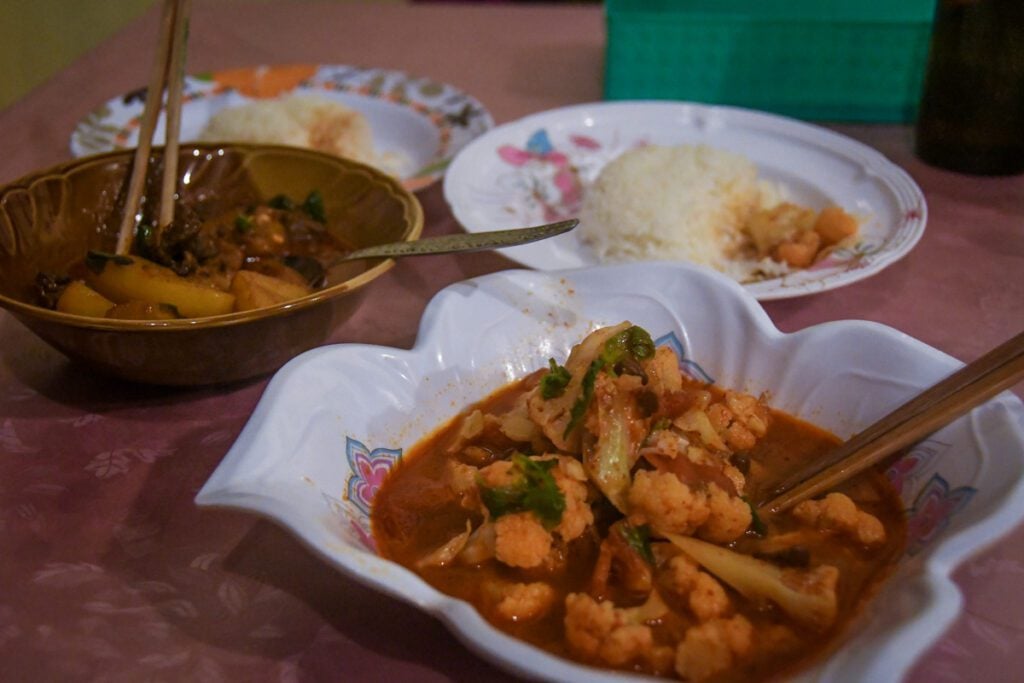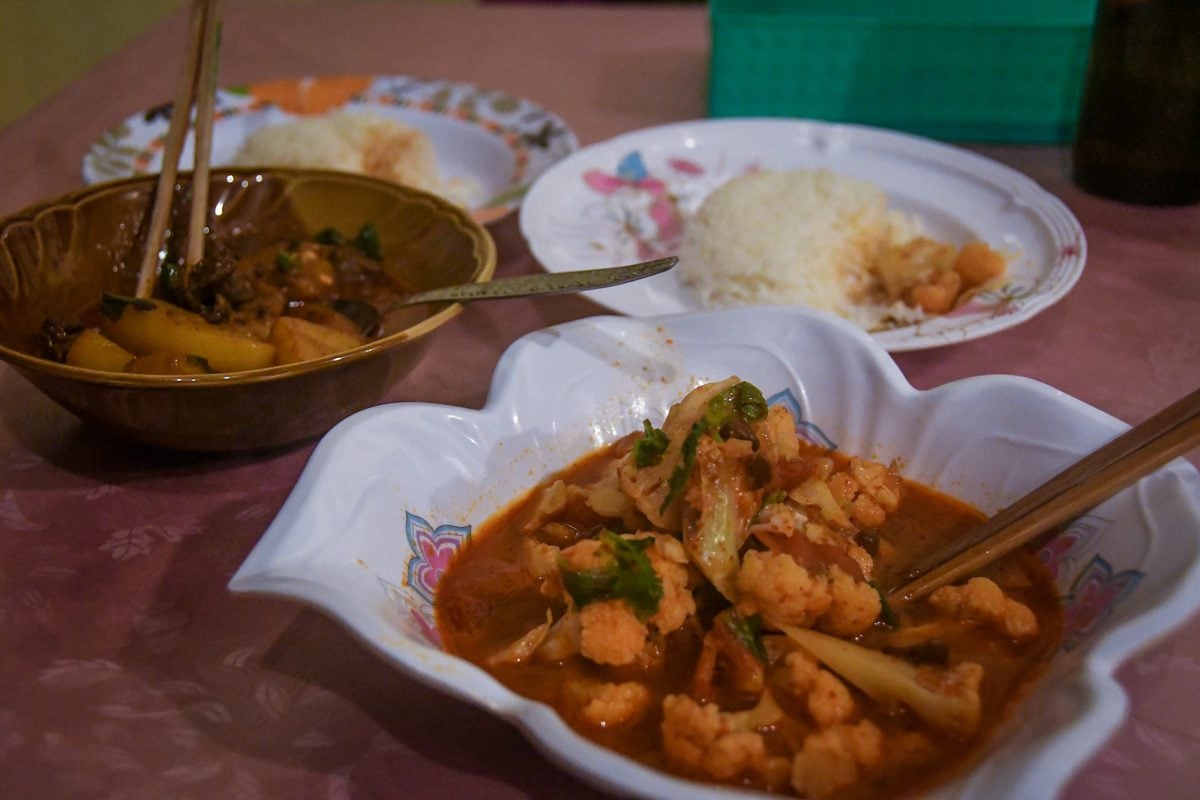 The most ubiquitous of all curry varieties, you'll find red curry paste sold throughout the country and exported all over the world.
Red curry is traditionally made with chilies, galangal, lemongrass, shrimp paste, and coriander as the main base, with the ingredients mashed into a wet paste using a mortar and pestle.
Thickened up with coconut milk, you'll find just about every imaginable meat and seafood added after the curry is prepared. Whole chicken, beef, and pork are the most common, we've even seen red curry prepared with frog!
Where to order: From casual restaurants and street food stalls to fine-dining restaurants, red curry is served in a variety of settings. Bangkok's The House of Smooth Curry prepares theirs with duck, and it's totally worth the splurge!
15. Panang Curry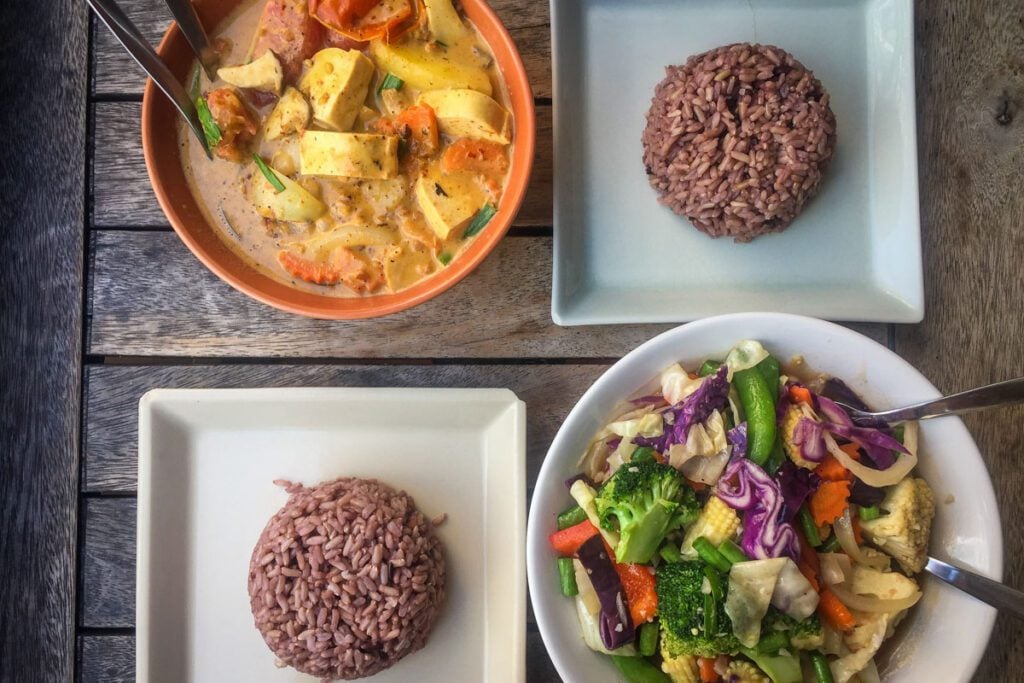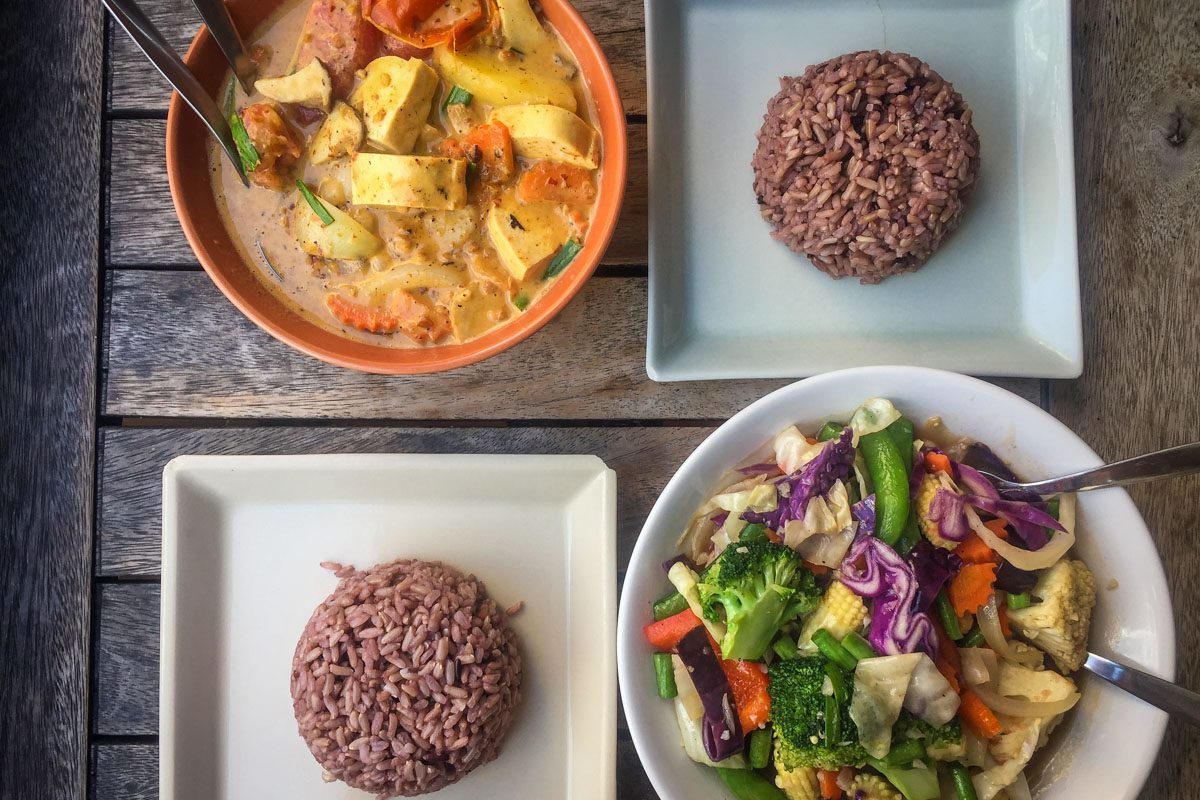 Heavily influenced by Malaysian cuisine, Panang curry is most common in Southern Thailand and is a creamy, oily, and heartier sauce very typical of the region.
Made with a base of peanuts, dried chilies, cumin, galangal, and many additional spice variations, Kaffir lime leaves are a staple component that gives the curry a distinct zesty, bright flavor. The coconut oil is intentionally separated, making the curry less soup-like and thicker in texture.
Panang curry is often served with pork, but chicken and beef versions are also common in Thai cuisine.
Where to order: Like other curries, there are many variations of Panang curry available at just about every type of food establishment all across Bangkok and Southern Thailand.
16. Khao Pad (fried rice)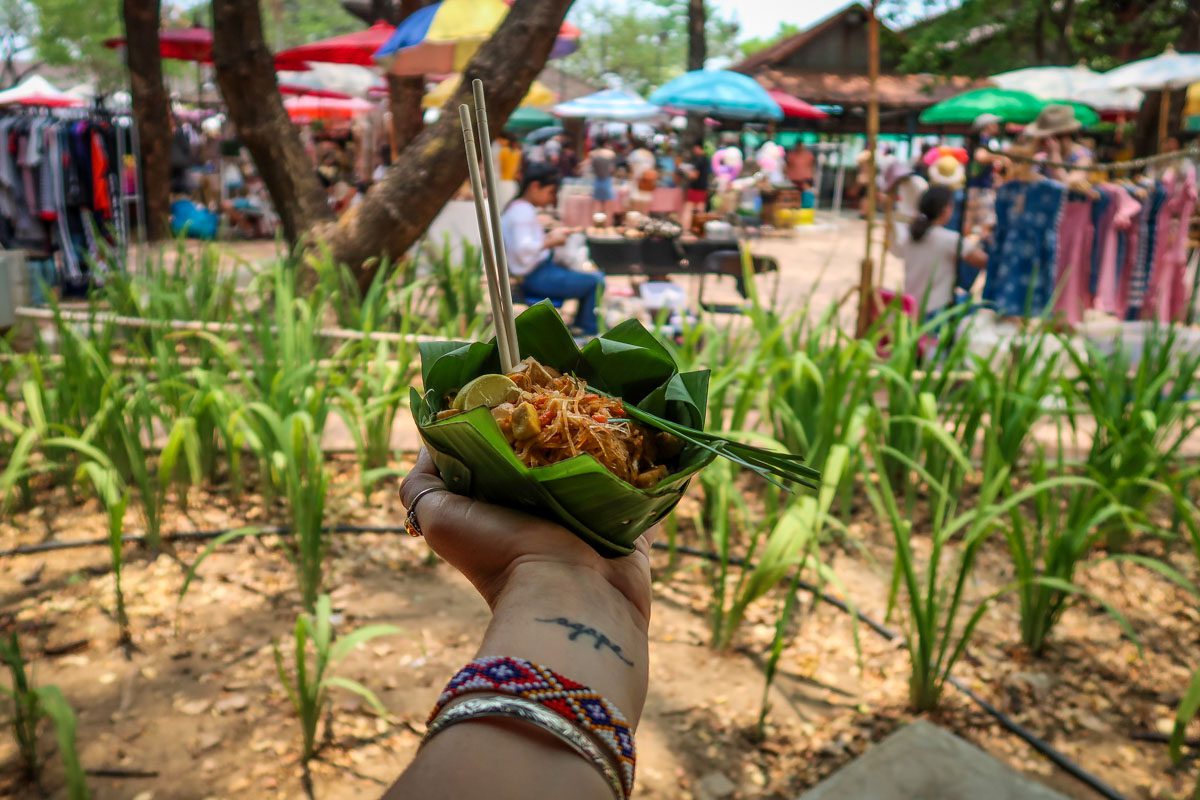 Thai Fried Rice is one of the most delicious street foods in Thailand — and one of the best budget meals available in the country!
Cooked with fragrant jasmine rice, a staple in Thai cuisine, street stalls add an incredible range of ingredients to the rice. While tomatoes, eggs, and garlic are common additions, you're just as likely to find Khao Pad with bacon or pineapple as you are crab.
The sauce is perfectly sweet, salty, and acidic, made with soy sauce, sugar, and fish sauce. Fried rice is almost always served with raw cucumbers, lettuce, and tomatoes in Thailand.
Where to order: A wildly popular street food, sample different versions of Khao Pad from various stalls to find your personal favorite. It's hard work, but hey, someone's gotta do it!
17. Pad Krapow (fried basil)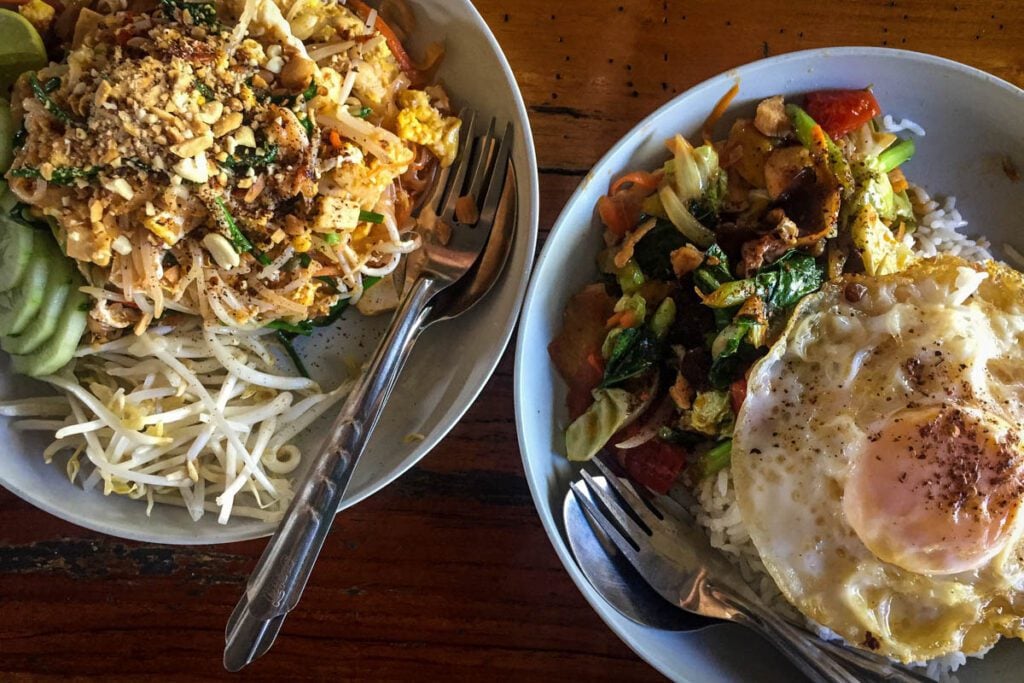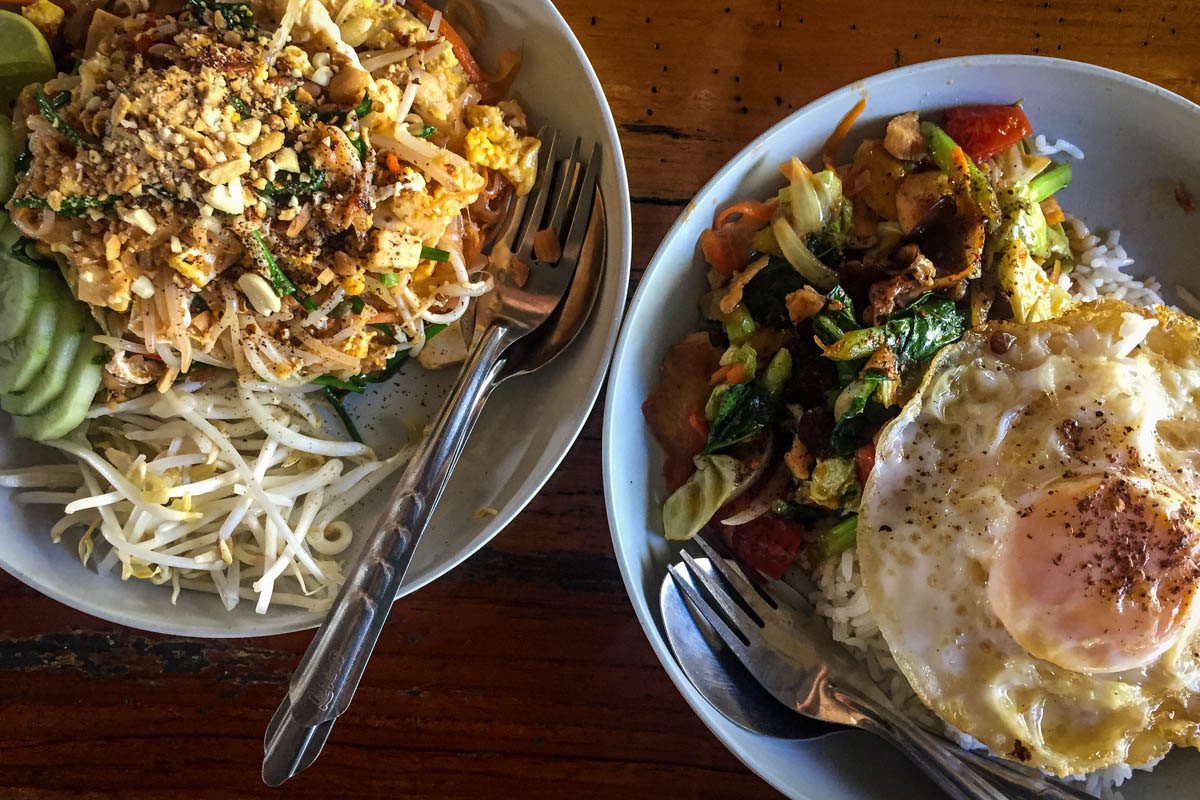 A stir-fry made with Holy Basil, Pad Krapow is a Thai dish with a pungent earthy, herbal flavor unique to this variety of basil plants.
Made with minced pork, chunks of chicken, or sometimes shrimp, this dish combines spicy green chiles with a sweet caramelized dark sauce made of oyster sauce, fish sauce, soy sauce, and sugar (yummm!). It's usually served alongside jasmine rice and topped with a crispy sunny-side-up egg.
Alongside Pad Thai, another common street food, Pad Krapow is one of the most popular and ubiquitous Thai foods.
It's easy to see why — with chunks of tender, juicy meat, a rich depth from the unique combination of spices, and a distinct sweetness, it's a joy to eat. Don't be surprised if you want to order a second round!
Where to order: Common throughout the country, Pad Krapow street stalls and casual eateries are sprinkled throughout most cities. At Ung Jia Huad in Bangkok, a humble Thai chef has been making Pad Krapow for nearly 50 years (and it is delicious!)!
18. Kai Jeow (Thai omelet)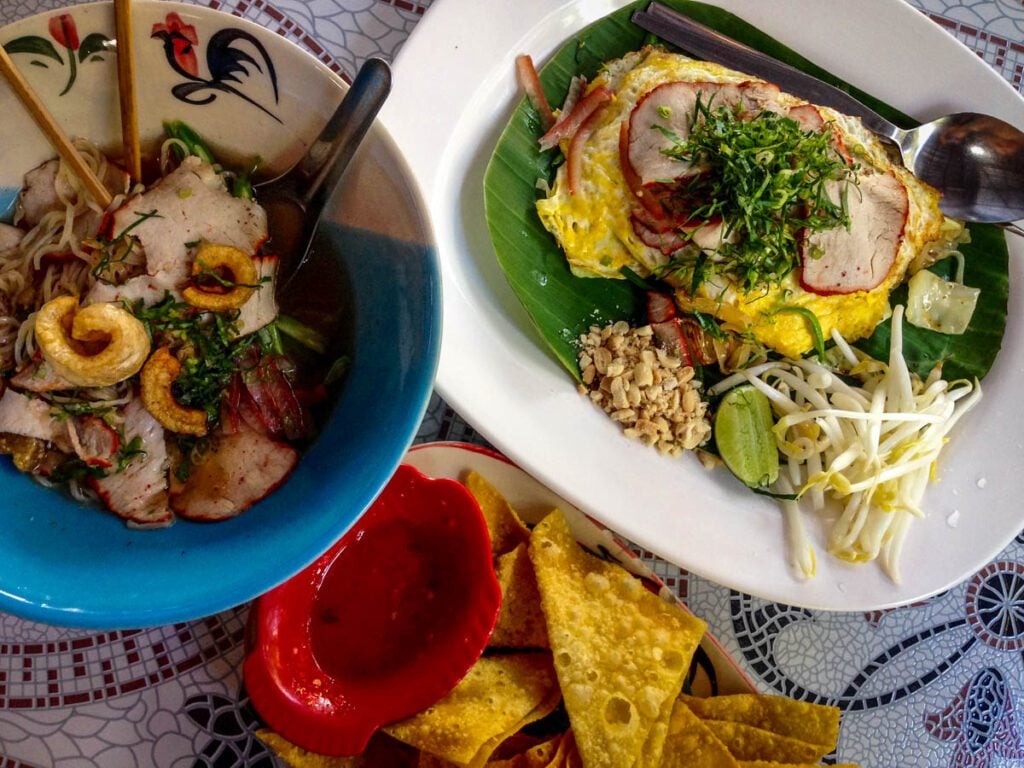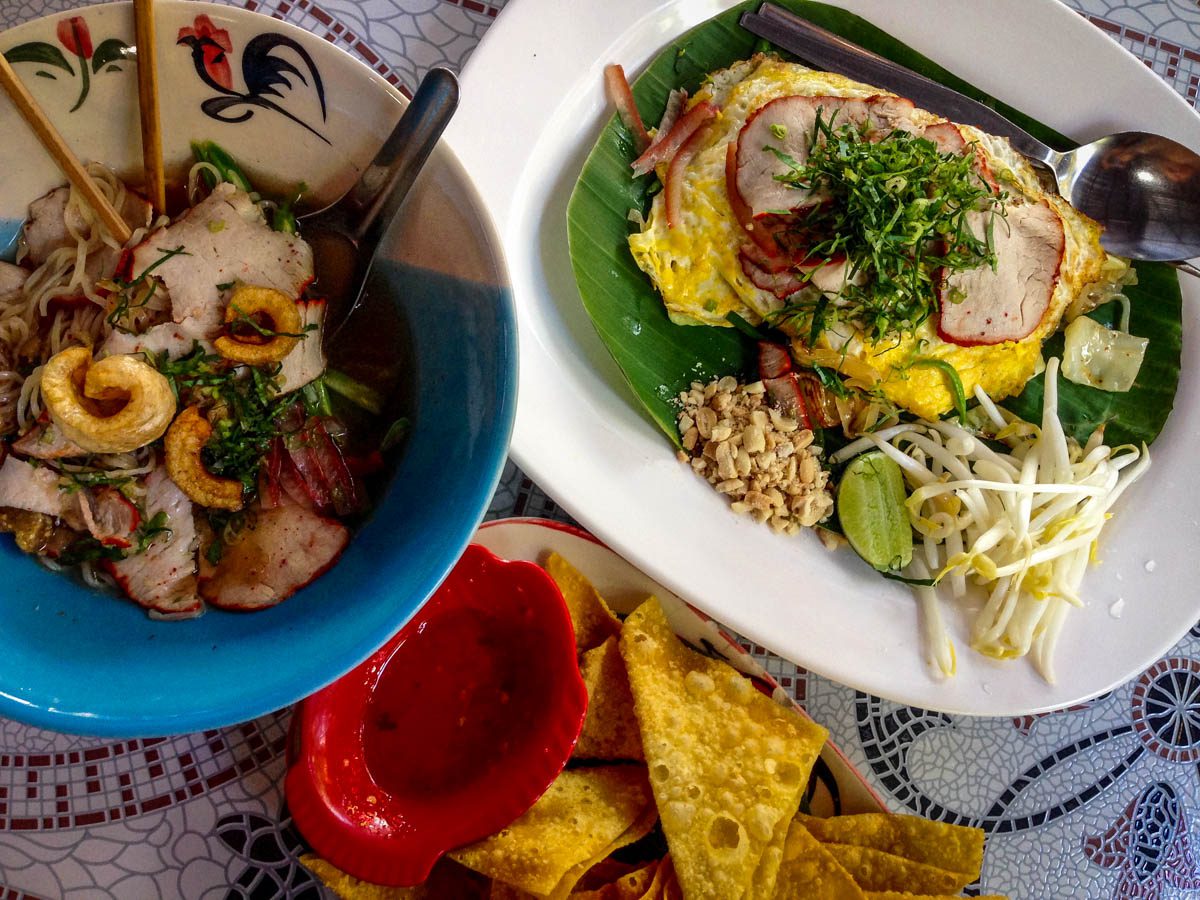 Perfectly crispy on the outside and soft on the interior, Thai omelets are a delicious (and cheap!) breakfast or snack. It's not uncommon to find prices as low as 30 baht (about $1) from a street food stall!
Served with rice, green onions and fish sauce are always added to the eggs before they're scrambled and cooked quickly in a screaming-hot oily wok. Sometimes, you'll see other ingredients added to the egg mixture or the omelet itself wrapped around herbs, chicken, or crab.
Despite seeming rustic and simple, the textures of Kai Jeow yield a deceptively complex flavor profile.
Where to order: At legendary Jay Fai in Bangkok, which has one Michelin star and has been featured on Netflix's Street Food Series, 77-year-old Supinya Junsuta prepares Kai Jeow with crab.
19. Pla Plao (salt encrusted fish)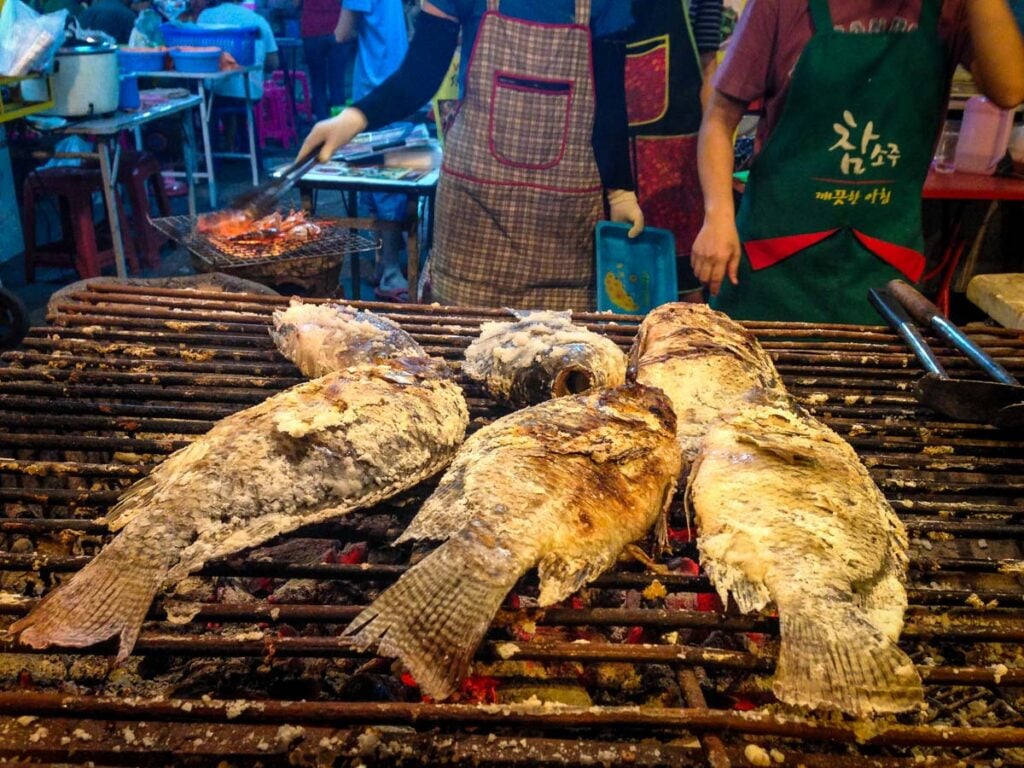 This is another traditional preparation method for cooking a whole fish in Thailand. The fish is stuffed with lemongrass, covered in coarse salt and then grilled over an open flame.
Typically served with leaves, herbs and chili sauce, the fish is usually Barramundi, a type of Asian Bass common throughout the entire Indo-Pacific region. You wouldn't believe how tender and juicy the fish turns out, despite the dry look on the outside.
Where to order: You'll find Pla Plao grilled fish at most street markets in Thailand. It's easily to spot because the whole fish stands out when encrusted in salt on the grill.
20. Gai Med Mamuang (chicken with cashew nuts)
Stir-fried in a wok, this is one of those dishes with a strong Chinese influence; however, the bouquet of spicy, sweet, and sour flavors gives it a strong Thai accent.
Gai Med Mamuang is frequently prepared very spicy using a ton of dried red chilies, with some bites nearly tear-inducing. However, a sweet sauce made from oyster sauce, fish sauce, soy sauce, and sugar mercifully cuts the intensity and creates an addicting dish that's hard to put down. 
The nuts and chilies are fried separately to ensure crispiness, while the chicken is tender, making it very texturally interesting — the perfect dish to enjoy alongside a cold beer!
Where to order: A favorite at local night markets, there's nothing quite like the experience of sweating from the peppers' burn while trying to cool down with a cold beverage.
21. Guay Tiew (Noodle Soup)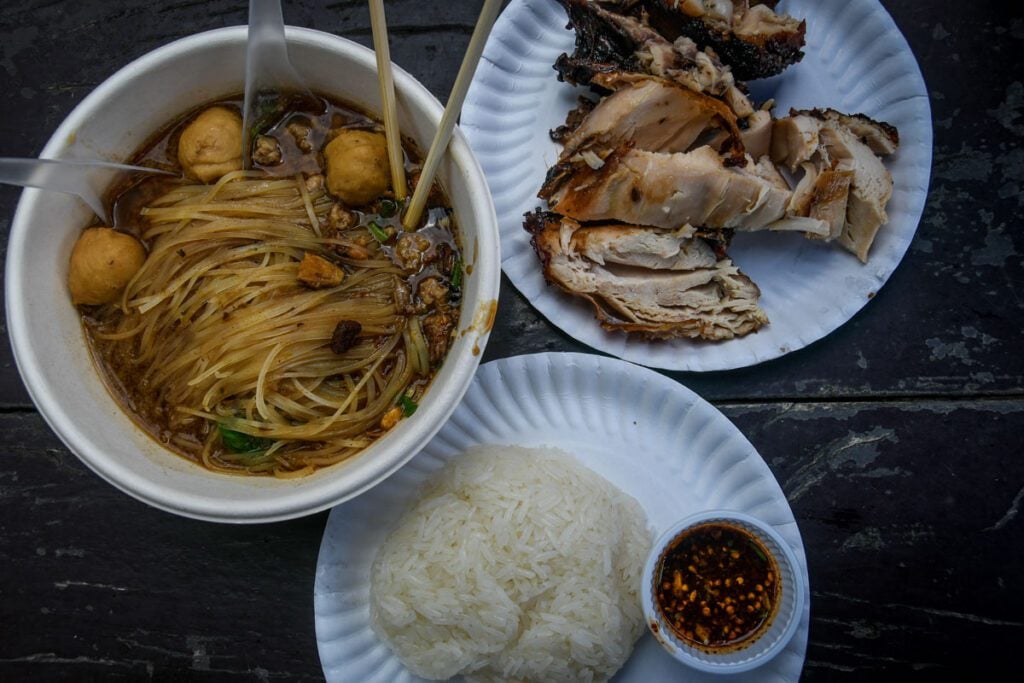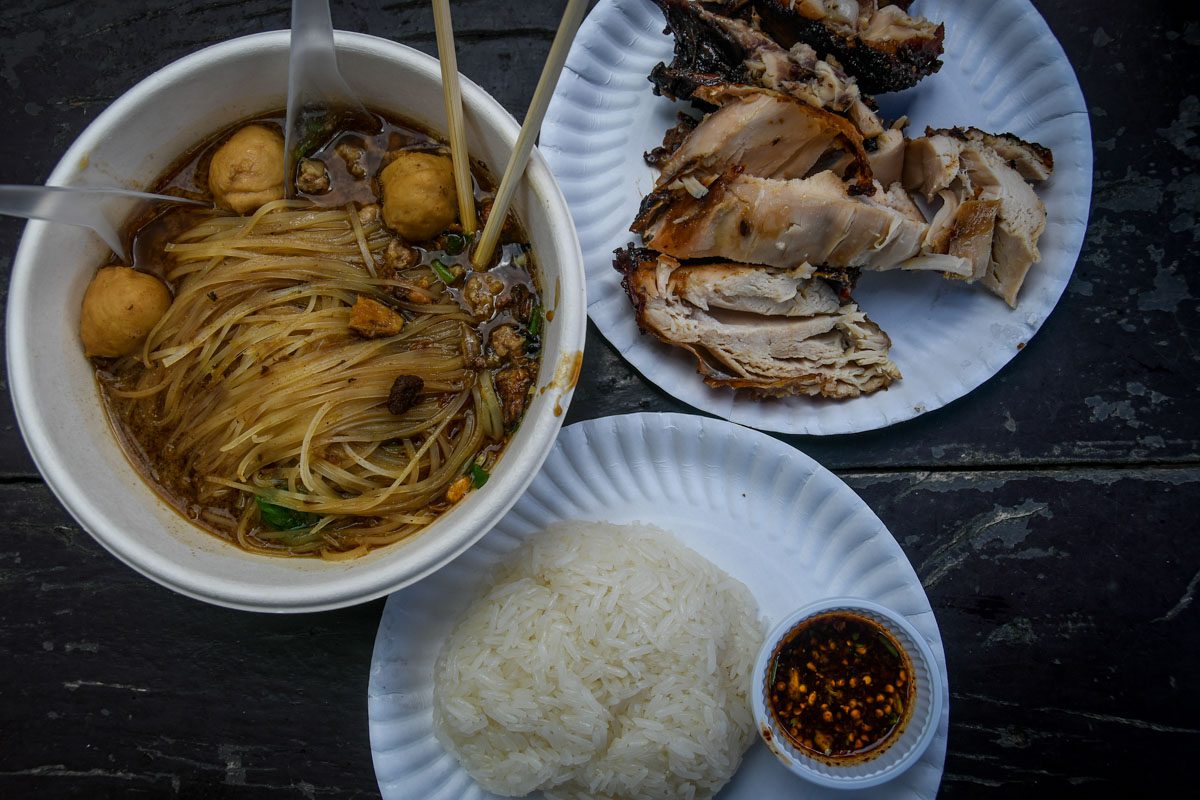 Another Thai adaptation of Chinese origins, Guay Tiew (sometimes spelled Guay Teow) is a broad term encompassing a wide variety of noodle soups. Some have creamy, thick, almost fettuccine-like sauces, while others have clear broths perfect for slurping.
The cut and size of the noodles is a key differentiator of Guay Tiew, with some vendors even letting you customize the dish by picking the type of noodles, broth, and spice level. Chicken and beef are common toppings, as are veggies like bell peppers, celery, and broccoli.
Where to order: Casual restaurants throughout the country specialize in all types of noodle soups, each with their own flavor and spice variations, as well as noodle types.
22. Kao Ka Moo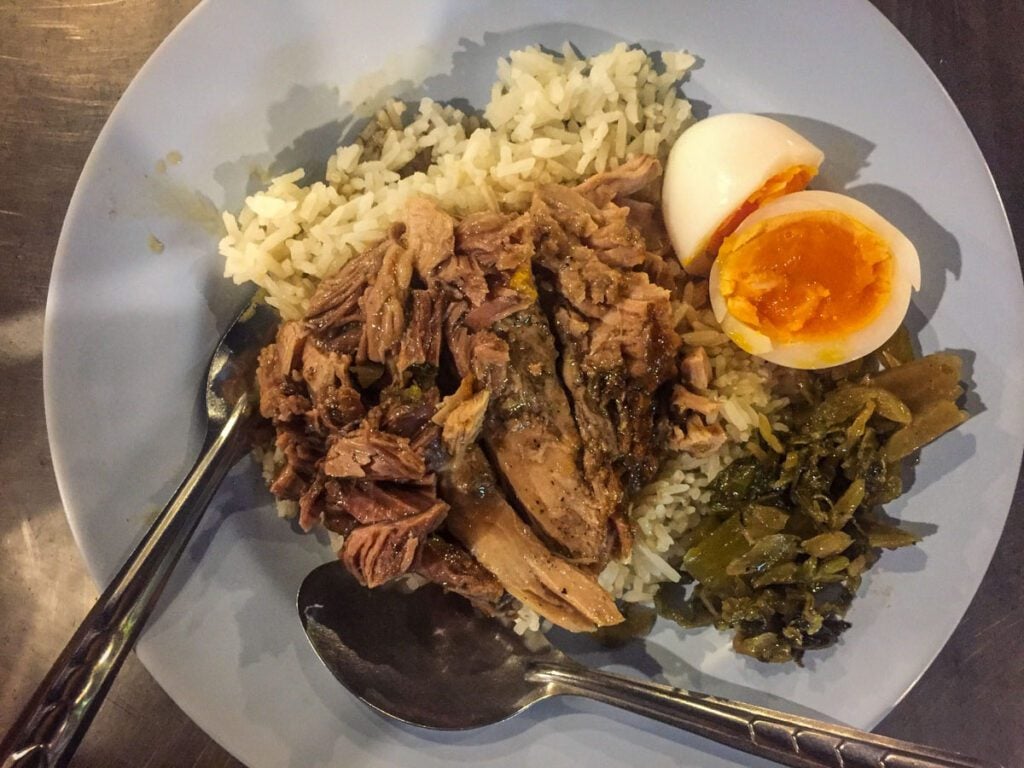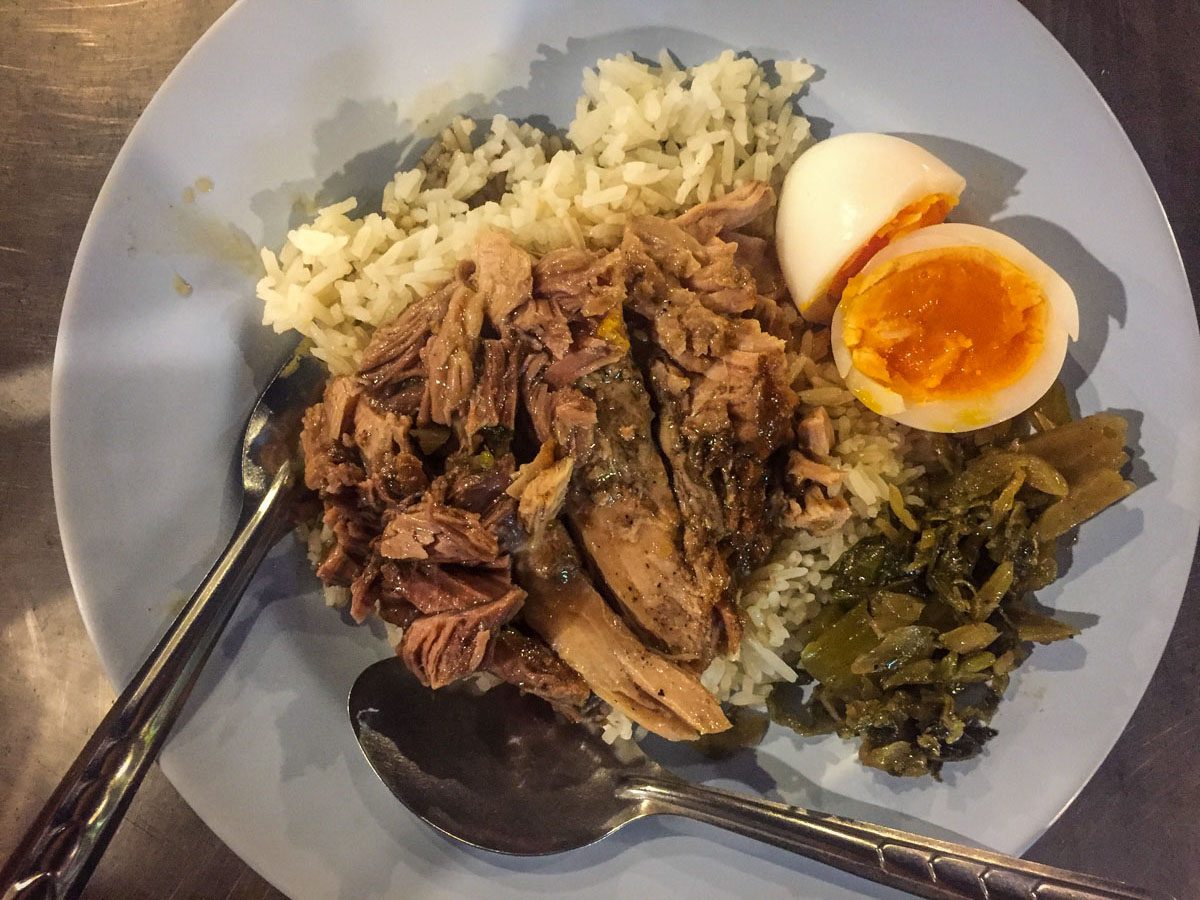 Kao Ka Moo, is also regionally spelled Khao Kha Mu and sometimes referred to as simply Ka Moo/Kha Mu (not at all confusing, right?!).
The dish is slow-cooked pig's trotter, a nice way of saying pig's foot. It's typically served over jasmine rice with eggs and pickled greens, and alongside a sipping broth.
Don't let the unusual cut of meat dissuade you from trying this dish — it's incredibly tender and delicious! In fact, it's one of the most flavorful Thai dishes. The pork sauce is very aromatic and all the components of the dish create a well-rounded, comforting meal.
Undeniably Chinese-influenced, the flavor palette of this dish is rich and savory, rather than sour and spicy. Especially common in Bangkok, many restaurants cook this as their sole specialty.
Where to order: Bangkok's Charoen Saeng Silom serves a critically-acclaimed Khao Kha Moo using pork knuckle in an aromatic gravy.
23. Pad Woon Sen (Stir-fried Glass Noodles)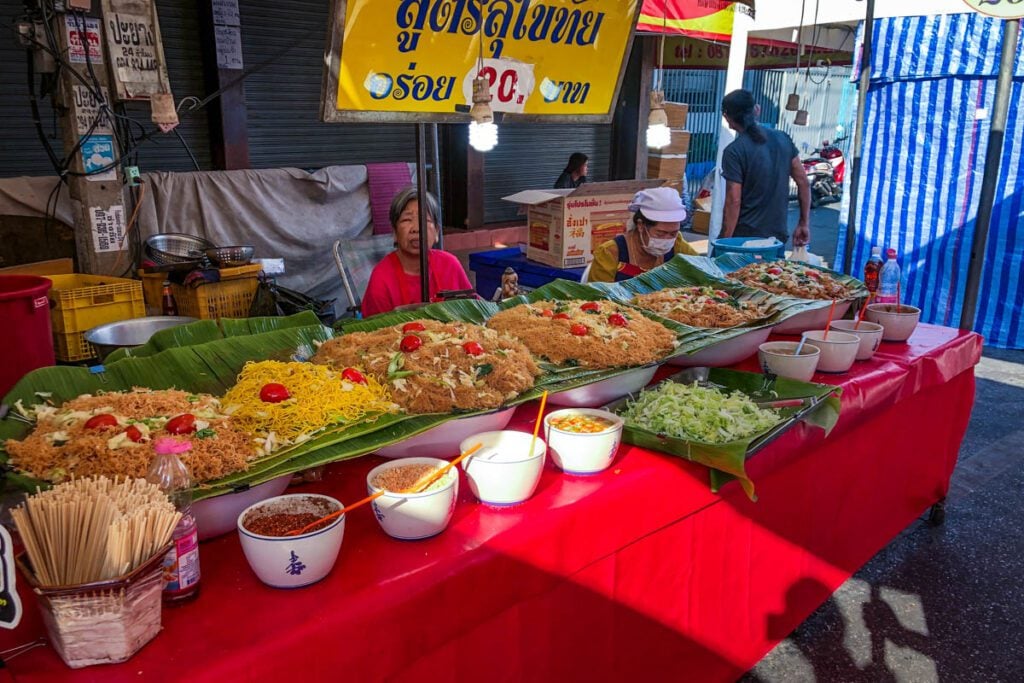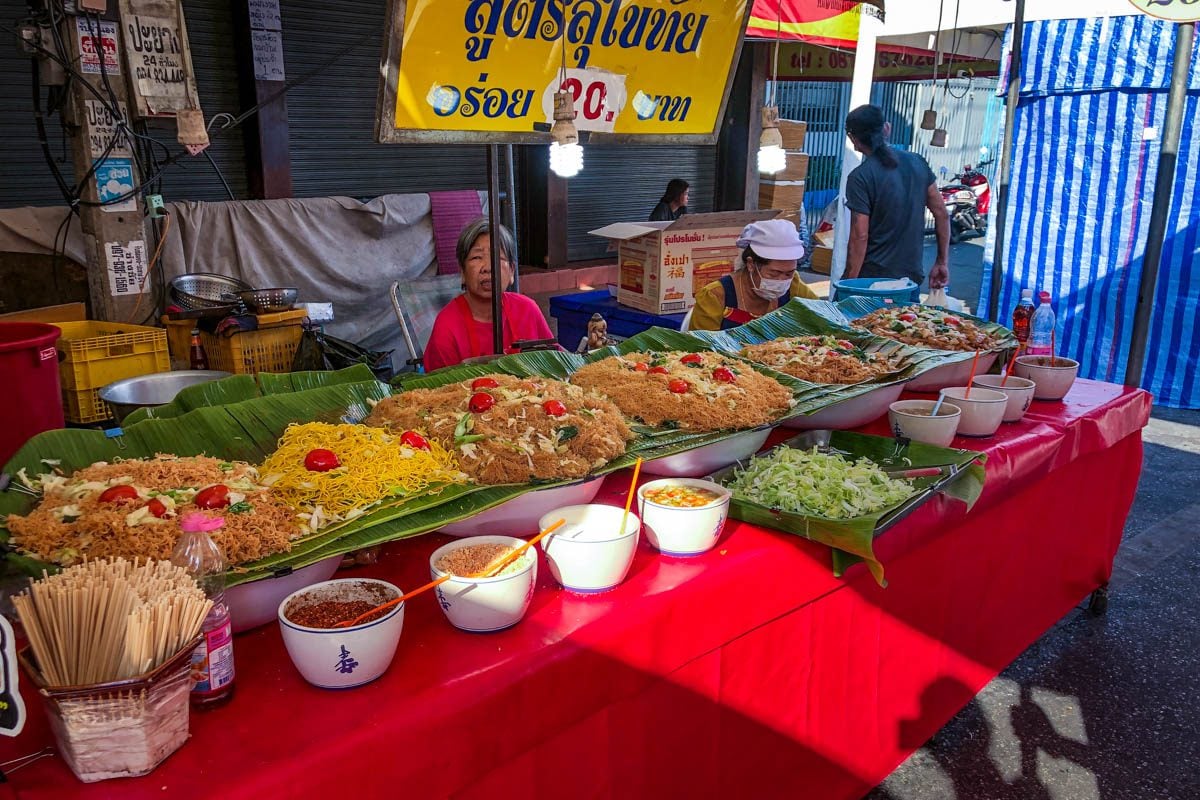 Brimming with veggies like carrots, cabbage, bean sprouts, and onions, this stir-fry combines crunchy bites with soft noodles for one of the most quintessential of all Thai foods: a classic noodle dish.
The sauce is both sweet and salty, created by combining oyster sauce, soy sauce, fish sauce, and sugar. The glass noodles, which are translucent when cooked, are made from vegetable starch; usually mung beans but sometimes sweet potatoes or peas. This makes Pad Woon Sen a much lighter, delicate alternative to other Thai dishes.
Where to order: Much like other stir-fried noodle dishes, Pad Woon Sen is inexpensive and commonly found in night markets and casual eateries. That makes finding your personal favorite a fun scavenger hunt of sorts!
24. Thai Roti
A rustic flatbread native to India, Roti is also a common street snack in Thailand. It's especially common to find it prepared in a sweet fashion, as a dessert.
The eggy, fluffy wheat dough is a bit thicker than traditional Indian varieties, and it's often served alongside savory curries or as a super-sweet dessert topped with bananas and condensed milk. Like crepe stands in many other countries around the world, street vendors love to proudly demonstrate how they carefully stretch out the dough before cooking it.
Where to order: Thai Roti variations are endless, so sample a few favorites at night markets to determine if you prefer the sweet or savory varieties.
25. Mango Sticky Rice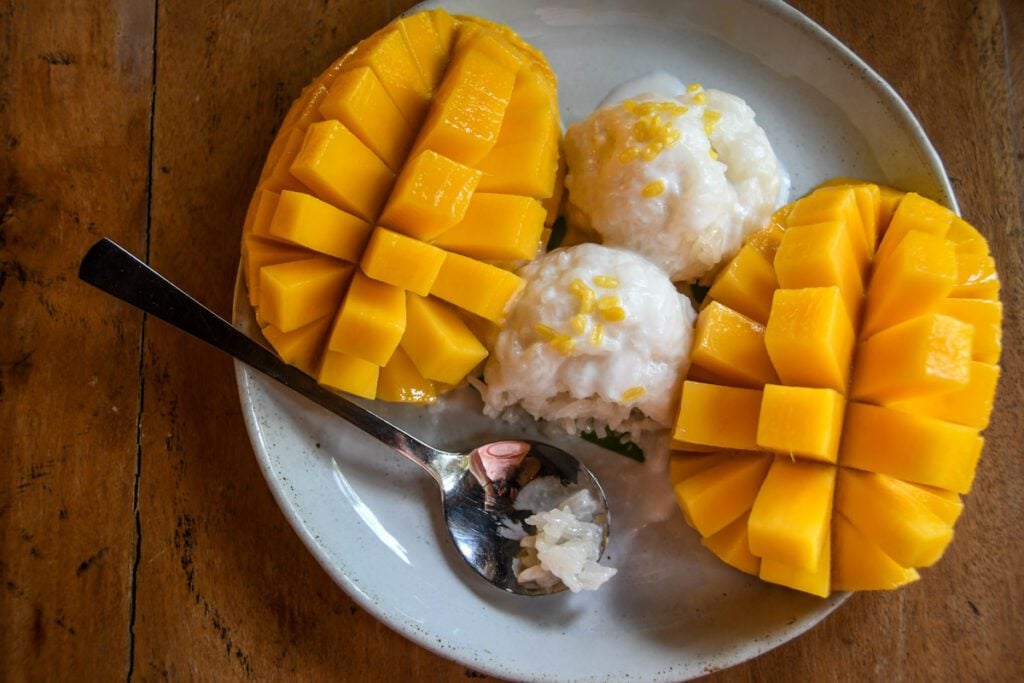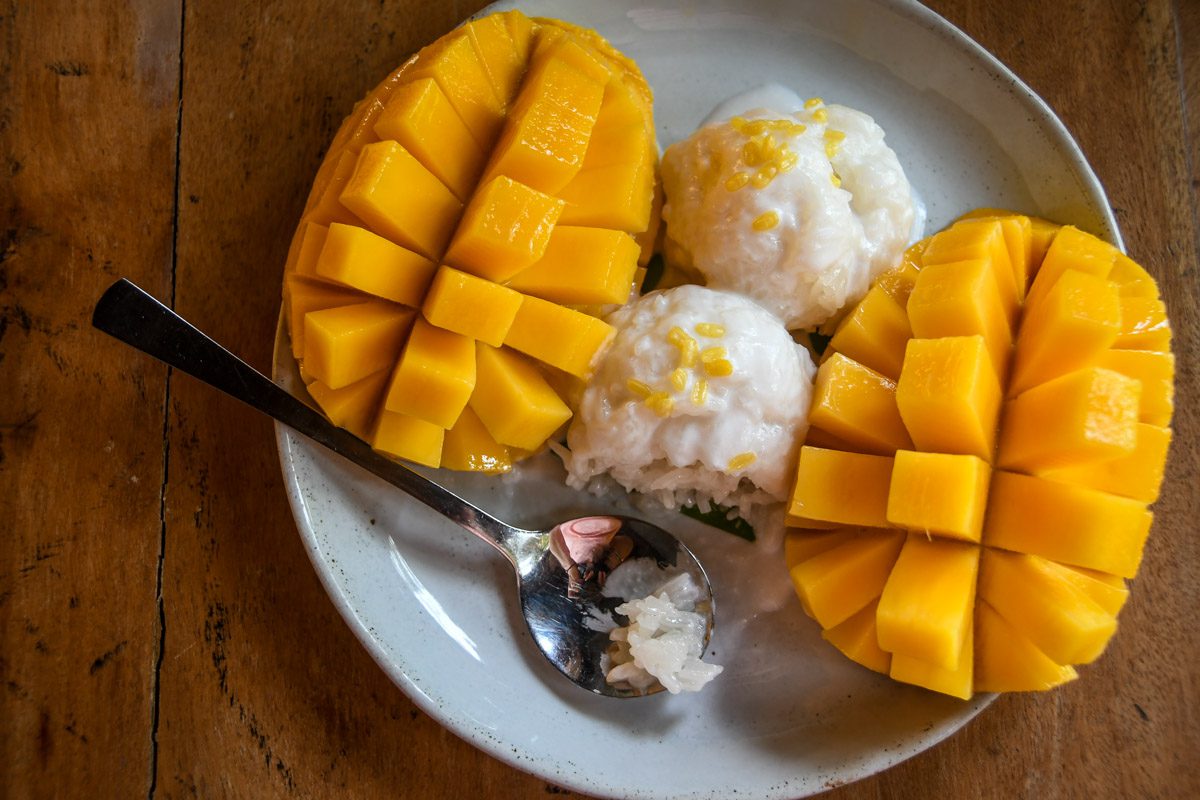 Last but certainly not least, Mango Sticky Rice is one of the most beloved Thai dishes. It's a dessert that combines chewy sweet rice with slices of succulent mango.
In order to achieve that signature stickiness, the rice is combined with coconut milk and palm sugar before being steamed in banana leaves or bamboo boxes. Although mango sticky rice is available as a street snack year-round, it's most delicious in April and May — peak mango season!
Where to order: Especially popular with tourists, mango sticky rice is available at most markets, restaurants, and cafes. Take a good look at the vendor's mango pile before ordering; those with the freshest-looking fruits will have the tastiest version.
---
Best Thai dishes to try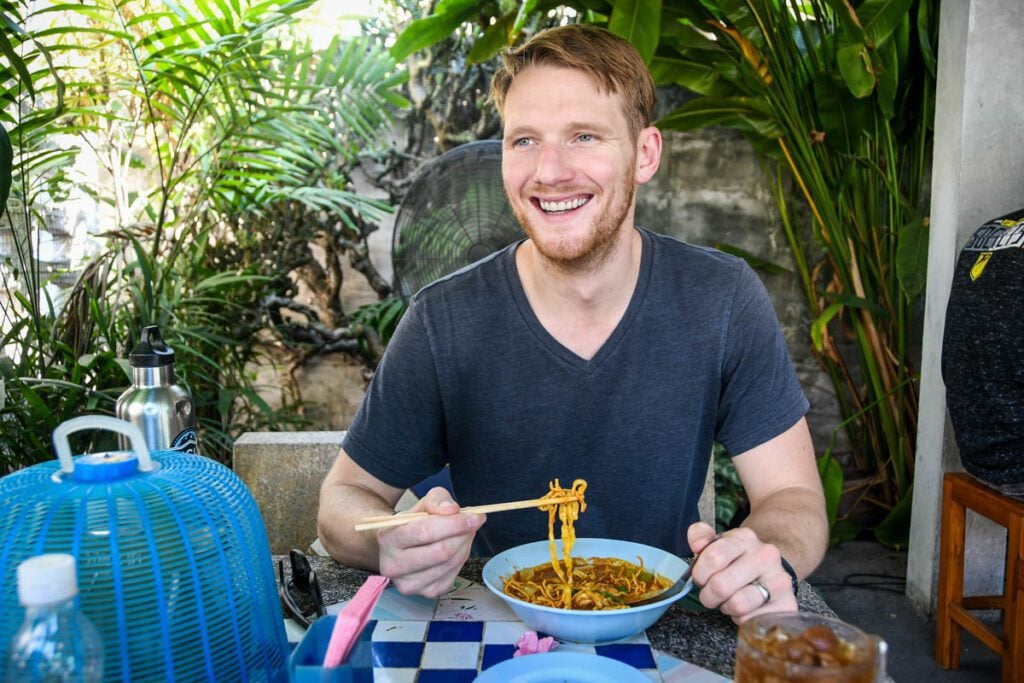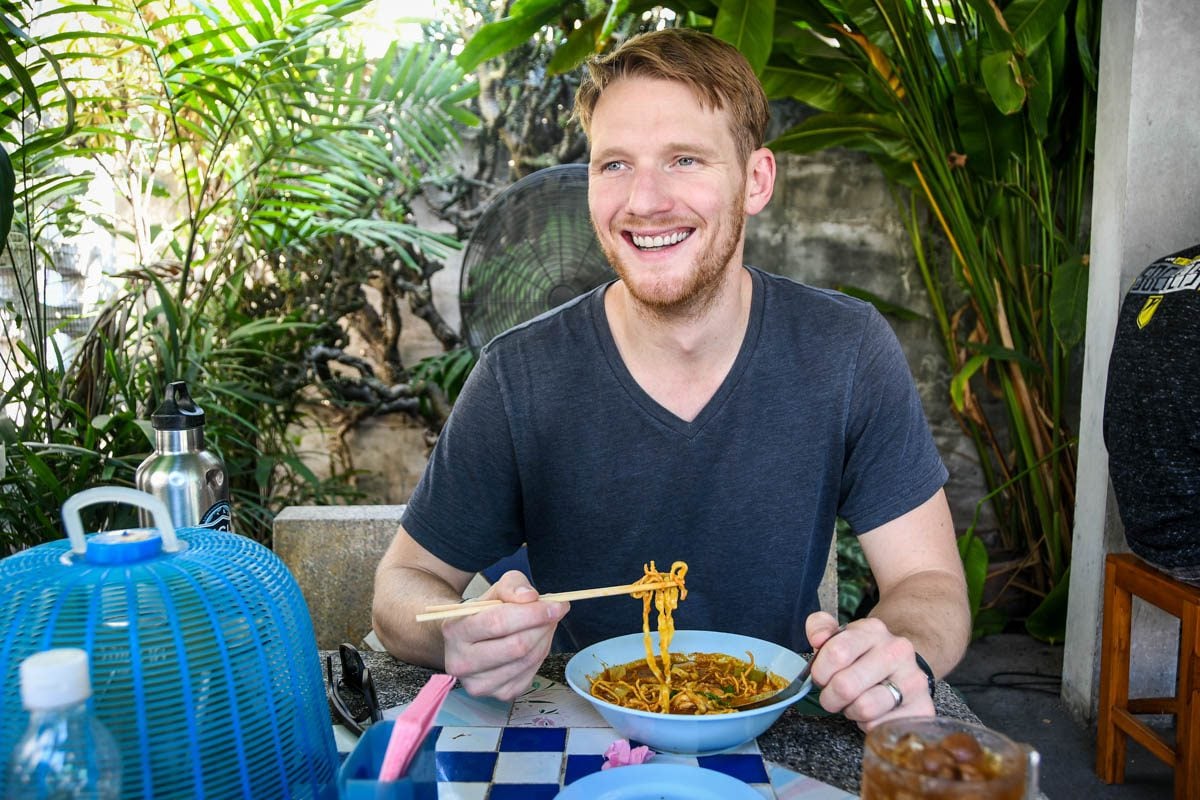 Here's a recap of all the best Thai dishes to try so you can see everything in one place.
Khao Soi
Som Tam
Tom Kha Gai
Tom Yum
Pad Thai
Pad See Ew
Sai ua (Northern Thai Sausage)
Laarb
Moo Satay (Pork Satay)
Poh Pia Tod (Thai Spring Rolls)
Pla Kapung Nueng Manao (Steamed Fish with Spicy Lime Sauce)
Massaman
Green curry
Red curry
Panang curry
Khao Pad (Fried Rice)
Pad Krapow (Fried Basil)
Kai Jeow (Thai Omelette)
Gai Med Mamuang (Chicken with Cashew Nuts)
Guay Teow (Noodle Soup)
Kao Ka Moo
Pad Woon Sen (Stir-fried Glass Noodles)
Thai roti
Mango sticky rice
Thai cuisine by region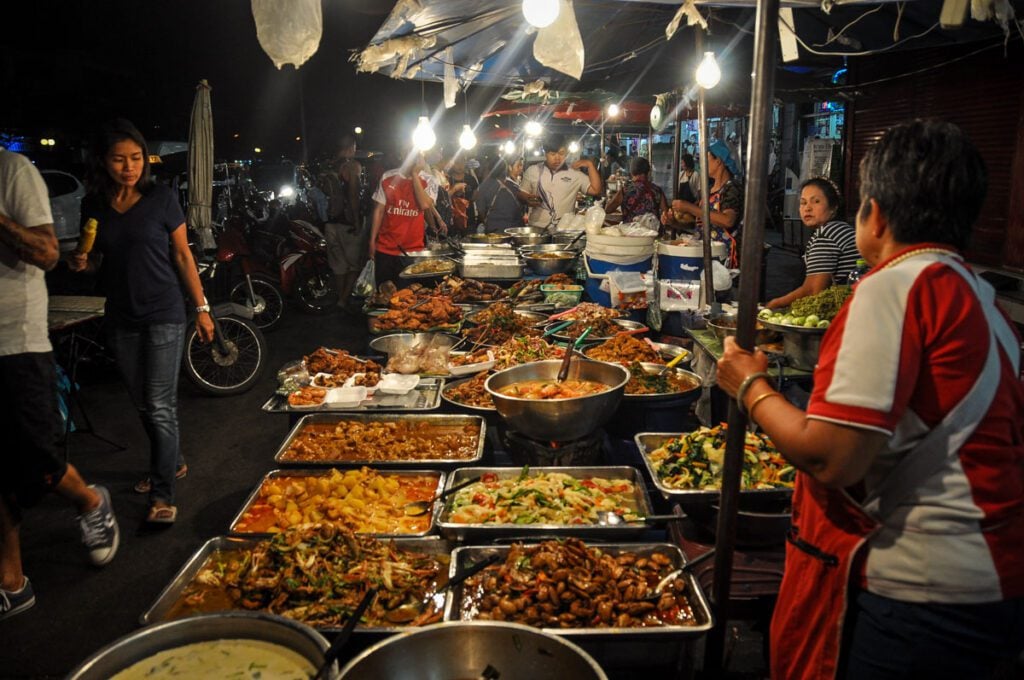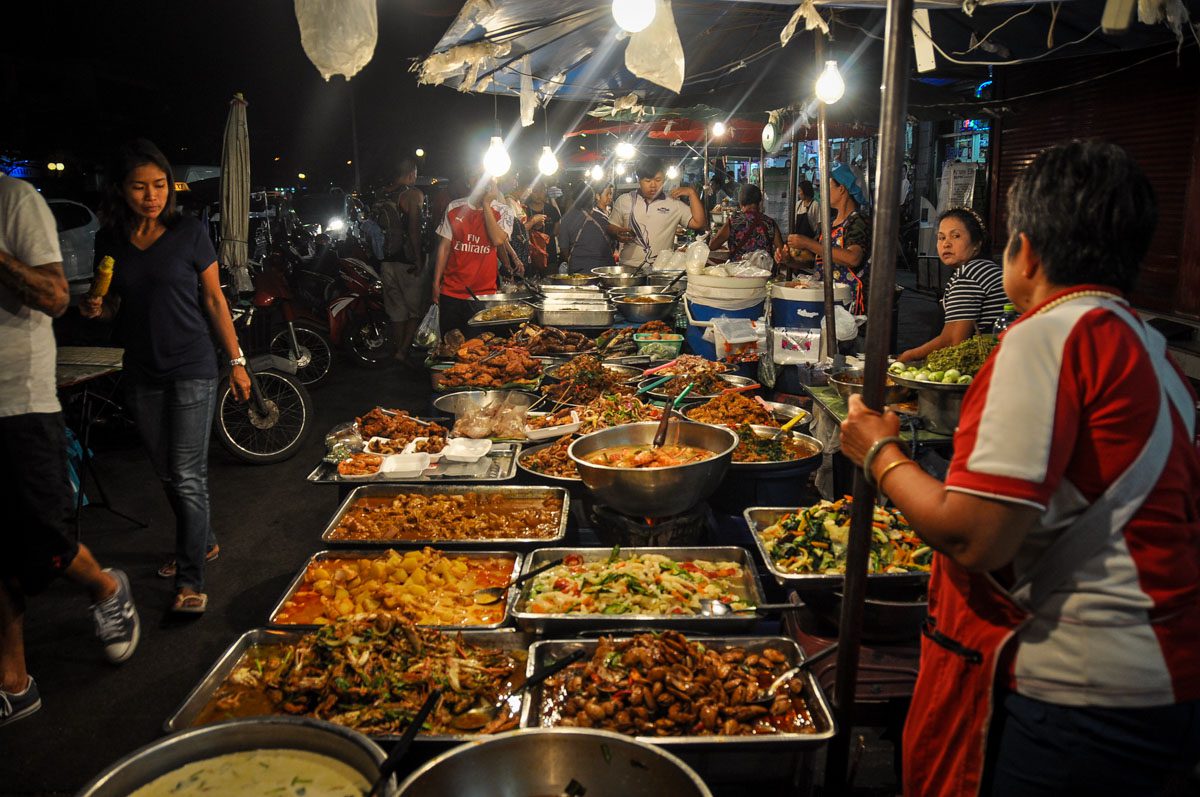 With such a wide range of cultural influences throughout the country, it should come as no surprise that Thai cuisine varies significantly from region to region.
The four main food regions are Central, Southern, Northern, and Northeastern Thailand, and of course, they each have distinct cooking methods, traditions, and flavor profiles.
Central Thai dishes are the most diverse, since they draw upon all the surrounding regions and have easy access to a vast range of ingredients. This area, home to the capital city Bangkok, is also where tourists will easily find what they commonly associate with Thai food.
Southern Thailand, world-renowned for its pristine beaches, features dishes heavy on fresh seafood, vegetables, and spicy curries, largely influenced by neighboring Malaysia and Indonesia.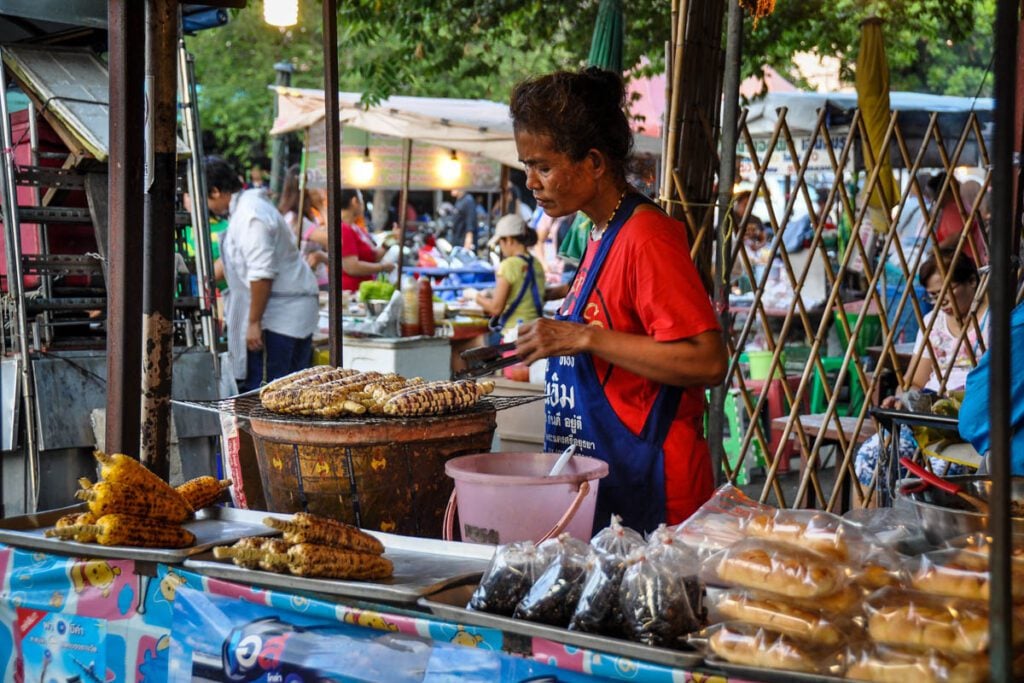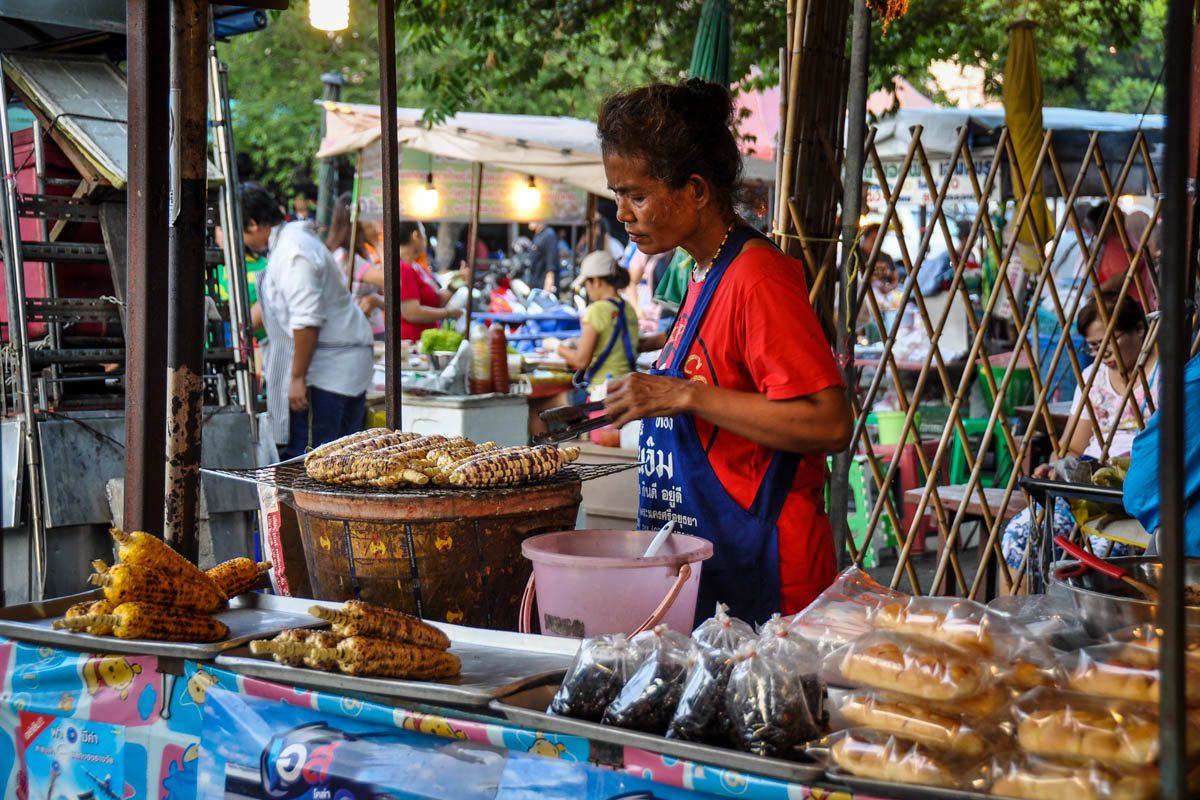 In the north, where popular tourist destination Chiang Mai is located, the country shares borders with Myanmar and Laos. As such, the foods here are heavily influenced by Chinese flavors and preparations.
Notably, seafood isn't readily available in northern Thailand, so dishes don't feature it nearly as prominently as in the southern regions of the country. Sticky rice and every imaginable variety of noodle are common main ingredients, as they grow abundantly in the cool climate here.
Nearby, the rarely-visited Northeastern region known as Isaan is home to the most authentic Thai food. This is largely because there are few, if any, tourists to cater to.
You'd be hard-pressed to find anything fried, and Thai dishes here are decidedly not spicy (really!). Because of this area's remoteness, it's common for dishes to include ingredients that would be considered unusual elsewhere, such as insects and frogs.
Thai ingredients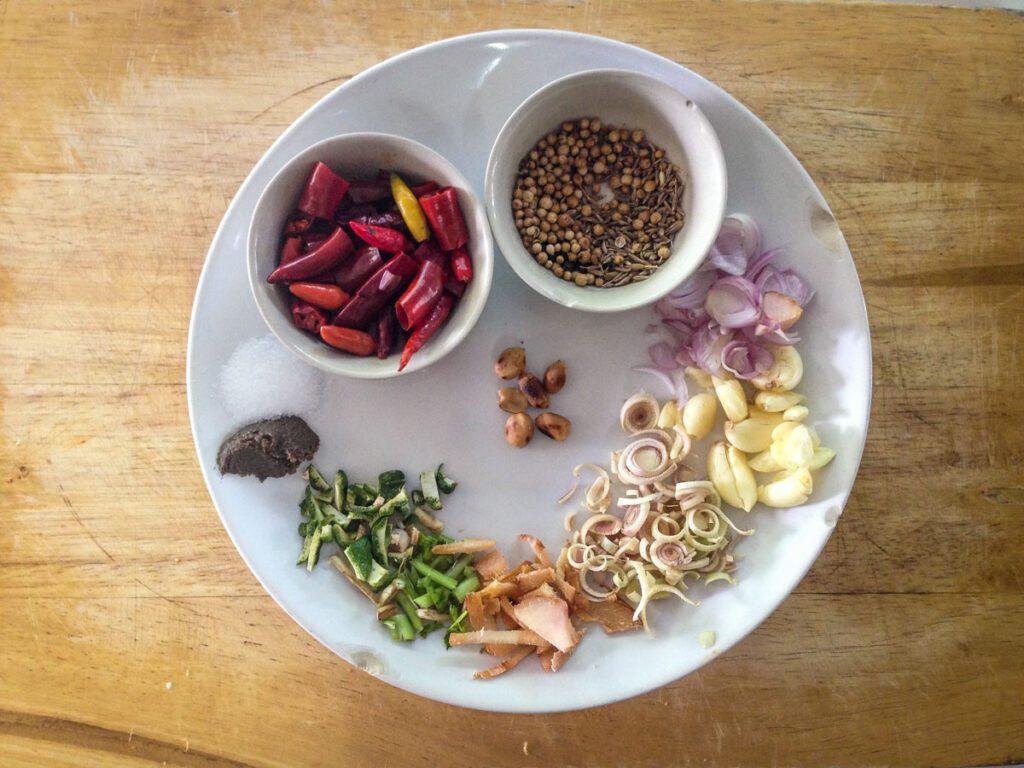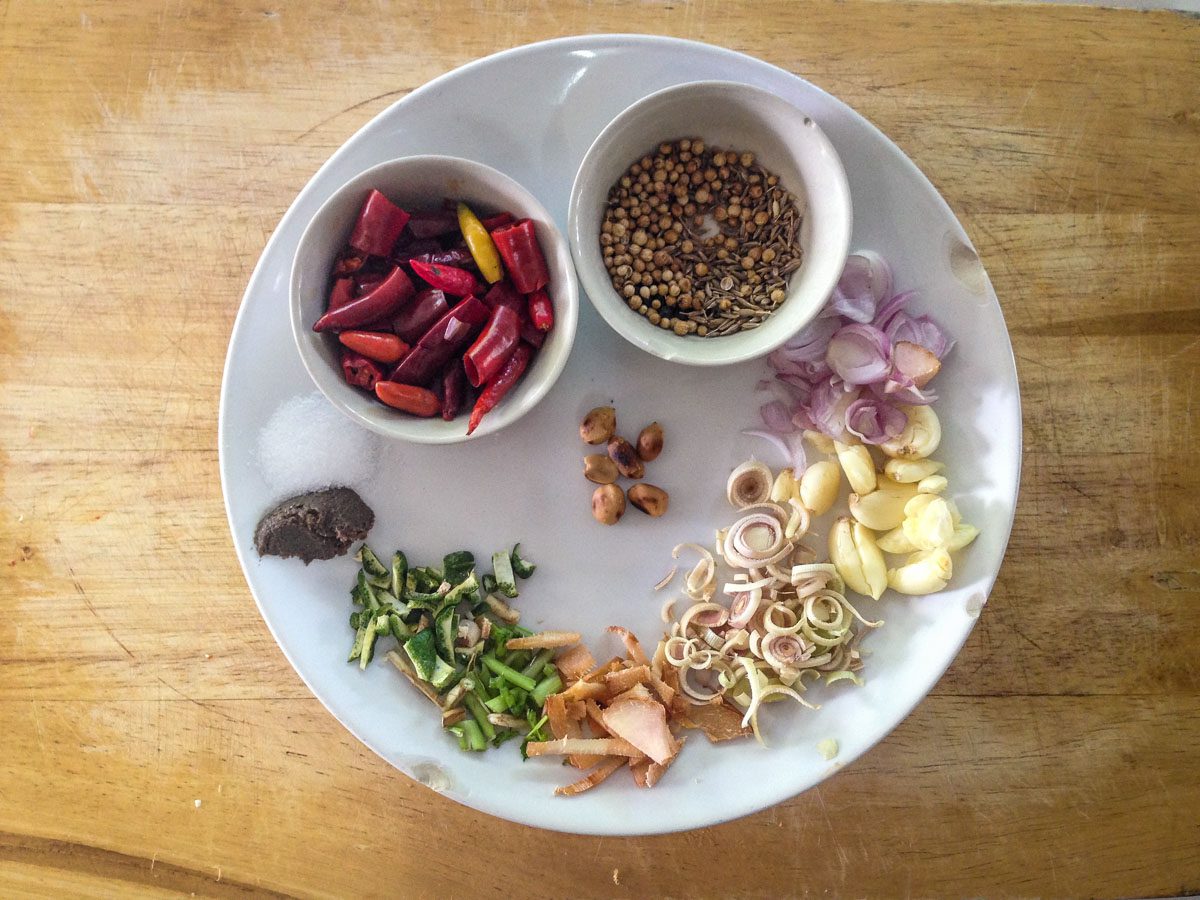 Heat from birds eye chilis, freshness from lemongrass and Thai holy basil, an earthy zing from ginger and galangal, an acidic tang from limes… all of these divergent flavors come together with garlic, sugar, and fish sauce to make up the unique flavors of Thai cuisine.
And we can't forget about kaffir lime. This aromatic leaf comes from a non-edible lime tree and is used in all sorts of Thai dishes to give it a signature je ne sais quoi… It is a flavor that really can't be compared to anything else.
Here are some of the most common ingredients found in Thai cuisine:
Galangal: In the same family as both ginger and turmeric (in fact, it's often called Thai ginger!), galangal has a vibrant, distinct citrus-piney flavor that's central to curries.
Ginger: A finger-shaped root, ginger adds pungency and a just-barely-there sweetness to food.
Thai chili (Birds' eye chili): These small, pointy peppers deliver a fiery helping of spice with more heat than jalapenos and are widely used in Thai dishes.
Garlic: Thai garlic tends to be smaller and sweeter than its western counterpart, and it's typically prepared with the shells left intact.
Shallots: One of the most common ingredients in Thai cuisine, Thai shallots lend both a subtle sweetness and a garlic-like punch.
Thai basil: A pungent, spicier version of the classic garden plant that almost resembles the flavor of black licorice.
Kaffir lime leaves: A bright, citrusy, floral-flavored leaf used in a wide variety of curries and sauces.
Lemongrass: A grass stalk with a distinct but subtle lemony-mint flavor and aroma, delicate enough to work beautifully with many other ingredients in Thai dishes.
Lime: The small green citrus fruit is a central acidic flavor in Thai food, added during preparation and commonly used as a garnish.
Coconut milk: Extracted from the pulp of brown coconuts, this thick, creamy liquid is used as a base for curries and soups.
Fish sauce: A fermented liquid composed of salt and fish, this sauce is a salty, savory staple of Thai dishes.
Good to know: Most Thai restaurants (whether in Thailand or elsewhere abroad) have spice condiment trays. They typically contain dried chili flakes, fish sauce with chilis, vinegared chilis, and sugar or other items.
Thai food vocabulary to know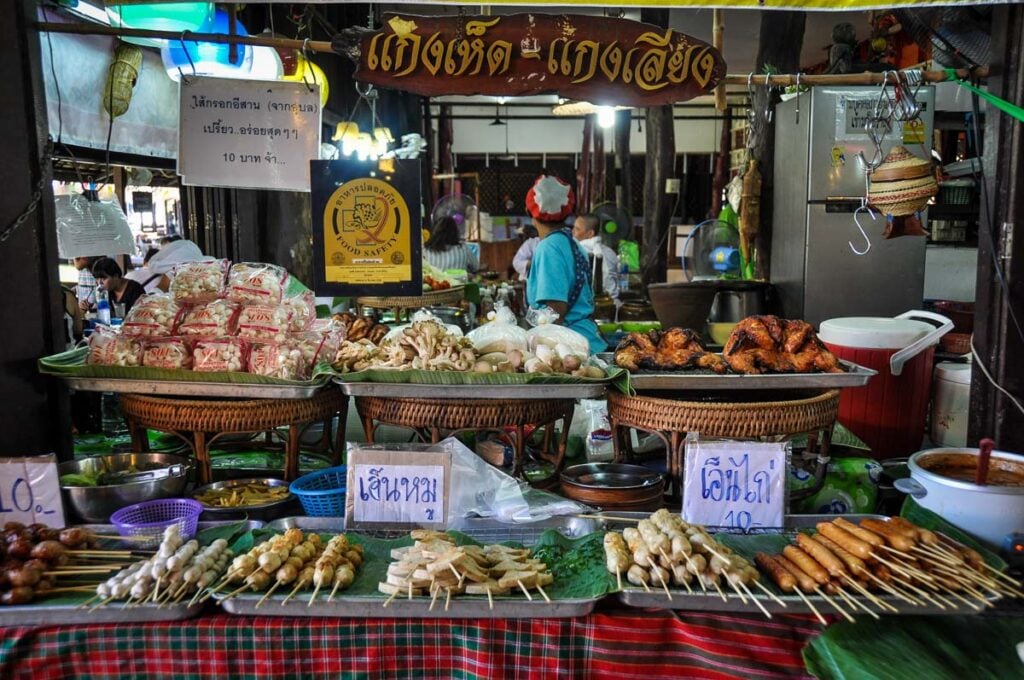 There are a few Thai words you'll often see in the names of Thai dishes. Understanding the meaning will help you decipher what you can expect from each dish.
tom: boiled dishes
yam: spicy salads
tam: pounded foods
gaeng: curries
pet: spicy
phak: vegetables
too-eh lee-song: peanut
guaidtiao: noodles
kâao: rice
moo: pork
gai: chicken
wua: beef
Things to know about Thai food
After spending over 2 years collectively, living in and traveling throughout Thailand, here are some tips and things to know about Thai food that we've picked up along the way.
Seek out plastic chairs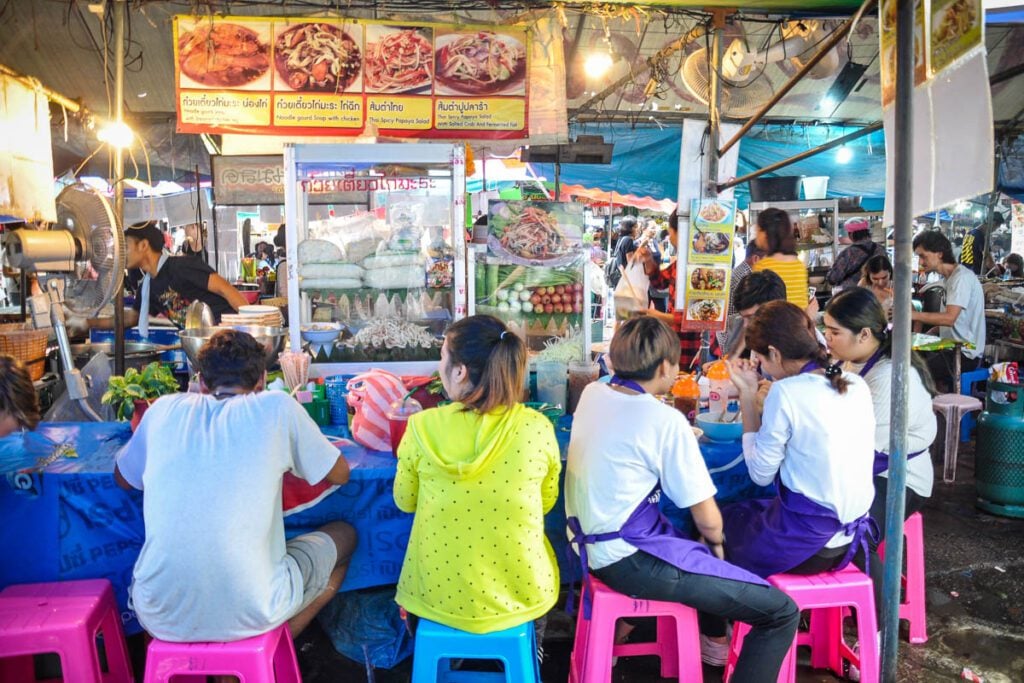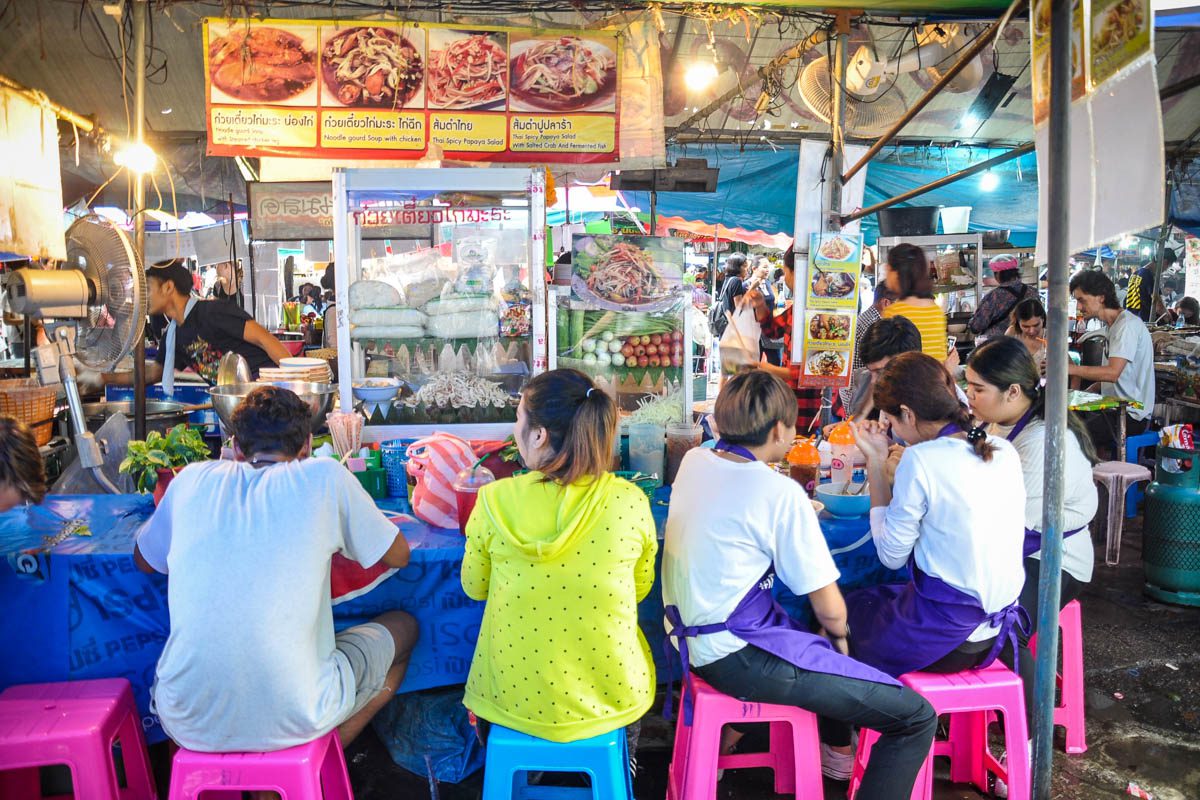 As Anthony Bourdain would often point out, restaurants with plastic chairs and a no-frills atmosphere often serve the best food. We have found this to be very true in Thailand in particular.
While it's fun to try fancier restaurants, don't let plastic chairs deter you.
In fact, we often seek out these low-key places because they are where the locals eat. They serve up authentic Thai dishes without the steep prices and watered down tastes of the more tourist-friendly locales.
Take a cooking class or food tour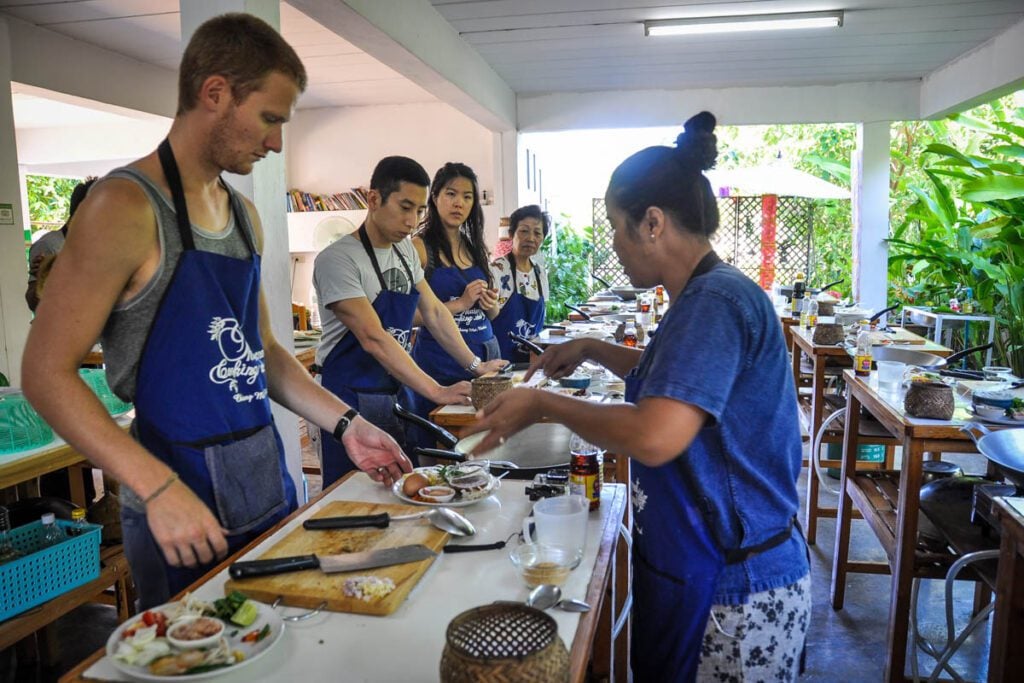 One of the best ways to truly experience Thai cuisine is by taking a food tour or a cooking class. We've done both and highly recommend each experience.
The best place to take a cooking class in Thailand is in Chiang Mai, and for an action-packed food tour by tuk tuk, book this experience in Bangkok.
Breakfast is often noodles or rice
Unlike Western breakfasts that often center around egg dishes, in Thailand (and most of Asia, for that matter), you'll find dishes with rice or noodles that you'd most likely associate with lunch or dinner.
Try all the fruits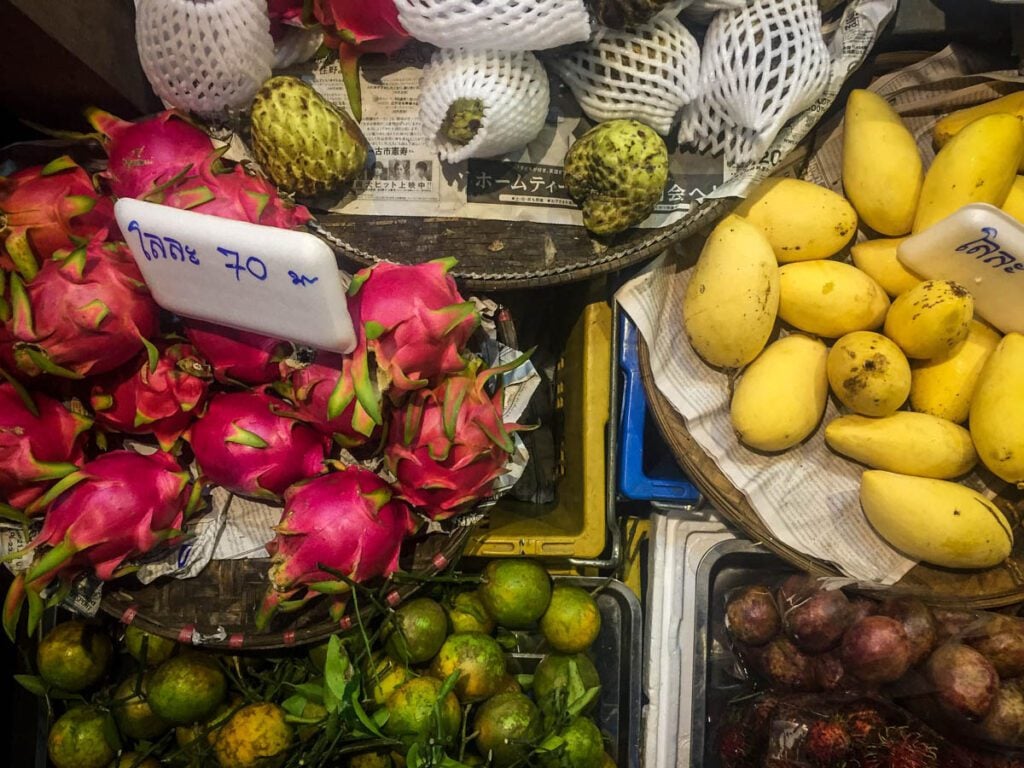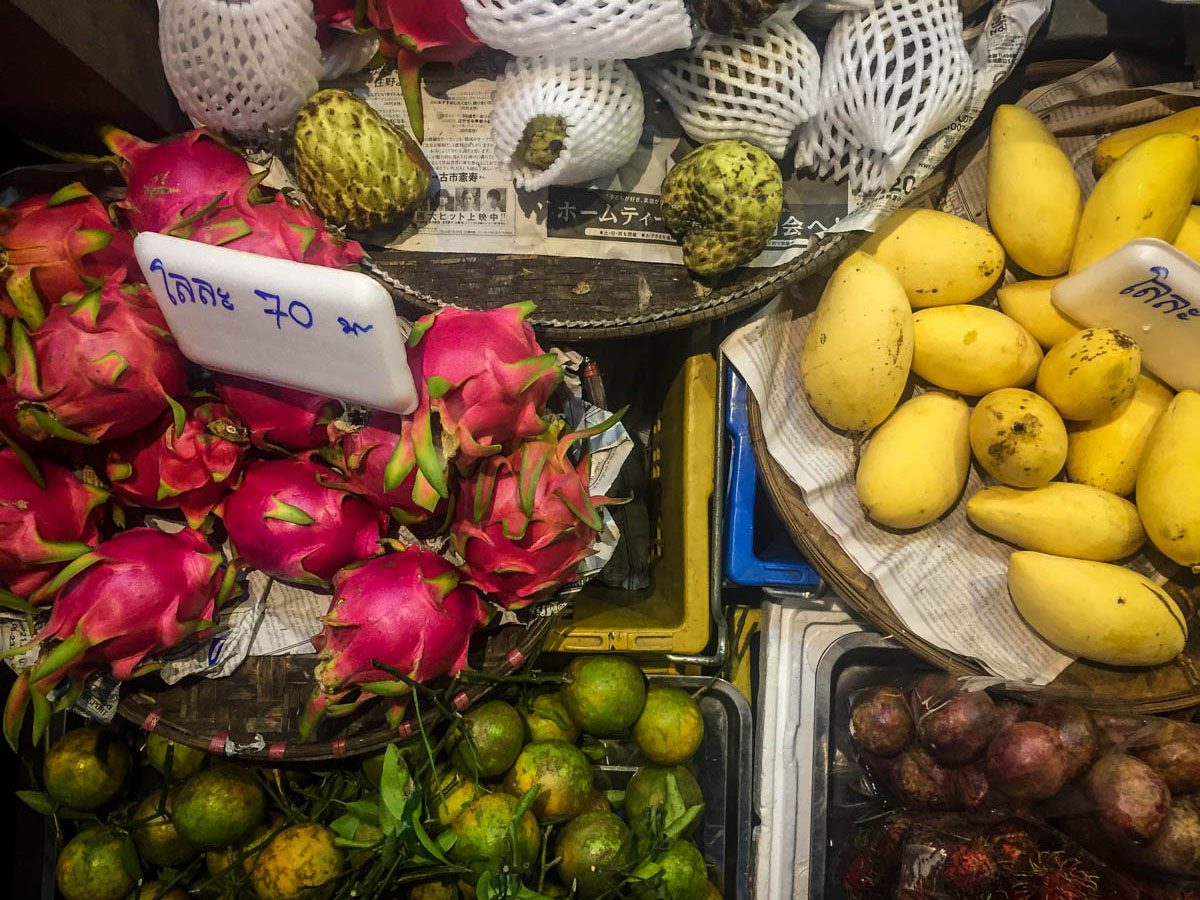 Southeast Asia is home to a vast array of fruits. While traveling in Thailand, be sure to try as many as you can!
Our personal favorite fruit (ever!) is called mangosteen. This seasonal fruit can be found in Thailand and tastes kind of like a mango (but even better, in our opinion!).
Soursop is also a delicious and unique fruit to try in this part of the world. Durian is a fruit that you'll either love or hate (and you'll probably know how you feel once you smell it!). And dragonfruit, while not super flavorful, is seriously beautiful and is often served in mixed fruit bowls.
Even fruits that you may be familiar with at home, like pineapple, mangos, papaya and bananas, somehow taste even better in this tropical country where they are native.
You'll find vendors selling fruits, cut up and in bags for easy eating, in markets or even on the sidewalk. They often come with wooden skewers so you can poke them and pop 'em in your mouth. And some fruits (like mangos) come with a seasoning mix of chili, salt and sugar that locals love to dust on them.
---
Are you planning a trip to Thailand?
We have TONS of resources on travel in Thailand and destinations throughout the country. Check out our Ultimate Thailand Travel Guide for all the answers to your most burning questions, or read some of our favorite articles below.
Save this article on Pinterest for later!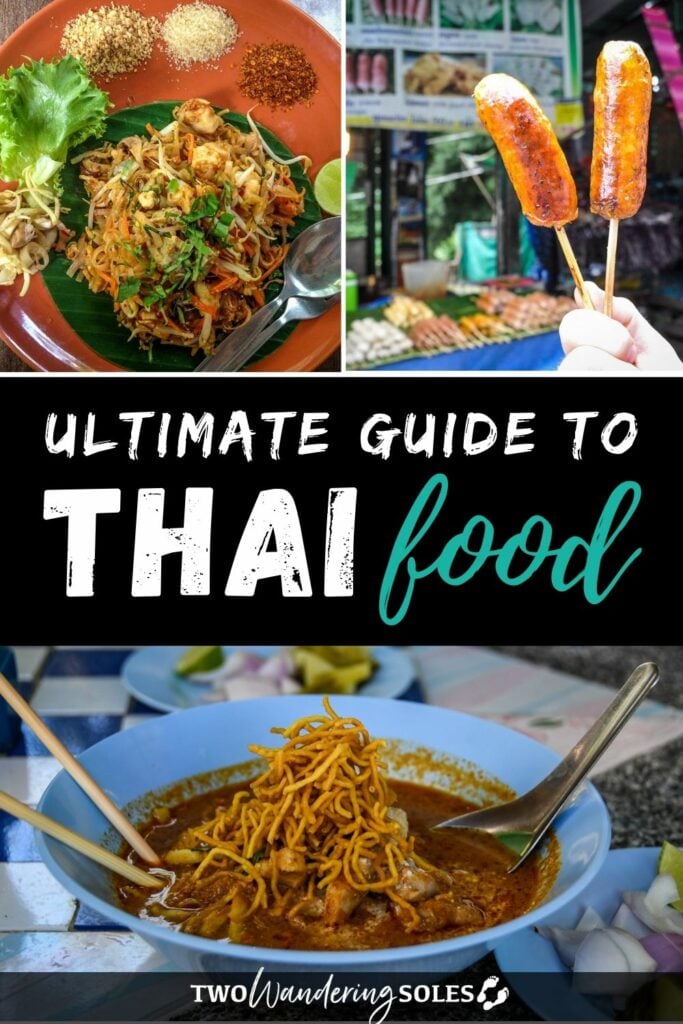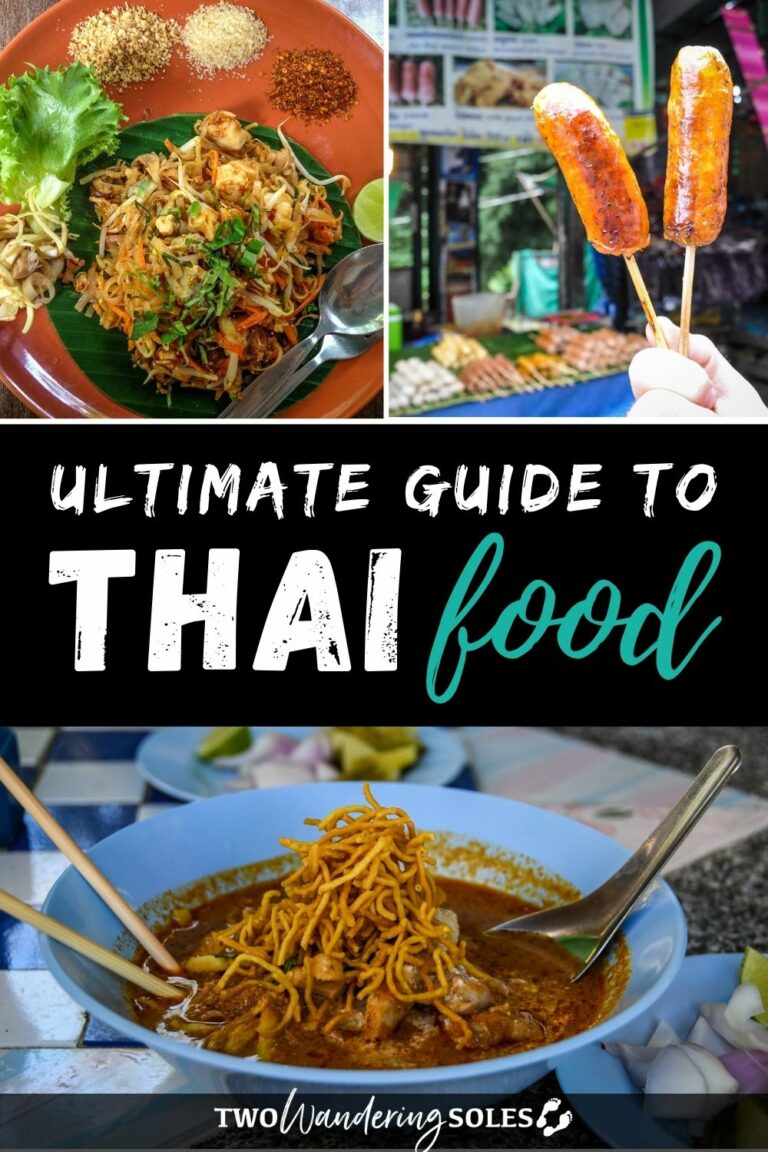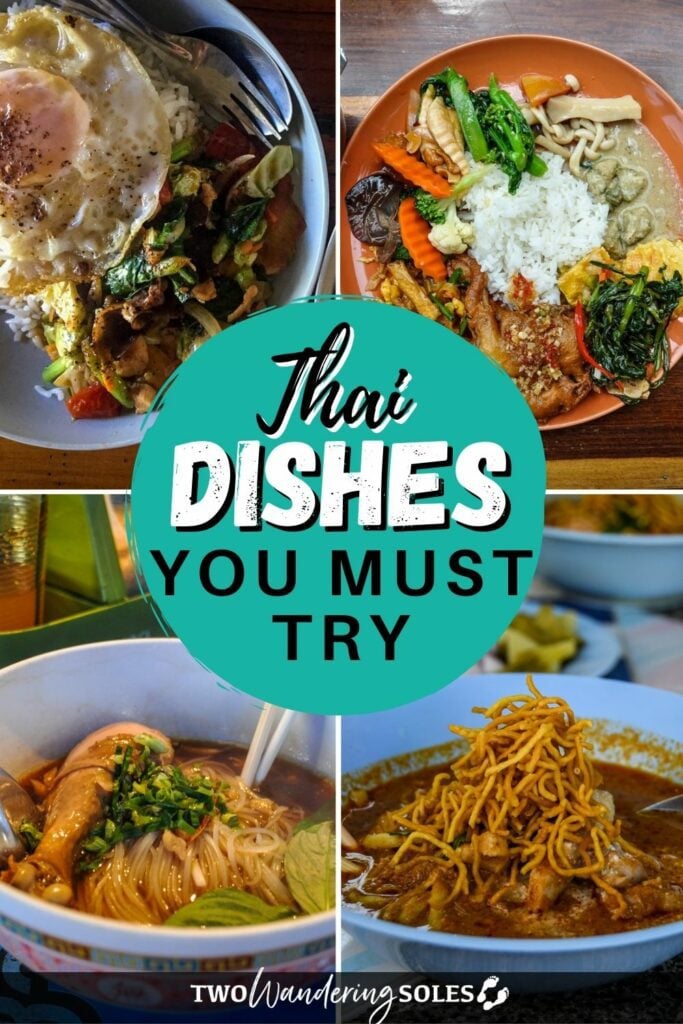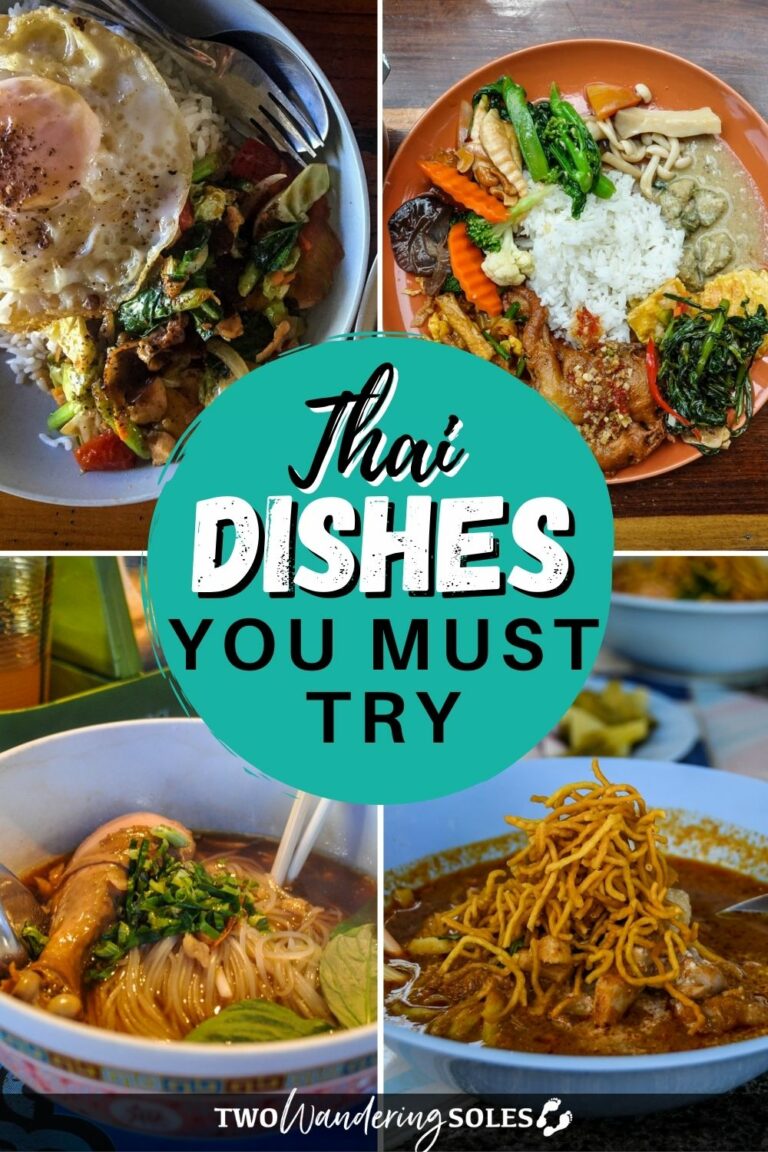 We want to hear from you!
Do you love Thai cuisine as much as we do? Which of the Thai dishes on this list are you most excited to try? Which is already your favorite? Leave us a comment below and we'll do our best to get back to you!