We think Capitol Reef National Park is the most underrated national park in Utah and we want to tell you why! We've put together everything you need to know to plan your visit including all the best things to do, where to stay, and important info.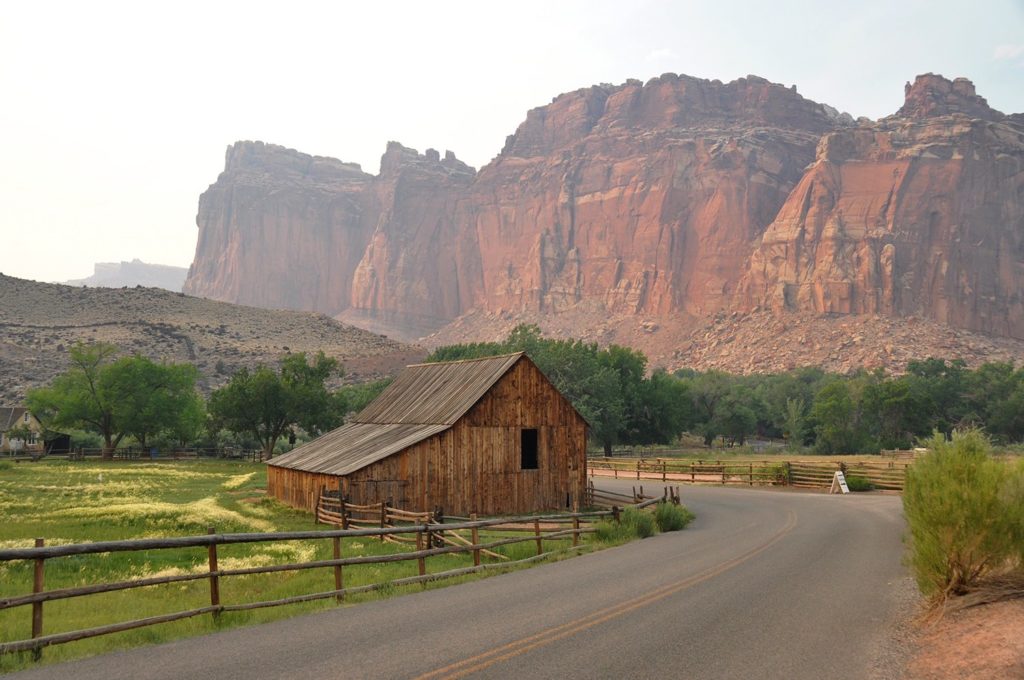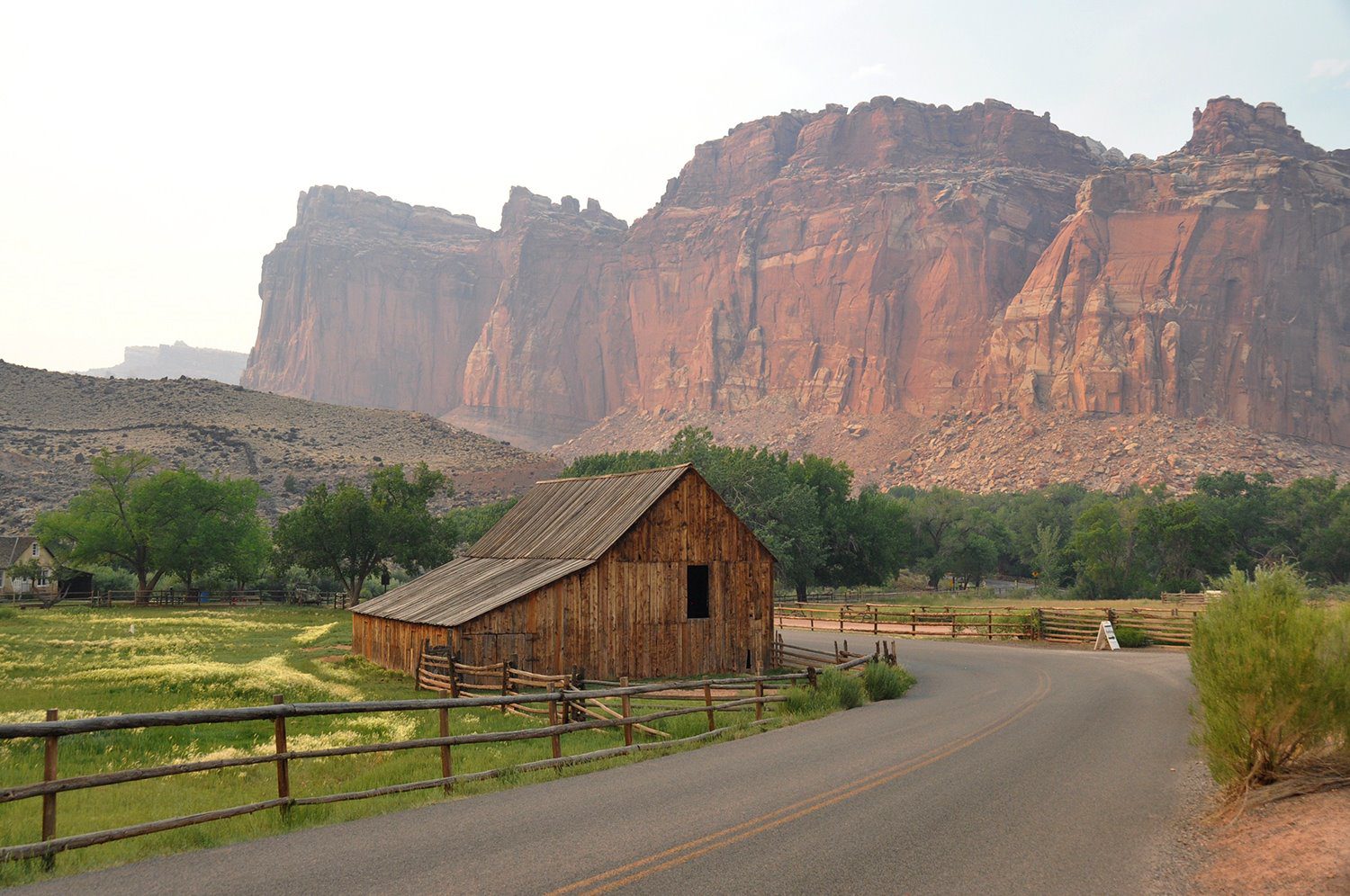 I'm going to be honest and tell you we hadn't ever heard of Capitol Reef National Park until researching Utah's "Mighty 5." We'd heard of four…. But what is the fifth?
Capitol Reef is a bit out of the way if you're doing a tour of the other Utah National Parks, and many visitors seem to skip over this one. But that's a good thing for those who do make the journey, because it means fewer crowds.
Since we really didn't know what to expect out of Capitol Reef, we were pleasantly surprised and were so happy we made it part of our itinerary. Oh, and it gets bonus points because the drive between Capitol Reef and Bryce Canyon on Highway 12 is seriously stunning! (More on that later!)
Article contents
---
Capitol Reef National Park at a glance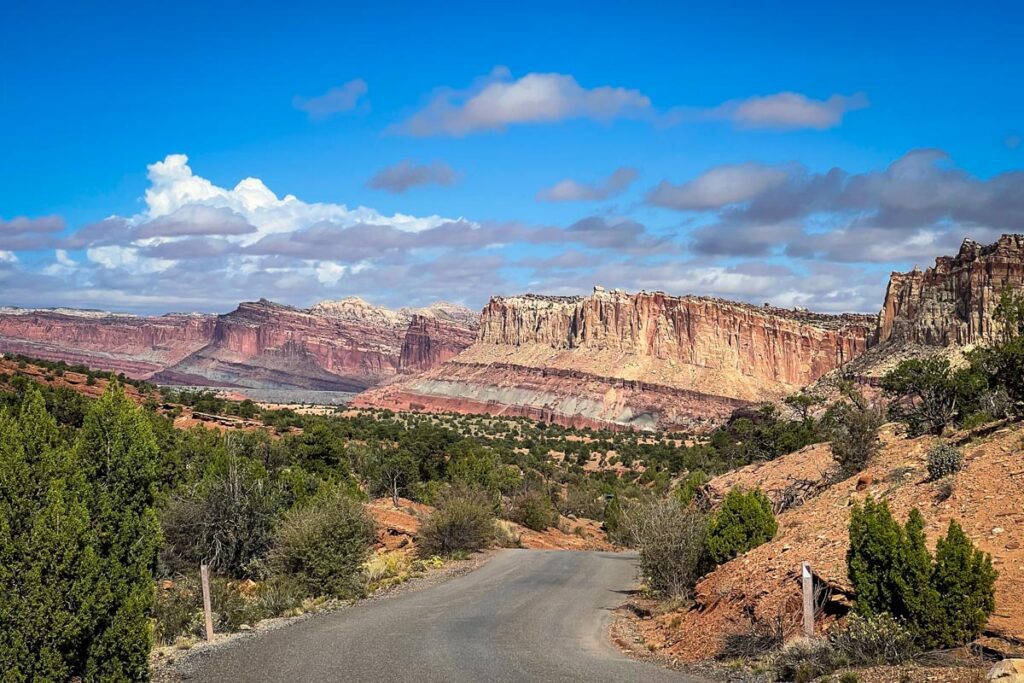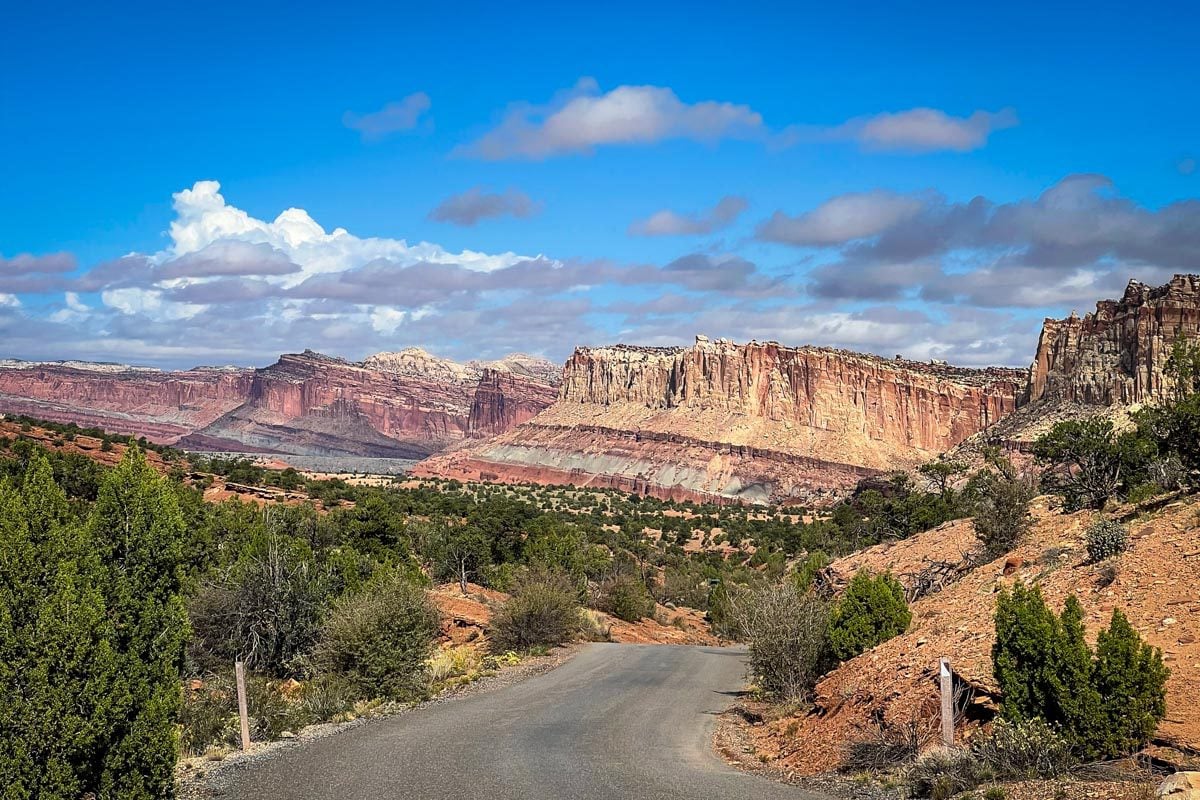 Open: Year round
Entrance Fee: $20/vehicle, $15/motorcycle, $10/hiking & biking, or free with your America the Beautiful Pass
Wildlife: bighorn sheep, mule deer, mountain lions, and squirrels
Established: December 18th, 1971
Ancestral Lands: Capitol Reef has indigenous history that dates back more than 10,000 years. Artifacts from Fremont, Anasazi, and even Paleo-indians have been found inside the park.
Area: 37,711 acres
How to get to Capitol Reef National Park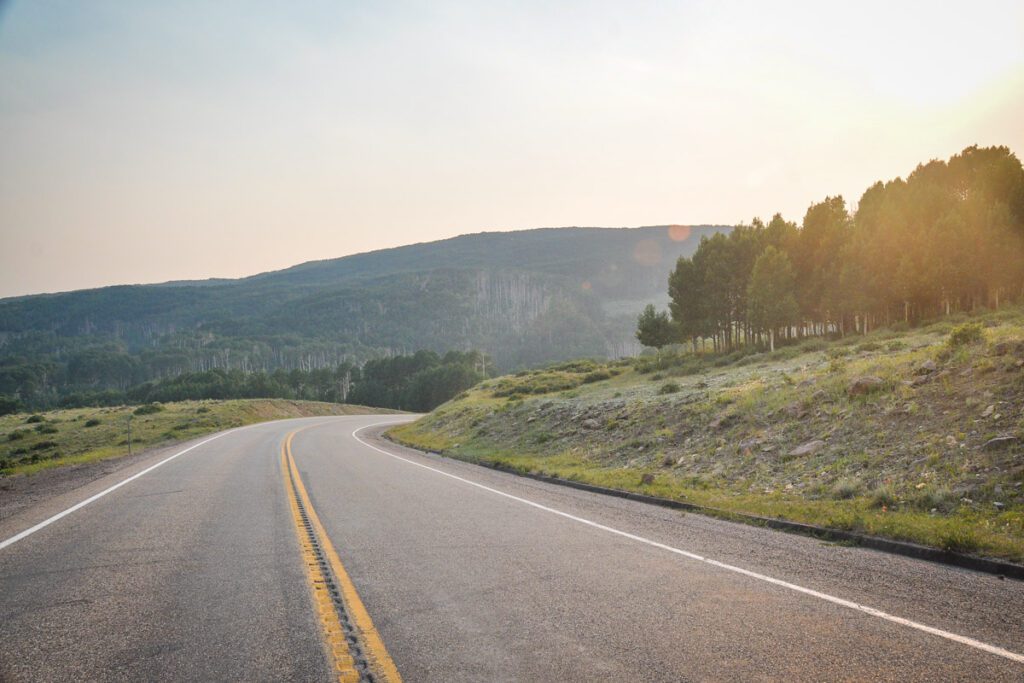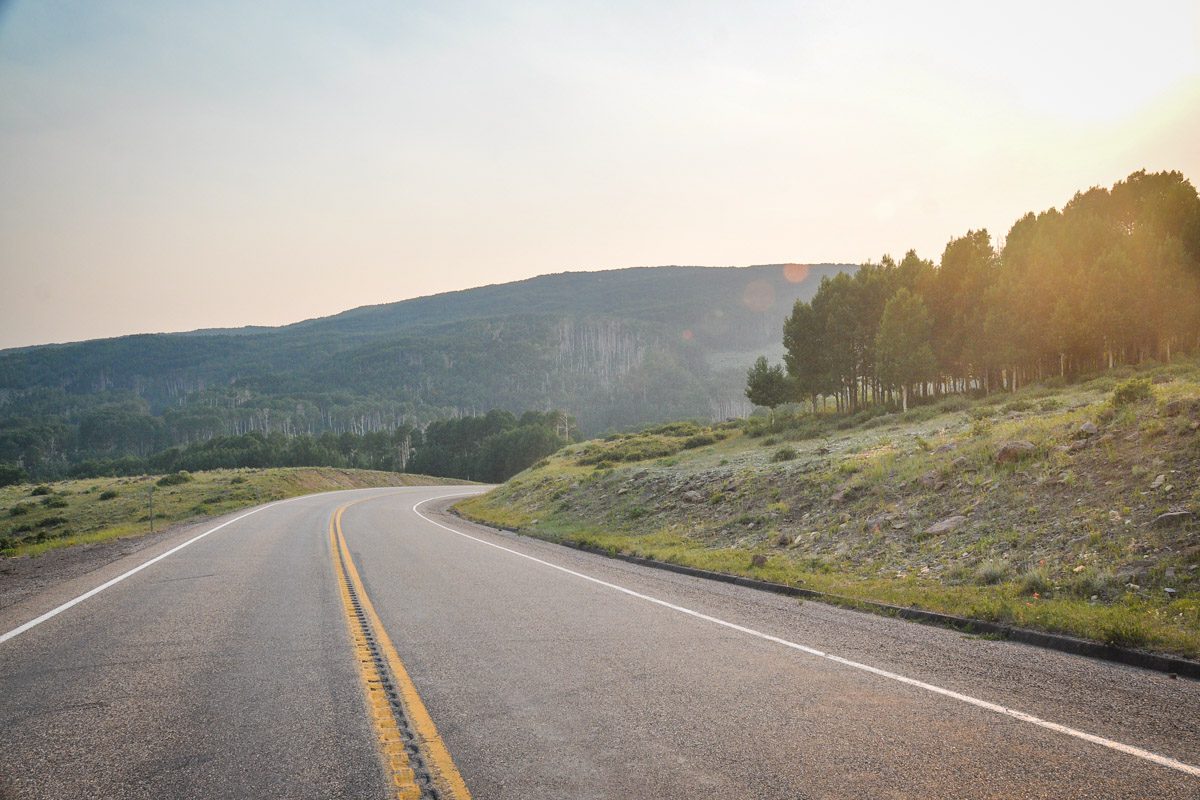 Capitol Reef National Park is a bit more off the beaten path than other parks in Utah near, so the main and best way to get there is by self-driving. Luckily, if you're already visiting Zion and Bryce Canyon or Arches and Cayonlands, it's only a short drive from either direction.
The closest airport to Capitol Reef is in Salt Lake City (3.5 hours away), which is why many people make a road trip and include the other National Parks in Utah for a more well-rounded itinerary.
Driving to Capitol Reef National Park
There are a variety of different ways to get to Capitol Reef National Park, but the two main highways are scenic and have many incredible stops to hit along the way.
Highway 24: This highway runs right through Capitol Reef, so you can access the park coming from the east or west. From Arches or Canyonlands, you'll get on I-70, link onto Highway 24, then go through Hanksville and Cainsville before getting to the park. From Zion and Bryce, you'll take UT-22/62 to Highway 24 straight to Capitol Reef, or you can take the scenic route on Highway 12.
Highway 12: If you are driving from Bryce Canyon to Capitol Reef (or vise versa), you're in for a treat! The drive on Highway 12 is absolutely stunning – especially the portion around Escalante. You'll head east out of Bryce and drive through Escalante before arriving in the quaint city of Torrey.
Tip: Stop at Kiva Koffeehouse in Escalante to break up your drive with some caffeine and sweeping canyon views. (They are open from 8:30 a.m. to 4 p.m. every day but Mondays and Tuesdays.) Unfortunately, we drove through on a Tuesday, so we weren't able to get a coffee, but the view is spectacular!
Getting around in Capitol Reef National Park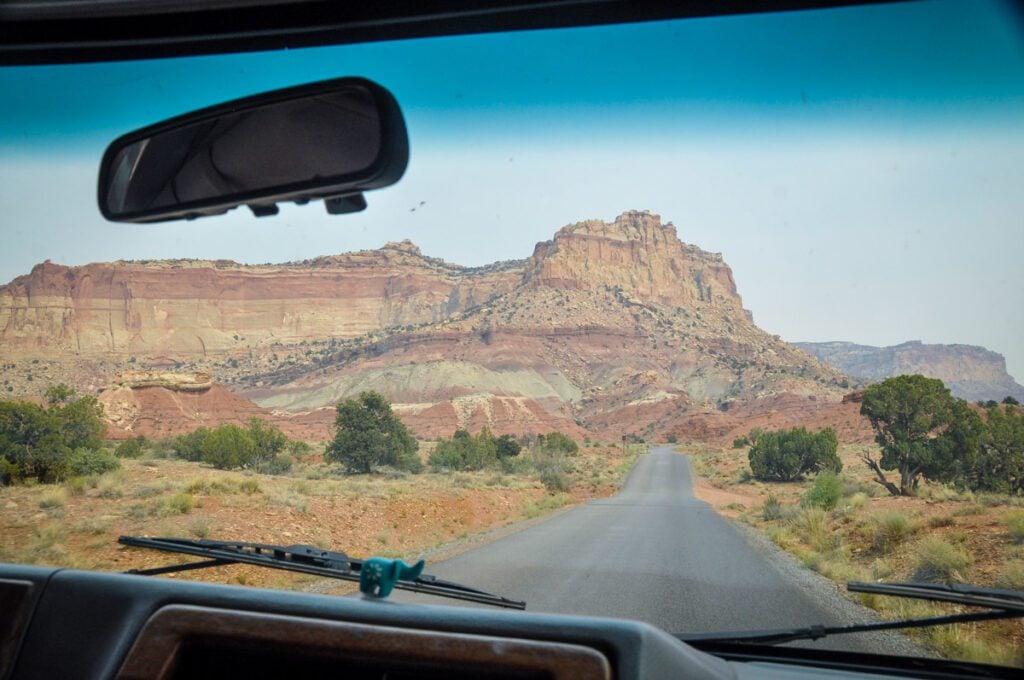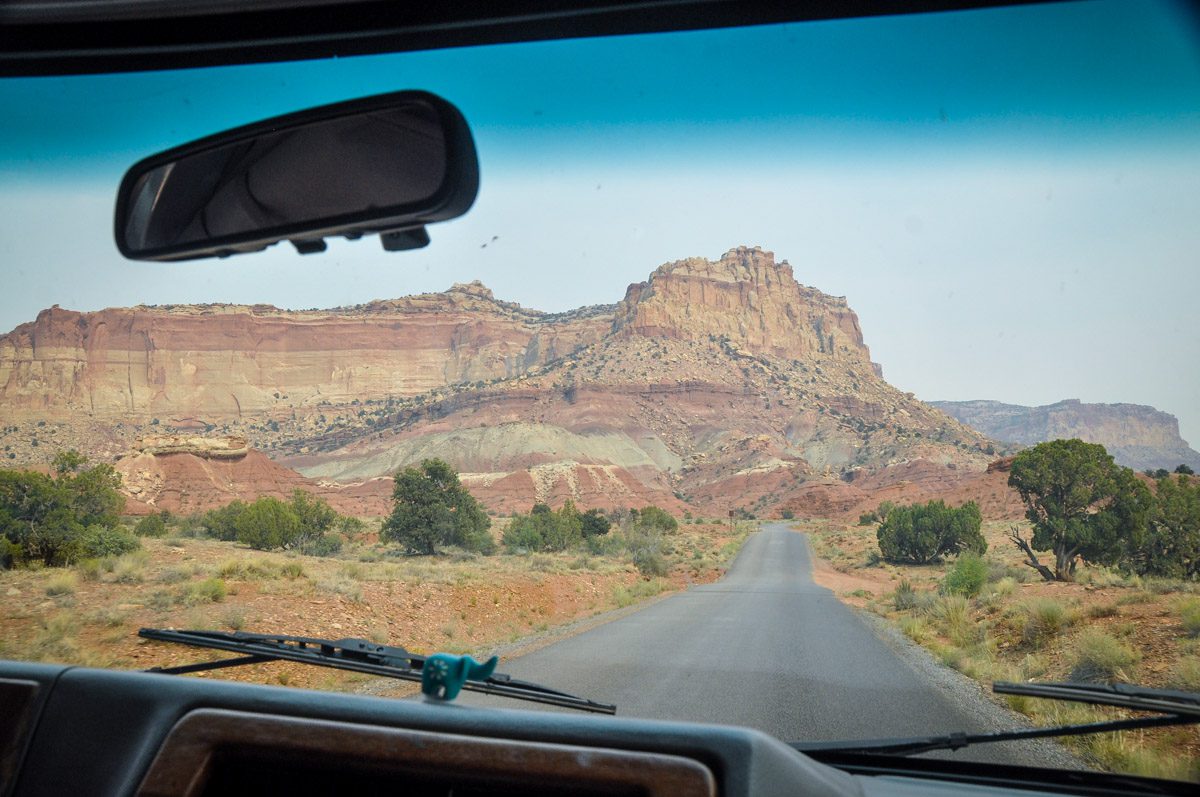 Compared to the other National Parks in Utah, Capitol Reef brings in a fraction of the visitors, so there is more emphasis on self-sufficiency while you're inside the park. There are no free shuttles and Highway 24 runs directly through the park, so you'll definitely need and want your own vehicle while visiting.
Capitol Reef also has many optional scenic roads that require a more beefy car with 4WD and high clearance if you choose to explore them, so it's a great place for more off-beat adventures as well.
Tip for getting a rental car
We personally like using Discover Cars when we rent vehicles around the world, as they gather options from all sorts of rental companies in one place. It makes it really easy to compare prices and vehicles, and filter for things like 4WD. This helps you to determine which is the best option for you.
Search & Compare Rental Car Prices
Discover Cars: We personally use this aggregate site to compare rental car prices from all the big name companies and get the best price possible.
RentalCars.com: We've had good experiences finding rental cars with this site in the past.
Wanna try out van life while visiting Capitol Reef National Park?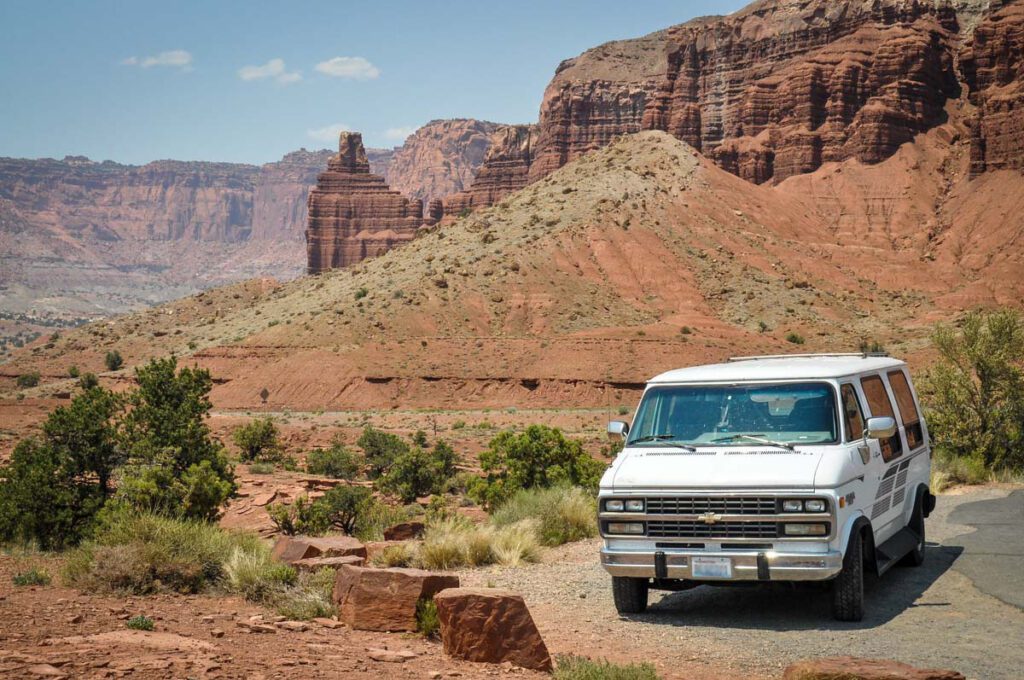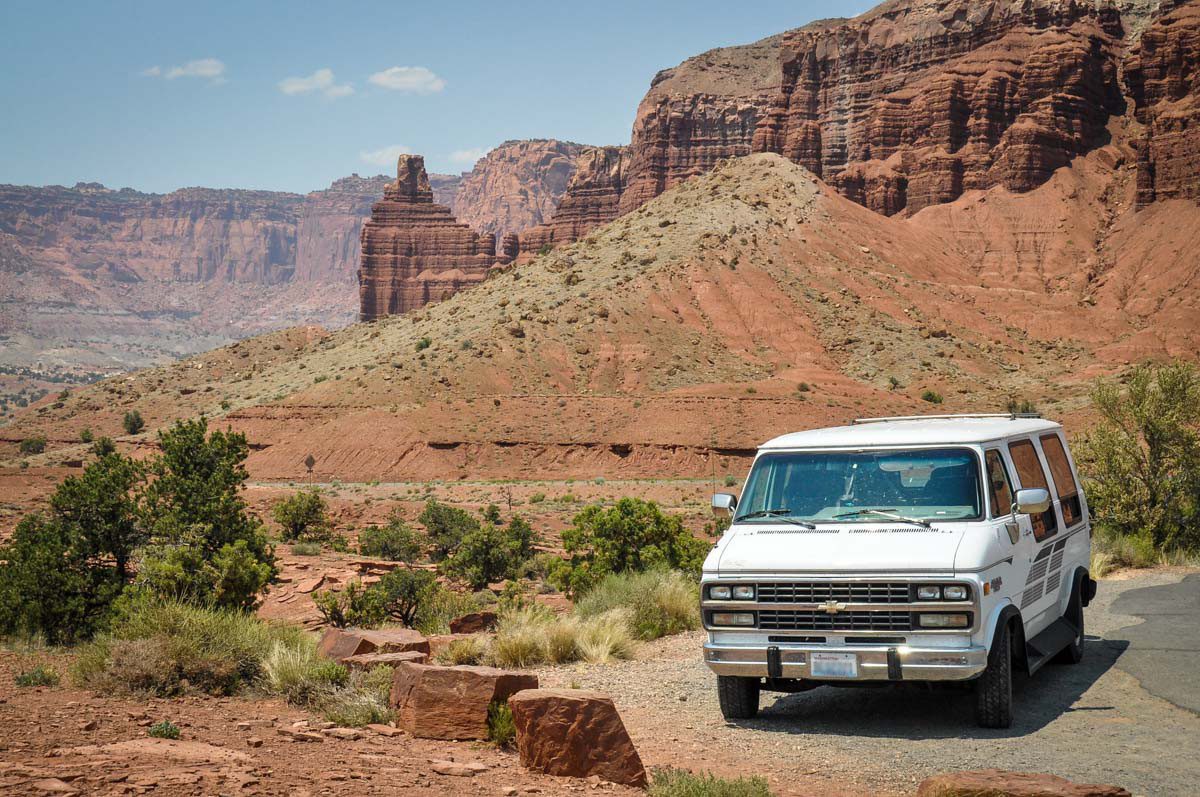 It's no secret we're obsessed with #vanlife. If you don't have the time (or interest!) in building your own conversion but you still want to give van life a test drive, we've got some ideas for you…
Check out our list of top companies for USA Campervan Rentals, from budget to bougie, we've even included some exclusive discounts for our readers!
One company we'd recommend looking into is Escape Campervans. They have 12 different locations across North America (including nearby Salt Lake City, Denver and Vegas) and come fully loaded with all the gear you need for an epic road trip. Plus, their rates are fair and affordable.
BONUS: We've partnered with them to give you a 10% off discount when you use our link!
We have plenty of recommendations for campervan-friendly campsites in the where to stay section below.
Entrance tickets and fees
Private vehicle: $20, valid for 7 days
Motorcycle: $15, valid for 7 days
Per person: $10, valid for 7 days

If you're planning to visit more than one of Utah's "Mighty 5" National Parks, we'd highly encourage you to look into getting an annual park pass. Entrance fees to the national parks can be expensive and add up quickly.
For just $80 per year, you can purchase the America the Beautiful park pass. This pass grants you free access to all of the national parks. Plus it also covers your entrance to over 2,000 natural, historical, and recreational sites across the United States.
If you still need convincing, check out our article: America the Beautiful Annual Park Pass: Is it Worthwhile?
Psst! Check out some of our other favorite national parks on the west coast & Western U.S. that make great adventure and hiking destinations.
How many days do you need in Capitol Reef National Park?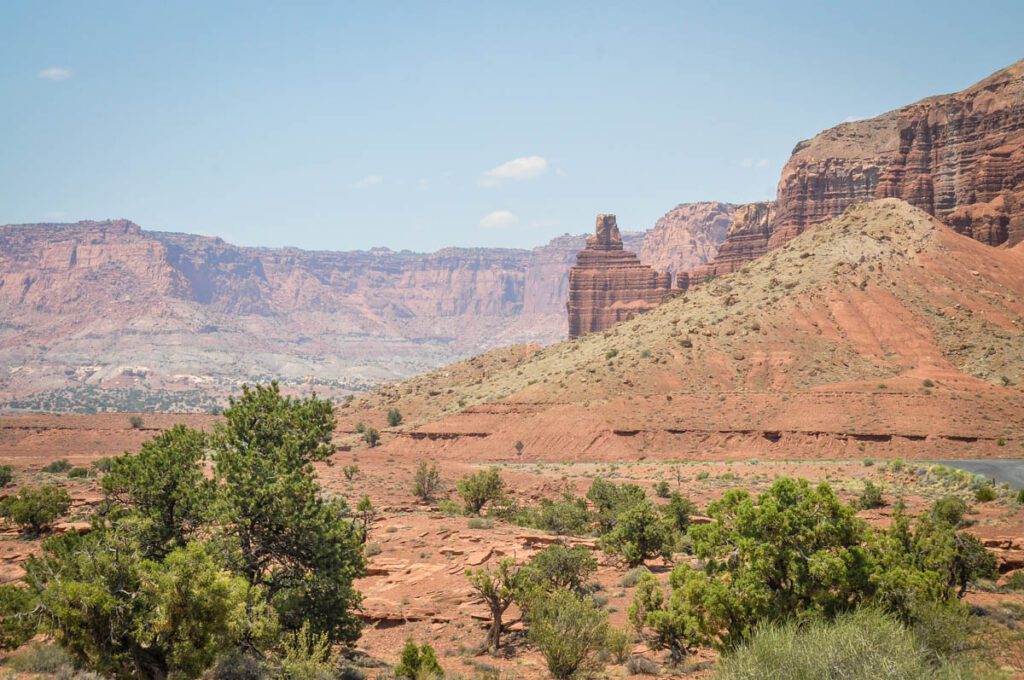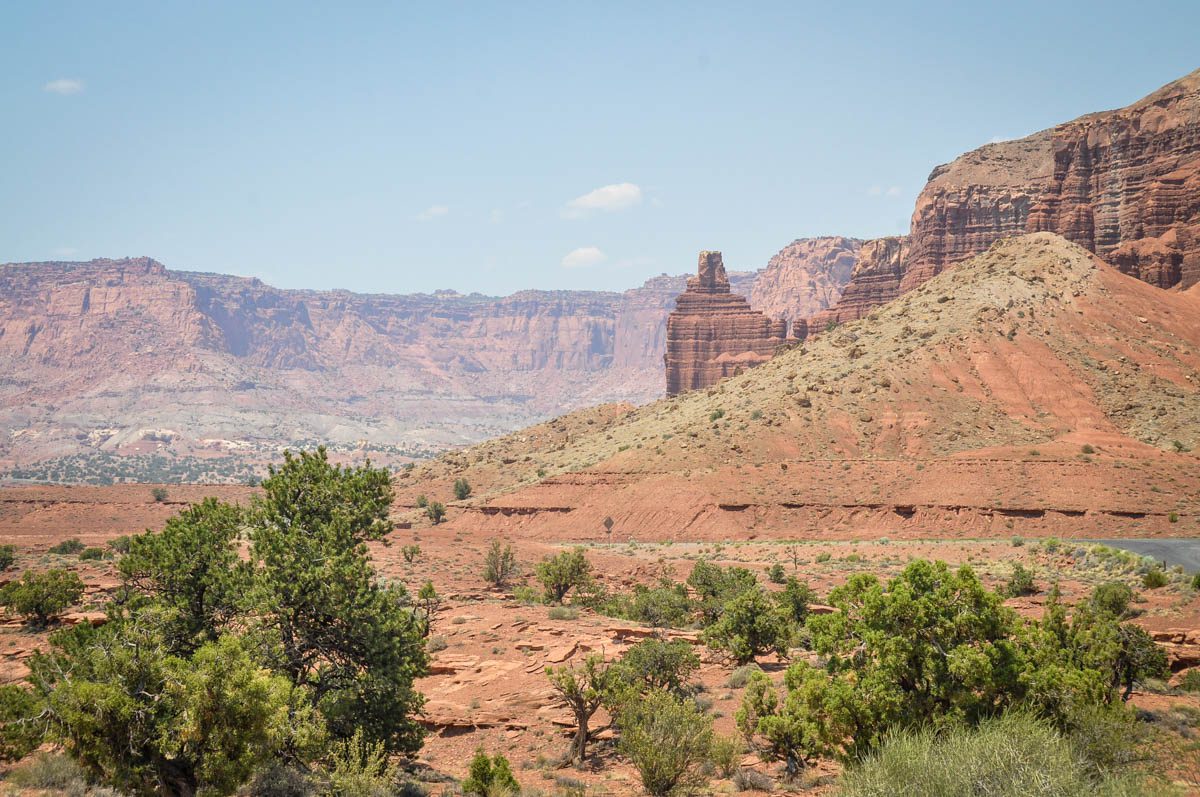 3 hours to 1 full day.
We only had a few hours to spend in Capitol Reef, and we thought we were able to do it justice in that amount of time. Though if you have longer, I don't think you'd regret it.
You can see many of the main points in one full day and spend the night in the park campground, which has many nice, shaded spots (and lots of perfect places to string up a hammock!).
More time will give you a chance to experience some of the best hikes in Capitol Reef National Park as well as enjoying the park at a more relaxed pace.
When is the best time to visit Capitol Reef National Park?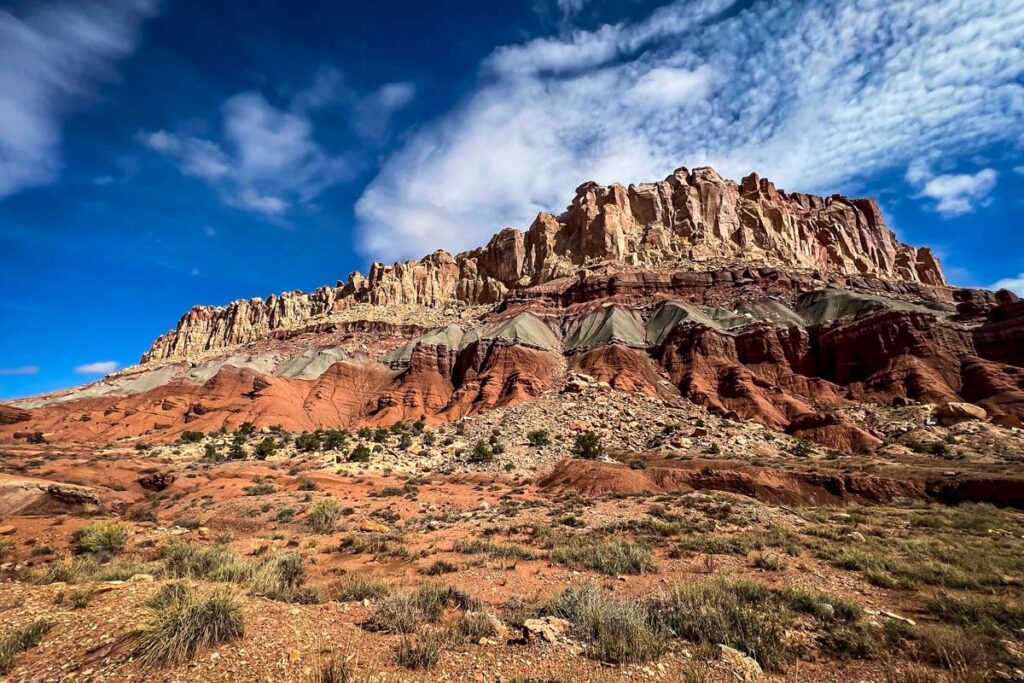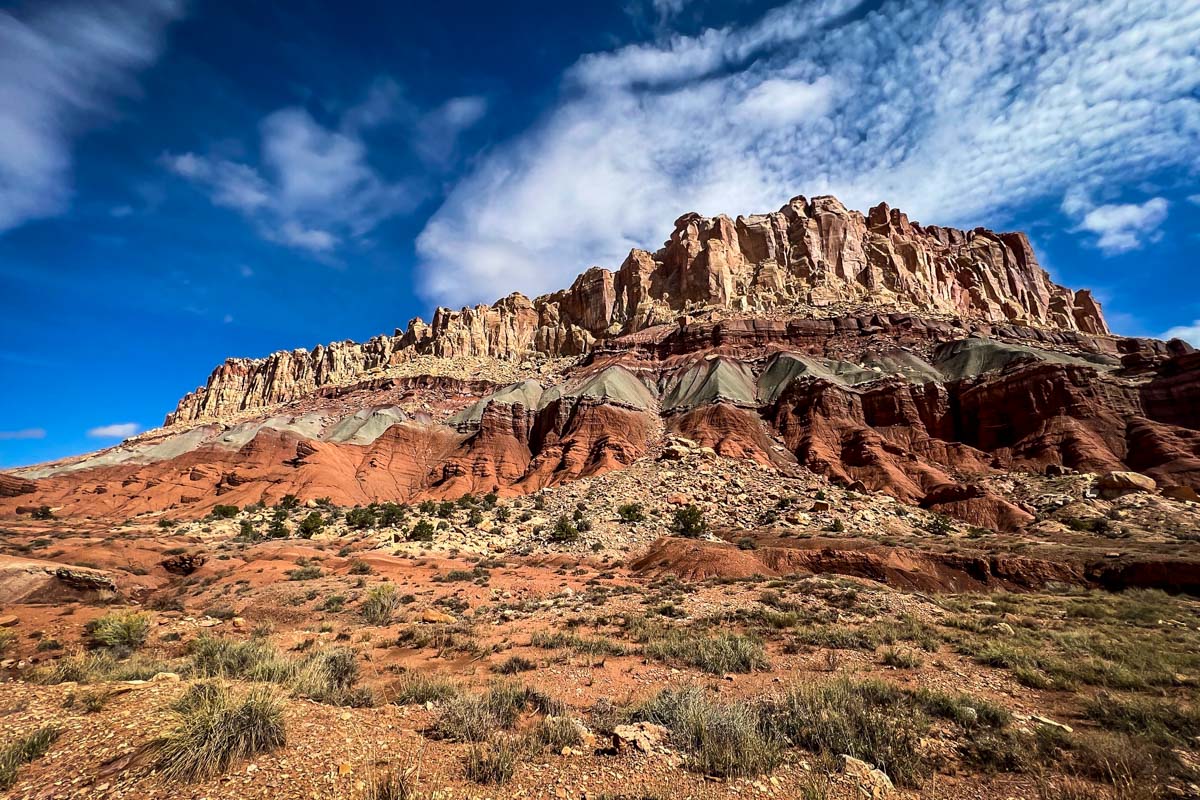 The best thing about Capitol Reef is that it is relatively uncrowded all year round. If you're coming from other parks, it will feel drastically different in terms of the foot traffic, so the main concern when planning a visit is the weather.
June through October is the best time to visit because the weather is great and the fruit orchards are prime for picking. The weather is also amazing for hiking. To beat the summer heat, we'd recommend coming in the fall.
Capitol Reef National Park map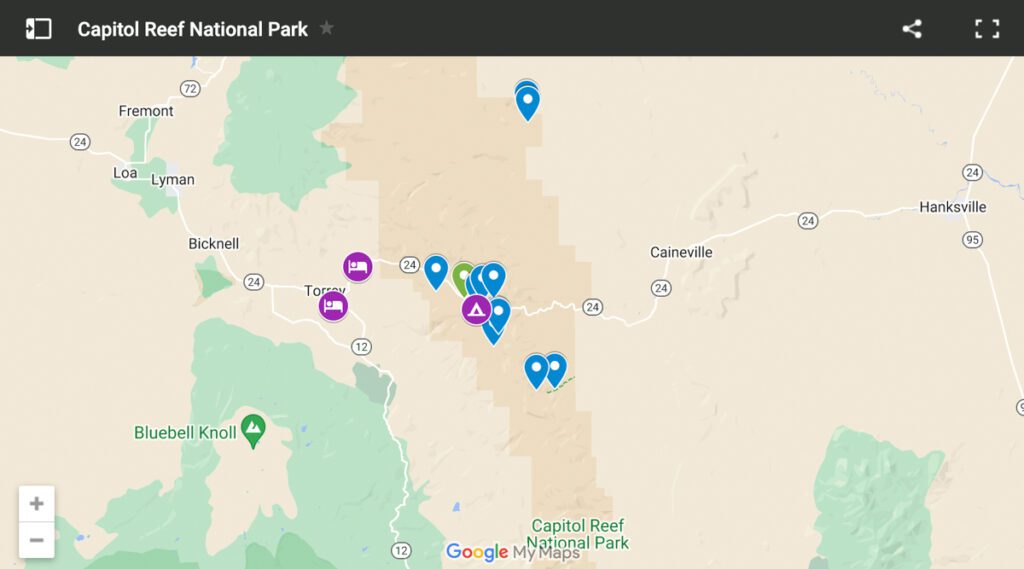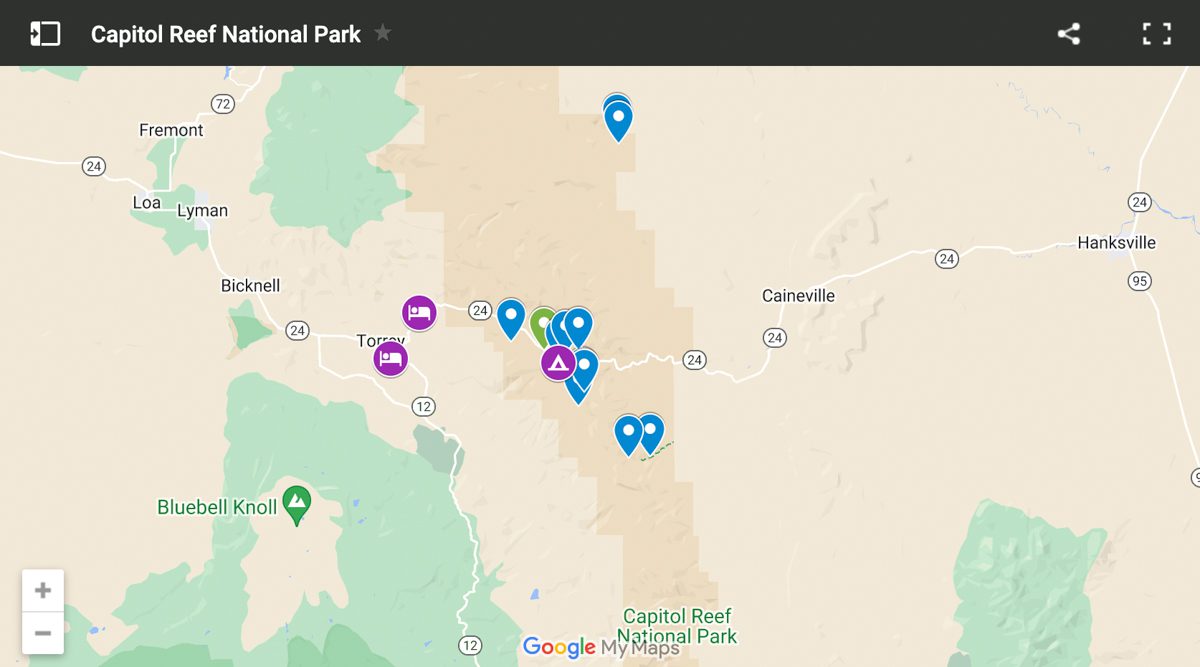 The map above displays the main entrances, campgrounds, lodging options, and locations for the best things to do in Capitol Reef National Park.
---
Things to do in Capitol Reef National Park
From driving down any of Capitol Reef's scenic drives to exploring the Fremont River Valley, there are endless ways to explore the most underrated National Park in Utah.
1. Go fruit picking in the orchard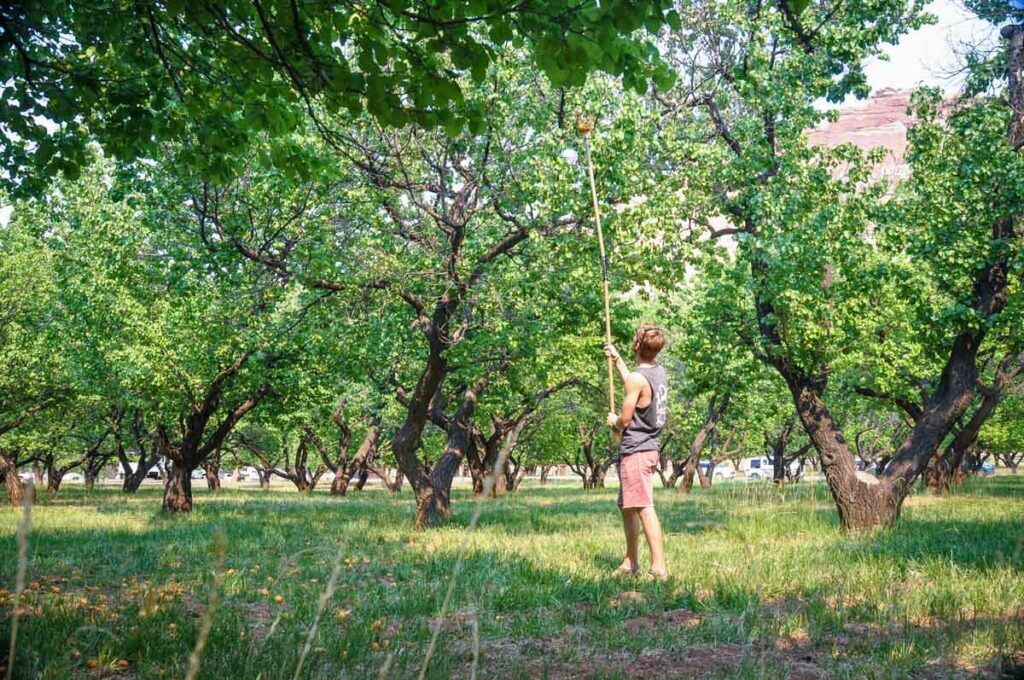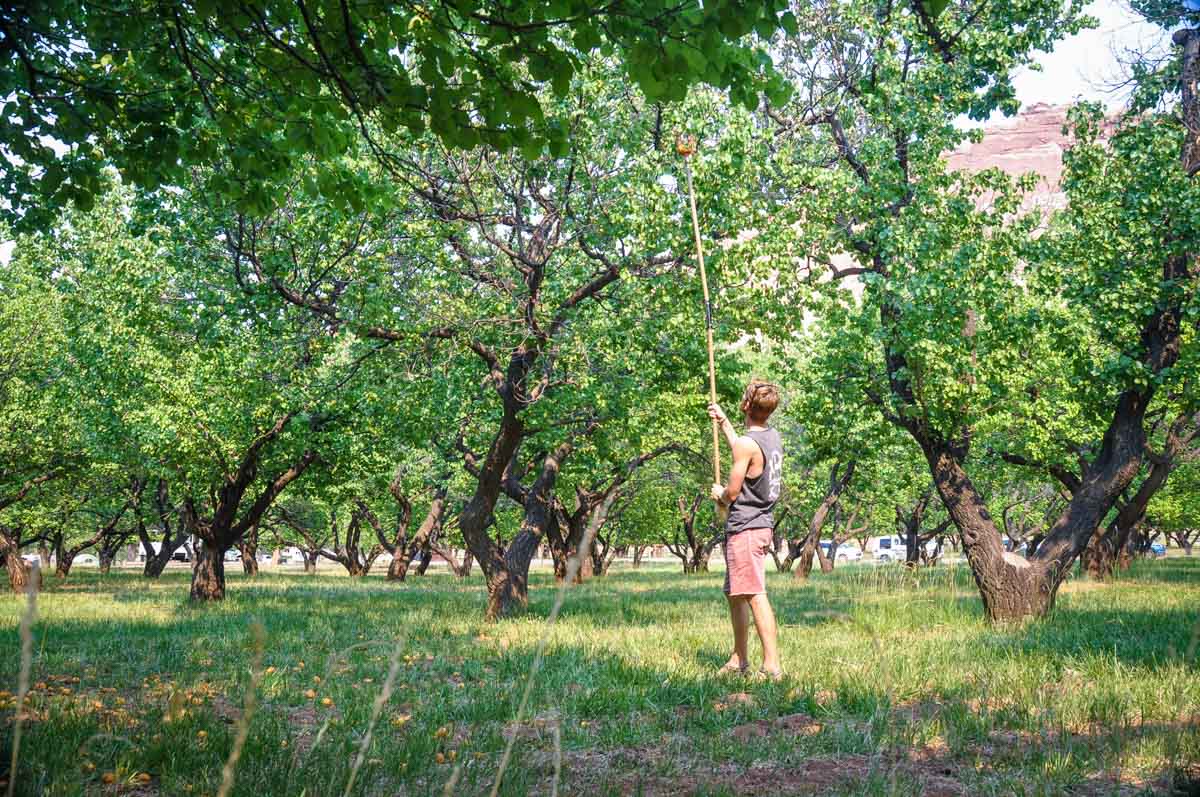 The orchards in Capitol Reef National Park are one of the main historic remnants of early settlers and pioneers of the Fremont River Valley. The Latter-Day Saints pioneers planted thousands of different fruit trees that the settlers thrived off of from the 1880s to the 1960s.
You can walk through the orchards anytime of year, but the prime season is considered June through October. Not all of the heirloom orchards will be ripe at the same time, but you can expect cherries and apricots to ripen early in the season, then apples and pears in the fall.
The Park Service will have "U-Pick Fruit" signs where there is ripe fruit available for picking. The fruit is self-serviced and self-pay, so whenever you get your fix of juicy, ripe fruits, there are weighing stations near the orchard entrances to pay for your pickings.
The money goes towards improving soil and growing conditions for these trees that have survived here for almost 100 years.
2. Enjoy pies and ice cream at the Gifford House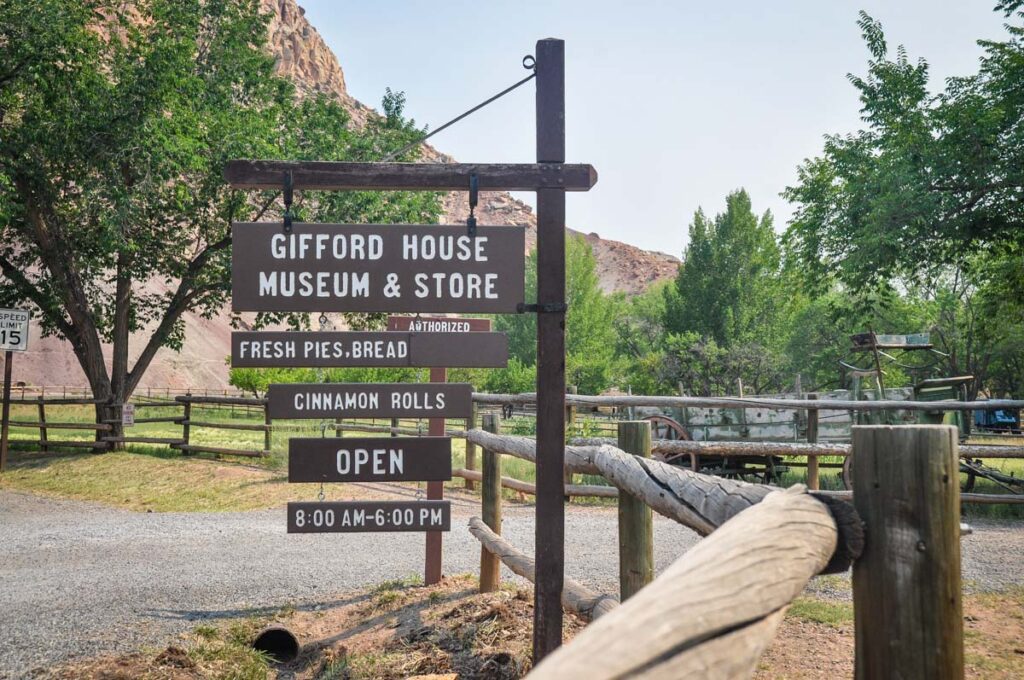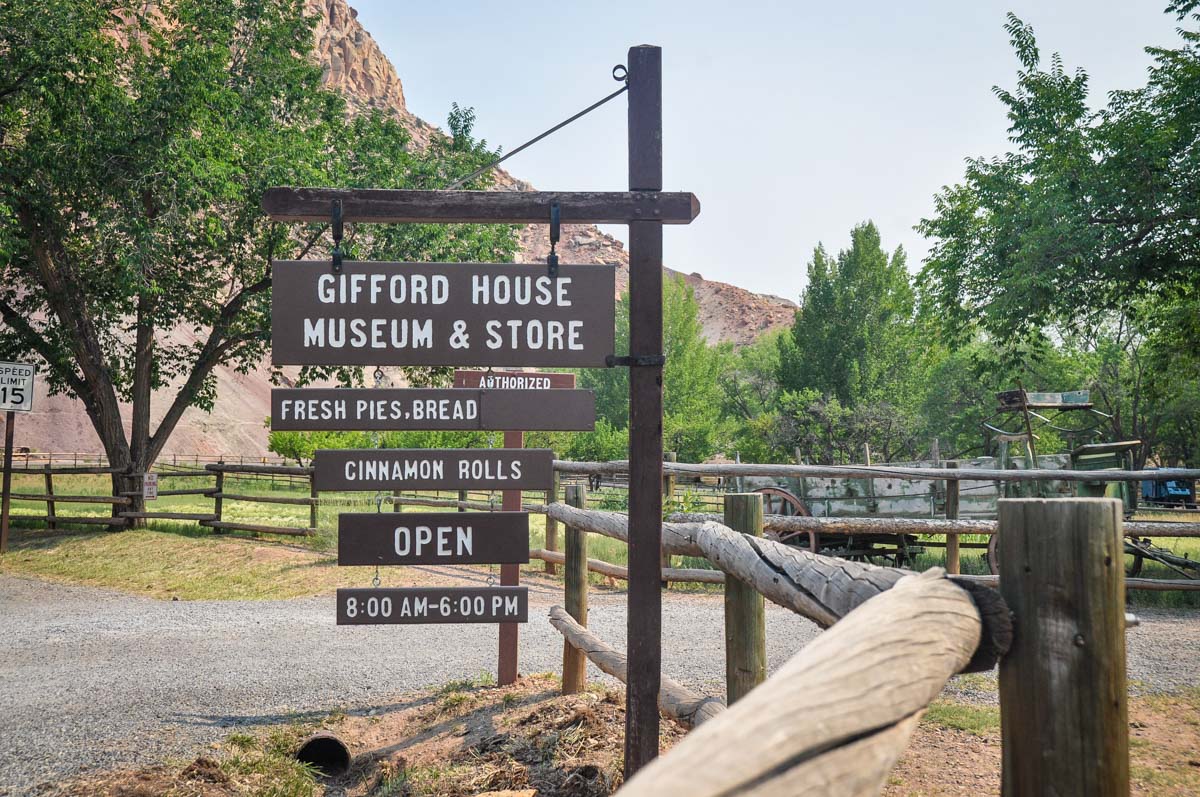 From the most remote corners of Utah, the locals will tell you that the best pies are at the Gifford House. The hikes and viewpoints make up a majority of the best things to do in Capitol Reef, but enjoying fresh pies, ice cream and hot coffee after an adventurous morning is a tough experience to beat.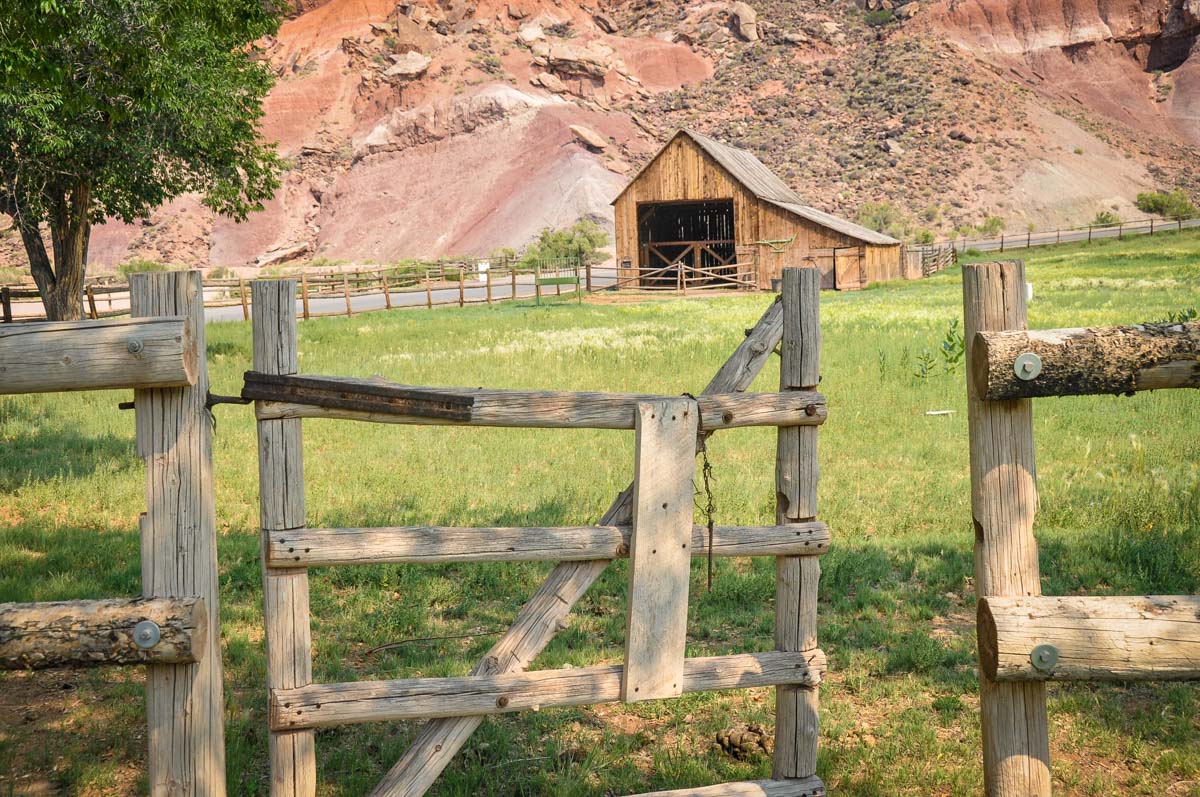 The Gifford House is in the heart of the Fruita Valley, where the dramatic cliffs of the waterpocket fold meet lush grass and vibrant green orchards. It's the perfect example of the rural Utah farms of the 1900s.
They brew fresh coffee every day and have a variety of different pie fillings to choose from: mixed berry, cherry, apple, peach, pumpkin, and even rhubarb! The main highlight is the pies, but you can explore around the house to pick up housewares or a souvenir.
3. Hike to Cassidy Arch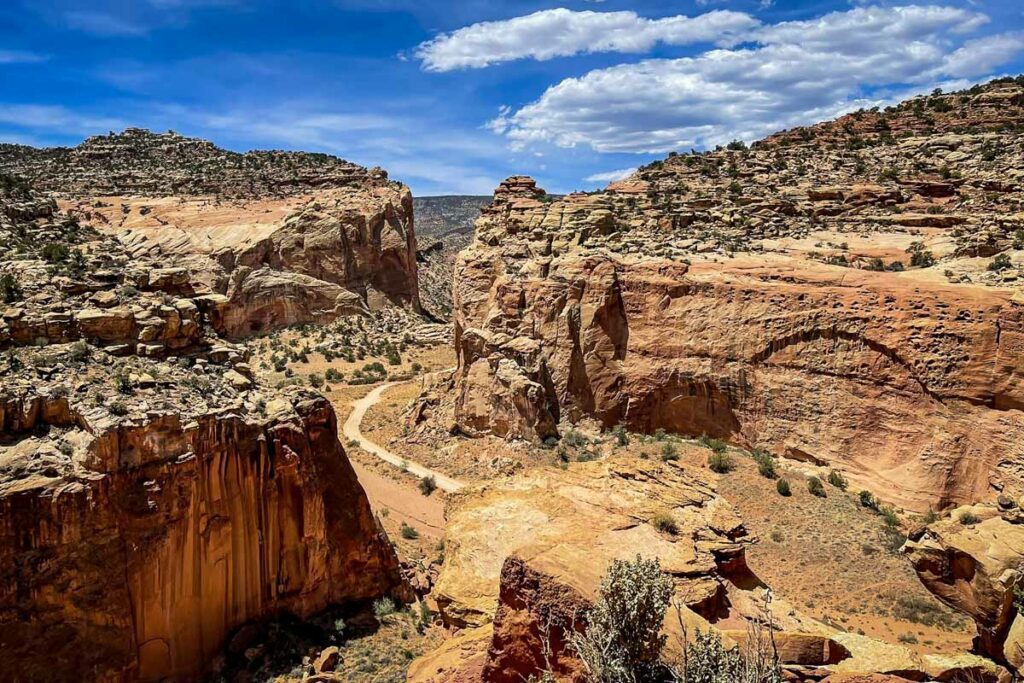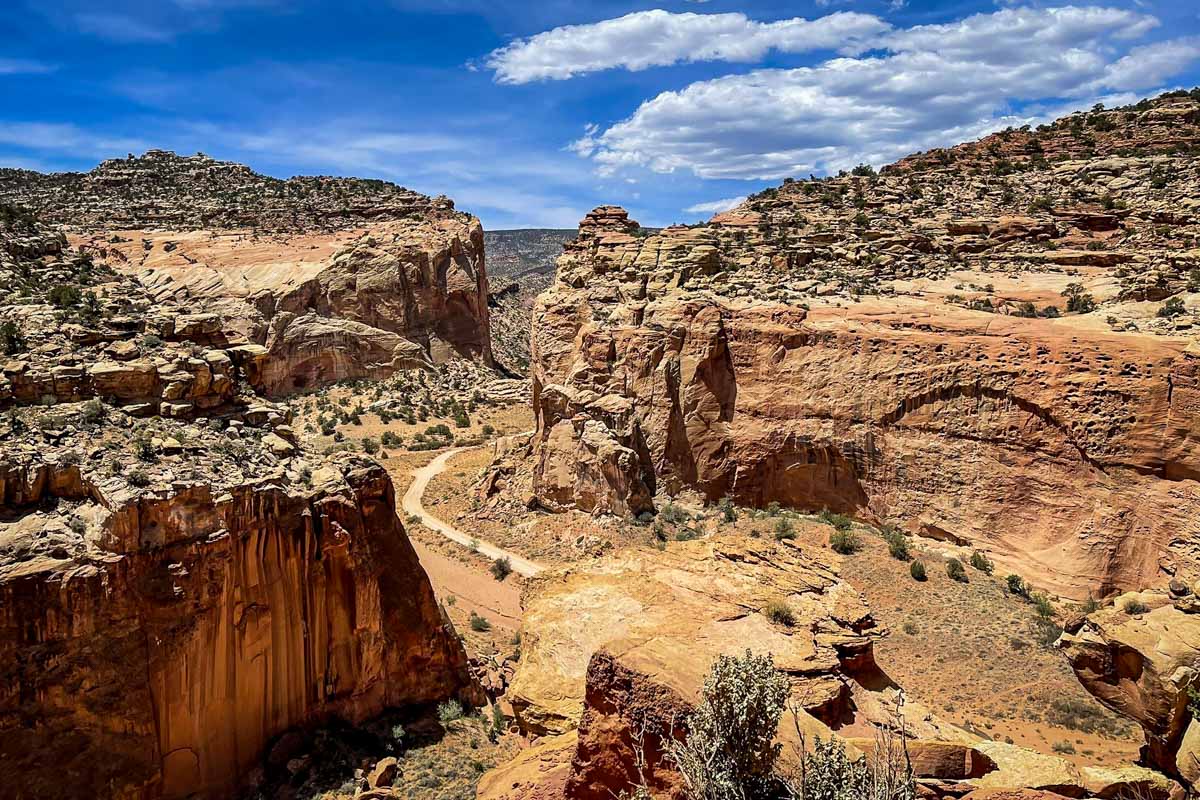 Distance: 3.1 miles, out-and-back
Elevation gain: 666 ft
Difficulty rating: Moderate
Arches National Park is known for having some of the most spectacular arches in Utah, and you would never guess that one as incredible as Cassidy Arch is right in the heart of Capitol Reef National Park.
The 3.1-mile trail is moderate, but one of the more challenging hikes in the park since it's a gradual uphill the entire way. You'll start out on man made stone steps for the first mile or so, then you'll continue on the more primitive trail.
The last half-mile or so of the Cassidy Arch Trail is not well-marked, but there are cairns along the way to guide you in the right direction. You'll walk along layers of striped sandstone until the arch finally peeks out from the sea of rock.
Explore the area to walk over the arch, snap photos of the waterpocket fold, and enjoy the unique geology of Capitol Reef.
This trail is best hiked in sunny, dry weather. Be sure to check the forecast in Capitol Reef and the surrounding area before you head out because flash flooding is common during certain seasons. Not only will the hike be more challenging, but the road to access this trailhead will be flooded and you may get stuck.
4. Catch the sunset at Gooseneck & Sunset Point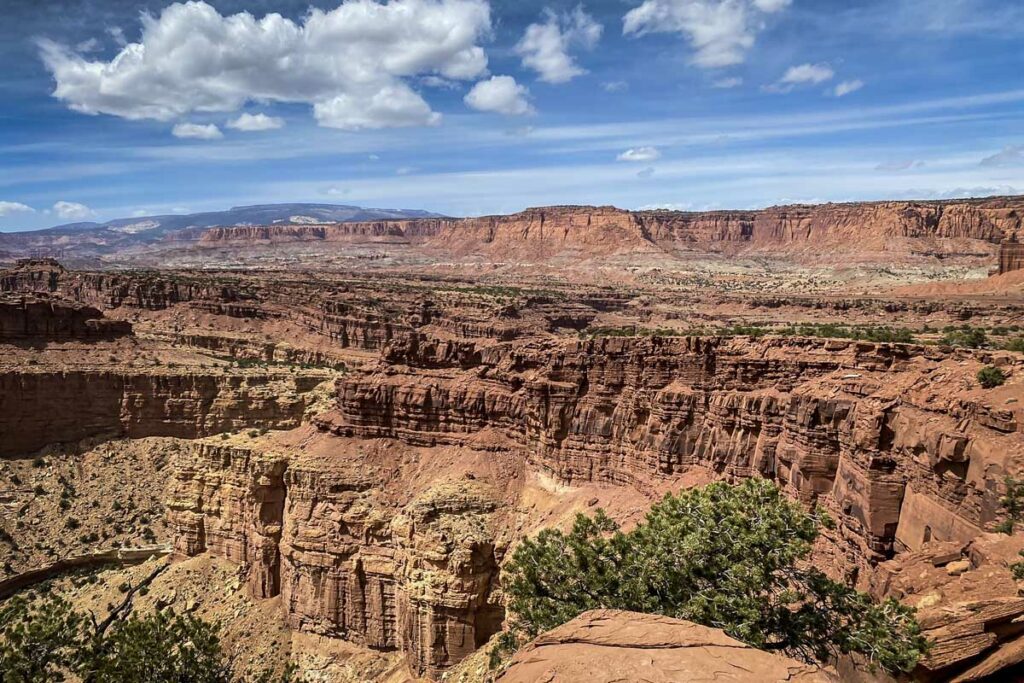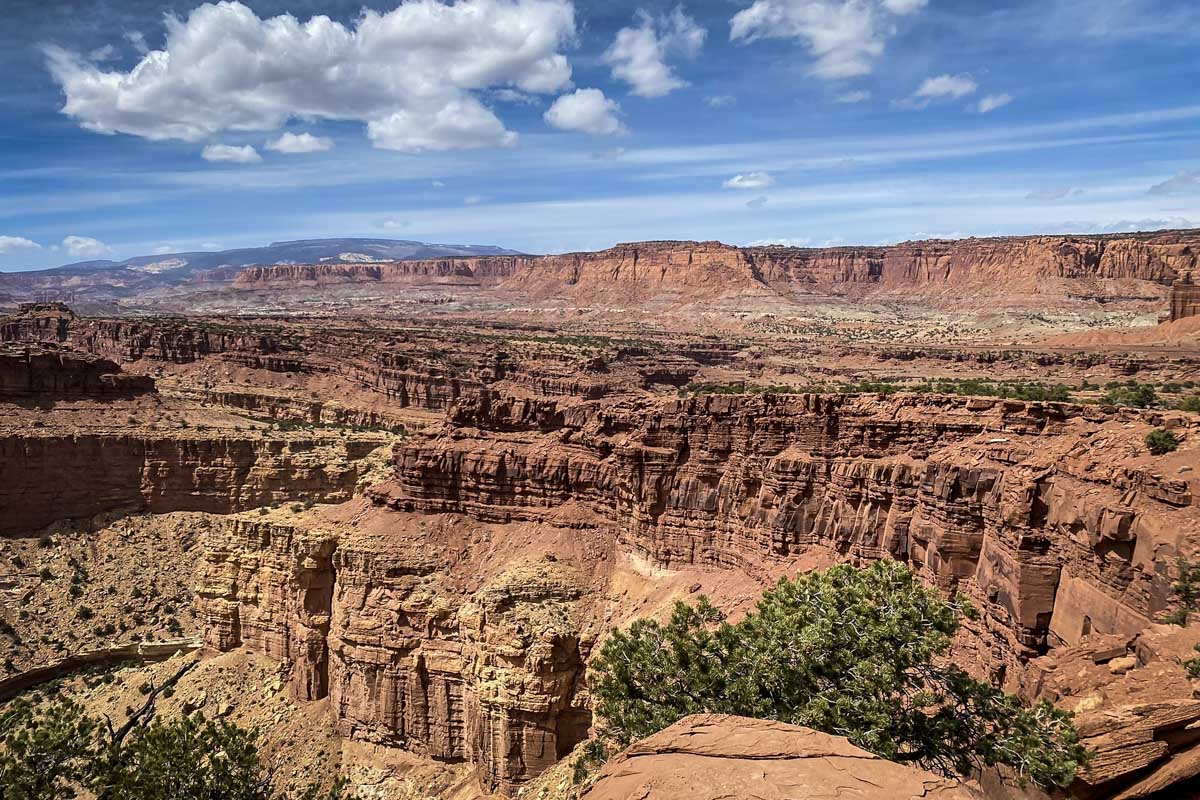 Distance: 2.5 miles, out-and-back
Elevation gain: 544 ft
Difficulty rating: Easy
Just west of the Capitol Reef Visitor Center is a hiking trail with three different scenic viewpoints. Each overlook offers a unique perspective over the west end of the park.
These are best seen for sunset since the lighting is more mild and highlights the canyon beautifully. You'll want to get there about 0.5-1 hour before the sun goes down.
On the map, the trailhead is shared with the Panorama Point Overlook. From the parking area, there is a small spur trail to Panorama Point that is only 0.1-miles and worth the small venture out to the views.
After Panorama Point, get on the main trail to the Goosenecks Overlook and Sunset Point. You can walk from Panorama Point, or drive up to the second parking area for a shorter hike to the other two viewpoints.
Goosenecks is the first viewpoint you'll come up on and you can enjoy views of Sulphur Creek carving through the canyon before continuing to Sunset Point. Another quarter mile or so takes you to views over the waterpocket fold with a backdrop of snow capped mountains at Sunset Point.
5. See the Fremont Petroglyphs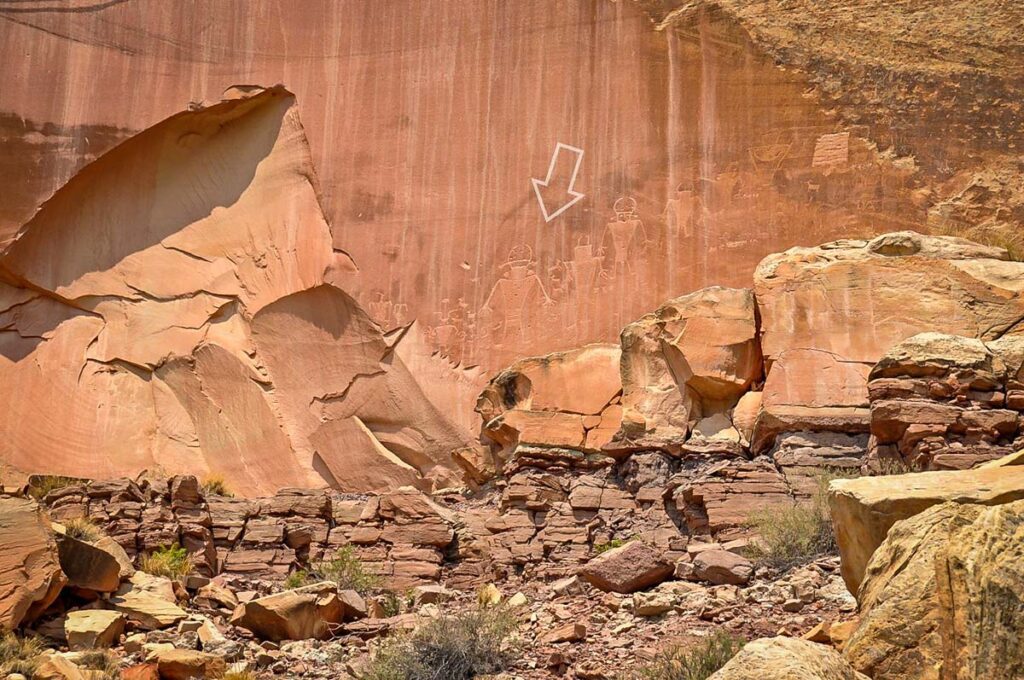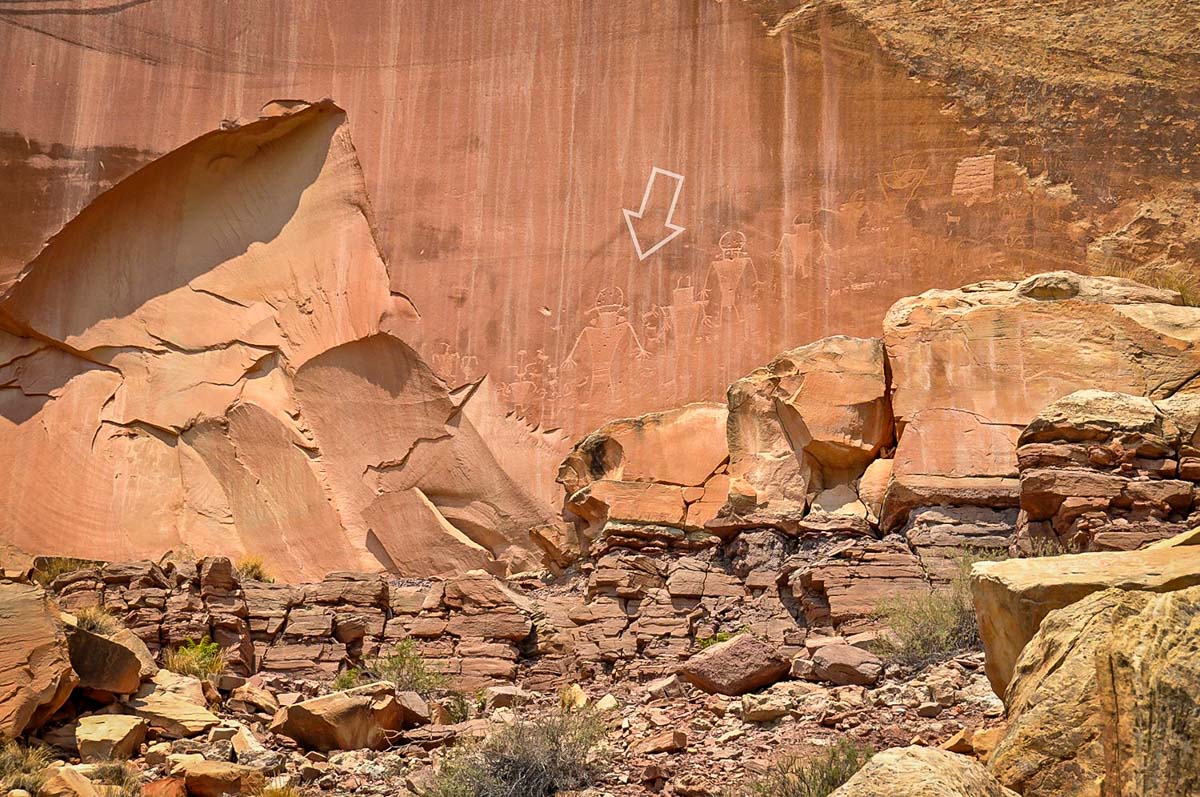 Distance: 0.3 miles, out-and-back
Elevation gain: 49 ft
Difficulty eating: Easy
For more than one thousand years, the Fremont Cultures lived and thrived in this area of Southern Utah. While many of the remnants of their civilizations have been long gone, the Fremont Petroglyphs remain.
These are the most preserved aspects of their culture that can be seen on the Capitol Reef Petroglyphs Trail.
This trail is more of a nice stroll on a boardwalk and is perfect for families or those that need handicap accessibility. It's best hiked during early morning or later afternoon since you're not very close to the rock carvings.
During midday the lighting is pretty harsh and washes out the pictures, so softer light is recommended. And if you have a pair of binoculars, it'll be worth it to bring them along.
Along the trail you can spot human and animal shapes, bighorn sheep, and geometric designs. If you breeze through the trail, you likely won't see very many, so take your time and you'll see many!
6. Hike to the Hickman Bridge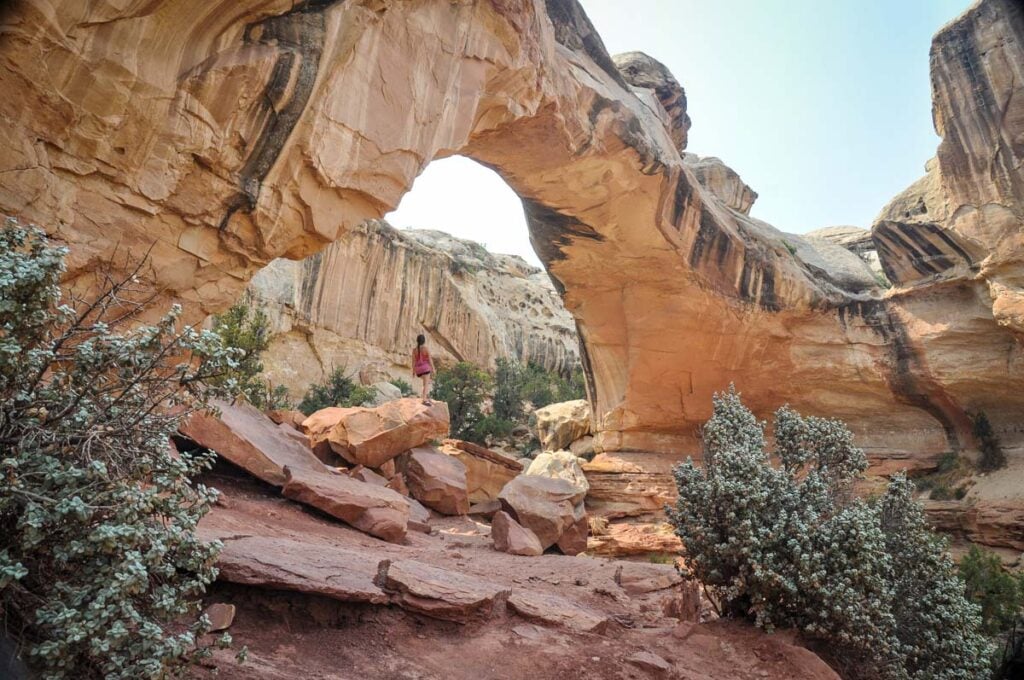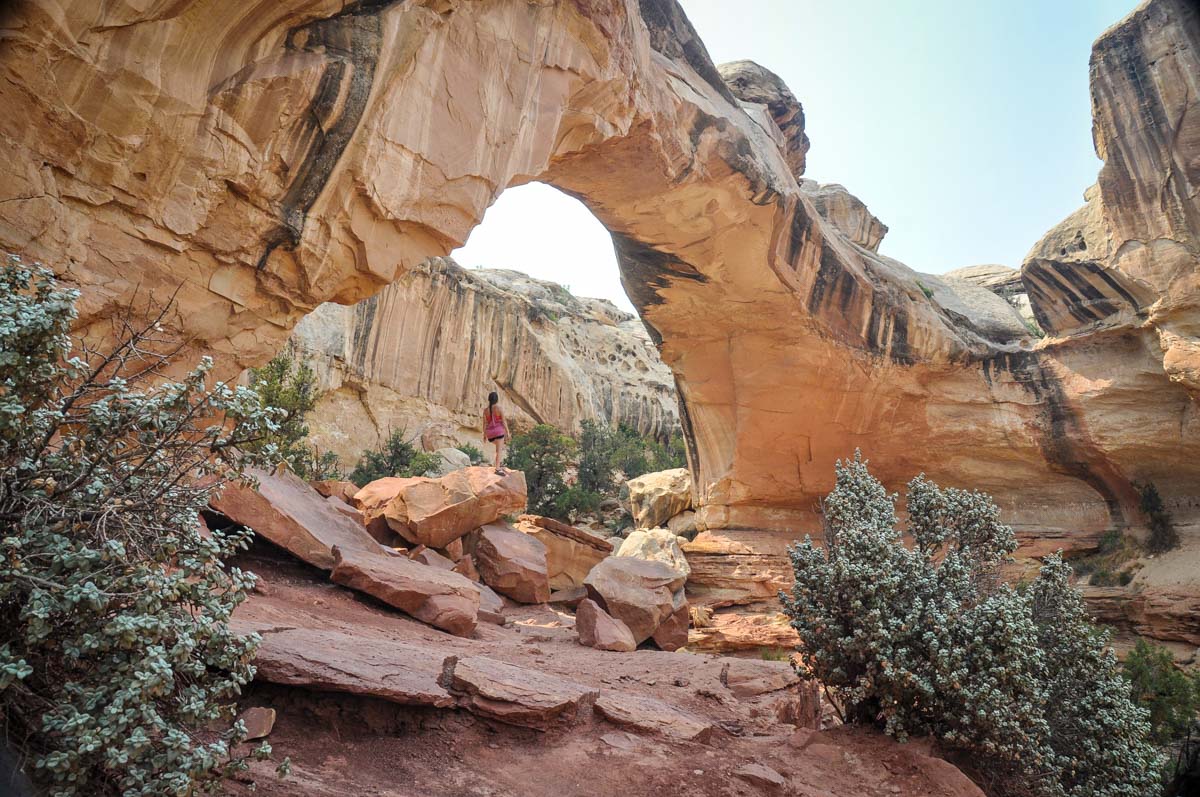 Distance: 1.7 miles, out-and-back
Elevation gain: 416 ft
Difficulty rating: Moderate
This is one of the best, short hikes in Capitol Reef that takes you along the Fremont River to a spectacular natural bridge at the back of the canyon. This formation spans over 130-feet across!
This 2-mile round trip hike takes about 1 hour and is loaded with a unique geological and cultural history. If you aren't able to photograph any in Arches National Park without a handful of strangers standing beneath the sandstone formations, this may be your chance!
At the trailhead, there are small brochures you can grab. Inside you'll find 17 different points along the trail that are historically significant to the Fremont people that were the early settlers of Capitol Reef. Along the Hickman Bridge Trail, you can spot pit houses, granaries, and the greater Fremont River Valley.
7. Take in the views along the Scenic Drive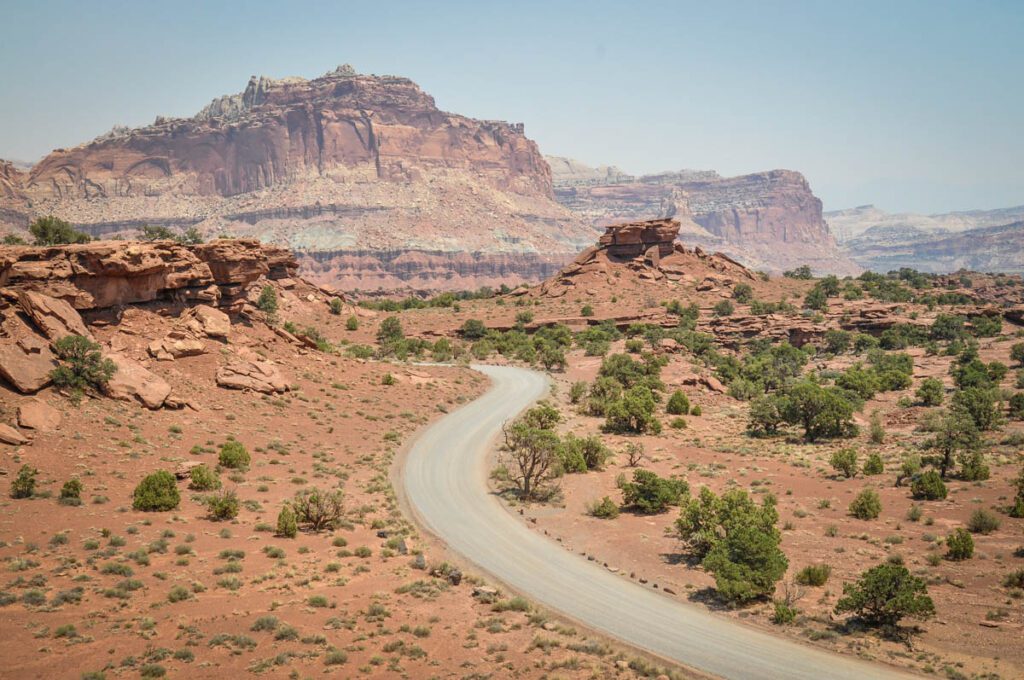 Some of the most beautiful vistas in Capitol Reef can be seen along the Capitol Reef Scenic Drive. This 7.9-mile paved road begins in Fruita and ends at the Capitol Gorge Road. Along the drive, there are two dirt spur roads down Grand Wash and Capitol Gorge.
The entire drive takes around 1.5 hours, including the two spurs. In order to make the drive, you'll need to pay the Capitol Reef $20 entrance fee at the self-pay station just past the Fruita Campground, but you can also get in with your America the Beautiful Park Pass.
Along the drive, you'll see many vistas that showcase the dramatic layers of the waterpocket fold and have the opportunity to stop at many amazing sites like the Capitol Gorge Road, Pioneer Register, the Oyler Mines, and have access to a variety of the park's best hiking trails.
8. Explore the Grand Wash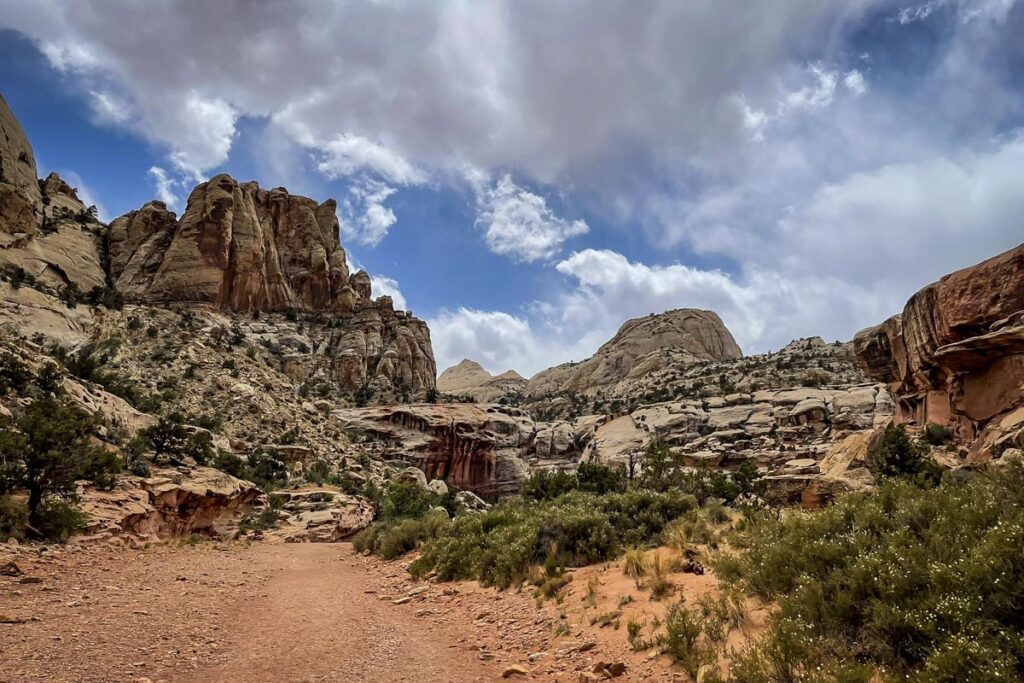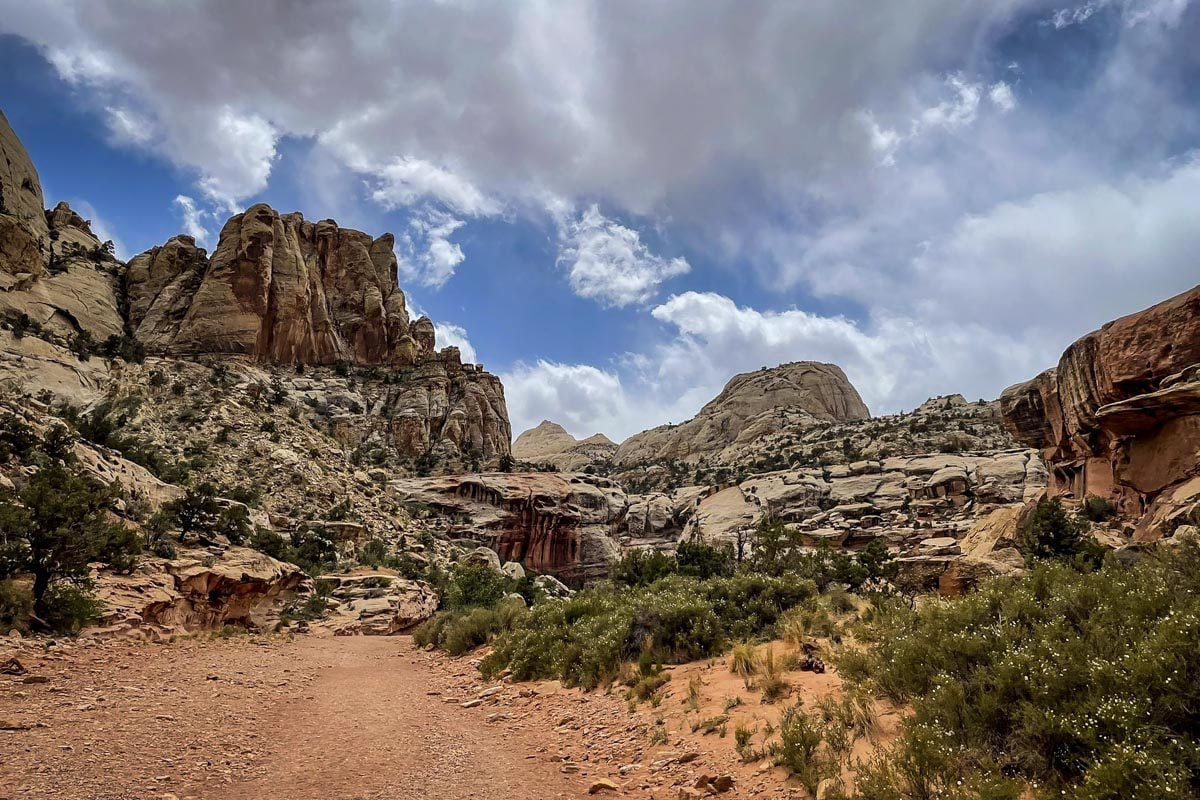 Distance: 5 miles, out-and-back
Elevation gain: 341 ft
Difficulty rating: Easy
This stunning gorge cuts through the upper portion of the waterpocket fold and connects Highway 24 to the Capitol Reef Scenic Drive. You can hike this trail point-to-point or an out-and-back from any point along the trail.
If you hike the entire trail out-and-back, it's 7-miles total. The most scenic area of the Grand Wash Trail is known as 'the Narrows' where the stunning walls of the gorge resemble the scenic Narrows hike in Zion. 
From the scenic drive, the Narrows are 2.5-miles from the trailhead, or 5-miles total.
9. Pioneer Register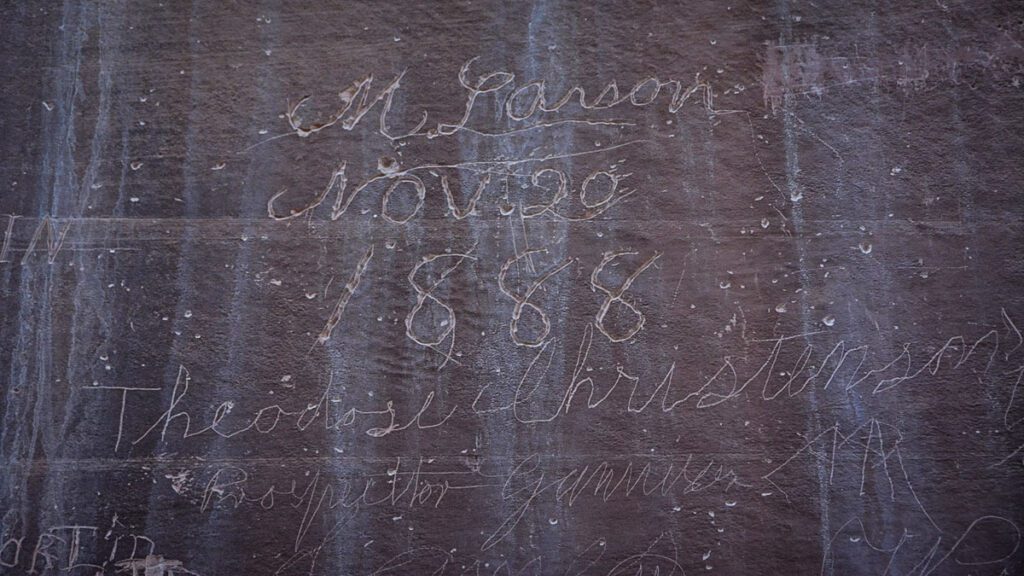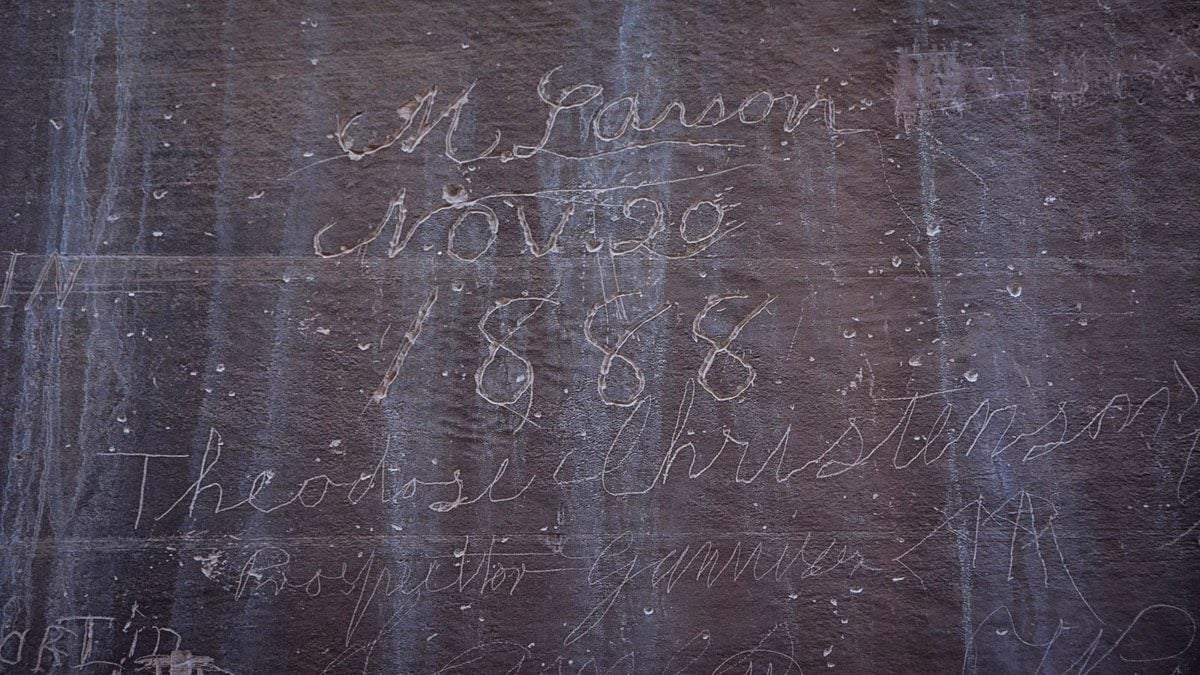 The fruitful and abundant lands of Capitol Reef National Park have attracted multiple generations of pioneers since the area was first settled in the 1870s. Officials of the Church of Jesus Christ of Latter-day Saints paved the way with their original missions to establish the land.
After many "missions" to push out the indigenous people, the pioneers began establishing towns nearing the start of the 20th century.
Explorers, surveyors, cowboys, settlers, and early visitors would carve their names as they passed through this area, leaving behind a fascinating log of early pioneers. The oldest carvings you can spot are from J.A. Call and Wal. Bateman, two mineral prospectors that went through the area in 1871.
You can find the register along the Capitol Gorge and Tanks Trail and access it on Capitol Gorge Road, south of Fruita. The whole trail is about 2.2-miles, but if you only want to visit the Pioneer Register, it's 1.5-miles round trip.
Please remember to follow the Leave No Trace principles as you're exploring the register.
It is illegal to deface or mark on the canyon walls in any capacity, and the area is always under surveillance. We want to keep this piece of history maintained for future hikers to enjoy as well.
10. Capitol Gorge Road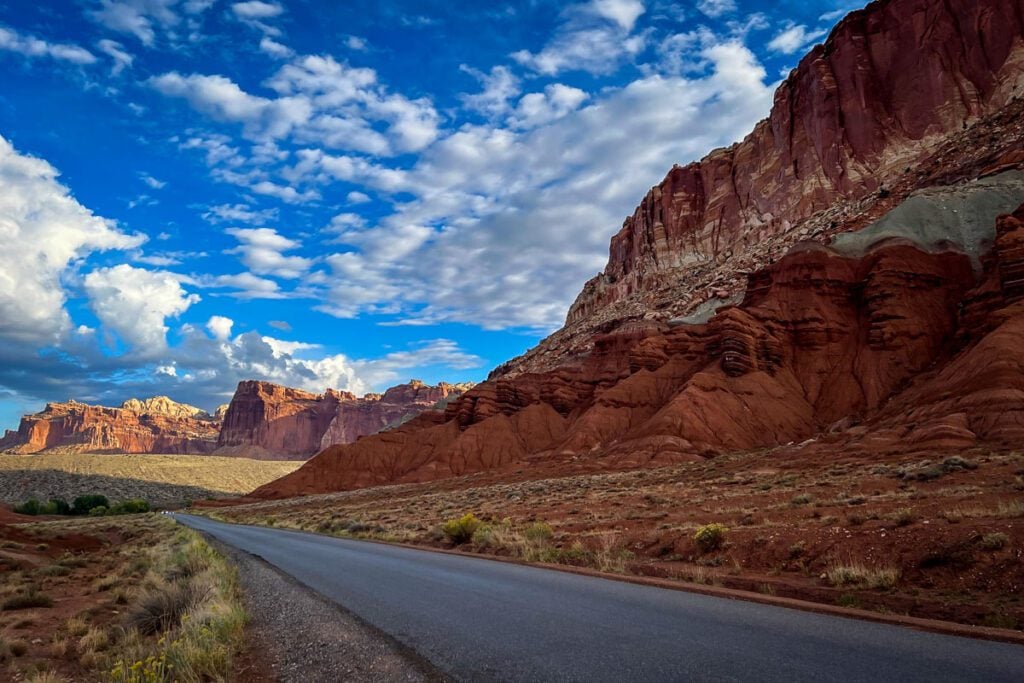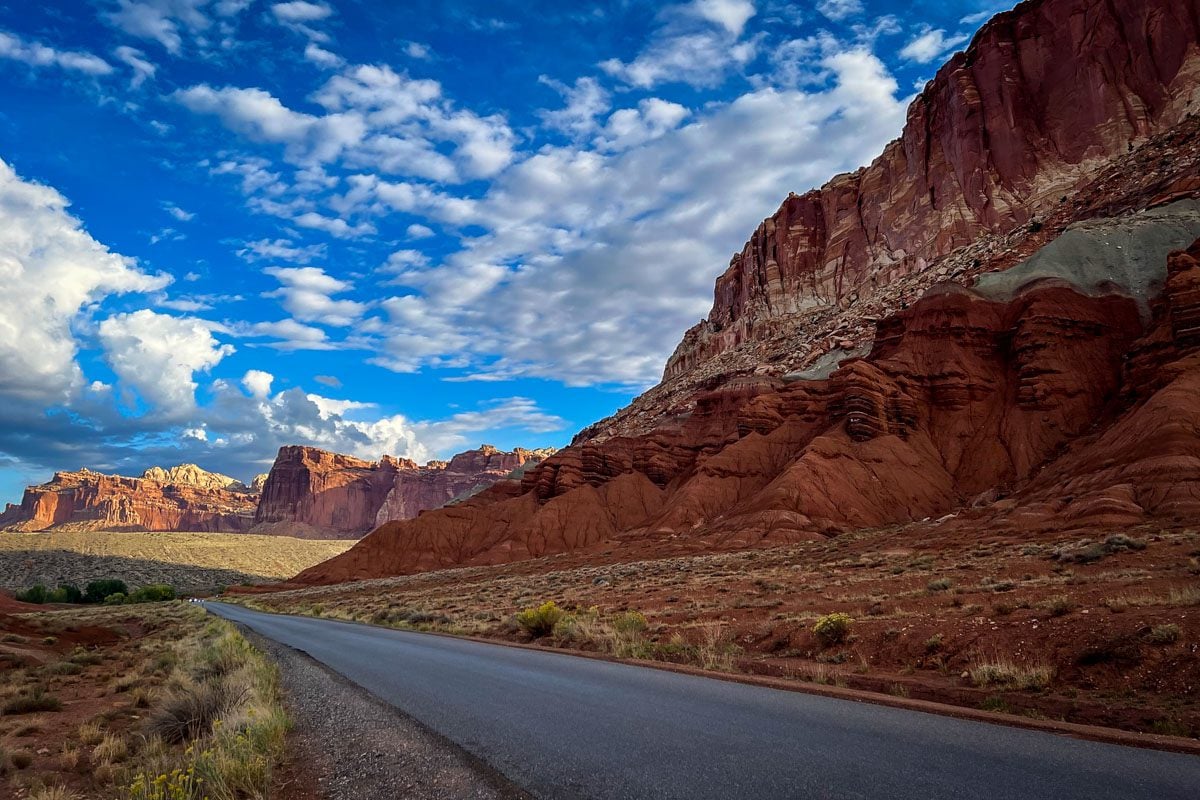 This unsuspecting spur off the Capitol Reef Scenic Drive is packed with amazing views in only 2.3-miles. Once you get to the end of the main scenic drive, you'll go left to drive down Capitol Gorge Road. Any car under 27-feet can access this trail since it's a regular gravel road.
You'll twist and turn through vibrant canyon walls and enjoy the scenery for a few miles before arriving at the Capitol Gorge Trail that leads to the historic Pioneer Register. The road doesn't loop and ends at this trailhead, so after you're done at the register, you'll go back the way you came.
11. Explore the Temple of the Sun and Moon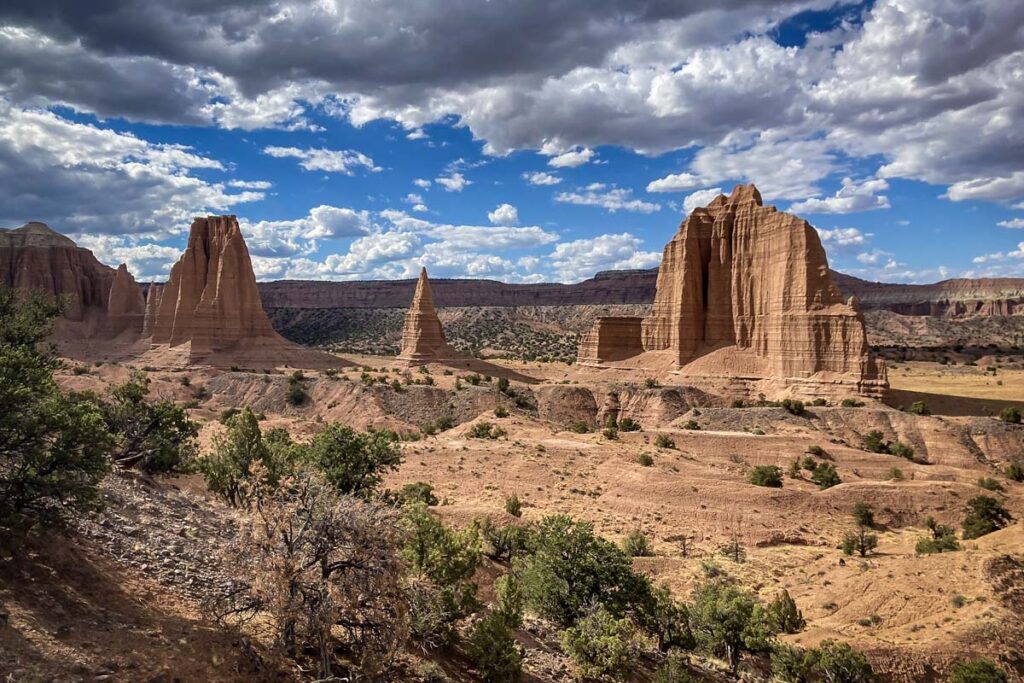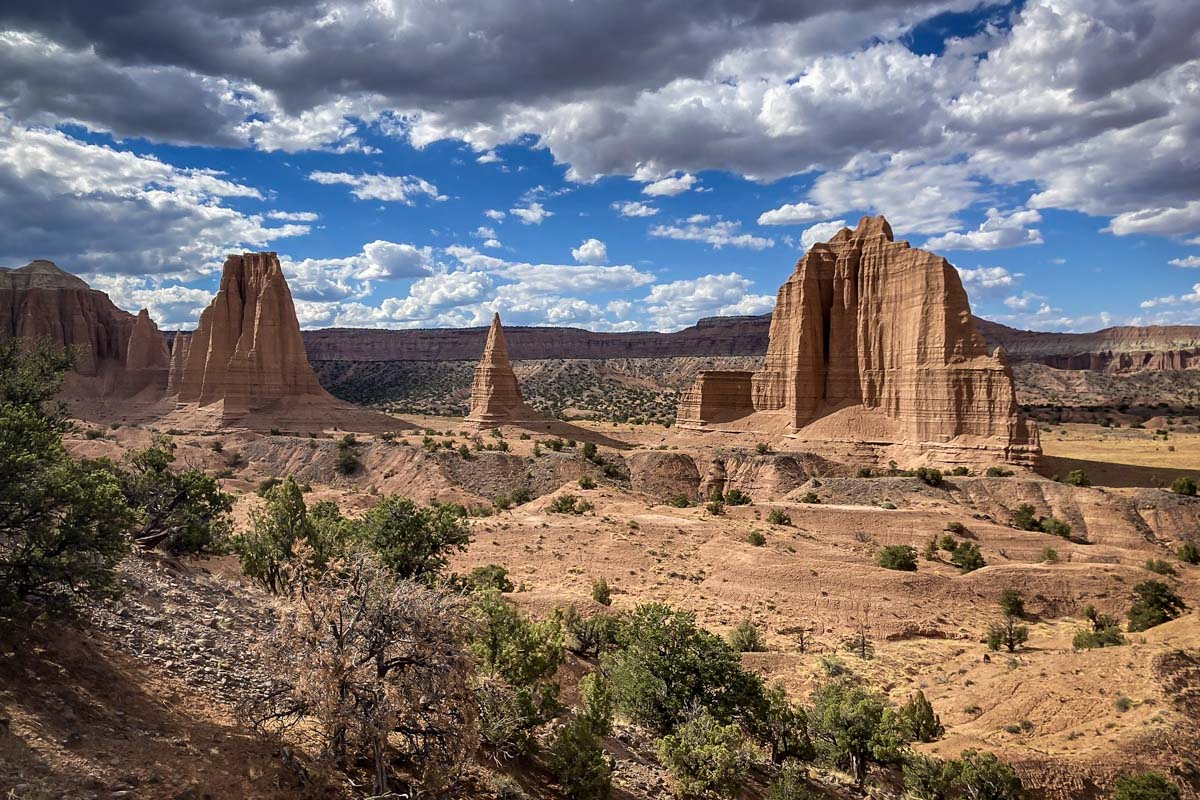 Distance: 2.5 miles, out-and-back
Elevation gain: 324 ft
Difficulty rating: Easy
The most unique geology in Capitol Reef National Park is in the Cathedral Valley District. This area was named after early explorers compared the alcoves, pinnacles, and fluted rock walls of the valley to those of Gothic cathedrals.
The two most exciting locations in this area are the Temple of the Sun and the Temple of the Moon. They are accessed via Cathedral Road, where a high-clearance vehicle and 4WD is recommended in order to get around this area safely.
You can drive out and back to both of the temples for a beautiful sunset, or you can stay along the drive and make the entire 58-70 miles drive through the Lower and Upper Cathedral valleys. There are many incredible overlooks along this road, as well as the colorful Bentonite Hills.
12. Loop the Fold Road
Loop the Fold is an amazingly scenic drive that goes through the remote, southern region of Capitol Reef National Park. In its entirety, the 125-mile route will take 4-hours to drive or a full day if you're stopping at trails and overlooks.
You don't need any special type of car for this drive unless you're interested in the detour to the Strike Valley Overlook, so anyone can enjoy this remote area of the park. The main highlights along the route are slot canyons, marine fossils, desert vistas, and stratified bentonite hills.
There are a handful of ways you can make this drive, but it's best to start at the Capitol Reef Visitor Center and go clockwise to make the full route.
You'll go south riding along the eastern side of the waterpocket fold, then jut into the south tail end of the park. Make your way back up through Boulder and Torrey to get back to Capitol Reef.
This is one of the most underrated things to do in Capitol Reef since you can visit the most remote areas of the park with almost no people around.
To drive this safely, be sure to check the weather before you head out. Prepare accordingly in case of weather changes, and pick up a map of the drive at the Visitor Center.
13. Visit Grand Staircase-Escalante National Monument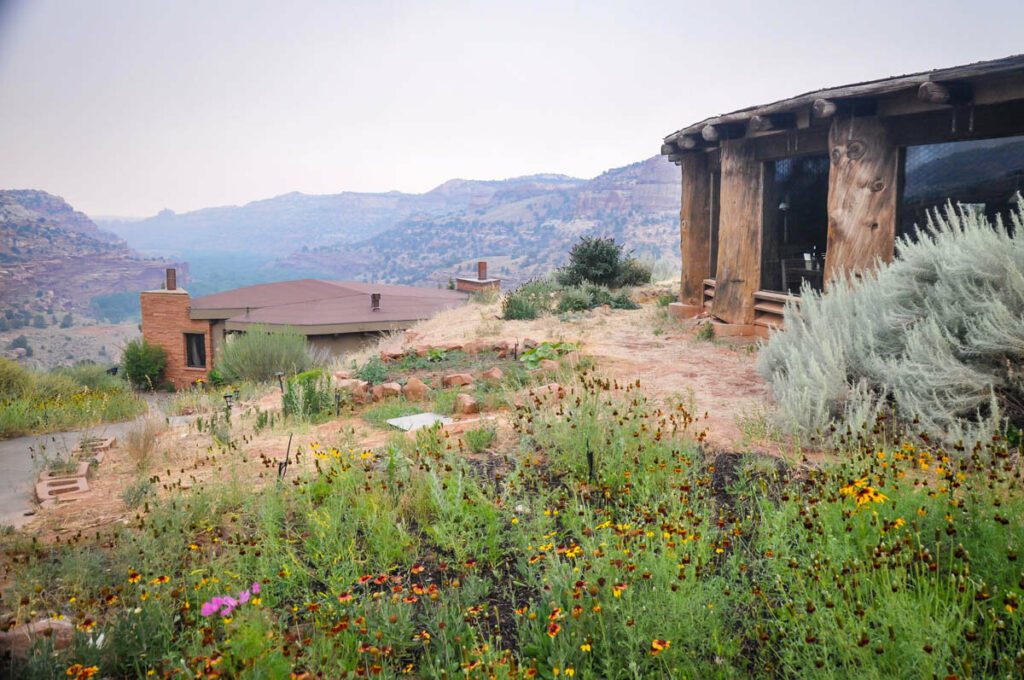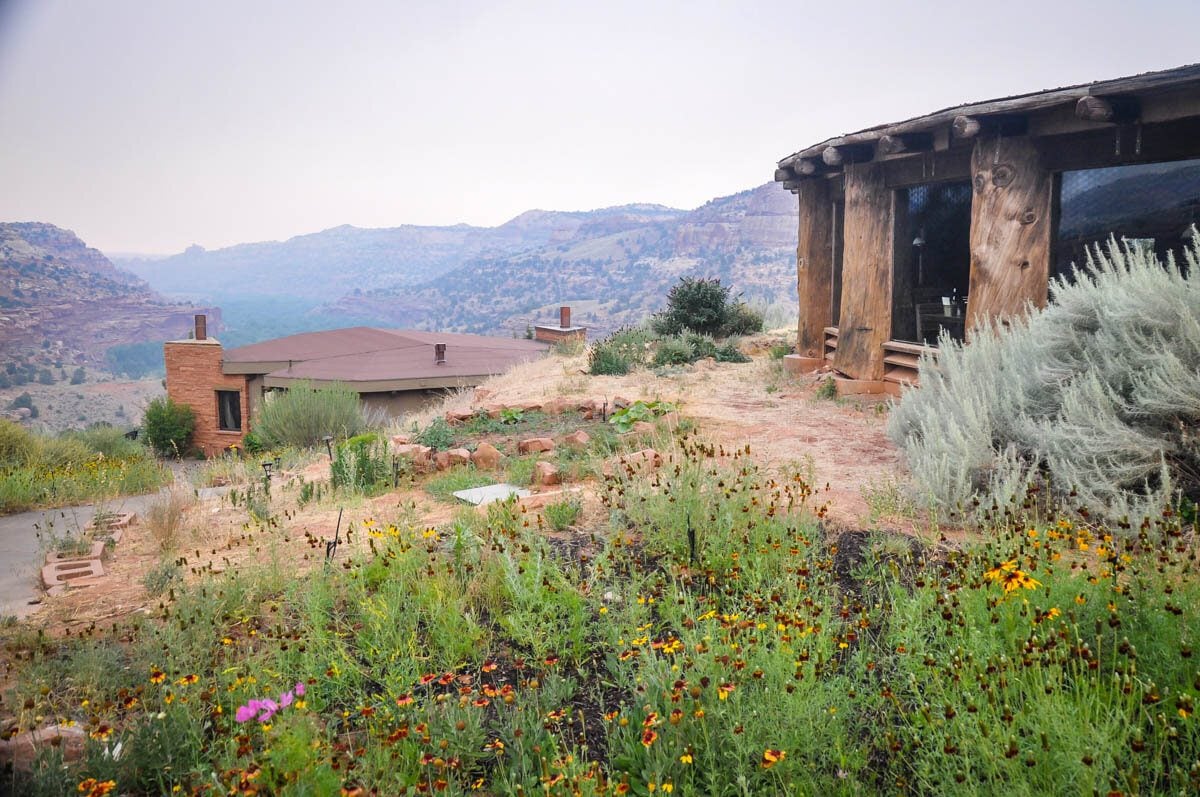 The waterpocket fold of Capitol Reef hugs the edge of the 1.7 million-acre of diverse and unspoiled nature of the Grand Staircase-Escalante National Monument. It makes a great addition to a Capitol Reef itinerary, or if you're on a larger road trip heading to Zion and Bryce Canyon.
The entire area is divided into two distinct areas: Grand Staircase and Escalante Canyons.
The canyons area is the most popular area with waterfalls, oases, narrow canyons, and remote hiking trails. While the Grand Staircase has the most impressive network of slot canyons in Utah and is more remote.
One of the most exciting routes is down Hole-in-the-Rock Road. It has many incredible trailheads and backpacking routes like Coyote Gulch and Reflection Canyon.
This is one of the more accessible roads in the area that's perfect for getting away from crowds and immersing yourself in nature.
Much of the trails and things to do in Grand Staircase-Escalante are remote and down rugged, unpaved roads. A trip to this remote area requires extra planning, but you'll be rewarded with zero crowds and the most inspiring vistas in Utah.
---
Where to stay in Capitol Reef National Park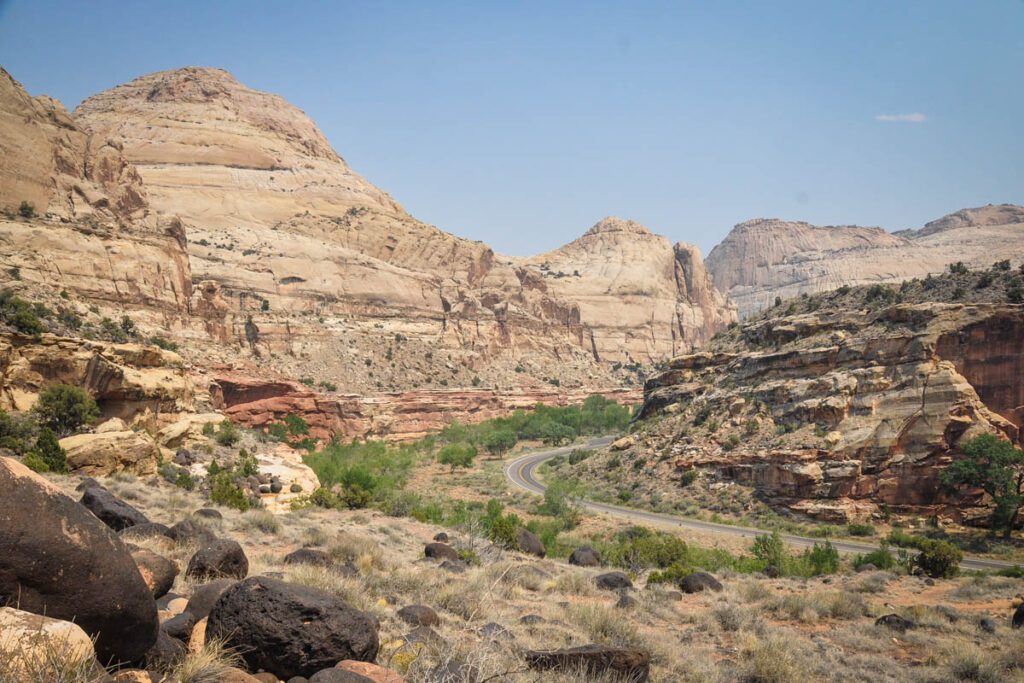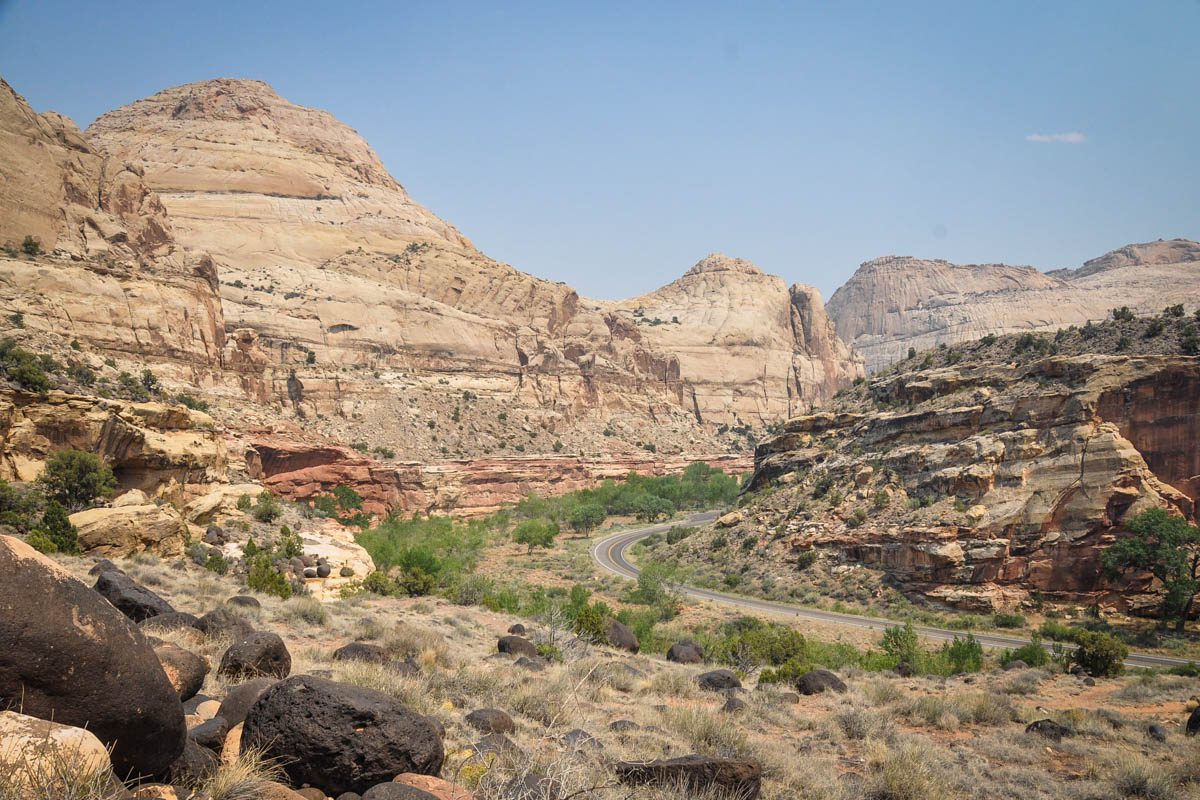 Lodging inside Capitol Reef is limited to camping only, but there are lodging options in the nearby town of Torrey, just a short drive away from the park boundary. The town is right off Highway 24 as well, so getting to and from the park is simple.
Lodging near the park
Torrey has a variety of places to stay, restaurant options, gas, and markets to stock up on supplies, so it's a great place to base yourself while exploring Capitol Reef.
Cougar Ridge: This stay is in a stunning mountain setting only a 10-minute drive away from Capitol Reef National Park. The private balconies in each room are perfect for stargazing, and the hot tubs on property are ideal after a long day of hiking.
Capitol Reef Resort: This resort is in a prime location right next to the entrance of the park. The outdoor pool and hot tub are perfect for a relaxing soak. In addition to their updated rooms, there are teepees and Conestoga Wagons that make a really unique stay near Capitol Reef.
Campgrounds in Capitol Reef National Park
There is only one campground inside Capitol Reef and it is available on a reservation basis only. If you need an alternative place to stay for the night, there is public land all around the park where you can primitive or car camp for the night.
The Fruita Campground is booked up months in advance, so plan early to secure a spot in its prime location. Sites are released 6 months in advance at 9:00 am CST.
Fruita Campground: This campground is an oasis inside Capitol Reef and is in the heart of the park. It has 71 different campsites available to reserve, fire pits, and picnic tables. There is potable water here and flush toilets, but no showers.

It's reservable from March 31st to October 31st. From November 1st to February 28th, the campground is first-come-first-served.
Campgrounds outside the park
Camping inside Capitol Reef National Park is more convenient but, if you aren't able to get a spot in the park, there are many campgrounds located around the park as well.
If you're traveling in a campervan or simply hoping to save money on your visit to Capitol Reef by camping along the way, we have a deal for you!
The Dyrt is our favorite campsite locating app with the largest database of campgrounds (44,000+ campsites and counting!) and over 1 million user-submitted reviews. Plus, it's super user-friendly, and has some pretty cool features, like outdoor gear contests and forums to connect and seek advice from fellow campers, that you won't find on any other camping app.
Try their Pro Membership for FREE for 30 days and gain access to the offline version of the app, utilize their trip planning feature AND get exclusive discounts on campsites and gear!
What to pack for visiting Capitol Reef National Park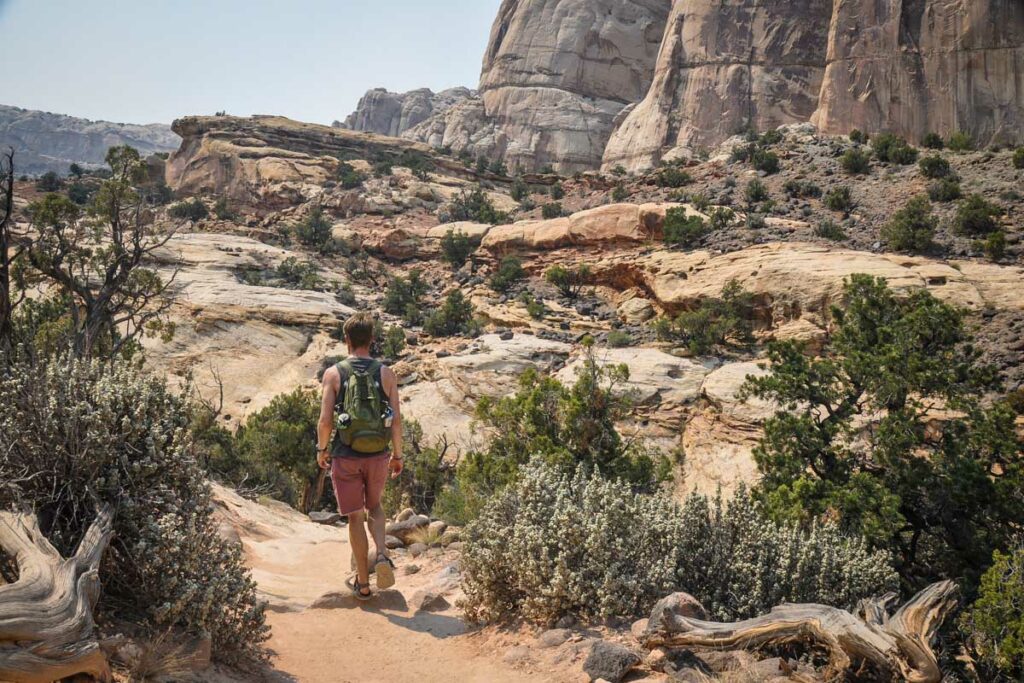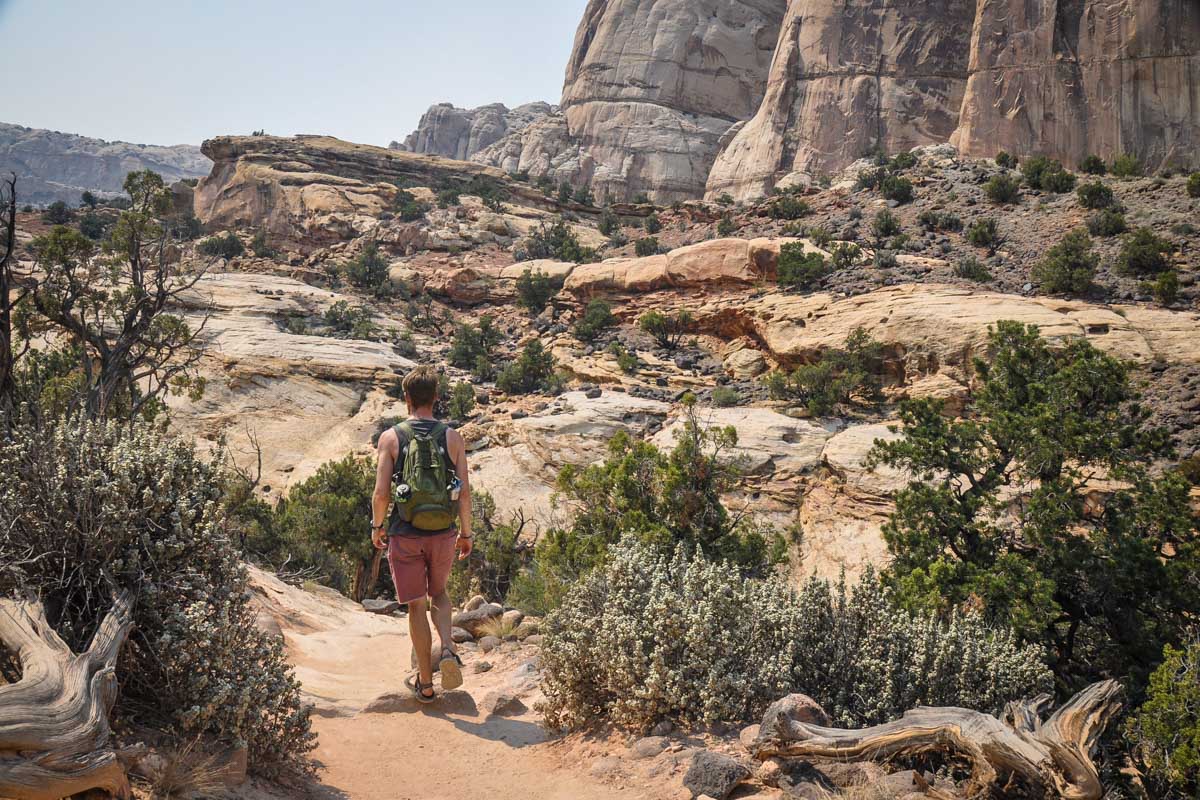 Hydration pack and/or water bottles
Sun protection: sunscreen, sunglasses, hat
Bug spray (we prefer the natural stuff)
Camera (be sure you have a bag so you can put away your camera for the Angel's landing hike!)
Binoculars (optional): to see the petroglyphs in better detail
Hiking shoes or Chacos if you prefer
Comfortable hiking clothes (always dress in layers!)
Snacks
AllTrails Pro (or download Google Maps offline for the area in case you lose service)
Tips for visiting Capitol Reef National Park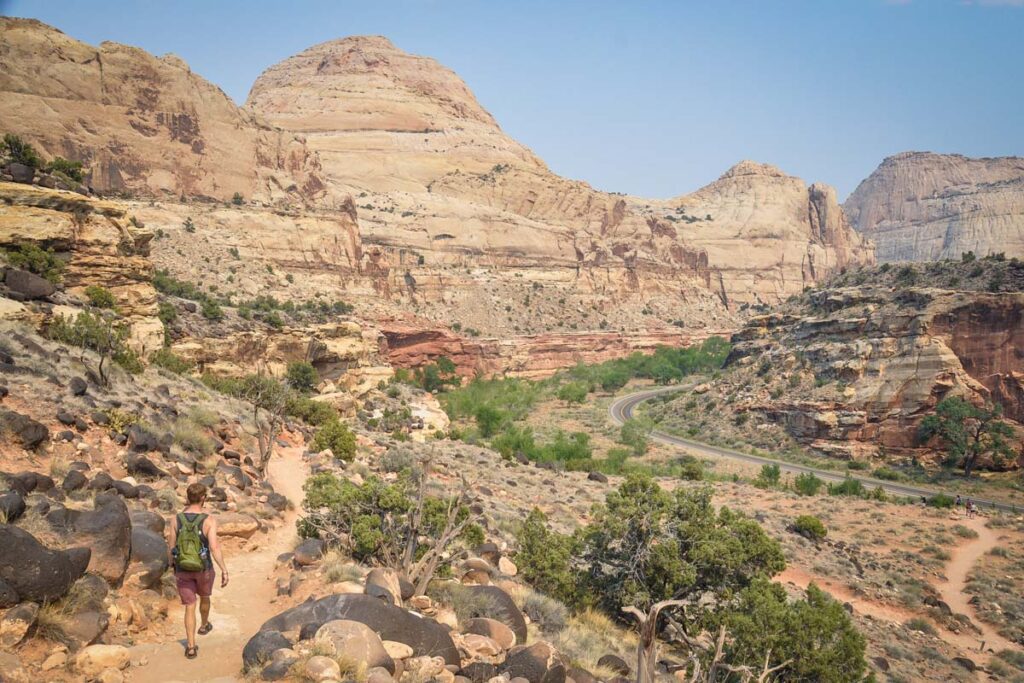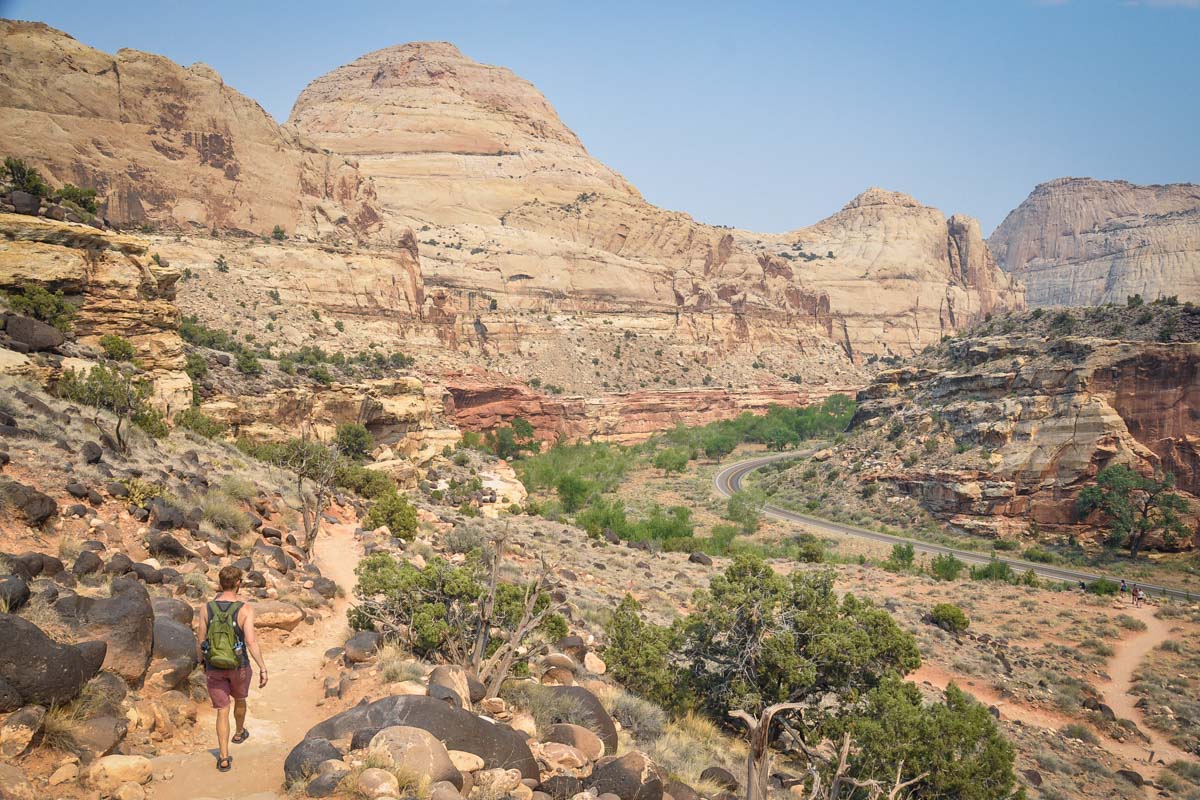 Be mindful of the weather. No matter when you're visiting Capitol Reef, the weather can change rather dramatically. Always keep updated with the forecasts, more so if you're driving on 4×4 roads where flooding is likely.
Crowds are few. Of the Mighty 5, this is the park you have to worry about crowds the least. We didn't have any trouble getting away from others, so it was a really nice change of pace.
Fill up on gas before scenic drives. Gas is limited in and around Capitol Reef, so you'll want to start any scenic drive with a full tank of gas.
Come prepared for scenic drives. Have an emergency kit, plenty of water, and food in case you get stuck anywhere. In poor conditions, help may not be able to come for hours or days.
Pack layers. Daytime temperatures can be toasty, but the mornings in Capitol Reef are generally in the 50s and 60s. Layer in the morning and then you can peel those off after you get hiking or as the sun rises.
Download offline maps. There is limited cell service inside the park, so have all your trails pre-downloaded so you can navigate the area safely.
Make a road trip out of your visit. Capitol Reef National Park is best combined with other parks in Utah for an ultimate road trip. Canyonlands National Park and Bryce Canyon are nearby, or you can make a road trip to all of Utah's Mighty 5.
---
Check out our other Utah National Park guides
Save this article on Pinterest for later!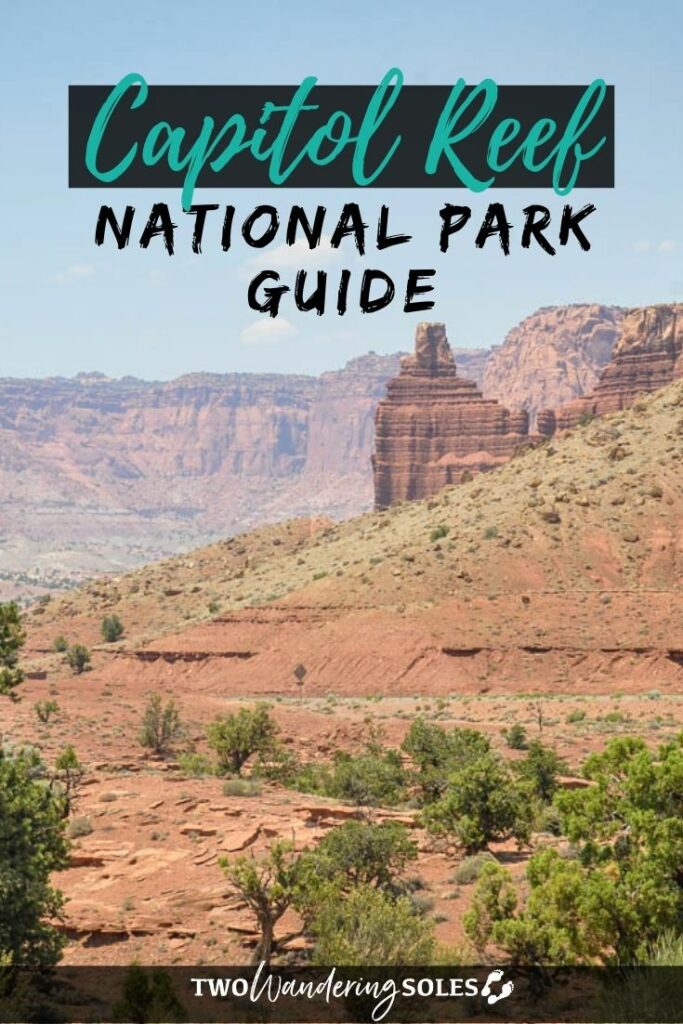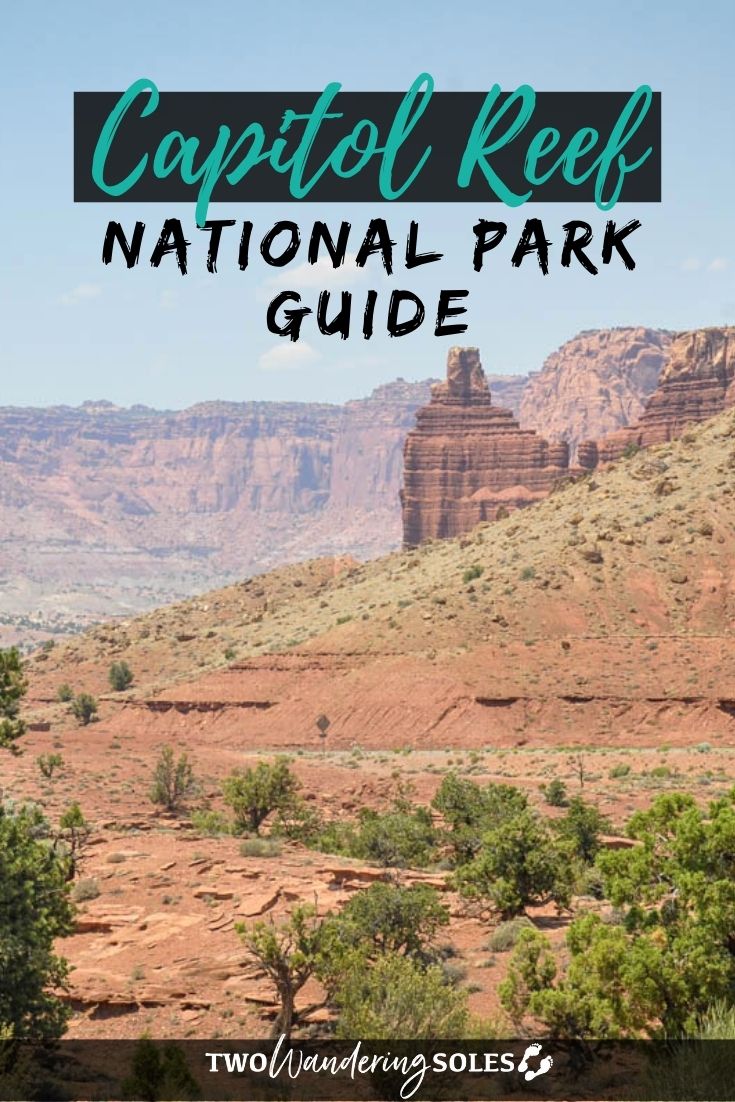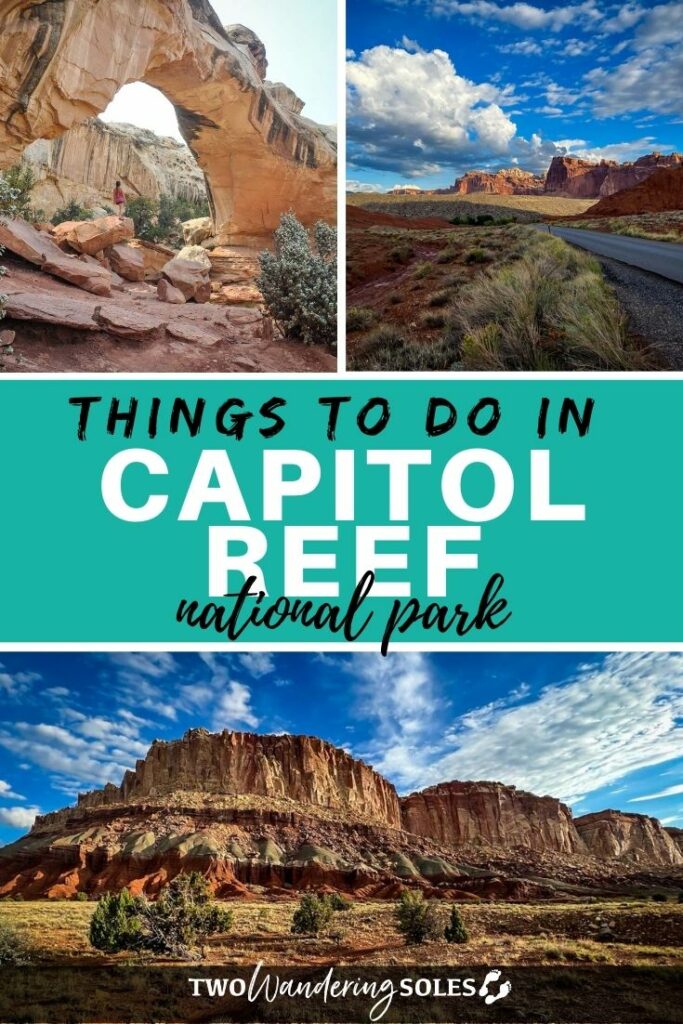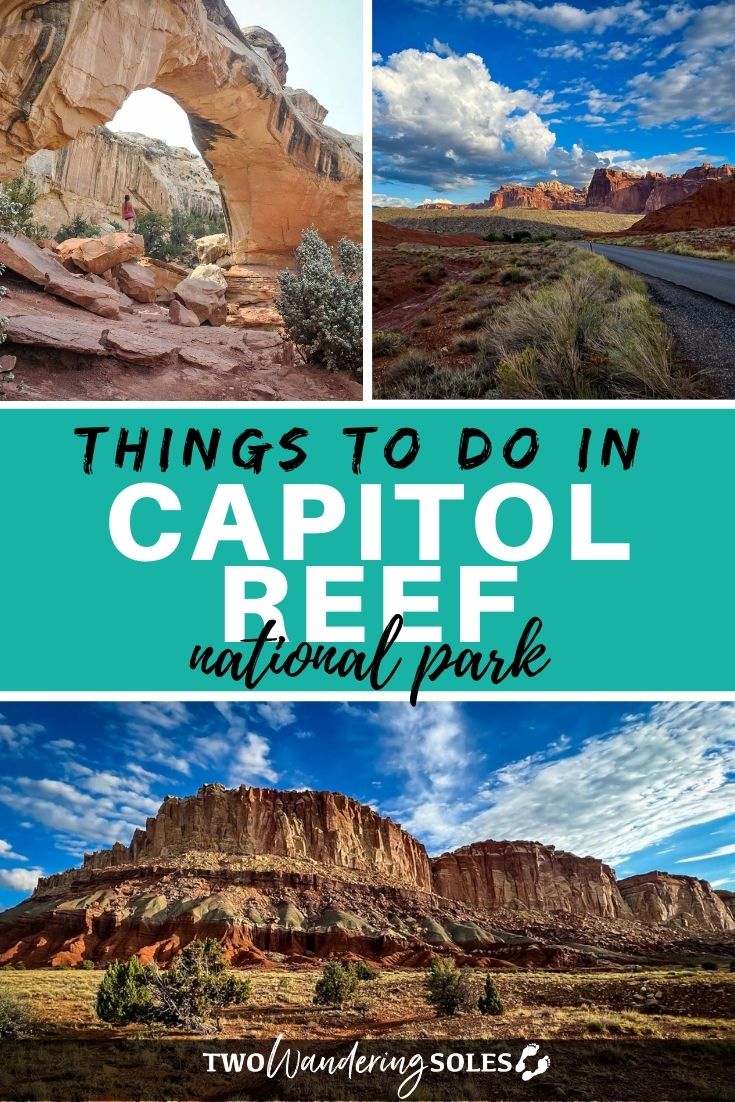 We want to hear from you!
Have you been to Capitol Reef National Park? What was your favorite part? Are you planning a road trip to Utah? We'd love to hear from you in the comments below!