We know that there are some seriously epic adventures in Colorado, but it can be hard to narrow down exactly what to do. We've put together the top things to do in Colorado to help plan your trip to this outstanding outdoor wonderland.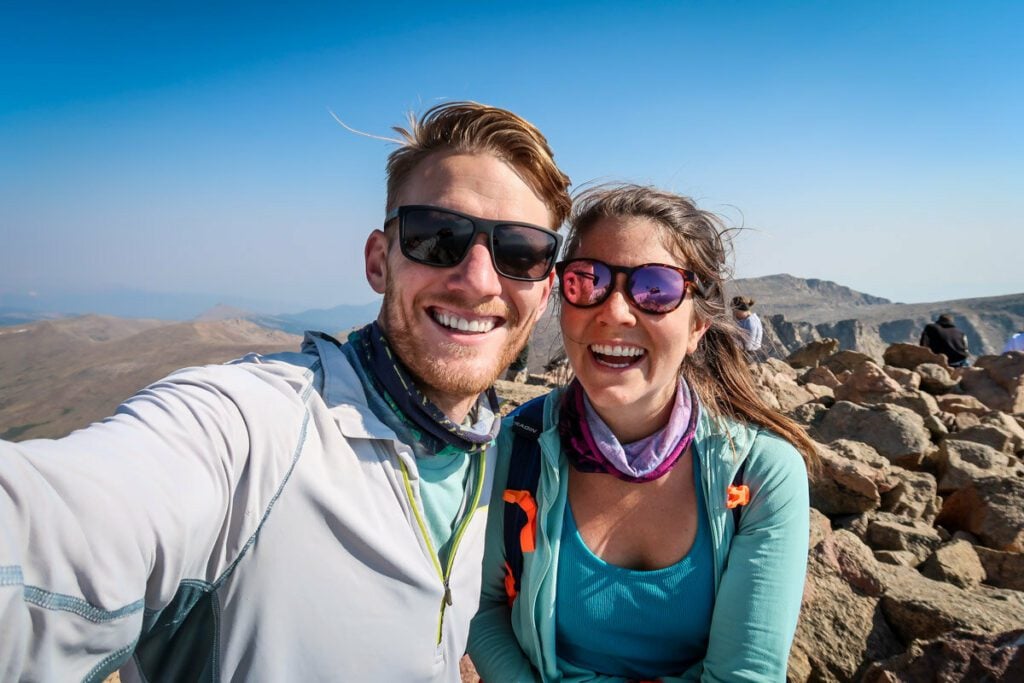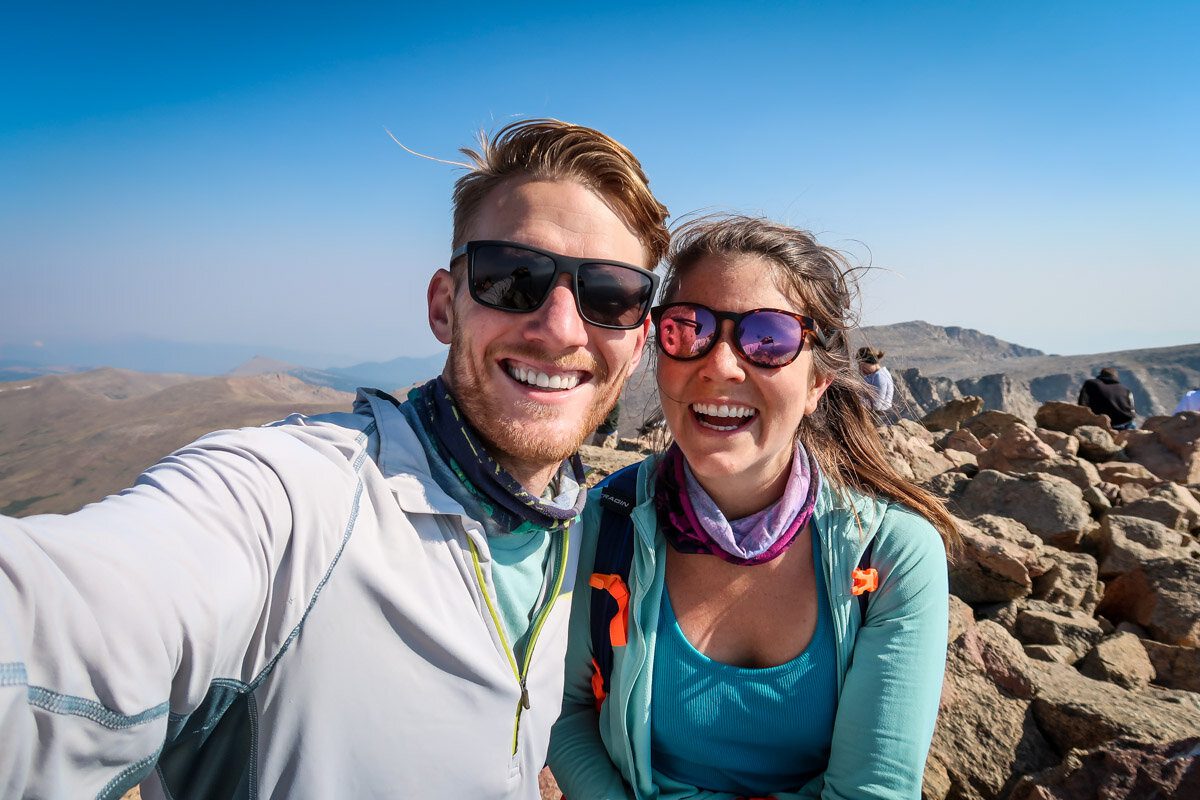 With 4 national parks, some of the best skiing in the USA, incredible hiking opportunities, fun big cities and charming small towns, Colorado is packed with both outdoor and urban adventures.
The best of both worlds, if you will.
We've traveled through Colorado several times, and each visit leaves us wanting more.
The Rocky Mountain State makes for an incredible USA road trip, a top-notch ski vacation, or a relaxing getaway.
No matter the type of trip you plan to take or your travel style, Colorado will surely steal your adventure-seeking heart.
We've rounded up a list of the very best things to do in Colorado – from epic outdoor adventures to essential Denver experiences all city-lovers should add to their bucket list.
Whether you're planning a dream trip to Colorado, or you're a local looking for fun weekend getaways, this list of unique and fun things to do in Colorado will be just what you need!
Not only will you find a list of fun things to do in Colorado to help you brainstorm for your next trip, but you'll also find a ton of insider tips so you know exactly how to experience these activities yourself.
Now, let's start our Colorado wanderlust sesh, shall we?!
---
Best time to visit Colorado
Colorado makes a fantastic year-round destination, and the best time to visit really depends on what type of trip you're taking.
Summer in Colorado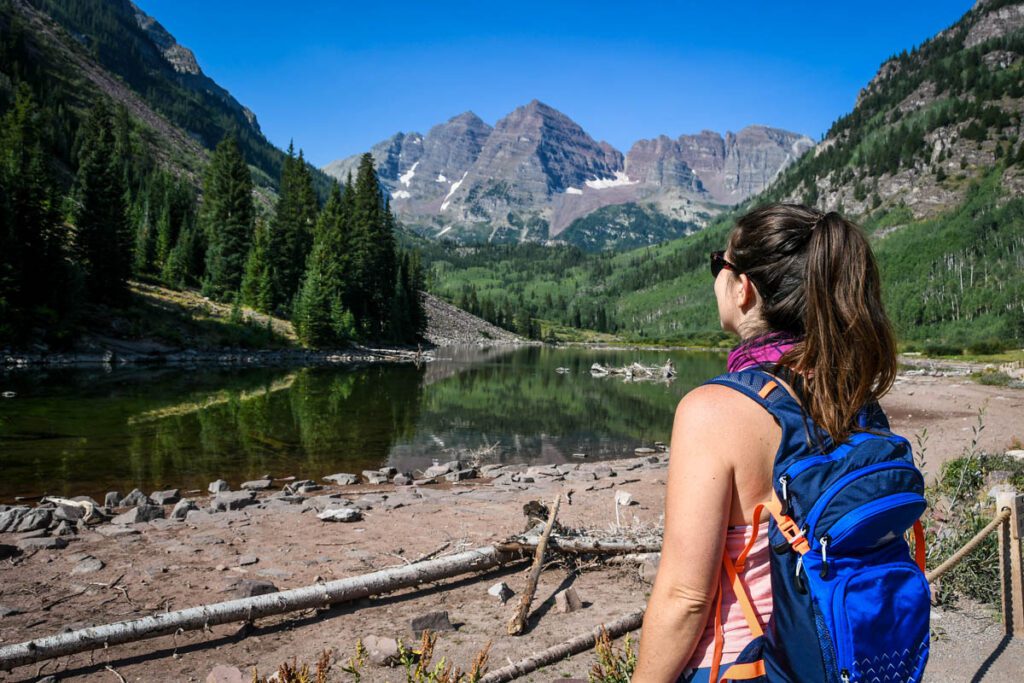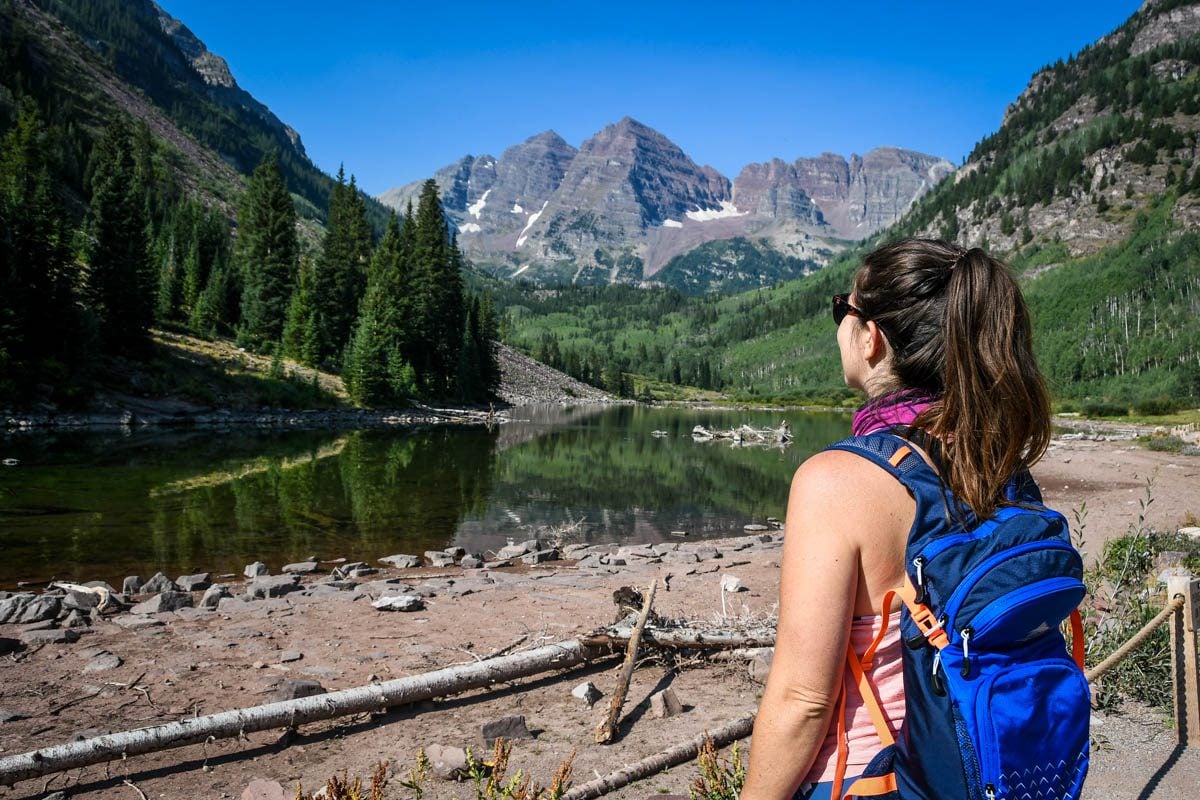 If you're planning a Colorado road trip (good choice!), summer is a wonderful time of year to plan this getaway as you'll have the best conditions for hiking and adventuring.
One thing to note is that it is also peak tourist season, so you'll want to make reservations for popular campgrounds (especially near national parks). Also, beware that in recent years, late summer often is known for wildfires in the region. Smoke can really put a damper on outdoor adventures. Trust us!
Fall in Colorado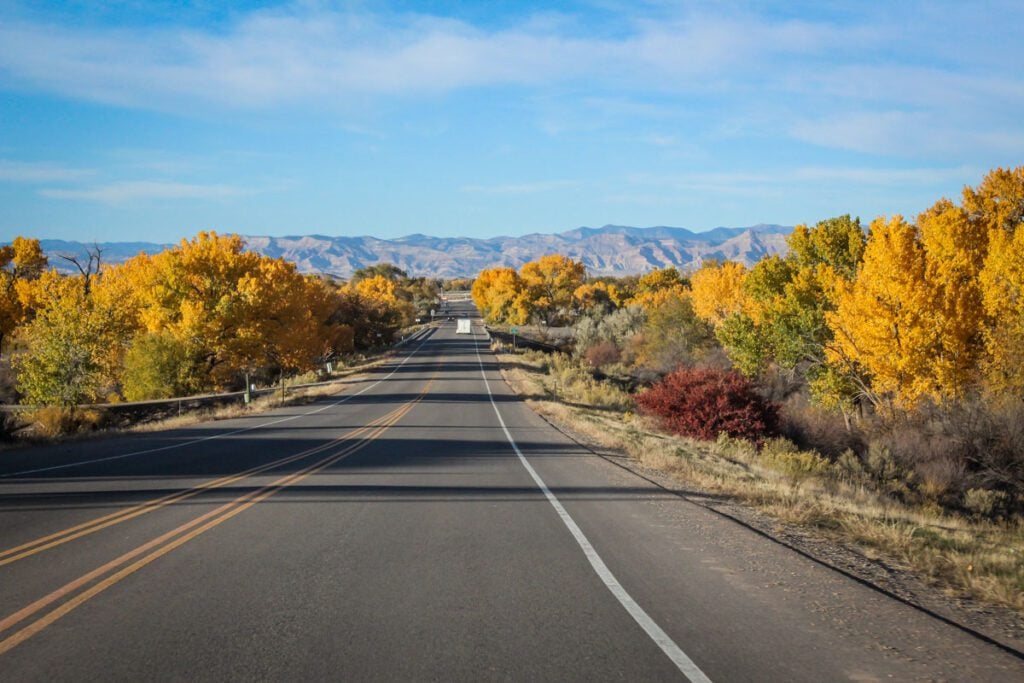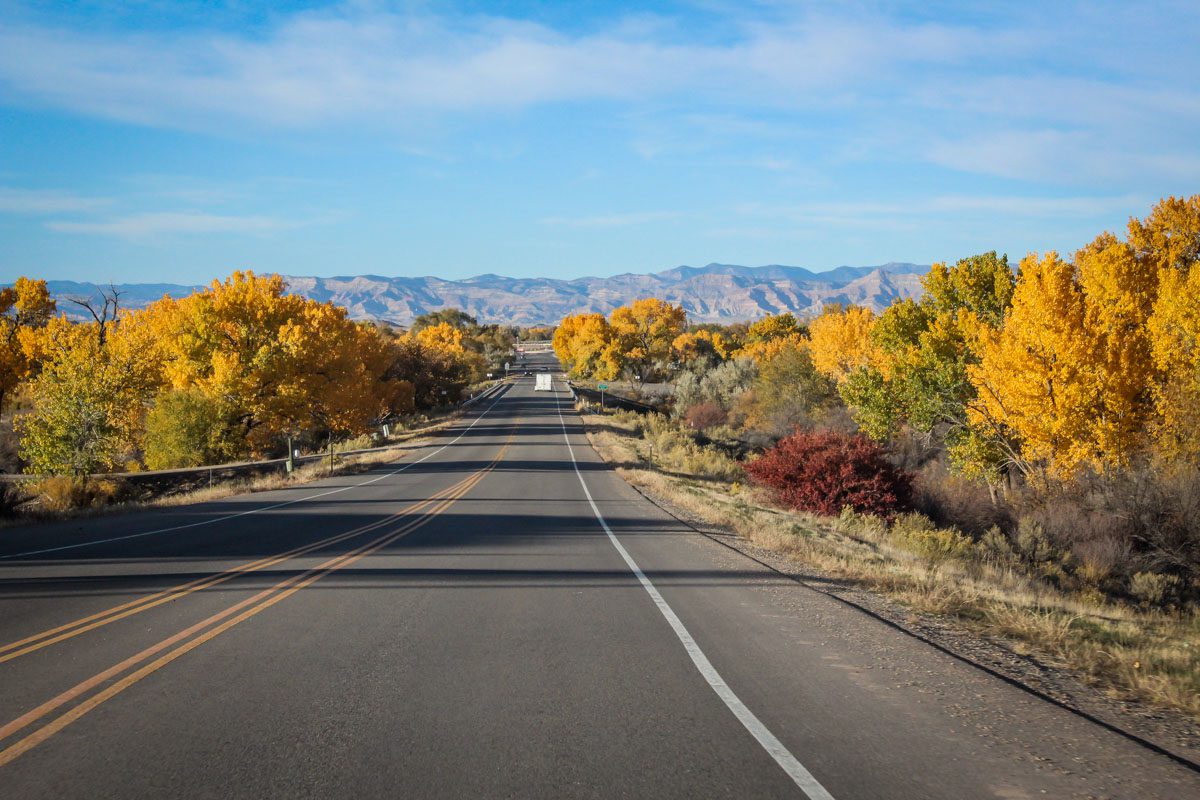 While not as colorful as the foliage you'll see on the east coast, Colorado makes a surprisingly good leaf peeping trip. You have to time it right if you want to see the stunningly perfect aspens that turn golden in early October.
Just be prepared to share the most iconic views with others!
Even if you're not coming for the colors, autumn weather is perfect for hiking and the crowds are fewer once the fall foliage is gone. Just be sure you're prepared for some sneaky cold temps at night and the chance for early season snow.
Winter in Colorado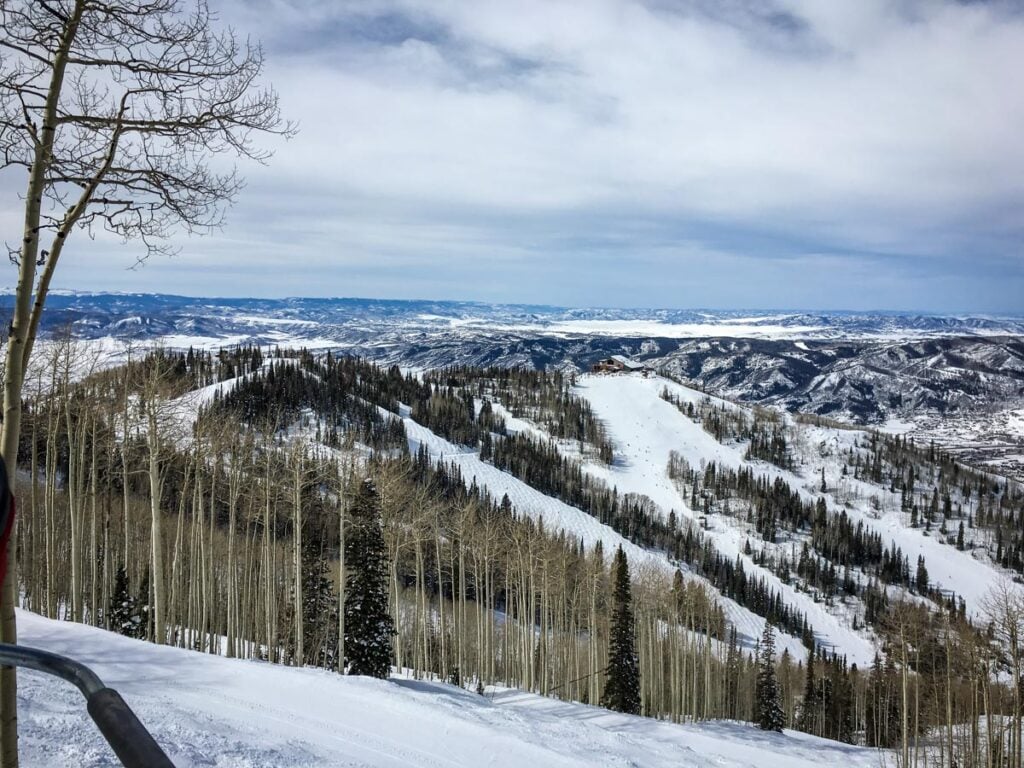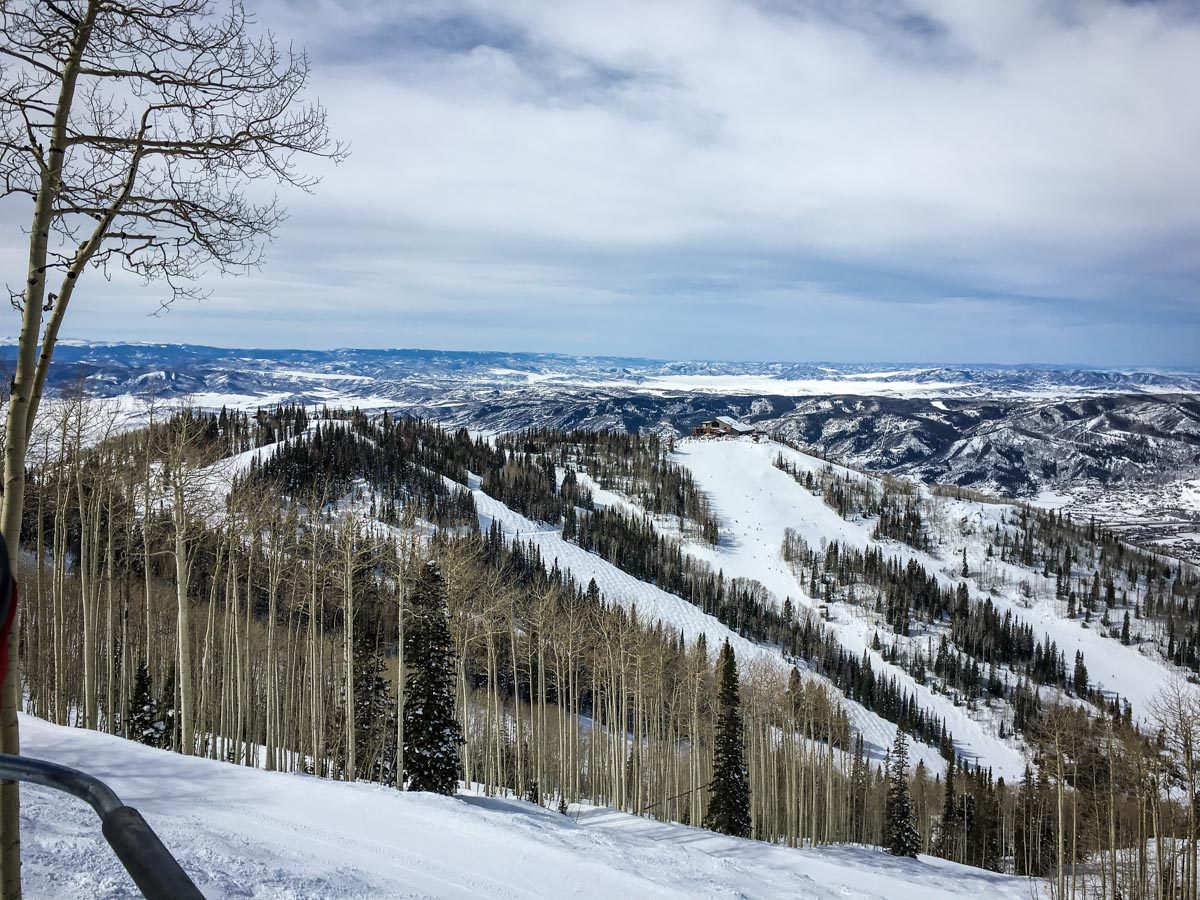 Ski bums will love Colorado in the winter. With fresh, powdery snow and cozy lodges scattered throughout the mountain towns, Colorado truly is a winter wonderland in the colder months.
Even if you don't ski, winter in Colorado could be a great choice. Bundle up and go snowshoeing or hop in a horse-drawn carriage. Rent accommodation with a fireplace and a hot tub, and soak up the cozy vibes.
Spring in Colorado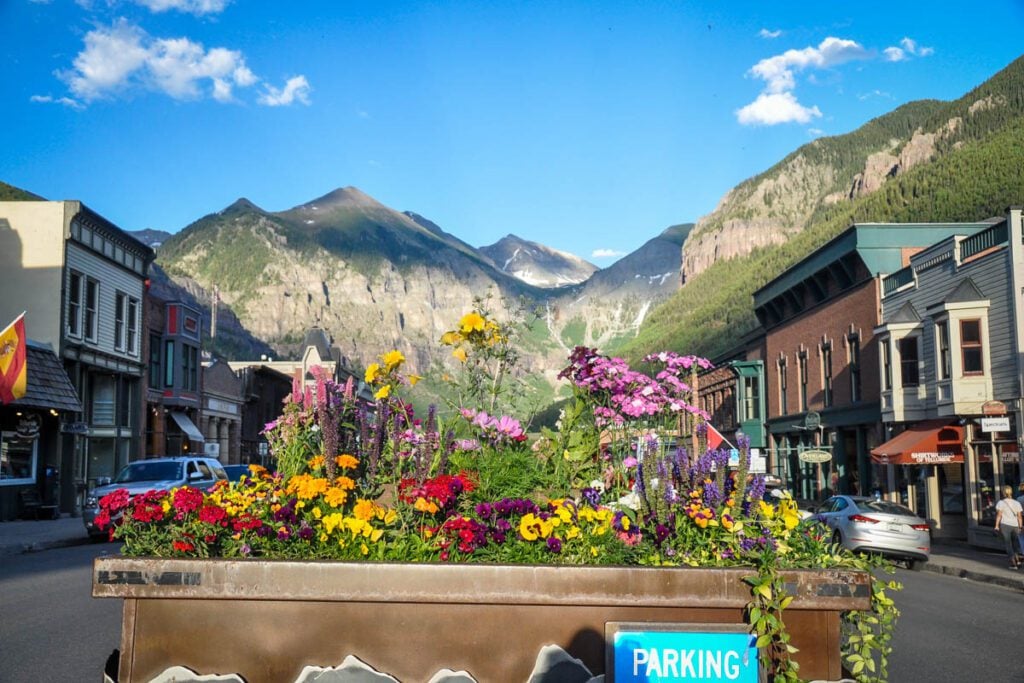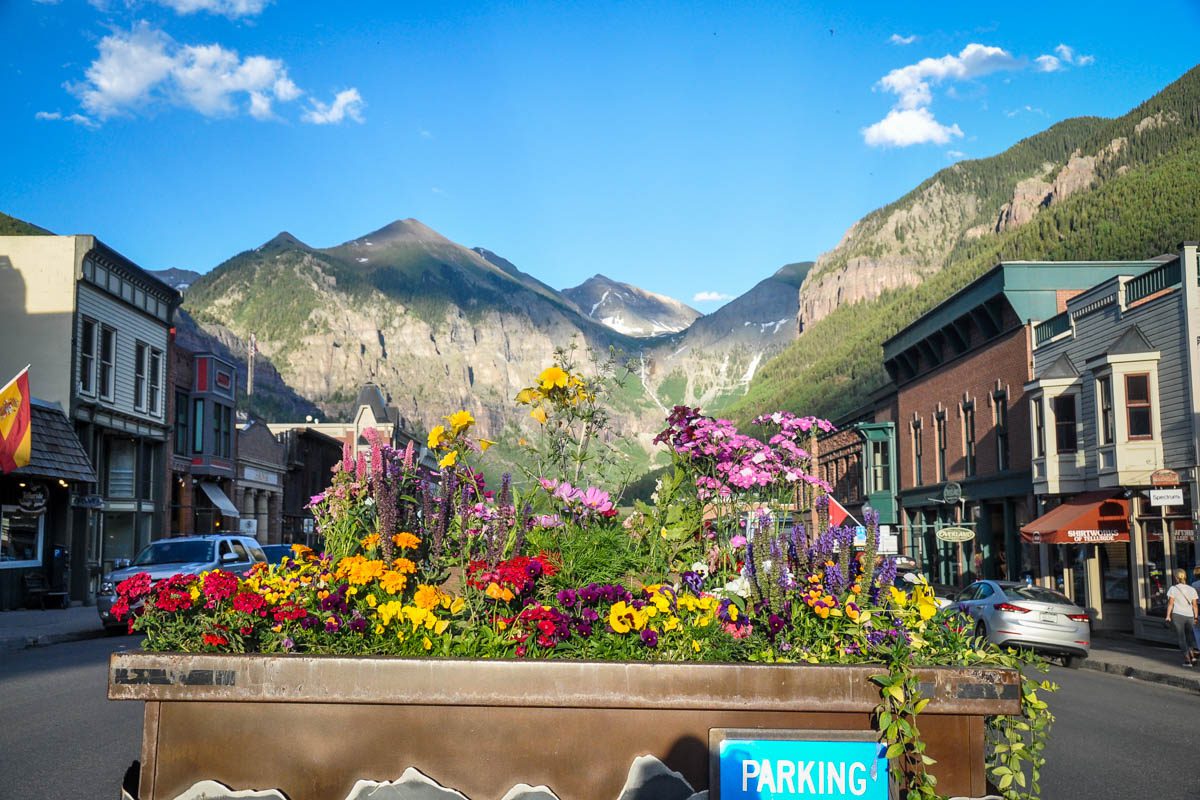 With fewer crowds and crisp weather, spring makes a great time to travel around Colorado. You'll still find lots of snow on many trails, so if big hikes are a part of your trip, you may want to wait until summer or early fall.
Psst! For an in-depth guide on the seasonal weather patterns and other factors, check out our complete guide on the best time to visit Colorado.
---
1. Experience Red Rocks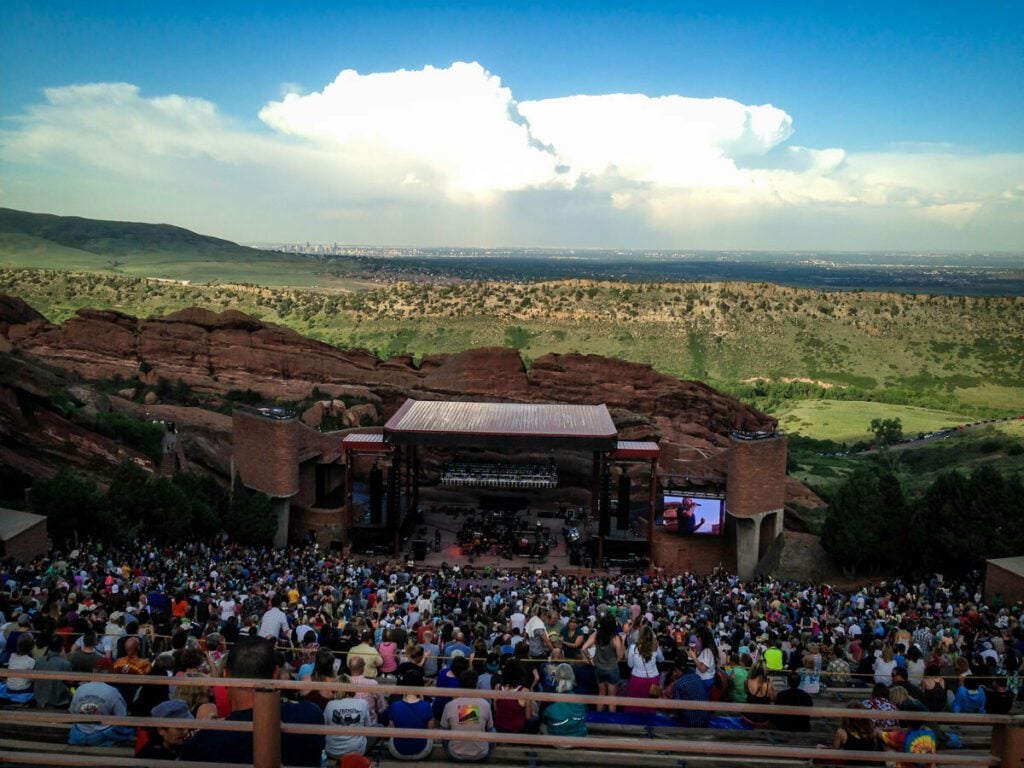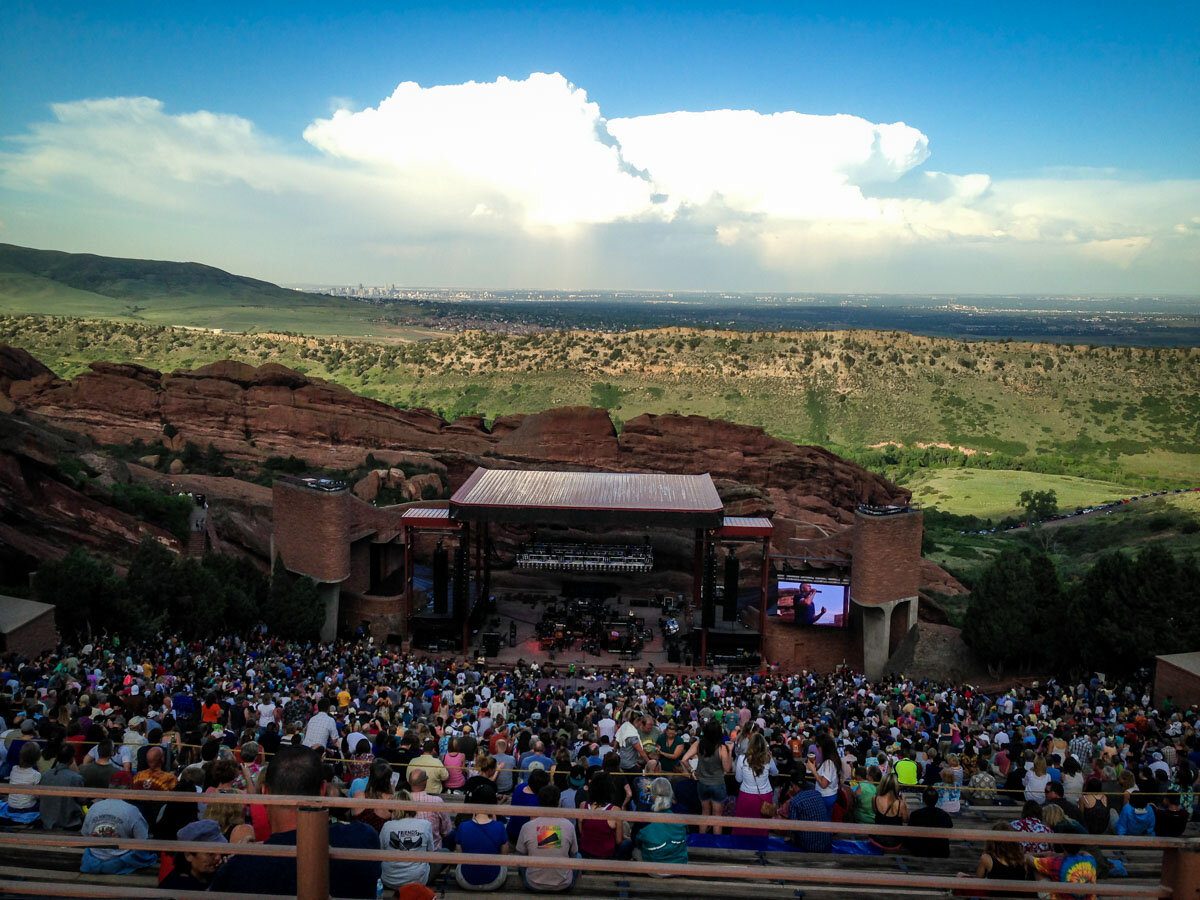 Checking out Red Rocks is at the top of our list of things to do in Colorado for good reason…
If you are a fan of live music, chances are you've heard of Red Rocks Amphitheater. Best known for hosting a series of concerts and events throughout the year, this massive open-air theater is built into the rock structure, creating a striking visual effect and optimal acoustics.
With the capacity to accommodate over 9,500 concert-goers, and a performance roster that includes the likes of The Beatles, Johnny Cash and BB King among others, this venue is one of the most famous outdoor music venues in the country.
We highly recommend planning a trip to Colorado with the Red Rocks concert calendar in mind if your travel plans are flexible. Located in Morrison, Colorado, just 10 miles southwest of Denver, visiting Red Rocks is one of our favorite day trips from Denver.
And if seeing a concert isn't your top priority, there are plenty of other reasons to visit Red Rocks…
Hiking at Red Rocks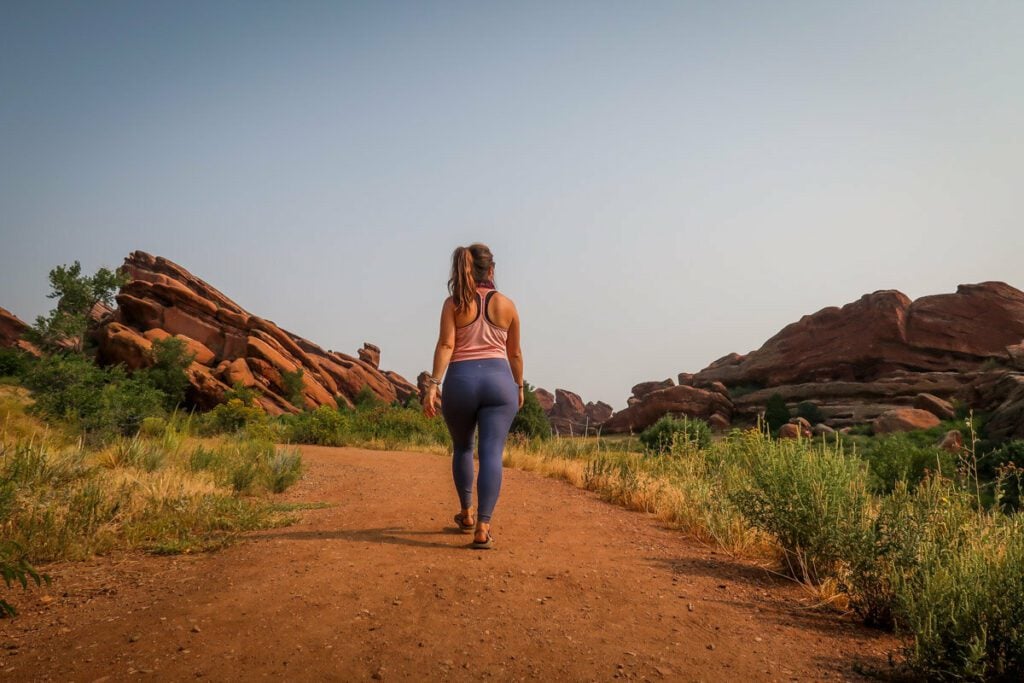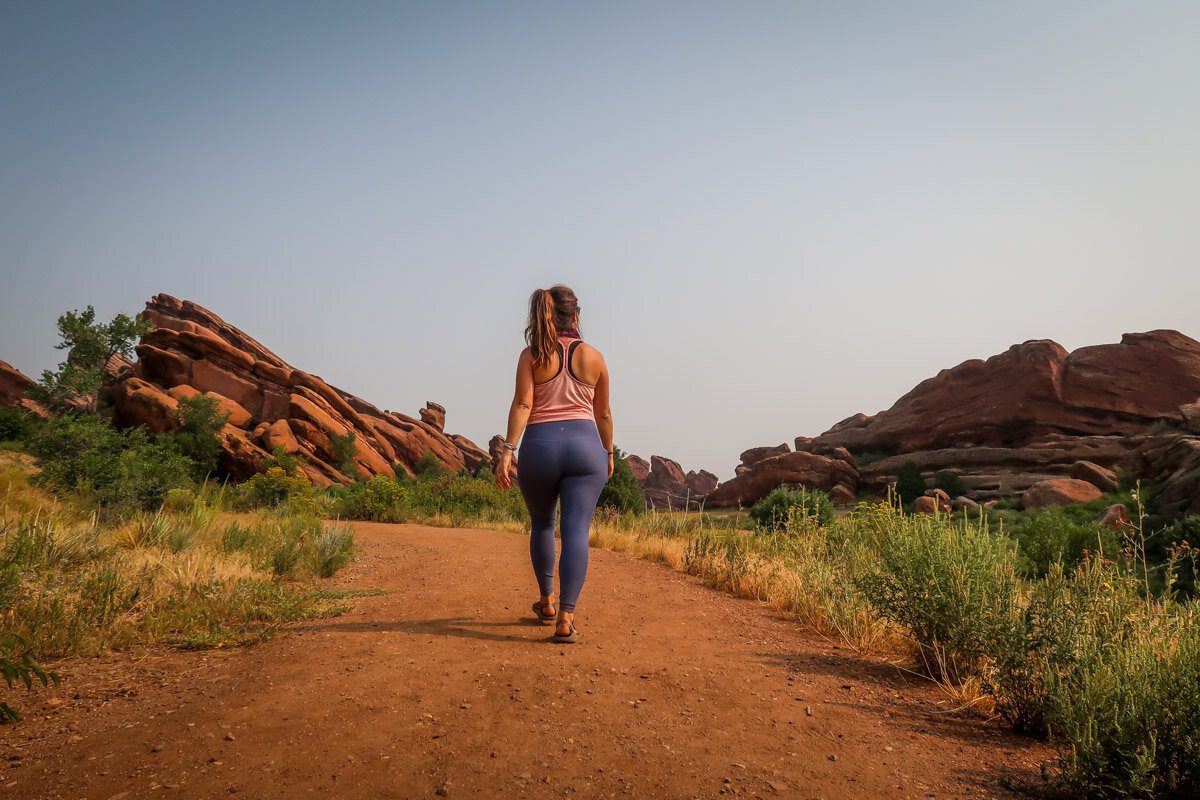 Within the park there are numerous trails and delicious views to explore via hiking or biking. Considering some of the rock formations in the park date back to prehistoric eras, you'll be surrounded by an incredibly rich history.

If you're interested in hiking, there are a range of trails and hikes to choose from. The Geologic Overlook Trail is best for a day trip as it only takes about 30 minutes to complete.
If you're looking for something more challenging, The Red Rocks to Dakota Trail is a gorgeous loop trail that takes about three hours from start to finish.
Yoga on the Rocks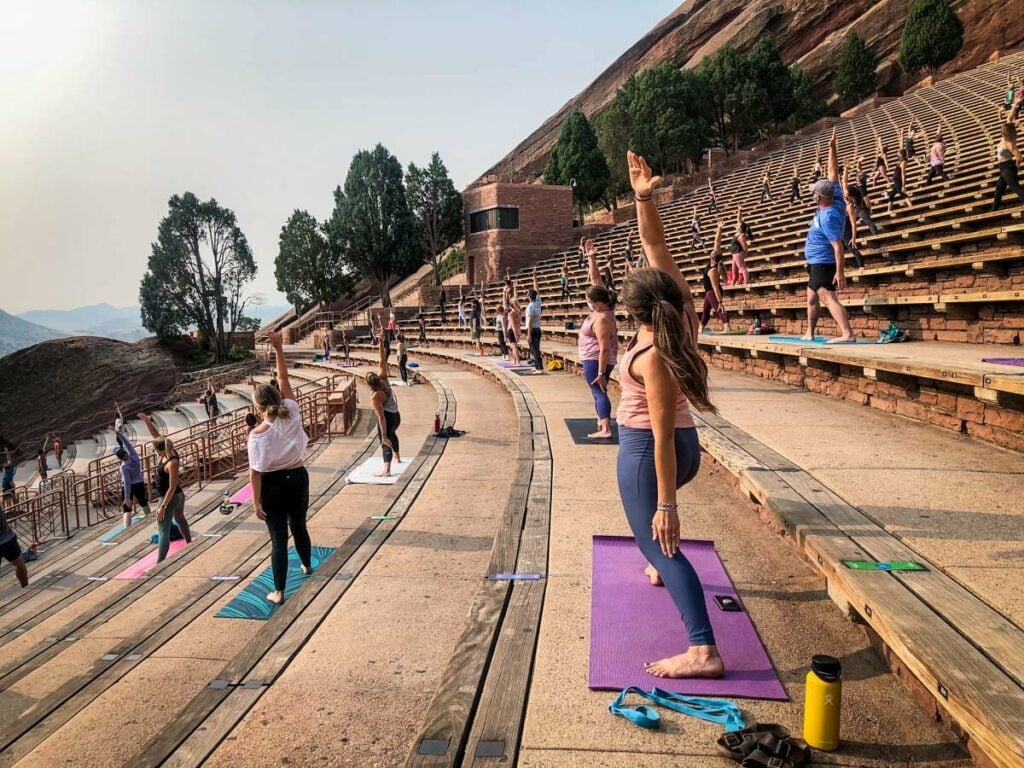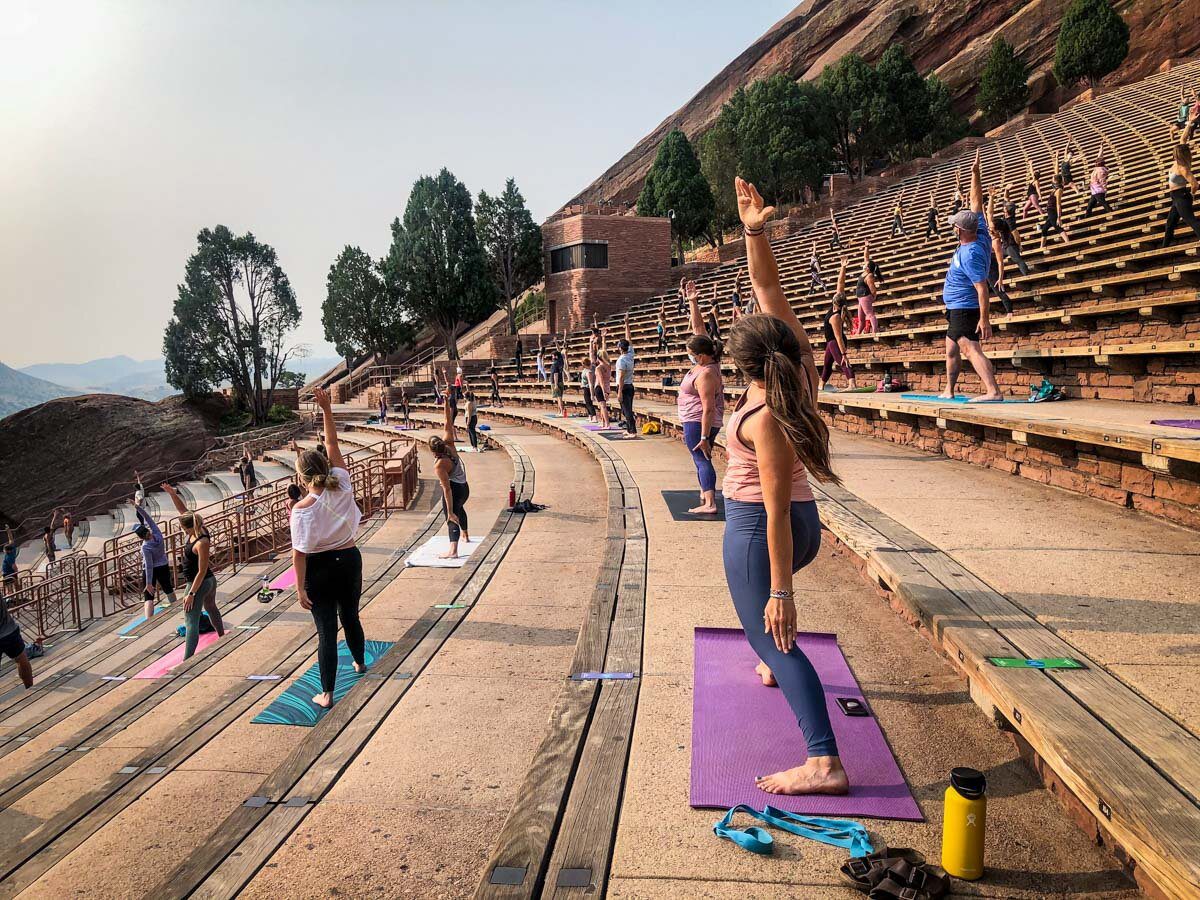 A longstanding Denver tradition, on Saturday mornings during summertime, you can attend a Yoga on the Rocks session. This is a unique event where hundreds of people come together to practice yoga in an epic setting.
Surrounded by the beauty of the landscape, you'll really be able to tap into your inner zen.
Tickets for Yoga on the Rocks are $17 per session and you'll want to reserve ahead of time as it can fill up quickly.
Film on the Rocks
Another way to enjoy Red Rocks is by attending one of their Film on the Rocks events. From cult classics like The Goonies and Star Wars to more recent releases like the Marvel films, there's sure to be a movie you'll enjoy.
We think this a perfect way to unwind after a day of hiking or exploring the park. Just pack a picnic of movie snacks and blankets and then cozy up for a flick under the stars with your favorite person.
Tickets for Film on the Rocks are $16 per person and the show always begins at dusk.
2. Hit the trails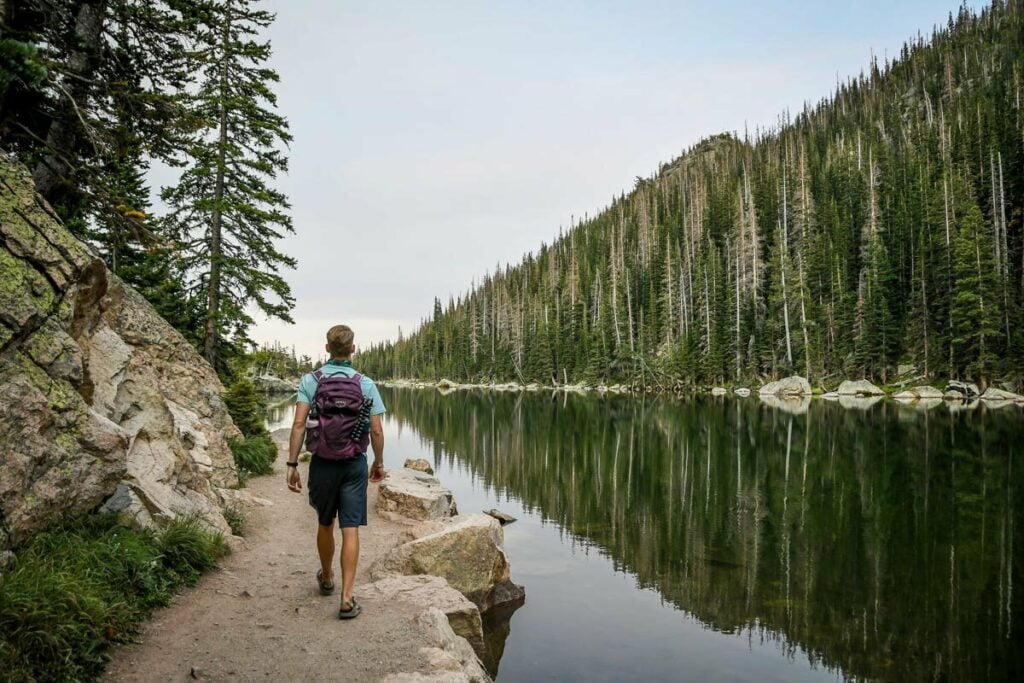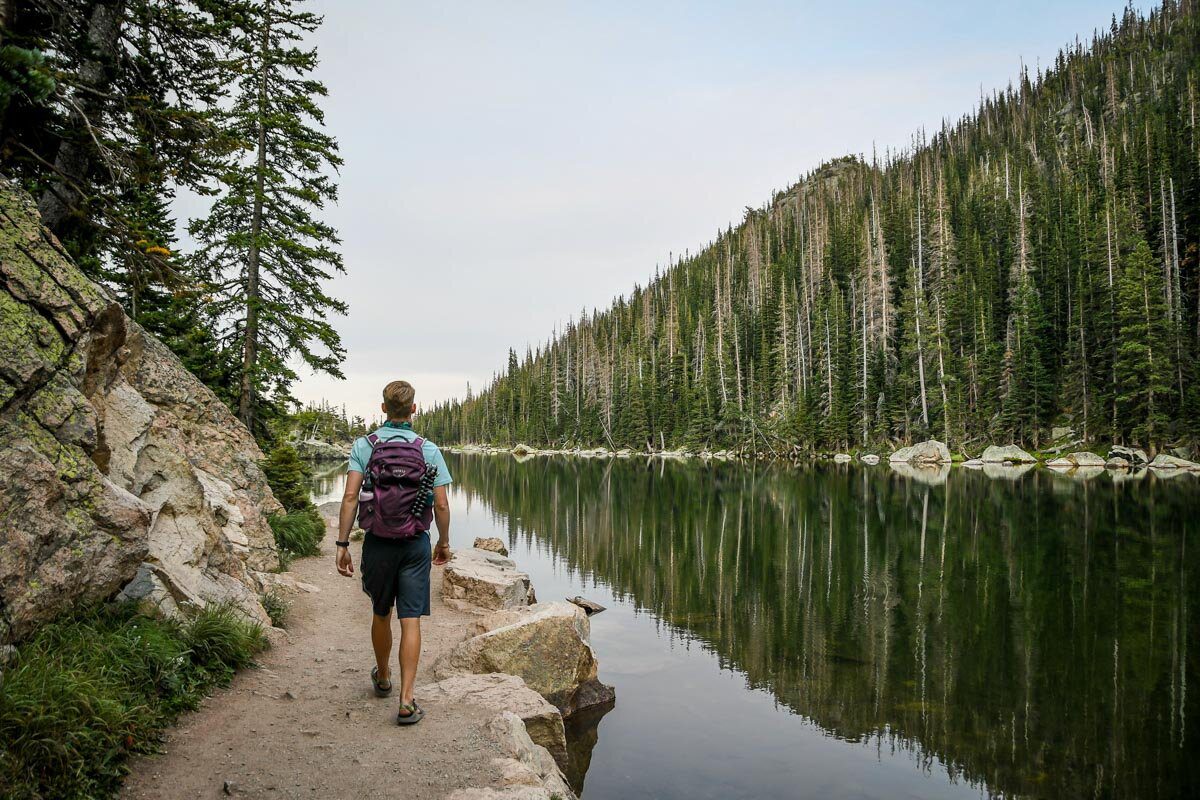 Surrounded by the Rocky Mountains, Colorado is an actual dream for outdoor enthusiasts and nature lovers. There are seemingly unlimited hiking opportunities no matter where in the state you plan to visit.
Some especially popular places for hiking in Colorado are in Boulder, Golden, Rocky Mountain National Park, Buena Vista and Hanging Lake.
We recommend using the AllTrails app so you can find great hikes near you wherever you are traveling in Colorado.
Psst! We have a round up of the best Colorado hiking trails on our sister site for more inspiration! And if you want to stay close to the city, you'll want to check out the best hikes near Denver.
3. Explore Rocky Mountain National Park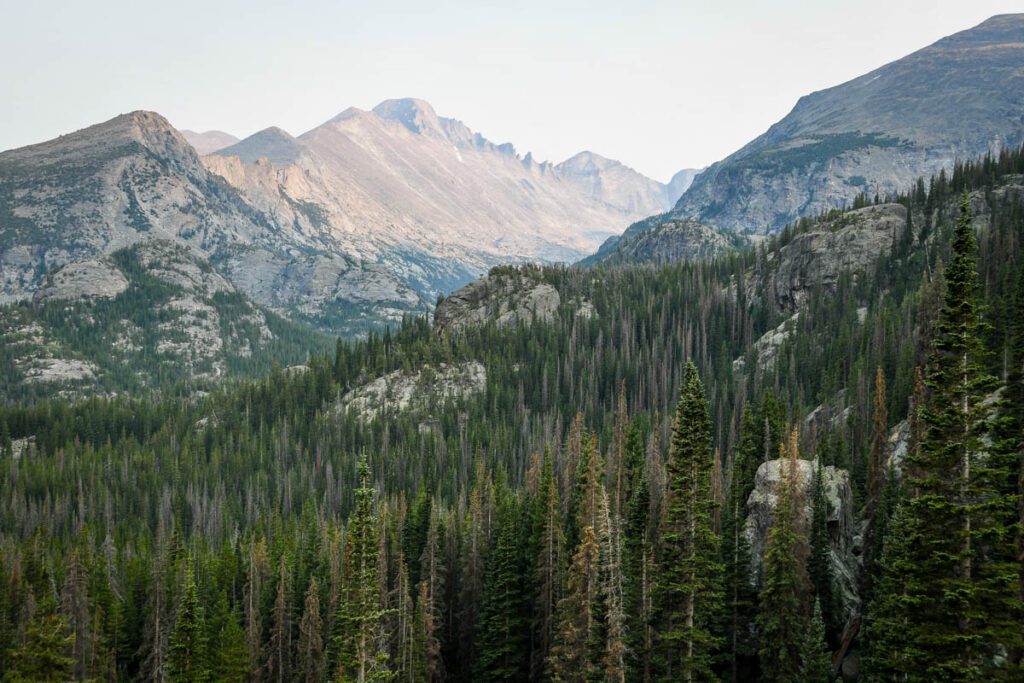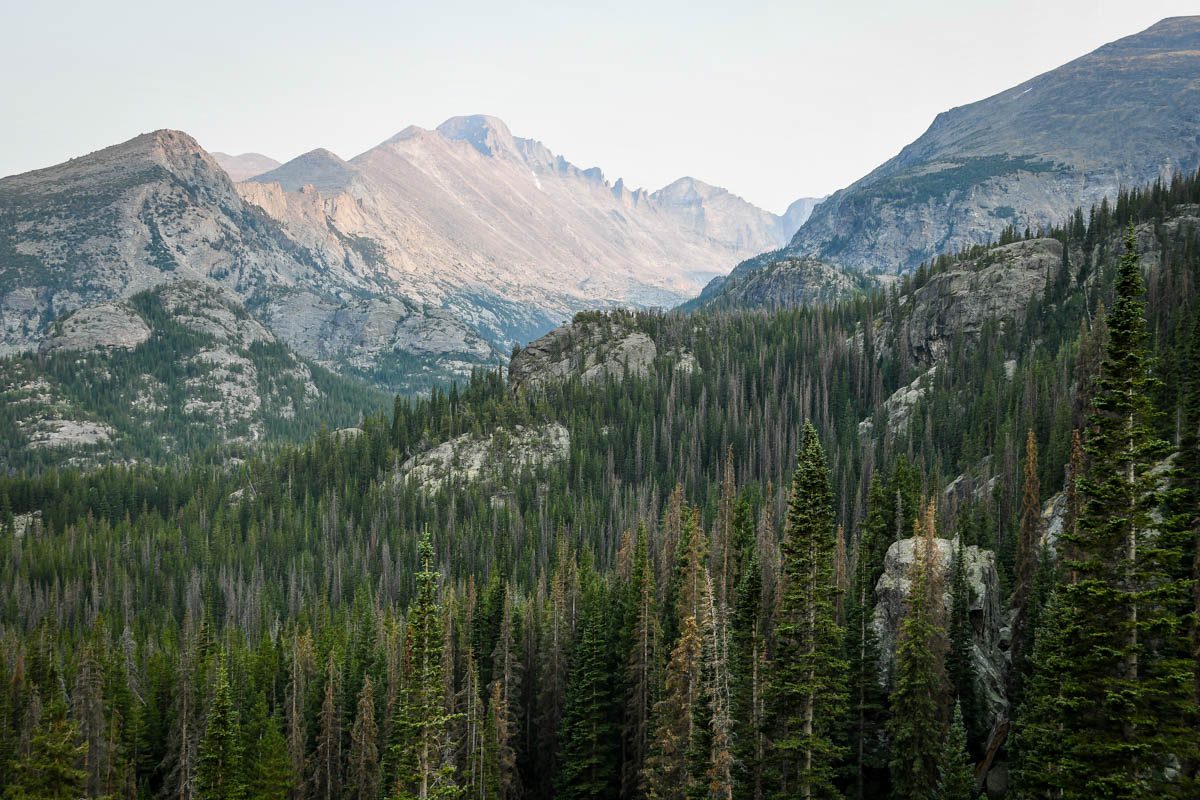 In our opinion, Rocky Mountain National Park should definitely be on your list of things to do in Colorado. Be prepared because the scenery will literally draw you in; you won't want to leave!
Some of our top recommendations for things to do in RMNP are driving the Trail Ridge Road (which crosses the Continental Divide and offers lots of viewpoint stops), and hiking the Emerald Lake Trail.
If you have the time, we've always found that backpacking through national parks is the best way to really appreciate the beauty and serenity of a park. Without crowds or closing times to worry about, you can really kick back and take it all in.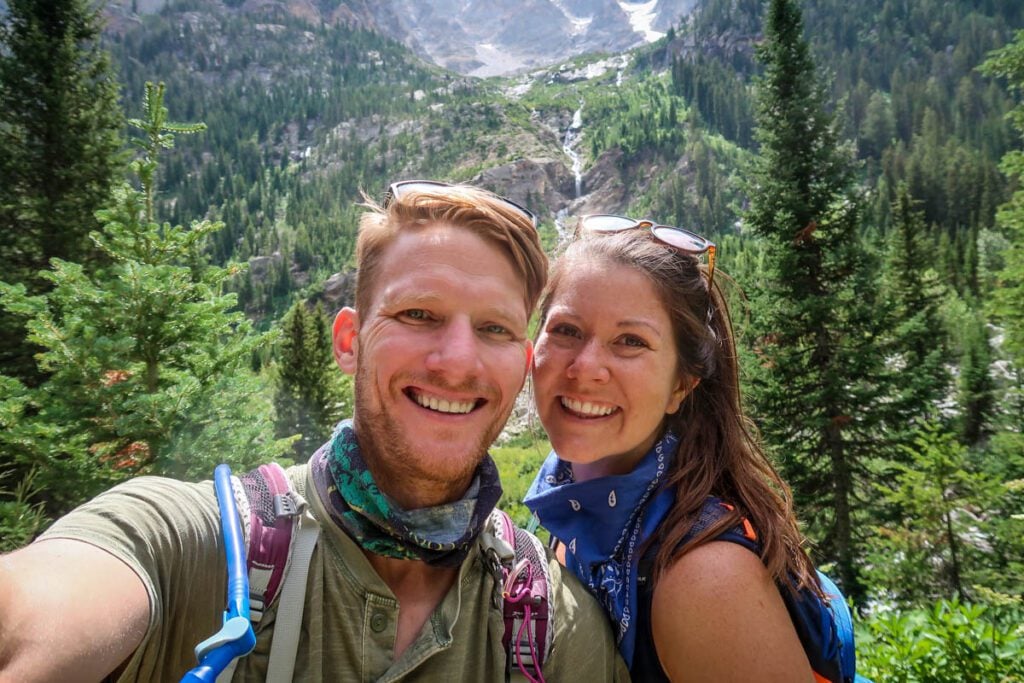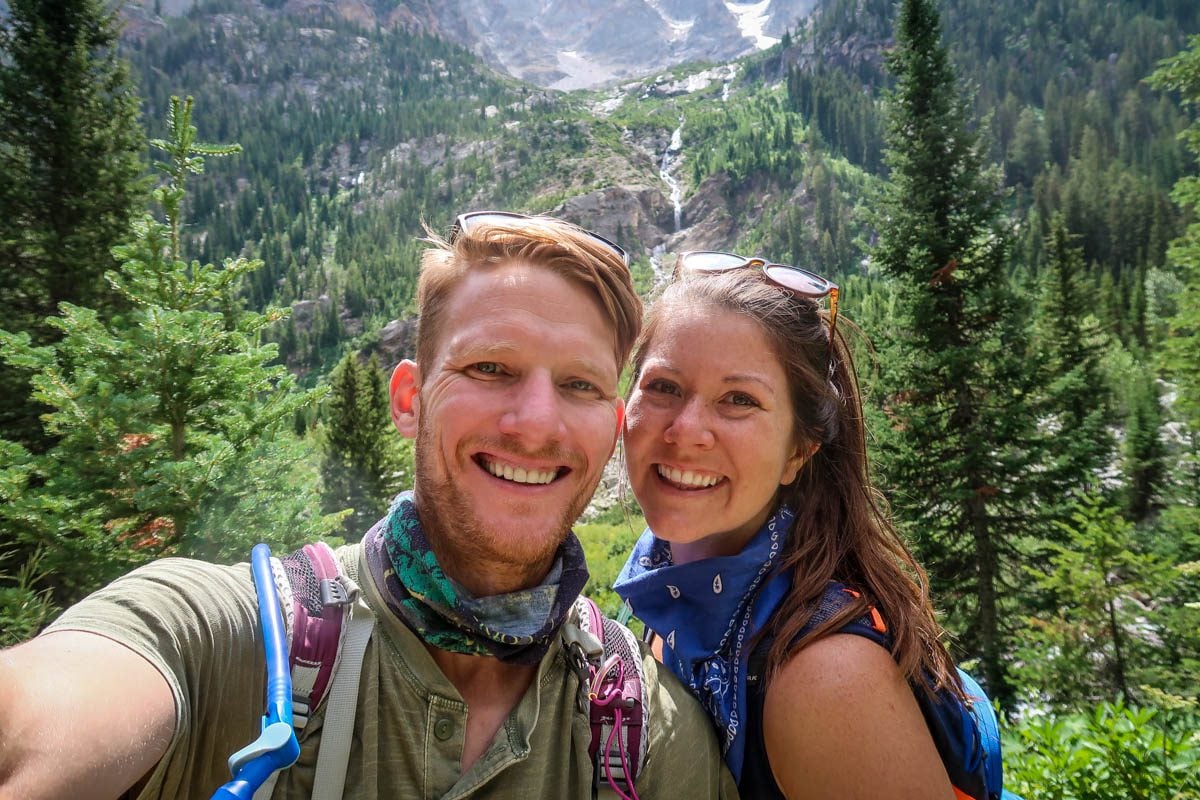 Whether you decide to go for the day or an overnight camping trip, check out our round up of the best hikes in Rocky Mountain National Park over on our sister site for some inspiration.

Entrance to the national park costs $25 per vehicle, or free with your annual park pass. We should note that getting into the park can be a little tricky due to the timed entry permits and regulations so be sure to look into the rules carefully before planning your adventure.
Psst! If you're planning on visiting more than one national park in Colorado (or elsewhere!), we'd recommend getting an annual pass. If you need more convincing, we wrote an entire article about the U.S. National Park Annual Pass and whether or not we think it's worthwhile.
4. Discover the different neighborhoods of Denver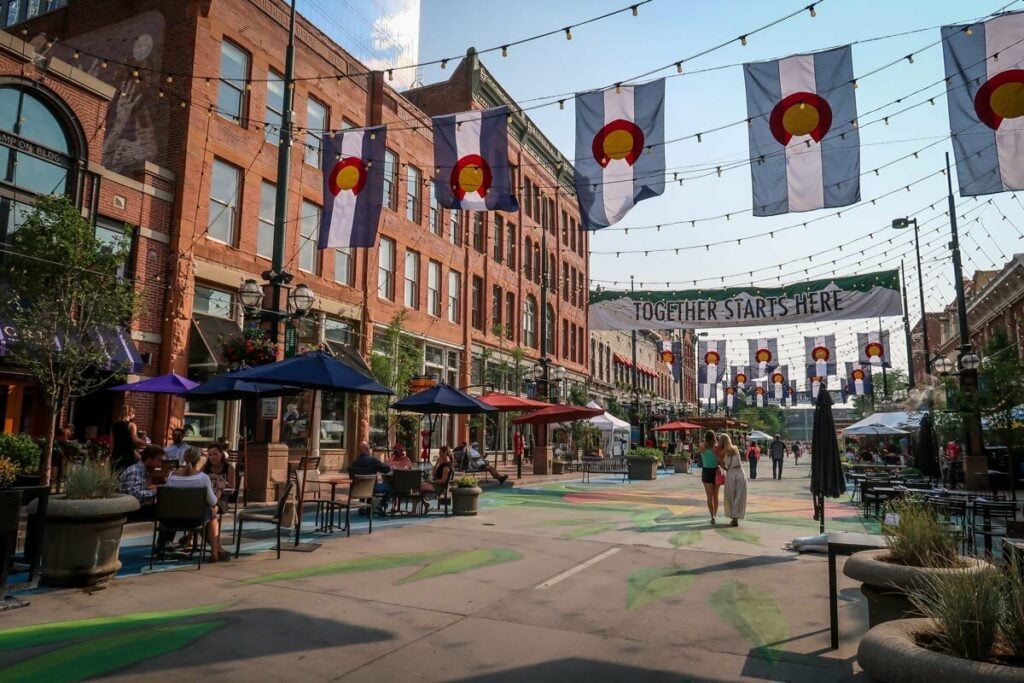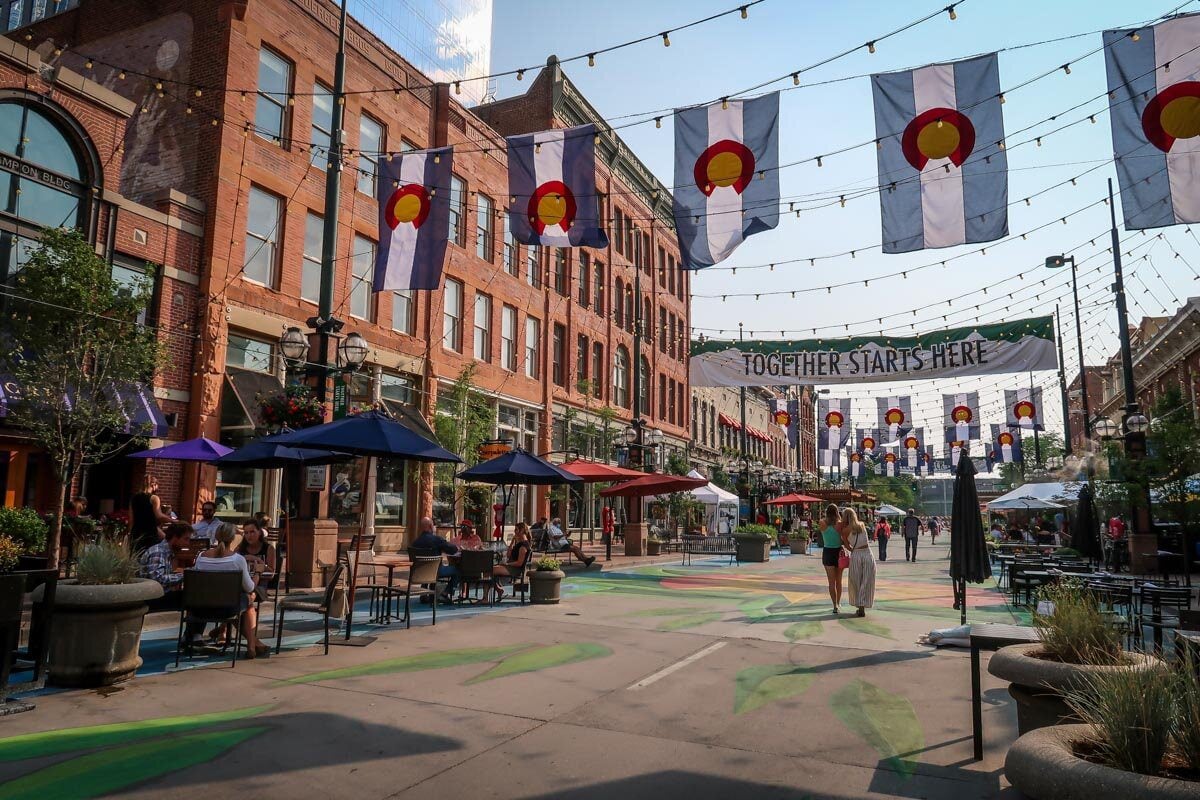 Denver is a bustling city adjacent to the Rocky Mountains that caters to nearly every type of traveler. Seriously.
Love food? Denver has some of the most delicious restaurants in the state. We recommend booking a food tour, visiting a few food trucks or heading down to a food hall in order to experience a wide array of choices in a short amount of time!
Bonus: We have an exclusive promo code just for you! Use the code TWOWANDERINGSOLES when checking out for $5 off any tour at Delicious Denver.
Love nature? Denver is surrounded by some of the most stunning sights in the nation. It is also just a hop away from neighboring towns with even more beauty to explore … if that is even possible!
Love beer? Denver has a surplus of craft breweries popping up by the second. (Full disclosure: this might be one of our favorite parts about the city!)
Love relaxing? Denver is a great place for a casual picnic in the park or an afternoon bask in the sun while floating down the river. Perhaps you'll head to Red Rocks for a stroll through the lush trails or try some Yoga on the Rocks. Maybe a little dabble with some Mary Jane, anyone?
It's something about that mountain air and the lavender sky that just makes you want to chillllll.
Love history? Head to downtown Denver for a free walking-tour. As you explore the city, you can ask questions, debunk rumors and get the best insider tips from the local Coloradans leading your tour.
Love … quirky things? Visit Meow Wolf! According to the website this art museum features 'immersive psychedelic mind-bending art.' This is definitely not your typical art exhibit and it seems insanely cool!
Okay, we think you get the picture. If you're heading to the Mile High City—which we highly recommend on any trip to Colorado—check out our complete and detailed guide for things to do in Denver.
5. Hang out in Boulder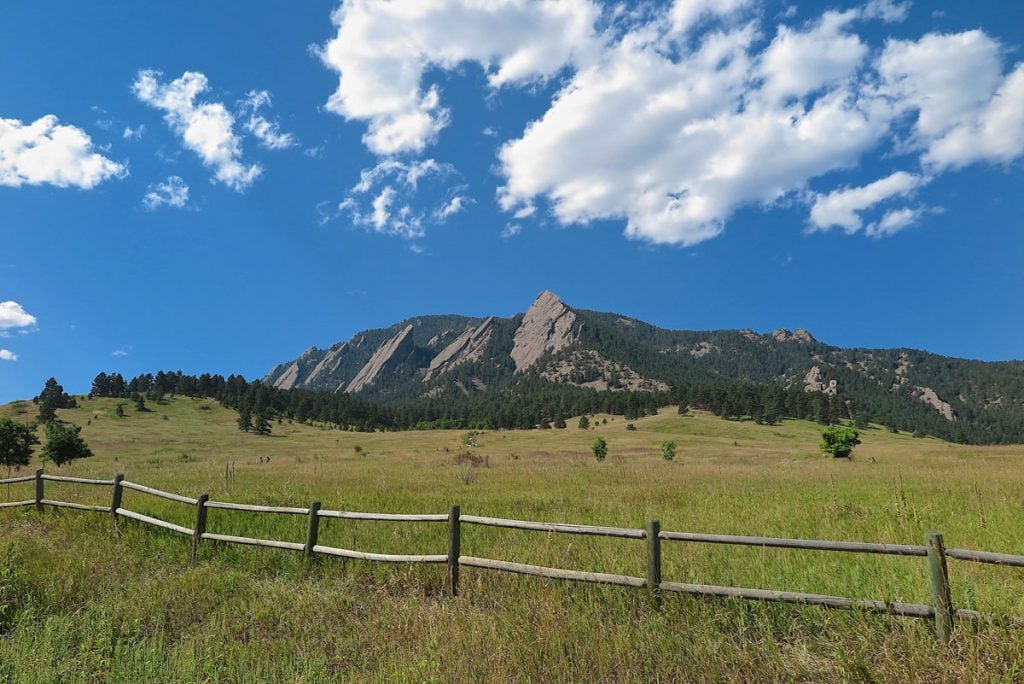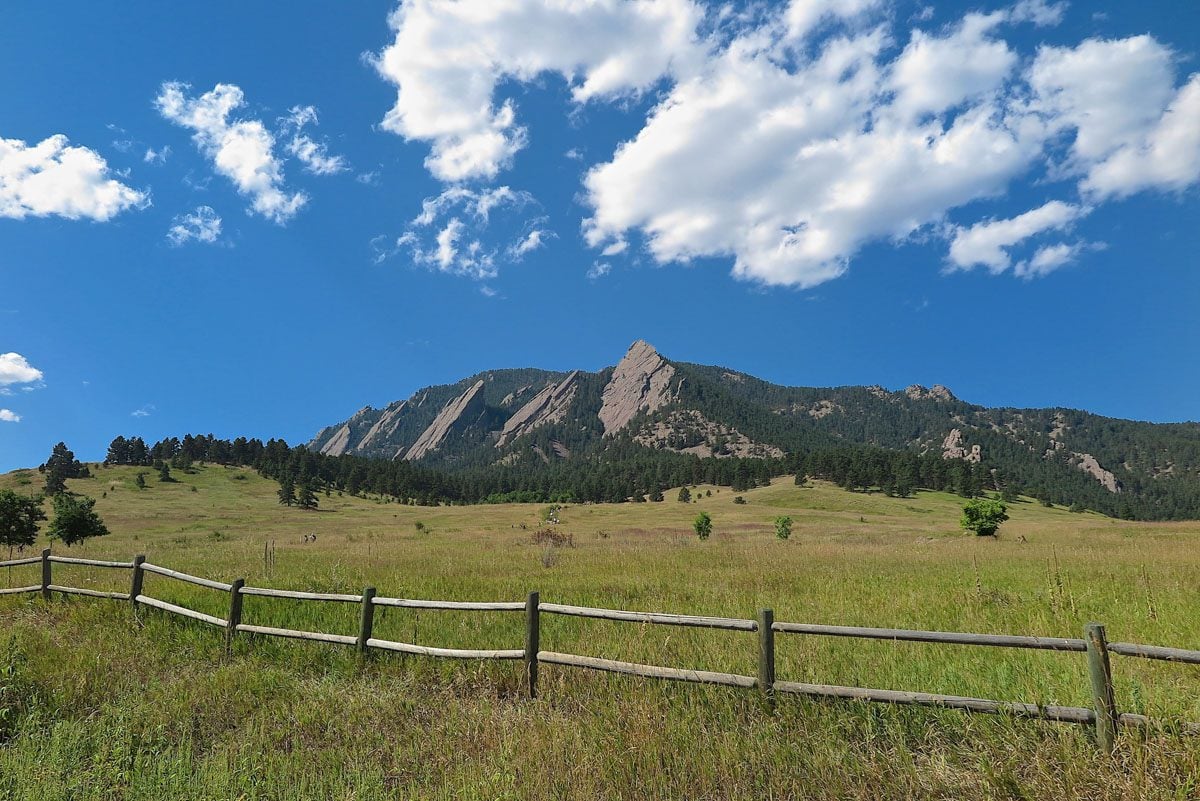 Similar to Denver, there are endless things to do in Boulder with its close proximity to nature, bustling food scene and stunning sites.
Things to Do in Boulder
Although this could easily be a much longer list, we've compiled some our of favorite things to do in Boulder:
Stroll down Pearl street. This pedestrian walkway is home to local shops, quaint eateries and more often than not—street performances! If you really want to settle into the heart of Boulder, this is the place to do it.
Attend the local farmer's market. Whenever we travel, we love immersing ourselves into the local culture; the Boulder farmer's market is an excellent place to stock up on organic produce, flowers and other goodies.
If you find yourself at the market, plan an extra little visit to the Dushanbe Tea House which is right across the street.
Spend the day at Chautauqua park where you can choose from a variety of hikes that take you straight out of the city and into Boulder's orangish-pink flatirons. You can visit the Ranger Cottage and pick a trail that suits you.
If you have a car, take a short drive to Boulder Falls and explore the waterfall.
Catching live music in Boulder is a must! There are so many music venues and locations around the city that host live music events, you could likely find one every day of the week (especially during the summer).
Take a dip in the Boulder Reservoir. In addition to swimming, you can rent paddle boards, canoes and kayaks. If you're traveling with your furry friends, there is a dog park at the opposite end where your dog can swim as well.
Eat all the food. Boulder is known for being quite a foodie city so we couldn't leave this off our list. Try some local favorites like The Kitchen, Jax Fish House or Basta. If you want to get fancy, Frasca Food & Wine is where it's at. And if you want to get off the beaten path, try Il Pastaio or Efrain's Mexican Restaurant.
6. Learn to rock climb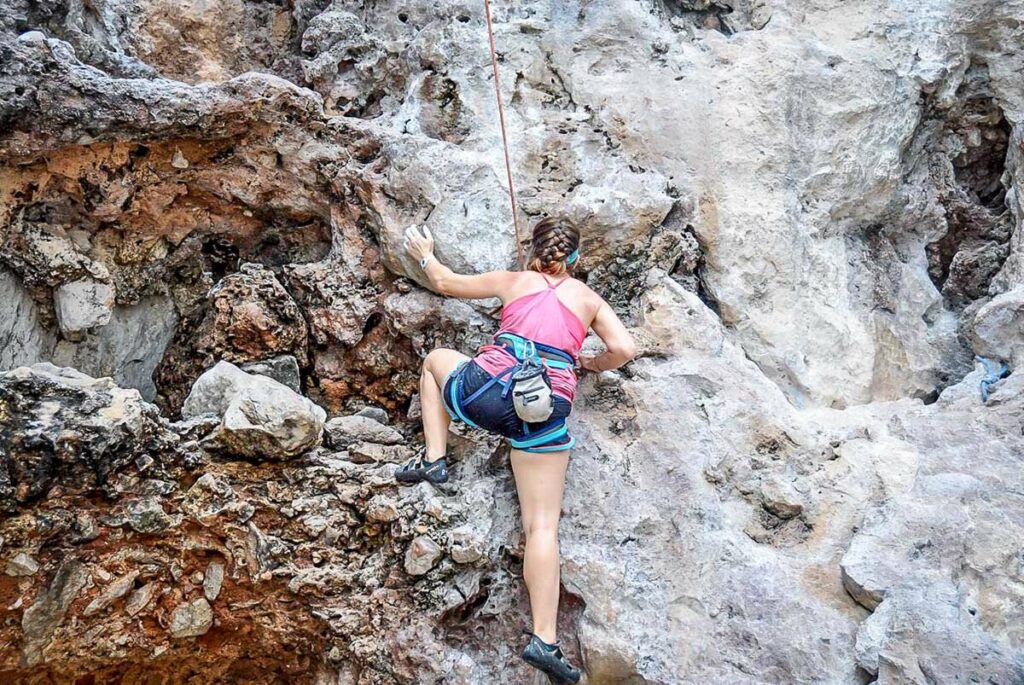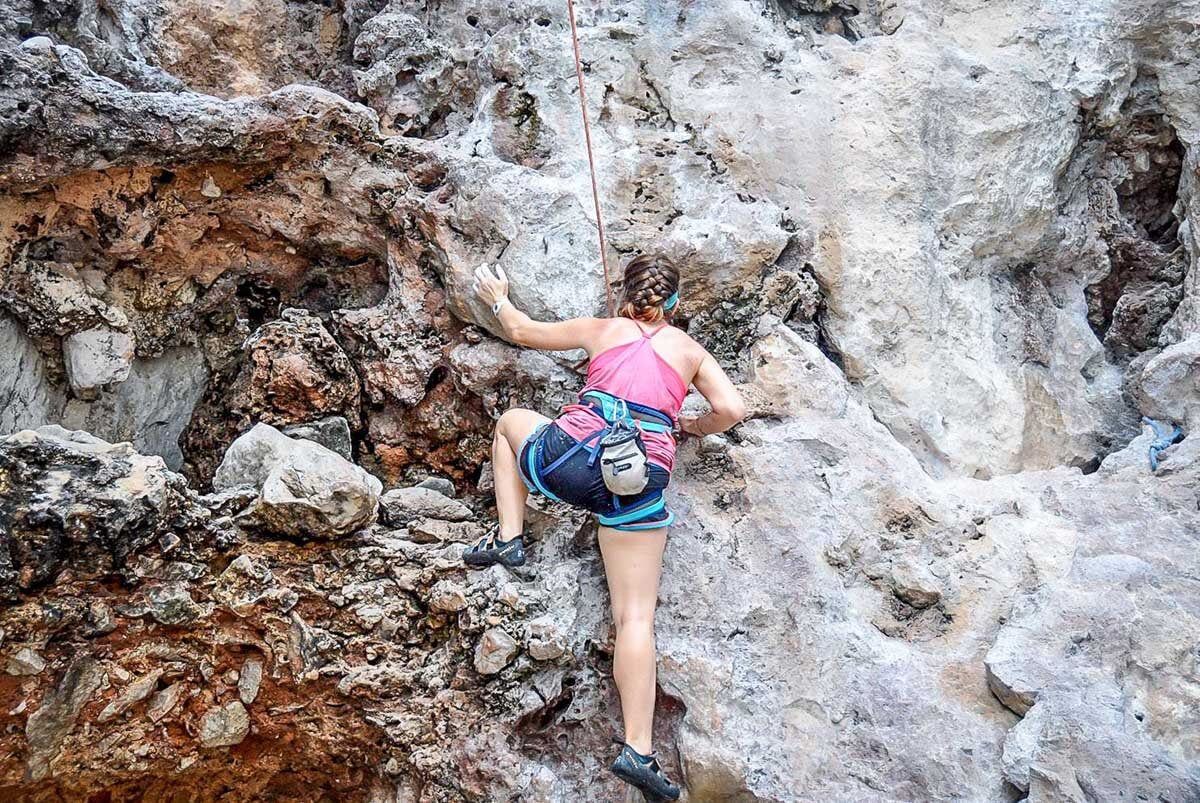 If you've been toying with the idea of a new outdoor hobby, we urge you to try rock climbing. We've tried it a handful of times and have found every experience quite incredible; we wish we did it more often!
Take one look at the scenery in Colorado and you'll likely agree that this is a great place to try out rock climbing for yourself.
Not sure where to start?
Denver Climbing Co. offers an array of courses whether you're a novice (and have never touched a rock before) or a veteran climber.The coolest part about this company is they take you straight into the 'field' so you'll be practicing on real rocks versus in a gym.
The Colorado Climbing Company, located in Colorado Springs, is another reputable company that offers training courses on actual rocks preparing you for all kinds of climbing conditions. They also offer ice and snow climbing tours—brr!
If you're an expert climber and don't need training, both these companies still cater to you. Instead of classes, hire an expert guide for your adventure. If you're traveling and don't want to lug around your climbing gear, each of these companies provide all the professional equipment you need.
Take it indoors…
Although we love the idea of practicing rock climbing outdoors, we understand that might not be for everyone. Movement is an innovative climbing gym with locations throughout Colorado. You can practice rock climbing with the comfort of knowing there is a padded floor beneath you!
In addition to climbing, this gym offers additional courses such as yoga and strength training—all important skills if you're looking to up your climbing game (and bod!).
7. Take a food tour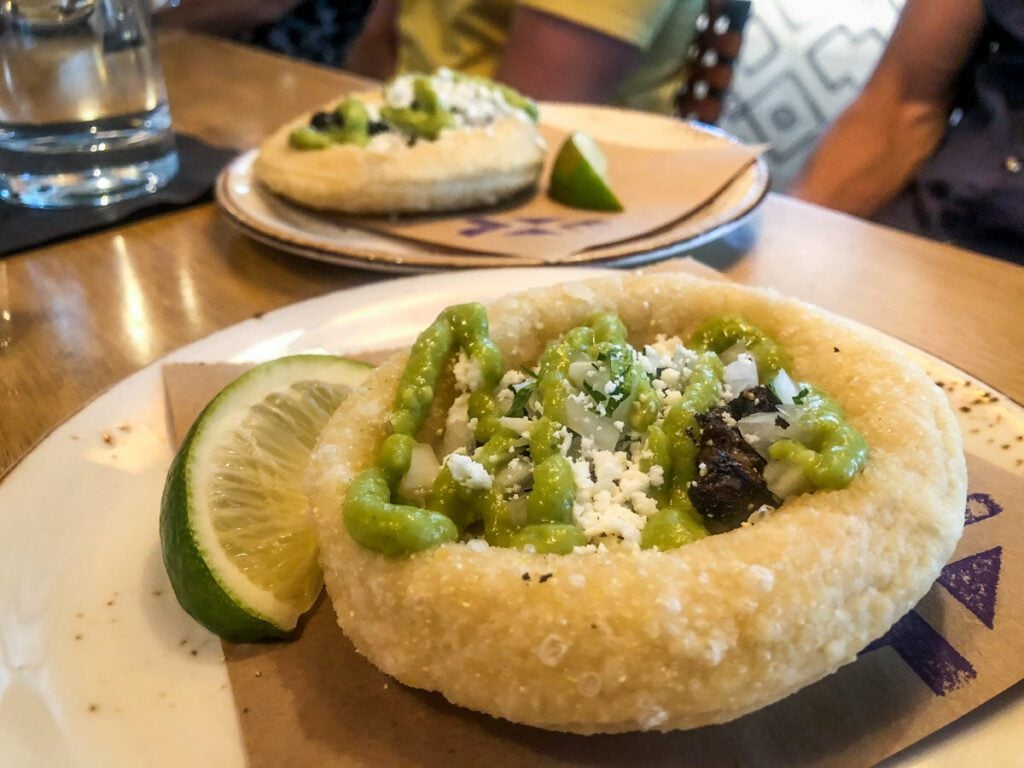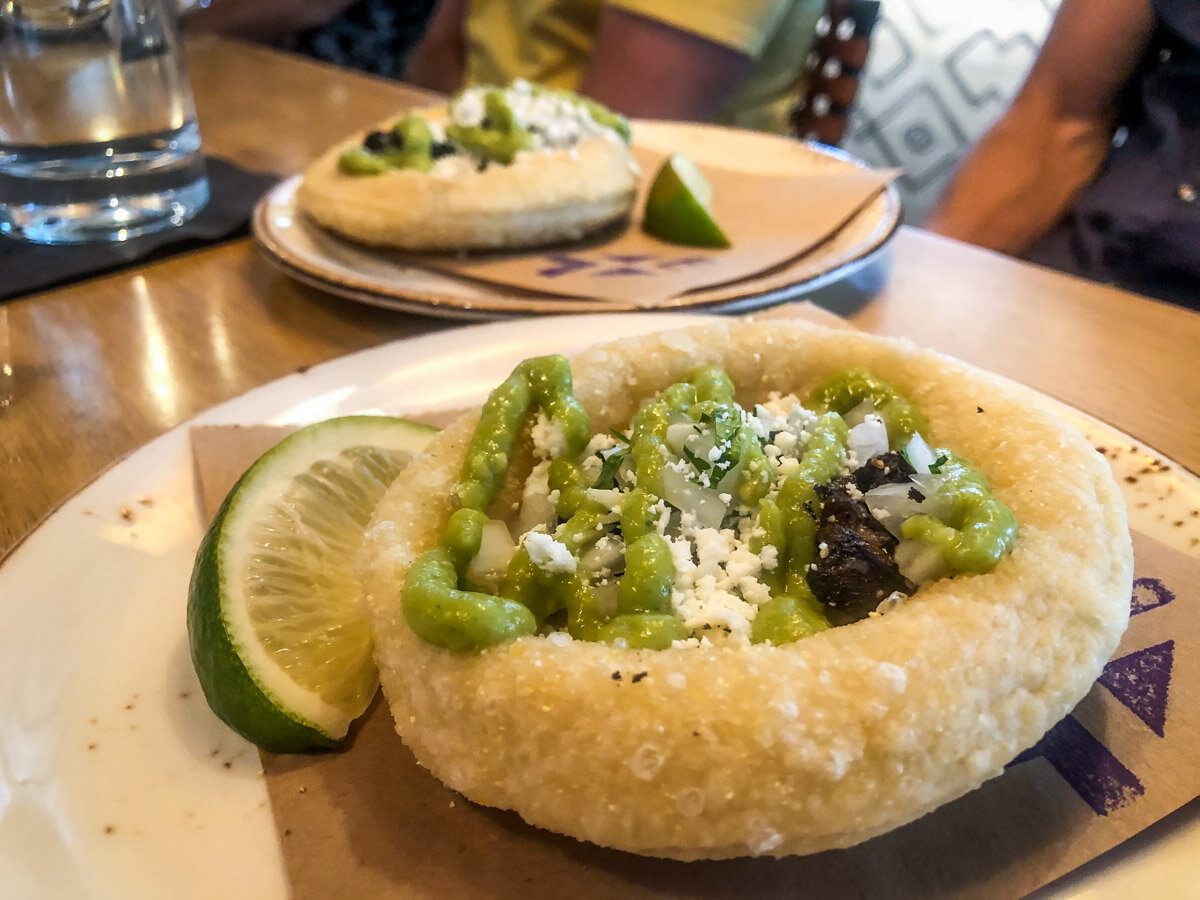 Whenever we explore a new place, we have serious FOMO when trying to choose a restaurant. How can you possibly choose correctly when you have hundreds upon hundreds of options and recommendations in front of you…?!
We feel you. Choosing a place to eat is completely overwhelming and we're getting twitchy just thinking about it.
Our solution? Book a food tour!
We often take food tours when visiting a new city because we love that you get to try a variety of dishes in a short amount of time. Led by locals, you always get insider information, mini-history lessons and well, get to eat loads of unique, local deliciousness!
The best part? You don't have to make any tough food decisions! The guide takes care of it all…
If you're in Denver, we highly recommend booking your food tour through Delicious Denver. The experience was outstanding and the food … honestly, our mouths are watering just thinking about it!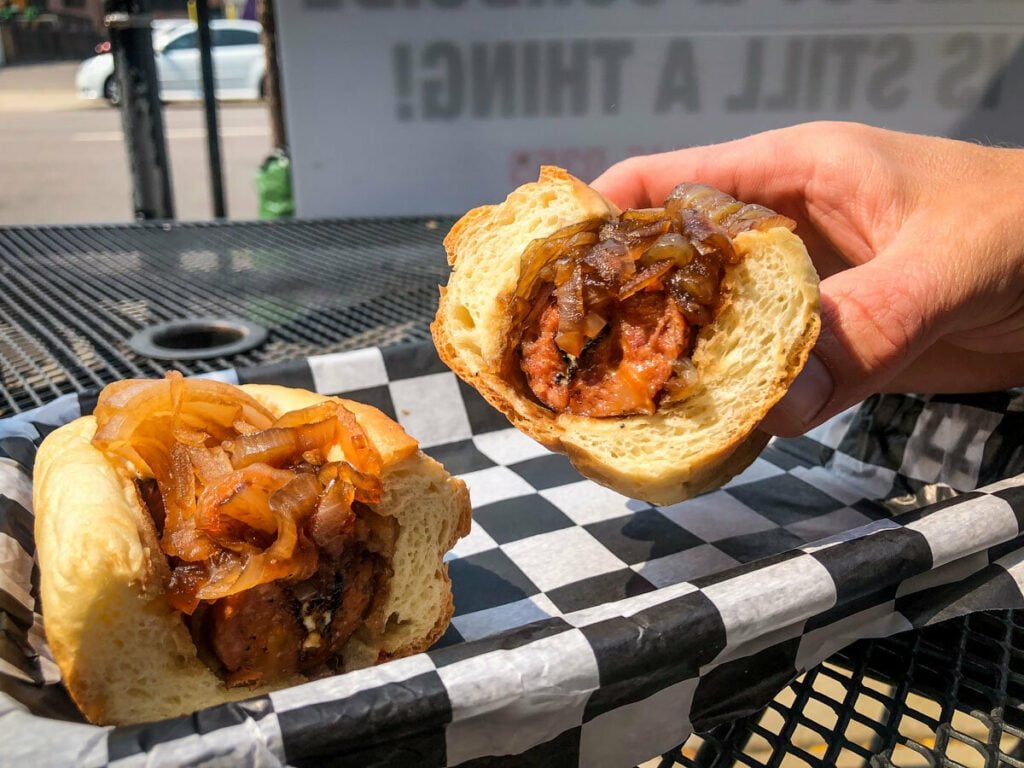 This company is unique in that it offers a few different options and itineraries to choose from (Okay, so I guess you have to make some decisions!).
The Downtown Food Tour will have you eating your way through downtown Denver, Union Station and the stadium. This 3-hour tour includes 5 tastings, 3 cocktails and costs $90 (or $65 if you opt out of the booze). It runs Thursday-Sunday from 1-4 p.m.

This is the tour we took & really loved it!

The Cocktails & Tastes Tour is pretty much exactly what it sounds like: a tour of specialty cocktails … Yes, please! On this tour, you'll move through Union Station and Dairy Block. It includes 4 cocktails, 3 appetizers and costs $85. It runs Wednesday through Friday and Sunday from 4:30-6:30 p.m.
The Food & Beer Tour takes you a little outside of downtown Denver to River North. Known for its unique street art and famous breweries, this tour gives you a taste of both! You'll visit 5 restaurants for tastings and receive 3 cocktails for $90 (or $65 without alcohol). It runs on Friday and Saturday from 1:30-4:30 p.m.
The Denver Wine Walk pairs you with a Denver wine expert who will take you to some of the best downtown locations for locally-made wine. The tour includes 8 wine tastings and 6 paired tastings. It is $99 and only runs once a week on Saturdays from 4-6:30 p.m.
Bonus: We have an exclusive promo code just for you! Use the code TWOWANDERINGSOLES when checking out for $5 off any tour.
8. Go brewery hopping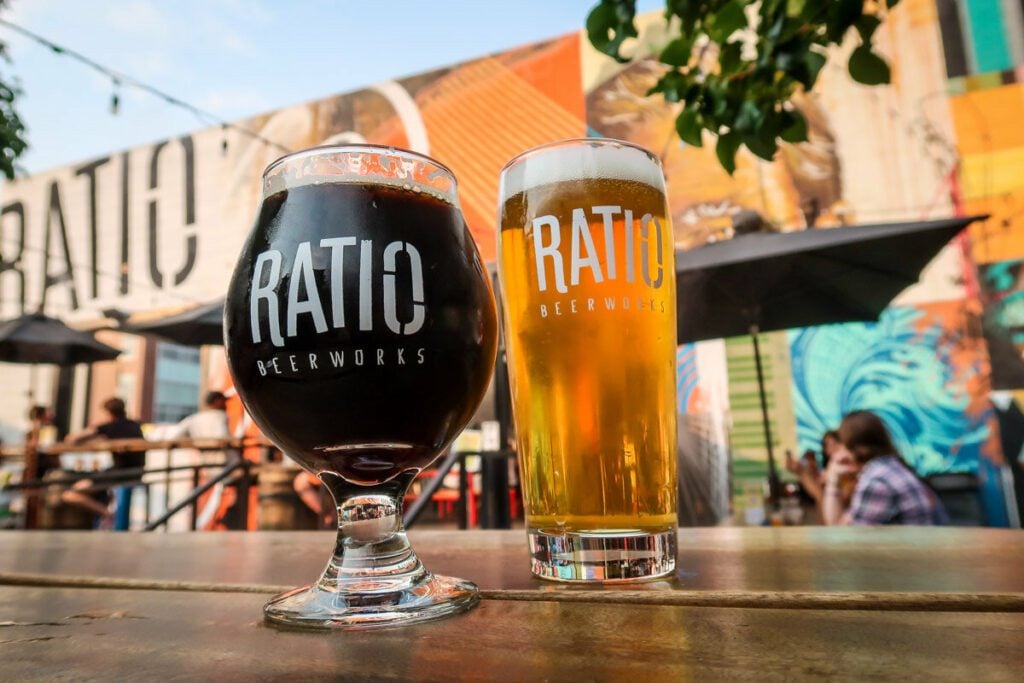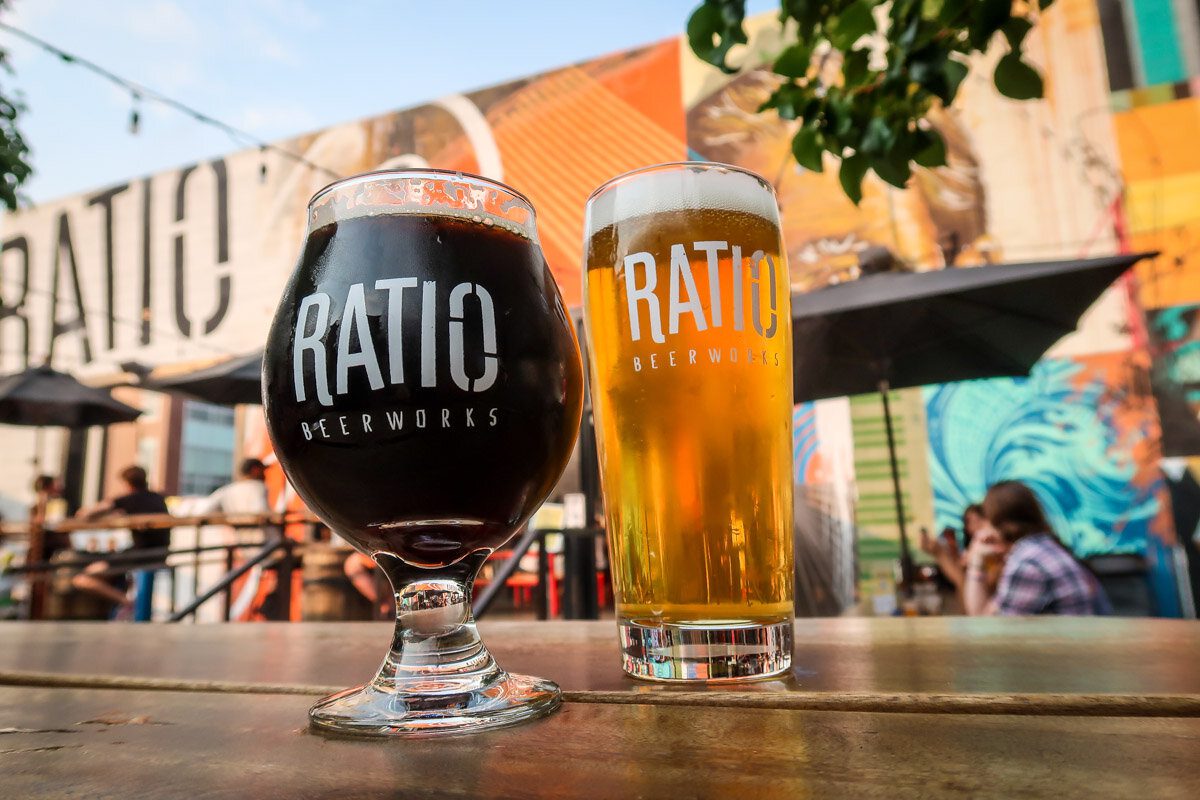 One thing that becomes glaringly obvious while traveling through Colorado is that Coloradans love their microbrews. Which is honestly excellent news for us because … so do we!
With over 400 established breweries, it is nearly impossible to go anywhere in Colorado without finding a place to stop for a craft beer.
Planning your own brewery hopping tour is a great way to experience the craft beer scene and one of our favorite things to do in Colorado!
We've compiled a list of popular breweries to explore by city; some of these we can personally recommend, but others are on our own 'to do' list for the next time we visit.
Breweries in Denver
Pro Tip: Denver's official website offers this handy Beer Trail Map that will help you plot out your brewery tour by neighborhood!
Breweries in Boulder
Breweries in Fort Collins
Insider tip: Fort Collins Brew Cruise allows you to choose three breweries in Fort Collins and tour them via bicycle! (See #31 on this list for more information!)
Breweries in Lyons
9. Have a play date with Mary Jane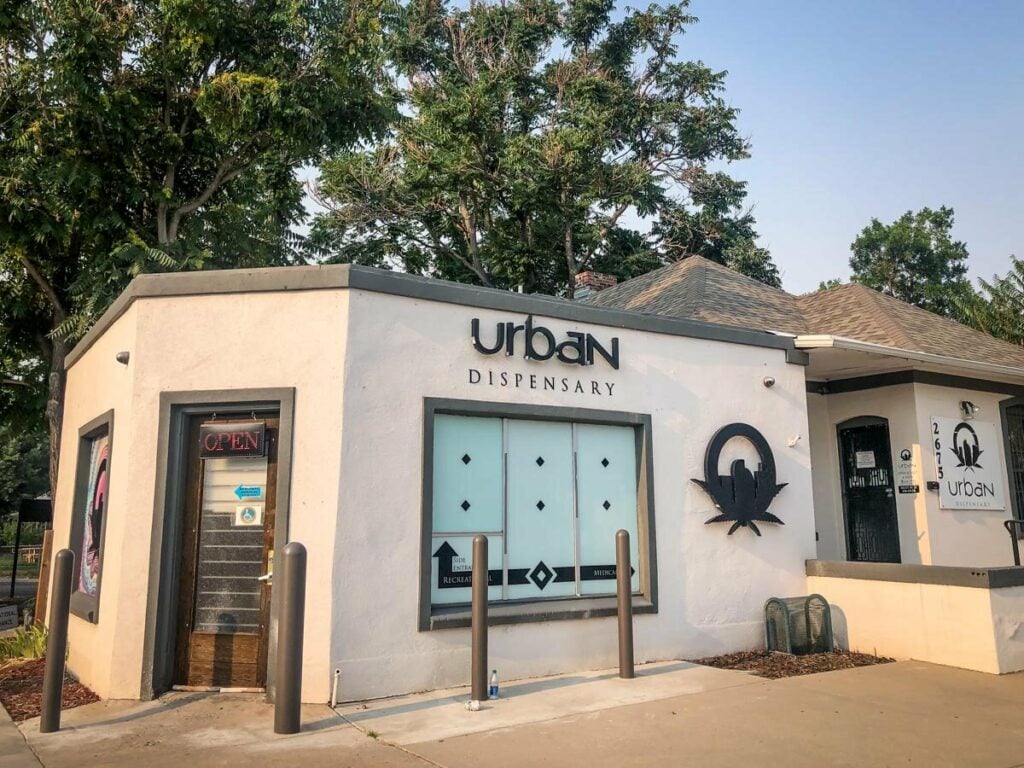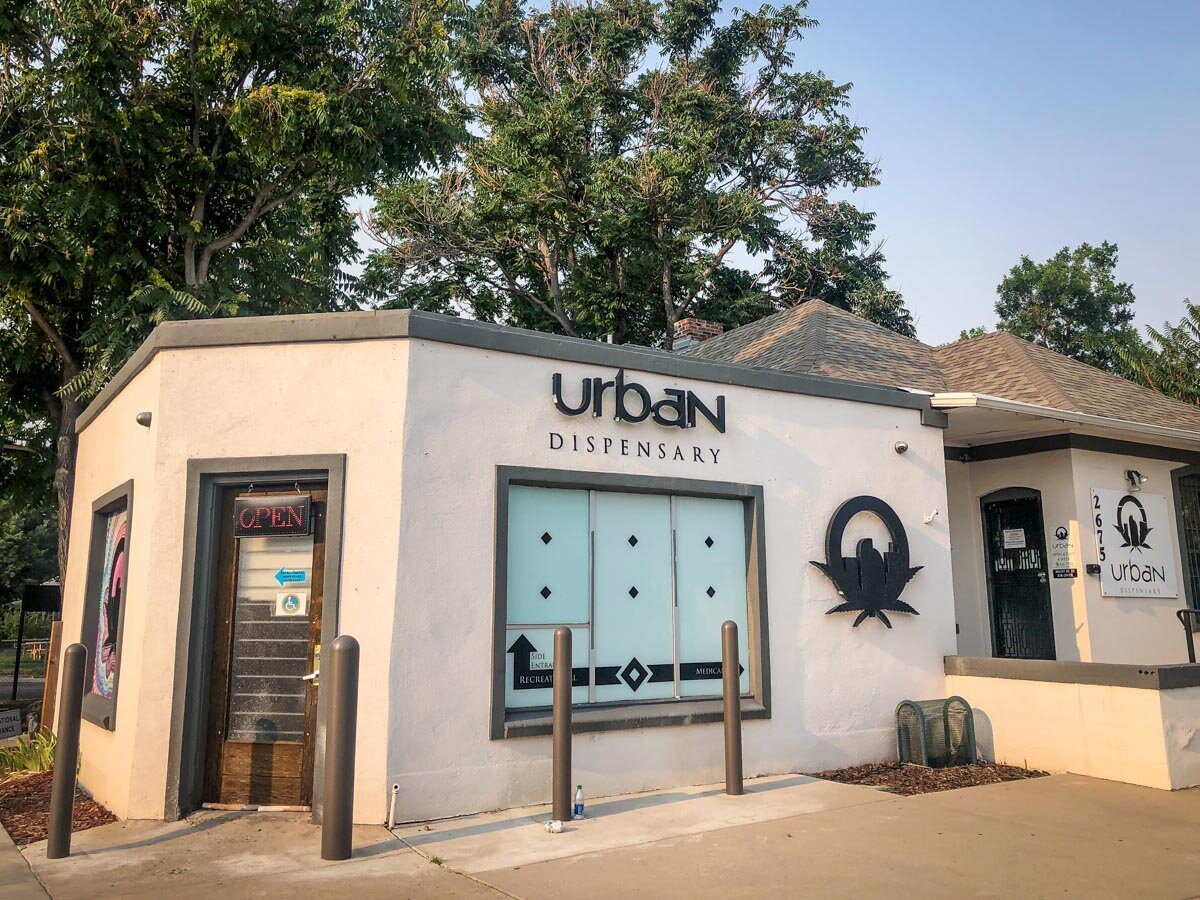 If you're from a state that hasn't yet legalized recreational marijuana, you might consider taking advantage of having a very legal puff in Colorado.
There are dispensaries peppered all around the state and a quick Google search will help you locate one near you.
If you're not quite sure what you're looking for, we recommend having a chat with the employees as they are quite knowledgeable and can help you!
Some important things to note:
You must be over 21 to enter a dispensary
Don't forget to bring your ID
Bring cash since many dispensaries don't accept credit cards
You cannot consume marijuana in public places
Do not drive under the influence
You cannot share marijuana with a minor
Be sure you do not take it with you outside of California (and definitely not on the plane!)
Other marijuana-forward activities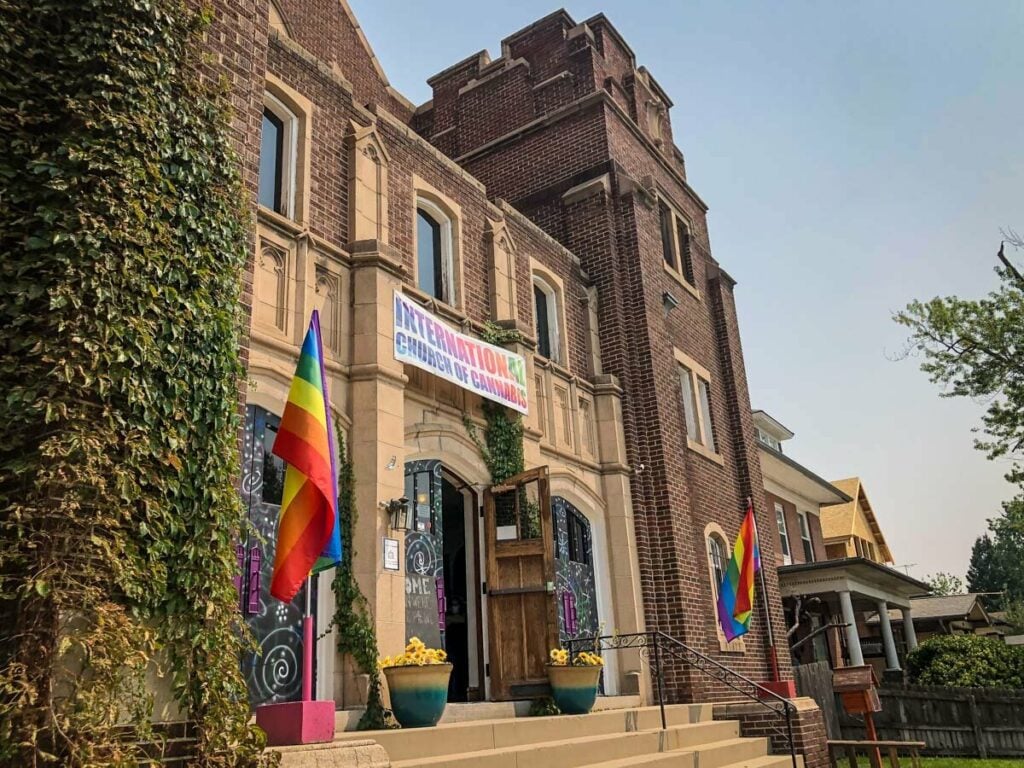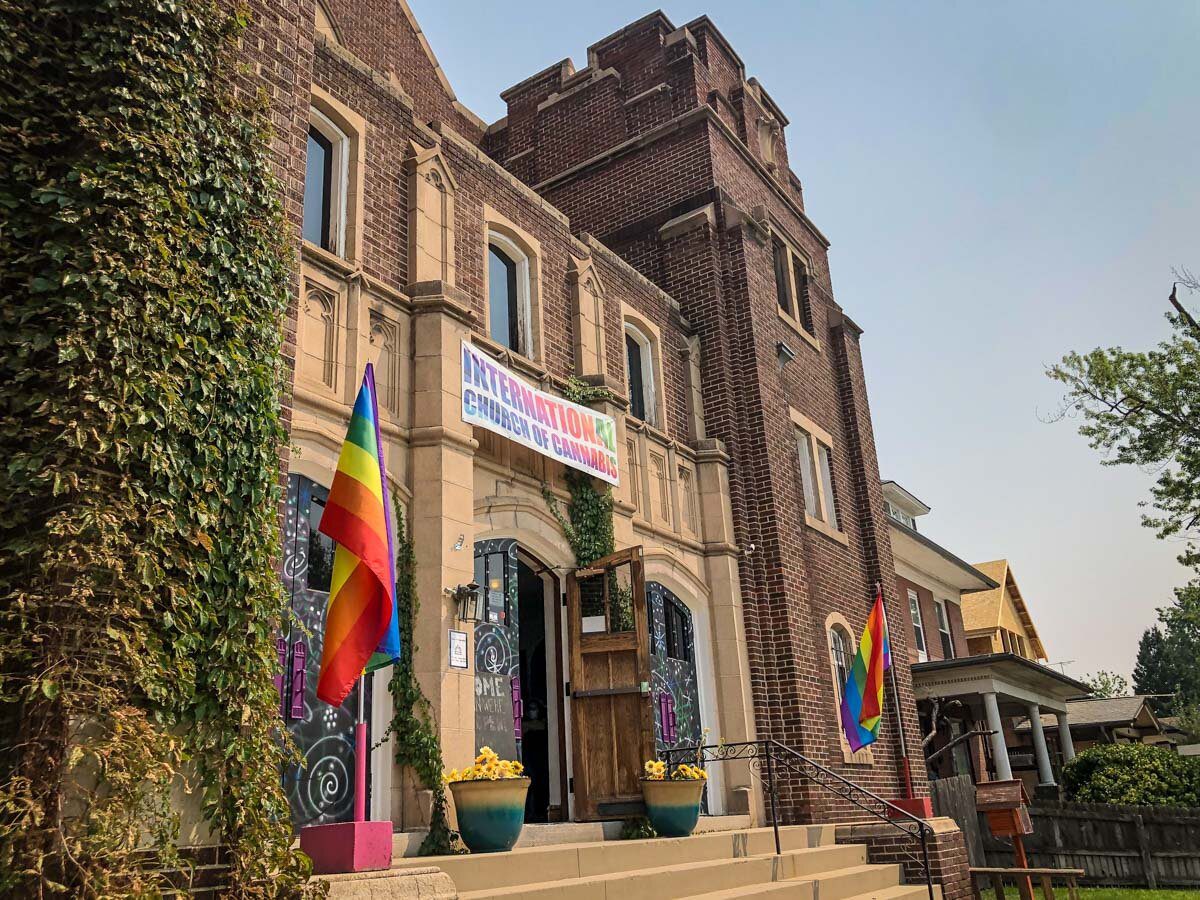 Aside from visiting a dispensary, Colorado has gotten pretty clever in their marijuana-induced activities.
Bring your own marijuana to … yoga!? There are a few yoga studies popping up that welcome participants to smoke while they stretch. Bend & Blaze is a studio in Denver where yogis can bring their own weed and incorporate it into their practice. This takes zen to a whole new level; I kinda want to try it!
Paint & Puff! Similar to those wine and painting nights, Colorado Cannabis Tours offers a variety of classes that incorporate a bit of Mary Jane with your art. We love some of the class names: Puff, Pass & Pottery or Puff, Pass & Paint. There are other companies that offer similar activities, too.
Another unique attraction is their cannabis cooking class which teaches you methods of infusion and dosages for making edibles. It is run by an edibles chef (those are a thing!?) The cooking course is $89 and runs on Sundays from 12-1:30 & 2-3:30.
Praise be the pipe? Believe it or not, there is actually a cannabis church in Denver! From what we understand, members of the International Church of Cannabis use marijuana as part of their spiritual practice.

The church is especially famous for its murals and they offer a daily guided meditation tour of the interior and their laser light show called 'Beyond.'In our opinion, the cost is quite high at $25 per adult, but if you're interested the shows run frequently—20 past the hour, every hour, every day of the week!

Friday – Monday: 12-8 p.m.
Tuesday – Thursday: 4-8 p.m.

Take a Cannabis Tour: Seeing as Colorado was the first state to legalize marijuana, the growing history of bud is quite interesting. My 420 tours offer a variety of packages that bring you on a cannabis tour. The company also offers other quirky activities like sushi & joint rolling class—that's one way to kill two birds with one stone! (Haha, see what I did there??)
10. Eat at some of the best restaurants in the country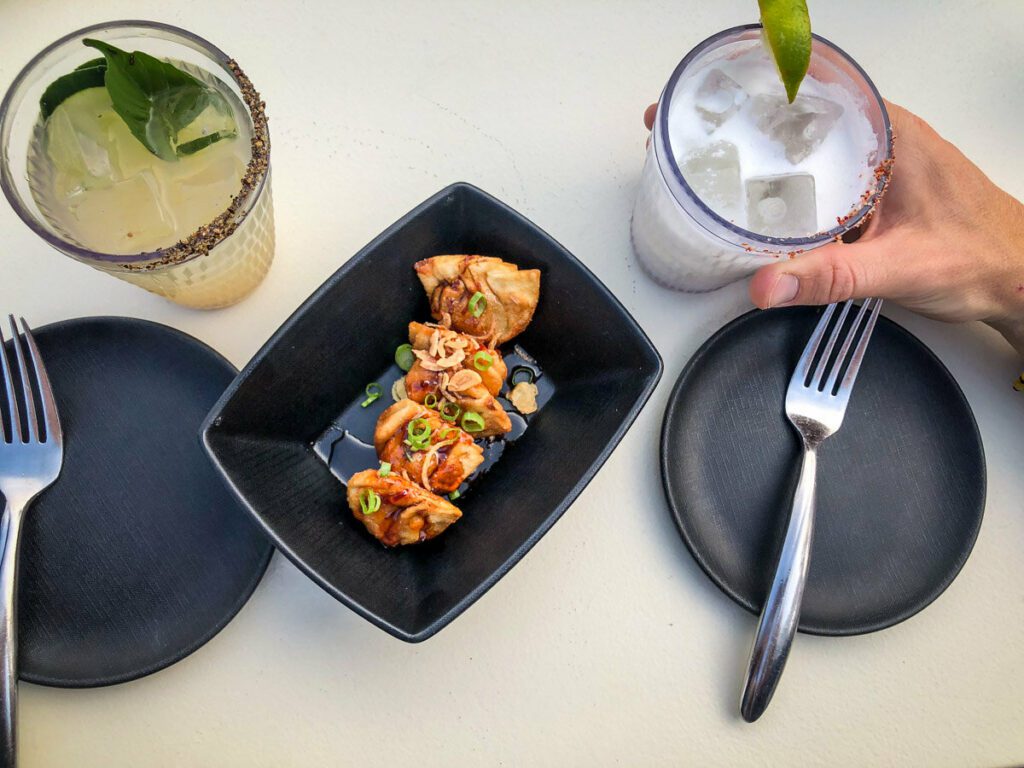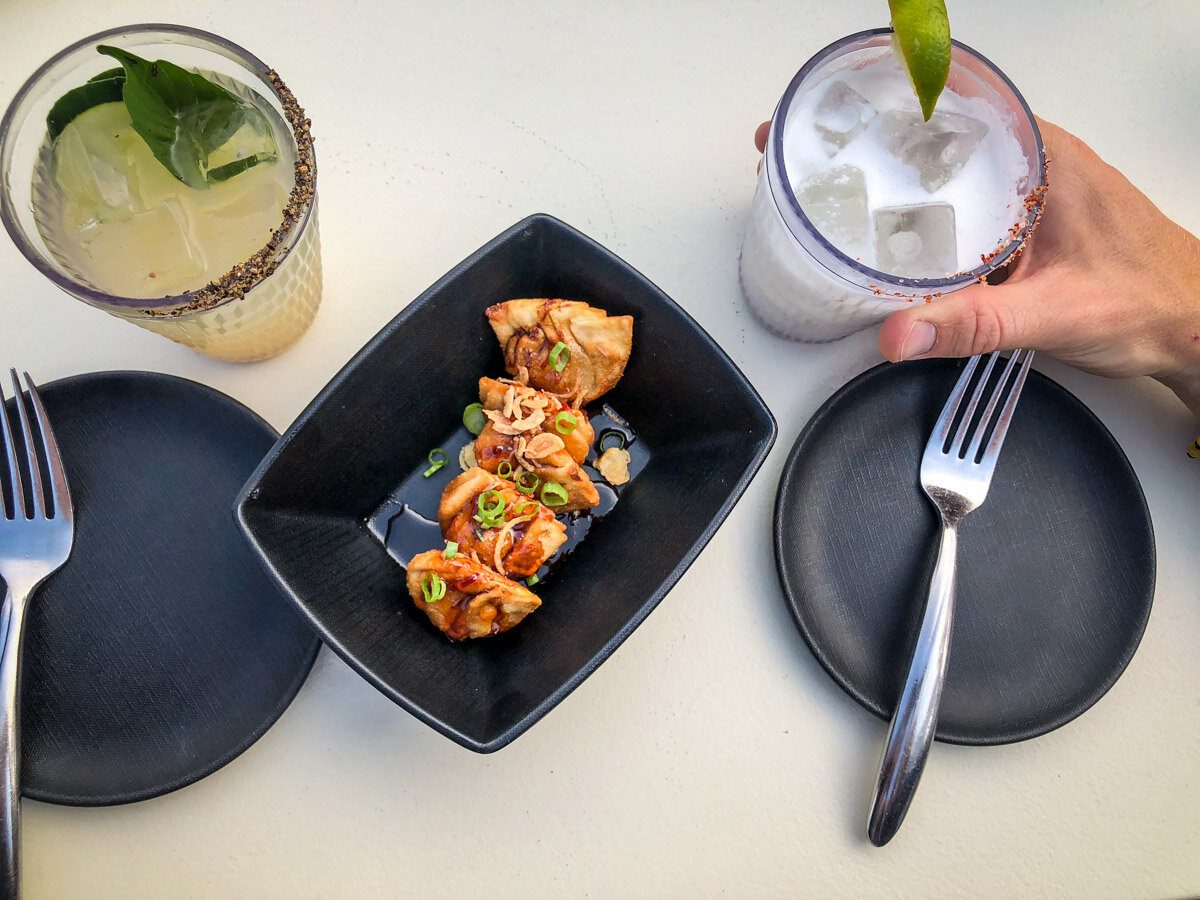 If you spend some time exploring all of the outdoor adventures and things to do in Colorado, you're bound to get a little hungry.
Fortunately, Colorado offers an enormously wide variety of amazing restaurants serving up specialties from gourmet hot dogs to Rocky Mountain oysters. You'll have no issue finding something delicious eats to get you re-energized for more exploring.
While there are phenomenal places to eat all around the state, we've broken up our list to our restaurant recommendations in Denver and Boulder.
Is there a notable place that needs to be on our list? Please let us know by commenting on this article!
Restaurant in Denver
Restaurant Recommendations in Boulder
11. See live music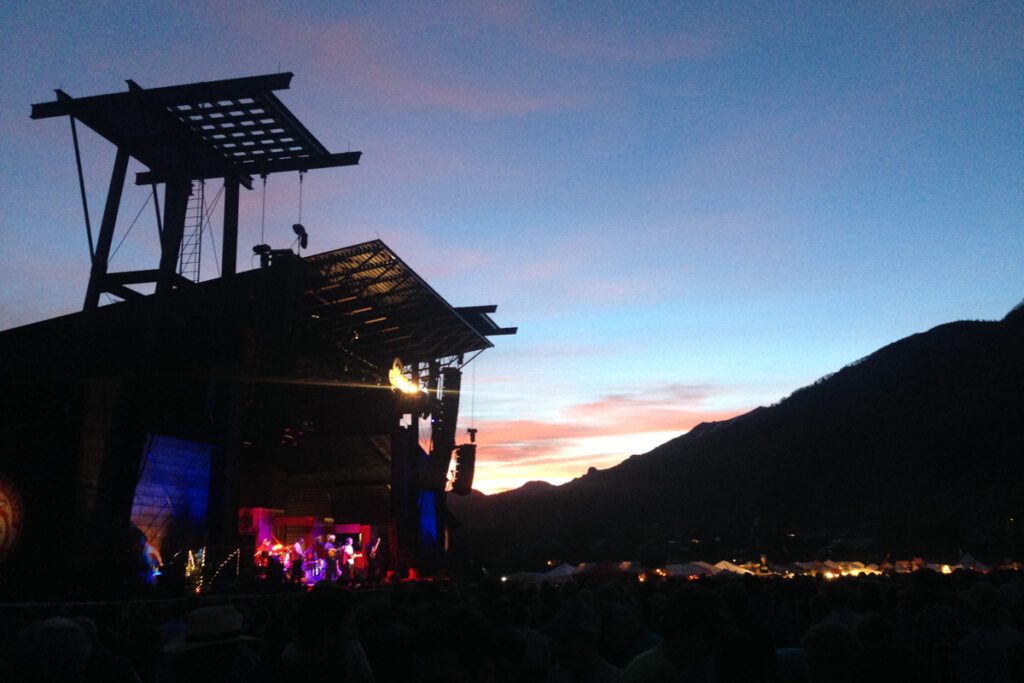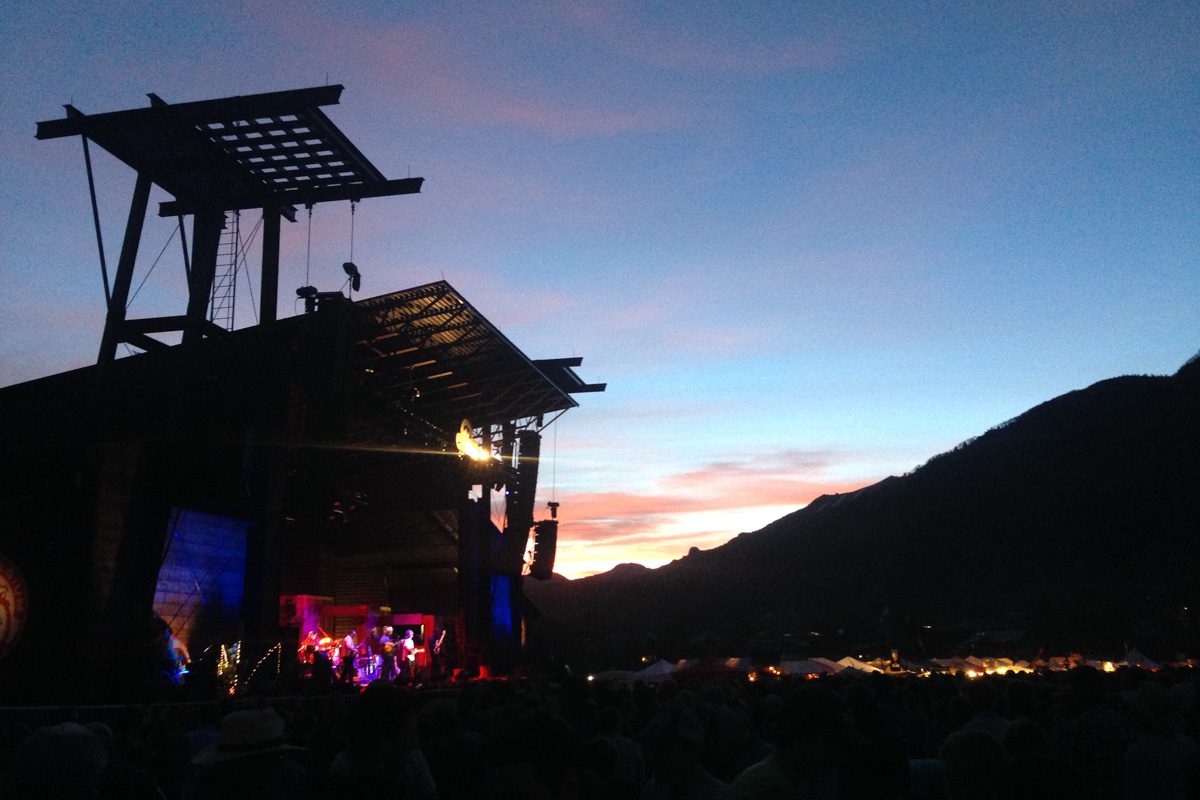 Settling in to listen to some live music after a long day outdoors is one of our favorite things about Colorado. The music scene is seriously epic. And we love it!
If you're looking for things to do in Colorado, you can find live music on any given night of the week. However, if you're traveling in summer you'll have even more opportunities to catch a show and you'll definitely want to take advantage of the various outdoor concerts around the state. There is nothing better than being surrounded by the Rocky Mountains and breathing in the fresh air while listening to live music.
Check out some of Colorado's best live music bars and venues:
Please note that this is not, by any means, an exhaustive list—you can walk down pretty much any main street in the popular towns in Colorado and find some great live music options.
12. Float down the river in Golden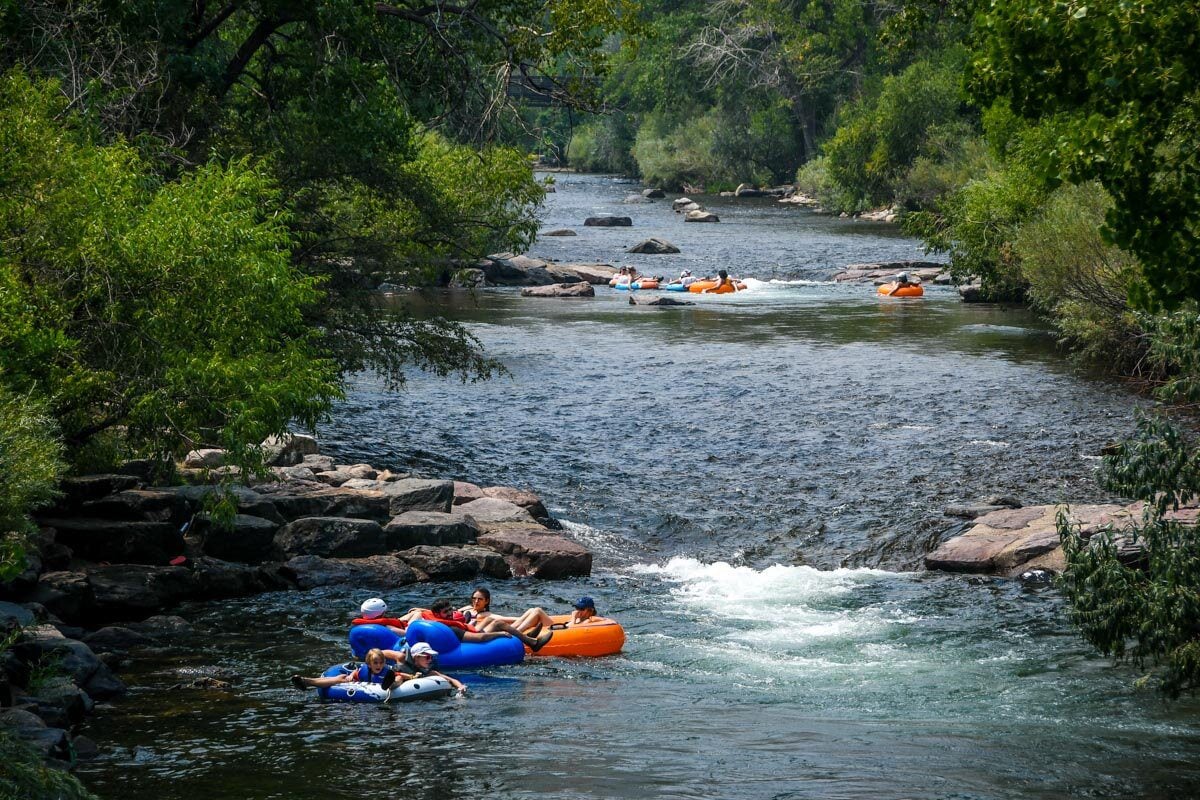 Summer in Colorado can get pretty hot which makes any activity involving water an outstanding option for keeping cool. A float down Clear Creek in Golden is a popular summer activity for good reason: it is super relaxing and the scenery is gorgeous.

You can bring your own tube, or rent one for $20 (single) or $40 (double) through Adventure West. We recommend booking your tube ahead of time as they book up quite quickly in the summer months.
You can start your float at various points along Clear Creek and end at Parfet Park. The float takes about 1 hour, so you can easily do multiple laps! You might consider packing a little cooler for your float filled with some craft beers from Golden City brewery to make it a really local experience.
13. Hike to Hanging Lake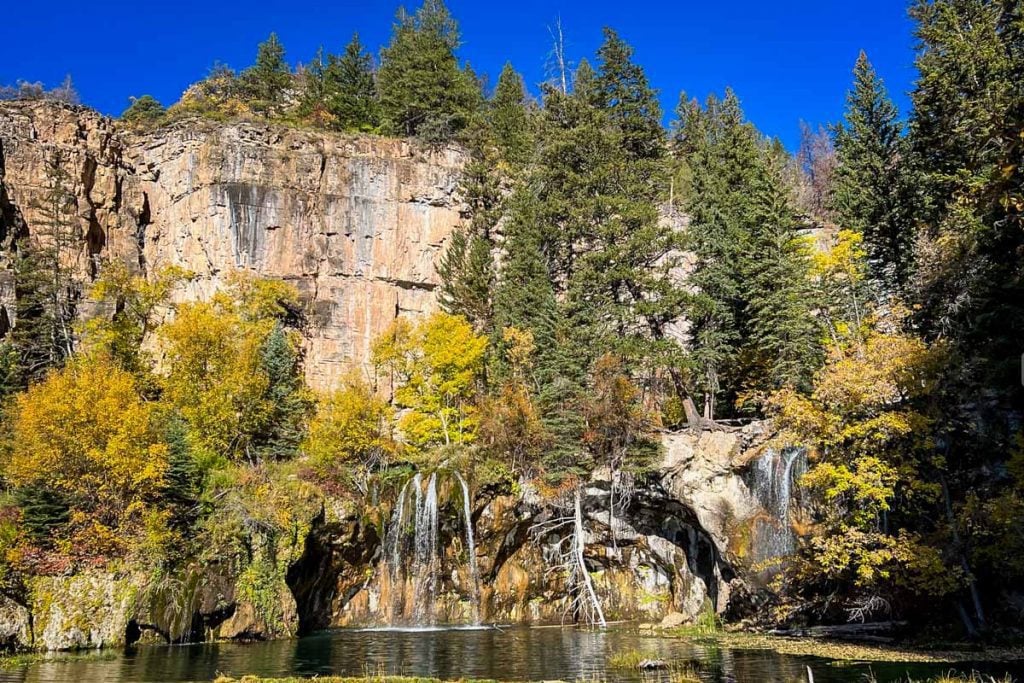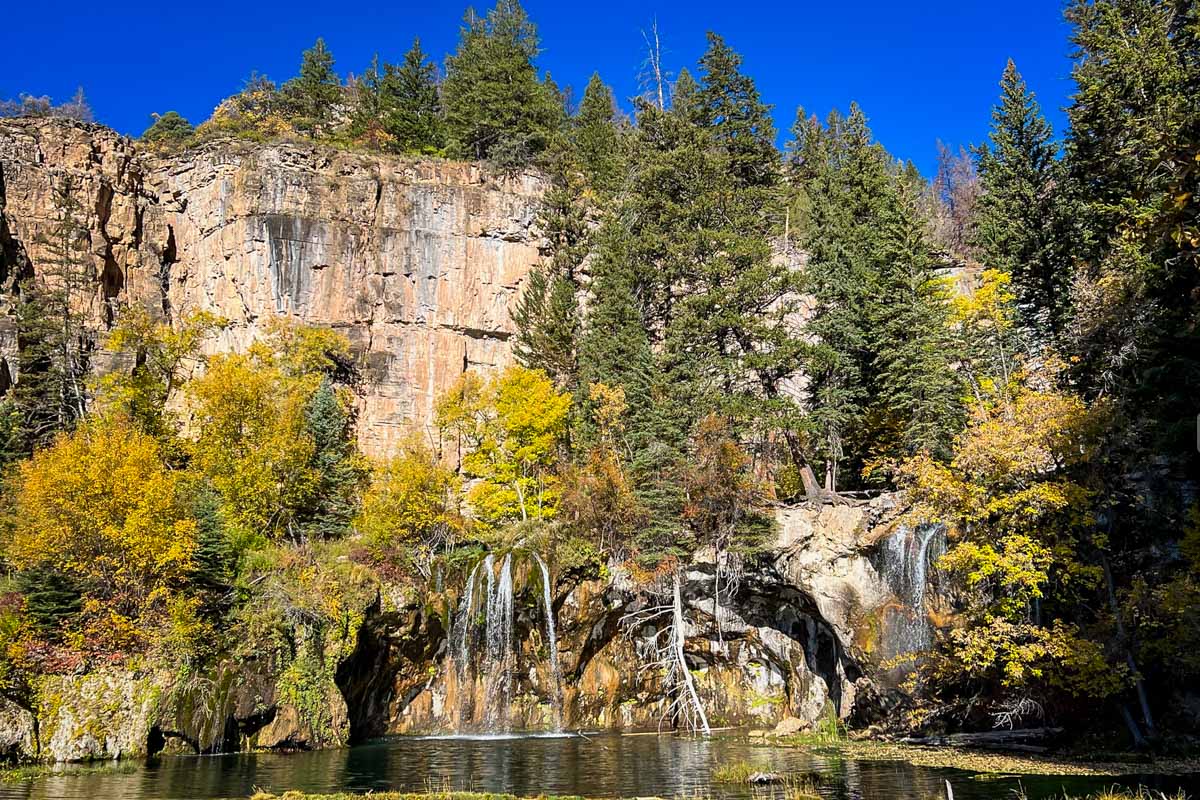 Distance: 3 miles, out and back
Elevation: 1,187 feet
Difficulty Rating: moderate
Located in the White River National Forest, Hanging Lake is a stunning natural masterpiece.
The hike to Hanging Lake is quite tough, but well worth the fresh air, tranquil waterfall and turquoise lake that you're greeted with at the end of the 1.5 mile hike.
Visiting in fall or winter? Hanging Lake is just as beautiful during these seasons and if you get the chance to see the lake when it's frozen … It's like an image straight out of a snow globe. Take into consideration the risks and difficulties of hiking in snow or ice and pack boots!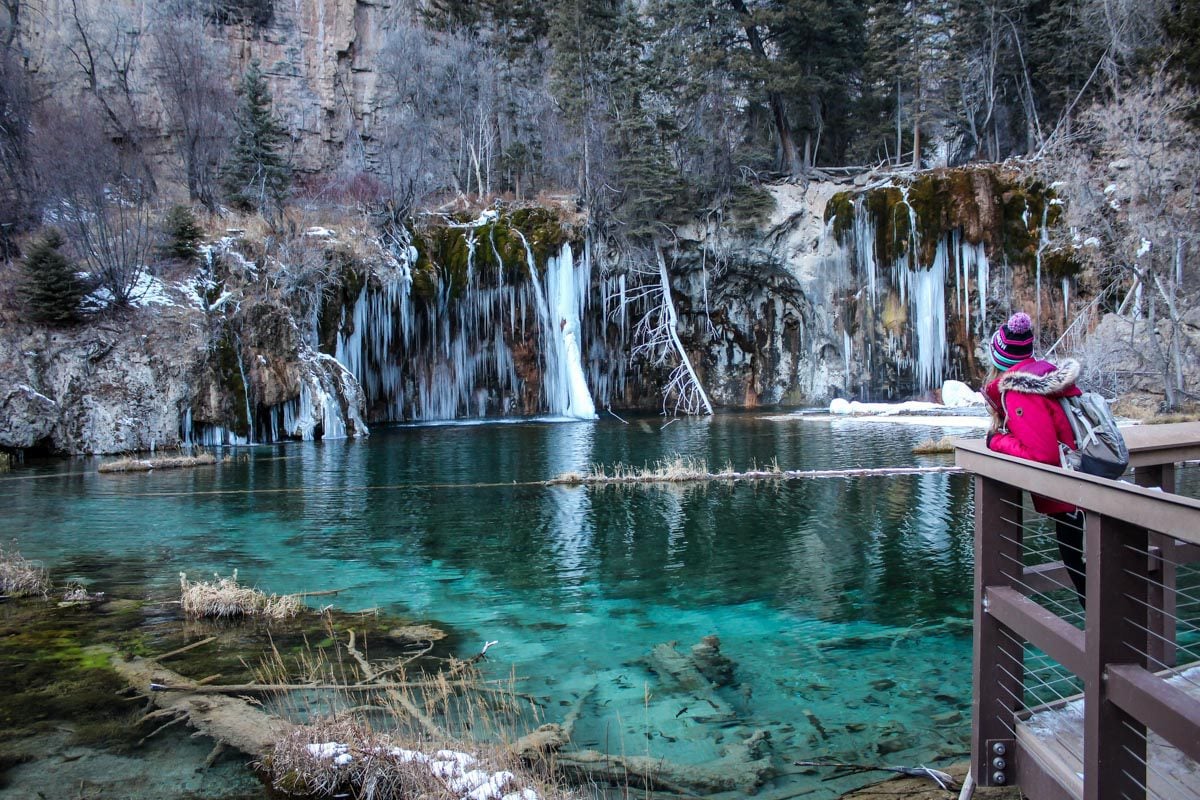 In order to keep the space sacred and avoid overcrowding, reservations and permits are required to hike here; plan ahead!
However tempting it might be, please be aware that swimming is prohibited in the lake. This national wonder is quite a delicate ecosystem and things like sunscreen and body oils can damage the area.
Feeling sore from the hike? Head to the nearby Iron Mountain Hot Springs which, in our opinion, is a perfect way to soak your sore muscles.
14. Drive the Mount Evans Scenic Byway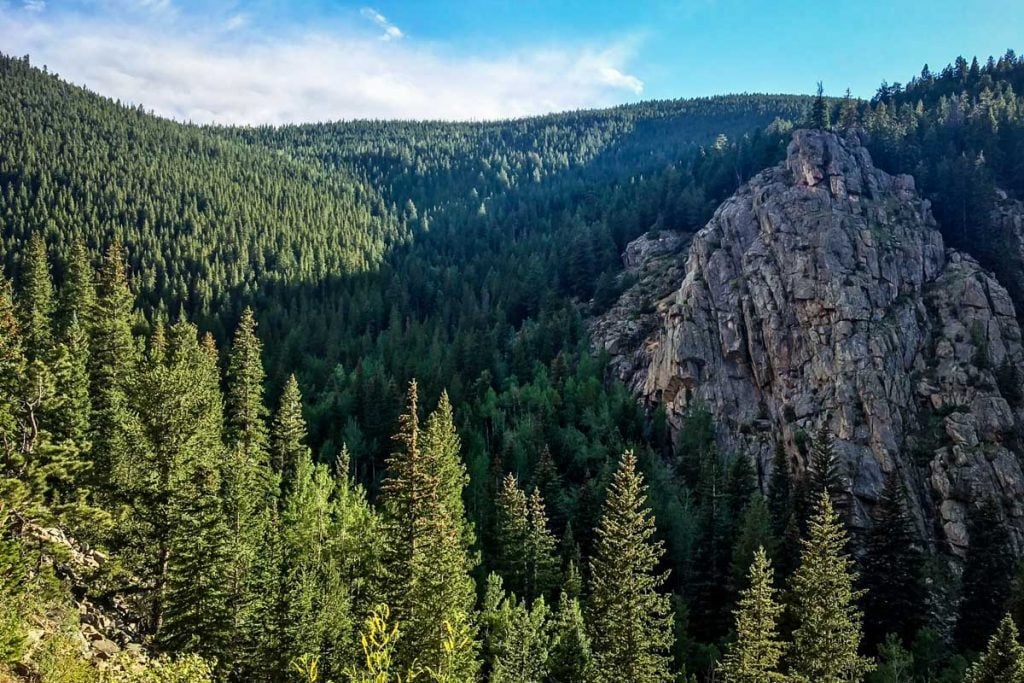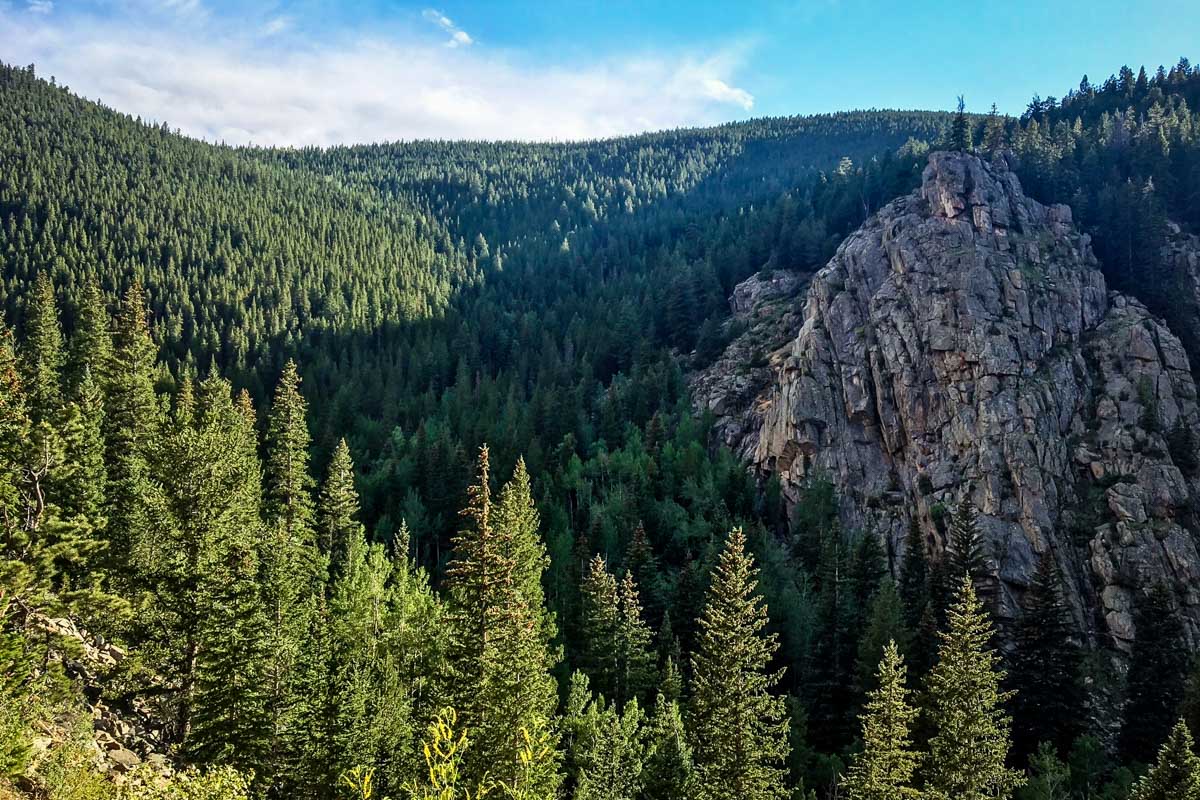 If you have a car, we definitely recommend this drive as one of the things to do while visiting Colorado.
This is the highest road you can travel (via car) in the entire United States. The paved roadway climbs over 7,000 feet and passes through 5 different climate zones. At the summit, you'll have technically 'climbed' one of Colorado's famous fourteeners.
The drive takes about 2-3 hours each way, but don't forget to factor in the amount of times you'll want to stop to take photos (warning: it will be a lot!).
The drive is truthfully outstanding and you'll have the opportunity to see wildlife such as mountain goats, and Bighorn Sheep in their natural environments. Pull over to walk through the alpine wildflowers or sniff the pine forests.
Need to stretch? There are many places to stop on your journey for a photo, stretch or a snack:
Echo Lake has picnic tables, trails and restaurants—perfect for a mid-drive rest!
Mr. Goliath Natural Area is the perfect place to stop if you want to get up close and personal with the bristlecone pine trees (some of which are over 1,000 years old!).
The Summit is a short hike from the parking lot and, of course, you don't want to miss those views! Be mindful when hiking, however, as the altitude will change.
Things to know
The roadway is open Memorial Day to Labor Day.
You need a reservation to complete this drive. It costs $10 per car (or free if you have an annual park pass). There are two fee-free days (June 11 & September 24) if you're traveling on a strict budget.
There is no fee or reservation requirement for hikers or bikers.
There is little to no cell service along the drive so be sure you make and download your reservation confirmation ahead of time.
While beautiful and safe, the road is incredibly twisty and turny. If you suffer from motion sickness, you may wish to sit this one out (or pack helpful remedies such as peppermint or crackers).

15. Hike a 14er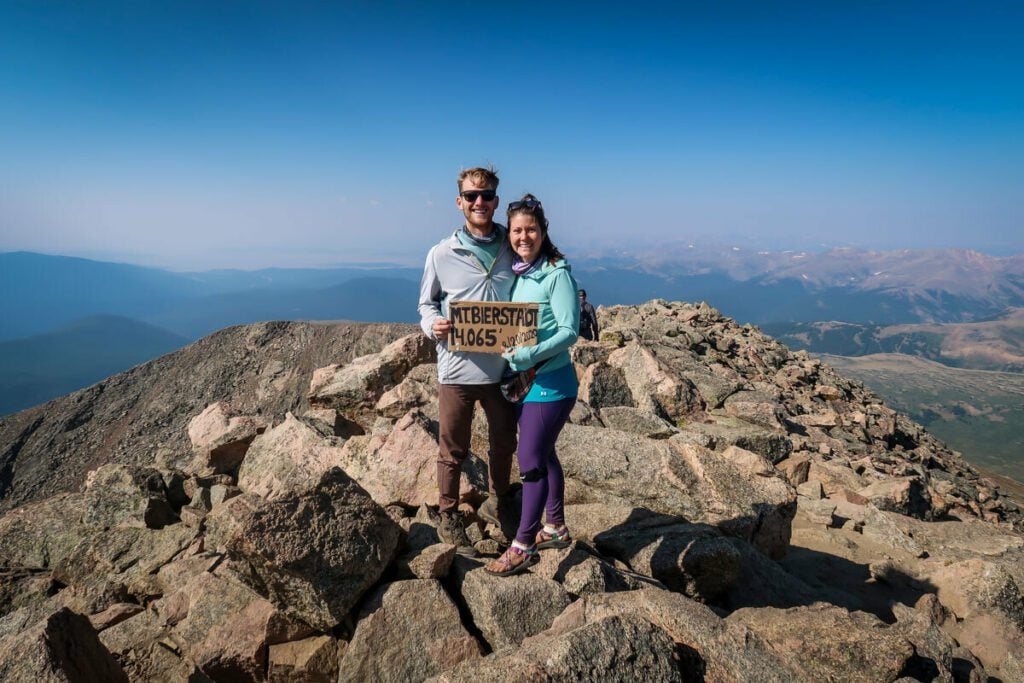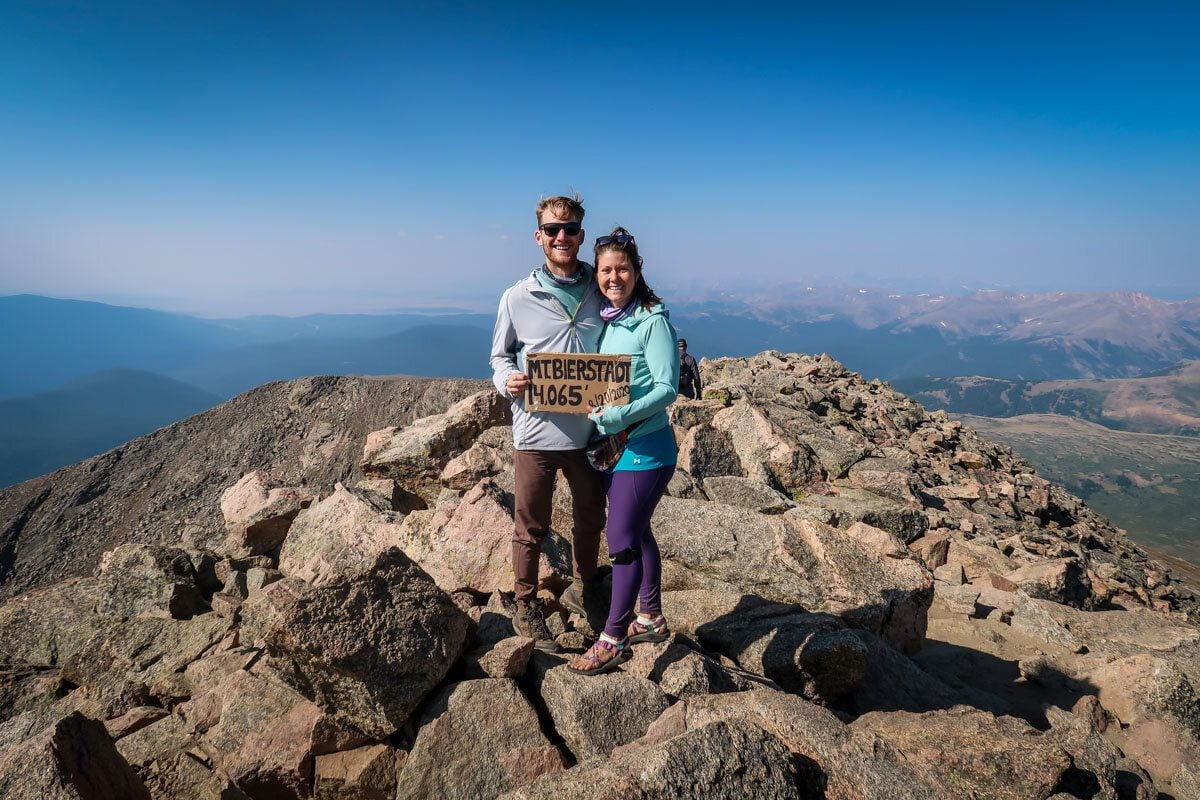 If you're looking for things to do in Colorado, the idea of hiking a 'fourteener' will likely come up.
But what is 14er exactly? Quite simply, tackling a fourteener means you are hiking a mountain that exceeds 14,000 feet in elevation.
Now, while that might sound intimidating to some, just remember that you'll often be starting the hike from a high elevation to begin with, so you're not technically hiking the full 14,000 feet. With that being said, the elevations and altitudes on these mountains are still intense, the hikes are often quite difficult and you should be confident and prepared before each one.
If you think you're ready to take on one of the hikes, you've come to the right place. Colorado is famous for its 58 fourteeners—more than any other state!
Some popular 14ers to explore:
Mount Sherman: 4.9 miles out and back; 2,027 feet
Mount Bierstadt: 7.5 miles out and back; 2,400 feet
Grays Peak: 8 miles round-trip; 3,000 feet
Torreys Peak: 8 miles round-trip; 3,600 feet
Pikes Peak: 14 miles round trip; 7,400 feet
Longs Peak: 14 miles round trip, 3,825 feet
Check out our guide to day trips from Denver (#2!) for a more comprehensive list and stats on the best 14ers to hike near Denver.
Tips for hiking a fourteener in Colorado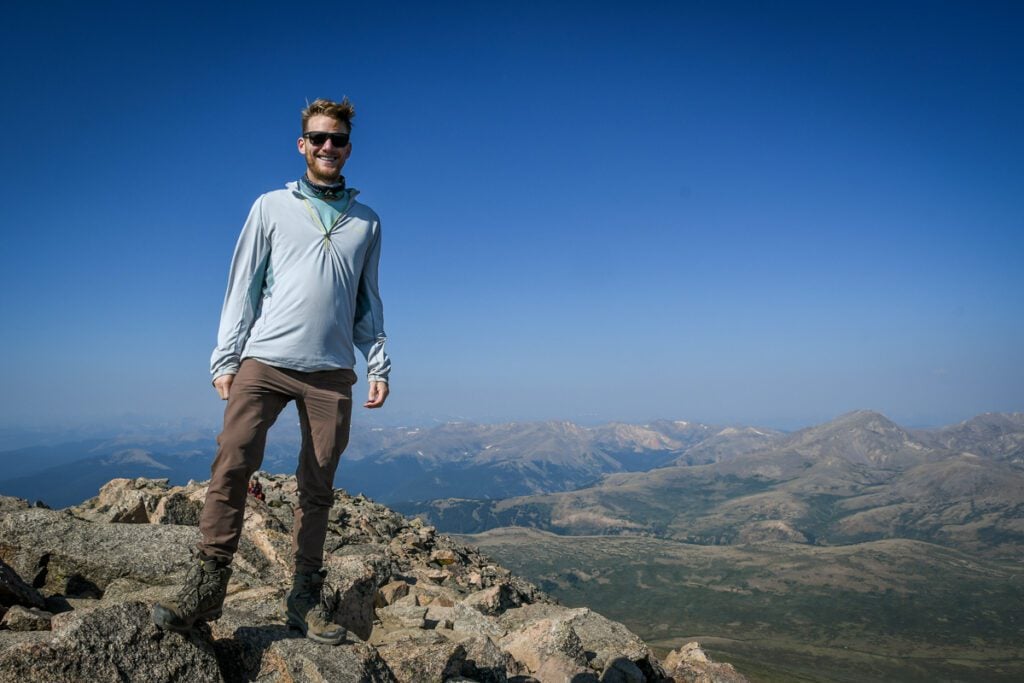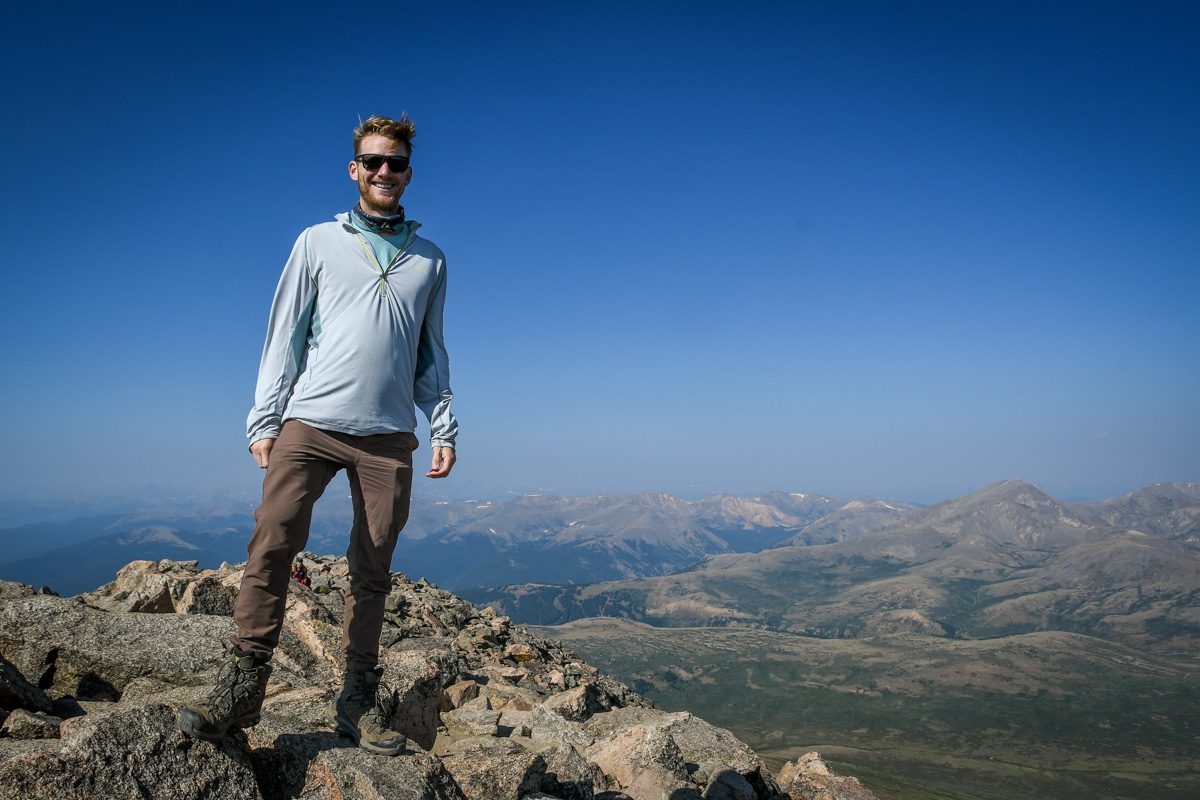 Hiking a fourteener is no easy feat so be sure you're well-prepared.
Be sure to pack enough water. Do some research to see if your hike intersects with a water source. If so, a filter will come in handy. If not, pack enough water to last you from the summit and back!
Wear sunscreen. Although your hike might be cloudy and oftentimes chilly, you're still exposed more to the sun at the higher elevation.
Pack for rain. You never know what weather you'll experience whilst on your hike so it is always best to have rain covers and dry sacks for anything you don't want getting soggy.
Head out early: Many hikes will recommend this and it's for good reason. Starting your trip early means you'll avoid crowds and the potential heat.
Use Alltrails: This app is incredibly handy in finding hikes near you as well as a guide while actually hiking. You can read insider tips from others who have done the trail as well as track all your own hikes and pace which is always helpful to have on record! The paid version allows you to work offline which is obviously a bonus if you're hiking in remote areas.
Be aware of altitude: Depending on where you're traveling from, you might need to give yourself a few days to assimilate to the environment. Changes in altitude can make you dizzy, tired or restless—none of which are ideal conditions for attempting a 14-er.
Not sure what to pack when hiking? Check out our guide for what to wear hiking on our sister site.
16. Battle the rapids on a whitewater rafting adventure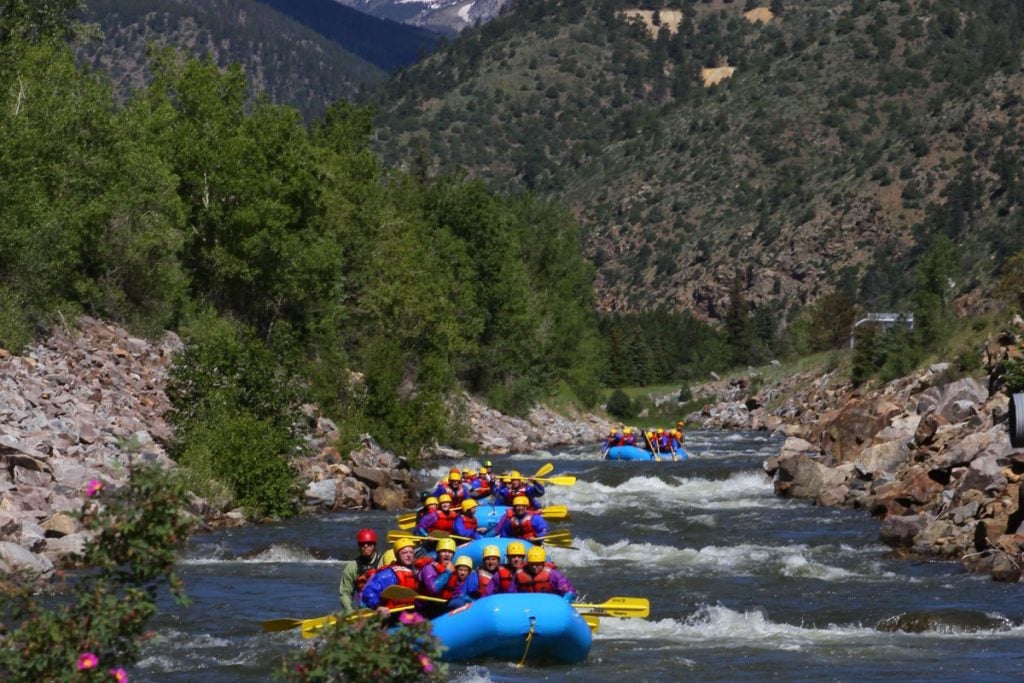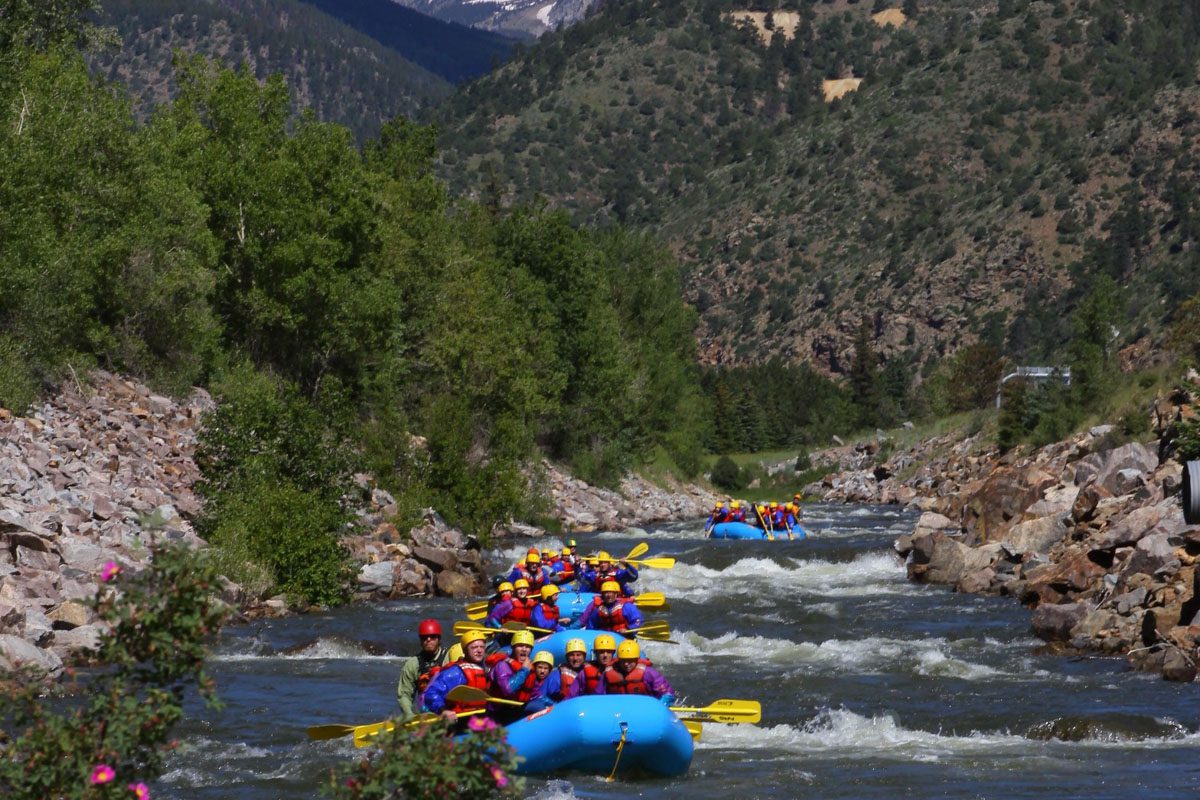 Are you an adrenaline junkie? If so, whitewater rafting is likely already on your list of things to do in Colorado and if it isn't … Well, it really should be!
Colorado is a great place to experience rafting because the winter snow melt coming from the mountains provides ample fuel to create rapids. For those brave enough to take this adventure on, here are a few of our suggestions.
Clear Creek Rafting is a reputable company near Idaho Springs that offers tours from beginner to advanced. This is the closest white water rafting tour you can reach from Denver.
A Wanderlust Adventure caters to family-friendly adventures, but still offers more demanding tours as well. If you're near Fort Collins, this is a great choice!
Arkansas River Rafting has been around for 50 years. They offer loads of programs, tours and classes. Canon city is also great for rock climbing if you want to double up the adventuring!
17. Go skiing or snowboarding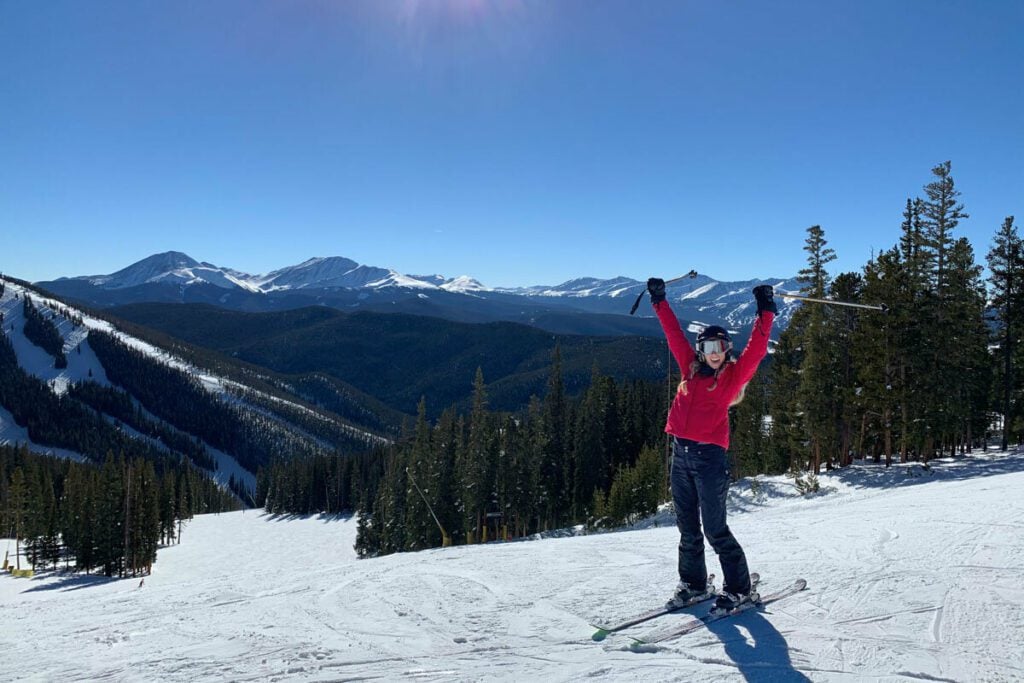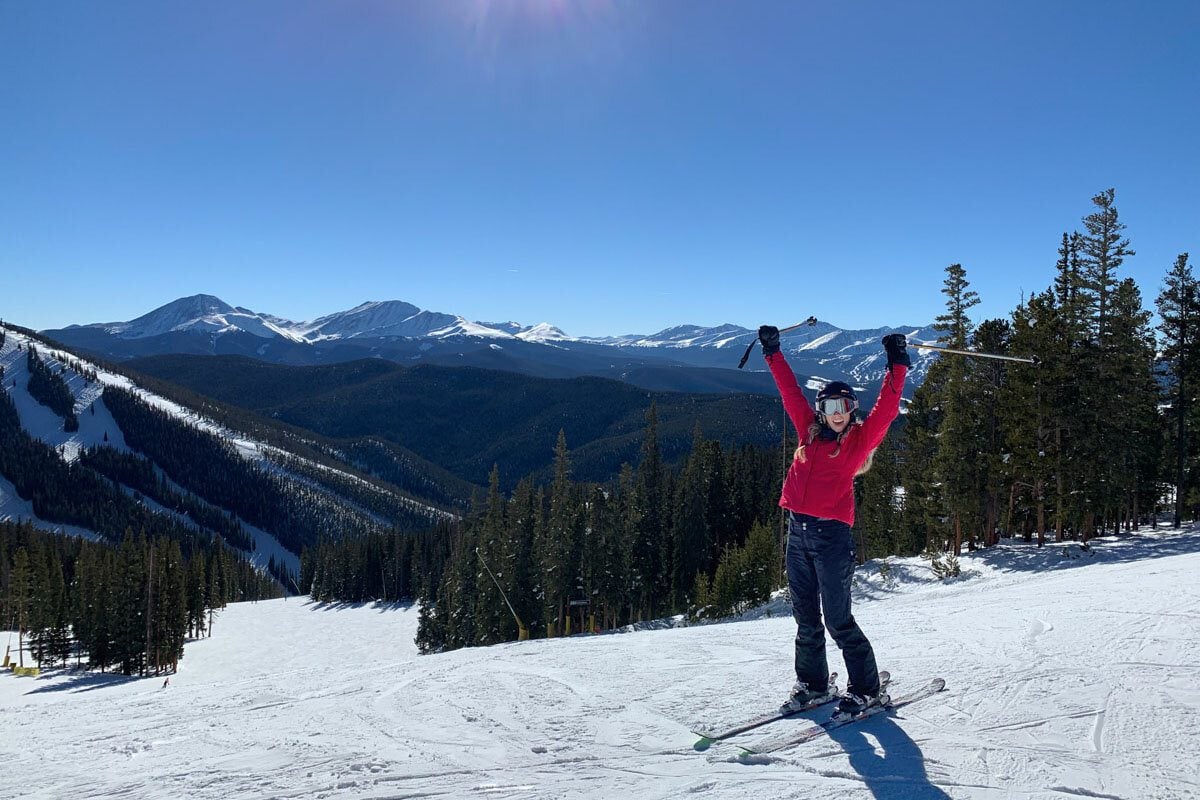 One of the main reasons people come to visit Colorado during the wintertime is for the outstanding skiing and snowboarding opportunities throughout the state. Whether you're a beginner looking for lessons or a seasoned pro returning year after year, there's sure to be a mountain to suit your needs.
With plenty of mountain resorts scattered throughout the state and a surplus of sunny days, it is truly the perfect place for skiing.
*NOTE: The following prices are for the 2022/2023 season. Most prices are dependent on things such as age, booking times and season. Therefore, we encourage you to check out the website for the most accurate prices so you're not surprised by the prices upon arriving.
Aspen
Location: 200 miles (4 hours) west of Denver
Lift Ticket Price: $159-174 for adults
Season Pass: $2,799 (includes all four Aspen mountains); up to 7 days included in Ikon Pass
One of Colorado's most coveted ski resorts in the country, Aspen Snowmass needs no introduction. Located just a few hours west of Denver, skiing at this highly-regarded collection of 4 mountains is on many-a bucket lists.
If you visit Aspen to ski, you'll have access to a 4-in-1 deal. Using one ticket, you can ski: Aspen Highlands, Aspen Mountain, Buttermilk, and Snowmass. Whether you're a novice or the black diamond runner, you'll find Aspen's slopes to be well-groomed and ready for action.
Breckenridge
Location: Summit County, 80 miles (1.5 hours) west of Denver
Lift Ticket Price: $141 for adults, $419 for a 4-pack
Season Pass: $749 for adults (also available on the Epic Pass & Summit Value Pass)
Breckenridge stands out to visitors due to its charming Victorian town and its five major peaks. There are over 2,500 skiable acres, 180 trails and the tallest chairlift in North America.
You can enjoy skiing here all the way until spring since March and April are actually some of the snowiest months in "Breck".
Steamboat Springs
Location: 156 miles (3 hours) northwest of Denver
Lift Ticket Price: $108-$177 for adults
Season Pass: $1,079 for adults (23+), (also available on the Ikon Pass)
Known as Ski Town, USA, Steamboat is a skiing mecca encompassing 2,900 skiable acres across seven mountain peaks with 169 groomed runs. Fun fact: more Olympians make their homebase here than any other ski area in the country.
The resort boasts some of the best tree skiing in all of North America, plus two halfpipes and several terrain parks, which make Steamboat a dream for skiers and snowboarders alike.
Vail
Location: Just off Hwy 70, 97 miles (1 hour and 45 minutes ) west of Denver
Lift Ticket Price: $225-$245 for adults
Season Pass: $859 for adults (also available on the Epic Pass & Summit Value Pass)
Situated in the Rocky Mountains, Vail is one of the largest and most famous ski resorts in the world covering over 5,000 acres. Whether you're coasting down the green runs or carving up the black diamonds, Vail's got slopes for all levels to enjoy.
These are just a few of the well-known resorts, but Colorado has plenty more. Check out our guide to Colorado ski resorts for more detailed information to plan your ski vacation to Colorado.
Psst! Check out this guide for what to wear skiing to help you pack for your trip!
18. Take the gondola above Telluride Village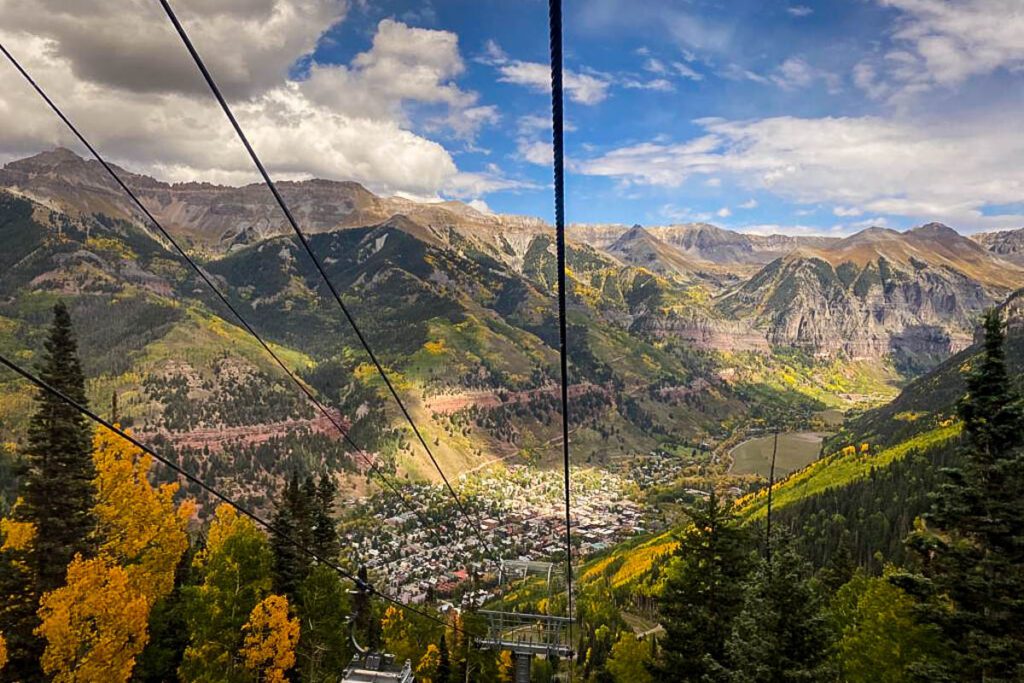 Telluride is an adorable mountain town cradled between high mountain peaks and exploding waterfalls.
Due to the outstanding views and the year-round activities, we think this village is a highly underrated place to visit!
If you're looking for off-beat things to do in Colorado, a visit to Telluride should be on your list for sure.
One of the most popular activities in Telluride is taking the FREE gondola ride to San Sophia Ridge and Mountain Village.
Viewing the landscape from over 10,000 feet up, you'll be left in awe whether you're peering down upon the rustic, peachy hues of the fall foliage or seeing the trees dressed in their snowy suits. In the summertime, you might even spot a bear or a bobcat from your superior vantage point.
The trip is only 13 minutes and the gondola runs from 6:30 a.m. to midnight daily.
At the first stop, San Sophia Ridge, you can easily access a variety of hiking and biking trails. The second stop, Mountain Village, is where most skiers and snowboarders will hop off as this area offers pristine skiing conditions, cozy accommodations and lovely restaurants.
Other things to do in Telluride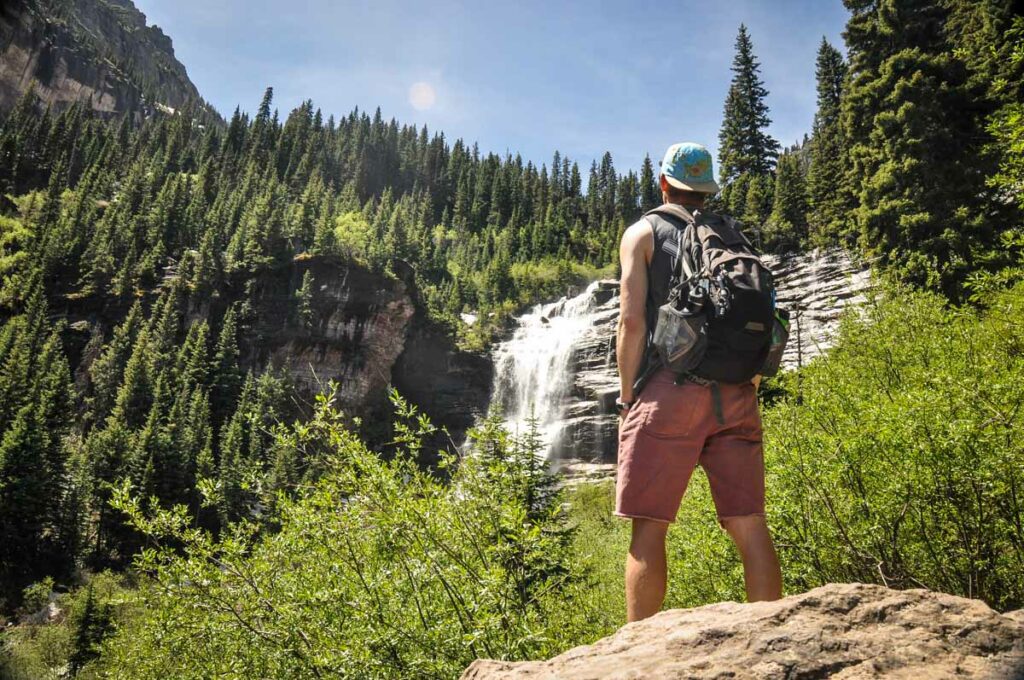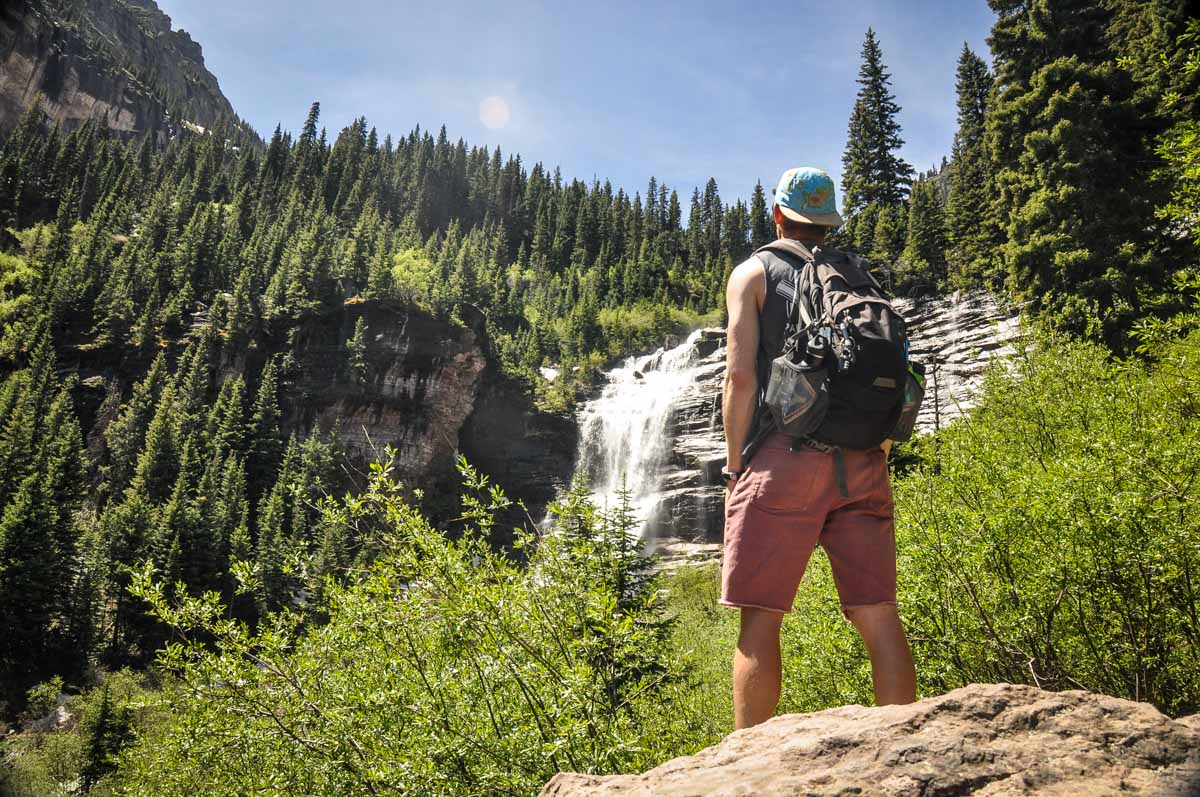 Try flying!? The deep canyons in Telluride make this a perfect place to try paragliding. Book with Telluride Paragliding as they offer tandem flights which allows for a really relaxing ride.
Sneffels Highline Trail is a 12 mile hike that offers vibrant views of wildflowers and private locations to have a little picnic. I mean, these are honestly the types of hikes we live for!

This hike is considered challenging and quite long — around 8 hours — but you can easily spend the night at one of the many accommodations (for all budgets) offered in Telluride.

If you're looking for something less challenging or shorter, try the Blues Lakes Trail. It is only about 1 mile long and takes just 25 miles to complete.

While you'll absolutely encounter some gorgeous sites on this hike, you'll also encounter a lot of people; it is extremely popular. To avoid the crowds, try visiting on the weekdays or early morning. If the lot is full, you won't be able to enter.
19. Soak in some hot springs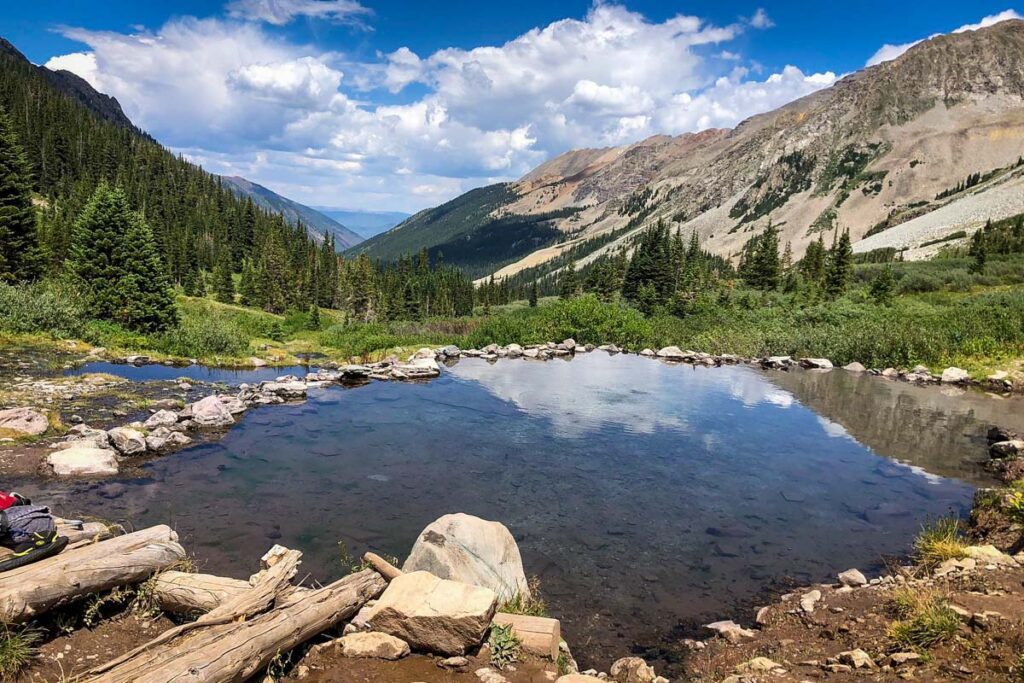 After a day exploring the Rocky Mountains, we absolutely recommend a long, peaceful soak. To be honest, aside from dabbling in some food, this might be our favorite thing to do after a hike.
Fortunately, Colorado has a plethora of hot springs that do not disappoint. To be honest, it was difficult to create this list as there are so many amazing hot springs to choose from:
20. Take a road trip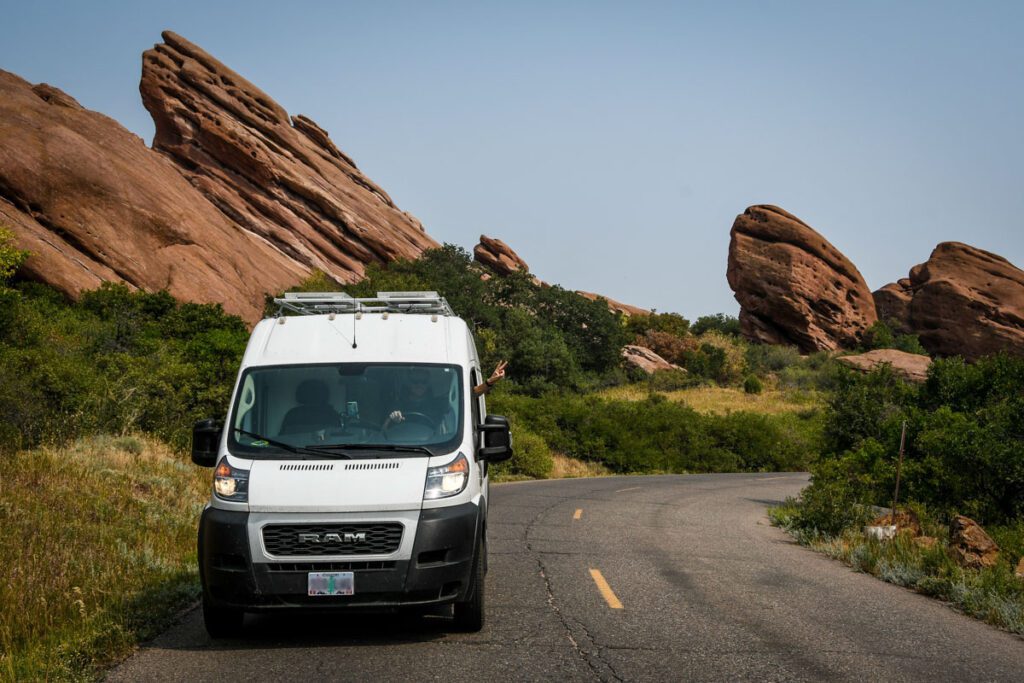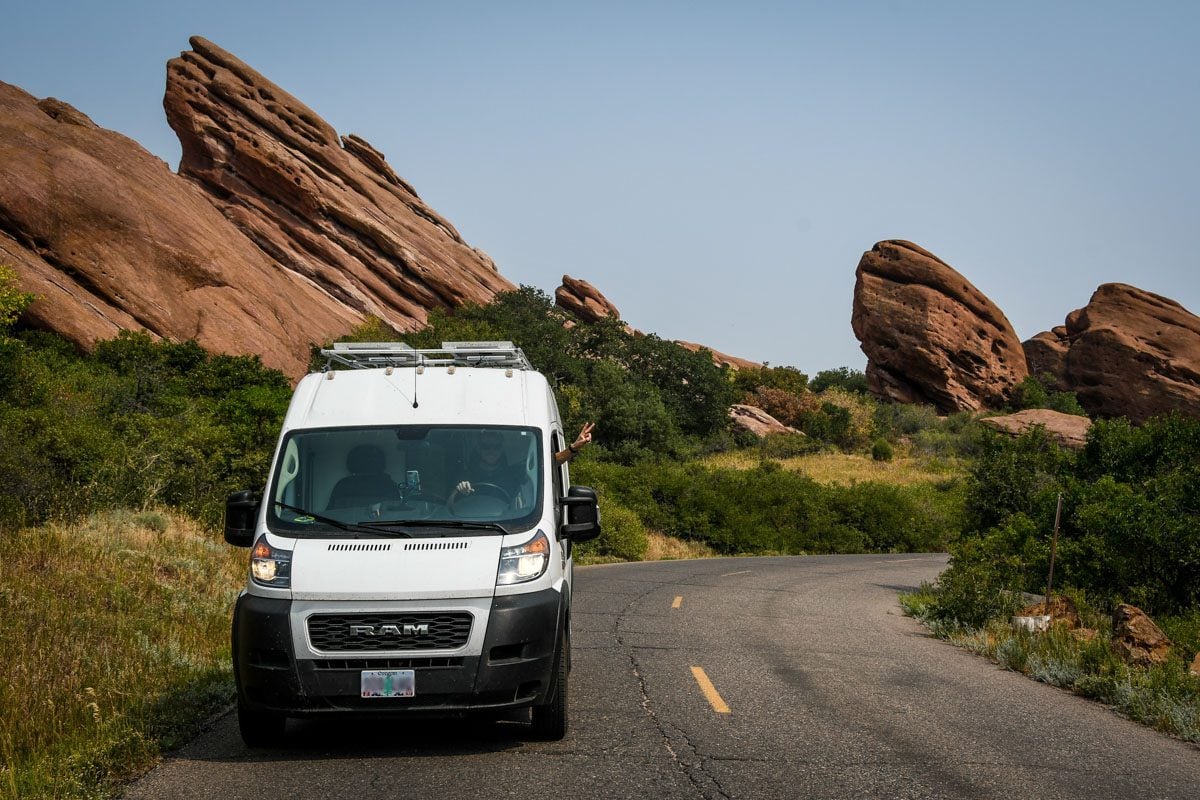 In many ways, Colorado is far too pretty and diverse to stay in one place. Sooo … road trip anyone?!
We've spent a lot of time living in our campervan so we obviously love traveling via the open road. It gives you absolute freedom to go wherever you want on your own schedule, and is generally less expensive.
There are an outstanding amount of places to see in Colorado as well as many routes to take if you're planning a road trip. In our opinion, planning the trip is half the fun.
21. Let your inner child out at Great Sand Dunes National Park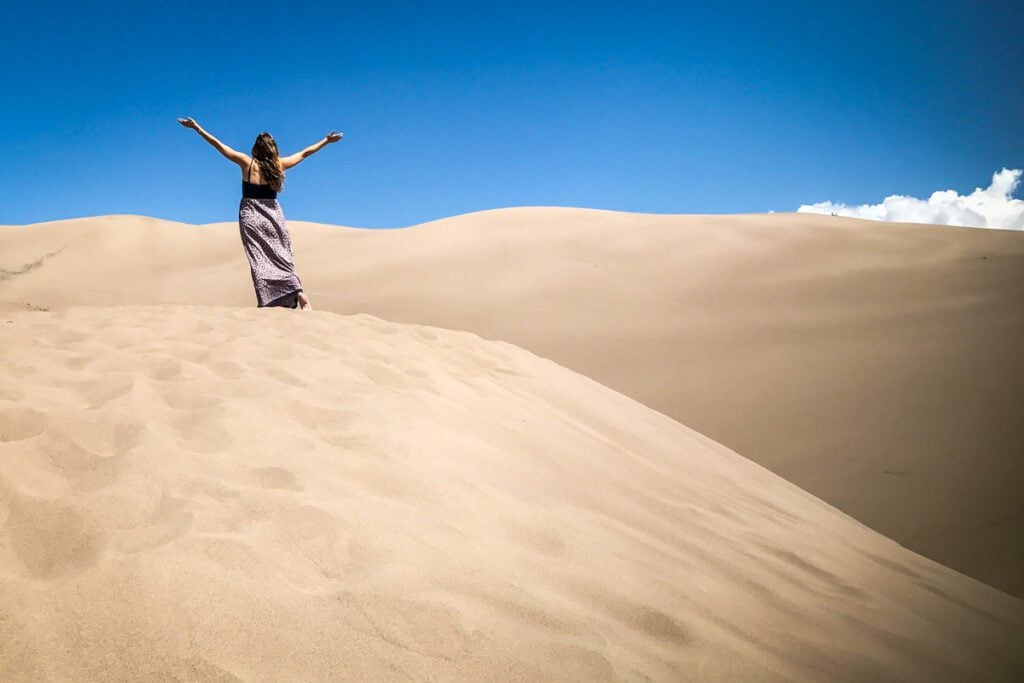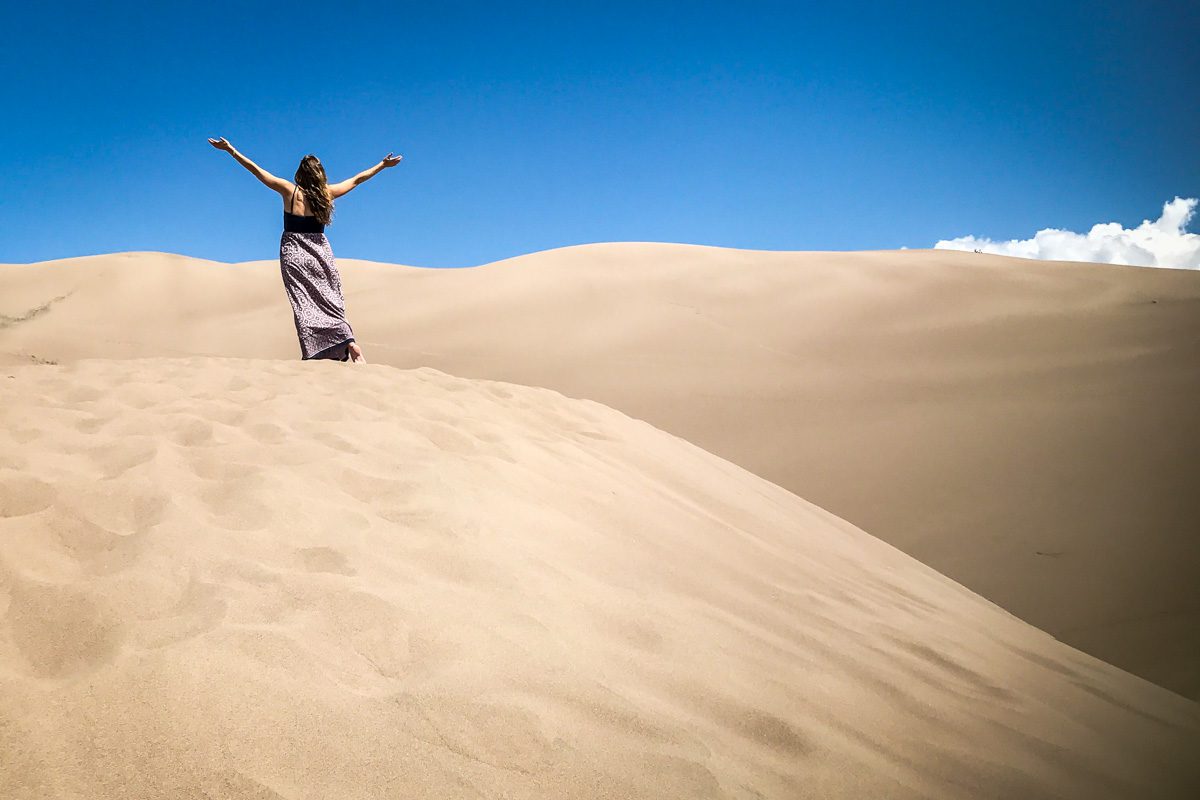 Okay, we know this sounds like something you'd find in maybe … the Sahara, but the Great Sand Dunes National Park is in fact in Colorado! And yes, it has actual desert dunes! In fact, the park is home to the tallest sand dunes in North America.
Not what you'd expect to find in Colorado… amIright!?
You can visit in any season: summer is absolutely astonishing, winter is gorgeous as the snow blankets the dunes, and the fall foliage makes for a pristine autumn backdrop.
If you choose to visit the park, you'll need to make a reservation ahead of time. It costs $25 per car to enter, or free with your annual park pass. Since there are loads of things to do within the park, we think this is an appropriate fee; even more so if you stay overnight and camp.
If you plan to stay overnight in the park, you need a permit, but they only cost $6!
Aside from simply exploring the dunes, you can plan to ski or snowboard down them! Um – yep! Bring your own contraption (i.e. snowboard, garbage lid, sled, cardboard sheet, etc.) and have a go! There is nowhere to rent equipment for sand-sledding so plan to do this ahead of time or … get creative!
Within the park, you're likely to spot some elk or bison so keep an eye out.
If you're feeling adventurous, take the Star Dune Trail which is a 7 mile in-and-out trail throughout the park.
And you don't want to miss Medano Creek. It seems strange to have a genuine water source in the middle of the 'desert,' but in summer, this is a great spot for swimming! Surrounded by the Rocky Mountains and sand dunes, this water source is truly a sight.
Planning a national park trip? Check out our guide to the national parks in Colorado, which includes essential info and insider tips!
22. Peep the Maroon Bells in Aspen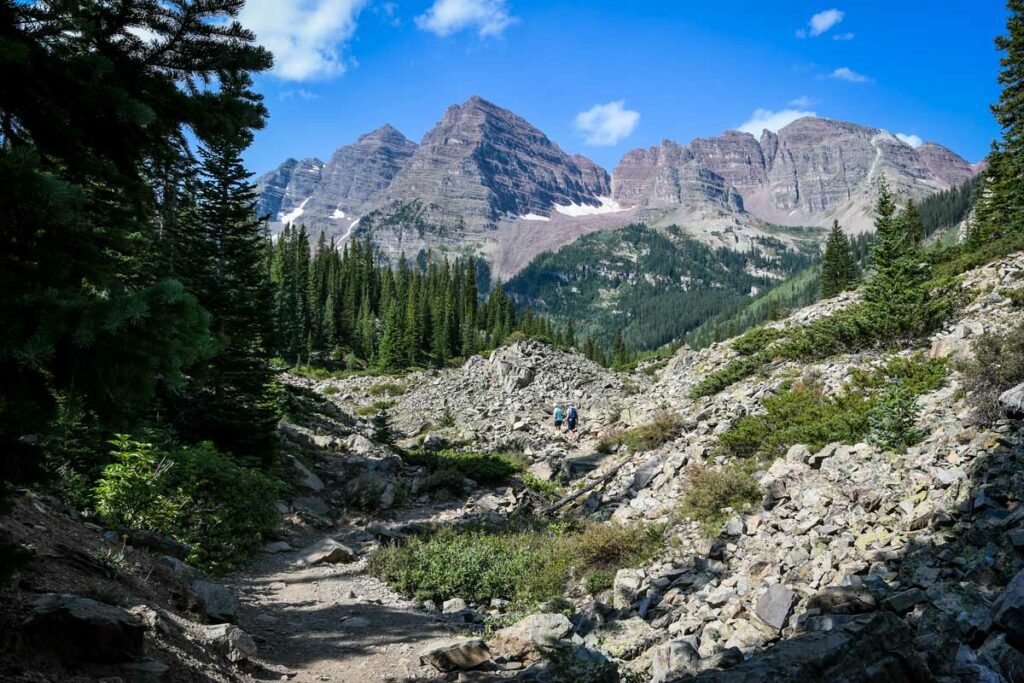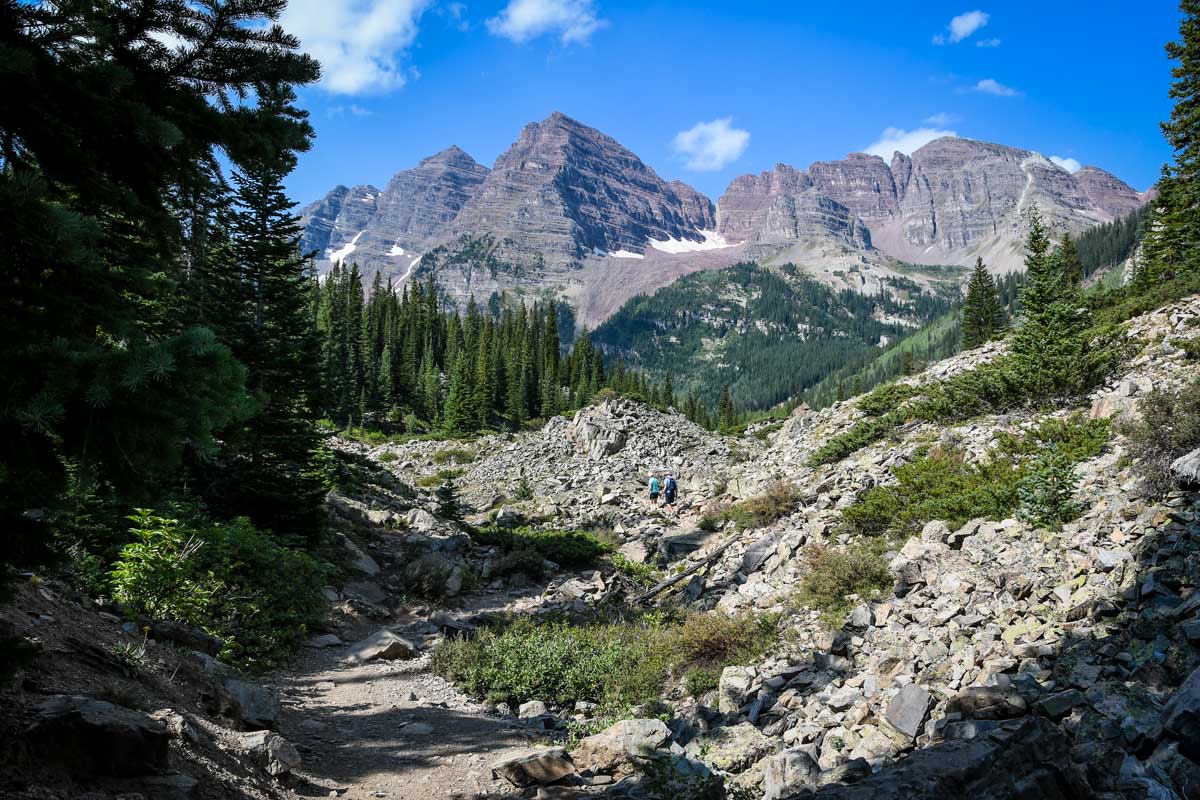 If you love fall nearly as much as us you'll be racing to spend autumn in Aspen. The Maroon Bells are two peaks in the Elk Mountains separated by about half a kilometer and at their most majestic during leaf peeping season.
The Maroon Bells are famously some of the most photographed mountains in North America. You can visit at any time of the year, but we think the crispy yellows and rusty reds in fall will actually make you fall in love.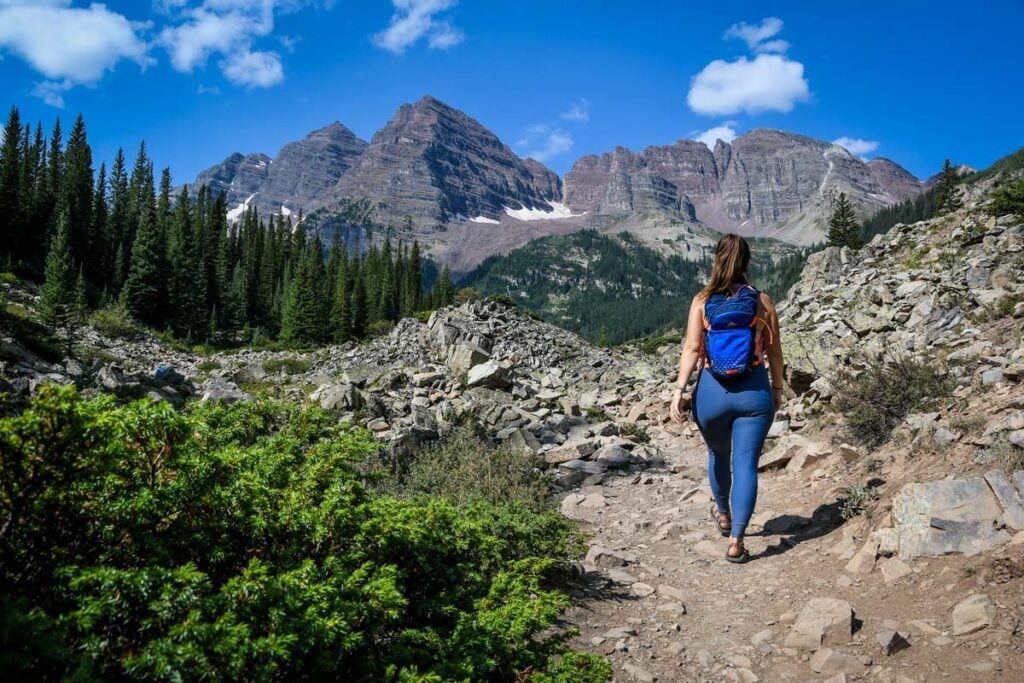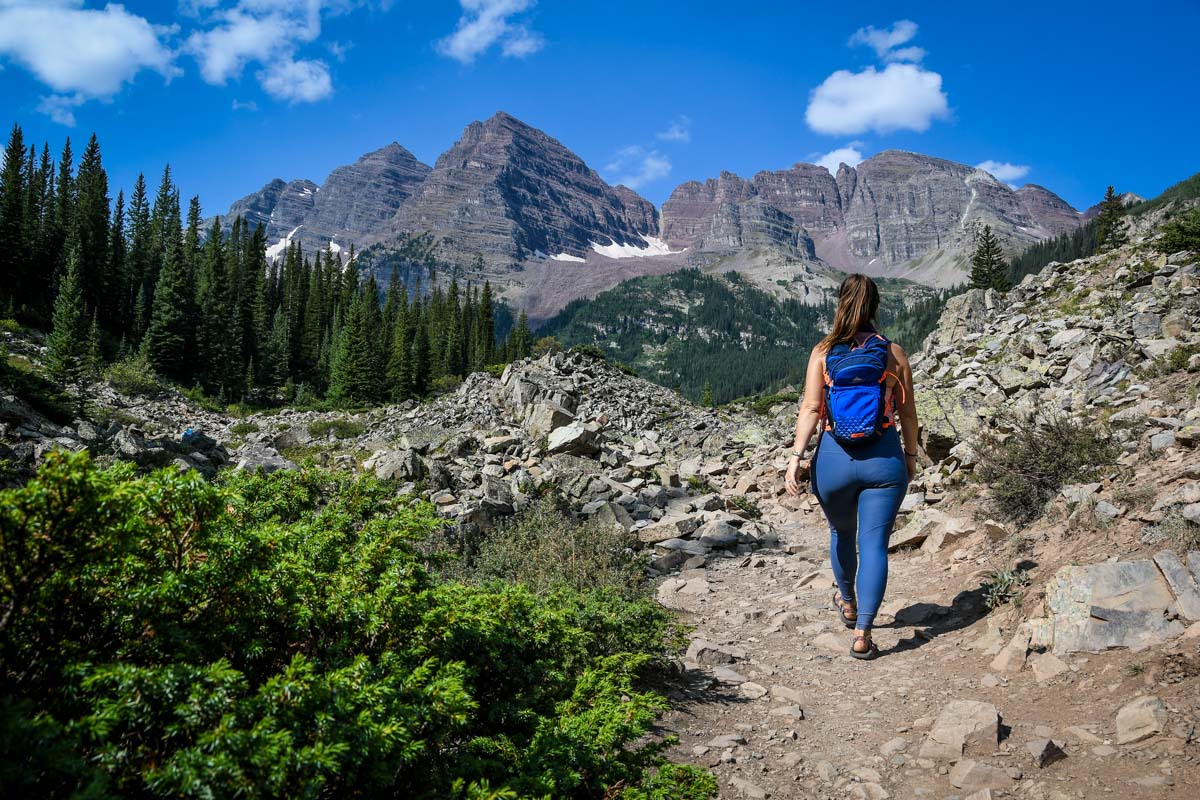 Because the mountains are so popular, there is restricted access to the area during the summer and fall. There are a few ways to access the Maroon Bells:
Take the public bus (RFTA) that runs daily from May-October from 8 a.m. to 5 p.m. The ride costs $16 per person. This is a stress-free option as you can really kick back and enjoy the sights.
Drive your own car which costs $10 per vehicle. The road closes in November, but you can still ski, walk or snowmobile to the Maroon Bells.

Note: Due to the popularity, reservations are required ahead of time whether you're taking the bus or your own car.

Hike to Maroon Bells. There are a lot of options in terms of hiking, but a popular trail is Maroon Bells to Crater Lake. This relatively short but challenging trail takes less than two hours to complete and, depending on the time of year, you'll have full access to the blooming aspens.

You can also add an additional mile onto your hike onto Maroon Pass in order to peek at the gorgeous snow capped mountains.
23. Go back in time at Mesa Verde National Park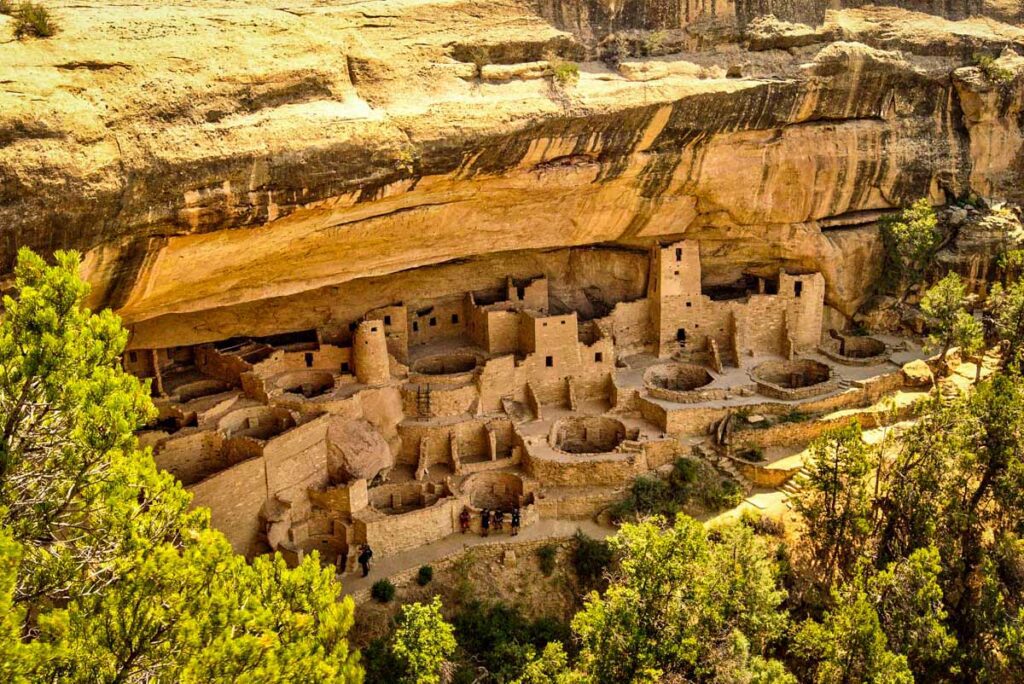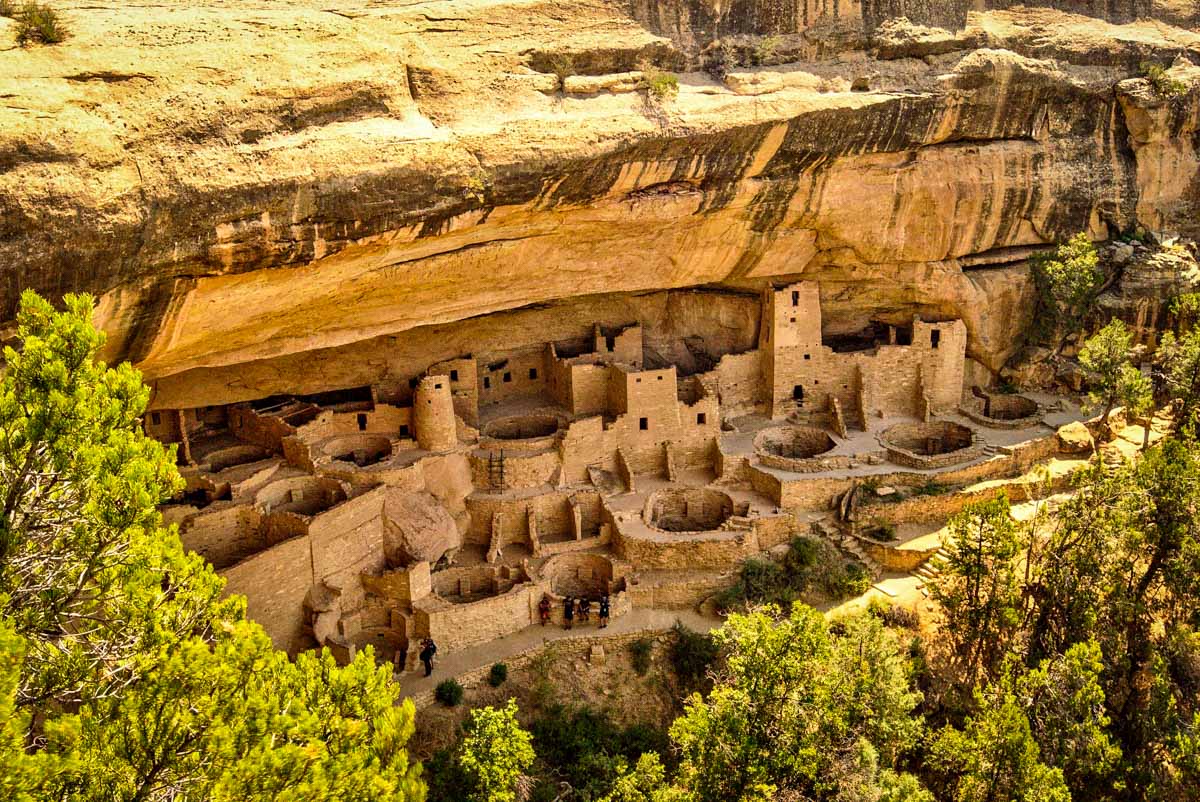 Mesa Verde National Park protects a very important part of indigenous history and we highly recommend a visit. Not only is the park breathtakingly beautiful, it has an incredible amount of preserved history from ancestral cliff dwellings to archaeological sites.
As with most national parks in Colorado, you need to make a reservation ahead of time. Prices vary depending on your mode of transportation and time of your visit.
Things to do at Mesa Verde National Park
Take a tour. The 700 Years Tour is a great way to learn more about the way the Puebloan people actually lived. In four hours, you'll walk through ancient villages and get up close and personal with the cliff dwellings and visit the famous Cliff Palace.

Although the majority of the tour is on a bus, you'll get off often for short hikes and exploring.

Visit the Cliff Palace. If you have limited time, you can take a quick hour-tour to the Cliff Palace which is an intricately designed dwelling with over 100 rooms to explore. This is such a powerful look into history — you'll feel all the feels!
Hike the Petroglyph Point Trail. On this 2 mile loop trail, you'll walk among prehistoric rock formations.
Of course, there are a surplus of other trails to explore within the park:

Prater Ridge Trail: for a longer hike with a wide array of vegetation & elevation
Knife Edge Trail: for a wicked sunset
Point Lookout Trail: for an incredible view of the Mancos valley
Spruce Canyon Trail: for a chance to be surrounded by lush spruce and JUNIPER (yaya!) trees

Stay overnight. You have two options for lodging within the actual park, but there are also loads of options surrounding it. Within the park, you can book a room at Far View Lodge which has outstanding reviews. For something a bit cheaper, however, you can also camp!
Mesa Verde National Park is also quite close to Durango so, if you have time, we recommend a stop there for a quick hike or a bite to eat.
24. Discover the Black Canyon of the Gunnison National Park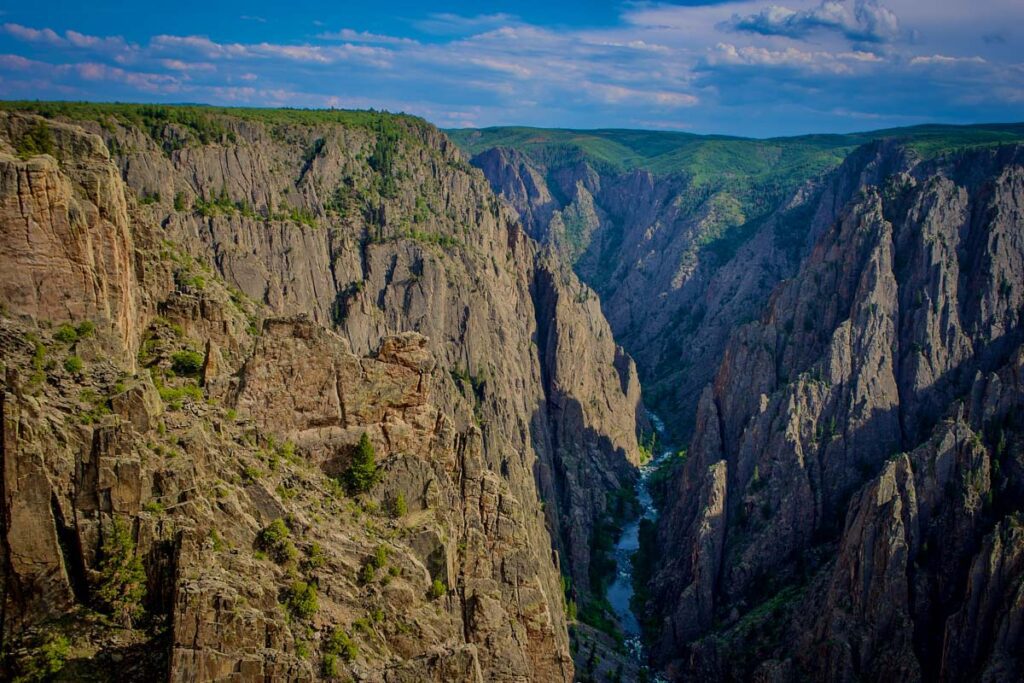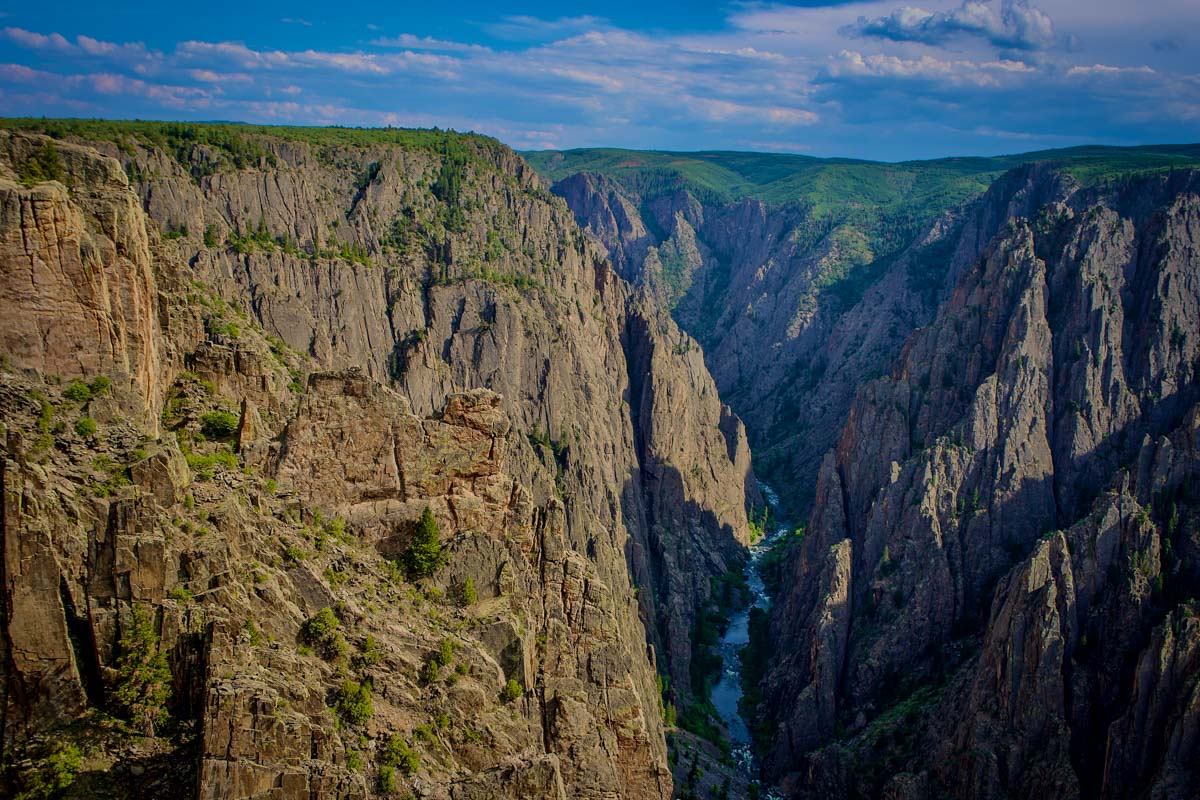 Although Gunnison National Park is quite far away from … well, civilization … It is absolutely a worthwhile trip.
If you're looking to really get off the beaten path, this is totally the place to do it. However, if you're planning a backpacking trip through Gunnison National Park, we definitely recommend doing some extra research, as you'll be quite isolated. Well, except for the occasional bear…!
Some of the rock formations within the park are over 2 million years old—which is a lot of time to sculpt the beauty you see today.
Fun Fact: Due to the vast walls of the canyon, the rock is often covered in dark shadows which is how it got its name 'black' canyon.
Things to do in Black Canyon of the Gunnison National Park
Go snowshoeing in winter on the Rim Rock trail.
Choose a hike that suits your level and time available. Be mindful when hiking here as you're likely to encounter a lot of wildlife who may even fancy some human snacks.
Stargaze! Something really cool about this park is that it's recognized as an International Dark Sky Park. As you can imagine, that means the stargazing here is nearly perfect. In today's world, there are few opportunities to escape light and noise pollution; take advantage of it here!
If you're into photography at all, this is a perfect place to try some astrophotography. Or simply lay back and get lost in the magic of the constellations.
25. Wander around Garden of the Gods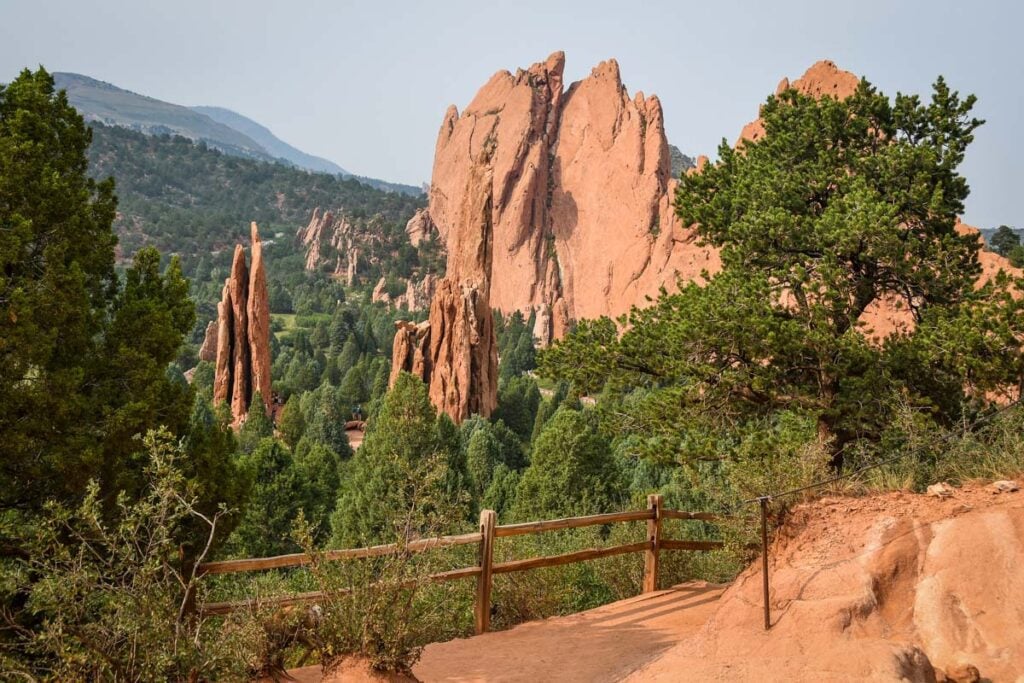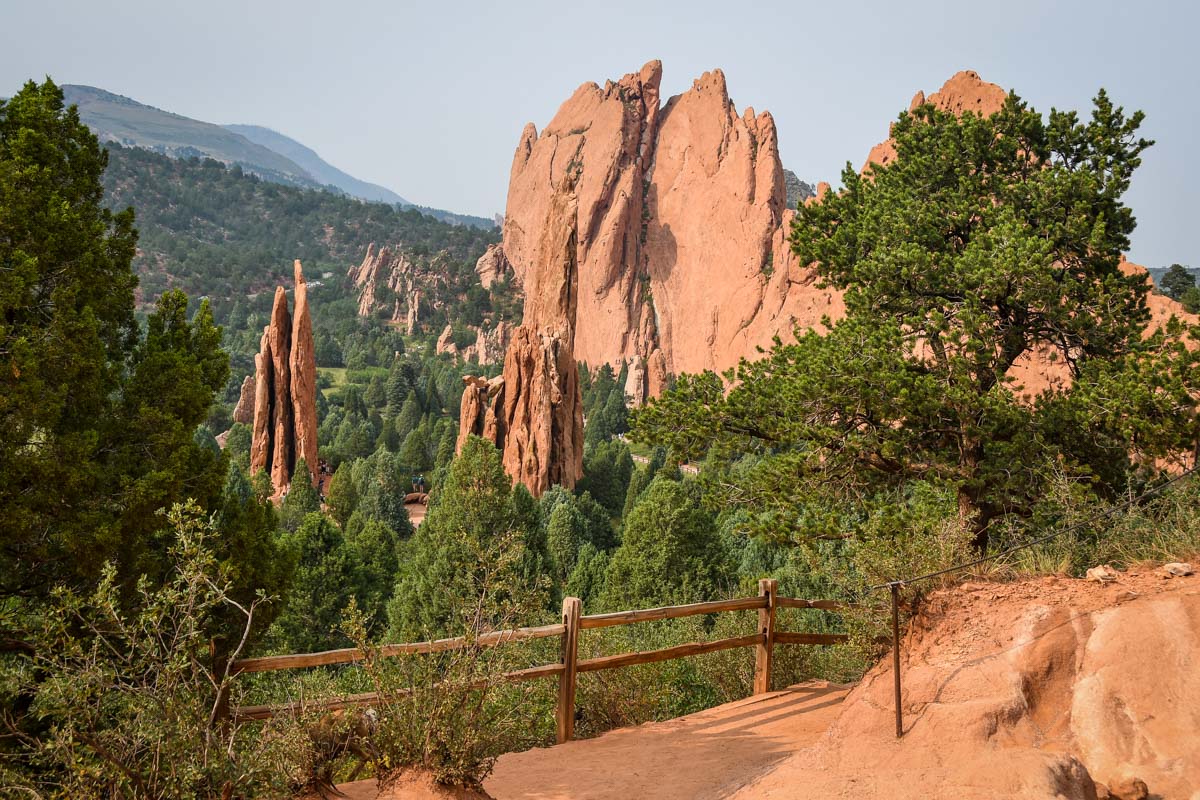 This National Natural Landmark attracts a variety of visitors from nature lovers to photographers to rock climbers. The stunning sandstone formations are seemingly out of the world. Seriously!
The park contains around 15 miles of trails to hike so you have lots of choices. If you don't have a ton of time, we recommend the Garden of the Gods loop trail. It is short, but will still offer absolutely epic views of the rocks.
Don't feel like hiking? You can also explore the park via horseback or … via a segway?! We've got to say that sounds quite … interesting!
The park is open from 5 a.m. to 9 p.m. and it is free to the public – win!
26. Summit Pikes Peak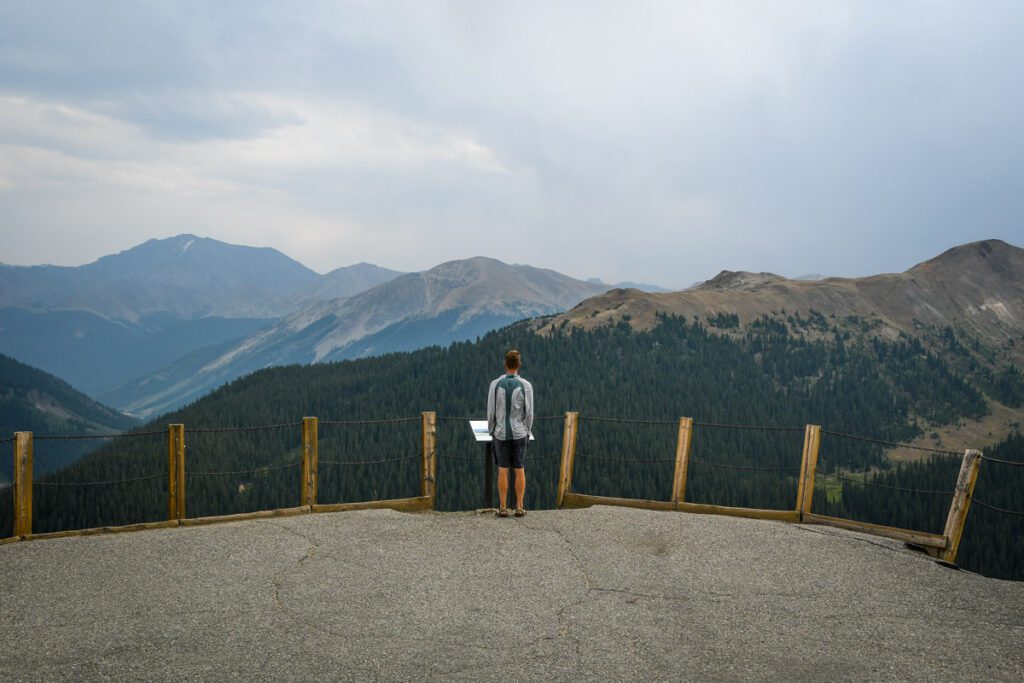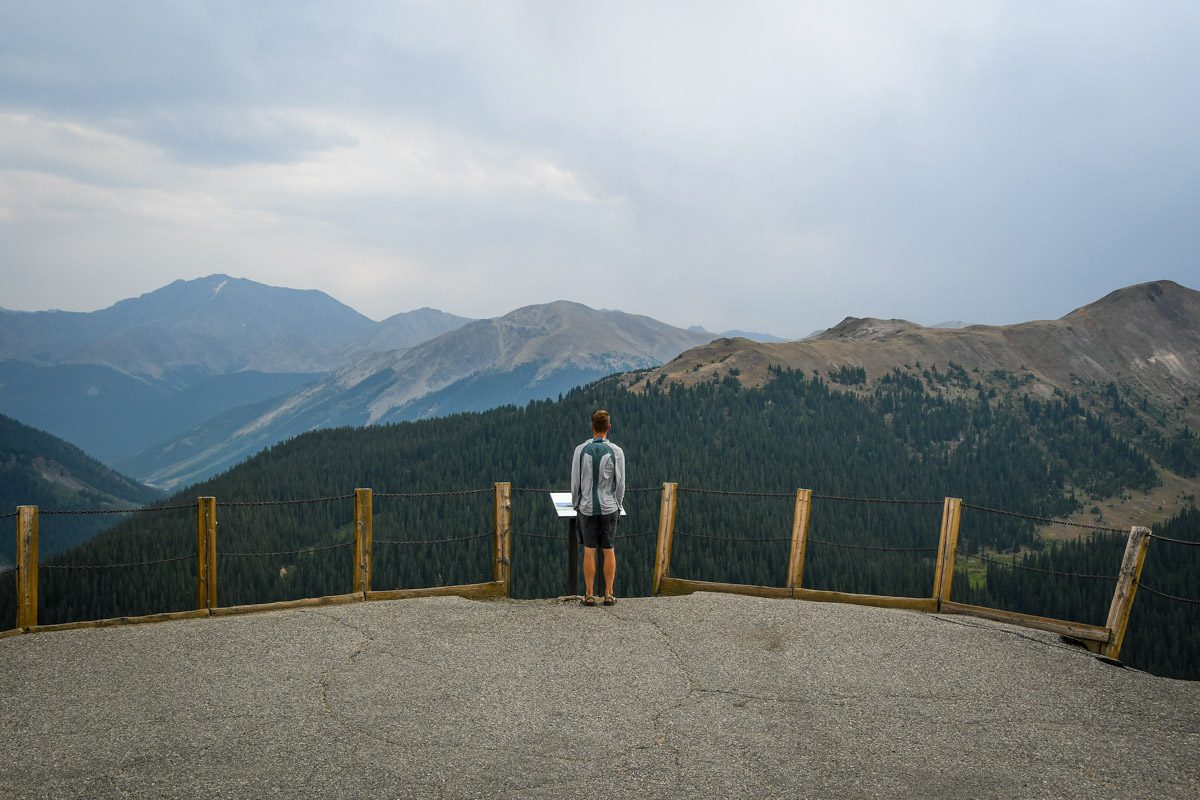 Sometimes we're amazed at how much beauty can exist in a single state. Pikes Peak is one of Colorado's famous 14ers and it is simply stunning.
We love that this summit is totally inclusive to everyone; you can access it in a variety of ways – not just by hiking it.
Pikes Peak drive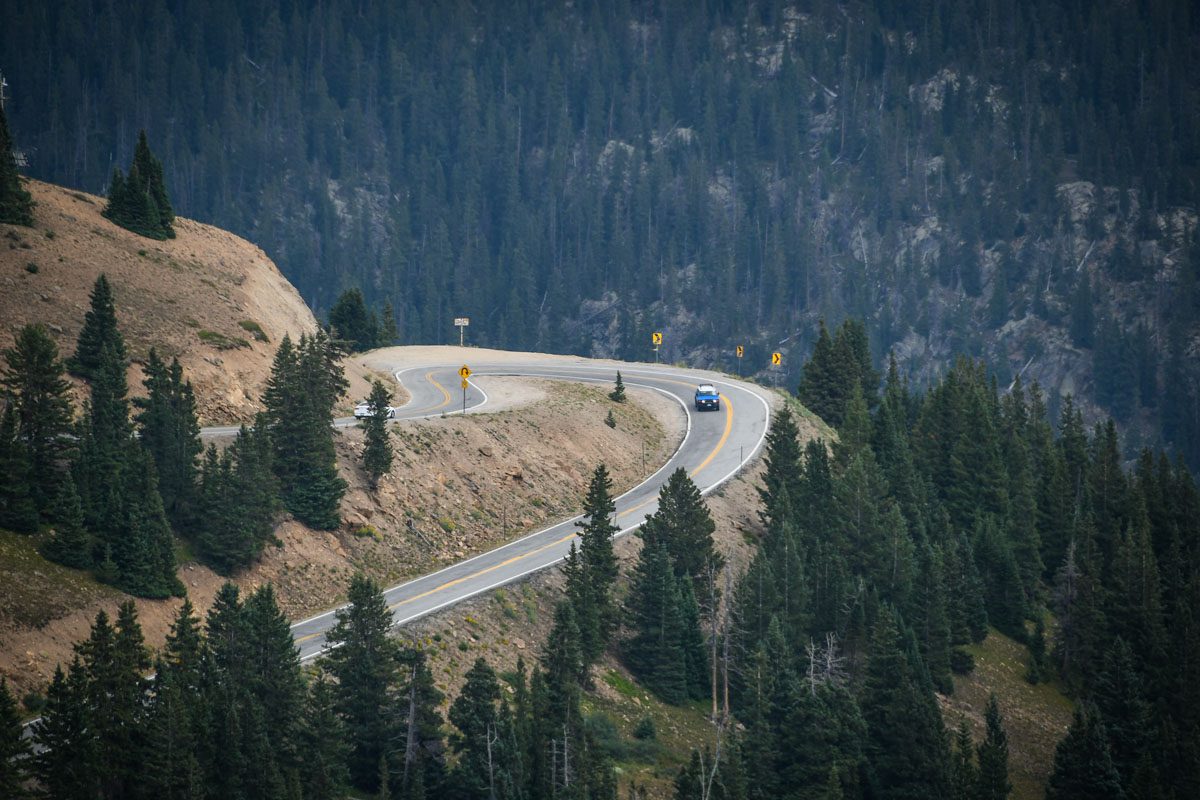 Another option is driving yourself to the summit. Pikes Peak is the only 14er in Colorado that allows you to reach the summit by car via the Pikes Peak Highway. So if you're looking to summit a 14er in Colorado without all the work, this is your chance (albeit a little loophole!).
The drive is about 19 miles, but there are loads of places to stop along the way. Stop at the adorable Glen Cove Inn for a bite to eat or a bathroom break. There is also a little rest stop—appropriately named the HalfWay Picnic area—where you can stop for a stretch, have a snack and take in the scenery.
If you're up for a small hike to break up your drive, stop at Devil's Playground. There is a large parking lot and short path that offers incredible views of the valley below.
Note: There are no opportunities to fill up your gas tank on the highway so be sure you do this ahead of time!
To drive, it costs $15 per adult and $5 for kids.
Pikes Peak by train
If tackling this fourteener doesn't sound like your cup of tea, you can take a train. The Cog railway offers trips straight to the peak!
It costs $38 per adult and $20 for children which we find quite expensive. That being said, it is a relaxing way to take in the beauty of Pikes Peak without much physical effort.
Pikes Peak hike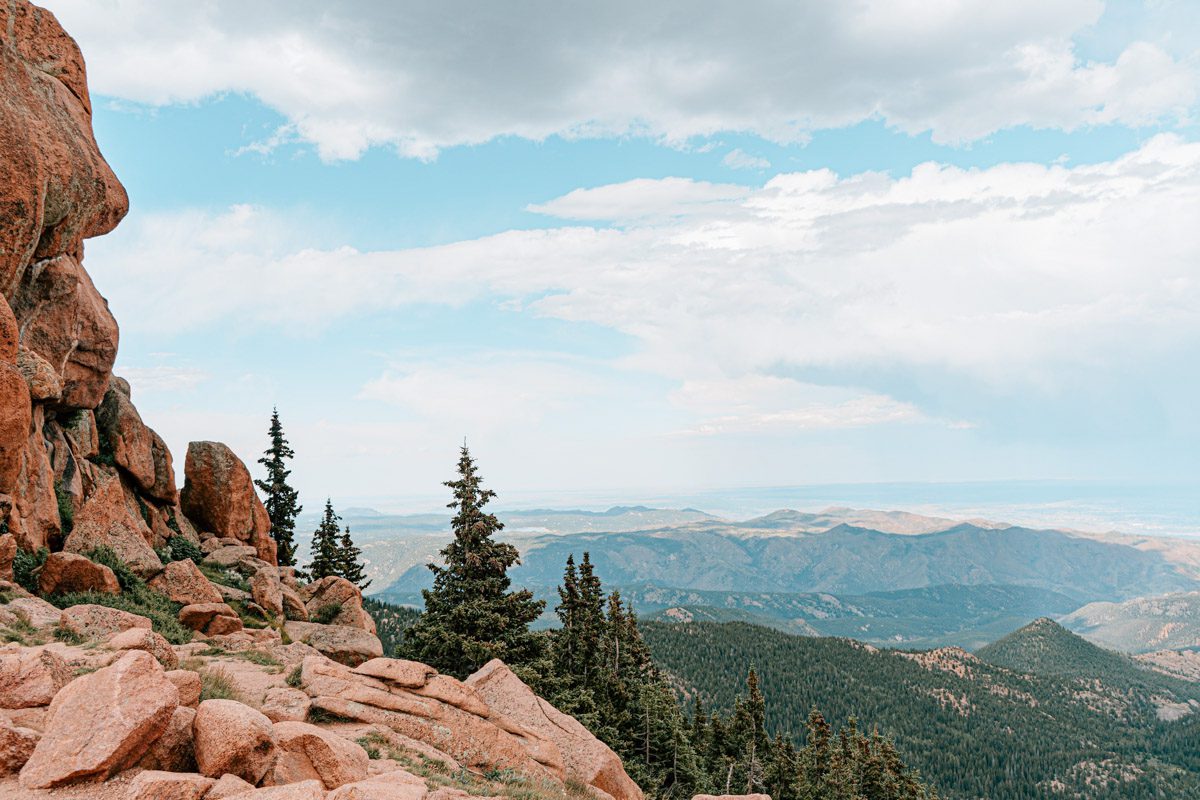 It is a quite difficult hike, however, and recommended only for experienced hikers. It's around 14.5 miles with an elevation gain of about 4,402 feet.
As you begin, follow signs for Crags Trail and, if possible, head out early as afternoon thunderstorms are quite common in this area.
Near the summit, you'll have the chance to see an array of wildlife such as eagles and Bighorn sheep. Not to mention the strikingly perfect views! Pikes Peak has previously been nicknamed 'Mountain of the Sun' and, once there, you'll see why. It will certainly make all the efforts of getting there worthwhile.
Depending on your pace, this hike takes around 6-8 hours to complete.
So whatever method you choose – hike, drive or be driven – you'll need to make a reservation. This is an extremely popular attraction in Colorado so we highly recommend planning this excursion in advance.
27. Visit Colorado Springs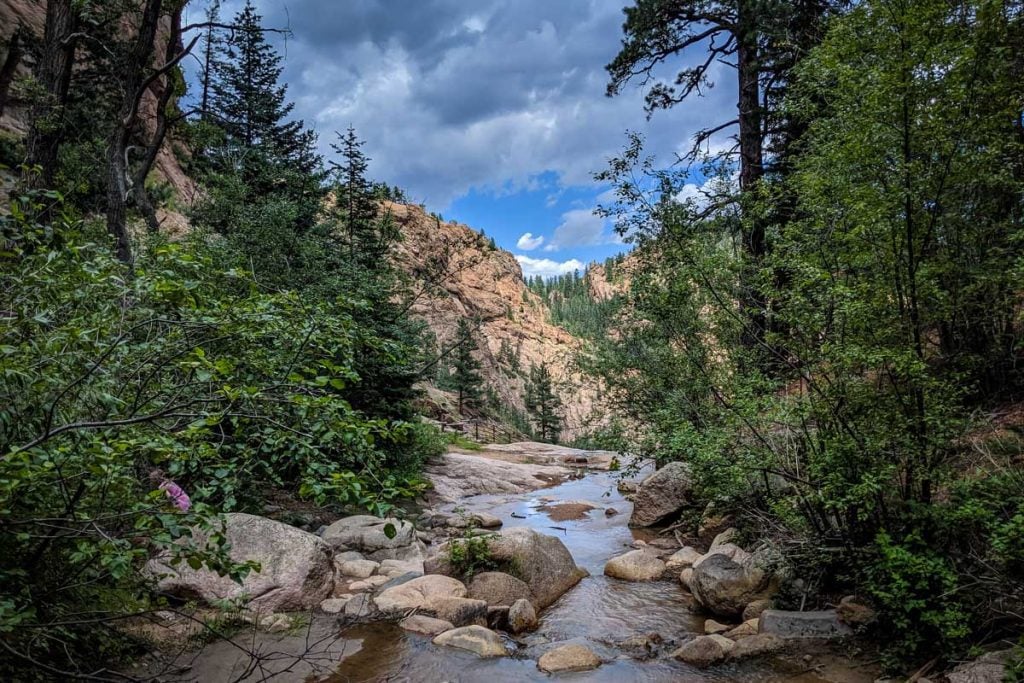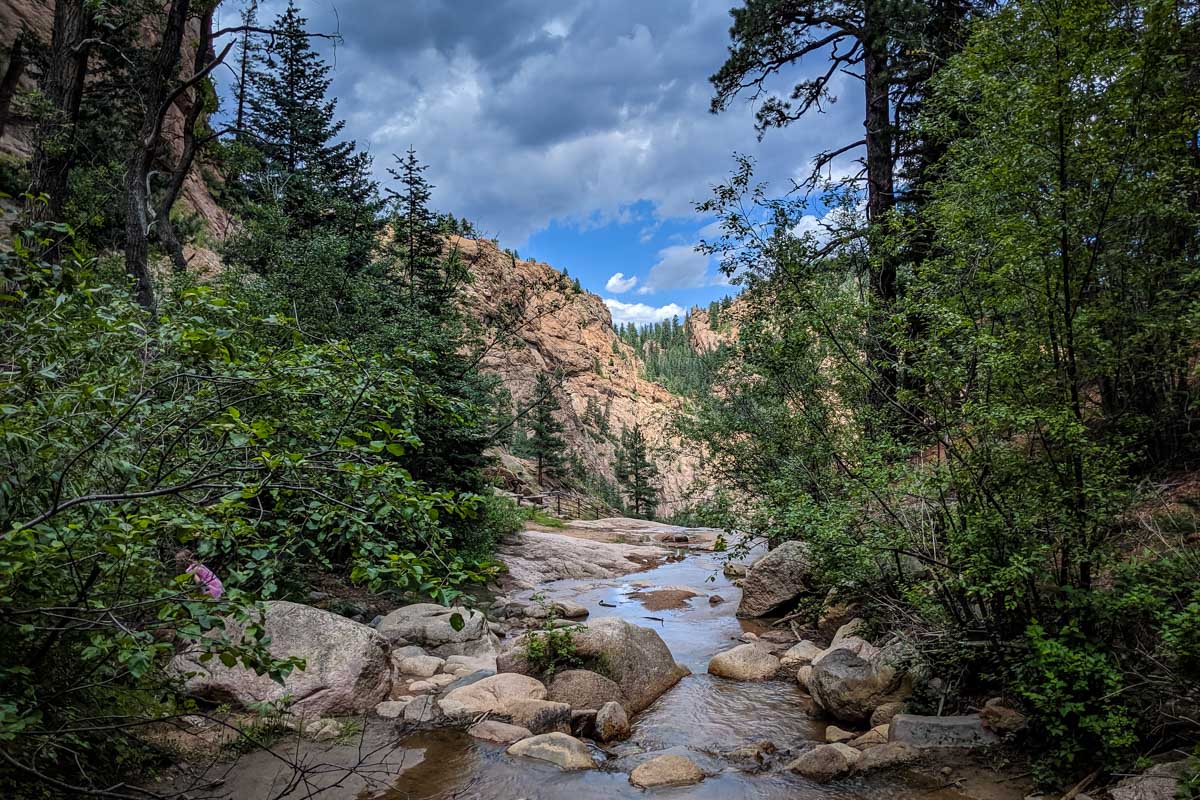 Due to its close proximity to places like the Garden of the Gods and Pikes Peak, Colorado Springs is a great place to add to your list of things to do in Colorado.
With phenomenal views, hidden gems and a vibrant downtown area, this city caters to nature lovers and foodies alike.
Colorado Springs can get quite overcrowded, especially in the summer. If you can, try to visit in the fall when it is less busy. Plus, you'll get to experience the golden hues and deep maroons of the changing leaves.
There isn't a ton to do here and, in our opinion, there are cooler places in Colorado to spend your time, but it is worth checking out for a day or two, especially if you're already in the area.
Things to do in Colorado Springs:
Visit Cave of the Winds Mountain Park. Weave through the underground tunnels and explore the history of the ancient rock formations.

There is also a haunted tour that seems super fun – especially if you're traveling around Halloween!

Taste your way through the city with Rocky Mountain Food Tours. Food tours are one of our absolute favorite things to do whenever we visit a new city so we highly recommend this if you've never been to Colorado Springs.
Get outside and go on a hike. There are dozens upon dozens of trails, but Palmer Park seems especially beautiful as it offers outstanding views of the entire city.
28. Try your luck in Black Hawk/Central City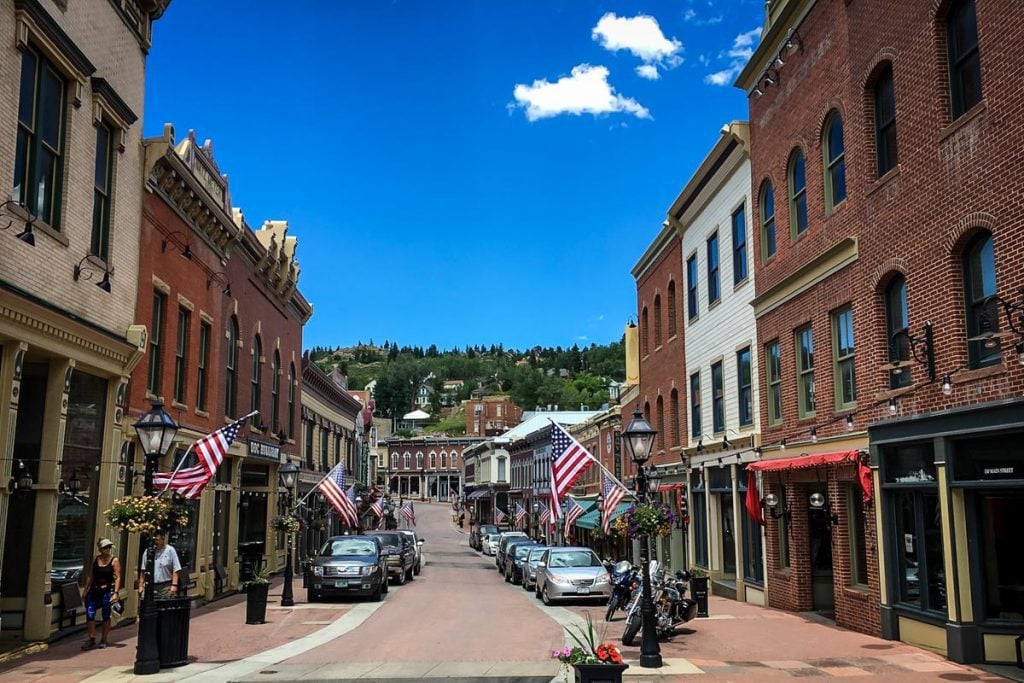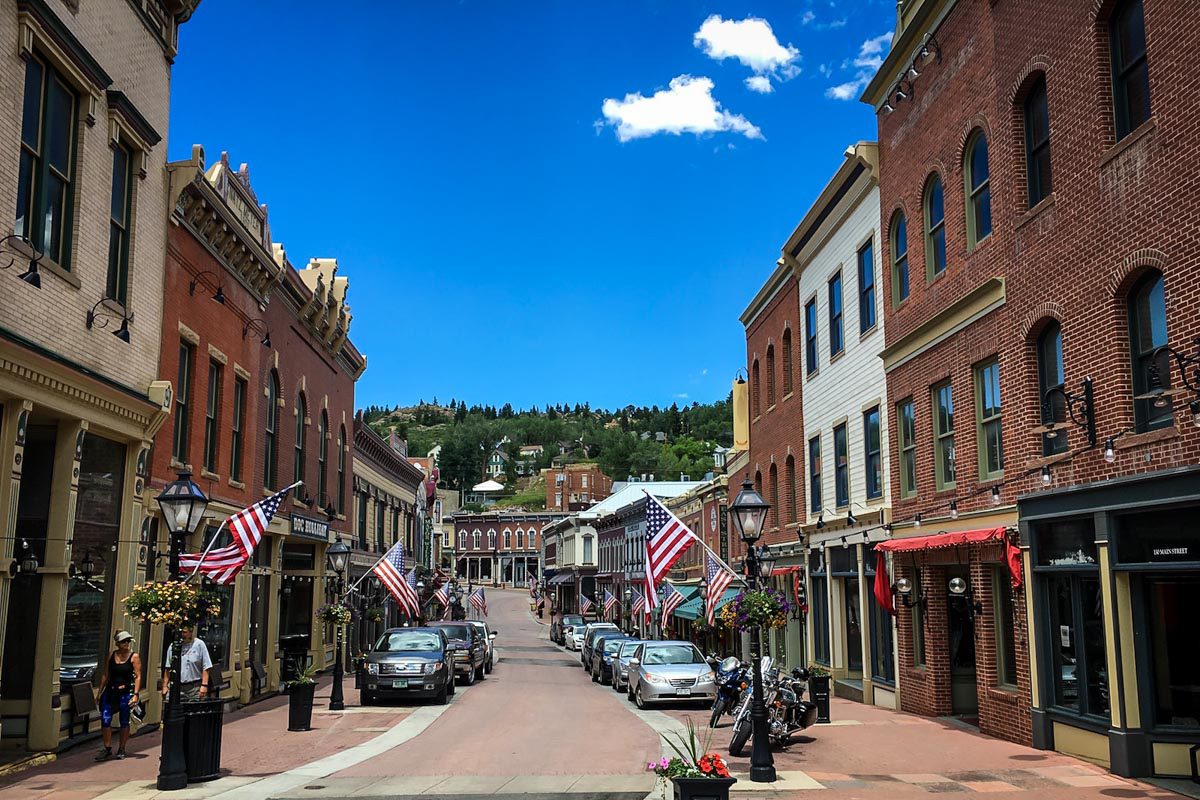 It was news to us that there is a mini "Vegas" in Colorado, but there definitely is! Say what?!
Just a bit west of Denver, Black Hawk is a small mountain town, home to over 20+ casinos all located on their bustling Main Street.
You can use the (free!) Black Hawk Shuttle to bounce between the many casinos in the area, which range in style from very posh to family-owned to just plain quirky—and everything in between!
Aside from gambling, Black Hawk is also popular for its rich mining history. If you're a history buff, there is a self-guided walking tour throughout the downtown complete with scannable QR codes along the way. We've done walking tours before, but the QR codes are a fun and modern little touch!
Alternative things to do in Black Hawk
Similar to nearly every mountain town in Colorado, Black Hawk also caters to the outdoor junkie in you.
There is a gorgeous 50 mile scenic byway that connects Black Hawk to Estes Park making it easy to combine these two trips together.
If you're a climber, you'll want to head to nearby Clear Creek Canyon. High Wire Crag is perfect for beginners while The River Wall is reserved for veteran climbers.
In winter, snowshoe around Clear Creek before returning to the city for a delicious, cozy dinner around a fire.
Hike Peaks to Plains trail which begins in downtown Black Hawk. If you're looking for more hiking, check out the trails within the Golden Gate Canyon State Park area.
29. Explore Roxborough State Park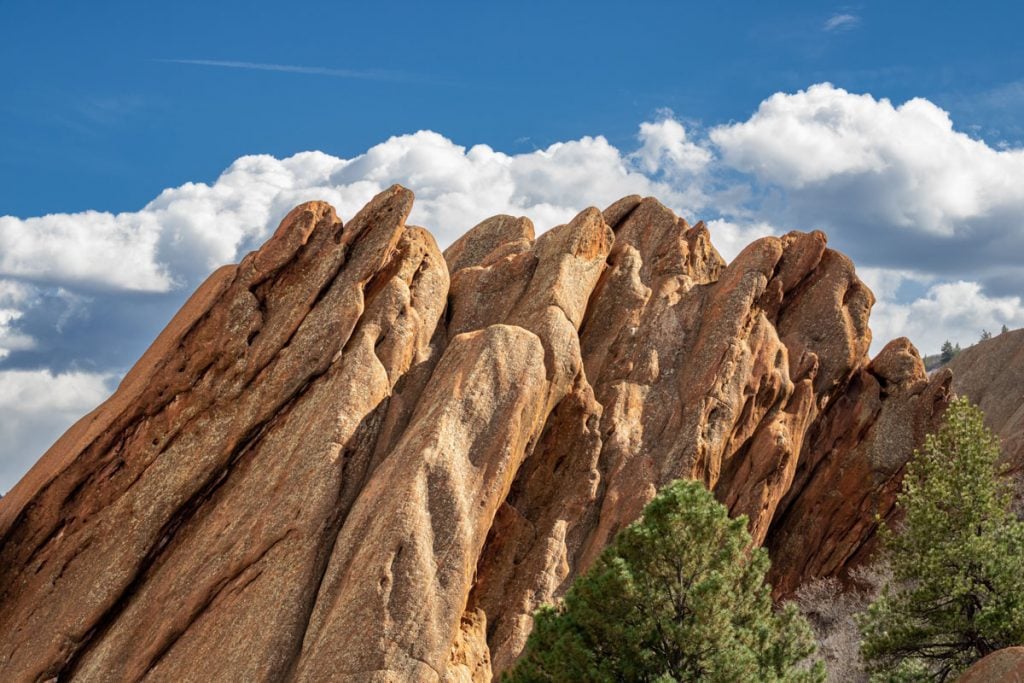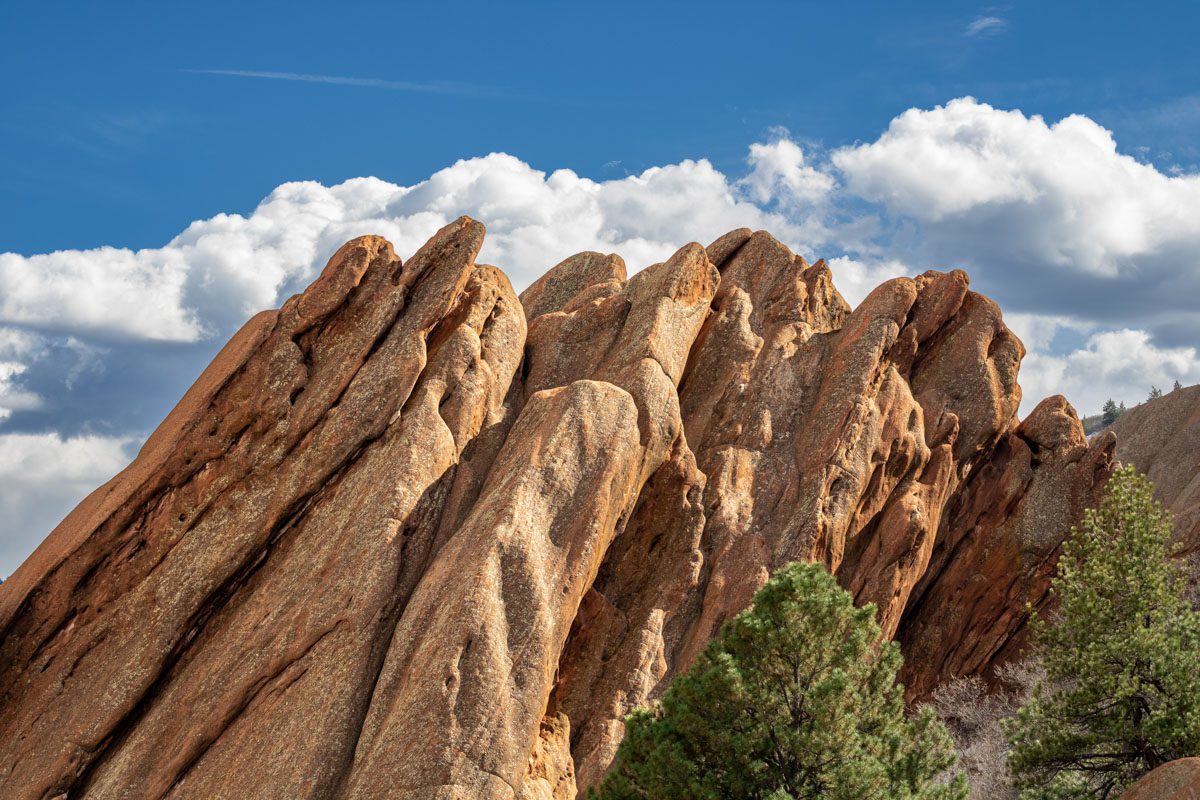 Roxborough State Park is a perfect place to unwind and unplug in Colorado.
With strict restrictions for no camping, no climbing, no biking and no drones, you can pretty much expect a super chilled out (and quiet!) visit. Plan your trip in the morning or weekdays and you'll have even more privacy.
We especially love this park's commitment to promoting the Leave No Trace principles.
Things to do in Roxborough
Have a picnic, but don't forget to take your trash with you when you go!
Go birding. There are a few hikes in the park that cater specifically to bird watching. Don't forget your binoculars!
Check out one of the 9 hiking trails within the park. Roxborough is home to a lot of wildlife – including bears – so you're likely to spot some creatures on your hike.
30. Check out the Stanley Hotel in Estes Park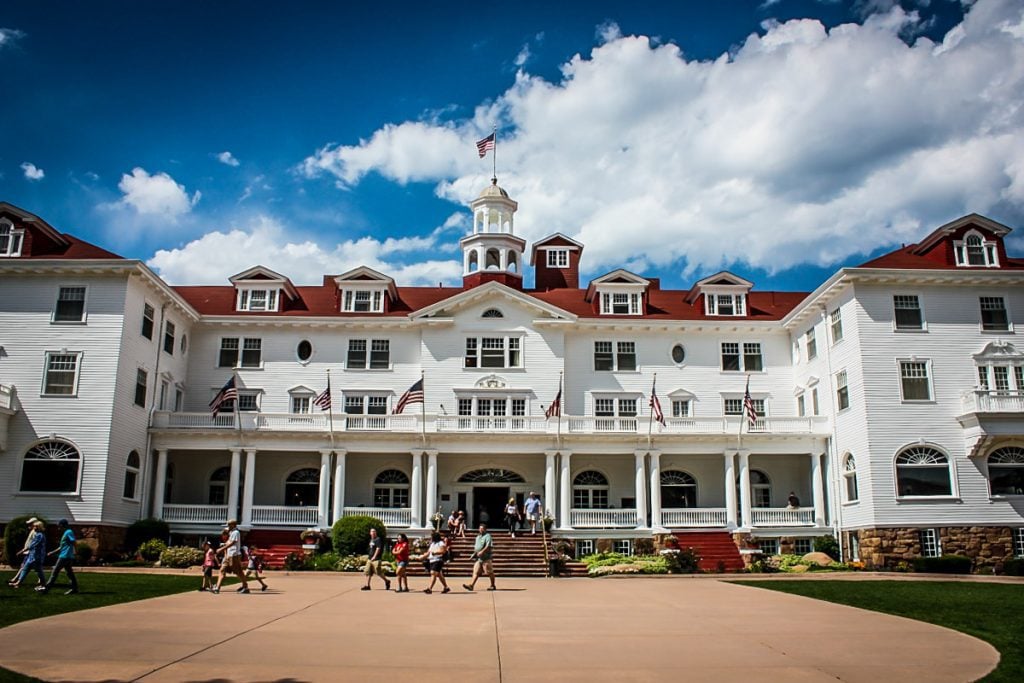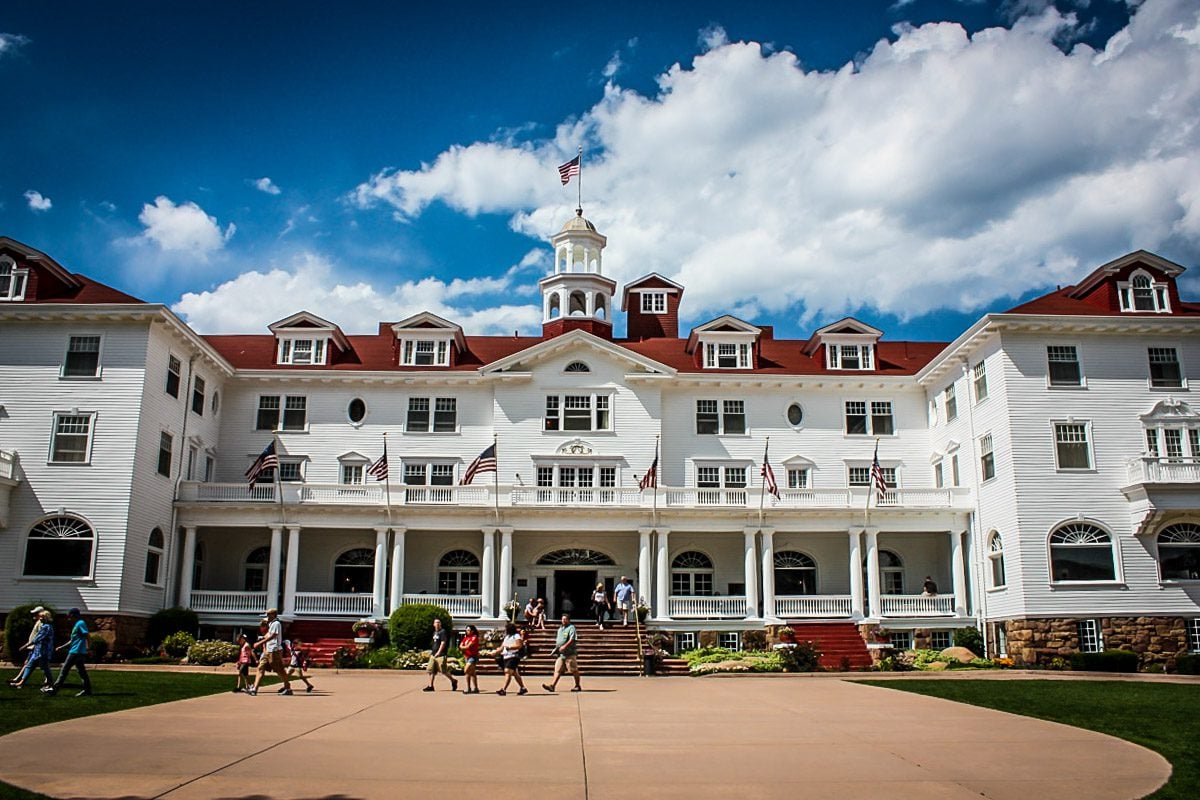 If you're a movie junkie, you'll recognize Stanley Hotel from the hollywood thriller, The Shining. The historic hotel in Estes Park is played 'set' for some of the scenes from the movie.
Whether you're a movie buff or just curious about the history, you can have a walk around the grounds, snap a few photos and have a drink at the bar. We are wondering if they serve any RED RUM there…
If you're planning a longer visit to Estes and nearby Rocky Mountain National Park, you can actually stay the night at the Stanley Hotel.
While that might seem a little creepy to some, the hotel rally doesn't give off any creepy-twin vibes. In fact, it is quite a luxurious and expensive stay starting at $300+ a night.
While you're at it, be sure to check out all the other highlights of Estes Park like driving the Peak to Peak Scenic Byway, riding the Estes Park Aerial Tramway, or getting out on the water on Lake Estes.
31. Visit Fort Collins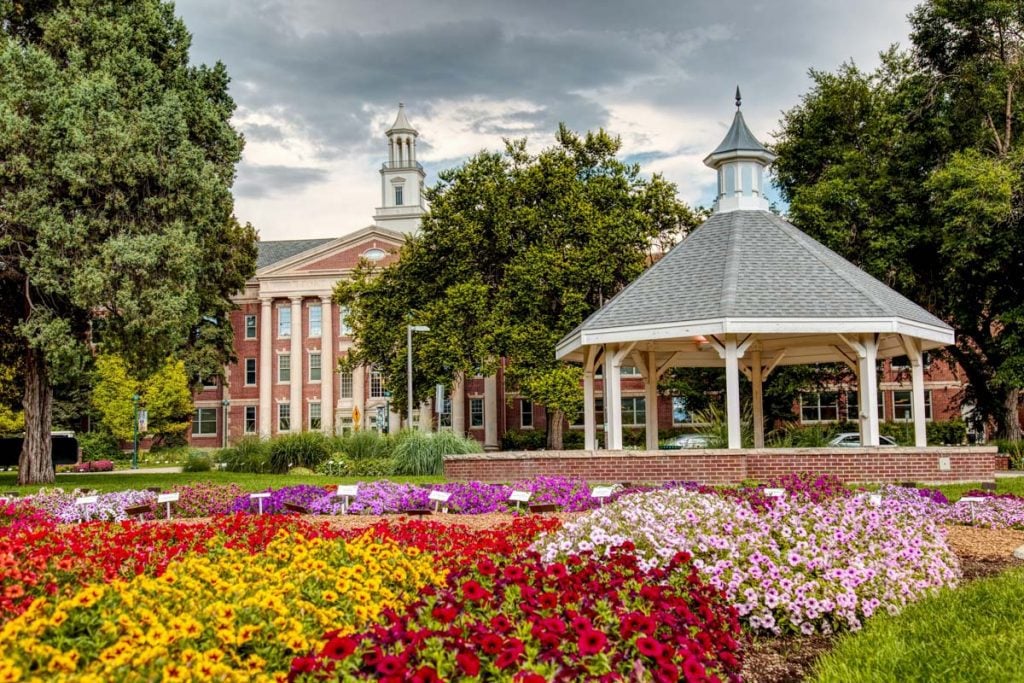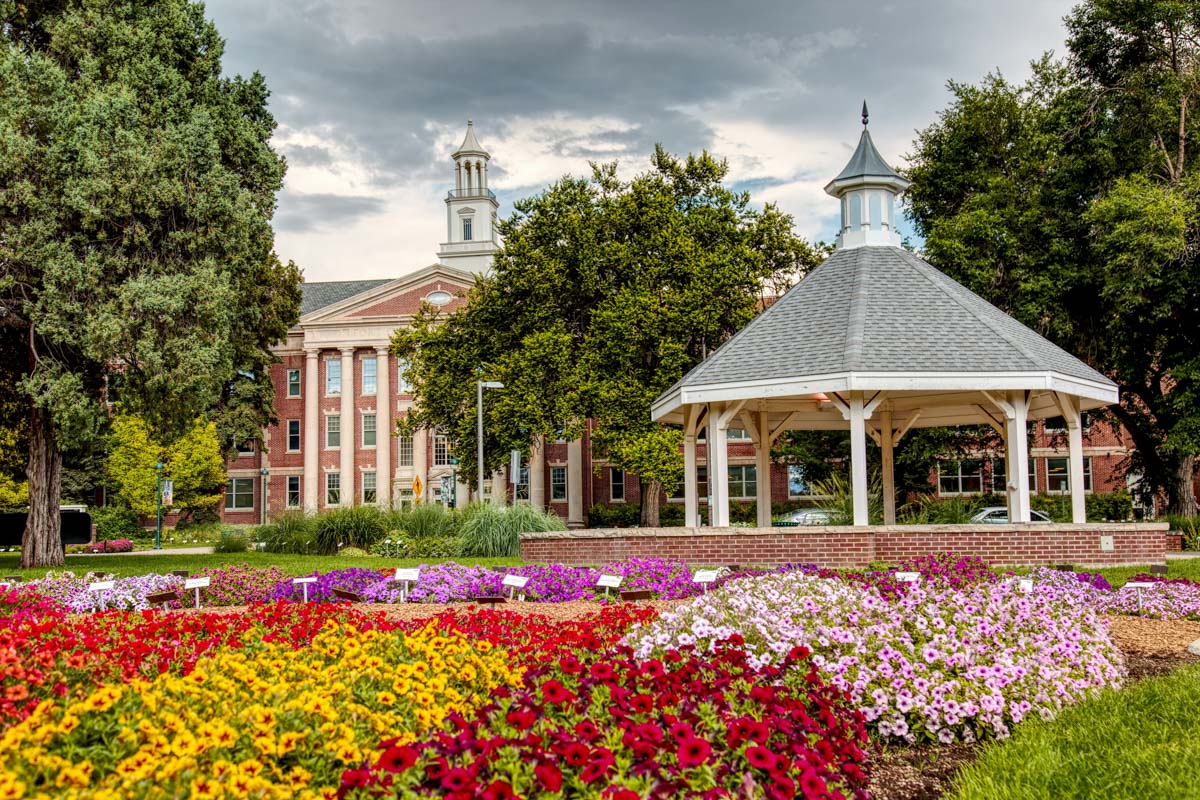 Okay, if you love craft beer then you need to visit Fort Collins. We're not kidding—it has been crowned Craft Beer Capital of Colorado; the Napa Valley of beer. This city produces around 70% of all the craft beer in the entire state.
We'll cheers to that!
Aside from all the beer, it is also home to Colorado State University which adds to its local, but lively vibe. Beer + college naturally go together, right?
You certainly won't be bored here after exploring the historic downtown, trying some delicious restaurants and embarking on some brewery tours. Throw in the stunning scenery of Fort Collins and, well, we think you'll just love this place.
Brewery hopping in Fort Collins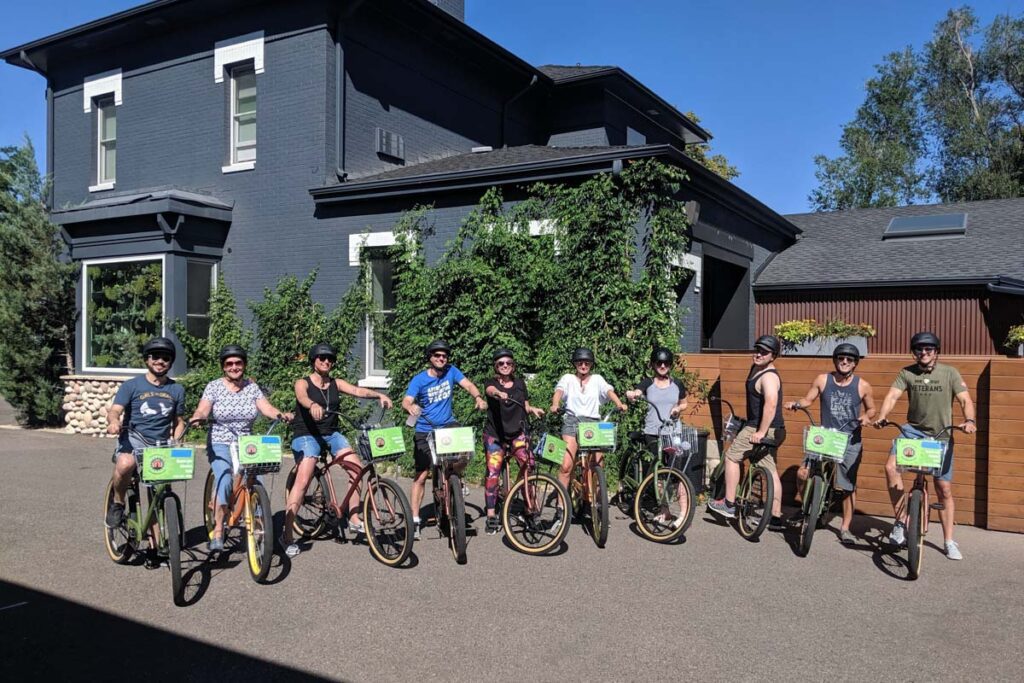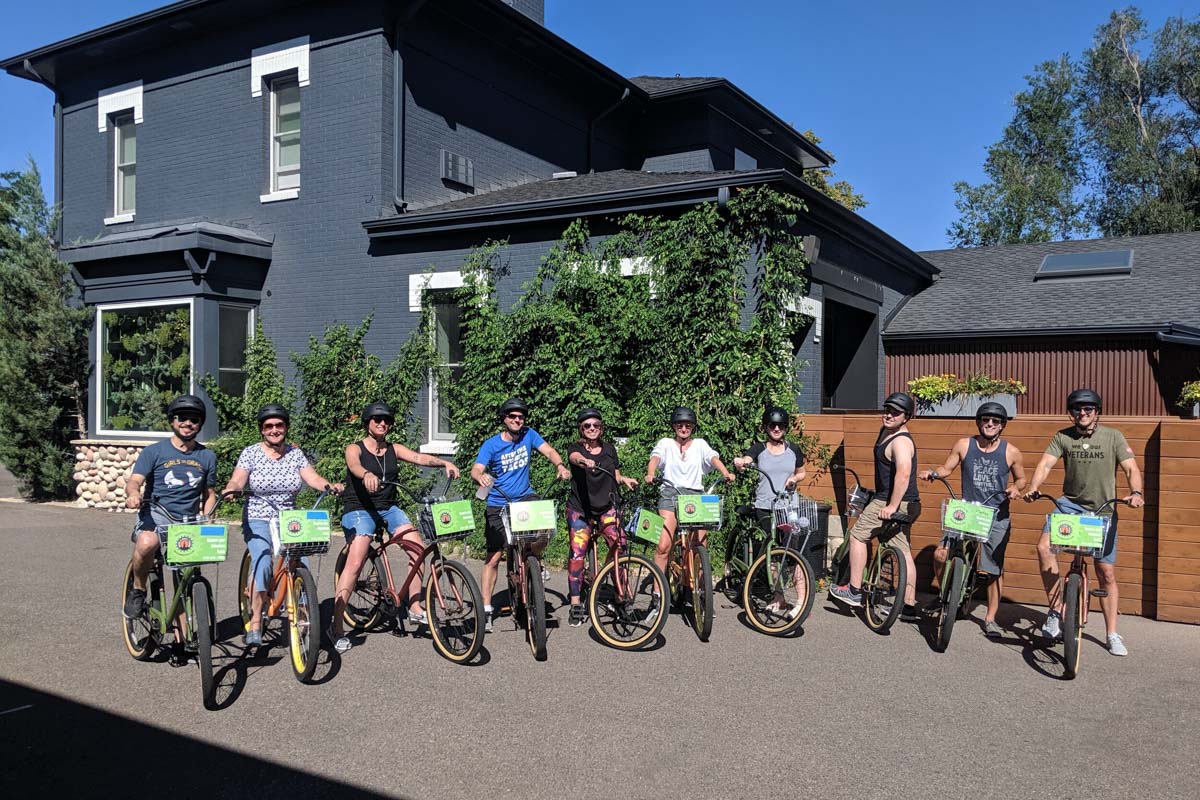 Something you definitely don't want to miss on your visit is taking a bicycle brewery tour with Fort Collins Brew Cruise.
This company allows you to choose which three breweries you want to visit (and there are loads!) then sets you up with equipment and an expert guide to lead your trip.
Each tour takes about four hours and you'll be biking around 3-8 miles depending on which breweries you choose to visit.
The tours cost $75 and are for those 21 and older. We should note, too, that the price does not include any actual beer tasting so bring additional cash if you want to drink — which we imagine you will!
If a guided tour doesn't seem like your thing, you can easily create your own brewery-hopping tour:
Get outdoors
It would be a shame to leave Fort Collins without soaking in some of its striking scenery. We recommend you spend the day exploring Horsetooth Reservoir. It is a perfect area for cooling off with a swim in summer, hiking, biking or even horseback riding.
The 6.4-mile loop trail to horsetooth rock through horsetooth falls looks especially gorgeous and isn't too challenging.
The Mason Bike Trail is another way to explore the lovely sights and activities in Fort Collins. An easy Google search will lead you to loads of places to rent a bike near you. Then hop onto this short trail (less than two hours) and enjoy the fresh air with a bit of exercise.
Explore downtown
Take some time to explore the historic downtown; it has loads to see and many delicious restaurants to try. Avogadro's is especially loved by locals, but there are soooo many options!
32. Check out Nederland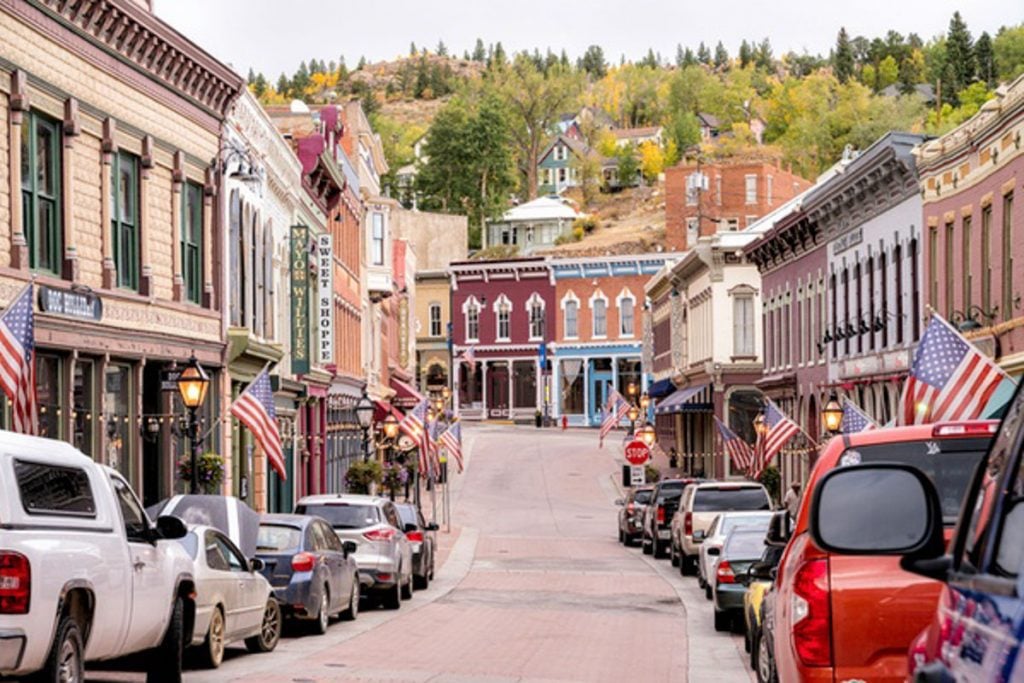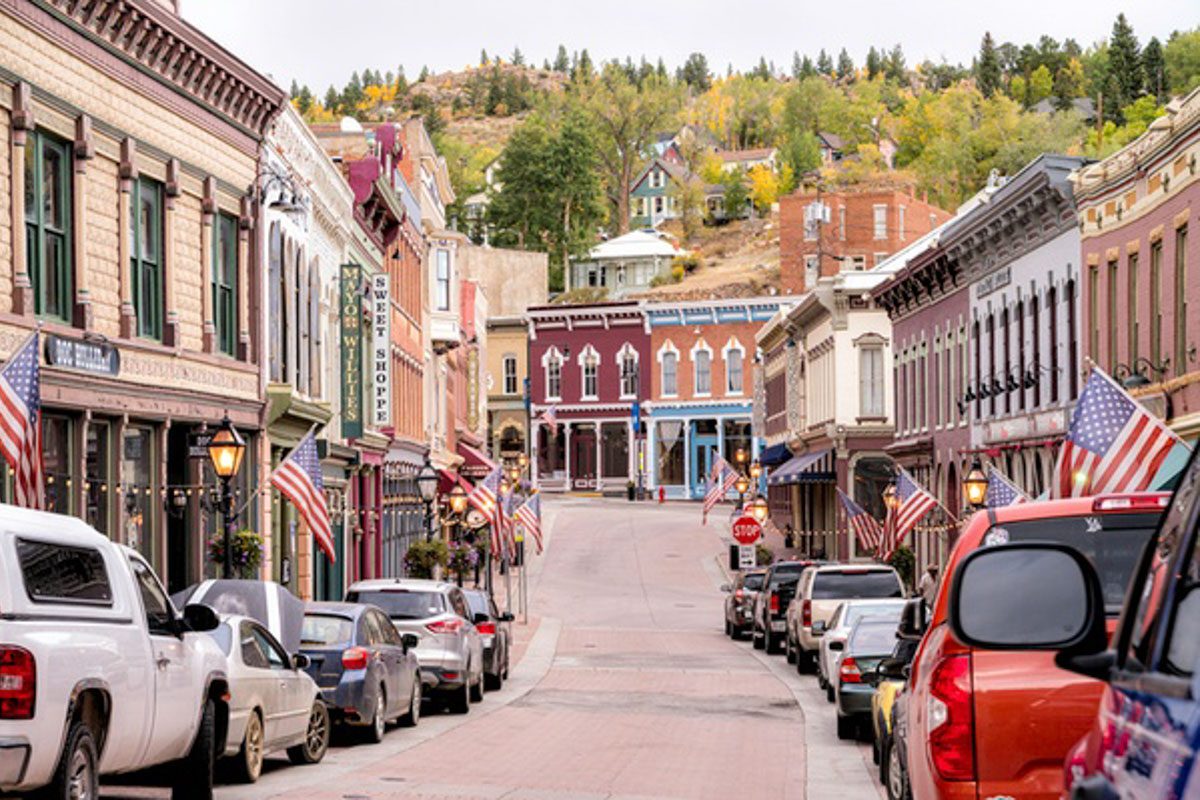 As with many mountain towns in Colorado, Nederland is both charming and picturesque. Starting as a trading post between the Ute Indians and Europeans, it has a deep-rooted and incredibly interesting history.
Downtown 'Ned' (as the locals call it) has an array of local restaurants, micro-breweries and shops; it is rare to find large chain shops here which makes this place especially quaint.
One adorable stop we recommend is the Carousel of Happiness. It's super cheap (only $3 per ride) and has the most heart-warming story involving a war veteran who worked through his PTSD by hand-painting 25+ animals. Once finished, the entire community came together to make it into a working carousel. Ahh – all the feels!
While downtown, there are endless eateres to explore. Try some coffee at New Moon Bakery, a beer at Knotted Root Brewing Company or try some local treats and favorites at Ned's Restaurant.
A particular draw to Nederland is their unique festival scene. Throughout the year, they host an eclectic array of festivals for visitors and locals alike that range from organic farmer's markets to indie concerts to coffin-races—seriously!
Notable festivals in Nederland:
In March, Nederland hosts Frozen Dead Guy Days which is well-worth a visit because it is seriously quirky. This festival attracts loads of visitors per year with its coffin-races, a polar plunge, live music and parades honoring Grandpa Bredo Morstoel (a historic figure who is apparently still cryogenically frozen IN the town).
From May through September, Nederland is home to a flourishing Sunday Farmer's Market selling all the local goods!
If you're into local art, visit Nederland in June for their High Peaks Art Festival.
Cherished by locals, the Ned*Ned festival consists of a 13 mile walk, hike or run throughout the surrounding trails. What makes this especially unique is the fact that participants are encouraged to dress in wacky costumes. Taking place in September, you'll be able to experience all the gorgeous fall foliage.
Traveling in October? Pop by for Nederland's own Oktoberfest. Aside from featuring German beers, this festival is famous for its 'Fondo' bike race.
Outdoor activities in Nederland:
Check out Lost Lake via Hessie Trail which is fairly easy and about two hours long.
Visit Caribou Ranch Open Space which is especially stunning in autumn, but can be accessed all year long.
Looking for a real adventure? Tackle the difficult 12.9-mile Arapaho Glacier Trail. If you want to extend your adventure, you can also camp along this trail.
33. Glimpse the Colorado National Monument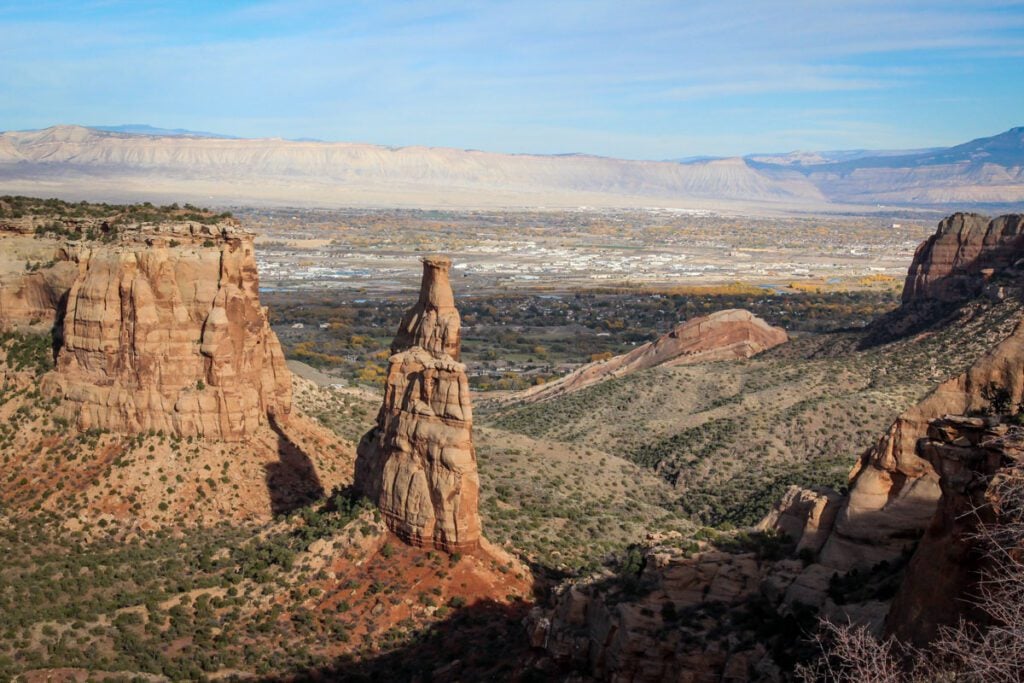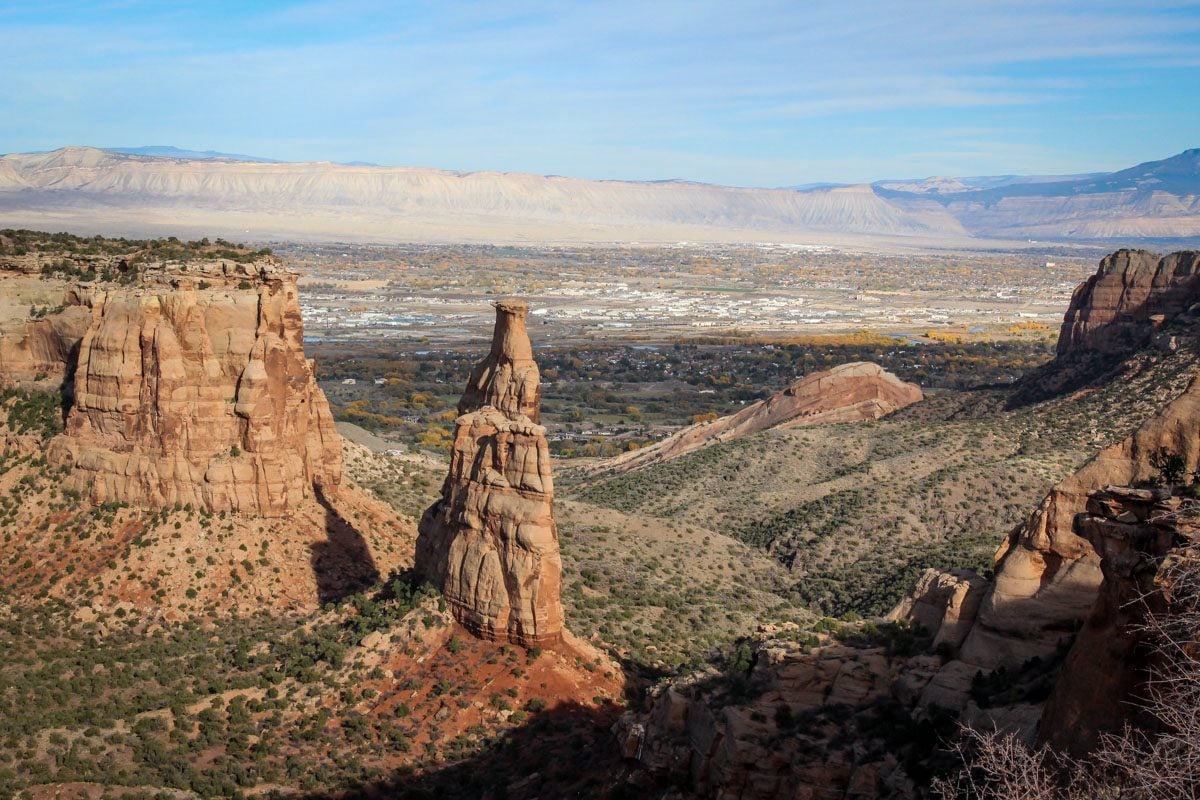 Colorado National Monument is another jaw-dropping stop due to its deep, narrow canyons, jutting rocks and unique desert landscapes.
Shockingly, you don't need a reservation ahead of time for this trip, but if you're up for some camping at nearby Saddlehorn Campground, you should book in advance.
To enter the park, it costs $25 per vehicle or $15 if you're hiking or biking (entrance is free with your annual park pass). You can pay via cash or credit card.
There are a few ways to explore this area which makes it quite accessible to all people.
Visit by car
The Rim Rock Drive allows you to explore 23 miles of billion year old rock formations and picturesque landscapes by automobile.
There are various places you can stop along the way for a photo or stretch your legs for a hike. We recommend stopping at the visitor center and speaking with the local rangers who can suggest the best options for you based on your travel preferences. They are knowledgeable and always willing to help!
While the drive is completely paved, it is windy, steep and passes through three different tunnels. Therefore, you should be mindful and careful while driving. For a list of driving recommendations, check out this website.
Explore by hiking or biking
When we travel, we always welcome any opportunity to jump out of our car and put on our hiking boots!
There are loads of hiking trails within Colorado National Monument from super simple to challenging. We recommend checking out Alltrails to choose one that suits your needs.
It is important to note that aside from the ranger station, there is no water source along these hikes so be sure to come prepared to stay hydrated.
34. Pick peaches in Palisades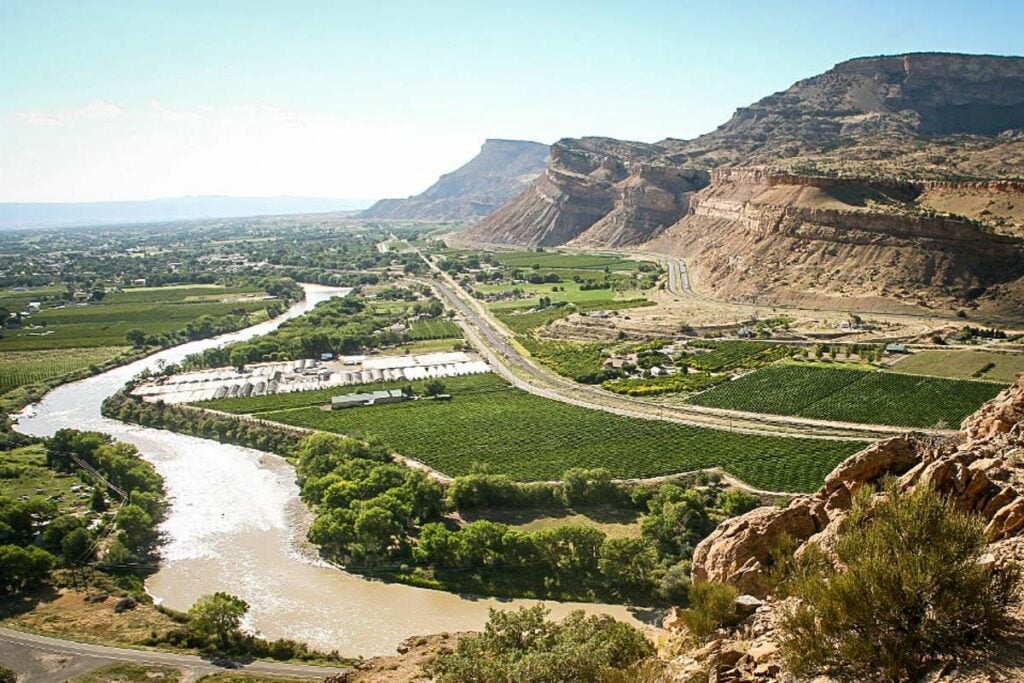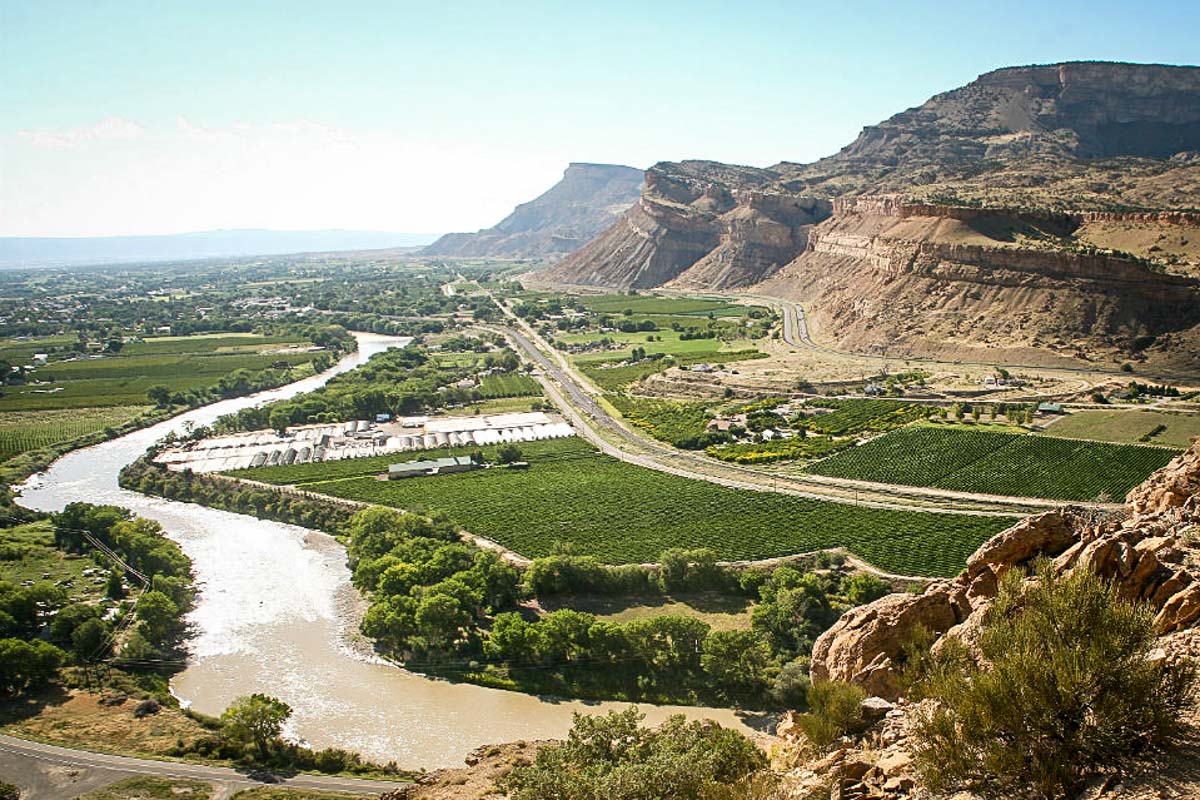 Did you know Palisades has some of the best produce in all of Colorado? Us either, but, well, apparently it does!
Known for its juicy, ripe peaches, Palisades also grows a wide array of fresh fruit from June through October, such as plumes, grapes, berries and apples.
For over 50 years, Palisades has hosted a Peach Festival in August where you can enjoy everything … peachy! This includes peach desserts, peach farm tours and some peachy-keen live music (…too far?)
Throughout the summer you can also enjoy the fresh produce sold at the local Farmer's Market.
Wine, anyone? Aside from their array of fresh fruit, Palisades has a flourishing wine community. Through Rapid Creek Cycles, you can rent a bicycle ($36) and cruise to any of the nearby wineries.
35. Experience Summit County in the summertime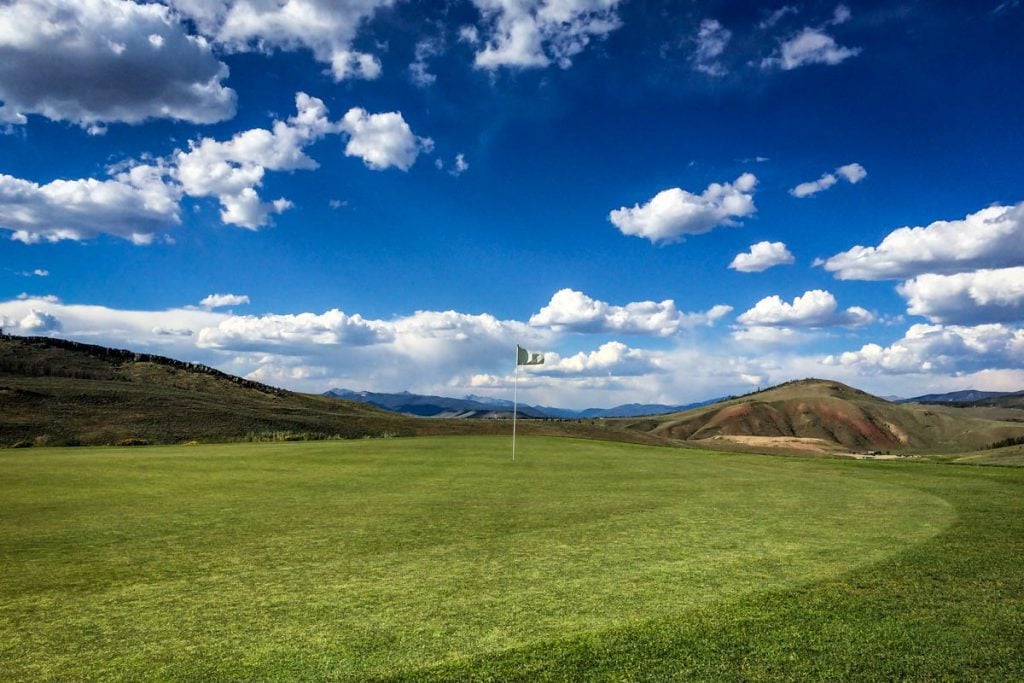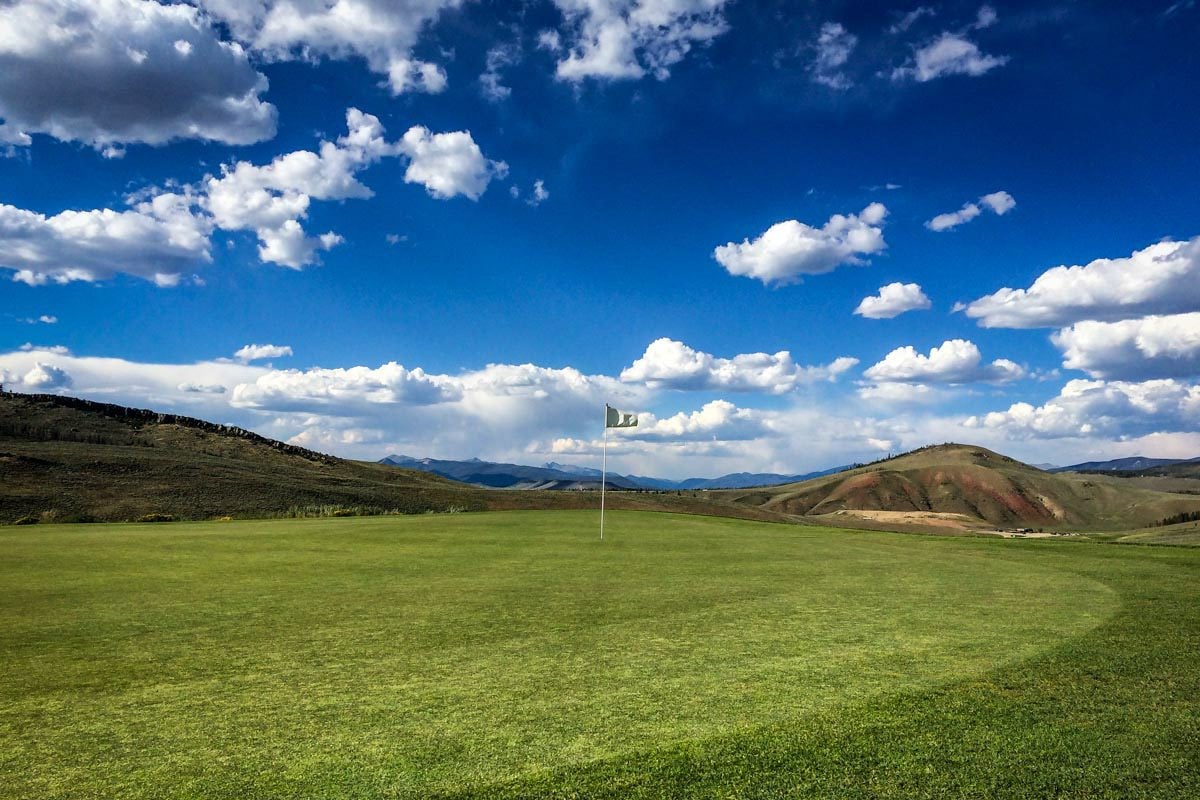 While Summit County has a reputation for its outstanding ski resorts (see #17 on this list), it's also a really popular place for outdoor adventures during summer as well. Located among the Dillion reservoir, there are loads of things to do during the warmer months of the year.
For an easy way to experience the entire area, you might consider a drive through Loveland Pass which passes through the continental divide and ascends around 12,000 feet. On this trip, you'll weave through wondrous curves and steep cliffs. The paved roadway makes it a relatively safe and approachable drive.
Always be mindful, however, when traveling in winter as conditions can make this roadway quite slippery. We always recommend reviewing road conditions – wherever you are – before heading out.
Things to do in Summit County in summer
In the summer months, mountain biking is a really popular excursion. Through Mountain View Sports, you can take part in their 'Ride the Pass' trip where they drop you off at the top of Vail Pass and you descend through the astounding vistas. Don't worry if you aren't experienced at mountain biking; this company caters to all skill levels.
If you don't love tours or are limited on time, tackle the Summit Country Bike Path (easy) or Black Power Pass (difficult) on your own. Besides these two, there are many others to pick from.
Hunker down at Lake Dillon for the day. Surrounded by 14ers on all sides, this reservoir is absolutely gorgeous. You can spend your time biking,hiking, kayaking or windsurfing. You can easily rent equipment at the Dillon Marina. For a cheap day, pack your own picnic from local eateries and breweries!

Because the water is quite cold, you won't want to swim, but you can take in the views and spend some time on the water by booking a boat tour. These range in style from sunset tours, historical tours to sailing lessons.

Love golfing? While Keystone is quite popular and has great reviews, there are numerous golf courses to choose from in the area for your budget and style.
---
Planning a trip out west?
We have TONS of resources on travel in the US and how to make the most out of your trip. Check out our Ultimate USA Travel Guide for everything you need to know, or read some of our favorite articles below.
Save this article for later on Pinterest!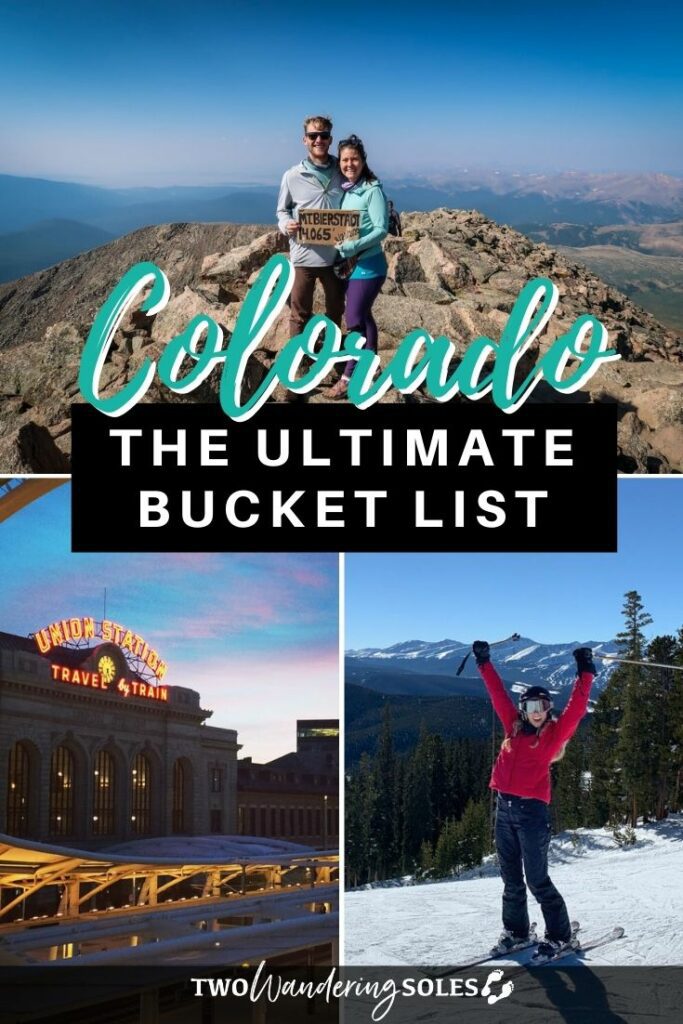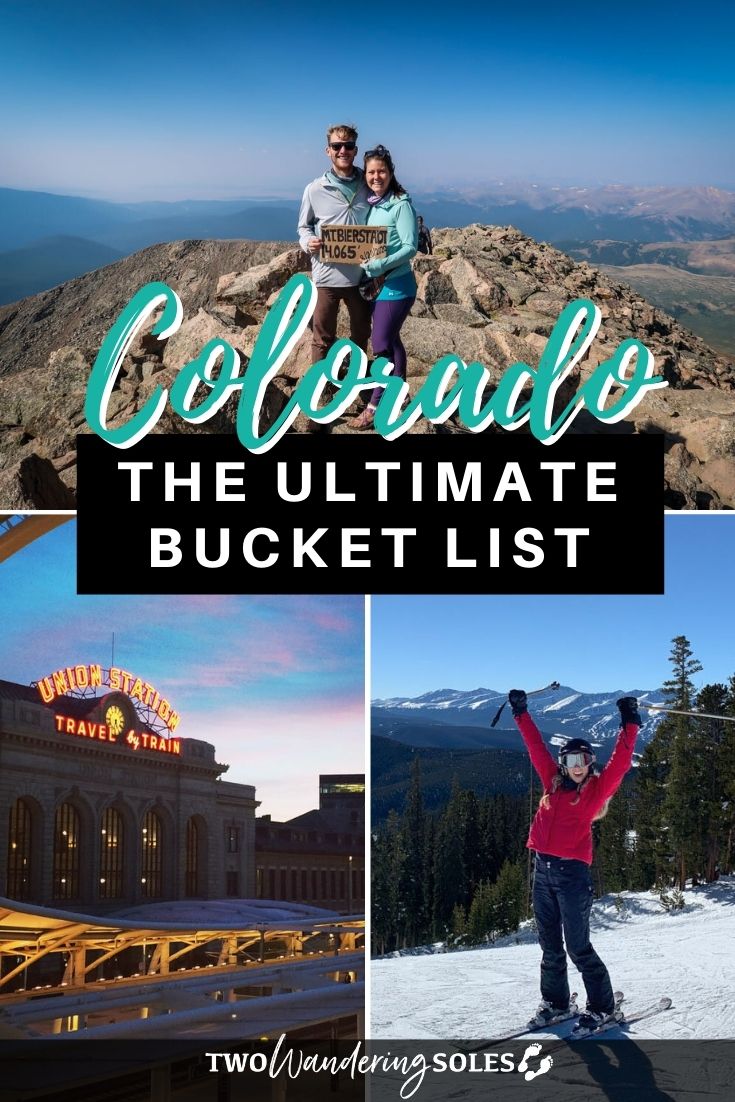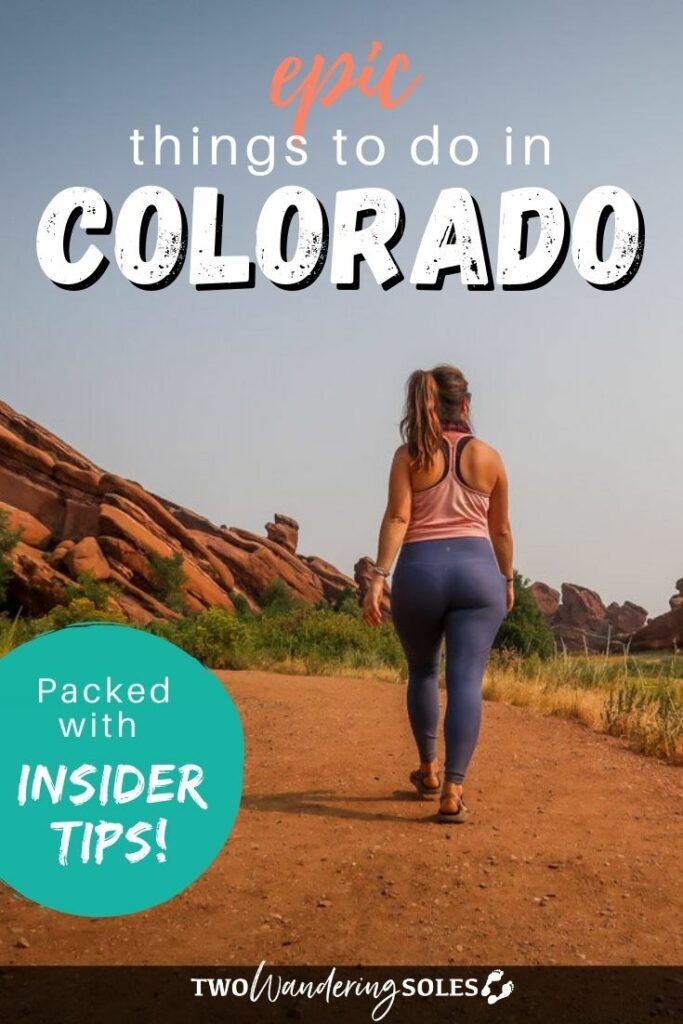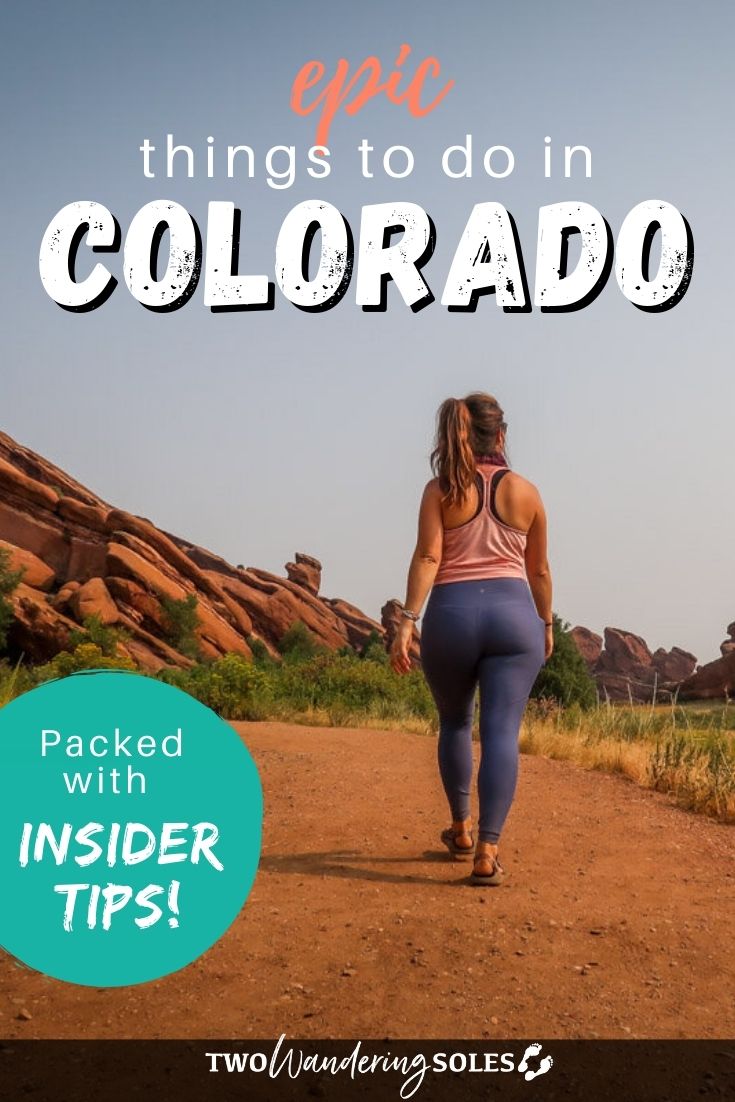 We want to hear from you!
Which of these epic things to do in Colorado is going straight to the top of your bucket list? Anything you think we missed? Let us know in the comments below and we'll do our best to get back to you!