With breathtaking natural beauty and historic sites, the Gap of Dunloe is one of the top destinations in Ireland for good reason, but its popularity can make visiting tricky. This guide will explain exactly how to visit the Gap of Dunloe so you can have the best experience.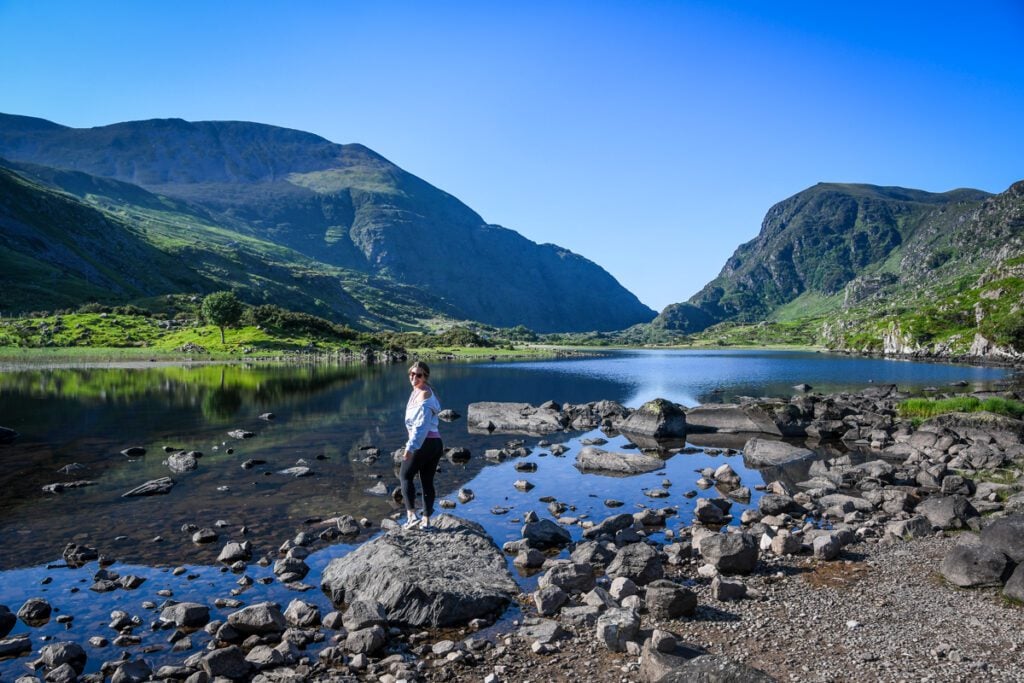 The Gap of Dunloe is a U-shaped valley just outside of Killarney with views that'll make you swoon. I speak from experience.
With glacial lakes, mountain views, sheep, and historic bridges, the Gap of Dunloe is truly one of the most beautiful places in Ireland.
The thing is, it can be a little confusing trying to figure out how to visit this spot. There are many ways to visit and you might find yourself scratching your head…
Should I hike part of the way? Hike the whole thing?
What about renting a bike?
Should I join a guided tour? Or how about one of those horse cart things?
Can I just drive it?
There's a lot you should know before you just show up. For one, the Gap of Dunloe is one of the most popular stops on the Ring of Kerry and one of the best things to do in Killarney. And rightly so – it is drop-dead gorgeous, folks.
But its popularity means it can get crowded. So crowded, sometimes, that you may have trouble finding a parking spot.
But don't you worry. We've got all sorts of tips that'll help you figure out the best way to visit the Gap of Dunloe, as well as how to avoid the crowds. We had such an amazing time here and we want you to have just as good of an experience!
Gap of Dunloe Travel Guide
---
Want to save time and energy on planning?
In June 2023, we spent 2 weeks traveling around Ireland and living in a campervan. We were lucky enough to explore a lot of what this country has to offer!
We took our 2-week travels and are in the process of creating the perfect Ireland road trip itinerary. We'll send you our complete 2-week itinerary, filled with tips and advice, once it's finalized! Just click below to get on the waitlist for our 2-week Ireland road trip itinerary!

---
About the Gap of Dunloe
Carved by centuries of glacial erosion, the Gap is nestled between two mountain ranges – the MacGillycuddy's Reeks to the west and the Purple Mountain Group to the east – and is home to glacial lakes connected by the River Loe.
Things to know about the Gap of Dunloe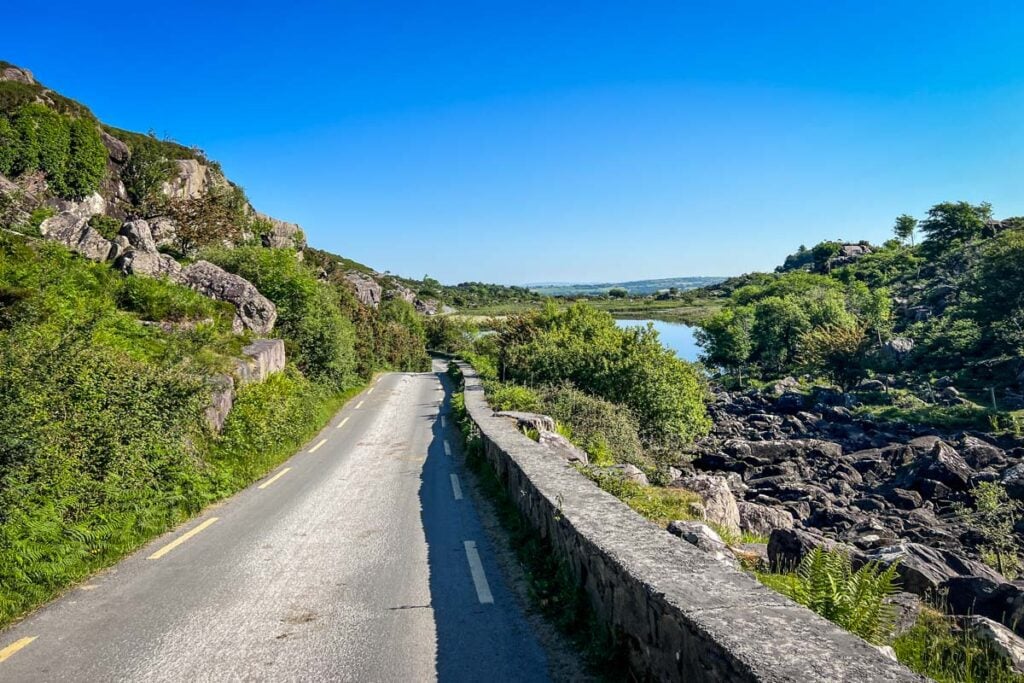 In short, the Gap of Dunloe is a stretch of road through a picturesque valley between two mountain ranges.
Here's some more important information you should know:
Google Maps location: Parking lot
Cost: Parking is free
Distance from Killarney: 7.75 miles (12.5 km); it takes about 15 minutes to drive to the parking lot from the center of town
Facilities: there is a public toilet at the parking lot, but no other facilities along the way
Starting point: Kate Kearney's Cottage
Ending point: Lord Brandon's Cottage
Total one-way distance: 7 miles (11 km)
How to visit the Gap of Dunloe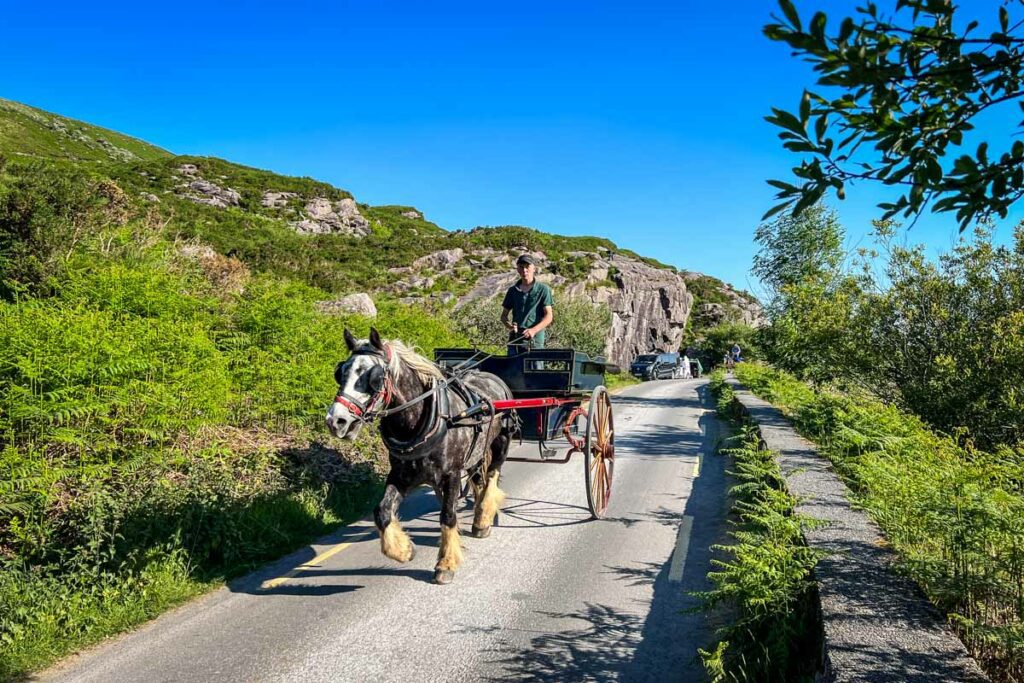 There are many ways to visit the Gap of Dunloe, and the best for you depends on your fitness level and how much time you have.
Click on each to see more detailed information about how to do it yourself:
Psst! We put together a guide with everything you need to know about renting a car in Ireland if you think driving is your best option.
Our personal experience & recommendation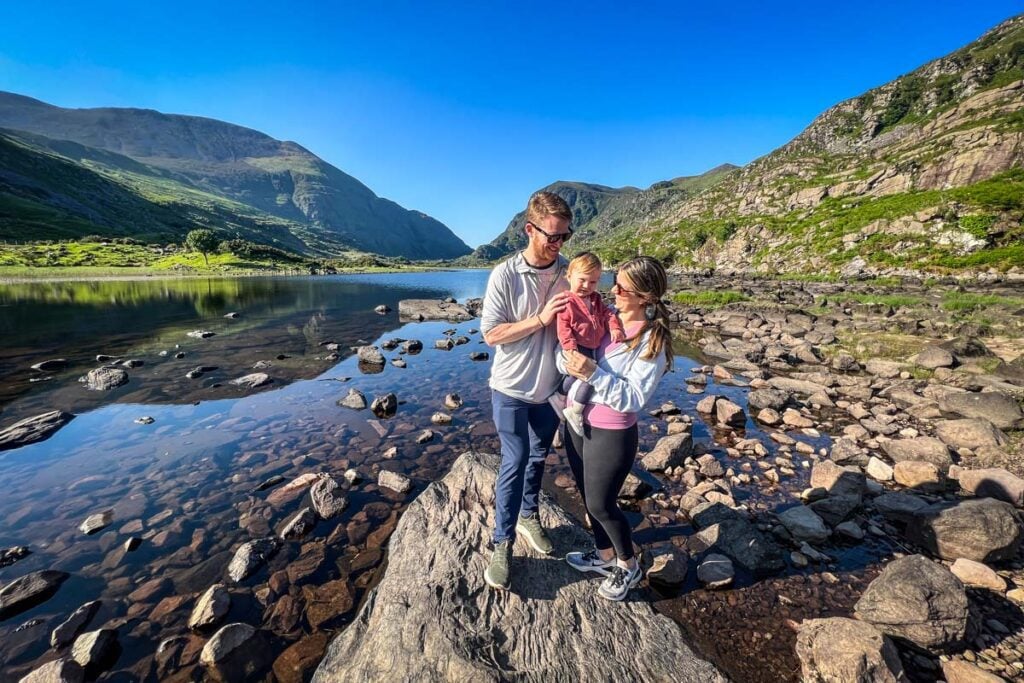 Whichever way you choose to see this area will be a great choice. However, we personally think it is best experienced on foot, where you have the chance to go at your own pace and really take in the beauty. Plus, walking makes this a free activity, which is good news for budget-conscious travelers.
If you have limited time and are doing this as a stop on the Ring of Kerry, we'd recommend doing the short walk (give yourself 1 hour to do the walk and enjoy the lake view). This is what we personally did and we had such a wonderful experience.
If you are traveling with a child (or are just looking for the easiest and fastest way to see the Gap of Dunloe), this is what we'd recommend.
However, if you have an extra day in the Killarney area, we would have loved to walk the entire road (allot 5+ hours for this, or keep reading to see how you can cut this time down a bit).
1. Hike the entire Gap of Dunloe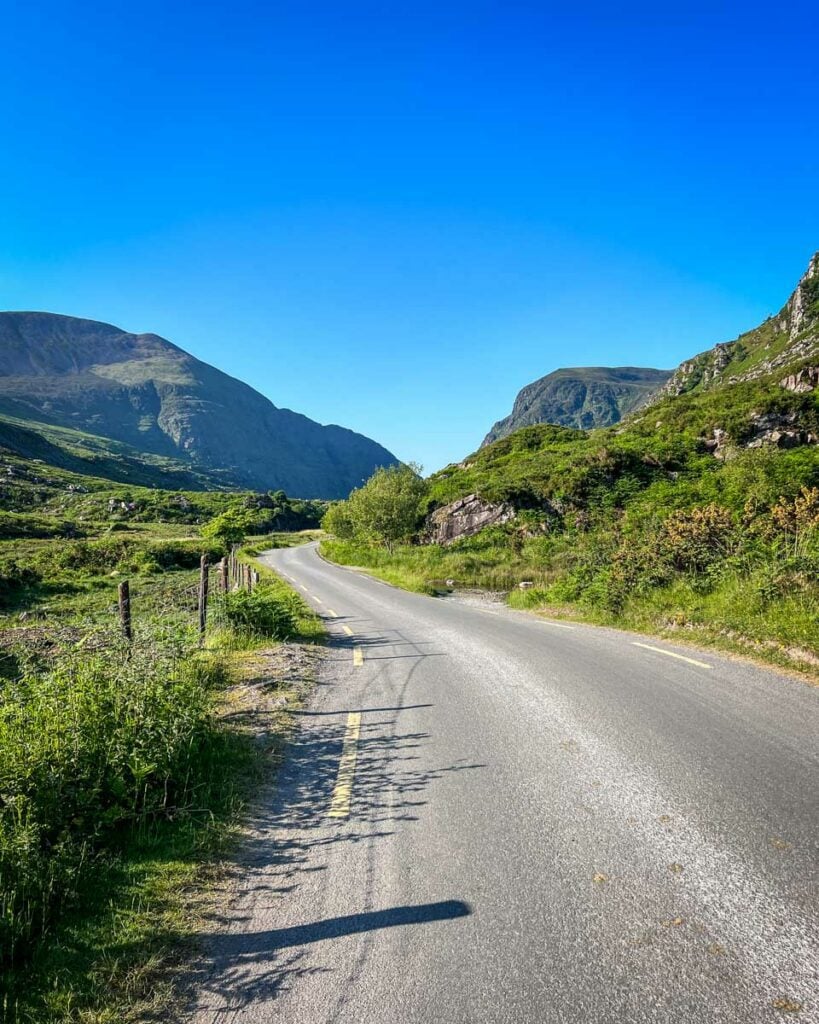 Okay, so you want to hike the entire Gap of Dunloe? Good for you! It will be an epic adventure, that's for sure.
Now, you have a decision to make:
You can either:
Walk the entire out-and-back trail (14 miles), retracing your steps to return to where you started. (More info)
Schedule a boat and a shuttle bus so you only have to walk the length of the Gap once (7 miles). (More info)
A) Out-and-Back Gap of Dunloe Route
Distance: 14 miles (22.5 km)
Elevation gain: 1,273 feet (388 meters)*
Type: Out and back
Difficulty: Moderate to hard
Time: Allot 5-6.5 hours depending on your fitness level and how many stops you'd like to make
*I believe that the elevation gain listed on AllTrails (2,171 feet) is incorrect. I got the elevation gain listed above by using Google Maps.
By following this route, you will hike from Kate Kearney's Cottage to Lord Brandon's Cottage and back again.
This is a long hike, so make sure you have ample time. Logistically, it's pretty easy because you can hike back to your car where you started the hike. Also, since you're not relying on a tour or other mode of transportation, it is free.
If this sounds like a bit too long of a hike for you, there's another way you can hike the entire Gap of Dunloe, but you simply will do it as a point-to-point hike. You will start on one end and finish at the other instead of retracing your steps. This will cut your total distance in half.
Here's how:
B) Point-to-Point Gap of Dunloe Route
Distance: 7 miles (11 km)
Elevation gain: 590 feet (180 meters) – 682 feet (208 meters)*
Type: Point to point
Difficulty: Moderate
Time: Allot 2.5-3 hours, as well as time for transportation (boat/shuttle)

Important: Make sure you're watching the time if you have a boat or shuttle to catch at a specific time.
*If you start your hike at Kate Kearney's Cottage (the north end), you will have slightly less elevation gain than if you start at the south end and hike north.
In addition to walking, you will also need to take a boat and a shuttle to avoid retracing your steps.
Boat ride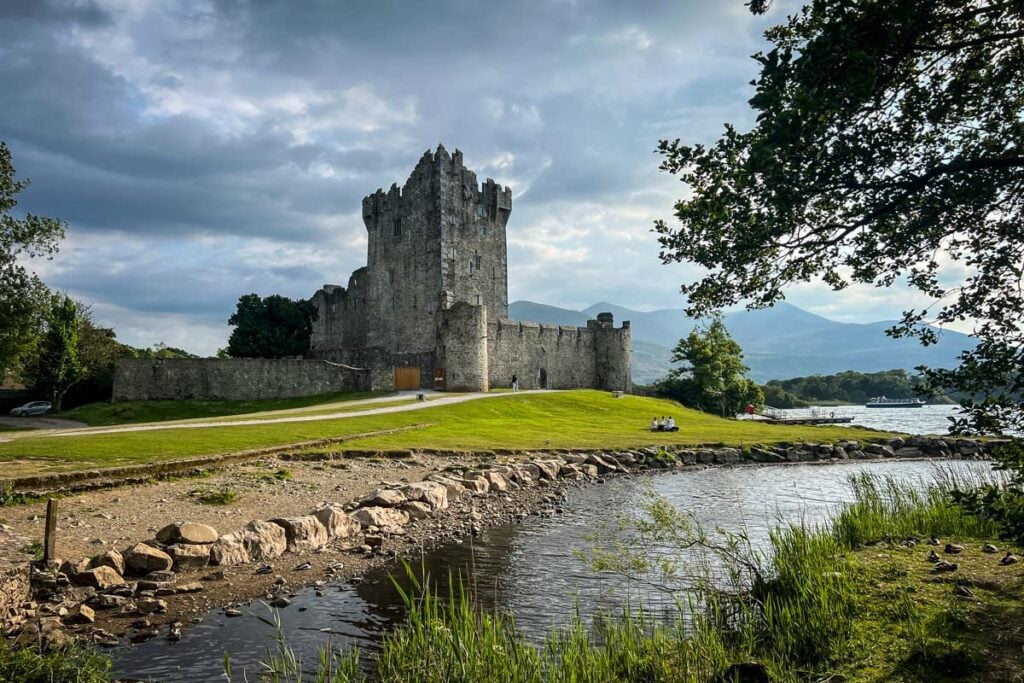 You can take a boat ride across the lake that connects Ross Castle to Lord Brandon's Cottage (at the south end of the Gap of Dunloe).
Boat rides cost €25 per person (about $27 USD) and should be booked in advance.
You can go either direction:
Shuttle
There are also shuttle services which can help fill in the gaps of your transportation.
Killarney Tourist Office to Ross Castle: departs at 9:45 a.m., 11:45 a.m., 4:20 p.m.; €3 per person
Killarney Tourist Office to Gap Of Dunloe: departs at 9 a.m.; €5 per person
Kate Kearney's to Killarney town or Ross Castle: departs at 4 p.m.; €5 per person (If you arrive before or after this time, you can also call a taxi to collect you.)
Ross Castle to Killarney town: departs 9:50 a.m., 11:50 a.m., 2:40 p.m., 4:30 p.m.; €2 per person
Check with Killarney Shuttle Bus to ensure times are accurate before your trip.
2. Hike part of the Gap of Dunloe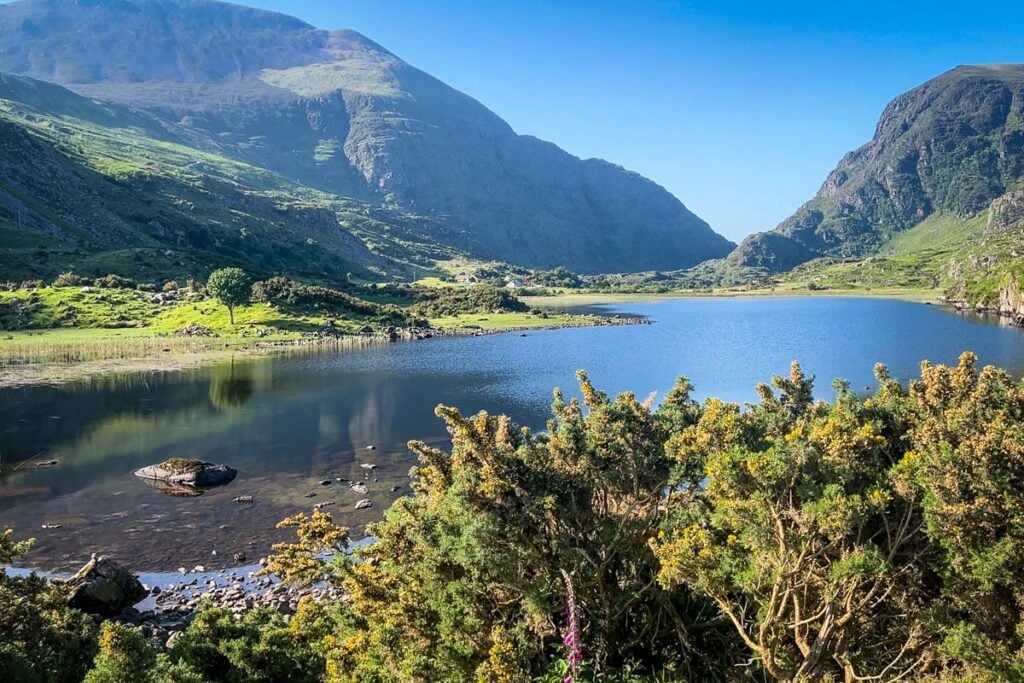 This is by far the easiest, cheapest, and fastest way to see the Gap of Dunloe.
If you are on a time crunch, a tight budget, or just don't want to walk very far, this is an excellent choice.
This is what we personally did, and it was definitely the best choice for us.
True, you won't see the entire Gap of Dunloe, but you'll still see a pretty incredible section. And it won't take too much time out of your day. In fact, you can do this on the same day you drive the Ring of Kerry.
Part of the Gap of Dunloe (Kate Kearney's Cottage to the Wishing Bridge)
Route: Parking lot to Wishing Bridge and back
Distance: 1.6 miles (2.6 km)
Elevation gain: 140 feet (43 meters)
Type: Out and back
Difficulty: Easy
Time: The walk should take around 15 minutes each way, but you'll definitely want some time to spend at Black Lake before you turn around. We'd recommend giving yourself 1 hour total to explore and take it all in.
On this route, you'll start at the parking lot near Kate Kearney's cottage (see Google Maps location) and you will walk to one of the most iconic sites in the Gap: the Wishing Bridge, which sits between Coosaun Lough and Black Lake.
The walk should take about 15 minutes to get to the Wishing Bridge, but you'll want to give yourself some time to enjoy the views here before you turn around and return to your starting point.
Traveling with a baby or toddler? This is the option we'd recommend. We did this walk with our 1.5-year-old daughter and it was great. I think the longer hike may have been a little much unless we had prepared a lot more.
3. Guided Tour of the Gap of Dunloe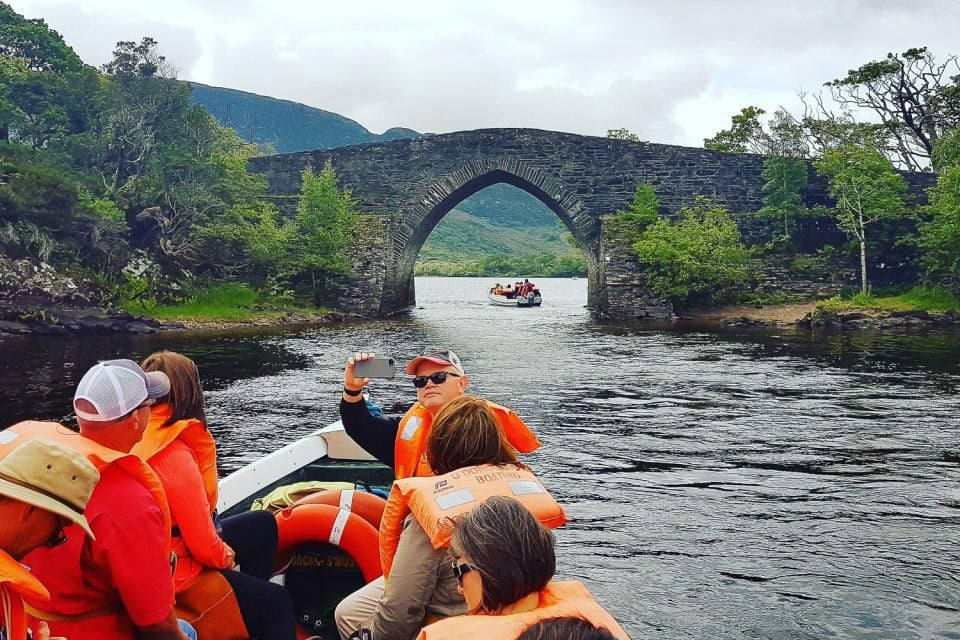 Want to experience the entire Gap of Dunloe, but not big on hiking? Are the logistics of it all making your head spin?
One way to simplify things is to take a guided tour.
This tour is very highly-rated and includes a boat ride across the lake as well as a jaunting cart and transportation back to town.
Here's what guests are saying:
"This was one of the best tours we've been on in Ireland. Was like an adventure rather than one more bus tour. Rode a boat through the lakes and river around the gap of Dunloe followed by a pony and trap trip through the gap. Great guides having the usual Irish sense of humor. The pony and trap portion was pretty exciting."

– Roy M., June 2023
Insider Tip: Before you book it, be sure to read our notes on jaunting carts so you know what to expect.
4. Bike the Gap of Dunloe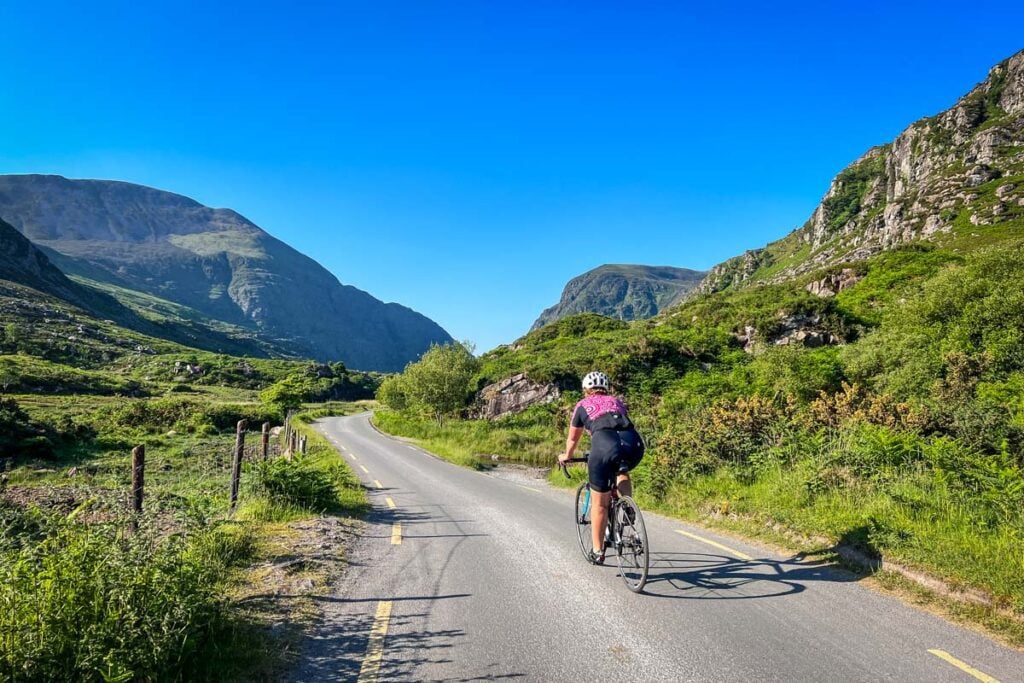 If you fancy yourself a regular Lance Armstrong, biking the Gap of Dunloe will be right up your alley.
Cycling this mountain road with 360º views will surely be one of your favorite experiences in Ireland.
But before you hop on two wheels, a word of caution: this route is for experienced cyclists only. There are steep climbs, along with narrow and curving downhill sections that can be dangerous if you're not a confident cyclist.
Nearby Killarney National Park is a very popular place to cycle, meaning there are several companies in town that rent bicycles.
Here is what we'd personally recommend doing if you choose to bike the Gap of Dunloe:
Electric bike + boat tour combo (€75 / $80 USD)
Killarney Bike Rental offers the perfect package for those who want to experience the Gap of Dunloe on two wheels.
You will pick up your e-bike from the shop in the morning and will cycle to Ross Castle.
From here, you will take a boat across the lake where you'll be dropped off at Lord Brandon's Cottage.
You will then be able to cycle the Gap of Dunloe (one way) and back to the bike shop, where you'll need to return the bicycle by 6 p.m.
You can book your e-bike and boat here. Alternatively, you can do this bike and boat combo with a 27-speed bike (instead of electric) for €60 (~$65 USD).
If you'd prefer to cycle the Gap both ways (without a boat), Killarney Bike Rental also offers the following:
Regular bikes starting at €20 per day
Electric bicycles starting at €45 per day
Our advice: We'd recommend reserving your bike in advance to avoid disappointment.
5. Gap of Dunloe in a Jaunting Car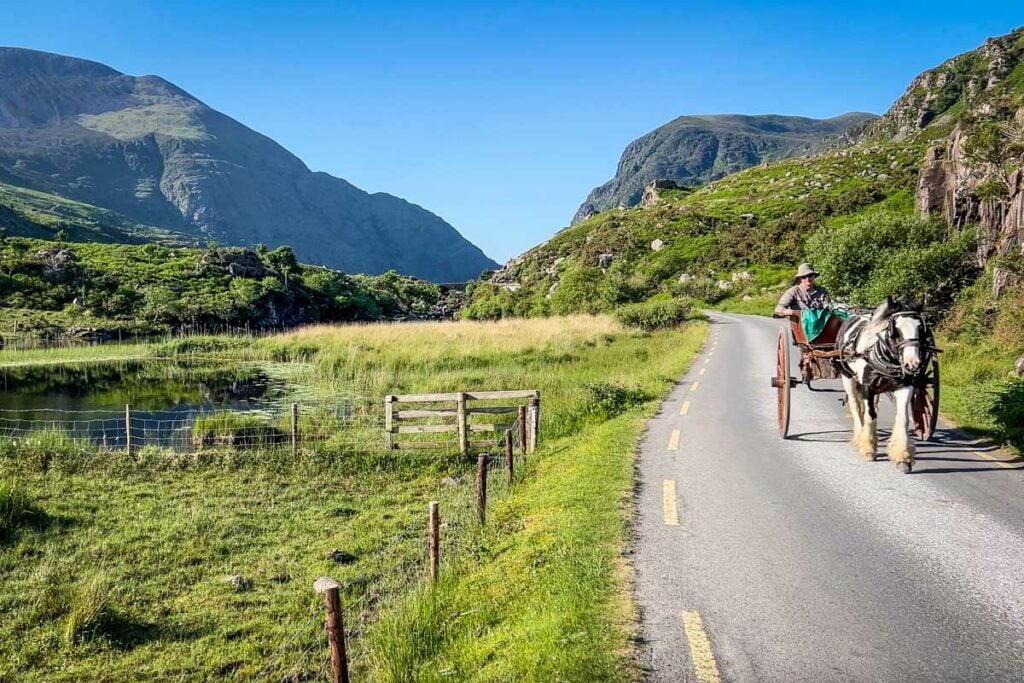 A jaunting car or pony trap is a traditional horse-drawn cart that offers another mode of transportation on this stretch of road.
Dating back to the 19th century, these carts were a popular mode of transportation for up to 4 people. Today, you'll see them at places around the Killarney area aimed at tourists – the Gap of Dunloe being one popular spot.
Interesting fact: The name jaunting cart comes from the phrase "I'm off on a jaunt", referring to a pleasurable journey.
We're not big on horse-drawn carriages in general because the animals are often overworked. I didn't see enough to know whether the horses here are treated well, so I'm not sure I can recommend this method of exploring.
However, you'll see them around, so here's some important information:
Jaunting cars are lined up at both ends of the Gap of Dunloe (near Kate Kearney's Cottage in the north and Lord Brandon's on the south end). We were there too early in the day to see many of them, but we've read accounts from others who say the drivers pressure them to take a ride, kind of like gondolas in Venice.
Drivers of the jaunting carts are called jarvies.
Prices are per cart. Carts can hold 4 people, so if you're traveling as a couple, you'll need to share with another pair or pay for the entire cart.
The one-way ride takes roughly 1.5 to 2 hours to complete the 7 mile (11 km) stretch in a jaunting car.
You can take the jaunting cars one way and hike back, or do a round-trip ride. You could also do a jaunting car plus a boat ride that gets you close to town on a tour like this one.
Most (good) drivers will make passengers hop out of the cart on steep inclines, as it is too hard on the horses to pull passengers uphill. Be prepared for this.
We've read that the rides can be very bumpy and hard on people who have bad backs.
6. Drive the Gap of Dunloe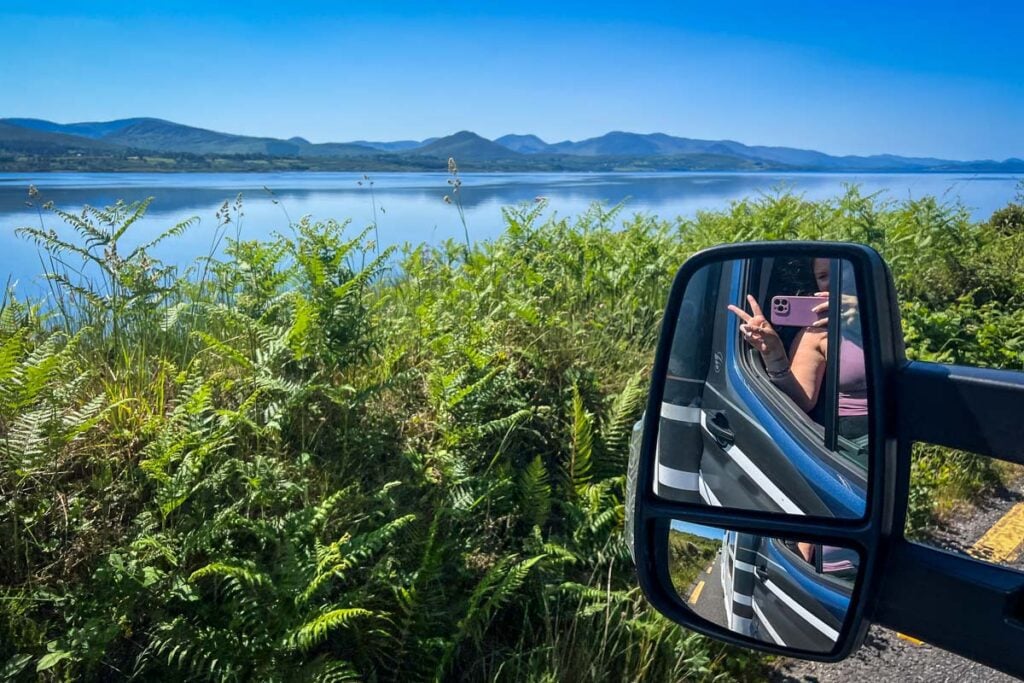 If you have a small car, it is possible to drive the Gap of Dunloe, with a few words of warning…
You will want to get a very early start on this drive and begin before people start walking. Once there are pedestrians and horse carts, it will be very difficult (and dangerous) to drive this road.
It takes roughly 25-30 minutes to drive one-way without stopping (and encountering no other cars). This means you'd probably want to begin this drive at or before 6:30 a.m. so you have ample time and can complete the drive by 8 a.m. when people start showing up.
If you are visiting at the peak of tourist season (July and August), we'd recommend starting your drive even earlier (around 5:30 a.m.). The nice thing about starting that early is you'll be able to watch the sunrise on your drive.
Warnings:
Don't attempt this drive in a large vehicle
Don't start your drive after 7 a.m.
Tips for visiting the Gap of Dunloe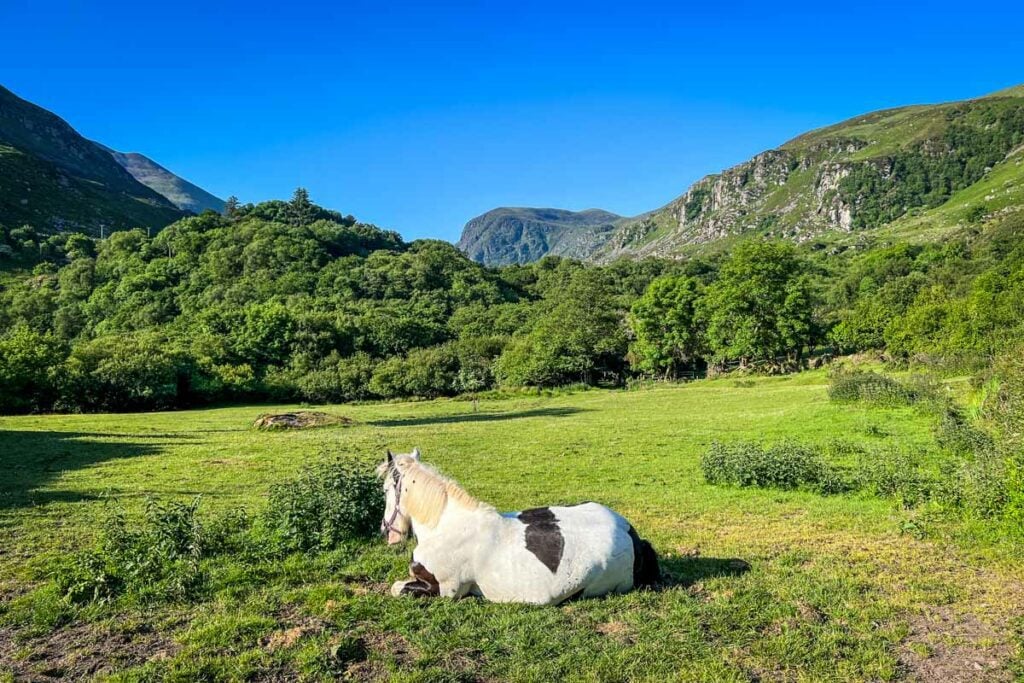 Now that you (hopefully!) know how you will be visiting this area, here are some tips to ensure you have a great stay!
1. Get there early
I know I sound like a broken record by now, but truly, I think our experience was so good because we were there before all the crowds. We literally stood at Black Lake for 20 minutes and only saw one other person.
The other reason it's important to get here as early as possible is that the parking lot can fill up. There are lots of spaces (even large enough for a motorhome, if you're renting a campervan like we did!). However, during the busy season, it can be difficult to get a spot if you arrive later in the day.
If at all possible, make this the very first stop of your day.
Alternatively, late evening hours (around sunset) may also be less crowded. But then you're really in a time crunch to get back before dark.
2. Come with a plan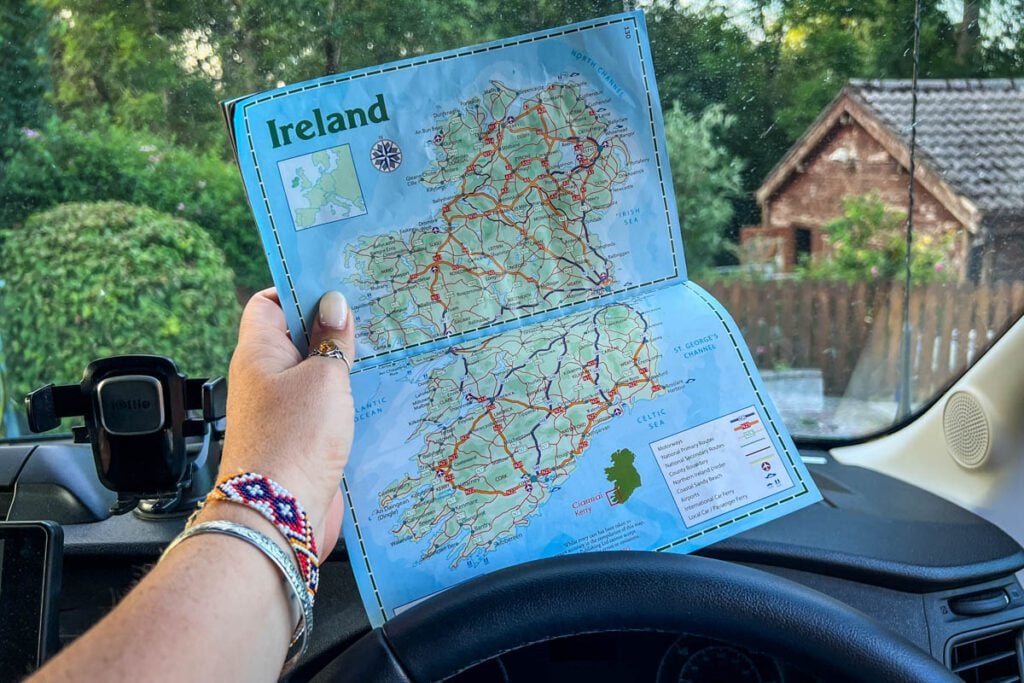 Before just showing up here, be sure you know how you plan to visit this area.
You should have all the info you need to choose one of these 6 ways to see the Gap of Dunloe.
If you plan to rent a bike, take a boat, or book a tour, you will need to make reservations in advance. And if you're walking, you will need to plan your day according to how far you plan to hike.
3. Cell service can be spotty
This is a mountain pass, so expect cell signal to be spotty. This is yet another reason why you should come with a plan.
Also, it's always a good idea to download the offline version of Google Maps so you have GPS access.
4. Pack water and snacks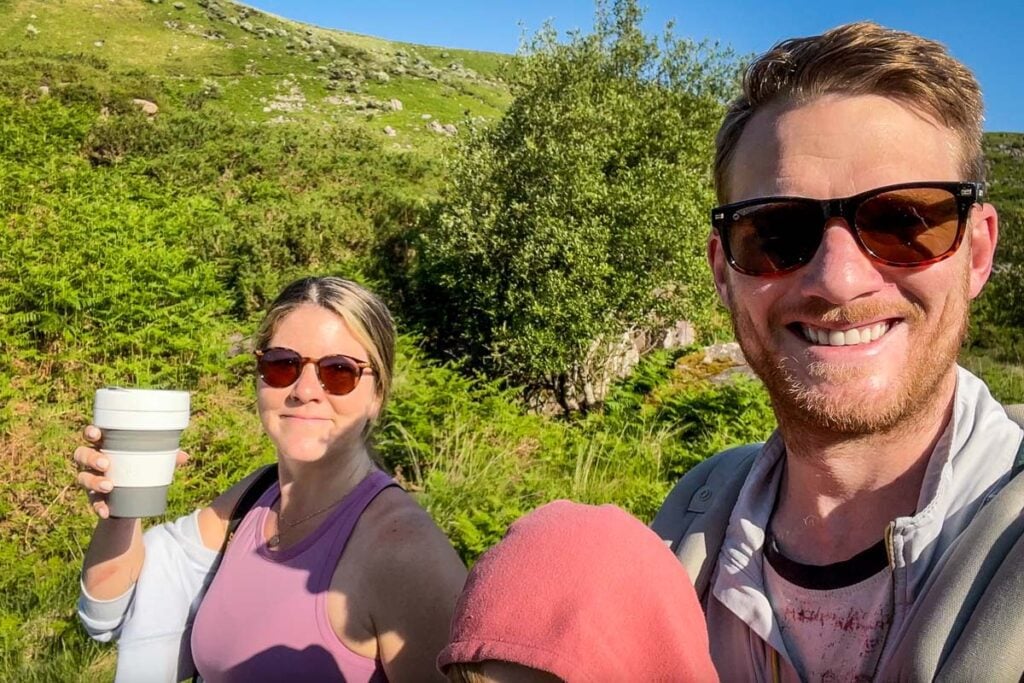 If you're planning to do the entire hike, be sure you're prepared with enough water and snacks. It is a long walk, after all!
Psst! Here are our favorite hiking snacks.
5. Bring sun protection and rain gear
Yes, both!
There's not much shade along the way, so be sure you bring sun protection – a hat, sunglasses, layers, and sunscreen.
Additionally, pack rain gear – yes, even if it's not in the forecast. Ireland can surprise you with a downpour when you least expect it! In addition to a raincoat, you may also want to bring a dry bag to keep your valuables from getting soaked.
Psst! We know it can be overwhelming packing for a trip to a new destination – especially one with unpredictable weather like Ireland. That's why we spent hours creating this free Ireland packing list PDF download just for you!
6. Give yourself more time than you'd think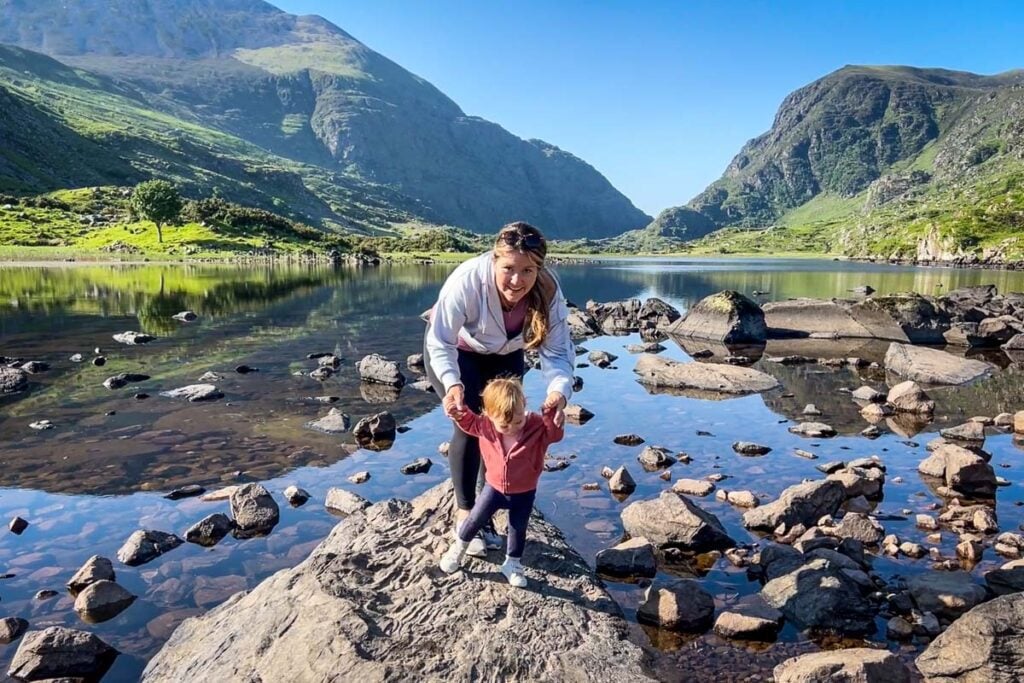 Unless you are going on a guided tour where they have the timing down to a science, be sure to add some buffer time to however long you expect things to take.
When it comes to hiking, the estimated times don't include stops, and you will definitely want to stop for photos or to take in the view.
This is especially important if you need to catch a boat or a shuttle at a specific time.
Gap of Dunloe FAQs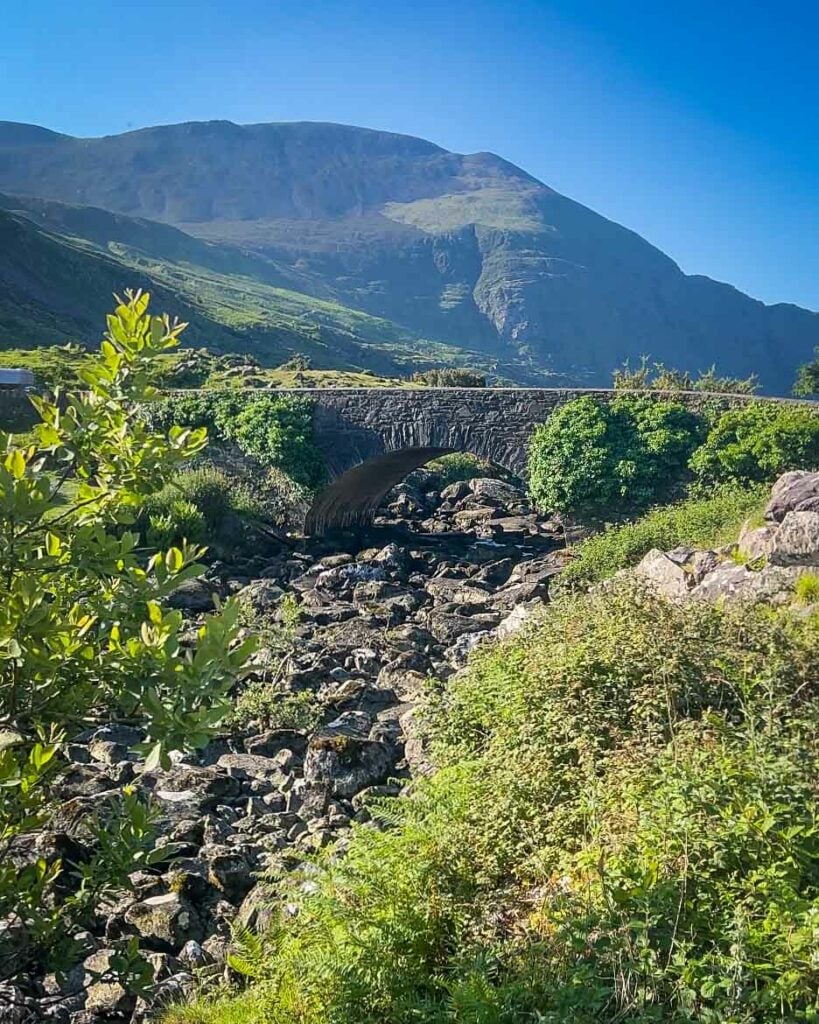 Still have questions? We've got answers!
How hard is the Gap of Dunloe walk?
There are both easy and hard versions of this hike.
If you hike from the parking lot to the Wishing Bridge and back, this is an easy hike. In total, your walking time is roughly 30 minutes, and there's little elevation gain (less than 200 feet).
However, if you hike the entire Gap of Dunloe, this would be considered a moderate to difficult hike. You will encounter much more elevation gain; plus, it's a pretty long hike, so your stamina will be tested.
It's also worth noting that this walk is on pavement, so some people report that their knees feel more sore than they're used to when hiking on trails.
Can I do this with a child?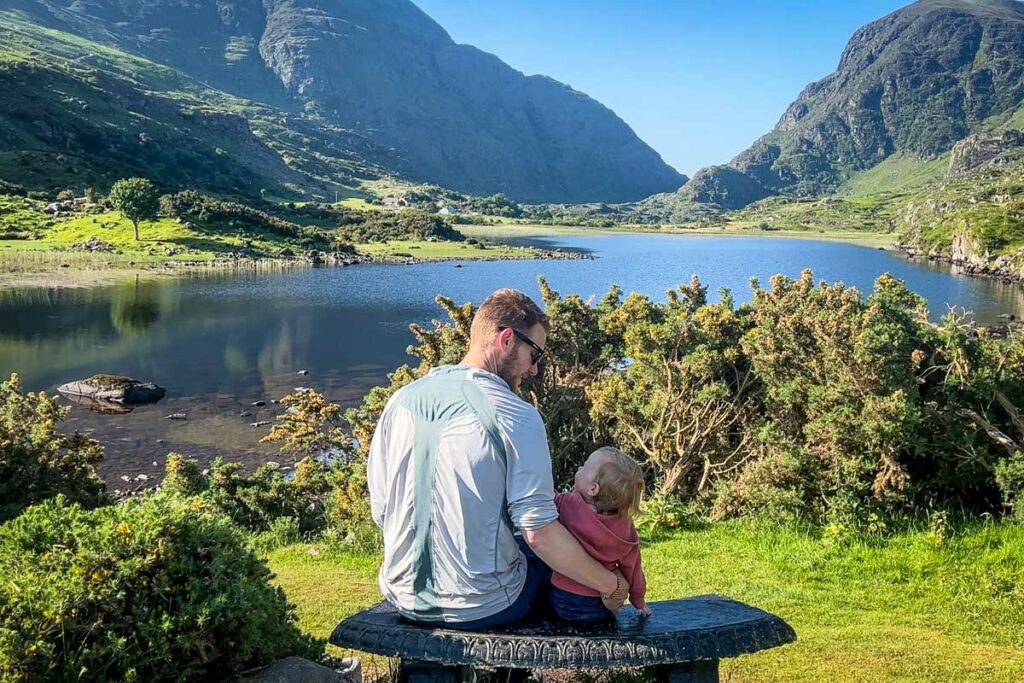 Absolutely!
We walked part of the Gap of Dunloe (to the Wishing Bridge) with our 1.5-year-old daughter. If you're traveling with a baby or small child, this is how we'd recommend visiting.
Can I walk the Gap of Dunloe and drive the Ring of Kerry in 1 day?
Yes, if you do the short walk (not the entire Gap), you can pair it with the Ring of Kerry, but it will be an absolutely packed day!
We (sort of) did this. We started our day at the Gap of Dunloe and did the walk to the Wishing Bridge. Then we drove half of the Ring of Kerry.
We expected to complete the whole thing, but ended up camping near the Kerry Cliffs because we had made lots of spontaneous stops that took longer than we thought (like building sandcastles at a beach and taking a luxurious seaweed bath!).
Had we not stopped so many places, we could have completed the entire thing; so yes, it is possible.
Things to do nearby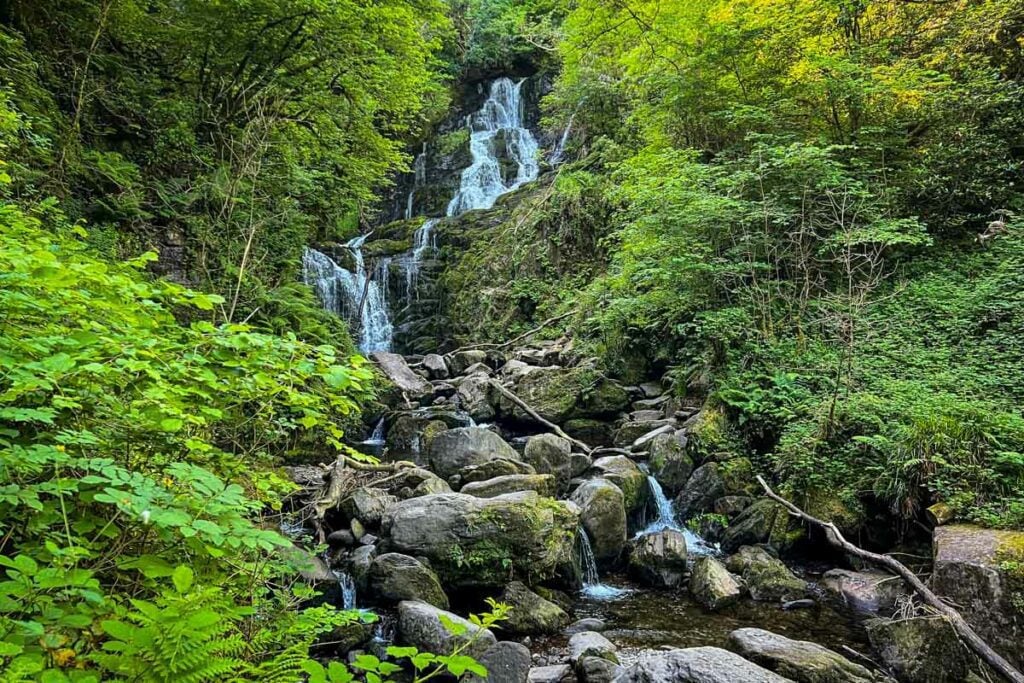 While you're in the area, there are plenty of things to do.
You're very close to the vibrant town of Killarney, just a stone's throw from Killarney National Park, and at the start (or end, depending on how you do it!) of the Ring of Kerry.
Drive the Ring of Kerry
Drive Moll's Gap
Explore Killarney National Park
See Torc Waterfall
Visit Muckross House & Gardens
This region is truly mesmerizing and full of adventure. Be sure to check out our guide to the best things to do in Killarney.
Where to eat near the Gap of Dunloe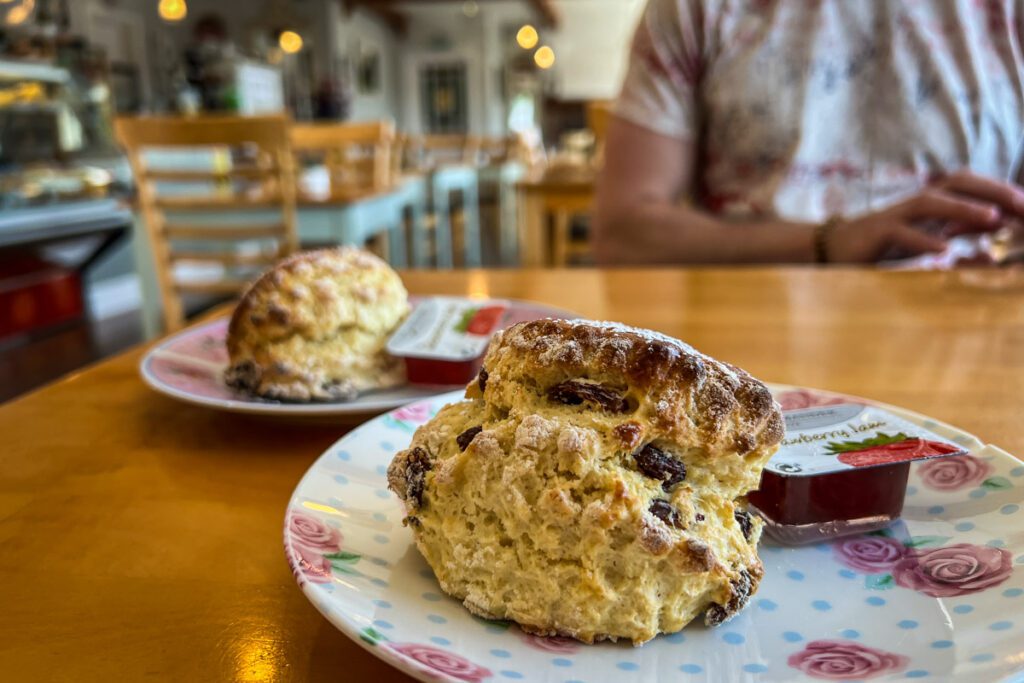 If you find your tummy rumbling or you're in need of grub to fuel up before or after the hike, here are your options:
Kate Kearney's Cottage is an iconic family-run restaurant that has been operating for more than 150 years. Come for traditional Irish fare and a great atmosphere.
This is also just beside the parking lot and is often referred to as the start of this walk, so you'll see this restaurant mentioned many times in this article.
Good to know: They open at 10:30 a.m., and since we started our day here early, they weren't yet open when we visited. If you are visiting the Gap of Dunloe early (which we recommend), see the next spot for our recommendation.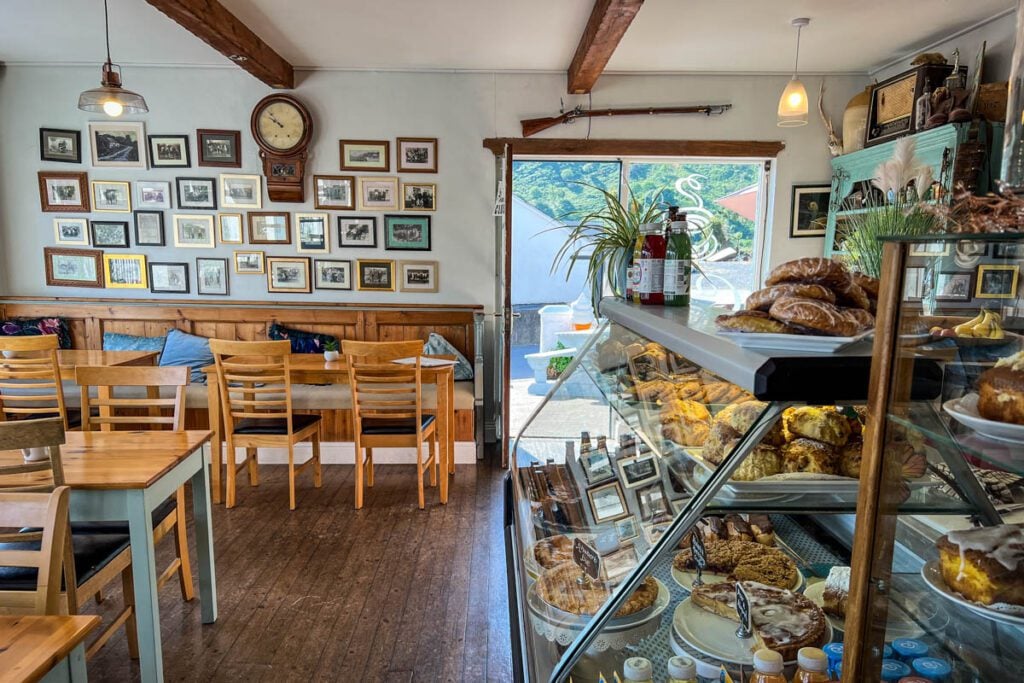 With lots of baked goods and breakfast items, this is a good choice if you're visiting the Gap early (in order to beat the crowds!).
This is where we personally grabbed coffee and scones, as Kate Kearney's was not yet open. The scones were some of the best we had in Ireland!
Coffee truck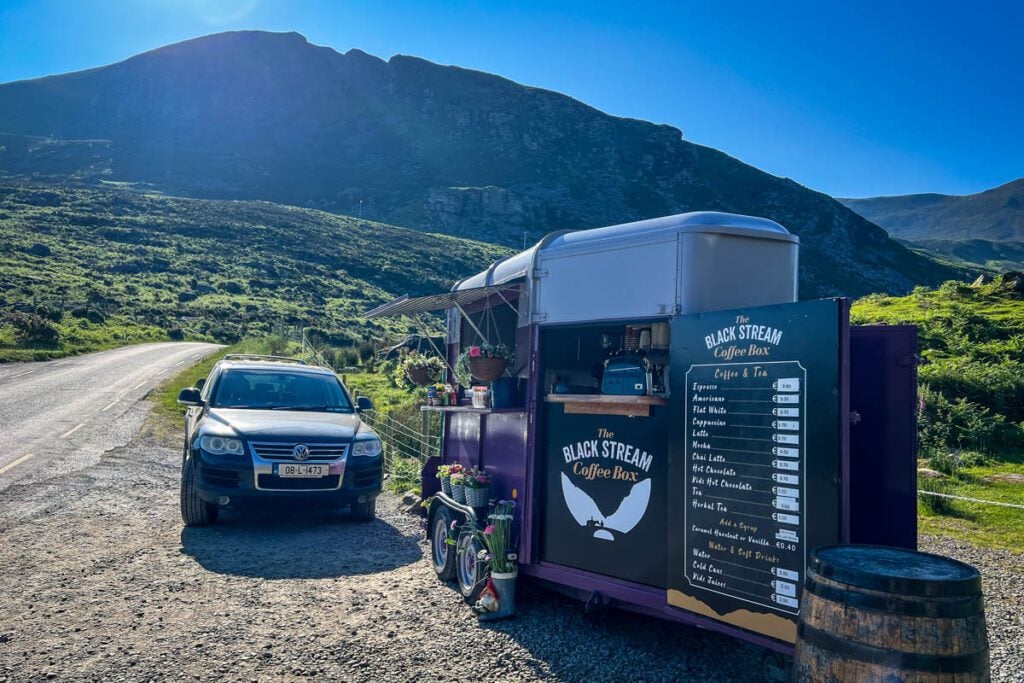 When we visited in June 2023, there was a coffee truck parked at Black Lake. They served a variety of drinks, making it a good spot to grab a pick-me-up with a view.
I can't find information about this truck online, but I imagine it may only be open seasonally (in the summer).
Located at the southern end of the Gap of Dunloe, this can be a nice place to stop for a little bite at the start or end of your walk (or midway point if you're doing the full 14 miles out and back).
Reviewers say the menu and food are quite basic, but it's the only option in the area and the views are lovely. Be sure to have cash on hand, as reviews claim this is the only way to pay here.
Where to stay near the Gap of Dunloe
One option is to stay in the town of Killarney, which is just a 15-minute drive from the Gap of Dunloe parking lot. Check out our recommendations in Killarney town here.
However, if you'd prefer a peaceful stay in the nearby countryside, the following options would be our top picks: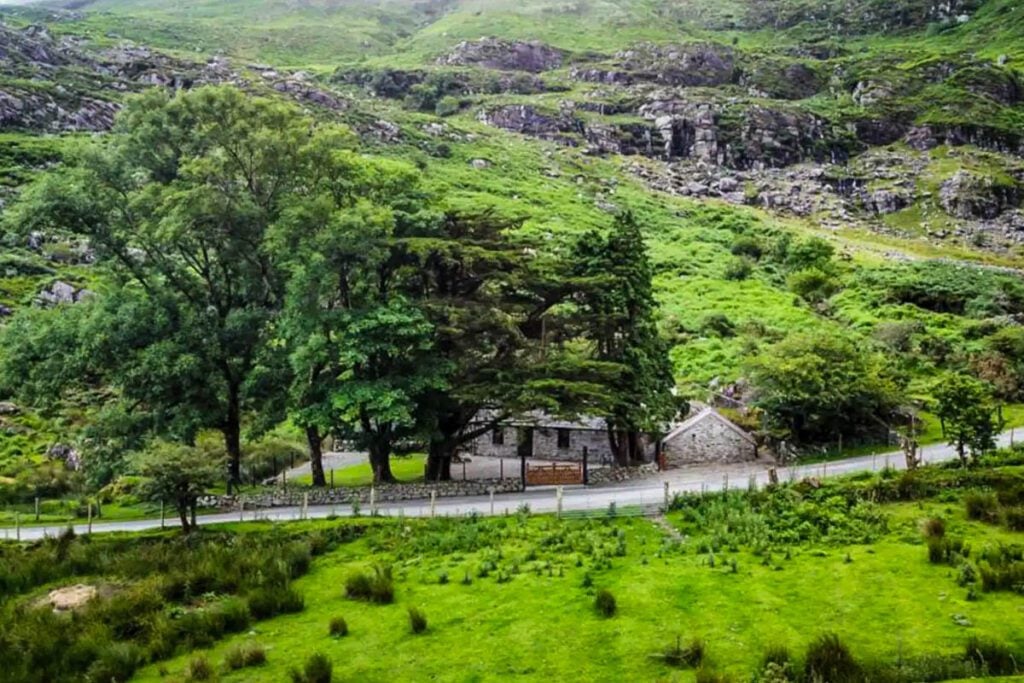 Gap of Dunloe Shepherd's Cottage (great choice for a family)
This cozy cabin features a fireplace, a lofted bedroom, and a perfect location on the stunning Gap of Dunloe. This is an excellent choice for a family.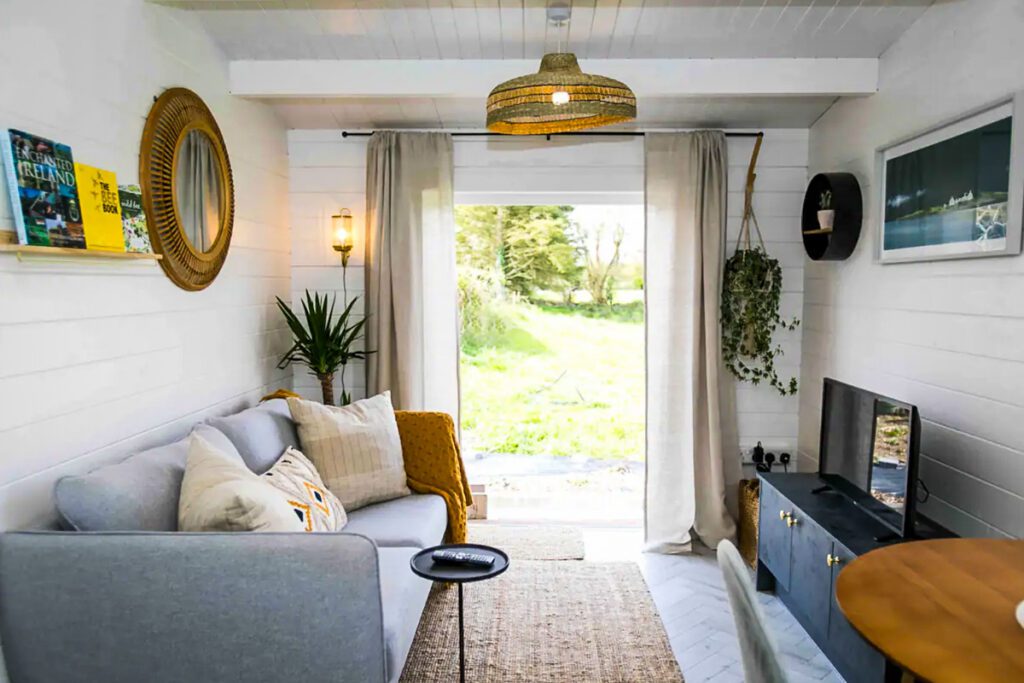 This beautifully-decorated cabin is just a 5-minute drive from Killarney and is situated beside a working dairy farm, making this a peaceful and unique stay not far from the Gap of Dunloe.
Psst! Visiting the Gap of Dunloe as part of a longer Ireland road trip? Be sure to check out our full list of Ireland Airbnbs for more unique places to stay!
What to pack for the Gap of Dunloe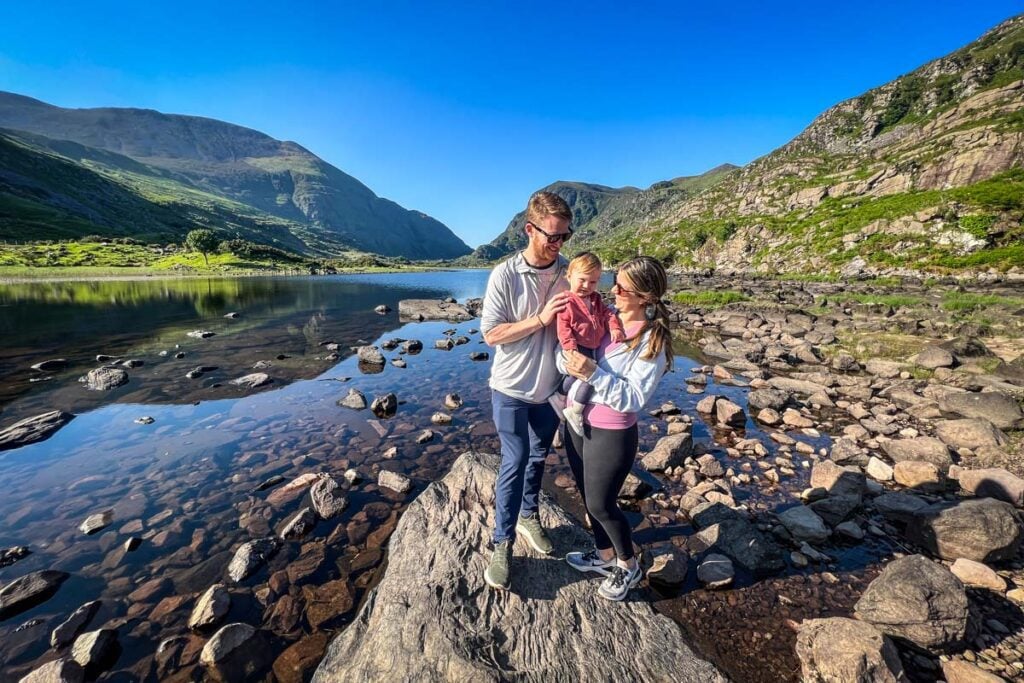 There are a couple things you may want to be sure to bring with you to visit the Gap of Dunloe.
Hydration pack and/or water bottles
Snacks
Sun protection: sunglasses, hat
Comfortable walking shoes or hiking sandals (like Chacos)
Camera and tripod (this is our favorite for hiking)
Be sure to download our complete packing list for Ireland! It's packed with good suggestions and insider tips to help plan your Ireland trip. And it's completely FREE, so why not!?

---
Planning a trip to Ireland?
We're creating lots of resources for travel in Ireland and destinations throughout the country. Check out our Ireland Travel Homepage for everything you need to know, or read some of our favorite articles below.
Save this article on Pinterest for later!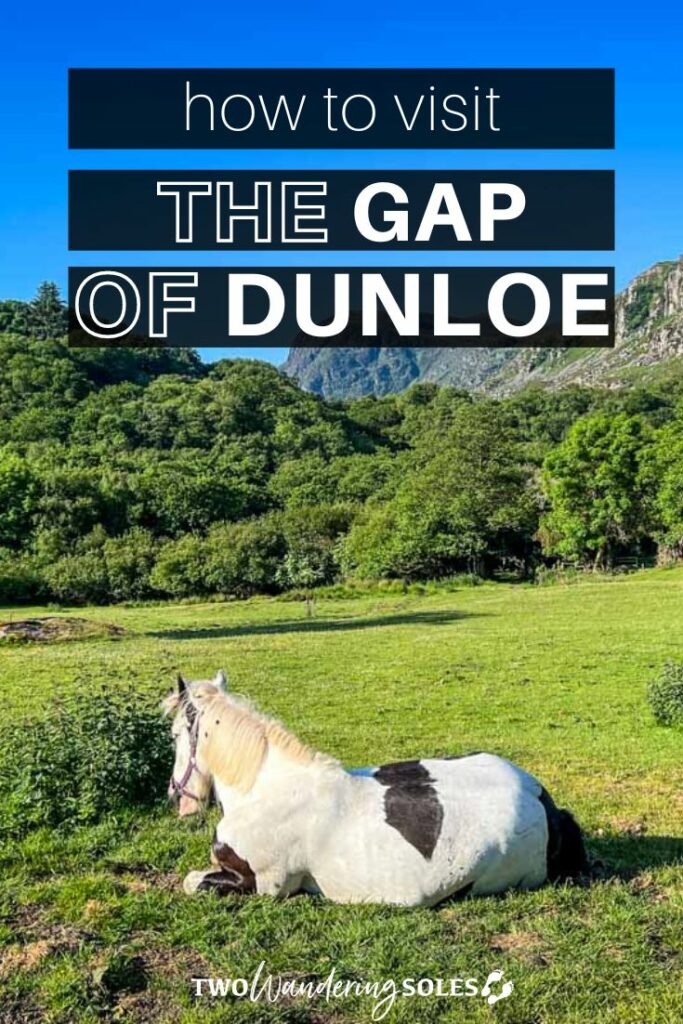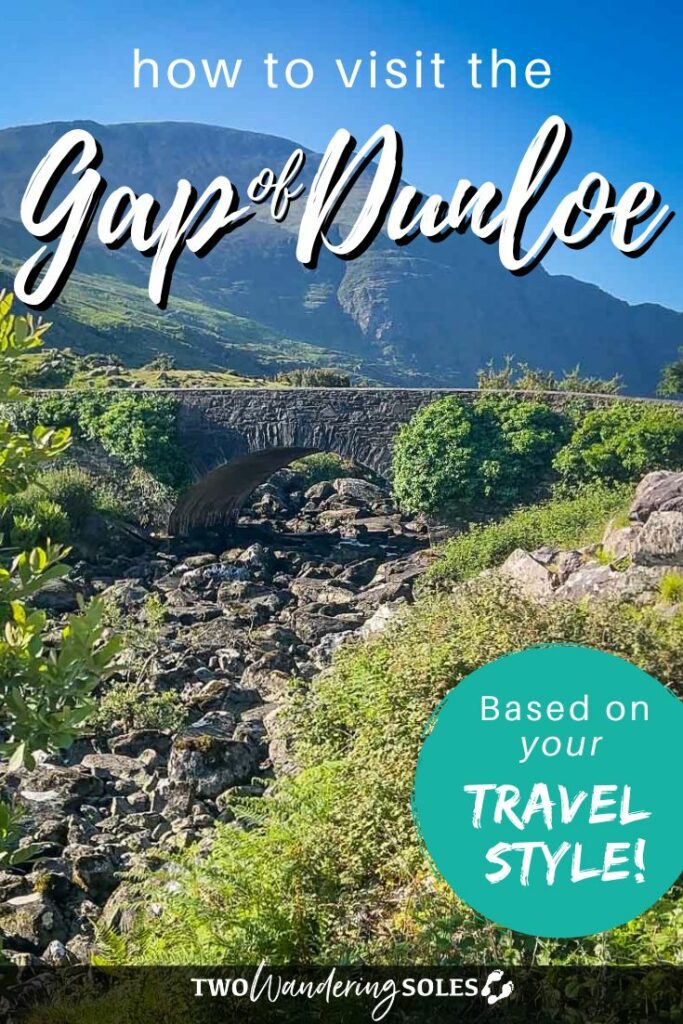 We want to hear from you!
Have you ever visited the Gap of Dunloe? Are you planning a trip and still have questions? Leave your comments below and we'll try our best to bet back to you!