Thanks to its varied yet mild overall climate, there is no absolute best time to visit Mexico — it's always a good time to go! However, there are still some variables you'll want to keep in mind depending on where you plan to visit and what you want to do.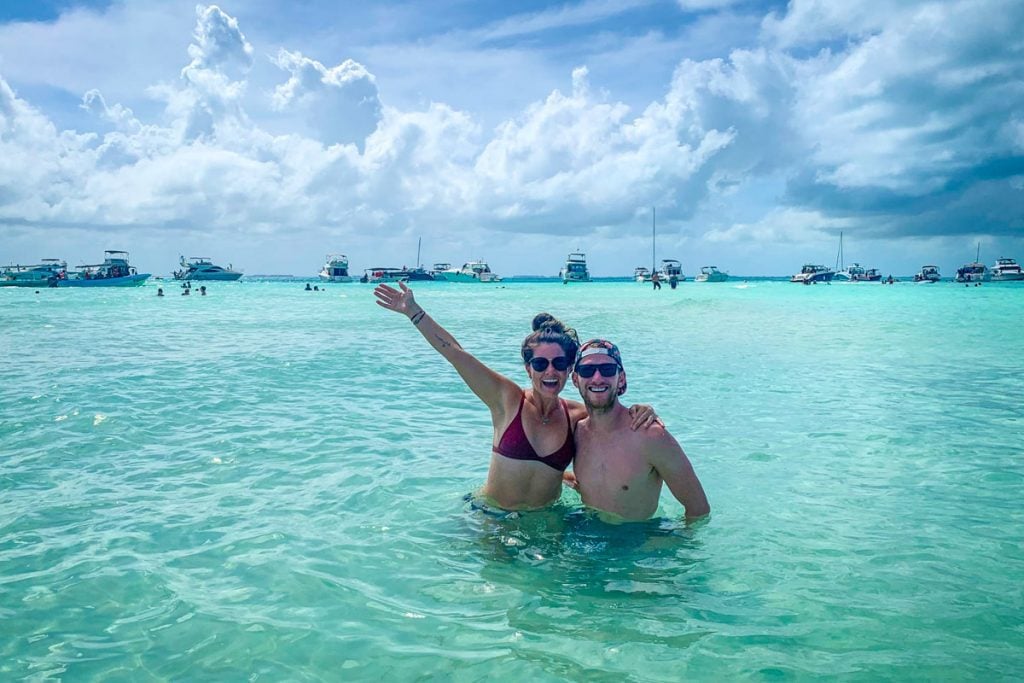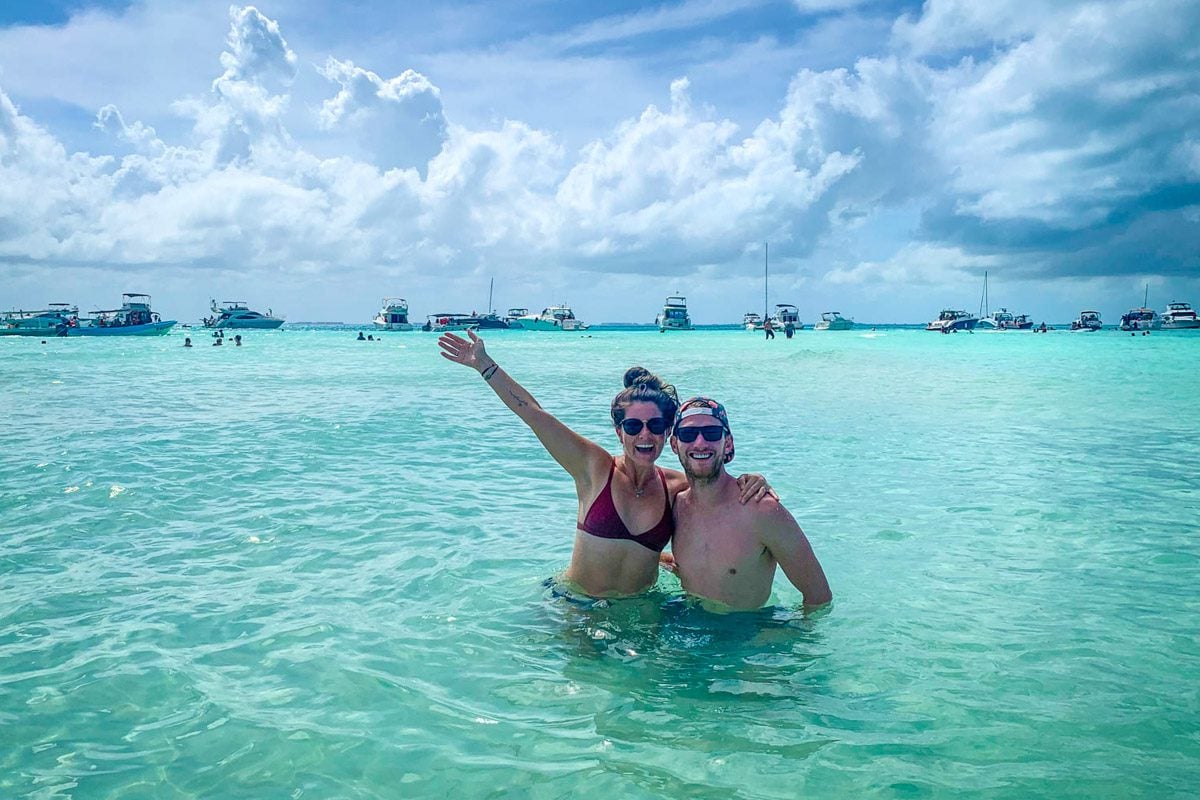 With a vast, stunning, and diverse landscape, a vibrant culture based on a strong mix of native and Spanish influences, and a world-renowned cuisine, there is so much to do and see (and eat!) in Mexico.
It's no wonder that tourism is a massive industry here — 40 million travelers go to Mexico just from the United States alone each year!
Mexico's diverse geography means that, no matter the time of year, there's always some part of the country that has a climate conducive to travel. If it's the rainy season on one coast, you can adjust your plans and visit another area, and still get that tropical beach experience you were hoping for!
One of the best things about Mexico is that its various regions each offer different cultural influences, experiences, food, and scenery.
We've had the opportunity to explore quite a bit of Mexico and quickly fell in love with this colorful, inviting country. So let's dive in to answer the question, "When is the best time to visit Mexico?" and some of our favorite things to do in each season.
When is the best time to visit Mexico?
The best time to visit Mexico is generally during the dry season, which runs from December to April. This timeframe is your best chance to enjoy sunny days and avoid rain (for the most part, anyway!) during your trip.
Mexico is a massive country, the 13th largest in the world, so as you might expect, the climates and seasons vary quite a bit in different parts of the country. While the dry season is the best time to visit overall, deciding when to go will also depend very much on where you plan to visit and what you want to do while you're there.
Psst! There are tons of incredible things to do in Mexico that aren't beaches! Take it from us, we much prefer adventures over laying around at the beach all day.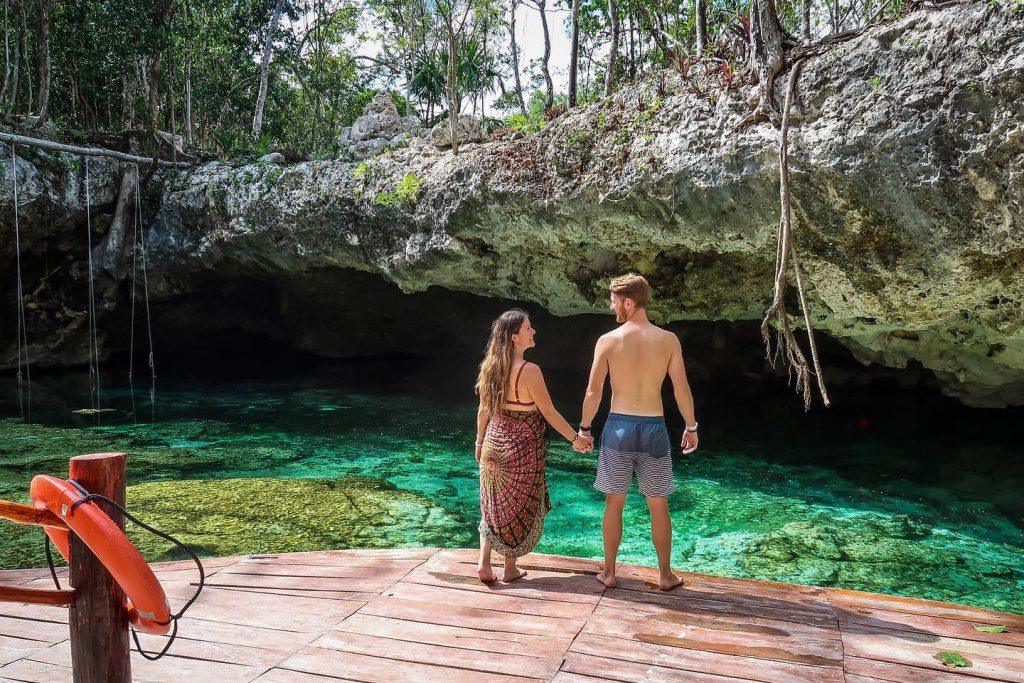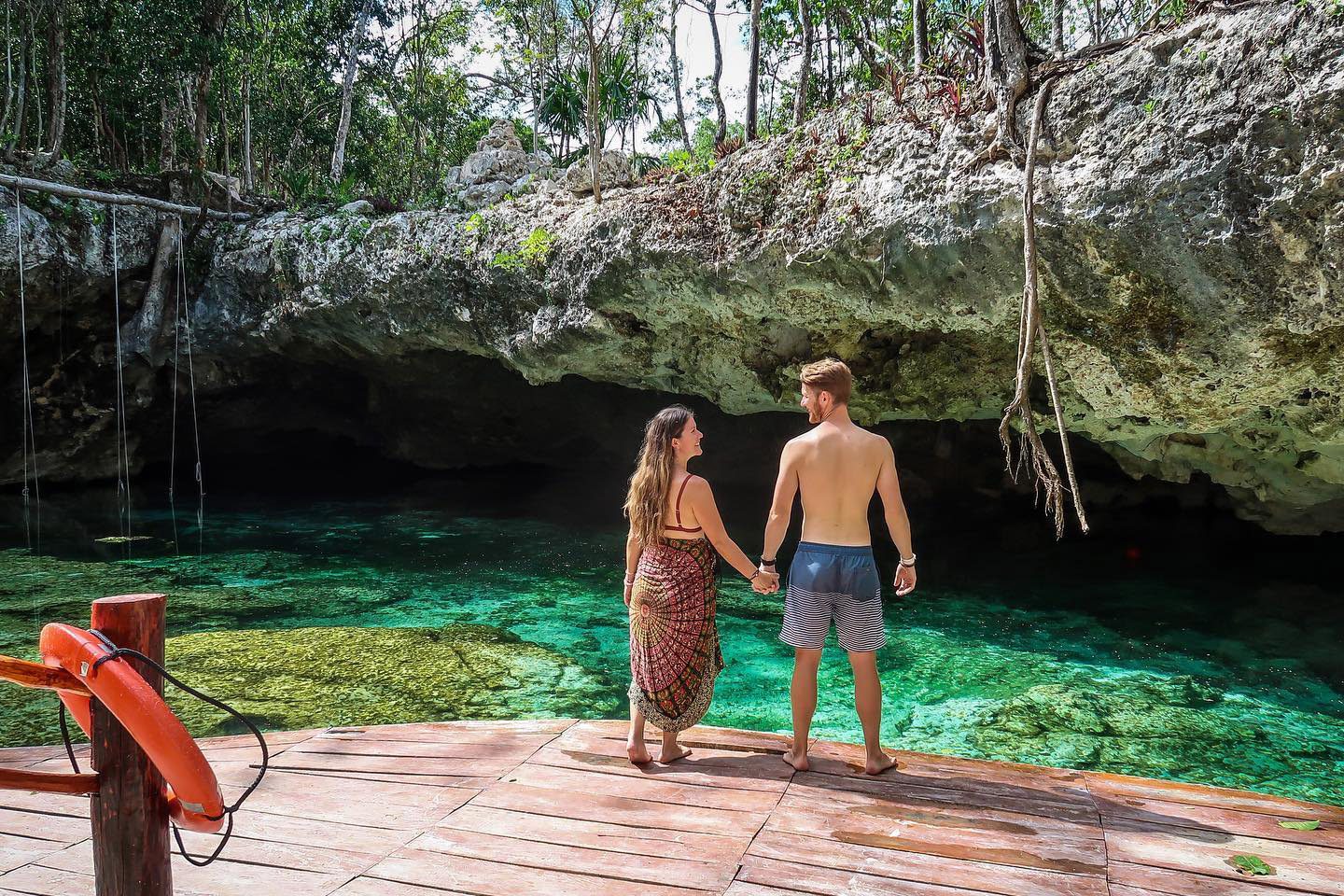 Answer these questions to get started:
What region of the country do you plan to visit?
Are you easily bothered by crowds?
Are you negatively affected by high humidity?
Do you prefer to spend your time outdoors at the beach or exploring a new city?
Are you planning to do activities like whale watching, scuba diving or surfing?
Thinking about your answers to these questions is going to help you start to determine when to visit Mexico.
Article contents
Overall BEST time to visit Mexico
Want a quick recommendation? Jump down to see our personal advice for the best time to visit Mexico. Plus, we'll share what times of year we'd avoid visiting!
Be sure to download our complete packing list for Mexico! It's packed with good suggestions and insider tips to help plan your Mexico vacation. And it's completely FREE, so why not!?
---
Our experience
We've visited Mexico in all seasons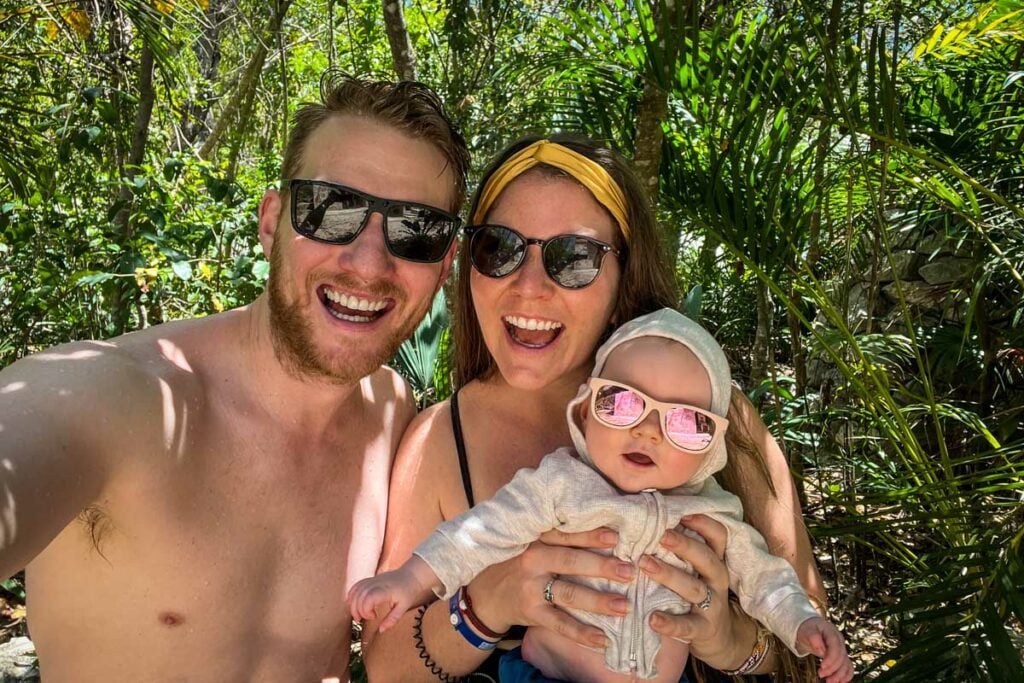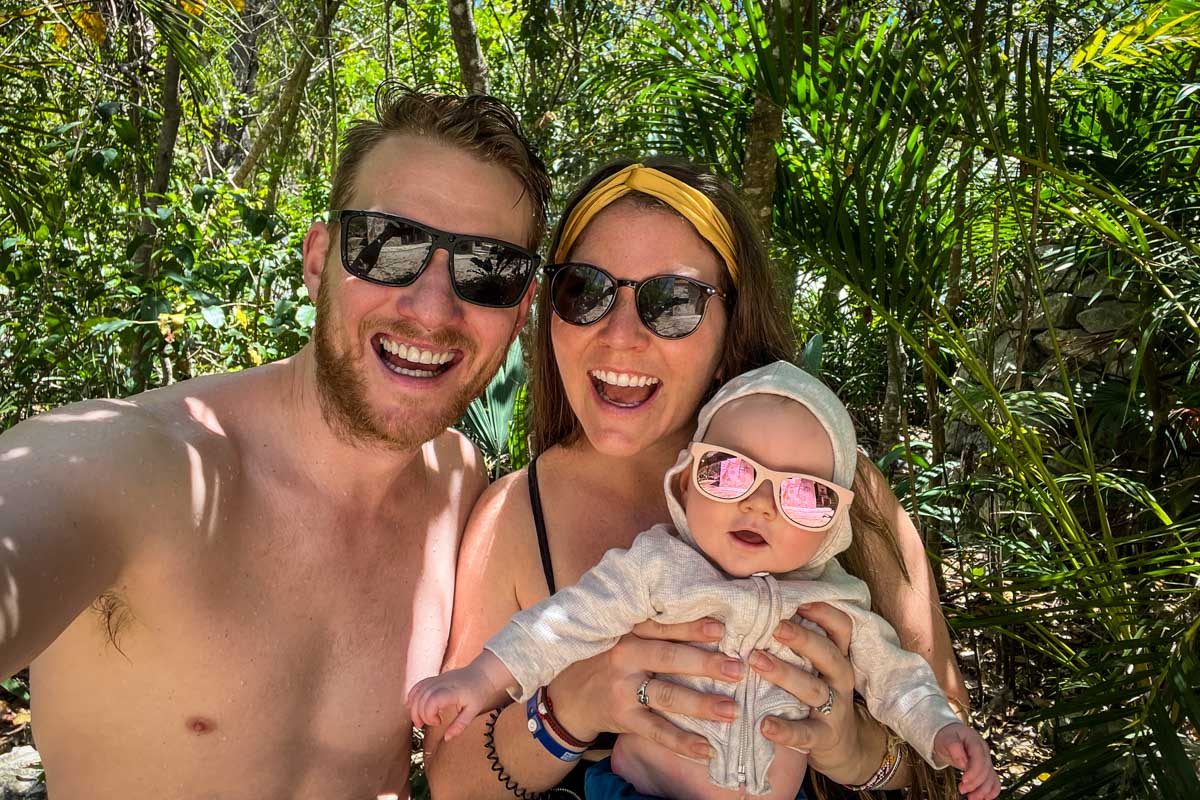 Our experience:
Between us and our Director of Content, Amanda, we've spent quite a bit of time living and traveling in Mexico. With the exception of June, we've been in Mexico during every other month (many of which we've been multiple times).
Our favorite time of the year in Mexico
November or February
This is easily our favorite time of the year to visit Mexico if you are planning to head to the beach. Before and after the Christmas season, but before spring break season starts are actually less crowded times and the weather will still be ideal.
On the Gulf coast, Hurricane season will have come and gone by November and the temperatures will start to cool and reach more livable conditions.
Over on the west coast, they don't have Hurricane season, but the temperatures will begin to drop in November too.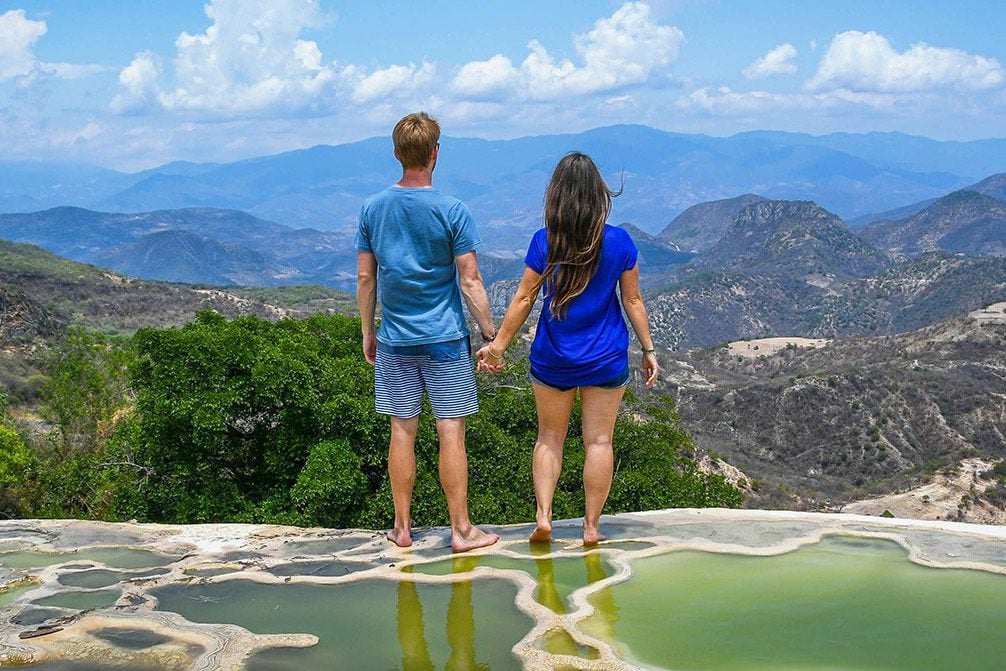 April*, September or October
If Mexico City is your destination, we'd recommend sticking to the spring and fall. Summer months in CDMX are actually their rainiest months (and the weather is predominantly overcast and cool). Winter gets quite a bit colder than on the coasts, with highs in the low 70s (F).
Plus the entire city gets decorated and festive in anticipation of the Dia de los Muertos holiday (celebrated the week of Nov. 1). And on that note – experiencing the holiday in Oaxaca City is still at the top of our bucket lists!
*Skip the week of Easter as that is a major holiday week in Mexico and comes with crowds!
Worst time to visit Mexico
June, July, August (Everywhere)*
Regardless of your chosen destination, the summer months are not an ideal time to plan a Mexico vacation. If you're on the coasts, temperatures and humidity will be high. And hurricane season on the Gulf coast runs from June through October (meaning it rains a lot).
Mexico City's rainy season is also during these months and quite undesirable.
*Of course there are always exceptions to every rule and that's not to say you couldn't luck out or have a good time in Mexico during these months. For example, if marine life is a draw, July and August is peak whale shark season in the Gulf of Mexico!
May – October (Gulf Coast)
If the Gulf Coast is your destination, we'd recommend avoiding visiting from May – October. Sargassum (the gross seaweed that collects on the beach and smells terrible) season typically runs from May to October in the Gulf of Mexico and depending on the season, the beaches can be overrun.
Holidays
The two most busy holidays for travel in Mexico are the Christmas/New Years holiday and Semana Santa (which is the week leading up to Easter). This is not only going to be super busy tourist season, but a lot of locals travel at these times as well making prices for accommodation skyrocket and book up well in advance.
Mexico Geography Overview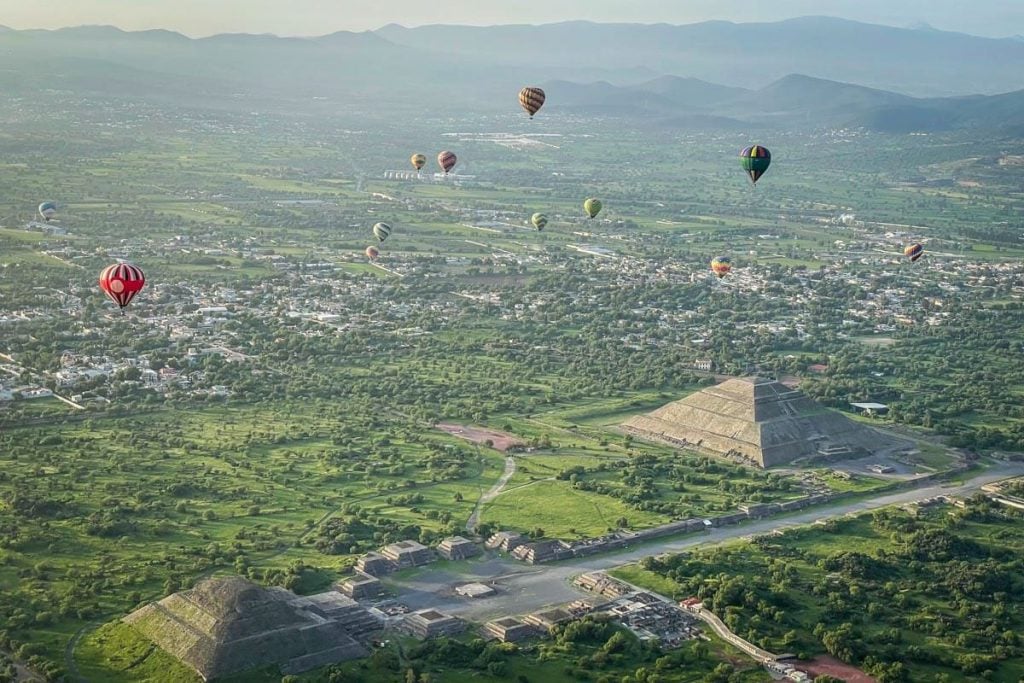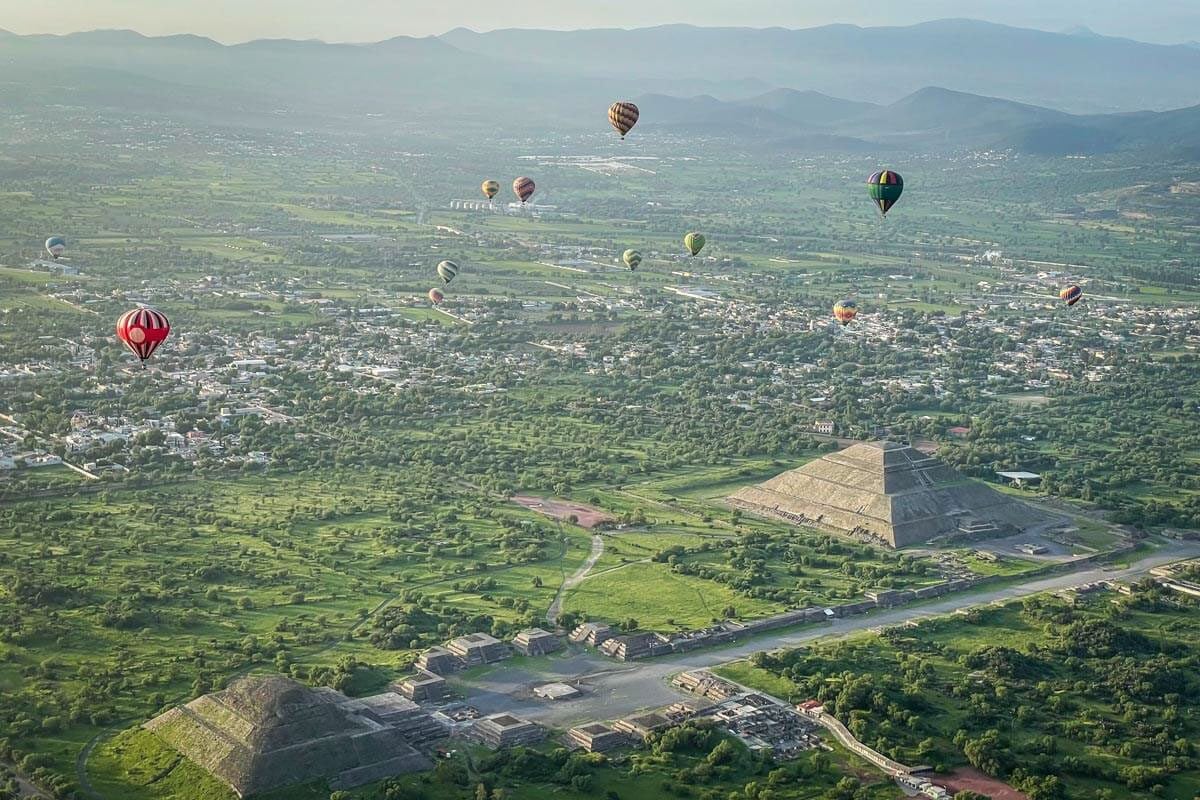 Mexico boasts an incredibly diverse geographical topography across its more than 750,000 square miles (1.94 million square kilometers).
The country's interior has several mountainous regions defined by a jaw-dropping array of biodiversity, with peaks ranging from about 3,000 feet in elevation to well over 18,000 feet. Yep, it's true: Mexico's Pico de Orizaba, or "Star Mountain," is the third-tallest mountain in North America, behind only Denali in Alaska and Mount Logan in Canada!
Outside of Mexico's interior mountain ranges, most of the southern half of the country is home to tropical rainforests and jungles, as well as lowlands, and you'll find vast desert regions in the north and Baja Peninsula.
Of course, Mexico also has nearly 6,000 miles of coastline (and that's not accounting for its 150-plus rivers!). The country is flanked by the Pacific Ocean and Gulf of California on the west, and the Gulf of Mexico and Caribbean Sea on the east.
Impressively, and fortunately for beach lovers, nearly all of Mexico's coastline is filled with beautiful beaches, drawing millions of visitors every year.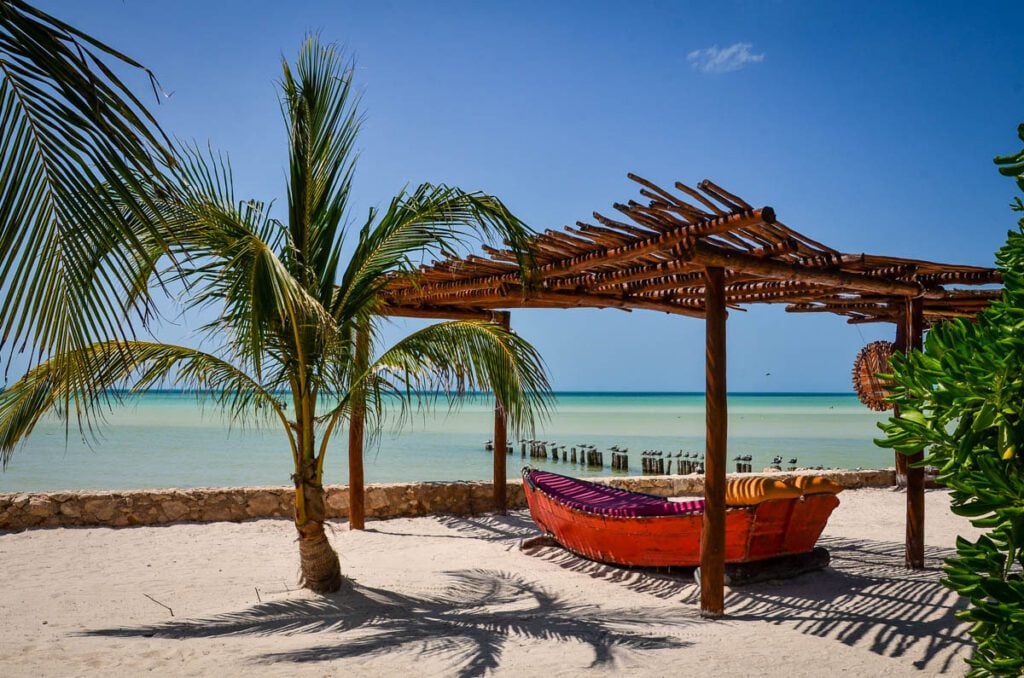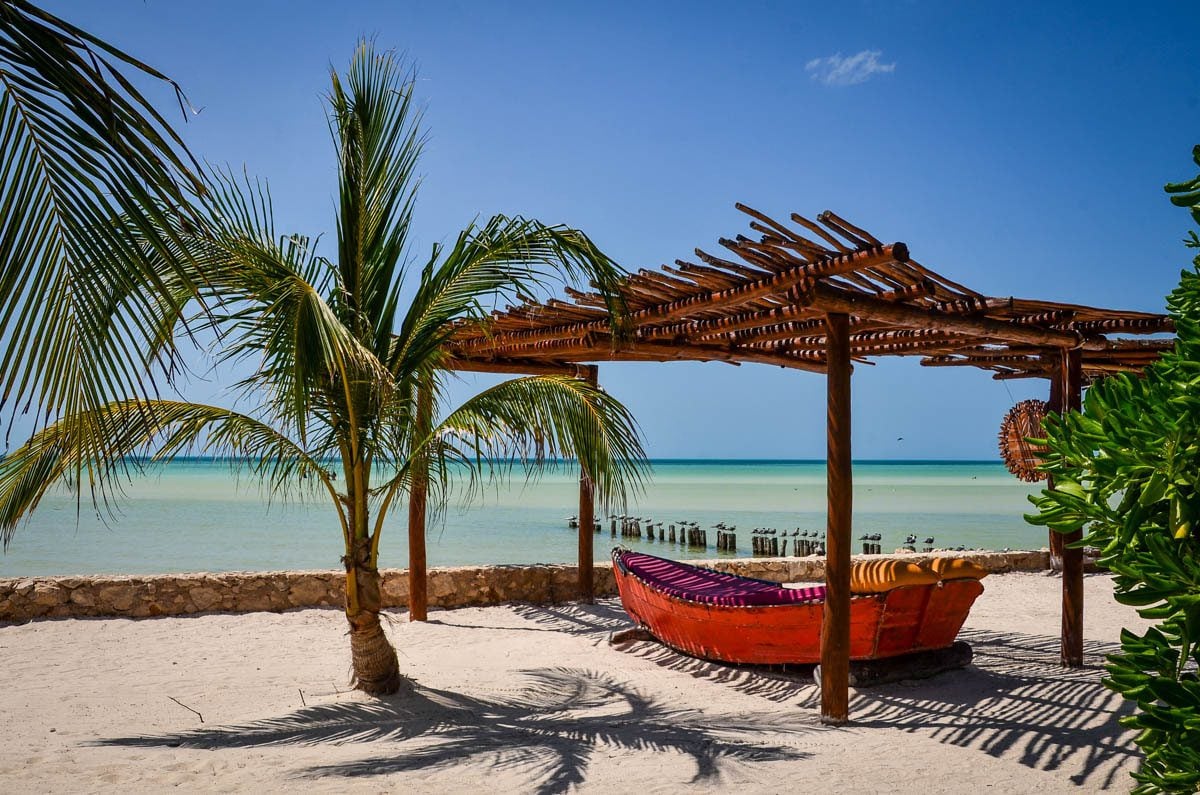 Quaint beach towns are sprinkled along the coast in every part of the country.
While interestingly, most of the major cities are in the interior, there are plenty of decent sized cities and notable tourist destinations along the coast including Tijuana, La Paz, Mazatlan and Puerto Vallarta in the West, and Cancun, Playa del Carmen and Tulum in the East.
Officially, Mexico has nine major geographic regions. For our purposes in helping you decide on the best time to visit Mexico, we're going to focus on three: the Gulf Coast including the Yucatan Peninsula, Pacific Coast to include the Baja Peninsula, and Central (interior) Mexico.
This abundance and diversity of regions means that you may have totally different experiences on the same trip, depending on exactly where you visit.
Weather in Mexico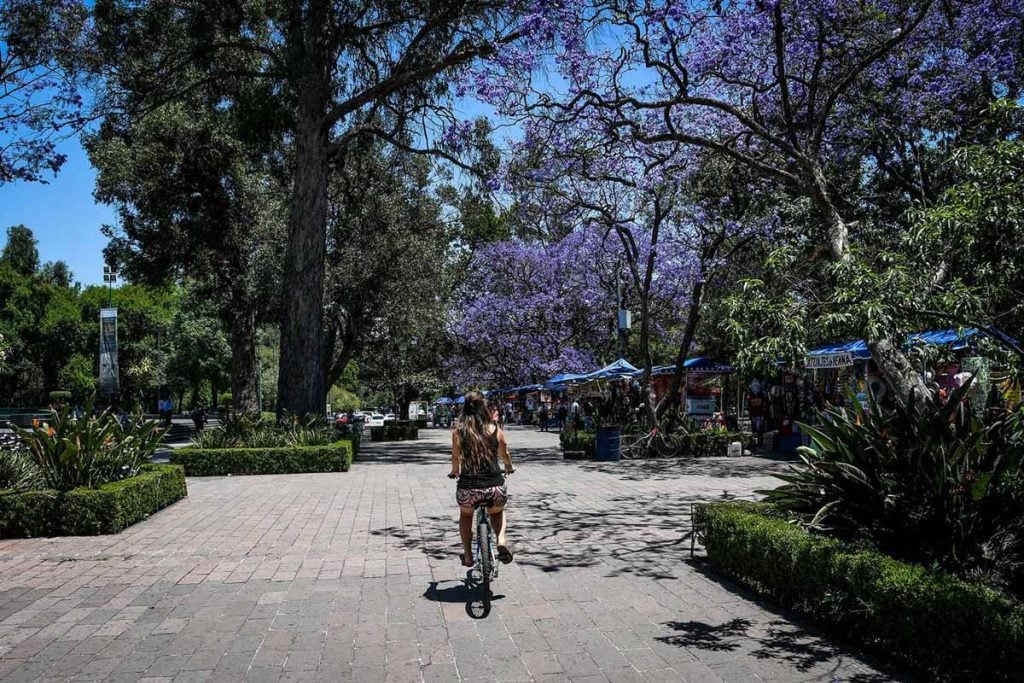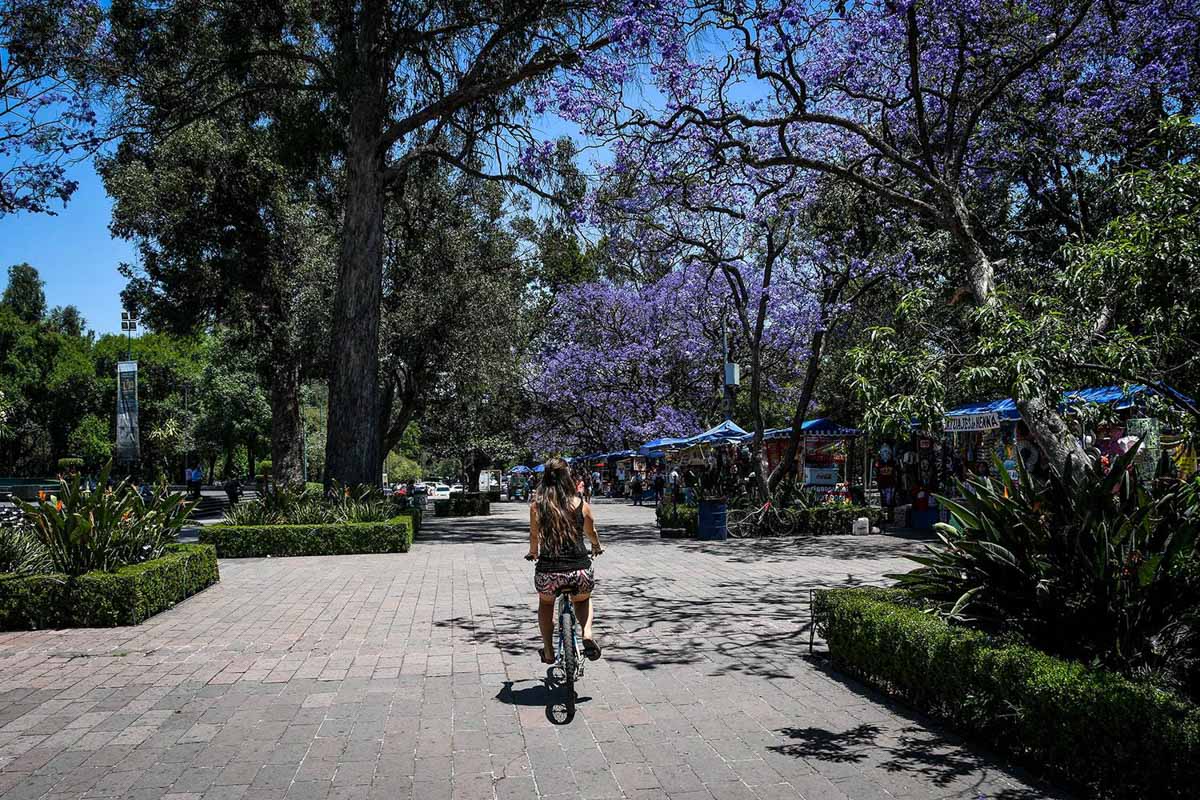 There really is no one way to describe the weather in Mexico, because it's just as diverse as the geography. Each region has different seasonal weather patterns and even within those regions, Mexico is famous for having countless microclimates.
A microclimate is essentially a small area with completely different weather than the surrounding regions, due to unique atmospheric conditions. An example is the floor of a valley being dry and humid, while the surrounding hills—just a few miles away—are rainy and cool.
Microclimates aside, most parts of Mexico typically have two distinct seasons: dry and rainy, sometimes also called wet. This is generally true whether you're on the coast or in the mountains, jungle, or desert, although the time of year different regions experience their dry or rainy seasons often varies.
Besides fluctuating precipitation levels, many of Mexico's regions maintain similar temperatures throughout the year. Of course, higher-elevation mountains are an exception, but it's not at all uncommon for daily temperatures to be almost identical from season to season.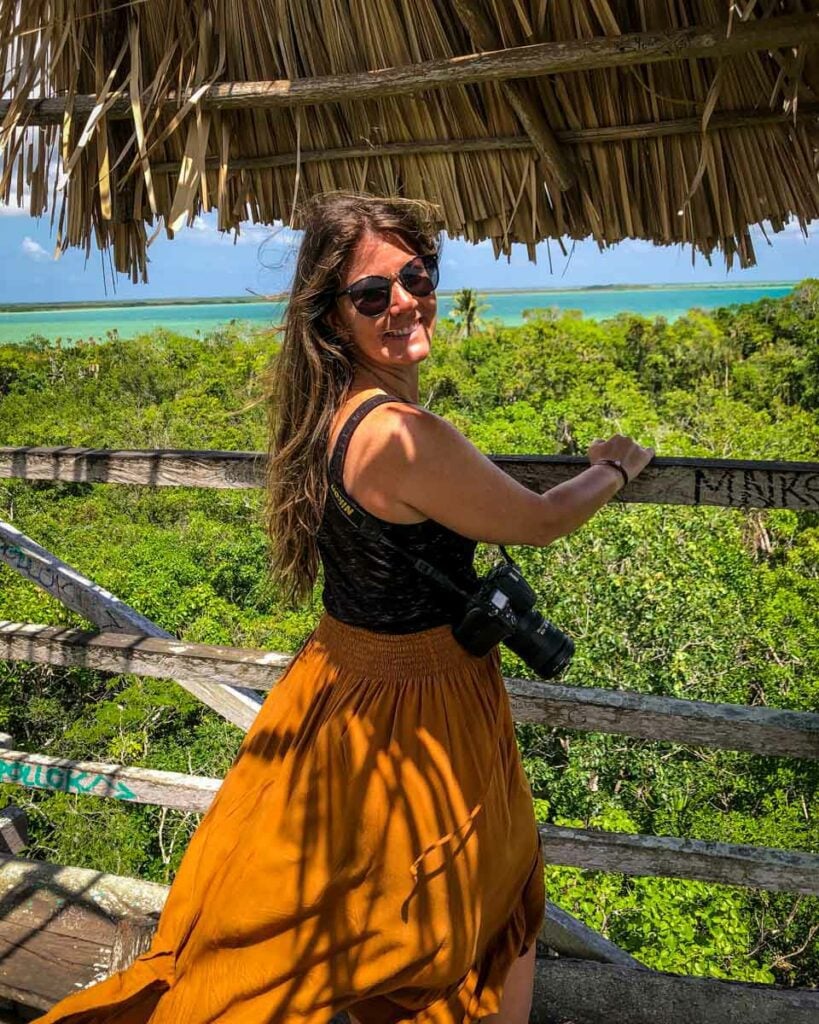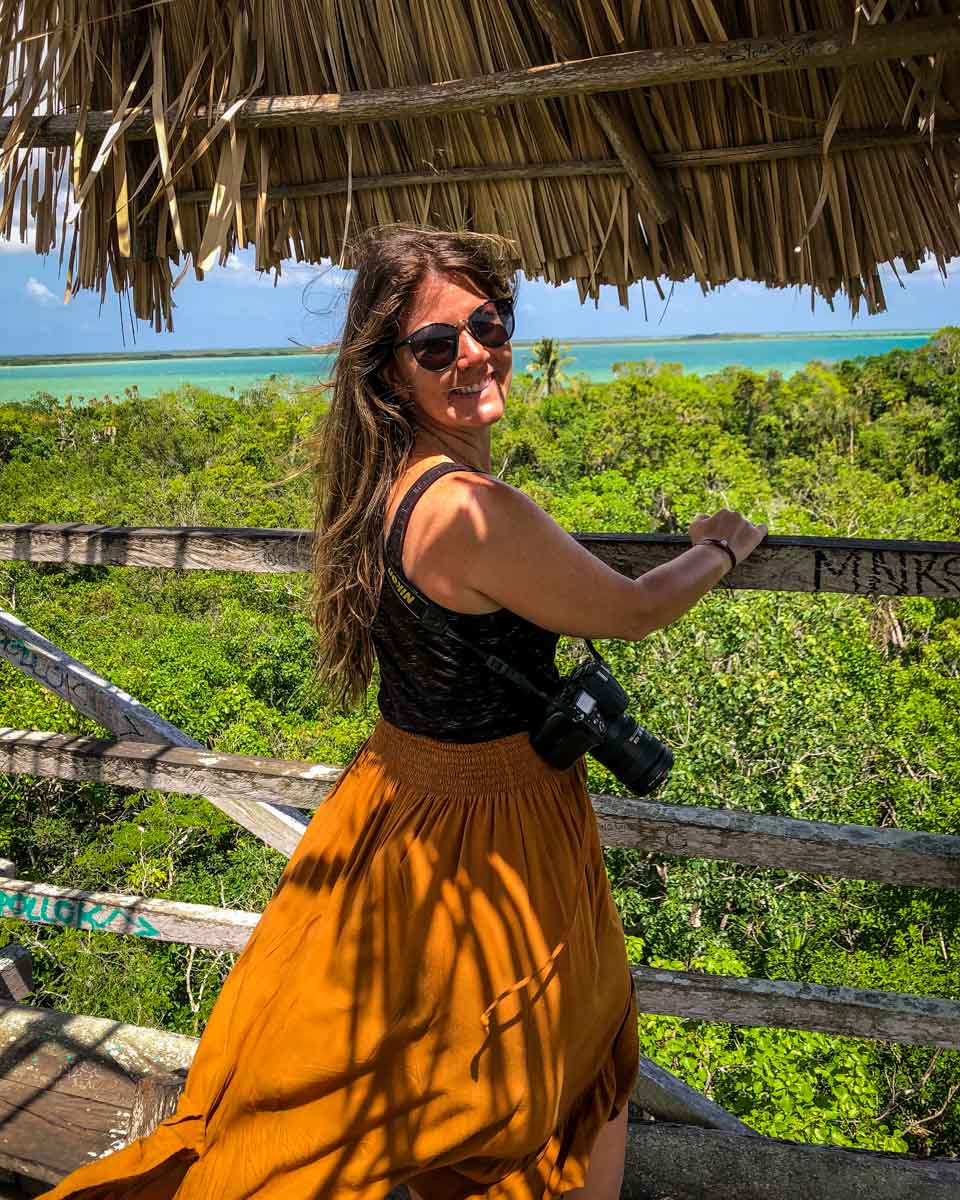 Having said that, the temperature and weather differences between individual regions is significant.
On the same day, you could be enjoying 60º F temperatures in Mexico City, then head to the desert city of Mexicali, where it might be 105º F. Similarly, Merida, a city nearer to the coast in Yucatan, may have 95% humidity levels, while in the desert, it's less than 10%.
A "cold" day in many cities, including Mexico City, Cancun, Oaxaca, Chihuahua, Cabo San Lucas, and Monterrey, is generally 50º or warmer, so Mexico is a pretty safe bet for those hoping to dodge snow in their home countries. The exception to this is high-altitude mountain zones.
One final thing to note is that Mexico sits at the junction of five tectonic plates, so earthquakes occur fairly regularly. The country usually experiences at least one major earthquake per year, but multiple smaller earthquakes happen practically every day. It's nothing to panic over, but something to simply be aware of.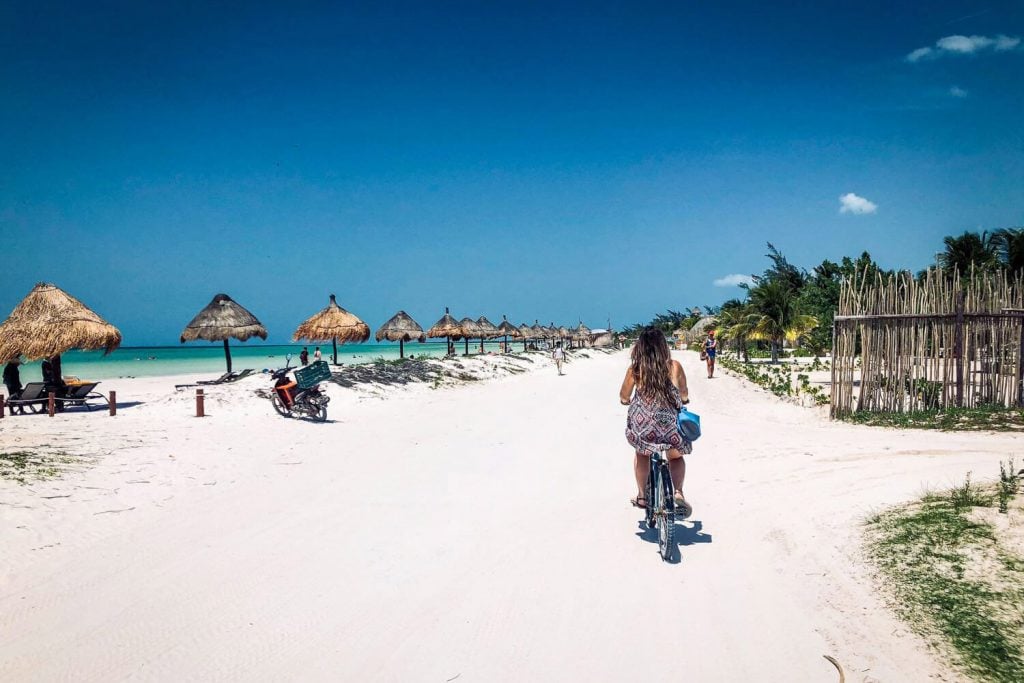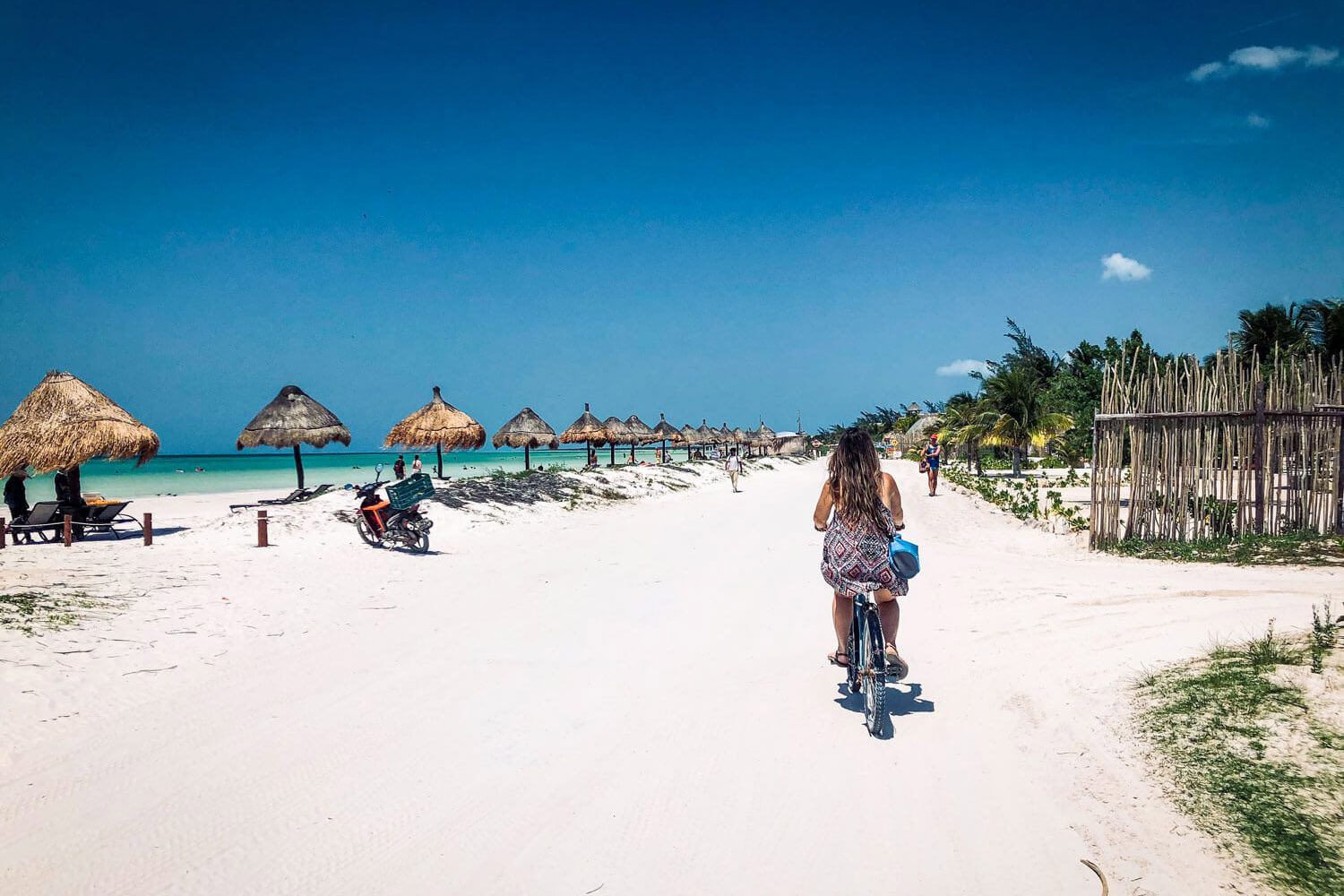 Below you'll find a break down of the wet & dry season months in each region:
Gulf Coast
November – May: Dry season; mildly warm days with cooler nighttime temperatures and sunny skies.
June – October: Rainy season; hot, humid, and high rainfall. Hurricane season is also at its peak during this time, a particular concern in the Yucatan Peninsula.
Pacific Coast
November – April: Dry season; cool temperatures and sunny skies.
June – October: Rainy season; hot, oppressively humid, and high rainfall. August and September are the rainiest months, although hurricane concerns are not nearly as high as on the Gulf Coast.
Central Mexico
November – April: Dry season; cooler temperatures (especially in the mountains) and sunny skies.
May – October: Rainy season; hot, humid, and high rainfall. In low-lying regions, rain is most frequent and intense from August through October, and hurricanes making landfall is a major concern.
Stats on Mexico Weather & Seasons:
Warmest months in Mexico: May and June for much of the country, though coastal regions experience their hottest temperatures in August and September
Coldest months in Mexico: October through December
Rainiest months in Mexico: July through October
Driest months in Mexico: November through June, although some places are dry year-round
Most crowded months in Mexico: December through March for the beaches. Cities at higher elevations see peak tourism from June to September. Holidays like Dia de los Muertos (Day of the Dead), Carnival, and Holy Week bring crowds to popular areas during otherwise slower periods.
Least crowded months in Mexico: April and May for the beaches (between spring and summer breaks), July and August in hurricane-prone regions, and October through December at higher elevations.
Psst! Looking for a unique experience? We've rounded up the best places to visit in Mexico, including our favorite underrated and off the beaten path destinations.
---
Winter in Mexico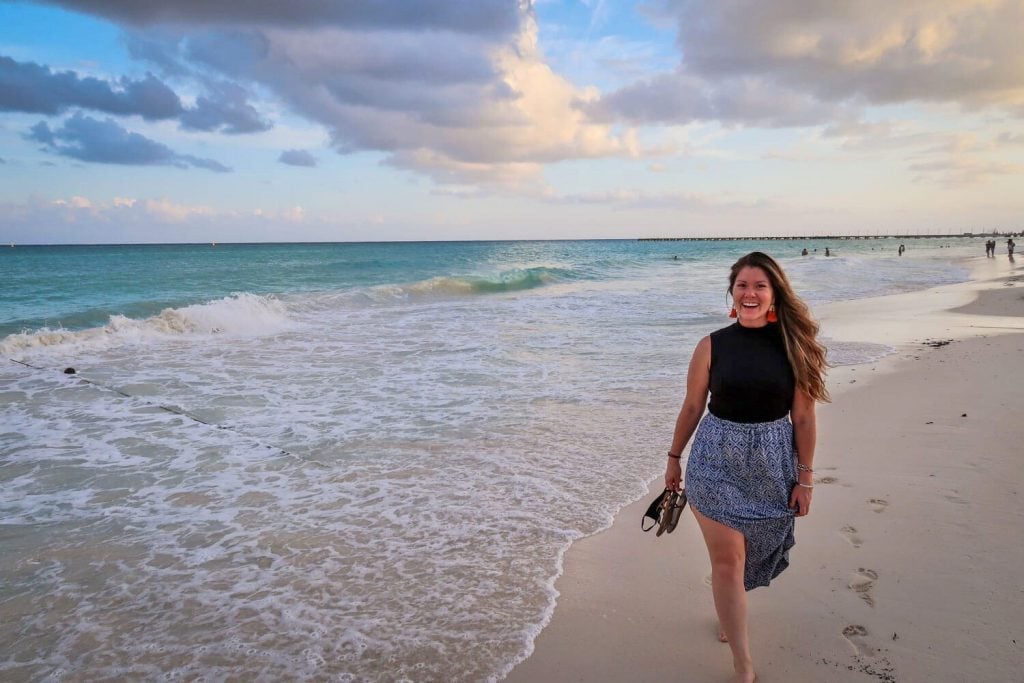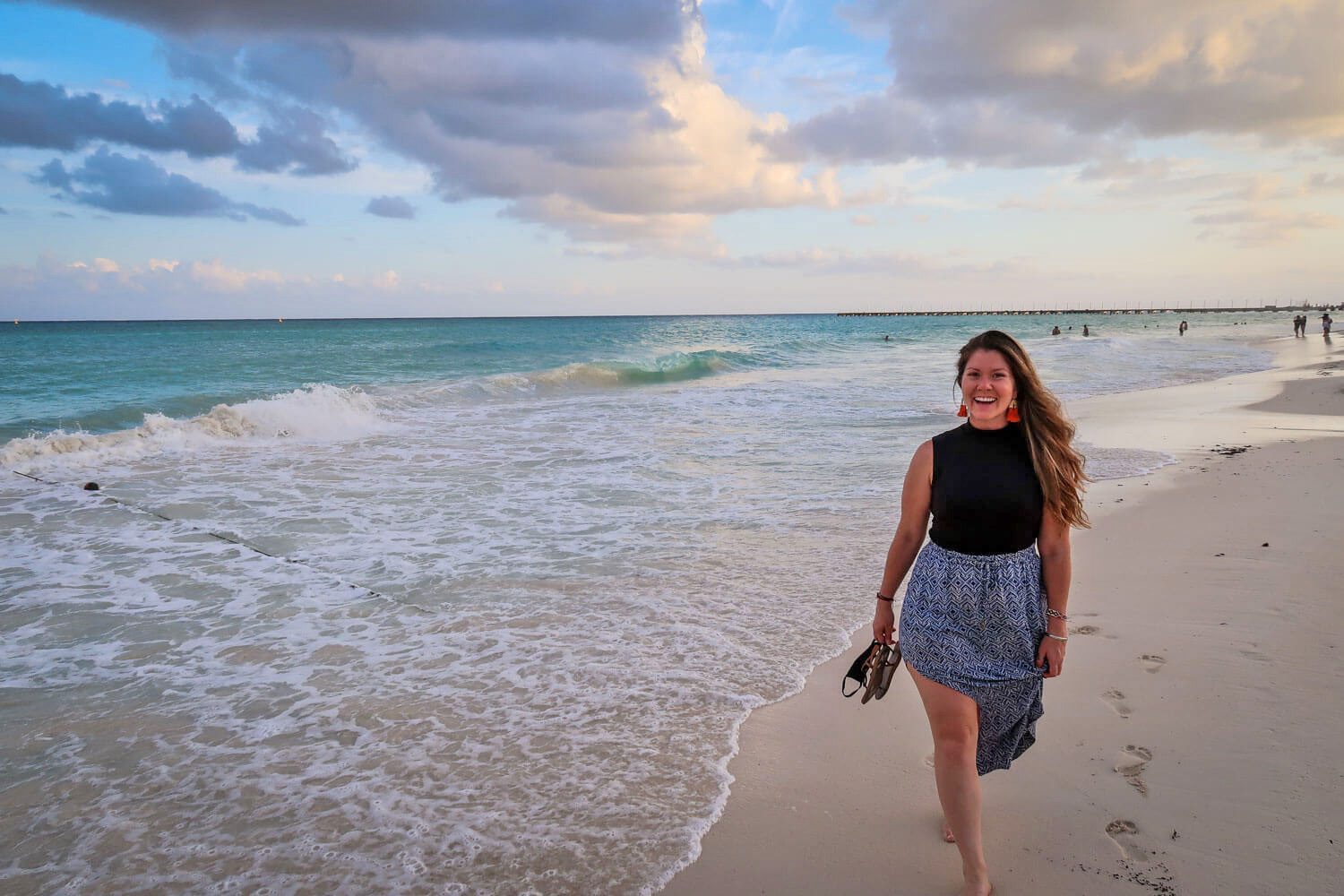 November through February are some of the best months to visit Mexico. This is the dry season for almost all of the country and the hurricane season along the coast is over.
Temperatures are typically a bit cooler, but the days are also filled with sunshine. Another benefit of visiting Mexico during the winter is that these are typically the coldest months in much of North America and Europe, so it's a great time to get a break from winter at home.
There are some major winter events in Mexico to be aware of as you plan your trip.
Dia de los Muertos celebrations take place on November 1st all around the country, with massive parties and festivals. This holiday is definitely a quintessential Mexican cultural experience!
Christmas and New Year's Eve are also huge holidays in Mexico. For some people, these are reasons in and of themselves to visit, but it's important to keep in mind that accommodation will book up far in advance and prices skyrocket around these events.
Yucatan & the Gulf Coast
Beaches will be crowded, but if you're someone who likes to be in the heart of all the action, there are plenty of things to do in the Yucatan in winter. This is peak tourism season for places like Cancun, Cozumel, and Playa del Carmen, with very little (if any!) rain and several music festivals and concerts.
Divers also flock to the Gulf Coast, specifically Playa del Carmen, to scuba dive with bull sharks from November through March. The sharks favor the warm, shallow waters here for their annual breeding.
Central Mexico
While winter is peak tourism season for the beaches, it's low season for Mexico's interior – but it's also the best weather-wise. Temperatures average in the low 70s and rainfall is rare in most cities. This is a great time to experience fewer crowds and find cheaper accommodations in places like Mexico City and Monterrey.
Just be aware that the Dia de los Muertos celebrations are an exception to "low" season. You will find accommodation booked up well in advance, especially in Oaxaca City, one of the best places to celebrate the holiday.
Pacific Coast & Baja Peninsula
Winter in Baja is a little cooler but still comfortably warm, with temps around 80º. Like most of the year, you won't encounter much, if any, rain. One of the biggest winter draws here, especially in the Baja Peninsula, is whale-watching season. From December to March every year, several whale species hang out off the coast as part of their annual migration. You may spot humpbacks, gray, and even massive blue whales!
Best places to visit during winter in Mexico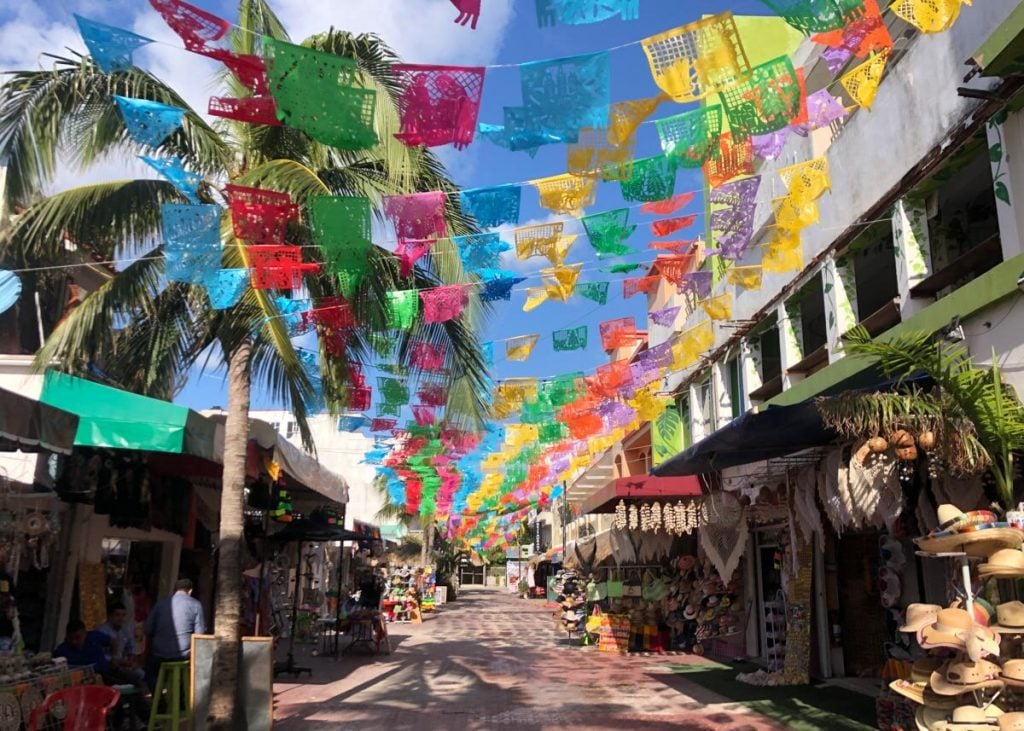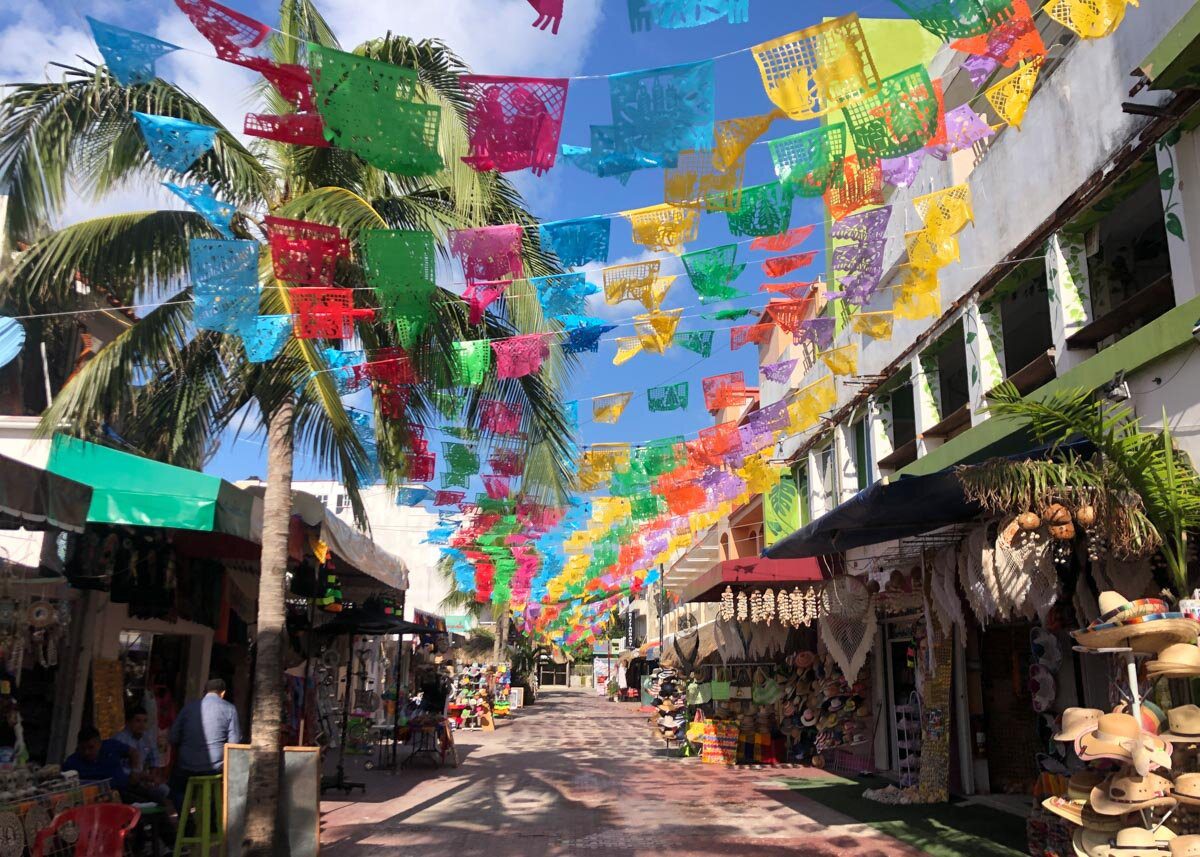 Base yourself in Playa del Carmen to explore the entire Yucatan region.
Fly into Cancun as it's one of the country's least expensive airports to fly into!
Oaxaca is one of the best destinations in Mexico if you're a foodie or looking for a cultural experience around the holidays.
San Cristóbal de las Casas is an unexpectedly lovely, laid-back mountain town.
One of our personal favorites in all of Mexico, Merida is a hidden gem in the northern Yucatan peninsula.
La Paz, on the Baja Peninsula, is another hidden gem and has beautiful beaches with fewer tourists.
Cabo San Lucas is a popular destination for party-goers and whale watching.
Best things to do during winter in Mexico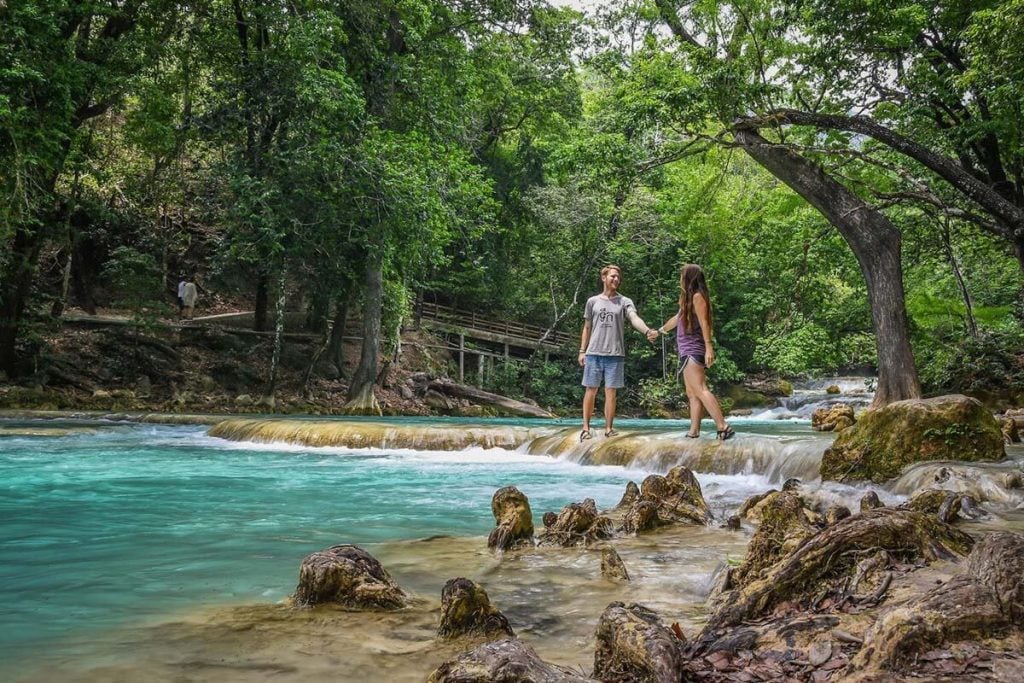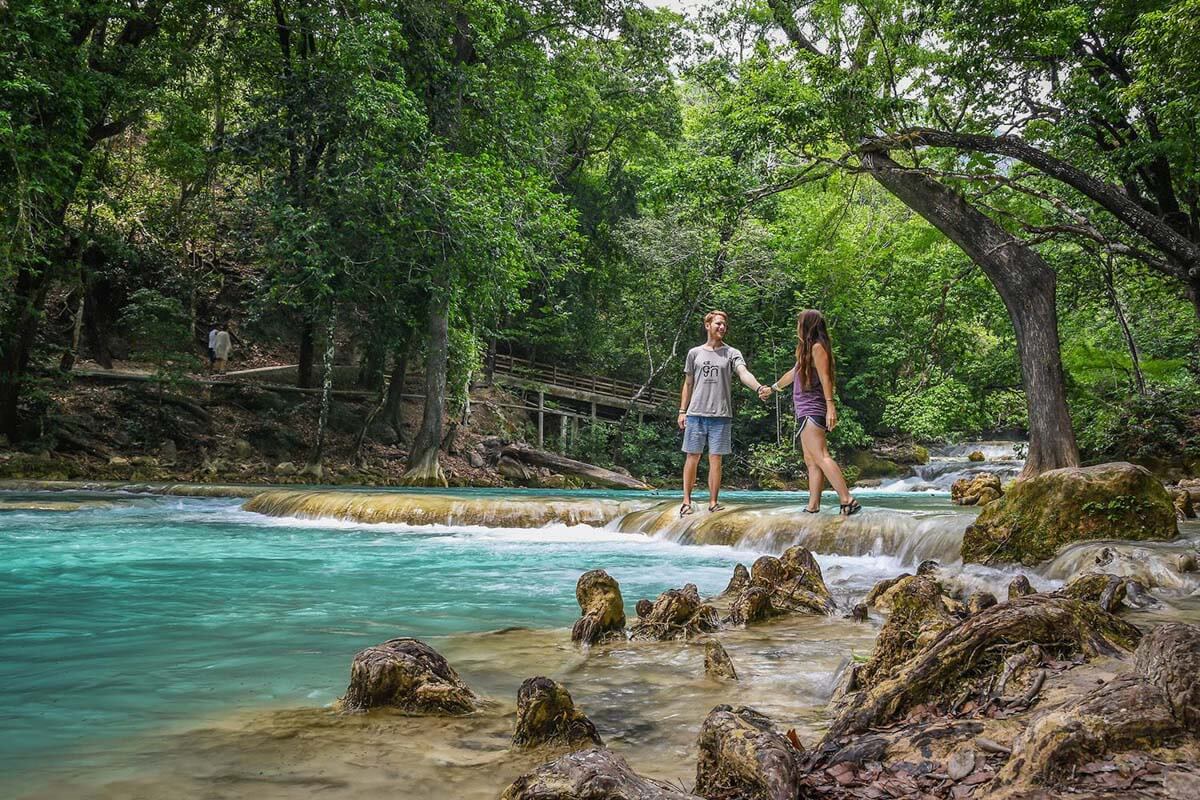 Go whale-watching, deep-sea fishing, or swimming with whale sharks in Baja.
Experience one of the country's largest Day of the Dead celebrations in Oaxaca City.
Wander through El Chiflon waterfalls, several incredible turquoise blue falls in the Chiapas region.
Visit historic Veracruz to see the country's tallest mountain, Pico de Orizaba!
Explore ancient Mayan ruins in the Yucatan.
Stroll through colorful San Cristóbal de las Casas and maybe try a Temazcal ceremony (but do more research beforehand than we did!)
Get an adrenaline rush by diving cage-free with bull sharks in Playa Del Carmen.
Swim in incredible Cenotes across the Yucatan Peninsula.
Spring in Mexico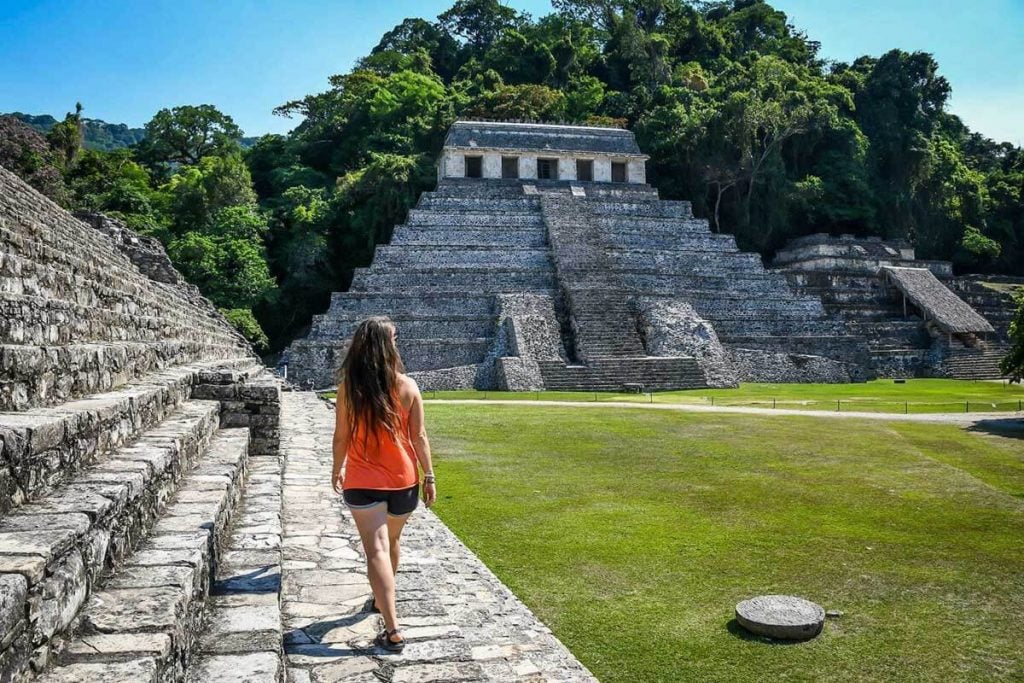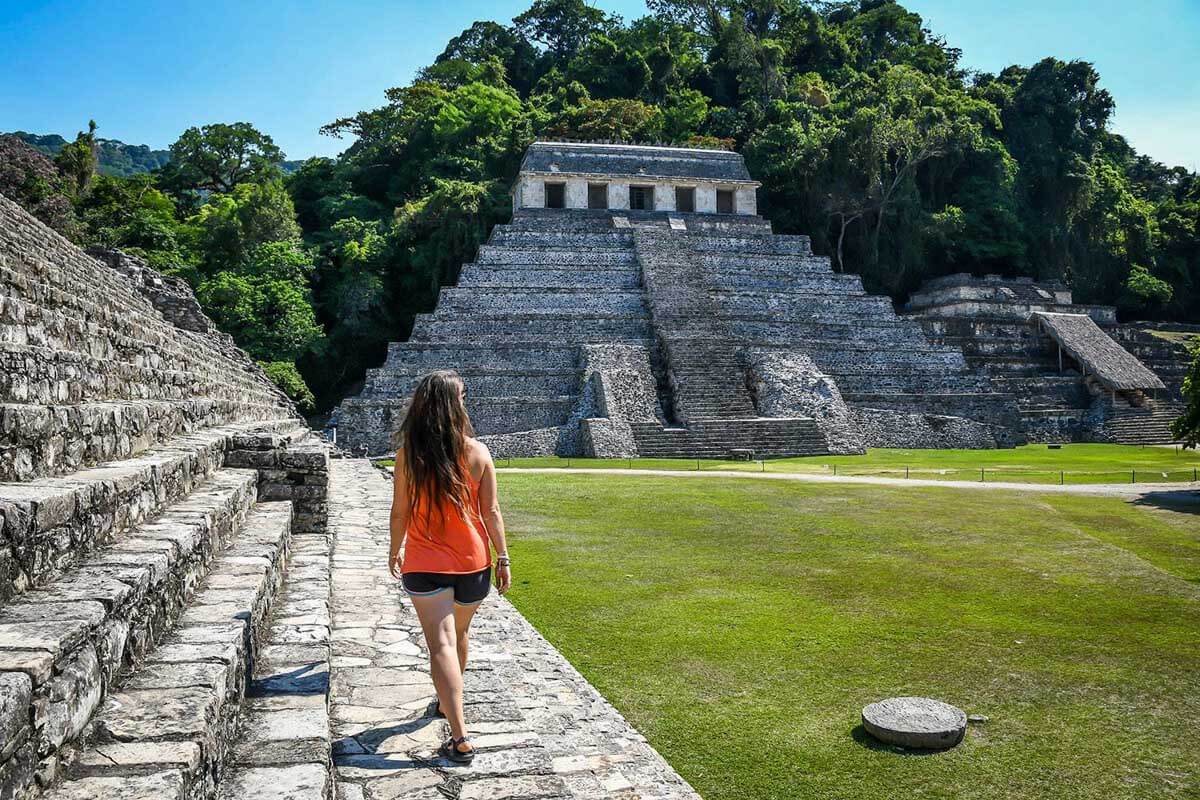 In much of North America, springtime usually marks the coming of rain and plants greening up after a long, cold winter. That's not the case in Mexico, though—March through May are the last few months of the dry season before the rain, heat, and humidity return.
Spring is still very much a "high season" for tourism in most of Mexico, especially along the coast. Spring break brings thousands of young partiers and even families to the beaches in Mexico from March through April.
Semana Santa, or Holy Week (the week leading up to Easter), is one of the country's biggest holidays. Locals flock to the coasts during Holy Week, so if you intend to travel during this week, be sure to plan ahead.
This is a time when hotels will book up faster than usual. Also note, prices are overall more expensive during these peak travel months.
Yucatan & the Gulf Coast
Spring break can bring up to 20,000 tourists to Cancun and nearby beach towns in the span of just a few weeks. Parties and festivals completely take over the beaches as waves of college students flock here for a week of partying.
Shortly after, Holy Week brings Mexican locals to the same beaches from other parts of the country.
The weeks of spring break and Holy Week often overlap, making beaches extremely crowded. If you want to experience the legendary party atmosphere, you'll enjoy yourself, but it's definitely not the best time to visit this area for those looking for a quiet, relaxing beach getaway.
Weather-wise, temperatures get a little hotter in the spring, sometimes up to 95º, and a bit of rain is possible.
Central Mexico
Central Mexico is still fairly dry and starts to warm up some in the spring months, with places like Mexico City seeing temperatures in the low 80s. The city plays host to several Semana Santa celebrations, including one of the largest in the country, in the Iztapalapa neighborhood.
This is a great place to visit if you want to swap the craziness of the beach for the craziness of the city!
Pacific Coast & Baja Peninsula
Spring on the Pacific Coast can still be a good time to spot whales as it's the "tail" end of whale-watching season (we had to!). Late-spring marks the beginning of surf season on the West coast.
Beaches here see a slight spike in domestic tourism for Holy Week, but typically don't see nearly the spring break crowds that take over the Yucatan. Temperatures on this coast start to rise considerably and there's generally little to no rain during these months.
Best places to visit during spring in Mexico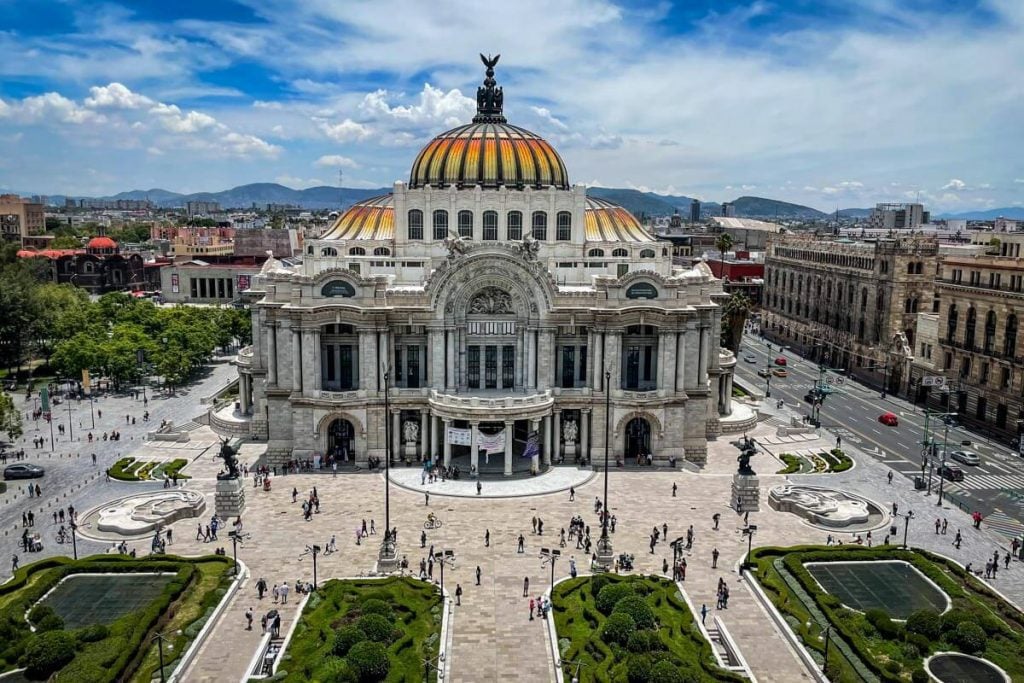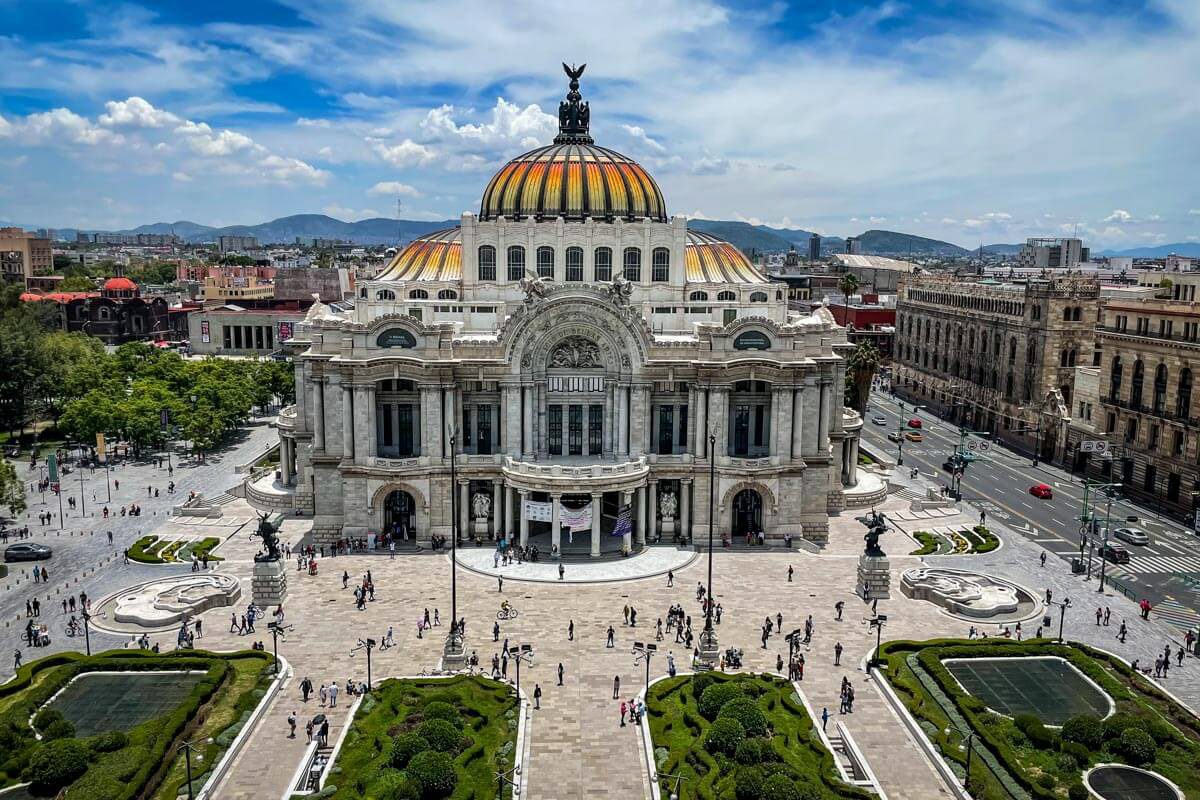 If you're interested in lively Holy Week celebrations, head to Mexico City.
Yucatan beaches are THE spot for spring break parties.
The Baja Peninsula is one of the best places to see whales in the spring.
Head to Cabo San Lucas for epic late-spring surfing.
Oaxaca is a great place to visit for beautiful less-crowded beaches before the heat and rains come (though locals will flock here during Holy Week).
Best things to do during spring in Mexico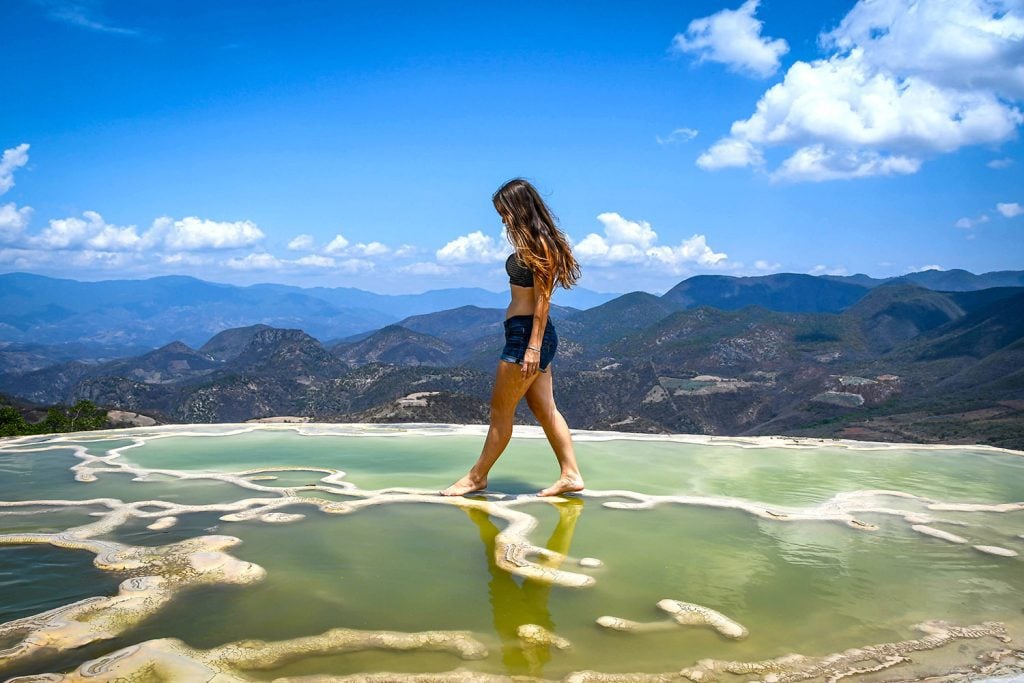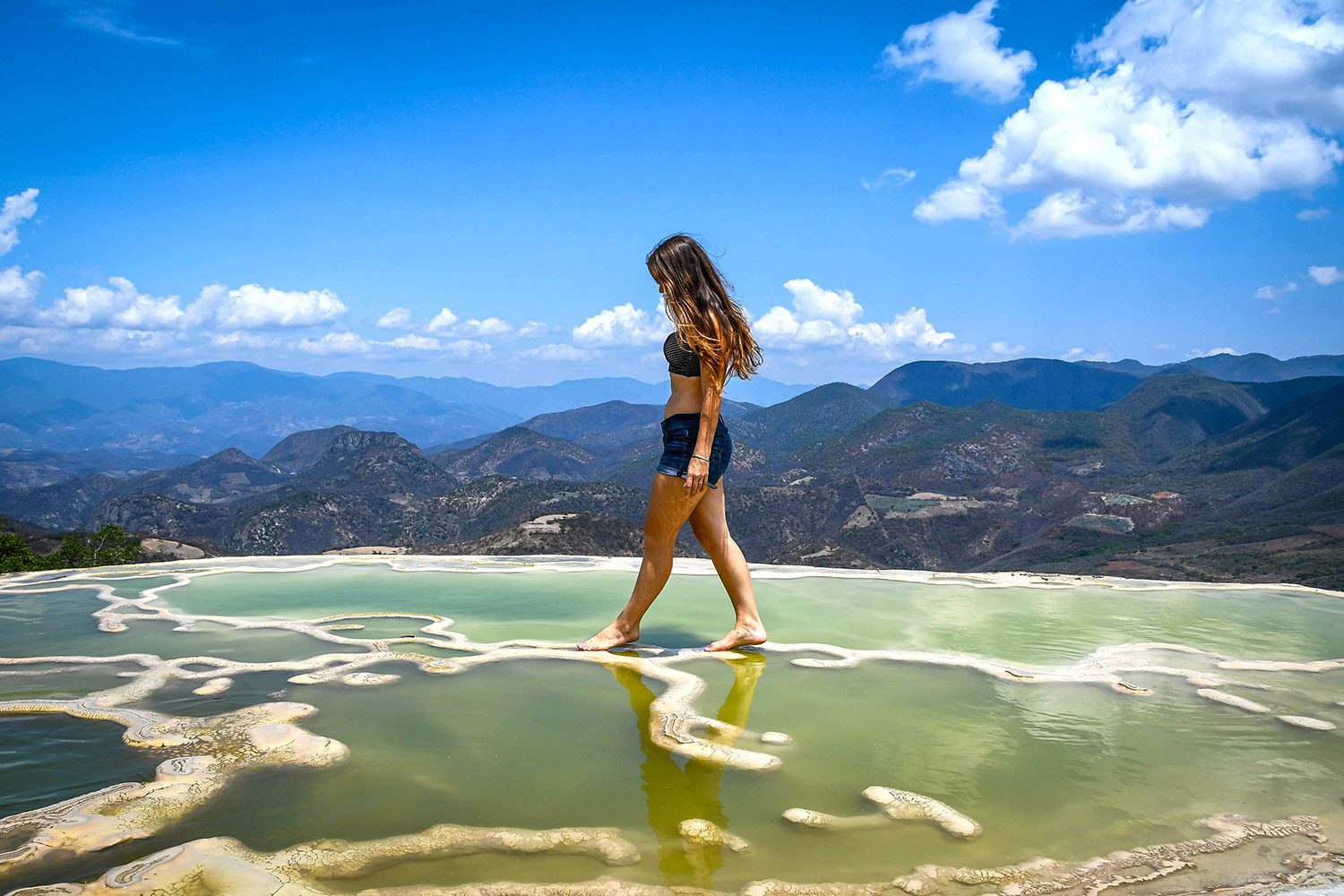 Learn how to surf on the Pacific Coast
Party it up (or just people watch!) for spring break in Cancun
Take part in Mexico City's lively Holy Week celebrations or take in a Lucha Libre wrestling match
Go on a whale-watching excursion from Cabo San Lucas (best at the beginning of spring, as most whales will have already headed north by early April)
Learn how mezcal is made (and sample it, of course!) in Oaxaca City.
Summer in Mexico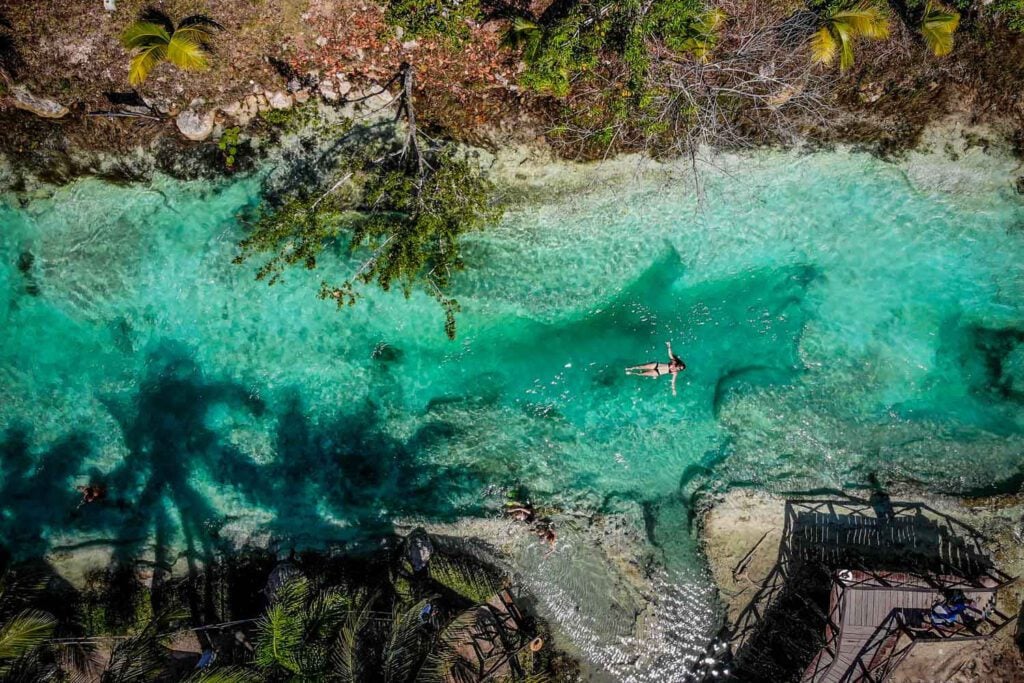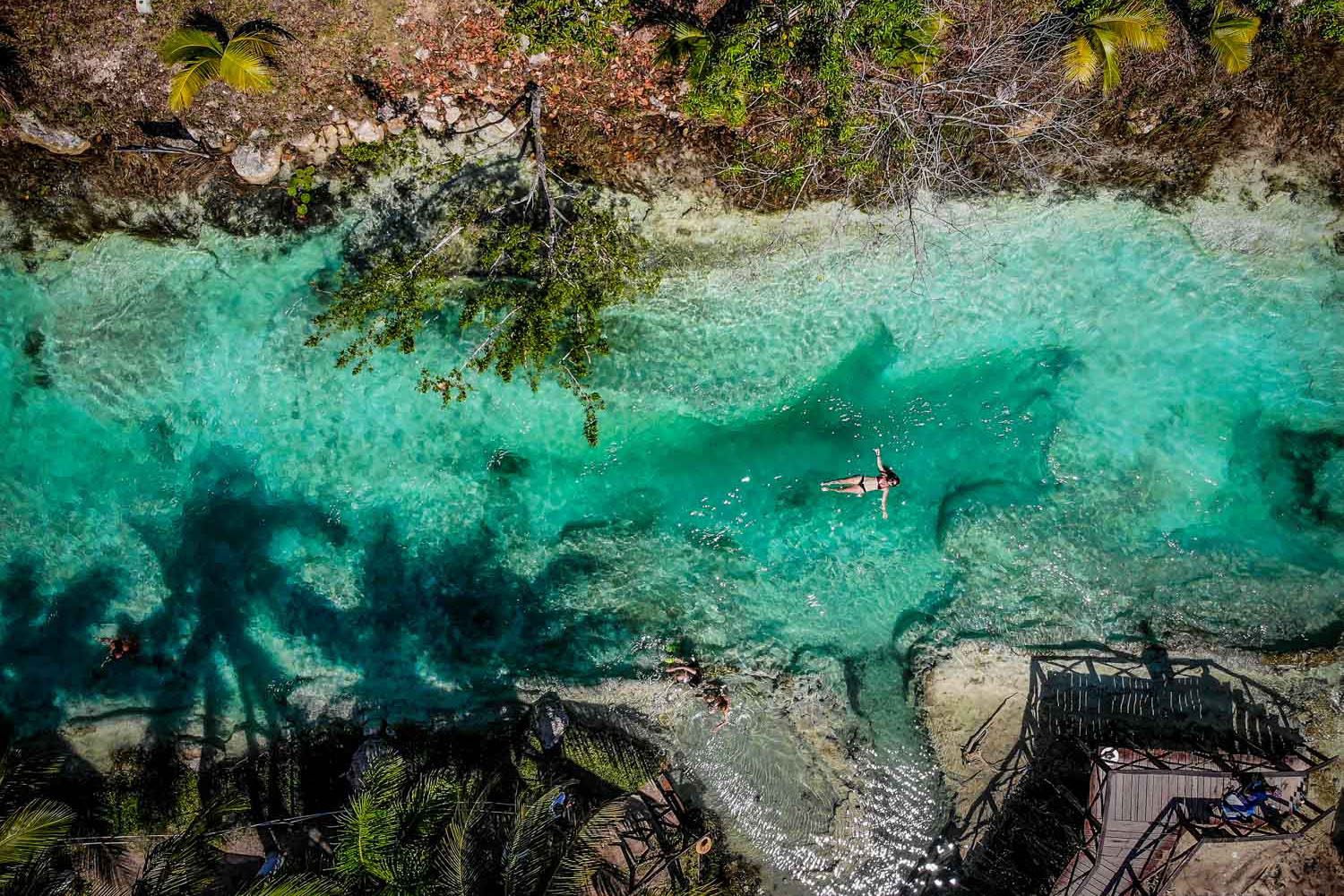 We're not going to sugarcoat it: summertime across most of Mexico is hot, muggy, and usually comes with lots of rain. However, that doesn't necessarily mean it's a bad time to visit!
June through August is the low season for tourism, so you'll enjoy a distinct lack of crowds and can find smokin' deals on accommodations and excursions — if you can bear the heat and humidity.
Yucatan & the Gulf Coast
Summer temperatures on the Gulf Coast are hot, upwards of 100º, and rain is a frequent occurrence. It's also important to note that this is usually the time when the Sargasso (smelly seaweed) starts to collect on shore, giving the beaches a not-so-pleasant aroma and making it harder to enjoy.
June is also the start of hurricane season on the Gulf Coast, and it runs through October. Prices and crowds are definitely significantly lower, but you run the risk of having to cancel your trip or leave early in the event of a hurricane.
If your plans are flexible, this can be one of the best times to visit this part of Mexico!
Pacific whale sharks will be gone by the time summer rolls around, but the good news is that's right about when the Atlantic whale sharks start showing up near Isla Mujeres.
June to mid-September is whale shark season for the Yucatan and the Gulf. Riviera Maya's shallow waters are ideal for snorkeling with the sharks, while SCUBA divers should head to Isla Holbox in Quintana Roo.
Central Mexico
The weather in Central Mexico is tricky during this part of the year. While typically cooler and drier year-round than the coasts, many of the central Mexican cities are cooled during the peak summer months by frequent and persistent rain.
We don't typically recommend visiting Central Mexico during the summer due to the rain, but if you want to give it a shot, the plus side is that accommodations are cheaper and there are significantly fewer crowds.
Pacific Coast & Baja Peninsula
Surfing season really gets into full swing on the Pacific Coast in the summer. There are plenty of spots to choose from along the Baja Peninsula, all the way down to the mainland coast. Whales and whale sharks are long gone by this time, but you can still enjoy great deep-sea fishing!
Baja is a notable exception to the typically rainy summer, usually seeing less than one inch per month. However, it's no exception to the heat, as temperatures rise well into the 90s most days.
With hurricanes much less of a concern on the Pacific Coast, summer is a great time to take advantage of fewer tourists and lower prices.
Best places to visit during summer in Mexico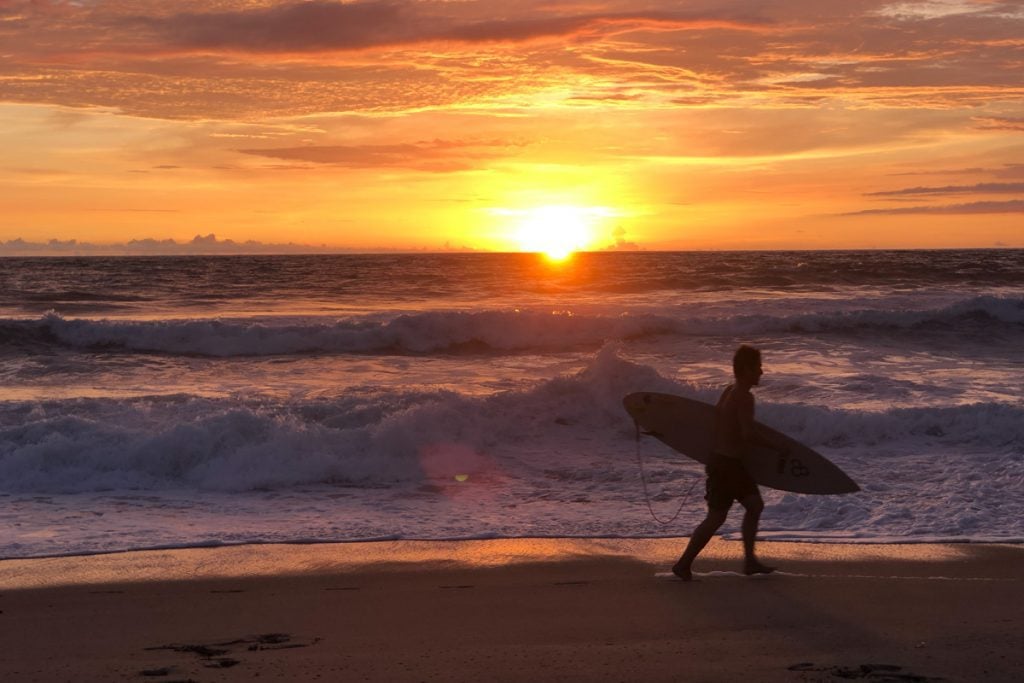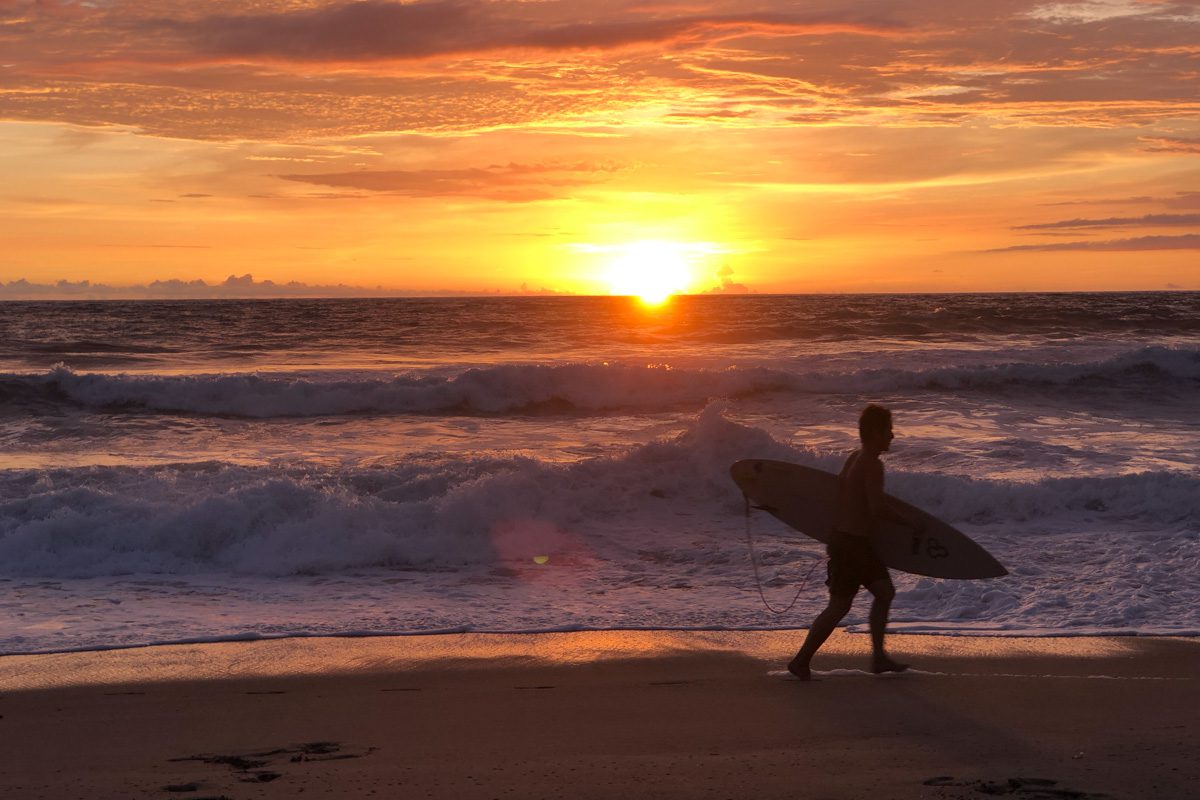 Join world-class surfers in Puerto Escondido, home of the famous Mexican Pipeline surf break.
The Yucatan Peninsula is humid and rainy, but still offers great water activities.
Head way down south to Cabo San Lucas, one of the most popular Pacific Coast surf spots.
Experience Puerto Vallarta's relaxing beaches and vibrant nightlife.
Visit Riviera Maya's Akumal, a known location to spot hatching sea turtles in the summer.
Avoid the coast altogether and visit the Sierra Norte Mountains in Oaxaca.
Best things to do during summer in Mexico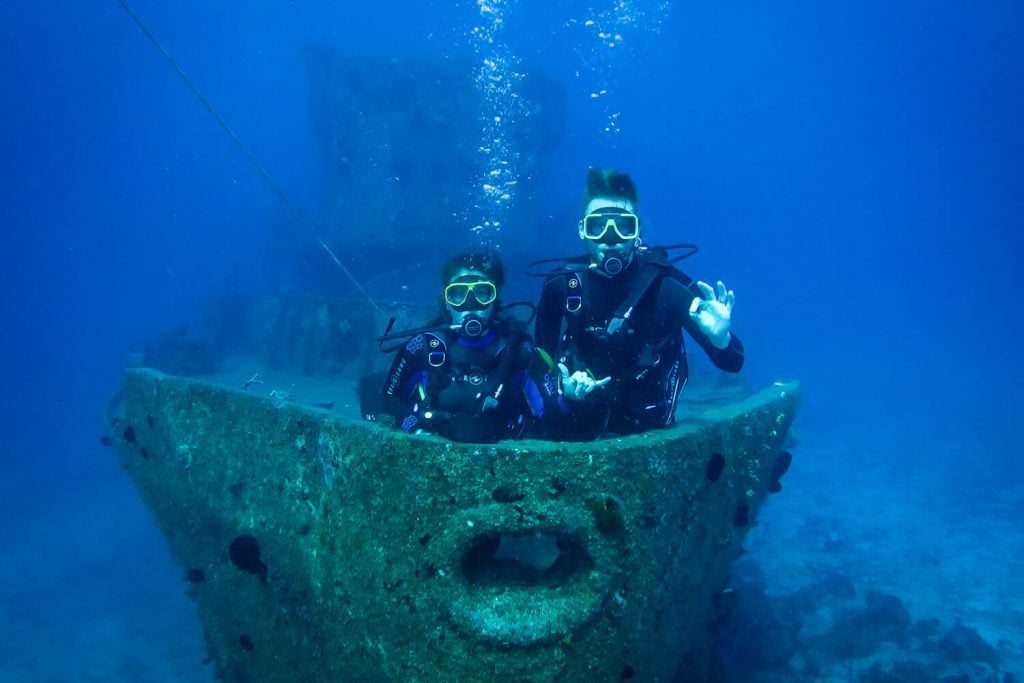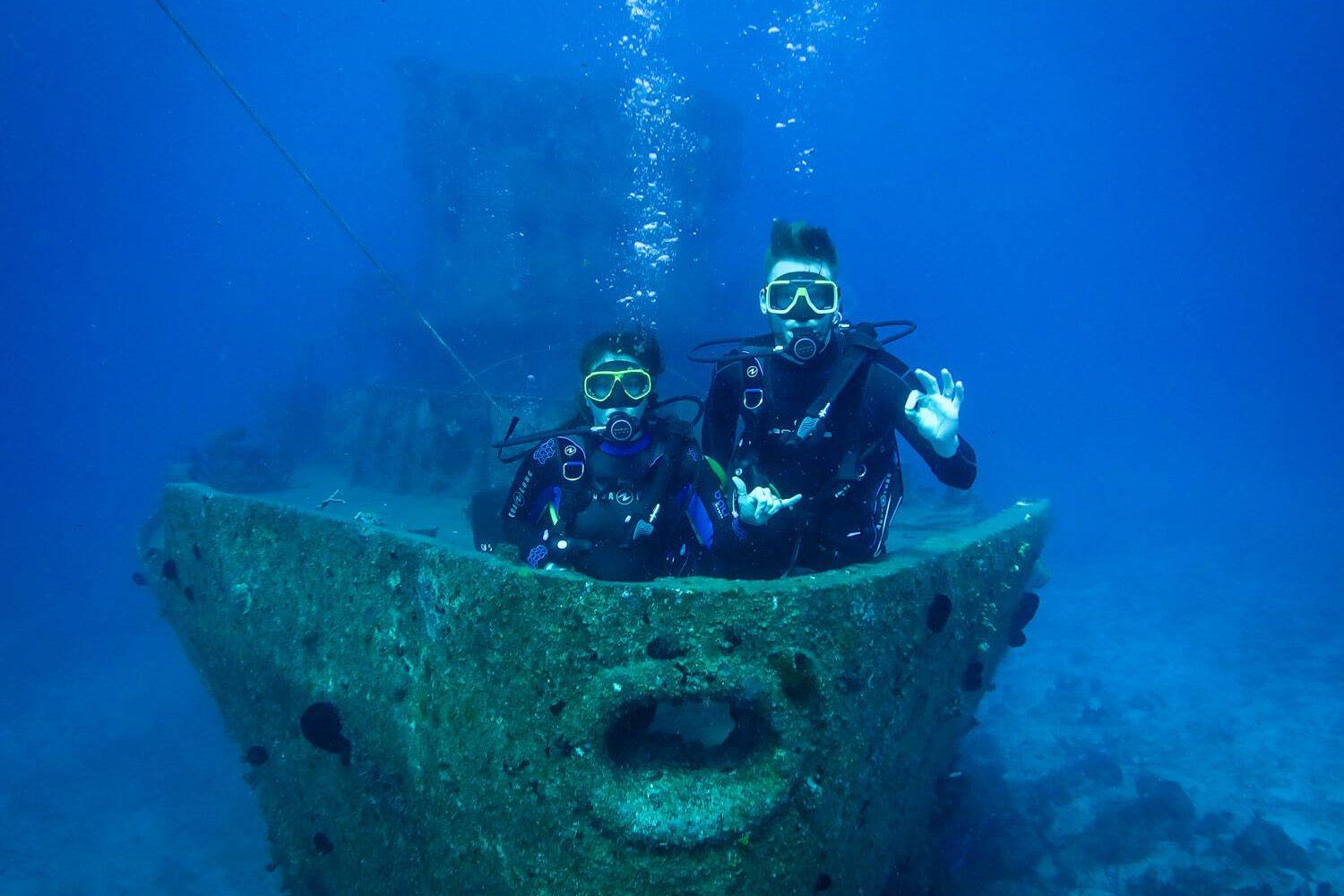 Catch some waves on the Pacific Coast, or watch others do so — some of the best surfers in the world head south in the summer to take advantage of the off-season!
Swim or snorkel with whale sharks in the Yucatan Peninsula and Gulf Coast
Go on a scuba diving trip to Cozumel
Enjoy the affordable accommodations in Cancun, Cozumel, and surrounding areas, particularly on the Gulf side
Hike among indigenous villages in the highlands of Oaxaca's Sierra Norte Mountains
Fall in Mexico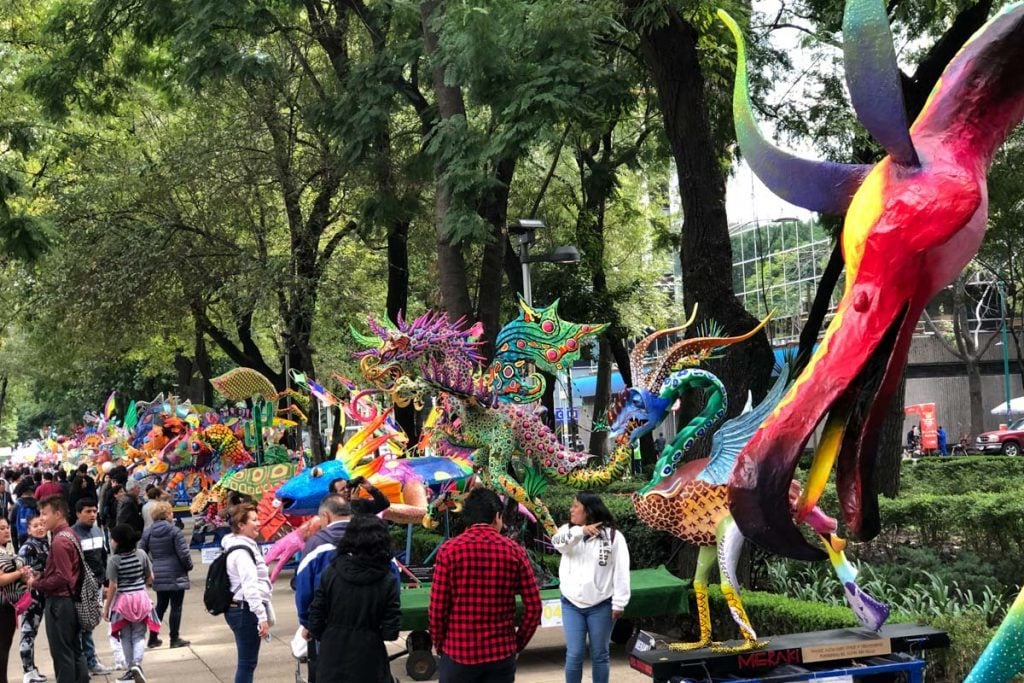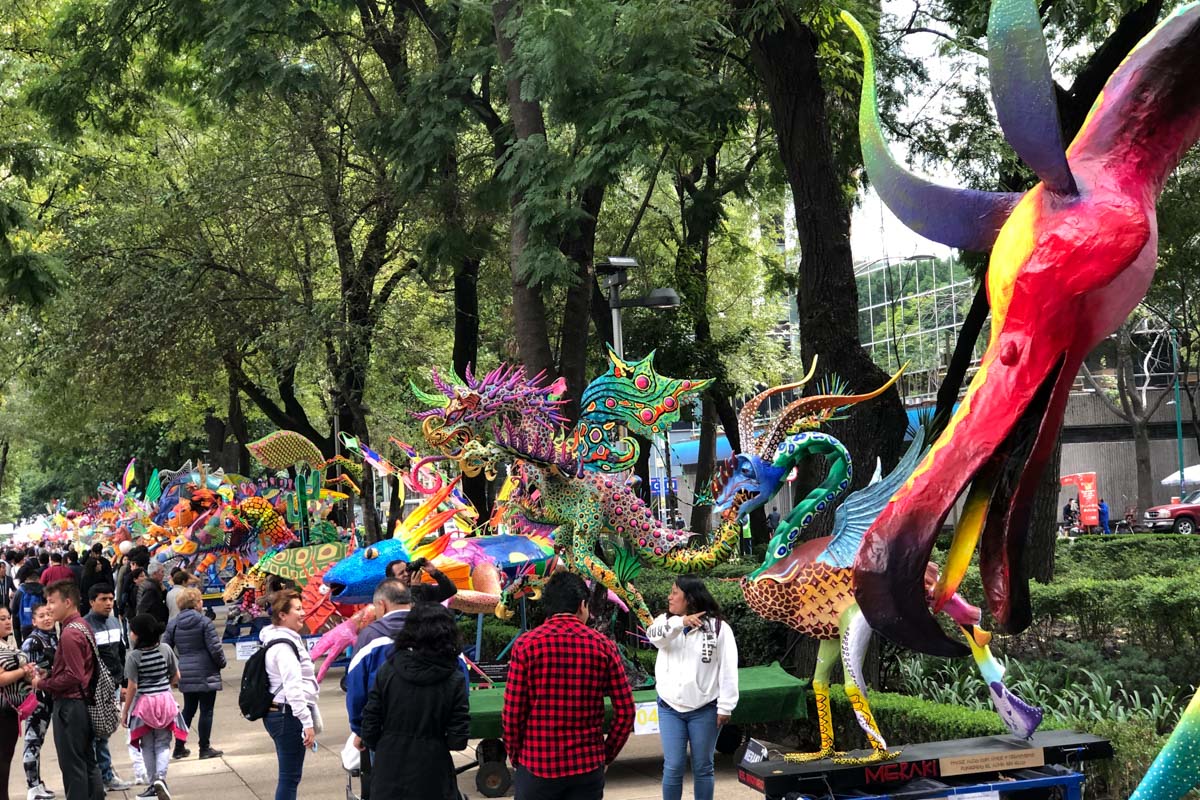 September and October represent a transitional time in Mexico in terms of tourism. It's the end of both low season and hurricane season, and while temperatures start to drop gradually, rain and humidity typically hang around for a bit longer.
Fall is another excellent time to avoid crowds and find awesome accommodations at a discount.
While this is a shoulder season, there are still some noteworthy events that may be worth checking out. Mexico's Independence Day is September 15th, marked by parties all across the country. You'll also find several Dia de los Muertos celebrations starting during the last week of October and running through the first few days of November.
Yucatan & the Gulf Coast
September and October are still hot and wet in the Yucatan, with September actually getting the highest rainfall of the entire year — typically 8" or more! Temperatures hover in the low 90s and humidity remains relentless with all the rain.
The silver lining is that crowds are still light and hotels offer low-season pricing.
Central Mexico
Central Mexico is similar to the Yucatan in the fall; cooling temperatures but still a fair amount of rain. That being said, this is actually a great time to visit central Mexico!
Prices are lower and temperatures are typically comfortable, in the mid- to low 70s. If you can work around a bit of rain here and there, fall is an ideal time to visit this region while saving a little money and avoiding crowds. Particularly in Oaxaca and Mexico City, the final week of October should have plenty of Day of the Dead celebrations.
Pacific Coast & Baja Peninsula
As we mentioned earlier, the weather in Baja is somewhat opposite of most other regions in Mexico in the fall. September is usually both the hottest and wettest month of the year, and October only brings slight relief.
Note that September is considered the peak hurricane season for the Baja Peninsula. Although it's rare for a hurricane to make landfall, the storms often bring heavy rain.
Best places to visit during summer in Mexico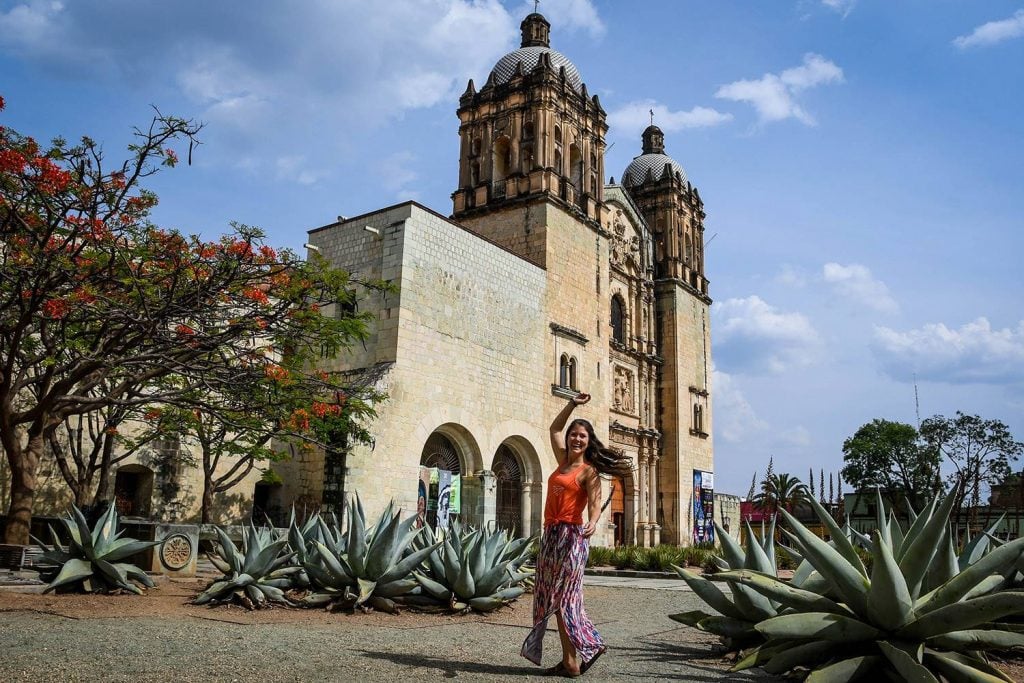 Explore Mexico City, the country's capital and largest city
Wander your way through laid-back, culturally-rich Oaxaca
Enjoy fewer crowds on the beaches of Cabo San Lucas
Explore the highly underrated volcanic island of Guadalupe Island, 150 miles off the coast of the Baja Peninsula
Check out Lago (Lake) Avandaro at Valle de Bravo, an adorable mountain town where Mexican locals go to get away!
Best things to do during fall in Mexico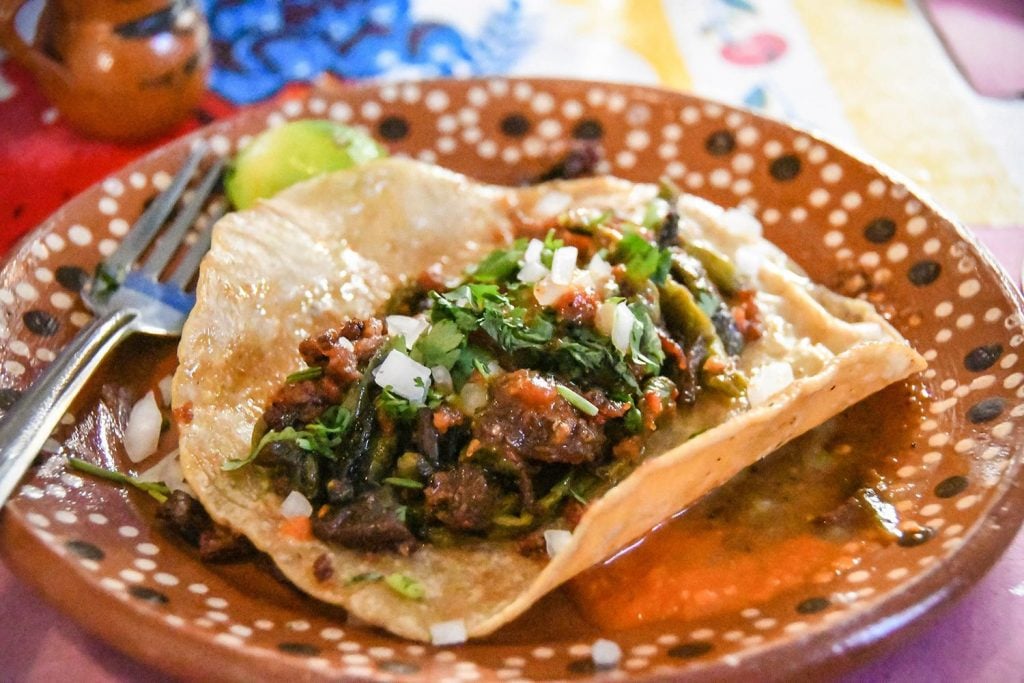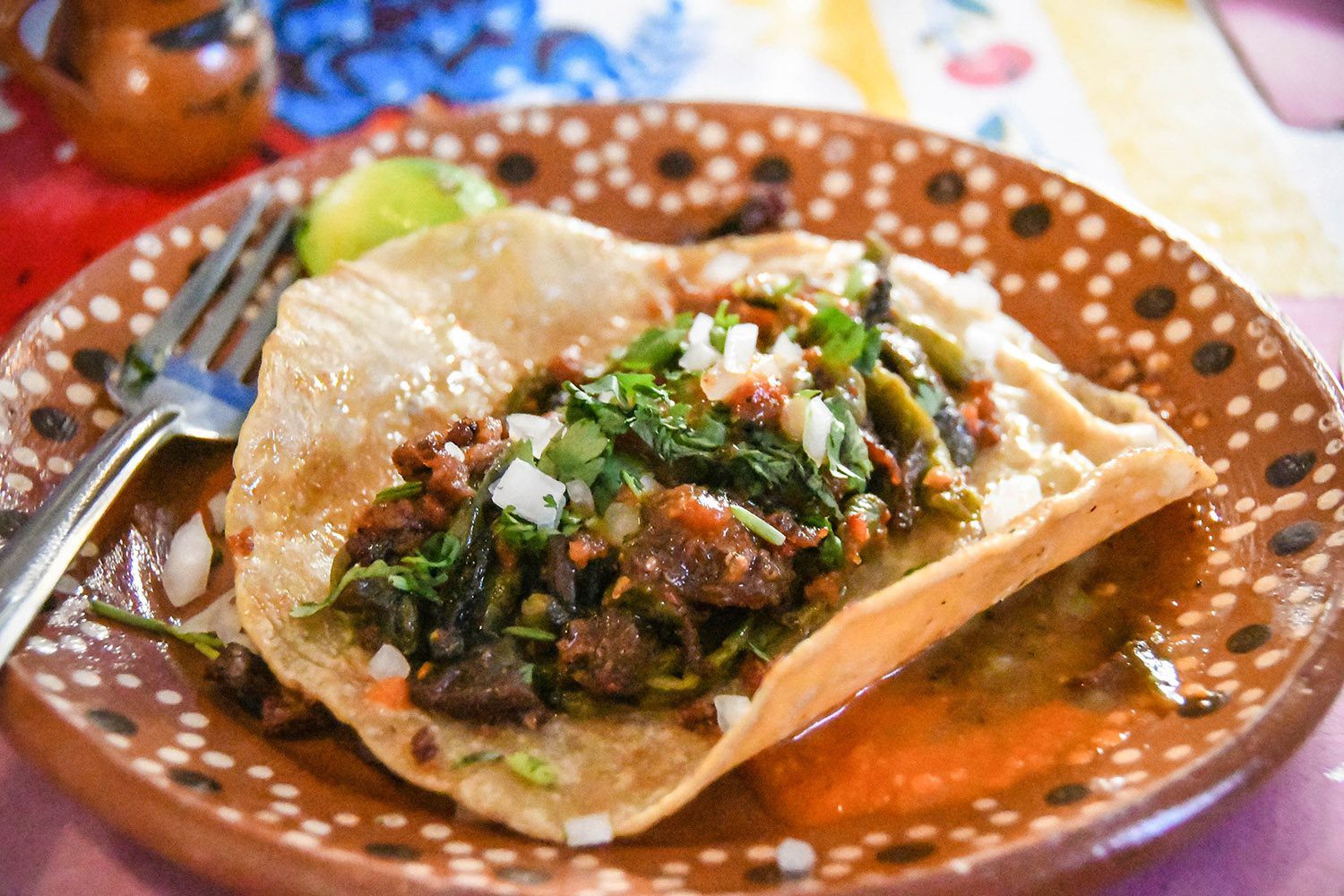 Enjoy Dia de los Muertos celebrations in Mexico City or Oaxaca.
Take a food tour in Oaxaca, when lots of specialty dishes are made in celebration of Independence Day.
Or, spend a few days eating allllll the food in Mexico City (or do both!).
Experience a cage dive with great white sharks in Guadalupe Island!
Join the festivities of an Independence Day party on September 15th.
Check out the incredible museums in Mexico City.
Best time to visit Mexico in our opinion…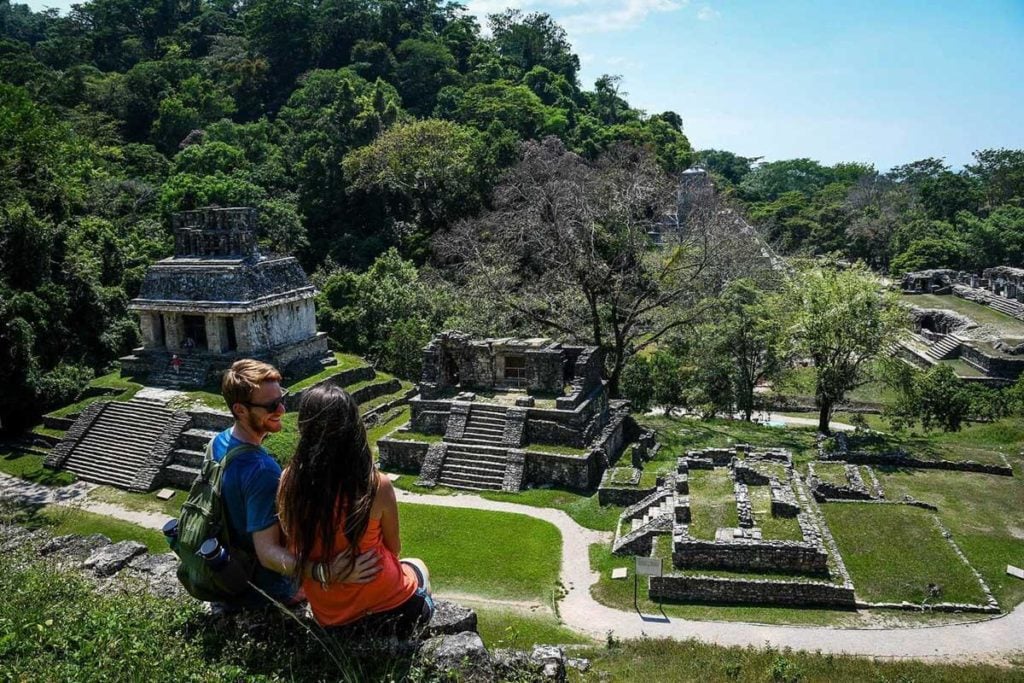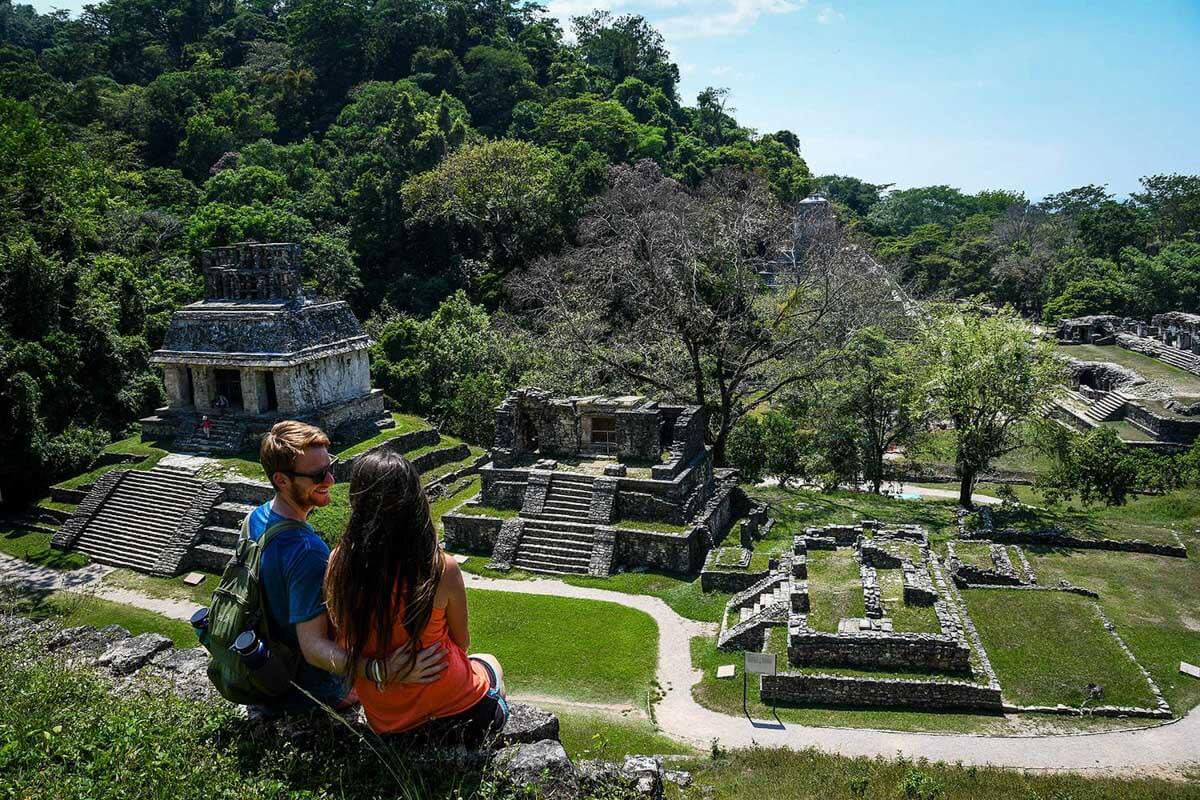 There really is no "bad" time to visit Mexico, but it's a good idea to have the seasons in mind when planning your itinerary and activities you'd like to experience during your trip.
Visiting between November – January will give you the most flexibility in your itinerary in terms of enjoying the best weather all around.
We'd recommend visiting the Gulf Coast of Mexico during November or February if you plan to hit the beaches. You'll avoid the peak season surges during Christmas and Spring Break/Easter, but still have a good chance at clear, dry weather without too much humidity.
If you're more of a city explorer and want to have a cultural experience, hands-down the best time to visit Mexico is during the month of October, leading up to the Dia de Los Muertos celebrations. You'll find the streets of destinations like Mexico City and Oaxaca City decorated the whole month.
Insider Tip: Just know you'll have to book your accommodation in advance—like way in advance (June/July)—if you want to be in Oaxaca City to celebrate on the actual holiday.
Mexico City and Oaxaca City are also beautiful in the springtime. And if you're looking for adventures down in Chiapas, particularly San Cristobal, you'll want to visit from January through February when you're likely to have the best (and driest) weather.
And finally, if you just come to Mexico for the surf, you'll want to visit Baja or the Pacific Coast during the summertime.
What to pack for your trip to Mexico
We know it can be overwhelming packing for a trip to a new destination. That's why we spent hours creating this super helpful PDF just for you.
In this free Mexico packing list PDF download, we've provided packing checklists for everything from clothing and toiletries (for both women and men!) to what shoes to pack and extra medicines you may want to have on-hand just in case.
Plus, we're sharing tons of packing hacks and tips for traveling in Mexico that you won't find anywhere else!


---
Are you planning a trip to Mexico?
We have lots more resources on travel in Mexico and destinations throughout the country. Check out our Ultimate Mexico Travel Guide for all the important travel information, or read some of our favorite articles below.
Save this article on Pinterest for later!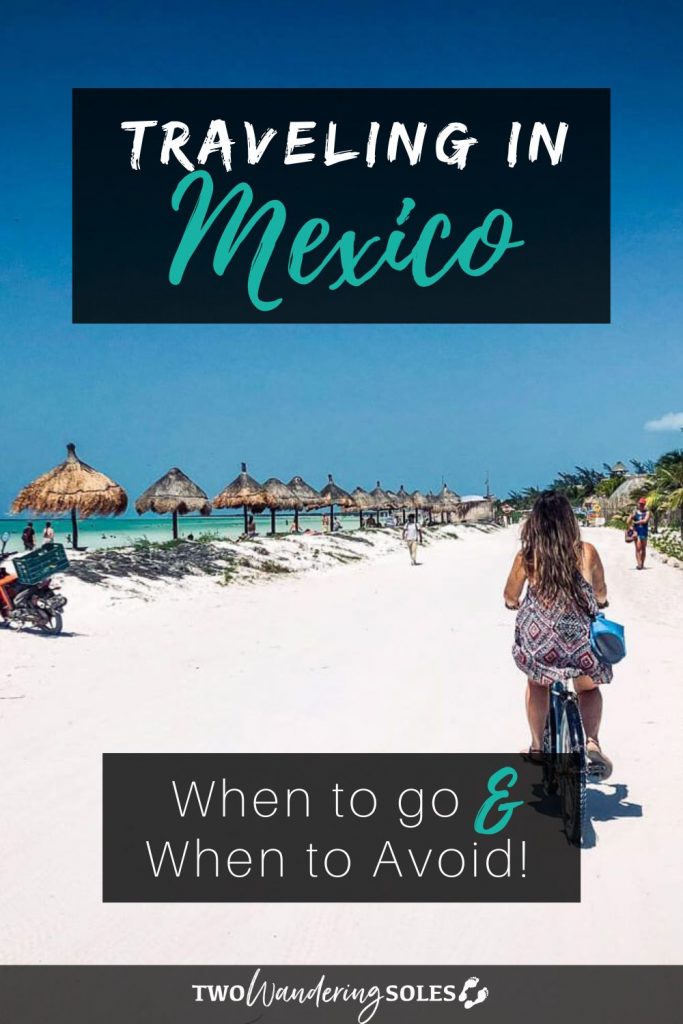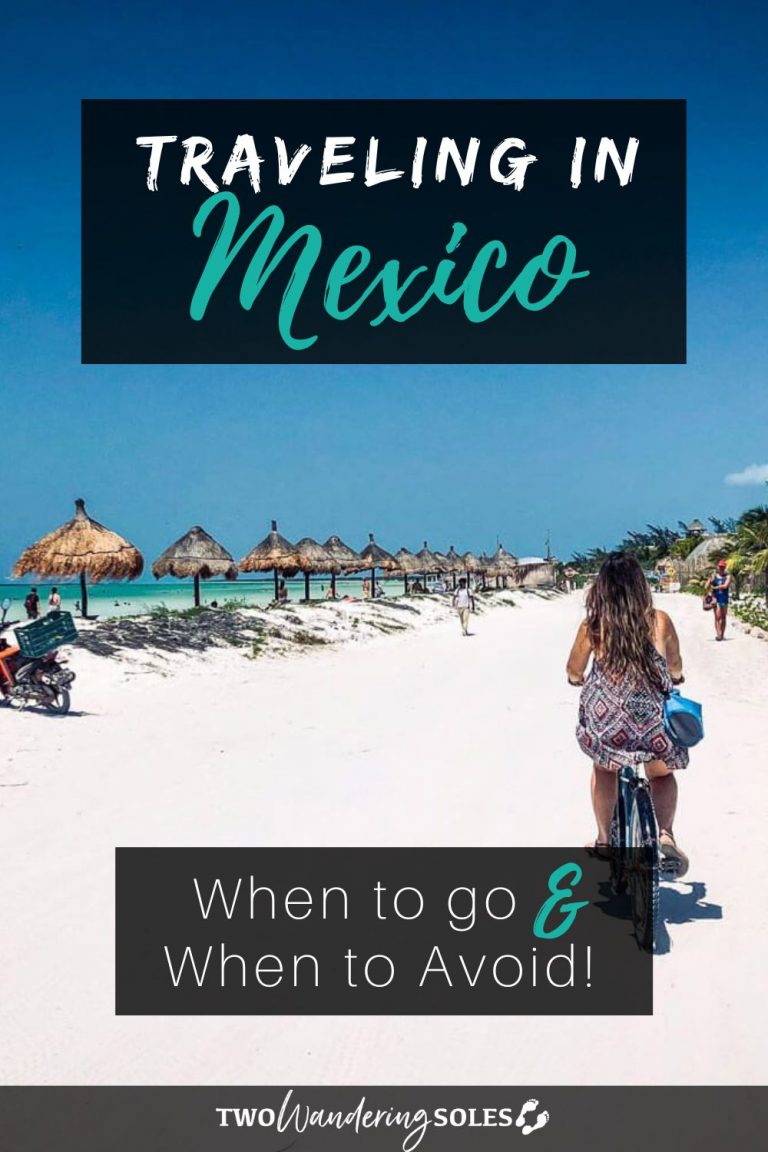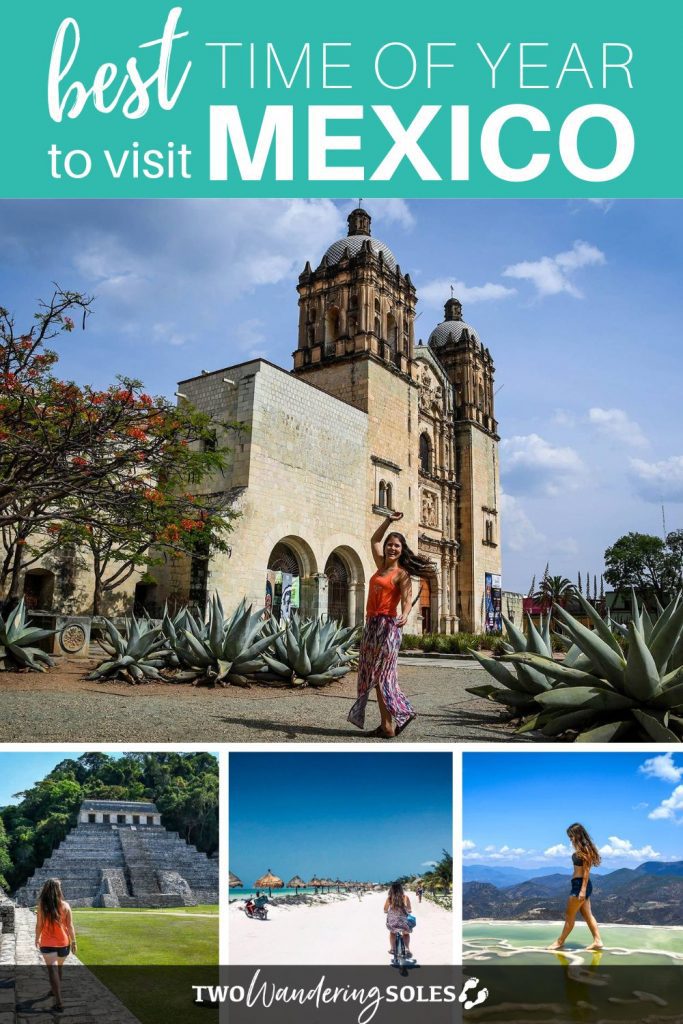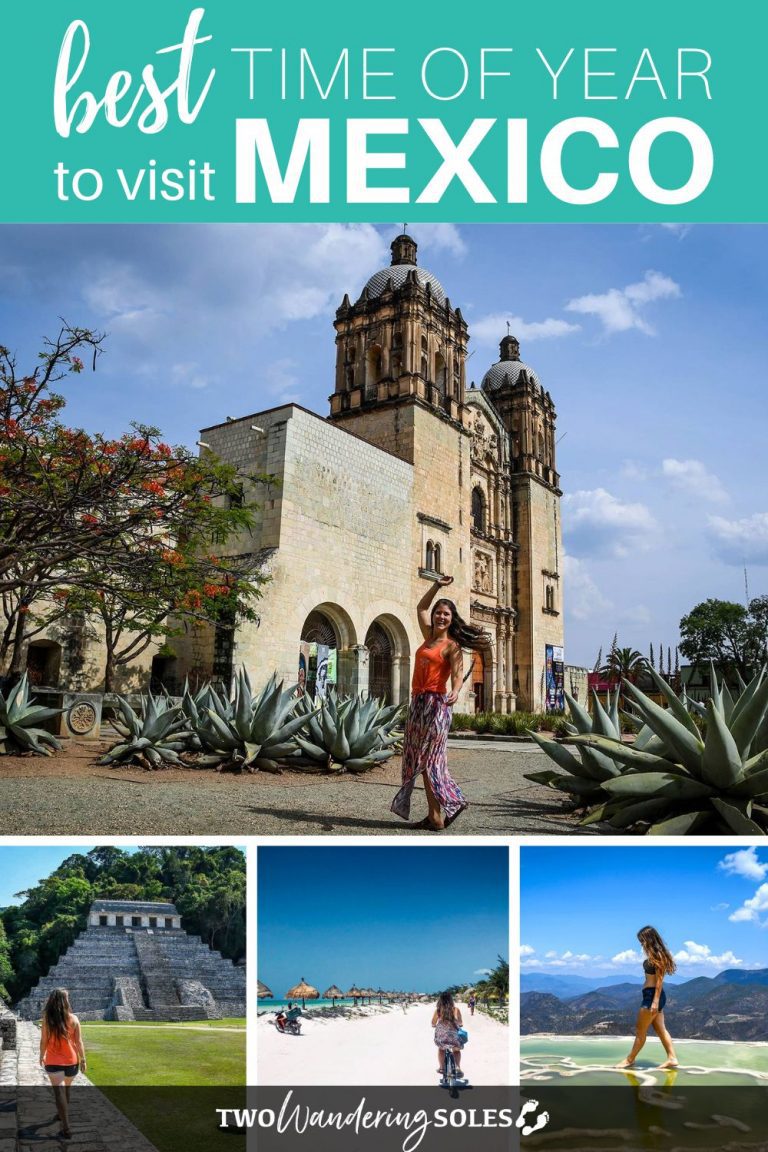 We want to hear from you!
Have you ever been to Mexico before? When did you go and what was your experience like? Leave your comments in the section below and we'll do our best to respond to any questions!