Planning an epic Scotland road trip and looking for the best campervan rental in Scotland? We're sharing why we chose Bunk Campers and our honest opinions about the campervan hire process. Plus, we'll bring you on a tour of our rental motorhome!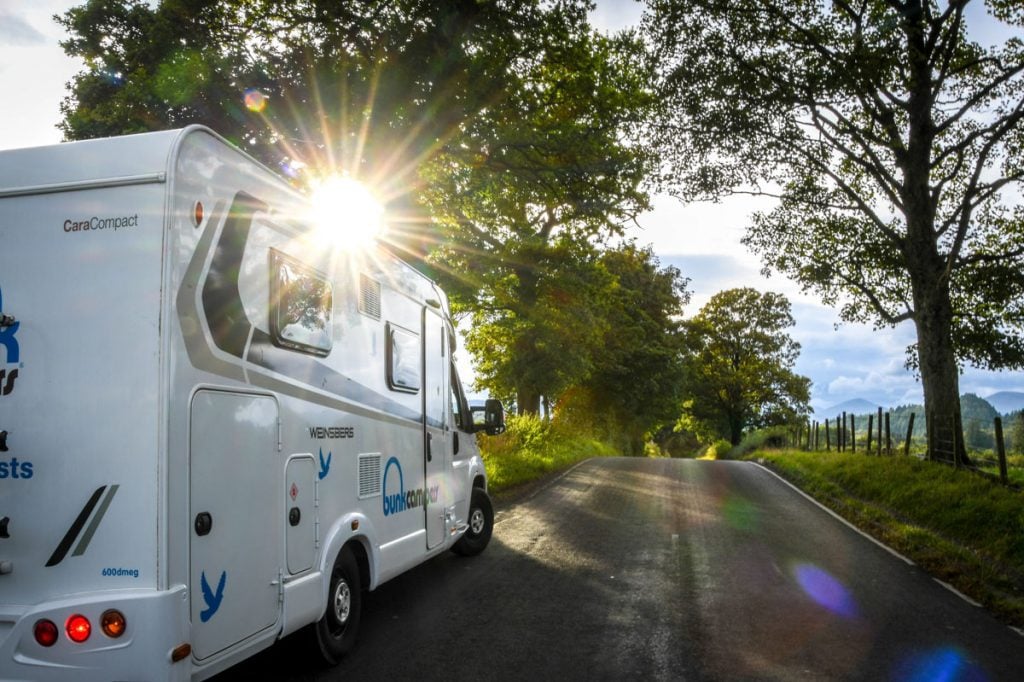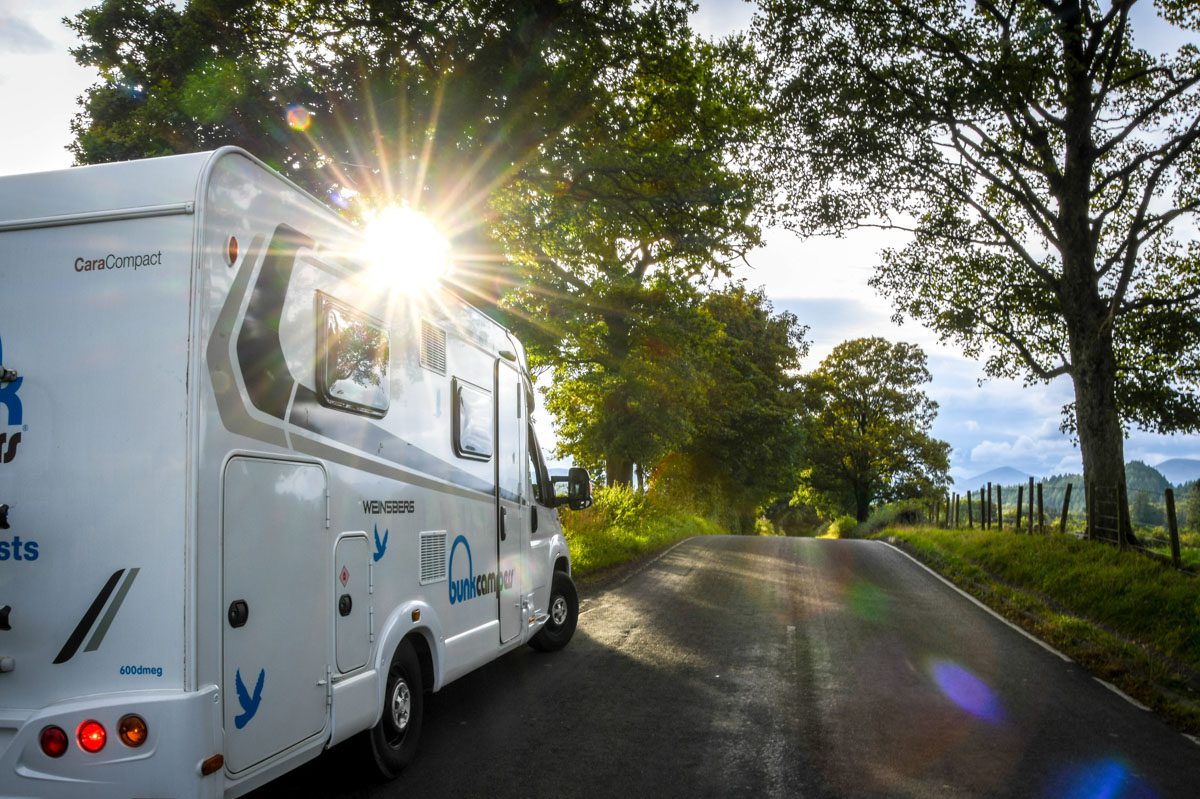 Exploring the breathtaking countryside of Scotland in a campervan is one of the most epic road trip adventures imaginable.
Traveling in a campervan allows you to take in the beauty of the country while having all the comforts of home at your fingertips.
You can enjoy a hot mug of coffee as you watch the sunrise over the rolling hills. And you can enjoy a home-cooked meal as you take in views of the rugged coastline at sunset.
It truly is an unrivaled experience.
If you're searching for the best campervan rental company, you're in the right spot.
Before renting a campervan, it can feel really reassuring to read reviews from someone who actually has experience with that specific company.
It's a big purchase and you also want to make sure you're choosing a reputable company so you have the best trip possible (and don't have to worry about little things along the way).
We get it.
Before our Scotland road trip, we did a ton of research.
We spent late nights comparing Scotland Campervan rental companies and scouring reviews.
Spoiler Alert: After all our sleuthing, we ended up choosing to rent with Bunk Campers.
In this article, we're going to break down exactly what you can expect with Bunk Campers. We'll walk you through the exact vehicle we rented and share our interactions with the company in this detailed and honest review. Plus, we're sharing a few ways you can save money on your Bunk Campers rental!
Planning a trip to Scotland? Find out the best time to visit Scotland based on regional weather patterns and your personal travel style.
Article contents
Disclosure: Our Bunk Campers rental was sponsored, but all opinions are 100% honest and our own.
---
Want the perfect campervan itinerary?
We traveled in Scotland for about 2 weeks and were able to visit most of the highlights of the country, including most of the top places to visit.
We took our 2-week travels and created the perfect Scotland road trip itinerary. We'll send you our complete 2-week itinerary, filled with tips and advice. Just click below to get your 2-week Scotland road trip itinerary today!


---
About Bunk Campers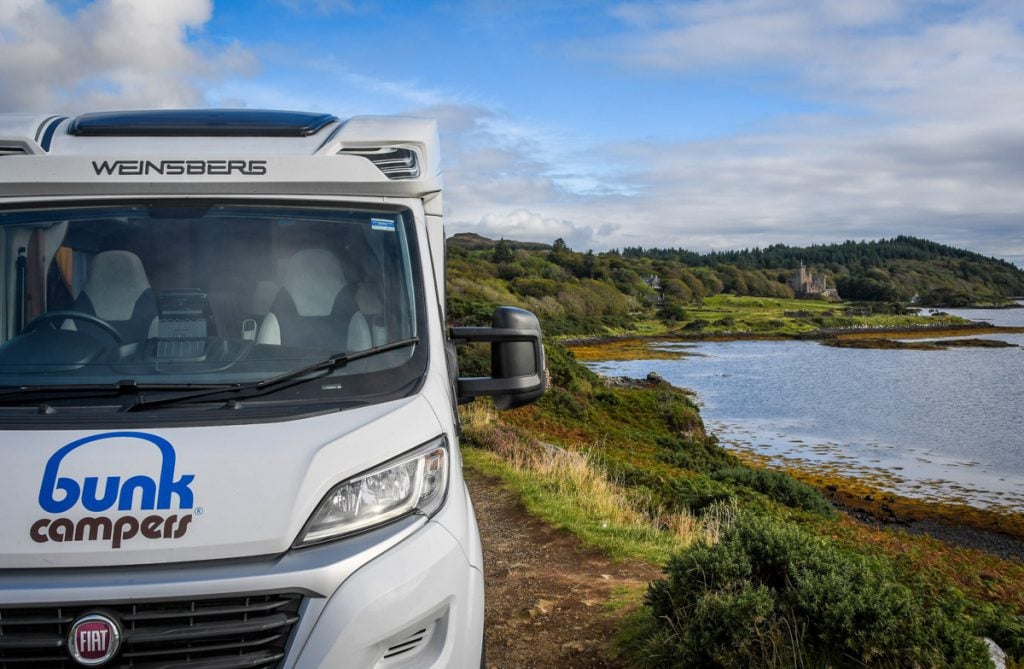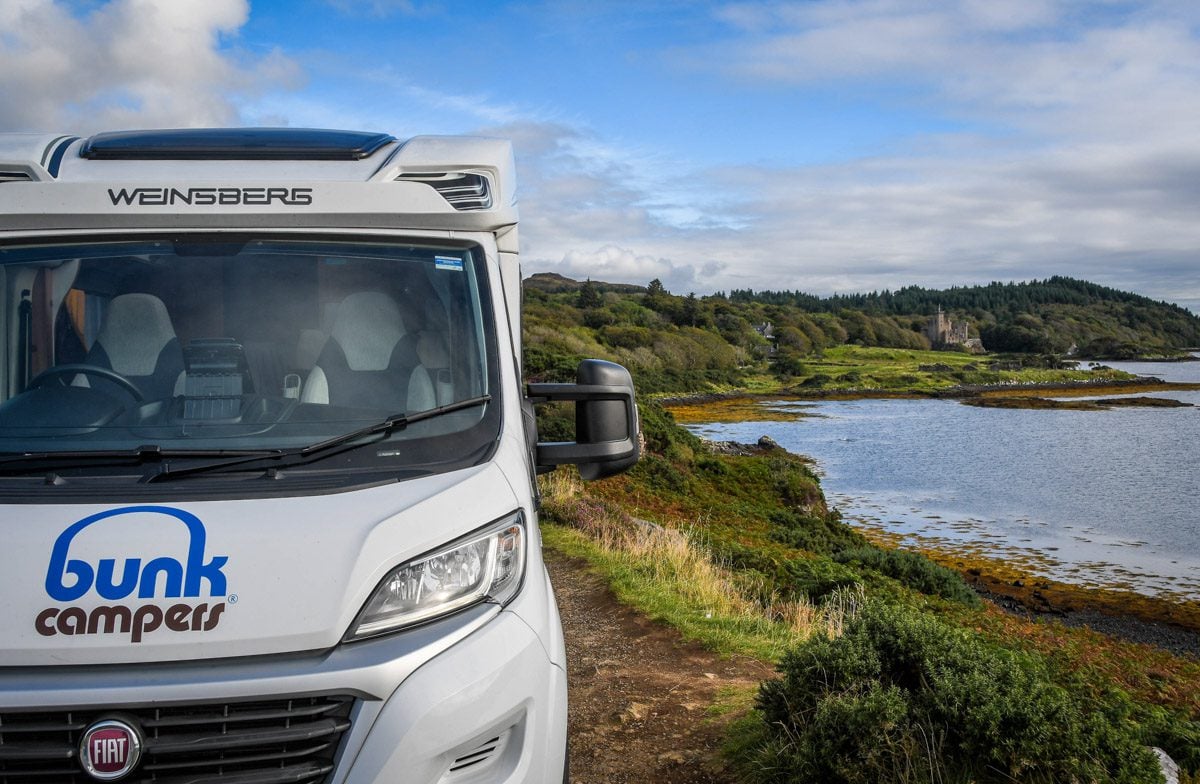 Bunk Campers started in 2007 after their founders traveled in Australia and New Zealand in a campervan and wanted to bring that same kind of adventure to Ireland (and later the United Kingdom).
Today, they are one of the largest campervan and motorhome hire companies in Ireland and the UK.
They offer a wide selection of well-maintained campervan and motorhomes ranging from pop-up vans to large motorhomes.
So whether you're traveling solo or you have the family in tow, they have something for every kind of adventure.
Psst! Plan your trip with our round up of all the best things to do in Edinburgh, including the quintessential activities and some off the beaten path experiences you won't want to miss!
Why Bunk Campers makes a great choice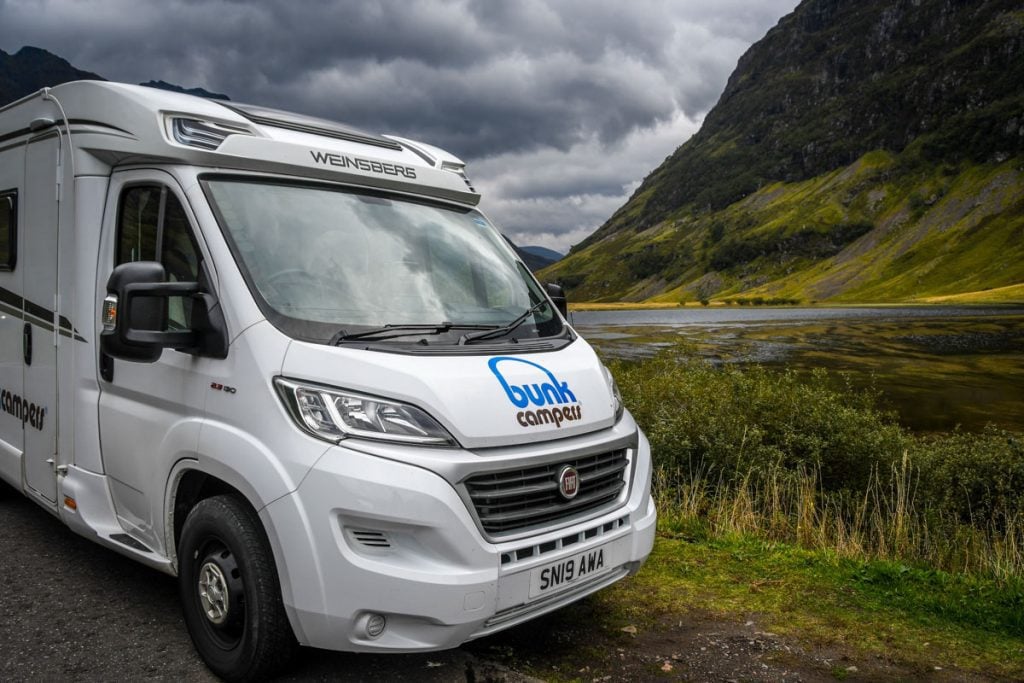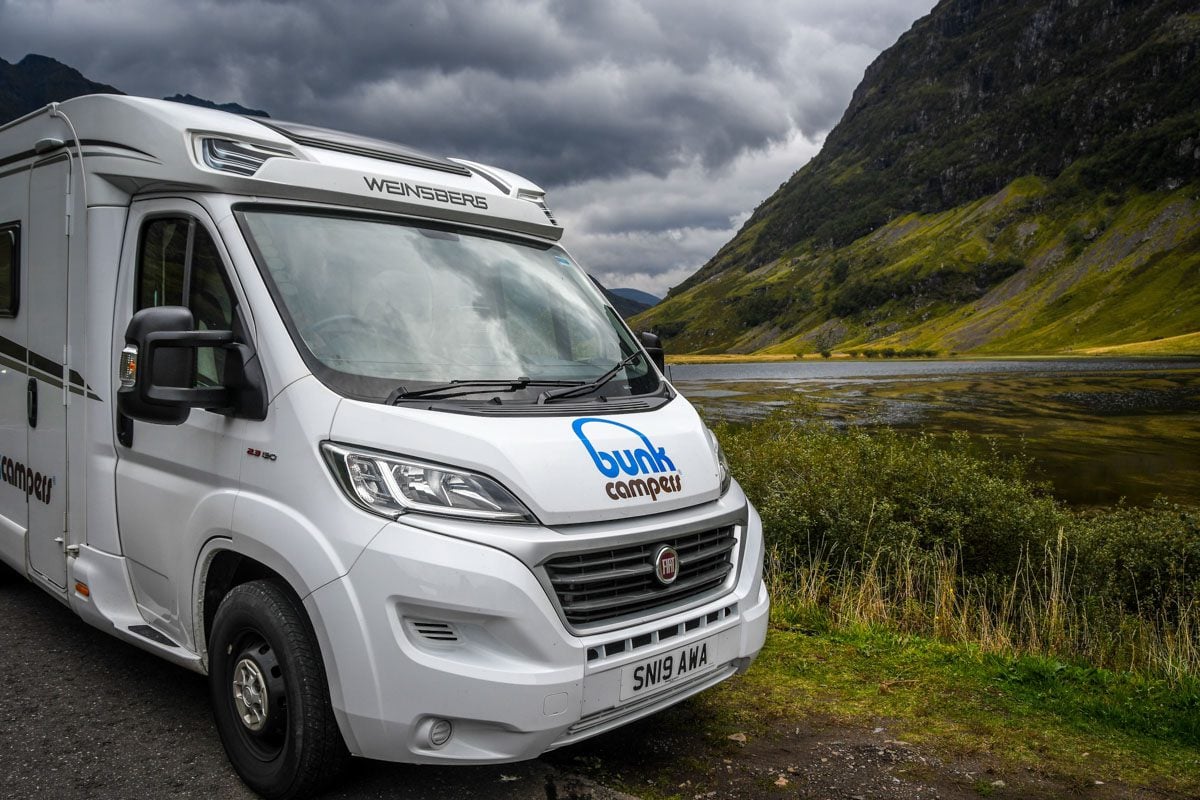 They have years of experience:
With 15+ years of experience, Bunk Campers is well-established and has very smooth systems in place. They know what people need in their vans and the kind of support and customer service that will make your road trip perfect.
Variety of choices:
From a 2-berth van to a 6-person motorhome, they have options to choose from depending on the layout of the vehicle you want.
Vehicles are well-equipped:
Bunk Campers works closely with campervan manufacturers to have the latest innovations in their fleet. They also offer everything you could possibly need for a van trip like kitchen supplies, camp chairs, and linens.
Local company:
Based in Ireland, Bunk Campers has rental hubs in Dublin, Belfast, London and Edinburgh.
Rave Reviews:
Bunk Campers has earned an excellent rating on Trustpilot.
And just check out the message we received on Instagram from someone who booked a Bunk Camper shortly after our trip. She loved it just as much as we did!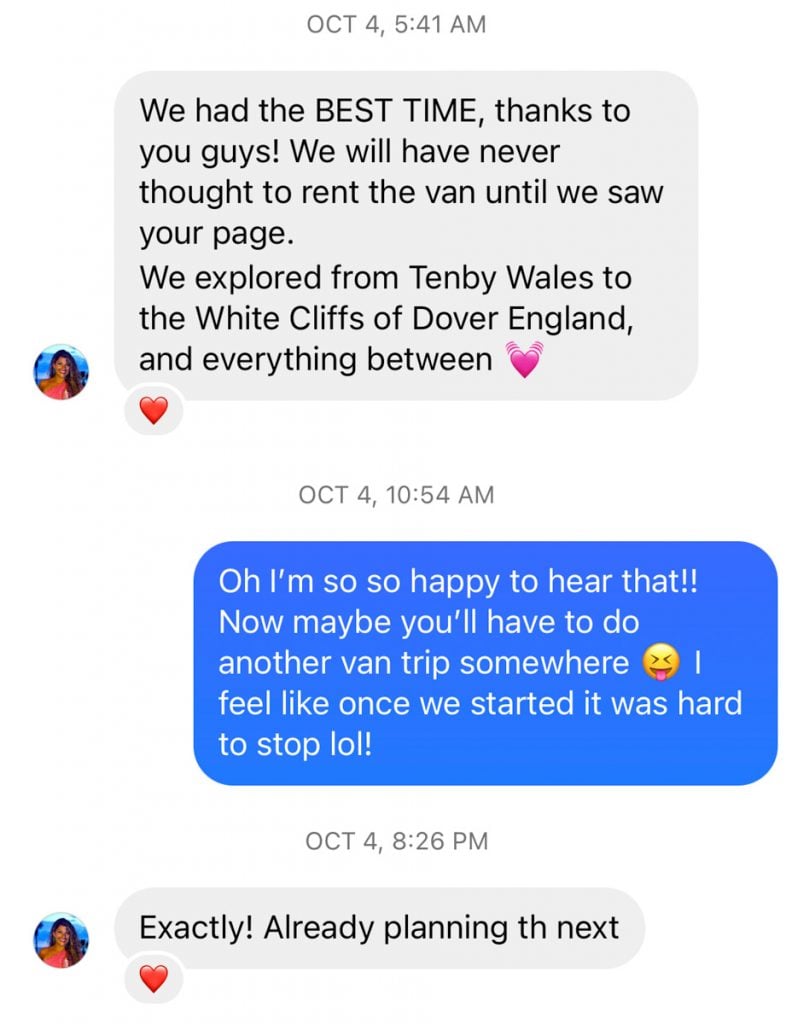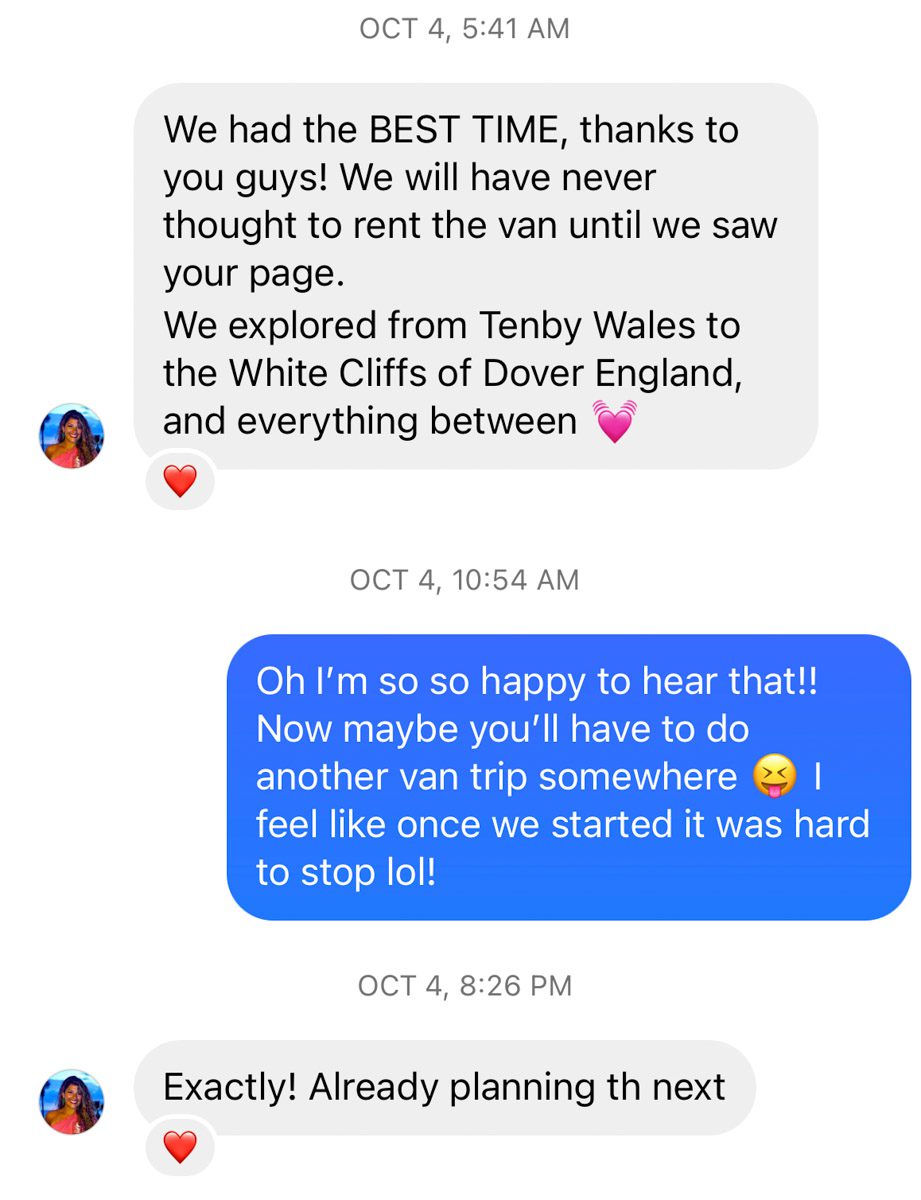 They are working toward a greener fleet:
Bunk Campers has a handful of "green" initiatives:
Their fleet has fuel-efficient engines (all vehicles are under 3 years old)
They use an environmentally-friendly fluid for their toilets
They try to reduce their impact when cleaning their fleet (using rainwater and low-energy wash cycles)
What type of vehicles do Bunk Campers have?
One of the best things about Bunk Campers is they have a huge variety of vehicles to choose from:
Small compact vehicles for a solo traveler or couple
Larger, more luxurious motorhomes that are comfortable for families
Budget-friendly campervan options
Pet-friendly vehicles
---
Be sure to download our complete packing list for Scotland! It's packed with good suggestions and insider tips to help plan your Scotland trip. And it's completely FREE, so why not!?
---
Tour of Bunk Campers' Aero Plus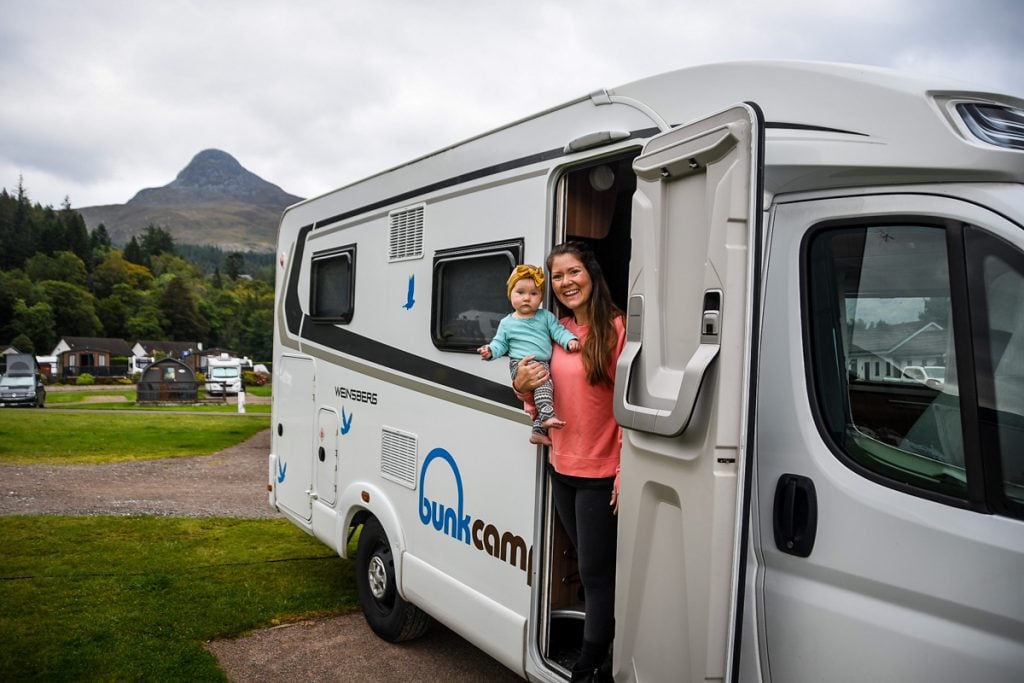 Come on in as we show you around the Aero Plus!
We also have a video tour coming soon, so stay tuned for that.
Aero Plus specs
Chassis: Fiat Ducato 130 Multijet
Sleeps: 2
Travels: 4
Transmission: 6-speed Manual or Automatic (allocation dependent)
GPS Navigation
Back up camera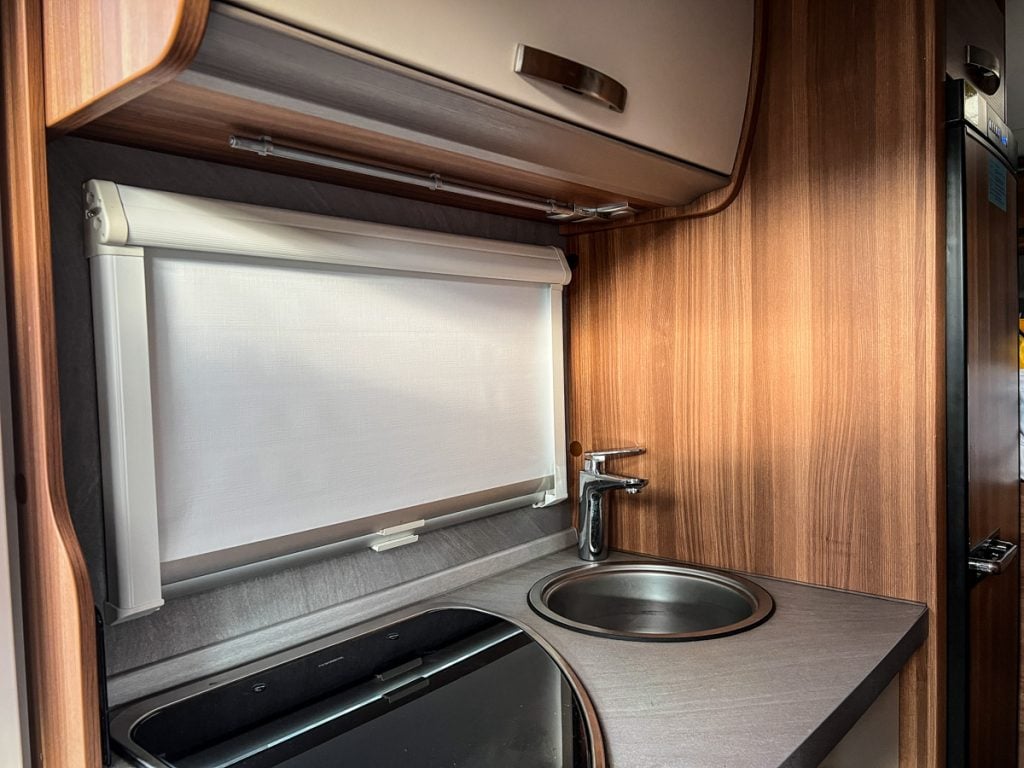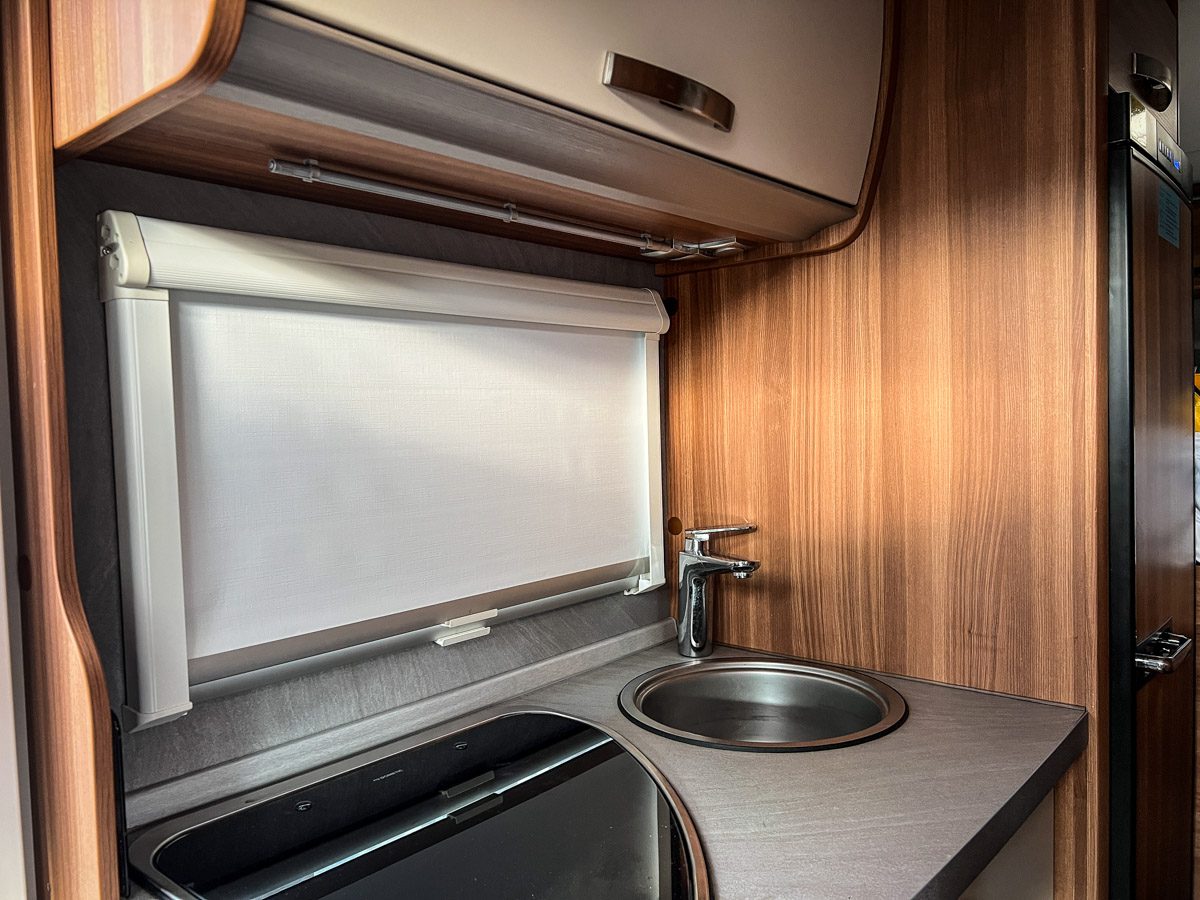 Kitchen
Highlights:
3-burner propane stove
Huge 142L refrigerator + freezer
Plenty of storage space
With a 3-burner propane stove, hot running water and ample storage for food, the kitchen space is small yet functional. There's not a ton of counter space (for chopping veggies) but in a pinch, the table can serve as a makeshift counter.
The refrigerator was massive and was really nice for keeping produce fresh.
Bunk Campers did a really good job of including all the necessities for cooking — pots, pans, a cutting board, a knife, utensils, etc. Just about the only thing we wished we would have had was a Tupperware container to store leftovers.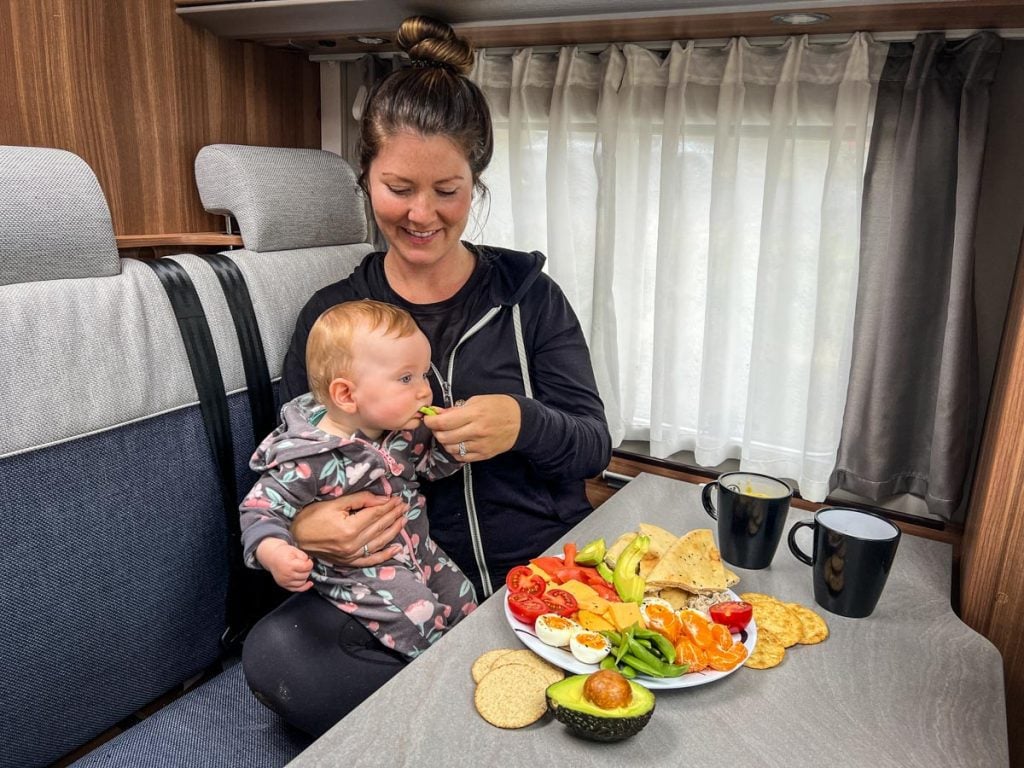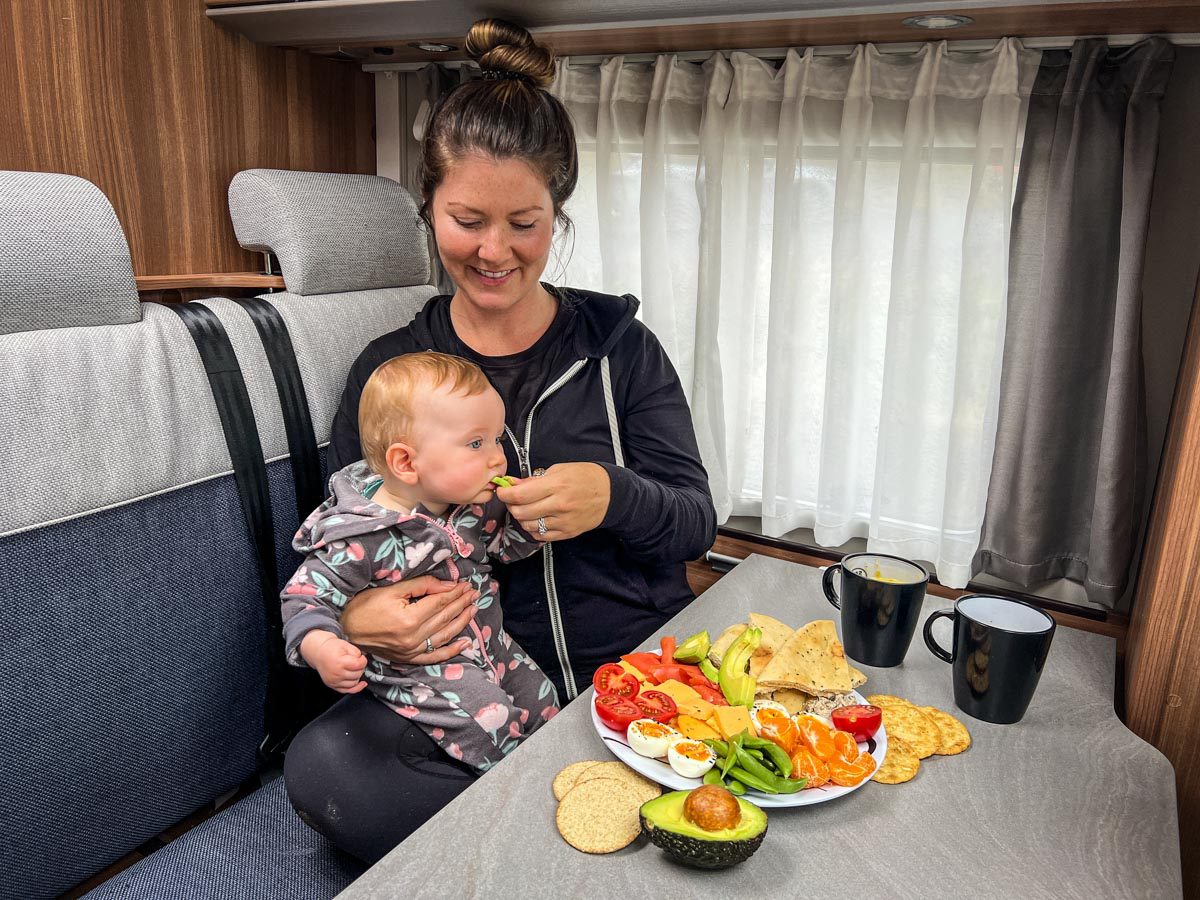 Seating area
Highlights:
Driver and passengers seats are on a swivel
Bench seat for extra seating
We really liked that the driver and passenger's seats are on a swivel, so we could turn them and eat at the table. It was really our only seating area, as the bed mostly stays in "bed mode" at all times.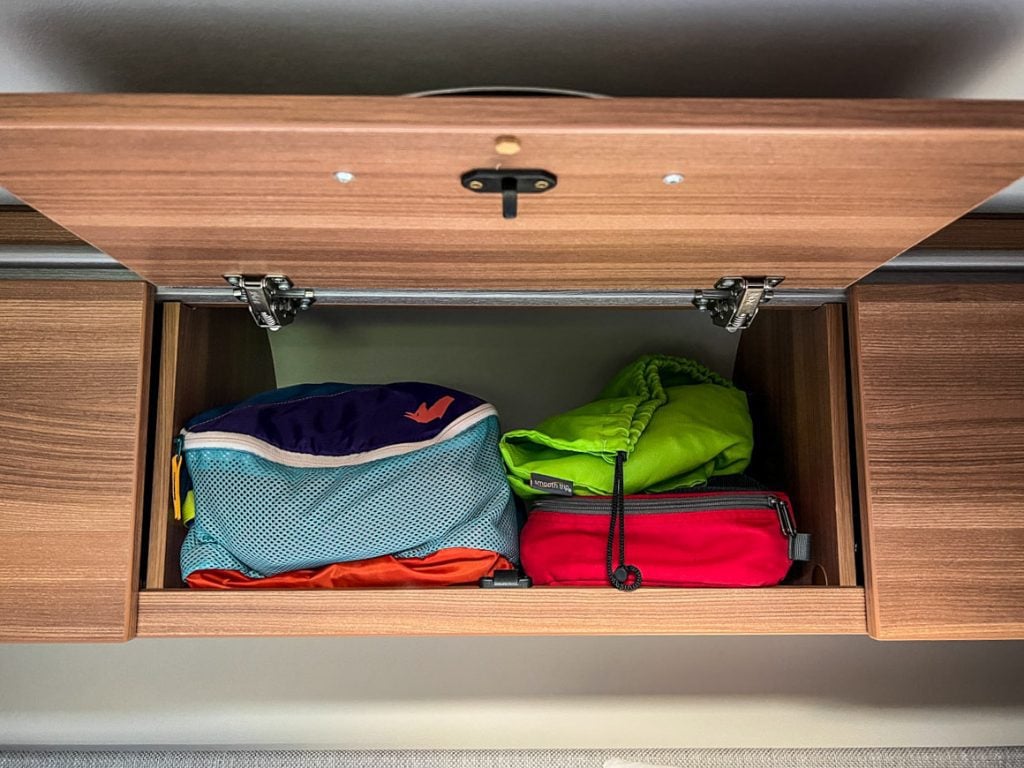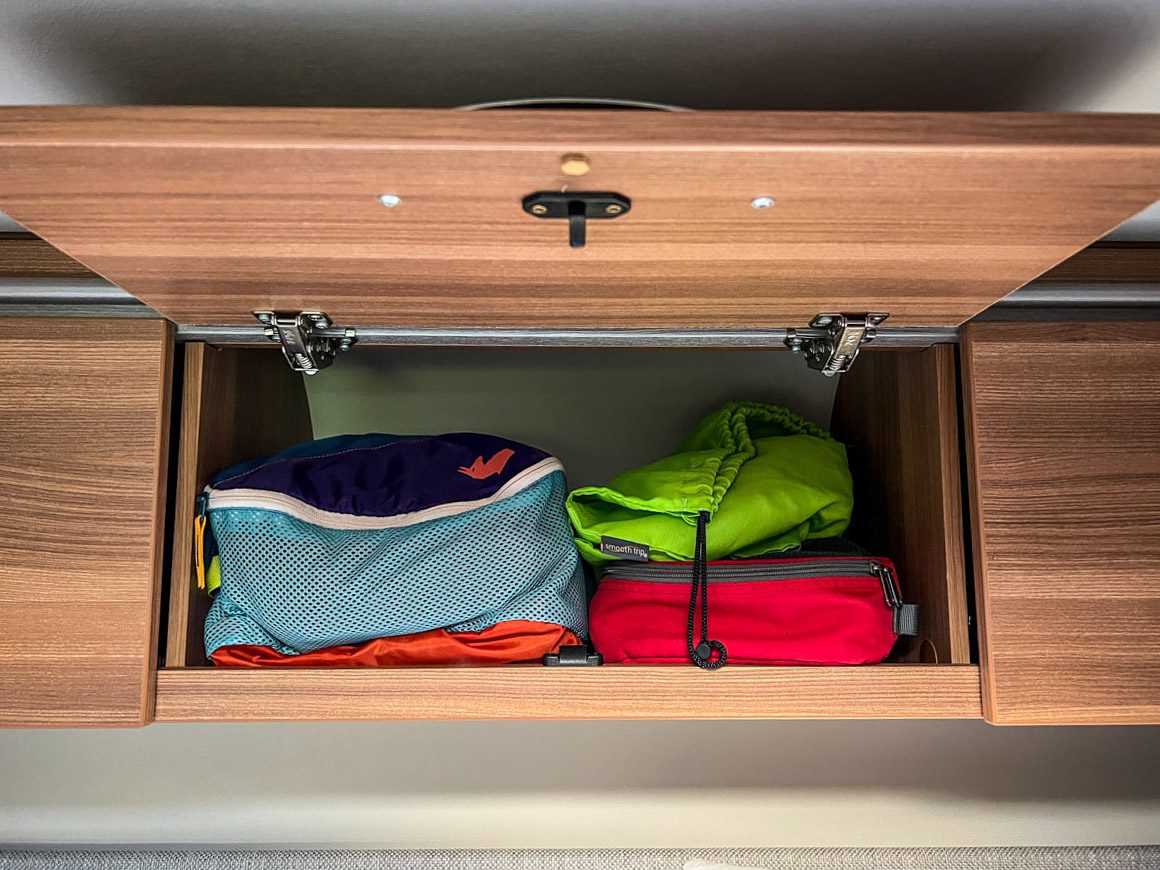 Storage
Highlights:
Tons of storage space throughout the vehicle
We were absolutely astonished by just how much storage space was in this vehicle. We probably only used a third of it. Yes, seriously.
It helped us to feel organized and not cluttered. The garage space is big enough for a couple of bikes as well.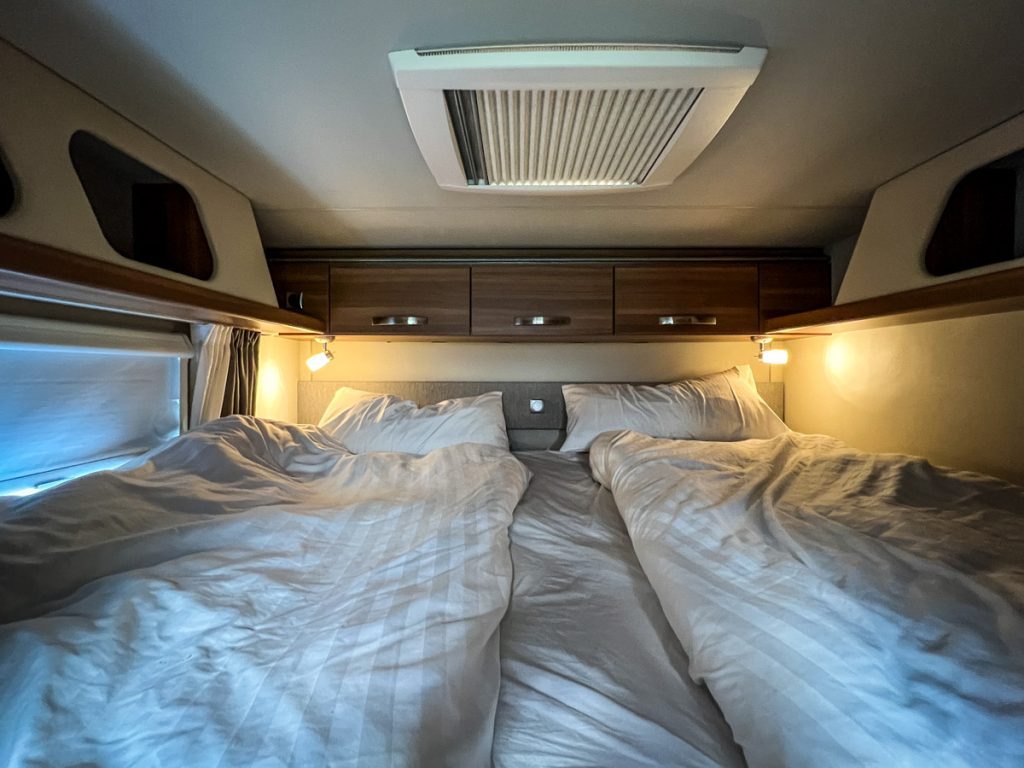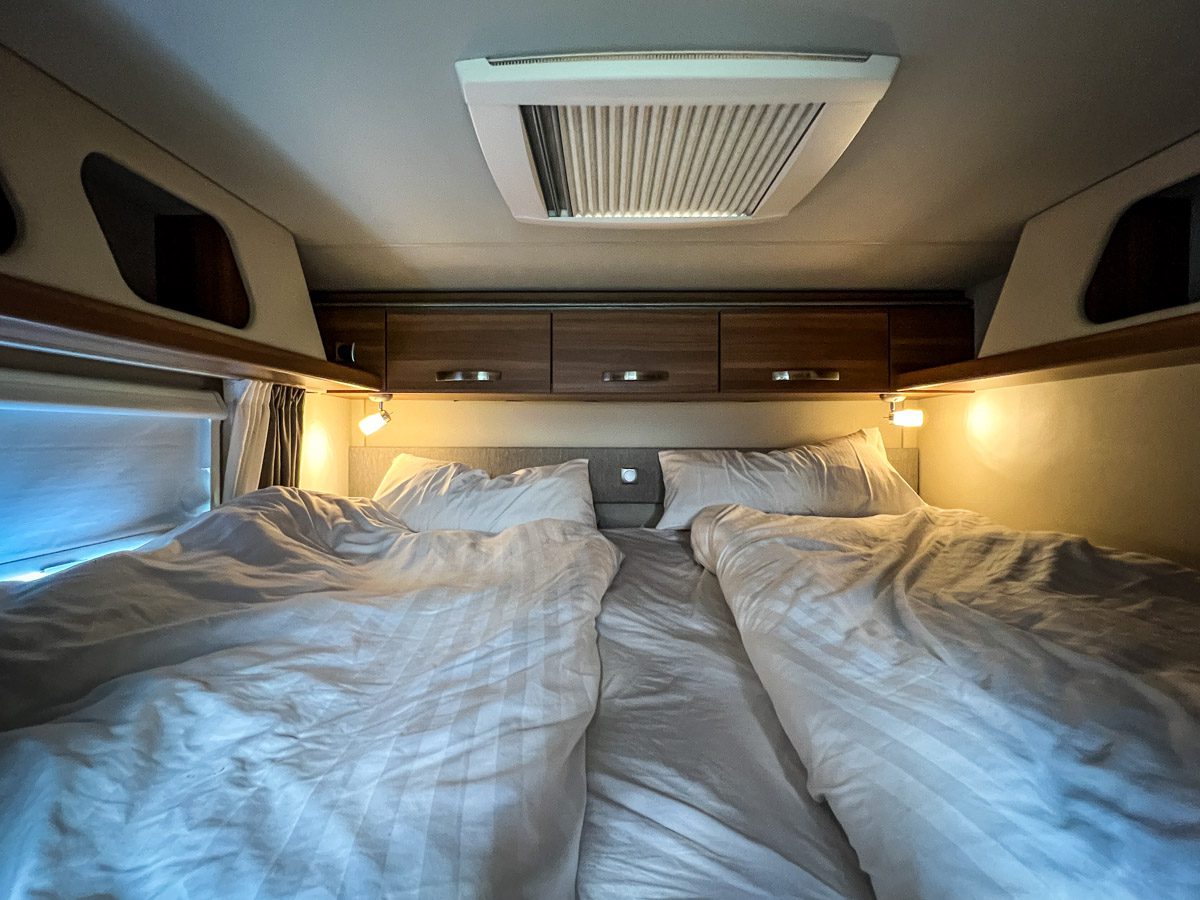 Bed
Highlights:
When we were getting the orientation of the vehicle, the team member who helped us out said he gets his best nights of sleep in the Bunk Campers vehicles, "the beds are just that comfy!"
The verdict?
He was totally right! The bed was spacious and very, very comfortable. Maybe too comfortable… it sometimes made getting out of bed to start our adventures early a bit tough. #thestruggleisreal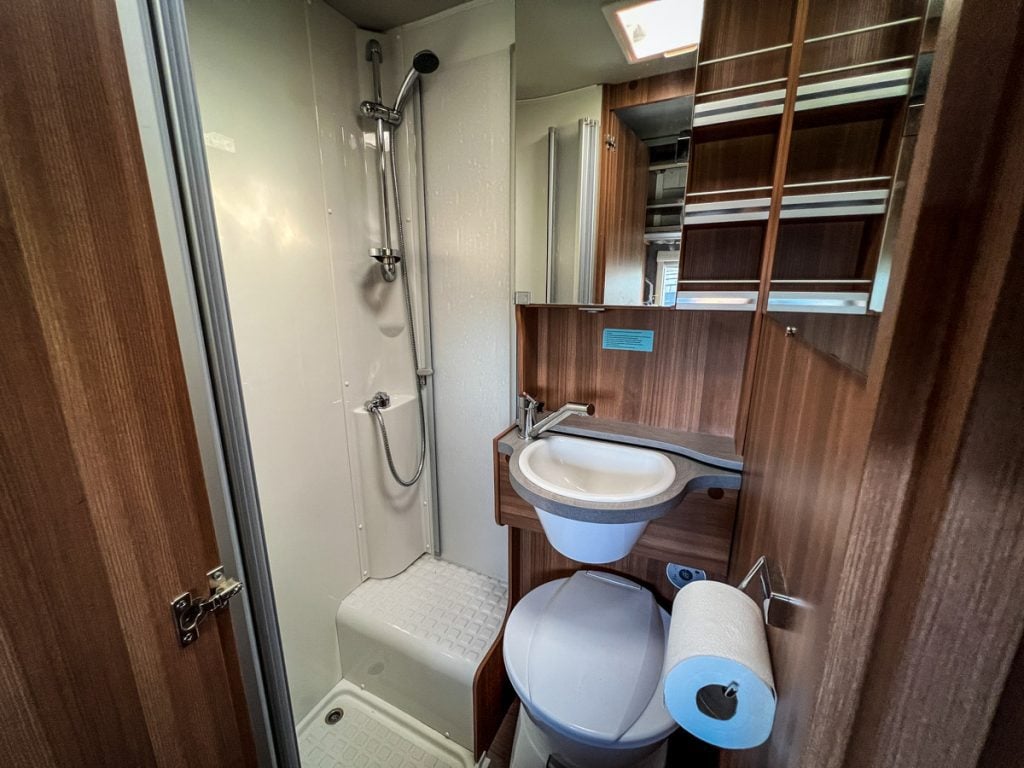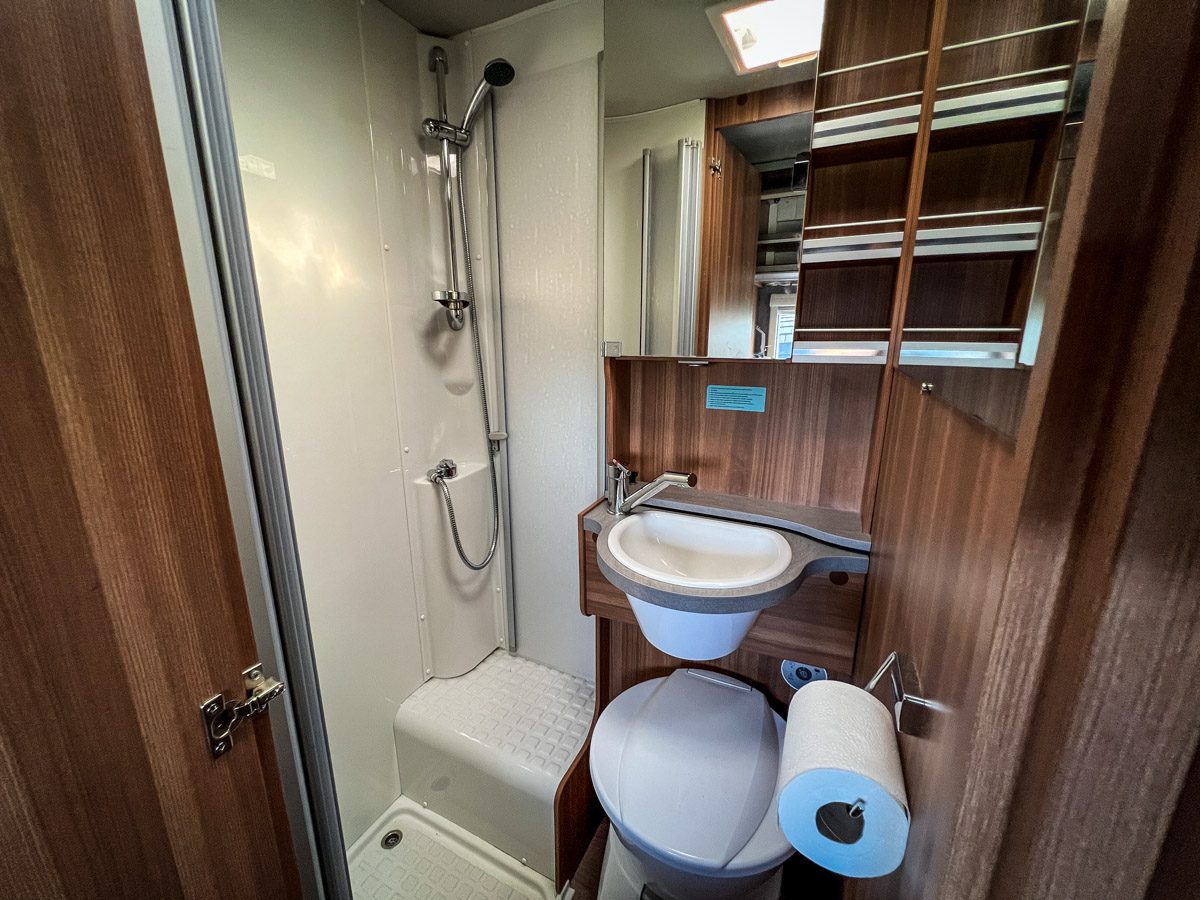 Bathroom
Highlights:
Functional toilet and shower makes life on the road seamless
The bathroom space in the Aero Plus is generous. There's a bit of storage, a flushing toilet, a sink, and a shower that can be closed off from the rest of the bathroom.
Toilet
We've personally never used a chemical cassette toilet, so this was a first for us. The toilet flushes, which is nice, but if we're totally honest, we much prefer the composting toilet we have in our own campervan because you don't have to empty it as frequently and you don't have to deal with the smell of chemicals.
The thing is, you're never going to find a campervan rental with a composting toilet. The chemical flush toilet in our Bunk Camper was top-of-the-line as far as RV toilets go. We just don't love the chemical smell.
Shower
Okay, the shower… totally functional and yes, the water gets hot (after about 15 minutes of waiting for the heater to kick in).
In truth though, we each only used it once, so while it was nice to have in theory, it ended up being space that wasn't really used for us.
Maybe you'll be different than us, but we typically found it easier to shower at the campgrounds we stayed at for a couple of reasons:
They were a little more spacious
We didn't have to wait for hot water
We didn't have to worry about having enough water to shower or refilling our tank as frequently
And when we were wild camping, we tried to conserve the water so we didn't run out because we'd have nowhere to fill… make sense?
Rental Process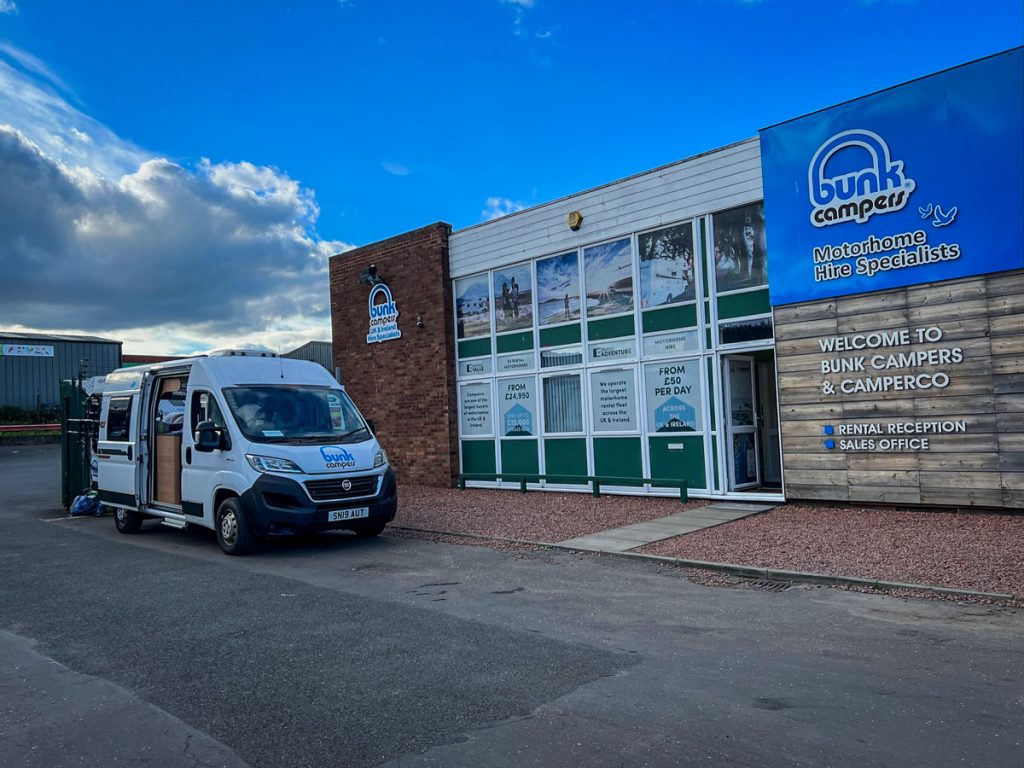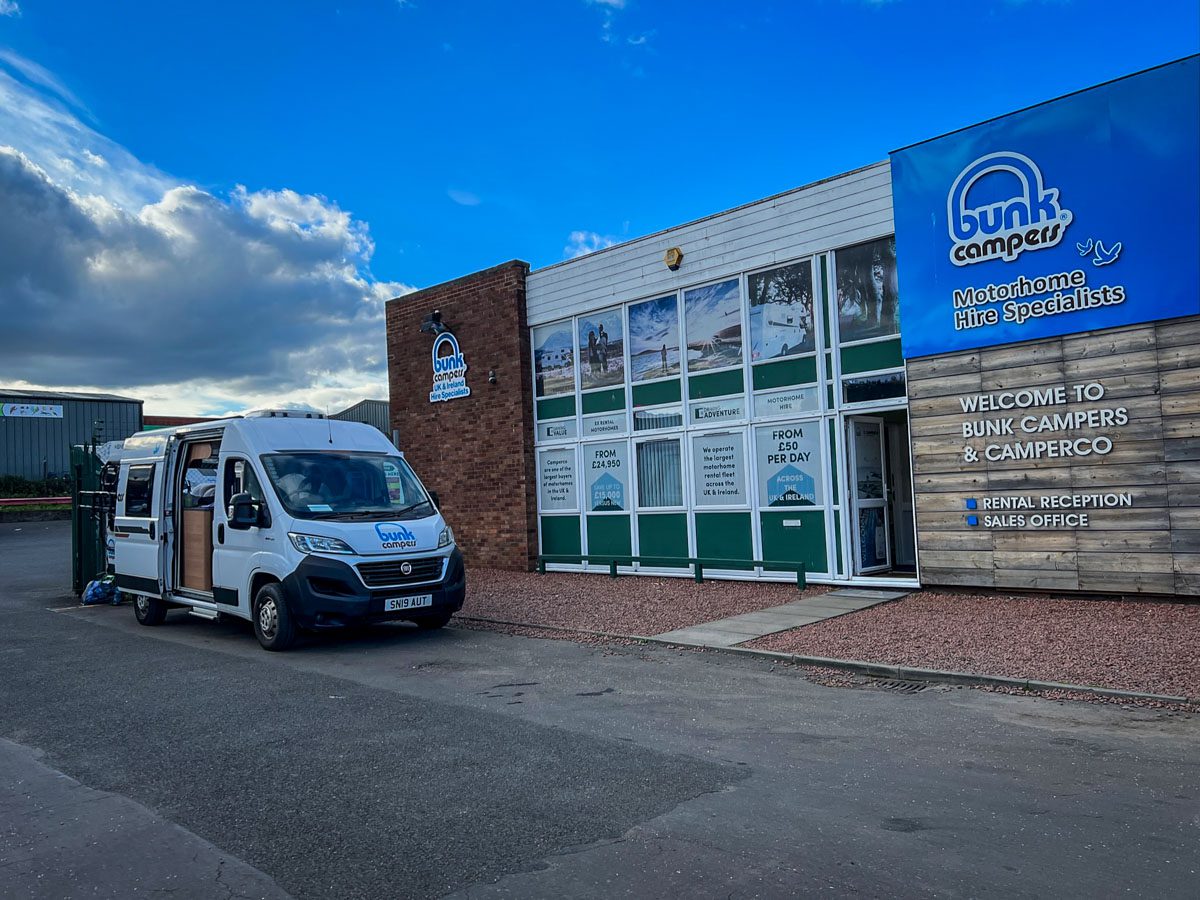 We took an Uber from the Royal Mile (£29.71) where we were staying for the first few days of our trip (at this perfect hotel!). The Bunk Campers office is pretty close to the airport, so you could pick it up right when you land.
We were greeted by the staff who were super friendly (Juniper made fast friends with a couple of them!). After settling up insurance stuff and signing general rental waivers, we waited until there was an available staff member to give us the rundown of our vehicle.
Then we got the grand tour!
It's great because even if you're not totally familiar with traveling in a campervan, you'll get a pretty comprehensive tour of all the systems so you know how to use everything. We got the chance to answer questions and make sure we felt comfortable before taking off and heading to the grocery store to stock up on provisions.
Insider Tip: This Tesco Superstore isn't far from the Bunk Campers office and had the biggest selection of any grocery store we stopped at during our whole trip.
On-the-road assistance
We were very lucky on our Scotland road trip and didn't have any issues on the road, thank goodness.
But, had we encountered a flat tire or gotten into an accident, we felt comfortable knowing we could reach out to Bunk Campers for help at any time.
Insurance
Bunk Campers offers a few levels of insurance from the most basic to fully covered. We got the Value Pack with included coverage for any mechanical problems, vehicle body damage, damage to a third party, and windscreen, mirror and tire protection.
In addition to the insurance from the company, we never travel without Travel Insurance. For this trip, we got medical coverage from Safety Wing insurance.
Things we loved about our Bunk Camper rental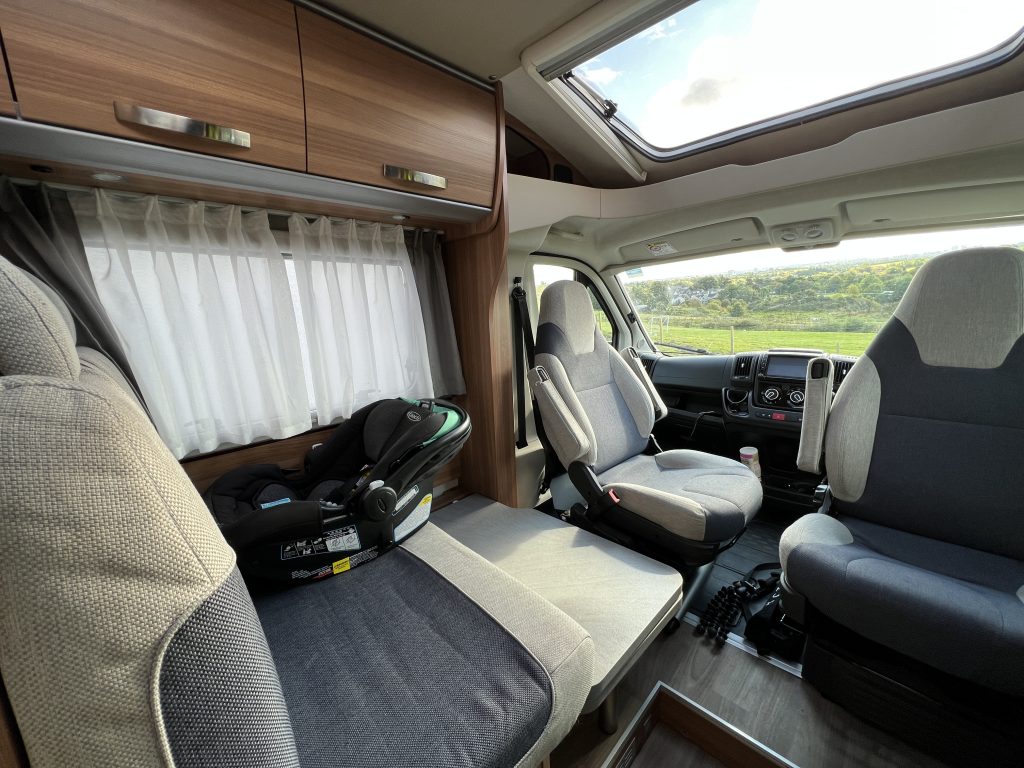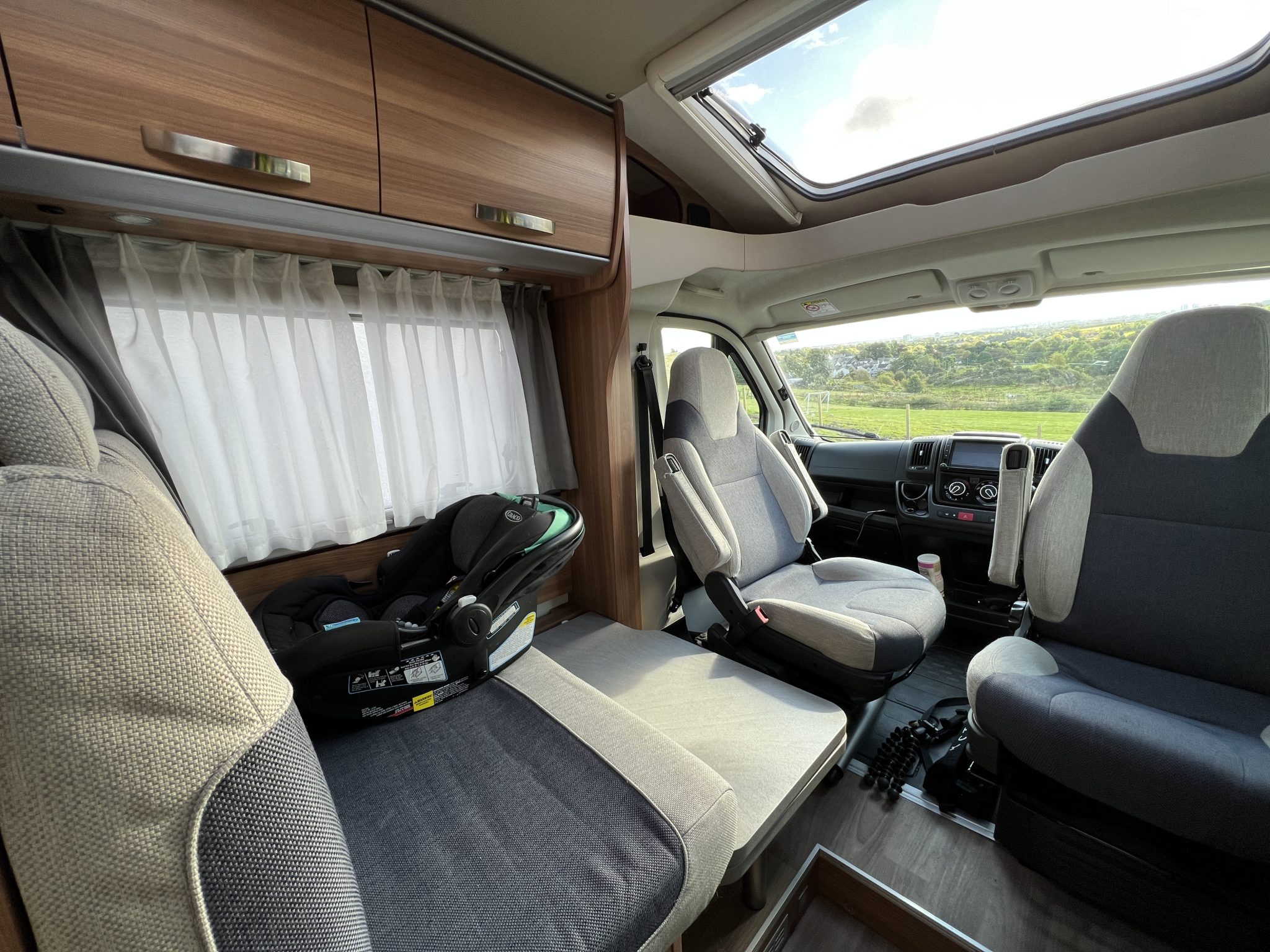 The vehicle was fully stocked with everything we needed.
And when we say everything, we mean it.
We've rented campervans in Iceland and New Zealand, and both times, we've had to buy little things like dish soap and trash bags, but this rental had it all!
The only thing we were wishing we had was a small broom and dustpan, but on the last day, we found it tucked away in a hidden storage compartment we must have missed! Oops!
The only things we had to buy (other than food), were toilet paper and paper towels. Otherwise, the Bunk Campers crew really does a good job of making sure you have everything you need for your road trip.
There was SO MUCH STORAGE.
We brought a lot of luggage (perks of traveling with a baby!), and we didn't even use half of the storage compartments! Yes, seriously.
Whoever designed this vehicle really thought of using every nook and cranny.
You can check your water levels at a glance.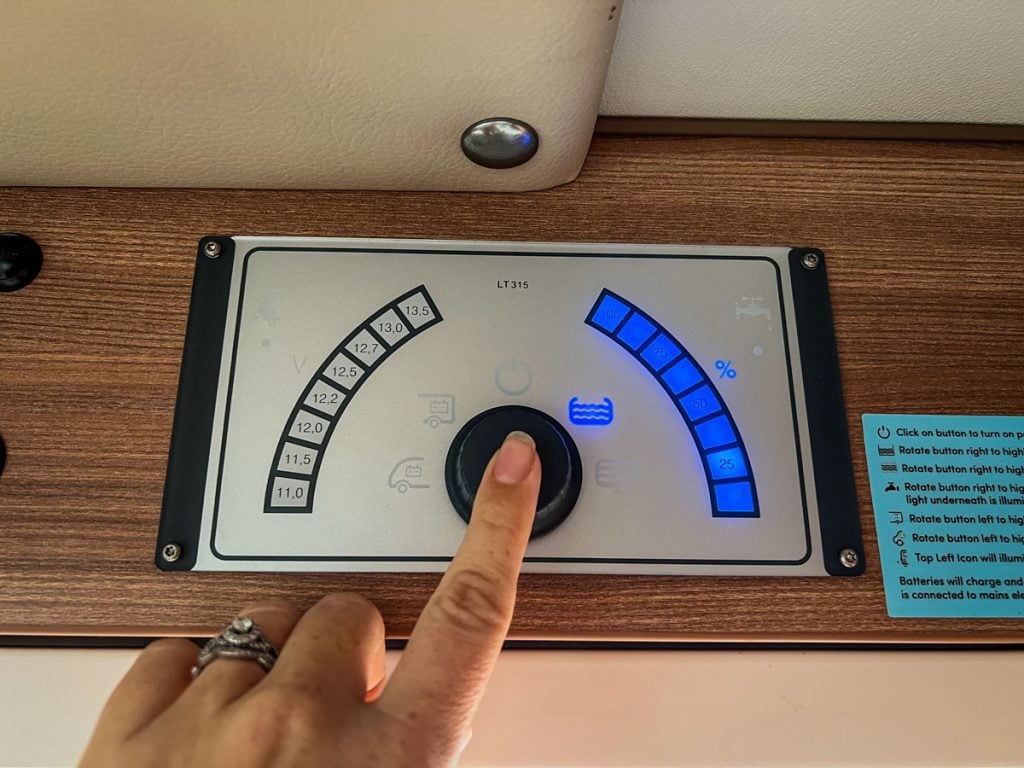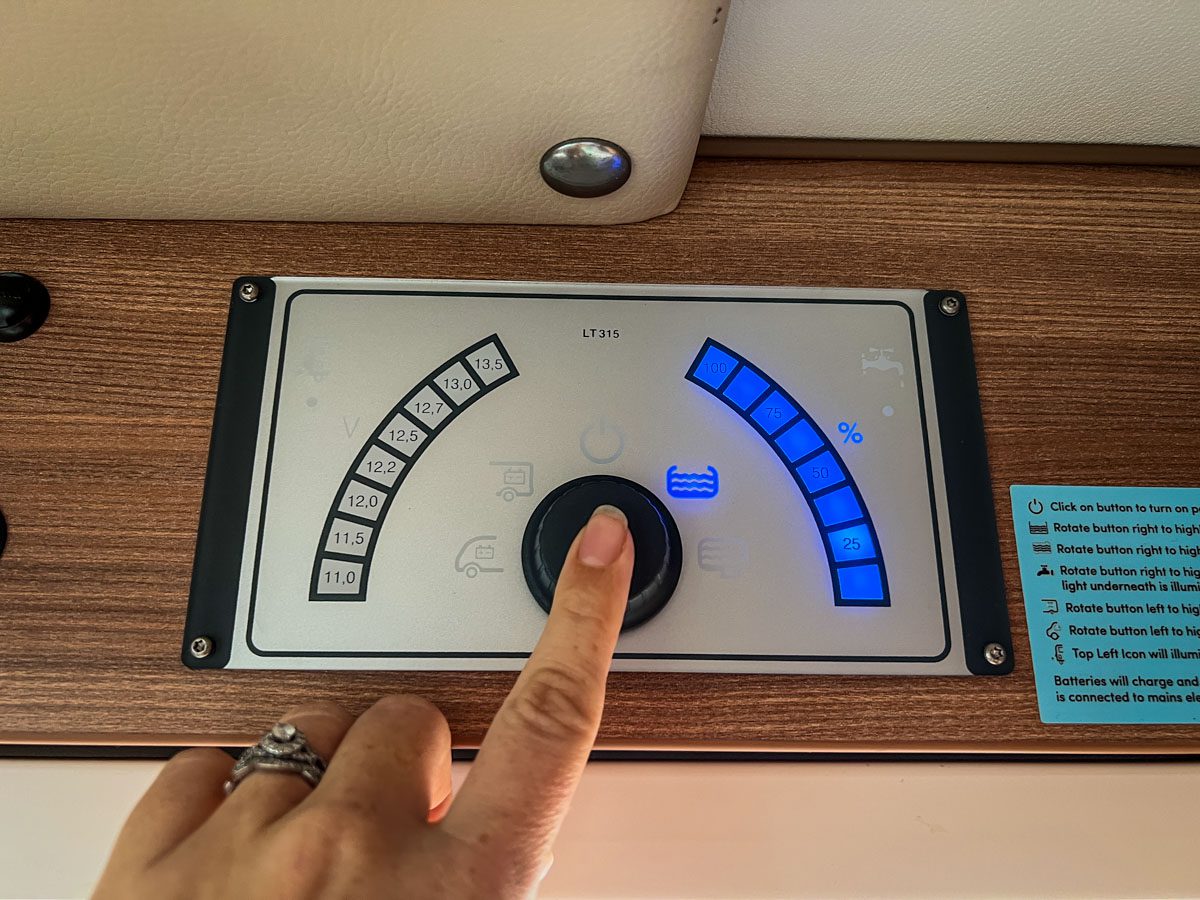 We loved the super simple system that Bunk Campers has in their vehicles. You can see a meter that tells you what level your fresh water and grey water tanks are at (similar to the gas tank meter on your dash).
I wish we had this kind of display in our personal campervan at home!
The heating system makes the van super cozy in just a few minutes.
As we were documenting our road trip on Instagram, we got a handful of messages from people concerned we weren't staying warm enough at night.
Ummm, please!
Bunk Campers are equipped with a super effective heating system that you could adjust to the degree. It honestly felt super bougie being able to control the thermostat like you would in a house.
Needless to say, we all stayed warm and cozy even on chilly nights.
The skylights bring in so much natural light.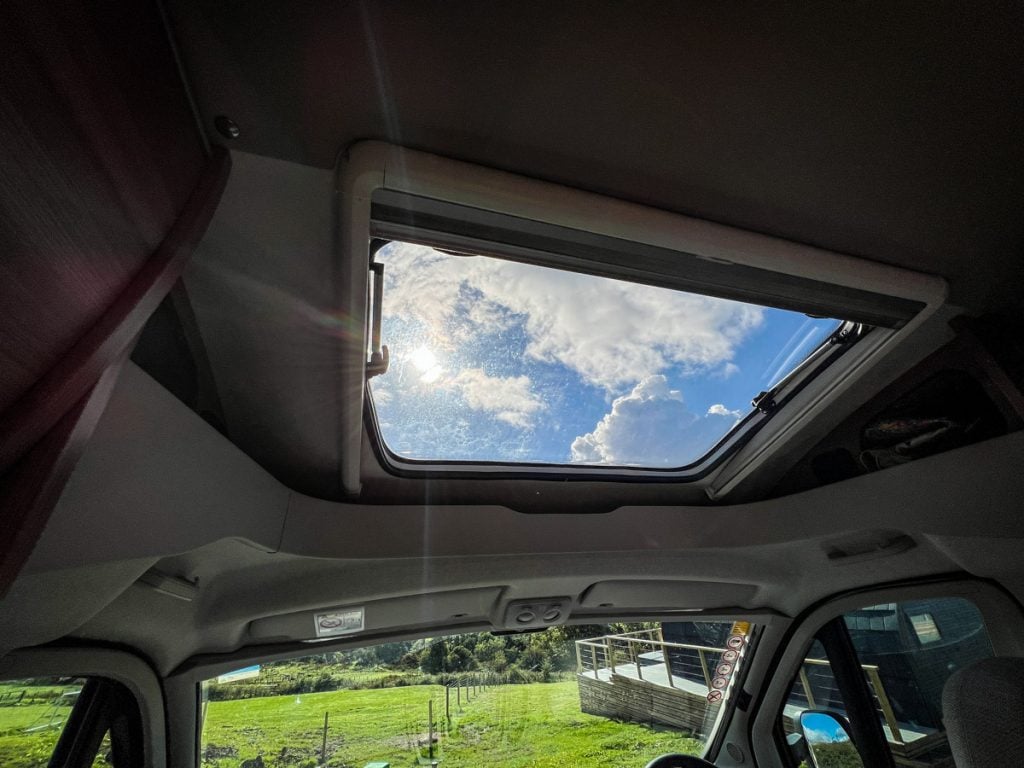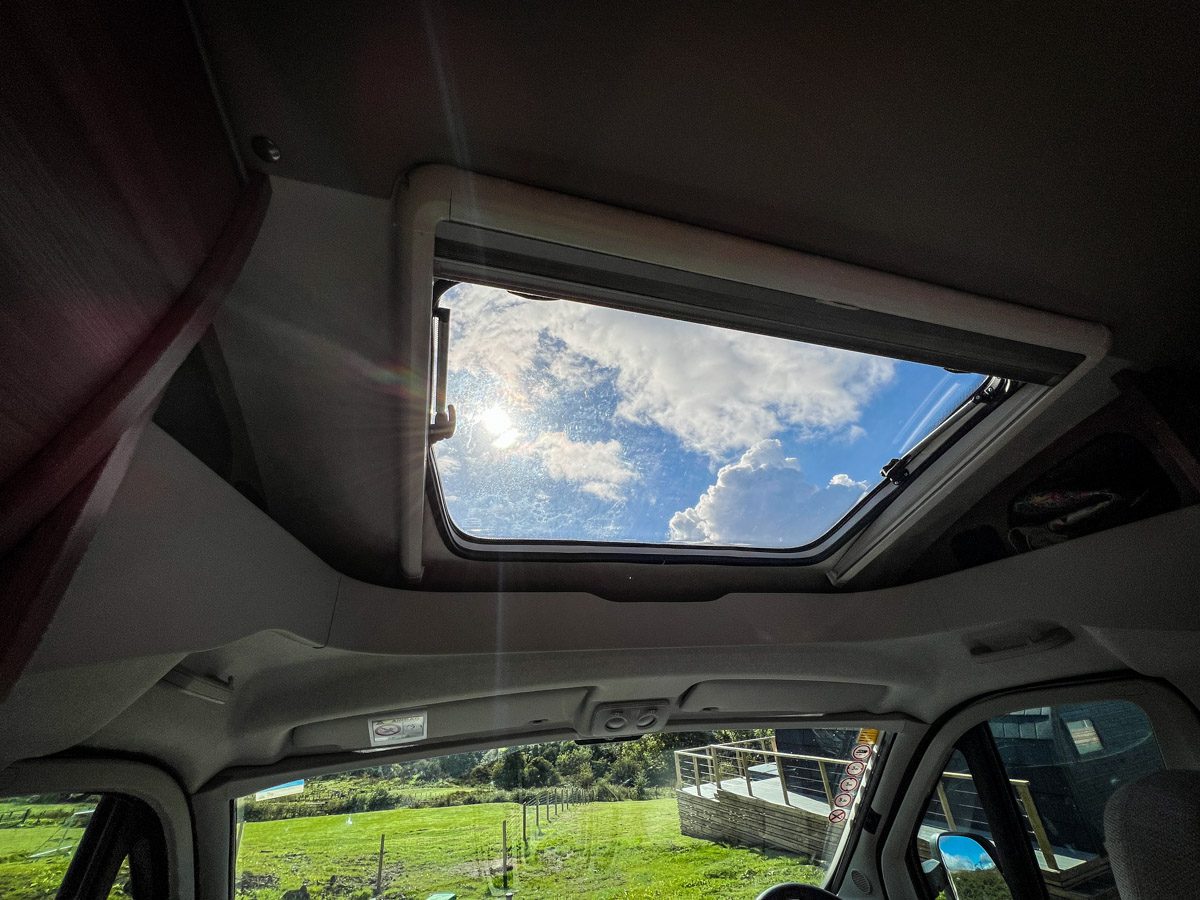 After spending a few days in our Bunk Campers rental, Ben was trying to rack his brain for how we could install skylights in our personal campervan! Unfortunately, with all our solar panels, it just wouldn't be possible.
But it was so night having lots of natural light in our Bunk Camper.
The window covers were next-level.
I made my own DIY insulated window covers for our campervan and I'm pretty damn proud of them. But the accordion-style covers in our Bunk Camper were so, so convenient. You simply pull them over the window and voila — darkness. Or privacy. Or both!
Most of the windows also had big screens, so you could have the option of opening them for a nice breeze while not having to worry about the midges getting inside.
The vehicle was bougie.
I don't really have a better way to describe it. It just felt very plush. And super clean. Well-designed with luxurious touches. Honestly, we felt pretty spoiled throughout the entire trip.
Things we didn't love about our Bunk Camper
We told you we were going to be honest, so yes, in addition to all the things we loved about this rental, we're also sharing the things we weren't so thrilled with.
Truthfully, it took us a while to even come up with this list because we really loved our rental vehicle.
But alas, there are always going to be some minor things that could be changed…
The vehicle itself felt a bit big for the roads.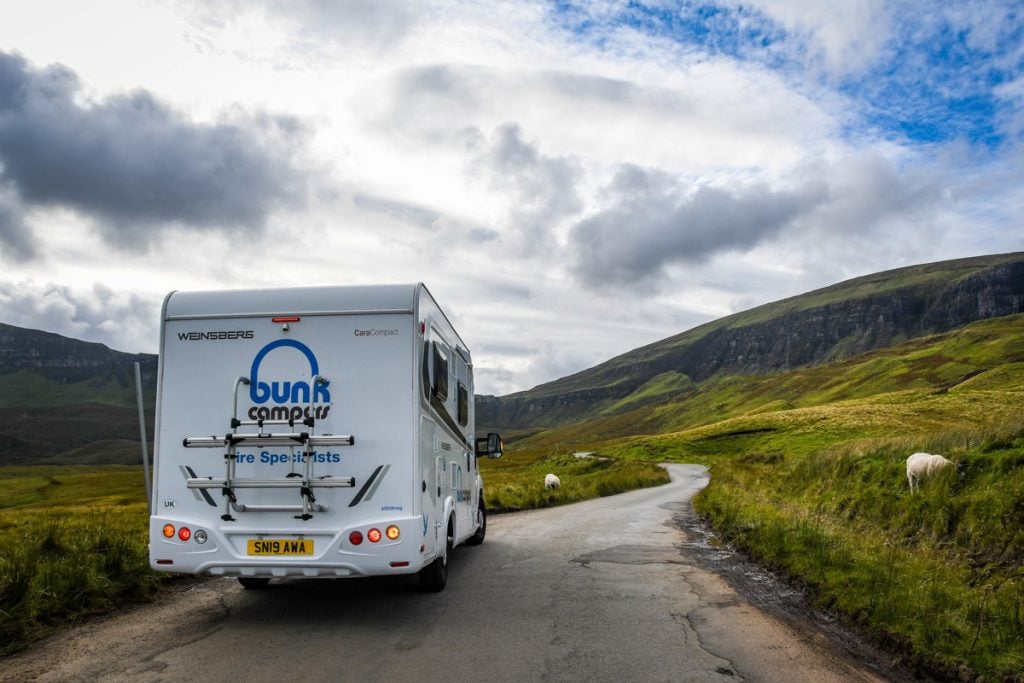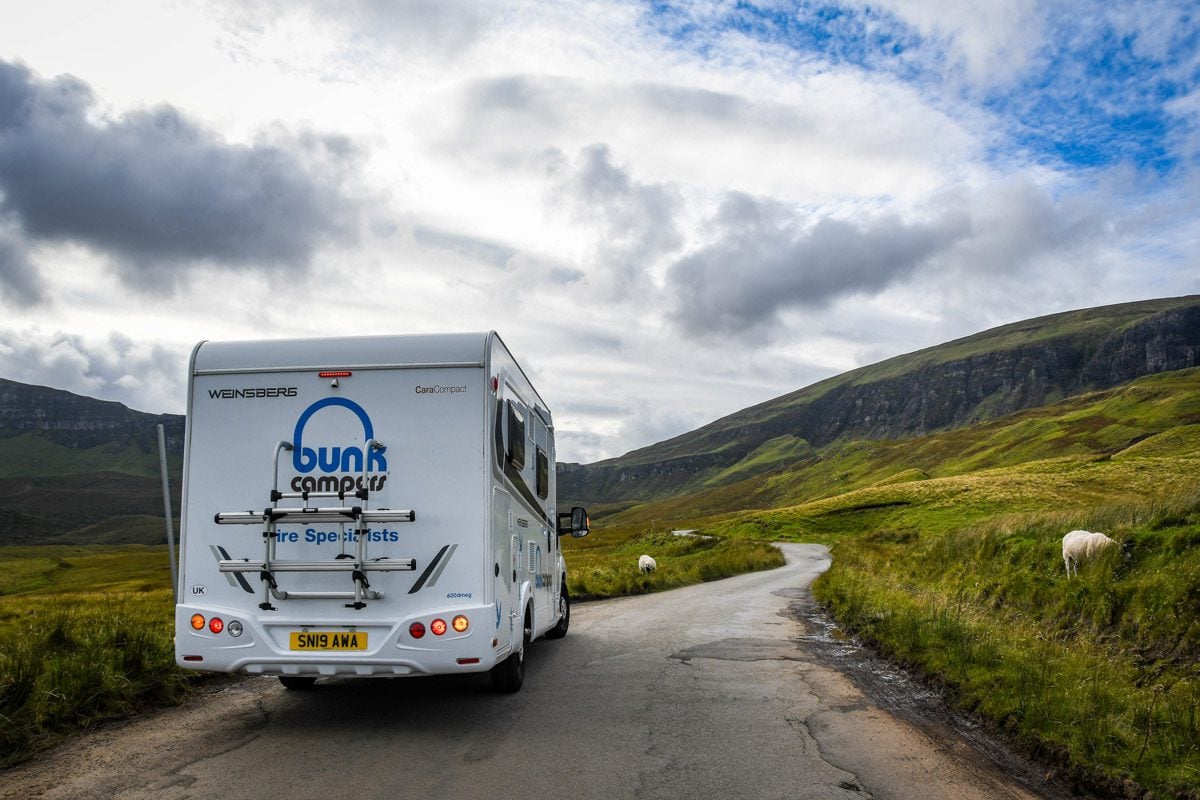 Our biggest peeve with our vehicle is that it was bigger than what we would have preferred to drive. Especially on the roads in Scotland — many of which are very narrow.
The vehicle itself (Aero Plus) was 24 feet long (4 feet longer than our own campervan). Also, being that it was kind of a van/motorhome hybrid, it was a little boxier rather than having sloped walls.
Ben was seriously a rockstar on the road — driving a stick shift, on the opposite side of the road than he's used to, and with a large vehicle — but there were a few stressful moments. The most stressful driving was within the big cities, like Inverness, Glasgow and Edinburgh, especially when it came to finding parking with that big of a rig. But hey, we made it work.
And on the last day of our trip, I asked Ben, "If you could do it over again, would you rent a smaller vehicle?"
And he thought about it and said, "I don't think so. The Aero Plus just is so comfortable inside and has so much storage that it made travel with a baby very easy."
Had it just been the two of us on this trip, we definitely would have opted for the smaller Aero campervan. And I think that would have worked with a baby, but it would have been tight.
Note: Now, this isn't a reflection of Bunk Campers specifically, but more on the vehicle we chose… And it's kind of tricky, because at the end of our trip we both decided that we would choose the exact same vehicle all over again, even though it felt a bit on the large side.
Also, your comfort level is going to vary drastically based on what types of vehicles you're used to driving and where in the world you typically drive. Maybe the Aero Plus would be much smaller than what you're used to. Or perhaps, you'd be even more uncomfortable than we were.
There wasn't room for the car seat and the table.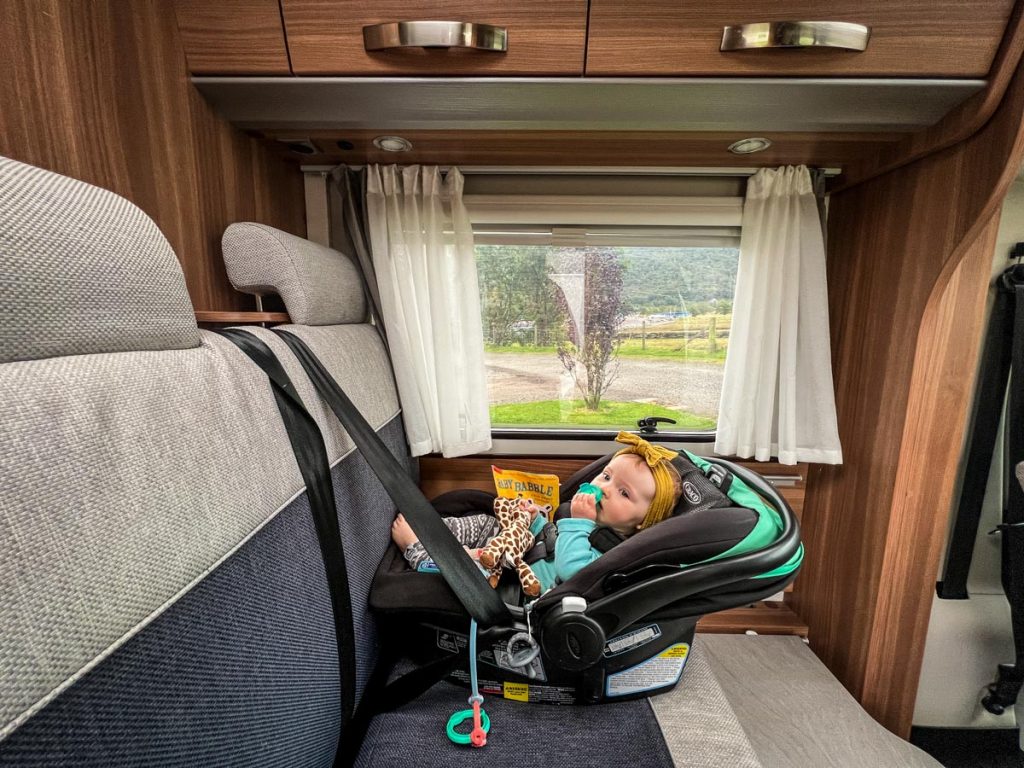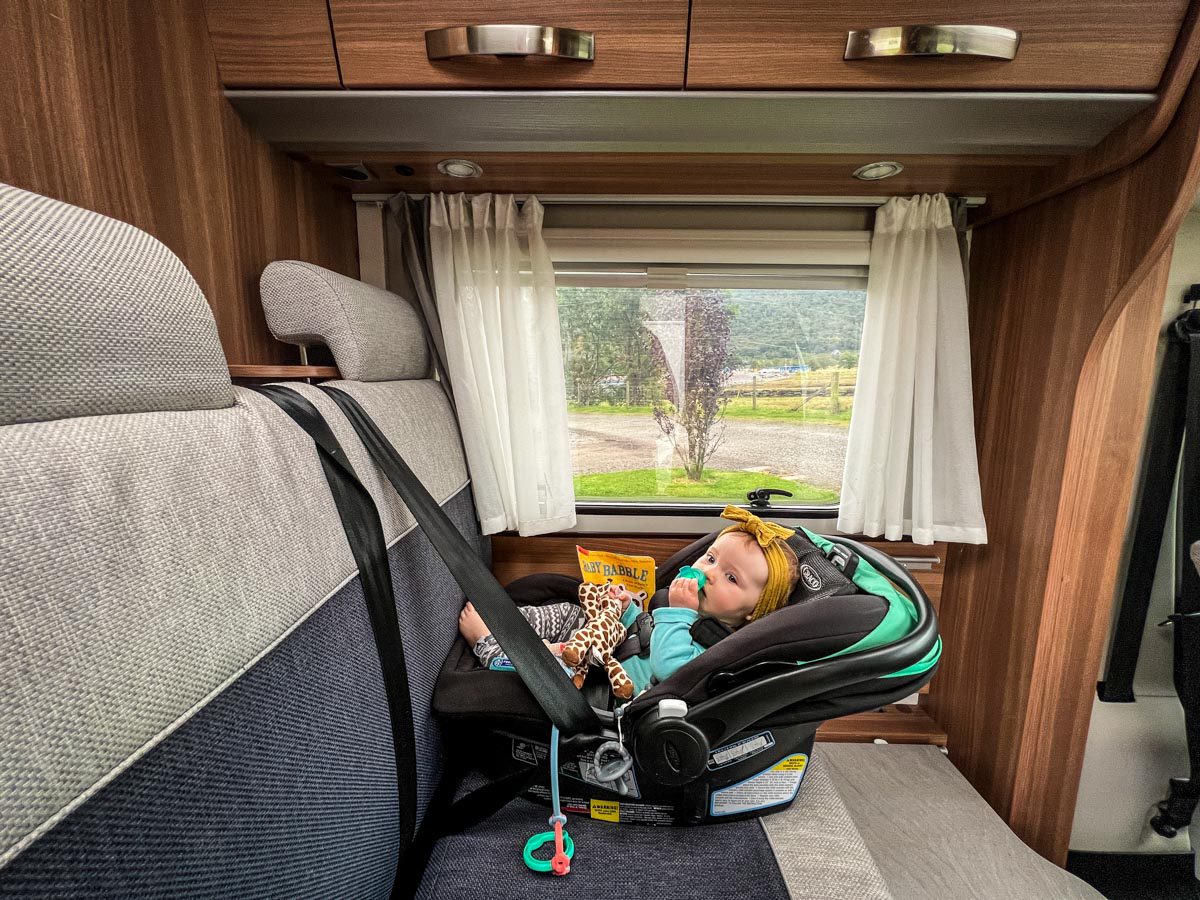 This is an issue that only people with small children will have, so if this isn't you, disregard.
When you have a car seat on the bench seat, there's not enough room for the table to be in the upright (aka usable) position. Instead, we had to put it beneath the bench seat, which made it difficult for me to sit comfortably next to Juniper's car seat (to comfort her or occupy her during a long drive).
This meant we had to put the table up and down multiple times throughout the day, which was a little annoying, but wasn't that big of a deal.
Maybe there would have been a better way of doing this, but we didn't figure one out.
There was only one USB outlet in the back to the camper.
The outlet was near the bench seat area, so that meant we couldn't easily charge our phones at night.
Luckily, we always pack our super handy power bank (that can charge an iPhone 7 times before needing to be charged itself), so it wasn't too big of an issue. But it still would have been nice to have more outlets throughout the camper.
There is no food exchange at the rental shop.
Now, this is a really nit-picky thing, but at both rental companies in Iceland and New Zealand, there was a large space where people could leave unused or leftover food items.
It was really nice because we were able to start our trip with essentials like spices and olive oil, and it felt better leaving an unopened bag of pasta and a jar of curry paste that we never got to, rather than tossing it in the trash. It was kind of a win-win, and we were a bit bummed that Bunk Campers didn't have something similar.
It would be nice if they implemented a space for this at the rental shop to save people a bit of money and prevent food from going in the landfill.
Reminder: All features we've discussed are in respect to the vehicle we personally rented: the Aero Plus. Things may vary in different models.
Save money on your Bunk Campers Rental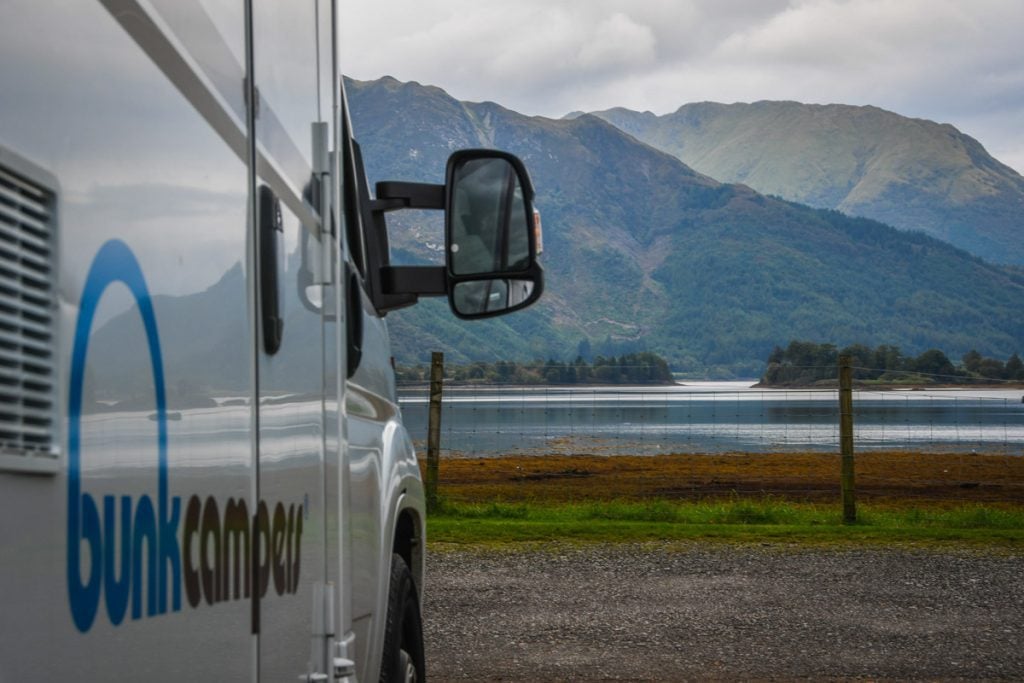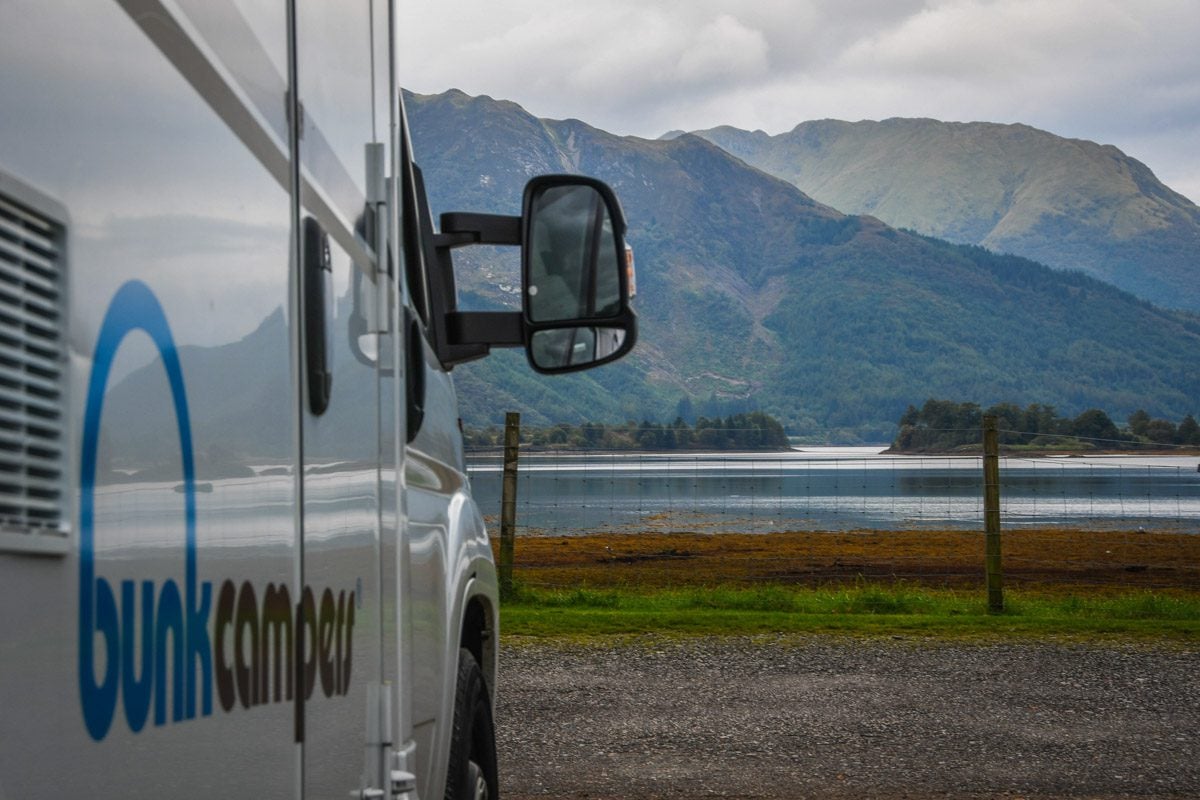 Motorhome relocation:
Many campervan companies offer one-way deals to relocate a vehicle from one hub to another. This could help you save hundreds on your trip, the only catch is you have to find your own way back.
Typically they need a specific model van driven during certain dates within their time frame. Look on the Bunk Campers page to find the Campervan Relocation Deals
Winter road trip:
There are tons of things to do in Scotland in the wintertime and the campervan rentals are nearly half off! Prices start at £65 a night for the VW Nomad Camper (which is a steal!) and there are winter discounts for the other models as well.
Save money on campsites with the UK Camping & Caravanning Club:
Bunk Campers has partnered with the UK Camping and Caravanning Club to offer its patrons up to 30% off campsites around the UK. There is at least one campsite that is part of the club in nearly every major tourist area so they are easy to find.
We stayed at a couple of them in Scotland and, in our experience, they are no different than a regular campsite. But, hey, it's cheaper so there is that!
Other campervan rental companies in Scotland
We think Bunk Campers is a great choice, but there are lots of other good campervan and RV rental companies in Scotland.
If Bunk Campers isn't the best choice for what you are personally looking for (or if they're totally booked out for your dates), we've broken down other options here along with their pros and cons.
---
Are you planning a trip to Scotland?
We have lots of resources on travel in Scotland and destinations throughout the country. Check out our Scotland Travel Homepage for everything you need to know, or read some of our favorite articles below.
Save this article on Pinterest for later!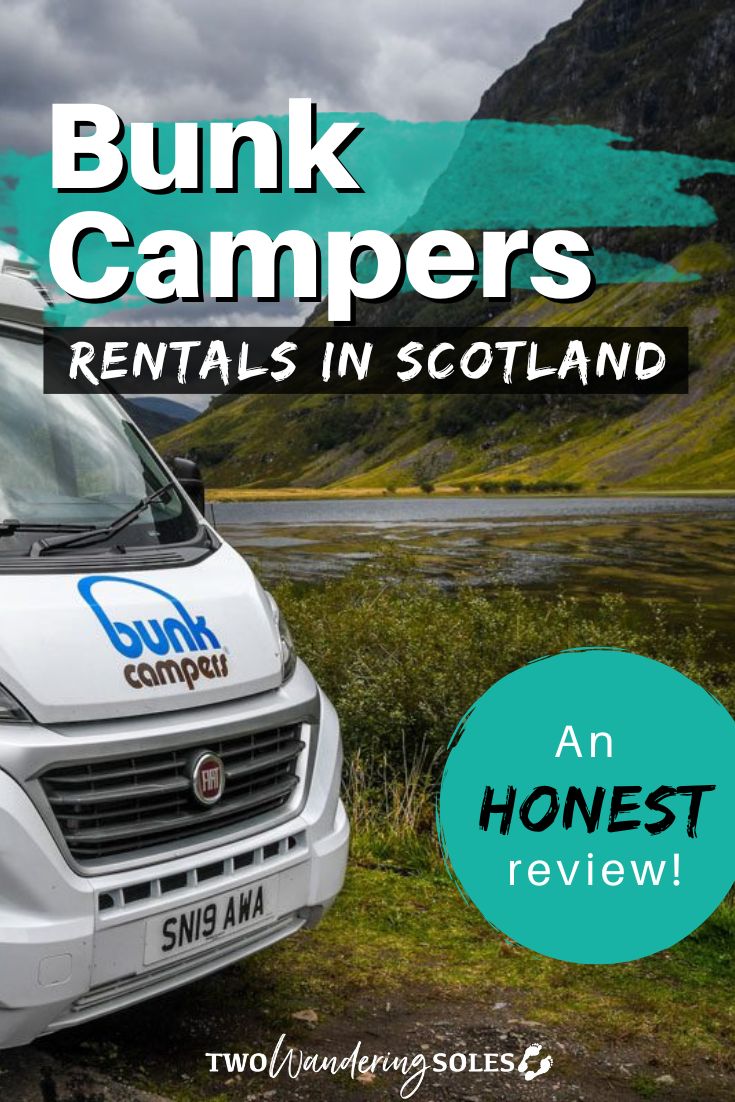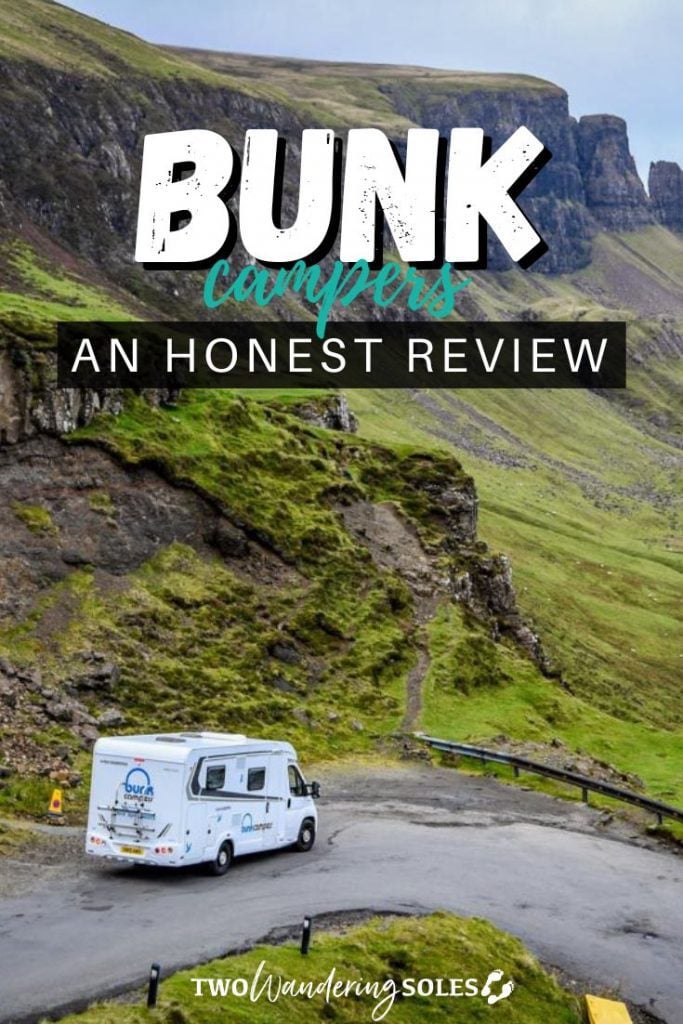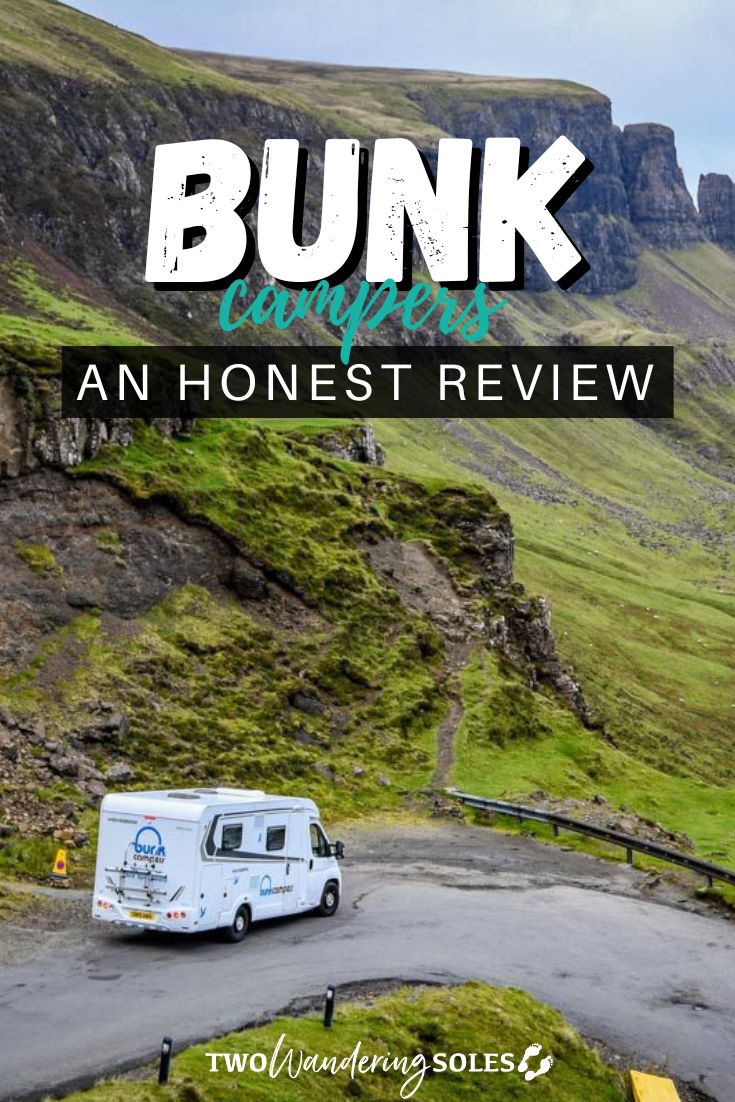 We want to hear from you!
Are you interested in renting a Bunk Camper in Scotland? Still have questions or trouble deciding?
Leave a comment below and we'll try our best to answer! It's likely others will have similar questions to yours.