Ever wonder how people find free campsites? We've rounded up our top tips and advice as well as the best free camping apps out there. Plus, we're sharing the no-BS truth about what free campsites are really like…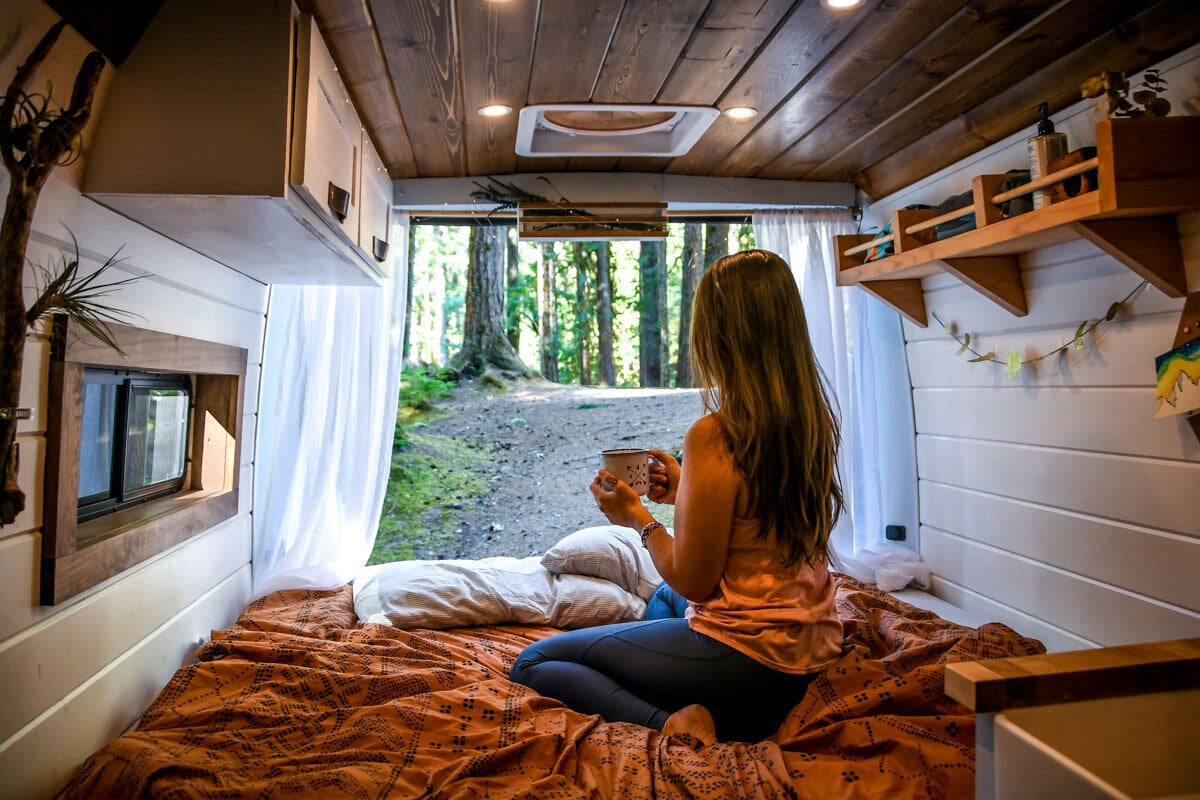 I'm going to let you in on a little secret…
We rarely pay for campsites.
Not because we are against paying, per se. But sometimes free campsites are just better. Shocking, I know.
Well, that, and I suppose we do like saving money…
In this article, we're going to break down everything you need to know about free camping in the USA. We're also defining some common terms, like "boondocking" and "self-contained", so we don't leave you scratching your head.
Plus, we're sharing our top tips on exactly how to find free camping (hint: there are some seriously cool apps!) and what you can expect (spoiler alert: it varies… A LOT).
Important Note: This article is focused on free camping in the United States. Not camping in the USA? If you're looking for campsites in New Zealand, we've got a whole article on that! Camping in Iceland? We can help with that too! Oh, and we can't forget about camping in Scotland. What other countries or regions would you love resources on? Comment on this article and we'll see what we can do!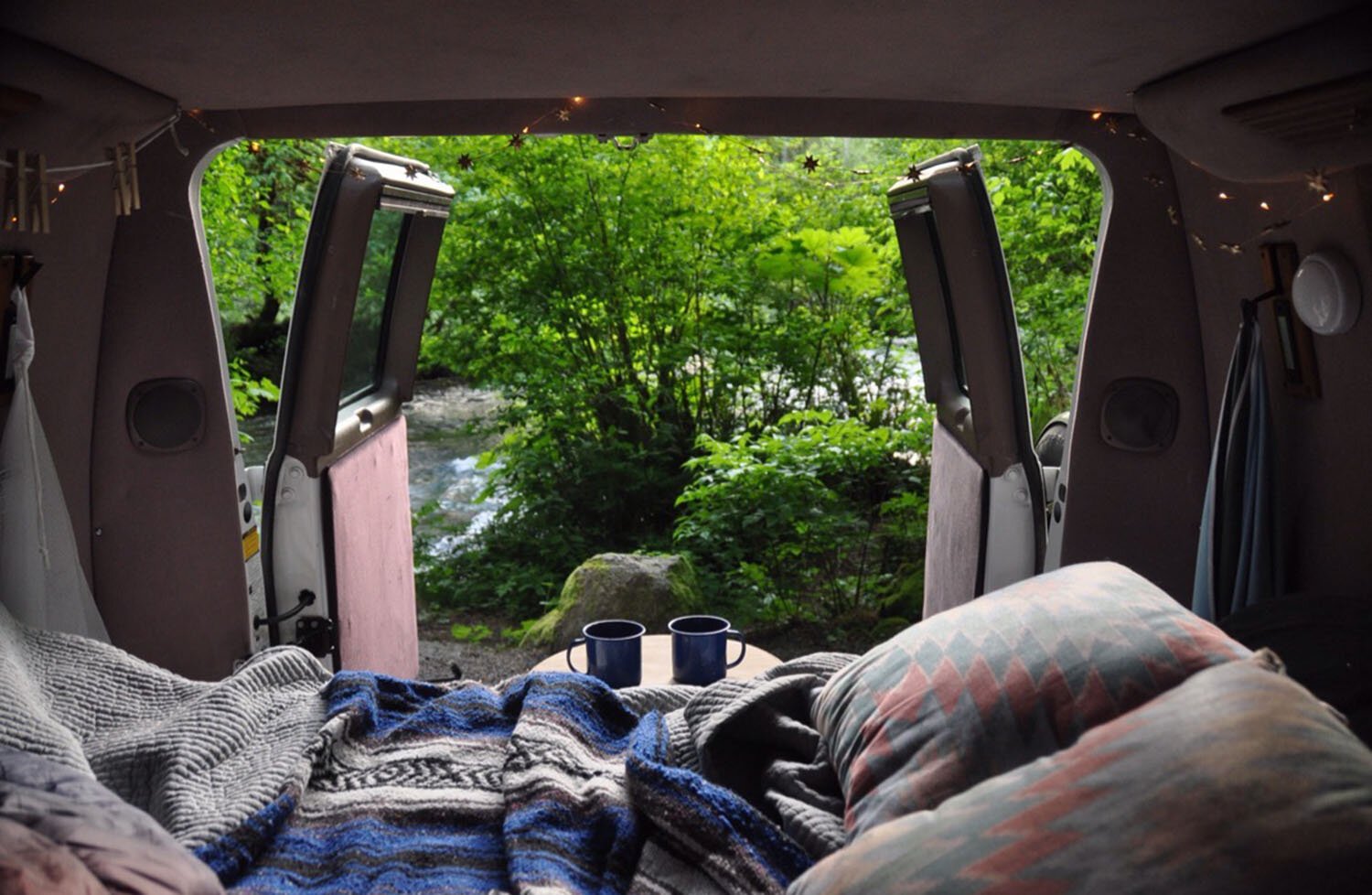 First, a little background info…
After building our first campervan, we were damn near broke. We casually looked up a KOA campsite to see how much it would cost for a night, and our jaws nearly hit our keyboard when we saw the most basic site they had was $50. Yikes.
We knew right away that staying exclusively at private campsites just would not be sustainable for us, especially because we were planning on living in our campervan long-term.
The good news is that it didn't take long for us to find out just how easy it is to find free camping, especially with a campervan.
So… where do you find free camping?
Glad you asked.!We're about to share exactly how we find free campsites; plus, we're going to divulge some insider tips we've picked up over the years, as well as some cautionary tales from our own experience.
Before we start, I want to mention three important things…
Beware of "fake" campsites. Many photos you see of #vanlife on Instagram are not in a spot where the creator actually spent the night. While beautiful (we're certainly guilty of taking these!), staged photos can be a bit misleading. Just keep this in mind as you browse social media.

Psst! In this article, we're sharing photos of our previous experiences and using the caption to explain each specific site in detail. Be sure to read those so you know the real back story.

Not all free (or paid!) campsites are equal. You'll find some amazing campsites, and you'll find some that just… get you through the night. The latter will make those good ones even more incredible.
Know how to camp responsibly! Please do not leave this article without reading the section on responsible camping guidelines. We've been to some sites in the past where it is clear that previous visitors did not know (or care) about how to be a respectful camper. Please don't be that person… The only way campsites will stay free and amazing for all to enjoy is if we all do our part to respect them.
Now, let's get to it!
Free Camping Guide
---
Free camping glossary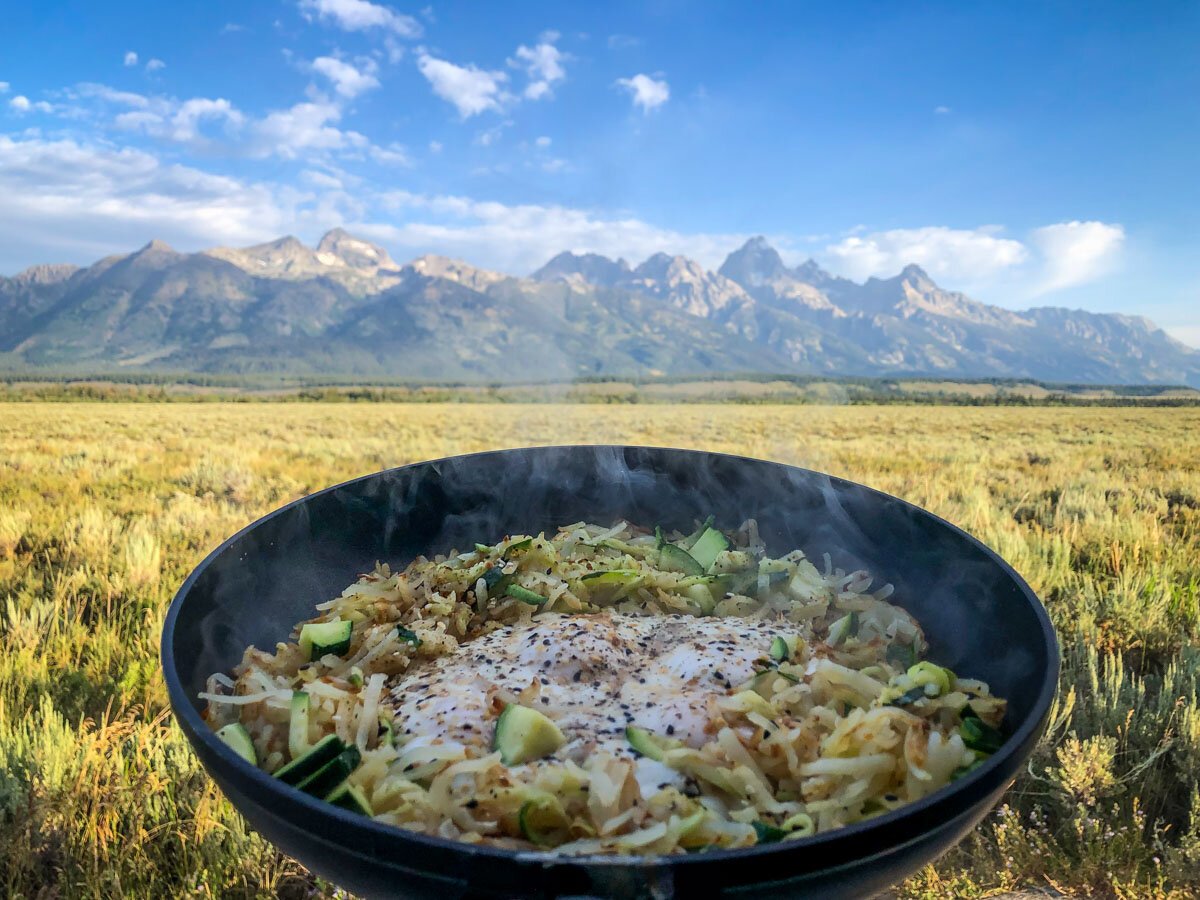 I don't know about you, but I find it can be kind of intimidating when you're getting into something new and you come across all sorts of words and phrases that you've never heard before.
Let's go over some of the terms you might hear when it comes to free camping…
"Developed camping"
This term refers to any site that has clearly been created with camping in mind. Developed campsites can range drastically:
You may find a very basic site with just a fire ring and picnic table.
Or you may find a developed campground with restrooms, electric hookups, picnic areas, garbage services, potable water, and dump sites.
Developed camping can be free or paid. The more facilities it has, the higher the price tends to be. Most free developed campsites we've stayed at have only a fire ring, picnic table, and pit toilet.
"Dispersed camping"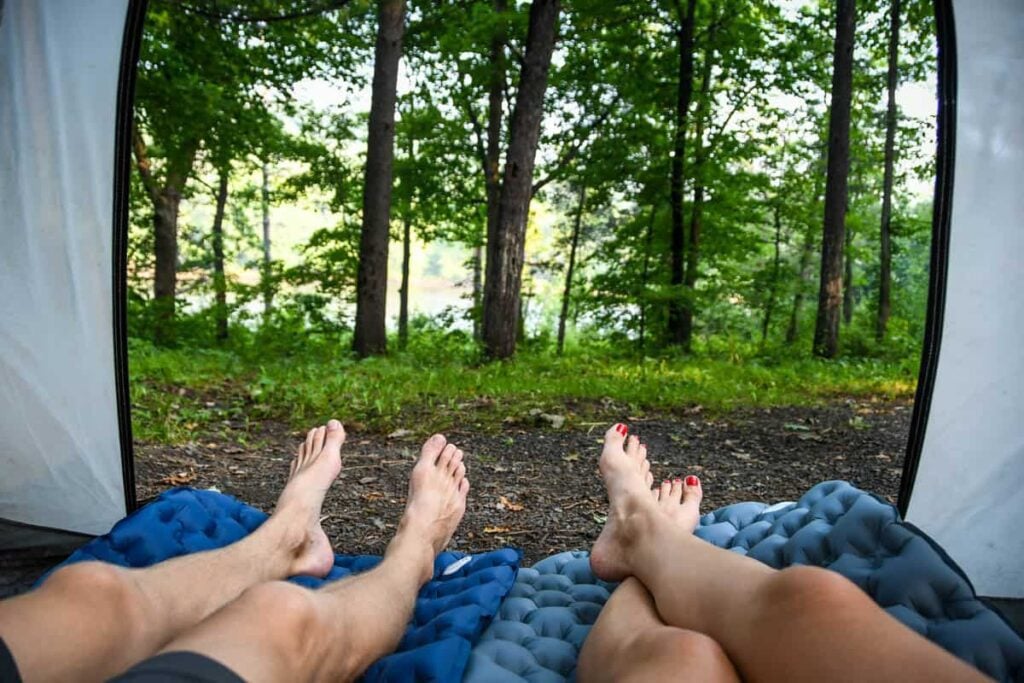 This refers to camping in an area that is not developed.
According to the US Forest Service, "Dispersed camping is the term used for camping anywhere in the National Forest OUTSIDE of a designated campground. Dispersed camping means no services; such as trash removal, and little or no facilities; such as tables and fire pits, are provided. Some popular dispersed camping areas may have toilets."
We have an entire guide to dispersed camping and how to find dispersed campsites on our sister site. Just be sure to keep these rules in mind if you choose to go this route…
Rules for dispersed camping (according to the US Forest Service):
You must have a self-contained vehicle (defined below)
You can camp in a dispersed area for up to 16 days; after that time, you must move at least 5 miles away before finding a new dispersed area
Do not park or set up a tent within 100 feet of any water source
Pack everything out with you
Be bear-aware if you're camping in bear country
Follow fire ban restrictions
If you do go #2 outside, you must dig a hole six inches deep at least 100 feet away from any water source, and dispose of toilet paper in the trash.

Never leave feces or toilet paper on the ground, as it can contaminate the local water source
Psst! No matter which kind of campsite you choose to stay in, make sure you have sufficient wifi in your van with our handy guide.
"Boondocking"
The RV community uses this term more commonly than vanlifers, but essentially it just means off-the-grid camping.
No power or water hookups, no toilets, and no services of any kind.
This term can apply to all types of situations: spending the night in a Walmart parking lot, camping out in your friend's driveway, or setting up camp on a remote piece of public land.
While each of those situations looks very different, what they all have in common is that you must be totally self-sufficient when it comes to a toilet, water, and power.
The term "boondocking" also typically refers to places that are not set up as campsites.
Related terms:
Wild camping / free camping: again, off-the-grid camping; this is essentially the same as "boondocking"
Dry camping: this means not using any hookups (power, water, etc.) or toilets. Unlike boondocking though, sometimes people refer to "dry camping" when they're at an established campsite, but just aren't using any services. It's kind of the whole "not all rectangles are squares, but all squares are rectangles" thing… You are dry camping when you're boondocking, but you're not always boondocking when you're dry camping. Make sense?

"Stealth camping"
This is the term all the cool kids use when referring to parking somewhere overnight while appearing like nobody is inside the vehicle.
Usually, this phrase is used in the campervan community when parked in a city or on a residential street. An RV or tow-behind camper, for instance, couldn't really be stealth because it's obviously for camping.
That said, most campervans these days are far from truly being stealth.
Take one good look at our van, for instance, and you'll see solar panels on top and can more or less guess that it's not an empty cargo shell. Even our previous build with a low roof was somewhat obvious once you saw curtains in the windows.
The whole point of stealth camping is to camp unnoticed in areas where it is legal, yet perhaps not encouraged, to park overnight.
Related: Jump to our section on urban camping etiquette.
"BLM"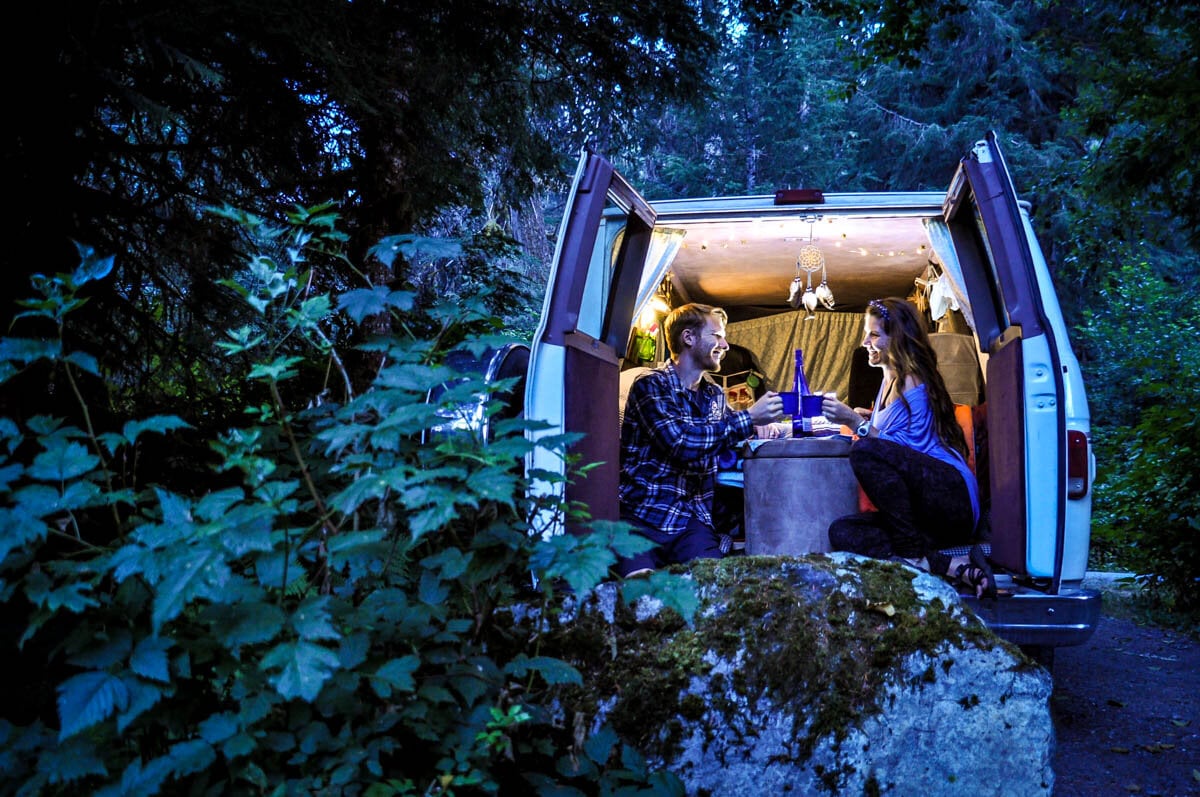 In this case, we're not referring to the Black Lives Matter movement. In the context of camping, this abbreviation stands for Bureau of Land Management.
Essentially, this is public land that the BLM oversees. It is free and open for public use.
The purposes of BLM land are:
Conservation
Protection of resources (natural, cultural, and historical)
Recreation (hiking, biking, fishing, climbing, camping)
Energy development
When it comes to camping, BLM land has both developed and dispersed camping. Some areas are free to camp, and others require a small fee that goes toward maintaining facilities.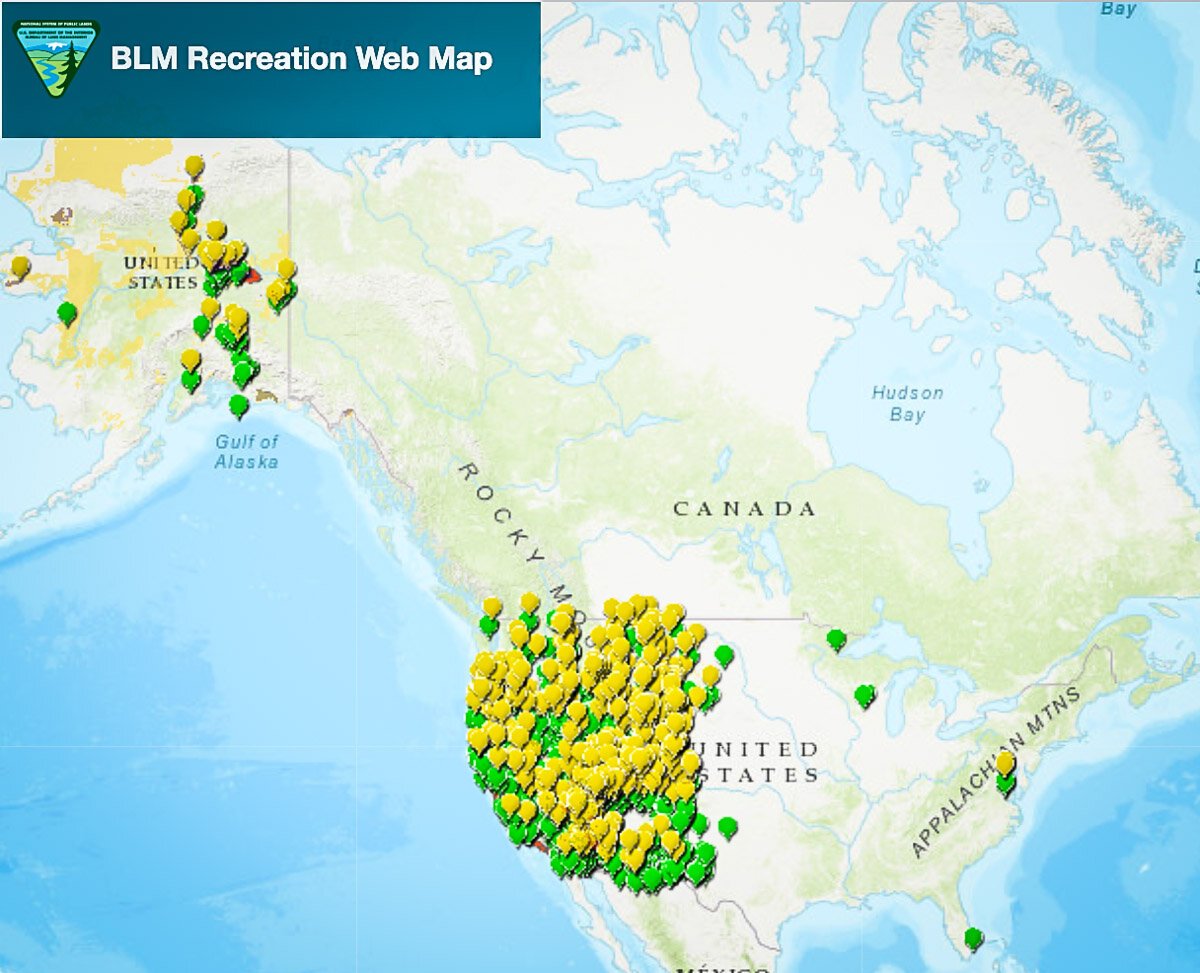 Almost all of the United States' BLM land is in the western half of the country (see map).
If you're traveling in the eastern part of the country, you likely won't come across any BLM land, but if you're in the west, BLM will be one of the best places to look for free camping.
Insider Tip: In some camping apps, there is a "BLM layer" which will create an overlay on the map, giving you a good visual of where you are in relation to nearby BLM lands. (More on camping apps below)
"Self-contained"
This means your vehicle has everything it needs and does not require any outside facilities to function.
Most notably, it has a toilet and a container to hold graywater (aka wastewater).
Additionally, people sometimes include the capability for the vehicle to power itself without plugging into a power source. This can be as simple as battery-powered lights to an off-grid solar system.
Good to know: If your vehicle is self-contained, you have the option to park in many more places than those that require a bathroom facility.
"Leave No Trace"
You'll often come across this phrase in camping guidelines and etiquette.
Sometimes it just refers to the concept of not leaving any trace at your campsite, i.e. cleaning up after yourself and leaving the land as good as (or better than!) you found it.
Other times it refers to the 7 principles of Leave No Trace:
Plan ahead and prepare
Travel and camp on durable surfaces
Dispose of waste properly
Leave what you find
Minimize campfire impacts
Respect wildlife
Be considerate of other visitors
Important Note: These principles are pretty self-explanatory and are overall very good guidelines to follow in the outdoors. But we do want to point out there are some flaws with the LNT organization.
First and foremost, they have garnered criticism for their lack of representation of POC and falling short when it comes to inclusion in the outdoors. Here's more information on the topic.
We'd encourage you to do a little reading on the subject so you get a more holistic picture of LNT beyond the 7 principles for which they're known.
Psst! Jump to the bottom of this article where we break down responsible camping guidelines in detail.
Free camping FAQs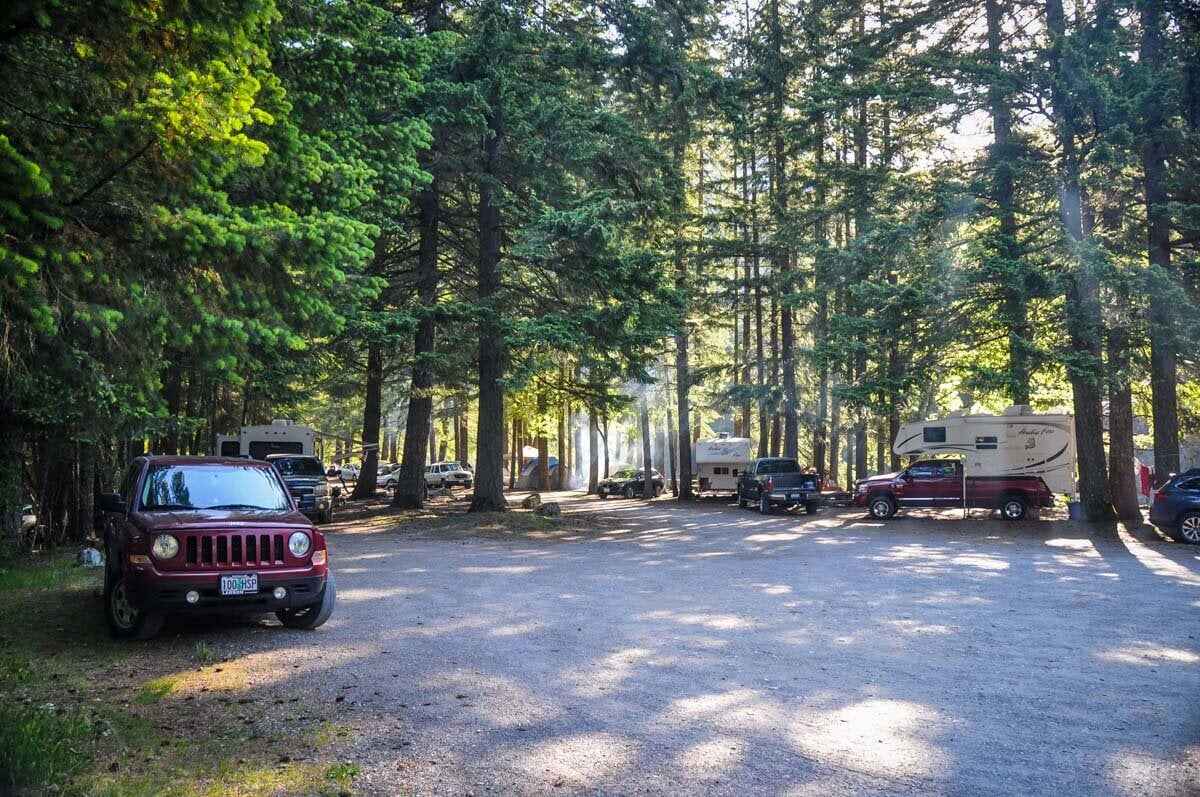 Free camping comes with pros and cons. Lots of each, actually.
We're going to break it all down for you so you know what to expect…
What are the PROS of free camping?
It's free. Need I say more?
No need (or option) to make reservations, which is very helpful when you travel more spontaneously like we do. Many big campgrounds book up months in advance, so free sites are a good option when you're traveling with a loose plan.
Free camping within a city (more on urban camping later!) is a good way to avoid expensive hotels.
Some free campsites are very much under the radar and you can find blissful solitude. Stargazing, anyone?!
What are the CONS of free camping?
Some really amazing free sites can be a bit out of the way and may even require a 4×4 vehicle to access.
Some sites are not well-maintained and without a camp host to enforce rules, some visitors sadly do not clean up after themselves and leave a mess for others.
Being that free sites are not managed, reservations aren't really a thing. This can be great if you have loose plans, but some free sites are extremely popular and fill up quickly (just like paid campgrounds).
Most free sites will not have the amenities that paid campsites do, like potable water, showers, trash bins, power hookups, toilets, etc. That said, we've encountered quite a few free campgrounds that have pit toilets and drinking water. If these amenities are necessary for you, be sure to read the reviews and descriptions in camping apps before heading there.
Because free sites typically lack the amenities of paid ones, it's much easier if you have a self-contained rig that is able to go off-grid.
Sometimes it's just not an ideal situation… like a Walmart parking lot. I mean, who actually wants to camp out overnight at Walmart? Likely nobody. But sometimes it's the only option.
Who can use free campsites?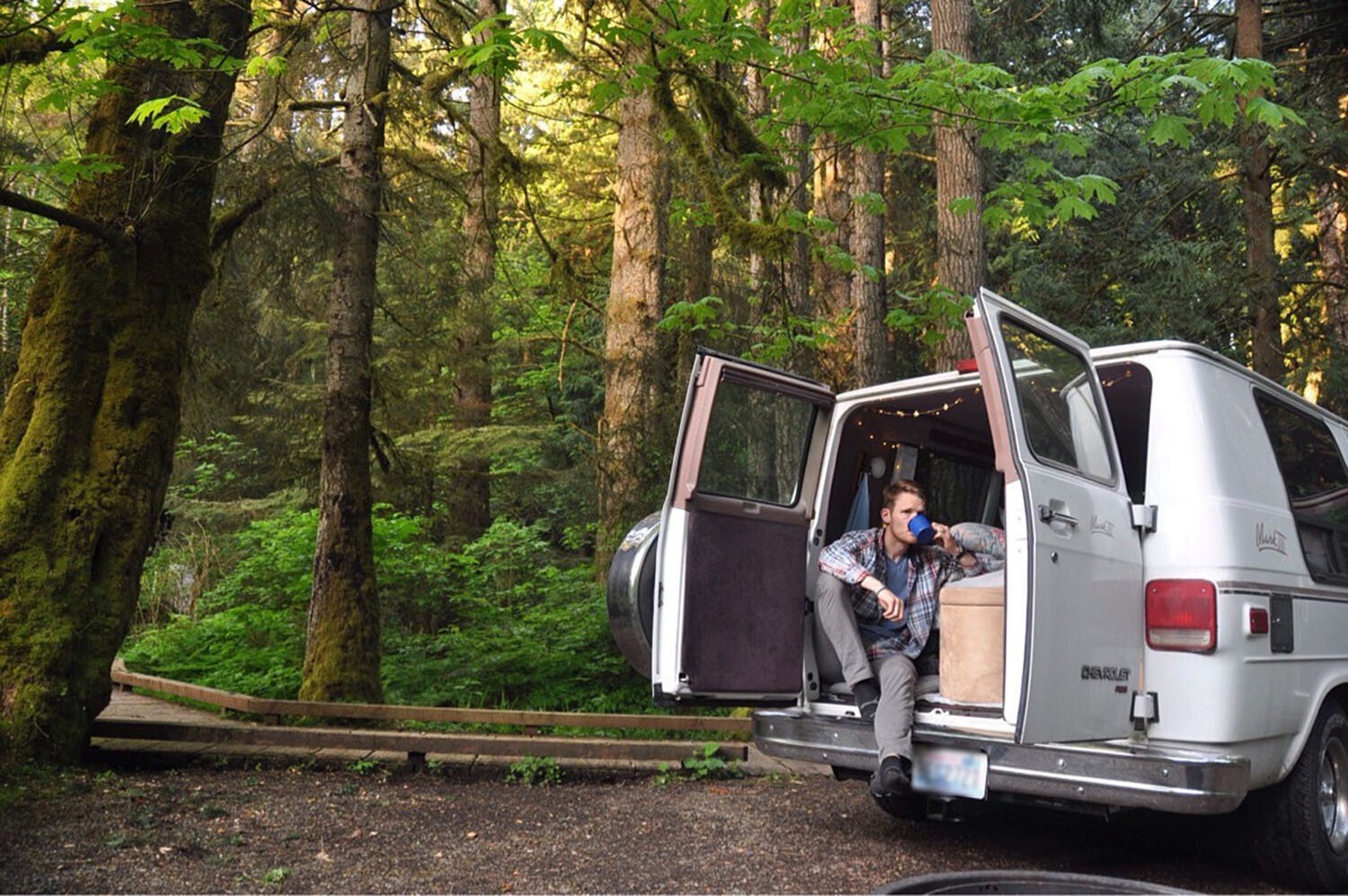 In theory, anyone.
The thing we do want to point out is that your vehicle will determine which types of free camping you can easily take advantage of.
For example, a big RV won't be able to easily park on a city street, but a campervan sure can. And a van with low clearance might not be able to access an unmaintained road, but a Jeep with a rooftop tent will be just fine.
There are certainly free campsites that work well for RVs or tow-behind campers, but your options will be more limited than those with campervans.
And if you're camping in a tent, you'll be even more limited. That said, there are also free sites that are only for tent campers.
Your rig is going to really determine what types of sites you're able to utilize. More on that below…
What do free campsites look like?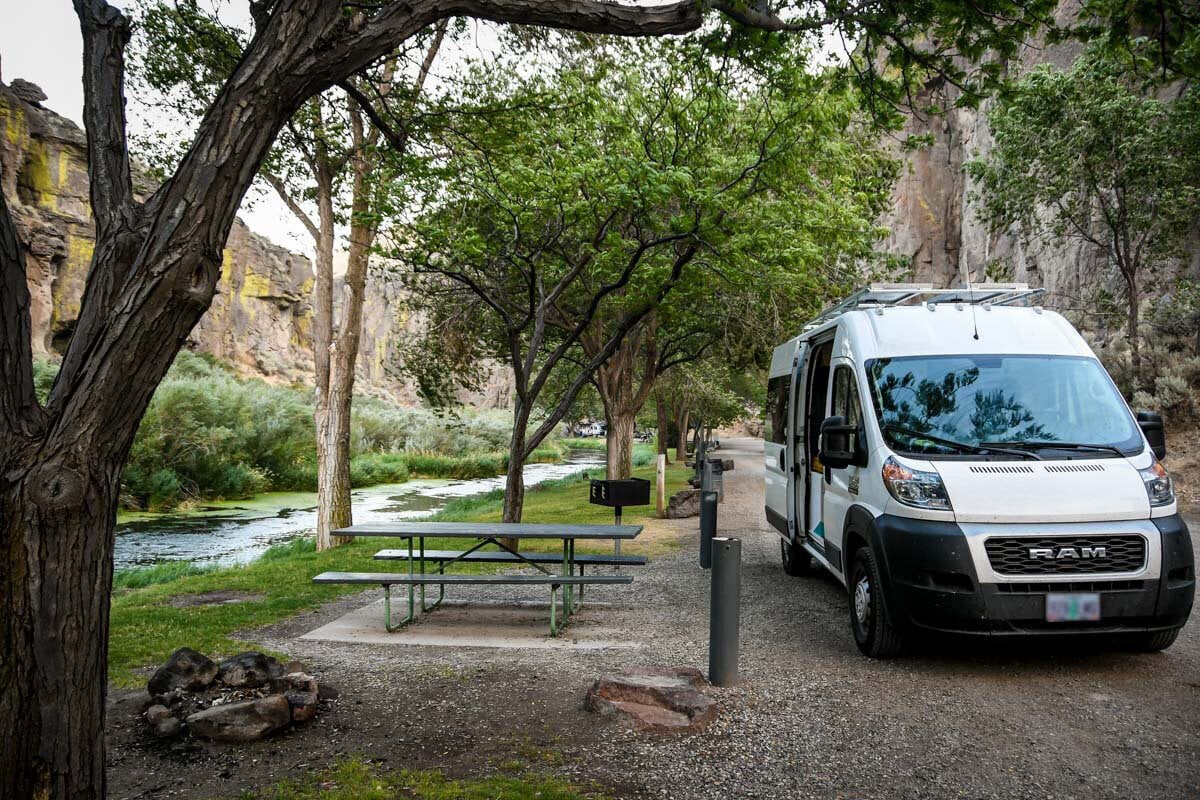 Honestly, free camping can vary an incredible amount.
The good: We've stayed at free campsites where we've had a private, designated site with a fire ring, picnic table, pit toilet, fresh water pump, and beautiful views. Check out that sweet site in the picture above!
But sites like these are gems in a rock pile full of pebbles.
The not-so-good: Much, much more often, our free camping looks like parking on a city street, a pull-out, or even a Walmart parking lot. Yeahhhh, definitely not our best moments.
And then there are all the mediocre ones in between.
---
How to find free campsites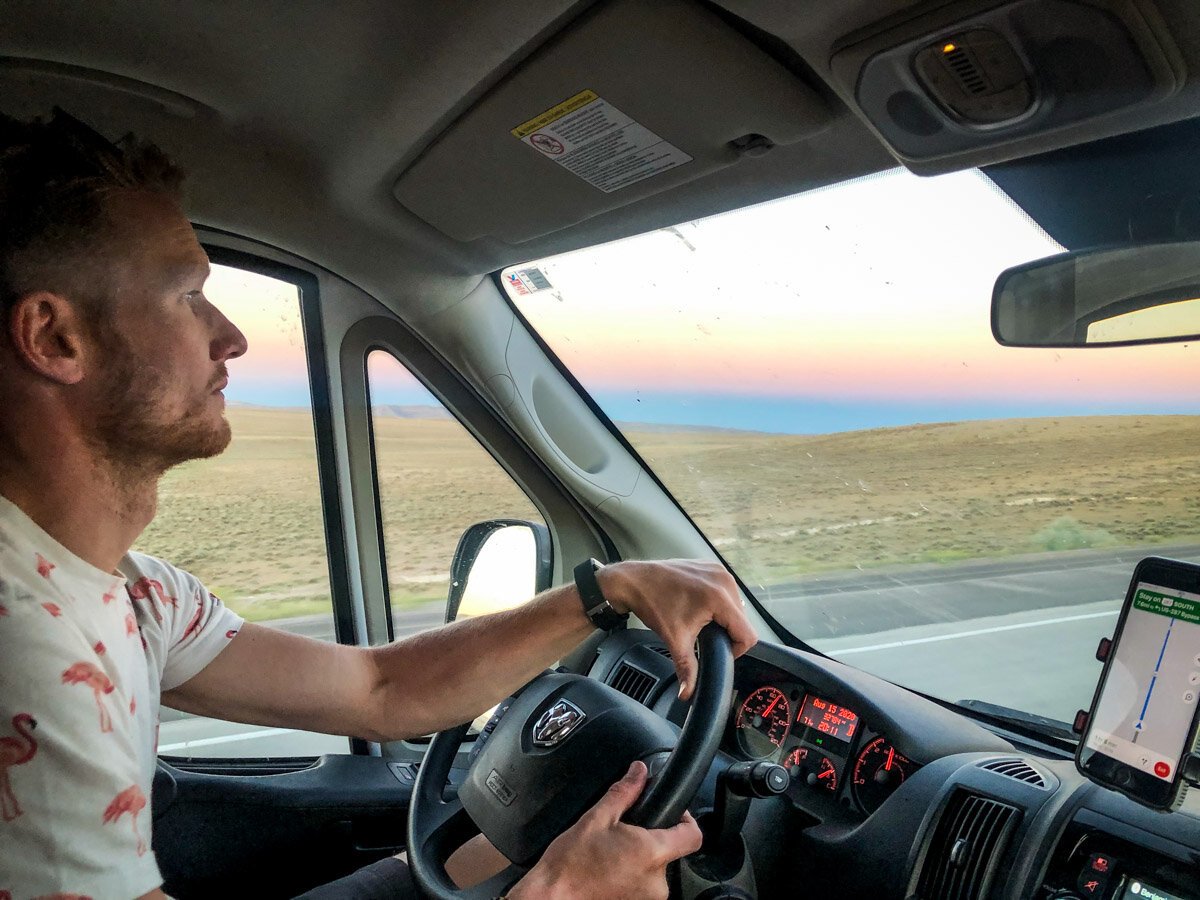 In general, there are 3 ways to find free campsites:
Roam around and stumble upon a place to camp
Learn about a spot through word-of-mouth (from a friend, a blogger, etc.) and get directions so you know how to get there
Use an app to find campsites in the area you'll be staying
While it may sound pretty great to just roam about the open road without a worry in the world, chances are you won't just stumble upon a great campsite.
Off the top of my head, I can only think of 3 amazing campsites we have come across entirely by accident. Our other unplanned sites have been less than ideal.
And while your friends might have a few good campsites to recommend, they can't compete with a good app. Camping apps have tens of thousands of campsites, plus reviews and tips for each.
We use a camping app to find the majority of our campsites. Here's why:
We have a destination in mind. Trust us when we say roaming around as the sun is setting trying to find a safe (and legal!) place to park for the night isn't very fun. It can be frustrating and time-consuming.
We know what to expect. Will we need to fill up water before arriving? Will we have cell signal? Can our van handle the road to get there? Will it be a safe place to park?
We can choose good campsites. We can look through pictures and choose places to camp that are beautiful and have excellent reviews. We can easily seek out places by the ocean, or those with mountain views, or whatever it is we're feeling that day.
Best free camping apps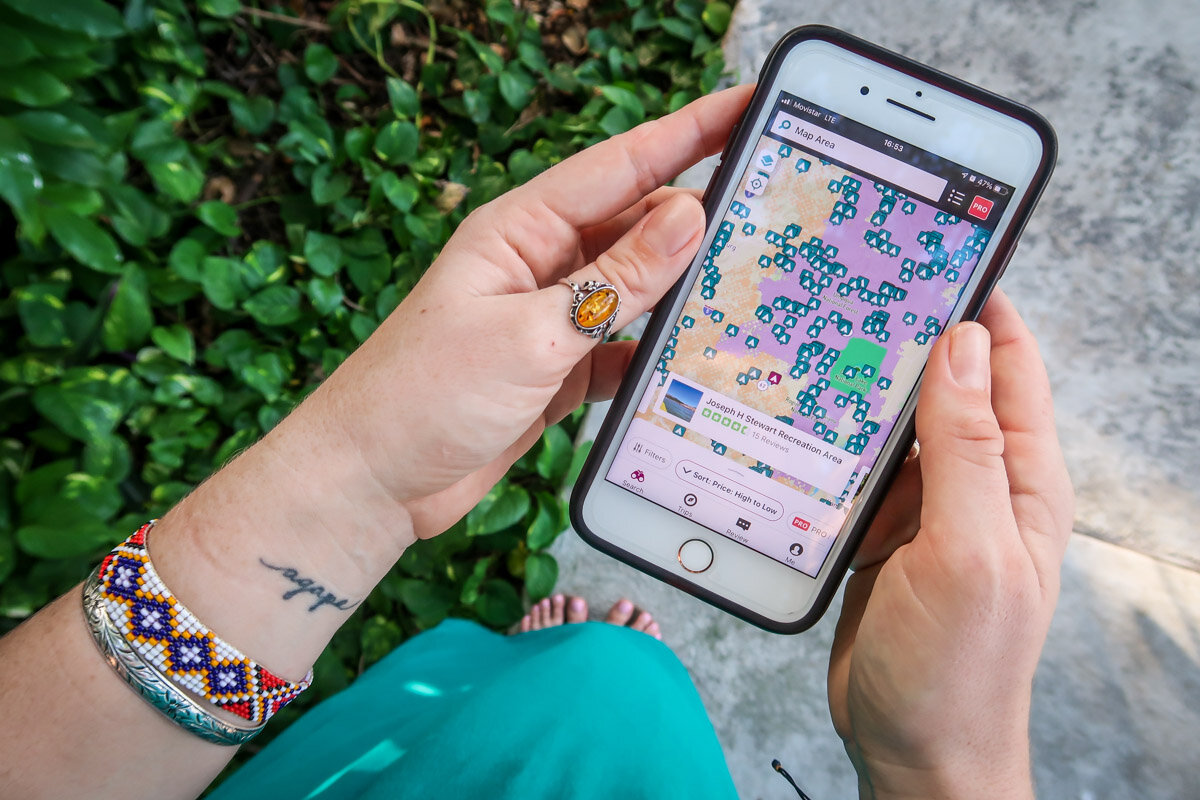 Alright, now that you know what types of free campsites exist, let's talk about the easiest way to find 'em…
Camping apps!
There are a handful of apps out there that are community-sourced maps of free camping, meaning you can see where other people have camped for free.
Some of these apps also include photos and reviews, so you know what to expect (both good and bad!).
They are super helpful, especially when you're first starting out with the whole vanlife thang. And even now, we still use them all the time because we aren't fans of spending hours trying to search for places to park. We'd rather have a destination in mind.
These apps are specific to the USA. Each country that is campervan/RV-friendly has its own network of apps and websites. In our experience, we haven't found a great resource that is useful worldwide (yet!). The apps and websites mentioned in this article are geared towards the USA.
We're going to go through the best apps for finding free campsites and we'll explain what makes each unique.
The Dyrt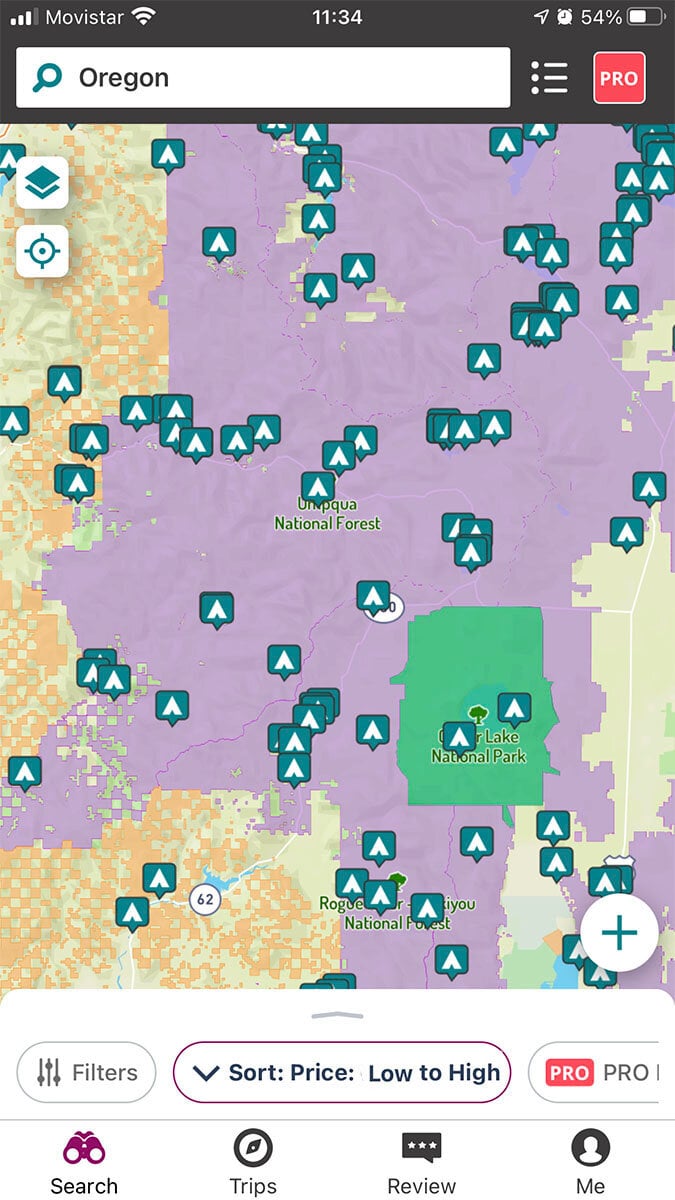 This one's at the top of our list because, well, it's our favorite! (Check out our honest review of the app.) And we're not the only ones who are in love – The Dyrt was 2020's #1 camping app.
With more than 1 million user-submitted reviews, The Dyrt has the largest database of campgrounds and more reviews than any other app of its kind.
Plus, it's available on iOS and Android, is super user-friendly, and has some pretty cool features that you won't find on any other camping app.
Free Membership
Database of 44,000+ campsites (more than any other camping app!)
More reviews than any other camping app
Community building features
Forums to connect with others and seek advice
Chances to win outdoor gear by leaving reviews
Easy to use interface with the ability to filter campsites based on your preferences
Everything in the free membership, plus…
Offline version of the app: This is incredibly helpful in places like the PNW or the Rocky Mountains where cell signal can be sporadic. Trust us!
Trip planning feature: Allows you to easily plan your road trip in one place
Discounts on select campgrounds (up to 40% off!)
Customize your map with layers that easily show free dispersed camping
Cost: $35.99 per year, but you can try it for a month TOTALLY FREE.
Wanna try Pro for FREE?! If you're interested in testing out the Pro membership, you're in luck: we have an exclusive code just for you! Download The Dyrt from this link and you'll get 30 days of the Pro membership, 100% FREE. That's right, 1 month of access to this network without paying a cent. That's one hell of a deal, and it's the best promo you'll find out there!
The Dyrt: Available for iOS and Android here
iOverlander
This app displays campsites in list or map format and has icons that differentiate between established campgrounds and wild camping. You can use filters to find what you're looking for.
In addition to finding campsites, you can also see nearby water fill stations, gas stations, laundromats, showers, and well, pretty much everything else you'll need, which is incredibly helpful.
Click on each icon to get more information and read user reviews.
iOS & Android | App & Website | Free
Campendium
Similar to iOverlander, Campendium displays nearby campsites (from primitive to established RV parks), as well as dump stations.
You can only search for limited amenities: public land, RV park, overnight parking, and dump stations.
Some additional features include:
Users can upload photos of campsites so you can see the spot before you head there, which can be pretty helpful.
There are some additional filters (like cell signal from specific carriers) that you can access with a paid membership.
iOS (No Android version) | App & Website | Free
FreeRoam
Similar to the others listed above, this app has all sorts of campsites, along with reviews.
We only recently discovered FreeRoam, but so far have been really impressed as it has some additional features that the apps above are lacking.
On FreeRoam, users rate each campsite on specific features like crowdedness, fullness, noise, shade, cleanliness, safety, and road difficulty.
Another feature that we appreciate about this one is that you can add layers to your map to show where BLM land is located, as well as cell service signal (by provider).
FreeRoam (like Campendium) has photos of most sites so you can check them out before you go.
FreeCampsites.net
I'll be the first to say that this website is in dire need of a makeover! It's clunky and a bit annoying to use on a mobile device (which is usually how I find myself using it).
That said, it is a pretty good resource if you have the patience to use it.
This old-school website actually has some campsites that the fancy (and easier to use) apps don't.
Website | Free
---
Types of free campsites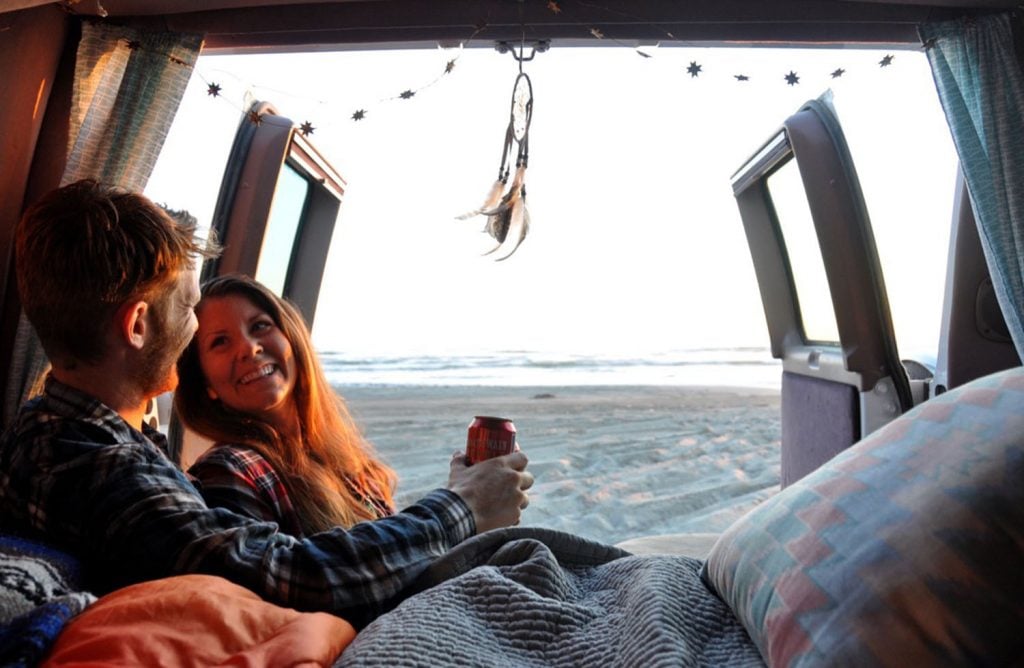 Essentially, there are two different types of campsites we're going to discuss:
An actual campsite
A parking spot for the night
Let's start with the fun one…
Free Campsites
When you're dreaming of vanlife, this is what you're likely envisioning…
Waking up in beautiful places with views of the ocean or mountains or a lake. Ample room to hang out outside your van, to practice yoga, or to build a campfire. Privacy and beauty all wrapped up in one place.
The good news is you can find plenty of sites like this around the United States that are completely free. You just have to know where to look.
And that's where we come in!
BLM Land
Good for: campervans, RVs, tow-behind campers, tents
BLM (Bureau of Land Management) land is free for everyone to use, and often has both developed and dispersed camping areas. Some are free while others have a fee per night.
One major thing to keep in mind is that nearly all of BLM land is in the western half of the United States, so depending on where you're traveling, you might exclusively camp on BLM or never step foot onto it.
Insider Tip: Some camping apps have a feature that allows you to see a visual of where BLM land is relative to your location.
We have a complete guide to BLM camping on our sister site that goes over all the info for finding campsites and what the rules are.
Forest Service roads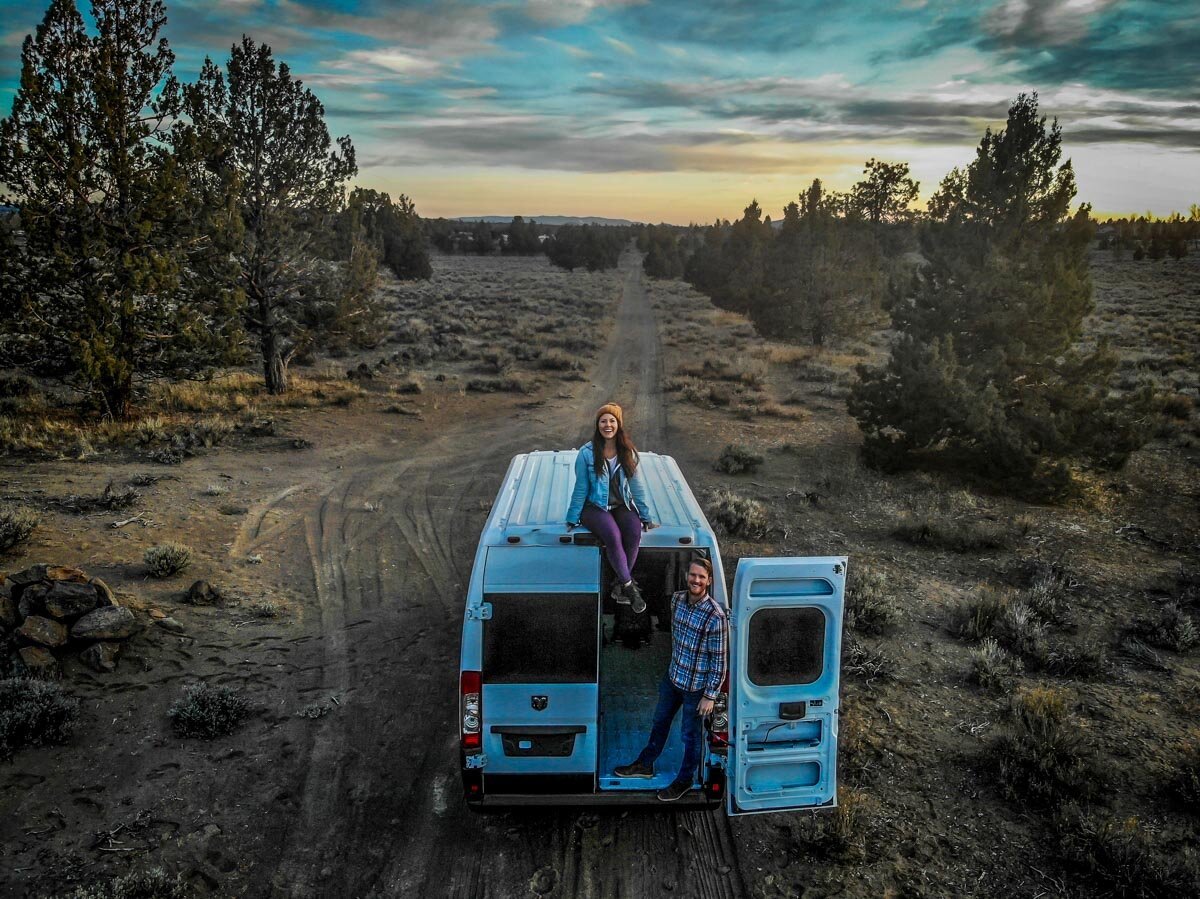 Good for: campervans, RVs, tow-behind campers, tents (depending on the area)
This may be using the term campsite loosely because, essentially, you'll be finding a flat spot to park in a forest.
We usually love camping on forest service roads because there is rarely anyone else around you.
That said, there are no facilities, so prepare yourself with drinking water and a plan for using the bathroom. Also, many Forest Service Roads are outside of cell service, so plan accordingly.
State Parks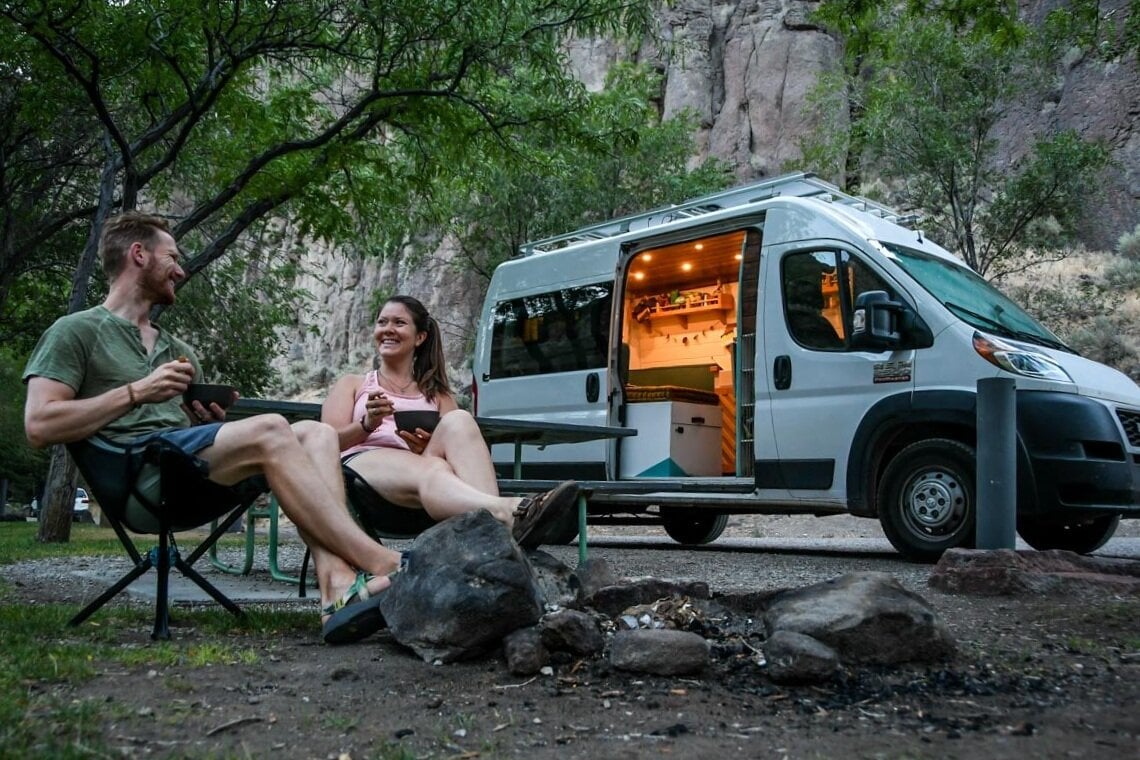 Good for: campervans, RVs, tow-behind campers, tents
It's worth searching state, city, and county parks, as they sometimes have free camping areas. We've found a few great free State Park campgrounds over the years that have pit toilets, fire rings, and picnic tables.
Overnight parking
While this section is a little less ideal, sometimes all you need is to find a safe (and legal!) place to park for the night. Depending on where you are, this can be simple or it can be an ordeal.
We're sharing some tips that'll be helpful in your search, because chances are, you'll eventually find yourself saying, "I don't care where it is, I just need a place to park!"
City or residential streets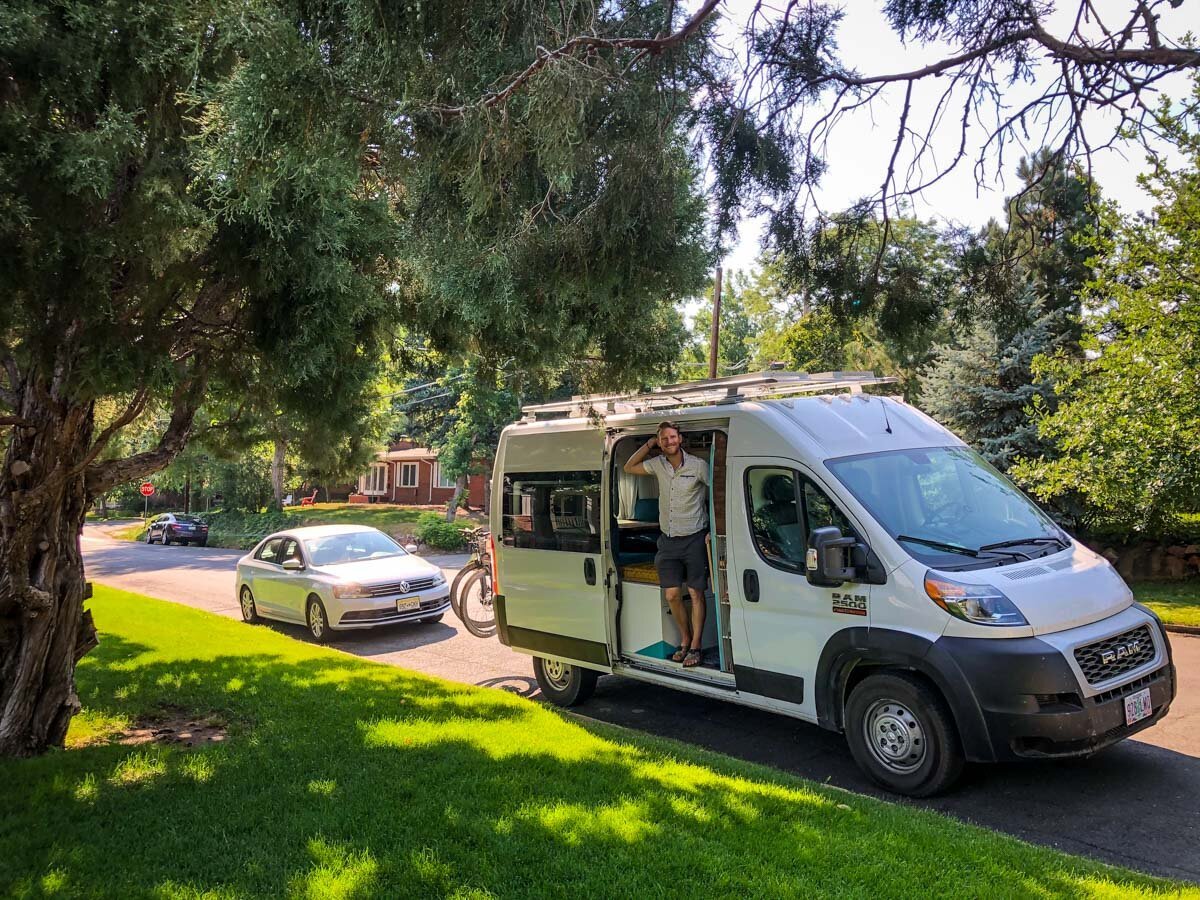 Our very favorite places to camp are in the wilderness where we have space all to ourselves. However, we often find ourselves camping within city limits. And more likely than not, you'll find yourself in cities, too.
Here's why:
It's a cheap way to stay in a city. I don't have to explain how expensive it can be to book a hotel or Airbnb in a popular city center.
Cities usually have good cell signal, so it can be nice to do some work in a city before going off-grid.
Access to other amenities like grocery stores, restaurants, laundromats, etc.
Often times we find ourselves in cities on the way to our final destination.
There's a pretty significant amount of full-time vanlifers who base themselves in and around cities, and for that reason pretty much exclusively stick to urban camping.
While it may not offer the idyllic views of camping in the wilderness, you might find you like the convenience of urban camping more than you thought. Surprisingly, we haven't minded it much.
Honestly, once we're inside our van and have our window coverings up, we kind of forget where we are because our van just feels like "home".
Parking on city or residential streets can be a really great way to find a free and safe place to park while in a city or town.
With a little practice, you should have no trouble scoping out a perfect spot, but when you're first starting it can be a little intimidating.
Here are some tips and etiquette to keep in mind…
Where to Park:
We've had a lot of luck with finding good spots in front of public parks.
Look for roads where people are already parked in the street. You definitely don't want to be the only vehicle.
Avoid cul-de-sacs, as they tend to be more private and it's noticeable when a new vehicle comes through.
As always, read signs and make sure you park legally.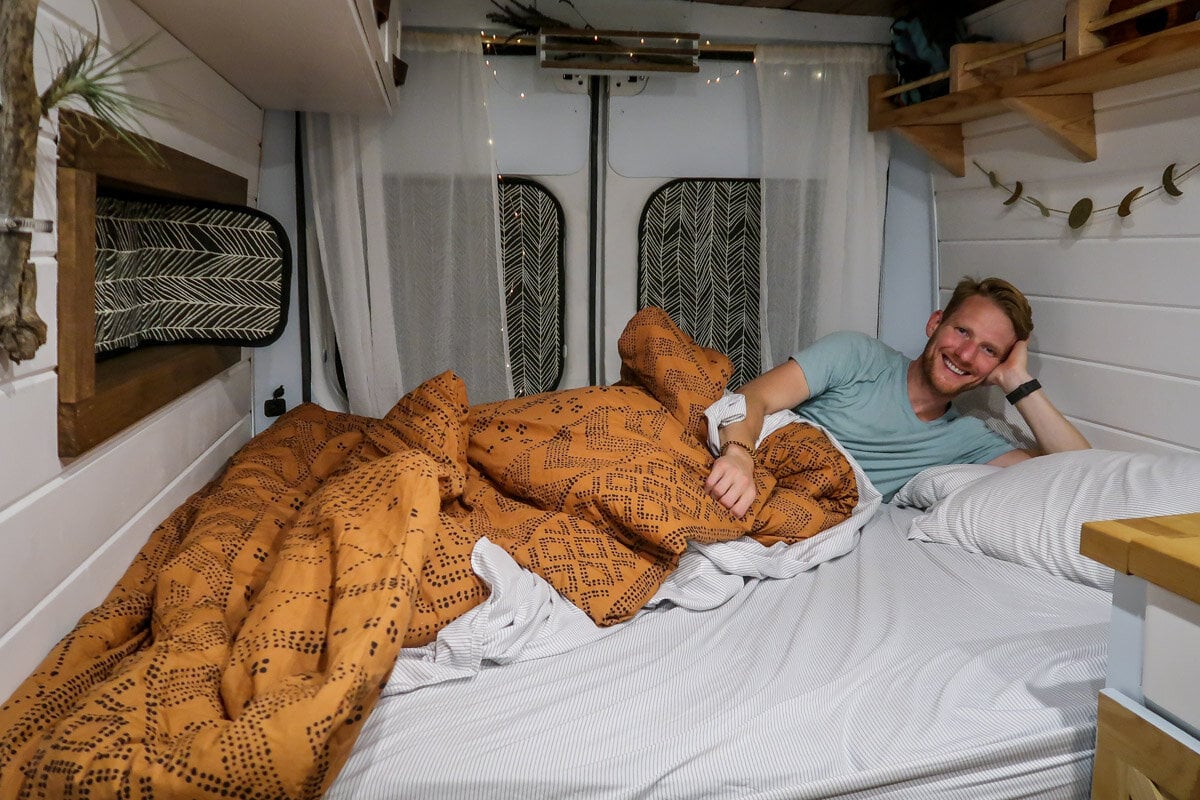 Urban parking etiquette:
We've been on the other side of this too, as the neighborhood we currently live in is often filled with vans parked overnight.
Usually, we hardly even notice them (which is the point!). Please read through these guidelines so you don't become a burden to residents.
Try not to park right in front of someone's window (unless street parking is pretty full and there is no other option). It's nice if you can find a break in the houses and park near green space like bushes or trees so you're not a nuisance to residents.
Once you park, try your best to stay inside your van (or walk to the city or a park for a bit if you want to be outside). Hanging out right outside your vehicle is going to raise flags of residents. You really should aim for them to not even notice there are people inside.
Be respectful. Keep noise levels down. Keep pets under control. Just generally be a decent human.
Pay attention to parking signs and follow the rules.
Try to arrive late and leave early. And don't stay in the exact same place multiple nights in a row if you can help it.
Put your window coverings up. This is as much for your own safety and privacy as it is for the courtesy of the people who live on the street on which you're parking.
Don't leave anything behind.
In short, your goal should be that nobody knows there is someone sleeping inside your vehicle. You want to come and leave unnoticed.
Visitor centers
Good for: campervans, RVs (sometimes)
This one can be hit or miss, but sometimes visitor centers can be a really good place to park. Be sure to look out for signs that prohibit overnight parking, but if you don't see any, you should be good to go.
Some visitor centers even have a water fill station, which can be especially helpful, as well as public restrooms.
Parking lots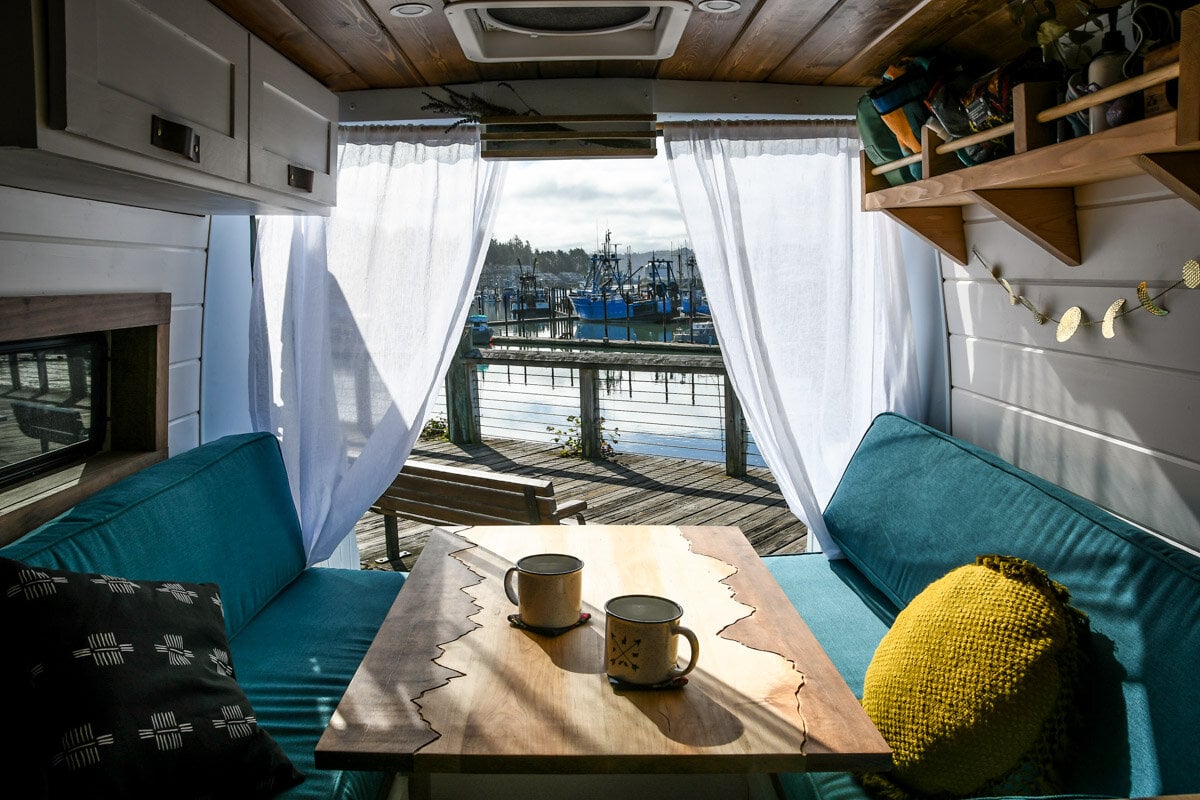 Good for: campervans, RVs (sometimes)
A parking lot is probably not anyone's ideal camping spot. But sometimes it can be a real lifesaver when you're driving long distances through urban areas.
Walmart and Cracker Barrel are widely known as establishments that allow overnight parking, even for RVs. But there are some other options as well:
Public parking spots or lots: This is our favorite type of parking lot to stay overnight. Every once in a while, we've found public parking lots that don't have "no overnight parking signs", which typically gives you the green light. Personally, the only times we've found this to work out have been in small towns.

For example, while traveling on the Oregon coast, we found that many beach towns had public parking right by the ocean with no regulations, making for pretty spectacular places to spend the night for free (pictured above)! The rest of the parking lots on this list aren't so scenic…

Walmart: It's pretty common knowledge that you can park your rig overnight in Walmart parking lots. But what you may not know is that many branches around the US are starting to prohibit this practice. Look up Walmart locations in your area and call ahead to ask if they allow overnight camping, or look on a camping app to see if it lists that location (it should if they allow overnight camping).

Pro: It is acceptable to park a big RV as well as a stealth campervan, so most rigs will be able to take advantage of this type of free camping.
Con: Umm, it's a Walmart parking lot. Need I say more?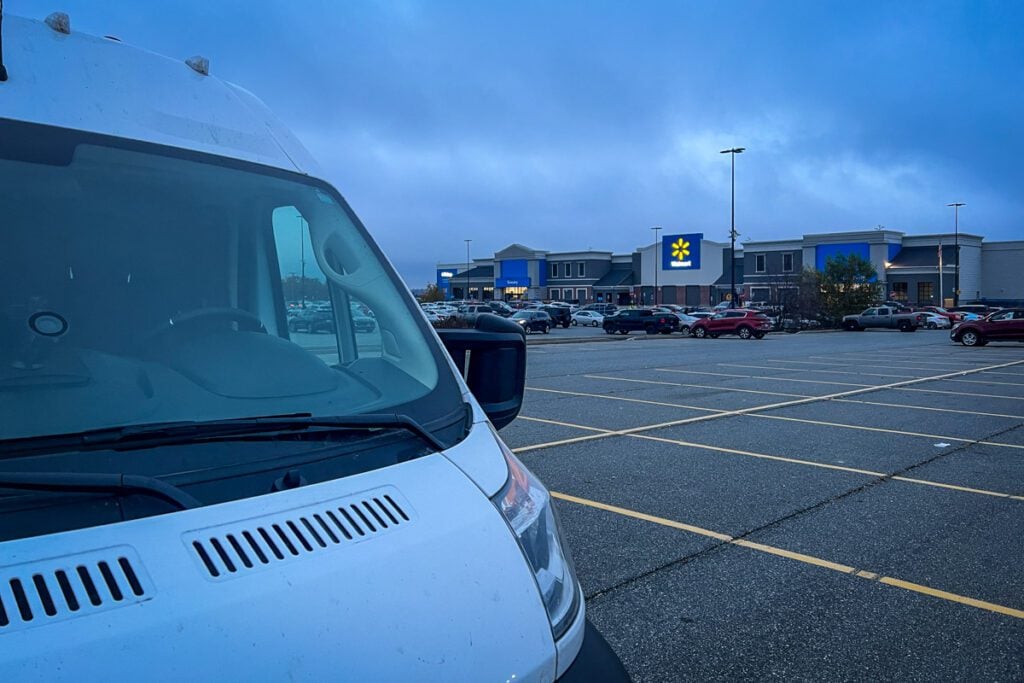 Cracker Barrel: While these old-timey restaurants aren't nearly as common as Walmarts, they are pretty plentiful in some parts of the country, and they typically allow overnight parking.
Casinos: While overnight camping isn't necessarily encouraged, casinos that operate 24/7 typically have people parked in the lot at all hours of the night. This option is a lot better for campervans than it is for large RVs, but it's still unlikely that you'd be asked to move since nightly parking is expected.
Hotel parking lots: Hotels are another place where overnight parking is kind of just the norm, and we know a lot of vanlifers who regularly spend the night in hotel parking lots. One additional vehicle isn't going to cause much of a stir in the lot of a larger hotel. That said, we recommend not trying to park in the lot of a boutique hotel in the city center. If the hotel has limited parking spots, you will be noticed and likely asked to leave. Be sure to read signs to see if the parking lot is reserved for guests only. You should be able to get a feel for whether or not it's a good idea at a particular hotel.

Pro: Hotel parking lots often have security cameras and are lit up at night, so they are a pretty safe option.
Rest stops
Good for: campervans, RVs (sometimes)
Parking to get some shut-eye at a rest stop is always an option, and since they're so common, it's usually not hard to find one. Depending on the particular rest stop, it can feel very safe or pretty sketchy.
We'd recommend reading reviews before heading out of the way, and also have a backup plan in mind in case it doesn't feel comfortable.
The good news is that even the most bare-bones rest stops usually have drinking fountains and restrooms that are serviced frequently.
The nicer ones can have picnic tables, snack machines, historical markers, walking trails, and some even have fill and dump stations.
Trailheads
This is a decent option when you're planning to do an early morning hike and there are no nearby places to spend the night.
Before you make your way to the trailhead, be sure to find out if they allow overnight parking. Some popular trailheads prohibit it.
To be safe, choose a longer trail where it's common for people to do nights in the backcountry. This means they likely allow overnight parking since people will have to leave their vehicles behind when doing a multi-day hike.
Trailheads sometimes (but not always) have pit toilets, which is an added bonus for some people. If there are trash bins available, we'd recommend not dumping all your garbage at once, as that's not the point of these usually small receptacles.
Good to know: In the Pacific Northwest (and likely other parts of the US, too), SnoParks are a good place to park for the night. It's typically a large parking lot and pit toilets are common.
Pullouts
Good for: campervans, RVs (depending on the size)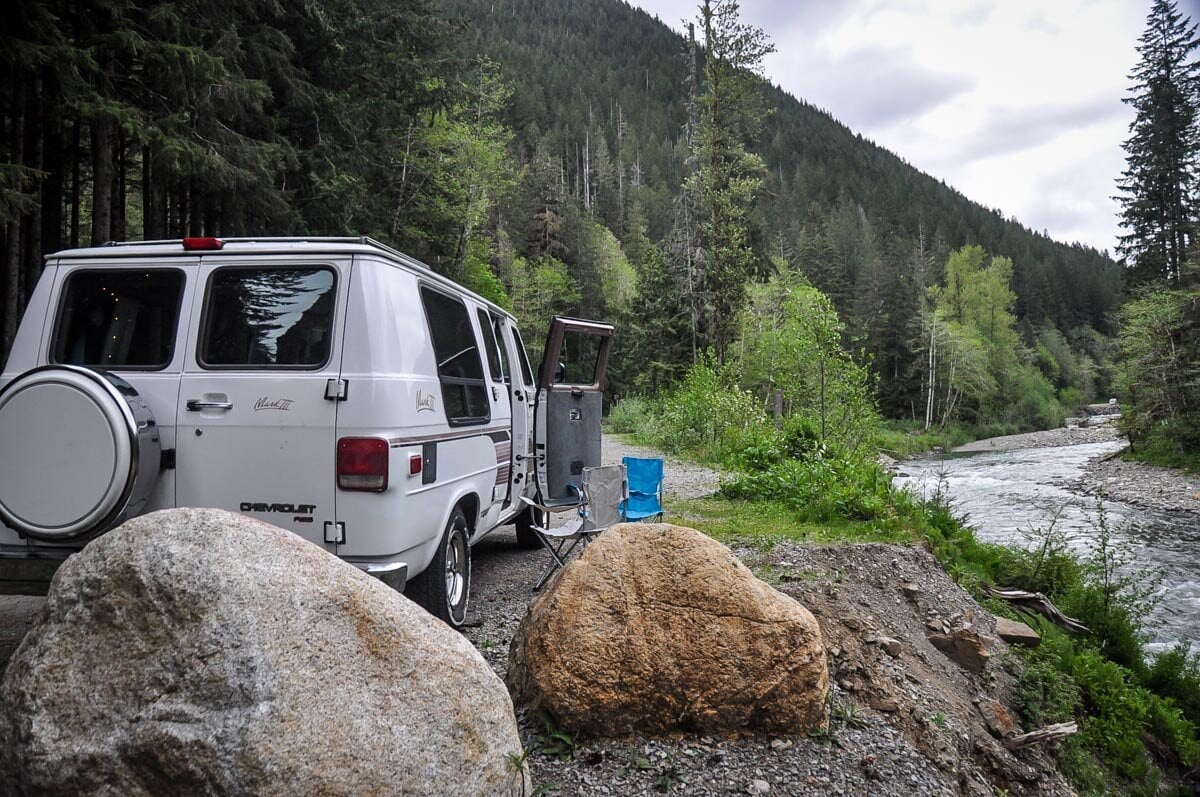 Okay, you know when you're driving on one-lane roads and every once in a while there are pull outs for view points or just so vehicles can pass?
Well, these can be decent spots to park overnight.
And yes, the word "can" is in italics because it really, really depends. For example, I would never park overnight in a super narrow pullout that can only fit one vehicle. However, we've found some that are quite spacious.
Just look at the two photos below. One is clearly much safer than the other. (And to be clear, we did not park overnight in the very narrow one.)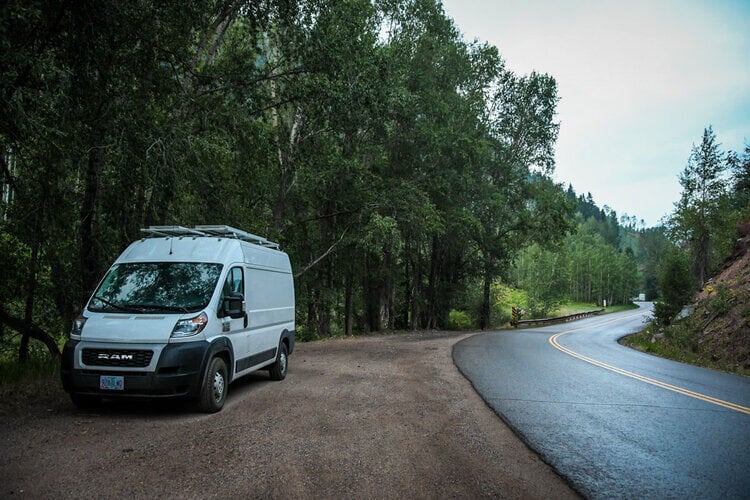 Sometimes pullouts work well when you're going from Point A to Point B and it's getting dark. (We've been in that situation one too many times!)
And sometimes, pullout spots can even be pretty great (see the image at the top!).
Just be sure to look for signs that prohibit overnight parking before planning to stay the night.
Insider Tip: Look for "historical markers" on Google Maps. These are often very large pullouts that work well for overnight parking in a pinch.
Looking for free tent camping?

Not in a campervan or RV, but still want to find a free campsite? It is possible!
You'll want to ignore most of the list above, as you're definitely not going to want to set up your tent in a parking lot!
BLM Land: There are often clear campsites on BLM land that work well for tents. You might even be lucky and find a nice tent-sized flat spot, and in some cases, a picnic table and fire ring.
State Parks: These are another great option for finding tent-friendly (and sometimes free!) sites.
Insider Tip: You'll be able to tell pretty easily if a tent will work at any given site by reading reviews on any of the camping apps mentioned below.
Wilderness areas: If you're into backcountry camping, your options are nearly endless when it comes to free camping.
This means you won't be near your car, so be sure you have all the proper backpacking gear and knowledge before setting out on the trail.
Also, make sure you do a little research to see if there are any permits or park fees required for the area where you're camping. In National Parks, for instance, you need a park pass as well as a backcountry permit. We've paid anywhere from $5 to $35 for this, but other wilderness areas typically don't require a fee.
Psst! Looking to upgrade your gear? Check out this list of the best 2-person tents for camping & backpacking.
Cheap campsites
While this part of the list isn't totally free camping, we're including them because they're inexpensive and really good options to supplement your free stays.
National Forest campgrounds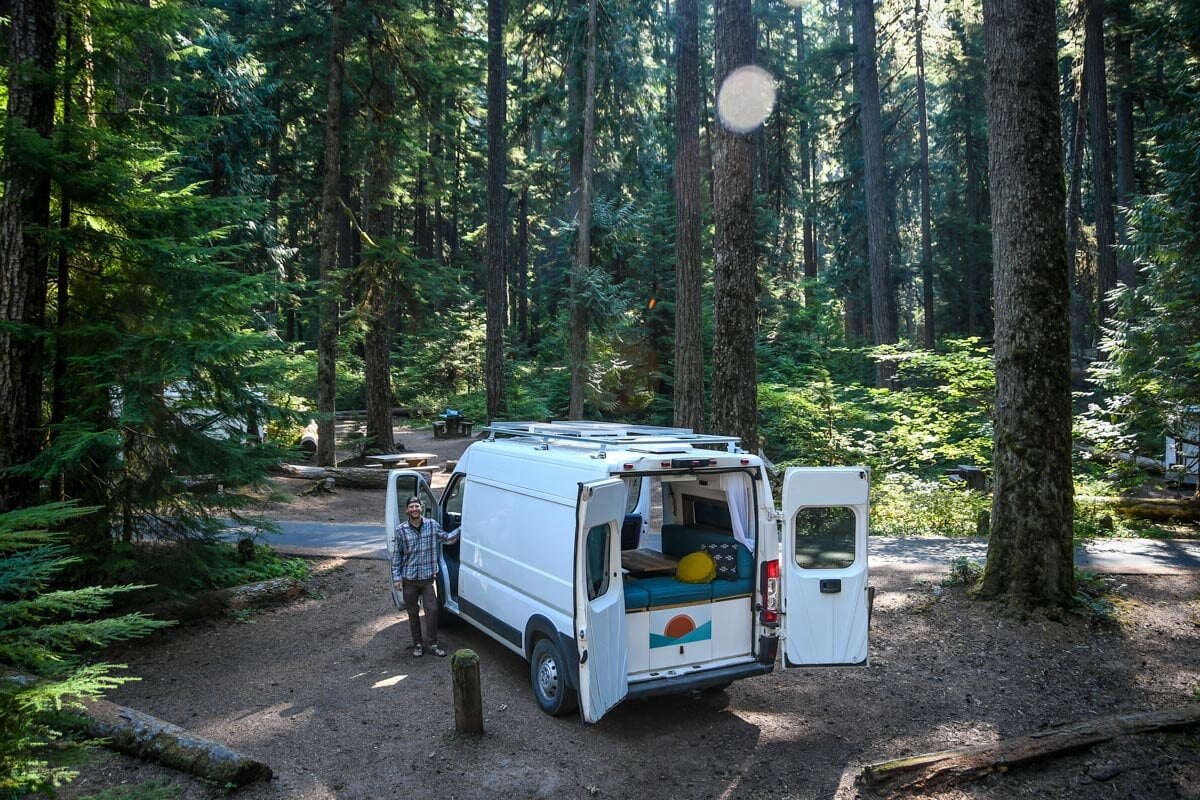 National Forests are freaking awesome. They are usually in very beautiful areas — think near a lake, a river, or in a lush forest — and equipped with some basic camping necessities. Plus, they are some of the least expensive organized campgrounds.
National Forest campgrounds have pit toilets that are typically well-maintained. Plus, each site usually has a fire ring, picnic table, and a flat place to park your rig. Often, there is a fill and dump station as well. Like we said, everything you need.
It is worth noting that National Forest campgrounds can vary quite a bit in their amenities. Most of the ones we've personally stayed at tend to be quite primitive, but some feature fresh water or even showers (though they are few and far between!).
Price: The cost per night varies a bit on location, amenities, and the type of sites that are available, but they range from free (yep!) to $25 per night. In our experience, most NP sites we've stayed at have been around $10 – $15 per night.
Insider Tip: If you're in a popular National Forest, try your best to arrive early (especially on weekends). Some of the more sought-after NF campgrounds fill up pretty quickly.
Harvest Hosts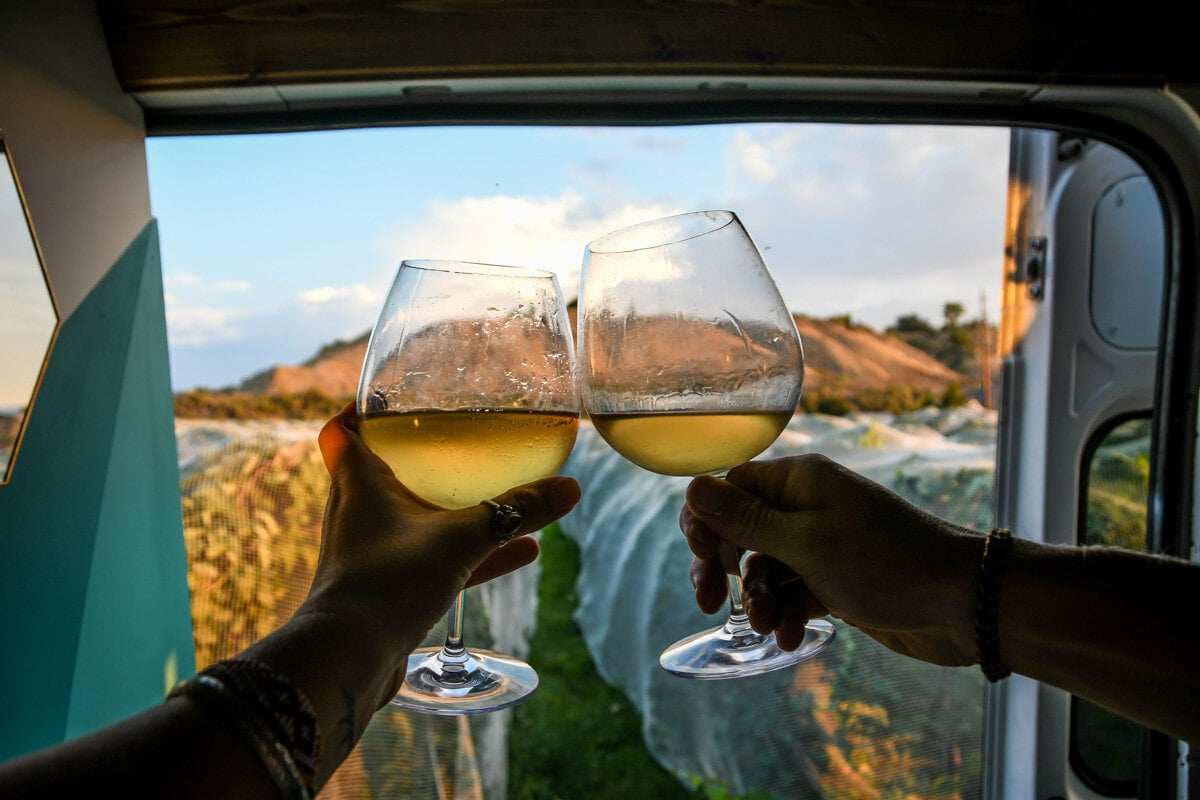 Harvest Hosts is a program where you pay a membership fee ($99 for an annual pass) which gives you access to park overnight at wineries, distilleries, and farms around the US (and limited parts of Canada).
All in all, Harvest Hosts offers a super unique experience. I mean, when else can you sleep at a vineyard?!
Also, it can be a good solution for an inexpensive and safe place to park on long road trips when you just don't feel like street parking or spending the night in a Walmart parking lot. Don't blame ya on that one.
Good to know: You can see where hosts are located on a map, but until you purchase a membership, you can't actually see host names, descriptions, or reviews.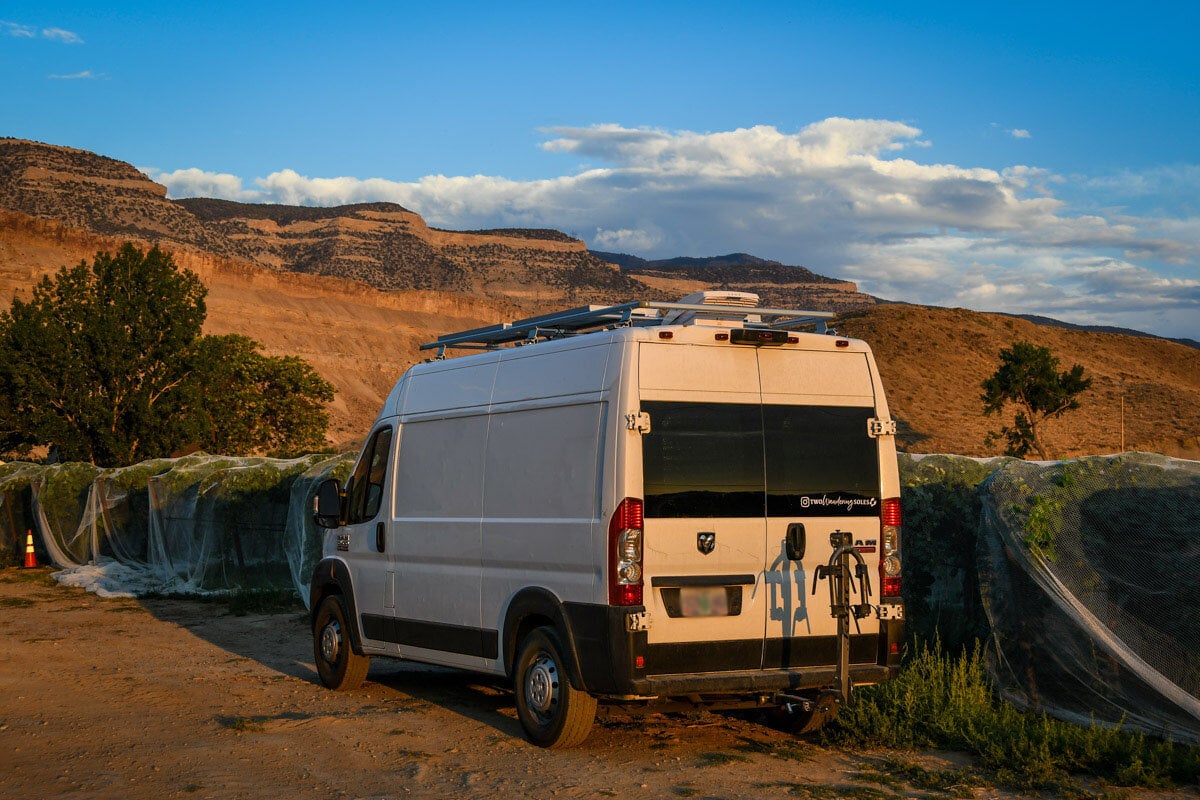 Requirements to join Harvest Hosts:
Self-contained vehicle with a toilet, water tank, and indoor cooking facilities
No tents of any kind are allowed
We have an entire article that goes over everything you need to know about this membership program (and whether or not it'll be worthwhile for you!).
Hostels
This one is worth keeping in mind, as I have a feeling that this option may become more common in the future. But as of now, they are very few and far between.
On some of the camping apps, you can see hostels that allow people to pay to park on their premises.
Typically, it is an affordable rate ($10 – $25 give or take, depending on location and season), and for that price, they will typically let you use their facilities, such as showers, kitchen, water, laundry, common area, etc.
If you see a hostel in a town you're traveling through that isn't on a camping app, it could be worth stopping in to see if you can pay to park onsite and use their facilities.
If they have room in their parking lot, it would be a way for them to earn money even if all their beds are full. And it would be an inexpensive way to get a shower and well-located parking spot.
Things to consider when looking for a campsite
As you're searching on camping apps (listed above) or trying to scope out a parking spot on your own, these are all things you'll want to take into consideration.
Is it legal?
Before parking for the night, be sure you look around for signs that prohibit overnight parking.
Typically it is pretty clear if you cannot legally park somewhere. It would be no fun to wake up to a ticket on your dashboard, or worse, your van getting towed.
Is there a flat place to park?
Even the slightest incline can make a difference. Trust me, you don't want to be sleeping on a noticeable angle.
While we're on that note, look specifically for a place to park that is clearly meant for vehicles.
Avoid parking on land that is fragile, and instead look for gravel, pavement, or ground that has been parked on before.
Will it be quiet & private?
A busy bar street or lively neighborhood isn't going to be a super comfortable place to spend the night. Same goes for parking near a heavily trafficked road.
Does it feel safe?
You want to park in an area that you would feel comfortable getting out of your vehicle and walking around. If you aren't getting good vibes, our advice is to move on because you will not get a good night's sleep if you're worried about your safety.
Is there a bathroom?
If your vehicle is not self-contained (and does not have a toilet), you'll likely want to park near a public restroom. You can often search for these in Google Maps or in apps like Campendium and iOverlander.
It's also pretty common to find bathrooms near public parks and rest stops. If this is a must for you, be sure you look to see what hours the bathroom is open.
Oftentimes, they close in the wee hours of the night, so a midnight pee may not be possible.
Can my vehicle handle the road conditions?
Some dispersed camping is located on rough roads. Typically, if you find the site on a camping app, you'll be able to read reviews from past campers on road conditions.
We've driven on a few rough roads with our van, and to us, it's just not worth the risk of getting stuck or getting a flat.
Another thing to take into consideration is that many of these unmaintained roads are outside of cell signal, so it will be difficult to get help if you get into a messy situation.
The more you drive your van, the more you'll start to understand what it can (and can't!) handle. At first though, our advice would be to play it safe.
Will I have access to fresh water?
A lot of free campsites do not have fresh water available. Some do, but these are the exception. Before you head out of the way to the campsite, be sure you have enough for drinking, washing dishes, and cooking.
As a general rule of thumb, you should expect to fill up before making your way to a free site, unless you read otherwise.
Will I have cell signal?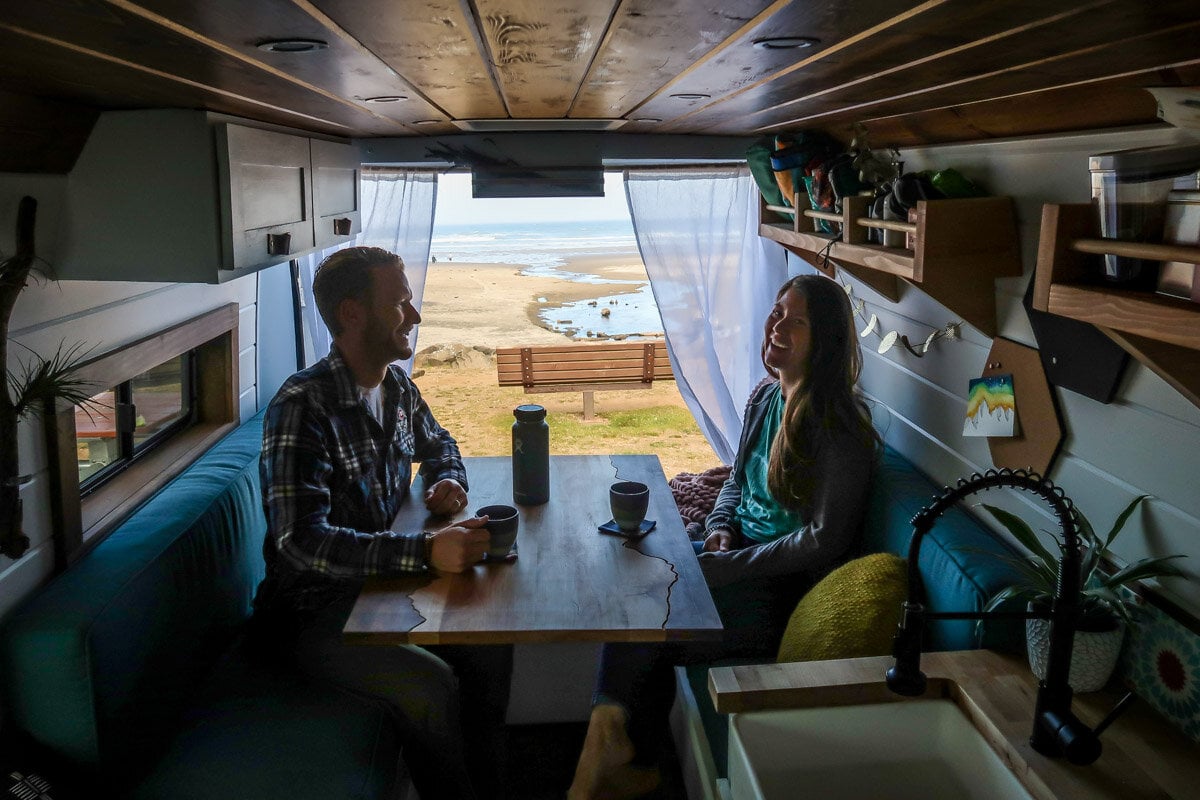 Getting off the grid and camping at a site that has no cell signal can be liberating… that is, if you're expecting it. Since we work online, we need to know whether or not we'll have cell signal at a campsite. We also do this to get wifi in our campervan.
The nice thing about the free camping apps we listed above is they are great resources for finding out whether or not a particular site has cell signal, and if so, how strong it actually is.
If we have a lot of work to do on a particular day, we may just stick to sites that are definitely connected. On other days, we might download some essentials, then head off the grid knowing full well what to expect.
Insider Tip: If service is super important, check reviews on a few apps to ensure that you'll have a strong enough connection before going out of your way to the site itself.
Free camping essentials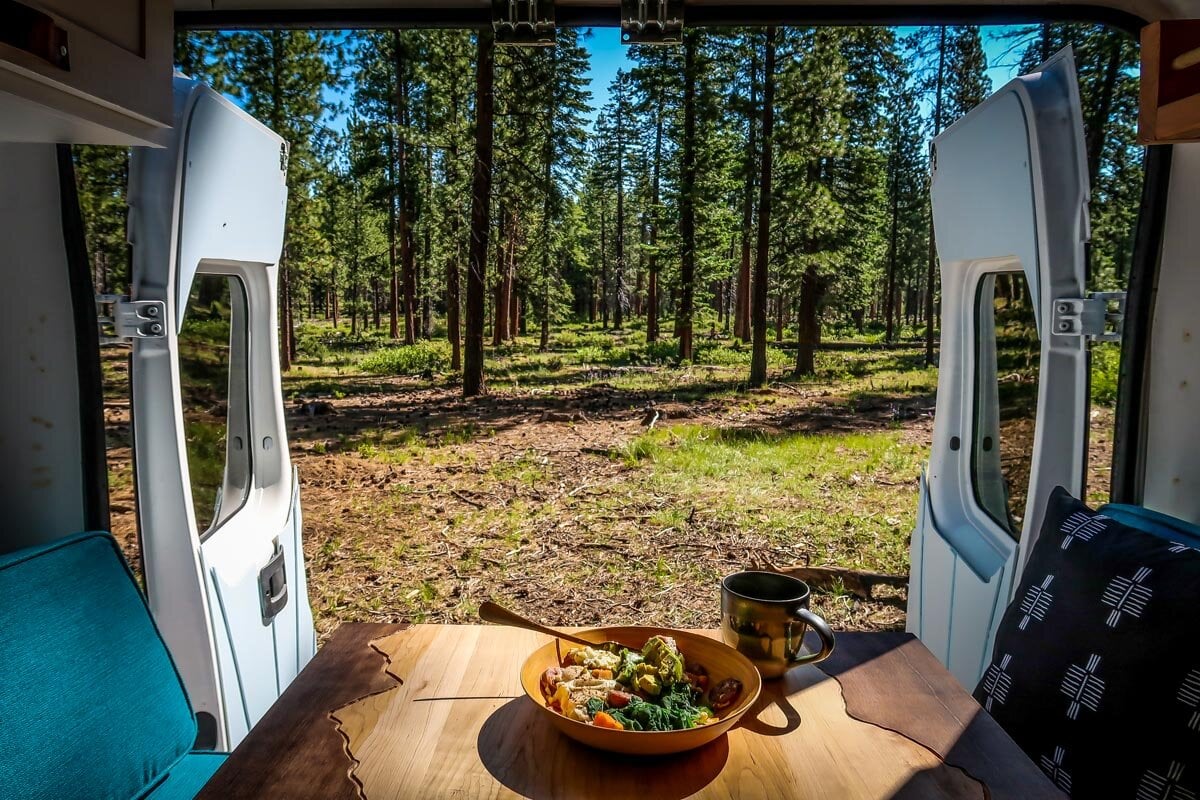 Here's the thing: pretty much anyone can spend the night in their vehicle and survive. You might have a lousy night of sleep, but hey, that happens.
But if you want to thrive and be super comfortable parking, well, anywhere in your campervan, these things are going to make it a heck of a lot easier for you.
Self-contained vehicle
Big things first: being self-contained will make it infinitely easier to find free campsites.
Our first campervan was not self-contained, so we always had to think about parking near a public restroom. This definitely limited our options, though it wasn't impossible.
Important note: If you do not have a self-contained vehicle and are planning to camp in the wild, you must have a shovel to dig a hole for #2. You'll also need a trash bag to dispose of TP.
4-wheel drive & high clearance
There are some stunning campsites on remote and unmaintained forest roads. If you don't have a 4×4 vehicle, some of these can be difficult (or even impossible) to access.
Neither of our campervans have been 4×4, so there have been a handful of campsites we've had to pass on because of road conditions.
Having a more rugged vehicle will open up your options quite a bit, and you'll be able to access the most remote sites out there (yay for solitude!).
Don't have 4-wheel drive? No worries, we don't either. Just be sure to read reviews on camping apps and pay attention to the descriptions of road conditions before deciding on a site.
A place to sit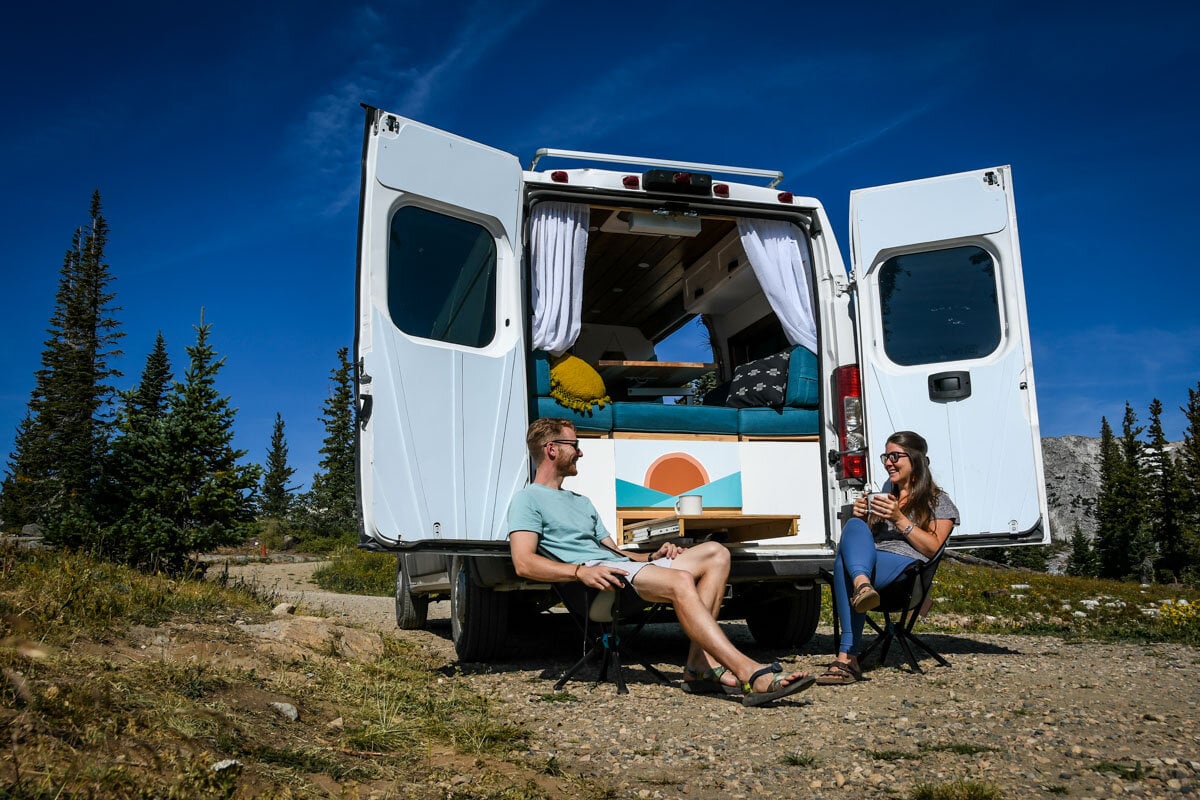 Having camp chairs, a picnic blanket, a hammock, or a comfortable place to lounge in your van is going to make life a lot more comfortable.
Some free campgrounds have picnic tables, but most do not. So having a place to stretch out your legs after a long day of driving is going to feel oh so good. And not having that option kind of sucks.
In our first campervan, the bed was fixed (aka it did not convert into a couch).
So if we camped somewhere without a picnic table, we legit had to eat dinner and hang out on our bed. It wasn't all that comfortable, so eventually we bought some camp chairs, and it was a game changer.
Camp chair recommendation: There are tons of options out there for all budgets, but if you have limited space, these chairs pack up to the size of a Nalgene water bottle! We even bring them on short backcountry trips because they're so tiny.
Awning
This is on our wish list! Having an awning and a blanket or mat to lay on the ground will open up your space a ton and give you a comfortable spot to hang out, even if the sun is shining bright or rain is sprinkling down. We really like our portable Moonshade that packs up to the size of a camping tent.
Mosquito curtains
If you plan on camping in wild areas, you might want to consider getting magnetic mosquito curtains for your sliding door. This will allow you to keep the door open and catch the sweet, sweet breeze, while also keeping those pesky bugs out.
Planning on urban camping? The next two items will help a lot…
Window coverings
For those nights where you park in a somewhat public spot — like a parking lot or on a residential street — you'll definitely want window coverings, both for privacy and to block out the lights.
Here are two good options that really keep the light out:
Blackout curtains
Magnetic window coverings
Sleep "aids"
If you typically have difficulty sleeping, you might want to make a little "sleep kit" for nights where you need to park in an area that is noisy or has lots of lights.
Eye mask
Ear plugs
Melatonin (natural sleep aid)
Calm app's sleep stories (we've become obsessed with sleep stories lately!)
And if you're looking for more road trip essentials…

Responsible camping guidelines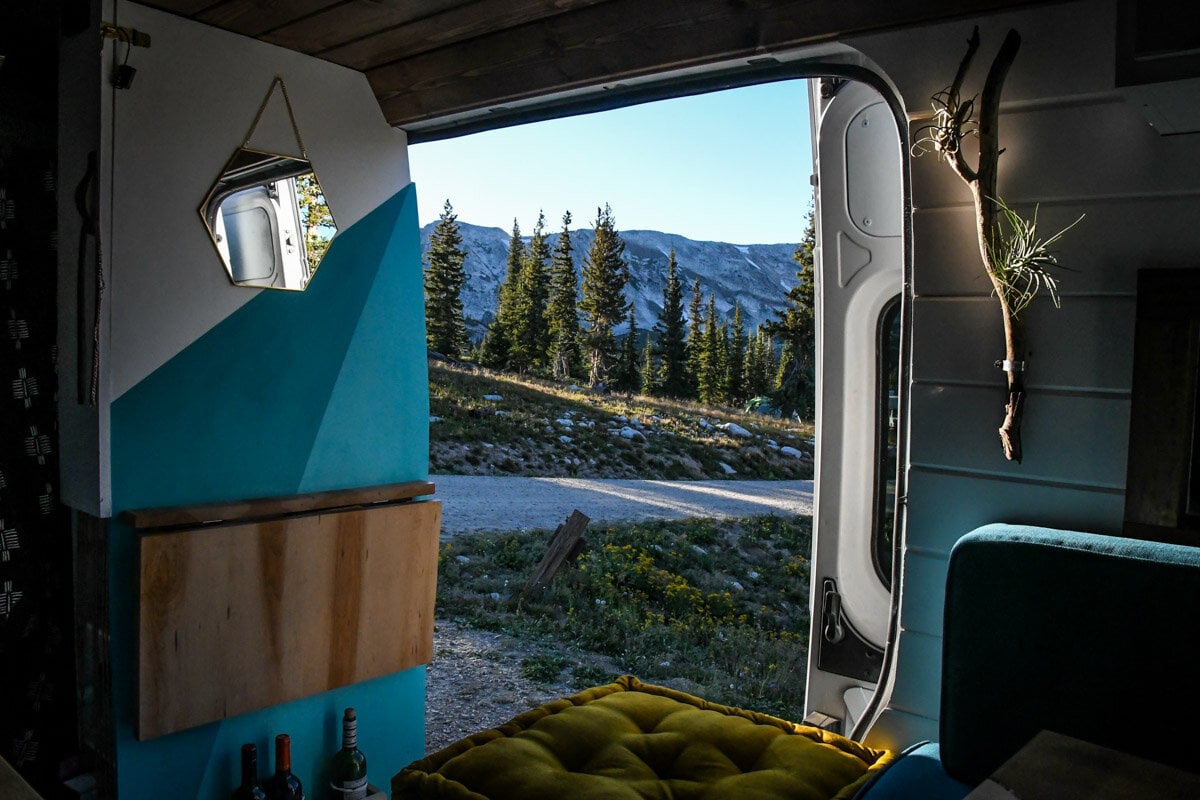 Lecture time…
Please, please, pretty please leave the place you're camping (or parking) better than you found it! If you are staying somewhere for free, consider it part of your "payment" to tidy up a bit.
Consider that the land you're camping on may not be regularly maintained (if at all), and remember that these free campsites are meant for everyone to enjoy for years to come.
Some of these are common sense rules while others may not be so obvious. Please read through the list carefully and feel free to comment with your own tips or ask clarifying questions.
Parking
Before parking for the night, be sure:
It's LEGAL. Look for signs that prohibit overnight parking.
You're not parking on fragile ground. To be safe, we try our best to park our vehicle only on ground that is clearly meant for parking (dirt, gravel, concrete, etc.).
Trash
If there is trash on the ground, for goodness sake, pick it up. Yes, even if it's not yours!
Also, if you're staying somewhere that has an overflowing trash bin, don't add to the pile. Take your garbage with you and find a better place to dump it. Many free camping areas don't have enough funding for regular service, so do your part and don't add to the pile.
Toilet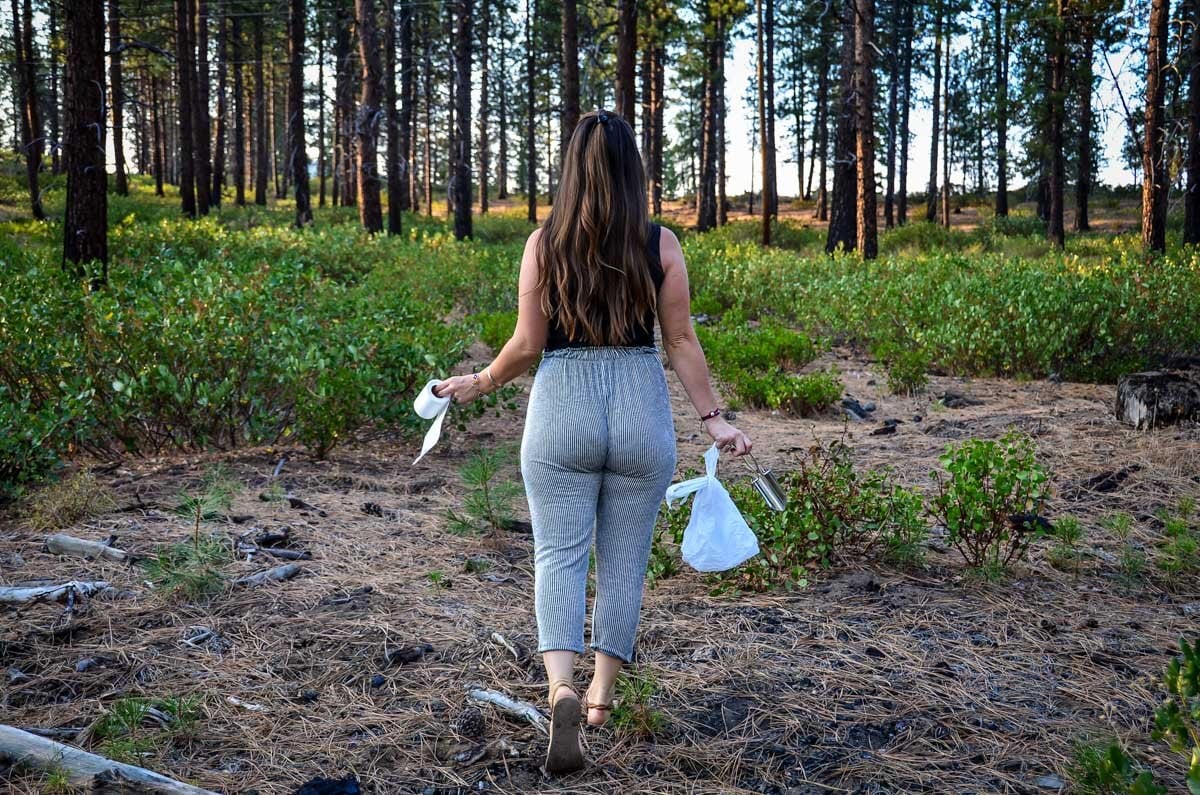 If you're going to the bathroom in the wild, follow these guidelines:
Do your business 200 feet from any water sources.

Tip: count 70 steps from the water and that should be about right.

Dig a hole for number two. Carry a small shovel, like this compact one or this more robust multi-use shovel.
Put toilet paper in the trash. Not on the ground, folks!
Pets
If you have a pet with you, be respectful of any rules and other campers in the area. Not only is it courteous, but if there are rules in place, they are there for a reason (aka for the safety of your animal as well as wildlife in the area).
Fires
If there is a fire ban, respect it. I hope I don't have to explain why.
Wildlife
Never interact with wildlife. Take any photos from a safe distance so you don't get too close. And never, I repeat, NEVER feed wildlife.
Eating human food is not only unhealthy for wild animals, but it can start to encourage them to seek out humans, which is not good for either party.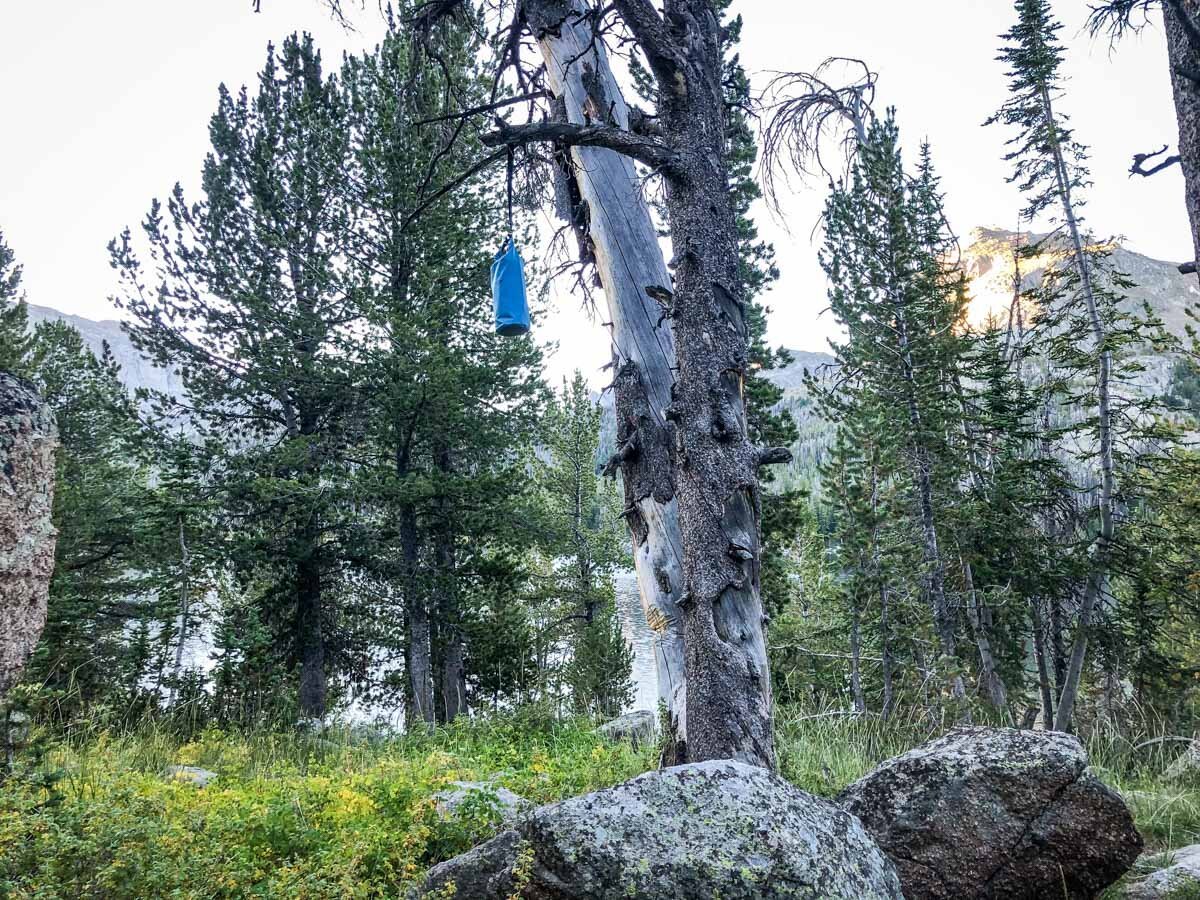 Bears: If you're camping in bear country, carry bear spray and be sure to store all food and odorous items properly at all times. This means either in a bear canister or inside a durable bag hung on a tree branch at least 15 feet from the ground and 6 feet from the trunk (see photo). These measures are for your safety, but also to avoid attracting bears into environments that are unsafe for them. This is a good idea to prevent other critters from getting into your food as well.
Noise
Be mindful about your noise level (unless you're in complete isolation). Blasting music or talking loudly outside your vehicle can be a nuisance to others. Just generally be respectful.
Story time! Free camping gone wrong…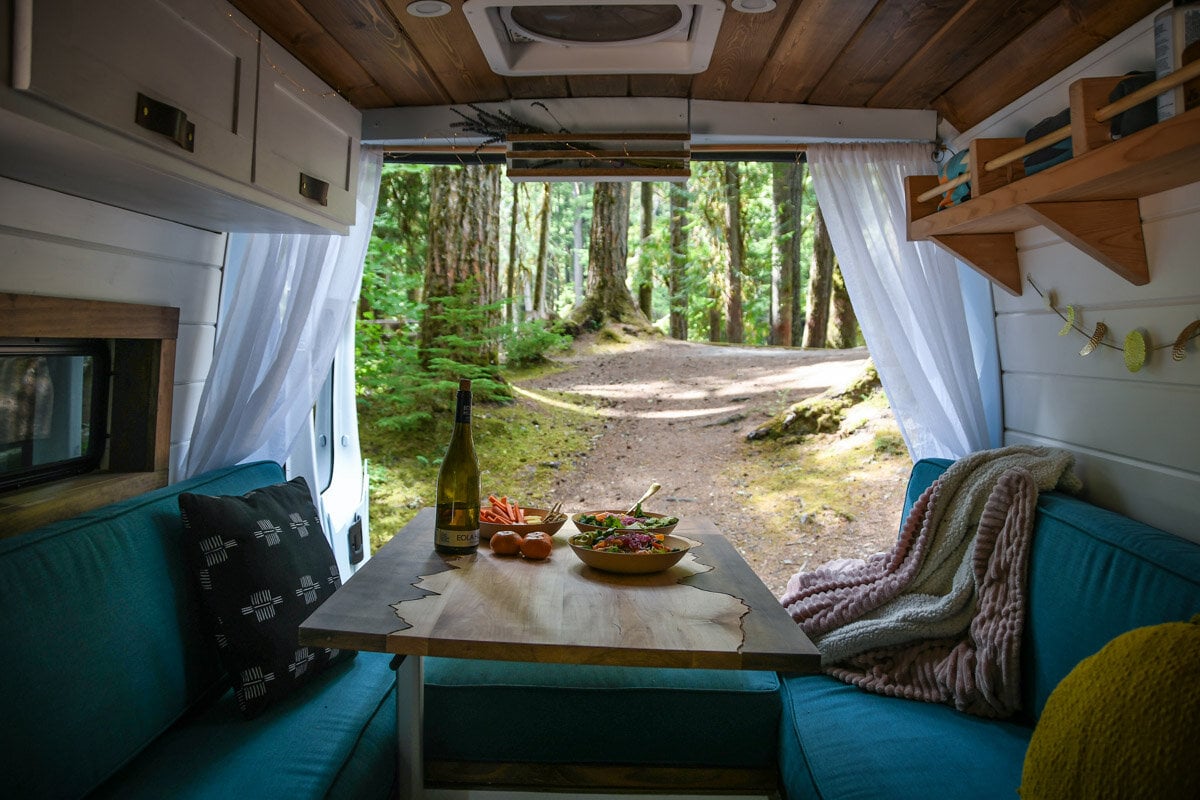 We are aware that the majority of what we share about vanlife paints it in a positive light, and that's because we genuinely love it.
But we also want to be sure we're portraying things as accurately as possible so that others know what to expect. And there are sh!tty parts too (pardon my language!).
I want to point out that we've spent hundreds of nights in campervans over the years, and these are the only 4 examples of anything uncomfortable happening in our personal experience. But #vanlife is not without its low points and safety concerns.
We share these stories not to scare you, but to prepare you and, well, entertain you! Because honestly, some of them are funny (especially after the fact).
Here are a few incidences of uncomfortable parking situations we have personally encountered…
Note: In all of these stories, we were parked legally.
"Neighborhood Watch": Salt Lake City, Utah
While in Salt Lake City, Utah, we found a spot to park on the city street. It was perfect because we were near a public restroom (this was in our first van, which didn't have a toilet). As the sun began to set, a police officer knocked on our window.
She said, "You are parked legally here and are fine to stay overnight. But I do want to let you know a neighbor called in your vehicle saying it looked 'suspicious' and I'm responding to that call."
At that moment, we looked up and saw a neighbor peeping out of a window, quickly closing the blinds when they saw us look up. Like a scene from a sitcom.
We don't want to make anyone feel uncomfortable, nor do we want to feel unwelcome, so we moved down the block and re-parked. Kind of a hassle, but easily fixed.
"Stinky Situation": Boulder, Colorado
While parked on a perfectly safe and spacious residential block in Boulder, Colorado, we thought we had found the perfect place to spend the night.
But someone must not have liked the fact that we were there because around 1 a.m. we woke up to a horrible smell. Like a burning skunk ate a diaper…
We tried to ignore it, but there was no going back to sleep. We ended up moving a few blocks away, and decided that it was most likely a stink bomb set off either by a bored college student (we were just blocks from the university) or a nearby resident who doesn't like vans parked in the street.
"Slither Away": Boise, Idaho
This one is more funny than anything, but while traveling in Boise, Idaho, we parked near the city zoo one night. At around 5 a.m. we woke suddenly to someone rapping on our window.
I dove deeper under the covers and made Ben go and check what was going on (thanks, Ben!). At our window was a park ranger clad in a wide-brimmed hat and a tan vest.
"Howdy," he greeted us with more energy than was necessary at that hour in the morning. "Just wanted to let you know you may want to move your vehicle as we're about to release snakes in the vicinity in a snake and raptor avoidance training." Upon hearing this, I shot out of bed, we wished him a good day, and we got the eff outta there!
"The One When We Got Robbed": Denver, Colorado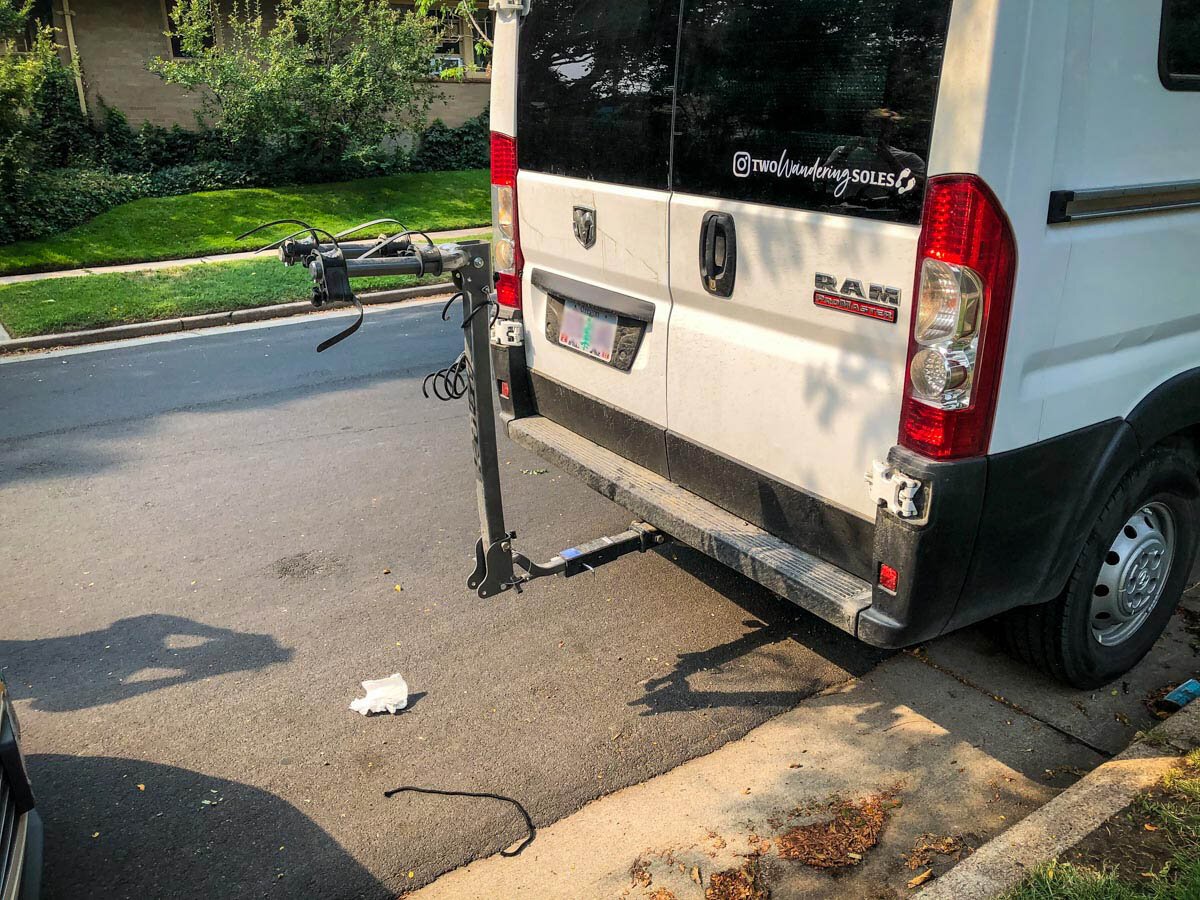 This story still stings. Probably because it's the most recent, and also because it had the worst outcome. To begin with, this isn't really a story of urban camping so much as just parking on a city street.
In the middle of a 3-week road trip, we booked an Airbnb in Denver so we could do laundry and have a hot shower after several backcountry trips.
Ironically, the place we booked ended up being a tiny home (it was a bit deceiving in the listing). So we didn't actually have a ton more space than our van, but it was nice to have a proper shower and AC for a couple nights.
Before checking out, we brought our laundry out to the van to find that our brand new mountain bikes had been stolen off of our bike rack, locks cut and all.
It was super disheartening, especially since we hadn't been able to use our bikes on the trip up until that point. And it kind of put a damper on the rest of our trip.
But on the positive side, the van was not harmed in any way, and we were not in the van at the time, so we were totally safe.
Moral of the story: thank goodness for insurance!
Psst! Like a good dose of the truth? We have an entire article about the worst parts of vanlife, so you can get an honest, balanced picture of the good and the bad of campervan travel (not just the highlight reel).
Safety Tip: If you plan on street parking in a big city, we recommend checking out Niche.com or Areavibes for crime stats and general "vibe" information on different neighborhoods.
This can help you find a safe area to park for the night where you'll feel more comfortable. We learned about these sites after our Denver experience (see story above), and wish we had known a bit more information about the area in which we had parked. Oh, hindsight, you sneaky minx…
---
More camping resources

Save this article on Pinterest for later!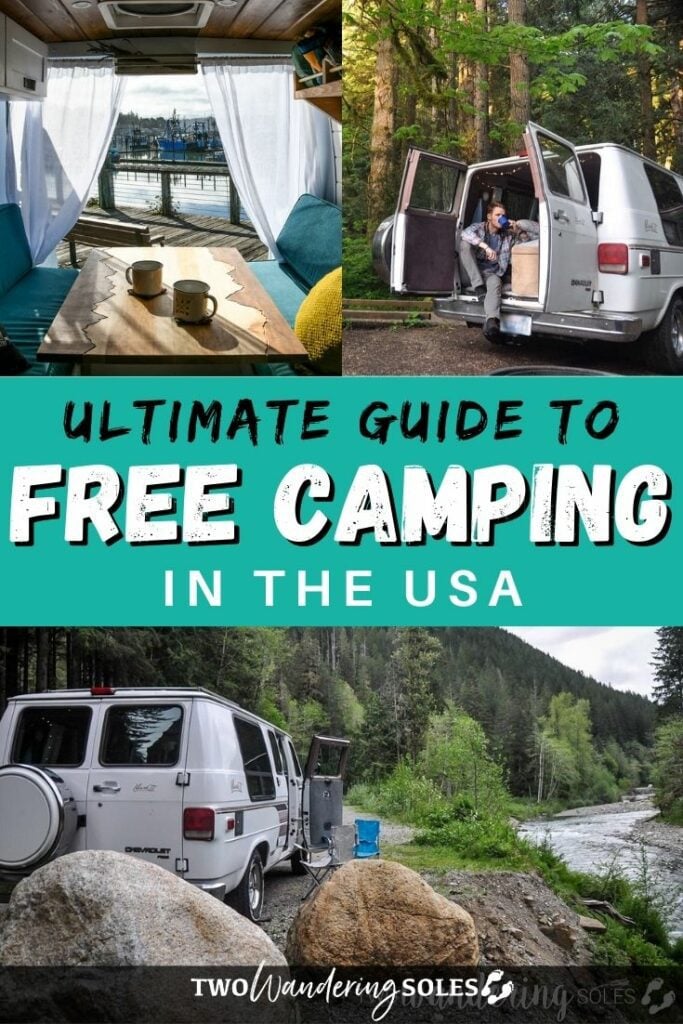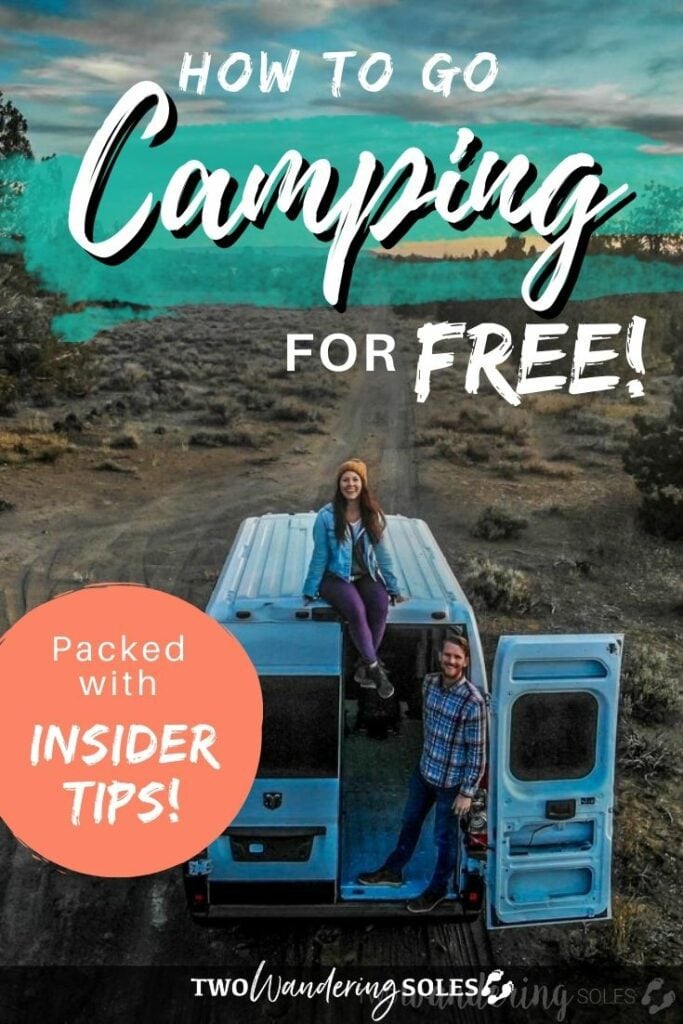 We want to hear from you!
How do you find free campsites? Have tips to add? Questions? Comment below and we'll do our best to get back to you!