Figuring out how you're going to fit everything into your tiny home on wheels can be overwhelming, but lucky for you, we've got tons of campervan storage ideas just for you! We're sharing our own storage solutions as well as creative inspiration from other vanlifers so you can come up with the best campervan storage for your needs.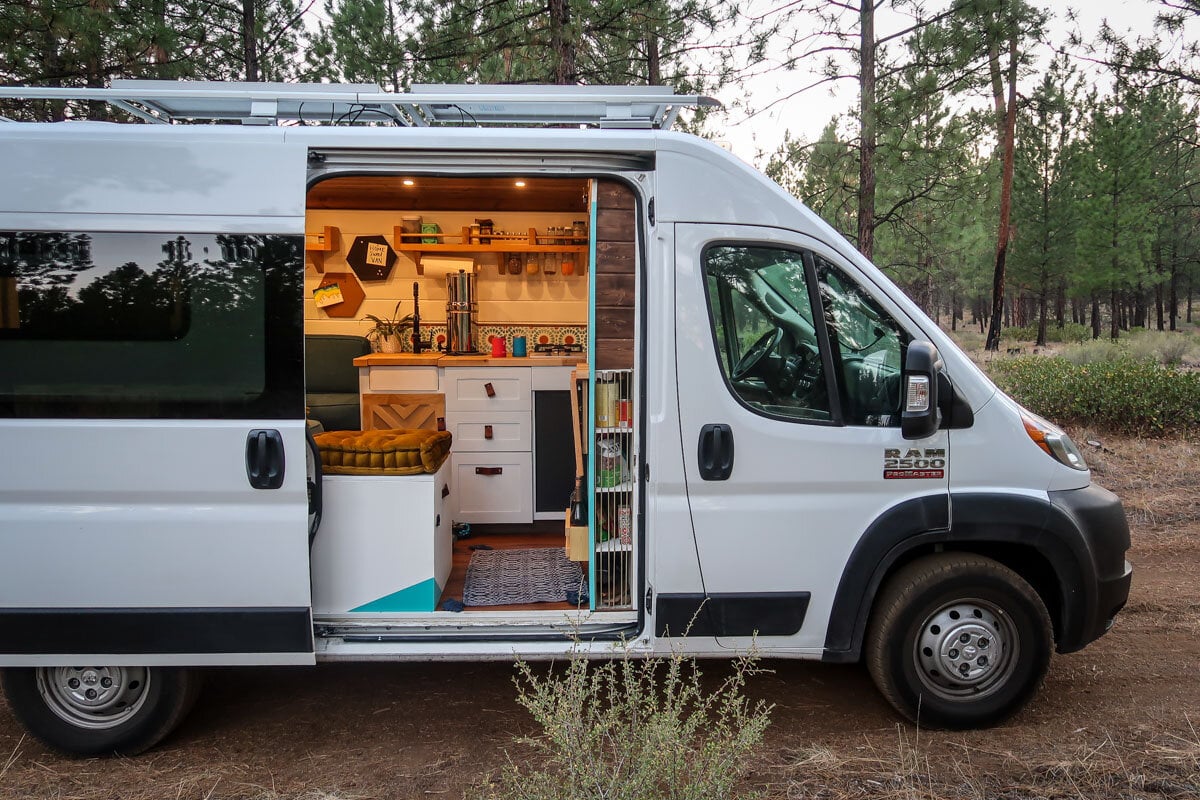 When you have a small space to work with – like a campervan! – finding creative storage solutions is more important than ever.
You will want to think about all the stuff you'll need to keep inside your campervan and come up with storage solutions for everything. Trust us when we say that staying organized is key to your sanity in such a small space.
You'll need to find a place to store your clothes, toiletries, food and cooking utensils. And that's just the bare minimum.
Adventure gear: If you're into adventure sports, you'll need to designate space for your bike, climbing gear, skis, surfboard, [insert gear here!].

Electronics: If you work online like us, you'll need to store all sorts of work items, like your laptop, external storage, camera gear, etc.

Camping equipment: Like to go backcountry camping? Us too! That means you'll need space for a tent, sleeping bag, cookware, bear canister, and all the other gear that is required for getting into the wilderness.
This may seem overwhelming at first, but here's the good news: It is totally possible to create campervan storage for all your essentials (and likely much more than you actually need!).
It's pretty incredible what types of storage ideas you can come up with using just a bit of willpower and creativity.
We've gathered some of our own ideas as well as inspiration from others to help you come up with the best campervan storage ideas for your build.
Article Contents
We've broken this article into the different parts of your campervan you'll need to consider:
Important note: To be able to view all of the photos in this article, please disable ad blockers.
Kitchen Storage
Whether you decide to go the affordable route with a super cheap campervan kitchen or you want to splurge and give yourself a luxe campervan kitchen, you'll need to figure out how to store everything.
Here are some creative storage solutions we've found for our own campervan kitchens as well as a few ideas from other vanlifer.
Vertical Storage Unit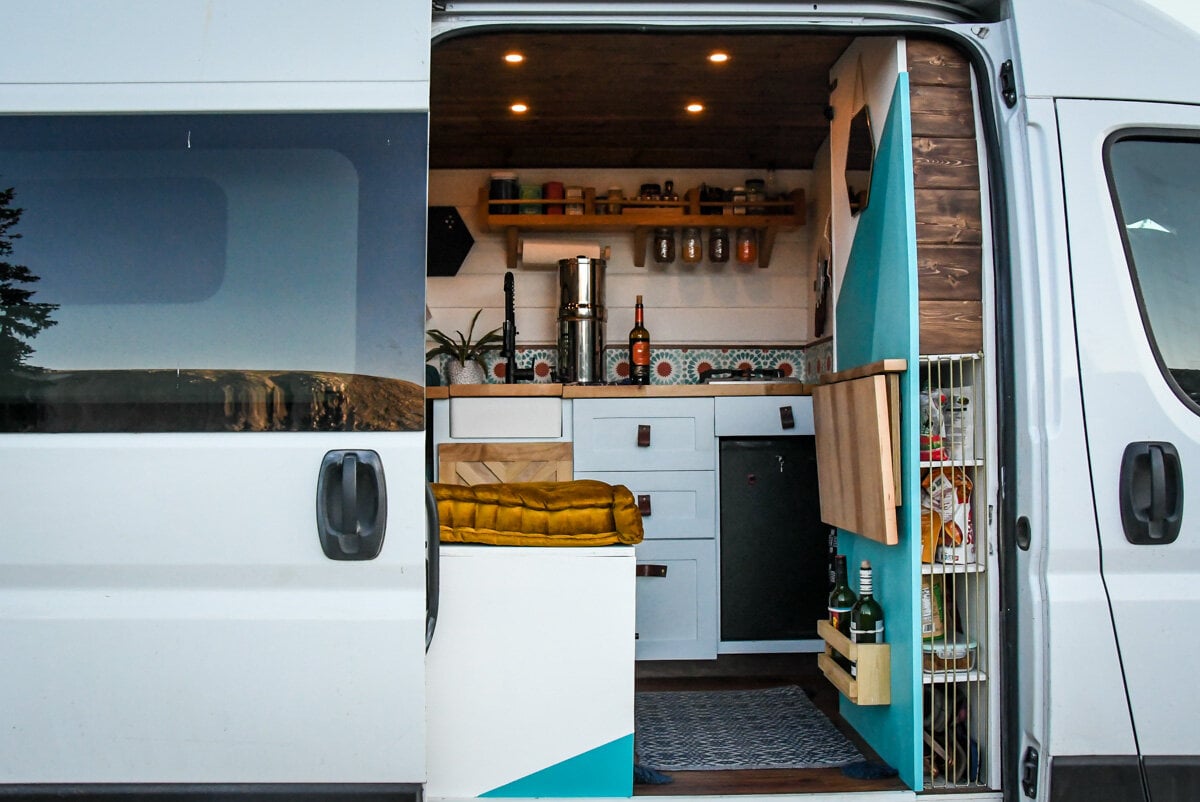 We wanted to make the most of our vertical space, so we built a narrow (6-inch wide) storage unit right behind the passenger's seat in our van. The top portion of the storage unit (covered with wood paneling) is where we keep our electronics and other miscellaneous items. It has a door that locks, padded compartments, and has charging ports inside.
The lower shelves is open so it can be accessed from either side, though bungee cords keep our stuff from sliding around. We store our pantry items on the upper shelves and keep our shoes and yoga mats on the bottom.
Additionally, we have a pop-out table that serves as extra counter space when needed or a little side table where one of us can work.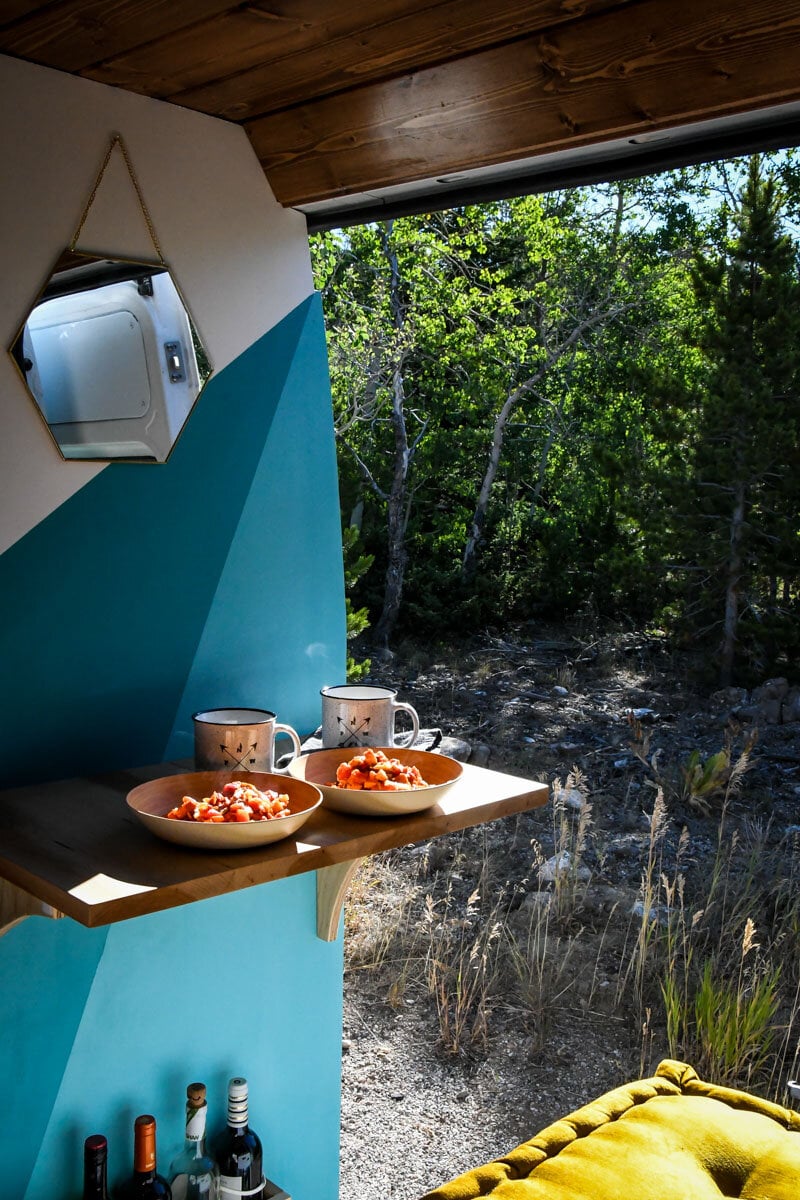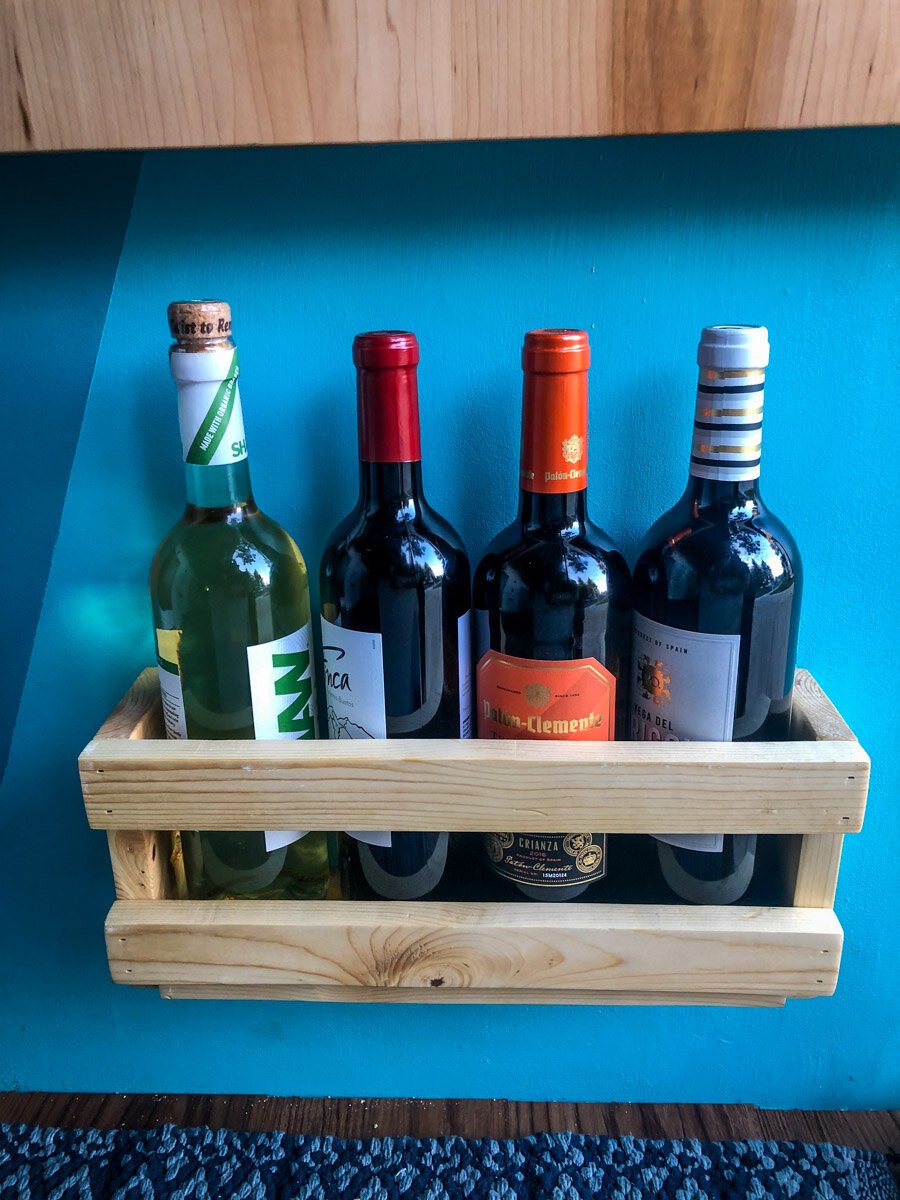 And if that wasn't enough, we built a super simple wine rack that holds 4 bottles on the very bottom of this unit.
Talk about multi-functional!
Pantry/cooking essentials storage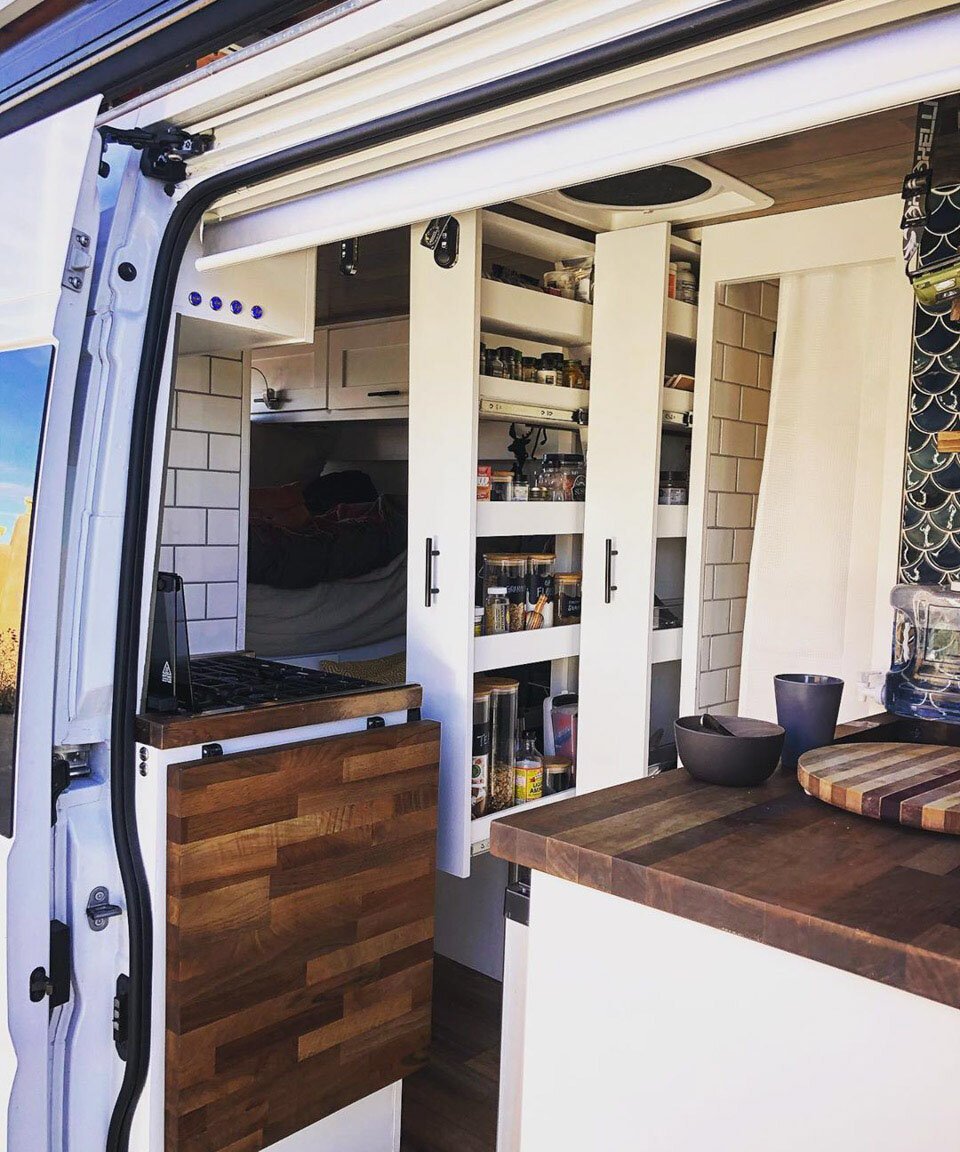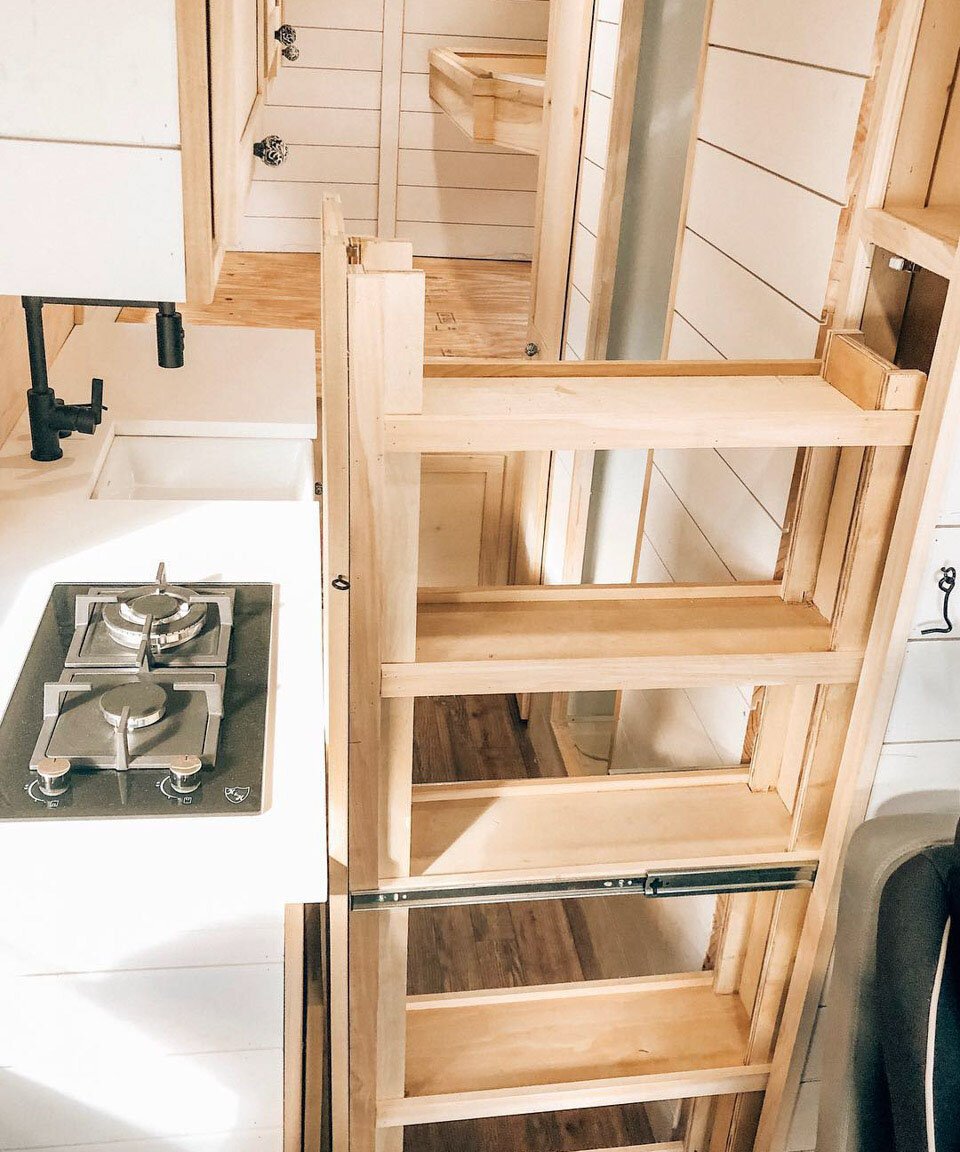 Making use of small, narrow spaces is crucial in order to fit all of your necessities into a tiny home, and that's exactly what these vanlifers did. By building narrow pull out shelving units in your kitchen, you will be able to store more in otherwise unused space. These shelving units are great for kitchen essentials such as spices, pantry items and utensils.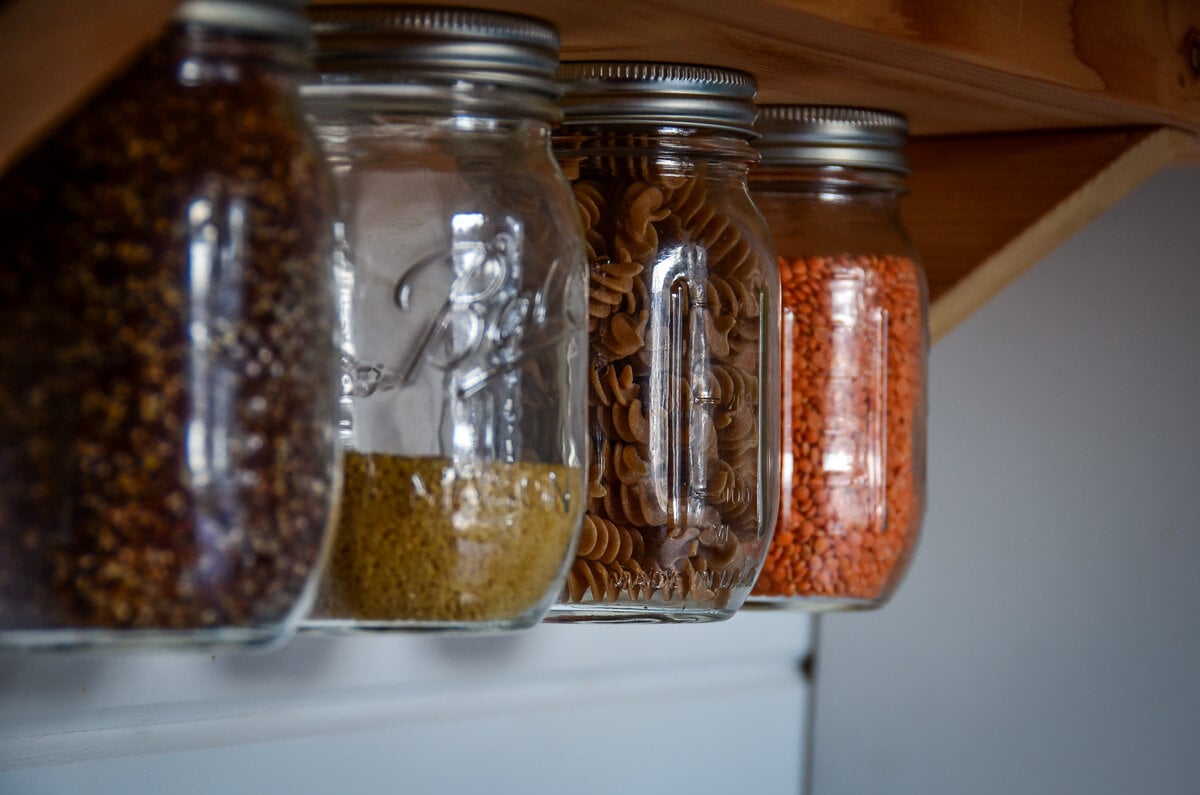 Another resourceful way to "store" some pantry items is by keeping them on display. Using mason jars, adhere the lids to the ceiling or under a high cabinet. When you need to use the item in the jar, simply unscrew it from the attached lid and re-screw it back in place when you're finished. As an added bonus, your pasta and beans double as a decorative backdrop!
Looking for more ideas? We've put together an entire article for campervan kitchen inspiration with examples of budget builds, higher-end builds and plenty of ideas for your tiny kitchen.
Dish storage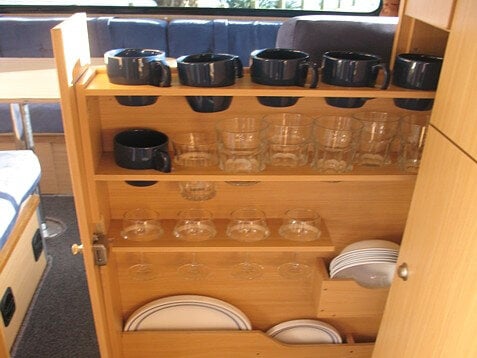 One thing you need to keep in mind when planning your campervan storage solutions is that everything in your van needs to be secured or it will get all jumbled while you are navigating that winding mountain pass.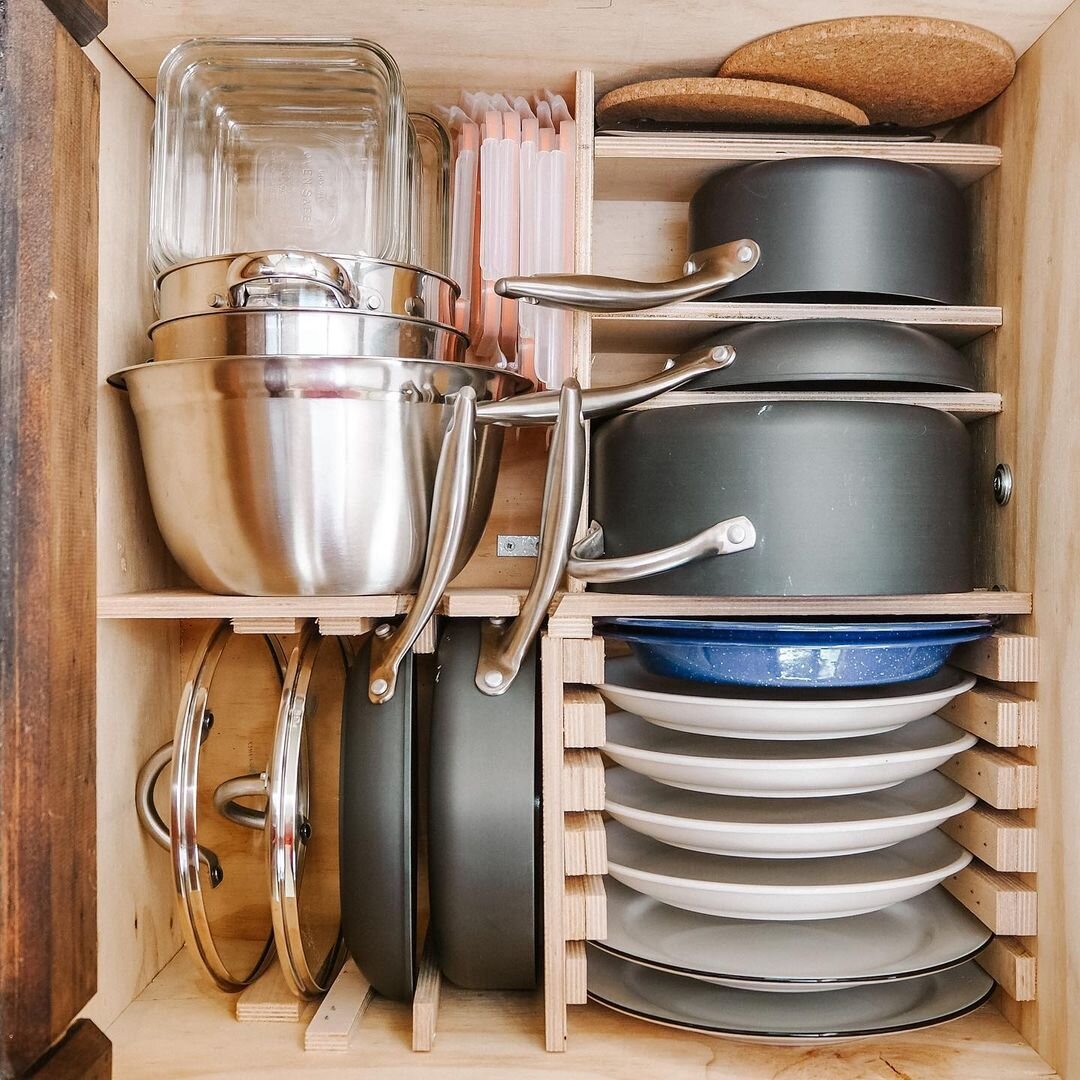 This is a great idea for keeping your dishes secure in their cupboard, while also making use of narrow space.
Insider Tip: If you can't be bothered to create storage for each piece of dishware (we don't blame you — we didn't do this!), just be sure to choose items that can't easily be broken. Enamelware is super durable, but it can clatter around if not stored securely. For this reason, we love our dishware made of bamboo fiber. Plastic is another option, but we try our best to minimize the number of plastic items we buy.
Hanging storage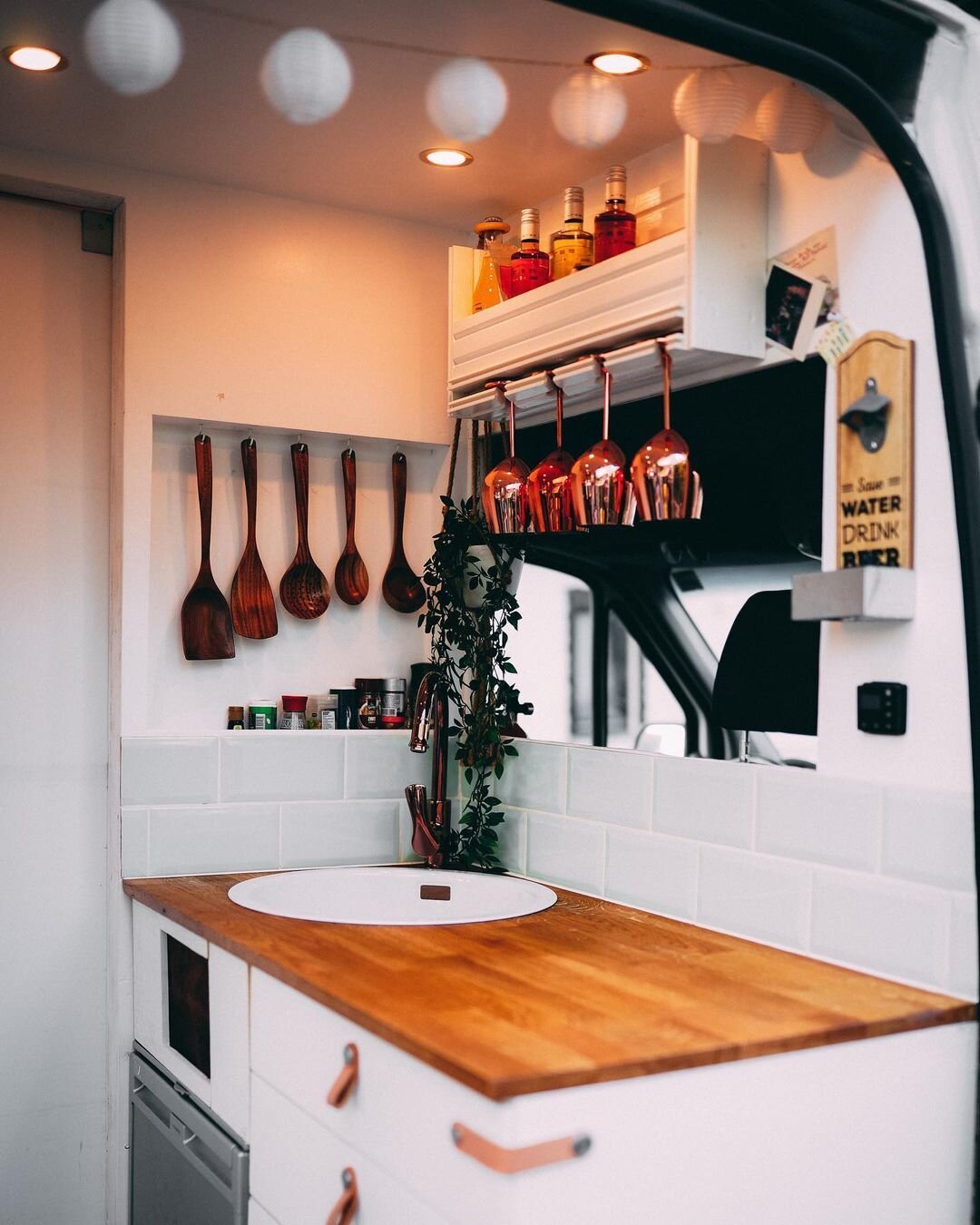 In addition to creating a custom drawer that fits your dishes just so, you could also create some hanging storage for long-stemmed glasses and items like spatulas.
Magnetic knife holder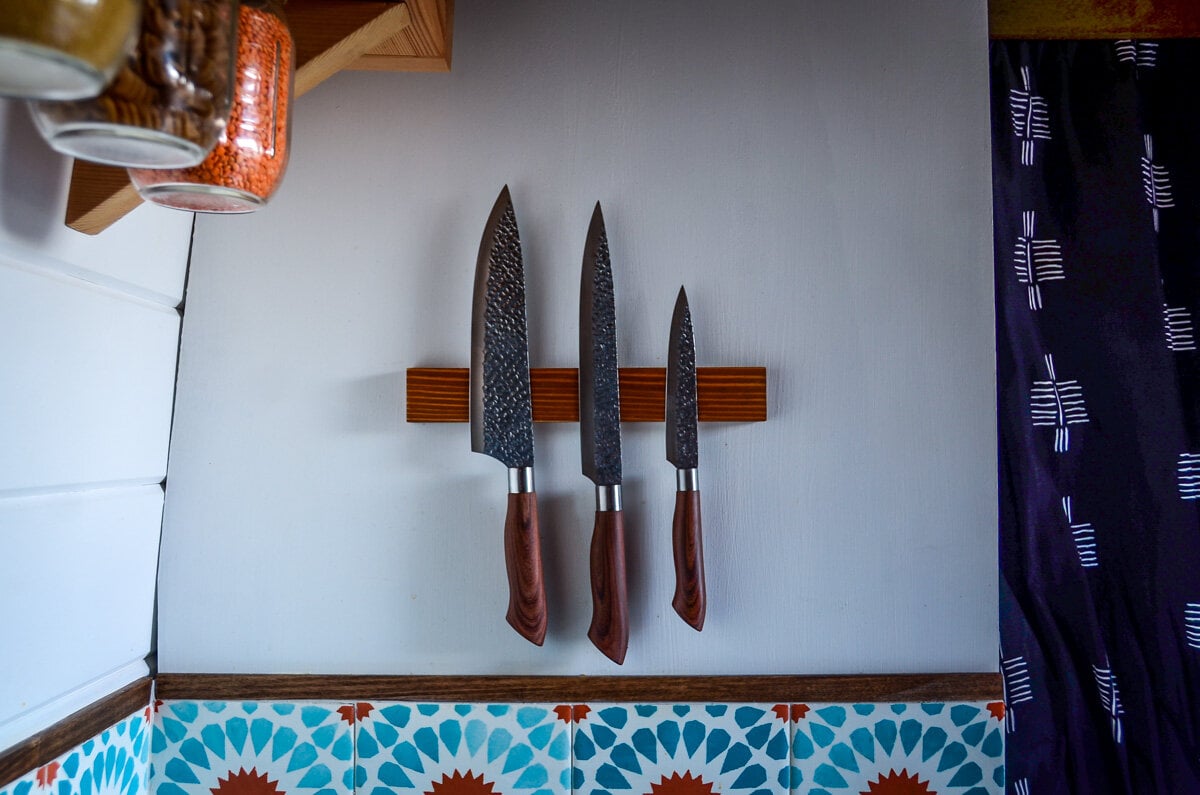 A great way to keep your knives safe and out of the way is to use a magnetic knife strip. With a little handiwork, you can make your own or you can buy one that's ready to go.
Magnetic knife racks come in all sizes and finishes. Regardless of which you choose, a magnetic holder should work with any type of knife (as long as it's metal).
Sink cover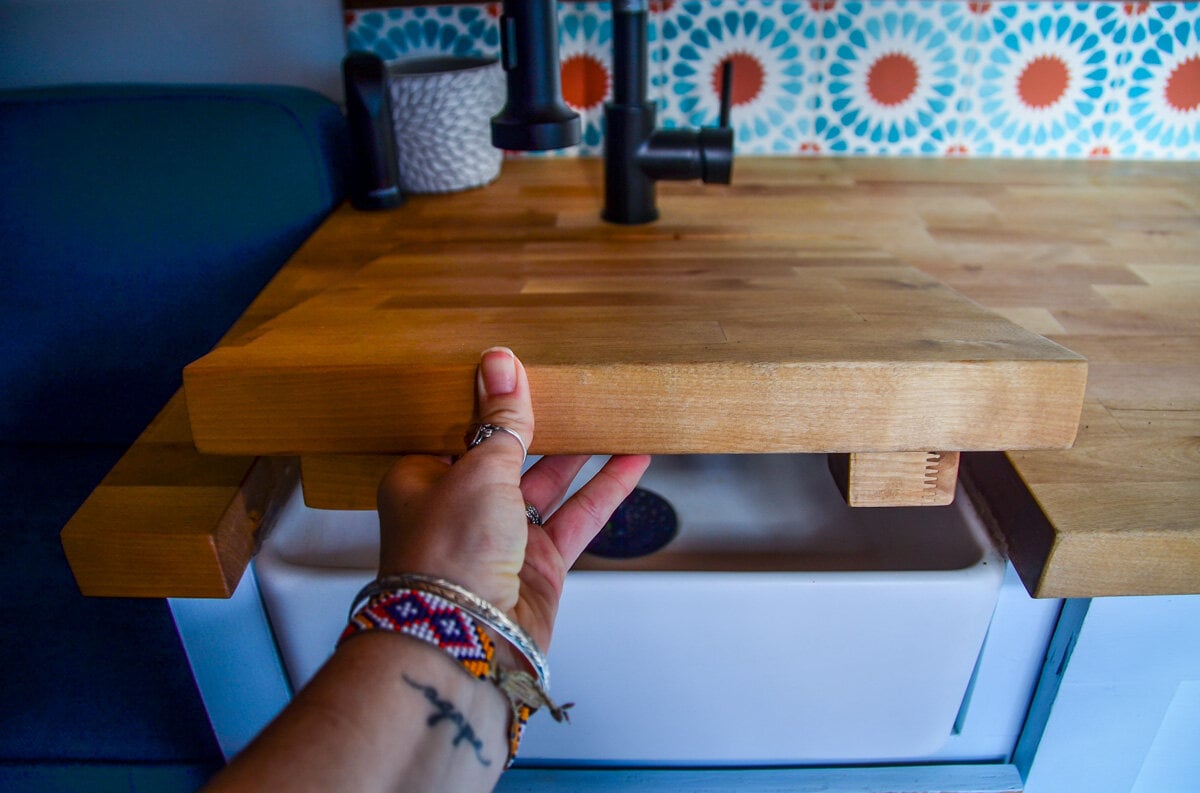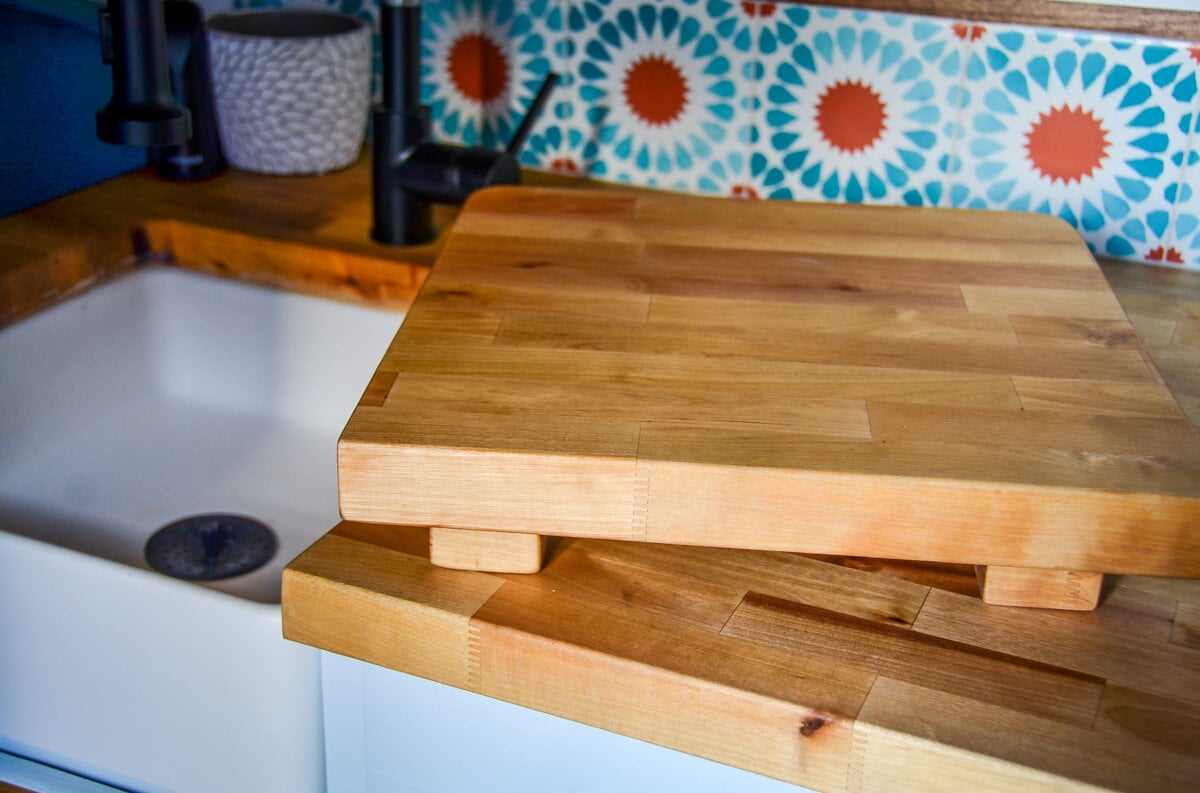 A lot of times in a campervan you won't have much counter space to work with, so you'll have to get creative. A simple way to add extra space is by creating a sink cover like we did (see photos above).
This way you can use it to prep, as a cutting board, or just a counter space to put things on when you are not using the sink.
Ben even screwed little "legs" into the bottom of our cover to keep it from sliding around when we're driving. Bonus: We can use it as a "table" elsewhere. Can anyone say breakfast in bed?!
Towel Racks/Drying Racks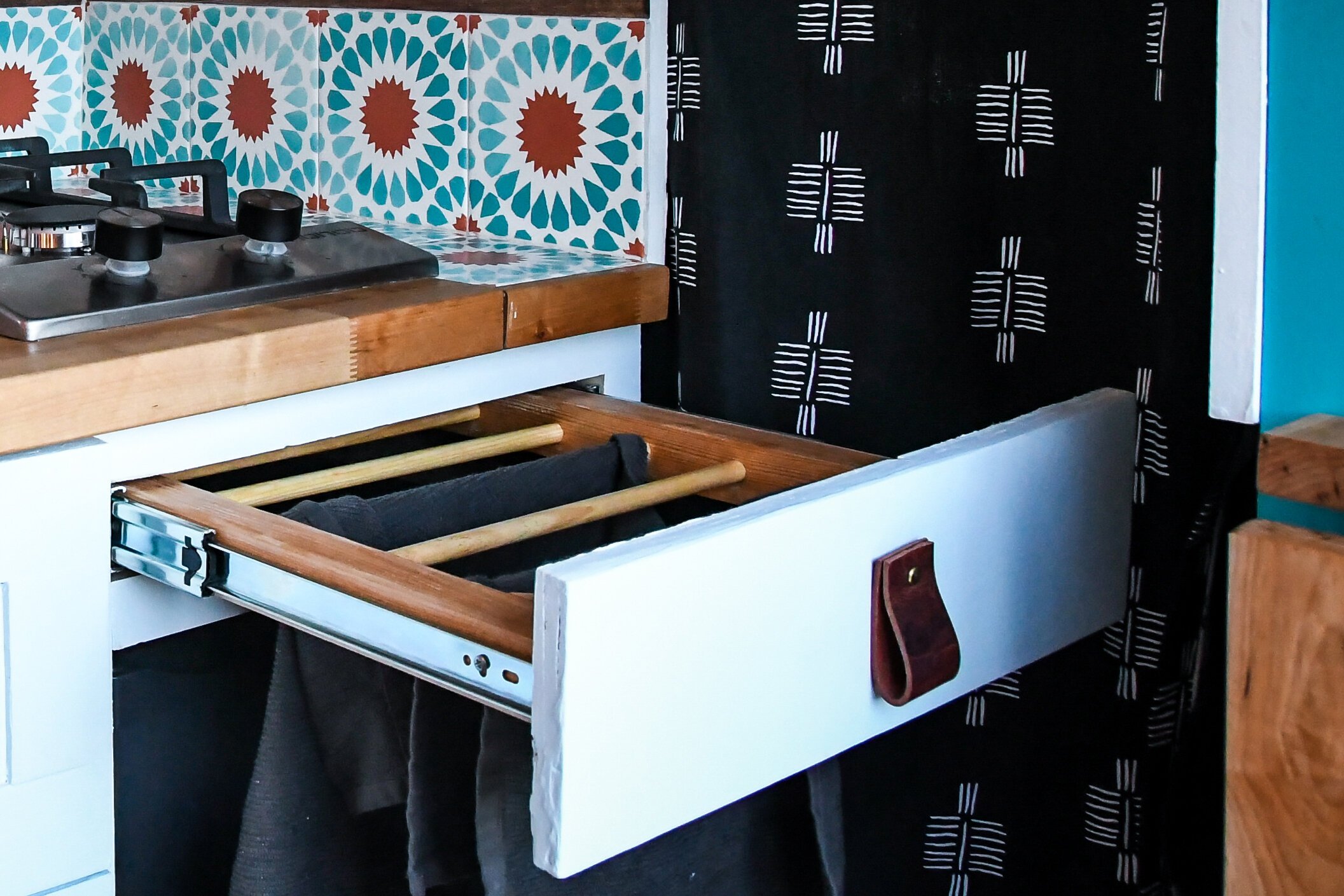 Shameless brag sesh: We think our pull-out towel rack is ingenious!
For one, it hardly takes up any extra space in our campervan. It's a great way to hang kitchen towels while cooking, and it also doubles as a drying rack for your laundry. It's especially helpful if you're off the grid and need to wash your delicates in the sink (or bathing suit after a hot spring soak!).
We also made a small piece of plywood that fits just over the rungs so it can double as extra counter space when we're not drying clothing items.
I'm interested in vanlife, where do I get started?
We understand just how overwhelming it can be to start this process so we poured all of our personal experience and advice into a mega resource just for you.
Enter your email below to immediately receive our Vanlife Jumpstart Toolkit, your FREE mega guide to jump-starting your #vanlife dreams!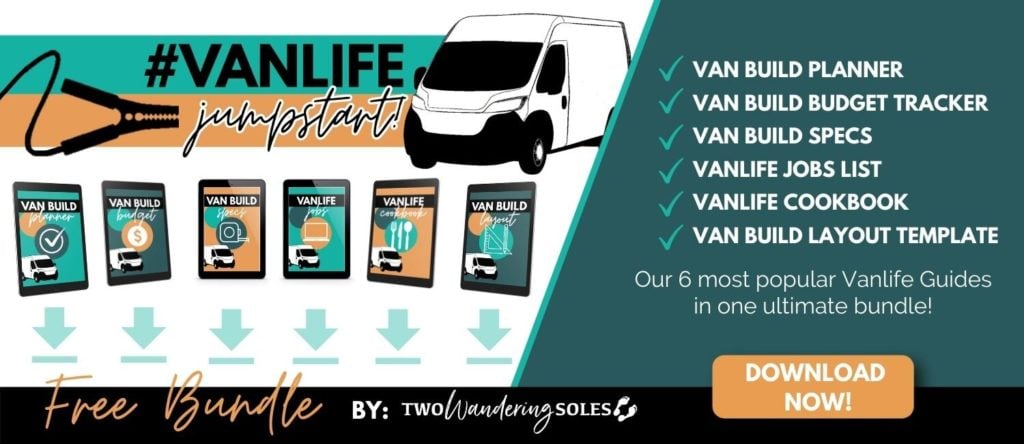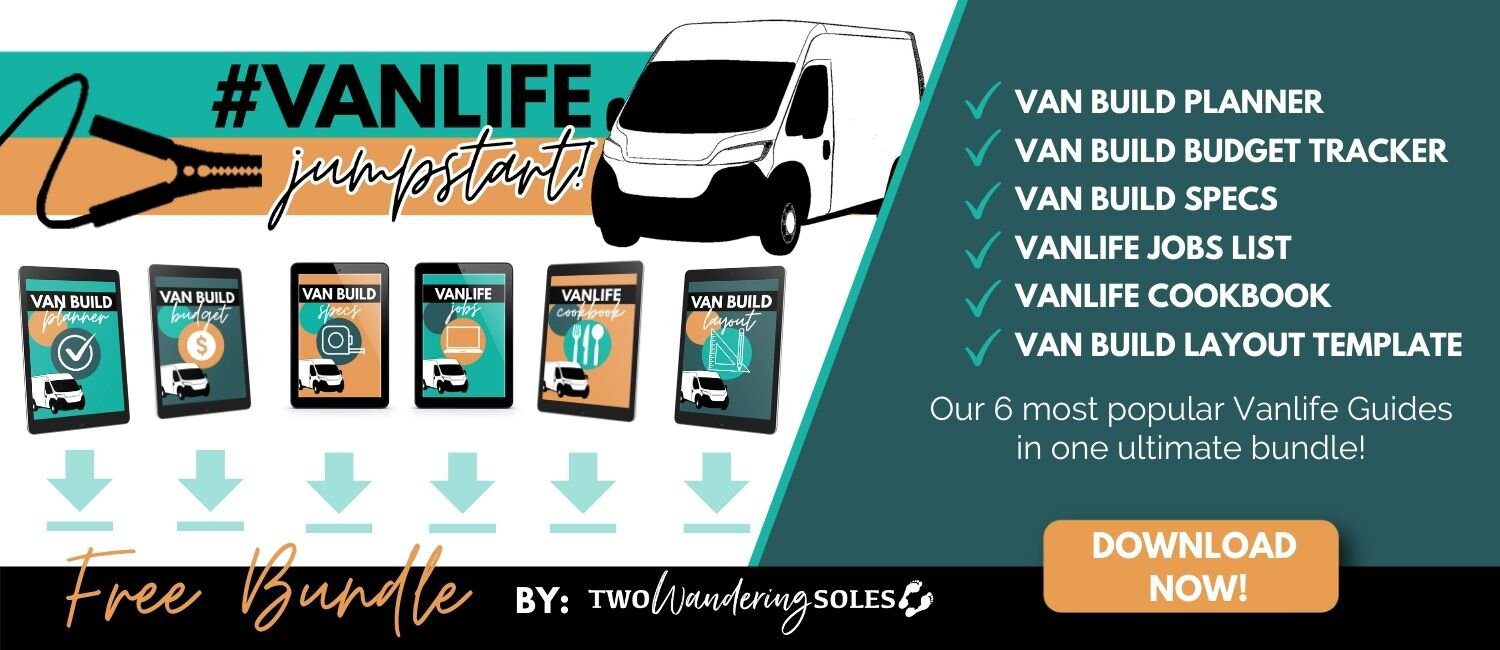 Bed Storage
Deciding which type of bed you want to put in your campervan will largely determine what kinds of storage options are available to you in the "bedroom" area. However, regardless of the bed you choose, there are still some creative ideas for bedroom storage you can get overhead as well.
Clothing storage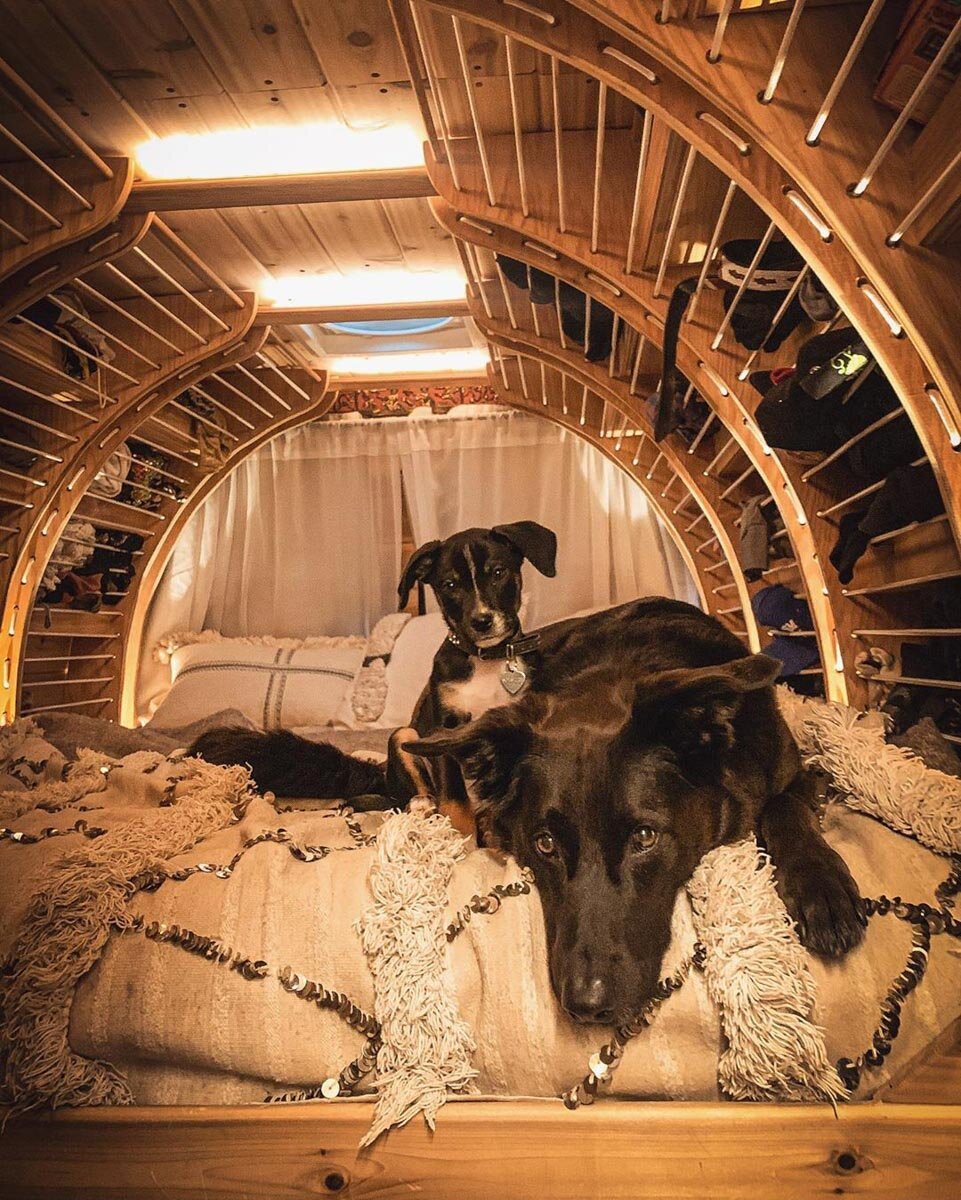 When planning your campervan layout, you'll want to find space to store your clothing. One great way to do this is to build shelving alongside the bed. In an effort to make the most use of space, these innovative vanlifers built their shelving into a dome, using elastic bands to hold everything in place.
Bench seat storage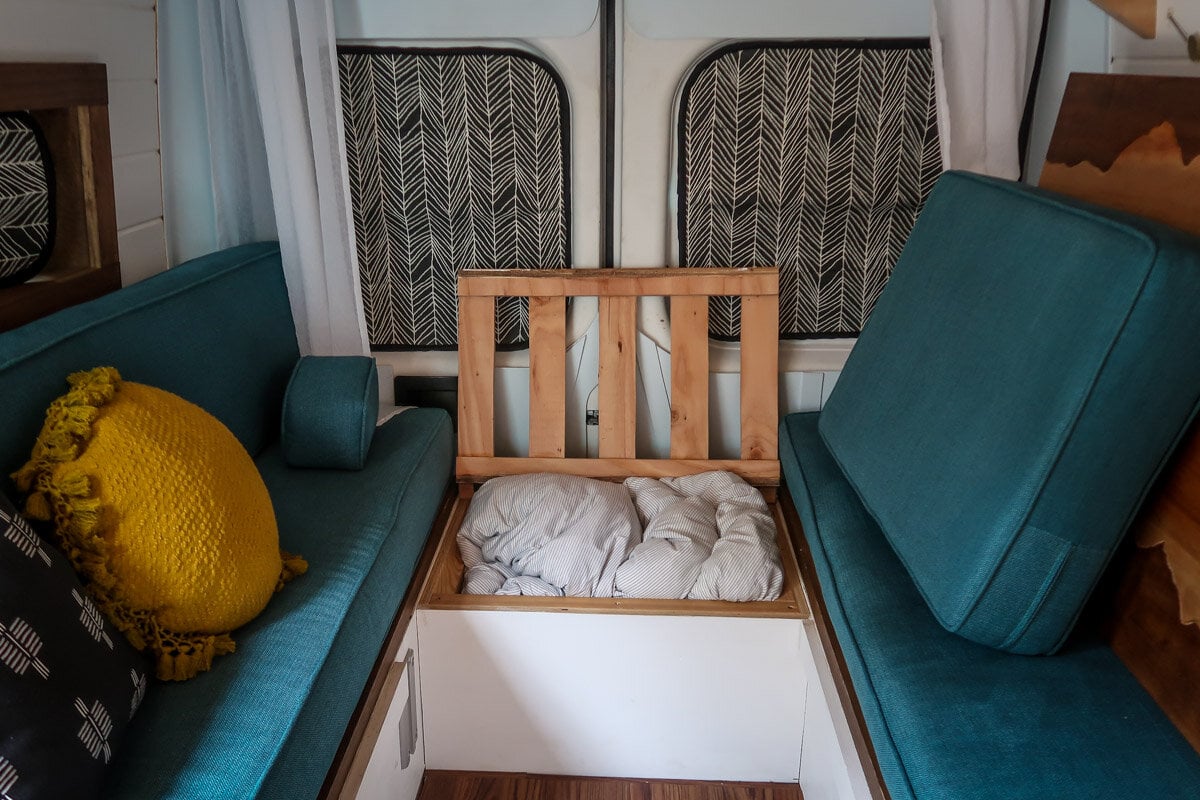 Our convertible bed is made up of two parallel bench seats as well as a smaller piece that forms a U shape. Each of these benches is full of storage.
We keep our bedding in the smaller "U-piece", and we have our water tanks, electric system and miscellaneous storage in the other two larger benches.
Under-bed drawers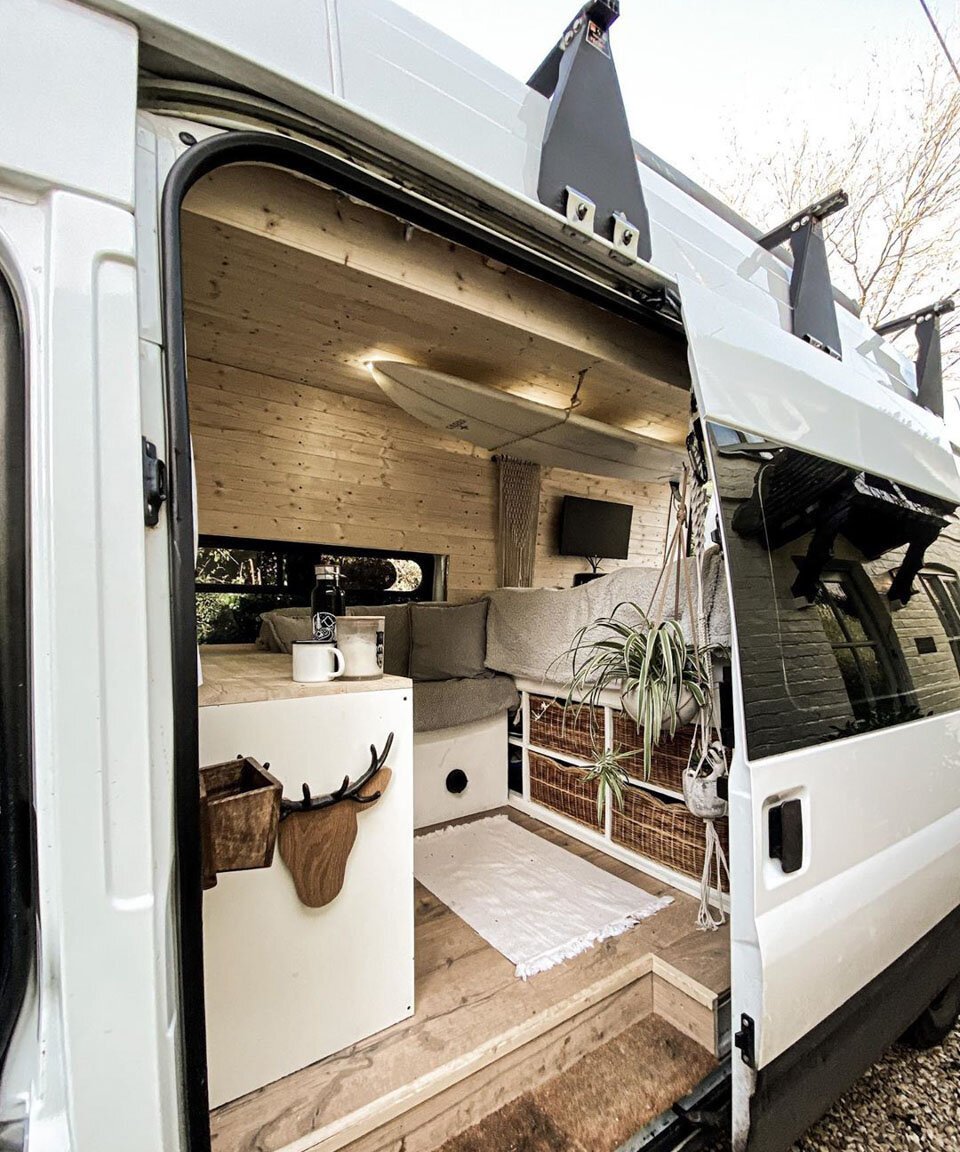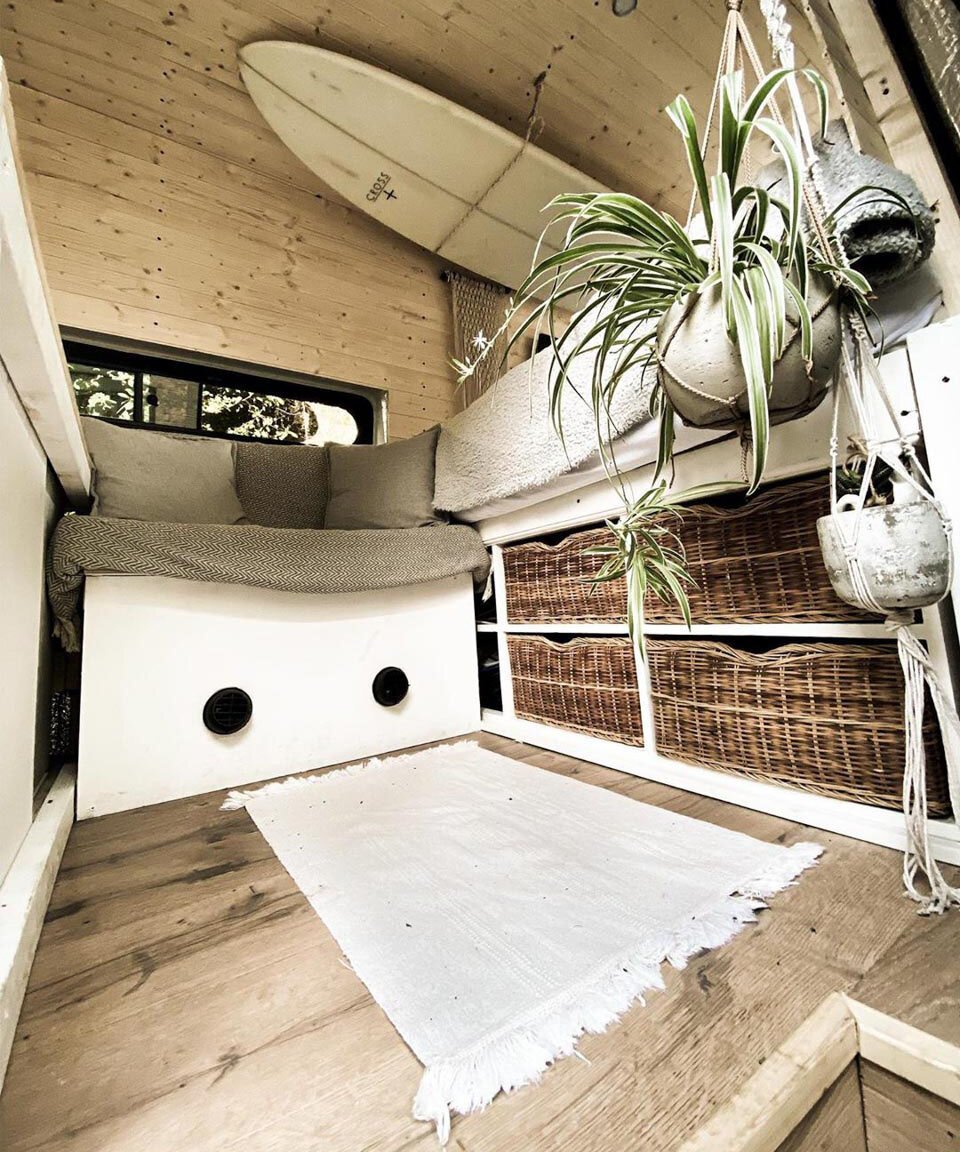 Finding creative ways to use the space under your mattress is one of the keys to good storage in a campervan. Creating built-in shelves will help you organize your things and keep everything out of site when not in use.
Building drawers might be a bit tedious, so a simpler solution is finding decorative baskets to fit on your shelves (or if you're smart, building a shelving unit to fit around your chosen baskets!).
Under-bed pull out storage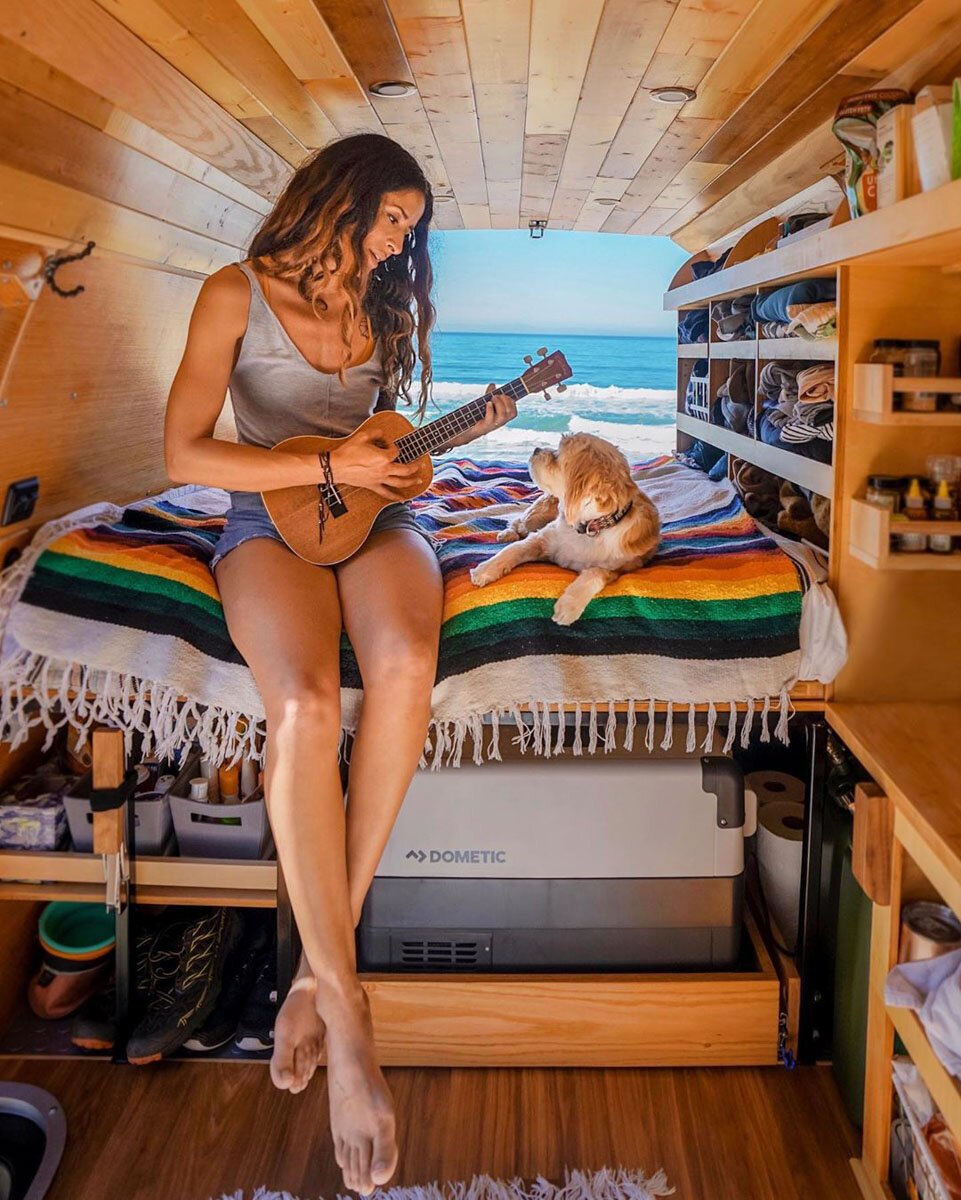 Whether it's a cooler, a toilet, or extra storage bins, it can be hard to store anything under your mattress when it has a top lid (as opposed to something that opens from the side). This under-bed pull out is the perfect solution and a neat way to keep your under-bed storage from sliding around while your van is in motion.
Bedside table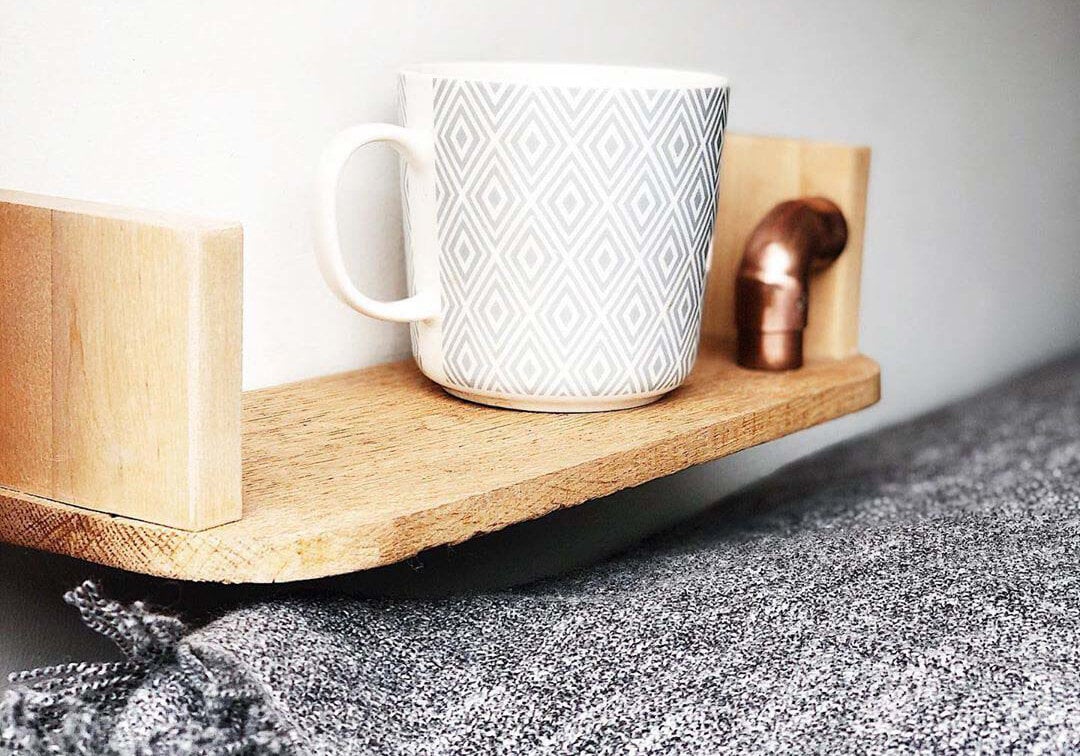 Since not all campervans have the space for a bedside table, this creative vanlifer came up with a simple addition for a decorative place to put her coffee down while in bed.
Not sure what kind of bed to put in your campervan? You're not alone! There are so many different bed options out there it can be hard to choose. Luckily, we collected all the information and put it into one easy to reference article on campervan bed inspiration.
Bathroom Storage
Deciding whether or not to put a toilet in your campervan can be a big part of choosing the best van for your conversion. However, we found some interesting ways in which to store other bathroom essentials in your van.
Hidden shower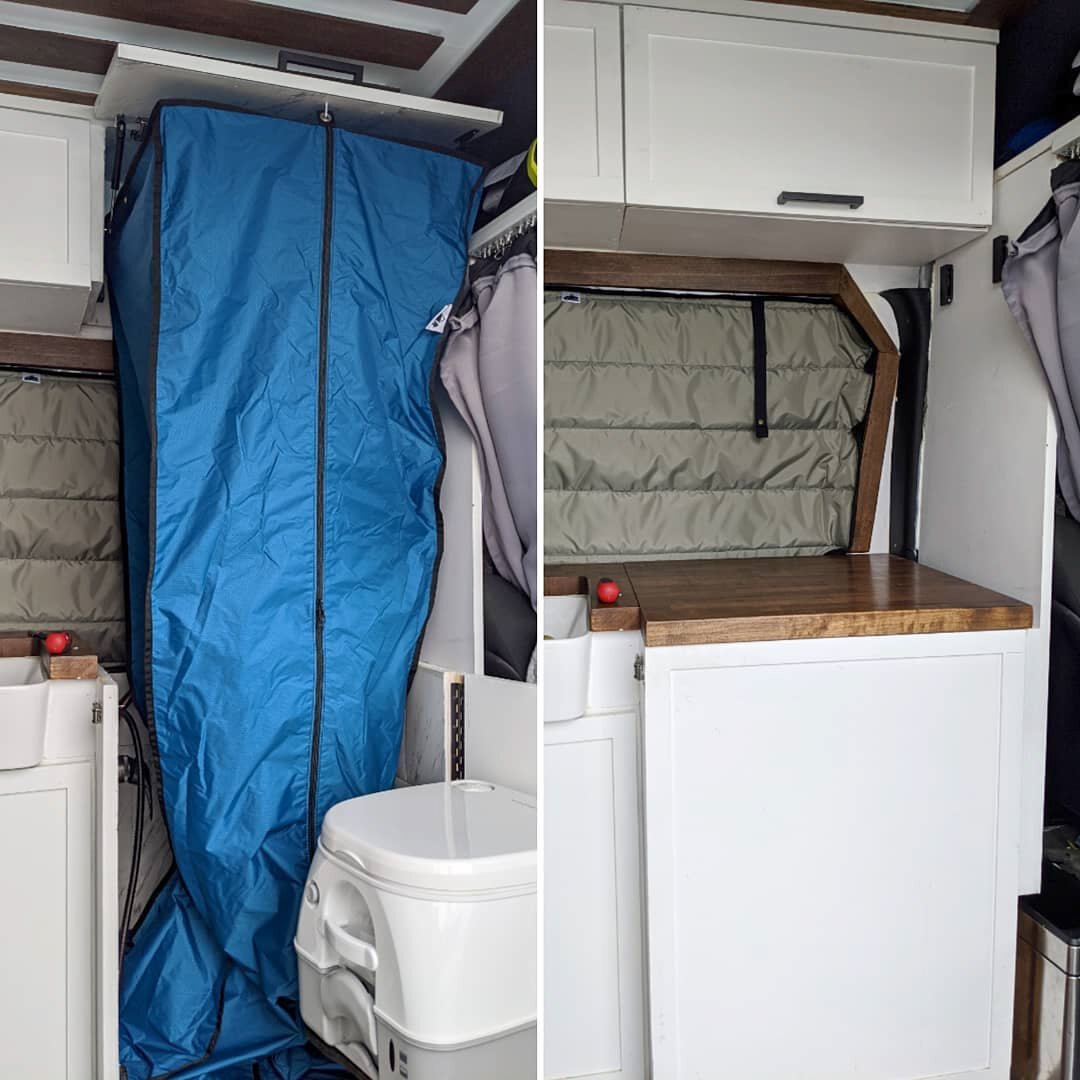 Be honest, did it take you as long as it did us to stare at this photo and figure out how the right side image could possibly turn into the left??
This is probably one of the most unique ways we've seen to adding an indoor shower to your campervan. Instead of having a designated wet room as you see in most vans, this creative vanlifer found a wrap around shower curtain that would contain the water while in use and can fold up and out of the way, creating extra counter space when a shower isn't necessary.
DIY Mason Jar Storage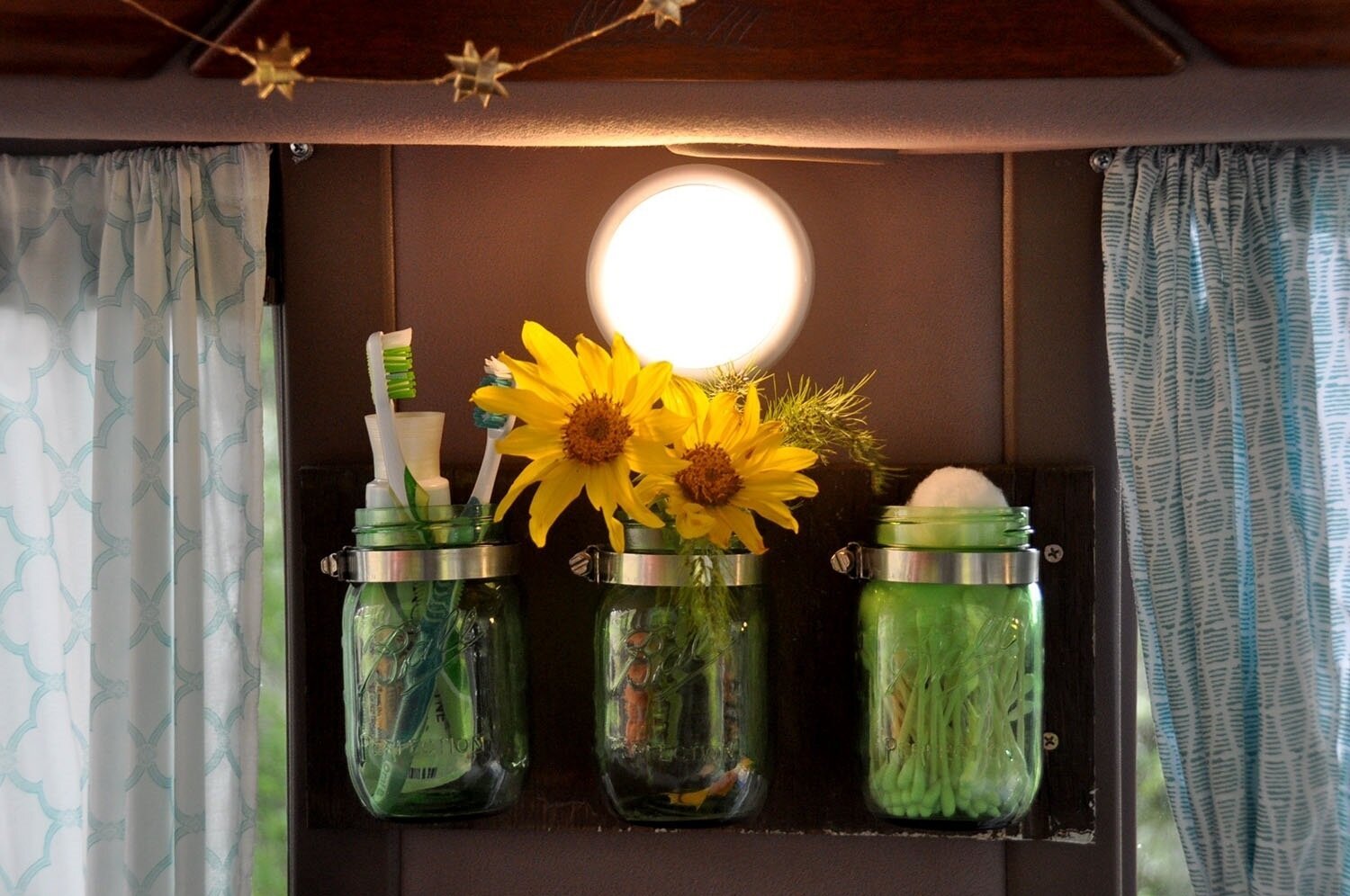 In our first campervan, we made a super simple place to hold our tooth brushes and other miscellaneous items using a piece of scrap wood (any wood will do), Mason jars, and hose clamps.
This project takes about 20 minutes and is both practical and pretty!


Living Space Storage
These creative campervan storage ideas will help you make the most out of your limited living space.
Platform storage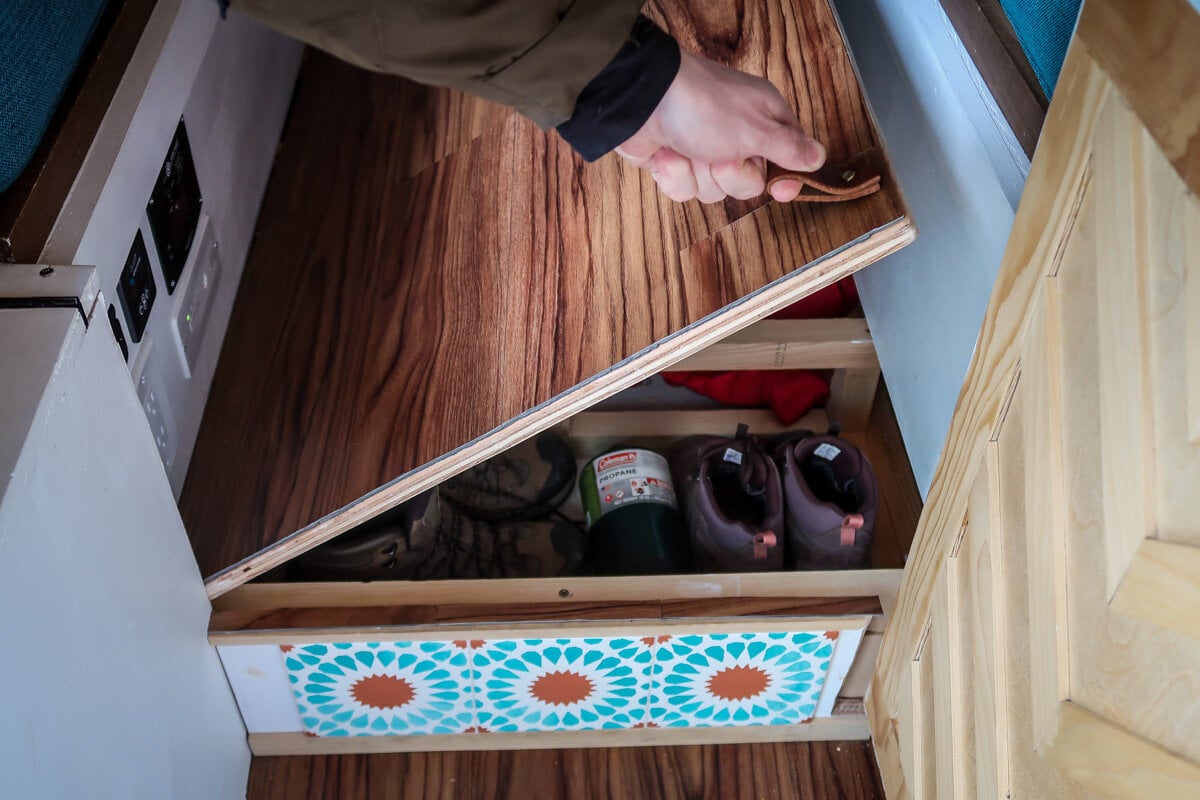 We have a raised platform beneath our bed, and we sometimes get questions about what it's used for. Well, there are two main answers:
a) We wanted our benches to be relatively tall to give us extra storage space inside. Had we not raised the floor, our feet would not touch the ground when we sit. Raising the floor by 7 inches gave us lots more storage space in those bench seats.

b) We can use this 7-inch platform for even more storage! That's where we store some of our camping supplies, our hiking boots, and anything we don't need to access super frequently.
Shelving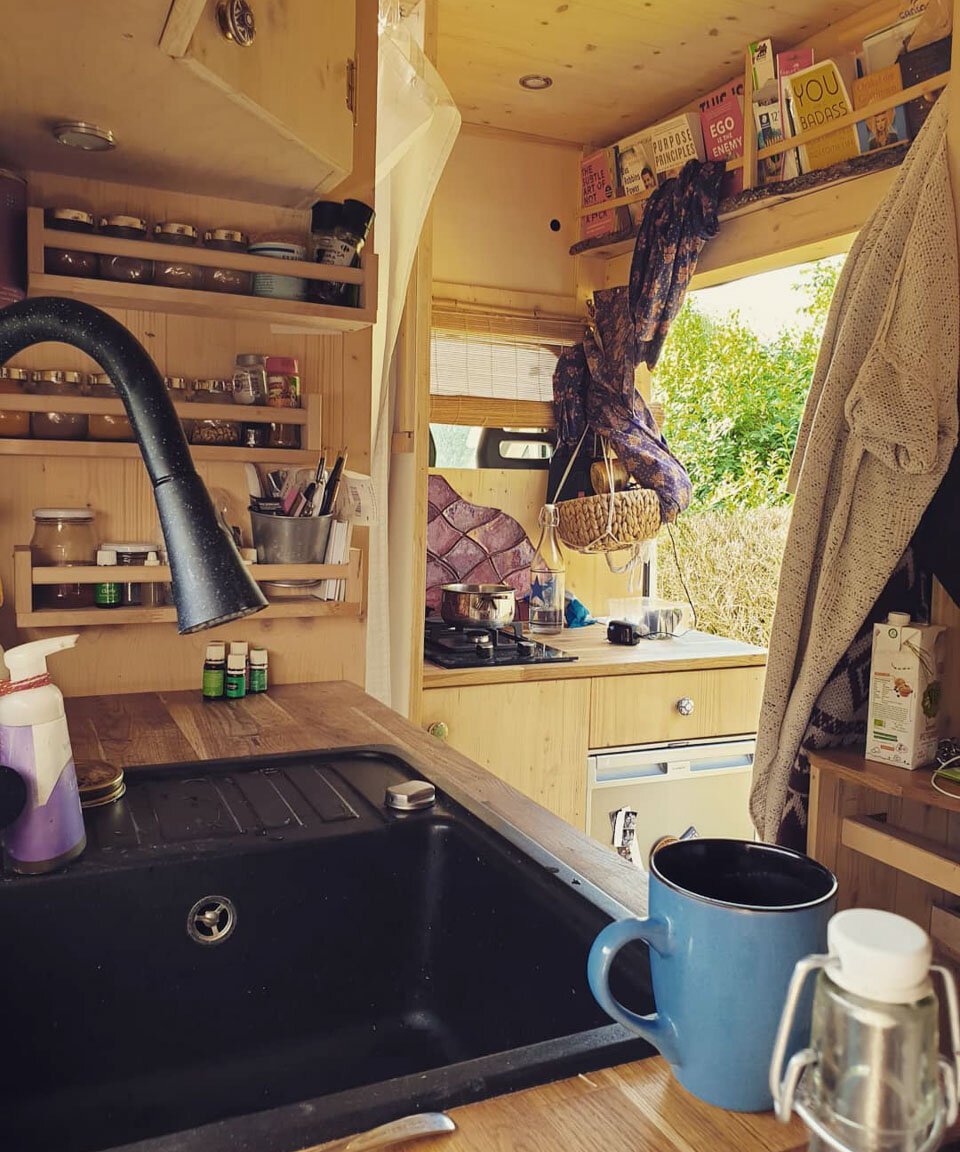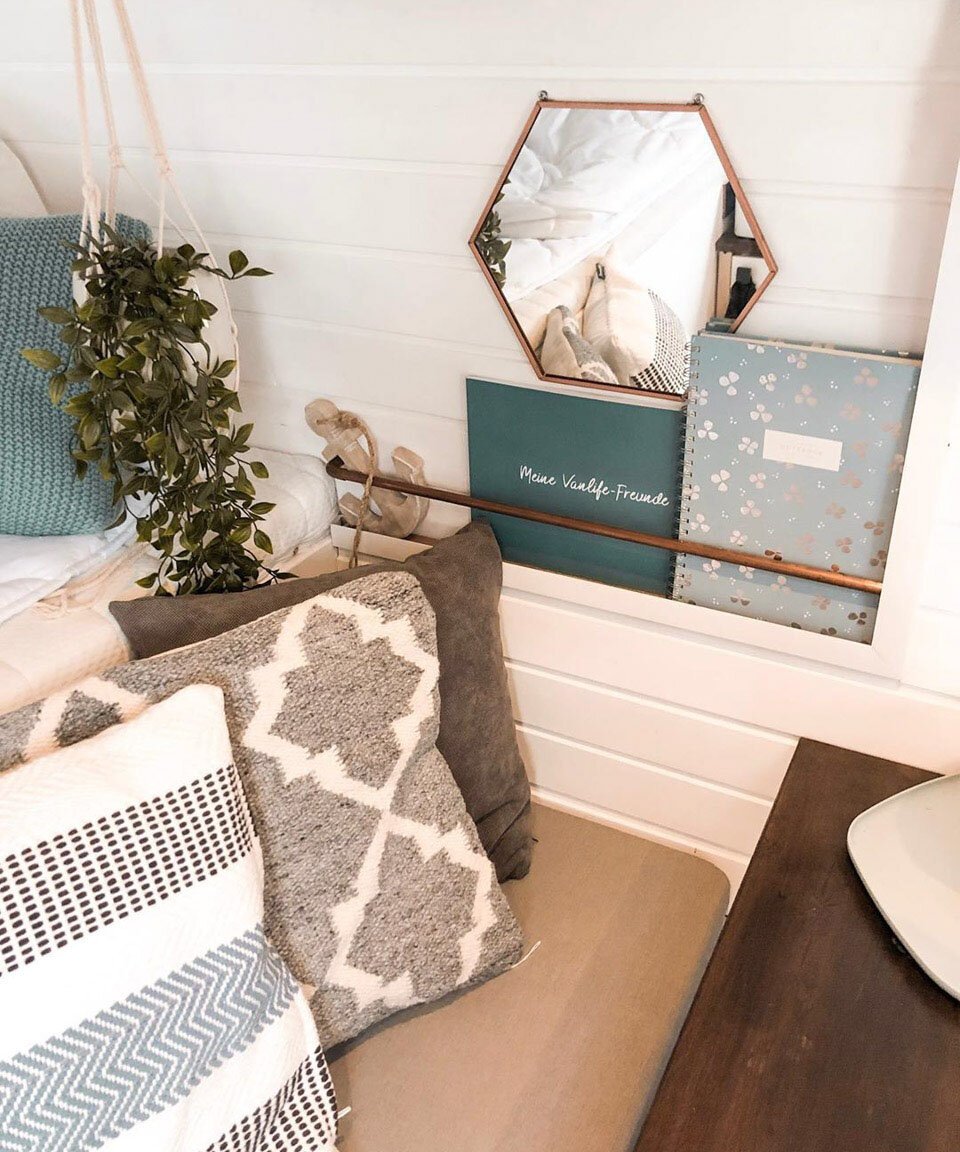 A nice way to make use of extra wall space is to add shelving for things like books, plants, or knickknacks. By making the shelving with a narrow profile, it won't stick out very far from the wall and get in your headspace.
Also, adding a bar across the shelves help keep things in place so they don't go flying while you're in drive mode.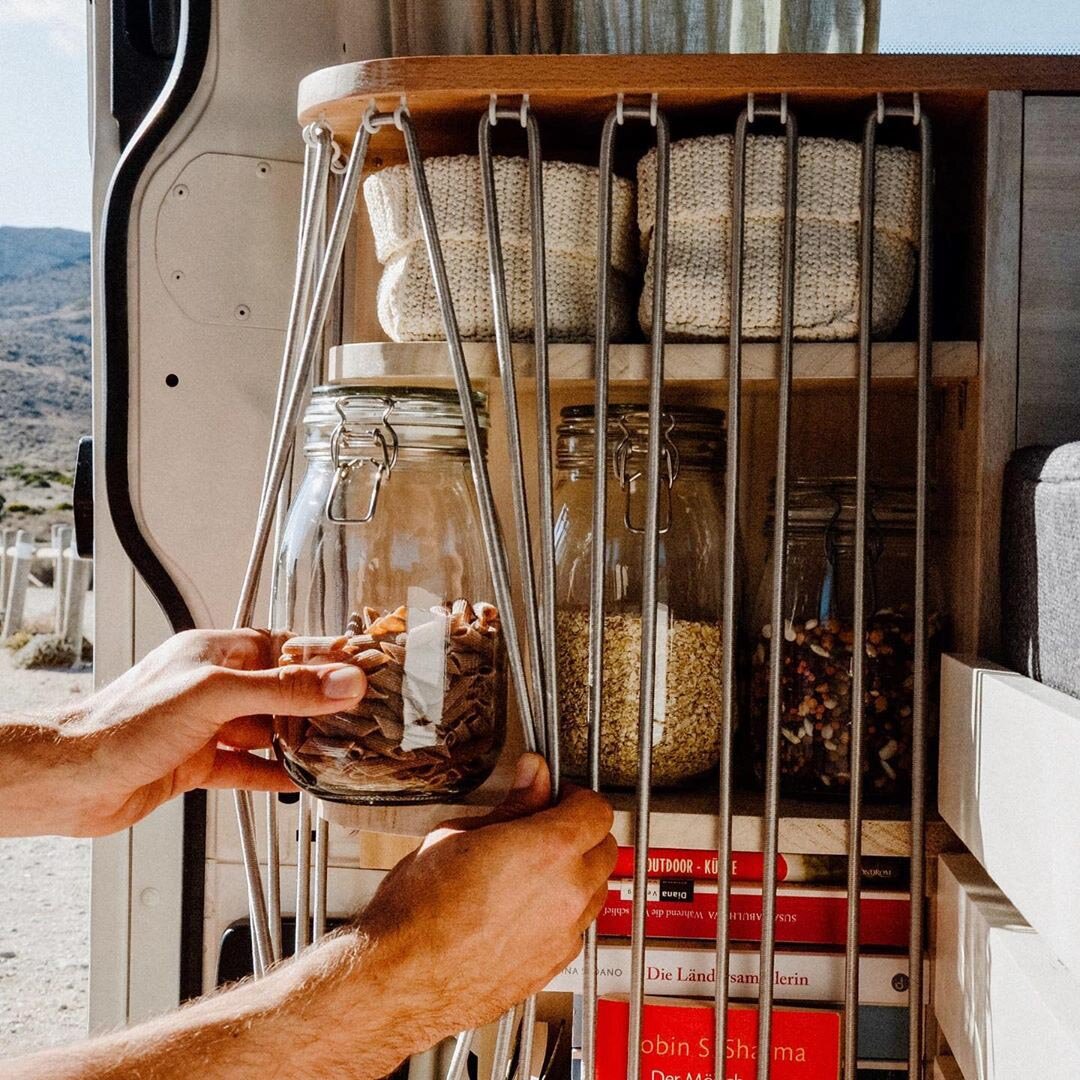 This ingenious use of elastics is another great way to keep items in their intended places.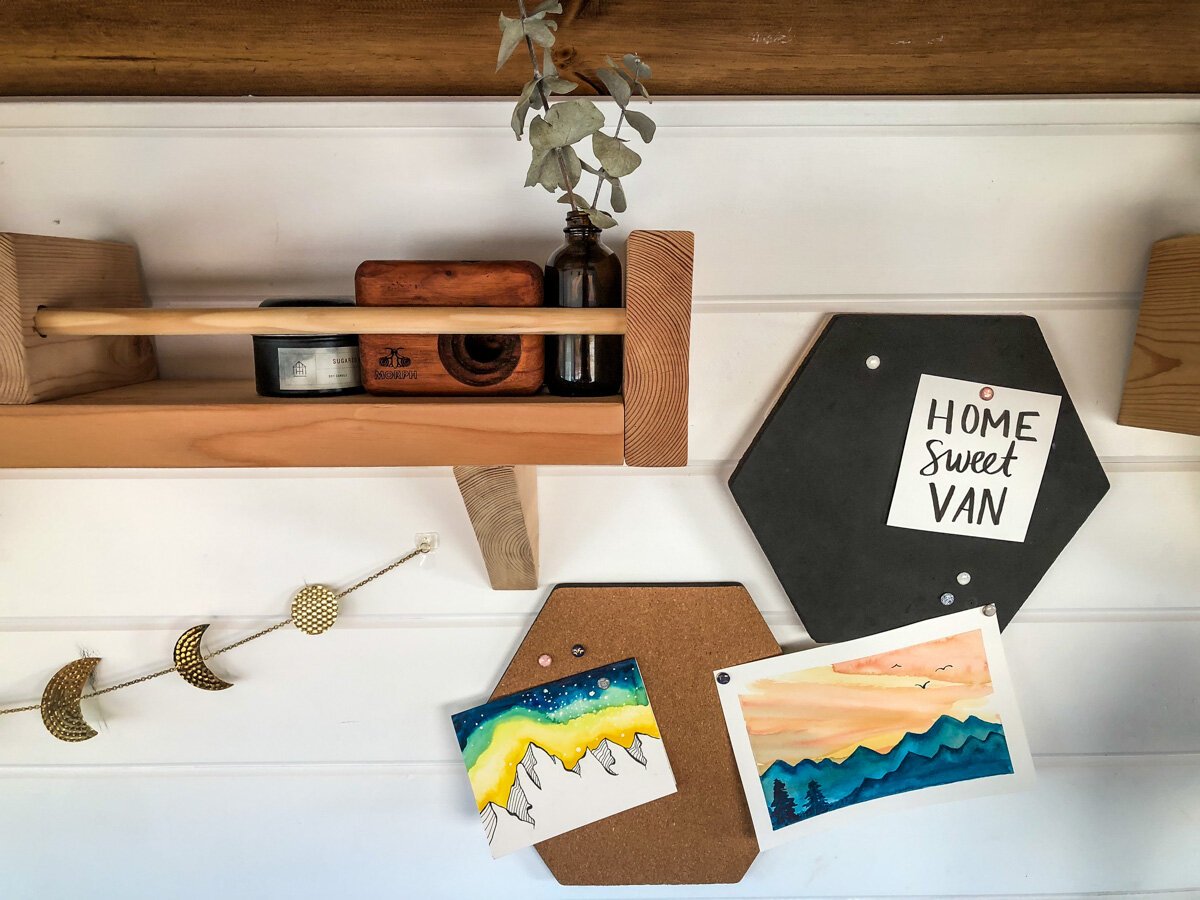 Have things that keep sliding around on your shelves? Add a small piece of velcro to the bottom of the item as well as the shelf. Problem solved!
Cabinets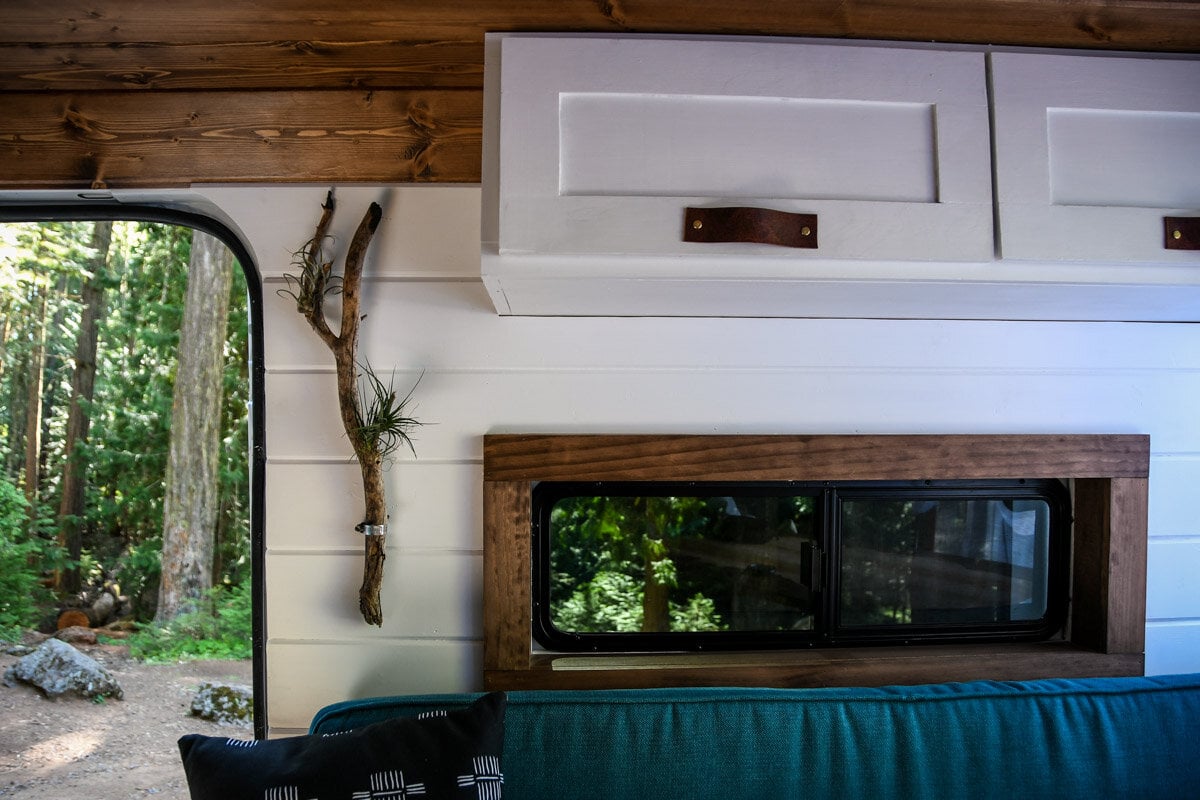 We have two overhead cabinets on one side of our van. Some vanlifers choose to do them on both sides of the van to maximize storage, but we imagined that might feel a bit claustrophobic, as it really impedes on headspace.
For that reason, we opted to do a narrower open shelf on the opposite side (see section above).
Good to know: We tried to find struts that would keep these cabinets open, but the ones we ordered were too powerful and they would pop open even when we didn't want them to. So for now, we have to hold the cabinet up with our hands when we need to get inside. Not too big of a deal, but definitely one thing to look into as you're building.
Building into the doorway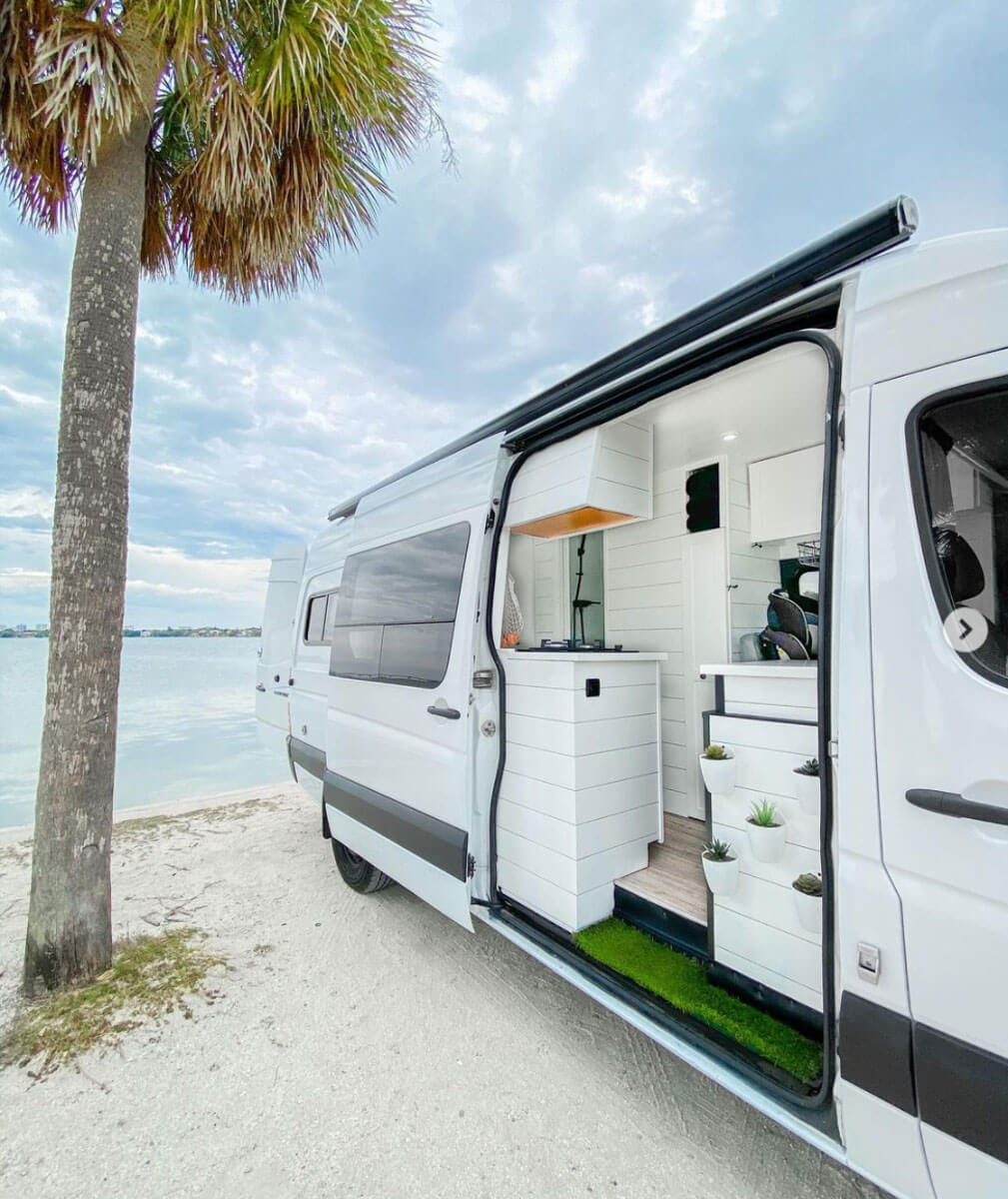 A storage "hack" of sorts for designing your campervan layout is to build your cabinets into the doorway of your van. More often than not, the door opening is much wider than necessary, so what you'll limit in entry space, you'll gain in storage!
Bulkhead storage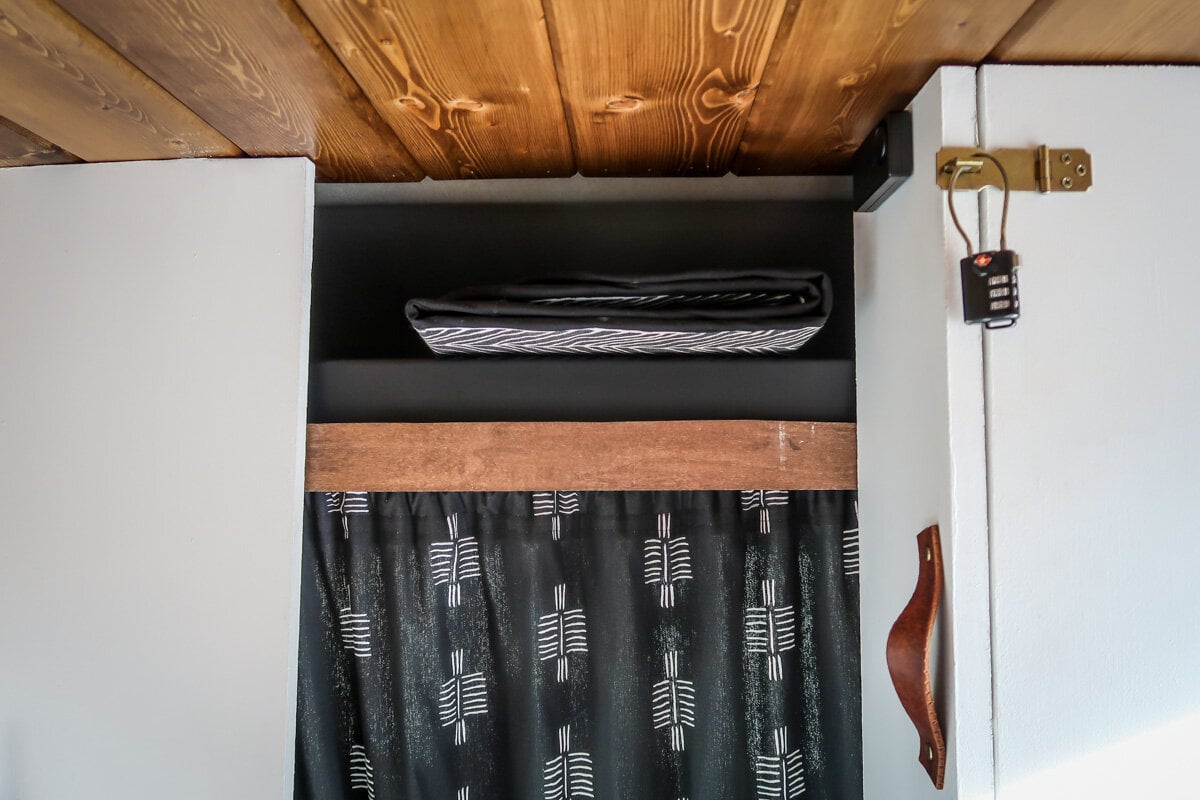 If your van comes with a bulkhead storage space (most cargo vans do!), our advice is to make the most of it. It's actually a ton of space that can hold lots of stuff without taking up space in the rest of your layout.
Ours is mostly used to stash items like our tent and sleeping bags that we don't need to access super often. We also store our window coverings for easy access.
We didn't do anything special with ours except for frame it with a piece of leftover wood to make it look a little nicer. That said, you can definitely get creative here if you want. We've seen some people add little doors or make a cool design in this spot.
Simple and clean bulkhead storage compartment: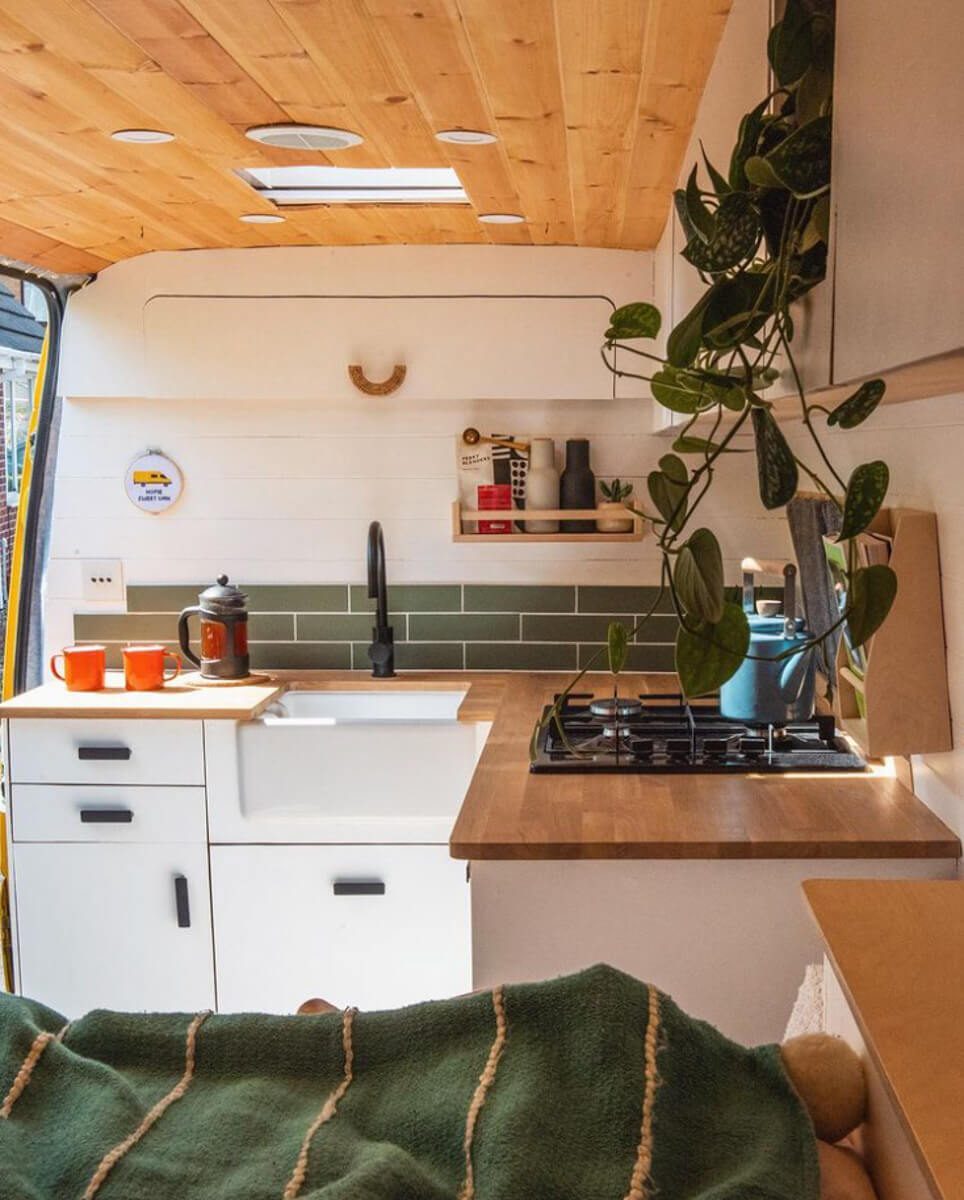 Hidden table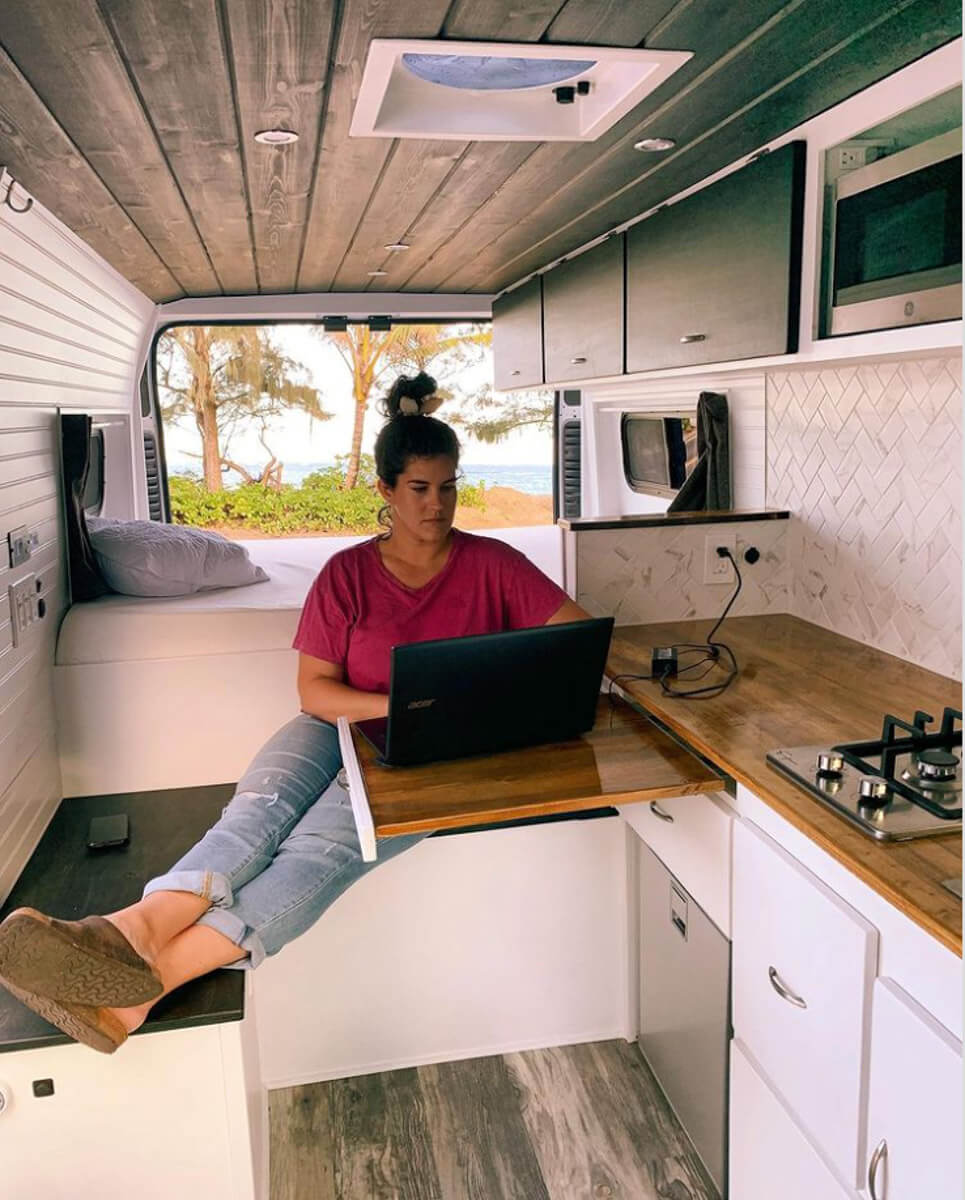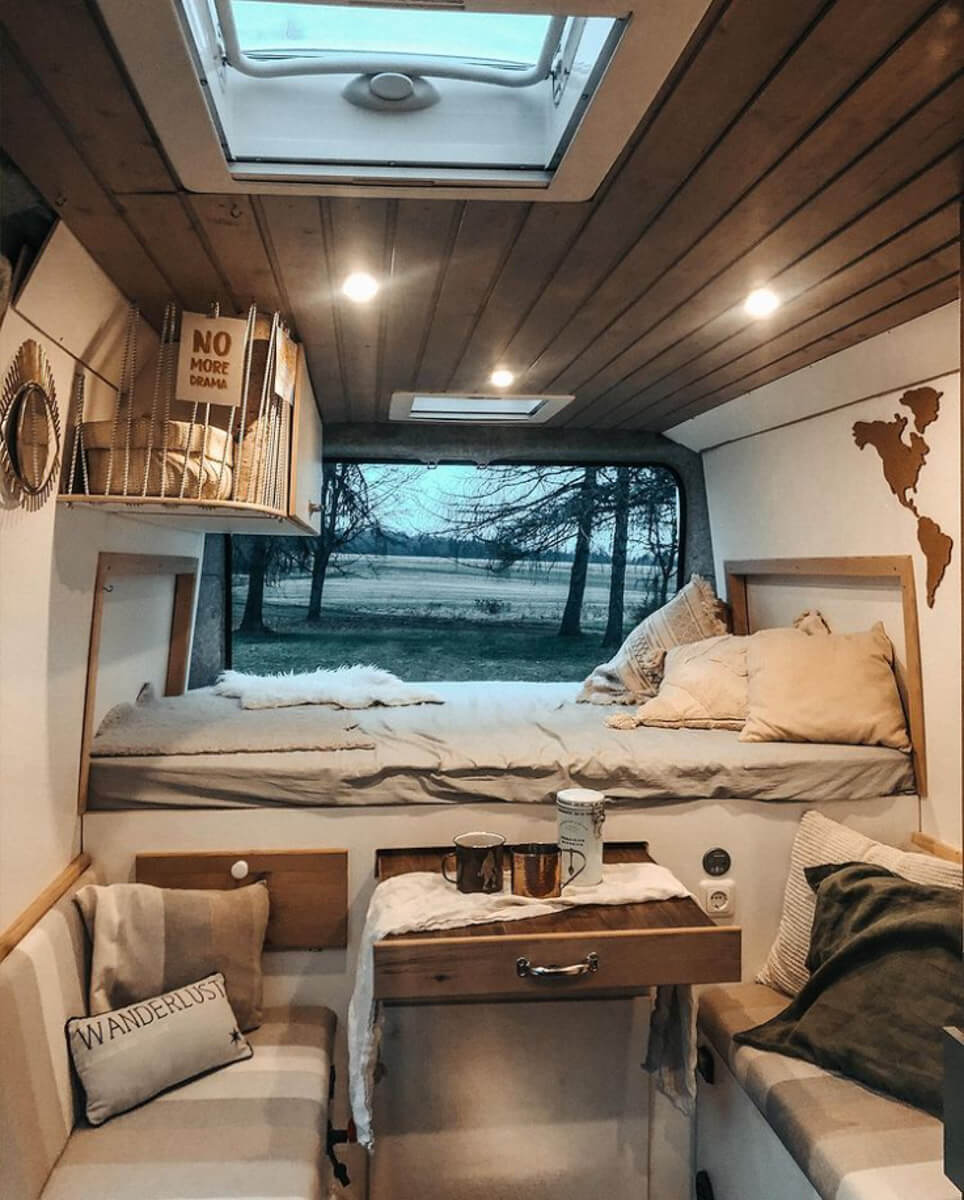 One popular way to add a table or extra counter space for your campervan is by installing a pull-out. Designed to look like a regular drawer front, it takes up very little space in your cabinets and ideally pulls out over a designated seating area so you can sit and work or eat.
If you look closely in the second example, these vanlifers also made use of the elastic shelving in the upper left-hand corner of the photo.
Fold-down table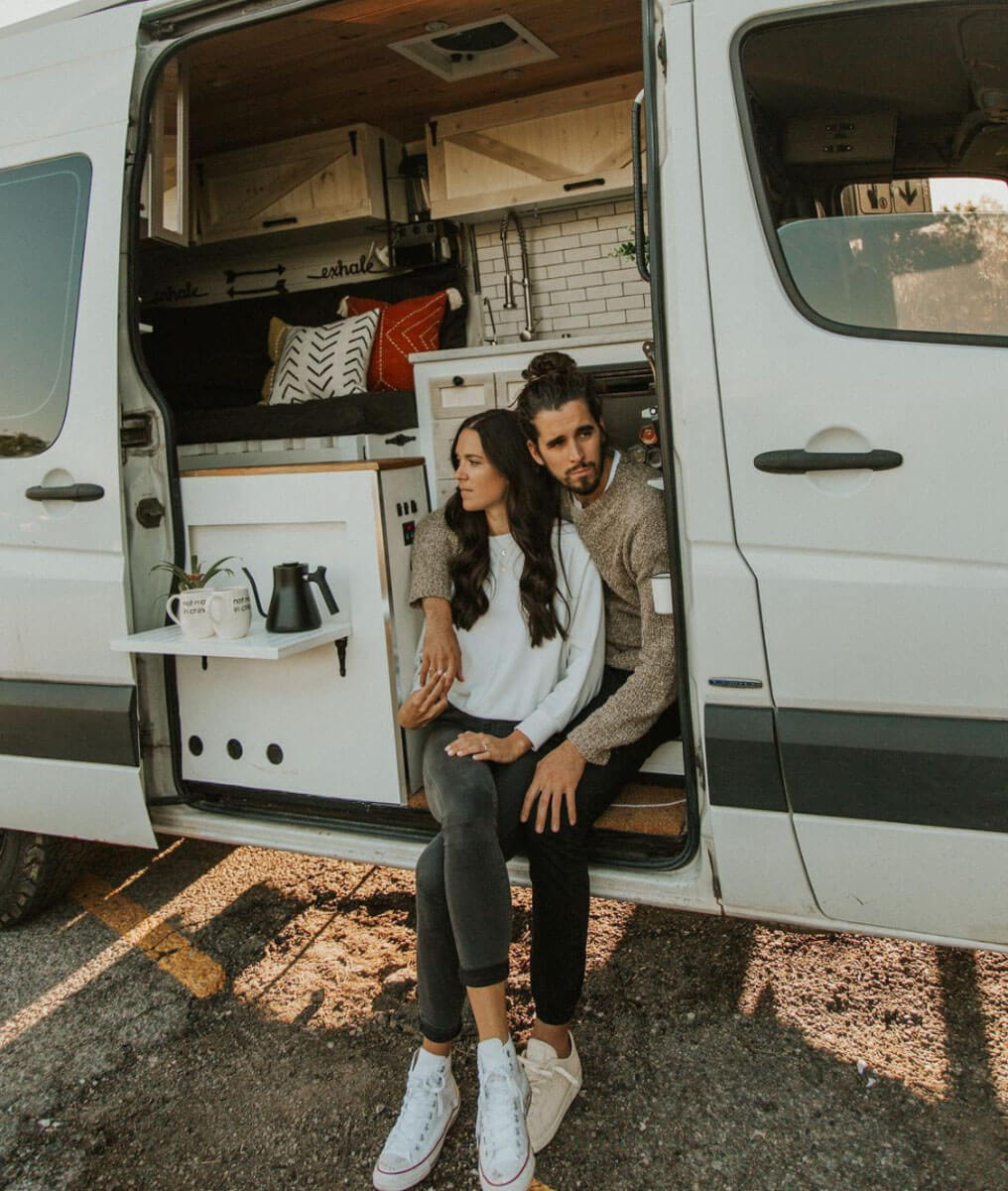 Another popular way to keep your table out of the way when you're not using it is to do a fold-down table that attaches to the van wall on a hinge. We like how this couple made use of the back of their cabinet space by adding a small fold-down table that can be used while they are spending time outdoors.
If you check out the rest of their build, they use the same table design on the inside for a larger dining/office table that folders down in front of their converted sofa bed.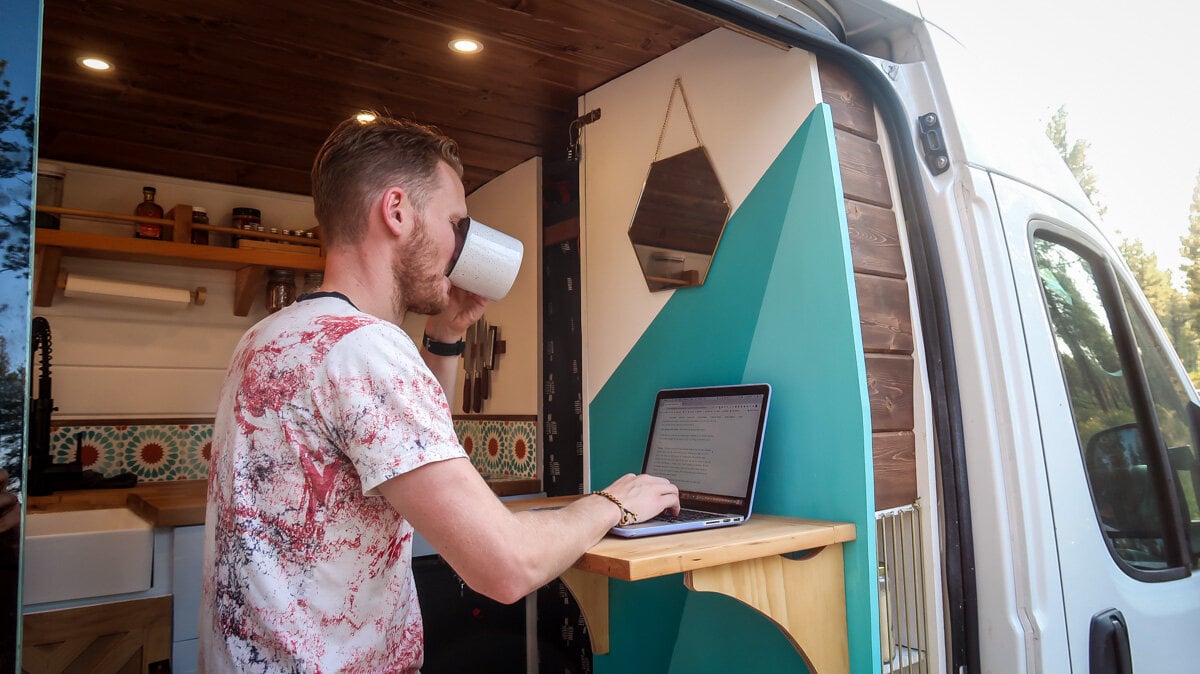 Similarly, we put an extra fold-down table in our campervan. The arms that hold up our table fold inward and the table folds down on top of them. This can be used for extra counter space for food prep or desk space for getting some work done.
Insider Tip: We installed a hook to keep the table secure and from flapping around when we drive. We also put a strip of an adhesive foam material (the same stuff we used for sealing our propane box). This helps to keep the legs from sliding around when they're in use.
Extra seating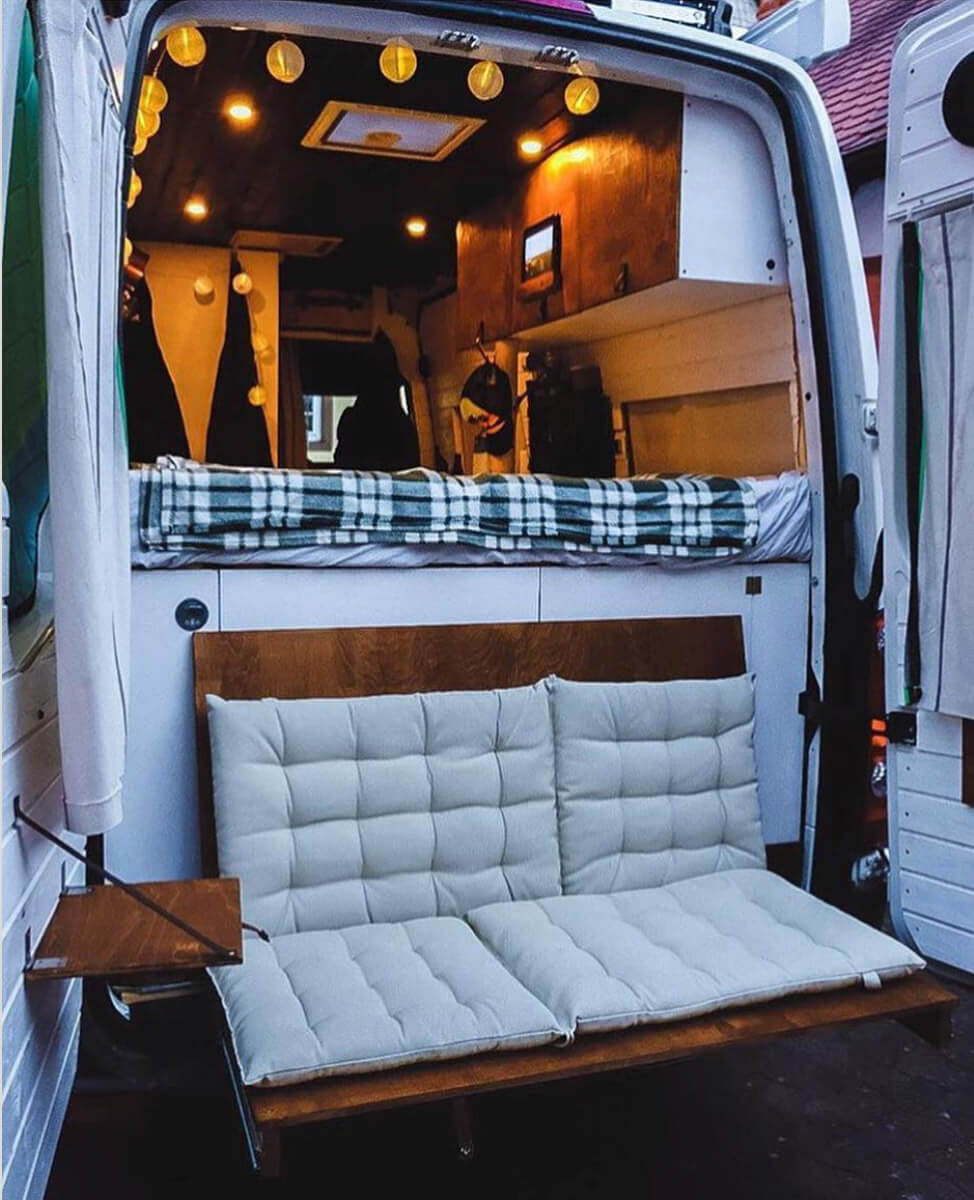 This "back porch" seat is a fun way to bring your campervan living space outdoors, without taking up much extra storage. If you look closely, the seat pulls out from beneath the "garage" space and then folds up to give you a place to rest your back cushions.
A small fold-down table on the inside of the door makes an easy addition to set a beverage on while enjoying your back porch.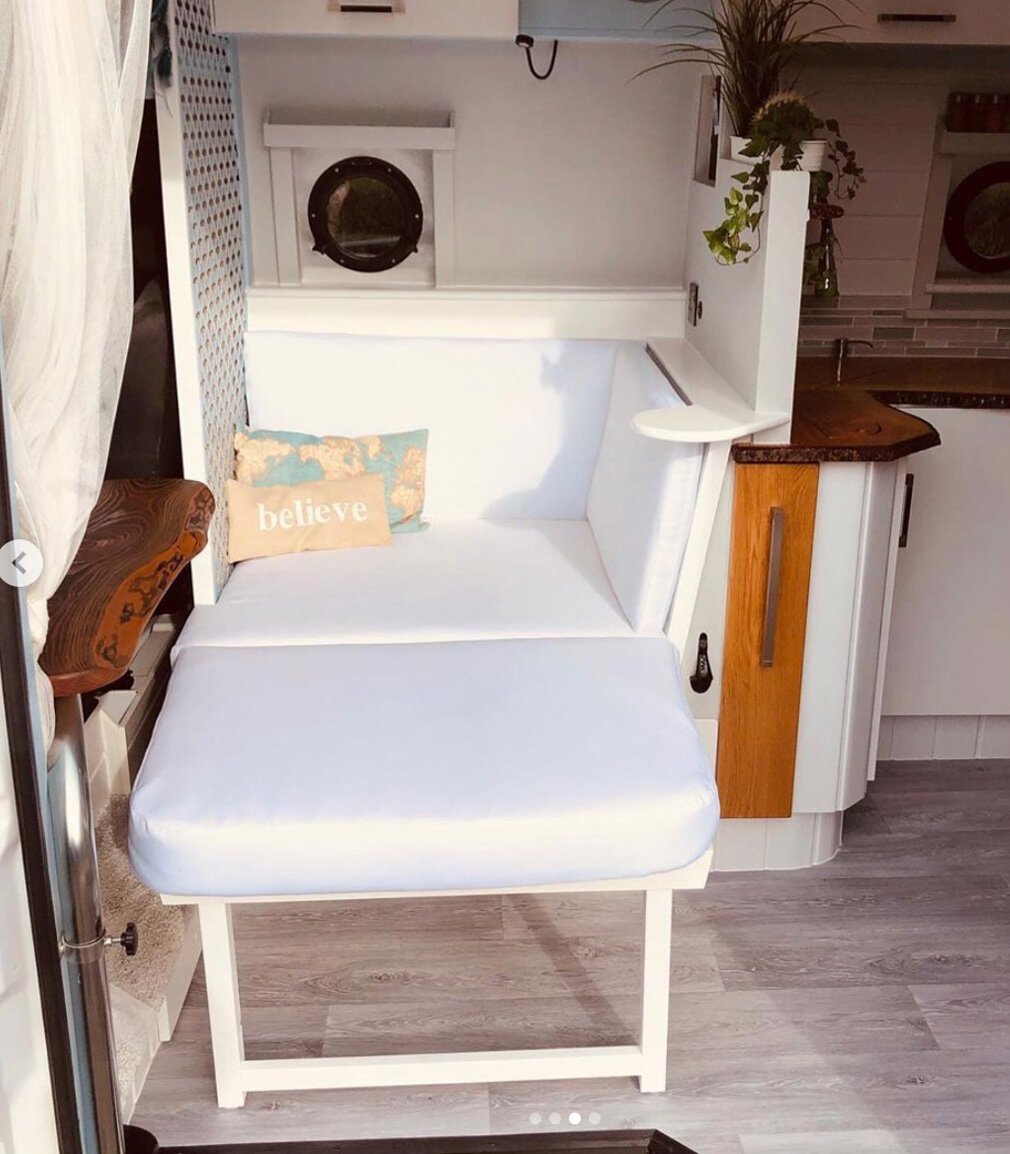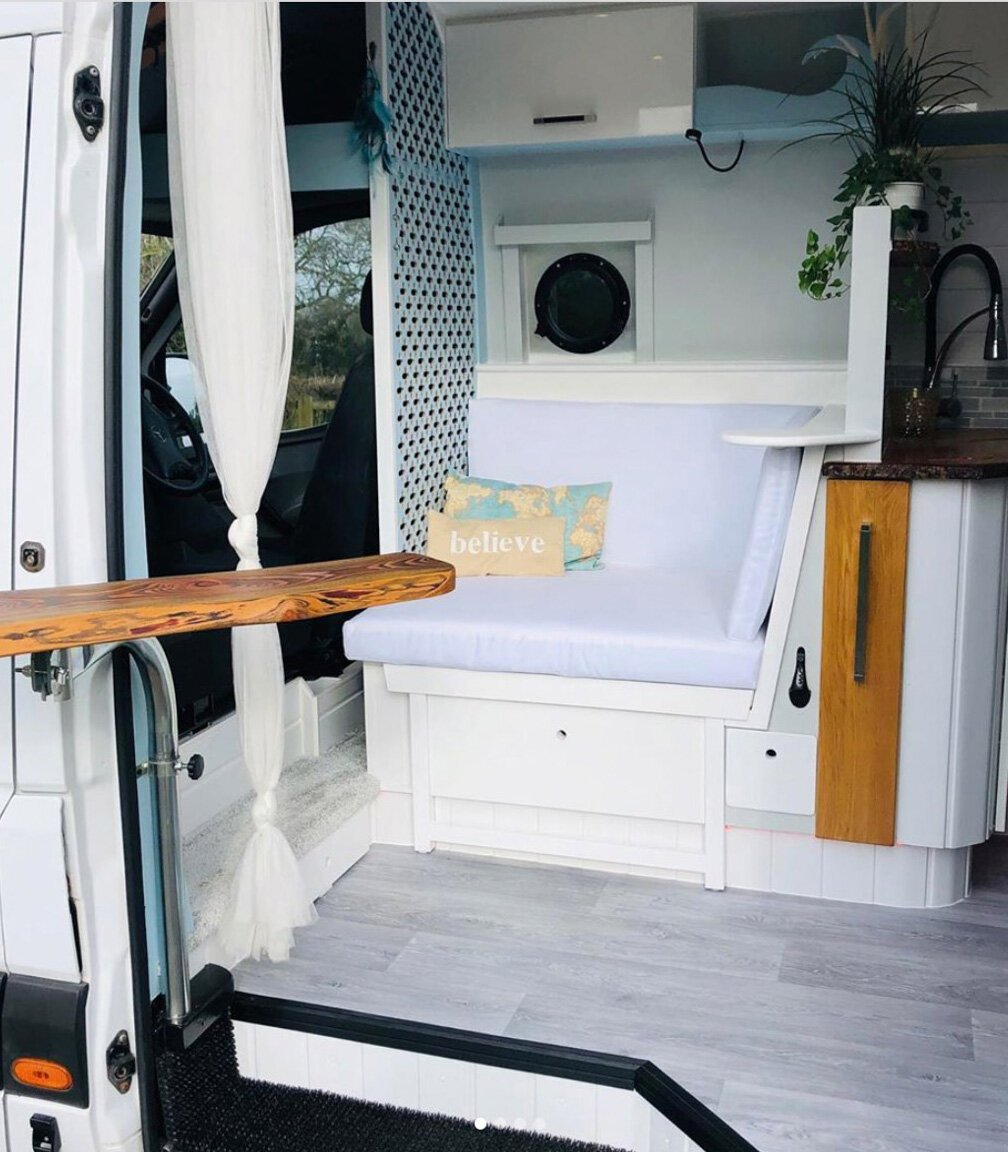 This all-in-one seating area converts from a chair to a chaise lounge. They've made excellent use of the space creating storage drawers in all the extra nooks and crannies. There is also a table on a swing post that can extend beyond the van when the door is open. They even thought of adding an extra circular cut out on the arm of the chair to use as a small table.
Shoe holder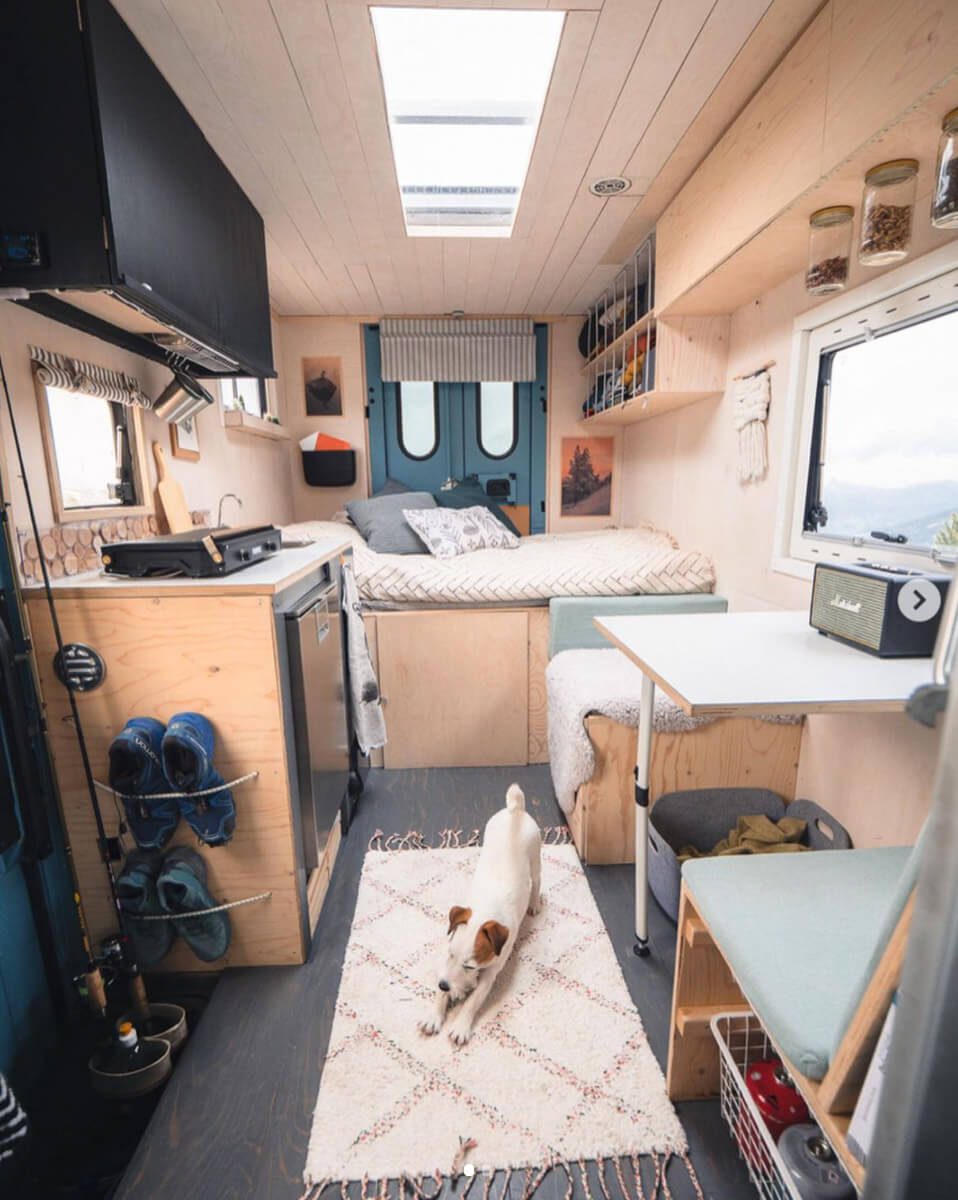 With precious little floor space in a campervan, leaving your shoes at the doorway can really get in the way. You might not to want to pack them away every time you use them either, so this shoe storage idea is an awesome solution!
Using bungee cords, you can store your shoes up against the side of your cabinets without taking up too much space and worrying they will fly around while driving.
Overhead surfboard storage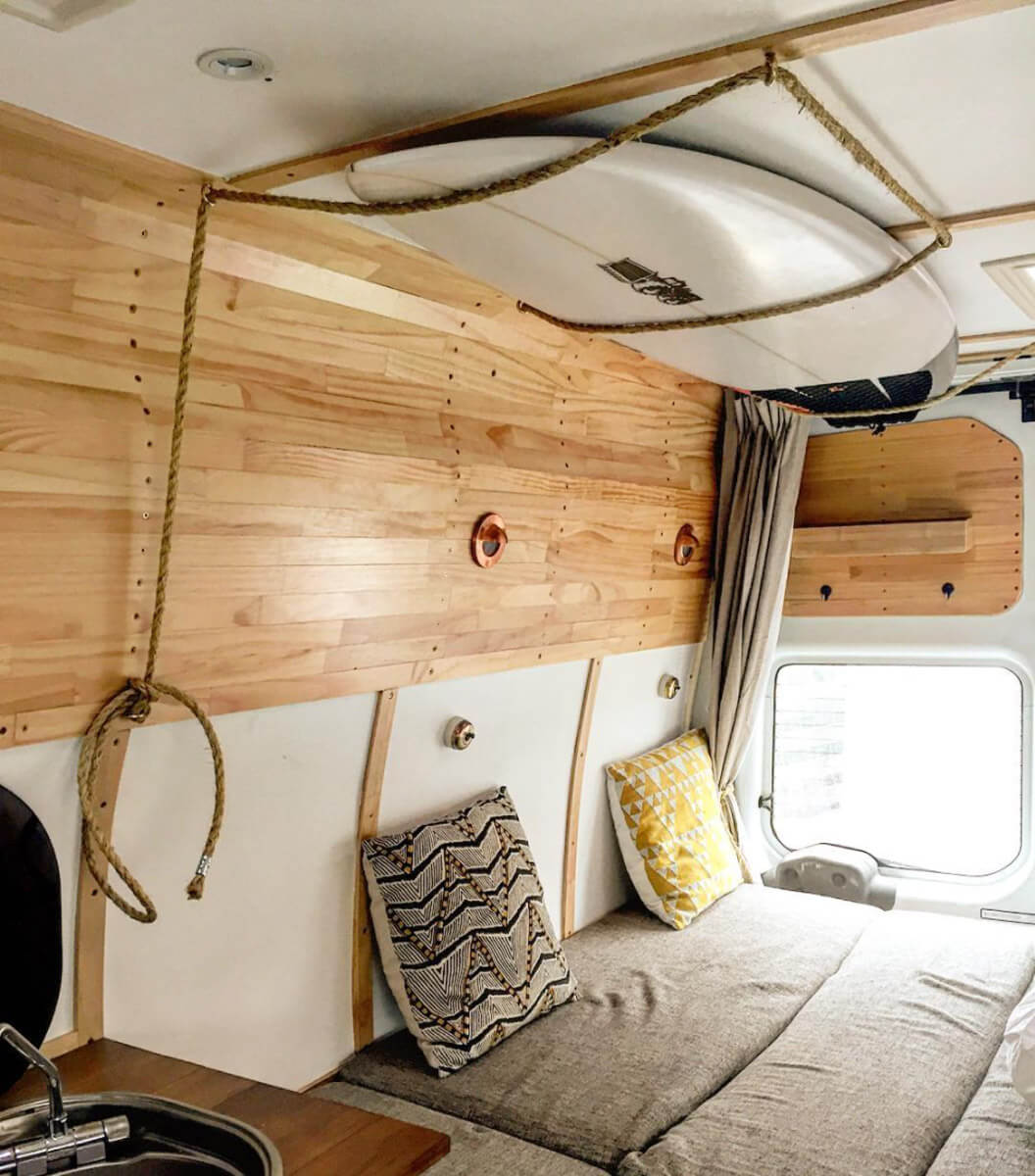 It may seem a bit daunting to find space for a giant surfboard (or 2!) in your campervan, but this innovative solution might be the best answer for you. Using a simple pully system with ropes, you can store your surfboard(s) above your head and out of the way while traveling. 
Psst! Want to save yourself the headaches and hours of research we went through and get straight to building the campervan of your dreams? 

We created Van Conversion Academy because it's exactly what we wished we'd had when we were building our campervans.

Save yourself the time and money and get straight to the building process with step-by-step instructions, video tutorials, blueprints you can actually copy and tons of insider tips and recommended products to get you on the road faster! Click below to learn more about Van Conversion Academy.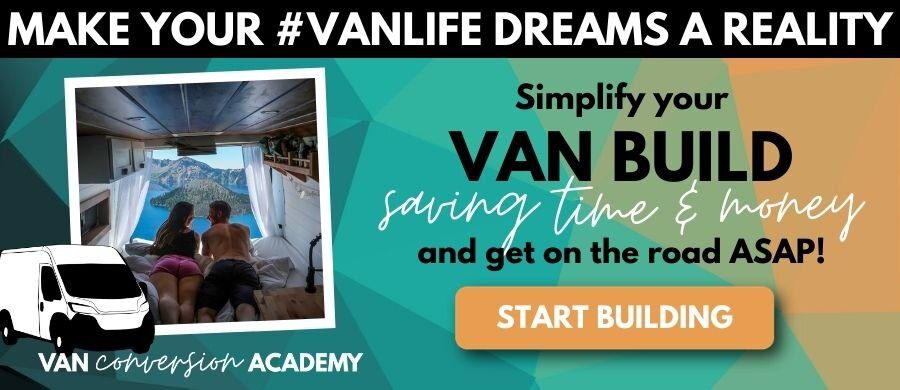 "Garage" Space Storage
One of the best places to get a lot of extra storage in your van is with the rear-access space vanlifers have dubbed "the garage". Here are some creative campervan garage storage ideas for making the best of that space.
Bike platform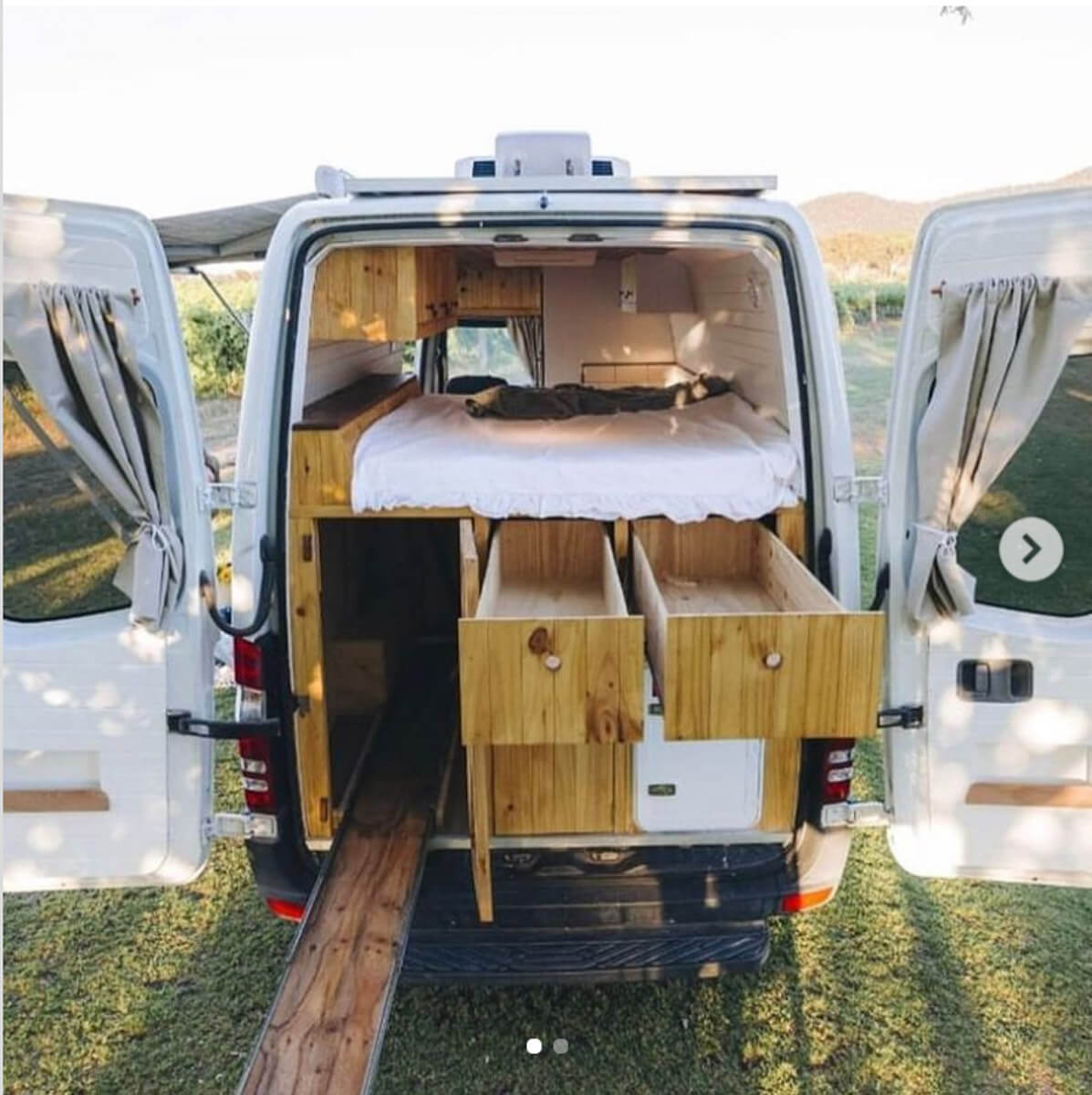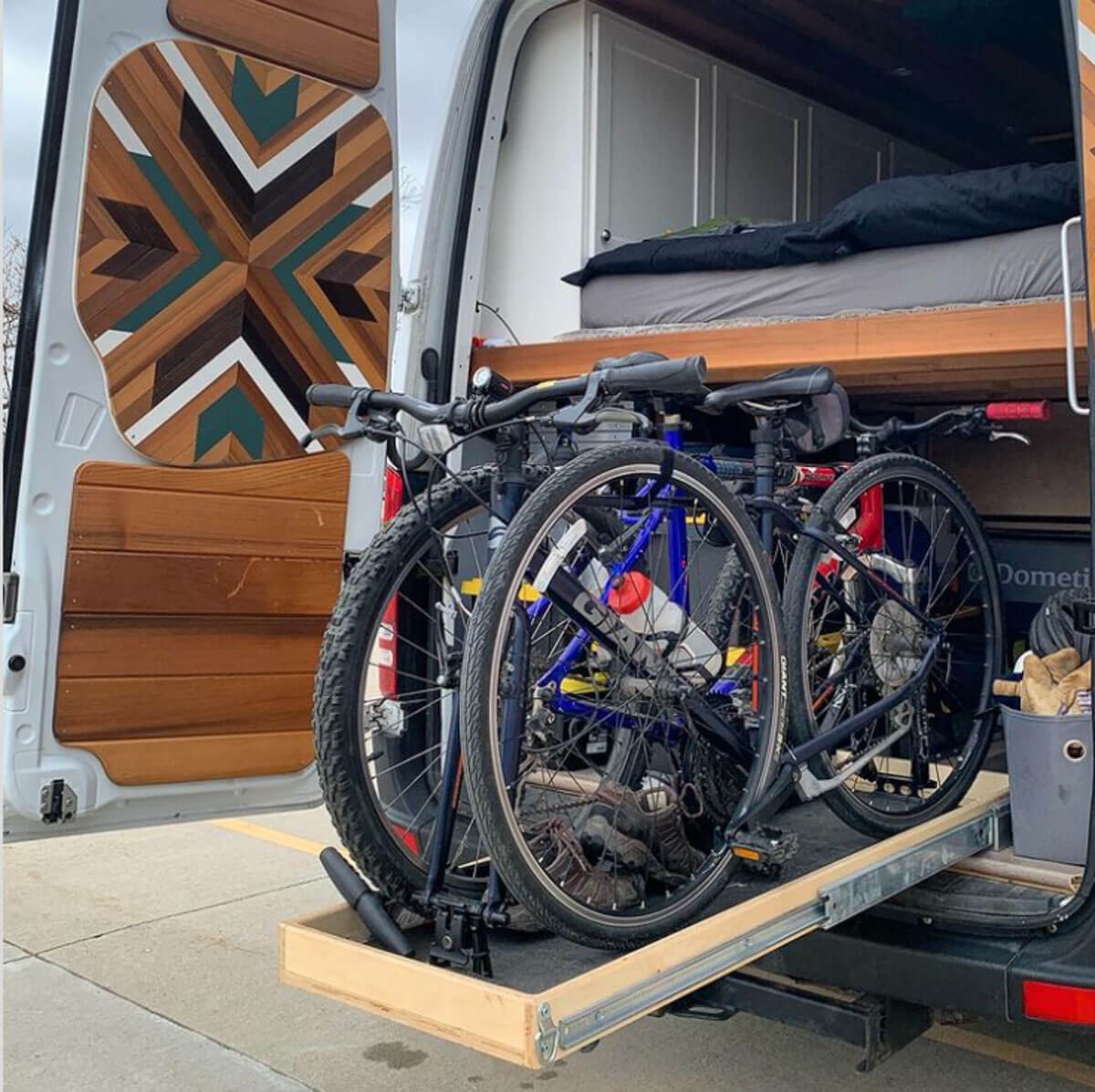 If you don't think you'll have enough space inside your van to store a bike or two, think again! By lofting your bed and creating extra "garage" space in the back, you'll have the height you need to store larger equipment like bicycles.
Adding the pull-out platform makes your bike(s) easy to access and put away when you're finished. You can even store your hiking boots in the space between them!
Backyard drawer space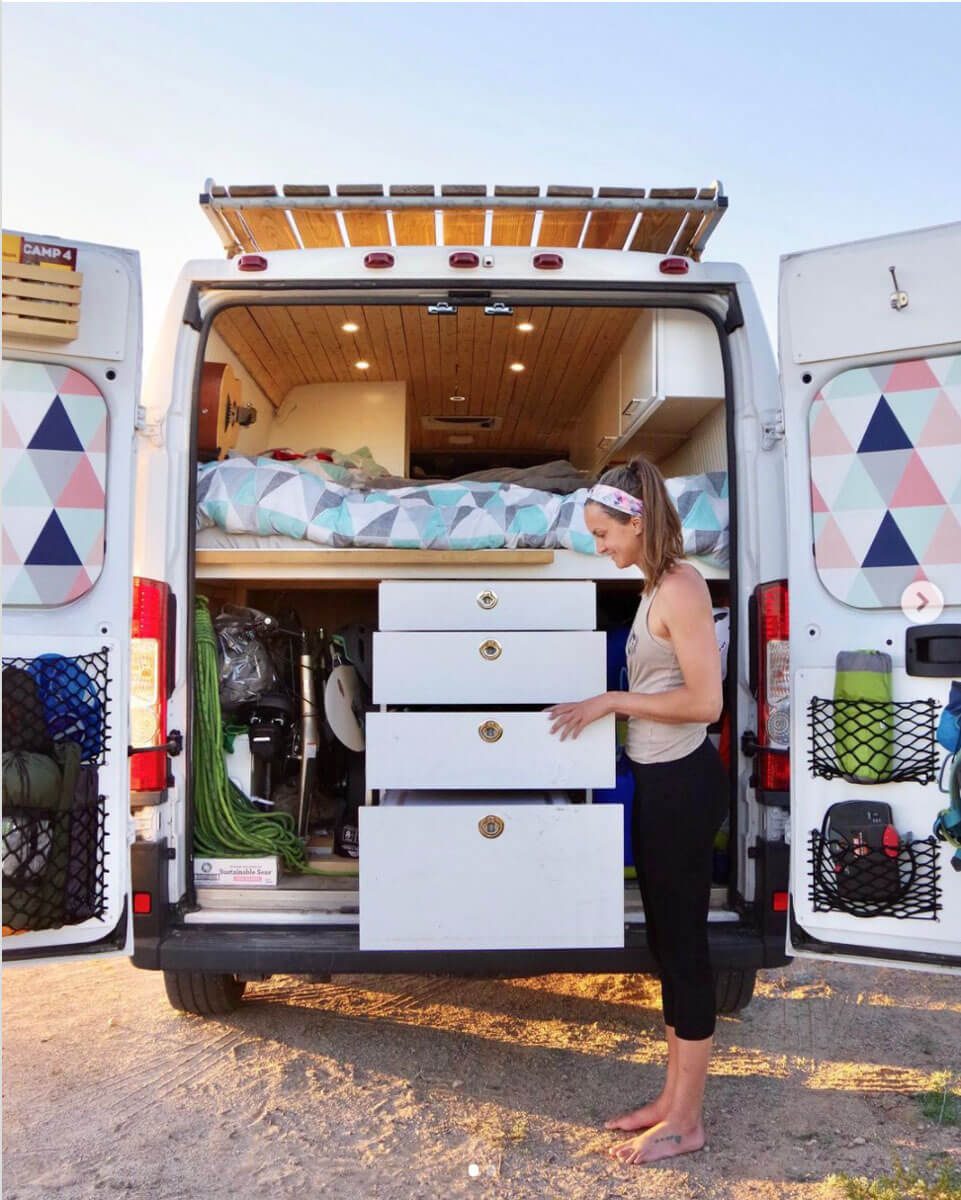 Another great use of that backyard "garage" space is creating shelving and drawers to store things in. This vanlifers created what looks like a dresser space in her "garage" where she can store clothing and things she doesn't need immediate access to indoors.
Free fill garage space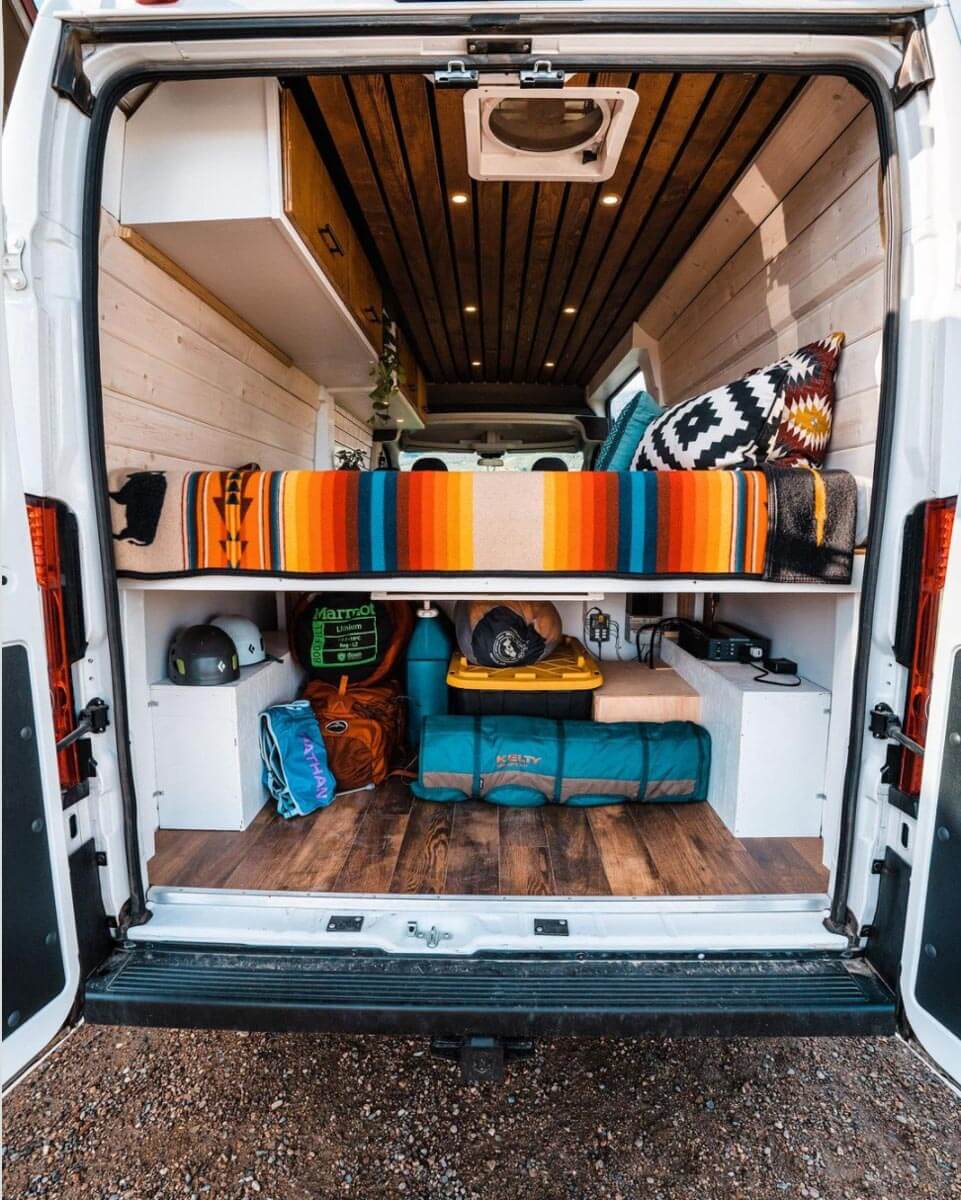 Of course, there is always the option to leave your "garage" open to free fill any items you want to store back there. Just be careful of items that can shift while the van is in motion!
If you want more vanlife inspiration, check out our van conversion ideas article where we round up all sorts of campervan layout styles, from budget builds to super bougie!
Campervan Storage Accessories
Here are some items that'll make storing things in your campervan much simpler. As we've already mentioned, staying organized is key to your sanity in such a small place!
Storage bin between driver and passenger seat: Turn that empty area between your seats into a functional and organized storage space.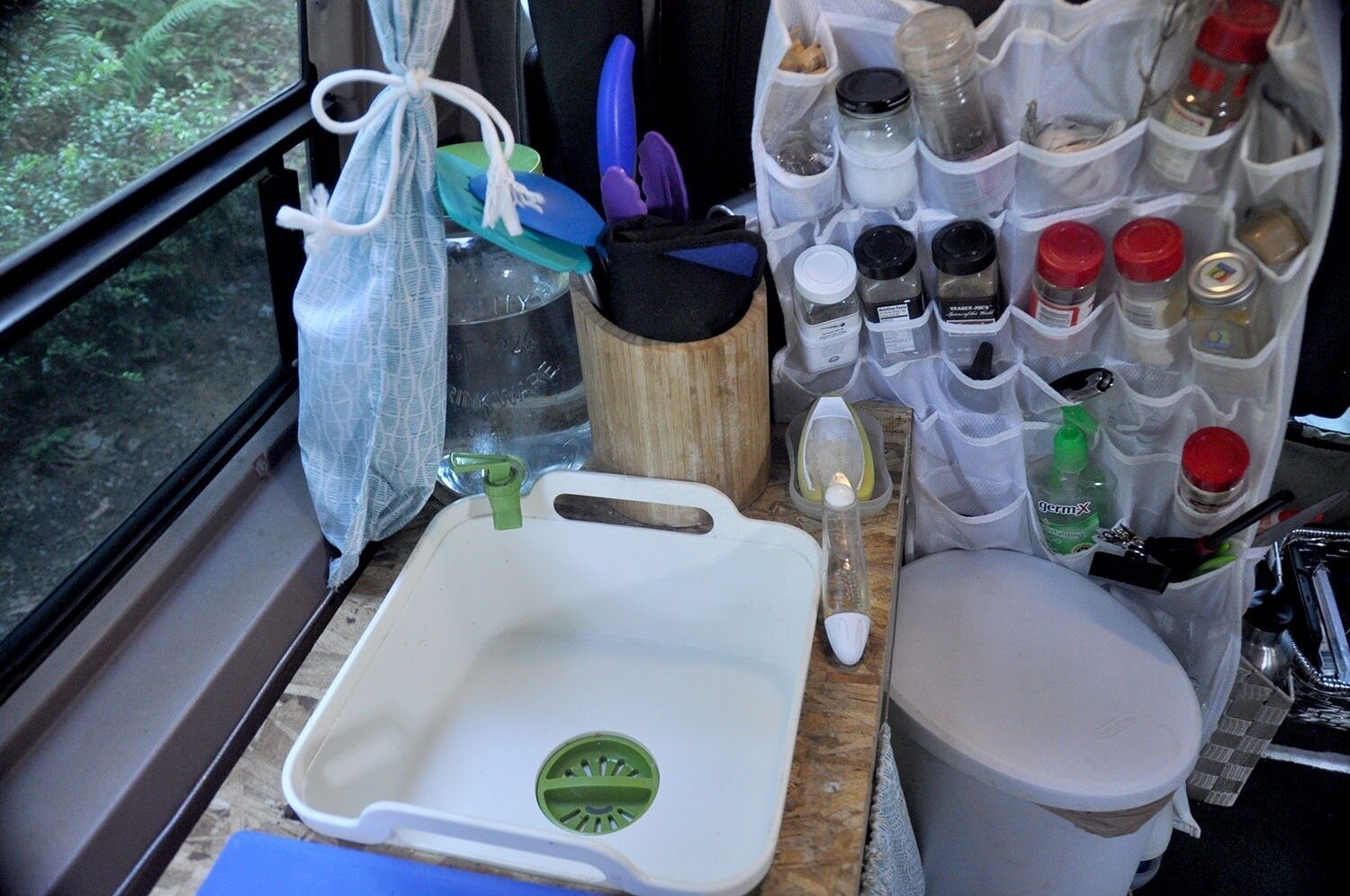 Budget idea: In our first van we used an inexpensive behind the door organizer to keep spices, dry goods, and miscellaneous items. (We cut it to fit the seat and attached it with rope.)

Slim hanging organizer: This hanging organizer is beautiful and functional.

Cargo Net: Super functional storage option without the frills.

Magnetic spice containers: These can be a great way to store spices if you buy them in bulk or want a way to store them securely without them clattering around)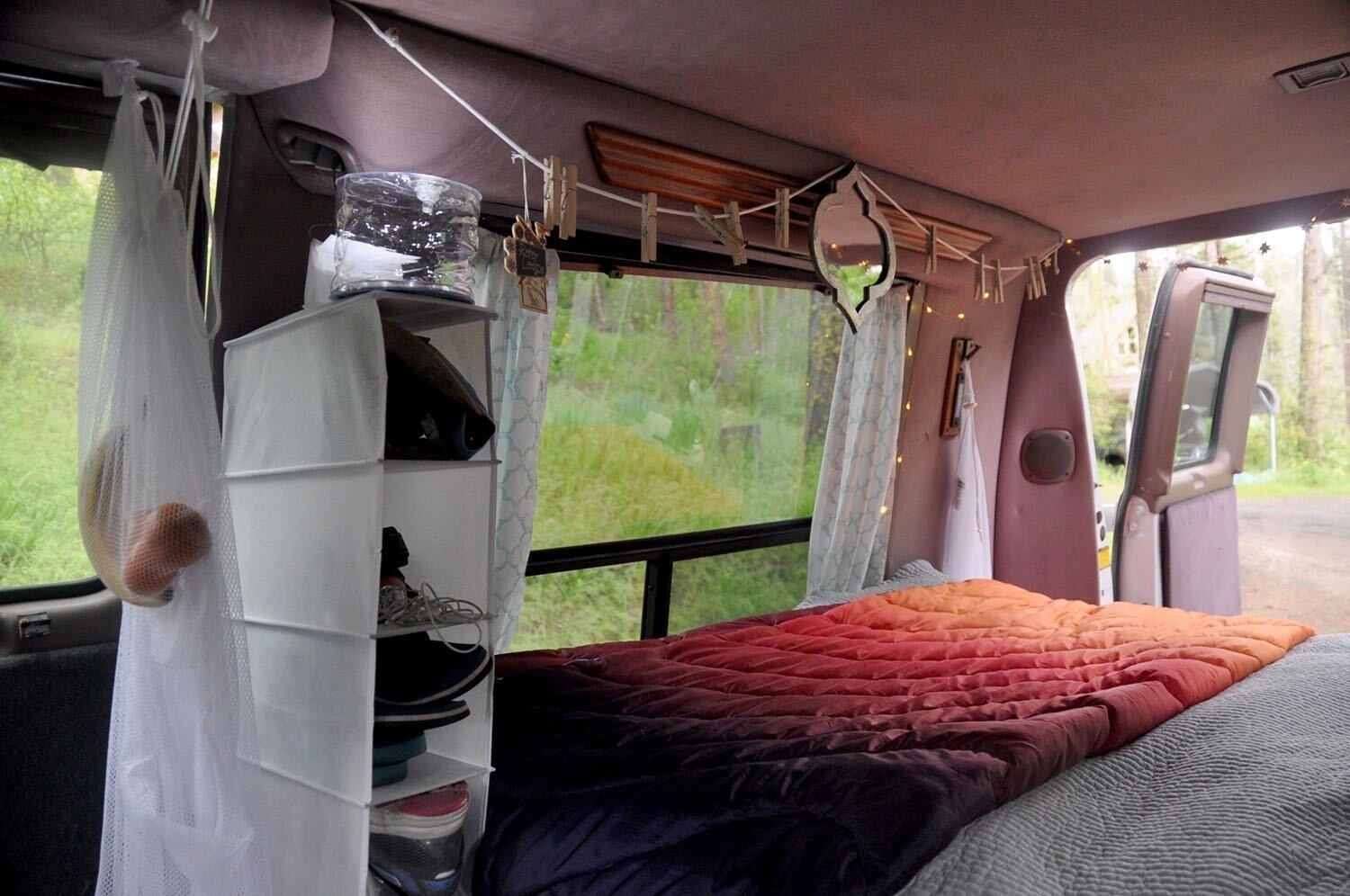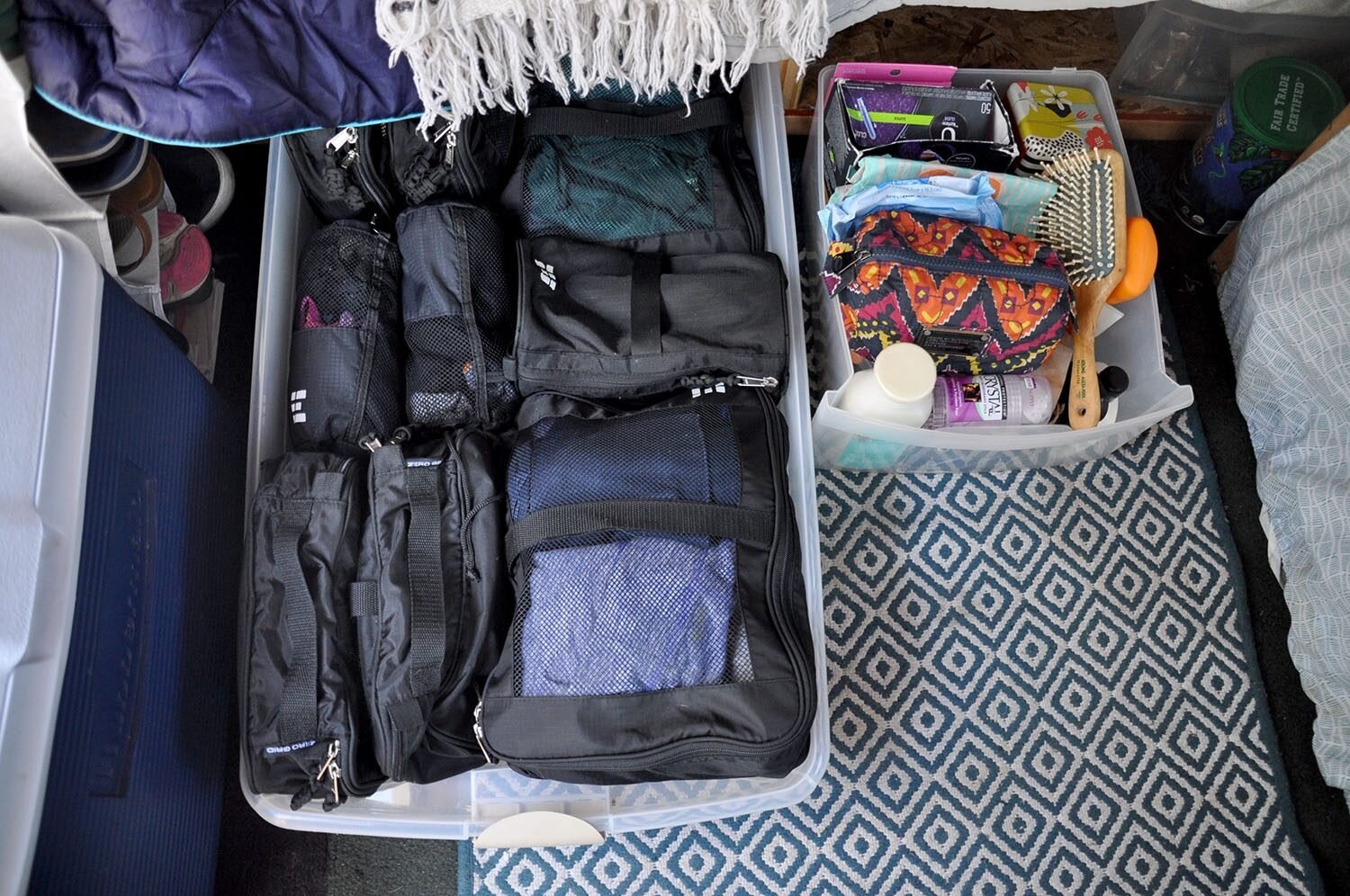 Packing Cubes: We absolutely swear by these for keeping our clothes organized in our van (or in a backpack while traveling!).


---
Are you considering vanlife?
We have TONS of resources on converting your own campervan and living the #vanlife. Check out our Ultimate Guide to Van Life for all the answers to your most burning questions, or read some of our favorite articles below.
Interested in engaging with others about all things #vanlife? Join our Vanlife Facebook community!
We want to hear from you!
Have you tried any of these storage solutions in your own van? Maybe you've seen some other campervan storage ideas that were so creative it made you rethinking tiny-home living? Comment below and let us know!