Few things rival a campervan trip around the rolling green hills and rugged sea cliffs of Ireland. If you're struggling to narrow down which rental company to choose, don't worry – we got you! We've rounded up the best campervan rentals in Ireland to help you plan an unforgettable road trip around the Emerald Isle.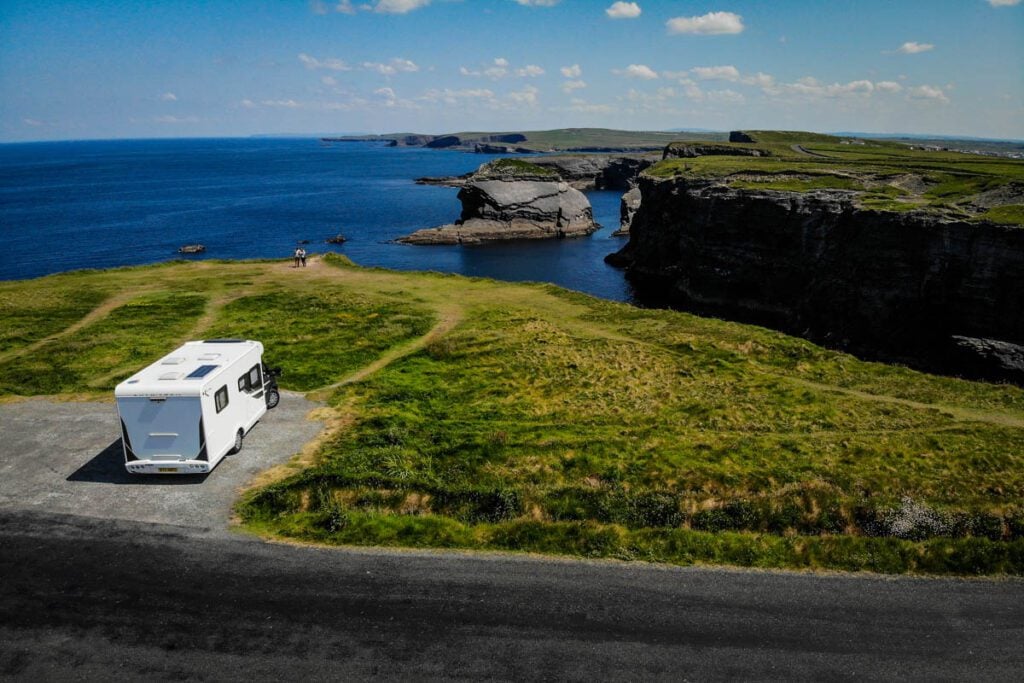 If you're considering a campervan rental in Ireland, I want to be the first one to give you a big ol' high five and tell you wholeheartedly that you are about to embark on the adventure of a lifetime!
If this is your first time on our website (welcome!), there's something you should know about us… we are absolutely obsessed with traveling by campervan! We've done it in 6 countries and counting!
We had the best time experiencing Ireland from a home on four wheels. And I think you will have an absolute blast, too.
But hold up! Don't go and book any campervan or motorhome you can find just yet…
We have traveled all over the world in campervans, so we have some expert advice that'll be essential as you begin planning your trip.
In this article, we'll go over exactly how to choose the best campervan rental in Ireland for your budget and travel style (because what was best for us might not be best for you!).
We're also sharing some tips that have come in really handy over the years, essential items to pack, and mistakes we've made, all so that you have the very best experience.
In the end, we want you to fall in love with vanlife too!
Guide to renting a campervan in Ireland
Here's what we cover in this guide. Click on any of the links below to jump down to that section, or keep scrolling to get all the juicy details.
---
Want to save time and energy on planning?
In June 2023, we spent 2 weeks traveling around Ireland and living in a campervan. We were lucky enough to explore a lot of what this country has to offer!
We took our 2-week travels and are in the process of creating the perfect Ireland road trip itinerary. We'll send you our complete 2-week itinerary, filled with tips and advice, once it's finalized! Just click below to get on the waitlist for our 2-week Irleand road trip itinerary!

---
Why you can trust us about campervan rentals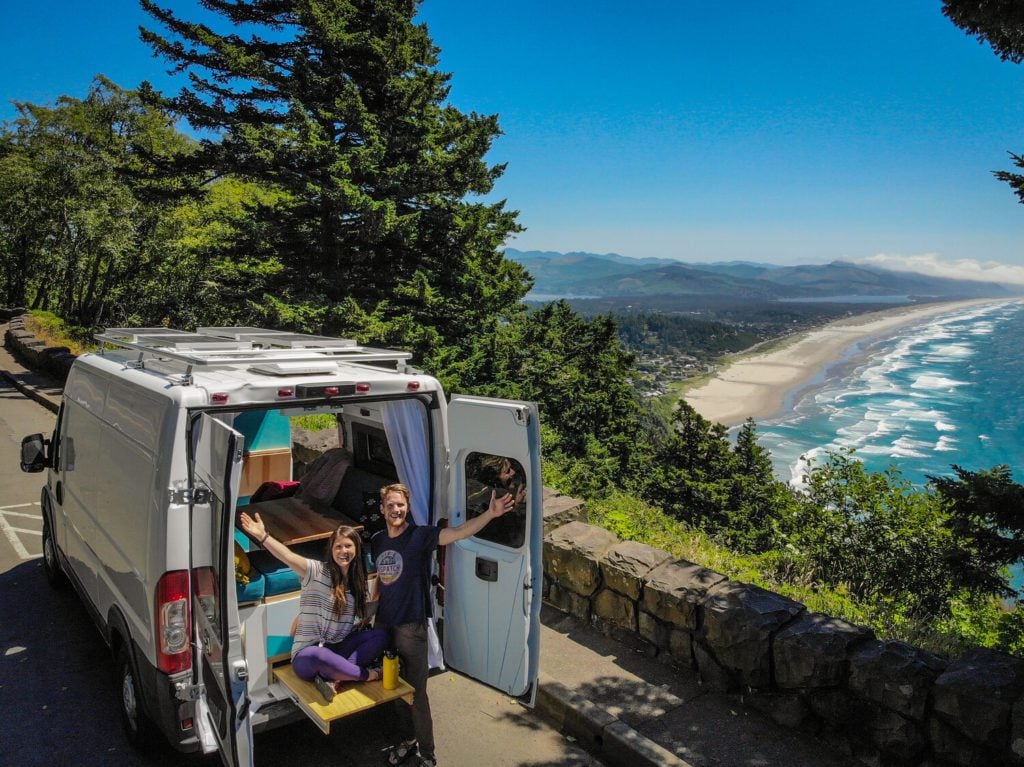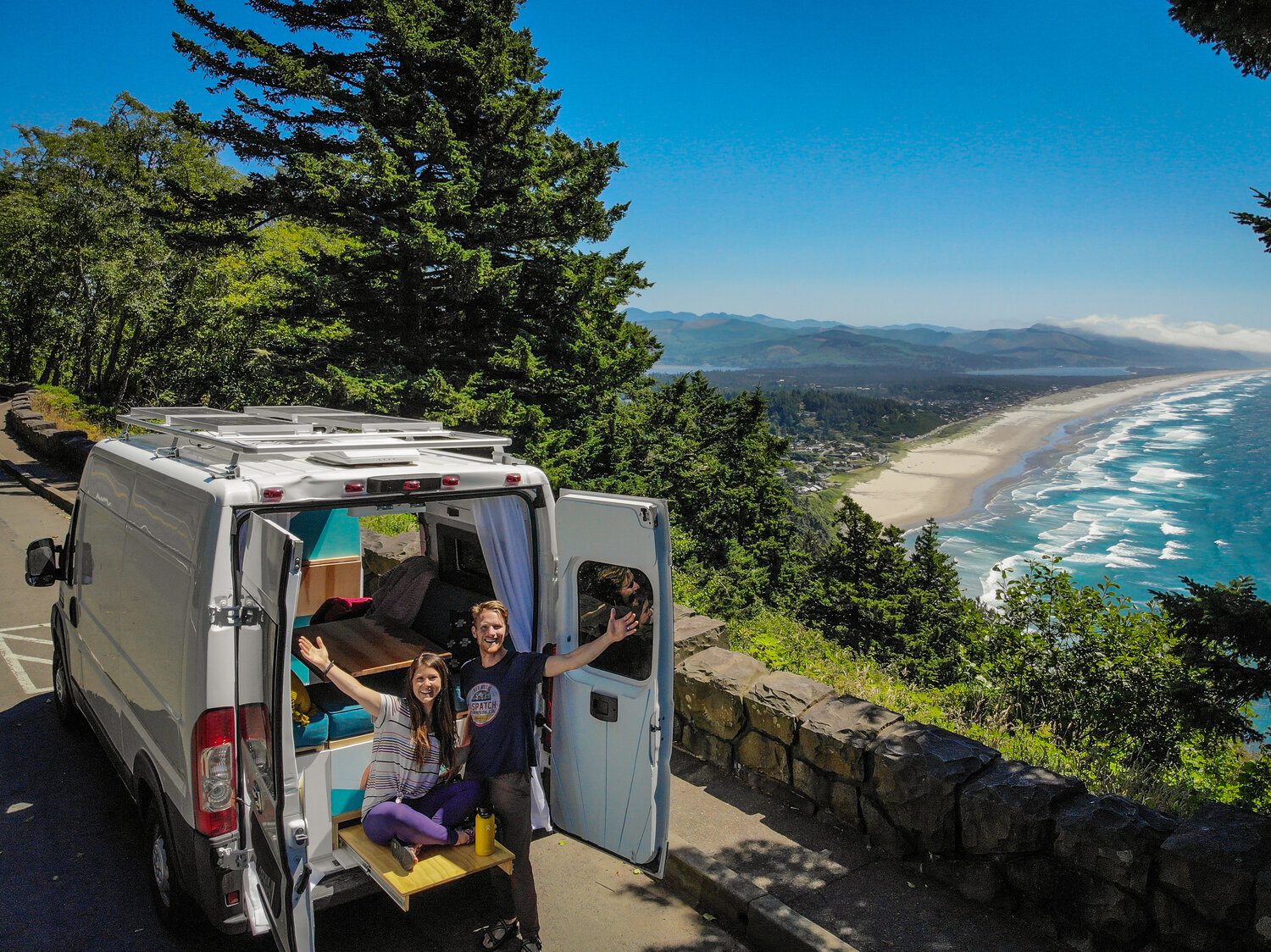 If you're new to this blog (welcome!), we want to share a few reasons why you can trust us about all things campervan-related:
Now do you understand why I said we're obsessed!?
I mention all of this to let you know we have a lot of personal experience on this subject. We truly know what we're talking about and in this article we're sharing our expertise with you.
Also, we simply love connecting with others who are interested in RV and campervan adventures, so let's be friends!
Quick English language note: We use the words "rental and "hire" interchangeably in this article.
Our personal experience renting a campervan in Ireland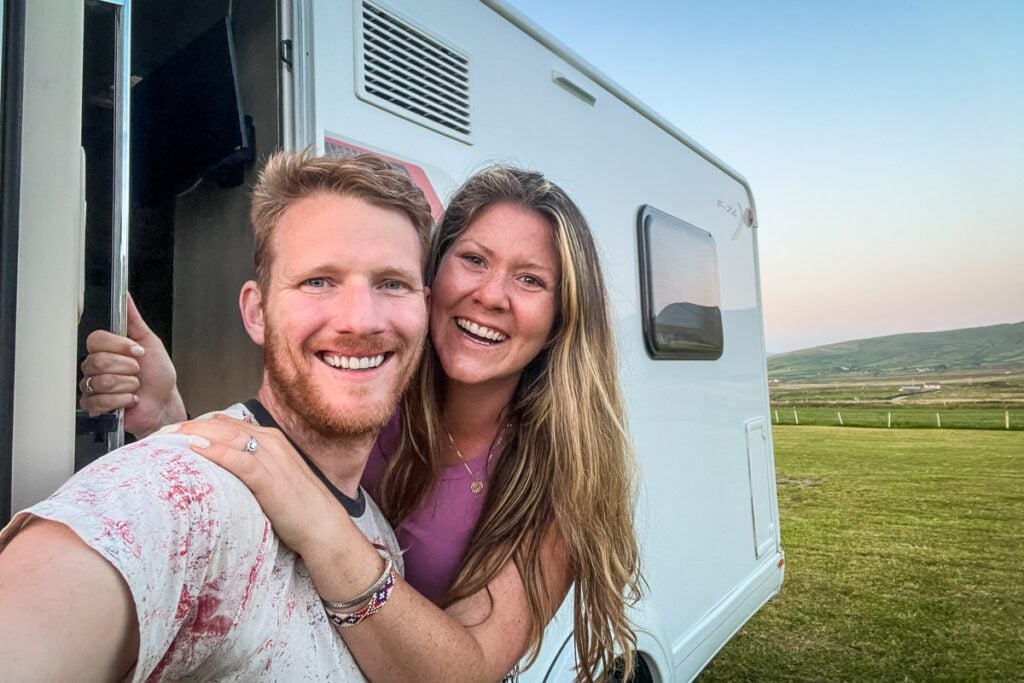 We personally rented a campervan in Ireland and had such an incredible time.
We feel like a campervan or motorhome really gives you an added level of freedom that you just don't have when you're staying in a hotel or Airbnb, and we highly recommend it.
Since we've personally explored Ireland in a camper ourselves, you can trust that we know what we're talking about in this article and are sharing tips that will truly help you plan your own trip.
Our top campervan rental recommendation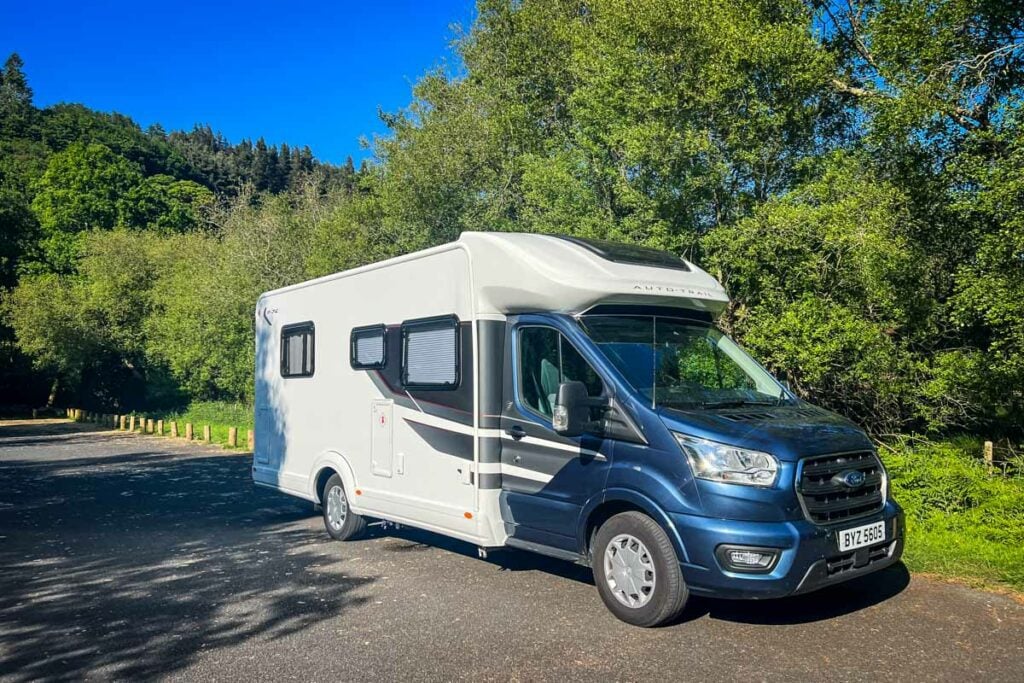 If you just want to skip to our overall recommendation, here it is:
We'd recommend using Motorhome Republic to compare all rental options for your dates.
Spoiler Alert: Our 2 top picks for companies are Causeway Campers and Bunk Campers (and we have personal experience renting with each of them!).
We'd highly recommend you continue reading this guide as it is packed with insider tips on what to look for when choosing your vehicle, mistakes to avoid, and some other companies we'd recommend if you have a different budget or travel needs.
How to book a campervan rental in Ireland

Trying to figure out which company to rent a campervan through can be a daunting task.
We've done it 4 times now, so we know how overwhelming it can be the first time.
Our go-to place to find the best campervan rentals in a particular destination is Motorhome Republic. This is an aggregate (kind of like what Booking.com is for hotels or what Discover Cars is for car rentals) that rounds up all the options in one place so you can easily compare them.
We really like using their filters because you can input the number of travelers, and other important features like "automatic transmission" and amenities like a toilet or shower.
Additionally, you can choose to display options within a price range or filter by highest reviews, making it a really handy and user-friendly tool.
Best campervan rental companies in Ireland
Okay, so you've got Motorhome Republic pulled up for your dates and you can see all your options… but how do you even begin to choose between the different companies?
Being that we've personally rented campervans all around the world (and have built 3 of our own!), we feel like we have a really good handle on what to look for.
The following companies have been hand-picked by us, and we think each can be a good choice depending on what it is you're looking for.
Campervan rental companies in Ireland
We've scoured reviews, compared specs, and analyzed prices to bring you a comprehensive list of the best campervan rentals in Ireland so the decision is a little simpler for you.
We're sharing what company we chose to rent with, but we'll also highlight some other companies in case you think a different one would be a better fit for your personal needs or budget.
For each company, we're sharing pros, cons, and price points (budget or mid-range) to make this big decision a breeze.
This is the company through which we personally rented our Ireland campervan.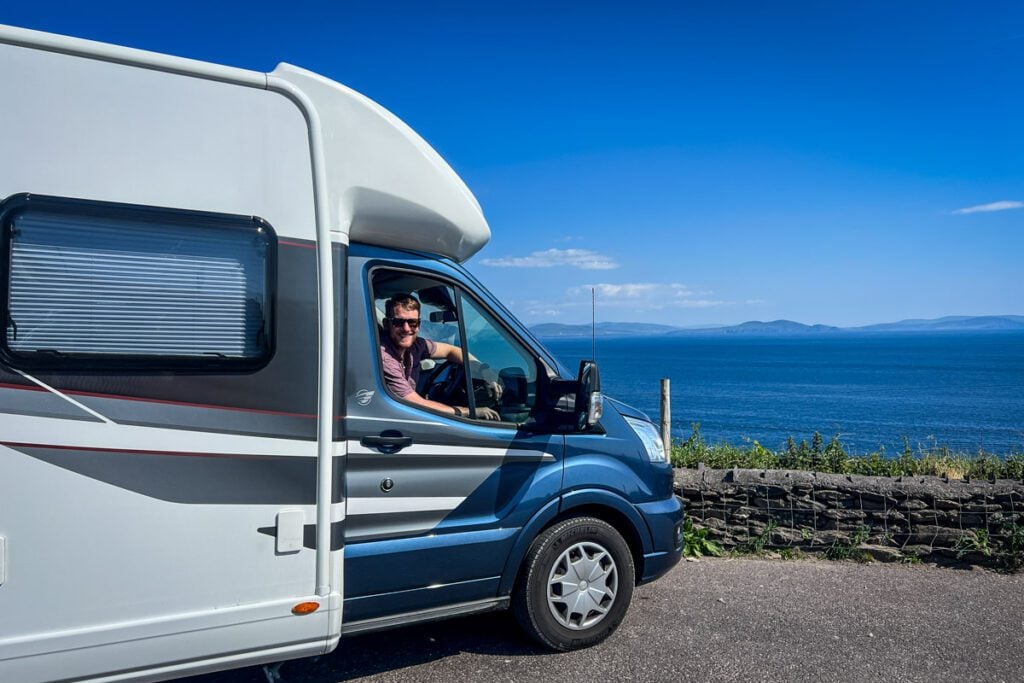 Price range: mid-range
Recommended for: all types of travelers
Pick-up/drop-off locations: Dublin & Belfast

They claim there are 8 pick-up locations in Ireland, but contact them if this is of interest to you. We wanted to do this, but Dublin was the only location available during our travel dates.
Causeway Campers is a small company based in Northern Ireland and has 9 different styles of vans and motorhomes, making it a good choice for basically every type of traveler.
We personally chose to rent with Causeway Campers for a few reasons. They had availability when some of the other companies did not. Also, their prices and layouts were great, and we like the idea of supporting a small, local company when possible.
Overall, we had a great experience with them and would recommend booking with them. The following lists share some more specifics on the things we loved and the things that could be improved.
Pros:
Variety of vehicles to suit all needs and budgets – from compact campervans to large motorhomes.
Really nice layout options, with the ability to sleep multiple people. We had an especially good layout for our family (we were traveling with our daughter, who was 1.5 years old at the time).
The vehicles are well-maintained and the kitchen was fully-equipped (much better than any other campervan rental we've personally had).
The staff member assured us that any minor scratches (like those you get from driving past a hedge or going under a tree branch) wouldn't be counted as damages. It was nice knowing they weren't super nit-picky about this as many of the roads in Ireland are very narrow, which makes it a bit difficult in a large vehicle.
Prices are competitive.
Amazing window covers (even when the sun set at nearly 10 p.m. every night).
They have pet-friendly vehicles (€11.55 daily additional fee).
Cons:
They do not have an established building where you pick up the vehicle. Instead, you will meet a staff member in the parking lot at the airport to collect your vehicle and have a brief orientation. (It wasn't an issue for us, but it's worth pointing out.)
Bedding and towels are not included in the rental price, and they are an additional cost.
Not as "hands on" (i.e. travel recommendations, website with resources, etc.) as some of the other companies we've rented with around the world.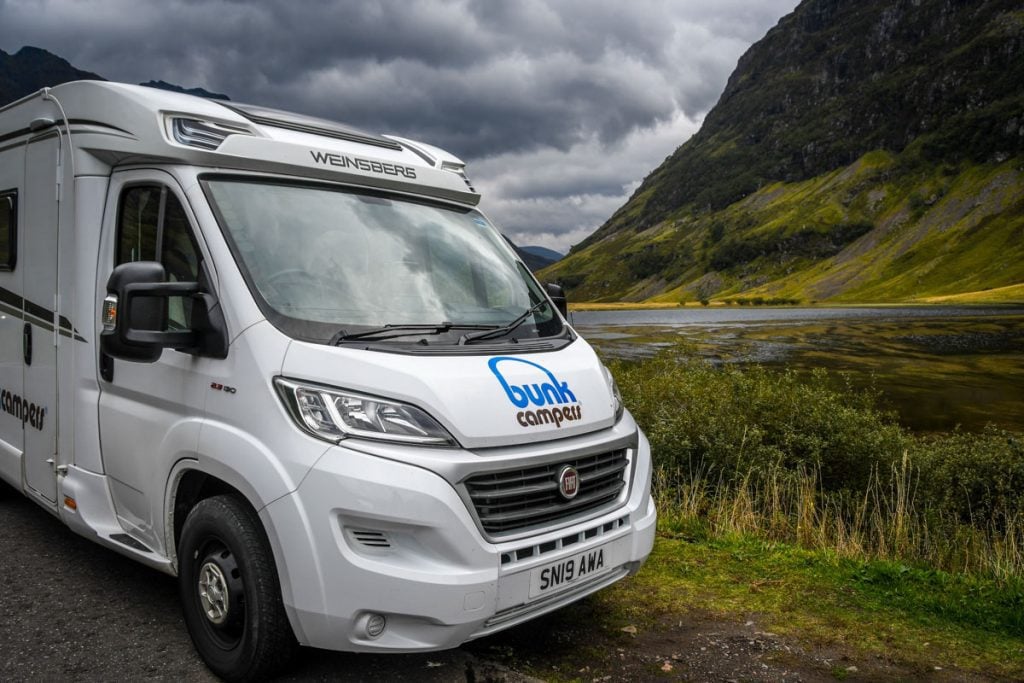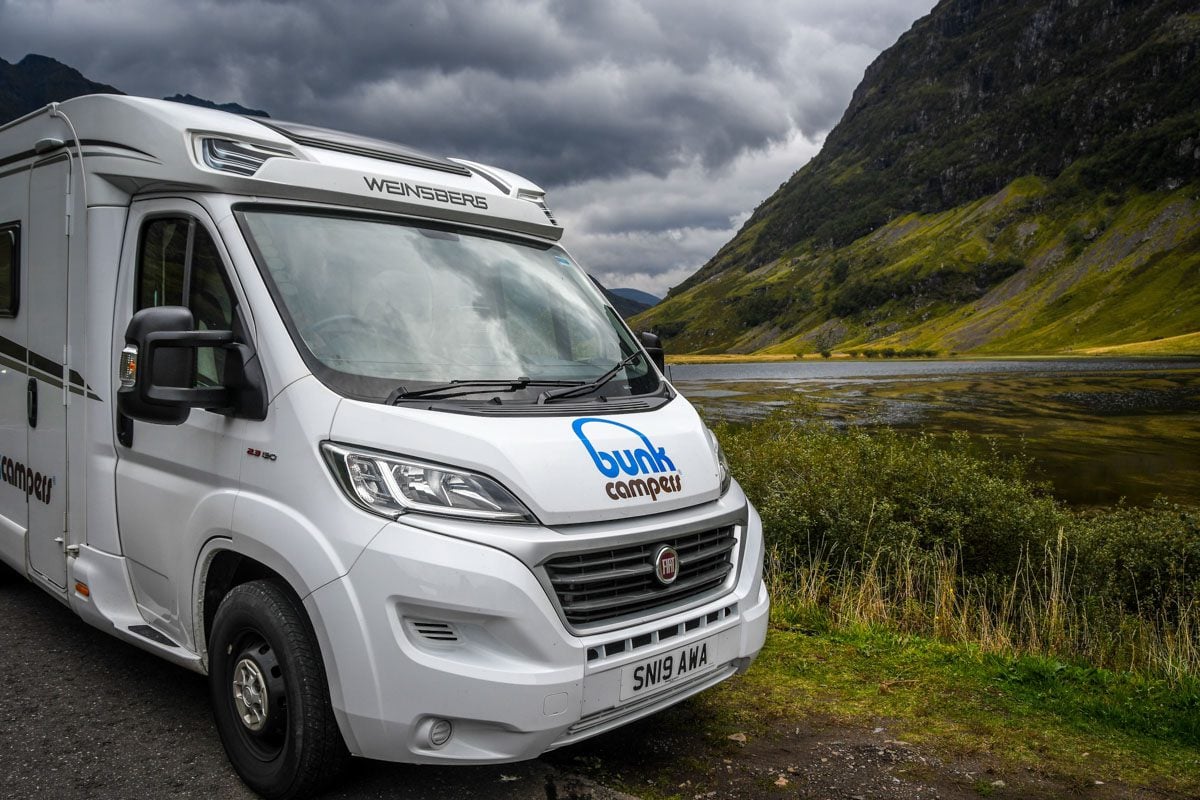 Price range: mid-range
Recommended for: all types of travelers
Pick-up/drop-off locations: Dublin & Belfast
In business since 2007, Bunk Campers is based out of the UK and Ireland (yay for supporting local business!). They have a variety of sizes, prices, and types of vehicles, making them a great choice for most travelers.
With more than 15 years of experience, Bunk Campers are well-established and have smooth systems in place. They know what people need in their vans and the kind of support and customer service that will make your road trip perfect.
Personal note: We rented with Bunk Campers in Scotland and had a great experience, but we wanted to try another company in Ireland in the name of research so we could report back. We'd definitely recommend Bunk Campers as another option as you are searching for the perfect rental for your needs.
Pros:
TONS of storage and fully-stocked vehicles with everything you could possibly need for a road trip, like kitchen supplies, camp chairs, and linens.
Variety of layouts, from a 2-berth van to a 6-person motorhome.
They are working toward a greener fleet with a handful of initiatives, including fuel-efficient engines (all vehicles are under 3 years old) and an environmentally-friendly fluid for their toilets.
You can check your water levels at a glance with a meter that tells you what level your freshwater and gray water tanks are at (similar to the gas tank meter on your dash). Now we want this in our own campervan!
Super effective heating system that you can adjust to the degree.
Convenient accordion-style window covers.
Cons:
Our vehicle was bigger than we would have preferred to drive on the narrow roads of Scotland, but this is more a con of the vehicle we chose (Aero Plus) than the company itself.
There was only one USB outlet in the back of the camper. It was near the bench seat area, so we couldn't easily charge our phones at night. We recommend bringing this super handy power bank.
In both Iceland and New Zealand, there was a large space at the rental shop where people could leave unused or leftover food items. We were a bit bummed that Bunk Campers didn't have a food exchange, especially as a company promoting green initiatives.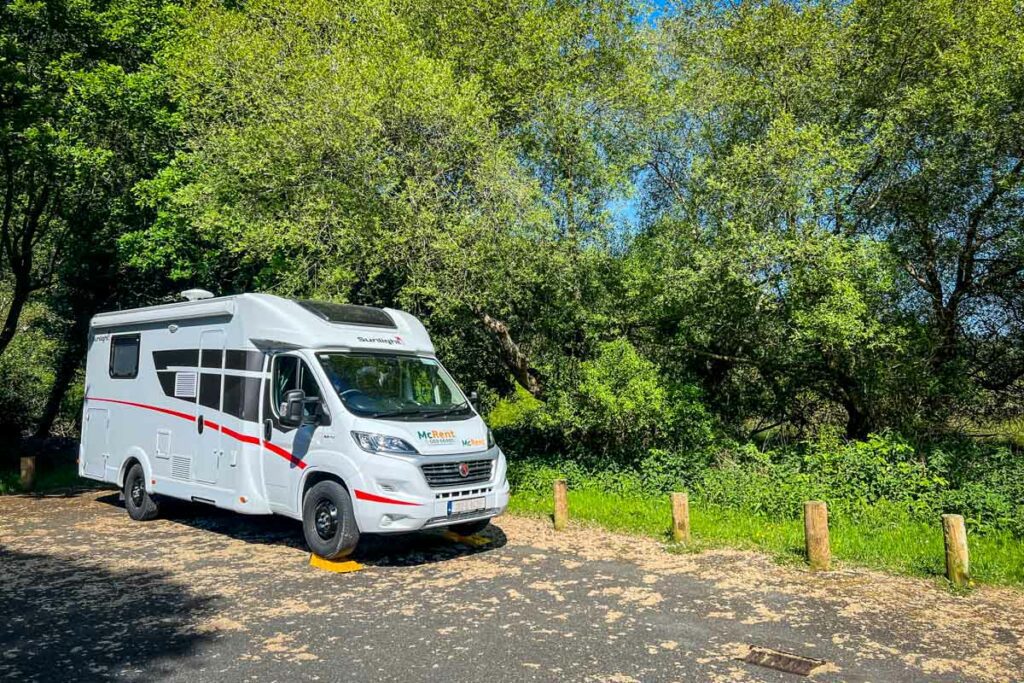 Price range: mid-range
Recommended for: spontaneous travelers
Pick-up/drop-off locations: Dublin & Limerick
One of the largest campervan and motorhome rentals in all of Europe with hubs in 17 countries. They have vehicles ranging from pop-up vans to large, fully-integrated motorhomes.
This would most likely have been our second choice for a campervan rental when we went to Scotland, as they have a large selection of layouts and availability for last-minute offers.
Pros:
They sometimes offer exclusive deals for last-minute bookings, though vehicle selection may be limited.
The hiring fee includes an awning, bike rack, gas bottles, balancing wedges, water hose, and cable.
Vehicles are guaranteed to be no older than three years and include a bathroom with sink, shower and toilet, heating, and cooking facilities.
Cons:
Manual transmission only, so ya gotta be able to drive a stick.
Dish sets and bedding are not included in the rental fee and cost extra.
One-way booking is not available, so you have to begin and end your road trip at the same station (this is honestly the case with most campervan rental companies).
Price range: mid-range
Recommended for: families
Pick-up/drop-off locations: Dublin
Black Sheep offers converted vans in 41 locations throughout Europe. Their vans range in capacity from 2-6 seats and 2-5 beds, making them perfect for families with 2-3 children.
Pros:
They provide an optional kitchen kit at no extra cost with dishes, cutlery, a coffee maker (essential!), and even garbage bags. We love that this is optional, so if you already have your own dishes, you don't need their kit taking up space as well.
Free cancellation for any reason up to 48 hours before your booking date.
If you have your own vehicle, you can rent a rooftop tent for a much lower cost.
Cons:
To rent a smaller van, you must be at least 21 years old and have had a driver's license for at least 2 years (25 years old and licensed for 3 years for a larger van).
You have to bring your own bedding or sleeping bags. The only bedding they have available to rent (€15 / $16.85 USD) is a disposable sheet set.
Their website is pretty clunky and not the easiest to use (but you can easily book through Motorhome Republic!).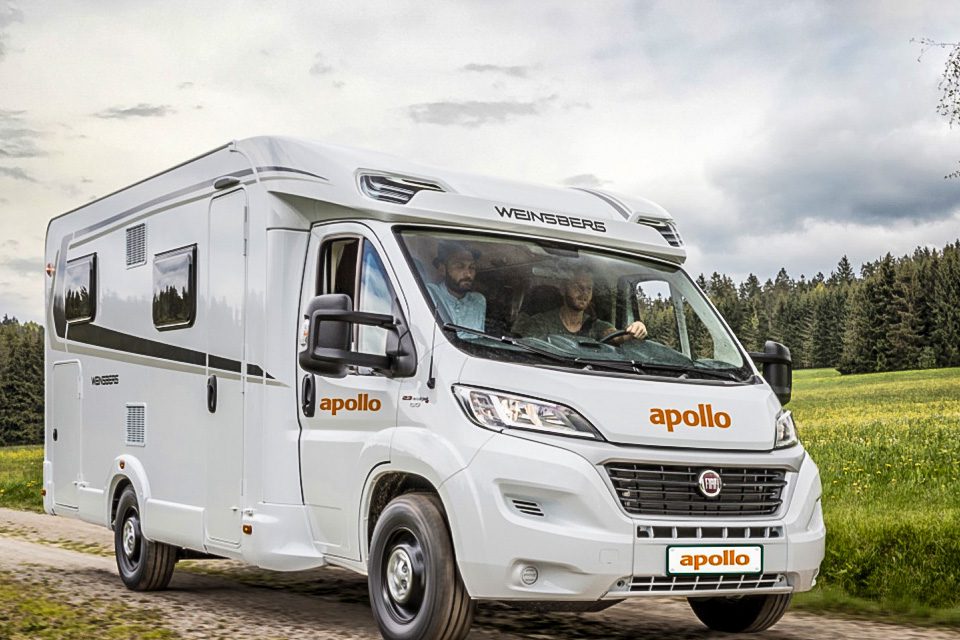 Price range: mid-range
Recommended for: all types of travelers
Pick-up/drop-off locations: Dublin & Belfast
Apollo Motorhome Holidays originated in Australia in 1985 and has since expanded to New Zealand, North America, and Europe.
They operate year-round, offering a variety of vehicles all fitted with on-board heating. Their rentals range from compact campervans to 6-person motorhomes.
Pros:
Competitive rates and special offers throughout the year.
Convenient location less than 2 km (~1.2 miles) from the Dublin airport.
Modern vehicles no more than 2 years old.
Cons:
Manual transmission only.
You may be able to hire for less than the minimum rental time, but you'll still have to pay the full amount for the minimum hire period.
The depot is only open 9 a.m. to 5 p.m. Monday to Saturday, so you need to time your pickup and drop-off accordingly.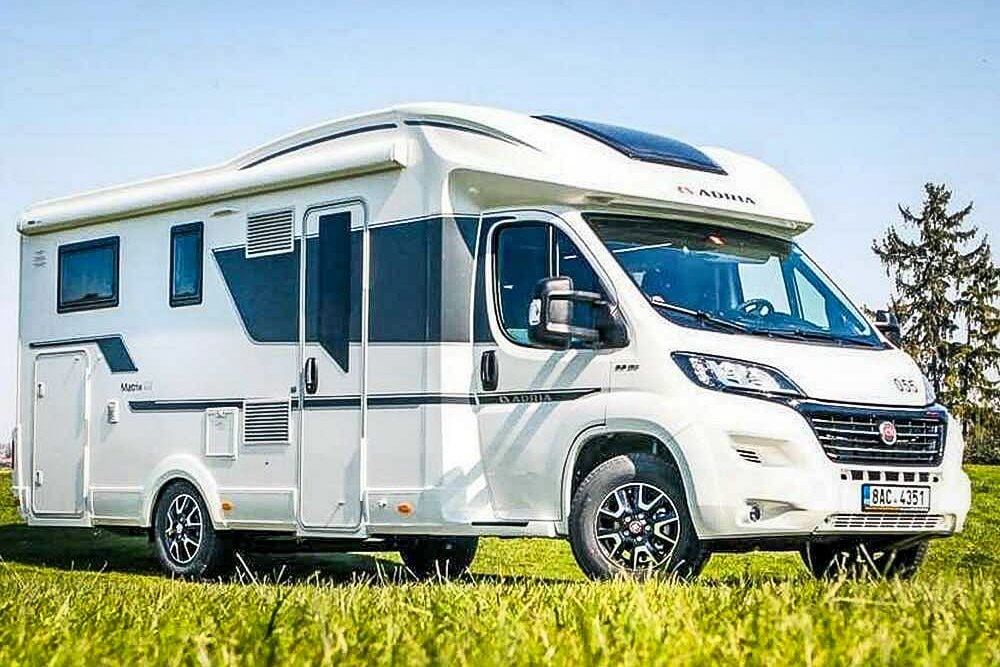 Price range: mid-range
Recommended for: couples or smaller families
Pick-up/drop-off locations: it's in the name – Anywhere!
Flexible one-way rental service with a fleet of 50+ motorhomes across 35 countries.
Anywhere Campers' big selling point is that you can pick up anywhere, anytime. From their website: "Whether it's an early morning at an airport in Paris, or a dock in Oslo at midnight, we'll be there." How cool is that?!
And when your trip is over, you don't need to drop off at a depot – Anywhere Campers will come to you.
Pros:
Flexible pickup and drop-off.
Manual and automatic transmission available.
All-inclusive rental price includes a fully-equipped kitchen and bedroom, as well as extra amenities like a BBQ grill, camping furniture, and 2 bicycles.
Responsive customer service and roadside assistance.
Cons:
Not a huge selection of vehicles, though they do offer both vans and motorhomes.
You need a debit or credit card that allows online payments. Probably not an issue for most, but good to know.
Their motorhomes have a max capacity of 5 adults, but they recommend traveling with fewer than that for the sake of comfort.
Outdoorsy
Northern Ireland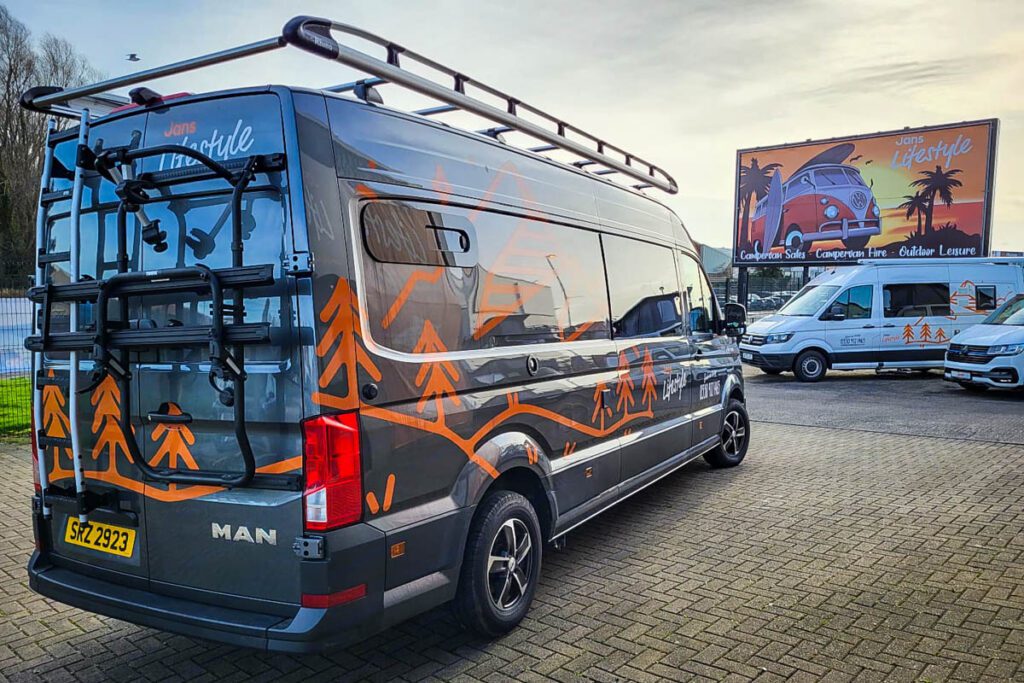 2021 M.A.N MAN TGE Campervan Conversion
22-foot campervan with seating and beds for up to 5 people. Equipped with a sink, 2 burners, coolbox, shower with full hot water heating system, bike carrier, and roof rack. Rental includes plates, bowls, cutlery, cooking pots, tea towels, and a garbage bag.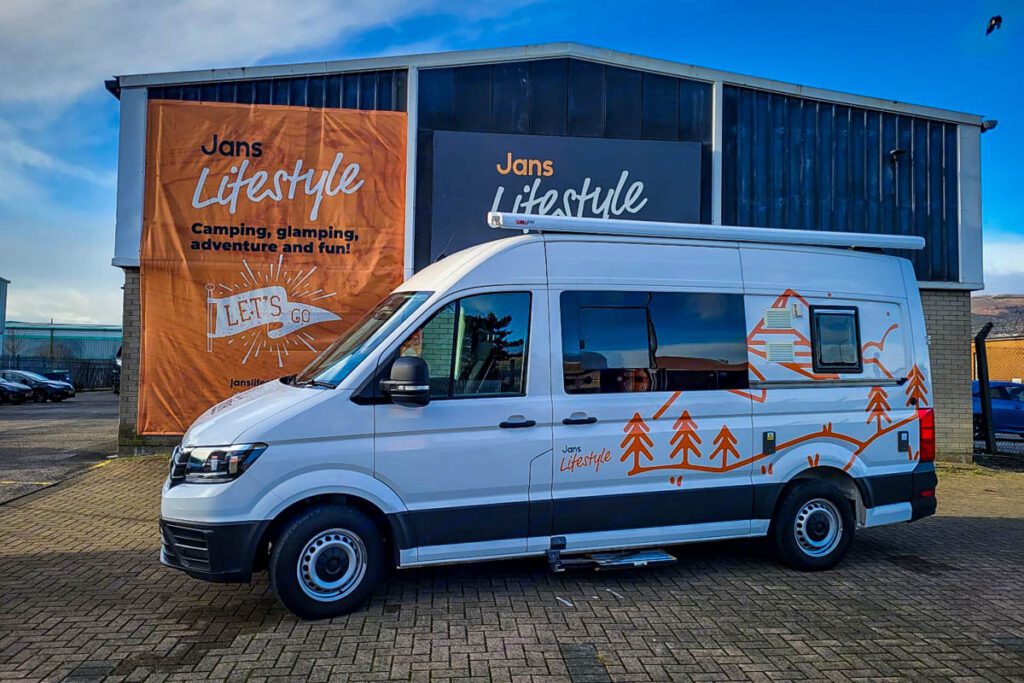 20-foot campervan with seating and beds for up to 4 people. Equipped with a small sink, 2 burners, extendable worktop area, and a good size fridge, as well as an onboard toilet, shower, hand wash basin, and backup camera for easy parking.
Dublin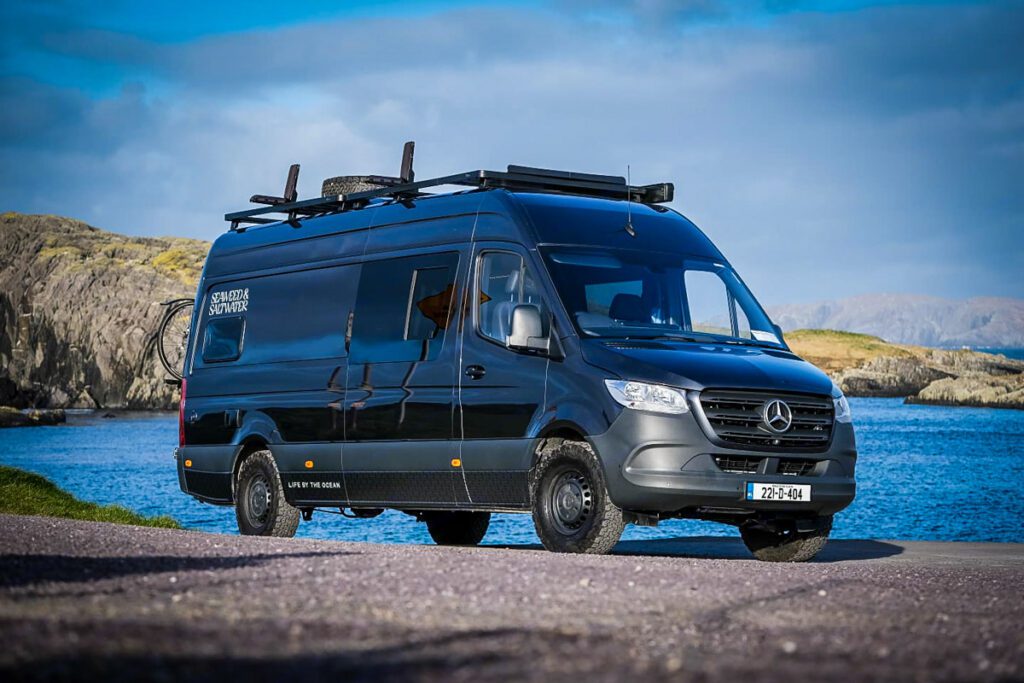 2022 Mercedes Sprinter 316 CDI LWB
23-foot manual transmission campervan with seating and beds for up to 4 people. Equipped with a toilet, hot shower, bike & roof racks, and large battery that will let you go off grid for days at a time. Rental includes BBQ & fire pit, Yeti cooler, and Egyptian cotton bedding.
Bonus: unlike many Outdoorsy rentals, this host allows you to take their van to music festivals. Sign us up!
Why hire a campervan or RV in Ireland?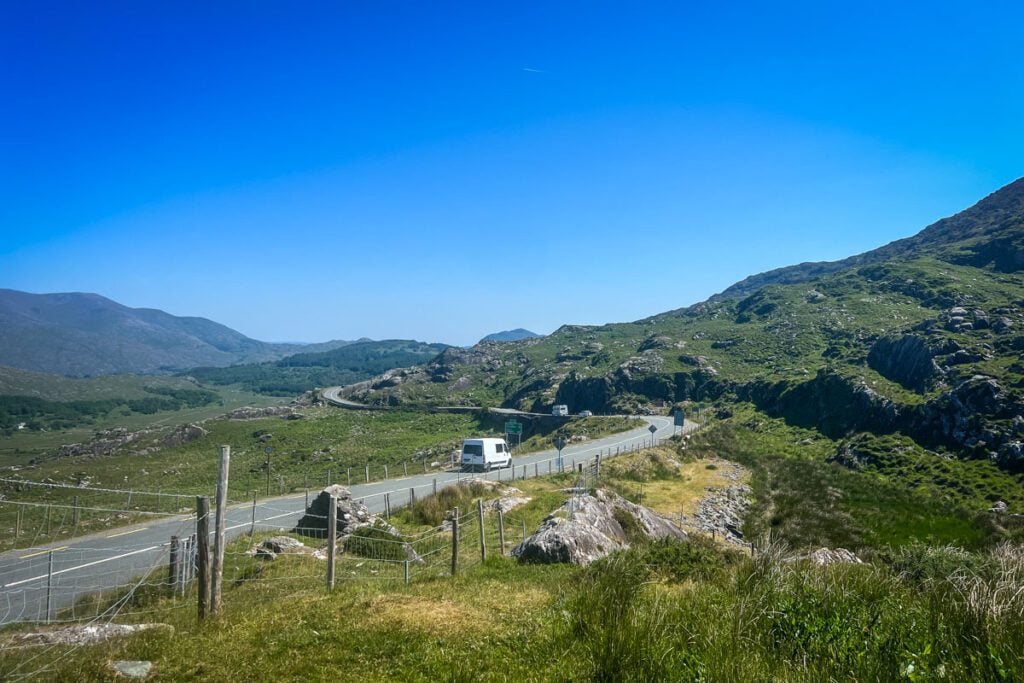 Still need a little convincing on the whole renting a campervan thing?
We get it. If you've never experienced traveling in a campervan, the idea of it can be a little daunting. Don't worry though — we literally have all the resources you need to make your trip a success.
First, let's chat about why renting a campervan in Ireland is a good idea. Scratch that. An AMAZING idea.
a) You can save (a lot!) money.
Renting a campervan is like having a car, a hotel, and a kitchen all in one place.
Sure, the total cost per day isn't cheap, but consider what it would cost to book a hotel room, rent a car, and eat out for every meal.
Most likely, a campervan will save you quite a bit of money.
b) You have ultimate freedom.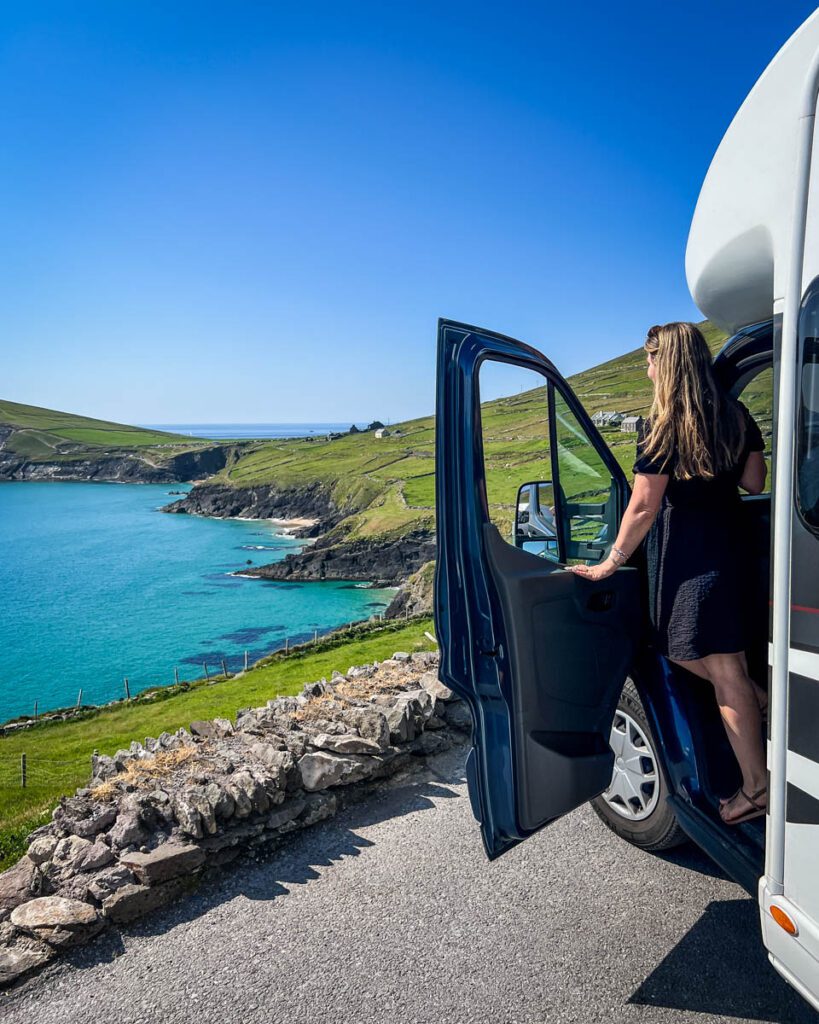 With a campervan, you have more flexibility than if you are staying in hotels.
Do you like a place? Stay longer.
Want to move on more quickly? Go for it.
Got a local tip and you want to switch up your route completely? Consider it done!
While having campground reservations is recommended at least a day or two in advance (more on that later), you have the ability to have a less rigid route.
c) It is an epic adventure of a lifetime!
You'll be telling your grandchildren about this adventure.
'Nuff said.
When to book your campervan rental in Ireland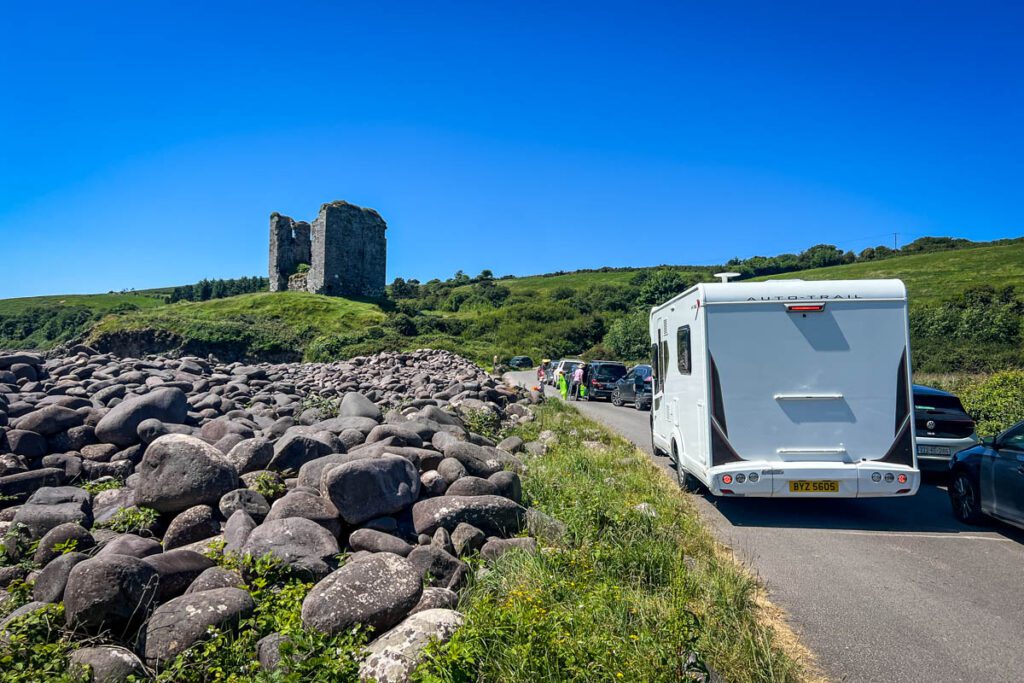 If you're planning to rent a campervan in Ireland, listen up because this is crucial…
Book your vehicle as early as possible. (This applies to all companies on this list.)
There is a very limited supply of motorhomes and especially campervans on this island nation. During popular travel seasons (like summer), the best models get snagged up fast!
Our personal experience
We actually had quite a difficult time finding a rental during our dates (late May – early June) because we didn't follow our own advice and book as early as possible. Life was busy and we didn't end up starting our search until 2 months before our flight.
Thankfully, we were (just barely) able to find something! We did love our layout (a lot!); however, if we were to do it again, we would have booked a smaller vehicle. But by the time we were looking, all campervan-type models were reserved so we didn't have many options to choose from.
We'd recommend making your reservation at least 4 months before your travel dates if it is during the summer months.
Where to pick up your campervan in Ireland
The most popular pick-up and drop-off location is Dublin, and this works well for most travelers doing a loop around the country.
Some companies also offer pick-up/drop-off in other locations, such as Belfast.
What types of campervans or RVs are available?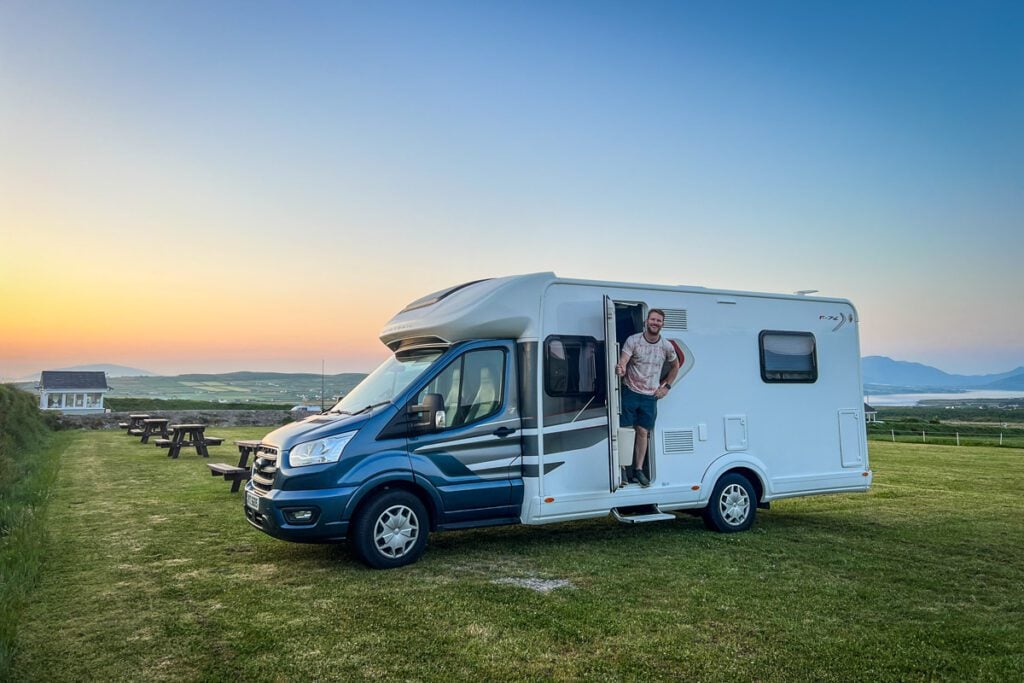 There is a huge variety to choose from.
We've listed a handful of different types below, but if you're still confused, hop down to the next section where we've broken down some of the major things to consider that'll make your decision easier.
Low-roof converted minivan: ideal for budget-minded adventurers
Pop-up campervan: iconic old-school campervan style
High-roof campervan: spacious while still easy to drive and park
Mini-motorhome: home on wheels, perfect for a young family
Large motorhome: pile in the kids, bikes, and dog for a full-on family road trip
Things to think about when choosing a rental vehicle
Consider your answers to the following questions, as they will help you narrow down the best campervan rental for your personal needs.
How many people are you traveling with?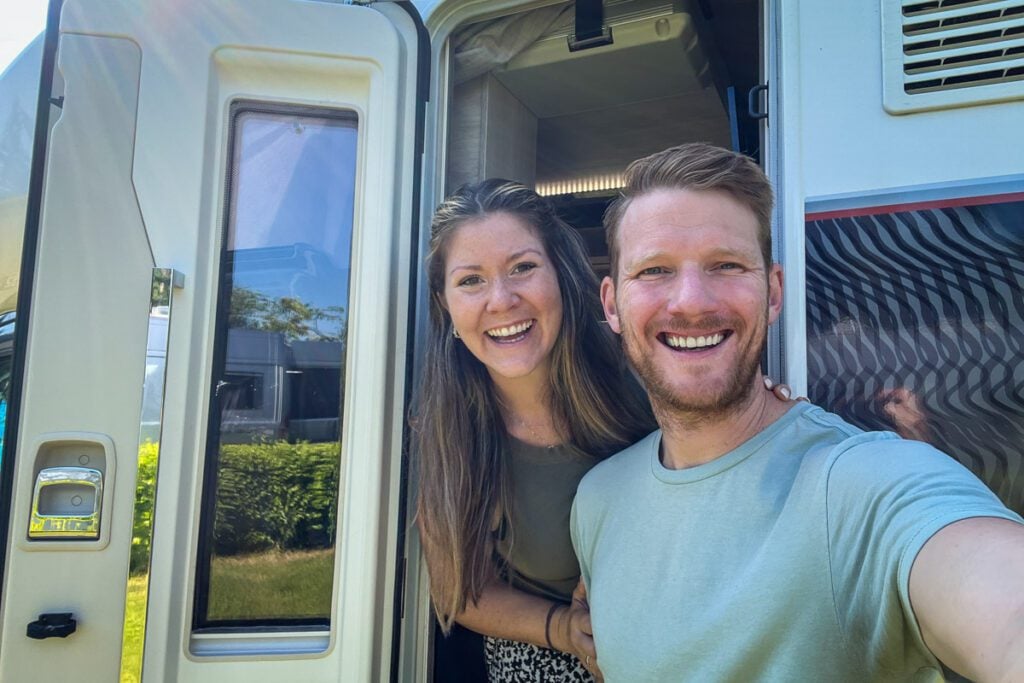 And how comfortable are you with driving a large rig?
If you have an RV at home, perhaps driving a motorhome will be no big deal for you. However, if this is your first time in a larger vehicle, a campervan will be an easier transition for you.
In short, our advice is to get the smallest possible size you think will work for your group. Trust us, many of the roads in Ireland are narrow, and you'll be happier with a smaller vehicle.
What is your budget?
The answer to this question might help you narrow down your rental choices, so it should be one of the first things you really dive into.
In general, a campervan will be cheaper than an RV, and a low-roof vehicle will be cheaper than a high-roof vehicle.
Psst! If you're curious about how much a campervan rental in Ireland costs, we have a whole section about that. Jump there now.
Do you want a high-roof vehicle?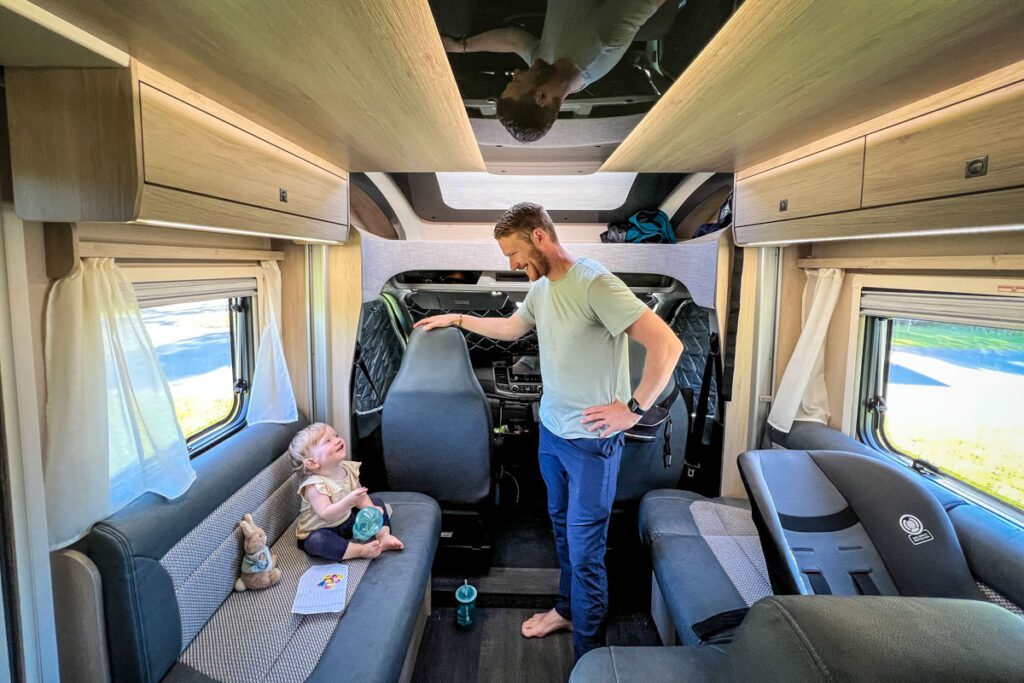 Think about this one for a minute: Do you need to be able to stand up inside your campervan?
This will help make getting dressed, cooking and just hanging out more comfortable (especially if your're tall, like Ben). But it will mean you'll likely be in a higher price bracket.
If a low roof isn't a deal-breaker, you can probably save quite a bit of money.
Our personal opinion: We've had lots of experience in both low-roof and high-roof vehicles. When we were on a budget, it was a great way for us to save money, especially when we were traveling in places where we spent a lot of time outside. However, once we spent more time in a high-roof van (and now that we travel with a child!), I don't know if we could go back to a low roof. It's honestly just so much more comfortable being able to stand up!
How luxurious of a set-up do you need?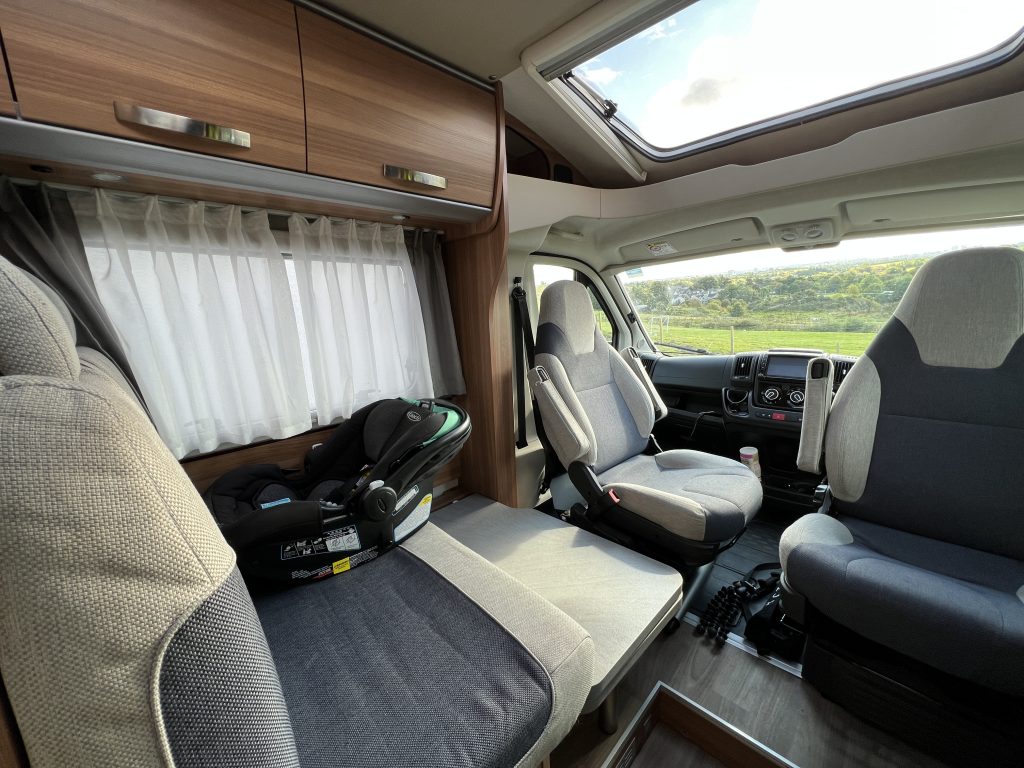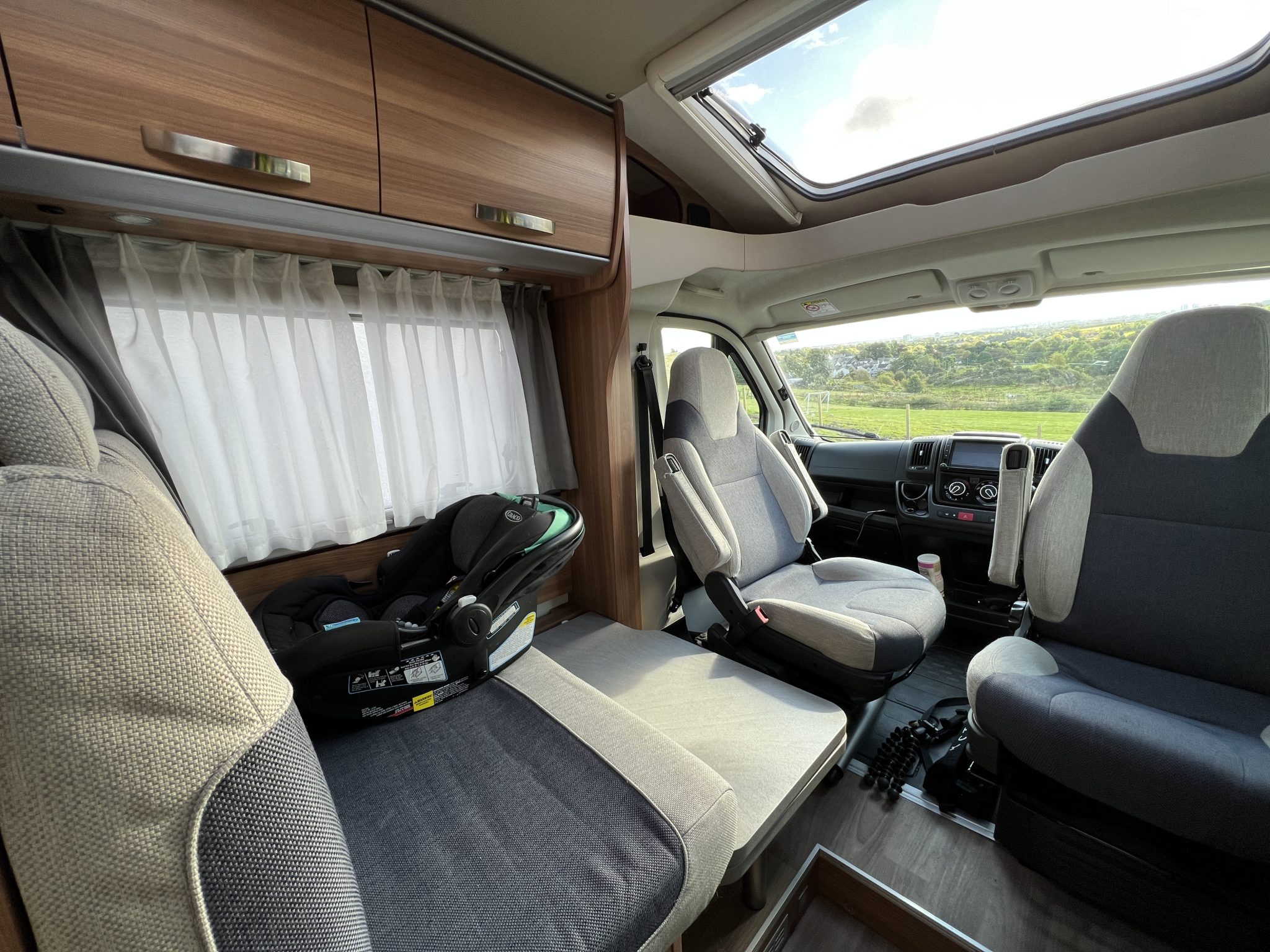 From super basic to extra bougie, there are all types of campervan and RV rentals. Determining your budget is the first step, as this will help you narrow down your options.
From there, think about your personal preferences: Are you used to roughing it? Do you have a lot of camping experience? Or will splurging for a more posh vehicle be worth every penny to you?
Keep your answers in mind as you're sifting through your rental options.
Can you drive a manual transmission?
In Ireland, many vehicles have manual transmissions, so if you're able to drive a stick shift, you will have more options to choose from.
If you can only drive automatic transmission or know you'll just feel a lot more comfortable (no shame there!), don't worry; there are options for you! Just know you will have a smaller selection and you will likely be paying a bit more money overall.
How much does an Ireland campervan hire cost?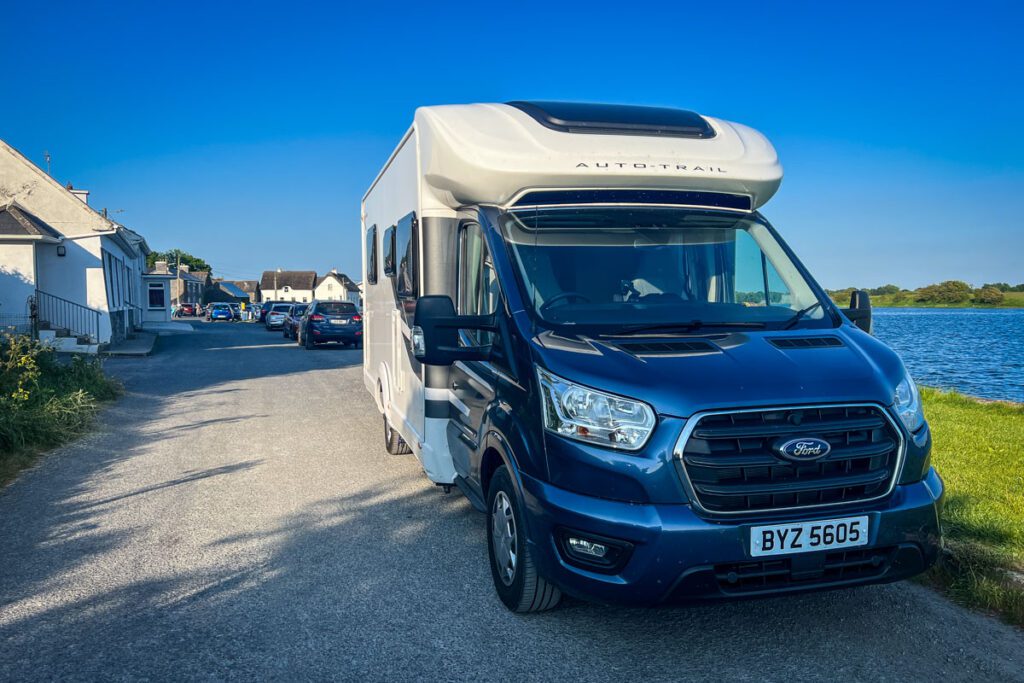 Campervan rentals will vary drastically, depending on the following factors:
which company you choose
type of vehicle
time of year
manual vs. automatic transmission
how far in advance you make your reservation
To give you a general price range:
1 week in Ireland in July (peak season) for a 2-berth campervan will cost about €1,700 / ~$1,850 USD (priced in July 2023)

This is roughly $265 per day

1 week in Ireland in October (shoulder season) for a 2-berth campervan will cost about €1,100 / ~$1,200 USD (priced in July 2023)

This is roughly $170 per day
While this might sound like a lot, remember that this is both your transportation and accommodation. For most travelers, this will be cheaper than renting a car and staying in hotels.
Other costs to consider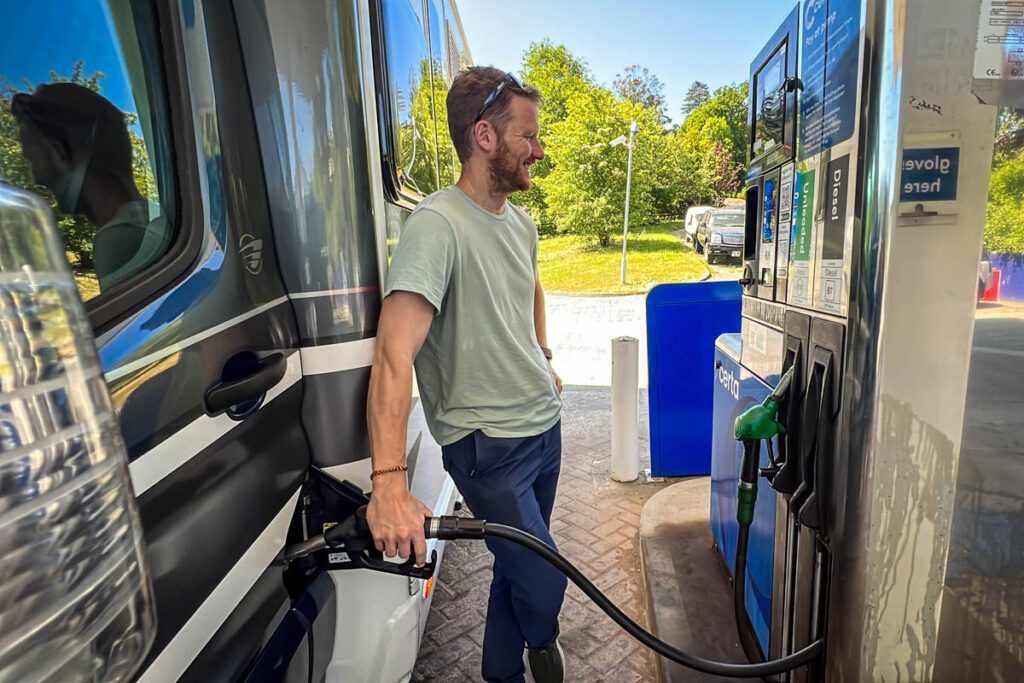 In addition to paying the nightly rental fee, you won't want to forget these other things:
Additional rental add-ons: make sure you understand what is included with your company and what is an extra fee, as many companies charge for things like bedding/towels, cookware, pets, etc.
Campground fees: average €30-35 (~$33-39 USD) per night
Insurance: ranges from €17-35 (~$33-39 USD) per day, depending on your coverage
Gas: we averaged about €22.55 (~$25 USD) per day
Top 7 places to visit on your Ireland road trip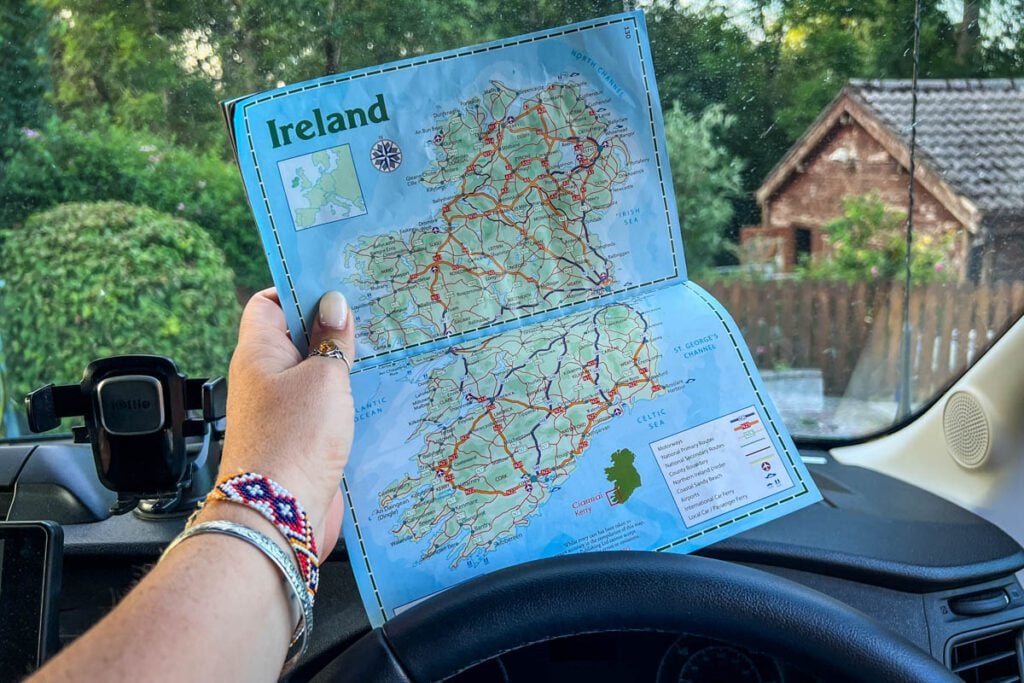 You could easily spend months getting lost in the Irish countryside, falling in love with the magic of this place. But if you're looking for a list of the very best places to put on your Ireland itinerary, we've got you covered.
We chose these places specifically because they are ideal for visiting in a campervan or RV. Use this list to start planning your perfect Ireland road trip route!
Good to know: You might notice that we purposely left cities off this list. That's because cities are not as fun to navigate with a large vehicle and finding parking can be a pain. That doesn't mean you shouldn't add them in, but we'd highly recommend focusing your route around the places below. (We say this from personal experience!)
1. Ring of Kerry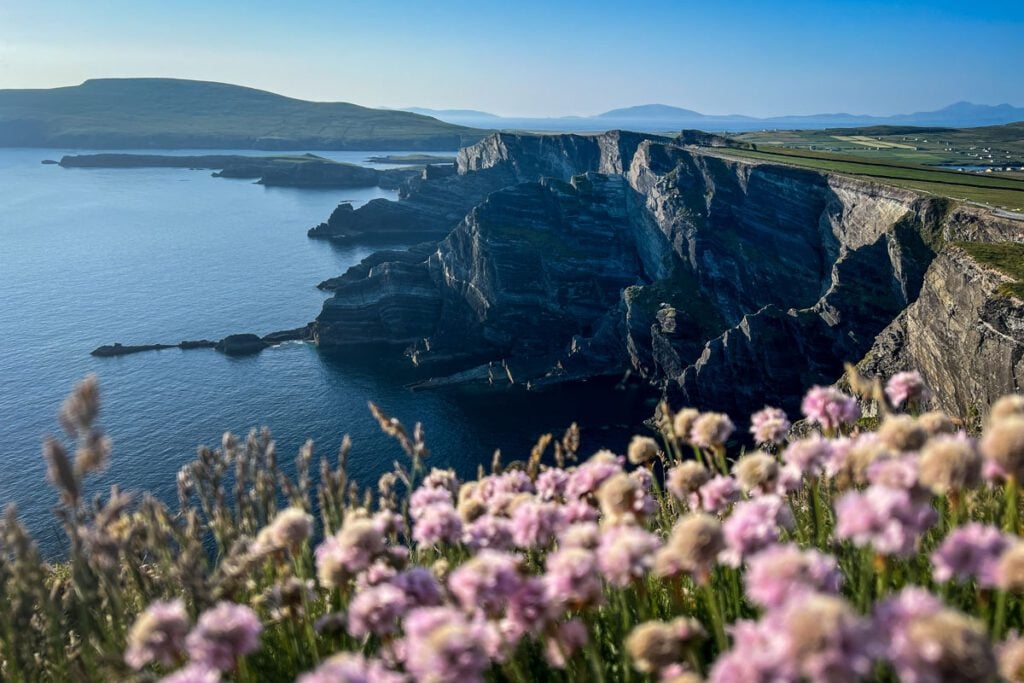 This is a popular loop for tour buses, so I was fully prepared to get annoyed with crowds, but I was pleasantly surprised.
There are must-sees, like the Kerry Cliffs, as well as some hidden gems along this route that make the experience even better.
2. Dingle Peninsula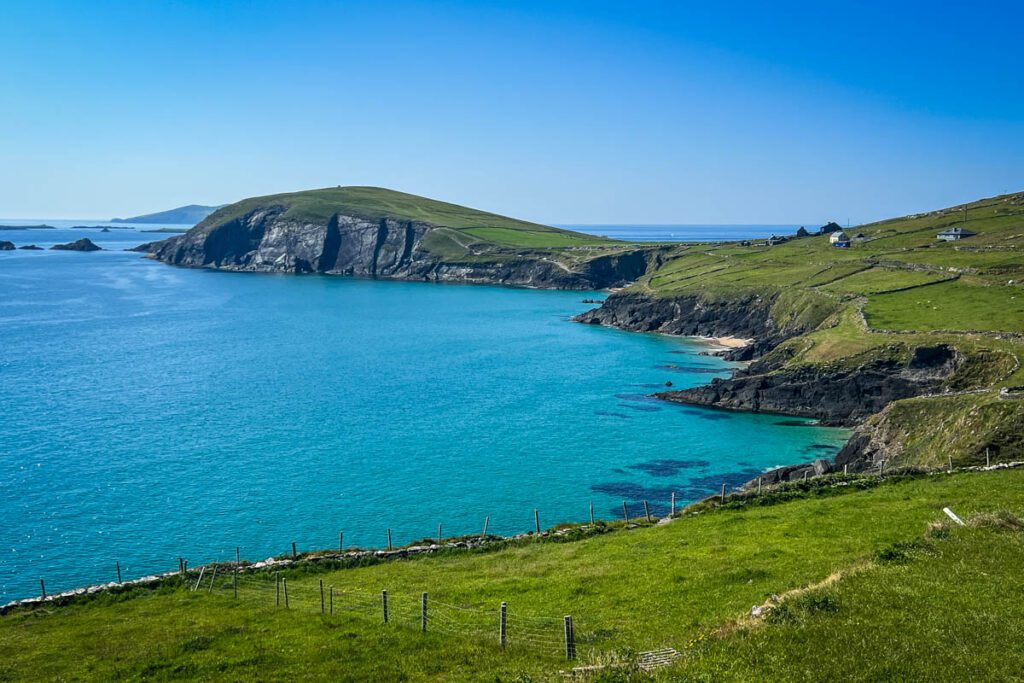 Perhaps the most beautiful scenery in all of Ireland, the winding coastal roads of Dingle Peninsula are flanked by towering mountains, dramatic cliffs, and expansive sandy beaches.
The area is also rich in ancient history with prehistoric sites and medieval ruins.
3. Killarney National Park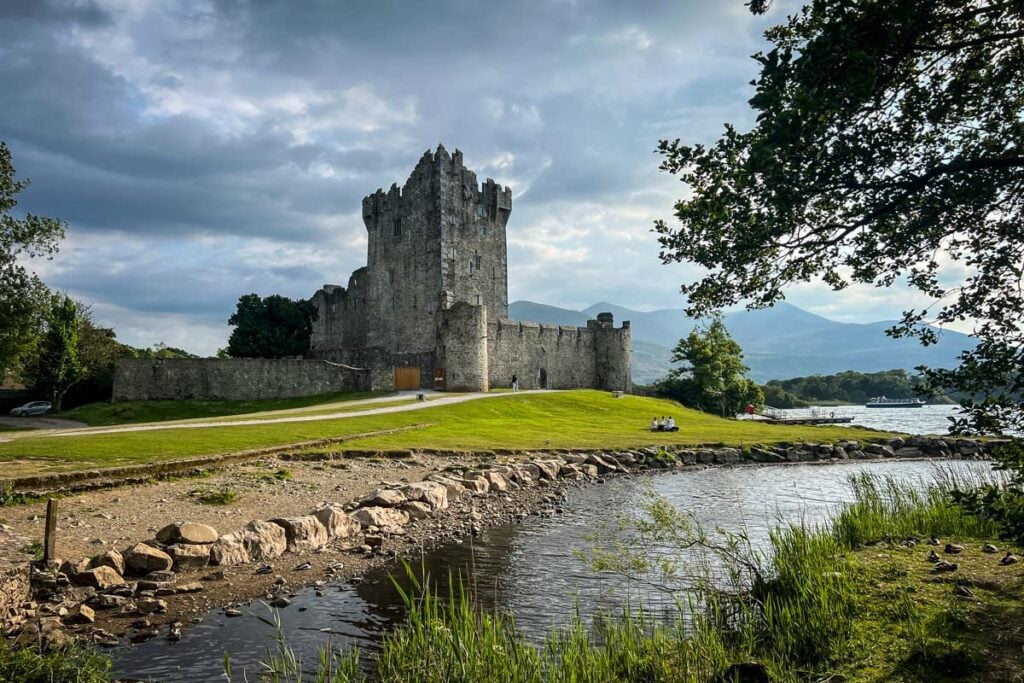 Killarney National Park is a rugged wilderness of ancient forests and world-famous lakes that lie at the foot of MacGillycuddy's Reeks, Ireland's highest mountain range. It's home to the last surviving herd of indigenous red deer in Ireland, as well as a number of heritage sites.
4. Cliffs around Ireland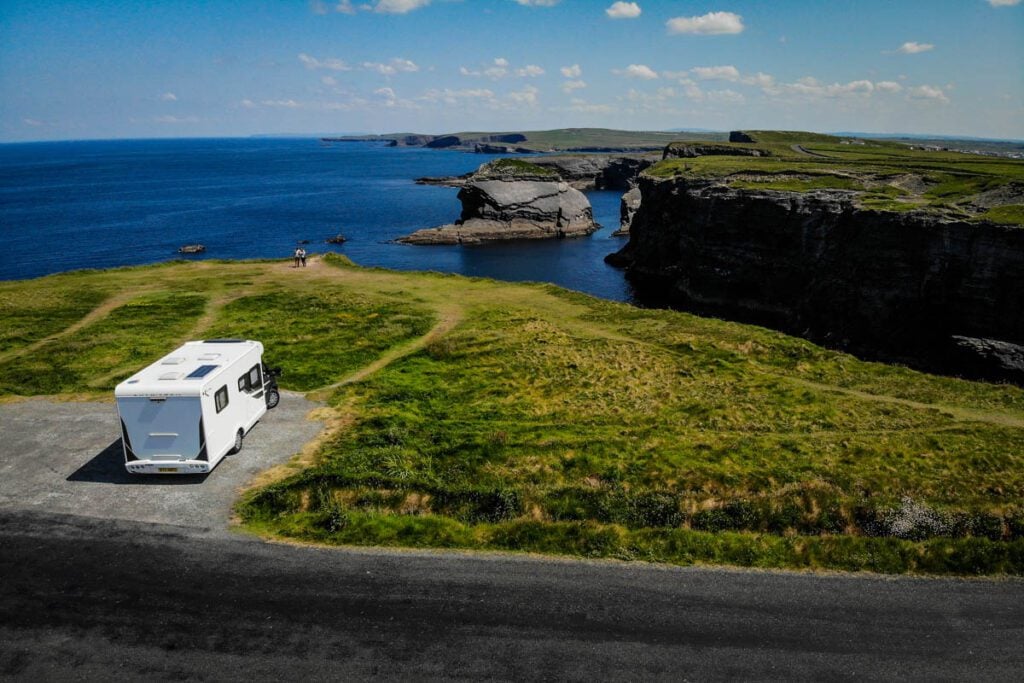 I'm sure you've heard of the world-famous Cliffs of Moher. Well, I have an unpopular opinion to share: the Cliffs of Moher were not our fave.
On our Ireland campervan trip, we visited the Kerry Cliffs, Kilkee Cliffs, and Slieve League, and to be honest, we liked all of them better.
I'm not saying don't go to the Cliffs of Moher, just that there are other sea cliffs in Ireland that offer just-as-beautiful views with WAY less crowds.
5. County Donegal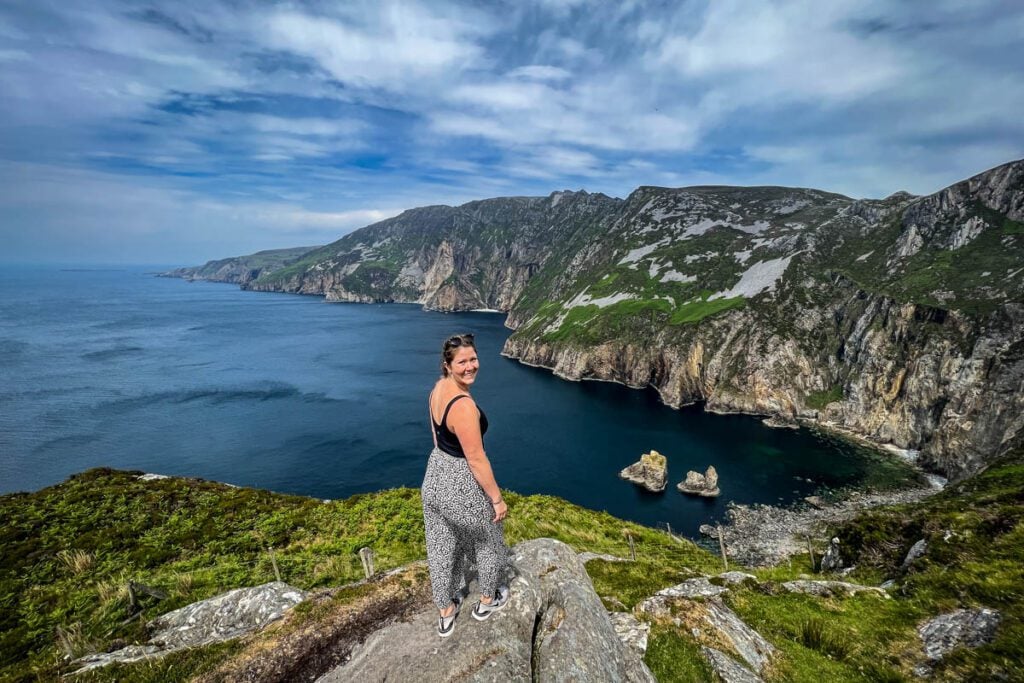 County Donegal is home to some stunning natural beauties, such as Slieve League and Glenveagh National Park.
Towering 598 meters (about 1962 feet) over the Atlantic Ocean, the cliffs at Slieve League are some of the highest sea cliffs in Europe, nearly 3 times higher than the way-more-famous (and way more crowded!) Cliffs of Moher.
Spread over more than 110 square miles, Glenveagh National Park is a breathtaking wilderness of dramatic mountain peaks, mirror-like lakes, and vast heather-covered moorlands.
6. Wicklow Mountains National Park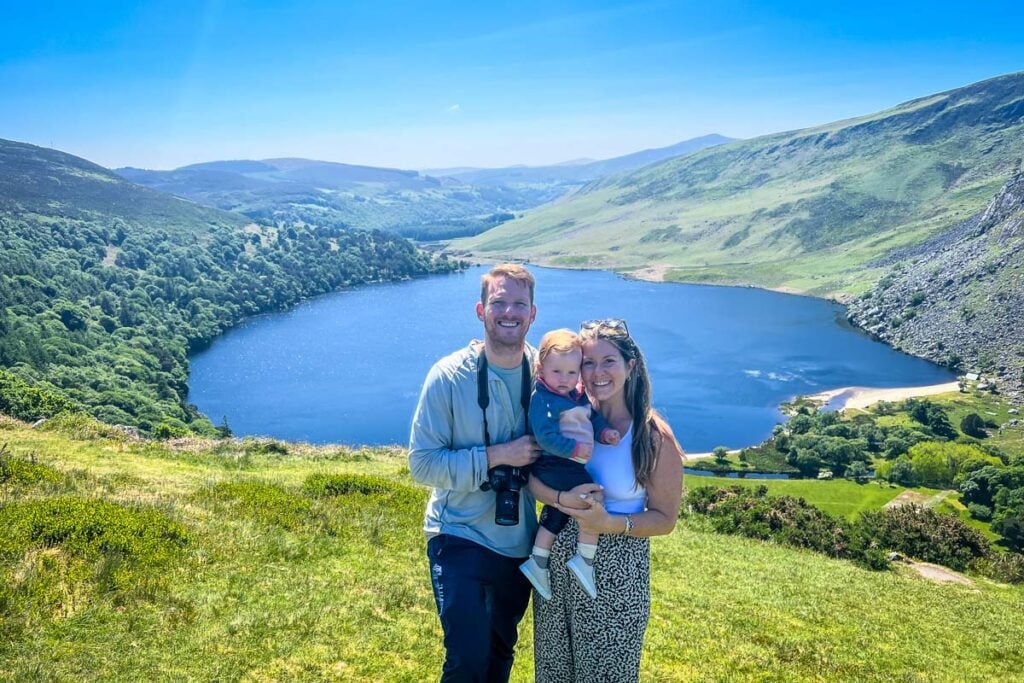 Just a short drive from Dublin, Wicklow Mountains National Park is a picturesque haven known as "the Garden of Ireland".
Lush green valleys, rolling hills, pristine lakes, and majestic peaks offer a tranquil escape and a paradise for outdoor enthusiasts.
Meandering trails wind through heather-covered moors, ancient forests, and hidden glens where you can discover mirror-like lakes and cascading waterfalls.
The park is also home to historical and cultural treasures, such as the iconic Glendalough Monastic Site.
7. Connemara National Park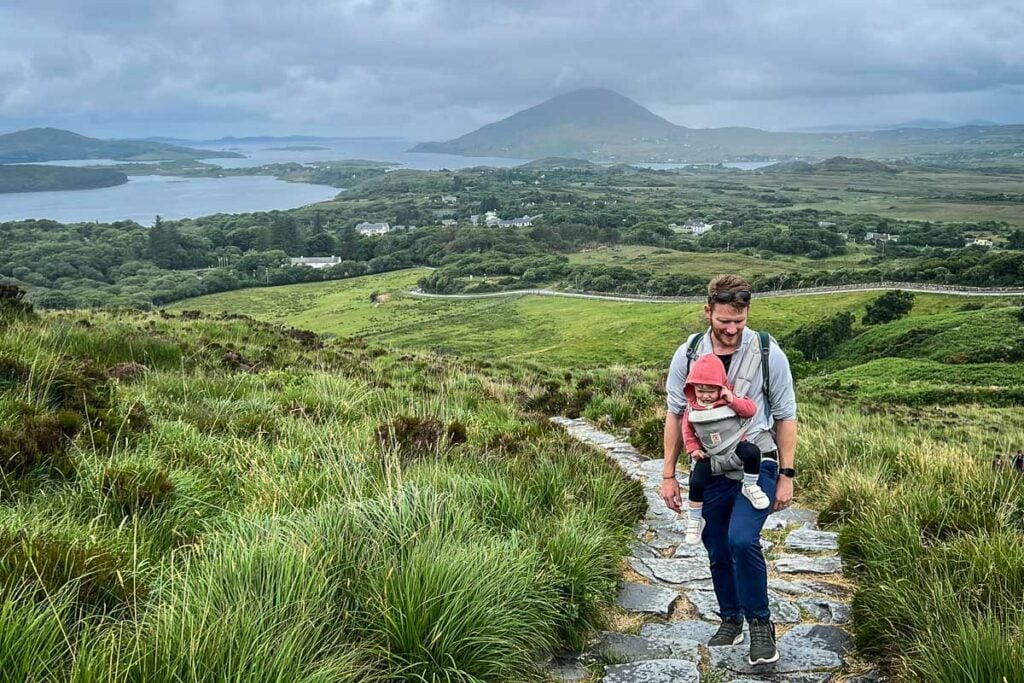 The untouched nature of Connemara National Park includes sweeping boglands, majestic mountains, windswept coastlines, and several peaks of the famous Twelve Bens mountain range.
Ireland campervan rental FAQs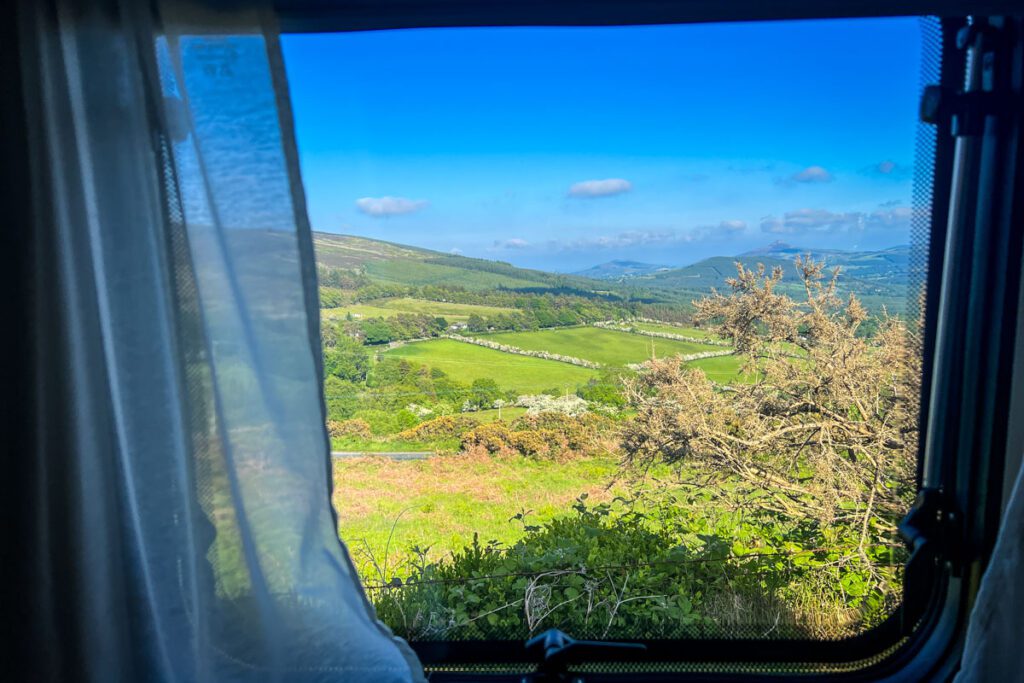 I get it — there is a lot to think about when it comes to renting a campervan in Ireland.
Let's go over some common questions and see if we can get them answered!
How expensive is gas/diesel in Ireland?
Well, it ain't cheap!
Most larger vehicles in Europe, like campervans, take diesel instead of gas (or petrol). The good news is that diesel is slightly cheaper than gas/petrol in Europe.
However, diesel prices still fluctuate, so it's hard to put a number here, but we filled up our nearly empty tank a couple of times and each fill up was around €60-70 ($65-77 USD).
(Note: Time of travel was June 2023 and diesel prices were about €1.47 per liter)
If budget is important for you, be sure to factor the cost of diesel as well as campground fees into the cost of your campervan rental.
Insider Tip: Be sure you know whether your vehicle is gas or diesel and fill up at the proper pump at the gas station. Otherwise, your engine will be in big trouble.
Do I need an international driver's license to rent a campervan in Ireland?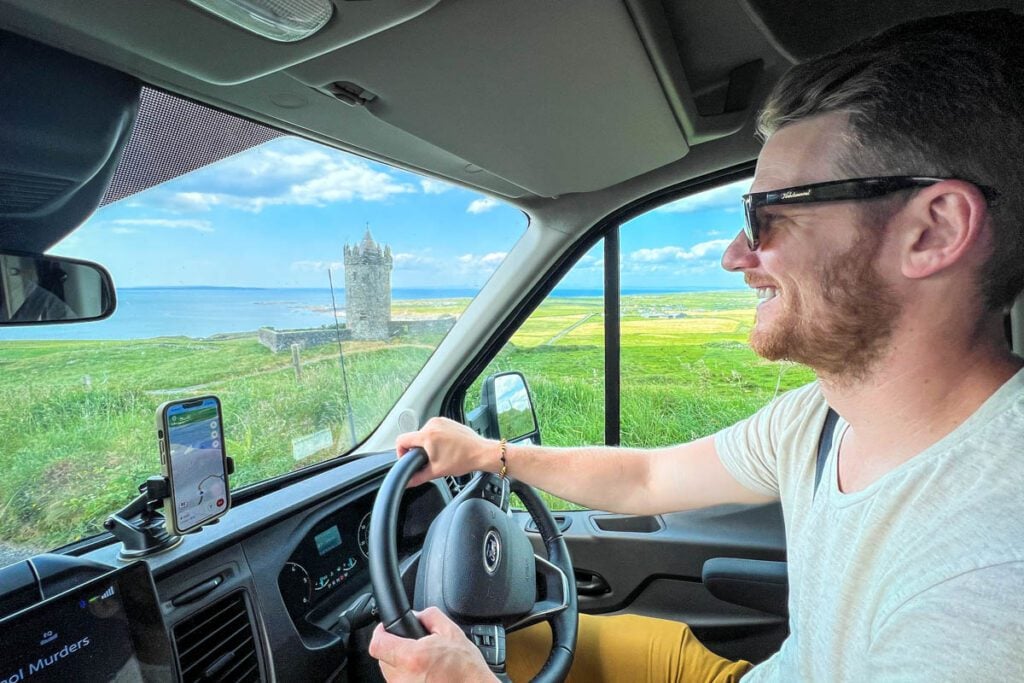 Most likely, no.
Unless your home country's license is in a non-Roman language (Japanese, Russian, etc.), you will not need an international driver's license.
Can I bring a child on a campervan trip?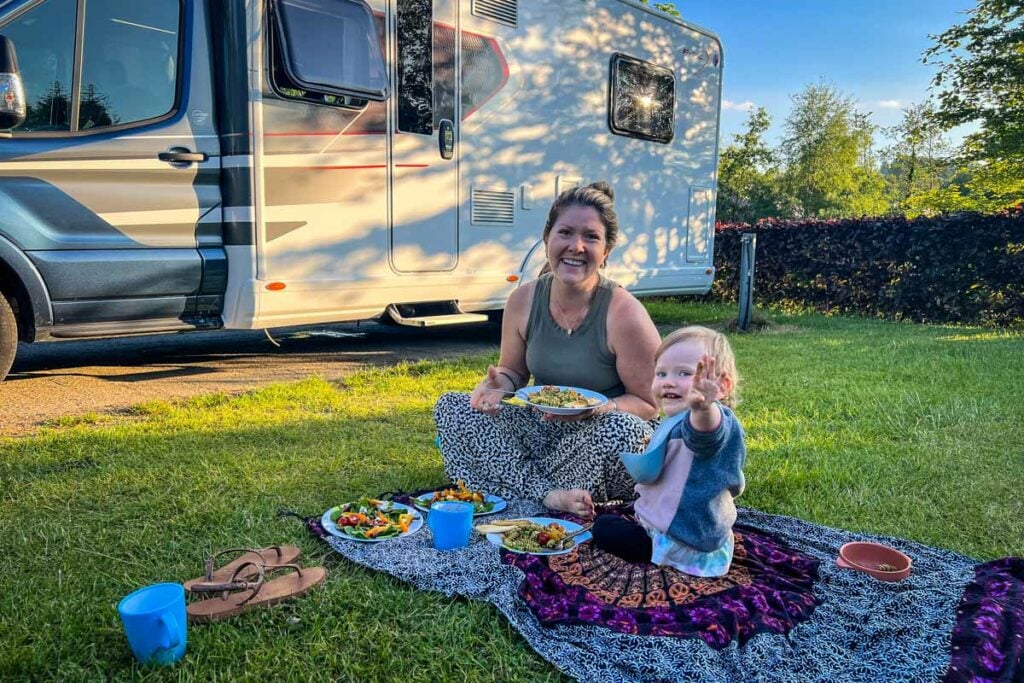 Absolutely. We did!
In fact, we'd say it's a great way to travel with a baby or older children.
You will need to select a vehicle that has enough seating for your family, as well as proper, safe seating for your child's age/size. And you will need to think about what you will do about a sleeping space. (We have tips on that!)
Which is better: Campervan or RV?
The answer to this is truly a matter of personal preference, but here's our opinion:
If you're traveling solo or as a couple, we'd absolutely recommend a campervan so you can keep the size to a minimum. However, if you're traveling with a small family, a campervan may be too small to fit you all comfortably, so a small motorhome might be a better option.
Should I rent a campervan if I'm just visiting Dublin and Galway?
No.
We'd only recommend renting a campervan if you're able to do a bit of a road trip in the country. Trust us when we say the worst part of renting a campervan is driving in big cities. Plus, trying to find parking is no fun.
If you're just exploring the major cities in Ireland, opt instead to stay in an Airbnb or hotel and use public transport or Uber/taxis to get around.
How difficult is it to drive a campervan in Ireland?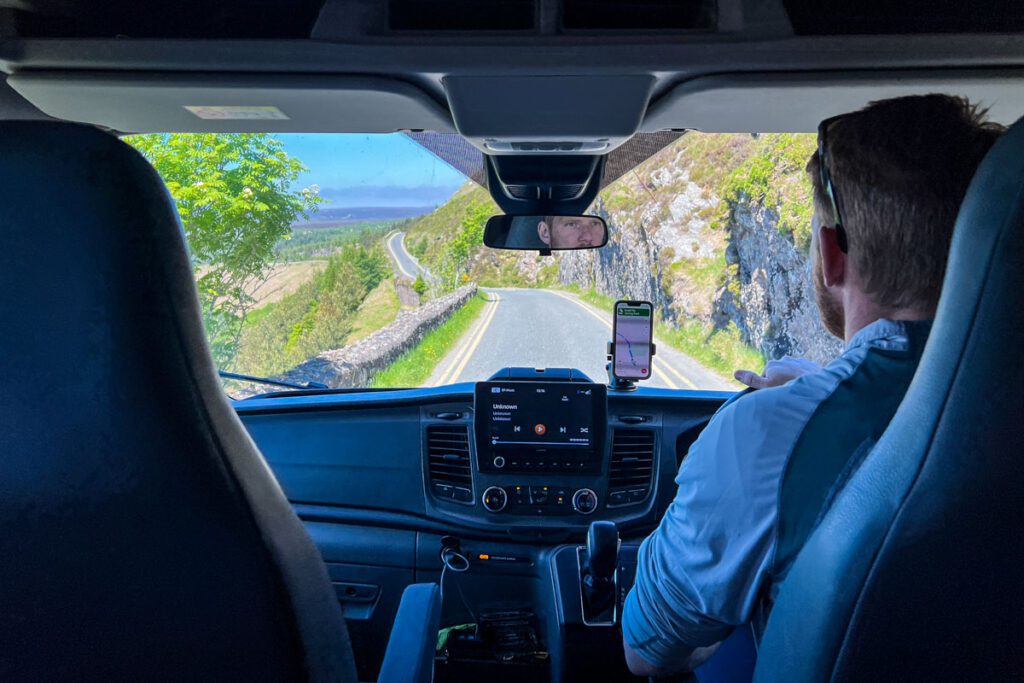 This is a very subjective question. Everyone is going to have a different comfort level with this.
But I will say that even with lots of experience driving around the world, driving in Ireland has some unique challenges.
Here are a few things to consider:
The roads in many places are very narrow, making a large vehicle feel a bit bulky. This is why we'd recommend choosing the smallest vehicle possible for your needs.
Many vehicles are manual transmission. If you're not comfortable driving stick shift, be sure to use the filters on Motorhome Republic to only show vehicles with automatic transmission.
If you are from North America (or somewhere else where you drive on the right-hand side of the road), you will need to get used to driving on the opposite side of the road, which definitely adds another dimension to the experience.
We won't sugarcoat it – this can be kind of a trifecta of challenges. But if that doesn't scare you away, you are in for an incredible trip that is worth every ounce of minor anxiety (in our opinion).
Insurance for your campervan trip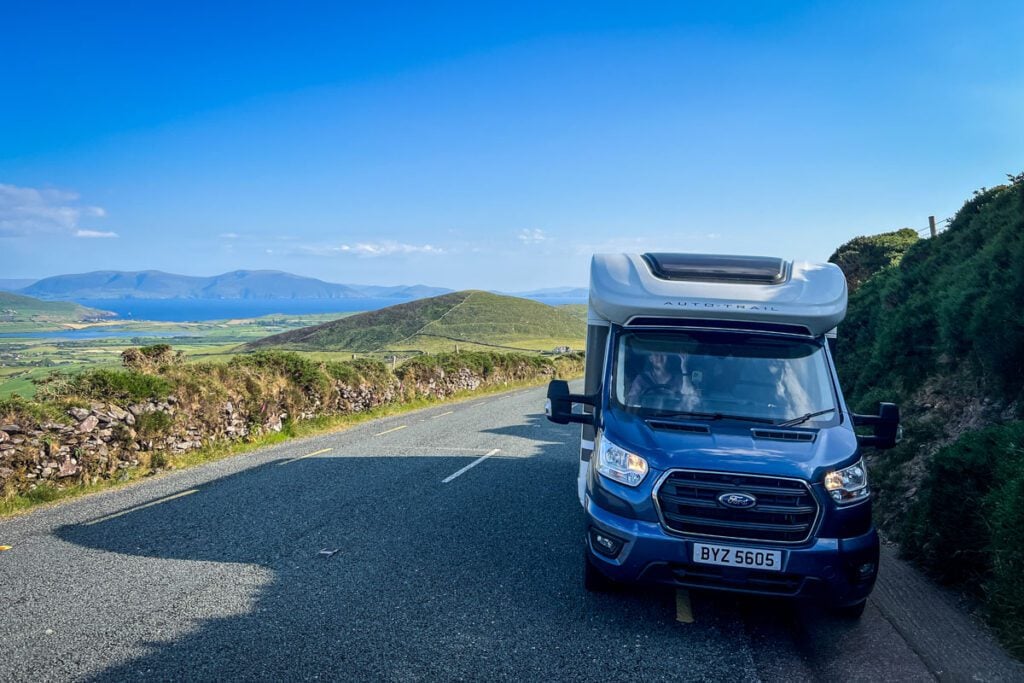 Insurance is always one of those tricky topics to write about because it widely varies from person to person depending on the amount of risk you are willing to take.
Even though we always get travel insurance and have pretty great credit card coverage, neither of those typically cover campervan or motorhome rentals. So be sure to read the fine print of your policies because it likely only covers 4-door sedans.
The company we rented through, Causeway Campers, offered two versions of insurance:
Standard Insurance (called "European insurance"): Offers typical coverages you'd expect from a rental company. This costs €17.34 per day (~$19.29 USD).
Glass, side mirror & tire insurance: This covers damage to these parts of the vehicle and costs an additional €17.34 (~$19.29 USD) per day on top of the standard coverage. We opted to skip this one, but it's up to you what you choose.
You can choose to select no coverage for your Ireland campervan rental, but be prepared to lay down a large security deposit of at least €1,734 (~$1,929 USD).
What we did: For this trip, we purchased a very reasonable package from Safety Wing insurance, but we also opted to get the standard (European) coverage through our motorhome rental company.
What to pack for a campervan trip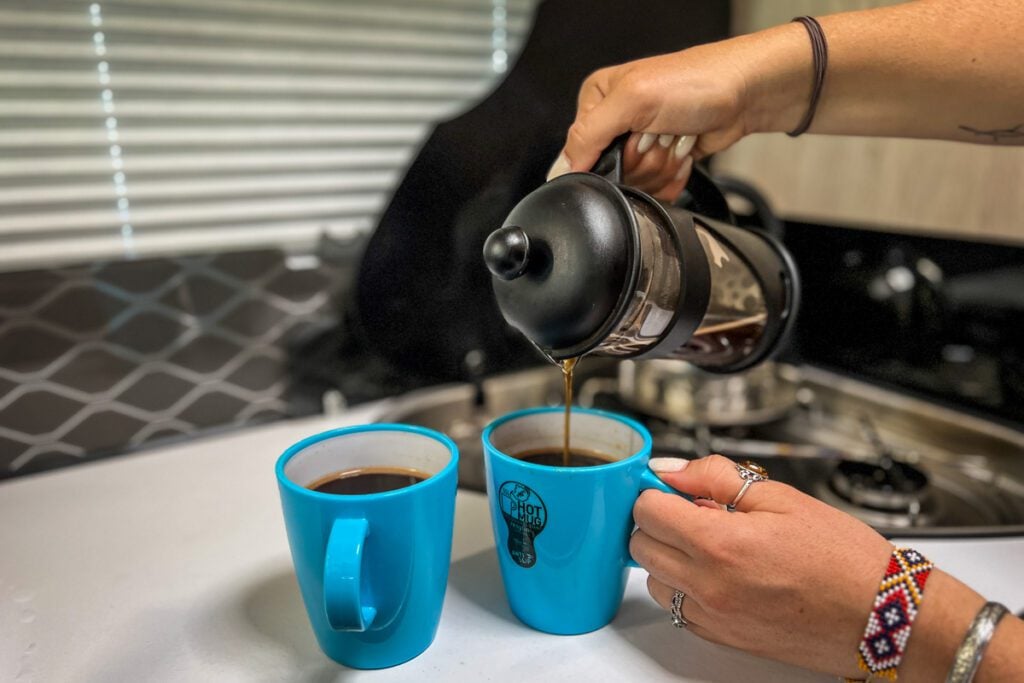 Here are some items you really don't want to forget:
For more ideas, we have an article dedicated to all of the campervan essentials you might want to have on the road with you.
Be sure to download our complete packing list for Ireland! It's packed with good suggestions and insider tips to help plan your Ireland trip. And it's completely FREE, so why not!?
Packing for a baby on a campervan trip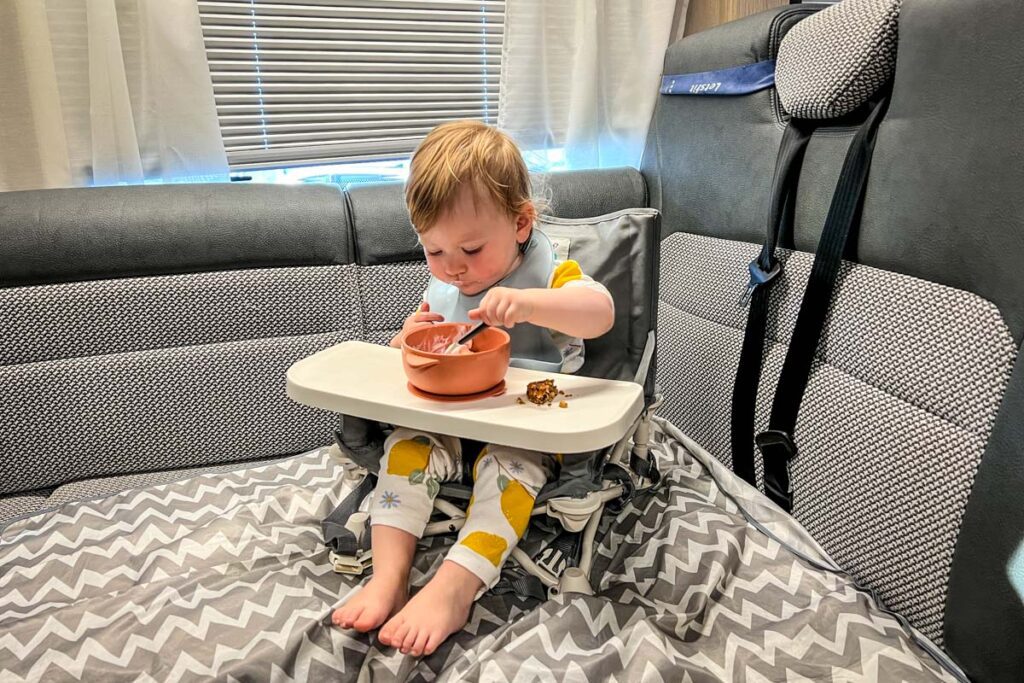 This checklist has a whole section of all our baby-related items we love, but here are a few things we'd definitely recommend bringing if you are renting a campervan with a little one in tow.
Travel high chair: We love this portable high chair and use it in our personal campervan at home. We also flew with it to Ireland and loved that our daughter had a seat in our Causeway Camper.
Travel tent: This is the sleeping tent that we used on trips when our daughter was under a year old. It packs up super small and gave her a safe space to sleep.
Inflatable bed bumpers: We've transitioned from the tent to these as our daughter has grown and they work really well to transform a normal bed into a safe sleeping space for our toddler.
Your favorite baby foods: We found some baby-friendly foods while in Ireland, but the selection was more limited than I was expecting. If you have favorites (freeze dried strawberries from Trader Joe's are one of our go-tos for travel!), we'd recommend prioritizing packing foods over diapers and wipes, as those will be easier to find anywhere.
Travel sound machine: we don't go anywhere without this!
Tap light: This light is super handy at home or on travels.
Psst! Looking for more family travel tips? Check out our list of practical (& super encouraging!) tips for traveling with a baby.
Where to stay in your campervan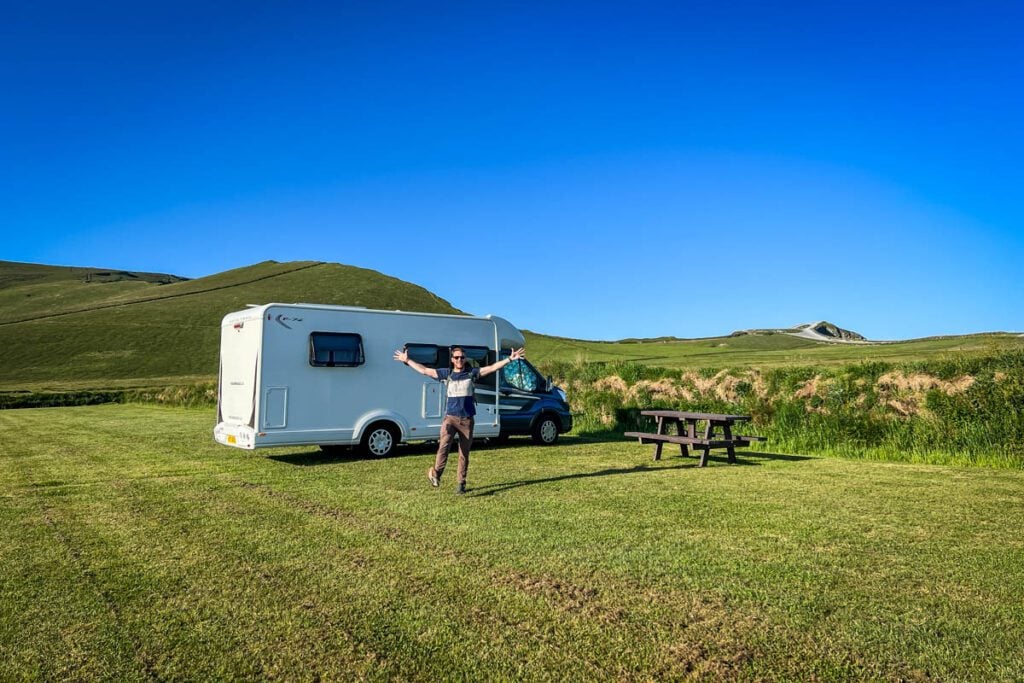 You'll be happy to know that there are tons of campgrounds all around Ireland.
We've created an Ireland camping guide so you have all the info you need right at your fingertips, including what to expect at caravan parks and a map of some of the best campsites in the country!
Wild Camping
If you're traveling on a tight budget and don't want to pay for campgrounds every night, it's worth mentioning that it is possible to wild camp (sometimes called dispersed camping) in Ireland – a.k.a. park somewhere that is not an established campground.
But you can't just park anywhere! We have a section on wild camping in Ireland so you know the ins and outs and are sure not to inadvertently break the law (yikes!) on your road trip! 
---
Ireland Camping Resources
We're creating lots of resources for travel in Ireland and destinations throughout the country. Check out our Ireland Travel Homepage for everything you need to know, or read some of our favorite articles below.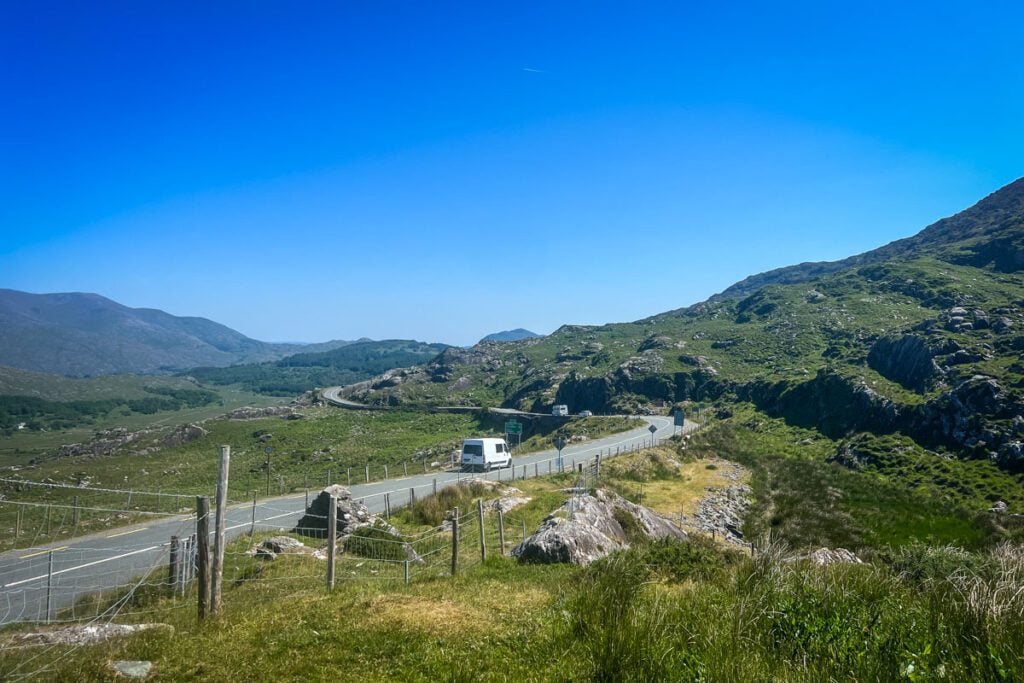 We created a guide so you know exactly what to expect from Ireland campgrounds (spoiler alert: it might be different than what you're used to!). We're also sharing the best campsites in Ireland so you have an incredible time.
Love the idea of campervan trips around the world?
Us too – which is exactly why we keep booking campervan trips!
Here are some more ideas for you to bookmark for future travels:
Save this article on Pinterest for later!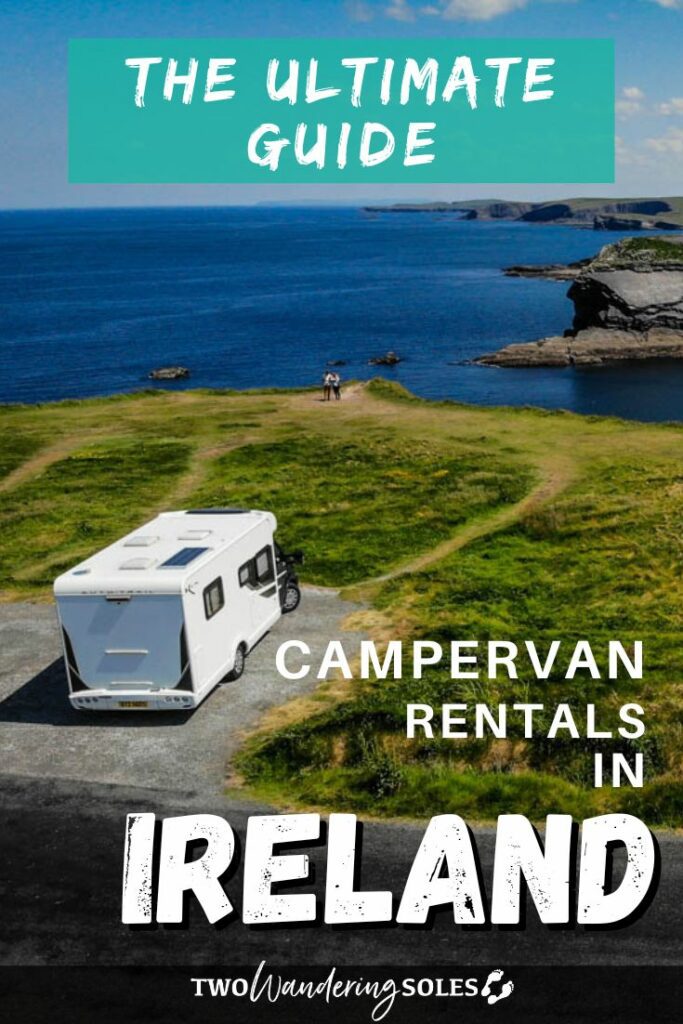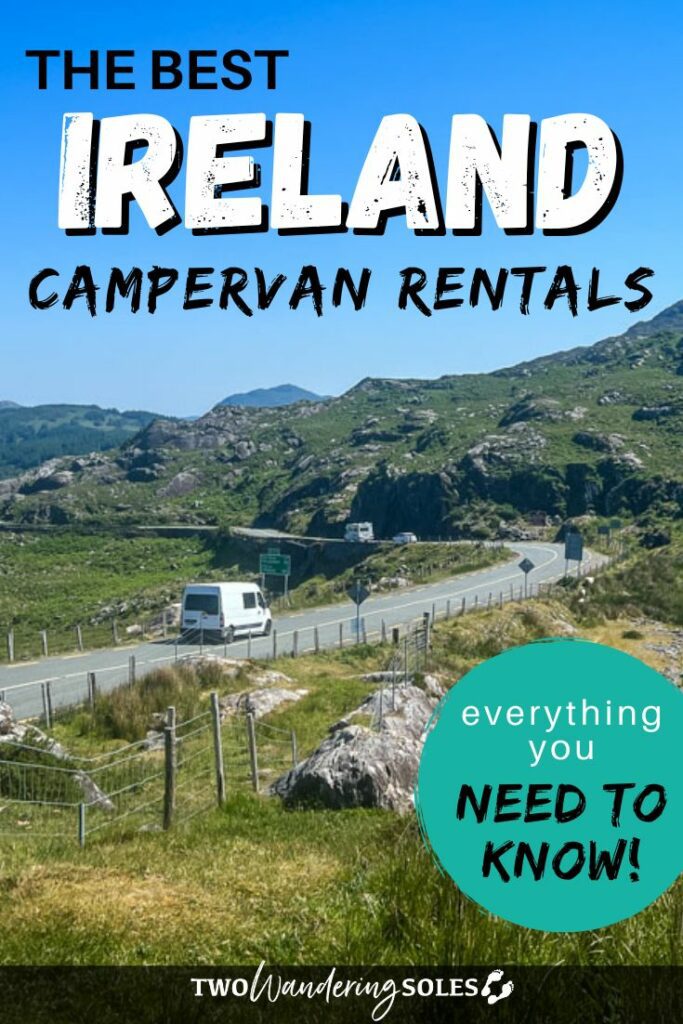 We want to hear from you!
Are you planning a campervan trip and still have questions about your Ireland campervan hire options? Leave your comment below and we'll do our best to get you the answers you're looking for!