If road tripping in Oregon isn't on your bucket list, it should be. In this guide, we're detailing the best Portland campervan rentals, along with tons of insider tips for a mind-blowing adventure in this beautiful state.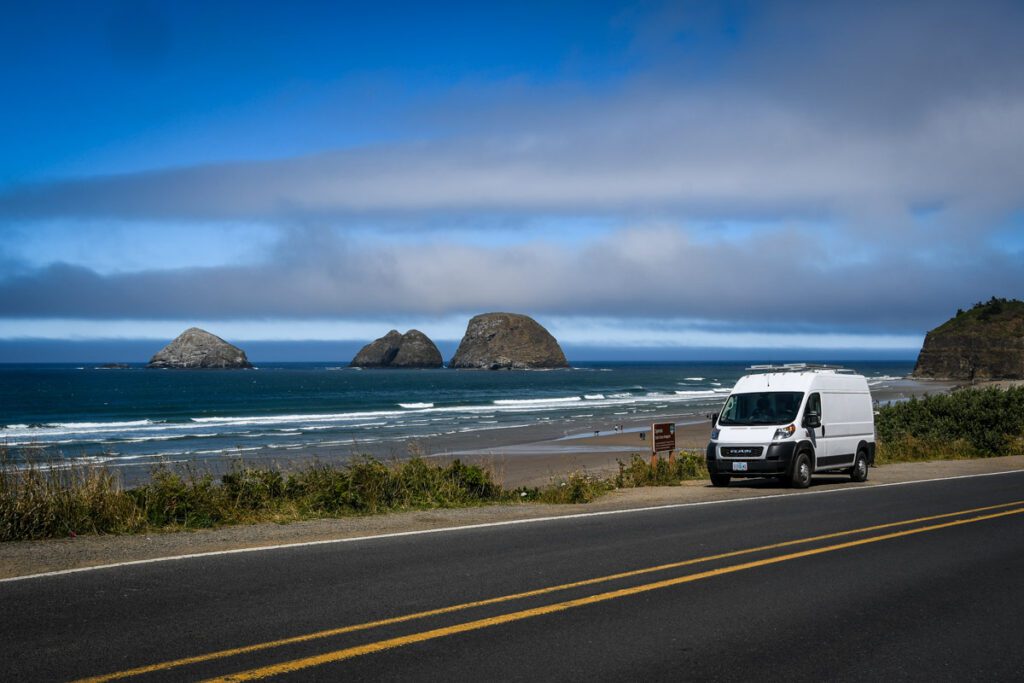 If you're considering a campervan rental in Portland, I want to be the first one to give you a big ol' high five and tell you wholeheartedly that you are about to embark on the adventure of a lifetime!
If this is your first time on our website (welcome!), there's something you should know about us…
We are absolutely obsessed with traveling by campervan. We've done it in 6 countries and counting and we seriously can't get enough.
We also happen to live just a few hours away from Portland in Bend, OR, so we've been to Portland more times than we can count — including in our own home on four wheels! We're sure you'll love exploring Oregon by campervan just as much as we do.
Psst! We have a guide to all the coolest things to do in Portland that you definitely won't want to miss if you're staying in the city for a day or two.
But hold up! Don't go and book any campervan or motorhome you can find just yet…
Since we've traveled all over the world in campervans, we have some expert advice that'll be essential as you begin planning your trip.
In this article, we'll go over exactly how to choose the best campervan rental in Portland for your budget and travel style (because what was best for us might not be best for you!).
We're also sharing some tips that have come in really handy over the years, essential items to pack, and mistakes we've made, all so that you have the very best experience.
In the end, we want you to fall in love with vanlife too!
Why you can trust us about campervan rentals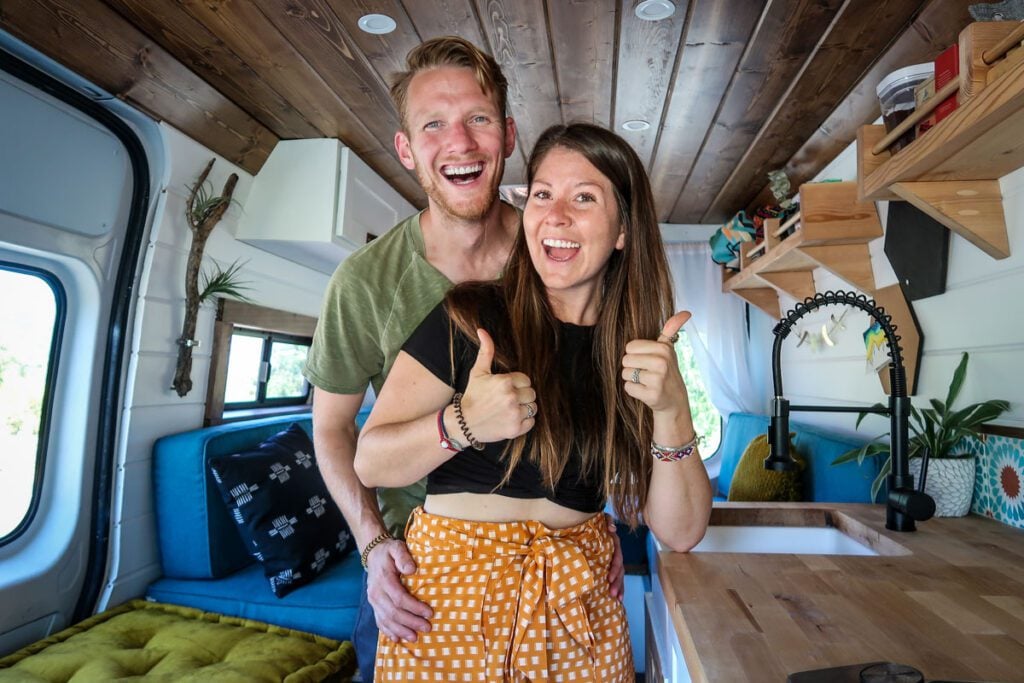 If you're new to this blog (welcome!), we want to share a few reasons why you can trust us about all things campervan-related:
Now do you understand why I said we're obsessed!?
I mention all of this to let you know we have a lot of personal experience on this subject. We truly know what we're talking about and in this article we're sharing our expertise with you.
Also, we simply love connecting with others who are interested in RV and campervan adventures, so let's be friends!
---
Guide to renting a campervan in Portland
Here's what we cover in this guide. Click on any of the links below to jump down to that section, or keep scrolling to get all the juicy details.
---
Our personal experience traveling in a campervan in Portland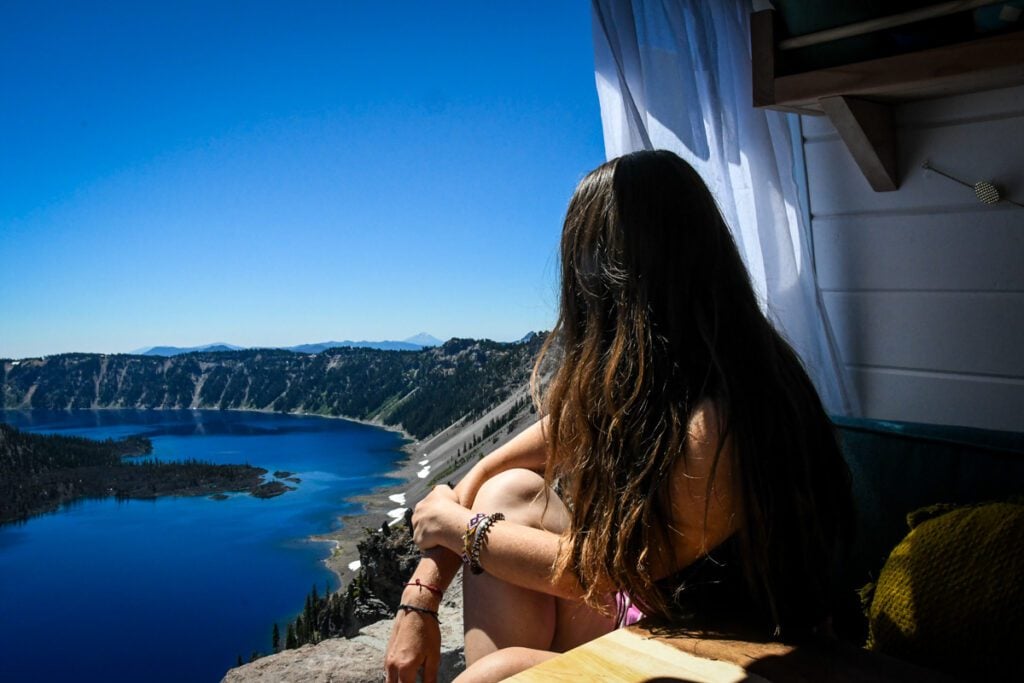 We have traveled around Oregon a LOT in campervans that we built ourselves. In fact, we love it so much that in 2021 we bought a house in Bend, OR, and we spend a ton of time exploring in our self-built van.
We feel like a campervan or motorhome really gives you an added level of freedom that you just don't have when you're staying in a hotel or Airbnb, and we honestly think it's the best way to explore the state of Oregon.
Related: Steal this itinerary for the most magical Oregon road trip!
Since we've personally explored Oregon in a camper ourselves, you can trust that we know what we're talking about in this article and are sharing tips that will truly help you plan your own trip.
Our top campervan rental recommendation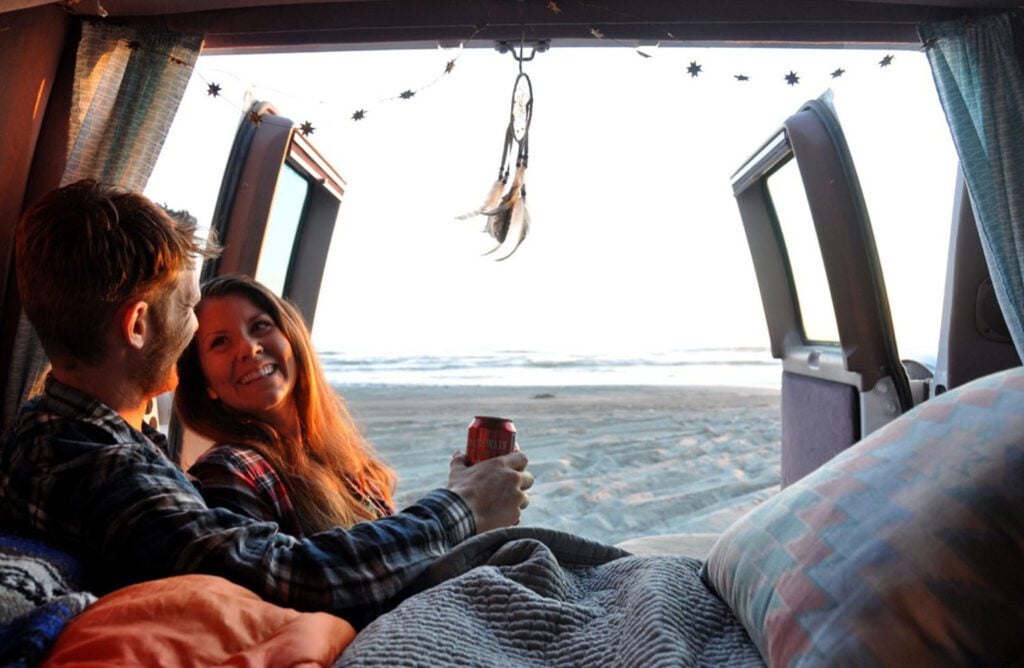 If you just want to skip to our overall recommendation, here it is:
We'd recommend using Motorhome Republic to compare all rental options for your dates.
Spoiler Alert: Our 2 top picks for companies are Escape and Outdoorsy.
We'd highly recommend you continue reading this guide as it is packed with insider tips on what to look for when choosing your vehicle, mistakes to avoid, and some other companies we'd recommend if you have a different budget or travel needs.
How to book a campervan rental in Portland

Trying to figure out which company to rent a campervan through can be a daunting task.
We've done it 4 times now, so we know how overwhelming it can be the first time.
Our go-to place to find the best campervan rentals in a particular destination is Motorhome Republic. This is an aggregate (kind of like what Booking.com is for hotels or what Discover Cars is for car rentals) that rounds up all the options in one place so you can easily compare them.
We really like using their filters because you can input the number of travelers, other important features like "automatic transmission", and amenities like a toilet or shower.
Additionally, you can choose to display options within a price range or filter by highest reviews, making it a really handy and user-friendly tool.
Best campervan rental companies in Portland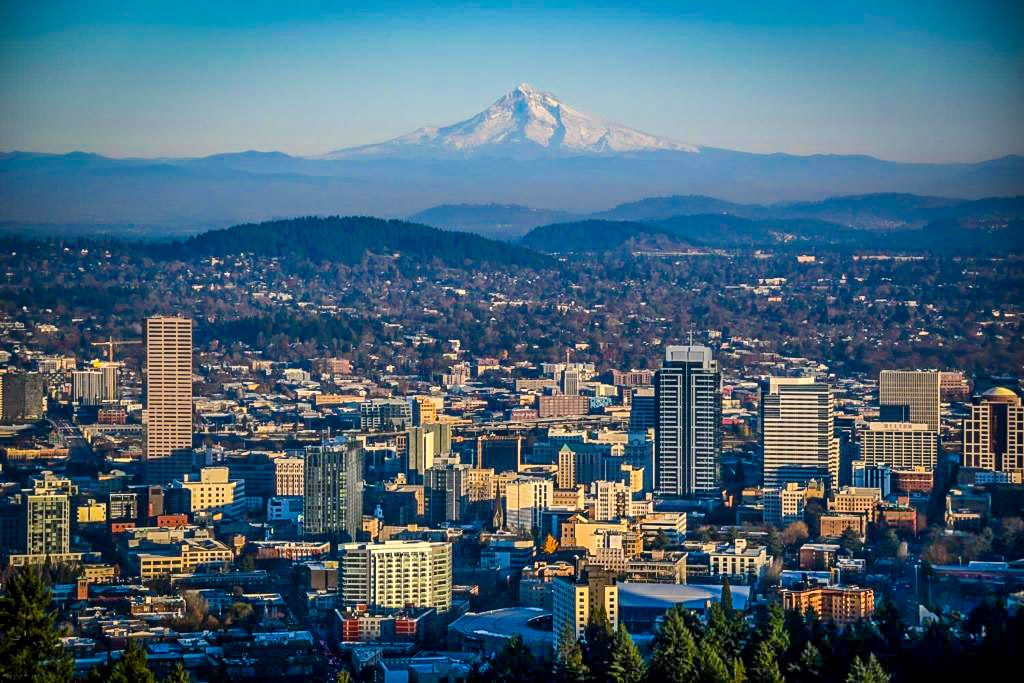 Okay, so you've got Motorhome Republic pulled up for your dates and you can see all your options… But how do you even begin to choose between the different companies?
Being that we've personally rented campervans all around the world (and have built 3 of our own!), we feel like we have a really good handle on what to look for.
The companies below have been hand-picked by us, and we think each can be a good choice depending on what it is you're looking for.
We've scoured reviews, compared specs, and analyzed prices to bring you a comprehensive list of the best campervan rentals in Portland so the decision is a little simpler for you.
We're sharing what company we would recommend to rent with, but we'll also highlight some other companies in case you think a different one would be a better fit for your personal needs or budget.
For each company, we're sharing pros, cons, and price points (budget or mid-range) to make this big decision a breeze.
Good to know: Though Portland is a big city, campervan options here are more limited than some other nearby locations. If you're not tied to Portland, you could check out campervan rentals in Seattle or other US campervan rentals for more options.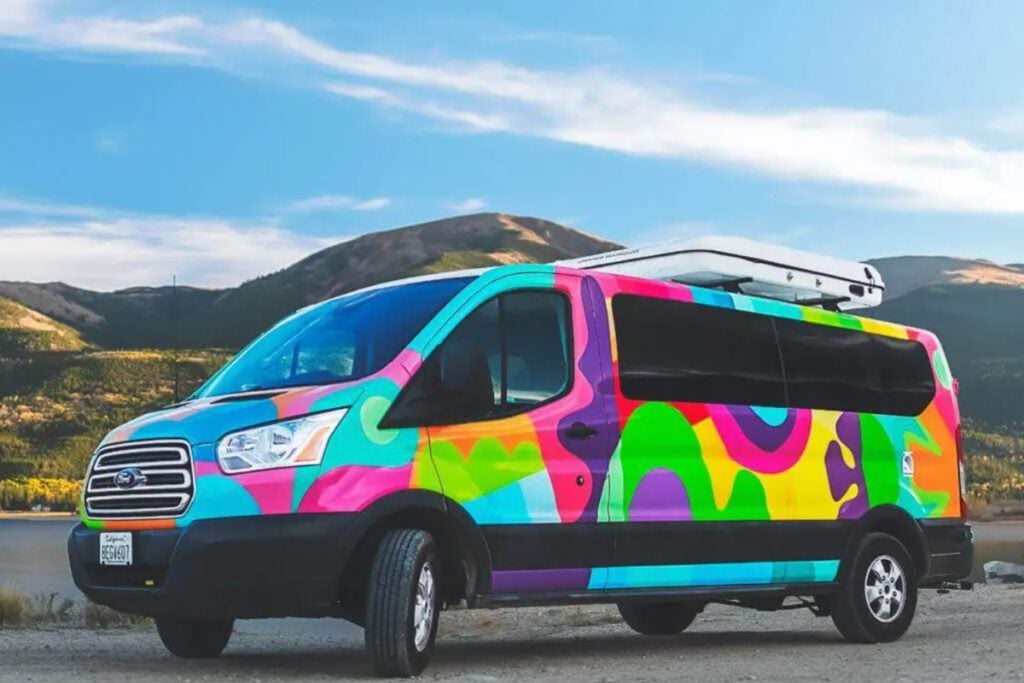 Price range: budget
Recommended for: solo travelers, couples, and budget travelers
Very basic but comfortable campervans that don't have the frills of some other companies. The biggest reason we like Escape is they are super budget-friendly, making it accessible for more people.
Each unique vehicle is hand-painted by artists in LA, so you'll be sure to stand out anywhere you go and get lots of fun photos.
They offer a variety of different models from pop-top Jeep campers to the 5-sleeper "Big Sur", which is a Ford T-350 van.
All Escape campervan rentals include a fridge, sink, and stove, plus a solar energy system with dual battery. Bedding, camping gear, and kitchen extras are available for an additional fee.
Pros:
One of the most affordable rental options available
Unique and fun designs painted on each campervan
Different layouts to choose from
One-way rentals available
Cons:
You will not be able to stand up in these vans
No self-contained options available (aka no toilets)
Depending on your personality, the loud design on the exterior of the vehicle may be a drawback
The builds themselves are quite basic and don't have the frills of some of the more expensive "boutique" options
Outdoorsy
This is essentially the "Airbnb of campervan rentals" and gives you the most options no matter your location, your budget, or your style. In addition to campervans, you'll also find tow-behind trailers and RV rentals.
Discount: Use our code TWOWANDERINGSOLES to get $50 off your first booking!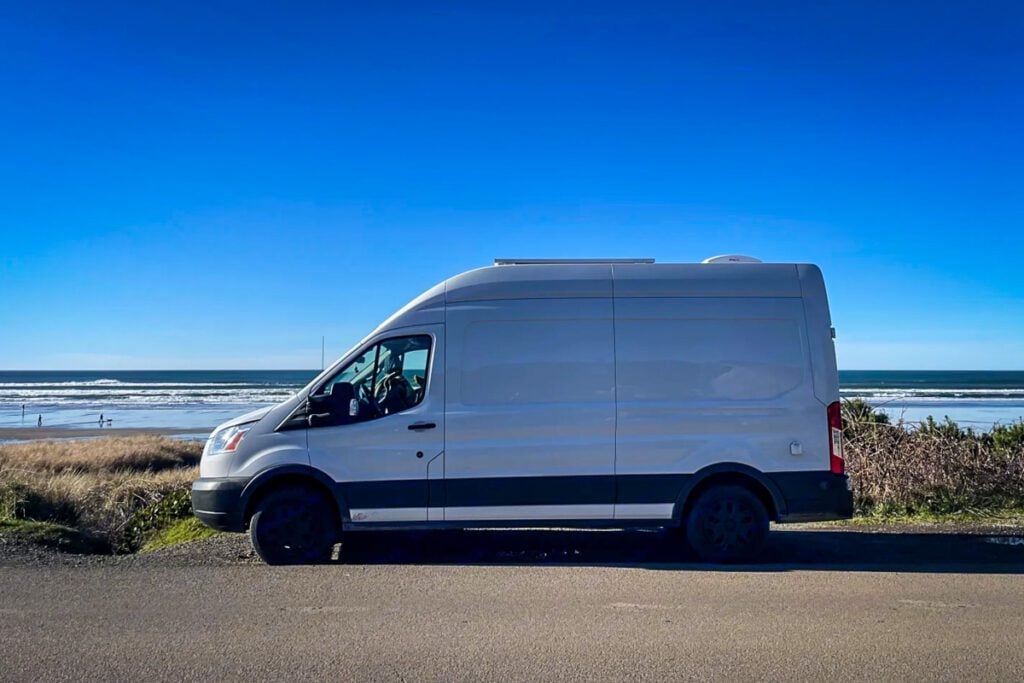 Budget: 2016 Ford Transit Custom
For less than $200 a night you can rent this custom 2-person build with a minimalistic design and lots of storage. The composting toilet is hidden under a seat and they provide a privacy tent for the outdoor shower. It also has the most bonkers-huge fridge we've ever seen in a campervan.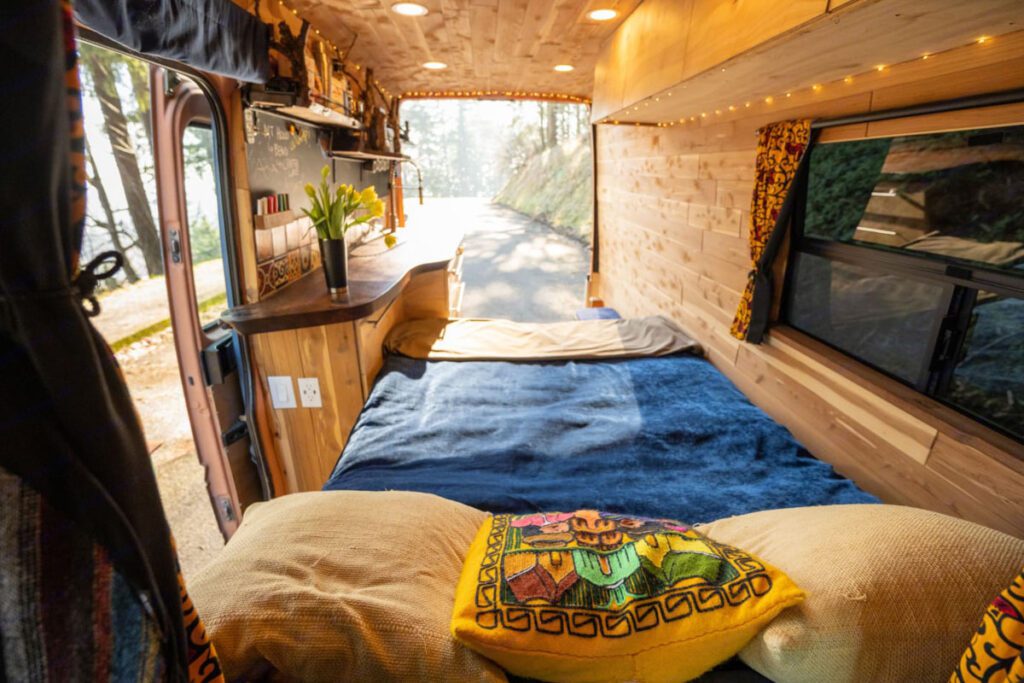 Mid-range: 2004 Dodge Sprinter
This beautifully designed high-roof campervan gives hippy-hostel vibes with a blackboard, custom backsplash, and colorful prints throughout. The live-edge walnut countertop is straight from my dream kitchen mood board. It has a toilet and outdoor shower. Oh, and the wood paneling is aromatic cedar. Dreamy.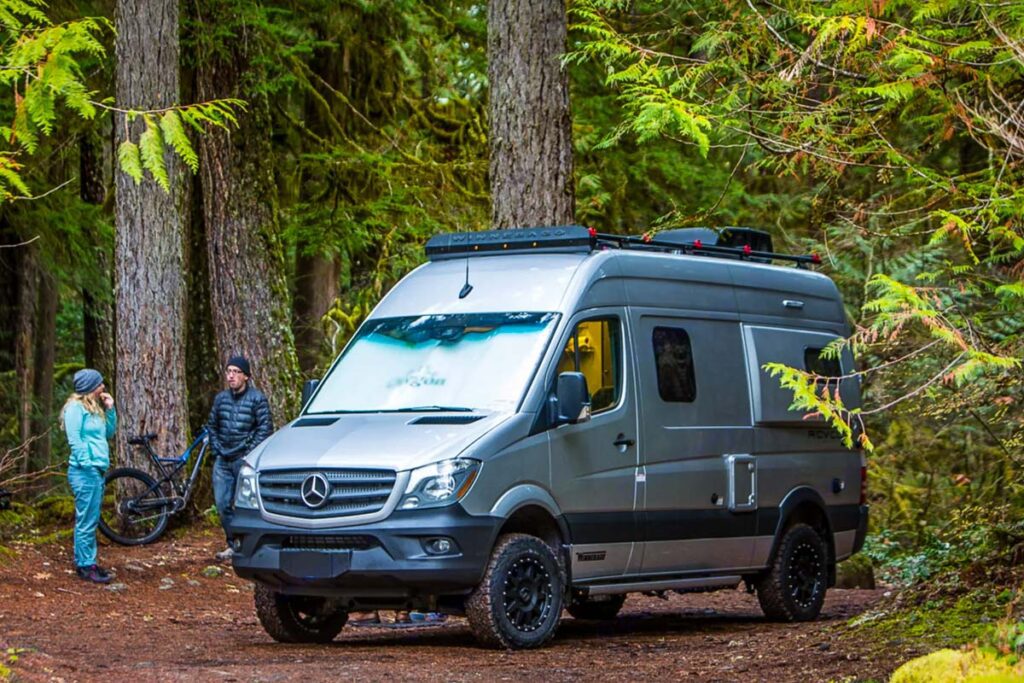 Mid-range: 2018 Winnebago Other
This slick rig is so cleverly laid out it could be made by Ikea. The 2-person bed moves electronically up and down, giving you more space underneath when you're not using it. The rear passenger seat also converts to a bed for a third person. It's equipped with a small kitchen, outdoor shower, and indoor toilet, which can also be converted to storage space with removable shelves.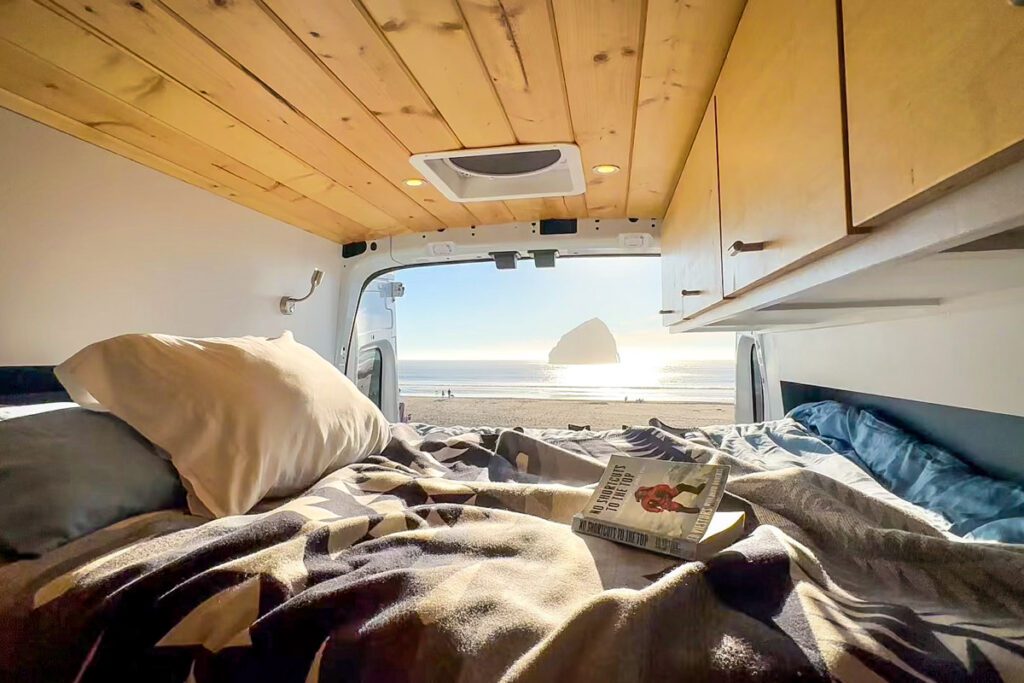 Price range: mid-range
Recommended for: couples or solo travelers
GoCamp is another platform similar to AirBnb where campervan owners rent out their vehicles. Not only is their fleet carefully curated, but the owners are also vetted to ensure you get the best campervan and the best renting experience.
Pros:
With LOTS of different vehicles/layouts to choose from, you'll find something to fit both your needs and budget
They offer discounts for teachers, first responders, and active members of the military, as well as deals on long-term rentals (more than 10-14 nights)
Cons:
The fee for pets is $125, which is higher than other campervan rental companies
Price range: mid-range
Recommended for: couples or young families wanting more space who are comfortable with a larger vehicle
Though Cruise America doesn't offer any vans, we think their Compact Motorhome is worth mentioning for those who are up for driving a slightly more robust vehicle.
Featuring all the amenities of a larger RV, this compact model is only 7.5 feet wide, so it's easier to maneuver than a big motorhome.
Pros:
Fully-contained with toilet, shower, and hot water
6.5-foot ceiling makes a comfortable space for tall campers
Cons:
Bedding/linens and kitchenware/cutlery cost extra to rent
Doesn't have an awning
Why rent a campervan or RV in Portland?
Still need a little convincing on the whole renting a campervan thing?
We get it. If you've never experienced traveling in a campervan, the idea of it can be a little daunting. Don't worry though — we literally have all the resources you need to make your trip a success.
First, let's chat about why renting a campervan in Portland is a good idea. Scratch that. An AMAZING idea.
a) You can save (lots of!) money.
Renting a campervan is like having a car, a hotel, and a kitchen all in one place.
Sure, the total cost per day isn't cheap, but consider what it would cost to book a hotel room, rent a car, and eat out for every meal.
Most likely, a campervan will save you quite a bit of money.
Related: We have all kinds of tips and tricks that will help you save money on your road trip.
b) You have ultimate freedom.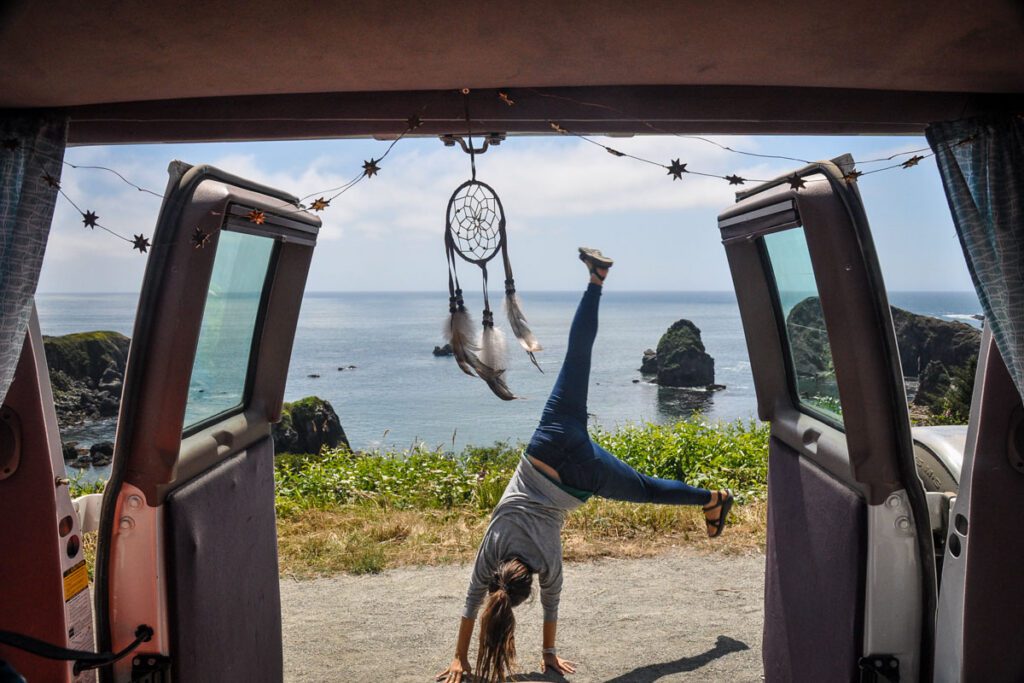 With a campervan, you have more flexibility than if you are staying in hotels.
Do you like a place? Stay longer.
Want to move on more quickly? Go for it.
Got a local tip and you want to switch up your route completely? Consider it done!
While having campground reservations is recommended at least a day or two in advance (more on that later), you have the ability to have a less rigid route.
c) It's the adventure of a lifetime!
You'll be telling your grandchildren about this adventure.
'Nuff said.
When to book your campervan rental in Portland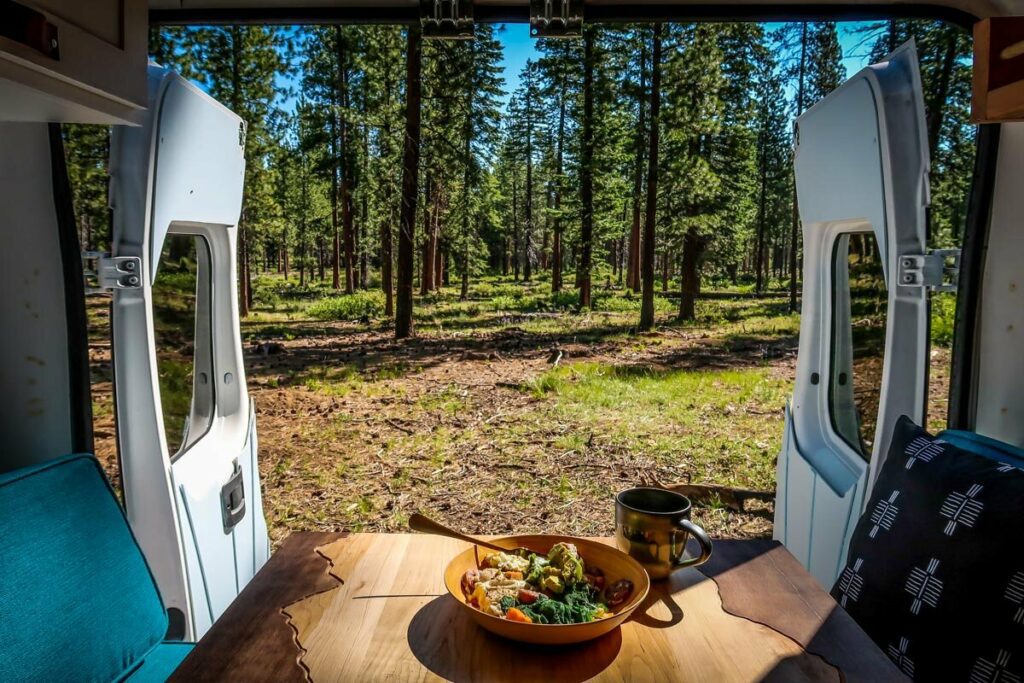 If you're planning to rent a campervan in Portland, listen up because this is crucial…
Book your vehicle as early as possible. (This applies to all companies on this list.)
During popular travel seasons (like summer), the best models get snagged up fast!
What types of campervans or RVs are available?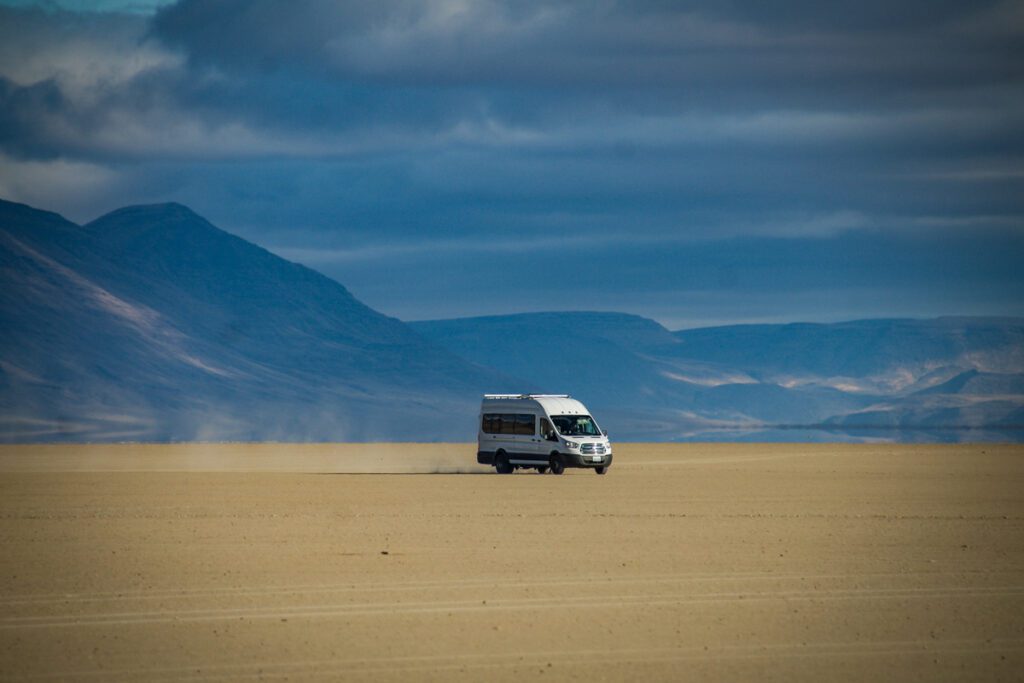 There is a huge variety to choose from.
We've listed a handful of different types below, but if you're still confused, hop down to the next section where we've broken down some of the major things to consider that'll make your decision easier.
Low-roof converted minivan: ideal for budget-minded adventurers
Pop-up campervan: iconic old-school campervan style
High-roof campervan: spacious while still easy to drive and park
Mini-motorhome: home on wheels, perfect for a young family
Large motorhome: pile in the kids, bikes, and a dog for an epic road trip
Things to think about when choosing a rental vehicle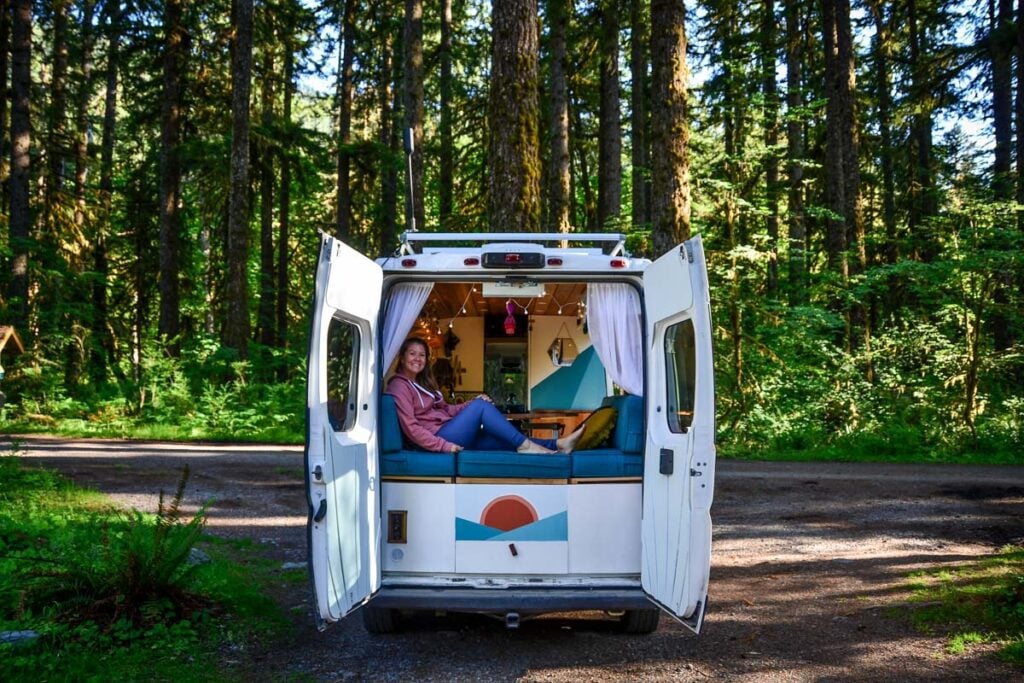 Consider your answer to the following questions, as they will help you narrow down the best campervan rental for your personal needs.
How many people are you traveling with?
How comfortable are you driving a large rig?
If you have an RV at home, perhaps driving a motorhome will be no big deal for you. However, if this is your first time in a larger vehicle, a campervan will be an easier transition for you.
In short, our advice is to get the smallest possible size you think will work for you.
What is your budget?
The answer to this question might help you narrow down your rental choices, so it should be one of the first things you really dive into.
In general, a campervan will be cheaper than an RV. And a low-roof vehicle will be cheaper than a high-roof vehicle.
Psst! If you're curious about how much a campervan rental in Portland costs, we have a whole section about that. Jump there now.
Do you want a high-roof vehicle?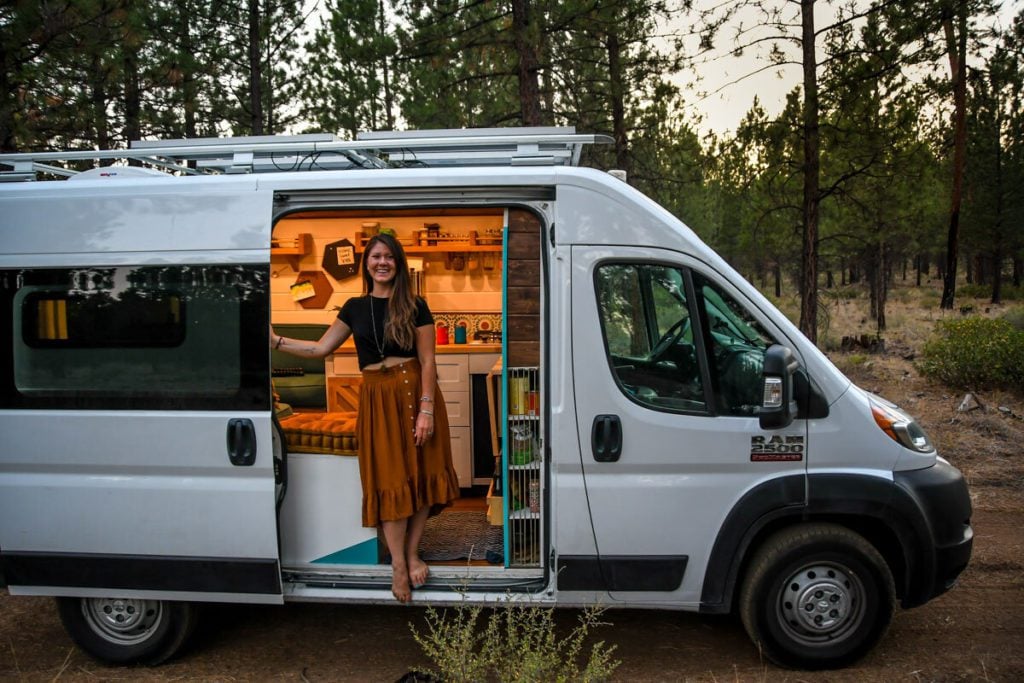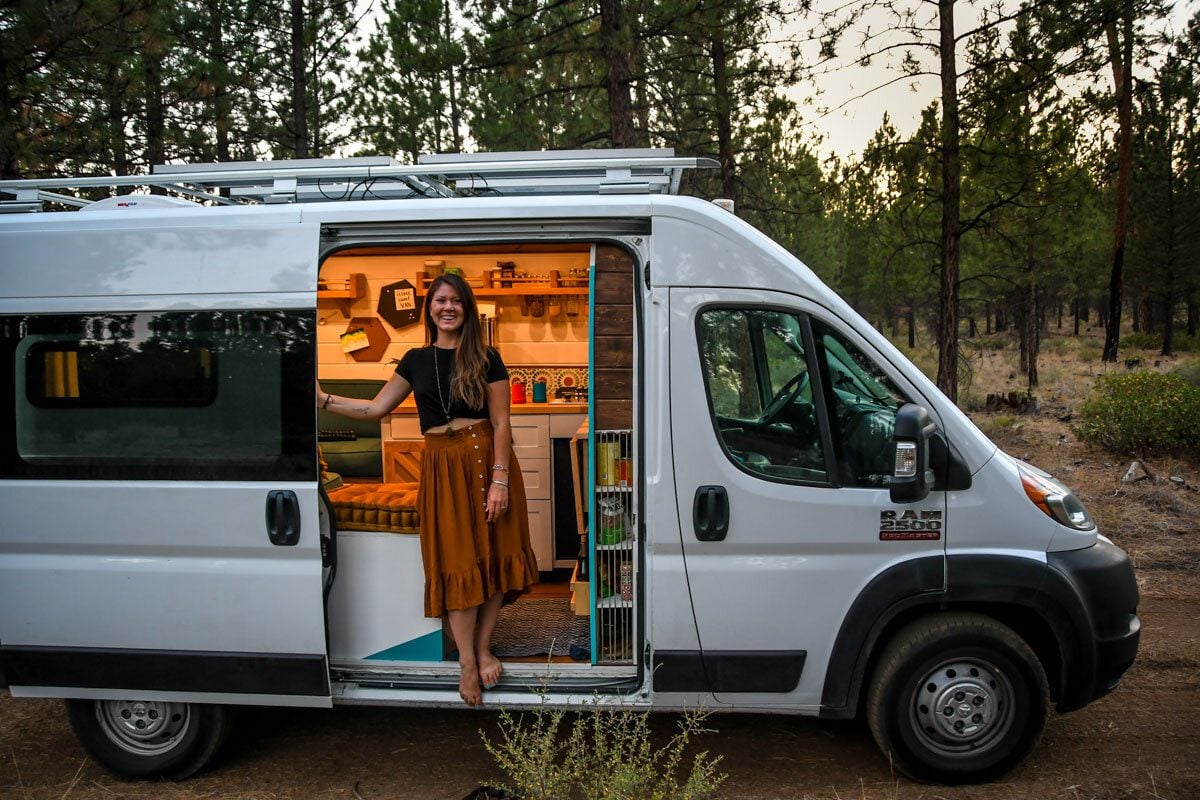 Think about this one for a minute: Do you need to be able to stand up inside your campervan?
This will help make getting dressed, cooking, and just hanging out more comfortable. But it will mean you'll likely be in a higher price bracket.
If a low roof isn't a deal-breaker, you can probably save quite a bit of money.
Our personal opinion: We've had lots of experience in both low-roof and high-roof vehicles. When we were on a budget, it was a great way for us to save money, especially when we were traveling in places where we spent a lot of time outside. However, once we spent more time in a high-roof van (and now that we travel with a child!) I don't know if we could go back to a low roof. It's honestly just so much more comfortable being able to stand up!
How luxurious of a set-up do you need?
From super basic to extra bougie, there are all types of campervan and RV rentals. Determining your budget is the first step, as this will help you narrow down your options.
From there, think about your personal preferences: Are you used to roughing it? Do you have a lot of camping experience? Or will splurging for a more plush vehicle be worth every penny to you?
Keep your answers in mind as you're sifting through your rental options.
How much does a Portland campervan rental cost?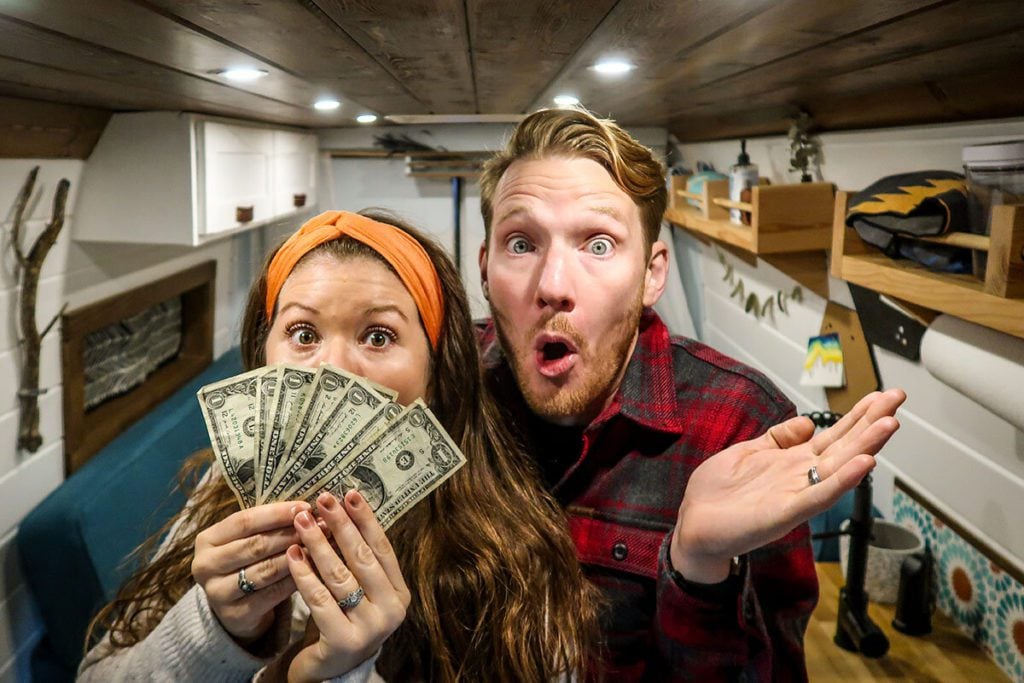 Campervan rentals will vary drastically, depending on the following factors:
which company you choose
type of vehicle
time of year
manual vs. automatic transmission
how far in advance you make your reservation
To give you a general price range:
1 week in Portland in July (peak season) for a 2-berth campervan will cost about $1,200 (priced in August 2023)
1 week in Portland in October (shoulder season) for a 2-berth campervan will cost about $800 (priced in August 2023)
Other costs to consider
In addition to paying the nightly rental fee, you won't want to forget these other things:
Additional rental add ons (make sure you understand what is included with your company and what is an extra fee)
Campground fees
Insurance
Gas

Insider Tip: Be sure you know whether your vehicle is gas or diesel so you fill up at the proper pump at the gas station.
Top 8 places to visit on your Oregon road trip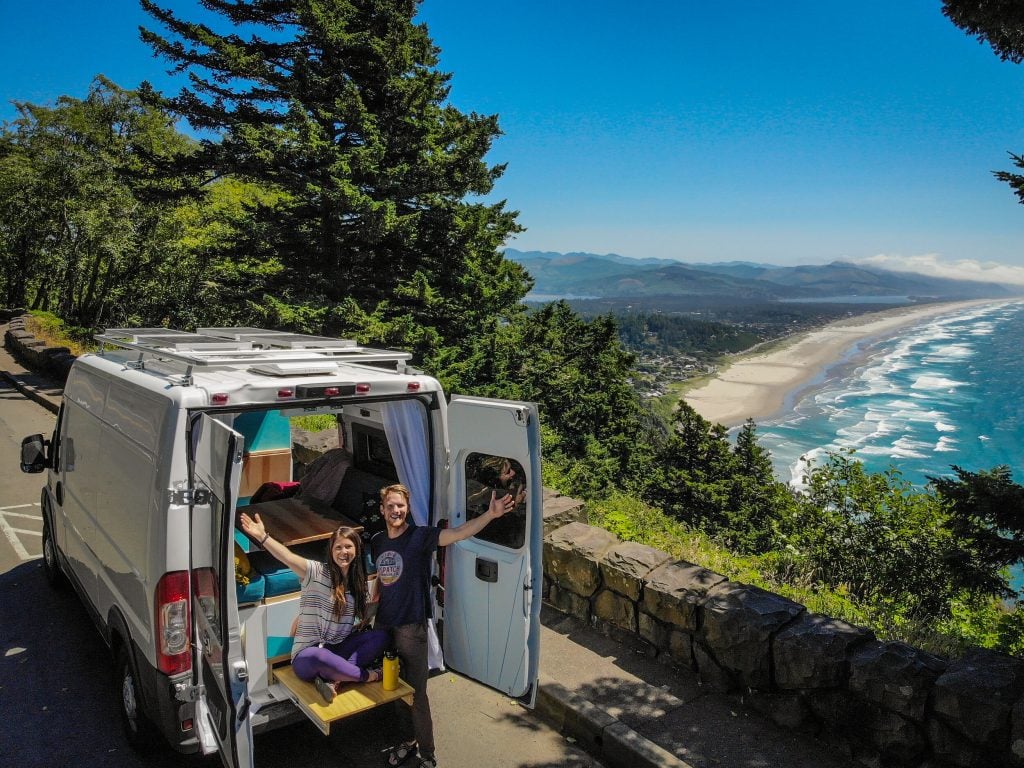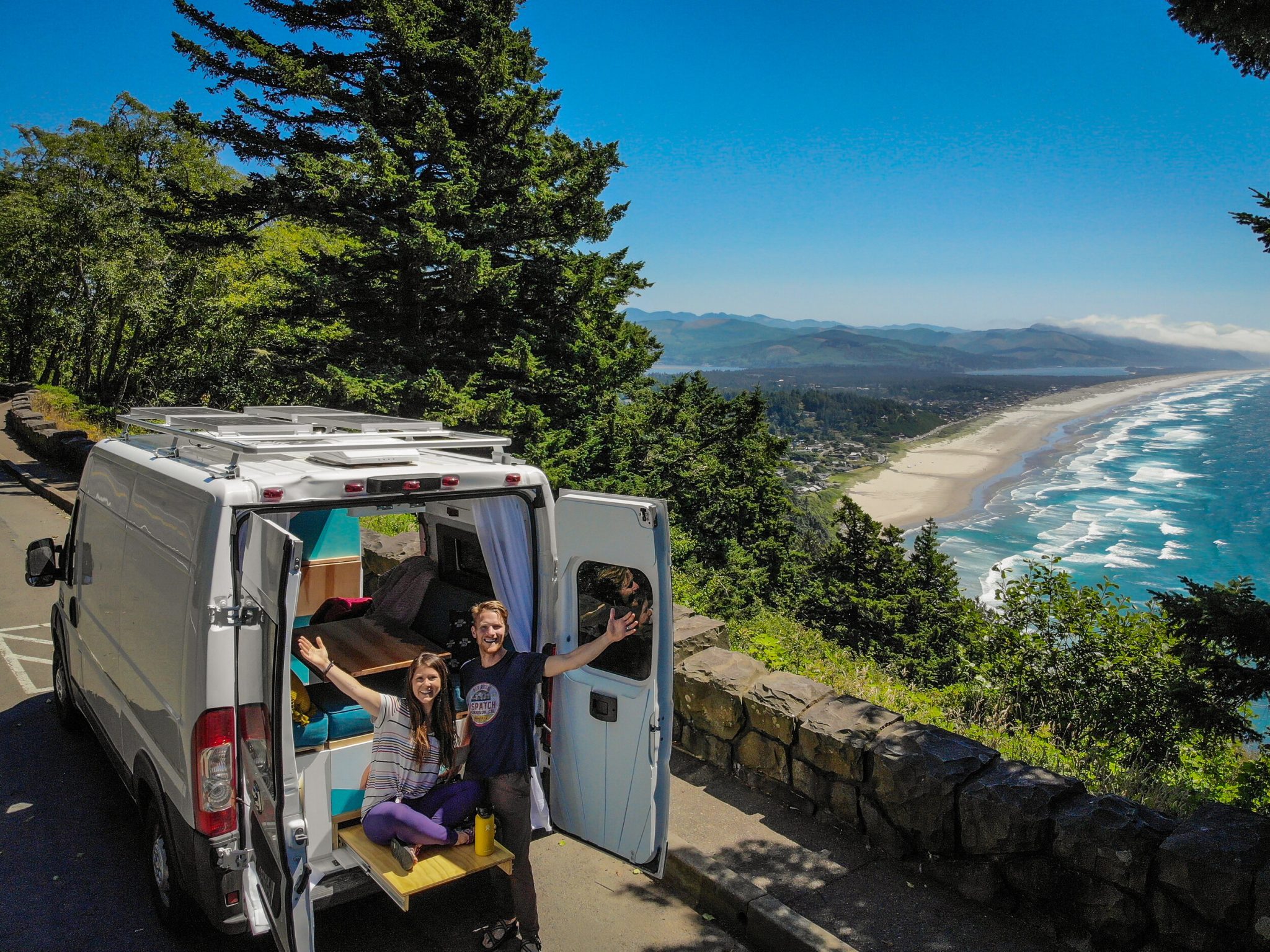 You could easily spend months getting lost and falling in love with the magic of Oregon. But if you're looking for a list of the very best places to put on your itinerary, we've got you covered.
We chose these places specifically because they are ideal for visiting in a campervan or RV. Use this list to start planning your perfect Oregon road trip route!
Good to know: You might notice that we purposely left cities off this list. That's because cities are not as fun to navigate with a large vehicle and finding parking can be a pain. That doesn't mean you shouldn't add them in, but we'd highly recommend focusing your route around the places below. (We say this from personal experience!)
1. Oregon Coast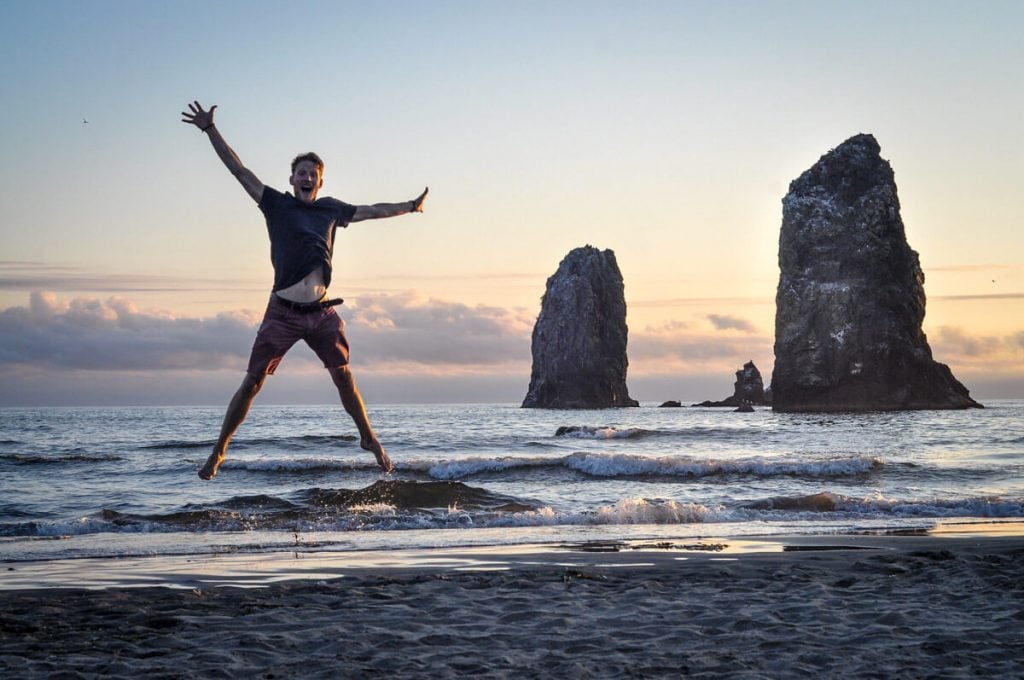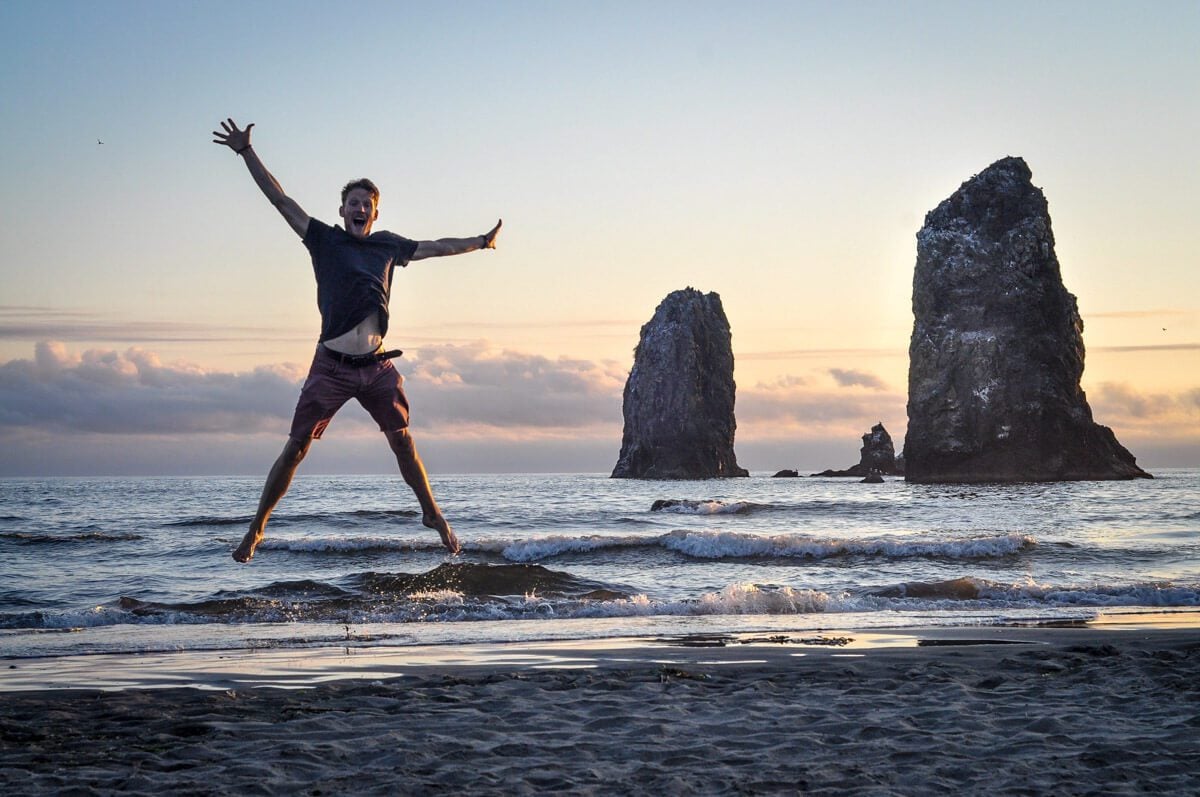 The Oregon Coast is one of our favorite USA road trips. The iconic Highway 101 hugs the shoreline, which is dotted with quaint coastal towns, rugged beaches, and dreamy campgrounds.
We have a detailed guide (with a free map!) jam-packed with things to do, where to eat, and driving times for the perfect Oregon Coast road trip, but here are some highlights…
2. Bend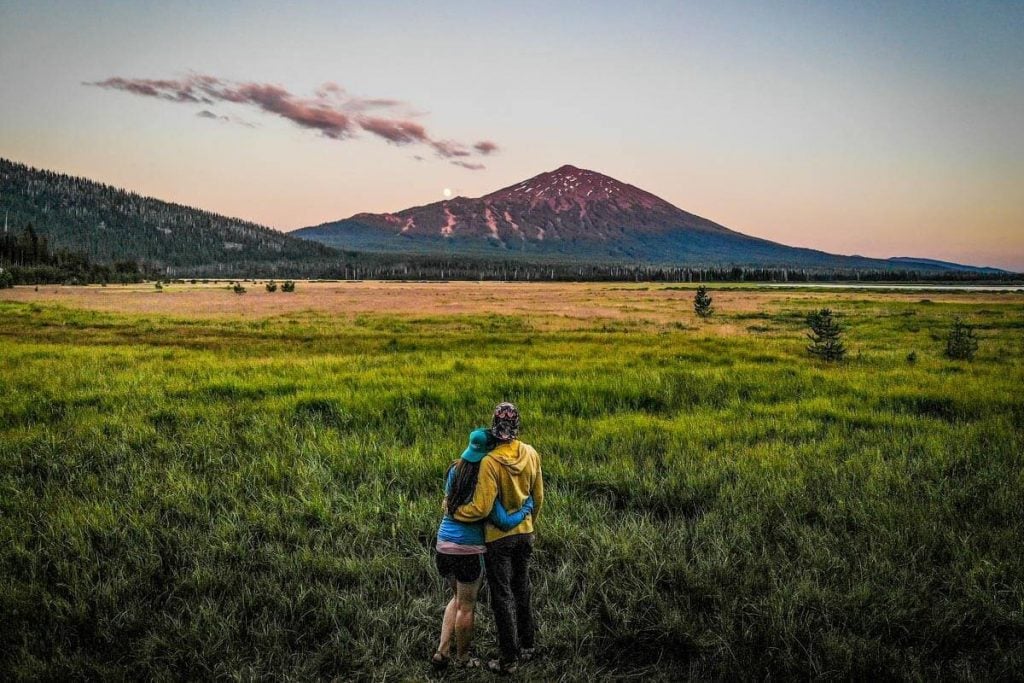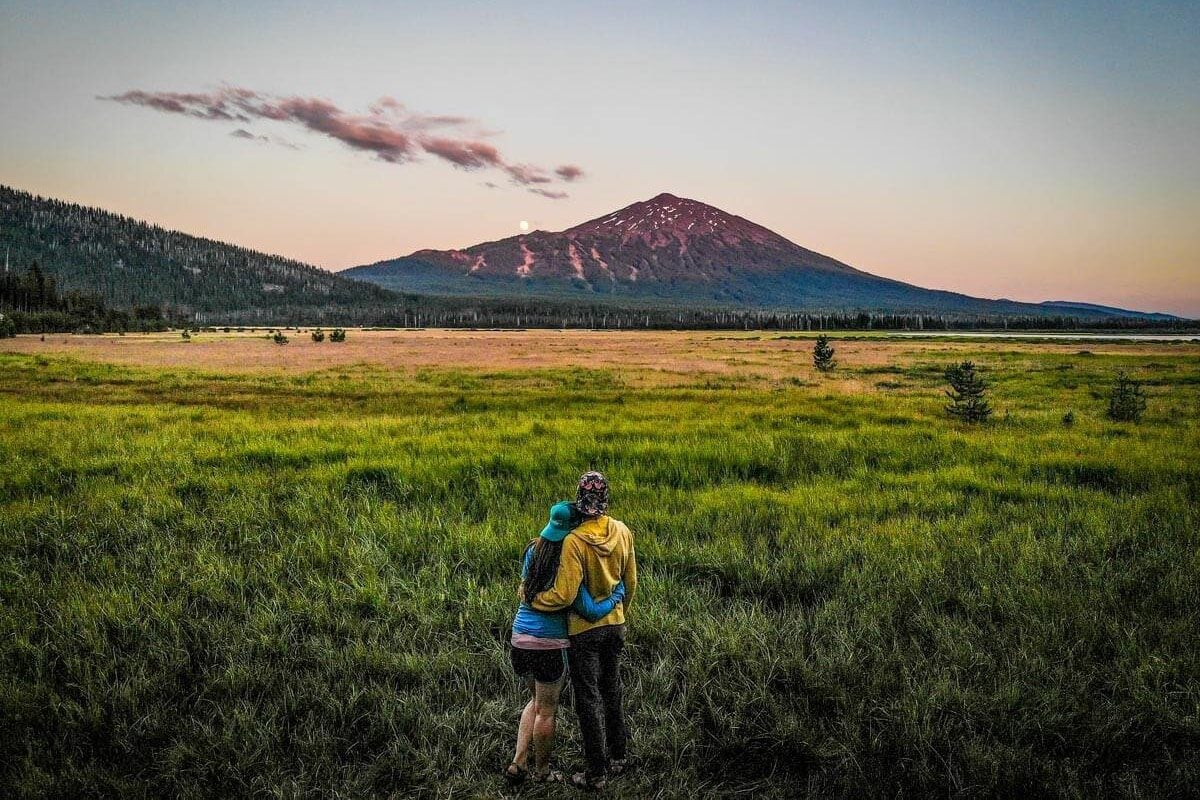 We couldn't have a list of the best places to visit in Oregon without plugging our home, could we?!
We've lived in Bend for 4 years, so you can trust that we know all the best things to do, restaurants to try, trails to hike, and places to camp. Here are some of our faves:
Floating the Deschutes River: Take it from a local; this is the thing to do on a hot summer day in Bend!
Tumalo Falls: This 97-foot waterfall is just 12 miles from downtown and accessible for anyone, with the lower viewpoint just steps from the parking lot. It's just a short hike to the upper viewpoint, or more avid hikers can tackle the whole 7-mile Tumalo Falls Loops, known as one of the best hikes in Oregon.
Broken Top: This hike traverses thick ponderosa forests, babbling brooks, and wildflower meadows, culminating at the picturesque No Name Lake, which reflects the jagged peaks of the Broken Top summit. Though it makes a rather lengthy day hike at roughly 15 miles, the trail itself is relatively easy and is suitable for beginners as well as experts.
3. Mount Hood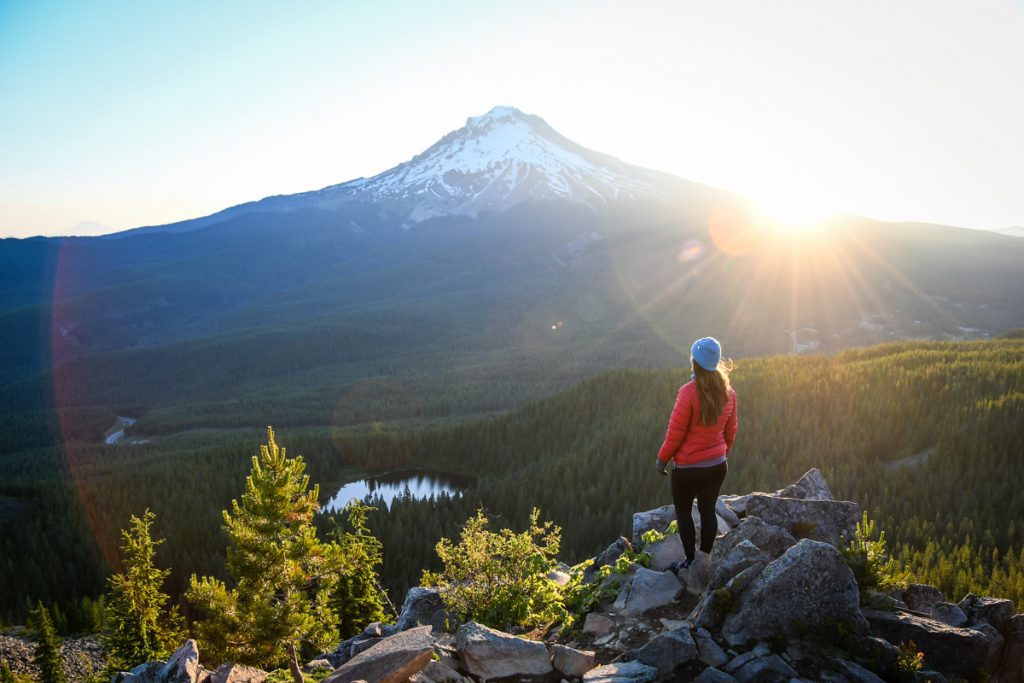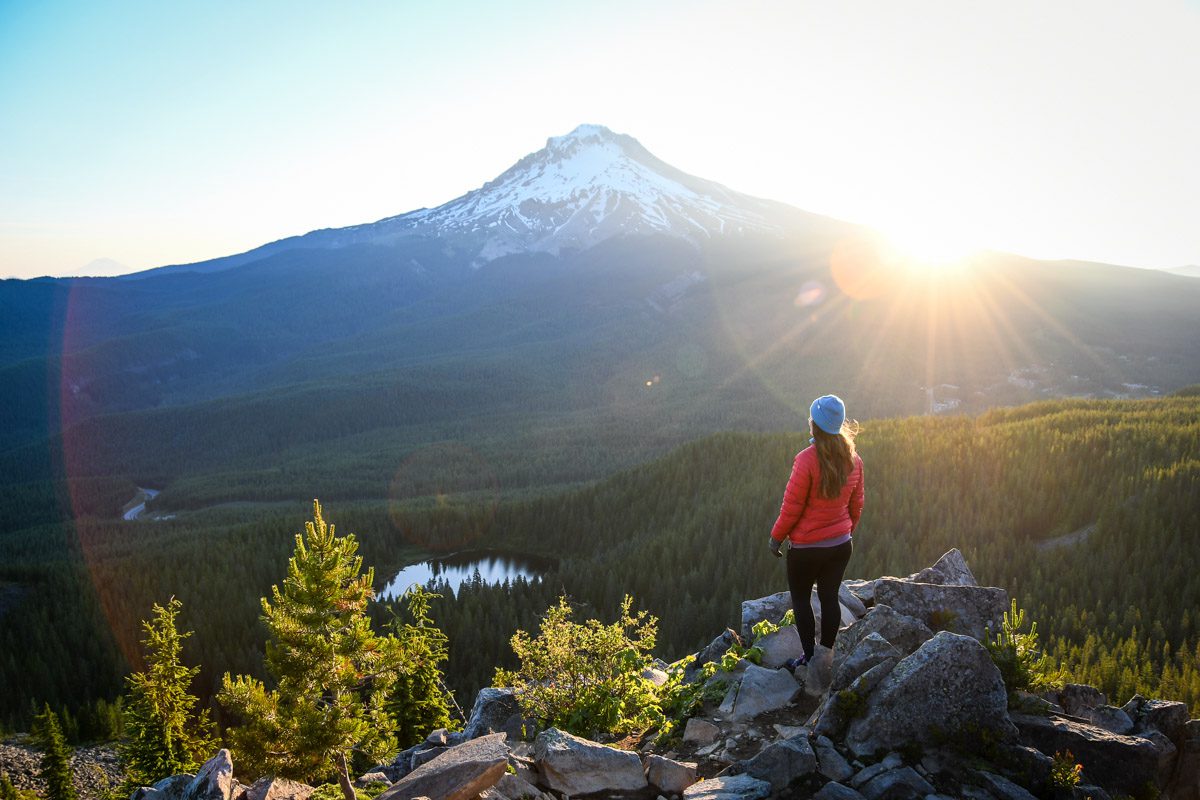 As the tallest peak in Oregon at a towering 11,250 feet, Mount Hood can be seen as far as Portland and Bend on a clear day.
This classic symbol of the PNW sits at the center of the federally designated Mount Hood National Forest and Wilderness Area, where endless magical hiking trails and outdoor adventures await.
One of our favorites is Tom Dick and Harry Mountain. Adjacent to Mount Hood, this trek offers some of the best, most close-up views of the iconic snow-capped peak, along with dense pine forests, babbling creeks, and the renowned Mirror Lake.
4. Hood River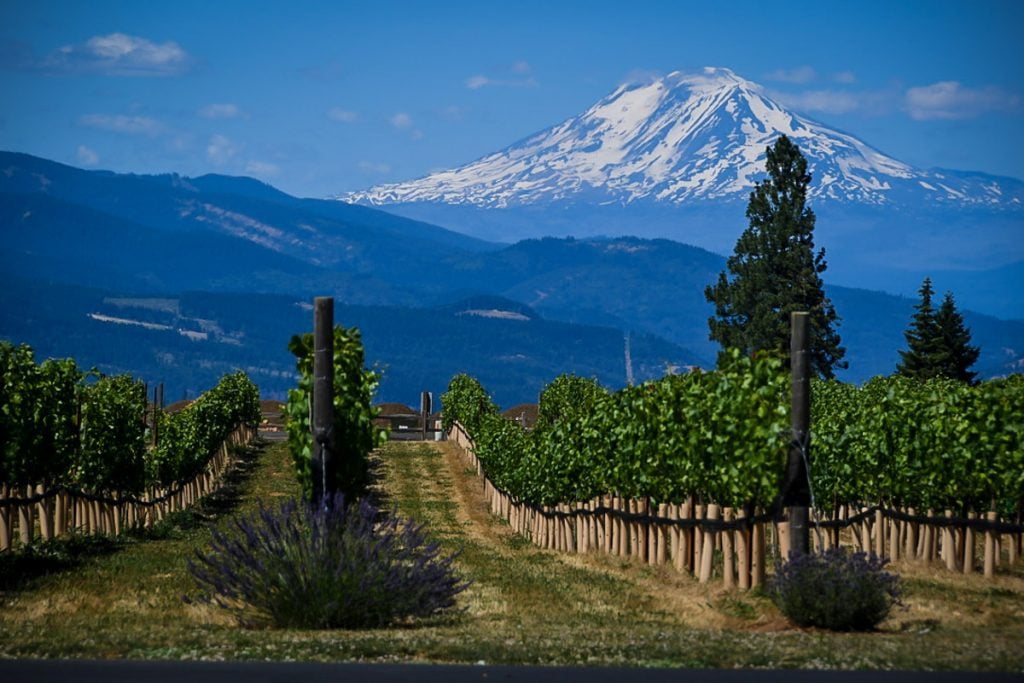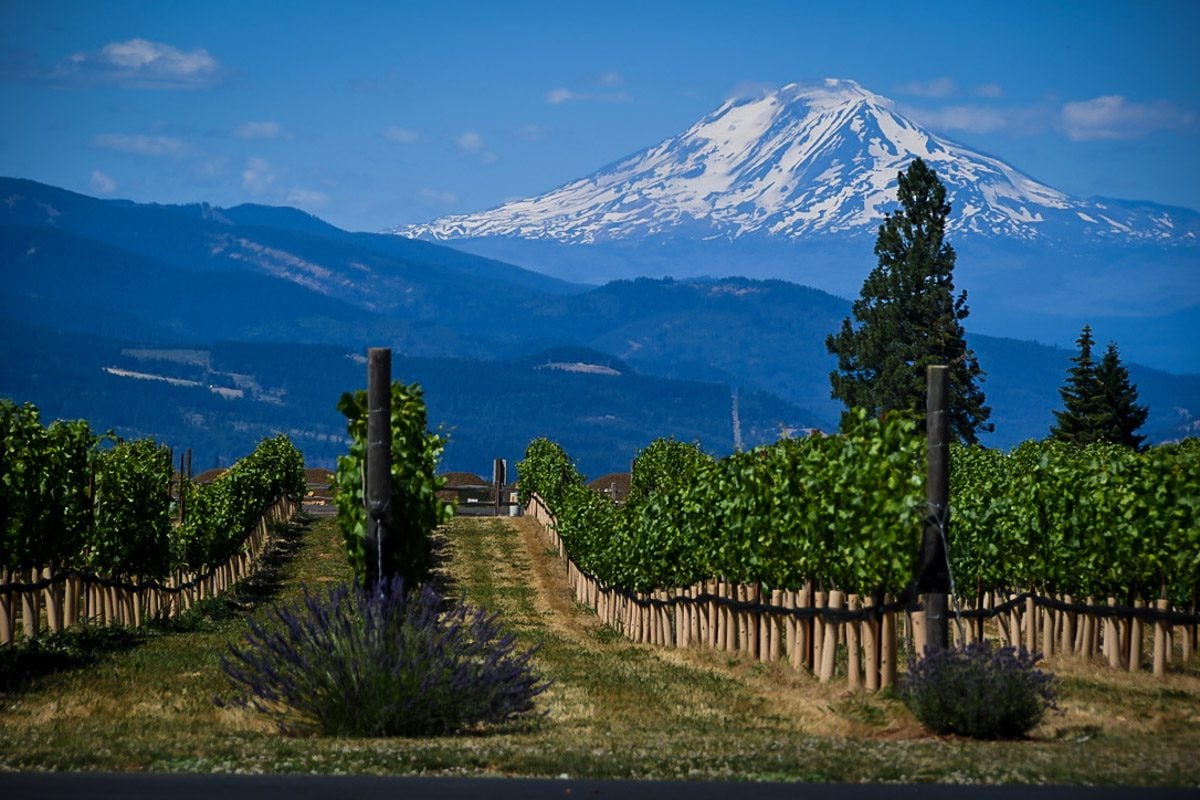 Though it makes a popular day trip from Portland since it's only an hour away, there are so many things to do in Hood River that we think it's well worth a spot on your Oregon itinerary.
Nestled on the banks of the Columbia River in the Hood River Valley, the climate here is drier and sunnier than the coast, creating perfect conditions for fruit orchards and vineyards.
Take a scenic drive along the famous Hood River Fruit Loop: 35 idyllic miles of orchards, wineries, farms, produce stands, breweries, flower fields, and other bucolic landscapes.
Insider Tip: If you've ever wanted to stay at a Harvest Host, this might be the perfect place to try it out.
5. Columbia River Gorge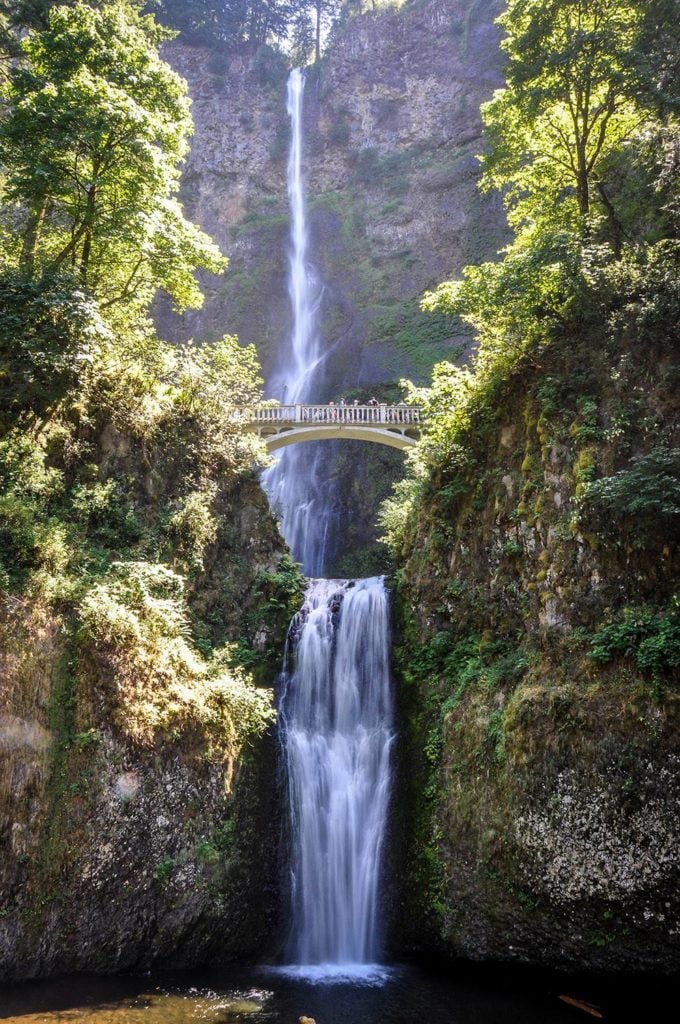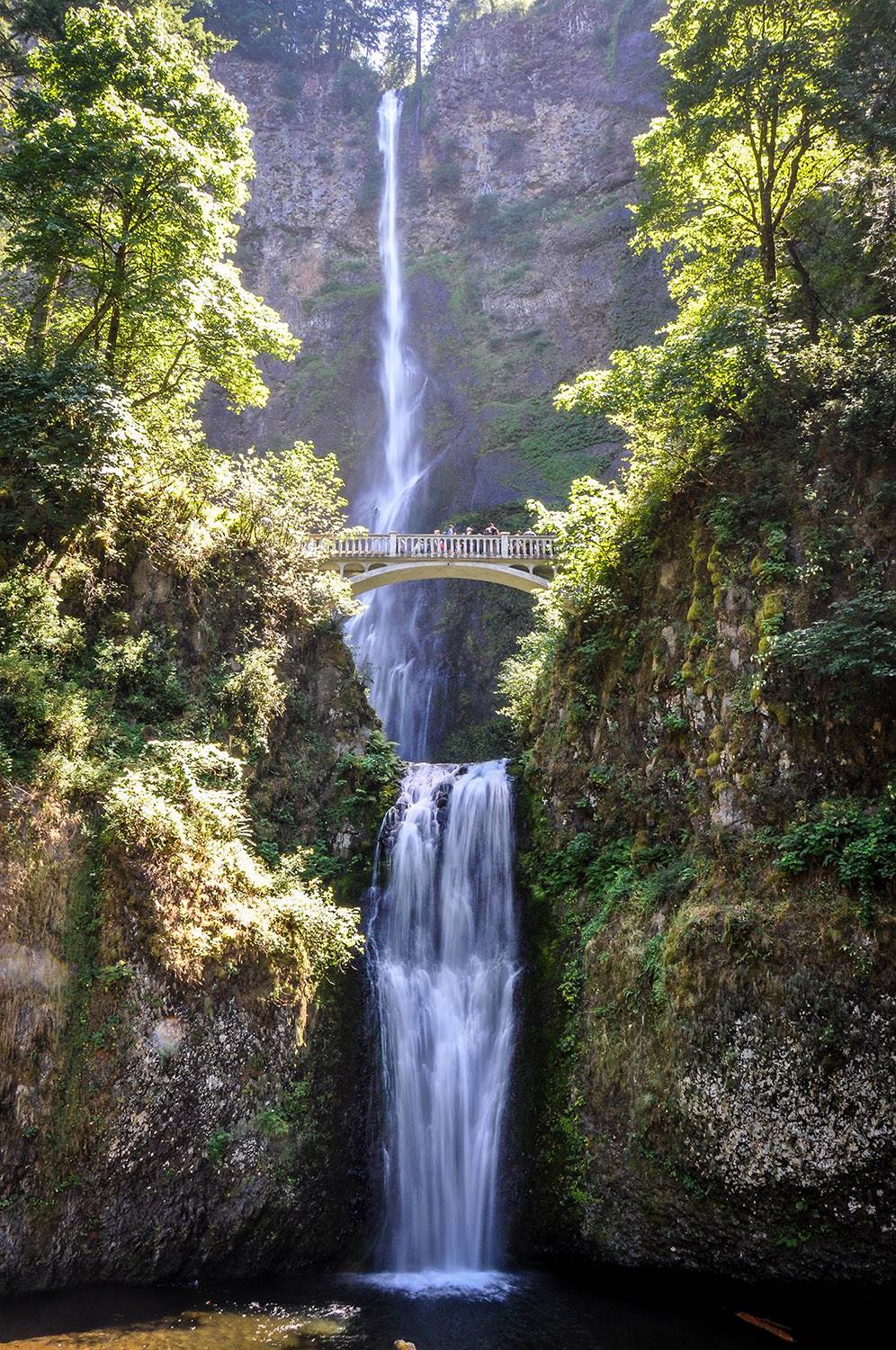 The Columbia River Gorge sits on the border between Oregon and Washington. The area's unique geography, quintessential PNW scenery, and abundance of waterfalls (no less than 90!) have earned it a top spot among the 7 Wonders of Oregon.
From quick-stop roadside cascades to waterfall hikes (such as the famed Multnomah Falls), the Columbia River Gorge literally has a waterfall for everyone.
6. Silver Falls State Park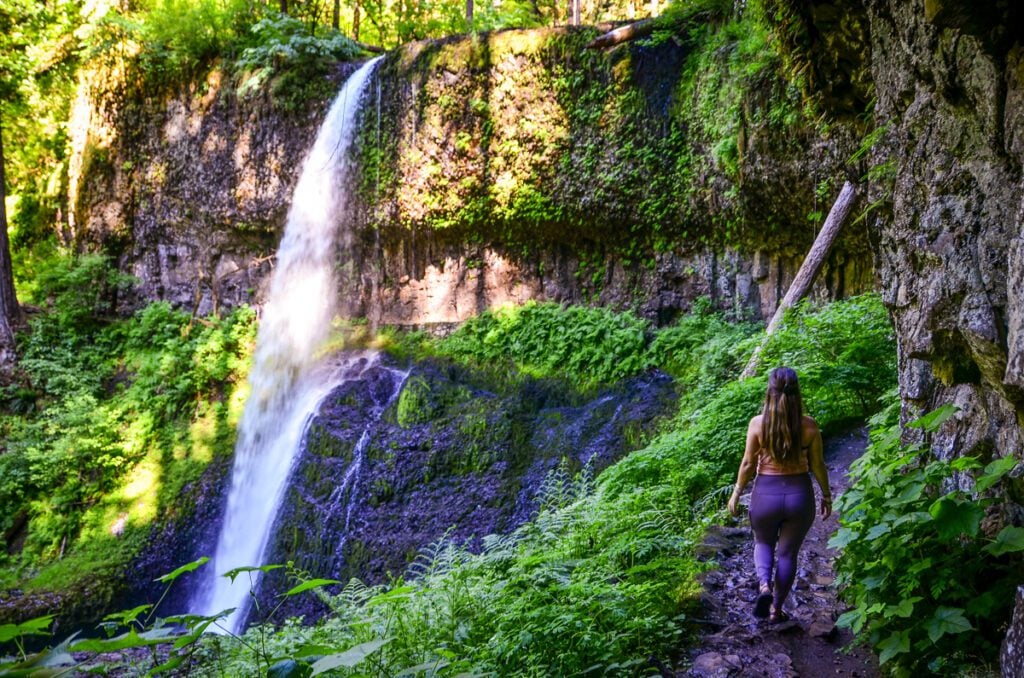 As one of Oregon's most popular hiking locations, Silver Falls State Park has a lot to offer everyone, from experienced campers to families looking for a day hike. 
A little more than an hour from Portland, Silver Falls offers over 9,000 acres of pristine wilderness with well-maintained trails, dozens of campsites, and of course, some of the most beautiful waterfalls in Oregon.
7. Crater Lake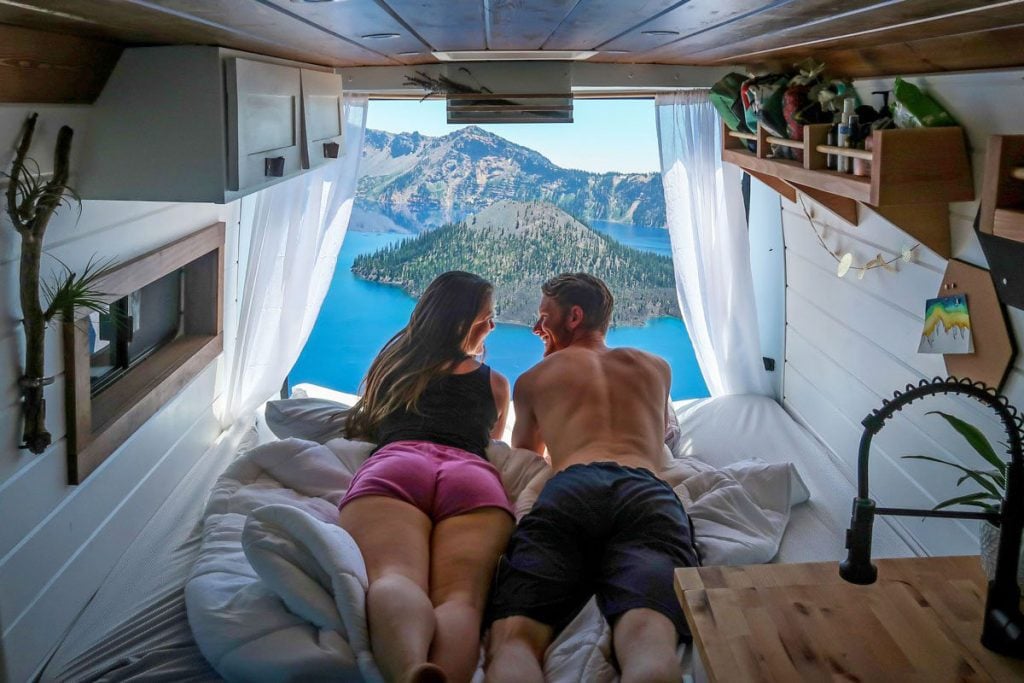 We've been to Crater Lake multiple times and we still have to pick our jaws up off the floor every time. In fact, we think it's one of the more underrated US National Parks.
There are some seriously incredible hikes in Crater Lake that traverse ancient volcanic rock, wildflower-filled meadows, and impressive fossil fumaroles to reach peaks with panoramic views of the deep, brilliantly blue lake.
8. Alvord Desert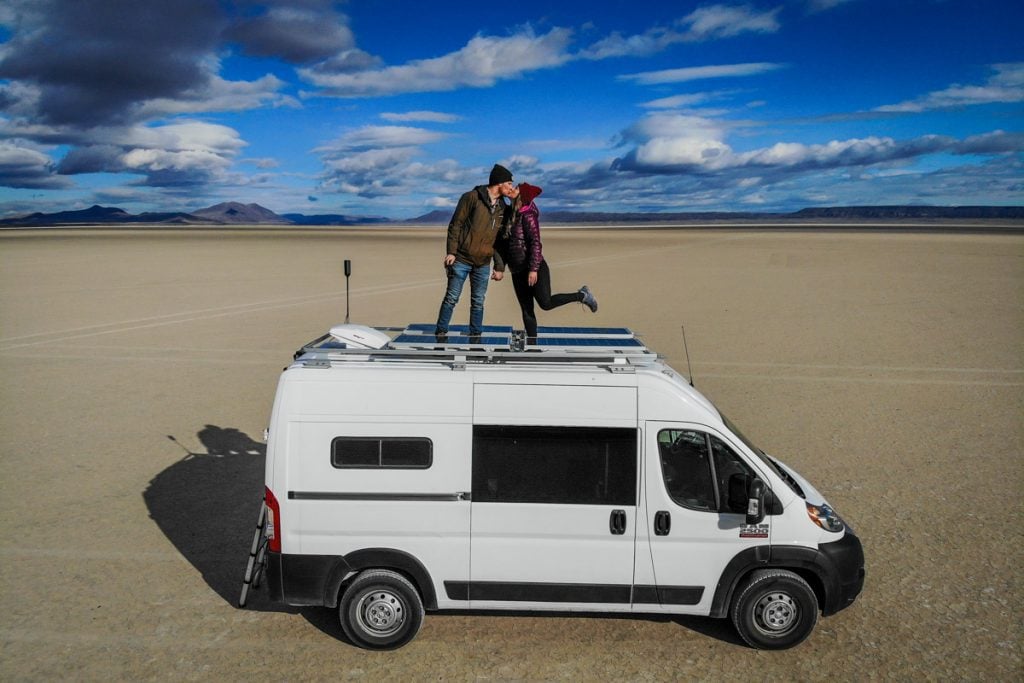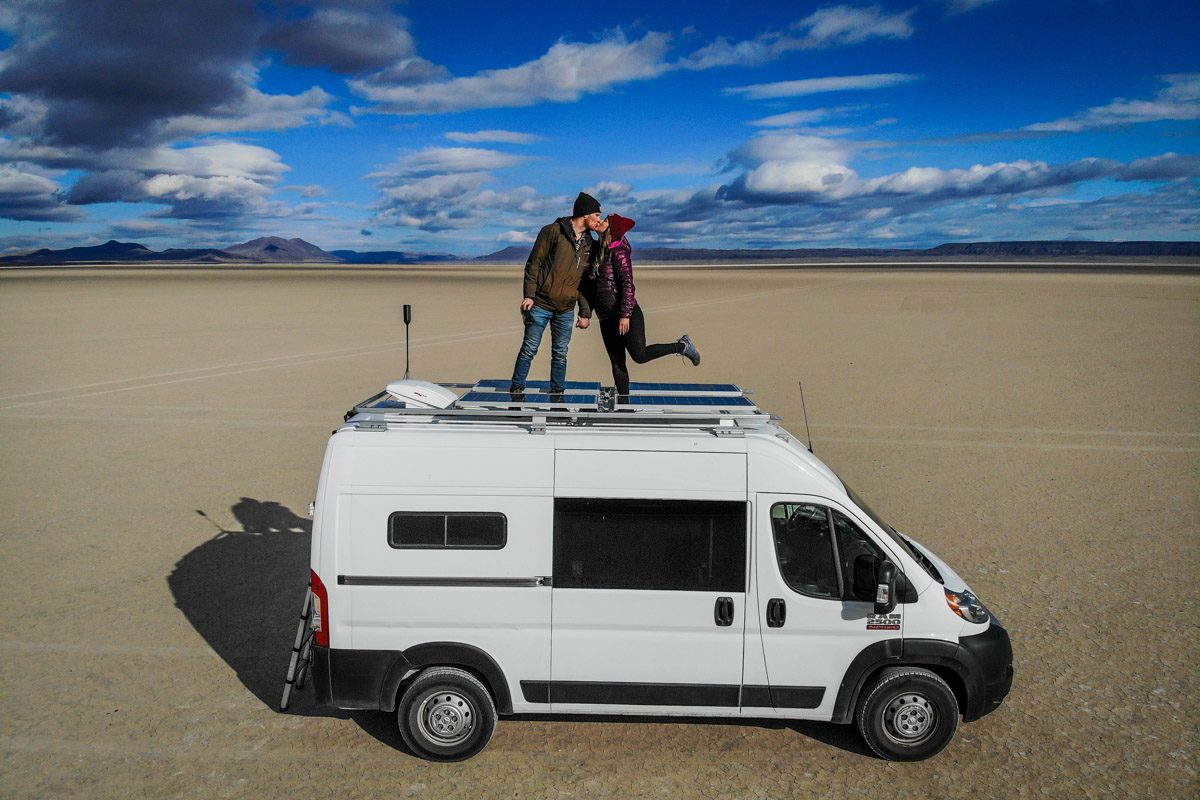 Camping on the eerily beautiful dried lakebed that makes up the Alvord Desert is by far one of the most unique things to do in Oregon. You can park your campervan anywhere on the lakebed (for free!), but be prepared for the elements; it can be viciously hot, brutally cold, or violently windy any time of year.
That said, you will not regret spending a night in this otherworldly expanse of cracked earth and dust, as the surrounding mountains cause the setting sun to light up the sky like it's on fire.
Portland campervan rental FAQs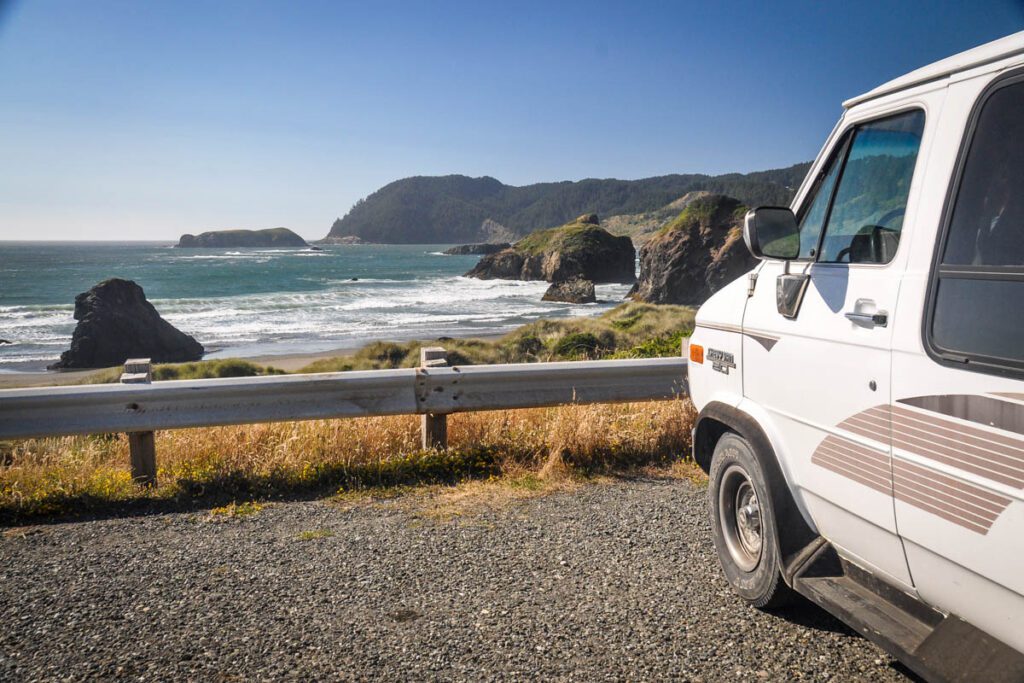 I get it — there is a lot to think about when it comes to renting a campervan in Portland.
Let's go over some common questions and see if we can get them answered!
Do I need an international driver's license to rent a campervan in Portland?
Most likely, no.
Unless your home country's license is in a non-Roman language (Japanese, Russian, etc.), you will not need an international driver's license.
Can I bring a child on a campervan trip?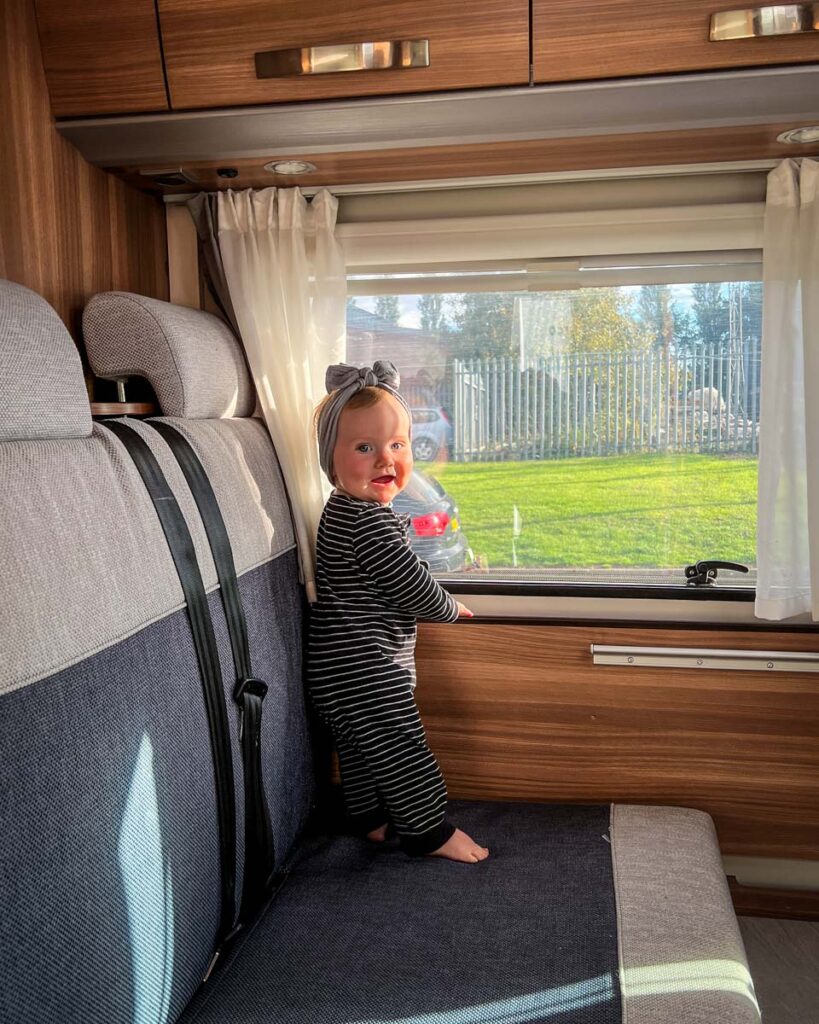 Absolutely. We've brought our daughter on many campervan trips — even in Scotland (pictured above) and Ireland!
In fact, we'd say it's a great way to travel with a baby or older children.
You will need to select a vehicle that has enough seating for your family. And you will need to think about what you will do about a sleeping space. (We have tips on that!)
Which is better: Campervan or RV?
The answer to this is truly a matter of personal opinion, but here's our opinion:
If you're traveling solo or as a couple, we'd absolutely recommend a campervan to keep the size to a minimum. However, if you're traveling with a small family, a campervan may be too small to fit you all comfortably, so a small l motorhome might be a better option.
Insurance for your campervan trip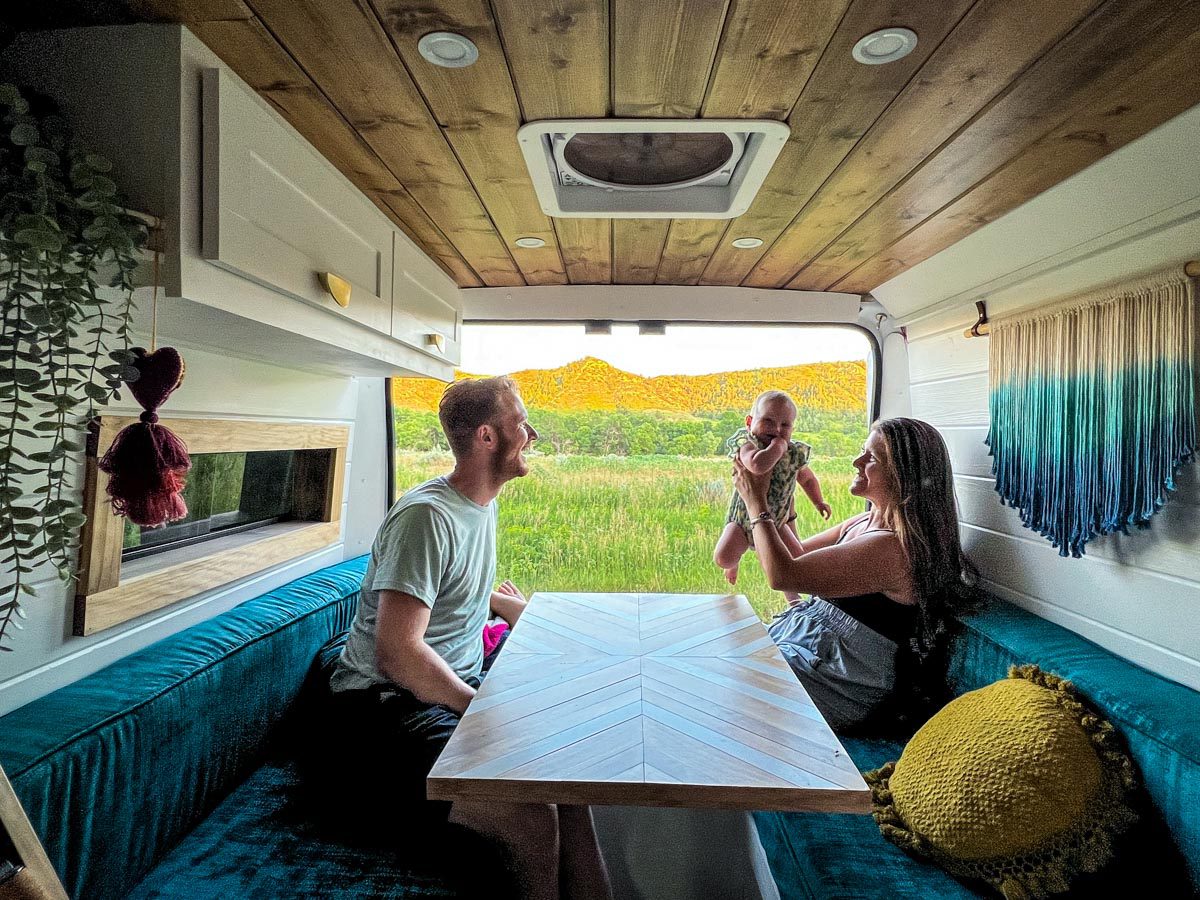 Insurance is always one of those tricky topics to write about because it widely varies from person to person depending on the amount of risk you are willing to take.
When traveling, we always make sure we are covered (we've heard some horror stories of accidents happening abroad).
Read the fine print of your credit card: A typical credit card rental car insurance policy only covers 4-door sedans and not campervans, so don't rely on that coverage.
As always, whether you get campervan rental insurance or not, we recommend getting medical travel insurance.
Psst! We have an entire guide to how to choose the best travel insurance policy for you that should be helpful!
What to pack for a campervan trip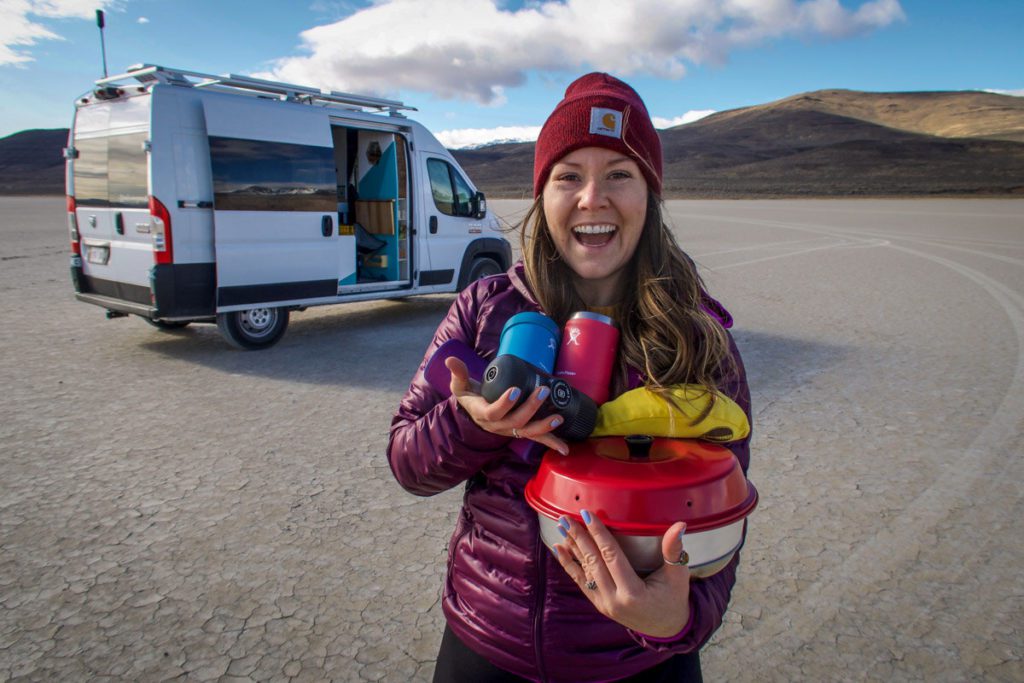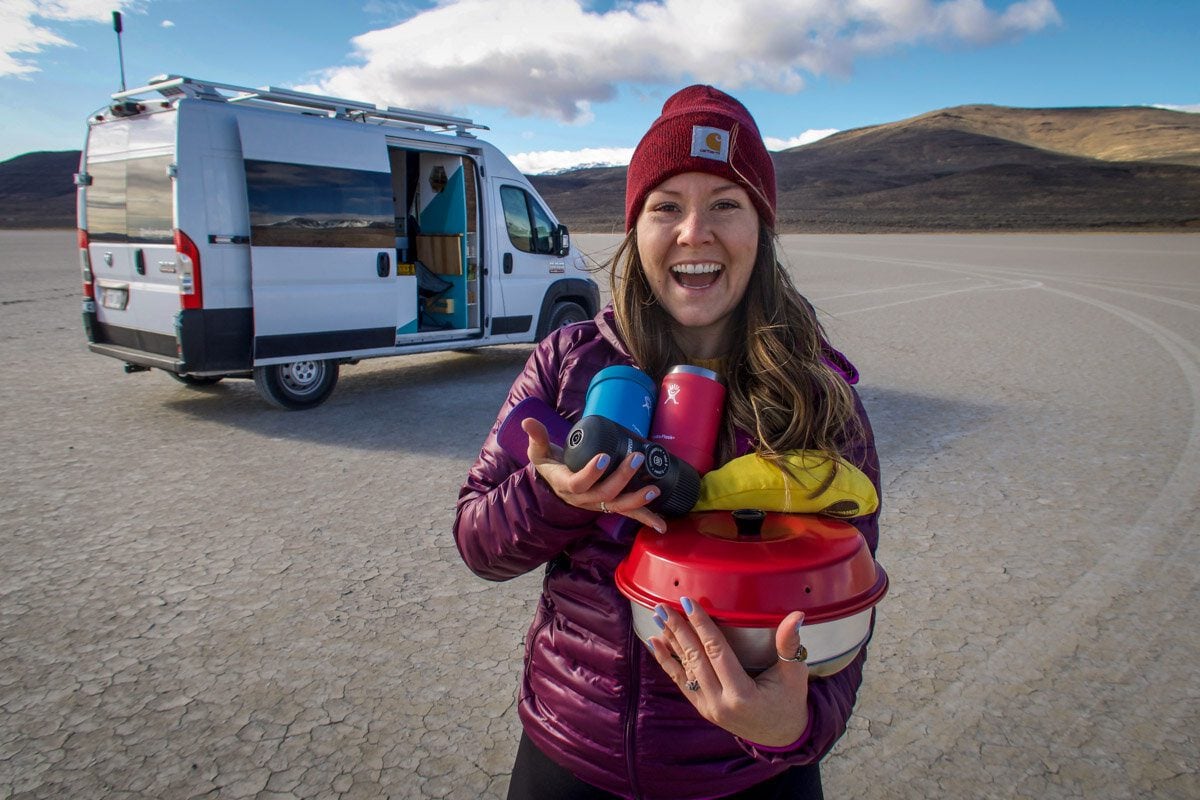 Here are some items you really don't want to forget:
Packing for a baby on a campervan trip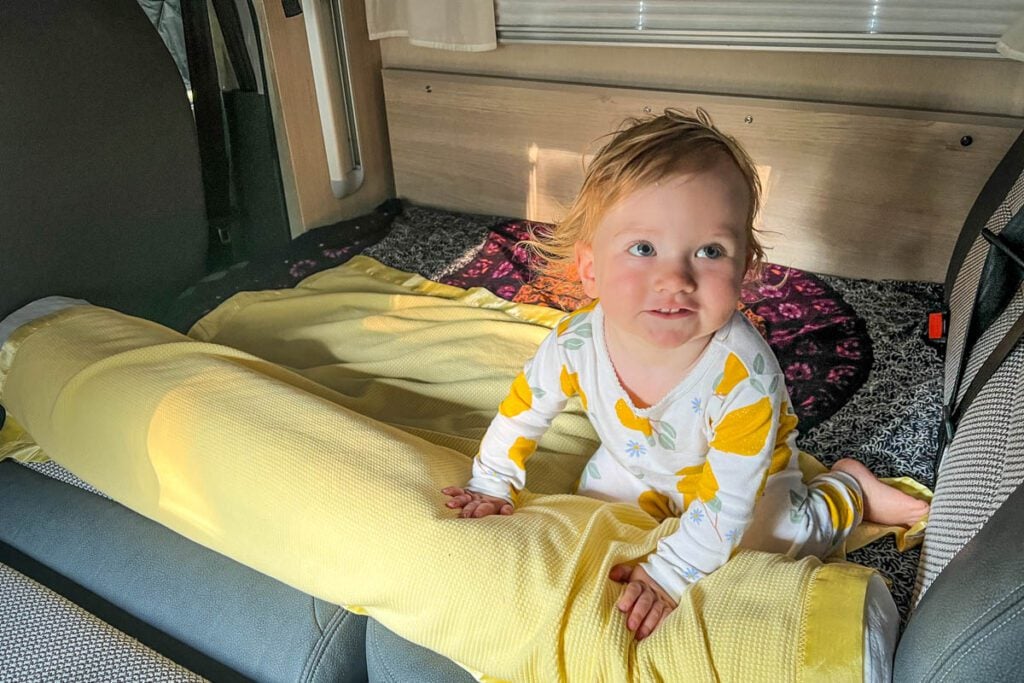 This checklist has a whole section of all our baby-related items we recommend, but here are a few things we'd definitely recommend bringing if you are renting a campervan with a little one in tow.
Travel high chair: We love this portable high chair and use it in our personal campervan at home.
Travel tent: This is the sleeping tent that we used on trips when our daughter was under a year old. It packs up super small and gave her a safe space to sleep.
Inflatable bed bumpers: We've transitioned from the tent to these as our daughter has grown and they worked really well to transform a normal bed into a safe sleeping space for our toddler.
Your favorite baby foods: If you have favorites (freeze dried strawberries from Trader Joe's are one of our go-tos for travel!), we'd recommend prioritizing packing foods over diapers and wipes, as those will be easier to find anywhere.
Travel sound machine: We don't go anywhere without this!
Tap light: This light is super handy at home or on travels.
Psst! Looking for more family travel tips? Check out our list of practical (& super encouraging!) tips for traveling with a baby.
Where to stay in your campervan
You'll be happy to know that there are tons of campgrounds near Portland all around Oregon.
Wild Camping
If you're traveling on a tight budget, and don't want to pay for campgrounds every night, it's worth mentioning that it is possible to wild camp in Portland (aka park somewhere that is not an established campground).
But you can't just park anywhere! Read our article on how to find free camping so you know the ins and outs and don't wind up inadvertently breaking the law (yikes!) on your road trip.
---
Portland travel resources
Be sure to bookmark these additional articles because they will be a huge help as you plan your trip.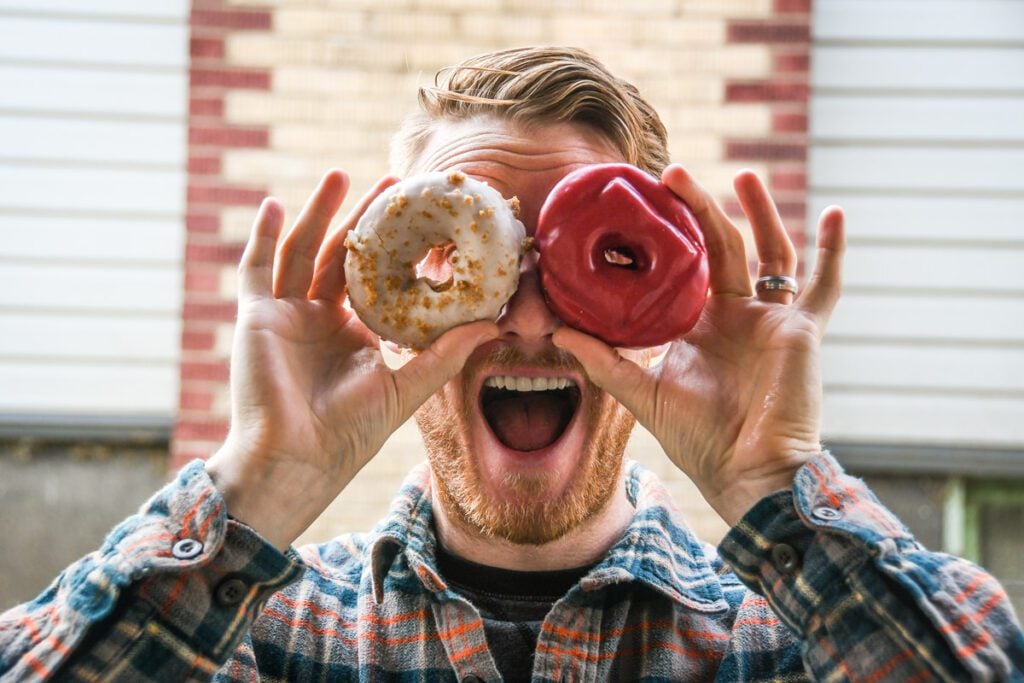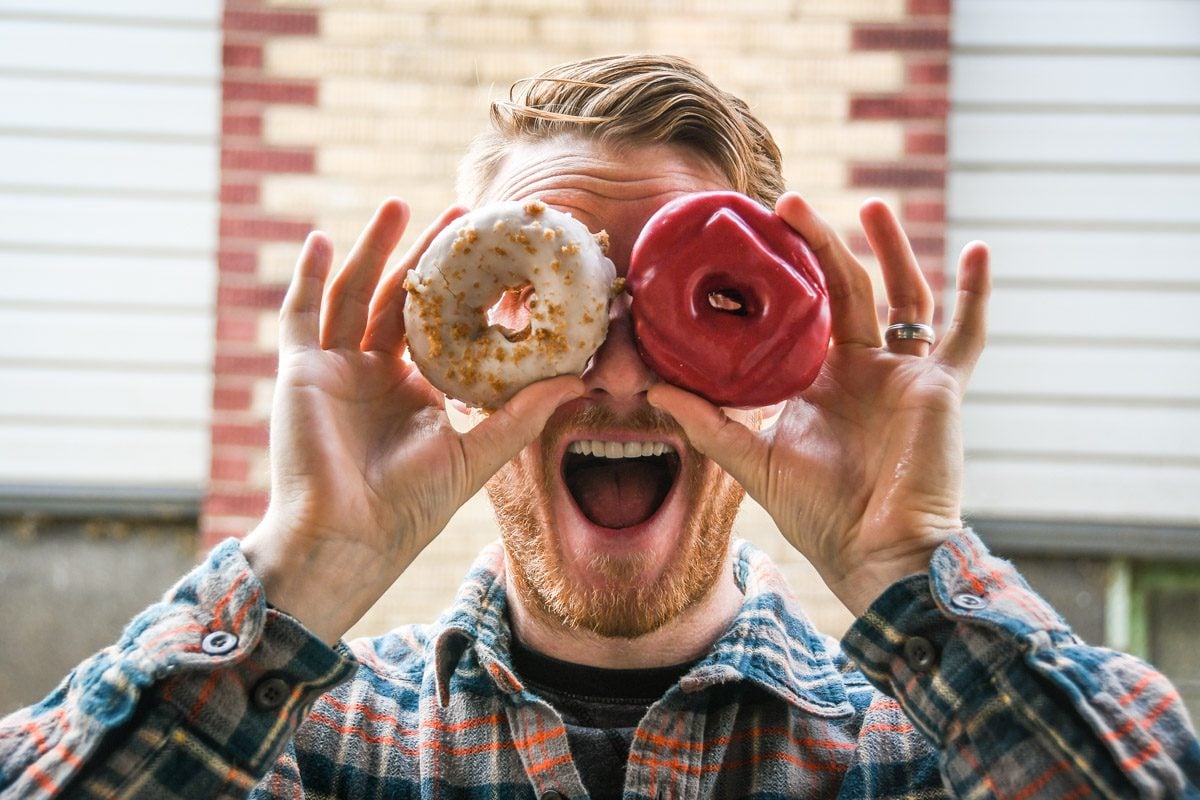 If you're planning a road trip, you don't want to miss this list of unique things to do in Portland! This includes the must-sees, but also has tons of gems you won't find on other Portland bucket lists.
Trust us, we spent lots of time researching and on the ground to create this roundup for you!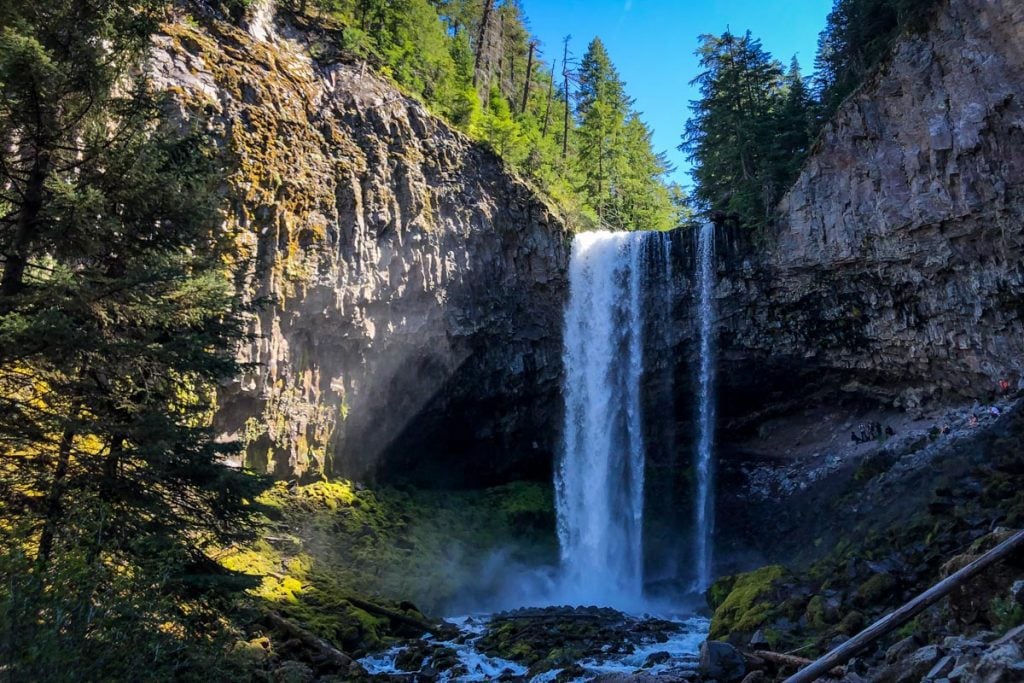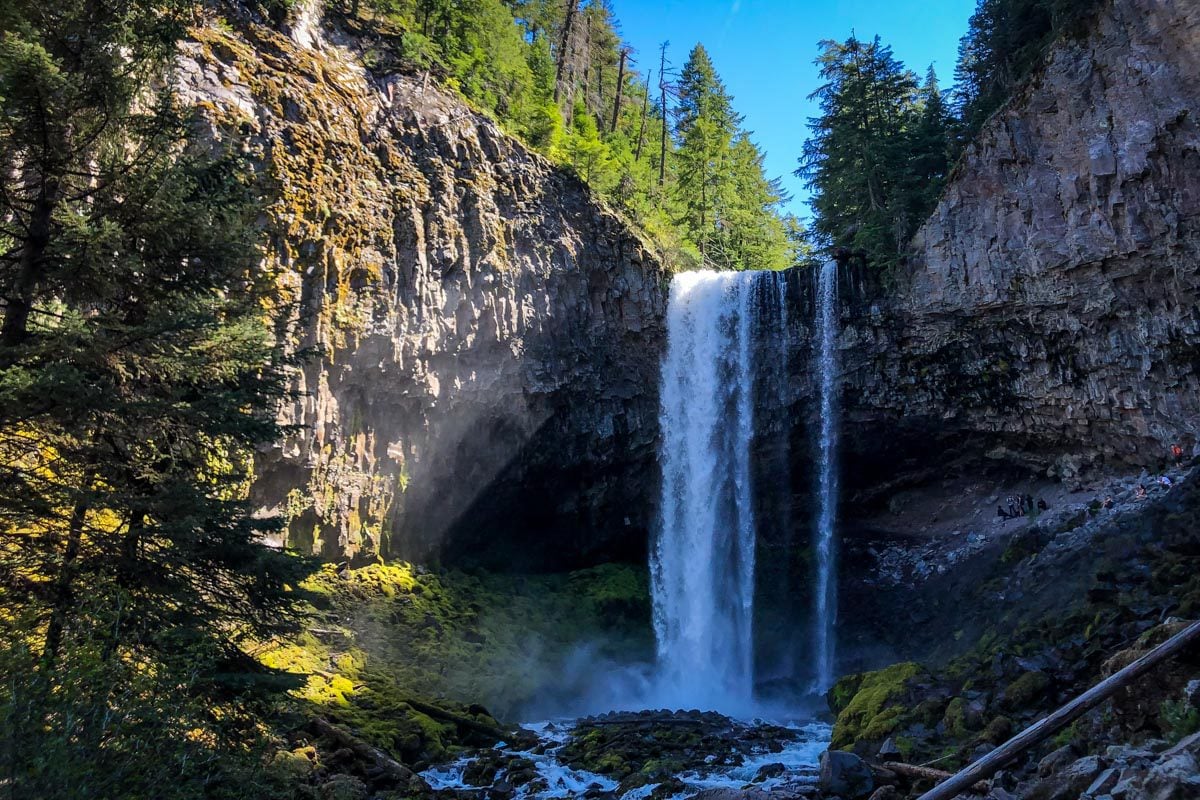 If you're not sick of waterfalls yet (we NEVER get tired of them), this guide lists the best, most postcard-perfect cascades within easy driving distance of Portland.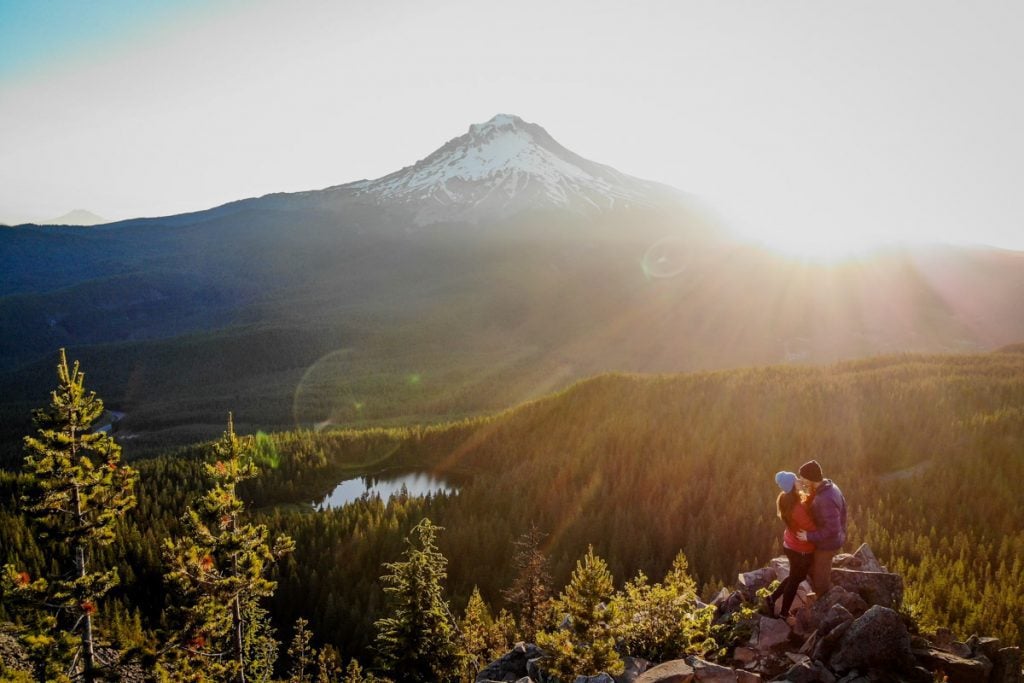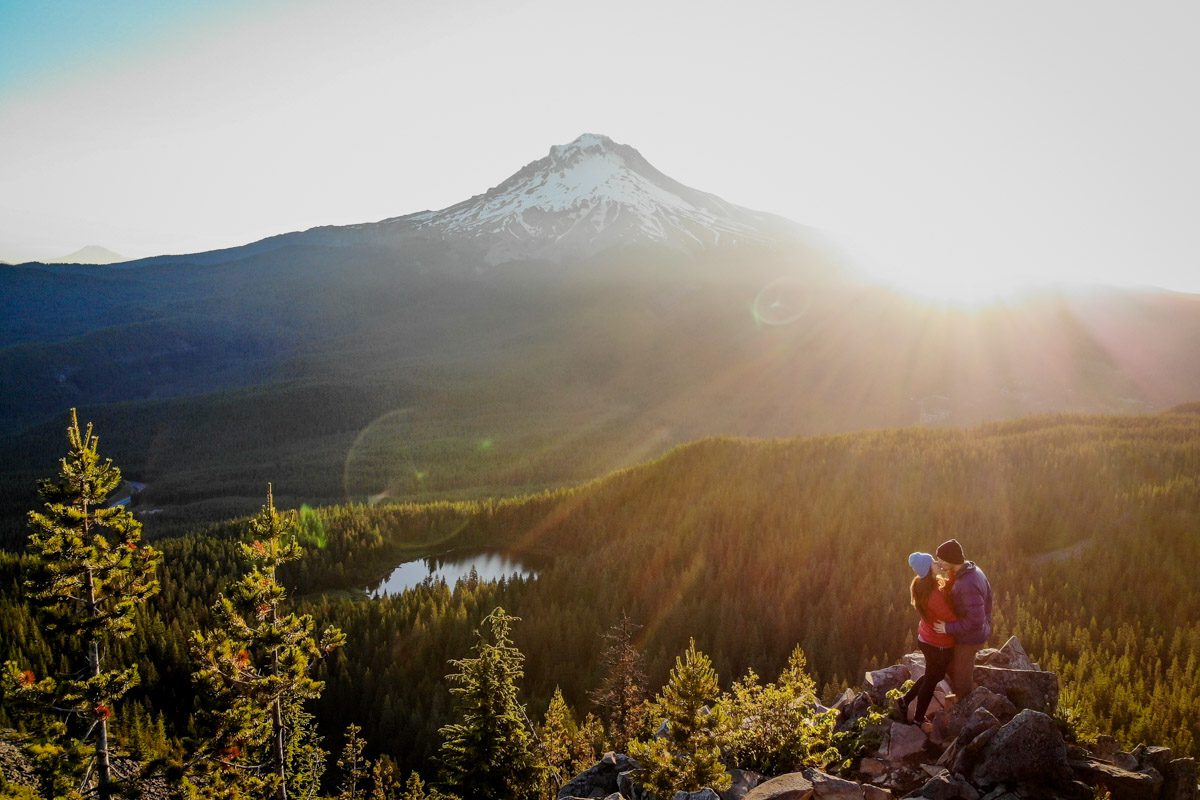 From easy urban escapes to full-day treks with overnight camping options, we've rounded up the best hikes within a 2-hour drive of downtown Portland.
---
Love the idea of campervan trips around the world?
Us too (hence why we keep booking campervan trips!).
Here are some more ideas for you to bookmark for future travels:
Save this article on Pinterest for later!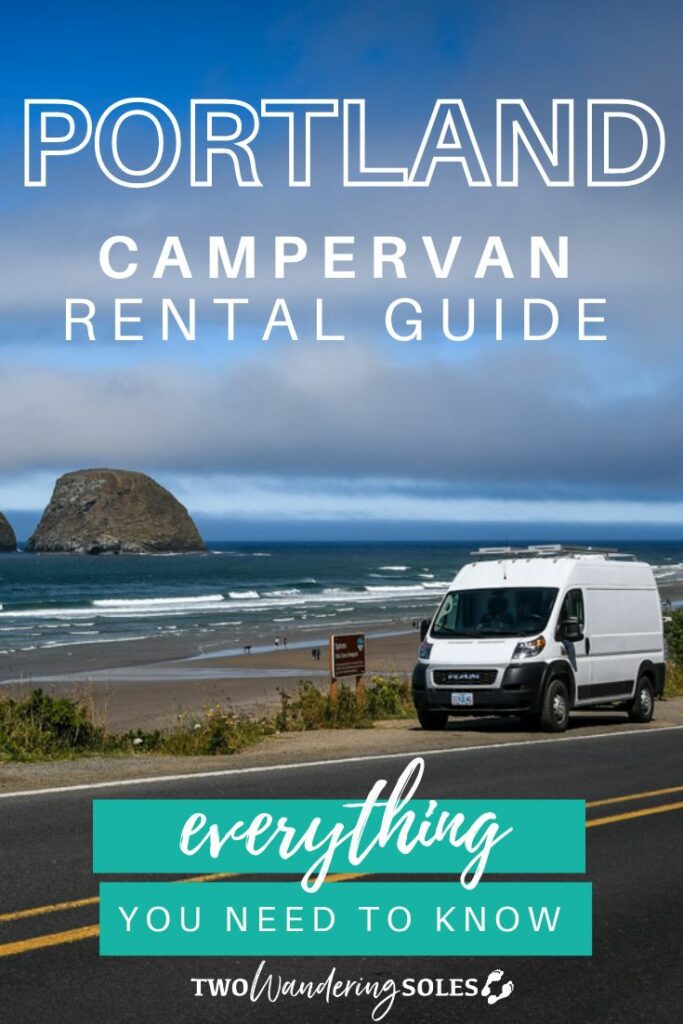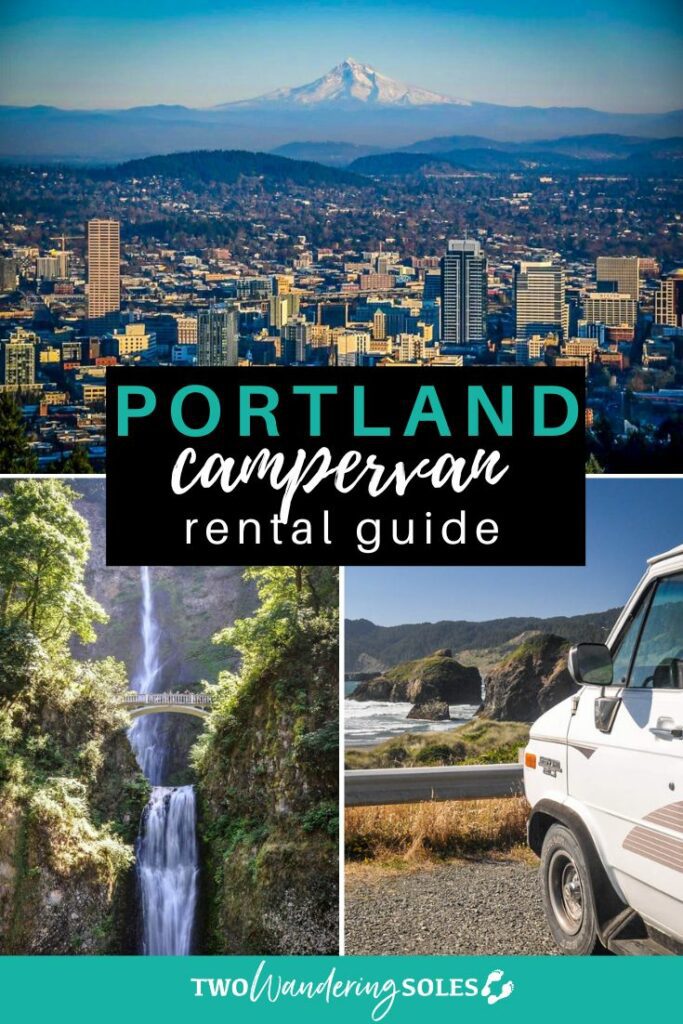 We want to hear from you!
Are you planning a road trip and still have questions about your Portland campervan rental options? Leave your comment below and we'll do our best to get you the answers you're looking for!