Whether you want to try skiing or snowboarding, go on challenging hikes, camp on the beach, or paddle down whitewater rapids, there are plenty of things to do in Washington state. We've put together a list of bucket list adventures and top places to see along with all our insider tips for planning your journey.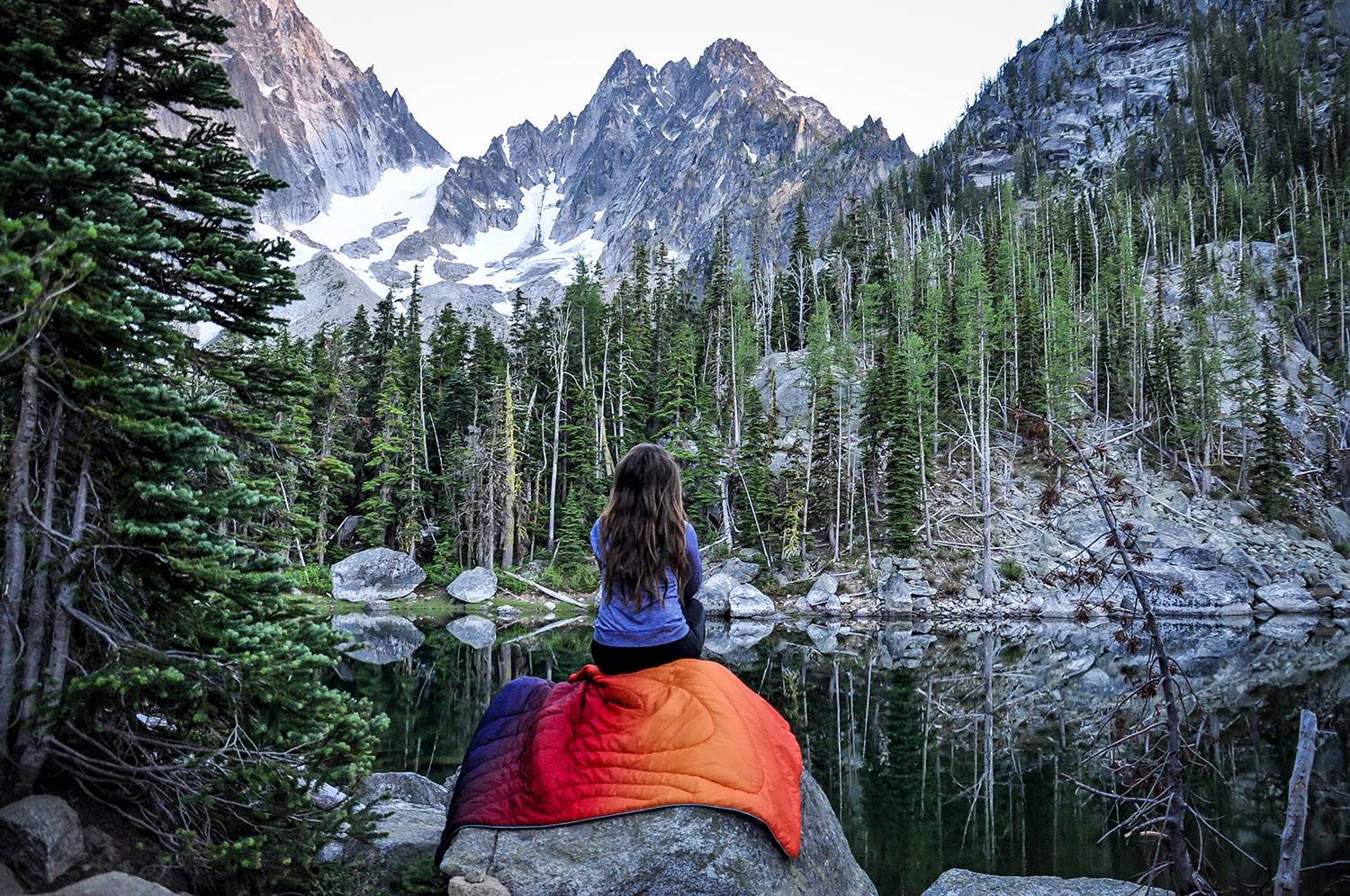 With the epic Cascade Mountain range, cold weather rainforests and one of the fastest growing cities in the nation, Washington state is a gem in the Pacific Northwest.
With adventures for outdoor enthusiasts of all levels and a mix of big cities and small towns, there is something for everyone in this west coast state. I even would go as far to say it's our favorite state in the US.
(Shh…don't tell our fellow Oregonians!)
From Washington state's best kept secrets to can't miss destinations, we've put together a list of places and things to do in Washington that you can add to your PNW Bucket List.
Whether you live in the Evergreen State and are looking for a weekend adventure or you're road tripping through the PNW, we're rounding up a huge list of amazing places to visit in Washington that are sure to stoke your wanderlust!
---
Article Contents
Do you already know what you're looking for? Use the links below to jump down to that section: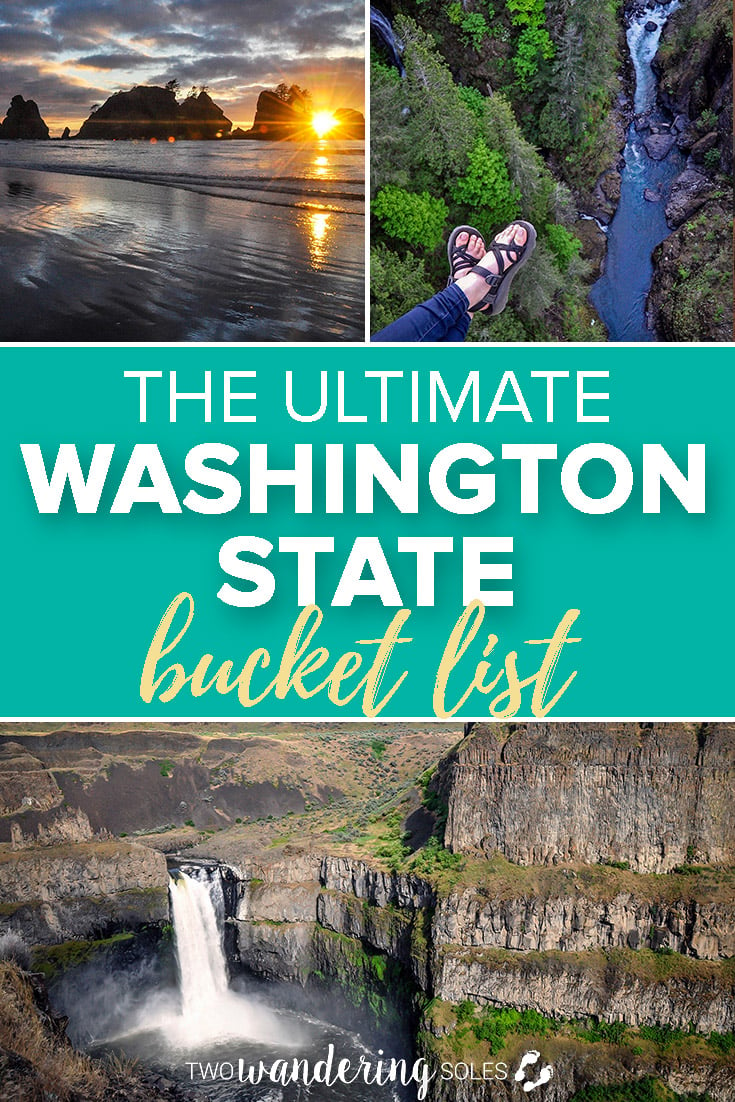 ---
---
Want to try out #Vanlife while visiting Washington?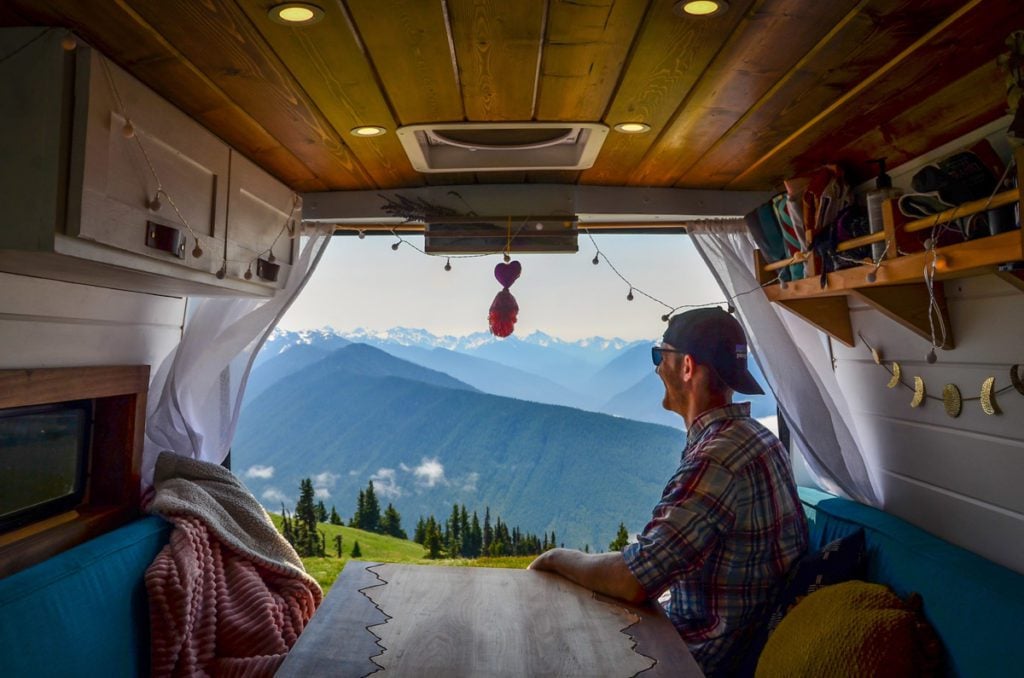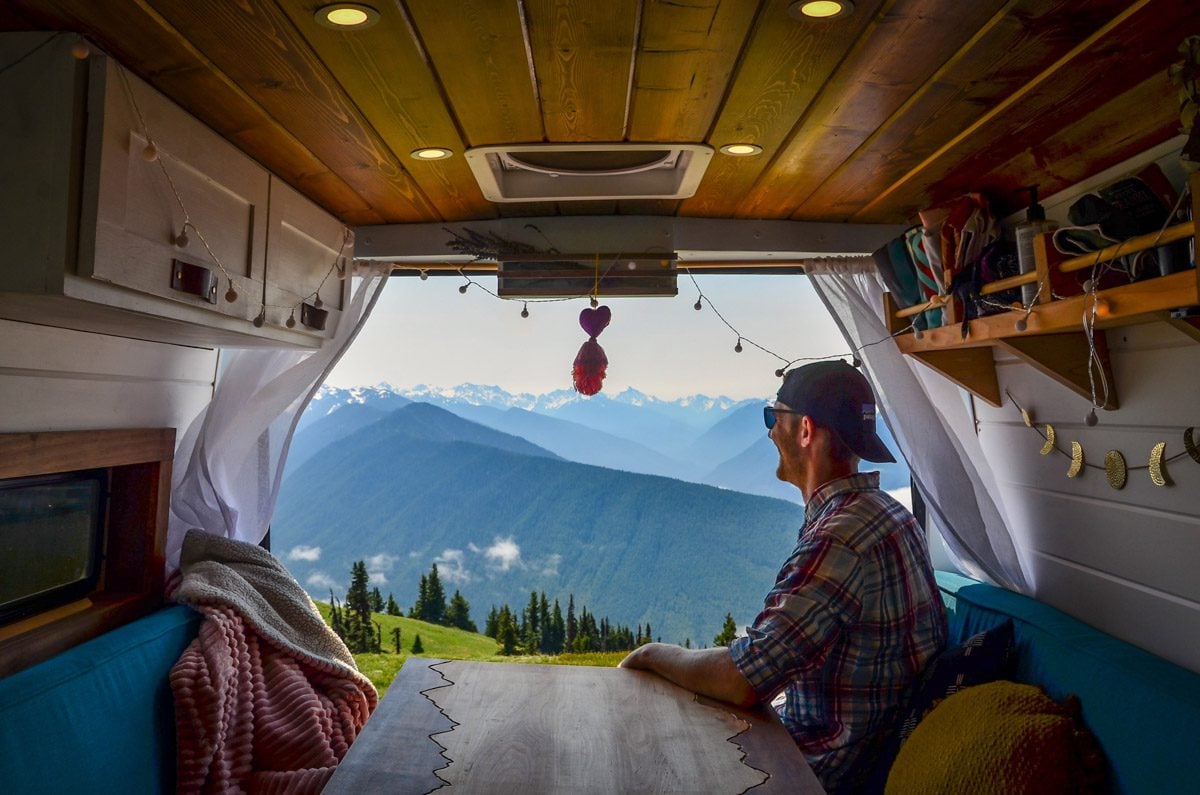 It's no secret we're obsessed with #vanlife. However, if you don't have the time (or interest!) in building your own conversion but you still want to give van life a test drive, we've got options for you…
Check out our list of top companies for USA Campervan Rentals, from budget to bougie, we've even included some exclusive discounts for our readers. 
Or, if you already know you'll be starting and ending in Seattle, we also have a detailed guide to the best campervan rentals in Seattle, specifically.
One company we'd recommend looking into is Escape Campervans. They have 12 different locations across North America and come fully loaded with all the gear you need for an epic road trip. Plus, their rates are fair and affordable.
BONUS: We've partnered with them to give you a 10% off discount when you use our link!
A note about camping in Washington state
If you're traveling in a campervan or simply hoping to save money on your visit to Washington by camping along the way, we have a deal for you!
The Dyrt is our favorite campsite locating app with the largest database of campgrounds (44,000+ campsites and counting!) and over 1 million user-submitted reviews. Plus, it's super user-friendly, and has some pretty cool features, like a outdoor gear contests and forums to connect and seek advice from fellow campers, that you won't find on any other camping app.
Try their Pro Membership for FREE for 90 days and gain access to the offline version of the the app, utilize their trip planning feature AND get exclusive discounts on campsites and gear!
---
Amazing adventures in Washington state
To start off, we've rounded up the most amazing adventures we could find in Washington state.
1. Camp on Shi Shi Beach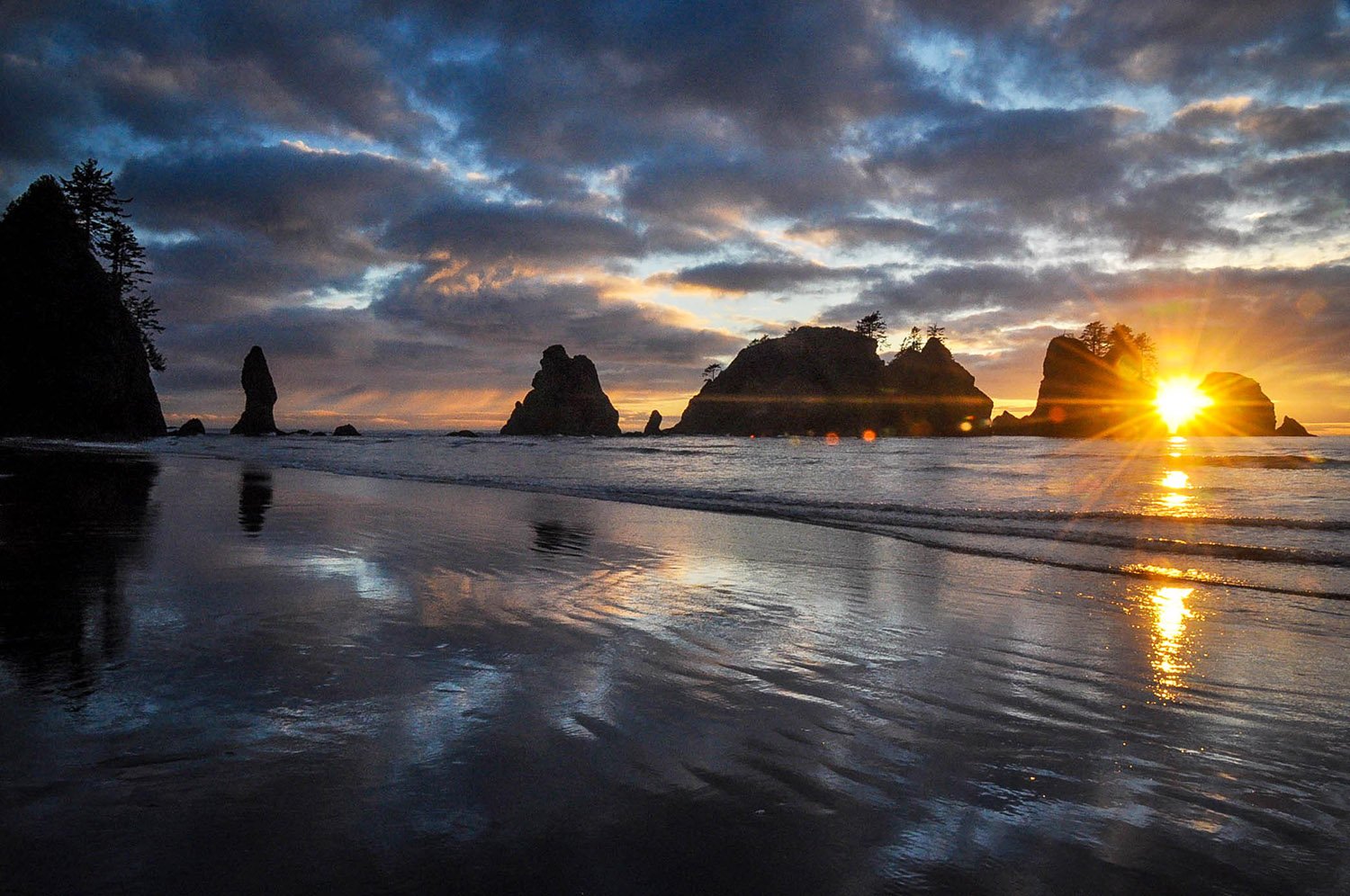 The beaches in the Olympic Peninsula are what Instagram dreams are made of. With craggy sea stacks jutting out of the water and the surf crashing up against them, there's no arguing the beauty of this rugged coastline.
Spending the night under the stars on one of the Olympic Peninsula's beaches is arguably one of the coolest places you can camp in Washington state.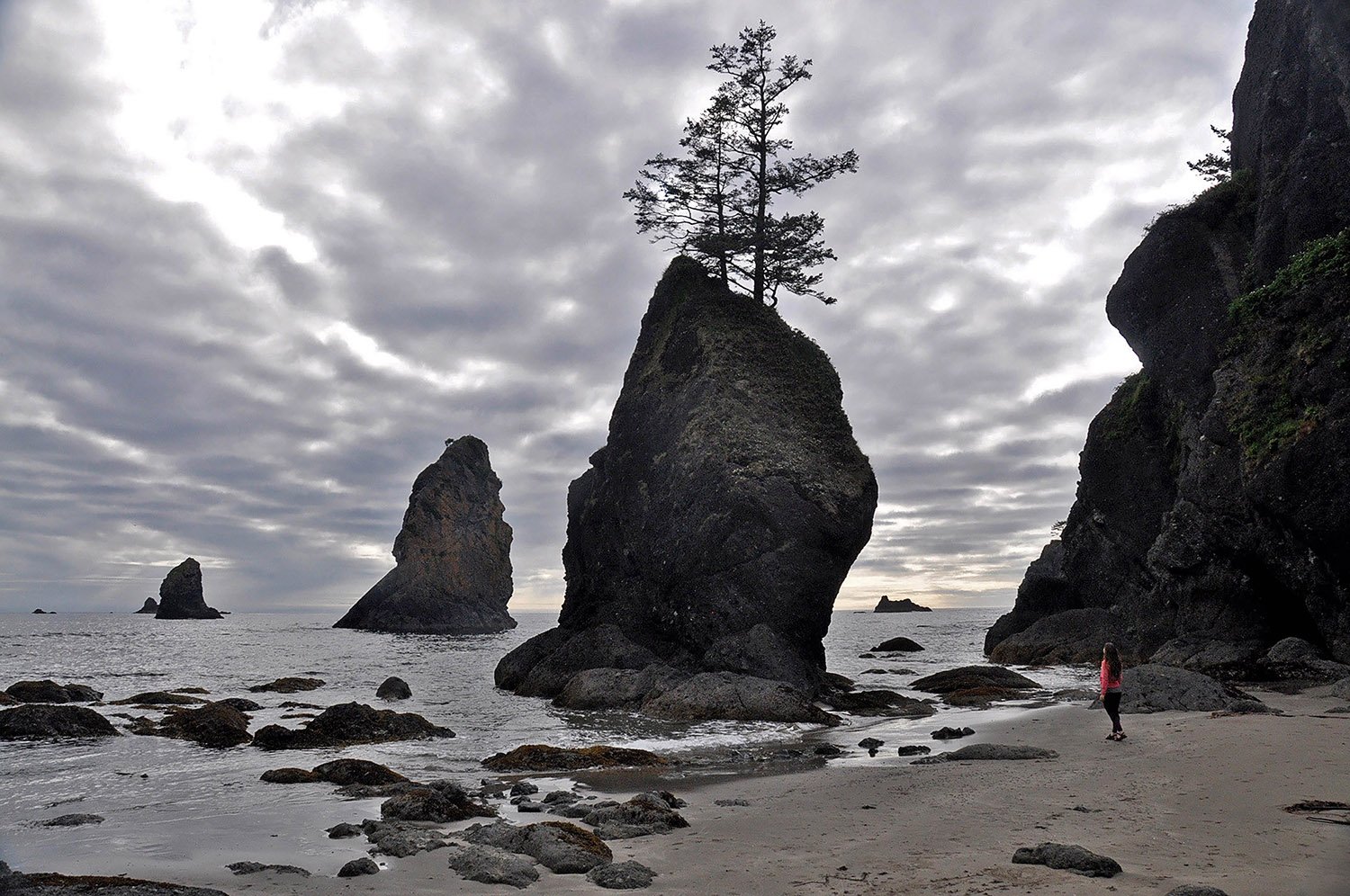 Second and Third Beach are easy to get to and quite popular, but our pick was Shi Shi Beach. Being that it requires a 2-mile hike through a muddy trail to reach, Shi Shi doesn't see the same crowds as some of the other beaches in the OP. Plus, the beach is nearly 1.5 miles long, so there's ample space for people to spread out and enjoy driftwood bonfires in solitude.
We've put together a guide to camping on Shi Shi Beach, complete with everything you need to know about getting there and what to pack! (There are a few things you definitely won't want to forget!)
2. Hot air balloon flight beside Mount Rainier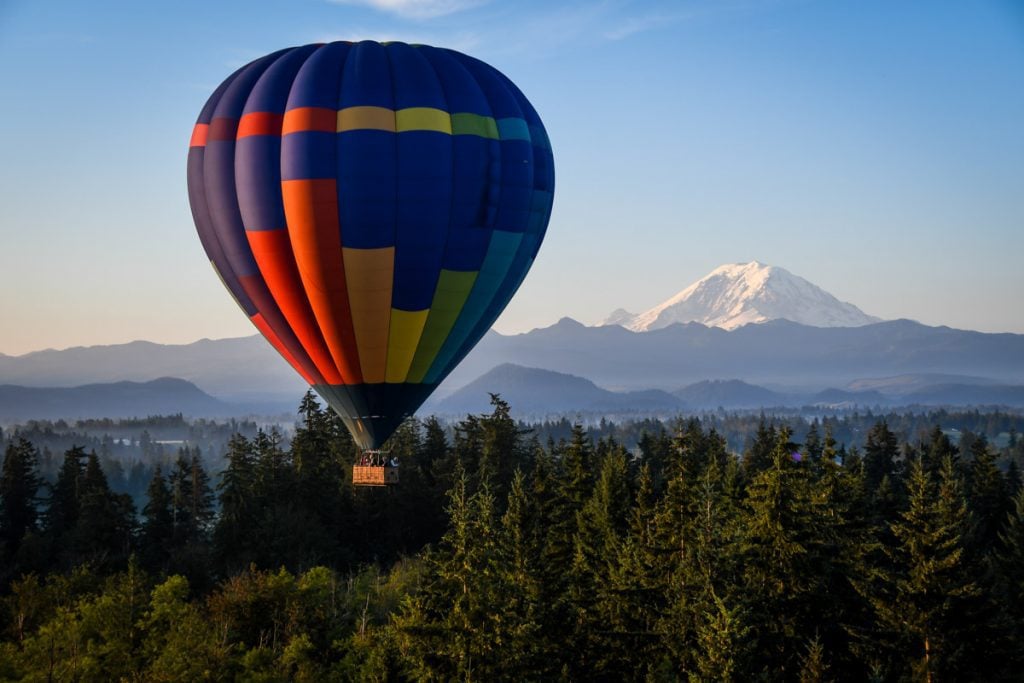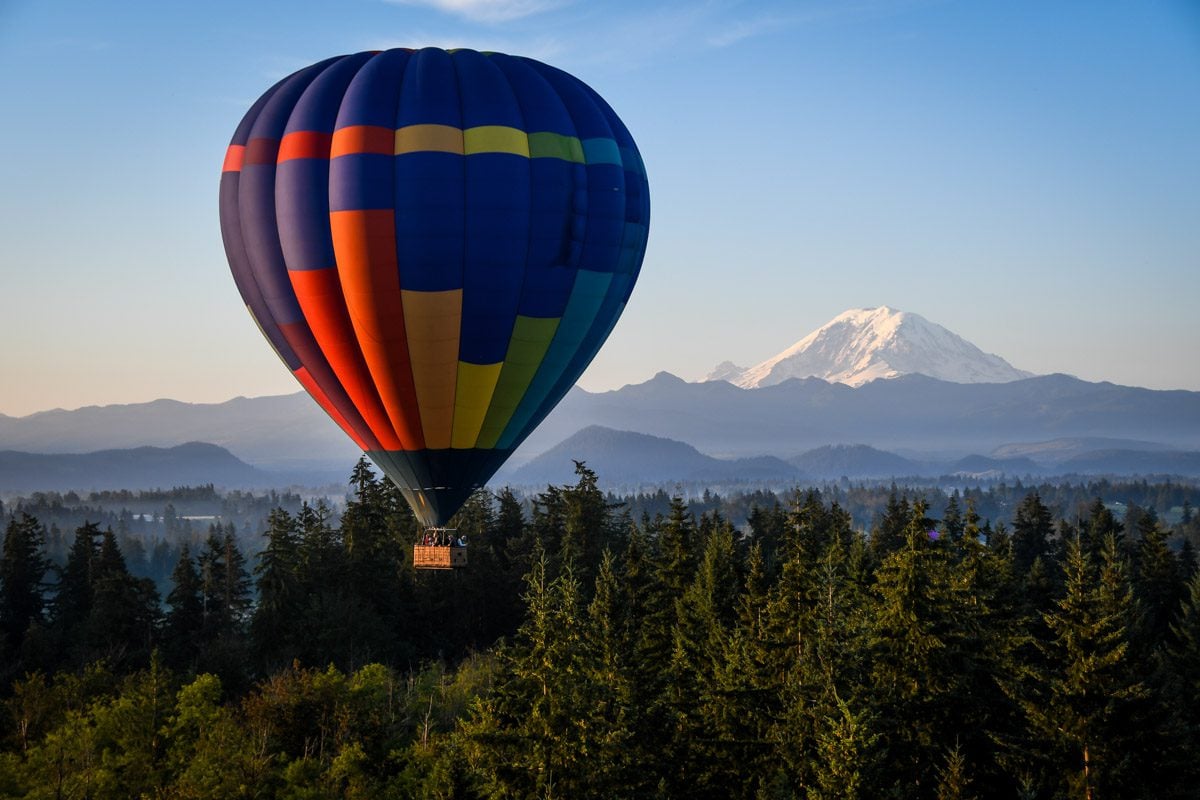 It's not often we can be convinced to wake up before sunrise, but this once-in-a-lifetime experience was definitely worth making an exception for.
Flying in a hot air balloon at sunrise directly in front of Mount Rainier is easily one of the coolest things to do in Washington state, and definitely a bucket list experience in the PNW.
You'll launch just prior to sunrise, which gives you the opportunity to
Peep the sun rising into cotton candy skies as you soar weightlessly over the Earth from thousands of feet in the air. Not only do they fly right in front of Mt. Rainier, but you'll also float over rivers, lakes, and forests—the idyllic Washington landscapes.
I was invited on a hot air balloon flight with Seattle Ballooning and was seriously impressed with everything from the epic views (umm, hello Rainier!) to my super passionate pilot.
I wrote all about my experience hot air ballooning in Seattle for anyone who is interested or on the fence about booking a flight. I included everything from my honest opinions about the experience and what to expect on a flight, to insider tips like what to wear.
There are a few hot air balloon companies in the region, so here's why we chose Seattle Ballooning:
They're the #1 rated balloon company in the NW. Need we say more?
They earn rave reviews that speak for themselves. Seattle Ballooning was also featured in the NY Times and The Washington Post this year.
Choose from different flight options – from a private flight to an original group ride that carries 8-10 guests – one thing's for certain; this will be one of your most memorable experiences in Seattle without a doubt.
Discount alert! We've secured a 10% discount for anyone booking their hot air balloon ride with Seattle Ballooning. Just use the code: "2soles" when checking out!
3. Take a food tour with Savor Seattle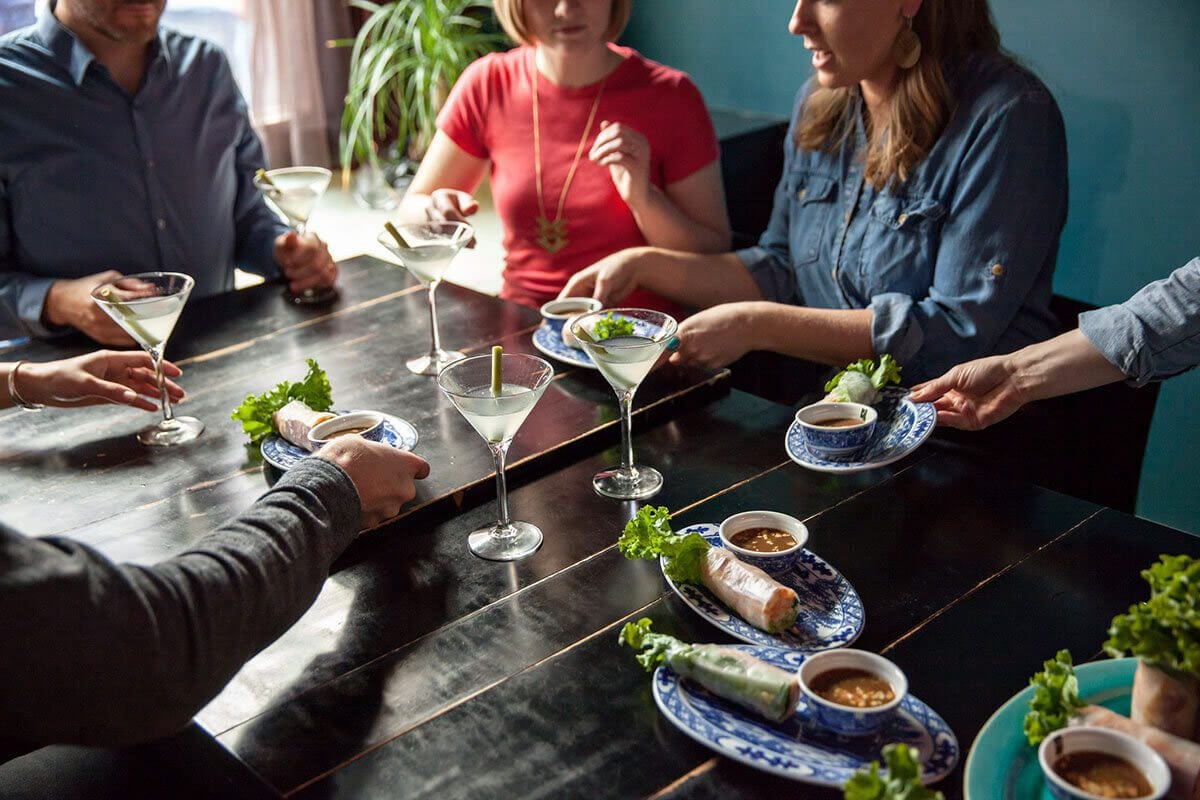 You probably already know we are big time foodies. Anytime we visit a new place, we are always keen to check out the local food scene right away. And we've found the very best way to get a good feel for the local cuisine is to go on a food tour.
We've been on food tours in cities around the world (from Bangkok to Portland to Kathmandu), and we can honestly say we're a bit obsessed. Tasting specialties from the best restaurants, plus, getting the insider scoop on the local favorites—what's not to love!?
If you're a foodie and looking for things to do in Washington state, we think the food tours offered by Savor Seattle look pretty darn tasty!
They are Seattle's #1 rated food tour company, and they earn rave reviews on Google and TripAdvisor. Need we say more?
Plus they offer different tour options for different "foodie styles," so there really is something for everyone.
Gourmet Food & Drink Tour: This tour is heavy on the season and sustainable ingredients while exploring Seattle's gourmet scene. Many of the tastings are paired with a wine, cocktail or beer.
Booze & Bites Tour: This laid back tour is more like a progressive happy hour with new friends; a little food and a little buzz.
Chocolate Indulgence Tour: Seattle may be known for coffee, but this tour explores the other favorite bean in town.. Yep, the cocoa bean! Seattle has more than 50 chocolatiers, after all.
Splurge-Worthy Food Tour: This one sounds more like a once-in-a-lifetime experience for those who are up for an adventure and willing to splurge. The 3-day Gourmet Kayak Expedition on the San Juan Islands runs infrequently, but it looks like it would be an adventure of a lifetime.
Discount Alert! We even have an exclusive discount for you! Use the coupon code: TWOSOLES5 when you book your tour to receive 5% off your experience.
4. Hike to the Enchanted Valley Chalet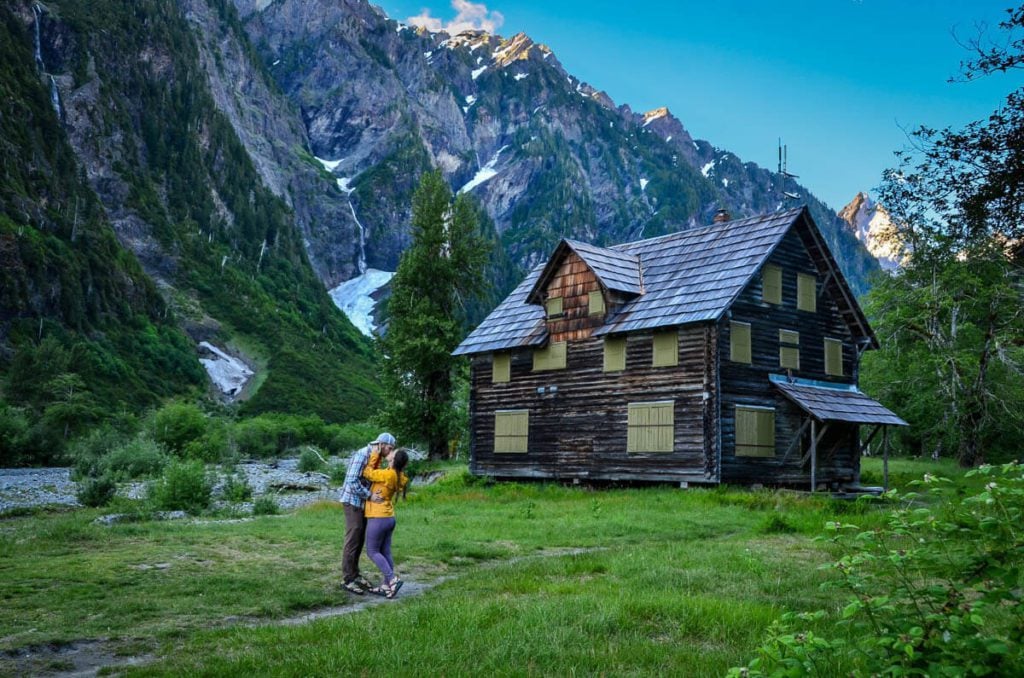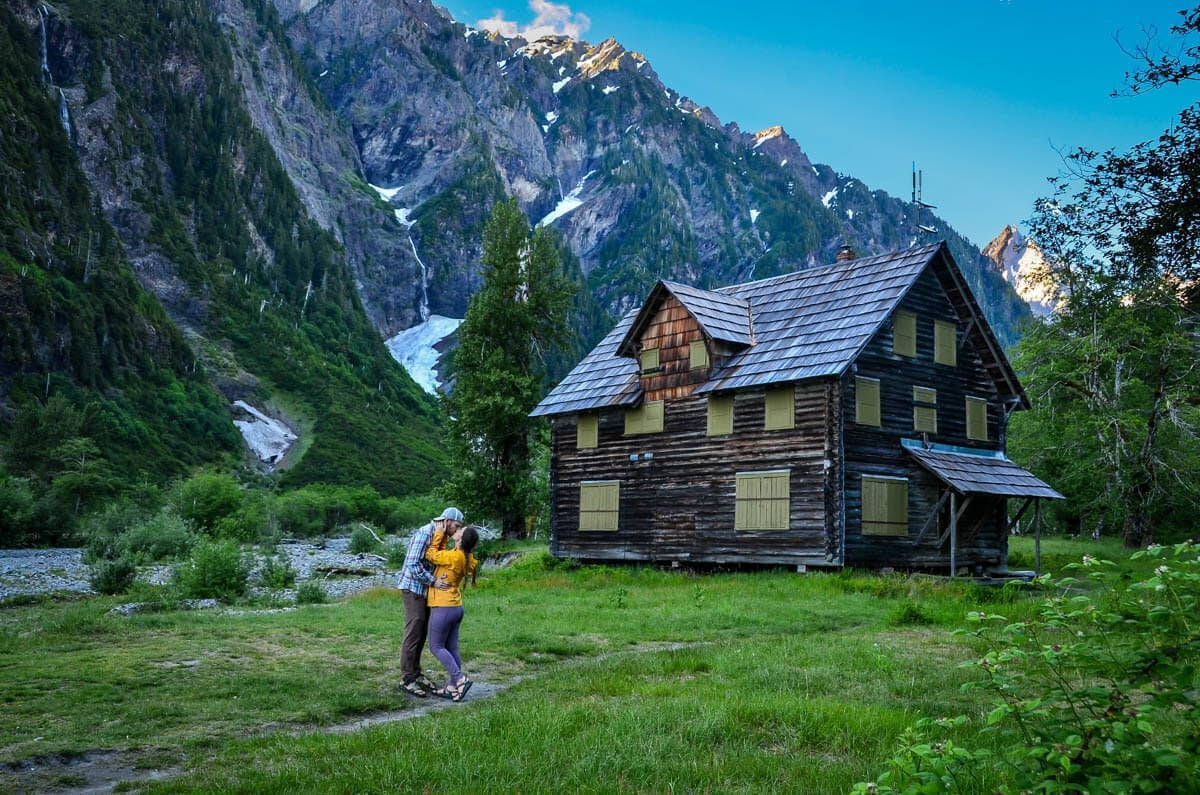 You've probably seen the photographs of the iconic barn-like structure, flaked by snow-capped mountain peaks in this surreal place known as the Enchanted Valley.
Situated on the Olympic Peninsula as part of Washington's Olympic National Park, the Enchanted Valley Trail is known for epic views and plentiful wildlife. The 27-mile out-and-back trail makes an epic multi-day backpacking trip in the OP.
Sound like something you're interested in? Read more about hiking the Enchanted Valley Trail and plan your visit. It's definitely one of our favorite backpacking experiences in the OP!
19. Spend the night in a Mountain Hut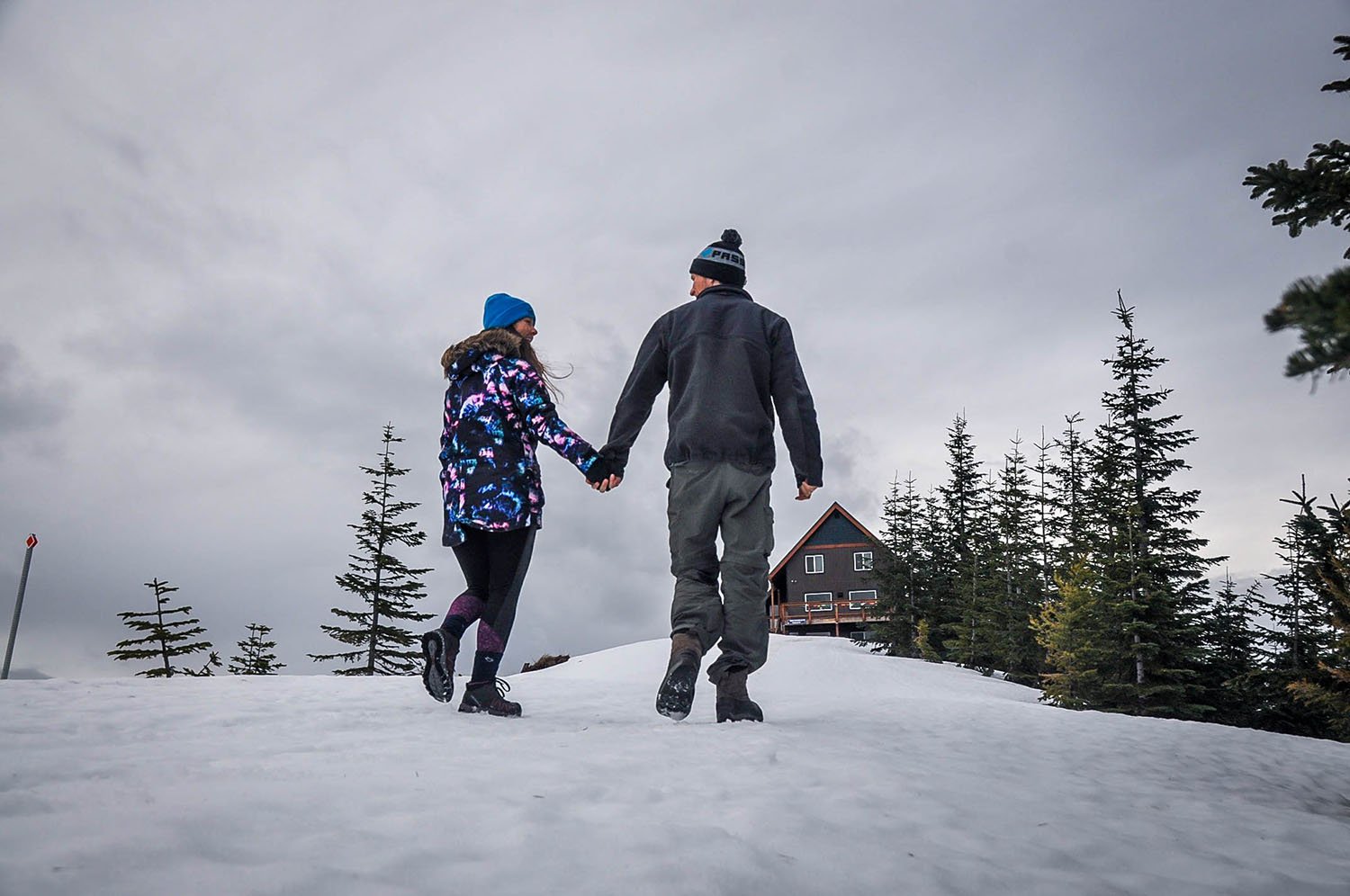 If you're looking for a cold weather adventure, we've got a perfect idea for you! Situated up in Mount Tahoma Hiking area are 4 mountain huts that can only be accessed during the winter.
Strap on your cross country skis or snowshoes and trek into the wilderness knowing you'll soon be rewarded with a cozy cabin, a hot meal and an epic view of Mount Rainier.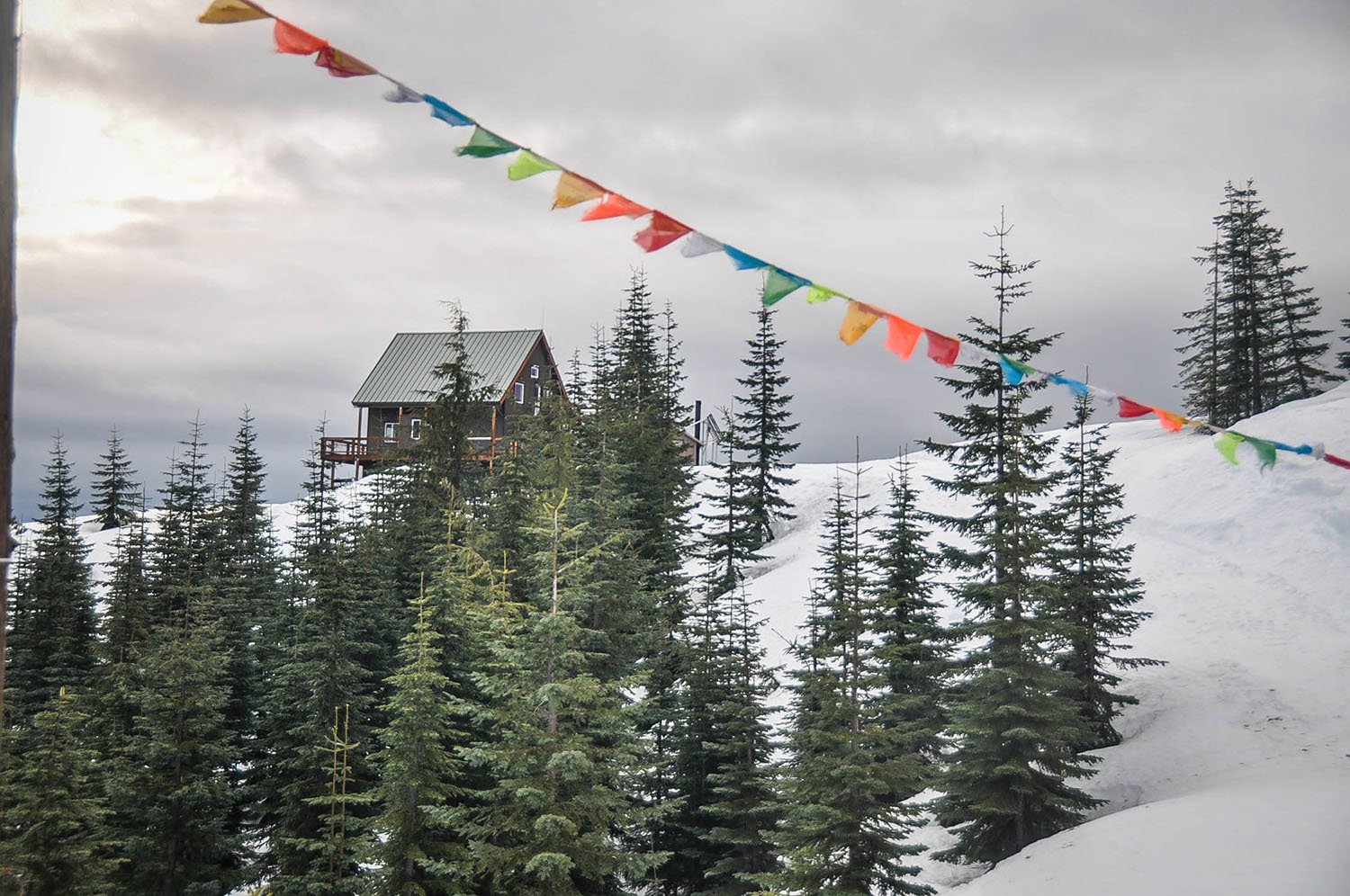 These huts are communal, so there will likely be others staying there as well, making it a great place to mingle and play card games!
Bruni's Snow Bowl Hut: We stayed in this newly renovated hut and were pleasantly surprised with the spacious and modern facilities. Snow Bowl Hut has a spectacular view of Mount Rainier, but unfortunately when we were there the clouds were in the way. (Sleeps 14 people)
High Hut: We wanted to book this hut but it was full when we went. It has amazing views of Mt. Rainier, Mt. St. Helens, and Mt. Adams. (Sleeps 8 people)
Yurt: 6 miles to get to make it the most isolated hut in the area, which could be exactly what you are looking for. (Sleeps 6 people)
Copper Creek Hut: 5.5 mile hike on the Rainier Vista Trail leads you to the hut (located in a different area than the othe three). (Sleeps 14 people)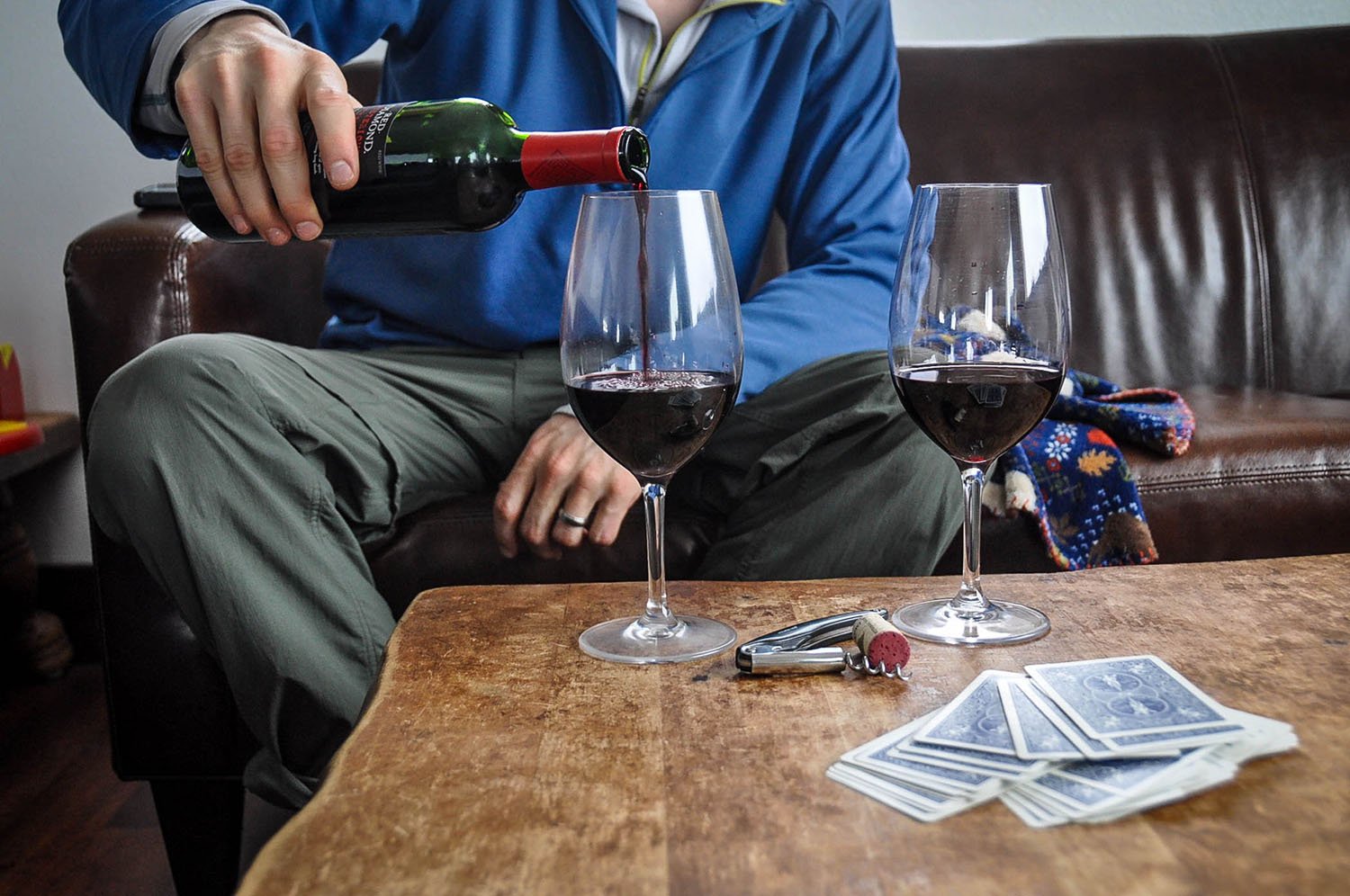 Tip: Pack something easy to cook for dinner, like quinoa or rice, pre-cut vegetables and seasoning. (Extra tip: We carried up a bottle of wine to pair with our super classy camp dinner, which was a nice touch!) While there are some staple items in the huts, you'll want to be prepared with your own ingredients. The appliances and cookware in the hut we stayed in were surprisingly very nice!
How to book: You must make reservations with the Mount Tahoma Trails Association, and weekends tend to fill up in advance.
Psst! If curling up in front of a fireplace is on your Washington bucket list this winter, check out these cozy cabins in Washington you can rent for your next holiday (or staycation!).
6. Discover the Enchantments
If you're a hiking enthusiast, the Enchantments should definitely be on your radar. With piercing blue glacial lakes, wildflower meadows, wild mountain goats roaming at their leisure and peaks that are as stunning as they are challenging to climb, this wilderness area certainly lives up to its name.
But don't expect to just show up with your tent and hiking boots. The Enchantment Wilderness area holds an annual lottery, and of the 18,000 applicants, only 728 are granted a camping permit in the Core Enchantments area.
It may seem a bit stingy, but when you consider that these limits are to protect a wilderness area from being overrun by crowds, you will understand. Find out everything you need to know to plan for hiking the Enchantments, including how to apply for your permit.
Alternative to the Enchantments: This hike is lesser known, but comparable in beauty. The best part is that you won't need a permit.
Tuck and Robin Lakes: 16 miles round trip with 2900 ft elevation gain; this is a difficult overnight hike, but supposed to be equally as beautiful as the Enchantments.
7. Soak in a hot spring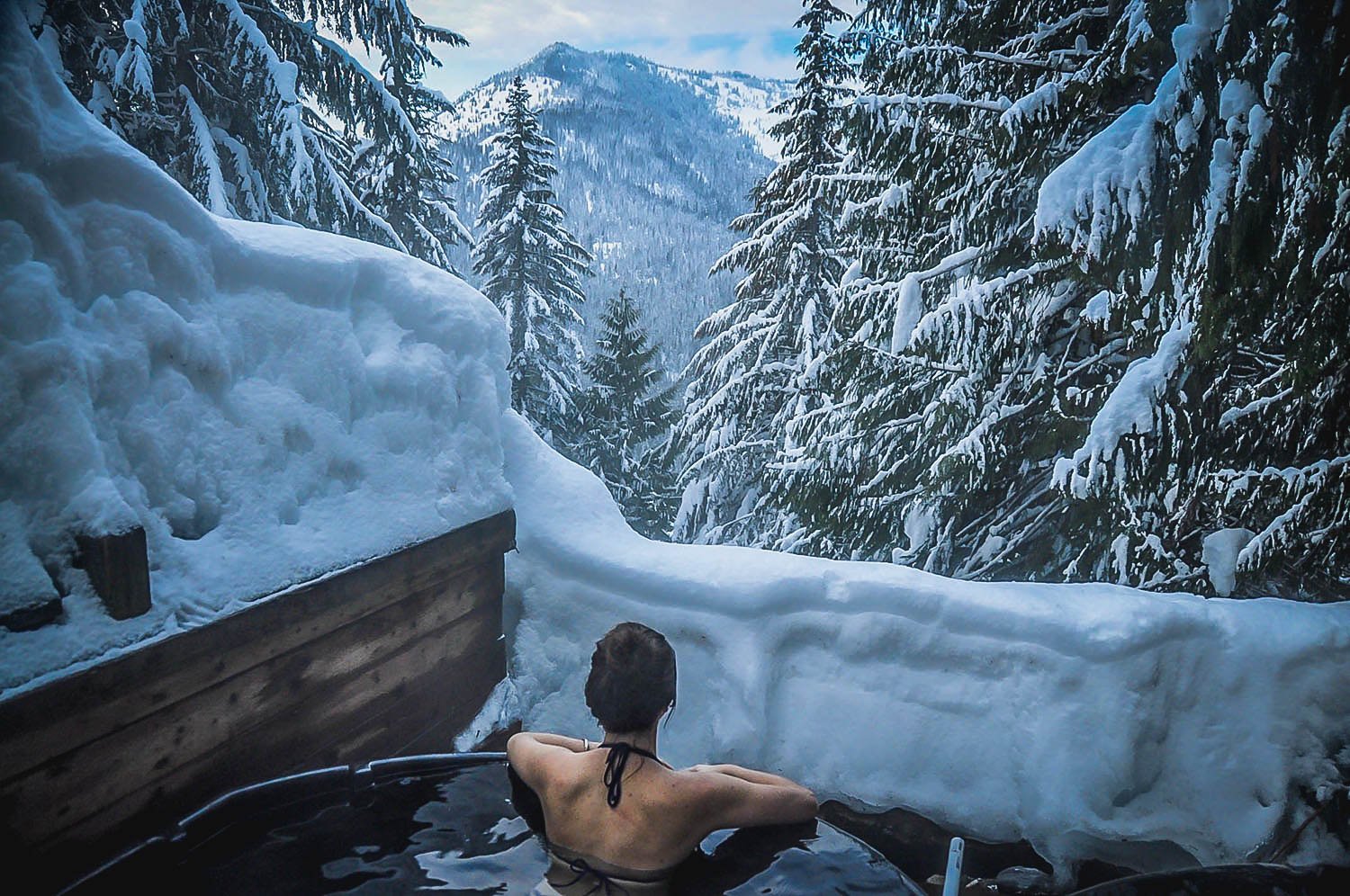 While there aren't as many hot springs in Washington as the neighboring states of Idaho and Oregon, there are still a handful of ones you can visit.
Our favorite hot spring is not far from Stevens Pass, and requires a bit of a hike to get to. But soaking in steamy water with mountain views and hopefully only a few other people will make the effort well worthwhile. We have a complete guide to Scenic Hot Springs including exactly how to get there on our sister site.
Hot spring etiquette
If you choose to go hot spring soaking in Washington, please be respectful of the environment and fellow soakers and follow these general rules for hot spring etiquette.
NEVER leave any waste behind. This includes fruit peels and nut shells, as they are not native to the environment and can be harmful to local wildlife. Plus, it's gross for others to see a rotting apple core right next to their soaking spot. Go above and beyond and perhaps carry out any trash you see that others have left behind.
Follow the rules about the particular hot spring: What hours are they open? Is camping allowed nearby? Can you bring dogs? Is a fee or a pass required? Do a bit of planning and don't break these rules, so that the springs can stay open for years to come.
Know the rules on nudity. Some hot springs in Washington allow nudity, but be sure you know for sure beforehand. And expect other soakers to be nude. Don't go if this will bother you.
Be respectful when taking photos. If people are nude, be sure you're not making anyone uncomfortable, and perhaps refrain from taking pictures in some places.
8. Paddle down whitewater rapids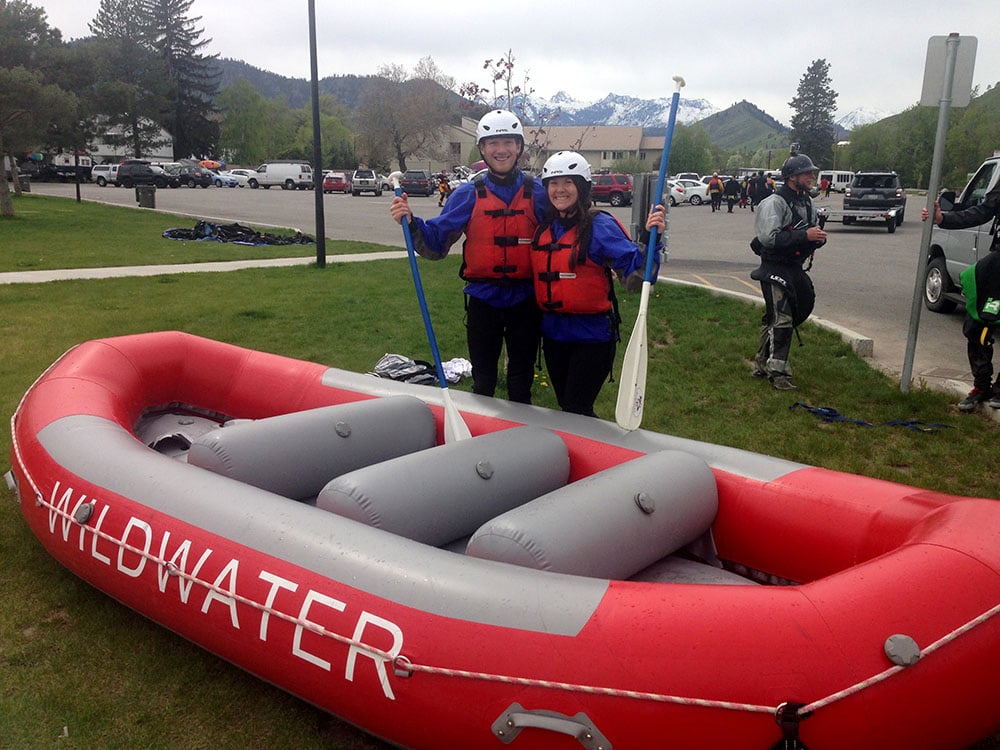 Get your adrenaline pumping on one of Washington's many rivers. Our friends Lance and Justine run Wildwater, a highly reputable and professional rafting company that runs trips in 6 different rivers all over the state of Washington.
Whether it's your first time in a raft or you're a seasoned pro, there's a river with rapids at just the right level for you. Just remember to follow the safety guidelines and wear proper apparel to have the best possible experience!
Note: If you book a whitewater rafting experience with Wildwater, tell them Ben and Katie from Two Wandering Soles sent you!
9. Go on an epic hike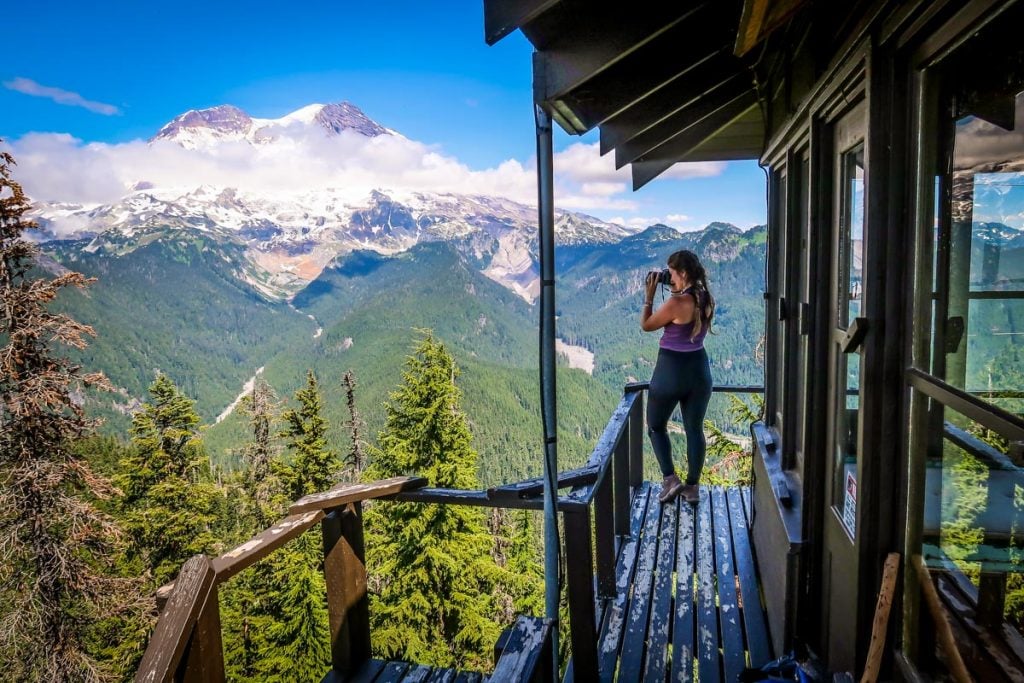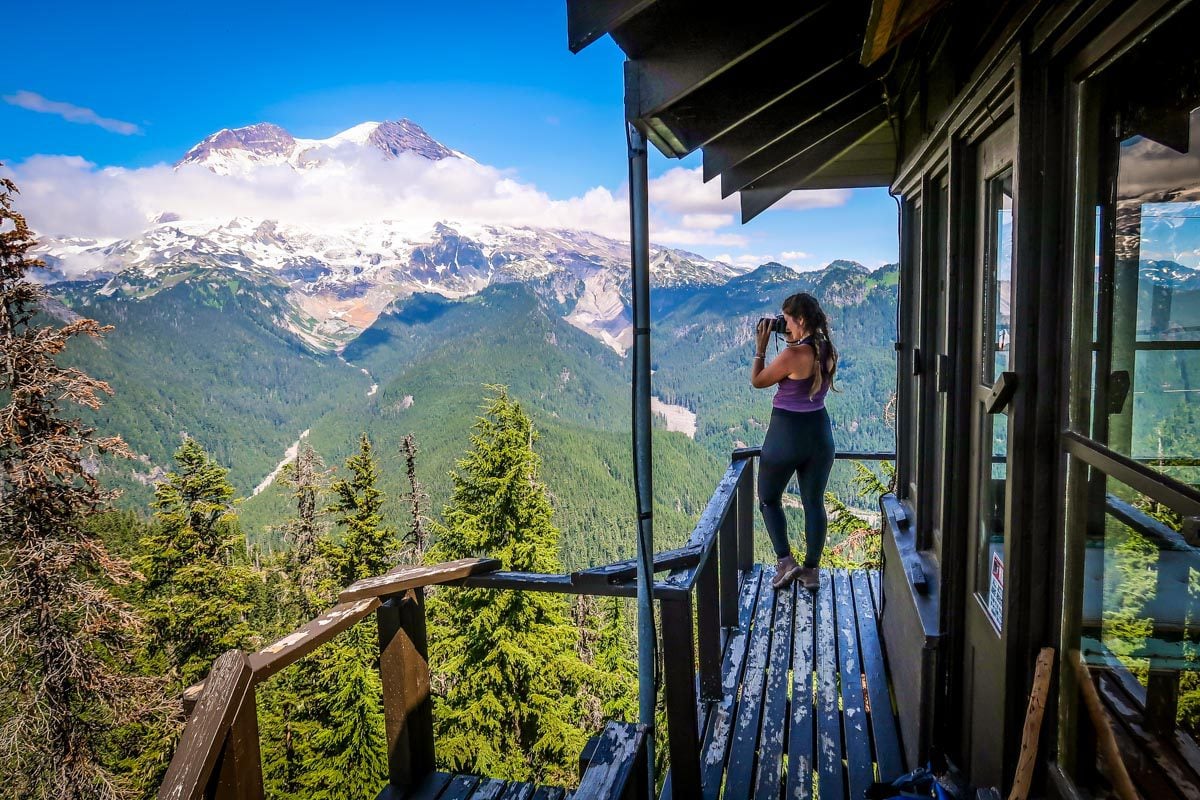 There's no shortage of epically beautiful hikes in Washington state. From easy trails with standout views to challenging overnight backpacking excursions, there's something for everyone.
Hike (part of) the PCT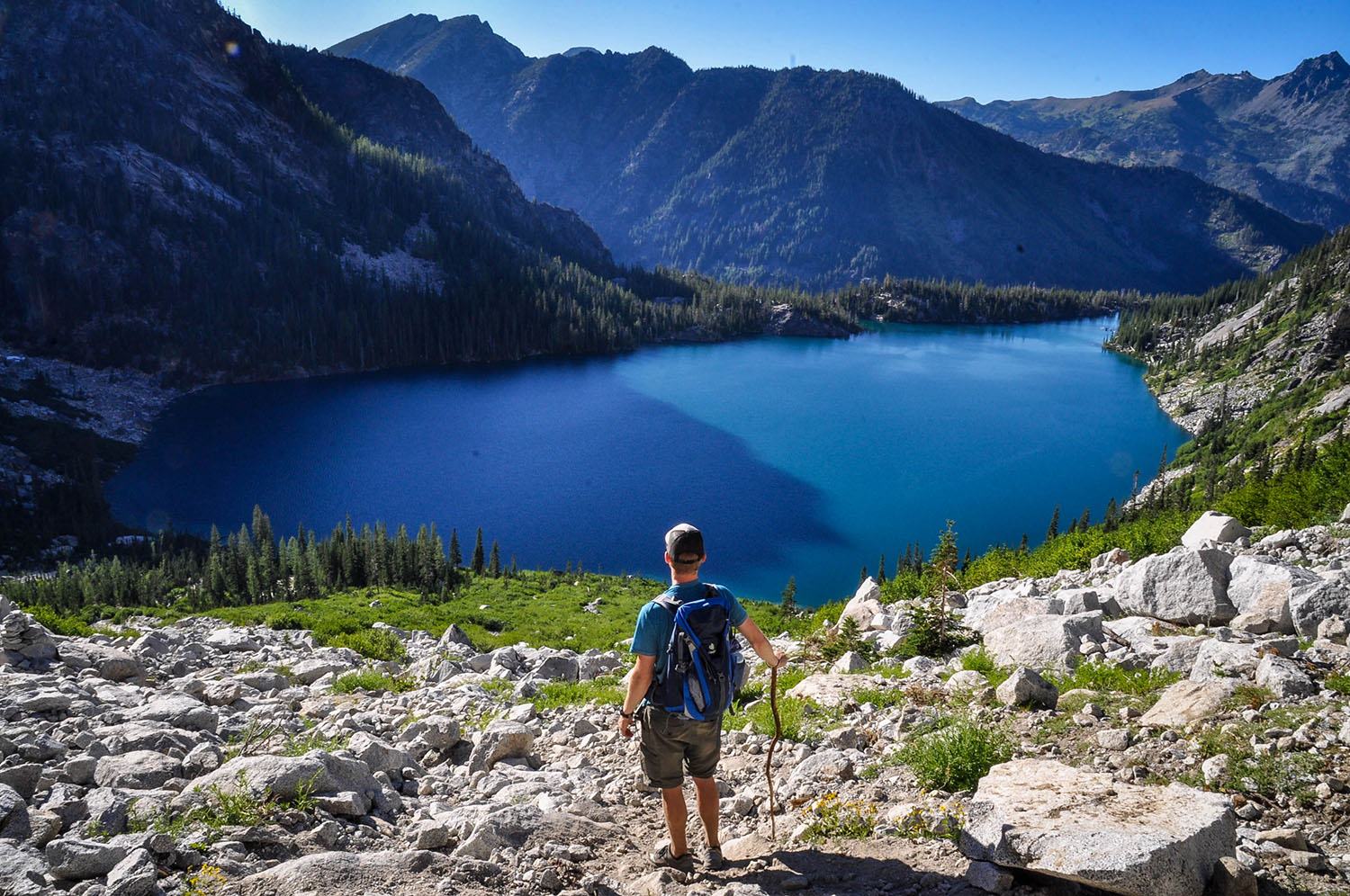 The Pacific Crest Trail runs north to south from the border of Mexico all the way up to Canada, and some of the best sections of the trail are in Washington. Hiking the whole trail takes a few months, but if you don't have just a few months off of work, you can always just do a section.
We've been told the most beautiful section of the PCT is between Stevens Pass and Snoqualmie Pass that takes about 5 or 6 days to complete. We would love to do this hike some day, do you want to join us?!
10. Spend the night in a fire lookout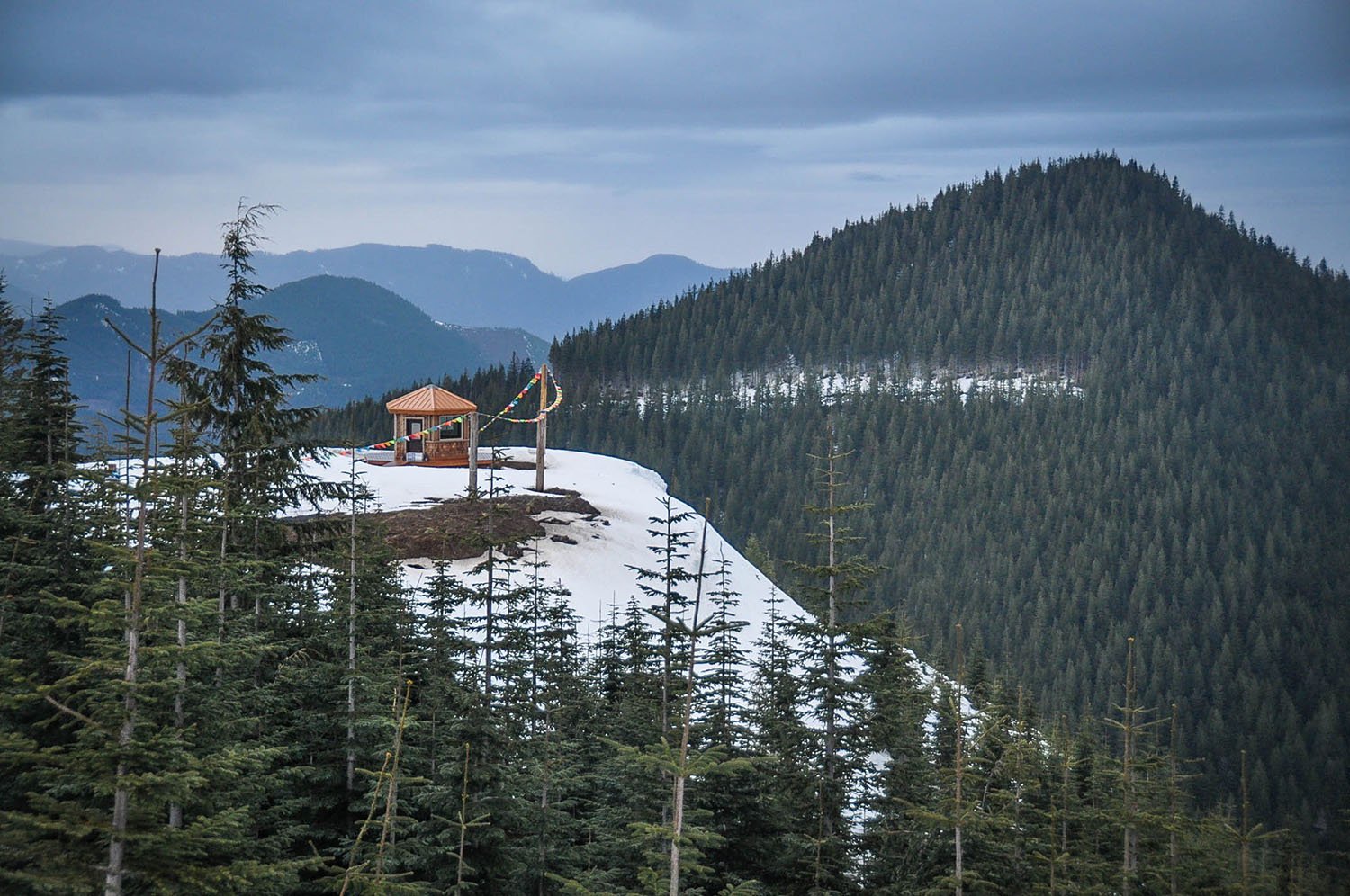 Forget tent camping; one of the most unique things to do in Washington state is sleeping in a fire lookout. These structures were made with the intention for volunteers to be on the watch for forest fires. And since they are perched high atop mountain ridges, they offer spectacular views.
Some fire lookouts are still in use, while others are open to the public and people can actually spend the night in them. We've personally done this a few times in Washington and Oregon, and while the sleeping conditions aren't exactly luxurious, the experience of waking up with the sun, surrounded by nature without another human in sight is well-worth it!
One of the most popular lookouts to spend the night is the "lookout cabin" at the top of Mount Pilchuck.
More info: Here's a list of all the fire lookouts in the state of Washington.
Note: Don't expect a hotel. These lookouts are non-reservable, so expect communal sleeping with basic comforts.
11. See a concert at The Gorge Amphitheater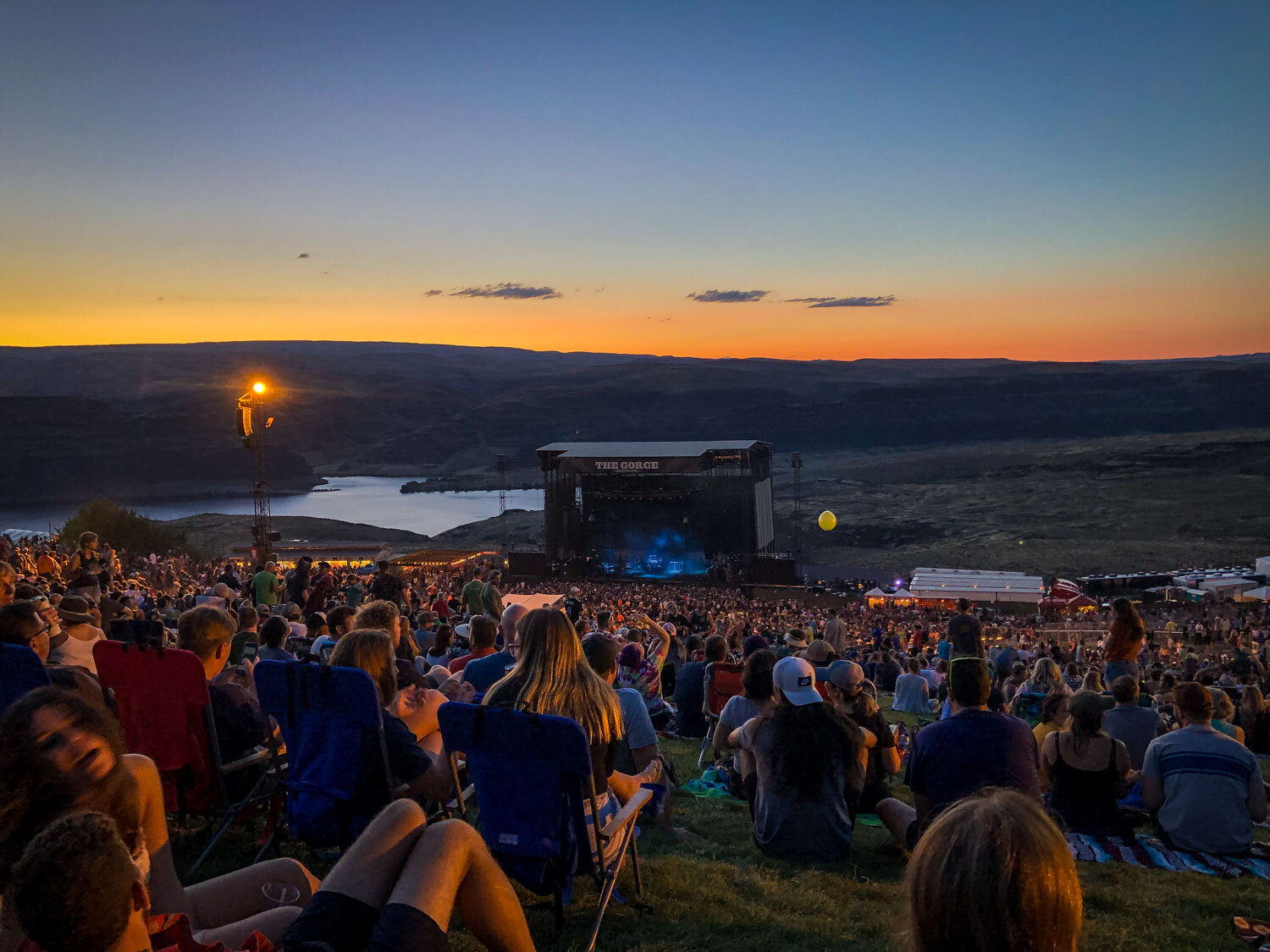 This epic outdoor venue has incredible acoustics and is a stunning backdrop for live performances, making it arguably one of the best natural amphitheaters in the world.
Seeing a show at the Gorge Amphitheatre had been on our "bucket list" for years, and in 2019, we finally were able to see a concert there. Dave Matthews Band does a 3-day-long show at The Gorge each year over Labor Day weekend, and it blew us away.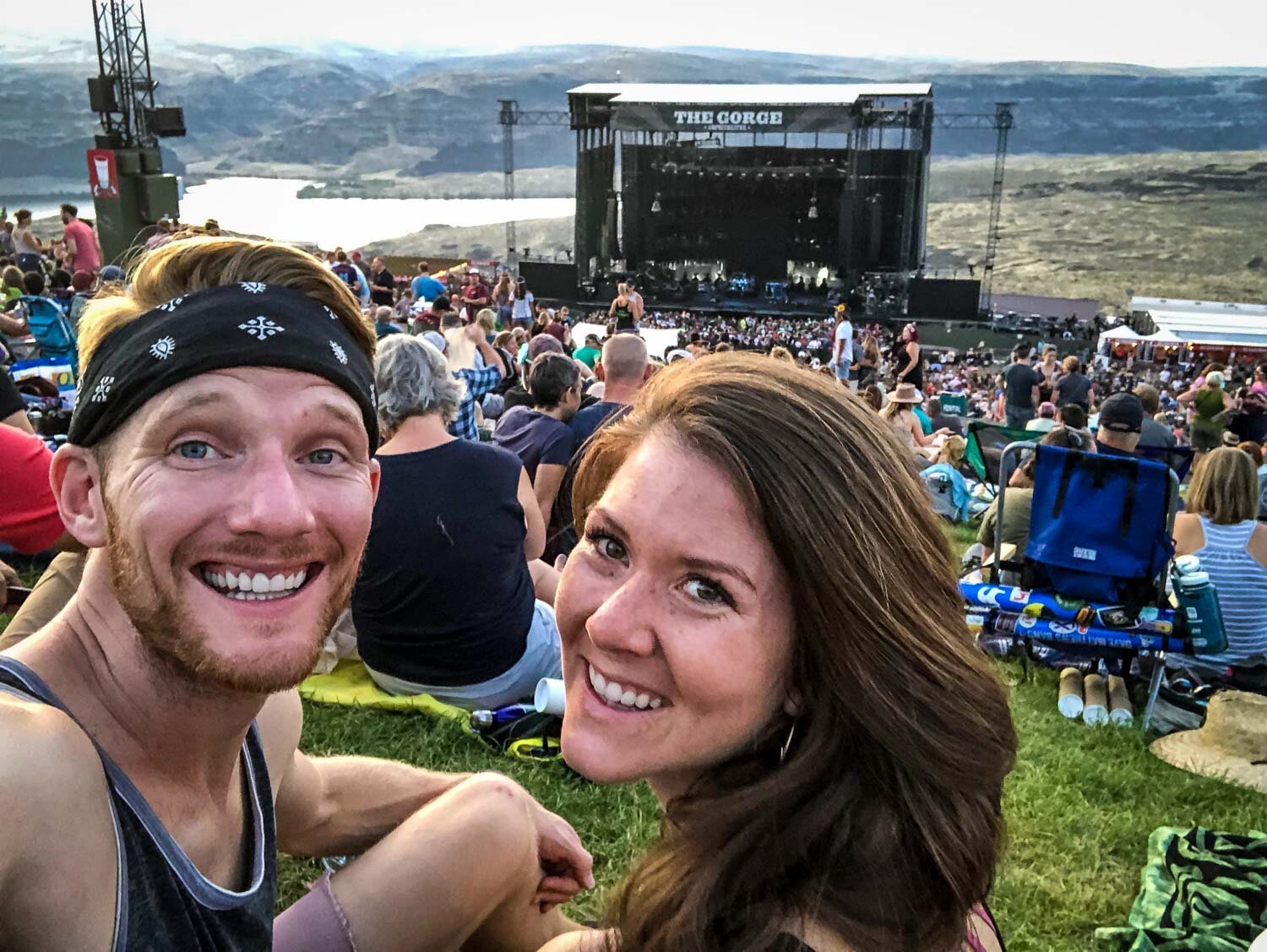 But if DMB doesn't float your boat, don't worry. From reggae to country to pop to electronic, you'll find shows from just about every genre. And there's a ton of BIG names that perform in this epic venue year after year.
Check out their concert calendar and choose a show that speaks to your musical taste. Some shows are just one day, while others span over a weekend and include camping and a festival atmosphere.
12. Sample craft beer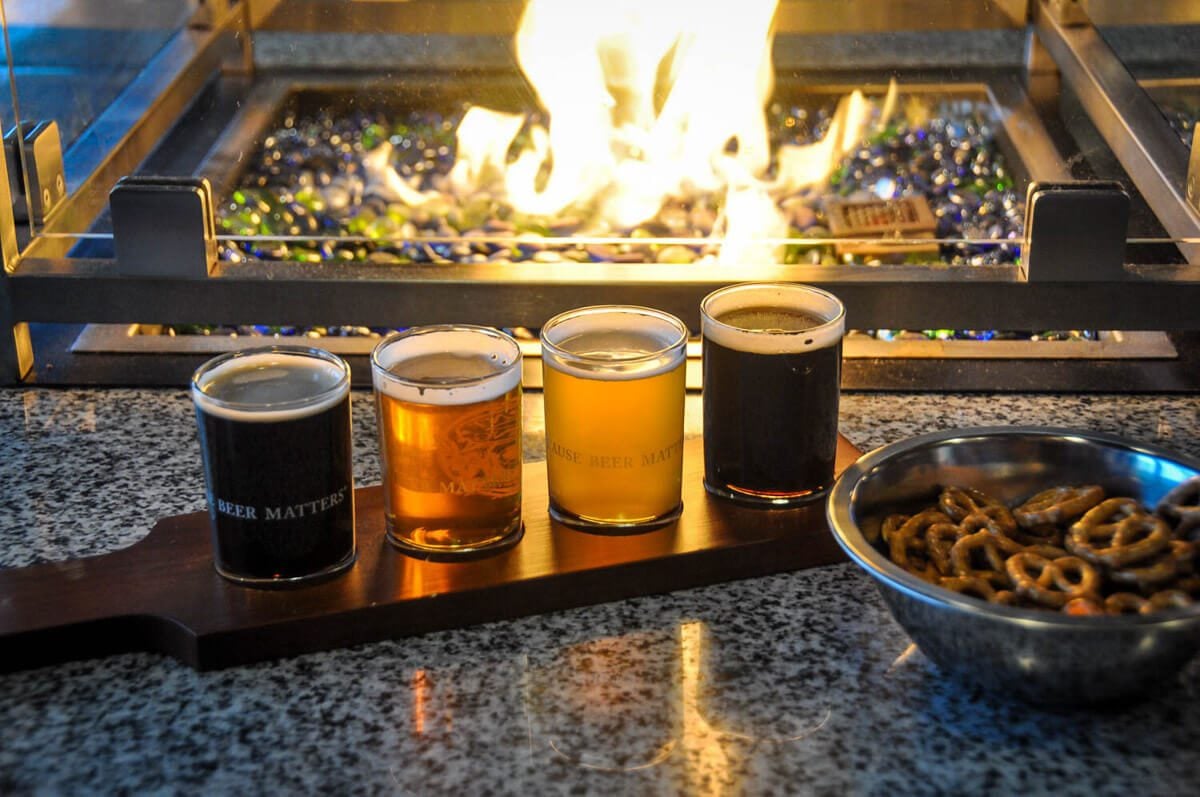 Just like its PNW neighbor Portland, Seattle is well-known as a craft beer capital. With an abundance of breweries and taprooms, you're never too far from a good pint in the city.
However, Seattle is not the only place in the state to get excellent brews. There are great breweries all over Washington state. Here are a few we'd recommend checking out.
13. Eat fresh seafood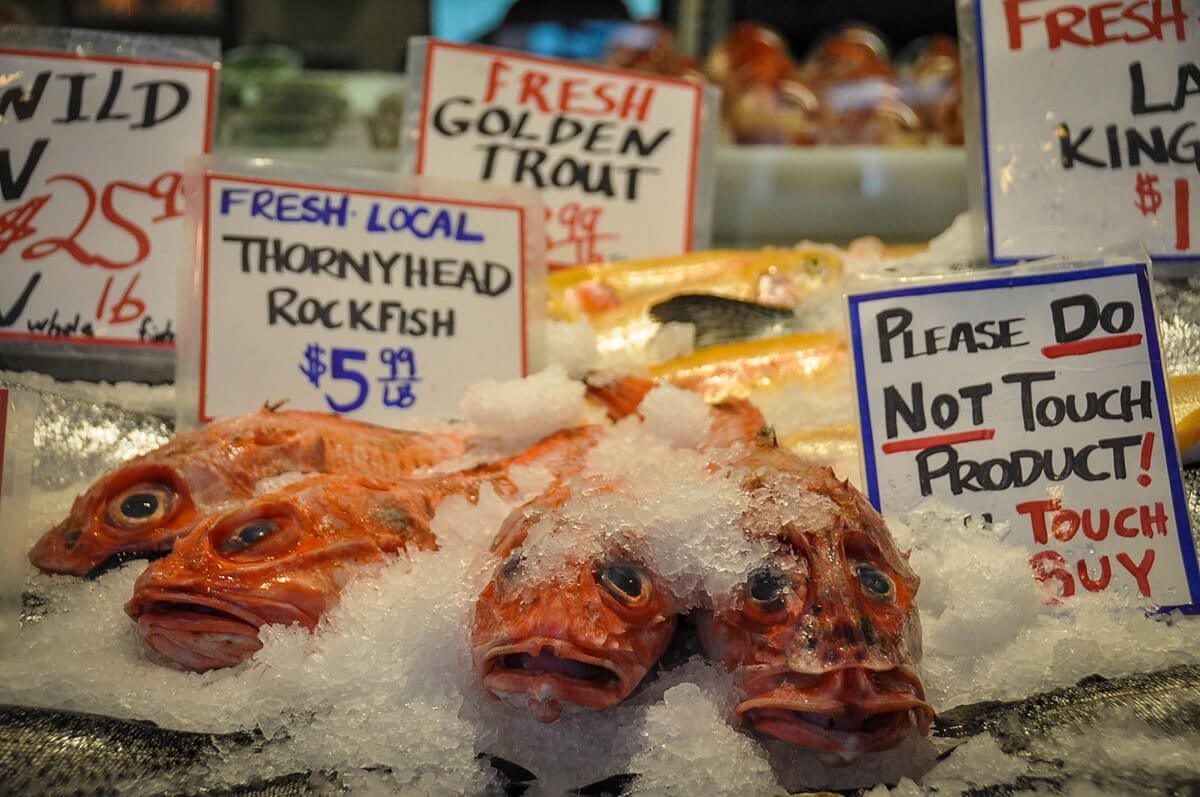 There's really no better place to eat seafood than right from the source. Being that Seattle is situated right on the coast, there are plenty of great options for indulging in the freshest seafood.
Here are some of our favorite seafood options on the Washington Coast:
14. Go skiing or snowboarding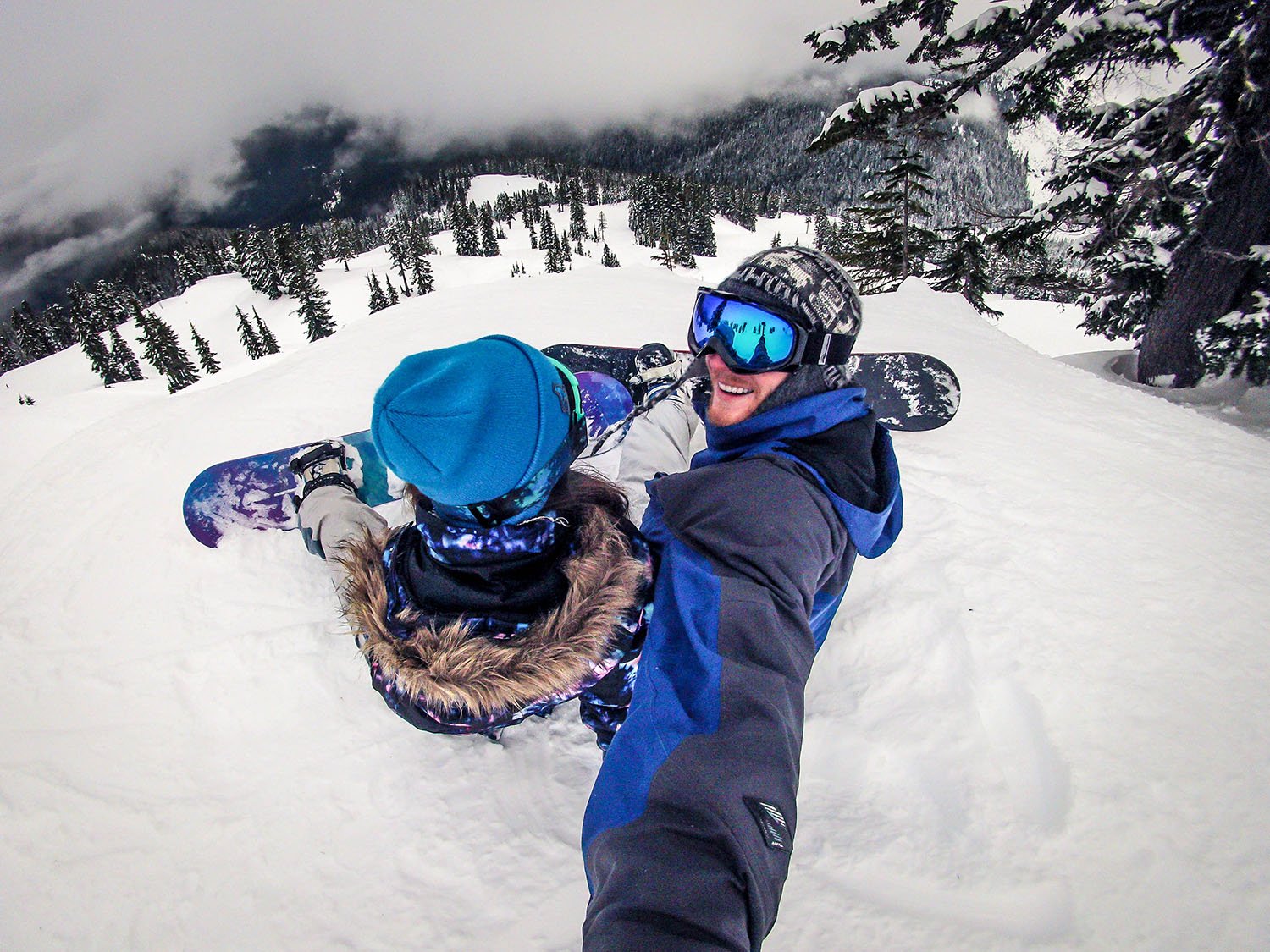 If you love winter, take advantage of the fantastic snow Washington has to offer. With 16 ski resorts across the state — each with their own vibe — you'll have plenty to choose from.
Here are some of the most well-known ski resorts in Washington state:
Or of you prefer to make your own tracks, there are tons of epic places to ski in the backcountry. Just be sure you are an experienced skier, have been trained in avalanche safety and have proper equipment. The backcountry is not a place for those who are inexperienced or underprepared.
Psst! Check out this guide for what to wear skiing to help you pack for your trip!
15. Go snowshoeing & cross-country skiing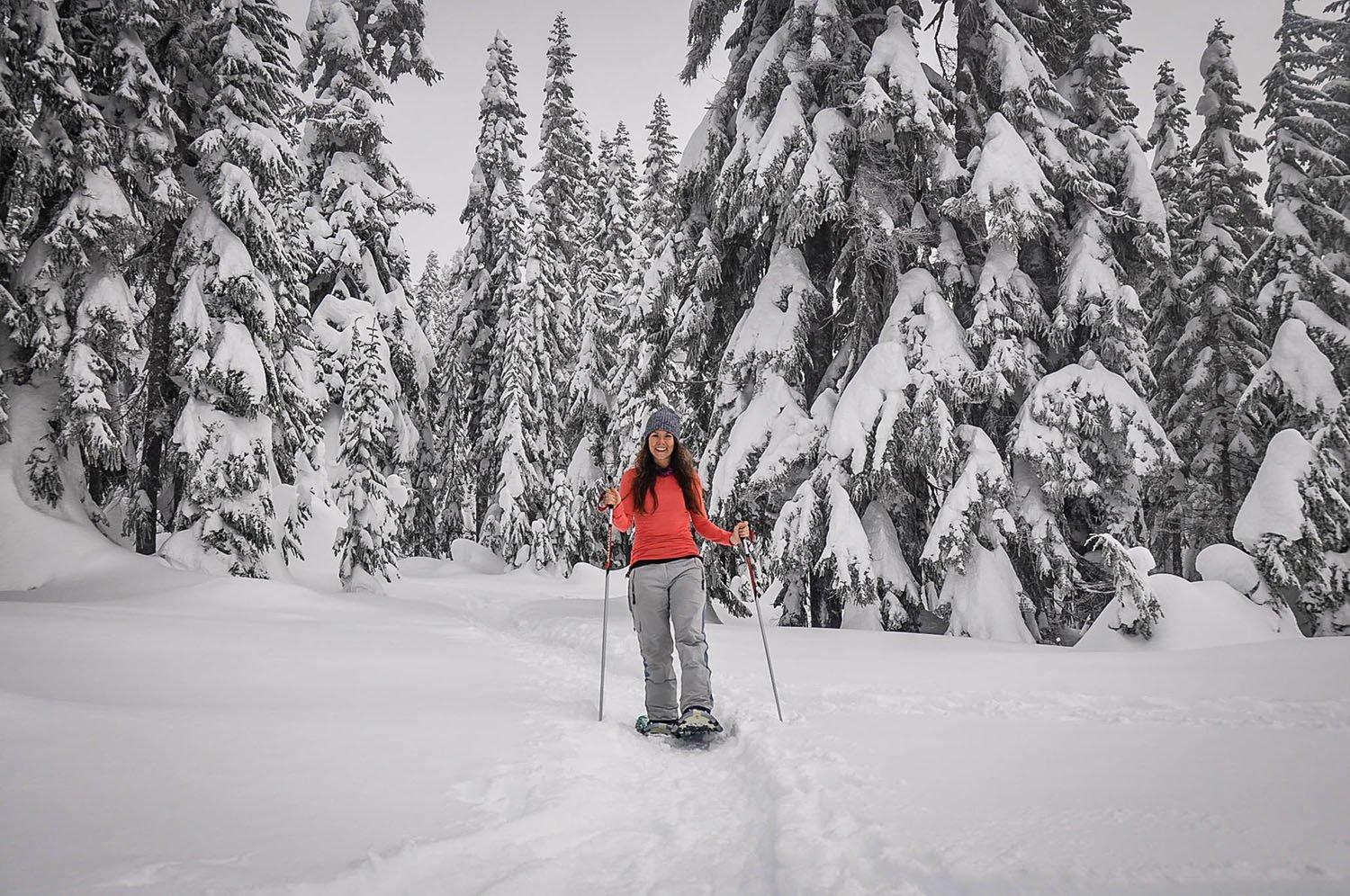 To be honest, we didn't love winter until we moved to Washington state. Being from Minnesota, we know how brutally cold winters can get. But in Washington, there is plenty of snow without the frigid bite of old man winter.
Being able to explore the outdoors in the wintertime was a game changer for us. There are so many cross country skiing or snowshoeing trails throughout Washington that it's hard to just highlight a few. Washington Trails Association has a great list of where to go cross country skiing and snowshoeing in Washington.
Psst! If you're a total newbie, check out this beginners guide to snowshoeing to find out everything you need to know to get started!
16. Get your adrenaline pumping while mountain biking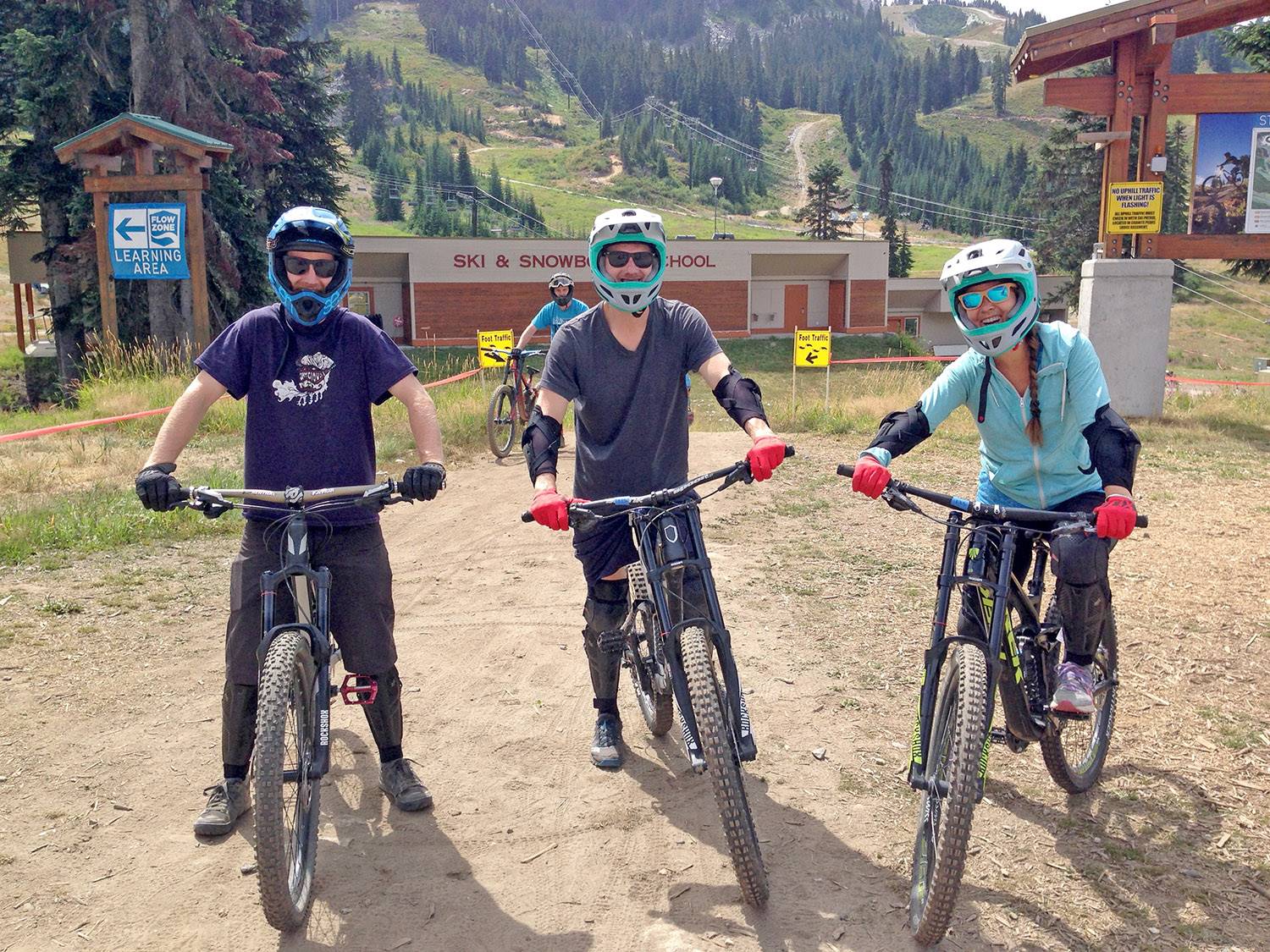 If you love the adrenaline of skiing but prefer t-shirts to winter coats, consider taking up mountain biking. The state of Washington offers countless trails suitable for beginners to experts.
Here's a list of the best mountain bike trails in Washington state.
And if you're looking for a little introduction to this sport (think a lesson and some rental gear), head to Stevens Pass Bike Park. Once the snow melts, this ski resort transforms into a bike park, with the chairlifts being used to carry your bike to the top. It's a perfect spot for beginners (like us!) to learn, or for advanced level bikers to tackle the technical trails.
17. Chase waterfalls around the state
The Pacific Northwest is overflowing with waterfalls (see what we did there!?). From grand displays that drop from an impressive height to raging rapids cascading down river beds, there are plenty of waterfalls to go around.
Here are some of our favorite Washington waterfalls:
Palouse Falls
Prior to visiting this waterfall, we'd seen pictures of it plastered on Pinterest and Instagram, and seeing it in real life was pretty darn epic. With rolling green valleys carved out by these powerful falls that crash down to create a winding river, the landscape looks eerily similar to Iceland.
While there's not much to do in the area other than see the waterfalls, this is a great stop on a road trip to Idaho and also makes a fun day trip.
Before you visit Palouse Falls, consider these words of warning:
Think about the time of year. The super gorgeous photos you see online are almost all taken in late spring or early summer when the grass is green and the water is flowing fast from the spring melt. If you show up later in the summer, expect the grass to be turning brown and the fall itself to have much less water volume. We've heard that in the late summer months and early autumn it can be reduced to just a trickle. When we visited in early June, the falls was a bit past its peak.
Be extremely CAREFUL when walking on the trails near Palouse Falls. We're not trying to scare you, but on the day we arrived there were diving crews recovering a body of a man who had fallen off a cliff the day before. Wind near the falls is surprisingly strong, the dusty paths are slippery and the shale rock can crumble easily beneath your feet. For your safety, do not go past the fences or the warning signs.
Next Read: Eco-friendly packing list to help minimize your footprint and save you money.
Snoqualmie Falls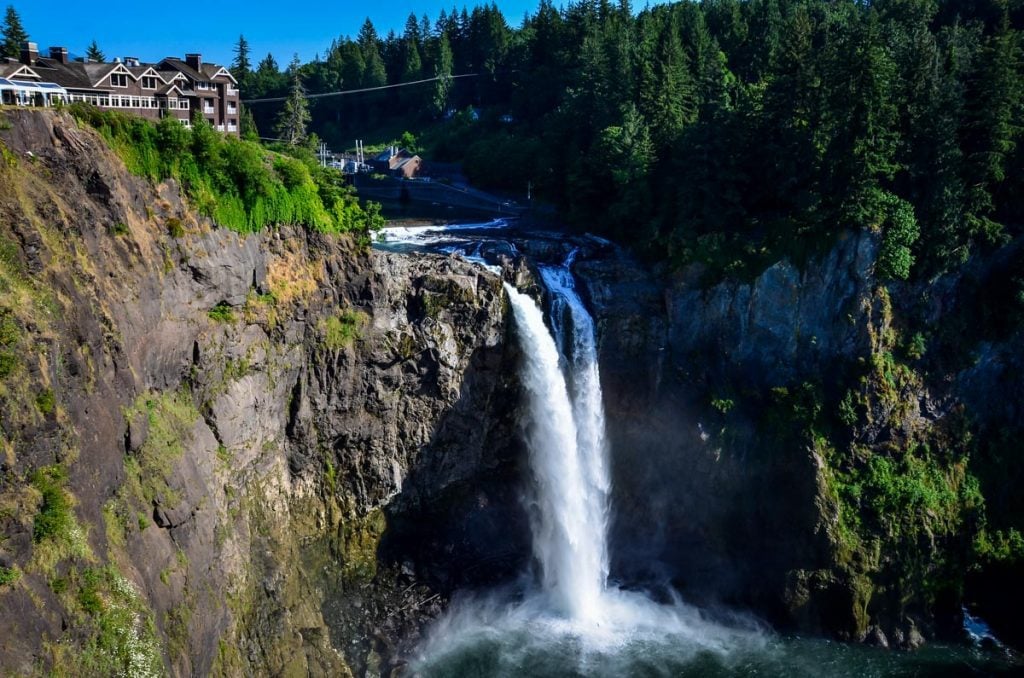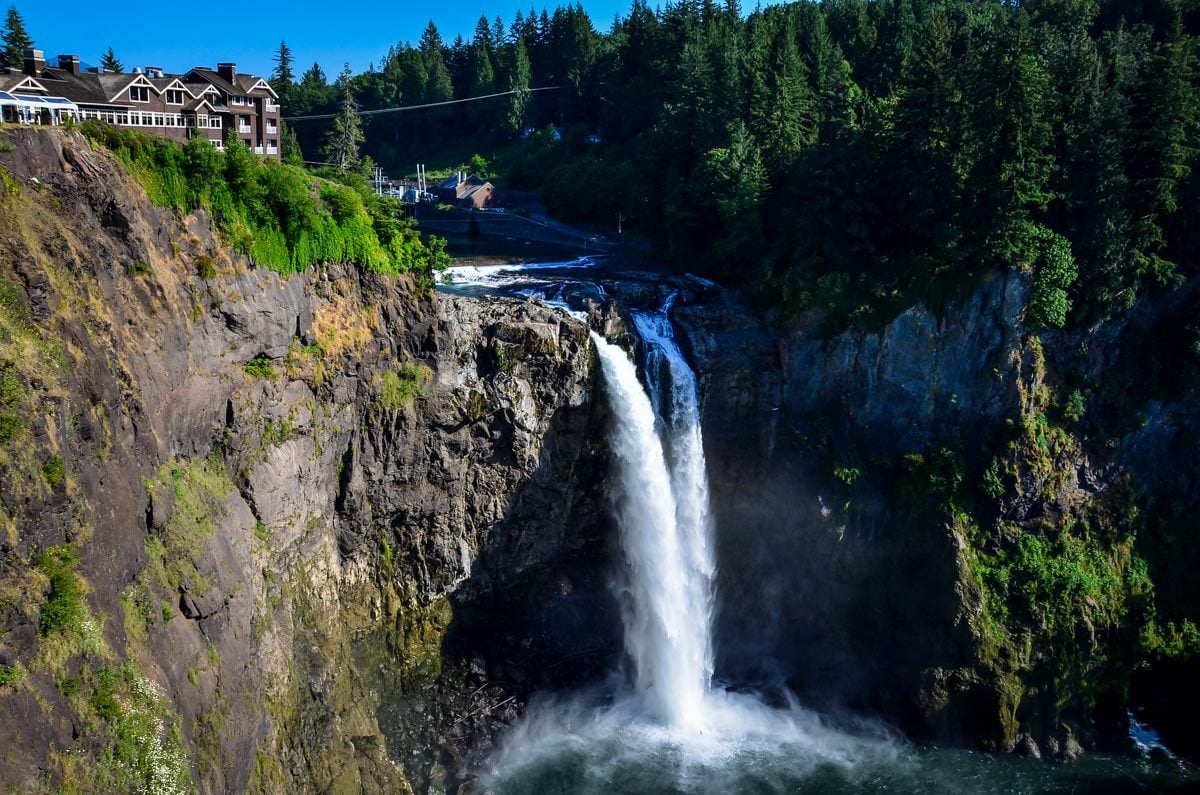 Just 30 minutes outside of Seattle, Snoqualmie Falls is one of Washington's most recognized landmarks. Dropping from an impressive 268 feet, the falls range from 50-100 feet wide depending on the time of year and the water level.
A significant spiritual site for the indigenous Snoqualmie Tribe, this incredible waterfall has mesmerized humans for thousands of years.
Psst! Check out these other beautiful waterfalls near Seattle that can easily be visited on a day trip!
18. Have an epic camping adventure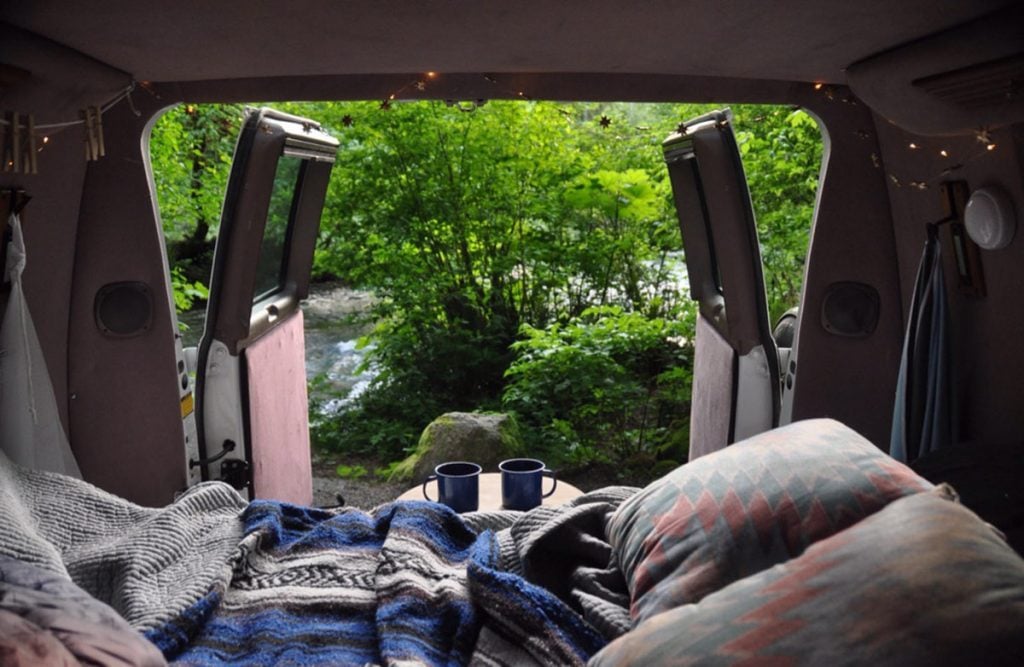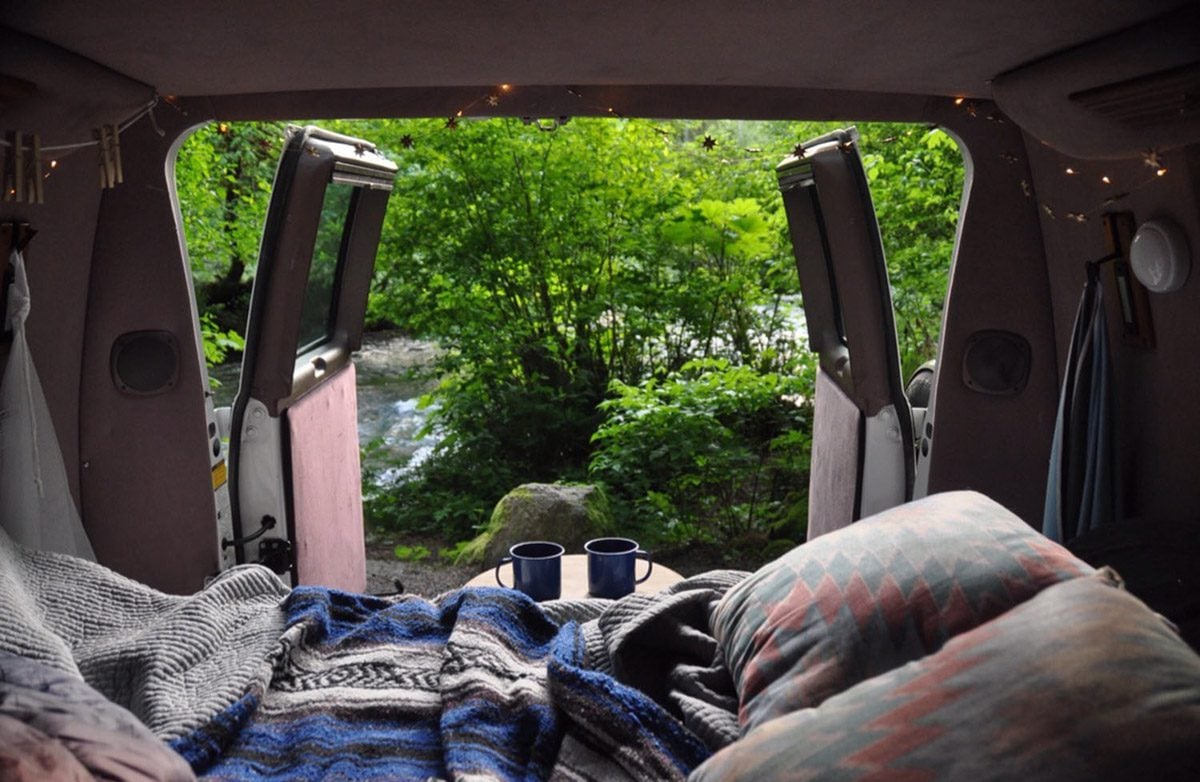 Exploring the diverse state of Washington is undoubtedly best done by car, while camping along the way. This will ensure you get to spend the most time outdoors and experience all that Washington has to offer.
There are some pretty epic spots for camping around the state, from camping in the backcountry on the Enchantments trail to camping on the beach in the Olympic Peninsula. (See #1 and #6 on this list for more info!)
With the help of some fellow travel bloggers and outdoor enthusiasts, we rounded up the best campsites in Washington over on our sister site. These campsites range from backcountry gems to car camping hot spots.
If you're on a budget and looking to save money, we have an entire guide for how to find free camping in the U.S. This guide has all of our tips and hacks for finding the best free camp sites around the country.
Plus it includes an in depth look at our favorite camping app we mentioned at the top of this article: The Dyrt.
19. Hike to the top of Rattlesnake Ledge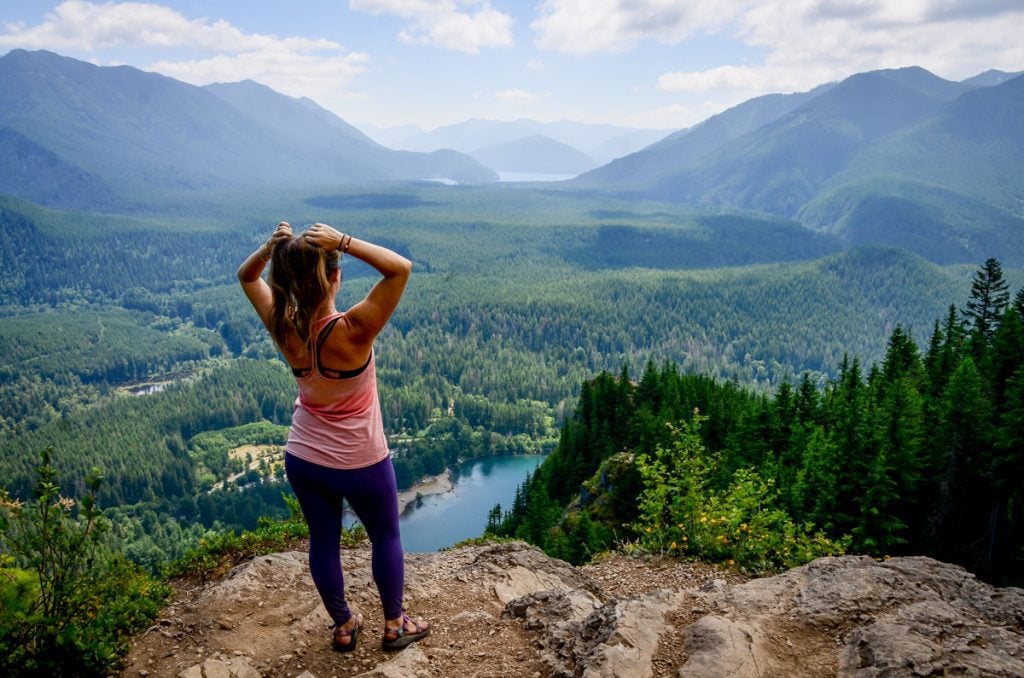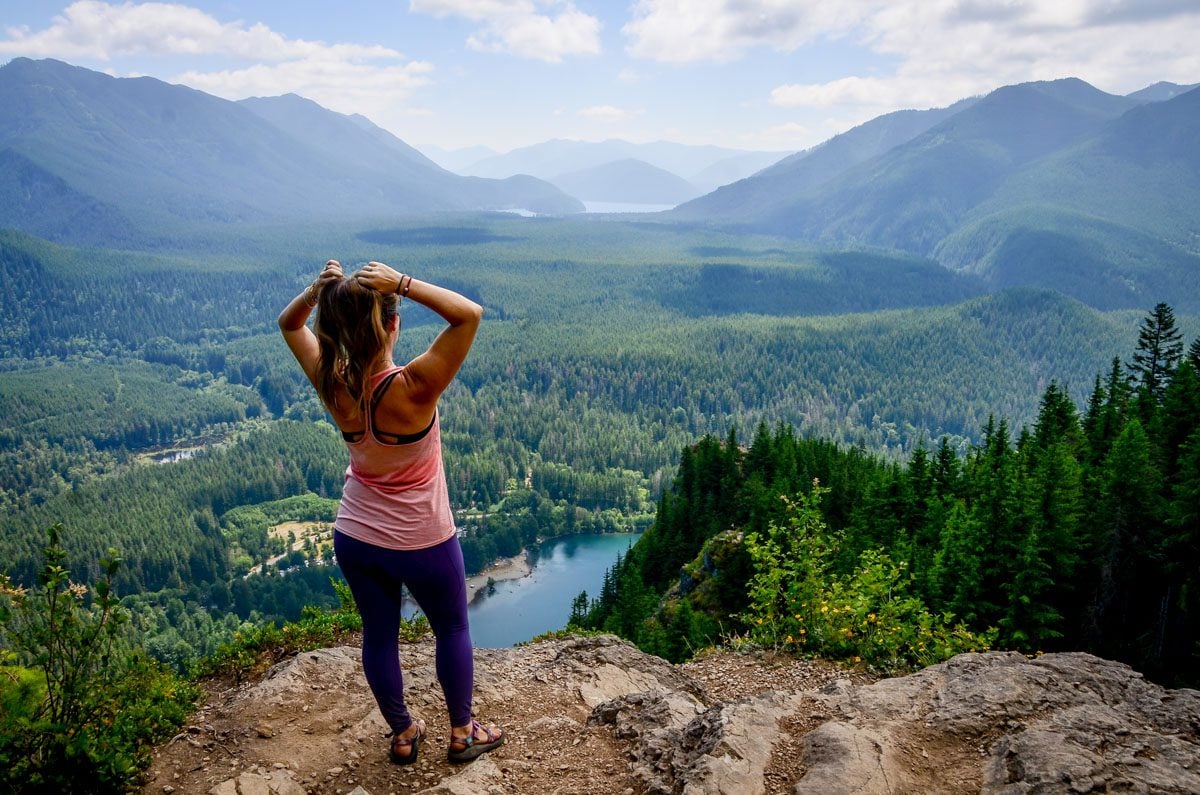 Located at the entrance to Snoqualmie Valley, Rattlesnake Ledge is one of the best easy-access hikes near Seattle with a big payoff.
The moderate, 5.3-mile hike ascends through a beautiful pine forest before reaching the ledge—a famous lookout point with impressive views of Rattlesnake Lake, and nearby Mount Si and Mount Washington.
The steady but not-too-exhausting climb gains an elevation of 1459 ft and should take about 3 hours to complete, making this a perfect day trip from Seattle.
Note: If you're visiting on the weekend, reward your efforts after summiting the Ledge at the nearby Chateau NoElle Winery (only open Saturdays).
20. Visit wine country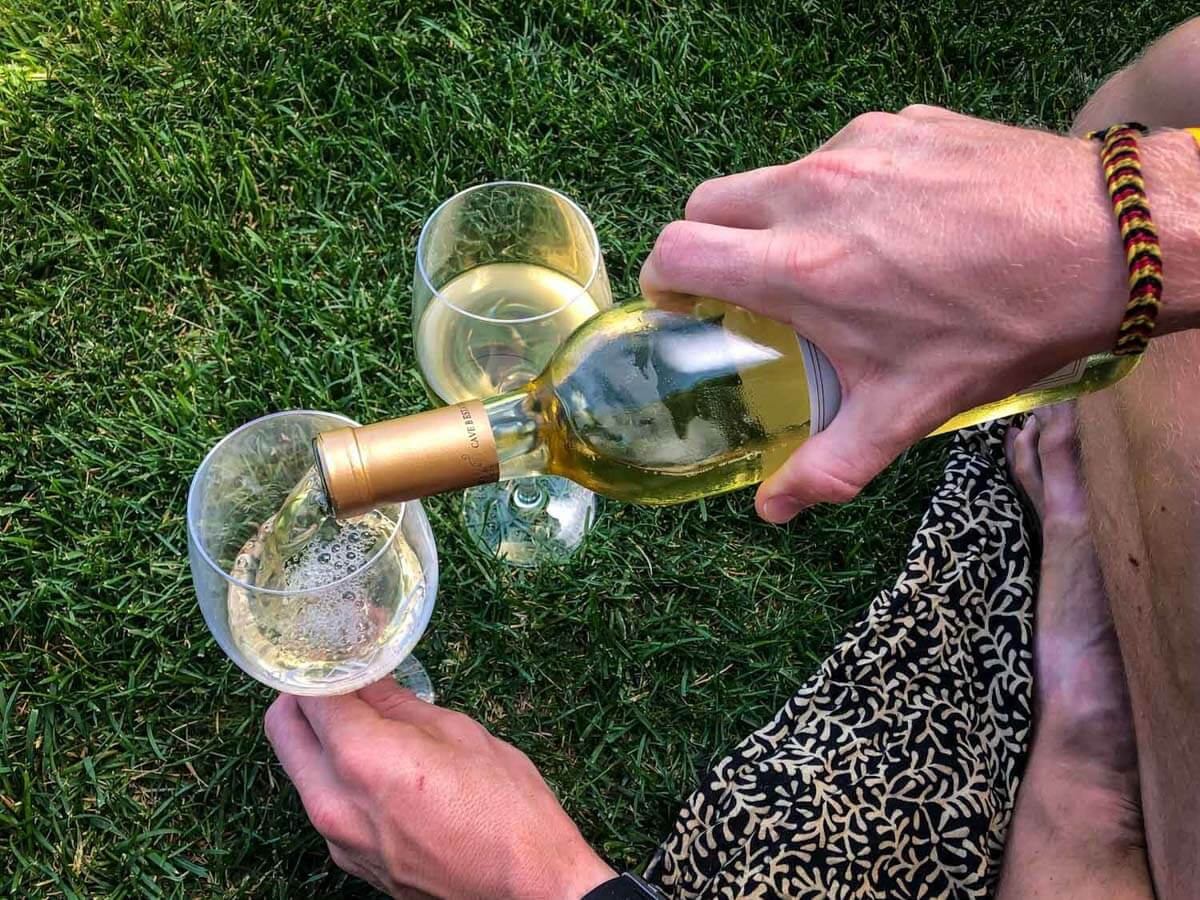 Though it usually flies under the radar—when most people think about "wine country" in the U.S. Napa Valley is at the top of the list—Washington is actually the second largest wine producing state in the country.
Due to the prevalence of microclimates, as well as varied altitudes and diverse soil types across the state, you'll find a huge diversity in wines across Washington. Recently the state has been receiving a lot more credit for the wines produced there.
Just 30-minutes outside of Seattle, you can visit Woodinville Wine Country, which boasts more than 100 wineries and tasting rooms, as well as 14 breweries, cideries and distilleries, and 30 restaurants.
You'll feel like you're worlds away from the big city as you sip some of the very best local wines by acclaimed producers. And you can still make it back to Seattle in time for dinner reservations!
21. Taste the best doughnuts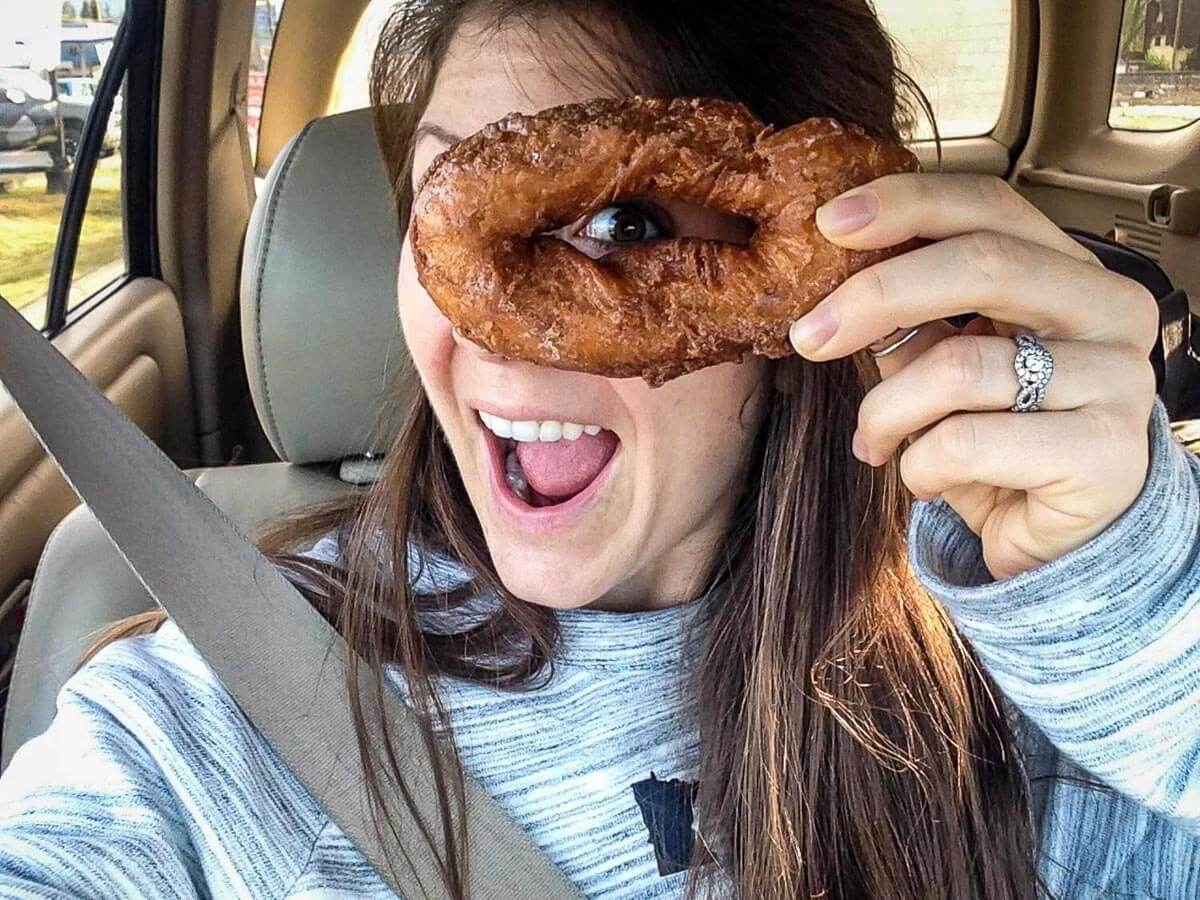 Are you ready to get let in on a local secret??
Sultan Bakery has perhaps the best doughnuts we've ever tried!
This unassuming spot, located just off Highway 2 in the tiny town of Sultan, is the kind of place you'd drive right past if you didn't know what you were looking for.
The no-frills establishment boasts a reasonably-priced menu as well as a bakery case that'll make you drool. Everything we've tried there has been fantastic, but their buttermilk bar doughnuts are my personal favorite. And if you like the fancier donuts, there are plenty to choose from as well as cakes, cookies, and bars, oh my!
It's gotten to the point where stopping here is a must whenever we cross the mountain pass (aka when we're headed to Stevens Pass for skiing or in the direction of Leavenworth). And in between stops, I kid you not, I dream of these doughnuts.
Other notable mentions are their sandwiches constructed between slices of their signature homemade white bread, and their breakfast burrito, which is easily big enough to split between two.
---
Big cities & small towns in Washington state
Washington is home to one of the fastest-growing cities in the nation as well as charming towns you likely have never heard of. This mix of big city excitement and small town charm is just one of the reasons we love traveling in Washington state.
22. Leavenworth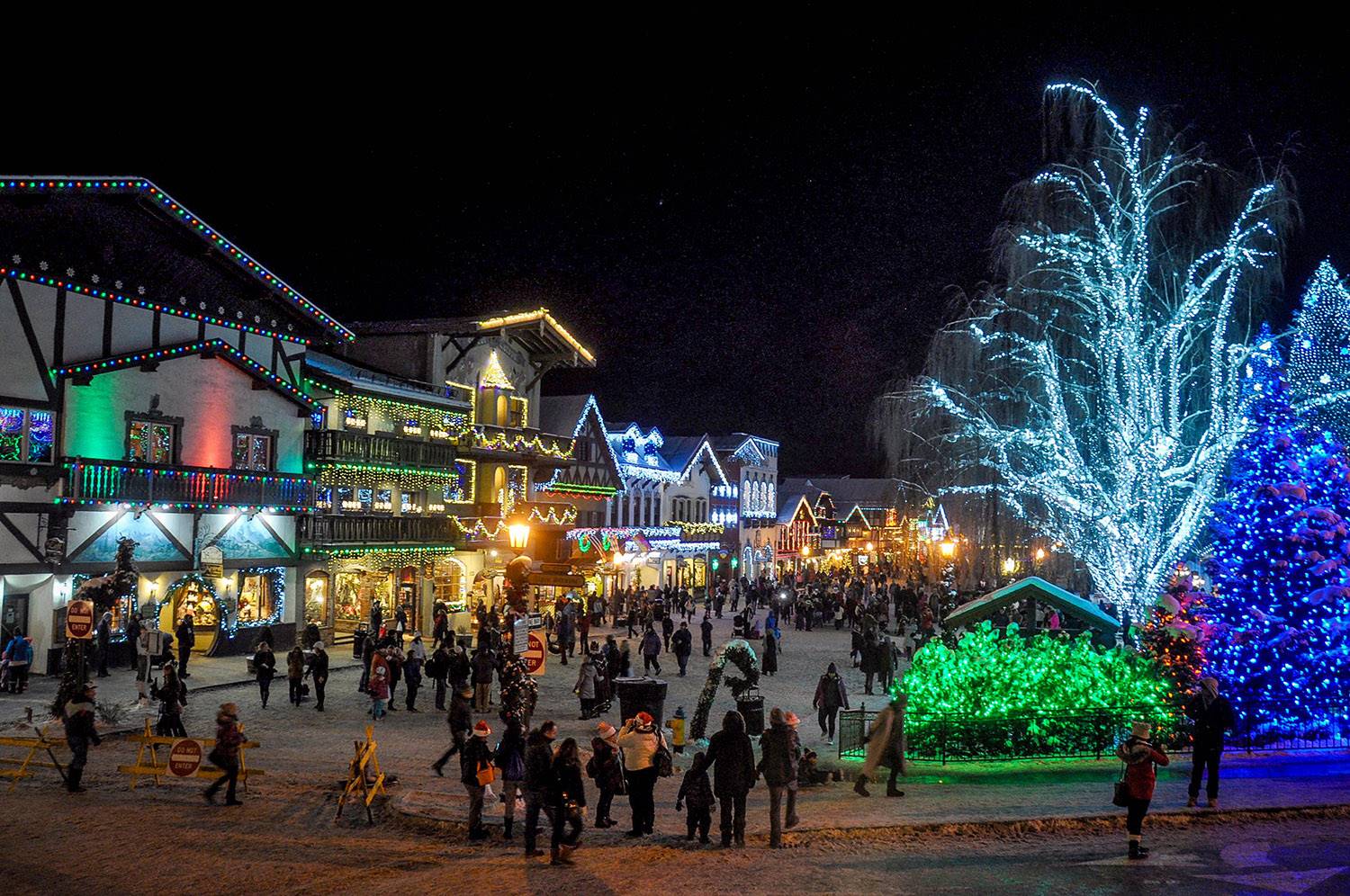 While Seattle is often shrouded in a cloak of clouds and rain, Washington state enjoys many different climates, some much sunnier and drier than its biggest city. In fact, if you head east over the Cascade Mountains, you'll end up in the little Bavarian town of Leavenworth, Washington and you'll likely find much different weather than Seattle.
With incredible hiking, whitewater rafting, skiing, mountain biking and a tight knit community of locals, this is one of our favorite towns in the United States.
We spent a winter season in this magical mountain town while we worked at nearby Stevens Pass Mountain Resort and we found that there is so much more to Leavenworth than its kitchy, German-themed exterior.
We even put together a local's guide packed with fun things to do in Leavenworth.
23. Seattle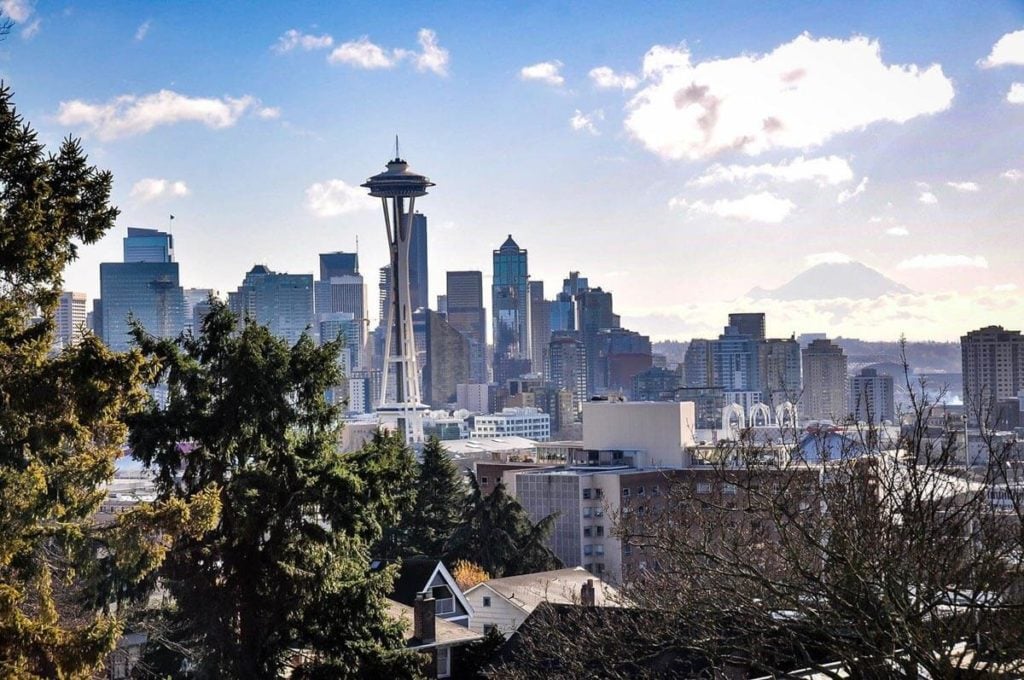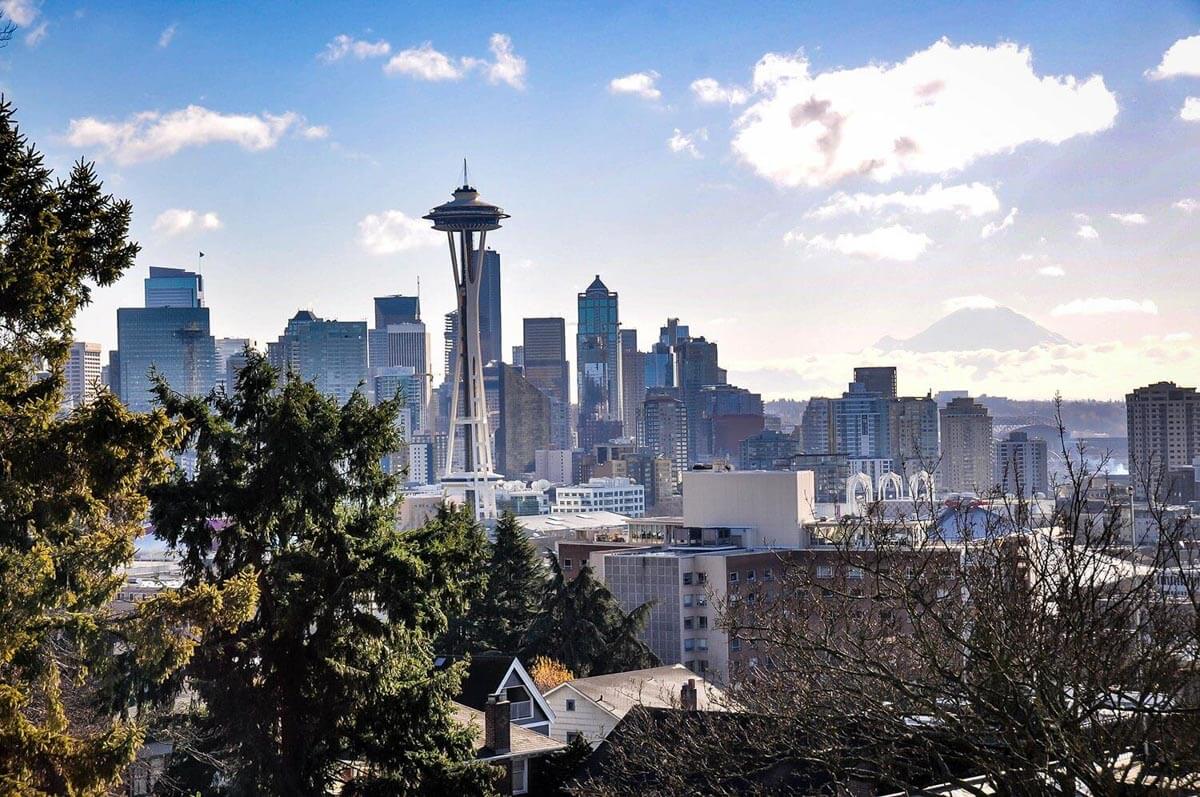 There's a lot to love about Seattle. From world-renowned coffee to a thriving live music scene to must-see tourist attractions, this city is diverse in its population and in things to do.
Most visitors traveling to Washington state make a stop in Seattle, and for a good reason. This is one of our favorite major cities in the United States.
Whether you're visiting Seattle for the first time and only have a few days, or you are a new resident to this rapidly-growing city, we've put together an ultimate guide for things to do in Seattle.
24. Bellingham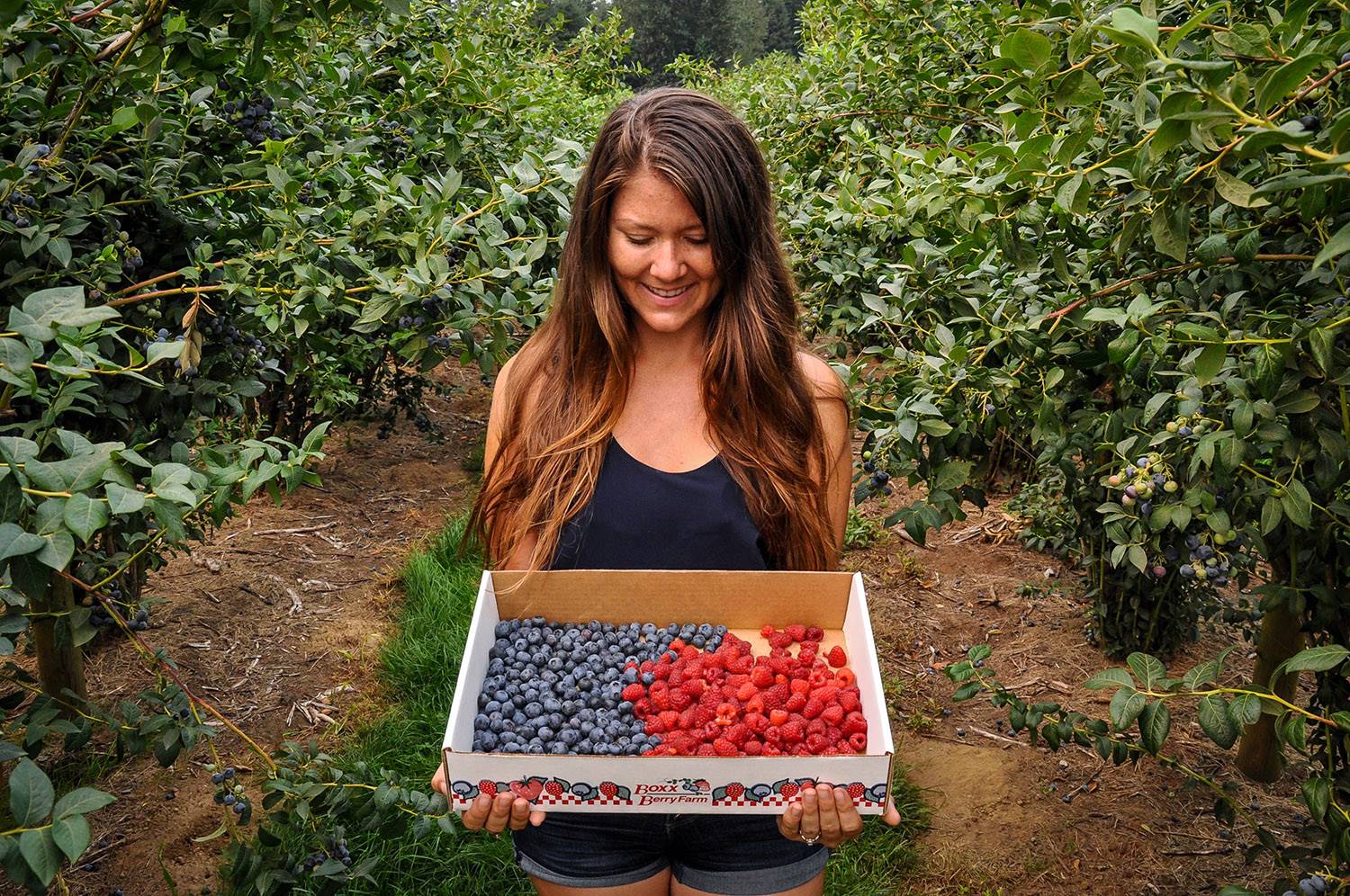 Not far from the Canadian border, Bellingham is a good size city: big enough to have everything you need, including a buzzing nightlife, but little enough to retain a small town charm.
Things to do in Bellingham
Go Berry Picking: If you're in Bellingham during the summer, head to one of the nearby berry farms to pick your own blueberries and raspberries. We picked a whole crate of fresh berries at Boxx Berry Farm for only $5.
Brewery Hopping: We really love Wander Brewing, not only for their name, but for their large selection of unique beers. We've tried quite a few beers here and have always been impressed. We often find ourselves leaving with a growler in hand. Oops! Bellingham is also home to Boundary Bay Brewery (try their Inside Passage Ale, a very good IPA!), Stones Throw Brewery, and Aslan Brewing.
25. Skagit Valley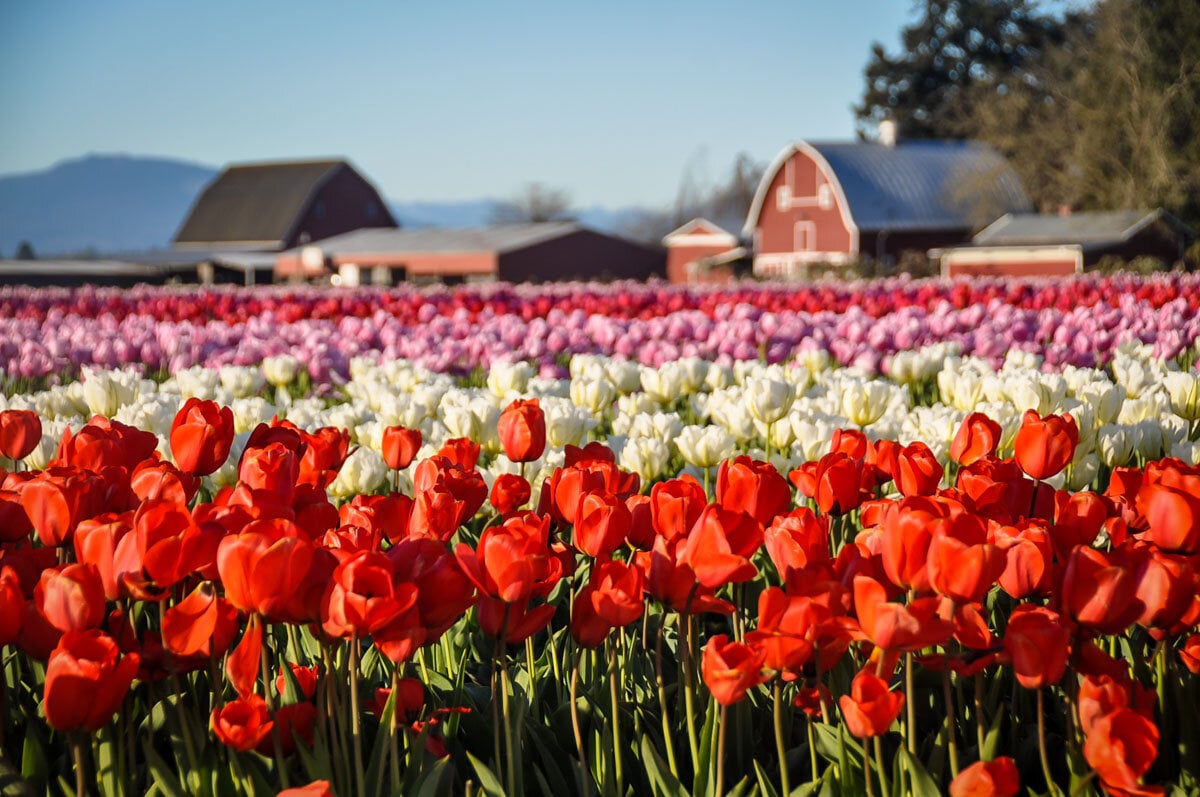 Just a little more than an hour from bustling Seattle, this makes a great day trip from the city.
Most famously known for its annual Tulip Festival, which takes during the month of April, there are more things to do in Skagit Valley than glimpse the flowers (though it is well worth a visit if you're in Washington during the springtime!).
Funny Story: Just after buying our first campervan (yay!) we headed to Skagit Valley to celebrate amongst the tulips. Someone had told us we could park in town and walk to the tulip farms, and the pin on Google Maps made it look not very far… but it ended up being a roughly 5-mile walk! We got there just as the sun was setting and the farms were closing for the day. We ended up hitchhiking back to town. Oops! Definitely bring your car, as the tulip festival is set up as a driving tour. Learn from our mistake!
26. Winthrop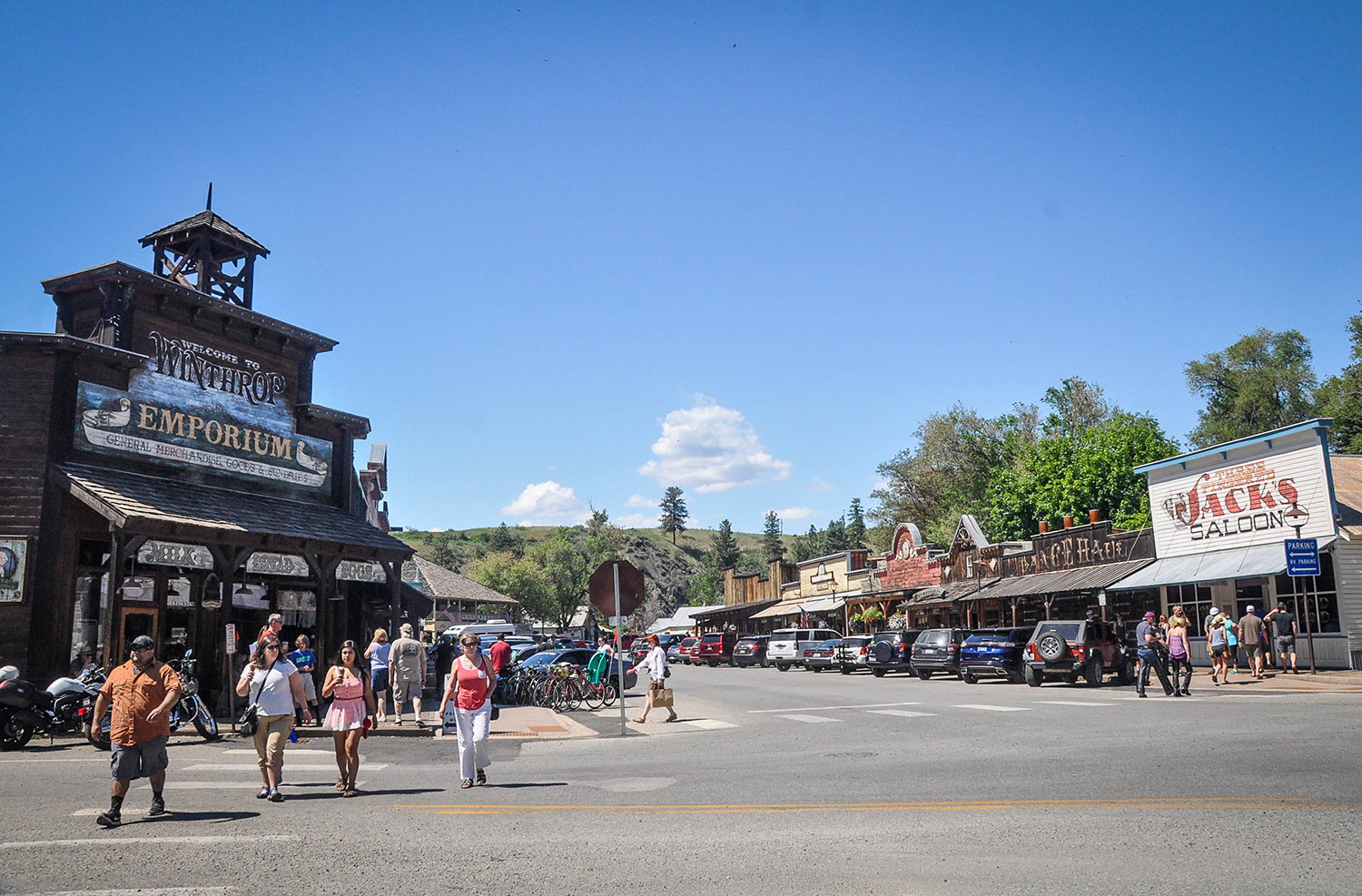 If you want to get a little taste of the Wild West without venturing too far, Winthrop is sure to put a little swagger in your step and a twang in your voice. The facades shops in this western-themed look as if they belong on a set in Hollywood, and there is of course a General Store Emporium and sweets shop.
Things to do in Winthrop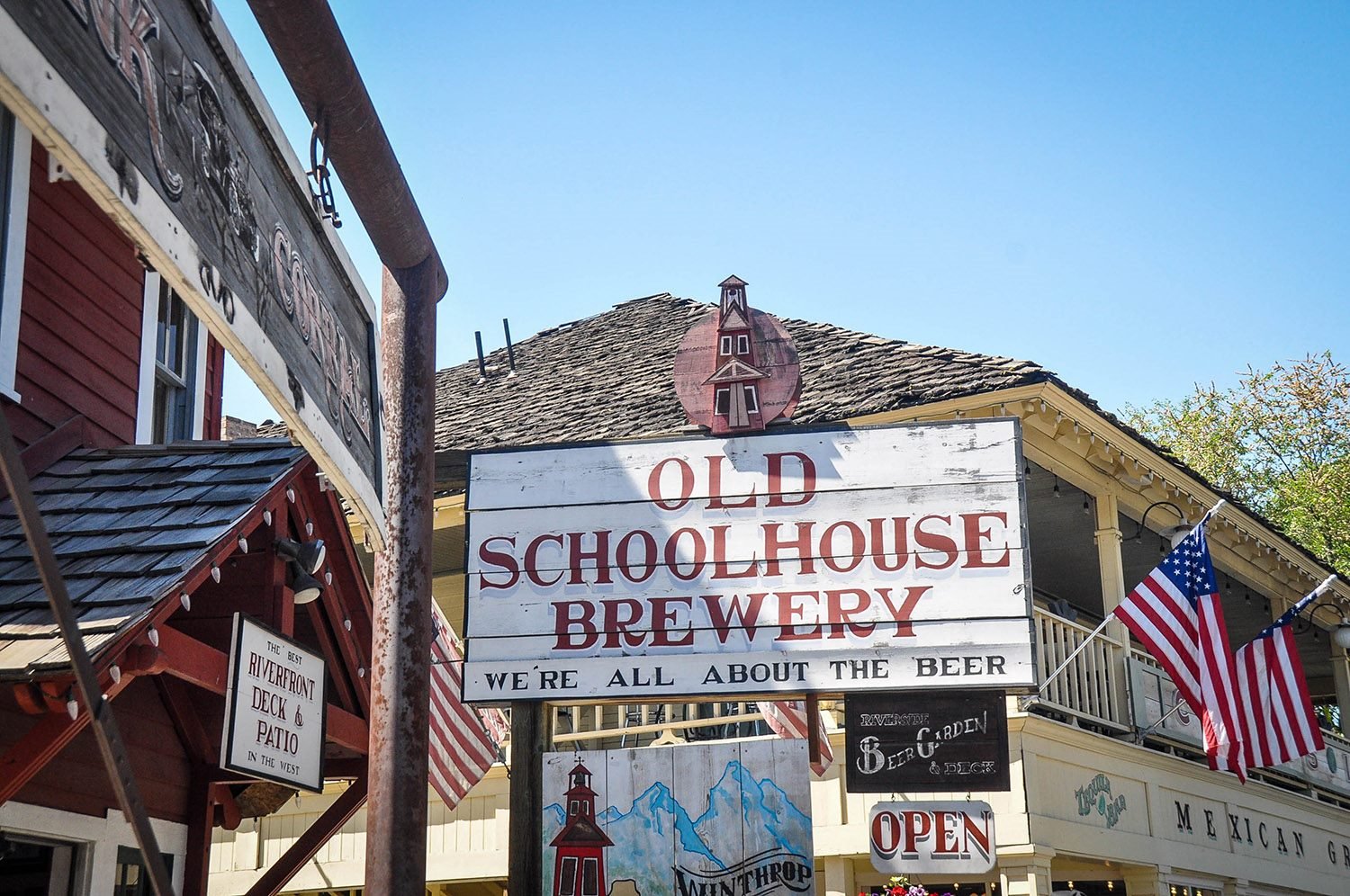 Wander around the main street and take pictures of the Western facades.
Grab a craft beer (or 2!) at the Old Schoolhouse Brewery. If the weather is nice, get a table in the shade by the river.
If you're in this area in the winter, there is epic cross country skiing in the Methow Valley!
Tip: If you've made it all the way to Winthrop, drive through the neighboring town of Twisp (or make a short stop!). Known as the "heart of the Methow Valley", this town of less than 1,000 residents is just 9 miles south on highway 20.
27. Stehekin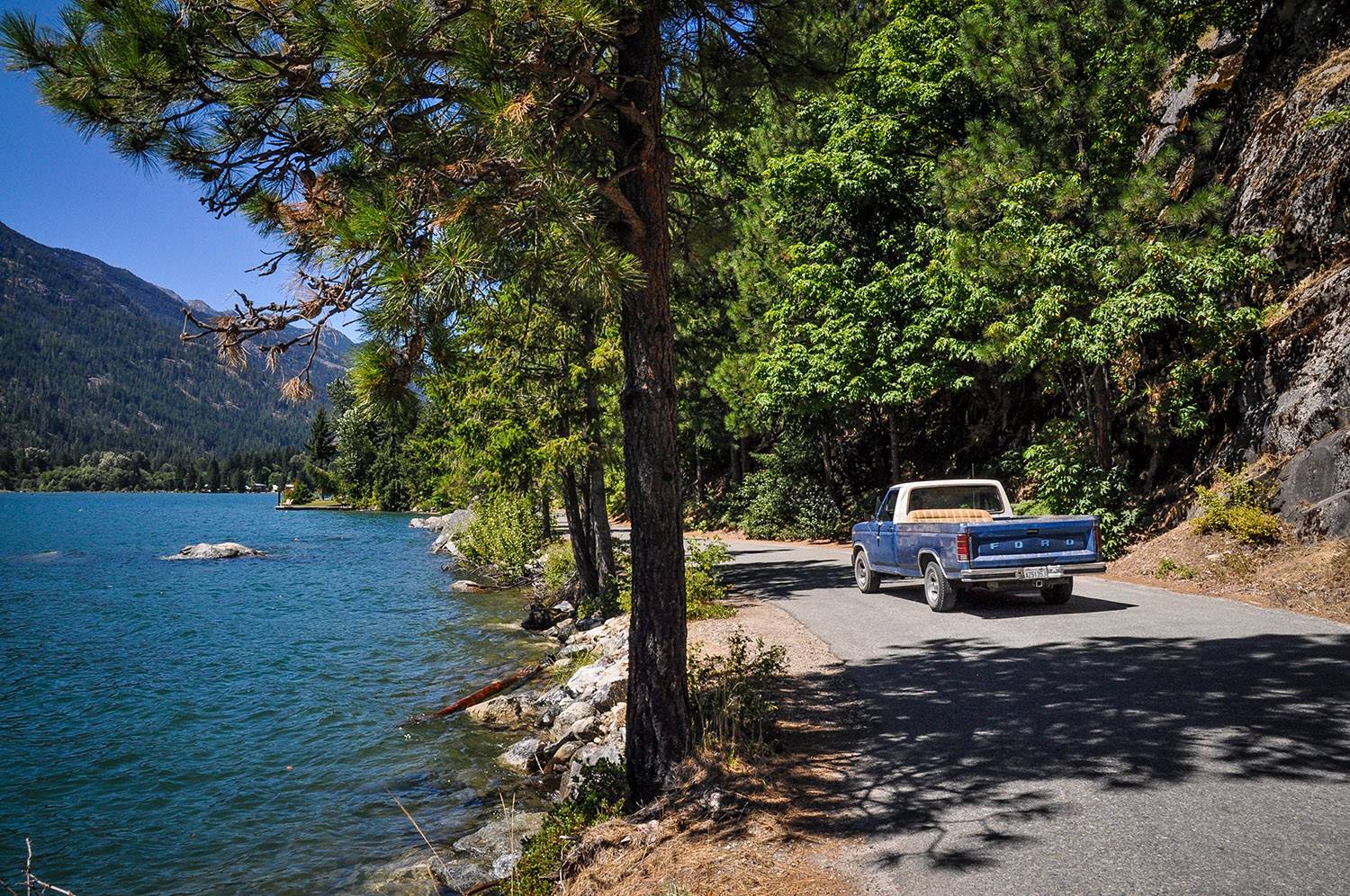 Be charmed by this remote wilderness town situated at the end on Lake Chelan. The only way to get to Stehekin is by hiking (which takes 2-3 days) or by ferry (4 hour ride). We opted for the latter.
While it is possible to take the ferry to Stehekin, disembark, explore for 90 minutes and return to Chelan all in the same day, we'd strongly encourage you to give it a bit more time and stay a night or two.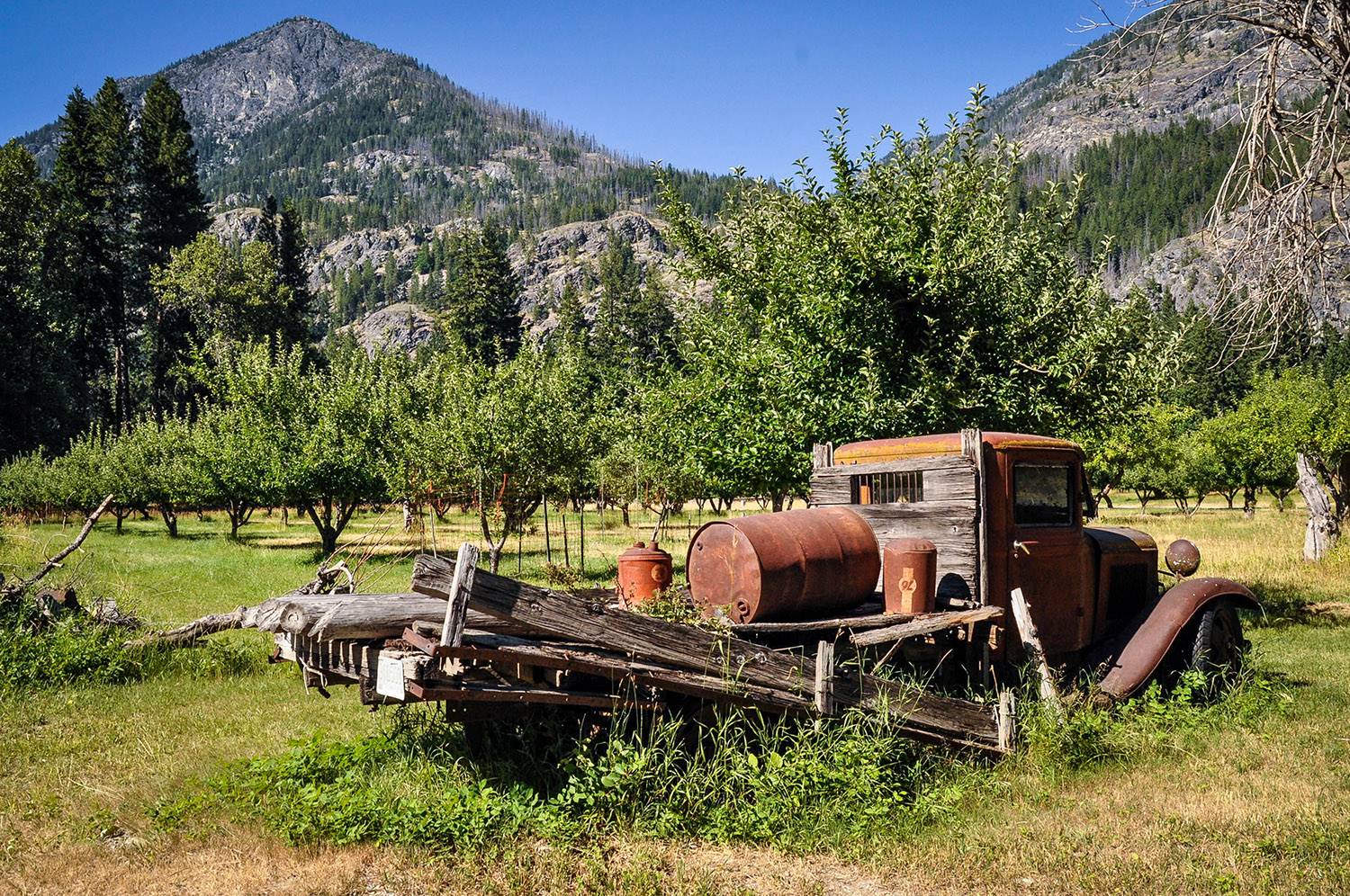 With just a handful of year-long residents, this tiny town feels almost like you're on an island. Locals have had cars carried over in the ferry, but since you can't drive very far in this town, cars last a lot longer than they do in a typical city. Most of the cars you'll see are quite old, giving this little lakeside mountain town a feeling as if it's stuck in time.
We spent 2 days here, but wish we had more time to do some of the longer hikes like the McGregor Mountain trail or the Purple Creek trail.
Things to do in Stehekin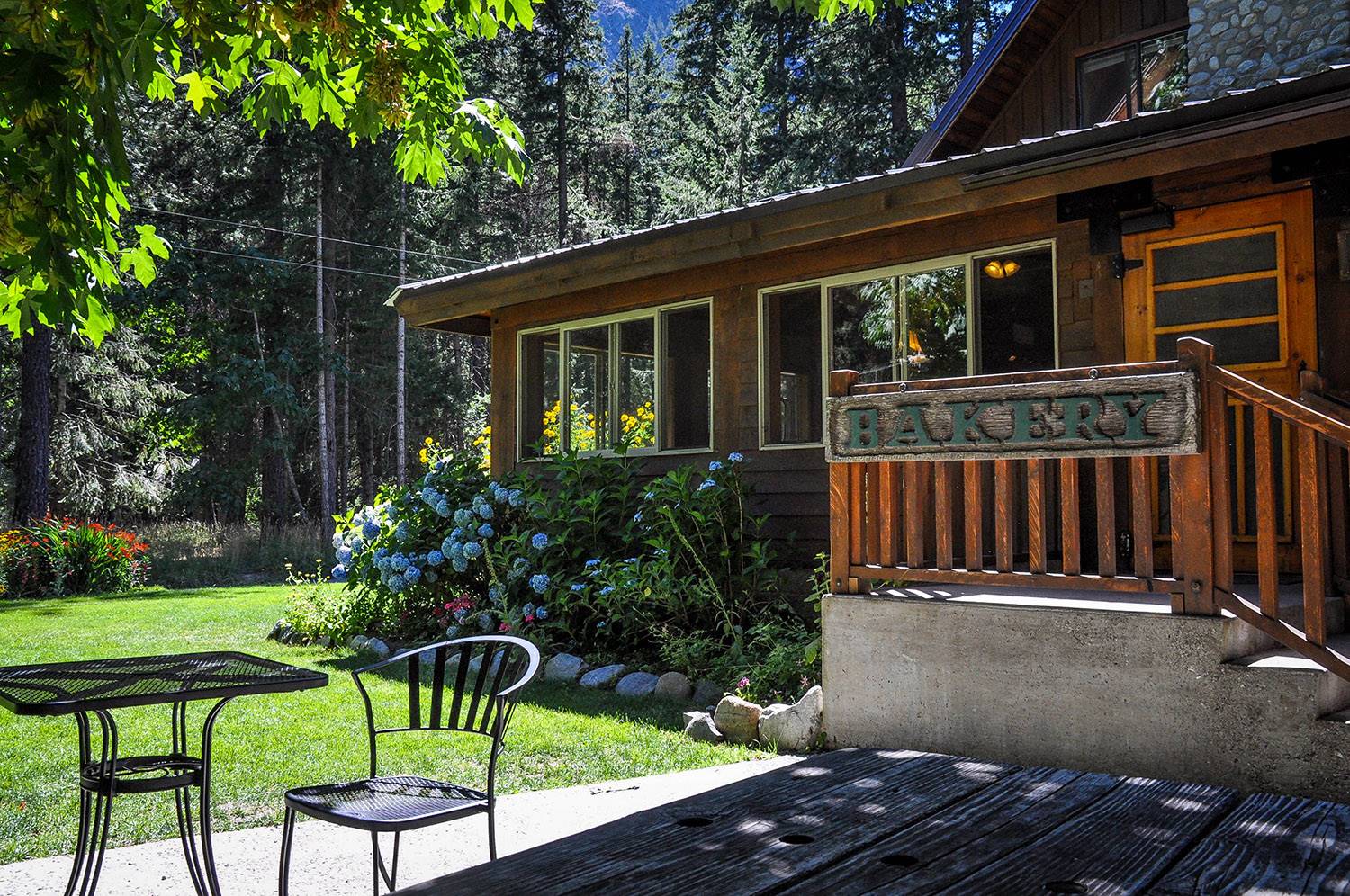 Eat at the Bakery: We can't say anything negative about the Stehekin Pastry Company. It is adorable and everything we tried was fantastic. From the gazpacho to sandwiches to jalapeño cheddar bagels to the raspberry cream cheesecake (we went there 3 times in 2 days – don't judge!), everything was clearly homemade and fresh.Even their day-old baked items still taste great, and the price has been cut. Lots of PCT through hikers spend a day in Stehekin, and we saw some of the staff handing out day-old baked goods to the hikers for free. What a sweet idea!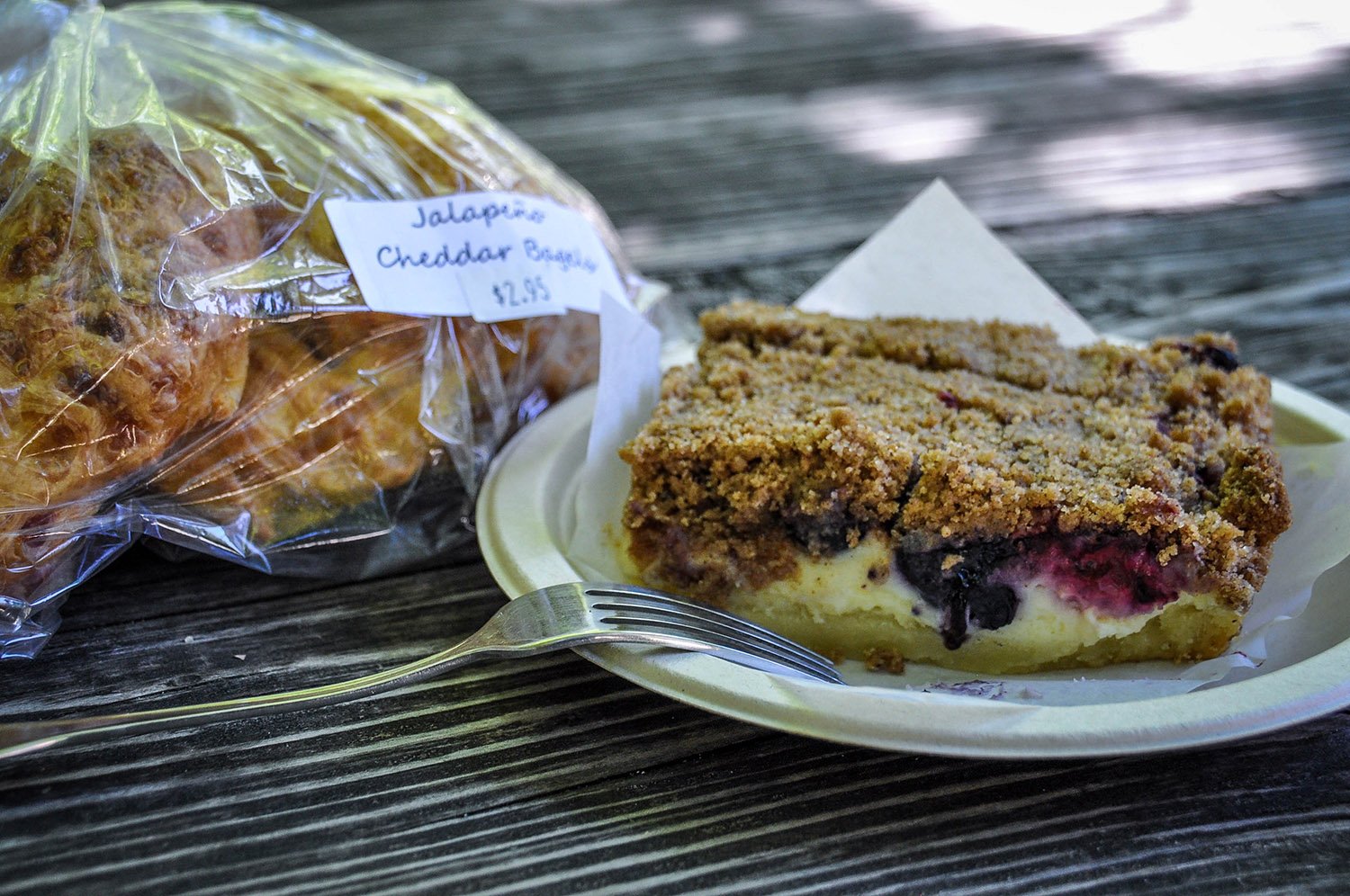 When you get off the ferry, you'll likely see a shuttle bus taking passengers to the town's famous bakery. Hop on board if you're in a hurry, or walk the 2 miles instead if you've got time to spare — you'll get a lovely introduction to the area if you go on foot.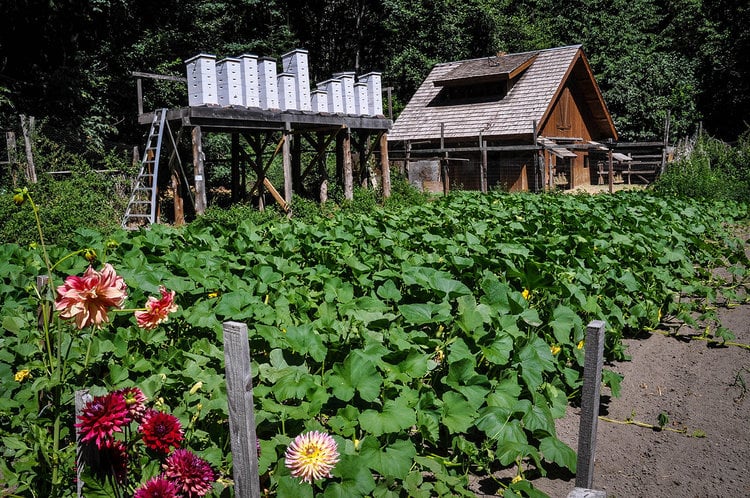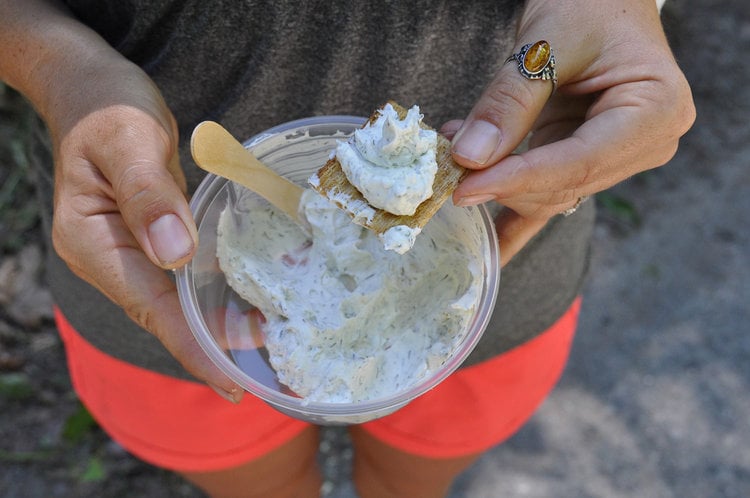 Get fresh goat cheese at The Garden: If you visit Stehekin, you have to visit the sweet man that runs the Garden. It's just a 7-minute walk (heading back to town) from the bakery. The Garden is beautiful with rows of flowers and vegetables. The farmer sells fresh goat cheese and honey that is amazing.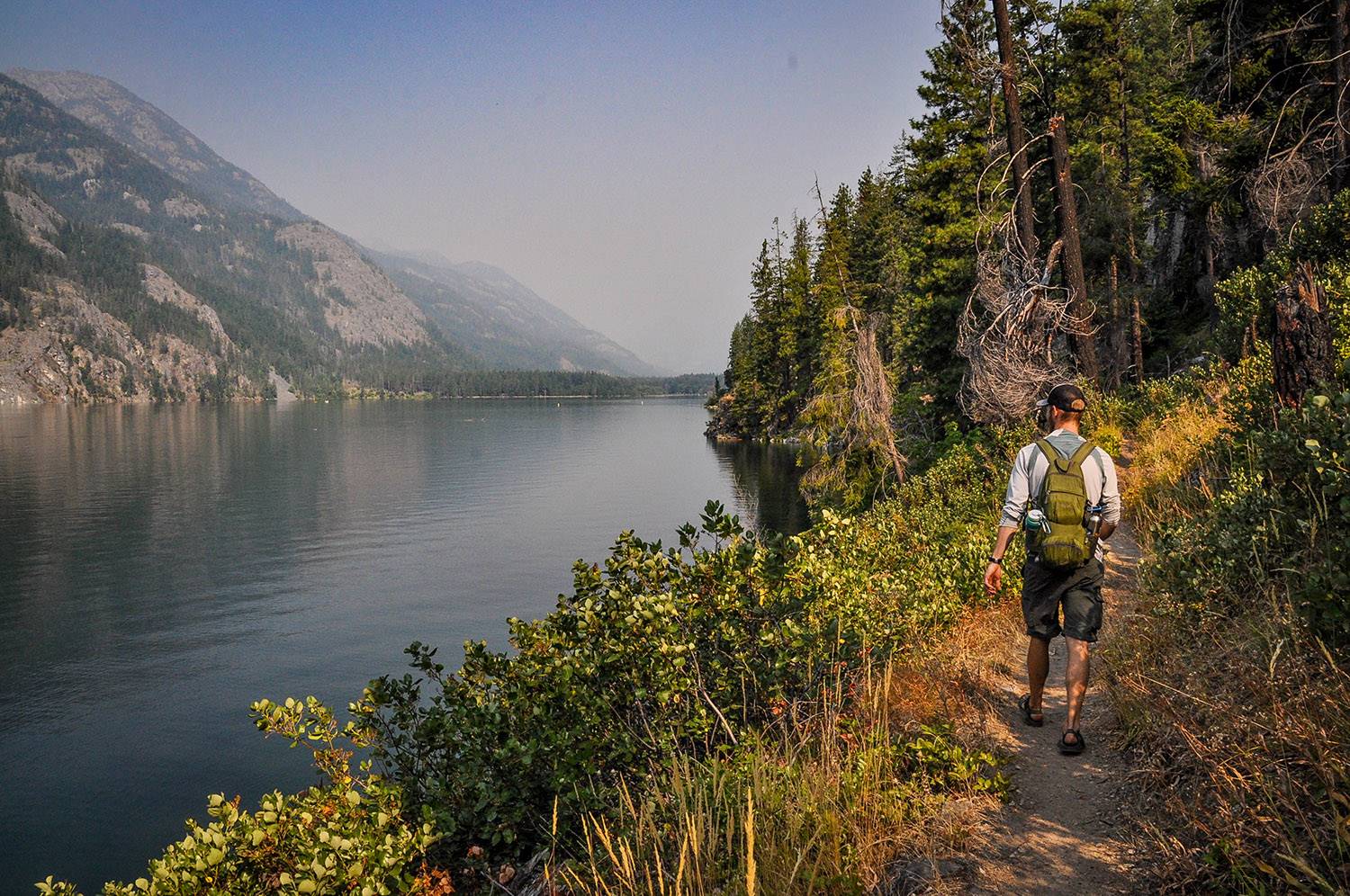 Go Hiking: There are plenty of hikes to do around Stehekin. From the visitors center, you can head south and hike along the Lakeshore trail. It's nice to go for a mile or so, but if you want you can continue for 17 miles back to Chelan. The visitor's center can provide you with a map of many more hikes of all lengths.
Shorter Walks: If you walk north on the road from the bakery, you can reach landmarks like the Old Stehekin Schoolhouse, Rainbow Falls and the Buckner Orchards.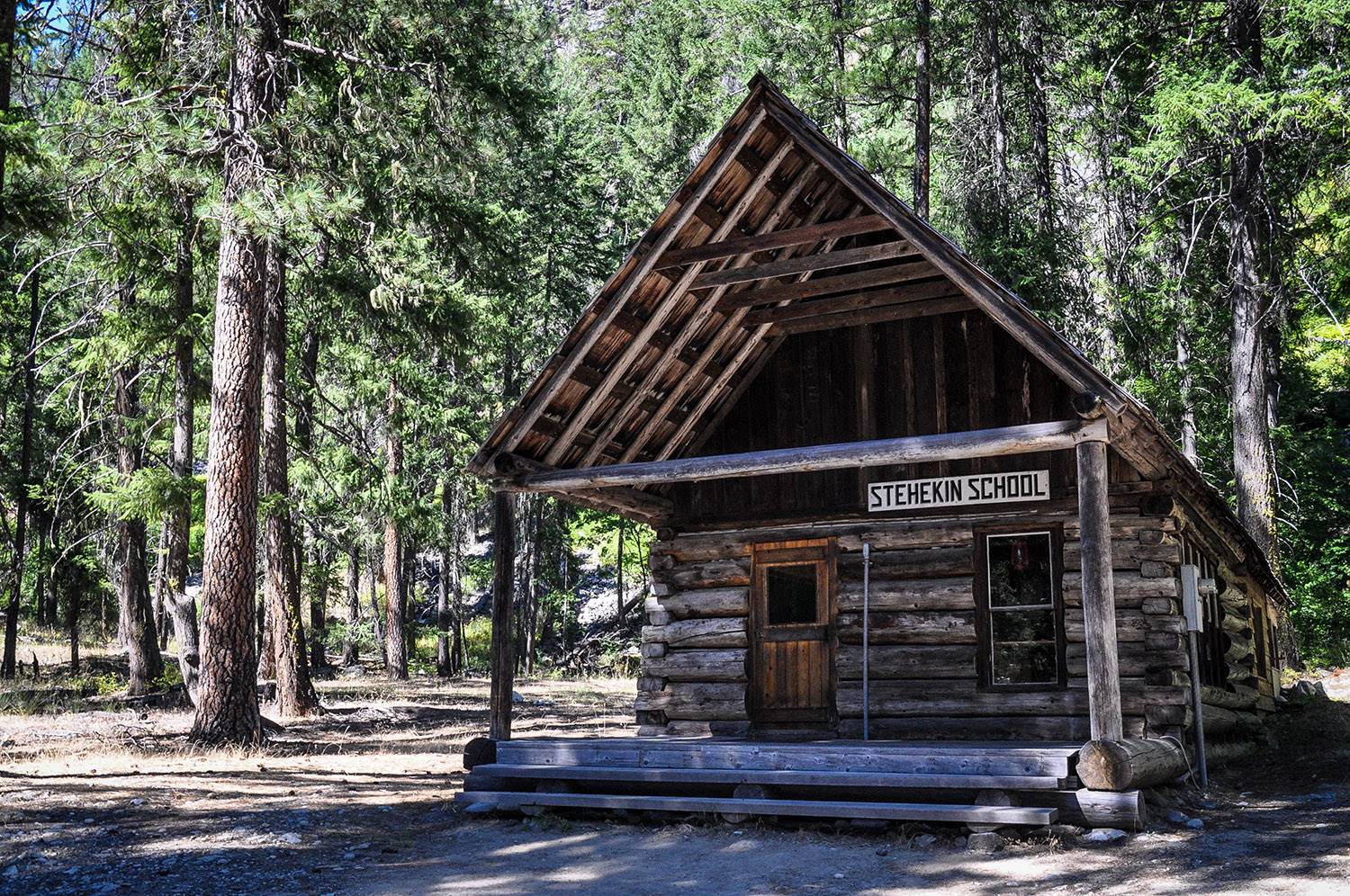 Hitchhike with a local: If you end up walking too far up the road (like us) and not wanting to trek back to town, Stehekin is a perfectly safe place to hitch a ride. And if a local sees you walking in the afternoon hours, they'll likely slow down and offer to drive you. There is only one road and people are extremely friendly.
Go swimming: There are plenty of swimming spots near the visitor center. It's nice on a hot day, but the lake can be pretty cold depending on the season.
Camping in Stehekin
Immediately after getting off the ferry, head to the Ranger Station to choose a campsite. We visited Stehekin in August, and there were still plenty of campsites available at the Purple Point Campground when we arrived at 12:30 in the afternoon.
---
Most epic nature in Washington state
Washington has it all: Mountains, Oceans, Lakes, Forests, Rivers, Valleys and Waterfalls. You'd be hard-pressed to find another state with just as much beauty and diversity of nature.
28. Olympic Peninsula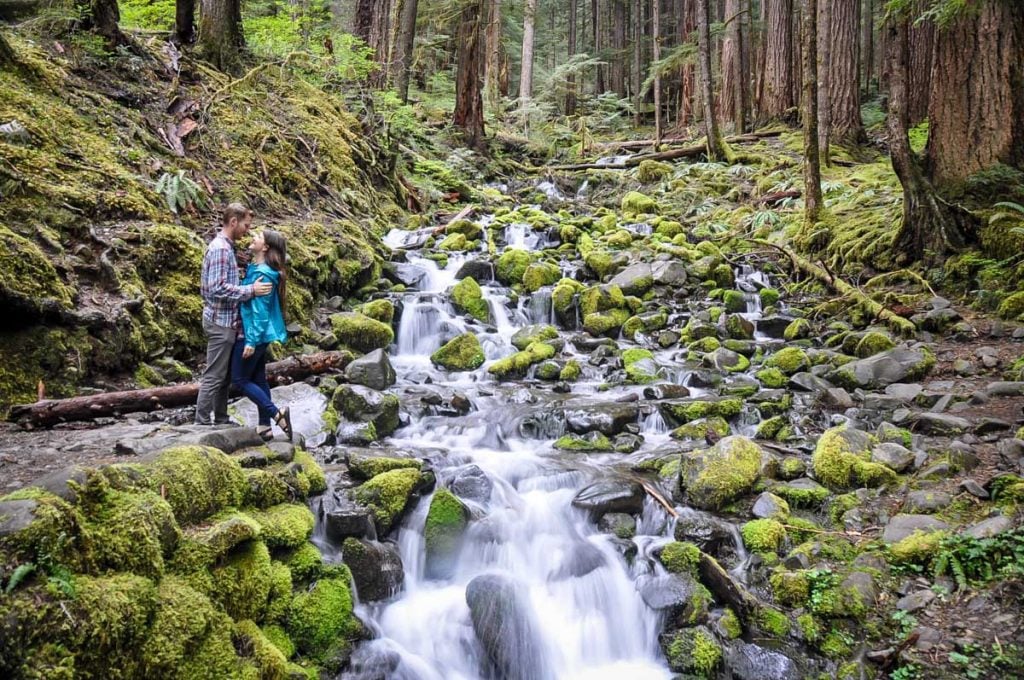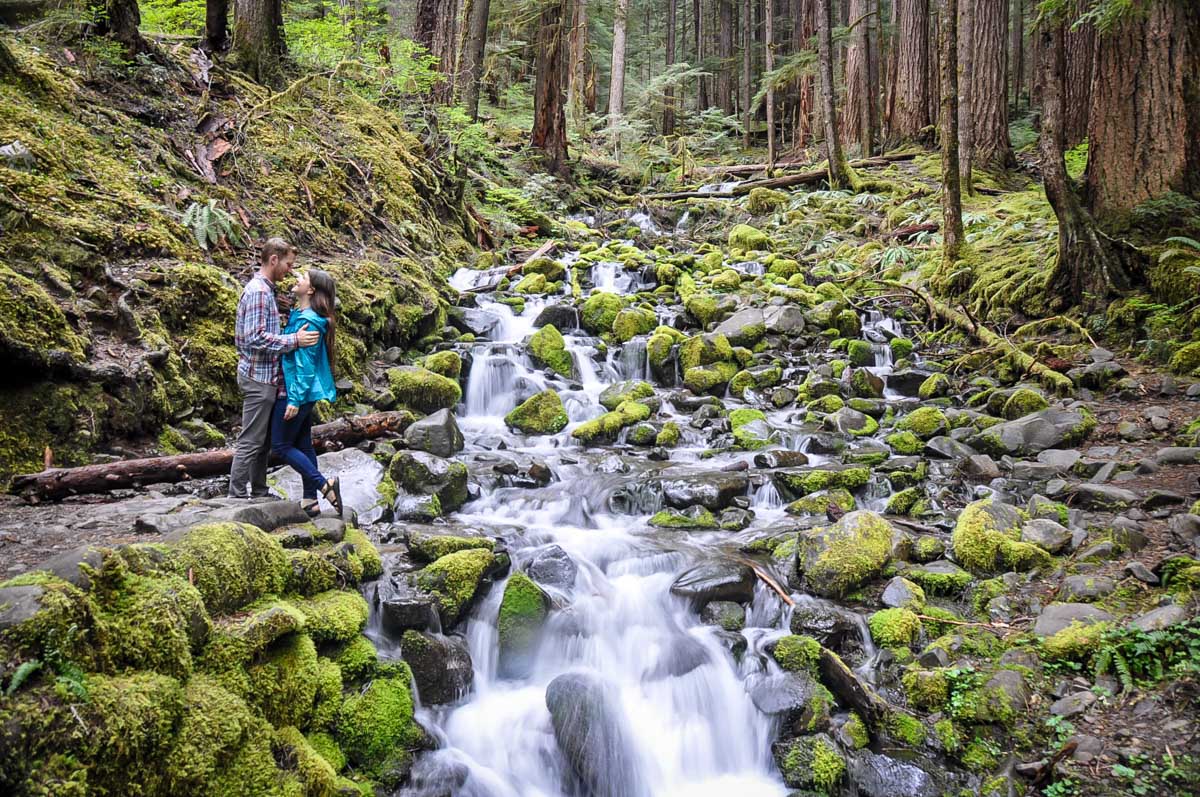 Across the Puget Sound from Seattle, the Olympic Peninsula sits with its wild beaches, towering mountains, dense rainforests, fairytale waterfalls, port towns and Native American reservations. At just about 2 hours from the city, this makes for a great day trip from Seattle.
The Olympic Peninsula (the "OP", for short) is full of so much epic beauty that we have an entire article dedicated to things to do in Olympic National Park. And for hiking enthusiasts, we also have a round up of the best Olympic National Park hikes for all levels and abilities.
Psst! If visiting the national parks is on your bucket list, you may want to look into getting the America the Beautiful Park Pass to save money on entrance fees.
29. Lake Diablo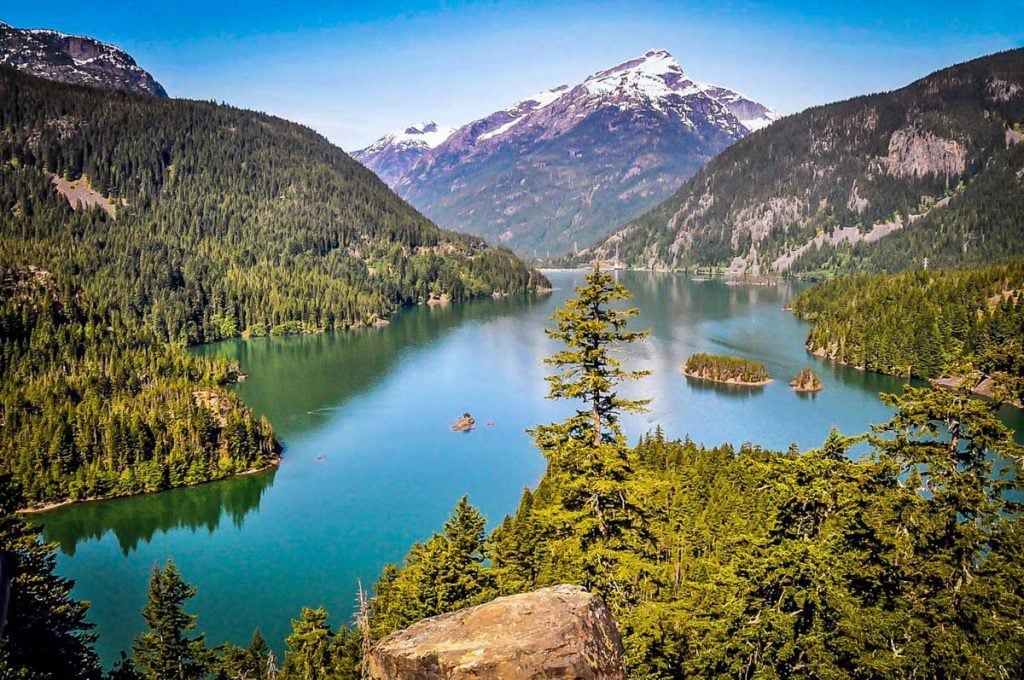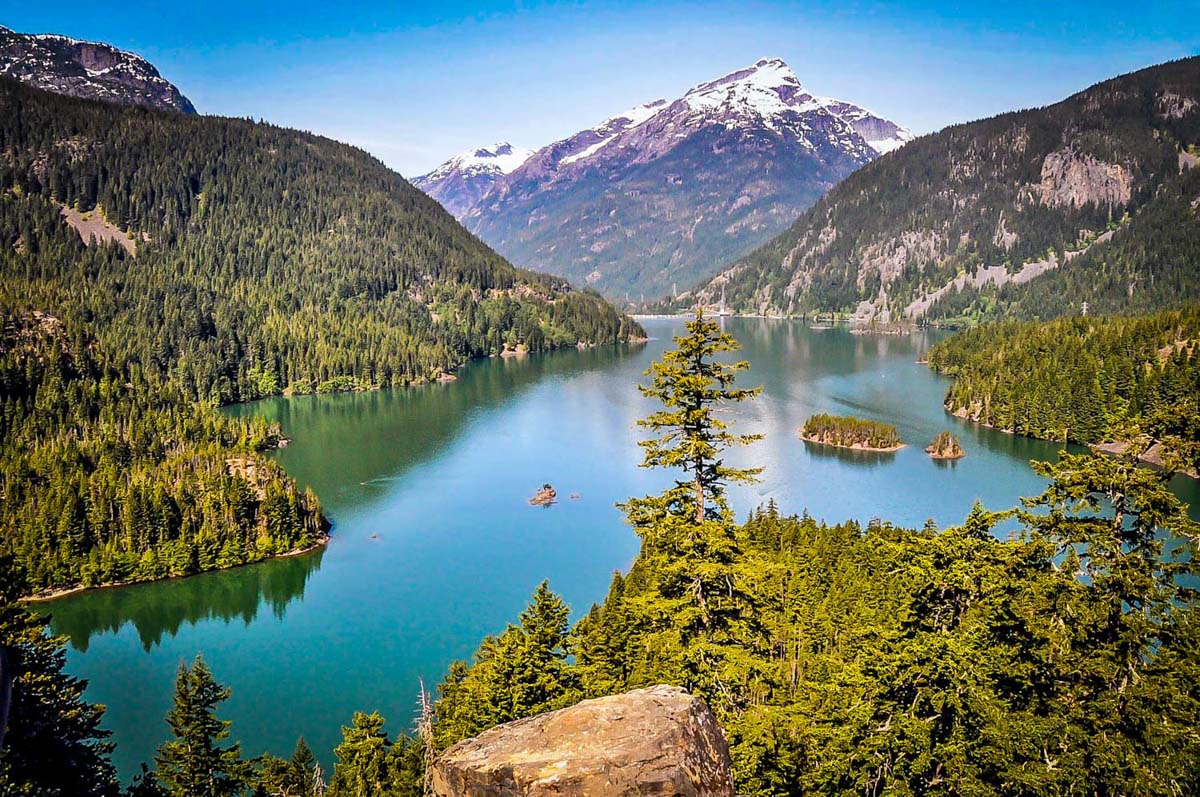 The spectacular turquoise waters of Lake Diablo will make you squint, rub your eyes and make you wonder if you are in fact dreaming. Yes, this is real life, and no, this lake has not been injected with dye.
That milky turquoise water you find in many Washington lakes comes from the sun reflecting onto tiny particals of glacial "rock flour". The turquoise color becomes more vibrant later in the summer months.
Camping near Lake Diablo
There are plenty of camping spots near Lake Diablo. Some of the more popular camping sites are Thunder Point Campground and Colonial Creek Campground.
However, our favorite campsite is the Gorge Lake Campground. It's a small, 8-spot campground with fire pits and toilets, but it is right up next to Gorge Lake with trails that go along the lake. It's far from the busyness of Lake Diablo and a nice home base for exploring. And the best part is it is FREE!
3. Mount Baker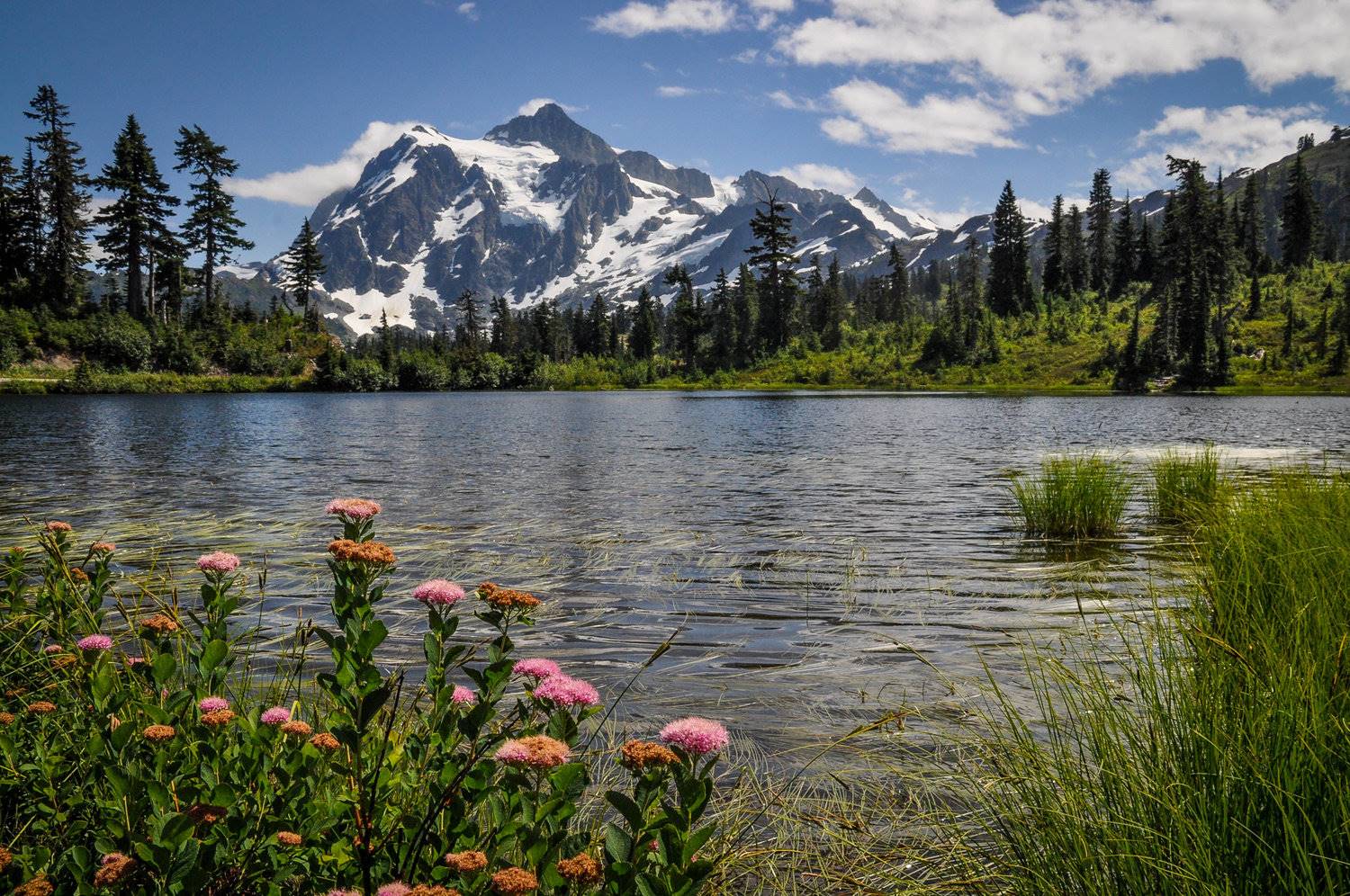 This epic mountain is beautiful year round. Whether you come for the skiing during the winter months, or you prefer to hike when the snow has melted, Mount Baker is a sight to behold. We visited during both the winter and summer and truly can't decide which season we prefer.
Mount Baker in the Summer
With wildflowers, sunshine and clear views of the famous peaks – Mount Baker and Mount Shuksan – summer is the perfect time for hiking and photography in North Cascades National Park.
Hiking around Mount Baker:

Artist Point – Only open in the summer time, you can drive through the Mount Baker Ski Area up to Artist Point where you have 360 degree view of the surrounding peaks like Mount Baker, Mount Shuksan, and Mount Herman. Hiking 1 mile loop.
Chain Lakes Loop Trail – A great day hike for those who are up for a challenge. Distance: 8 miles. Elevation Gain: 1700 ft

Best Waterfall near Mount Baker:

Nooksack Falls: This thundering waterfall is just a short drive off of Mt Baker Highway (542) and is right next to the parking lot. Be careful as there are many signs of the number of people who have fallen in. There is a chainlink fence next to the trails, but we would advise not to lean on it.

Camping around Mount Baker: Silver Fir Campground – Spots line up against creeks that flow into the North Fork Nooksack River and is only 14 miles from Glacier, WA. 15 of the 21 spots are reservable, there is a picnic shelter, vault toilets, and water available. $16 per night.
Mount Baker in the Winter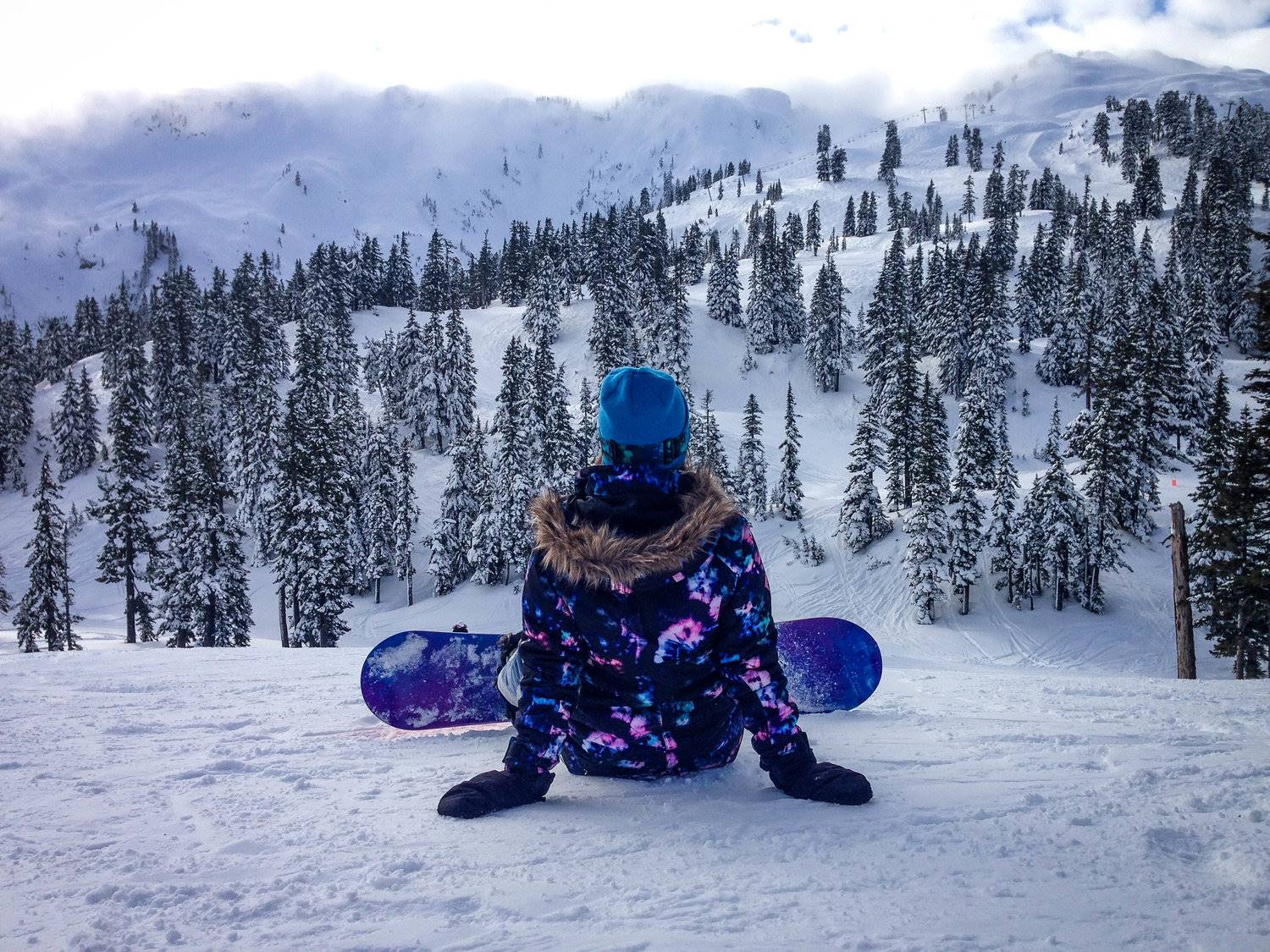 Mount Baker boasts some of the most epic skiing in Washington state. Whether you're looking for resort runs or to get lost in the backcountry, Baker is sure to be any snow-lover's paradise. And if you'd prefer to be on flat ground, you'll be able to find trails for cross-country skiing and snowshoeing in the area, too.
Skiing at Mount Baker. Duh. This is why you come in the winter!
Snowshoeing or cross country skiing
Stop at Wake 'n Bakery for a caffeine fix and breakfast before heading out for the day!
Aprés skiing beer and pizza at Chair 9 (Tip: If you can't decide between 2 specialty pizzas, order it half & half for the same price) and pair your 'za with a craft beer.
Carb up with pasta at well-loved Milano's Pasta Fresca
4. North Cascades National Park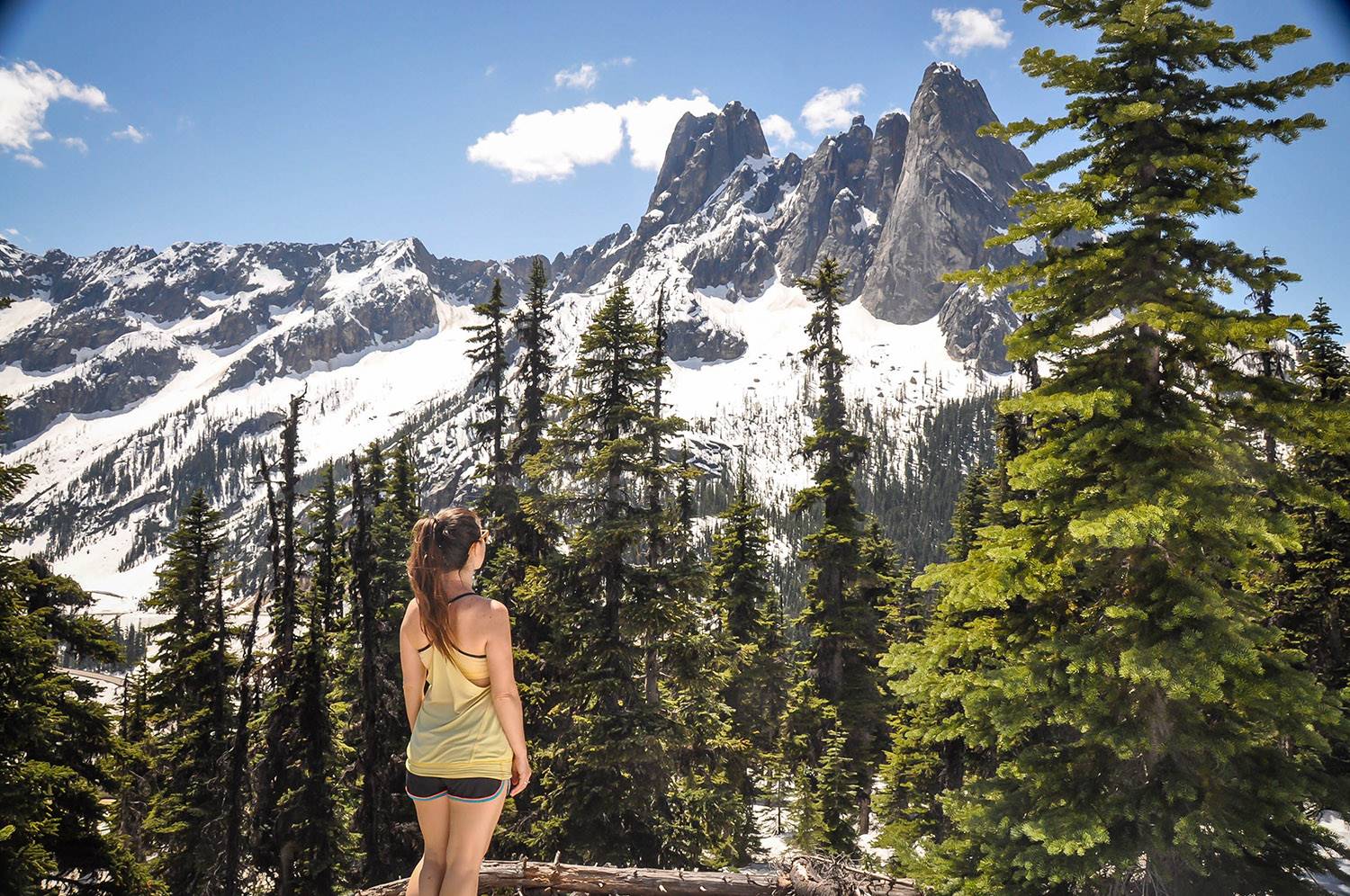 National Parks like Glacier, Yosemite, Great Smoky Mountains, and Yellowstone seem to get all the love. But if you prefer nature without the crowds, you're in for a treat because Washington state's North Cascades is one of the least visited National Parks in the U.S.
In fact, in 2018, North Cascades National Park saw just over 30,000 visitors, while Great Smoky National Park saw 12.5 million visitors in 2019. And when you take into consideration that the North Cascades covers more than 500,000 acres, you'll soon realize that's a lotta wilderness to explore!
Fun Fact: North Cascades National Park has more than 300 glaciers, which is more than any other U.S. national park outside of Alaska! Cool, huh? (Literally!)
Things to in North Cascades National Park:
Hike the epic Maple Pass Loop (7.8 miles total), which is one of the best hikes in Washington state.
Take a scenic road trip along the North Cascades Highway (more on this in #39).
Stop at Washington Pass Overlook for an epic view (pictured above).
Hike to Blue Lake, or join in other adventurers in rock climbing or ski touring in this area.
Check out this otherworldly emerald waters of Diablo Lake (more on this in #29).
Fall in love with the tiny, lost-in-time town of Stehekin (more on this in #26).
Psst! North Cascades is just one of the many cool national parks on the West Coast and western United States that you may not have heard of, but are certainly worth a visit.
32. Lake Chelan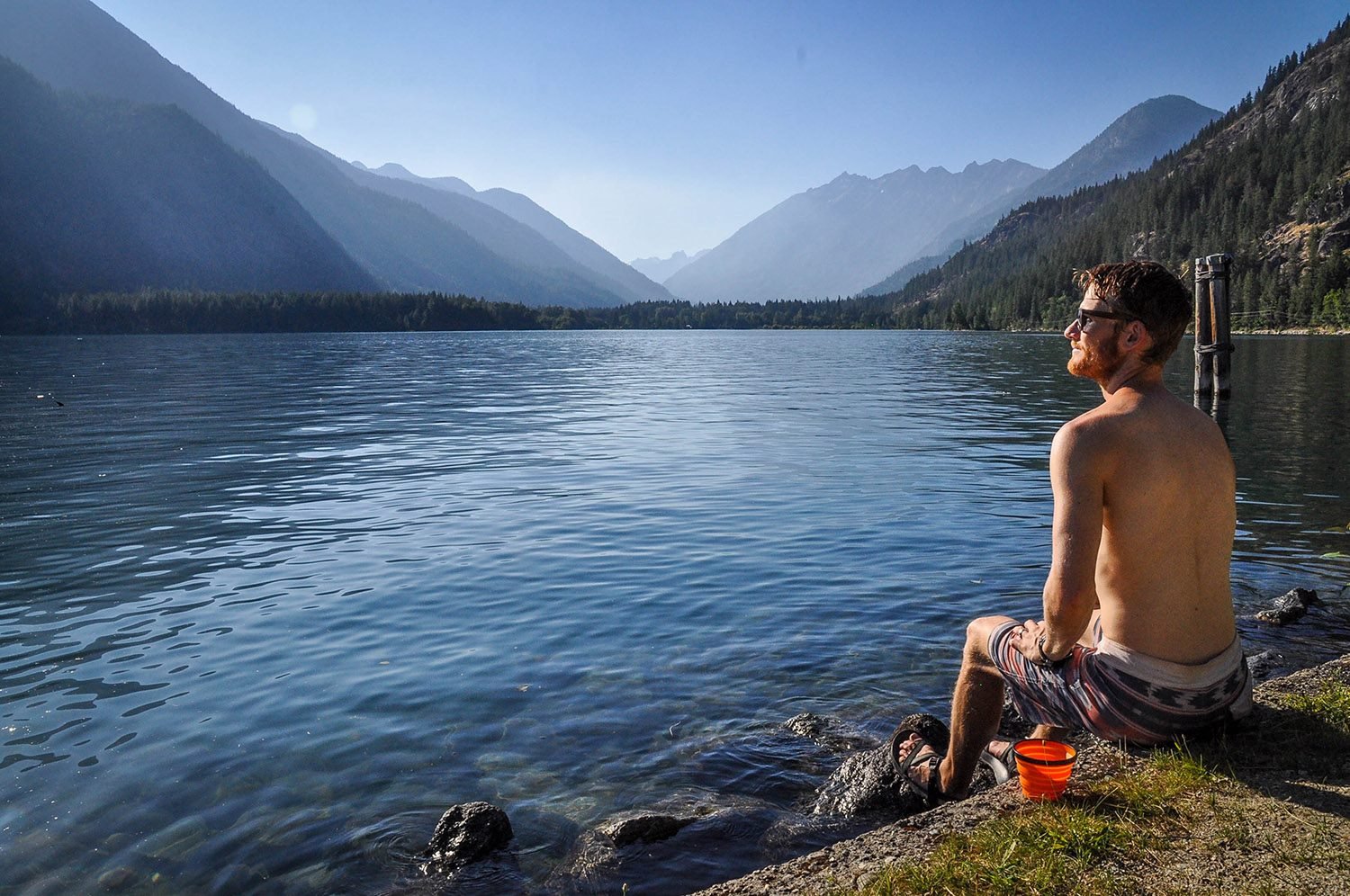 With a length of 50.5 miles long, you might be fooled into thinking this is a river when you first see it on a map. But make no mistake, this is Washington's biggest lake. And it's actually the 3rd deepest lake in the United States (28th deepest in the world!).
Spending a weekend in on the lake is a popular summer getaway for many Washington families. Chelan, with its opportunities to go boating and winery hopping (did we mention there's vineyards nearby?!), is a hotspot for bachelorette parties and girls trips!
But honestly, in our opinion, the town of Chelan itself was lacking a certain "wow" factor. If you're going to make it a stop at Chelan, we would highly encourage you to make it to the tiny town of Stehekin at the end of the lake (info below in #14). It will most definitely be the highlight of your time on Lake Chelan (it definitely was for us!).
33. Mount Rainier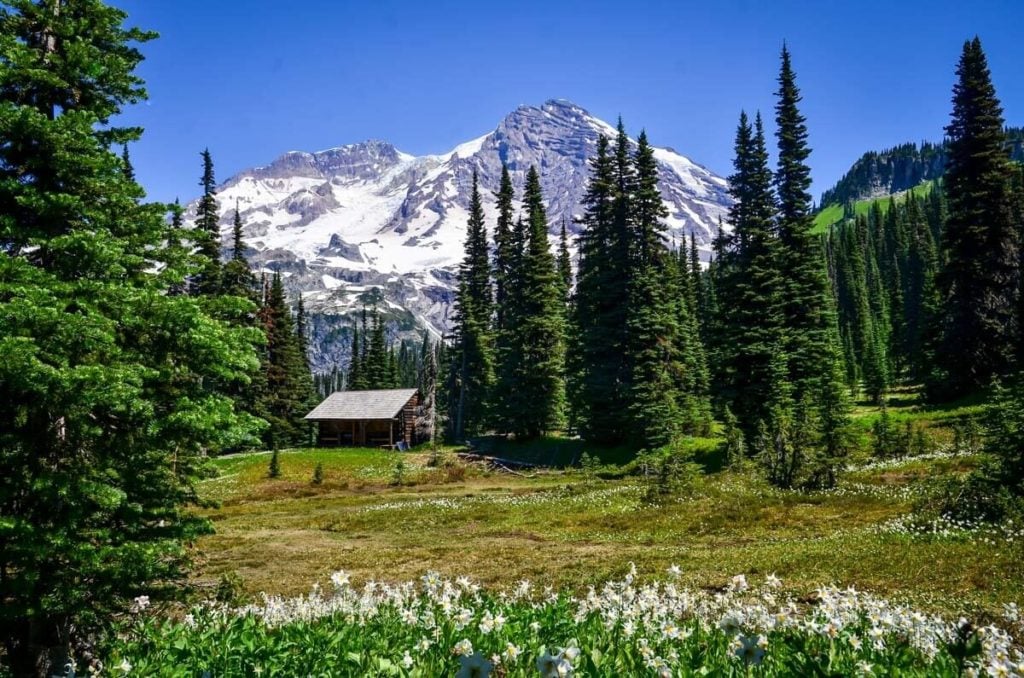 At 14,410 feet (4,392 m), Mount Rainier is the tallest mountain in Washington. This iconic peak can be seen from Seattle on a clear day, but the best way to experience its grandeur is to get up close and personal.
Open year-round, Mount Rainier National Park is the most visited of the national parks in Washington state and made up of 97% wilderness. With some of the most epic vistas accessible even to families with young hikers, this national park is a can't-miss for hikers, climbers and outdoor enthusiasts.
34. San Juan Islands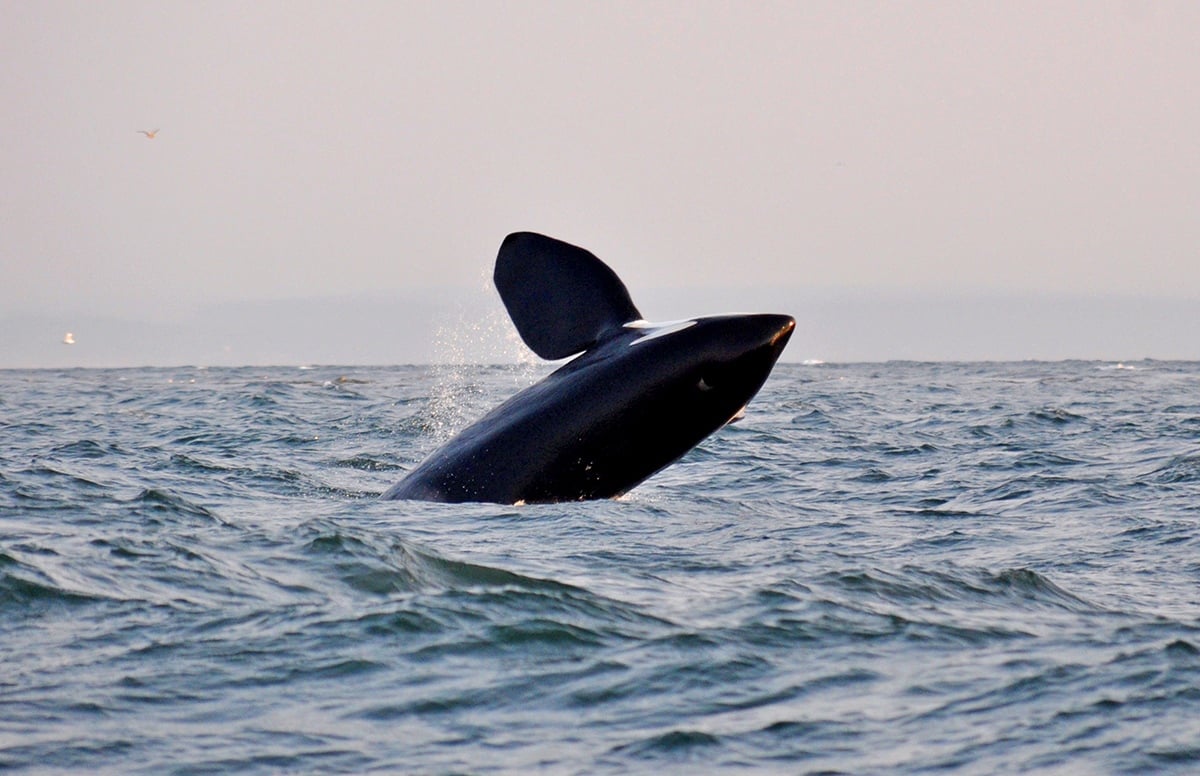 This cluster of islands sit near the Canadian border and are known for their laid-back small towns and epic natural beauty. Oh, and did we mention there are WHALES!
Don't pass up the opportunity to go on a whale watching tour and see these beauties up close. San Juan Island (Friday Harbor), Orcas Island and Lopez Island are the most populated of this archipelago, and have the most choices when it comes to dining and accommodation. Camping on San Juan Island is an option too!
More info: Read up on the San Juan Islands and start planning your trip!
35. Mount St. Helens
This active volcano lies 96 miles south of Seattle. Mount St. Helens is most famous the major eruption in May of 1980 that killed 57 people, making it the deadliest and most destructive eruption in US history.
Visit this natural and historic landmark and spend your time at the visitors center with interpretive displays, or get out on the walking trails and explore caves and lava-carved canyons. If you're up for getting your sweat on, there are some great hiking trails near Mount St. Helens for all levels and abilities.
More info: This website has visitors center hours and information on planning your visit to Mount St. Helens.
36. Colchuck Lake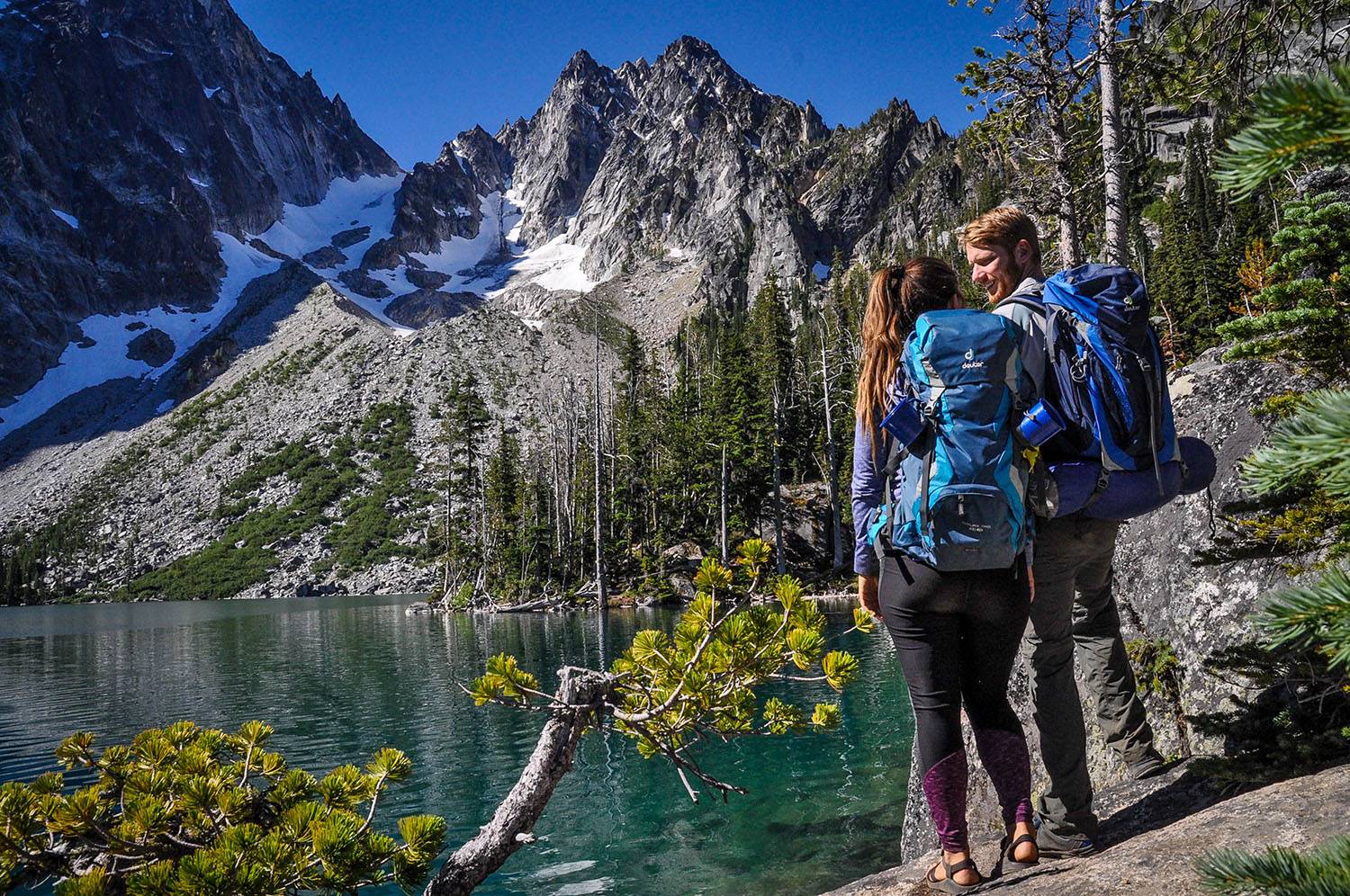 Relatively easy to access, Colchuck Lake makes a wonderful day hike and an even better place to spend a couple nights beneath the stars. Note that you will need a permit to camp here during most times of the year.
This alpine lake is a stunning blue that has to be seen in person to believe. Colchuck itself is a marvel, but it is an entry point to the Enchantment Wilderness (see #17 for more info), easily one of the most naturally beautiful places we've ever seen in person.
The hike to Colchuck: This moderate hike is 8-miles round trip and has a 2,280-foot elevation gain, so be sure to bring plenty of water and start early if you're planning to return. Check out our Colchuck Lake trail guide for all the info you need to plan your hike.
Insider tip: After completing your hike (or camping trip!) to Colchuck, head into Leavenworth and grab a beer at one of the many restaurants, breweries or beer halls. Find more info on Leavenworth in #10.
37. Lake Valhalla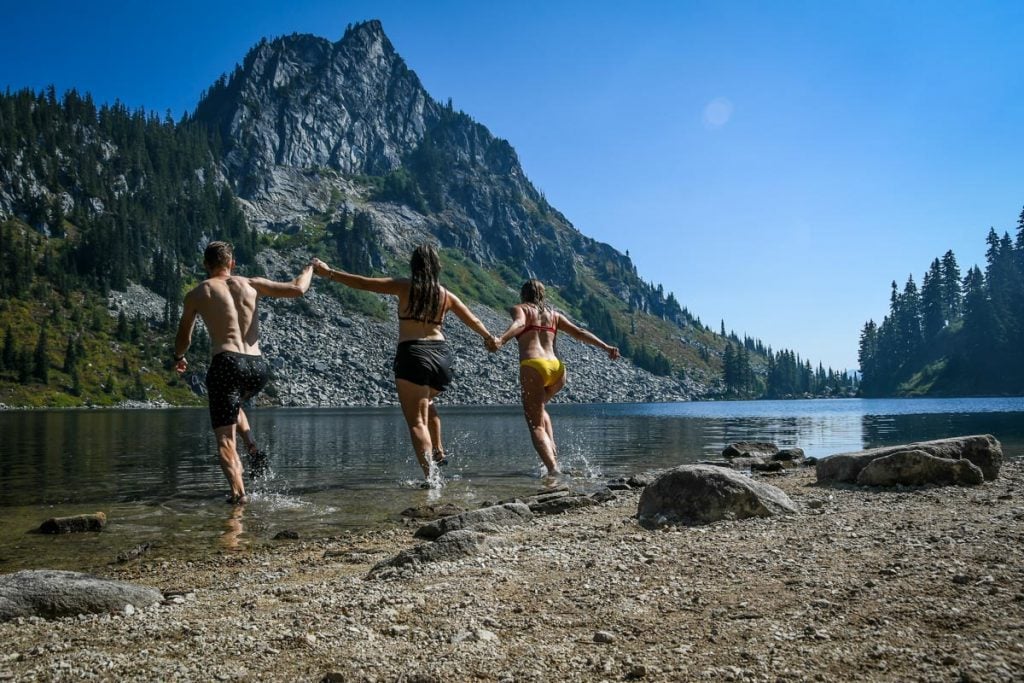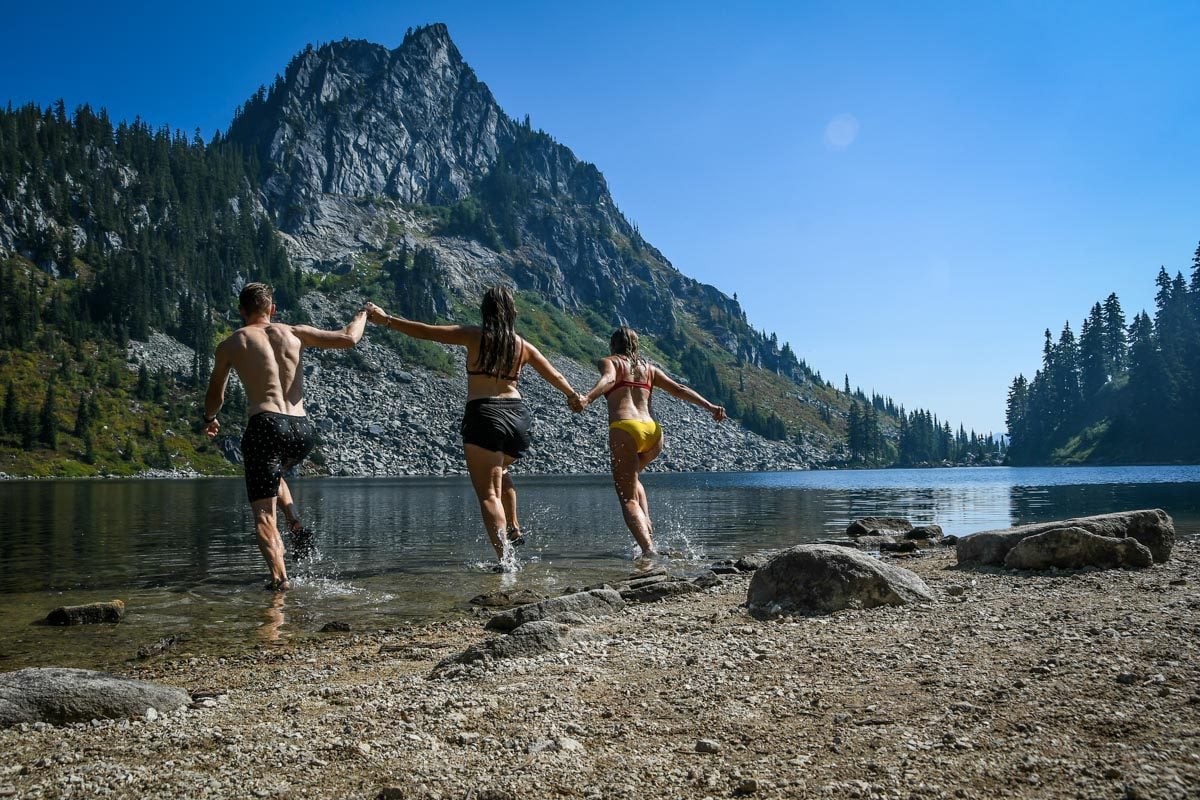 Don't let its position on this list fool you, Lake Valhalla provides ample opportunity for outdoor adventure in any season and is one of our top things to do in Washington state. Imagine snowshoeing in winter, picnicking amongst wildflowers in late spring, swimming in the summer, and strolling through gorgeous fall foliage in autumn.
There are several trails you can take to access the lake, depending on which direction you're coming from and how difficult a hike you're looking for.
The Smithbrook Trailhead is the easier trail, approaching from the east. A moderate 3.6-mile (one way) trail, also popular with snowshoers in the wintertime. This route is less scenic but has more shade and a more manageable incline.
The slightly longer Lake Valhalla Trailhead follows part of the PCT and offers awesome views of Stevens Pass. The 7-mile round trip trail has a bit more elevation gain as the easier route, and more ground to cover.
Check out our Lake Valhalla hiking guide on our sister site for all the info you need to plan your hike.
---
Best scenic drives in Washington state
Washington state has some incredibly scenic drives through mountain passes and past rushing streams. This is the perfect part of the United States to set off on a road trip with a great playlist and a car full of snacks.
You will need to plan ahead a bit however, because many of the scenic roads in Washington are not open until snow has been cleared off. The dates vary each year, so you'll have to do a little bit of research before setting off on your road trip!
38. Drive along the scenic Mountain Loop Highway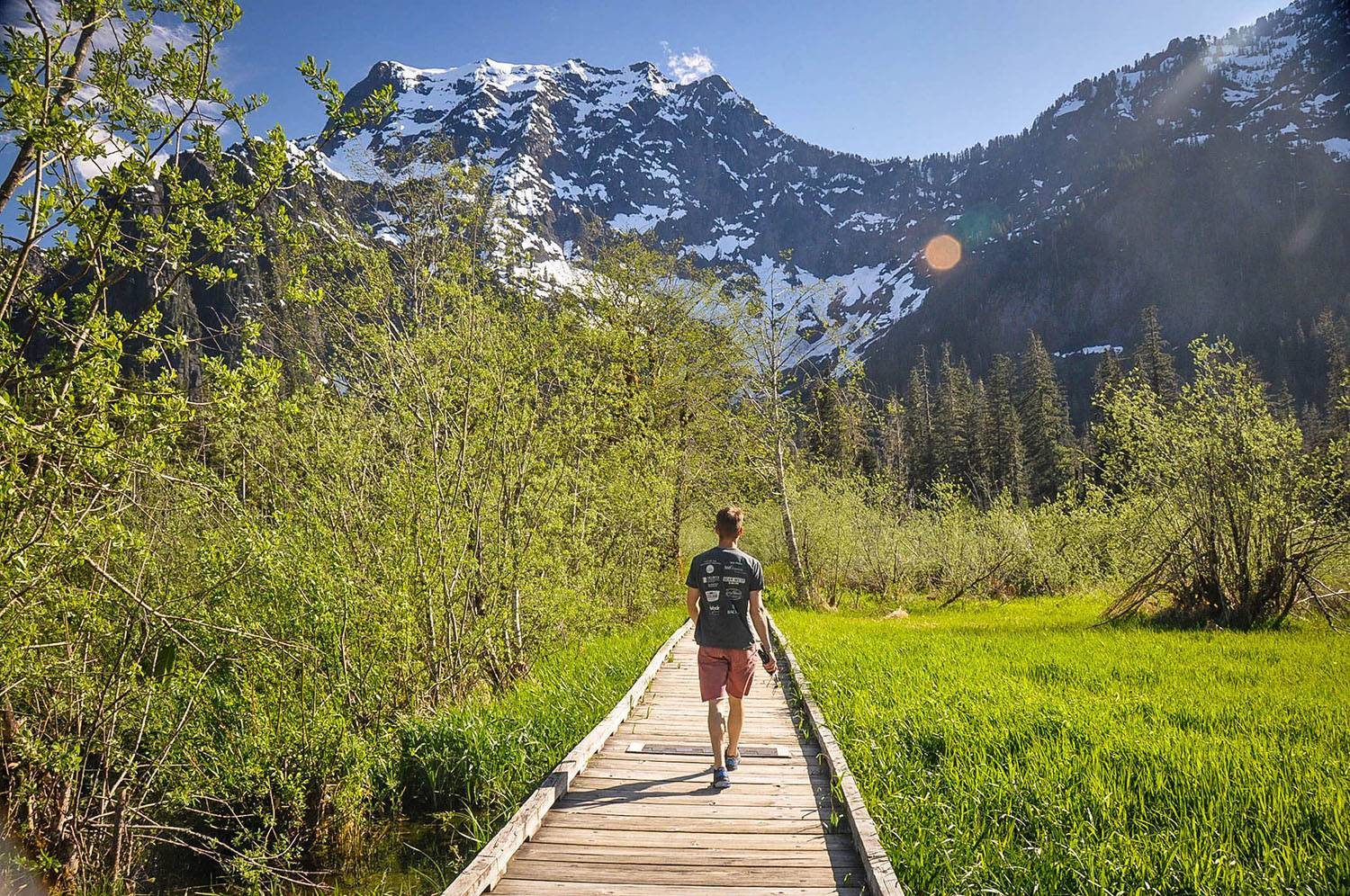 This scenic highway loops through the western section of the Cascade Mountains, from Granite Falls up and around to Darrington. You'll be rewarded with stunning mountain views, rushing rivers and ponderosa pines along the way, so be sure to pull off every so often and enjoy the view. A drive along this 52-mile (84 km) scenic highway makes a perfect summer road trip.
Whether you simply drive through the loop, which should take 2 – 3 hours, or you spend a few days exploring all this area has to offer, this stunning place is a good escape from the city. A road trip on the Mountain Loop highway will allow you to enjoy amazing views without the crowds of more popular areas in the state.
Beware: There is an 14-mile section of the highway that is unpaved over Barlow Pass (after Silverton to just before Darrington). When we arrived in mid-May, this section of the highway was not open, so we had to turn around.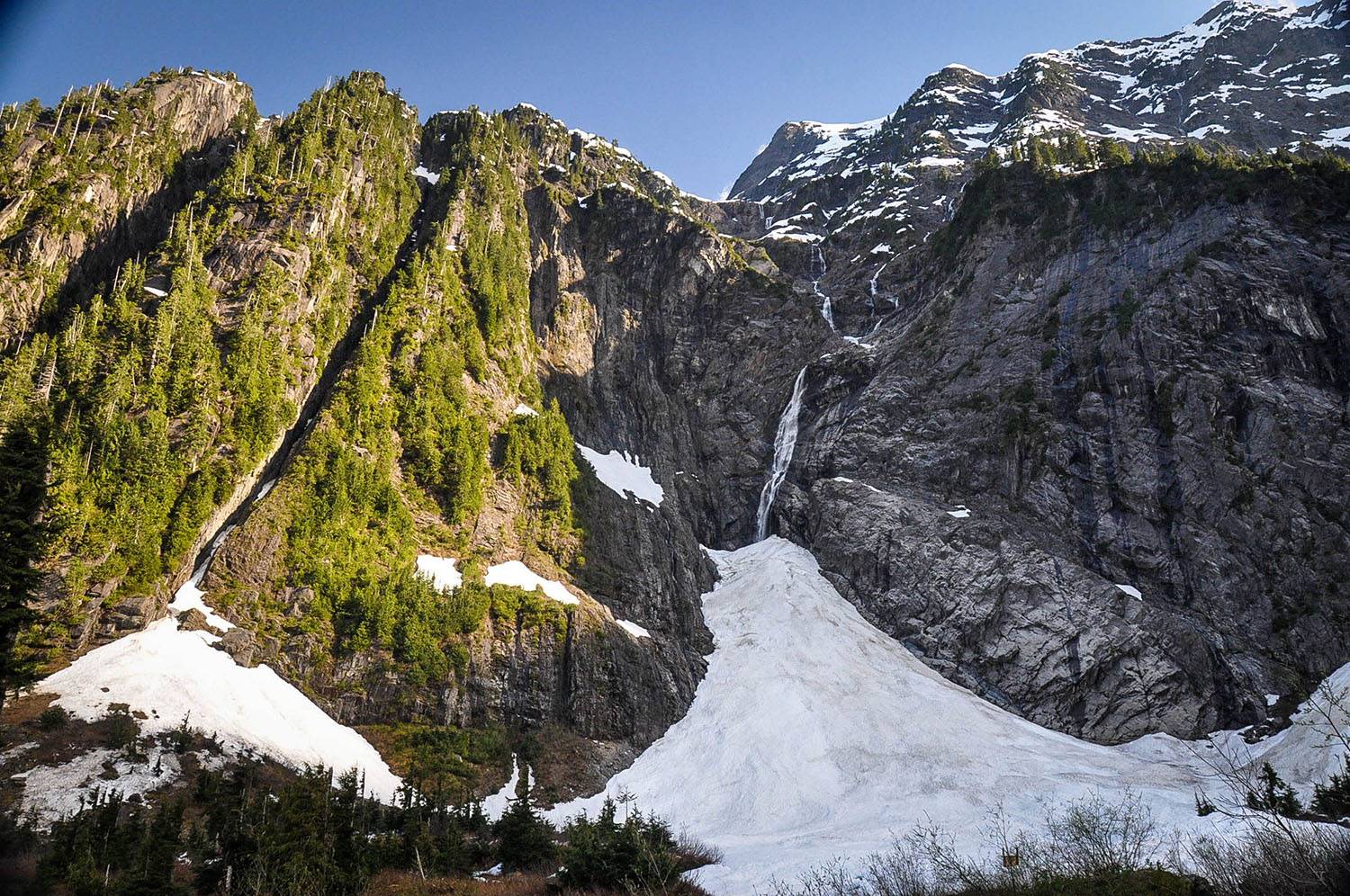 Things to do on the Mountain Loop Highway
Ice Caves: One of the more popular stops along the highway are ice caves, though they are sometimes closed depending on the time of year.
Go Hiking: There are many hiking trails along this highway, so just pull over when you get the urge to get your heart pumping. Here are a handful of the most popular hikes in the area:
Tips for your trip to the Mountain Loop Highway
Stop at the Verlot Public Service Center to get information about the trail conditions, pick up maps and talk to the friendly owners about the history of this area. It's quite interesting!
Stock up on food and ice. There aren't many shops or restaurants along this highway (aside from Granite Falls and Darrington). If you plan to camp, bring your own food and snacks. And be prepared with a full tank of gas.
Camping along the Mountain Loop highway
There are a smattering of campgrounds along the highway, but we were advised to skip those and simply pull over on the side of the road where there are frequent pull out areas. It is legal and safe to camp here, and we loved pulling our campervan over whenever we felt like it. (Though if you're tent camping it may be more comfortable in an actual campsite, and you won't have trouble finding one.)
"Glamping" on an Alpaca Farm
If you prefer something a little bit more luxurious, why not spend the night at an alpaca farm?! Yes, we're serious! Paca Pride makes a perfect place to base yourself while exploring all the Mountain Loop Highway has to offer. This guest ranch is just outside of Granite Falls (only 55 miles from downtown Seattle!), and the onsite yurt is beautiful. And if you prefer to "rough it", you can bring your own tent and set it up on their covered platforms.
39. North Cascades Highway (Highway 20)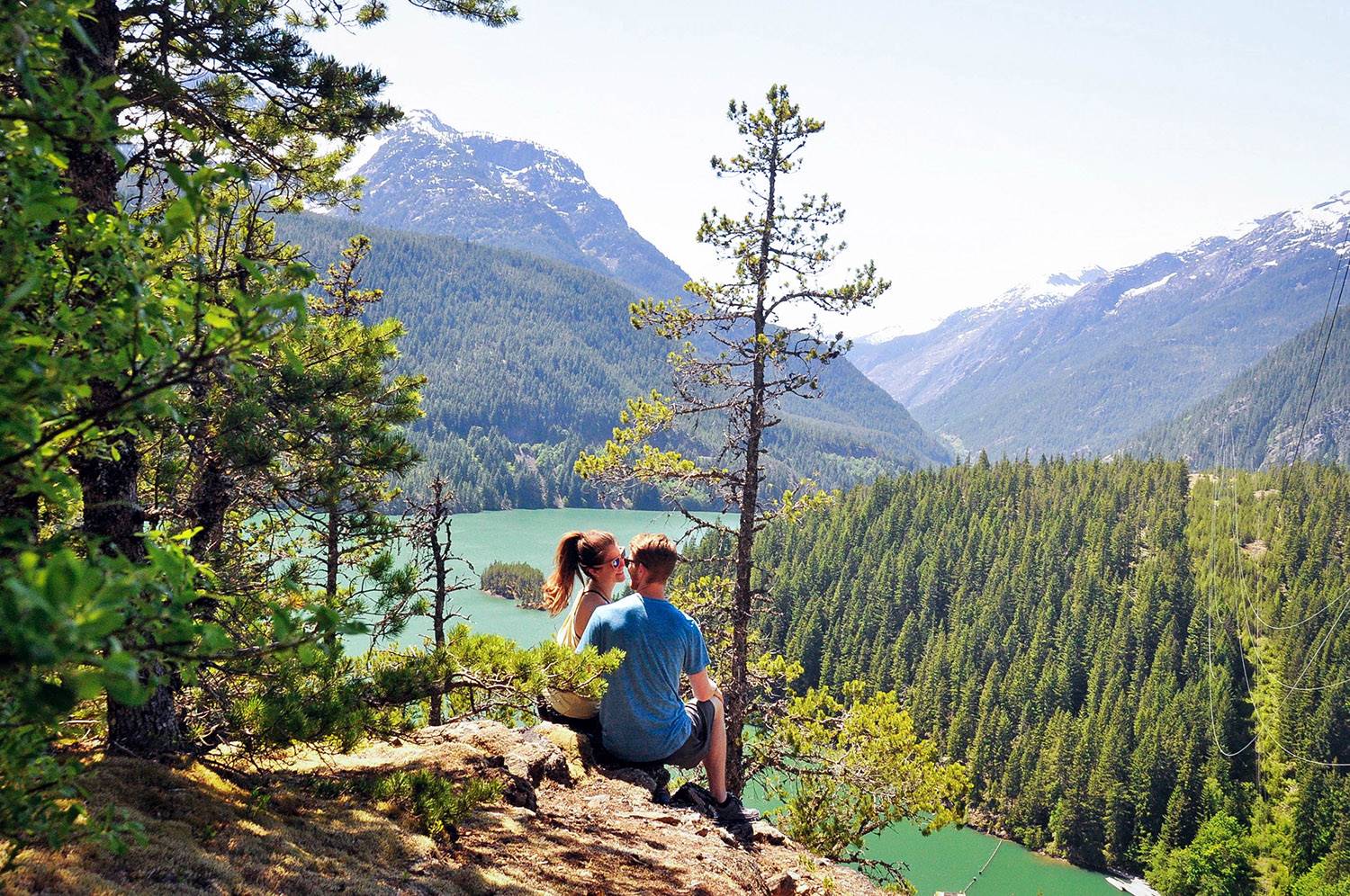 One of the most beautiful drives in the USA is the 127 miles from Sedro-Woolley to Winthrop across Highway 20, otherwise known as the North Casacades Highway. You'll pass by Lake Diablo, mountain passes and countless hiking trails.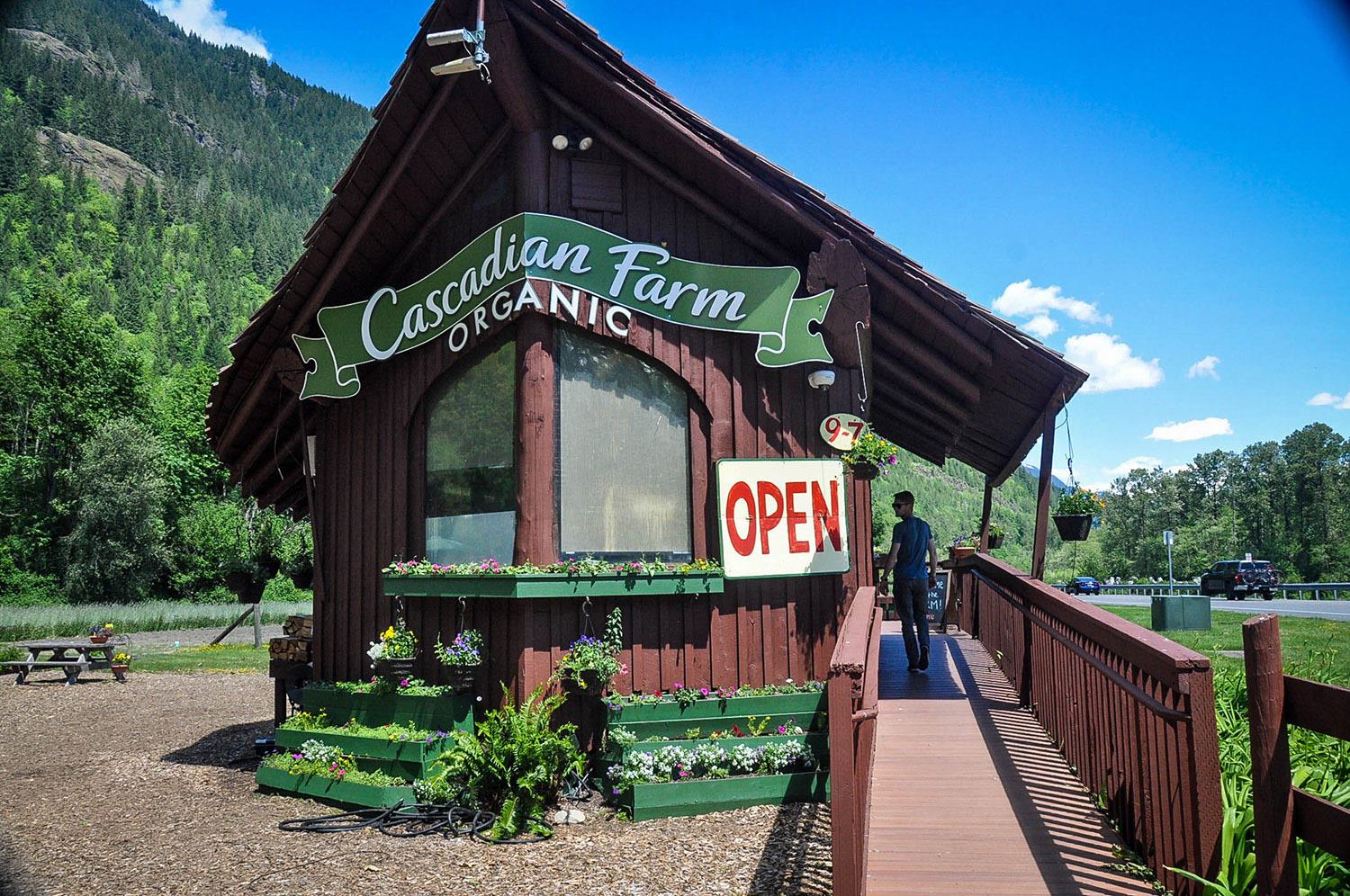 Hot Tip: I'm going to let you in on a secret along Highway 20, and if you take my advice and pull over, you will not be disappointed!

Headed east on Highway 20, just 3 miles past the tiny town of Rockport, you'll see the Cascadian Farm Roadside Stand on your left. Don't pass it by! Park your car, head into the small shop and order a raspberry milkshake, which is made with their homegrown raspberries and homemade ice cream.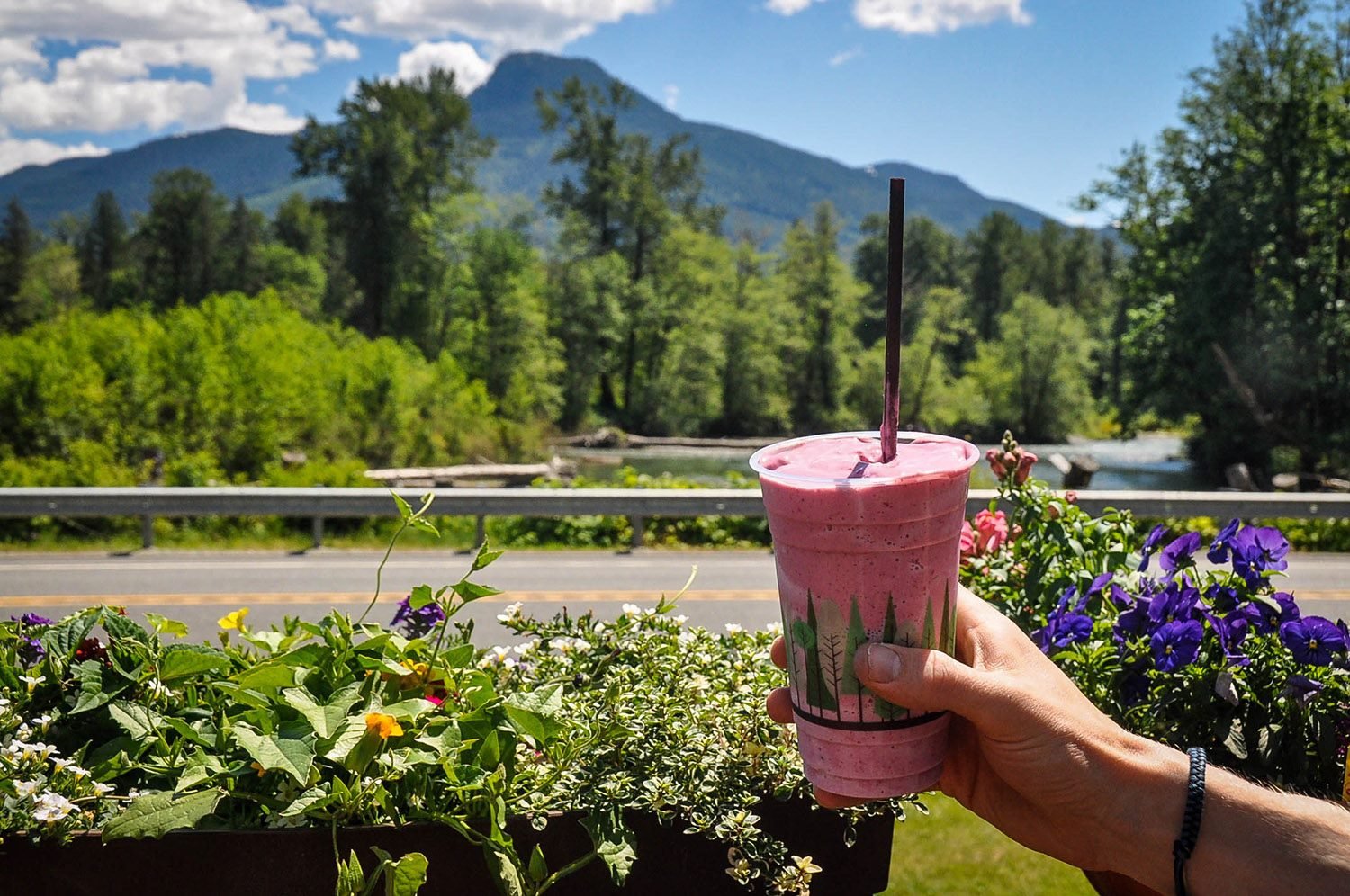 At $7 for a large milkshake, it ain't cheap, but you will not be disappointed. Enjoy it under the sunshine in their outdoor seating area.
Washington Pass Overlook (hiking, lake, backcountry skiing)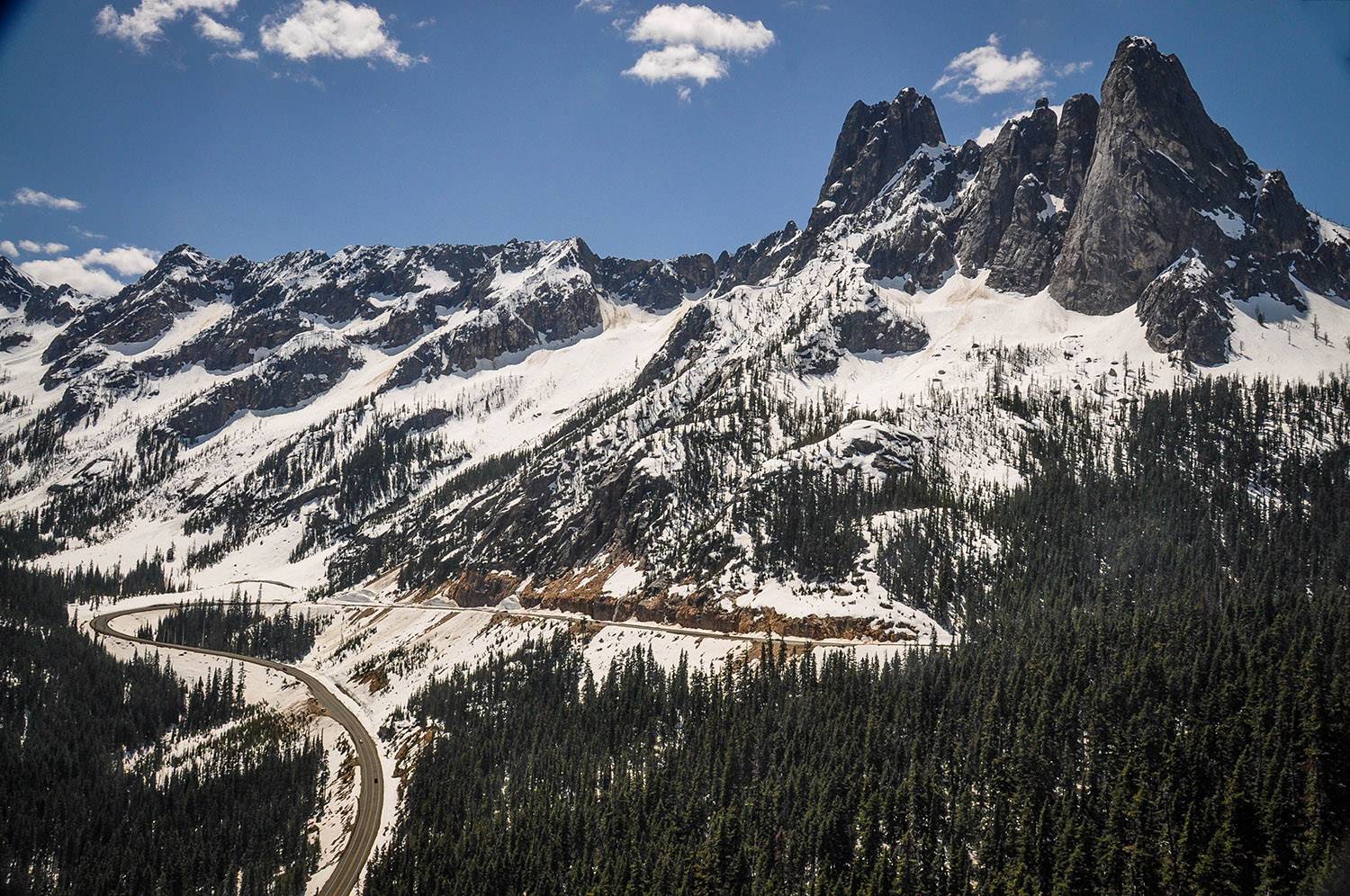 Okay, so you're cruisin' along the North Cascades Highway and all the views are gorgeous, but then BAM, you see it: The Liberty Bell. This spire rock formation is enough to make you slam your brakes and reverse to the nearest parking lot.
Whether you're just stopping for a photo from the overlook (just a quarter mile from the parking lot), you want to get a short hike in, or you want to backcountry skiing and climbing all in one stop (we saw people doing it!), Washington Pass is not to be missed.
At 5,500 feet, this pass is the highest part of the North Cascades highway, and well worth a visit.
40. Stevens Pass Greenway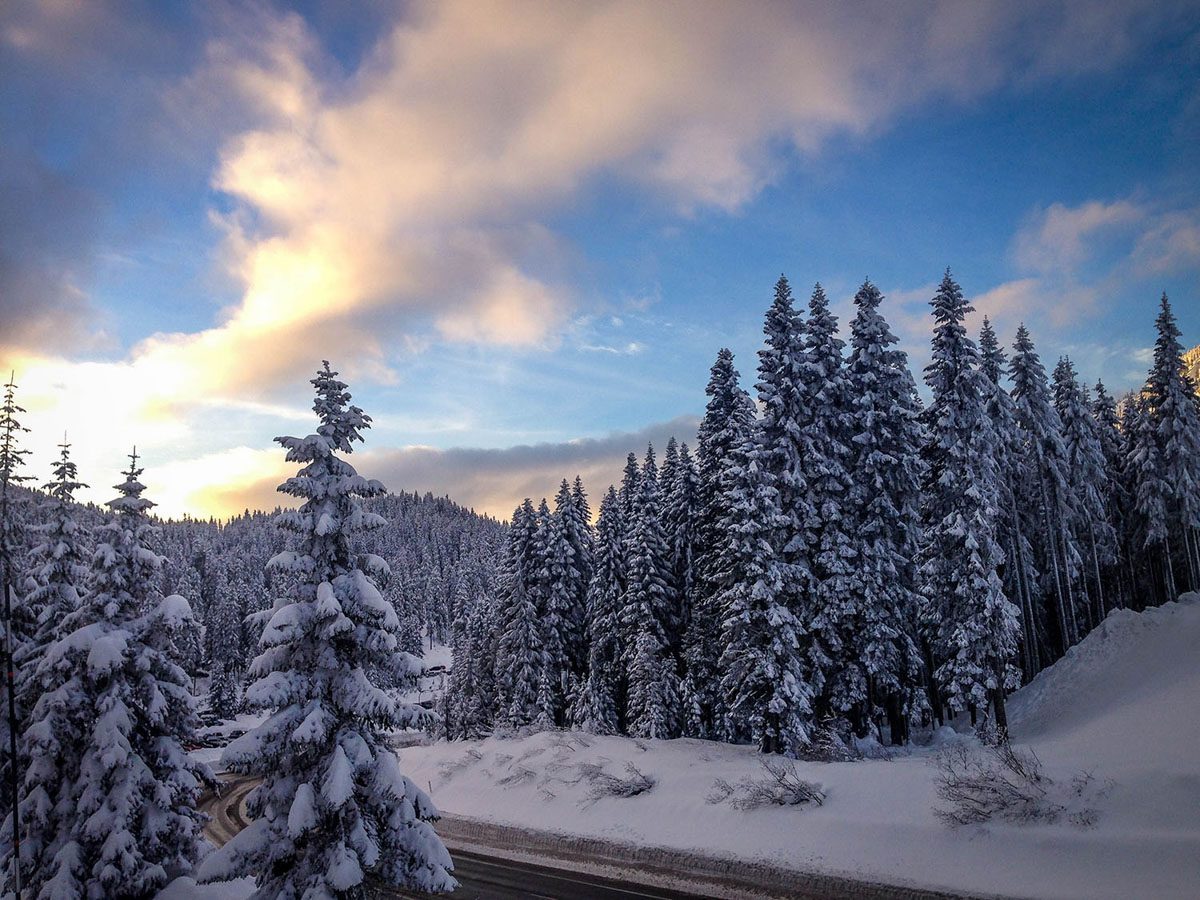 Follow the winding Skykomish River through farmland as you head towards the jagged peaks of the Cascade Mountain Range on the Stevens Pass Greenway. A scenic byway in its own right, you'll pass through quaint small towns like Sultan, before ascending the 4,061-foot Stevens Pass, providing mind-blowing views year round.
Many travelers coming from Seattle simply zip through Stevens Pass on their way to Leavenworth or other eastern Washington destinations. However this stunning area is worthy of one—or even several—days of exploration.
Top Things to Do in Stevens Pass
Check out the Stevens Pass ski area. While small, this resort has many highly technical runs due to the area's steep peaks (see #14 on this list).
Explore miles of alpine trails in the summertime. Note that some of the most striking views in Stevens Pass require full-day hikes.

If you want to attempt a summit hike in Stevens Pass, Beckler Peak is a tough but jaw-dropping option.
Thunder Mountain is another one of our favorites.

Stop at Sultan's Bakery for the best doughnuts you've ever tasted! (See #21 on this list)
Try bouldering or climbing at the Index Town Wall, supposedly one of the premier rock climbing spots in the country.


---
Are you planning a trip to Washington?
We've had the privilege of calling Washington state "home" for a while and we have tons of resources to help you plan your trip. Start with our Washington homepage and be sure to check out the articles below. Leave us a comment if you have any more questions!
Save this article on Pinterest for later!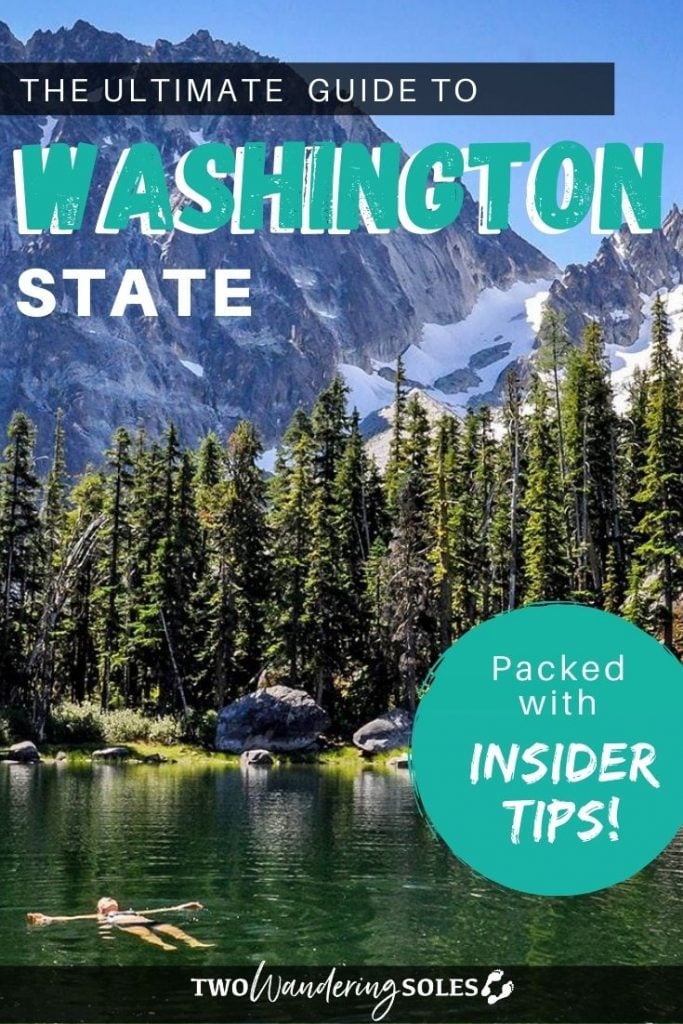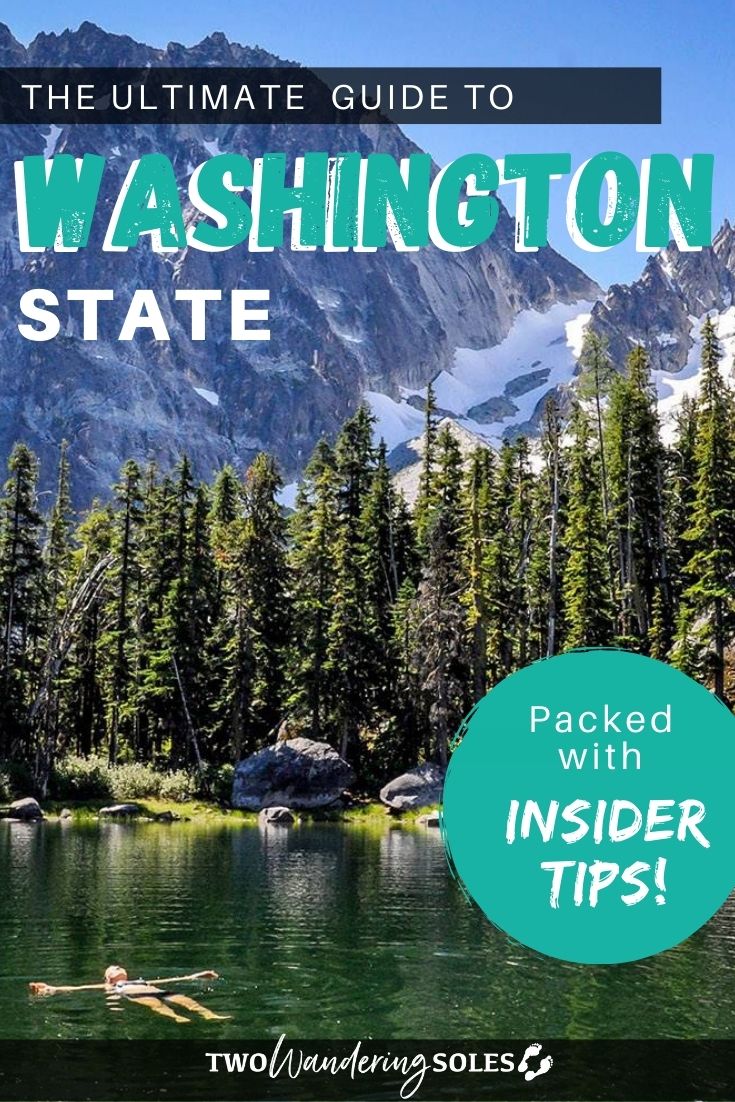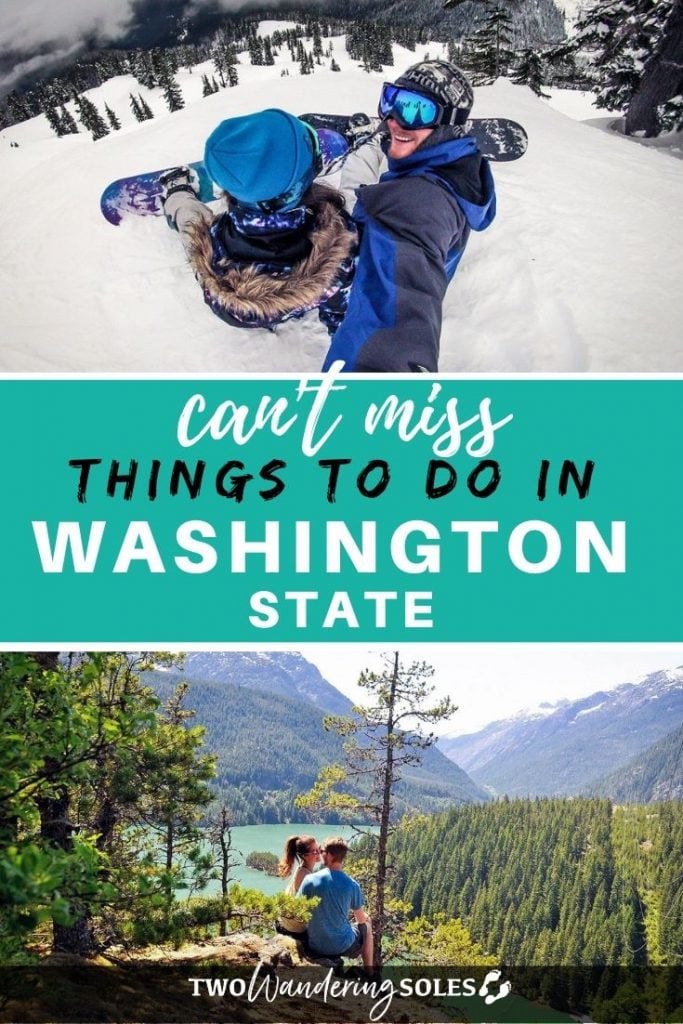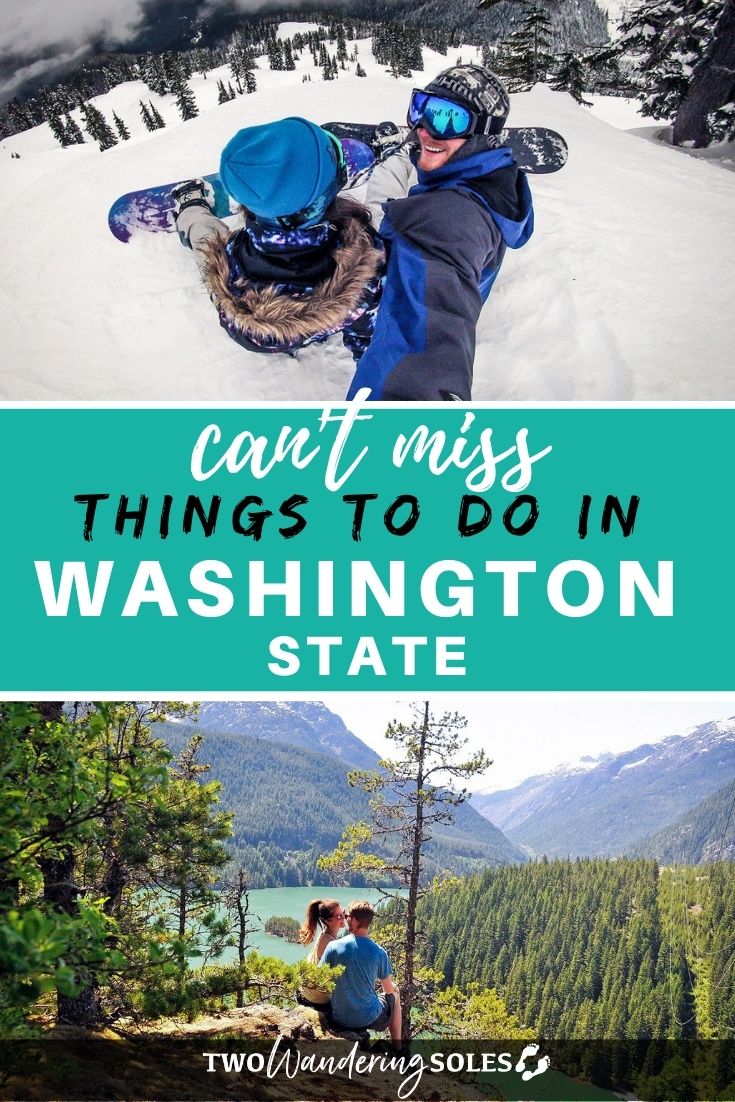 Have you traveled to Washington state?
What is your favorite spot? Would you add anything to this list? Let us know in the comments below.