Instagram makes #VanLife look like a dream. And it is… 90% of the time. But what about the 10% that nobody talks about? We're about to break down the worst parts of vanlife. The stuff that doesn't make it onto Instagram. If you're considering converting a campervan, this is a must-read!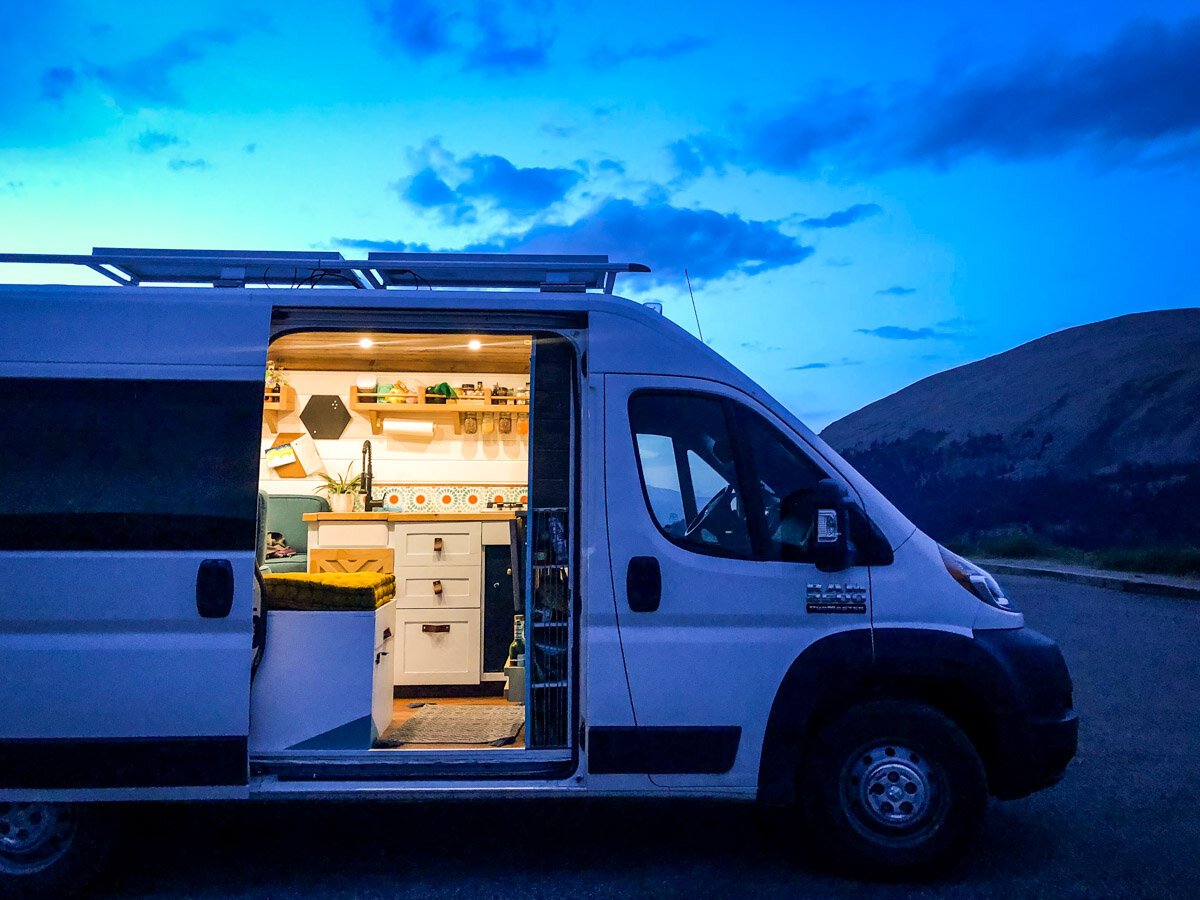 The vanlife trend has taken Instagram by storm in the past few years, and just like with everything on social media, most of what you'll see is the good parts. (We're as guilty of this as anyone else.)
The pictures of sexy people in front of sexy viewpoints with the hashtag #vanlife are enough to make anyone think, "Oh yeah, I'm gonna build my own van and wake up in epic places looking like a sun-kissed goddess and life will be good."
But what you can't see from these pictures is that they may not have showered in a few days, and in that summer heat, things are not smelling super fresh.
Oh, and that gorgeous viewpoint may actually be in a crowded parking lot where they set up their bed just for the photo…
*Spoiler Alert: That's the case with the photo below. This is a pull-out in a National Park, and it's not legal to camp here overnight, so we set up the bed for the photo because it looked too good not to. Oh, and we hadn't showered in 3 or 4 days… so yeah…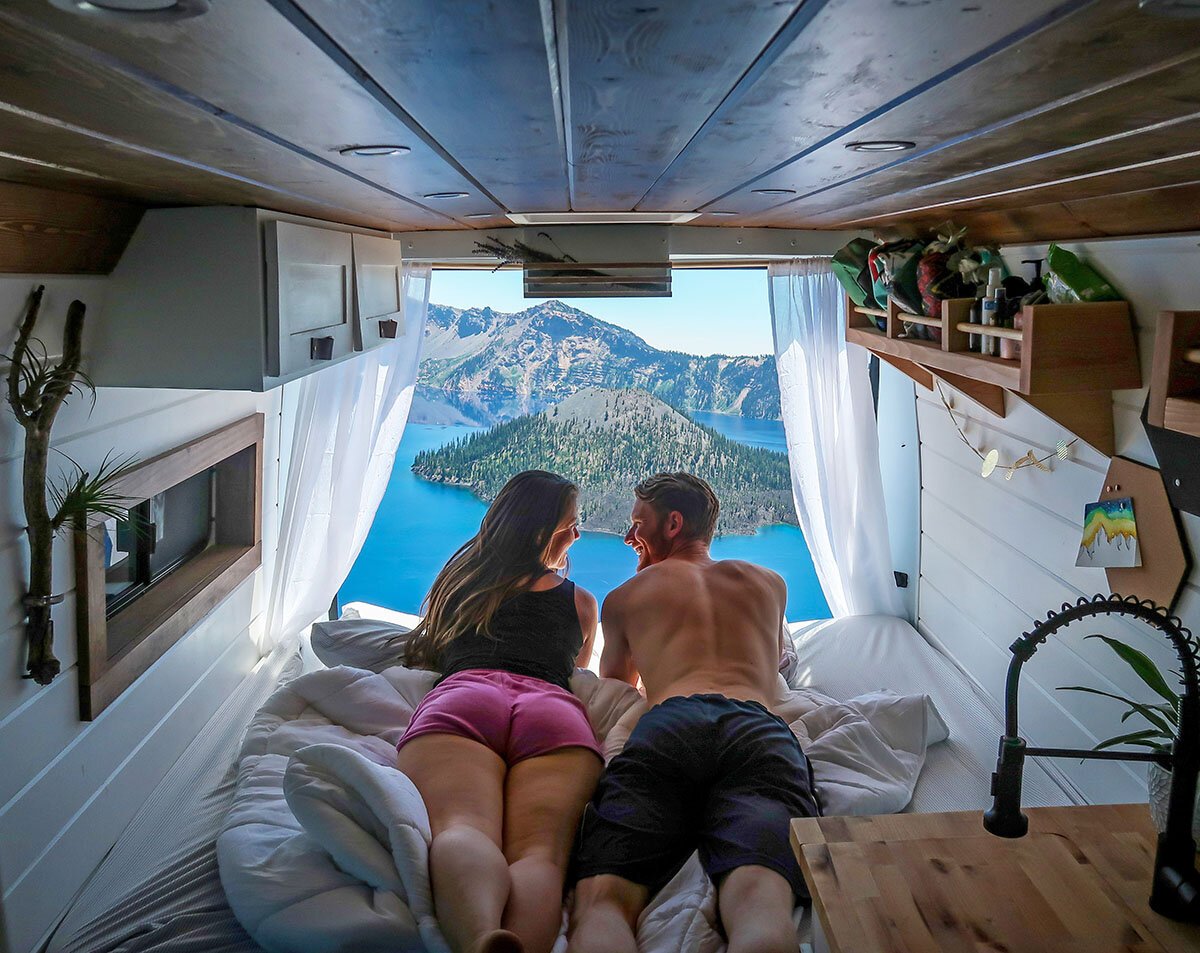 There are SO MANY amazing perks to this lifestyle. We've already raved about the best parts of #VanLife, but we haven't touched much on the – how shall I put this – shitty things that come along with living (or traveling) in a van.
We're all about balance. Even things that you love have their faults. And trust us, living or traveling in a campervan has a few. Okay, quite a handful…
And we wouldn't be honest if we shared only the positives without divulging the negatives too.
So that's what we're about to do: Spill the figurative beans.
Please don't think we're trying to scare you away from vanlife. We would love more than anything for you to join us on this journey. But we do want you to know exactly what you're getting yourself into. The no-so-sexy parts and all.
So without further adieu, let's dive into the aspects of vanlife that don't make it onto the 'gram. The struggles. The boring parts. And the gross things you have to deal with too…
1. Finding a place to park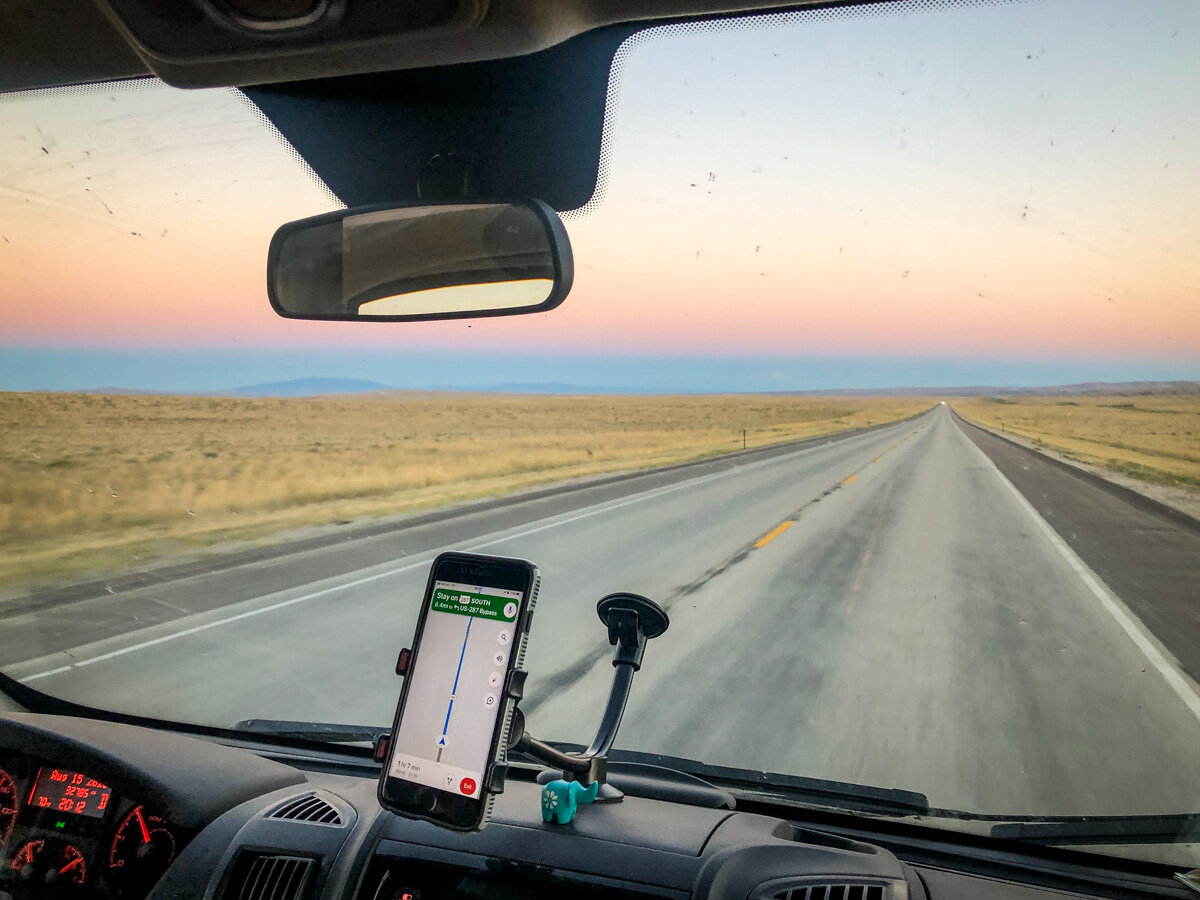 Depending on where in the world you are, finding an actual place to park your van can be pretty easy, or it can be an ordeal.
If you're on a two week trip where you have spots reserved, it's going to look a lot different than someone who is living in their van long-term.
There have been some cities or small towns where we feel like we're driving around forever in search of a safe, non-shitty, legal place to park for the night. And sometimes when we finally land on a spot, it's less than ideal.
Which leads me to the next point…
2. The not-so-picture-perfect camping spots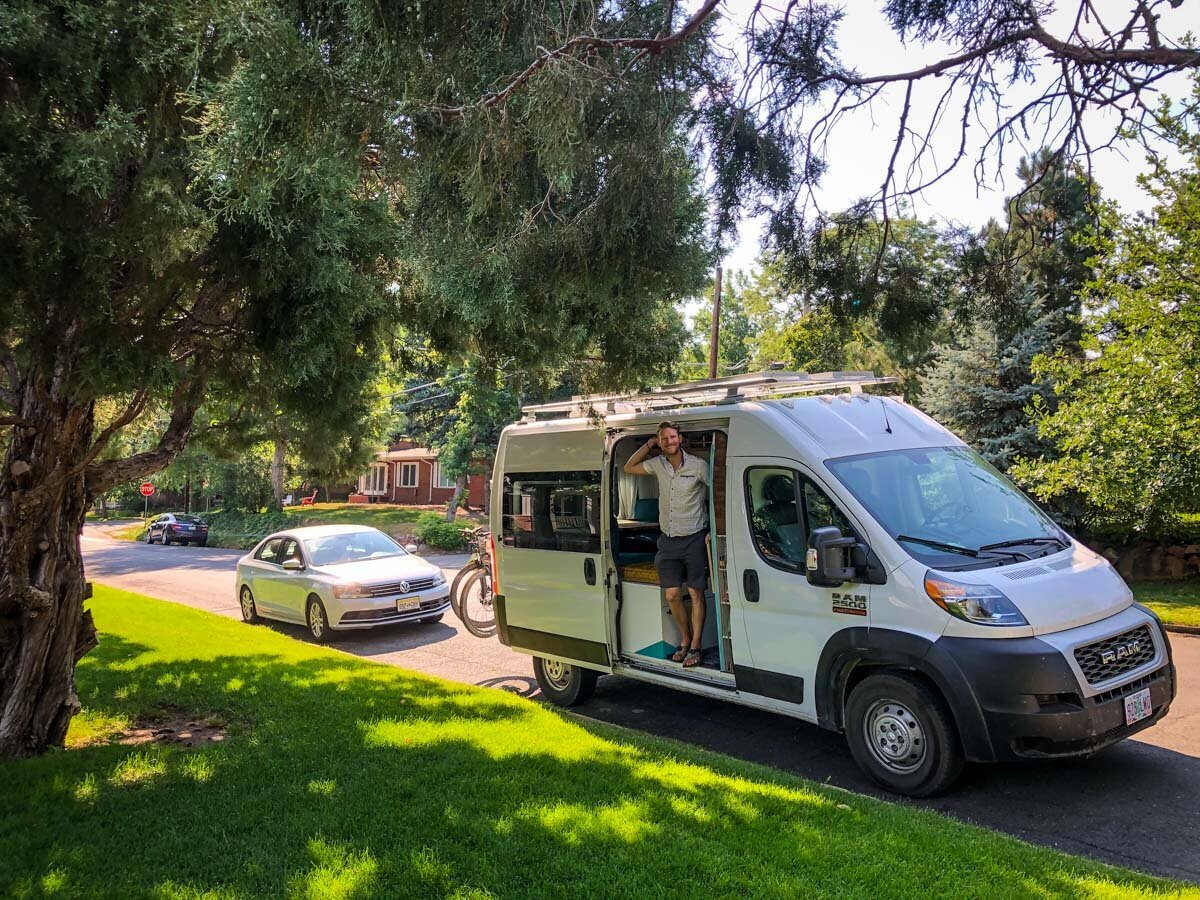 One of our favorite parts of having a campervan (as opposed to an RV or a tow-behind camper) is that you can kind of park anywhere within reason. As long as there aren't signs prohibiting overnight parking, it's usually game! This comes in super handy after a long day of driving and you just want to get somewhere… anywhere.
That said, waking up on a residential street or in a Walmart parking lot is not exactly what anyone imagines vanlife to be. Sure, it's a place to sleep, but it definitely isn't as ideal as those Instagram shots would have you believe.
For every epic Insta-worthy camp spot, there are a few crappy ones and even more mediocre spots.
But in the end, it kind of makes you appreciate the gems even more. Because they do exist. Yep, Instagram isn't a total lie!
I'm interested in vanlife, where do I get started?
We understand just how overwhelming it can be to start this process so we poured all of our personal experience and advice into a mega resource just for you.
Enter your email below to immediately receive our Vanlife Jumpstart Toolkit, your FREE mega guide to jump-starting your #vanlife dreams!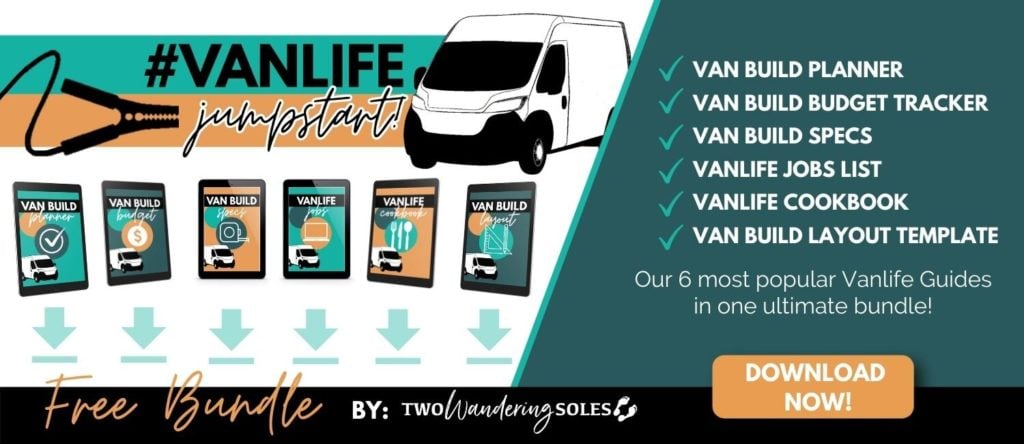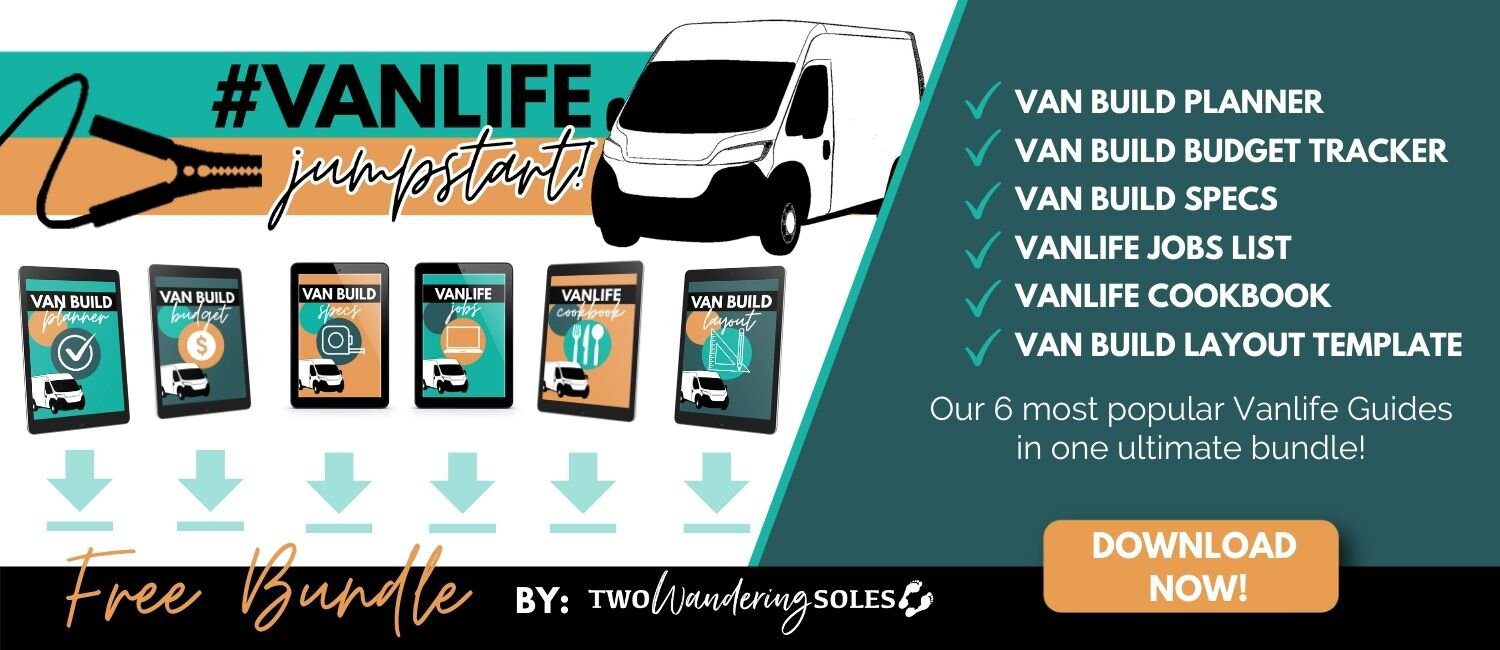 3. The toilet situation…
All vanlifers are going to have to deal with one of the following:
a) finding toilets OR

b) emptying their toilet
We've dealt with both, and they both have their annoyances.
Finding Toilets
Our first van didn't have a toilet, so our biggest bathroom issue was, well, finding them. For the most part it wasn't too terrible. Just like anyone on a road trip, you can use the loo at rest stops, gas stations, visitors centers, grocery stores, cafes, coffee shops, the list goes on… And if you're staying at a proper campground with facilities, it's not that big of an issue either.
We're also very well-versed with… how shall we put it… going in the wild.
On that note… If this is your bathroom method of choice, be sure you're following proper wilderness toilet etiquette (aka digging a hole for number two, and putting all toilet paper in the trash.)
The worst of it for us was when we were urban camping (aka in a city/town or on a residential street). Waking up in the morning and having to pee while Ben drove around frantically searching for a Starbucks or public toilet was not fun, to say the least.
And that's essentially why we decided to add a toilet to our second campervan build. But with a toilet comes a different kind of inconvenience…
Emptying Toilets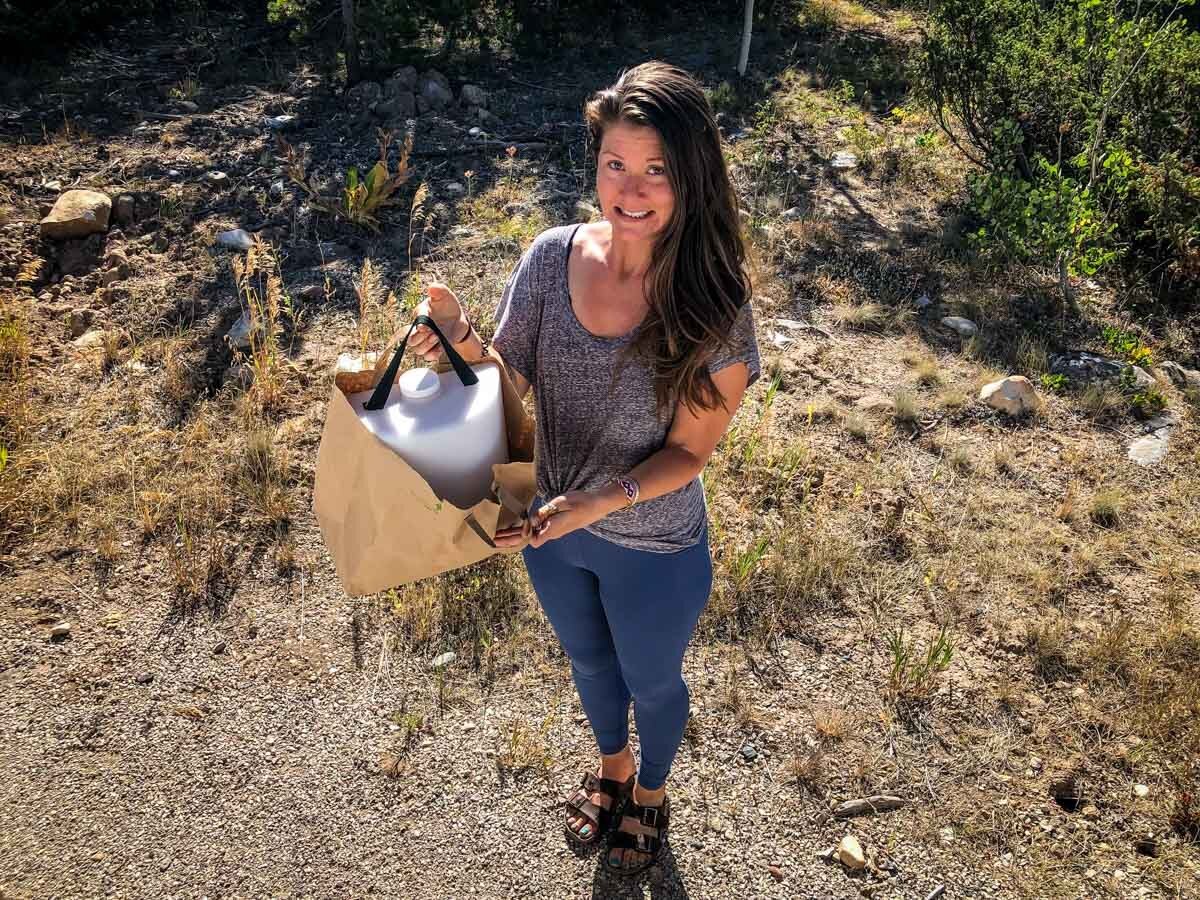 Depending on which type of toilet you install, your emptying process is going to look quite different. And trust us, there are different levels of gross.
Psst! We have an entire article that goes over the best campervan toilets for every budget to help you figure out which toilet best fits your needs!
We're going to break down what it looks like to empty two of the most common types of toilets: Composting vs. Cassette.
Composting toilets
Our current campervan has a composting toilet, which we're obsessed with. I was actually very concerned it would smell or just be uncomfortable, but honestly I love it.
It makes urban camping wayyyy easier. Number one? Number two? No problemo!
And even if we're on a long stretch of road and I have to pee (which happens a lot!), we can pull over and problem solved. During the summer of Covid (yay 2020!), it has also helped us avoid using public restrooms all the time.
That said, if you're using it, you'll have to empty it eventually.
With composting toilets, liquids and solid are separated, and let's just say the liquids have to be emptied pretty often. With the two of us using our own toilet most of the time, we find we have to empty it every 3-4 days. (More or less depending on if we're using other restrooms too.)
The solid container, on the other hand, is more of a process to empty, but it only has to be done every month or so. And truthfully, it isn't like you're probably envisioning. Without getting into too much detail here (we have an entire article on our toilet coming soon!), the solids kind of turn into "dirt", and it doesn't smell. Yeah, seriously. I was surprised too!
Cassette toilets
I could sing the praises of composting toilets for a while, but they don't come cheap. So if you want a toilet in your van, but don't have the budget for a fancy schmancy composting one, you'll likely land on a cassette toilet.
At just $100-200 (for a decent quality one), cassette toilets are much more affordable than their composting counterparts. But as the old adage goes, "you get what you pay for". Sure, you'll save several hundred dollars, but you'll now have to deal with a somewhat icky situation when it comes to emptying those cassettes. And you pretty much need to empty it as soon as possible.
Unlike the composting toilets where the solids container doesn't smell, cassette toilets are notoriously stinky. Essentially, it's a sloshy container full of pee, poo and chemicals. Now imagine that on a hot day. Mmmm… Yep, this is precisely why we chose a composting toilet.
I guess the moral of the story here is that cassette toilets are great for emergencies or in situations where you need to be self-contained in order to camp. But most of the time you'll still find yourself searching for toilets because it's unlikely you'll actually want to go in your cassette unless there are no other options.
For example, we traveled New Zealand in a campervan for more than a month and we had a cassette toilet but we didn't use it a single time. We actually kept it in our roof rack to save precious space inside the van.
So even though we technically had a toilet, we still had the somewhat annoying struggle of trying to find a public restroom any time we had to go. And when we camped, we only stayed in places that had toilets, so we felt a bit limited by the whole toilet situation…


Quick Tip: How do you find public restrooms?
Glad you asked!
Coffee shops are a good option (but make sure you purchase something)

Gas stations

Rest stops

Public parks

Download the app Sit or Squat which has a map of public restrooms near your location along with ratings (sit = clean and squat = not so clean!).

You can search "public restroom" on Google Maps (though not all options are listed).

Camping apps like Campendium and iOverlander also have some public bathroom locations.
4. Fillin' and Dumpin'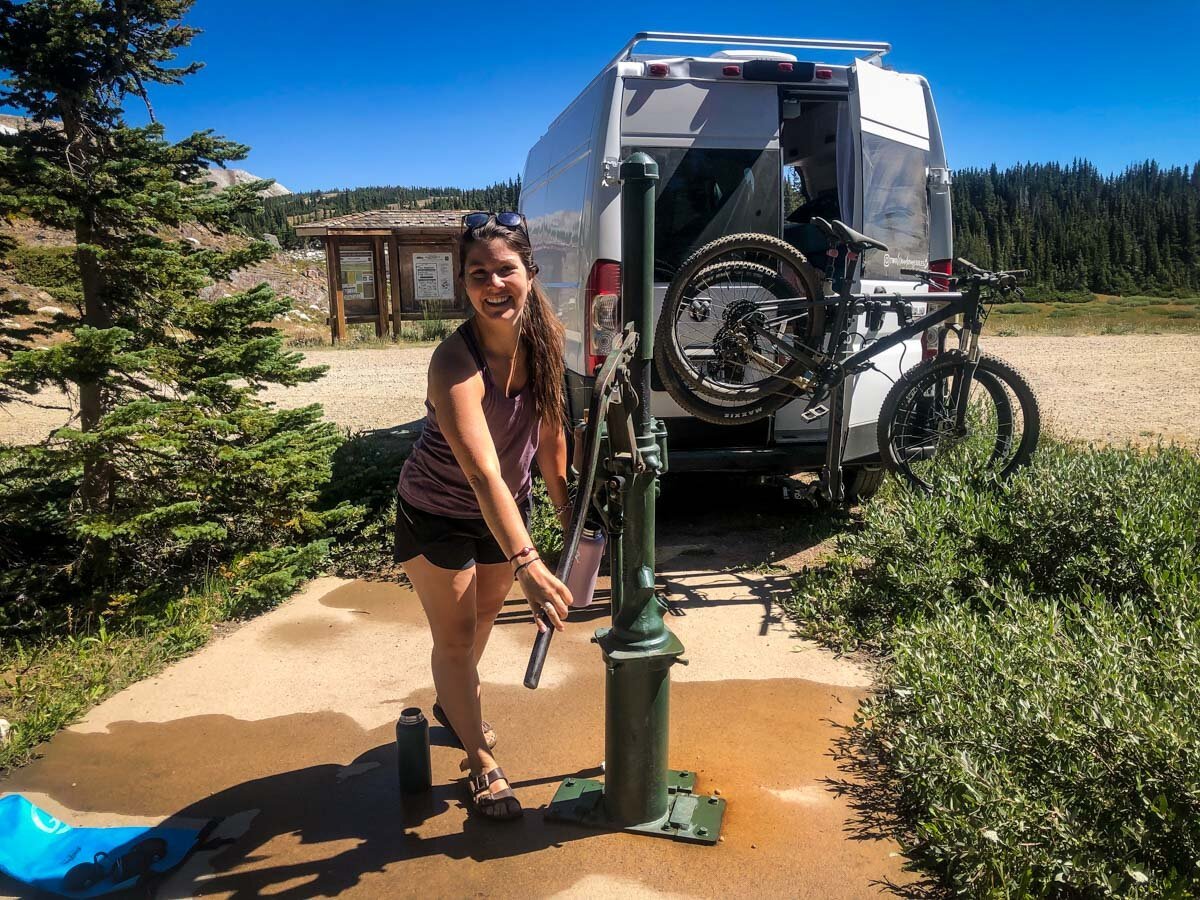 When you have a house with plumbing, you never have to think about where the water comes from and where it goes… But in a campervan or RV, you're going to have to fill up every drop of water you want to use.
Every handful of days (depending on the size of your water tanks), you'll need to fill and dump.
Fill your tanks with fresh water for drinking, cooking, showering, etc.

Dump your dirty tanks, or your grey water.
Neither task takes all that long or is that terrible, but unless you're exclusively camping at RV parks or higher-end campgrounds, you'll often need to do a little searching for where you can fill and dump.
Insider Tip: We've had luck at gas stations (only some have these services) and visitors centers. And sometimes random sporting goods shops or transit centers will have what you need. The apps Campendium and iOverlander are usually pretty helpful in showing nearby fill and dump stations to your location. Also, you can sometimes go to campgrounds (even if you're not staying there) and ask how much it is to fill and dump. We've paid anywhere from $5 to $15 for these services.
Filling your tanks
This task isn't that bad, it's just sometimes a hassle to find water. If you're staying in a campground, there will likely be a place for you to fill. Problem solved. But if you're urban camping or on BLM Land, you're going to have to seek out a fill station.
Psst! Apps like Campendium and iOverlander can be really helpful for finding fill stations.
Our advice is to not let your water get too low, and fill when you have the opportunity. It's no fun running out of water in the evening in the middle of nowhere. We speak from experience.
Emptying Grey Water
Alright, let's talk about one of the least glamorous parts of vanlife…
Imagine saving up all the dirty water in your house for a few days. It's a lovely concoction of toothpaste spit, the bottom of your cup of coffee, dishwater, and the remnants of washing your dirty hiking socks in the sink.
Let's just say they don't call it "grey water" for nothing.
When you do all of these things in a regular home, you never have to think about the water once it leaves your sink. But this is not the case with a campervan.
Depending on the complexity of your van setup, emptying can be kind of hands-off, or it can be more involved…
Some fancy builds have a super amazing button for dumping! But that requires a bit more plumbing and time installing.
Emptying your tank isn't fun — that's for sure — but honestly, it goes pretty quickly.
That said, finding a place to dump, taking everything out, and putting it back in isn't exactly on the top of our favorite ways to spend time.
And in some areas, dump stations are few and far between. It's never fun driving around with a full tank of nasty grey water trying to find a place to dump it before you can use the sink. Best case scenario, you just don't let it get that full, right? But more likely than not, you'll make this mistake at least once before you really learn.
5. Doing Laundry
No matter how luxe your build, you're going to have to deal with doing laundry on the road, and depending on your situation, that can mean many things.
a) you can hand wash your dirty items individually (think: washing underwear each night and hanging it to dry) or a bunch at a time and hang them to dry

b) you can find a laundromat on the road

c) you can stay at an Airbnb or friends' house every so often to keep up with your laundry
Doing laundry at home is a drag to begin with, so it should come as no surprise that it's not suddenly super fun in a van. It can be kind of a hassle, but it's always a hassle, isn't it?
6. Getting Internet
If you're using a campervan mainly for weekend adventuring purposes, this one may not really apply to you.
But if you, like us, need Internet to work on the road, you'll likely have some growing pains along the way.
The great thing about campervans is you really can create a comfortable "office on wheels" that you can quite literally take with you wherever you may be. When you're in a city or an area with great cell service, you should have no problem getting great Internet in your van. With the right devices and methods, your Internet can be as good as (or even better than!) anyone's home connection.
However, many of us with campervans don't want to stay exclusively in cities. And when you venture to the outskirts of civilization, you'll find it can be difficult to do things that require higher bandwidth, like stream videos or upload files.
The struggle of getting fast Internet is something all digital nomads deal with at some point, so this doesn't apply exclusively to campervans. But it is something to keep in mind, especially if your job depends on it.
Insider Tip: Before heading to a campsite, read reviews. Often times camping apps will disclose if there is cell service (sometimes it's even broken down by provider). We always like knowing in advance if there will be limited or no cell service. That allows us to download important things like maps (and Netflix!), or to pass on the site and find a different one if we really need Internet connection.
7. Lack of Personal Space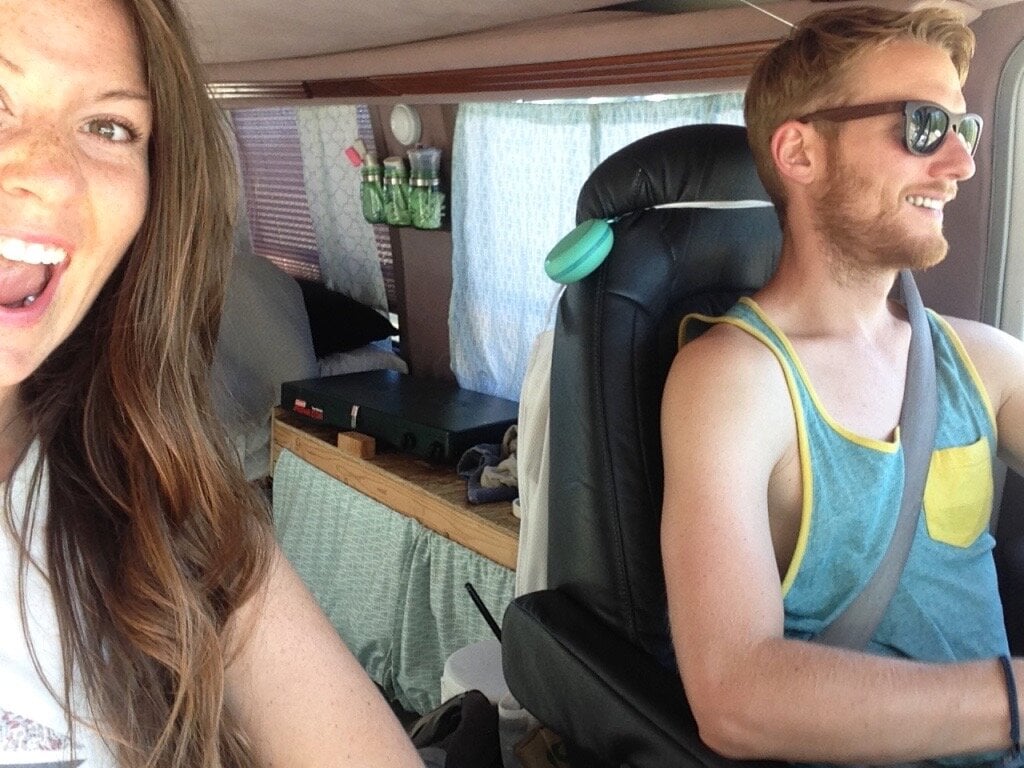 If you're in a van with another person, you better really like them.
I remember seeing someone post in a vanlife Facebook group that they had planned to do a month-long campervan trip with their girlfriend, but had recently broken up and they were now looking for a new partner to come along. Ummm WTF?!
I mean there's a teeny, tiny chance that it could be a magical experience and you just really click with your new stranger-turned-van-partner. But I'd place money on saying that there's a 99.99982% it would be disastrous.
Hold up… Don't let this scare you away from doing vanlife with another person. We truly think vanlife has brought us even closer together as a couple and we absolutely love sharing a tiny space. (We've only rented tiny places, so we don't even know what it would be like to live in a large house!)
But, I think a lot of people see the glamorous side of #vanlife — waking up in gorgeous places and adventuring together — and are less likely to think about the true lack of personal space.
Like lack of space to umm… pass gas in private… and all the other things.
Just know that Instagram does not do a very good job of painting a full picture of what it's like to share a 60-square-foot space with someone else. #foodforthought
Insider Tip: We've put together a big ol' list of questions you'll wanna ask your partner before moving into 60 square feet together! You're welcome.
8. You can't really meal prep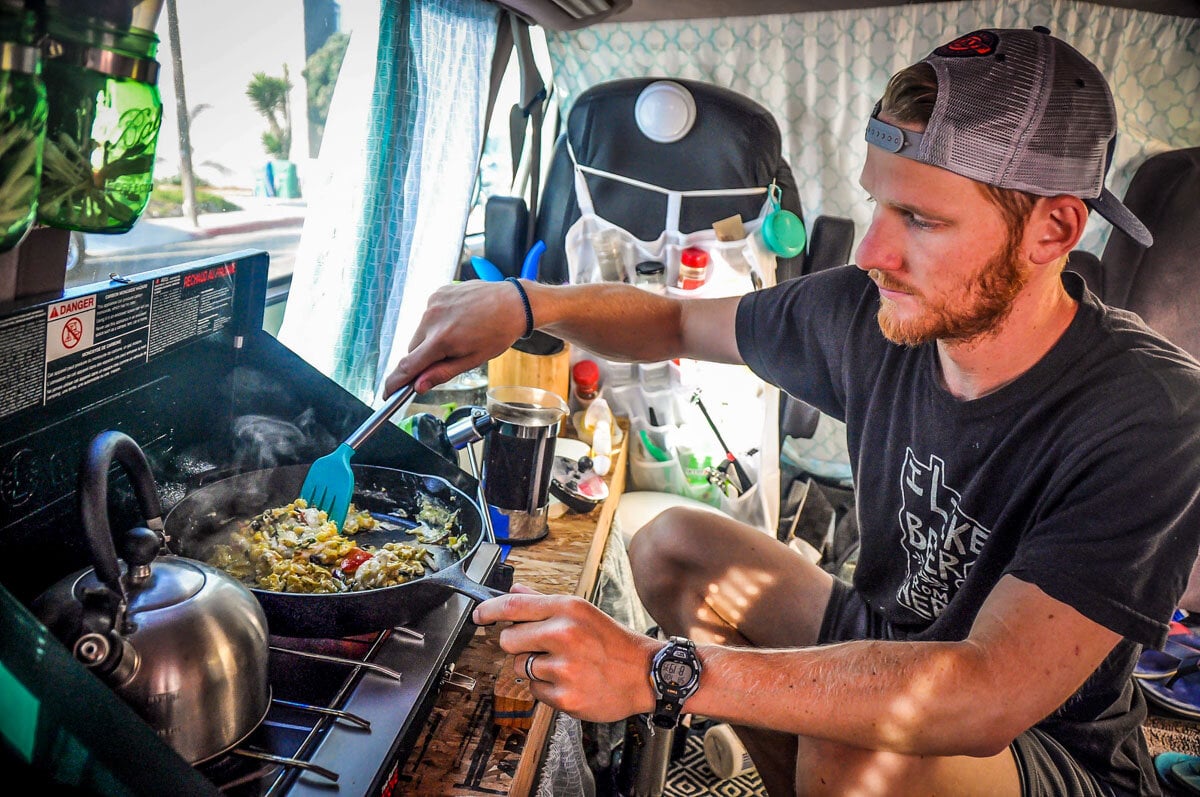 This one might be just me, but I love meal prepping and getting a few days' worth of meals done at once. And most of the meals I like making are full of fresh produce.
At home, I'm used to making a big crock of soup or a ton of fixings for salad that we eat over a few days. Our full fridge will be full to the brim with glass containers of chopped veggies and homemade sauces that we can use throughout the following days.
As you can imagine, this is pretty difficult to do when you have basically a mini-fridge for fresh storage and very limited counter space.
The good news is cooking in a van is pretty fun and we've come up with some great staple campervan meals. You just have to get used to limited counter space and fresh storage. We find ourselves going to the grocery store much more often in the van so that we can eat fresh fruits and veggies on a daily basis.
Quite frankly, we've always rented places that have tiny kitchens, so we're used to getting creative with our space. But if you have a huge kitchen with an island (jealous!), this might be a tough transition.
9. Showering in a van
One of the most common questions we get asked is, "How do you shower in a campervan?"
And the answer is going to vary for all van lifers because there are a ton of options out there.
Just like toilets though, even the most luxury builds are going to have hassles with showers.
The struggles of NOT having a Shower
Our first van had no shower, so we had to rely on showering at campgrounds and friends' houses along the way for the most part. And during that in-between time, we'd do "wipe showers". Sounds bad, but it gets ya through.
Honestly, we got used to it and it wasn't all that big of a deal. But we did have a few streaks where we went without showers for a while and felt like real dirtbags.
The struggles of HAVING a Shower
Now, our van has an outdoor shower and it's super basic: no hot water and no privacy.
I was thinking we wouldn't really use it, but during #covidsummer when most campground and gyms showers are closed, it has been a huge lifesaver. And we get to shower with some pretty epic views.
The downfall is we do have to find a place where we can actually shower (can't be close to any water sources and it has to be somewhat private). Oh, and the cold water is refreshing on a hot day after a hike, but not so much on an overcast morning. So there's that…
But even if your van has a separate shower space, the downfall is that showering uses a lot of water. Yes, even if you take a super short shower and turn off the water as you lather. (A fact you can conveniently forget about in a house with an unlimited water supply.)
Washing a human body just requires a substantial amount of water, and if you're showering often, you'll likely find that you need to refill your water tank pretty frequently.
Plus, the footprint of an actual shower takes up a ton of valuable room in your build, so you have to determine whether or not this is a "must" in your design.
No matter how you slice it, having a shower in your van or not having one, is going to be some sort of hassle.
10. Things take longer than at home
Whether you're living in a van full-time or are just on a sneaky little road trip, you've got to expect some everyday things to take a bit longer than they might in a traditional home.
Once you get used to your van and get routines down, things go faster. But at least in the beginning, you'll need an extra dose of patience.
Here are just a few examples of things that we find take a little longer in a van:
You've gotta wash your dishes instead of sticking them in the dishwasher and forgetting about them.

Depending on your set-up, you may need to take down and set up your bed each day.

Often times, there will be a few items you need to secure before a long drive.

Depending on your set up, there's a good chance that you may need to devote a few extra minutes to putting things away.

For instance, in a house, I may just be able to toss dirty laundry into a hamper in the corner, but in our campervan, I need to put dirty clothes in the proper place or it'll turn into a huge mess pretty quickly. same goes for toiletries, food, and pretty much any other item in the van.

We have to get our "Netflix setup" ready at night instead of just slumping on the couch and pressing a button on the remote.
As you may have already noticed, none of these things are huge barriers, and many of them require literally 30 extra seconds of effort. But on days when you're exhausted, it can feel like a lot. Especially when paired with the extra tasks of finding a parking spot for the night, filling and dumping your water tanks, etc.
11. Getting Mail
Wanna order something on Amazon? At home you might just purchase with one click and leave it at that, but on the road, things are a little more complicated.
Don't fret… it is totally possible to get things delivered, but it requires a bit more thought and patience than you might be used to.
You might realize that your online shopping habit needs to be toned down a bit, and perhaps buying most things in-person is going to be a better solution.
How to get mail on the road:
Order to an Amazon locker (only possible when shopping on Amazon)

Ship to a UPS location and call them to let them know you'll pick it up (we've done this a couple of times and it worked seamlessly). Know that there is usually a $5 fee for this service.

If you have someone you trust along your route, you could have packages sent to them
Another thing to think about… If you're a full-time vanlifer, there's the whole dilemma of, "What do I put down for my permanent mailing address?" when filling out legal forms. Some people choose to get a P.O. box in a location that's central or convenient for them, and others put down a friend or family member's address.
12. It can get messy quickly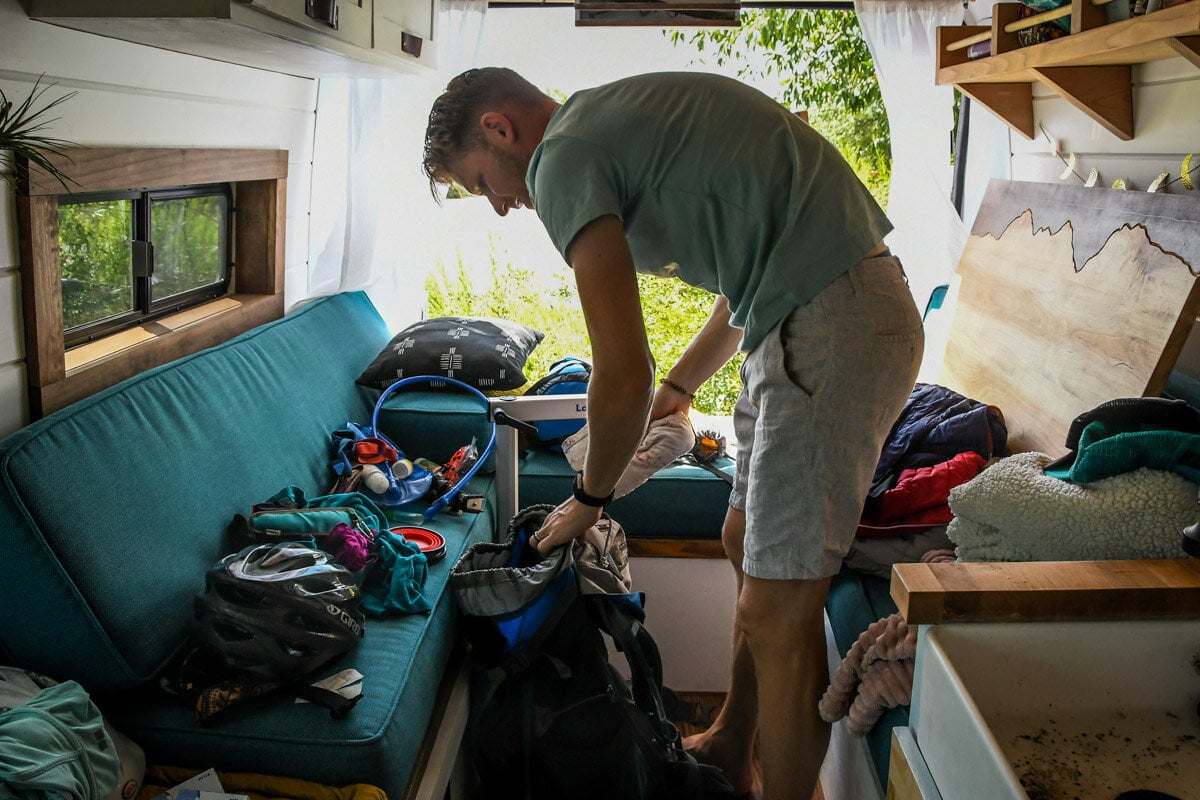 On Instagram you see gorgeous pictures inside vans where everything looks perfectly put together. What you don't see is the mess. And trust me, it gets messy. Even the smallest mess can feel magnified in such a small space.
But the good thing is with a small space, it doesn't take long to do a good old fashioned deep clean. We find that it takes about 15 minutes to really get all parts of our van looking pretty damn good. Even with a small apartment, it takes us much longer to do a good clean.
Insider Tip: Make sure you have a place for everything. A campervan is not going to be comfortable if you're not organized. Instead of just shoving things in different places, be mindful about creating spaces that are dedicated to each item you have. And pay attention to what you use and what things just sit there. If something is just taking up space without serving a purpose, give it the boot. Campervan living is much more comfortable without unnecessary clutter. Trust us.
13. Staying fit
I've seen some other van lifers kill it in this realm — doing sun salutations in their van or rolling out a yoga mat at their campsite and gettin' their sweat on, hand weights and all.
Maybe that'll be you.
But for us, working out on the road is a struggle. We stay pretty active, as we go hiking quite a bit, but committing to an actual workout just somehow seems less appealing than at an actual house.
Maybe it's the limited space.

Maybe it's the fact that showering can require a bit more effort (see #9 for that spiel).

Maybe it's the fact that being on the road means you don't have access to your regular gym.

Maybe it's the fact that finding a somewhat private, flat outdoor space for working out can be difficult depending on where you are.
And quite possibly, it's a combination of all of the above!
Here are a few solutions that we have seen work well for some people:
Make your workouts part of your routine. If you're living in your van full-time, creating a daily routine is going to be super important, as it can be really easy to fall into "vacation mode" mindset and abandon things that are important to you, like working out, journaling, meditating, eating healthy, etc. The sooner you start your routine, the better.

Plan your workouts on days you plan to shower. Go for a run, an intense hike, do a HIIT routine from YouTube, whatever it takes to work up a sweat. Then enjoy the sweet, sweet feeling of a shower!

Getting a membership at Planet Fitness (or another common fitness chain) allows you to work out in many cities, and sometimes even shower (pre Covid!). That said, if you're sticking mostly to rural areas or National Parks, this might not make the most sense.

Resistance bands are super lightweight and pack up well for workouts on the road.
13. If something happens to your van, it happens to your home
When something happens to your vehicle — a flat tire, a smashed window, a fender bender, an engine issue — it's definitely no fun, but you can typically get a rental car while your vehicle is in the shop and go about life as normal.
But the thing is when something goes wrong in your campervan and you need to take it into the shop, now you've gotta find a place to stay, which is a whole different level of inconvenience.
Insider Tip: When choosing your RV insurance, we think it's a good idea to be sure there is coverage in such cases and that you'll be reimbursed for hotel or Airbnb stays while your van is fixed. The best case scenario is that you have a spontaneous "getaway" that is covered by insurance. Worst case scenario is that it can really mess up your travel plans and you have to pay out of pocket for a potentially expensive last-minute stay.
14. Extreme temperatures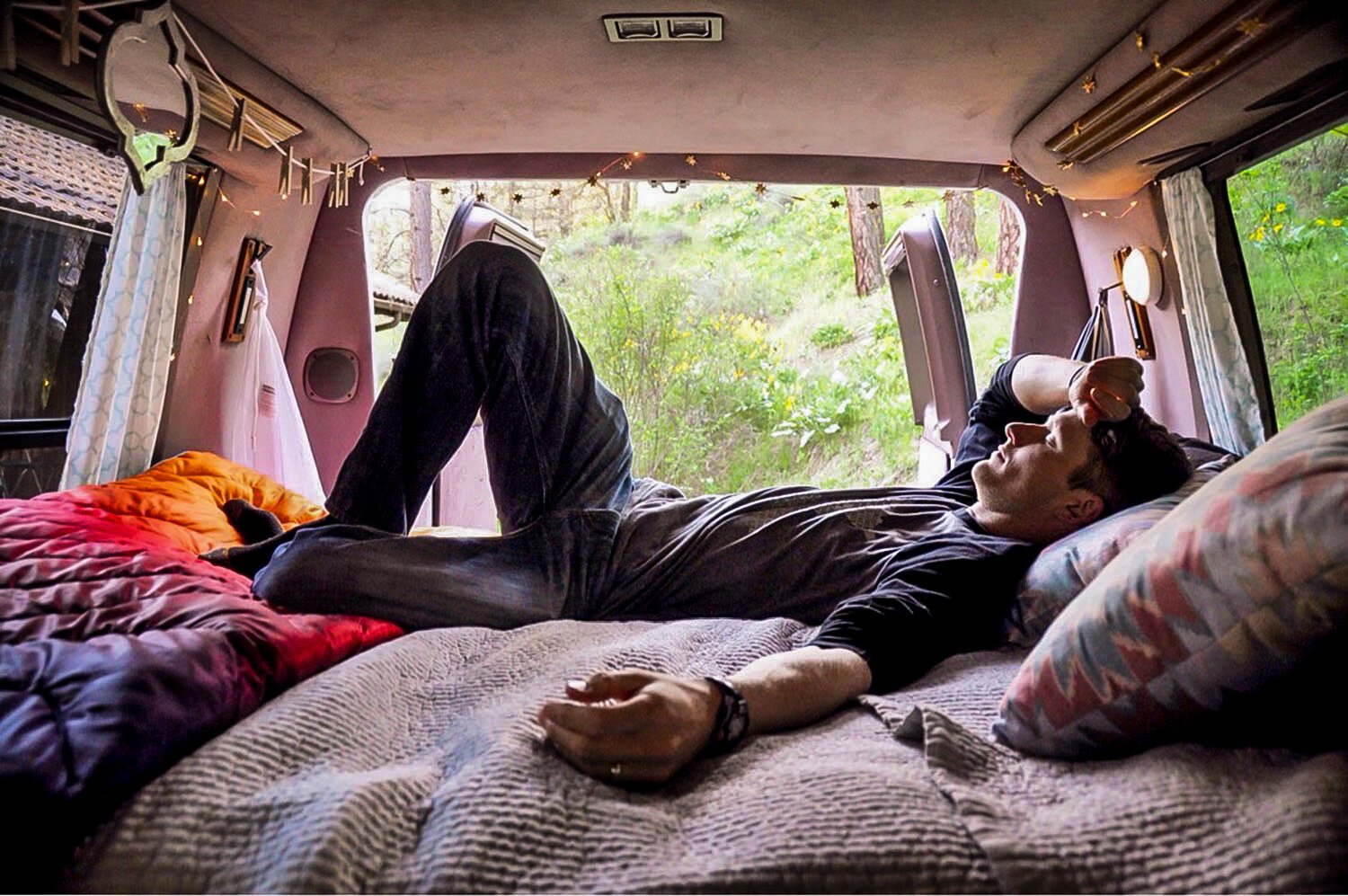 Hot days or super cold days – or basically any type of extreme weather – can be a bit rougher inside a van than it would be in a typical house.
If you properly insulate your van build, it should stay pretty comfortable inside most of the time.
That said, when it's 100 degrees outside or super humid, it's going to be tough to stay super cool. And likewise, in frigid winter temps, staying warm can be a struggle (unless you've got a propane heater!).
The nice thing about having a campervan is that it's possible to pick up and drive to a place with more mild temperatures so you don't have to suffer through the extremes.
Something to think about: Many full-time vanlifers follow good weather. So they spend their summers in mild temperatures (think the PNW, mountain towns or breezy coastal areas). Then in the wintertime, they migrate south (like the birds!) to places like Arizona or Baja California. Planning your route around the climate and seasons can make vanlife much more enjoyable and will reduce the friction of having to deal with extreme weather and temperatures.
15. Break-ins & theft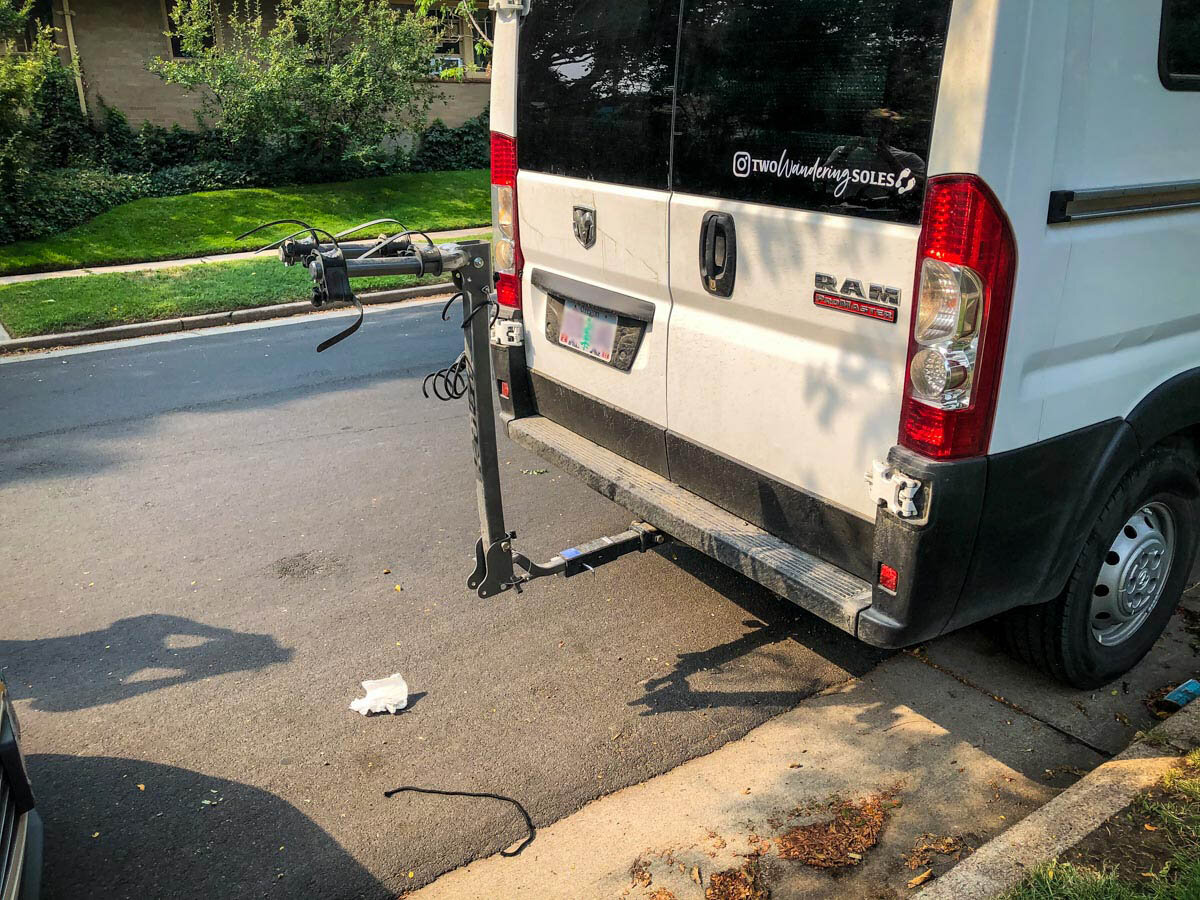 I was about a day away from publishing this article when we had break-in of our own. Prior to this incident, we'd never had any issues with theft, so I had to add this section. And lemme tell ya, it wasn't fun.
The short story of what happened: We had two brand new mountain bikes stolen from our bike rack. We were away from our van, and when we returned the locks had been cut and our bikes were nowhere to be found.
I want to start by emphasizing that theft isn't an issue exclusive to vanlife — vehicles get broken into as do houses. But with a van, you likely have more valuables inside than you would in your car, making it more appealing to thieves and also making it a bigger loss if it does get broken into.
And if you're choosing a house or apartment, you often have the option to choose a place based on the safety of the neighborhood. In a van, you can usually try to avoid parking in areas that don't feel safe, but sometimes it's hard to really know until something bad happens.
Insider Tip: Websites like AreaVibes and Niche.com can be helpful if you want to dig a little into the safety of a neighborhood you're parking in (when urban camping). Retrospectively, we found that the neighborhood where our bikes were stolen has a higher crime rate than most other parts of Denver (see screenshot below). Would have been good to know!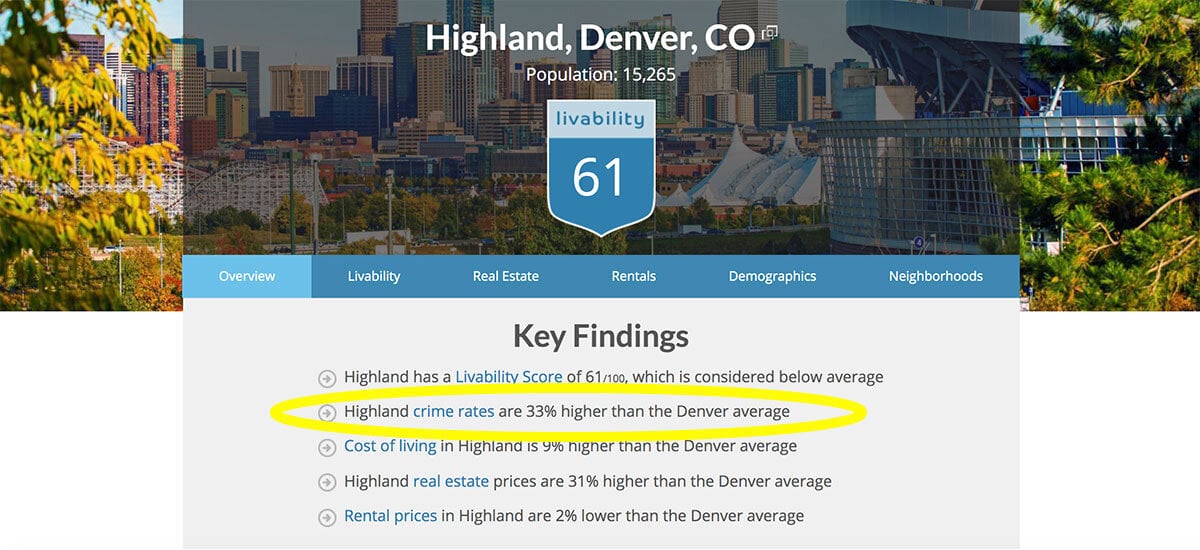 Whenever we leave the van for an extended period of time or overnight, I get a little paranoid at the prospect of someone breaking in. And after our recent "incident" my paranoia isn't going anywhere…
We bought a small car alarm that is set off by vibrations and have it mounted on a locker where we store our valuables. Essentially, it would only be set off if someone tried to open our locker, but hopefully it would deter them from actually getting anything of value.
While it's not a perfect solution — we've seen some people who have top-of-the-line camera and alarm systems — it does make us feel better leaving our van overnight at a trailhead. Though I don't know if we'll ever leave bikes outside the van for very long again.
Important Note: We will be looking into more security systems for our van and will be creating more content about ways to make your campervan secure.
Final Thoughts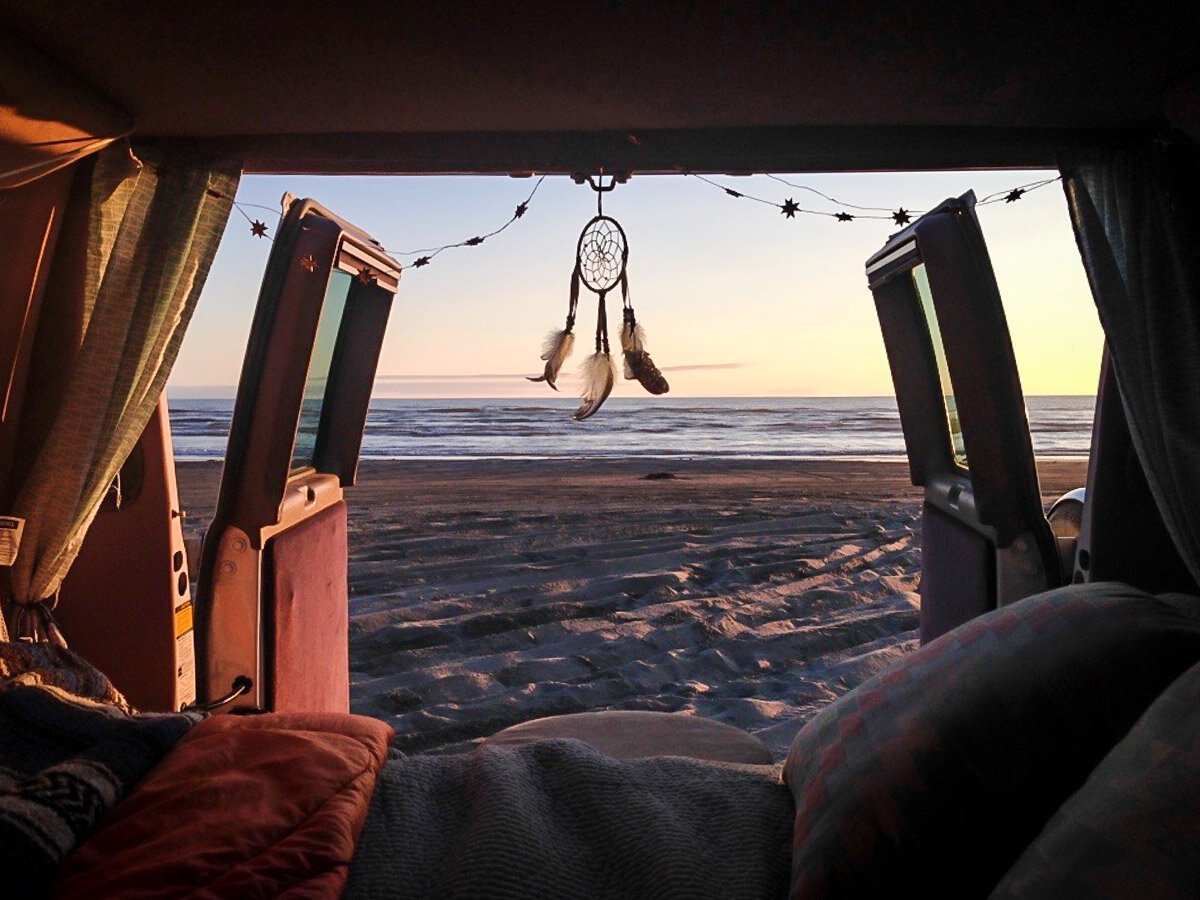 If we're honest, none of the things on this list bother us all that much. They seem like fair trade-offs for all the ahhh-mazing parts of having a campervan.
Some of them are just struggles you learn to deal with over time, and sometimes you even come up with your own "hacks" to make the struggles more bearable.
But we value transparency, and if you're new to this whole vanlife thing or you're trying to determine whether or not it's actually for you, it's helpful to get the whole picture. The good, the bad, and the ugly.
If you really think about it, anything good comes with bad too.
Having a mansion might be someone's idea of the perfect home, but it would be one hell of a pain to clean and super costly to maintain. Your partner may be an incredible person, but nobody is without their faults. Even your dream job is going to have boring moments or may require some not-so-fun tasks at some point.
So it should come as no surprise that vanlife comes with some dull, annoying, and frustrating parts too.
Again, the intention of this article is not to scare you away, but instead, to prepare you so you're fully equipped with realistic expectations to begin this journey!
---
Are you thinking about living the campervan life?
We have TONS of resources on converting your own campervan and living the #vanlife. Check out our Ultimate Guide to Van Life for all the answers to your most burning questions, or read some of our favorite articles below.
Interested in engaging with others about all things #vanlife? Join our Vanlife Facebook community!
Save this article on Pinterest for later!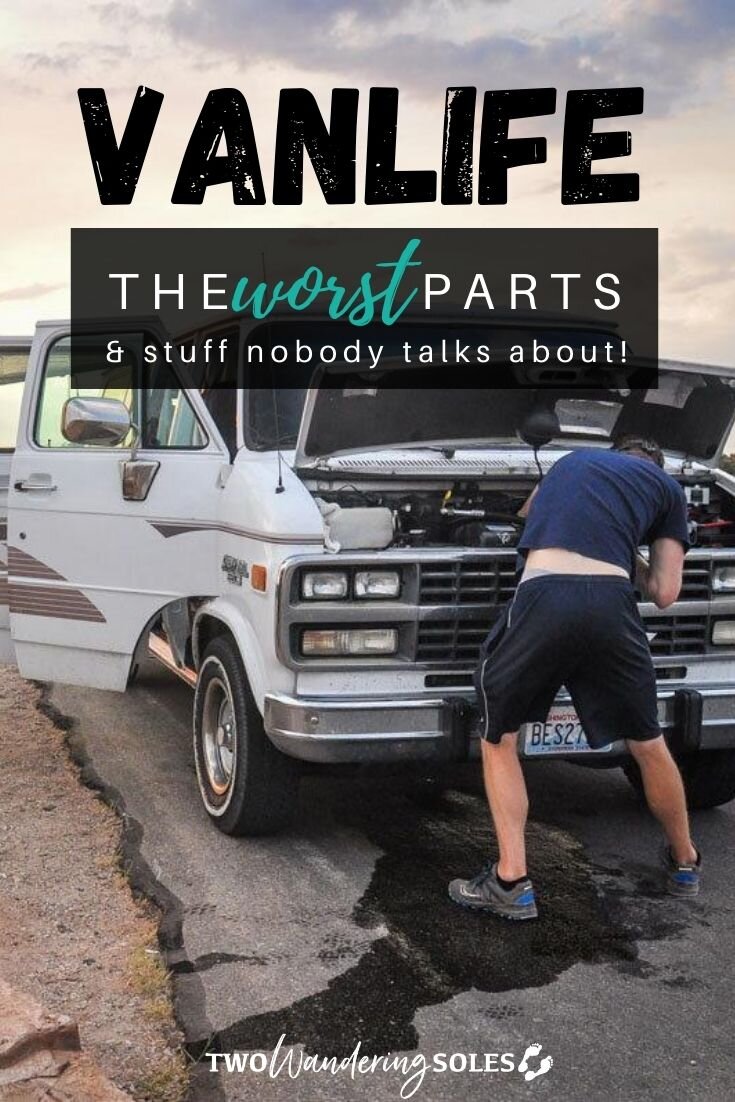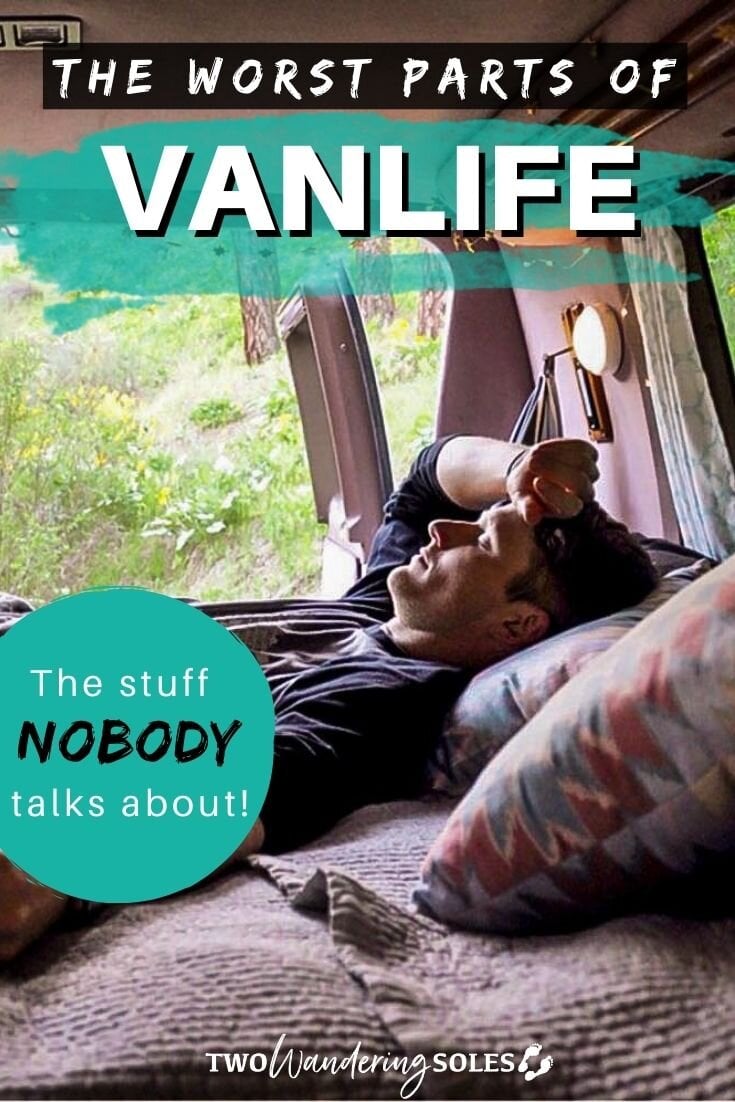 We want to hear from you!
If any of these things are a big worry for you, feel free to comment below or reach out privately to ask more questions. We'd love to clarify or share some ways we deal with some of these hurdles.
Is there anything you'd add to this list? We'd love to hear your thoughts!