Have you ever wondered what it's like to live on the road in a campervan?! We can tell you from firsthand experience that #vanlife is pretty dang amazing. But I'm sure you've got tons of questions, right? Check out our Q&A video and this article where we answer all your questions about life in a campervan (yes, even the embarrassing ones!).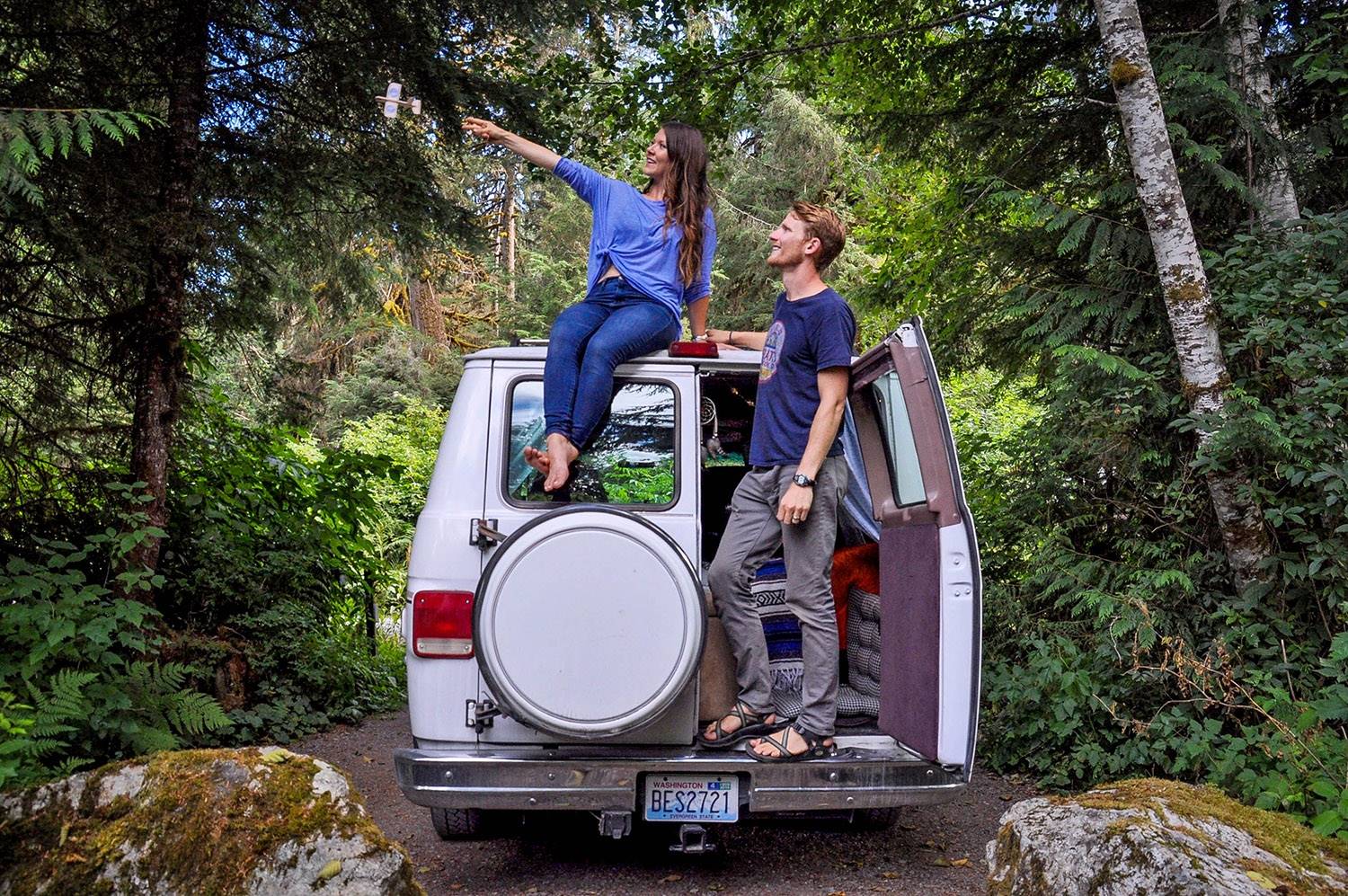 We're answering all your questions about living in a campervan. Ever since we built our own DIY campervan within one week and on a budget, people have sent us their burning questions about what it's like to live in a van, and we've put together a video with our answers. (Yes, we even answered those questions that are a bit embarrassing to ask…)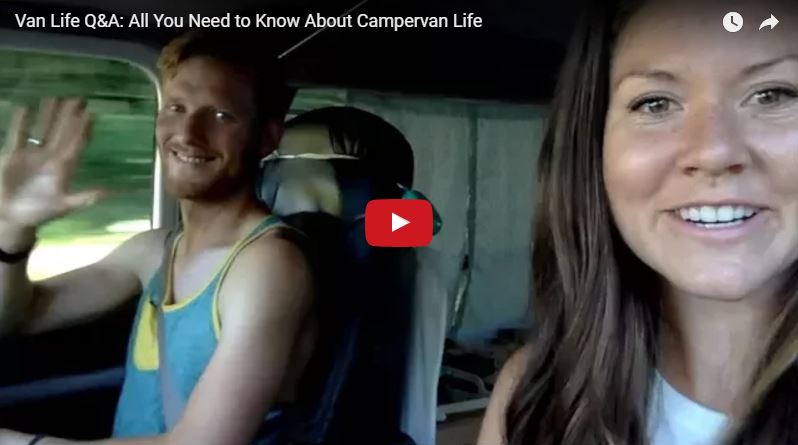 We couldn't fit all the questions into one video, so keep reading below to find even more van life questions!
---
Want to try out vanlife for yourself?
If you don't have the time (or interest!) in building your own conversion but you still want to give van life a test drive, we've tons of ideas for you! Check out our list of top companies for USA Campervan Rentals, from budget to bougie, we've even included some exclusive discounts for our readers!
One company we'd recommend looking into is Escape Campervans. They have 12 different locations across North America and come fully loaded with all the gear you need for an epic road trip. Plus, their rates are fair and affordable.
BONUS: We've partnered with them to give you a 10% off discount when you use our link!
---
1. What do you eat while living in a campervan?
This is one of our favorite questions to answer because we LOVE food, and we love talking about food. As much as we'd love to try all the restaurants we can along the way, we try to avoid eating out because it gets expensive and tends to be less healthy. Oh, and we LOVE cooking. It's been fun figuring out meals that work well in a campervan.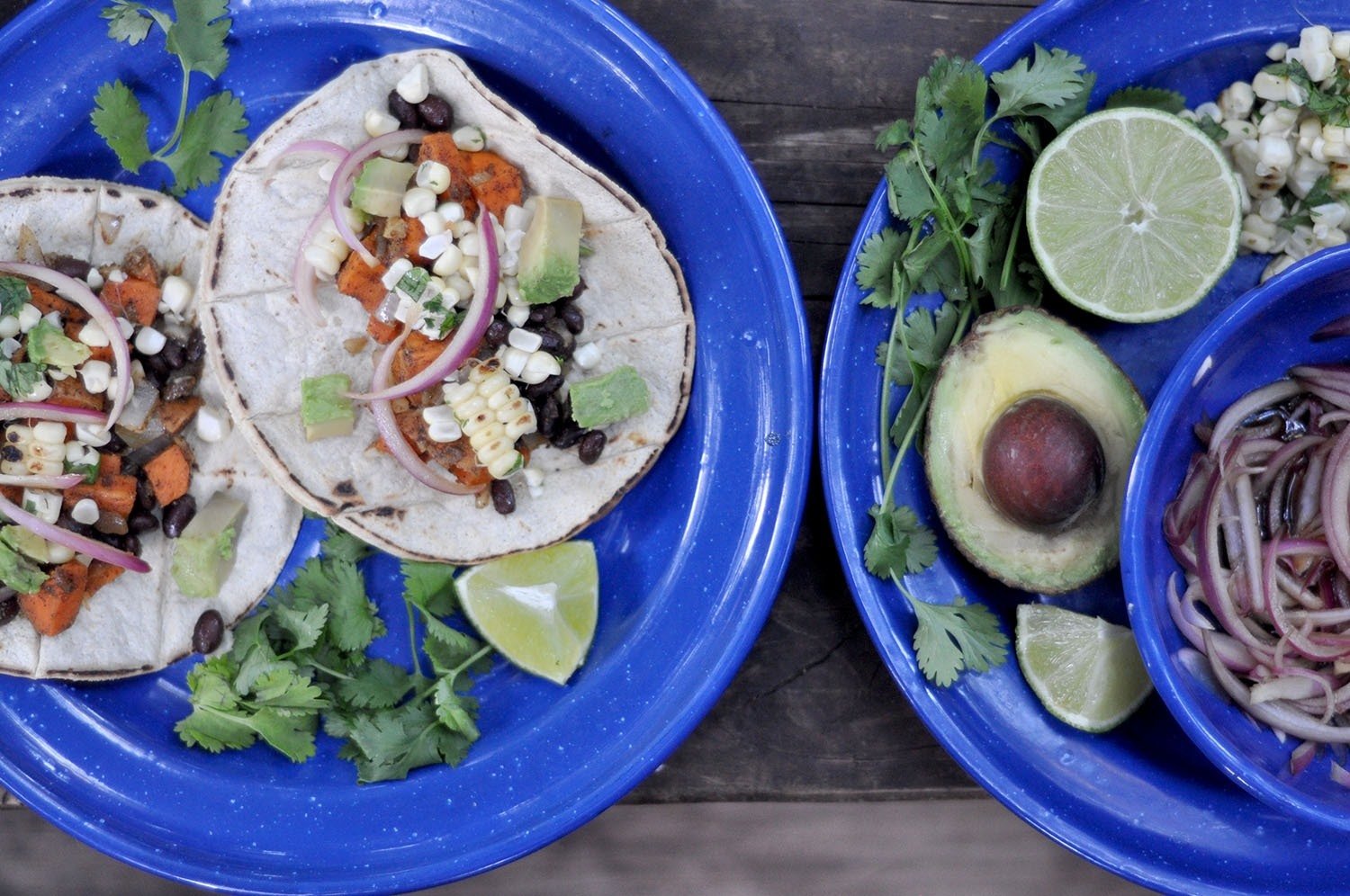 A lot of the time, we make vegan meals so we don't have to worry about meat and dairy spoiling in our cooler. But we are big fans of cheese, so we get it for a snack quite often.
We try to eat pretty healthy, so that means lots of fresh veggies, fruits and whole grains.
The easiest thing for us to make in the morning is fruit, yogurt and granola or oatmeal. We keep our oatmeal interesting by adding chia, coconut, cocao nibs, maple syrup and raisins.
For lunches, we try to make things that don't need to be heated up – sandwiches, salads, cheese and crackers with veggies and hummus – that kind of stuff.
For dinner, we make lots of curries, salads, stir fries, burrito bowls, quinoa dishes…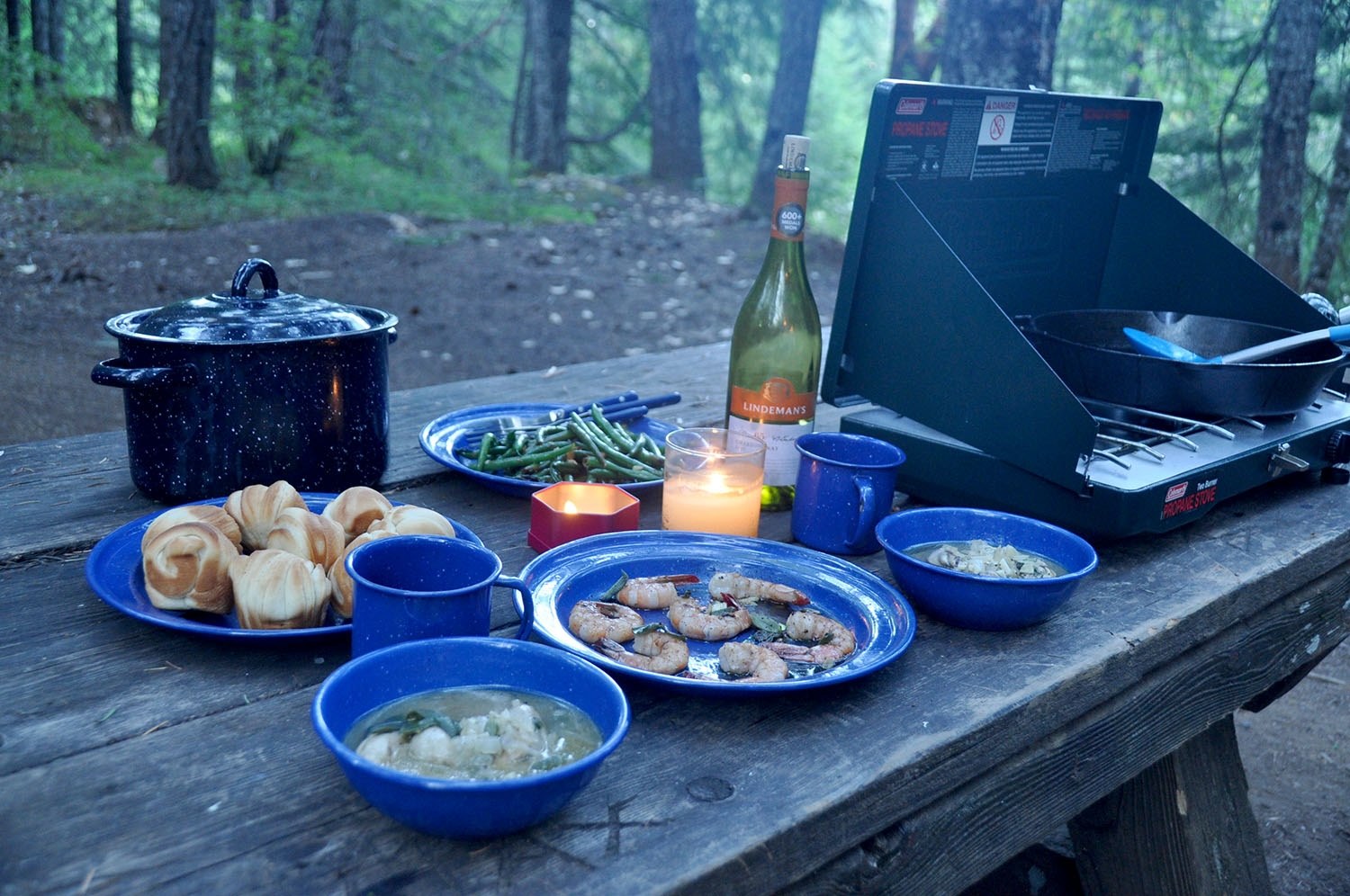 Honestly, I think you'd be surprised by how well we can eat in our campervan. Just the other night we made grilled wild shrimp that we got at a local seafood market with steamed oysters in a lemon butter sage sauce and crusty French bread for dipping. With a side of veggies and a white wine pairing, of course! Not too shabby, huh?!
We're working on putting together some of our favorite easy, healthy and cheap campervan recipes, so keep your eyes peeled for that!
Psst: If you are interested in converting your own campervan and not sure where to start, be sure to check out our article on the best vans for camper conversion which includes van specs and what to look out for!
2. Where do you guys shower? Do you find the nearest gym or YMCA… or river? 
This is by far the most common question people ask us. And quite honestly, it was the biggest concern we had before we started this journey. We actually wrote an entire article on the topic and even shot a video about what it's like showering in a van (no, not that kind of video!).
But the basic answer to this question is that we've found many places to shower along the way. Campgrounds are a great option – you can often pay a few dollars to shower, even if you're not camping there.
We've also showered at community centers, public pools (and got to swim, too!), and even found a few public showers along the way. Oh, and there was that one time we showered on an alpaca farm!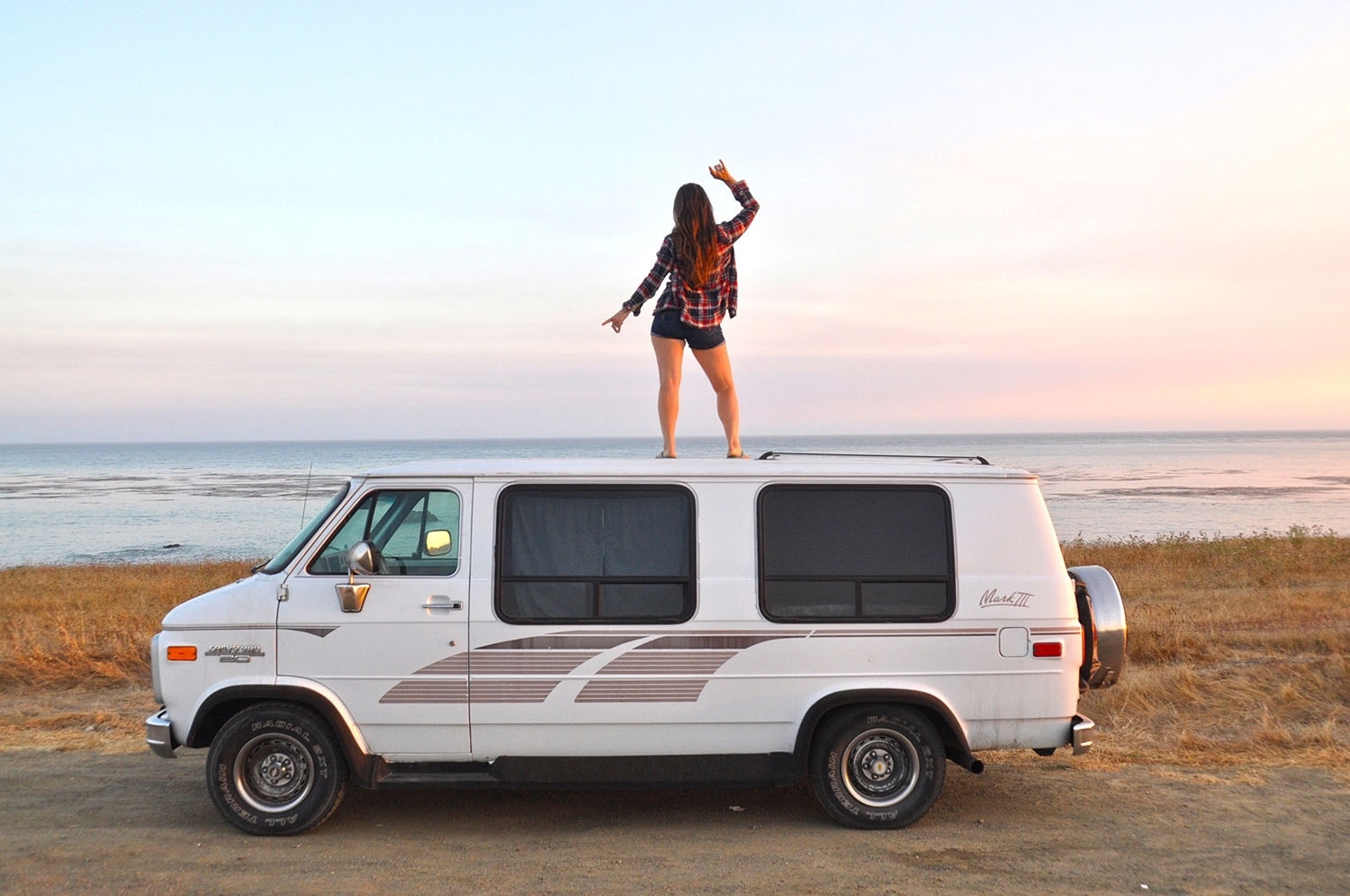 It really varies how often we shower – at the beginning of our trip, the temperature in Washington was in the 60's (that's like 15 °C for all our non-American friends) and we didn't do any strenuous hiking, so we went I think 5 days without showering.
But we were in Utah during a heat wave and did all sorts of strenuous hikes, so we showered every day for a while. I would say it averages out to us showering about every 3-4 days.
Living in a campervan has meant that we've had to make some sacrifices. And not showering every day is one of them. But I'm okay with that because it allows us to have freedom and take epic adventures. And honestly, if there's ever a day we really feel like we need a shower, we can find one. So it really hasn't as big of an issue as we thought it'd be.
3. If you had to take a guess, how much does it cost to live per week or month on average?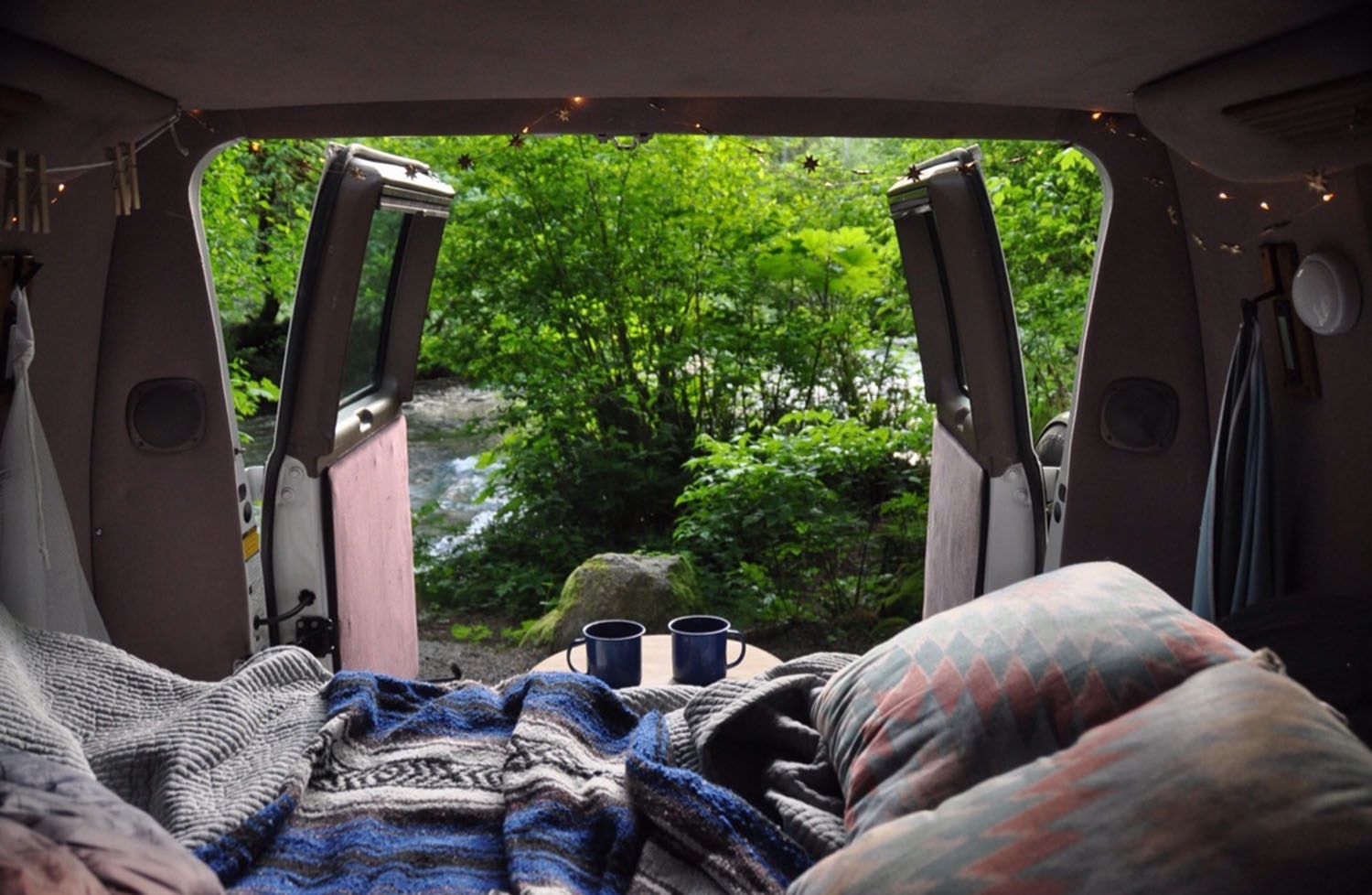 Actually we don't have to guess… If you follow our blog at all, you know that we're pretty meticulous about staying on top of our budget. And the best way to do that is by recording it! So, yes, we know exactly how much – down to the penny – we've been spending while living in a van.
We broke it down further in an article that details exactly how much our road trip budget & daily vanlife costs added up. We include how much we spend on gas, food, camp spots, etc.
Plus, we've shared exactly how much we spent on converting our first van on a tiny budget and how much time it took.
But for now, we'll give you a daily average:
At this point, our average is $76.74 per day for both of us. (It has gone down since filming the video!)
That is the cost per day for two people. But since gas and campsites would be the same for any number of people, we can't really get a great per person cost.
4. Have you met any others living the #vanlife with pets or young children? How does their experience vary from yours? 
Absolutely! People of all ages and walks of life are able to make campervan life a reality. We do tend to see more young couples without pets or children living in campervans, while those with children and/or pets tend to have larger vehicles like tow-behind campers or RVs.
And typically, people with pets or children go for shorter periods of time – like for the weekend or a couple weeks at a time – which makes sense. That said, there are certainly exceptions and some kickass families and pups living the campervan life together!
We even put together an article about vanlife with pets where our fellow vanlifers who travel with their furry companions answer all of our most frequently asked questions about life on the road with a dog or cat.
Families who adventure (and have done the #vanlife thing):
Van lifers with a pup:
5. Where do you poo while living in a campervan?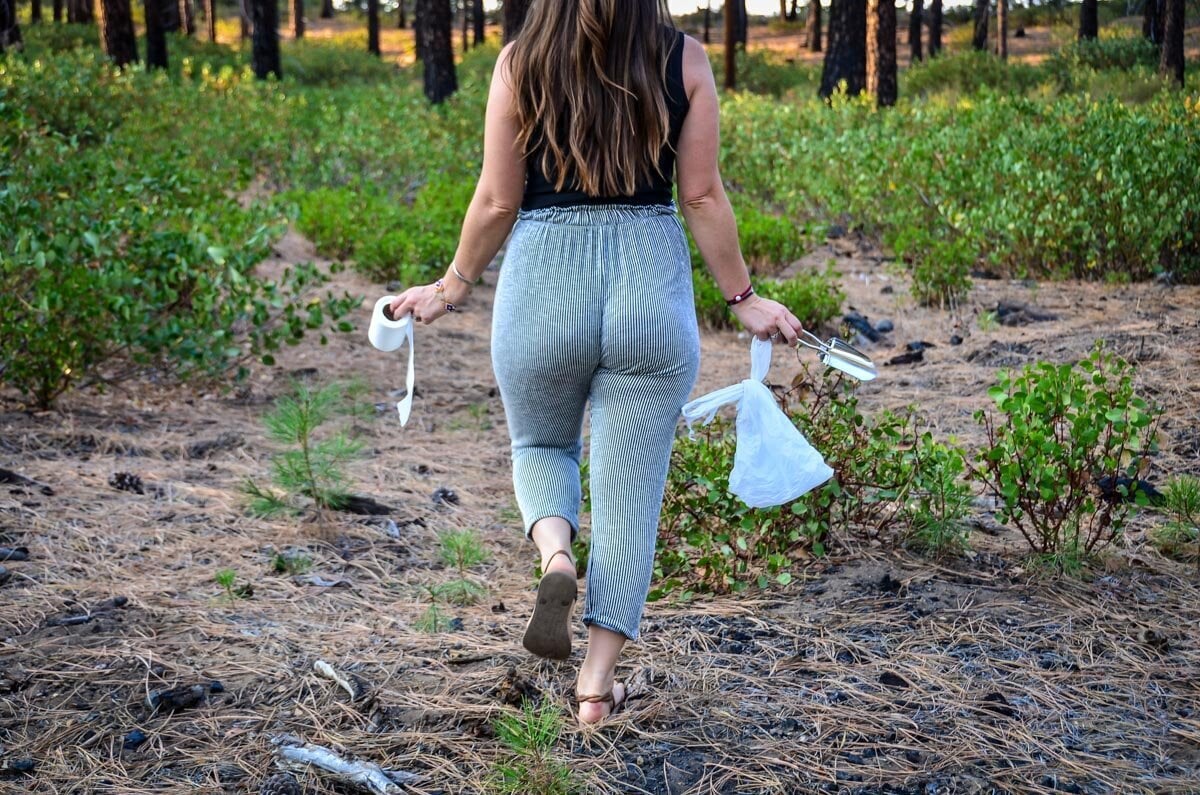 Another popular question with a pretty simple answer, actually. Just like on any regular road trip, there are plenty of places to stop along the way – be it rest stops, gas stations, trail heads, coffee shops, grocery stores, visitors centers…
We typically try to camp near a restroom, or in a place where we can, how shall we say… relieve ourselves in the wild. It's honestly not even an issue.
Some campervans have a built in toilet, and that was a feature we made sure to put in our most recent van build. We put together an article about the best campervan toilets (for all budgets!) so you can decide if a toilet is right for your van build… We'll give you a hint, we went with the Nature's Head Composting Toilet and couldn't be more pleased with how it works in our van!
Psst: Interested in learning more about the not-so-glamourous parts of vanlife? We're giving it to you straight and talking about the things nobody else wants to talk about in our article about the WORST parts of vanlife.
6. Where do you park at night? Do you always stay in campgrounds or do you just find a place to park?
We do a mixture of the two. But usually, we don't stay in traditional campgrounds. We've found them to actually be quite expensive for our budget.
At $35 and up per night, staying at formal campgrounds can really start to add up. Plus, many of the big campgrounds are reserved far in advance, and we usually don't know where we're staying until the evening comes. And the beauty of a campervan is that you don't really need to stay at a traditional campsite.
There is a lot of free camping around the US (especially in states like Washington, Idaho and Oregon). And there are lots of places you can legally (and safely) park overnight without paying a fee.
Often times when we're in towns or cities, we'll search for public restrooms in Google Maps. Usually around parks, there are bathrooms open all day and night to the public. And often times you can find parking nearby.
We always look for signs that say "No Overnight Parking", and we avoid those areas. If there's no sign around, then we're fine!
And there's always the backup option of staying in a Walmart parking lot. Yep, that's right… some Walmart stores allow RVs and campervans to stay overnight. This is certainly our least favorite option, but we've had to fall back on it a time or two, especially in big cities where there's really no other option when it comes to parking overnight.
8. How long did it take you to convert your van?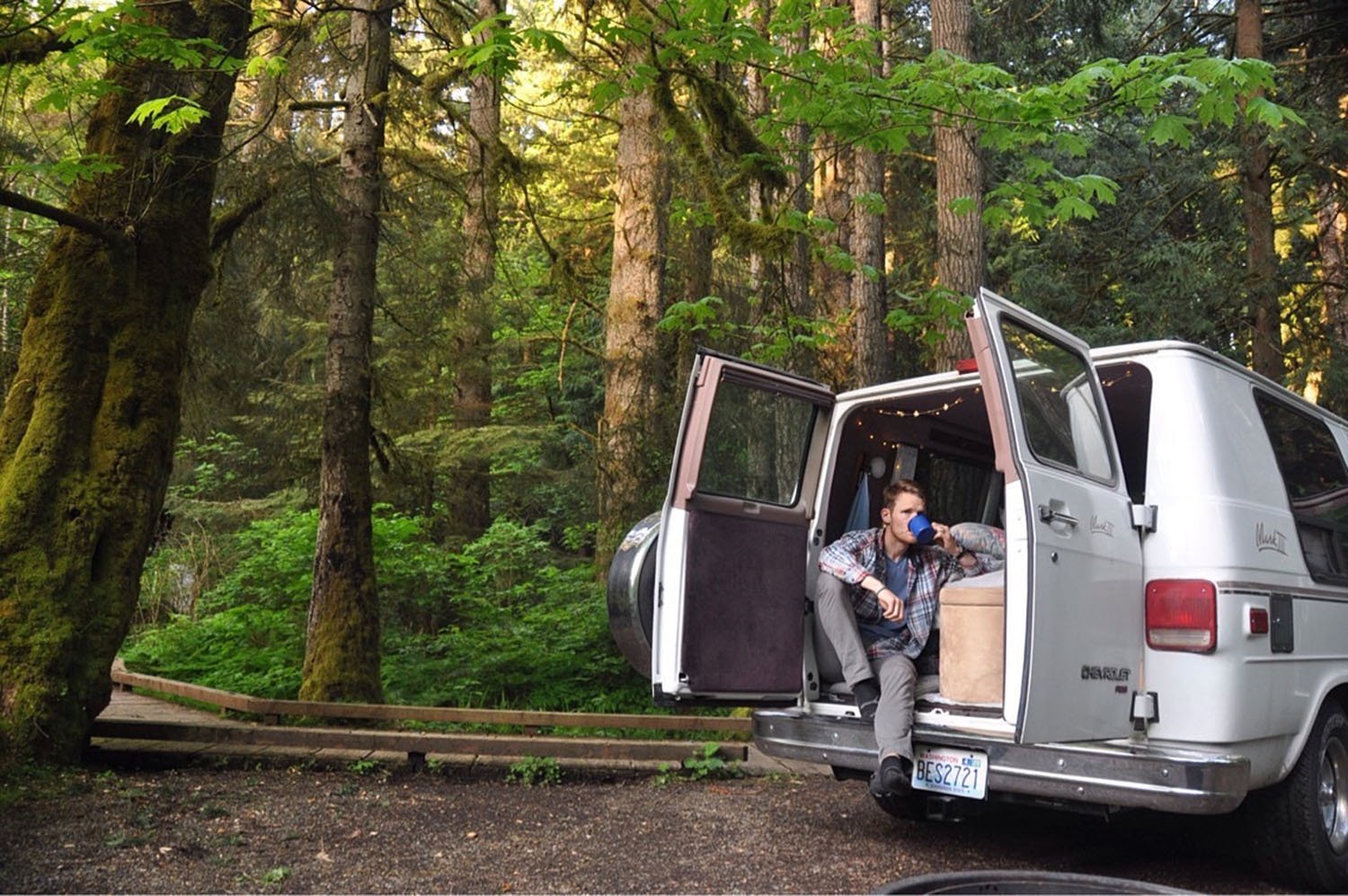 We tend to do things at the last minute, and this campervan conversion is no exception. In fact, we made the decision to get a van about one month before we actually left.
It took us a while to find the right one on Craigslist, and when we finally brought the van home, we only had 3 weeks before our trip began. We had a lot going on during those 3 weeks so we weren't able to work on it every day.
All in all, we spent about one full week of work on the conversion. Not too bad for two people who had never done a van conversion before and didn't have all that many tools to use. Plus, we were on a tight budget, so we couldn't take many shortcuts.
9. How do you have privacy while living in a van?
While living in a van, we've experienced complete privacy and total lack thereof. We've spent the night in the wilderness where there's not another person for miles, but we've also spent a few nights in parking lots with other people passing by. Lack of privacy is one of the things you kind of sacrifice in some ways to be able to have the freedom and adventure of living in a van.
Even when we are parked with other people nearby, we feel like we have some amount of privacy because we made curtains that cover every window. Nobody is able to see inside when they're all closed.
10. What is the hardest part about living in a campervan?
Honestly, we've really hit our groove and living in a van is just normal to us now. There are little things that take longer than they would for a normal person (one that's not living in a campervan!), like showering and making sure we know where we're going to stay for the night, but overall, those little things seem pretty minor, and over time they have just become part of life.
I would say maybe the hardest part about living in a van (and traveling in general) is that we're constantly moving and there are some things that we miss about living in one place – like being able to work out regularly and going to a favorite bar or coffee shop. And just missing out on time with friends and family.
Related: We took this topic a bit further after spending time in our second van build, and put together an entire (somewhat humorous) article on the worst parts of vanlife.
11. What do you enjoy most about van life?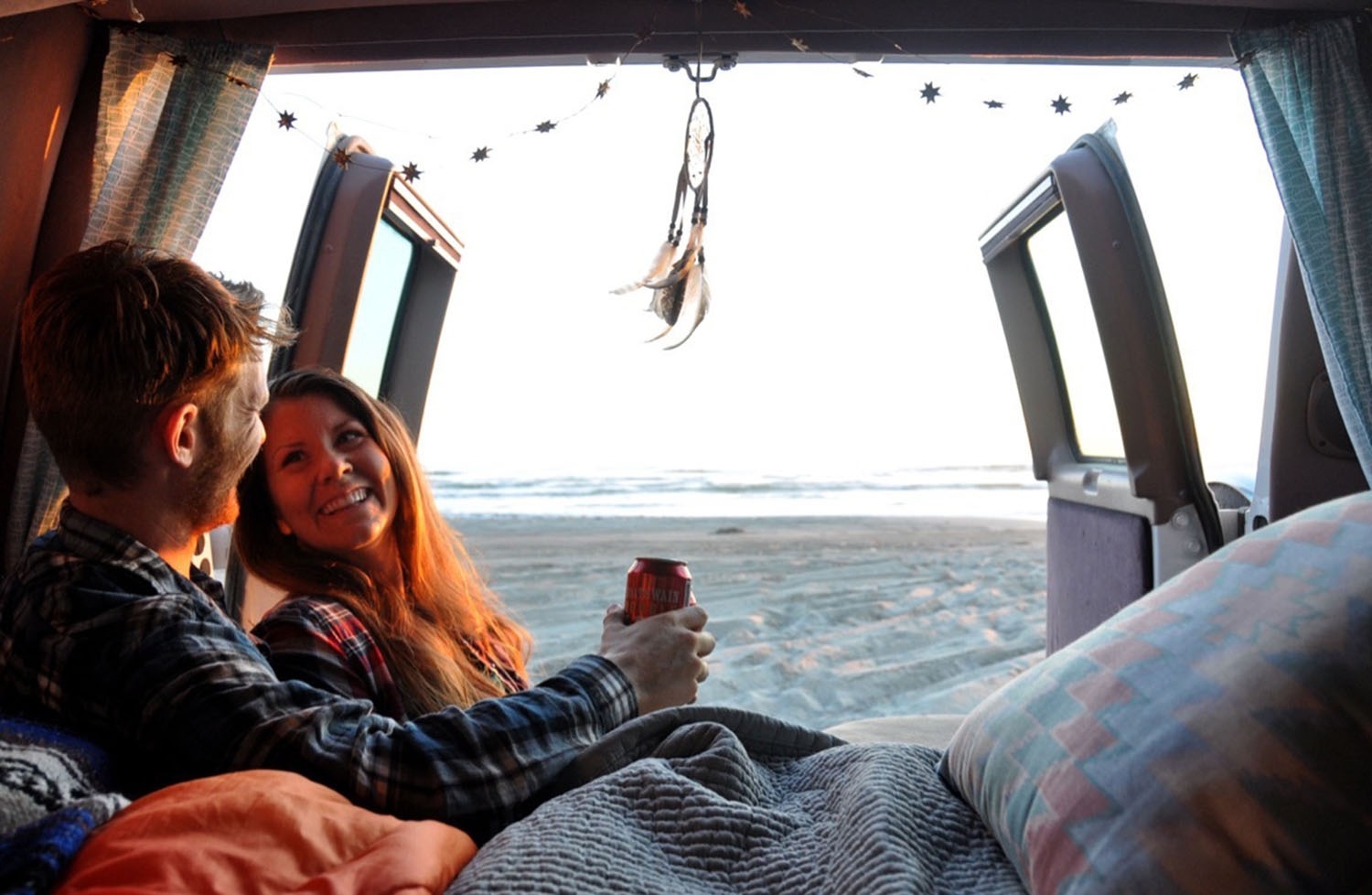 We go into all the details about this is our article: the best parts of living in a campervan.But in short, we love the freedom that comes with living in a van. You can go to sleep in the forest one night and the next night you can sleep at the beach. We can take detours when we get the urge and we have everything we need to be self-sufficient.
We bring our kitchen and bedroom and closet with us wherever we go, and there's something incredibly empowering about knowing that you can live with just what is in your car.
BONUS QUESTIONS
12. What's your gas mileage like?
Not great. But it probably beats some of those gigantic RVs you see on the road. We average around 15-18 miles per gallon. Like I said, it's not great, but I suppose that's to be expected when you're hauling around your house.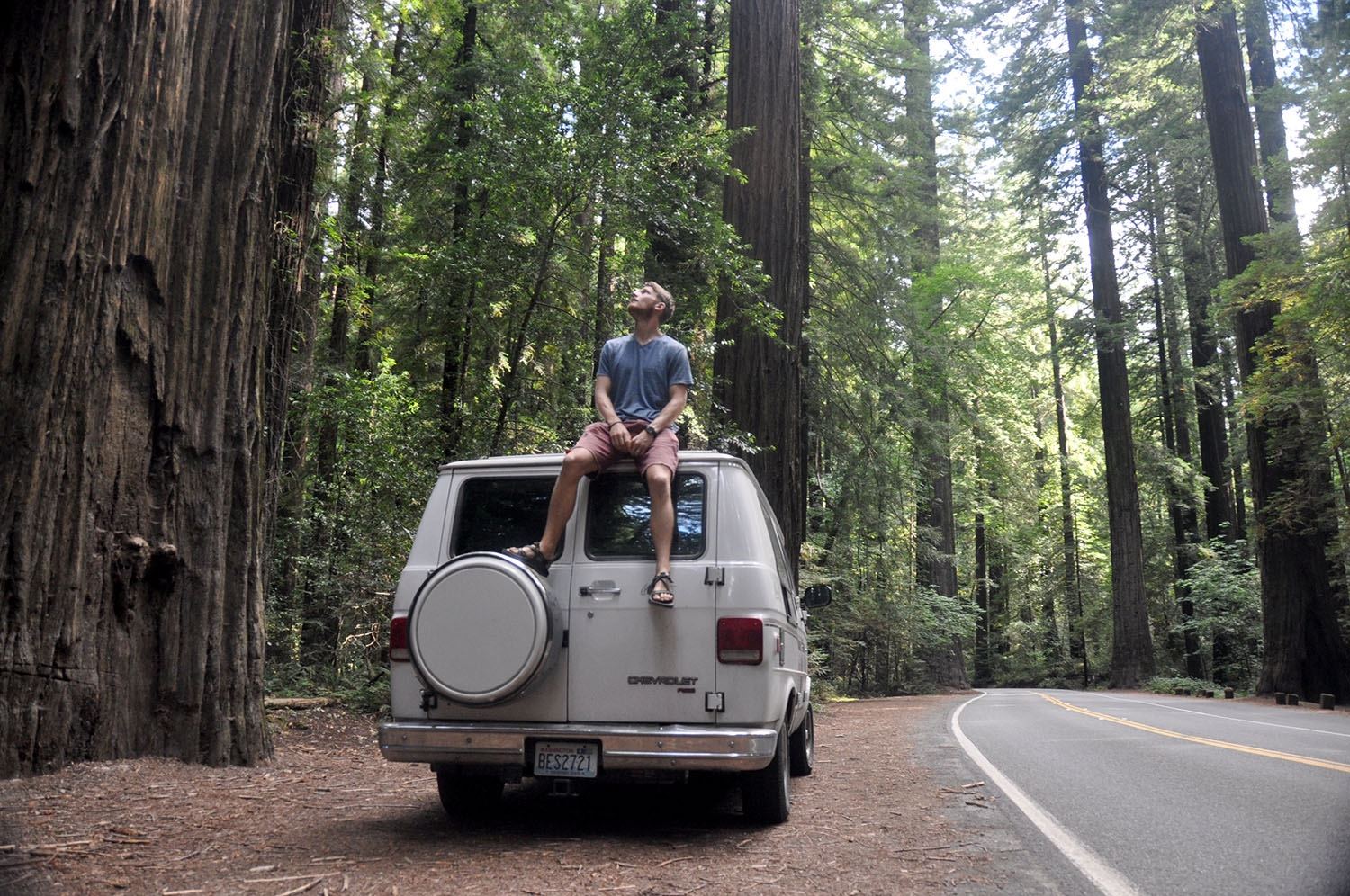 13. How much did the van conversion cost?
In total, we spent $673.19 on converting our van into a living space. This includes everything from the lumber to build our bed to our stove and all our cutlery and kitchen utensils. We tried to stick to a tight budget, so we got some of our supplies at thrift stores (like the fabric for our curtains, and cushions for our "nook").
While our conversion certainly isn't the most luxurious out there, we think we did a good job on a tight budget and in such a short amount of time, and there is honestly not much at all that we would change.
Related: After our second van build, which was a bit more spendy, we put together a huge guide to campervan costs, covering both the budget and the luxury ends of the spectrum.
14. Where do you put all your stuff?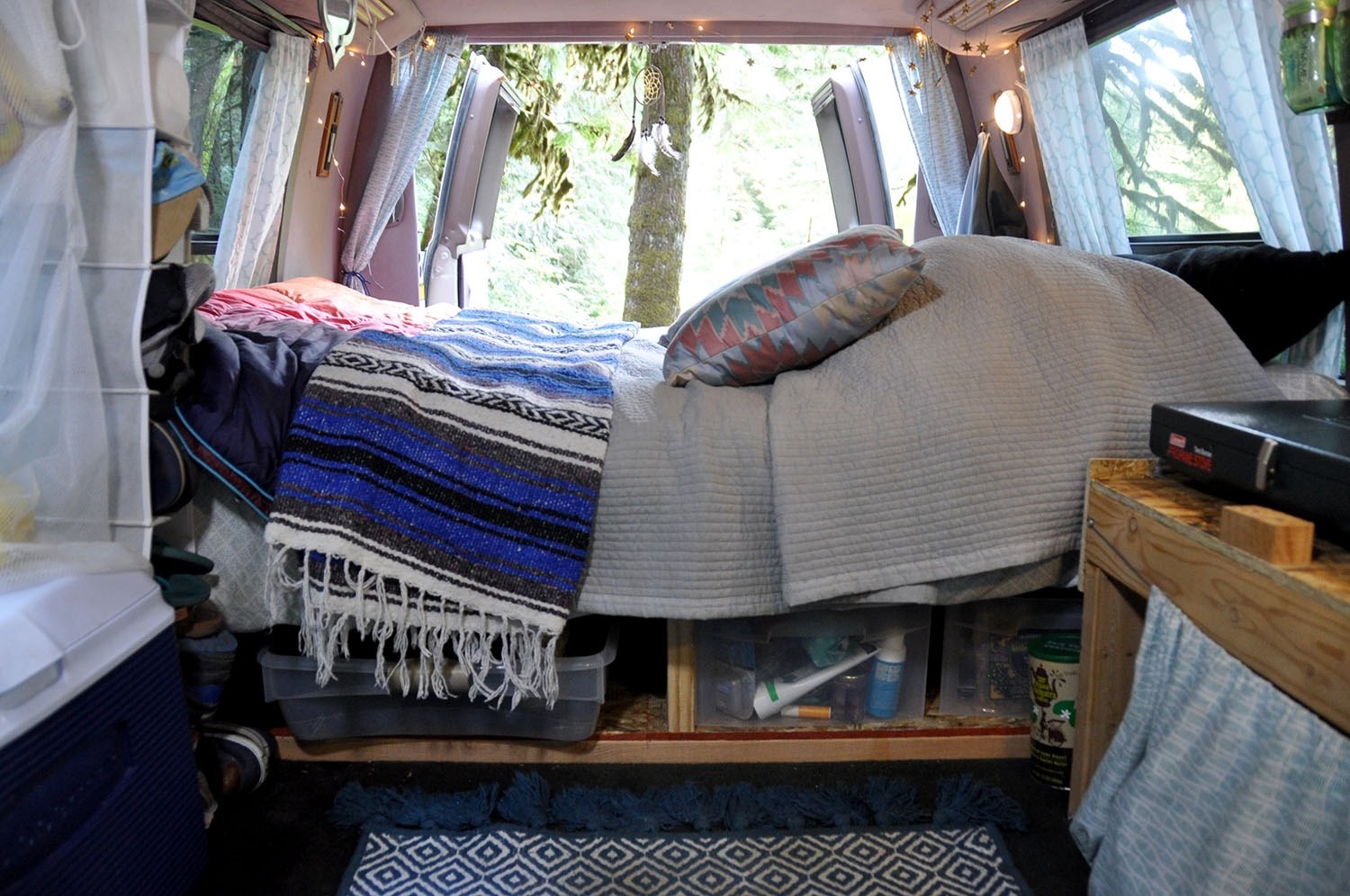 Well, to begin with, we tried to pack as lightly as possible. (Even so, I do feel like we over-packed a bit!). Ben, being the former engineer he is, made a spot for everything in our van, so it all fits like a puzzle.
Our biggest storage compartment is underneath our bed. When Ben built the bed platform, he hade sure to raise it up about 9 inches to have room to store things like our clothes, food, tent, yoga mats, etc. He even divided it into a couple of compartments to help keep it organized and prevent things from rolling around.
We're going to break down our whole conversion so you can see exactly why it all looks like, so stay tuned for that.
15. How do you not get too hot while sleeping in the van in the summer? Do you have some sort of air conditioning you can run when the van is off? 
Neither of us handles intense heat very well, so this was definitely on our mind as we set up this conversion.
Luckily, the windows in the van have screens, so we can leave them open all the time – especially at night – to get some good airflow in the van.
Also, we have two fans that we run on hot nights. The nice thing about the fans is that they are rechargeable and are even able to run when plugged into our external battery pack. We've actually been super comfortable at night in the van, with the exception of a couple super hot (100+ °F) days in Utah. Thank goodness.
16. How do you charge your electronics?
We have quite a few electronics with us in our campervan – 2 laptops, phones, Kindles, camera, GoPro, Bluetooth speaker – so keeping them charged is a priority.
We did a bit of research to find the best power converter for our campervan and landed on the Bestek Power Inverter 300W. It's super small and has the capability to charge 4 devices at a time while we're driving.
Any time we're on the road, we've got it plugged in, so we usually don't have any problems with our electronics dying. It has worked surprisingly well for us!
Also, one of our very favorite things we own is our Anker Battery Pack. We've brought it all around the world with us and we seriously don't know how we'd travel without it. This bad boy can charge a phone (or other devices) 7 times before it needs to be recharged. We even brought it on our trek to Everest Base Camp to keep all our electronics charged!  
17. How do you get Internet in your van?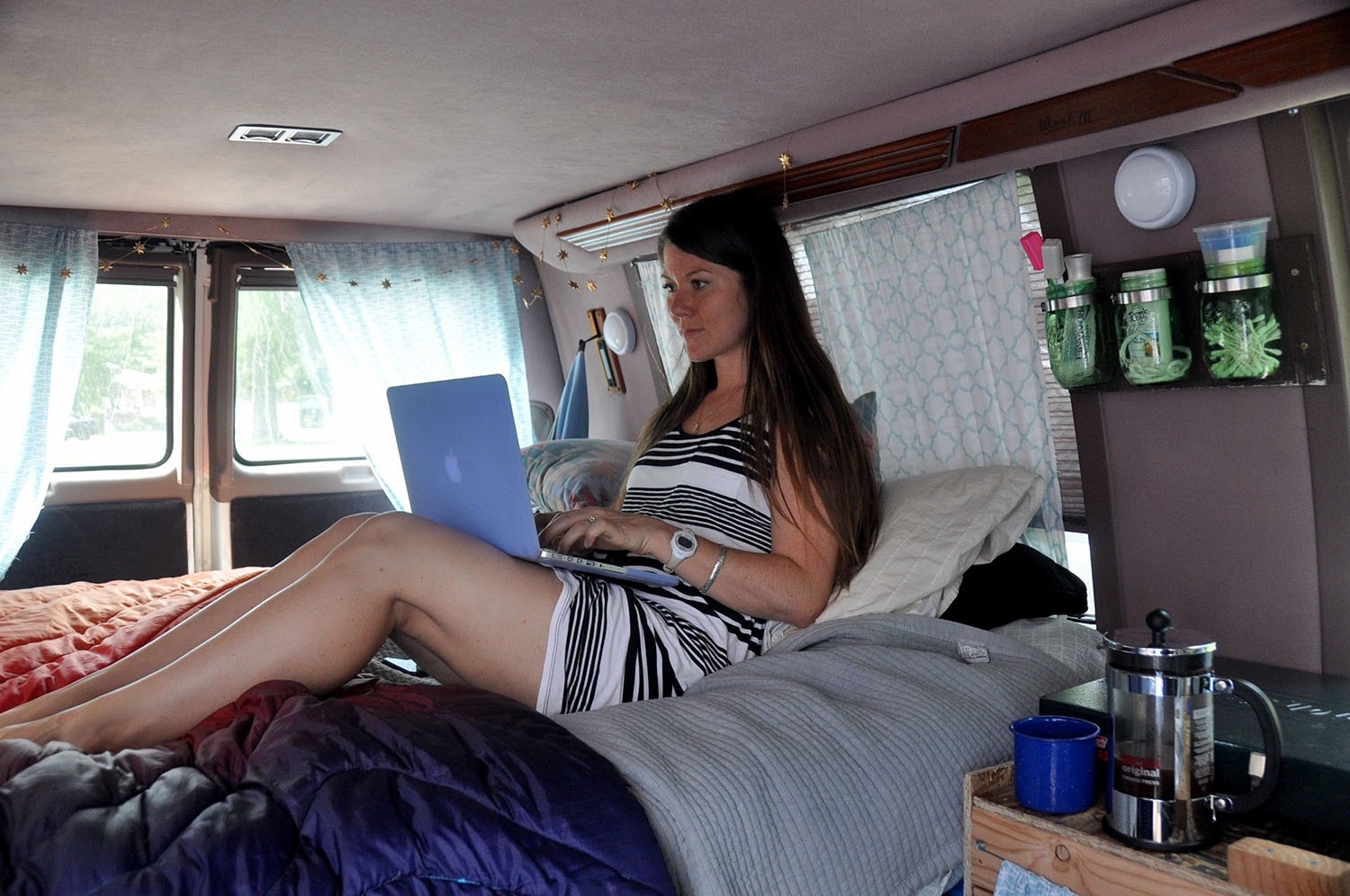 Getting Internet is something that is (sadly) pretty important to us. We work on this website as well as other online freelancing gigs to fund our travels, so we need to be connected a lot of the time.
Typically, we spend a few hours at coffee shops every couple days, but for the times that we need to get work done inside our van, we have a solution.
We have one of our phones hooked up with an unlimited data plan from Verizon. It costs $80 per month and does not come with a contract (which is important to us). Whenever we need to get connected, we turn that phone into a hotspot and connect our other devices to get Internet.
It can be tricky as there are many places, like National Parks and forests, where we don't get service. But when we do have a good cell connection, the hot spot is strong enough for Ben to teach English to children in China via video chat and for us to stream the news in the morning. It's pretty wonderful what technology can do!
If you're like us and need to make sure you have a decent wifi connection on the road, we put together an entire guide on how to get wifi in your campervan that compares cell phone plans and personal wifi devices.
18. How do you not get bored on long drives?
We've got lots of answers for this one!
We talk: long car rides are perfect for deep convos.

Music: Oh yeaaaah, we've got a road trip playlist!

Podcasts: Here are some of our faves: Up First, Wait Wait… Don't Tell Me!, Science Vs, Ask Me Another

Get sh*t done: Ben usually drives, so I (Katie) try to get work done on long drives. It actually works quite well for me.

Audiobooks: We've listened to a few audio books in the past to get some "reading" done with our ears. Sign up for a 30-day trial version of Amazon's Audible and you get a free audio book download.
19. Did you install a fridge or do you keep your food in a cooler?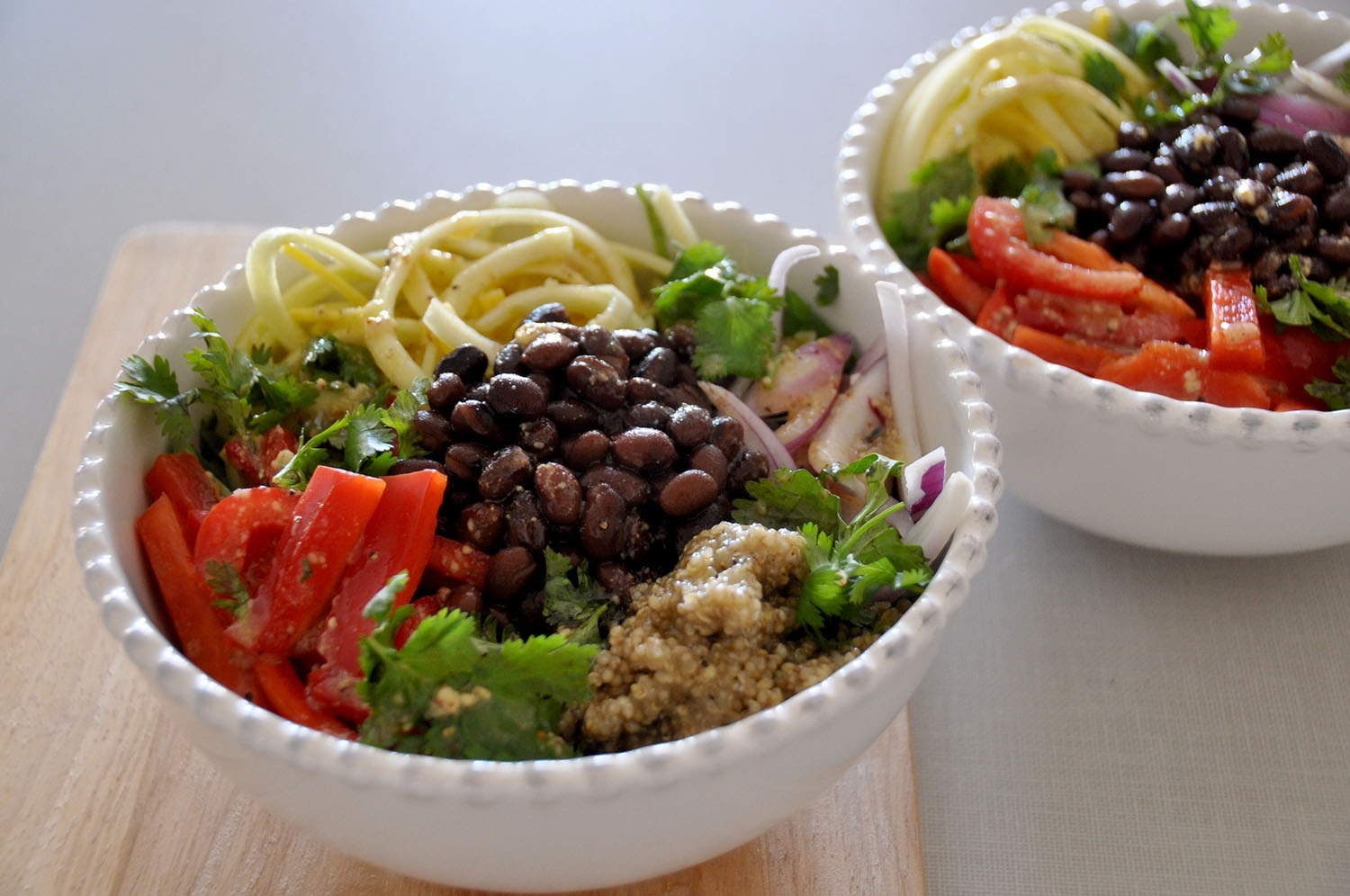 We have a cooler. A fridge would be amazing, but since it has to constantly be running, we would have needed to add an additional power source for our van.
I think we'll probably do that in our next van conversion (yes, I said there will be a next one! Someday…). But for now, we get ice every 2 or 3 days and it's been working well. We try to really plan out our meals ahead of time and go grocery shopping often, so we've had hardly any food waste to speak of.
20. How did you make the final decision to abandon the 9 – 5 routine and embrace van living? 
This is such a great question, and there is a lot that went into our initial decision to leave the "traditional" workforce 3.5 years ago. Truthfully, we don't think 9-to-5 life is bad at all.
We just wanted a change of pace and a bit more freedom. We wrote about this decision in detail and outlined everything you need to know when making a decision to leave your job.
But spending the summer in a van was actually a pretty last minute decision. It's a lifestyle that has appealed to us for a while now, and we were intrigued by the challenges of making it work for us. So we took the plunge and are oh so happy we did!
21. How do you keep the van smelling fresh? 
Surprisingly, this really hasn't been an issue, but that's probably because we've taken some preventative measures! When we first bought the van it smelled. It stunk, actually.
So we spent a lot of time cleaning out the carpet and upholstery. We bought a little neutrally scented air freshener, and have kept replacing it just to make sure it doesn't get smelly.
But we almost always keep our back windows open to get lots of airflow and we take out the trash and replace our wastewater bucket often (especially when we're in hot places). We also keep baking soda in the bottom of our trashcan to help neutralize any odor.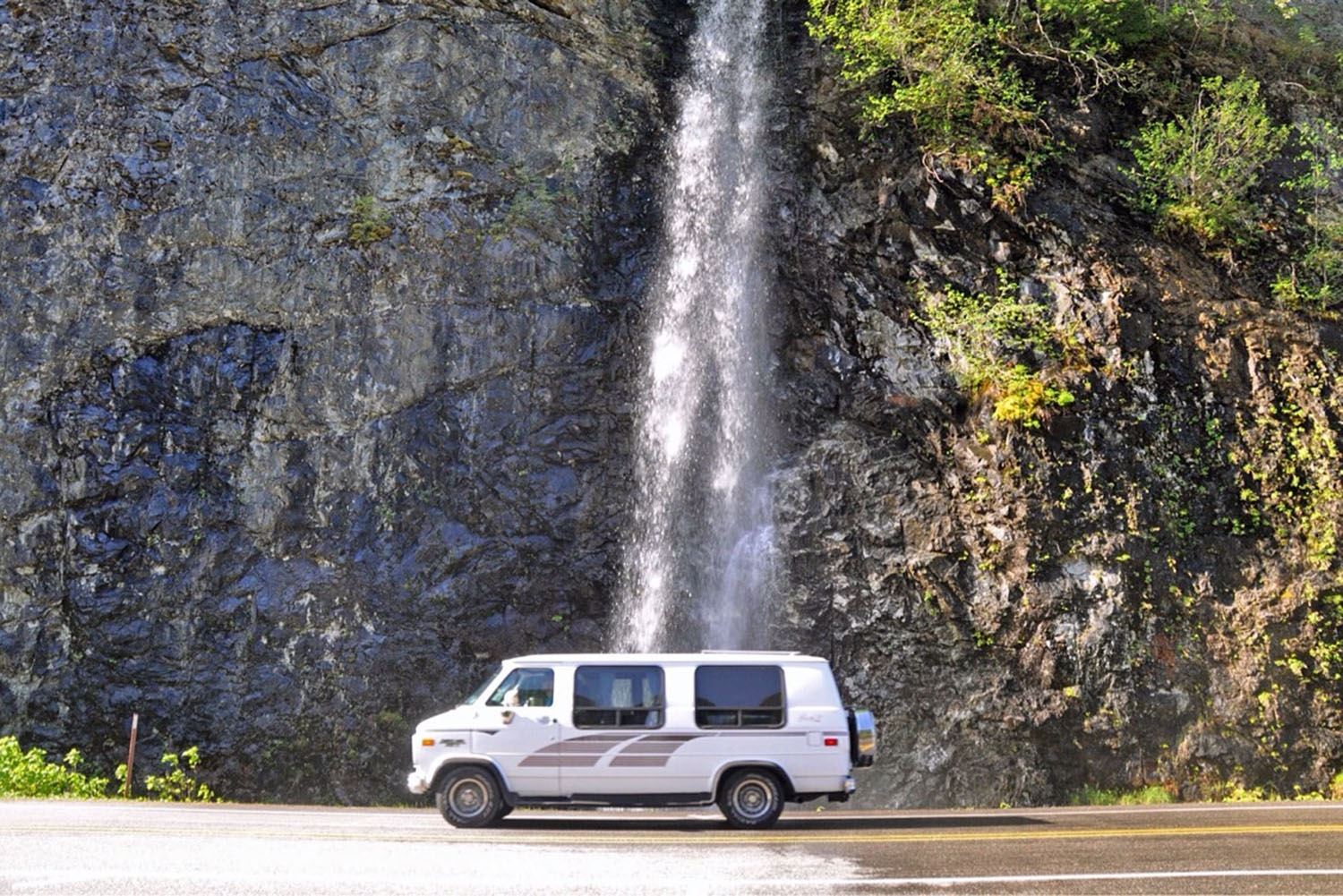 22. Do you get a lot of animal visitors when you open things up? 
Nope! We haven't had any animal visitors (yet!). We've hardly had any bugs either, which is so nice coming from Minnesota where our state bird is a mosquito. (Only joking! Sort of…) We've only had a couple evenings where the bugs have been so bad that we've had to close the doors. And luckily the windows in the back have screens, so we can still have airflow.
23.  What issues have you experienced with the van? 
Thankfully, we haven't had too many mechanical issues… yet. Eek! We did have a leaking coolant hose. In Utah. In the middle of the desert. Ben worked a little magic and replaced the hose himself, so we've been in the clear ever since. Knock on some wood for us…
---
Are you (or someone you know) thinking about doing a campervan conversion?
Lucky for you, we have TONS of resources on converting your own campervan and living the #vanlife. Check out our Ultimate Guide to Van Life for all the answers to your most burning questions, or read some of our favorite articles below.
Interested in engaging with others about all things #vanlife? Join our Vanlife Facebook community!
We want to hear from you!
Are you surprised by any of our answers? Is there anything else you are wondering about van life that we haven't answered in this video or article?
Comment below and we'll be sure to answer any more burning questions you may have about living in a campervan!