"How much did your campervan cost?" is usually the first question we are asked about van life. We're breaking down all our expenses for our campervan build. We also highlight cheaper ways to convert a van if you have a tight budget and showing off some bougie upgrades that are on our wish list!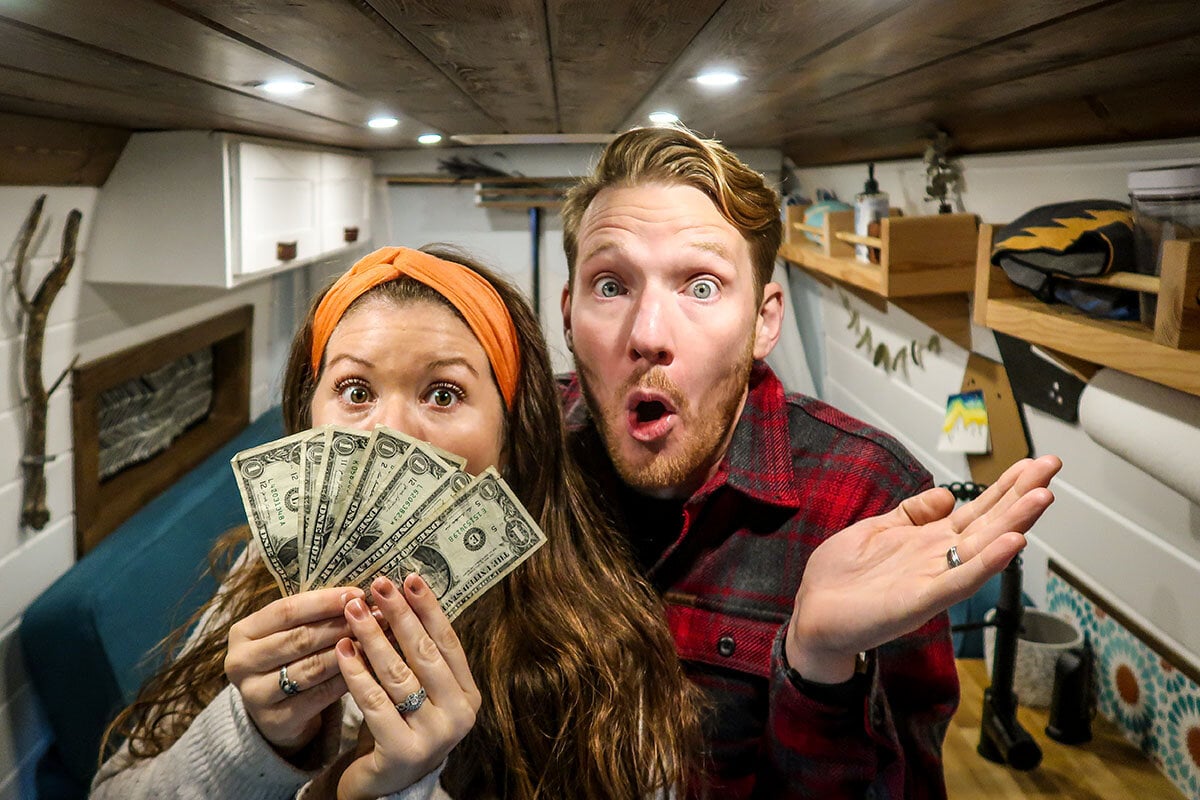 It's funny because nearly any time we post a picture of our campervan, we get comments or messages with the same question…
"How much did your campervan cost?"
It can be a photo with a deep caption or a thought-provoking question, and yet people just wanna jump into asking us about money.
And we get it. Money is a big deal.
We are very transparent about our finances. So transparent, in fact, that we share exactly how much money we make as travel bloggers.
We have no qualms about sharing how much money our campervan conversion cost us.
However — and this is a big point I want to make — we don't want to share a number without context and scare people off.
If you take anything away from this article, we hope it's this:
#Vanlife is not only for the wealthy.

It does not need to cost tens of thousands of dollars to build a campervan.

We fervently believe that you can build a campervan you love on just about any budget.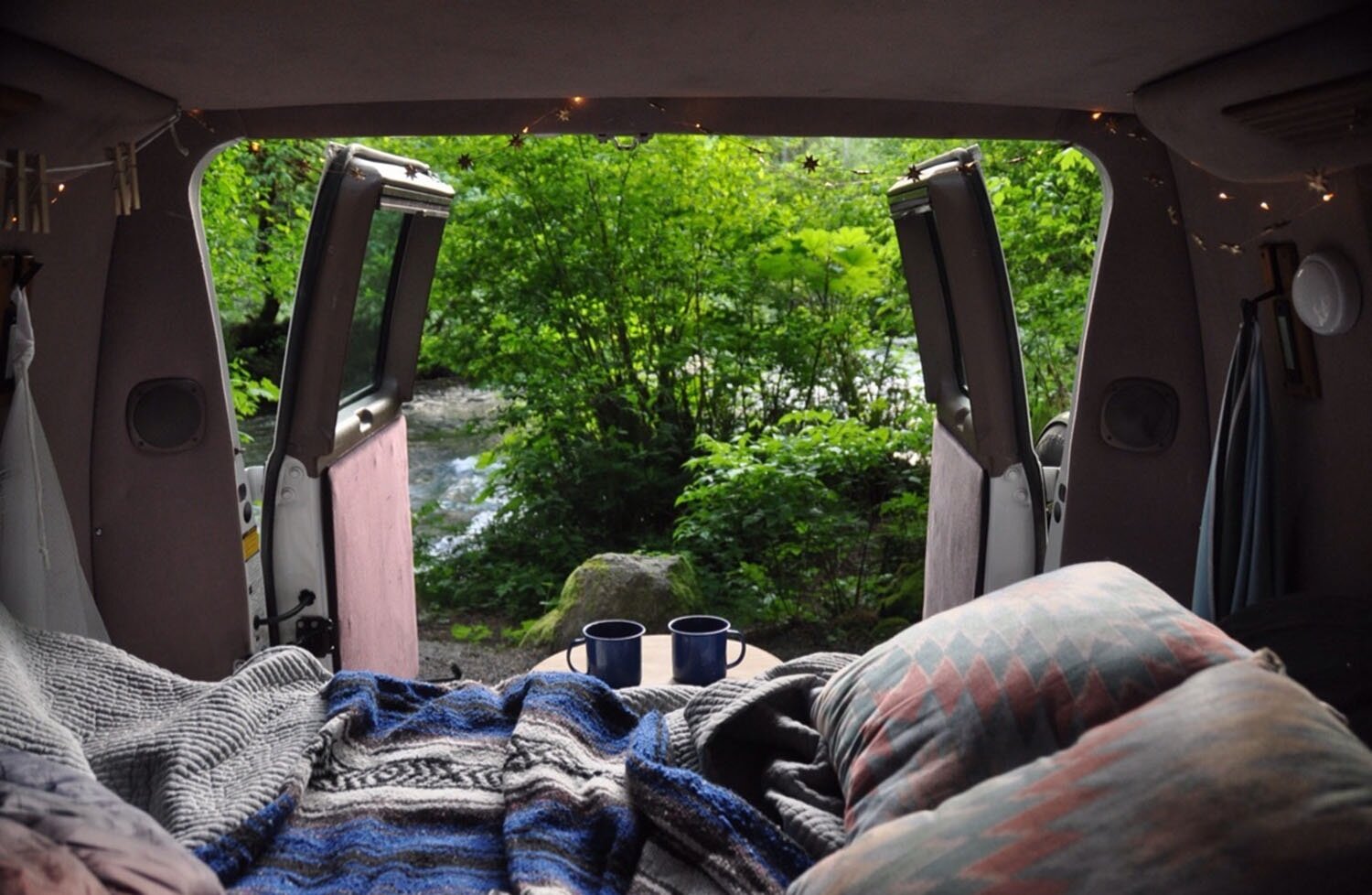 We are proof. Yes, seriously.
1st Campervan: We built our first campervan back in 2017, and at the time, we were straight up broke. We got creative and made the most of our very tiny budget (just wait 'til you hear how little we spent!). And yet, living in that super-duper-budget-campervan was one of the happiest times of our lives.

2nd Campervan: For our second campervan build, we had quite a bit more money to work with and we had some "upgrades" in mind that we could now afford. So the budget for our second build was quite a bit… strike that… a LOT more expensive.
While we are absolutely in love with our current campervan build, our first (very basic) build will always have a special place in our hearts. If you, too, have just a limited amount of money to work with, we want you to know that you can absolutely make your #vanlife dreams a reality.
No matter how small your budget. (Yes, even that small.)
On the other hand, we also know that certain items can cost a heck of a lot more than you might think. And unless you stay on top of things, your spending can easily grow beyond your intended budget. We hope this article helps set realistic expectations, especially if you're dreaming of features like solar panels and a composting toilet, for example.
How this article is set up
We've broken down all the categories you'll need to think about as you plan your van build — from insulation to electric, and everything in between.
Within each category, we're sharing how much we personally spent on our van build. For reference, we've also included how much we spent in the same category for our first (super budget!) campervan build, giving you a realistic range to base your own budget on.
We're also sharing money-saving tips for each category as well as worthwhile upgrades that'll be a good use of extra money if you have it (lucky you!).
No matter how basic or bougie your budget, this article will essentially break down all the costs associated with building a campervan conversion from scratch.
Vinny vs. Pearl
Alright, now's the time to introduce you to both of our campervan builds. (Yes, we name our vehicles!)
"Vinny"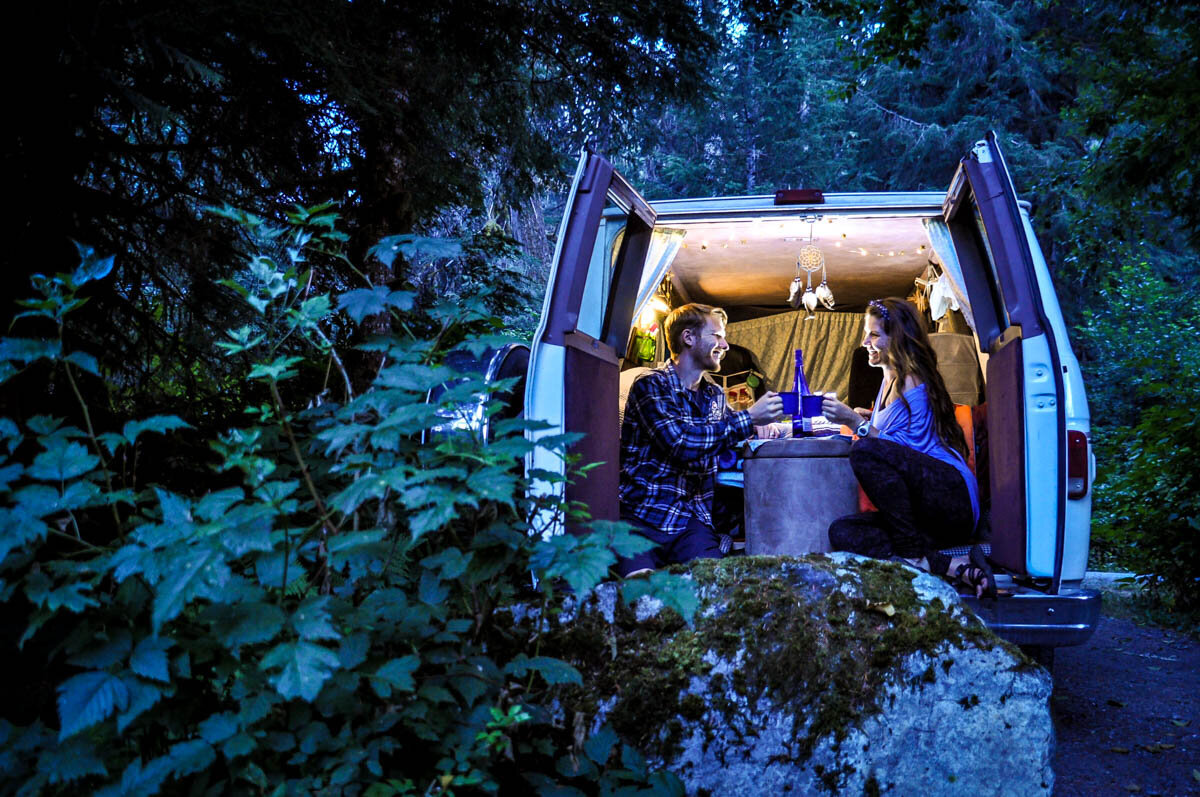 Make & Model: 1994 Chevy G20

Miles: just over 80,000 miles when purchased

Roof: Low top

Vehicle cost: Purchased for $2,000

Timing: We completed this van build in less than one week.

Basic Description: This van build was very basic, with a Coleman 2-burner stove, a gravity jug for our water source, a cooler, and a basic bed frame. We did not insulate or add flooring. We had no toilet or shower, and our electric system was basically just a small inverter that only could be plugged in when the van was running. We thrifted most of the items in our van build and used borrowed tools.

Price Point: There's honestly not a ton of ways we could have saved a lot more money. Vinny was essentially one of the most basic/budget builds we've seen (and we've seen a lot!).
"Pearl"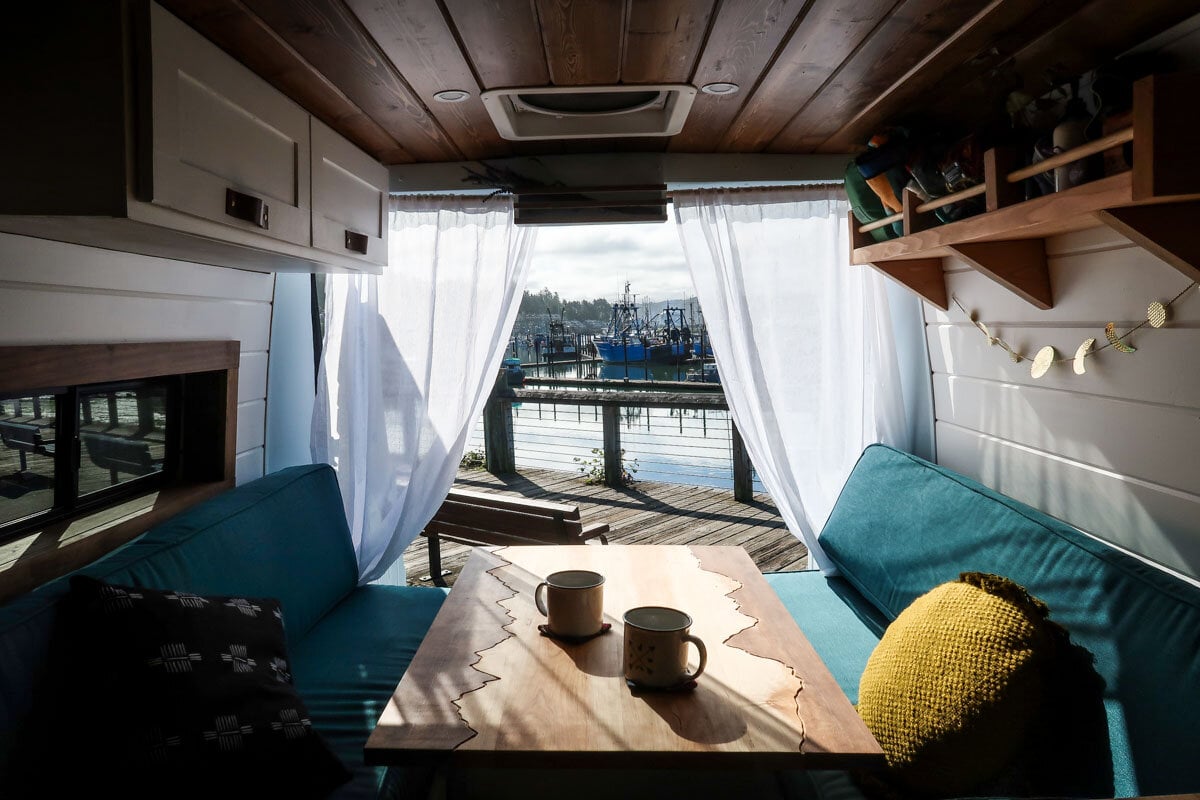 Make & Model: 2019 Dodge Ram Promaster 2500 (short wheelbase)

Miles: less than 30,000 miles when purchased

Roof: High top roof

Vehicle cost: $20,000 (10X the price of our first van!)

Timing: We spent about 3 months in total working on the build (not every day).

Basic Description: In terms of bells and whistles, we consider this build as middle-to-higher-end campervan build. We added windows, insulated and installed flooring, walls and a ceiling. We have solar panels and a pretty robust electric system to allow us to work online from our van. We also have a top-of-the-line composting toilet, an electric water pump, and a basic outdoor shower. We also spent time (and money!) creating beautiful DIY touches.

Price Point: There are certainly more upgrades that we could add to most aspects of the van, though there are some things (like our composting toilet) that are top-of-the-line.
Now that you know how these builds differ, let's dive right in.
Article Contents
Jump around to each section to see the associated costs, or read through them all in order. We're also sharing the grand total with you!
Thinking about starting your own campervan conversion? You won't want to skip this…

---
Campervan Insulation Costs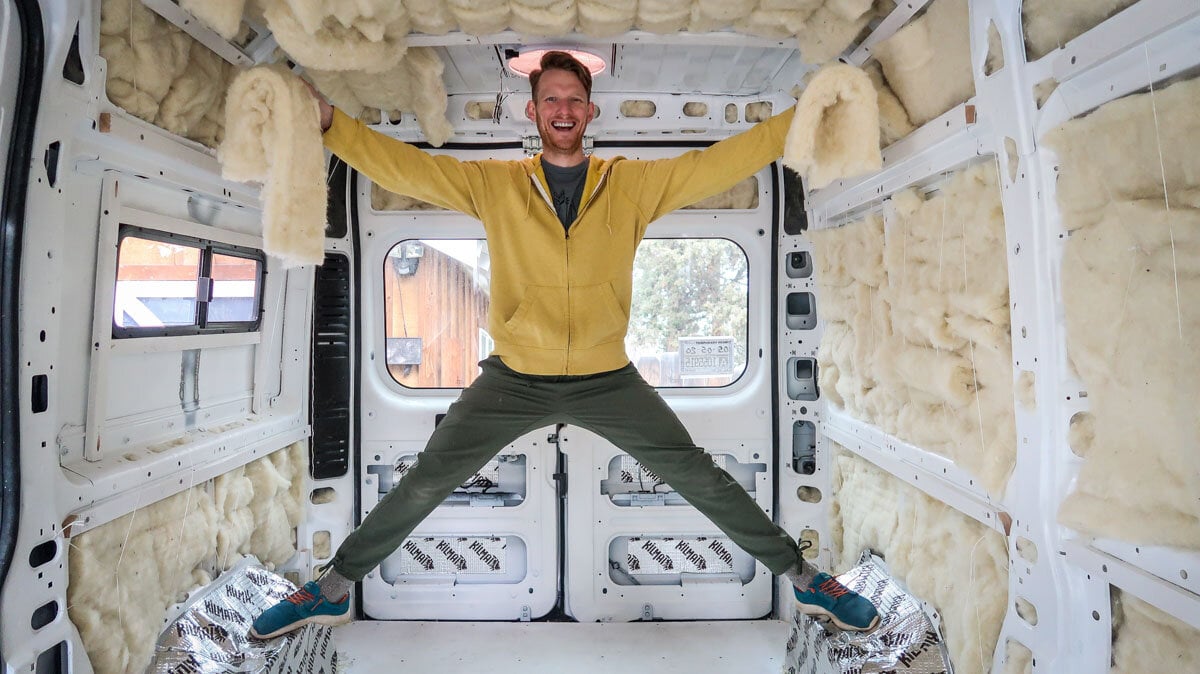 While not the sexiest of topics, choosing the right insulation for your van (and your budget) is an important task.
Not only is the insulation going to make your life much more comfortable (or uncomfortable if you skimp!), but it is nearly impossible to go back and add this in later on in your build.
In addition to actual insulation, we're also including window coverings (which are clutch!) in this category.
Total Cost: $524.38
What that money bought:
$439.03 = 3 bags of wool insulation (+ shipping)

$3.67 = Nylon anti-mold string

$81.68 = DIY magnetic window coverings
Wool insulation: We chose to go with wool insulation primarily because it is eco-friendly and means we won't be breathing in toxins. Plus, wool is great at moisture control and it has sound dampening properties.
Wanna know why we chose wool? In this article, we discuss all types of campervan insulation and explain the pros and cons of each.
We spent a ton of time researching insulation options, and it was a no brainer to go with wool. We bought ours through Havelock Wool, the industry leader in van wool insulation. We bought 3 bags of Havelock Wool and this price includes shipping.
Insulated window covers: This number also includes the window coverings that Katie created using Reflectix, fabric and strong magnets. These coverings do a great job of keeping the van cool in hot weather and they help keep it cozy during the wintertime. Learn exactly how we made them here. Compared to buying them new, we saved more than $500, so we're pretty happy with them!
Cheaper option = $0+
When it comes to insulating a campervan, there are many options, but they are not all equal:
No Insulation: If you purchase an empty cargo van and need to install walls, you definitely won't want to skip the insulation phase to save money… But, if you are converting a passenger vehicle, one option is to leave existing walls and insulation. While not the most attractive (or effective at controlling temperature!), this costs no money at all. This is what we chose to do for our first build, and it worked alright. That said, it wasn't a good long term solution.
Recycled Denim: Perhaps one of the least expensive methods of insulation is using recycled denim. Depending on how you source the material, you could get it for free or very cheap. The kind of major downfall with using denim is that is does not do a good job of handling moisture, meaning you might have some mold and mildew problems to deal with in the future.
Polyisocyanurate (Polyiso) Foam Board: These boards are great at insulating with an R-Value of R-6, and they are easily manipulated by cutting the board to fit in the random spaces up against a van wall.
You do have to glue them in place because you don't want any air pockets that could fill up with moisture and then seal the corners with expanding foam. For a van like Pearl, we would have needed 10x of the 4'x8' boards, total costing about $210.
Eco-Note: A similar product to the Polyiso Board is Extruded Polystyrene Foam Board (XPS, or the big pink boards at Home Depot). XPS and Polyiso boards essentially serve the same purpose and are similar prices, but XPS does use greenhouse gases (HFC's) in the manufacturing process. If you want to be a little nicer to the Earth and still go the foam board route, we'd recommend looking into going with Polyiso Board.
Cost of insulation in our budget build: $0; We purchased a passenger vehicle and left the walls as is. We wouldn't recommend this as a solution for long-term vanlife.
Worthy Upgrades
More Wool: To be honest, after going down the rabbit hole of insulation for more hours than we'd like to admit, we're confident that sheep's wool is kind of the best option there is, so there's no need to upgrade, per se. That said, if you have a larger vehicle, you may need more wool than we used.
3M Thinsulate (vegan option): Alternatively, if you are vegan and do not want to use animal products in your build (like wool) but want a quality product, an alternative option that is pretty highly-regarded for van builds is 3M Thinsulate. It comes with a higher price tag than sheep's wool and a lower R-value (which is essentially a measure of how well a material insulates). That said, like wool, it is non-toxic and it handles moisture pretty well.
Pre-made Window Coverings: As for window coverings, making your own requires a bit of patience and a sewing machine. If you'd prefer to purchase these ready-made, it'll increase your budget (they aren't cheap, folks!). Our friends at Moohah Creatives have some of the coolest designs we've seen for window coverings. Best of all, the fabrics they use are ethically sourced. And purchasing from them supports a small family business (complete with two adorable girls who are a big part of the company!).
DISCOUNT! If you purchase through Moohah, we even have an exclusive discount code just for you. Use the discount code WANDERINGSOLES at checkout to get 10% off your total purchase.


Campervan Window Installation Costs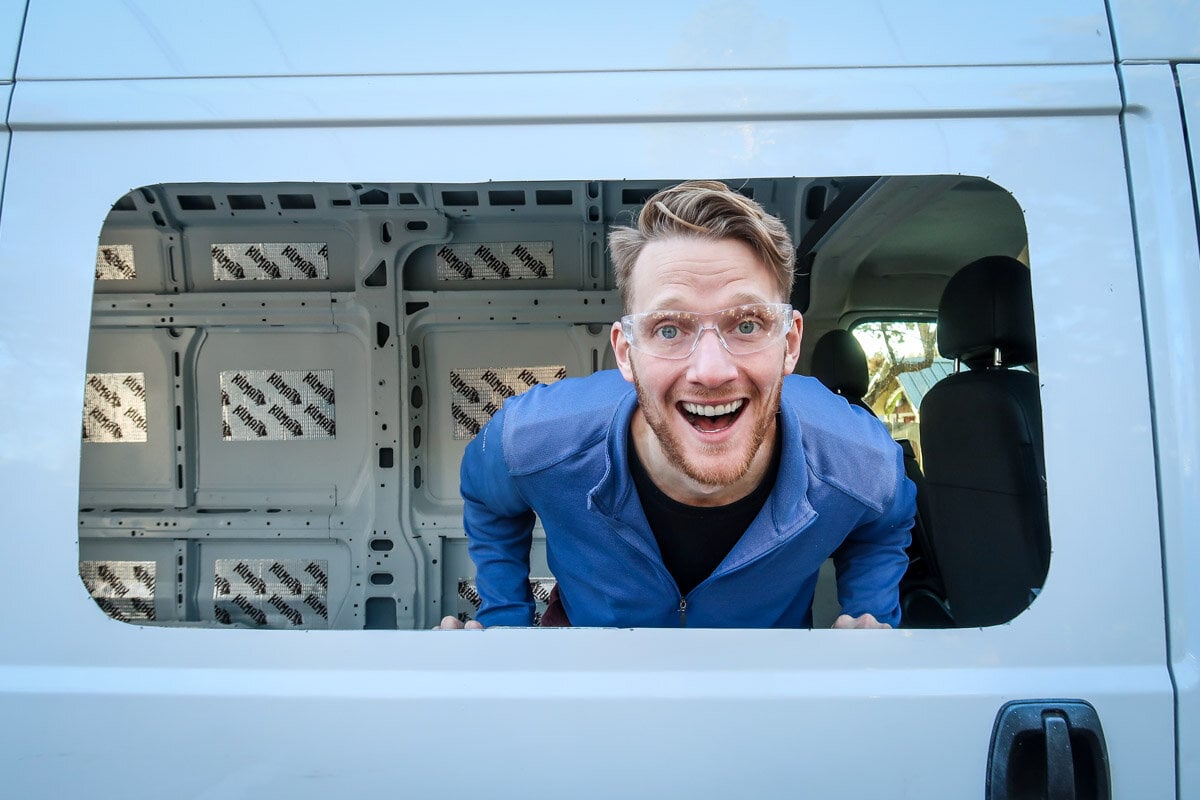 When we bought our van, it only had two rear windows. We wanted to install the big glass window on the sliding door for more natural light as well as a bunk window for airflow when we are sitting or sleeping in the back of the van.
Total Cost: $560.91
What that money bought:
Passenger Side Sliding Door Window: $169.95

Passenger Side Half-Sliding Bunk Window: $212.95

Shipping Costs: $98.86

Installation Materials: $49.65

Interior Wood Trim (decorative): $29.50
Cheaper option = $0+
Fewer Windows: Of course, you could simply not install windows, or you could just do one. If you have the budget, we recommend at least installing the bunk window (with a slider and screen). That way, you'll be able to create airflow within the van when you don't want to have your door open, like at night.
Buy from a local supplier: We bought our windows from VanWindowsDirect.com which was the cheapest option we found online at the time. However, if you have a local supplier in your area you could avoid the shipping cost, making it a lot cheaper. We've also heard of some people having luck by scouring local junk yards, which could be worth a shot!
Build a cheaper frame: One small cost you could certainly cut is the additional wood for framing the window on the inside. We used nicer wood here for a decorative "window sill", but it's definitely not necessary.
Cost of window installation in our budget build: $0; Our van had several windows already, so we didn't need to install any more.
Worthy Upgrades
Windows that open: There are many styles of windows you can choose from. However, the more functions, like T-vent pop-out windows or sliding windows, the higher the cost becomes. We really liked the T-Vent windows but just couldn't justify the $350 increase in price (yikes!) compared to the flat glass window. But if you have the budget for it, why not?
Ventilation System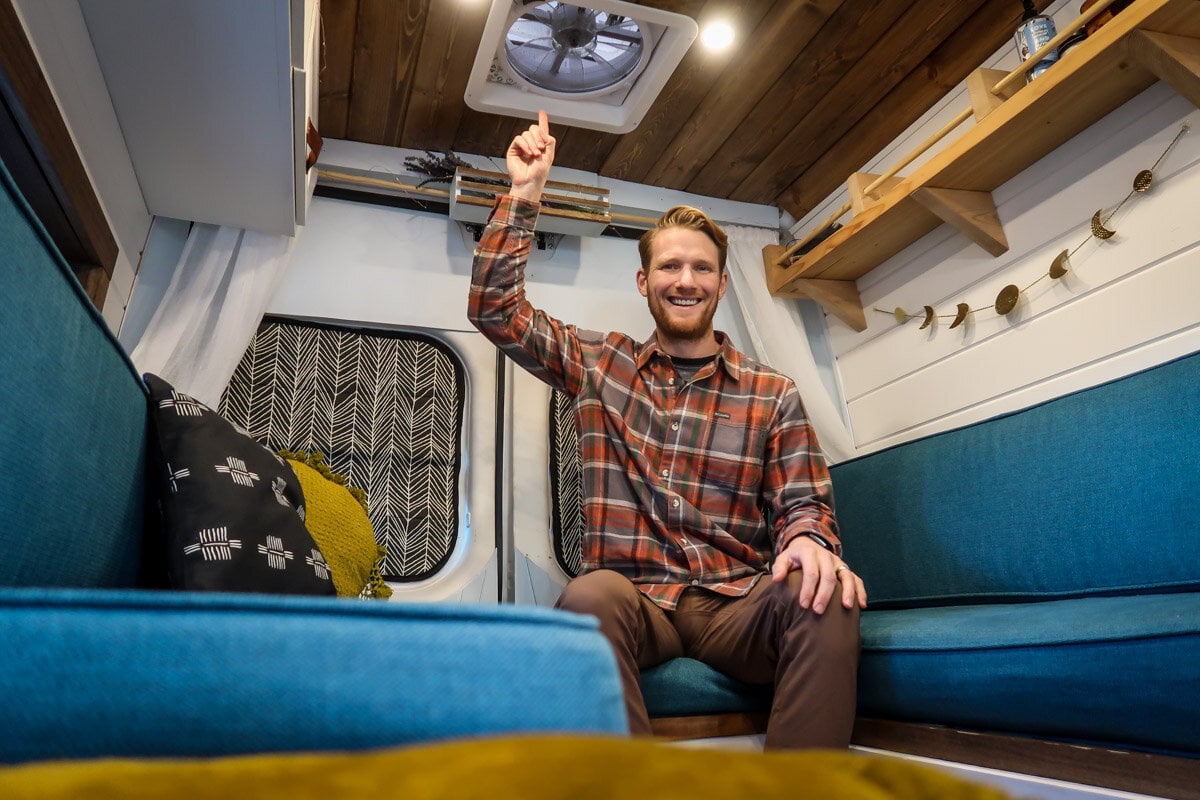 When it comes to ventilation, we kind of roughed it in our first van. The passenger's side window didn't roll down and the vehicle AC didn't work. Our only real way to get airflow in the van was to open the doors while we were parked. We also had two small fans — one that ran on batteries and another that could be charged via USB.
Let's just say they got us through the summer night. But barely.
If you don't want to wake up sweating or have to open your doors to get airflow, you probably want to install a fan in your roof. It really does make a huge difference.
After doing some research, it seemed that the MaxxAir Fan is the top of the line. It's so nice because the Deluxe version comes with a remote control, which we think is necessary. Other than the squeaky sound it makes when opening, you can't hear it at all.
Total Cost: $254.48
What that money bought (the price may have increased since Feb 2020):
Cheaper option
You could go the route we did with our first campervan — skip installing this and instead, use a clip-on rechargeable fan like this one.
Worthy upgrade
This is one area where there's not much you can really upgrade from here. If you have a much larger vehicle (or plan to leave your dog inside your van at times), you'll likely want to install two fans to get extra airflow.
Campervan Floor, Walls & Ceiling Costs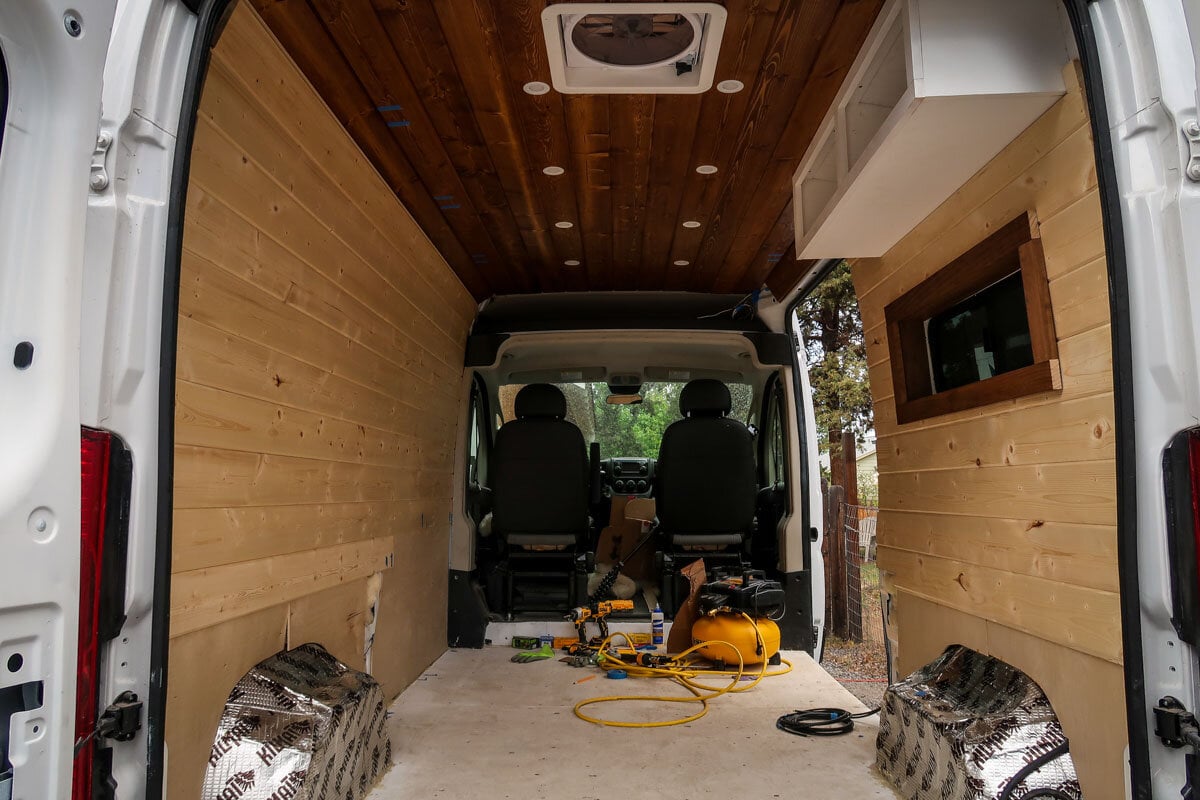 You just slap up some wood and call it good, right?! Not so fast…
Building a proper floor, walls and ceiling is actually quite a bit more complicated than you'd think and these projects require many different materials.
You have to work around the existing framing inside the van (which can be a heck of a lot "curvier" than you'd think!) and you want something that will withstand the vibration of a bumpy road.
Total Cost: $810.45
What that money bought:
Furring strips for walls and subfloor

Subfloor material

Tongue and groove lumber for walls and ceiling

Sound damping material and roller

Glue and adhesives

Nails and screws

Metal edging

Primer, stains, paints and sealants

Wood for interior sliding door and back doors
Something to think about: We'd recommend installing your fixed components like upper cabinets, benches, and kitchen structure before installing your walls and flooring. If you install the walls first, the cabinets, etc. will cover up the lumber you've already installed, effectively rendering it useless (aka unnecessary money and weight). The downfall of this is you will need to cut your flooring and wall pieces to fit around your cabinetry, but it's not that difficult.
Psst! Want to save yourself the headaches and hours of research we went through and get straight to the building process?? Click below to learn more about Van Conversion Academy.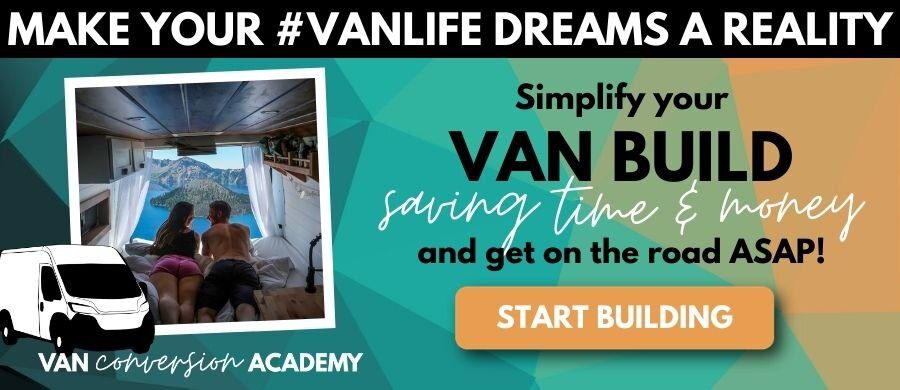 Cheaper option
We wanted to make our walls and ceiling one of the main features of our build, so we opted for the nicer tongue and groove boards. But here are some cheaper options for your walls and ceilings
Plywood: You could simply do plywood for your walls and ceiling, thus saving quite a bit of money.
Wainscotting: We have seen people using affordable wainscoting (decorative wall material) as their walls and it looks nice while keeping it lightweight.
Upcycled Wood: Another way to save some money here is to seek out reclaimed wood. Check on Facebook Groups, Craigslist or ask around construction sites to see if there is any lumber that you can buy at an inexpensive price. If you go this route, you might have a few more "bumps" along the way while working with different sizes and types of wood. But it could save you quite a bit of money.
Skip the sound deadening material (maybe): If you're using wool insulation, it already does a great job of dampening sound so you could potentially cut the sound damping material and roller to save money. We've heard of some people who skip that step altogether and don't notice road noise too much because the wool does a pretty good job on its own. That said, this is not a step you can go back and remedy later on if you find the road noise to be too loud.
Cost of floors, walls & ceiling in our budget build: $0; We left the passenger van's existing (and very ugly!) floors, walls and ceiling as they were.
Worthy Upgrades
Nicer lumber: We used pine tongue and groove planks, but we've seen some people use cedar which looks (and smells!) very nice. It comes at a higher cost.
Luxury Vinyl Floor: We opted for a lightweight adhesive flooring because it was inexpensive and looked nice. You could install luxury vinyl panels for your floor if you wanted to get a more "luxe" flooring style.
Campervan Bed Costs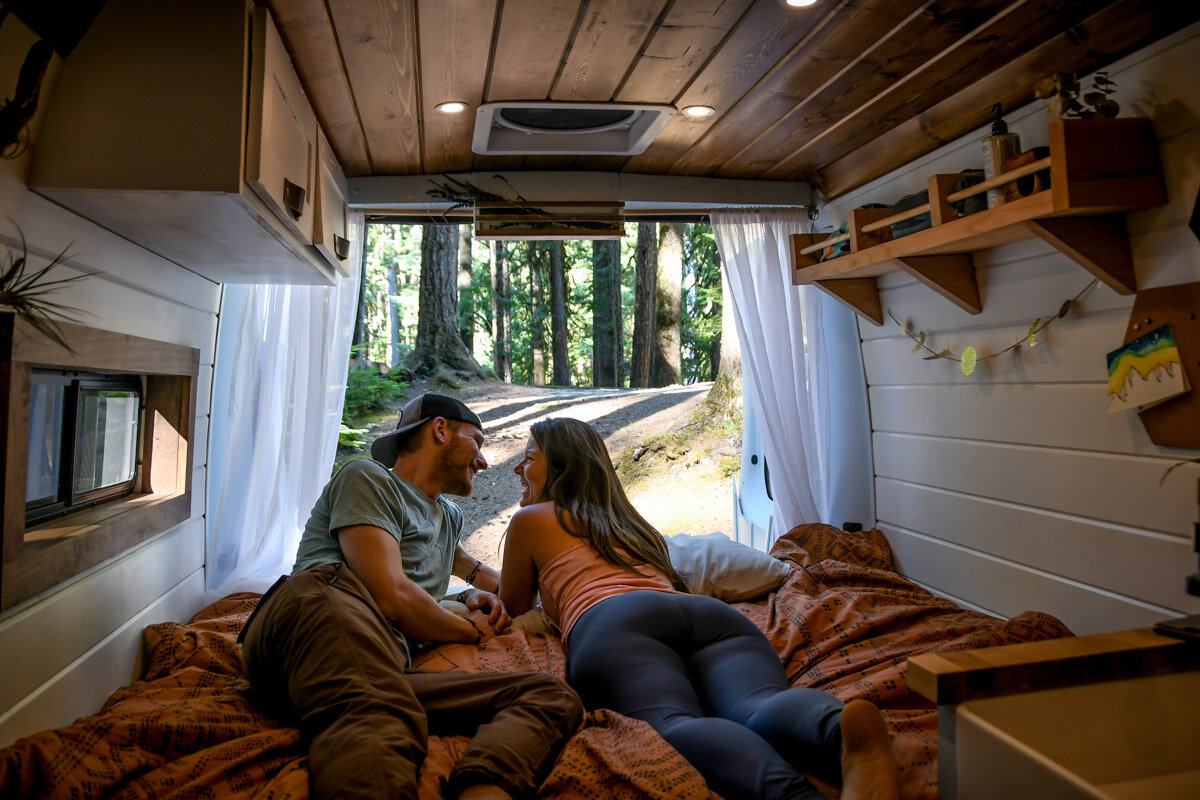 Your campervan bed layout is going to be a big decision as you design your van, and depending on what style you choose, the cost can vary quite a bit.
We have benches that convert to a bed at night. This process takes less than 3 minutes to set up and tear down (yes, we've timed it!). This category not only includes the platform, but the cushions, pillows, and table.
Essentially, this is the cost of our couch and our bed.
Total Cost: $1,247.19
What that money bought:
6" foam mattress (which we cut into cushions)

Fabric

Upholstery (this was the only task we outsourced!)

Lumber for benches and hinges

Custom-made table (out of maple slabs)

Wood oil and wax

Lagun swivel table arm

Screws, nails, and hinges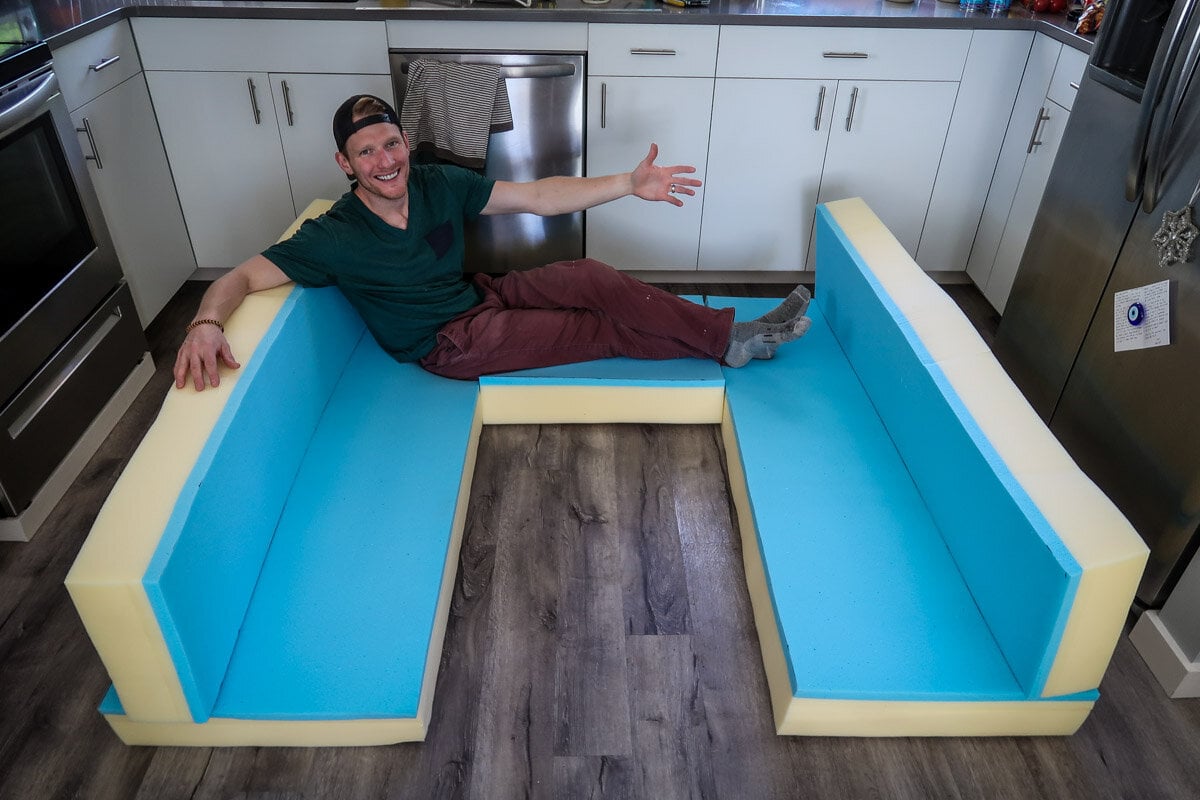 How much does upholstery cost?
This is going to vary quite a bit, depending on your location, who you ask, and what exactly you want done. But we'll share our experience so you have something to start with…
We needed 4 bench cushions as well as a smaller square cushion to go on our "u-bench". In total, 5 cushions.
We got three different quotes:
$260 – $325: This quote was from a local auto shop that also does upholstery. They supply fabrics to choose from (at an additional cost), and they charge an hourly rate of $65. The man I spoke with estimated that it would take him between 4-5 hours, and he thought it would be closer to 4 hours.

$300: I asked in a local Facebook group if anyone in town did upholstery, and a man suggested his mother. She was very sweet and excited about the project.

$710: This quote was from a local business that specializes in upholstery. They quoted me per cushion (since they are different sizes), and the total for the service would have been more than $700! (Remember, this quote does not include the foam material or the fabric.)
We chose to go with the second quote ($300), and were very happy. The woman we worked with offered to do cording at no extra charge, and we love how it turned out! We've heard some people pay closer to $200 for this service while others can't seem to find quotes for less than $400; so again, it depends on where you are and who you ask.
(For reference, we're based in Bend, Oregon.)
Cheaper options = $35+
This category can definitely be done at a lower cost, and your budget is going to really depend on the bed design you choose.
Cost of bed in our budget build: $35; We built a fixed platform for our bed. We had been generously gifted a mattress & used bedding we already owned, so you'd need to account for what you plan to sleep on as well.
Futon mattress: We love our foam mattress and it actually wasn't too expensive (Gel-infused 6" queen-sized foam mattress). But you could find a cheaper material. For example, we've seen people selling futon mattresses on Craigslist or FB Marketplace for $20 – $60. We've even seen a few for free (but you may want to beware of bed bugs!). Just depends on the level of comfort you desire.
Plywood table: We bought our table from a local lumber yard where we got to hand-select our wood to piece together our table. The maple we used for our big table and a side table came to just under $80. To save money on this, you could simply use thick plywood (or another inexpensive piece of lumber) and seal it with a food-safe sealant.
Skip the upholstery, or do it yourself: If you have a fixed bed design, you can skip this step because there is no need for upholstery (lucky you!). And if you aren't finding any reasonable quotes in your area, you could opt to do it yourself. We've even seen some vanlifers secure fabric to cushions using a heavy-duty fabric stapler.
Save on bedding: As for bedding, check out your local thrift store to find something second hand. Or perhaps you have old bedding laying around your house that you can use (for free!). Otherwise, Target and Marshalls both have some pretty good deals.
Worthy Upgrades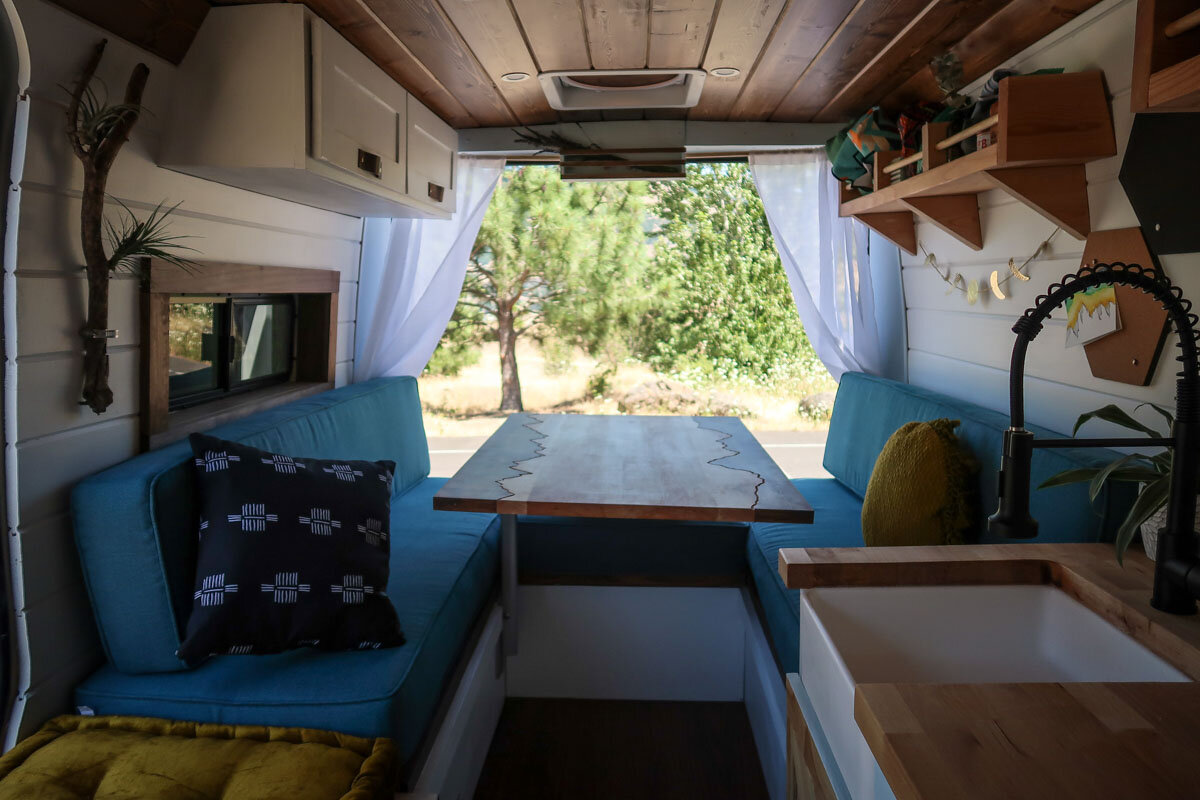 Bed Designs: Depending on the design of your bed, this category could get quite a bit more expensive. We've seen some vanlifers use hydraulic lifts for their bed, which allows them to store their bed on the ceiling when they're not using it (a very creative way to save space), then lower it with the push of a button into position when they're ready for bed. Super nifty, but also not cheap!
Upholstery: To be honest, having cushions upholstered can get quite expensive, so you may need to budget a bit more than $300 for this service, depending on your local options. The first upholsterer we contacted quoted us more than $1,000! Shop around and compare some prices to see what you find.
Higher-quality mattress: You could up your mattress game and get a super fancy, high quality mattress for your van.
Campervan Kitchen Costs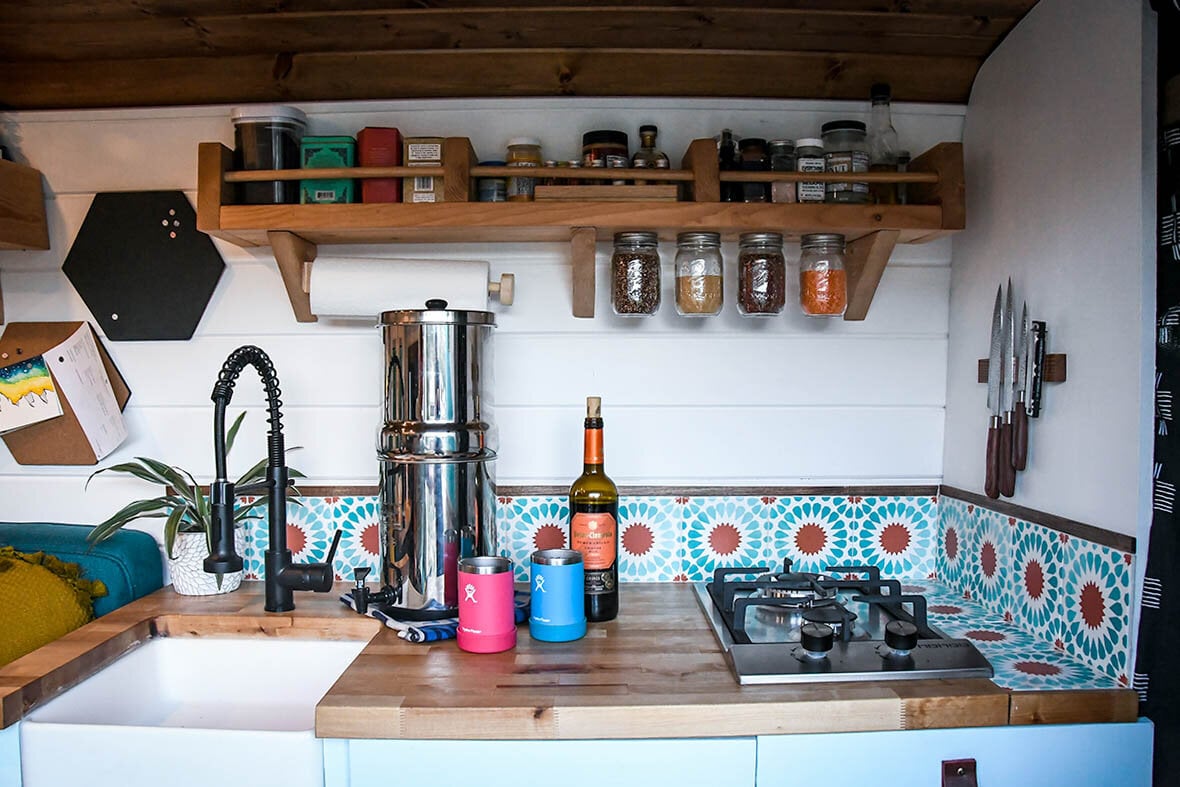 We packed a lot into our small 5-foot long kitchen and it includes all the essentials we need to cook some pretty gourmet meals on the road.
Your kitchen is an area where you can spend a lot of money or save big. The kitchen in our first campervan build cost just $50. Yep! We've got a whole article with ideas and instructions to build your own very budget-friendly kitchen.
But here's the thing… we LOVE to cook. We typically make meals with fresh veggies and experiment with different recipes. So for our second build, we knew the kitchen would be a bigger production than our first very basic setup.
As you're planning your build, consider how much of a priority the kitchen is for you.
Ask yourself the following questions:
Do you love cooking and plan on making lots of meals on the road? This can actually save you from over-spending at restaurants!

Do you eat lots of produce? If so, this likely means you'll need some extra space for chopping and prepping.

Do you love trying all the best local restaurants, and plan to eat out most of the time? If you're not living in your van full-time and plan to use it for shorter trips where you'll want to eat out and have "camping style" meals, maybe you don't need an extensive kitchen.

Do you cook very simple meals? If you don't really like to cook, and you mostly just need a place to heat things up, you might not need to dedicate lots of space and money to a fancy kitchen.
The answers to these questions will vary based on whether you're just traveling in the van or living in it long term.
Total Cost: $1,751.11
What that money bought:
Cheaper options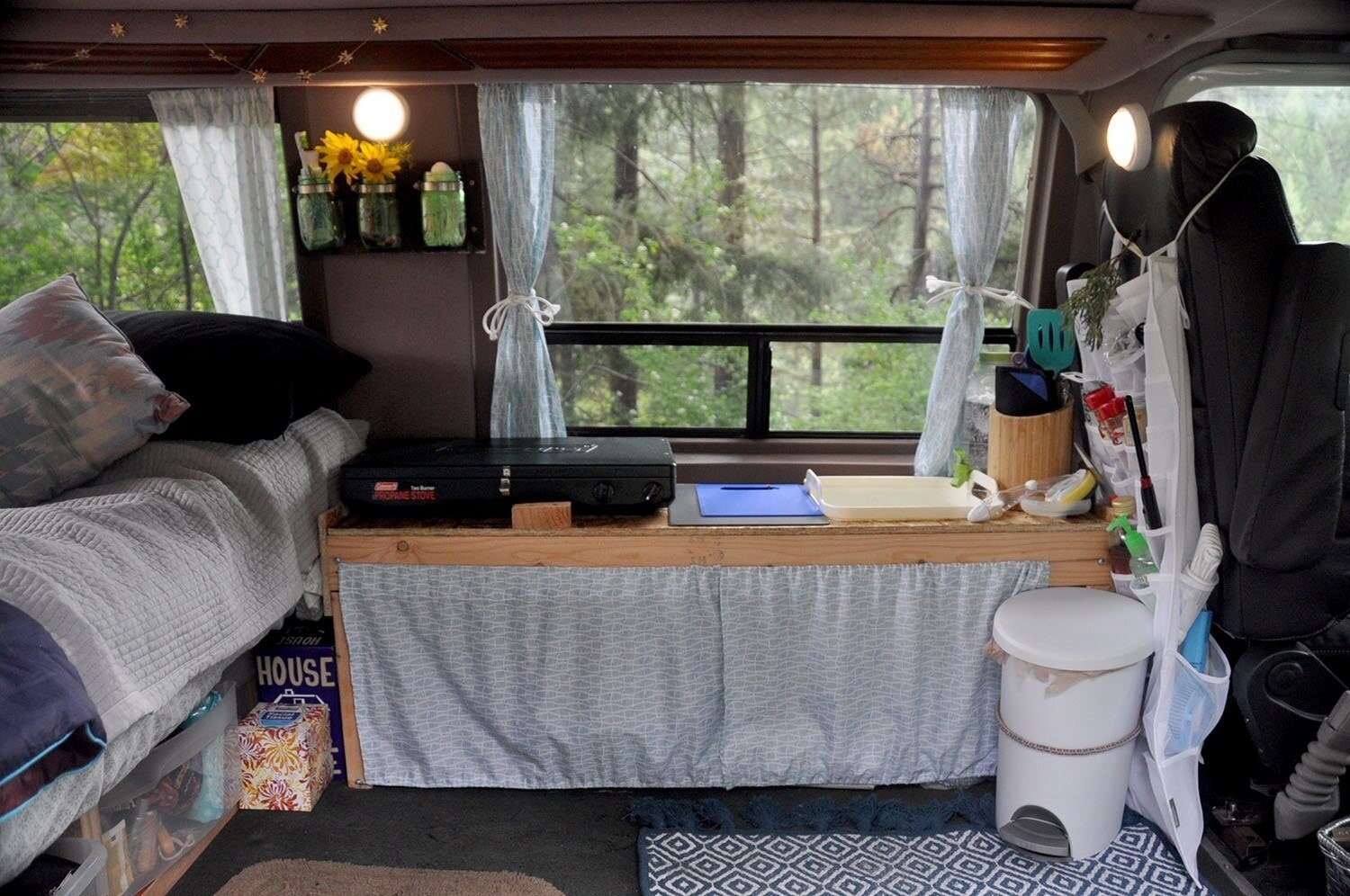 Cost of kitchen in our budget build: $50; There are many ways to create an inexpensive campervan kitchen. In our first built, we literally spent $50 total on our kitchen! We explain it all in this DIY campervan kitchen article.
If you're looking for cheaper options, replace the:
DIY Backsplash: One way we saved quite a bit of money was by hand-painting the tiles for our kitchen backsplash. We used a stencil, so it was actually much simpler than you might think! Another option is to use an adhesive "backsplash" (like these) that resembles real tiles but is much lighter-weight and less expensive. Plus, the installation process is very simple.
Worthy Upgrades
Here come the bougie options! There are so many ways to upgrade your campervan kitchen that it's overwhelming.
Refrigerator: For starters, Dometic and Isotherm are both top of the line brand for RV and marine fridges. They make excellent products and are known to be super-efficient, but you'll be shelling out nearly a grand for any of the Dometic CRX series or the Isotherm Cruise 65.
Oven: If you're planning to be a full-time vanlifer and just can't imagine life without an oven, it's possible to install one in your new tiny home on wheels. But it does come at a cost. If you aren't ready for the commitment but want to bake, the Omnia "oven" is an excellent choice. Essentially, it allows you to make baked items on your stovetop!
Countertop: Originally, we really loved the idea of a live edge countertop. But we had no clue how expensive it can be. It would have been really beautiful and great accent to our kitchen.
But when we met with a Juniper slab seller, a 5-foot slab would have been about $600 totally finished (and $750 had we wanted the backing hardware to really keep it secured in place). That just seemed quite steep to us, especially when compared to the $100 butcher block from Home Depot).
Money-saving tip: If you have a friend or close contact who works with wood, you may be able to find a better deal. And the price may also depend on where in the world you're looking. That said, we're based in Oregon – where there's an abundance of wood! – and the man we met with was an independent contractor who had just had the luck of getting a few trees, so it didn't seem like he was trying to gouge us.
Backsplash: Not into DIY-ing? You may want to allot just a bit more money to your backsplash. We hand-painted our tiles, which saved us a lot of money compared to what typical tiles cost.
Campervan Water/Plumbing Costs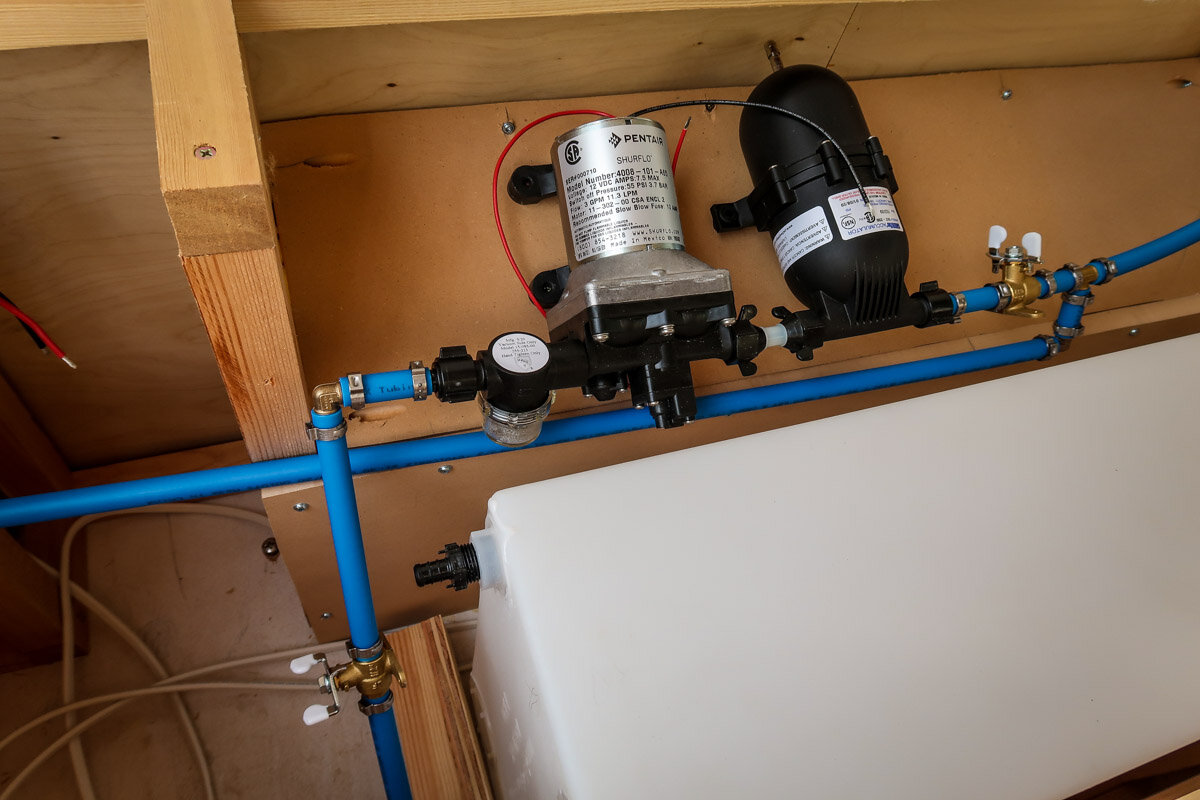 It's so nice to have an electric water pump compared to our make-shift jug style sink in our last build. And putting together the water system was a lot easier than we thought.
Total Cost: $349.33
What that money bought:
Cheaper options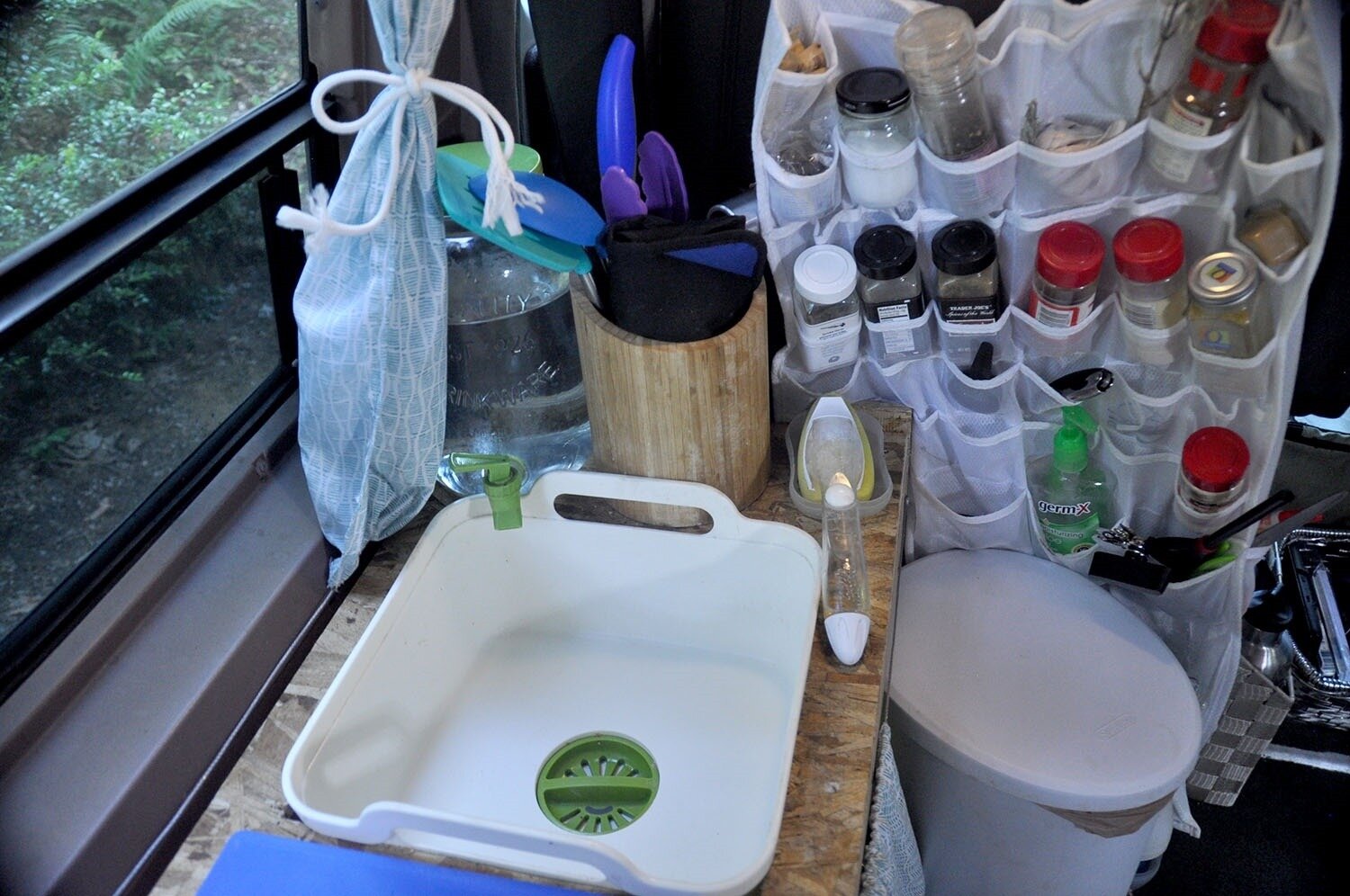 Cost of plumbing in our budget build: about $50; This price includes a 2-gallon glass jug with a spout, plastic wash basin, connector hose and 2-gallon bucket for "grey" water.
There are many cheaper options when it comes to water.
Gravity-fed jug: For really basic vanlifers, you could simply use a jug with a valve at the bottom (like a Gatorade cooler) and drain it into a bucket for greywater. This is what we did in our first van, and it worked just fine for our needs.
Foot pump: A step up from that would be a foot-pump water faucet for hands-free dishwashing.
Cheaper tubes and fittings: We decided to connect all of our plumbing with ½" PEX tubes and fittings because it's durable enough to withstand the vibrations of a van. However, if you have minimal connections, you could possibly get away with plastic tubing and pipe clamps, but they might wiggle loose.
No shower: We have a very basic outdoor shower, but you can certainly leave this out if you think you'll have access to showers along the road. Instead, you could shower at campsites, rest stops, or gyms. We actually have a YouTube video showing how to shower without actually having a shower in your van!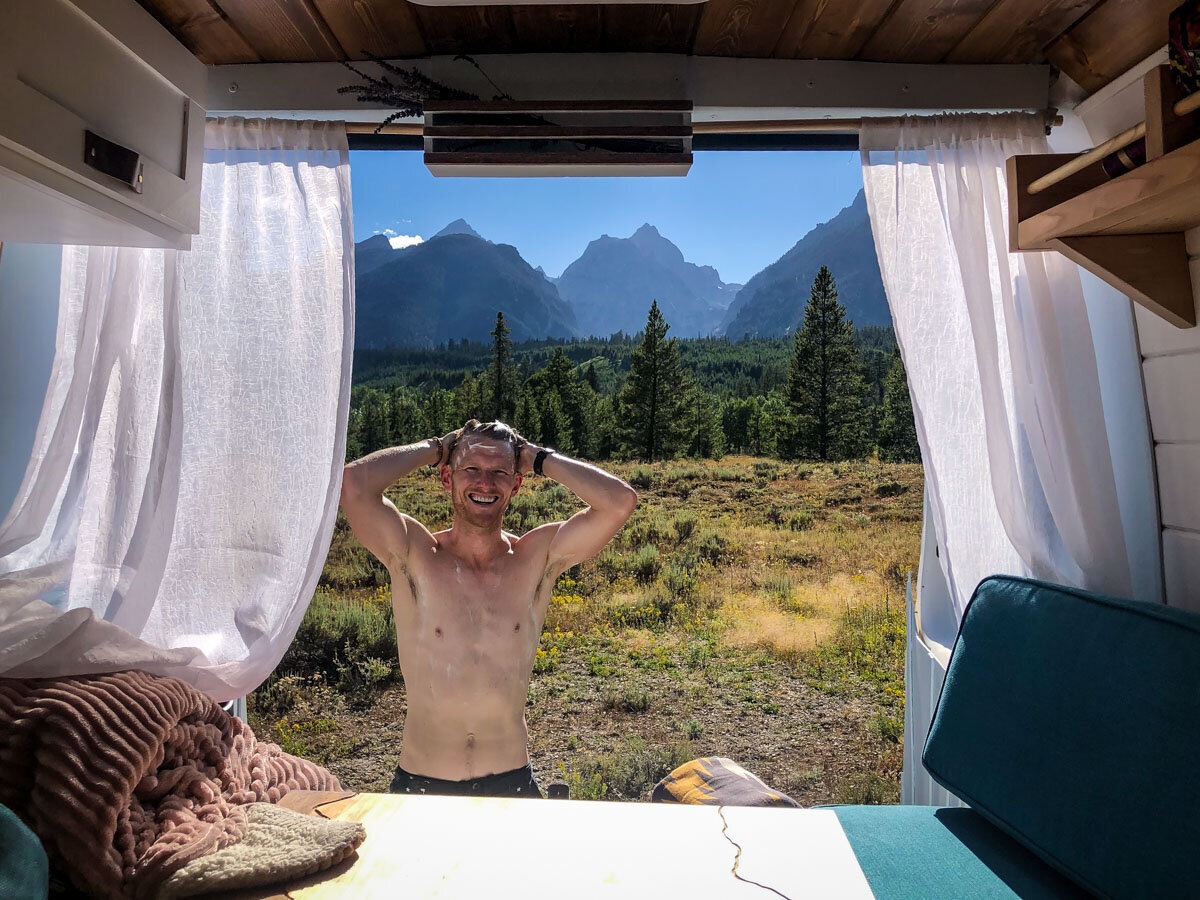 Worthy Upgrades
The water system we have in Pearl is by no means top of the line. This is actually one area that we will probably choose to do many upgrades in our next build.
Water Heater: We only have cold water. You could install a water heater so you could have hot showers or warm water for doing dishes.
Indoor Shower: Installing a shower inside your van would be a major upgrade. You'll need the space to do it, which we just don't have in our current vehicle (it is only a 136" wheelbase). This would also require a larger fresh water tank, water heater and a large grey water tank, as well as all the waterproofing materials for the shower space.
Mounted grey water tank: Mounting a grey water tank underneath your van is another option to upgrade your system. This allows you to free up space inside your van and you're capable of holding more in your greywater. However, the downside is that you have to dump at an official RV dumping site which can be tricky to find depending on where you are.
Next Level Water Tanks: I wish I would have known about this before buying our water tank. For our next van, I would consider buying a wheel well water tank to save space inside the campervan. It is a genius idea, but it does cost quite a bit.
Campervan Propane Costs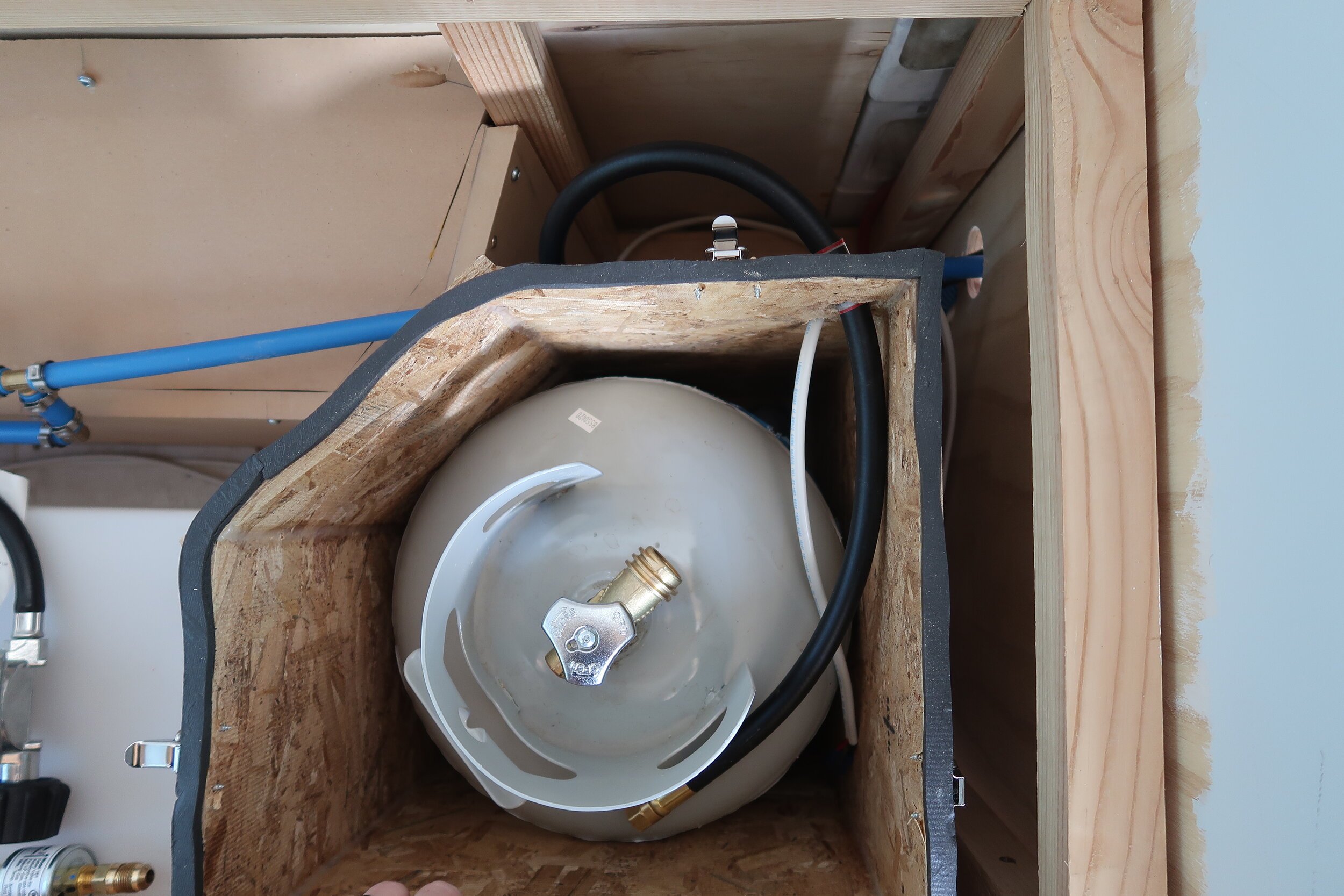 We love being able to cook with gas inside our van.
The nice thing about propane is that it's more energy efficient than using an electric cooktop, which will draw a significant amount of power from your battery system. Whereas a propane burner uses essentially none (the solenoid (on/off flow switch) uses a hardly noticeable amount of energy).
Installing a propane tank inside a campervan can be a bit scary at first, but as long as you have a few safety features in place, it is perfectly fine.
A full 20 lb propane tank itself only cost about $50 at Home Depot, so most of the costs in this section are the safety features that are necessary when installing propane.
Total Cost: $317.02
What that money bought:
Sealed box to hold the tank with a sealed removable lid

Gas hose and fittings
Cheaper options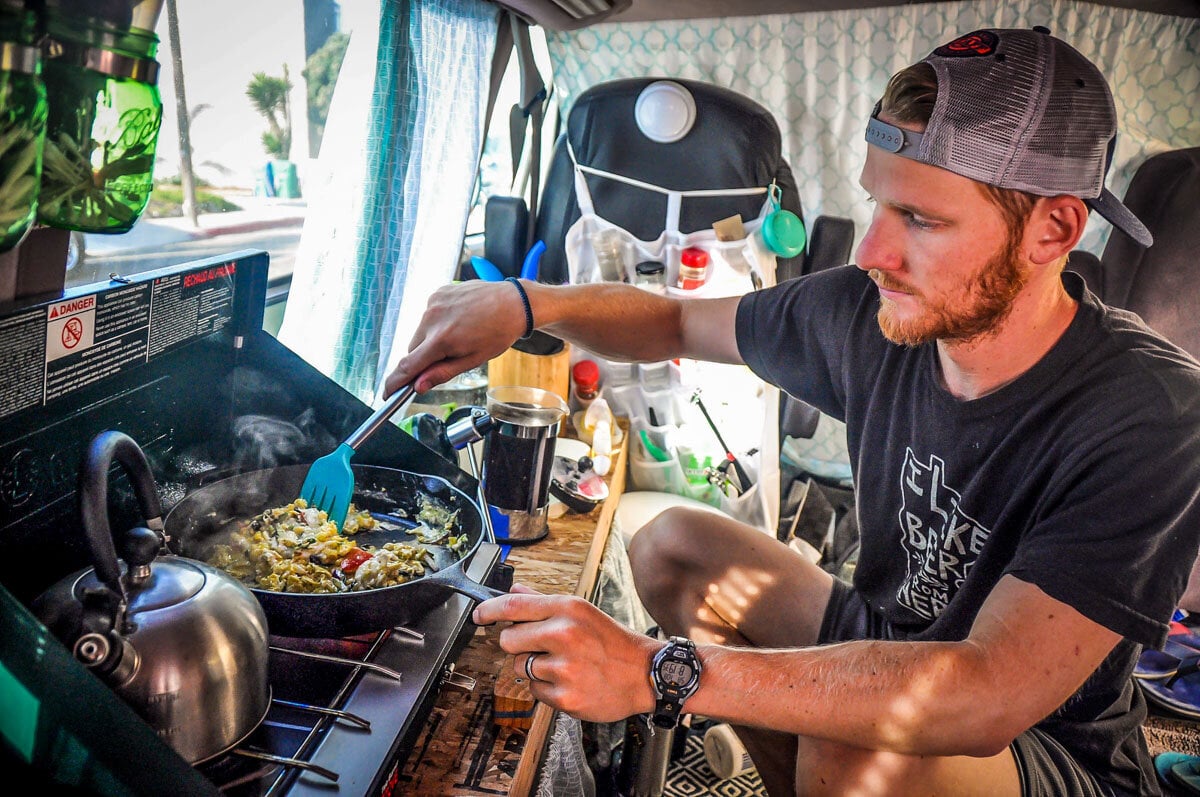 Camp stove: Instead of installing a whole propane system, a cheaper option would be to use a Coleman camp stove and green 1 lb propane tanks.
Eco-friendly Tip: Instead of constantly buying the 1 lb green propane canisters, a more environmentally friendly method is to buy a large 20 lb tank to keep at home and then refill the small green 1 lb propane tanks using this little adapter. Please read and follow the instructions when doing this method.
Install the tank outside the vehicle: This will eliminate the need for creating a sealed box around your tank.
Induction cooker: If you want to skip propane altogether, you can eliminate many costs in this section. An induction cooker will use more energy, so keep that in mind, but the installation is much simpler.
Don't skimp on safety: To prevent propane leaks, we have 3 safety features in place:
First, our tank is in a fully enclosed box sealed with silicone on the edges. There is a hole drilled through the box and vents out underneath the van. Since propane is heavier than air, if any propane leaks, it will naturally vent out the bottom of the box to the outside.

Secondly, we have a solenoid in line after the regulator which acts like an on/off switch for the flow of propane. We only activate the solenoid when we want to use the gas burners, and turn it off when not using it. If it were to break or malfunction, the default position is closed, blocking any gas flow.

Lastly, if those two features fail for any reason, we have a hardwired CO/Propane alarm that is always on to detect a propane leak. If you do install a tank inside your van, we would highly recommend having at minimum these 3 features.
Worthy Upgrades
Propane heater: We have been considering installing a propane heater in our van so we'll stay cozy warm during the winter months. But the price tag is hard to justify. In the meantime, we have heard good things about the Mr. Heater portable space heaters that use a 16 oz. propane tanks.
Campervan Solar and Roof Rack Costs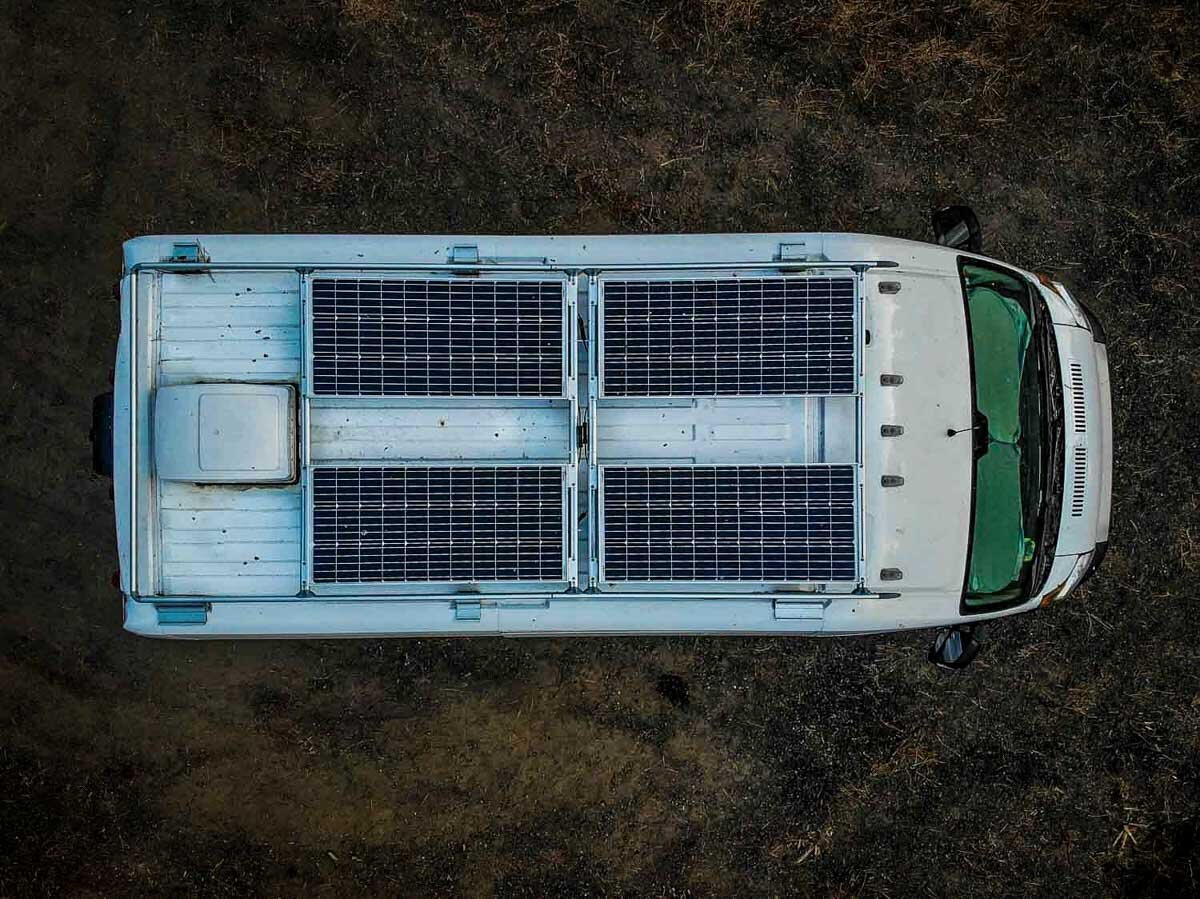 Installing solar panels always takes a campervan build to the next level. To be able to live off-grid and go adventuring for days is many a vanlifer's dream.
But, there are so many more things to consider like the number of panels, total watts, type of solar controller, roof rack or not, and how to monitor your power. And of course, there is the additional cost that increases your campervan budget.
Setting up your solar (or not to) is completely dependent on your van build priorities and total campervan cost.
Here's what we did and we'll show you ways to make it cheaper or fancier, depending on your power needs.
Total Cost: $1,812.23
What that money bought:
4x 100W Monocrystalline Solar Panels

Rover 40A MPPT Charge Controller

Bluetooth Module

Cables and fuses

Insurance

Roof Rack for Panels
We really like our Renogy solar panels because they were easy to install, the kit had everything we needed, and they are relatively inexpensive. We decided to mount our solar panels onto a roof rack to reduce the number of holes we drilled into the roof of our van (reducing the possibility of leaking). We also wanted the capability of installing an awning or other features in the future.
We'd highly recommend getting a telescoping ladder for any van with solar on the roof. The ladder easily extends so you can climb on top of your van to clean off your panels and it collapses down for easy storage.
Cheaper options
If you're looking to reduce your solar set up costs there are a few things you could do:
Reduce the number of panels you install (but save space on the roof in case you want to expand your system in the future)

You could opt for Polycrystalline solar panels. These tend to be cheaper, but they do not perform as well as Monocrystalline panels. Personally, I would not buy them.

Don't install a roof rack. We've seen many vans with panels mounted directly to the van roof. Personally, we didn't want to go this route, but it would save you about $800 which is a sizeable amount of money.

Buy a portable solar kit that you can set up when parked, like this one from Jackery.

Or you could skip solar altogether and charge your campervan batteries only with a battery isolator from your vehicle's battery.
Worthy Upgrades
The sky's the limit when it comes to upgrades on a solar set up. One upgrade that I would be interested in is to have more efficient solar panels so they don't take up so much space on the roof. I have my eye on these from Zamp Solar (located in Bend, OR) that look super nice and they are made in the USA which is great!
Adding a custom roof rack can really make your van look badass but you'll definitely pay a high price for that look. The nice thing about those is they tend to come with a side ladder so you can easily climb up to your roof. Some racks also work as cargo holders so you can store your large adventure gear on top of your van instead of inside.
Campervan Electric Costs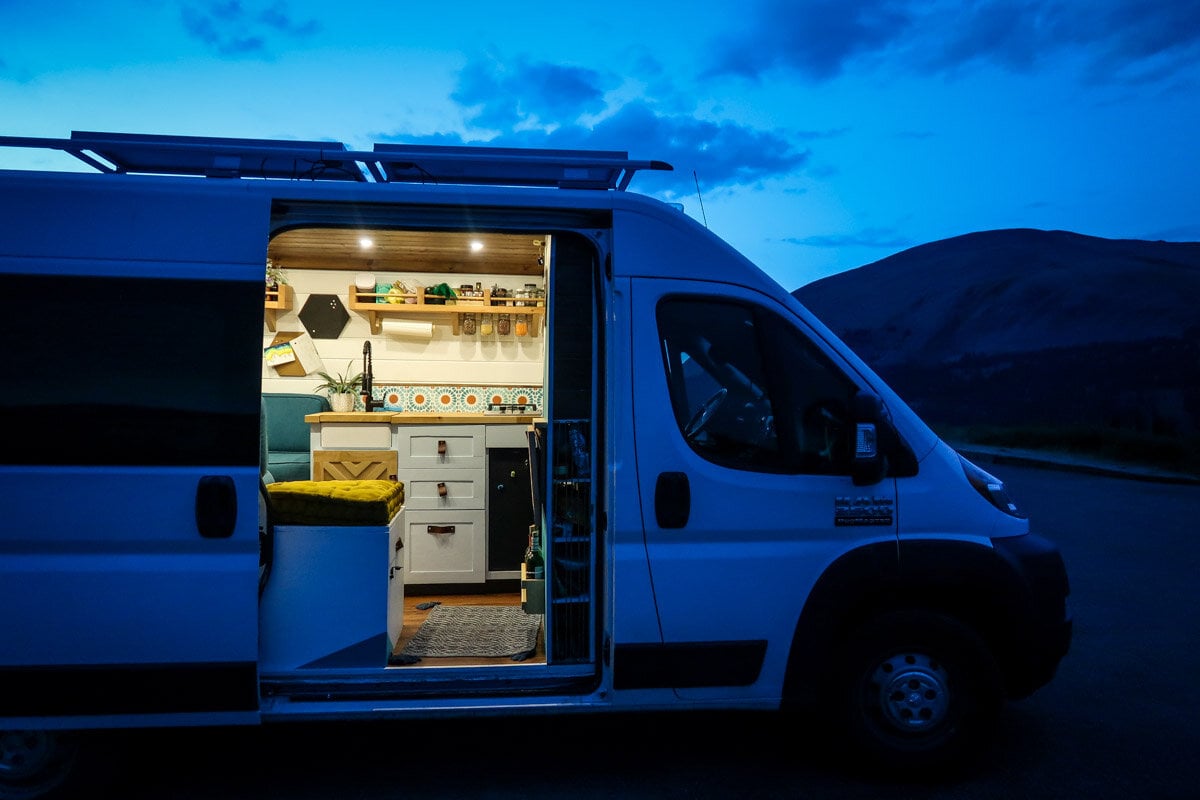 The electrical set up of a van build was by far the most confusing and time-consuming part of our conversion. But hopefully I can shed some light on this subject for you.
We really wanted a robust system for our campervan, so don't be too shocked by the total price. There are many ways you can make this cheaper. And of course, you can really amp up your electrical set up with top of the line products.
Okay, okay, I'll try my best to switch off the puns for the rest of this section 🙂
Total Cost: $3,380.47
When I say we wanted a robust system, I mean it. Our whole electrical systems and components cost more than our previous budget campervan build. And yes, that includes the van itself!
What that money bought:
Here are all the components that go into our electrical system:
Psst! Confused about how to begin your campervan electrical system? Save yourself the headaches and hours of research we went though and get straight to building! Click below to learn more about our Electrical System Workshop.


Electrical System Levels:
Everyone's electrical system is different and it all depends on your power needs and level of convenience you're looking for.
Ranging from dirtbag to house on wheels, below are different campervan electrical setup ideas that you can choose from. Of course, you can mix and match depending on your priorities, but this should help you get started.
Level 1 – $ the Dirtbag (a.k.a. our first build: "Vinny")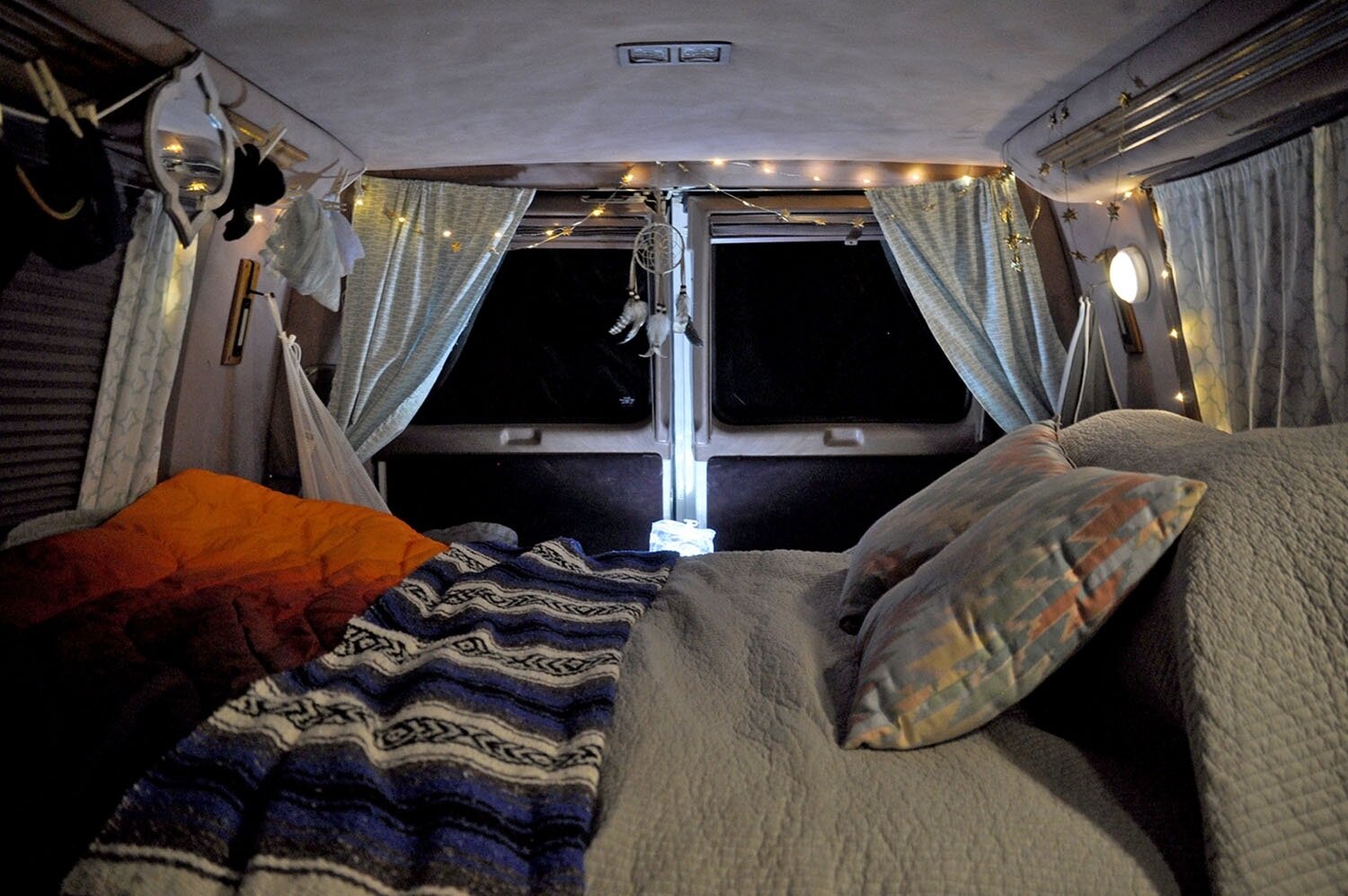 Note: This is the set up we had in our budget campervan build, "Vinny". It worked for us all summer long. We had to be driving or at least have the van running to have the inverter plugged in for very long, otherwise we'd drain the vehicle's battery.
Level 2 – $$ the Simple DIY System
Note: The battery isolator will draw power from your vehicle's alternator when the vehicle's battery is full. The power will be stored in the AGM batteries. To connect these, you will need heavy wires of at least 2 AWG or thicker and appropriately sized fuses (consult a local electrician).
You need to monitor your AGM batteries because if they dip below 50%, they will start to degrade. We love our Victron Battery Monitor because it's super accurate and can be monitored from a smartphone.
Connect your 12V batteries to your 12V power outlets (through a fuse block) and you can use the power stored in your batteries at night to turn on lights, charge phones and other small devices. Pair it with Level 1 components (like the Bestek 300W power inverter) and you can charge a laptop too.
Level 3 – $$$ the All-In-One System (a.k.a. Jackery)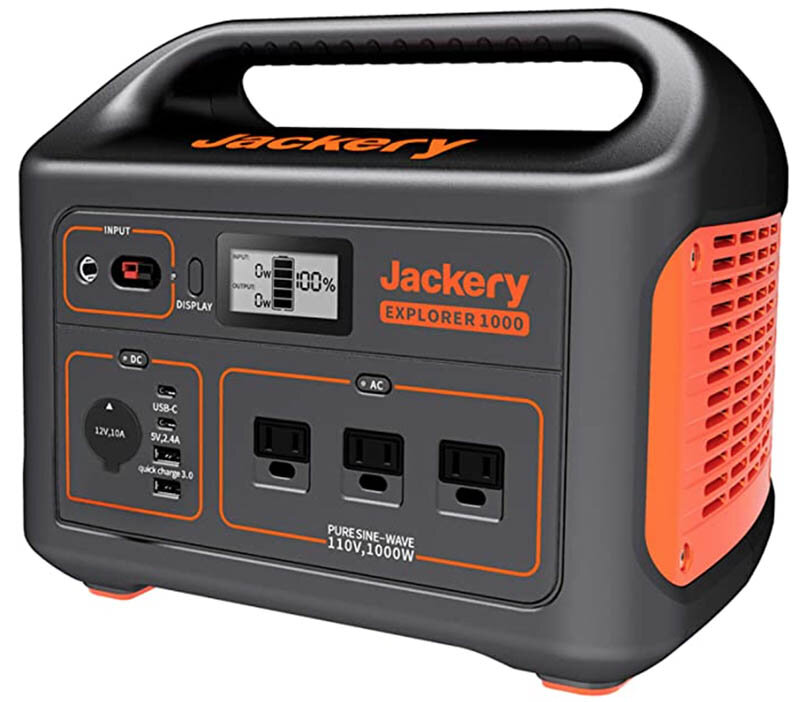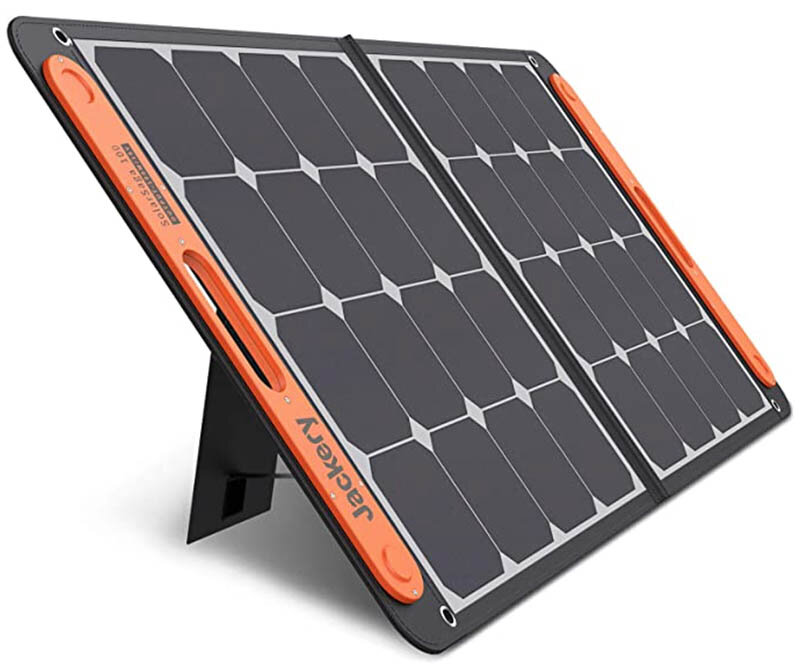 Note: If you were looking at the steps in Level 2 and were like, "Nah, not for me" then the Jackery Explorer 1000 Power Station is a great alternative. It's actually not that much more expensive than all the components in Level 2 and there is literally no set up. 
The Explorer 1000 is a compact Lithium battery generator with 3x 110V plugs (household outlets), 12V car outlet, 2x USB-A ports, 2x USB-C ports and a digital display. It can charge your smartphone 100 times or your laptop 12.5 times. Oh and it weighs only 22 pounds. 
You can charge the Explorer 1000 from a wall outlet, car outlet or (best option) a SolarSaga 100W foldable solar panel. Get 2 of them to speed up the charge time. 
Level 4 – $$$$ the Advanced DIY System (a.k.a. our second build, "Pearl")
This is the system we described in the first section and exactly what we have in our campervan (Pearl). Take the components from Level 2 and add: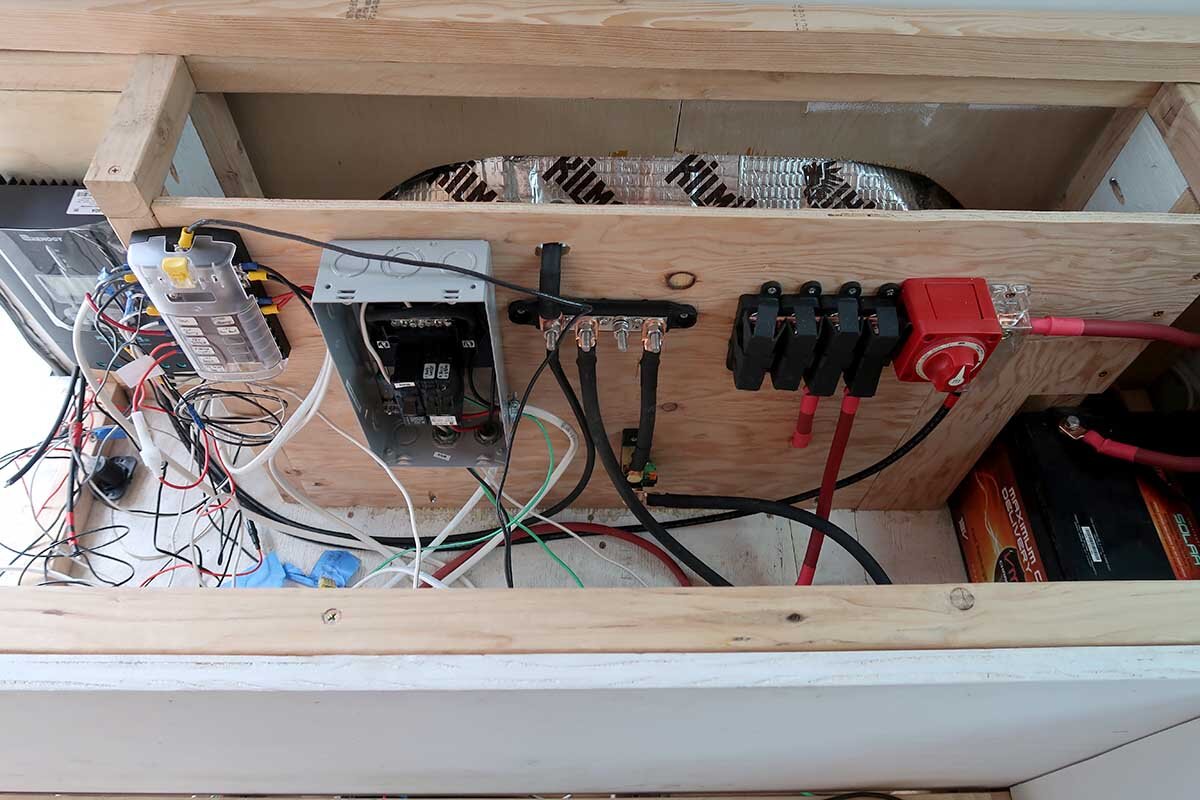 Note: Adding an Inverter/Charger not only gives us the ability to charge our laptops on the flip of a switch, but we can also charge our campervan batteries from a wall outlet or a campsite power station. 
Level 5 – $$$$$ the 100% Off-grid Junkie
Batteries: The first upgrade I would recommend from Level 4 is to replace the AGM Batteries with Lithium Batteries. I have my eye on the Battle Born 100Ah Lithium Batteries. Not only will you not have to worry about dipping below 50% with lithium batteries, but they have a longer deep cycle life span than AGM batteries. However, they'll set you back about $1,000 each. 
Next, I would just buy more Lithium batteries. The larger your battery bank, the longer you can stay off-grid. I've seen some vanlifers with up to six 100Ah Lithium Batteries! It is a bit extra unless you are running some major systems all day long, but if you have the capabilities, space, and most importantly — money — go for it!
Inverter: Another upgrade would be to get a bigger inverter/charger. Our 1500W inverter can operate everything we have in our van, and if we wanted to bring our 1000W Ninja Blender it would still be fine. But if you want to have a high watt induction cooktop or a microwave in your van, you can upgrade to a 2000W or 3000W inverter. 
Projector & screen: You can also trick out your van with a mini projector and drop-down screen. I can't believe you can find a projector that fits in your pocket for just $200!
Campervan Toilet Costs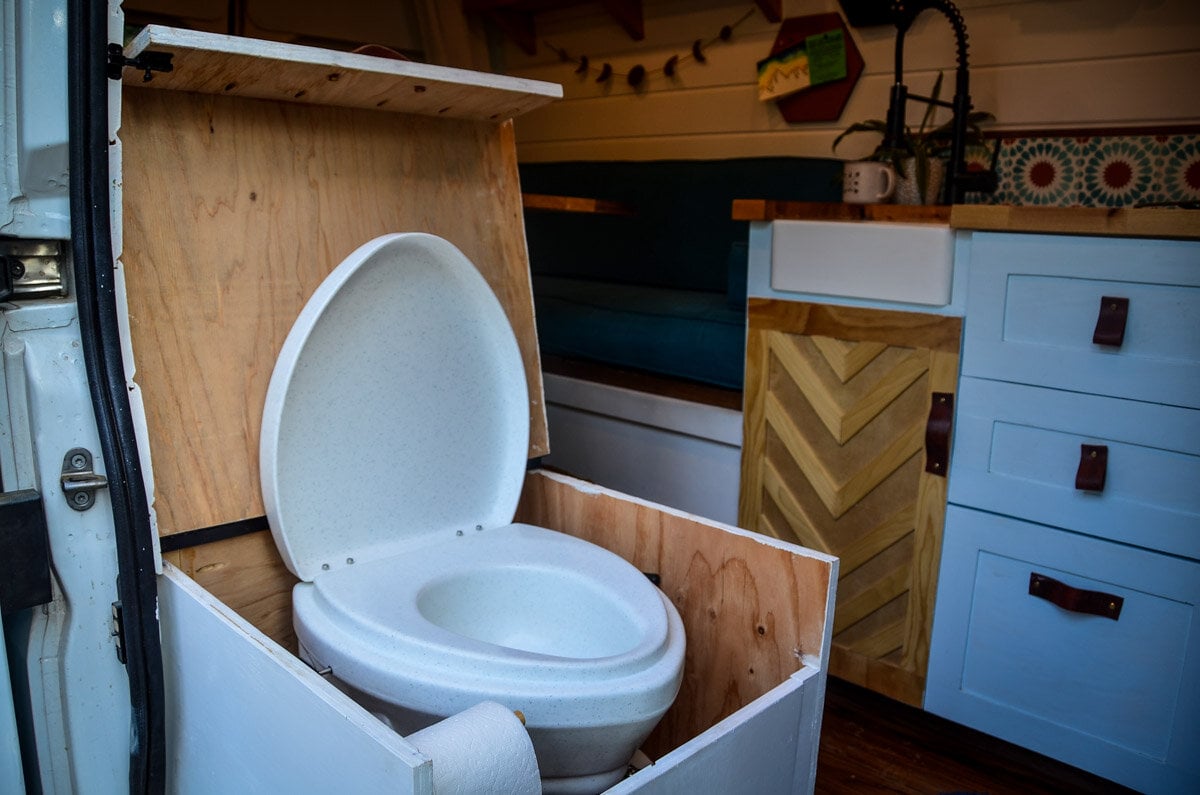 Having a toilet in our van is a game changer! Gone are the days where we need to park next to a public toilet, Walmart, or let's be honest, a well-hidden bush. Urban camping has become so easy because we never need to leave the van. 
There are various styles of campervan toilets for all budgets, but here is the one we chose:
Total Cost: $1,058.53
What that money bought:
The Nature's Head Composting Toilet is pretty pricey at $960, but it is seriously worth every penny. It's designed to naturally separate liquids and solids and has a small fan in the solids compartment for ventilation. The instructions state that the solids compartment can hold up 60-80 uses, which is quite a long time going between cleanings. 
The best part is that it does not smell at all! In fact, if there is any odor that comes from our toilet box, it's the liquids container. We gave our opinions and answered all of your questions in our full review of the Nature's Head.
Cheaper options = $0 – $249
Cost of toilet in our budget build: $0; We didn't have a toilet in our first build!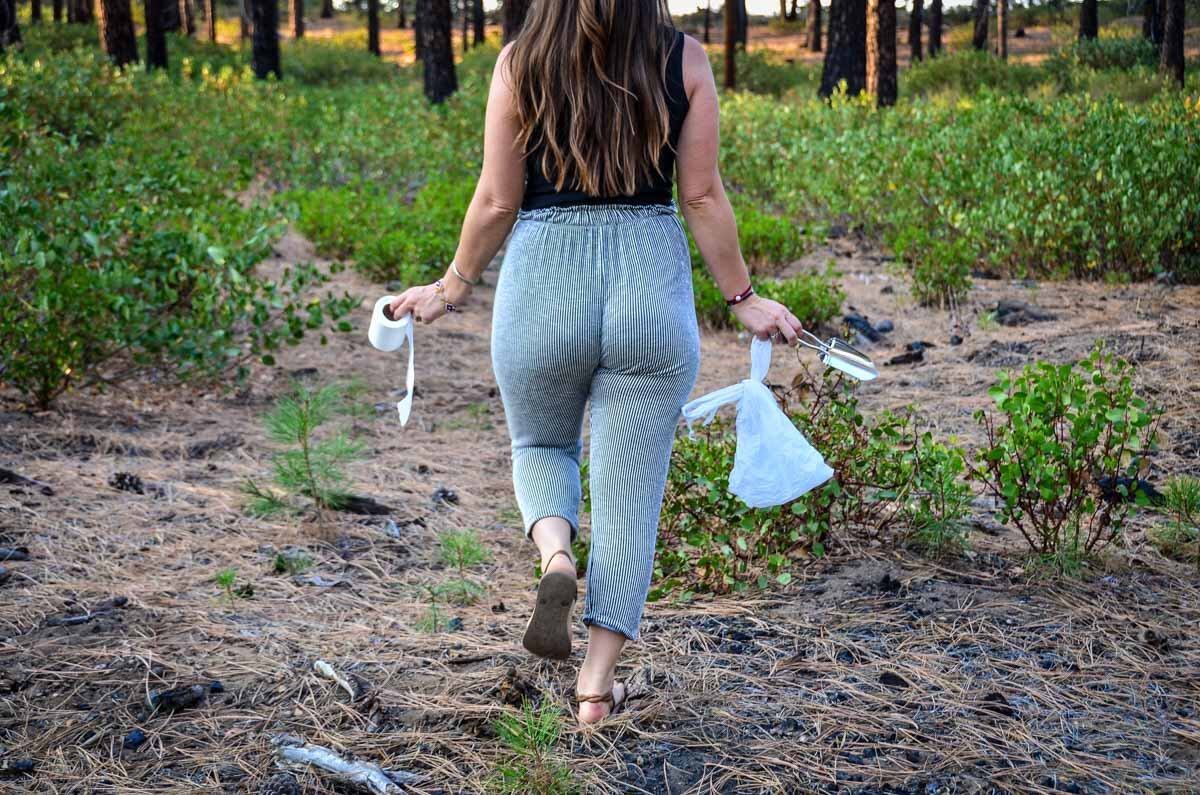 No toilet: We went a whole summer without having a toilet in our van. It was a struggle at times, but it really wasn't that bad. Of course you could go the route of having a stash of pee bottles, but that's pretty gross. 
Pee Funnel: A cheap way to go #1 is to have a "pee funnel". The cheapest option is to add a funnel to the top of a wide-mouth plastic bottle. While not anything to brag about (and not to be used for #2), it is a solution for those times you wake up in the middle of the night to pee.
We've also seen people who "upgrade" this system by using a funnel connected to plastic hosing that goes through a hole in the van's floor. So essentially, you can pee under your van without having to step foot outside. Depending where you are parked, it's not the most sanitary or environmentally friendly system, so we don't recommend it.
Cassette Toilet: A cheaper option compared to a Nature's Head toilet is to get a cassette toilet. They can be pretty convenient for going #1. When you're ready you can dump it in a public toilet like at a park drop toilet. However, with solid waste in a cassette toilet, it much harder to clean and can start to smell over time because there is no ventilation. 
Worthy Upgrades
A Nature's Head toilet is pretty much the top of the line when it comes to campervan toilets, so there's not really any worthy upgrades, per se.
However, in you want to get a bit fancier, you can build a private toilet space (yep, like a bathroom). That would be a step up and would certainly offer more privacy than the simple toilet box that we currently have. Katie and I have gotten really close these last 7 years of marriage, but we still have the other one go to the cab when we need to use the Head 🙂
Space-saving tip: If you're really fancy, you can incorporate your shower room with your Nature's Head to save space. 
Campervan Storage Costs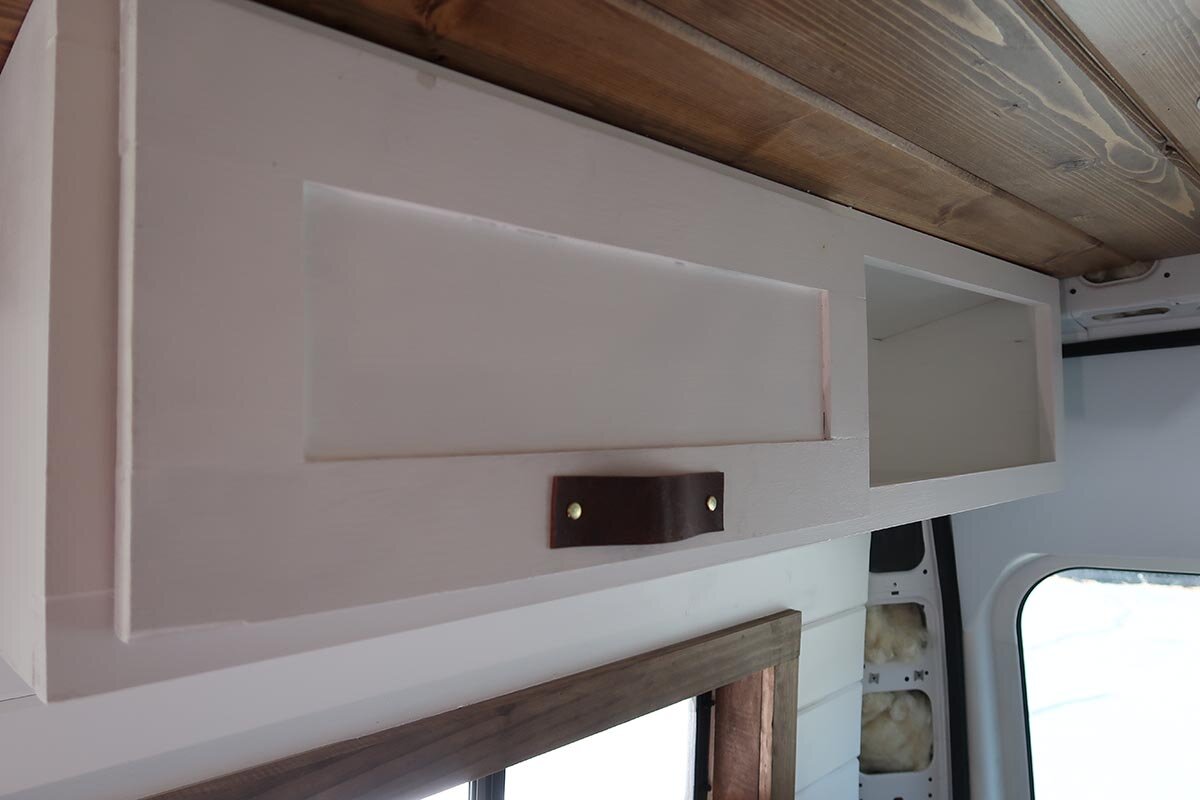 The more storage space inside a van the better. You'll want to plan space for your clothes, toiletries, shoes, electronics, food pantry, and any camping equipment. Many van-lifers choose to have two rows of upper cabinets but we preferred the open shelves to keep things more open and prevent it from feeling claustrophobic. 
Total Cost: $257.52
What that money bought:
Lumber for upper cabinets, open shelves, and vertical shelf

Cabinet Hinges and catches
Cheaper option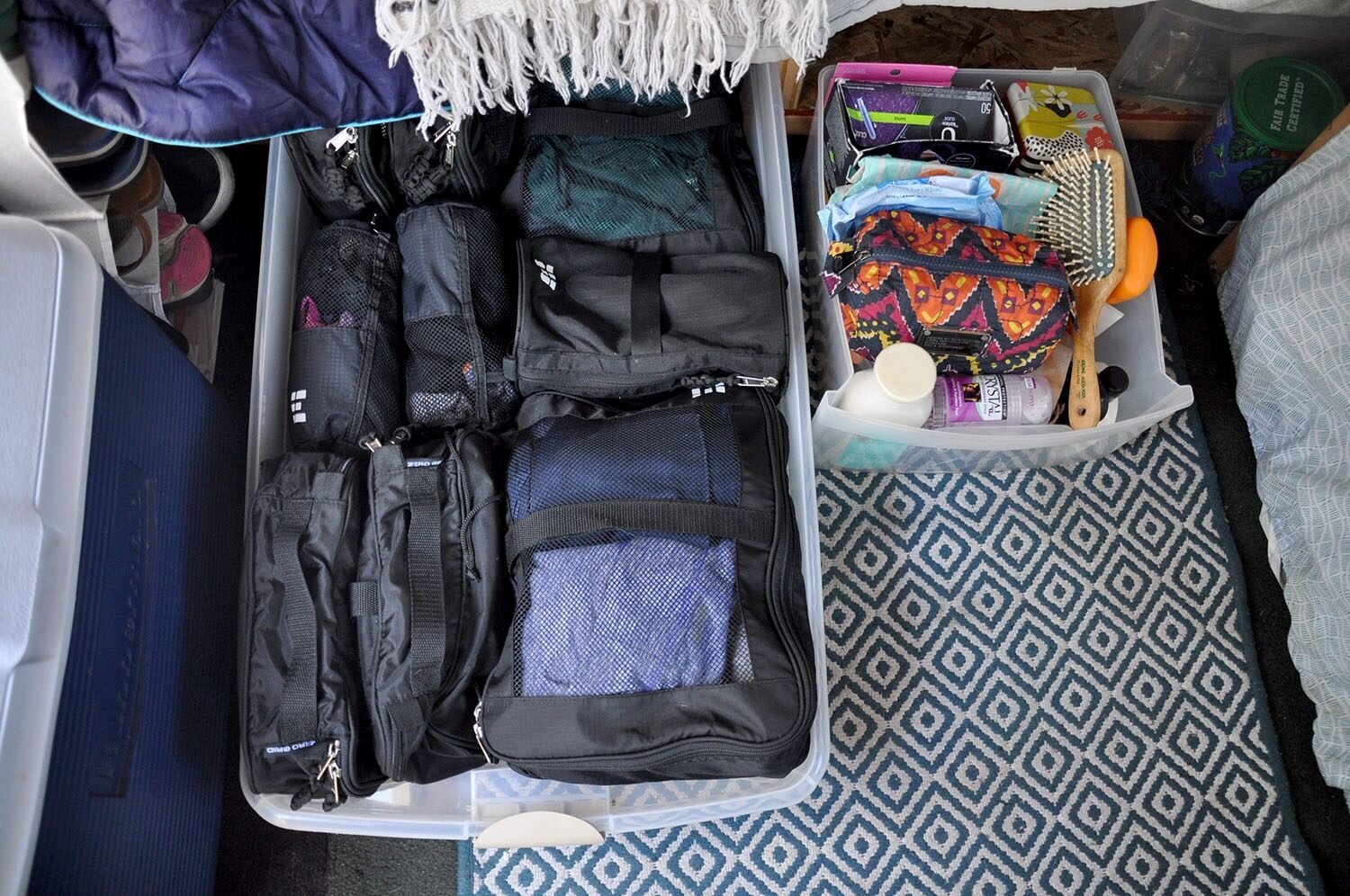 We love our vertical shelf behind the passenger seat and think it's a great use of space. However, not every van layout needs a floor-to-ceiling storage there so this could be eliminated depending on your layout. 
One way of cutting costs is to do open shelves with bungee cord to hold everything in place. This way you don't have to build cabinet doors or add hinges. 
Cost of storage in our budget build: around $40; In our first van, we didn't build any storage out of wood, but instead, we bought a behind-the-door organizer, a hanging shoe rack, and a laundry bag that we sewed to turn into a storage option for fresh produce.
Worthy Upgrades
Like I said before, it's very common to build upper cabinets on both sides of your van (passenger side and driver side). To build this, all you would need is more lumber, hinges, doors and handles.
Campervan Décor & Furnishings Costs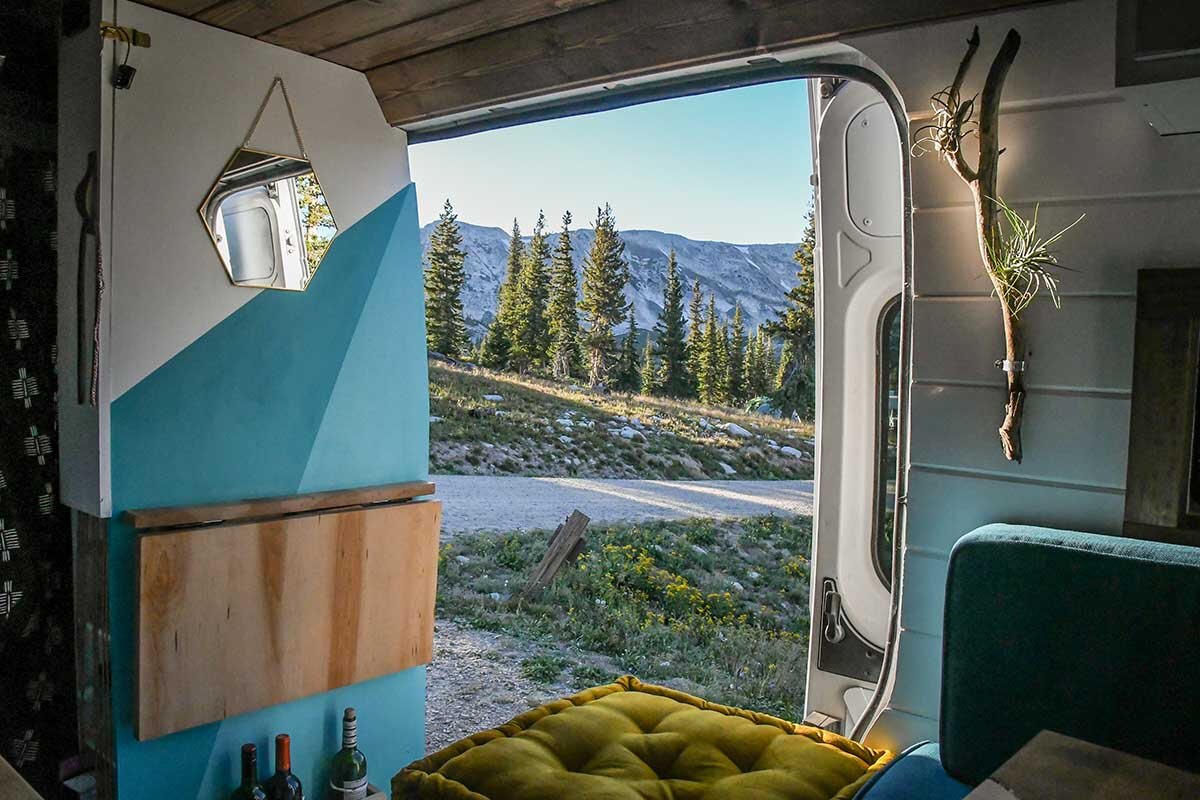 There is a reason why we left this category near the end… It's not really a necessity. (That's what I kept telling Katie, but she didn't like to hear it!)
Depending on how much you have left in your campervan budget, you can decorate your van relatively cheaply. We bought a few things to spruce up our van, but we also made some of our own decorations and repurposed items we already had. You don't need to go big unless you have the dough. 
Total Cost: $108.23
What that money bought:
Gauzy Curtains and rods for the back door

Air Plants

"Two Wandering Soles" Sticker in back window

Velcro to secure loose items (this is clutch!)

fabric for throw pillow (that Katie sewed)

fabric for blackout curtain (that Katie sewed)
Cheaper options
Don't decorate: This is pretty obvious, but decor really isn't a necessity. So if it's not important to you, skip it!
Thrift, don't buy new: We recommend going to thrift stores, looking around your house for things you can incorporate, or you can even make something. Like we said, this is one of the areas you can really save money (or splurge) on our campervan build. 
DIY: Simply make decorations yourself. Katie sewed a pillowcase for one of our throw pillows. When driving through Oregon, we picked up a handful of lavender at a U-pick farm and it makes a nice addition to the back of our van.
We also found a piece of driftwood that we really liked. Bought two air plants and attached them to the driftwood using spare chicken wire, and then secured the driftwood to our van wall using a hose clamp.
Worthy Upgrades
If you have more money left in your budget, and you really feel the need to buy things for your van, we don't need to tell you where to shop! You can find unique items at local boutique or buy greenery at your local garden store.
Important Tip: Just make sure that with everything you buy, you have a plan on how to secure it down so it won't come loose when driving (we love velcro strips for this purpose). 
Miscellaneous Campervan Costs
These items don't really fit into another category, but they make living in the van easier and more comfortable. We also included our back rack and hitch into this category, which is the majority of the cost here. 
Total Cost: $772.27 (Total cost excluding hitch and bike rack = $204.27)
What that money bought:
Note: We just got into mountain biking this year so having a trailer hitch bike rack was essential for us since we could not store the bikes inside the van.
Cheaper option
These items are definitely not needed in a build and don't have to be included in your campervan costs, but we feel like they are all helpful in their own ways.
A sun shade to keep the heat out of your cab/van, a vacuum cleaner to keep things clean, lumbar support to help my back while driving long distances, and an alarm system to keep our electronics safe. 
Worthy Upgrades
If you want to spend more money in this category it really depends on what you consider comforts of home. Installing a more robust alarm system would be a nice plus for peace of mind. You could also install a really nice bike rack on your hitch too. We recommend the Kuat NV 2.0 for more stability for your bikes.
Adding on an awning would be a great addition for when you're parked in sunny spots. This portable awning looks pretty sweet and packs up pretty small!
When the bugs get really bad, it would be nice to have magnetic mosquito curtains so you can keep your doors open for the breeze while keeping those blood-suckers out.
Another upgrade that would make any van Instagramable is setting up hammocks that extend from the roof rack. I actually tried setting this up a few times, but it it didn't work out. So if you know anyone who has a van with hammocks attached to their roof rack, comment below because I'd love to know how they did it 🙂
Campervan Dream List: I think it would be really sweet to have a small platform on top of a van so you can hangout up there for happy hour or do some star gazing. A guy can only dream, right? Maybe our next van 😉
Campervan Tool Costs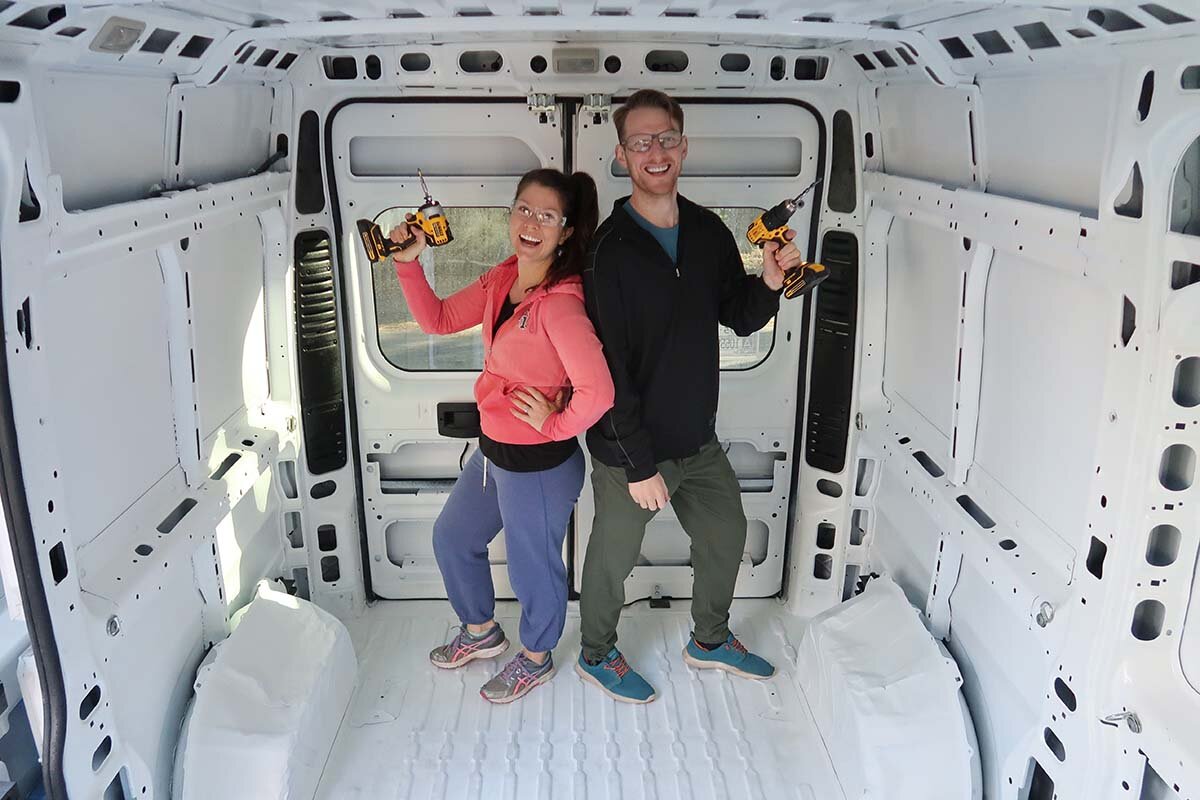 (NOT included in Grand Total)
When we started this campervan build, I owned the equivalent of a Fisher-Price tool kit (squeaky hammer and all!).
I had to buy every tool new for this build and the cost of those definitely added up, so I think it's good to consider these costs as well when you're thinking about your total budget.
I'm going to share the tools I used and what I recommend for building a campervan, but this is not added into the final campervan cost.
This is because everyone's situation with tools is different:
Maybe you already have a fully-stocked workshop (or a family member who does!) and won't need to purchase any tools at all.

Maybe you want to completely avoid buying tools, so you plan on borrowing everything.

Tip: FB Community groups are a good place to ask people nearby for tools you'll need to borrow. Some towns even have a "tool library" where you can check out the tools you need and return them when you're done.

Or perhaps you're like me and want want to start your tool collection, and a campervan build seems to be just the excuse to get started!
I'll be able to use these tools again for other projects (maybe other campervans, fingers-crossed!), and it wouldn't exactly make sense to add it to the total cost of this van. 
That said, I'm sharing which tools I think are necessary for a campervan conversion build as well as the price of each so you can make a plan for tools.
Total Cost of Tools: $1,073.98
What that money bought:
Hand Tools

T-Square, Yard stick, rubber hammer, Tape measure

PPE (Gloves, safety glasses, ear plugs)

Saw Horses (qty 2)
Cheaper option
Just buy the essentials!
When we built our budget campervan, we borrowed a power drill, impact driver and a jigsaw from one of our roommates at the time. This allowed us to build a simple bed frame and small kitchen counter. Nothing was sanded, painted or too complex in any way so those tools did the job just fine! 
You really don't need all the fancy tools to get the job done. But if you want to take your build to the next level, the tools I listed above will help get you there. 
Insider Tip: If you do start investing into tools, I'd recommend sticking with the same brand for all your power tools because then you can share the battery packs between all the cordless tools. 
Recommended Brands: Personally, I like DeWalt because they are good tools and relatively inexpensive. Milwaukee is also another good brand. Ryobi has really inexpensive tools, but in my experience, I found them to be poorer quality products. I bought a few of them and had to return some because they didn't operate very well.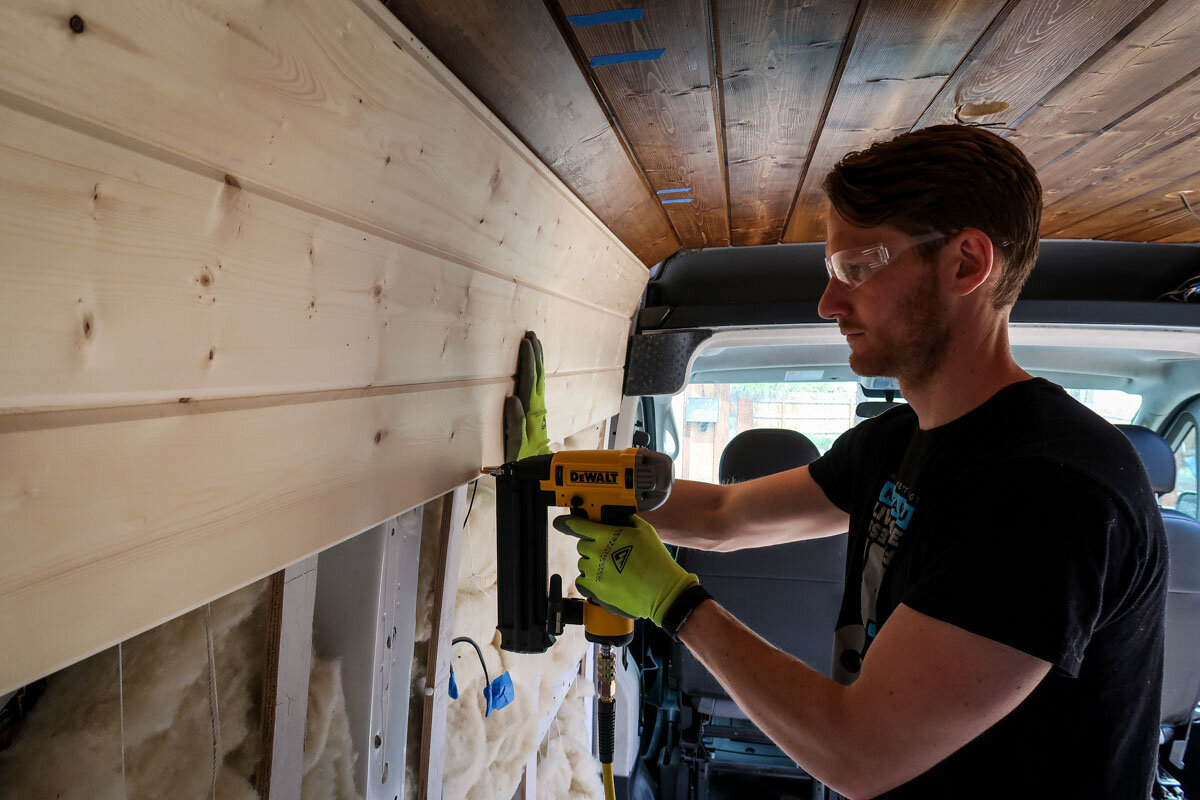 Worthy Upgrades
We've got quite the tool collection now, but there are definitely items that would have been nice to have and would have made this build even easier.
I only had a jigsaw and a Dremel to do all my cuts, which was fine for me. However, it did make the process a bit slower. 
A table saw, an accurate circular saw, or a miter saw (or all three!) would have been really nice for more consistent cuts, and it would have made the process faster.

A drill press would have been handy for a few projects, but not too many needed it.

It would have been nice to have a belt sander for all the wood projects we did. We literally spent hours (and hours!) sanding with our hand-sander. 
Now, if we could just get all these fancy tools into a well-lit shed with a heater and a mini fridge, we would be oh so happy! 
Alternative Option: Another way to get access to tools (if you don't want to buy them yourself and don't have anyone to borrow from) is to see if your town has a workspace.

For example, where we live in Bend, Oregon there is a place called the DIY Cave that has tools and even storage space for vehicles. There is a membership plan or daily rates, so it's a really good option for those who don't have a good space to work on a project like this.

Our only advice would be to really plan out a timeline for your build if you do something like this to keep the fees to a minimum, or you could inadvertently rack up quite the bill!
Most Worthwhile Campervan Splurges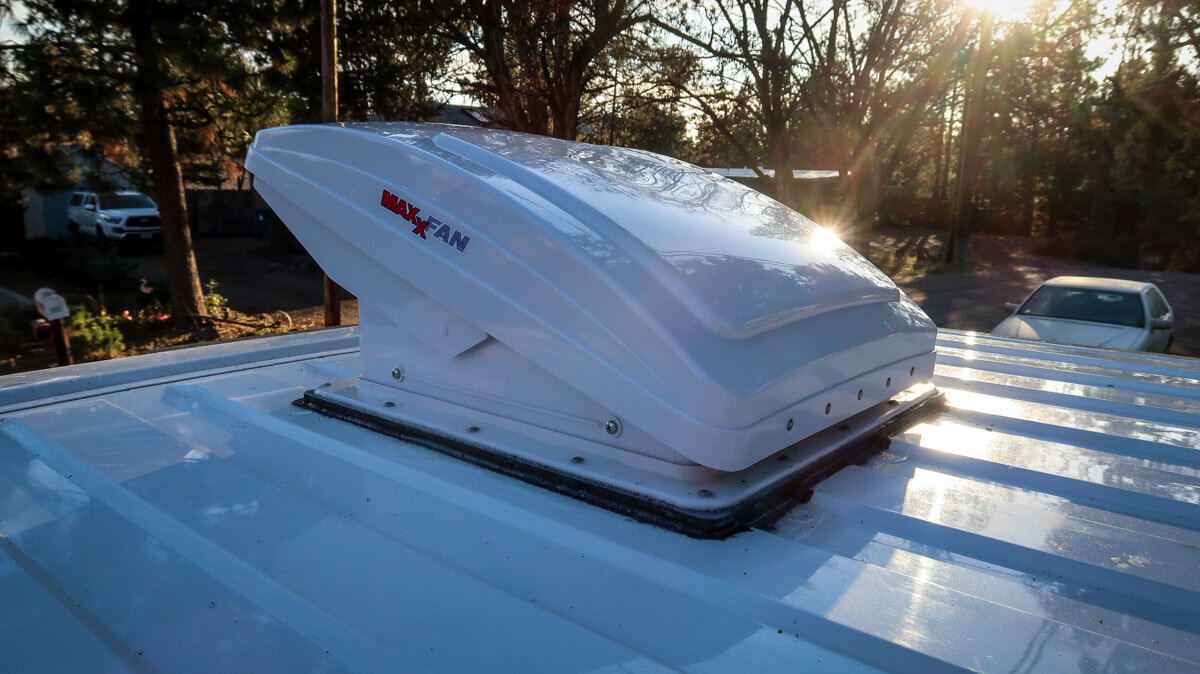 Most of us building a van on our own are going to have to make some sacrifices here and there… If you have a budget of, say $10,000 total for your van and your build, you're not going to be able to have all the stuff.
So what are the things that we think are worth the splurge:
Grand Total Campervan Conversion Costs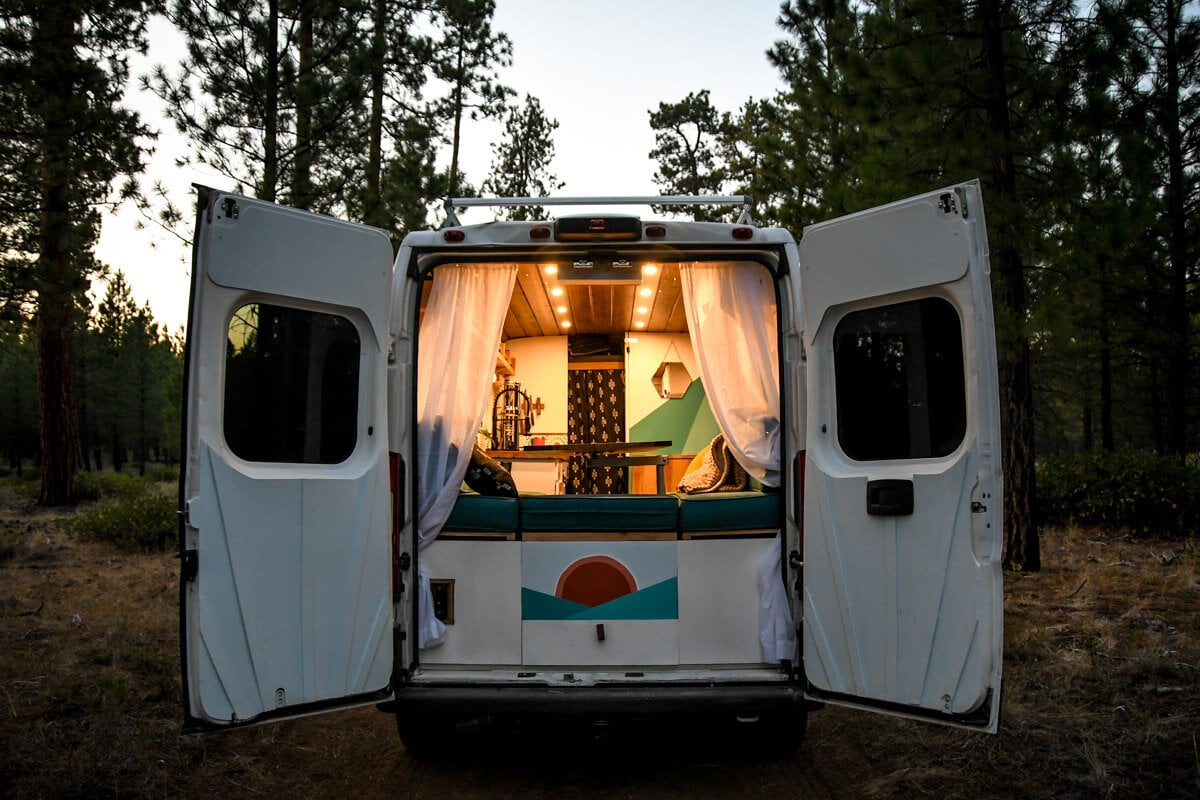 I really hope you didn't just scroll down to see this number without any context (I see you!), because it kind of defeats the message we want to send…
If you take anything away from this, I hope it is that you can build a campervan on just about any budget.
As we've already mentioned, our very first campervan build cost less than $3,000 (yes, including the van itself!). So when I say you can do vanlife on a budget, I really do speak from experience.
But since you're here and you probably want an actual number, I'll give you what you came for.
The grand total for this campervan build + the cost of the vehicle was…
 … drumroll…
$33,204.12
This breaks down to:
Campervan Cost: $20,000 (2019 Dodge Ram ProMaster 2500, 136" WB)

Van Conversion Cost: $13,204.12 
To be totally honest, we wanted to stay under $30,000, so we did go above our budget by around $3,200.
That said, one upgrade we settled on at the last minute was the Nature's Head composting toilet (which cost about $1,000), and we're so happy with that splurge. We also wanted to install our windows and attach our solar panels to a roof rack, which bumped our budget even higher. But we not too upset about it. We ended up with perfect adventure vehicle for us!
Note: We did have to spend about $200 on the van's licencing and registration in Oregon, but we did not include this because it will vary state to state. Just something to keep in mind when buying a van or if you're buying a van across state lines.
In general, our build for Pearl is middle-to high(ish)-end. We could have spent significantly less, or we could have spent much, much more.
Related Article: Best Vans for Campervan Builds
Our van was used, though it was less than a year old (2019 ProMaster) and we got the keys with less than 30,000 miles on the odometer.
With the exception of our top-of-the-line Nature's Head toilet, the inverter/charger and the roof rack, most of our appliances and components are middle of the road in terms of price and quality.
---
Are you thinking about living the campervan life?
We have TONS of resources on converting your own campervan and living the #vanlife. Check out our Ultimate Guide to Van Life for all the answers to your most burning questions, or read some of our favorite articles below.
Interested in engaging with others about all things #vanlife? Join our Vanlife Facebook community!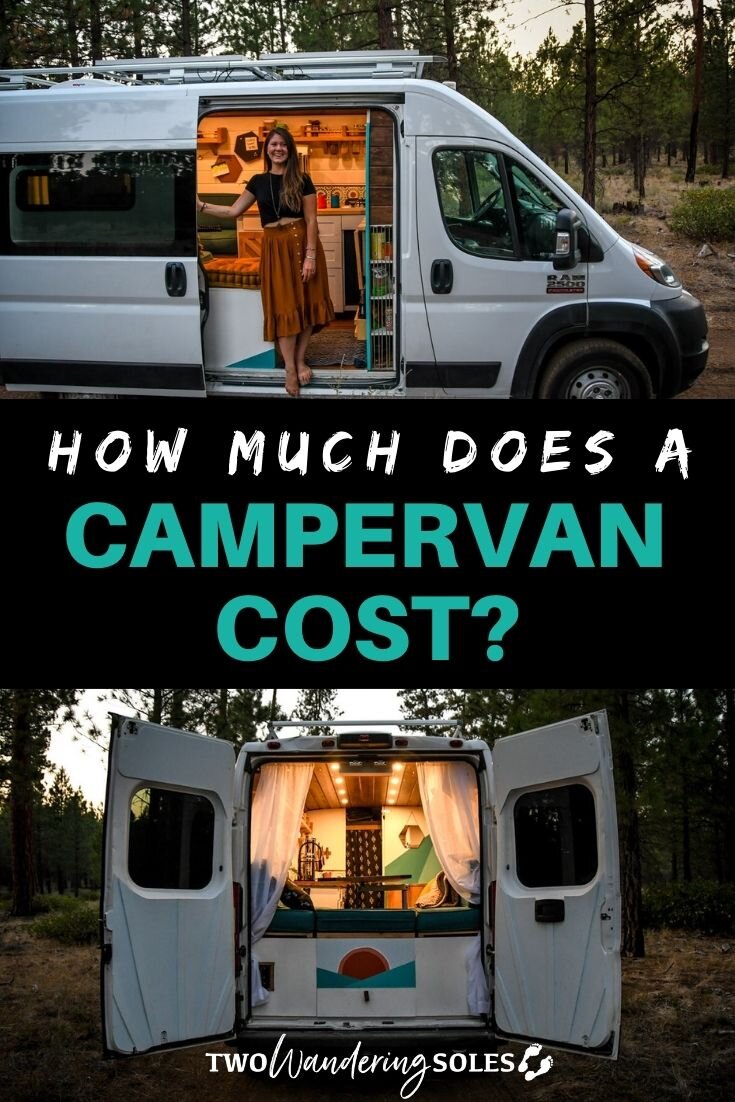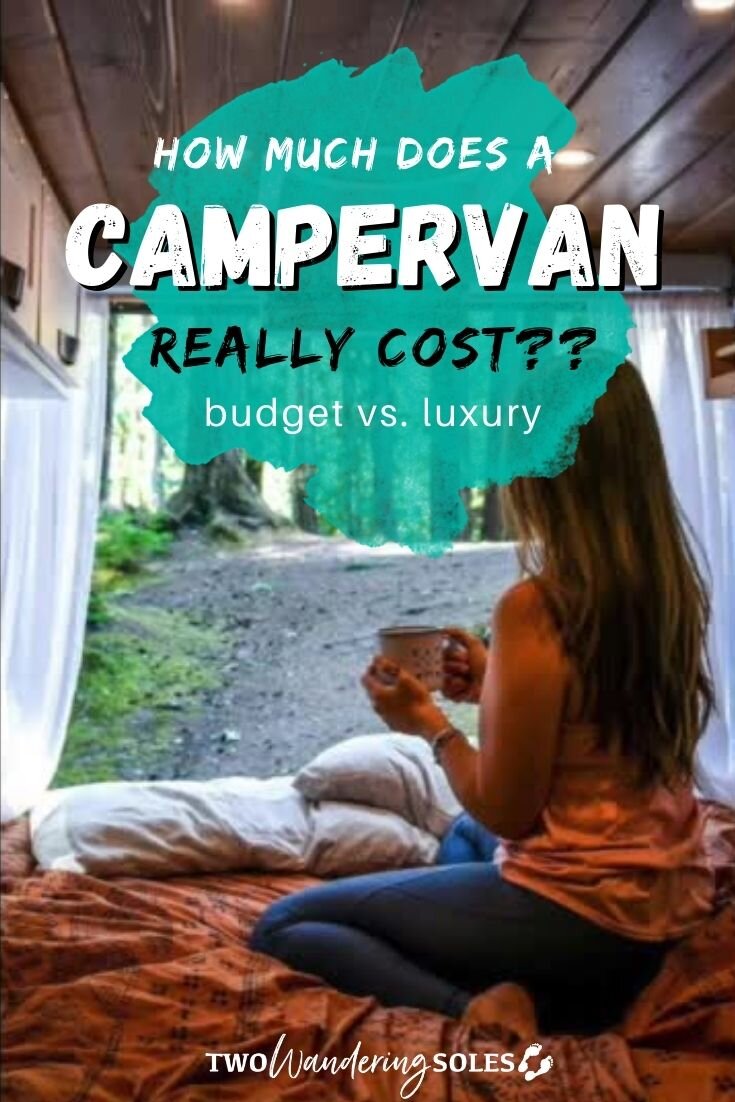 We want to hear from you!
What would be your splurge category when building a campervan? Are you surprised at how much a campervan costs? What would you add or subtract in your build? Let us know in the comments below.