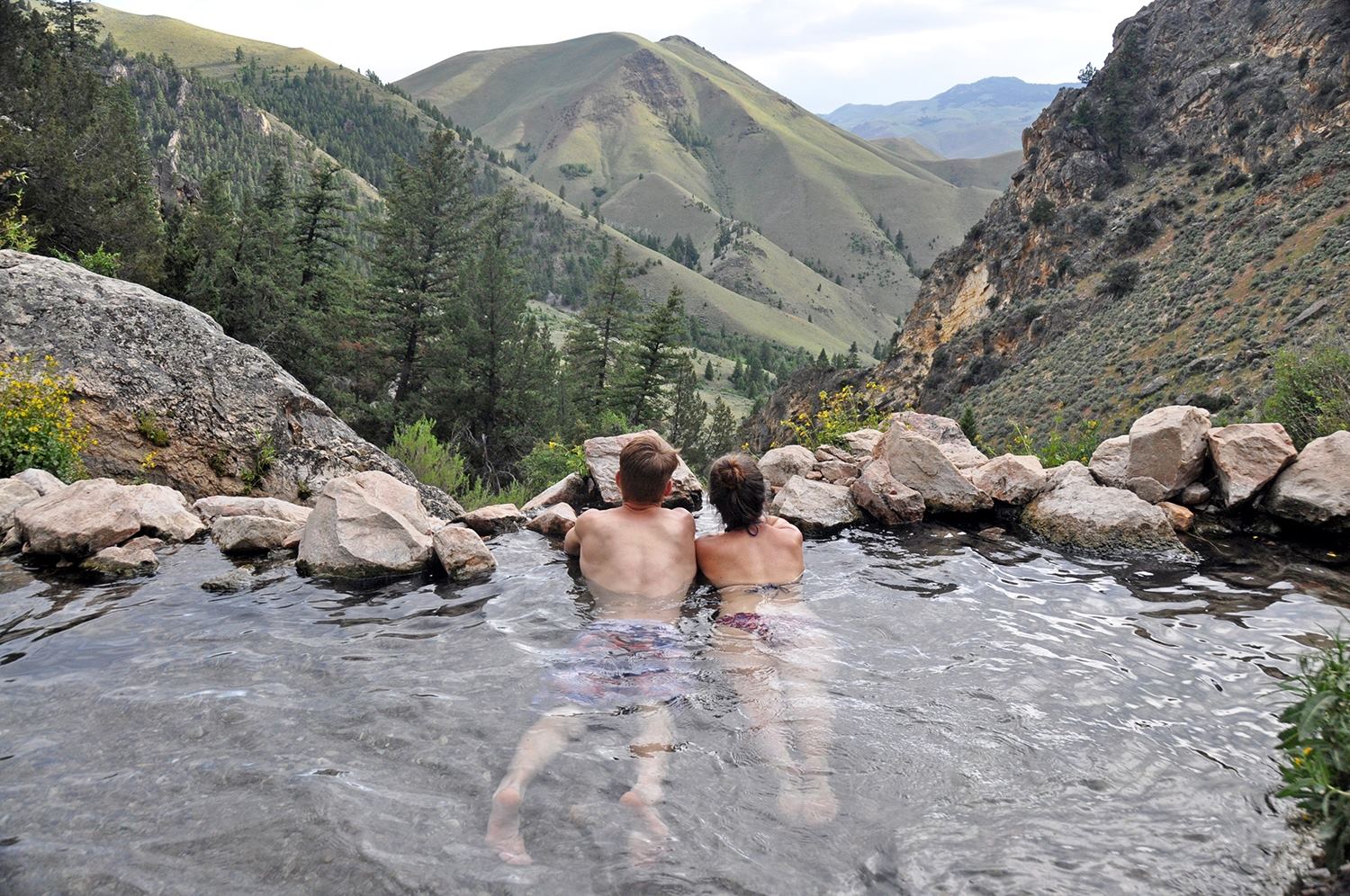 If you think Idaho is all potatoes, you are missing out! With pristine hidden hot springs, dramatic mountain peaks and cute towns, we can pretty confidently say that Idaho is one of the most underrated states in the U.S.
If you're like us and you love the outdoors, but can't stand the crowds at popular destinations, Idaho may just be the perfect spot for your next road trip.
We're going to share a sample itinerary that brings you through some of the best the state has to offer. With just a week, you certainly can't see it all, but this is a good start!
Best Places to See in Idaho with just One Week
We know that not all road trips are created equal. Maybe you have less time or you just don't want to feel rushed. We get that. We've labeled each stop on the itinerary as "Idaho Must" or "If you have time".
Those marked "Idaho Must" were our favorites and we think they are great stops on any Idaho road trip. The places marked "If you have time" are still worthwhile, but only if time allows. Click any of the links to jump down to that section.
Idaho Must Visits
If you have more time in Idaho
---
Want to try out Van Life while visiting Idaho?
It's no secret we are big fans of #vanlife.
If you don't have the time (or interest!) in building your own conversion but you still want to give van life a test drive, we've tons of ideas for you! Check out our list of top companies for USA Campervan Rentals, from budget to bougie, we've even included some exclusive discounts for our readers.
One company we'd recommend looking into is Escape Campervans. They have 12 different locations across North America and come fully loaded with all the gear you need for an epic road trip. Plus, their rates are fair and affordable.
BONUS: We've partnered with them to give you a 10% off discount when you use our link!
---
McCall: Cute Town with a Lake View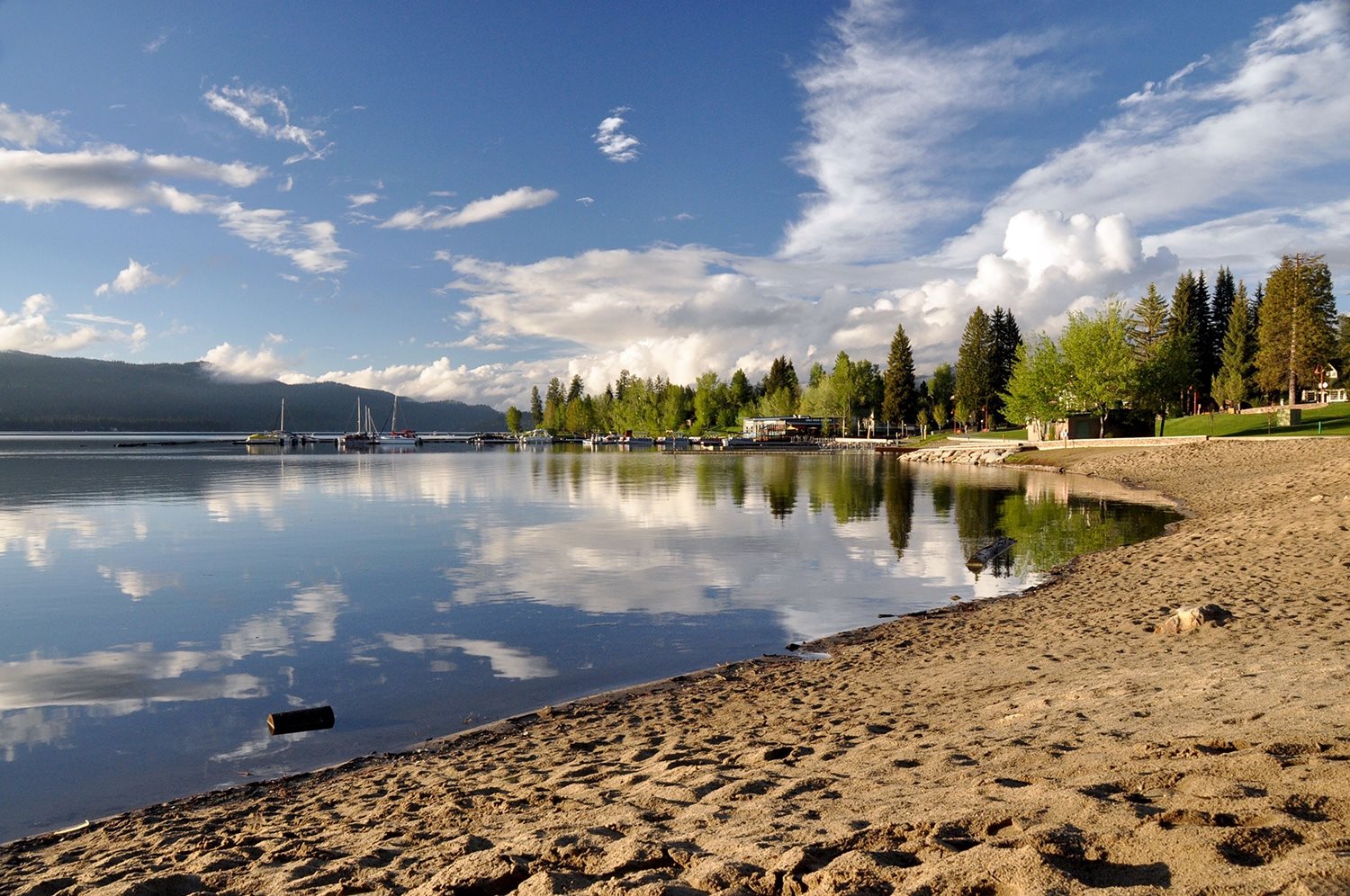 This upscale cabin town sits on the south shore of Payette Lake. We were there in the middle of the week and got the vibe that most of the houses in McCall are ritzy second homes because damn were they nice.
We hunkered down for a bit and tried some cute coffee shops like Mountain Java and Fogglifter, while sampling the brews at Salmon River Brewing. If you're looking for a spot to relax in the evening, Lakeside Park is a great spot for a sunset view.
---
Whether you are staying in a hotel, living in a campervan or RV, or you're trekking in the backcountry, here is everything you'll want to pack for the road. Plus tips and advice on making your next road trip go as smoothly as possible!

---
Secret* Hot Springs between McCall and Boise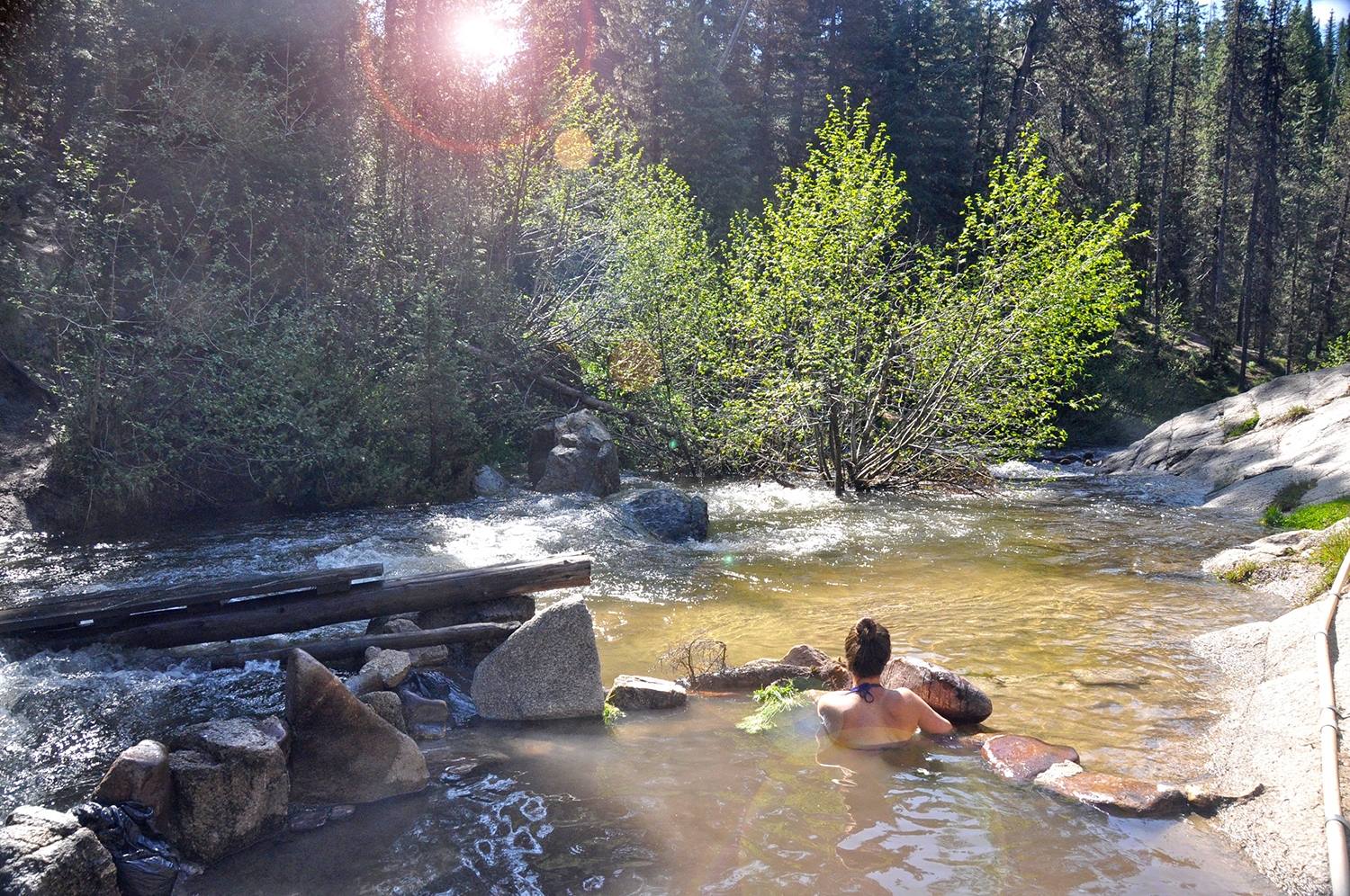 We got a great tip from a friend who's from Idaho about a special hot springs that is lesser known than many of the big names. This kind of "local" place is right up our alley, so we made sure to stop here. Set within a creek, there are two pools for relaxing in the steaming water.
When we were there, the water was a bit high and the downstream pool was flooded but it would be really nice later in the summer. With the sun shining through the trees, the minerals in the rocks making the sand sparkle (seriously!) and just a couple other people soaking, it was seriously magical. If you're visiting McCall, we'd highly recommend this hot spring.
So how do you get there? Read below…
*Important Note: In an effort to not geo-tag every secret spot we know, we are not going to share the name or location of these hot springs. However, if you are traveling through this area of Idaho, please send us your email and we will kindly (and automatically) send you directions to this local hot springs. We just don't want this place to be overrun with people, thus ruining the whole vibe.
Looking for more hot springs in Idaho? Hint: There are tons! We put together a list of all the must-see Idaho hot springs, including how to get there and what to expect.
Boise: Hip City with a Friendly Vibe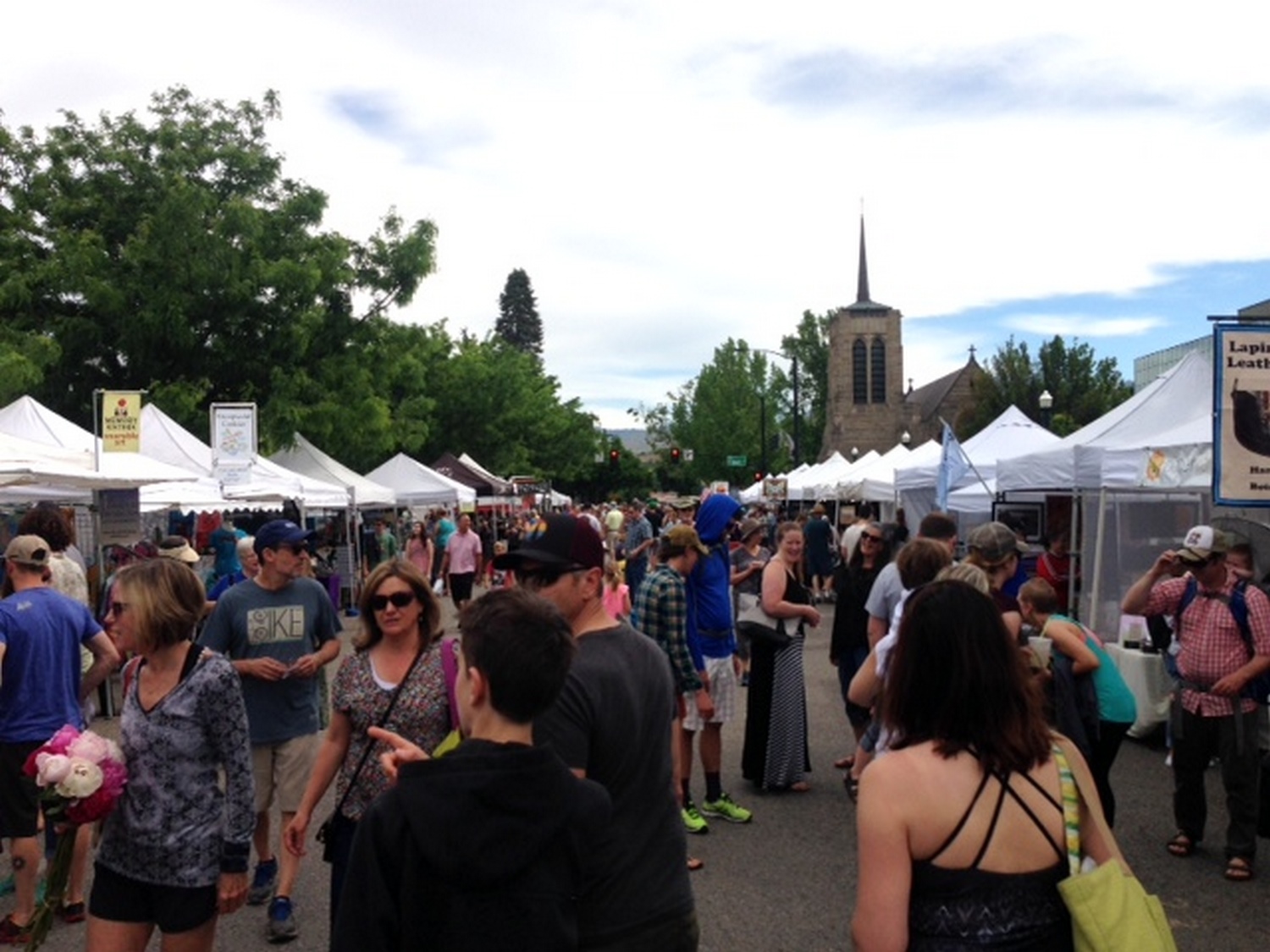 We recently read an article titled something like, "up-and-coming cities in the US to visit before they get too cool" and Boise was on there. (Along with our hometown, Minneapolis!) With accessible bike trails, a lively brewery scene and fantastic farmer's markets, we can understand how it made the list.
Things to do in Boise:
Rent a city bike and pedal the Greenbelt, a series of paved bike trails alongside the Boise River.

Take that bike all the way to the Old Idaho Penitentiary. For $6 you can tour the grounds and see where some of the worst criminals of the west were held. There are also short hiking trails behind the penitentiary that will give you a good view of the city.

For a change of scenery after the Old Penitentiary, right next door are the beautiful Idaho Botanical Gardens. Strolling the paths past flowers and native bushes is one of the best things to do in Boise for couples.

Go brewery hopping! We enjoyed 10 Barrel and Payette Brewing and wish we had time to try more!

Explore the Boise Saturday Market! This farmers market takes place every Saturday from April through mid-December , and it is huge – covering 4 or 5 blocks of N 8th Street in the heart of downtown. There are different sections for food vendors, artists and people selling local produce, and we were seriously impressed. From art stalls to curbside musicians to craft wines and street food, you'll find something to love here!

The market runs from mid-April to mid-December from 9:30 a.m. to 1:30 p.m.

Get an ice cream cone at The STIL. There's often a line outside, and for good reason – the ice cream here is fantastic!
Where to eat in Boise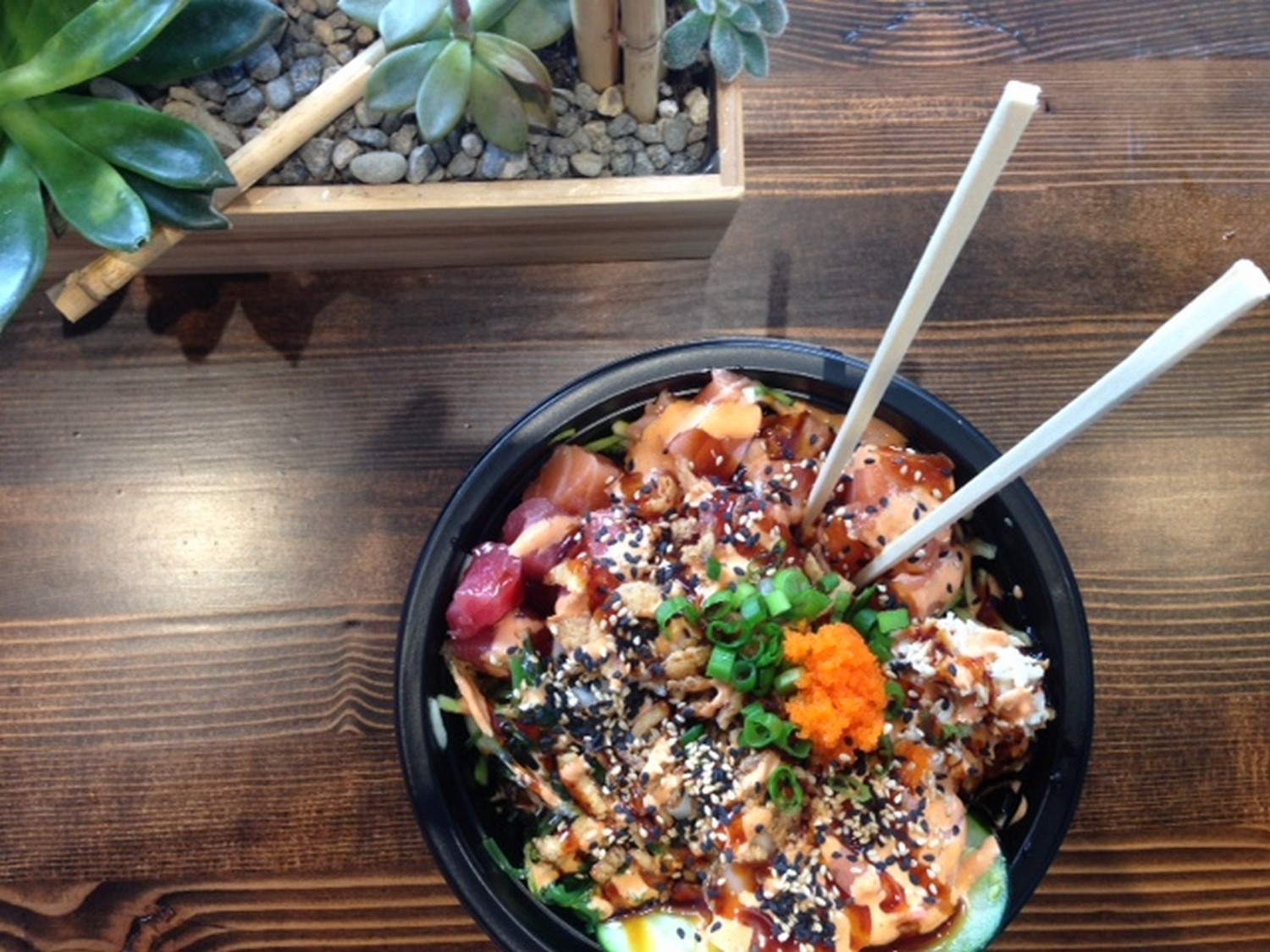 Paddles Up Poké –This restaurant serves up poke bowls (a Hawaiian raw fish salad). It was so good we stopped back two days in a row, something we never do. That should tell you enough how good it is. If you like fish at all, make sure you stop here.

10 Barrel Brewery – Always busy, and for a good reason, 10 Barrel serves up some awesome pints and a great food menu. Ben says try the P2P Porter if you like dark full flavor beers. Fun Fact: 10 Barrel is from Bend, Oregon (where we live!), so we've visited their Bend locations too many times to count!

Fork – This popular spot downtown serves upscale American fare and is one of the best restaurants in Boise. We loved their asparagus fries (huge portion!) and their butter cake is seriously worth saving room for. 
Read Next: Read all about the best things to do in Washington State (our favorite US state!)
Bruneau Sand Dunes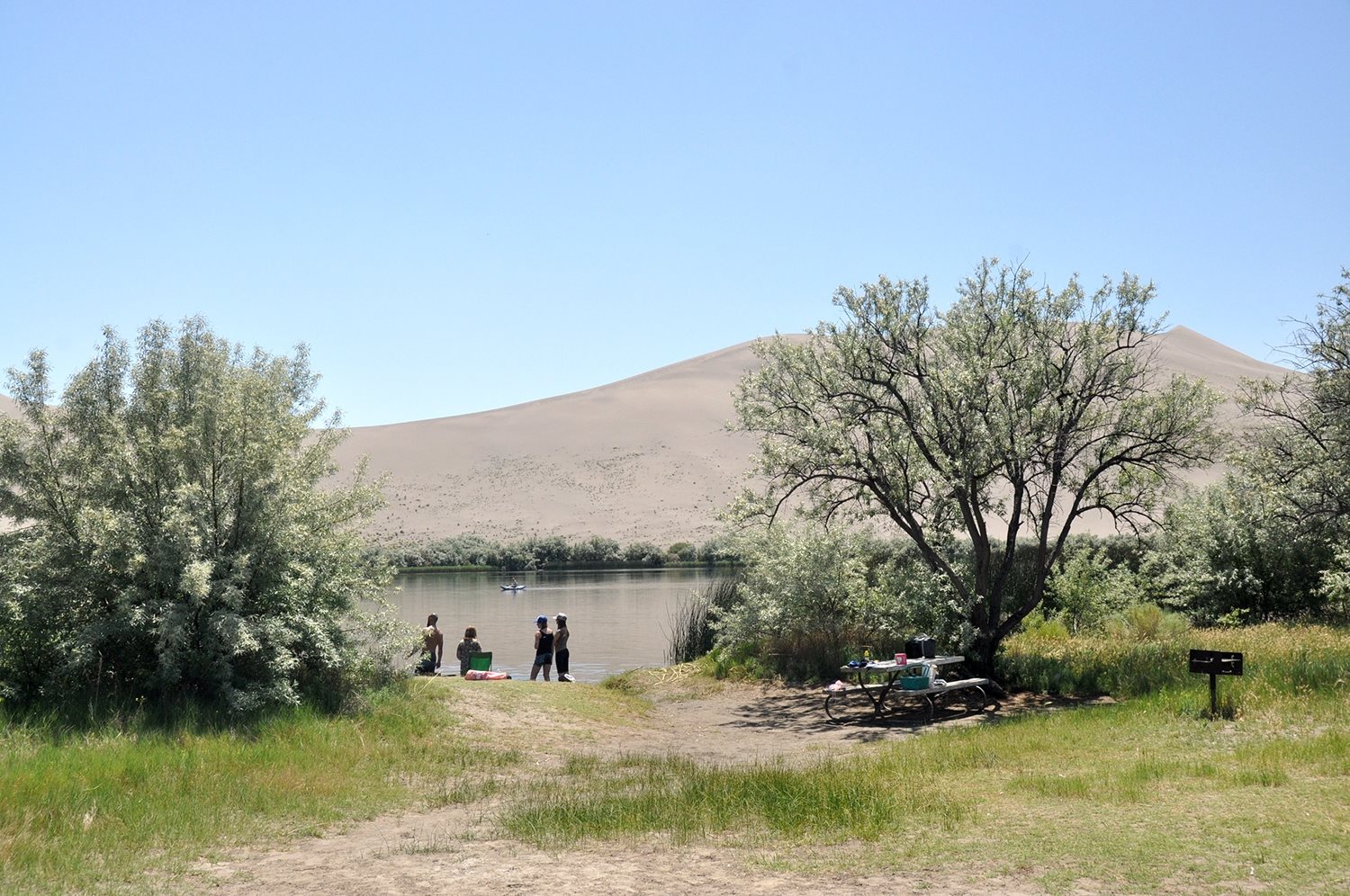 When we say that Idaho has diverse landscape, we aren't kidding. Not too far south of Boise (62.3 miles to be exact), you can find sand dunes! If you're headed to Twin Falls, a stop here is a nice way to break up the drive.
What can you do at the Bruneau Sand Dunes?
Picnic near a small lake surrounded by dunes

Take a dip in the lake to cool down!

Learn about the history of this landscape and the wildlife at the visitors' center

Climb up one of the dunes to get a great view (wear closed toe shoes because the sand is super hot!)

Rent a sand board from the visitors' center and try boarding down the dunes! (One board costs $15 per day, or you can rent two for $25.)

Spend the night if you'd like – there is camping here.
Cost: $5 entrance fee per vehicle
Thousand Springs State Park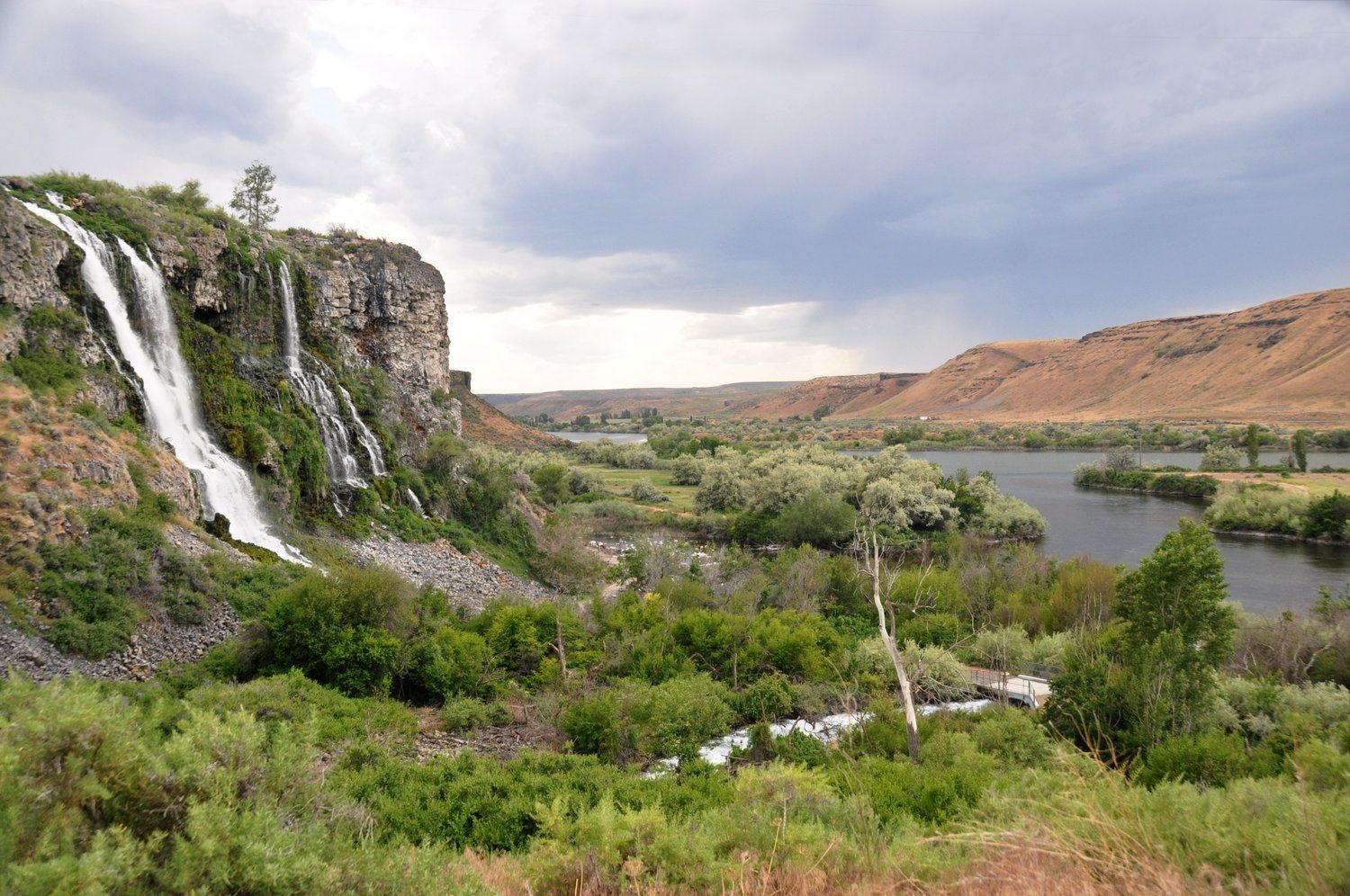 If you're driving from Boise to Twin Falls, this makes a great stop. The area is full of springs and waterfalls and there's a nice little walk to you take to get close to them. You can also rent paddle boards and kayaks from Hagerman Valley Sports if you have some time to kill. There's a grassy area perfect for picnicking and soaking in the view.
How to get to Thousand Springs: Getting to Thousand Springs is a little tricky. Along Highway 30, there is a big sign that says Thousand Springs Resort. Don't stop here. You have to pay to park or use the picnic tables and it is on the opposite side of the river from the actual springs.
We stopped because we were confused about how to get to the springs, but we ended up figuring it out. If you make it to this "resort", you've actually gone too far. Turn around and right after you cross over the bridge, turn east on the State Fish Hatchery Road through the Hagerman Wildlife Management Area.
You will work your way through some farm roads in the direction of a road called "Thousand Springs Grade". Google it head of time because you will likely have little to no cell service around there. This steep road leads you into a park right next to the Thousand Springs.
Balanced Rock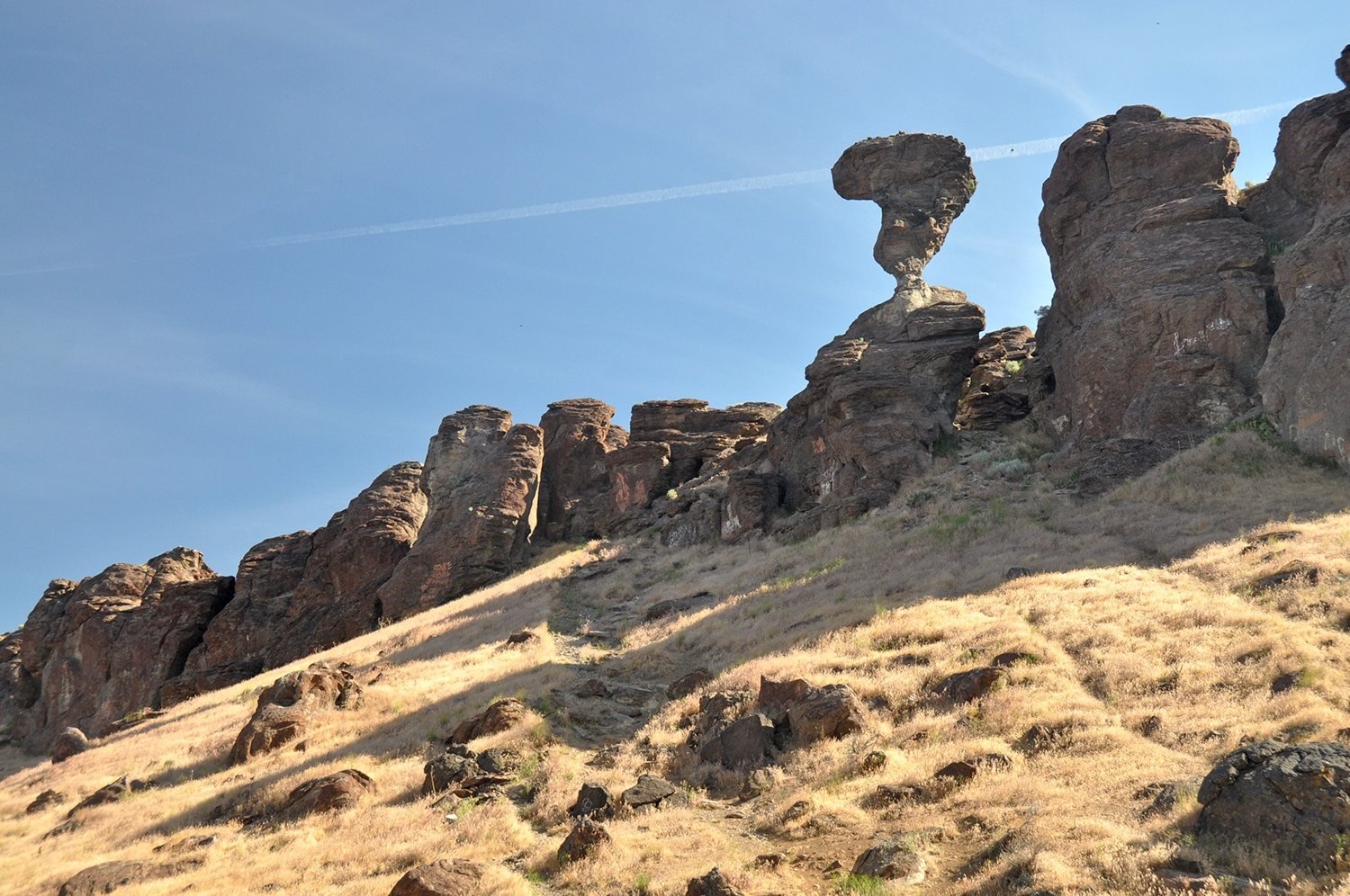 If you're in the area, a stop at Balanced Rock is a cool addition to your trip. Just as the name implies, this rock formation is the epitome of a balancing act. The base is just 3 feet by 17 inches, and the top reaches 40 feet high. That gives a whole new meaning to the term "top heavy"!
I wouldn't necessarily go out of your way to make a stop here, as it's just a rock. All you can really do is "ohhhh" and "ahhh", take a few pictures and maybe have lunch at the picnic table in front of the rock if you really want to. And that's about it. But, if you're in the area, it's pretty cool sight. We spent the night at the Balanced Rock campground about 1 mile away, so it was a fun stop for us.
Photographer tip: I'd recommend going in the late afternoon or at sunset for the best lighting. We arrived in the morning and had some harsh light.
Camping nearby: Just 1 mile from Balanced Rock is an amazing campground that is completely free! There are 6 campsites along the river in a small gorge. There is lots of greenery, birds (and bugs), and it is a really gorgeous setting. There are clean pit toilets, carports, picnic tables, fire rings and grills.
Twin Falls: Impressive Waterfall & Famous Bridge
There is not much to the town, there are some sites around Twin Falls that you can't miss while in Idaho. If you're in time crunch (or just want to get out of the city), you don't have to stay the night. These attractions can be seen within a couple of hours.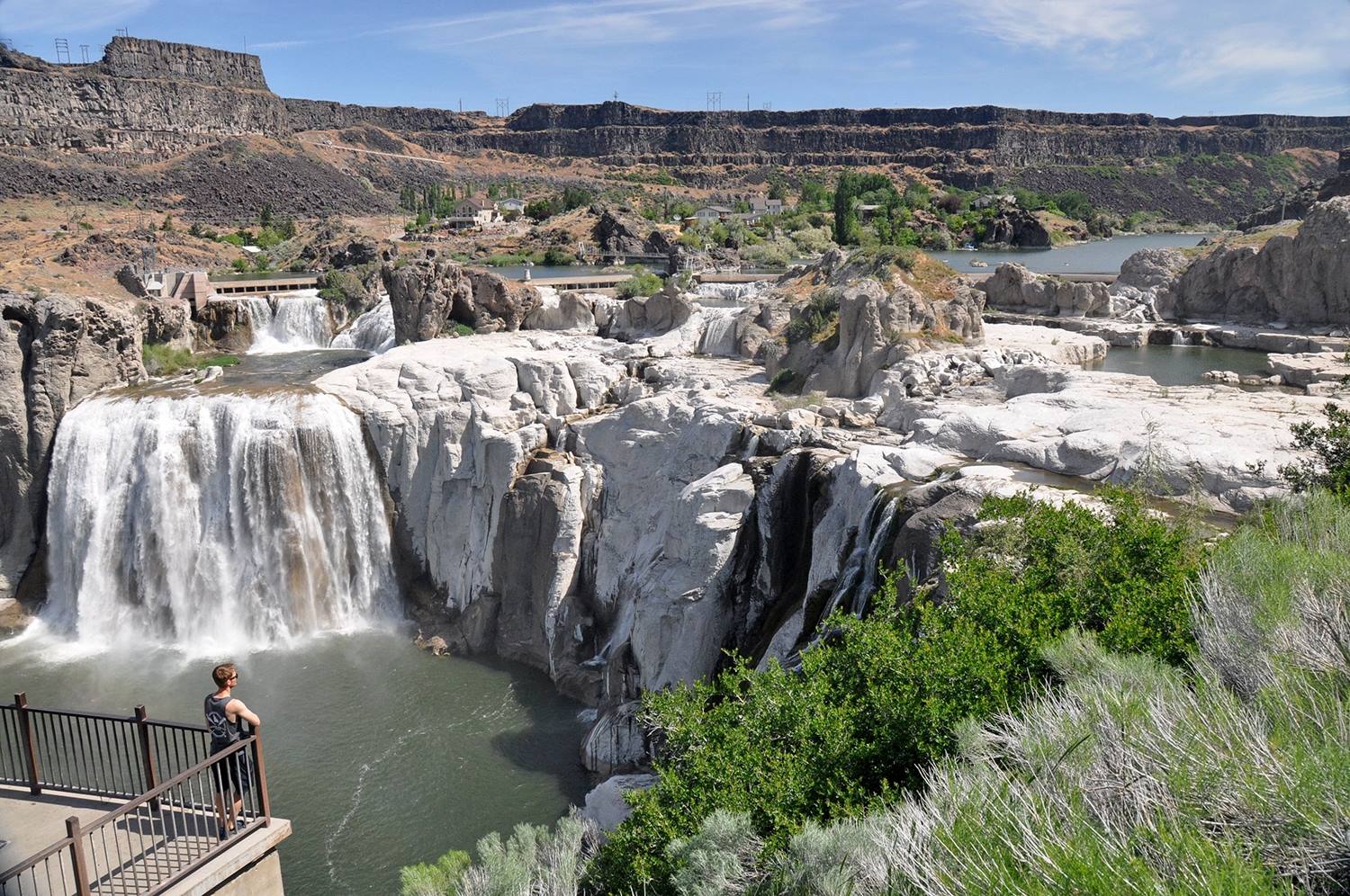 Things to do in Twin Falls, Idaho
Shoshone Falls: Known as the "Niagara Falls of the West", this gigantic waterfall is tucked deep in the Snake River canyon. It's a $3 fee per vehicle, but totally worth it. You can walk out on to a platform and feel the power of the falls as it sprays you in the face. The park itself has a couple shaded areas that would be perfect for a picnic.
Note: When we arrived in early June, the water wasn't nearly as high as it is earlier in the year. When the water is high, the falls is on both sides of this rock formation. Imagine that!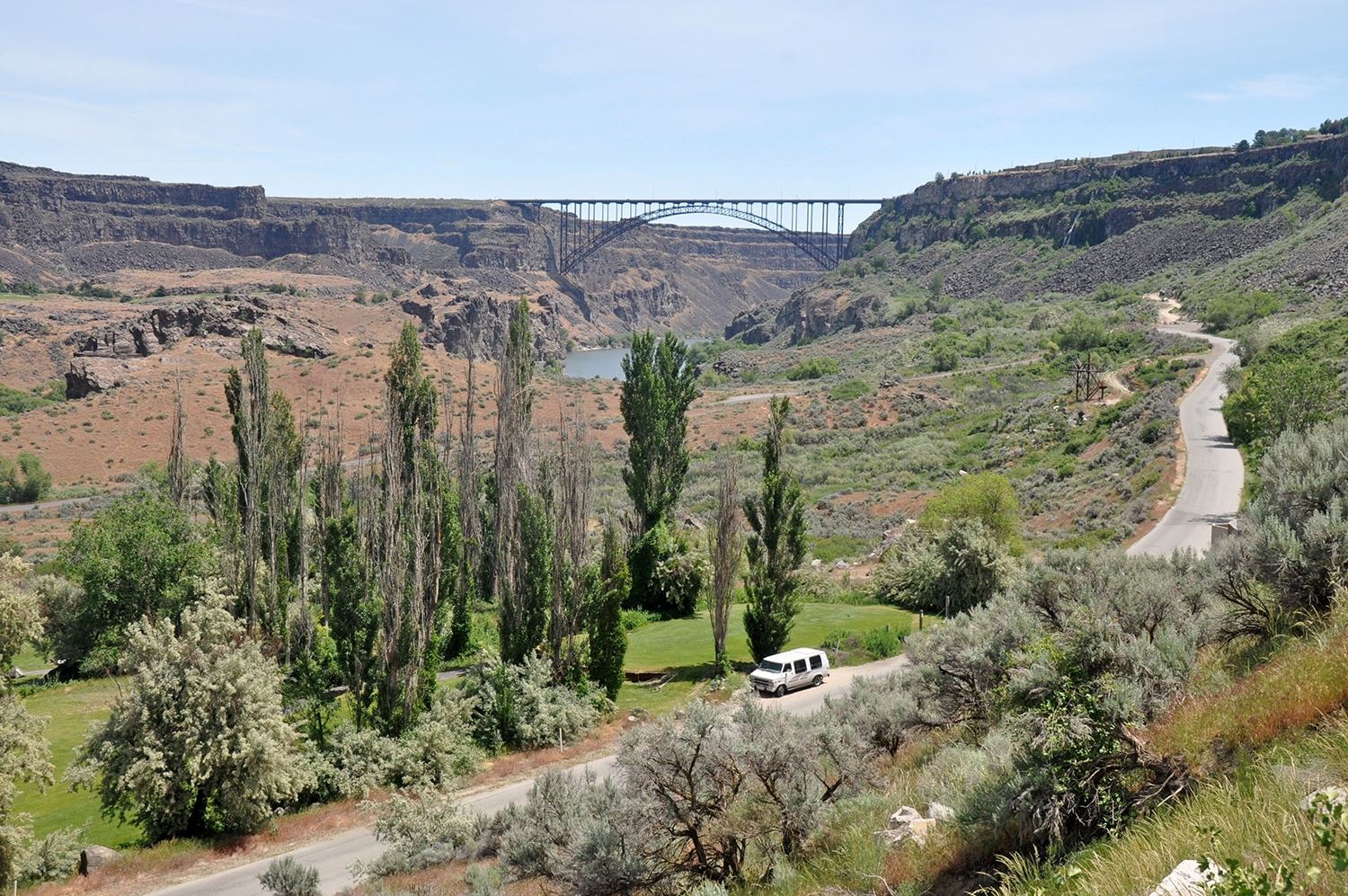 Perrine Memorial Bridge: Spanning across the canyon, this engineering feat is a sight to see. For the best views of the bridge. park at the Twin Falls Visitor Center and walk to either side. If you're lucky, you'll might catch some BASE jumpers leaping of the bridge! 
Fun Fact: Near the bridge, there is a monument for Evel Knievel, who attempted (and failed!) to jump across the mile-wide Snake River Canyon on a motorcycle a bit further down the river. And no, he did not die in this crazy stunt!
Perrine Coulee Falls: Less than a mile from the Perrine Memorial Bridge, the small Perrine Coulee drops from the canyon rim straight down. You can take a short hike up to it and even walk behind the falling water. 
Note: If you are on a big road trip of the Western US (like we were), the best way to head to Utah is south from Twin Falls.
Craters of the Moon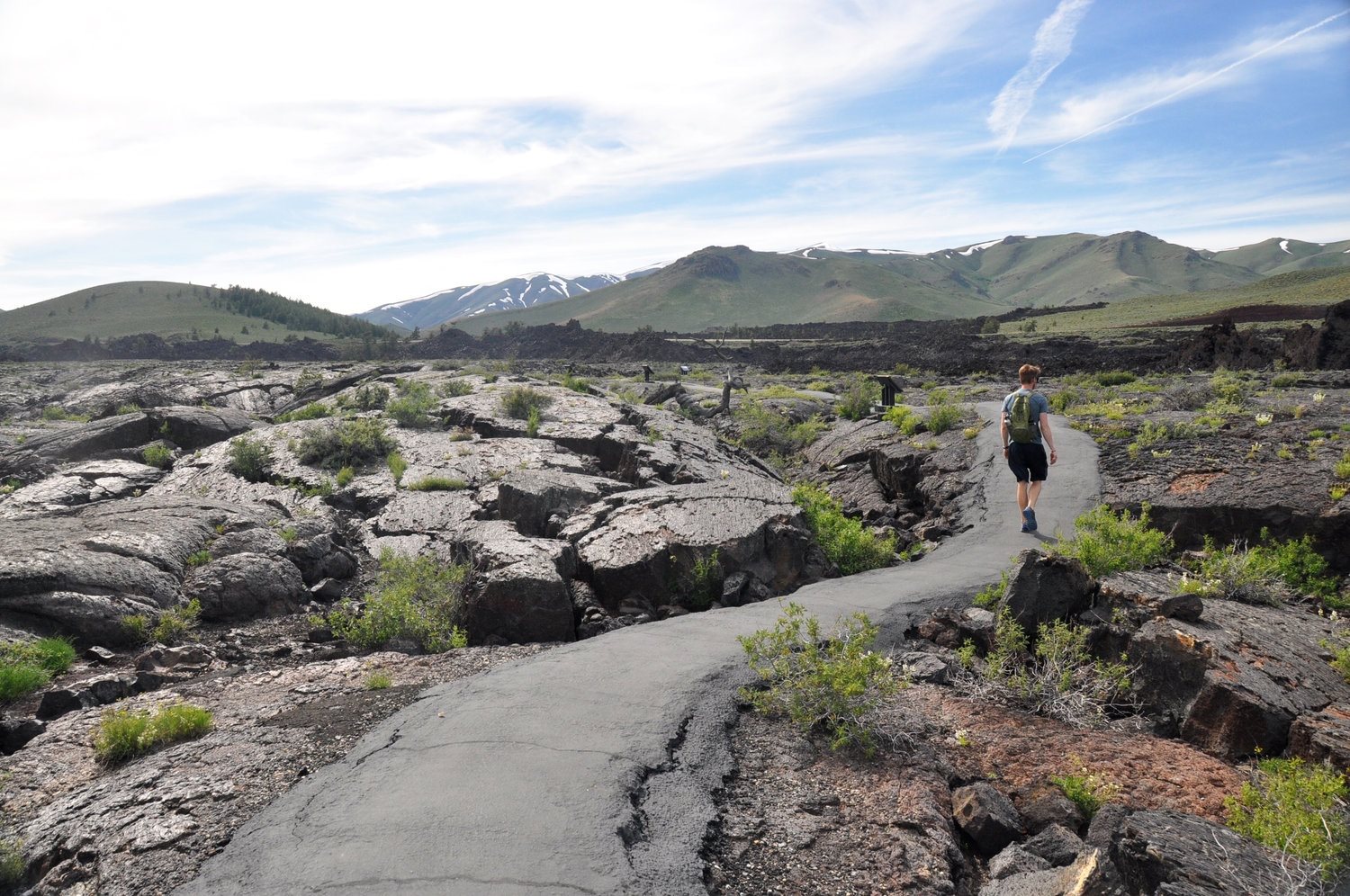 As you drive north from Twin Falls toward the mountains, you'll notice a change in the landscape that becomes a bit eerie. The rich farmland slowly turns into black volcanic rock that stretch for miles.
Today, this is the Craters of the Moon National Monument, but 2,000 years ago this area was a hot swirling molten mess with lava flowing underground and spewing out of the earth.
Stop in the visitors center to get a map of the driving route and see the exhibit explaining how the area was created. The driving route takes about 30 minutes total, but we spent about 2 hours exploring the twisted trees, lava fields and old hallowed-out lava tubes.
Some of our favorite sites were Devils Orchard, the Inferno Cone, "snow cone" spatter cone, and the Indian Cave (be sure to get your cave permit before entering the cave. It's free, but it gives you details on how to preserve the landscape for the future). There are some campgrounds in the national park that looked nice, but pretty crowded with other travelers. 
Ketchum: Cute Ski Town
Do you ever arrive in a new town and just know right away that you're going to love it? Well, that's how we felt about Ketchum. Small but not too small, cute buildings surrounded by mountains and a river nearby… It all adds up to our kinda place!
Things to do in Ketchum: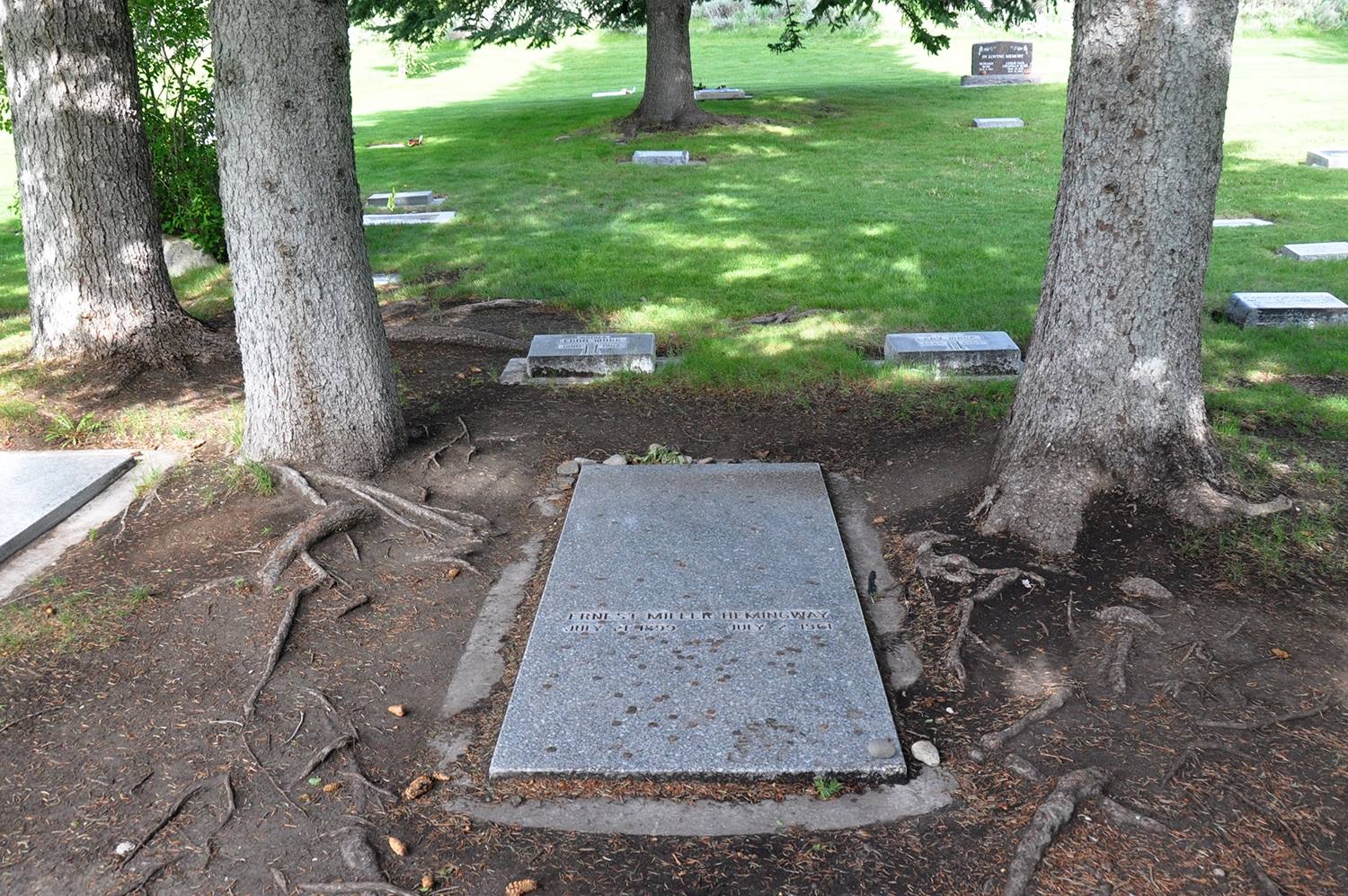 Visit Earnest Hemingway's grave. We were just as surprised as you! We visited one of Hemingway's homes in Key West a few years back and just assumed that's where he was buried, since much of his literature is based on South Florida and Cuba.
We had no idea that his final resting place is in Idaho, but when you see how stunning this area is, you'll understand why. (Apparently, Hemingway was quite the fly fisherman, too!)
His grave is near the back of Ketchum's small cemetery, and is between two large trees. It is not flashy or ornate, which is just what you'd expect of Hemingway.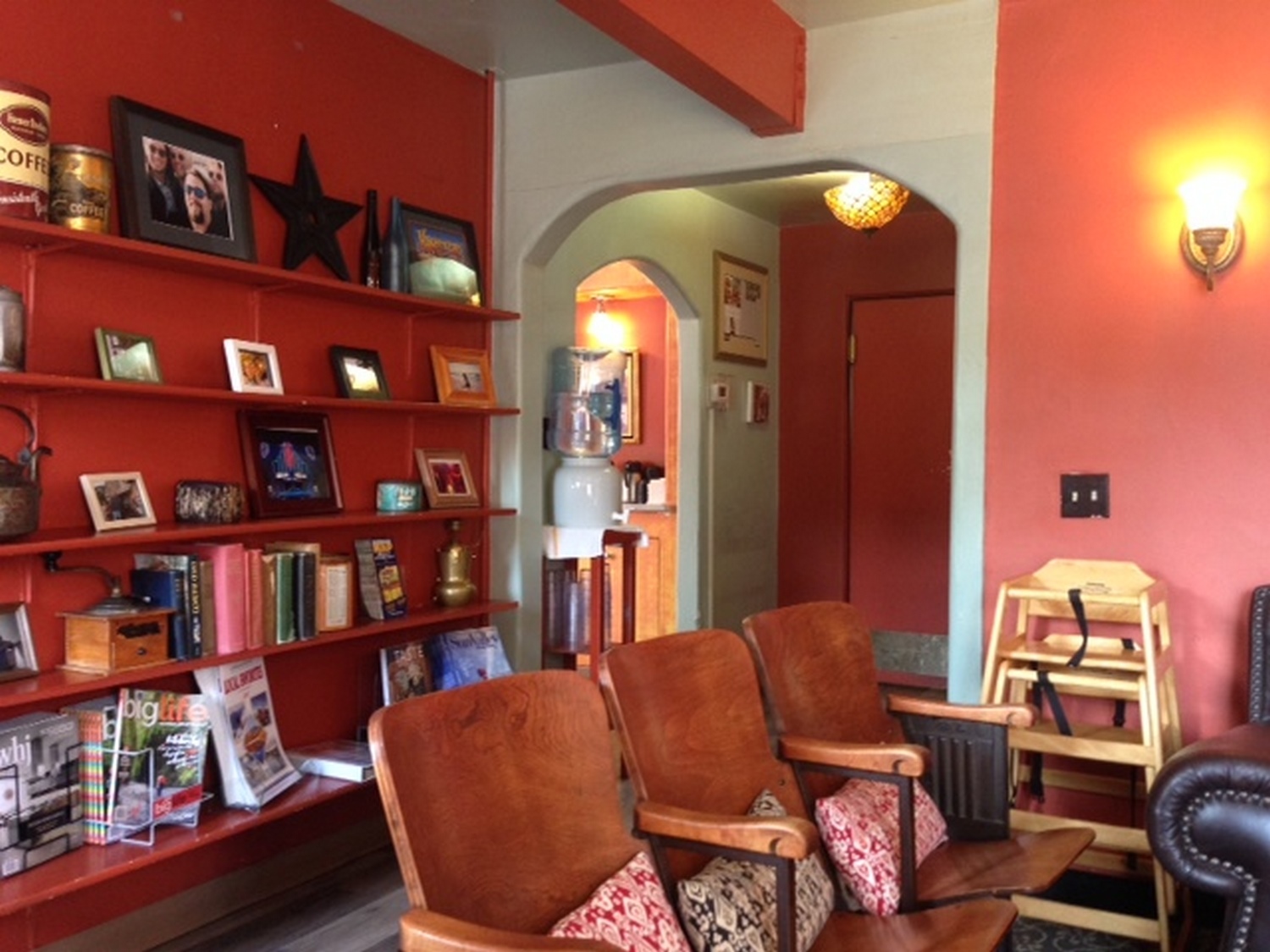 Have a cuppa' joe. We spent a day working at the Java in Boise and were super impressed with the strong coffee, the fast Wi-Fi and the vibe. So when we learned that there is a Java on Fourth in Ketchum also, we decided it would be a great place to grab breakfast and get some work done.
You'd never guess this cute house-converted-coffee-shop is a local chain, and they serve up some great food (try the Hippie Breakfast Burrito) and specialty drinks (Bowl of Soul: espresso, Mexican chocolate, steamed milk and whip). Soak up sun on the porch or cozy up inside on the comfy couch.
Cheers with the local brew. If you've been following our blog for a while, you know that we're huge fans of breweries, and like to try them out whenever possible. We stopped into Sawtooth Public House and picked up a growler of the Freeheeler Rye IPA, which was pretty good.
The beers are a little pricy (growlers range from $15 to $30) and pints are $5-7, but we would have like to join in on their Tuesday night trivia. Next time!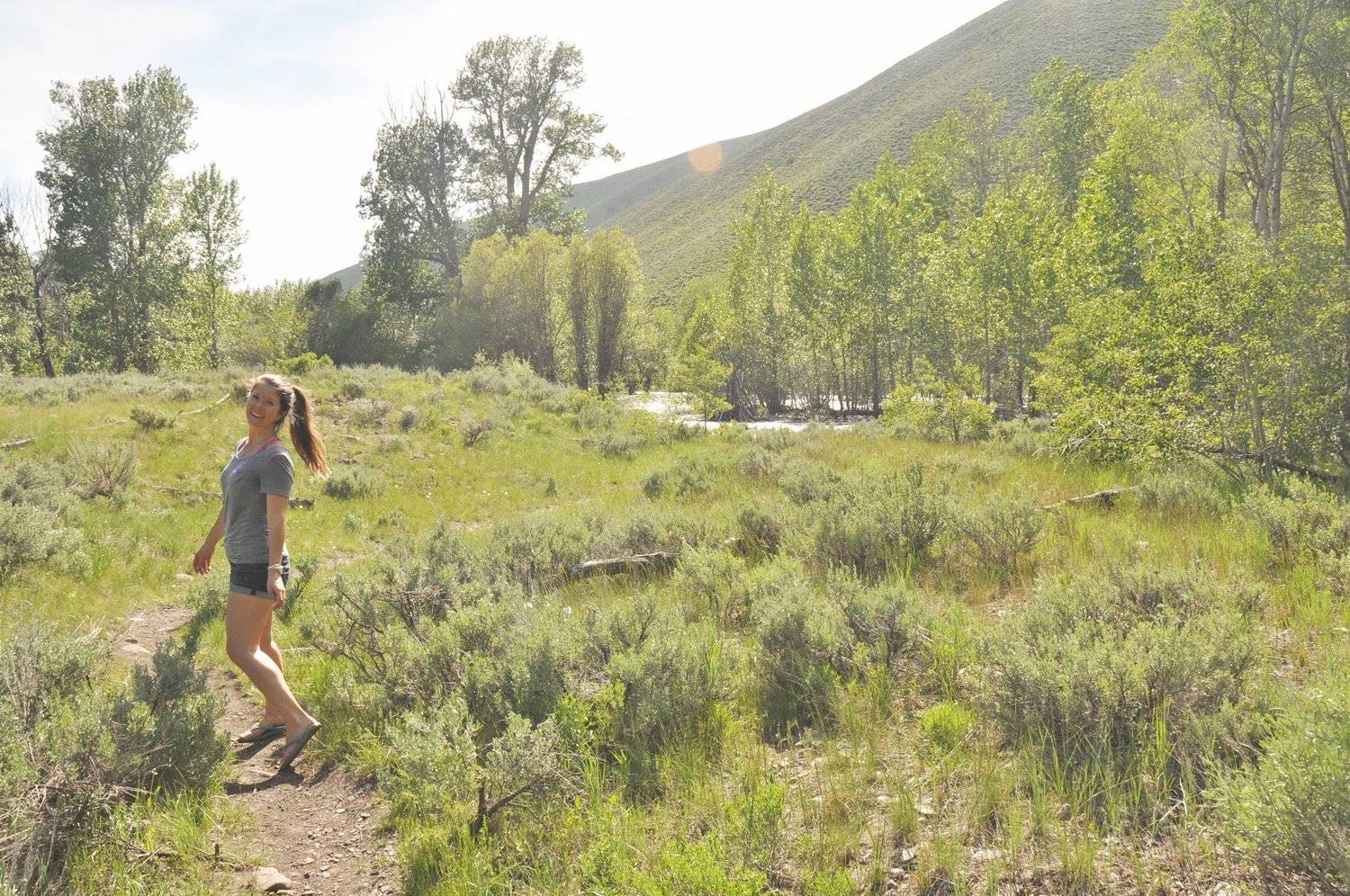 Take a hike. Take a little drive up into Sun Valley and stop at any of the little turnouts along the way. We went for a little stroll by the river and soaked up some sun (ohhh, that's why it's called "Sun Valley!").
Go biking. Whether you prefer road biking or getting high in the mountains, Ketchum will satisfy your pedaling soul. Known for world-class mountain biking, this town of 2,720 has a staggering 10 bike shops! Rentals seemed to average around $30 for the day, or $20 for a half-day. If it's road biking you prefer, the hundreds of miles of flat trail in and around town make a great path to explore. There are bike share rentals near the visitor's center, so you can pay based on how much time you use it.
Ski or board. If you visit Ketchum in the winter months, spend a day at Sun Valley Ski Resort, where the first chair lift was invented! 
Stanley, Idaho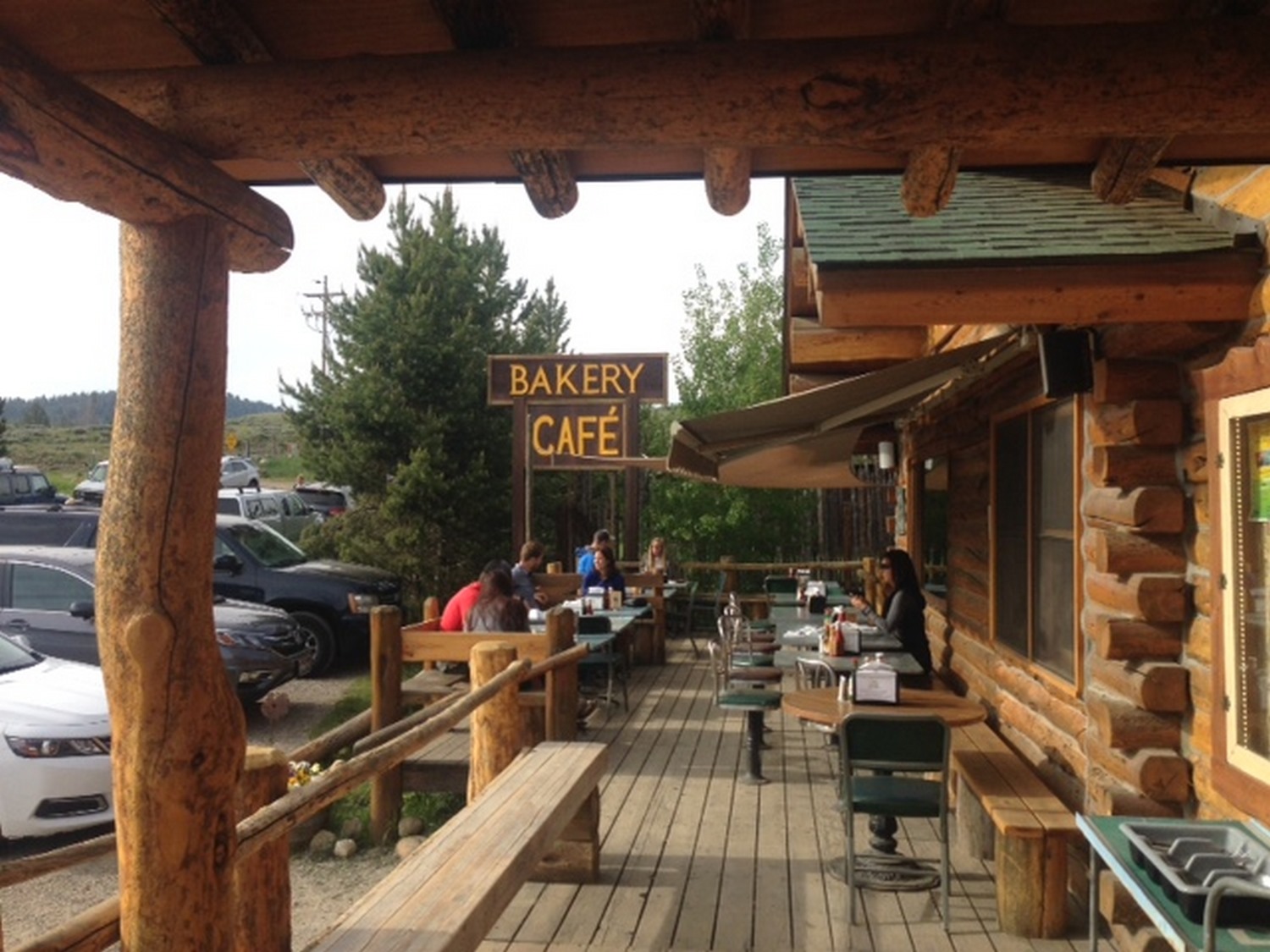 Stanley, population: 63. This dirt road town features Old West-style buildings that'll make you wonder if you've stepped back in time. Surrounded by the snow peaked Sawtooth Mountains and flanked by the rushing Salmon River, this is the Idaho we pictured.
Stanley Baking Company and Cafe: A visit in Stanley isn't complete without a stop at this local jaunt. With a breakfast menu that'll make you wish it was morning all day long, and a wide selection of baked goods and handcrafted beverages, you might just need to return here a second time (like we did!).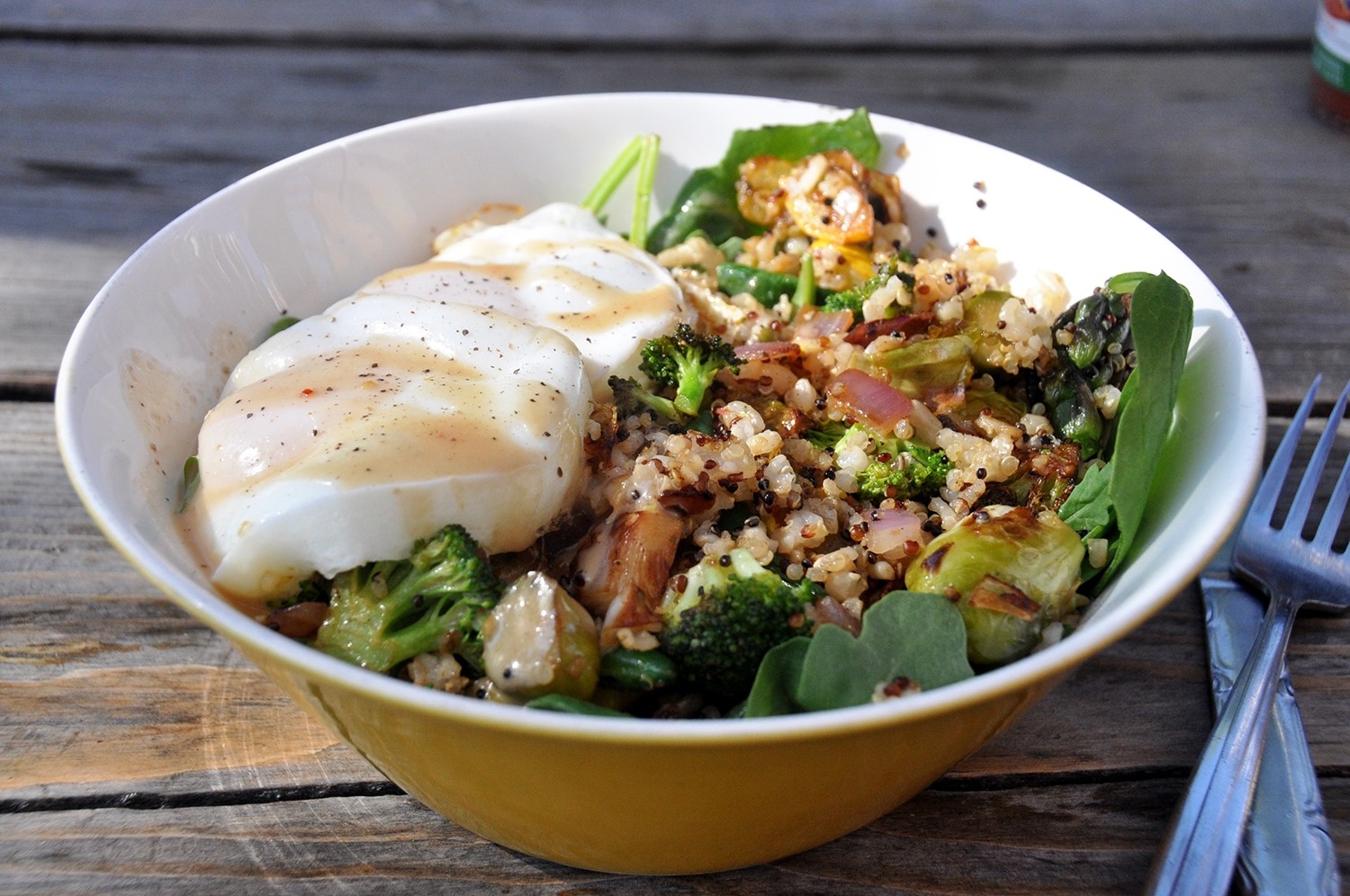 Tip: If you like healthy twists on breakfast fare, you'll love the Bear Bowl, which combines quinoa, grilled seasonal vegetables, greens, poached eggs, with an almond crème and coconut amino sauce that's to die for!
Where to camp near Stanley:
There is plenty of free camping near Stanley. Just about every quarter mile, you'll see rustic campgrounds with fire rings and picnic tables. The free ones tend not to have bathrooms, but there are a handful of public restrooms along the road. If you want a little more comfort, the campgrounds near Redfish Lake cost $18 per night.
Hike the Sawtooth Mountains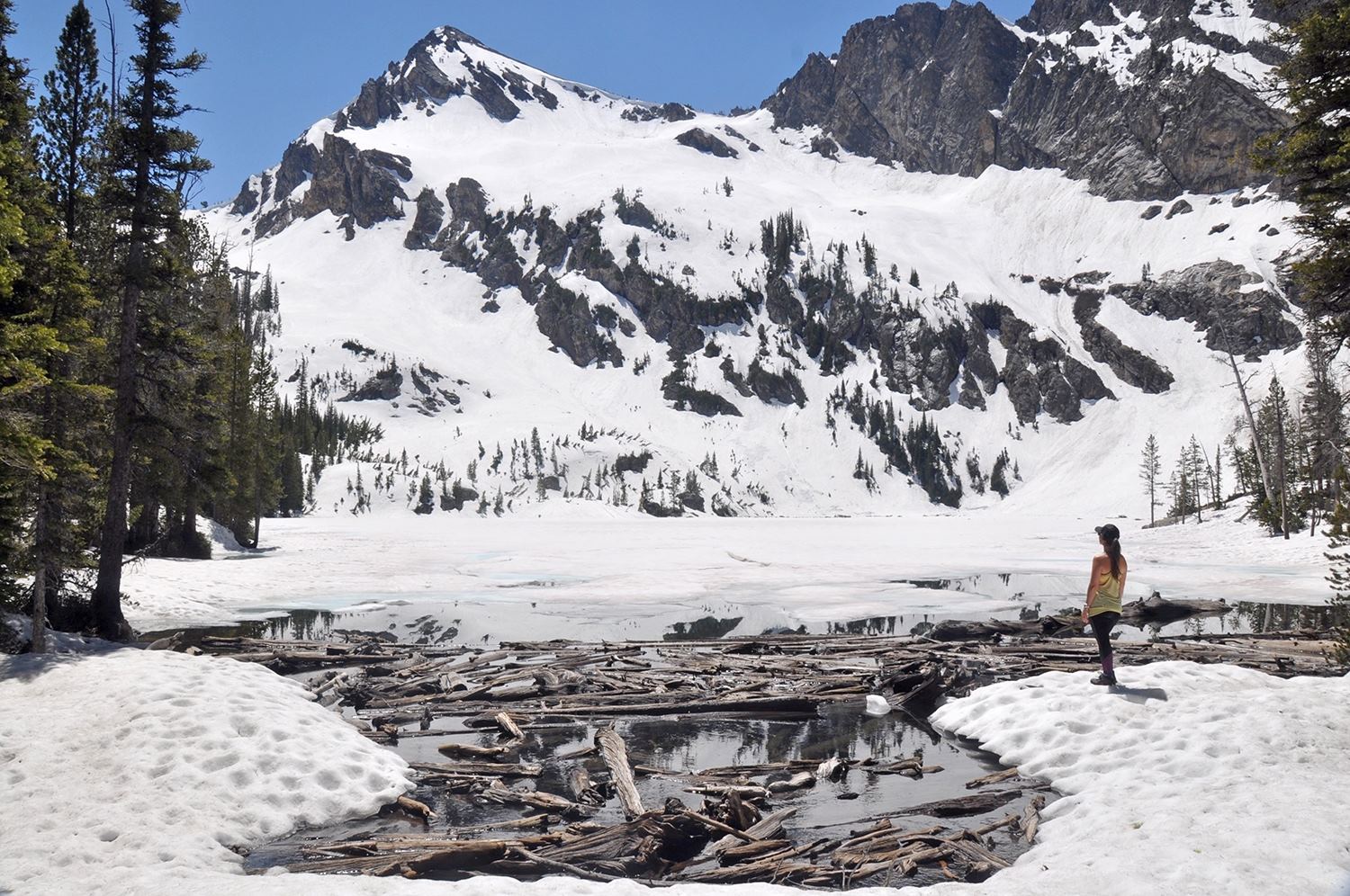 Stanley isn't just a cute town – it's the gateway to one of the most pristine wilderness areas in the nation and some of the best hiking in Idaho. The Sawtooth Mountains deserve at least a full day of exploration, and more if you have the time!
For a moderate hike that culminates with alpine lake views, the 10-mile round trip trek to Sawtooth Lake is a good choice. We went in early June and came across snow about halfway up. We kept going over the snow pack and reached Alpine Lake, which blew us away with its majestic beauty.
We trekked on a bit further to Sawtooth Lake, which was still completely frozen over, but we imagine it would be stunning later on in the summer.
Other full day hikes in the Sawtooth Mountains:
Alice Lake Hike: 12-mile round trip with a 1600-foot elevation gain that leads you to a picturesque view of the El Capitan. We really wanted to go on this hike but decided against it since the lake would still be frozen over in early June. If you do decide to go on this moderate to difficult hike, please take a picture for us!

Big Casino Creek Hike: With the destination of the Casino Lakes, this difficult 12-mile round trip with a 2760-foot elevation gain is supposed to be a worthwhile hike with great views of the White Cloud Mountains.
Redfish Lake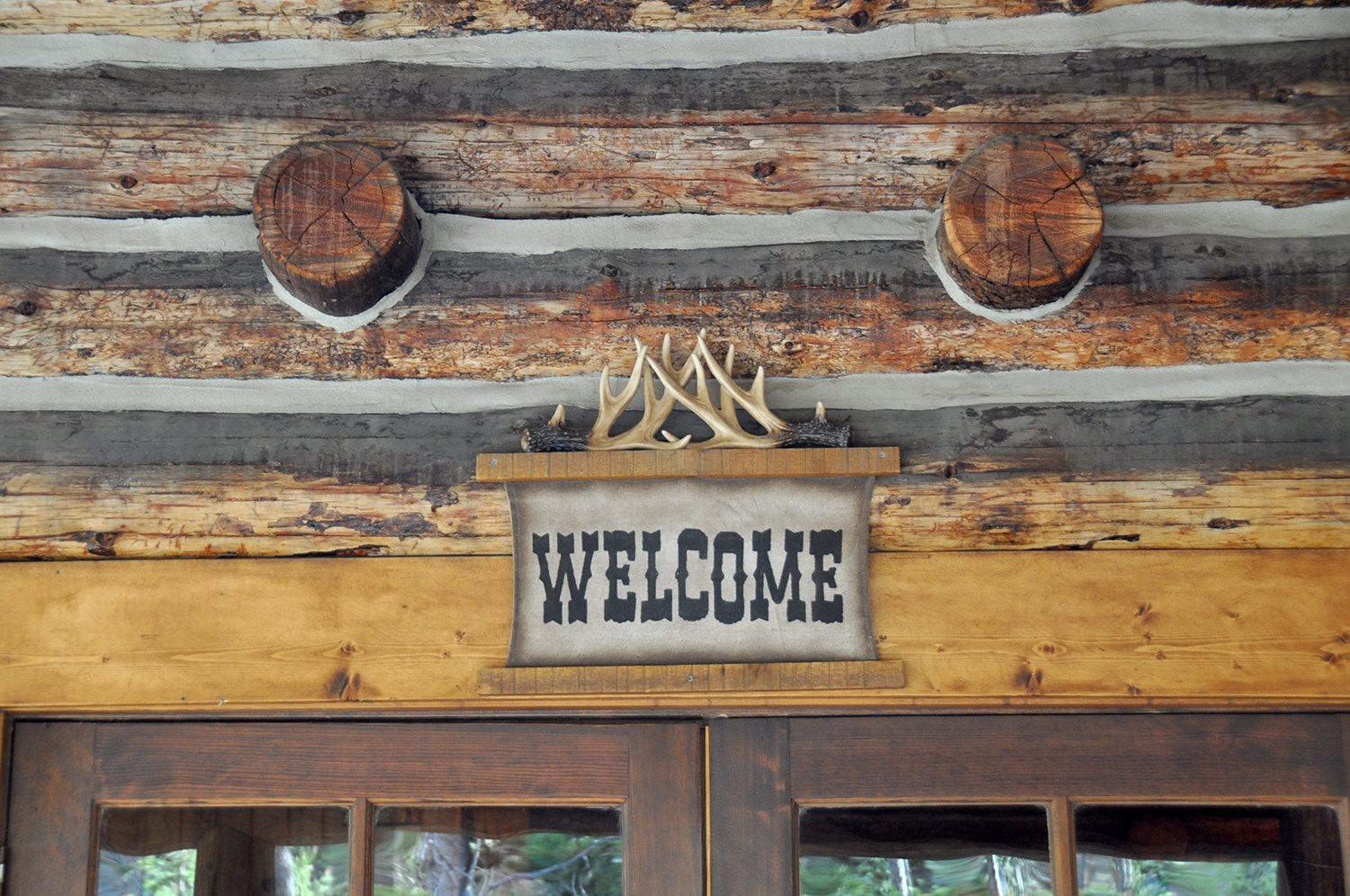 The largest alpine lake in the Sawtooth Wilderness, Redfish Lake is easily accessible by road. Whether you stop for a picnic lunch with a view or for dinner and drinks at the Redfish Lodge, a visit to this lake is a nice addition to your time in the Sawtooths.
Tip: There are showers and laundry facilities open to the public near the resort. Showers are $2.00 for 5 minutes of hot water.
Custer Ghost Town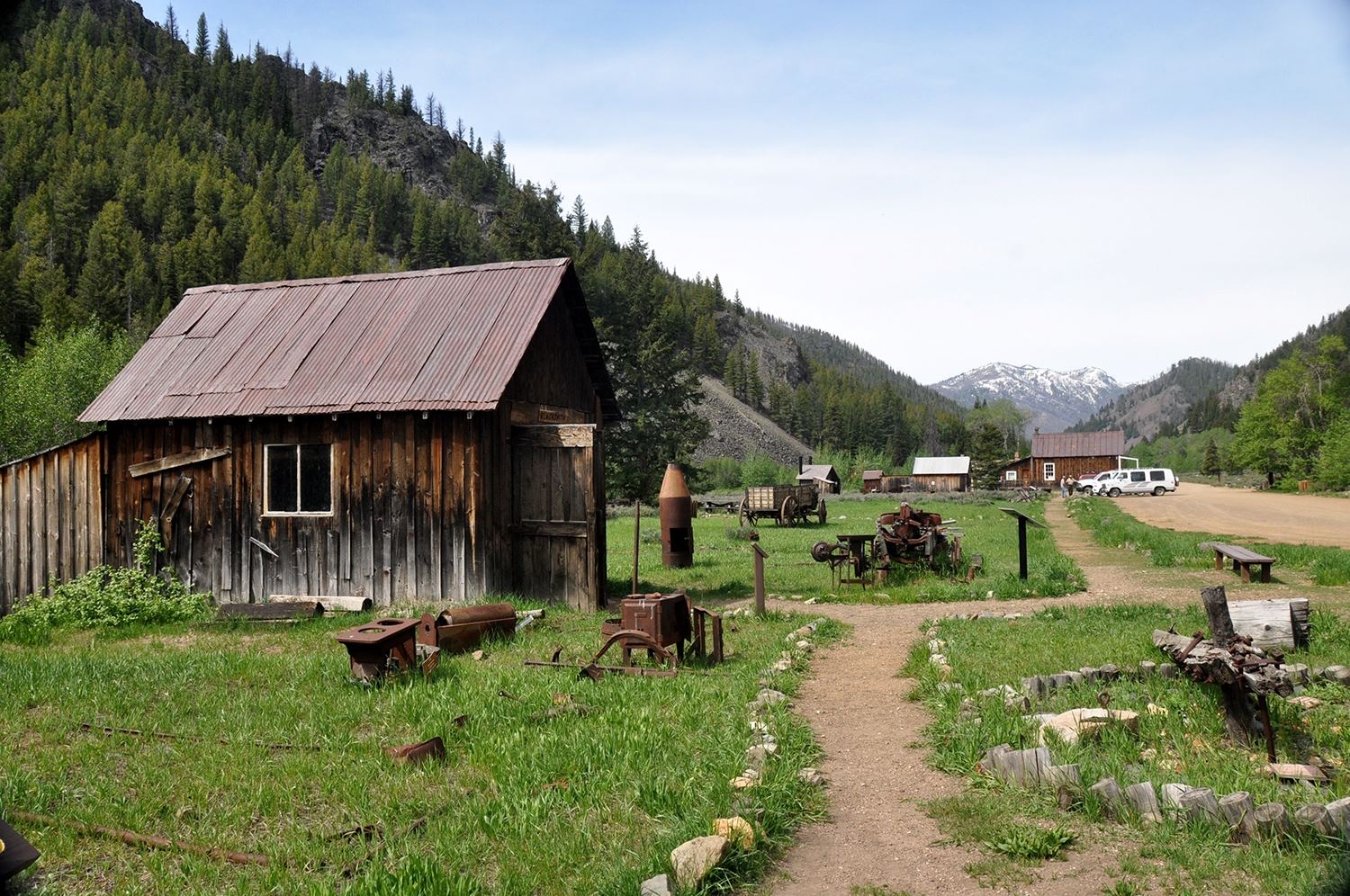 If you're a history buff, a stop at Custer will be super interesting to you. If history's not your thing though, you could skip this stop. Just 23.5 miles from Stanley, lie the remains of Custer – a town that boomed with the gold rush, but soon crumbled when the hunt for gold moved elsewhere.
A couple preserved buildings remain, and you can walk through them. There are signs explaining important parts of the town, so you can walk around on a self-guided tour and learn about the city's history.
Note: On the way to Custer, you'll see Bonanza – another, smaller ghost town. It hasn't been preserved in the same way, and people actually own the dilapidated houses and live on the property. You can drive past, but it's not nearly as interesting as Custer (in our opinions). The most noteworthy part of Bonanza is the graveyard, which is a half mile up a dirt road.
Salmon, Idaho
Unless you're a huge fan of wild west, there is not much to do or see in this town other than one strip of shops and restaurants that have wooden facades. We wanted to have a quick work break at Odd Fellows Café before heading back south to Gold Bug Hot Springs. We wouldn't necessarily recommend going out of your way to get here unless you have the time.
Goldbug Hot Springs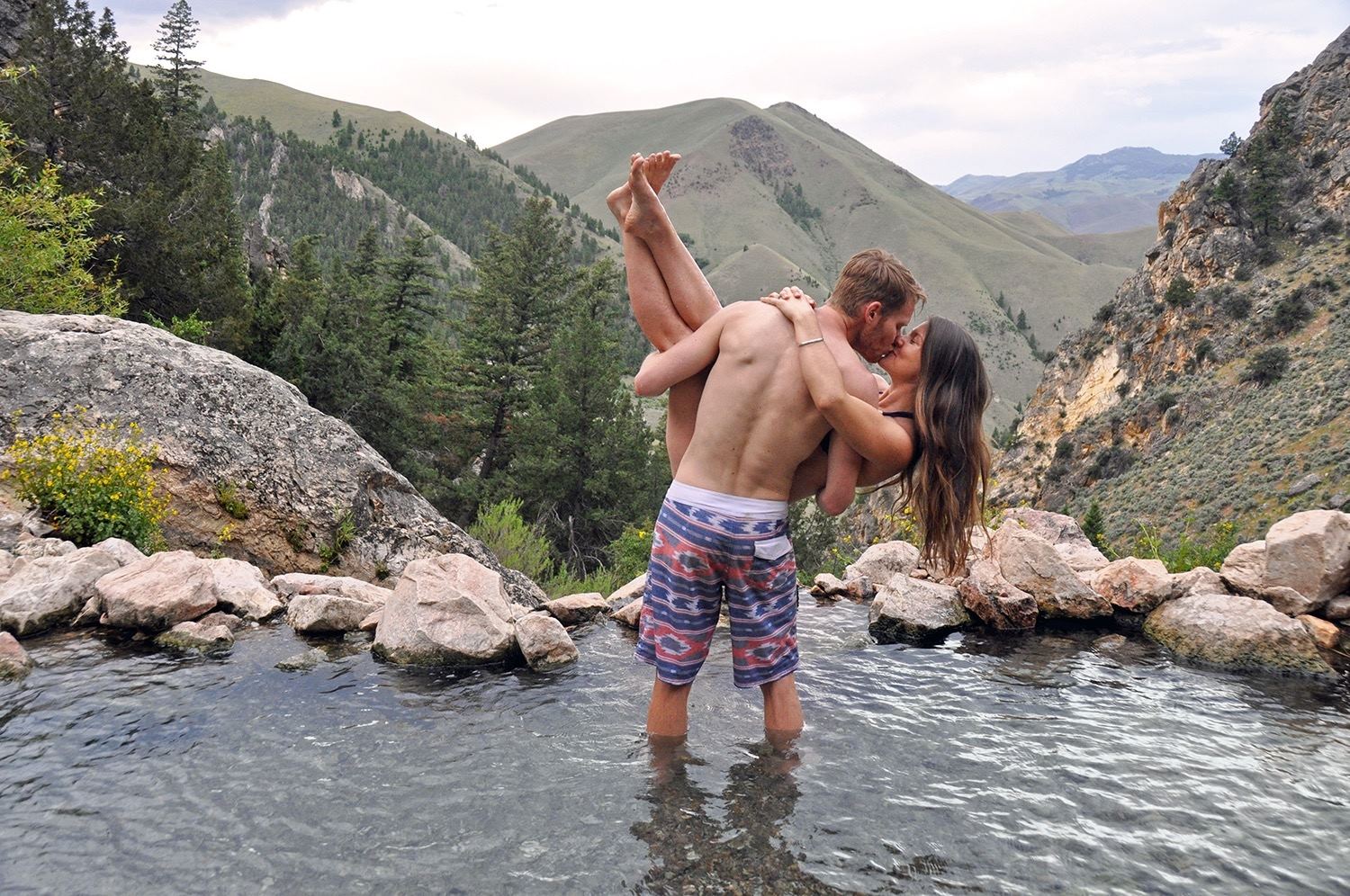 This hot spring is far from secret – just search it on Instagram and you'll find plenty of photos to inspire wanderlust. We were a little worried that it would be crowded and we'd be left disappointed, but ohmygosh were we wrong. Goldbug is perhaps the most spectacular of all the hot springs in Idaho, and one of our favorites we've visited anywhere in the world.
After the 2-mile hike, we arrived at these hot springs around 5 p.m. and were the only ones for a couple hours. We had the pools to ourselves until two other couples planning to spend the night as well arrived later on in the evening.
Tip: Try out all the different pools, as they all have different temperatures – some are very hot while others are lukewarm.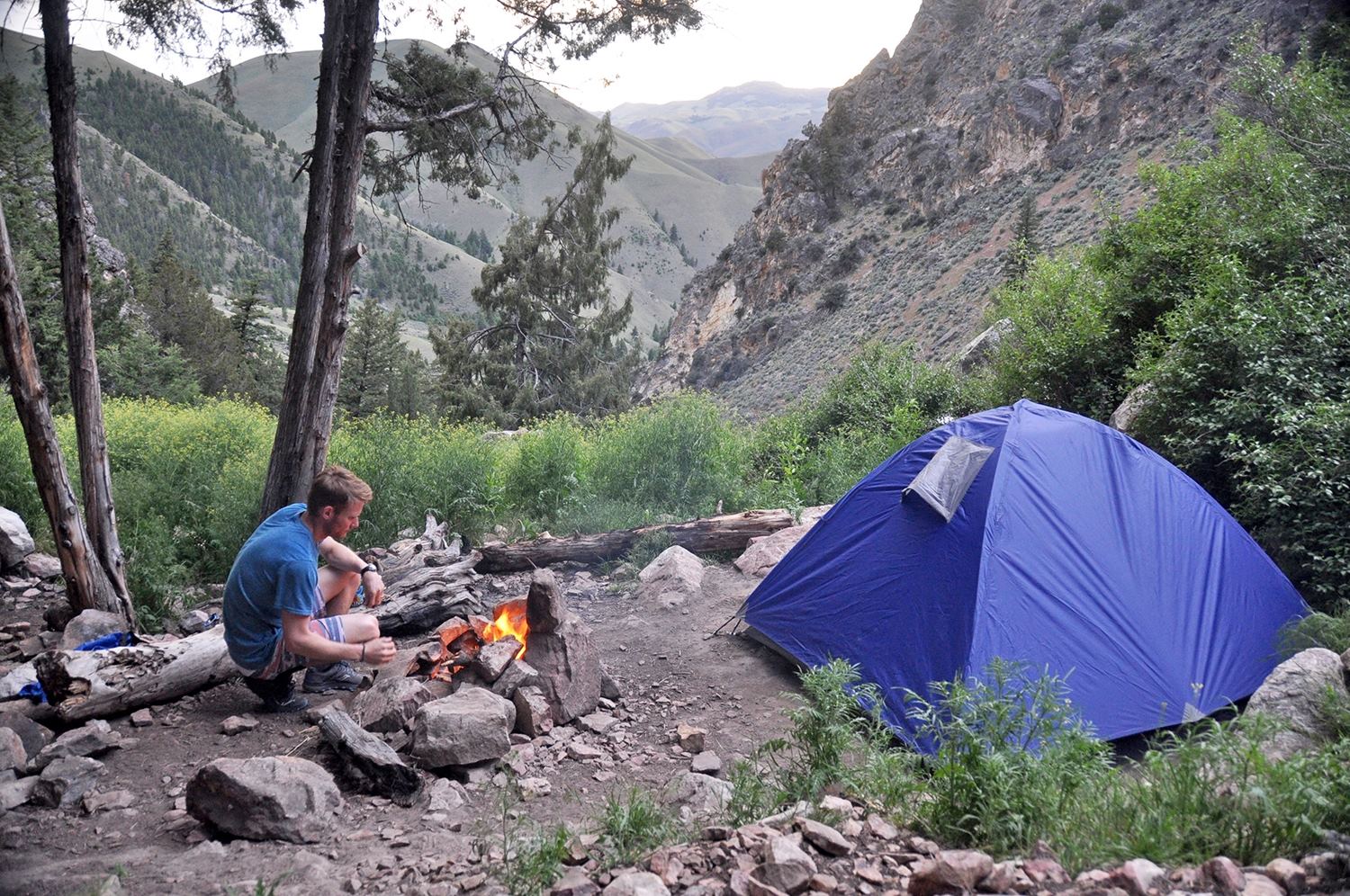 How to get to Goldbug Hot Springs: We put together a detailed guide to visiting Goldbug Hot Springs on our sister site, including how to get there and what to expect. 
Tip: For the best experience, camp overnight at the springs. I promise you won't regret it. Remember you are not allowed to camp within 500 feet of the fall. Also, try to go on a weekday instead of a weekend for your best chance of avoiding crowds.
Idaho seriously surprised us and we can't wait to go back someday. We'd love to return to some of these spots (especially Ketchum and the Sawtooth Wilderness!), or make it on to other places like Coeur d'Alene and Sands Point.


You might also like…
Save this article on Pinterest for later!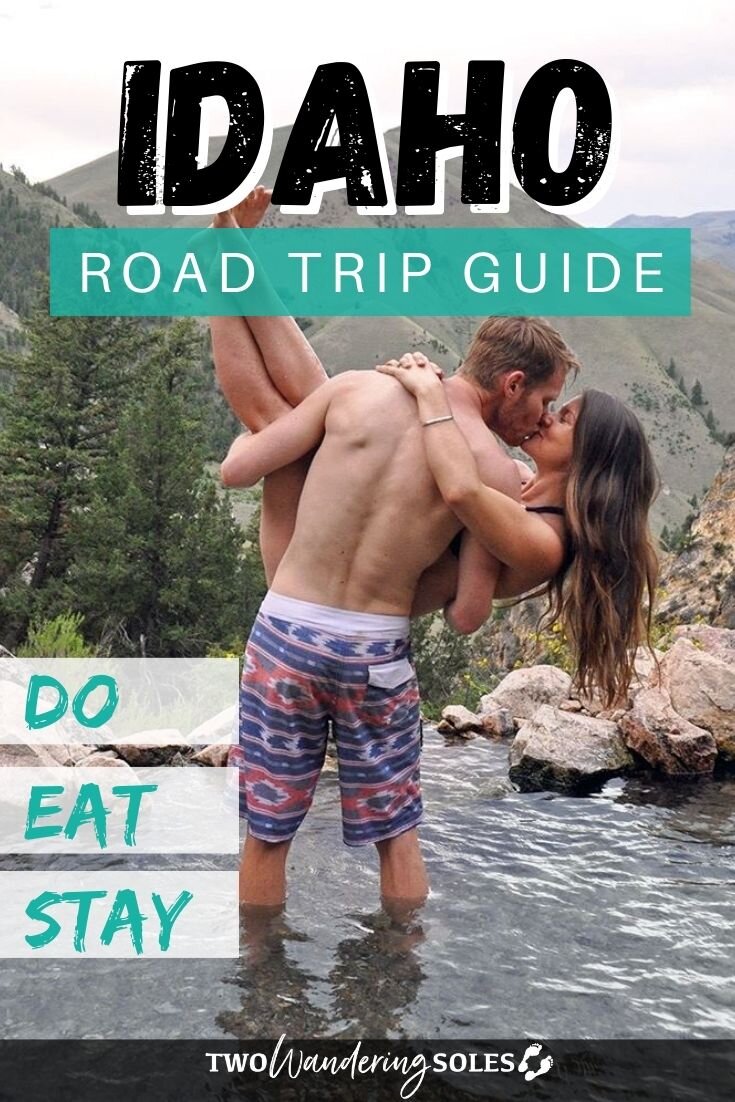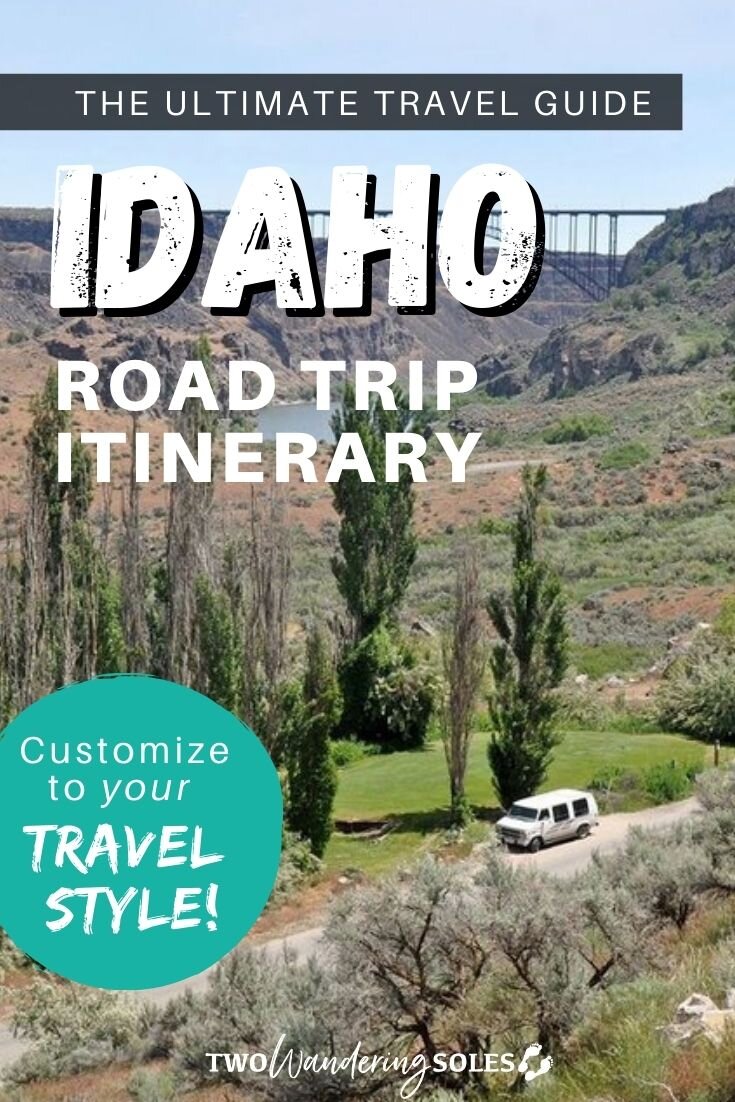 We want to hear from you!
Have you been to Idaho? What are your top road trip destinations? What would you add or change? Leave your comments below!