With hundreds of miles of coastline, thick forests, snow capped mountains, remote hot springs, and raging waterfalls, there's no arguing an Oregon is absolutely perfect for a road trip adventure.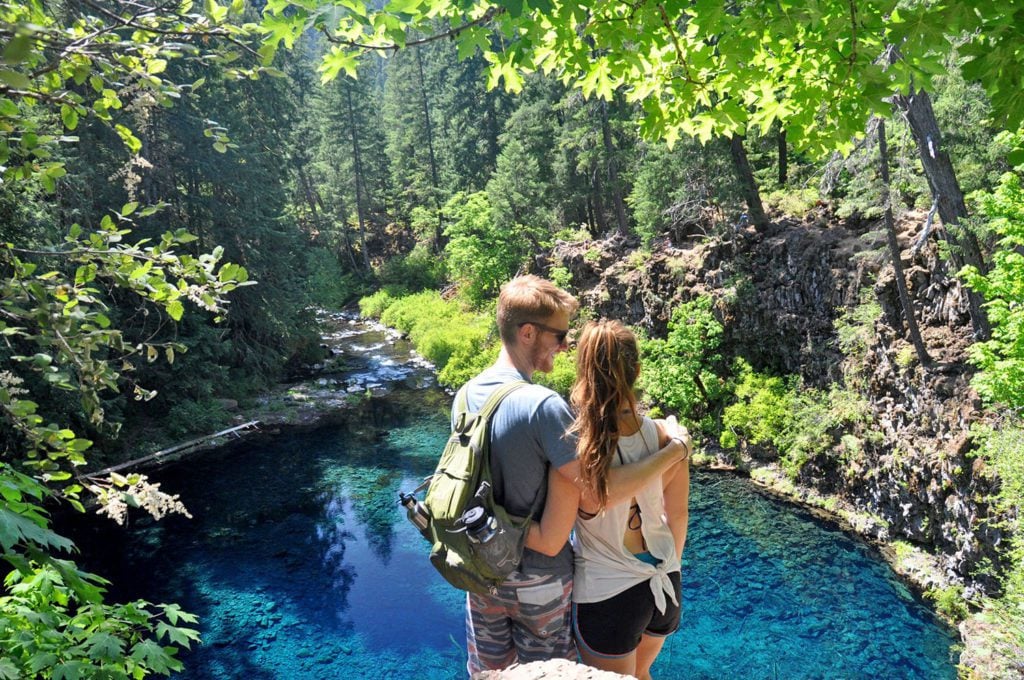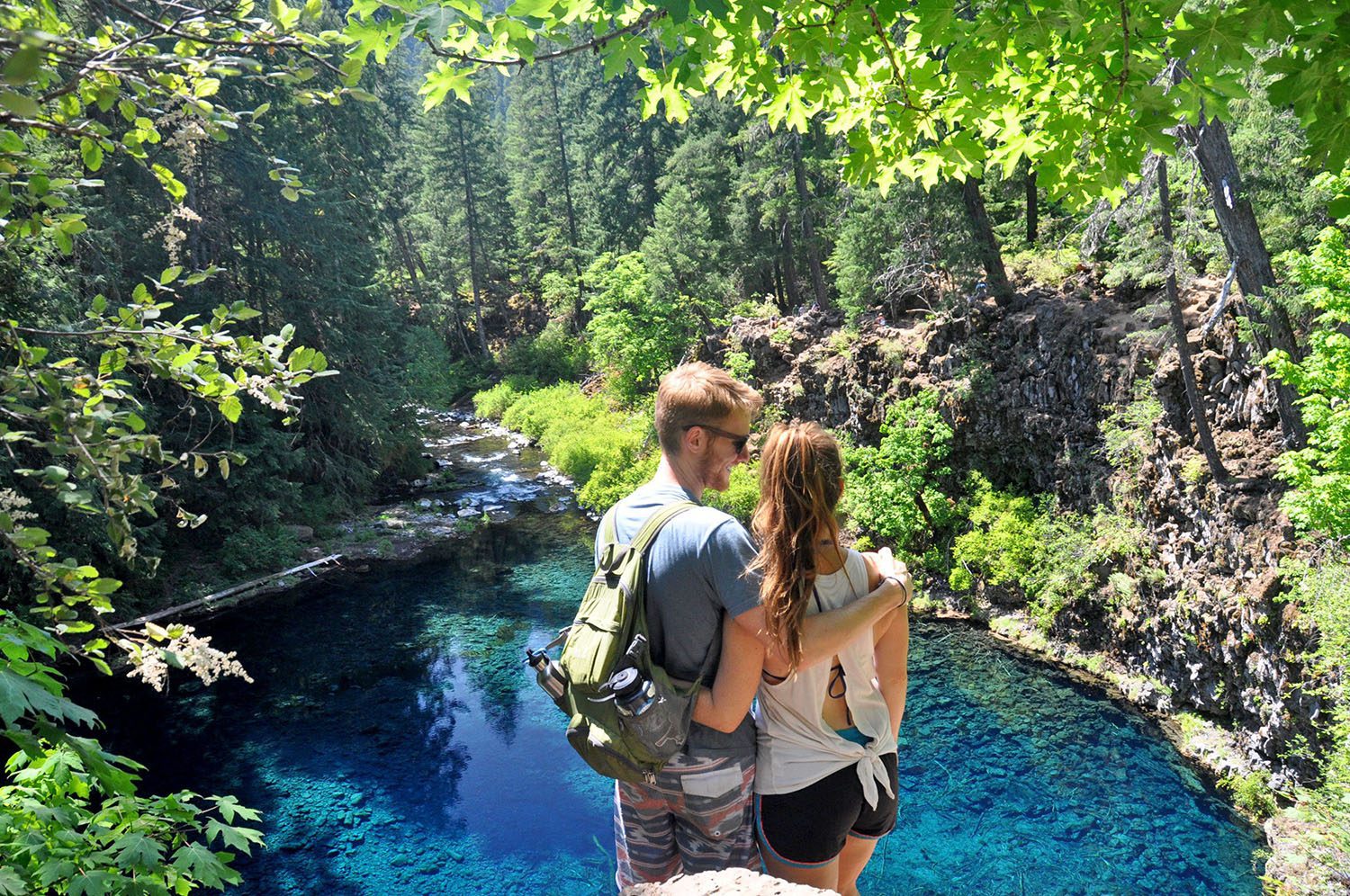 From Crater Lake National Park to Mount Hood to adorable seaside towns, like Cannon Beach, there are so many places to visit on an Oregon road trip.
Like, an overwhelming amount of places!
But fear not, we're here to help you plan the ultimate Oregon road trip.
Why trust our advice?
We live in Oregon and have spent months upon months taking road trips around our beautiful state. It's easily one of our favorite things to do in Oregon.
And the best part is, we're sharing all our favorite places, plus tons of insider tips and hidden gems, with you. (Aka all the stuff that has taken us several years of exploring to learn!)
Oregon Road Trip Contents
Grab a pen and paper (and maybe some coffee!) and let's get started…
Psst! Keep these other articles on how to plan an epic USA road trip and money-saving tips for a cheap road trip handy while you plan!
---
Whether you are staying in a hotel, living in a campervan or RV, or you're trekking in the backcountry, here is everything you'll want to pack for the road. Plus tips and advice on making your next road trip go as smoothly as possible!
---
Oregon Road Trip Itineraries
We've created two perfect itineraries that you can steal for the ultimate Oregon road trip!
On these routes you'll find:
cute oceanside towns on the Oregon coast
the best things to do in Portland
unforgettable hikes around the state
incredible foodie experiences
remote hot springs that are worth the effort to reach
the most beautiful waterfalls in the state
an Oregon road trip map of all the places we'd recommend
Plus, this route is flexible, so you can add or subtract places depending on how much time you have.
Whether you're passing through on a West Coast road trip, or you're lucky enough to call this state home (like we are!), we've put together a guide to planning the perfect road trip in Oregon.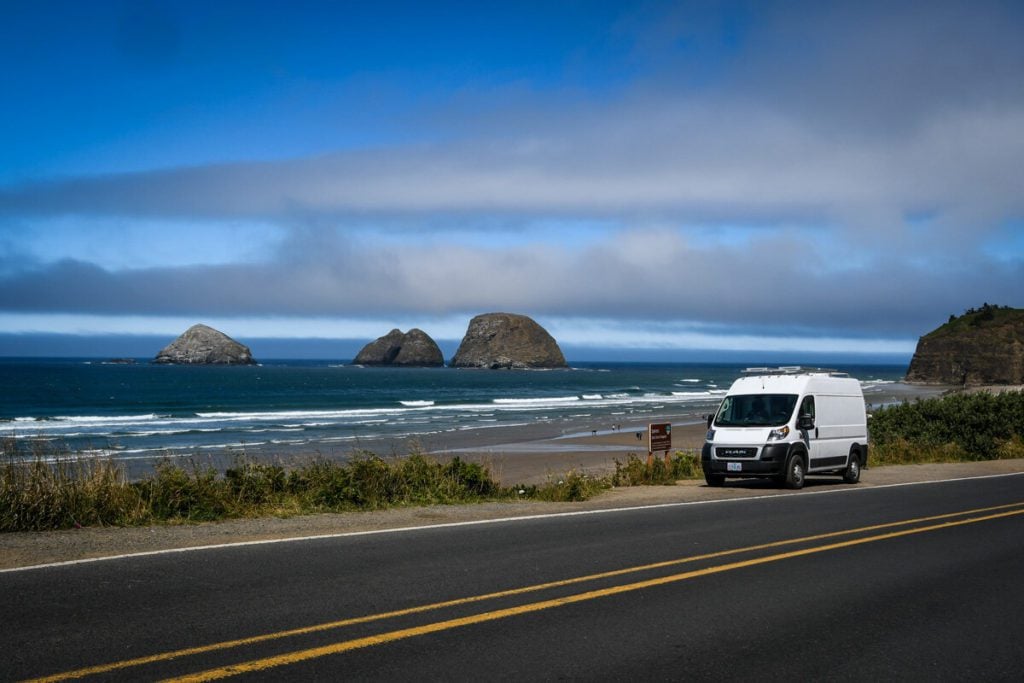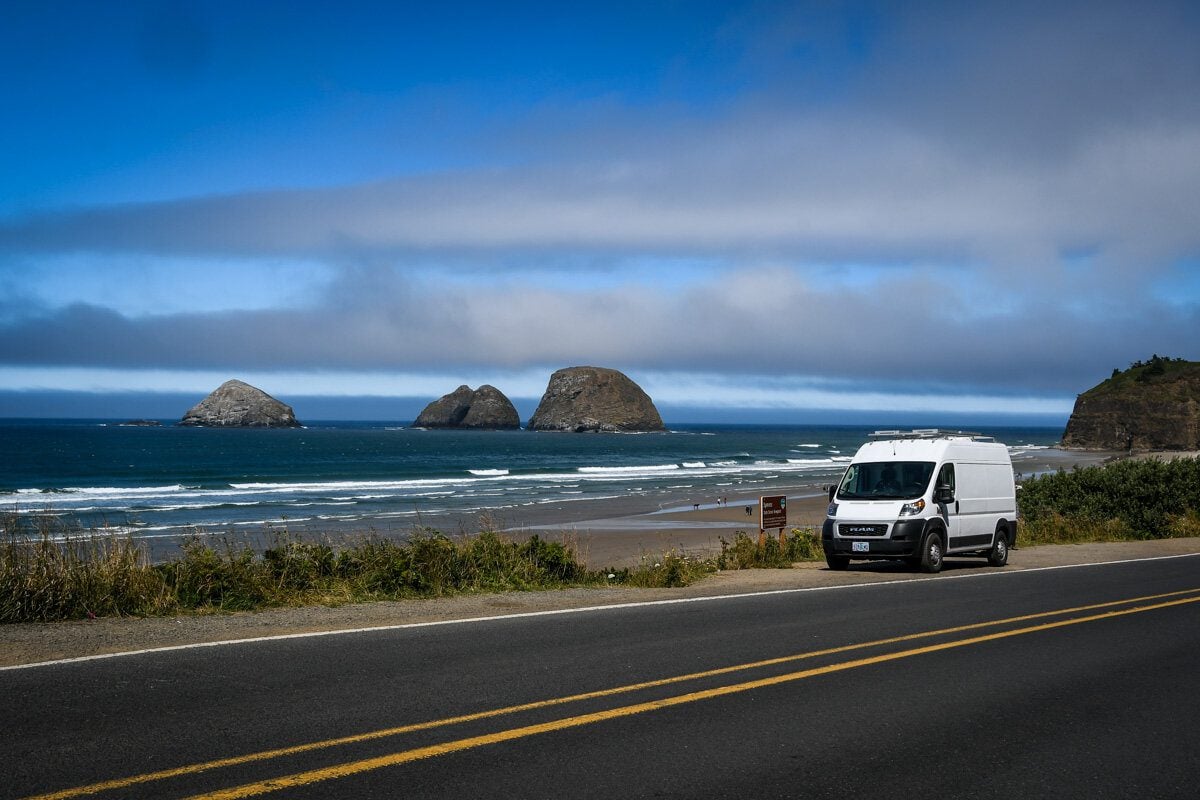 You could truly spend more than a month road tripping around Oregon and still not see everything. In fact, we still have plenty of places on our Oregon bucket list (like the Wallowas!) and we've been living and traveling in this region for years.
But don't worry, we've narrowed it down for you into a manageable itinerary that will show you the best of Oregon.
We've created 1-week and 2-week itineraries that both start and end in Portland.
You can certainly adjust the route if you don't need it to loop back to Portland. We also have suggestions for more places if you have additional time.
One thing to note is that in the effort of seeing as many places in Oregon as possible, these itineraries are pretty action-packed. If one of the places looks especially cool to you, we'd recommend spending an additional day here or there so you don't feel rushed. We've even made notes where we'd personally recommend you spend more time if possible.
1 Week Oregon Road Trip Itinerary
*places we'd recommend adding a day if you have time
2 Week Oregon Road Trip Itinerary
*places we'd recommend adding a day if you have time
Have more time?
Here are more places we'd recommend adding to your Oregon road trip if you have the time!
Bandon: Cute oceanside town with some unique artsy attractions and a beautiful state park with gardens nearby.
Samuel H. Boardman: This is a State Scenic Corridor, and holy cow, we think it is one of the most underrated places in the state. That said, it is very far south and is kind of a pain to get to unless you don't mind backtracking or looping down into California a bit.
Ashland: Home to just over 20,000 people, this small-ish town is undeniably charming. Surrounded by foothills and mountains, Ashland is known for its famed Shakespeare Festival, beautiful gardens, cute B&Bs and burgeoning restaurant scene.
Alvord Desert: This dry lake bed is an otherworldly landscape that is a unique camping spot. Chances are you've never seen anything quite like it!
---
Tips for planning a road trip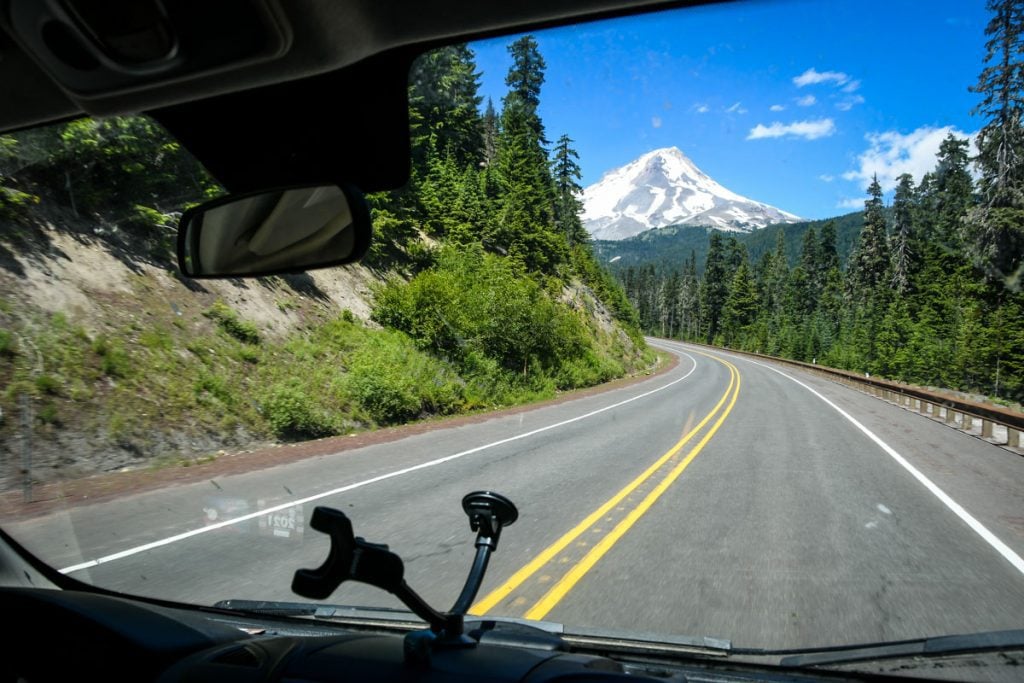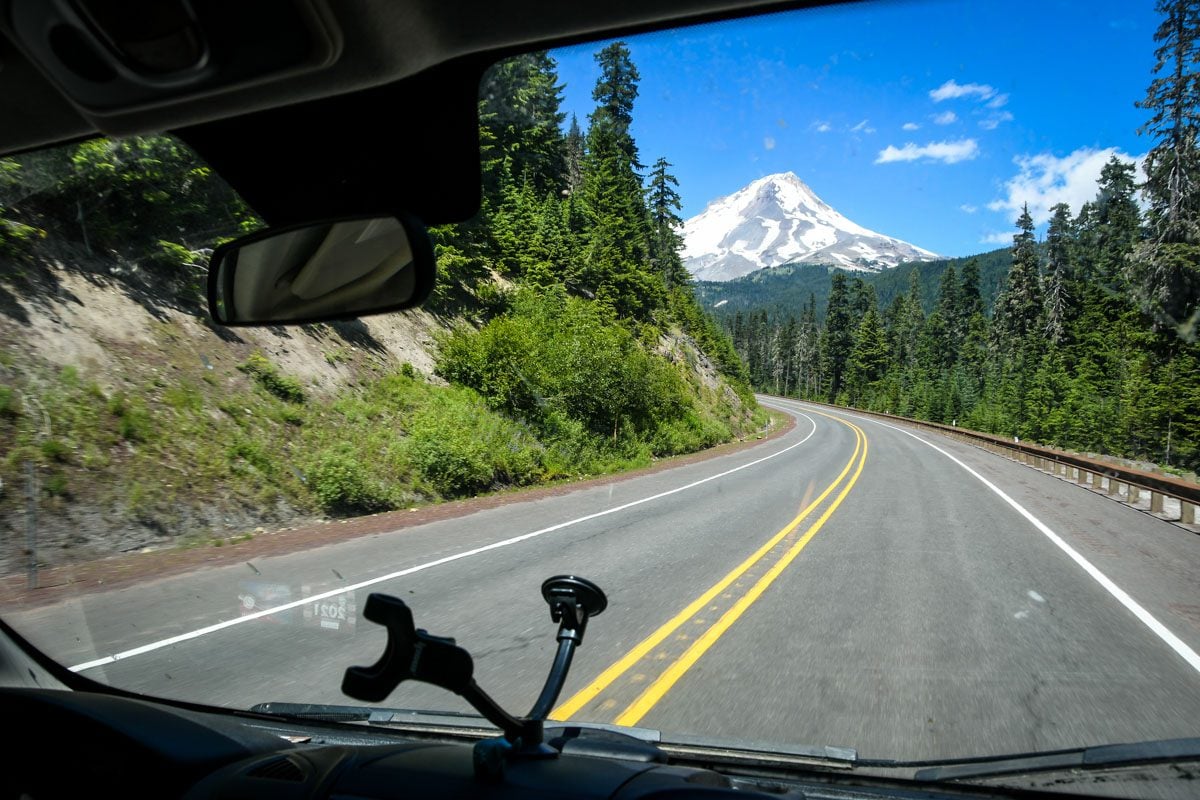 We'll be the first to admit, we've made plenty of road trip mistakes over the years. We've learned our lessons and we want to pass along our knowledge so your Oregon road trip can go as smoothly as possible!
1. Give yourself enough time
It can be tempting to pack as much as possible within your given time frame, but we'd strongly encourage you to plan your Oregon road trip with a bit of "buffer time".
As you're planning, take into account that things might go wrong. Bad traffic or a flat tire might delay you. Or maybe the weather turns when you have an epic hike planned, and you want to stay an extra day.
While planning your route from behind your computer screen, it may be tempting to think you can pack it all in and survive long stretches of driving on the road. Only to realize when you're on the road, even a few hours can be exhausting and have you itching to get out of the car and stretch your legs!
2. Plan ahead during busy season
Sometimes the busy season is the only time you have to travel. We've certainly been there.
If you're traveling to Oregon during the summer months, be sure to spend a little extra time planning:
Book your accommodation further in advance.
Research hidden spots and how to get away from the crowds.
Budget a little more money.
Plan to start your days earlier than you typically would.
3. Don't stick to your route, exactly
After planning a road trip route, you might feel the need to follow it exactly. But we'd advise otherwise…
Sometimes the best road trip stops are the unplanned adventures off the main road and into that cute little ocean-side town or a quick pull over on the side of the road that turns into a hike to an unknown viewpoint.
Give yourself some "wiggle room" in your itinerary for the opportunity to get lost and explore some hidden gems along the way.
We have tons more tips, including common mistakes to avoid in our road trip planning guide.
Road trip snacks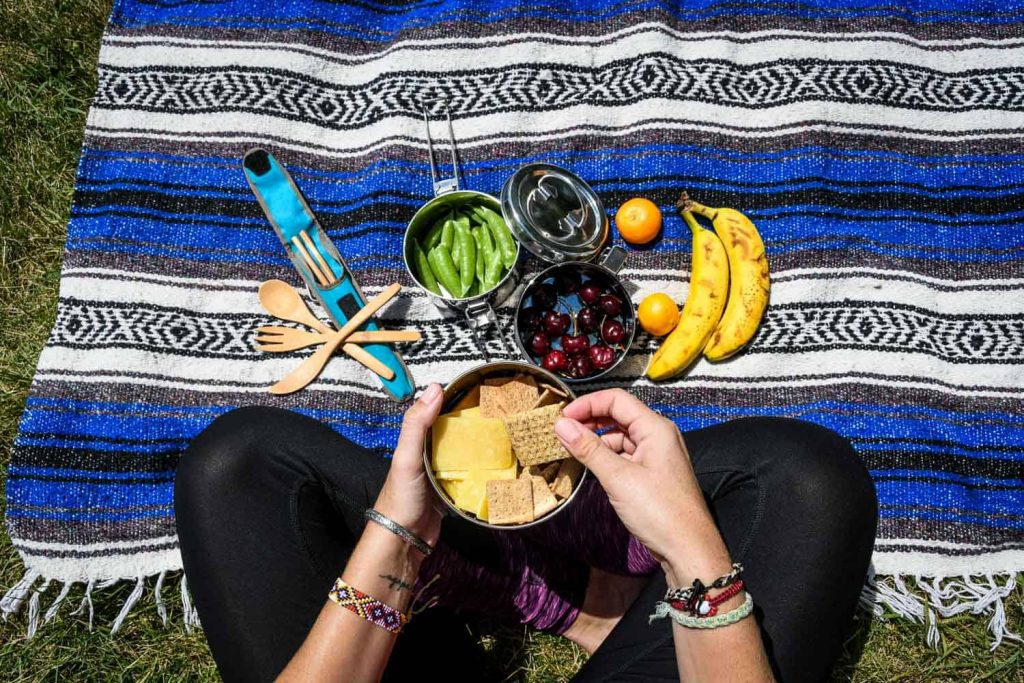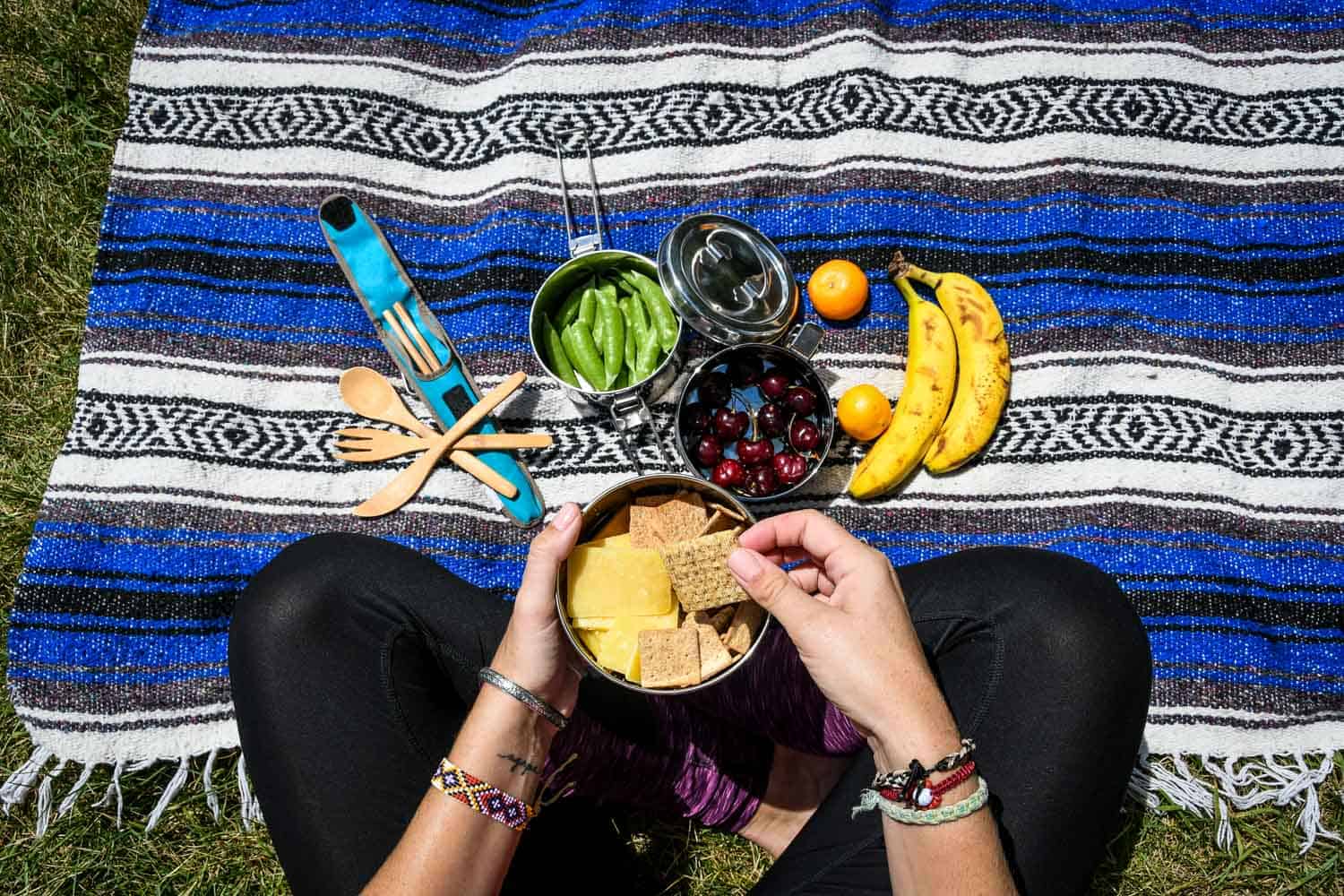 Maybe it's because we always have food on the brain, but road trip snacks are an essential part of our road trip planning and experience.
We try to have a mix of healthy and indulgent foods on hand in the car, because hunger can strike at any time during a long road trip.
Here are a few of our favorites:
Trail mix
Fresh fruit
Peanut butter-filled pretzels
Veggies and hummus
Dried fruit
Dark chocolate
Psst! Did you know a lot of our favorite hiking snacks double as great road trip snack options!?
Enroute entertainment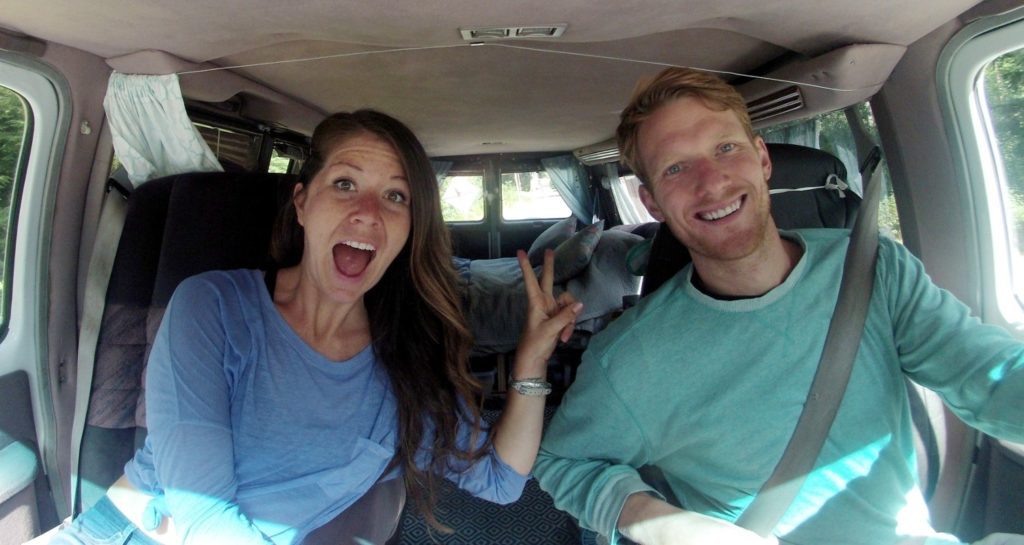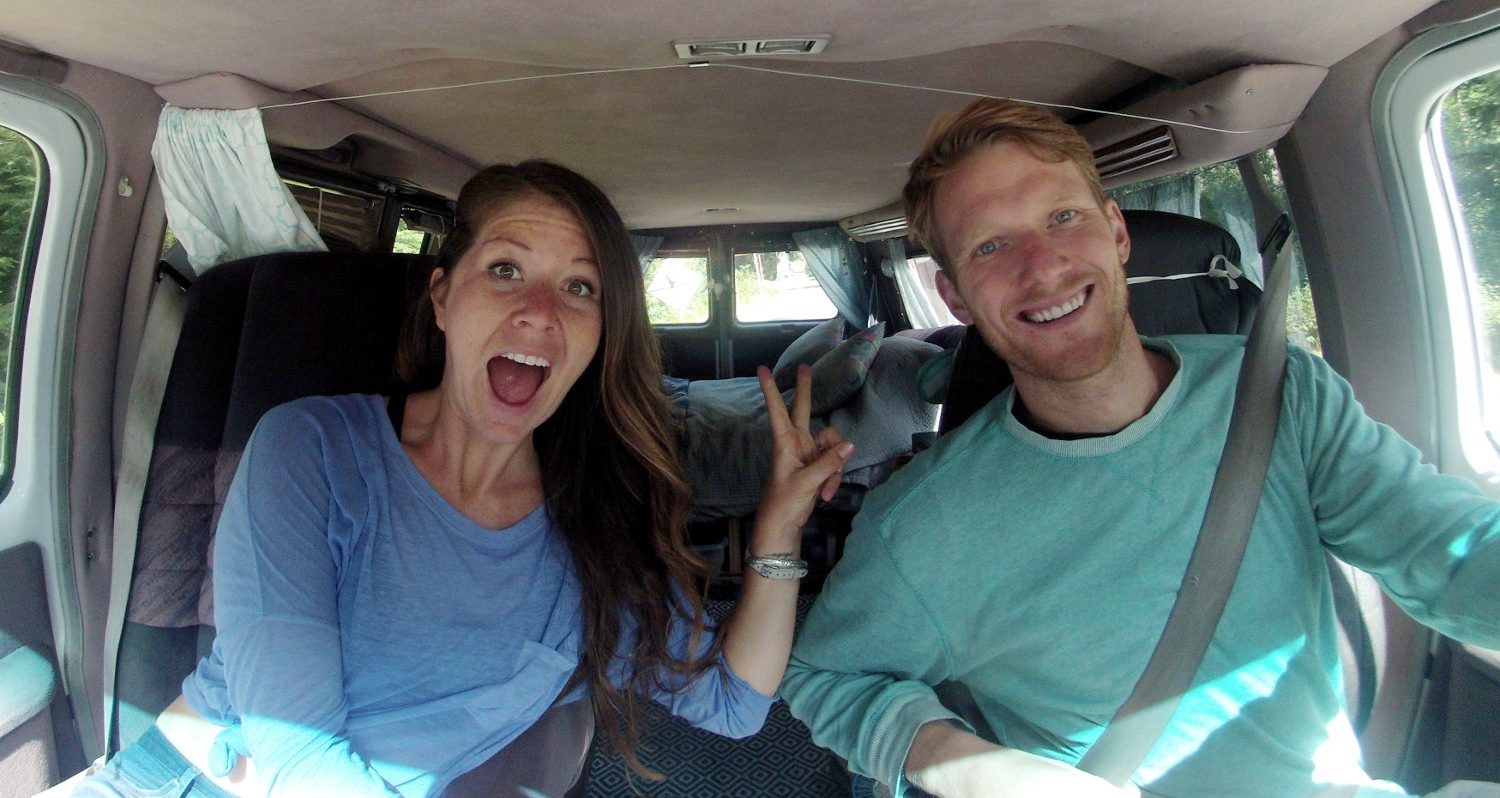 If you're like us, one of the first things we plan when going on a road trip is which audiobooks we want to listen to and which podcasts to download for our enroute entertainment. We put together some of our top recommendations in case you're looking for something new to listen to.
Audiobooks
Where the Crawdads Sing by Delia Owens: One of my favorite reads from 2020. A beautifully-descriptive coming of age tale about how society is quick to judge and misunderstand those deemed "outsiders". It also reads like a love letter to nature.
A Walk in the Woods by Bill Bryson: This funny account of one man and his ill-prepared companion's attempt to hike the Appalachian Trail. A humorous and adventurous quick read.
You are a Badass by Jen Sincero: If you need a little motivation right now (I'm with ya!), Jen will give you the kick in the pants you need to stop doubting yourself. It reads like you're talking to a good friend.
Whatever You Do, Don't Run: True Tales of a Botswana Safari Guide by Peter Allison: A collection of personal stories recounting hilarious and sometimes terrifying tales of life living in the African bush as a safari guide, coming face to face with some of the fiercest wild animals, and managing the hordes of camera-toting tourists.
Shantaram by Gregory David Roberts: The thrilling story of an escaped convict who flees a maximum security prison in Australia, fleeing to Bombay with his guide and companion, where they can disappear forever in the criminal underworld.
If you like these recommendations and want more, we have an entire list of books for travelers– broken out by category, from memoirs to fictional travel stories.
Podcasts
The Dirtbag Diaries (Duct Tape Then Beer): A podcast all about adventure — hiking, skiing, rock climbing — you name it!

Favorite Episodes: Mr. Hodges, All in the Family

How I Built This with Guy Raz (NPR): A deep dive into the stories behind some of America's most successful businesses.

Favorite Episodes: Lonely Planet, Patagonia, Burton, AWAY Luggage, Canva

Science Vs. (Gimlet Media): Dives into hot button topics and major political issues (from essential oils to immigration) and goes over the FACTS of both sides of the argument, while incorporating humor.
Criminal: A true-crime podcast covering all types of crimes — from gory murders from history to funny pop-culture crimes, like streaking.

Favorite Episodes: Brownie Lady, The Chase (interview with a "professional" streaker)
Transportation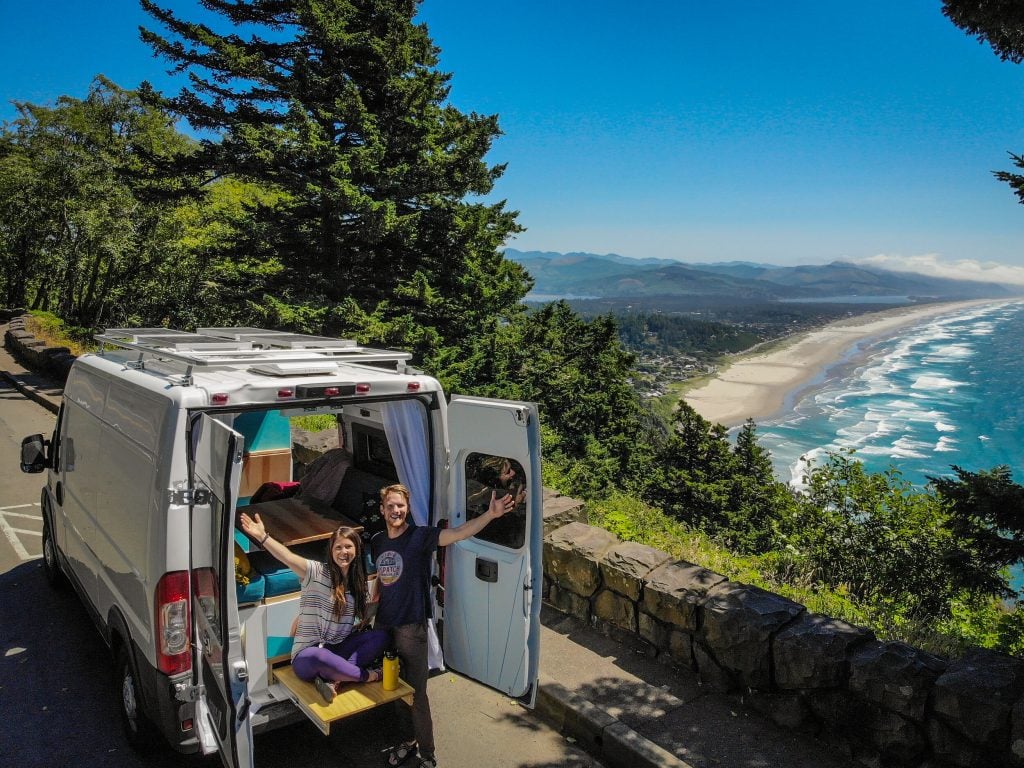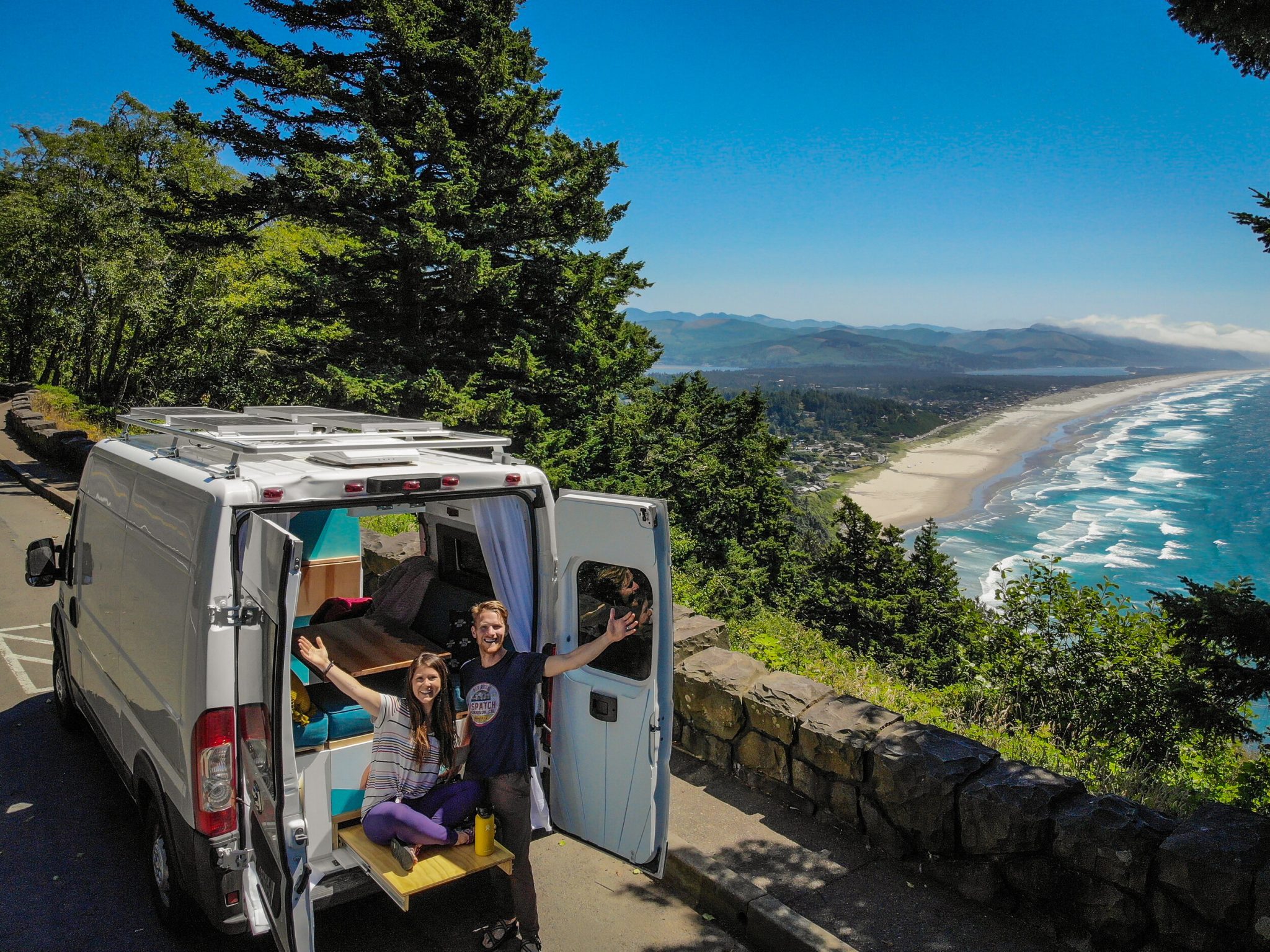 Most people will use their everyday car as the vehicle for their Oregon road trip. And that's a great choice; however, there are other options to consider. Especially if you will be flying in from out of state.
Campervan rental
It's no secret we are big fans of #vanlife. If you want to give it a test drive, we've got tons of resources for you!
Check out our list of top companies for USA Campervan Rentals, from budget to bougie, including exclusive discounts for our readers.
Related: If you already know you're flying in and out of Portland, we also have a guide to the best campervan rentals in Portland specifically.
One company we'd recommend looking into is Escape Campervans. They have 12 different locations across North America (including Portland, making it a great choice for an Oregon road trip). They come fully loaded with all the gear you need for an epic road trip, and they are a good budget option.
BONUS: We've partnered with them to give you a 10% off discount when you use our link!
Rental cars
Renting a car is a great option for your road trip if you don't want to put extra miles on your own vehicle, or are flying in from out of state.
Personally, for road trips in the USA, we've had good experiences with RentalCars.com. We've booked through them several times and have found some really great deals. For example, we rented a small SUV for a road trip in Washington State and paid less than $30 per day, and in Tucson, Arizona we paid just $17 a day. Heck yes!
Prices vary depending on your location, number of days, season, and type of car. Our advice is to compare RentalCars.com to other platforms with your specifics so you can be sure you're getting the best deal.
---
Oregon Road Trip Destinations
Here is where we'll go over all of our recommended places to visit in Oregon to fit into either of the road trip itineraries we suggested above.
Portland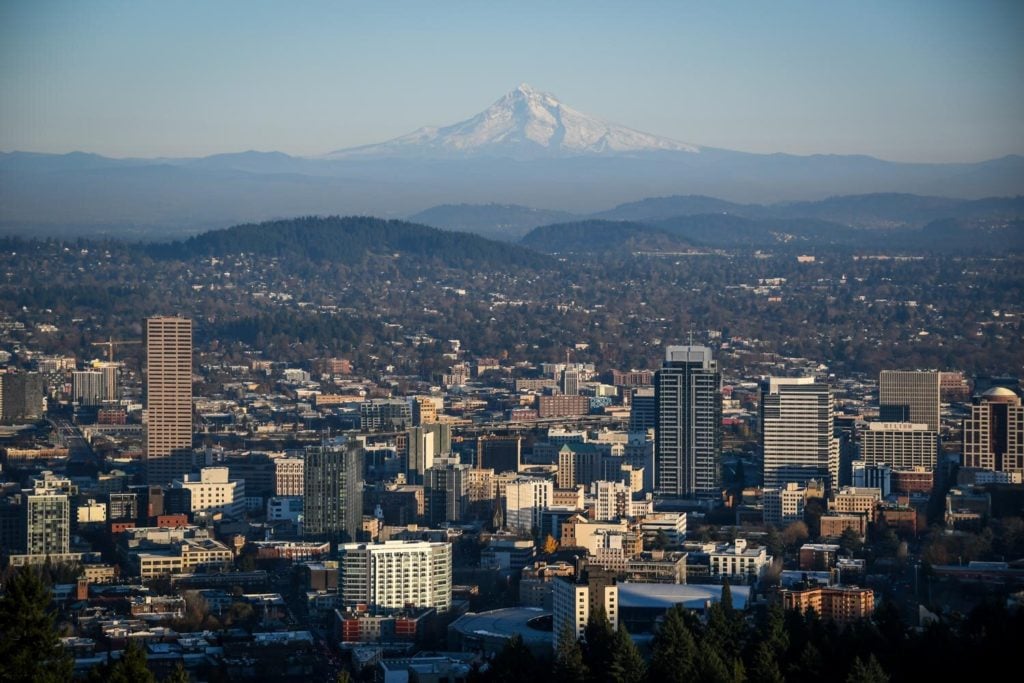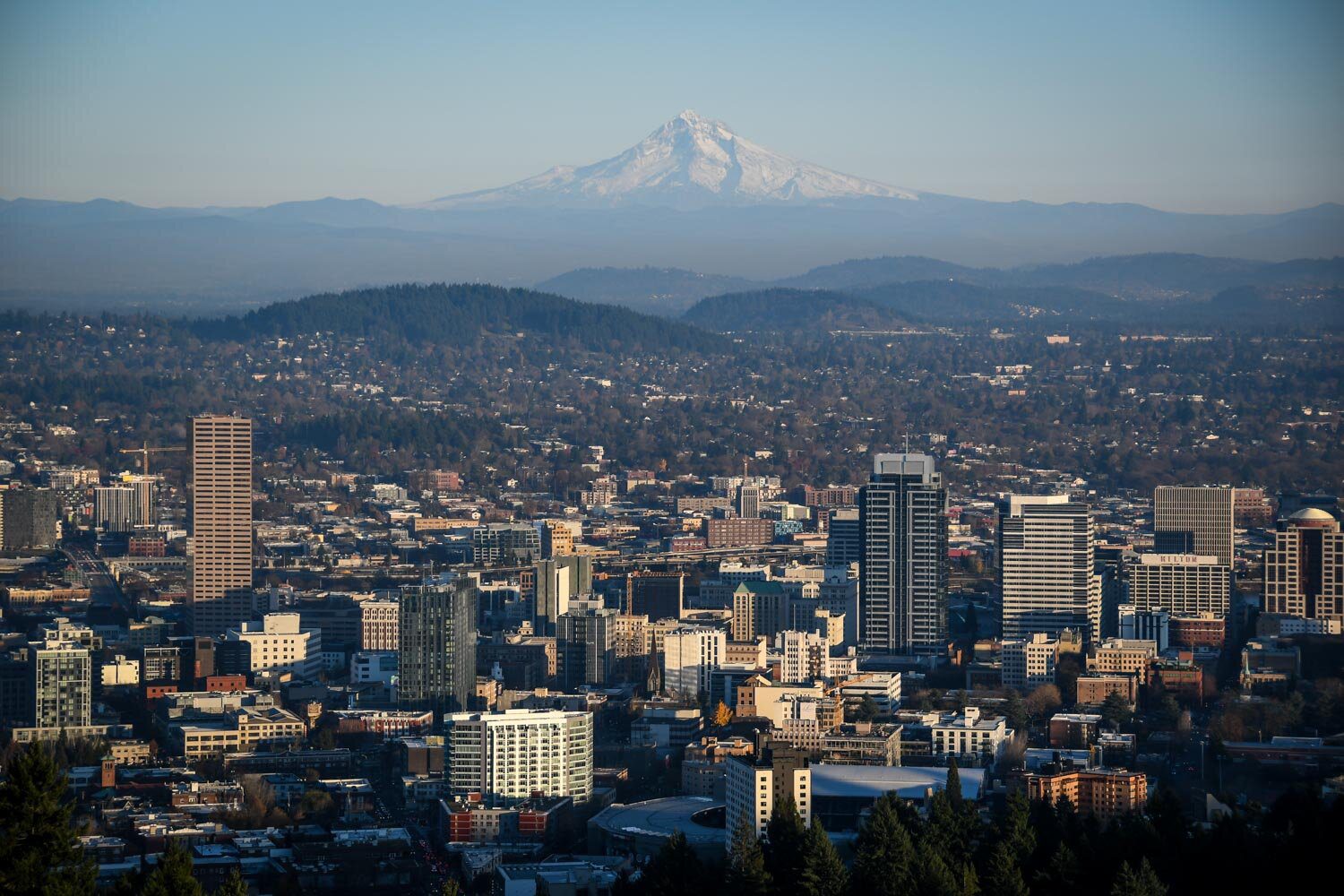 Let's start with the obvious. Portland.
This will likely be the starting and ending point if you're flying in from out of state.
Dubbed the "weirdest city in the USA", there's plenty of things to keep you entertained in this metropolis.
We've been to Portland at least a dozen times over the past few years (one of the perks of living in Oregon!) and each time we visit, we find new fun and quirky things to do.
In fact, we are constantly updating our things to do in Portland guide to include all our new finds so that you have TONS of ideas to choose from, but we'll share some highlights with you below.
Things to do in Portland
Explore the cute and quirky Mississippi neighborhood
Get lost in at Powell's City of Books, the largest independent bookstore in the world
Taste Portland's best donuts (it's probably not where you think)
Find zen at Portland's Japanese Garden or the Lan Su Chinese Garden
Order a Spanish coffee at Huber's Cafe
Hike to the Witch's Castle
Have more time in Portland?
Head down to the Willamette Valley for wine tasting!
If Silver Falls State Park isn't on your road trip route, consider making a day trip here from Portland. It can be combined with some time in the Willamette Valley for one epic day trip!
Take a Portland food tour, and eat your way through the best bites in the city

DISCOUNT: Book a tour with Lost Plate and get $5 off your tour with the code: twowanderingsoles
Where to stay in Portland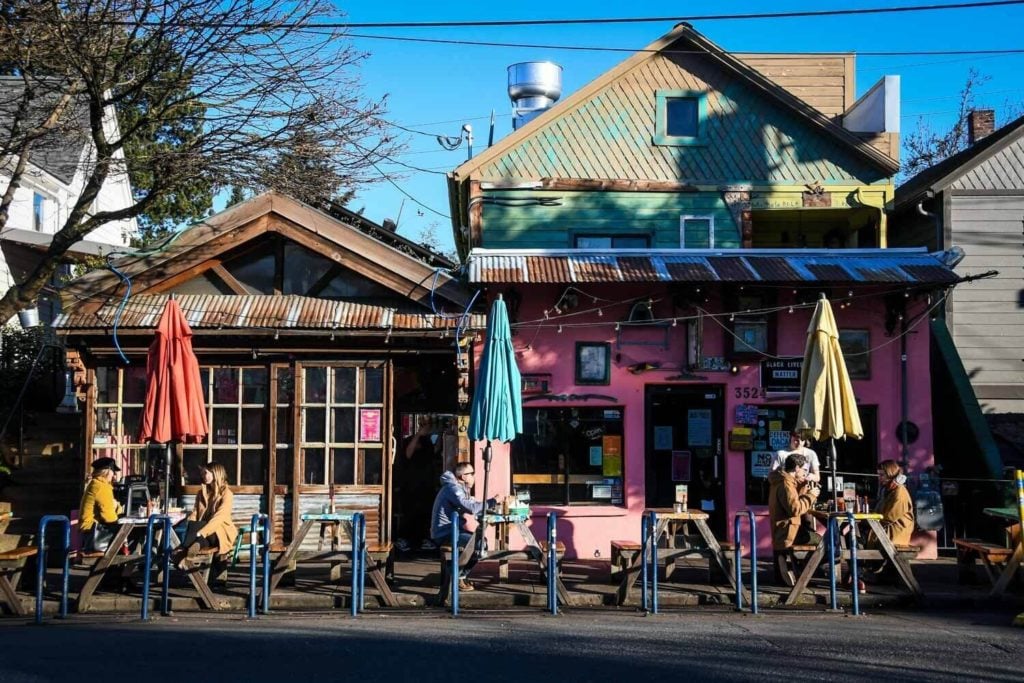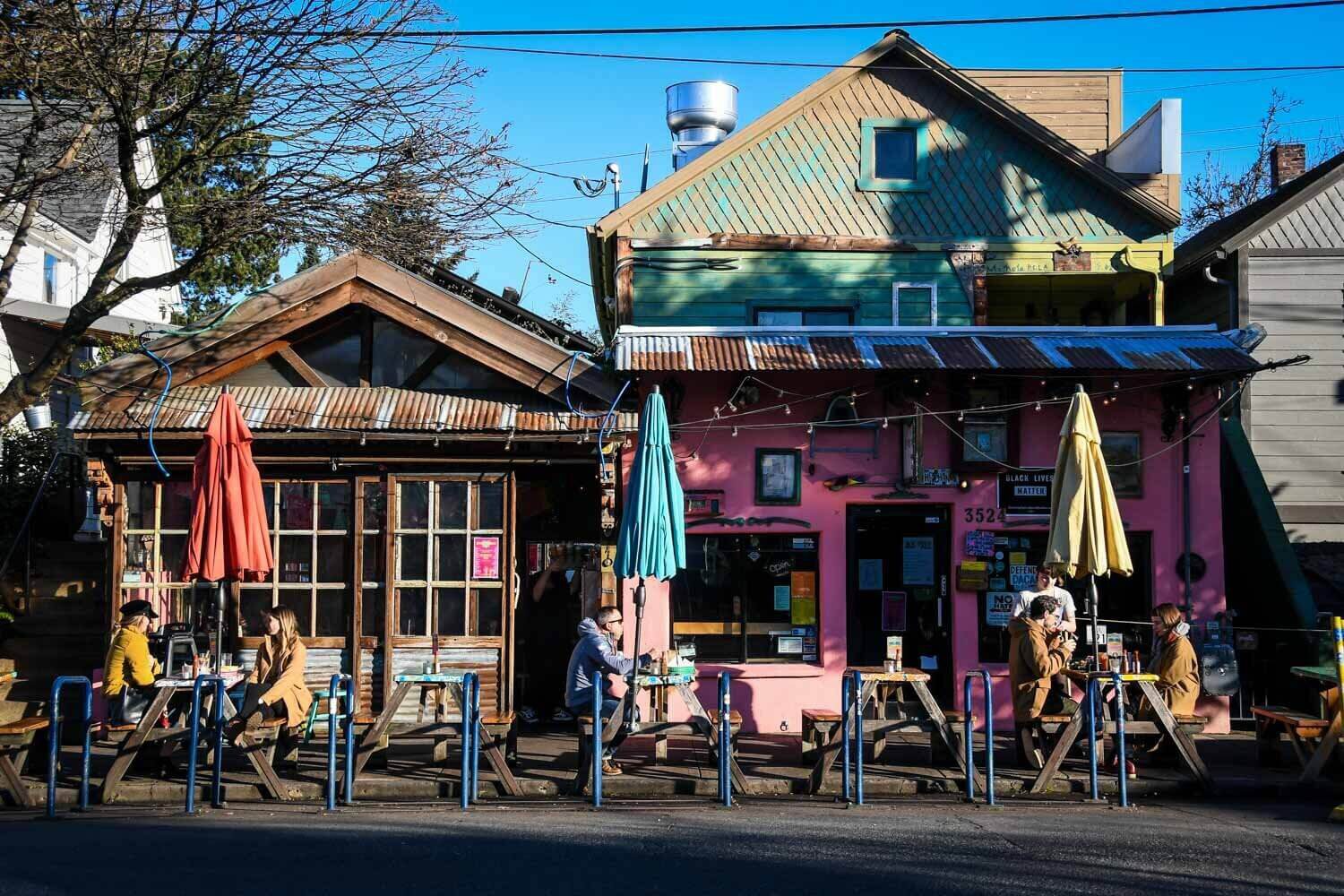 Below are our Portland Airbnb and hotel recommendations broken down by neighborhood.
Pearl District: This is where many of the touristy attractions are located, making it easy to walk around. That said, there are some dodgy areas and most hotels charge quite a bit for garage parking (which you'll definitely want to have downtown).
Mississippi Neighborhood: This neighborhood has fun vibes and cool restaurants and shops. However, it is a bit far from some of the "must see" places, like Powell's Bookstore.
Central Eastside: Just beside the river, this is perhaps the best of both worlds. Near downtown, but more of a "neighborhood vibe".
For more options, check out our guide to the best Airbnbs in Portland.
Astoria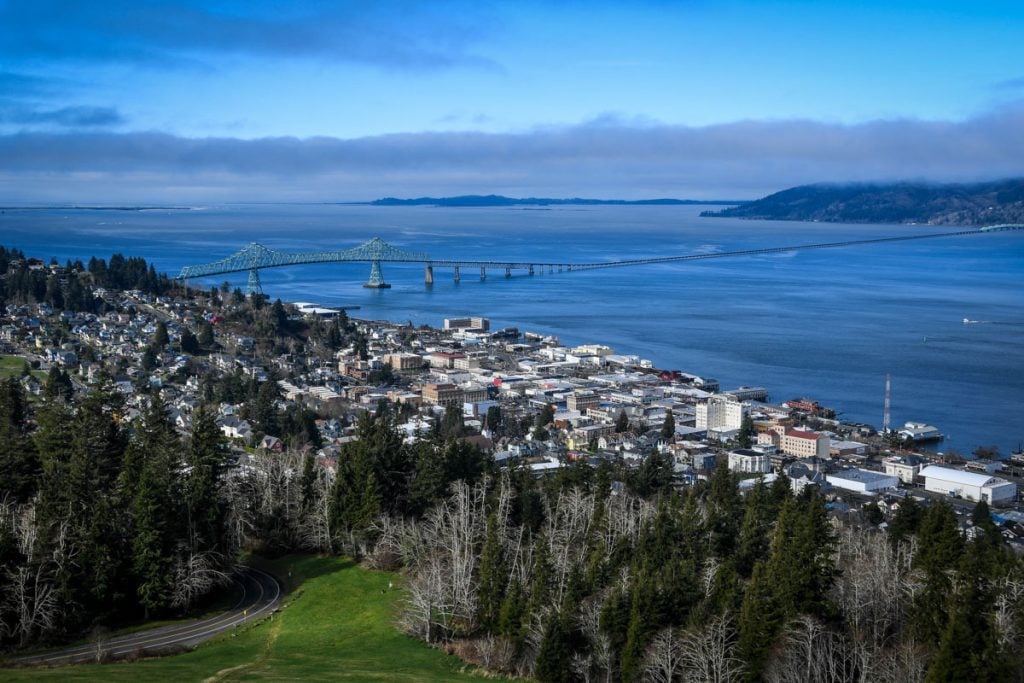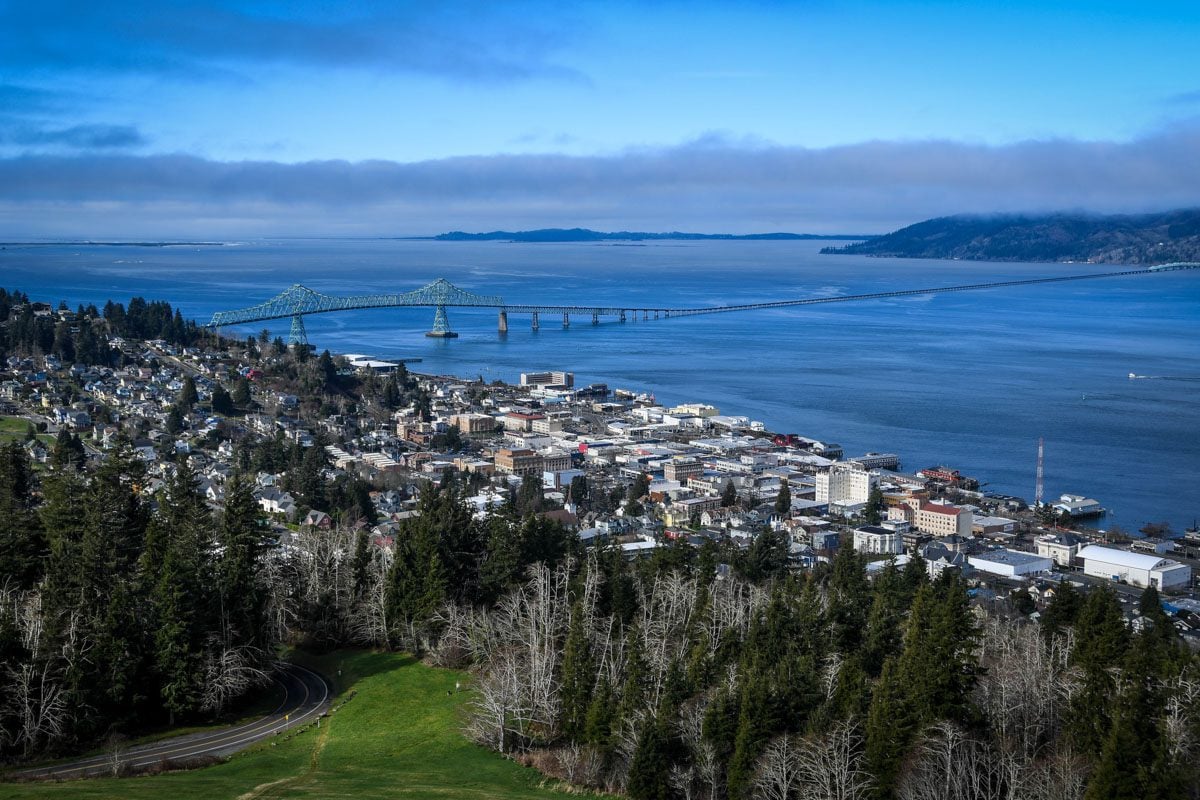 From Portland, you'll make your way toward the Oregon Coast, beginning with the charming riverfront town of Astoria.
With a cool vibe and a burgeoning food and craft beer scene, Astoria is a perfect place to start the coastal section of your Oregon road trip.
Situated at the mouth of the Columbia River Gorge, Astoria is steeped in history and has enough things to do to occupy a few days.
But if you've only got part of a day to explore, we've outlined some of our recommendations below.
Things to do in Astoria
Grab a latte at Coffee Girl, which is located at the end of a historic pier and has sweeping views of the Columbia River and the cargo ships that will likely be hanging out not far from shore.
Hike to the Cathedral Tree for a nice little jaunt in nature.
Walk along on the Astoria Riverwalk.
Grab a beer at Buoy Beer Co.
Have more time? We have a whole guide with things to do in Astoria, and we'd recommend adding a day if you can.
Cannon Beach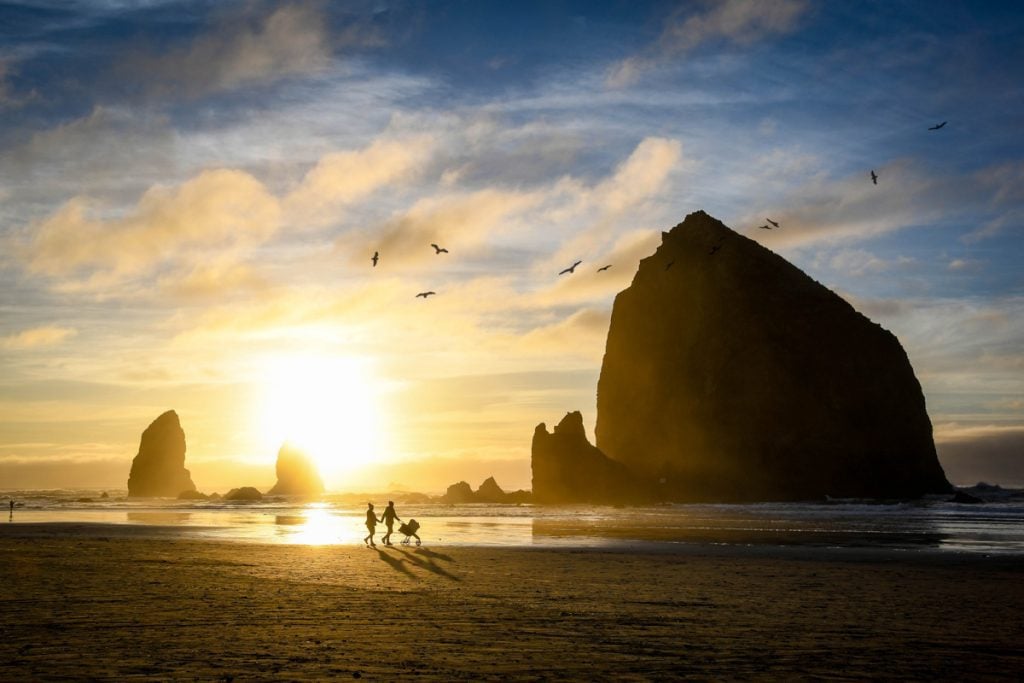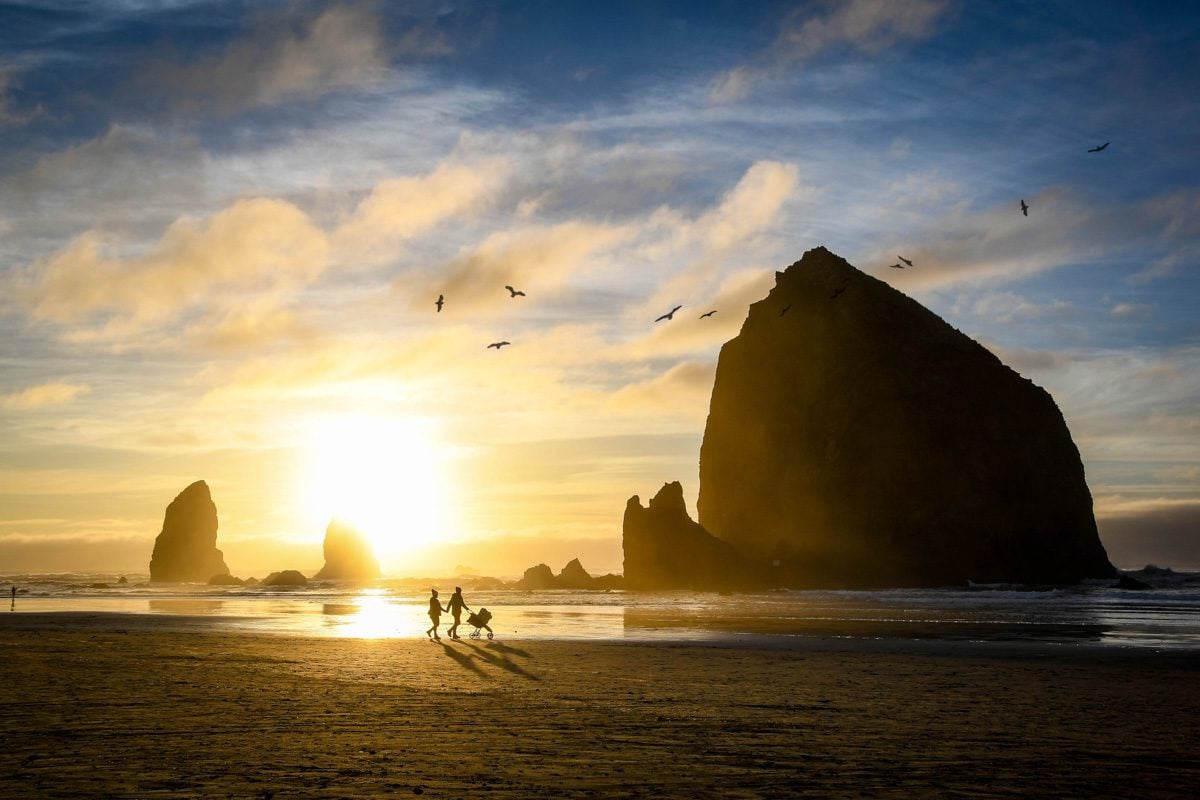 As you make your way down the coast, the next stop on your itinerary is Cannon Beach. With cedar shingled houses, a charming downtown strip, and a massive sandy beach with an iconic rock formation, it's not hard to fall in love with Cannon Beach.
One of the most popular towns on the Oregon Coast, we find ourselves coming back time and time again. And once you see it, we think you'll understand the allure.
Things to do in Cannon Beach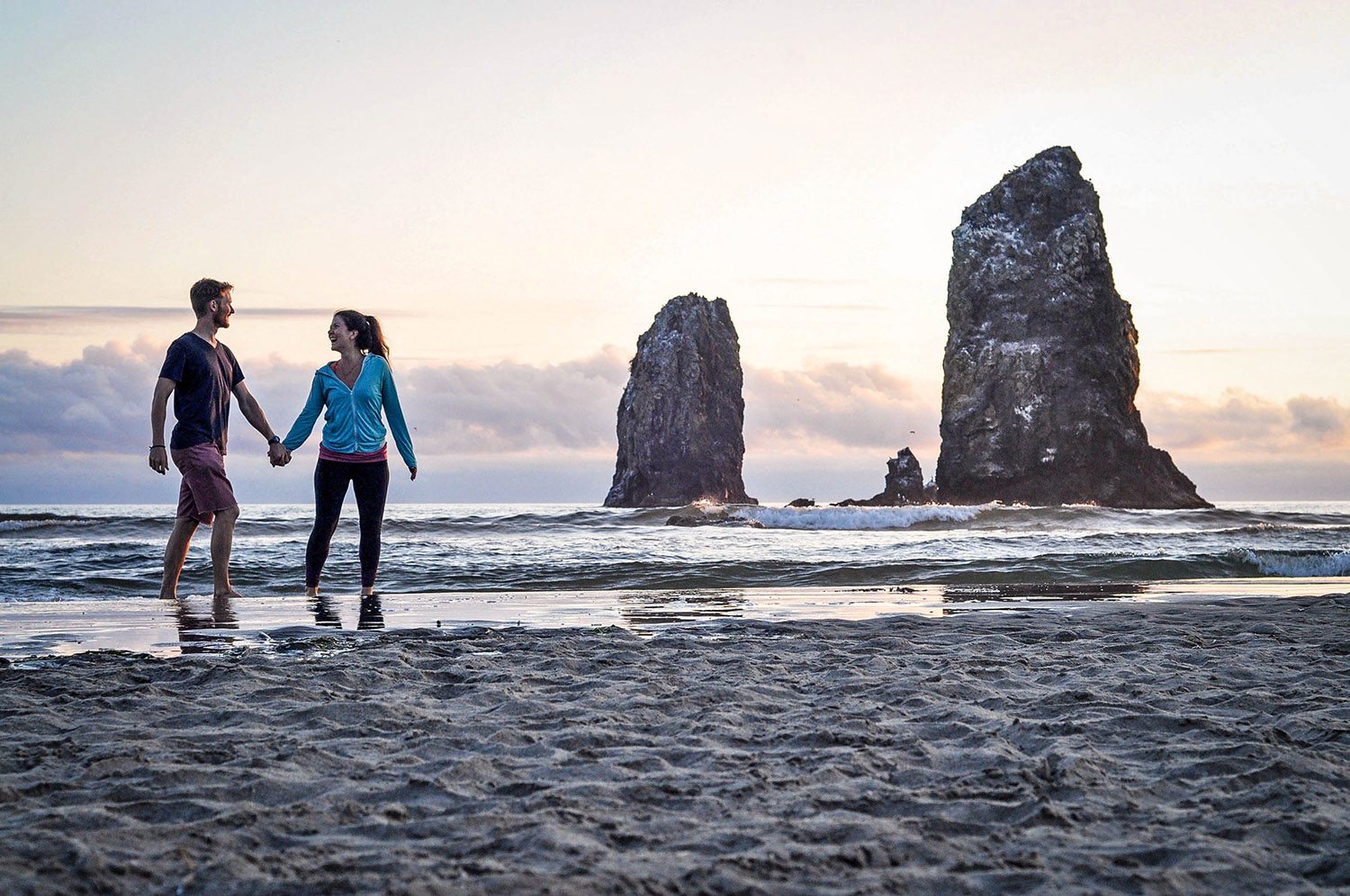 Marvel at the viewpoints in Ecola State Park
Have a bonfire on the beach with views of Haystack Rock
Eat fish and chips
See a waterfall next to the ocean at Hug Point
Want more tips? We have a whole article dedicated to the best things to do in Cannon Beach.
Where to stay in Cannon Beach:
Tillamook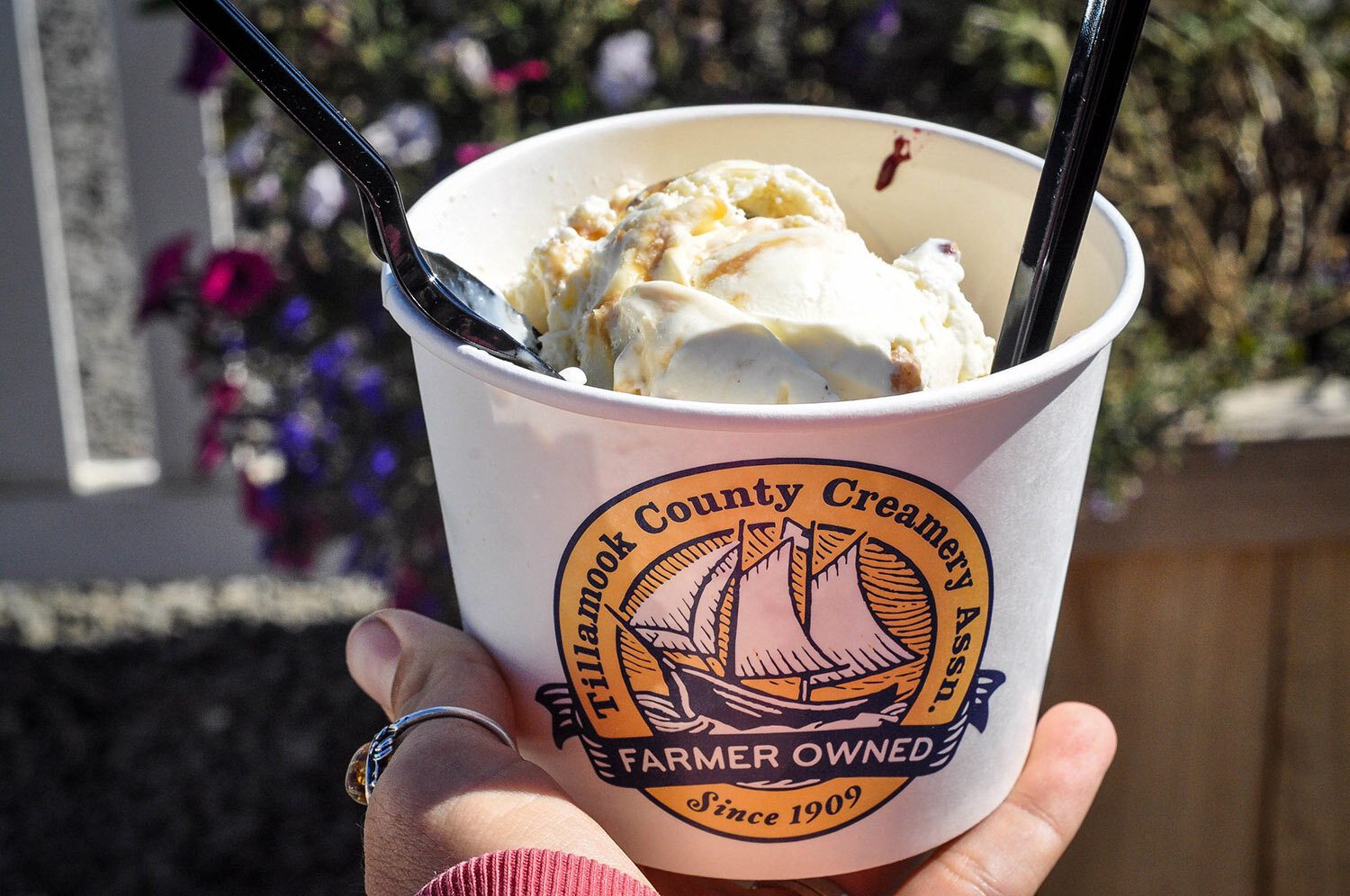 As you pass through Tillamook on your way down the coast, be sure to stop at the famous Tillamook Creamery.
Here, you can take a self-guided tour and see firsthand how the dairy is processed.
And come hungry so you can indulge in a grilled cheese and ice cream from the source!
Lincoln City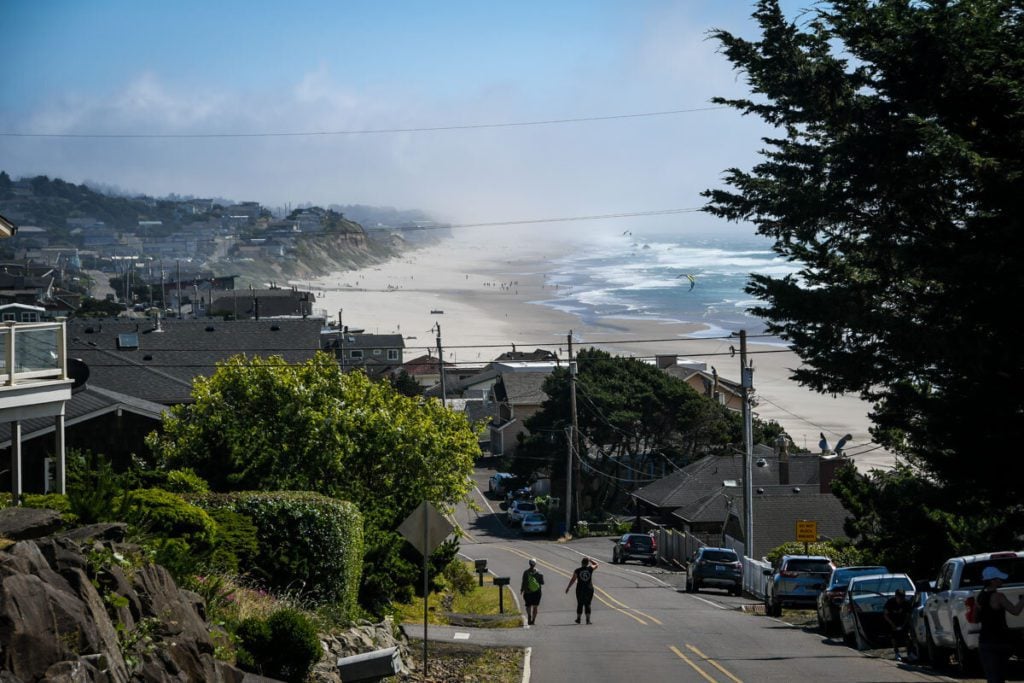 As one of the largest and most commercialized cities on the Oregon Coast, Lincoln City is known for their bi-annual kite festivals, glass blowing community and eclectic, artsy vibe.
While not as quaint as some of the smaller towns on the Oregon Coast, Lincoln City has a relatively large and spacious beach as well as a burgeoning foodie scene. We actually found ourselves enjoying the town more than we'd expected to.
Things to do in Lincoln City
Where to stay in Lincoln City
Silver Falls State Park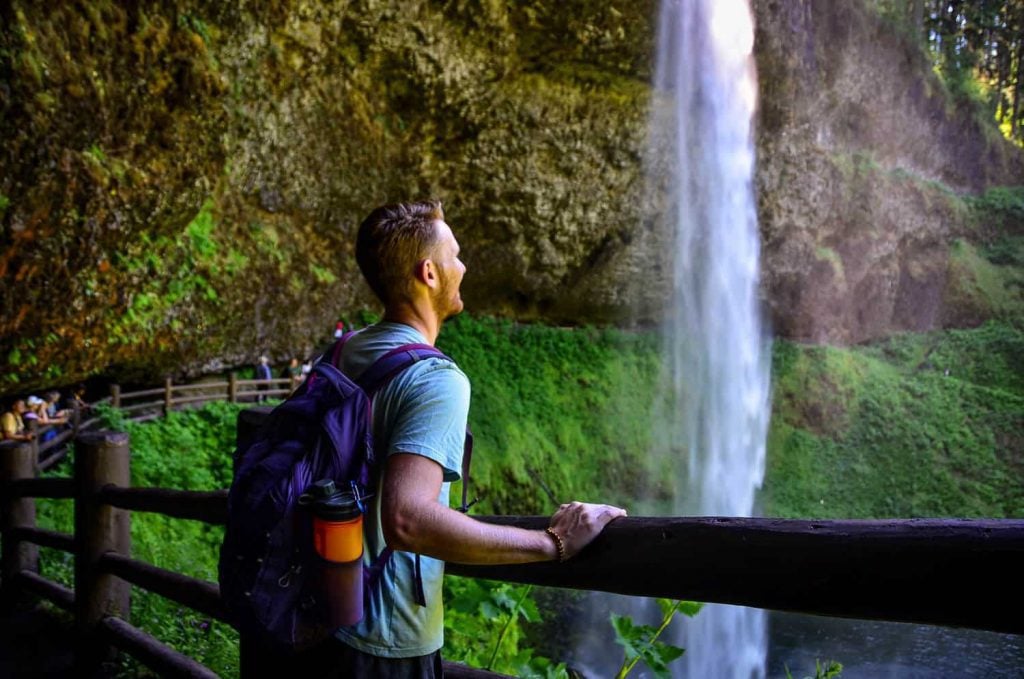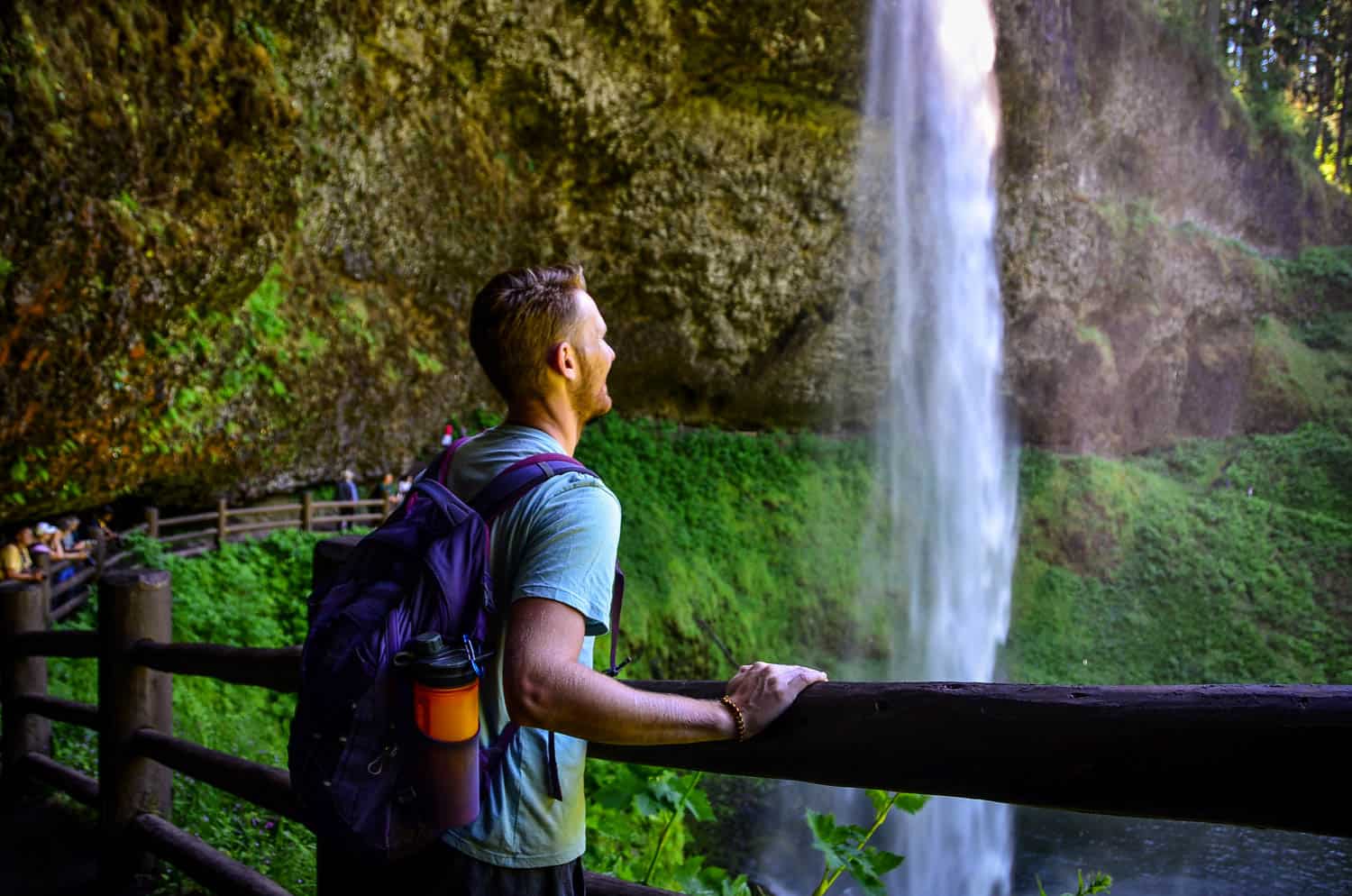 Next up is Silver Falls State Park, home to some of the most beautiful waterfalls in Oregon, as well as one of Oregon's most popular hiking destinations. The park has a lot to offer everyone from experienced outdoor enthusiasts to families looking for a day hike.
It'll cost you $5 for a day-use parking pass at Silver Falls. If you plan on going to a lot of parks, it might also be worth it to get yourself the $30, 12-month parking pass for all Oregon State Parks.
For more information about your visit, including all of the best hikes in the park, check out our guide to Silver Falls State Park.
Willamette National Forest
Sandwiched between Eugene and Bend, about an hour and a half drive from either direction, you can make it into the heart of the Willamette National Forest. There are so many things to do in this part of Oregon, we only scratched the surface.
Cougar Hot Springs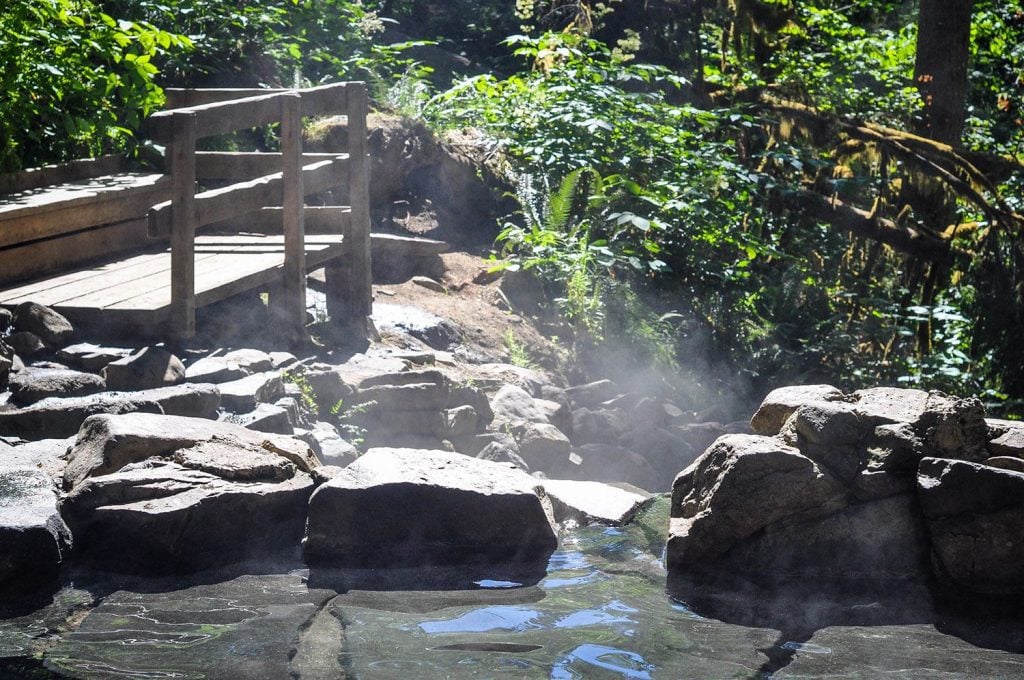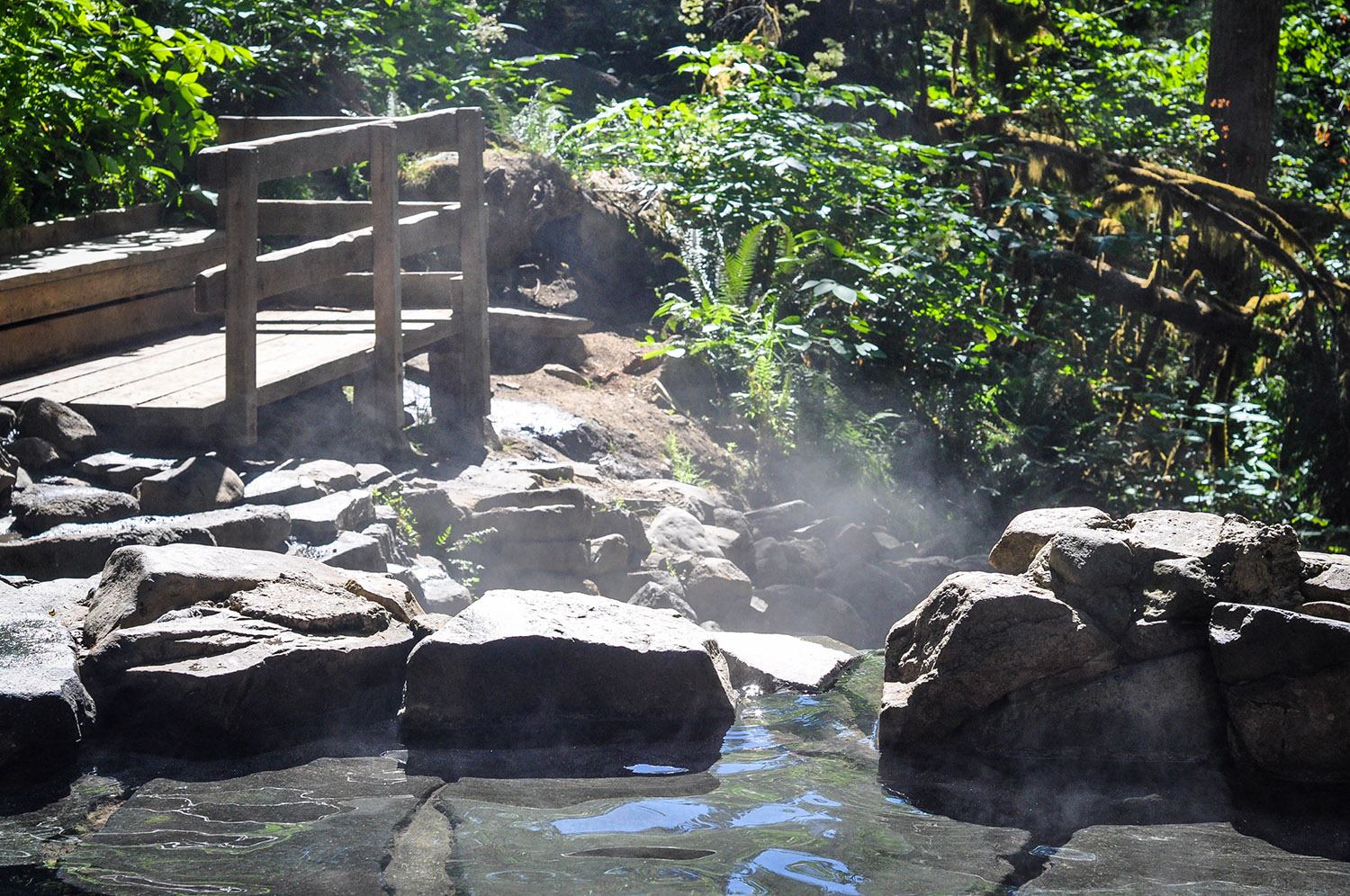 The setting of Cougar Hot Springs (also known as Terwilliger Hot Springs) is something that you would find at a luxurious spa, but it's so much better because you are only surrounded by nature.
There are 5 rock-walled pools that could fit about 8 people comfortably. Be sure to arrive early as it gets busy later in the day. Entrance Fee is $6/day and the trail starts on the west side of the Cougar Reservoir. We have a complete guide to visiting Cougar Hot Spring on our sister site with directions on how to get there and information you'll need to know before your visit.
Psst! Are you a big fan of hot springs? You'll want to check out this detailed guide to the best hot springs in Oregon!
Tamolitch Blue Pool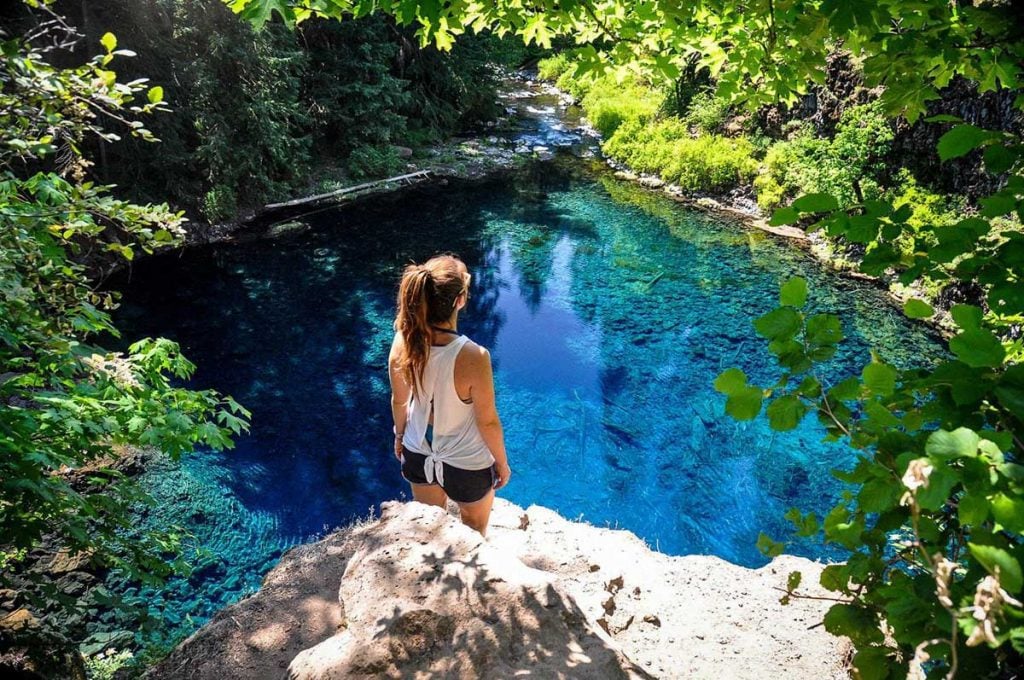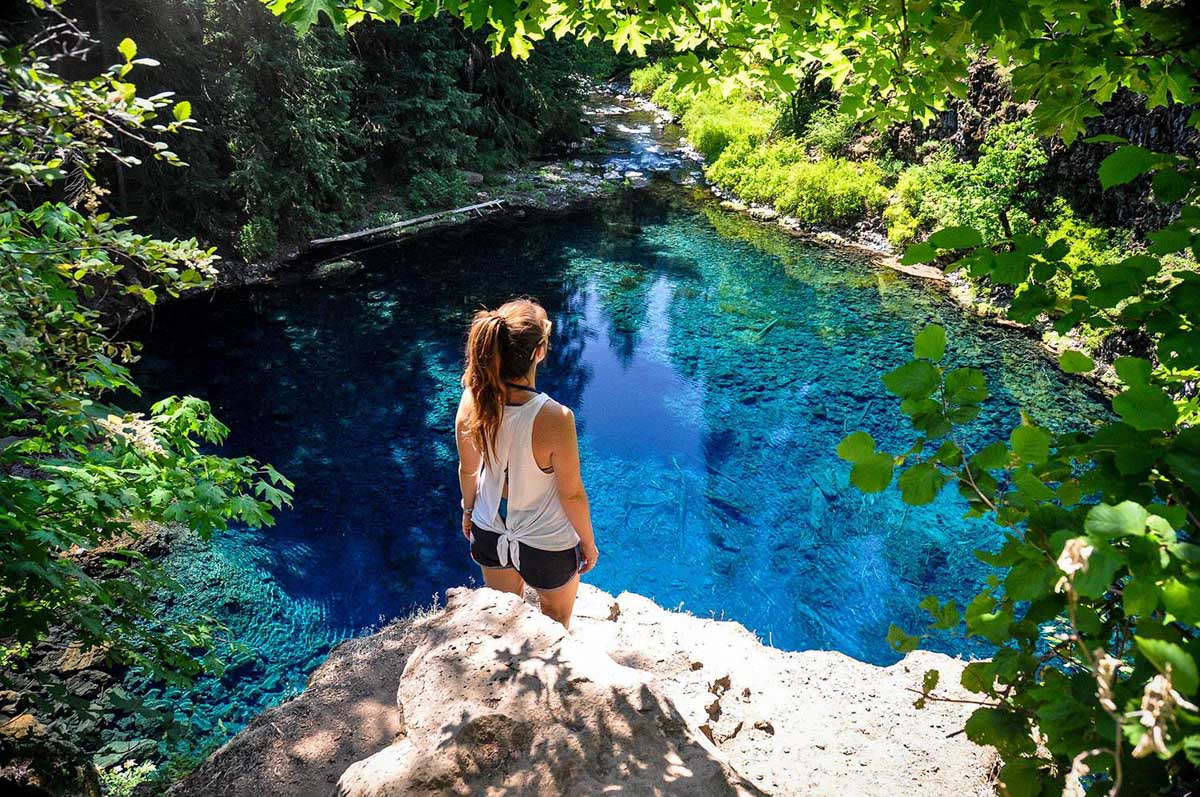 No filters were used in this photo – the water really is that blue!
And oh, so cold! Seriously, even on the hottest summer day, jumping in this spring-fed pond is sure to cover your body in goosebumps. But it is totally worth it, and feels amazing when you dry off in the sun.
Tip: Be careful that you don't jump in with anything in your pockets or sunglasses on your head. While we were there, a couple guys decked out in scuba gear were diving for all the valuable items people lose in the depths of the water (aka GoPros, watches, designer sunnies, wallet, etc.). Don't be that guy (or gal!).
How to get there: Be sure to start from the proper Tamolitch Trailhead and hike the McKenzie River Trail north to the Blue Pool. We have all the directions and everything else you need to know in our guide to visiting the Tamolitch Blue Pool on our sister site.
Sahalie and Koosah Falls
These two large waterfalls are only 10 minutes walk apart from each other and worth a quick stop. I know you can easily get sick of waterfalls in this region, you shouldn't miss these. Park the lot next to Sahalie Falls and hike south to Koosah.
McCredie Hot Springs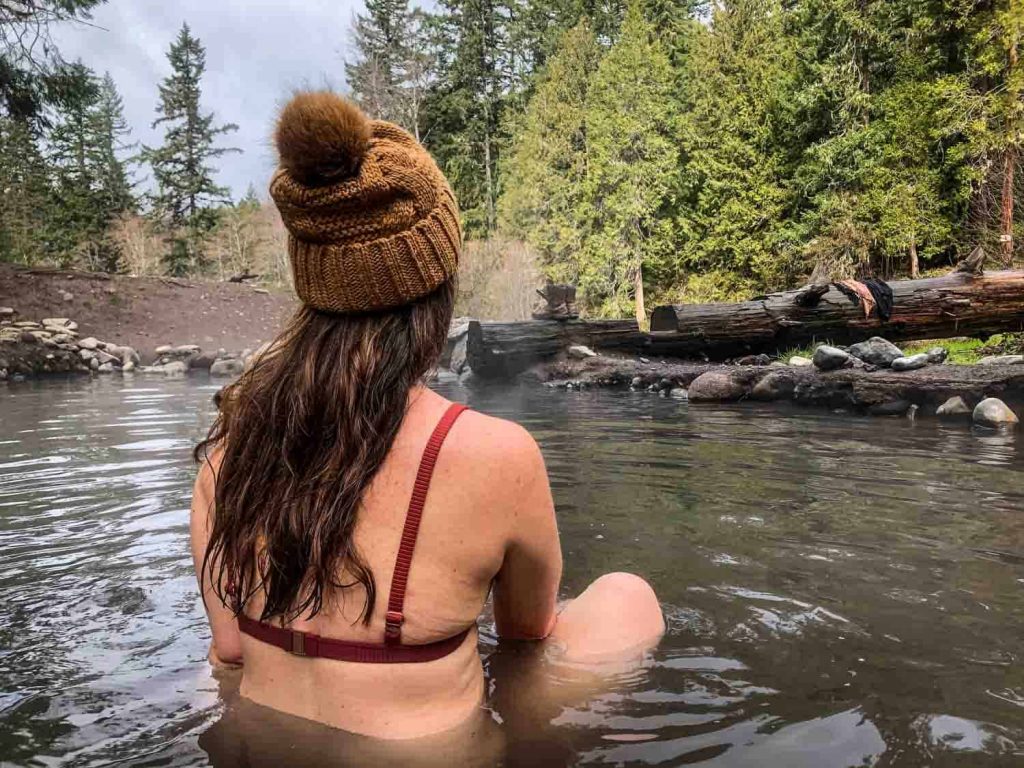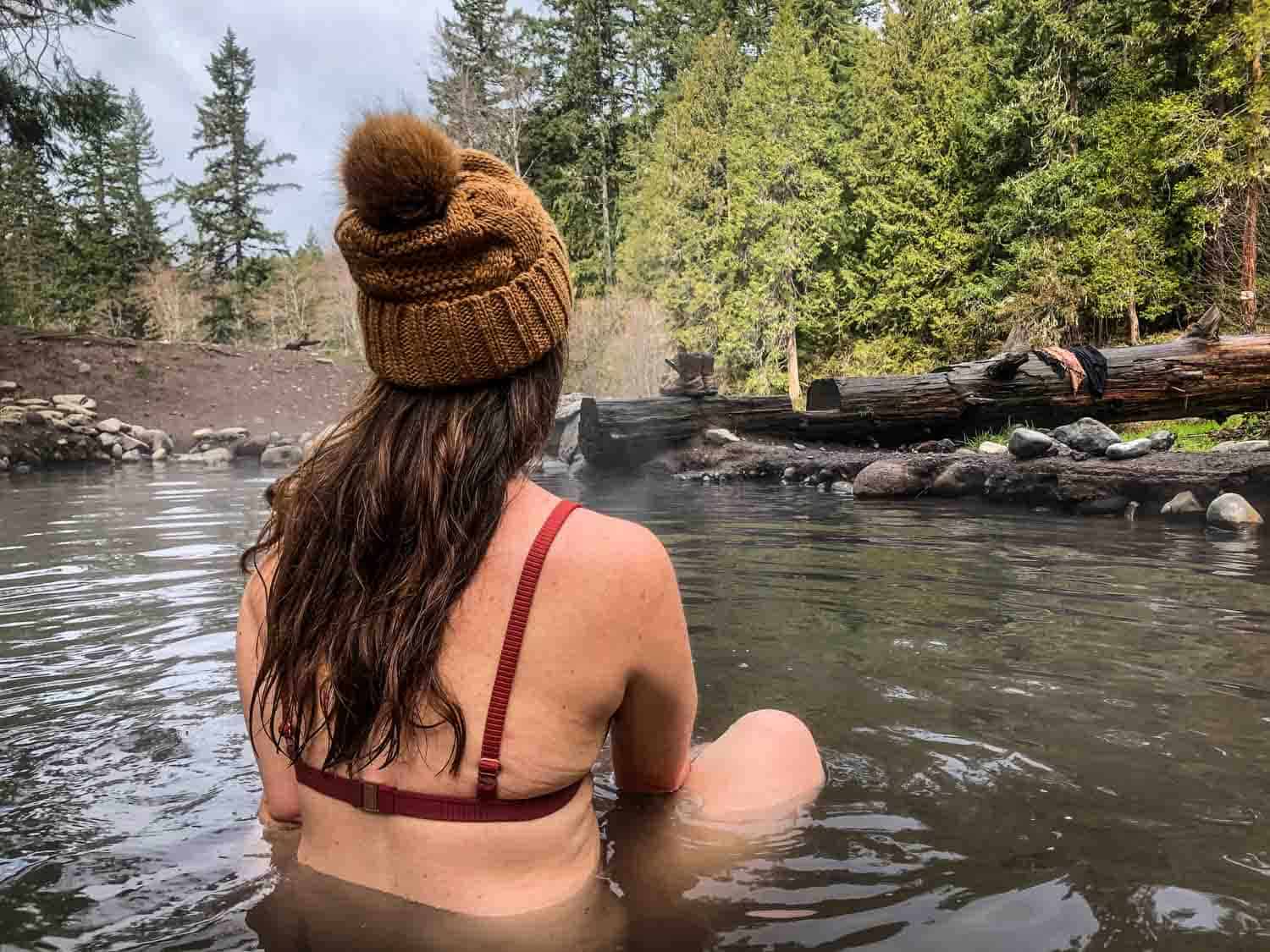 If you're a huge hot spring fanatic, you can add this one to your route too. It will be a bit out of the way, so plan accordingly. We've even got a guide to McCredie Hot Springs to help you plan your visit!
Where to stay near in the Willamette National Forest
Florence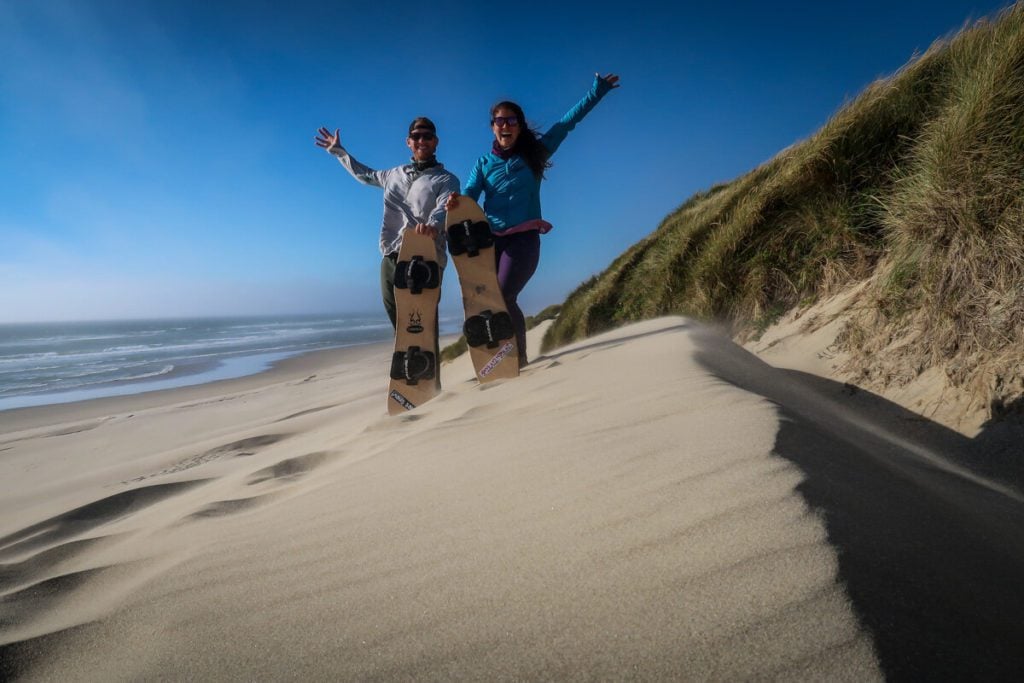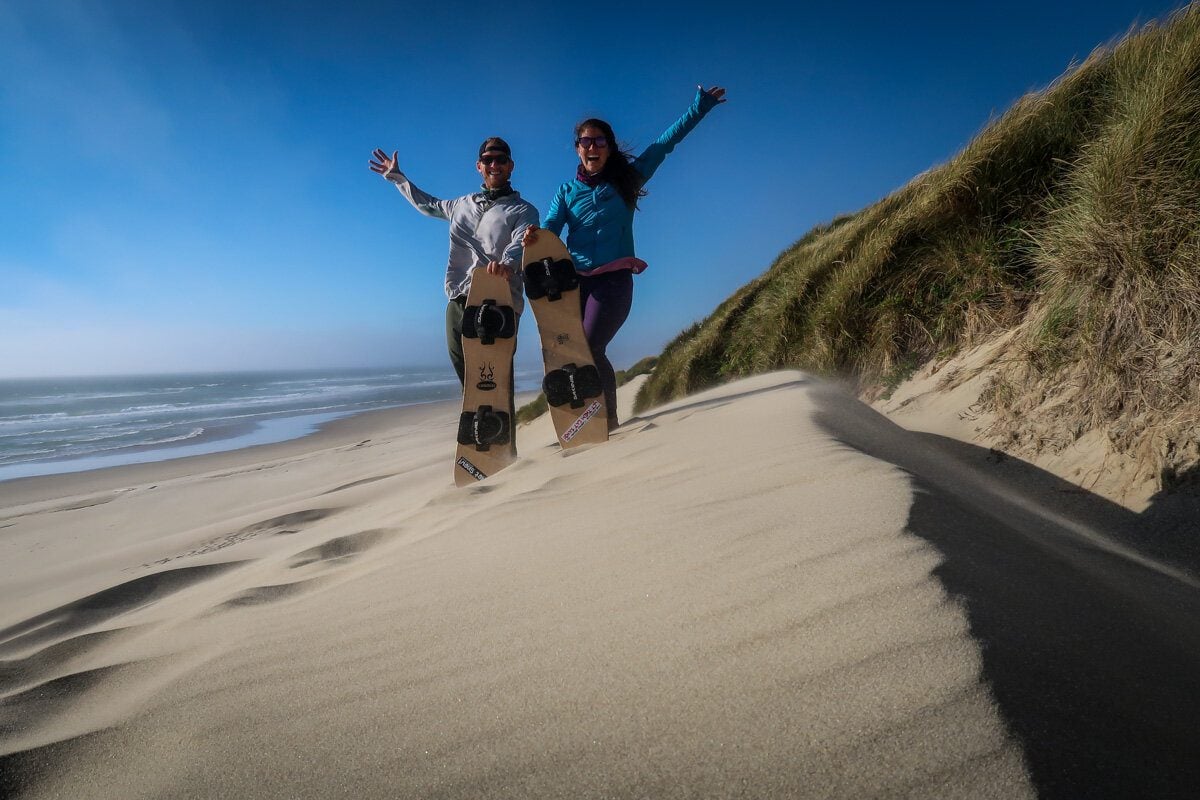 Situated at the mouth of the Siuslaw River, the charming seaside town of Florence boasts views of both the ocean and river coastlines. We also happen to think it has one of the cutest, most adorable town centers on the coast.
Just beyond the city center, the sand dunes are Florence's star attraction. If you prefer a slightly more relaxed pace of adventure, there are several great beaches, lakes, and lovely hiking trails nearby.
Things to do in Florence
Rent a sandboard and play on the dunes!
Visit Heceta Head Lighthouse, one of the most picturesque lighthouses on the coast
Wander the historic "old town" of Florence
Go to the Sea Lion Caves to see these gentle creatures in their natural habitat
Hike to Hobbit Beach, one of the most stunning stretches of sand on the coast
In the summer, check out the lively weekend farmer's market
Where to stay in Florence
Umpqua National Forest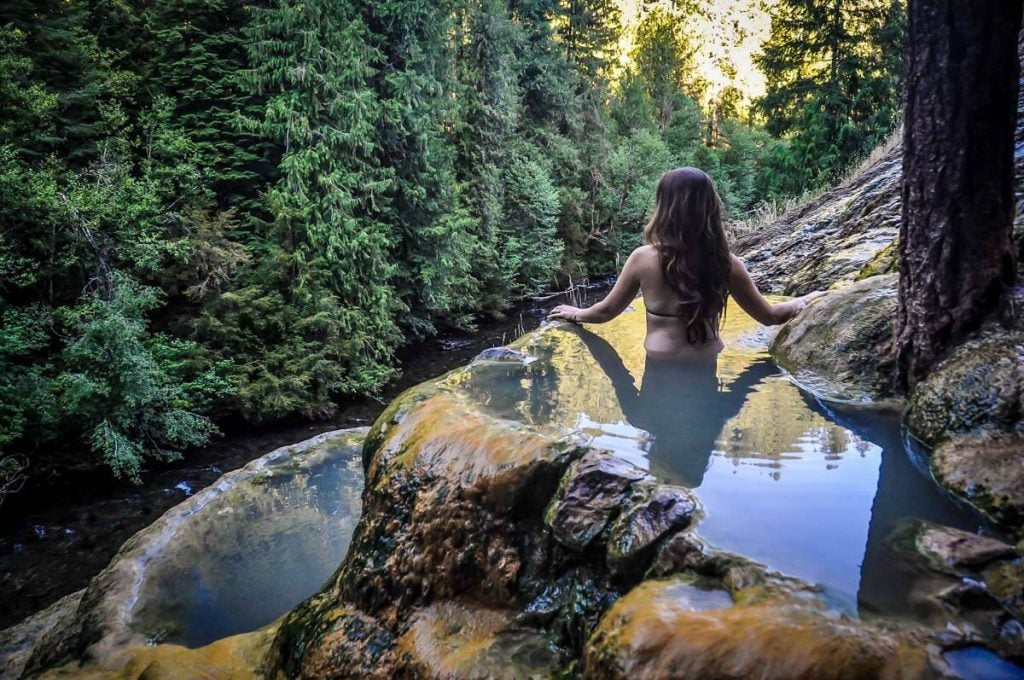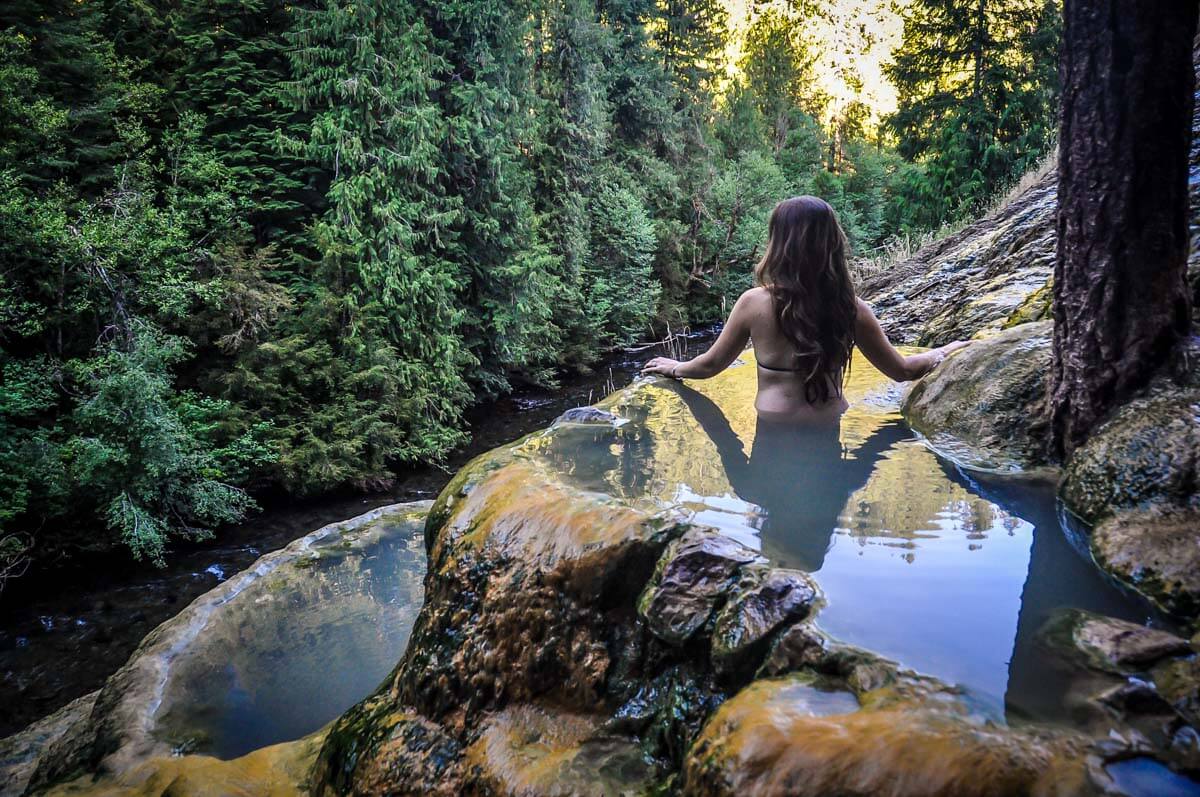 Home to some of the best hikes in Oregon, with lakes, waterfalls and mountains, Umpqua National Forest is well worth a visit. Located in Oregon's southern Cascade Mountains, we fell in love with this area and wished we had longer to explore.
Toketee Falls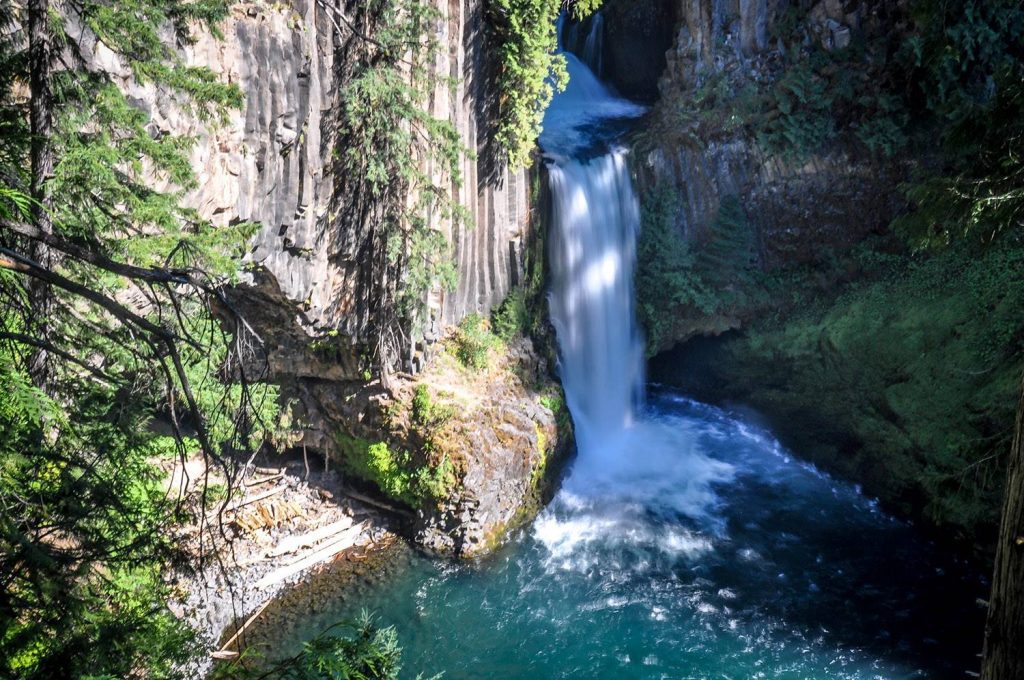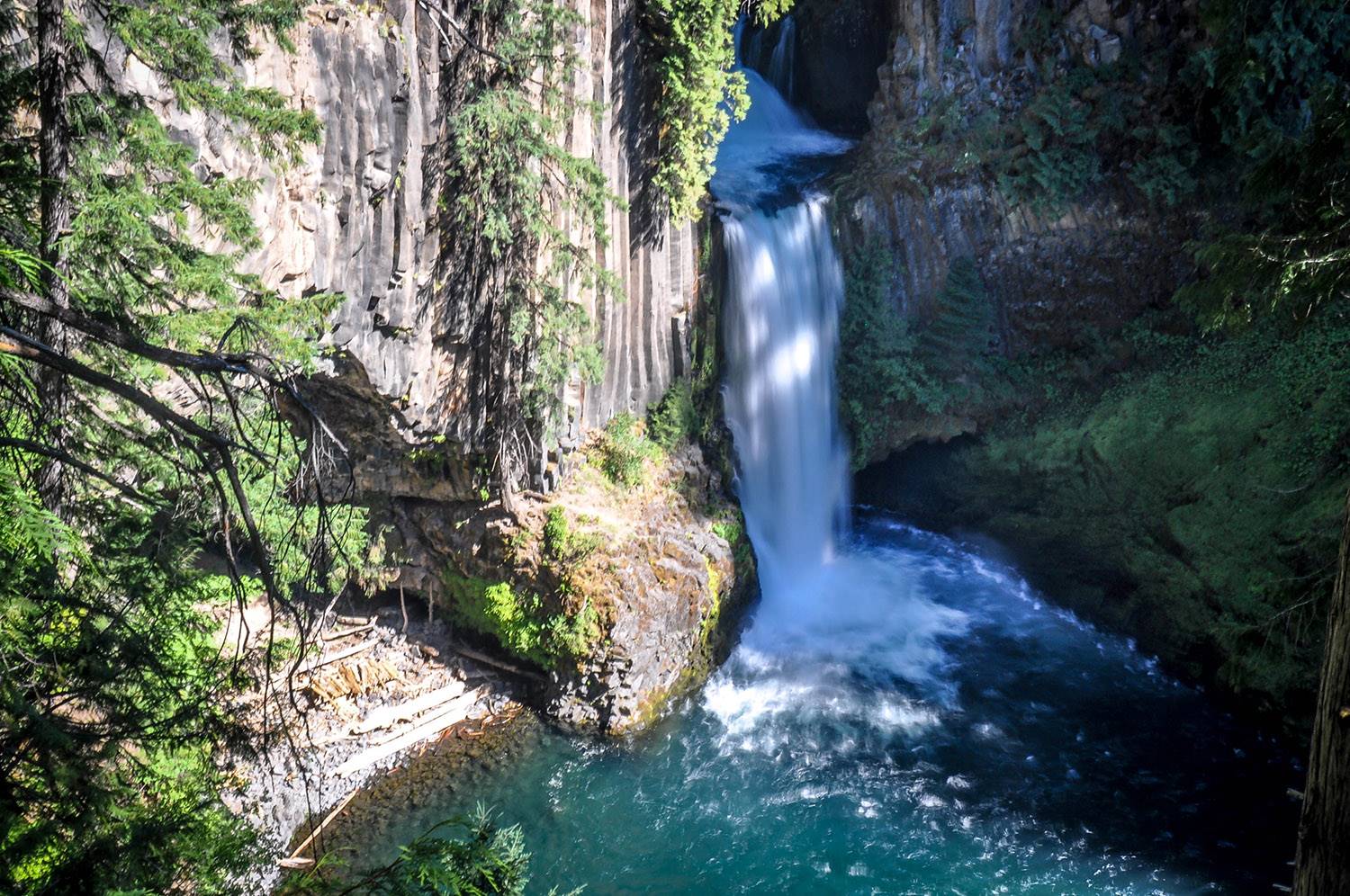 A short drive off of Highway 138, you can park your car and go for a short walk to the waterfall viewpoint. This massive two tier waterfall is a major symbol of the region. Be careful on the trail, the rocks can be slippery.
Umpqua Hot Springs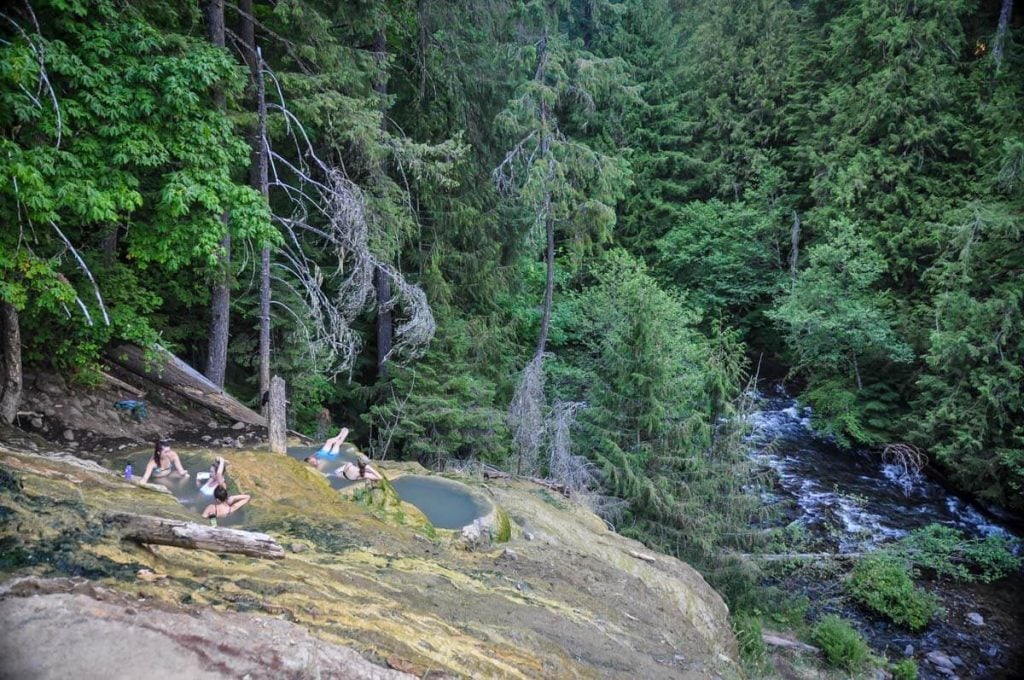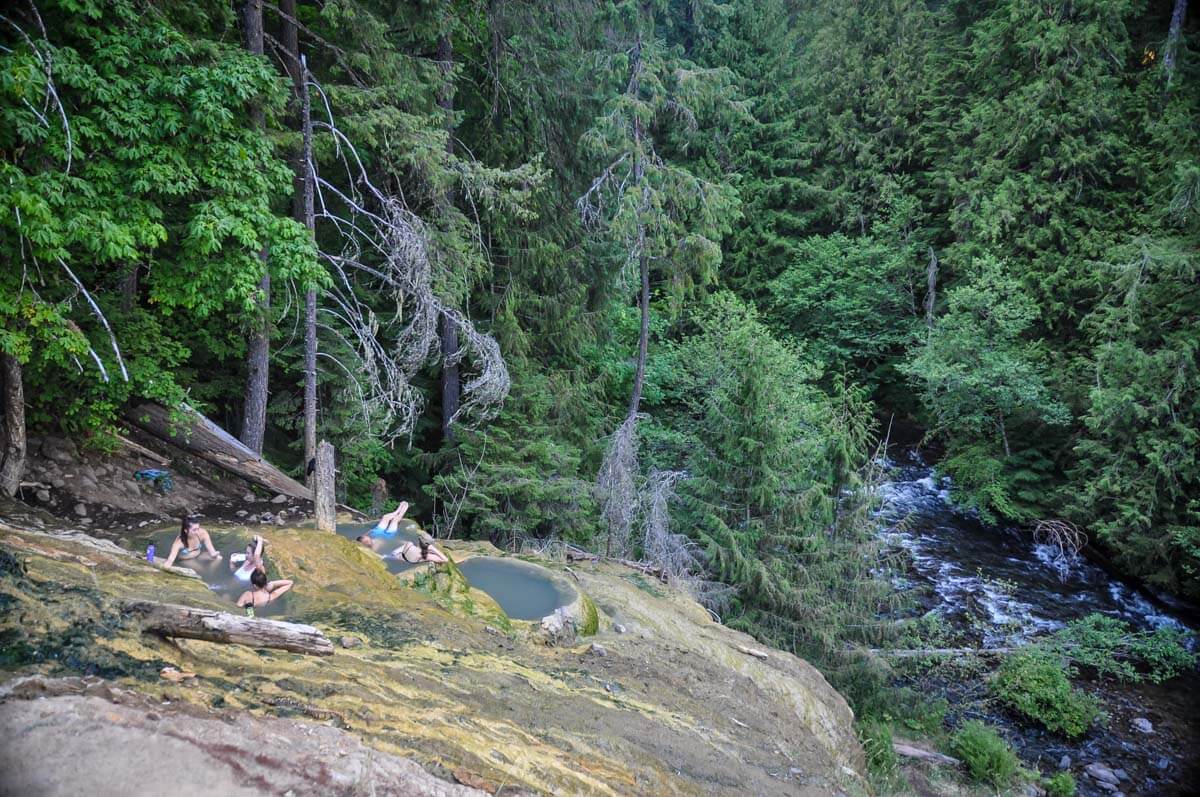 There's a good chance these hot springs have shown up in your Instagram before. There are a handful of pools big enough to fit 2 to 4 people. The hotter pools start at the top and they get cooler as the water flows down. As with all hot springs in the area, nudity is acceptable and to be expected. Just to give you fair warning so you don't feel uncomfortable.
We put together an entire guide to visiting Umpqua Hot Springs on our sister site, so you know exactly how to get there and what to expect when you do.
Watson Falls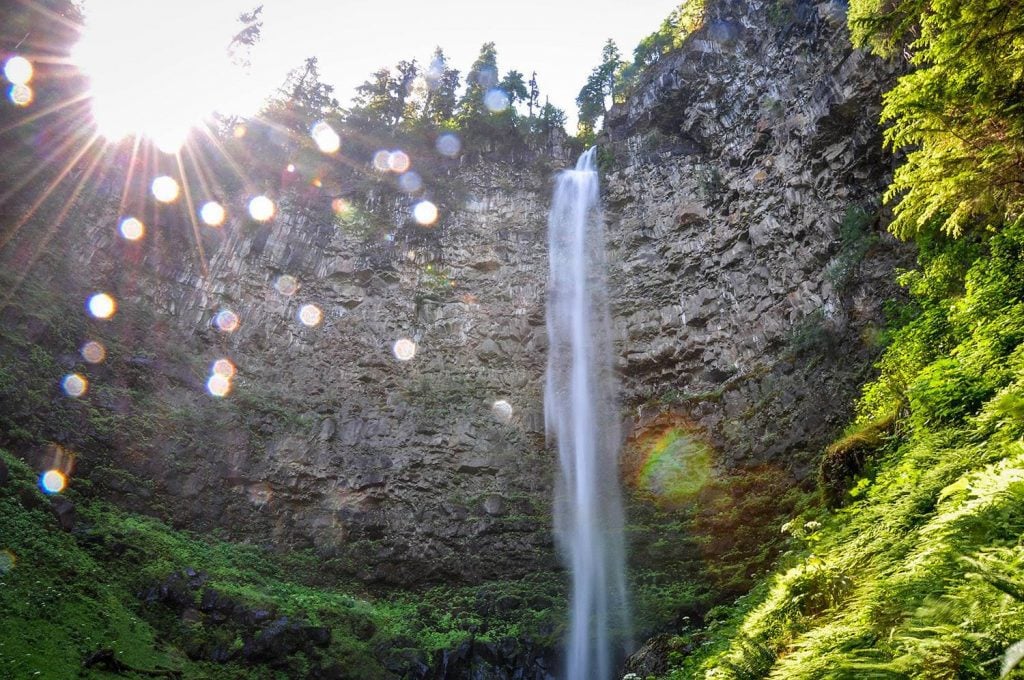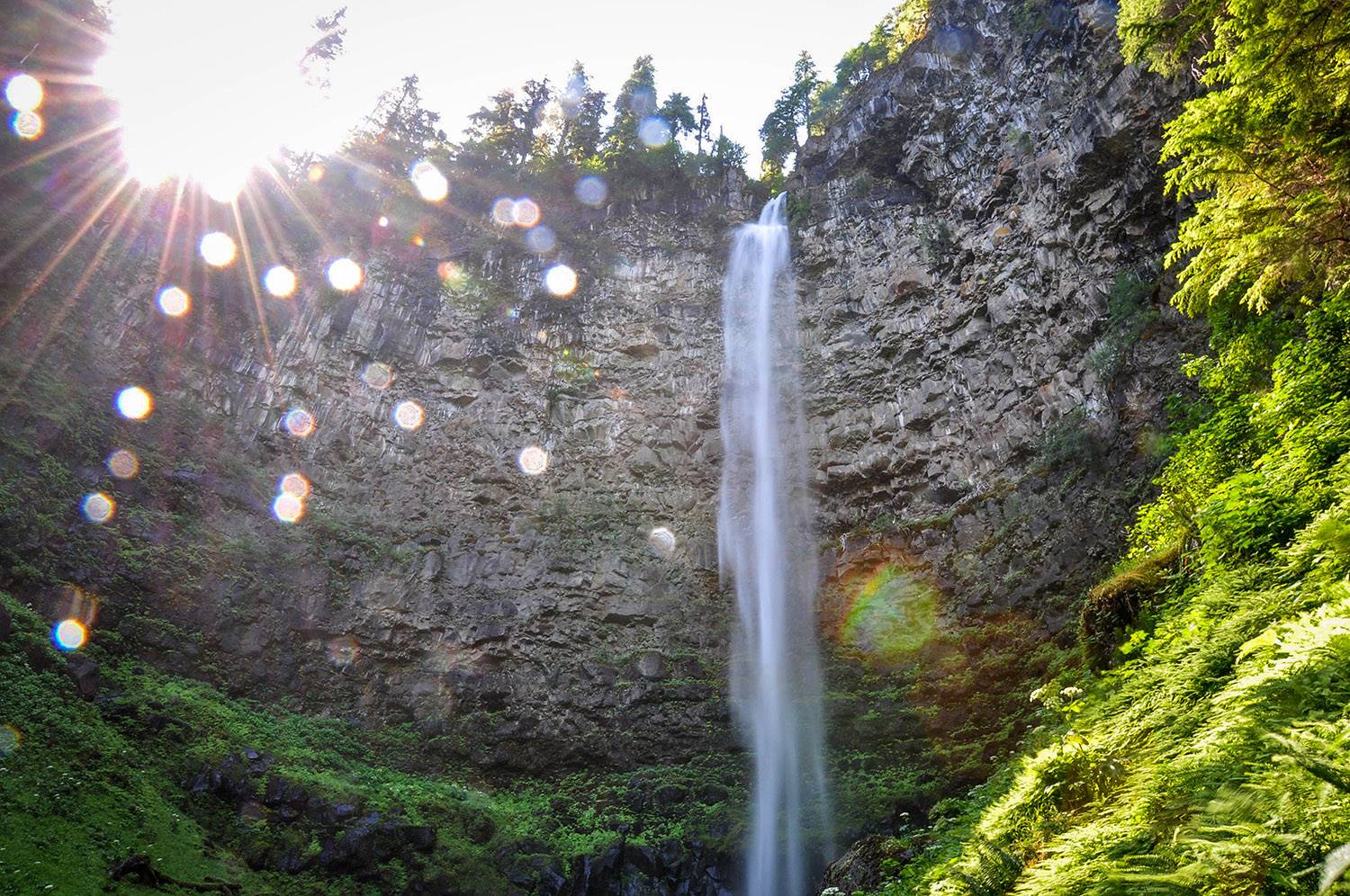 Not a far drive from Toketee Falls, Watson Falls is a nice 0.6 mile hike to a 272 foot waterfall. It's an easy walk with not too many people when we visited. The first part you walk by a mossy babbling creek that leads up to the towering waterfall. You get a whole lotta nature within such a short hike.
Insider Tip: There is a (free) dispersed campground with 5 spots called Lemolo Forebay 2. It is first come first serve and has a vault toilet. We've camped here twice and love this spot because it is tucked away from everything else and it is super peaceful. Oh, and did we mention it's free?! Just be sure to clean up after yourself, please.
Diamond Lake
Stop off at Diamond Lake for a view of the lake and the surrounding mountains. If you have time, you can drive 12 miles all the way around the lake or take a paddle boat out from the resort.
Where to stay in the Umpqua National Forest
Crater Lake National Park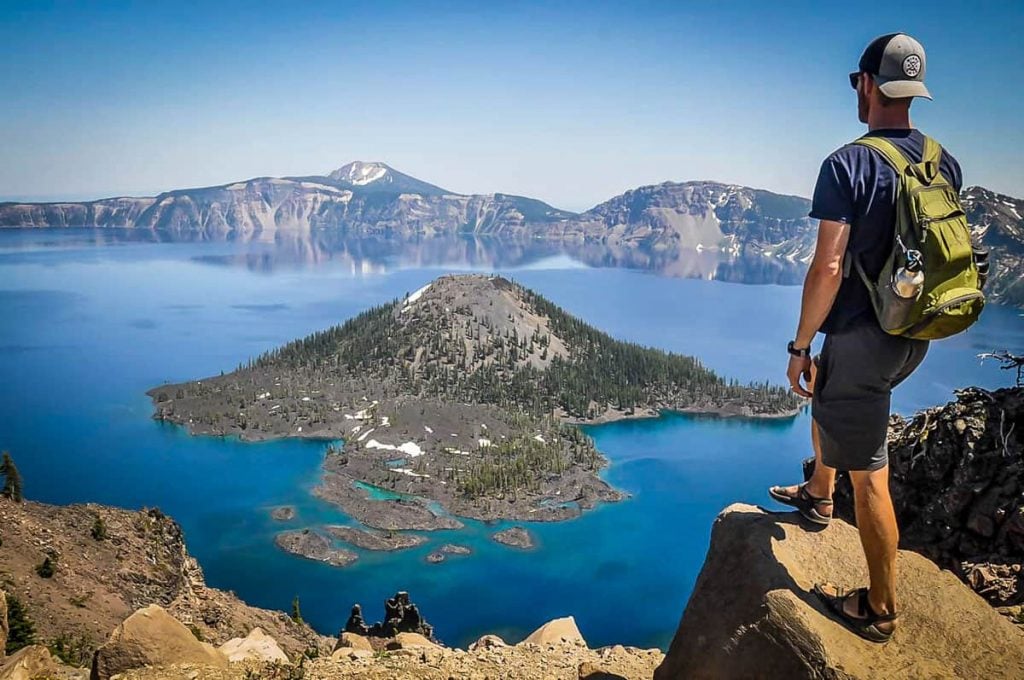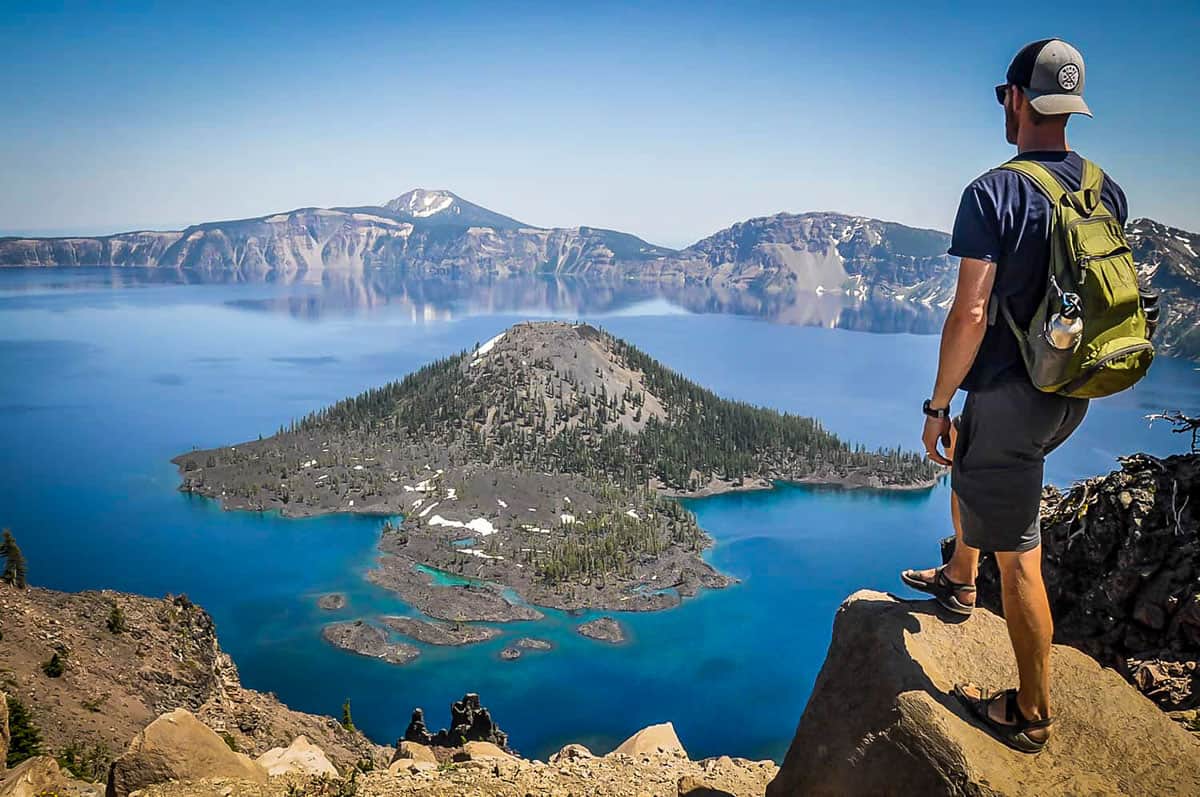 Between the deep blue color and the fact that this lake is inside a sleeping volcano, your jaw is sure to drop at the sight of Crater Lake. We think it's one of the more underrated National Parks in the United States.
With a depth of 1,949 feet (594 m), Crater Lake is the deepest lake in the United States and the 3rd deepest in the world (for average depth; 9th in the world for maximum depth). Crater Lake has been entirely fed by rainwater and snowmelt, and it's known for its unsurmountable clarity.
Visiting Crater Lake will surely be a highlight of your time in Oregon.
Things to do at Crater Lake
If possible, get here early as the summer crowds can make it difficult to find a parking spot.
Viewpoints – The Rim Village Visitor Center has a nice overlook of the lake, but I wouldn't say it was our favorite angle. Head to the east side of Crater Lake to Watchman's Overlook to get a good view of Wizard Island up close.
Hike to Watchman Peak – Only accessible in the summertime, the fire lookout at Watchman's Peak is our favorite viewpoint of Crater Lake. It's best in the afternoon or evening. It's a 3 mile hike round trip.
Swimming – Don't forget your bathing suit because you can take a dip in the waters, but it's only for the brave. Crater Lake water is only rain and snowmelt so it will be cold. You can hike down the Cleetwood Cove Trail to the boat launch and practice your cannonballs.
Bend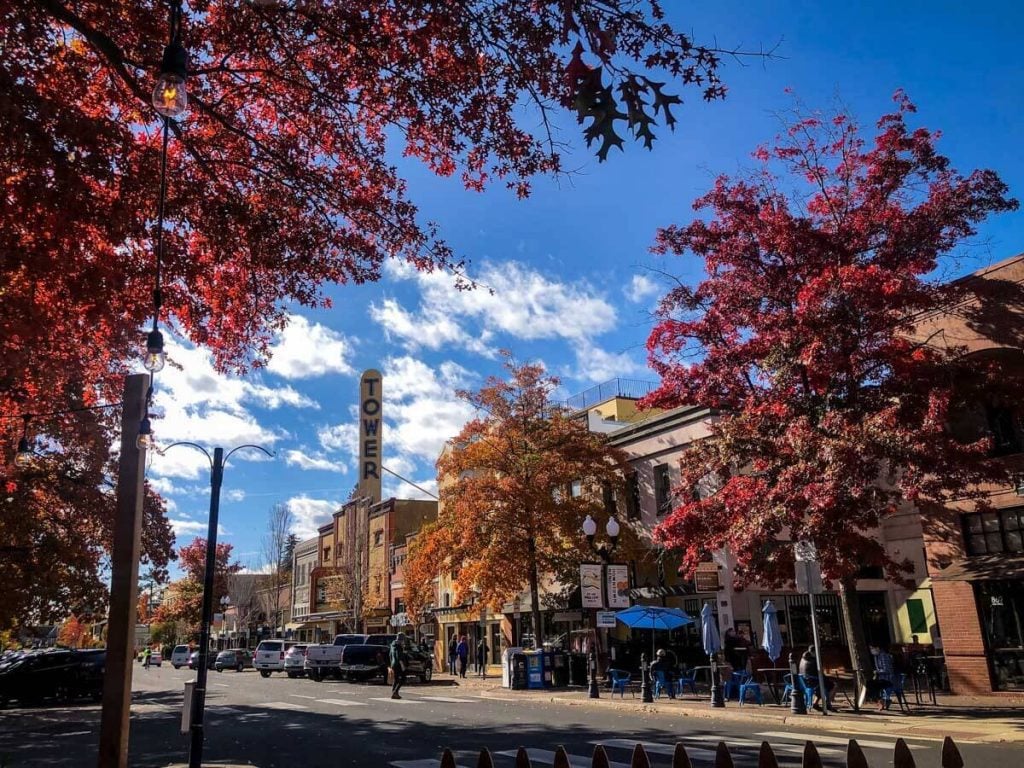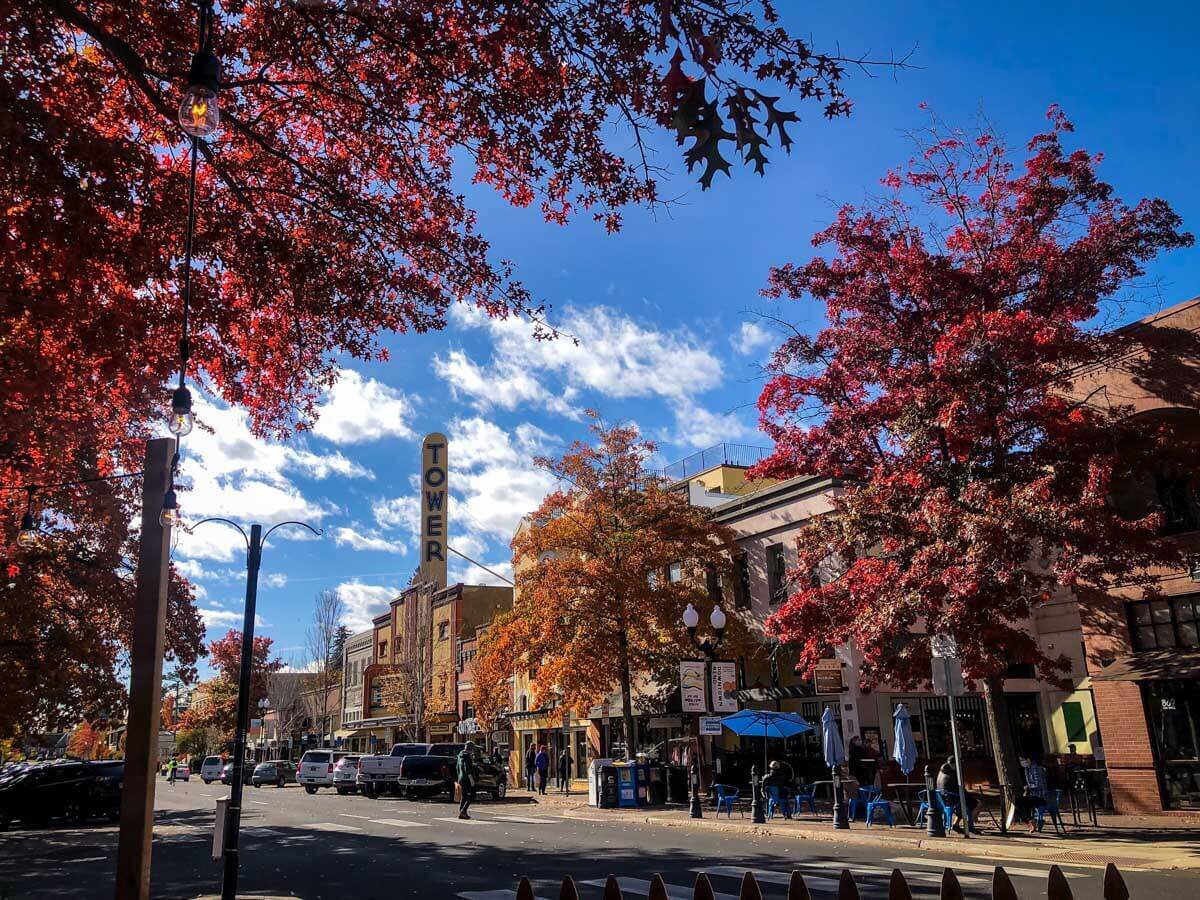 With close proximity to epic adventures as well as a fun and vibrant downtown, this mid-sized city in the heart of Central Oregon begs all types of travelers to fall in love.
Funny story… When we first wrote this article back in 2017, here's what the "Bend section" said:
"If we were going to move to Oregon, we would without a doubt relocate to Bend. Like, we've already talked about it and looked up real estate… It is the perfect size town (in our opinion) — not too big, not too small."
Fast forward a few years and we DID end up moving to this Central Oregon town in 2019.
There's a perfect brewery-to-green-space ratio, cute shops, healthy restaurants, yoga studios and a river that cuts through town. With plenty of outdoor adventures just outside the city limits, there's a lot to love about Bend.
Things to do in Bend, Oregon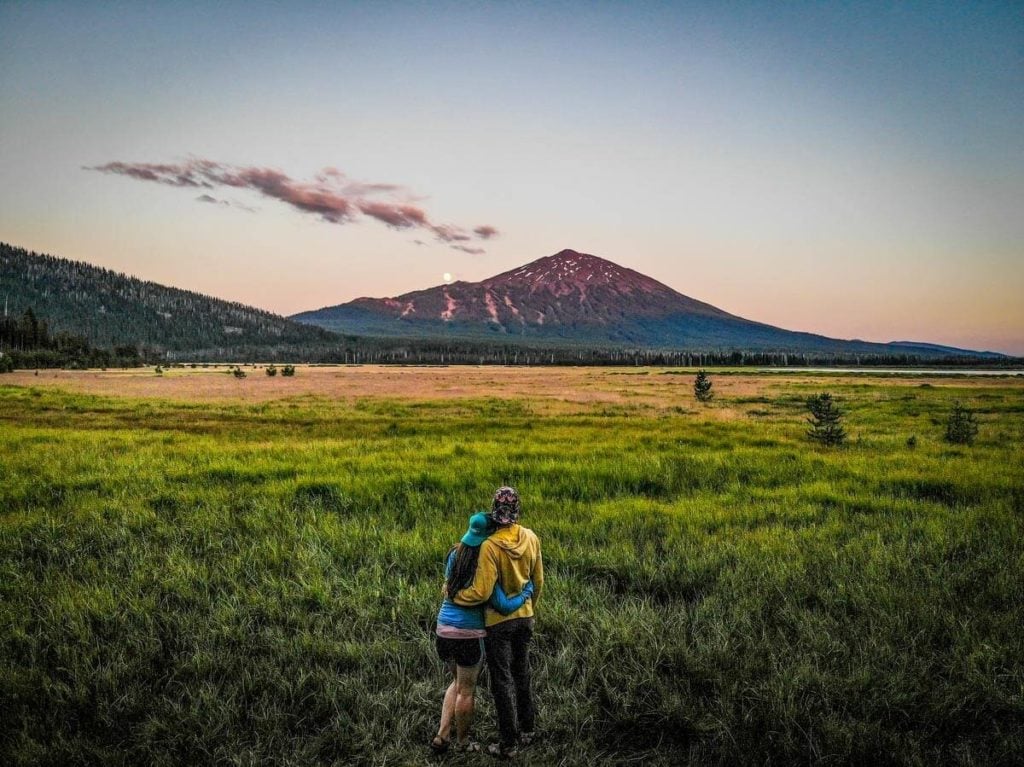 Being that this is our home base, we know Bend really well! Lucky for you, we put together a giant guide on all the fun things to do in Bend with recommendations on where to eat and stay, plus plenty of info about the town we now call home.
Here are just a few of our suggestions…
Grab a pint: There are loads of microbreweries scattered through town just begging for a brewery crawl. In fact, you can follow the "Bend Ale Trail" and win a prize.
Picnic at Drake Park: This riverside park is a beautiful place to take a stroll in the morning or hang out with a picnic.
Cascade Lakes Highway: Drive along this highway (open seasonally) and stop by some gorgeous alpine lakes.
Try an Ocean Roll from Sparrow Bakery: Just do it. Trust me. Thank us later!
Day Trip to Sisters: Sitting at the foothills of the Oregon Cascade Mountain Range, Sisters is the perfect launch pad for any adventure activities you want to do in the mountains.
Go hiking: There are tons of hikes near Bend, but here are a few stand out ones:

Broken Top Hike is one of our favorite hikes in Central Oregon (though it is a longer one)
South Sister Summit: If you're looking for a killer but super worthwhile hike, you can summit the third highest mountain in Oregon
Green Lakes Trail: Not too long or difficult, and beautiful lake views at the end

Visit Tumalo Falls: Just 12 miles west of the brewery-lined streets of downtown lies Tumalo Falls, a beautiful 97-foot waterfall in the Deschutes National Forest.
Where to stay in Bend
Smith Rock State Park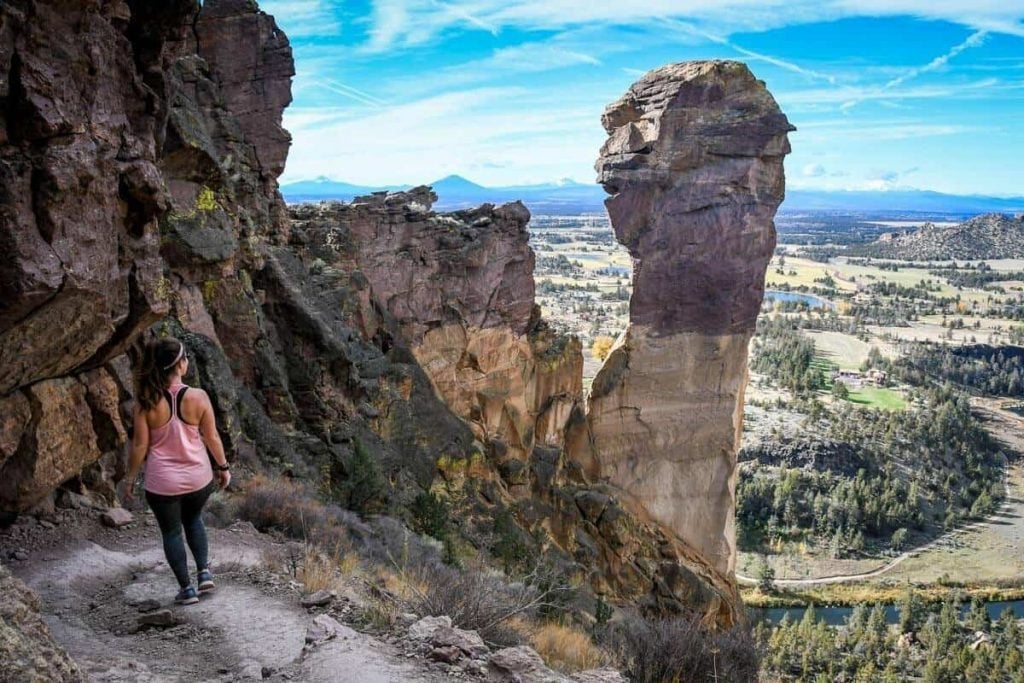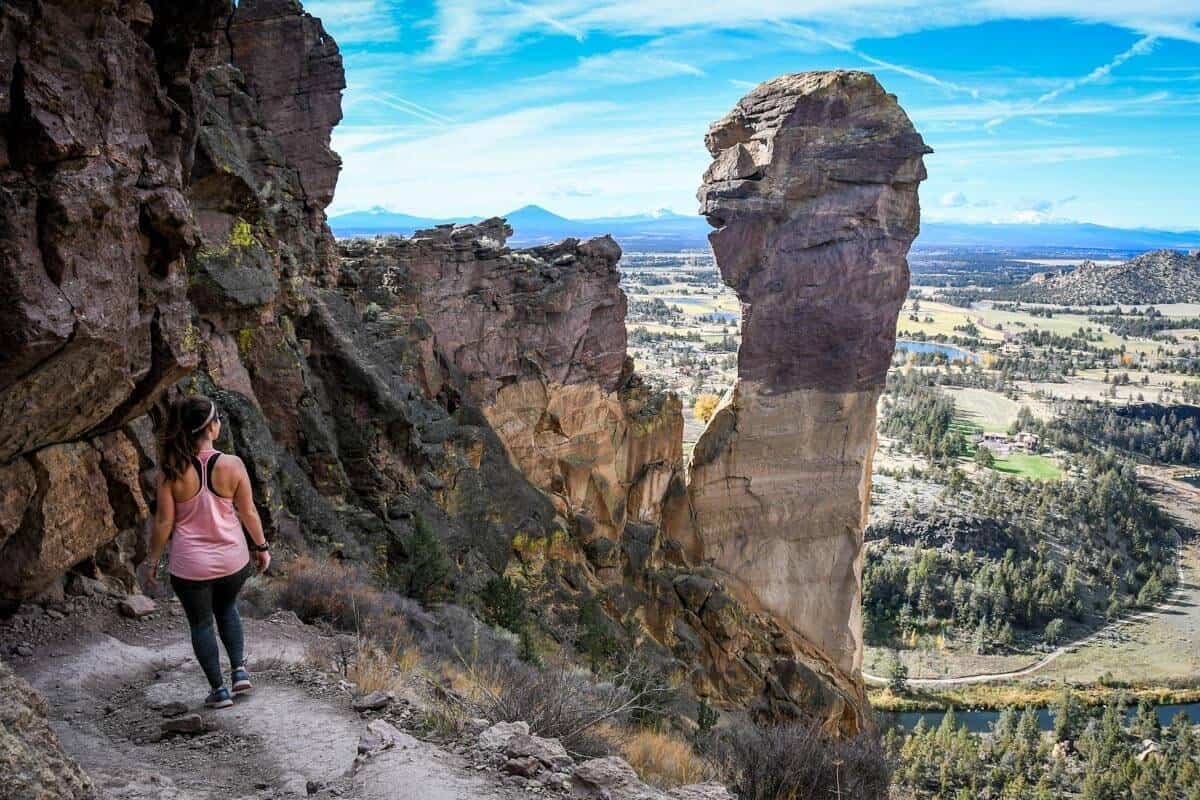 As you leave Bend and head north, you absolutely must make a stop at Smith Rock State Park. This is a rock climber's heaven (in fact, this is where sport climbing began in the USA). But it's also a great spot for both casual and avid hikers.
Smith Rock Hikes
If you're short on time or don't want too strenuous of a hike, follow the Crooked River Trail. If you want a more challenging trek, Misery Ridge is for you!
We have an entire guide to Smith Rock State Park with all of the information you need to plan your visit including more details on the best hikes in the park.
Mount Hood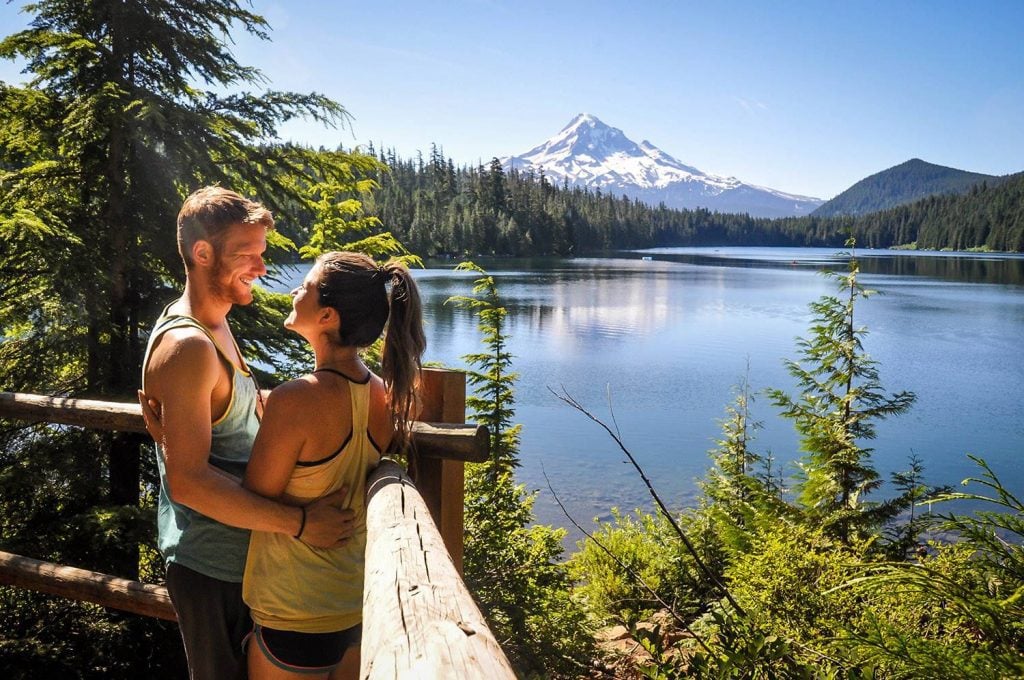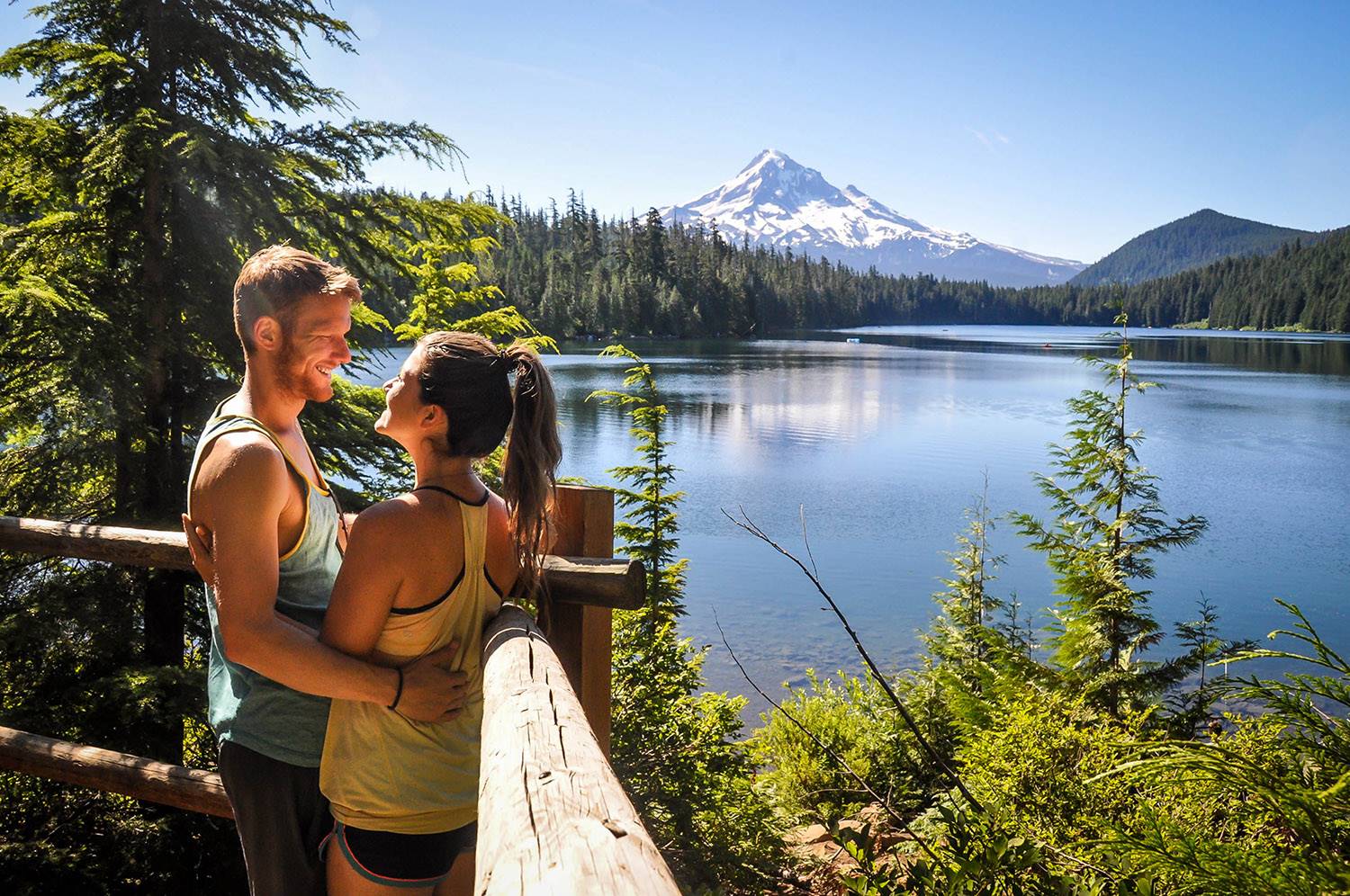 Named one of the 7 wonders of Oregon by the Oregon Tourism board, Mount Hood is certainly a sight to behold.
Whether you're passing through on your way to Hood River or you have a night or two to spend here, we recommend carving out some time to explore this area.
Things to do at Mount Hood National Forest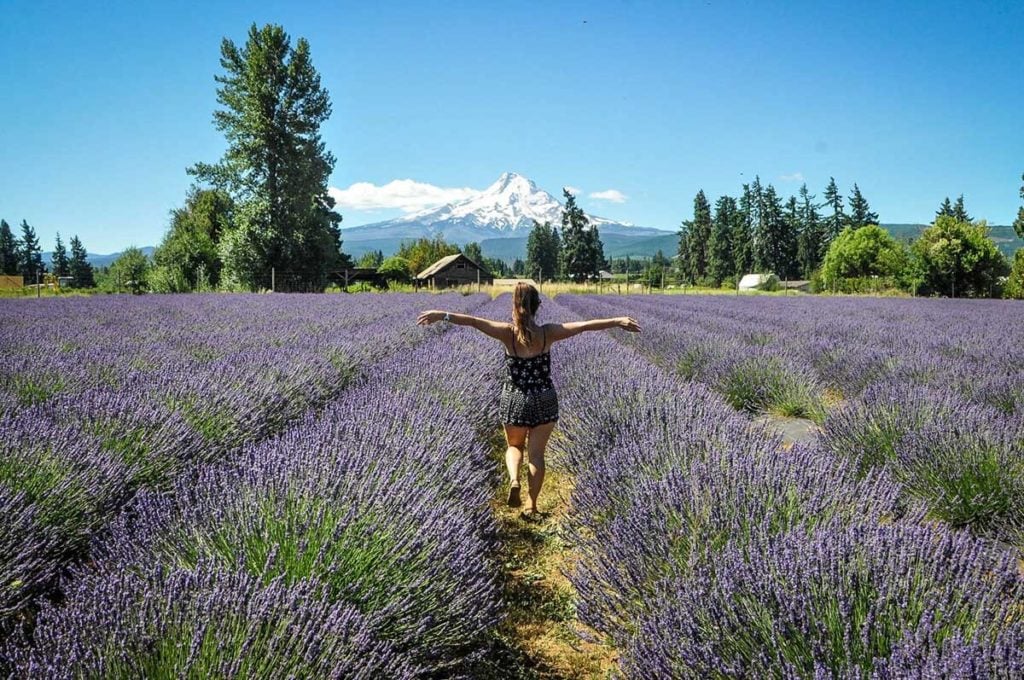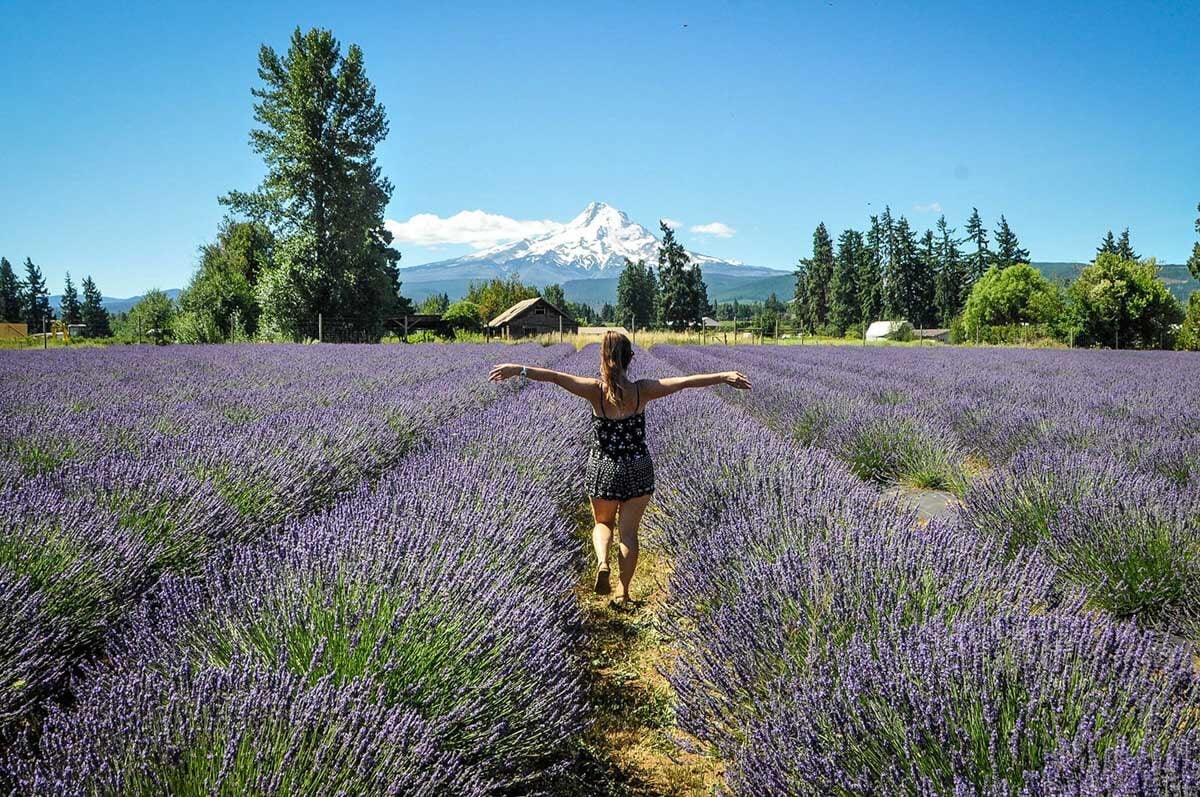 Get one of the best views of Mount Hood from Lost Lake, which is located deep in the Mt. Hood National Forest. Be sure to have a full tank of gas and preferably 4-wheel drive (we've done it before without 4WD, and it was a little rough!) You can spend the day there hiking around the lake or rent a kayak and paddle to the middle. There are plenty of cabins and campsites around too, but you'll have to book at Lost Lake Resort well in advance.
Go hiking! From epic trails where you can camp overnight, like Tom, Dick & Harry, to roadside trails that are well-worth the stop, like Tamanawas Falls, to the 42-mile loop that circumnavigates the mountain, known as the Timberline Trail, there are plenty of Mount Hood hikes for adventurers of all levels to choose from.
Stop by the beautiful Lavender Valley just outside of Parkdale, Oregon, to frolic in the fields of lavender.
Go skiing (any time of the year!). Mount Hood has the longest ski season in the United States, making it totally possible to get turns in January or on the Fourth of July!
Sample the local brews at Mt. Hood Brewing Co.

Tip: The America the Beautiful Annual Park Pass covers entrance fees to over 2,000 Federal recreational sites (including Mt. Hood National Forest!) as well as all the US National Parks. You could save a lot of money on entrance fees if you are planning to visit multiple parks in the upcoming year.
Hood River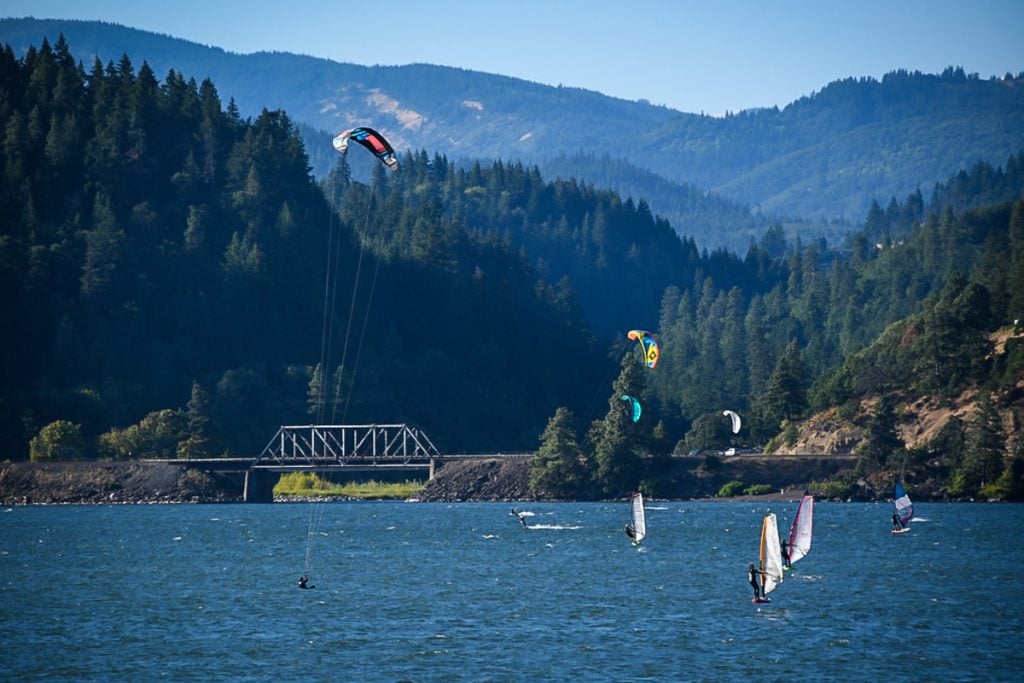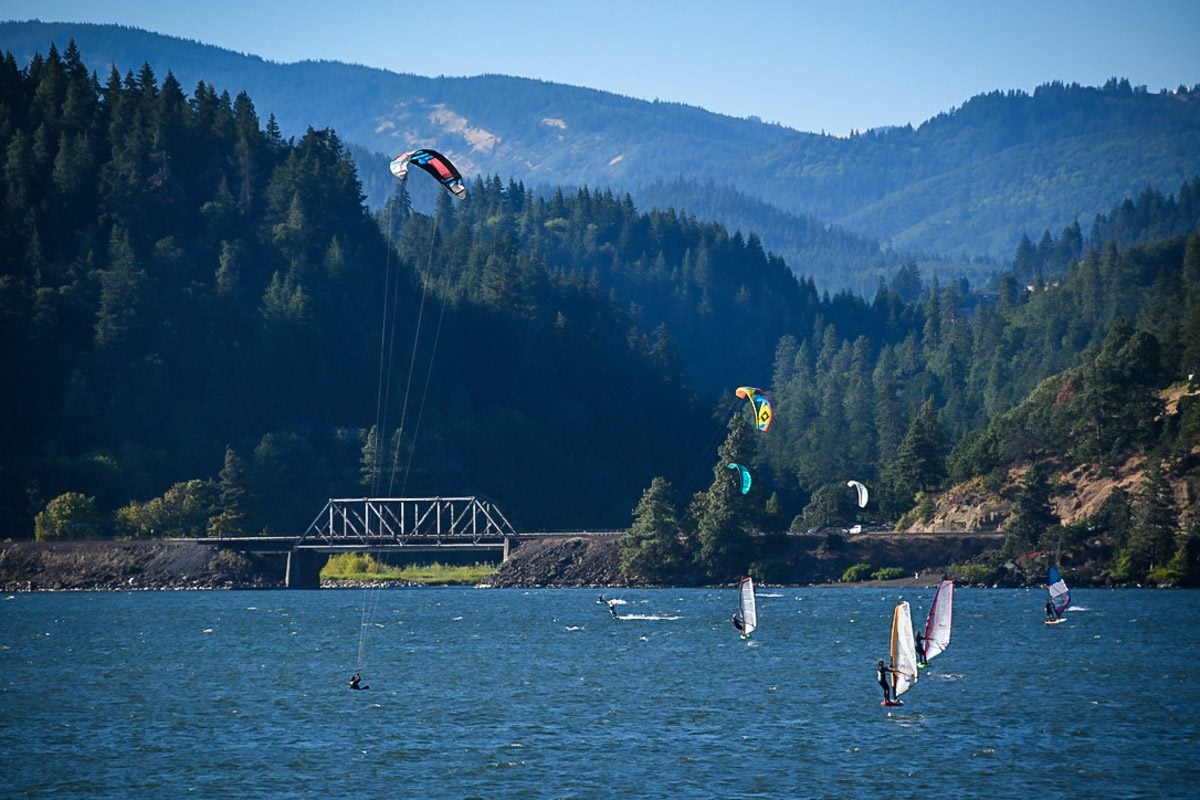 This adorable town situated on the Columbia River is a perfect mix of laid back vibes with plenty of things to do.
In fact, we're getting ready to publish a big 'ol guide to the best things to do in Hood River, but if you want a taste of the highlights, see our list below.
Things to do in Hood River
Psst! Check out our complete guide with all the fun things to do in Hood River to help you plan your trip!
Where to stay in Hood River
Columbia River Gorge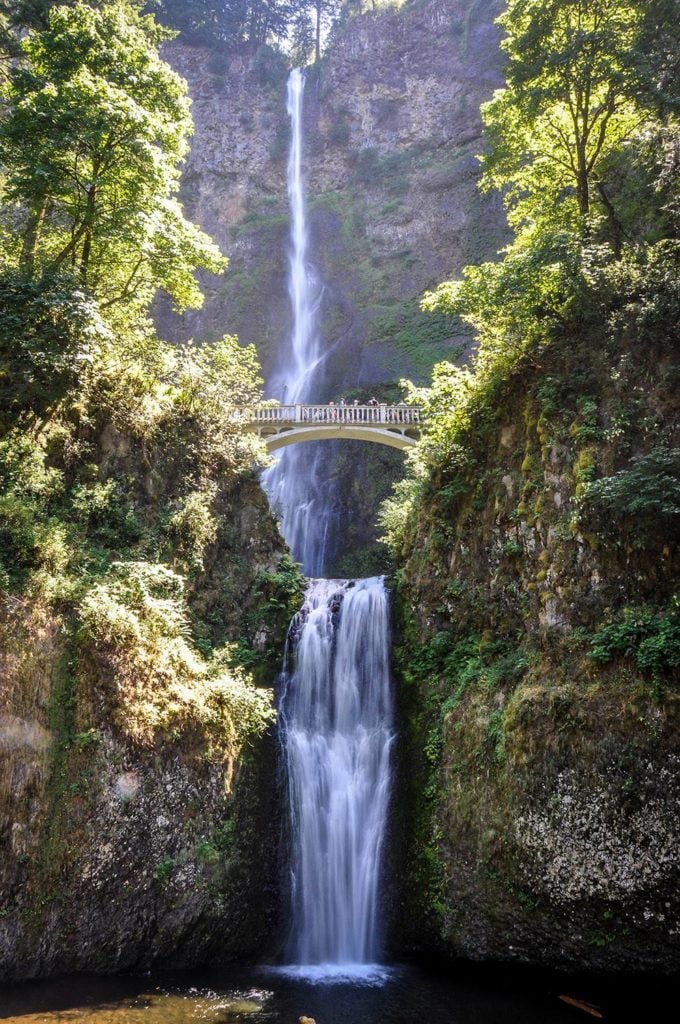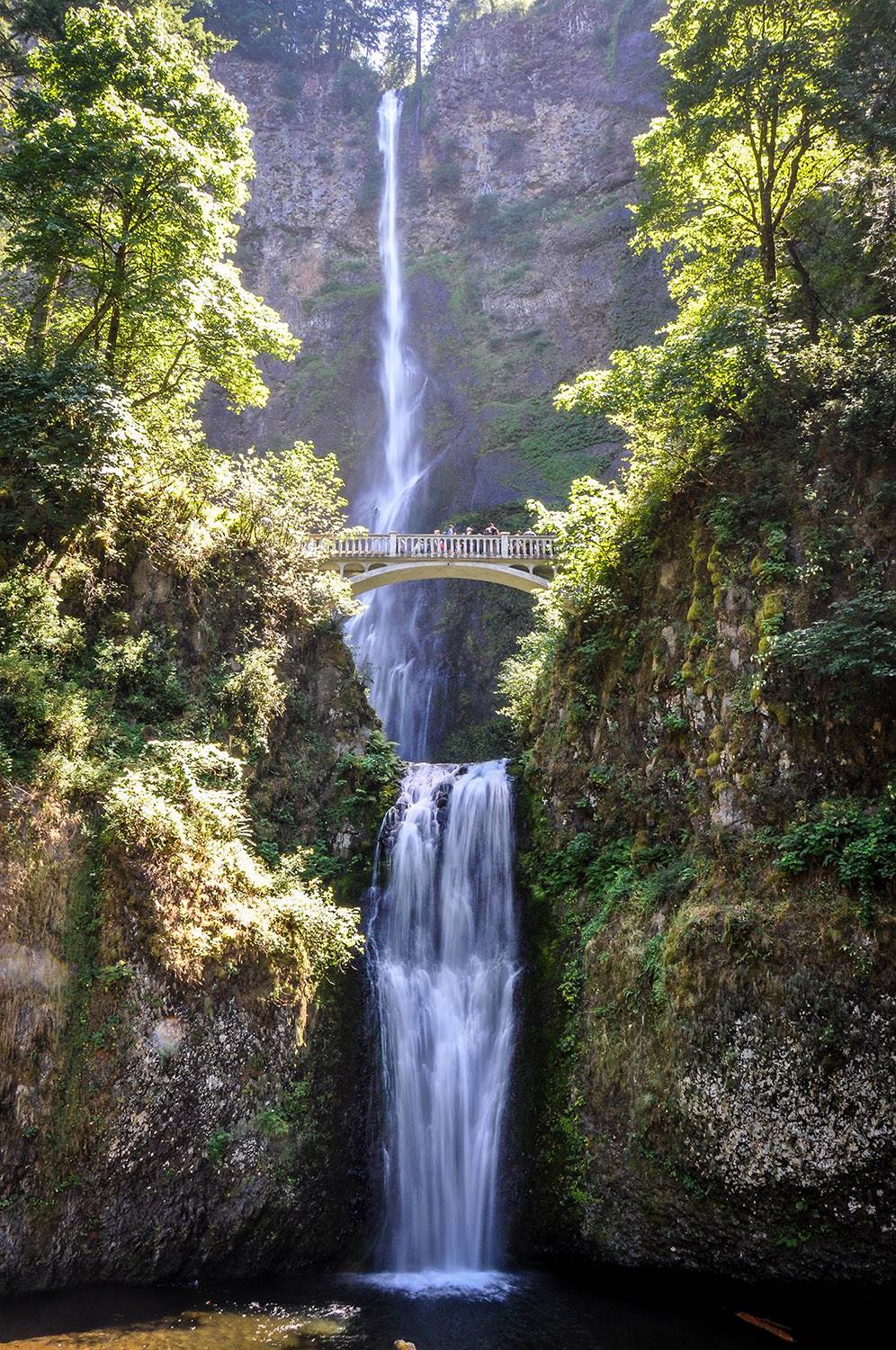 Less than 20 miles east of Portland, the Columbia River Gorge stretches over 80 miles through a canyon reaching up to 4,000 deep in places as it winds along the Columbia River, following the Oregon/Washington border. This stretch of canyon has been designated a National Scenic Area and is the largest in America.
Known for its high concentration of waterfalls—the Gorge has over 90 on the Oregon side alone!—it's one of the best places to see waterfalls near Portland.
Note: To enter the Gorge, you'll need to purchase a Northwest Forest Pass for $5 for a daily entry, or you can gain access to the national scenic area using your America the Beautiful Annual Park Pass.
Things to Do in the Columbia River Gorge
Road-trip along the 70-mile Historic Columbia River Highway, stopping to take in scenic viewpoints (including roadside waterfalls!) along the way.
Stop at the 100-year-old Crown Point Vista House observatory for ahhh-mazing views
Visit Multnomah Falls, the tallest waterfall in Oregon, where you can simply marvel and take photos or embark on a short hike.
Hike the Oneonta Gorge Trail through slot canyons and waist-deep water to Lower Oneonta Falls.
Watch the seasonal salmon spawn, swimming from the ocean and heading upstream.
Take a river cruise and sample local craft beer and delicious pizza in Cascade Locks.
Bandon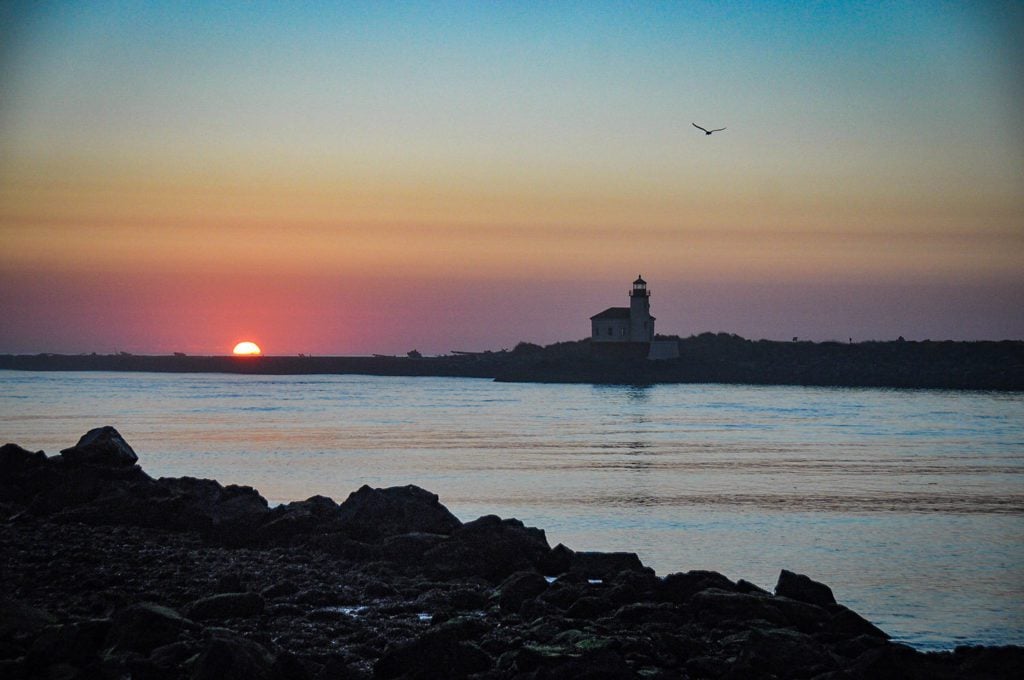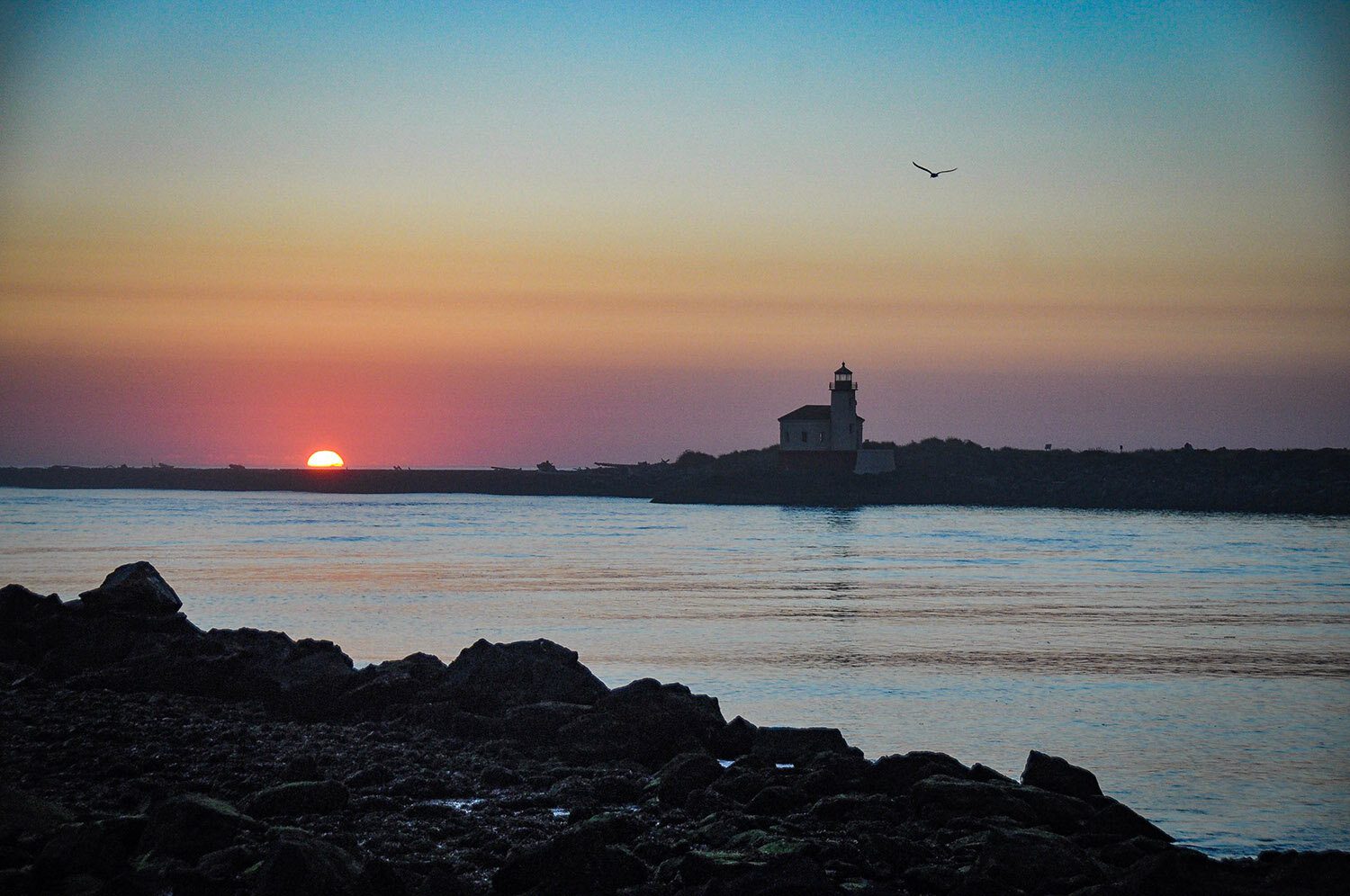 With just over 3,000 residents, this tiny oceanside town is a picturesque and laid-back place to stop during a road trip along Oregon's coast.
Wander past cute shops on the main street, enjoy amazing seafood and see a unique art exhibit that will both disgust and inspire you.
Things to do in Bandon, Oregon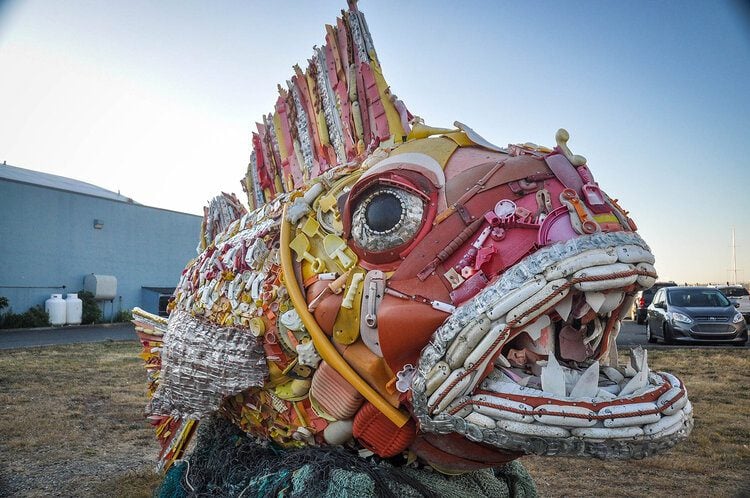 Samuel H. Boardman State Scenic Corridor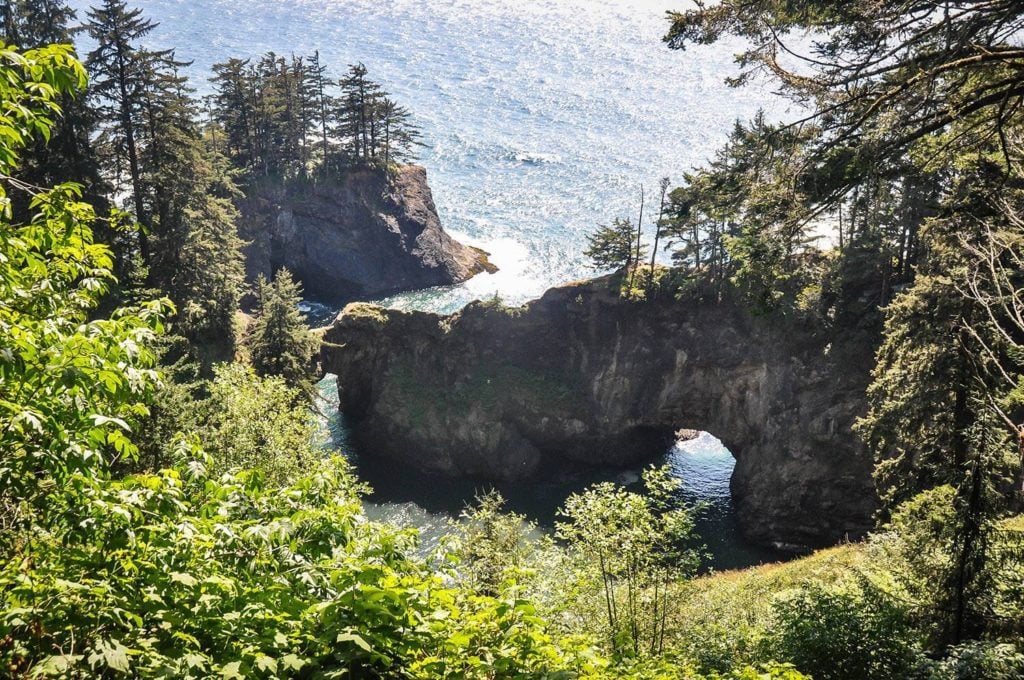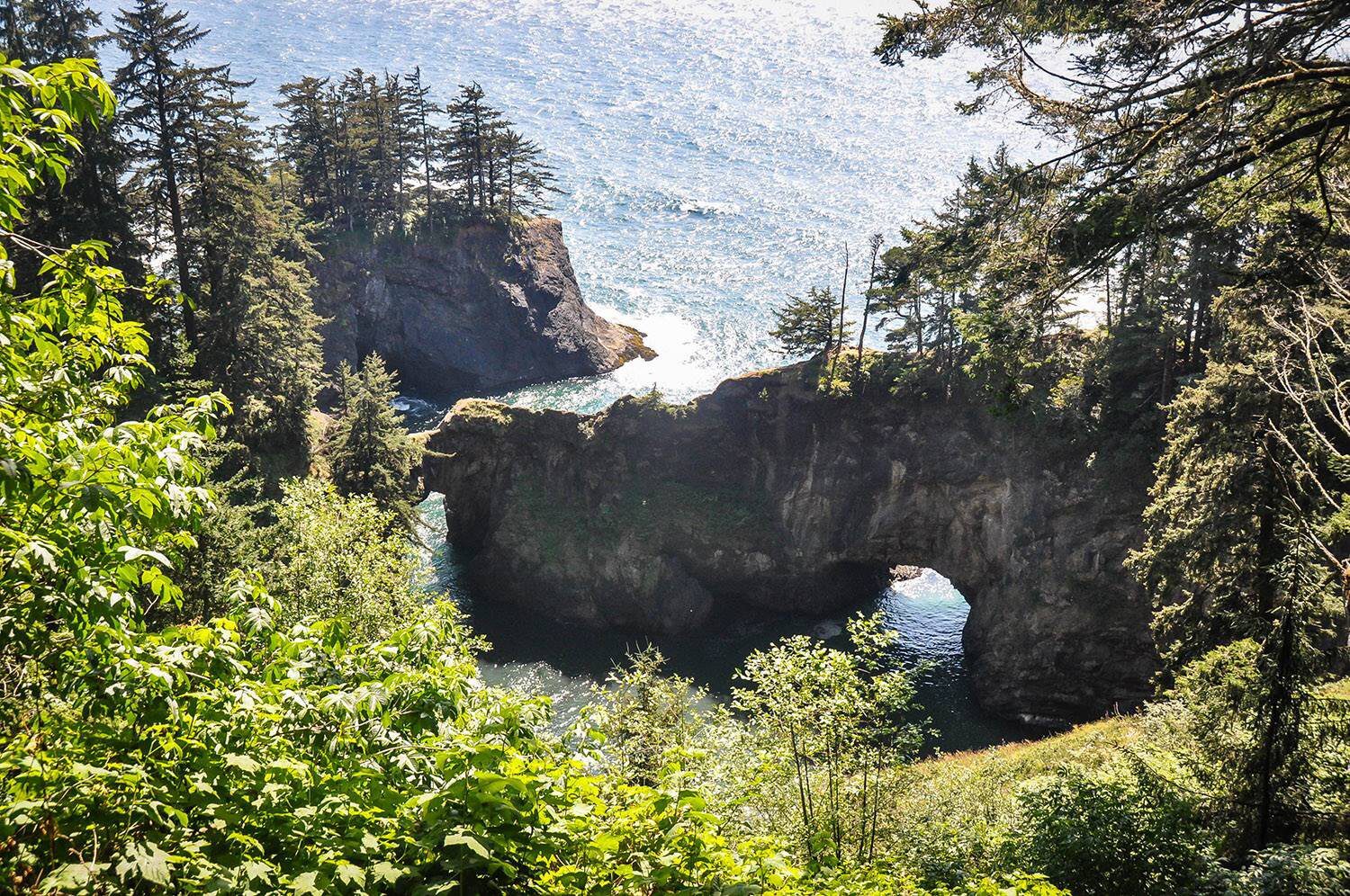 Just across the border from California, lies Samuel H. Boardman State Scenic Corridor, which is well worth a stop if you find yourself in the south of Oregon.
With interesting sea stack rock formations and hiking trails, you can easily spend a day getting lost in the beauty before your eyes.
There are many turnouts, some with parking lots, that are worth stopping at. The Natural Bridges is a short hike with some pretty spectacular views. Secret Beach is a short hike down to the sandy beach when there is low tide. The trailhead for this is just north of Miller Creek on Highway 101.
Ashland
This city in southern Oregon is known for its Oregon Shakespeare Festival, which attracts nearly 400,000 people annually. If you will be taking your road trip between late April through December, we'd highly recommend passing through here to check out the festival.
And if you're not a huge fan of Shakespeare, don't worry. The plays are not limited to just those of Shakespeare – in fact, there are many contemporary works as well as Shakespearean dramas, performed on 3 different stages throughout the 8-month event.
Alvord Desert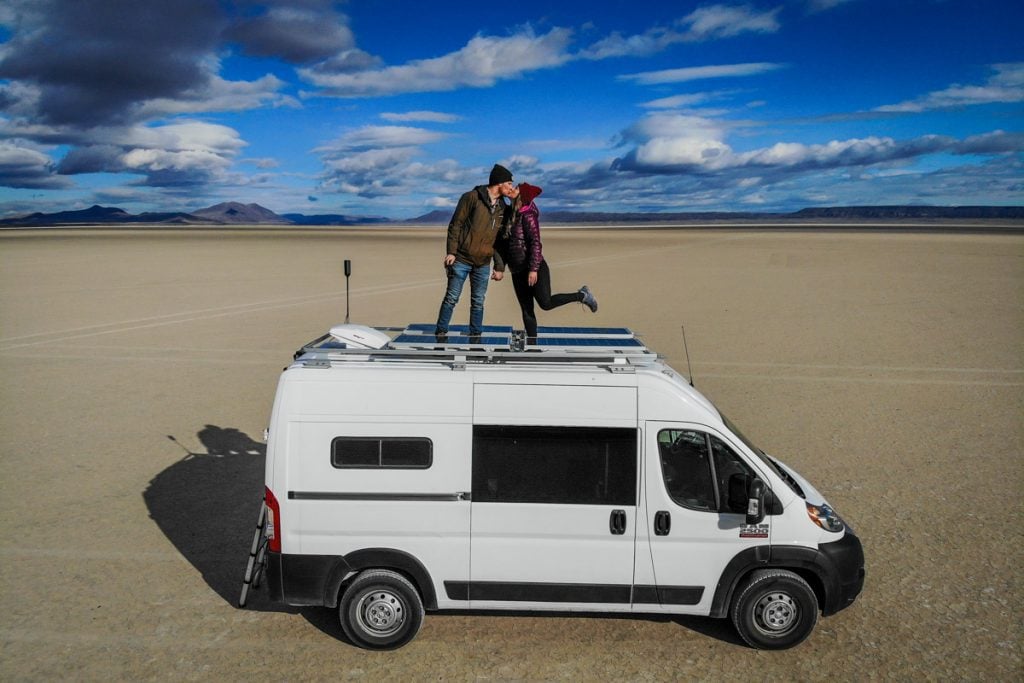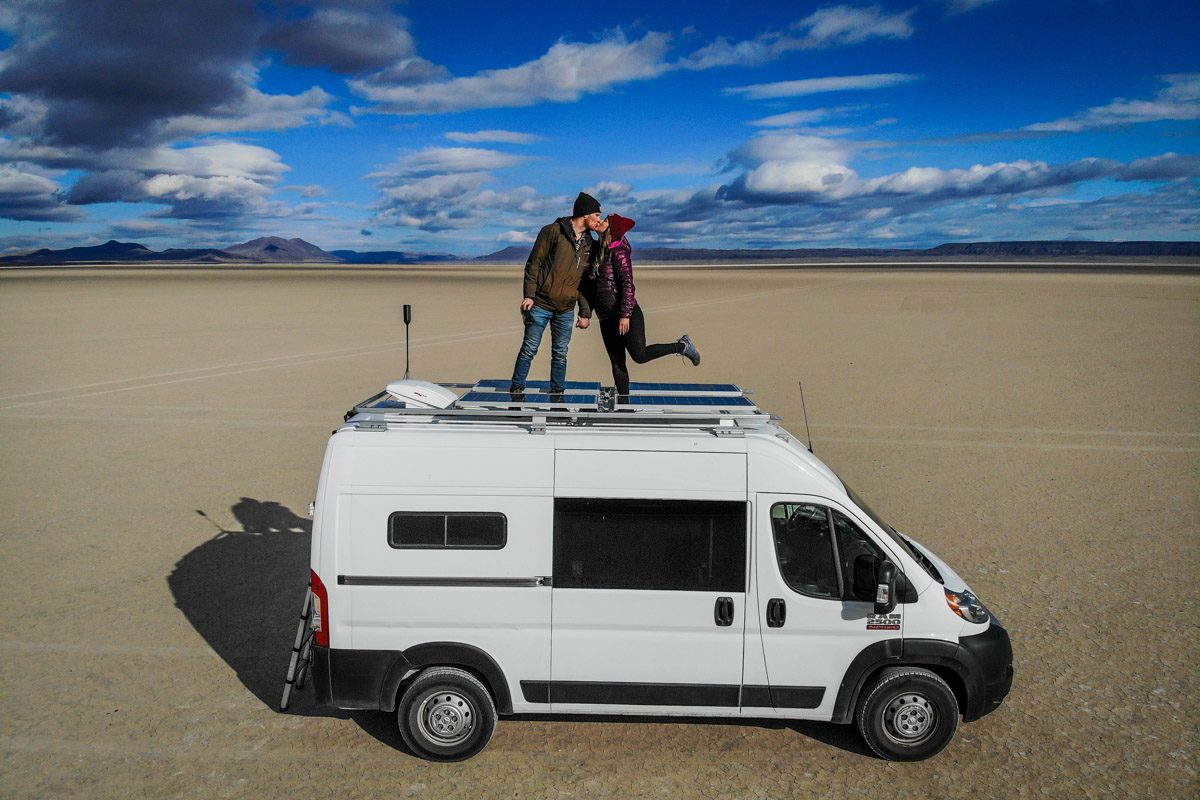 Located in the southeastern part of the state, this is one of the most interesting and unexpected geographical landscapes in all of Oregon. (And that's saying something!)
The massive dry lake bed known as the Alvord Desert will have you feeling like you've driven straight out of Oregon and landed on another planet entirely. Often referred to as "the playa", the expanse of cracked earth extends for miles and is a popular destination for outdoor adventure-seekers.
Things to do in Alvord
Go camping! It is BLM land, so you can technically park your van or pitch your tent anywhere on the playa. Just know you will need a self-contained vehicle, unless you want to stay near the Frog Spring access point, which has a drop toilet for public use.
If you like hot springs, Willow Creek and Alvord Hot Springs are worth a visit.
Stop at Fields Station for a killer (and huge!) milkshake.


Are you planning a trip to Oregon?
Being that Oregon is our home state, we have TONS of content to help you plan your trip. Start with our Oregon Homepage and be sure to check out the articles below. Leave us a comment if you have any more questions!
Save this article on Pinterest for later!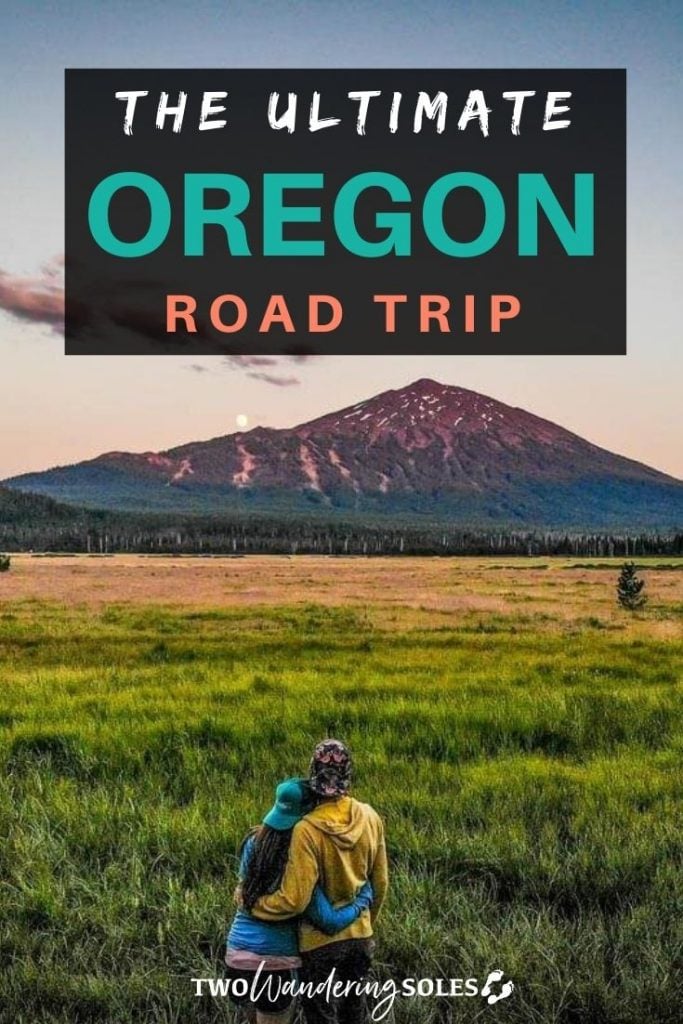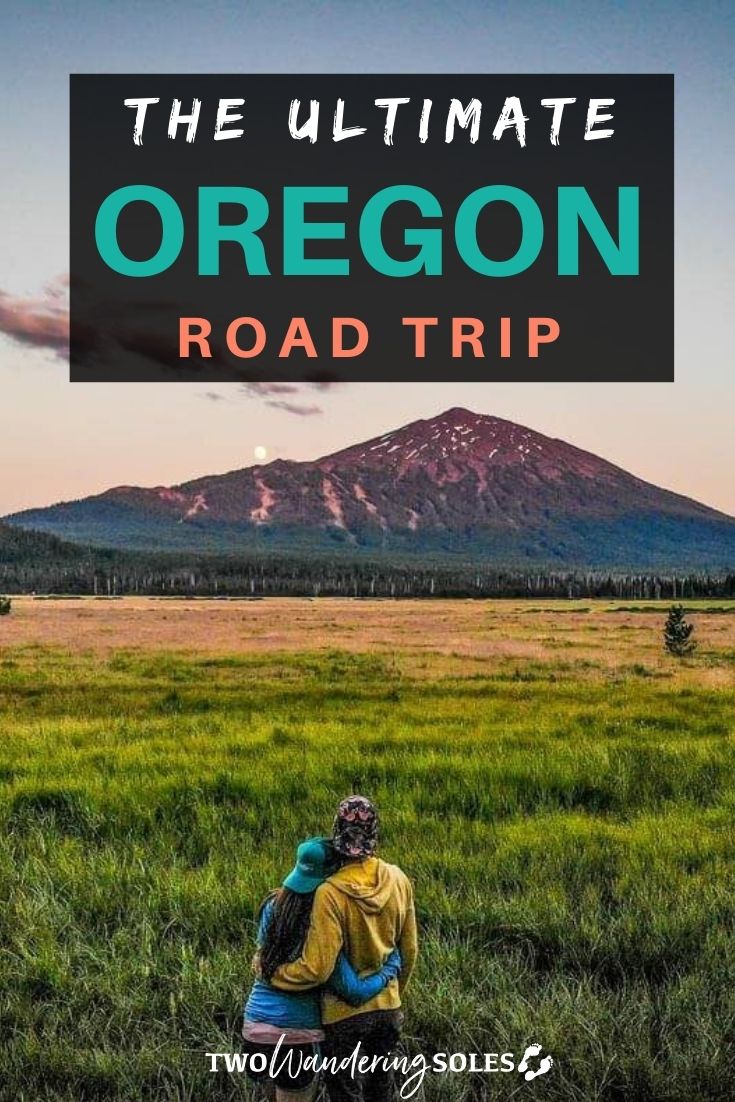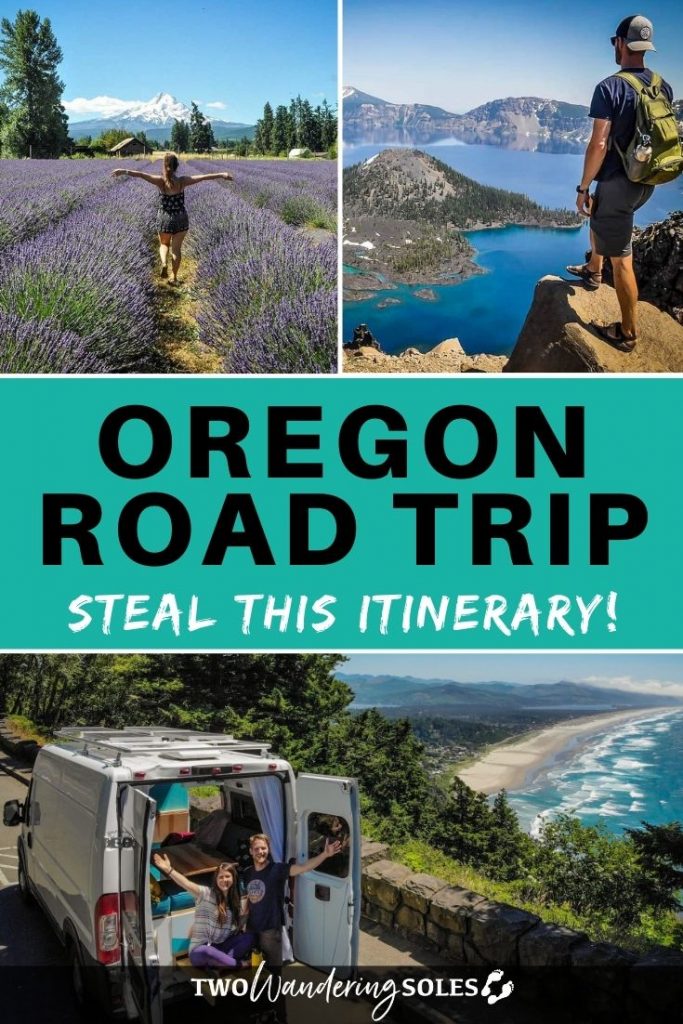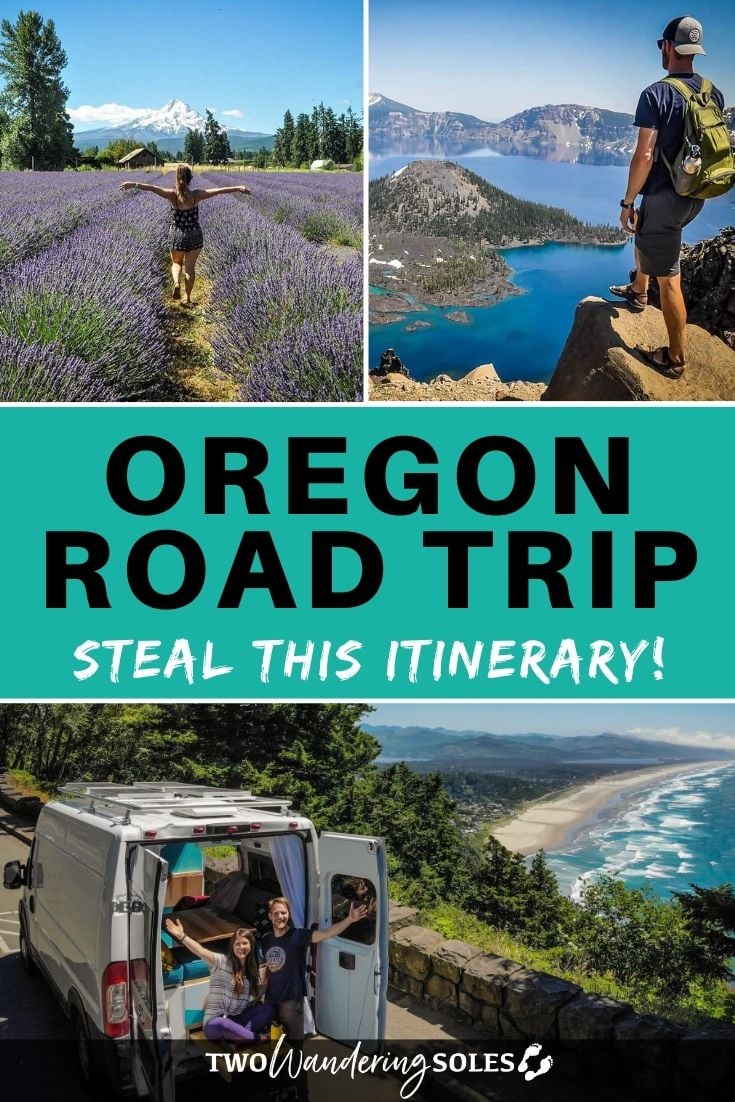 We want to hear from you!
Are you ready for your Oregon road trip? Where are you planning to go? Would you add anything to our list? Let us know in the comments below.