One of our all time bucket list trips is driving the Great Ocean Road in Australia. We called upon a guest blogger to share his itinerary and tips for exploring the lesser-known gems of Australia's southern coast on this epic Australian road trip.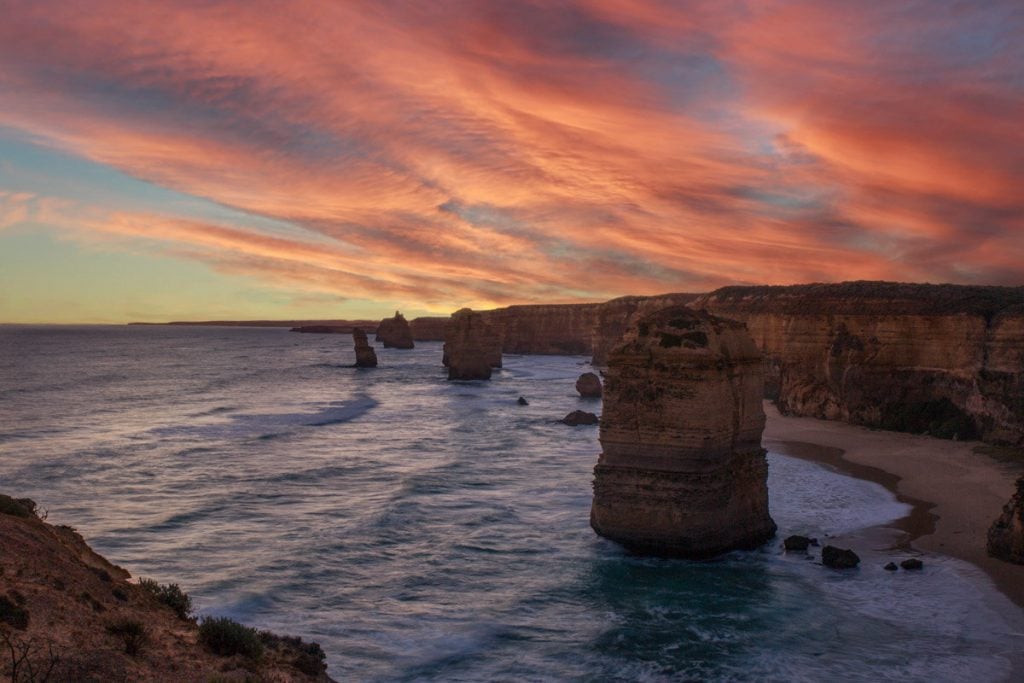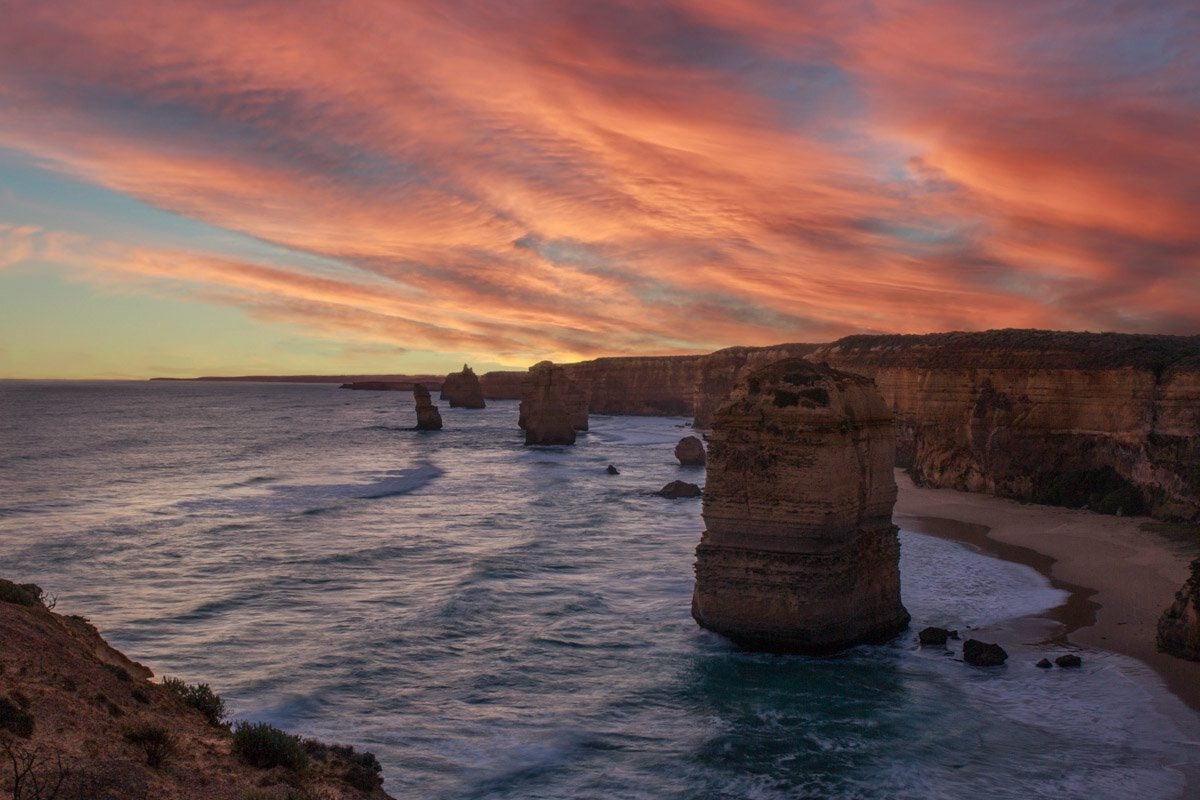 Written by guest author: Jonathan Burke
A road to adventure calls out, tempting the explorer in all of us. A coast unrivaled in its natural treasure sits at the bottom of Australia. Waiting for you to seek out the beauty it holds.
One of my favorite travel memories is of the time my friends and I rented a campervan and set out driving the Great Ocean Road in Australia. A posh Brit, elegant cook, party animal, handsome devil, and photographer jumped in a camper van and set off. The plan was to drive along the coast down to Melbourne, explore the Great Ocean Road to Adelaide, then shoot straight back to Sydney.
With 5 grown adult men in one van, the trip was bound to get interesting. We had such a good time exploring the lesser-known gems of Australia's southern coast, I wanted to share our itinerary and tips for replicating this epic Australian road trip.
Article contents
---
Great Ocean Road Route at a Glance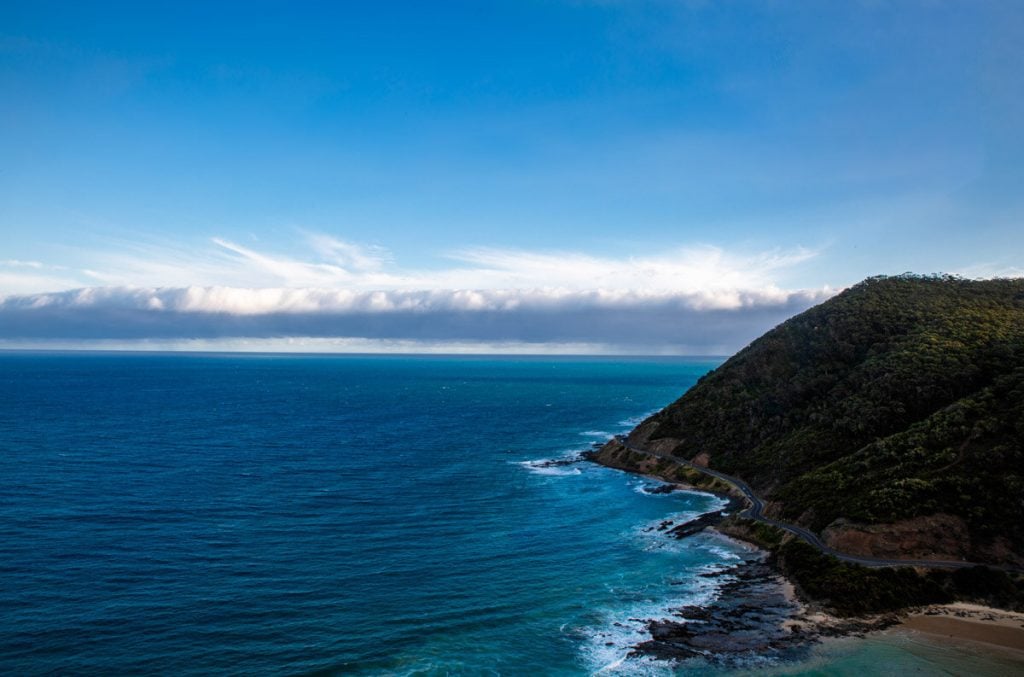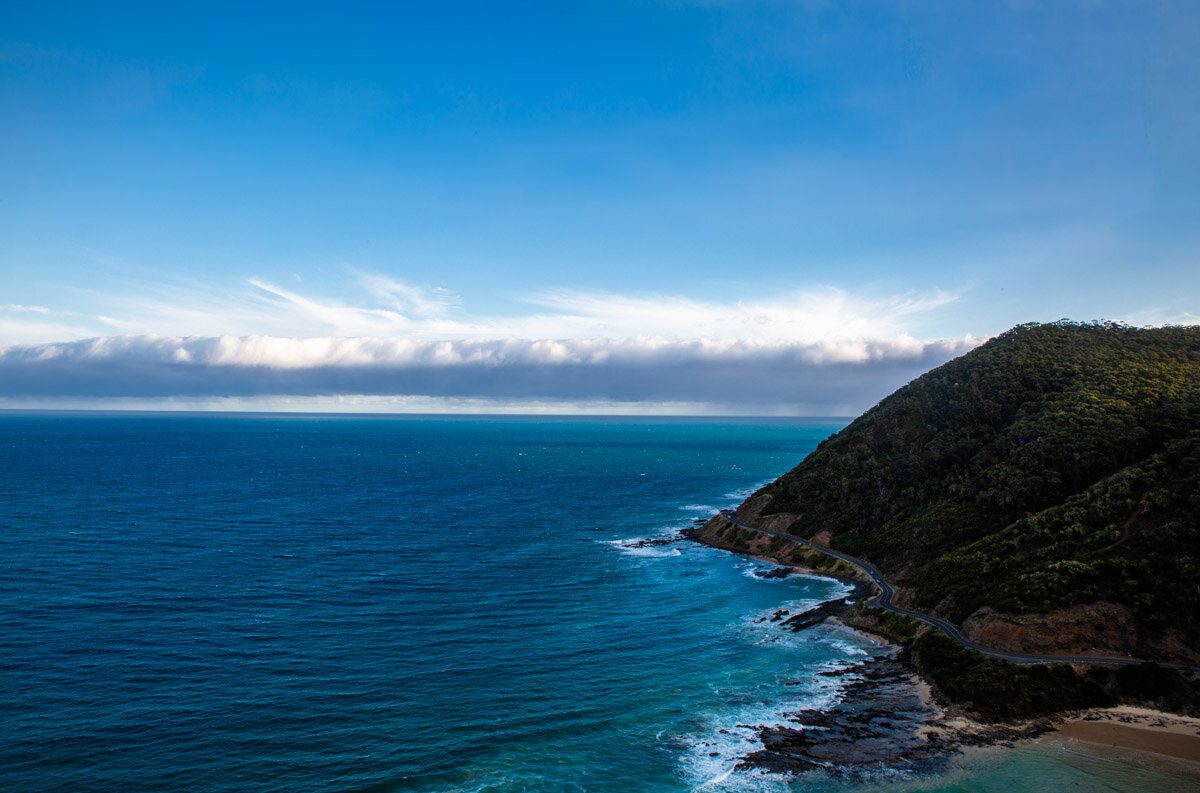 The Great Ocean Road officially starts south of Melbourne in Torquay and ends in Allansford, Victoria. Stretching a total distance of 151 miles (243 km). The major stops along the road are Bells Beach, Otway National Park, and the famous Twelve Apostles. There are no photos that give the road the justice it deserves, so be prepared to be blown away by the curves this road has to offer.
Before we found ourselves cruising along the Great Ocean Road my friends and I spent 4-7 days of our road trip navigating the road down from our starting point in Sydney and exploring Melbourne. This Itinerary starts off with some tips on our favorite 42 Wallaby Way destination. (Side note: this address from Finding Nemo is not real, do not try to find it.)
But first things first…
How to choose a campervan rental in Australia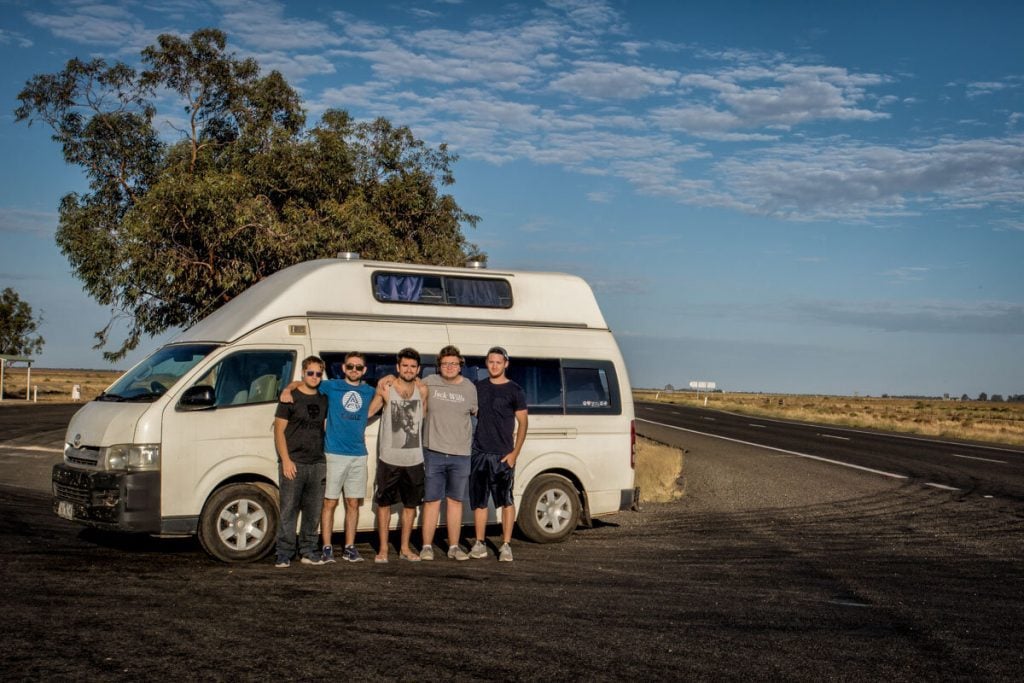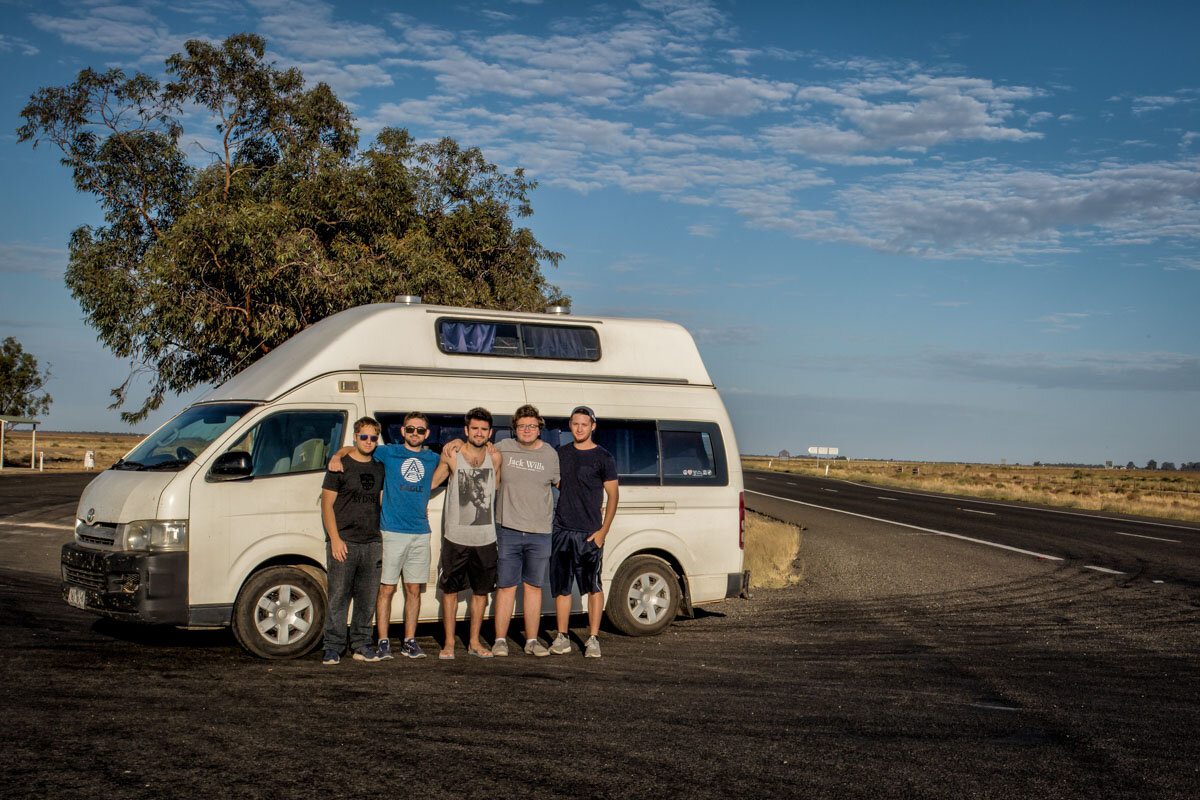 When my friends and I planned our Great Ocean Road itinerary, we knew a campervan rental was the way to go. Campervans are the most cost-effective way to explore a country especially if you are going to be driving to most of the locations.
Psst! Katie and Ben here – you probably already know we traveled around New Zealand in a campervan for 5 weeks and it was one of our favorite experiences to date!
In the long run, a campervan will be cheaper than the combination of renting a car and staying in a hotel/hostel, while also giving you the flexibility of making your own schedule instead of being forced to stick with a tour group. The campervan's dual ability to be your ride and bed allows for an unparalleled degree of power in planning out your route.
When looking for a campervan rental, a strong recommendation is to pick a van that can sleep the number of people you are traveling with, trying to squeeze in extra people may help with budgeting but lead to problems with comfort and available seat belts.
Another factor to consider is the height of the roof, depending on how tall you are you may prefer a van with a raised roof or high top so you can stand comfortably inside.
Key campervan components are making sure it has a table, sink, refrigerator, heat, A/C, and a cooking mechanism. Larger vans may be equipped with a stove while the smaller ones may have a small gas grill that can be placed on a small counter.
We decided to go with Travellers Autobarn Campervan located by the Sydney Airport due to their positive reviews and the fact that they offered the larger size van we needed to sleep 5 adults.
Since there were five of us we went with the HI5 size (2-5 people) which at the minimum was $50 AUD per day, but there are other add ons such as extra drivers, solar shower, gas (for cooking), chargers, etc that can raise the daily rental price.
There is also an extra fee if you choose to rent the van for one way travel, depending on your travel plans or budget it might factor in.
Tips for traveling in Australia with a campervan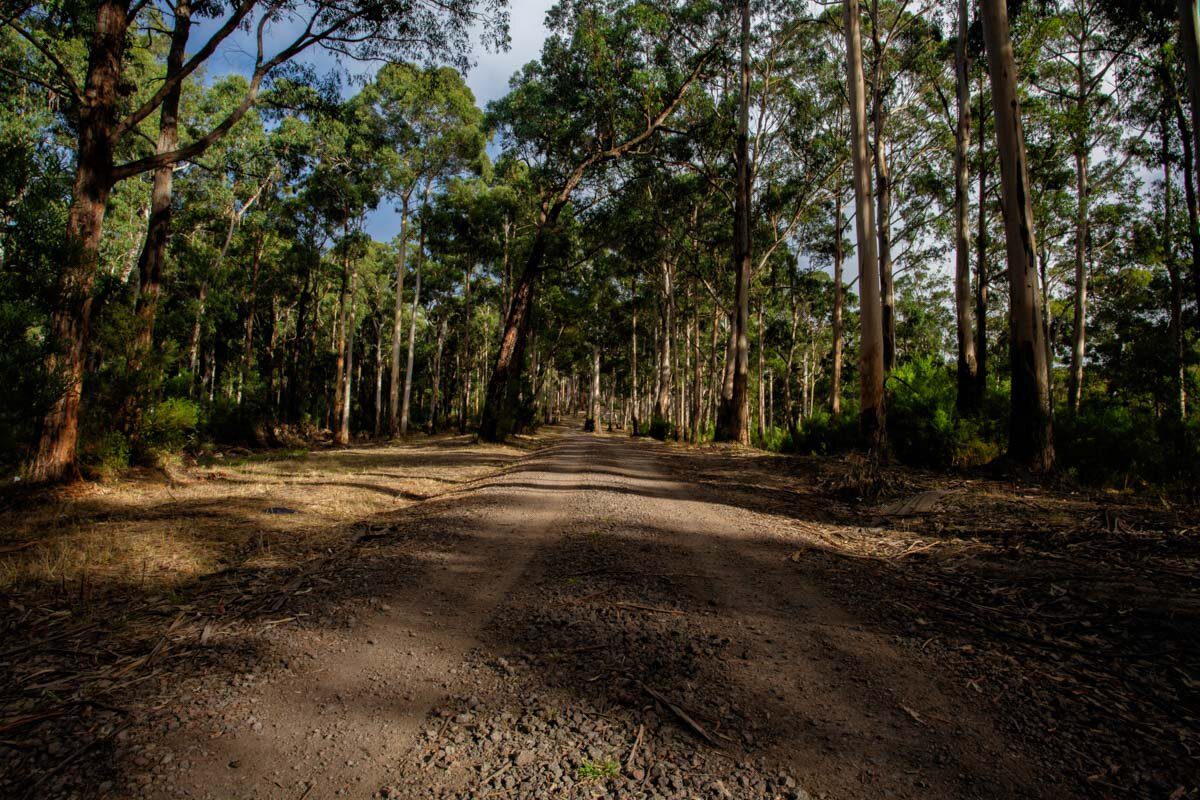 Before you set off on your road trip it would be wise to take some of these factors into consideration.
Tip #1: Reserve campsites ahead of time
Renting a campervan is a popular vacation idea for many travellers in Australia. Due to this, campsites can fill up fast and well in advance. On my trip, we didn't bother to think of this ahead of time and it was a scramble for us to try to find a place to stay each night.
Campsite prices in Australia can range from $50-$70 AUD if you are staying at an established site, if you pick a spot that has power it will affect the cost as well. These sites will have showers, kitchens, and some potential recreational spaces. If you want to save a few dollars you can track down a free campsite, but these will be remote spaces with nothing around it.
But can't a campervan set up in a rest stop?
Yes and no.
The answer to that question depends on which part of Australia you are in. New South Wales allows travelers to camp at a highway rest stop, but it is not allowed in Victoria or Southern Australia. Make sure to figure out where you are driving through before making assumptions.
The best way to find a campsite is searching for nearby campsites of your location through google. Google will bring up the top paid campsites in that area and simply give them a call to check for availability or use their website to book a site.
For free campsites, we did the same thing but make sure to include the keywords "campervan" and "free" in your search. You don't want to get stuck at a site that doesn't allow campervans.
There are some apps and websites that can be useful in finding campsites such as Find A Camp and Full Range Camping.
Tip #2: Rental insurance is void from dusk till dawn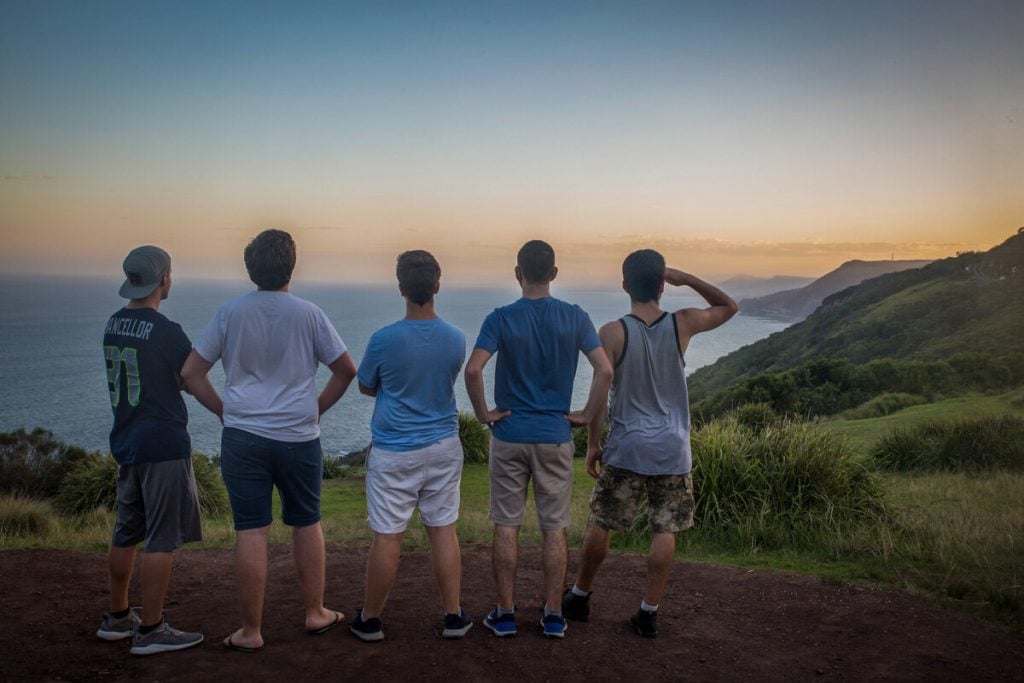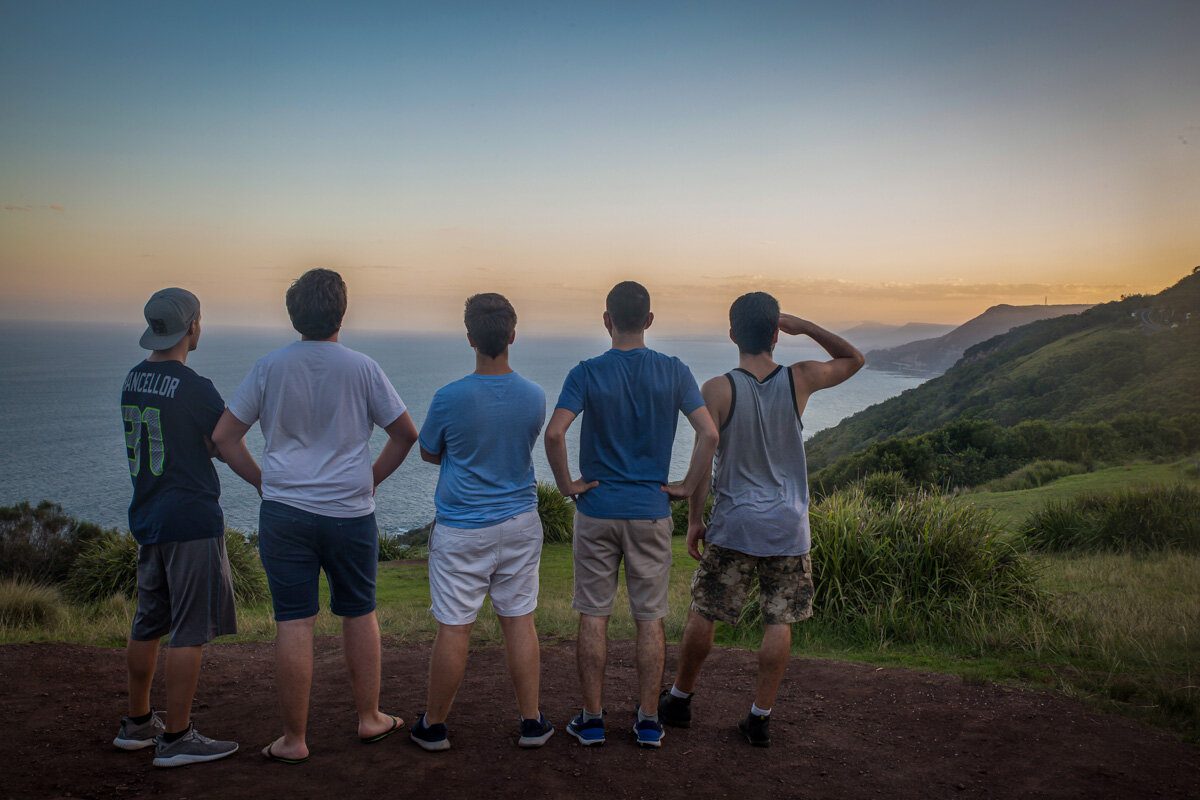 This may come as a shock to some, but this blanket policy is due to the high level of accidents created by wildlife being more active at night. The majority of rental companies don't want the headache of tourists damaging vehicles by hitting an animal. You are still legally allowed to drive, just exercise extreme caution.
Kangaroos are dangerous and can come out of nowhere (similar to deer in North America), yet when threatened a kangaroo will retreat the opposite way. So even if you think it has crossed the road out of your way already, it might hop back into the road without warning.
Tip #3 Travel with essentials
My final tip is to travel with a few essential non-perishable food items. In the event that something happens to your fridge or cooking mechanism, you will still have something to eat. I highly recommend peanut butter and Nutella sandwiches, protein bars, and Poptarts. If you are allergic to nuts, make sure to have an alternative.
Things to do in Sydney before your trip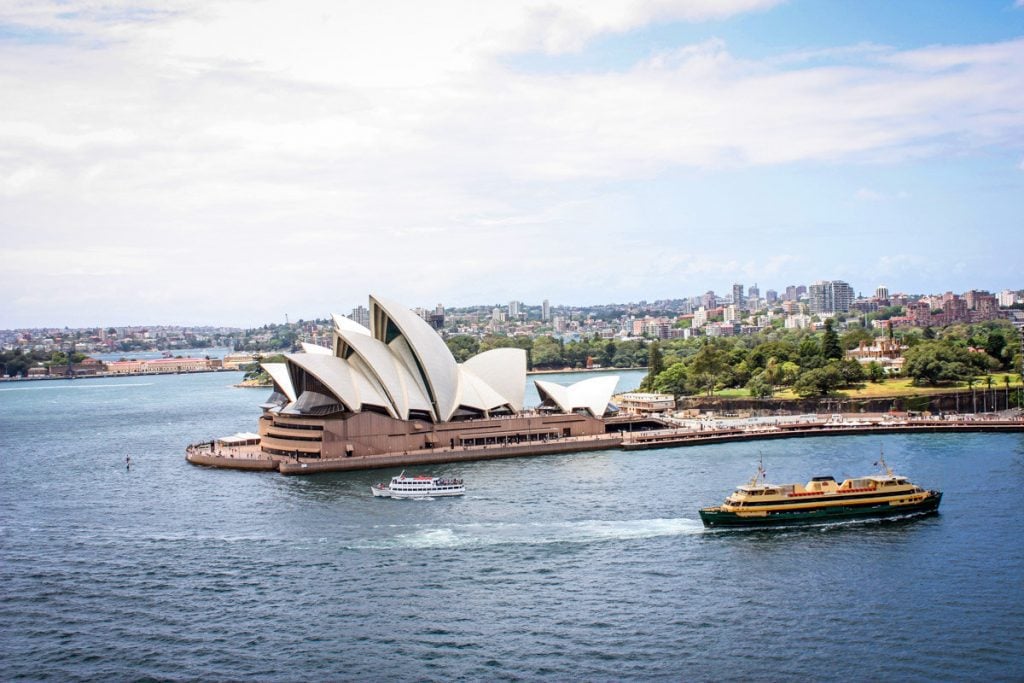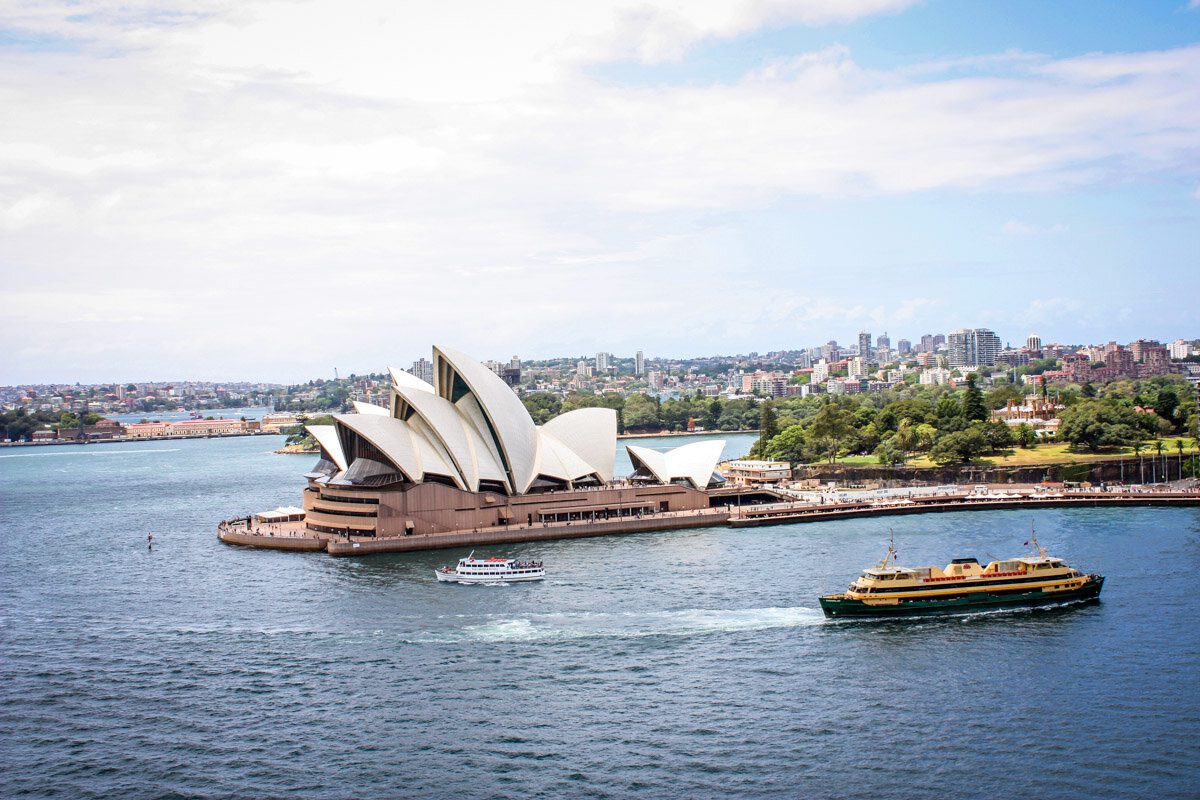 Sydney is an obvious jumping-off point for your Australian road trip and Great Ocean Road itinerary because it's an easy destination to fly into and there are plenty of can't-miss things to do there. The iconic Australian city is the perfect starting point to get a small sample size of Australia.
If you are just arriving in the land down under a three-day weekend is the perfect amount of time to get adjusted to a potential time difference that you may experience. There are plenty of things to do in Sydney to keep you busy, but here are some of my recommended highlights:
Sydney Harbor Bridge: Walk over Sydney Harbour Bridge, or if you are daring enough, climb to the top of the bridge with BridgeClimb.
Taronga Zoo Sydney: A perfect way to see some of the unique wildlife Australia is known for. Tasmanian devils, koalas, and crocodiles may be difficult to find on your own, and potentially dangerous. Plus, you'll get some pretty sweet views of the skyline from the gondola you have to take to the park.
Bondi Beach: Stroll down to Bondi Beach to soak up the sun. While at Bondi make sure to walk part of the Bondi to Coggee walk. The walking path wraps around Sydney's rocky coast offering several views of the famous beaches.Pro Tip: "Stay between the flags" is a phrase often heard at Australian Beaches. At most beaches lifeguards set up red and yellow flags designating where beach-goers can enter the water to keep people safe and away from surfers.
Sydney Opera House tour: Everyone wants a photo of the iconic Opera House, but a tour will give you the interesting history behind this unique building. Find yourself backstage and learn about how productions are put on here.
Catch an Australian Football game: True Australian culture lies in their sporting events. If an Australian Football match is happening while you are in Sydney, try to get a ticket. Footy, a nickname for the game, is a crazy sport that the entire country is in love with. The game has aspects of handball, soccer, and rugby, and with athletes from all over the world makes for high-intensity action that is never ending.
Australian Road Trip Itinerary Map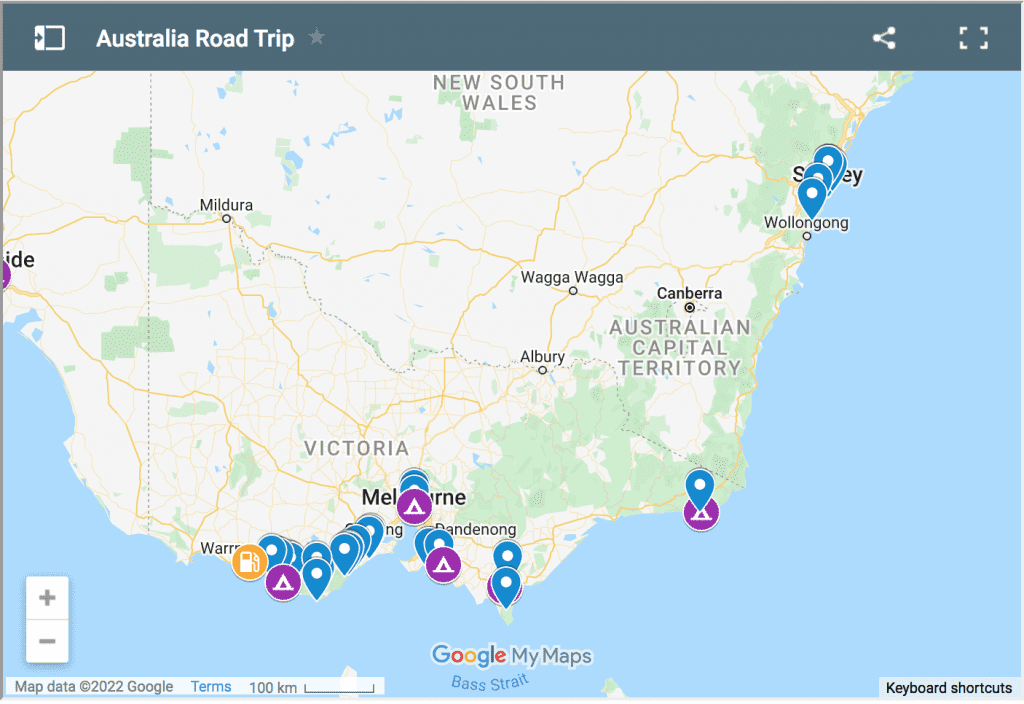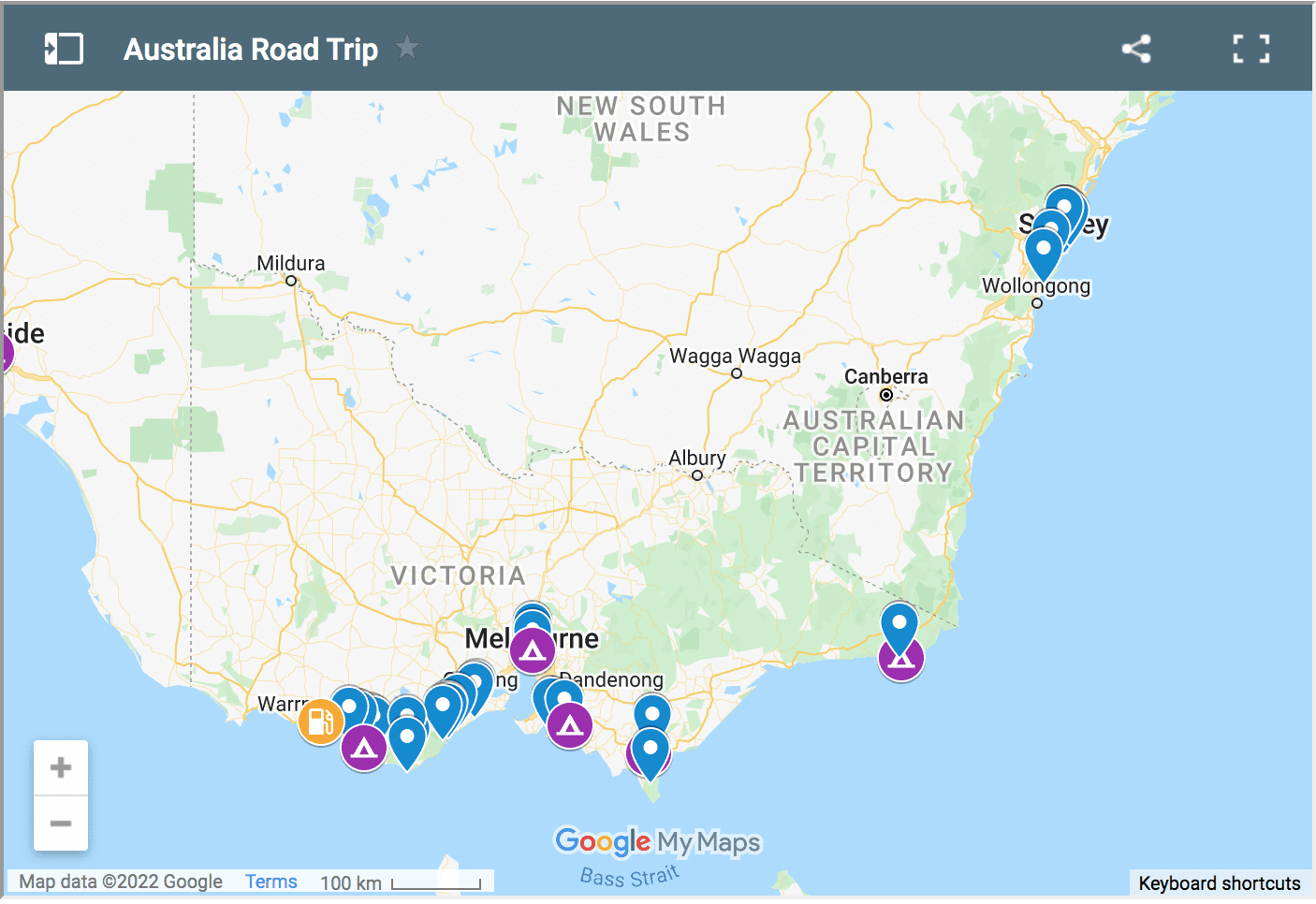 ---
The first 7 days of this road trip itinerary are simply getting you from Sydney down toTorquay, Victoria (south of Melbourne), where the Great Ocean Road officially begins. You can take this time at your own pace, or speed things up by skipping a few of the recommended stops.
Day 1: Sydney to Point Hicks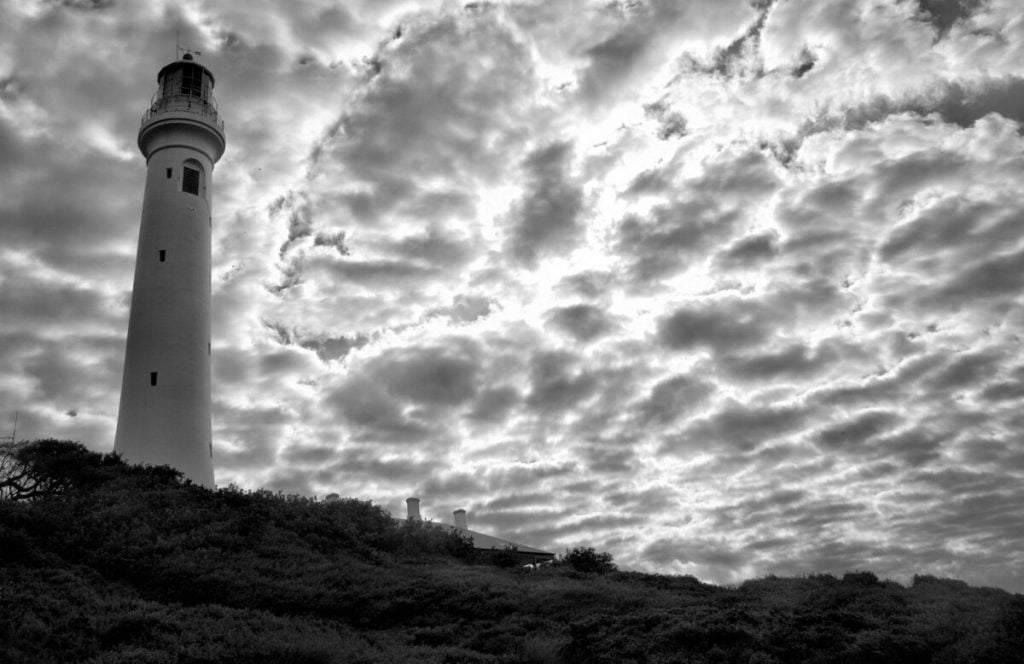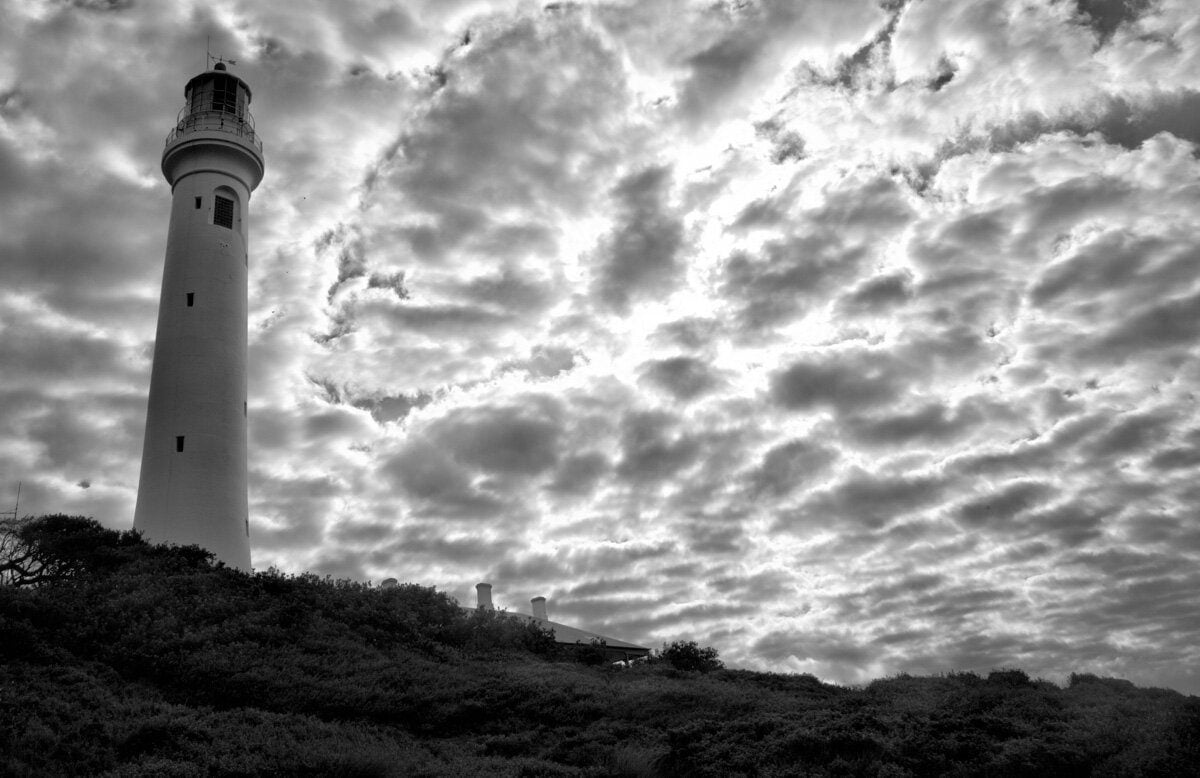 At a Glance: Long day of driving, enjoying the scenic views of the Eastern Coast
Total Driving Time: 7-10 hours
Distance: 616 – 628km (383 – 390 miles)
Highlights: Royal National Park, Sea Cliff Bridge
Where to Stay: Thurra River Campground near Point Hicks
Eager travelers and new road trippers can get too ahead of themselves and forget a few of the basics. Plan a small grocery store run before arriving at your first destination, even if you plan on eating out on your first day it is smart to have some amount of food in case anyone gets hungry.
A note on alcohol consumption: "How much have you had to drink? About a box of Goon". Goon is the nickname for box wine in Australia, a phrase you might hear often while in the country. Let this be a disclaimer to the obvious but don't drink and drive. Yet if you want to enjoy a beverage after a long day the most common drink you'll see is boxed wine.
Due to the high import tax on beer and liquor, wine is the cheapest type of drink to buy in Australia. There are a few brands of local beer that are reasonable, such as Hammer and Tongs, or you can indulge in alcoholic soda called Little Fat Lamb. But the majority of beer and hard liquor is two to three times the price you may be used to.
Make sure to figure out the fuel range of the campervan, petrol stations may become infrequent depending on which territory you are driving through and you certainly don't want to get stuck with an empty tank.
Optional: If you have the time to add an extra day to your trip, you can take the more scenic route through the Royal National Park and along the coast to cross over the Sea Cliff Bridge.
Drive as far as you are willing and find a rest stop along the highway in New South Wales to set up camp. Bring a fun board game to play while on the trip. My friends and I got a Dungeons and Dragons-style game to play for when we had nothing else to do.
Day 2: Agnes Falls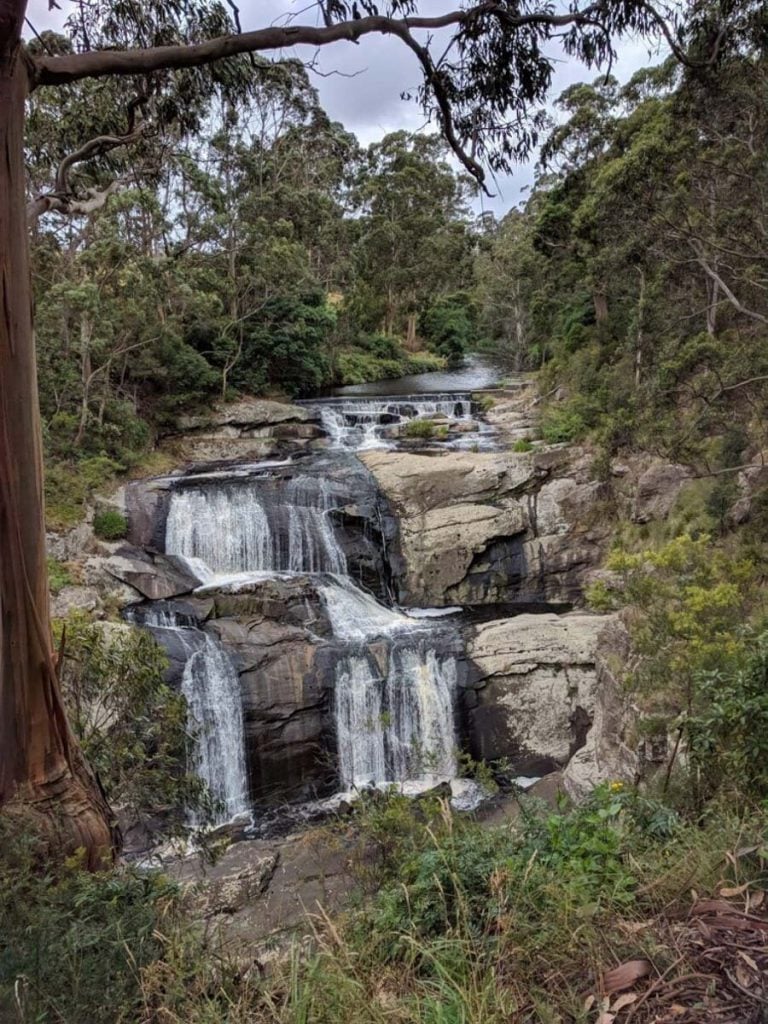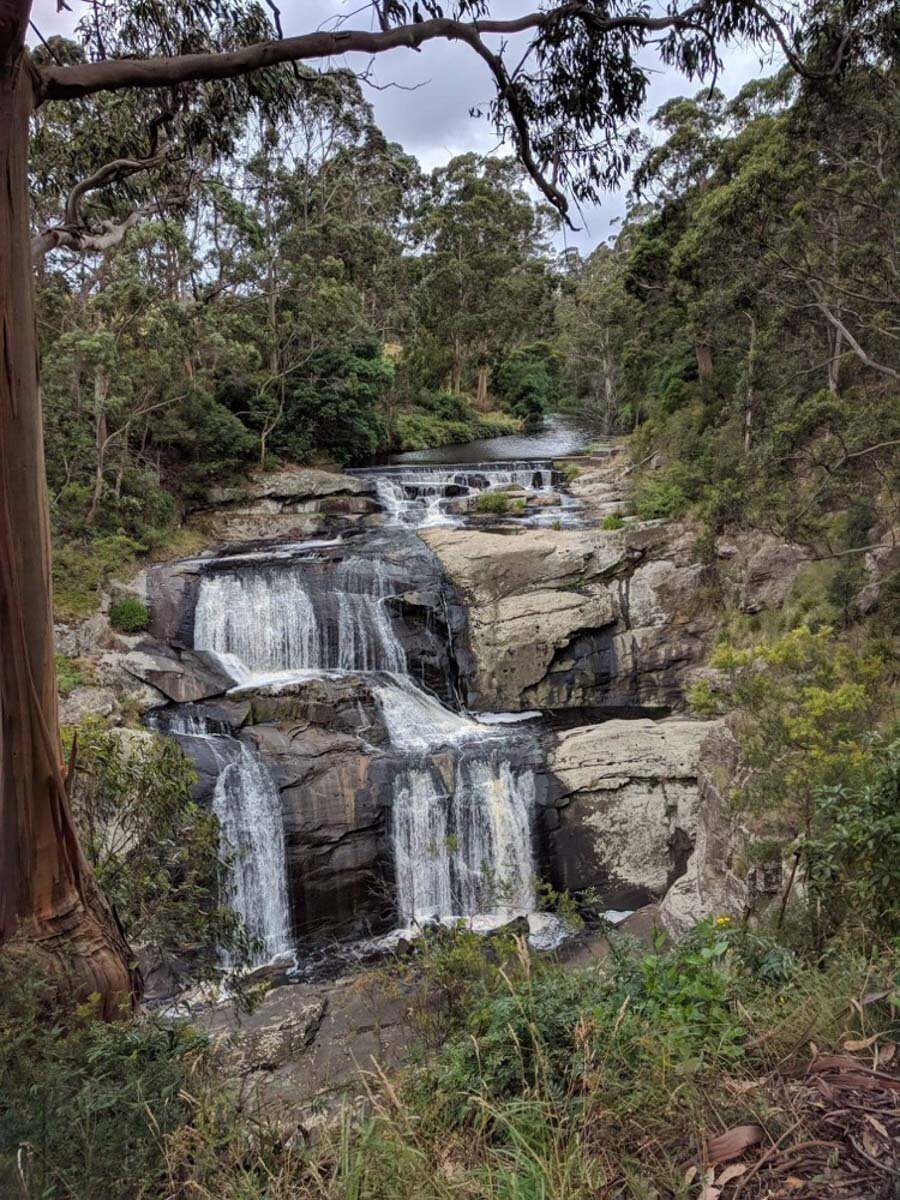 Point Hicks faces east, so if you make it to the campsite the night before you will be gifted with a beautiful sunrise if you remember to set your alarm. Once everyone is awake, take the path that leads to the lighthouse for an easy 45-minute stroll. The lighthouse sits high on the hill with a rocky coast down below, providing a great photo opportunity.
Once you've returned to your ride, start driving in the direction of Agnes Falls. A solid-sized cascading waterfall you'll run into on your way to Wilsons Promontory. After an afternoon of driving it makes for a good late-afternoon lunch destination.
Fun Tip: "Cow. COW. COOOOOOOW!" is an obnoxious yet fun driving game to play that our English companion introduced to us. Similar to England, the backcountry of Australia is home to a significant portion of farmland. Cow is a game where an individual yells "Cow!" at a group of cows and points are earned by getting cows to look at you.
Day 3: Wilsons Promontory & Phillips Island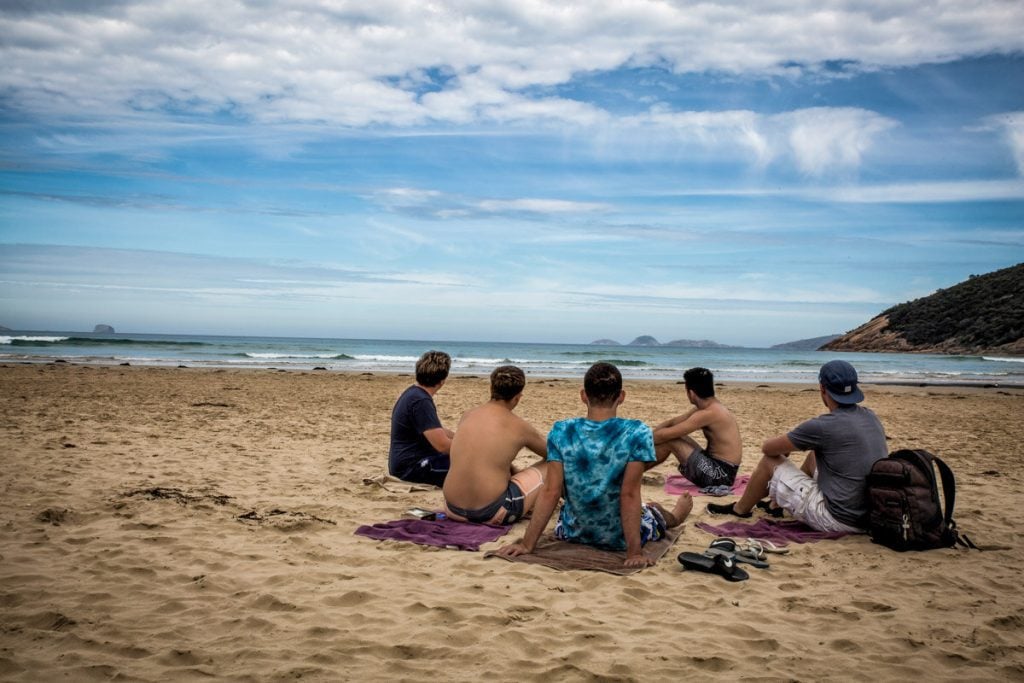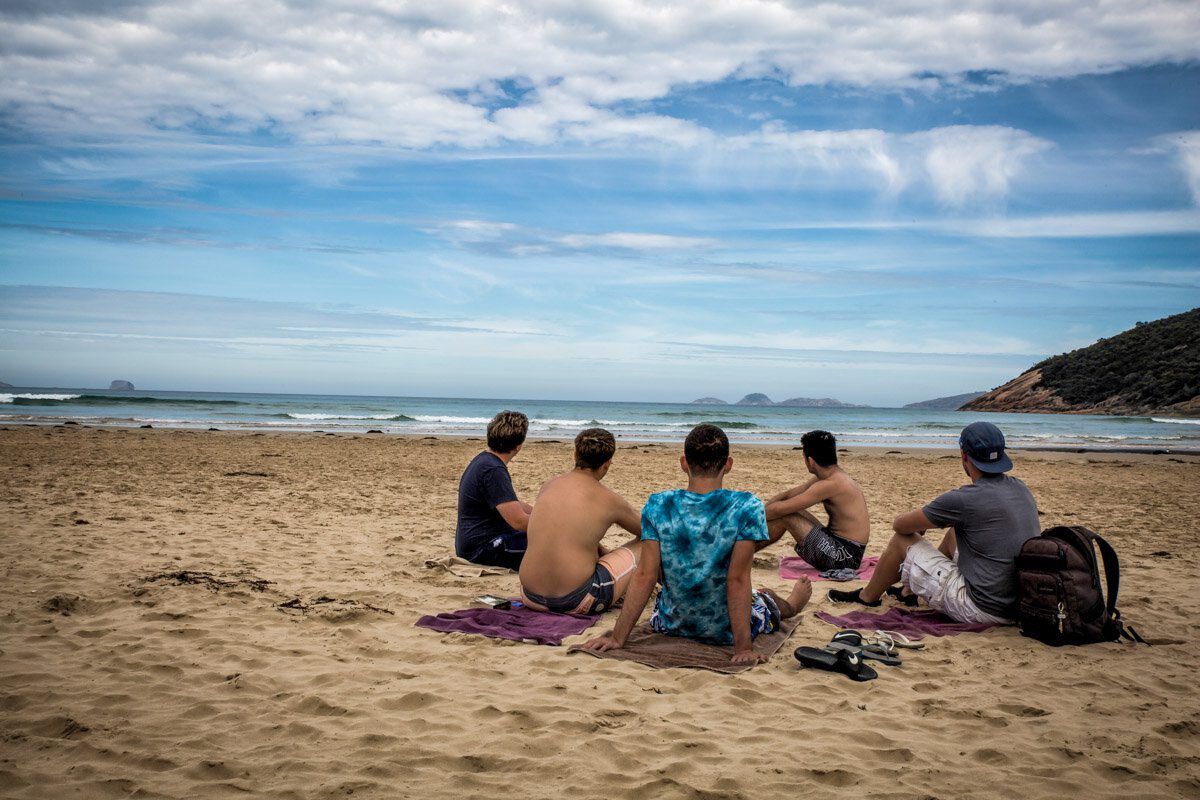 At a Glance: beach day, chocolate factory, scenic sunset
Total Driving Time: 4-5 hours
Distance: 315 km (195 miles)
Highlights: Wilsons Promontory, Phillips Island, potential penguins sightings, Phillips Island Chocolate Factory
Where to Stay: Corinella Caravan Park
Wilsons Promontory is a beautiful nature reserve that acts as a popular beach for travelers to spend the day at. A large cove curves out into the ocean forming a long beach with soft warm sand that makes for a nice place to take a nap.
Pro Tip: Don't forget your sunscreen! The ozone layer is thin over Australia so the sun is more powerful than the temperature suggests. It can be 60° F and sunburns are still possible.
Just south of Melbourne is Phillips Island off Australia's southern coast. The appeal of Phillips Island is that on the far side there is a potential to see penguins roaming the beach. The beach also faces the sunset creating a picturesque moment, even if you can't find any penguins. If time allows it, there is a chocolate factory where you can stop and pick up some snacks to satisfy the sweet-tooth in your group.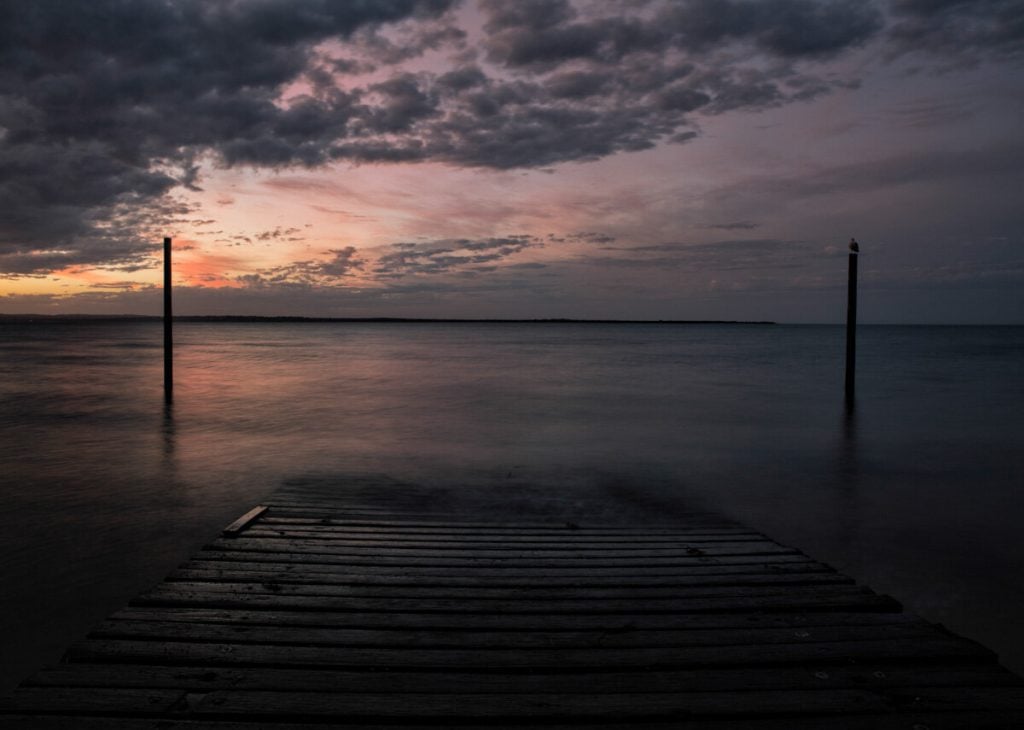 One thing you will learn while road tripping Australia in your campervan is the closer to big cities you are, the less likely you are to find free campsites. You then run into two issues, finding a campsite that isn't fully booked and getting there before closing time.
Even though there may be no curfew at the site, the gate to get the campsite may close as early as 8 p.m. Don't get caught an hour away at 7 p.m. without enough fuel to get there. Even if you have the speed of a Nascar pit crew getting in and out of a petrol station, it is better to be safe than sorry, so leave your destination at a proper time.
Day 4-7: Melbourne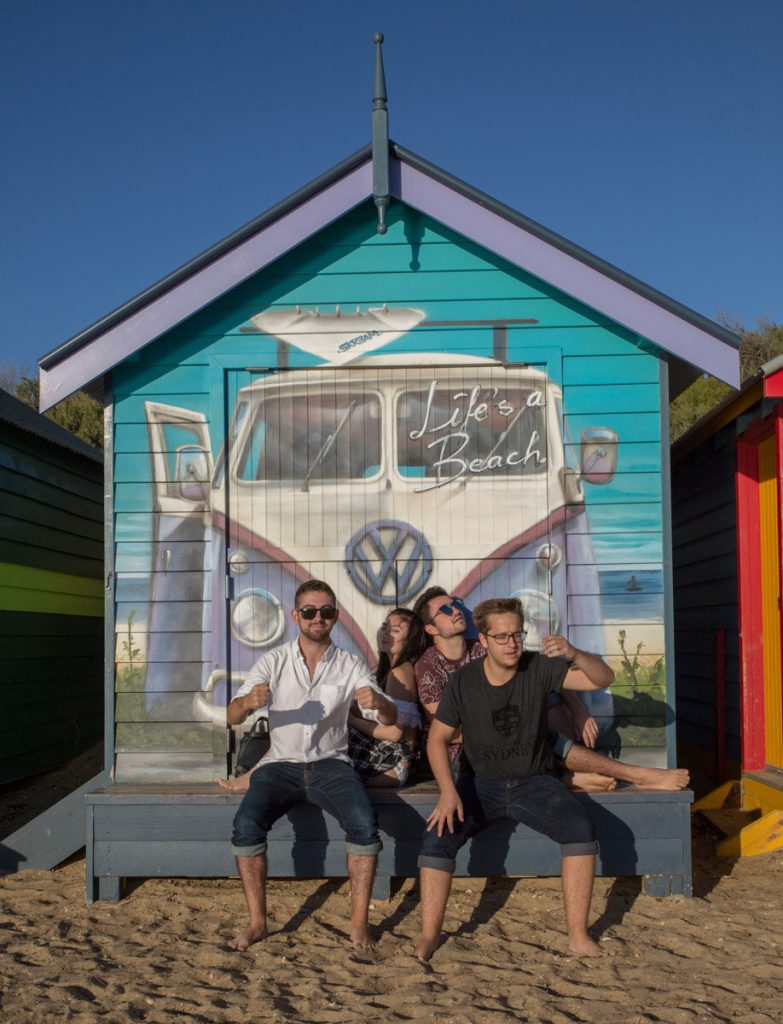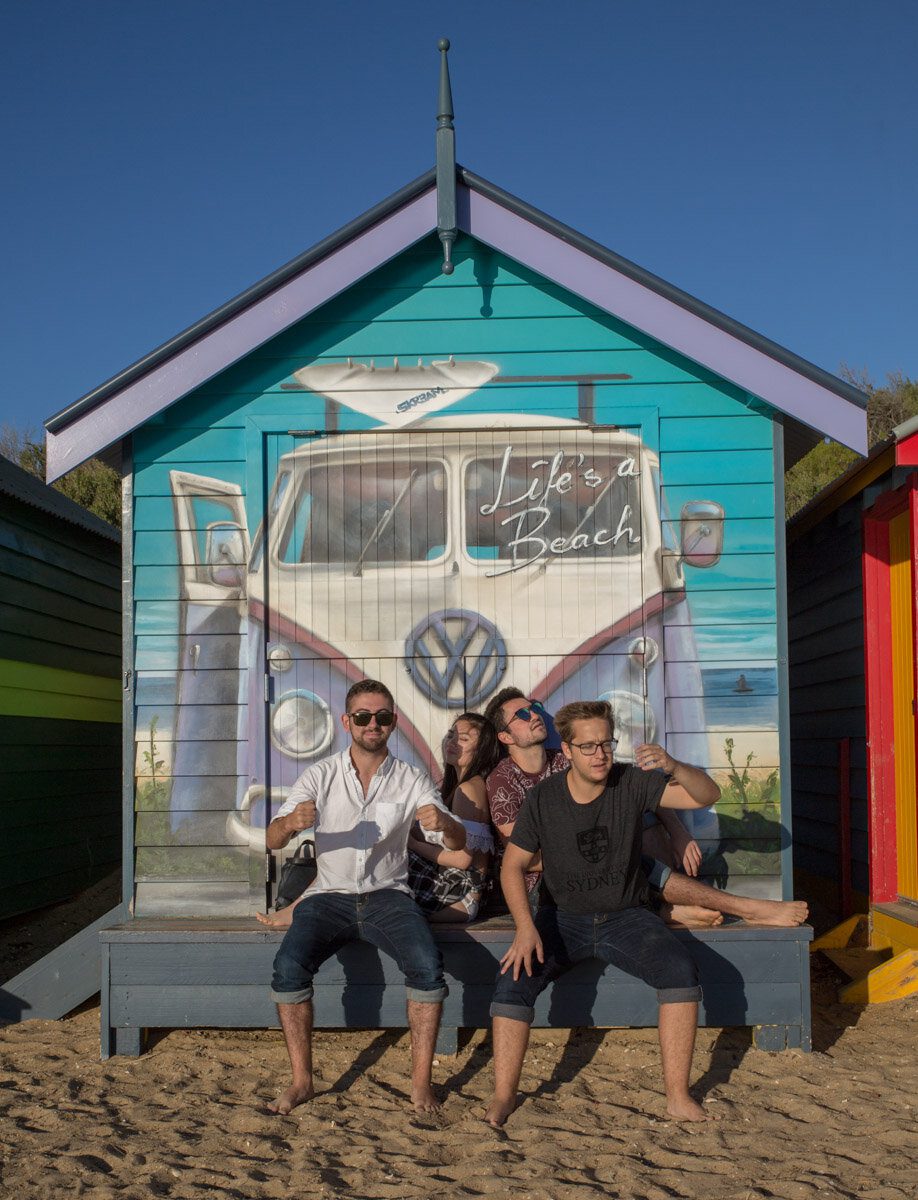 At a Glance: Major Australian metropolis
Total Driving Time: 1-2 hours
Distance: 100km (62 miles)
Highlights: Graffiti Alley, Brighton Beach Houses, Night Life, Festivals, Luna Park
Where to Stay: Big4 Melbourne Holiday Park
In an Aussie accent, the city is pronounced "Mel-bin" not "Mel-born". It's good to know this or you will risk being corrected.
Melbourne and Sydney share a historic rivalry. Similar to Boston and New York in the United States. There are a variety of places to visit and things to do in Melbourne, which makes it a perfect 2-3 day stopover on your road trip. It's also another potential jumping-off point for driving the Great Ocean Road if you have limited time and don't want to come all the way from Sydney.
The bus system in Melbourne is easy to navigate and allows for the cheapest way to get around the city. Uber is also available for a ride share service for quick and direct routes.
An influencer's paradise is the graffiti-filled alleys of Hoiser Lane, the center of the city's street art scene. Multiple alleys and walls are covered with a variety of murals of pop culture, the perfect place to stage a fake album cover.
The surrounding streets are home to small cafes and stores to pick up a souvenir or grab a bite to eat. A fun bar to grab a refreshment at is Good Heavens, a rooftop bar that overlooks Bourke St. Highly recommended if you like retro-style bars and neon lights.
Spend an afternoon at Brighton Beach, which attracts a variety of tourists due to the colorful bathhouses lining the beach. Mainly used as a photo opt, the houses are covered in artistic murals of a variety of Australian and artistic themes.
For those seeking some thrills, Luna Park is an amusement park in the southern part of Melbourne in St. Kilda. You can either entertain yourself with carnival rides or soak up the sun on the beach.
Pro Tip: Look up potential festivals or events happening in the city before going. This could be an opportunity to catch an Australian Football game, comedy show, or concert. Then you can be the friend that can say "yeah that *insert team, artist or comedian here* was awesome, especially since I saw them in Australia".
---
Great Ocean Road Itinerary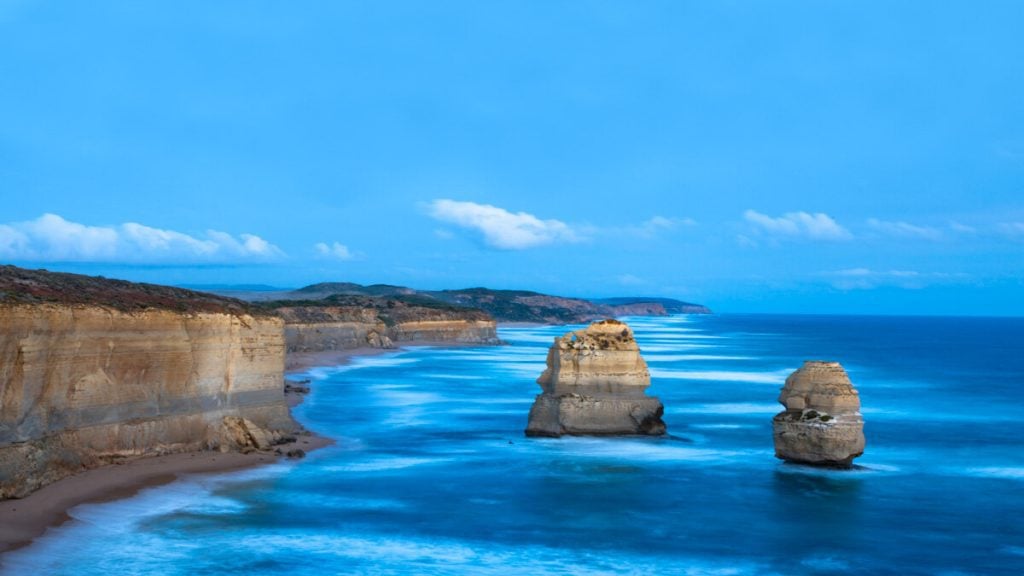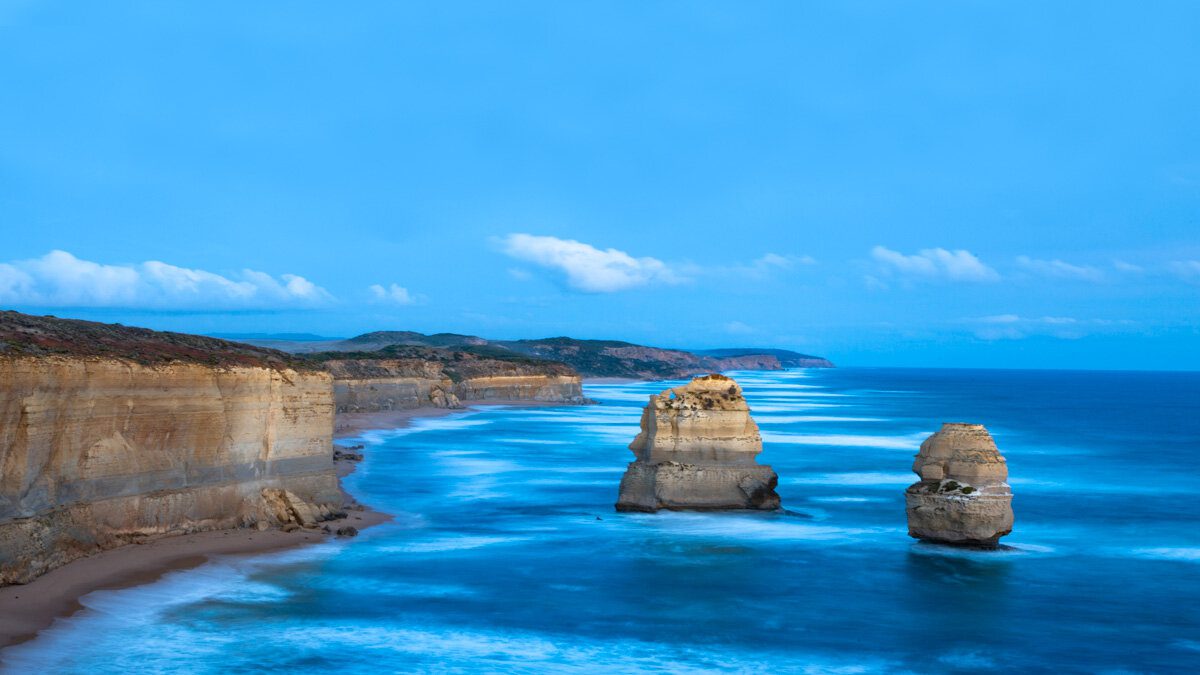 The official start of the Great Ocean Road is in Torquay, Victoria, an hour and a half drive south from Melbourne. This marks the point where your Australian road trip officially merges with the Great Ocean Road.
Driving the Great Ocean Road is a treat in itself. The coastline is filled with scenic sea cliffs, breathtaking beaches and presents an overwhelming sense of adventure. As a photographer, I would have spent an entire week along this portion of The Road if I could. The views of this area are why the Great Ocean Road is considered one of the most amazing drives in Australia, and ranking as a top 10 road to drive in the entire world.
The perfect itinerary for the Great Ocean road is 3 days. Breaking The Road up into three portions makes sure that you don't drive through the road too quickly and have plenty of time to find the hidden treasures the road has to offer.
Day 8: Melbourne to Lorne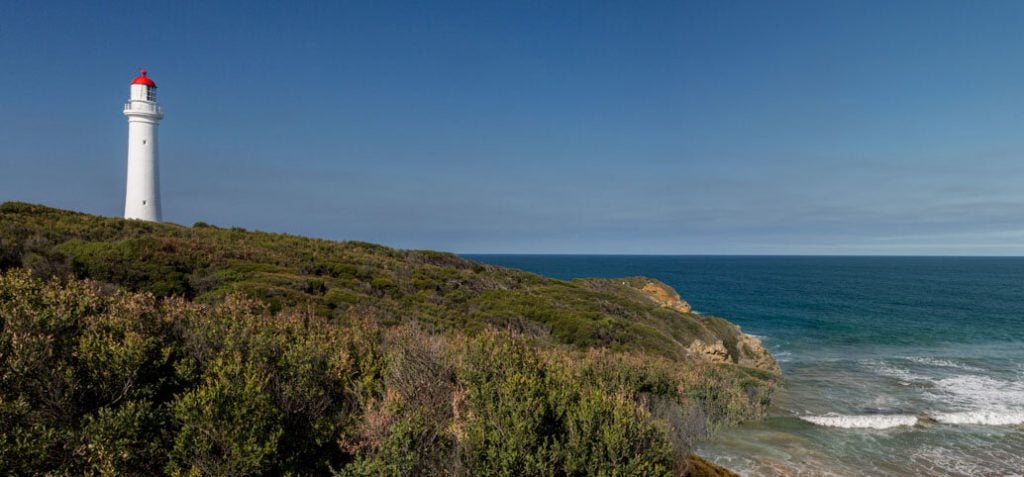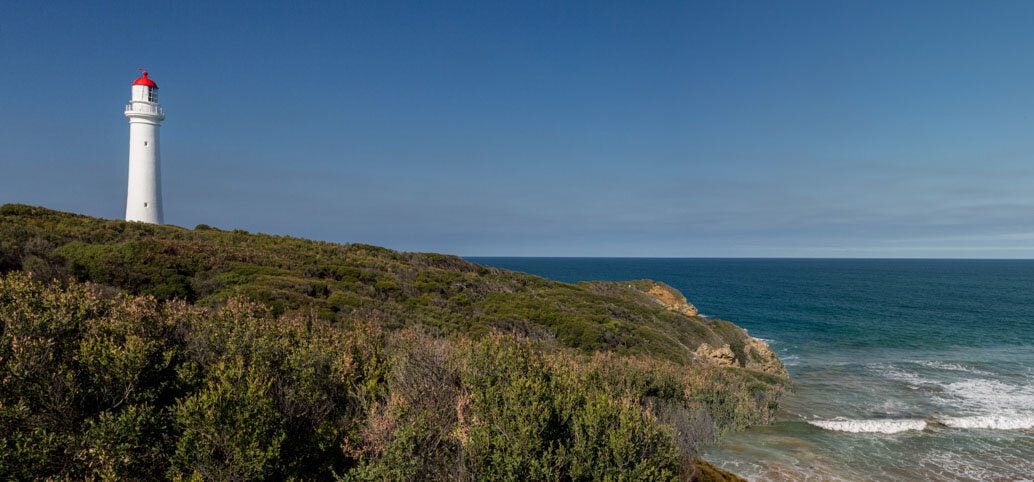 At a Glance: Driving, lighthouse, overlooks, swing bridge
Total Driving Time: 2 hours
Distance: 142km (88 miles)
Highlights: Bells Beach, Aireys Inlet Lighthouse, Scenic Coast, Teddy's Lookout, Lorne Bridge
Where to Stay: Free Campsite in the woods
For the first portion of the trip some of the highlights to stop at include Bells Beach and Aireys Inlet Lighthouse.
Bells Beach is a famous surfing beach for locals and often hosts surfing tournaments due to the large blue waves that form along the shore. Aireys' Lighthouse provides an opportunity to stop driving and stretch the legs. It has a few rock formations offshore and provides a view looking down the coast.
Enjoy the twists and turns of the road as you make your way to Lorne. The Lorne Swing Bridge crosses over a small river and leads to the beach, making for a great reflection picture of anyone standing on it.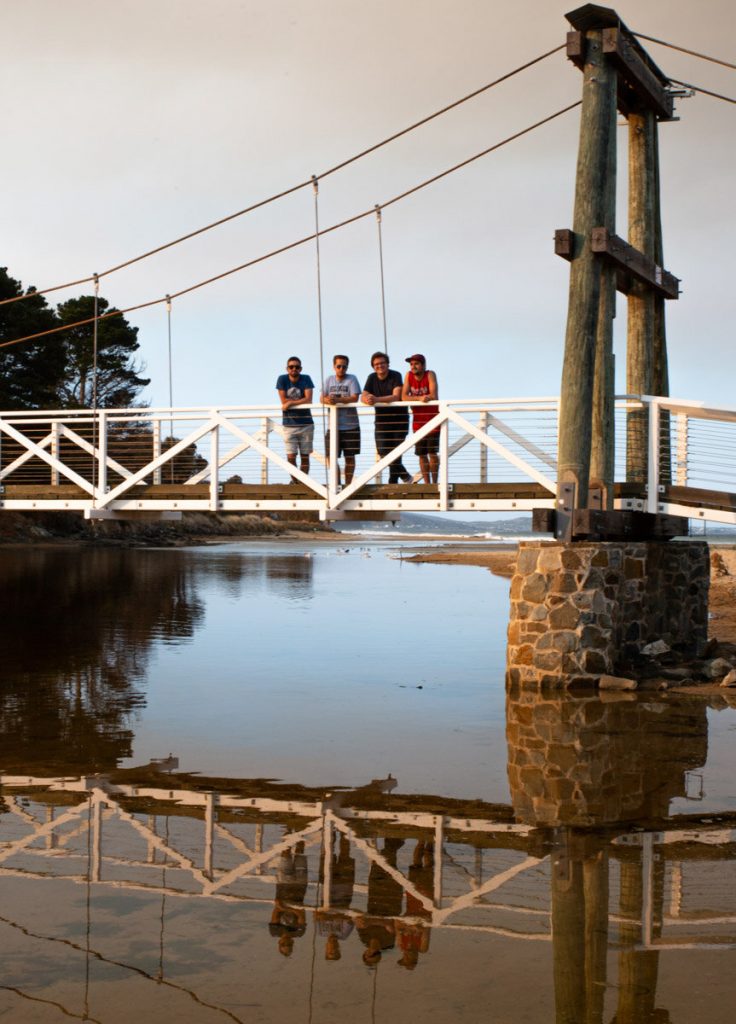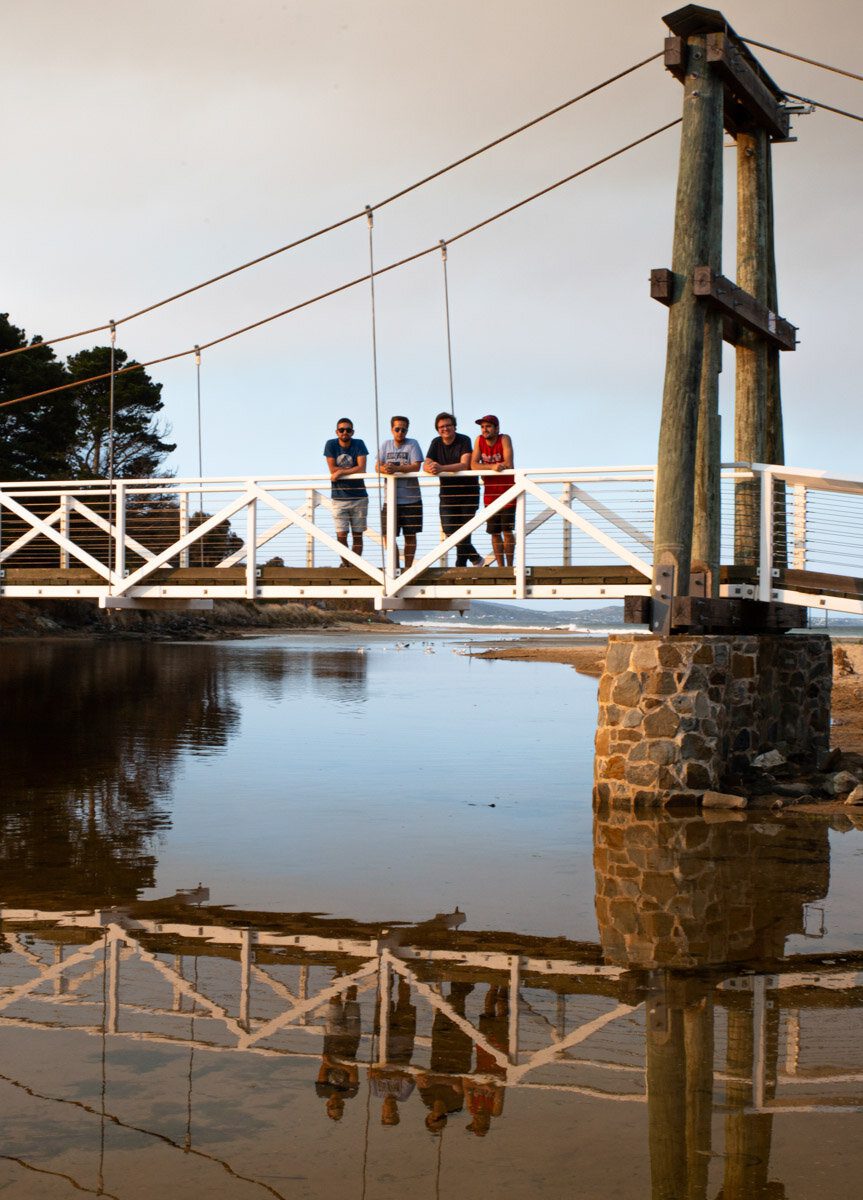 Before the sun sets, take a short drive to Teddy's Lookout, the high point on a hill that overlooks the next turn of the Great Ocean Road. The sun will set on the opposite side but the view still makes for an epic picture of the road curving around the Australian coast.
If you did not reserve a campsite there are a few campsites deep in the woods around Lorne. Make sure to write down the directions to the sites or download the offline version of Google Maps in case you lose cell reception on your phone. There are only a few spots available, but due to how far in the woods the sites are, not many campers venture out to find them.
Day 9: Lorne to Port Campbell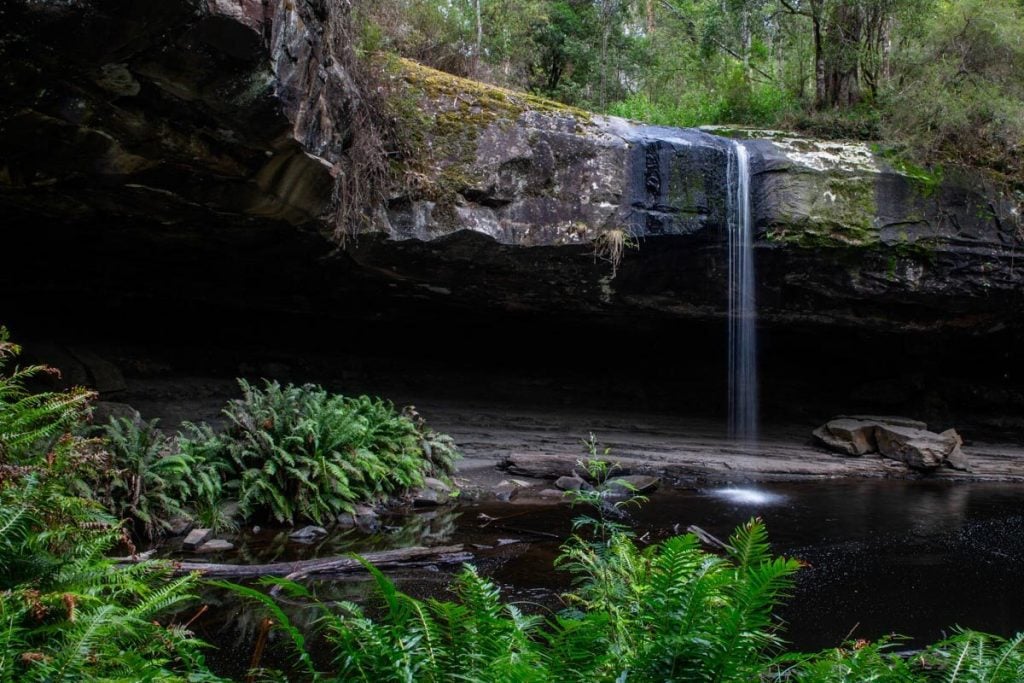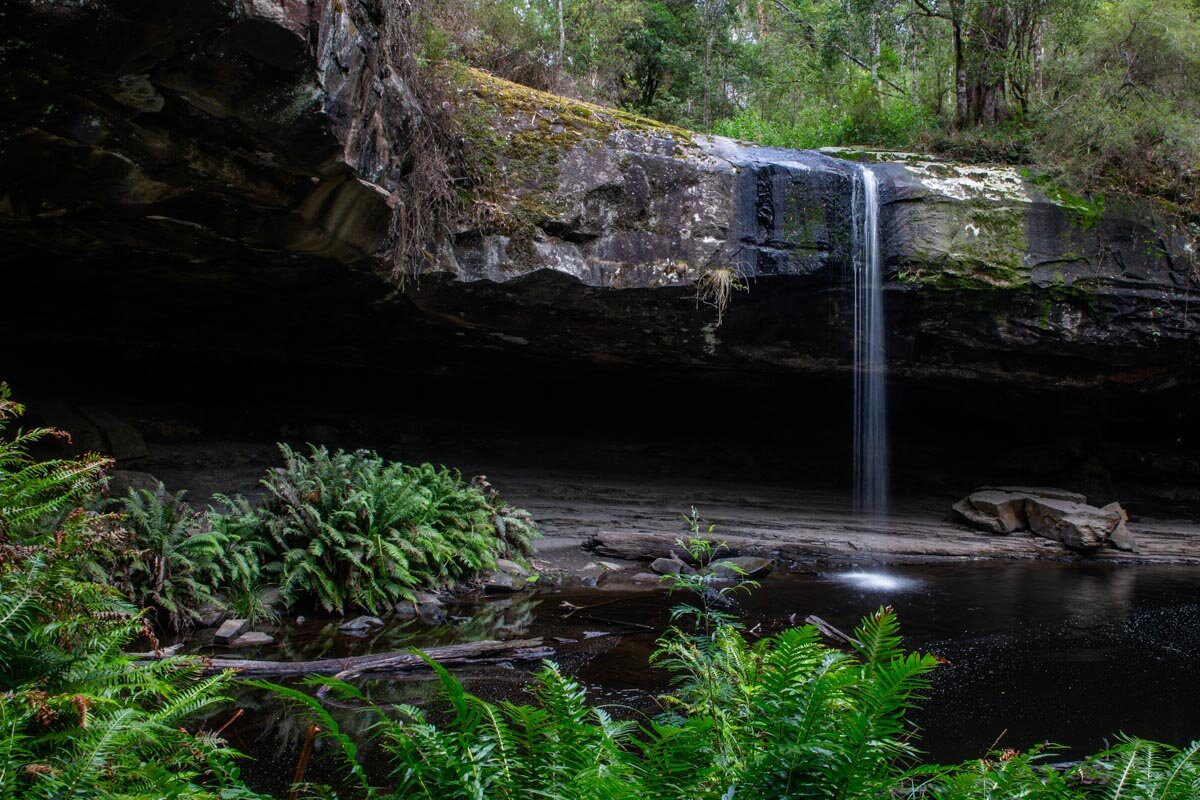 At a Glance: Waterfall hike, scenic overlooks, monuments
Total Driving Time: 2 hours
Distance: 142km (88 miles)
Highlights: Lower Kalimna Falls, Loch Ard Gorge, Twelve Apostles
Where to Stay: Free Campsite by Port Campbell
In the morning you'll have the chance to explore some local waterfalls, and I'd highly recommend you take it!
If you are strapped for time an easy walk to the Lower Kalimna Falls is manageable for all ages. The waterfall itself is not impressive but experiencing the lush forest is always a delight.
As the day shifts to later in the afternoon, make the drive towards one of the many rock formations along the western coast of the Great Ocean Road. The most impressive being Loch Ard Gorge and the Twelve Apostles.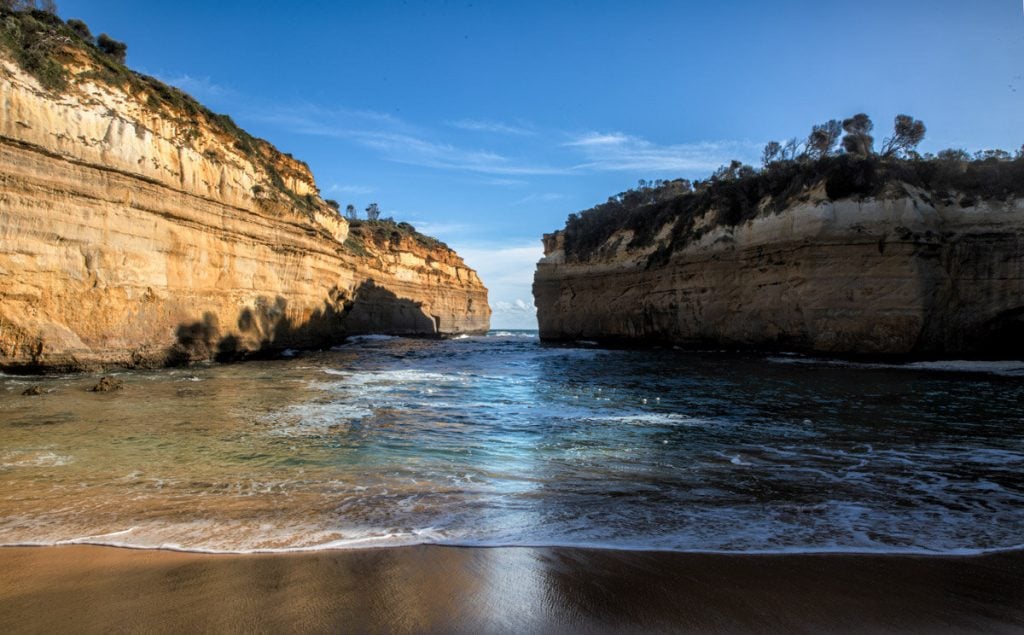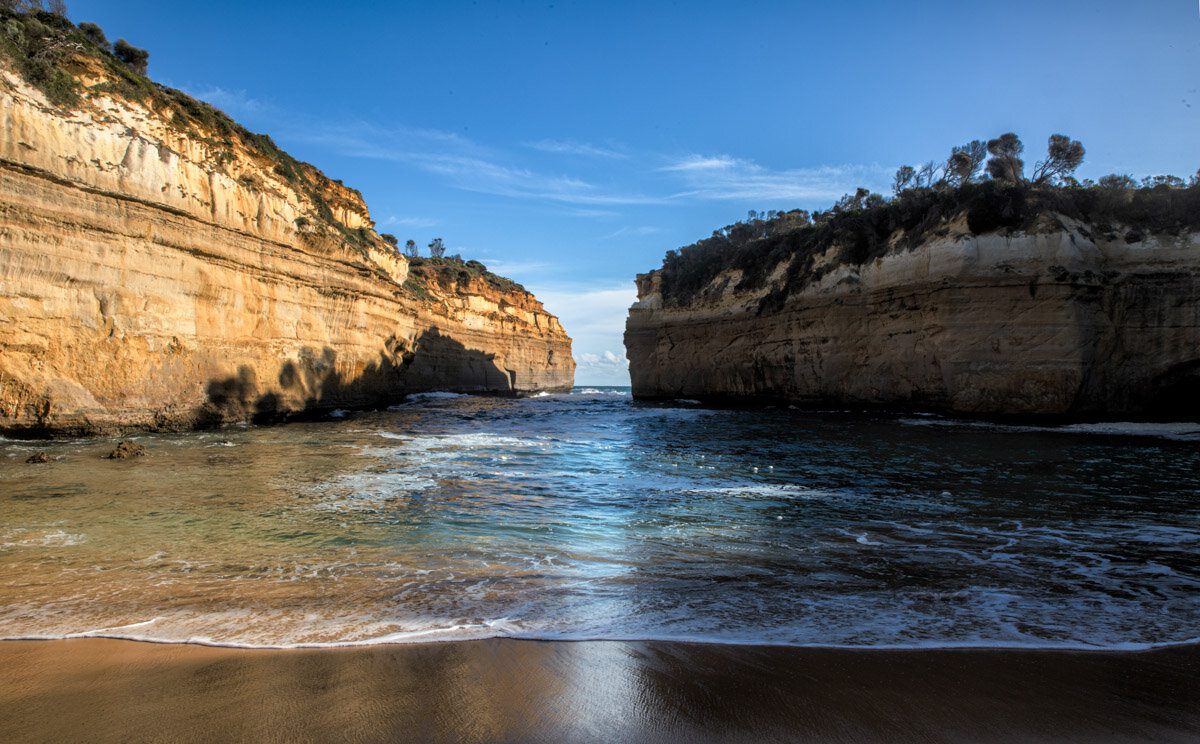 The two are close enough together that tourists can explore Loch Ard while having enough time to double back for sunset at the Apostles. Sadly not all of the Apostles are still standing due to the ocean slowly eating away at the base of the rocks. But enough of them still stand to make the view worth it.
Optional: If your travel plans allow it, add an extra day to explore the other waterfalls in the area, Otway National Park, and other natural rock formations along the coast. Some of the other sights to see are Triplet Falls, Cape Otway Lighthouse, The Grotto, London Arch, and the Bay of Islands.
Day 10: Adelaide
At a Glance: Driving all day
Total Driving Time: 7-8 hours
Distance: 663km (412 miles)
Highlights: authentic Australia
Where to Stay: Established Campsite in the city
The most authentic Australian city sits in the middle of the south coast of Australia. Adelaide has no tourist appeal, of all the amazing landscapes and monuments in Australia, Adelaide has none. But therein lies the appeal! Due to the lack of attractions, all of your experiences and interactions will be with Australians.
The nightlife on Saturdays will be lively along the main strip with bars and pubs. But don't be surprised when the city appears desolate on Sunday morning as if everyone in the city has disappeared.
Pro Tip: The drive to Adelaide from Port Campbell will be through backcountry and farmland. On the map there are towns listed along the drive, but these are more land markers than anything. Keep in mind Warrnambool is the last town until Hamilton. So make sure to fill up on gas before leaving Warrnambool, or you could get stuck.
Optional: Stay an extra day to explore Kangaroo Island, the third largest island of Australia. It is home to several nature reserves where tourists can visit to see a variety of Australian wildlife.
Another optional choice depending on your travel plans is to opt for a one way rental on the campervan and drop it off back in Melbourne. Then you can fly to the next area of interest on your trip instead of having to drive all the way back.
Day 11-12: Driving back to Sydney
At a Glance: Driving
Total Driving Time: 15 hours
Distance: 1375km (855 miles)
Highlights: Stargazing
Where to Stay: Rest stop along the highway in NSW
The drive back to Sydney is a 15 hour straight shot through the backcountry. If it sounds like a hassle, that's because it is.
There are a few things to keep a lookout for while on the road, such as "road trains", massive 18-wheelers towing 3-5 shipping containers behind them. The force of these powerful trucks passing in the opposite direction is strong enough to shake a campervan of any size.
Nature lovers can be on the lookout for kangaroos, while photographers might ask you to stop to take a picture of the large trees that span throughout the farmland. A stopping point to aim for is right across the border of Southern Australia and New South Wales. Once crossing the border campervans are allowed to camp in rest stops on the side of the road again.
The real treat of being in the middle of nowhere is that it presents one of the best opportunities to stargaze, due to the lack of light pollution. Just don't walk aimlessly into the brush, Australia has a reputation for deadly nocturnal critters after all!
Optional: Before dropping off the campervan stop at a petrol station that has a car wash or power wash. There will potentially be a cleaning fee depending on the state of the campervan upon returning it.
---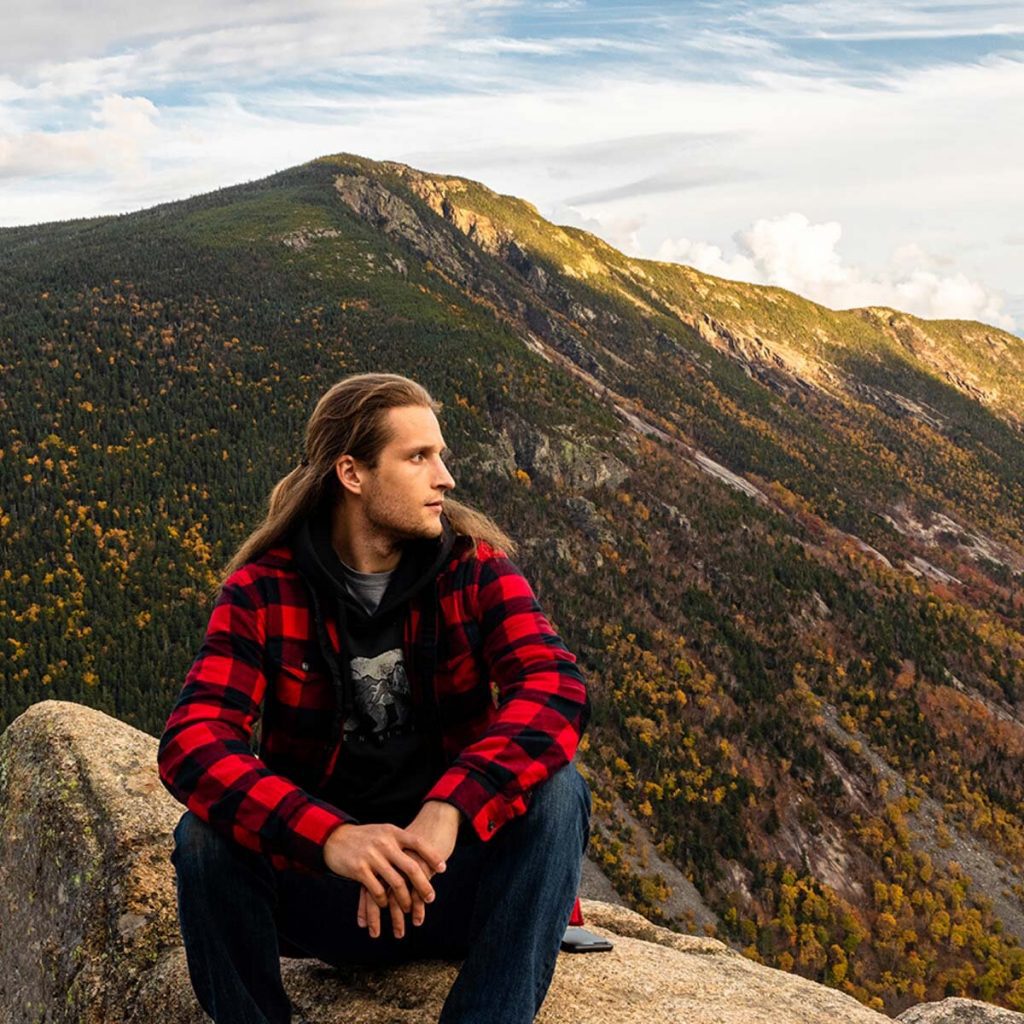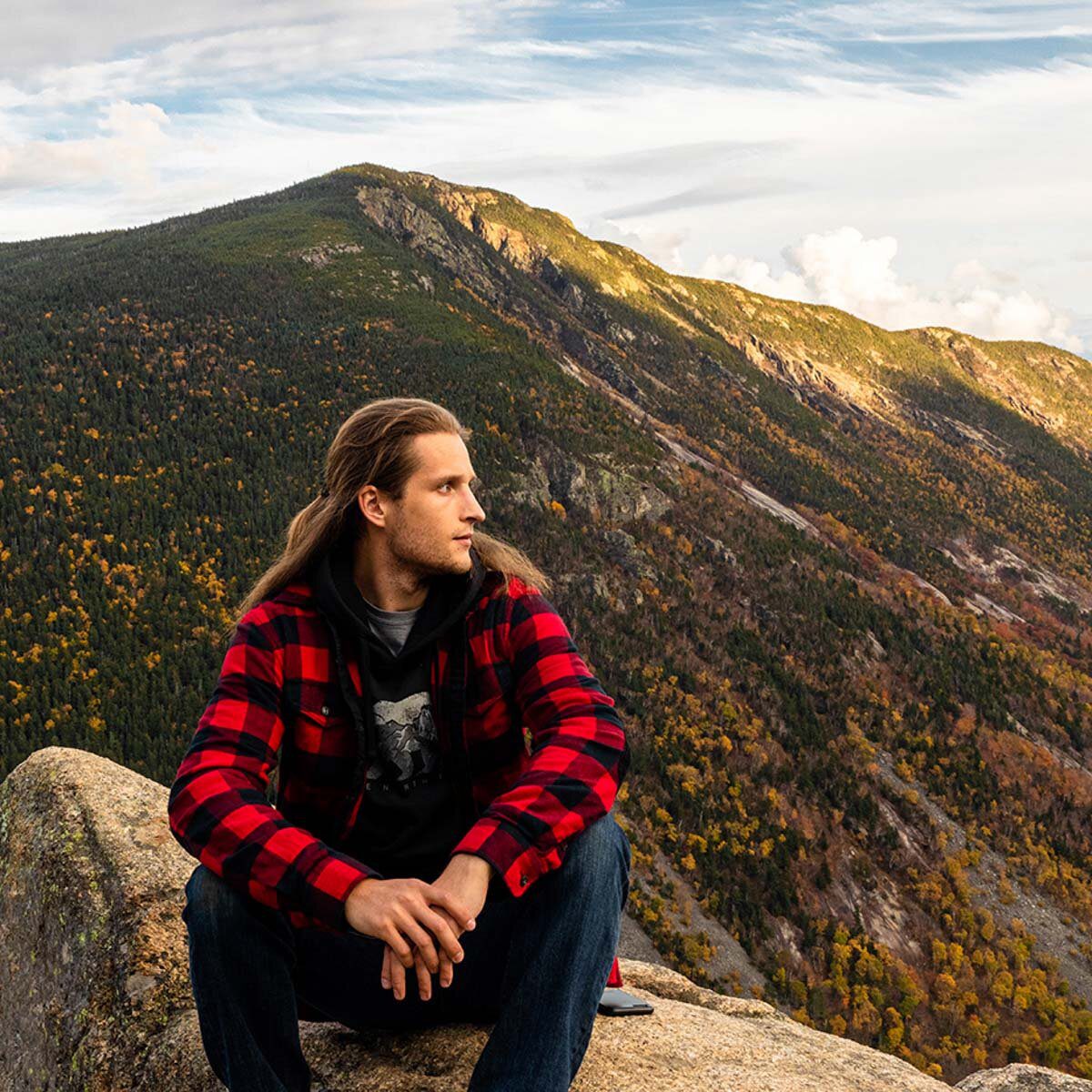 About the author…
Jon Burke is a freelance photographer who works in a variety of fields but has a passion for travel photography. His current endeavor is sharing his experiences and knowledge through his YouTube channel touching on photography, travel, and his career path. Find him on online at JC95 Photography.
---
You may also like…
Save this article on Pinterest for later!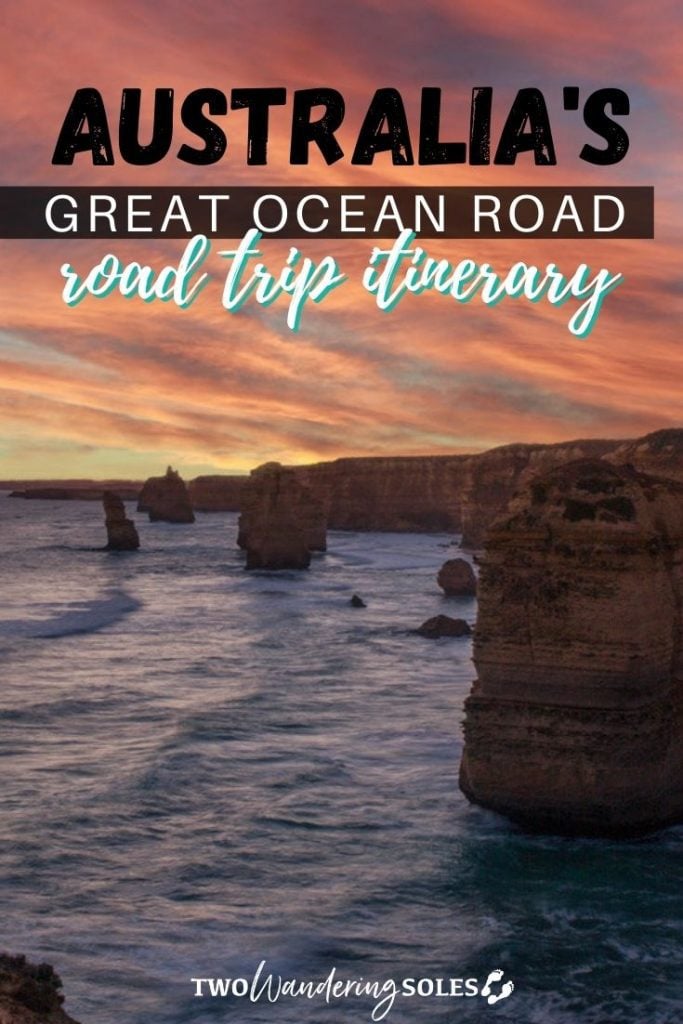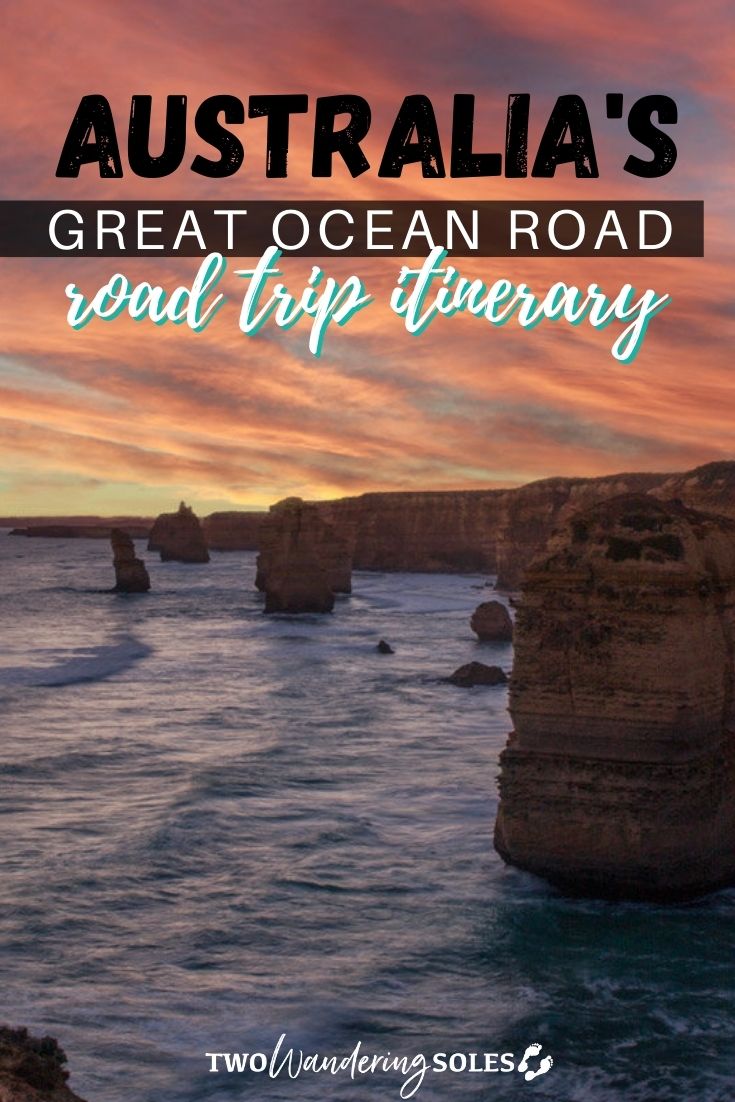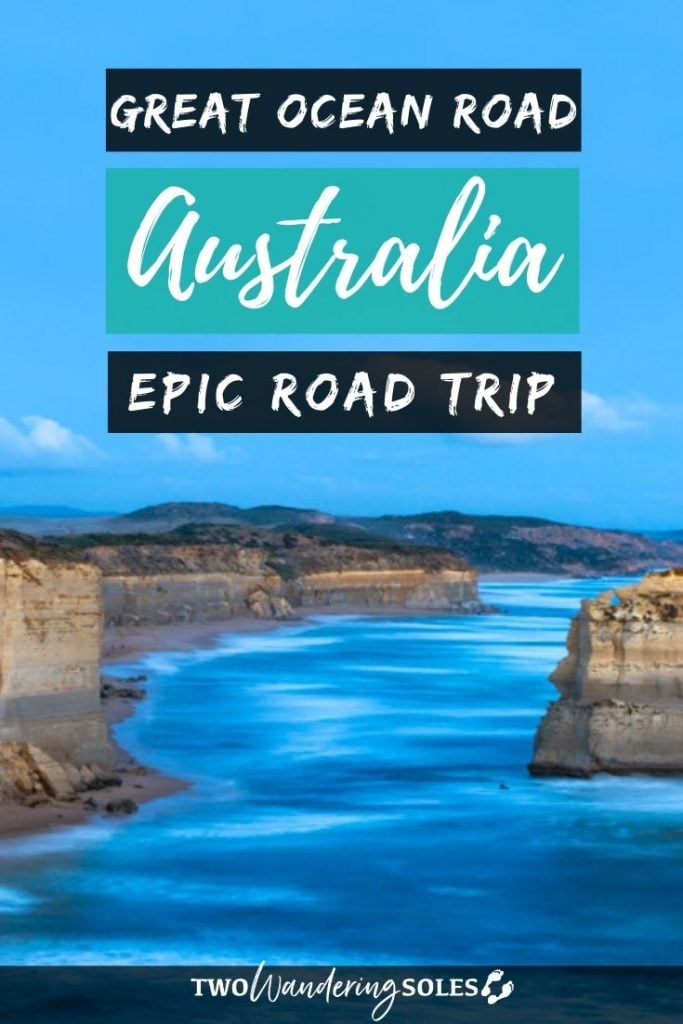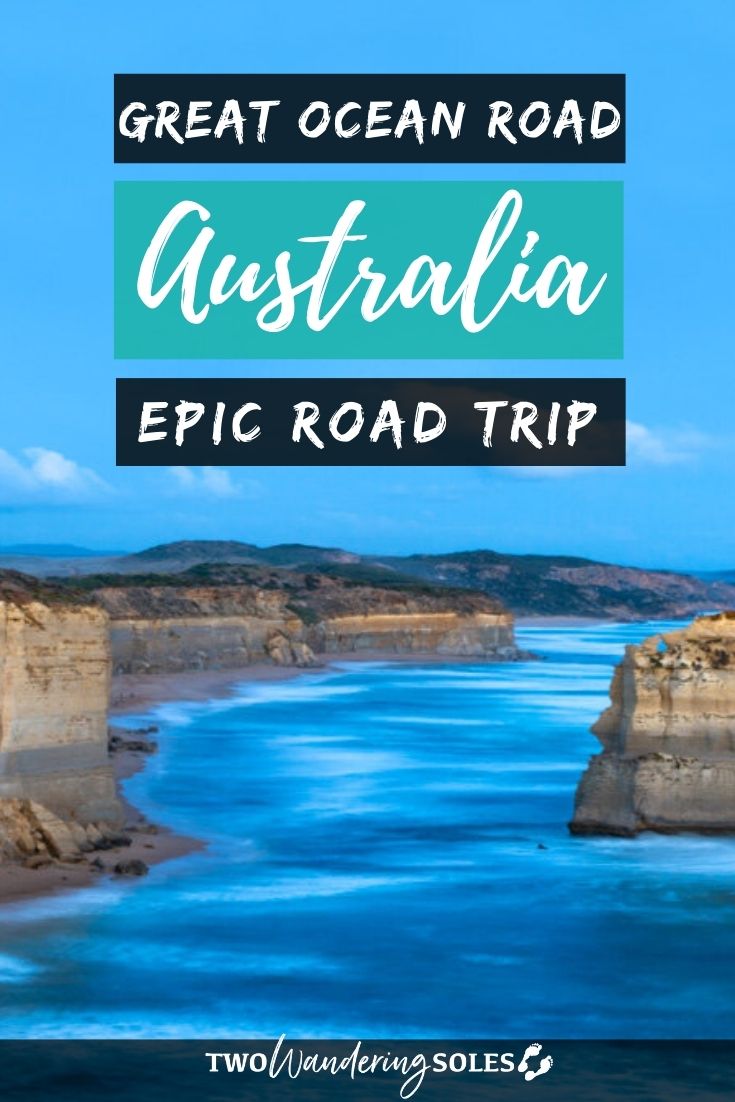 We want to hear from you!
Have you ever heard of the Great Ocean Road in Australia before? Are you planning a trip there currently or is this on your future bucket list? Comment below and let us know!