If you're thinking about joining the vanlife movement but unsure whether or not it's doable with your furry friend by your side, this article will answer all your questions! We've asked fellow vanlifers who travel with their dogs and cats to give us insider tips and advice about life on the road with a pet.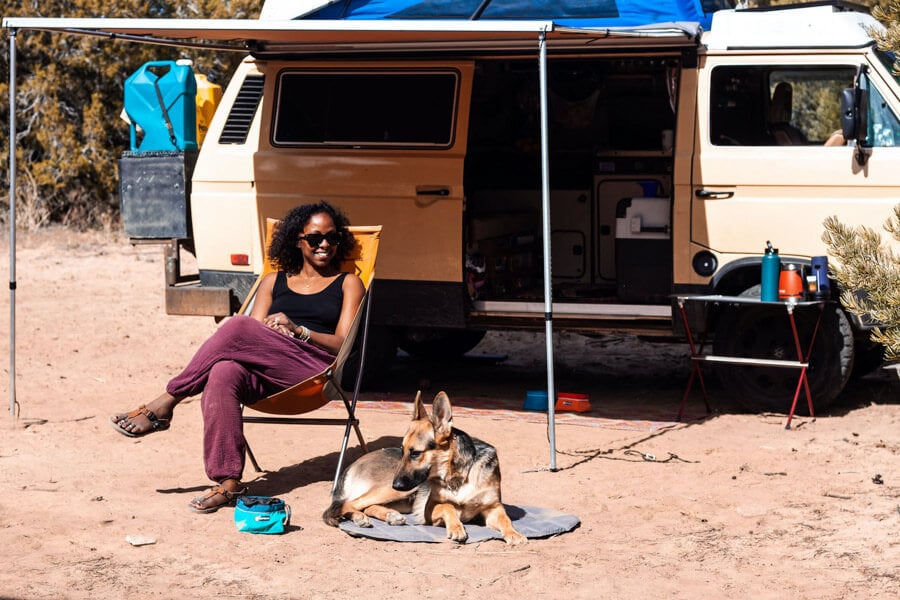 We often get asked for advice on how to do vanlife with a dog (or a cat). We don't have any pets (yet!), so we called on some other vanlifers to answer some of the most frequent questions we get asked – from must-have items that help make life on the road easier to practical advice like how to control the temperature to keep your furry friend comfortable.
We even threw in a few of our own questions we've wondered from time to time, like "How do you keep your space clean?"
Chances are, any questions you may have about vanlife with a cat or a dog will be answered below.
We've broken this article into two sections, so jump to whichever is most suitable for you:
Meet our dog experts
Maggie & Dom and their dog, Kodak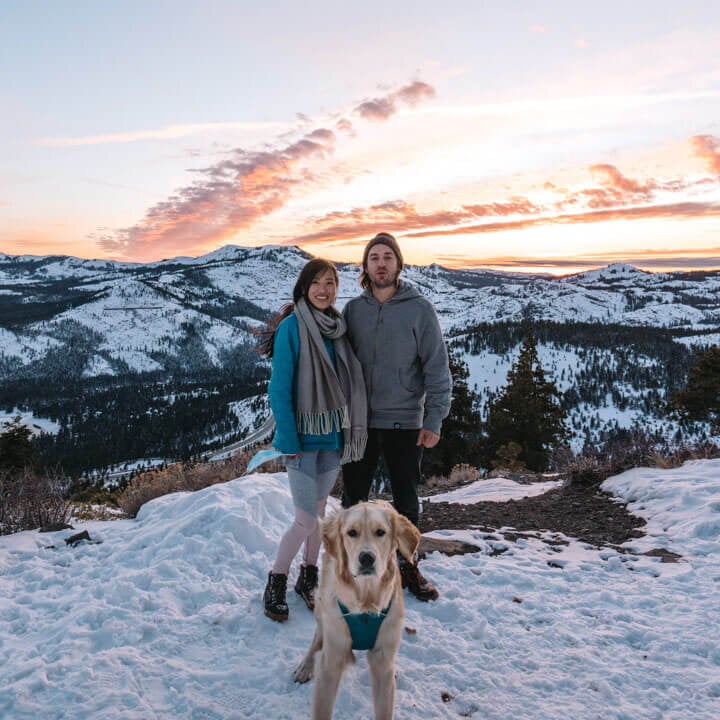 Maggie and her partner Dom are based out of San Francisco, CA, where they live with their fluffy puppy Kodak, a 10-month-old Golden Retriever. They decided to embrace the van life back in 2018, when they bought a Sprinter and self-converted it to become their weekend adventure mobile. They are on a mission to prove that not all travel needs to be grand in scale or length, and they write about their bite-sized adventures on their blog, Bite Size Travels.
Dustin & Noami and their dog, Amara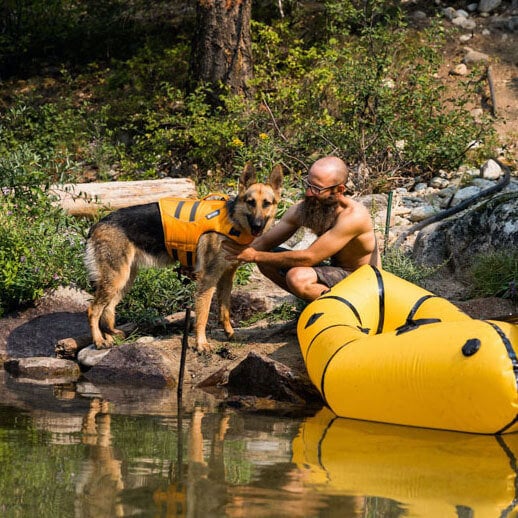 This adventurous family of three has been traveling the open road in their self-converted VW Westy since 2016 —well not Amara, she wasn't born yet! Amara, the 2-year-old German Shepard, joined the pack as a puppy and has been exploring the world with her nose ever since. Together they share their adventures and tips on off-grid mobile living on their blog, Irie to Aurora.
If you're interested in learning more about vanlife with cats, you can jump straight to that section here.
Note: Don't miss the section at the bottom of this article with the best apps for vanlife with pets.
Vanlife with a Dog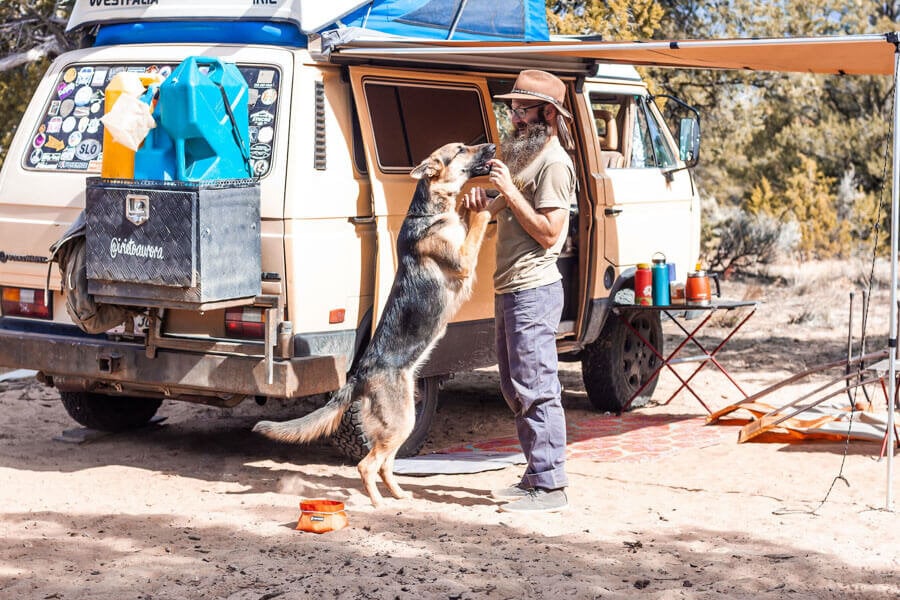 What's the best part about vanlife with a dog?
Maggie: Beach days, hikes, and cuddles in bed are all better with a dog.
Dustin: The best part of vanlife with Amara is having an adventure buddy that's always ready to go.
What's the hardest part about vanlife with your dog?
Maggie: A 60-sq. ft living space feels even smaller when you add a 70+ lb dog to the mix (plus two humans). Also, National Parks don't allow dogs and we have to be conscious of the heat if we have to leave him in the van (even with the van on).
Dustin: Long days running errands in a city, especially if it's hot. Let's be honest, everything takes longer when you're in a van.
What are your 3 must-have items that make vanlife with your dog easier?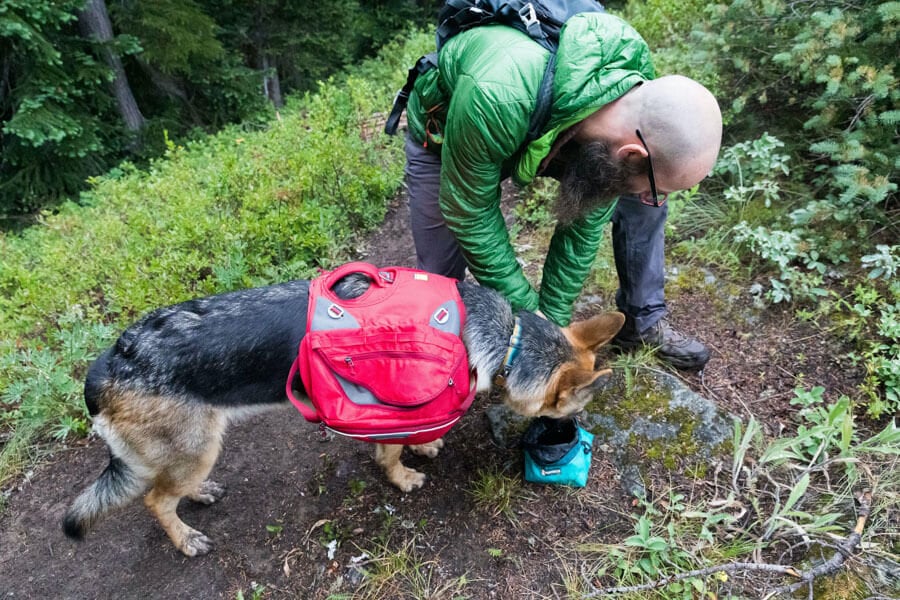 Maggie:
1. A portable shower pump – to rinse that mucky pup off.
2. Wondercide flea and tick spray – Kodak is on a monthly oral preventative for flea/ticks, but we find that spraying him before hikes helps prevent ticks from catching a ride into our van.
3. Our Maxxair fan.
Dustin:
A foldable/packable dog bed

A Ruffwear backpack so Amara can carry her own food & water on hikes
What do you do about temperature control to help keep your dog comfortable?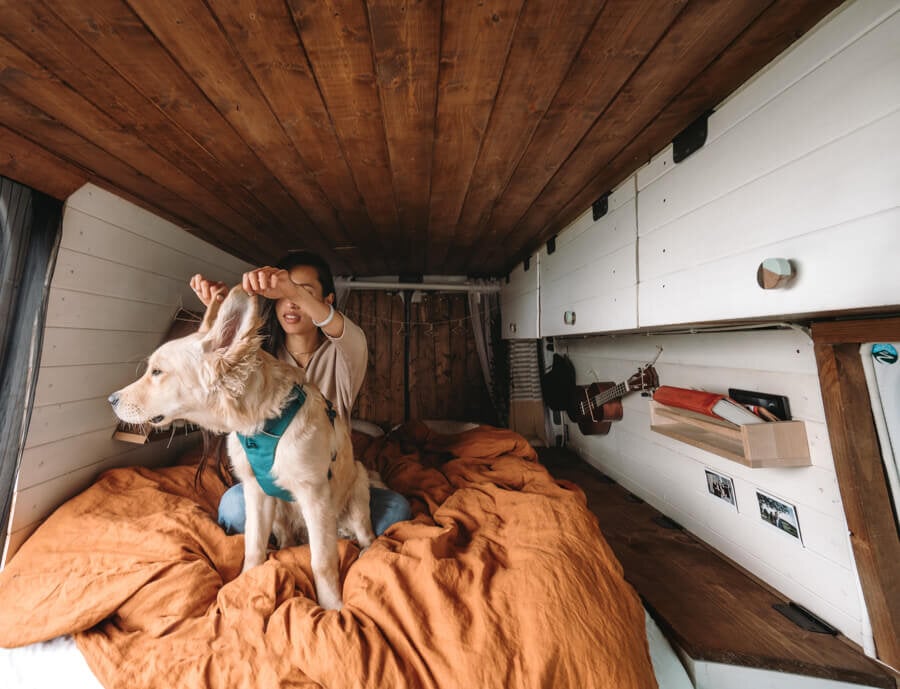 Maggie: Maxxair fan, Noogle (air vent to extend the A/C to the back when we're driving), extra plug-in fans.
Dustin: We have two portable fans, so at least one is pointed at Amara at all times. We also have a cooling vest from Ruffwear that we use when it gets too hot. We do our best to camp near water so if it's hot she can easily cool off, and we tend to chase 75 and sunny.
Related: Love traveling with your furry friends? Read our ultimate guide to flying with a dog!
What do you do when you need to leave your dog alone in the van?
Maggie: Plenty of bully sticks and Kongs to keep him entertained if we're visiting places where he needs to stay in the van. We also put him in his crate since he's more likely to nap/not have anxiety about us leaving, which is stored under our bed.
Dustin: We try not to leave her alone for long. When we have to, we park in the shade, leave the fans going and fill her bowl with ice water. If it's really hot, one of us stays with her.
What's your plan if your dog needs to see a vet on the road?
Maggie: VCAs are a good option for 24-hour emergency care if needed. We also carry pet insurance.
Dustin: Amara has multiple vets in several different cities. If we need to see a vet in a new city we find one who's taking new patients. We also have pet insurance in case of emergencies.
Special Note: Our cat experts, Hilary and Allison, have some other interesting suggestions about pet care on the road that apply to all animals, so be sure to jump to their section to check out their answers on this one!
How do you keep your van clean?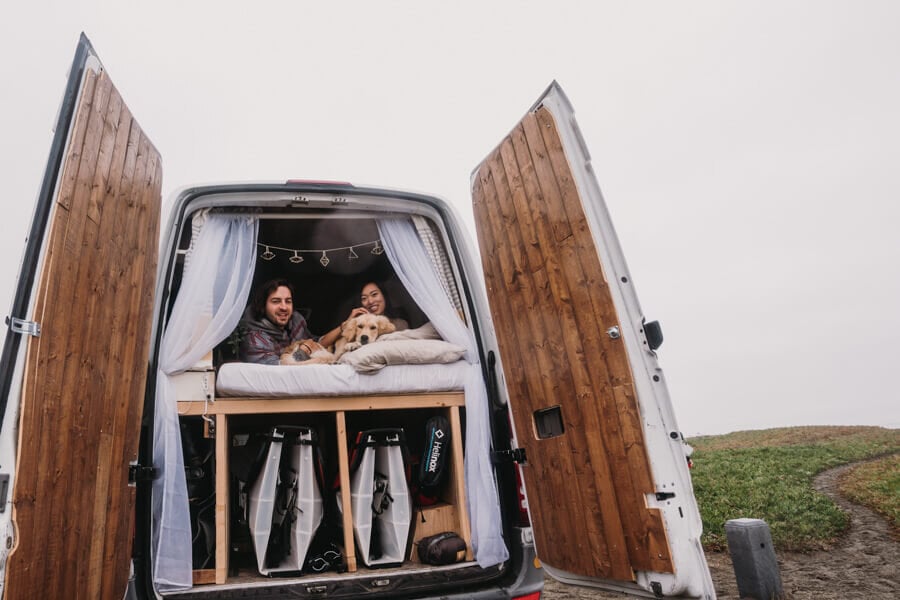 Maggie: Give up on your van ever being completely clean, LOL! But we use an undercoat rake, and brush on Kodak every other day. Vacuum regularly. Rinse + towel him off if he's sandy before he gets in. Use a reusable lint roller on the sheets/our clothes.
Dustin: We sweep often, and we give the van a deep vacuum about twice per month.
How do you keep your dog clean?
Maggie: Portable shower! We use one called the Nemo Helio Portable Pressure Camp Shower – it carries 22 liters.
Dustin: Amara swims as often as possible and we use a FURminator when she's shedding.
Where does your dog sleep?
Maggie: In his crate, under our bed. He's too big to fit on our bed!
Dustin: Our passenger seat swivels around and our fridge doubles as an extended doggy bed.
Psst! Looking for ideas on how to integrate your pet's space into your van layout? Jump down to the section on pet-friendly van designs.
What do you do about National Parks or hikes where dogs are not allowed?
Maggie: Leave him in the van. If we're gone for longer, we try to find a dogsitter on Rover.
Dustin: We don't go anywhere our dog can't go.
What is a top tip you have for someone who's thinking about vanlife with their pet?
Maggie: Consider what size dog you want and whether it will be comfortable for you and your dog long term. We're thinking about getting an extended sprinter (170″ WB) for our next build, since the 144″ WB we have now can get a little cramped with the three of us.
Dustin: Our top tip for vanlife with a dog is to make sure they have excellent recall training. It will keep your dog safe and help you to worry less as you explore new places and destinations with your dog.
I'm interested in vanlife, where do I get started?
We understand just how overwhelming it can be to start this process so we poured all of our personal experience and advice into a mega resource just for you.
Enter your email below to immediately receive our Vanlife Jumpstart Toolkit, your FREE mega guide to jump-starting your #vanlife dreams!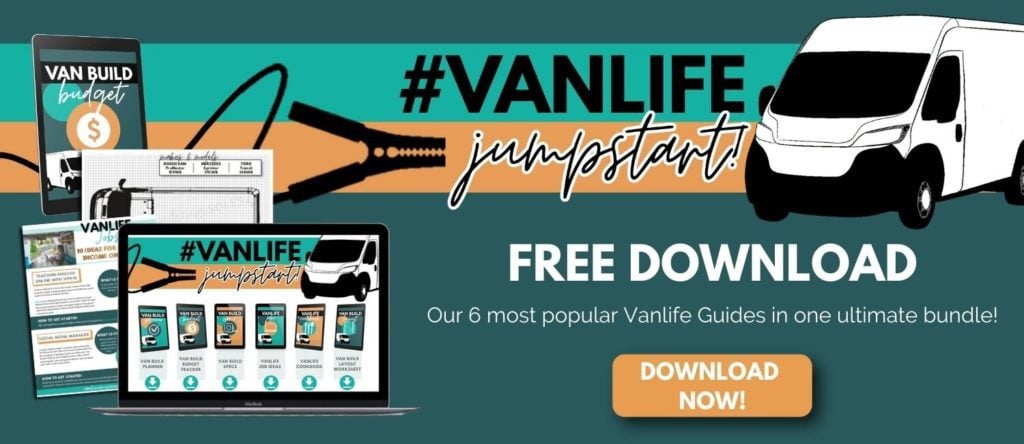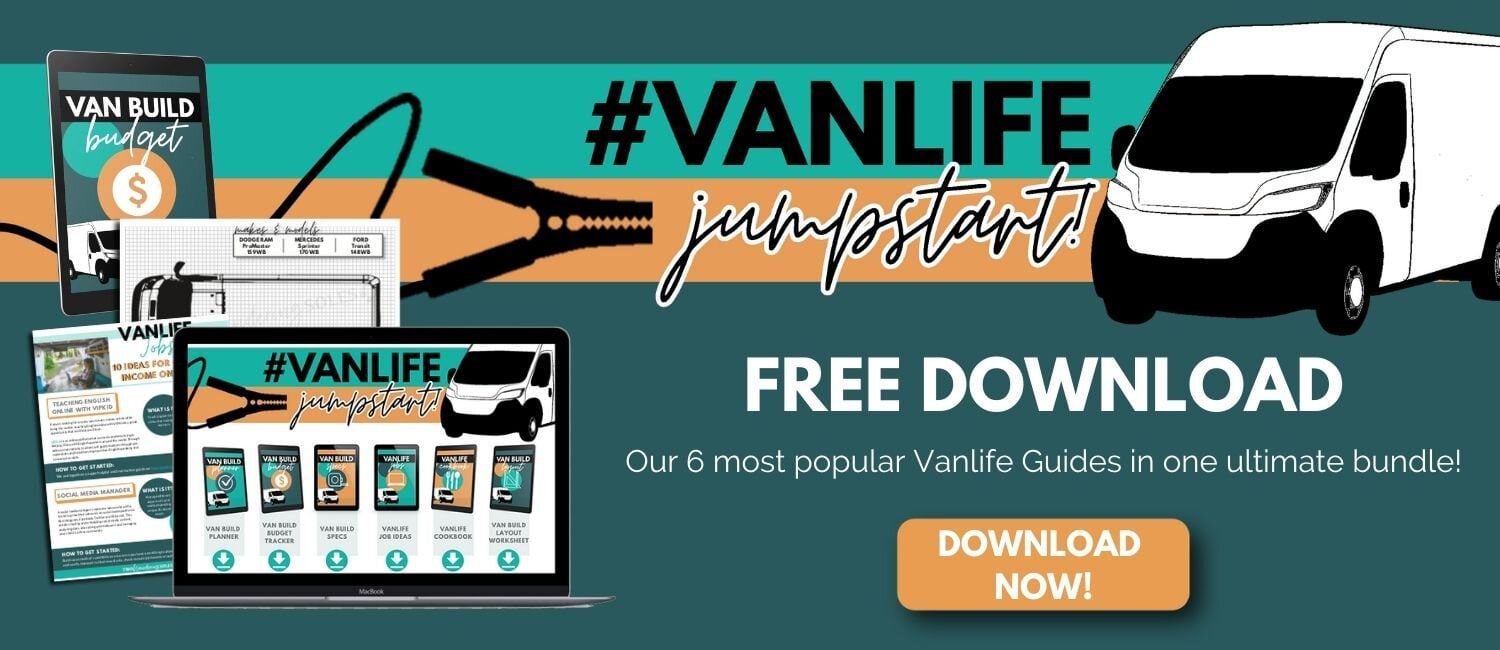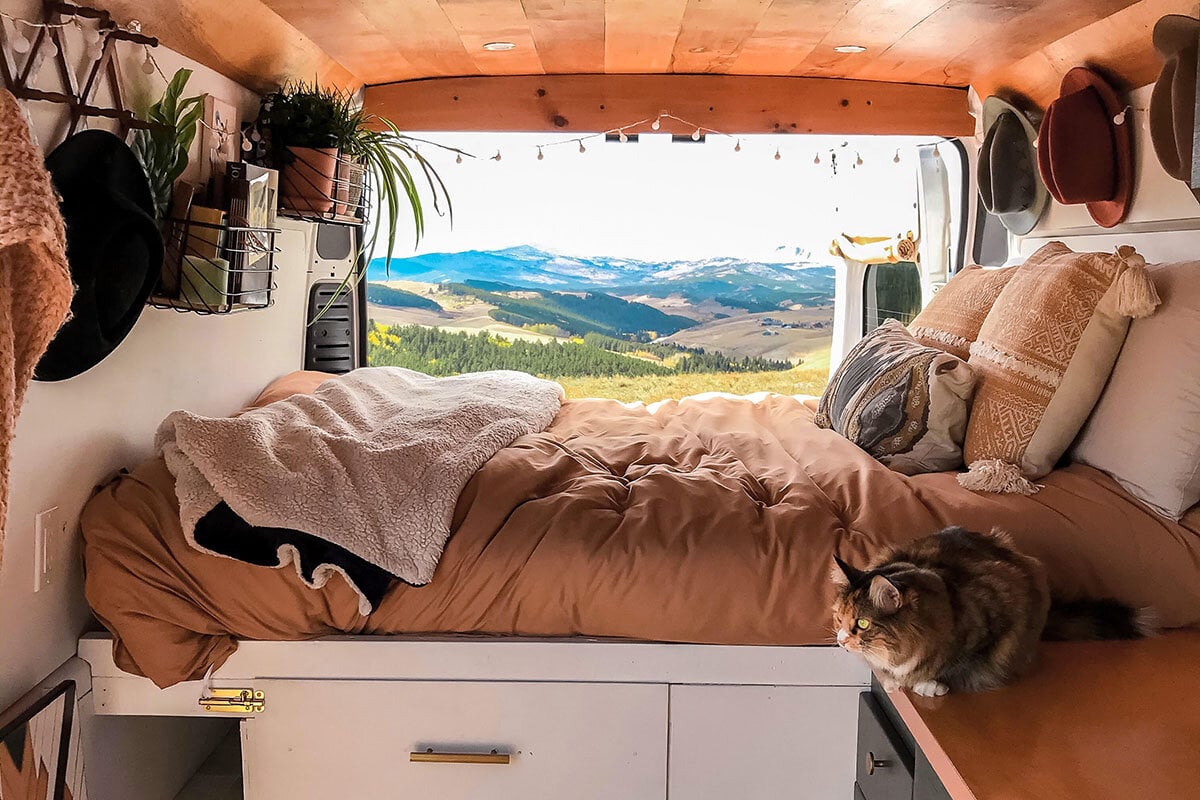 Meet our cat experts
Hilary and her cat, Ernie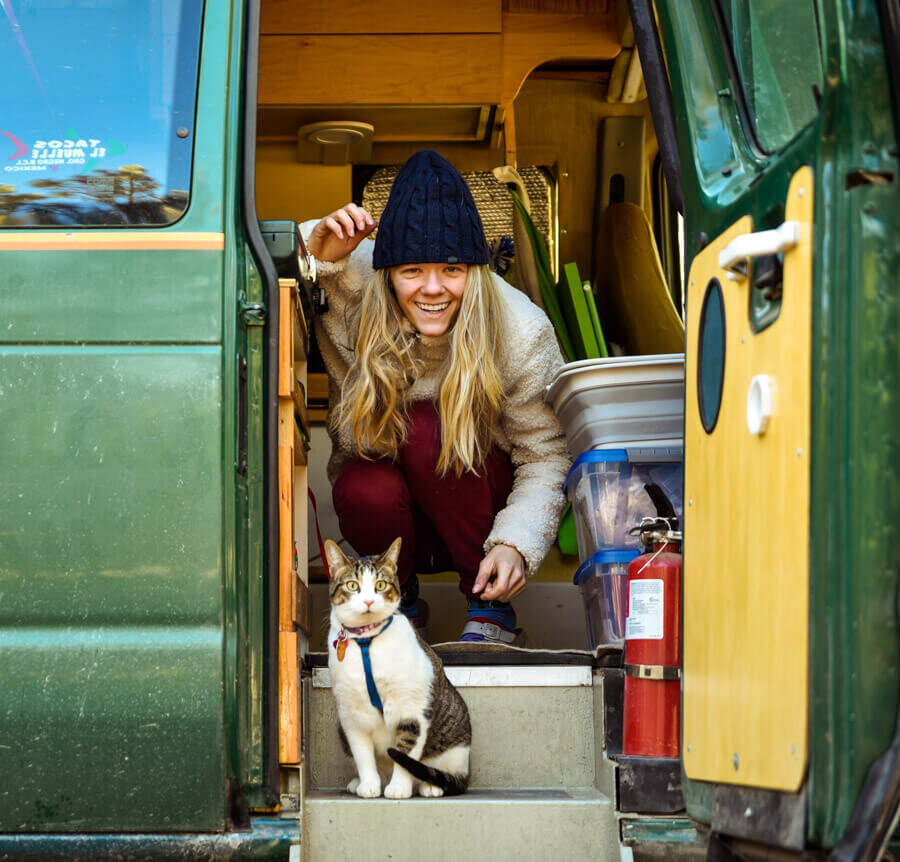 Hilary has been living out her van life dreams in her '99 Ford Econoline self-converted campervan since November 2019. With her 3-year-old kitty Ernie by her side, she travels the US, working freelance jobs to pay the bills and sharing her advice about "small van living" over on her blog, Green Van Go.
Allison and her cat, Jankins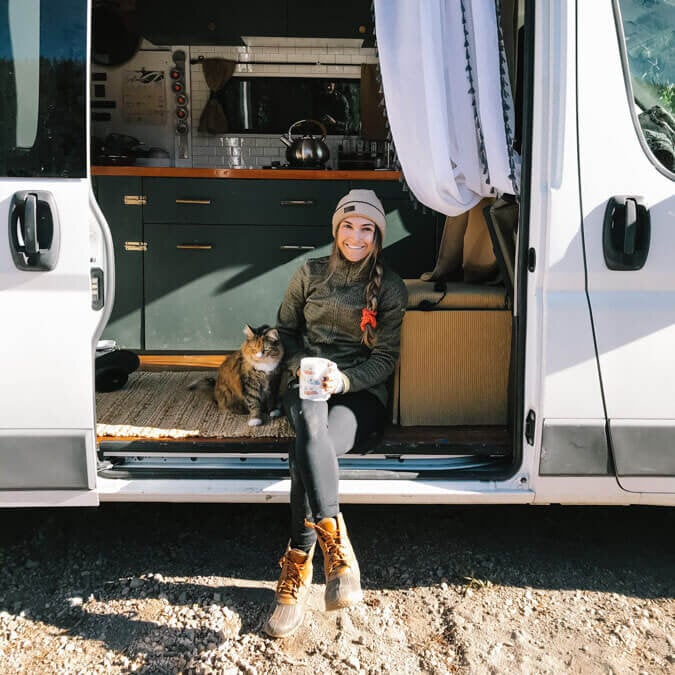 After quitting her 9-to-5, Allison went full-time van life in September 2020 to follow her dreams of living nomadically and working from the road. Living in her self-converted Dodge Ram Promaster with her cat Jankins, Allison is loving her new life of freedom, working remotely and sharing her adventures with the world on her Instagram.
---
Vanlife with a Cat
What's the best part about vanlife with a cat?
Hilary: Watching Ernie experience new things and grow his confidence as an outdoor cat. (Since previously, he was strictly an indoor cat.) In the last two months I've watched him learn how to climb trees, adjust to staying in different places, and meeting and being around dogs.
He has been so incredibly brave and adaptable. I just think if I hadn't exposed him to this lifestyle, I never would have given him the chance to show me just how amazing he is!
Allison: Jankins is literally my best friend. I get so happy going back to the van because I know she is going to be there waiting for me and welcoming me home with her little meows. She is very entertaining as well.
What's the hardest part about vanlife with your cat?
Hilary: There's a constant worry in the back of my mind about if he somehow got out of the van or was overheating inside, or got into something outside that made him sick. Even if I'm meeting up with friends or outside the van, I always check in on him every 1-3 hours.
On a less serious note, since cats are nocturnal, sometimes he makes getting a good night's sleep a little difficult. I'll be trying to sleep and he'll be trying to snuggle against me while bathing himself or pawing at my toes!
Allison: Temperature control. I do not have AC or heat in my van at the moment. I have to be overly aware while planning my route to make sure it wouldn't be too cold or too hot during the day if I were to be away from the van while Jankins was still in there.
What are your 3 must-have items that make vanlife with your cat easier?
Hilary:
A good cat harness that tightens if he tries to get out of it, which I hook up to an extra long leash that allows me to let Ernie explore outside the van.

My bubble backpack that is great for transporting him. It also helps him feel comfortable in new spaces. I just crack the backpack open and let him get out of it at his own pace. If he does get spooked, he'll retreat back into the backpack. It's a good "safe space" for him.

Lastly, I love my collapsible water and food dishes. They make for easy packing when I have to get back on the road again!
Allison:
Comfortable/ safe cat harness and leash set.

Litter box with good quality litter to reduce any smell.

Tick and Flea treatment. It is important to make sure they are safe and can enjoy the outdoors as much as the humans do.
What do you do about temperature control to help keep your cat comfortable?
Hilary: I'm rarely away from my cat for more than 1-3 hours at a time. If I am, I keep windows cracked, the ceiling fan blasting, and park in the shade. I cover all windows except driver and passenger windows so he can peak outside if he wants, but won't get blasted by sunlight.
Also, I have a bench-to-bed conversion and when it's in "bed" mode, it creates a narrow little passage that always stays significantly cooler than the rest of the van. So I know he always has that spot if he did get too warm.
Allison: As the weather starts to get more extreme I make sure that I test out the van temperature myself. This means on a hotter day I will stay in the van with the door shut, window open and vent on to see how it would feel for Jankins. If it is too hot to leave her in the van I will stay with her and leave the van door open for more air circulation.
I use the same process for cold environments. This is a little different as it is generally colder at night and she has taken too sleeping under the covers with me. (It might be the cutest thing I've ever seen). I also have a self-warming heating pad that I will put in her sleeping spot.
What do you do when you need to leave your cat alone in the van?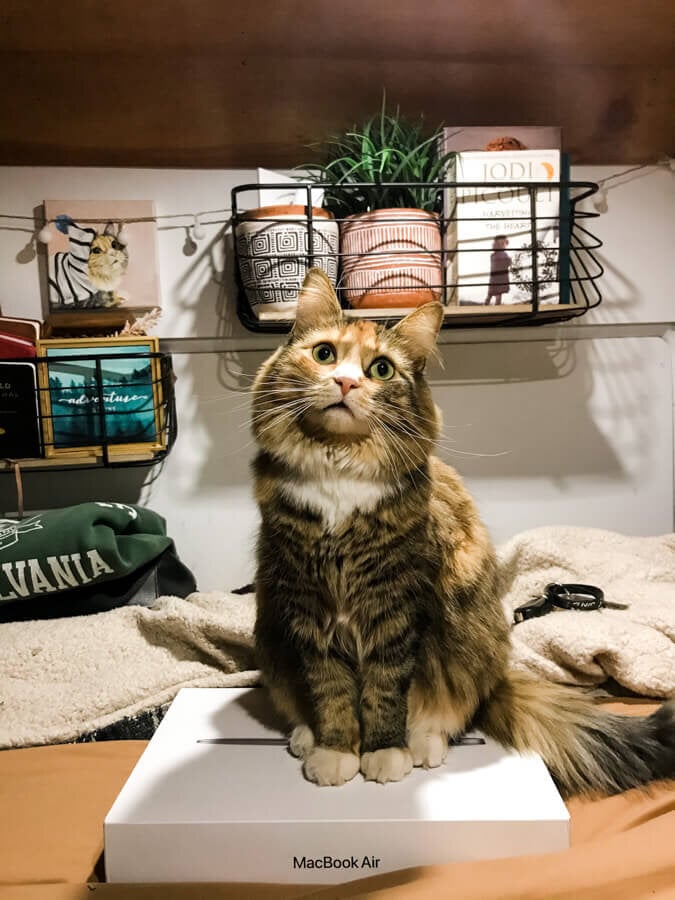 Hilary: I make sure he has food and plenty of water, do my temperature control routine, and check on him every 1-3 hours. I try to plan any activities for the morning hours or evening hours when it's cooler, so I'm not leaving him in the van during the heat of the day (typically 1 p.m. – 3:30 p.m.).
I've spent the last couple of months in Arizona where it gets significantly cooler in the mornings and evenings.
Allison: I always make sure she has plenty of food and water to start. Next I try to park somewhere near grass or a tree so she has entertainment watching birds or squirrels. If the weather is extreme I will put down most of the curtains to regulate the temperature inside the van. And I generally come back every four hours to check on her and give her treats if I plan on being gone most of the day.
What's your plan if your cat needs to see a vet on the road?
Hilary: I use Banfield Pet Clinic which is associated (and located within) PetSmart stores. This is nice because they have locations across the country, all with Ernie's health history on file. So I can go to any of those and know they already have all of his information.
If there were an emergency, I would simply take him to the closest vet I could find and pray the bill wasn't huge. I'm fortunate in that I have enough savings so I could cover these costs.
Allison: I would first call my own vet and then based off of their recommendation I would most likely find the closest local vet. I always carry her adoption records and medical records with me just in case.
How do you keep your van clean?
Hilary: Lots of sweeping and shaking out blankets! If he uses his litter box then walks on surfaces like my kitchen table or stove, I always have Clorox wipes on hand to give them a quick wipe-down. Even then, there's no pair of pants or scrambled egg breakfast that doesn't include a few cat hairs! But, I've made peace with it, it's just part of the experience.
Allison: Lol! I try my best. There is cat hair everywhere but I try to minimize the shedding by brushing her and then sweeping the floor almost daily.
How do you keep your cat clean?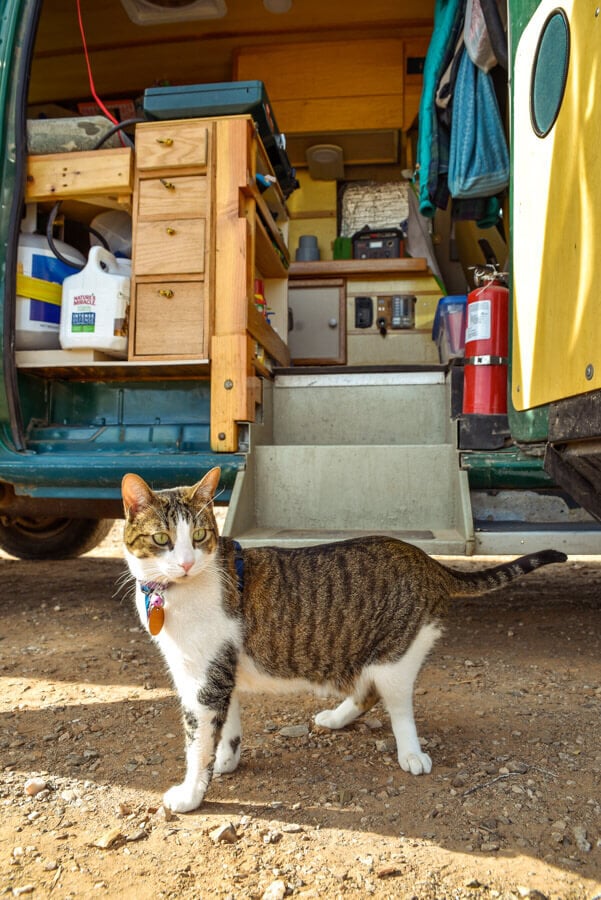 Hilary: My cat keeps himself clean by either rolling in the dirt and then bathing (licking) himself on a nearly daily basis. He stays in or around the van most of the time so there isn't really a whole lot of messiness he gets into.
Allison: She loves to roll in the dirt any chance she gets. I try my best to wipe her paws off if it is muddy outside and brush her before she cleans her fur herself.
Where does your cat sleep?
Hilary: My cat sleeps either cuddled up next to me, or on the other side of my (huge) bed, or in the passenger's seat.
Allison: Anywhere and everywhere she wants, Jankins rules the van. During the day she is generally sleeping in one of the captain chairs. At night she normally sleeps in bed with me.
What do you do about the litter box for your cats?
Hilary: I have a basic (uncovered) litter box I keep on the floor of the passenger's seat. It helps keep the litter contained to that area of the van, but I still have a dustpan I keep under the seat for quick sweeping. Also, a lot of car wash places have free vacuums so I'll use those occasionally to do a deep clean.
Allison: I have a tunnel that runs over my wheel well to an area in the back where her little box is. There is a door in the back so when I open the rear doors I can access the litter box to make cleaning super easy.
What is a top tip you have for someone who's thinking about vanlife with their pet?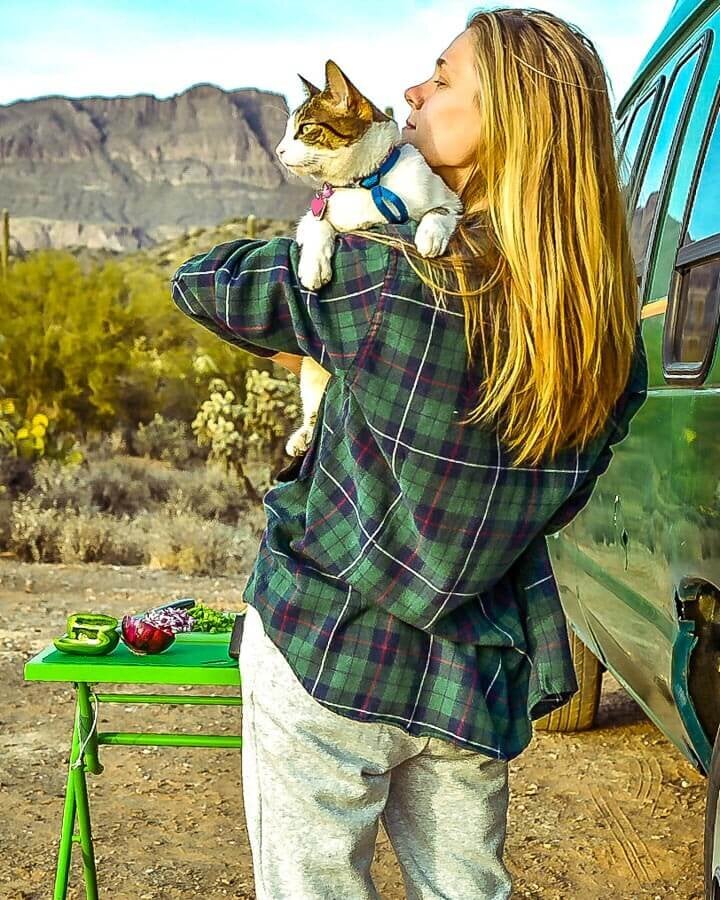 Hilary: Dig really deep on why you're doing van life. If it's to explore as many national parks and do as many hikes as possible on a set time frame, having a pet with you will add lots of overhead.
But if it's more of a leisurely experience to get some solo time and casually explore, a pet makes a great copilot and cuddle buddy.
Sure I can't up and join a group of friends on a last-minute backpacking trip now, but I get a different satisfaction from watching Ernie grow and really getting to know his whole personality. In any case, be prepared to make sacrifices for the wellbeing of your pet.
Allison: Be patient. Most animals are not used to spending tons of time driving in a car. It may take a while to adjust before you figure out how your furry friend is comfortable in a moving vehicle.
Try different things: crates, animal beds, calming treats, walks before the drive etc. It may take a while before you figure out what works for you and your pet but I am confident if you are patient you will find a way to travel that is enjoyable for both of you.
Related Article: 28 Best USA Campervan Rentals (including discounts for our readers!)
Best Apps for Vanlife with Pets
Rover is a great app for finding local pet-sitters, dog walkers, or short-term pet care while on the road. Browse through local profiles of pet-lovers who have passed a background check and been vetted by the site. Book a "sitter" for a walk, boarding, or even a pet check-in session all through the app.

Bring Fido is a great app for dog owners to find dog-friendly places everywhere they go. From hotels and restaurants to public parks and local events. You can even make your hotel booking through the app and save on booking fees. Plus each location is reviewed by dog owners so you get the full scoop right from the source.

The Dyrt is our favorite campsite locating app with the largest database of campgrounds (44,000+ campsites and counting!) and over 1 million user-submitted reviews. It also has a feature that lets you know if campsites are pet-friendly. Plus, it's super user-friendly, and has some pretty cool features, like outdoor gear contests and forums to connect and seek advice from fellow campers, that you won't find on any other camping app.

Try their Pro Membership for FREE for 90 days and gain access to the offline version of the app, utilize their trip planning feature AND get exclusive discounts on campsites and gear!
Pet-friendly Campervan Designs
Looking for ways to integrate your pet's space into your van layout design?
While some pets can adjust and make their space anywhere, these are some fun campervan layouts that offer built-in space for your pets to call home.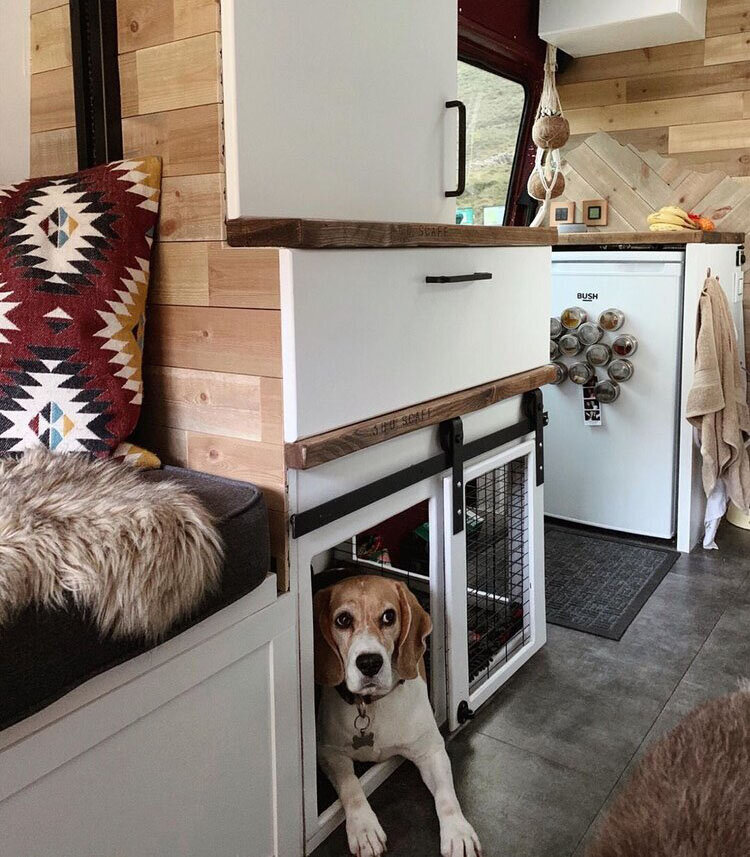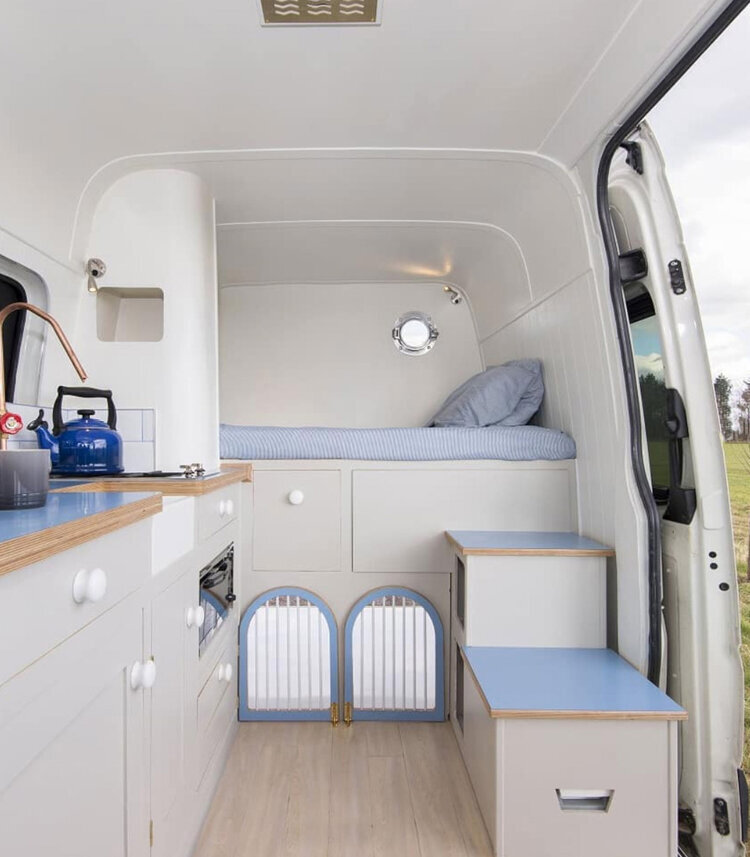 We have an entire article dedicated to van conversion ideas to give you inspiration for your campervan layout with everything from pet-friendly space to designs that accommodate a family and special features like bathtubs, wood-burning fire places and more!
---
Are you thinking about living the campervan life?
We have TONS of resources on converting your own campervan and living the #vanlife. Check out our Ultimate Guide to Van Life for all the answers to your most burning questions, or read some of our favorite articles below.
Interested in engaging with others about all things #vanlife? Join our Vanlife Facebook community!
We'd love to hear from you!
Do you have any more questions about vanlife with pets? Did any of these answer surprise you? Comment below and we'll do our best to get back to you!
Save this article on Pinterest for later!