If you're wondering how to get Internet inside your campervan, you're in the right place! We've created a guide that goes over all different campervan WiFi options (for all budgets and Internet needs).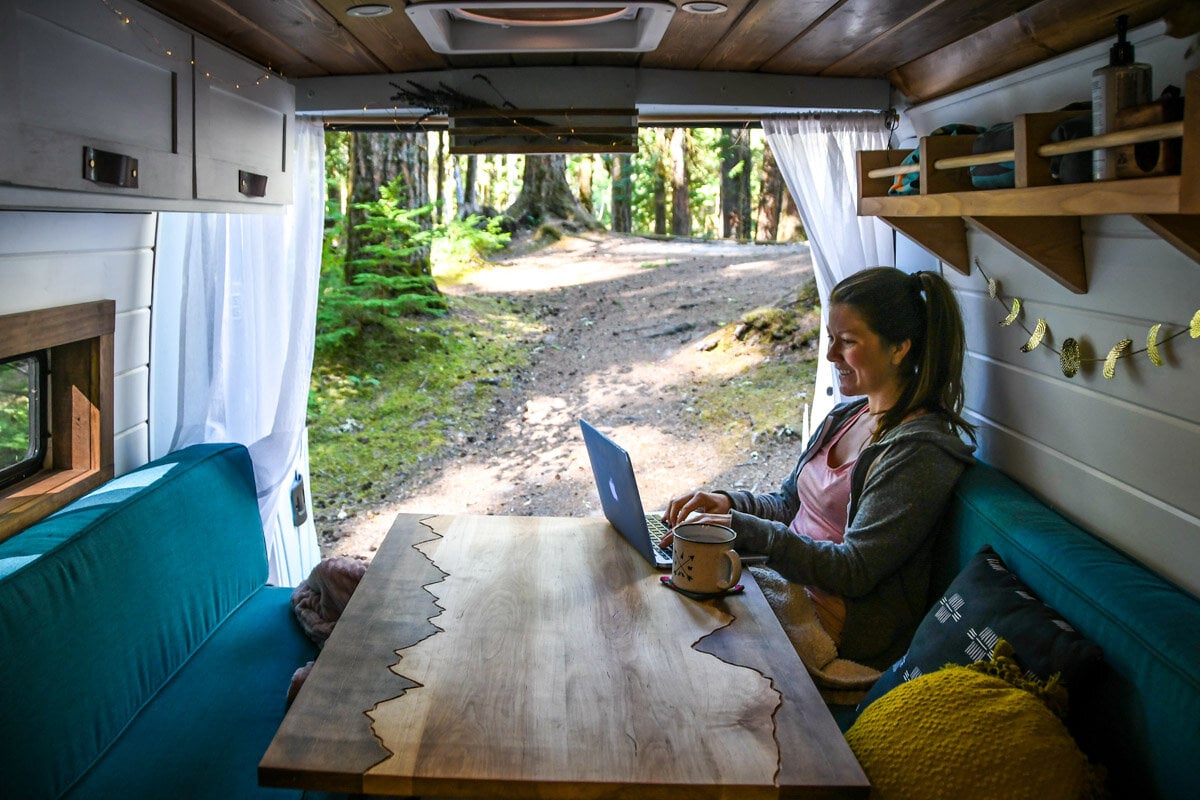 When we first became infatuated with #vanlife, we imagined waking up in thick forests, making coffee and having a slow morning, disconnected from all cell signals, social media and all devices.
Just us, the van and nature. Sounds dreamy, right?
But reality set in and as it turns out, we both still needed to work on the road. Gotta make that money, in order to fund those adventures, after all.
If you're just planning to use your van as an adventure-mobile, you could easily get by without having a WiFi set-up. Hit the road and enjoy the freedom of being disconnected!
But if you're like us, and work online and will be in your van long term, you'll likely need to figure out how to get Internet in your campervan.
There are several options out there for all needs and budgets.
Let's dive in and discuss each of them as well as pros and cons. Oh, and money too. Cuz we all know that's important.
What are your Internet needs?
Before we get started, it's a good idea to know exactly what your Internet needs are:
How big of a priority is it for you to have Internet access?

Will it mostly be used for work or pleasure?

Will you need to be streaming or video chatting often for work?

Or will your needs be more basic?
It's also helpful to have a good handle on how much money you're willing to spend for camper van WiFi.
If you're looking to spend as little as possible, your options will look different from someone who is planning to invest a bit of money in their mobile workspace.
Important Note: As much as we'd love to cover WiFi options for the entire globe, Internet and cell service vary significantly from country to country. For the purpose of this article, we're focusing on the United States. We will note when products work in other regions of the world, but if you are based elsewhere, you'll want to do some more country-specific research.


Terms to know
If you're a tech newb, some of these phrases will be good to know before we dive in:
Tethering: linking your smartphone to a computer (or different device) in order to connect to the internet.

Hotspot: Internet access point, whether that be through your smartphone's hotspot capabilities or through a hotspot device.

MiFi: or Mobile WiFi, has become the common term for a hotspot device (although MiFi is also a brand name from Novatel Wireless).

VPN: a Virtual Private Network (VPN) turns a public network (like WiFi at a library or a coffee shop) into a private network through a series of virtual connections, thus making your communications more secure.

Throttling: when data providers deliberately slow down internet speeds when a user hits a certain threshold of data usage.
Don't worry, we're keeping things simple in this article, so you can figure out how to set up the Internet whether you're a tech whiz or a total beginner.
How to get WiFi in a campervan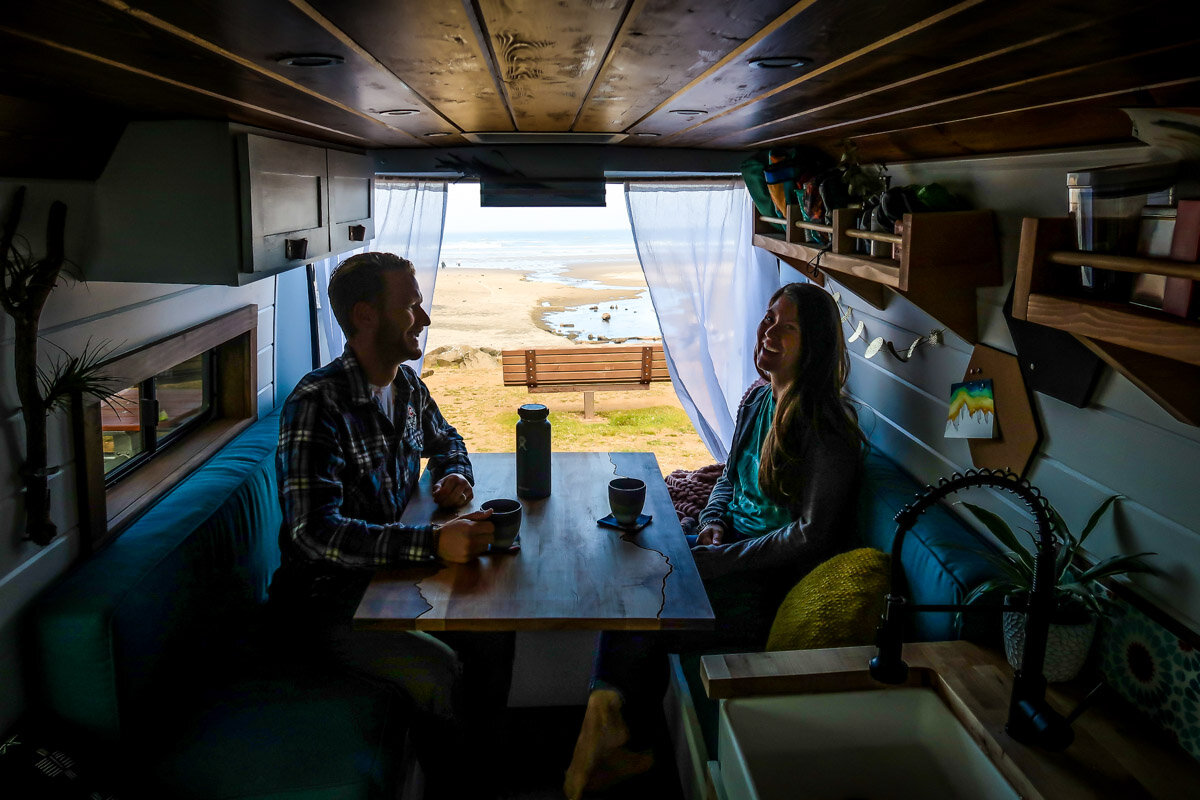 When setting up WiFi in a house, you typically plug a router into the wall, and voila – you can surf the net!
But obviously this wouldn't work in a campervan.
Here are the two processes that most vanlifers use to get WiFi in their campervan:
Get a cell phone plan

Turn your cell phone into a mobile hotspot (establishing a WiFi signal)

Connect your laptop or tablet via WiFi to your cell phone's hotspot

(Optional) Turn on a Cell Signal Booster to increase the range and speed of your Cell Phone's Hotspot
OR
Buy a Hotspot Device and pay for a data plan

Turn on your Hotspot Device (establishing a WiFi signal)

Connect your laptop or tablet via WiFi to your Hotspot Device

(Optional) Turn on a Cell Signal Booster to increase the range and speed of your Hotspot Device
There are a few other ways to get a WiFi signal in your campervan (we'll go over them in this article), but the methods above are the ones we'd recommend.
Now that you know the basic process, let's dig into the first step: choosing a good cell phone plan for vanlife.


Choosing a cell phone plan for vanlife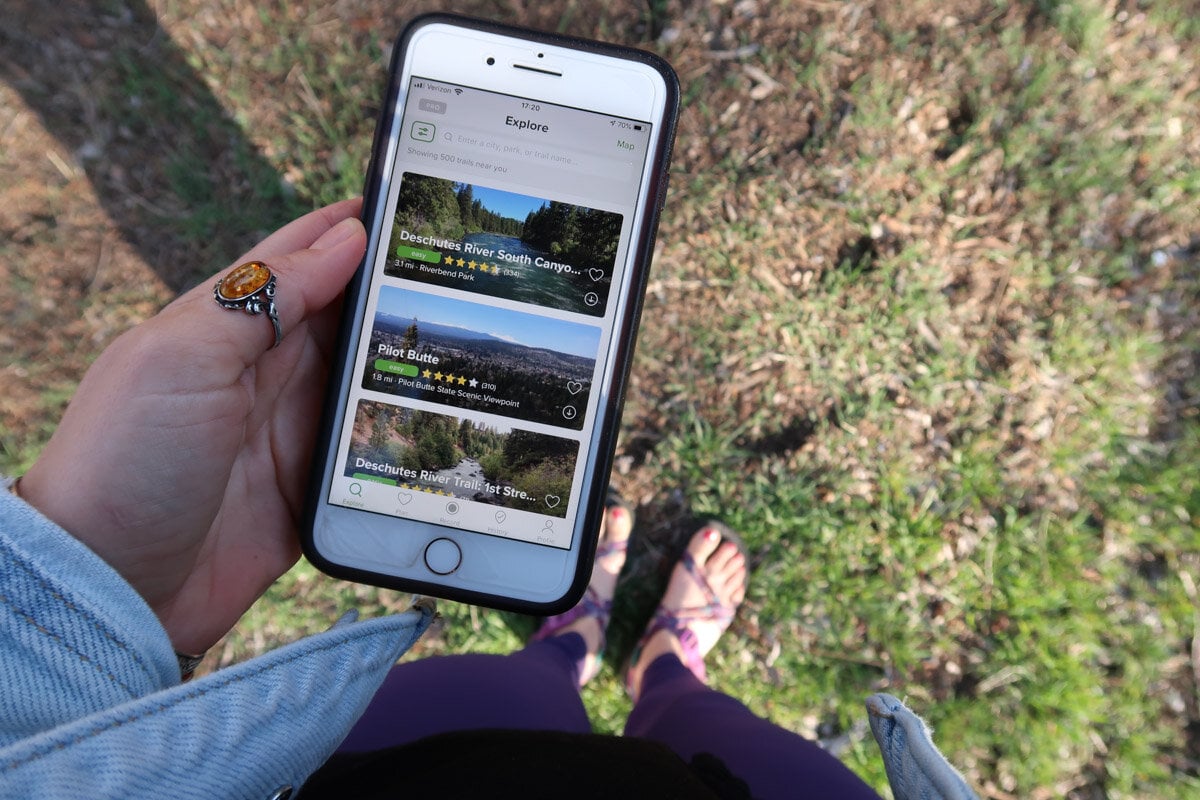 Essentially, you'll be taking your cell phone service and converting it into Internet for your campervan. 
Let's get abstract for a minute… 
This means that your cell phone plan is kind of like the foundation and your overall WiFi is your house. 
If you have a spotty cell phone signal, your foundation is going to be "cracked" and it's going to be difficult to build a strong metaphorical "house". 
Moral of the story: Crappy cell phone coverage = crappy overall Internet. Strong phone coverage = strong overall Internet. 
The first thing you'll want to do is choose a cell phone provider that is going to provide you with a strong signal to work with since that is going to help determine your overall WiFi strength.
Maybe your current provider is a great option, or perhaps you will want to consider changing plans. 
Let's walk through some things to consider…
USA Cell Networks
Verizon

AT&T

T-Mobile / Sprint (merged as of April 2020)
Each of these networks have 4G and are in the process of rolling out 5G across the country. That said, the areas where you will have coverage will vary a bit.
Compare coverage of all networks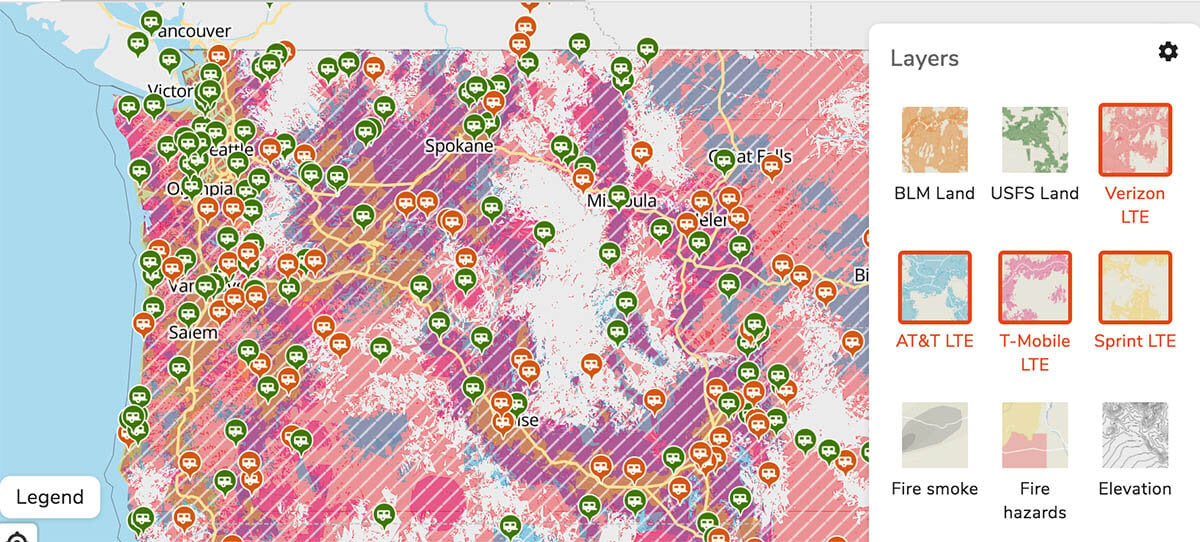 One way to compare the networks' coverage in areas you'll be traveling is to use Free Roam's free and unbiased map tool. (You can access this from their website or the app version.)
You will see a map of the United States, and you can turn on layers that show each cell phone network's coverage. You can compare all networks or just two that you're deciding between.
Our personal experience: We've tried a few different cell phone networks in the USA and in our experience, the one with the best coverage has been Verizon*.
Verizon plans cost a bit more per month (around $10 more on average) than the other networks, but in our opinion it's worth it for the coverage and the unlimited plan. 
I mean, what is the point of paying for cell service if you don't have a good cell signal? 
*Note: This is not sponsored by Verizon in any way. We're simply sharing our experience. 
Best USA Cell Service Plan: Verizon
Verizon has a few different unlimited plans depending on what you're looking for, but we'd recommend the "Do More Unlimited Plan". This starts at $80/month, but if you add another line the price goes down to $70/month per phone.
Do More Unlimited Plan: 
nationwide coverage to 4G LTE and 5G access

50GB of data per month before it starts to throttle your data

15GB of phone Hotspot data

Unlimited Talk and Text in Mexico and Canada

Disney+ for 6 months.
Cheaper Alternative: The "Start Unlimited Plan" at $70/month, you'd still get access to 4G LTE but you are subject to data throttling at any time. Also your Mobile hotspot is limited to 600 kbps, which is pretty slow. In our opinion, the "Do More Unlimited" plan is well worth the extra $10 per month.
Budget Cell Phone Plan: Visible
Using the same towers as Verizon's 4G LTE network, Visible is a good low-cost provider. 
$40/month unlimited call, text, data, hotspot (data may be reduced speeds in high traffic areas)

Mobile Hotspot speed capped at 5 Mbps

Uses Verizon's 4G LTE network

No contracts 

Save $5/month per person with each new line
Cell Phone Plan for Multiple Countries: Google Fi
If you're only planning to visit the USA for a short period of time and don't want to commit to a phone plan, a good option to consider is Google Fi. 
Essentially, this will give you a cell phone number and plan that will work worldwide. We've been waiting for something like this to come out for years! (This means no more having to change your cell phone number or switch plans constantly, which is great news for those with a nomadic lifestyle.)
$70/month for Unlimited data

Adding a second line brings the monthly cost per phone to $60/month ($120/month total). 

As with all USA networks, unlimited data is a loose term, and with Google Fi your data does get throttled at 22GB per month, and then it gets slower after that. 
Good to know: Google Fi is geared toward non-iPhone users (i.e. Google Pixel Users) but is still compatible with most generations of the iPhone. 
Psst! While we're chatting about phones, check out this list of outdoor apps that'll make hiking, camping and other adventures easier!
Smartphone hotspot for campervan WiFi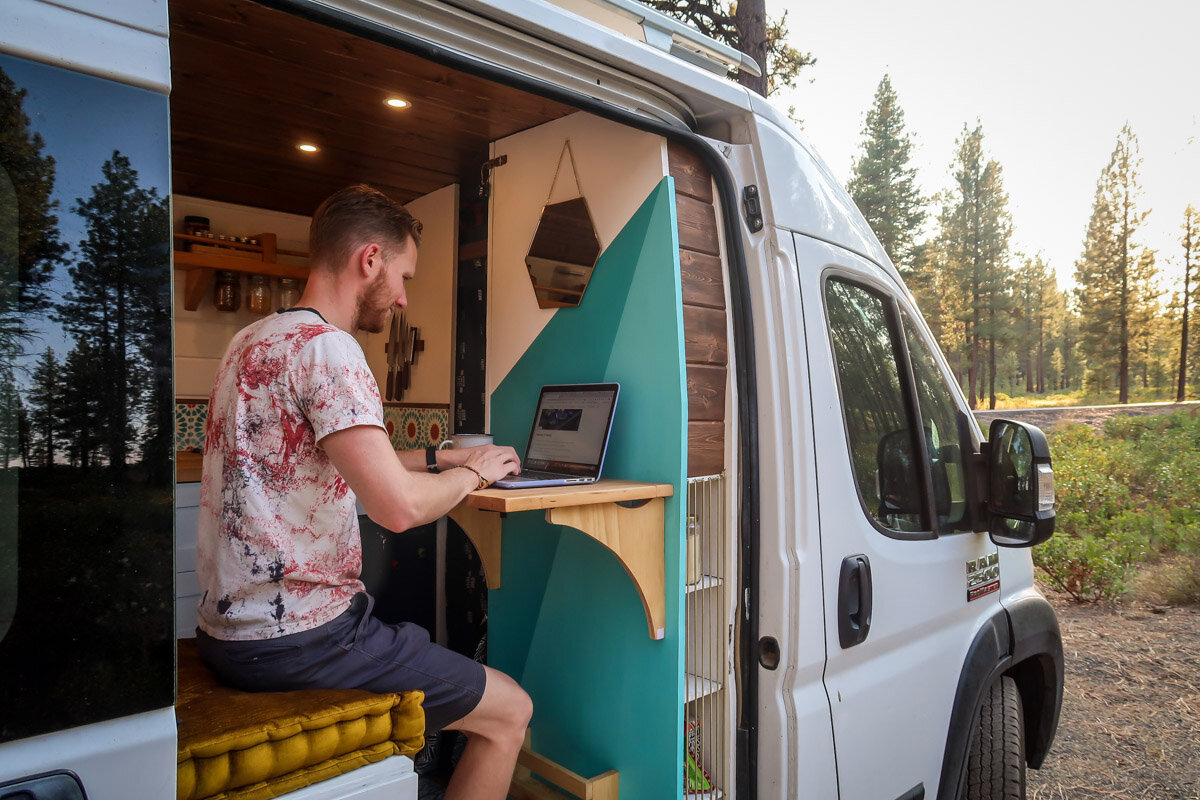 The quickest way to get WiFi in your campervan is to turn your smartphone into a hotspot. This allows your smartphone to convert its cell signal into a WiFi signal. You can simply sign on from your laptop or other devices.  
iPhone users: How to turn on your smartphone hotspot
Go to Settings 

Personal Hotspot 

Turn on "Allow Others to Join" 

Set the Wi-Fi Password
Android users: How to turn on your smartphone hotspot
Swipe down from the top of your screen 

Tap the Hotspot icon  
How to join the hotspot from a laptop of other device:
Turn on WiFi 

Search for the name of the phone (i.e. "Ben's iPhone") 

Enter the set Password and click "Join"
Cons of using your phone as a hotspot:
While using your cell phone as a hotspot is super easy, there are a few drawbacks to doing it this way:
It can drain your phone's battery quickly. 

If you don't have dedicated hotspot data (as part of your cell phone plan), you could use up your monthly cell data very fast.

Even if you have "unlimited" data, you could hit the throttle threshold faster, which will then limit your network speeds.  
There is another option for creating a WiFi signal in your campervan…
Hotspot device for campervan WiFi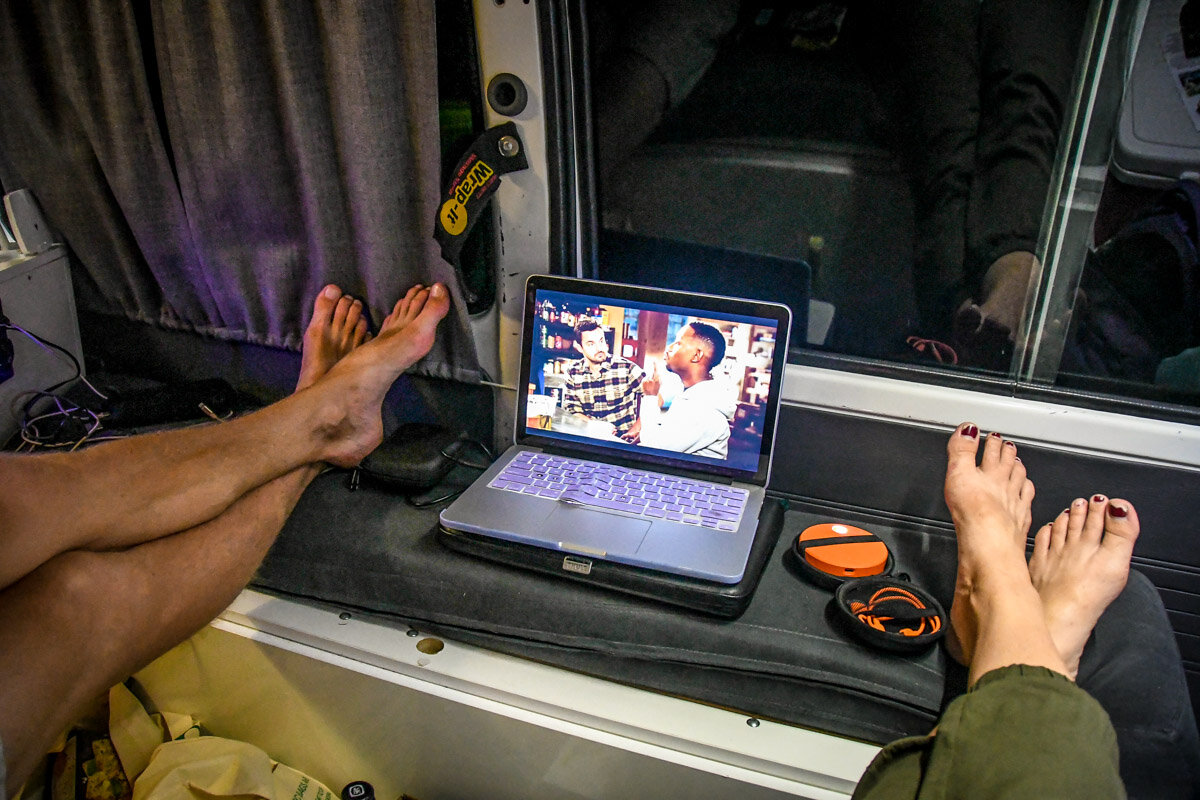 What is a hotspot device?
A hotspot device simply receives cellular data (similar to a cell phone) and converts that into a WiFi signal around the device. These devices are typically the size of a deck of cards and will have a display on them showing signal strength and battery life. 
Since the device works off of a cell network, you'll have to pay monthly service just like a smartphone plan with data. 
Benefits of a mobile hotspot device:
Doesn't waste your phone battery

Saves on cell phone data, if you have a capped plan

Depending on the brand, can be used as an external battery bank (or even a remove camera)

More people can join the WiFi network. 
Hot VanLife Tip!
We know some vanlifers who get two different plans so they have two levels of coverage. For example, they have Verizon as their cell phone carrier, but will purchase a hotspot device under the AT&T network.
This means they can use whichever device has the best service at any given time.
This tactic may not work all that well in some places, though we've heard it is a good solution on the West Coast where AT&T has service in some of the areas where Verizon's service is weaker.
To see if this would make sense for you, compare the coverage maps (explained above) in the areas you'll be mainly traveling.
Best Mobile Hotspots for Campervan Travel
Coverage: 5 stars

Cost: $20/month if you already have a Verizon Unlimited Plan

No Verizon Plan? It's $75/month of Unlimited OR Pay the data-only plan starting $20/month for 2GB up to 100GB for a higher cost AND a $20/month line access fee 

Battery life: up to 24 hours

Connect up to 15 devices

Throttled

Can use internationally

Not 5G
Coverage: 4 stars

Cost: $17/month for the plan plus $17/month for the device (full retail price of the device is $509)

Connect up to 32 devices

5G capable 
T-Mobile T9 Mobile Hotspot
Coverage: 3.5 stars

Cost:Starting at $15/month for 2 GB up to $90/month for 22GB plus $90 for the device

Connect up to 15 devices

4G LTE capable
This hotspot device can be used worldwide, so if you travel often and don't want to commit to one network, it may be a good option.
Uses the best network available

Cost:

Pay Per GB: $3 per GB 

Unlimited Data up to 20GB then throttled $45/month

Global Day Pass $9/day

Device: SkyRoam Solis X costs $179.99

Connect up to 10 devices

4G LTE Coverage in up to 130+ Countries

8MP Remote Camera
The ultimate Digital Nomad gear
We put together this awesome resource with all of the essential gear for life as a Digital Nomad! From travel essentials and electronics to gadgets that'll make your life easier on the road, we've cover it all!
And the best part.. it's totally FREE! Just click below and enter your email. We'll immediately send our digital nomad gear guide to your inbox!

Boost your cell signal in a campervan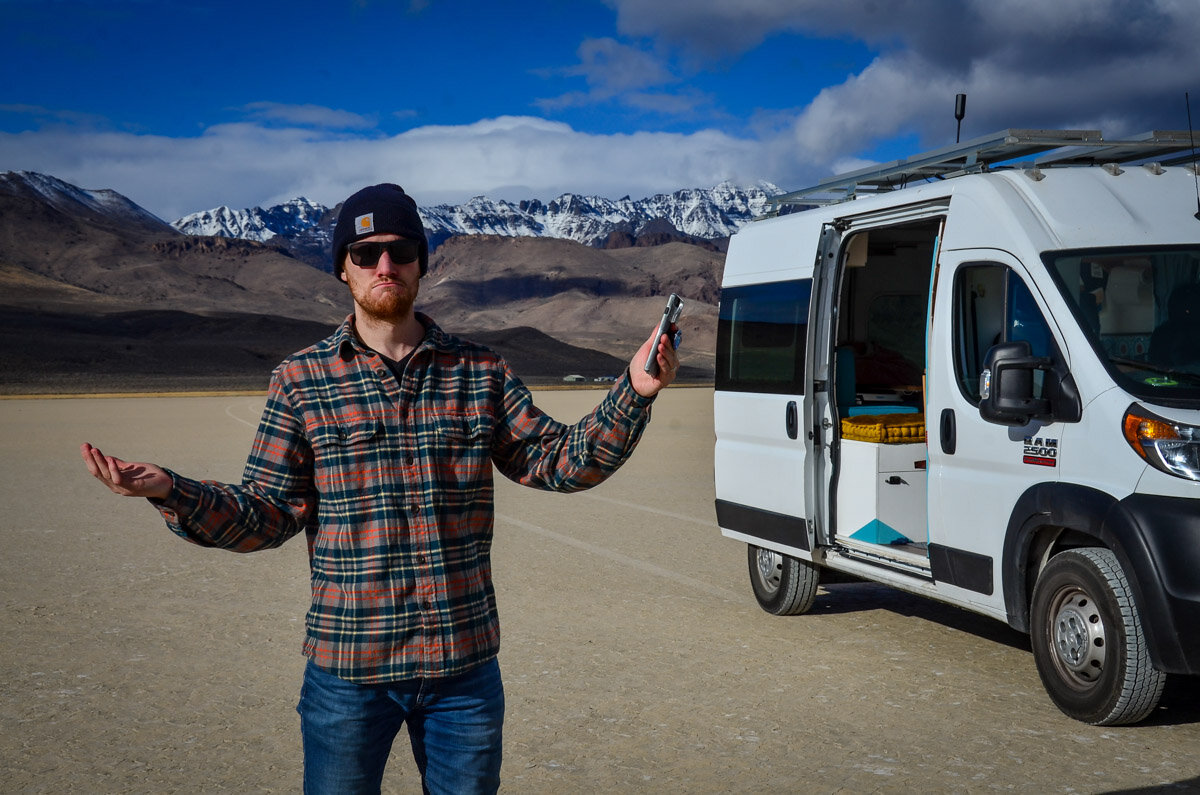 The first thing we learned after using a cell phone hotspot in a van is your internet speed is only as fast as your cell signal.
I mean, have you ever tried to load a website only using a 1x cell signal? It…Takes…For…Ev…er…
While in urban areas, this is usually not a problem. 
However, much of the time when we're traveling in our campervan, we're in smaller towns, in National Parks or somewhere in between. And these types of places often don't have the best cell signal. 
So what is a van-dwelling-digital-nomad to do?
What if I told you there was a device that could strengthen your cell phone's signal, thus, creating a better Internet connection for all your devices?
Allow us to introduce you to a cell signal booster… 
Signal Booster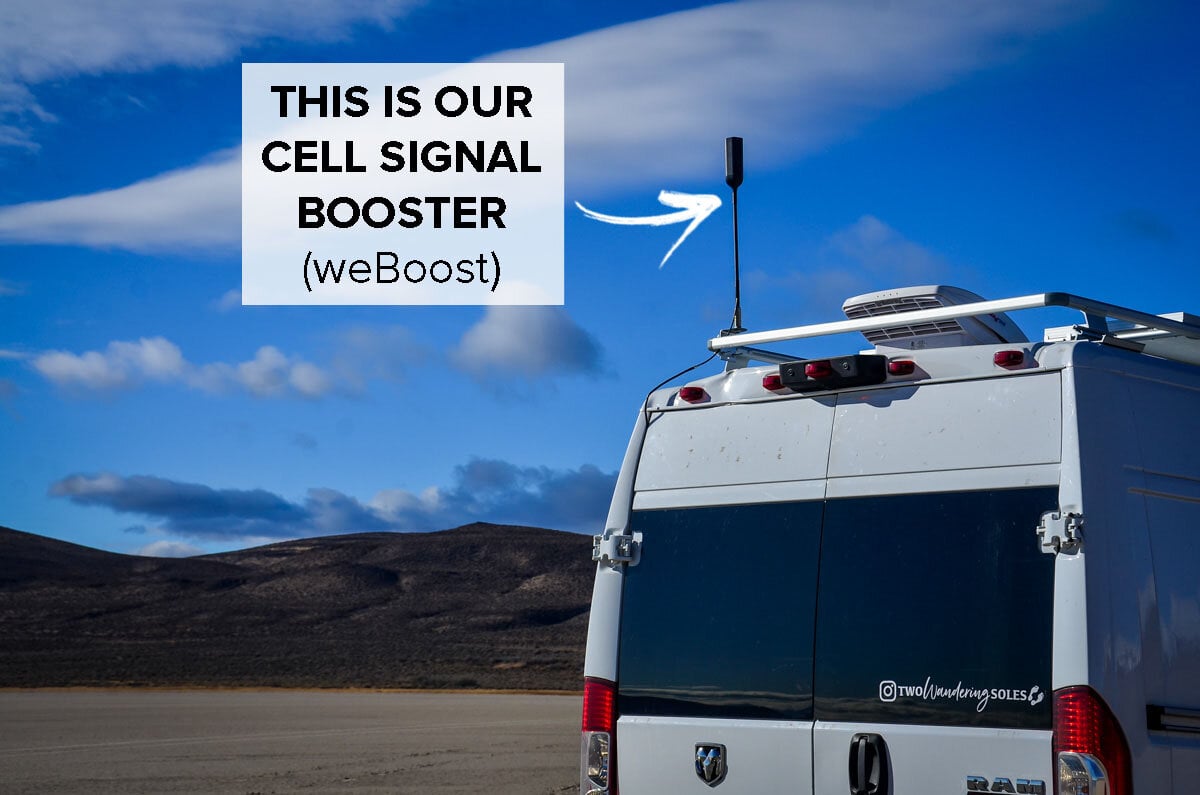 Disclosure: Before we jump into this section, we want to be transparent and let you know that our weBoost device was gifted to us. That said, we are going to share our honest opinions and experiences in the section below. 
What is a signal booster?
A signal booster pulls in a weak signal outside of a building or vehicle, amplifies the signal and then retransmits it inside the building or vehicle. Most signal boosters have a three-part system as described below: An outside antenna, an amplifier, and an inside antenna. 
Why use a signal booster and how it works
Weak cell signals can be caused by a number of things, but most commonly a weak signal is because your device is at the edge of a cell tower coverage area or there is a natural or man-made structure that is blocking the signal. 
Typically when you're in the middle of a forest or in the mountains or in the basement of a building, at best you'll have a 1x signal on your phone. We all know that means you practically can't do anything with your data, and you're stuck. 
With a signal booster, the outside antenna will pick up that trickle of a weak signal, and then the amplifier will boost it (up to 32x the strength) and then the inside antenna rebroadcasts the now stronger signal to your device.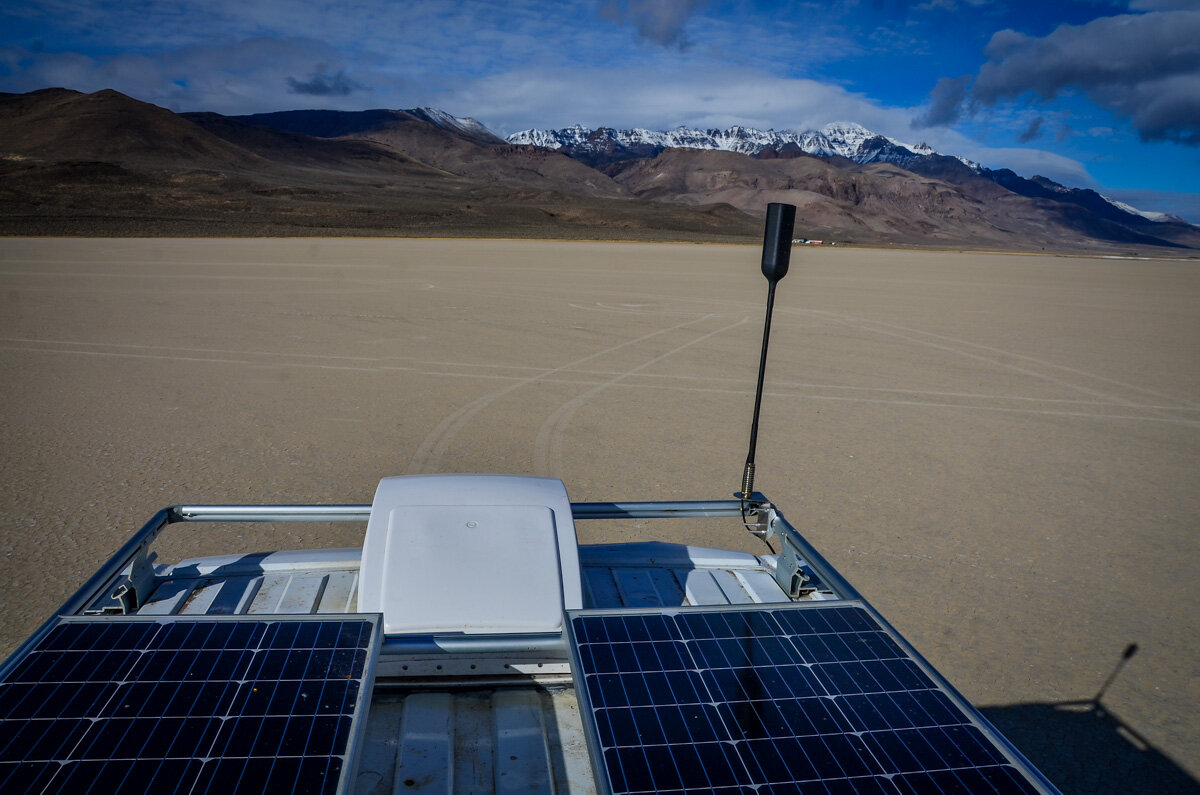 Our experience with a signal booster
We have tried out both the weBoost Drive X (for cars/SUVs) and weBoost Drive Reach RV (for RV's), and both devices amplified our signal strength. 
With the Drive X, we were able to boost from 3G to 4G LTE and received a small increase in download speeds (+2-3 Mbps) but a big boost in upload speeds (+30 Mbps). 
With the Drive Reach RV, we boosted the signal from 1x to 4G LTE in the mountains in Oregon, which was great! Our speeds improved for both upload and download.
Here is an example of mobile speeds when we were in the National Forest just outside of Sisters, Oregon: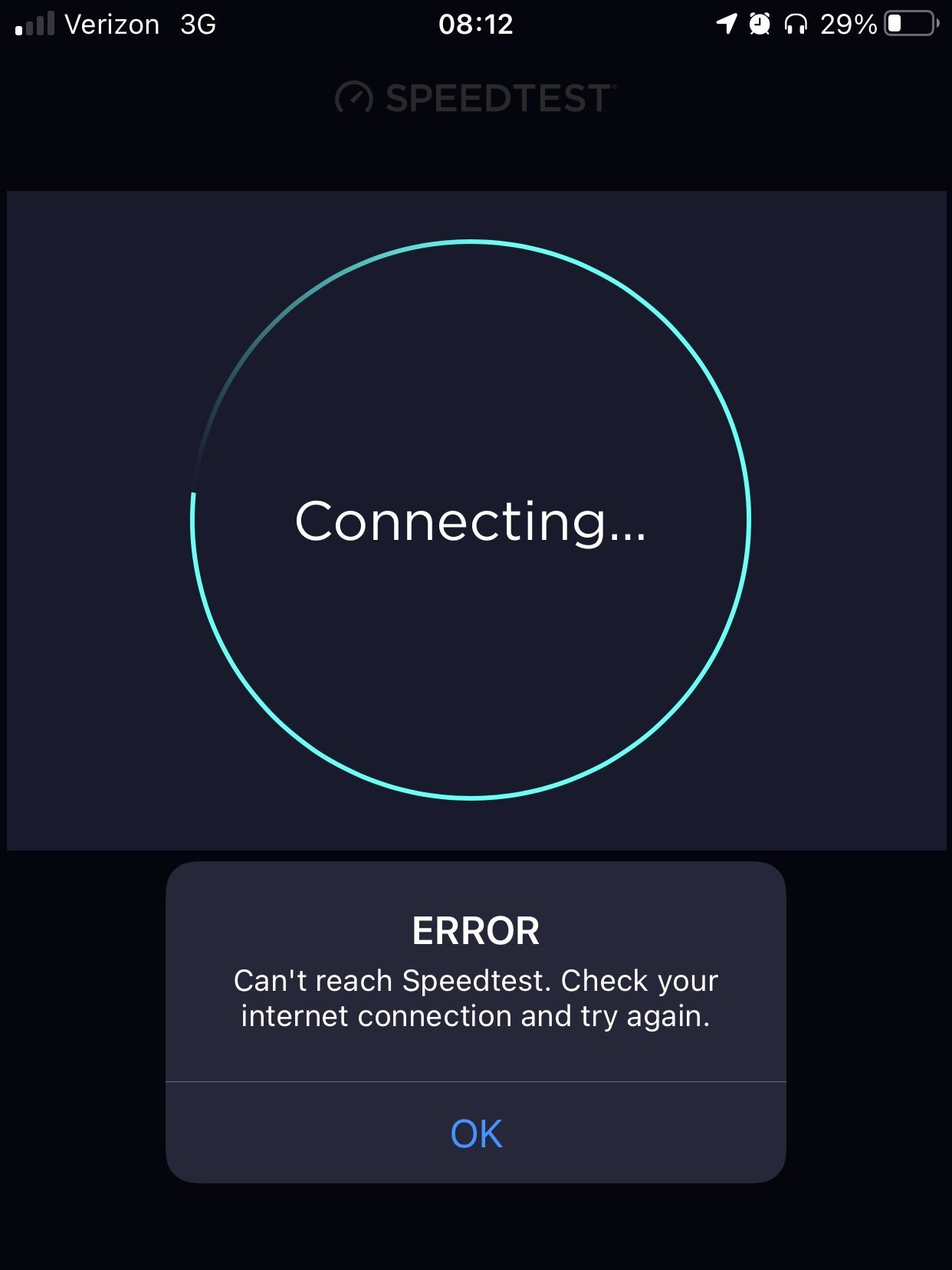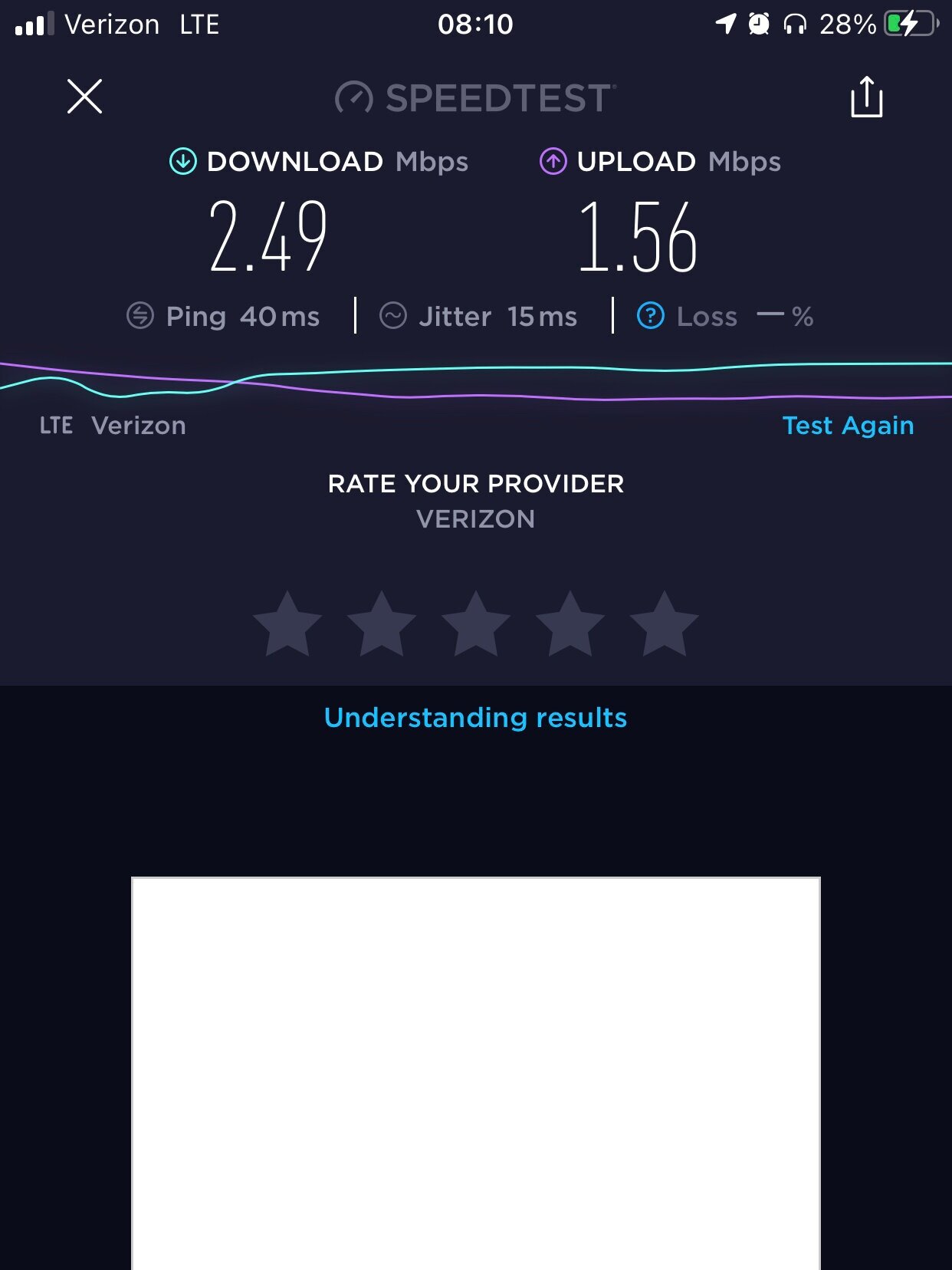 When the weBoost was off, the cell signal was bouncing between No Service and 1 bar at 3G. When we turned the weBoost Drive Reach RV on, we received 4G LTE with Download speeds of 2.49 Mbps and Upload speeds of 1.56 Mbps. a HUGE change!
Most of the time, the signal speed increases when the weBoost is turned on. But, when we tried it in the Alvord Desert in southeast Oregon, we got a strange result: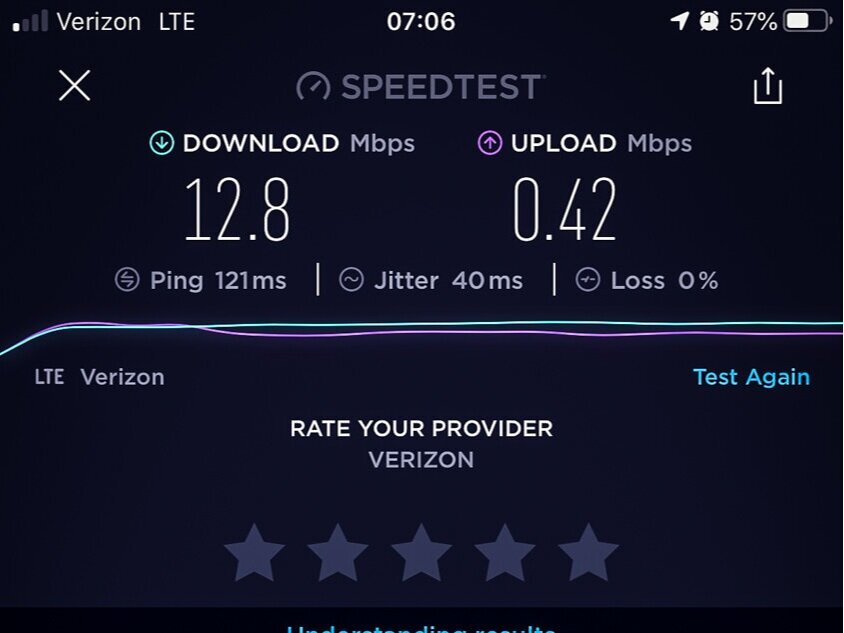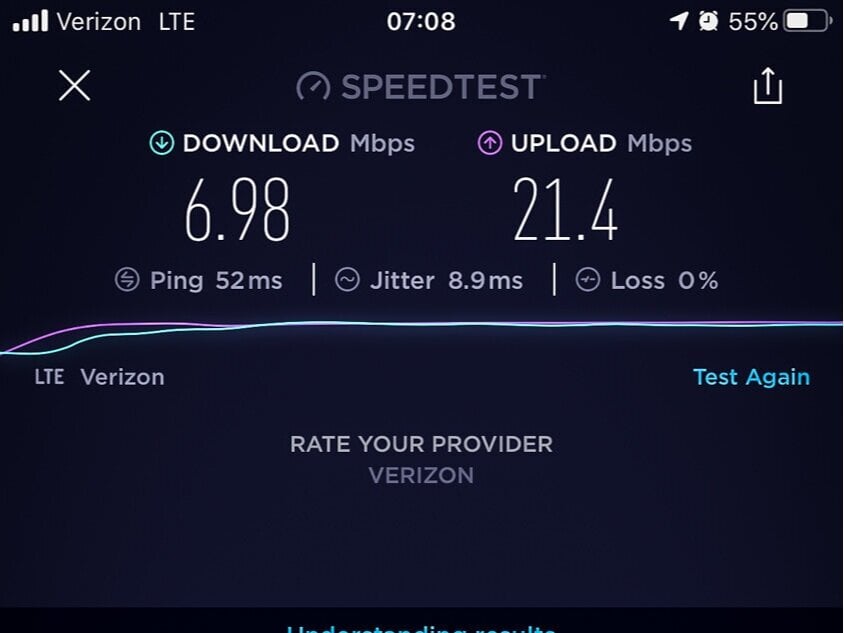 When we turned on the weBoost our upload speeds increased 20 Mbps but our download speeds decreased by 6 Mbps. This could happen because we were receiving max download speeds directly to the phone without the weBoost. When we turned on the weBoost, there was an increase in signal speed to the upload but there was a signal lost in the download due to the signal traveling through the cable.
weBoost Products We'd Recommend:
reaching cell towers up to 33% farther than the weBoost Drive Sleek

Ideal for car or SUV drivers

Magnetic outdoor antenna for a quick install

Indoor antenna has a reach of 3 feet

5G ready
reach cell towers at distances up to 74% farther than the weBoost Drive X RV

Ideal for RV-ers or Campervaners

Can be used in motion or stationary

Indoor antenna has a reach of 10 feet

5G Ready
Things to keep in mind
A signal booster can't create a signal. So if you're out of cell service, it can't amplify nothing. You must have some sort of signal to start with.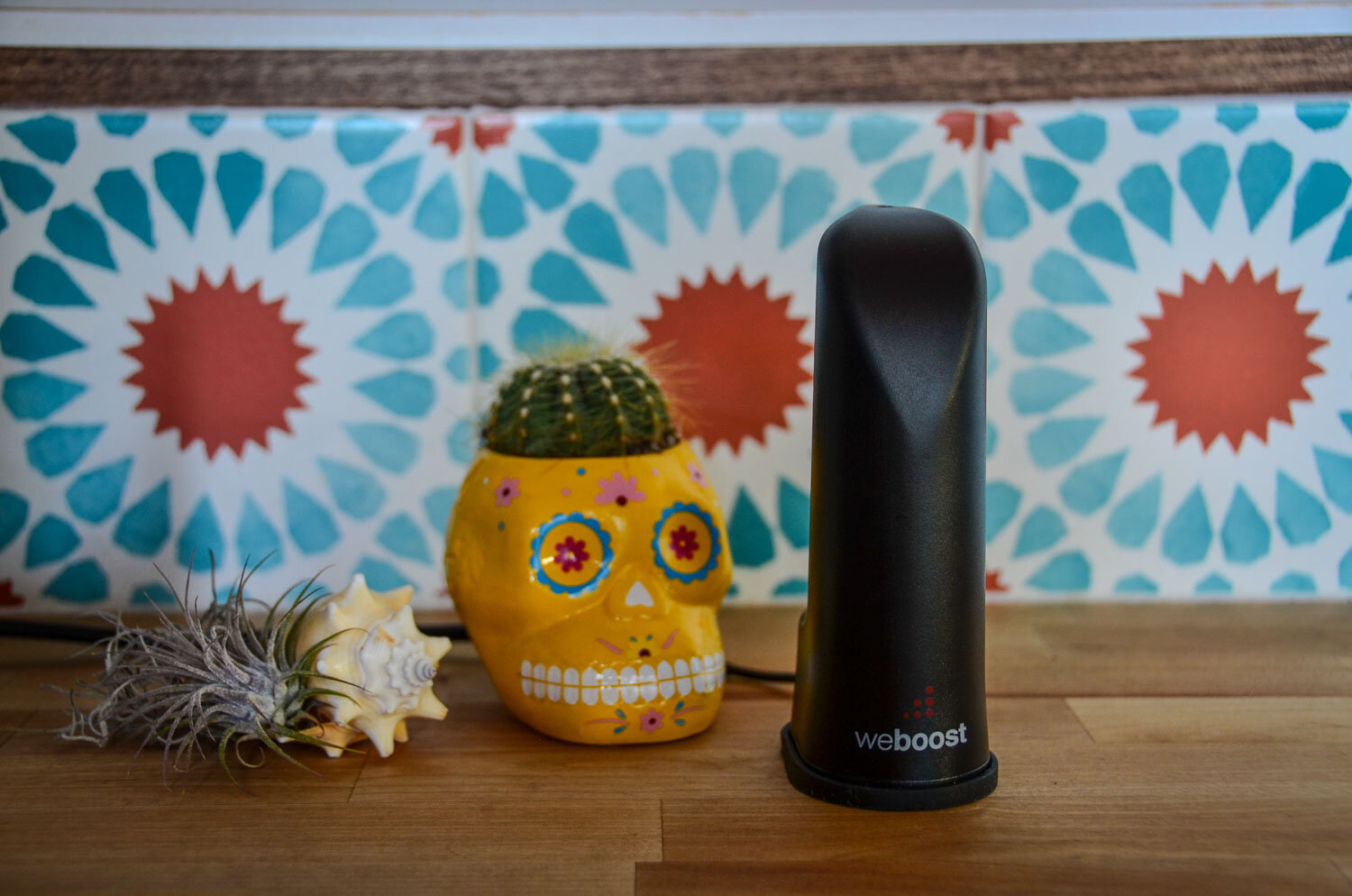 When deciding on a weBoost signal booster, consider this:
Pros
One-time cost to buy the equipment (no monthly or annual fee)

Works automatically once it has power

Very easy to install (under 20 minutes)
Cons
Depending on the model, the antennas can get quite long. This means you'll have a taller vehicle clearance and you may not be able to go through drive-thrus or in parking garages.

Although many have springs at the base of the antenna, so if it does get hit, it will swing right back into place.

Depending on the model, to power the amplifier, you may need 110V (household outlet) or an inverter to plug into.
Ways to reduce data usage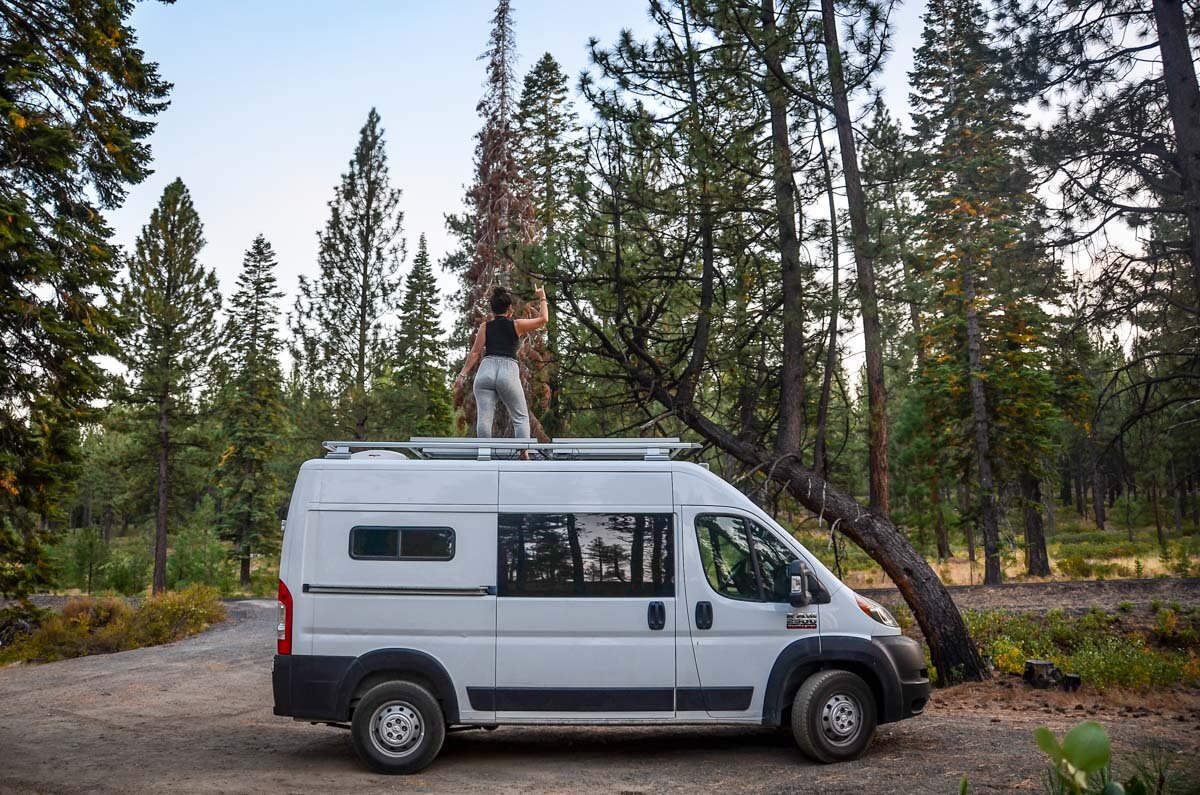 Have you ever gone over your data plan? We have, and it sucks. No one wants to start paying $10 for 1GB of data at a time. That can really add up.
Whether you have a capped data plan, or you don't want to hit that throttling threshold on your "Unlimited" plan, here are a few tips to reduce your data usage:
Turn off your cellular data (duh!)
iPhone: Settings > Cellular > Turn off Cellular Data
Turn off background data and apps
Some apps run in the background when you're not using your phone
iPhone: Settings > General > Background App Refresh > Turn Off
You can also choose to only turn off certain apps background refresh
Android users: try Chrome's Lite mode to reduce image sizes on websites.
Android: Open Chrome App > tap the "3 Dots" More > Settings > Advanced > Lite Mode
Download shows and music only when you are in WiFi
Streaming takes a large amount of data, so plan ahead and download your shows before you leave WiFi
If you're a Netflix user, download episodes ahead of time when you have a strong connection.
Try Lite Versions of your favorite apps
Instagram Lite, Facebook Lite and TikTok Lite were created for emerging markets where the cell signal is not as strong
Basically the same apps, but the stripped down versions. Less GIFs, fewer filters, and basic options, but maybe this will help kick your social media habits. Win-Win.
Turn off WiFi Assist
When a weak WiFi signal is present, your phone will switch to data instead of try to stay connect to the WiFi
iPhone: Settings > Cellular > Scroll to bottom, and toggle off WiFi Assist
Plan your video chats
If you have an important Zoom meeting, you may want to stay around an urban area for the best cell signal.
No matter how great of a setup you have for Internet, if you're outside of cell coverage, you likely won't be able to get much (if any) WiFi.
Utilize libraries & coffeeshops
If you have a data plan that throttles you at a certain point, you may want to go to coffee shops or libraries when you need to upload large files.
use Chrome's Lite mode to reduce image sizes on websites on Android phones
Other ways to get Internet in a campervan or RV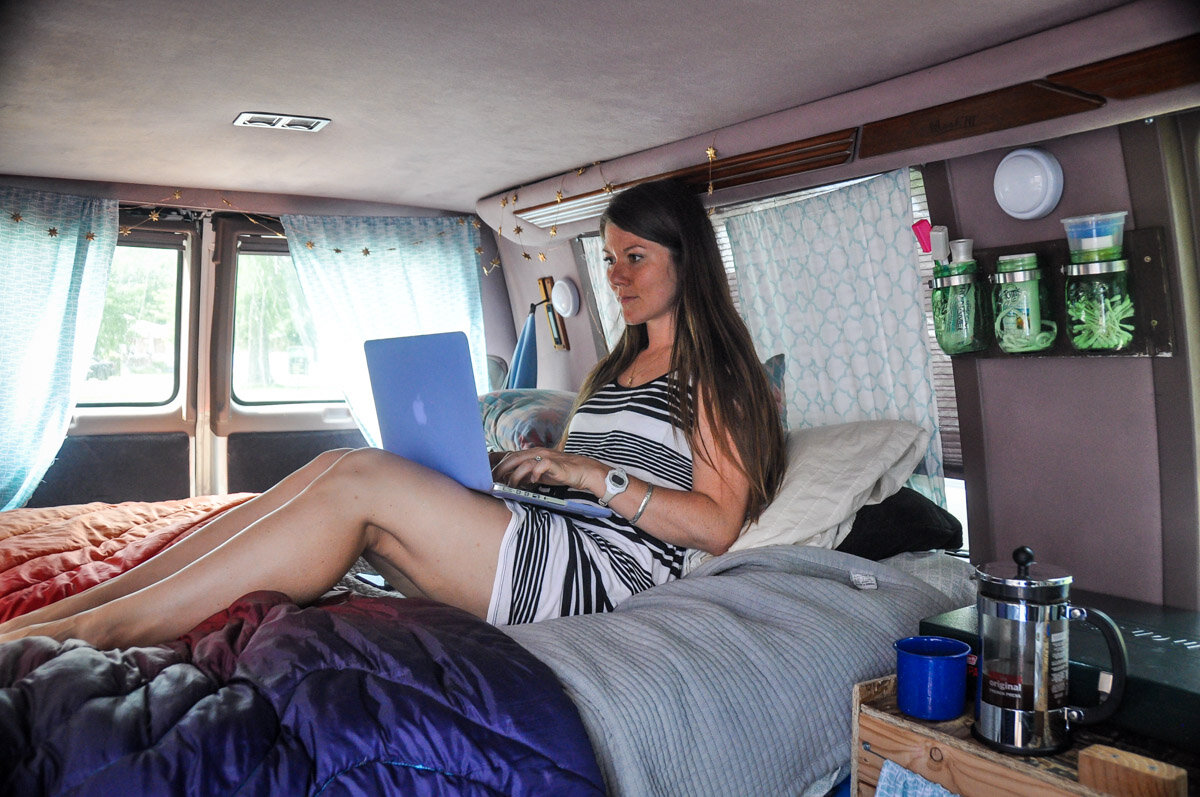 There are other products out there for campervan WiFi, but in our opinion, they have some major drawbacks. We'll go over each and why we don't recommend them.
Satellite Internet

WiFi Booster

Mobile Routers

Public Hotspots
Satellite Internet
It's a super interesting concept, but the technology and infrastructure is just not abundantly available. However, SpaceX may change that in the future… but for the time being, they are focused on creating Internet in remote areas, not for users who are mobile.
WiFi Booster
A WiFi Booster will increase the distance of a WiFi Network signal. For example, if your van was parked outside of a library (or dare I say it… a WalMart!) with free WiFi, a WiFi Booster could make that free WiFi stretch into your van.
Personally, we don't recommend this unless you're always going to be urban camping or at established campgrounds and next to a free (and open) WiFi network. If you do choose to go this route, be sure to use a VPN because you'll want to keep your information private.
Mobile Routers
Mobile Routers have very similar capabilities as a mobile hotspot but tend to work better when they are stationary, like in a remote house or hotel. For getting WiFi in a campervan, we would recommend a mobile hotspot over a mobile router because hotspots are designed to be used on the go and will work even when moving in a van.
Personal experience: Katie likes to get work done while Ben drives, so having the capability to access the Internet while moving is very helpful for us.
Public Hotspots
Using public hotspots can be a good way to get Internet access when you're in a city. It doesn't cost anything, which is a nice perk. That said, finding a strong public WiFi network in the USA can be tricky, and you may end up spending lots of time searching for one.
Long story short: If you're looking for a reliable way to get Internet in your vehicle, this isn't going to be a great option.
Accessories for working in a campervan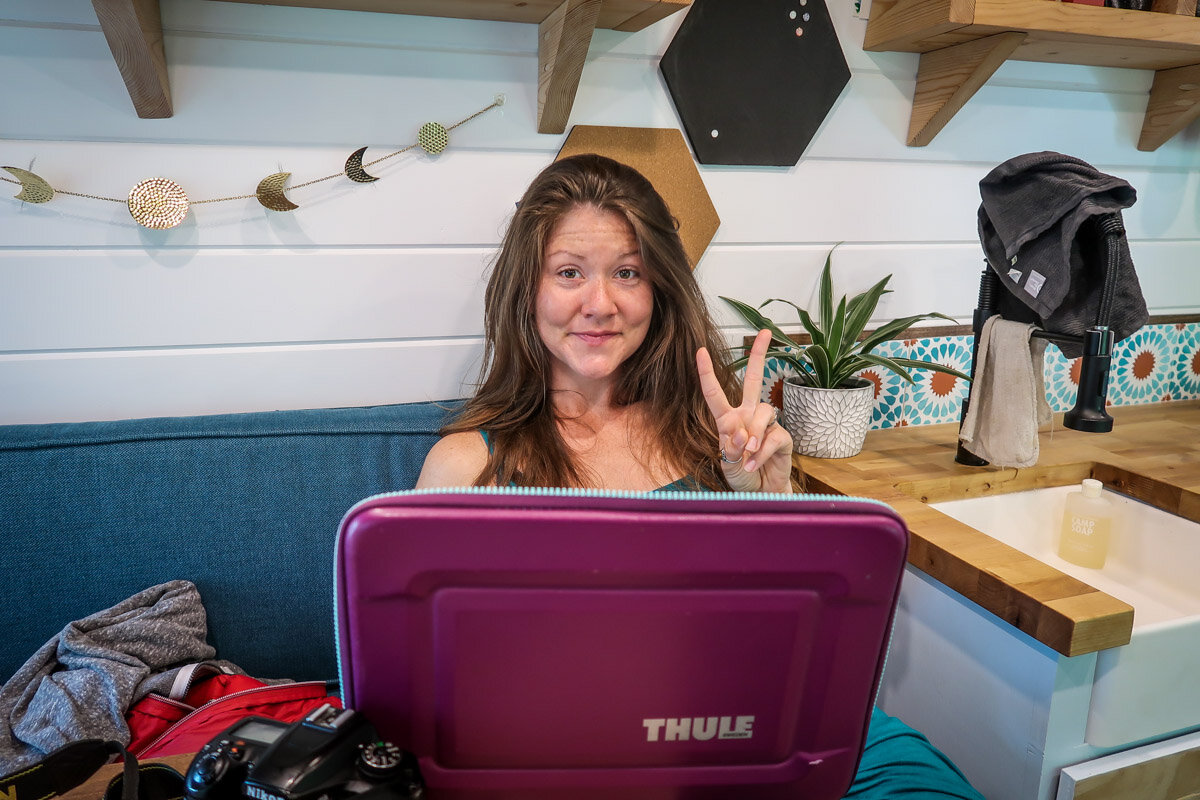 If you're fortunate enough to have a job where you can work from the road, we'd recommend looking into getting these products below as they have helped us out tremendously while in our campervan.
Are you thinking about living the campervan life?
We have TONS of resources on converting your own campervan and living the #vanlife. Check out our Ultimate Guide to Van Life for all the answers to your most burning questions, or read some of our favorite articles below.
Interested in engaging with others about all things #vanlife? Join our Vanlife Facebook community!
Save this article on Pinterest for later!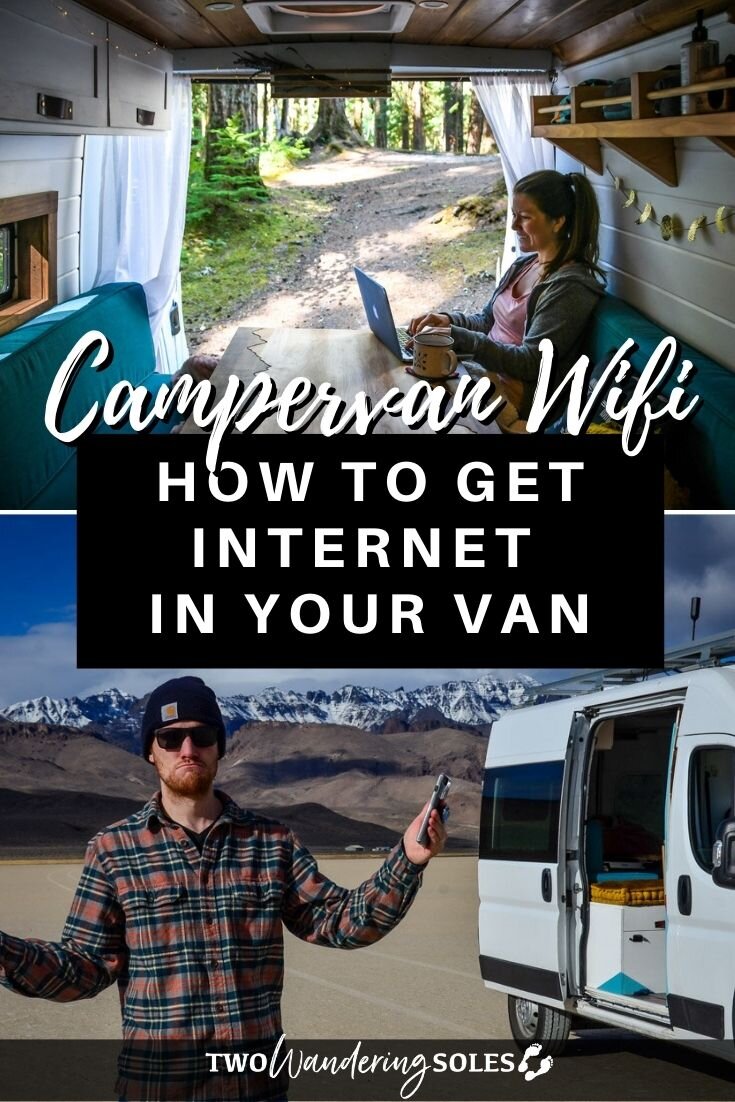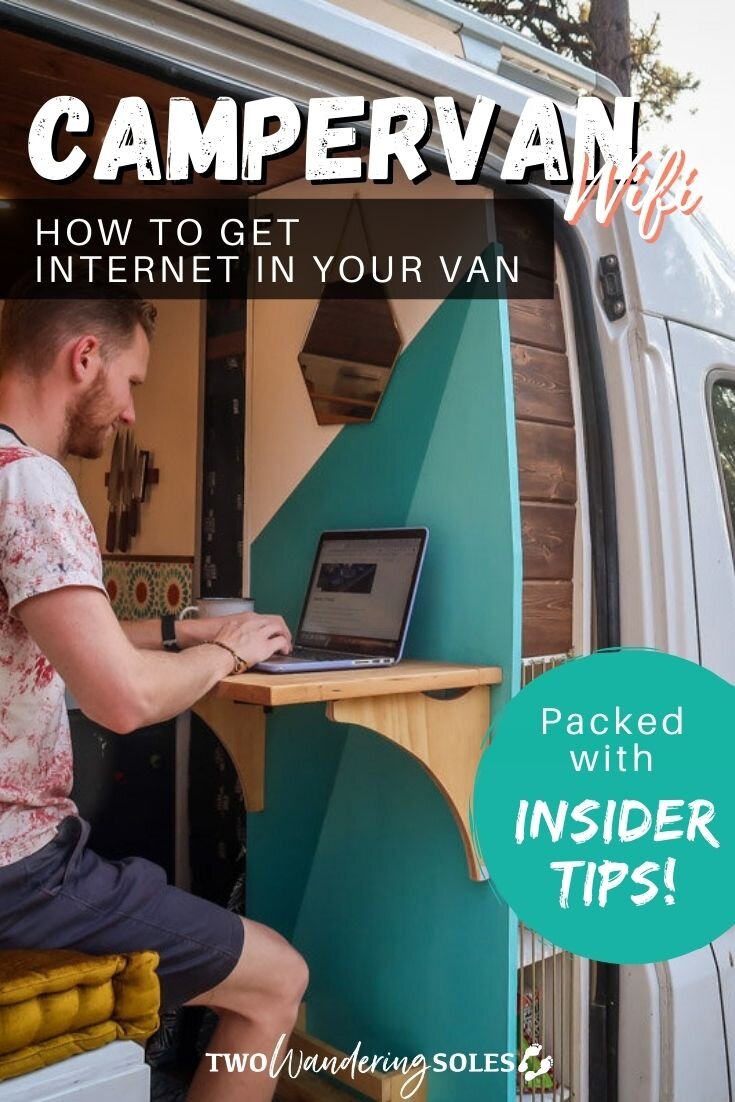 We want to hear from you!
What is your favorite way to get WiFi in a campervan? Do you still have questions about our campervan WiFi set up? Let us know your thoughts and questions in the comments below and we'll try our best to get back to you!