Is #vanlife on your mind? Have you spent hours scrolling the hastag, dreaming about a life without boundaries?? We spent hours creating this mega resource for people who want to give vanlife a try!
Grab your FREE #VANLIFE Jumpstart Toolkit
What's inside?
This free mega guide includes PDF downloads of the following: 
Van Build Specs
Van Build Planner
Van Build Budget Tracker
Van Build Layout Worksheet
Vanlife Job Ideas
Vanlife Cookbook
Plus, we're sharing tons of tips about working remotely, all kinds of gear to make vanlife easier, and information we wish we knew before we hit the road that you won't find anywhere else.
We spent hours creating this super helpful mega guide just for you.
Enter your email and we'll immediately send the packing list to your inbox (totally FREE). 
We'll also be sending you bonus tips on all things #vanlife!
We value you, and NEVER spam. (We hate spam too.)
Thinking about building your own campervan?
After building two campervans completely from scratch, we decided to create the resources we wish we would've had along the way. We spent the better part of a year creating Van Conversion Academy.
No more headaches or hours of research… Click below to learn more about Van Conversion Academy and get on the road faster!
Check out our other campervan content…
We have TONS of resources on converting your own campervan and living the #vanlife. Check out our Ultimate Guide to Van Life for all the answers to your most burning questions, or read some of our favorite articles below.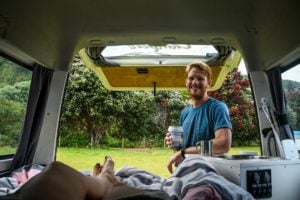 With so much jaw-dropping country to explore, a lot goes into planning a New Zealand camping trip. With the help of fellow travel bloggers, we rounded up the best New Zealand campsites, plus everything you need to know to plan an epic trip. ...