Are you designing your campervan bed and need some inspiration? Well, come and rest your head here. We're sharing all the bed layouts possible in a van and considerations such as price, space, and comfort. Get your campervan bed ideas here!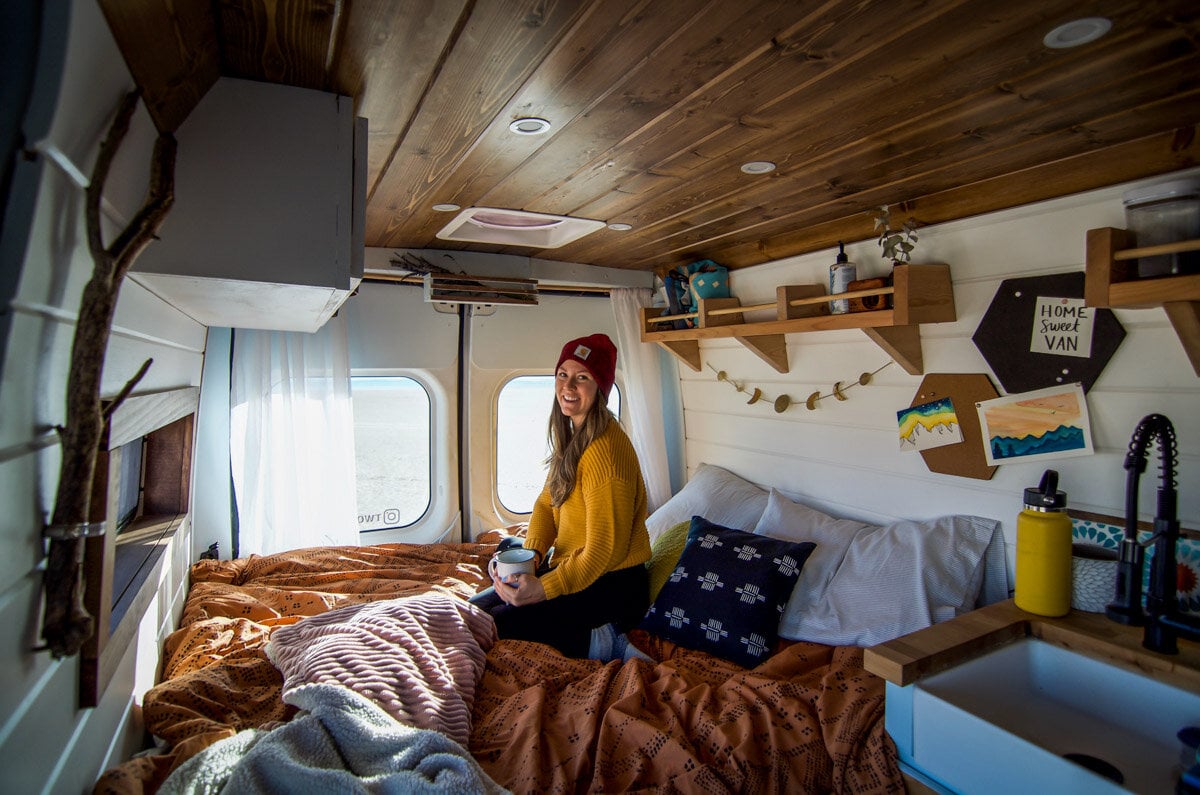 Imagine waking up in the middle of the forest. You open your van door to glimpse the mountains in the distance. The early morning air is crisp and you can see your breath, but it doesn't bother you.
You simply snuggle up on your bed with a cozy blanket and a freshly brewed cup of coffee, and take in this moment.
This is the ultimate #vanlife dream, is it not?!
Now, hop back into that fantasy and think about the bed you're laying in… What does it look like? Is it comfortable? Which direction are you facing? Does it also transform into a couch? Or is it always in bed mode?
These may sound like insignificant questions, but I promise you figuring out your campervan bed design is a very important step of your build.
In this article, we're going to walk you through different types of campervan bed designs as well as the pros and cons to each so you can decide what type of bed is best for your layout. We'll also share some tips for building out your campervan bed as well as ideas for inspiration!
The sooner you make this decision, the sooner you'll be snuggled up in your super cozy campervan bed with a mug of tea (or a glass of wine!). So let's jump right in!
I'm interested in vanlife, where do I get started?
We understand just how overwhelming it can be to start this process so we poured all of our personal experience and advice into a mega resource just for you.
Enter your email below to immediately receive our Vanlife Jumpstart Toolkit, your FREE mega guide to jump-starting your #vanlife dreams!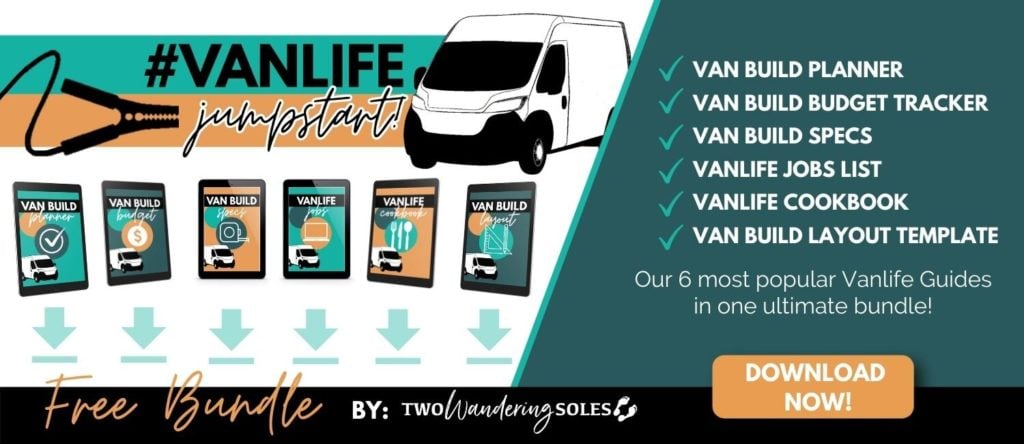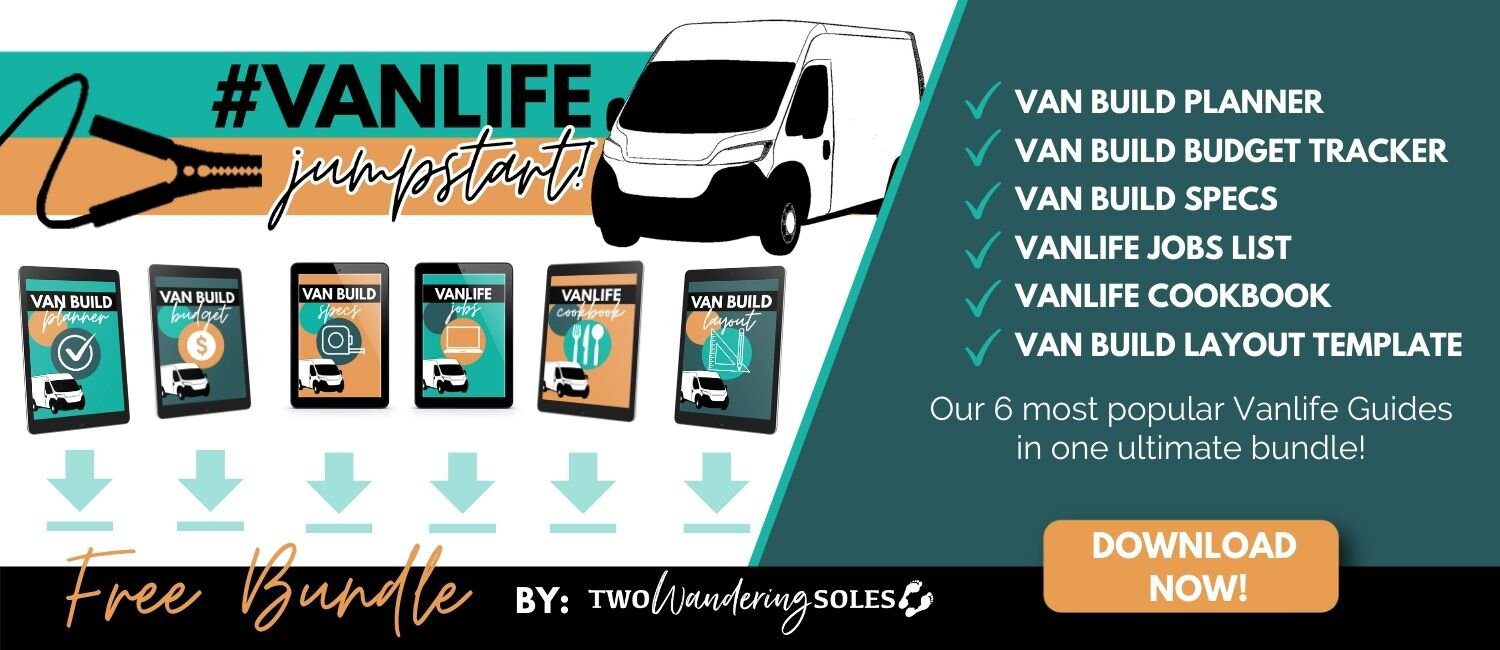 Types of Campervan Beds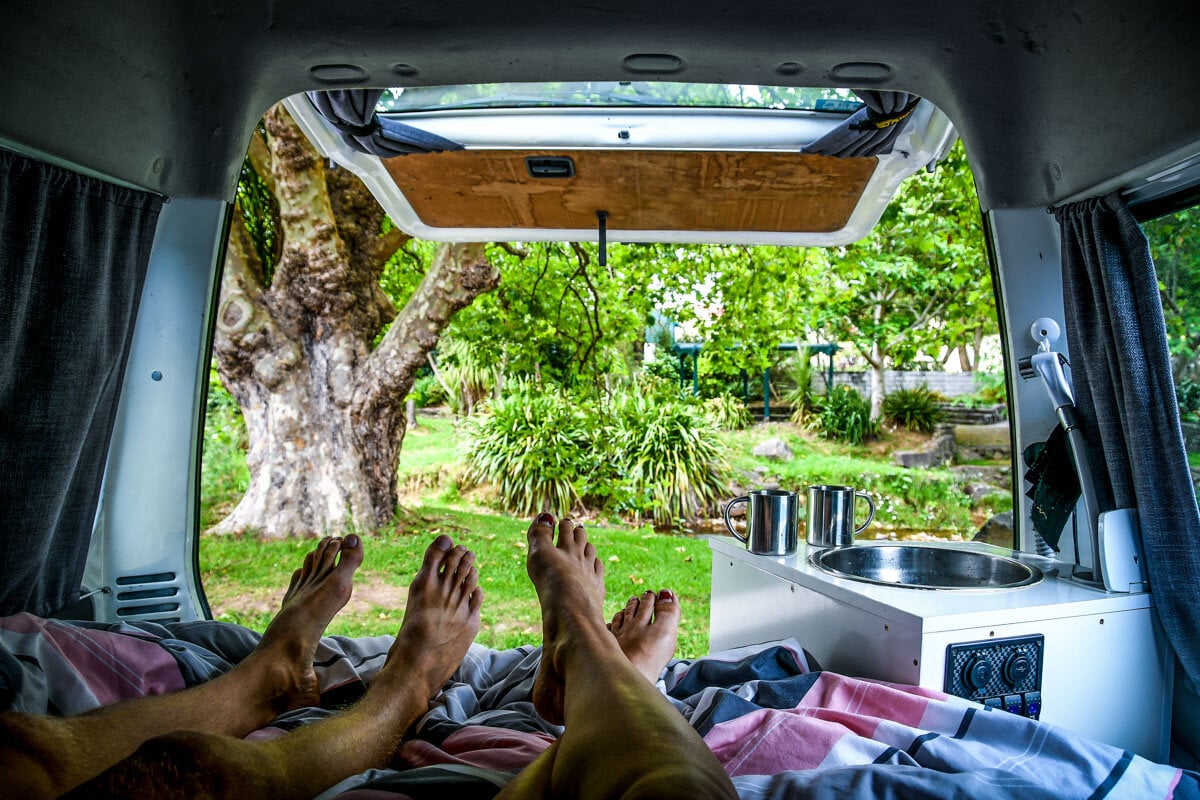 Essentially all campervan beds will fit into one of two categories:
Fixed Beds vs. Convertible Beds
Fixed Bed: Always in "bed mode"

Convertible (or non-fixed) Bed: Switches from daytime seating to a bed
Choosing between these two will make a huge (and I mean HUGE!) impact on your overall campervan layout. It is one of the biggest decisions you'll have to make throughout the build process and it will definitely shape your overall design.
Bed design is a polarizing topic. Everyone seems to have their own opinion on which type of bed is best, and truthfully, it's a pretty personal decision.
Both fixed and convertible beds have pros and cons. We had a fixed bed in our first campervan build and now we have a convertible bed. We're going to share exactly what we loved (and hated!) about each design so you know what to expect.
In this article, we'll walk you through all the things to consider when choosing a bed design for your campervan. And pay close attention because the layout you think you want right now might not actually be the most practical for you. We changed our minds throughout our build process, so we want to help you make this (kind of difficult!) decision.
First, let's start with the pros and cons of each bed design…
Fixed Bed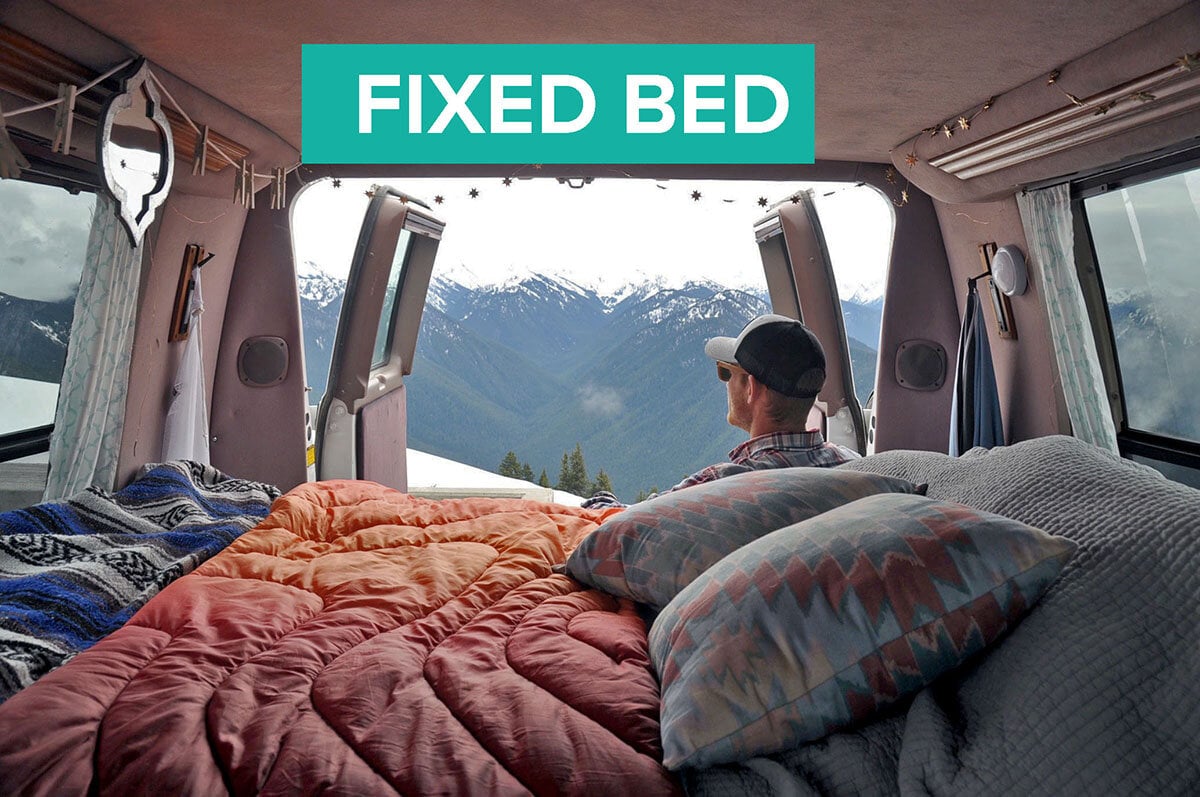 This design will always be in "bed mode".
Pros of a fixed bed
You won't have to break down your bed each morning or put it together at night.

The overall design and build can be simpler than a convertible bed.

You will have a large storage space under your bed that can be accessed from the rear of the van. Lots of people call this a "garage" space! It's perfect if you are planning to travel with lots of gear (bikes, skis/snowboards, climbing gear, etc.)
Related: Check out our campervan storage article next to find creative storage solutions for your van build.
Cons of a fixed bed
It takes up more space in your design, so you'll need to also allocate space to sit when you're not in bed. This is especially important to consider if you plan to work from the road.

This design may be tricky to implement in smaller vehicles.


Convertible Bed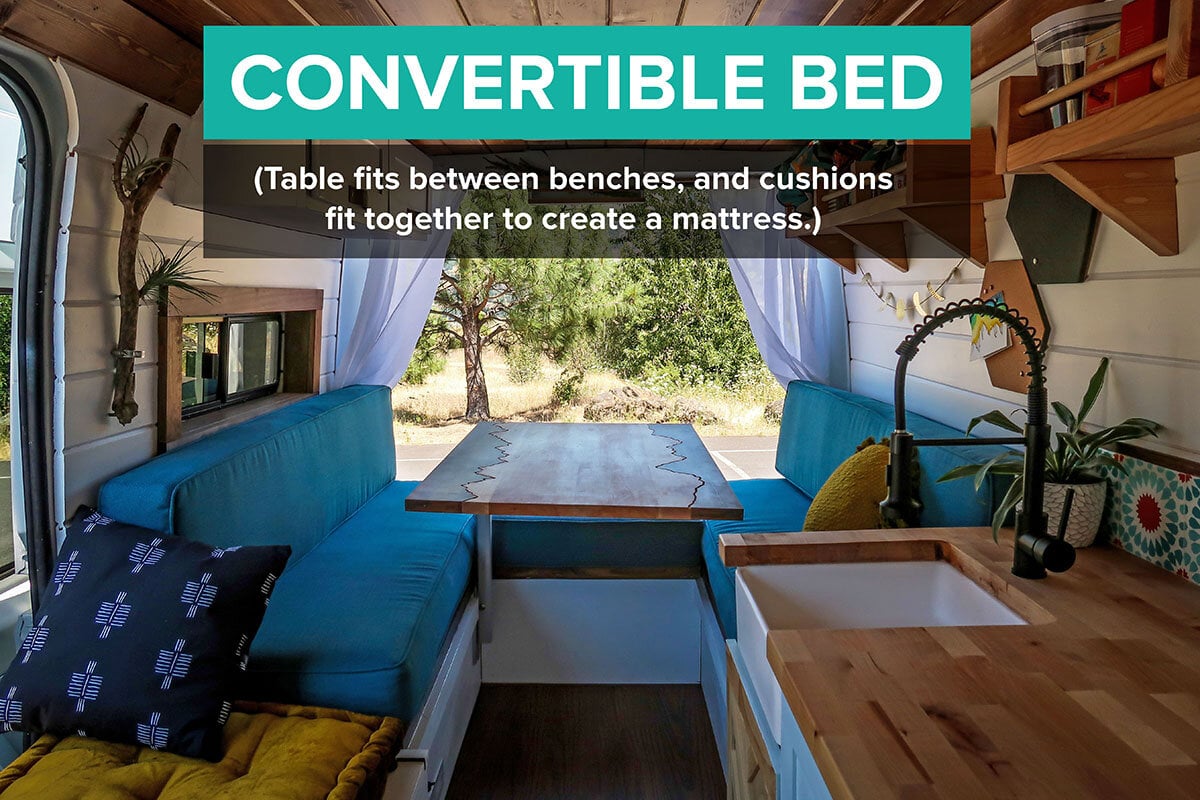 A non-fixed, or convertible, bed will need to be set up at night and taken down in the morning. You can choose from different layouts, like benches or a futon style couch-to-bed design.
Pros of a convertible bed
You'll have a large space for sitting, hanging out, eating and working when your bed is not made.

This design works well in smaller vehicles.
Cons of a convertible bed
You won't have as much storage space underneath the bed. (This shouldn't be a big problem if you're not planning to bring a lot of gear.)

You will have to break down your bed each morning and make it up each night.

Building a non-fixed bed is slightly more complex.
Types of convertible beds
With a fixed bed, there's not a ton to think about when it comes to the design. However, with a convertible bed, there are different options to choose from:
2 Benches: The table drops down and the seat and back cushions of the benches slide next to each other to form the bed.

U-Bench (pictured above): Similar to the 2 Bench design, but there is a seat in the back between the two benches. When making the bed, the U-seat cushion is stored away, table drops down, and the bench cushions form the bed.

Rock & Roll Bed: Like a futon couch that converts into a flat bed.

Murphy Bed: Hidden away against a wall, this bed is stored vertically during the day and hinges down for night mode.
Which is better: Fixed bed or Convertible bed?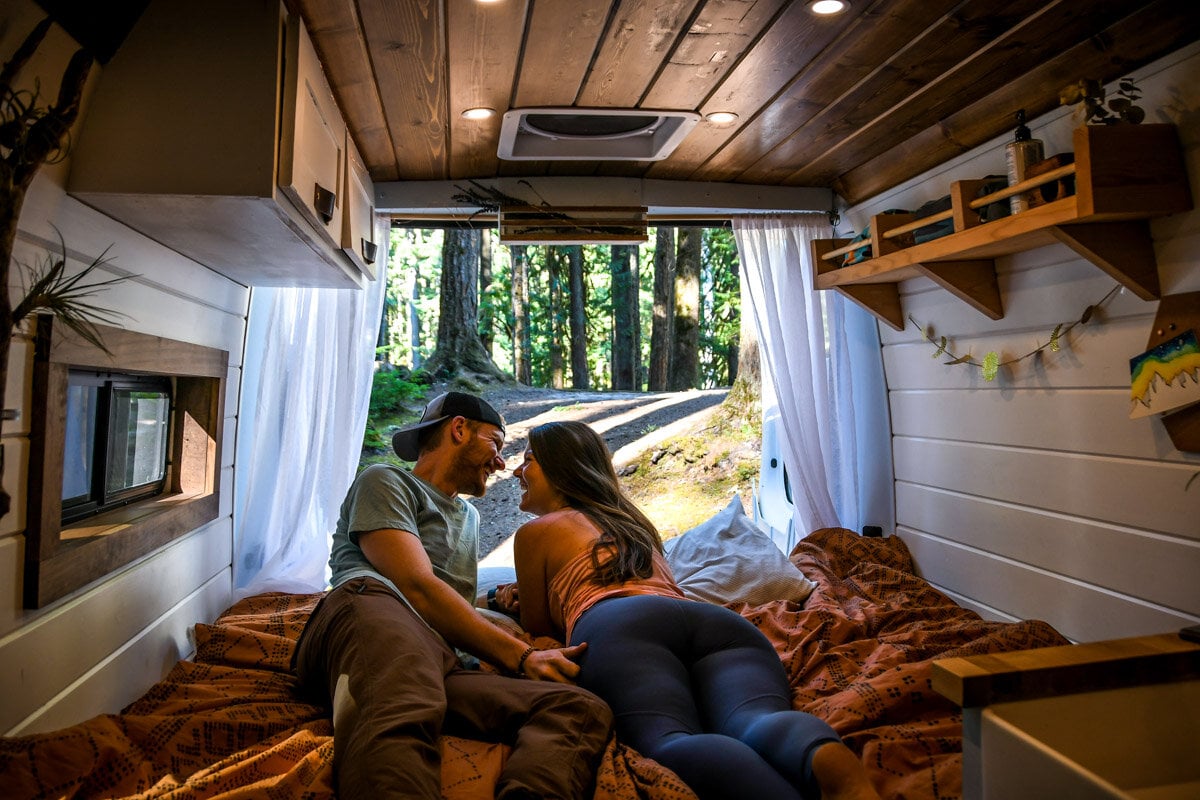 In short: Both types of beds are good for different reasons. Choosing the best design for you depends on the size of your vehicle and your priorities (more sitting space vs. more storage space).
Before finalizing your design, we'd recommend imagining a day in your van. Picture what each part of your day will look like:
Where will you eat?

Where will you work?

Where will you relax?

How will you make your bed?

What will you do if it's a rainy day?
Walk yourself through the day and see how it feels. That should give you either the confidence to go ahead with your design, or the motivation to make some changes.
Psst! Check out these campervan conversion ideas to get inspiration for your dream van build.
Our honest thoughts
We've had both a fixed bed and a convertible bed, and we liked each for different reasons.
The fixed bed is more simple & creates more storage, but we love the extra space that our convertible bed has given us when it is not in "bed mode".
Before we bought our van for our second build, we really, really wanted to have a fixed bed again.
However, as we started putting our design onto paper, we realized that with a fixed bed, there would be barely enough space for each of us to sit inside the van. Being that we work on our computers (as full-time travel bloggers), this was worrisome.
Plus, the thought of one of us needing to sit on the bed during dinner felt sort of strange. And what would we do during a big rainstorm if we both couldn't sit?
While we were a bit apprehensive about doing a convertible bed, we've found it works really well with our smaller vehicle and only takes 3 minutes to set up and break down (yes, we timed it!). Plus, it's way comfier than we imagined it would be. We have slept in longer than we'd like to on more than one occasion!
That said, we did love the simplicity of our fixed bed in our first build, so if you have a larger vehicle, it can work really well.
Building a fixed bed on a small budget? Let us help! We have a step-by-step tutorial to walk you through exactly how to build a cheap campervan bed.
Still confused?
Fixed bed is for you if…
You have a larger van model

You have a lot of outdoor gear you'll be storing inside your van

You don't need a ton of space for sitting inside your van
Non-fixed bed is for you if…
You won't mind making the bed each day

You don't have a ton of large equipment you'll need to store

You will be working inside your van or will want extra space to hang out inside the van
Related: Check out this article next for ideas to help you plan your ideal campervan kitchen.
Campervan Bed Orientation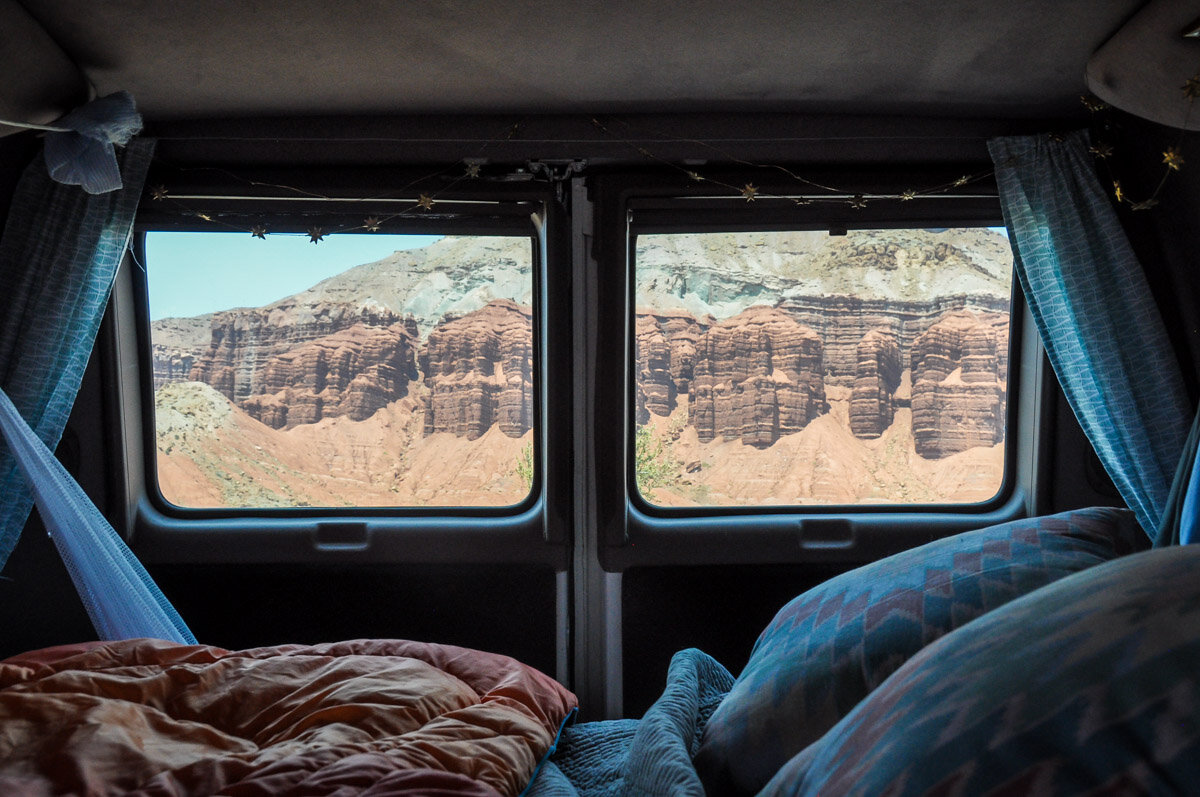 Now that you've decided between a fixed and a non-fixed bed, there's another big thing to consider…
Which direction will you sleep?
Will you sleep lengthwise, with your head at the rear and your feet facing the front of the vehicle?

Or will you sleep widthwise, with your head at one wall and your feet at the other wall?
Some factors to consider are:
Your height: Anyone over 6'0" tall will not be able to fully stretch out widthwise in a vehicle.

The width of your vehicle: Get those measurements! And don't forget to account for a few inches on either side for the insulation and wall. Dodge Promasters are the widest cargo vans on the market, at 75.6" wide (without insulation and walls).

How do you prefer to sleep? Are you someone who prefers to sleep on your side, slightly curled, or do you need to spread yourself out? Everyone is different when it comes to sleep, and you're really the only one who can decide what's best for you.
In our experience, we've slept widthwise in both of our vehicles because they have both been on the smaller side. Sleeping lengthwise would have meant we had far less room for the rest of our layout.
For reference, Katie is 5'4" and can completely stretch out. Ben is 6'1" and must either sleep a bit diagonally on the mattress or curl up a little on his side (which is his preferred way of sleeping!).
In all honesty, this layout has worked really well for us, and Ben repeatedly assures me he sleeps like a baby in the van. However, some people may not sleep comfortably unless totally stretched out, so this is completely a personal preference.
If you're tall and you want to sleep widthwise, there is a company called Flarespace that makes "bump out" section panels. These flares give you a few extra inches and allow you to sleep widthwise. It would be especially helpful in a Sprinter van since they are so narrow. The only downfall is they are a little expensive, but could be worth it if you have the budget.
How to choose a Campervan Mattress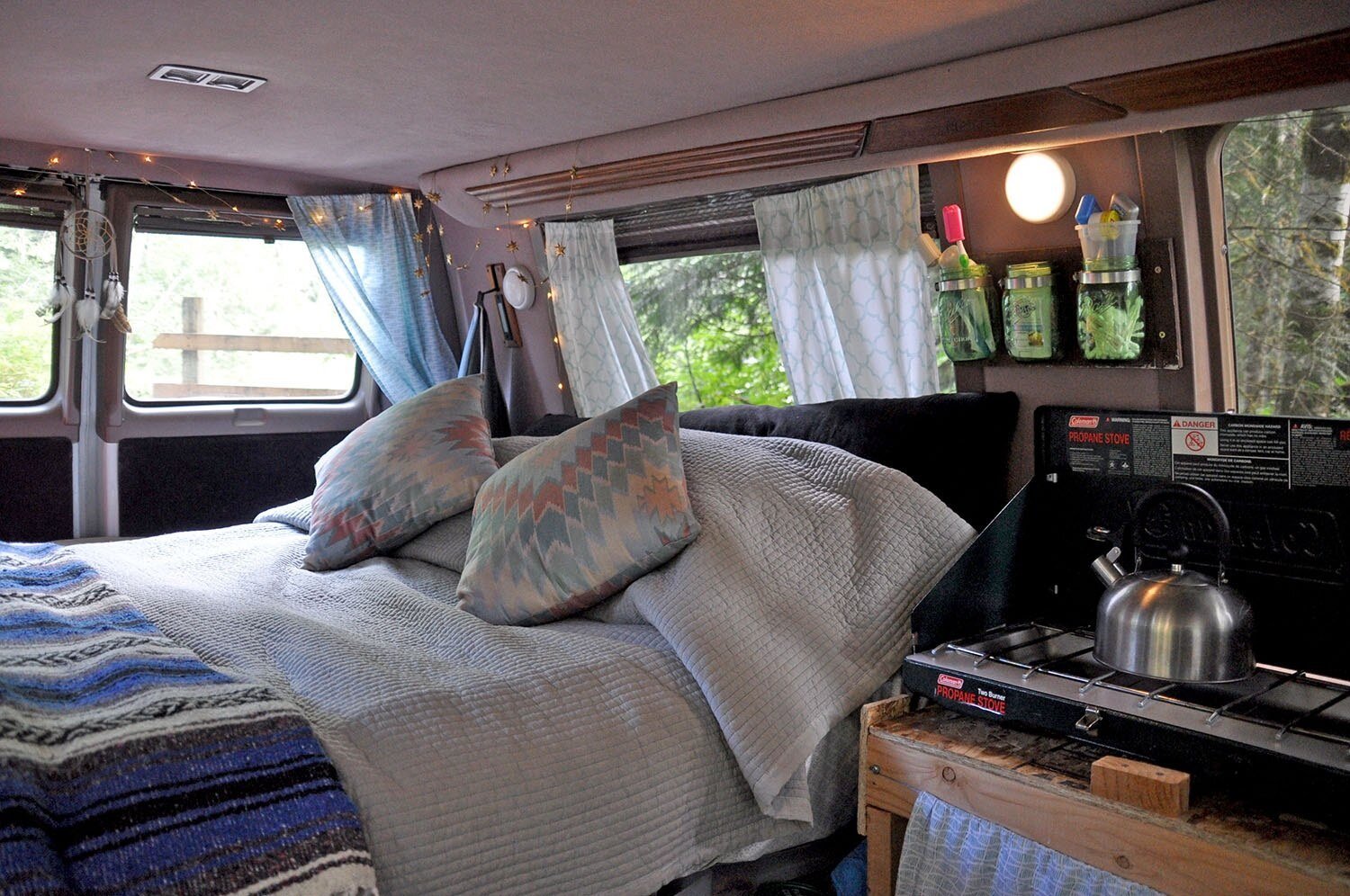 Picking out your campervan mattress is a pretty big decision. It's what you'll be sleeping on each night, and you'll want to choose something that is going to be comfortable and will last a long time.
The type of mattress you choose as well as the size are going to be determined by:
your bed layout (fixed vs. convertible bed)

the size of your vehicle

your budget
Important note: We'd recommend you decide your bed design and orientation BEFORE choosing your mattress. The reason for this is your bed design and orientation can drastically change what size mattress you need.
Psst! Want to save yourself the headaches and hours of research we went through and get straight to building the campervan of your dreams?? Click below to learn more about Van Conversion Academy.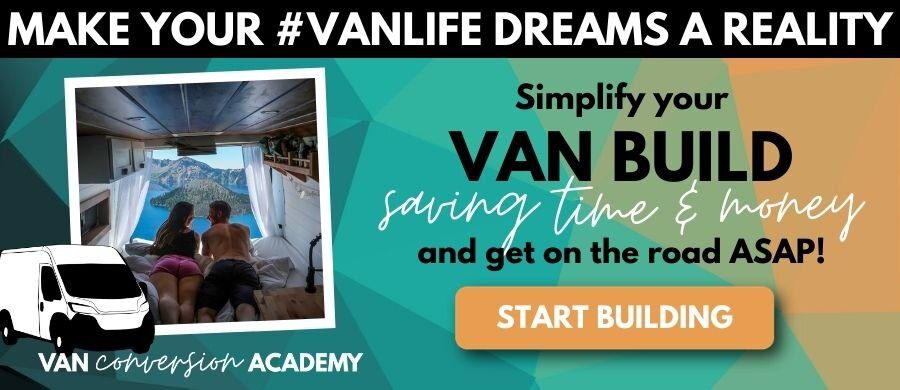 Campervan mattress examples
Being that we've had both a fixed and non-fixed bed, we'll share what type of mattress we chose for each.
Fixed Bed
In our first van build, we used a full-sized mattress that a friend was getting rid of. The price (free!) was perfect for our tiny budget, so we made it work with our design (something similar to this mattress). The mattress had to really be squeezed in there (it was scrunched up on the edges and was a pain to change the fitted sheets).
Convertible Bed
For our second build, we knew we needed a foam mattress (without springs), so we had to purchase one.
We bought a 6-inch mattress with a memory foam layer at the top, and it was pretty affordable! (More on the specifics below.)
If you're looking for more campervan bed options, check out the bottom of this article for more ideas.
Get bed measurements
Now that you know what type of bed you'd like as well as the orientation, the best step is to get measurements.
Fixed bed: If you are doing a fixed bed, this will be simple: length by width.

Non-fixed bed: However, if you are doing a convertible bed, you'll need to get measurements of your cushions in "bed mode" (length by width) as well as each individual cushion.
Think about mattress height
Be sure to consider the height of your ideal mattress. While many mattresses made for traditional bed frames come in a standard 12-inch height, that may not be ideal for your campervan, especially if you're going to do a convertible bed.
Why? Your benches are going to serve as storage, and trust me when I say you will want them as tall as possible to maximize the space inside. If you plan to sit on the benches to eat or work, you'll want your feet to touch the ground (you don't want your feet just dangling there!). The higher the mattress, the shorter your bench will need to be.
We purchased a 6-inch mattress which we turned into cushions, and it is perfectly comfortable to sleep and sit on.
Will you need to cut the mattress?
If you've decided on a fixed bed design, you may not need to cut your mattress at all. In that case, you may be able to get away with a spring mattress or even a futon mattress.
If you're planning to create a non-fixed bed that converts from a couch to bed mode, you'll need to cut each cushion to size with an electric knife. Think about how many cuts you'll need to make and be sure you are selecting a mattress with the correct dimensions.
Can you use a mattress you already have?
Maybe.
It depends on what type and size of mattress you have laying around as well as what bed layout you've chosen.
Our personal recommendation
If you are planning to cut your mattress into cushions (like we did), we would personally recommend a foam mattress that is around 6 inches in height.
This is the mattress we chose, and we're very happy with it. It has a top layer of gel-infused memory foam, and is very comfortable (so comfy in fact, we sometimes have a hard time getting out of bed!).
The price has increased since the time we purchased it, but it is still relatively affordable. It was easy to work with (aka cut into pieces, which we gave to our upholsterer). But if you want to shop around to find the right campervan mattress for yourself, you could start here:
How to turn your mattress into a convertible bed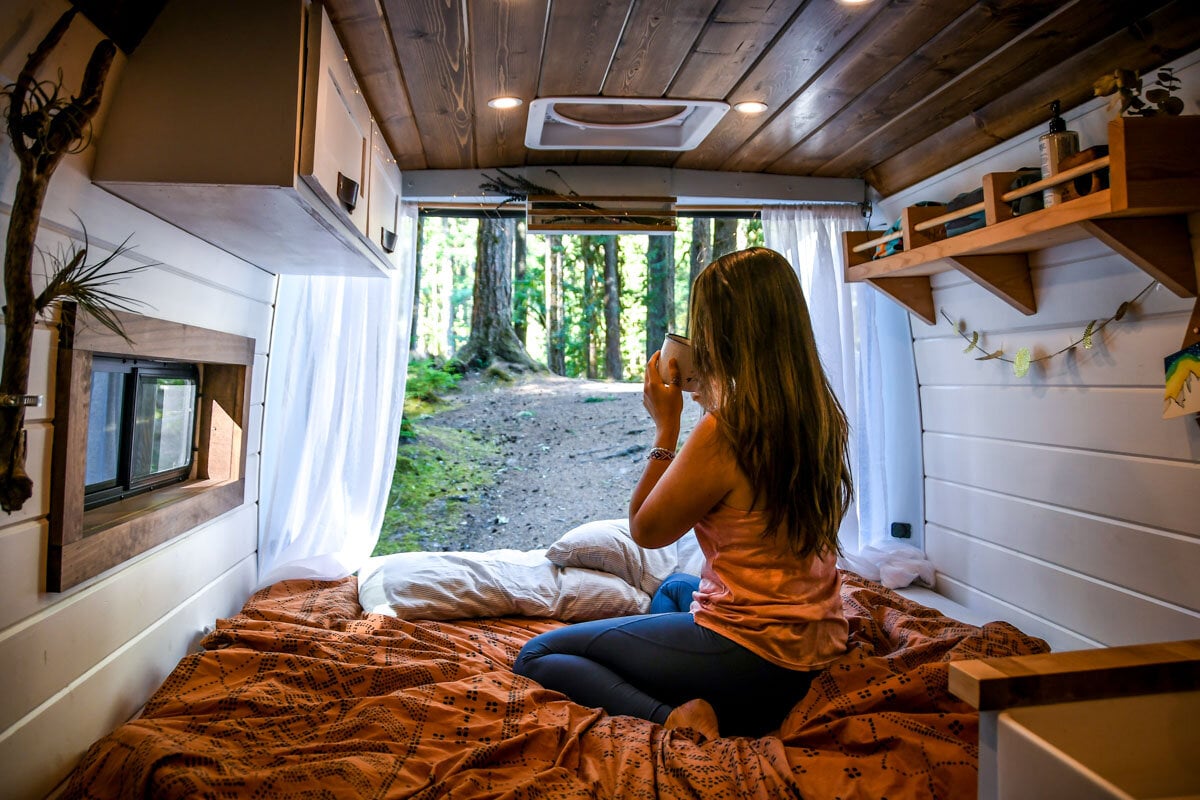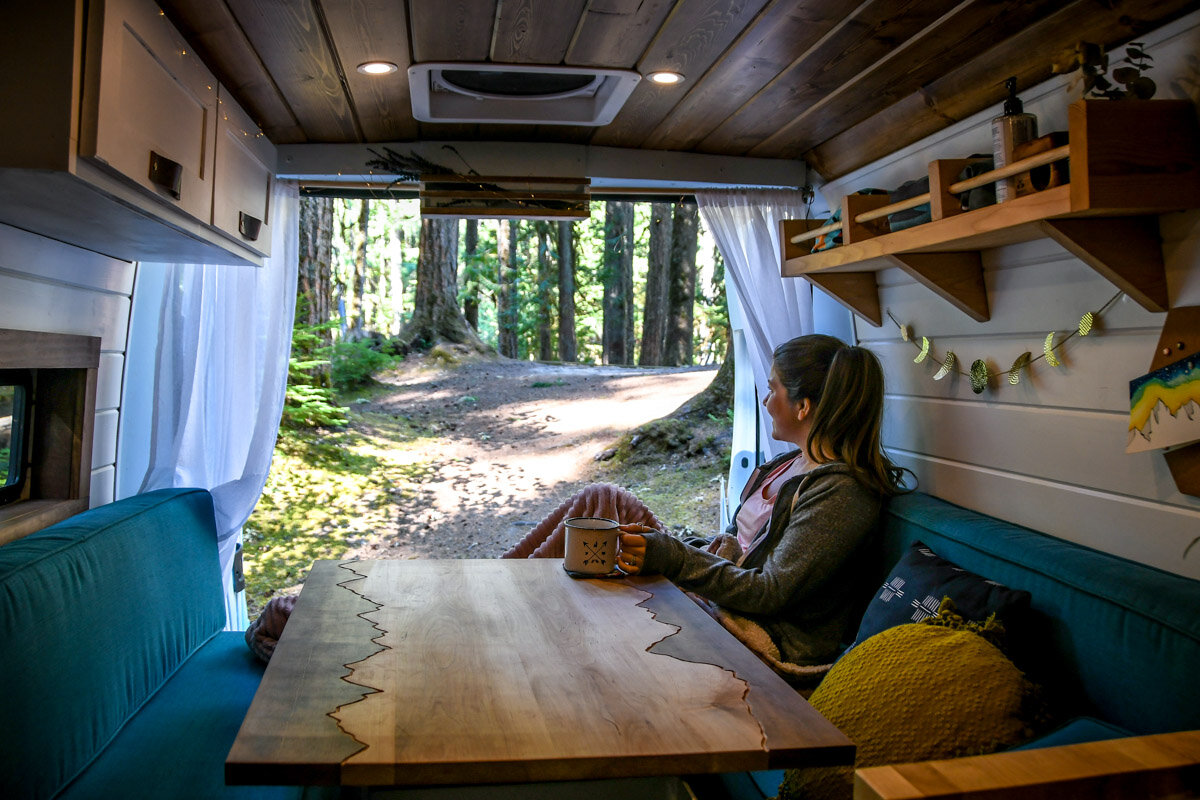 Depending on the exact design you choose for your campervan bed, the steps may vary a bit. We're sharing how we made our convertible campervan bed, and we hope it's helpful as you start to design your own.
1. Measure and cut the mattress into pieces
We cut the mattress into 5 pieces:
2 seat cushions

2 back cushions

1 square section that creates a "U-shape" with our benches (we do not use this piece when we sleep at night)
We had a small amount of leftover foam that our upholsterer kindly turned into a tiny "neck pillow" for us.
Insider Tip: We used an electric knife (like the kind you carve a turkey with!) to cut our foam and it worked really well. The woman who did our upholstery let us borrow hers, so if you're working with an upholsterer, it couldn't hurt to ask!
2. Upholster
Pick an upholstery fabric. We purchased some online from Joann Fabrics (using coupons! They always have coupons) and were very happy with it.
We found a local woman who does upholstery through a Facebook group in our town. She did an excellent job and made our cushions much more professional (with cording and zippered pockets) than I ever could have. She charged $300 for the entire project.
If you are good at sewing, you can try to do it yourself to save a bit of money.
3. Couch Mode to Bed Mode
You will likely need a table (or piece of wood) that fits right between your benches to create a platform. Scoot your bench cushions to the center and your back cushions to the edges. Put a fitted sheet over it all, and you're ready for bed!
Insider Tip: We'd recommend rotating how your arrange the cushions every once in a while so you don't start to wear them down by sleeping on them in the same exact position each night.
How much does a campervan bed cost?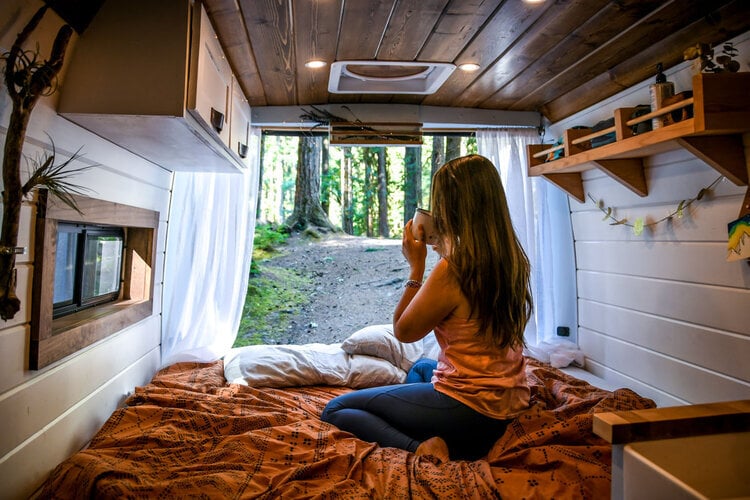 As with most projects in a campervan build, the cost to make a bed will depend on your setup. A fixed bed will almost always cost less than a convertible bed simply because there are fewer parts and considerations.
For instance, in our budget campervan build a few years ago (van called "Vinny"), assembling our bed platform costs just $35! Check out our instructions on how to build that fixed bed platform. We were fortunate enough to get our mattress for free from a friend and our bedding was from our apartment.
In our new higher-end build (van called "Pearl"), the convertible bed cost significantly more because we accounted for the more lumber to create our U-bench, table, table arm, foam mattress, upholstering, and nicer bedding. We break everything down in our campervan cost article.
Campervan Bed Accessories
A good night's sleep is priceless. And honestly, it's worth a spending a bit of cash if you'll wake up well-rested. We're sharing a few of our favorite items as well as some of our "secret weapons" for winding down at night and falling asleep more peacefully,
Cozy blanket
A cozy blanket can take your campervan bed from meh to marvelous. We have one that's pretty unremarkable except for the fact that it is so.damn.soft. I love snuggling up with it at night. And in the morning. And sometimes in the afternoon. Depending on your needs, you might want to consider a "fancier" blanket:
Weighted blanket: For a little extra comfort and warmth, a weighted blanket can help reduce anxiety too.

Heated blanket: If you're traveling in the colder months of the year, you'll want to be sure to have a plan for staying warm at night. A heated blanket can be a good option, but be sure to get a blanket that's meant for a vehicle (aka it has a 12V plug) so it doesn't suck up a ton of energy.
High-quality pillow
Sometimes a good night's sleep comes down to what you're resting your head on. Spending a bit more money for a high-quality pillow can make a huge difference in making your campervan bed feel more like "home" and less like you're sleeping in a vehicle.
Pillows are pretty personal, and you likely know what you prefer — plush and supportive or very soft and flat. If you're a bit unsure, try browsing your options and comparing reviews.
Silk pillowcase: Turn your campervan bed into a spa-like oasis with a silk pillowcase. They're said to prevent hair breakage and wrinkles, but we think they're just plain comfortable.

Cute throw pillows: While not necessary, cute throw pillows will make your space feel 100 times more cozy and homey. I promise. And the good news is you can find them for cheap at thrift stores or places like TJMaxx or Target. Plus, they're pretty easy to make if you have a sewing machine and a bit of patience.
Curtains and/or Window Coverings
This one is huge, so pay attention. You will definitely want some way to fully cover your windows at night for a few reasons:
a) Privacy: it can feel like you're in a fishbowl if you don't have a way to cover your windows

b) Keeping out light: Whether you're in a campground or stealth camping on a residential street, you'll likely want to block out lights before going to bed. Even a full moon can make it difficult to get some shut eye unless you have good window coverings.

c) Insulation: If you choose an insulated window covering, it will help regulate the temperature inside your van, keeping it cooler in the summer and warmer in the winter. Score!
We'd recommend getting or making insulated window coverings, as they will block out the most light and help you regulate the temperature inside your van.
Our friends at Moohah Creatives have some of the coolest designs we've seen for window coverings, and they are magnetic so they're easy to put up and take down. Best of all, the fabrics they use are ethically-sourced. And purchasing from them supports a small family business (complete with two adorable girls who are a big part of the company!).
DISCOUNT! If you purchase through Moohah, we even have an exclusive discount code just for you. Use the discount code WANDERINGSOLES at checkout to get 10% off your total purchase.
However, if you're on a budget and don't see yourself getting top-notch coverings, we've got a tutorial that walks you through how to make super simple DIY curtains. I used sheets bought at a thrift store, so the entire project was super cheap!
Eye mask & ear plugs
I don't like sleeping with these unless I have to. But there have been a handful of times I've been seriously happy to have them stashed in our van — especially while urban camping.
DIY Lavender Spray
One whiff of lavender and I automatically become more calm. Anyone else? At night, I've gotten into a habit of spritzing my sheets and pillow with a little mix I make of water and a few drops of lavender essential oil. It just makes nighttime feel more… peaceful. And after doing this for a while, my mind knows that when I smell lavender, it's time to wind down and get ready for sleep.
Just find a small spray bottle (I like to reuse ones that I'd otherwise throw away), and fill it with water. Add 10 drops of lavender oil (or whichever essential oil you prefer). And now you're ready to spritz!
Melatonin
If you have trouble falling asleep at night, you may want to consider trying this all-natural sleep aid. My mind tends to race at night, but taking one of these when I'm having trouble winding down really seems to help. They're drug-free and non-addictive, so it's worth giving it a try.
Calm Sleep Stories
We're huge fans of the Calm app for its guided meditations, but recently, we discovered the app's "sleep stories", and we're hooked! Essentially, someone with a very nice voice — think Matthew McConaughey or Idris Elba — reads you a bedtime story. There are tons to choose from and it's truly blissful, especially on nights when you're having a hard time falling asleep.
Insider Tip: Our personal favorite is the "Nordland Train" story!


Campervan Bed Ideas
While we've simplified this into fixed bed vs. convertible, there are a few different types of layouts you can choose from.
We're sharing some really cool campervan bed ideas to give you a little inspiration as you brainstorm your van layout We're even sharing a few design ideas for those who have kiddos!
Convertible Dinette Bed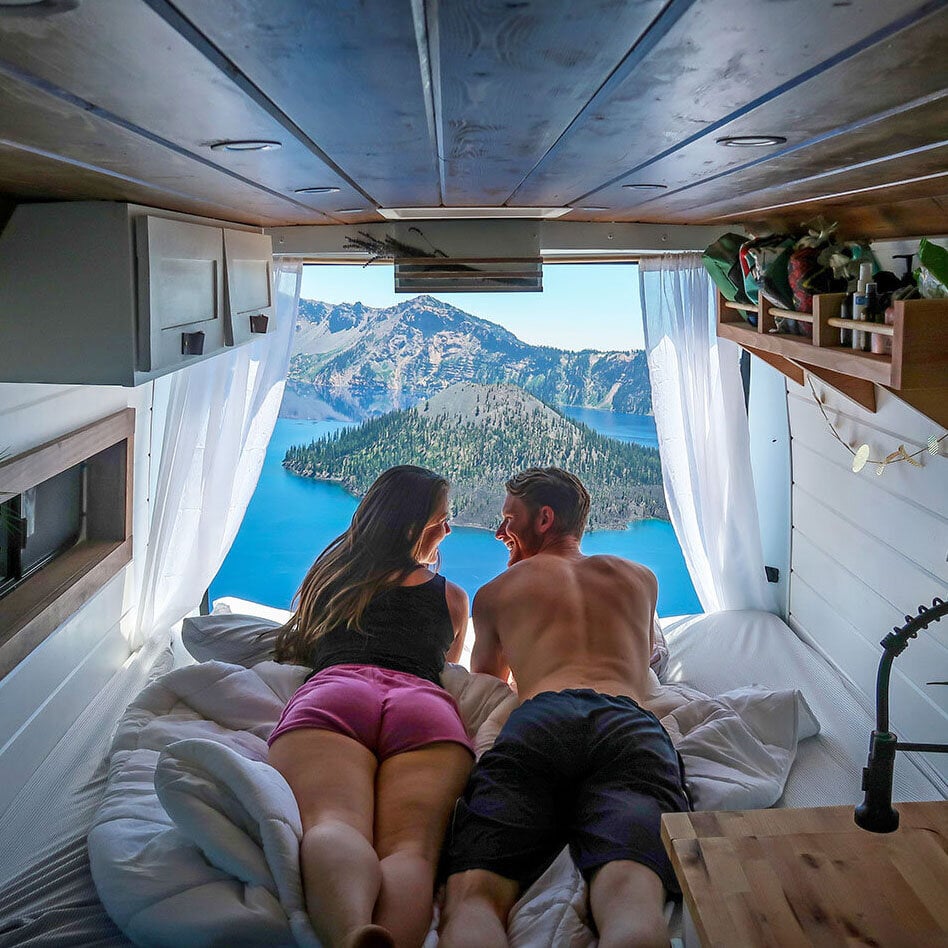 This popular bed design has been used for decades in small spaces such as boats and motor homes so it makes perfect sense to use it in a campervan as well. By adjusting the height of the table and pushing the cushions together, it creates a sleeping space for two where there once was a seating area around a table.
Who's it for: People who need table space for working, want to have space for hosting guests, or prefer to sit around a table instead of sitting on their bed during the day.
Why we like it: This type of bed is an efficient use of space as there is ample storage beneath the benches and you can fit multiple people around the table. Plus, the dual use of space means you'll have extra room elsewhere in your van for other features or storage needs.
Pull-out Bed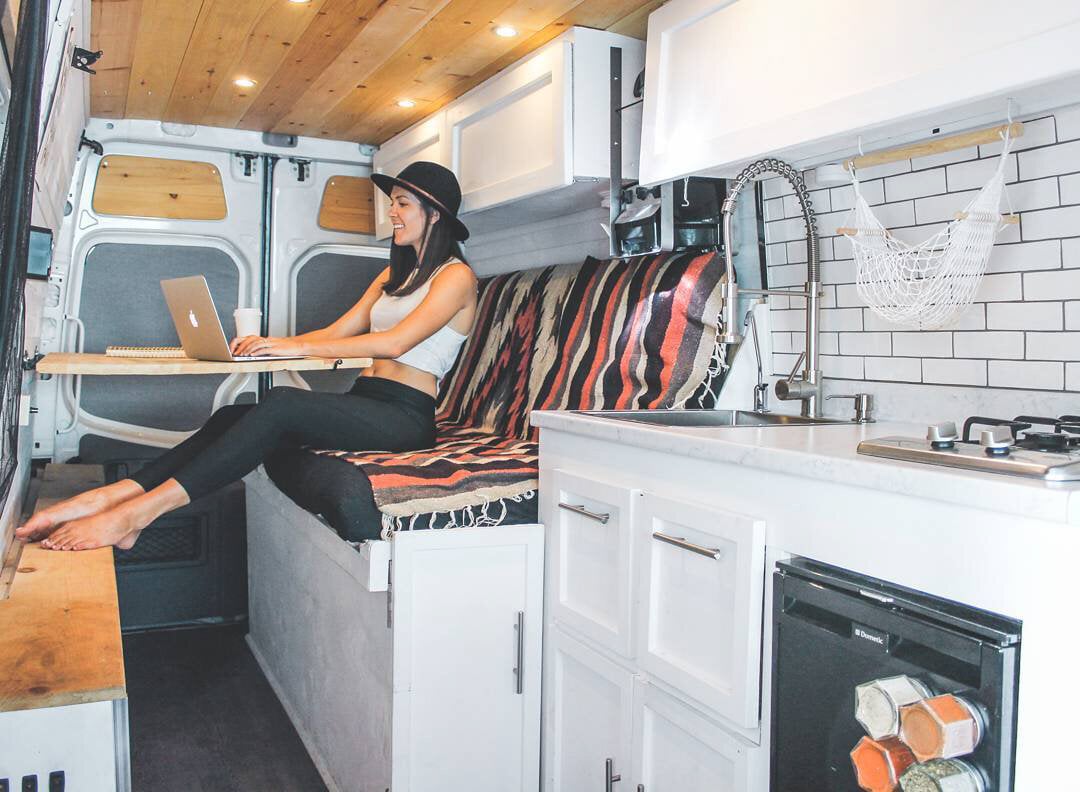 One of the least complicated non-fixed bed option is the pull-out style — kind of like a futon. It is very easy to create (there are tons of tutorials for this type of bed on YouTube) and don't require any special materials.
Just like a pull-out couch, when it's in "day" mode, it looks just like bench seating in your van, and when you convert it to "night" mode by pulling out the bed structure and adjusting the cushions, you have a bed for two.
Who's it for: People who want designated seating space during the day and don't mind doing the quick conversion every morning and night.
Why we like it: By fixing a pull-down table to the opposite wall, you have an easy DIY dining/working area with comfortable seating during the day, and you still have plenty of under-bed storage on one side.
The Bed Lift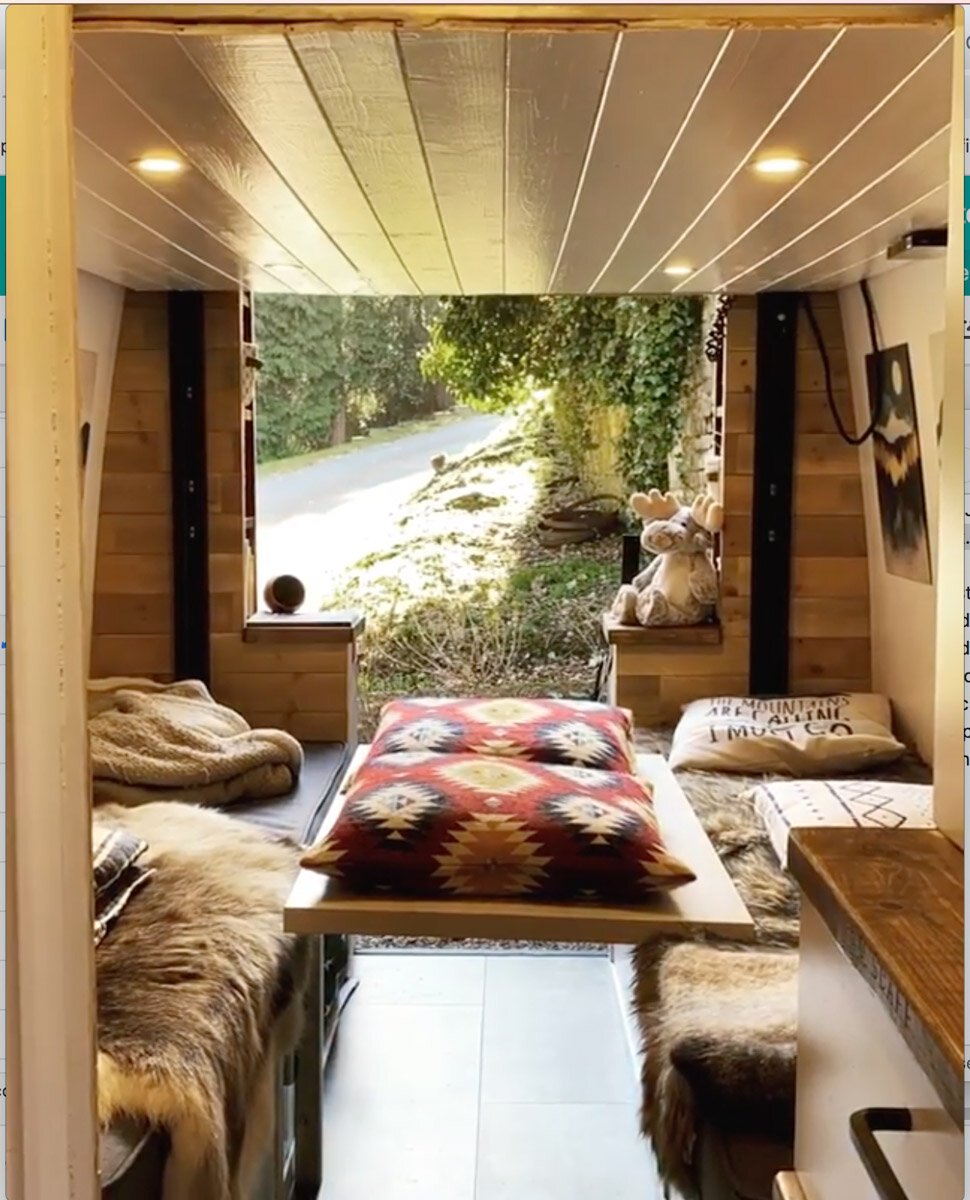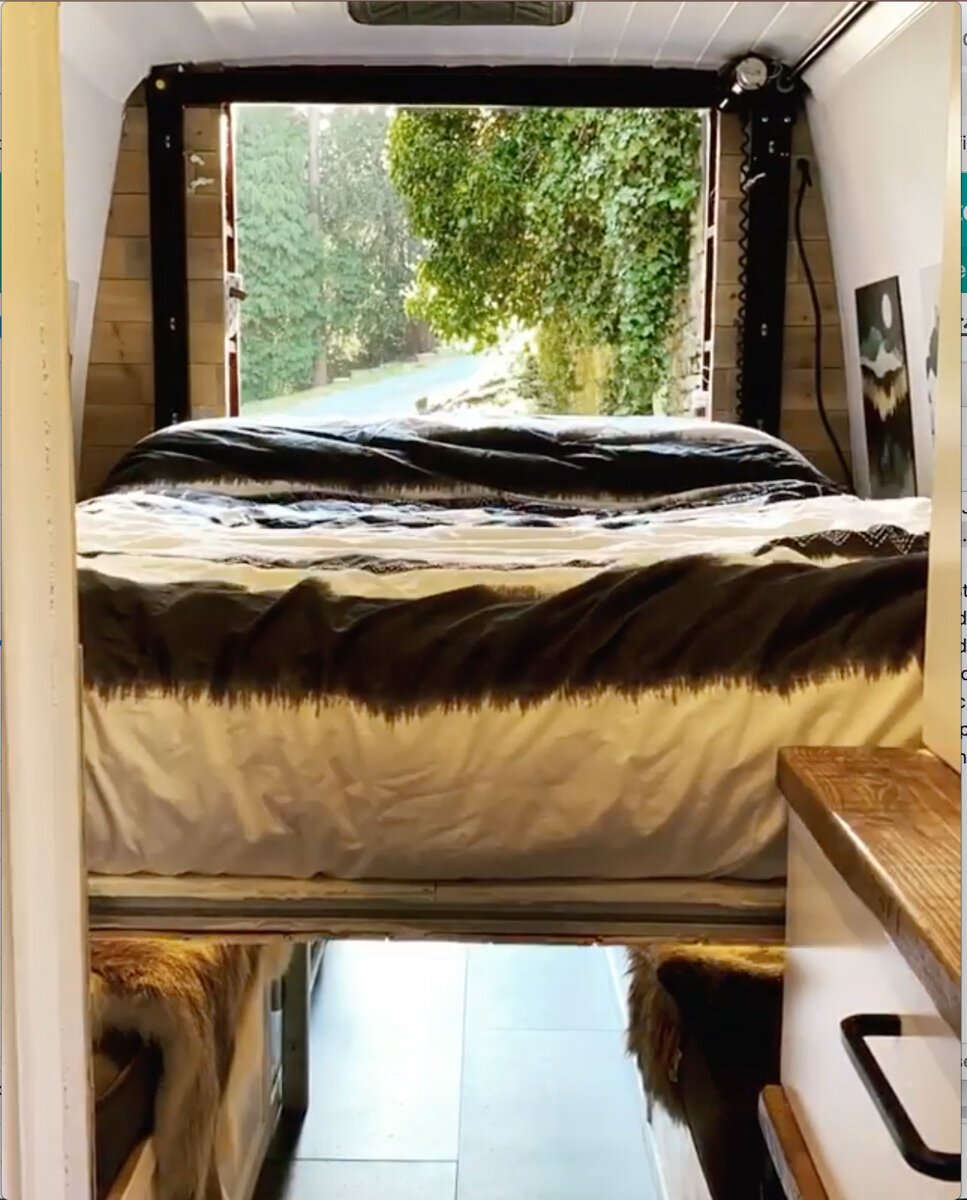 Probably one of the most high-tech campervan beds we've ever seen! This standard full-sized mattress sits on a platform that can be lifted and lowered at the flip of a switch by a mechanical lift (just check out the video from the Instagram post above!).
This allows you to have a seating area and a fixed bed, with no daily converting. However, there are some limitations and a lift like this costs a lot of money.
Who's it for: People who want designated seating space during the day and don't want the added work of converting the bed every morning and night. Oh, and they have a big budget to work with!
Why we like it: This is a fun high-tech addition to your van build for someone who doesn't have concerns about budget and is up for the challenge of installing it. Having your bed on a lift makes it feel like you have a separate bedroom and living room, even though they are technically all in the same square footage.
The Murphy Bed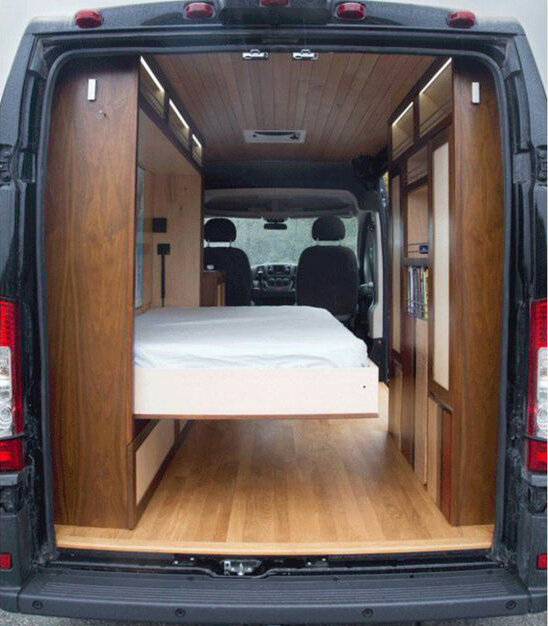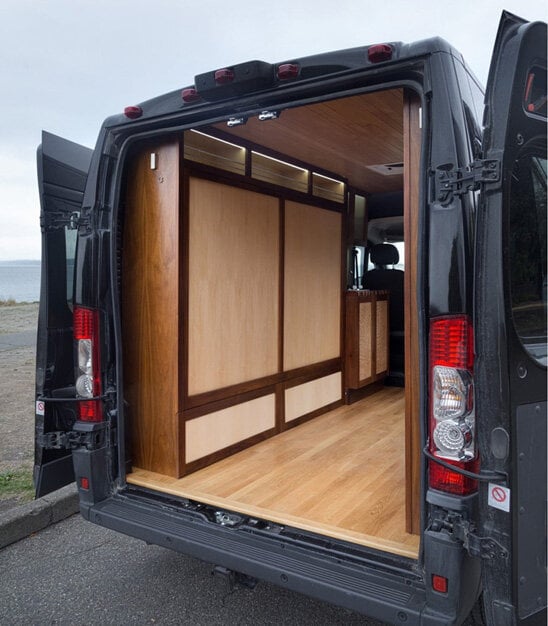 This is a unique way to have a fixed bed in your campervan, but also give yourself plenty of floor space during the day. By attaching your mattress to a platform that folds down from the wall, you can have your bed disappear when it's not needed giving yourself tons of extra floor space in your van.
Who's it for: People who prefer a clean and simplistic design free of clutter, don't want to make their bed every day, but also don't want their fixed bed taking up space when it's not in use.
Why we like it: You can use a conventional, unmodified mattress for this bed design and you won't need to convert your bed into another piece of furniture every day.
The Lofted Bed With Garage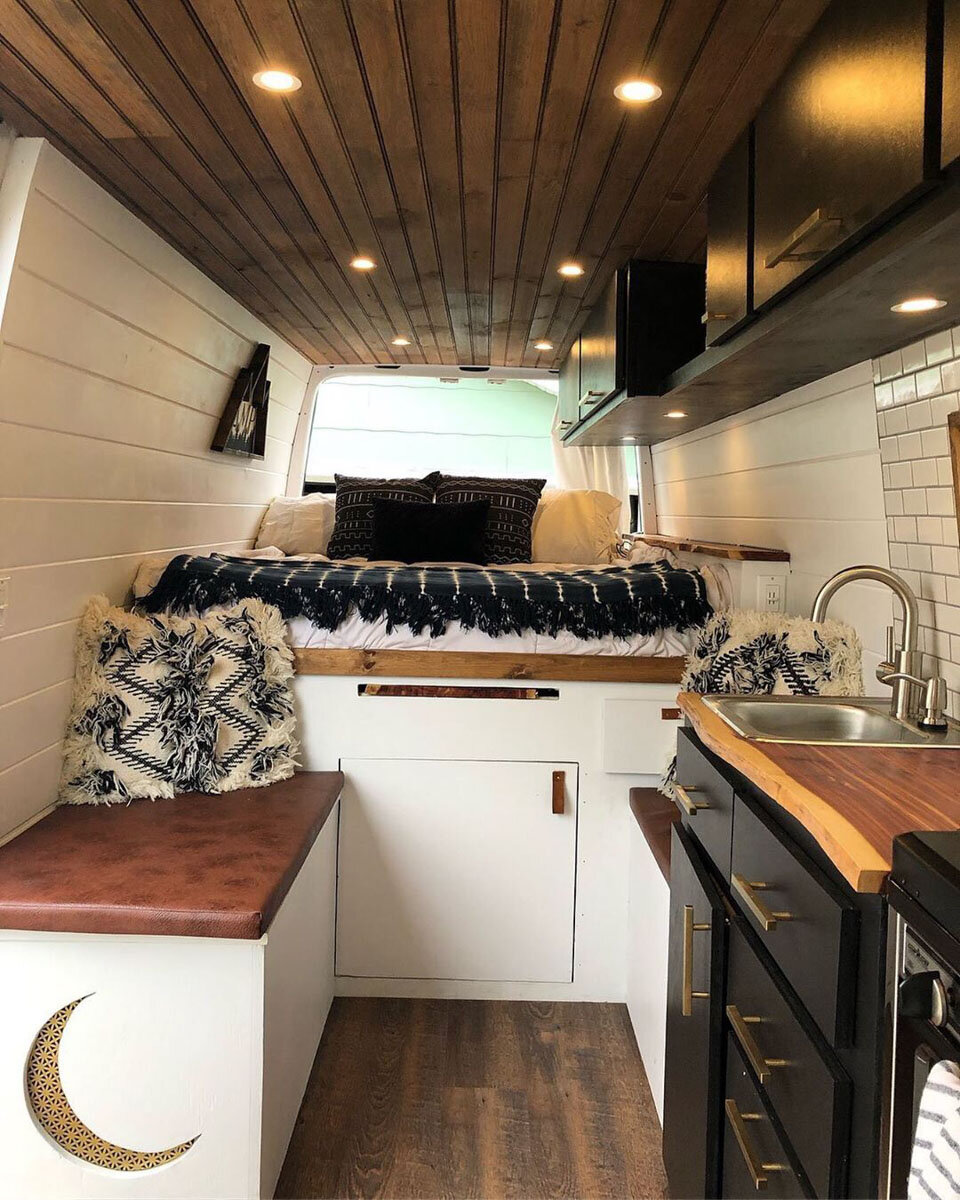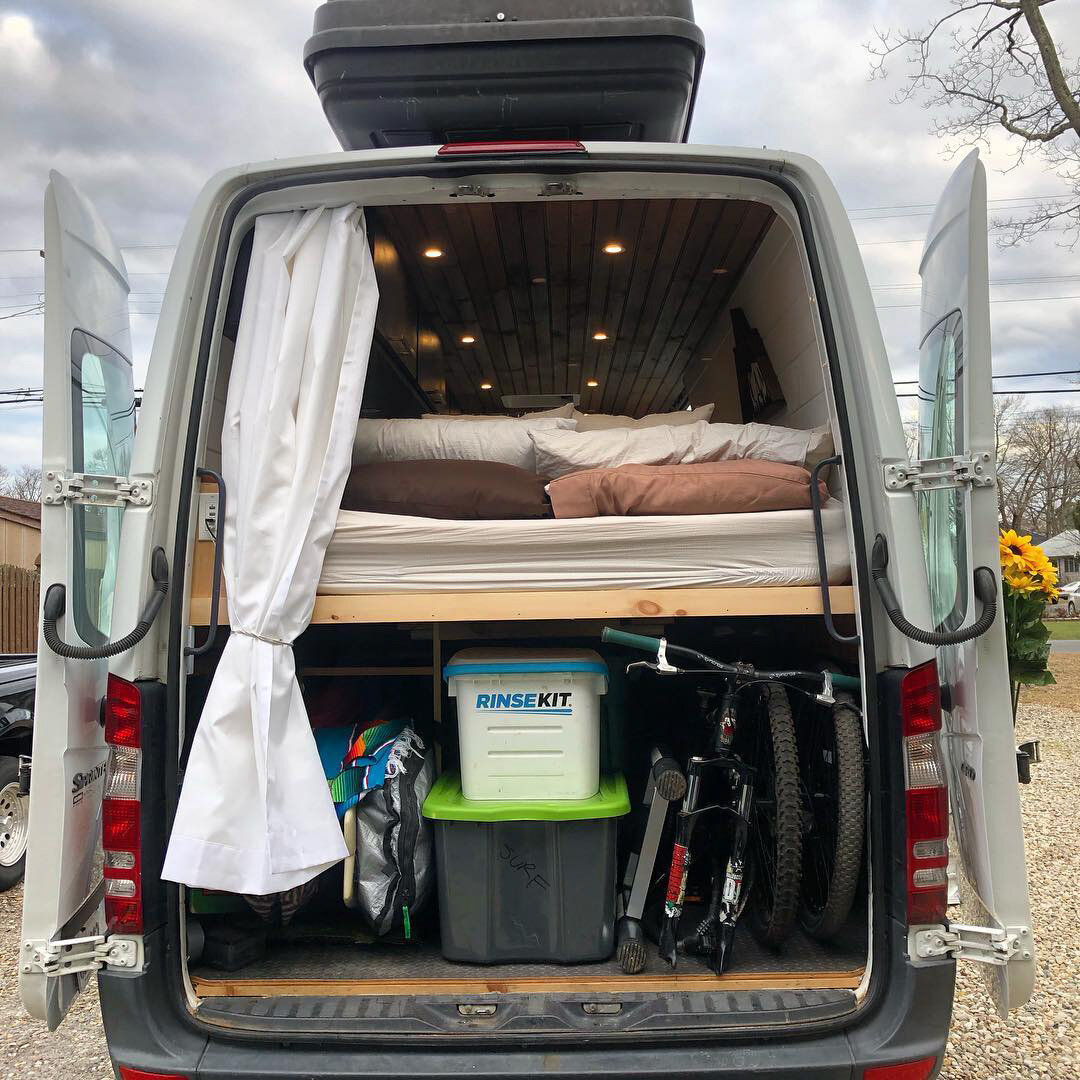 This is a pretty common way to have a fixed bed in your campervan and give yourself lots of storage for larger items in the back "garage" as people like to call it. The fixed bed is lofted on a platform at the rear which reduces the headroom above but gives you a much larger storage space below.
Who's it for: People who have a lot of gear to haul and store, especially larger items such as bikes or surfboards.
Why we like it: You can choose the size mattress you prefer based on what fits in your van. And the added "garage" space is a huge plus!
Bunk Beds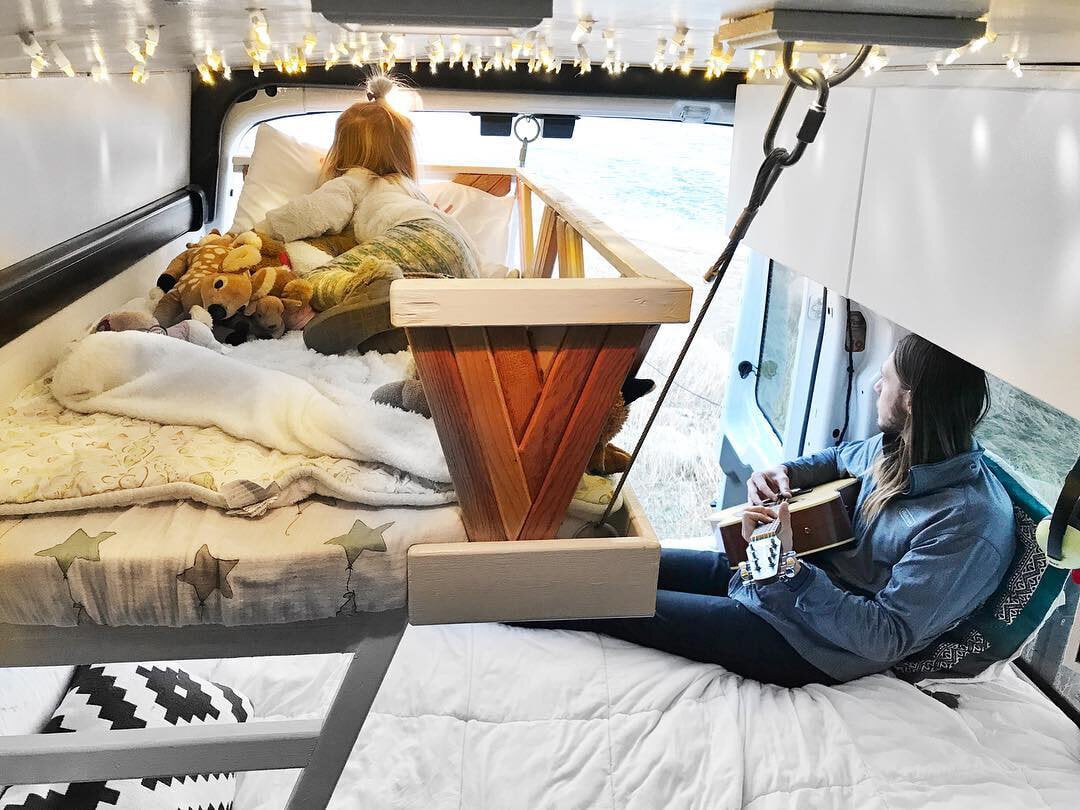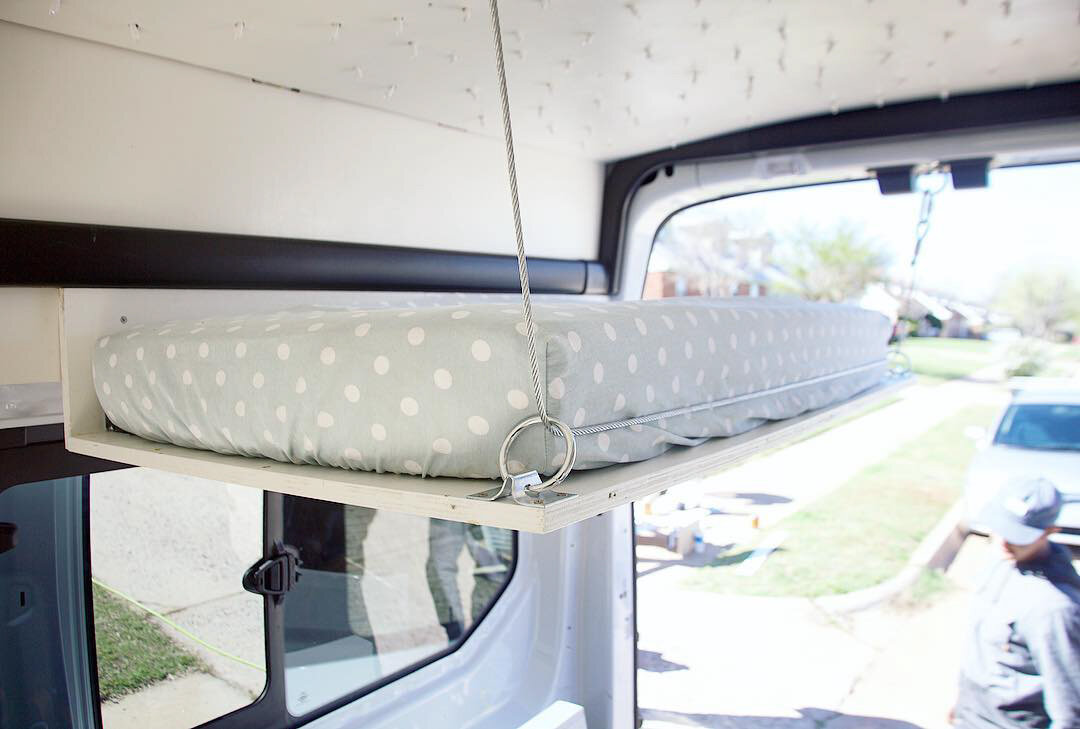 This is a great way to add extra sleeping space to your campervan. Especially if you have a pint-sized vanlifer with you on your travels. The platform is attached to one wall of the van and hung from the ceiling on the other end to free up the space below where a larger double bed can fit.
Who's it for: Families with small child(ren) traveling together in their van.
Why we like it: This fixed bunk bed allows a tiny human to have their own sleeping space apart from their parents in the van. We also love how the decorative wooden barrier gives an added layer of security so little ones don't accidentally roll off the bed.
Murphy Bunk Beds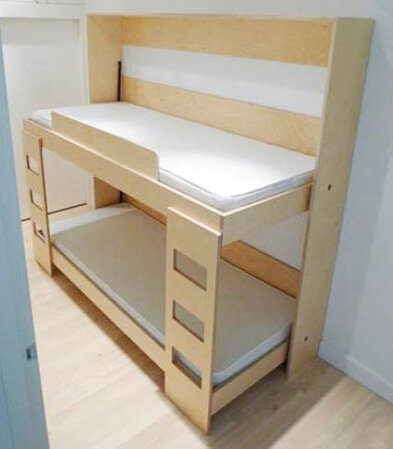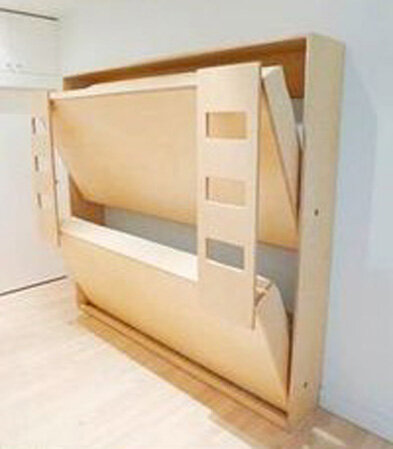 Similar to your typical murphy bed, this is a great way to add two sleeping spaces to your campervan while taking back the floor space when they are not in use. While we haven't seen this example put to use in a campervan yet (comment below if you know someone who's tried it!) we think it would be an interesting idea to test out.
Who's it for: Families living the vanlife with multiple children.
Why we like it: This fixed bunk bed allows for more sleeping space in your van that can easily be tucked away when not in use.
Triple bunk beds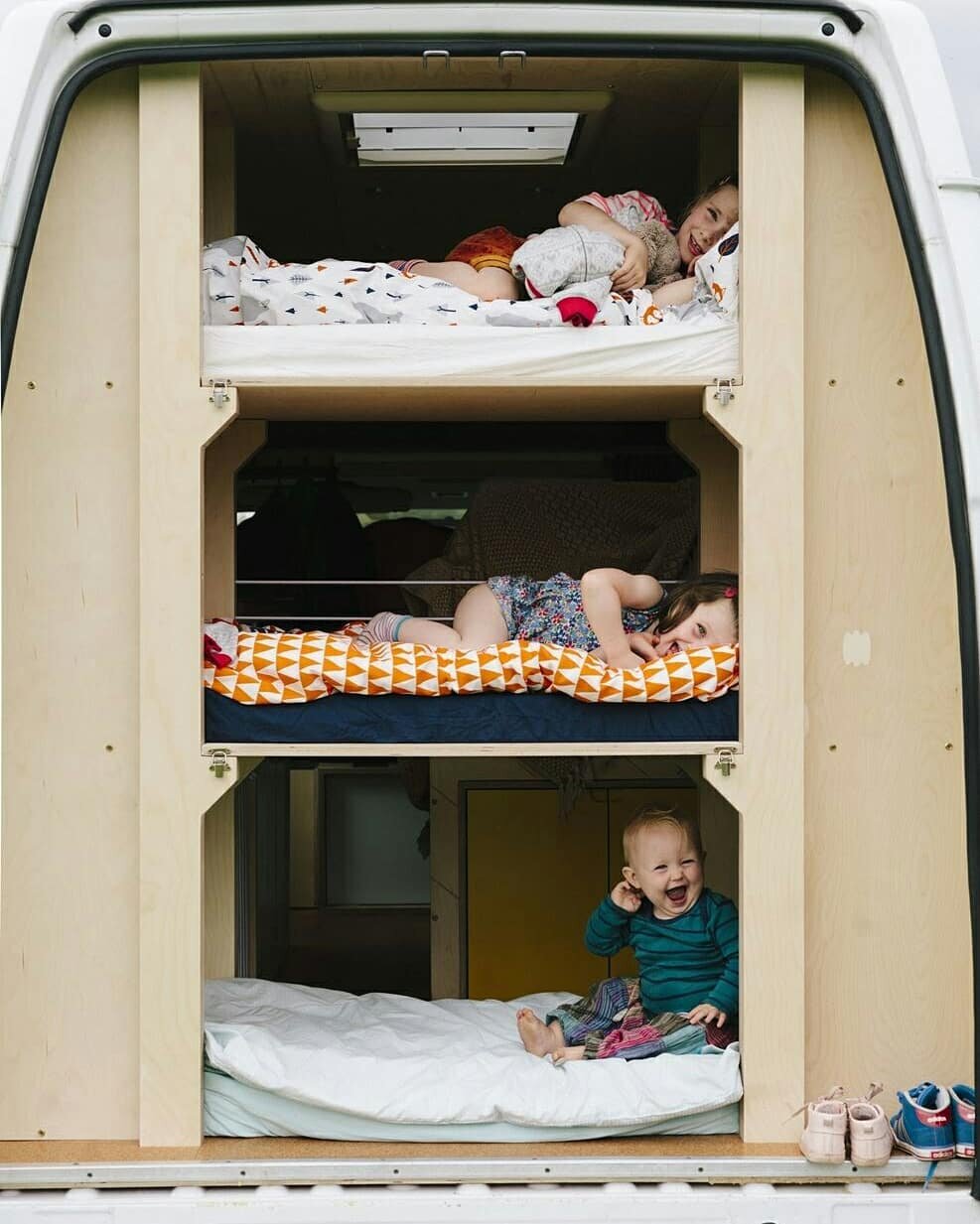 The more the merrier, right? Anyone up for stacking four bunks high!? Just gotta make sure you have seats for all those kiddos.
Who's it for: Families living the vanlife with multiple children.
Why we like it: This triple bunk bed allows for more sleeping space in your van for the tiniest vanlifers.
---
Are you thinking about living the campervan life?
We have TONS of resources on converting your own campervan and living the #vanlife. Check out our Ultimate Guide to Van Life for all the answers to your most burning questions, or read some of our favorite articles below.
Interested in engaging with others about all things #vanlife? Join our Vanlife Facebook community!
Save this article on Pinterest for later!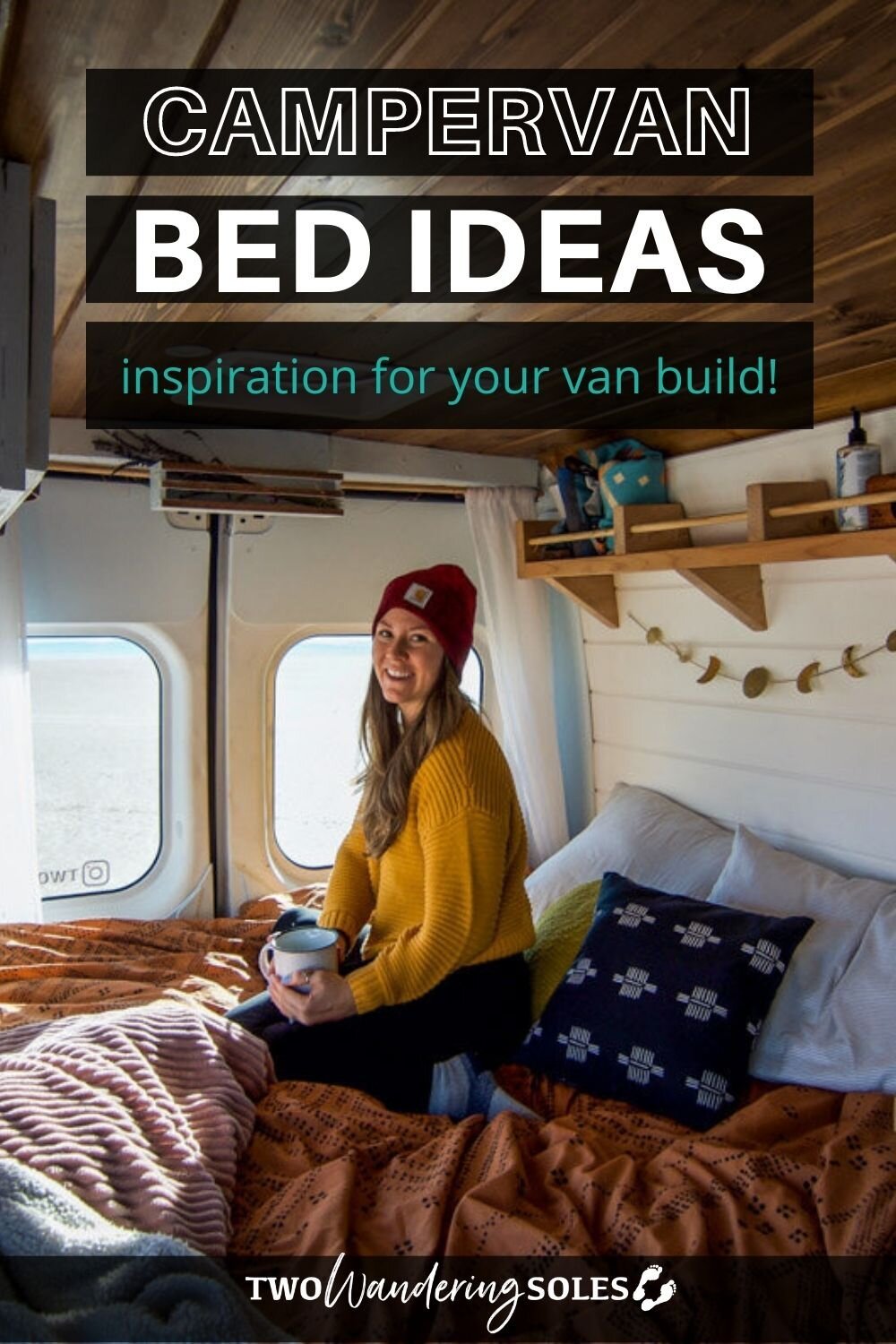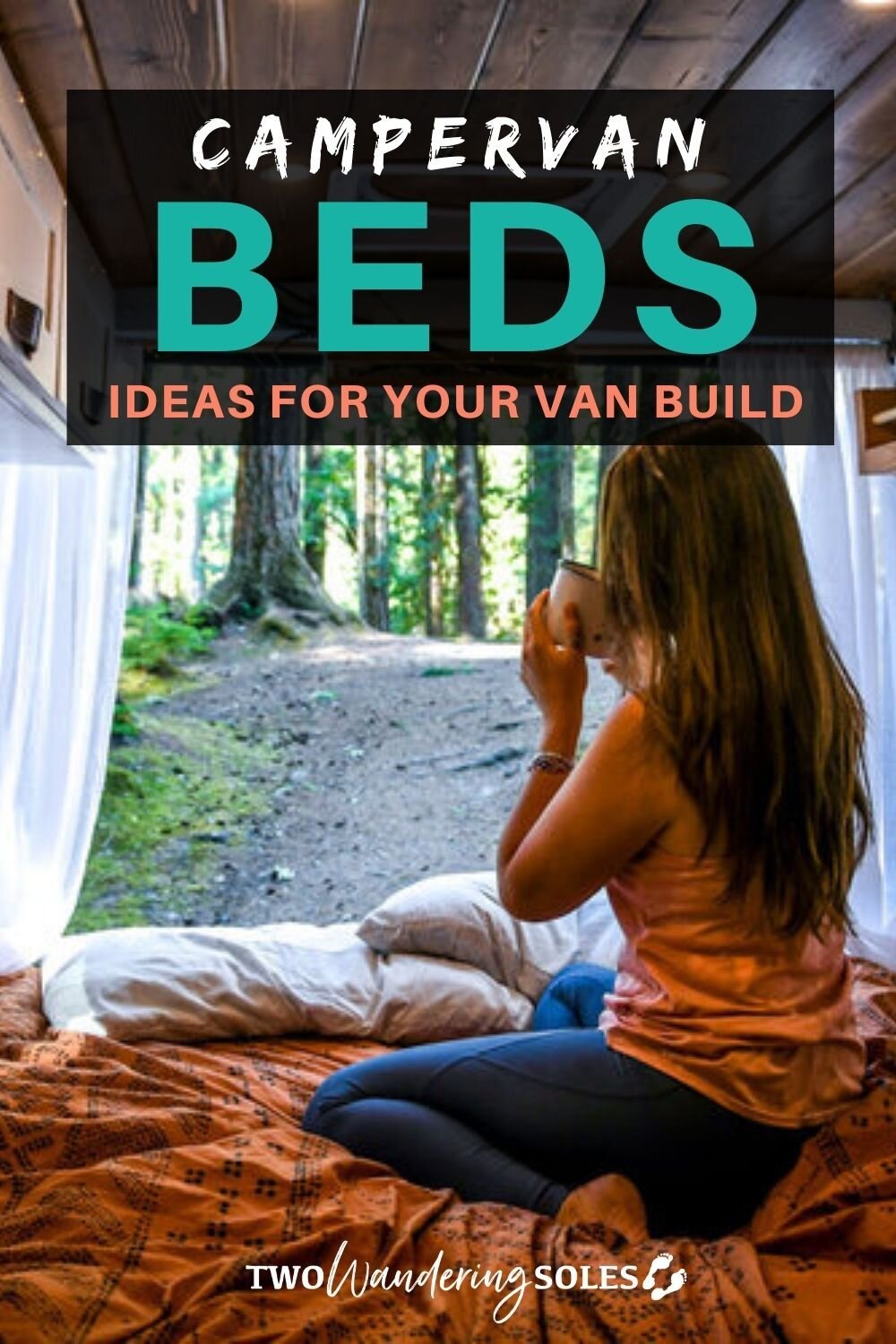 We want to hear from you!
Got any more questions about campervan beds? Comment below and we'll do our best to find you the answers you're looking for!