With so much jaw-dropping country to explore, a lot goes into planning a New Zealand camping trip. With the help of fellow travel bloggers, we rounded up the best New Zealand campsites, plus everything you need to know to plan an epic trip.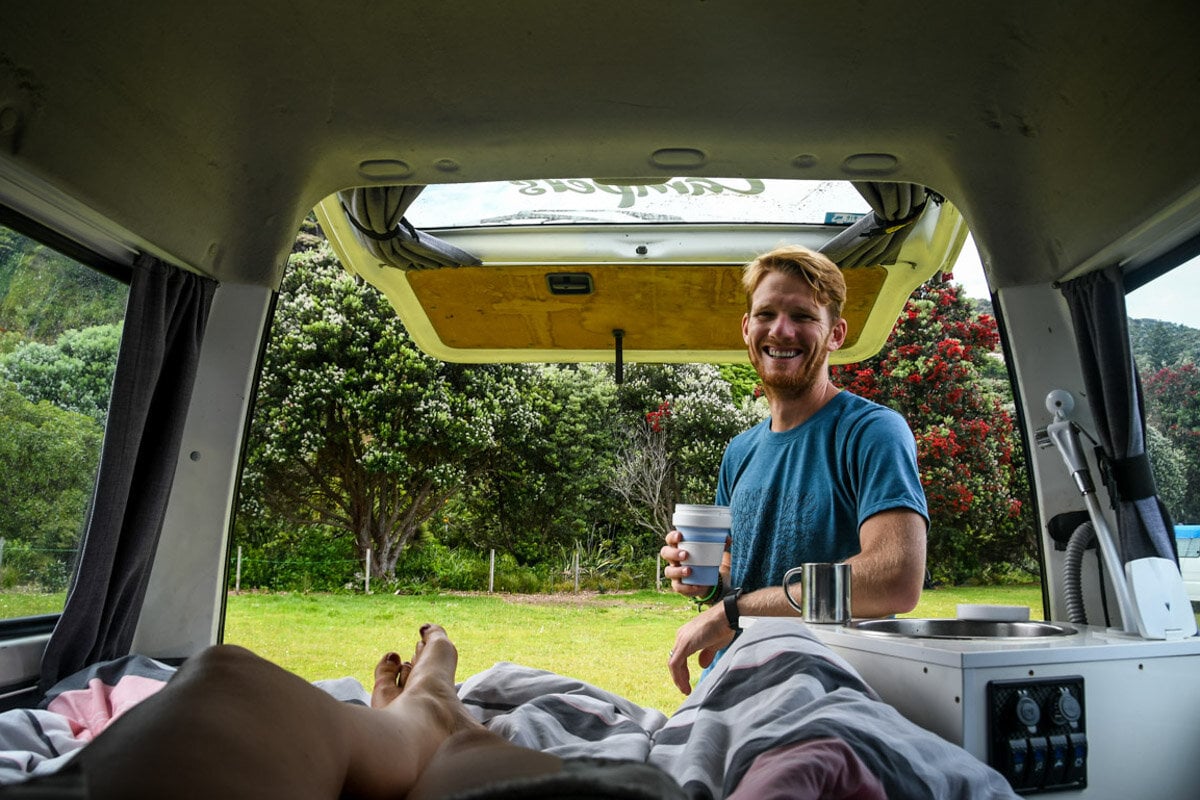 If you're planning a campervan trip around New Zealand, first of all: GOOD FOR YOU!
Exploring New Zealand by campervan is the best way to really see the country (in our opinion!).
However, we also know that traveling in a campervan or RV can be quite overwhelming. Fear not, we're here to help!
In this article, we're going to go over the different types of campgrounds in NZ – you'll definitely want to know the differences. Plus, we're sharing a list of some of the best New Zealand campsites so you can see which ones fit into your itinerary. We even have a free map to show you where in the country each site is located.
We rounded up our very favorite campsites in New Zealand from personal experience. Plus, we asked other travel bloggers to share their top recommendations. We tried to include a good mix from the North and South Island, as well as a blend of all types of campgrounds: free, DOC, private, and Holiday Parks.
We're confident that with a mix of planning and research plus room for spontaneity, you will have an incredible time on your New Zealand campervan trip!
New Zealand Campsites Guide
---
Want to save time and energy on planning?
We spent 5 weeks traveling around New Zealand in a campervan, and we've been lucky enough to explore a lot of what this country has to offer!
We took our 5-week travels and condensed it down to 30 days (because so many people wanted a 1-month route) that hits the top destinations on both the North and South Islands.
We'll send you our complete 1 month itinerary, filled with tips and advice. Just click below to get your 30-day New Zealand road trip itinerary today!

---
Different types of New Zealand campsites
Campsites in New Zealand are quite different than in North America. You won't have your own secluded site with a picnic table and fire ring, as is customary in much of the US and Canada.
Most of the camping in New Zealand is more or less a field where campervans have space to park. Some are more secluded than others, but it's good to go in with realistic expectations.
Depending on the specific campground and the time of year, you might be quite close to other vehicles (which can either be annoying or an opportunity to make a new friend!).
There are all types of campgrounds in New Zealand — from free and unmaintained gems to holiday parks with hot showers, BBQs and all the frills. And then there's everything in between.
In this section, we're breaking down the different types of campgrounds you'll find in New Zealand and what to expect at each. We even made a video to help explain some of the different New Zealand campground types.
*Important note about Freedom Camping: If you are planning to do freedom camping during your time in New Zealand, be sure you fully understand the rules that go along with it. There are hefty fines for breaking rules, and you don't want to be that traveler who is disrespecting local laws and guidelines. We've detailed everything you need to know about freedom camping below.
We'd recommend planning on staying at a variety of campsites on your trip to really get the full experience.
Free campgrounds are oftentimes less crowded and they're great for your budget. But when you need a hot shower, WiFi, laundry, and a couch to chill on, Holiday Parks are a pretty wonderful place to spend the night.
Our experience: We stayed at Holiday Parks (or nicer private campgrounds) about every 4 days or so. That's where we'd get a hot shower, fill and dump our tanks, and do laundry if needed. In between those Holiday Parks, we'd typically stay at free sites or DOC campgrounds so we had a really good mix. Plus, our budget had a healthy balance!
Psst! Speaking of budget, here are some money-saving tips for traveling in NZ to keep your bank account happy!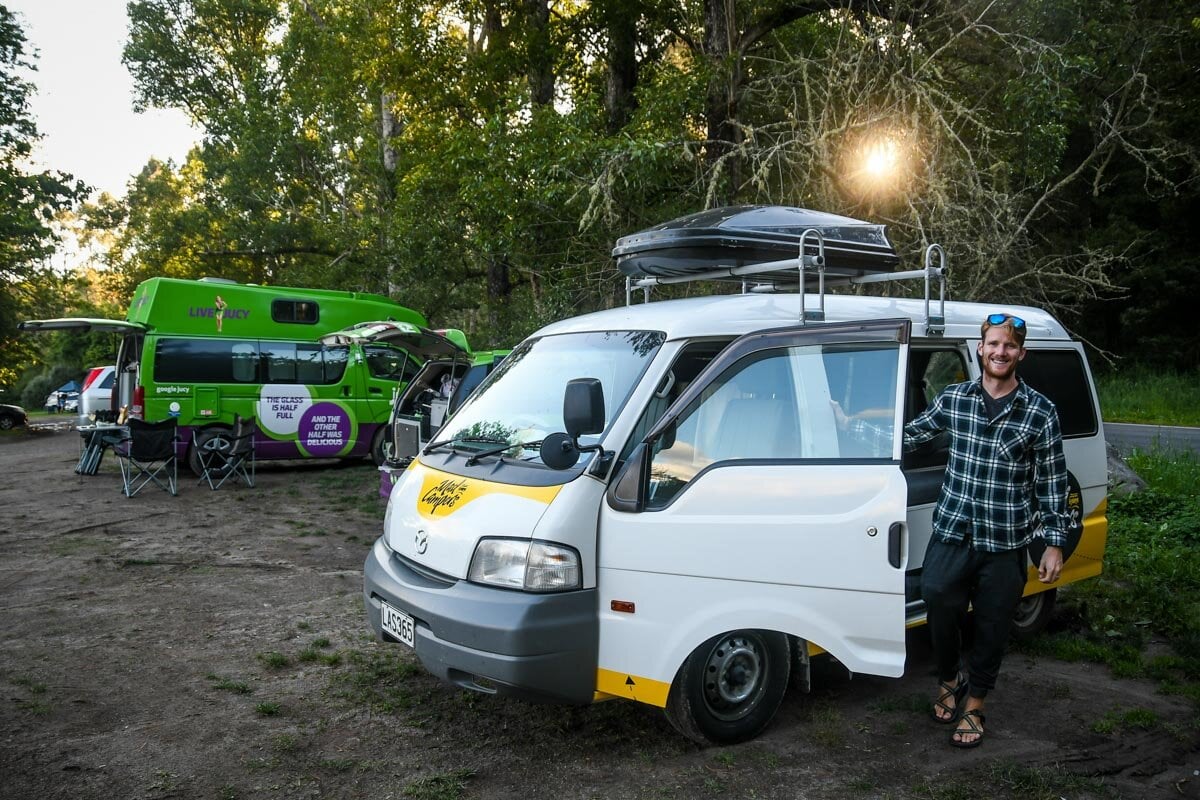 Below we'll go into more detail about each campsite type and what to expect.
Holiday Parks are almost more like mini resorts than simply campgrounds. They come with all the amenities you can imagine:
flush toilets
hot showers (most are free, while some are coin-operated)
laundry machines (coin-operated)
kitchens equipped with gas stoves and sinks (you typically provide the cookware and utensils, though sometimes it is provided)
power hook up options
water fill and dump stations
garbage facilities
While you can typically expect Holiday Parks to have the amenities above, they do vary in quality. Our best advice is to check the reviews on Rankers or CamperMate to see what recent guests have to say (more on these apps below!).
Some Holiday Parks go above and beyond. We've seen everything from pools and hot tubs to playgrounds, game rooms and food trucks at some Holiday Parks.
However, the high-quality amenities come at a price. These are the most expensive type of campsite in New Zealand and they can run anywhere from $15 to $26 NZD per person, per night.
You can usually book Holiday Parks in advance if you'd like, but unless you're near a big city or traveling during the busiest time of year, you can usually turn up and find a spot. Just make sure you arrive before the office closes, or you'll be out of luck. (If you know you'll arrive late, you can call ahead and reserve your spot.)
This is essentially when a landowner makes it possible for people to camp on their property. Privately owned campsites vary quite a bit in quality and price.
They will have fewer amenities than Holiday Parks, but they are also less expensive.
We stayed at one private campground that was in a lovely location on the beach and cost $5 per person, but they only had drop toilets (aka outhouses). Some have a sheltered kitchen area, flush toilets, and other amenities.
They typically range in price from $5 to $15 NZD per person, per night. If they cost much more than that, they probably have all the same amenities you'd find at a Holiday Park.
The Department of Conservation (DOC) has a large network of campgrounds (more than 200!) around New Zealand. There are different types of DOC sites, including very basic free sites which we will discuss next.
The Standard or Scenic DOC campgrounds are typically simple but tend to be in nice locations (many are in or around National Parks).
They should have toilet facilities and water supplies. Sometimes there are rubbish bins, but it varies.
DOC campsites range in price depending on the type of site, however, the most common price we found was $13 NZD per adult and $6.50 NZD for children 5 – 17 years old.
At most DOC sites, you can not make a reservation in advance, and you will need to pay in cash. You will fill out your information on an envelope in which you will deposit your exact payment. Park Rangers do come around to check this, so be sure to do this as soon as you arrive.
DOC Campground Pass
There is a weekly pass you can purchase for $25 NZD per person that allows you to stay at select DOC campsites for free. It is valid for 7 consecutive days. If you stay at 2 participating DOC sites in the week, the pass will pay for itself. And if you stay at more DOC sites, you'll save some money!
Important Note: Not all DOC sites are covered in the pass, so check your route ahead of time to make sure where you want to stay is covered.
You can purchase the physical pass through some campervan rental companies, or you can buy the pass online. (You will need to print it.)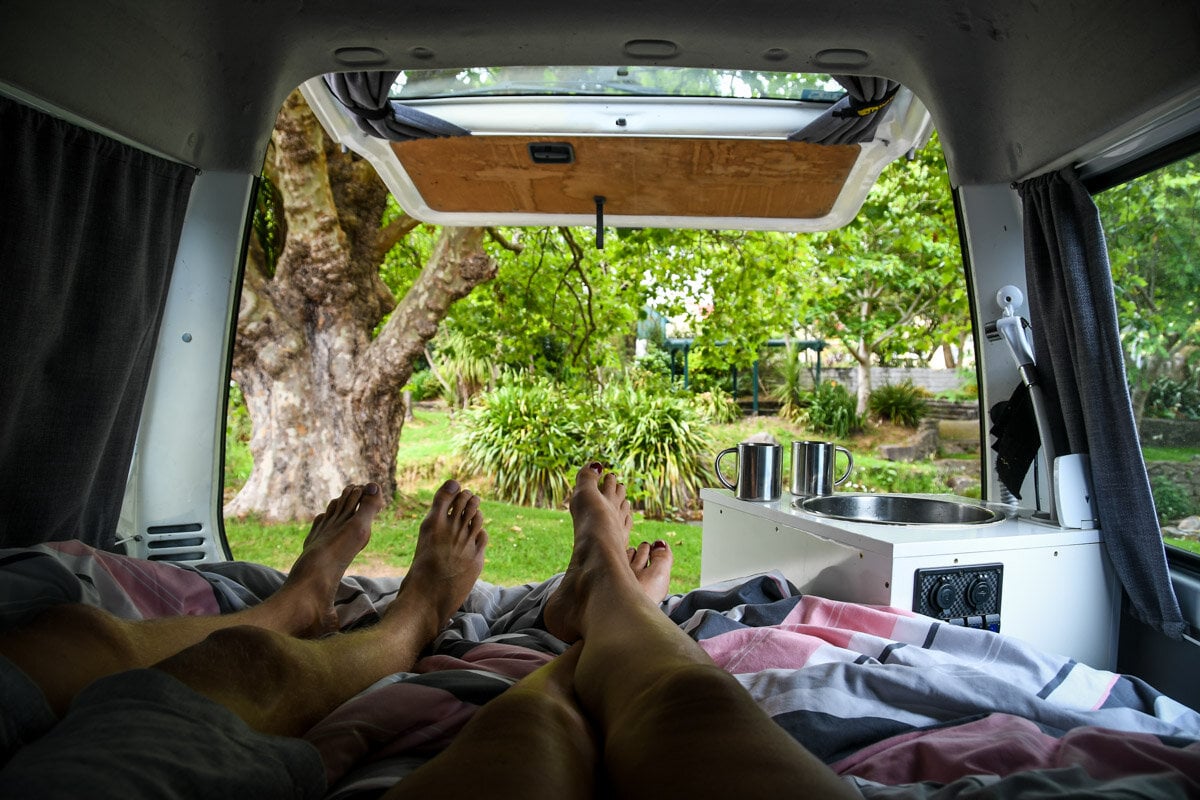 Free Campsites
There are plenty of free campsites around New Zealand too (most are run by the DOC). And these sites are not just for self-contained vehicles.
Free campgrounds are typically very basic and only have bathroom facilities. We stayed at some free sites that had clean and well-maintained flush toilets, and others where the outhouses were questionable (to put it kindly)…
Also, Free Campsites can get quite crowded depending on the location. We stayed at a few that seemed to be the local party spot, while others were pretty empty.
Important: If there are no toilet facilities, the campsite will fall into the category below…
Freedom Camping
Your final option for campsites is freedom camping. This essentially means you are spending the night on a piece of public land that has not been set up as a campground (a.k.a. there are NO toilet facilities).
IMPORTANT: Freedom camping is only allowed in designated areas and is only for vehicles that are certified self-contained (a.k.a. has a toilet and a grey water tank). It is illegal to spend the night in areas that are not designated for freedom camping, and you can be fined. The same goes for vehicles that are not certified self-contained.
When you are freedom camping, you will not find any toilet facilities, and it's important that you do your business inside your vehicle.
Also, please collect your waste and don't leave any rubbish behind. Because, duh.
Additional Reading: If you plan to do some freedom camping in New Zealand, please familiarize yourself with the Leave No Trace principles.
Apps for finding campsites in New Zealand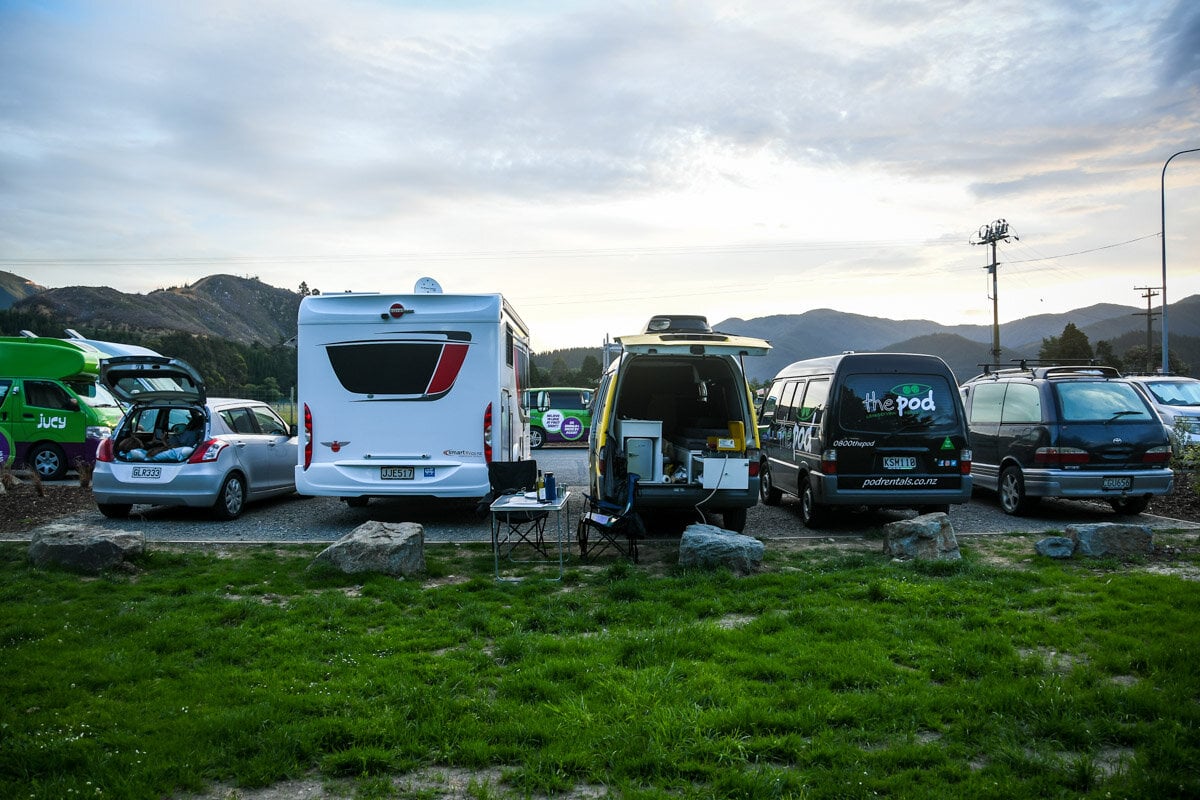 The best way to find campsites in New Zealand is to download one of the following popular camping apps:
Both apps show all types of campgrounds – from free camping to holiday parks. They also show reviews so you know what to expect. You can use filters to find the price range or type of campground you are looking for.
Helpful Tip: Whichever app suits you best, be sure to download the offline version of the map so you have access even if you are not in cell signal (it happens a lot in New Zealand!)
What to pack for a campervan trip in New Zealand
We know it can be overwhelming packing for a trip to a new destination. That's why we spent hours creating this super helpful PDF just for you.
In this free New Zealand packing list PDF download, we've provided packing checklists for everything from clothing and toiletries (for both women and men!) to what shoes to pack and extra medicines you may want to have on-hand just in case.
Plus, we're sharing tons of packing hacks and tips for traveling in New Zealand that you won't find anywhere else!

Map of the best campsites in New Zealand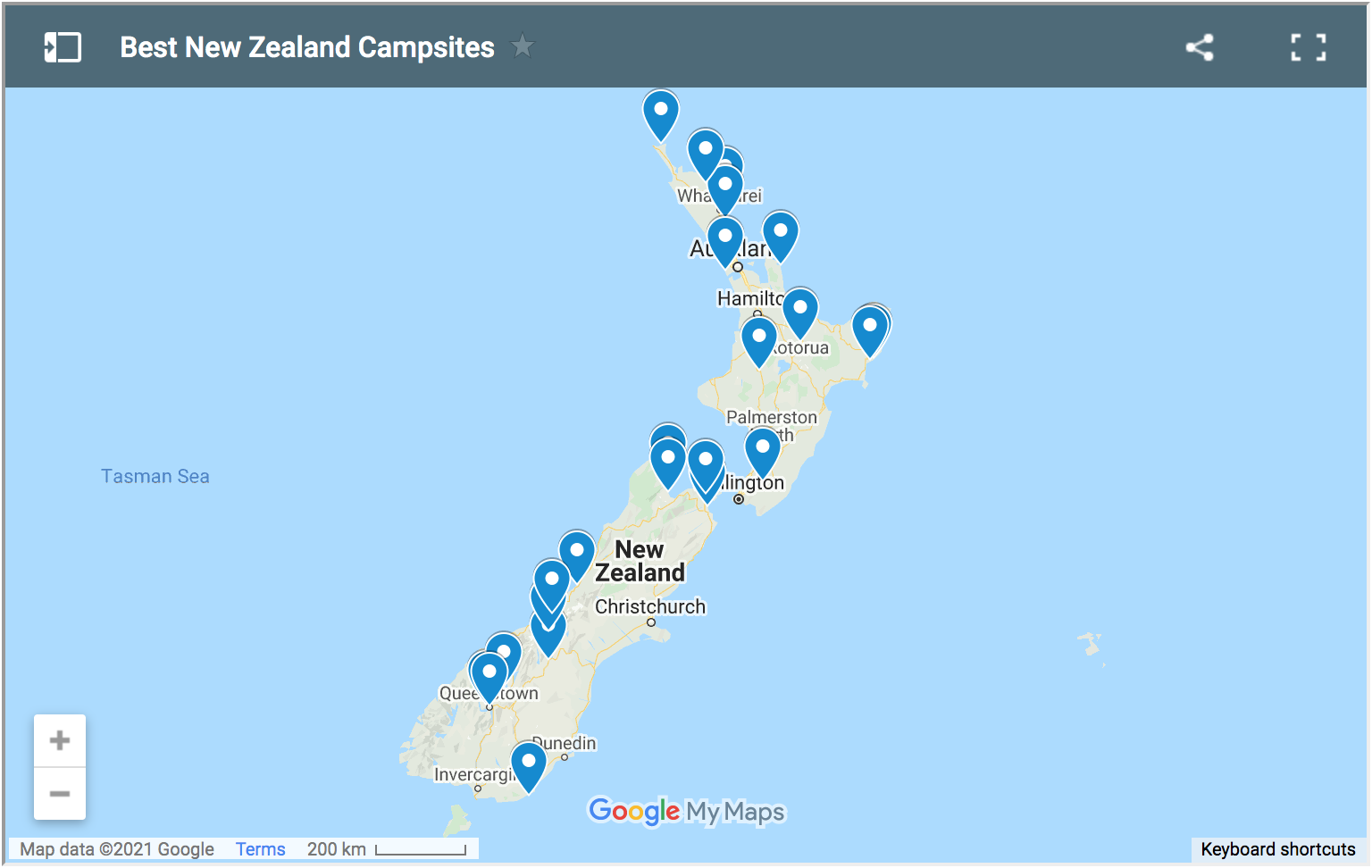 ---
North Island New Zealand Campsites
When you're planning your perfect New Zealand itinerary, you'll likely want to focus your attention on one island at a time. Here are all the best and most recommended campsites on the North Island.
Hahei Holiday Resort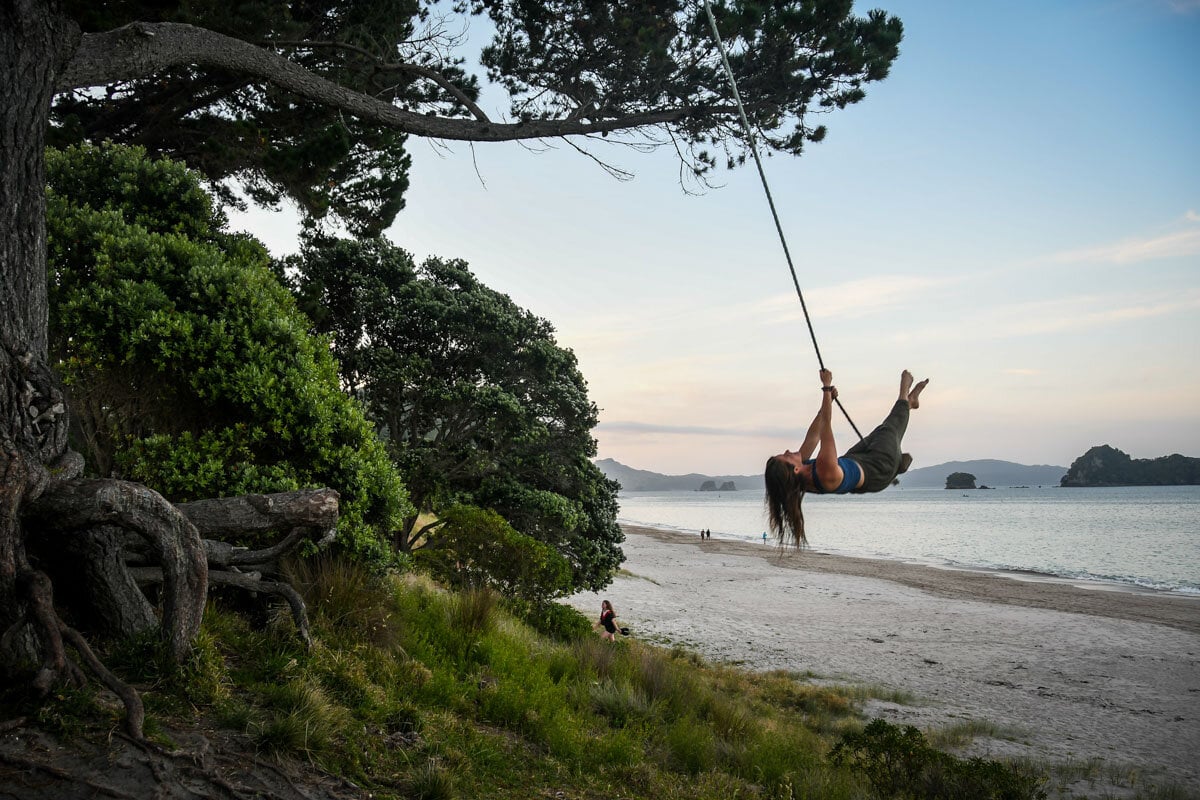 This large Holiday Park has all the amenities you could need, plus an oceanside location to boot. There are several different types of campsites, deepening on your needs and budget.
Location: Situated on the North Island's famed Coromandel Peninsula, in the small town of Hahei
Type of campground: Holiday Park
Facilities: Flush toilets, fully equipped kitchen (not super clean when we visited), laundry, showers, water, WiFi, BBQ, general store, playground, TV room
Cost: Prices vary depending on the season, but the unpowered campervan sites (without ocean views) range between $55 – $70 NZD
Best things about this campsite: From this campground, you can begin the walk to the iconic Cathedral Cove, meaning you can get an early start and miss all the crowds. Also, while we were there, a woman spotted orca whales swimming just off shore. We missed them, but keep your eyes peeled (especially in the early morning hours!).
Things to do nearby 
Walk the beach at sunset, and try to snag a tree swing where you can pretend like you're a kid again!
Grab a craft beer to enjoy by the fire pit at The Pour House, which you can walk to from the campground. If you're looking for a nicer meal, The Church Bistro looks fab!
Walk to Cathedral Cove just after sunrise to avoid the daytime crowds. We had it all to ourselves for a good 20 minutes!
Go snorkeling at Stingray Bay, which is within walking distance from the campground.
Insider Tip: Follow this plan for the perfect morning:
Wake up at sunrise and start the walk to Cathedral Cove (you can start from the campground).
On your walk back, stop at Stingray Bay for a quick snorkel and hope you see the creatures after which this bay is named!
Then grab a smoothie bowl at the cute food truck Intoku Hahei, which is located just beside the campground.
Recommended by: Katie & Ben from Two Wandering Soles
Kapowairua (Spirits Bay)
Absolutely one of the most breathtaking campsites on North Island. Kapowairua (also known as Spirits Bay campsite) is a scenic campsite located on rolling green hills filled with native horses overlooking the stunning Spirits Bay.
Location: 30 minutes north of Cape Reinga
Type of campground: DOC
Facilities: Flush toilets (with toilet paper), tap water, cold showers, a picnic table, and 45 non-powered campsites. There are no garbage bins onsite.
Cost: 15$ per adult and 7.50$ per child a night. DOC campsite.
Best things about this campsite: As the closest campsite to Cape Reinga, Kapowairua also has an amazing beach within a 5-minute walk.
Things to do nearby
Surfcasting and fishing off the nearby beach
Hike alongside the river through the hilly Aupōuri Peninsula
Take a trip to nearby Cape Reinga, a famous North Island historical landmark
Follow the scenic Te Paki Coastal Track wrapping around the island's rugged coastline
Insider Tip: Prepare for an adventurous and breathtaking drive along the 16 km gravel road coming into the campground. Also, make sure to pack a lot of insect repellent for the pesky sandflies and mosquitos!
Recommended by: Ellie from Ellie's Travel Tips
Sandy Bay Beach Carpark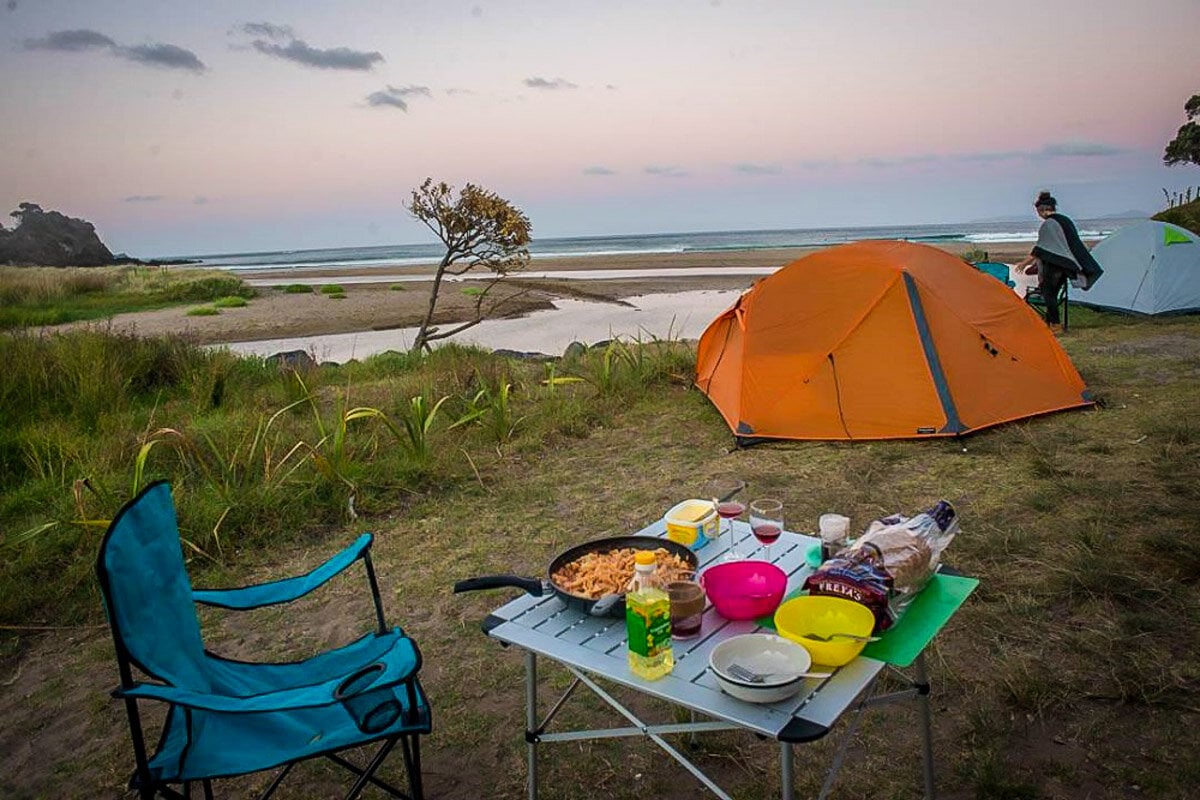 Sandy Bay campsite has one of the best locations when it comes to free campsites in New Zealand. It is located right at the river mouth next to Sandy Bay Beach which is one of the most amazing beaches in New Zealand and you'll be able to watch the sunset over the ocean right from your tent or campervan. The free campground is actually in a parking lot that has a small grassed area for campers.
Location: At Sandy Bay, 3.5 km north of Matapouri in Northland
Type of campground: Freedom camping
Facilities: Flush toilets (one for men and one for women.) There is also a tap with potable water.
Cost: Free
Best things about this campsite: Besides the excellent location, this freedom camping site is special because it is suitable for all types of vehicles including those that are not self-contained. You are even allowed to set up a tent here!
Things to do nearby
Surf at Sandy Bay
Hike to the stunning Whale Bay
Drive the Twin-Coast Discovery Highway
Relax at Woolleys Bay
Insider Tip: There is only room for about 6-8 campers at this campsite each night and the spots fill quickly. Head to the campsite early in the afternoon to ensure you get a space and spend the day enjoying Sandy Bay Beach. You are also only allowed to spend one night here, so make it count!
Recommended by Bailey from DestinationlessTravel
Taumarunui Holiday Park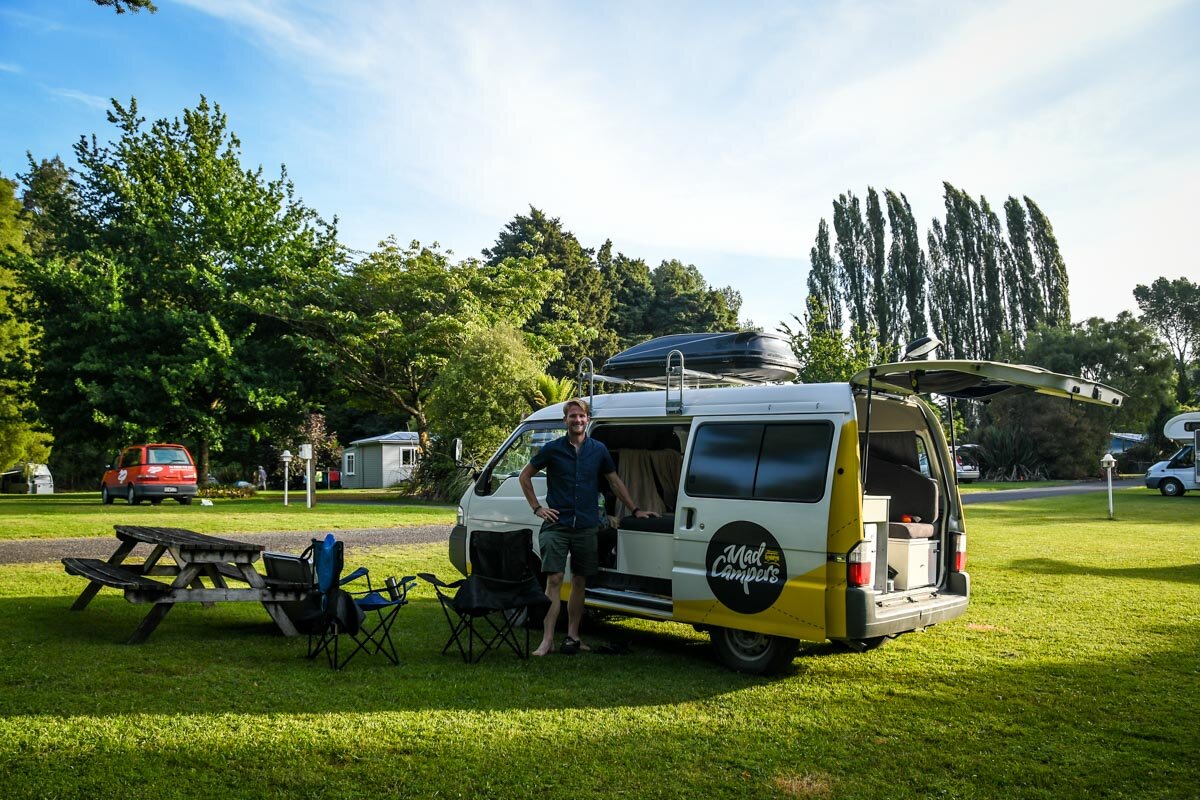 This holiday park is proudly Maori run and operated and is located on the banks of the Whanganui River. The spacious sites are set on an open grassy space with trees dotted throughout. And while most of the amenities are relatively basic, this is very affordable as far as holiday parks go.
Location: In the small town of Taumarunui, which is about equal distances from both Lake Taupo and the famous Tongariro Crossing
Type of campground: Holiday Park
Facilities: Flush toilets, kitchen, laundry, hot showers, water, BBQ, communal spaces, communal herb garden (we were told to feel free to use some herbs in our cooking!)
Cost: Powered sites start at $20 NZD per night and non-powered start at $18 NZD
Best things about this campsite: Being that this holiday park is just about equal distances from Lake Taupo and the Tongariro Crossing, it makes a good midway stop between the two. We took advantage of the hot showers and laundry after completing the Tongariro Crossing, which was fantastic. Also, the outdoor cooking and eating space is beautifully designed.
Things to do nearby 
You can rent canoes to explore the Whanganui River, beside which the holiday park is situated. For the more adventurous souls, staff can even arrange multi-day canoe trips.
Drive between Taumarunui and Stratford on Highway 43, also known as The Forgotten World Highway. This is a heritage trail and covers some of the most secluded roads in the country.
Hike the Tongariro Crossing! It's one of the most iconic hikes in New Zealand!
Hike the 3.6-mile loop to Taranaki Falls.
Good to know: Opposite the river runs the highway, which can be heard from the campground, but it's not an incredibly busy road and we didn't find it to be an issue.
Recommended by: Katie & Ben from Two Wandering Soles
Waikite Valley Hot Pools Campsite
The campground accommodates a mix of campervans and tents and there are 26 spaces. The actual spots are nothing to write home about to be honest. They are just small parking areas that give you enough space to park, but don't really provide much privacy. There is one serious reason to include this in the best New Zealand campsites… You're in Rotorua, which is well known for its healing hot springs, and this campsite has several relaxing and serene hot pools to rest in after a long day of driving and adventuring.
Location: About 25 minutes south of Rotorua
Type of campground: Private campground
Facilities: Clean bathrooms and showers, and a small but functional kitchen for when you get tired of cooking in the van
Cost: $25-$29 NZD depending if you choose a powered site or not (this price is per person)
Best things about this campsite: If you camp here, you get FREE access to their hot pools! This is a huge perk as they grant overnighters access to their pools before they open to the public. One adult ticket to just get access to the hot pools is $39 NZD, so it's well worth it to camp here for the night to get more for your money.
Things to do nearby 
Waiotapu Thermal Wonderland: A literal wonderland of all the incredible geothermal activity in the area. You'll feel like you're visiting Mars. This spot is just a few minutes from the campsite.
Te Puia: Another geothermal wonderland although a bit more "built-up" than Waiotapu, with added Maori cultural education and displays.
White water rafting off of Kaituna Falls: How about rafting over the tallest commercially raftable waterfall in the world?! This was a highlight on my North Island road trip, and definitely worth it if you're looking for an adventure!
SUPing to a glow worm cave: OK I lied, this was also a highlight for me! Take a sunset SUP session to a secret cave FILLED with the famous blue glowworms! (A cool alternative for those with no time to detour to Waitomo.)
Insider Tip: Call ahead to make a reservation for camping. Since they are offering a pretty cool deal with free access to the pools, campsites will fill up. Before you leave this spot, make sure to take a stroll around their property, it's really cool to see how they use the thermal water. It's a beautiful walk and at the back, you'll be surrounded by greenery and the steam coming off the spring river that feeds the pools.
Recommended by: Nina Ragusa from Where in the World is Nina
Waiohine Gorge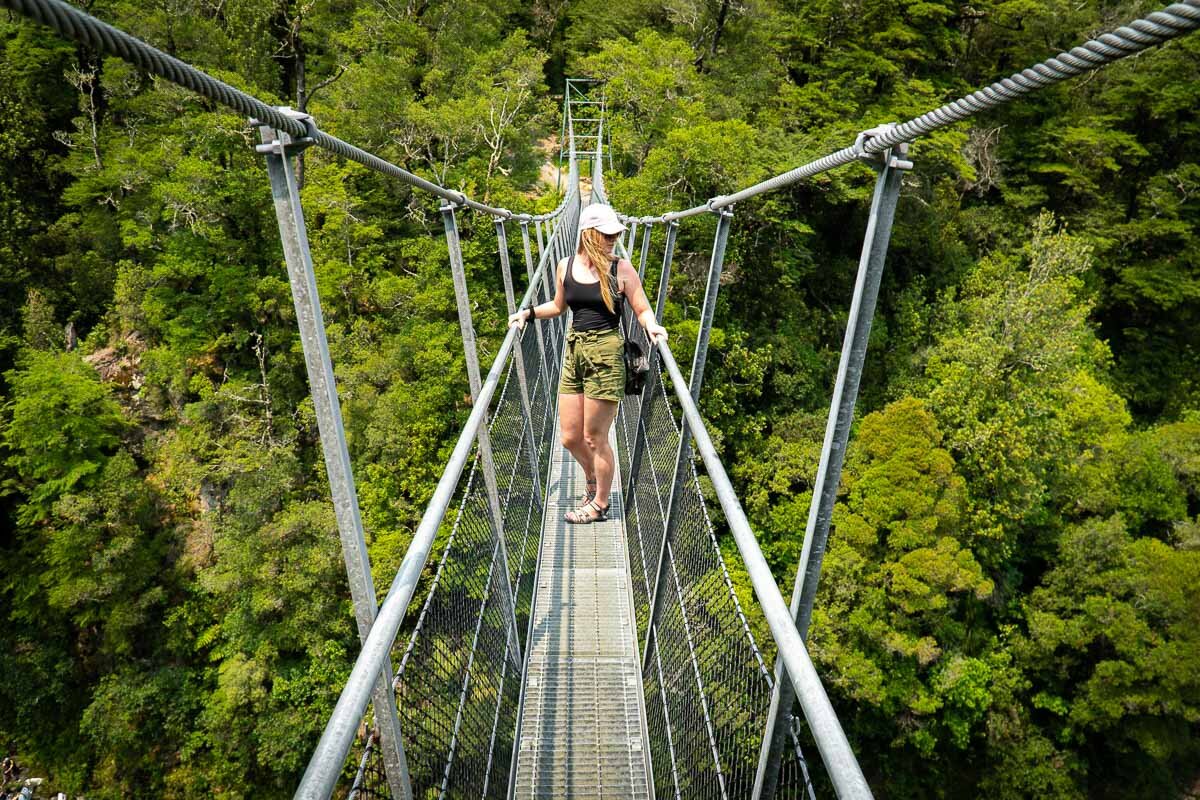 The campsite is located in Tararua Forest at the end of Waiohine Gorge Road. It's a very secluded and quiet campsite with only 50 non-powered tent sites and basic facilities. The reason to stay here is for the location. From the campsite, you can either follow a trail down to the river or follow a trail over the swing bridge and into the forest.
Location: 30 minutes from Greytown
Type of campground: DOC
Facilities: Flush toilets, tap water (needs to be boiled) and campfires are permitted.
Cost: $8 per night. The DOC pass covers this campsite.
Best things about this campsite: The beauty of Waiohine Gorge lies in its incredible secluded location right next to the river in the forest. Any keen nature lover would enjoy this campsite. The best thing about Waiohine Gorge Campsite is the fact that you can swim in the river and get a small adrenaline kick by walking over the narrow swing bridge that's hanging over the gorge.
Things to do nearby
Cross the swing bridge on foot
Go on beautiful hikes in Tararua Forest
Go swimming in Waiohine River
Canoeing and/or rafting
Insider Tip: The campsite gets crowded during the holidays. The Waiohine Gorge Road is a narrow dirt road.
Recommended by Cecilie from Worldwide Walkers
Piha Domain Motor Camp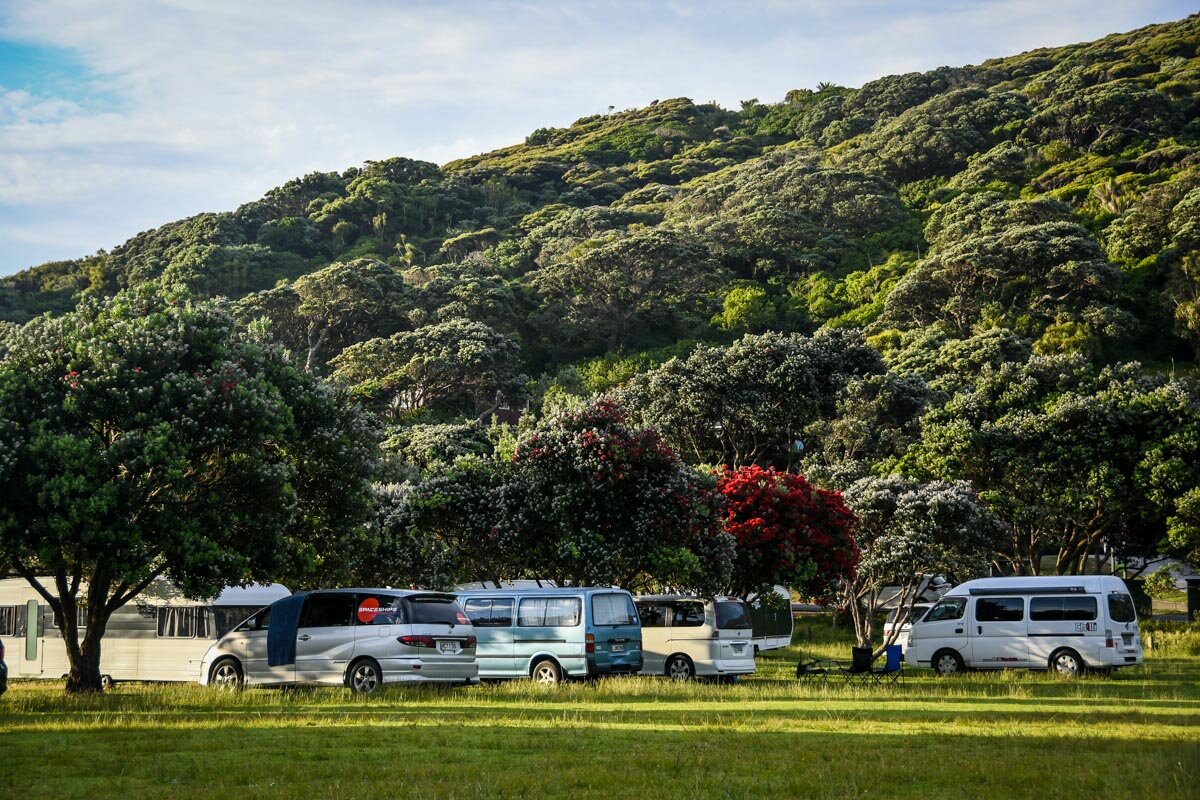 This wide-open campground boasts lots of space and a stellar location very close to the beach.
Location: Just a 45-minute drive west of Auckland in the surf town of Piha
Type of campground: Holiday Park
Facilities: Flush toilets, kitchen, showers, water, BBQ
Cost: Powered sites start at $44 NZD per night (for 2 adults)
Best things about this campsite: The facilities are average, but the location (aka walking distance from Piha Beach) is what you come for. It's also worth noting that this is the only legal campsite near Piha Beach.
Things to do nearby 
Watch sunset on the black sand beach.
Try surfing, or watch the surfers from afar.
Make the easy .5-mile walk to Karekare Falls.
Insider Tip: Across the street from the campground is Piha Cafe. The food is on the pricer side, so we didn't get any. However, they have good coffee and their caramel slice bar was incredible!
Recommended by: Katie & Ben from Two Wandering Soles
Makorori Beach Freedom Camping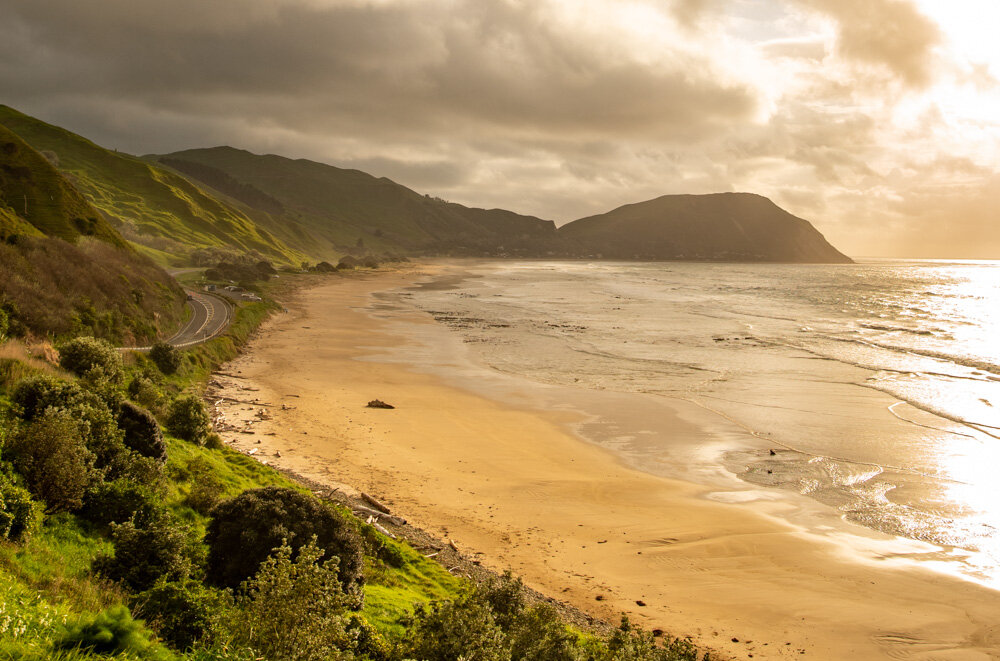 The site is essentially just a car park between the main road and the beach. Located directly next to one of New Zealand's most beautiful beaches, this freedom camping site at Makorori Beach is a favorite with surfers and nature lovers alike.
Location: Makorori Beach, 15 mins north of Gisborne on the East Coast
Type of campground: Freedom Camping
Facilities: Toilet, rubbish bins, picnic tables
Cost: Free
Best things about this campsite: Gisborne is the first place in the world to see the sun, and from this beachfront car park, you'll have a front-row seat to watch the sunrise in the morning.
Things to do nearby 
Hike the Makorori Headland trail that connects Makorori beach to Okitu Beach in Wainui next door.
There's also a walk on the other side of the road through the Okitu Bush Scenic Reserve.
Wine tasting at Gisborne's acclaimed vineyards
Visit the natural rock slides at Rere falls – and don't forget to take something to slide on!
Ride the Gisborne Railbike trail through wine country and alongside beautiful beaches on an unused railway line
Insider Tip: When visiting this freedom camping site in New Zealand, be sure to park on the paved area of the car park, as some areas nearby are privately owned, and you could get fined. Also, keep in mind that the permitted stay is 3 nights maximum.
Recommended by: Nadine Maffre from Le Long Weekend
Waikanae Beach Holiday Park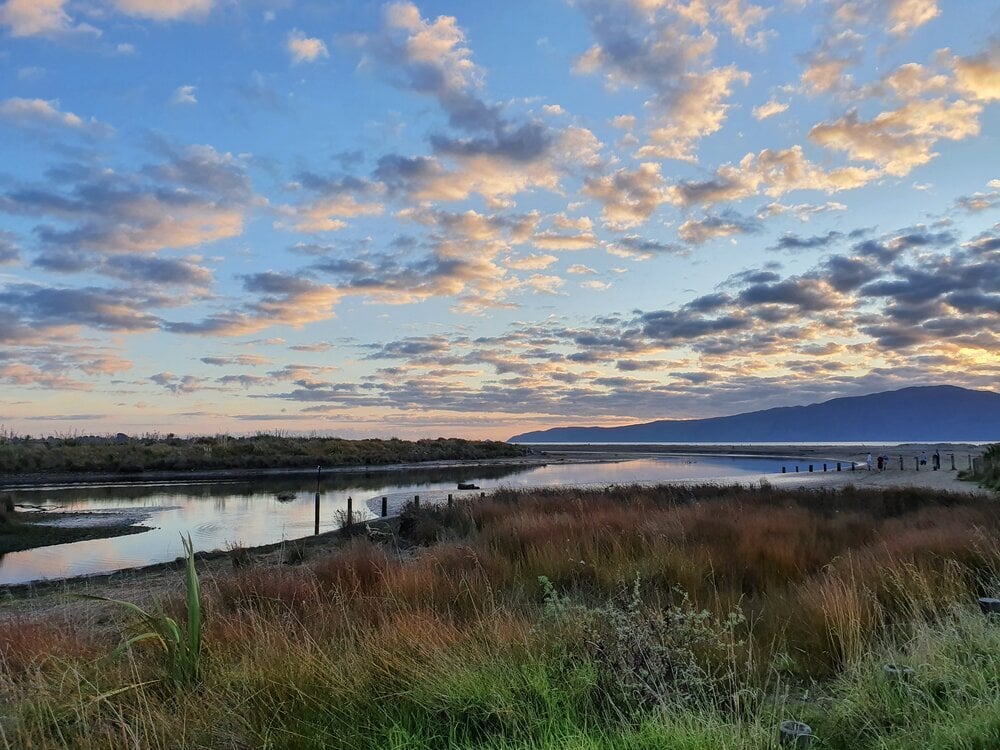 On the western side of the Waikanae River Mouth car park are four spaces for self-contained motorhomes. The car park is used throughout the day by the public, but come night time you'll have the place to yourselves. The toilet is a 1-minute walk away. There are a couple of restaurants within 2km of the car park open for breakfast, lunch, and dinner that are safe to walk to.
Location: Waikanae Beach, 50 minutes north of Wellington
Type of campground: Freedom camping
Facilities: 1x toilet and a couple of picnic tables. There are free showers 2km down the road opposite Long Beach Cafe.
Cost: free
Best things about this campsite: Next to the campsite you can swim in the river or sea during sunset. The large parking gives a laid-back feel (which makes Waikanae a popular day trip from Wellington), yet you're less than an hour from Wellington, the gateway to the South Island.
Things to do nearby 
Visit Kapiti Island
There are plenty of walks nearby, including up Hemi Matenga
Watch the sunset on the Waikanae Beach
Ride along the Kapiti Coast cycle route
Experience Nga Manu Bird Sanctuary
Insider Tip: From August 15th to November 30th you'll see locals white baiting (a certain type of fishing) in the river at high tide. If you chat genuinely and are curious you might find yourself taking some whitebait back to the van to make your own whitebait fritter.
Recommended by: Jub from Chur New Zealand
Uretiti in Northland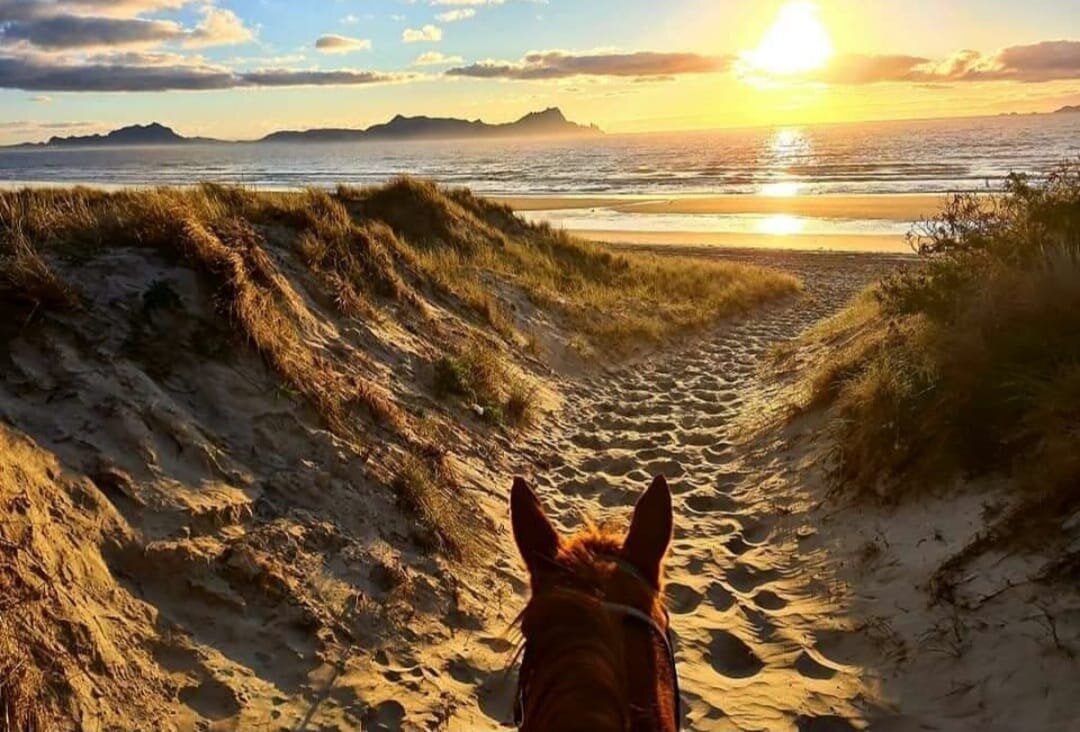 Located half-way between Auckland and the Bay of Islands, the Uretiti DOC campground is both affordable and absolutely stunning! You'll camp tucked just behind the sand dunes that lead to a stunning surf beach.
Location: 1 hour 45 minutes North of Auckland
Type of campground: DOC campsite
Facilities: Modern, clean long-drop toilets, showers (hot water is charged at $2/shower whilst cold water is free of charge), recycling facilities and a basic kitchen
Cost: Adult (18+ years) $15 per night, child (5–17 years) $7.50 per night, infant (0–4 years) free of charge. DOC/NZMCA Campsite Passes can be used at this campsite except for a blackout period over their busy summer period.
Best things about this campsite: Without a doubt, the best thing about Uretiti is the fantastic location! It's hard to believe that it can be so affordable to stay in such a prime location. What's more, it's affordably priced.
Things to do nearby 
Swim at the adjacent surf beach
Play a round of golf at the Waipu Golf Club
Head to the Waipu Caves to spot glow worms
Top-up your tan at the beach
Insider Tip: This beautiful campsite is fairly basic but incredible nonetheless. They don't have wifi but you should be able to connect to mobile data on your phone.
Recommended by: Sarah Chant from Exploring Auckland
Pagoda Lodge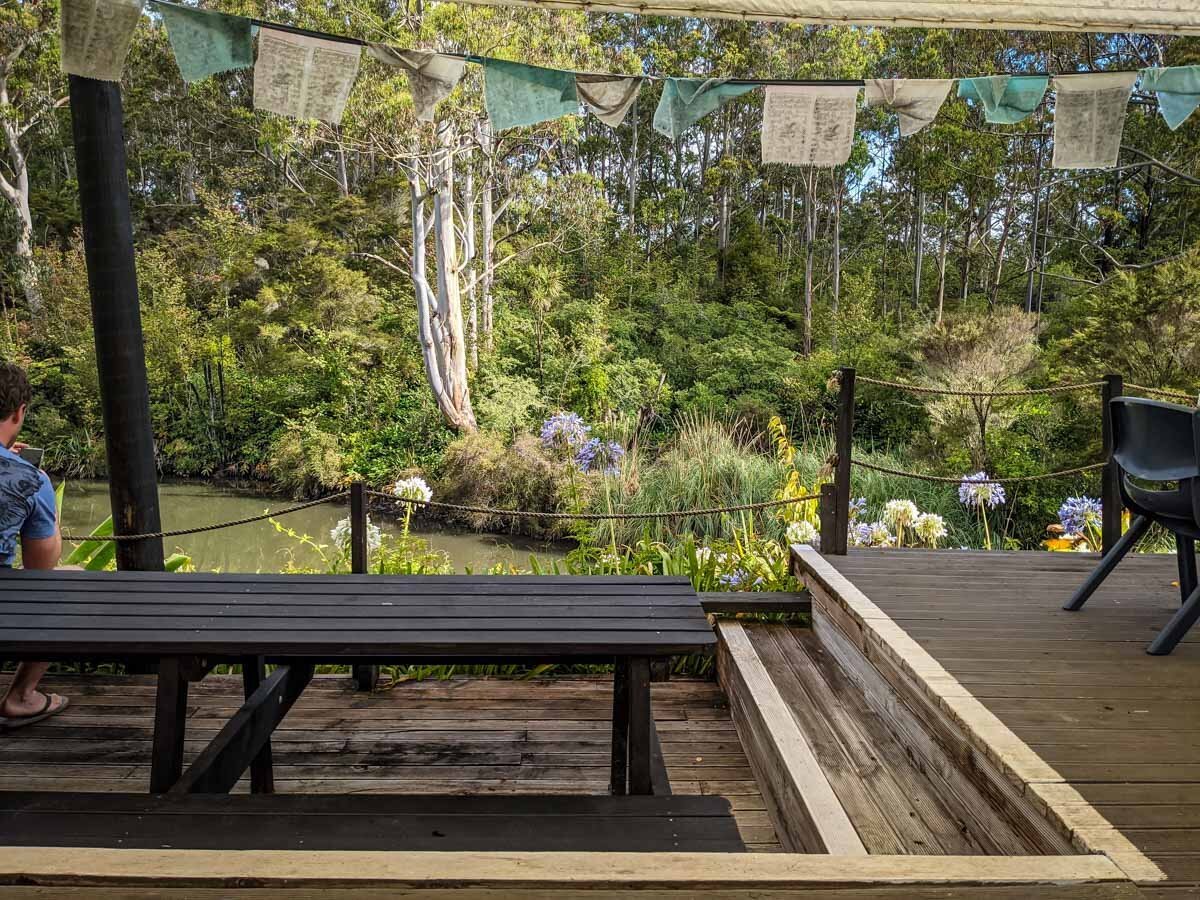 A family-run campground with a mix of 'glamping' facilities set up, as well as the opportunity to bring your own tent. Has a charming, cozy character with common spaces including a large deck overlooking the river, with an assortment of comfy chairs and fairy lights.
Location: Kerikeri, Bay of Islands
Type of Campground: Private Campground
Facilities: Clean, flushing toilets, showers (hot water between 7-9 am and pm), well-stocked kitchen, tea and coffee, laundry, undercover common areas, charging points
Cost: $70 per night (per group/tent)
Best thing about this campsite: The cozy deck area overlooking the river, and it was well-located for the key activities in the Bay of Islands. Also, we got our own little private space to camp surrounded by hedges and flowers.
Things to do nearby
The campsite is within walking distance from Rainbow Falls and important historic sights such as Kemp House and The Stone Store.
The Waitangi Treaty Grounds, Paihia and Russell are just a short drive away.
Amazing beaches in the north of Kerikeri, such as Matauri Bay and Tauranga Bay.
Boat trips around the Bay of Islands.
Many stops in between Auckland and the Bay of Islands, including Langs Beach, Mangawhai, Whangarei, and Waipu… and the Hundertwasser Toilets (New Zealand's most famous public toilets).
Recommended by Cassie from Cassiethehag solo travel blog
---
South Island New Zealand Campsites
New Zealand's South Island is best known for its epic nature – from picturesque fjords to snowcapped mountains, temperate rainforests and black sand beaches. Below are the best and most recommended campsites on the South Island.
Moke Lake Campground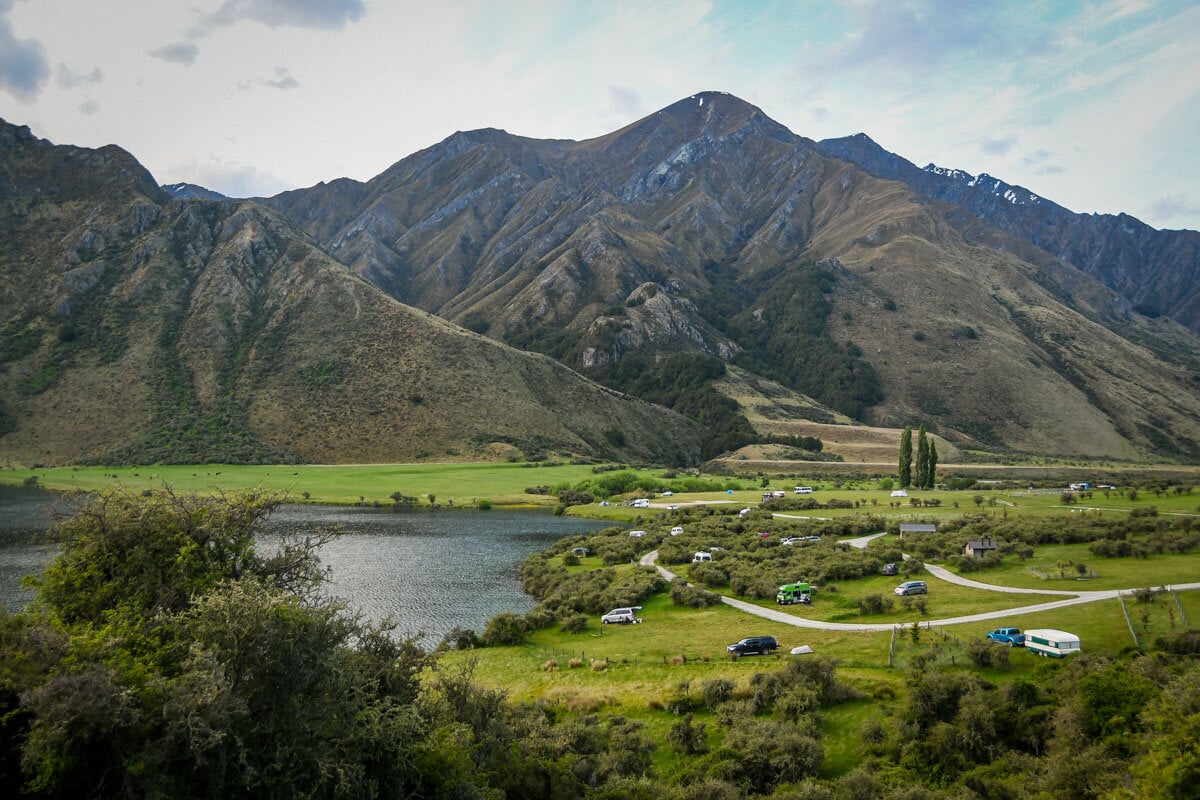 Just a 20-minute drive from bustling Queenstown, this simple yet well-located campground is situated on the shore of a small idyllic lake where sheep roam freely and you'll feel as if you've been transported to the Shire.
Location: 20 minutes northwest of Queenstown
Type of campground: DOC
Facilities: pit toilets, water, covered shelter
Cost: $15 NZD per night, or free with the DOC pass (highly recommended!)
Best things about this campsite: This campsite is well-located and affordable; plus, it's absolutely stunning — making it one of our very favorite place we camped in all of New Zealand.
Things to do nearby
Insider Tip: There is no cell signal at this campsite, so download your maps ahead of time and be prepared to go without Internet.
Recommended by: Katie & Ben from Two Wandering Soles
Kina Recreation Reserve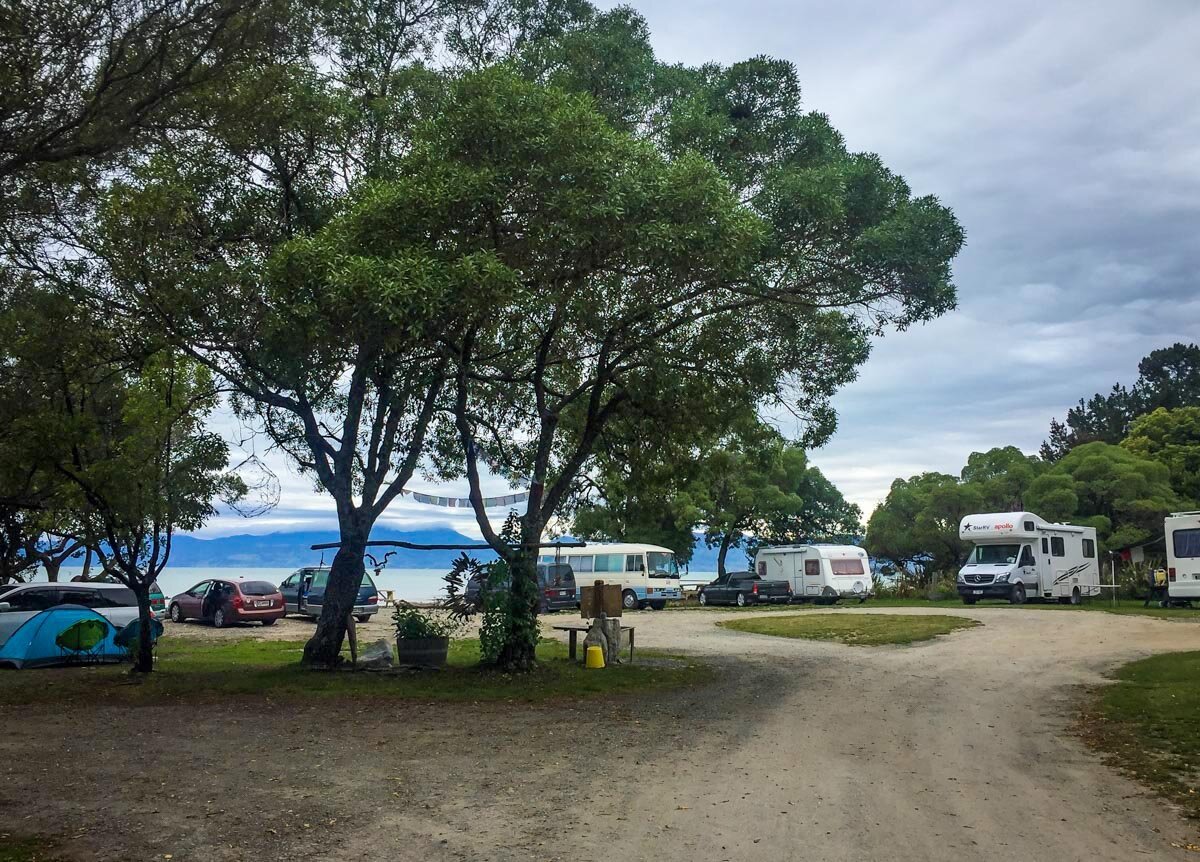 With basic amenities, the real draw of this campground is the oceanside location, cheap prices, and friendly atmosphere.
Location: Situated about halfway between Abel Tasman National Park and the town of Nelson
Type of campground: Private Campground
Facilities: Drop toilets, outdoor shower/rinse station, library, drinking water
Cost: $6 per adult per night
Best things about this campsite: The woman who runs this site is very friendly, and being that you get to camp beside the ocean for just $6 per person is a steal! Most other campgrounds in the area have less than rave reviews and charge far more money.
Things to do nearby
Explore Abel Tasman National park by hiking and kayaking.
Fish for salmon at Anatoki Fishing & Cafe and have it cooked on site for a memorable lunch.
Have a picnic on the beach.
Insider Tip: There are several vineyards nearby, so if you're a fan of wine, be sure to check a couple out!
Recommended by: Katie & Ben from Two Wandering Soles
Glendhu Bay Motor Camp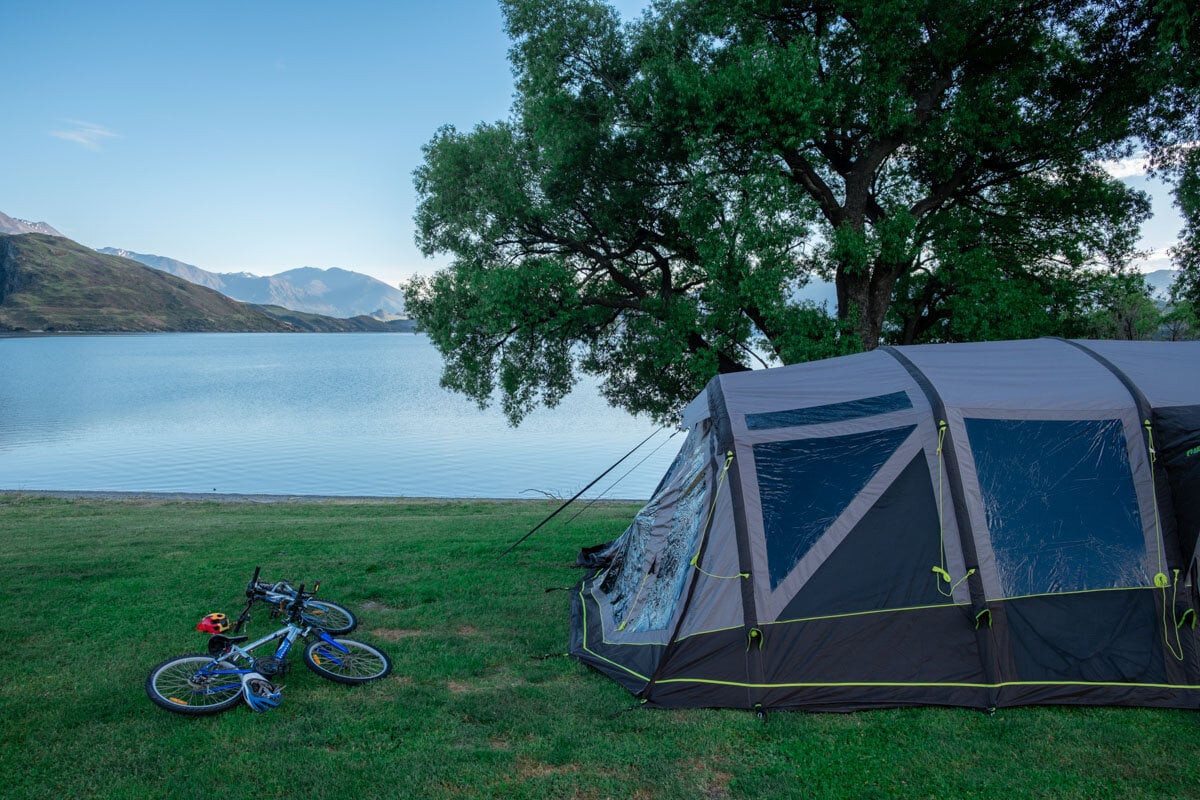 Glendhu Bay campsite is the only lakeside campsite in Wanaka. It is a long skinny campground that runs along the shore, meaning that no one is far from the water and there are plenty of lakeside spots.
Location: 10 minutes drive from the Wanaka town center, right on the lakeside
Type of Campground: Full serviced holiday park with powered/unpowered campsites as well as modern cabins
Facilities: Full kitchen facilities including fridges, stoves, ovens, laundry, showers, common room with tv, multiple toilet blocks with flushing toilets, boat ramp, children's playground
Cost: Unpowered sites from $19 per person and cabins from $100 per night for two.
Best things about this campsite: Definitely the location, you can't seriously cannot beat these views!
Things to do nearby
Walk up the Rocky Mountain Wanaka track, a 3-hour return loop walk with incredible 360-degree views over Mt Aspiring and Lake Wanaka
Take a boat tour to Mou Waho Island in the middle of Lake Wanaka with Wanaka Water Taxis and see a lake on an island, on a lake (let that sink in a little)
Visit the famous "Wanaka Tree" for the perfect Instagram photo
Visit Patagonia Chocolates for the silkiest hot chocolate in winter or rich gelato in the summertime
Insider Tip: This campsite is extremely popular over the Christmas holiday period and summer public holidays, so make sure you book these times well in advance.
Recommended by Jennifer Parkes from Backyard Travel Family: Active Family Travel Specialists in New Zealand
White Horse Hill Campground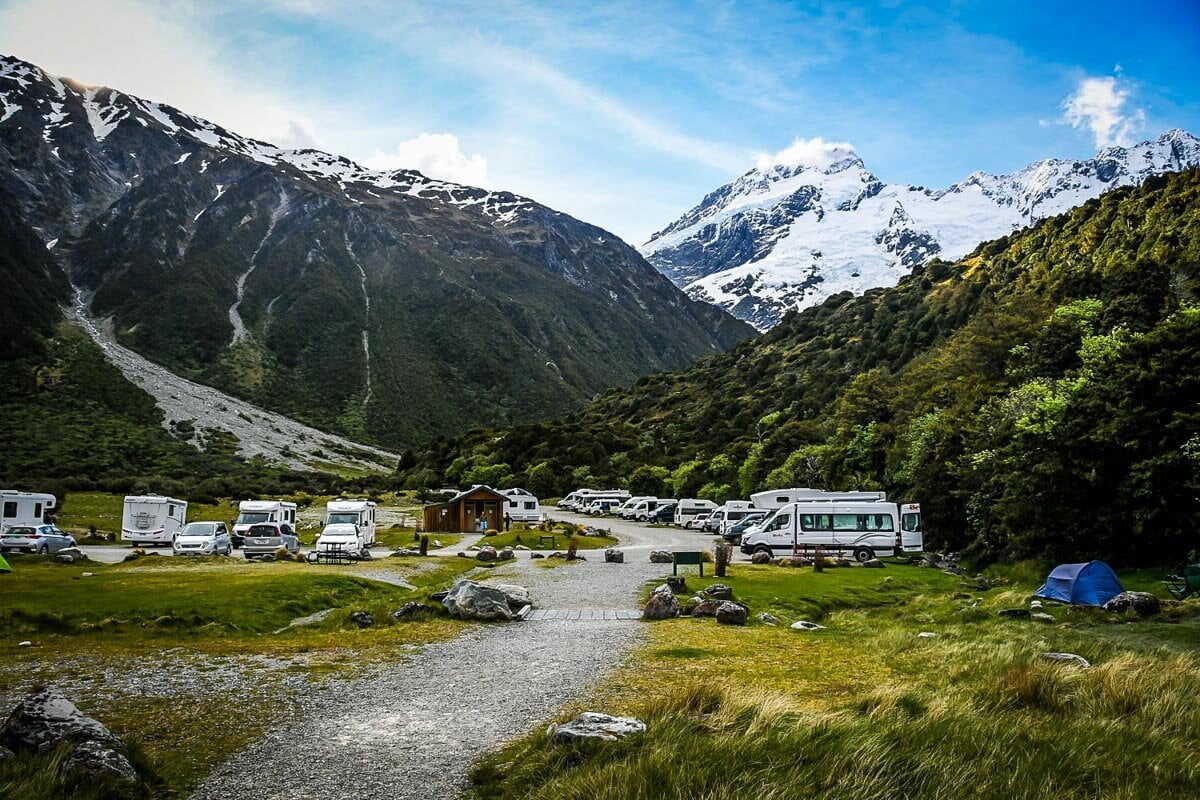 The facilities at White Horse Hill Campground are basic and the campsites are essentially places to park in a gravel lot, but it's the stunning view and location that you come for. Depending on the time of year, this campground can get very busy so be prepared to share the views.
Location: 2.5 km from Aoraki/Mt. Cook Village; at the very end of Hooker Valley Road
Type of campground: DOC
Facilities: Toilets, water, covered shelter, hot showers can be found in public shelter in nearby Mount Cook Village ($2 for 3 minutes)
Cost: $15 NZD per adult per night, or free with the DOC pass (except blackout dates during high season)
Best things about this campsite: Situated in a dead end valley and flanked by snowcapped mountains, this site is the closest you can stay to the stunning Hooker Valley Track and experience it before or after the influx of day-trippers during the midday hours.
Things to do nearby 
Do the Hooker Valley Track in the early morning or dusk to get the best lighting and avoid crowds. Just be sure you time it outright since it is 6.5 miles out and back. This was our favorite easy hike in New Zealand.

Our experience: We did it in the late afternoon and the lighting was stunning and other than people exiting the trail as we started, we hardly saw any other hikers.

If you're up for an adventure, make the hike to the iconic Mueller Hut. If you plan to spend the night in this backcountry hut be sure to make reservations in advance.
Visit the beautiful Visitor Center in Mount Cook Village. Bonus points for learning all about the badass mountaineer Freda Du Faur! If you need a pick-me-up, grab a coffee at the Old Mountaineers Cafe next doo (a bit expensive and we didn't try the food, but the views are great!).
Good to know:
Because of the placement at the end of a valley, it can get very windy here. We were cooking on our stove outside our campervan when the pot (filled with veggies) got blown off by the wind! There is a covered shelter area where you can bring your cookware inside if it gets too windy.
Kea (alpine parrots common in New Zealand) are common at this campsite. We didn't notice them too much, but we've heard they can be bothersome to tent campers at this site.
Recommended by: Katie & Ben from Two Wandering Soles
Wairau Diversion Reserve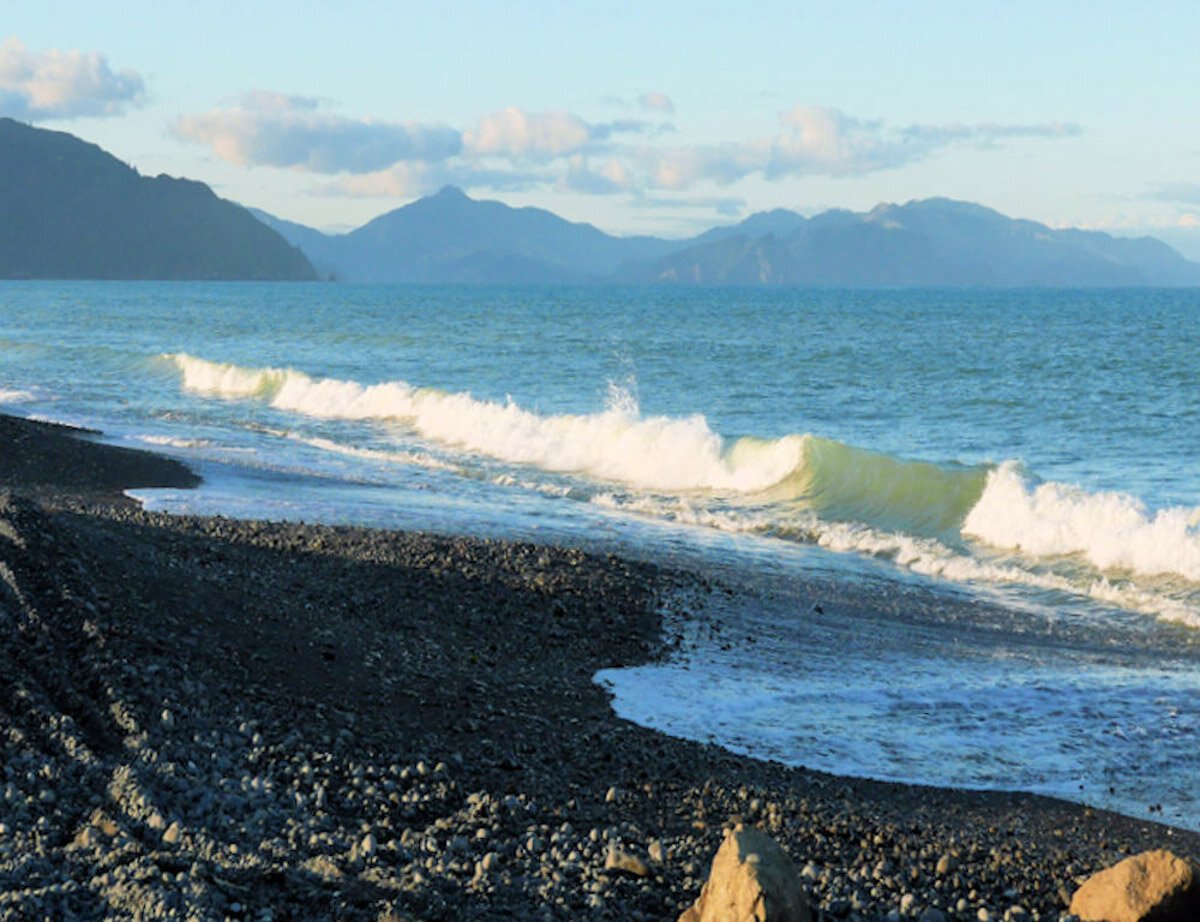 Located at the end of a long, single-lane drive alongside vineyards, this campsite is a large grassy clearing surrounded by tall fir trees and is adjacent to a beach.
Location: Northeast of Blenheim, east of the town of Spring Creek
Type of campground: Freedom camping for self-contained vehicles only
Facilities: Pit toilet (locked during our visit), plenty of space and shade
Cost: Free
Best things about this campsite: The isolated, rural location of this site guarantees a quiet night for sleeping. There are no roads or houses nearby so the beach is deserted and, with low light pollution, the stars on a clear night are incredible. This is a great campsite for anyone traveling New Zealand in a campervan with children as there is so much safe space to run around in.
Things to do nearby
Bring or hire a bike and cycle around the local vineyards
Enjoy the wine tasting opportunities
Join an organized wine tasting tour from Blenheim
Take a leisurely cruise around Marlborough Sounds
Fish for whitebait on the beach at the Wairau Diversion campsite
Insider Tip: This site is a short distance to the Inter-Island ferry making it an ideal overnight location for an early morning departure or late afternoon arrival. Try to catch a sunrise or sunset on the beach at Wairau Diversion; it is unforgettable.
Recommended by Sinead from Map Made Memories
Rainforest Retreat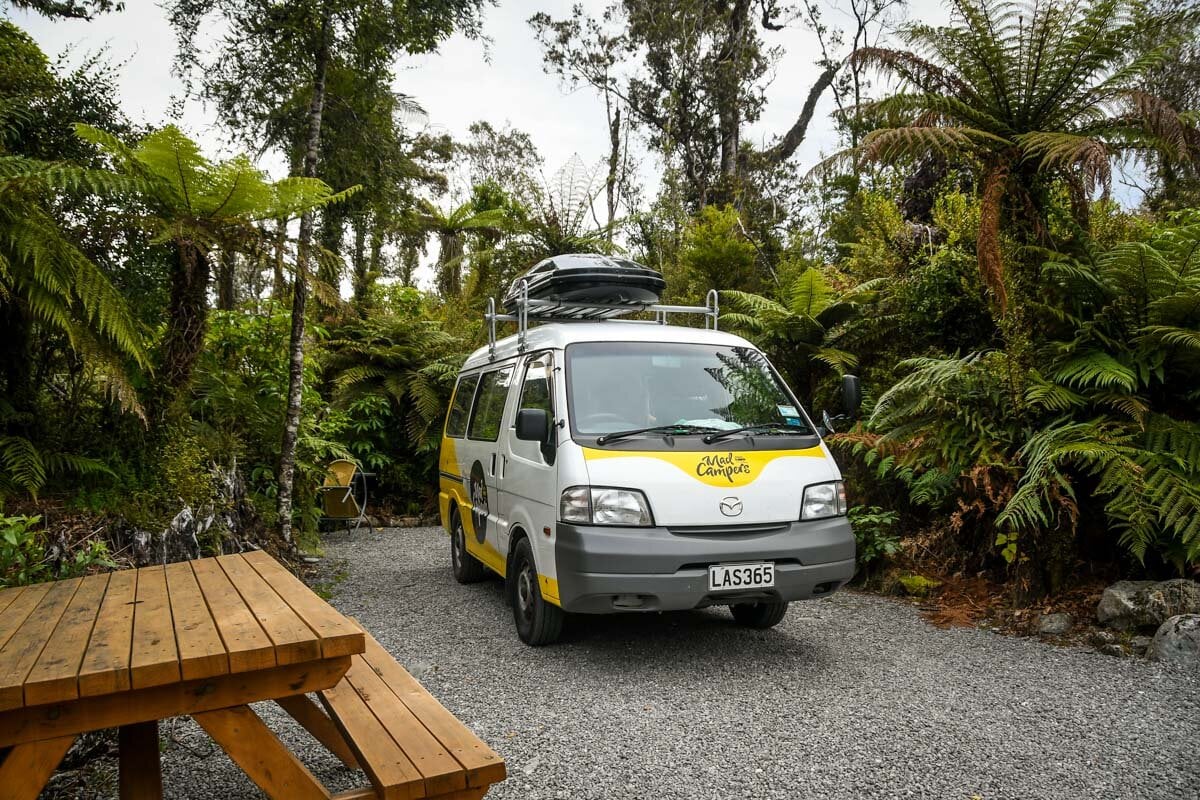 Located in the center of Franz Joseph town, this campground lives up to its name. Most sites are surrounded by lush rainforest, making them more private than most campgrounds. And with beautiful amenities, this makes a good jumping-off point for all the adventure activities the town has to offer.
Location: The heart of Franz Joseph, the most popular (and touristy) town on New Zealand's West Coast
Type of campground: Holiday Park
Facilities: Onsite bar and restaurant, kitchen, laundry, TV room, communal sauna and pool, free WiFi, dumping station, BBQ area, playground
Cost: $22 – $42 per night, depending on the season (there are no tent sites available, but there are several private and dorm room options)
Best things about this campsite: This campground feels bougie and is one of the more beautifully designed holiday parks in the country. Plus, it's within walking distance from many attractions in town.
Things to do nearby
There are tons of adventure activities in Franz Joseph, like taking a helicopter ride over the glacier and doing a guided eco walk to learn about this unique habitat.
Take a relaxing soak in the Franz Joseph Glacier Hot Pools (a resort-style hot spring).
Once it is dark at night, do the Tatare Tunnels Walk and try to spot glowworms in the wild.
Good to know: When we were there, this holiday park was completely full, as it is used by many large tour groups. If it's booked during your stay, or you're looking for a slightly cheaper alternative, nearby Orange Sheep Campervan Park looks to be a great choice as well!
Recommended by: Katie & Ben from Two Wandering Soles
Lake Pukaki Reserve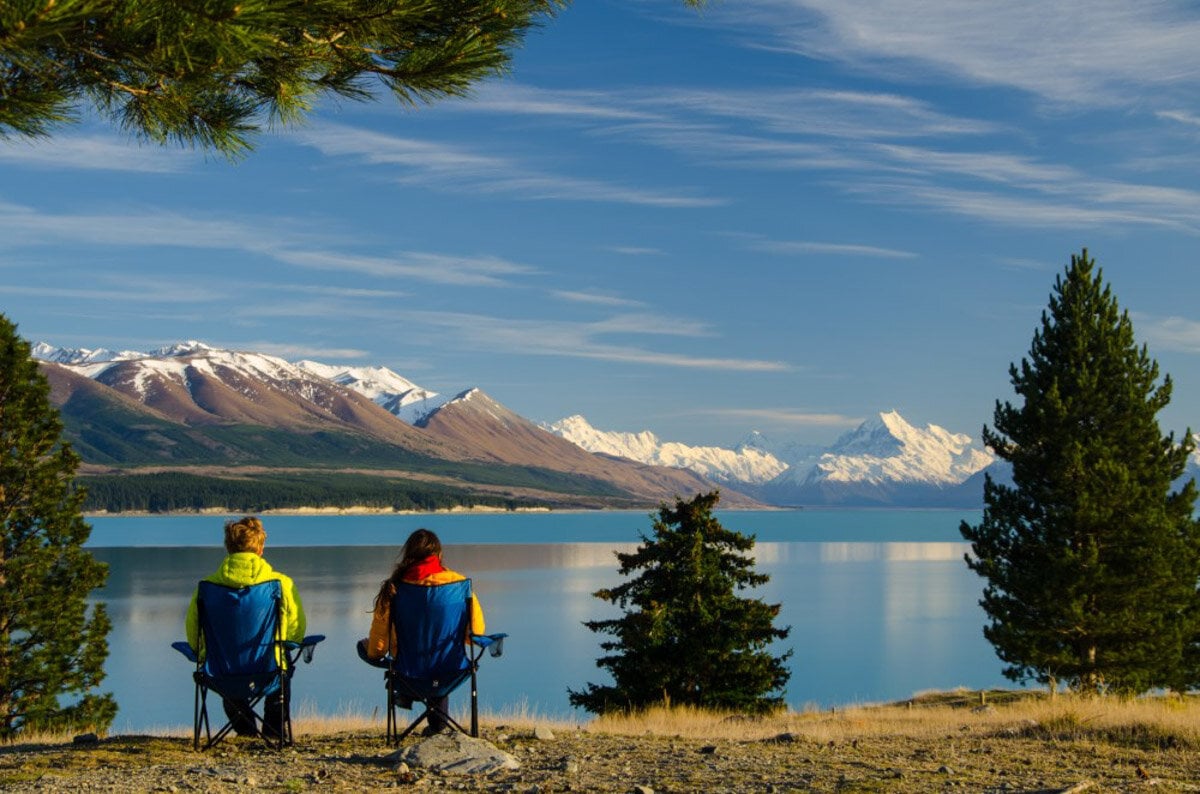 A very simple campsite with breathtaking views of Mt Cook and the turquoise Lake Pukaki. The campsite doesn't have many facilities to offer but it is located in probably the most visually spectacular area in New Zealand.
Location: Canterbury Region, 45 minutes south of Mt Cook Village
Type of campground: Freedom camping, suitable for self-contained vehicles only
Facilities: Picnic tables, dry public toilet (there is a proper bathroom just 2 minutes by car, down the road at Mt. Cook Alpine Salmon Information Center)
Cost: Free of cost (maximum stay 1 night)
Best things about this campsite: Unbeatable view of a stunning blue lake, located at the foot of New Zealand's highest mountain, Mount Cook.
Things to do nearby 
Visit Lake Tekapo – see the Church of the Good Shepherd, visit Mt John Observatory, or walk Mt John track.
Visit Mt Cook village, from where various hikes can be done (Hooker Valley Track, Mueller Hut Track, Tasman Lake…Check out our article on the best hikes in NZ for more info on these hikes!)
Go fishing or kayaking
Insider Tip: It is easier to find a flat parking spot in the lower parts of the campsite. This area is also great for stargazing (there is no light pollution). If you wake up early enough (7 AM) you can have breakfast at a beautiful rock formation by the lake just by yourself.
Recommended by: Adriana Plotzerová from Czech the World
Queenstown Holiday Park Creeksyde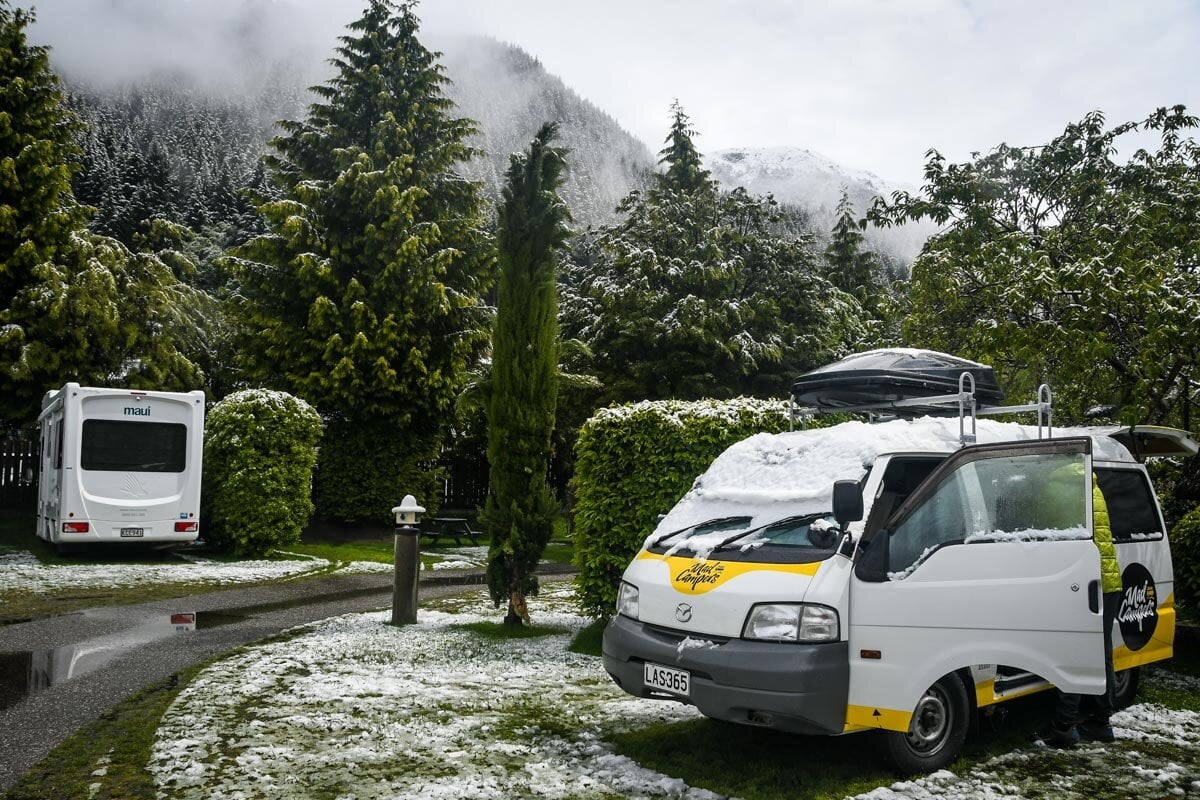 This quirky Holiday Park has all the amenities you could need and is the "world's first environmentally certified EarthCheck Holiday Park".
Location: Just a 10-minute walk from the center of Queenstown, the location is incredibly convenient
Type of campground: Holiday Park
Facilities: Clean flush toilets, common spaces with couches, fireplaces and a fully equipped kitchen, laundry, hot showers, water, WiFi, BBQ
Cost: $45 – 65 NZD depending on the season
Best things about this campsite: While a bit compact, this holiday park has all the amenities you could need – nice hot showers and cozy common spaces with fully equipped kitchens – but the best part is its prime location just outside the heart of Queenstown.
Things to do nearby
There are seemingly endless adventurous things to do in Queenstown. Try as many as you can!
Stand in line to try the world-famous Fergburger (definitely worthwhile in our opinion!).
Hike up to the Ben Lomond Scenic Reserve (or take the gondola), and once you're at the top do the luge track. It's tons of fun!
Insider Tip: Just around the corner from this holiday park is a Fresh Choice Supermarket, which is a great place to stock up on necessities.
Recommended by: Katie & Ben from Two Wandering Soles
Mistletoe Bay Eco Village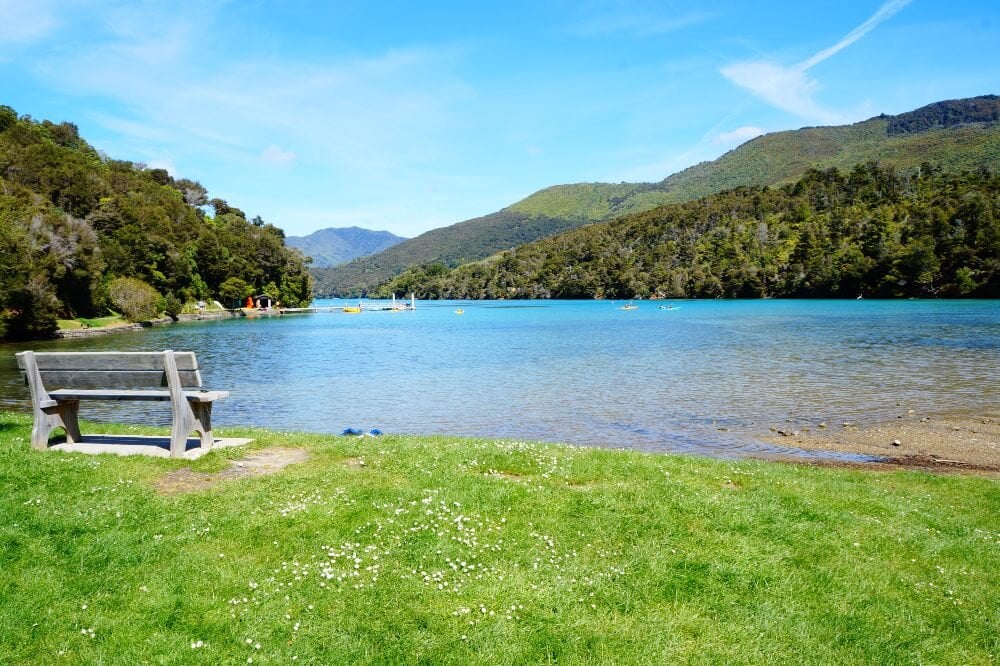 This is a beautiful campground accessible by car, boat, or foot -as it's part of the Queen Charlotte Track. The site counts with a pristine beach with clear shallow waters, abundant native wildlife, and well-maintained facilities.
Location: Set one hour's drive from Picton, in the Marlborough Sounds -region of Marlborough, top of New Zealand's South Island.
Type of campground: Private (trust) campground and eco-village.
Facilities: Fully-equipped with clean amenities, ample kitchen space, a grassy camping area, BBQs, boat mooring, a shop, a cafe, cabins, and cottages.
Cost: 18 NZD
Best things about this campsite: Both the campground itself and the nature surrounding it are stunningly beautiful. The staff is friendly, and you can hang out with the two lovely Alpacas they have on-site.
Things to do nearby
Hiking the Queen Charlotte Track.
Visiting the forest next to the campground at nighttime to see glowworms.
On top of glowworms, there's also interactive phosphorescence by the pier -and plenty of marine wildlife to enjoy!
An ideal spot for watersports like kayaking, paddleboarding, and swimming -gear rentals available.
Fishing
Insider Tip: As the site is on an isolated bay, make sure to take all your camping gear and supplies with you. Remember to include a container for your waste, as the campground has a No Rubbish Policy.
Recommended by: Martina Grossi from The Global Curious Travel Blog
Ross Beach Top 10 Holiday Park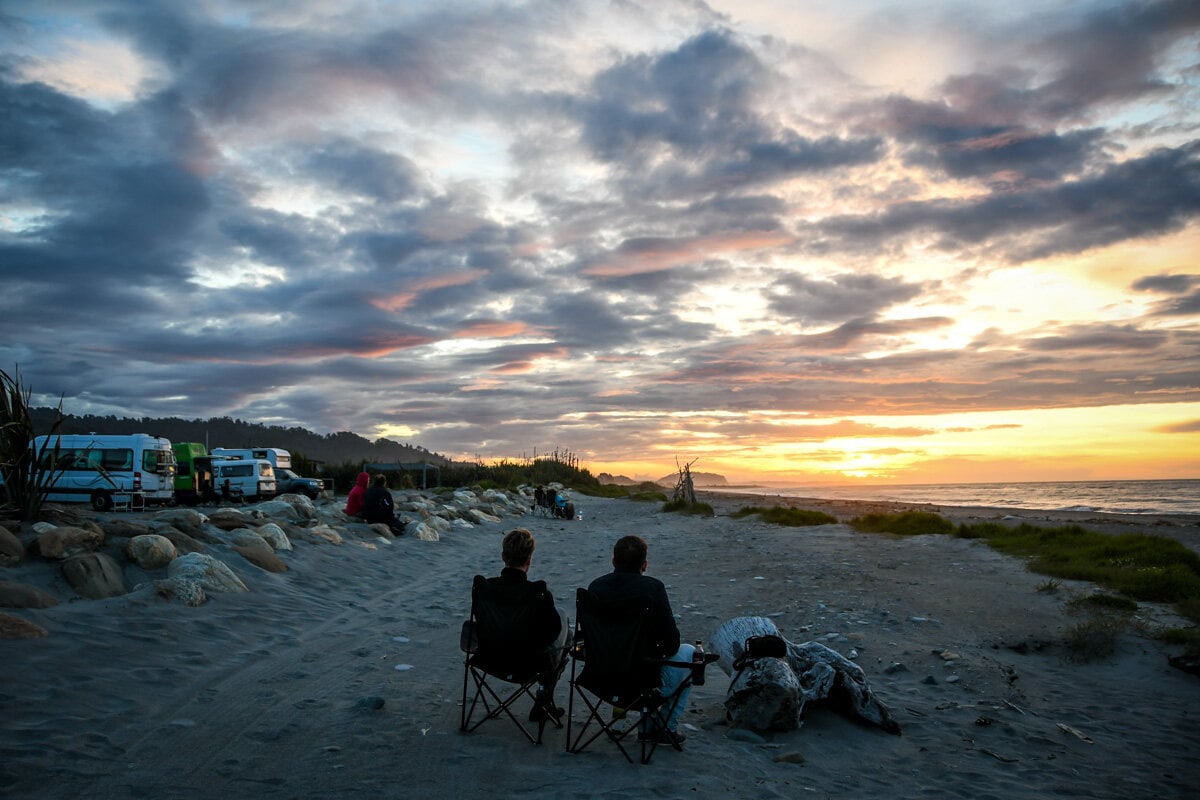 Situated on the Tasman Sea, this Holiday Park has an idyllic ocean setting and all the facilities you could need.
Location: located on New Zealand's remote West Coast, this holiday park is just a 5-minute drive from the small historic town of Ross, and 25-minutes south of Hokitika.
Type of campground: Holiday Park
Facilities: flush toilets, fully equipped kitchen, laundry, hot showers, WiFi, BBQ
Cost: $50 NZD per night, for both powered and unpowered campervan sites
Best things about this campsite: Staying at this Holiday Park means you'll literally be going to sleep and waking up on the ocean. From some sites, you can even hear the waves crashing. Plus, unlike some of the other campgrounds in New Zealand, many of the sites are somewhat private — surrounded on three sides by vegetation.
Things to do nearby
Head down to the beach at dusk with a blanket (and wine…?!) and enjoy the spectacular West Coast sunset.
Wander around the small historic town of Ross, which used to be a gold mining town. There is a Heritage site and guided walk with informational signs. Plus, there is a souvenir shop in town where you can rent equipment to pan for gold!
Just a 25-minute drive to the north is the small artsy town of Hokitika which is well worth checking out. If you're feeling crafty, you can even carve your own jade necklace (these are very popular in New Zealand) at Bonz 'N' Stonz studio.
From Hokitika town, drive further inland to the Hokitika Gorge and see the mind-bogglingly turquoise water. Be prepared for sandflies — a little baby oil on your ankles (or better yet, socks!) helps a lot.
Insider Tip: If you want a break from camping, there are upcycled shipping containers called "sleeping pods" you can rent. They looked really cute — kind of like tiny homes.
Recommended by: Katie & Ben from Two Wandering Soles
Bark Bay Campsite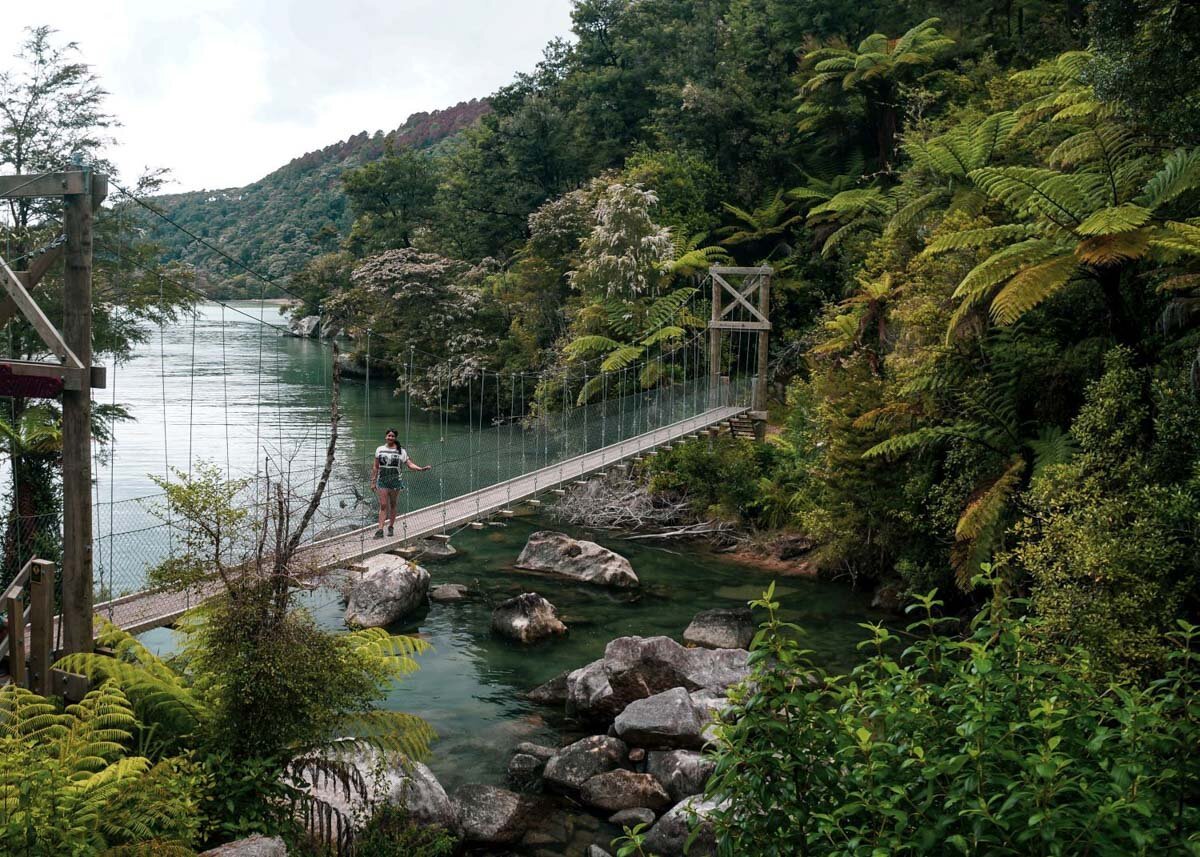 Bark Bay campground is in a beautiful spot in Abel Tasman National Park, situated between a bay and an inlet. The camp is nestled in the bush and is surrounded by water at high tide. No cars are allowed in Abel Tasman National Park, so this campsite is accessed either by walking along the Abel Tasman Coastal Track or by water taxi. Water taxis from Kaiteriteri regularly stop near the campsite. Just keep in mind these need to be booked in advance (day of your journey is fine).
Location: Abel Tasman National Park
Type of campsite: DOC
Facilities: Flushing toilets, weather-proof washing facilities, drinking water, fireplaces
Cost: $15 NZD a night per person over 18. New Zealand residents under 18 can stay for free. International visitors under 18 pay $7.50 a night.
Best things about this campsite: The views are spectacular and the location is very quiet once the day visitors have left the park. On a clear night, the stars are extremely bright and the Milky Way is visible from the site. There's easy access to beaches and it's a stop on the Abel Tasman Coastal Track.
Things to do nearby
Walk the Abel Tasman Coastal Track
Visit Torrent Bay
Go kayaking in Abel Tasman National Park
Walk the Bark Bay Falls swing bridge
Insider Tip: Bark Bay is a popular campsite for school groups, especially on Monday to Thursday nights in November and mid-February to April. If you want a quiet stay, you may want to check if there are any school groups while booking.
Recommended by Roxanne from Faraway Worlds
Purakaunui Bay Campsite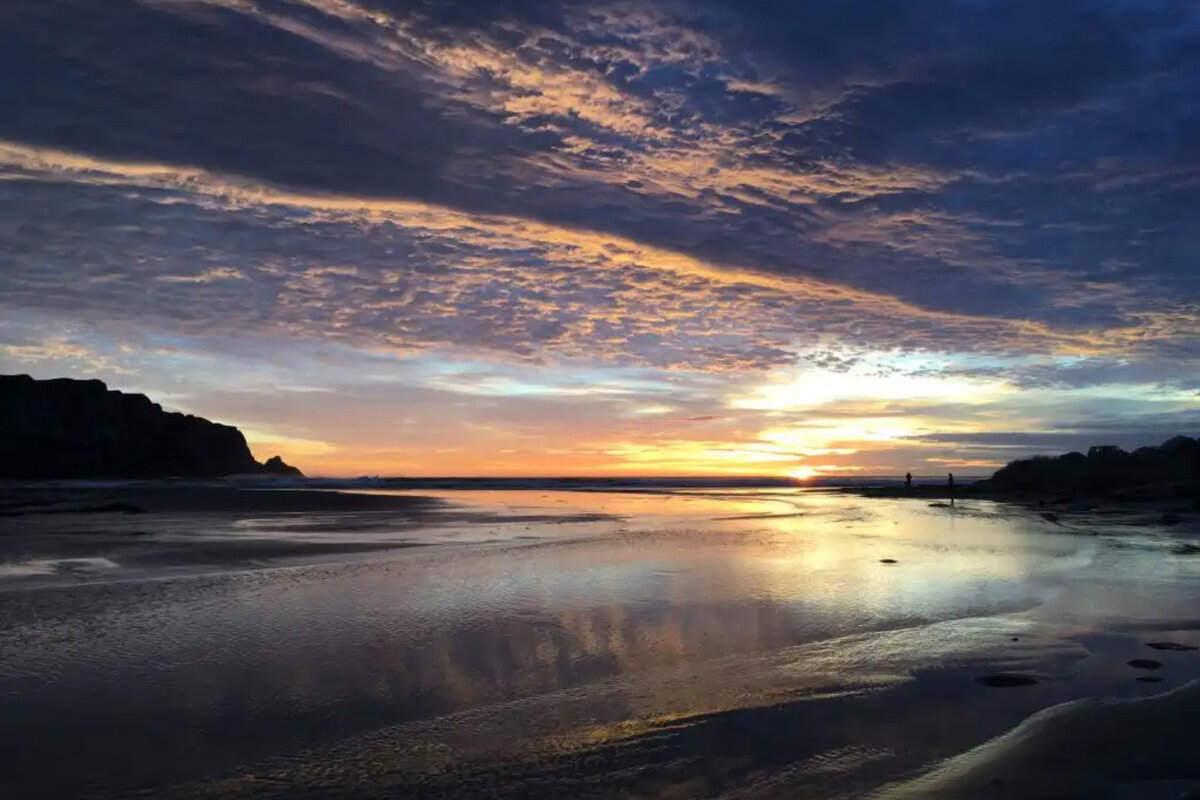 This beautiful campsite is located in the Catlins south of the popular Nugget Point Lighthouse. Campsites are in a grassy field right next to a gorgeous beach with views of cliffs plunging into the ocean. You'll likely find seals or sea lions lounging on the beach and there is a great surfing spot within walking distance.
Location: The Catlins in Otago
Type of campground: DOC Standard Campsite
Facilities: Non-flush toilets are located at the entrance to the campground. Water is available but must be boiled before drinking.
Cost: $8/night or a DOC pass will cover this site
Best things about this campsite: The sunrise and sunset views at this campground truly can't be beaten. This is one of the most beautiful sites in the Catlins and you're so close to many outdoor adventures.
Things to do nearby
Purakaunui Falls
Jack's Blowhole
Matai Falls
Surat Bay for wildlife viewing
Insider Tip: Be warned that there is no cell service in the area so do your research beforehand!
Recommended by: Mikaela from Voyageur Tripper
---
Are you planning a trip to New Zealand?
We have TONS of resources on travel in New Zealand and destinations throughout the country. Check out our Ultimate New Zealand Travel Guide for all the answers to your most burning travel questions, or read some of our favorite articles below.
Save this article on Pinterest for later!
We want to hear from you!
Have you been camping in New Zealand before? Where there any standout campsites you experienced that you think should be on this list? Comment below and let us know!