Finding campsites is a piece of cake when you have a great camping app! We're sharing our honest thoughts on one of the most popular camping apps out there — The Dyrt. We are going over our insider tips, features we love, and updates we'd like to see improved. We also have an exclusive offer just for you!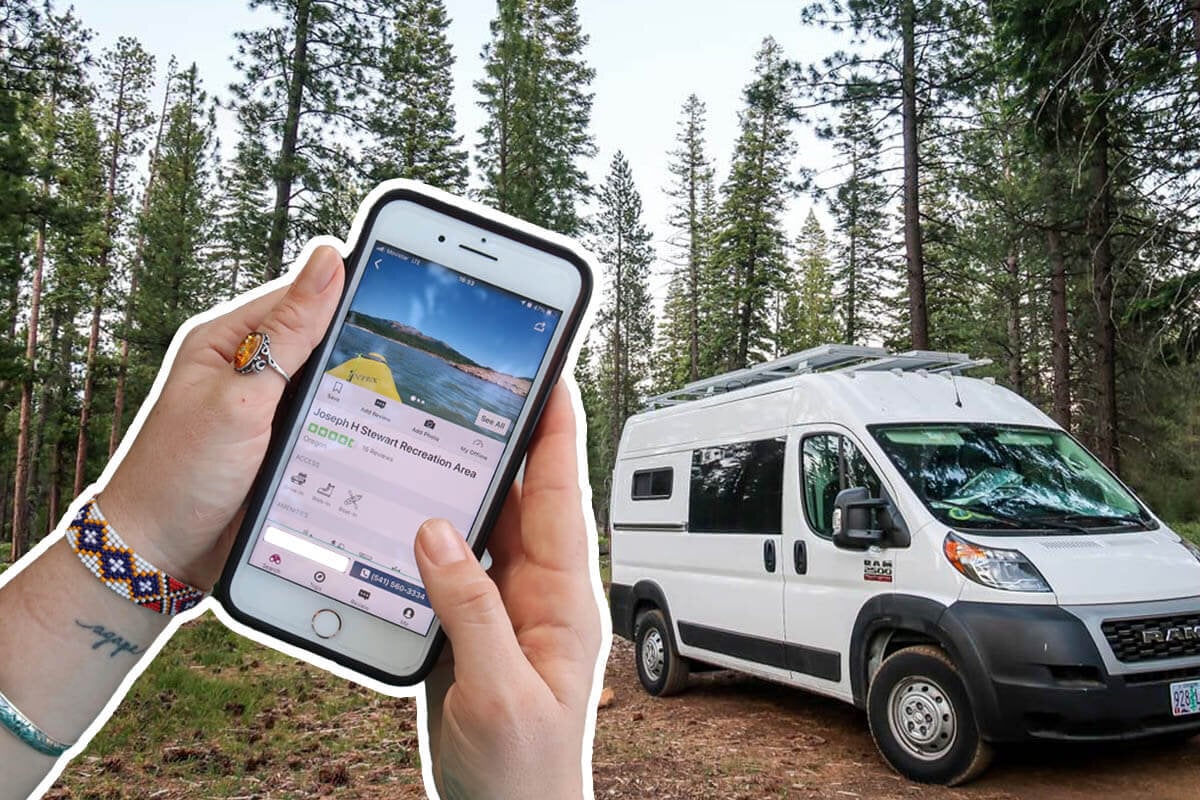 Backcountry camping, car camping, and campervanning – we love it all! There's just nothing like waking up surrounded by nature with a day full of adventure ahead.
But here's the thing… Not all campsites are created equal.
So how do we ensure that we avoid the duds (as much as possible) and find ourselves waking up in near-paradise on a consistent basis? Glad you asked, because this article is going to go over one of our favorite ways to find amazing campgrounds around the United States: The Dyrt App.
The Dyrt has been rated as the best camping app in the USA and consistently earns rave reviews. So is it worth the hype? In this article, we're going to dive deep into the pros and cons, things we love about it, and our honest thoughts about improvements we'd like to see. Plus, we're spilling some of our insider tips for how we use The Dyrt to find the best campsites.
If your "summer to-do list" also includes falling asleep beneath the stars and waking up with a hot coffee in the woods, this article will be a great resource.
Let's dive in with the basics…
What is The Dyrt App?
In the simplest terms, The Dyrt is an app that helps you find campsites around the United States.
Here's a more detailed breakdown of this app:
When you open The Dyrt, you'll see a map with icons depicting campsites. When you click on the icon, you'll get all sorts of info on that particular site, from the cost, to details on what amenities are included, to reviews and photos from other guests.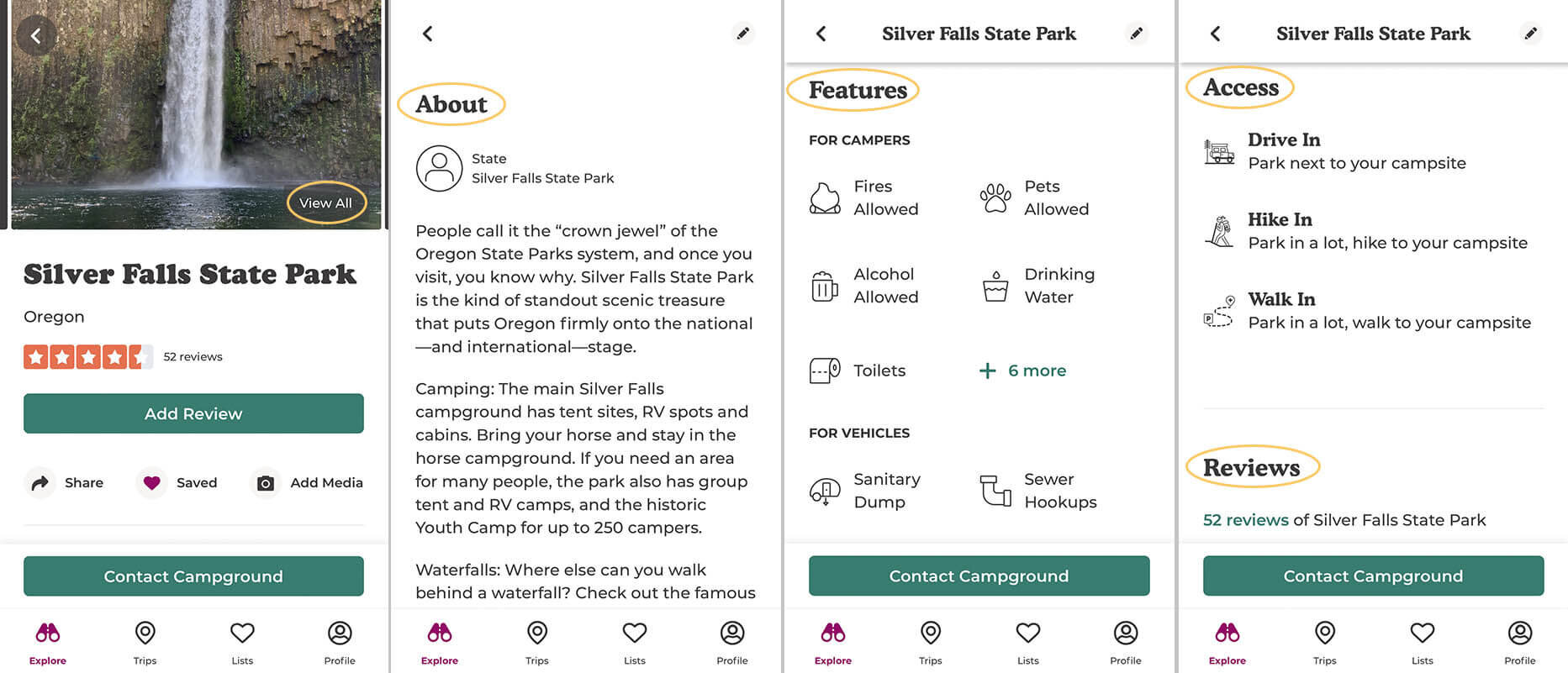 If you're planning a camping trip, using The Dyrt app is a fantastic way to find quality campsites along the way.
Wanna try it out? The Dyrt has both a free membership as well as a paid PRO membership. By using this link, you can test out the PRO version for a whole month (30-days), totally free!
Contents
Important Note: We want to disclose that we are affiliates of The Dyrt and we do receive a small commission (at no cost to you) when users sign up for the app. That said, this article is full of our 100% honest opinions.
Why Use a Camping App?
Why use a camping app in the first place? Why not just drive around and see what you find?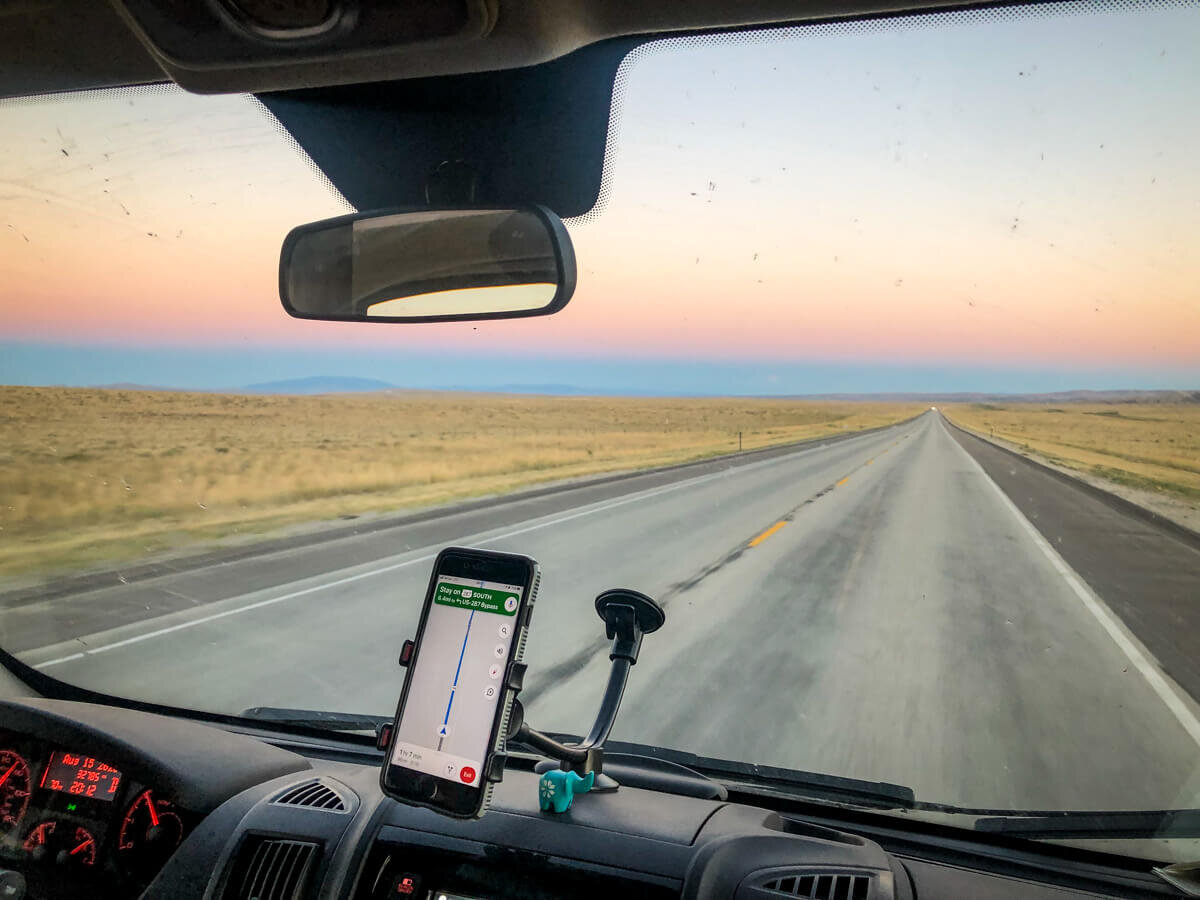 Well, think of it this way… When you're booking an Airbnb, you typically use filters and see what properties are available in the town you're visiting. If you're like us, you look through the pictures and carefully read the guest reviews before choosing a place. This helps you feel confident that you'll have a clean, safe and fun stay.
Alternatively, you could just roll up to someone's house and say, "Hey, can I spend the night?" But chances are, they might not have room or it's just not going to be an ideal situation. It's kind of the same thing for campsites.
Also, as camping has become more and more popular in the USA, it can be increasingly difficult to find sites that have availability and are, well, good.
Using a camping app, like They Dyrt, will help you choose campgrounds that are ideally located and have the facilities you need. You can also read reviews to get an idea of whether that particular campground fills up quickly (maybe you need to aim to get there early!) or has dirty toilets (hey, it's always a good idea to get realistic expectations!).
In short, we rarely go camping without consulting our handy camping apps first.
What types of campsites will you find on The Dyrt?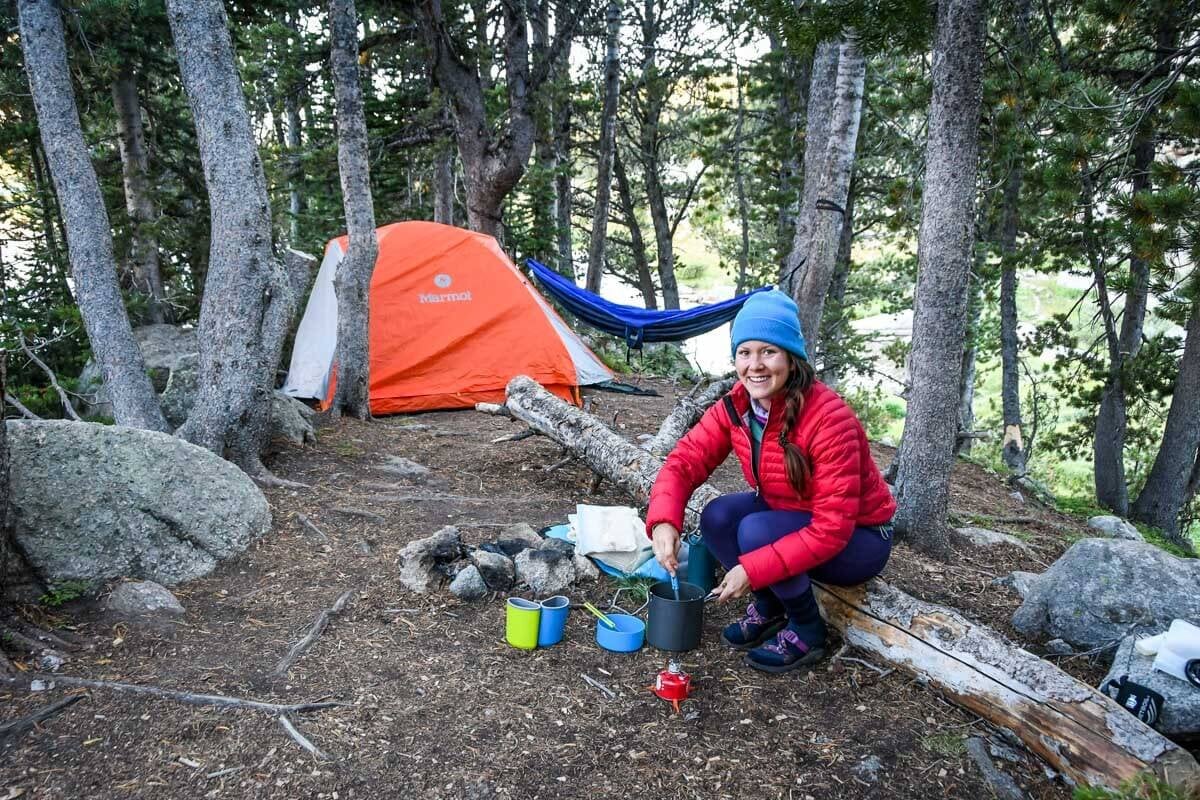 Pretty much all types!
The Dyrt is great whether you're sleeping in a tent or RV. In fact, you can use the filters to see only tent sites or only sites suitable for a campervan, depending on what it is you're looking for.
You'll also see a variety of free sites that are undeveloped (often called "dispersed camping") as well as developed campgrounds that have all the amenities you could want.
Personally, we use The Dyrt mostly to find free dispersed campsites.
Good to know: The one type of campsite that The Dyrt isn't a great resource for is backcountry sites (where you hike into the wilderness with your camping gear). There are some listed, but not all that many.
Basic Pro and Cons
Just like any other app on the interwebs, there are some wonderful features as well as some things that could be improved. We're sharing our honest thoughts about what we like about The Dyrt as well as some things we'd like to see added or improved upon.
We'll start with the basic pros and cons, and then we'll dig deep and go into more depth.
Pros of The Dyrt
The Dyrt has more campsite reviews than any other camping app

Easy and intuitive to use

Fun community features we haven't seen on other camping apps

Layers show you BLM land, US Forest Service land, and National Park land (Pro membership only)

You can view the map in standard mode or satellite view
Cons of The Dyrt
It could be easier to decipher free vs. paid sites

At the moment, The Dyrt only features campsites in the USA

In addition to campsites, we'd love to see other areas of interest on the map (aka fill & dump stations, showers, etc., as these are very helpful when traveling in a campervan)

The road trip planning feature (Pro membership) is an awesome idea, but there are still a few kinks that need to be worked out
What we love about The Dyrt
Let's start with what we like most about The Dyrt…
Tons of Reviews
One of the great things about the Internet is we can learn from other peoples' experiences. Usually, reading reviews helps us make the decision on whether we want to spend the night or skip it.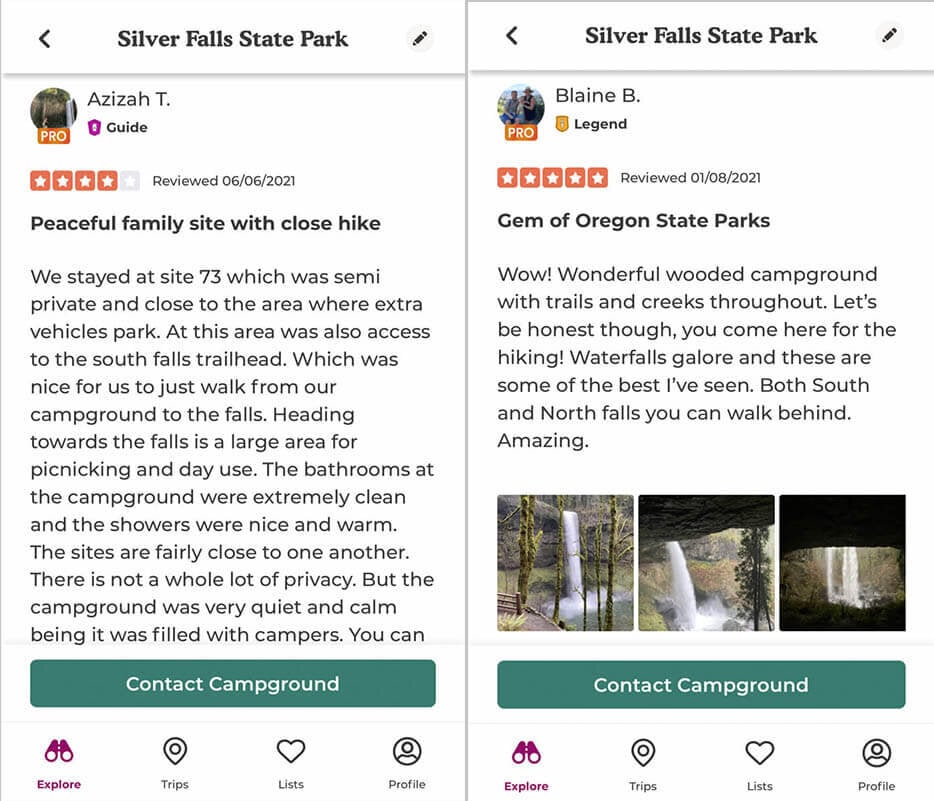 Also, people often include tips and things that are helpful to know about a particular campground, so it really pays off to read through them.
The Dyrt has more than 500,000 campsites in the USA and more reviews than any other camping app, making it a good place to do your research.
Easy to use
The Dyrt is fun, sleek and easy to use. Most of the camping apps out there today are pretty similar in their ease of use, but I remember when we first started vanlife in 2017, some of the websites and apps to find camping were incredibly clunky and difficult to use. Comparatively, The Dyrt is really intuitive and doesn't have much of a learning curve.
Incentives for leaving reviews
Leaving reviews is a great way to help others as they plan their own camping trips, but there is also something in it for you…
The Dyrt has incentives for those who leave reviews (200+ gifts per month, to be more precise!), including Eddie Bauer gift cards, free Pro memberships, etc. Can I get a hell yes?!
Layers (Pro Version)
One of our favorite features of the Pro membership is the ability to see BLM land overlayed on the map. We like seeking out places we can camp for free, and BLM land is amazing for this. Instead of finding exact campsites, we can see the boundaries of where we can legally camp and can explore that general area.
Note: You can also see US Forest Service and National Parks layers as well, but BLM is the layer we personally use most often.
Wanna give it a test run? Try out the Pro Membership for free for 30 days! No strings attached.
Forums & Community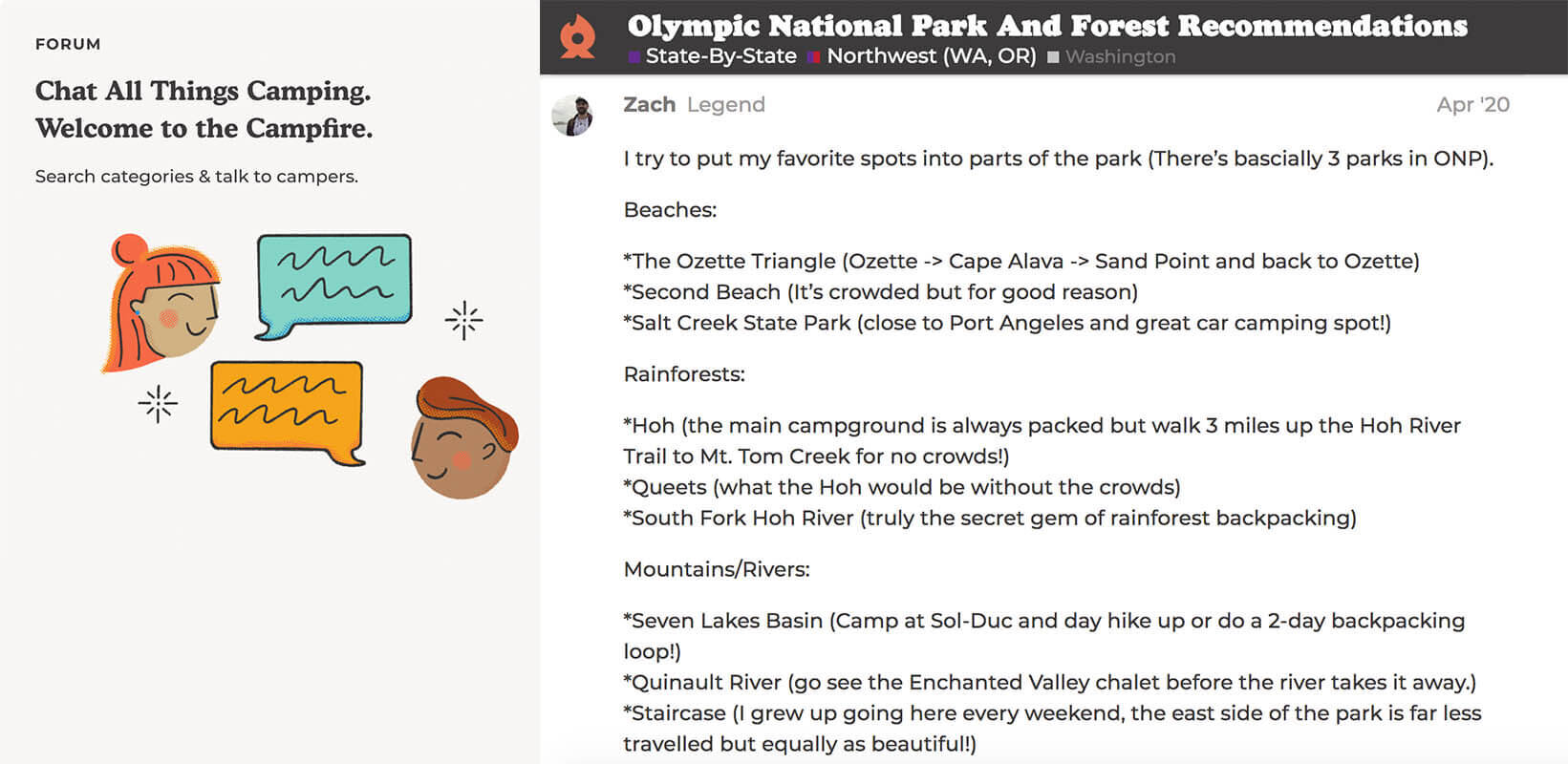 The Dyrt is more than just an app. It's a website with tons of helpful articles and resources, including their "Campfire Forum".
You can search for topics based on your region, or you can type a keyword into the search bar to find threads that might be helpful as you plan your camping trip.
You can "save" campgrounds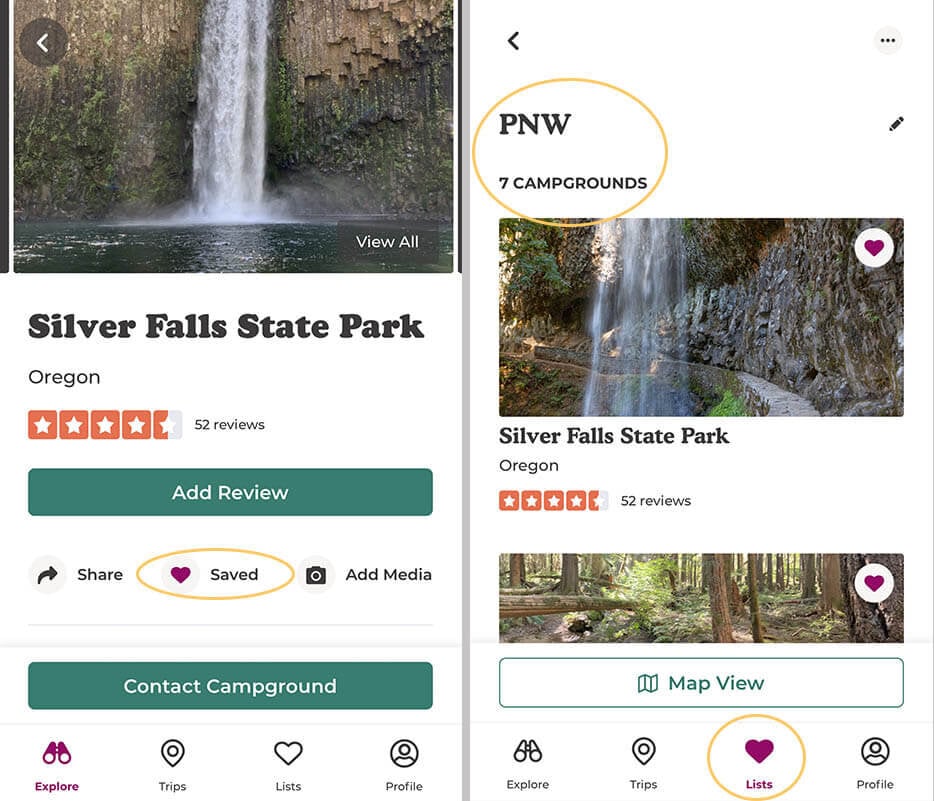 We like the fact that you can "heart" campgrounds and save them in a collection for later.
This is super handy so you don't forget the amazing site you stumbled upon. It's also helpful if a friend suggests a sweet campground. Simply type the name into the search bar and save it for a future trip.
Improvements we'd like to see
As with any app, there are going to be areas for improvement. What we really love about The Dyrt is that as a brand they are constantly looking for ways to grow and make the app even better. And that forward-thinking mindset has us really excited to see what's in store for the future.
More amenities on the map
In addition to campsites, we'd personally love to see some other amenities on the map (water fill, dump stations, showers, toilets, wifi, etc.). As vanlifers, these are always things we're searching for.
I remember while campervanning in New Zealand, we used the app CamperMate, which had all sorts of amenities you could search for and filter out only what you needed. It was incredibly helpful! These amenities are especially helpful for vanlifers and RVers, who I think would benefit the most from the Pro membership of The Dyrt.
Different campsite icons to indicate type & price of campsites
Personally, we think it would be really helpful for there to be a few types of campsite icons (or just different colors) so users can easily know which ones they'd like to click on.
For example, we usually try to stay in free campsites as we're usually on the road for weeks or months at a time. I like to be able to easily see which sites are free vs. National Forest vs. private.
As it is now, you can filter to view only one type at a time, but we think it's nice seeing them all at once so if there aren't any free sites nearby, we'll know there are other options.
More specifics on cell signal
Under the "features" section, there is a cell phone icon that represents mobile signal. However, we've seen some other apps that use different providers' coverage maps to give a more accurate idea of what the cell signal strength will be. For example, in certain regions of the country, AT&T has coverage where Verizon does not. And vice versa.
We work from the road a lot, so we like to check to see what the cell signal will be like before heading to a specific campsite. But the cell service icon is a little to vague to get a really good idea of the signal strength, so we often find ourselves having to pull up our provider's coverage map or checking another app to compare.
Road Trip Planning feature improvements (PRO version)
We are really excited about this feature, but there are some improvements needed to make it more user-friendly.
The Trip Building feature is intended for users to input a starting point, a final destination and stops along the way. There are a variety of settings you can include, like what type of vehicle you're driving (car vs. RV), if there are types of roads you want to avoid (highway, toll, ferry), and how much driving you plan to do in one day.
Then, there is the ability to get a "recommended trip" built for you with your preferences in mind. The idea is that it will choose the highest-rated campsites along your route.
Sounds pretty great, right? It would be, but it doesn't quite work just yet.
We've experimented with several different destinations, and it comes up with a very weird route that backtracks and just doesn't make sense (see screenshot below). Also, there's no place to input some important information, such as the number of days you have for the trip and the type of campsites you prefer (free vs. paid).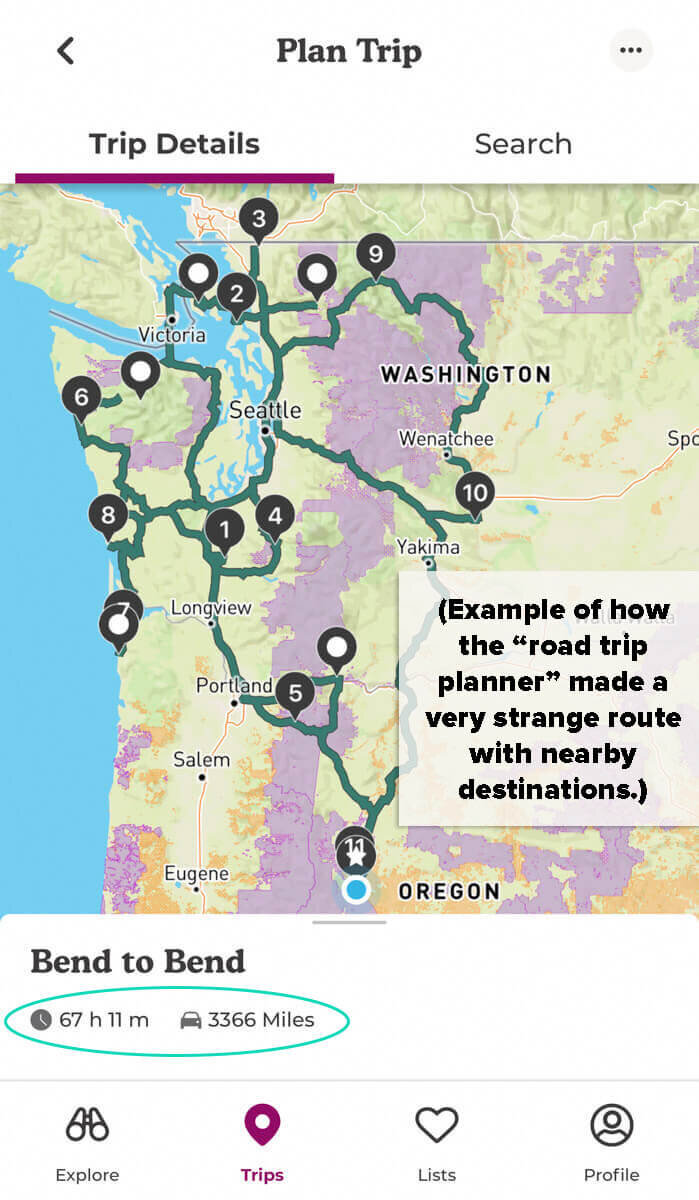 As you can see from the route above, the Trip Building feature made a very strange route despite having plugged in each destination in a logical order (south to north).
Each time we've tried the "recommended trip", we've ended up getting a strange route, paid campsites (when we prefer free), and a much different timeframe than we have for the trip.
Being that the recommended trip option just doesn't function very well at this point, we only use the Road Trip Planner in manual mode where we set our own campsites along the way which requires a bit more work.
Expand to Canada
Eventually, we'd love to see The Dyrt expand outside the USA. We appreciate that they are growing and optimizing one country at a time, but we'd love to see a network of campsites in Canada, as we hope to do some camping trips across the border in the future. Plus, Canada would make the most sense as the next location to expand to, with its ample camping opportunities and proximity.
The Dyrt vs. The Dyrt PRO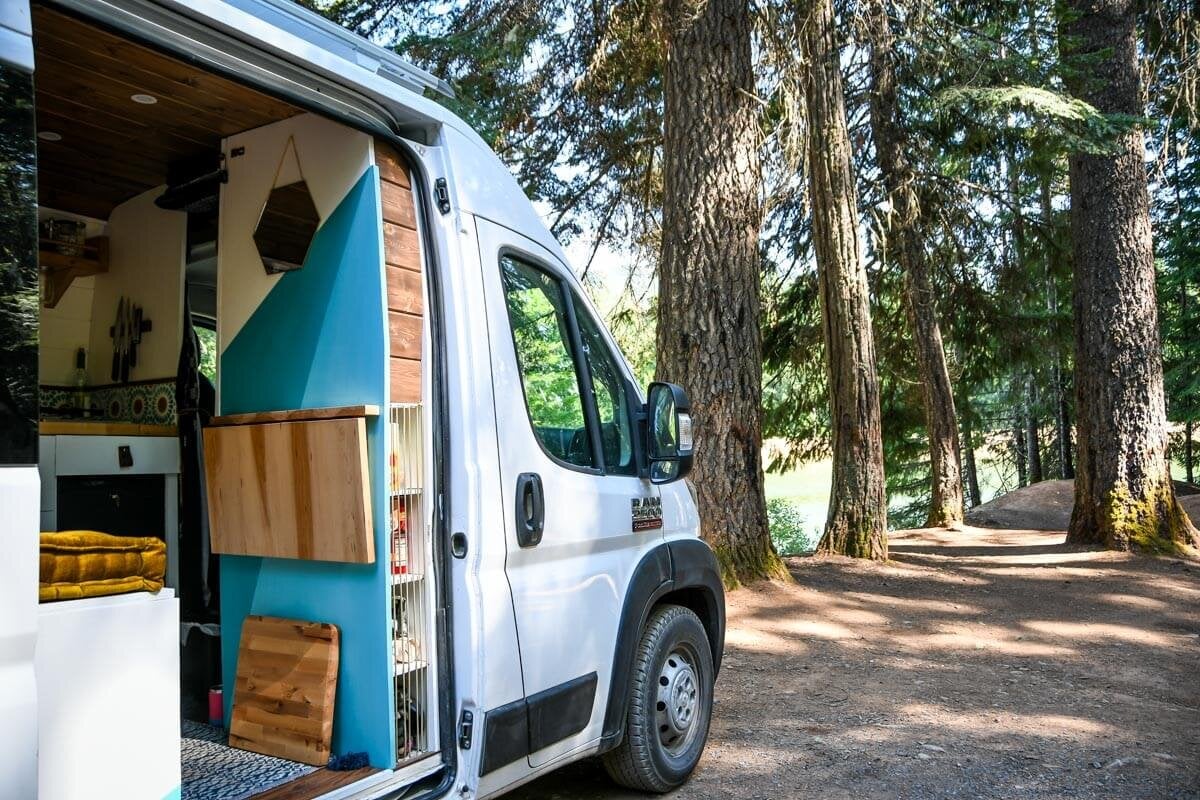 The Dyrt's free version is pretty darn good, but the PRO membership does have some worthy upgrades.
How much does The Dyrt PRO cost?
The Dyrt PRO membership is $35.99 per year.
What additional features do you get with PRO? Are they worth it?
The PRO membership comes with a handful of additional features — some of which we think are very valuable and others that may not be as useful, depending on your camping style. We'll explain below…
Can I try out the PRO membership and see if I like it before buying?
YES! For a limited time, we've partnered with The Dyrt to offer you an exclusive link that gives you access to the PRO membership for 30 days (aka a whole month!) — totally, 100% free! That means you can test it out and actually use it on a few different camping trips to see if it's worthwhile for you.
Our honest opinion: We all have different styles, needs and priorities when it comes to camping. The Dyrt PRO is completely worthwhile for many campers; but for others, the free membership is all they need. Some of it comes down to how often you camp, what types of campsites you prefer, what region of the USA you are based in, etc. The great thing is you can test it out with this link, and decide for yourself!
Alright, now that you know you can "try it before you buy it", here are the additional features you'll get in The Dyrt PRO membership:
Map Layers
We're huge fans of layer filters on maps, and The Dyrt Pro has 3 different versions:
Bureau of Land Management (BLM): free dispersed camping is typically allowed (unless marked)

US Forest Service land (USFS): free dispersed camping is available in some areas

National Park Service: you will typically need to make reservations at the Nation Park campgrounds; alternatively, if you plan to camp in the backcountry, you will need to obtain a permit (either online or from a ranger station)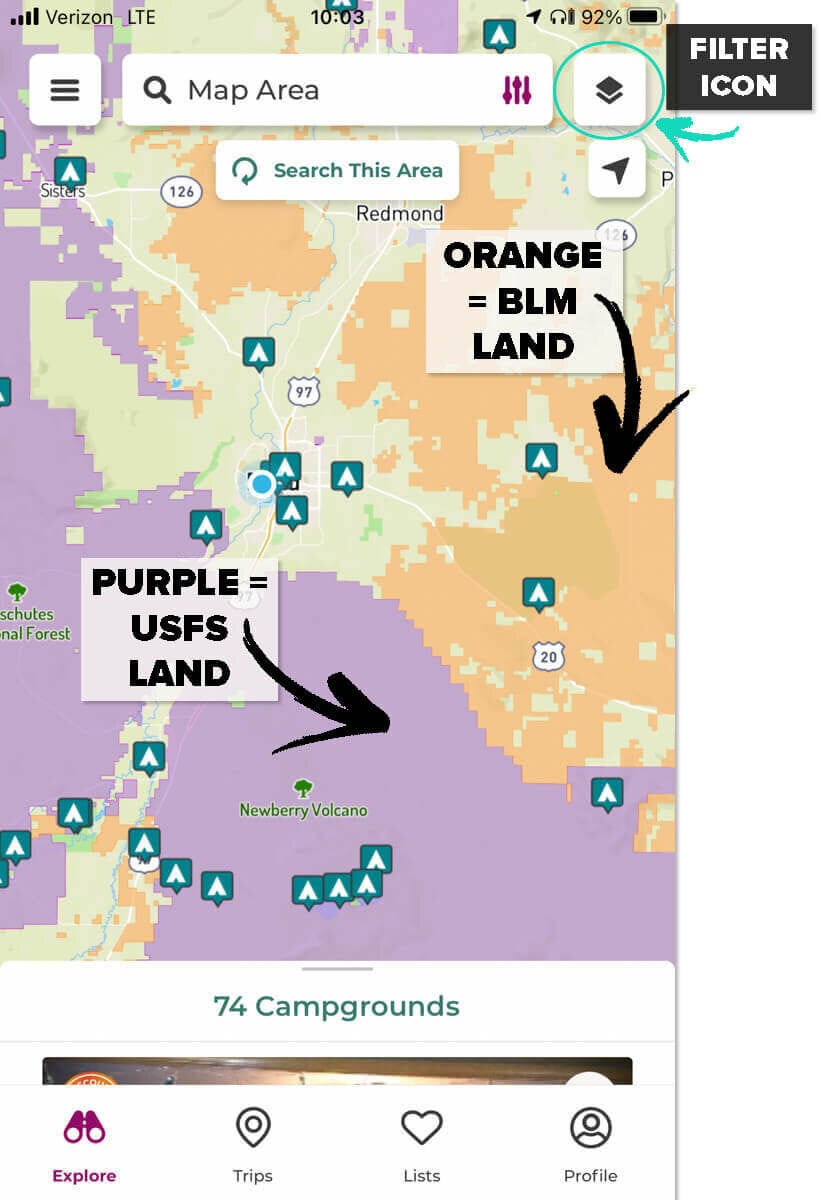 Seeing these boundaries on a map can be very helpful, particularly if you're looking for free and dispersed camping (hint: head to the BLM or USFS boundaries!)
In our experience, the BLM filter is the one we use most often, as we're big fans of free dispersed camping, and BLM land is excellent for that!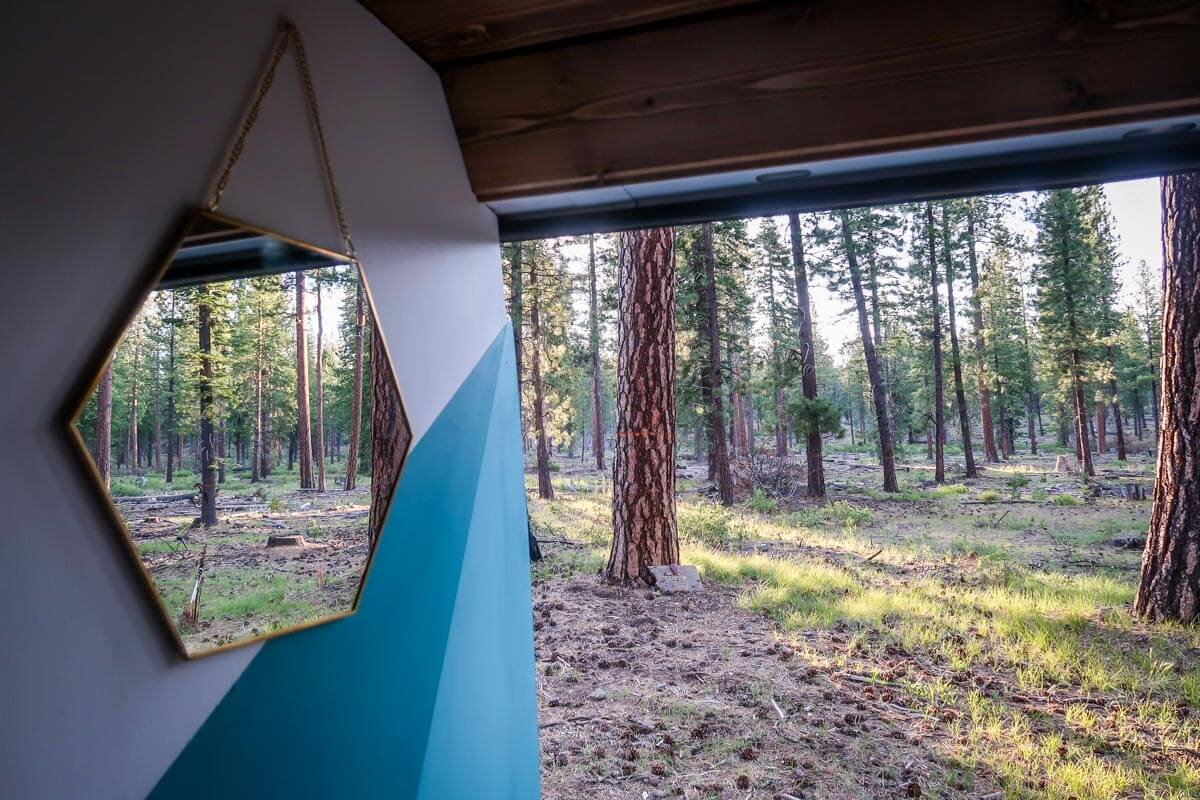 Road Trip Planning Feature
The Road Trip Planner is a great place to save all the campgrounds you plan to visit on a particular trip. You'll have them all in one place and you can easily see the drive times between stops.
Our opinion: This feature has the potential to be really cool, but as it is right now, it needs a bit of work. We've gone into detail in the section above on what improvements we would like to see.
Access to Offline Maps
This is perhaps one of the most valuable features of the PRO membership. Due to the remoteness of many campgrounds, you'll likely have little to no cell signal on your camping trips, making offline maps clutch.
If you can't connect, that kind of limits your ability to search for campsites and get directions… We've been there and it's no fun.
If you are the type of person who likes to plan out every detail of your camping trip in advance — including exactly where you'll camp with printed out directions of how to get there — you may not need access to offline maps.
However, if you're like most of us (ourselves included), and you like to have a bit of spontaneity in your travels, being able to search for a campsite along the way is incredibly handy. Plus, if the campsite you're planning to stay at is full, it's kind of a lifesaver being able to use The Dyrt app to search for alternatives in the area.
Hint: One thing I will point out is that in order to access these offline maps, you have to actually download them while you're in WiFi. Check out step #8 in the next section for directions on exactly how to do this.
Gear & Campsite Discounts
While we wouldn't exactly say the discounts and giveaways make up for the membership price, it is a nice perk.
Gear discounts: There are a small handful of outdoor gear brands that offer discounts to Pro members. They range from 20% – 40% discounts or a dollar amount off your purchase from a small handful of brands like Keen, Cruise America, and some smaller companies.
Campsite discounts: There are more than 1,000 campgrounds around the USA that have exclusive discounts for Pro members of The Dyrt. The discount isn't huge — typically 10% (though there are some premium partners that offer 40% off your first night and 10% off all additional nights). If you mostly do free dispersed camping (like us!) this might not be all that much of a perk for you, but if you prefer to stay at established campgrounds with all the facilities, these discounts might add up over time — extra beer/food/gear money, anyone?!
Special Offer: Right now, The Dyrt is offering a 30-day trial of their Pro Membership totally free. No strings attached. So go ahead and try it out to see if it's your jam. You've got a whole month to use it and see what you think!
Tips for using The Dyrt
We're sharing some of our insider tips so that you can get the most out of this app.
Utilize the filters
Just as you'd do when booking an Airbnb or hotel, selecting the proper filters is going to narrow down your search results and show you only campsites that fit your needs. For example, if you must have a toilet at your campsite, it doesn't make sense to have to sort through all the campgrounds that have no toilet facilities.
Make it easier on yourself by checking the necessary boxes so you're only shown campsites that will be what you're looking for.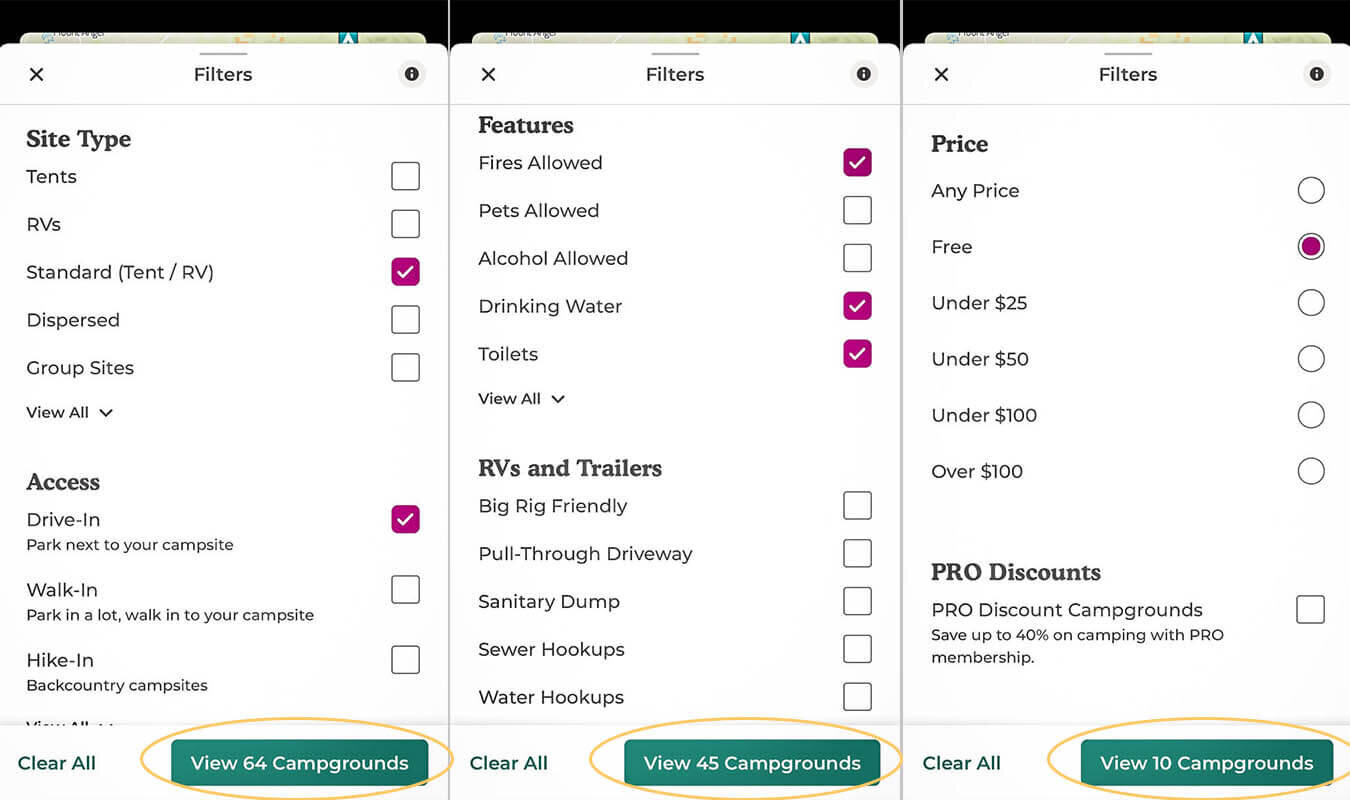 I should also note that you shouldn't get too carried away with the filters. If you select 10 filters, you may not have much to choose from, especially in some parts of the country where there are fewer campsites overall.
Our general advice is to start with the most important filters first, then add more if you want to narrow down your results further.
Be sure to get the important details
It can be easy to just skim the description and look at the ratings and photos, but it's important that you don't overlook the nitty gritty.
Here are some things to ask yourself before you decide to head to a campsite:
Does it have the amenities I need (toilet, electricity, water, dump station, shower, etc.)?

Are pets allowed? If you camp with a pet, this will be a make-or-break question.

Does it book up fast? If so, will I realistically be able to get there in time to snag a spot?

Will I have cell phone reception at this campsite? And if not, ask yourself if it is necessary.

Can my vehicle handle the roads to get to this campground? You can sometimes find this info by reading reviews.

What's the vibe? Read other reviews to get a feel for if it's safe, if it's a party area, or if it's family-oriented. Depending on what you're looking for, the vibe may have a big impact on whether it'll be a good place to stay.
You should be able to get all or at least most of this information from The Dyrt app.
Leave your own reviews (& upload pictures if you have them!)
This app is community-sourced, meaning that all the reviews are left by people just like you and me. Personally, I find it super helpful to be able to read someone else's firsthand experience so I can determine if it's a campsite that would work for me. In an effort to give back, we try to leave reviews when we can to help others as they plan their own camping trips.
On that note, photos take the review to a whole new level. I mean, I love being able to see what the campsite actually looks like before driving out of the way to discover it looks nothing like I had imagined. So if you are able, uploading a photo goes a long way!
How to plan a camping trip using The Dyrt app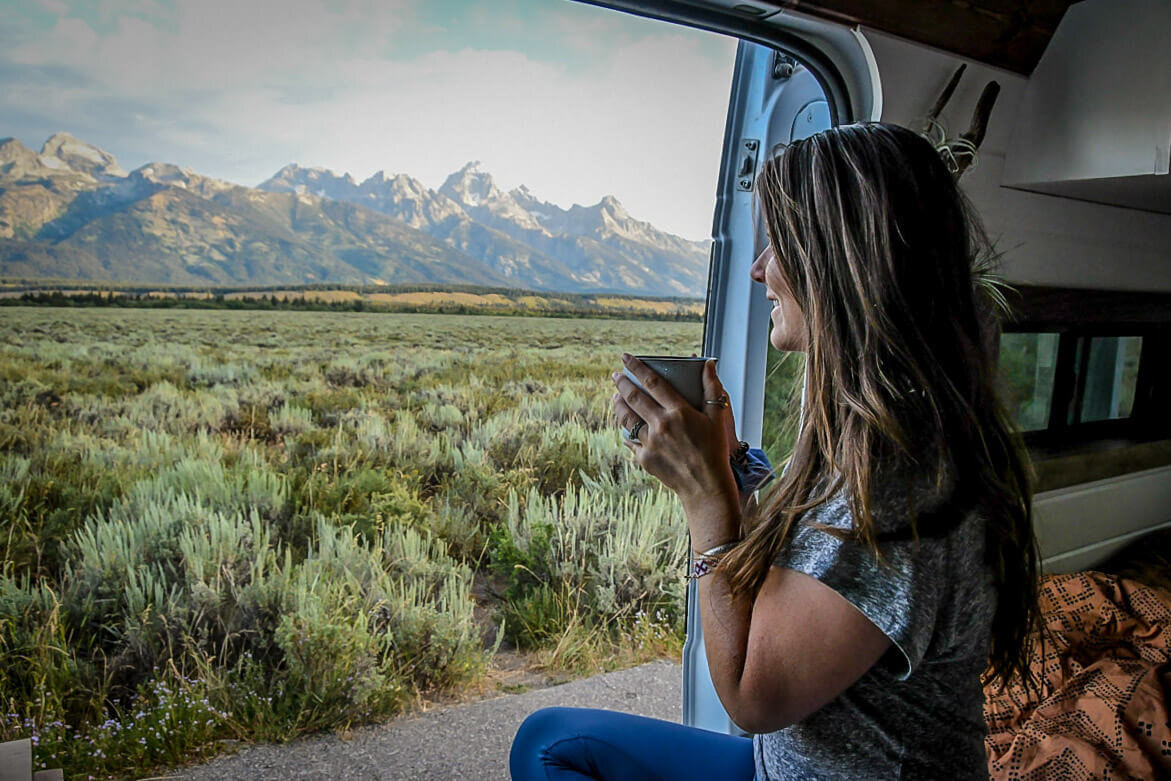 If you're planning a camping trip with stays at a few different campgrounds along the way, this section is going to be gold!
We're breaking down the necessary steps for planning a fail-proof camping trip — including some hacks that will save you from headaches along the way.
But first, make sure you have downloaded the PRO version of The Dyrt so you can try it free for 30 days!
Let's get started…
1. Plan your Route
Planning your route can be as complicated or simple as you make it.
First, start with 1-3 destinations in mind.

Next, think about how many days you have for this trip.

Now, start building your route. Be sure you make a note of the general area you'll be spending each night. By now, you should have a very basic outline of your itinerary.
Tools for building your route
There are many options out there, so choose the way that sounds most intuitive to you. Even if you like starting with pen and paper, we'd highly recommend digitizing your itinerary before you hit the road so you can access it from anywhere and don't have to worry about losing it.
Google Maps: You can very easily save any of the stops along your route — from gas stations, to campgrounds, to restaurants, to hikes — by "pinning" them on Google Maps. You can even add notes where needed (like a specific dish to order at a breakfast cafe, or where to park at a specific campground). The great part about Google Maps is you can then plug in these destinations to get directions and you're all set to go!

The Dyrt Trip Planner (PRO): The Dyrt PRO membership has a trip planning feature where you can make a route of all the campgrounds along your trip. This will give you a good idea of the drive times and will save them so you know where you're camping each night.

Excel / Google Doc: This is where you can add notes or things you want to do each day (if you want to get that in-depth). Even if you go this route, we'd still recommend plugging your stops into an online map of some sort so you have the exact locations and can easily get directions.
2. Set a camping budget
You'll likely want to have an overall budget for your trip, but it's helpful to have an idea of how much you plan to spend per night on your campsites. You'll also want to know what type of amenities you'll need: a shower, water fill, dump station, etc.
This will help you determine if you're looking for a mix of free and paid campsites, or perhaps just one or the other.
Psst! If your budget is rather tight, you may want to check out these tips for saving money on the road.
3. Research campsites & save your favorites
Use The Dyrt to search for campsites in the areas you'll be staying each night. Use the filters to find campsites in your budget and with the amenities you need. Then, read reviews and look at pictures to find the best options in the area.
You can then "save" each campground by pressing the heart icon. You can make a folder for your trip so you can easily find each campsite you plan to sleep at.
4. Make reservations OR find alternatives
If you know exactly where you want to camp and there's the possibility to make a reservation, this will take off the stress of trying to get there in time to snag a spot.
How do you know if you can make reservations? Typically if you're able to make reservations, you'll see an email, a website or a phone number in the "Contact Information" section when you open up a campground's details in The Dyrt.

There should also be a green button that says "contact campground" (see screenshots below). If you do not see this information, it likely means it is a dispersed camping area and does not require reservations.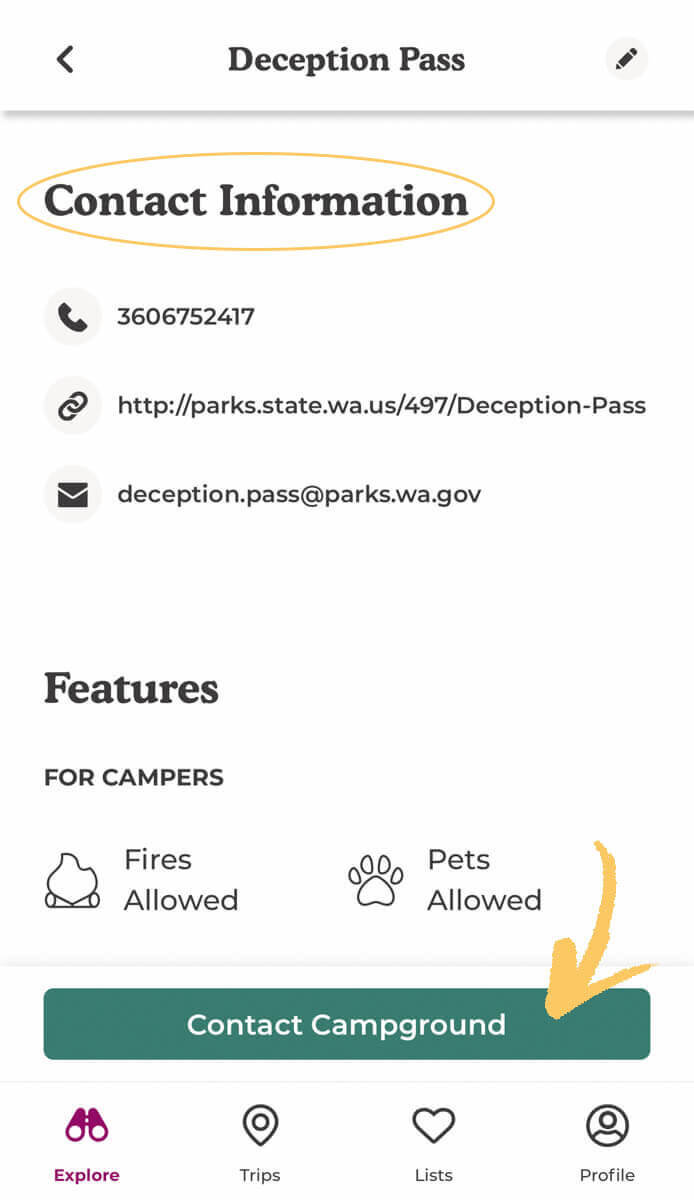 If there are only walk-up spots available or you're just not 100% set on your route, we'd highly suggest having a couple of backup campgrounds in mind. As camping becomes increasingly popular, it's not uncommon to roll up to a campground to find it completely full. It'll save you worry and time if you have a 2nd or even 3rd choice campsite nearby.
5. Make note of your daily drive times (and add some time)
As you're planning out your route from campground to campground, it's really helpful to have a realistic idea of how long it'll take to get places. We always like to add a little time when driving to campgrounds as the roads can sometimes be more remote and therefore not as well-maintained. You'll also want to factor in time for bathroom stops, eating, viewpoints, traffic, etc.
Important: While reading reviews on The Dyrt, make note of any campgrounds that fill up early and do your best to plan an early arrival time so you can be sure to get a spot.
6. Note the amenities (fill/dump)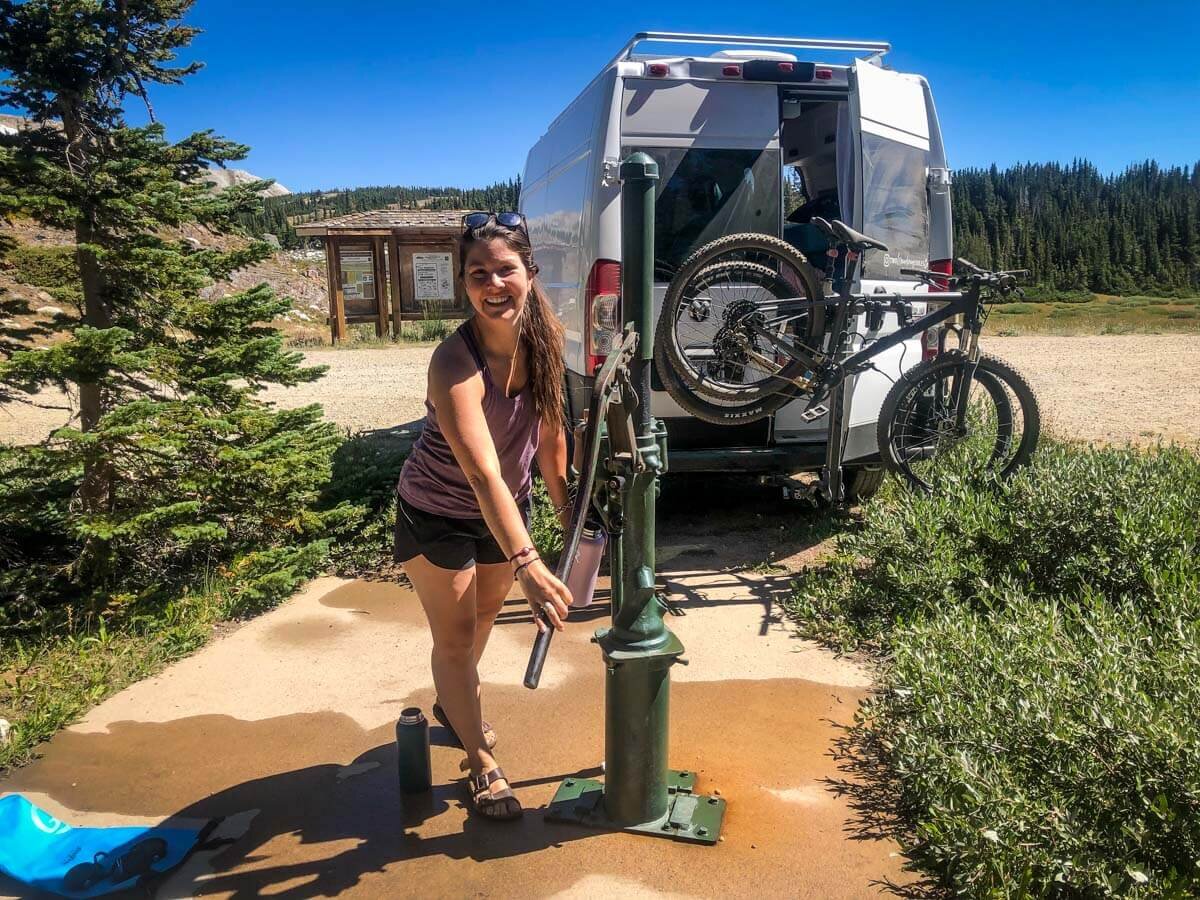 If you're tent camping, you can likely skip over this step, but if you're traveling in an RV or campervan (like we typically do!), you'll want to plan out your fill and dump sites as well as showers. On each campsite's listing on The Dyrt, you can see whether or not the campground has these facilities.
Our experience: We typically plan to fill and dump every 3-4 days, so we know that we'll either have to stay at a campground with these facilities on day 3, or we'll have to do a little research and see where in town we can find a place to fill water (tip: some gas stations allow this for a small fee) and dump. During the days in between, we typically seek out free campsites to keep our overall budget down.
7. Plan where & when you'll stock up
Depending on the length of your road trip, you may need to stock up on provisions several times or perhaps you'll start the trip with everything you need. If you'll be camping in remote areas, be sure to make note of towns nearby where you can grab produce, ice, charcoal or anything else you may need.
Insider Tip: We like to pin these towns on Google Maps so we don't forget to stock up.
8. Pin fun things to do in the area
This is our favorite part of the planning process! I mean, what's a road trip without ice cream stops, epic hikes, waterfalls to chase, and cute towns to wander?!
Our biggest piece of advice for planning road trips is to have a good balance: create a solid outline of things in the area to do, but don't over-plan so much that you don't have room for spontaneity. You'll want to know where you'll be sleeping along the way so you're not frantically searching as the sun goes down, but you'll also want some "flex time" in there for spontaneity. If you hear a local talk about a hidden hike, you'll want to be able to jump on it!
How we do it: We spend time before a trip researching local hotspots, cool hikes, and unique things to see in the area. We like using AllTrails for finding hikes in specific areas, and we use Google for other research. For example, type in "cheap things to do in Portland" and see what you get. We then pin them onto Google Maps (see #2 in this article where we go over our whole strategy) so that when we're in an area, we always have ideas of things to do.
Important Tip: Don't forget to download the offline version of your map so you can access it even when you're not in cell signal!
9. Envision your trip & make changes
Go through your itinerary and imagine what each day will feel like. Then ask yourself some critical questions: Does it feel like it'll be too rushed? Add a couple of days or cut some destinations. Does it feel like you could add more to your itinerary?
This is your time to make some changes so that it'll be a more enjoyable trip. It's never fun rushing around to try to cram way too much in, after all.
10. Download the offline version of your maps
This is an important step many people forget (ourselves included!). If you're planning a camping trip, chances are you'll be in and out of cell signal. There's nothing more frustrating than having to backtrack as the sun is setting so you can find a signal strong enough to be able to get directions to your campsite. Trust us, we've been there. Multiple times.
The solution? Download the maps you plan to use in the "offline mode". We'd recommend downloading BOTH The Dyrt offline maps as well as Google Maps offline.
The Dyrt PRO
Luckily, The Dyrt PRO makes this really easy to access your maps even without cell signal.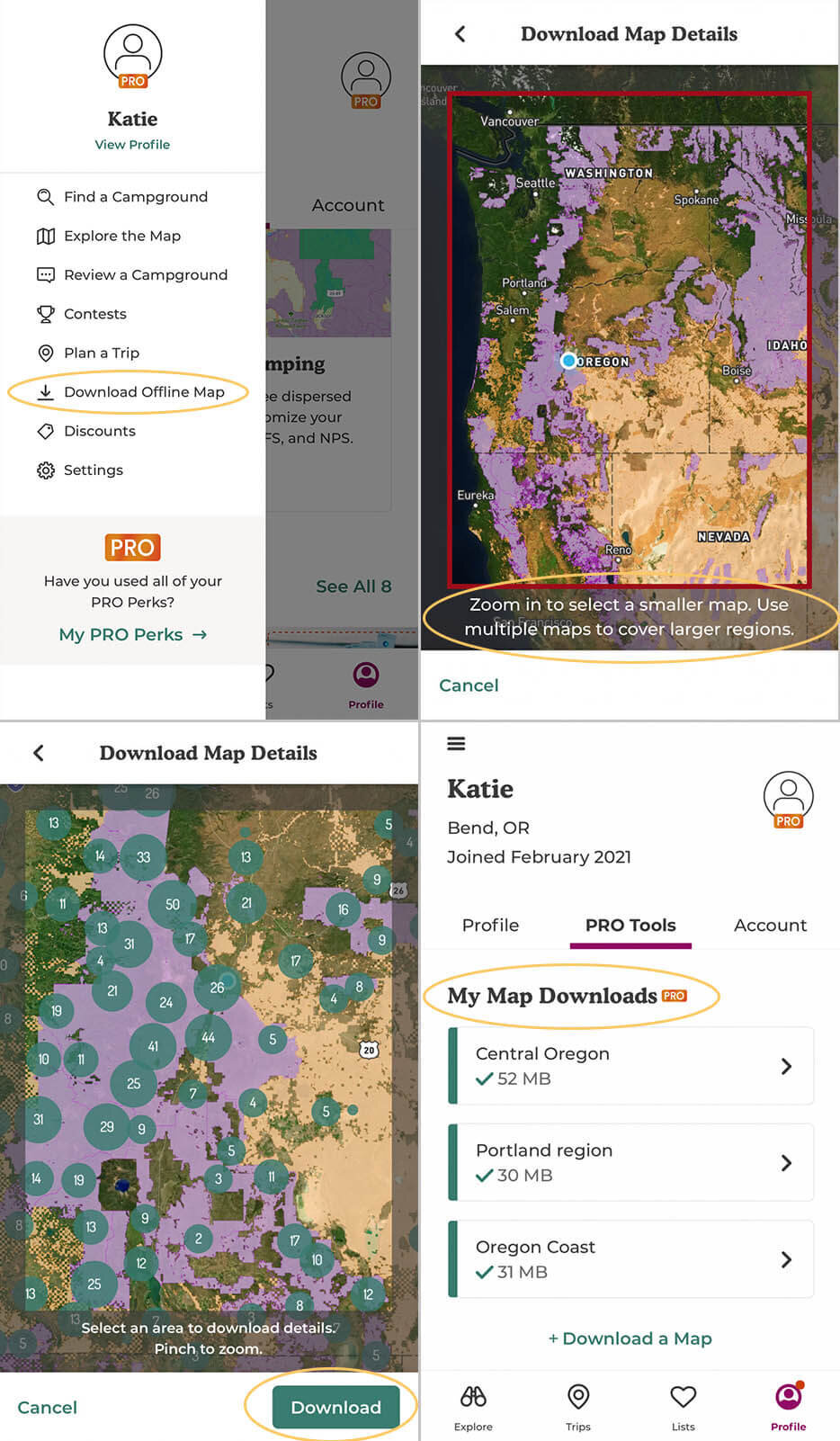 Directions:
On your menu bar, you should see "download offline map". Once you click on this, you will need to adjust the map to be the area you'd like to download.

At the bottom of the map, it will say "zoom in to select a smaller map". Keep zooming in until you get the green "download" button (see screenshots above). Know that you may need to do this a few times in order to get the full region you'll be traveling around.

You can name each map to reflect the region, and you'll find these under your profile by clicking "Pro Tools".

In "offline mode", you'll have access to all reviews and info about each campsite in the region. You'll also have topographic data, which can be really helpful. You will not, however, be able to get directions to the campsite unless you have also downloaded the region in Google Maps as well. (Directions below)
Google Maps
If you're using Google Maps, it's possible to download your map as well, but it does take a little bit of foreplanning.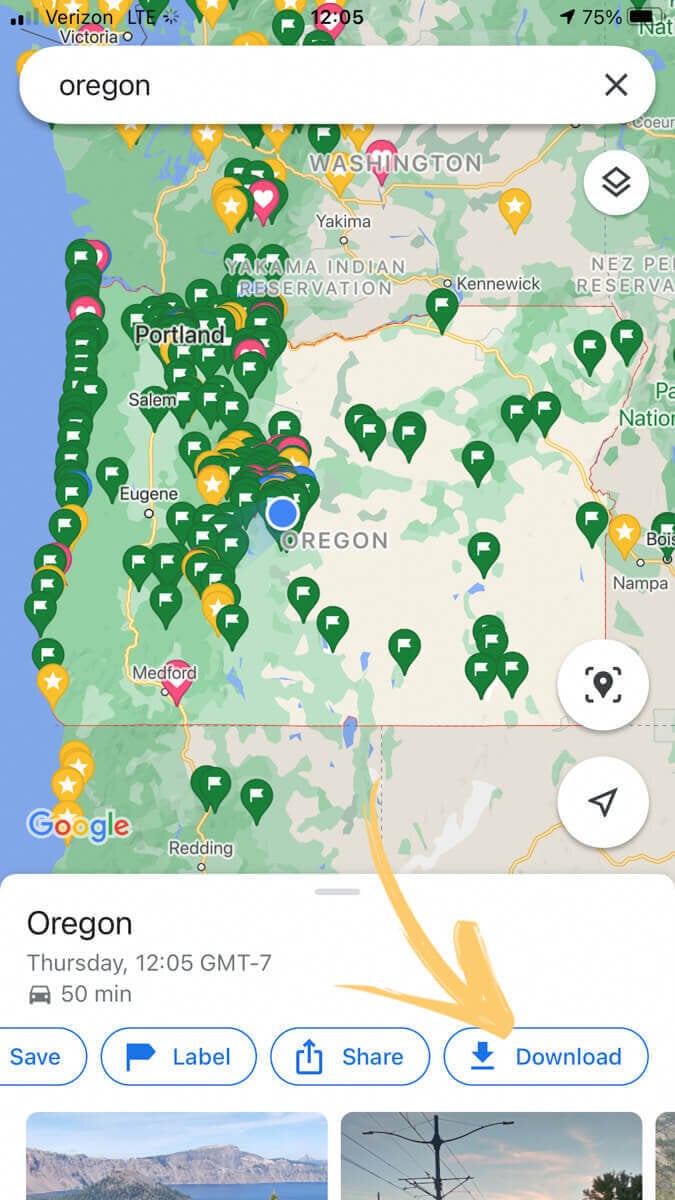 Directions:
First, you'll likely need to download individual sections of the map in areas you'll be driving through. In the search bar, type in the town, region or state.

On the bottom bar, some options will show up. Scroll all the way to the right to see the "download" option. This way, you can see all the details of the campsites on The Dyrt app, then open Google Maps to get directions there using your real-time GPS location.
Why is this a good idea? Having the offline map will allow you to use it as you would in normal cell service even when you have no signal.
If you're using The Dyrt, you can get all the details of the campsites in your area. This is invaluable when you're trying to search for a place to spend the night in an area with little to no cell service.

If you're using Google Maps, having the offline map means you can use the search function, see your real-time GPS location (as long as you have that allowed in your settings), get directions, read reviews, etc.
Insider Tip: Try to download all offline maps while you're in WiFi, and know that it will take up space on your phone, so you may want to delete it after your trip.
11. Get ready for your road trip
Here are some basic tips to get you started:
Want more? We're obsessed with planning road trips. So much so that we rounded up all sorts of tips for planning the perfect road trip that you'll definitely want to check out before you hit the road.
Alternatives to The Dyrt
With several other camping apps and websites out there, The Dyrt certainly isn't the end-all-be-all resource. We've tested quite a few out and keep a few different apps on our phones so we can compare reviews and get more info.
Here are some of the other camping apps we personally use:
iOverlander: The thing we love most about this app is that in addition to finding campsites, you can also see other landmarks on the map, like free WiFi, laundromats, public bathrooms, water fill ups and dump stations. While this may be overboard for most tent campers, this is incredibly useful for vanlifers and those in RVs!

Free Roam: This app has lots of layers that we haven't seen in other camping apps. For instance, you can turn on the overlay to show cell phone service for your specific provider so you know for sure whether or not you'll have coverage at a particular campsite. Additionally, Free Roam has some helpful info about campsites including how crowded it typically gets, how difficult the roads are to get there, etc. You can even use these parameters to filter.

freecampsites.net: This is not an app, but instead a website. And we'll be the first to tell you that it's very clunky and kind of frustrating to use (it works better on a computer than it does on mobile). However, being that this community-sourced website came out before most of the camping apps, it actually has some campsites that we haven't found elsewhere. Additionally, they are mostly free (or very cheap) campsites, so if that's what you're looking for this can be a good resource. Typically, if we're looking for a free place to camp and can't find much on the apps, we'll consult with freecampsites.net and see if there are any that aren't listed elsewhere. It's not the first place we check, but it's a good one to use as a comparison.
More Camping Resources
We want to hear from you!
Have you tried The Dyrt app? What are your thoughts? Have any other tips for finding great campsites? We want to hear them in the comments below!
Save this article on Pinterest for later!