We welcome submissions from individuals who have first-hand knowledge of travel in areas we have not been to and who want to share their unique perspectives with our readers.
However, all guest authors and their submissions are strictly accessed by Katie, Ben, and/or Amanda according to the guidelines on our Guest Post Submission page. Note: very few articles make it through the screening process because we have such a high standard.
We require guest authors to have real-world experiences with the topics and places they write about. 
More often than not, our guest authors, who have made it through the screening process, are established writers, whether it be they have a blog or a publication that highlights their work. 
We only select credible guest authors whom we trust. With each guest author article, there is a short bio and photo so you can see who the guest author is and ways you can connect with them. 
Our guidelines state that all guest posts must be original and not previously published or republished elsewhere. 
Who are Two Wandering Soles' Guest Authors?
Feel free to browse through the articles below which have all been written by guest authors and screened and reviewed by the Two Wandering Soles team: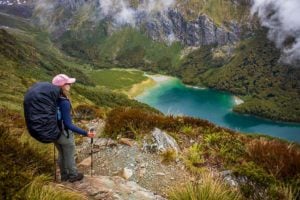 The Routeburn Track is one of the most diverse and beautiful hiking trails in New Zealand. As one of New Zealand's Great Walks, it is important you are properly prepared before hitting the trail. In this article you'll learn how to book your hike, important packing tips, and other essential...
Read More