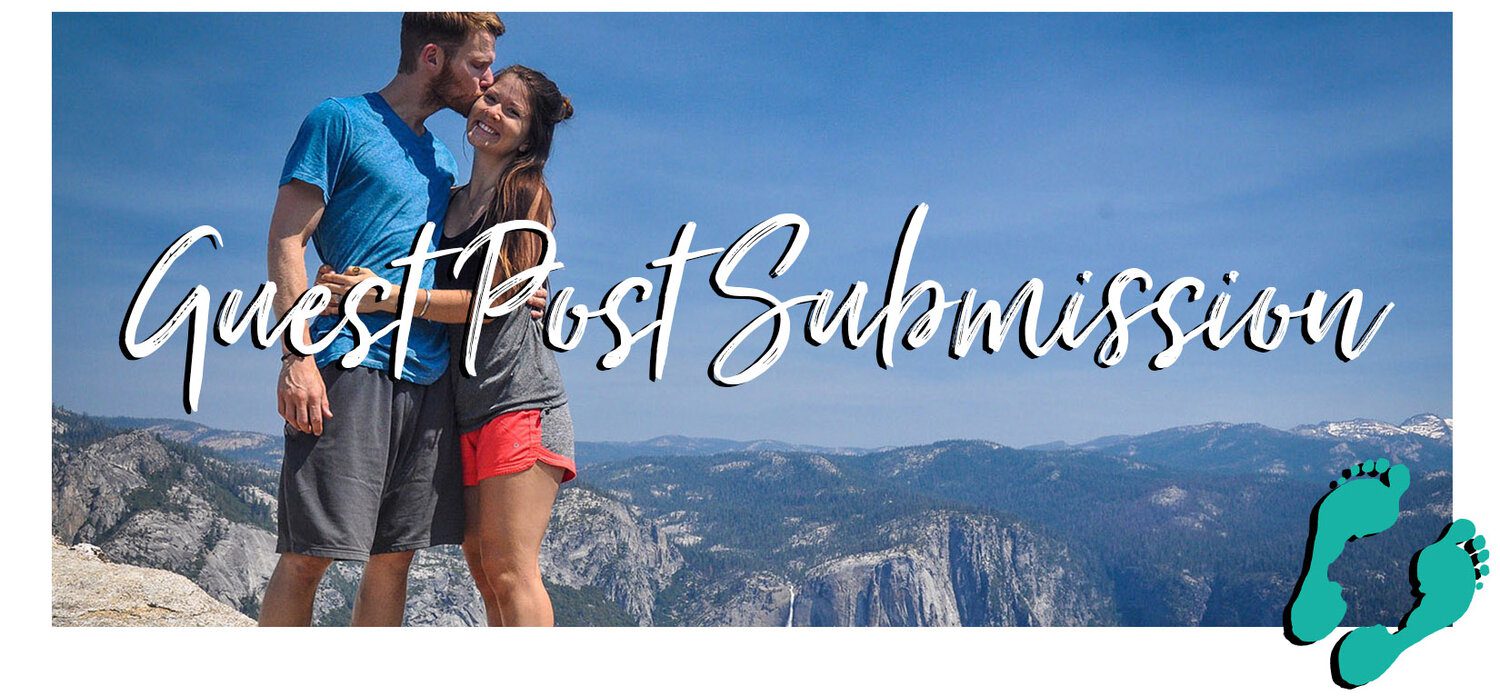 Are you interested in writing for Two Wandering Soles?
Into the outdoors? Our sister site, Go Wander Wild, is accepting guest post submissions at this time for US-based outdoor content focused in the Pacific Northwest. If that works out, there may be opportunities for collaborating with Two Wandering Soles in the future. Thank you for your understanding.
We'd love to hear from you, but first, let's talk details…
We get many inquiries each day from people interested in writing guest posts, and we are very selective with which posts we accept.
If you have an idea in mind, keep reading to see our guest post submission process, and fully fill out the form below. Remember to read everything below because it is very obvious to us when you haven't.
PLEASE READ: We do NOT accept guest posts from companies trying to promote their product or service. All guest post submissions of this nature will be deleted and you will not receive a response. If you are interested in promoting a product or service, submit a form on our Work With Us page and we can talk about a potential paid partnership (which is different than a guest post).
We delete all inquiries that do not meet our requirements.
We're looking for guest posts that will be inspiring or helpful to our readers. Typically the articles we publish on Two Wandering Soles are long-form content, 2,000+ words, so keep that in mind when planning your pitch.
We are interested in hearing your pitch, but these are the 4 types of articles we are most likely to accept:
USA-based content: National Park guides, road trips and local guides to USA destinations are our top priority at the moment.

National Parks and outdoor-focused content: Right now, we are specifically looking for content related to National Parks in the US, camping, hiking, and other outdoor adventures. If you can write about outdoor topics, please let us know in the submission form because this is a topic on which we are most likely to accept guest articles.

"Local Guides": Tell us about your hometown or one of your favorite places in your own country. Who better to write about a place than a local?!

Unique things to do in specific cities or countries. For example, "12 Unique Things to do in Sydney" or "18 Ways to Get Off The Beaten Path in Peru". It's important that any guest post submission fit in well with the content we already have on our site. We want articles that will interlink nicely with each other and give our readers the best well-rounded information about a destination.
Important Note: We are not interested in publishing "travel journal"-type articles. Instead, we are looking for helpful, informative travel guides where the main focus is not on you, but instead on how you can help the reader plan their own trip.
Our website focuses on the following topics:
unique things to do

responsible travel

campervan travel

road trips

foodie experiences

budget travel

living abroad

digital nomad life
What's in it for you?
Psst! If you're looking for a quick and easy backlink, I'll be the first to tell you that this is NOT it. But if you are willing to put in some hard work, this is what you'll get…
1. Exposure: Our website gets 300,000+ monthly pageviews (and growing!). Plus, we usually share guest posts on our social media channels.
2. Backlink: You will receive one do-follow backlink in your author's bio and a link to your social media. Our website has a DA (Domain Authority) of 50.
3. Relationship: If you do a quality job, we are happy to talk to you about working together in the future.
Important note: We reserve the right to edit, update, alter or remove any articles on our site at any time. We will of course contact you and let you know in this case.
Important: Without submitting this form, we will not consider your guest post.
1. Create your pitch
Come up with an idea (or a few!) and pitch them to us by filling out the form below.
But before you get started, read the bullets below!
We generally do not accept pitches on topics we have already written about. However we do appreciate topics that fit in nicely with our current content. Familiarize yourself with our website and pitch a unique idea. (Either a place we have not yet visited, or a topic that you have a unique perspective on.)

For example, we have written a lot about traveling in Vietnam, but if you lived there we would be interested in an article about expat life in Vietnam.
Likewise, we have written a great amount on budget travel. But if you are writing about travel on a budget with kids, that is a different perspective and would be an appropriate pitch.

You MUST have original photos to accompany your article. We do not use stock photography on our website, so we ask that all guest authors provide their own photos. This goes without saying, but these should be high quality images. Please do not pitch articles for which you cannot provide images.
Your pitch must be unique and not published anywhere else on the Internet now or ever in the future!
We do not accept pre-written articles. Don't pitch them, please. We will not respond.
2. Wait for our response
We will try our best to get back to you within one week. We will let you know if we're interested in your pitch. (If it is approved, you will follow steps #3 – #7).
3. We'll discuss details
If we are interested in your article idea, we will give you an outline that covers what to focus on, and a Style Guide which you will need to follow as your write.
We'll also set a deadline based off of what you indicated in your submission form.
4. Submit first draft
When you are finished with your article, you will send us the following:
*PLEASE READ CAREFULLY* If the draft you sent us is not up to the quality or tone of our site, we will decline your article.
a) Draft that is free of spelling and grammatical errors in a Google Doc.
Please make sure you are paying attention to basic SEO and writing in a fun and informative tone. Familiarize yourself with the style of our site.
For the consistency of our site, please use American spellings of words (ex. use color instead of colour).
b) We publish long-form articles, and ask that your submission be at least 1,000 words (1,500 – 2,000 words is even better as long as it is informative and engaging).
c) You may link to your website once within the article (only if it is a natural fit). You will also receive a backlink in your author's bio.
d) You may include other relevant and helpful links in the article (no affiliates), but it is up to our discretion whether or not we will keep them.
For example, if you are describing a hike, you can link to the Department of Conservation website that explains trail conditions, however, an affiliate link to hiking boots would not be acceptable.
e) Quality and original* photographs to accompany your article.
must be resized to 1200 pixels on the longest axis. (We would like for the majority of your photos to be HORIZONTAL.) The file size should be no larger than 300KB. You can control the image size in editing programs like Photoshop, or you can use tinyjpg to compress them.
*These must be photos YOU have taken. We do not accept stock photos.
Try to aim to have one photo per recommendation if possible. For example: "17 Cheap Things to do in Paris" should have at least 17 accompanying photos, plus some general Paris photos to be placed elsewhere in the article. Let us know if you have questions about this.
Include an exciting cover photo that demands attention. We find photos of people against an epic backdrop work well. This is the photo that defines your article and should entice the reader to click on it.
Please title your photos. For example: Describe the subject "Louvre" or "Eiffel Tower" so we know where in the article it should be placed.
f) A headshot of yourself along with a short bio (written in third person) and a link to your website and/or social media (if applicable).
This is a do-follow link.
g) An SEO-optimized excerpt. This should be roughly 70-100 words and should describe your article. It must include keywords while still sounding natural and engaging. Below is an example of an excerpt for an article on Cartagena. (Main keywords have been bolded, secondary keywords are italicized.)
"Cartagena is a colorful and bustling city on Colombia's Caribbean Coast that is easy to fall in love with. With a vibrant nightlife scene, stunning colonial architecture (hello Instagram!) and some of the best food in the country, this city is well worth a spot on your Colombia itinerary. We've visited this exciting city 3 times and are sharing the best things to do in Cartagena, as well as our top tips, what to eat, and where to stay!"
5. Make edits
We will send back any overall edits we'd like made. Please note that we may edit the final draft to better fit our site if needed.
We will inform you of this before publishing.
Important Note: In the future, we might edit your article to keep it updated and to boost rankings. We will try to let you know of any major edits we make. However, small updates should be expected to keep it relevant.
6. Get ready to be published!
Once your final draft is submitted, we will let you know the publishing date.
7. Share the good news!
We'd appreciate if you share on your website or social media to get a larger reach.
Important Note: We reserve the right to edit, update, or remove your article in the future. We will inform you of this.
Guest Post Submission Form
READ FIRST: Before submitting this form, please be sure you've read ALL of the instructions above carefully!
Once again, we DO NOT accept guest posts from companies, and you will not receive a response.
Instead, contact us on our Work With Us page to discuss a potential partnership.