Las Vegas to Death Valley is the perfect day trip to add to your itinerary because it will give you a chance to get out of the city and experience a unique part of the region. In this article, we break down exactly how to make this day trip from Las Vegas, including the best time to go, the top Death Valley hikes, and what to pack.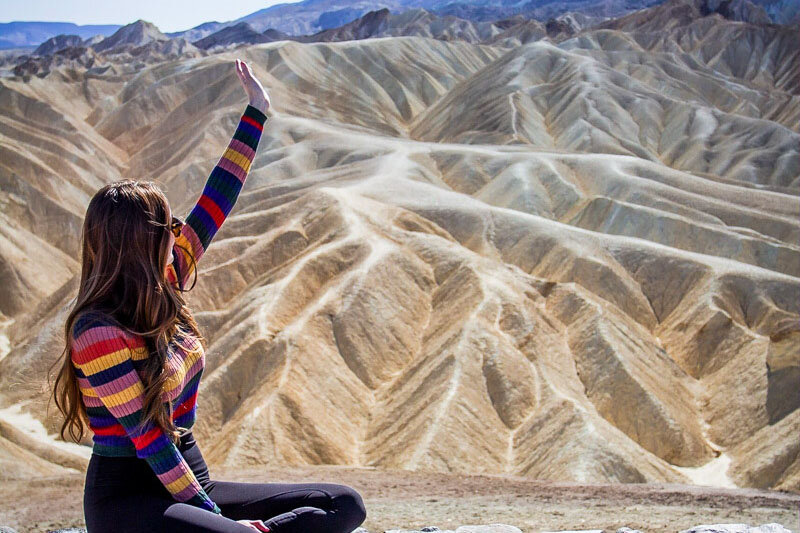 Co-written with Guest Author: Monique Cordier
Death Valley could easily be considered one of the most underrated National Parks in the United States. Sure, it doesn't have endless greenery, mile-high waterfalls or perfect weather, but it is insanely unique!
It's home to North America's lowest point, the hottest location in America (temperature-wise), cotton candy mountains and landscapes you won't find anywhere else in the world.
One of the great things about Death Valley is its proximity to Las Vegas. The drive from Las Vegas to Death Valley is only a short 2 hours west and will take you in the direction of sunny California!
Being that Las Vegas is such a popular tourist destination, a trip to Death Valley from Las Vegas is easily doable in a day, and it's the perfect way to get out of the neon city and into nature.
How to get from Las Vegas to Death Valley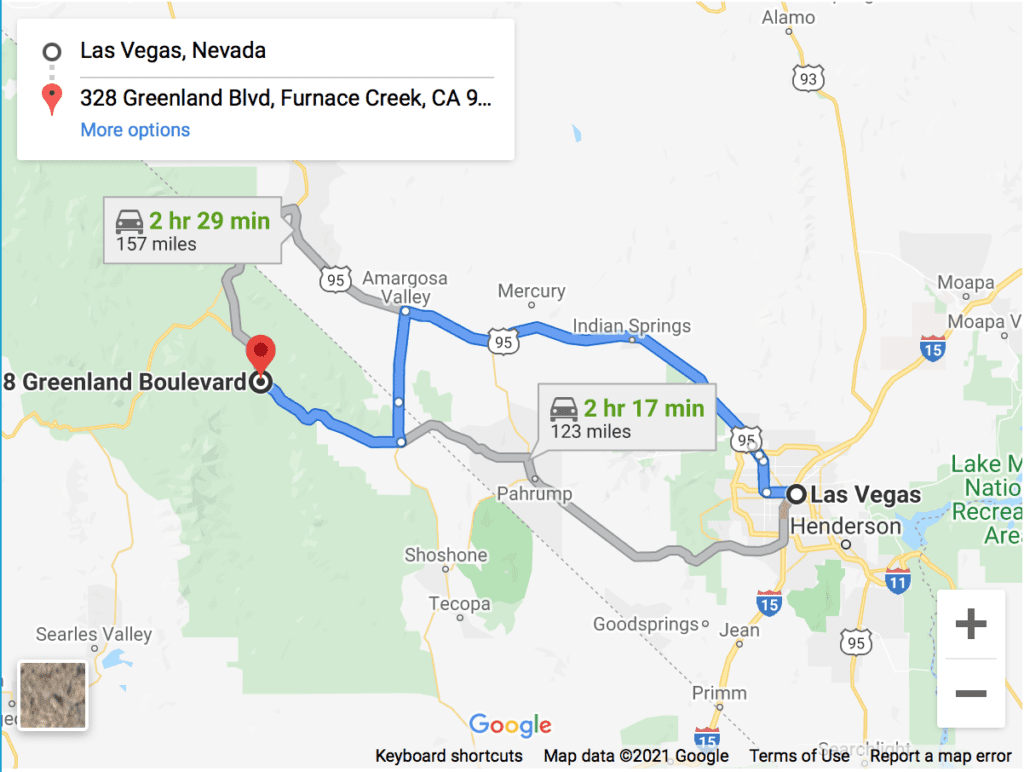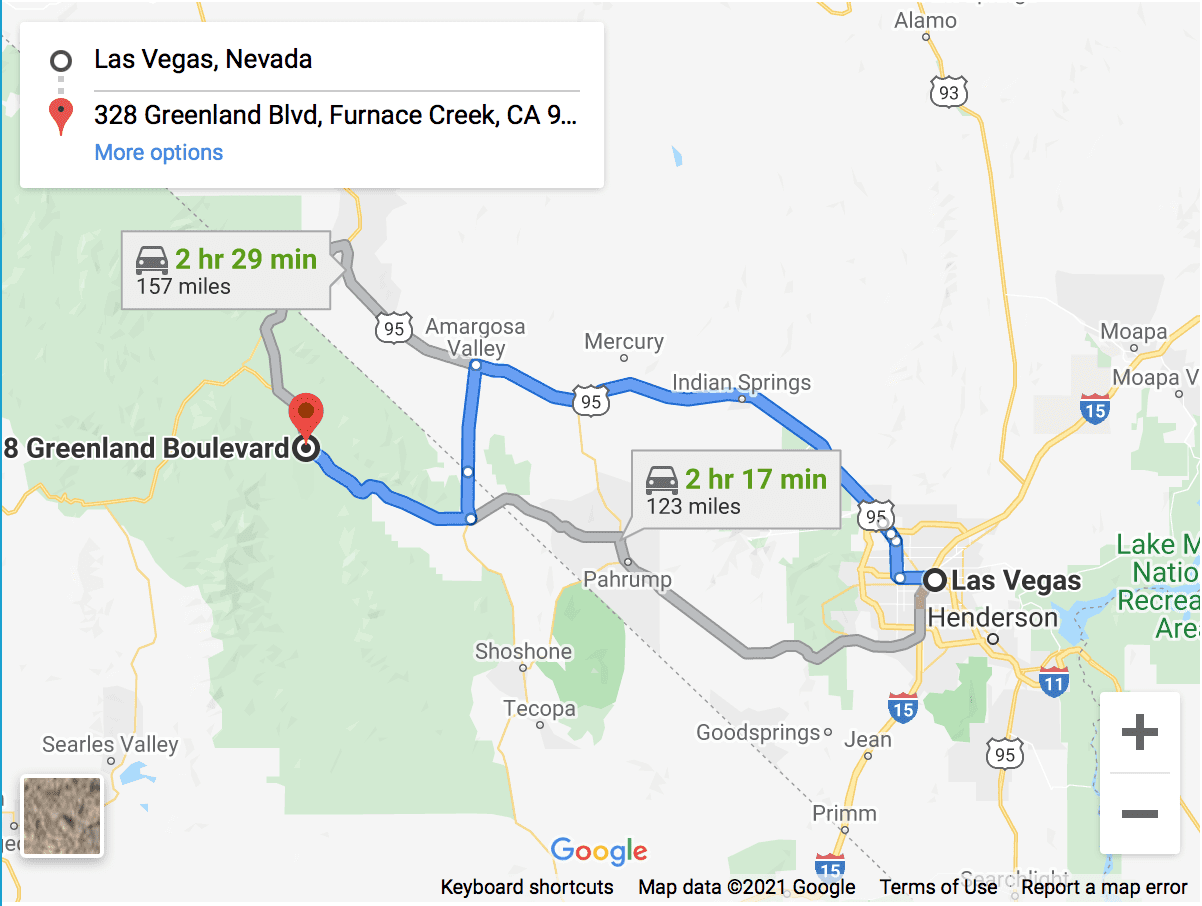 Death Valley is a national park located on the border between California and Nevada. In this park, you can find an endless amount of unique landscapes that span across 5,270 square miles. 
If you are flying from afar, the nearest airport will be in Las Vegas. Even though you'll fly into a neighboring state, the national park is just a 2-hour 20-minute drive away.
Exploring Death Valley National Park is one of the best things to do in California, and is definitely worth making the drive (as long as you're prepared!). That's where our handy tips will come in…
To get from Las Vegas to Death Valley, you will need to drive west towards the city of Pahrump. After passing through the city of Pahrump, you will turn onto Death Valley road towards Death Valley Junction where you can enter the park.
I'd recommend renting a car in Las Vegas and making the drive on your own so you have more flexibility in timing and what you want to see. 
Another option (if you don't want to drive) is to book a day tour from Las Vegas to Death Valley which generally includes transportation and lunch, but comes with a steeper price tag and requires you stick to the tour schedule. 
Psst! If you have more time, be sure to check out our bucket list of cool things to do in Las Vegas (besides gambling!).
Best time of year to visit Death Valley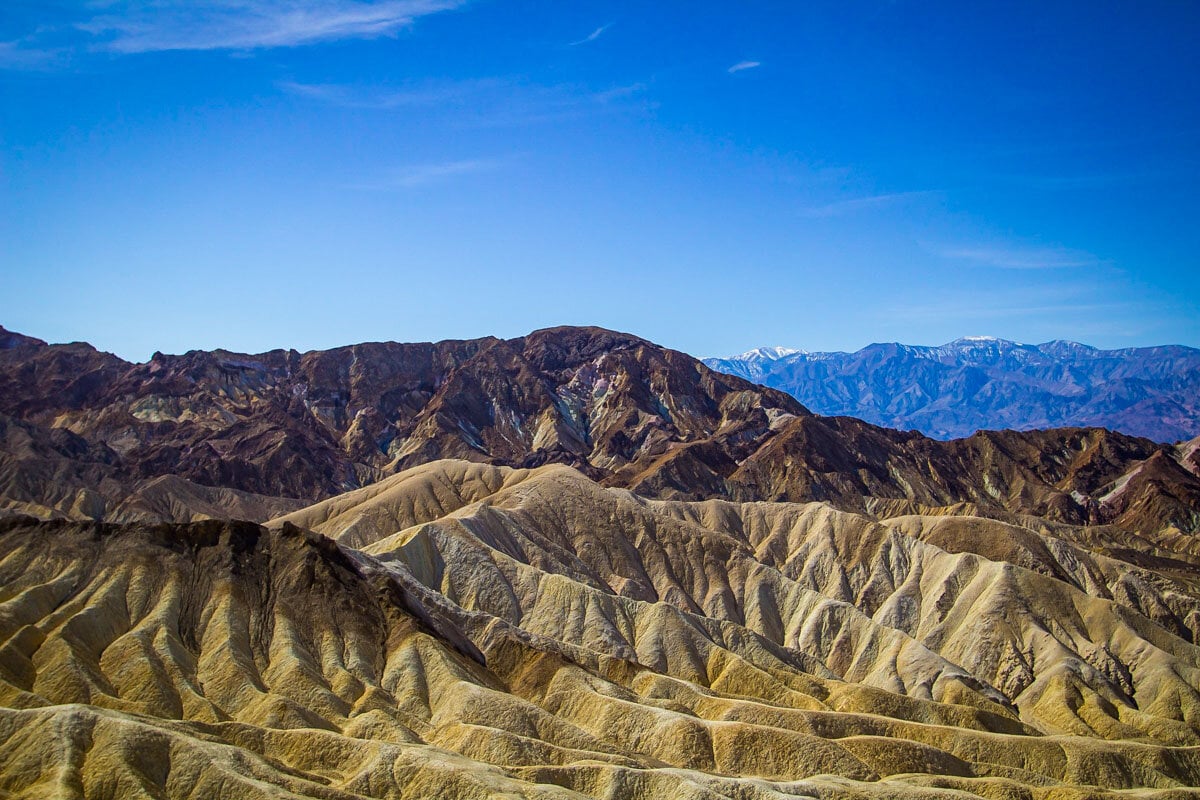 Spring is easily the best time of year to visit Death Valley because you will see wildflowers blooming throughout the area. With spring also comes beautiful weather (70 °F and sunny!), which is perfect for sightseeing and hiking in Death Valley.
As one of the top destinations in the US, summer is an extremely popular time for foreigners to visit Death Valley. Most people want to feel that sense of accomplishment for conquering Death Valley at the hottest point of the year, but I highly recommend not to visit during summer.
Temperatures rise to over 120 °F (49 °C) and the entire valley has very limited shade. Hiking and sightseeing will not be nearly as enjoyable in this kind of heat, and you may also run into extreme heat warnings from the government during these months. 
Related Reading: America the Beautiful National Park Pass: Is it worthwhile?
Best Things to do in Death Valley
There are tons of amazing things to do in Death Valley, but here's a quick snapshot:
Catch Sunrise & Sunset
Don't miss seeing the desert sky at its best during a Death Valley sunrise or sunset (or both!).
Insider Tip: The spot to catch sunrise or sunset is Zabriskie Point, for its spectacular panoramic views.
Spot Wildflowers during the Superbloom
This is one of the places in California you can see the Superbloom in the springtime — aka a natural desert phenomenon when many more wildflowers bloom than is typical. For this to happen, the conditions have to be just right.
Just be sure to be respectful and follow local laws and Leave No Trace principles. This natural event tends to draw huge crowds, some of which do not adhere to guidelines that have been put in place to protect people as well as the environment.
Explore Artist's Palette
From the comfort of your car, you can spot mineral deposits in these rocks that have turned them different hues, like turquoise, yellow and purple. You can also get out, stretch your legs and stroll around Artist's Palette to get up close and personal with this otherworldly place.
Good to know: Just like the Rainbow Mountains in Peru or the Painted Hills in Oregon, photographs of this spot are often edited so the colors look more vibrant than they do with the naked eye. Just a heads up so your expectations are realistic.
Photograph Badwater Basin
Fun Fact: And 282 feet below sea level, this basin is actually the lowest spot in the United States.
These salt flats kind of remind us of the basin of Salar de Uyuni (in Bolivia), and makes a really neat spot to take photos. The next section has more info on how to get there.
Insider Tip: Be sure to get up close so you can capture the texture and detail of the salty crust.
See the unique Charcoal Kilns
Situated in Wildrose Canyon lie 10 beehive-shaped structures that are roughly 25 feet high. They were built in 1877 for a source of fuel and they are pretty cool to see. Read more about their history here.
Play on the Dunes
There are two main sand dunes within Death Valley National Park, both begging you to explore. Once you hike up, you may think you've been transported to the deserts of Morocco!
Mesquite Flats has orange-hued sand

Eureka Sand Dunes is more white in color
Be sure you have the proper vehicle (4×4) to get to said dunes.
Don't forget: Water, sunglasses and sunscreen!
Spend the night Stargazing
If you have a clear night, don't miss the opportunity to look up to the sky. Death Valley is known as a Dark Sky location because there is little light pollution in the area. This makes it spectacular for stargazing, especially during a New Moon. Spread out a blanket (and open a bottle of wine?!) for a nighttime show!
Go hiking
There are some excellent hikes in Death Valley (which we've outlined in detail below).
Just be sure you're prepared with plenty of water, and download your trail maps ahead of time. We personally use AllTrails.
Looking for more things to do outside of Sin City? We put together a list of fun day trips from Las Vegas, all within a 2 hour drive of the city!
Top 5 Death Valley Hikes (and lookouts!)
People visit from all over the world to go hiking in Death Valley. With so many unique and interesting landscapes, there's just so much you cannot see from the road that is worth getting out of your car for a hike. 
I've rounded up my top 5 Death Valley hikes, including where to find them and how long each hike should take. If you're making the trip from Las Vegas to Death Valley and you only have 1 day to spend here, you should be able to fit all 5 hikes in one day (if you are ambitious!).
Otherwise, I'd recommend staying overnight to break up your adventures into 2 days and give yourself a little more time to relax and explore.
Before you head out on the trails, be sure to take this Hiking Personality Quiz to see what type of hikes you should try based on your persona.
1. Badwater Basin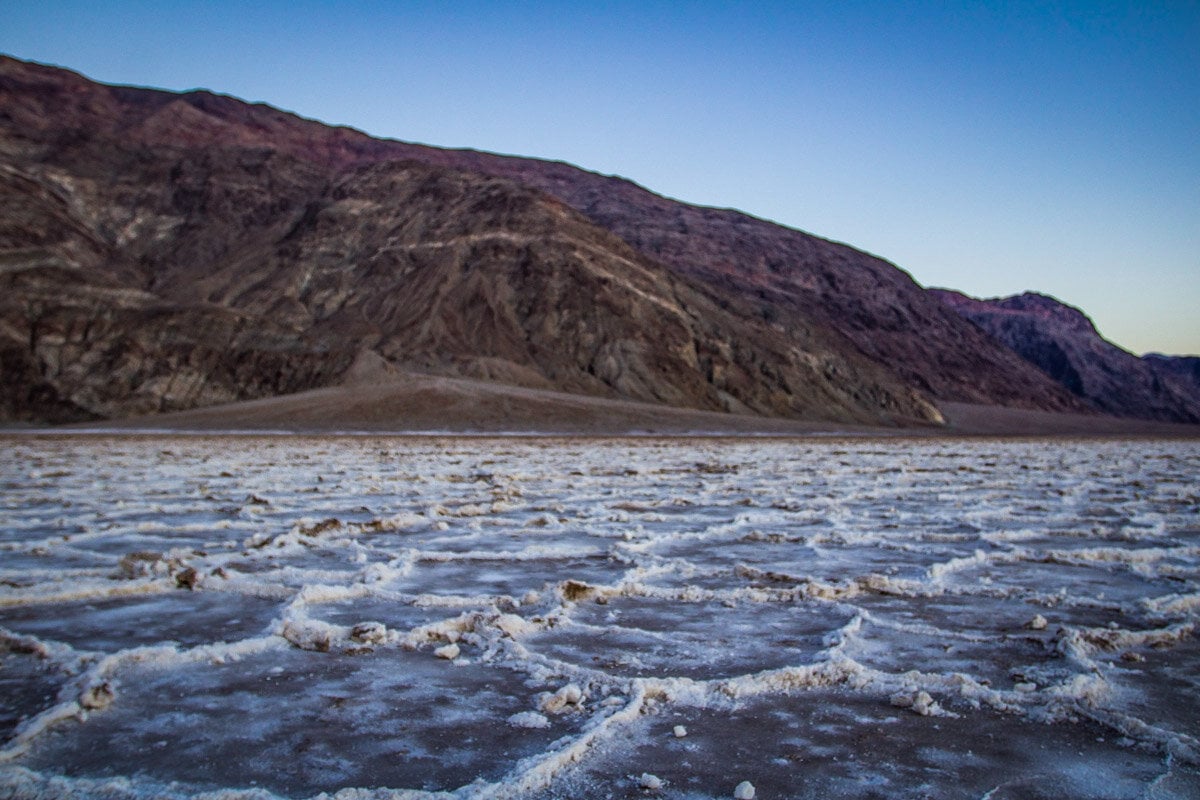 Badwater Basin is the lowest and hottest point in North America, so make sure you avoid it in the middle of summertime! This area is made up of salt flats that form unique hexagon shapes on the ground and span out for miles. 
Once you arrive at the parking lot for Badwater Basin, which is about a 45 minute drive from the park entrance, there is a small viewing deck right off the parking lot. If you want to see the unique shapes in the salt, you will need to walk into the basin about 0.5 mile or more. The walk is LONG (roughly 30 minutes) and can be extremely hot during the summer months. 
Tip: Be sure to bring lots of water, sunscreen, sunglasses and a hat for heat protection.
Related: If you're looking to do some hiking on your trip to Las Vegas, but don't want to road trip all the way out to Death Valley, check out our guide to the best hikes near Las Vegas.
2. Devil's Golf Course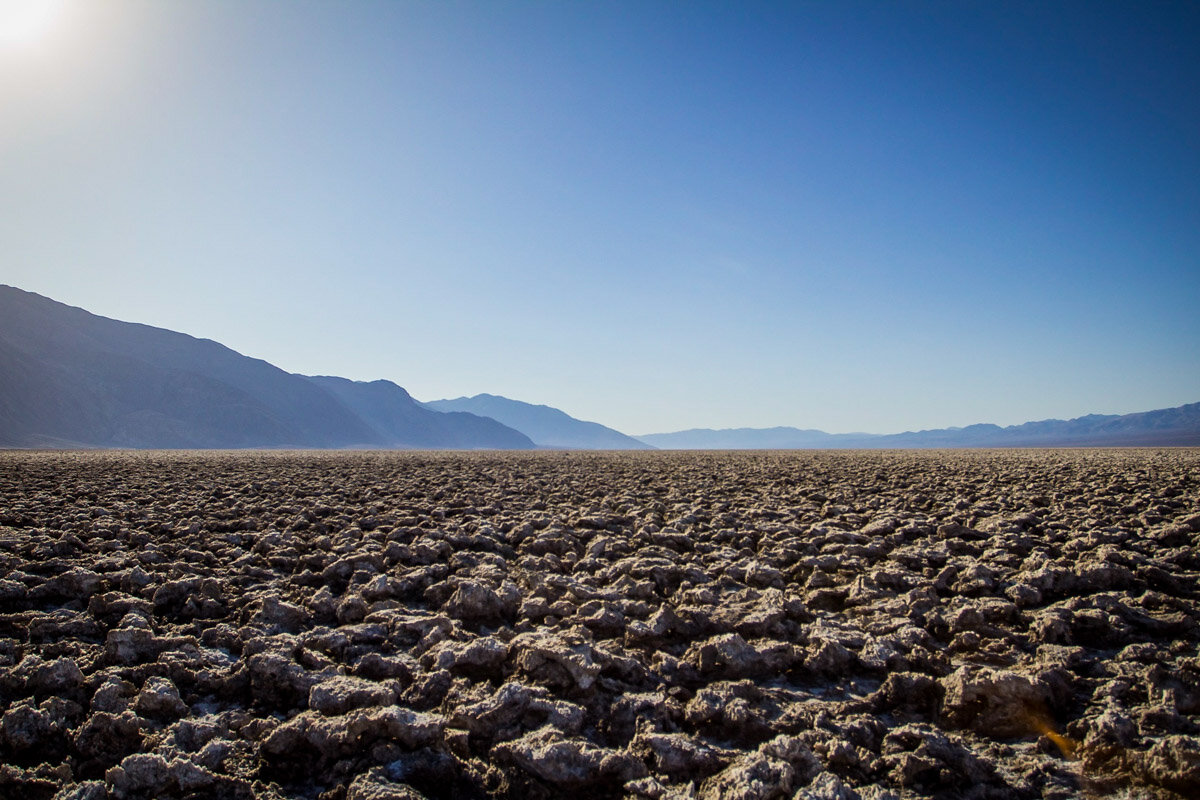 Devil's Golf Course is only a 10-15 minute drive from Badwater Basin. You will need to drive down a bumpy, dirt road until you see a large pullout area to view Devil's Golf Course.
I came to this spot early in the morning on a weekday and had the entire area to myself. This unique textured valley spans out for miles and is surrounded by towering mountains – truly serene! My favorite part about this location is that you won't have to share it with any tour buses, which gives it some serious bonus points in my opinion 🙂
3. Artist's Palette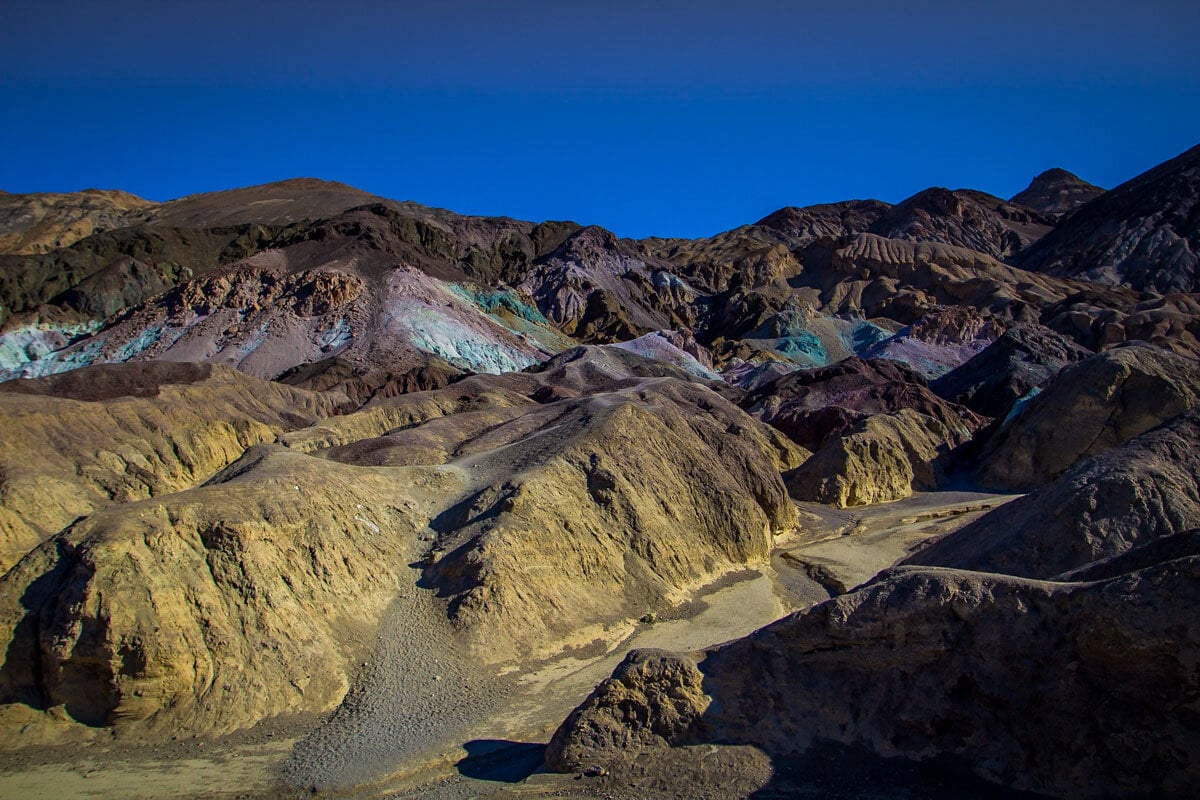 Artist's Palette is a 30-minute loop on Artist's Drive that starts and ends on the main Badwater Basin road (where the other stops are located). As you drive into the loop, you will see one pull out area that has a small parking lot. The parking lot leads to two small hikes with lookout points of the valley. This is NOT the viewpoint for Artist's Palette, but a viewpoint of the Badwater Basin. 
If you continue through the loop, you will see the colors start to form and signs pointing you towards the Artist's Palette lookout. Once you arrive at the lookout, you will see the beautifully painted mountains where you can hike down into the canyon to get a closer look!
4. Golden Canyon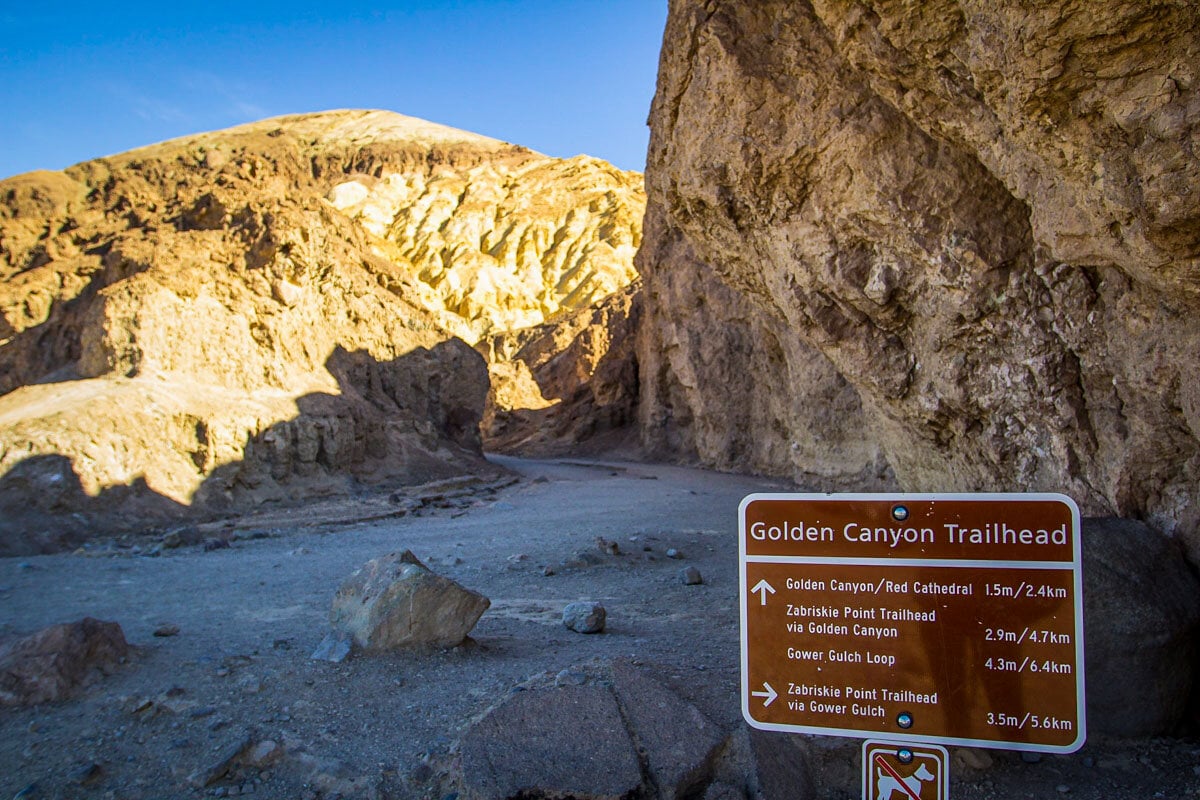 Golden Canyon is a popular and short hike through a vibrant colored canyon. The hike itself is flat and just under 3 miles round trip, and takes roughly 2 hours to hike. 
I would HIGHLY recommend starting this trail early in the day because it can be very hot with minimal shade. The parking lot is very small and fills up quickly, and tour buses stop here so you will want to beat them to it!
Related: If you like the idea of hiking in national parks, check out the 10 best hikes in Yosemite National Park.
5. Zabriskie Point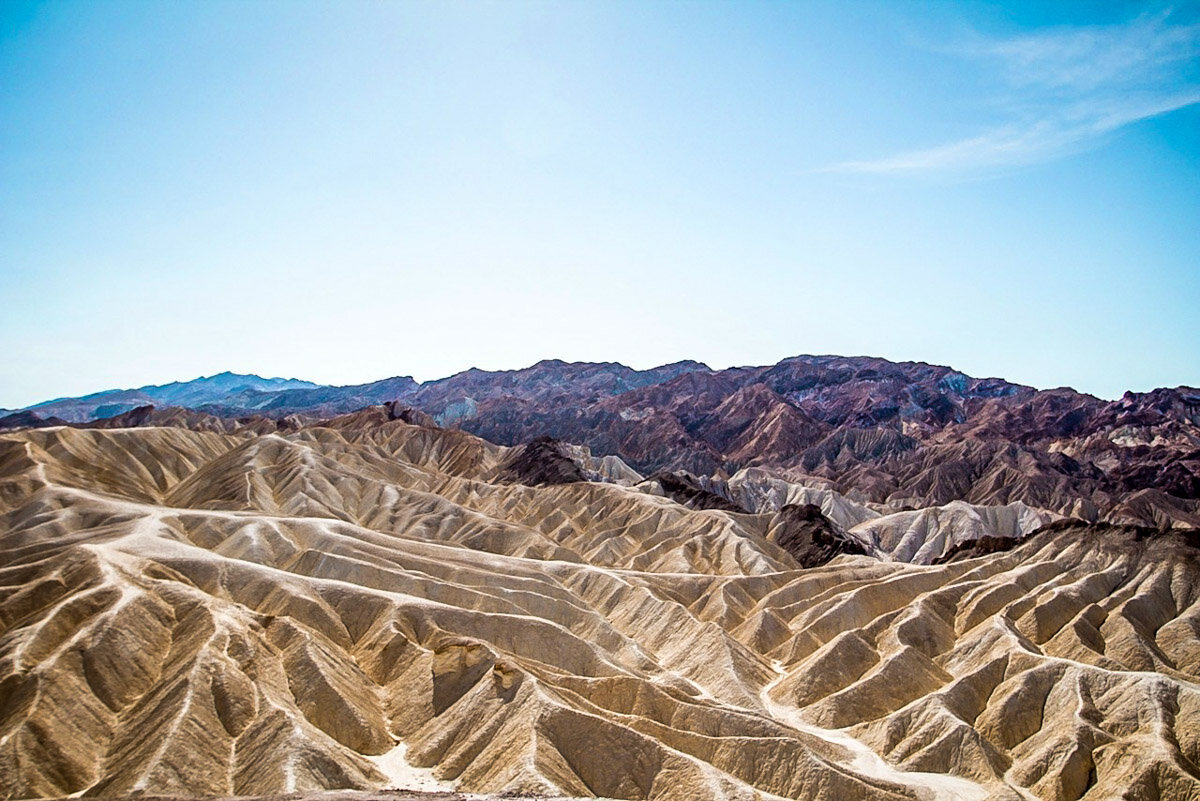 This is most popular of all the Death Valley hikes and for good reason! This spot is truly breathtaking!
Once you arrive at this hiking location, there will be a large parking lot with plenty of parking. You will need to hike up a very short and steep hill to reach the summit. The summit itself is extremely beautiful, but if you want more, you are also able to hike down into the canyon. 
Tip: This is the only hike on this list that is not on the Badwater Basin Road, but it is on the way out of the park. If you can time it right, I would attempt to hike Zabriskie Point just before sunset!
What to Pack for Death Valley
When planning a day trip from Las Vegas to Death Valley you'll want to be sure you have a few necessary supplies. Especially if you plan to do any hiking in Death Valley. Pull out your favorite daypack and load it up with the following essentials:
Plenty of water (we recommend using an insulated water bottle so you can refill often and it'll keep your water cold throughout the day)

Sunglasses

Hat or cap

Chacos or hiking boots/shoes

Snacks like nuts or protein bars

Breathable clothing

Warmer layers if you plan to stay into the evening or overnight 
Where to stay near Death Valley
Even though you can do Las Vegas to Death Valley in a single day trip, the park is extremely large and could definitely keep you occupied for a few days. If you would like to have more time to explore the park, there are a few accommodation options depending on your budget.
Budget-friendly: Camping in Death Valley National Park
Camping is obviously the least expensive option for accomodation in Death Valley, but likely won't be your best option depending on when you are traveling. Because Death Valley is the hottest and driest point in North America, camping in the summer months can be unbearable. 
Visit the National Park Service website to find out more about camping in Death Valley.
Mid-Range: Hotels in Pahrump (1 hour away) 
Pahrump, Nevada is the closest city to Death Valley National Park, so you can find more options for accomodation in this area. The upside to this is you will have more options for food and things to do in the evenings when you're not exploring the park. 
Expensive: Hotels in Death Valley National Park
Since Death Valley is a national park, accommodations are fairly expensive inside the park. It's worth nothing that there are only a few hotels inside the park to choose from, and a few are extremely run down, or more like motels, while the other few are 3 stars and above. 
Okay, that's a wrap! It can be quite the contrast to go from the bustling and luxurious city of Vegas to the quiet and isolated area of Death Valley.
Las Vegas to Death Valley is the perfect day trip to add to your itinerary because it will give you a chance to get out of the city and experience a unique part of the region.
---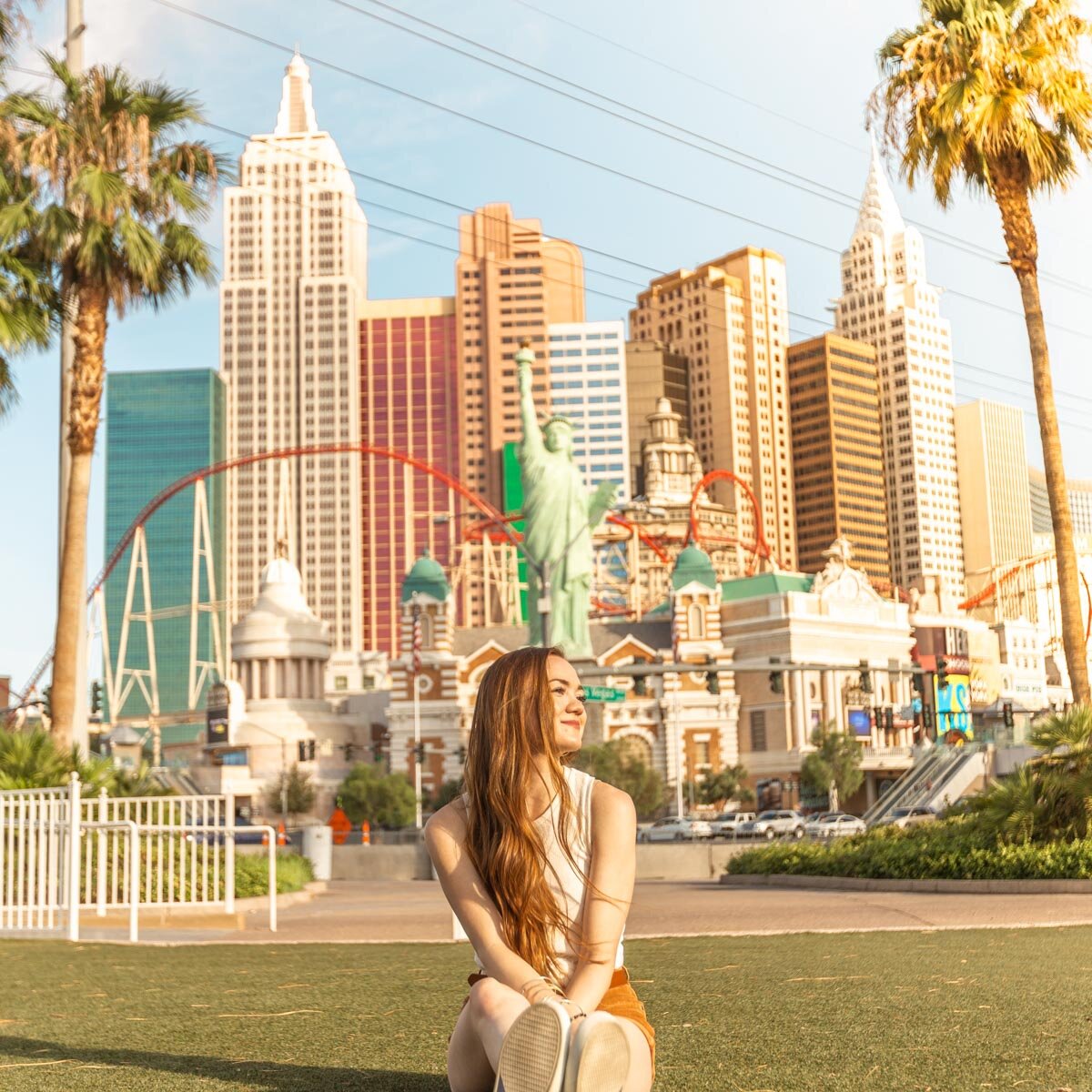 Monique is a Las Vegas native who doubles as an HR Manager & travel junkie. Her love for travel has taken her all over the world and she strives to inspire YOU to see more of this beautiful world we live in! When she is not traveling, she is watching Gilmore Girls for the 13th time, making travel itineraries she has no immediate plan to use, and drinking wine while writing for her travel blog, My Perfect Itinerary. You can follow along on her journey on Instagram.
---
You may also like…
Save this article on Pinterest for later!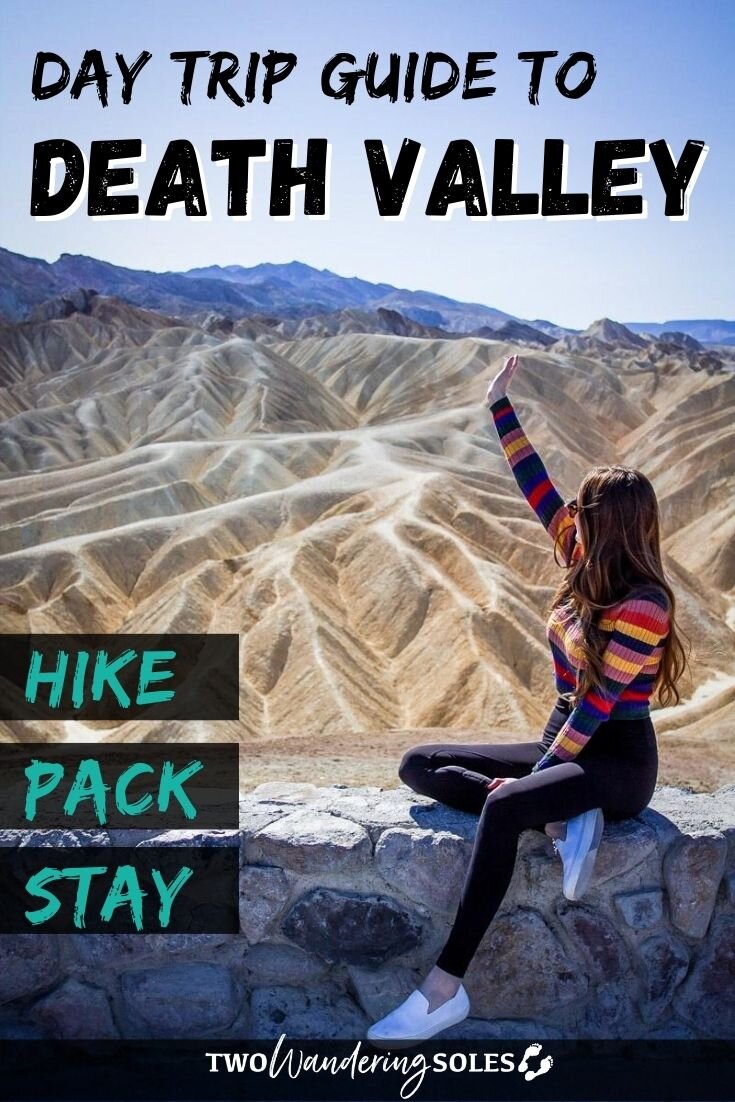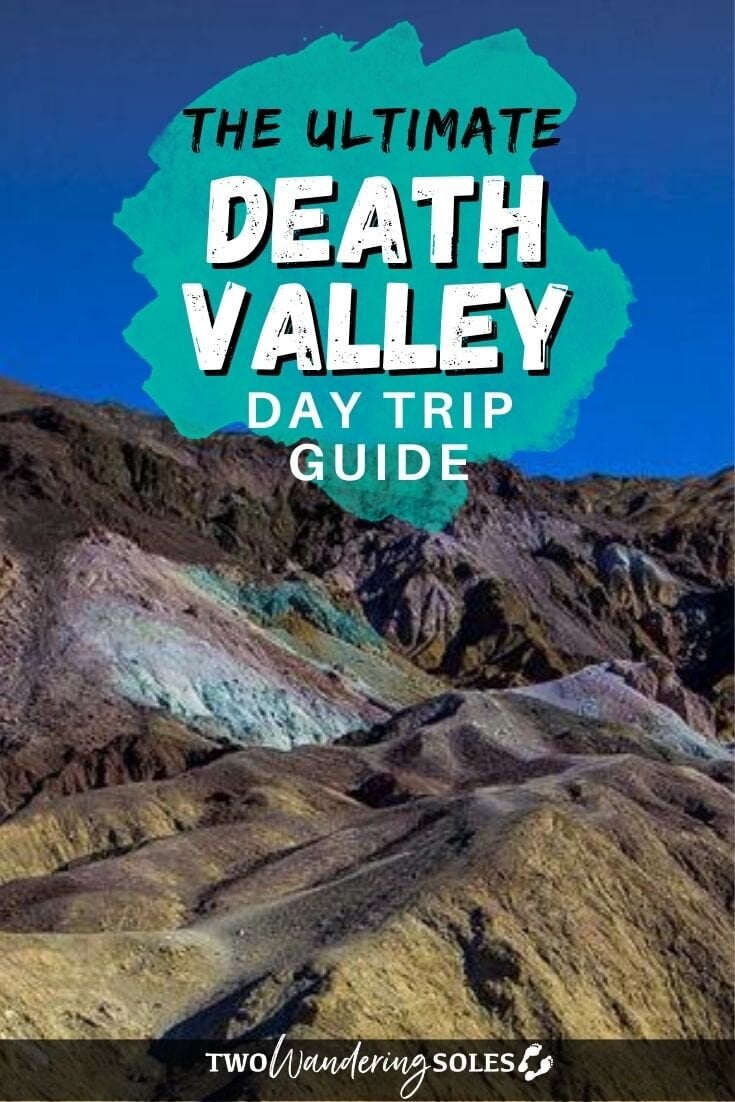 We want to hear from you!
Are you planning a day trip from Las Vegas to Death Valley and still have questions? Comment below and we'll do our best to find an answer for you!