If you want to get off the beaten path in Peru, look no further. The Cordillera Blanca is a well-kept secret, and the hiking in this region of the Andes Mountains is known as some of the best in the world. Come along as guest author, Daniel Daniel Caracciolo, takes you through his journey to Huaraz and a place he describes as the "most underrated place in South America".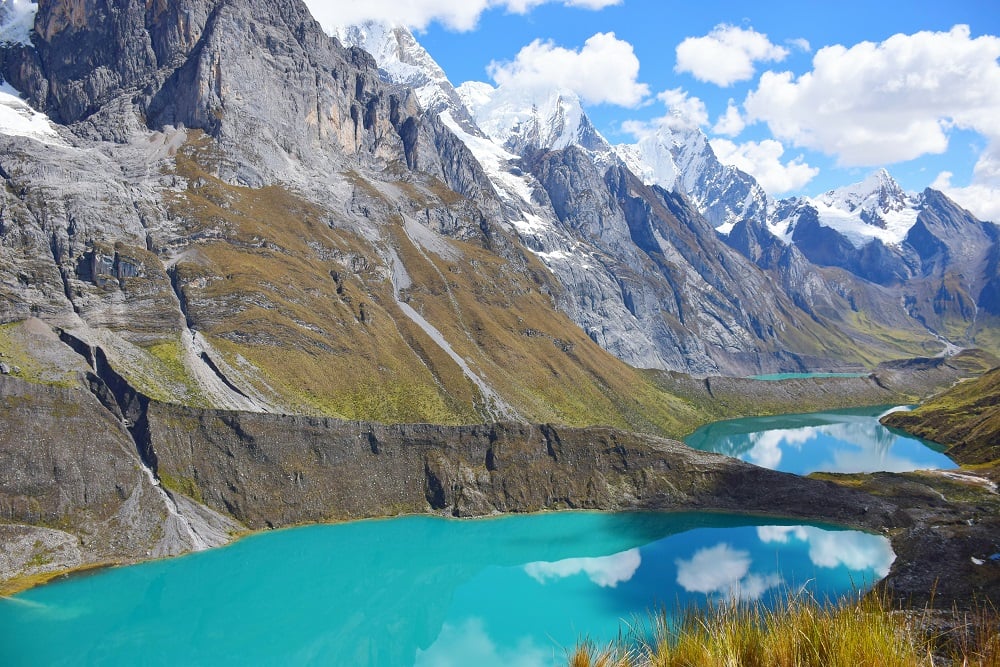 By Guest Author: Daniel Caracciolo
While we spent 3 months backpacking in South America in early 2014, we heard whispers about a place fellow travelers claimed was Peru's best kept secret: the Cordillera Blanca; a mountain range just outside the small town of Huaraz.
We heard that the hiking was incredible; and without the crowds of Machu Picchu, many people raved that this hidden gem was their favorite place in South America.
Hiking in the Cordillera Blanca is on our bucket list for our next trip to Peru (along with some other lesser-known destinations), and our friend Daniel Caracciolo from Destinationless Travel has shared his experience and tips with us!
After reading his account, we certainly have a bad case of wanderlust and can't wait to get off the beaten path in Peru! 
Note: All photos in this guest post have been provided by Dan and Bailey of Destinationless Travel. 
---
A Change of Plans
While traveling it's not uncommon, and in fact, is almost guaranteed that your plans will change. You might overhear a conversation, talk with some locals at a bar, or simply share stories at a hostel. Perhaps you'll hear of an exciting adventure so tempting it will change your current path, sending you to a place you never knew existed.
Something as simple as overhearing a conversation amongst travelers let me in on a well-kept secret: the Cordillera Blanca in Peru.
Where is the Cordillera Blanca?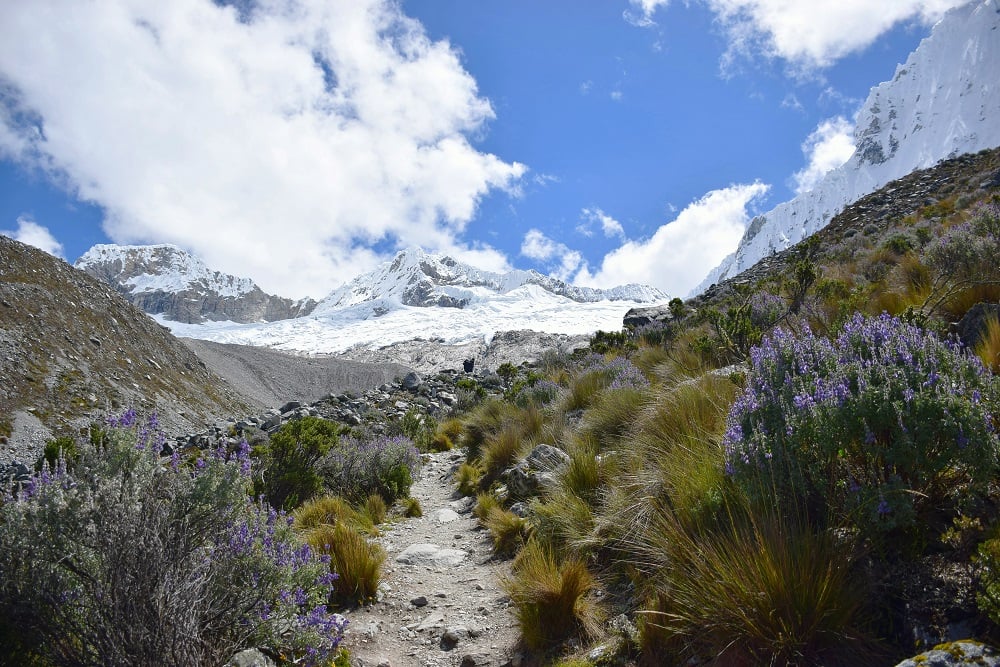 The Cordillera Blanca is a chain of mountains that is part of the greater Andes mountain range. Many of its peaks sore over 6,000 meters with the highest called "Huascaran" standing at 6,768 meter above sea level.
The Cordillera Blanca is a place where the air is thin and the wind is ice cold. Its terrain is steep and unforgiving. The few people who live in these remote mountains get the benefit of witnessing the beauty every day – but they also must survive the harsh environment (which I also experienced firsthand).
Planning a Trip to Peru? Find out the best time to visit Peru based on regional weather patterns and your personal travel style.
A Well Kept Secret
Despite my love for hiking I had never even heard a whisper about this place. Even up until a week before I would step foot on one of the Cordillera Blanca's trails, its beauty was not yet in my sights.
Lucky for me, as I sat at a small table in Peru's Amazon jungle on a rainy day, I overheard a group of travelers talking about the most amazing hike they did in South America.
The hike they sat and reminisced about with hot tea and large smiles that day was the Huayhuash Trek (pronounced like why-wash).
I quickly joined the conversation and within a few minutes of talking and seeing just a few photos, my travel plans had drastically changed. Before I knew it, I was booking buses to Northern Peru.
Although the Huayhuash hike is what originally brought me to the Cordillera Blanca Mountains, it was so much more that made me fall in love with it!
Getting off the Beaten Path & into the "Real" Peru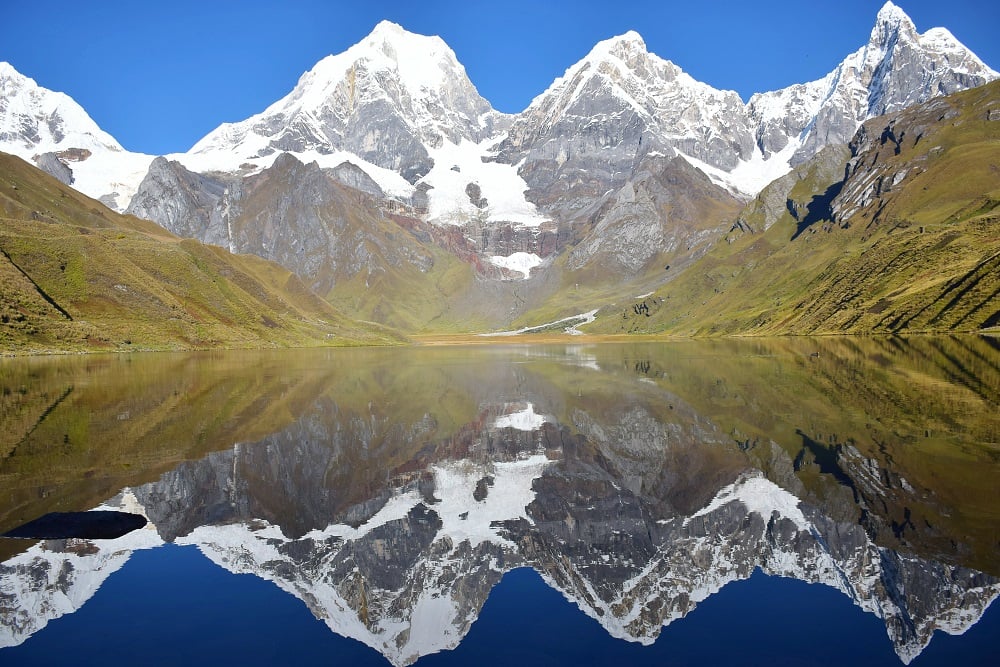 Huaraz is a small town nestled in the Cordillera Blanca. Its inhabitants share what could be some of the most beautiful surrounding views.
Though in some places touristic, this town is real Peru. The local markets sell live Guinea Pigs for special occasion dinners while food vendors line the streets selling ceviche and other authentic Peruvian dishes. The people dress in traditional clothing, their faces cracked from the harsh dry air, and English is rarely spoken.
It is from this small town that so many breathtaking hikes are at one's fingertips. Some hikes, like the "Laguna 69" take only one day to complete, and although short, display some amazing views of snow capped mountains and the bluest lakes I have ever seen.
Other hikes are week-long journeys through subzero temperatures, steep terrain, and areas where help is not near. From Huaraz, travelers also have the opportunity to visit glaciers, hot springs and even spend days learning how to rock climb. For any adventure lover, Huaraz is the gateway to one of the most magnificent playgrounds in the world.
Where are all the people?
The thing that shocked me most about Huaraz is the lack of visitors. There are enough people for it to be considered touristic, but in comparison to its hiking neighbors in the south like Bariloche, El Chalten or Puerto Natales, it remains untouched!
Most hikers from around the world miss this unforgettable place when visiting Peru or South America in general. To me, the Cordillera Blanca is one of the most underrated places in Latin America. 
All levels welcome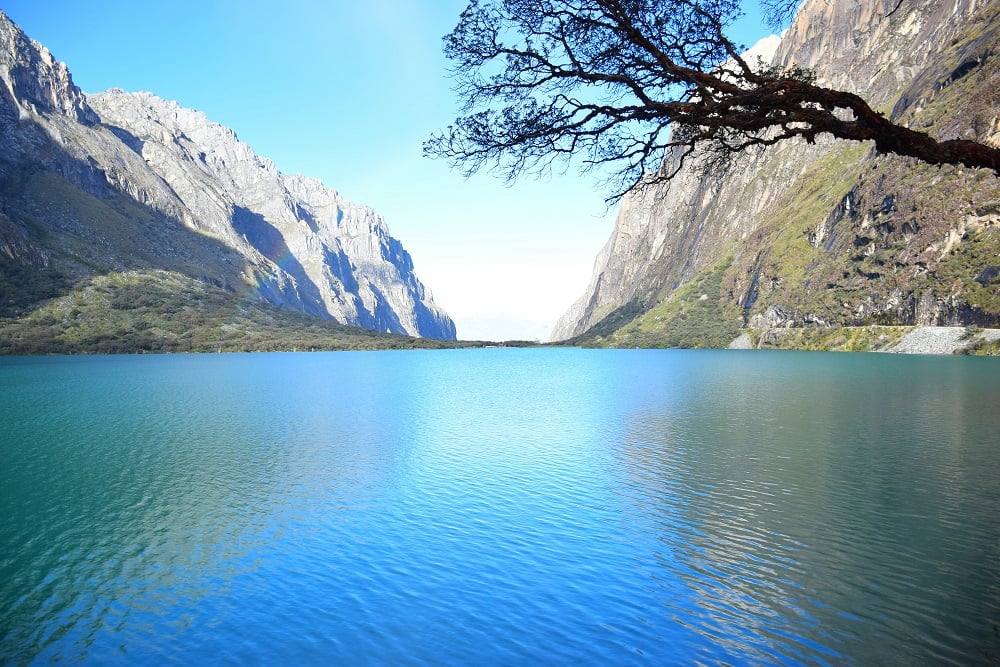 The inexpensive entrance fees to the parks, knowledgeable guides, and cheap gear rentals means Huaraz is accessible to a lot of budget travelers. For these reasons, those who visit Huaraz are a group of people who really love adventure. Without judgment, all levels hike together sharing the most amazing stories.
While I was there, I met people of all ages from all over the world. A family with a young kid headed off on the 4-day Santa Cruz hike, some girls on their first hike tackled the Laguna 69, some crazy Israelis went ice climbing for 3 days to over 6,000 meters, and I tackled what would be the hardest hike of my life: the 8-day Huayhuash.
But no matter what the experience level, the Cordillera Blanca seemed to give every person that visited their own unique and unforgettable experience.
For a lot people, it is the dream of climbing peaks or camping at lakes which draws them to the Cordillera Blanca; but for me, it was fate. And maybe while you read this, it is becoming yours!
---
Complete Guide to Visiting the Cordillera Blanca
If you've been convinced to put the Cordillera Blanca on your Peru itinerary, this information will come in super handy for planning your visit to Huaraz and the surrounding area.
You'll learn about the 3 most popular hikes as well as how to get there, where to stay in Huaraz and where to eat.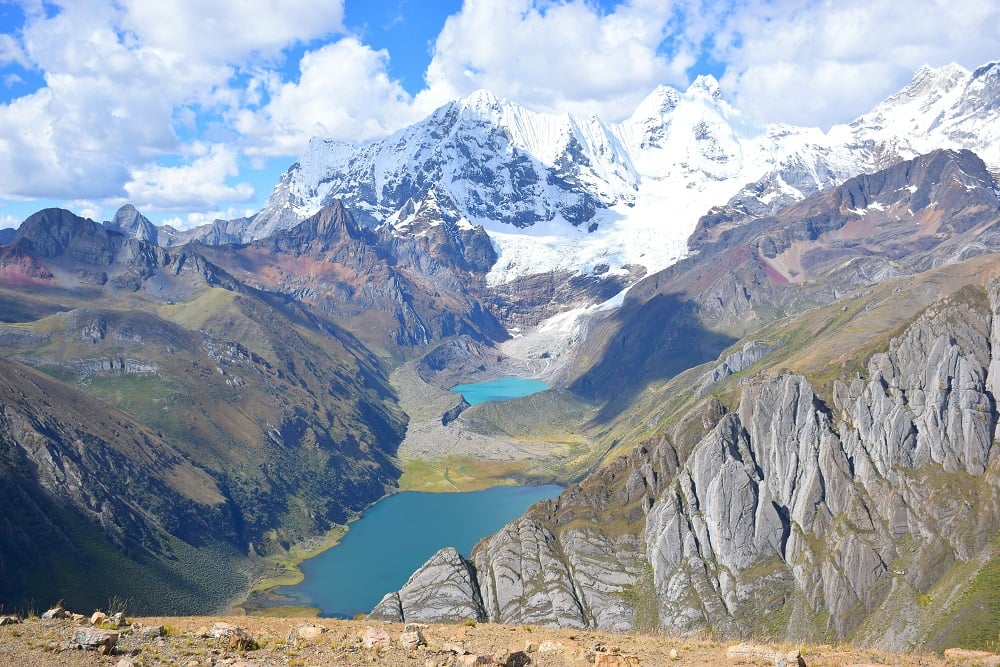 When to Go to Cordillera Blanca
The Cordillera Blanca is best hiked in and around the winter months (April – October). This is due to Peru's wet summers forcing closures of some trails and making others more dangerous. The time of year between April and October is actually known as the Andean Summer however these are the winter months in Peru.
Getting to and from Cordillera Blanca
Access to the Cordillera Blanca is done from the town of Huaraz. Huaraz is located 8 hours north of Peru's capital, Lima.
Night buses are the best way to get there and leave regularly. Bookings and bus times can be viewed on Red Bus Peru.
Where and What to Eat in Huaraz
Huaraz is filled with local restaurants that serve meals for only a few dollars. However, if you want to try the local delicacy "Cuy" (Guinea Pig) Huaraz is the perfect place. Cuy is regularly eaten in this region and a trip to the local markets will prove that!
If you want something more fancy, there is a great French restaurant in town called Creperie Patrick. It is easy to find on the main street and any local will be able to point you in the right direction.
Where to Stay in Huaraz
For our stay in Huaraz, we opted for one of the cheapest places called Raju Guesthouse. When we stayed, we paid around 20 soles ($6 USD) per night and found this a good option for those on a budget. The Wi-Fi, beds, location and owner were great and it included a free basic breakfast. The hot water was rather difficult to get working though.
If constant hot water is a must for you, our friends stayed at Hostel Akilpo and said the showers, location, Wi-Fi were good. This hostel is also slightly closer to the center of town.
Hauraz is a small town so the location of your accommodation is rather insignificant as everything is within walking distance.
---
3 Most Popular Hikes in Cordillera Blanca
If you plan to visit the Cordillera Blanca, you most likely are looking to go trekking. Below, you'll find descriptions of the most popular hikes so you will know what to expect.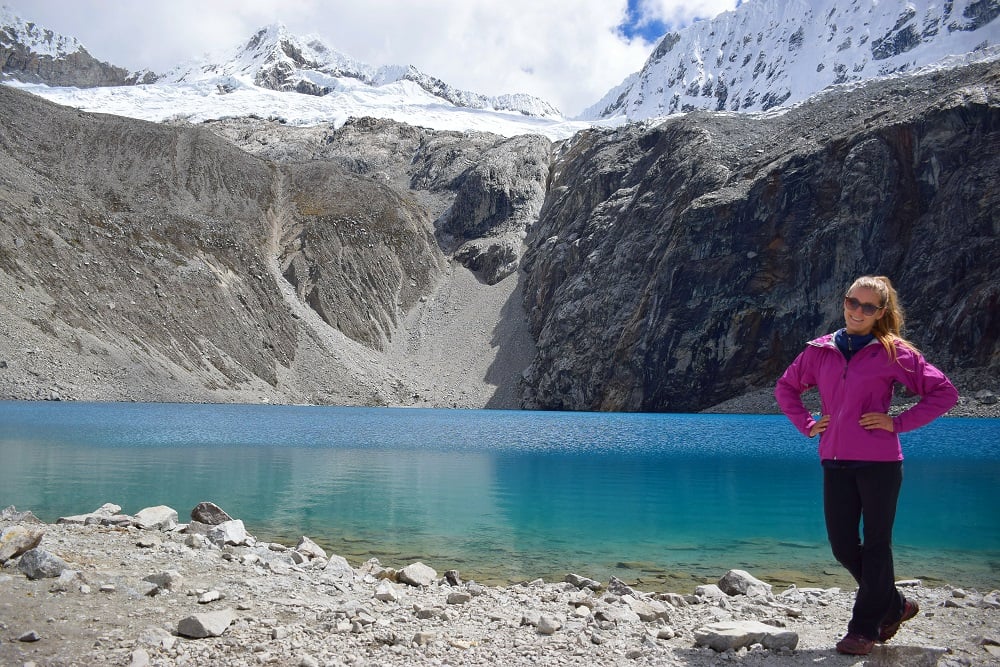 Laguna 69
Laguna 69 is likely the most popular hike in the area. The one day trek takes you to a beautiful laguna that shines blue. This awesome hike is short and is a lot less difficult than the other treks in the area and is perfect for acclimatization for the other longer hikes. The hike begins at 3600m and finishes at a whopping 4600m above sea level so be prepared for a little altitude sickness!
Cost: The day hike costs around 30 soles and includes transport and a guide.
Santa Cruz
The Santa Cruz is another popular hike that takes between 3 to 4 days to complete depending on your speed and route. This hike is hard and if you have little to no experience it could be wise to take a guide. On this hike it is possible to see Laguna 69 on the fourth day of hiking.
Cost: A tour for the Santa Cruz hike starts at 350 soles with a guide and donkeys. Park fees are around 65 soles.
Huayhuash
The Huayhuash Hike isn't actually in the Cordillera Blanca but is a trail through the neighboring mountain range, the Cordillera Huayhuash. However, to access the Huayhuash you must start in the town of Huaraz as well as take a scenic 5-hour long drive through the Cordillera Blanca to the beginning of the trail.
As far as hikes go in the Cordillera Blanca without the use of ice climbing equipment, the Huayhuash is the hardest. The 8 to 12 day hike (depending on speed/route) takes you deep into the mountain range. With overnight temperatures in the winter of -15 C this hike should only be completed by experienced hikers without a guide. I personally found this hike to be difficult even with a guide and donkeys carrying supplies.
Cost: A tour for the Huayhuash starts at around 450 soles with park fees being another 200 soles.
Final words from Daniel: I hope this post has inspired you to travel this amazing part of the world. If you need any more info on the area check out this website, which is full of information on the Cordillera Blanca.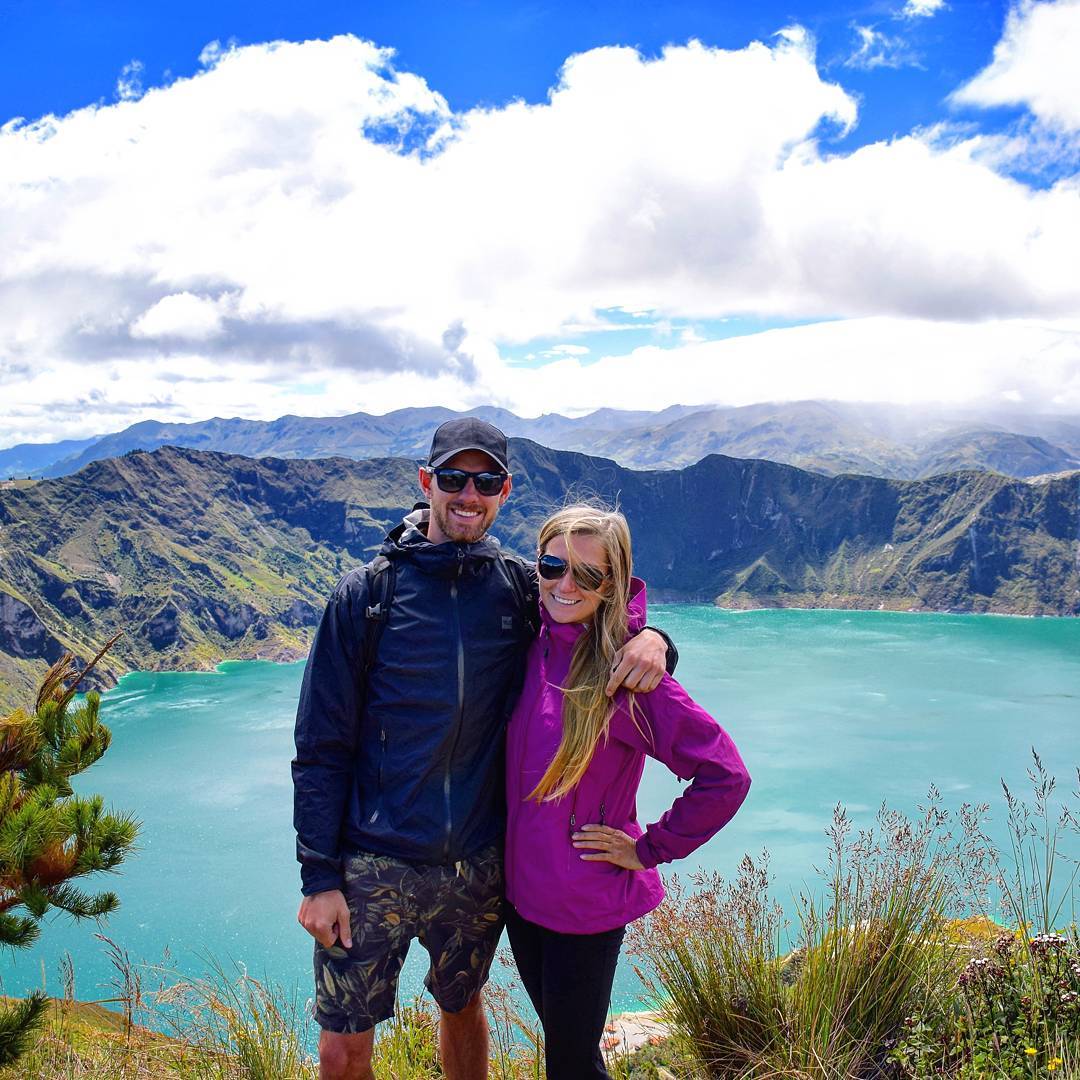 Guest author: Daniel Caracciolo
Daniel is a 25 year old full-time writer and traveler from Australia. He just finished a 13 month long backpacking trip in Latin America and is heading off to New Zealand next for more hiking and camping! He blogs about his adventures on his blog called Destinationless Travel.
---
You might also like…
Enjoy the Article? Save it on Pinterest!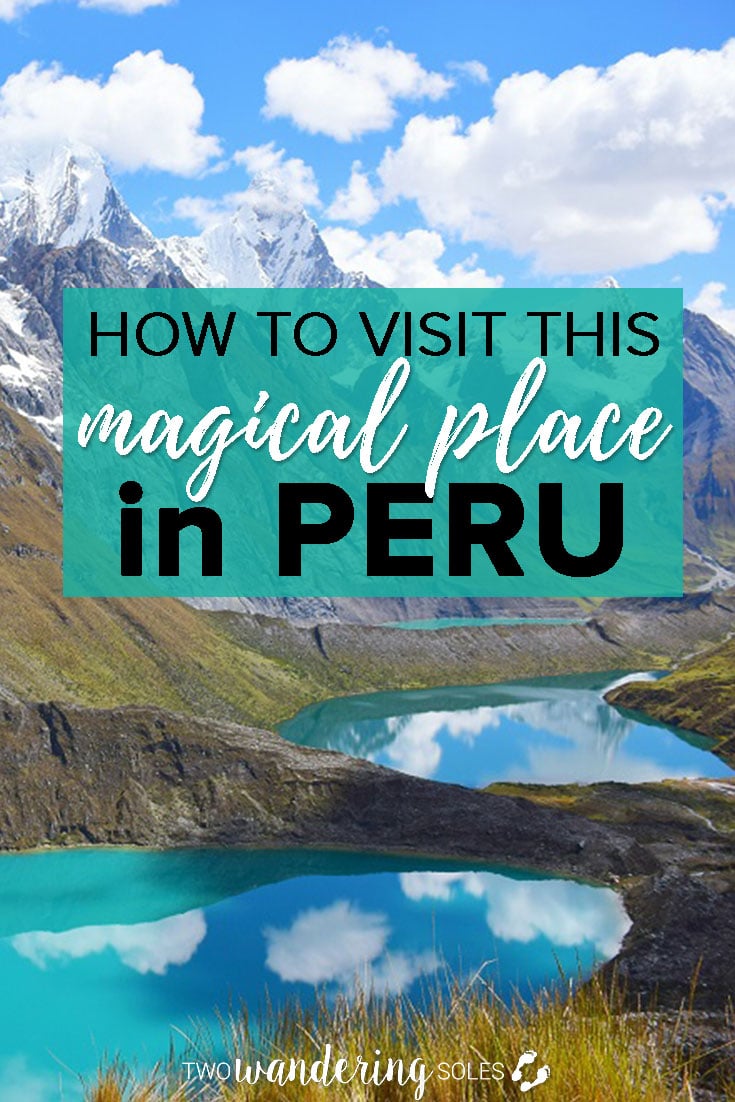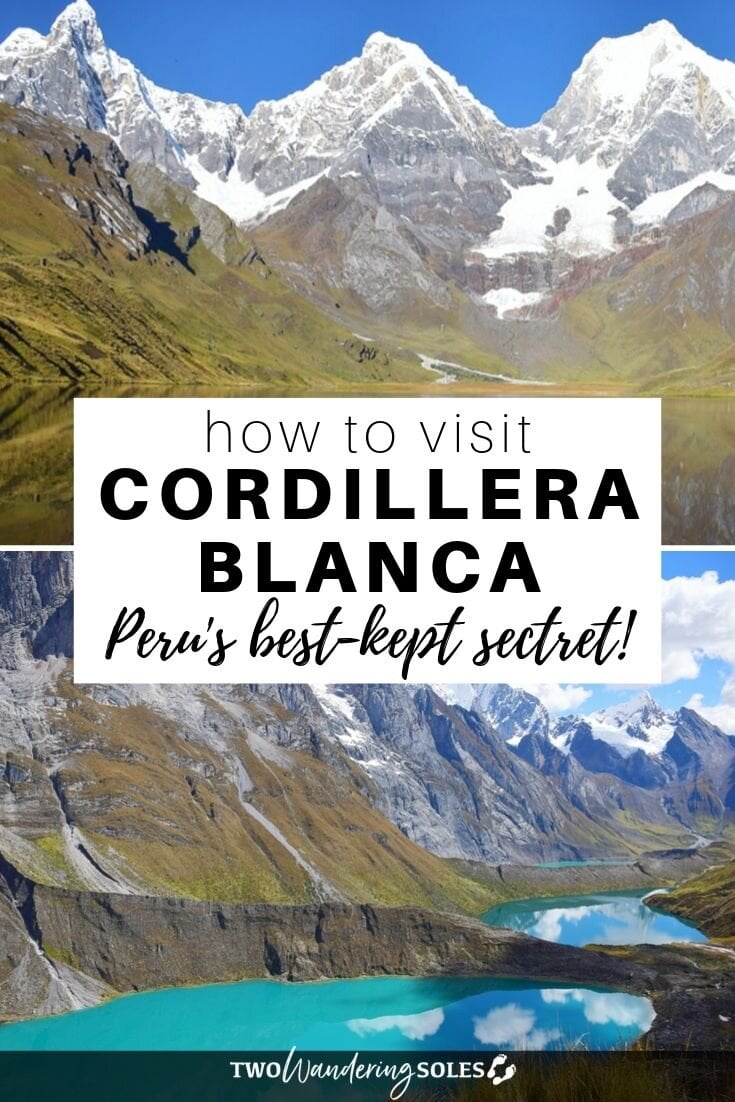 We want to hear from you!
Have you been to the Cordillera Blanca in Peru? What was your experience like? Are you planning a trip to Huaraz? What additional questions do you have? We'd love to hear from you in the comments below!