Leave The Strip behind and discover hiking Las Vegas — one of the best activities that Sin City has to offer. In this article, I've narrowed down some of my favorite scenic hikes near Las Vegas, organized by region and ranked for difficulty with an estimated time for completion. I've also provided some insider tips and helpful information for finding the trailheads.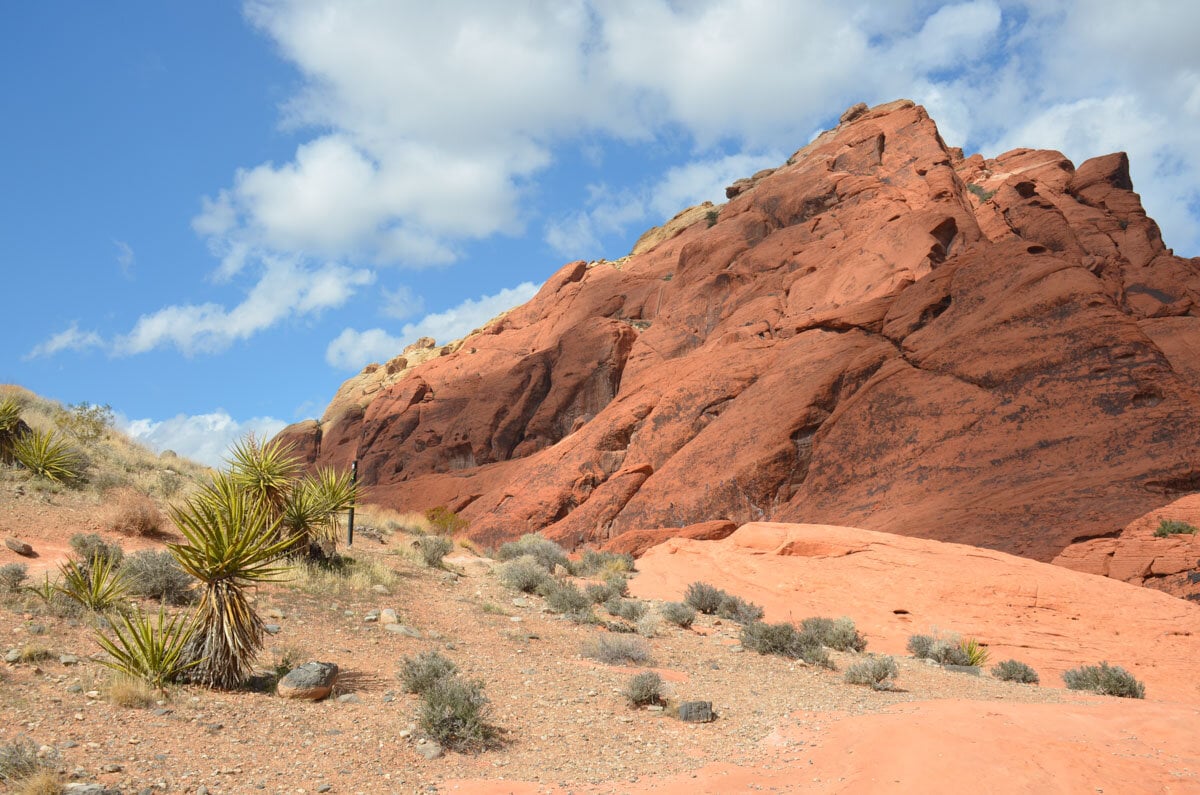 By Guest Author: Daria Bachmann
When you think of Las Vegas, your mind likely goes straight to the outrageous nightlife, extravagant spending, and lavish casinos. But there's also a different side of Sin City. Las Vegas has a pretty ideal location, making it a gateway to adventures like hiking, rock climbing, and mountain biking.
Still, hiking around Las Vegas can be a challenge if you don't know where to start. There are some dud trails and also those that are very crowded.
That's where I come in. 
As a Las Vegas resident for almost 4 years and an avid hiker myself, I've done my share of hiking Las Vegas. From the tourist-filled trails to the strenuous multi-day treks, I've done them all!
In this article I've narrowed the many scenic hikes near Las Vegas to my absolute favorites, especially those that provide sprawling views and great photo ops.
Organized by region, each of the hikes in this article are ranked for difficulty and given an estimated time frame as well as total distance. I've also provided some insider tips and helpful information for finding the trailheads. 
If you want to discover the outdoorsy side of Las Vegas and get off the beaten path (aka leave the infamous Strip for a handful of hours!), you'll want to check out at least one of these scenic hikes next time you're in Sin City.
Article contents
We've broken this article into sections, so feel free to jump around to get to what you're looking for:
Psst! If you have more time, be sure to check out our bucket list of cool things to do in Las Vegas (besides gambling!).
---
Red Rock Canyon Hikes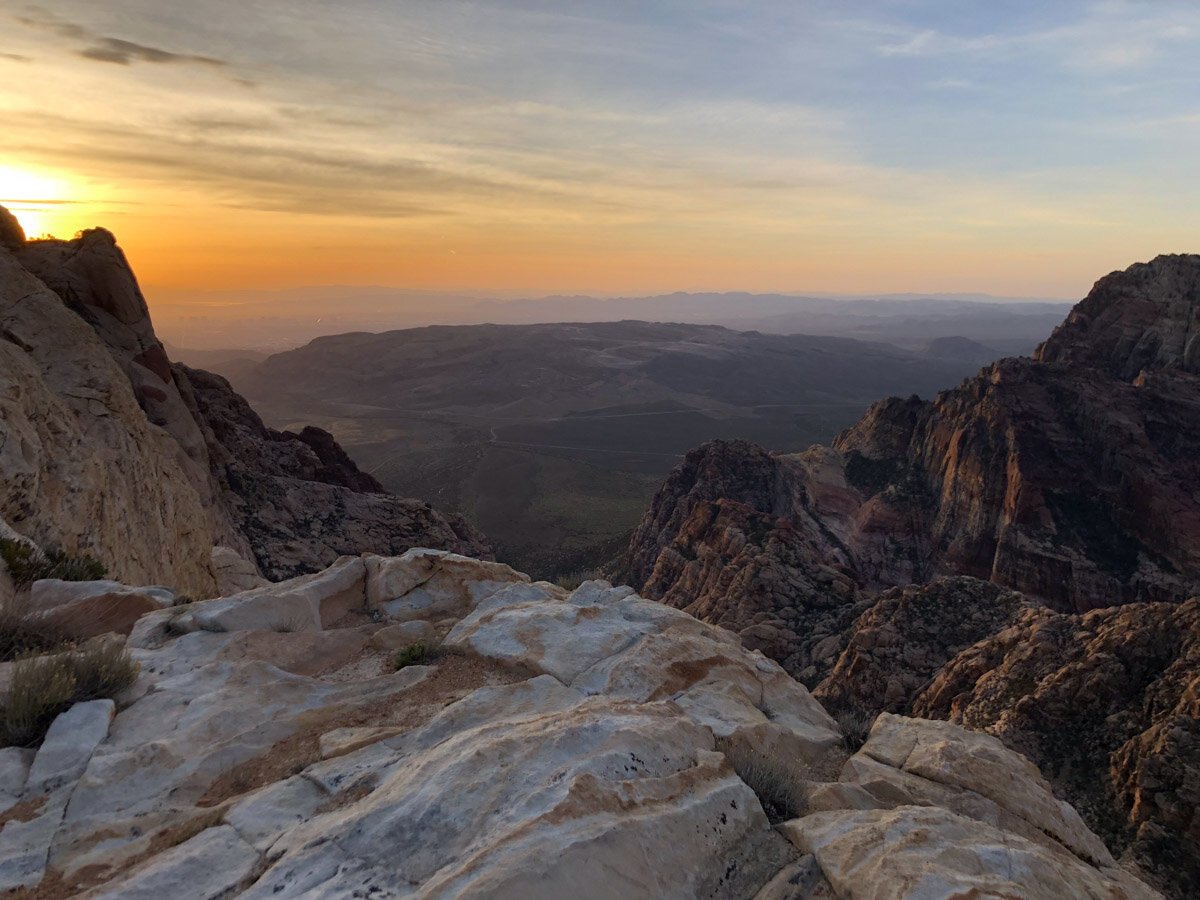 Red Rock Canyon National Conservation Area is one of the most popular outdoor destinations near Las Vegas. Located about a 30-minute drive from the glimmer of the Las Vegas Strip, this area can be accessed via Beltway-215.
Red Rock Canyon is a favorite place among locals and tourists who come here to snap photos of the sunburn colored rocks and hike scenic trails. Most of which begin near the 13-mile scenic drive loop.
Pro Tip: Unfortunately, Red Rock has become crowded over the last few years, prompting a price increase for the entry fee (it's now $15 per vehicle), as rangers struggle to keep up with the impact of increased visitation. Now it's not uncommon to see cars lined up at the entrance and congested trails all over the area. Keep this in mind when planning your day trip and arrive early!
Besides the popular hikes, trails at Red Rock Canyon include some that require more advanced hiking and orientation skills. As soon as you get away from those easy trails, novice hikers and weekend warriors who came here to snap a shot for the 'Gram begin to dissipate. 
Pine Creek Canyon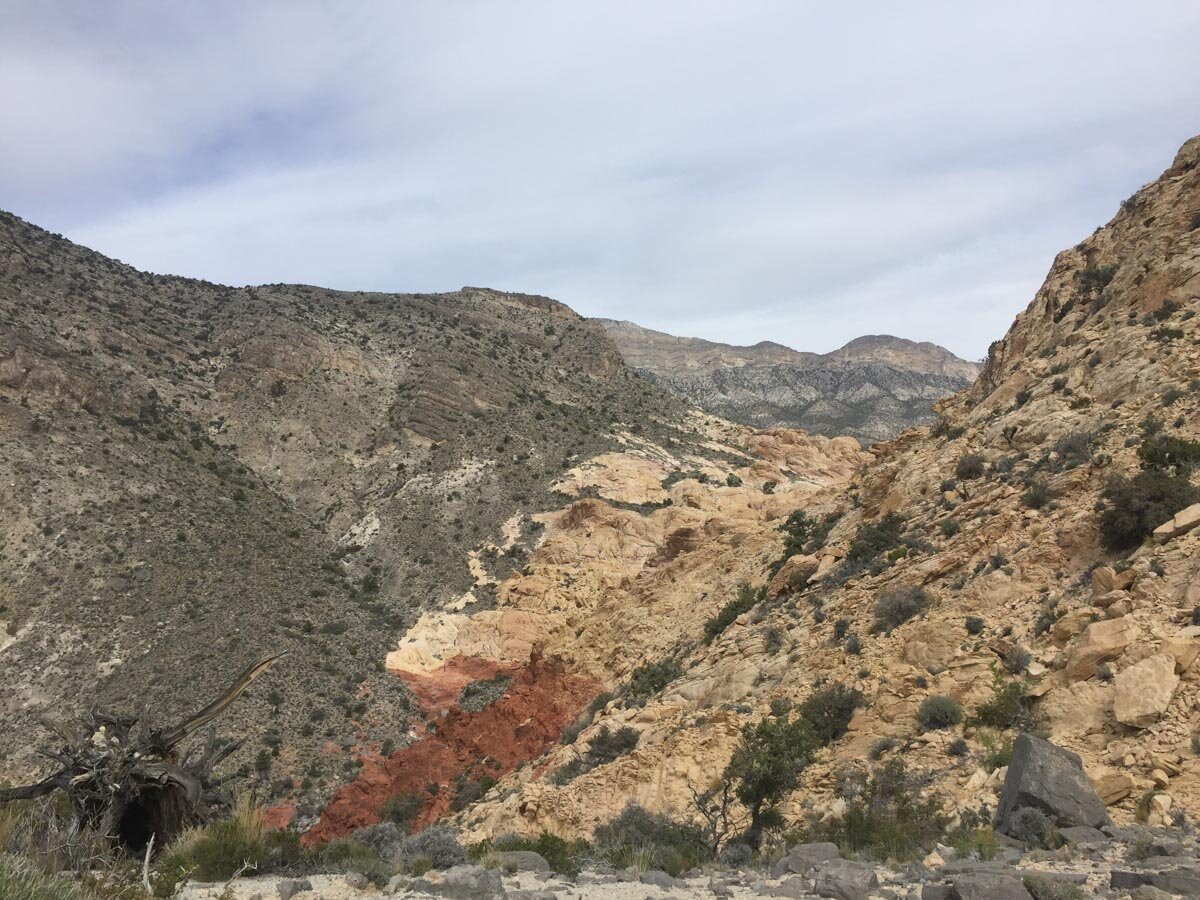 Distance: 3 miles 

Difficulty: Easy – Moderate
This hike offers some of the most diverse scenery at Red Rock Canyon thanks to the incredible vegetation along the steep canyon walls. When you get to the mouth of the canyon, you will see a grove of Ponderosa and Pinyon pine trees. The hike also has a waterfall and is accessible to hikers of all levels. 
The trail begins in an open desert, however, once you get into the canyon, the scenery begins to change and you can spot mosses, trees and other vegetation present due to the cooler micro-climate of the area. If you decide to do this hike, don't forget to bring a topographical map because a GPS signal is not available, and it could be tough to pinpoint the exact spot where the trail ends.
Don't let a trip to Vegas break the bank! Check out our ultimate guide to Las Vegas on a budget.
Little Zion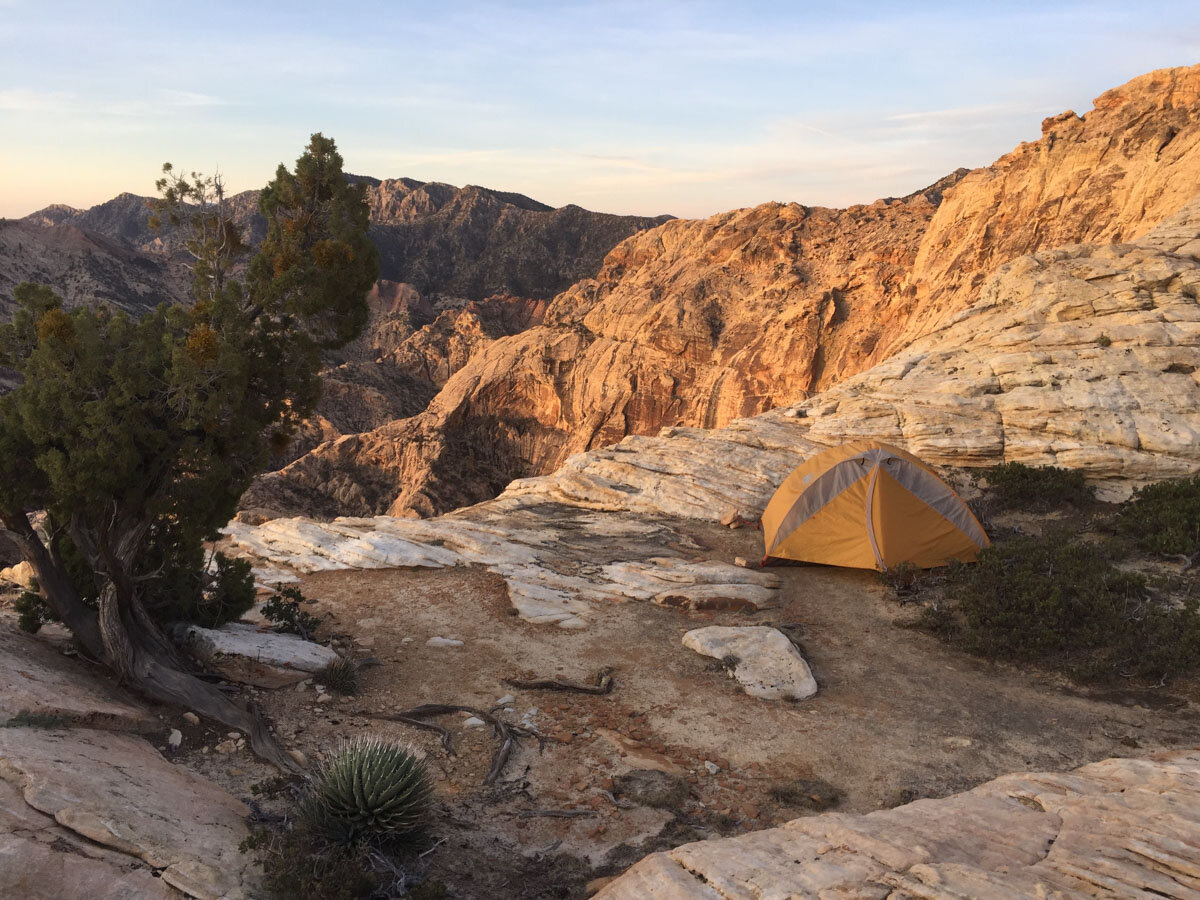 Distance: 4 miles (3-5 hours)

Difficulty: Moderate
Little Zion is the hike named after the famous Zion National Park in Utah because it looks so similar. You'll see orange and yellow sandstone outcrops with the occasional streaks of pink and red, Ponderosa Pine trees, and other high-desert vegetation in this area. 
If you're looking for solitude while hiking at Red Rock Canyon, this is the place for you.
While most hikes here begin near the scenic 13-mile loop, the hike to Little Zion starts on the west side of the Spring Mountain Range which is adjacent to the Red Rock Canyon National Conservation Area. 
This hike might not be known to the masses, however, it's not difficult and can definitely be accomplished by hikers of all levels. It gets pretty steep at the beginning, and you'll have to watch out for loose rock. But after the first mile, it levels out as it winds along the mountain ridge and down into a ravine where you will find the slick rock of Little Zion. 
One of the most prominent features of Little Zion is a sandstone arch that stands out in this otherwise slick rock landscape dotted with trees and punctured by washes. 
How to get there: To get to the trailhead, take Highway 160 toward the town of Pahrump from Las Vegas. After you cross Mountain Springs, a small unincorporated community that sits at the summit of Mountain Springs, drive a little bit further until you get to Lovell Canyon Road. 
Make a right turn and drive for about 1 mile toward a dirt road called Rainbow Spring Road (unfortunately, there are no signs). Continue driving along Rainbow Spring Road until you reach the end. This is where the trailhead to Little Zion begins.
Turtlehead Peak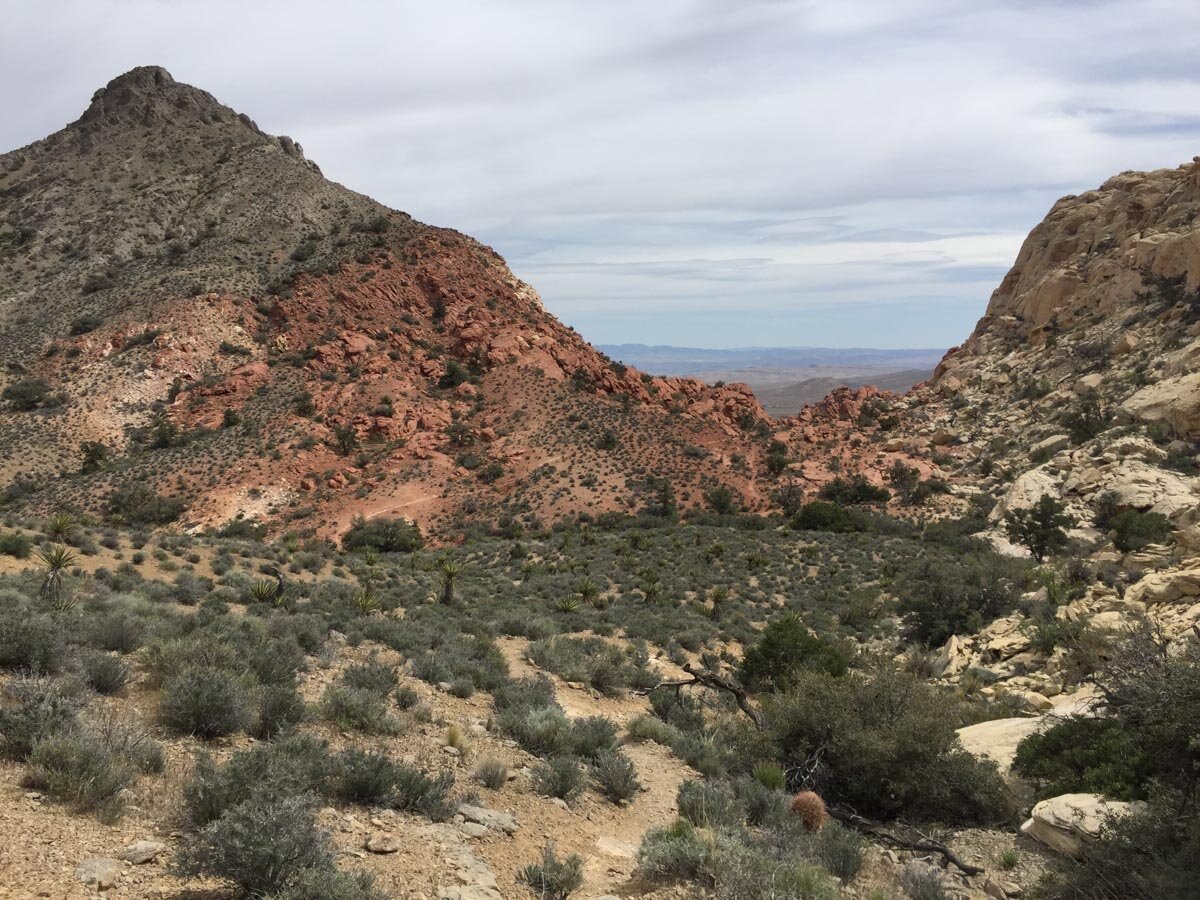 Distance: Approximately 5 miles (3-4 hours)

Difficulty: Strenuous 
Although Turtlehead Peak is not a long hike, it is a perfect test for your physical strength. 
The Turtlehead Peak trail begins at the Sandstone Quarry Trailhead and climbs about 2,000 feet. The trail gets steep quickly and also splits into several points, so if you are hiking it for the first time, bring a topographical map. There are few marks along this trail and you often have to look for cairns left by other hikers to make sure you are on the right track.
Most of the hike is exposed, so it's better to hike it when the weather is not extremely hot (if you do it in summer, you should start as early as you can). The peak can also be very windy, so pack layers like a windbreaker to keep you warm. 
Pro Tip: If you are a newbie hiker, you should convoy with someone more experienced. Not only does this hike requires good orientation skills, but you will also need to be in good physical shape as you have to scramble along the steep terrain and be careful with loose gravel.
Although Turtlehead Peak is one of the most challenging Red Rock Canyon hikes, it's become quite popular over the years, so you will most likely run into other hikers on a trail. 
When you make it to the summit, you will be treated to a panoramic view of Red Rock Canyon with La Madre Mountains to the west and the Las Vegas Strip to the east.
Looking for more things to do outside of Sin City? We put together a list of fun day trips from Las Vegas, all within a 2 hour drive of the city!
Spring Mountains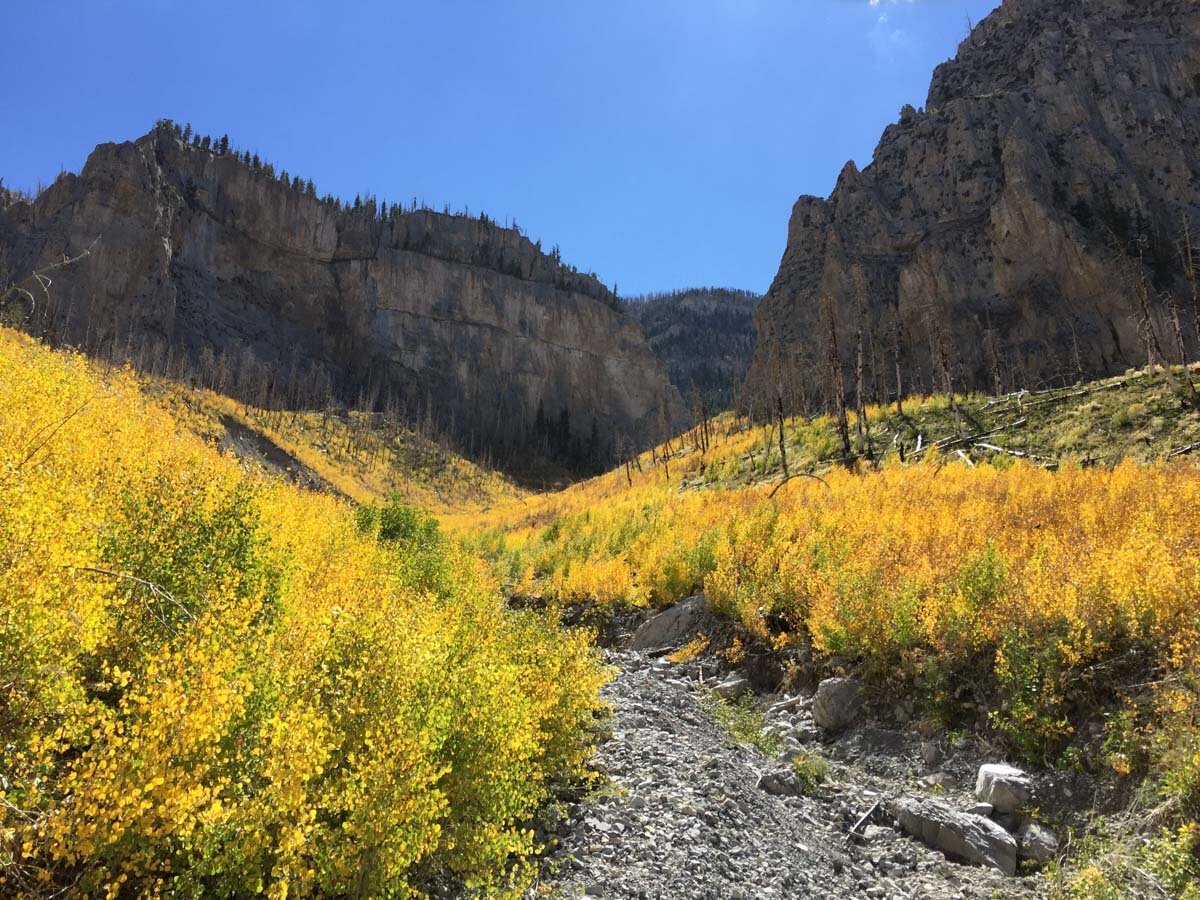 Hiking Las Vegas is not all about the desert. In fact, you can even find plenty of snow here!
Just head to the Spring Mountains west of the city. The mountain range juts out from the Mojave Desert and is officially called Spring Mountains National Recreation Area (it's also part of Humboldt-Toiyabe National Forest). 
During winter you can see the snow-capped peak of Mount Charleston from all over Las Vegas Valley. 
While the area is about 45 minutes west of the city and requires a car to get there, it is a perfect place to escape the summer heat.  You can hike, camp, and picnic in the Spring Mountains, as the area provides over 60 miles of trails and 4 campgrounds. You can even go skiing and snowboarding in Lee Canyon during the winter.
Tip: Renting a car is the best and typically most affordable way to get outside of the city when visiting Las Vegas. We usually reserve cars through RentalCars.com because we have used them before and they have the best deals for rental cars.
Mary Jane Falls
Distance: 3.2 miles (1.5-2 hours)

Difficulty: Moderate 
Mary Jane Falls in the Kyle Canyon is one of the most popular hikes within the Spring Mountains thanks to a small waterfall at the end of the hike. While it can get pretty crowded, there's still room to enjoy it, especially if you start early in the morning.
The trail climbs gradually for one mile and turns into a series of switchbacks along the northeastern side of Kyle Canyon which last for about another mile before you reach the end of the hike. When you arrive at the falls, you will see the water running from the side of the steep rock wall. 
Mary Jane Falls is a great hike to do during summertime as it offers a welcome respite from the triple-digit heat in Las Vegas. However, it's good to keep in mind that this little waterfall is seasonal and the best time for seeing them is during winter and spring, after snow or a rainstorm. You probably won't see much water here if you hike in summer. 
Bristlecone Loop Trail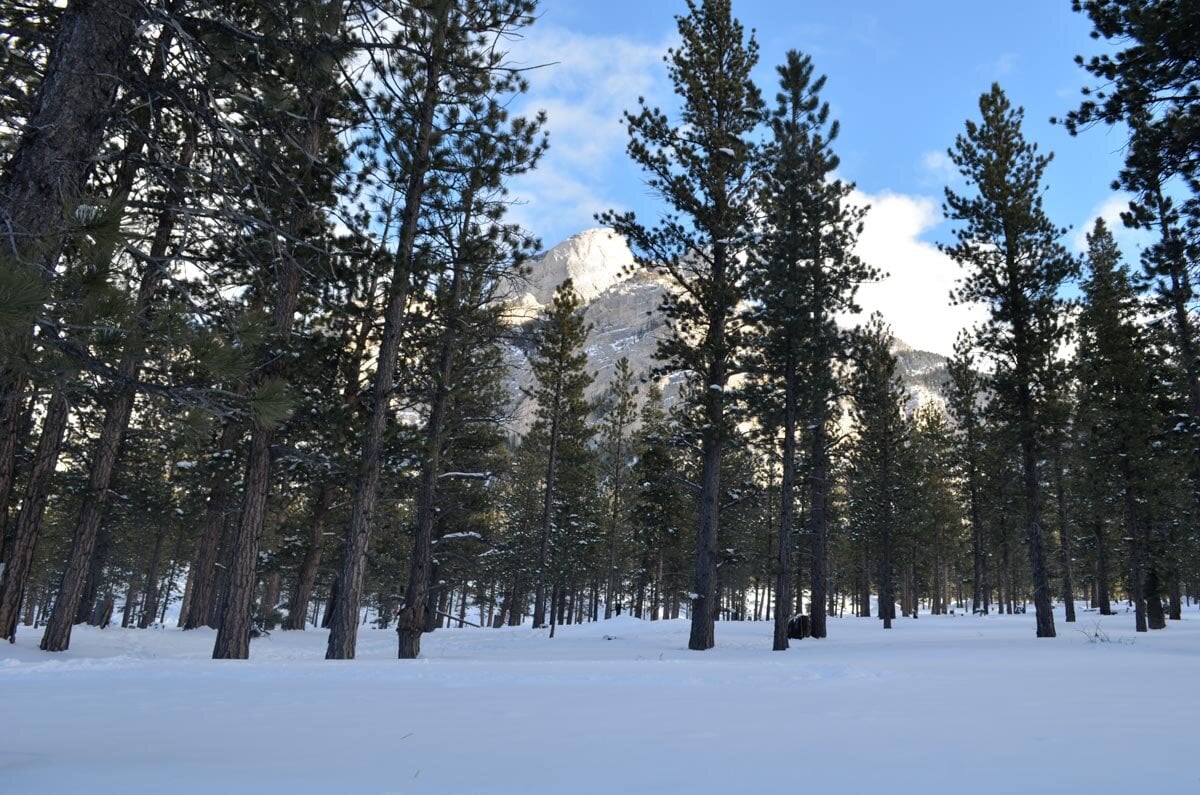 Distance: 6 miles 

Difficulty: Moderate 
The Bristlecone Loop Hike is named after the bristlecone pines that you'll find along the trail. Bristlecones are considered some of the oldest trees in Nevada.
Hikers can access the loop via two trailheads: the Lower Bristlecone Trailhead that begins on a marked dirt road and the Upper Bristlecone Trailhead at the end of Highway 156.
The trail offers views of the surrounding mountains and is great if you want to get a break from the scorching Las Vegas heat during summer. Here you will find many forms of high-elevation vegetation such as Ponderosa Pine, Bristlecone Pine and Pinyon Juniper.
If you decide to do the 5-mile trail, you will need to walk along the paved road for about 1 mile which is why the total length of the hike is 6 miles.
How to get there: You can the trail at the end of Lee Canyon Road or McWilliams Campground.
Mount Charleston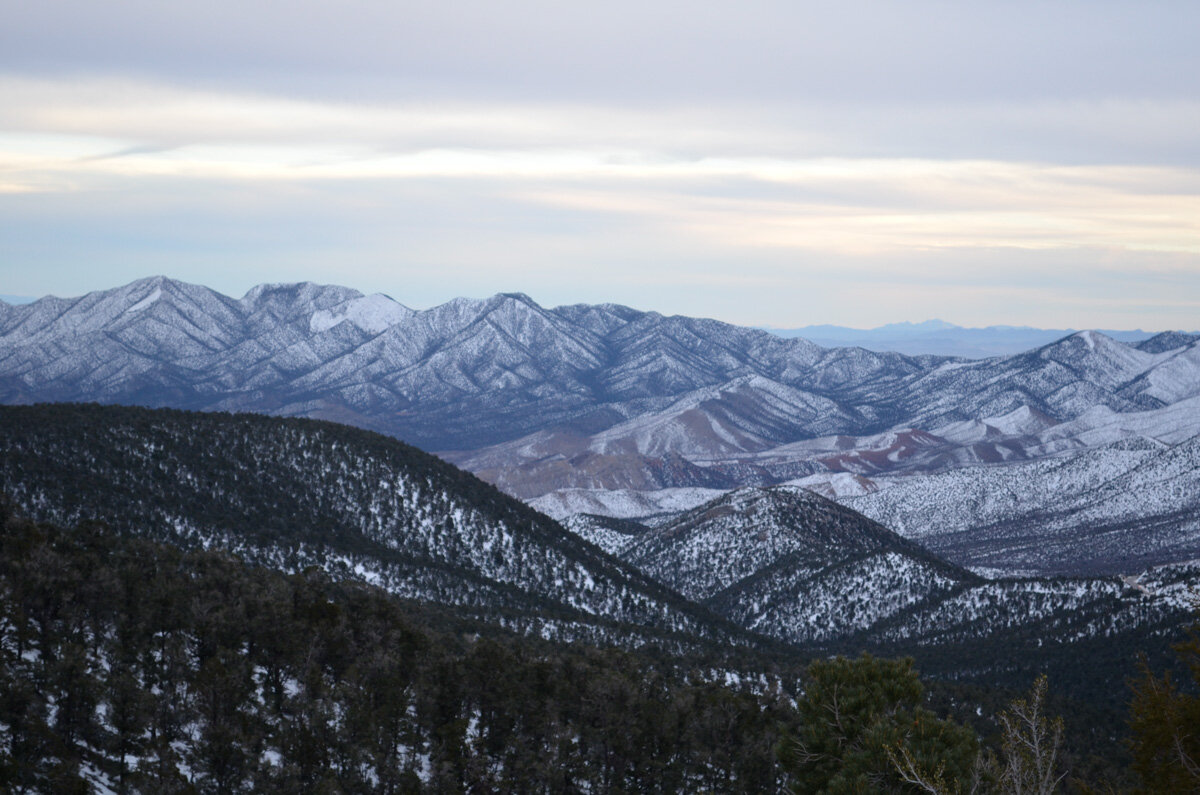 Distance: 17 miles (8-10 hours)

Difficulty: Very strenuous 
If you want to earn bragging rights when it comes to Las Vegas hiking, try summiting Mount Charleston. At nearly 12,000 feet, it's the highest peak in the Spring Mountains and all of Clark County. 
There are several trails that lead to the top of Mount Charleston. Among them are the 8.5-mile South Loop Trail, which is closed during winter due to the accumulation of snow. And North Loop Trail which is steeper and takes longer. 
Most hikers prefer to do the South Loop which starts at Cathedral Rock and gains over 4,200 feet in 8.5 miles. 
To complete the South Loop Trail to Mount Charleston, begin your hike at the Cathedral Rock Trailhead and continue until you reach a fork. From the fork, the trail continues straight while Cathedral Rock Trail goes right. 
Pro Tip: If you decide to hike Mount Charleston, make sure to bring plenty of water and snacks. Wear comfortable hiking shoes, dress in layers and be sure to wear sunscreen as a portion of the hike is exposed and can be windy. 
You'll also want to make sure to leave at sunrise if you want to do this hike in one day. For those who want to split it into multiple days, there are several camping options available along the route.
Be sure to plan this hike for May through October when the area is clear of snow and ice.
Valley of Fire State Park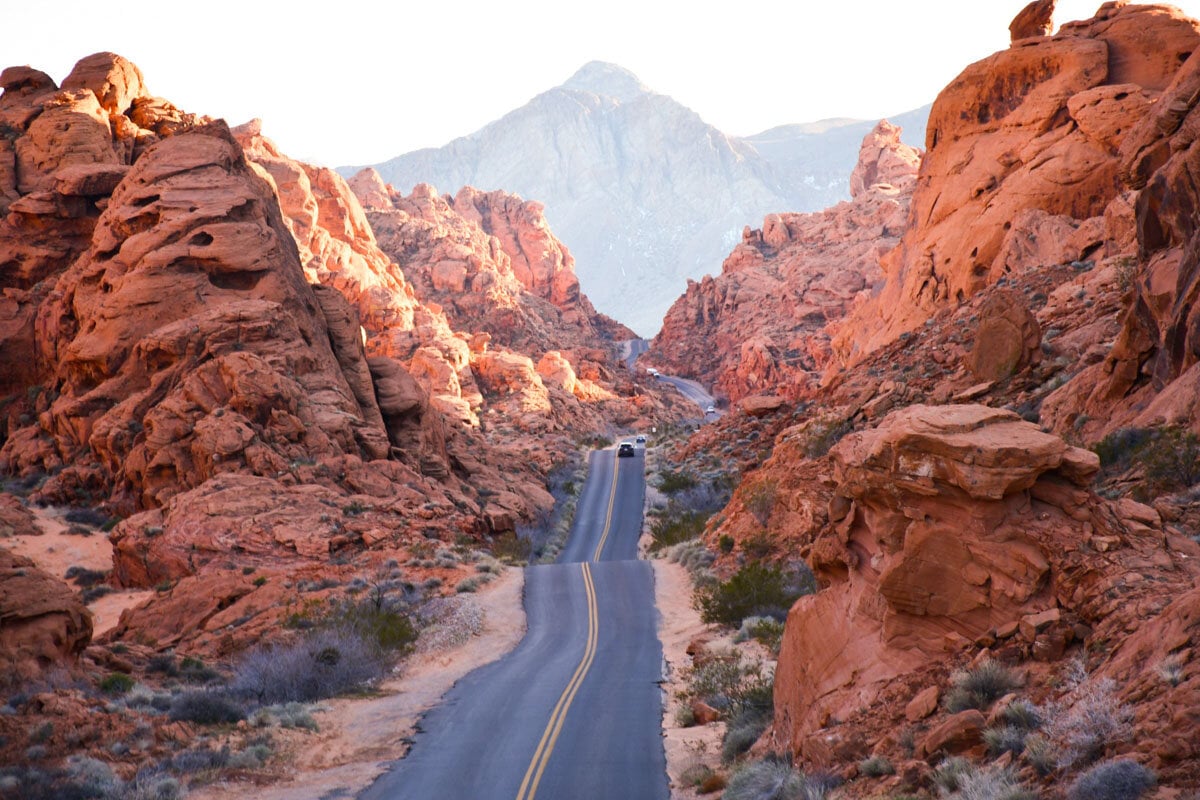 Valley of Fire is the largest state park in Nevada. Located just over an hour northeast of Las Vegas. What it lacks in challenging hikes, the park makes up for in spectacle. You'll find some of the most breathtaking scenery in Southern Nevada here, with its bright orange outcrops contrasting against the blue skies. 
To get to Valley of Fire State Park from Sin City, get on Interstate-15 and drive north for about 35-40 minutes before you get to Exit 75. Take Exit 75 and drive for about 17 miles toward the entrance of Valley of Fire.
Pro Tip: Valley of Fire abuts Lake Mead National Recreation Area at the east entrance, so if you plan on visiting both of these areas, this makes it easy to combine them into one trip. 
Visitors have to pay a $10 fee at the entrance to Valley of Fire. The park is open from sunrise to sunset unless you are planning on camping there. 
Fire Wave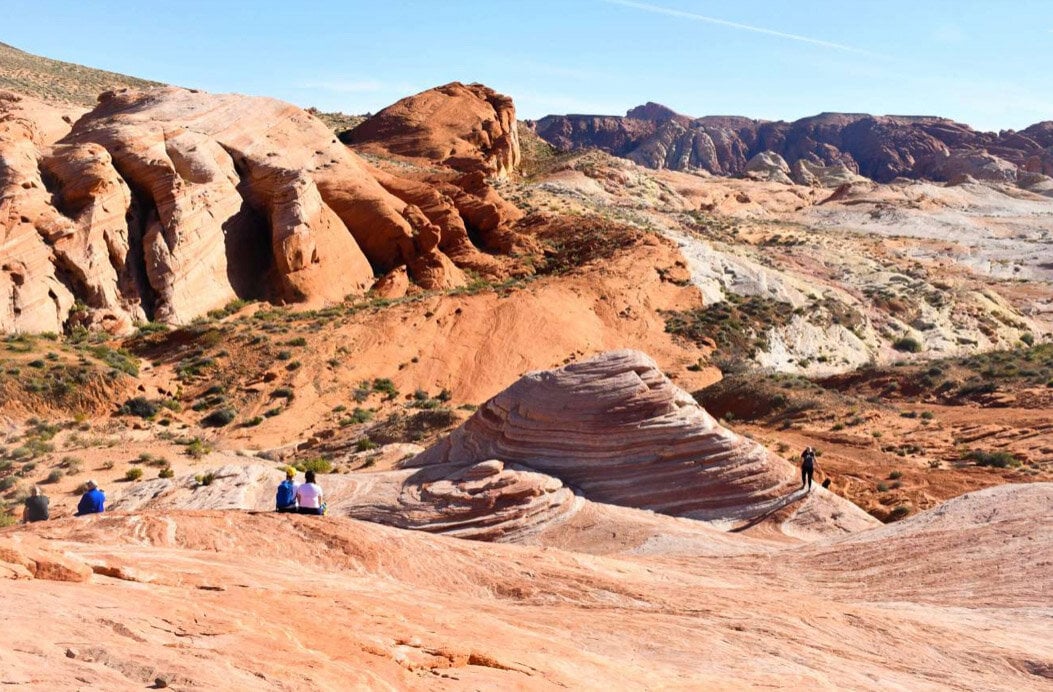 Distance: 1.5 miles 

Difficulty: Easy
Fire Wave Hike is one of the most famous hikes at Valley of Fire State Park and sees a lot of visitors for that reason. 
The hike begins at Parking Lot #3, which is the last parking lot along White Domes Trail. From the parking lot, cross White Domes Road to the sign that marks the beginning of the hike.
The trail passes through some brightly colored, striated rock formations that look like a fire wave on a bright sunny day. The trail culminates with a scenic vista of where you will see several prominent points in a bowl-like area covered by striped slickrock. 
Don't forget to bring your camera, because you will want to take a lot of photos!
Pro Tip: Valley of Fire can get scorchingly hot during the summer months with temperatures soaring above 115° F. Since the Fire Wave hike has no shade, it's best to go from October through April. But if you happen to visit Valley of Fire during the summer and still want to do it, make sure to bring plenty of water, a hat, and sunscreen. 
White Domes Trail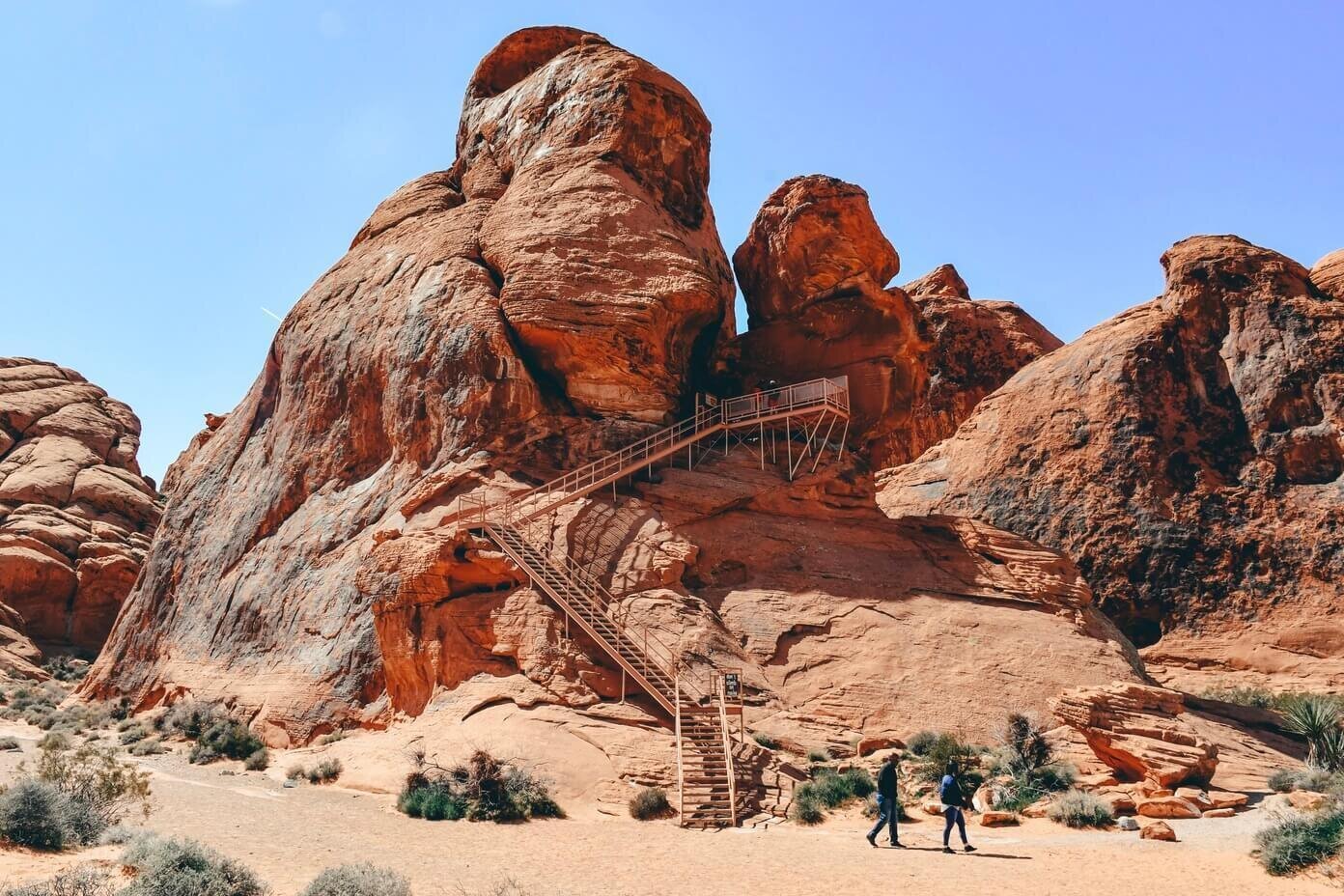 Distance: 1 mile (<1 hour)

Difficulty: Easy
The last stop in Valley of Fire, White Domes Trail is an easy 1-mile hike that is jam-packed with jaw-dropping scenery.
The hike is at the end of White Domes Road, so you will have to drive through the entire Valley of Fire State Park before you get there. The loop starts from the parking lot and the sandy trail meanders along colorful sandstone formations that come in many hues of brown, yellow, pink, orange, and red. 
During the hike, you will pass "the ruins" which are constructed out of wood and plaster. A movie called The Professionals was filmed here in 1965, and this is the only remaining part of the original film set. 
Fun Fact: A few other movies have been filmed here such as Transformers and Austin Powers, among others. 
After you pass the former film set, the trail descends into what's called Kaolin Wash. Follow the trail to the bottom of the wash and you will reach the defining feature of the trail — a narrow 200-feet long slot canyon.
Unlike the famous Fire Wave, White Domes is a much cooler, sheltered trail. The temperature drops when you enter the tall walls of the slot canyon. 
Psst! Check out our complete Las Vegas to Death Valley day trip guide that includes everything you need to know about visiting this other-worldly National Park.
Lake Mead National Conservation Area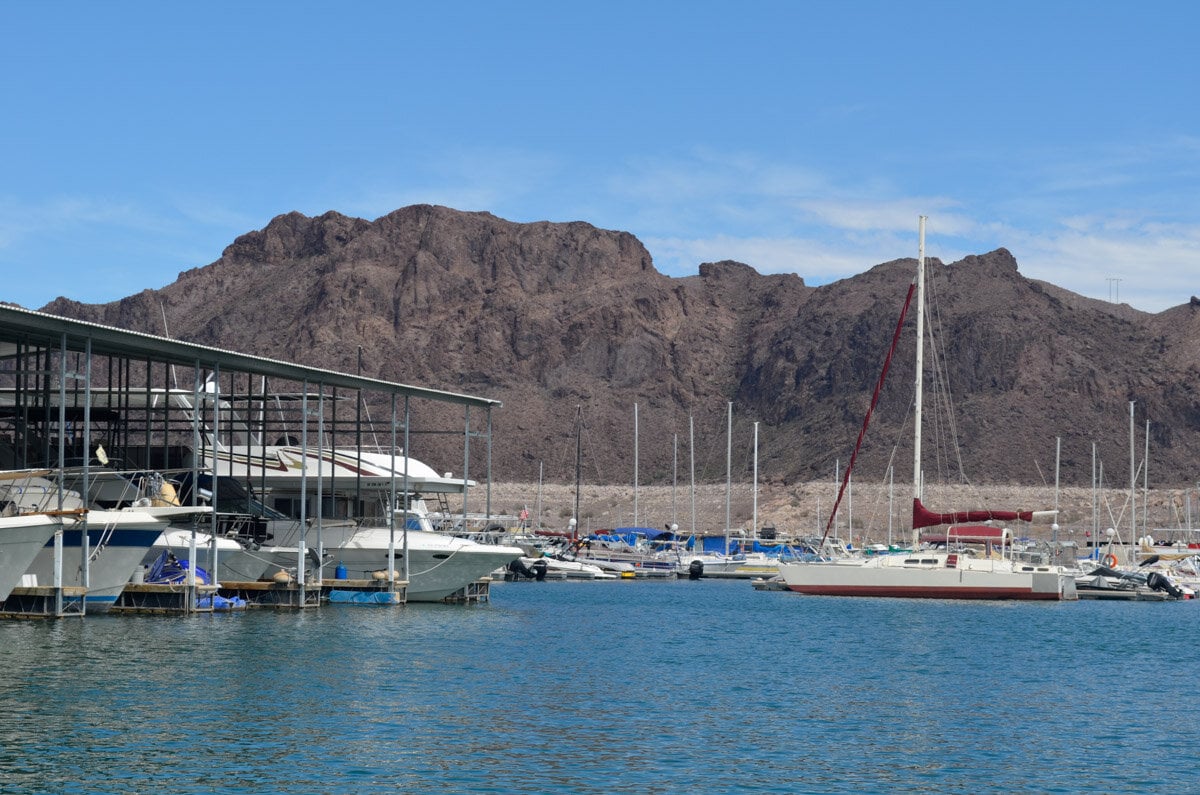 America's first national conservation area, Lake Mead spans over 1.5 million acres and includes two large lakes, mountains, and canyons. 
Besides the famous Lake Mead which gives this area its name, visitors can explore the nearby Lake Mojave and the historic Hoover Dam. Lake Mead National Conservation area also has many hikes that range from easy to strenuous.
The best time to hike in the Lake Mead National Conservation Area is from November through April when temperatures are mild. 
Railroad Tunnel Trail
Distance: 8.2 miles (~2 hours)

Difficulty: Easy
One of the most popular trails in the Lake Mead Conservation Area is the Historic Railroad Tunnel Trail. This paved trail is suitable for hikers of all levels and is mostly used for biking, jogging, and walking. Since the hike is really easy, your timing will depend on how fast you walk, but can generally be done in about 2 hours. The trail often gets busy in the afternoon, so the earlier you start, the more you will be able to enjoy it. 
The hike begins at the Alan Bible Visitor Center (Lake Mead Visitor Center) in Boulder City. You can get there by following I-515 from Las Vegas until you reach I-11 which will bring you right into Boulder City.
There are five tunnels on the aptly named trail and you will enjoy panoramic views of Lake Mead along the way. Since the trail follows an old railroad above Lake Mead, you can learn about how the railroad was used during the construction of the Hoover Dam. 
With the exception of the tunnels, the hike has no shade and it's better to do it early in the morning, as temperatures can get extremely hot. You'll want to be sure you're wearing plenty of sunscreen and protective clothing.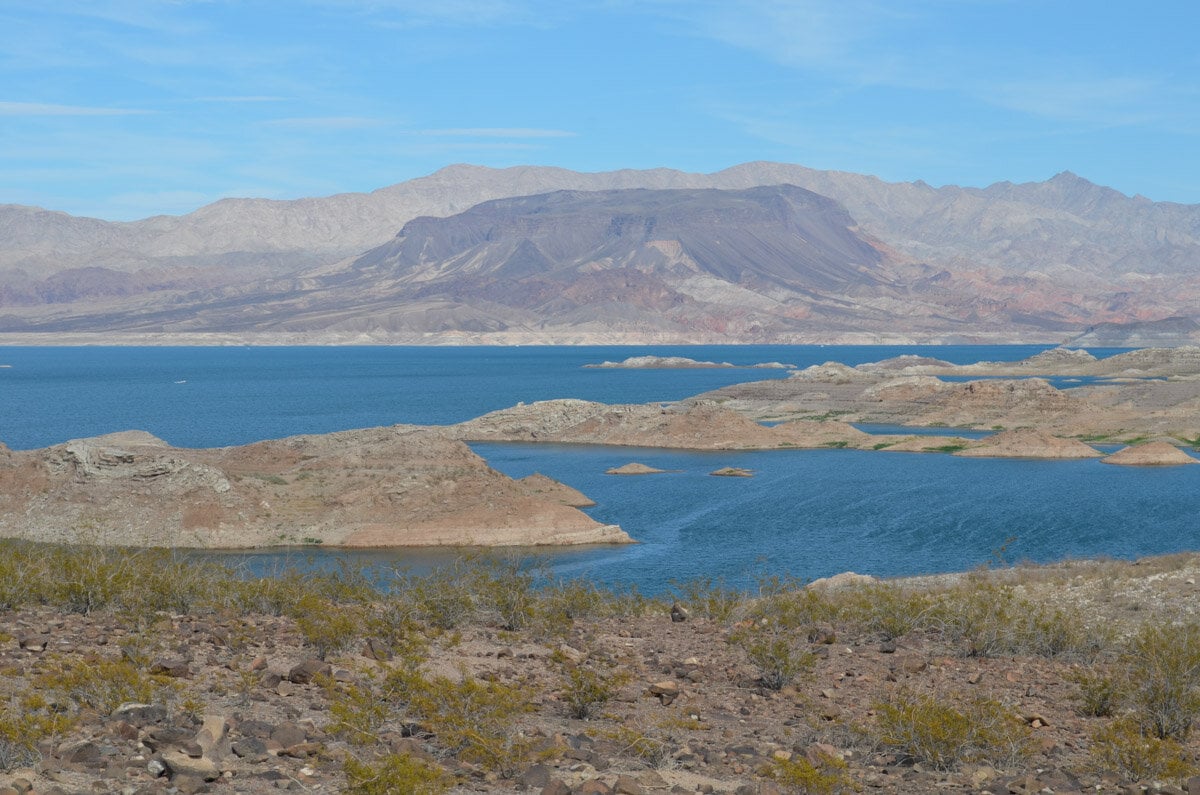 Liberty Bell Arch Trail
Distance: 6 miles 

Difficulty: Easy
This easy hike leads to the natural arch which looks like the historic Liberty Bell was carved into it by wind and water over thousands of years. Another cool aspect of this hike is that it faces the Colorado River. 
The hike offers plenty of breathtaking scenery with cool geological formations such as hills and canyons. It's also not uncommon to spot some desert wildlife while you are on this trail 
How to get to the trail: Hikers can access Liberty Bell Arch Trail from the White Rock Canyon. To get to the trailhead, get on Highway 93 and drive south of Hoover Dam toward Lake Mead National Recreation Area. Cross the bridge toward Arizona and get down to the trailhead under the bridge.
Arizona Hot Springs 
Distance: 6 miles

Difficulty: Moderate 
Arizona Hot Springs is a scenic hike that culminates with warm pools in the middle of a slot canyon. Tucked between high walls that have water flowing down and light playing around gently, Arizona Hot Springs is a true desert gem. 
You can begin the hike from White Rock Canyon Trailhead near Highway 93 in Arizona, just south of the Hoover Dam. This is about 45 minutes southeast of Las Vegas. 
Another option is to rent a kayak at the Willow Beach Marina (located in the Black Canyon) and paddle for about 8 miles up the Colorado River. When you get to the beach, hike into the canyon and after about a quarter-mile you will find a metal ladder that runs alongside a small waterfall. Climb the ladder to access the hot springs.
The area also offers free dispersed camping during the off-season. 
While this is not a tough trail from a technical standpoint, it is extremely hot from mid-spring through early fall, and unfortunately, rescues are not uncommon here. If you are not used to hiking in the desert and have a low tolerance for hot weather, don't attempt this hike when temperatures are high.
Tips for hiking in the desert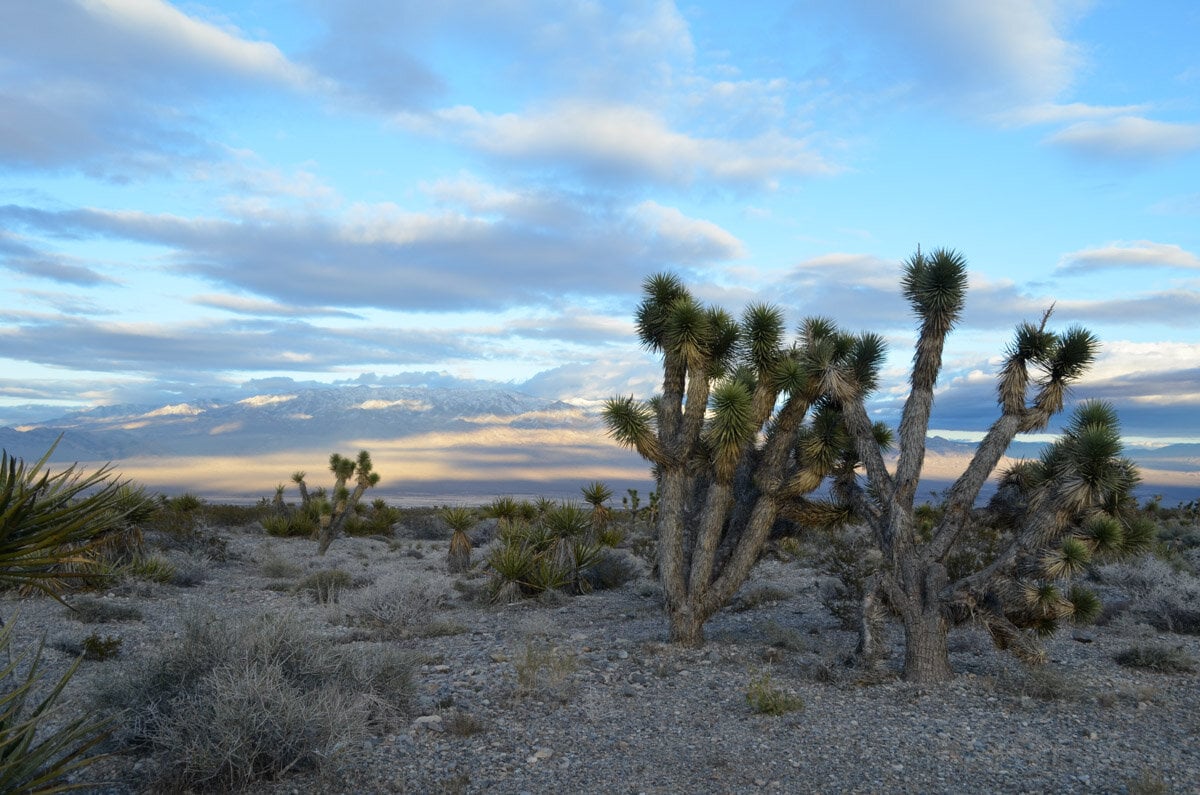 Before you plan on hiking in Las Vegas, there are a few things to keep in mind about desert hiking. 
1. Bring enough water 
Hiking in the desert will quickly dehydrate you, even if you are hiking during winter. You should never go hiking near Las Vegas without at least a gallon of water in your pack. Having some snacks with electrolytes is also a good idea.
Tip: Next to water, the best things to pack are healthy and delicious hiking snacks to keep your energy up while on the trail.
2. Use sunscreen
The desert sun is harsh. You can easily get a sunburn in under an hour, especially if you hike in the afternoon. Whether or not the sun is shining, don't forget to apply plenty of sunscreen before hitting the trail.
3. Use a map
Don't count on your cell phone data for directions. The further you go into the desert, the more likely your cell phone service will disappear. Get a paper map ahead of your trip and take some time to study your route. As a backup, it's a good idea to download offline maps from your Google Maps app before you begin your hike.
---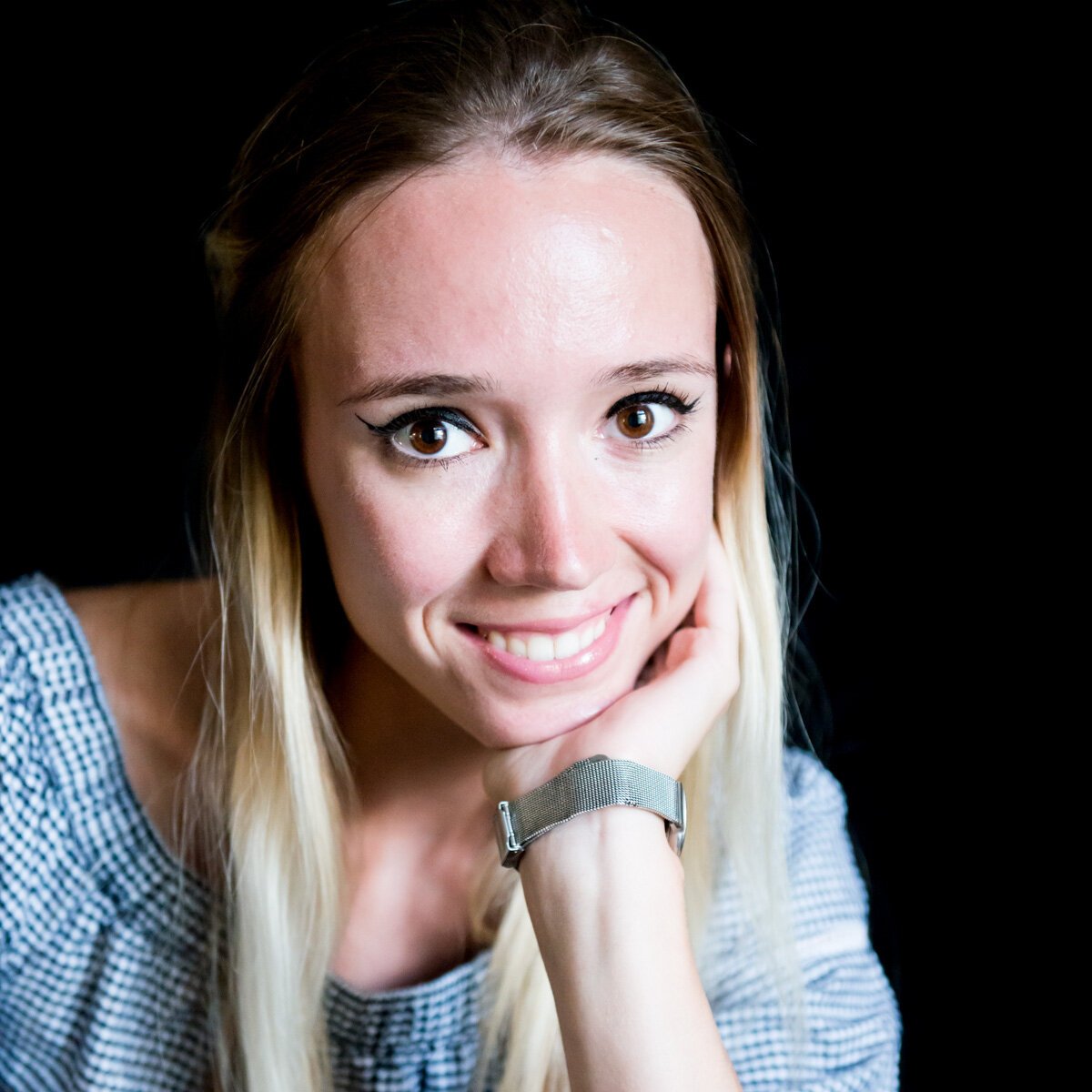 Daria Bachmann created The Discovery Nut, a travel blog focused on adventurous destinations around the world, to share her favorite places and to encourage everyone to get out of their comfort zone and explore more. "If it's a scenic destination with gorgeous nature and amazing culture, it surely sounds like a Discovery Nut kind of place!" You can also find her on Pinterest.
---
You may also like…
Save this article on Pinterest for later!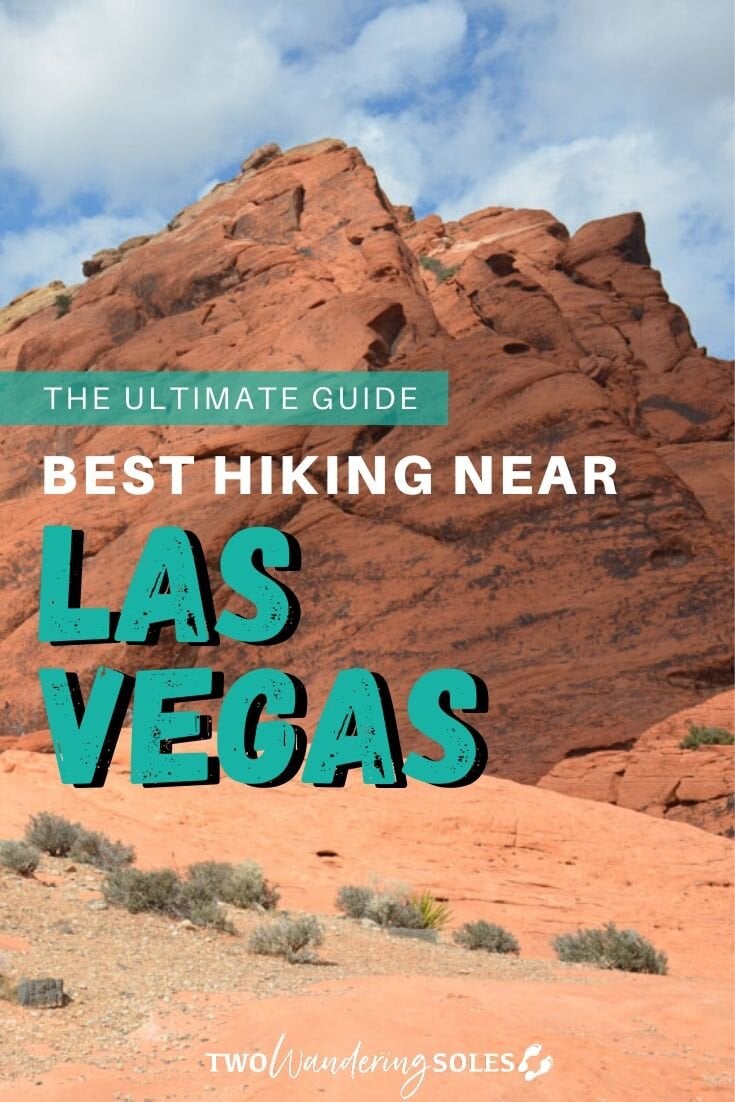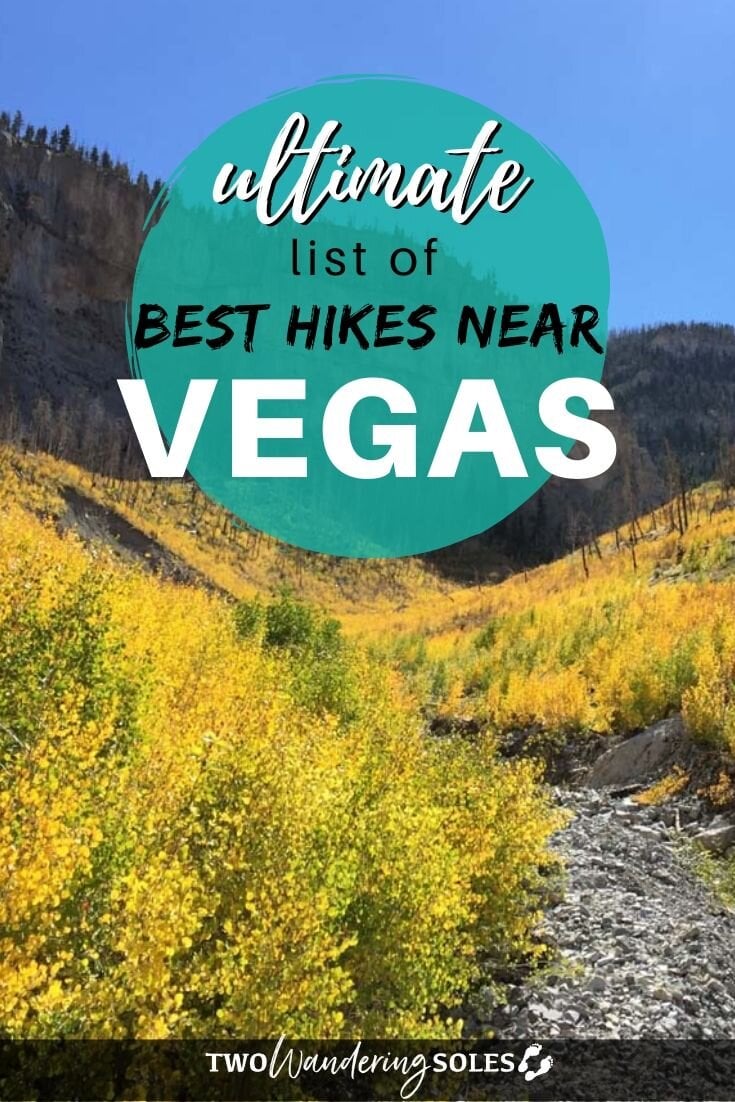 We want to hear from you!
Have you ever been hiking around Las Vegas? What was your experience like? Do you have a favorite hike you'd want to add to this list? Comment below and let us know!